You are currently browsing the tag archive for the 'Queen Victoria' tag.
Yesterday's post discussed Charles III's proposed pared down coronation, scheduled for Saturday, May 6, 2023.
No bank holiday?
It is curious, given that it will have been over 70 years since our last coronation, the King seems to have ruled out a bank holiday.
May has two bank holidays, bookmarking the month.
This year, the second bank holiday, traditionally known as Whitsun (Pentecost) Bank Holiday, was moved one week later, taking place at the beginning of June to accommodate Platinum Jubilee festivities.
The Times reports that Parliament is all for a celebratory bank holiday weekend (emphases mine):
There have been calls from some MPs for the May 1 bank holiday to be moved or for an additional bank holiday to be announced …
Labour backed moving the May bank holiday to coincide with the King's coronation. Sir Keir Starmer's spokesman said: "That would certainly be a good way for the country to be able to celebrate the coronation."
David Jones, a cabinet minister under David Cameron, told the Daily Mail that combining the May bank holiday with the coronation would be welcomed "by the entire nation". He said: "It would make a very special memory for all of us." Tobias Ellwood, another Tory former minister, said: "A bank holiday would help strengthen our transition to a new era."
Khalid Mahmood, a former Labour frontbencher, said: "We can move the holiday back to the coronation weekend. We have a unique system with the monarchy and an independent parliament; I would back Britons having a three-day weekend to mark the occasion."
Royal sources have said that any decision about whether to move the bank holiday or create a new one will be up to the government.
No. 10 is open to the idea:
In response the prime minister's spokesman said: "Obviously this will be a historic event. We are carefully considering our plans. All options remain on the table."
Personally, I don't think this is as much the Prime Minister's reluctance as it is the King's.
The diamond
It was thought that Camilla Queen Consort would be crowned with the crown the late Queen Mother wore, the one with the incomparable Koh-i-noor diamond.
Suddenly, that prospect appears to be in doubt.
On October 13, The Telegraph reported:
The crown was thought to be a front runner among the options for Queen Camilla to wear for next year's Coronation, and has been under discussion at the palace for as long as it has been understood she will join the King for the ceremony.
One source last night suggested that the jewel had not, until recently, been treated as "problematic".
Charges of colonialism have now been raised with regard to the Koh-i-noor:
In Britain, it has been used in the crowning of Queens for generations with pomp, ceremony but little noticeable fuss, mounted on successive crowns worn by Queen Alexandra, Queen Mary and Queen Elizabeth [the Queen Mother] …
The Koh-i-Noor diamond, which has been part of the Crown Jewels for more than 150 years, is at the centre of renewed calls for its return – with India the most diplomatically-critical country making a claim to it …
The diamond, which is often said to have been "given" to Britain in 1849, is currently set in the crown worn by Queen Elizabeth, later the Queen Mother, in her own 1937 coronation.
Experts on colonialism have spoken out:
William Dalrymple, co-author of a book describing the Koh-i-Noor as "the world's most infamous diamond" said its ownership was "not a small sensitive issue in the eyes of India" but a "massive diplomatic grenade".
Jyoti Atwal, associate professor at Jawaharlal Nehru University, explained the diamond's significance, telling The Telegraph how it travelled around the medieval world as a "prized possession" and in 1851, after British annexation, "went to the United Kingdom via a treaty with an 11-year-old King in Punjab".
"In the colonial discourse it was seen as a gift from India, although it has a chequered history of being owned by different kingdoms across South Asia and West Asia," she said. "It was one of the biggest signifiers of victory for Britain over the subcontinent and since India's independence in 1947, there have been demands of bringing it back.
"It has always been at the centre of political restoration and restoring Indian pride, and doing away with this blot in history" …

Saurav Dutt, an author and political commentator born in Kolkata and raised in the UK, said: "Ensuring the Koh-i-noor remains front and centre in the public eye in this way flies in the face of any attempt by the Royal family and political orthodoxies to draw a line under the dispossession, prejudice, plunder and exploitation that imperialism revelled in.
"Such a position is at odds with the modern, egalitarian stance the royals seek to present themselves within a world that seeks to move on from the ugliest chapters of history that they benefited from."
If this was historically known to be the case, why didn't anyone complain in 2002, when it was the crown resting on the Queen Mother's coffin at Westminster Hall where she lay in state?
No one said anything then, and even BBC commentators talked about what a splendid jewel in the crown it is.
It appears that, 20 years on, social media, which did not exist in 2002, could partly be to blame.
Jyoti Atwal said:
A resurgence of interest in "bringing it back" was now "very visible" among a new generation on social media …
There also seems to be a potential vulnerability about Charles III that indicates he might well cave in:
Lauren Kiehna, a royal jewellery expert who writes a blog under the name of The Court Jeweller, last week predicted that the creation of a new crown for Queen Camilla was unlikely but called the inclusion of the Koh-i-Noor diamond a "real, serious sticking point".
"I would imagine that Charles and Camilla would be keen to avoid additional criticism when possible, and Charles particularly has always seemed sensitive to the fact that jewels can carry significant symbolism," she wrote.
This is how Britain acquired the diamond in 1849, during Queen Victoria's reign:
… the Koh-i-Noor was signed over to the British East India Company in 1849 along with vast areas of land in the Treaty of Lahore.
It is described by the Royal Collection Trust as being "surrendered" to Queen Victoria "by the Maharaja Duleep Singh in 1849".
At the time, the maharajah of the Punjab was 11 years old.
The jewel was brought back to Britain for presentation to Queen Victoria a year later, and put on display to the public at the Great Exhibition.
Afterwards, it was cut by Garrard & Co and turned into a brooch worn by Victoria.
In 1902, it was mounted on a crown for Queen Alexandra's coronation, and in 1911 transferred to that of Queen Mary.
In the modern era, it is best known for being worn by the Queen Mother, and was placed on top of her coffin in 2002.
Another Telegraph article on the diamond states:
The thousand-year-old, 105.6 carat diamond is the subject of international dispute, with India, Afghanistan and Iran among the countries laying claim to it.
Again, why is this coming up only now? Why did it not come up in the past?
Unfortunately, the controversy is coming as a diplomatic row has taken place between the British government and India:
Our new Home Secretary, Suella Braverman, is of Goan descent.
Recently, she complained about migration from India at the time the Government is trying to put a trade deal with that nation:
Debate over the [coronation] ceremony comes amid heightened tensions between Britain and India over post-Brexit trade.
Liz Truss's trade deal with India is said to be on the "verge of collapse" after Suella Braverman, the Home Secretary, said she had "concerns" about it, adding that "the largest group of people who overstay are Indian migrants".
Indian government sources said the "disrespectful" remarks meant the "relationship has taken a step back". Plans for Narendra Modi, the Indian prime minister, to visit the UK to seal a trade deal have been shelved, according to reports.
On Wednesday, the Bharatiya Janata Party [BJP] told The Telegraph a choice for Queen Camilla to continue the tradition of consorts wearing a crown containing the Koh-i-Noor would hark back to the days of Empire.
A BJP spokesman said:
Most Indians have very little memory of the oppressive past.
He added that the United Kingdom was not the only country that ruled over India:
Five to six generations of Indians suffered under multiple foreign rules for over five centuries.
He said that the Queen's death revived memories of Empire:
Recent occasions, like Queen Elizabeth II's death, the coronation of the new Queen Camilla and the use of the Koh-i-Noor do transport a few Indians back to the days of the British Empire in India.
Hmm.
The British government declared the Partition of India in 1947. George VI was King and his wife Elizabeth was Queen Consort at the time.
In short, India and Pakistan became independent nations:
The partition was outlined in the Indian Independence Act 1947 and resulted in the dissolution of the British Raj, i.e., Crown rule in India. The two self-governing independent Dominions of India and Pakistan legally came into existence at midnight on 14–15 August 1947.
Maharaja Duleep Singh
It is also worth noting what happened to the young Maharaja Duleep Singh who gave the diamond to the British government.
He became a member of Queen Victoria's court.
Wikipedia has a synopsis of the aforementioned William Dalrymple's book, Koh-i-noor: The History of the World's Most Infamous Diamond, which he co-authored with Anita Anand.
The maharaja's story begins sadly and ends sadly, but also included is the privileged and rather lengthy middle of his story from the second half of the book, 'The Jewel in the Crown'. A summary follows.
It was unclear what the boy's father, Ranjit Singh, also known as the Lion of Punjab, intended to do with the diamond.
When the Second Anglo-Sikh War ended in 1849, his young son gave the gem to the colonial administrator Lord Dalhousie in the context of the Treaty of Lahore. The boy's mother, the regent Jind Kaur, had been taken away from him.
John Spencer Login, a diplomat living in India, adopted the boy to live with him and his family. Meanwhile, Jind Kaur was exiled to Nepal.
Then, a few years later:
After requesting to travel to England Duleep Singh joined Queen Victoria's court. When he was 15 he repeated the ceremony of giving the Koh-i-Noor, in this instance to Victoria.
When Duleep Singh turned 21, he:
began to express a great longing for his mother and more distance from the people with whom he lived in the court.
The following year, he was reunited with his mother:
At age 22 he traveled to meet her at Spence's Hotel in Calcutta then brought her back to England.
Unfortunately, things unravelled for him for a few years:
From this point his life went into chaos with him no longer behaving like his peers in British society and spending huge sums of money.
However, his biography on Wikipedia tells us that, even as an adolescent, he lived a charmed life. Before he was reunited with his mother, he began receiving an immense annual pension from the East India Company and spent a few years in a Scottish castle.
He arrived in England in 1854:
He was a member of the Photographic Society, later the Royal Photographic Society, from 1855 until his death.[15]
On his return from Continental Europe in 1855 he was given an annual pension of £25,000 a year[16] (approximately £2,500,000 in today's value) provided he "remain obedient to the British Government," and was officially under ward of Sir John Spencer Login and Lady Login, who leased Castle Menzies in Perthshire, Scotland, for him. He spent the rest of his teens there, but at 19 he demanded to be in charge of his household. Eventually, he was given this and an increase in his annual pension.
In 1859 Lt Col James Oliphant was installed as Equerry to the Maharaja at the recommendation of Sir John Login. Oliphant was to be a possible replacement should anything happen to the Maharaja's most trusted friend Sir John Login (who did indeed die four years later in 1863).[17]
In the 1860s, Singh moved from Castle Menzies to Grandtully Castle.[18]
Between 1858 and 1862, he also rented Mulgrave Castle, near Whitby.
When his mother moved to Britain, she lived with him for a time in Perthshire.
In June 1861, he became Maharaja Duleep Singh and either acquired or was given Elveden Hall on the border between Norfolk and Suffolk.
Singh not only transformed the estate into a farm with hunting grounds, becoming the fourth best shot in England, but he also restored the nearby church, school and cottages bordering the delightful town of Thetford.
His mother and adoptive father Sir John Login both died in 1863.
The Maharaja's wife, Maharani Bamba
In 1864, with permission from the East India Company, which financed him, Singh was able to go to India to place his mother's ashes in a memorial monument in Bombay.
On his way back to England in February 1864, he stopped off in Cairo to visit a Christian mission in the city. At the American Presbyterian Missionary school, he met a student, Bamba Müller, the illegitimate daughter of wealthy German banker Ludwig Müller and his Abyssinian (Ethiopian) mistress, Sofia. Müller had a wife and children, so he left young Bamba in the care of the missionaries, where she became a devout Presbyterian. Müller paid for her lodging and schooling.
In March that year, he wrote to the missionaries, asking them for advice on finding a suitable wife. Although Queen Victoria suggested that Singh marry an Indian princess, he wanted someone less worldly. Details are scant, but it was decided that Bamba was the candidate. The missionaries asked Ludwig Müller about it and he left the decision to his daughter. Bamba had wanted to teach in a missionary school, so she prayed hard about what she should do, eventually deciding that it was God's will that she marry Singh.
There was only one problem: a language barrier. Bamba spoke Arabic and Singh's only second language was English. An interpreter facilitated the proposal. Singh gave the school a donation of £1,000, a substantial sum. The couple married on June 7, 1864 at the British Consulate in Alexandria. Singh made his vows in English. His bride made hers in Arabic.
The couple sailed back to England and settled at Elveden Hall. Bamba gave birth to a son in 1885; sadly, he lived only one day. She gave birth to the first of six children in 1866: three sons and three daughters. All of the daughters became suffragettes. One was a debutante who was presented at court, and another married a Scottish doctor and moved to Lahore.
Two of the sons went to Eton before joining the British Army. A memorial to both sons is in the school. The third son died at the age of 13.
All the Singh children had the titles of either Prince or Princess, as Sikh royalty.
Later life
As the years passed, despite his privileged lifestyle, Singh became increasingly discouraged with the British and longed for his homeland.
In 1884, Singh's cousin Sardar Thakar arrived in England with his two sons and a Sikh granthi (priest). Thakar brought with him a list of properties that Singh owned in India. Naturally, he wanted to return and to re-embrace Sikhism.
In 1886, the British government formally objected to Singh's proposed return to India for a visit as well as a reversion to Sikhism. Nevertheless, Singh set sail for India on March 30 that year.
The Government intercepted him at Aden in today's Yemen. Officials probably feared that if he reached India, there would be massive unrest. Aden was where the Viceroy of India's rule began, so it was the first point at which he could be legally stopped.
Although Singh had to abandon his voyage, while he was in Aden, he reverted to Sikhism in a cermony performed by emissaries that his cousin Sardar Thakar sent.
In 1887, Bamba died:
The cause of death was reported as "comprehensive renal failure brought on by an acute case of diabetes, made worse by her drinking (of alcohol)".[1]
Interestingly, Singh appeared not to have returned to England from Aden. He ended up in Paris:
upon being stopped in Aden by the British authorities he abandoned his family and moved to Paris.
He had met his future second wife, Ada Douglas Wetherill, sometime before he attempted to sail to India:
Wetherill had been Duleep's mistress before he decided to return to India.
When Singh moved to Paris, Wetherill joined him.
They married and had two daughters, also Princesses in line with Sikh royalty.
Before he died, Singh resolved his differences with Queen Victoria, who refused to receive his second wife:
whom she suspected had been involved with the Maharaja before Maharani Bamba's death in 1887.[38]
In 1893, at the age of 55, Maharaja Duleep Singh died in Paris. His body was brought back to England.
His request to be buried in India was refused on grounds that it might create unrest, as the Indians were growing increasingly upset over British rule.
Instead, Singh was given a Christian burial:
in Elveden Church beside the grave of his wife Maharani Bamba, and his son Prince Edward Albert Duleep Singh. The graves are located on the west side of the Church.
Elveden Hall had to be sold after his death to pay his debts. The First Earl of Iveagh bought it in 1894 and it remains the home of his successors, who are part of the Guinness brewing family.
All eight of Singh's children died without legitimate issue, thus ending the direct line of Sikh royalty.
Conclusion
It seems that the lavish life the Maharaja was given in Britain and in Paris was compensation for the Koh-i-noor diamond.
Queen Victoria and the East India Company gave Duleep Singh everything he could ever ask for, except a permanent return to India.
On that basis, there seems no good reason why Camilla Queen Consort cannot wear the Queen Mother's crown next year.
The Telegraph says that King Charles enjoys a good relationship with India:
He has recently had a warm relationship with India, meeting Mr Modi on several occasions in the last few years.
As for the crown:
The King, now Head of Commonwealth, and his advisers are understood to be mindful of the "issues around today", with decisions about the coronation likely to be confirmed only at the last minute.
One suspects that those asking for the diamond's return do not know about the final Maharaja's history.
A new biography of Elizabeth the Queen Mother is out just in time for Christmas.
It is Gareth Russell's Do Let's Have Another Drink.
Subtitles differ. One says:
The Singular Wit and Double Measures of Queen Elizabeth the Queen Mother
Another reads:
The Dry Wit and Fizzy Life of Queen Elizabeth the Queen Mother.
Most British adults connect the Queen's mother with her favourite tipple: gin and Dubonnet.
The Times reviewed the new book on October 11, 2022. Excerpts from the article follow, emphases mine.
N.B.: This is not the usual fairy tale Royal story, so expect real life to creep in now and then.
Belief in ghosts
It appears that the Queen Mother's belief in ghosts gave her resilience. Hmm:
If the Queen Mother did have an inner core of steel, it isn't hard to see where it came from. Her childhood in Glamis Castle, one of Scotland's most rambling and supposedly haunted piles, didn't just give her a lifelong belief in ghosts (she attended her last exorcism at the age of 99, when she persuaded a local priest to shoo away the unquiet spirit of George VI, or maybe Diana, from a bedroom in Sandringham), but also a group of male friends who were mostly killed in the First World War before she was 18. "I think of my 20 best friends in 1914," she reminisced, decades later. "Only five came back."
Among those who died was one of her brothers. Three other brothers suffered for years with what was then called shell-shock — post-traumatic stress disorder. Russell's account of those years occupies very little of his book, but it's by far the most compelling part. And it explains a lot about this most misunderstood of national matriarchs. She may have been an old soak, but she put the backbone into a royal family that was floundering when she joined it.
Suitors and courtship
When Elizabeth Bowes-Lyon was born in England in 1900, royal families were meant to intermarry.
Although she came from nobility — being the daughter of Claude Bowes-Lyon, Lord Glamis (pron. 'Glahms') and, later, the 14th Earl of Strathmore and Kinghorne in the Peerage of Scotland — she was not considered suitable to marry a future king.
At least one European royal made her bias known towards the noble's daughter in the early 20th century:
When her brother-in-law, the Duke of Kent, married Princess Marina of Greece, for instance, Marina (descended from the Russian and Greek royal families) made little attempt to hide her disdain for Elizabeth, a mere Scottish earl's daughter whom she took to describing as a "common little Scotch tart".
Elizabeth was an adorable girl who grew up to be a fetching young woman.
She had a few serious suitors when she grew up and she rejected Prince Albert, Duke of York, who wanted to make her his wife:
She certainly turned down two proposals of marriage from Bertie. That, however, was more because she was dallying between another prince (the King of Serbia's nephew, Prince Paul of Yugoslavia) and such eligible British bachelors as Henry "Chips" Channon …
UGH! A book of Channon's letters was released earlier this year. Talk about sex addicts:
… (who, oddly enough, had slept with Prince Paul when both were at Oxford) and the dashing Captain James Stuart, who had won the Military Cross in the First World War.
The story of how Bertie — the future George VI — and Elizabeth became engaged is a bit more nuanced than we would have thought.
The book says that Bertie's mother, Queen Mary of Teck, rearranged Elizabeth's love life accordingly:
George V's wife, the indomitable Queen Mary, had decided that the gregarious, charming Elizabeth would be perfect for introverted, stammering Bertie, and simply wouldn't take no for an answer, even if her son did. Somehow, she fixed it so that the dashing Captain Stuart received an offer of an extraordinarily well-paid job with an oil company in Oklahoma, requiring him to sail for America immediately.
Amazing.
Stuart apparently knew it, too:
According to Russell, he later told friends: "That bitch Queen Mary ruined my life."
Wikipedia says that Queen Mary visited Glamis Castle to meet the girl who stole his son's heart:
Prince Albert, Duke of York—"Bertie" to the family—was the second son of King George V. He initially proposed to Elizabeth in 1921, but she turned him down, being "afraid never, never again to be free to think, speak and act as I feel I really ought to".[18] When he declared he would marry no other, his mother, Queen Mary, visited Glamis to see for herself the girl who had stolen her son's heart. She became convinced that Elizabeth was "the one girl who could make Bertie happy", but nevertheless refused to interfere.[19] At the same time, Elizabeth was courted by James Stuart, Albert's equerry, until he left the Prince's service for a better-paid job in the American oil business.[20]
It seems that Queen Mary had no objection to Bertie marrying what would have been known as 'a commoner', although Elizabeth appeared to have reservations about entering Royal life:
Eventually, in January 1923, Elizabeth agreed to marry Albert, despite her misgivings about royal life.[23] Albert's freedom in choosing Elizabeth, not a member of a royal family, though the daughter of a peer, was considered a gesture in favour of political modernisation; previously, princes were expected to marry princesses from other royal families.[24] They selected a platinum engagement ring featuring a Kashmir sapphire with two diamonds adorning its sides.[25]
The couple were married at Westminster Abbey and Elizabeth, who became the Duchess of York, became ill during the Scottish leg of their honeymoon:
They married on 26 April 1923, at Westminster Abbey. Unexpectedly,[26] Elizabeth laid her bouquet at the Tomb of the Unknown Warrior on her way into the abbey,[27] in memory of her brother Fergus.[28] Elizabeth became styled Her Royal Highness The Duchess of York.[29] Following a wedding breakfast at Buckingham Palace prepared by chef Gabriel Tschumi, the new Duchess and her husband honeymooned at Polesden Lacey, a manor house in Surrey owned by the wealthy socialite and friend Margaret Greville. They then went to Scotland, where she caught "unromantic" whooping cough.[30]
Tenacity
Elizabeth was certainly tenacious.
Russell's book purports that Edward VIII — David — said that Elizabeth really wanted to marry him, not Bertie, and, as a result, held a grudge against Wallis Simpson:
… the great feud of Elizabeth's life – with Wallis Simpson and her husband David, who was briefly King Edward VIII before abdicating, having given his brother Bertie, Elizabeth's husband (and henceforth King George VI), just 72 hours' notice of his intentions. Those who take Elizabeth's side say that her anger was due to the unbearable pressure this placed on the already insecure Bertie. However, according to David (later the Duke of Windsor, spewing bile from his lavish exile in France), Elizabeth's anger was entirely down to her having wanted to marry him, not Bertie.
He would have said that, wouldn't he?
In 1936, with Edward VIII's abdication, Elizabeth became Queen Consort, a title she held until George VI died. She also became the first and last Empress Consort of India, a title she held until 1947, when Partition took place.
Russell's book says that the Queen Consort — and later, the Queen Mother — the public saw was not the same person behind closed doors:
Russell's book — a "life told through 101 anecdotes", as he calls it (one for each year of his subject's life) — paints an entertaining and, one feels, mostly honest picture of a woman who divided opinion more than is often realised by those who knew her only as "the nation's granny". She was definitely a granny (and before that a wife and mother) with claws. The socialite Stephen Tennant, who knew her when she was plain Elizabeth Bowes-Lyon, wrote that "she looked everything she was not . . . Behind the veil, she schemed and vacillated, hard as nails." Even Russell, who bends over backwards to be fair, admits that she possessed "an Olympian ability to hold a grudge".
Russell writes that the Queen Mother used Queen Mary's tactics to despatch Princess Margaret's divorced lover, Peter Townsend, in the 1950s:
… she colluded in sending Group Captain Townsend to a pointless job in Brussels to get him out of Princess Margaret's life.
There might have been more tenacity on display, as the Queen Mother once said she managed to get rid of written evidence of John Brown's relationship with Queen Victoria:
the Queen Mother once told friends that she had burnt documentary evidence of Queen Victoria not only having an affair with her Scottish servant John Brown, but also secretly marrying him …
… since Russell's book derives its title and subtitle ("The Singular Wit and Double Measures of Queen Elizabeth the Queen Mother"), plus a considerable amount of its content, from the Queen Mother's legendary ability to consume industrial quantities of alcohol, you do wonder whether she really did apply the paraffin and Swan Vestas to Victoria's private papers one dark night in Balmoral. Or was it just the gin and Dubonnet talking?
We'll never know, just as we'll never know what happened to Brown's diary, which was never located after Victoria's death.
There is obviously something to this John Brown story. After Queen Elizabeth II died, I pointed out the two portraits of him at Balmoral, only one of which features one of Victoria's husband Prince Albert. Osborne House on the Isle of Wight, which was another of Victoria's residences and the one Prince Albert designed, also has a prominent portrait of Brown and Victoria, which you can see in this Telegraph article.
What other sources say
Other illuminating pieces of the puzzle of the Queen Mother's personality have come to light over the years.
Influencing King Charles III
It's hard to imagine that King Charles III's views on certain things might have come from his grandmother, but a recent documentary says she had a big part to play in his early life.
In 2021, The Express featured an article on the influence the Queen Mother exercised over King Charles III's life as discussed in a documentary, The Queen Mother, which aired that year:
The Queen Mother's influence in Prince Charles' early life "created an antipathy" with his parents, according to royal commentators. Queen Elizabeth II and Prince Philip's plans for their son were reportedly repeatedly "undermined" by the older royal. Channel 5 documentary, 'The Queen Mother', discussed how her close relationship with her grandson drove a wedge between the prince and his mother and father.
Lady Colin Campbell told viewers: "The word in the family is that she undermined the relationship between Charles and his parents in a rather destructive way.
"She would always encourage him in his hypersensitivities.
"While the Queen and Prince Philip were trying to toughen him up for what the future held.
"This created an antipathy."
Historical biographer Sarah Gristwood explained: "Maybe there was a sense that the Queen Mother wanted to pass on to the future king the vision of monarchy that she felt she and her husband had developed.
"So I guess she would have had a particular eye on the forming of the future king."
Royal experts think this would have started in his early childhood when Princess Elizabeth lived with Prince Philip in Malta, where he was stationed with the Royal Navy:
Royal commentator Wesley Kerr added: "She would spend a lot of time in his nursery when Princess Elizabeth was away, not least in Malta with her husband.
"I think that's a really powerful relationship for him through his whole life and a very powerful influence."
The Queen Mother also tried to influence where young Charles would attend school:
Prince Philip had chosen Gordonstoun, an austere boarding school in Scotland, for his son.
According to biographer Angela Levin, the Queen Mother tried to persuade her daughter and son-in-law to send Charles to Eton, but they refused.
I should have watched that documentary.
Criticism after Diana's death 'upset' the Queen Mother
In 2009, 12 years after Princess Diana's death and seven years after the Queen Mother's death, friends of the latter said that criticism of her daughter 'hugely upset' her.
Keep in mind that the Queen and Prince Philip were minding Princes William and Harry at Balmoral while their mother was on holiday in August 1997. When news broke of Diana's tragic death, the Royal couple initially decided to protect the boys by keeping them in Scotland, safe and out of the public eye.
They were right to have that instinct. Central London, where I worked, was one great cesspool of emotion, the first the nation had ever seen. It was alarming, because some of these mourners were full of rage and did not hide their feelings about the accident being 'the Royals' fault'. I kept my head down on the Tube going in and, at night, returning home to outer London. It was awful.
The Sunday Telegraph featured an article on the subject, published on September 26, 2009:
Friends of Queen Elizabeth have … revealed her shock at the public outpouring of grief over the Princess' death.
Sir Michael Oswald and his wife Lady Angela Oswald said Queen Elizabeth felt angry and defensive that her elder daughter was so widely criticised for her actions in the aftermath of the Princess's fatal car crash in Paris in the summer of 1997 …
… Lady Angela said: "The Queen was criticised for two things. One was taking the boys [Princes William and Harry] to church [on the day the Princess died]. But they wanted to go to church. If you are a Christian and your mother has been killed, it is a comfort going to church.
"The other thing was that people expected the Queen to abandon her two grandsons – whose mother had just been killed – and go to London to mourn with people who had never even met the Princess.
"If you stand back and think about it, it is an extraordinarily selfish attitude. Queen Elizabeth was hugely upset by the criticism of her daughter because she has always admired her so much. It was such a cruel criticism and it was unfair."
Sir Michael, now 75, an Old Etonian and former manager of the Royal Studs, was Queen Elizabeth's racing manager from 1970 to her death in 2002 aged 101. His wife, the daughter of the 5th Marquess of Exeter, was one of her ladies in waiting for 21 years from 1981.
… following the publication of William Shawcross's official biography of Queen Elizabeth, Sir Michael and Lady Angela spoke exclusively to The Sunday Telegraph – with the knowledge of Buckingham Palace – about their decades of royal service. Even though they both unfailing called her "ma'am" out of respect, they clearly considered Queen Elizabeth a close and loyal friend.
Sadness over Charles's divorce
The couple said that the Queen Mother was devastated to learn of Charles's and Diana's divorce.
Lady Angela said:
"The one time I remember her losing her smile for any length of time was for a fortnight in 1991, or 1992, at Birkhall [her Scottish home] after she had been informed that the marriage of the Prince and Princess of Wales was effectively over.
"Normally with the bad things in life, she managed to pass by on the other side and not notice. But she had been made aware what unhappiness there was in the marriage. She was so sad, so tense and so obviously unhappy in herself.
"There was a very close bond between Queen Elizabeth and the Prince of Wales. She was of a generation that felt that anything that went on in a marriage was private between the couple. So it is certainly fair to say that she would have been deeply shocked when private feelings and thoughts were broadcast worldwide" [a reference to Diana, Princess of Wales's Panorama interview in 1995, in which she claimed the marriage was "crowded" because of her husband's affair with the then Camilla Parker Bowles].
Drinking habits exaggerated
The Queen Mother's drinking habits were often featured in the press or joked about.
Here is a 1987 photo of her at a pub in London's East End:
One case in point was in 2019, when Nigel Farage visited Australia. The Guardian reported him as joking about it then, 17 years after her death:
The Brexit party leader was laudatory about the Queen – "an amazing, awe-inspiring woman, we're bloody lucky to have her" – but abused her son, grandson and mother.
"When it comes to her son, when it comes to Charlie Boy and climate change, oh dear, oh dear, oh dear. Her mother, Her Royal Highness the Queen's mother was a slightly overweight, chain-smoking gin drinker who lived to 101 years old. All I can say is Charlie Boy is now in his 70s … may the Queen live a very, very long time."
I don't recall that the Queen Mother smoked. Maybe she did, but, if so, she likely gave it up. After all, her husband, George VI, died of lung cancer.
The aformentioned Oswalds told The Sunday Telegraph that the Queen Mother had a daily routine but never overindulged:
Queen Elizabeth, they insist, was never a heavy drinker, usually enjoying a single gin and Dubonnet before lunch, a single Martini before dinner and wine with her meal. Far from drinking too much, they said she was constantly alert and that her memory for people and stories was incredible.
She lived to 101. That's a good enough secret of longevity for me.
As for the horses:
Although Queen Elizabeth loved horse racing, she never had a bet.
Lady Angela said that the Queen Mother the public saw was the lady she knew:
Her life was full of laughter and sparkle.
I feel so privileged to have spent so much time with her. When I was with her at a reception, I sometimes 'lost' her because of her lack of height. But I could always tell quickly where she was because of the joyful expressions of the people who were talking to her. They looked different because they were so thrilled to be speaking to her. The wave of affection was tangible – and it went both ways. People loved Queen Elizabeth and she really did love them.
Conclusion
As with anyone else, the Queen Mother was complex. She was far from a caricature, and it is rather sad that many people still think of her as such.
We would do well to remember that she and George VI never left London during the Second World War. Their daughters went only as far as Windsor Castle during those years. They remained on our shores.
The family stayed together with the British people through thick and thin.
That is how and why Queen Elizabeth II had such an abiding sense of service and duty to the United Kingdom and the Commonwealth.
The British royals were not always at the top of the league table when it came to pageantry.
In fact, in the 18th and 19th centuries, Britain was probably near the bottom.
The Guardian's 2017 article about Operation London Bridge, about which I wrote yesterday, says (emphases mine):
For a long time, the art of royal spectacle was for other, weaker peoples: Italians, Russians, and Habsburgs. British ritual occasions were a mess. At the funeral of Princess Charlotte, in 1817, the undertakers were drunk. Ten years later, St George's Chapel was so cold during the burial of the Duke of York that George Canning, the foreign secretary, contracted rheumatic fever and the bishop of London died. "We never saw so motley, so rude, so ill-managed a body of persons," reported the Times on the funeral of George IV, in 1830. Victoria's coronation a few years later was nothing to write home about. The clergy got lost in the words; the singing was awful; and the royal jewellers made the coronation ring for the wrong finger. "Some nations have a gift for ceremonial," the Marquess of Salisbury wrote in 1860. "In England the case is exactly the reverse."
Near the end of Queen Victoria's reign, courtiers and constitutionalists became concerned about the public perception of the monarchy during her latter years and death.
Something would have to be done:
Courtiers, politicians and constitutional theorists such as Walter Bagehot worried about the dismal sight of the Empress of India trooping around Windsor in her donkey cart. If the crown was going to give up its executive authority, it would have to inspire loyalty and awe by other means – and theatre was part of the answer. "The more democratic we get," wrote Bagehot in 1867, "the more we shall get to like state and show."
It was Edward VII — historians add his son George V here, too — who transformed embarrassing displays into sheer pageantry.
Victoria never trusted Edward VII to be a reliable heir. Many think she lived so long in an effort to prevent him from succeeding her. As I have mentioned before, there is a parallel between the two of them and the late Queen and Charles III.
Yet, Edward VII's ten-year reign was considered to be a good one.
He is the one who started codifying and defining what royal pageantry should be, in life and in death:
Obsessed by death, Victoria planned her own funeral with some style. But it was her son, Edward VII, who is largely responsible for reviving royal display. One courtier praised his "curious power of visualising a pageant". He turned the state opening of parliament and military drills, like the Trooping of the Colour, into full fancy-dress occasions, and at his own passing, resurrected the medieval ritual of lying in state. Hundreds of thousands of subjects filed past his coffin in Westminster Hall in 1910, granting a new sense of intimacy to the body of the sovereign.
That said, one German still did not think the Brits were up to scratch with military processions:
In 1909, Kaiser Wilhelm II boasted about the quality of German martial processions: "The English cannot come up to us in this sort of thing." Now we all know that no one else quite does it like the British.
George V, whom the then-Princess Elizabeth referred to as Grandfather England, carried on his father's vision of pageantry and brought the Royal Family closer to his subjects via the wireless:
By 1932, George V was a national father figure, giving the first royal Christmas speech to the nation – a tradition that persists today – in a radio address written for him by Rudyard Kipling.
In The Times's article, 'Modern-day royal funerals trace their traditions to Victoria', Valentine Low, the author of Courtiers, tells us about the funerals of Edward VII and George V.
Before going into her son's and grandson's deaths, he says that Victoria's funeral broke two previous conventions:
For the previous 200 years the funerals of sovereigns had been held in the evening: hers was the first to be held in the daytime. It was also the first to be filmed.
Edward VII's Highland terrier, Caesar, was the star of his funeral, much to the annoyance of those attending the service. They knew how ill-behaved the dog could be. Only the King had a fondness for him. Royal historians who spoke on GB News said that the dog was in the funeral procession in St George's Chapel, Windsor.
Low says:
Caesar immediately captured the public imagination, and became a cult figure. His "memoirs", entitled "Where's Master?" were a popular Christmas present that year.
Low also says that the King's favourite horse was in the outdoor procession in London:
At the funeral of Edward VII — who had insisted his obsequies, unlike those of his mother, were planned well in advance — his favourite charger, Kildare, walked behind the coffin in the procession from Westminster to Paddington, her master's boots reversed in the stirrups. Behind her, led by a Highlander, trotted Caesar, the late King's rough-haired terrier.
From Paddington Station, the Royal train transported the King's coffin to Windsor.
George V's death in 1936 was the first occurrence of the Vigil of the Princes at Westminster Hall. It was private:
When George V lay in state in Westminster Hall, on the evening of the fourth day King Edward VIII and his three brothers decided to pay a last tribute to their father by standing around the coffin in full-dress uniform, stationing themselves between the officers already on vigil.
He wrote later: "I doubt whether many recognised the King's four sons among the motionless uniformed figures bent over swords reversed. We stood there for 20 minutes in the dim candlelight and the great silence. I felt close to my father and all that he stood for."
On the day of his funeral, radio listeners were able to hear the funeral procession as it happened:
For all the expressions of public grief, and the growing involvement of the media — the funeral of George V was the first to have radio microphones placed along the processional route so that the world could listen to the tramp of feet and the thump of muffled drums — it should not be forgotten that royal funerals are also moments of private grief for the families themselves.
George VI never expected to become king. However, his older brother Edward VIII abdicated, and he had to step up. Continuing his father's Christmas broadcasts proved to be difficult, and he had to get the help of a speech therapist, the Australian Lionel Logue, in order to overcome his stammer. The film, The King's Speech, is a moving account of that story.
George VI and the Queen Mother never left England, even at the height of the Second World War. The princesses, Elizabeth and Margaret, lived in Windsor Castle for much of the war.
When he died in 1952, the whole country mourned:
Immense crowds lined the streets for the funeral procession of George VI, the shy, simple, devoted king who had seen the country through the Second World War. As two minutes' silence was observed around the country, miners in South Wales knelt at the coalface, heads bowed, their helmets on their knees.
Not many Britons had television sets at that time, yet his funeral was the first to be televised, setting a new marker for the visibility of the Royal Family:
Of all the modern royal funerals it was that of George VI that saw one of the most poignant moments of private royal grief. His funeral was the first to be televised, but what the cameras were unable to capture was how, too frail to attend the funeral of her son, Queen Mary watched the procession from the window of Marlborough House.
Her friend and lady-in-waiting Lady Airlie, who sat with her, wrote: "As the cortège wound slowly along the Queen whispered in a broken voice, 'Here he is,' and I knew that her dry eyes were seeing beyond the coffin a little boy in a sailor suit. She was past weeping, wrapped in the effable solitude of grief. I could not speak to comfort her. My tears choked me.
"The words I wanted to say would not come. We held each other's hand in silence."
Another relatively recent development in monarchs' deaths is the known role of their personal physicians in their final hours.
In the case of George V, his doctor's role was revealed long after his death:
Half a century after George V's death it emerged that his life had been ended prematurely by his doctor, Lord Dawson, who hastened his journey to the next world so that it could meet the deadlines of the respectable morning newspapers, in particular The Times.
"The King's life is moving peacefully towards its close," was the final notice issued by Dawson at 9.30pm on the night of January 20, 1936. Not long afterwards he injected the king with 750mg of morphine and a gram of cocaine — enough to kill him twice over — in order to ease the monarch's suffering. However he had another motive, too, as revealed in a 1986 biography by the historian Francis Watson. Dawson wrote in his notes: "The determination of the time of death of the King's body had another object in view, viz, of the importance of the death receiving its first announcement in the morning papers rather than the less appropriate field of the evening journals."
In the case of Elizabeth II, we knew that her physician was Professor Sir Huw Thomas, 64, and read of her final hours.
The Guardian's 2017 article stated:
In these last hours, the Queen's senior doctor, a gastroenterologist named Professor Huw Thomas, will be in charge. He will look after his patient, control access to her room and consider what information should be made public.
On Friday, September 9, 2022, the day after her death, The Times reported:
The doctor overseeing the Queen's medical care had been in charge of her health for the past eight years, during which time she became increasingly frail but insisted on continuing with her royal duties.
Professor Sir Huw Thomas, 64, is head of the medical household and was physician to the Queen. He was appointed a physician to the royal household in 2005 and promoted to the most senior role in July 2014.
The details about the Queen's health provided by Buckingham Palace yesterday were sparse, but the language hinted at the severity of the situation. Doctors were "concerned" and the Queen remained "under medical supervision". The latter phrase was likely to mean that her health problems were serious enough that they required active monitoring by doctors.
Thomas oversaw the Queen's care during the coronavirus pandemic and advised her to reduce her workload after she underwent preliminary tests and spent a night at King Edward VII's Hospital in west London last October.
He said during an interview about being knighted for his royal duties: "It's been a busy couple of years in this role . . . You very much become part of that organisation and become the personal doctor to the principal people in it, who are patients just like other patients."
The royal doctors at Balmoral might have needed to be involved in anything from interpreting vital signs to prescribing medication that could ensure, as the palace statement added, that the Queen "remained comfortable".
Those of us who admire the  British royals have much for which to thank Edward VII and George V. They gave us the transparency and majesty we have come to expect today.
On Monday, September 19, 2022, the United Kingdom held its first state funeral since the death of Winston Churchill in 1965.
The public viewing of the Queen's casket at Westminster Hall ended at 6:30 a.m.:
I am certain that more than 250,000 people filed past in four days in London, because in 2002, 200,000 filed past her mother's coffin in three days. I was one of them. It was an unforgettable experience.
The Sky News article had more numbers before the Queen's funeral at Westminster Abbey began:
The Mayor of London's office said an estimated 80,000 people were in Hyde Park, 75,000 in ceremonial viewing areas and 60,000 on South Carriage Drive.
Overall numbers will be much higher as crowds formed on virtually the entire route to Windsor, where Thames Valley Police said 100,000 people had turned out.
The Telegraph reported much higher numbers for Westminster Hall. These seem more realistic to me:
The four-day lying-in-state ceremony has seen more than a million mourners packing the banks of the Thames, waiting in a queue which, at its peak, took 24 hours and stretched 10 miles, beyond London Bridge to Southwark Park.
On the final day, Westminster Hall was attended by dozens of foreign leaders and royals who have arrived in London ahead of the state funeral, which starts at 11am.
They included Joe Biden, the US President, Emmanuel Macron, the French leader, Olena Zelenska, the First Lady of Ukraine, President Jair Bolsonaro of Brazil and his wife Michelle, King Felipe and Queen Letizia of Spain, and King Phillipe and Queen Mathilde of Belgium.
On Sunday morning, the Government warned people not to travel to the queue "to avoid disappointment".
Another Telegraph article had more statistics about the Elizabeth Line (emphases mine):
At an average queueing time of 12 hours – perhaps even more – they had clocked up a total of 4.8 million hours between them as they shuffled forward, uncomplainingly, in the sunshine, and in the cold, and in the dark. It means that since the late Queen's lying in state began last Wednesday, her people had spent a cumulative 550 years saying their final thank you.
And if each of them entered the winding, folding queue at its end in Southwark Park, they would have walked 4 million miles between them, the equivalent of 153,846 marathons.
The fact that all of them knew how arduous the wait would be, having been given ample warning, is an even more reliable measure of how much Queen Elizabeth meant to them.
From children in push-chairs to pensioners and even global celebrities, they patiently waited their turn to spend only a few minutes in the presence of the late Queen's coffin, almost all of them pausing to bow or curtsy, many of them turning away in tears.
As one of my readers, dearieme, pointed out, this shows the trust our Queen had in her subjects and foreign visitors:
How often in the history of civilisations would governments, here or elsewhere, have allowed – even encouraged – huge mobs of the public to congregate, and trust largely to their natural instincts to keep themselves in order?
I think the answer might be "rarely".
Douglas Murray pondered all of the above in his Telegraph article: 'Our late Queen's final act was to bring her nation and the world deeply together'.
Excerpts follow:
The passing of Elizabeth II is remarkable for many reasons. But just one of them is the way in which the Queen's final act seems to have been to bring her nation deeply together.
There is the literal way in which that has happened, with the mini-nationalists across Britain ceasing – for a moment at least – their relentless task of trying to tear our country apart. The Scottish nationalists observed the death of our monarch without a series of "buts". Even Sinn Fein paid tribute and passed condolences to the Queen's son and heir – an act that would have been unthinkable beforehand.
People have rightly remarked on the way in which hundreds of thousands of people have queued to pay their own personal respects to the late Queen. But almost as remarkable is the way in which other nations around the world, as well as their media, have mourned her death …
The Queen leaves behind a Commonwealth that has been united in mourning – hardly the expected reaction if she had been the cruel tyrant of the New York Times's imagination.
What is more, although the dissenters have received an extraordinary amount of attention, more extraordinary by far is how united the world's response has been.
France, for instance, is not a country known for its love of monarchy. But on the death of Queen Elizabeth the French political and media class were united in paying tribute to her. She was honoured on the cover of almost every French magazine and periodical, as she was across the European and world media.
This reaction is largely a tribute to a reign of unparalleled length and dignity, a life given to the service of the country and the deepening of alliances with our friends and allies. But it also serves as a reminder of the way in which Britain is regarded around the world. With the exception of a few raucously noisy malcontents, we find that most people do not regard Britain as some terrible tyrannical power, either now or in history. Most see us, rightly, as having been among the fairer, certainly more benign, world powers …
This is the Britain that is still influential both in its impact abroad and also in the lives of its citizens. I doubt that there has been a figure in history whose death has led to such a voluntary outburst of feeling. There may have been despots whose death had to be mourned by their citizens and subjects, but there can have been few, if any, who have ever produced such willing devotion.
And there is a lesson in this for our institutions, and for institutions and nations around the world: people are loyal to institutions that are loyal to them. Break any part of that pact and you break the whole; sustain it and you sustain the whole.
Queen Elizabeth II swore an oath to this country as a young woman, and it was an oath she kept until her dying day. That loyalty is what is being honoured and mirrored today: the respect of people around the world for a life of service and duty. Something to remember, certainly. But something to emulate and live up to as well.
On the subject of tributes from abroad, a Belgian created this inspired photo montage of the Queen:
The next two short videos are well worth watching. The first is about Elizabeth II's 'Queenhood', probably written by the poet laureate with footage from her coronation. The second is a film montage of her entire life from beginning to end:
Operation London Bridge — the Queen's funeral plan — was now in its final phase in the capital and at Windsor Castle.
A military procession arrived at Westminster Hall to take the Queen for her final time to Westminster Abbey.
A new bouquet of pink and purple flowers with foliage and herbs — rosemary for remembrance and myrtle from the plant which supplied the sprigs for her wedding — replaced the white wreath for her lying in state:
Eight pallbearers from the military carefully placed her coffin onto a gun carriage. Naval ratings holding onto ropes in front and in back guided the gun carriage on its way.
This tradition began with Queen Victoria's funeral, which took place in January 1901. Horses were supposed to transport the gun carriage, but part of it snapped off in the cold, thereby making it impossible. Prince Louis Battenberg, who was Prince Philip's grandfather, came up with the solution, which, he said, had operated satisfactorily during the Boer War:
If it is impossible to mend the traces you can always get the naval guard of honour to drag the gun carriage.
The tradition continued throughout the 20th century:
The gun carriage is part of the materiel of the King's Troop, commanded for the first time by a woman, Captain Amy Hooper. She told The Telegraph that she was in Canada when the Queen's death was announced:
"BRIDGE, BRIDGE, BRIDGE," the text stated. "Operation LONDON BRIDGE has been activated. Initiate telephone cascade. All personnel are to return to camp" …
She was in Calgary when the news broke, along with soldiers exercising alongside Canadian mounted units. The British party was flying back to the UK within five hours …
Soldiers as far away as Turkey and America had to cancel their family holidays and return to the UK …
On Monday, she will be leading the gun team in Hyde Park for the Queen's funeral.
King's Troop, a unit of about 160 soldiers with an equal split of men and women, has one of the most important ceremonial roles in the British armed forces.
Their six 13-pounder quick-fire guns, built between 1913 and 1918, all of which have seen active service in the First and Second World Wars, are used regularly for royal salutes in Hyde Park, Green Park or Windsor Great Park for State Occasions and to mark royal anniversaries and royal birthdays …
The gun carriage is known as the George Gun Carriage, and carried King George VI's coffin from Sandringham Church to Wolferton Station in February 1952. It was also used in the funeral of the Queen Mother in 2002.
Queen Elizabeth's funeral had more troops and regiments than had ever been gathered at one time.
These included troops from around the Commonwealth, particularly Canada and Australia:
The soldiers walked at a 75 beat per minute pace, which is slow and difficult to sustain.
The Times reported on the use of a metronome, mimicked on the day by drum beats to ensure proper timing:
Military chiefs have been told to "up their game" for the Queen's funeral today and listen to a metronome at 75 beats per minute to ensure the right pace during the procession.
Admiral Sir Tony Radakin, the chief of the defence staff, admitted to nerves but said an enormous amount of planning for the event had gone on for "a very long time". He said more than 10,000 soldiers, sailors and airmen and women would perform their "last duty" to the Queen during the day's events.
Queen Elizabeth wished to have her funeral at Westminster Abbey because she had been married and crowned there.
The last monarch to have a funeral at the Abbey was George II on November 13, 1760. The other monarchs had theirs at St George's Chapel at Windsor Castle.
The Queen's children along with Princes William and Harry walked in the procession to the Abbey.
Meanwhile, heads of state and dignitaries took their places inside. Charity workers also were seated.
The Queen Consort and the Princess of Wales arrived with Prince George, 9, and Princess Charlotte, 7:
The procession arrived at the Abbey and the pallbearers carefully carried the Queen's coffin inside:
You can find the Order of Service here:
The Times has an excellent article on the service.
You can see the procession from Westminster Hall and the full funeral service. As with the other Royal Family YouTube links I have posted, if you get a message saying it cannot be viewed, click on 'Watch on YouTube' or this tweet:
The Queen chose the music, which held particular significance to her and to the Abbey:
Pardon the irreverence, but this is an aerial view of the seating plan in the transept. Look how far back Joe Biden was. Apparently, his Beasts and motorcade got caught up in traffic, although he arrived before the service began. By contrast, the dignitaries who took the white coaches in the 'podding' system got there on time. Even if he hadn't been late, he would still have been seated in the same place.
The altar is to the left and, out of shot, to the right are more seats for guests: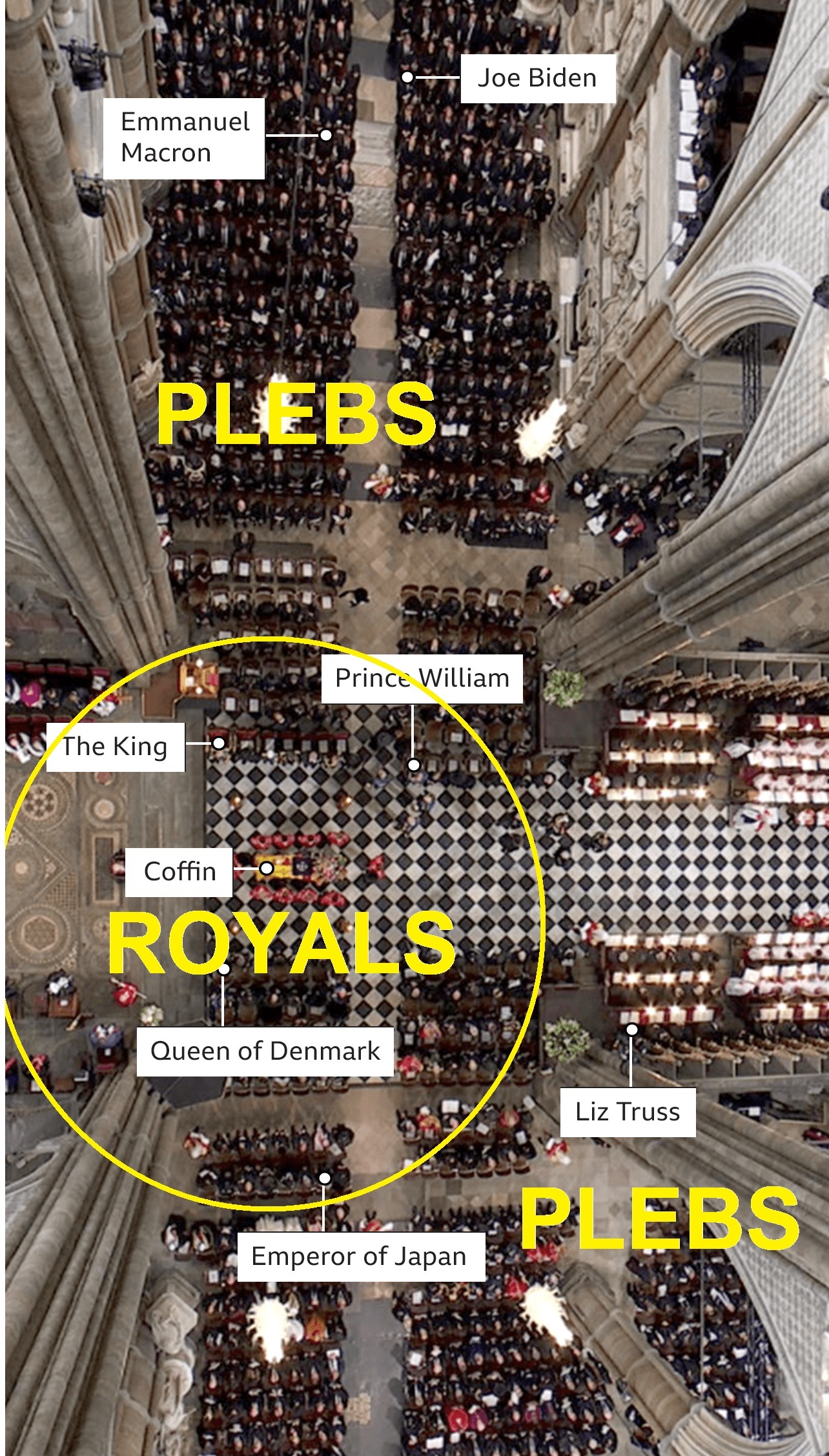 Likely sitting out of shot was, ironically, The Guardian's editor, Kath Viner:
Guido Fawkes has a quote from one of her recent editorials. I cannot bear to cite it in full, so here are the first and last sentences:
Royal rituals are contrived affairs meant to generate popular attachment to a privileged institution and to serve as reminders of a glorious past … How much Britain will be changed once this moment floats past the country is as yet unknown.
Guido commented (emphasis his):
Of course that didn't stop the Guardian's editor Kath Viner accepting a ticket to the funeral from the "privileged institution" herself. Maybe she's sentimental…
Another hypocrite turned up, Scotland's First Minister Nicola Sturgeon, she of the second independence referendum.
The Times has a photo of her and her husband, Peter Murrell, along with a few quotes:
Nicola Sturgeon has said it was an "honour to represent Scotland" as leaders from across the world joined the royal family and other mourners at the state funeral.
The first minister was among some 2,000 mourners at Westminster Abbey along with leaders of the other main Scottish political parties. She spoke of a "final and poignant goodbye to a deeply respected and much-loved monarch".
As I listened to the liturgy, I could not help but think that this is the last time we will hear language from the King James Version of the Bible and the 1662 Book of Common Prayer at a service for the Royals. How I will miss it. I hope I am wrong.
There was one prayer from an even earlier version of the Book of Common Prayer, Archbishop Cranmer's, from 1549. This was put to music. The choir did it full justice:
THOU knowest, Lord, the secrets of our hearts; shut not thy merciful ears unto our prayer; but spare us, Lord most holy, O God most mighty, O holy and most merciful Saviour, thou most worthy Judge eternal, suffer us not, at our last hour, for any pains of death, to fall from thee. Amen.
This was the Bidding Prayer:
O MERCIFUL God, the Father of our Lord Jesus Christ, who is the resurrection and the life; in whom whosoever believeth shall live, though he die; and whosoever liveth, and believeth in him, shall not die eternally; who hast taught us, by his holy Apostle Saint Paul, not to be sorry, as men without hope, for them that sleep in him: We meekly beseech thee, O Father, to raise us from the death of sin unto the life of righteousness; that, when we shall depart this life, we may rest in him, as our hope is this our sister doth; and that, at the general Resurrection in the last day, we may be found acceptable in thy sight; and receive that blessing, which thy well–beloved Son shall then pronounce to all that love and fear thee, saying, Come, ye blessed children of my Father, receive the kingdom prepared for you from the beginning of the world. Grant this, we beseech thee, O merciful Father, through Jesus Christ, our mediator and redeemer. Amen.

The entire liturgy was a lesson about faith and salvation. Even an unbeliver could not miss it.
I pray that it works on the hearts and minds of those in attendance who are indifferent.
The Queen always liked Psalm 42 for its reference to the hart, which reminded her of Scotland:
LIKE as the hart desireth the water–brooks : so longeth my soul after thee, O God.
My soul is athirst for God, yea, even for the living God : when shall I come to
appear before the presence of God?
My tears have been my meat day and night : while they daily say unto me, Where is
now thy God?
Now when I think thereupon, I pour out my heart by myself : for I went with the
multitude, and brought them forth into the house of God;
In the voice of praise and thanksgiving : among such as keep holy–day.
Why art thou so full of heaviness, O my soul : and why art thou so disquieted within
me?
Put thy trust in God : for I will yet give him thanks for the help of his countenance.
Prime Minister Liz Truss read the second Lesson, John 14:1-9a:
LET not your heart be troubled: ye believe in God, believe also in me. In my Father's house are many mansions: if it were not so, I would have told you. I go to prepare a place for you. And if I go and prepare a place for you, I will come again, and receive you unto myself; that where I am, there ye may be also. And whither I go ye know, and the way ye know. Thomas saith unto him, Lord, we know not whither thou goest; and how can we know the way? Jesus saith unto him, I am the way, the truth, and the life: no man cometh unto the Father, but by me. If ye had known me, ye should have known my Father also: and from henceforth ye know him, and have seen him. Philip saith unto him, Lord, shew us the Father, and it sufficeth us. Jesus saith unto him, Have I been so long time with you, and yet hast thou not known me, Philip? He that hath seen me hath seen the Father.

After Psalm 23 was sung, the Archbishop of Canterbury's sermon followed:
Near the end, clergy from the main Christian denominations recited their own prayers in thanksgiving for the Queen's long reign of service.
The Abbey's Precentor then recited a prayer from John Donne (1573-1631):
BRING us, O Lord God, at our last awakening into the house and gate of heaven, to enter into that gate and dwell in that house, where there shall be no darkness nor dazzling, but one equal light; no noise nor silence, but one equal music; no fears nor hopes, but one equal possession; no ends nor beginnings, but one equal eternity; in the habitation of thy glory and dominion, world without end. Amen.
After the blessing, the State Trumpeters of the Household Cavalry sounded The Last Post:
The congregation sang two verses of the National Anthem.
The funeral service closed with a poignant military lament, Sleep, dearie, sleep, performed by the Queen's Piper, Warrant Officer Class 1 (Pipe Major) Paul Burns. He stood on a balcony overlooking the congregation. Words cannot describe it.
This video has brief highlights from the funeral:
After the funeral ended, the Queen's coffin resumed its place on the gun carriage for a procession past Whitehall, down The Mall, then past Buckingham Palace, finishing at Wellington Arch on Constitution Hill.
A gun salute also took place:
The Royals walked with the military, as before. This was a long walk.
Every person in this procession has seen active military service. I put that in bold, because some living overseas think that these are 'toy soldiers', as it were. They are anything but.
Here they are in front of Buckingham Palace. Note that the Queen's household are standing in front of the gates in their normal working clothes to pay their respects:
The horses leading the procession were gifts to the Queen from the Royal Canadian Mounted Police (RCMP), or the Mounties. The Queen was their honorary commissioner.
George, Elizabeth, Darby and Sir John are the latest in a long line of horses given by Canada to the Queen and ridden by senior royals, including King Charles and the Princess Royal, during the annual ceremony of Trooping the Colour …
In 1969, the RCMP presented her with Burmese, a seven-year-old black mare who went on to become the Queen's favourite horse.
She rode her at Trooping the Colour for 18 years, including in 1981 when Marcus Sarjeant, then 17, shot six blank rounds at the Queen as she was travelling down The Mall to the parade that marks her official birthday.
Although Burmese was briefly startled, the horse won praise for remaining calm due to her RCMP training, in which she had been exposed to gunfire.
Burmese, who died in 1990, was the first of eight horses given to the Queen by the Mounties. George was given to her in 2009. Now 22, he has been ridden each year at Trooping the Colour by Charles.
Elizabeth, now 17, named in honour of the Queen Mother, was a gift to mark the Queen's Diamond Jubilee in 2012 …
Sir John, 14, was a 90th birthday present for the Queen and is ridden at Trooping the Colour by Princess Anne, a former Olympic equestrian.
Darby, a 16-year-old Hanoverian gelding, was one of two horses received by the late monarch in 2019.
[Sergeant Major Scott] Williamson is one of four RCMP officers who will ride at the front of tomorrow's funeral procession after the Westminster Abbey service.
It will travel up Whitehall and along The Mall, passing Buckingham Palace before ending at Wellington Arch. Here, the Queen's coffin will be transferred from the state gun carriage to a hearse for her final journey to Windsor.
I will cover the committal service at Windsor in tomorrow's post.
In the United Kingdom, we had 12 days of wall-to-wall television coverage of the late Queen Elizabeth II and her family, which ended on Monday, September 19, 2022.
The commercial channels broadcast as usual but during the day BBC1, BBC2 and, throughout, the news channels covered her life and what the Royal Family were doing at this time.
GB News dropped all their advertising, substituting a memorial ident instead and, at other times, playing an instrumental version of the National Anthem accompanied by a photo montage of the Queen.
At first, it seemed unimaginable. Yes, our usual programmes were rescheduled for different days at different times, so we adjusted our video recorders to automatically catch up according to that day's television guide.
Yet, the reality of it was that, by the day of the funeral, I'd become quite used to the coverage. GB News had part of their broadcasts showing the live queue — the Elizabeth Line — in Westminster Hall for viewers to watch while listening to interviews in the studio. The Elizabeth Line was never boring. There was always something to see.
By mandating 12 days of mourning, it seems the Queen wanted us to learn something about our constitutional monarchy as a national institution. It seems she wanted us to reset the way we think about it and how we pass that knowledge and history on to the next generation.
This post covers the two days before the Queen's funeral on Monday, September 19, 2022, and looks at what Britons discovered throughout the days of mourning thus far.
What next for the monarchy?
If there were any lessons to be learned in the immediate aftermath of the Queen's death, it was that the monarchy goes on.
Charles became King immediately and had his Accession Ceremony two days later. There were no obstacles. The crown passed to him automatically.
A relieved nation cried, 'God save the King' and 'Hip, hip, hooray'.
On September 14, YouGov took a poll asking if the mourning period would change the way we perceive this ancient institution. Forty-four per cent said they thought it would change the UK in the long term for the better:
Bob Moran, The Telegraph's former cartoonist, was still upset that the Queen did not step in during the pandemic to call the Government to account over the sometimes fatal procedures at care homes, which are allegedy continuing in some of them:
Yet, most people interviewed on television and the clergy giving sermons at the church services remember with gratitude the Queen's message on the night then-Prime Minister Boris Johnson went to St Thomas Hospital in London with coronavirus. Neither the Queen nor we knew it at the time her message was broadcast, but who can forget her closing words about lockdown, borrowed from the wartime Dame Vera Lynn song:
We'll meet again.
The Queen was adamantly pro-vaccine and in 2021 said that people who didn't get it should think of others instead of themselves. I have seen on Mark Steyn's GB News show several people whose loved ones got the vaccine because of her words and later died of complications. The Government is giving each of those families £120,000 in compensation.
However, quibbles with the monarchy go much deeper than the pandemic. On September 15, The Telegraph addressed the issue of how monarchs attempted to stave off republicanism throughout the ages.
The 1990s were the worst years that the Queen saw during her reign. Princes Andrew and Charles divorced, Windsor Castle caught on fire and Princess Diana was killed in a car accident in Paris.
Regardless, the Royal Family regrouped and returned to normality (emphases mine):
"Diana died at the end of August 1997 and by the time of the Queen's golden wedding anniversary that November she was pretty much re-established," says royal biographer Hugo Vickers. Fast forward 15 years, to the Diamond Jubilee, and the Royal family were popular as never before, enjoying a near 50-point lead in polls over anti-monarchists.
Though so much about the British monarchy can appear unchanging, it was a hard-won transformation, relying on careful reflection and updating after the calamities of the 1990s. In making such adjustments, the royal house showed it could learn not just from its own experience, but from the experience of centuries of fluctuating royal fortunes.
In order to keep republicanism at bay, it is essential for the Royal Family to remain visible:
"In this country," says historian Andrew Roberts, author among others of a book on George III, "there are five areas that give Republicanism a chance to move from being a minority fetish into a mainstream threat." The first four are disastrous relationships, religious meddling, political interference and money. But it is perhaps the last and simplest that is the most important: steadfast presence.
"Sheer visibility is tremendously important," says Roberts. That enduring presence accounts for the astonishing popularity of Queen Elizabeth, he thinks, building on the legacy of her mother and father, who made such efforts to be visible to Britons even in the darkest days of the war. And absence has led perhaps to the darkest days of the monarchy, in the years following the death of Prince Albert, when Queen Victoria in her grief almost completely vanished from the public stage.
Centuries ago, money became a huge issue that still waxes and wanes today:
The Peasants' Revolt of 1381 is just the most notable example of a massed uprising at taxes levied by the king (in that case to support the Hundred Years' War). But grumbling about paying for the royal house's upkeep never went away. A key part of the rejuvenation of the House of Windsor's popularity in the 1990s came after the Queen agreed to pay tax. "At one stroke it took away one of the main planks of republicanism," says Roberts. Even today, some anti-monarchists are moaning about the cost of the Queen's funeral, or the income the new Prince of Wales receives from the Duchy of Cornwall, but it has become far easier to defend the Crown on cash-terms. "It's not the most gracious argument in favour of the monarchy," says Roberts, "but the pocketbook is an important one."
We all know what role religion played in British history as driven by Henry VII, Charles I and James II, so there is no need to elaborate further.
Another issue is — or was — the conflict between Parliament and the monarch. In 1649, Charles I made a fatal mistake:
He, though, committed the sin which would become unforgivable for his successors in the centuries to follow: disdaining parliament.
He was tried in Westminster Hall and executed on January 30, 1649, during the English Civil War:
Alienating, then suspending parliament was, of course, not the Stuart king's only problem. But interfering with the nation's political system was becoming an increasingly dangerous game to play. By the time James hot-footed it out of the country to be replaced by William of Orange, the era of kings by "divine right" had given way to kings approved by parliament. The constitutional monarchy had arrived.
Not that all monarchs understood. George III and prime minister Lord Bute impinged upon the supremacy of parliamentary power in the 1760s, drawing fierce criticism. "George became so unpopular in the 1760s that people pelted his carriage with dirt," says Roberts.
George III learned how to recover the situation:
… he learned his lesson and, by the time of his descent into – and recovery from – madness, he had come to be loved for his personal qualities: fidelity to his wife, frugality and piety.
Fast-forwarding to the 20th century, Prime Minister Stanley Baldwin insisted that Edward VIII abdicate. He got his way:
When it came to Wallis Simpson … Edward stayed by his woman and, on Stanley Baldwin's insistence, lost the throne.
Fortunately, George VI and the Queen Mother resolved the constitutional crisis:
George VI and his own queen Elizabeth (the late Queen Mother) were the ideal pair to succeed, setting the formula – visible, dutiful, steadfast – which so characterised their daughter's long reign.
So far, Charles III has been doing the right things, says historian Hugo Vickers:
"of course King Charles will have to be very aware. But his first speech as King dealt immediately with many of them – his new role, what he can and can't do [politically], about the Church of England, because there was talk about him wanting to be a defender of all faiths. It puts things to rest very quickly. It was very effective." The result was an immediate bounce in popular support, with the number of those who think he will make a good king near doubling to 63 per cent.
While republicanism will never die, it is hoped that people will value the monarchy over an elected president:
… from today's vantage point it seems unlikely that could be so serious as to prompt Britons to dispose of the monarchy altogether. Because ultimately, says Roberts, what makes us love it is not the individual, but the institution. "Even when individuals are unpopular, Britons recognise constitutional monarchy is a good idea, being a power above politics and therefore above politicians. And the British people like the idea of politicians not being at the top of the heap."
Well said.
Funeral attire
To find out more about the traditions of the Royal Family's funeral attire, I happened across a Telegraph article written in April 2021, after the Queen's husband, the Duke of Edinburgh, died.
The Royal Family did not always wear black.
In fact, throughout the Middle Ages until 1560, at least, there was a convention of wearing white (emphases mine):
"white mourning" or deuil blanc … deployed by medieval royals and seen in portraits of Mary, Queen of Scots after she lost her father-in-law, mother and husband within months of each other in 1560 …
The modern convention of wearing black began three centuries later, with Queen Victoria upon the death of her husband Prince Albert. However, even she had gold thread spun into her dresses, as one can see in the photograph in the article:
"Mourning dress has been part of European royal culture for centuries, but it reached its peak in the 19th century with the influence of Queen Victoria, who set a standard for the rest of society to follow," says Matthew Storey, curator at Historic Royal Palaces, which holds the Royal Ceremonial Dress collection. "When her beloved husband died in 1861 she abandoned the colourful clothes of her married life and, with the rest of the royal court, adopted black clothing as an outward sign of grief. Her subjects duly followed suit, causing a rush on suppliers of mourning fabric up and down the country."
That was a time when death was something of a societal obsession and there were strict rules around the wearing of "widows' weeds". "Widows were required to wear black, then either white or mauve, for at least three years before being able to return to richly coloured clothing. Victoria chose never to leave mourning and wore her now iconic black dresses and white widow's caps for the rest of her life," Storey continues. There was no concession even at moments of celebration: "She even insisted that her daughter, Princess Alice, had an all black trousseau when she married in 1862."
The mood oscillated from the dour to the unexpectedly glamorous; Victoria often wore her bridal veil with her black dresses and took to wearing a necklace containing a lock of Albert's hair, but she also popularised striking jet jewellery. "Her clothing was anything but dowdy," Storey confirms. "Every example in the collection is exquisitely made and highly embellished, as befitted her status. Victoria may have been a widow, but she was always a queen."

Queen Victoria died in January 1901. Her son, Edward VII, reigned until his death in 1910. His wife, Queen Alexandra, began wearing purple, although black was still the favoured colour:
After Victoria's death, mourning dress became even more opulent. An exhibition at the Metropolitan Museum of Art in New York in 2014, Death Becomes Her: A Century of Mourning Attire, included two exquisitely beautiful embellished purple gowns worn by Queen Alexandra, wife of Edward VII, in the year after her mother-in-law's demise. You'd really only know they denoted mourning if you were familiar with the strict dress codes of grief. And when Edward died, weeks before Royal Ascot in 1910, there was no question of cancelling, but attendees wore magnificent black outfits instead. That year's event is now remembered as Black Ascot.
In 1938, when the Queen Mother's mother, the Countess of Strathmore died, the Queen Mother was weeks away from joining George VI on a state visit to France. At that time, war was looming and Britain was still getting over the abdication of the King's brother, Edward VIII. Under the circumstances, black seemed too gloomy. Something had to be done, so the Queen Mother enlisted the help of her couturier, the incomparable Norman Hartnell:
A black wardrobe simply wouldn't do, as it was imperative to come bearing optimism.
Hartnell was the one who researched earlier monarchs and found the aforementioned portraits of Mary, Queen of Scots:
Within weeks he had scrapped the original colourful outfits intended for the tour and crafted an entirely white set of looks in their place.
"The Queen has taken with her on her state visit to Paris a superb white wardrobe consisting of 12 gowns, seven coats… one cape, eight hats – and a lace parasol," the Telegraph's report from July 20 1938 read. "Created by leading London designer Norman Hartnell, it symbolises the links between the two countries."
The report went on to explain that Hartnell had referenced the French Pompadour look and pannier, as well as English garden florals and Victorian silhouettes. Hartnell had the idea to revive the crinoline after being shown Winterhalter's portraits of Queen Victoria and her family by the new king.
The Queen Mother became a fashion sensation:
Though the reason for the Queen's all-white dressing was sombre, the reception to the wispy, lacy creations was rapturous. "No wardrobe of modern times has created greater interest than the state wardrobe chosen by the Queen for the visit to Paris," another glowing Telegraph review reported, going on to publish sketches of the gowns in glorious detail. The autumn fashion collections shown later that year were heavily influenced by the Queen's "white wardrobe" and her style more generally – Schiaparelli and Molyneux both included tartan as a nod to her Scottish heritage.
The Queen loved her white collection and the style muse status it had bestowed upon her so much that the following year she commissioned Cecil Beaton to photograph her at Buckingham Palace wearing the designs, resulting in a romantically optimistic set of portraits that do little to suggest that the clothes they capture are a symbol of mourning, nor that the Second World War is months away. The floaty, delicate look of Hartnell's designs influenced the Queen Mother's style for the rest of her life.
The Queen Mother's husband, George VI, died in 1952. Although he had a chronic illness, no one expected him to die while Queen Elizabeth II and Prince Philip were on holiday in Kenya. The Queen had no black dress to wear once she got off the plane in London.
Reports differ as to how a black outfit reached her. One Royal historian told GB News that an attendant was on hand when the plane reached Rome for refuelling. The Telegraph has a different account, intimating that she received mourning attire in London:
… when the plane landed, a black dress had to be taken on board for her to change into, an incident that means that no royal reportedly now travels without a black outfit in their luggage, just in case. On alighting the plane, the 25-year-old queen looked elegant yet solemn in her dark coat, brooch and neat hat.
On the day of the funeral, the Queen Mother, the Queen and Princess Margaret wore long silk veils. The Telegraph has a photo of them:
At her father's funeral, eight days later, the new queen, her mother, grandmother Queen Mary and sister Princess Margaret cast ethereal figures in their long black veils, said to be around 18 inches over the face and one and a half yards down the back. "There is no court regulation with regards to them," the Telegraph had written in 1936, "but the practice of wearing them has always been observed at the funeral of a Sovereign."
By the time the former Edward VIII, the Duke of Windsor, died in 1972, only Princess Margaret and the Duchess of Windsor wore a veil. The Queen and her mother opted for the turban, the stylish hat of the day for women:
It was notable, then, that at the funeral of the Duke of Windsor in 1972, the Royal family refrained from wearing veils. The abdicated king's wife, Wallis Simpson, however, sported a couture coat and chiffon veil that Hubert de Givenchy had reportedly stayed up all night to make for her … By contrast, the Queen wore a black version of the turban style hats she loved at the time, adding Queen Mary's Dorset Bow brooch.
When it came time for Prince Philip's funeral, the Royal Family wore black, but the Queen quickly reverted to wearing her usual clothes afterwards.
Who waited to pay respects to the Queen
For many gathering to pay their respects to the Queen, a family death brought back a deep seam of emotion.
Although The Telegraph's Lauren Libbert watched proceedings from the comfort of her home, what she experienced seemed to ring true for a goodly number of those camping outside in the cold:
For me, at 44 and then again at 49, I watched my parents being taken from their home in a coffin and transported to their final resting place at the nearby cemetery. Watching Queen Elizabeth's coffin make its journey from Balmoral to Edinburgh transported me right back to that heart-wrenching, inexplicable gut-punch of a feeling, remembering how it felt to know my beloved parent was inside and I'd never enfold them in my arms again.
It's a sadness that has not gone unnoticed at home. "But you didn't even know the Queen," said my teenage son, noting my smudged eyeliner and tears when watching the news earlier this week.
"I know," I replied. "But I really miss my mum and dad."
He held me, but he was a bit baffled at the connection. Admittedly, so am I.
Other people, whether in the Elizabeth Line, Parliament Square or near Buckingham Palace, were hardcore attendees of other Royal occasions, as The Times reported. Keep in mind that the nightly temperatures turned distinctly autumnal, in the 50s Fahrenheit:
Mary-Jane Willows loves the sound of metal barriers clattering onto the streets of Westminster. "It means everything is getting organised," she says.
It is 10pm on Thursday and Willows, 68, is settling down for a night's sleep in a camping chair just off Parliament Square. She and her crew of royal superfans are zipped into military bivvy bags and wrapped in foil blankets — at that point of the week they were not allowed to use tents or sleeping bags for security reasons.
It is a hardcore existence, but they will endure. Because on Monday, for the Queen's funeral, they will be in the "best spot in the world".
Just half a mile away there is another camp, also in the best spot in the world. They arrived "on site", on the Mall and overlooking Buckingham Palace, the previous Thursday. And they came with "equipment": bin liners and trolleys jammed with Union Jack flags, hand warmers, underwear, first-aid kits, torches, baby wipes, wine gums and corned beef sandwiches. They have been there since.
These two groups are the most dedicated royal watchers on the planet, bound by births, weddings, jubilees and deaths, and held together by WhatsApp groups and meme-sharing. They are always the first ones to arrive, pitching up on virgin pavement, knackered, cold and in it for the long haul.
John Loughrey, 67, and his friends on the Mall, Sky London, 62, and Maria Scott, 51, have done weddings together (Cambridge, Sussex, York, York), births (George, Charlotte, Louis), jubilees (Diamond, Platinum) and deaths (Diana, Princess of Wales; the Queen).
"If you want to be part of the gang you've got to be with the gang," says London. "It's the camaraderie. It's seeing history and being part of it."
However, whether remembering family losses or cadging the best seat in the house, as it were, how do these people view Britain?
Rob Johns, a politics professor at the University of Essex, claims to have the answer.
I'm not so sure.
He interviewed 400 mourners by the time The Guardian interviewed him on Saturday, September 17. Johns said:
… it is less a case of royalists simply wanting to mourn the Queen in person, and more "a collective gathering that is as much about the queue as it is about reaching the end of all the queueing".
This is the part about which I have doubts:
Who would be willing to wait outdoors for as long as 24 hours , braving the elements along the Thames, for a few seconds alongside the Queen's coffin – and why?
Now, as the Queen's lying in state in Westminster approaches its final hours before Monday's state funeral, researchers believe they have found the answer. A narrow majority vote Conservative, almost two-thirds backed remain and most of them are enjoying a feeling of "subdued positivity" as they wait in line for hours.
Really? I don't know how one could wait outdoors in the cold for a day and support EU supremacy over our monarchy.
With history and contemporary background covered, let us move on to what happened last weekend.
September 17
On Saturday, September 17, the King was back at work.
He had successfully completed his visits to the component nations of the United Kingdom during the mourning period under a plan called Operation Spring Tide. It derives its name from a particularly high tide in springtime known as king tide.
ITV reports that there were sub-operations to Spring Tide:
Scotland (Operation Kingfisher), Wales (Operation Dragon) and Northern Ireland (Operation Shamrock).
In London, Operation London Bridge continued apace.
The Queen's state funeral is the first such event to be held since Winston Churchill's in 1965.
However, unlike Churchill's funeral, the Queen's was mammoth by comparison. Police forces from around the UK travelled to London to participate in maintaining order. Only two were exempt.
The numbers of military engaged were also unprecedented.
Operation London Bridge required meticulous logistical planning to make sure everyone in the capital, including visiting heads of state and other dignitaries, were kept safe.
In the morning, the King visited members of the police and military working all hours to make this a success:
He went on a walkabout at the Elizabeth Line to express his appreciation of people's willingness to pay tribute to his late mother. William Prince of Wales and Sophie Countess of Wessex met mourners in other parts of the queue:
Then it was time for the King to return to Buckingham Palace for more meetings and a reception:
Early that evening, the Queen's grandchildren — The Prince of Wales, The Duke of Sussex, Princess Beatrice (Andrew), Princess Eugenie (Andrew), Lady Louise (Edward), Viscount Severn (Edward), Zara Tindall (Anne) and Peter Phillips (Anne) — held a Vigil of the Princes in Westminster Hall. I have added the relevant Royal parent's name in parentheses for clarity.
The aforementioned ITV article says that the events taking place at Westminster Hall were run under Operations Marquee and Feather:
This covers the four days of the Queen's lying-in-state, focusing on the arrangements inside Westminster Hall.
It's expected to begin on Wednesday, September 14, ending on Sunday before her funeral the next day.
Senior royals are also expected to pay their respects once more here, standing guard in a tradition known as the Vigil of the Princes.
It is linked to Operation Feather, the arrangements for the public who are expected to queue in their thousands for an opportunity to see the monarch's coffin as they did 20 years ago for her mother.
Here is the beginning of the grandchildren's Vigil of the Princes. Members of the Royal Family watched from a viewing point on one side of the hall. Once again, the public could file past:
This video from the Royal Family's YouTube channel has the full vigil, which was very moving indeed. Viscount Severn, who is only 14, was so composed for someone so young. As with other videos from this channel, click 'Watch on YouTube' and it should play, at least for the near future. If not, try the link in their tweet:
Here are some close-ups:
This video is of the young Royals filing out afterwards:
The days of mourning at Westminster Hall nearly passed without incident. On Friday, a man suddenly appeared in the queue outside and exposed himself to two women from behind. He jumped into the Thames but quickly got out. Police were on hand to arrest him. The Guardian reported:
… a man appeared at Westminster magistrates court following allegations that two women were sexually assaulted while they were waiting in the queue to see the Queen lying in state.
On Friday evening, a man inside Westminster Hall was arrested after lunging towards the Queen's coffin. The Telegraph reported:
The individual was reportedly taken to the floor by Metropolitan Police officers and arrested.
The Met told ITV: "At 22:00hrs on Friday 16 September officers from the Met's Parliamentary and Diplomatic Protection Command detained a man in Westminster Hall following a disturbance. He was arrested for an offence under the Public Order Act and is currently in custody".
Viewers of the BBC's live stream reported that the feed went down for 10 minutes.
The aforementioned Guardian article says:
Broadcasters showing the procession of mourners cut away from the scene and instead showed the view from outside parliament.
There are always simple ways to set things right. In this case, broadcasters were prepared with a still of the Palace of Westminster.
The Sun's political editor Harry Cole looked at the bigger picture of the mourners and tweeted a poke at the anti-monarchist metropolitan elite:
September 18
Sunday, September 18, put the logistics of Operation London Bridge to the test as 500 heads of state and other dignitaries arrived in London for the Queen's funeral.
As it would have been impossible for all of them to have been driven in separate cars to Buckingham Palace that day and to Westminster Abbey on Monday, the plan was to 'pod' the leaders into private coaches, painted in plain white.
Scheduled pickups of the great and the good at designated points in central London helped the plan run smoothly and safely.
Only Joe Biden was exempt. The Beasts — one operational and one decoy — were here along with his usual security motorcade.
France's Emmanuel Macron arrived with his wife Brigitte early enough to do an incognito walkabout during the afternoon:
Meanwhile, somehow with the permission of Speaker of the House of Commons Sir Lindsay Hoyle, the Chinese were allowed into Westminster Hall. Hoyle had pledged to MPs that they would not be allowed anywhere on the parliamentary estate:
Conservative MPs were less than impressed:
That evening, after a brief shower, a beautiful rainbow appeared, just as a double rainbow did when the flags were lowered to half mast over Buckingham Palace and Windsor Castle on the day of the Queen's death. This must mean something, surely:
The King and Queen Consort held a formal reception for the dignitaries at Buckingham Palace that evening.
Meanwhile, soldiers participating in the funeral were busy polishing medals and sewing on badges:
A few newspapers printed the last photographic portrait of the Queen for Monday's editions. Ranald Mackechnie took the photo in May, a few weeks before her Platinum Jubilee celebrations:
The Telegraph had an article about the portrait. As ever, the Queen's choice of jewelry told the story:
The Queen, who is dressed in a dusky dove blue dress with her hair neatly curled, is wearing her favourite three-strand pearl necklace, pearl earrings and her aquamarine and diamond clip brooches which were an 18th birthday present from her father George VI in 1944.
The two art deco-style pieces, worn one below the other, were made by Boucheron from baguette, oval and round diamonds and aquamarines.
The Queen wore the brooches when she addressed the nation on the 75th anniversary of VE Day in 2020 and for her Diamond Jubilee televised speech in 2012.
The image was taken by photographer Ranald Mackechnie, who also took the Jubilee portrait of the Queen released to mark the start of national festivities of her milestone 70-year reign.
I cannot help but agree with The Star's 'Kingdom United'. Thank you, your Majesty, for these 12 days of mourning:
The Independent was less sure about 'Kingdom United!' They wrote of a 'turning point':
The Guardian showed us a window of a house in Windsor and how the world was descending there and in London:
The i paper also focused on a world farewell:
The Financial Times took a final look at Westminster Hall:
In closing, The Metro published my favourite portrait of the Queen after she was inducted into the Order of the Garter. Pietro Annigoni (1910-1988) painted the portrait in 1955:
It is simply timeless, as is its subject.
I hope to cover the funeral and committal services in their entirety tomorrow.
Yesterday's post introduced the significance of Scotland to Queen Elizabeth II.
In it, I mentioned that, after the 1707 Acts of Union, the history of Scotland began to be romanticised through the efforts of Queen Victoria, Prince Albert as well as Walter Scott's novels.
Romantic history
A royal historian told GB News that Prince Albert was quite taken by the countryside in Aberdeenshire, which reminded him of his native Rhineland.
He and Victoria had an amazing love life, according to a television documentary I saw many years ago. In the early days, at least, he used to dress and undress her. Her silk stockings were a favourite part of the ritual.
After Albert died in 1861, Victoria moved up to Balmoral for a time and became close friends with one of his servants, John Brown, a Scot. A film about their relationship, Mrs Brown, made its debut in 1997.
In 1863, courtiers and the Royal Family thought that Brown could rehabilitate the mourning Queen. Instead, he began controlling her daily life at her holiday idyll.
In time, rumours about the extent of their relationship began circulating not only among her inner circle but also in London, where a republican sentiment began growing in her absence. Courtiers and the Royal Family changed tack, this time urging Brown to get the widowed Queen back to the capital to make public appearances.
Brown followed orders, although his and Victoria's relationship was never the same afterwards.
On the other hand, her resumption of public appearances quelled restive republicans.
Brown remained a loyal servant, foiling an assassination attempt on the Royal Family. In 1883, he contracted pneumonia. Victoria visited him in his room and apologised for not having been a better friend. Brown died a short time later and left behind a diary, which, allegedly, has disappeared.
Victoria's two main courtiers, Sir Henry Ponsonby and Sir William Jenner, found it and read it. Only they knew what happened to it afterwards. One of them said later on that the then-Prince of Wales — Edward VII — was so resentful of Brown that he threw a bust of the man over the palace wall in London after his death.
At Balmoral, John Brown is immortalised in two paintings which hang in the drawing room where Queen Elizabeth II received Boris Johnson and Liz Truss on Tuesday, September 6, 2022.
On September 7, The Times helpfully told us more about the room's features, including the paintings which flank the fireplace (emphases mine):
Victoria and John Brown, her servant and close friend after the death of Prince Albert, feature twice in the room's paintings. To the left of the mantelpiece they appear in Sir Edwin Landseer's chalk and pastel drawing Sunshine: Balmoral in 1860 or Death of the Royal Stag. Albert stands proudly in the foreground with a gun over his shoulder, dogs at his heel and a stag at his feet. In the background Victoria sits side-saddle on a horse led by Brown, her ghillie.
To the right is Gilbert Sprague's copy of another Landseer painting of Victoria, in mourning as she sits on her pony Flora outside Osborne House, her retreat on the Isle of Wight. Victoria commissioned the original in 1861 after Albert's death, telling Landseer that she wished to be depicted "as I am now, sad and lonely, seated on my pony, led by Brown, with a representation of Osborne".
Queen Elizabeth also experienced the magic of Scotland that her forebears helped to create.
As a child, she remembered happy days at Glamis Castle then Balmoral. As an adult, she associated possibly her happiest memories with Balmoral. There, the love of her life, Prince Philip, proposed to her. The happy couple also spent their honeymoon there.
On September 8, The Times published an insightful article: 'Balmoral gave Elizabeth the chance to feel "free"', excerpted below:
Scotland played a large and emotional part in Elizabeth's life. Her happiest memories were of the childhood days she spent with "Granny Strathmore"— Cecilia Bowes-Lyon, Countess of Strathmore and Kinghorne, who was also her godmother — at Glamis Castle.
At the family home in Angus she enjoyed parties, children's theatre after tea, and visits to nearby Cortachy Castle, owned by Lord Airlie, where she once "borrowed" the young David Ogilvie's little blue pedal car, much to his fury. At Balmoral, she felt she could be "normal" — almost a housewife, like ordinary people; it took her into another world. "Here I can be free," she told a friend once.
Not that it was exactly ordinary; there were certain traditions. A piper played every morning before breakfast, and, when guests were staying, there would be pipers at dinner. The ladies would depart after the meal, leaving the men to talk over the brandy.
There were shooting parties, with the Queen and her dogs driving out to join the guns at lunch, then "picking up": her dogs retrieving the birds they had shot. "She was an ace picker-up," recalled one friend. Back at the house the first duty would be to feed the dogs.
She insisted on doing the washing-up after picnics, when Philip managed the barbecue and she did the rest. Those picnics — some of them in the evening, in one or other of the huts in the grounds of the estate, always kept open, and often used by members of the public — were famous occasions, remembered by guests long after for their combination of relaxed informality and perfectly organised routine.
Then it would be back to the castle. What one friend noticed, however, was that, as soon as Elizabeth walked through the door of Balmoral Castle, she became Queen again. This was the royal residence, and there was no mistaking who was in charge.
The Queen also enjoyed an annual week-long stay in Edinburgh at the Palace of Holyroodhouse. The city's Lord Provost would deliver the keys to the palace to her in the Ceremony of the Keys and a closing ceremony of her returning them to him took place upon her departure.
She would visit St Giles' Cathedral, probably the only Presbyterian cathedral in existence, and, beginning in the late 1990s, Holyrood, the Scottish parliament.
The independence movement strengthened by an SNP government has grown leaps and bounds since I last visited Scotland 30 years ago.
It is difficult to pin down what exactly the SNP expect as an independent nation, including where they stand on the monarchy. Although First Minister Nicola Sturgeon praised the Queen in death, she was less forthcoming in June during the Platinum Jubilee weekend:
After the scandal surrounding Prince Andrew, she said that there should be a "debate" about the future of the monarchy; she notably failed to deliver a message of loyalty at the time of the Platinum Jubilee; and she did nothing to contradict a statement from the Green Party, her allies in government, which accused the monarchy of "holding back" progress.
However:
None of that has diluted the Queen's affection for Scotland, and her pride in her Scottish connections. As Sir Charles Fraser, who was purse bearer at the Palace of Holyroodhouse for nearly 20 years, commented: "Over many conversations with the Queen, she always spoke of her love for Scotland and her commitment to her Scottish ancestry. Throughout her reign she gave us leadership and hope, where others have failed."
Incidentally, former Royal servants say that all of them enjoyed being at Balmoral and could hardly wait for their annual stay there. It seems that it was as delightful for them as it was for the Queen. 
Monday, September 12
In my preceding post, I wrote about a young woman getting arrested on Sunday, September 11, near St Giles' Cathedral for an anti-monarchy poster with an obscenity written on it. This happened during the proclamation of Charles III as the new King.
People in England were upset about it, but Scotland has its own speech laws which are much stricter than ours:
Guido Fawkes thought that the arrest was overkill. I tend to agree but, then again, I don't know anything about Scottish policing (emphases his):
The 22-year-old woman who was arrested after holding up this anti-monarchy placard at St Giles' Cathedral has been charged "in connection with a breach of the peace" and is reportedly due to appear at Edinburgh Sheriff Court today. Amid the emotional royalist fervour, the country is feeling it is even more important to stand up for universal and enduring values. The Free Speech Union has expressed concern that the protester been arrested for voicing anti-monarchist views during the Proclamation of King Charles III yesterday.  Defenders of free speech know that if they don't stand up for views with which they disagree or even find offensive, they're not defending free speech. Whatever your views on the monarchy, this protester has a right to hers.
… The Free Speech Union has already reached out to the protester to offer their assistance.
That day, Guido reported that the SNP's deputy leader John Swinney expressed surprising pro-monarchy views. He sounded like a Conservative:
Guido said that, on Sunday, Swinney said he watched the broadcast of Charles III's Accession Ceremony in London:
I thought that when I watched the accession council in London yesterday because right at the heart of it was the significance of Scotland's place within the Union and the extraordinary significance that was attached to that and the declarations and commitments that the King made and the fact the Secretary of State for Scotland, the First Minister of Scotland, the Lord Advocate of Scotland, the Lord President of the Court of Session in Scotland, were signatories to the documents which essentially facilitate the accession.
On Monday, Swinney went further:
This morning, Swinney went even further in irritating the most ardent of Scottish nationalists, stating the SNP would continue to have the UK monarch be Head of State in the event of independence, as they promised during the 2014 referendum:
The monarch should be the head of state of an independent Scotland. It's what we argued in the referendum in 2014 and it's what we will continue to argue.
Will the death of the Queen accidentally cause a cooling of temperatures in the Scottish independence debate?
That is part of what Operation Unicorn — the days of mourning in Scotland — was designed to do.
For much of Monday, the Queen continued lay in rest at the Palace of Holyroodhouse. This allowed staff to pay their respects in quiet privacy from Sunday afternoon onwards.
Senior members of the Royal Family, such as Princess Anne, were there awaiting the arrival of King Charles. Upon his and the Queen Consort's arrival, the Lord Provost would go to conduct the Ceremony of the Keys.
Meanwhile, in the morning, King Charles was in London, addressing both Houses of Parliament in the ancient Westminster Hall, adjacent to the Houses of Parliament.
Westminster Hall was built by William the Conqueror's son, William Rufus (William II) in 1097. It is the largest hall of its kind in Europe. The beamed ceilings were added in 1399 when Richard II had the pillars removed so that everyone inside could see what was going on. On the two occasions when the Palace of Westminster caught on fire or when it was bombed during the Second World War, the first priority of firefighters is to save Westminster Hall over the parliamentary palace.
The building has been used throughout the ages as Parliament, as court for the trials of Charles I and the real Guido Fawkes (a traitor) but has also been the venue for coronation banquets. It is still used by both houses of Parliament and is open to the public on important occasions when it is used for the lying in state of distinguised politicians such as Winston Churchill (1965) and members of the Royal Family. The Queen Mother was the last person to lie in state there. I went to pay my respects to her in 2002. The Queen is lying in state there as I write.
The Queen also spoke there on her Silver Jubilee (1977), her Golden Jubilee (2002) and her Diamond Jubilee (2012). A beautiful stained glass window commemorating her Diamond Jubilee is installed on one side of the hall.
Charles's visit was of historical significance and not only because he is the United Kingdom's first King in 70 years.
Both Speakers — of the Lords and of the Commons — wore their dress robes, which are gilded. Their respective serjants of arms brought each House's mace up to the appropriate Speaker and laid them down on a raised platform.
The Speakers stood across from each other below the raised platform on which Charles was due to speak. The maces were covered with a black cloth, indicating not only mourning but also that they were subservient to the Sovereign.
Peers and MPs, as well as staff members, were in attendance.
The Speaker of the Lords, Lord McFall spoke first to extend his and the Lords' sympathy to the King.
The life peer, a Scot, is a testament to the progress people can make in modern Britain:
Sir Lindsay Hoyle spoke next for the Commons, reminding the new monarch of the increased powers of Parliament since the Glorious Revolution of 1688. The King smiled wryly:
Then it was time for the King to address the room:
The Telegraph's summary has the key points of his speech:
We gather today in remembrance of the remarkable span of the Queen's dedicated service to her nations and peoples.
While very young her late Majesty pledged herself to serve her country and her people and to maintain the precious principles of constitutional government which lie at the heart of our nation.
This vow she kept with unsurpassed devotion. She set an example of selfless duty which, with God's help and your counsels, I am resolved faithfully to follow.
The King had already met with senior Government ministers, including Liz Truss, over the weekend at Buckingham Palace. Shadow (Opposition) ministers also met with him:
After the event at Westminster Hall ended, a reception was held, but the King and Queen Consort did not attend as they were due to fly to Edinburgh.
While the Royal couple were on their way, people lined up along Edinburgh's Royal Mile:
Once Charles and Camilla arrived at Holyroodhouse, they and other members of the Royal Family assembled to be led by members of Scottish regiments for the procession to St Giles' Cathedral, for a service of remembrance.
I know from first hand experience that it is a long walk and did not envy the Royals who did walk behind the hearse, especially on the cobbled road.
The Royals who walked were the Queen's children: the King, the Princess Royal, Prince Andrew and the Prince Edward. Vice Admiral Sir Tim Laurence, Princess Anne's husband, also walked with them.

Prince Andrew was not allowed to wear his military uniform. He appeared in morning dress with his military medals.
A young heckler shouted at Prince Andrew in reference to sexual allegations with an underage girl, was quickly tackled by a member of the public, then police dragged him to his feet and arrested him:
He was arrested for breach of the peace:
The SNP had toughened up that law in 2010:
The procession up the ancient road was deeply moving, like something out of a film.
Prince Charles wore the green sash and star of the Order of the Thistle.
The Queen's coffin was draped in the Royal Standard of Scotland.
The Guardian's diary for the day added:
The Queen's coffin is … dressed with a wreath of flowers consisting of white spray roses, white freesias, white button chrysanthemums, dried white heather from Balmoral, spray eryngium, foliage, rosemary, hebe, and pittosporum.
The hearse is flanked by a bearer party found by the Royal Regiment of Scotland and the King's Body Guard for Scotland.
The cortege arrived at St Giles' shortly after 3 p.m. Watching the procession, I do not think they allowed enough time.
Heralds and Pursuivants of Scotland stood outside the cathedral door to receive the Queen for one last time. The Guardian has a magnificent photo of their uniforms.
The Crown of Scotland (see photo) was placed on the Queen's casket before the service.
Here is a photo of the military bearer party dressed in kilts placing the casket on the catafalque in the cathedral.
The Guardian reported (emphases theirs):
At the beginning of the service of thanksgiving for the Queen, Reverend Calum MacLeod welcomed the royal family, "representatives of our nation's life" and "people whose lives were touched by the Queen in so many unforgettable ways".
Among those attending the service are the prime minister, Liz Truss, as well as Scotland's first minister, Nicola Sturgeon.
Unfortunately, there is no video of the service, which was very well done and oecumenical.
The Order of Service is here.
Nicola Sturgeon read Ecclesiastes 3:1-15. We know the first several verses well but here are the next:
What gain have the workers from their toil? I have seen the business that God has given to everyone to be busy with. He has made everything suitable for its time; moreover, he has put a sense of past and future into their minds, yet they cannot find out what God has done from the beginning to the end. I know that there is nothing better for them than to be happy and enjoy themselves as long as they live; moreover, it is God's gift that all should eat and drink and take pleasure in all their toil. I know that whatever God does endures forever; nothing can be added to it, nor anything taken from it; God has done this, so that all should stand in awe before him. That which is, already has been; that which to be, already is; and God seeks out what has gone by.
The Church of Scotland has a transcript of the sermon that the Right Revd Dr Iain Greenshields preached:
Excerpts follow:
Death has been overcome, these are the words of hope expressed and centered around Jesus who died and rose again.
And this is clearly something that Her Majesty Queen Elizabeth acknowledged and personally embraced.
These last few days, as tributes to her Majesty have poured in and we have watched images of her on screen from her earliest years, capturing that remarkable life, yet now beginning to sink in that she is gone from us – "gone home" to express her own words.
Today, we gather in this place of worship and throughout the nation, to express our thanks to God, for her Majesty Queen Elizabeth's extraordinary life.
We are united in sorrow at the death of our Monarch, but we are also so aware that His Majesty King Charles and all his family are not just grieving the loss of their Queen, but their mother, grandmother and great-grandmother too.
Her Majesty Queen Elizabeth began her reign, like King Solomon by asking for wisdom, something that she demonstrated in large measure and to which was added duty, honour, commitment, and faith.
These are the words that we reach for today to describe the life and reign of Queen Elizabeth, whose passing is mourned not only in her native land but across the Commonwealth and the world, as has been so evident to us in recent days.
Most of us cannot recall a time when she was not our monarch.
Committed to the role she assumed in 1952 upon the death of her beloved father, she has been a constant in all of our lives for over 70 years.
She was determined to see her work as a form of service to others and she maintained that steady course until the end of her life.
People who were in her company always felt that they were being listened to carefully and attentively and with compassion.
She possessed a sharp, intelligent mind, with amazing recall, a kindly heart and a gentle sense of humour.
She understood the breadth of world affairs and also cared about what happened to all of her people.
And although sometimes buffeted by events around her, she continued resolutely and cheerfully fulfilled her responsibilities …
Much has been said about the Queen's contribution to the life of the United Kingdom and the Commonwealth which meant so much to her.
But here in Scotland we acknowledge with gratitude her deep links with our land and its people.
Her love of the Balmoral estate is well known and being there latterly brought her great comfort.
There she was valued as a neighbour and a friend and there she drew strength and refreshment during the summer months.
She was active in the life of civic Scotland, travelling across the country to support numerous causes, entertaining guests at Holyrood Palace and presiding at ceremonial events, many of which took place in this Church.
Here she received the Scottish crown in 1953, an event vividly memorialised in the painting by the Orcadian artist Stanley Cursiter.
Her links with the Scottish churches were also deep and lasting.
She was the Supreme Governor of the Church of England, but she worshipped in the Church of Scotland here north of the border, at Canongate Kirk and especially at Crathie Kirk where she took her pew each Sunday morning, prevented from doing so latterly only by infirmity.
She perceived little difficulty in belonging to two Churches and appreciating the strength of each.
It is clearly evident and without doubt that the Queen's Christian faith was genuine, and often gave clear and sincere expression in those remarkable Christmas broadcasts.
She spoke unashamedly of her trust in God and of the example and teaching of Jesus Christ whom she sought to follow as best she could – indeed, of that faith she said she had no regret …
Today we mourn her passing but we also celebrate the long and happy reign that we experienced with her.
And we pray God's blessing upon King Charles who will surely draw strength from his mother's example and the many affectionate tributes of these days and from our assurance to him as a Church of our steadfast prayers at all times and of our unstinting support to him as was offered to his mother, the Queen.
The Cathedral's website has more about the Queen's visits.
The service lasted an hour and ended at 4:15.
The Royal party then returned to Holyroodhouse.
However, their day was far from over.
The King met with Nicola Sturgeon. He and the Queen Consort then went to Holyrood to visit the Scottish parliament where MSPs delivered a motion of condolence.
At 7:20 that evening, the senior Royals returned to St Giles' for the Vigil of the Princes. It would be the first time that a female — Princess Anne — would take part.
More on that tomorrow.
Several years ago, I watched a documentary about Queen Victoria, which included a few little-known facts about her life.
Apparently, Prince Albert was so in love with her during their early years of marriage that he used to put her silk stockings on her in the mornings and remove them at night. How sexy is that? What a splendid marital experience for both.
He also wrote her letters following their quarrels between 1841 and 1861.
They show he was a loving, wise husband. He was also a bit of a psychologist, decades before psychology existed.
The couple's daughter Princess Beatrice destroyed these letters, but not before an unknown person photographed them for the Royal Archives.
They are supposed to be available on a section dedicated to Prince Albert on the Royal Collections Trust website, but I'll be darned if I can find them. If anyone has found them, please do send me the link. Thanks in advance.
On Wednesday, September 22, the Daily Mail had an article about the letters, including a photo of one of them. Excerpts follow, emphases mine.
Queen Victoria was harsh with her children and beat them often when they were young. The Mail summarises one of Albert's letters criticising her lack of love for them:
Albert even lectures Victoria – who bore him nine children during their 21-year marriage – about motherhood and says it is a 'shame' she does not relax and enjoy their company more.
'It is indeed a pity that you find no consolation in the company of your children,' he says.
The man was a genius:
'The root of the difficulty lies in the mistaken notion that the function of a mother is to be always correcting, scolding, ordering them about and organising their activities… 
'It is not possible to be on happy, friendly terms with people you have just been scolding, for it upsets scolder and scolded alike.'
I couldn't agree more.
He wrote telling letters about their relationship, revealing quite a bit about their marriage, even though he loved her dearly.
After one row, Victoria continued following Albert around, venting her vexation with him:
In one letter, in his native German, Albert angrily chides feisty Victoria that she has again 'lost her self-control' and revealed how she followed him 'from room to room' rowing and refusing to back down.
He says: 'You have again lost your self-control quite unnecessarily. I did not say a word which could wound you and I did not begin the conversation, but you have followed me about and continued it from room to room.
'There is no need for me to promise to trust you for it was not a question of trust, but of your fidgety nature, which makes you insist on entering, with feverish eagerness, into details about orders and wishes which, in the case of a Queen, are commands to whomever they may be given.'
He adds angrily: 'I do my duty towards you even though it means that life is embittered by "scenes" when it should be governed by love and harmony.
'I look upon this with patience as a test which has to be undergone, but you hurt me desperately and at the same time do not help yourself.' 
This third one is my favourite and reveals more of his deep human insight:
He writes: 'We cannot, unhappily, bear your bodily sufferings for you – you must struggle with them alone. The moral ones are probably caused by them, but if you were rather less occupied with yourself (if that is possible) and your feelings (if that is possible) and took more interest in the outside world you would find that the greatest help of all.'
The two were first cousins, both born in 1819.
Sadly, Prince Albert died of typhoid fever at the age of 42.
Victoria withdrew from public life such that the press ridiculed her on the year of her Golden Jubilee, 1887. However, it could be that, as Empress of India, a title she requested of Parliament, she preferred spending time with her young servant Abdul Karim, who taught her how to read, speak and write Urdu.
The Telegraph discusses other letters that Prince Albert wrote and their digitisation:
A total of 22,000 documents, prints and photographs from the Royal Archives, the Royal Collection and the Royal Commission for the Exhibition of 1851 have now been digitised for the public to read.
The Prince Albert Digitisation Project was supported by Sir Hugh and Lady Stevenson in honour of Sir Hugh's sister, the late Dame Anne Griffiths, a former librarian and archivist to the Duke of Edinburgh.
Other items of interest include Albert's list of suggested candidate for the vacant role of Master of the Household, annotated by him with the reasons why he considered each man unsuitable: "Too old", "too useful in the Navy", "bad temper" and "French mistress".
Thank goodness these have been preserved for posterity.
And thank goodness for Prince Albert.
Near the end of her life, Queen Victoria visited Nice several times.
Nice-Matin reported recently on the Grandmother of Europe's trips to the city. Their article brought several interesting details to light.
The Niçois were honoured to welcome the monarch, who travelled as Lady Balmoral. After all, Victoria ruled over nearly one-quarter of the world's population.
Contrary to the popular image of a morose woman, she was known locally for her engaging personality. She is said to have attended village fêtes, enjoyed an occasional glass of wine, visited museums, toured the old quarter of the city and befriended the Catholic priests, the Pénitents Rouges, who still have a community and the Saint-Suaire chapel in the old city where one can attend Latin Mass each Sunday. (The chapel is so named — suaire means perspiration — because it housed the shroud of Turin for many years.)
By 1895, she was visiting the city so frequently that the great and the good of Nice decided she needed her own private residence.
If that sounds over the top, bear in mind that she travelled with a grand entourage, among whom was her Scottish companion Mr Brown. Approximately 70 people travelled with her, including a dozen Bengal Lancers, her personal bodyguards. You can imagine how much luggage they had.
Plans were drawn up for construction of a palace for the Queen. The Excelsior Regina was built in the hilly and pleasant Cimiez district, north of the city centre.
The noted architect Biasini was in charge of the residence located on the Boulevard de Cimiez. The first stone was laid in 1896. He and everyone else involved hoped to complete the building by the time Queen Victoria visited later in the year. In the event, the Regina was unfinished and she stayed at the Grand Hotel that autumn.
In 1897, everything was ready. Victoria stayed at the Regina three times: 1897, 1898 and 1899. No expense was spared. Biasini included much decorative detail in his design, including a grand marble staircase. He also installed a private lift, a new luxury at the time. The building had six storeys and an ample garden where the Royal entourage could enjoy tennis and croquet. The Queen had all of the west wing to herself: 70 rooms. Surrounded by palm trees, it was soon known as the most fashionable place on the Côte d'Azur.
After Victoria's death, the Regina Excelsior became a residence for other royal families visiting Nice and for commoners able to afford the prices! The rooms were subsequently converted into luxury flats. One of the gardens still has a marble statue of the Queen.
Queen Victoria's last visit to Nice was to have been in 1901. However, she died on January 22 that year. On her deathbed she said:
If only I were in Nice, I would get better.
Today, Nice still has an Avenue Reine Victoria and a Victoria Pavillion complete with statue at the Cimiez Hospital.
Even though she took tea only if one of her own attendants prepared it rather than a local, the people of Nice considered Victoria their favourite monarch.
Queen Victoria, the longest-reigning monarch in British history, died on February 2, 1901.
This article gives a brief summary of her life as well as a video of her funeral. It also includes little-known facts about her.
Queen Victoria:
– was born Alexandrina Victoria on May 24, 1819, at Kensington Palace, London. Her mother called her Drina. Her father — Edward, Duke of Kent — was one of George III's sons. George III and the Duke of Kent died within a week of each other. Victoria was only seven months old.
– became heiress presumptive to her last surviving uncle William IV, who succeeded George IV in 1830.
– wore a wedding dress of white silk and lace when she married Prince Albert of Saxe-Coburg and Gotha in February 1840. The dress was considered highly unusual at the time, yet is now the most popular attire for first-time brides around the world.
– did not enjoy being pregnant, although she gave birth to nine children.
– is considered the 'Grandmother of Europe' because most of her children married into other European royal families.
– helped to influence the Royal Family to this day by emphasising family values and morality.
On January 22, 1901, Queen Victoria died at her home on the Isle of Wight, of which she was fond. Her body was sent on the royal yacht Alberta to the naval town of Portsmouth on the south coast of England. From there, the coffin was sent by train to London. A military cortege then transported it to Windsor Castle on a gun carriage pulled by eight white horses.
Her funeral was held at St George's Chapel in Windsor Castle. Along with her son, the new king Edward VII, her family and most of the crowned heads of Europe attended. She lay in state for two days, allowing thousands of Britons to pay their respects, before being buried in the Frogmore Mausoleum in Windsor Great Park, next to her husband Albert.
It is fascinating that Albert gave us many of our Christmas traditions and that Victoria gave us the wedding dress! This says much about the influence of our Royal Family on the rest of the world.