You are currently browsing the tag archive for the 'radio' tag.
The British royals were not always at the top of the league table when it came to pageantry.
In fact, in the 18th and 19th centuries, Britain was probably near the bottom.
The Guardian's 2017 article about Operation London Bridge, about which I wrote yesterday, says (emphases mine):
For a long time, the art of royal spectacle was for other, weaker peoples: Italians, Russians, and Habsburgs. British ritual occasions were a mess. At the funeral of Princess Charlotte, in 1817, the undertakers were drunk. Ten years later, St George's Chapel was so cold during the burial of the Duke of York that George Canning, the foreign secretary, contracted rheumatic fever and the bishop of London died. "We never saw so motley, so rude, so ill-managed a body of persons," reported the Times on the funeral of George IV, in 1830. Victoria's coronation a few years later was nothing to write home about. The clergy got lost in the words; the singing was awful; and the royal jewellers made the coronation ring for the wrong finger. "Some nations have a gift for ceremonial," the Marquess of Salisbury wrote in 1860. "In England the case is exactly the reverse."
Near the end of Queen Victoria's reign, courtiers and constitutionalists became concerned about the public perception of the monarchy during her latter years and death.
Something would have to be done:
Courtiers, politicians and constitutional theorists such as Walter Bagehot worried about the dismal sight of the Empress of India trooping around Windsor in her donkey cart. If the crown was going to give up its executive authority, it would have to inspire loyalty and awe by other means – and theatre was part of the answer. "The more democratic we get," wrote Bagehot in 1867, "the more we shall get to like state and show."
It was Edward VII — historians add his son George V here, too — who transformed embarrassing displays into sheer pageantry.
Victoria never trusted Edward VII to be a reliable heir. Many think she lived so long in an effort to prevent him from succeeding her. As I have mentioned before, there is a parallel between the two of them and the late Queen and Charles III.
Yet, Edward VII's ten-year reign was considered to be a good one.
He is the one who started codifying and defining what royal pageantry should be, in life and in death:
Obsessed by death, Victoria planned her own funeral with some style. But it was her son, Edward VII, who is largely responsible for reviving royal display. One courtier praised his "curious power of visualising a pageant". He turned the state opening of parliament and military drills, like the Trooping of the Colour, into full fancy-dress occasions, and at his own passing, resurrected the medieval ritual of lying in state. Hundreds of thousands of subjects filed past his coffin in Westminster Hall in 1910, granting a new sense of intimacy to the body of the sovereign.
That said, one German still did not think the Brits were up to scratch with military processions:
In 1909, Kaiser Wilhelm II boasted about the quality of German martial processions: "The English cannot come up to us in this sort of thing." Now we all know that no one else quite does it like the British.
George V, whom the then-Princess Elizabeth referred to as Grandfather England, carried on his father's vision of pageantry and brought the Royal Family closer to his subjects via the wireless:
By 1932, George V was a national father figure, giving the first royal Christmas speech to the nation – a tradition that persists today – in a radio address written for him by Rudyard Kipling.
In The Times's article, 'Modern-day royal funerals trace their traditions to Victoria', Valentine Low, the author of Courtiers, tells us about the funerals of Edward VII and George V.
Before going into her son's and grandson's deaths, he says that Victoria's funeral broke two previous conventions:
For the previous 200 years the funerals of sovereigns had been held in the evening: hers was the first to be held in the daytime. It was also the first to be filmed.
Edward VII's Highland terrier, Caesar, was the star of his funeral, much to the annoyance of those attending the service. They knew how ill-behaved the dog could be. Only the King had a fondness for him. Royal historians who spoke on GB News said that the dog was in the funeral procession in St George's Chapel, Windsor.
Low says:
Caesar immediately captured the public imagination, and became a cult figure. His "memoirs", entitled "Where's Master?" were a popular Christmas present that year.
Low also says that the King's favourite horse was in the outdoor procession in London:
At the funeral of Edward VII — who had insisted his obsequies, unlike those of his mother, were planned well in advance — his favourite charger, Kildare, walked behind the coffin in the procession from Westminster to Paddington, her master's boots reversed in the stirrups. Behind her, led by a Highlander, trotted Caesar, the late King's rough-haired terrier.
From Paddington Station, the Royal train transported the King's coffin to Windsor.
George V's death in 1936 was the first occurrence of the Vigil of the Princes at Westminster Hall. It was private:
When George V lay in state in Westminster Hall, on the evening of the fourth day King Edward VIII and his three brothers decided to pay a last tribute to their father by standing around the coffin in full-dress uniform, stationing themselves between the officers already on vigil.
He wrote later: "I doubt whether many recognised the King's four sons among the motionless uniformed figures bent over swords reversed. We stood there for 20 minutes in the dim candlelight and the great silence. I felt close to my father and all that he stood for."
On the day of his funeral, radio listeners were able to hear the funeral procession as it happened:
For all the expressions of public grief, and the growing involvement of the media — the funeral of George V was the first to have radio microphones placed along the processional route so that the world could listen to the tramp of feet and the thump of muffled drums — it should not be forgotten that royal funerals are also moments of private grief for the families themselves.
George VI never expected to become king. However, his older brother Edward VIII abdicated, and he had to step up. Continuing his father's Christmas broadcasts proved to be difficult, and he had to get the help of a speech therapist, the Australian Lionel Logue, in order to overcome his stammer. The film, The King's Speech, is a moving account of that story.
George VI and the Queen Mother never left England, even at the height of the Second World War. The princesses, Elizabeth and Margaret, lived in Windsor Castle for much of the war.
When he died in 1952, the whole country mourned:
Immense crowds lined the streets for the funeral procession of George VI, the shy, simple, devoted king who had seen the country through the Second World War. As two minutes' silence was observed around the country, miners in South Wales knelt at the coalface, heads bowed, their helmets on their knees.
Not many Britons had television sets at that time, yet his funeral was the first to be televised, setting a new marker for the visibility of the Royal Family:
Of all the modern royal funerals it was that of George VI that saw one of the most poignant moments of private royal grief. His funeral was the first to be televised, but what the cameras were unable to capture was how, too frail to attend the funeral of her son, Queen Mary watched the procession from the window of Marlborough House.
Her friend and lady-in-waiting Lady Airlie, who sat with her, wrote: "As the cortège wound slowly along the Queen whispered in a broken voice, 'Here he is,' and I knew that her dry eyes were seeing beyond the coffin a little boy in a sailor suit. She was past weeping, wrapped in the effable solitude of grief. I could not speak to comfort her. My tears choked me.
"The words I wanted to say would not come. We held each other's hand in silence."
Another relatively recent development in monarchs' deaths is the known role of their personal physicians in their final hours.
In the case of George V, his doctor's role was revealed long after his death:
Half a century after George V's death it emerged that his life had been ended prematurely by his doctor, Lord Dawson, who hastened his journey to the next world so that it could meet the deadlines of the respectable morning newspapers, in particular The Times.
"The King's life is moving peacefully towards its close," was the final notice issued by Dawson at 9.30pm on the night of January 20, 1936. Not long afterwards he injected the king with 750mg of morphine and a gram of cocaine — enough to kill him twice over — in order to ease the monarch's suffering. However he had another motive, too, as revealed in a 1986 biography by the historian Francis Watson. Dawson wrote in his notes: "The determination of the time of death of the King's body had another object in view, viz, of the importance of the death receiving its first announcement in the morning papers rather than the less appropriate field of the evening journals."
In the case of Elizabeth II, we knew that her physician was Professor Sir Huw Thomas, 64, and read of her final hours.
The Guardian's 2017 article stated:
In these last hours, the Queen's senior doctor, a gastroenterologist named Professor Huw Thomas, will be in charge. He will look after his patient, control access to her room and consider what information should be made public.
On Friday, September 9, 2022, the day after her death, The Times reported:
The doctor overseeing the Queen's medical care had been in charge of her health for the past eight years, during which time she became increasingly frail but insisted on continuing with her royal duties.
Professor Sir Huw Thomas, 64, is head of the medical household and was physician to the Queen. He was appointed a physician to the royal household in 2005 and promoted to the most senior role in July 2014.
The details about the Queen's health provided by Buckingham Palace yesterday were sparse, but the language hinted at the severity of the situation. Doctors were "concerned" and the Queen remained "under medical supervision". The latter phrase was likely to mean that her health problems were serious enough that they required active monitoring by doctors.
Thomas oversaw the Queen's care during the coronavirus pandemic and advised her to reduce her workload after she underwent preliminary tests and spent a night at King Edward VII's Hospital in west London last October.
He said during an interview about being knighted for his royal duties: "It's been a busy couple of years in this role . . . You very much become part of that organisation and become the personal doctor to the principal people in it, who are patients just like other patients."
The royal doctors at Balmoral might have needed to be involved in anything from interpreting vital signs to prescribing medication that could ensure, as the palace statement added, that the Queen "remained comfortable".
Those of us who admire the  British royals have much for which to thank Edward VII and George V. They gave us the transparency and majesty we have come to expect today.
In 2017, The Guardian posted a long article: '"London Bridge is down": the secret plan for the days after the Queen's death'.
Halfway through, it says (emphases mine):
The reporting for this article involved dozens of interviews with broadcasters, government officials, and departed palace staff, several of whom have worked on London Bridge directly. Almost all insisted on complete secrecy. "This meeting never happened," I was told after one conversation in a gentleman's club on Pall Mall. Buckingham Palace, meanwhile, has a policy of not commenting on funeral arrangements for members of the royal family.
Royal funeral plans are top secret, which makes the article even more amazing. I don't know how the journalist, Sam Knight, managed it.
Queen Victoria's death
Until Queen Elizabeth II, Queen Victoria was the United Kingdom's longest reigning monarch.
A monarch's death is preceded by an announcement about illness, signifying that the end is near:
"The Queen is suffering from great physical prostration, accompanied by symptoms which cause much anxiety," announced Sir James Reid, Queen Victoria's physician, two days before her death in 1901.
Her longevity produced a shockwave of reaction, particularly as she did not perceive her heir, Edward VII, to be worthy of succession. This suggests a parallel between the Queen and Charles III:
It is not unusual for a country to succumb to a state of denial as a long chapter in its history is about to end. When it became public that Queen Victoria was dying, at the age of 82, a widow for half her life, "astonished grief … swept the country", wrote her biographer, Lytton Strachey. In the minds of her subjects, the queen's mortality had become unimaginable; and with her demise, everything was suddenly at risk, placed in the hands of an elderly and untrusted heir, Edward VII. "The wild waters are upon us now," wrote the American Henry James, who had moved to London 30 years before.
The parallels with the unease that we will feel at the death of Elizabeth II are obvious, but without the consolation of Britain's status in 1901 as the world's most successful country. "We have to have narratives for royal events," the historian told me. "In the Victorian reign, everything got better and better, and bigger and bigger. We certainly can't tell that story today."
George V's death
In a well run monarchical system, a symbiosis exists between monarchs and their subjects:
The bond between sovereign and subjects is a strange and mostly unknowable thing. A nation's life becomes a person's, and then the string must break …
This is what happened when the Queen's grandfather died. Note how George V's physician thought it was important for the news to make the morning rather than the evening newspapers:
"The King's life is moving peacefully towards its close," was the final notice issued by George V's doctor, Lord Dawson, at 9.30pm on the night of 20 January 1936. Not long afterwards, Dawson injected the king with 750mg of morphine and a gram of cocaine – enough to kill him twice over – in order to ease the monarch's suffering, and to have him expire in time for the printing presses of the Times, which rolled at midnight …
"For a little while," wrote Edward VIII, of the days between his father's death and funeral, "I had the uneasy sensation of being left alone on a vast stage."
Other Royal deaths
Sometimes, Royal deaths are unexpected events, leading to differences in who finds out first:
On 6 February 1952, George VI was found by his valet at Sandringham at 7.30am. The BBC did not broadcast the news until 11.15am, almost four hours later …
"It is with the greatest sorrow that we make the following announcement," said John Snagge, the BBC presenter who informed the world of the death of George VI. (The news was repeated seven times, every 15 minutes, and then the BBC went silent for five hours).
Also:
When Princess Diana died at 4am local time at the Pitié-Salpêtrière hospital in Paris on 31 August 1997, journalists accompanying the former foreign secretary, Robin Cook, on a visit to the Philippines knew within 15 minutes.
I do remember watching BBC1's Peter Sissons on the Saturday evening when the Queen Mother died in 2002:
On the BBC, Peter Sissons, the veteran anchor, was criticised for wearing a maroon tie. Sissons was the victim of a BBC policy change, issued after the September 11 attacks, to moderate its coverage and reduce the number of "category one" royals eligible for the full obituary procedure. The last words in Sissons's ear before going on air were: "Don't go overboard. She's a very old woman who had to go some time."
I thought his maroon tie was disrespectful, as was the way he read out that bit of news. It was as if he did not care. That started my dislike of the BBC's treatment of current affairs, which only escalated afterwards.
The Duke of Norfolk
As the Royal Family has been Anglican for centuries, it is ironic that the person they entrust with their funerals and coronations is the highest ranking Catholic layman of the realm, the Duke of Norfolk.
Dukes of Norfolk have been organising these events since 1672:
The 18th Duke of Norfolk, the Earl Marshal, will be in charge. Norfolks have overseen royal funerals since 1672. During the 20th century, a set of offices in St James's Palace was always earmarked for their use.
The current Duke is Edward William Fitzalan-Howard, 65. In April 2022, he ran a red light while talking on his mobile phone. He was found guilty of these traffic violations on September 26 and pleaded not to have his driving licence revoked for six months. His request was refused.
On his role as Earl Marshal, the Daily Mail reports:
Edward William Fitzalan-Howard, 65, became England's most senior peer and the 18th duke following the death of his father Miles in 2002.
For more than 350 years, his ancestors have passed down the ancient office of Earl Marshal – meaning that they are responsible for overseeing funerals for members of the Royal Family, the coronations of Britain's monarchs, and even state openings of parliament. 
And because the office is hereditary, it meant that the peer's grandfather Bernard Fitzalan-Howard, the 16th Duke of Norfolk, was responsible for organising Elizabeth II's Coronation in 1953, the state funeral of Winston Churchill in 1965 and the investiture of Charles as the Prince of Wales in 1969.
Eddie, as he is known to his friends, oversaw the planning and execution of the most majesty send-off of a Sovereign in living memory – as 2,000 VIPs including King Charles and the British royal family emperors, kings and queens, prime ministers, presidents, and members of the public including decorated war heroes, members of the Armed Forces and NHS staff who worked tirelessly during the pandemic attended Westminster Abbey for the state funeral …
… an overwhelming majority of Britons (86%) believe that the Duke of Norfolk did a 'good job' of commemorating the late Monarch. 
The duke began planning the Queen's funeral the week of his father's death 20 years ago, though plans for the service – codenamed Operation London Bridge – have been in place since the 1960s. Eddie held annual meetings in the throne room of Buckingham Palace, working closely with Lieutenant Colonel Anthony Mather, a long-serving member of the royal household who commanded the bearer party at Churchill's funeral, for the first 10 years. In the two decades which followed, the number of people involved swelled from just 20 to 280 in April this year.
Just days before the funeral, the peer explained that the funeral was being held in Westminster Abbey for the first time in more than 200 years – since George II in 1760 – so that 2,000 guests could attend. He also revealed that he extended the Queen's lying in state at Westminster Hall for an extra day 'to allow an additional 85,000 people to file past the coffin'. 
His niece Lady Kinvara Balfour told Tatler magazine: 'In organising the Queen's funeral (and the coronation to come), Uncle Eddie has done a truly outstanding job. What a show of elegance, efficiency and rare precision he has produced for our nation, and the world – just like the late Queen Elizabeth II herself did. He is an incredible father of five, a grandfather too'. 
As for the guilty verdict on his traffic violations:
His Grace The Duke of Norfolk, Edward William Fitzalan-Howard, 65, appeared at Lavender Hill Magistrates Court after being caught by the officers who told the court he appeared to run a red light while not paying attention.
The Duke pleaded guilty to one count of driving his six year-old blue three-litre diesel BMW while using a hand-held device in Battersea Park Road, south-west London on April 7.
The Oxford-educated father of five, who is a descendant of Elizabeth I, was also fined £800, with £350 costs and ordered to pay an £80 victim surcharge.
His Grace received six penalty points for using his mobile phone.
'That means, as you know, you will be disqualified for six months because you have more than twelve points on your licence,' magistrate Judith Way told him.
'We have been advised of the test for exceptional hardship and it is the burden of the defendant to show exceptional hardship,' announced magistrate Judith Way.
Before the ruling was handed down, his Grace had tried to argue it was necessary for him to keep his licence.
The highest-ranking duke in England argued he would suffer 'exceptional hardship' if he was disqualified, highlighting his official duties along with his conservation work to prevent 'nature's complete collapse' and 'the end of mankind'. 
In his hereditary role as Earl Marshal he told the court he is in charge of the coronation of King Charles III and asked for part of the hearing to be held in private in the interests of 'national security', while his legal team told the court he needed to be able to drive to ensure the organisation went smoothly.
His Grace, of Arundel Castle, Arundel, Sussex already has nine penalty points on his driving licence for two speeding offences and this latest conviction means he has been subjected to the minimum six-month ban under totting rules.
Dismissing The Duke's application to keep his licence, Ms Way said: 'We have heard sworn evidence from the defendant.
'We accept this is a unique case because of the defendant's role in society and his role in the King's coronation and even though inconvenience may be caused we do not find exceptional hardship.
'We know the need for security clearance for any driver and we do not think this is insurmountable for his high-profile role.
'We believe the defendant has the means to employ a driver.'
Indeed he does.
Managing the Queen's death rituals
Keeping in mind that The Guardian's article was written in 2017, this was true in the event:
During London Bridge, the Lord Chamberlain's office in the palace will be the centre of operations … The government's team – coordinating the police, security, transport and armed forces – will assemble at the Department of Culture, Media and Sport.
Michelle Donelan, formerly of the Department for Education, is the new Secretary of State for Digital, Culture, Media and Sport.
Someone in that group of officials also had the job of printing tickets for various events:
for invited guests, the first of which will be required for the proclamation of King Charles in about 24 hours time.
Everyone on the conference calls and around the table will know each other. For a narrow stratum of the British aristocracy and civil service, the art of planning major funerals – the solemnity, the excessive detail – is an expression of a certain national competence. Thirty-one people gathered for the first meeting to plan Churchill's funeral, "Operation Hope Not", in June 1959, six years before his death. Those working on London Bridge (and Tay Bridge and Forth Bridge, the Duke of Edinburgh's funeral) will have corresponded for years in a language of bureaucratic euphemism, about "a possible future ceremony"; "a future problem"; "some inevitable occasion, the timing of which, however, is quite uncertain".
Operation London Bridge had been in place for well over 50 years and was regularly updated from then until this month:
The first plans for London Bridge date back to the 1960s, before being refined in detail at the turn of the century. Since then, there have been meetings two or three times a year for the various actors involved (around a dozen government departments, the police, army, broadcasters and the Royal Parks) in Church House, Westminster, the Palace, or elsewhere in Whitehall. Participants described them to me as deeply civil and methodical. "Everyone around the world is looking to us to do this again perfectly," said one, "and we will." Plans are updated and old versions are destroyed. Arcane and highly specific knowledge is shared … The coffin must have a false lid, to hold the crown jewels, with a rim at least three inches high.
Processions were also carefully timed.
After the Queen died, the military personnel involved rehearsed day and night to get everything exactly right.
King Charles III was also involved:
… in the hours after the Queen has gone, there will be details that only Charles can decide. "Everything has to be signed off by the Duke of Norfolk and the King," one official told me … In recent years, much of the work on London Bridge has focused on the precise choreography of Charles's accession. "There are really two things happening," as one of his advisers told me. "There is the demise of a sovereign and then there is the making of a king." Charles is scheduled to make his first address as head of state on the evening of his mother's death.
In the event, he made it the following evening at 6 p.m.
The Throne Room at Buckingham Palace was the site for the Queen's lying at rest before going to Westminster Hall:
In every scenario, the Queen's body returns to the throne room in Buckingham Palace, which overlooks the north-west corner of the Quadrangle, its interior courtyard. There will be an altar, the pall, the royal standard, and four Grenadier Guards, their bearskin hats inclined, their rifles pointing to the floor, standing watch. In the corridors, staff employed by the Queen for more than 50 years will pass, following procedures they know by heart.
It is ironic that The Guardian published an article waxing incandescent over staff redundancies — lay-offs — because this piece makes it abundantly clear that they knew the King would bring in his own staff:
"Your professionalism takes over because there is a job to be done," said one veteran of royal funerals. There will be no time for sadness, or to worry about what happens next. Charles will bring in many of his own staff when he accedes. "Bear in mind," the courtier said, "everybody who works in the palace is actually on borrowed time."
Dying in Scotland
Although the article does not mention it, the Queen's death in Scotland activated Operation Unicorn.
However, that operation dovetailed with London Bridge:
The most elaborate plans are for what happens if she passes away at Balmoral, where she spends three months of the year. This will trigger an initial wave of Scottish ritual. First, the Queen's body will lie at rest in her smallest palace, at Holyroodhouse, in Edinburgh, where she is traditionally guarded by the Royal Company of Archers, who wear eagle feathers in their bonnets. Then the coffin will be carried up the Royal Mile to St Giles's cathedral, for a service of reception …
Thankfully, her coffin was flown back to London. According to this, a train journey would have been difficult to organise if she had travelled by rail:
put on board the Royal Train at Waverley station for a sad progress down the east coast mainline. Crowds are expected at level crossings and on station platforms the length of the country – from Musselburgh and Thirsk in the north, to Peterborough and Hatfield in the south – to throw flowers on the passing train. (Another locomotive will follow behind, to clear debris from the tracks.) "It's actually very complicated," one transport official told me.
Coming by plane also enabled an extra day of viewing at Westminster Hall.
How the media probably found out
Informing the media is also a big part of Royal deaths, especially the Queen's.
Radio and television channels had — and have — their response plans ready.
In the case of the Queen, the following more or less happened:
For many years the BBC was told about royal deaths first, but its monopoly on broadcasting to the empire has gone now. When the Queen dies, the announcement will go out as a newsflash to the Press Association and the rest of the world's media simultaneously. At the same instant, a footman in mourning clothes will emerge from a door at Buckingham Palace, cross the dull pink gravel and pin a black-edged notice to the gates …
The BBC has a special, secret transmission system, RATS:
At the BBC, the "radio alert transmission system" (Rats), will be activated – a cold war-era alarm designed to withstand an attack on the nation's infrastructure. Rats, which is also sometimes referred to as "royal about to snuff it", is a near mythical part of the intricate architecture of ritual and rehearsals for the death of major royal personalities that the BBC has maintained since the 1930s. Most staff have only ever seen it work in tests; many have never seen it work at all. "Whenever there is a strange noise in the newsroom, someone always asks, 'Is that the Rats?' Because we don't know what it sounds like," one regional reporter told me.
Royal experts were at the ready because they were pre-booked a long time ago. Media outlets have had obituaries ready to go, with only minor updates for the death to be added:
All news organisations will scramble to get films on air and obituaries online. At the Guardian, the deputy editor has a list of prepared stories pinned to his wall. The Times is said to have 11 days of coverage ready to go. At Sky News and ITN, which for years rehearsed the death of the Queen substituting the name "Mrs Robinson", calls will go out to royal experts who have already signed contracts to speak exclusively on those channels. "I am going to be sitting outside the doors of the Abbey on a hugely enlarged trestle table commentating to 300 million Americans about this," one told me.
Radio stations were also prepared with suitable music:
For people stuck in traffic, or with Heart FM on in the background, there will only be the subtlest of indications, at first, that something is going on. Britain's commercial radio stations have a network of blue "obit lights", which is tested once a week and supposed to light up in the event of a national catastrophe. When the news breaks, these lights will start flashing, to alert DJs to switch to the news in the next few minutes and to play inoffensive music in the meantime. Every station, down to hospital radio, has prepared music lists made up of "Mood 2" (sad) or "Mood 1" (saddest) songs to reach for in times of sudden mourning. "If you ever hear Haunted Dancehall (Nursery Remix) by Sabres of Paradise on daytime Radio 1, turn the TV on," wrote Chris Price, a BBC radio producer, for the Huffington Post in 2011. "Something terrible has just happened."
Incredibly, all television presenters wore black immediately:
… there will be no extemporising with the Queen. The newsreaders will wear black suits and black ties. Category one was made for her. Programmes will stop. Networks will merge. BBC 1, 2 and 4 will be interrupted and revert silently to their respective idents – an exercise class in a village hall, a swan waiting on a pond – before coming together for the news. Listeners to Radio 4 and Radio 5 live will hear a specific formulation of words, "This is the BBC from London," which, intentionally or not, will summon a spirit of national emergency …
According to one former head of BBC news … The rehearsals for her are different to the other members of the family, he explained. People become upset, and contemplate the unthinkable oddness of her absence. "She is the only monarch that most of us have ever known," he said. The royal standard will appear on the screen. The national anthem will play. You will remember where you were …
The passing of the Queen will be monumental by comparison. It may not be as nakedly emotional, but its reach will be wider, and its implications more dramatic. "It will be quite fundamental," as one former courtier told me.
And so it turned out to be.
Media broadcasts
I'm still wrapping my head around 12 days of continuous news coverage focusing on the Queen.
Somehow, it never got boring.
That is because there were seven decades of historic reign to cover, as well as the years between 1926 — the year of the Queen's birth — and 1952, when she succeeded George VI:
… there will be an almighty psychological reckoning for the kingdom that she leaves behind. The Queen is Britain's last living link with our former greatness – the nation's id, its problematic self-regard – which is still defined by our victory in the second world war. One leading historian, who like most people I interviewed for this article declined to be named, stressed that the farewell for this country's longest-serving monarch will be magnificent. "Oh, she will get everything," he said. "We were all told that the funeral of Churchill was the requiem for Britain as a great power. But actually it will really be over when she goes."
… The second Elizabethan age is likely to be remembered as a reign of uninterrupted national decline, and even, if she lives long enough and Scotland departs the union, as one of disintegration. Life and politics at the end of her rule will be unrecognisable from their grandeur and innocence at its beginning. "We don't blame her for it," Philip Ziegler, the historian and royal biographer, told me. "We have declined with her, so to speak."
The obituary films will remind us what a different country she inherited. One piece of footage will be played again and again: from her 21st birthday, in 1947, when Princess Elizabeth was on holiday with her parents in Cape Town. She was 6,000 miles from home and comfortably within the pale of the British Empire. The princess sits at a table with a microphone. The shadow of a tree plays on her shoulder. The camera adjusts three or four times as she talks, and on each occasion, she twitches momentarily, betraying tiny flashes of aristocratic irritation. "I declare before you all that my whole life, whether it be long or short, shall be devoted to your service, and the service of our great imperial family to which we all belong," she says, enunciating vowels and a conception of the world that have both vanished.
Conclusion
In summary:
London Bridge is the Queen's exit plan. "It's history," as one of her courtiers said. It will be 10 days of sorrow and spectacle in which, rather like the dazzling mirror of the monarchy itself, we will revel in who we were and avoid the question of what we have become.
It was an incredible time which galvanised the United Kingdom:
"I have to be seen to be believed," is said to be one of her catchphrases. And there is no reason to doubt that her funeral rites will evoke a rush of collective feeling. "I think there will be a huge and very genuine outpouring of deep emotion," said Andrew Roberts, the historian. It will be all about her, and it will really be about us. There will be an urge to stand in the street, to see it with your own eyes, to be part of a multitude. The cumulative effect will be conservative. "I suspect the Queen's death will intensify patriotic feelings," one constitutional thinker told me, "and therefore fit the Brexit mood, if you like, and intensify the feeling that there is nothing to learn from foreigners."
That is quite true. The conclusion that most of us drew from television coverage was that no one does monarchy and ritual quite like Britain. We are still the greatest in that regard.
On Monday, September 19, four million television viewers tuning in from around the world to pay their respects agreed.
On Thursday, July 28, 2022, LBC's morning host Nick Ferrari presented a hustings in Leeds for Conservative Party members:
Ferrari interviewed the candidates separately, and each had a chance to deliver a message alone to the audience.
The audience also asked questions.
Liz Truss
This year's burning question for any politician has been, 'What is a woman?' Very few have defined a woman, including Rishi Sunak.
Liz played on that theme:
This hustings took place on the same day that it was announced the Tavistock clinic was to close. This next video has an excellent interview with Dr David Bell, a whistleblower who used to work for the clinic:
Liz discussed sexual identity:
A member of the audience expressed her concern that school loos were changed to unisex during the pandemic when students were at home. Liz came out in favour of separate boys and girls facilities:
LBC's article, which has a video of the hustings in full, says:
The foreign secretary was quizzed about same-sex toilets being introduced in schools during the pandemic while speaking at LBC's Tory hustings.
When asked about returning to single-sex toilets, Ms Truss said: "I completely agree with you – I have sought to clarify that as women's minister.
"I've been very clear that single-sex spaces should be protected, particularly for young people as well as vulnerable people – vulnerable women in domestic violence shelters, for example – and I can assure you, as Prime Minister, I would direct that to happen.
"It's a difficult time being a teenager – being a young girl – and you should be able to have the privacy you need in your own loo, so I 100% agree with you and I would make that happen.
In a follow up question from LBC's Nick Ferrari about pupils who are transitioning, Ms Truss added: "First of all, I do not believe that under-18s should be able to make irreversible decisions about their own bodies that they might come to regret later.
"It's very important to note that.
"And of course, schools should be sensitive – they can provide additional facilities – but it should not be at the expense of protecting young girls."
On the subject of schools and the pandemic, Liz said it was a mistake to close schools in early 2021 and allow the pubs to stay open. She would not have closed schools but said that hindsight is a wonderful thing and no one knew at the time what to do. She did give Boris credit for doing 'his absolute best':
In response to Peter from Tadcaster, Liz said that she supports fracking but said it must have residents' consent. She also supports the smaller nuclear plants, 'like we have in Derbyshire'. She also thinks that we need to continue to use more of our own gas as an immediate response to energy demand:
There was a light hearted moment when Ferrari asked her about her university days. She admitted she was something of 'a teenage controversialist'. She said she regretted saying that the monarchy should be abolished as soon as she said it years ago. And she has since met the Queen. She also said that she had been a member of the Liberal Democrats but left when she realised 'the error of their ways':
A reality show, Love Island, has been this summer's must-watch for a proportion of the British population. Liz said she could watch only ten minutes with her teenage daughter before she turned off the television. She thinks her daughter went to watch it in another room:
Liz repeated her stance on tax, saying that the rise in National Insurance not only broke the 2019 Party manifesto but is also unnecessary as it limits growth:
Liz, who grew up in Leeds, says that the public transport there is as bad now as it was when she was a girl. She promised to improve the situation. She also pledged to cut red tape for farmers:
Ferrari asked Liz for her opinion of Theresa May and Boris Johnson, as she served in both their Cabinets. She said that she always liked Boris and supported him in the 2016 leadership contest, which Theresa May ultimately won. She gave Boris much credit during his time as Party leader and Prime Minister:
Ferrari asked her whether she would lead us into World War Three, which she dismissed as Russian propaganda and sabre-rattling. She added that the UK should have been better prepared in the past, because we did not do enough for Ukraine over Crimea and the Donbass:
On that topic, Liz said that she would raise defence spending to three per cent of GDP by 2030:
More on that below.
An audience member asked about post-pandemic staff shortages. Liz said she would tighten benefits rules to get the workshy back into paid employment. She also said she would have a training programme so that Britons had the available skillsets that we need:
Contrast her response with Rishi's below. He wants to bring more foreigners into the country and forget about our own people.
Someone from the Bury Conservative Association asked whether Liz would give Jeremy Hunt a Cabinet position. She replied that she was not thinking about a possible Cabinet at the moment but that she would appoint a broad range of Conservative talent, should she become Prime Minister:
Please, Liz, no Jeremy Hunt. He would deploy all of Beijing's coronavirus policies and have us masked up and in lockdown in perpetuity. He also said in Parliament that he wanted to make the annual flu jab mandatory. No, no and no!
Rishi Sunak
Last week, Rishi was adamant that tax cuts were 'immoral', then he did a U-turn.
He tried to convince everyone that he didn't do a U-turn on his tax policy. Hmm:
Ferrari then gave the UK's most recent statistics on our poor economic performance this year, but Rishi reminded him about 2021 figures, which were far higher than any other Western nation. Rishi also said that visas needed to be revisited to make sure we attract the 'best and brightest' into Britain. Notice how he has no plans to train young Britons for British jobs. Why am I thinking of his father-in-law's Infosys? Hmm:
Ferrari brought up the petition to the Conservative Party to put Boris's name on the members' ballots. By last Thursday, more than 14,000 people had signed the petition. Rishi said that Boris had lost the confidence of his MPs, 60 of whom resigned from various Government posts. Rishi said that a Prime Minister must have the confidence of his MPs, hence the present leadership contest:
Ferrari told Rishi that he was the first Chancellor since Labour's Denis Healey to raise corporation tax. Healey did that in 1974.
Rishi gave an incoherent answer. He said that Margaret Thatcher raised taxes in the early part of her premiership which lowered inflation. (Mmm. Actually, Margaret Thatcher got different advisers who told her to lower tax, which brought about growth.) He said that lower corporation tax has not worked over the past decade. So, he would cut tax on business investment instead.
I'll leave this to the Rishi fans to ponder and tell me why he is correct:
Ferrari said that President Zelenskyy said that he would like for Boris to remain front and centre for Ukraine and not disappear into the background. Rishi said that Boris is 'very talented' but that he would not give him a post in his Cabinet, were he to become Prime Minister:
A lady in the audience asked Rishi how he viewed our current asylum system. He said that it needs to be changed, by pulling out of the ECHR and using the international Refugee Convention instead. He said that we reject far fewer asylum claims than other European countries and that needs to be changed:
Another member of the audience asked Rishi how committed he would be to supporting Ukraine. Rishi said that he 'absolutely' would be. In elaborating, he said that sanctions towards Russia need to be changed, because, so far, they are having little effect on Putin:
Matthew from West Yorkshire asked Rishi whether he had stabbed Boris Johnson in the back and how the former Chancellor planned to reunite the Party. Rishi said that he had to resign because he and Boris differed too much in the end on economic policy (?!). He pledged to bring the best Conservatives into his Cabinet if elected leader and thinks that would reunite the Party. Watch his leg bob up and down as he answers Ferrari near the end of the video:
Verdict
Afterwards, LBC took calls and interviewed experts about what they thought of the hustings.
LBC's Ben Kentish asked his fellow presenter Iain Dale, a Conservative, for his views. Dale said that not every topic can be covered in one of these events. Therefore, topics such as child care and the NHS are discussed at other local meetings.
Dale thought that Liz 'smashed it'. She did not use any notes this time. She gave 'interesting' and 'entertaining' solo speeches, which surprised him. He said that Rishi did a good job, too, but didn't quite come up to Liz's standard that evening. He said that Rishi has a lot of catching up to do and that 'he's in a real bind now'.
He concluded that it was a 'really good evening for Liz Truss'. He gives her a 75 per cent chance of becoming the next Party leader and, by extension, Prime Minister:
Ferrari took more reactions on his Friday morning show:
Body language expert Dr Harry Witchell said that Liz was more relaxed in both her presentation and gestures than she had been previously. Rishi, he said, was much less aggressive, which was an improvement over last week's performances:
Patrick Hennessy from London Communications Agency said that Liz is likely to have won over the Telegraph's readers. the Leeds audience seemed to warm more to Liz than to Rishi. He reminded Ferrari of Matthew from West Yorkshire's aforementioned question asking Rishi if he'd stabbed Boris Johnson in the back. Indeed:
Former Conservative MP Michael Portillo said that Rishi's campaign is slipping away. He pointed out that, after the Leeds hustings, Defence Secretary Ben Wallace came out in favour of Liz Truss and, also crucially, Simon Clarke, who worked closely with Rishi, has come out in favour of Liz:
Ferrari then interviewed Defence Secretary Ben Wallace, who described Liz as 'feisty':
Ben Wallace discussed Liz's varied experience, reminding Ferrari and listeners that she had been Chief Secretary to the Treasury. The person in that post is the one who tells another Secretary of State whether they can increase their budget. Liz later worked in trade and is the current Foreign Secretary. Wallace said that he has been in meetings with her representing Britain around the world, so she has a lot of experience on the world stage:
Wallace told Ferrari that he 'didn't have the luxury' of resigning … unlike some ministers. He meant Rishi, among others. He said that he, like the Home Secretary Priti Patel, needed to stay in place for national security reasons. The Home Secretary, he explains, has warrants to sign. He, as Defence Secretary, has military operations to authorise. He also said that he did not want Boris to stand down as Party leader:
Wallace said that, in 2019, Rishi wanted to give Defence a one-year monetary settlement. Wallace said that Boris overrode that decision and gave the department a multi-year settlement instead, which is what is necessary:
LBC has more on Wallace's interview here.
All being well, tomorrow's post will be about Andrew Neil's grilling of Rishi Sunak last Friday evening on Channel 4.
Most of us know instinctively that the Taliban have not changed.
Unfortunately, our leaders probably do not.
A few days ago, a musician was murdered and women's voices have been banned from the airwaves.
On Sunday, August 29, the Times reported on both (emphases mine):
Taliban fighters have shot dead an Afghan folk singer after it outlawed music and women's voices on television and radio in the bellwether province of Kandahar, laying the ground for a nationwide ban in an echo of the brutal Islamist regime of 20 years ago.
When the Taliban come calling, it's not for a friendly chat:
Fawad Andarabi was dragged from his home and shot in the head in the village of Andarab, north of Kabul on Friday, his family said. The murder has provoked an outcry and fuelled fears of a return to the repressive regime of the 1990s since Taliban fighters overran Kabul two weeks ago.
Andarabi was famed for playing the ghichak, a bowed lute, to accompany folk songs about the mountains that surrounded his home, which lies near the Panjshir Valley, the last bastion of resistance to the Taliban takeover.
I wrote about the Panjshir Valley, the home of the new National Resistance Front, on Wednesday, August 25, two days before Fawad Andarabi's murder. No doubt, this will give the resistance movement added momentum:
Masoud Andarabi, the former interior minister, condemned the singer's murder. "Taliban's brutality continues in Andarab. Today they brutally killed folk singer, Fawad Andarabi who simply was bringing joy to this valley and its people," he wrote on Twitter. "As he sang here 'our beautiful valley . . . land of our forefathers' will not submit to Taliban brutality."
As for 'female sounds' on television and radio:
The order from Kandahar also confirms fears that women will be forced out of the media and off the airwaves, crushing a vital opportunity for educated, professional women that has flowered in the 20 years since the first Taliban regime was overthrown …
One female reporter in the province said: "The Taliban's ban of female journalists from TV and radio is not a surprise for me. It was expected as the Taliban started stopping women from work in media, banks, activism and other jobs before they took Kabul. Today, no female presenter or anchor were seen on TV in Kandahar. It's very sad. I know many female journalists who are in hiding or have fled. There is no space left at all for working women in Afghanistan."
How terribly sad.
I wonder if the Taliban will still allow kite flying, which they had banned until Western troops began their occupation.
An American author and physician, Dr Khaled Hosseini, who was born in Afghanistan, even wrote a book about it. The Kite Runner developed into a play and a film. Hosseini says the plot is fiction, but it does draw on other Afghans' memories of growing up under a regime of religious brutality, including male sexual assault.
It looks as if the bad old days are here again. Perhaps they never truly disappeared, despite the West's best efforts.
It was with sadness that I read of Jackie Mason's death at the weekend.
Still, he had a good innings. He was 93 years old.
The Daily Mail had an excellent obituary of one of the world's most consistently funny comics. Excerpts follow, emphases mine.
Life before comedy
I did not know that he was born in Wisconsin:
Mason was born in 1928 in Sheboygan, Wisconsin, as Yacov Moshe Maza to immigrant parents from Belarus.
In the early 1930s, the family moved to New York's Lower East Side. All the male relatives were rabbis and young Yacov was expected to follow in their footsteps:
'It was unheard-of to think of anything else,' Mason said. 'But I knew, from the time I'm 12, I had to plot to get out of this, because this is not my calling.'
However, there was no way out for many years. Mason earned a degree in English and Sociology at City College of New York then completed rabbinical studies at Yeshiva University, after which he became a practising rabbi. 
He served several congregations, including those in Weldon, North Carolina, and Latrobe, Pennsylvania.
Sometime in the 1950s, he began working summers in the Catskills, a mountain range in New York State, known for its resorts which attracted Jewish clientele. It is known as the Borscht Belt.
He wrote his own material, put comedy sets together and accustomed himself to being on stage.
Comedy career
It was only in 1959, after his father died, that the rabbi pursued a stand-up career full time and changed his name to Jackie Mason.
However, he did not leave his theological training behind. In 1988, he described his style of comedy to the New York Times:
'My humor — it's a man in a conversation, pointing things out to you,' 
'He's not better than you, he's just another guy,' he added. 'I see life with love — I'm your brother up there — but if I see you make a fool out of yourself, I owe it to you to point that out to you.'      
From the Catskills, he branched out into the big time, playing clubs in Miami and New York in 1960 after two television appearances on the iconic Steve Allen Show.
I am old enough to remember that Jackie Mason was on television a lot in the early 1960s.
In 1964, he appeared on another iconic programme, The Ed Sullivan Show, which aired on Sunday nights. I remember my mother got very worked up about what happened in one of his appearances, as she was a huge Ed Sullivan fan. We never missed a show. After this appearance she turned against Jackie Mason:
… after a terrible misunderstanding in 1964 between Sullivan and Mason involving a perceived obscene middle finger gesture, Jackie's career hit a major slump.
Sullivan canceled Mason's six-show contract, refusing to pay him for the performance. 
Mason eventually filed a lawsuit, and won.
Mason's career did not recover until the late 1970s:
… it would take him many years to find his momentum once again, with his comeback punctuated by well-received performances in 1979's Steve Martin film The Jerk, and Mel Brooks's History of the World: Part I two years later.
'People started to think I was some kind of sick maniac,' Mr. Mason told Look. 'It took 20 years to overcome what happened in that one minute.'
My mother would definitely have agreed with the 'sick maniac' description, unfounded though it was.
He hired a new manager Jyll Rosenfeld, whom he later married. She convinced him that there was an appetite for Borscht Belt humour beyond the Catskills. He launched a long-running show on Broadway in 1986:
Mason decided to bring his one-man comic shows The World According to Me!, to the Broadway stage in 1986.
The hit show ran for two years, and earned him a special Tony Award in 1987, followed by an Emmy for writing when HBO aired a version of the show.
From there, the legendary comedian put close to a dozen other one-man shows on Broadway, with the last being The Ultimate Jew in 2008.
Here is one of his performances from 1986:
Mason also enjoyed an on-screen appearance in Caddyshack II in 1988 and a voice-over as Rabbi Krustofsky in an early episode of The Simpsons in 1992, for which he won a second Primetime Emmy Award, for Outstanding Voice-Over Performance.
In the aforementioned New York Times interview from 1988, he was philosophical in the way only a rabbi can be:
'I've been doing this for a hundred thousand years, but it's like I was born last Thursday,' Mr. Mason told The New York Times in 1988. 
'They see me as today's comedian. Thank God I stunk for such a long time and was invisible, so I could be discovered.'
London appearances
For several years, Jackie Mason used to come to London once a year for a stand-up show that was often televised.
I was in stitches.
Guido Fawkes tweeted Mason's 2002 appearance, which was or was close to being his last over here:
Here's the video, which is just over 90 minutes long:
The next video is his 1999 performance at the London Palladium. It is just under 40 minutes long:
However, in 1992, Mason did a half-hour set at Oxford University, where he ribbed the students for their total lack of sartorial elegance and fondness of political correctness. He also made fun of the Jewish lifestyle which encompasses self-denial of Jewishness as well as certain material aspirations. The University asked him to do the set for free, something at which he also cavilled, in a humorous way:
This is his description of the video:
This is a clip from a lecture I gave at Oxford University back in 1992. They gave me an award and a fellowship in the Oxford Union Society. The first American comedian to receive such an honor. That's how they got me to work for nothing. Enjoy!
Here's the second part, which was a Q&A session:
He talked about his years as a rabbi where people didn't want the sermon and hoped for a few jokes. He said that Oxford students were very polite and he hadn't heard one four-letter word yet: 'I'm waiting, I'm waiting'.
Near the end, he said that England is the most polite society in the Western world with all the ubiquitous apologies one hears. The only exception, he noted, is in Parliament, where the raucous tone reminded him of a 'sanitarium'.
Politics and talk radio
In 1998, Mason's biography was published and he began a career in talk radio:
he published an autobiography, 'Jackie, Oy!' (written with Ken Gross), and discovered a new venture as an opinionated political commentator on talk radio.
Twenty years later, he issued a series of vlogs against then-candidate Barack Obama. I watched most of them. This one discusses the first presidential debate in September 2008:
His description of the Obama v McCain debate reads as follows:
Here are my thoughts on the first presidential debate. Although neither candidate had a clear victory Friday night, the media is saying Obama won because he didn't lose. He looked poised and presidential. Well he did look poised as he made no sense! And if looking Presidential is telling bold lies, the Hail to the Chief!
In 2016, Mason was an unabashed Trump supporter:
He was among the few well-known entertainers to support former President Donald Trump during his 2016 presidential campaign.
In October 2016, he appeared on Aaron Klein Investigative Radio, which airs in New York City and Philadelphia. Mason contrasted Trump's words about women to Bill Clinton's actual violence against his victims.
Breitbart had the story, reporting that Mason said:
What Trump ever did to women is that he called them a name because she gained too much weight so he said she got too fat and he called her a pig. Imagine if the worst thing Bill Clinton ever did was call a girl a name. He called them names after he raped them.
When he got through with them, Juanita Broaddrick wound up with a cut lip. And he had advised her to please go see a doctor. He was very compassionate about sending them to doctors. But he wasn't too concerned about beating them up in the first place. He was so busy punching them around that nobody knows if he made love to them or he just wanted to beat them up a little bit.
As for Hillary, he said:
He was really a violent, insane character. Now his wife, she had a job. Her job was to make sure that these women were never heard about it. Every time somebody threatened to talk about it she immediately went to work on destroying them. First he punched them around. Then it was her job to wipe them out altogether.
… And she's calling Trump a person who can't be trusted because of the way he treats women? This is like somebody who crossed a red light being compared to a murderer.
After Trump's election, Mason turned his attention towards the RINOs, especially the then-Speaker of the House Paul Ryan:
In March 2017, Breitbart reported:
In this week's exclusive clip for Breitbart News, Jackie weighs in on the GOP's failed healthcare bill, explaining that Republicans in Washington were focused on "repealing and replacing" the wrong thing.
"When they were talking about 'repeal and replace,' they were stupid," Jackie says. "They were talking about healthcare, they should have been talking about [House Speaker Paul] Ryan. If Ryan was repealed and replaced we would have had no problem today."
Jackie — who was born in Sheboygan, Wisconsin, in Ryan's home state — says he finds it odd that a Speaker of the House who is supposed to be some kind of "genius" can't count correctly.
"You know what Ryan should do if he wanted to save this whole country? Get another job," he says. "Find out something that you actually know. If there's nothing like that, sit in the House and don't bother anybody. Mind your own business, you'll save the country."
My deepest sympathies go to his widow and former manager Jyll Rosenfeld and his daughter Sheba Mason, from a former union with Ginger Reiter in the 1970s and 1980s.
For more Jackie Mason shows and interviews, visit TheUltimateJew channel on YouTube.
Sadly, Prince Philip, the Duke of Edinburgh, died on Friday, April 9, 2021, exactly two months short of his 100th birthday:
The Queen has lost her best friend. My deepest sympathies to her for the unimaginable loss of her long-time husband and daily confidant. My condolences also go to the Royal Family in their grief.
Young love
The couple first met in 1934, and began corresponding when the Prince was 18 and a cadet in the Royal Navy. Princess Elizabeth was 13 at the time.
She was smitten with him from the start.
Prince Philip served with distinction during the Second World War in the Mediterranean and Pacific fleets.
After the war ended, he could have had a stellar career in the Royal Navy. His superiors praised his clear leadership skills.
However, love intervened and the rest was history.
Born Prince Philip of Greece and Denmark, he renounced his foreign titles and took British citizenship before he and Princess Elizabeth were engaged. He took the surname of his maternal grandparents: Mountbatten.
He and Princess Elizabeth were engaged in July 1947. They married on November 20 that year. Shortly before the wedding, George VI gave him the titles of Duke of Edinburgh (created for him), Earl of Merioneth and Baron Greenwich.
Prince Philip remained in the Royal Navy until July 1951. He retired with the rank of Commander.
Royal succession — and surname
In January 1952, he and the Queen began a tour of the Commonwealth countries. They were in Kenya when news reached them that the Queen's father, George VI, died on February 6 that year.
Although she became Queen immediately upon her father's death, her coronation took place in 1953, as it had to be planned meticulously.
On Coronation Day, he knelt before her, clasped her hands and swore an oath of allegiance to her:
He also had to touch her crown and kiss her on the cheek.
He never had a constitutional role, nor was he ever formally given the title of Royal Consort. The courtiers did not like him, nor did they trust him. They believed his personality to be brash and unbecoming of the Royal household. They shut him out of as much decision making as possible.
When Elizabeth became Queen, the question about her family name arose. Prince Philip suggested that the Royal Family be known as the House of Edinburgh. Upon discovering that suggestion, Queen Mary, Elizabeth's grandmother, wrote to Prime Minister Winston Churchill, who advised the young monarch to issue a royal proclamation saying that the Royal Family would continue to be known as the House of Windsor.
In his inimitable style, Prince Philip complained privately:
I am nothing but a bloody amoeba. I am the only man in the country not allowed to give his name to his own children. [57]
The Queen did nothing until eight years later, in 1960, 11 days before she gave birth to Prince Andrew. She issued an Order in Council declaring that the surname of her and her husband's male-line descendants who are not styled as Royal Highness or titled as prince or princess would be Mountbatten-Windsor.
Pater familias
Prince Philip had to carve a role out for himself. He became the pater familias and, through the years, his role expanded to cover not only his four children but his grandchildren. He listened to their concerns, shared their joys and gave them advice. He knew everything that went on in their lives.
Although the public knew him for speaking as he saw — rather bluntly, on occasion — behind closed doors Prince Philip was known to be a warm, loving man.
He also favoured a more transparent Royal Family. According to the BBC, it was he who encouraged the Queen to make a multi-episode documentary on their daily lives, including those of their four children. It was broadcast in the late 1960s. I remember seeing it in the United States.
When Princess Diana died on August 31, 1997, Prince Philip was the one who kept an eye on the public mood that fateful week. He, the Queen and Princes William and Harry were at Balmoral in Scotland for their summer holiday. When the young princes wanted to attend church, their grandparents took them to the Sunday service on the day of their mother's death. Later in the week, it was Prince Philip who encouraged the boys to walk behind the funeral procession the following Saturday. He said:
If you don't walk, I think you'll regret it later. If I walk, will you walk with me? [93]
One cannot imagine what he thought of Prince Harry's departure for the United States to live a life separate from his closely knit family. I did read that the Royal Family shielded information about the Oprah interview from him.
John F Kennedy's funeral
Prince Philip was in Washington for John F Kennedy's funeral in 1963.
He had a friendly encounter with John Jr, who was still a toddler and known as John-John at the time. The child wondered where his father was, as he had no one with whom to play. The Prince stepped in to fill that gap. In 1965, the British government gave an acre of land at Runnymede to the United States for use as a memorial to JFK:
Funeral arrangements
Prince Philip was self-effacing and did not like a fuss to be made over him.
Therefore, the funeral arrangements will respect his wishes, which is rather convenient, as coronavirus restrictions are still in place. Up to 30 people will be allowed at his funeral, in line with legislation across the nation:
The funeral is scheduled to take place on Saturday, April 17:
It is interesting that Prince Harry will be able to attend when we have a 10-day quarantine in place for arrivals into the UK under coronavirus regulations.
The Sunday Mirror reported on Prince Harry's return to the UK:
He could also be released from quarantine if he gets a negative private test on day five, under the Test to Release scheme.
Given his status as a member of the Royal Family travelling to support the Queen, Harry might be considered exempt from travel restrictions.
Wow. It's nice to know we have a two-tiered quarantine system in place /sarc.
A championship boxer remembers the Prince
Former WBC Heavyweight Champion Frank Bruno MBE posted his memories of meeting Prince Philip. He is at the top left in the following photo:
An Anglican priest remembers the Prince
The Revd Peter Mullen, an Anglican priest, recalled his encounters with Prince Philip for Conservative Woman on April 10 in 'A personal recollection'.
He first met the Prince during his schooldays:
The first time I met the Prince was in connection with his Duke of Edinburgh's Award Scheme which gave a leg up to youngsters from what would now be called the less privileged parts of the country. He paid a visit to the Leeds branch of the Church Lads' Brigade of which, aged fourteen, I was a member. We were in the church hall making things. My task was to make a table lamp. I was hopeless at it.
The Duke got hold of my half-finished creation, held it up to one eye and said, 'I suppose this hole is where the flex goes?'
'I think so, Sir.'
'You think so? I was never any good at this sort of thing either!'
And he was off . . . 
As an adult, Mullen met him on more than one occasion thanks to the Honourable Company of Air Pilots. The Prince was its Grand Master. Mullen served as chaplain.
He recalls:
The Company gave a lunch for him to mark his 80th birthday and I recall how jovial he was, making light of his years: 'I believe I have lasted so long because you people are always toasting my good health, but I don't want to live to be a hundred. Things are dropping off already!'
At another luncheon one of our Liverymen who had his own port wine business presented the prince with Bottle Number One, the first fruits, so to speak. As he left, the duke handed the bottle to me: 'You have this, Peter. Our house floats on the bloody stuff.'
'Well, Sir, now I don't know whether to drink it or frame it.'
'Gerrit down ya neck!'
Prince Philip on MPs
Guido Fawkes came up with a good quote from one of the Prince's trips to Ghana. It concerns MPs. His Ghanaian hosts told him the country had 200 MPs. Prince Philip replied:
That's about the right number. We have 650 and most of them are a complete bloody waste of time.
Incidentally, Parliament will be recalled one day early from Easter recess. On Monday, April 12, MPs and Lords paid tribute to the Prince in their respective Houses:
That afternoon, the House of Commons reconvened to pay their tribute — from 2:30 p.m. until 10 p.m. (good grief).
Speaker Sir Lindsay Hoyle spoke first:
Prime Minister Boris Johnson had this to say:
Boris Johnson, who was invited to the funeral but declined so that another member of the Royal Family can attend, said that he would forego a pint when pub gardens reopen on April 12, out of respect for the Prince. Guido Fawkes, however, thinks that the Duke of Edinburgh would have wanted us to toast his memory, especially at a pub that bears his title in Brixton, south London:
Guido had a second tweet on the subject with another quote from the Prince:
Agreed.
Prince Philip on Australia
This is too funny. For those who are unaware, Australia was established as a place where Britain could send convicts. That was a long time ago, but the nation's original purpose was to serve as a prison: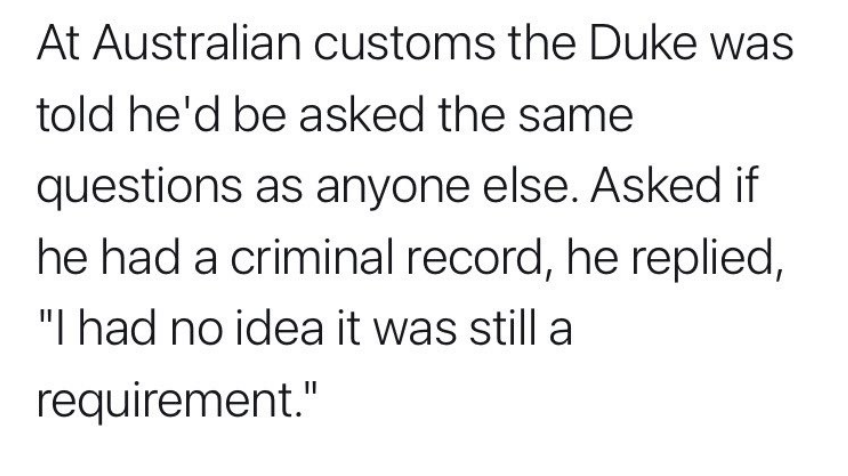 Prince Philip on civil liberties
On a serious note, the 12-minute interview below from 1984 is well worth watching, especially in the coronavirus era.
Prince Philip firmly supported the rights of the individual and believed that the state should serve the individual, not, as in our times, the other way around.
This is from a Thames Television programme originally broadcast on ITV:
I have posted the video below in case the tweets are deleted:
The Prince also said that certain subjects are out of bounds, such as the media and the NHS.
He said that the media are incapable of taking a joke about themselves and, as for the NHS, well, one cannot say anything against it. He didn't necessarily dislike the NHS but thought it was held in too high a regard. Nothing is perfect in this world.
We have been travelling a long road towards the point where we are at present: ruled by the media (they clamoured for coronavirus restrictions) and worship of the NHS. This is how Health Secretary Matt Hancock, Prime Minister Boris Johnson and SAGE have been able to rule our lives. It's been at least 40 years in the making.
BBC coverage on Friday
I was watching BBC Parliament early Friday afternoon, around 1:15, when the programme was interrupted by a broadcast from the BBC News Channel.
I checked the schedule an hour later, which said that the programme would last until 4 p.m. It was still going when I was preparing dinner at 5 p.m.
The final of MasterChef was to have been broadcast that night on BBC1. This was a clip from Thursday's programme:
Pictured are the hosts and judges, chef/restaurateur John Torode on the left and former greengrocer, now television presenter, Gregg Wallace on the right:
BUT:
The BBC News channel was simulcast all afternoon and all night long, not only on BBC Parliament but also on BBC1, to the dismay of MasterChef fans (myself included), and BBC2. BBC4 was suspended for the evening.
I read on social media that the BBC also broadcast continuous coverage of Prince Philip on their radio stations, including Radio 2, knocking out Steve Wright's drive-time show on Friday afternoon.
A friend of mine said that most of the BBC's employees were probably rubbing their hands with glee because it meant an early weekend for them. It's a cynical perspective that could well turn out to be true. We'll find out when someone writes his or her memoirs.
Everyone with a television set receives the BBC News channel. It comes into our homes at no extra charge. There was no need for the BBC to take over every channel for hours on end. By the way, if one had watched two hours of the Prince Philip coverage, as I did, one would have seen and heard everything in its entirety.
The BBC braced themselves for a plethora of complaints; they took the relevant page down on Sunday. Good. I am sure Prince Philip would have objected, too.
As much as I love the Queen, I hope they do not try this when her day comes. God willing, may it be long into the future.
Record-beating prince
Prince Philip established two records as consort to the Queen. He was the longest-serving royal consort in British history. He was also the longest-lived male member of the British royal family.
May he rest in eternal peace with his Maker.
May our gracious Lord grant the Queen, Defender of the Faith, His infinite peace and comfort in the months ahead. May He also bless the Royal Family during this difficult time.
Wednesday, February 17, 2021, was a sad day for American conservatives.
Radio host Rush Limbaugh died of lung cancer.
His weekday radio show, broadcast all over the United States, gave a voice to independents and Republicans who support American values and common sense.
Why millions mourn
Although Limbaugh spent nearly all his career in broadcasting, he became a household word during the Clinton administration. Adults listened to him intently. They encouraged their children to listen to him also, whether at home or on the road.
Limbaugh spoke the truth in a witty, humourous way that kept the syndication of his show on the rise.
The man with the golden microphone influenced millions of Americans, young and old, in a tie that he designed himself. He had a series of these ties, of varying designs of his own which were made in pure silk and produced in the 1990s. They sold like hotcakes:
His broadcasting company was called EIB: Excellence in Broadcasting.
Florida governor Ron DeSantis gave one of the state's two most famous residents — the other would be President Trump — a proper tribute, including an excellent potted biography. Click on the image in the tweet to see more:
Former US Secretary of State Mike Pompeo used one of Rush's invented terms for those who agreed with him: 'ditto heads'. As I recall, in order to help pace calls from listeners, he encouraged them to say 'ditto' if they agreed with him. In time, he affectionately called them ditto heads:
Trump supporters and commentators Diamond and Silk also sent their condolences:
Limbaugh's many millions of fans knew that he was gravely ill.
Nevertheless, he helped President Trump out by having him do a two-hour rally on air last October. As many states were on coronavirus lockdown, it seemed a sensible way to reach listeners all across the country, which it duly did. Dan Scavino's tweet includes a link to the transcript and to the video:
On October 19, he provided his audience with an update on his health. An excerpt follows:
I just don't like to talk about it often 'cause I don't want to be a cancer patient on the radio.
And there's another thing too. Folks, it's an up and down thing. It really is a day-to-day thing. And so what I tell you one day could very well be true. And then the next day, oops, setback, oops, then I gotta go back, "Folks, what I told you yesterday, forget it. It's not true today." I don't want to put you through that. I don't want to put myself through it. But I know you're concerned. So, it is time. I do want to provide you with a brief and honest update.
In a nutshell, there are lots of ups and downs in this particular illness. And it can feel like a roller coaster at times that you can't get off of. And again, I want to stress here that I know countless numbers of you are experiencing the same thing. If it isn't lung cancer, it's some kind of cancer. If it isn't you, it's somebody really close to you. If it isn't an illness, it's something. We're all going through challenges. Mine are no better and mine are no different and mine are no more special than anybody else. But it can feel like a roller coaster.
On Christmas Eve, his audience wasn't sure whether he would make it back for the New Year. Thankfully, he did, for a while:
On the day of his demise, his widow Kathryn introduced the show with aplomb. All credit to her. She did a brilliant job at what must have been one of the most difficult moments in her life:
No doubt the show's producer, Bo Snerdley, helped her with a highly professional announcement:
Speaking of family, this is David Limbaugh's tribute. Rush was his brother:
Career success
Part of the reason Rush Limbaugh retained such great listener loyalty was that he could make boring or contentious subjects funny.
One of his early radio heroes was Larry Lujack, known during the 1970s as Chicago's 'superjock' when he was employed by WLS. Lujack's ratings were enormous, even for a top-40 station.
Another one of Limbaugh's favourites was William F Buckley Jr, who founded National Review and hosted PBS's Firing Line for many years.
Limbaugh came from a family of lawyers and judges, so the admiration of Buckley is understandable.
However, Limbaugh was not one for legal or serious academics, and, as a boy in Cape Girardeau, Missouri, he gravitated towards American football and radio.
Little did Rush Limbaugh know that he would be able to surpass his 'mentors' during his career and become one of the most famous men in the United States.
He borrowed heavily from both.
Radio
Having a career in radio is very difficult.
You get hired and fired in quick order. Even a superjock like Larry Lujack had his ups and downs before finding ratings success at WLS.
Interestingly, this is how he did it. And Rush Limbaugh did something similar during the early days of his career.
WLS used to carry farm reports before it became a Top-40 music station. When Lujack started, the station was still receiving farming magazines, so, instead of reading the grain reports with a formal farming report, he began relating stories from the farming magazines. These eventually became a regular feature on his show and were called Animal Stories.
Similarly, in 1971, when Lujack was at his height in the disc jockey ratings, Limbaugh was working at a Pittsburgh radio station which also had farm reports. Fox News has an article on Limbaugh's career and relates how he got around farm reports:
"The last thing that the audience of my show cares about is farm news. If farm news came on, bam! They pushed the button and go somewhere else. So, we had to figure out, 'Okay, how do we do this and protect the license?' So I turned the farm news every day into a funny bit with farm sound effects and the roosters crowing and so forth, and I'd make fun of the stockyard feed prices or whatever it was, so that we could say, 'We're doing barn news,' agriculture news. There was all kinds of things like that," Limbaugh told listeners.
The tidbit offered a glimpse into Limbaugh's early days, proving that he was a master of keeping audiences engaged from a young age.
Veteran talk radio host and Boston Herald columnist Howie Carr wrote a warm and detailed tribute to Limbaugh, which shows just how he mastered radio. Excerpts follow:
Thanks for being the absolute best lead-in any other radio-talk show host could have ever dream of having.
Thank you for all the great nicknames from old Top 40 songs, including for local Massachusetts politicians Mike Dukakis ("Nowhere Man"), Ted Kennedy ("The Philanderer") and Barney Frank ("My Boy Lollipop") …
Thank you for teaching all of us other hosts how to properly utilize sound cuts, even before the digital era, when it became so easy to pull up audio clips.
Thank for those unforgettable shorthand descriptions of, say, John Kerry ("who, you may not have heard, served in Vietnam"), not to mention such memorable phrases as "the drive-by media," "talent on loan from God," and "random acts of journalism."
Thanks for your unfailingly good humor, and the fact that you were "up" every afternoon at noon, no matter how you may have felt inside …
Thank you being, as you used to say, America's anchorman, not to mention, providing show prep for the rest of the media …
Thank you for driving President Bill Clinton so crazy that one morning on Air Force One, speaking to the morning hosts on KMOX, the blowtorch station in Rush's home state of Missouri, he whined and said something like, "It's so hard to compete against a guy like Limbaugh who has three hours a day."
In other words, Clinton was complaining that a journeyman radio guy had a bigger bully pulpit than the president of the United States.
Thank you for giving me, and a hundred others, brand-new careers, that I might add paid so much better than newspapers or spinning 45's on a dying Top 40 station.
One of my listeners, Jay from Chelsea, texted me yesterday afternoon:
"Forget Buddy Holly and the Big Bopper, TODAY is the day the music died." Vaya con Dios, Rush. Go with God.
Well said.
Howie also said more than once on his show that day that Rush Limbaugh was renowned as being a big tipper in restaurants.
Conservative analysis
In addition to absorbing conservative thought, particularly by William F Buckley Jr, Limbaugh took a number of trips across Europe and Asia. The Fox News article says:
Limbaugh has said he realized America was the "greatest country ever" when taking trips to Europe and Asia in his late 20s and early 30s, an experience that helped shape his political views.
Like Buckley, Limbaugh was careful to do his research before every show. Rather than conduct a continuous call-in, he gave his own views based on the news, interviews and books he had read. When he took calls, which he did daily, he engaged the listeners in conversation.
Of Buckley, Limbaugh said:
He single-handedly is responsible for my learning to form and frame my beliefs and express them verbally in a concise and understandable way.
The interesting thing is that, as was true with Buckley, both could predict things that came true several months later. That requires analysis of facts and trends. Limbaugh was able to replay clips of his previous programmes when those times came.
Dan Bongino compiled 'The 20 Greatest Quotes From Rush Limbaugh'. Four follow. My favourite is the 17th (emphases mine):
19) "For government to give, it must first take away."
17) "Now, what is the left's worldview in general? What is it? If you had to attach not a philosophy but an attitude to a leftist worldview, it's one of pessimism and darkness, sadness. They're never happy, are they? They're always angry about something. No matter what they get, they're always angry."
2) "You know why there's a Second Amendment? In case the government fails to follow the first one."
1) "What about feeling sorry for those…who pay the taxes? Those are the people NO ONE ever feels sorry for. They are asked to give and give until they have no more to give. And when they say 'Enough!' they are called selfish."
Courtesy
Rush Limbaugh never lorded himself over his audience and was very courteous to his callers.
On Wednesday, Howie Carr, who knew Limbaugh peripherally, said that, even when Limbaugh became mostly deaf, he could sense the tone of a caller's voice. If they were worried, he reassured them. When they were happy, he laughed along with them.
Howie Carr says that during the last ten years or so of Limbaugh's show, he employed a transcriber who could type as quickly as a caller spoke. This further enabled him to engage with those phoning in to the show, which he broadcast from a custom-built studio at his home in Palm Beach.
The show's future
Howie Carr said that, for now, The Rush Limbaugh Show will continue with retrospective audio clips on various topics, of which there are many. He thinks there will be a presenter to oversee the show and introduce various archived pieces.
WXJB-FM, a station that carries The Rush Limbaugh Show, issued a statement on Wednesday, which reads in part:
All of Rush's audio has been extensively archived and catalogued by subject, topic and opinion.  Given how timeless and insightful Rush's commentary is his producers will be able to pull segments that are relevant for each day's news cycle and allow us to feature the best of Rush for the full three hours of the program.
The familiar voices of the programs' guest hosts will be used in the show when needed to guide Rush's audio from one topic to another, but Rush will be the predominant voice heard for the three-hour Monday-Friday show, the AM Daily Update and The Week in Review three-hour show.
Please note that we will continue with this transitional programming until the audience is prepared to say good-bye. The long-term plan will be shared with you in the upcoming weeks.
We will mourn together in a respectful way and celebrate the incredible life of Rush with his millions of loyal listeners.  Today, a three hour tribute will air in Rush's regular time slot.  Follow-up information will be posted on www.rushlimbaugh.com.
Thank goodness.
President Trump's tribute
Fox News interviewed President Trump on Wednesday. This 12-minute video is very interesting, definitely worth a watch:
Here is a shorter excerpt from that interview:
President Trump said that he did not know Limbaugh until shortly after he began his presidential campaign in 2015 at Trump Tower. Sometime afterwards, a mutual friend got in touch with candidate Trump to say that he had a fan in Limbaugh.
Trump then began listening to Limbaugh's shows. The radio host mentioned him and his candidacy frequently. Finally, the two men met. As they both had homes in Palm Beach, Florida, it was convenient. When time permitted, they shared a game of golf. Trump praised Limbaugh's strong swing.
He also had high praise for his wife Kathryn Limbaugh and credits Rush's ability to survive for the last few months to her good care as well as to the radio host's indomitable spirit.
When it came time to present the Presidential Medal of Freedom at the State of the Union Address in 2020, Limbaugh was receiving treatment in a Boston hospital. Trump wanted to keep the medal a surprise but could not do so, because allowing Limbaugh out of hospital required details of why he had to be temporarily discharged. Further complicating matters was the fact that Limbaugh was incapacitated for the most part and had to use a wheelchair. The video has a clip of the presentation. I remember it from last year. It was very moving, indeed.
Fortunately, Newsmax also has a clip. Kathryn Limbaugh is on the left of the screen. First Lady Melania Trump presented the honour:
Much applause and a standing ovation from Republicans followed:
The last time the US president spoke to the ailing radio host was a few days before his death. He called to check in on his friend, who, by then, was very ill indeed.
President Trump said that Rush Limbaugh truly loved America. He also said that America's most famous radio host was also religious, which is why he was able to be philosophical about his illness.
Tens of millions of us can believe it.
The word most often used this week to describe him is 'irreplaceable'. Tens of millions of us can believe that, too:
May Rush Limbaugh rest in eternal peace with perpetual light forever shining upon him.
My prayers go to his widow Kathryn, his brother David, the rest of his family and all his friends.
Rush Limbaugh was one of the last people who exemplify Americana in all its greatness.
On Monday, January 18, 2021, former Supreme Court Justice Lord Sumption appeared on Julia Hartley-Brewer's talkRADIO show to discuss the perils of lockdown:
From early last year, Lord Sumption has been a calm, rational opponent of lockdown.
Breitbart has a summary of the three-minute interview clip. Excerpts follow, emphases mine.
I am pleased that his stance has not changed:
Lord Sumption, who last month branded lockdowns "profoundly immoral" and "useless", told talkRADIO's Julia Hartley-Brewer on Monday: "We are in the process of turning a public health crisis into an economic, social, and educational disaster.
"We didn't have to do this. One of the problems is that the government has never been prepared at least to acknowledge that it is necessary to weigh up one thing against another. We cannot have both: lockdown and a prosperous economy. The fact is that no country ever managed to reduce deaths by making itself poorer."
He warned that this will have a long-term, generational effect:
Lord Sumption continued: "What we have is a lot of people in this country that because they are frightened, or in the case of the government because they are manipulative, are only prepared to look at part of what is actually a very complicated problem.
"You can't just look at it as a public health issue because it's a major economic issue. I'm not talking just about the prosperity of businesses, I'm talking about jobs, and how a generation of young people entering the job market is entering a void and the consequences of that are terrible.
"It's going to live with them for years and years. Long after we've forgotten about COVID, they'll be suffering from the consequences of this. The problem is that emotion is a tool for avoiding difficult choices and the idea that there are no difficult choices — in this case, that the answer is simply to lock down — is frankly absurd."
Using independent sources, Breitbart supports Lord Sumption's views about the economy and about the effect on NHS services in other areas:
A survey conducted by the Federation of Small Businesses (FSB) found that it is expected that around a quarter of a million small businesses will collapse as a result of the lockdown this year.
Reports since the beginning of the lockdowns have also revealed the cost to the nation's wider wellbeing as NHS hospitals prioritised COVID care and cancelled other services, including a fall in chemotherapy attendance and early cancer referrals, and people dying on transplant waiting lists. There has also been a rise in people feeling depressed or suicidal.
The following graph shows that lockdown was — and is — not necessary. It shows deaths in England between 1971 and 2020. There was hardly an uptick last year:
LBC's talk radio show presenter Maajid Nawaz has also been an outspoken opponent of lockdown.
Last Sunday, he put together an exhaustive thread — excerpts of which follow — about the dangers of lockdown worldwide, especially for children:
Lockdown is made for the middle class a) who have houses with gardens and b) who never have to worry about losing their jobs — public sector employees:
Ten months on, this is a never-ending downward spiral, where the rules change every few weeks and are often contradictory. More on that in another post.
On Monday, January 11, 2021, I listened to the Howie Carr Show to find out the latest on President Trump.
Howie didn't have much news on that score, only wishes from callers hopeful that the US president could rescue his re-election bid.
However, in the final segment, one man from Cape Cod in Massachusetts — a regular summer advertiser on Howie's show and someone whom Howie knows personally — rang in to say that his life has been a shambles since the Washington DC event on January 6.
This successful Massachusetts businessman had rung Howie last week to say that the DC rally had been a wonderful celebration of all things American: tradition, patriotism and friendliness.
This man and the many thousands he was with were not anywhere near the Capitol building. They were some distance away.
Last week, he rang in to tell Howie his story of what a grand day out it was.
Since then, he has been attacked on social media and called every name in the book for having gone to DC last Wednesday.
He told Howie that his wife — 'my beautiful bride' —  has been in tears much of the time and his young daughter has also been severely affected by the verbal attacks by members of the general public.
At one point, uncharacteristically, he broke down in tears. He was unsure for the future of his business, even though his ancestors have lived on the Cape for at least three generations. Everyone knows the family name as being honourable and reputable.
Yet, now, that has all come to an end.
I do not want to mention this man's name for fear of further abuse towards him and his family. Regular listeners of the Howie Carr Show will know this man, even if only by the adverts for his establishment.
He said that money this year is not the problem. It is his reputation.
He has been falsely smeared. He did not know what had been going on at the Capitol that day, yet, his good name — and that of his wife and daughter, who were not in DC — have been besmirched.
May I suggest to everyone who is condemning those who attended last week's Trump rally to step back, take a deep breath and stop accusing everyone — hundreds of thousands of people — of tearing up the Capitol building.
In closing, this is a photo (no source given) of Trump supporters in the Rotunda of the Capitol last Wednesday. In case anyone is wondering, the general public are permitted to see parts of the building. I was in it many decades ago: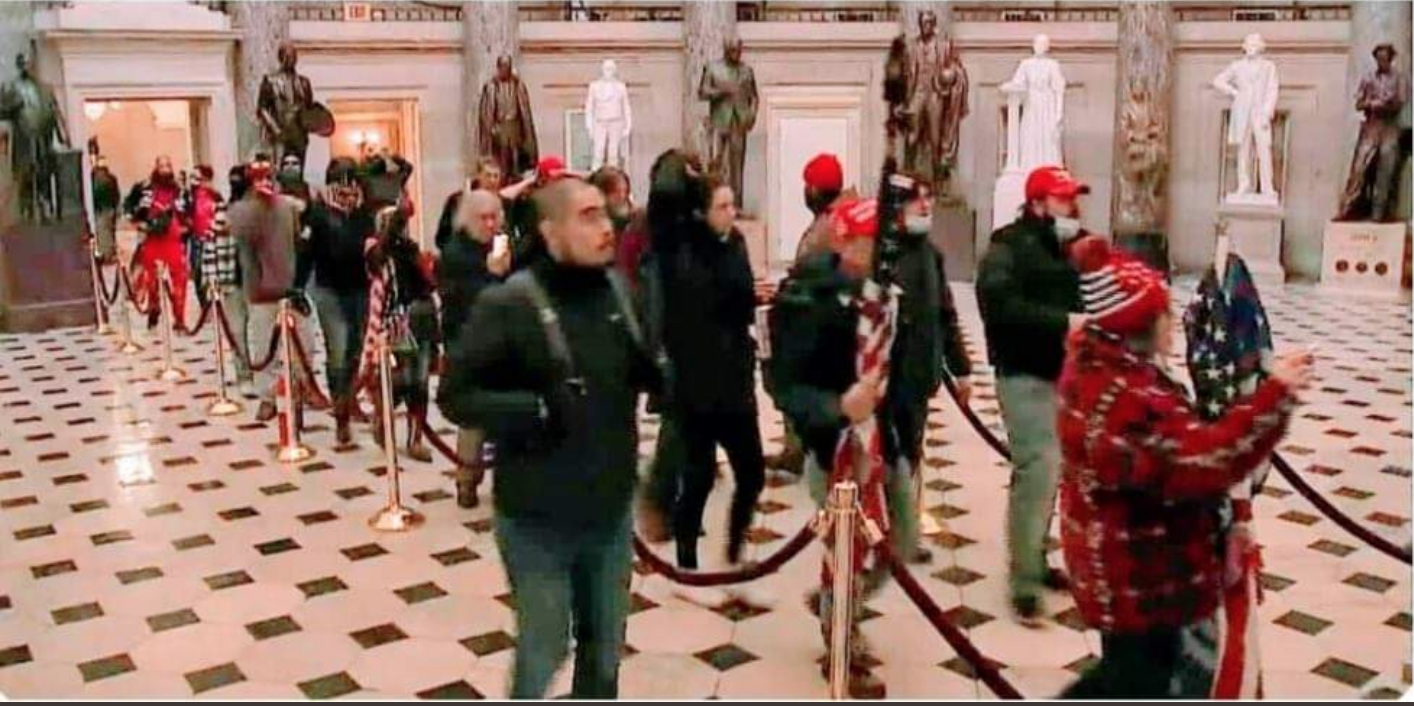 They look pretty lawless, don't they?
If I had a more secular blog, my words would be much stronger.
In conclusion: I hope Trump/Republican detractors stop the hate. Leave people alone. The vast majority went in good faith to support President Trump in his final days in office.
If this businessman's experience is but a snapshot in time, I dread to think what the next four years will bring.
As we approach 2021, a growing number of Europeans are sceptical about our governments' respective responses to coronavirus.
My guess is that people are becoming suspicious about the loss of their civil liberties, which was only supposed to last for two to three weeks, yet continues to this day — nine months on.
There is no end in sight as we face the possibility of another sharp, nationwide lockdown early in the New Year.
France
This was a major topic of discussion on RMC's Les Grandes Gueules today.
Vaccinations have reached saturation point in France, even though the programme has barely started. Perhaps the government was too slow in obtaining more doses at the outset:
Regardless, in France, as well as everywhere else, even the vaccinated will need to continue to wear masks — possibly even after their second BioNtech/Pfizer jab:
Of course, mass vaccination is the only way that a nation's economy can once again flourish. Recall that for most age groups — up to the 70+ cohort — the average death rate is around 0.05%:
In the meantime, the question arose over whether future lockdowns should be national or regional. (We've tried both recently in England and Wales. It doesn't seem to make much difference.) This educator says that we can't stay locked down for the next ten years — 'I'm horrified. We're in a world of madness":
The lawyer on the panel disagreed, saying that we need lockdowns until we get the all clear. Someone responded to the tweet casting doubt on government statistics, saying that lies are a way of dramatising the situation — Project Fear:
Listeners rang in to say that they were sceptical about lockdowns and mandatory vaccines. The lockdowns don't seem to work and there aren't enough data yet to show that the vaccines are reliable and safe, especially if they operate like the flu vaccine, meaning that one is still susceptible to getting coronavirus, albeit a milder form of it.
Spain
The Spanish government is considering whether to develop a list of residents who do not take the vaccine then circulate those names to other countries to restrict their movements.
British talk show host Maajid Nawaz of LBC warned that this is a very dangerous step for a nation to take. He said that, years ago, he was a prisoner of conscience in Egypt and found out how far the state can go in controlling one's life. The response to his video is quite telling:
Someone else replying said that Spain would not be able to circulate the list because of personal privacy laws under the Europe-wide GDPR regulations. Hmm, I wonder:
England
Maajid Nawaz had another excellent commentary on the futility of lockdowns. He said that only one person in the UK has put together a cost benefit analysis for public consumption and that only the Times has published it. Apparently, 500,000 lives are adversely affected among the general population and they are not COVID-19 'cases' or inpatients. He added that Government ministers have a lot of data they refuse to reveal to the public. I would go further and say they are not even revealing it to MPs. Matt Hancock lets nothing out in Parliament, only more fear-mongering messages, then expects MPs to approve more restrictions:
Simon Dolan, a businessman who has sued the Government over lockdown, points out that lockdown relies on asymptomatic transmission being true. However, yet another study shows that there is no truth behind asymptomatic transmission:
The latest study, which the JAMA published, focusses on household transmission:
On lockdown, Simon Dolan posits:
Yes, most probably.
But what about the lorry drivers stranded at Dover because Emmanuel Macron didn't want them coming into Calais unless they were tested? Only a tiny number tested positive:
It's no wonder people are sceptical.
In closing, I have been waiting for an ecological impact assessment on masks. Here it is:
Does anyone else find it odd that, given the alarm over coronavirus, no country has any HAZMAT bins for used masks? Shouldn't worn masks be considered hazardous waste?
It makes one wonder …
More to come.