You are currently browsing the tag archive for the 'radio' tag.
Sadly, Prince Philip, the Duke of Edinburgh, died on Friday, April 9, 2021, exactly two months short of his 100th birthday:
The Queen has lost her best friend. My deepest sympathies to her for the unimaginable loss of her long-time husband and daily confidant. My condolences also go to the Royal Family in their grief.
Young love
The couple first met in 1934, and began corresponding when the Prince was 18 and a cadet in the Royal Navy. Princess Elizabeth was 13 at the time.
She was smitten with him from the start.
Prince Philip served with distinction during the Second World War in the Mediterranean and Pacific fleets.
After the war ended, he could have had a stellar career in the Royal Navy. His superiors praised his clear leadership skills.
However, love intervened and the rest was history.
Born Prince Philip of Greece and Denmark, he renounced his foreign titles and took British citizenship before he and Princess Elizabeth were engaged. He took the surname of his maternal grandparents: Mountbatten.
He and Princess Elizabeth were engaged in July 1947. They married on November 20 that year. Shortly before the wedding, George VI gave him the titles of Duke of Edinburgh (created for him), Earl of Merioneth and Baron Greenwich.
Prince Philip remained in the Royal Navy until July 1951. He retired with the rank of Commander.
Royal succession — and surname
In January 1952, he and the Queen began a tour of the Commonwealth countries. They were in Kenya when news reached them that the Queen's father, George VI, died on February 6 that year.
Although she became Queen immediately upon her father's death, her coronation took place in 1953, as it had to be planned meticulously.
On Coronation Day, he knelt before her, clasped her hands and swore an oath of allegiance to her:
He also had to touch her crown and kiss her on the cheek.
He never had a constitutional role, nor was he ever formally given the title of Royal Consort. The courtiers did not like him, nor did they trust him. They believed his personality to be brash and unbecoming of the Royal household. They shut him out of as much decision making as possible.
When Elizabeth became Queen, the question about her family name arose. Prince Philip suggested that the Royal Family be known as the House of Edinburgh. Upon discovering that suggestion, Queen Mary, Elizabeth's grandmother, wrote to Prime Minister Winston Churchill, who advised the young monarch to issue a royal proclamation saying that the Royal Family would continue to be known as the House of Windsor.
In his inimitable style, Prince Philip complained privately:
I am nothing but a bloody amoeba. I am the only man in the country not allowed to give his name to his own children. [57]
The Queen did nothing until eight years later, in 1960, 11 days before she gave birth to Prince Andrew. She issued an Order in Council declaring that the surname of her and her husband's male-line descendants who are not styled as Royal Highness or titled as prince or princess would be Mountbatten-Windsor.
Pater familias
Prince Philip had to carve a role out for himself. He became the pater familias and, through the years, his role expanded to cover not only his four children but his grandchildren. He listened to their concerns, shared their joys and gave them advice. He knew everything that went on in their lives.
Although the public knew him for speaking as he saw — rather bluntly, on occasion — behind closed doors Prince Philip was known to be a warm, loving man.
He also favoured a more transparent Royal Family. According to the BBC, it was he who encouraged the Queen to make a multi-episode documentary on their daily lives, including those of their four children. It was broadcast in the late 1960s. I remember seeing it in the United States.
When Princess Diana died on August 31, 1997, Prince Philip was the one who kept an eye on the public mood that fateful week. He, the Queen and Princes William and Harry were at Balmoral in Scotland for their summer holiday. When the young princes wanted to attend church, their grandparents took them to the Sunday service on the day of their mother's death. Later in the week, it was Prince Philip who encouraged the boys to walk behind the funeral procession the following Saturday. He said:
If you don't walk, I think you'll regret it later. If I walk, will you walk with me? [93]
One cannot imagine what he thought of Prince Harry's departure for the United States to live a life separate from his closely knit family. I did read that the Royal Family shielded information about the Oprah interview from him.
John F Kennedy's funeral
Prince Philip was in Washington for John F Kennedy's funeral in 1963.
He had a friendly encounter with John Jr, who was still a toddler and known as John-John at the time. The child wondered where his father was, as he had no one with whom to play. The Prince stepped in to fill that gap. In 1965, the British government gave an acre of land at Runnymede to the United States for use as a memorial to JFK:
Funeral arrangements
Prince Philip was self-effacing and did not like a fuss to be made over him.
Therefore, the funeral arrangements will respect his wishes, which is rather convenient, as coronavirus restrictions are still in place. Up to 30 people will be allowed at his funeral, in line with legislation across the nation:
The funeral is scheduled to take place on Saturday, April 17:
It is interesting that Prince Harry will be able to attend when we have a 10-day quarantine in place for arrivals into the UK under coronavirus regulations.
The Sunday Mirror reported on Prince Harry's return to the UK:
He could also be released from quarantine if he gets a negative private test on day five, under the Test to Release scheme.
Given his status as a member of the Royal Family travelling to support the Queen, Harry might be considered exempt from travel restrictions.
Wow. It's nice to know we have a two-tiered quarantine system in place /sarc.
A championship boxer remembers the Prince
Former WBC Heavyweight Champion Frank Bruno MBE posted his memories of meeting Prince Philip. He is at the top left in the following photo:
An Anglican priest remembers the Prince
The Revd Peter Mullen, an Anglican priest, recalled his encounters with Prince Philip for Conservative Woman on April 10 in 'A personal recollection'.
He first met the Prince during his schooldays:
The first time I met the Prince was in connection with his Duke of Edinburgh's Award Scheme which gave a leg up to youngsters from what would now be called the less privileged parts of the country. He paid a visit to the Leeds branch of the Church Lads' Brigade of which, aged fourteen, I was a member. We were in the church hall making things. My task was to make a table lamp. I was hopeless at it.
The Duke got hold of my half-finished creation, held it up to one eye and said, 'I suppose this hole is where the flex goes?'
'I think so, Sir.'
'You think so? I was never any good at this sort of thing either!'
And he was off . . . 
As an adult, Mullen met him on more than one occasion thanks to the Honourable Company of Air Pilots. The Prince was its Grand Master. Mullen served as chaplain.
He recalls:
The Company gave a lunch for him to mark his 80th birthday and I recall how jovial he was, making light of his years: 'I believe I have lasted so long because you people are always toasting my good health, but I don't want to live to be a hundred. Things are dropping off already!'
At another luncheon one of our Liverymen who had his own port wine business presented the prince with Bottle Number One, the first fruits, so to speak. As he left, the duke handed the bottle to me: 'You have this, Peter. Our house floats on the bloody stuff.'
'Well, Sir, now I don't know whether to drink it or frame it.'
'Gerrit down ya neck!'
Prince Philip on MPs
Guido Fawkes came up with a good quote from one of the Prince's trips to Ghana. It concerns MPs. His Ghanaian hosts told him the country had 200 MPs. Prince Philip replied:
That's about the right number. We have 650 and most of them are a complete bloody waste of time.
Incidentally, Parliament will be recalled one day early from Easter recess. On Monday, April 12, MPs and Lords paid tribute to the Prince in their respective Houses:
That afternoon, the House of Commons reconvened to pay their tribute — from 2:30 p.m. until 10 p.m. (good grief).
Speaker Sir Lindsay Hoyle spoke first:
Prime Minister Boris Johnson had this to say:
Boris Johnson, who was invited to the funeral but declined so that another member of the Royal Family can attend, said that he would forego a pint when pub gardens reopen on April 12, out of respect for the Prince. Guido Fawkes, however, thinks that the Duke of Edinburgh would have wanted us to toast his memory, especially at a pub that bears his title in Brixton, south London:
Guido had a second tweet on the subject with another quote from the Prince:
Agreed.
Prince Philip on Australia
This is too funny. For those who are unaware, Australia was established as a place where Britain could send convicts. That was a long time ago, but the nation's original purpose was to serve as a prison: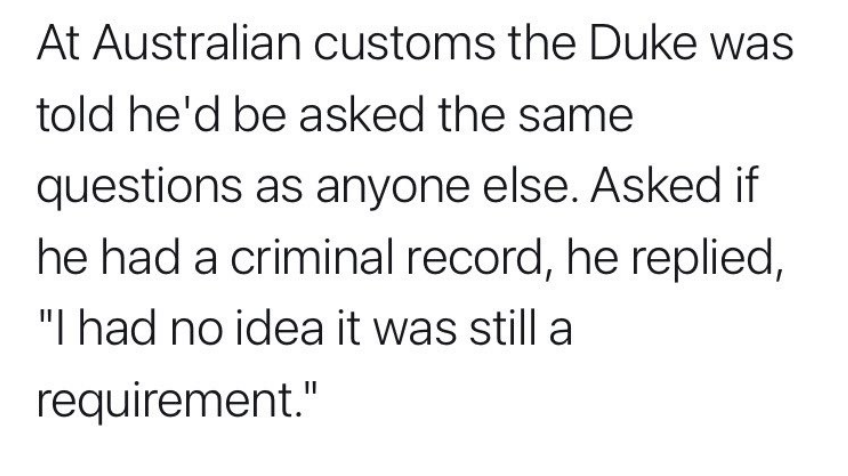 Prince Philip on civil liberties
On a serious note, the 12-minute interview below from 1984 is well worth watching, especially in the coronavirus era.
Prince Philip firmly supported the rights of the individual and believed that the state should serve the individual, not, as in our times, the other way around.
This is from a Thames Television programme originally broadcast on ITV:
I have posted the video below in case the tweets are deleted:
The Prince also said that certain subjects are out of bounds, such as the media and the NHS.
He said that the media are incapable of taking a joke about themselves and, as for the NHS, well, one cannot say anything against it. He didn't necessarily dislike the NHS but thought it was held in too high a regard. Nothing is perfect in this world.
We have been travelling a long road towards the point where we are at present: ruled by the media (they clamoured for coronavirus restrictions) and worship of the NHS. This is how Health Secretary Matt Hancock, Prime Minister Boris Johnson and SAGE have been able to rule our lives. It's been at least 40 years in the making.
BBC coverage on Friday
I was watching BBC Parliament early Friday afternoon, around 1:15, when the programme was interrupted by a broadcast from the BBC News Channel.
I checked the schedule an hour later, which said that the programme would last until 4 p.m. It was still going when I was preparing dinner at 5 p.m.
The final of MasterChef was to have been broadcast that night on BBC1. This was a clip from Thursday's programme:
Pictured are the hosts and judges, chef/restaurateur John Torode on the left and former greengrocer, now television presenter, Gregg Wallace on the right:
BUT:
The BBC News channel was simulcast all afternoon and all night long, not only on BBC Parliament but also on BBC1, to the dismay of MasterChef fans (myself included), and BBC2. BBC4 was suspended for the evening.
I read on social media that the BBC also broadcast continuous coverage of Prince Philip on their radio stations, including Radio 2, knocking out Steve Wright's drive-time show on Friday afternoon.
A friend of mine said that most of the BBC's employees were probably rubbing their hands with glee because it meant an early weekend for them. It's a cynical perspective that could well turn out to be true. We'll find out when someone writes his or her memoirs.
Everyone with a television set receives the BBC News channel. It comes into our homes at no extra charge. There was no need for the BBC to take over every channel for hours on end. By the way, if one had watched two hours of the Prince Philip coverage, as I did, one would have seen and heard everything in its entirety.
The BBC braced themselves for a plethora of complaints; they took the relevant page down on Sunday. Good. I am sure Prince Philip would have objected, too.
As much as I love the Queen, I hope they do not try this when her day comes. God willing, may it be long into the future.
Record-beating prince
Prince Philip established two records as consort to the Queen. He was the longest-serving royal consort in British history. He was also the longest-lived male member of the British royal family.
May he rest in eternal peace with his Maker.
May our gracious Lord grant the Queen, Defender of the Faith, His infinite peace and comfort in the months ahead. May He also bless the Royal Family during this difficult time.
Wednesday, February 17, 2021, was a sad day for American conservatives.
Radio host Rush Limbaugh died of lung cancer.
His weekday radio show, broadcast all over the United States, gave a voice to independents and Republicans who support American values and common sense.
Why millions mourn
Although Limbaugh spent nearly all his career in broadcasting, he became a household word during the Clinton administration. Adults listened to him intently. They encouraged their children to listen to him also, whether at home or on the road.
Limbaugh spoke the truth in a witty, humourous way that kept the syndication of his show on the rise.
The man with the golden microphone influenced millions of Americans, young and old, in a tie that he designed himself. He had a series of these ties, of varying designs of his own which were made in pure silk and produced in the 1990s. They sold like hotcakes:
His broadcasting company was called EIB: Excellence in Broadcasting.
Florida governor Ron DeSantis gave one of the state's two most famous residents — the other would be President Trump — a proper tribute, including an excellent potted biography. Click on the image in the tweet to see more:
Former US Secretary of State Mike Pompeo used one of Rush's invented terms for those who agreed with him: 'ditto heads'. As I recall, in order to help pace calls from listeners, he encouraged them to say 'ditto' if they agreed with him. In time, he affectionately called them ditto heads:
Trump supporters and commentators Diamond and Silk also sent their condolences:
Limbaugh's many millions of fans knew that he was gravely ill.
Nevertheless, he helped President Trump out by having him do a two-hour rally on air last October. As many states were on coronavirus lockdown, it seemed a sensible way to reach listeners all across the country, which it duly did. Dan Scavino's tweet includes a link to the transcript and to the video:
On October 19, he provided his audience with an update on his health. An excerpt follows:
I just don't like to talk about it often 'cause I don't want to be a cancer patient on the radio.
And there's another thing too. Folks, it's an up and down thing. It really is a day-to-day thing. And so what I tell you one day could very well be true. And then the next day, oops, setback, oops, then I gotta go back, "Folks, what I told you yesterday, forget it. It's not true today." I don't want to put you through that. I don't want to put myself through it. But I know you're concerned. So, it is time. I do want to provide you with a brief and honest update.
In a nutshell, there are lots of ups and downs in this particular illness. And it can feel like a roller coaster at times that you can't get off of. And again, I want to stress here that I know countless numbers of you are experiencing the same thing. If it isn't lung cancer, it's some kind of cancer. If it isn't you, it's somebody really close to you. If it isn't an illness, it's something. We're all going through challenges. Mine are no better and mine are no different and mine are no more special than anybody else. But it can feel like a roller coaster.
On Christmas Eve, his audience wasn't sure whether he would make it back for the New Year. Thankfully, he did, for a while:
On the day of his demise, his widow Kathryn introduced the show with aplomb. All credit to her. She did a brilliant job at what must have been one of the most difficult moments in her life:
No doubt the show's producer, Bo Snerdley, helped her with a highly professional announcement:
Speaking of family, this is David Limbaugh's tribute. Rush was his brother:
Career success
Part of the reason Rush Limbaugh retained such great listener loyalty was that he could make boring or contentious subjects funny.
One of his early radio heroes was Larry Lujack, known during the 1970s as Chicago's 'superjock' when he was employed by WLS. Lujack's ratings were enormous, even for a top-40 station.
Another one of Limbaugh's favourites was William F Buckley Jr, who founded National Review and hosted PBS's Firing Line for many years.
Limbaugh came from a family of lawyers and judges, so the admiration of Buckley is understandable.
However, Limbaugh was not one for legal or serious academics, and, as a boy in Cape Girardeau, Missouri, he gravitated towards American football and radio.
Little did Rush Limbaugh know that he would be able to surpass his 'mentors' during his career and become one of the most famous men in the United States.
He borrowed heavily from both.
Radio
Having a career in radio is very difficult.
You get hired and fired in quick order. Even a superjock like Larry Lujack had his ups and downs before finding ratings success at WLS.
Interestingly, this is how he did it. And Rush Limbaugh did something similar during the early days of his career.
WLS used to carry farm reports before it became a Top-40 music station. When Lujack started, the station was still receiving farming magazines, so, instead of reading the grain reports with a formal farming report, he began relating stories from the farming magazines. These eventually became a regular feature on his show and were called Animal Stories.
Similarly, in 1971, when Lujack was at his height in the disc jockey ratings, Limbaugh was working at a Pittsburgh radio station which also had farm reports. Fox News has an article on Limbaugh's career and relates how he got around farm reports:
"The last thing that the audience of my show cares about is farm news. If farm news came on, bam! They pushed the button and go somewhere else. So, we had to figure out, 'Okay, how do we do this and protect the license?' So I turned the farm news every day into a funny bit with farm sound effects and the roosters crowing and so forth, and I'd make fun of the stockyard feed prices or whatever it was, so that we could say, 'We're doing barn news,' agriculture news. There was all kinds of things like that," Limbaugh told listeners.
The tidbit offered a glimpse into Limbaugh's early days, proving that he was a master of keeping audiences engaged from a young age.
Veteran talk radio host and Boston Herald columnist Howie Carr wrote a warm and detailed tribute to Limbaugh, which shows just how he mastered radio. Excerpts follow:
Thanks for being the absolute best lead-in any other radio-talk show host could have ever dream of having.
Thank you for all the great nicknames from old Top 40 songs, including for local Massachusetts politicians Mike Dukakis ("Nowhere Man"), Ted Kennedy ("The Philanderer") and Barney Frank ("My Boy Lollipop") …
Thank you for teaching all of us other hosts how to properly utilize sound cuts, even before the digital era, when it became so easy to pull up audio clips.
Thank for those unforgettable shorthand descriptions of, say, John Kerry ("who, you may not have heard, served in Vietnam"), not to mention such memorable phrases as "the drive-by media," "talent on loan from God," and "random acts of journalism."
Thanks for your unfailingly good humor, and the fact that you were "up" every afternoon at noon, no matter how you may have felt inside …
Thank you being, as you used to say, America's anchorman, not to mention, providing show prep for the rest of the media …
Thank you for driving President Bill Clinton so crazy that one morning on Air Force One, speaking to the morning hosts on KMOX, the blowtorch station in Rush's home state of Missouri, he whined and said something like, "It's so hard to compete against a guy like Limbaugh who has three hours a day."
In other words, Clinton was complaining that a journeyman radio guy had a bigger bully pulpit than the president of the United States.
Thank you for giving me, and a hundred others, brand-new careers, that I might add paid so much better than newspapers or spinning 45's on a dying Top 40 station.
One of my listeners, Jay from Chelsea, texted me yesterday afternoon:
"Forget Buddy Holly and the Big Bopper, TODAY is the day the music died." Vaya con Dios, Rush. Go with God.
Well said.
Howie also said more than once on his show that day that Rush Limbaugh was renowned as being a big tipper in restaurants.
Conservative analysis
In addition to absorbing conservative thought, particularly by William F Buckley Jr, Limbaugh took a number of trips across Europe and Asia. The Fox News article says:
Limbaugh has said he realized America was the "greatest country ever" when taking trips to Europe and Asia in his late 20s and early 30s, an experience that helped shape his political views.
Like Buckley, Limbaugh was careful to do his research before every show. Rather than conduct a continuous call-in, he gave his own views based on the news, interviews and books he had read. When he took calls, which he did daily, he engaged the listeners in conversation.
Of Buckley, Limbaugh said:
He single-handedly is responsible for my learning to form and frame my beliefs and express them verbally in a concise and understandable way.
The interesting thing is that, as was true with Buckley, both could predict things that came true several months later. That requires analysis of facts and trends. Limbaugh was able to replay clips of his previous programmes when those times came.
Dan Bongino compiled 'The 20 Greatest Quotes From Rush Limbaugh'. Four follow. My favourite is the 17th (emphases mine):
19) "For government to give, it must first take away."
17) "Now, what is the left's worldview in general? What is it? If you had to attach not a philosophy but an attitude to a leftist worldview, it's one of pessimism and darkness, sadness. They're never happy, are they? They're always angry about something. No matter what they get, they're always angry."
2) "You know why there's a Second Amendment? In case the government fails to follow the first one."
1) "What about feeling sorry for those…who pay the taxes? Those are the people NO ONE ever feels sorry for. They are asked to give and give until they have no more to give. And when they say 'Enough!' they are called selfish."
Courtesy
Rush Limbaugh never lorded himself over his audience and was very courteous to his callers.
On Wednesday, Howie Carr, who knew Limbaugh peripherally, said that, even when Limbaugh became mostly deaf, he could sense the tone of a caller's voice. If they were worried, he reassured them. When they were happy, he laughed along with them.
Howie Carr says that during the last ten years or so of Limbaugh's show, he employed a transcriber who could type as quickly as a caller spoke. This further enabled him to engage with those phoning in to the show, which he broadcast from a custom-built studio at his home in Palm Beach.
The show's future
Howie Carr said that, for now, The Rush Limbaugh Show will continue with retrospective audio clips on various topics, of which there are many. He thinks there will be a presenter to oversee the show and introduce various archived pieces.
WXJB-FM, a station that carries The Rush Limbaugh Show, issued a statement on Wednesday, which reads in part:
All of Rush's audio has been extensively archived and catalogued by subject, topic and opinion.  Given how timeless and insightful Rush's commentary is his producers will be able to pull segments that are relevant for each day's news cycle and allow us to feature the best of Rush for the full three hours of the program.
The familiar voices of the programs' guest hosts will be used in the show when needed to guide Rush's audio from one topic to another, but Rush will be the predominant voice heard for the three-hour Monday-Friday show, the AM Daily Update and The Week in Review three-hour show.
Please note that we will continue with this transitional programming until the audience is prepared to say good-bye. The long-term plan will be shared with you in the upcoming weeks.
We will mourn together in a respectful way and celebrate the incredible life of Rush with his millions of loyal listeners.  Today, a three hour tribute will air in Rush's regular time slot.  Follow-up information will be posted on www.rushlimbaugh.com.
Thank goodness.
President Trump's tribute
Fox News interviewed President Trump on Wednesday. This 12-minute video is very interesting, definitely worth a watch:
Here is a shorter excerpt from that interview:
President Trump said that he did not know Limbaugh until shortly after he began his presidential campaign in 2015 at Trump Tower. Sometime afterwards, a mutual friend got in touch with candidate Trump to say that he had a fan in Limbaugh.
Trump then began listening to Limbaugh's shows. The radio host mentioned him and his candidacy frequently. Finally, the two men met. As they both had homes in Palm Beach, Florida, it was convenient. When time permitted, they shared a game of golf. Trump praised Limbaugh's strong swing.
He also had high praise for his wife Kathryn Limbaugh and credits Rush's ability to survive for the last few months to her good care as well as to the radio host's indomitable spirit.
When it came time to present the Presidential Medal of Freedom at the State of the Union Address in 2020, Limbaugh was receiving treatment in a Boston hospital. Trump wanted to keep the medal a surprise but could not do so, because allowing Limbaugh out of hospital required details of why he had to be temporarily discharged. Further complicating matters was the fact that Limbaugh was incapacitated for the most part and had to use a wheelchair. The video has a clip of the presentation. I remember it from last year. It was very moving, indeed.
Fortunately, Newsmax also has a clip. Kathryn Limbaugh is on the left of the screen. First Lady Melania Trump presented the honour:
Much applause and a standing ovation from Republicans followed:
The last time the US president spoke to the ailing radio host was a few days before his death. He called to check in on his friend, who, by then, was very ill indeed.
President Trump said that Rush Limbaugh truly loved America. He also said that America's most famous radio host was also religious, which is why he was able to be philosophical about his illness.
Tens of millions of us can believe it.
The word most often used this week to describe him is 'irreplaceable'. Tens of millions of us can believe that, too:
May Rush Limbaugh rest in eternal peace with perpetual light forever shining upon him.
My prayers go to his widow Kathryn, his brother David, the rest of his family and all his friends.
Rush Limbaugh was one of the last people who exemplify Americana in all its greatness.
On Monday, January 18, 2021, former Supreme Court Justice Lord Sumption appeared on Julia Hartley-Brewer's talkRADIO show to discuss the perils of lockdown:
From early last year, Lord Sumption has been a calm, rational opponent of lockdown.
Breitbart has a summary of the three-minute interview clip. Excerpts follow, emphases mine.
I am pleased that his stance has not changed:
Lord Sumption, who last month branded lockdowns "profoundly immoral" and "useless", told talkRADIO's Julia Hartley-Brewer on Monday: "We are in the process of turning a public health crisis into an economic, social, and educational disaster.
"We didn't have to do this. One of the problems is that the government has never been prepared at least to acknowledge that it is necessary to weigh up one thing against another. We cannot have both: lockdown and a prosperous economy. The fact is that no country ever managed to reduce deaths by making itself poorer."
He warned that this will have a long-term, generational effect:
Lord Sumption continued: "What we have is a lot of people in this country that because they are frightened, or in the case of the government because they are manipulative, are only prepared to look at part of what is actually a very complicated problem.
"You can't just look at it as a public health issue because it's a major economic issue. I'm not talking just about the prosperity of businesses, I'm talking about jobs, and how a generation of young people entering the job market is entering a void and the consequences of that are terrible.
"It's going to live with them for years and years. Long after we've forgotten about COVID, they'll be suffering from the consequences of this. The problem is that emotion is a tool for avoiding difficult choices and the idea that there are no difficult choices — in this case, that the answer is simply to lock down — is frankly absurd."
Using independent sources, Breitbart supports Lord Sumption's views about the economy and about the effect on NHS services in other areas:
A survey conducted by the Federation of Small Businesses (FSB) found that it is expected that around a quarter of a million small businesses will collapse as a result of the lockdown this year.
Reports since the beginning of the lockdowns have also revealed the cost to the nation's wider wellbeing as NHS hospitals prioritised COVID care and cancelled other services, including a fall in chemotherapy attendance and early cancer referrals, and people dying on transplant waiting lists. There has also been a rise in people feeling depressed or suicidal.
The following graph shows that lockdown was — and is — not necessary. It shows deaths in England between 1971 and 2020. There was hardly an uptick last year:
LBC's talk radio show presenter Maajid Nawaz has also been an outspoken opponent of lockdown.
Last Sunday, he put together an exhaustive thread — excerpts of which follow — about the dangers of lockdown worldwide, especially for children:
Lockdown is made for the middle class a) who have houses with gardens and b) who never have to worry about losing their jobs — public sector employees:
Ten months on, this is a never-ending downward spiral, where the rules change every few weeks and are often contradictory. More on that in another post.
On Monday, January 11, 2021, I listened to the Howie Carr Show to find out the latest on President Trump.
Howie didn't have much news on that score, only wishes from callers hopeful that the US president could rescue his re-election bid.
However, in the final segment, one man from Cape Cod in Massachusetts — a regular summer advertiser on Howie's show and someone whom Howie knows personally — rang in to say that his life has been a shambles since the Washington DC event on January 6.
This successful Massachusetts businessman had rung Howie last week to say that the DC rally had been a wonderful celebration of all things American: tradition, patriotism and friendliness.
This man and the many thousands he was with were not anywhere near the Capitol building. They were some distance away.
Last week, he rang in to tell Howie his story of what a grand day out it was.
Since then, he has been attacked on social media and called every name in the book for having gone to DC last Wednesday.
He told Howie that his wife — 'my beautiful bride' —  has been in tears much of the time and his young daughter has also been severely affected by the verbal attacks by members of the general public.
At one point, uncharacteristically, he broke down in tears. He was unsure for the future of his business, even though his ancestors have lived on the Cape for at least three generations. Everyone knows the family name as being honourable and reputable.
Yet, now, that has all come to an end.
I do not want to mention this man's name for fear of further abuse towards him and his family. Regular listeners of the Howie Carr Show will know this man, even if only by the adverts for his establishment.
He said that money this year is not the problem. It is his reputation.
He has been falsely smeared. He did not know what had been going on at the Capitol that day, yet, his good name — and that of his wife and daughter, who were not in DC — have been besmirched.
May I suggest to everyone who is condemning those who attended last week's Trump rally to step back, take a deep breath and stop accusing everyone — hundreds of thousands of people — of tearing up the Capitol building.
In closing, this is a photo (no source given) of Trump supporters in the Rotunda of the Capitol last Wednesday. In case anyone is wondering, the general public are permitted to see parts of the building. I was in it many decades ago: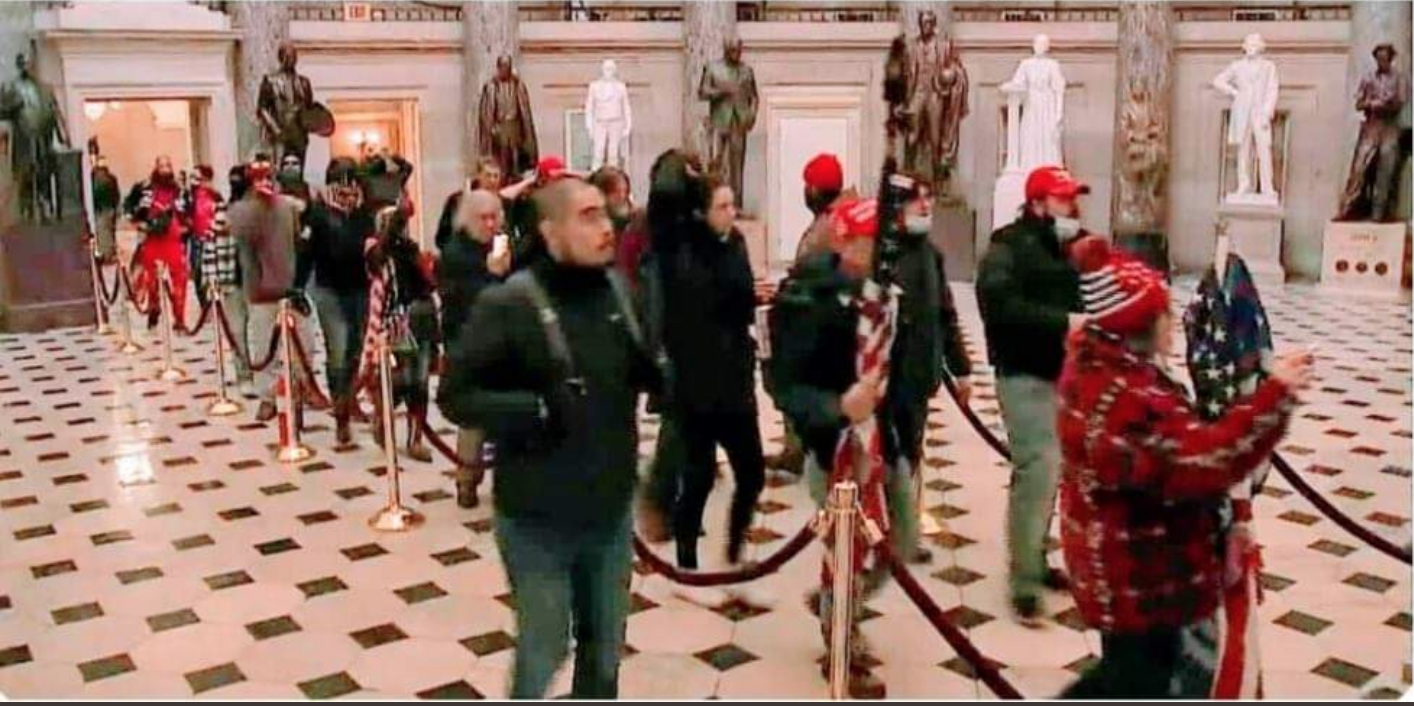 They look pretty lawless, don't they?
If I had a more secular blog, my words would be much stronger.
In conclusion: I hope Trump/Republican detractors stop the hate. Leave people alone. The vast majority went in good faith to support President Trump in his final days in office.
If this businessman's experience is but a snapshot in time, I dread to think what the next four years will bring.
As we approach 2021, a growing number of Europeans are sceptical about our governments' respective responses to coronavirus.
My guess is that people are becoming suspicious about the loss of their civil liberties, which was only supposed to last for two to three weeks, yet continues to this day — nine months on.
There is no end in sight as we face the possibility of another sharp, nationwide lockdown early in the New Year.
France
This was a major topic of discussion on RMC's Les Grandes Gueules today.
Vaccinations have reached saturation point in France, even though the programme has barely started. Perhaps the government was too slow in obtaining more doses at the outset:
Regardless, in France, as well as everywhere else, even the vaccinated will need to continue to wear masks — possibly even after their second BioNtech/Pfizer jab:
Of course, mass vaccination is the only way that a nation's economy can once again flourish. Recall that for most age groups — up to the 70+ cohort — the average death rate is around 0.05%:
In the meantime, the question arose over whether future lockdowns should be national or regional. (We've tried both recently in England and Wales. It doesn't seem to make much difference.) This educator says that we can't stay locked down for the next ten years — 'I'm horrified. We're in a world of madness":
The lawyer on the panel disagreed, saying that we need lockdowns until we get the all clear. Someone responded to the tweet casting doubt on government statistics, saying that lies are a way of dramatising the situation — Project Fear:
Listeners rang in to say that they were sceptical about lockdowns and mandatory vaccines. The lockdowns don't seem to work and there aren't enough data yet to show that the vaccines are reliable and safe, especially if they operate like the flu vaccine, meaning that one is still susceptible to getting coronavirus, albeit a milder form of it.
Spain
The Spanish government is considering whether to develop a list of residents who do not take the vaccine then circulate those names to other countries to restrict their movements.
British talk show host Maajid Nawaz of LBC warned that this is a very dangerous step for a nation to take. He said that, years ago, he was a prisoner of conscience in Egypt and found out how far the state can go in controlling one's life. The response to his video is quite telling:
Someone else replying said that Spain would not be able to circulate the list because of personal privacy laws under the Europe-wide GDPR regulations. Hmm, I wonder:
England
Maajid Nawaz had another excellent commentary on the futility of lockdowns. He said that only one person in the UK has put together a cost benefit analysis for public consumption and that only the Times has published it. Apparently, 500,000 lives are adversely affected among the general population and they are not COVID-19 'cases' or inpatients. He added that Government ministers have a lot of data they refuse to reveal to the public. I would go further and say they are not even revealing it to MPs. Matt Hancock lets nothing out in Parliament, only more fear-mongering messages, then expects MPs to approve more restrictions:
Simon Dolan, a businessman who has sued the Government over lockdown, points out that lockdown relies on asymptomatic transmission being true. However, yet another study shows that there is no truth behind asymptomatic transmission:
The latest study, which the JAMA published, focusses on household transmission:
On lockdown, Simon Dolan posits:
Yes, most probably.
But what about the lorry drivers stranded at Dover because Emmanuel Macron didn't want them coming into Calais unless they were tested? Only a tiny number tested positive:
It's no wonder people are sceptical.
In closing, I have been waiting for an ecological impact assessment on masks. Here it is:
Does anyone else find it odd that, given the alarm over coronavirus, no country has any HAZMAT bins for used masks? Shouldn't worn masks be considered hazardous waste?
It makes one wonder …
More to come.