You are currently browsing the tag archive for the 'Republican Party' tag.
Nearly five years ago, in October 2012, I wrote about Michelle Obama's awful school lunch plan, which left American children hungry, even when they managed to eat what was on their plates.
That post has videos of Michelle saying she loves fried food, which she forbade children from eating at school, not a place most of them want to be, anyway.
Now that Donald Trump is in the White House, readers of The_Donald hope that he will:
Hope springs eternal, boosted by a report in the Conservative Tribune, 'BOOM: GOP Looks to Shut Down Michelle O's lunches' (complete with photos of the current offerings):
Donald Trump and the Republicans aren't just making America great again. They're making Taco Tuesday great again, too.
Just think, the new, tasty versions could even be called Trump Lunches: a stroke of branding genius we have come to know and love from the Donald.
They could include a taco bowl, possibly based on the Trump Tower Grill recipe. What's nicer than a huge deep fried taco piled high with salad? Yum. Brings back fond memories of lunches I enjoyed as an adult in the 1980s.
Of their photographs, one of which has an industrially-stamped sandwich bun, the Conservative Tribune says:
Not exactly Anthony Bourdain we're talking here. Little wonder, then, that even Sheriff Joe Arpaio's prisoners ate better than some of our nation's schoolchildren.
The report says that the Healthy Hunger-Free Kids Act of 2010 was never going to work, even if it:
started out with the best of intentions. Who doesn't want their children to eat healthier, after all? However, the legislation made two fatal assumptions.
First, it assumed that local school districts weren't, for whatever reason, trying to make healthy food for their students. Second, it assumed that a one-size-fits-all series of laws and regulations could fix the problem.
Yet:
They wished to believe that, given time, these unworkable regulations would turn our nation's lunchrooms into veritable Whole Foods cafeterias.
Unsurprisingly, it hasn't worked. It's time for Michelle Obama's lunch rules to be tossed.
Fox News has more:
A document released by the office of Rep. Mark Meadows, R-N.C., called for repealing certain aspects of the Healthy Hunger-Free Kids Act of 2010 – the legislation that helped put Michelle Obama's hallmark program into law. The initiative is part of a broader plan released by Meadows titled, "First 100 Days: Rules, Regulations, and Executive Orders to Examine, Revoke and Issue."
The document calls for the Trump administration to reverse nearly 200 rules and regulations, including the requirements of the 2010 law. 
A related report from the House Freedom Caucus shows:
The regulations have proven to be burdensome and unworkable for schools to implement. Schools are throwing food away that students are not eating.
Another report, released by the University of Vermont in 2015:
found even though students added more fruits and vegetables to their plates, "children consumed fewer [fruits and vegetables] and wasted more during the school year immediately following implementation of the USDA rule."
The USDA rule mandating fruit and vegetables came into force in 2012, as a result of Michelle's 2010 mandate (emphases mine below):
Titled "Impact of the National School Lunch Program on Fruit and Vegetable Selection," the [Vermont] report noted that average waste increased from a quarter cup to more than one-third of a cup per tray. Observing students at two northeastern elementary schools during more than 20 visits to each, researchers took photos of students' trays after they chose their items, as they were exiting the lunch line and again as they went by the garbage cans.
Admittedly, Vermont studied only two elementary schools in the Northeast, however, this tweet shows what a typical Michelle Meal looks like:
While her daughters enjoyed a daily choice of lunch items at the prestigious — and private — Sidwell Friends school, American children were left with unappetising selections resembling cat food.
Worse, the amount of food is paltry:
The Fox News report says that the documents they examined showed that:
some schools had to get creative in disposing of the food waste, feeding leftovers to pigs and other animals at nearby farms.
Before Michelle Obama got involved, many American high school students remembered yummy treats.
Several readers at The_Donald recalled lunch after 2010 (I've cleaned up the language in places):
They took away our French fries.
I know they removed soda from the machines and replaced with juice or some[thing].
Salt. My high school HAS NO SALT. There is plenty of pepper, but no salt to be found.
That's funny considering you even get salt in jail
Underground privatized freedom cafe BTFO dystopian government tasteless "we'll tell you what to like" food. Epic win.
At my school they started only letting kids have 1 condiment packet.
I graduated in 2015 and our lunches were so horrible that eventually the school didn't make us pay for them
Ours were free too, and we still didn't eat 'em.
The calorie restriction completely [mess]ed [up] athletes. Nothing says Lefty policy like bringing down the top performers.
Trump and the Republicans could really clean up with this for mid-term elections in 2018 and the next general election in 2020:
A lot of fifteen year old future Trump voters made today.
I imagine this will make quite a few Gen Z voters happy.
This will red-pill an entire generation. Crazy.
Some remembered luncheon delights before 2012, when the rules were fully implemented around the country:
I just graduated in '16. The food my school was forced to serve after my freshman year was slop. We went from delicious stuffed crust pizza, bosco sticks, and food the great cafeteria cooks would make..to saltless garbage. I stopped eating it and so did many kids there. Its a shame too because I live in a decently poor rural area in TN so for a lot of kids it was their only meal, and it was complete garbage on a tray.
My school in Massachusetts once had a sandwich bar, nice white buttery pasta with Parmesan cheese, a la carte with fresh chocolatey cookies of several varieties.. Ice cream bars, Hoodsie cups.. Then it started to go [downhill]. My sophomore year, 2011, the subs, sandwiches were gone. Then the cookies lost their moisture, sweetness, and flexibility. The pasta became wheat. Dry, and hard. Then, the cookies and a la carte disappeared. Then, the pasta.. Students were left with utterly [awful] chicken patties, watered-down off-brand condiments, or the viscerally repugnant daily hot lunch.
Was Michelle's programme confusion or conspiracy? Probably a bit of both, which is a bit rich coming from a woman who often enjoyed wagyu and kobe steak with her husband and friends over the past eight years.
In closing, here's a brief flashback into history. Mao Tse-tung cut off trade routes to Hunan province, thereby increasing the price of salt. People in Hunan had to form co-operatives, pooling money to purchase it.
A reader at The_Donald posted this:
One of Mao's biggest problems was the Chinese who would attempt to defect by swimming to Taiwan.
He restricted salt knowing that if these people did not have a certain amount of this necessary nutrient, they could not make the trip.
When I read that severe salt restriction was a part of Michelle Obama's nutrition plan, again, I chuckled out loud.
They just couldn't resist their tyrannical impulses.
In other words, 'For me, but not for thee'. I would be disappointed, but not entirely surprised, to find that Michelle knew of the health implications regarding calorie and salt content of her lunches and implemented them anyway.
The post-election events of just this week alone could be turned into a potboiler of a television series.
I feel bad for people who didn't have the time (work, family) or inclination (closed-mindedness) to follow this election every day. Those who didn't have the time are excused. The second group do not realise how serious the situation in the United States is today.
America is in grave danger. People who warned against Obama in 2008 and again in 2012 will be proven correct. Some news items in this post illustrate that.
Mischief afoot — fake news from Big Media
Last weekend, America's news shows discussed at length stories in the Washington Post and New York Times that 'intelligence officials' (anonymous, but within the CIA) stated that the Russian government
hacked the U.S. election.
The Conservative Treehouse pointed out:
First, the media's choice of wording is critical within both reports.
It is impossible to "hack an election".  What was hacked was the DNC email system, and John Podesta's email.  WikiLeaks published the content of both "hacks".
Additionally, WikiLeaks has denied the source of the information was a foreign government.
Both The Washington Post and New York Times, simultaneously, published articles on Friday claiming anonymous sources within the CIA (note: intensely political CIA Chief John Brennan in charge) point to the Russian government as the originators of the hacking.   However, both articles are written with very obtuse and non specific language intended to cover over the fact these reports are not actually stating the official intelligence community are making these specific claims.
All other media outlets subsequently take this illogically based presentation and spin their coverage whereby the "DNC hacked" becomes "the election hacked".
On Monday, December 12 John Podesta responded to a request from 10 Democratic electors, including a daughter of Nancy Pelosi (D-CA) for more information about the CIA's assertions that Russians were involved in affecting the outcome of the election.
That day, Politico reported (emphases mine):
"The bipartisan electors' letter raises very grave issues involving our national security," Podesta said in a statement Monday. "Electors have a solemn responsibility under the Constitution and we support their efforts to have their questions addressed" …

Podesta's statement is the first public statement from the Clinton campaign raising questions about the legitimacy of Donald Trump's victory.
… Rep. Jim Himes (D-Conn.), a member of the House Intelligence Committee, told POLITICO on Monday that Trump is a "potentially dangerous president."
On Wednesday, FBI Director James Comey threw a spanner into the works:
In telephone conversations with Donald Trump, FBI Director James Comey assured the president-elect there was no credible evidence that Russia influenced the outcome of the recent U.S. presidential election by hacking the Democratic National Committee and the e-mails of John Podesta, the chairman of Hillary Clinton's presidential campaign.
What's more, Comey told Trump that James Clapper, the director of National Intelligence, agreed with this FBI assessment.
The only member of the U.S. intelligence community who was ready to assert that the Russians sanctioned the hacking was John Brennan, the director of the CIA, according to sources who were briefed on Comey's conversations with Trump.
Later that day, Fox News reported lawmakers were furious that a House Intelligence Committee briefing on the matter was cancelled:
Anger on Capitol Hill boiled over Wednesday night after the intelligence community's alleged "intransigence" forced the cancellation of a House Intelligence Committee briefing on claims of Russian interference in the U.S. election. 
"Somebody has the time to leak it to The Washington Post and The New York Times, but they don't have the time to come to Congress," Rep. Peter King, R-N.Y., a member of the committee, told Fox News' "The Kelly File." "It's their job to come. They don't have any choice. They have to come in, especially when they have created this."
… Fox News was told the CIA Director John Brennan declined to provide a briefer, citing its focus on the full review requested by President Obama. The other agencies did not respond to the committee's request, which is unusual given the panel is the most-senior committee with jurisdiction.
Larry Johnson, the founder of No Quarter, used to work for the CIA. He picked up on this story in his post, 'John Brennan's Failed Soft Coup?' He wrote:
This should be setting off alarm bells throughout the U.S. Government, but especially within the intel community and the military. CIA Director John Brennan appears to have tried and failed to take out Donald Trump. It is his Agency that spread the lie that Russia made it possible for Trump to win the Presidency. This was not the idle opinion of some underling. Someone was given permission to tell elected Legislators a lie. A bald faced lie. Brennan, and no one else, bears ultimate responsibility for this lie.
When the news first broke last Friday that the CIA had told Senators that Russia essentially gave the election to Donald Trump the politicians and pundits infesting Washington were up in arms. Hell, even John McCain and Lindsay "Little Old Lady" Graham jumped on the hysteria bandwagon to voice outrage and threaten Russia. Tonight we learn that Brennan was lying.
There's more at the link, but it is important to see this:
I have heard from knowledgeable friends that Clapper finally decided he would not walk the plank for John Brennan. Clapper has lied once before to the Senate and apparently felt that he could stomach no more lies. This isolated Brennan. He has no place to hide now. He could have sent a briefer who would have had to endure the indignity of admitting that the CIA had no hard evidence to buttress its speculation that Russia favored Trump.
This is more than a lie folks. This represents the first time in my life that the Director of the CIA has tried to intervene and disrupt a Presidential election. Brennan should be immediately dismissed and he should pray to God (or Allah) that he is not prosecuted for sedition. Given his prior service as the Chief of Station in Saudi Arabia, one begins to wonder if he has been protecting the interests of America or serving those of a foreign power?
And:
This also completely destroys the Democrat effort to gather support to brief the Electors, who have no security clearances. How in the world can you justify briefing Electors when you are refusing to brief members of Congress who do have the clearances?
In today's Washington Post, John Podesta blamed the FBI — and people connected with Donald Trump — for Hillary's loss:
Comparing the FBI's massive response to the overblown email scandal with the seemingly lackadaisical response to the very real Russian plot to subvert a national election shows that something is deeply broken at the FBI.
Podesta's picture accompanying the article is priceless. Sorry, the Democrats have only themselves to blame. The Podesta WikiLeaks made it abundantly clear that the Democrats — and Hillary — do not like everyday Americans. They also do not like each other.
On the Russian interference front, I have seen reports this week that a British MP said Russians were to blame for Brexit. Someone in Germany thought the Russians could be influencing their election set for next year. Don't believe it for a moment!
The faithless elector — more fake news from Big Media
Chris Suprun is a Republican elector for Texas. He doesn't want to vote for Donald Trump, the voters' choice in that state. Not voting for the winner in one's state makes one a 'faithless' elector.
He is one of a handful of 'Hamilton electors' who take the moral high ground. The expression  'Hamilton elector' did not surface until this year. These people claim to be voting in the manner of Alexander Hamilton, instrumental in establishing the Electoral College in the infancy of the United States.
Suprun probably thought he had it made when the New York Times published his op-ed on December 5 listing the many reasons why Trump is no good.
He lives in the Dallas area and works as a paramedic.
He wrote some interesting things, including these gems:
Fifteen years ago, as a firefighter, I was part of the response to the Sept. 11 attacks against our nation.
I owe a debt to my children to leave them a nation they can trust.
Fifteen years ago, I swore an oath to defend my country and Constitution against all enemies, foreign and domestic. On Dec. 19, I will do it again.
Rule No. 1 for electors: vote for the winning candidate in your state. Each elector signs a pledge to do just that. Any elector who has a problem with that should stand down. (I couldn't be an elector. I was for Gore in 2000. I could not have cast a vote for W then or in 2004.)
The next day, Americans made their responses known. YourVoice Radio host Bill Mitchell rightly said Suprun should be stripped of his electorship. Mitchell took a poll asking what the public thought. 98% of the 4601 participants said he should be withdrawn as an elector.
A man from Texas started a petition on Change.org to demand that very thing. Unfortunately, it is still 14,000+ votes shy of the necessary 50,000. The Electoral College vote takes place on Monday. Still, it was worth a try and a decent effort.
On December 8, Suprun appeared on Tucker Carlson, who confronted him over his soi-disant description of 'moral elector'. He told Carlson that several other electors have contacted him and they have had very interesting conversations:
Discussing the upcoming vote with other EC Republican electors could be interpreted as an 'ILLEGAL electoral college coup d'état'. Such actions could give rise to charges of treason, rebellion, insurrection or sedition.
The following day, news emerged that the media contact company Suprun had on his Twitter account is Van Jones's (former Obama adviser) PR firm. Did they come up with 'Hamilton elector' and 'moral elector'?
After tweets about Megaphone Strategies appeared, Suprun listed a different media contact on his Twitter page. Texas ABC television news affiliate WFAA contacted both firms:
Two public relations firms he has hired – Megaphone Strategies and Fenton Communications – responded to our requests for an interview saying: "Suprun's schedule is jammed packed."
But that wasn't all. His first responder story turned out to be bunk:
on at least two occasions over the last couple years at crowded Major League Baseball games, Suprun has been introduced as a 9/11 veteran before throwing out first pitches.
"He claimed to be a first responder with the Manassas Park [Virginia] Fire Department on September 11, 2001 and personally told us stories 'I was fighting fire that day at the Pentagon.' No, I was on a medic unit that day at the Pentagon and you make a phone call to Manassas Park and you find out that he wasn't even employed there until October 2001," said a first responder who knows Suprun and only agreed to speak about him if his identity was concealed.
The City of Manassas Park confirmed to WFAA that it hired Suprun on October 10, 2001, one month after the 9/11 attacks.
The fire chief there added that his department never even responded to the Pentagon or any of the 9/11 sites.
And there is more, much more. His CV is littered with lies:
It shows he was, at the time this story aired on WFAA, a paramedic with Air Methods air ambulance service. But Christina Brodsly, a spokeswoman for that company, said he is not an employee there.
Suprun also claims to currently be a paramedic with Freedom EMS in Dallas. But records from the Texas Department of State Health Services indicate there's no such company. A firm with that name used to exist in Houston, but it went out of business in 2008, according to DSHS.
The article goes on to say that Chris Suprun — upholder of the nation's morality when it comes to voting for a president — has been bankrupt for most of the past five years. He was released from bankruptcy supervision only this month.
The story isn't over yet, though. On December 12, Gotnews revealed that this moral guardian depends on his wife to work to pay off their $200,000 debt owed to various creditors. Suprun and his wife have three young children.
Gotnews got digging. While Mrs Suprun is busy working to support the family, her moralistic husband has been surfing on the cheating website Ashley Madison:
According to the data, Suprun joined Ashley Madison in February 2012, just six months after joint-filing for bankruptcy with his wife, Dianne Michelle Suprun, in September 2011, and paid for an "affair guarantee" in September 2012.
Where did he get the money?
An "affair guarantee", which costs $249 today, is a discounted "package" for "credits" that allow men to chat with potential cheating partners on the website. Suprun, who had three kids under the age of 10 at the time, listed himself on the site as "attached male seeking female."
Gotnews tells us:
Even though he used a throw-away e-mail address and changed his birth date by a few days, the Ashley Madison credit card data is unmistakably Suprun …
There's only one Stephen Christopher Suprun, from Texas, born in March 1974, and the P.O. box is one of many P.O. boxes registered to Stephen Christopher Suprun that can be found with a quick search of any public records database.
It's also the same P.O. box used for Suprun's "Never Forget 9/11" charity, which he still lists on his Twitter profile …
There's more at the link.
And this upstanding man — someone who has lied about his career, being a 9/11 first responder and also registered with a cheater's website — has a problem voting for Donald Trump?
News becomes 'performance art'
Tucker Carlson recently had another guest from Newsweek. Kurt Eichenwald appeared, alleging that Trump had been in a mental hospital for treatment in the 1980s or early 1990s. Eichenwald explained some of the background but spent nine minutes avoiding giving a definitive 'yes' or 'no' as to whether the president elect actually was a patient.
Carlson rightly accused Eichenwald of 'filibustering', winding down the time so he wouldn't have to give an answer to a topic he himself raised as the issue he wanted to discuss. He never did give an answer and accused Carlson of interrupting him. Eichenwald ended by saying he had an important message from the CIA. He never delivered that, either. Meanwhile, he occasionally waved around a white binder that read 'Tucker Carlson Falsehoods'.
This interview was very strange indeed. Carlson called it 'performance art' and 'the craziest interview' he'd ever done, which it probably was:
The_Donald has more, including partial transcripts of the dialogue.
And it didn't end when he got off air. A bizarre series of tweets ensued. Someone also sent him an assault gif, which Eichenwald's 'wife' said, using his account, gave him a seizure. (The assault gifs are linked to in the aforementioned The_Donald thread. Don't look. They are potentially dangerous for people prone to seizures.) It's unclear whether his wife was actually tweeting on his behalf. Then Eichenwald couldn't find the all-important CIA message. Let's hope it wasn't sensitive information!
This man appears to have a peculiar journalistic past with regard to an incident involving investigating pornography (more here). That was in 2007. This year, he was a big water carrier for Hillary Clinton and is sure there is a link between Trump and the Kremlin. He got aggressive about the issue with a fellow journalist in October and began tweeting repeatedly about it.
Faithful electors in the majority
Regardless of Chris Suprun, two reports state that the electors are highly likely to be faithful to the process and to their states' voters.
Politico reports that Suprun is the only faithless Republican elector we know about. The Republican National Committee (RNC) is contacting their electors to ensure they will be voting for Trump. the article goes on to say that the RNC routinely contacts them after presidential elections. However, this year, there's a difference as the Democratic National Committee has also been contacting GOP electors in an effort to discourage them from voting for Trump.
Trump currently has 306 electoral votes. He needs 270 to win:
If 37 Republican electors rejected him, he'd fall below the 270-vote threshold necessary to become president, sending the election to the House of Representatives for a January vote.
Democrats are attempting to persuade Republican electors to vote for someone like John Kasich of Ohio instead of Trump. However, Kasich said he does not want electoral votes.
Being a faithless elector is not a light matter in some states. Utah:
binds electors to support the candidate who won the statewide popular vote, as the most prominent reason he won't consider voting for someone other than Trump. Similar laws exist in 29 states, including 14 where Trump won.
The penalties for violating these laws vary widely, with some states carrying no penalty at all, some issuing modest fines, and some requiring immediate replacement of electors. One state, New Mexico, treats "faithless" electoral votes as felonies.
Two Republican electors have already resigned, but still have until the day of the Electoral College vote to change their minds. If they do not turn up on the day in their respective state capitals, they will be replaced with alternates.
Business Insider reported that the Associated Press was able to contact all 538 electors and interview 330 of them:
finding widespread Democratic aggravation with the electoral process but little expectation that the hustle of anti-Trump maneuvering could derail him. For that to happen, Republican-appointed electors would have to stage an unprecedented defection and Democrats would need to buck tradition, too, by peeling away from Hillary Clinton and swinging behind a consensus candidate in sufficient numbers.
Business Insider tells us that Bret Chiafalo of Everett, Washington, co-founded Hamilton Electors. He said that the goal of the group is to steer electors away from the two main party candidates to a third party candidate. However, electors say the group's tactics leave something to be desired:
"We got a stack of letters from idiots," said Republican elector Edward Robson, 86, a Phoenix homebuilder.
Fellow elector Carole Joyce, 72, a state committeewoman in Phoenix and retired public-health nurse, was more charitable.
"They've caused me great distress on my computer, that's for sure," she said.
Trump appointees
On a brighter note, Deplorable Dave from New York not only has a fun countdown calendar but also a highly useful blog page of Trump appointees with the briefest of comments by each name. He updates it every day. It's well worth visiting between now and the inauguration.
There aren't many open posts left, which is good. That means the Trump administration can be up and running by January 20.
The Conservative Treehouse has timely analyses of new and potential appointments. Trump has drawn heavily on senior military officers. Former Navy SEAL Commander Ryan Zinke is the latest; he is likely to be the new Secretary of the Interior.
What is also interesting is that Trump is approaching conservative media personalities such as Monica Crowley, appointed to the National Security Council, and Kimberly Guilfoyle as his potential White House press secretary.
What's next
Donald Trump and Mike Pence's thank you tour ends this weekend.
Trump has three appearances. He will hold a rally in Orlando on Friday evening. On Saturday afternoon, he will media at the airport in Mobile, Alabama. Then he will meet Pence an hour later in the city's Ladd-Peebles Stadium for the final rally.
A Nigerian newspaper recently republished an article about Trump by Pat Buchanan but changed the title to something much better: 'Trump, Tribune of the American People'. How wonderful!
On Monday, December 19, the Electoral College will vote. Although the votes are not counted in the House of Representatives until early January, the media often give an indication before then of the expected result. If credible news appears, I'll provide an update.
On Tuesday, November 29, Donald Trump took Mitt Romney and Chief of Staff (and GOP chairman) Reince Priebus to dinner.
They dined at Jean Georges (Vongerichten) in the Trump International at 1 Central Park West.
A word of explanation is in order for my overseas readers. Mitt was one of the top people in the NeverTrump movement. He was never on board with Trump's candidacy and made it known publicly in no uncertain terms. Now that Trump is forming a cabinet, he has been meeting with Mitt. The Secretary of State position is rumoured, but Trump said he would also be meeting with other hopefuls.
Conservative blogs are exploding with 'Never Mitt!' but Trump enjoys his negotiations and bringing people together. Big Media won't tell you that, but it's true, and it's one of the reasons why he won on November 8.
For those reasons, this dinner attracted more Big Media tweets and videos than one could reasonably expect. The times might be off on the tweets below (because I'm reproducing them), so I've put everything in chronological order from the time stamps I'm viewing. The original time stamps show up when you click on the tweet.
The three arrive for dinner. Everyone applauds (5:32 p.m.):
Several minutes later (5:47):
Then (5:54):
A short time later (6:10):
Here's the Jean Georges menu. Three courses for $128. Each Caviar Creation has a $40 supplement.
What they ordered:
Big Media grab a video. Trump doesn't look too happy:
Here's an interesting photo collage (courtesy of The_Donald). Trump's enjoying this on several levels.  Not so sure about Romney, but, then, he lost in his presidential bid in 2012, so he is unaccustomed to being filmed and photographed at dinner:
Afterwards, Mitt spoke to the media (7:50 p.m.):
He did not answer any questions:
Conclusion:
I think Trump's overriding message — in the nicest of ways — was, 'It's my party now.' That partly explains Reince's presence. Also, a third person is a witness to a conversation between two people, in this case, Trump and Mitt.
This is an exciting time for the Republican Party. Trump injected a lot of life and young blood into it through his voters. Reddit's The_Donald — a youthful and enthusiastic, if somewhat salty, news site — is testament to this new unity among Americans of all ages, creeds and circumstances. Everyone is welcome there. What's more, they're always first with news and analysis. Most have no party affiliation, but they are 100% behind Donald Trump.
Onwards and upwards, Republicans! This is the first time in decades you've got the wind in your sails! Carpe diem!
The next four years will be fascinating!
This week has produced a mother lode for Donald Trump just in time for the final presidential debate on Wednesday, October 19.
Between the Podesta Wikileaks and the two James O'Keefe videos — with a third to appear before the debate — he has a gold mine of information to use against Hillary Clinton and his other debate opponent, FOX's Chris Wallace.
For those who have not been watching, Trump — as is usual for the Republican candidate since 2008 — must also debate the moderator(s) who are in league with the Democrat candidates.
Three topics Trump must not spend much time on
The two of them will attempt to bog Trump down with three topics: sex, Russia and nuclear war. He should give nothing but a brief, clear statement on each, turning measured verbiage on the Democrats and the Clintons.
For those who are unaware, the Democrats engineered each of those narratives, but Big Media are keeping it quiet, because they are in league with the Dems, as the Wikileaks releases have been revealing.
With that in mind, let's take a look at these three topics:
1/ Sex: Even though Big Media have not told you so, all of last weeks' allegations against Trump have been debunked.
Gateway Pundit reported (emphasis in the original):
The media clearly did not fact check these stories. They ran the stories no matter how farfetched they were. It is clear from the number of stories dropped in the last week that this was a coordinated effort, probably from inside the Hillary Clinton campaign. The goal was not to present facts to the public. Their goal was to destroy Donald Trump.
All the details are at the link.
2/ Russia: According to the Democrats, Donald Trump and two of his past advisors, Paul Manafort and Roger Stone have ties to Russia and Vladimir Putin. None of them does. Manafort had a previous contract with Ukraine.
However, highly placed Democrats do have such links, as the Panama Papers revealed in April 2016:
Almost lost among the many revelations is the fact that Russia's biggest bank uses The Podesta Group as its lobbyist in Washington, D.C. Though hardly a household name, this firm is well known inside the Beltway, not least because its CEO is Tony Podesta, one of the best-connected Democratic machers in the country. He founded the firm in 1998 with his brother John, formerly chief of staff to President Bill Clinton, then counselor to President Barack Obama, Mr. Podesta is the very definition of a Democratic insider. Outsiders engage the Podestas and their well-connected lobbying firm to improve their image and get access to Democratic bigwigs.
John Podesta oversees Hillary Clinton's campaign.
Furthermore, in 2013, Rosatom — Russia's atomic energy agency — acquired control of one-fifth of America's uranium production capacity. Crucial to the deal were the Clinton Foundation and the then-Secretary of State Hillary Clinton. The New York Times reported:
At the heart of the tale are several men, leaders of the Canadian mining industry, who have been major donors to the charitable endeavors of former President Bill Clinton and his family. Members of that group built, financed and eventually sold off to the Russians a company that would become known as Uranium One.
… the sale gave the Russians control of one-fifth of all uranium production capacity in the United States. Since uranium is considered a strategic asset, with implications for national security, the deal had to be approved by a committee composed of representatives from a number of United States government agencies. Among the agencies that eventually signed off was the State Department, then headed by Mr. Clinton's wife, Hillary Rodham Clinton.
As the Russians gradually assumed control of Uranium One in three separate transactions from 2009 to 2013, Canadian records show, a flow of cash made its way to the Clinton Foundation …
And shortly after the Russians announced their intention to acquire a majority stake in Uranium One, Mr. Clinton received $500,000 for a Moscow speech from a Russian investment bank with links to the Kremlin that was promoting Uranium One stock.
3/ WWIII/nuclear war: Neither of these has anything to do with Donald Trump.
In 2008, Rahm Emanuel, now mayor of Chicago, but then a prominent member of Obama's campaign team said (emphases mine below):
You never let a serious crisis go to waste. And what I mean by that it's an opportunity to do things you think you could not do before.
Such as martial law or postponing the election.
I do not think that will happen this year, but the longer the US has Democrats in the White House, the more plausible those become in future.
Similarly, where there is no crisis, the Democrats see nothing wrong in inventing one for the same nefarious purposes.
This brings us to what happened last week. On Friday, October 14, Wikileaks tweeted:
NBC: White House claims it told CIA to prep plans to launch a cyber attack against Russia [Ed: creating 'war' to ensure a ruling party win]
US ruling party also authorized, filmed and promoted a very public armed attack on Yemen, Wednesday.
Trump's symphony
Tonight is Trump's last chance to not only compose but also perform his symphony for and to the American people.
His topics are the various sections of his rhetorical orchestra. He will need to blend these together in a melodious, harmonious way that resonates with all voters.
Deft precision is required in order for it to become an American classic by November 8.
What follows are the various movements. In classical music — or even good modern tunes — certain instrumentals and refrains weave in and out throughout or between each movement, creating a cohesive work.
Change
Donald Trump truly is a change candidate. It is unfathomable that Americans will see his like again for at least a generation, if not half a century. This is a once-in-a-lifetime opportunity.
Therefore, change becomes the dominant theme unifying the others into a cohesive whole.
He refers to support of his campaign as a movement, one to Make America Great Again (MAGA). (Ronald Reagan's 1980 slogan was 'Let's make America great again'. Trump knows this.)
Trump reiterated the change theme during his speeches on October 18 in Colorado:
his ideas are "an agenda of change, we're not going to let them change greatest moment in history"
No doubt he will say the same tonight.
Ethics
On October 17, Trump rolled out his Ethics Reform Plan.
It involves doing away with the 'Clinton Cartel' and its associated cronyism:
First: I am going to re-institute a 5-year ban on all executive branch officials lobbying the government for 5 years after they leave government service. I am going to ask Congress to pass this ban into law so that it cannot be lifted by executive order.
Second: I am going to ask Congress to institute its own 5-year ban on lobbying by former members of Congress and their staffs.
Third: I am going to expand the definition of lobbyist so we close all the loopholes that former government officials use by labeling themselves consultants and advisors when we all know they are lobbyists.
Fourth: I am going to issue a lifetime ban against senior executive branch officials lobbying on behalf of a foreign government.
And Fifth: I am going to ask Congress to pass a campaign finance reform that prevents registered foreign lobbyists from raising money in American elections.
This worked well in his two Colorado speeches in Colorado Springs and Grand Junction:
Trump repackages idea seemingly popular w/ Colorado crowd, "I'm going to push for constitutional amendment to put term limits" on Congress.
To get this to resonate, Trump came up with a new theme, #DrainTheSwamp. The New York Post reports his words:
"It's time to drain the swamp in Washington, D.C." …

Trump claimed the plan would also jumpstart the economy.
"Not only will we end our government corruption, but we will end the economic stagnation," he said.
The Democrats
Trump must play on the venality of the Democratic Party and 'advocacy groups' doing their work.
This ties in with his ethics proposals.
Wikileaks' Podesta emails gave us an idea of the corruption in Hillary's campaign. This is what Hillary's campaign manager Robby Mook wrote:
Taking foreign donations is a crime.
Other crimes involve voter fraud, violent 'protests' and vandalising property belonging to the Republican Party and its supporters.
James O'Keefe's first investigative video released on Monday, October 17, revealed that Democratic operatives and connected advocacy groups pay 'protesters' to disrupt Trump rallies and provoke fights. This is called bird dogging.
I cannot guarantee what will show on the still of the video, so please accept my apologies for any disgusting language. That aside, there's 100% truth — in the following:
O'Keefe's second video, which appeared on Tuesday, concerns voter fraud which does exist, regardless of Big Media's denials. Again, my apologies for any foul language you might see on the screen:
Scott Foval was immediately fired from People for the American Way.
Bob Creamer, who also appears in the videos, stood down from his post at Democracy Partners.
Regardless, you will see or read about them again once the election is over.
Trump is aware of these videos:
the protestors are paid a lot by the DNC to protest … it's a big story hardly covered by the media.
Complicit Big Media
Wikileaks' Podesta emails have revealed that reporters from all the major news organisations are in close contact with the Clinton campaign.
I will go into this in more detail in another post, but Politico and New York Times reporters clear Clinton-related copy with Podesta and his team before publishing.
Television and newspaper reporters have been wined and dined at Podesta's Washington, DC, home and elsewhere.
The debates have been a particular sticking point for both Bernie Sanders and Donald Trump. In 2015, DNC operative — current chairwoman — and then-CNN employee Donna Brazile gave questions to Hillary before a primary debate against Sanders.
During the presidential debates, in at least one incidence, the moderators or news organisations have been providing Clinton with debate questions in advance:
The questionable polls
Then we have polling that seems at odds with reality.
Trump supporters believe that their numbers are artificially down to depress support. We saw the same in Britain with Brexit which showed Remain winning nearly all bar one or two at the end. It was the same with our election in 2015. How surprised we were to find that the Conservatives won!
Some aggregate sites in the US, e.g. RealClearPolitics, do not show all polling companies' data. Such aggregate sites say certain companies' data or methods are 'discredited'.
Here are positive polls for Trump which came out within the past day or so. First image below courtesy of The_Donald and the second from Jason Helmick: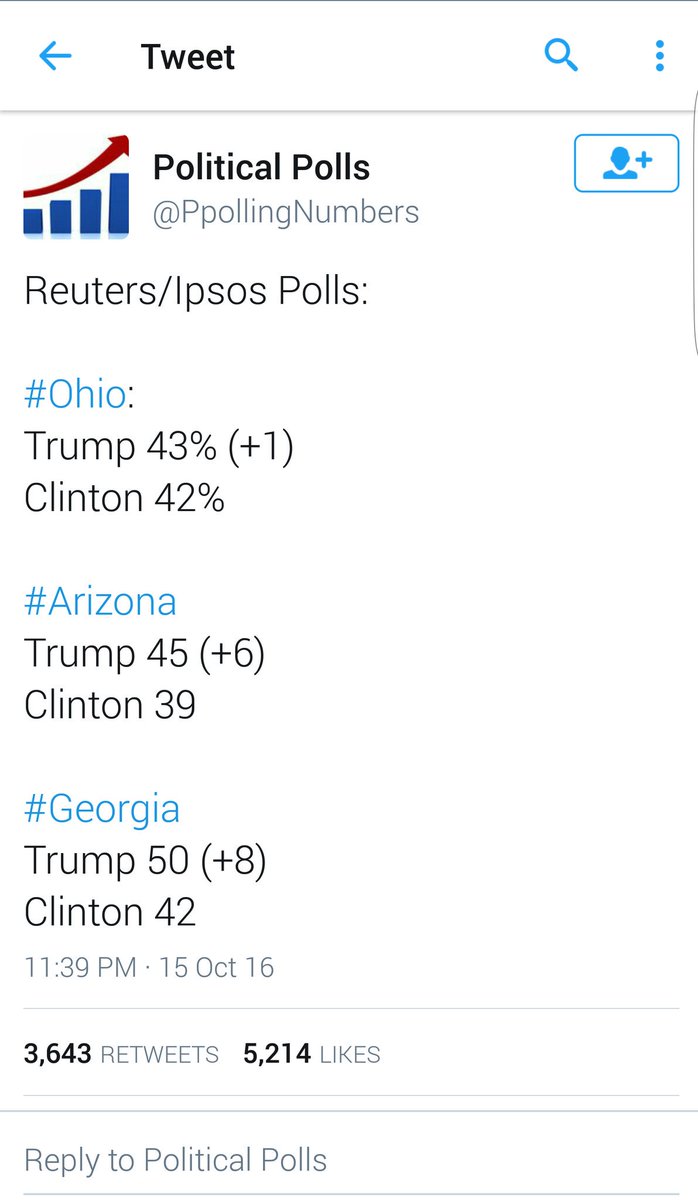 'Rigged' system
We can see why Donald Trump refers to the 'rigged' system.
Democrats have been saying it for years:
Democrats say Trump can't say that:
The Clintons
The climax of Trump's symphony concerns Billary.
When Bill became president in 1993, he said that his and Hillary had less of a marriage and more of a 'partnership'.
Now that his presidency has passed into history, the Clinton Foundation has its tentacles everywhere and his wife hopes to enter the Oval Office in January, we can better understand their 'partnership'. It brings with it certain privileges, as the photo at left explains.
There are too many issues and scandals to explore now. My past emails have touched on a few.
Trump might wish to feature a small interlude about Hillary's temperament, especially after the Commander in Chief Forum moderated by NBC's Matt Lauer:
The source of his information originated at a Comcast email address, the parent company of NBC.  It is supposedly from members of the technical crew that worked the event and describes what happened moments after Clinton walked off the set. They described "a massive profanity-laced tirade" on the part of Clinton that was directed at Matt Lauer in particular, but had moments for others, including DNC Chairperson Donna Brazile.
As he learned, Clinton had been given all of the questions in advance but was tripped up by Lauer asking her something she hadn't been given, throwing her completely off her game and script. The topic was a tricky one for Clinton, her use of an illegal home server for the storing, receiving and transmitting of government secret documents. One of those working the event for Comcast described her as visibly beginning to boil with the asking of that question.
Her outburst began immediately after she left the stage, with her first throwing a full glass of water into the face of her assistant, with manic, uncontrolled screaming beginning at that point. The source described Clinton as the "most foul-mouthed woman I've ever heard, and that voice at screech level – awful."
She also had some racist condescending comments for the black DNC chairman, Brazile, including suggestions that she was better qualified to be the campaign's janitor.
Trump can also give the audience a brief interlude of Jill Stein (Green candidate):
Trade and the nation
The theme of the closing movement must be jobs, Obamacare and the American people.
This new Trump ad is about fair — not free (globalist) — trade deals he will make in the interests of Americans:
He must also say that he will bring in truly affordable health care, unlike Obamacare which is crippling people financially:
Conclusion
More and more people are boarding the Trump Train, including Bernie's supporters:
Trump supporters will hope that their candidate knocks it out of the park at a crossroads in American history, the likes of which we have not seen in the past 50 years.
If anyone still wants to vote for Hillary or a third party after reading this post, good luck to them.
Since the 2005 Billy Bush/Donald Trump tape was leaked last Friday, timed with the Wikileaks drop of the Democrats', including Hillary Clinton's emails, the Deplorables have resolved to fight on — with or without the GOPe.
WARNING: This post has Clinton-related content and some links with language unsuitable for children. I apologise in advance, but the truth must come out, no matter how distasteful.
The Deplorables' situation
It is essential to understand what the Deplorables experience in American life.
Many worry how they will get by. Tax increases are a huge issue.
One Pittsburgh resident — an ex-Hillary supporter — describes what he and his family members experience. Excerpts and a summary follow. I have edited spelling and grammar.
How is it there is not enough tax to make sure homeless veterans are taken care of, yet the United States can afford to send countless mobile phones to Africa? There are more sanctuary cities for notional refugees, yet there is not enough tax revenue to finance Social Security for older Americans.
Taxes continue to increase, but (emphases mine):
Burden is shared. I have no say … Where does that money go? Same thing with the lottery; where is that cash? Tax tax tax … My school dropped German and French. My dad gets 1700 a month social security. He has no 401k. He had six kids all of whom pay lots of taxes. He always paid his taxes. My mom became a nurse once dad [left]. She has some money but how many people know it was under Clinton that food was excluded from COLA? I said from the beginning Obamacare was about privatizing Social Security. Demand you pay for health care, we can demand you pay for retirement. Think of the money. Trillions to be made: what choice would you have? You might support a homophobic misogynist regime like Saudi Arabia every hour you worked and paid a tax as Supreme Court ruled Obamacare went through; why not retirement?
Then, there is the elite's perception of these Americans, from 2008 to the present. The main author of The Crawdad Hole — ex-Clinton supporters for the most part — has a Twitter description which sums it up perfectly:
Obama called me a bitter clinger. Hillary called me deplorable. Terrorists call me an infidel. Trump calls me an American.
I do not know how many of my readers have seen the following tee shirt, which originated with Infowars, but a lot of anti-Hillary voters are wearing it:
Open disgust
Wisconsin
After the Billy Bush/Donald Trump tape was released, the GOP elite denounced Trump.
Trump was supposed to appear in Wisconsin last Saturday, October 8, but a sanctimonious Paul Ryan — Speaker of the House — rescinded his invitation to the state's annual GOP fundraiser.
Attendees paid $30 apiece to get in. They expected to see Trump.
Buzzfeed reported:
ELKHORN, Wisconsin — In a jarring illustration of the chaos now engulfing the Republican Party, supporters of Donald Trump clashed bitterly with GOP leaders at a rally here Saturday — booing elected officials, heckling Paul Ryan, and angrily demanding greater establishment support for their beleaguered presidential nominee …
When, early in the event's program, Wisconsin Attorney General Brad Schimel tried to address the recently leaked video that has sent Trump's campaign into a tailspin, the crowd erupted in angry protest.
"Get over it!" one heckler yelled.
"Trump! Trump! Trump!" others chanted.
Appearing taken aback by the reaction, Schimel made a brief nod toward support for the nominee — "Donald Trump will appoint judges that will defend our Constitution" — and then quickly changed the subject.
Other elected officials became more combative with the audience. When Rep. Jim Sensenbrenner talked about how voters had been coming to the Fall Fest for years to support Ryan and other local Republicans, hecklers shouted, "Not anymore!" and, "I'm for Donald Trump!"
"Why don't you listen to what I have to say instead of interrupting me?" Sensenbrenner snapped. Soon, the 73-year-old congressman was in a shouting match with the Trump supporters in the crowd. "Listen to me, please," he kept repeating, before ordering the audience to "clean up your act."
By the time it was Ryan's turn to speak, the mood had grown indisputably hostile. He took the stage to scattered boos, and shouts of, "What about Donald Trump?" and, "Shame on you!" …
Trump supporters are now unlikely to vote down ticket for Republicans who have shunned their candidate.
This is audience reaction to Ryan's speech:
One young man wore a RAPE shirt with Bill Clinton's image on it — another popular Infowars product.
Michigan
Alex Jones is giving between $1,000 and $5,000 to anyone who can get captured on camera with it at a rally. More money is given to those who can stay on camera for several seconds and mention Infowars.
Alex is looking forward to hearing from this man who turned up at Clinton's October 11 rally in Detroit. Not only will he receive $5,000, but he will be invited for an interview on the Infowars show:
How he was able to get one of the privileged places on the podium will make for an interesting story.
Townhall has a really clear close up.
Amazingly, the woman with the slogan 'Stronger Together' and who is a self-described tireless advocate of minorities had this reaction:
Hillary Clinton sarcastically laughed as the man was shoved down the stairs and she told people outside the event to "follow him" and "stage an intervention."
Wow! I hope the man stayed safe.
I bet Big Media will ignore that story.
North Carolina
At an Obama rally for Clinton, a man and a woman paraded beneath the stage in Greensboro on Tuesday, October 11. Each wore homemade 'Bill Clinton Rapist' tee shirts (8 seconds in).
An American Lookout article says that Obama was interrupted again by other protesters:
The second and third times by people yelling about Bill Clinton and rape.
The article continues (emphases in the original):
These protesters are everywhere!
Will the mainstream media finally do some reporting on what these people are saying? On what they're willing to get arrested for to say? …
It's become counter-cultural to be Conservative. Conservatives are now the rock stars. The punk rockers of politics.
And these are courageous citizens! They're standing up against Obama, the Clintons and the Mainstream Media to shout the truth!
California
At the weekend in Bakersfield, the city's local Business Conference took place.
Hundreds of people showed up to hear conservative commentator Laura Ingraham (LifeZette) speak in support of Trump.
Gateway Pundit has a brief excerpt of the crowd cheering:
THIS IS AN AMAZING VIDEO–
Thousands of voters at the Bakersfield Business Conference tell the GOP to stand by Donald Trump and FIGHT!
Nevada
The same day that Trump supporters booed Wisconsin GOPe types, Nevada Rep. Joe Heck disavowed the candidate. The audience booed him:
Breitbart reports that Heck has fallen prey to the George Soros funded Common Defense PAC, notionally comprised of military veterans, and a MoveOn.org petition hidden within (emphases mine):
Common Defense PAC has a simple mission statement: "As veterans, we swore to protect the rights of every American. We continue to fulfill this promise by standing against Donald Trump." Its "leadership team" page on its website lists sixteen military veterans with no contact information for them.
On its Facebook page, the PAC features a video from a different super PAC in which a mainstream reporter asks Nevada congressman Joe Heck if he trusts Trump having the nuclear codes.
"Watch this. Share it. Then sign the petition to tell Congressman Heck to disavow Donald Trump," says Common Defense PAC, with the link to the petition: fornevadasfuture.com/heck.
But the petition is actually a MoveOn.org petition called "Joe Heck: Disavow Donald Trump."
One can be pretty sure that Heck and the rest of the GOPe don't know the men behind the PAC:
Common Defense PAC is registered with the Federal Election Commission at a P.O. Box in Lancaster, Pennsylvania. The group's treasurer is Jonathan Matthew Smucker, a Berkeley doctoral student, activist, and radical writer who did not return a request for comment for this report.
The PAC's July quarterly filing report with the FEC only lists one donor: a Baltimore IT consultant named Marjorie Roswell who gave $20,000 on June 30.
Perry O'Brien is the group's director. O'Brien is a longtime left-wing activist.
O'Brien was a medic in Afghanistan with the 82nd Airborne and received a discharge in 2004 for being a conscientious objector.
Perry O'Brien personally started a MoveOn.org petition called "Tell GOP leaders to disavow Trump and his attacks on veterans." The petition, which has 121,242 signatures as of this writing, is "To be delivered to Sen. John McCain, Sen. Mitch McConnell, Rep. Paul Ryan, and all GOP leaders."
Well, there you go. It worked. Don't Republicans investigate these things? It took me a simple Internet search.
What Deplorables will remember
On Tuesday, October 11, Laura Ingraham analysed the disparity between GOPe and their core voters:
The vast majority of Republicans want Donald Trump to be president … they have come together in an effort to save the country from Hillary Clinton.
A small minority of Republicans do not want Donald Trump to be president. They prefer Hillary Clinton. Unfortunately for most of the Republican Party, this small group of angry dissenters includes many of the people at the top of the party — officeholders, major donors, "strategists," and "conservative" pundits. These people have been able to leverage their connections with the mainstream press to repeatedly attack Trump — even though they refuse to say anything nice about Hillary.
… instead of having an honest discussion as to whether the GOP should be a globalist party or a nationalist party, everything dissolves into personal attacks.
When this election is over, the vast majority of Republicans are going to remember that their supposed leaders — the same officeholders, millionaires, and pundits who told them that they had to "come together" and support John McCain and Mitt Romney — refused to do the same for Donald Trump. They will know that what they have long suspected is true — the Republican Party is led by people who have more in common with the Clintons than with the GOP base. And that knowledge will affect the future of the GOP for years to come.
The biggest irony in all this is that, as one pro-Trump Rep. Steve King of Iowa said, quoting a fellow congressman:
"He said, 'If you are so worried about a sexual deviant in the White House, helping Hillary Clinton will put Bill Clinton in the White House,'" King paraphrased.
Very true, indeed.
Who on earth would eat their own?
Yet, that is precisely what the GOPe(lite) are doing.
A group of men criticising Donald Trump for an 11-year-old private conversation and putting a lame GOPe plot into play whereby holier-than-thou hypocrites disavow their own candidate.
These men, including Mitt Romney, Paul Ryan and Jeb! Bush, are losers. They never supported Trump in the first place. They got on board post-convention but were looking for any excuse to get off the Trump Train. Here is a full list.
Billy Bush, incidentally, is a cousin of Jeb! and Bush 43. NBC have suspended him from the Today show because of the tape.
Meanwhile, hundreds of thousands of Americans who haven't voted in years are supporting Donald Trump. So are an enthusiastic group of young adults like those at The_Donald (language alert). Breitbart and Alex Jones have teams of young, edgy, enthusiastic reporters who support liberty, freedom and transparency.
James Taranto has an excellent round up of the GOPe's folly in the Wall Street Journal. He concludes:
We can't fault Republican politicians who find Trump's comments repugnant or who worry about their political fallout. But how can a party function, or even survive, if its leaders are at odds with its voters?
Trump's behavior has often exacerbated that divide, but his nomination was primarily an effect of it. A plurality of Republican voters rejected the conventional GOP candidates—a majority if you consider Cruz to be, in his own way, an unconventional candidate. Some Nevertrump commentators have been forthright in blaming the voters for the party's current predicament. If the politicians adopt that approach, they won't have a party for long.
One of Taranto's readers, Martin Soy, responded with this incredibly accurate assessment (emphases mine):
The Nevertrump Republicans look upon Trump supporters as something that they should scrape off the sole of their shoe.  
From a business analogy, you have a brand that is not gathering market share (Republican POTUS candidates), and you discover a whole new group of customers looking for a product (Trump supporters).  Now, as I understand it, in business, you figure out what your potential customers want, and configure your brand to get them to buy it.  You don't tell them to get lost, which is what the Nevertrumpers want to do.  As JT said in July, and reiterated today, the Republican party is never going to be the same after this election. The Republican leadership can be on the bus, or under it. 
It is unbelievable. Trump has given that silly party a once-in-a-generation gift and these guys are throwing it away!
He's the best candidate they've had since Ronald Reagan and is bringing in a load of voter support from disaffected Democrats, not to mention independents.
Until the weekend, most Trump supporters were going to vote Republican down ticket. 
A lot are now discussing voting for Trump only or for him and anyone but a Republican on the rest of the ballot.
I'm not sure that is a good idea. The US hardly needs more elected Democrats, but, in the end, this is what Republican party leaders have brought upon themselves.
I hope Trump wins, because I would like to see him reshape the Republican Party in a way that will last for many years to come. It could do with a top-down cleaning. These guys must go.
POSTSCRIPT — For those who want to discuss morality, here is another WSJ comment. Jeff Pitzen writes:
Person A: Invited a woman to a hotel room "suggested meeting" as an excuse, then proceeded to r@pe her, and at one point biting her lip.  Had a State trooper "procure" willing women for adulterous purposes, at least ONE of which refused his advances.  Had a 12 year AFFAIR with another.  In the spirit of keeping this short, while he occupied the highest office, often referred to the most Powerful Man in the World, used his position to s3xually harrass and obtain s3xual favors from a young woman who worked for him.
Person B:  Has had multiple affairs (these, we're told by Democrats, are of a personal nature and none of our business).  To my knowledge, has yet to be accused, by anyone, of s3xual assault. 
Precisely. Here are two revered Democrats, Ted Kennedy and Bill Clinton: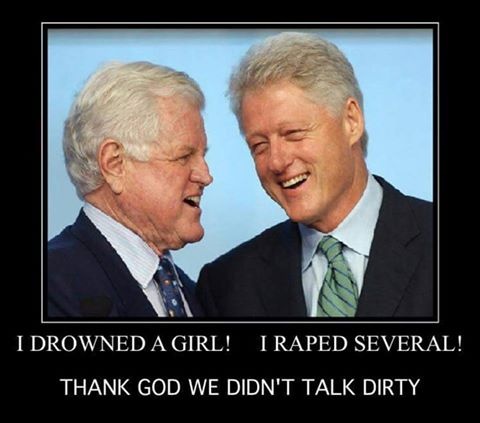 Why do people around the world respect these guys yet denigrate Trump?
(I'd be delighted to give credit to someone for their excellent graphic. However, it's been doing the rounds on the Internet anonymously.)
Many thanks to one of my readers — Sackerson of Broad Oak Magazine and Martin Scriblerus — who sent me an interesting perspective from a historian on why he switched from Bernie Sanders to Donald Trump.
Eric Zuesse is an investigative historian and author. His lengthy and well researched article, 'I'm a Bernie Sanders Voter: Here's Why I'll Vote Trump' appeared on Washington's Blog and on RINF (Real Independent News & Film).
Excerpts follow. There is much more at the aforementioned links. The content is weighty and complex, making it difficult to read at times, but it is very well argued.
Zuesse gives his ten reasons for supporting Trump. Note that all of these show the similarity between Sanders and Trump:
Here are the ten key issues:
1:  Sanders favors "breaking up the big banks." Hillary Clinton opposes that.
2:  Sanders has fought consistently against Obama's mega-'trade' deals. Hillary consistently favored them.
3:  Sanders favors working with Russia against jihadists in Syria. Hillary opposes that.
4:  Sanders says jihadists are America's top foe. Hillary says both jihadists and Russia are equally anti-American, equally dangerous to America. Hillary is simply a neoconservative; Sanders isn't. Her having voted to invade Iraq was no mistake on her part; it was consistent with her entire international outlook, all of which is neoconservative, like invading Libya, Syria, etcetera. Bernie's vote against invading Iraq was likewise consistent with his international outlook.
5:  Sanders has been consistently opposed to fossil fuels. Hillary has aggressively supported them.
6:  Sanders says that the system is rigged. Hillary says that it's not.
7:  Sanders says the system is rigged specifically against the poor. Hillary says the problem that keeps people poor is instead individual bigots — against Blacks, Hispanics, women, gays, etc. Not the system itself. She is proud to represent the system. She's not against it. She's for it.
8:  Sanders's political career has been financed by small-dollar donations. Hillary's has been financed by mega-donations.
9:  Sanders favors every possible means of reducing the influence big-money donations to politicians has over politics. Hillary opposes that idea.
10:  Sanders favors socialized health insurance, like exists in the European nations that spend per-capita half what America does but have higher life-expectancy than America does. Hillary opposes that — she favors the existing profit-based system of health-care, and opposes the European system where basic healthcare is a right, no privilege (that's based only on ability-to-pay).
As for the Green Party's Jill Stein, who is attracting Sanders supporters (emphases mine):
By voting for Trump, you add 1 vote to him, and 0 vote to Hillary, and so that's a real action in the real world of electoral politics: it puts Trump up 1. By voting for Hillary, you add 1 vote to her, and 0 vote to Trump, and so that too is a real action in the real world of electoral politics: it puts Hillary up 1. Either vote is a real vote.
The real world of electoral politics is the foundation of democracy, without which it can't function at all. Fantasy votes are not votes that can even possibly participate in democracy. For example: by voting instead for Jill Stein, you add 0 vote to each of the two real-world contestants, just the same as you would be doing by staying home on Election Day.
Regarding the question of whether voting for Jill Stein is at all rational:
The U.S. Presidency is determined in the Electoral College, in which each state's entire delegation votes the given state's Election-Day choice, winner-take-all for all of that state's electors.
Neither Nader [2000] nor Perot [1992] won even one state, neither of them came even close to winning even a single state.
Jill Stein definitely won't win even one state.
Voting for her is nothing but a sucker-punch on the ballot there.
Therefore:
My vote for Trump will be the first Republican vote in my life, and I hope that this will be the only time in my life when the Democratic candidate is so abysmal that I'll have to do this. It's not because I like Trump; it's because he's vastly better than the Democratic nominee, whom I consider to be by far the worst Democrat ever. To me, choosing between Trump, who has no political record, and Hillary, who has the worst record in public office of any Democrat ever, is easy. On all other ballot lines, I shall, as always, vote Democratic …
Trump could be a political unifier, especially on a new health care plan:
Perhaps a President Trump would get so many congressional Democrats and Republicans to vote for a single-payer health insurance proposal, that such a piece of legislation could be signed into law much likelier than if a President Sanders (who would be voted against in Congress by virtually every Republican member) were to be pushing for exactly the same type of legislation and getting only some congressional Democrats (and no Republicans then) to vote for it. Indeed, we all might even turn out to be surprised to find that a President Trump will be the most effective progressive President since FDR. If Democrats control Congress, then he might turn out that way, and become widely revered …
In conclusion:
… Trump is the clear, and the only reasonable, choice for progressives in this election.
Our choice, Bernie, didn't make it to the finals. (Hillary and her big-money people beat him — sometimes cheated him.) We are stunningly fortunate that the voters in the other Party's primaries ended up giving us (for once) a realistic chance to have, as the next U.S. President, a person who is at least no worse than, and is on many of the most important issues far better than, the atrocity (Hillary) that is being offered to us by the Democratic Party. How often does the Republican Party provide the better candidate? In the opinion of this Bernie-supporter, such a thing has never happened since the time of Abraham Lincoln. Donald Trump might not be another Abraham Lincoln, but he might be another Franklin Delano Roosevelt — the greatest progressive of them all. Thank you, Donald Trump, for having given us this opportunity — the realistic possibility to salvage, for America, a progressive future. It couldn't have happened without you — if it does happen, at all …
Trump is rapidly moving America's political center in the opposite direction from the direction that Bill Clinton, Barack Obama, and Hillary Clinton, did, which was toward conservatism, away from progressivism: those conservative Democratic Presidents and (now) would-be President, have moved America's political center considerably toward the right (the international-corporate agenda). A President Trump would reverse the political direction that this country has been heading in ever since 1993.
If we progressives don't help Trump to do that, we shall be throwing away the only such opportunity that the U.S. oligarchy (slipped-up and) allowed us to have. A President Hillary Clinton would have the support of almost all congressional Democrats no matter how right-wing her proposals are, and her big-money financial backers will buy enough congressional Republicans to make her the most effective most conservative Democratic President in decades if not centuries. The prospect is chilling.
It's a fascinating perspective for Democrats from a Democrat.
Last week, Big Media insisted that Donald Trump was going to be shut off from the black community in Detroit.
Sure, he would do an interview with Bishop Wayne Jackson of Great Faith International Ministries which will air on his Impact Network then attend one of his church services. But the Republican candidate would not be speaking with or addressing people. He would remain silent.
How wrong they were.
On Saturday, September 3 Trump gave a one-on-one interview to Jackson and attended a church service. Jackson announced that Trump had prepared a few words to say and that he was welcome to address the congregation. Jackson had a special podium brought out and Trump spoke.
Trump acknowledged at length the importance of black churches in American life. He talked about the importance of Christianity in America as a whole. He complimented Jackson on his interviewing skills, saying they were superior to that of professional interviewers. He also paid compliments to his wife, Dr Jackson. He spoke of the division in America and how people 'talk past each other'. He said he wanted to unify America and to bring people together as a nation. He said he was proud to represent the party of Abraham Lincoln and put emphasis on the fact that Lincoln was a Republican. He was pained to see the closed shops and people sitting in doorways in Detroit because they had no jobs. He pledged to bring jobs to the city and get people working again. He also pledged that the schools would improve.
Trump ended with 1 John 4:12:
No one has ever seen God; but if we love one another, God lives in us and his love is made complete in us.

He received a warm reception from the congregation.
Afterwards, Jackson gave him a prayer shawl which he had personally prayed and fasted over. He put it around Trump's shoulders. He also gave him two Bibles — one for him and one for Melania.
He then spoke of the importance of reading the Bible when things got tough and situations seemed impossible. It was really moving. The congregation were listening intently, many taking pictures with their phones.
Then Reuters — the company filming the event — cut the filming.
The full address — and most of Jackson's words — are in the following video:
A commenter at The Conservative Treehouse tells us what happened next (emphases mine):
I live in metro Detroit and was watching both a local stream from the church's site and the networks feed on CNN from Reuters. I saw the networks video get cut live as it happened, where the feed from church was still going. I got to see the rest and it was the most moving part. I knew they were not going to let that happen since it would jump over everything negative they were trying to frame ahead and after the event.
The Pastor was providing a gift of … some sort of pin, maybe a cross? He stated something like when you [are] alone in the darkness… struggling with difficult decisions… you feel the weight of the world upon you, wear these and reflect to God to provide you with the wisdom and serenity to make the right choices. Something [of] that nature.
Behind the sound and the cameras, Reuters personnel were having a kerfuffle. One did not want to cut the feed and said he didn't care if he were demoted. This video has dialogue, including subtitles, of what they were saying:
I'm shooting, I don't care what … I'll take a demotion …
Then, from the supervisor:
Shut this down …
Answered with:
What?
Supervisor:
Shut it, yeah …
And finally:
Yes, Michael. Do it.
Reuters — the company that changed its polling methods in July so that Trump would look as if he were sinking. It worked for a few weeks. But even Reuters's polling fix can't keep him down. The latest Reuters/Ipsos polls from Wednesday, August 31 show that Trump is only down by one and two points.
Reuters are shameful both in their polling and their censorship of a pivotal event.
Afterwards, Trump took a tour of the neighbourhood where Dr Ben Carson grew up and stopped in front of his house. Trump spoke with the lady who owns the house now as well as a few of her neighbours. Trump left, probably to see more of Detroit, and Carson spoke to CNN's Jeremy Diamond.
The good doctor has infinite patience.
Diamond kept asking if Trump should have said in reference to black Americans at an earlier rally elsewhere in the United States 'What do you have to lose?'
Carson kept explaining that it wasn't the way Trump said it that mattered but the message behind that question. That was what people were missing. Including Diamond, but he is too much of a gentleman to say so.
In closing, someone else on The Conservative Treehouse said they were glad they saw those two videos — posted there — because they happened to watch a television newscast which said that Trump's visit to Detroit had been a flop. There were protesters outside the church and he was made to feel unwelcome.
Well, there were protesters outside the church, but, inside, something very profound and solemn was taking place. His conversation with the people outside of Ben Carson's home seems to have gone well, too, brief though it was.
Oh, yes. One last thing. Never mind what someone from CNN tweeted about the Trump campaign asking for the feed to be cut. That seems rather doubtful. Damage limitation, anyone?
How many more lies do we have to endure from Big Media?
When I lived in the US, I enjoyed watching The McLaughlin Group on PBS.
(Photo credit: The McLaughlin Group on Facebook)
It was a political programme unlike any other: rapid-fire conversation concluding with weekly predictions in soundbites. I watched during the 1980s, when the line up was host Dr John McLaughlin with panellists Morton Kondracke of The New Republic, Jack Germond of The Baltimore Sun and Bob Novak. The show always closed with McLaughlin's trademark 'Bye bye'.
I was pleasantly surprised to find out that it was still on the air and that McLaughlin never missed an episode until last weekend, when he was too ill to broadcast. He was 89 years old and, sadly, died on Tuesday, August 16, 2016 of prostate cancer.
Can you imagine hosting a television show, especially one on politics, when you're 89 years old? I can't. Americans were blessed to have had John McLaughlin on their television screens for over three decades.
Host versus panellists
I recall episodes of The McLaughlin Group which indicated backstage tension. My mother and I used to discuss the show during our weekend phone calls. She told me I was reading too much into personalities.
However, The New York Times reveals that not all the panellists were happy campers. Bob Novak left the show in 1988 and later hosted his own programme on CNN. During a PBS interview in 2007, the truth came out. Novak said:
He may not be pure evil, but he's close to it.
Jack Germond, who was rather quiet on occasion although he always added much to the conversation:
called the show "really bad TV," and said he had stayed on only because he needed the money to pay his daughter's medical school tuition.
Whatever they say, millions of us loved the show, in large part for McLaughlin's style of hosting:
Regardless of the panelists' political persuasions, Mr. McLaughlin, whose own politics leaned decidedly right, would often fire off questions and cut them off, shouting "Wronnnng!"
Then there were the question and answer predictions at the end of each episode. A NYT reader recalls:
he made my favorite prediction on the last 1999 show: "The question of the 21st century will be science vs. religion and the answer is science! Bye-bye!"
Interesting facts
John Joseph McLaughlin was born in Providence, Rhode Island, on March 29, 1927. He was the son of Eva P. (née Turcotte) and Augustus H. McLaughlin, who was a regional salesman for a furniture company.
McLaughlin attended LaSalle Academy in Providence and went to Weston College, a Jesuit seminary in Massachusetts. He was ordained as a Jesuit priest in 1947.
His further education did not stop there, and the young priest went on to earn masters degrees in philosophy and English literature from Boston College before obtaining a doctorate from Columbia University.
McLaughlin taught at the Jesuit-run Fairfield Preparatory School in Connecticut and later moved to New York to edit the Jesuit magazine America. Then came the 1960s and the Vietnam War.
By the end of the decade, a handful of Jesuit priests raised their heads above the parapet and became involved in politics. Daniel Berrigan was one well known antiwar activist. Robert Drinan was another; he was a US congressman for Massachusetts between 1971 and 1981.
The same year that Drinan first ran for election — 1970 — saw John McLaughlin, SJ, throw his hat into the ring. He ran for US Senate in Rhode Island as the Republican candidate against the long-serving politician, the much-loved Democrat John Pastore. Not surprisingly, he was trounced.
Whereas Robert Drinan's superiors approved of his run for Congress, McLaughlin's sharply disapproved of his. It would not be the first time the feisty priest ran into trouble with his superiors, including the Bishop of Rhode Island.
McLaughlin resigned his editorship of America and went to Washington, DC, to become a speechwriter for then-president Richard Nixon. A mutual friend, Republican adviser and pundit Pat Buchanan, introduced the two. McLaughlin became known as 'Nixon's priest'.
McLaughlin was fiercely loyal to the then-president. The NYT tells us:
At one news conference, he dismissed Nixon's use of profanity as "emotional drainage." Less than two weeks before the president resigned, Father McLaughlin warned in a speech at the National Press Club that the nation would face a "parade of horrors" should Nixon be impeached. (On July 31, 1973, Father Drinan became the first congressman to call for impeachment in a House resolution.)
Whereas Drinan lived in plain quarters with other Jesuits in Georgetown, McLaughlin had his residence at the upmarket Watergate complex.
When Nixon resigned in 1974, Nixon's successor Gerald Ford abolished McLaughlin's post. His superiors ordered him to leave Washington DC for Boston for a period of 'reflection'. He refused and left the Jesuits. In order to leave the order, he had to petition Pope Paul VI for permission, which was granted in 1975.
Shortly after leaving the Jesuits, McLaughlin married his 1970 campaign manager Ann Dore, who later served as secretary of labor under Ronald Reagan. The couple set up their own media relations and public affairs consulting firm. They divorced in 1992.
Five years later, McLaughlin married Cristina Vidal, who was the vice president of operations for his production company, Oliver Productions, named after his treasured basset hound from the Nixon era. The couple divorced in 2010.
Media career
McLaughlin was a man who always had something to say. Fortunately, Washington DC's WRC radio recognised this and gave him a weekend talk programme to host in the early 1980s.
From there, McLaughlin worked at National Review when William F Buckley Jr was at the helm. McLaughlin was the magazine's Washington editor and a regular columnist from 1981 to 1989.
His friends from the early 1970s helped him set up a television production company in the 1980s (pre-Oliver) through which he was able to sell a new kind of political talk show to WRC-TV. The NYT explains what a departure this was:
At the time, TV round tables of journalists like "Agronsky & Company" and "Washington Week in Review" dissected the week's developments in a sober, nonpartisan style. Mr. McLaughlin envisioned a more animated, argumentative format including a panel reflecting conservative, moderate and liberal views, with him as moderator.
I can tell you that Agronsky & Company and Washington Week in Review were incredibly boring. With The McLaughlin Group, it was as if someone had thrown open a window in a stuffy room. Agree or disagree, it engaged the viewer — and continues to do so.
You can see episodes from 1998 to the present on McLaughlin's personal website. The episodes also have a link to YouTube. I would recommend watching them rather than selecting the MP3 option, if you can. N.B.: McLaughlin did not appear in the August 12, 2016 show.
His other television shows were John McLaughlin's One on One, broadcast on PBS and NBC between 1984 and 2013, and a daily interview show which ran on CNBC between 1989 and 1994.
However, The McLaughlin Group was his most popular. In 1992, the NYT asked the ex-Jesuit if his programme 'depreciated' journalism. McLaughlin strongly disagreed and replied:
Journalists can get very pompous, especially in the formalized days of Meet the Press, when they took themselves so damned seriously. This show demythologizes the press, and I think people like that.
They do. One NYT reader had this to say:
The Irish have a way with words and the gift of the gab. John McLaughlin was very intelligent and highly educated. I think this is the reason his show was so successful and ran for so many years. I do not think there is an equal in quality programming today.
Nor will we see his like again.
May John McLaughlin rest in peace. He did a great service to the United States, engaging millions of Americans in politics via television for over 30 years.
What a week for interesting news going all the way back to Abraham Lincoln!
Here's a selection of what was in the media. Emphases mine below.
Prolonged childhood problematic
Charlotte Gill, a young woman writing for The Spectator, deplores games such as Pokémon Go and Candy Crush as well as games franchises, e.g. Nintendo. These products distract too much from real life which young adults should be embracing:
… I genuinely believed that my generation would get over Pokémon – that there would be a collective 'growing up' – but I was wrong. Data shows that 49 percent of Pokémon Go users are 25 or over …
Such games are viewed as 'a bit of fun' – a nice distraction from the world. After all, who thinks about Isis when they're searching for Pokémon? But I can see a wider issue about Generation Y and its obsessions; a huge denial about being adults. Frankly, it's all a bit sad.
The trouble with all these baby hobbies is that they distract twentysomethings from doing something good with their lives. And, I know, we all deserve to have downtime and can even turn passions, like gaming, into a career. But for many young people, these enterprises become hugely absorbing, and steal the best years of their lives. The irony is that they will not know that this is happening; franchises with cute, sweet animals come across as harmless and nostalgic.
As a generation, we need to grow up. The world is becoming a more frightening, competitive place all the time; it has never been more important for young people to buck up, get some skills, even set up their own businesses, instead of indulging in the toys and franchises we should have left behind years ago …
The strange thing about all of these pursuits is that young people take pride in them. They think it's funny to be trivial. It's ironic, they say. In reality, it seems ignorant. Girlfriends complain to me about men who won't commit in relationships; it's no wonder, given that they live in a society that wants to immortalise childhood. 
Such pastimes are bread and circuses on a small scale. We could be approaching Idiocracy sooner than we think.
London Tube: attempted murder – terrorism or state of mind?
In December 2015, Muhiddin Mire attempted to slit a man's throat at Leytonstone Tube station in east London.
He was given a life sentence on Monday, August 1 and will have to serve a minimum of eight-and-a-half years.
Law enforcement, barristers and doctors disagreed as to whether the cause was extremism or his mental state. During the attack, he yelled:
This is for my Syrian brothers. I'm going to spill your blood.
Police said that, given some of the content on Mire's phone, he could have been influenced by extremist propaganda. However, the court heard that he was also suffering from paranoid schizophrenia at the time of the attack. Was his state of mind exacerbated by the extremist material?
In any event, he will start his sentence at Broadmoor Hospital in Berkshire.
Over the past few weeks I have read several letters to the editor in the UK and in France from mental health workers on recent terrorist/extremist attacks. These people are asking for an investigation into any psychotropic medication that those carrying out the attacks might have taken in the weeks and months beforehand.
It is a legitimate question, one that needs further investigation, especially in light of the American lady who met with a tragic and terrible death in Russell Square the night of August 3. Although police are no longer considering terrorism as a motive:
The Met Police's assistant commissioner for specialist operations, Mark Rowley, said the investigation was increasingly pointing to the attack being "triggered by mental health issues".
A 19-year-old is in police custody. Originally from Somalia, he lived in Norway before moving to the UK. Police say he is a Norwegian national.
Sky's report proves what my late mother often said about London — it is the crossroads of the world. It's worth reading to see the variety of names and nationalities.
Saturday night scare in London's Camden Town
On Saturday, July 30, an alert member of the public contacted the Metropolitan Police about a suspicious vehicle in Camden Town, London's nexus for young adults and hipsters.
At 10:50 p.m. police evacuated several pubs and clubs. The Mirror was one of two (that I can see) news outlets to carry the story. Their story pointed out:
It was a major operation on one of London's busiest high streets at its peak time.
The Met sent in one of their police robots to investigate the car. The London Evening Standard story has a photo.
Fortunately, the car presented no threat. Police allowed night spots to reopen around midnight.
Well done to the quick reaction of the member of the public and the police.
Burger chain, bogus papers and bugs
The UK has several trendy burger chains, one of which is Byron. Its founders sold the business to an investment firm, Hutton Collins, for £100m in 2013.
On July 27, news emerged that immigration officials carried out a raid on several branches. That was on July 4. A Spanish newspaper in London, El Iberico, reported the story before MSM did. Over the past week, leftists bombarded certain branches of Byron with bugs and protests.
The Home Office had contacted Byron to say officials would be going in to their premises on July 4. Byron management sent notifications out to staff that health and safety training was going to take place that morning. As such, staff attendance was mandatory. The restaurant chain refused to comment on whether the health and safety training was set up under false pretence.
The Guardian published Byron's statement on the incident:
It said: "We can confirm that several of Byron's London restaurants were visited by representatives of the Home Office. These visits resulted in the removal of members of staff who are suspected by the Home Office of not having the right to work in the UK, and of possessing fraudulent personal and right to work documentation that is in breach of immigration and employment regulation."
A Home Office source told the newspaper that 35 people were arrested in connection with the raid. They had come from Brazil, Nepal, Egypt and Albania.
The Left went into overdrive online and on the ground.
On Friday, July 29, two central London branches of the chain had to close. Activists smuggled in bags of insects into the Holborn and Shaftesbury Avenue sites. The Guardian reported:
In a joint statement published on Facebook, London Black Revs and Malcolm X Movement said the direct action was in response to the chain's "despicable actions in the past weeks having entrapped waiters, back of house staff and chefs in collaboration with UK Border Agency".
"Many thousands of live cockroaches, locusts and crickets [have been released] into these restaurants. We apologise to customers and staff for any irritation, however, we had to act as forced deportations such as this and others are unacceptable, we must defend these people and their families from such dehumanised treatment," the statement said.
Obviously, these people do not believe in borders. No doubt, there are any number of anarchists among them.
The activists invited Huck's Michael Segalov along for the occasion:
On Thursday evening my phone vibrated, a number I'd never seen before had sent me a text.
"Dear Journalist, this is a tip-off", it read, "info: 8000 locust, 2000 crickets, 4000 cockroaches. See you tomorrow night."
The bug barrage went as planned. Customers scarpered. Those who were there might have left in panic, without paying. The rest of the night was one of lost income and massive clean-up. The manager of one of the branches was, quite rightly, angry. Segalov wrote:
I get it, sort of. This was his place of work, which was now a shambles, it wasn't his fault that the raids had happened (he probably didn't even know they were planned) and now his team were going to spend the night chasing crickets and picking cockroaches out the red-onion relish.
Outside, a female passerby reminded him that staff and the manager were going to have to deal with the mess, no one else. That said, this woman and Segalov think it was still worthwhile.
Why? The people arrested had forged paperwork. They entered the country illegally.
A huge protest of no-borders lefties took place on Monday, August 1 outside the Holborn branch. The Evening Standard reported that the branch was closed after they heard 1,300 protesters might attend. Police were on the scene. The Standard reported:
Byron said in a statement: "In response to the recent Home Office investigation, we would like to reiterate the following.
"Byron was unaware that any of our workers were in possession of counterfeit documentation until the Home Office brought it to our attention. 
"We carry out rigorous 'right to work' checks, but sophisticated counterfeit documentation was used in order to pass these checks.
"We have cooperated fully and acted upon the Home Office's requests and processes throughout the course of their investigations: it is our legal obligation to do so. 
"We have also worked hard to ensure minimal impact on our customers while this operation was underway."
Well stated.
Taking legitimate citizens' jobs through forged papers is theft.

Jean-Claude Juncker's little black book
The EU's most disliked bureaucrat, Jean-Claude Juncker, told Belgium's Le Soir that he has a little black book with all his enemies' names in it.
The Guardian reported on the interview. Le Petit Maurice, as Juncker calls his notebook, serves as more of an aide-memoire than anything else. He thinks it is also a useful deterrent:
He would tell people attacking him: "Be careful. Little Maurice is waiting for you."
On UKIP MEP Nigel Farage, Juncker:
claimed he respected the Ukip leader and found him "very funny" and erudite.
Yet, he said that he had not embraced Farage during the last European Parliament meeting in Strasbourg:
I whispered something in his ear that was not a compliment. The photos gave the impression that I embraced him.
Juncker has no plans to go anywhere. Juncker has no regard for European citizens. He wants an EU army to cope with the migration crisis, a perfect way to impose more control over us. He is upset that EU countries have not taken in more migrants and despises the reimposition of border controls in the Schengen Zone. I wrote at the end of May:
People like Jean-Claude Juncker are the reason why many Britons will vote for Brexit. Juncker and Co's arrogance is unsurpassed.
In June, two days before the EU Referendum, I reminded readers of two of his most outrageous quotes:
On EU monetary policy
"I'm ready to be insulted as being insufficiently democratic, but I want to be serious … I am for secret, dark debates"
On British calls for a referendum over Lisbon Treaty
"Of course there will be transfers of sovereignty. But would I be intelligent to draw the attention of public opinion to this fact?"
Jean-Claude Juncker: another reason to be happy Brexit won.
The Khan controversy
For my readers who do not live in the United States, an attorney by the name of Khizr Khan spoke at the Democratic National Convention last week in Philadelphia, flanked by his wife in traditional dress.
The Khans came to the US from Afghanistan via the United Arab Emirates, where their son, Humayun, was born. The family became American citizens once they were eligible.
Humayun became a captain in the US Army and was killed in 2004 in Iraq when he was investigating a car fitted with an explosive device. Americans can be grateful for his honourable and courageous service.
At the DNC, Khizr Khan sharply took issue with Donald Trump's policy on restricting or temporarily banning Muslim immigration until Homeland Security figures out what is going on.
Trump politely responded in television news interviews by saying the Khans would have been vetted — current policy — and admitted, were he in the Oval Office. However, the polemic continued from Democrats and Republicans, including Khan and Trump.
On July 31, Trump tweeted:
I was viciously attacked by Mr. Khan at the Democratic Convention. Am I not allowed to respond? Hillary voted for the Iraq war, not me!
Charles Hurt defended Trump's position in a July 31 article for The Hill. Hillary supporters should note the following:
Stop for a moment and ask yourself how exactly the Clinton campaign arrived at the decision to trot out the Khan family in the middle of their highly-choreographed, exhaustively produced convention?
Were they just looking to give voice to the parents of a soldier? That would be a first. Did they want parents of anyone who had died abroad in the defense of their country? Gee, why not pick the parents of one of the fallen warriors who died defending the U.S. consulate in Benghazi? Oh, that's right. They would have called Hillary Clinton a liar. Can't have that.
No. Politicians like Hillary Clinton do not see people like Capt. Humayun Khan as a soldier who made the ultimate sacrifice on a foreign battlefield in defense of his country. 
Politicians like Hillary Clinton see him only a demographic, a dispensable political pawn to be scooted around an electoral map, the way generals used to move armies across giant maps of the lands they were invading.
Here's the kicker:
Perhaps a better testimony from Khizr Khan would have been for him to talk about how Hillary Clinton was in the U.S. Senate when she voted to invade Iraq. Years later, after that position became politically unpopular, she changed her mind and joined new political forces to vacate all the land across Iraq that so many great American patriots like Capt. Humayun Khan had died for.
It was her vote that sent Capt. Khan to his death. And then it was her decisions later to render that sacrifice worthless.
Of course, the media will run and run with this one, whilst continuing to deprecate Patricia Smith who spoke at the Republican National Convention about her son Sean who died during Benghazi. Mrs Smith is right in saying that Hillary Clinton must come out with the truth. Mrs Smith said she was not even allowed to talk to people at the State Department; they told her she was not 'immediate family'!
Abraham Lincoln's letter to his stepbrother
And finally, a fascinating letter from Abraham Lincoln to his stepbrother John Daniel Johnston appeared on Real Clear Life this week.
Lincoln's stepbrother had asked him for $80 in 1850, the year the letter was written. $80 in today's money is a sizeable $2,424.24!
Lincoln minced no words in refusing the request. He reminded Johnston this was not the first time he had given him money:
but in a very short time I find you in the same difficulty again. Now this can only happen by some defect in your conduct. What that defect is, I think I know. You are not lazy, and still you are an idler … This habit of uselessly wasting time, is the whole difficulty; and it is vastly important to you, and still more so to your children, that you should break this habit. It is more important to them, because they have longer to live, and can keep out of an idle habit before they are in it easier than they can get out after they are in.

A shorter version should be printed on billboards (hoardings, for my British readers) and posters. It should be displayed on public thoroughfares and in schools. We have way too much idleness today. Idleness brings trouble. Remember when our parents and grandparents used to say, 'The devil makes work for idle hands'?
He went on to acknowledge Johnston's kindness to him and proposed that, if Johnson worked over the next five months, Lincoln would match the sum of his earnings dollar for dollar.
Kindle owners can find a book of Lincoln's letters on Amazon. Maybe that has a follow-up.
—————————————————————-
That's all the news you might have missed over the past seven days.
Have a great weekend! May it be non-newsworthy except in the best possible way.