You are currently browsing the tag archive for the 'Richard Drax' tag.
This week, the UK government's scientific advisers and Prime Minister Boris Johnson said that new, stricter coronavirus measures would come into effect on Thursday, September 24.
On Monday morning, Chris Whitty and Sir Patrick Vallance presented their latest figures, which looked as if they must have come (once again) from Prof Neil Ferguson, they are that exaggerated. You can see the graph further down in my post:
This is utter madness, reminiscent of the WMD days when Tony Blair told us that a WMD could reach our shores within 45 minutes:
Their presentation, given against a No. 10 backdrop, had the purpose of preparing the public for Boris Johnson's announcements on Tuesday. They took no questions.
They showed graphs of where Spain and France are, with an uptick in 'cases'. Again, that means positive test results, most of which do not require hospitalisation.
Strangely enough, the Rule of Six only came in on Monday. Let's let it bed in for a few days, fellas, before taking more measures. They're doing exactly what they did in March, though. On March 16, new measures came in. On March 23, we had lockdown.
The Rule of Six is a Belgian tactic that SAGE thought would work in England. As such, they recommended it to the Government.
Perhaps this is the reason the two scientists did not mention Belgium once in their presentation:
I am glad someone will be tracking the progress of the projections over the next few weeks:
On Tuesday, Boris addressed Parliament and gave a short address that evening, televised to the nation.
In short:
– Pubs and restaurants must close by 10 p.m.
– They must offer table service only.
– All retail workers in hospitality settings must wear masks, along with customers, unless they are eating or drinking.
– Fines for breaking the Rule of Six or not wearing a face covering will result in an initial fine of £200, up from £100, for a first offence.
– Indoor five-a-side football matches have been banned.
– Wedding attendance has been reduced from 30 to 15; funeral attendance remains capped at 30.
– Police are allowed to call the military to fulfil office duties and/or to guard protected sites, leaving the police more capacity to fight crime.
– The plan to return a limited number of fans to sports stadia on October 1 is now postponed indefinitely.
The Daily Mail has a comprehensive article, including Boris's transcript, on the scathing reactions from police and business owners, particularly publicans. Sir Andrew Lloyd Webber said that this could sound the death knell for commercial theatre.
The Telegraph's Matt has this take on Army assistance:
The chances of that happening are very low:
The sad thing is that only five per cent of COVID-19 infections occur in a hospitality environment!
The Government and SAGE know this — yet they pressed on with restrictions!
The Daily Mail reported (emphases mine):
Public Health England data reveals that of the 729 outbreaks in the week to September 13, only five per cent occurred in food outlets such as restaurants and pubs – 45 per cent were in care homes, 21 per cent in schools and 18 per cent in places of work.
Wetherspoons founder Tim Martin said: 'The curfew doesn't even stand up to five minutes consideration by an intelligent person because if you look at the stats… there are relatively few transfers of infections in pubs.
Kate Nicholls, chief executive of trade body UK Hospitality, urged the Government to heed its own statistics because the curfew could take a sledgehammer to the industry which is already 'on its knees'.
She said this morning: 'People will think it's not that significant, but it really will have a big economic impact on jobs, not just on pubs, but also for cafes and restaurants.'   
Martin Wolstencroft, head of Arch Inspirations, which runs 17 bars and restaurants in Leeds, Manchester, York and Newcastle, said the curfew will not make it viable to open some of his venues.
Ironically, August was the month of discount lunches in Chancellor Rishi Sunak's successful initiative, Eat Out to Help Out, which the hospitality industry welcomed.
The Government's new restrictions will largely destroy any uplift participating restaurants received from it.
What on earth is going on?
Toby Young, who was at Oxford with Boris, says that something has changed — and not for the better. Note that Prince Charles approves of military intervention for climate change. Scary:
It's entirely possible that these ruinous measures have no basis in scientific fact, devastating people's livelihoods and families:
Conservative backbench MPs sounded off.
On Tuesday, Sir Desmond Swayne, who has commented both in and outside the House of Commons, tweeted:
His blog post states, in part:
Flu kills all year round – In the last weeks of July it killed 1000 of us (where Covid-19 killed only 200)- but it is seasonal: it certainly kills a lot more of us in the winter. Equally, we should stop talking about another wave of Covid-19 and instead, like flu, start expecting its annual season.
Having peaked in April Covid-19 abated over the summer. Inevitably it will get worse in winter. It may also be worse this winter than might otherwise have been the case. This is because we carried on with a number of restrictions on normal social life during the summer, reducing our ability to acquire and share herd immunity and wasting the opportunity provided by the weakest period for the virus.
My contention remains, as I have said many times over the last months, that our over-reaction to the disease has done much more lasting economic damage, and, counter-intuitively, even more damage to our health than the disease itself.
The current strategy merely kicks the can down the road. If the measures work and reduce the spread, the virus will simply reappear later.
Of course, we could be lucky and get a vaccine or a cure, or even 'moon-shot' daily tests to enable us to return to normality, but none of these are certain.
One day there may be a virus that threatens our whole way of life – but this isn't it, even if we are behaving as if it were.
Sir Desmond retweeted a neurologist's comment on the outrageous graph of projected 'cases' this autumn — in reality, positive tests:
Today, Sir Desmond gave an interview to the BBC about the continuing and questionable restrictions on civil liberties:
Richard Drax rightly predicted economic disaster, ruining the lives of millions:
Lucy Allan also spoke out on Twitter.
She tweeted Monday's graph from SAGE:
She rightly opposes putting everyone on restrictions when we should be protecting those most at risk:
She retweeted an open letter from Profs Sikora, Heneghan and several other leaders in British medicine:
She also called for the precise definition of a 'case':
That's probably why Whitty and Vallance didn't take questions.
Sir Edward Leigh also had a lot to say on this week's announcements:
He is rightly concerned about the blind faith we place in authority and the gradual erosion of civil liberties:
I couldn't agree more:
At least 1,000 people die in the UK every day.
Below are the causes of death per day in September.
Note where COVID-19 is: second from the bottom, dwarfed by heart disease and cancer.
There were nearly twice as many suicides than deaths from the Chi-vi: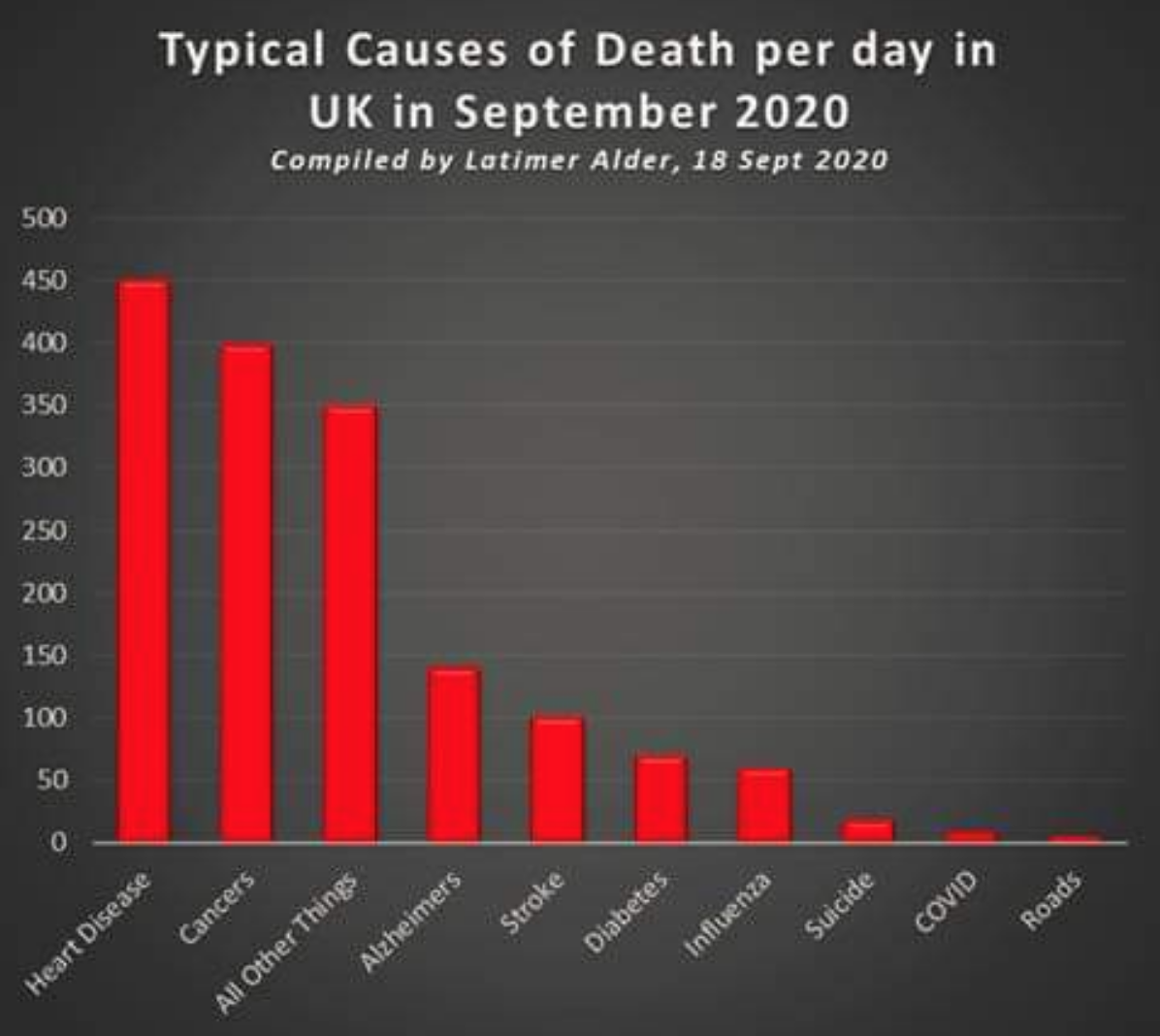 Steve Baker is also concerned about the restrictions bypassing Parliament:
Wow. Sir Graham Brady could pit a load of Tory rebels against the government. Good show:
The article from The Critic says:
Unless Matt Hancock finds a workable accommodation with Sir Graham Brady, the chairman of the 1922 Committee of Tory backbench MPs, the government faces the prospect of defeat next Wednesday when the Coronavirus Act 2020 comes up for its six-monthly renewal in the House of Commons.
The scale of backbench unhappiness is such that according to Steve Baker, who is working alongside Sir Graham, "the magic number was exceeded with 24 hours" of his beginning to canvas support for an insurrection among fellow Conservative MPs. Victory would require Labour and SNP MPs to seize on the opportunity to inflict a humiliating defeat on the government by voting with the Tory rebels. Indications increasingly suggest that this could happen. An increasingly dispirited Whips Office, which feels ignored and disrespected by Downing Street, is especially concerned at the sight of the former ERG "Spartans" leader, Baker, at Westminster furiously tapping away on his phone – a colliery canary of trouble ahead.
The government is equally concerned that the rebellion is being led by Sir Graham Brady, whose role as chairman of the 1992 Committee makes him the most authoritative channel of backbench opinion. In a sign of how seriously Downing Street management is taking the senior shop steward's challenge, on Monday evening the prime minister privately went to see the 1922's executive committee.
The primary complaint is that the government is using powers granted to it under the 1984 Public Health Act and 2020 Coronavirus Act to enact previously unconscionable measures without any prior debate in the Commons. Brady has condemned ministers who "have got into the habit of ruling by decree."
MPs were prepared to cede considerable authority to the government in March in a period of acute crisis when there appeared to be only weeks if not days to "flatten the sombrero" to save the NHS from being overwhelmed. But Boris Johnson's admission in his statement to Parliament today that the latest curtailments (which include further restrictions on hospitality opening hours and the number of people who can congregate at weddings, funerals and other public, private and sporting functions), would likely last at least six months has alerted MPs to the reality that government by decree may last until a vaccine is approved. If, indeed, a vaccine is approved. This is a war that will not be over by Christmas.
Far from persuading potential rebel MPs that a new crisis is looming, the performance of the government's chief medical and scientific officers, Chris Whitty and Sir Patrick Vallance, at their press conference yesterday has heightened consternation that the government is over-reliant on advice predicated upon worst case scenarios that is trumping competing economic and civil liberty considerations.
The likelihood of executive mission creep was foreseen back in March by David Davis and Steve Baker who pushed the government into adopting an amendment reducing from two years to six months the period in which the powers of the Coronavirus Act must be renewed by parliament. That renewal debate will now take place next Wednesday.
I remember that debate from March and also wondered if the Government were as good as their word.
Whilst they are unlikely to call for a wholesale repeal of the Coronavirus Act, Sir Graham Brady could call for a scrutiny clause appended to the Act so that every new statutory instrument connected to the legislation would have to go through Parliament first. To date, many of them have not. Therefore:
Rebels are pinning their hopes on this prospect. They may find a friend in the The Speaker, Sir Lindsay Hoyle, who has already made clear his intense irritation with Matt Hancock's disregard for informing parliament first of major legal changes like the "rule of six" and for the government's brusque imposition of restrictions in his own Chorley constituency …
The appeal of such a mechanism is obvious to Tory backbenchers concerned that laws are being made without scrutiny and are difficult to repeal. But there is no in-principle reason why Opposition parties need object to such a parliamentary safeguard either. Hence the likelihood of a rebellion having the numbers to succeed next Wednesday.
I can hardly wait.
Iain Duncan Smith is also airing his views. Note what he says and compare it to the death graph above:
Brexit better be more than BRINO, otherwise that prediction about the Conservatives could come true.
Former Brexit Party MEP and owner of England's greatest smoked salmon business, Forman's, said:
How true.
Unfortunately, at today's PMQs, Boris said that restrictions will continue until a vaccine is found! Dangerous.