You are currently browsing the tag archive for the 'RMC' tag.
As we approach 2021, a growing number of Europeans are sceptical about our governments' respective responses to coronavirus.
My guess is that people are becoming suspicious about the loss of their civil liberties, which was only supposed to last for two to three weeks, yet continues to this day — nine months on.
There is no end in sight as we face the possibility of another sharp, nationwide lockdown early in the New Year.
France
This was a major topic of discussion on RMC's Les Grandes Gueules today.
Vaccinations have reached saturation point in France, even though the programme has barely started. Perhaps the government was too slow in obtaining more doses at the outset:
Regardless, in France, as well as everywhere else, even the vaccinated will need to continue to wear masks — possibly even after their second BioNtech/Pfizer jab:
Of course, mass vaccination is the only way that a nation's economy can once again flourish. Recall that for most age groups — up to the 70+ cohort — the average death rate is around 0.05%:
In the meantime, the question arose over whether future lockdowns should be national or regional. (We've tried both recently in England and Wales. It doesn't seem to make much difference.) This educator says that we can't stay locked down for the next ten years — 'I'm horrified. We're in a world of madness":
The lawyer on the panel disagreed, saying that we need lockdowns until we get the all clear. Someone responded to the tweet casting doubt on government statistics, saying that lies are a way of dramatising the situation — Project Fear:
Listeners rang in to say that they were sceptical about lockdowns and mandatory vaccines. The lockdowns don't seem to work and there aren't enough data yet to show that the vaccines are reliable and safe, especially if they operate like the flu vaccine, meaning that one is still susceptible to getting coronavirus, albeit a milder form of it.
Spain
The Spanish government is considering whether to develop a list of residents who do not take the vaccine then circulate those names to other countries to restrict their movements.
British talk show host Maajid Nawaz of LBC warned that this is a very dangerous step for a nation to take. He said that, years ago, he was a prisoner of conscience in Egypt and found out how far the state can go in controlling one's life. The response to his video is quite telling:
Someone else replying said that Spain would not be able to circulate the list because of personal privacy laws under the Europe-wide GDPR regulations. Hmm, I wonder:
England
Maajid Nawaz had another excellent commentary on the futility of lockdowns. He said that only one person in the UK has put together a cost benefit analysis for public consumption and that only the Times has published it. Apparently, 500,000 lives are adversely affected among the general population and they are not COVID-19 'cases' or inpatients. He added that Government ministers have a lot of data they refuse to reveal to the public. I would go further and say they are not even revealing it to MPs. Matt Hancock lets nothing out in Parliament, only more fear-mongering messages, then expects MPs to approve more restrictions:
Simon Dolan, a businessman who has sued the Government over lockdown, points out that lockdown relies on asymptomatic transmission being true. However, yet another study shows that there is no truth behind asymptomatic transmission:
The latest study, which the JAMA published, focusses on household transmission:
On lockdown, Simon Dolan posits:
Yes, most probably.
But what about the lorry drivers stranded at Dover because Emmanuel Macron didn't want them coming into Calais unless they were tested? Only a tiny number tested positive:
It's no wonder people are sceptical.
In closing, I have been waiting for an ecological impact assessment on masks. Here it is:
Does anyone else find it odd that, given the alarm over coronavirus, no country has any HAZMAT bins for used masks? Shouldn't worn masks be considered hazardous waste?
It makes one wonder …
More to come.
As some of my readers know, I listen to RMC's one-of-a-kind French talk radio shows during the weekdays.
They are also televised in France on the RMCStory channel.
On Friday, October 16, 2020, Les Grandes Gueules (The Big Mouths) had a cracking three-hour show. It was shouty, characteristic of a traditional French dinner party. People can disagree, but when they kiss each other goodbye, they remain firm friends.
Interested Francophones can find the podcast here (the two 'play' options can be tempermental, but one of them will work).
Most of the show revolved around old and new coronavirus measures.
Most of these are only for certain cities.
By way of background, unrelated to RMC, Philip Turle, a correspondent for France24, explains in English that nine complaints have been filed and are being investigated about French ministers' involvement in the decisions taken on coronavirus earlier this year. He said these accusations will be difficult to prove, as it is a question of what they knew and when:
The newest one is a 9 p.m. curfew in Paris and eight other cities. Incidentally, 'curfew' comes from the French 'couvre-feu' ('cover fire', or, as we might better understand it, 'lights out'). The word appears in some of the tweets below.
Alain Marschall and Olivier Truchot, who also feature on RMC's parent station BFM-TV, led a very lively discussion with regular panellists who come from the general public.
Friday's panel featured a teacher, Barbara Lefebvre; a lawyer, Charles Consigny and the former president of Toulon's rugby club (RC Toulonnais), Mourad Boudjellal:
The first topic was, 'Are the French too submissive [with regard to coronavirus]?' A national poll showed that 62% supported a curfew, with 38% opposed. (The survey can be seen in some of the videos below.)
The show took its own poll. Participants thought that the French have been too submissive. New measures stipulate only six at a dinner party, a 9 p.m. curfew (unless you have a good excuse and/or proof), further restrictions on public celebrations and weddings:
The lawyer, Charles Consigny, thinks that the French government have overstepped their bounds with regard to their nation's constitution. Someone replied, directing Consigny's attention to Emmanuel Macron's stepdaughter, also a lawyer, who says that people need to sacrifice their civil liberties for the common good. Oh, dear:
Never mind Macron's stepdaughter, Typhaine Auzière.
Consigny said that people living in big cities are the worst hit by COVID-19 restrictions. They have been cooped up for much of the year, with only a few months of reprieve. Many live in flats, often with other people. What they face when they leave their homes is a police presence with the power to impose fines starting at €135.
Consigny finds it unbelievable that the French are not more up in arms about this situation.
Barbara Lefebvre, the teacher, spoke next. She pointed out that neither French MPs nor the French Senate had a proper debate about coronavirus legislation; it was rushed through and passed into law. For that reason, she found it 'staggering' that few French people have objected to this legislation:
Someone commented with a Machiavelli quote: 'He who controls people's fears becomes the master of their souls'. How true:
Mourad Boudjellal, the former president of Toulon's rugby club, said that the regulations are absolutely stupid. He wants the sick and vulnerable to be able to get medical care and attention whilst leaving healthy individuals free to live their lives. He said that France's elites are completely disconnected from reality. They do not understand how the average person lives. He was also shocked by a national poll showing that 90% of people living in France were willing to go along with the curfew, no questions asked.
That morning, on Tele-Matin, a popular morning current events show, alarm bells were ringing that Paris's health care system could be imminently stretched to its maximum, although the man in charge of the capital's hospitals thought there was some hope that the worst case scenario would not happen. Project Fear (see the Machiavelli quote above):
Barbara Lefebvre said that, if these new measures do not work, it is likely that Macron will impose another full lockdown.
Charles Consigny said that he follows general health advice seriously: no alcohol, no smoking, nutritious food, no unnecessary risks. That said, he asked why anyone would want a totally hygienic, doctor-driven, 'sad' life. To support his argument, he added that has spoken with his physician friends who say that, long term, these measures are too onerous for everyday life:
The French government also recommends working from home two to three days a week. Will this nonsense ever end?
Boudjellal said that dinner in a restaurant is where most business transactions take place. He said that this will be difficult for the foreseeable future:
I felt very sorry for the young woman at university who rang in to say that staying in her tiny dorm room between 9 p.m. and 6 a.m. was unbearable. Outside of being a good student, the rest of university life revolves around congregating in each other's rooms or in a common area to chat, study and make friends. I knew many people who never went to bars or parties and stayed on campus:
Consigny remarked that France was moving towards a 'Soviet' way of life, where the government control every activity. It is hard to disagree:
The video below shows culture minister Roselyne Bachelot's quotes about special dispensation for people attending cultural events. They must keep their tickets to show to authorities if questioned.
Lefebvre said that, even during the Second World War, the French could go to the theatre and to the cinema. She called the new health measures 'a joke'; they must stop:
Consigny gave a yuge shout out to President Trump, whom he fully supports and hopes will be re-elected next month. Consigny really admires Trump rallies and 'dreams' of being able to attend one. He said that Trump 'could teach the French a lesson' about freedom:
Lefebvre was concerned that lockdown measures were creating a nation of 'geeks', breaking up everyone's social lives and friendships. Yep:
Boudjellal pointed out that coronavirus statistics need to be properly interpreted. He acknowledged that it is a fatal disease, however, it is hardly the greatest cause of deaths. Yet, 'We're taking measures as if it were the greatest cause of mortality in a century!' Agree:
The panel also pointed out that it's not only the businesses the French see — bars, restaurants, theatres — that are affected. There are millions of people working behind the scenes who are out of work or have limited hours: cleaners, linen companies, taxi drivers. The list goes on.
Please, someone, make this nonsense stop, not only in France, Britain and the US, but everywhere else that has a Western philosophy towards life and love.
They might be small in number right now, but a growing number of doctors involved in the coronavirus outbreak are wondering about the wisdom of nationwide lockdowns.
In some countries, lockdown did not make much difference to the number of deaths.
On May 14, France's Prof Didier Raoult posted a study from Spain which showed that those who kept working outside the home were less at risk of falling victim to COVID-19. Replies follow:
Why we were told the world over to stay indoors, I do not understand. It runs counter to everything we've been taught over 120 years with regard to fighting epidemics:
This chart comes from another source and has more testimony about New York's lockdown:
A doctor from Paris can corroborate that households staying indoors did get COVID-19 more often than those who did not. People were already infected before lockdown and did not show symptoms until later on.
On Tuesday, May 26, RMC — France's talk radio station — interviewed Dr Robert Sebbag, a specialist in infectious diseases, who works at the famous Pitié-Salpêtrière hospital in Paris. The interview is a little over 19 minutes long.
Sebbag worked on the COVID-19 ward and said that if one family member was admitted to hospital with coronavirus, others from the same households were also infected days later.
He said that this led him and his colleagues to believe that general lockdowns are a bad idea. He explained that politicians were afraid of the number of deaths from this novel (new) coronavirus and decided to impose blanket lockdowns:
He said that the hospital, in the early days of the outbreak, was very gloomy indeed, with a seemingly endless number of COVID-19 patients being admitted. He, his colleagues and hospital staff were worried that they would be completely overwhelmed:
He thinks that an assessment needs to be done of how COVID-19 was handled in the first half of this year. While he personally thinks masks are a good idea, he objects to the restriction on nursing and care home visits, which he says are essential for patient well being, especially among the elderly:
Presumably, care home administrators can work out a system for visiting, perhaps requiring that healthy family members and friends make an appointment before visiting.
The greater question there surrounds infected patients being discharged from hospitals into care homes. This happened in the US, the UK, France and Germany. The very real pressure on the hospitals meant that they had to discharge elderly patients before they were fully recovered to make room for new COVID-19 patients. As such, care homes were overwhelmed with infection in some cases.
People rightly wonder if we will get a second wave. Some medical experts say no. Some say yes. Others say that we have to find a way of treating patients effectively so that coronavirus is no longer a fatal disease. The honest answer at this point is that we do not know whether there will be a second wave of infections.
As lockdowns are fully lifted in the coming weeks, we will all have to take greater responsibility for our own behaviour in a COVID-19 world. I dislike referring readers to the BBC, but they did have a good article on Sunday, May 24: Health Correspondent Nick Triggle's 'Coronavirus: How scared should we be?' It is well worth reading.
For a start, we do not live in a risk-free world:
Prof Devi Sridhar, chair of global public health at Edinburgh University, says the question we should be asking is whether we are "safe enough".
"There will never be no risk. In a world where Covid-19 remains present in the community it's about how we reduce that risk, just as we do with other kinds of daily dangers, like driving and cycling."
We might become more dependent on our 'least worst' options in managing that risk:
Statistician Prof Sir David Spiegelhalter, an expert in risk from Cambridge University and government adviser, says it has, in effect, become a game of "risk management" – and because of that we need to get a handle on the magnitude of risk we face.
There are two factors that influence the risk we face from coronavirus – our risk of becoming infected and, once infected, our risk of dying or becoming seriously ill.
We should also keep in mind that, for most people, coronavirus is relatively mild:
… only one in 20 people who shows symptoms is believed to need hospital treatment …
Think of it this way:
If your risk of dying was very low in the first place, it still remains very low.
As for children, the risk of dying from other things – cancer and accidents are the biggest cause of fatalities – is greater than their chance of dying if they are infected with coronavirus.
During the pandemic so far three under 15s have died. That compares to around 50 killed in road accidents every year.
In the months to come, there will likely be tests and tools, such as this one from University College London, that can help us assess our individual risk of catching this unpredictable and sometimes fatal disease.
The most important aspect, even more than the dreaded mask, is hand hygiene. Wash hands regularly and thoroughly with soap or soap gel, then dry them well. Damp or wet hands create a good atmosphere for viruses and bacteria.
Also keep hands away from the face, the best receptor for infections.
On Monday, May 25, 2020, the WHO dropped its hydroxychloroquine trials as a possible treatment for coronavirus.
The drug is one of a selection of anti-malarials which have been used successfully, under the right protocols.
In Europe, Prof Didier Raoult is the champion of this type of treatment. He has successfully used a protocol involving Plaquenil and azithromycin on his patients in Marseille. Raoult is the director of the regional institute for research on infections, the IHU Méditerranée Infection.
The medical establishment worldwide is attempting to discredit the renegade physician. The latest is the Lancet, Britain's renowned medical journal. The results of their studies with the drug prompted the WHO to halt their trials.
The BBC reports:
The Lancet study involved 96,000 coronavirus patients, nearly 15,000 of whom were given hydroxychloroquine – or a related form chloroquine – either alone or with an antibiotic.
The study found that the patients were more likely to die in hospital and develop heart rhythm complications than other Covid patients in a comparison group.
The death rates of the treated groups were: hydroxychloroquine 18%; chloroquine 16.4%; control group 9%. Those treated with hydroxychloroquine or chloroquine in combination with antibiotics had an even higher death rate.
The researchers warned that hydroxychloroquine should not be used outside of clinical trials.
President Trump is currently taking hydroxychloroquine as a preventive measure. He receives it via prescription.
The WHO advises people not to self-medicate with these drugs.
Indeed, Prof Raoult uses them only on people who test positive for COVID-19. He also runs a battery of tests on potential patients before administering the tablets. Anti-malarials can worsen pre-existing heart conditions.
His and his team's paper was published in May:
He was delighted to see that another study using the same two drugs was equally successful. Beneath it are the results of the less successful Lancet study, which used hydroxychloroquine and macrolide, instead of azithromycin:
He is aware that the medical establishment, including France's two most recent health ministers, Agnès Buzyn and Olivier Véran, want him out of the picture:
That's unfortunate, because I listen to RMC during the week and the callers from Marseille and the rest of the region of Provence-Alpes Maritimes-Côte d'Azur (PACA) consider him a hero.
However, RMC's morning show hosts dismiss Raoult and hydroxychloroquine. Now I know why. One of the station's main shareholders also is a major shareholder in Gilead, which is working on Remdesivir, a drug used to treat Ebola. So far, Remdesivir trials on COVID-19 have not been that successful but the marketing is good, and it would be a money maker:
Last Tuesday on RMC, the WHO/Lancet news was a topic for discussion on the mid-morning show. They took a poll of Raoult's popularity. Three-quarters of their listeners voting during the show love the man. The poll was open for another day:
One of the show's guests said that Didier Raoult was achieving success, not talking about hypotheticals. He found it strange that few of the other studies manage to reproduce his success:
A nurse from Marseille who used to work the the professor, who is a physician, said that the others are not following his protocol to the letter. She said that, if they were, they would get the same results.
Raoult points out in the next tweet that the other studies are not using the drugs on people who actually have the disease. Therefore, results will differ:
Back to RMC. One of the panellists compared Raoult to Trump: a renegade one loves or loathes. She said that, like Trump, Raoult is trending in popularity:
Needless to say, the conversation about Raoult got heated. The first panellist said he was annoyed that his GP wouldn't prescribe him hydroxychloroquine and azithromycin. The show's hosts, on either side of him, thought the GP was right not to do so:
A third panellist said that Raoult is resisting all the discrediting of his work — 'He's extremely courageous':
Criticised though Raoult might be, America's National Institutes of Health (NIH) will be doing a study on hydroxychloroquine and azithromycin:
Although Raoult gives Dr Anthony Fauci the credit, I think it actually belongs to President Trump.
——————————————————————————
MAJOR UPDATE — JUNE 4: The Guardian has investigated the Lancet paper and reports that it had to be withdrawn. The WHO is now resuming its hydroxychoroquine trials.
This never should have happened to a respected medical journal.
Emphases mine below:
The Lancet paper that halted global trials of hydroxychloroquine for Covid-19 because of fears of increased deaths has been retracted after a Guardian investigation found inconsistencies in the data.
The lead author, Prof Mandeep Mehra, from the Brigham and Women's hospital in Boston, Massachusetts decided to ask the Lancet for the retraction because he could no longer vouch for the data's accuracy.
The journal's editor, Richard Horton, said he was appalled by developments. "This is a shocking example of research misconduct in the middle of a global health emergency," he told the Guardian.
A Guardian investigation had revealed errors in the data that was provided for the research by US company Surgisphere. These were later explained by the company as some patients being wrongly allocated to Australia instead of Asia. But more anomalies were then picked up. A further Guardian investigation found that there were serious questions to be asked about the company itself.
An independent audit company was asked to examine a database provided by Surgisphere to ensure it had the data from more than 96,000 Covid-19 patients in 671 hospitals worldwide, that it was obtained properly and was accurate.
Surgisphere's CEO, Sapan Desai, had said he would cooperate with the independent audit, but it is understood he refused to give the investigators access to all the data they asked for.
In a statement on Thursday, Mehra said: "Our independent peer reviewers informed us that Surgisphere would not transfer the full dataset, client contracts, and the full ISO audit report to their servers for analysis as such transfer would violate client agreements and confidentiality requirements. As such, our reviewers were not able to conduct an independent and private peer review and therefore notified us of their withdrawal from the peer-review process"…
The World Health Organization and several countries suspended randomised controlled trials that were set up to find an answer. Those trials have now been restarted. Many scientists were angry that they had been stopped on the basis of a trial that was observational and not a "gold standard" RCT.
Mehra had commissioned an independent audit of the data after scientists questioned it …
The Guardian wrote about Surgisphere on June 3. This is shocking.
Excerpts follow, emphases mine:
The World Health Organization and a number of national governments have changed their Covid-19 policies and treatments on the basis of flawed data from a little-known US healthcare analytics company, also calling into question the integrity of key studies published in some of the world's most prestigious medical journals.
A Guardian investigation can reveal the US-based company Surgisphere, whose handful of employees appear to include a science fiction writer and an adult-content model, has provided data for multiple studies on Covid-19 co-authored by its chief executive, but has so far failed to adequately explain its data or methodology …
The Guardian's investigation has found:
A search of publicly available material suggests several of Surgisphere's employees have little or no data or scientific background.

An employee listed as a science editor appears to be a science fiction author and fantasy artist

. Another employee listed as a marketing executive is an adult model and events hostess.
The company's LinkedIn page has fewer than 100 followers and last week listed just six employees. This was changed to three employees as of Wednesday.
While Surgisphere claims to run one of the largest and fastest hospital databases in the world, it has almost no online presence. Its Twitter handle has fewer than 170 followers, with no posts between October 2017 and March 2020.
Until Monday, the "get in touch" link on Surgisphere's homepage redirected to a WordPress template for a cryptocurrency website, raising questions about how hospitals could easily contact the company to join its database.
Desai has been named in three medical malpractice suits, unrelated to the Surgisphere database. In an interview with the Scientist, Desai previously described the allegations as "unfounded" …
You could not make this up.
Still, it's a happy ending. Hydroxychloroquine and chloroquine trials will resume, including at the WHO.
Many thanks to my reader formerdem, who alerted me to this welcome change of events in the comment section below.
Pointman's is a great site for socio-political commentary not only on the present but also the past.
On January 5, 2018, Pointman wrote about phony political parties, jaundiced voters and declining governments. Please take the time to read 'The Misrepresentation of the People Act' in full.
Excerpts follow, emphases mine.
Political party set-ups are essentially the same wherever one lives:
The actual names vary from country to country; Republican or Democrat, Conservative or Labour, Liberal or Labor. There are always a few tiddler or schism parties wandering aimlessly around the political edges going nowhere accompanied by nothing other than their own strident outrage at something or another, but the essential shape is two big mainline parties, or in some cases as in Germany, comfortable coalitions of such long-standing that they might as well be one party anyway.
As we know, one party is in power for a time, then the opposition party takes hold of the reins, then the cycle repeats. Sometimes this works. Sometimes it doesn't:
When it works as it should, it's a pragmatic recognition of the debilitating aspects of the same party being in power for too long, and also acts as a natural emetic to get rid of them. That hackneyed old saying about the corrupting effect of power is very true …
Where this paradigm breaks down is when the leaders of both the parties begin to treat the whole election process as a turn and turn about thing; okay, you've won power for a couple of administrations and then it'll be our turn. We won't rock the boat too hard for you other than giving you a jolly strict telling off when you make a public cockup of something. The unspoken but understood caveat on being an effectively quiescent opposition party is that the big players in it still get a decent share of the power and money floating around that's commensurate with such tacit co-operation.
When the system doesn't work, it is because both parties have too many commonly-shared interests:
The people running these parties, and being run themselves by big money interests in various shapes and forms, tend to share the same education, privileged background and über political world views of what used to be termed internationalism but has now mutated into a bastardised consensus of smug political globalisation, because that's what's really good for their super rich patrons.
For the low-information person, including a voter, a change of government looks stable and normal. However, that is not necessarily the case:
… it's inherently unstable since it lacks any feedback to correct the corruption such power in perpetuity will inevitably engender. It pushes the day of reckoning further ahead, but that day will arrive in the end.
As always, the basic cause allowing this situation to develop is electorates disinterested in politics who sleepwalk into this mess. For too many years they've listened to the vague promises of jam tomorrow from political con men whose only talent is stringing the mark along.
That has troubled me, personally, especially when I speak with Americans who invariably elect the same people for years and years on end. These are congress-critters and senators who are useless in serving their constituents, yet Americans keep re-electing them. It really bugs me a lot.
Now and then, someone new and fresh emerges on the scene who is elected, but they seldom seem to be around very long. But, no one cares, and the cycle of electing self-serving politicians continues:
There is a propriety Antipodean shortcut into this situation which involves electing a reasonably sane leader who's very quickly stabbed in the back by one of his underlings who turns out to be incompetent but has the saving grace of being eminently corrupt. Anyway, this combination of lazy electorates and seemingly Alzheimer stricken populations who can't quite connect promises made and promises not fulfilled, will eventually break down.
This definitely happened in the United States, and one man is doing his very best to rectify the situation. That said, there is still a lot of rot in both the Democrat (un-'Democratic') and Republican parties, to the extent that politically-aware voters have dubbed both the Uniparty. And, what follows is a highly accurate description of the end result that the Uniparty and, in other countries, long-term coalitions bring about:
It's all about them, not you. The vested interests prosper at the expense of impoverishing the ordinary person, irrespective of their race, colour, creed or politics …
By this late stage, the bulk of electorates are totally jaundiced about any involvement in the political process and those actively engaged in it as foot soldiers are starting to suspect they're not even a minor player in the game, but the football. They're regarded by their betters as highly motivated, but easily manipulated drones busy at work producing honey for their masters.
By this time we're heading into stage 4 cancer in the body politic, but the status quo of those deeply entrenched in power will start to defend itself by any and all means available, whether legal or not. Imagine getting the snouts of a hungry herd of swine out of a steaming swill-filled trough, and you've got a pretty good idea of the immensity of the task.
The next stage is to create a new — phony — third political party that sweeps into power:
As the new broom of the faux opposition party being elected isn't working any more, it's possible to invent a third party that's making all the right reformist noises but is still a cat's-paw of the current background interests.
Much of the time, these parties are unsuccessful.
Pointman says this happened in Greece …
It was a freshly minted party by the power mongers which just continued on in the same old way, but was quickly found out.
… and in France, with Emmanuel Macron in 2017:
with a hitherto unknown leader Fifi Macron mincing around in front of it and making all the right noises. A few months in, he promptly junked the modest tax reforms of the previous nominally left-wing administration which were a tad too expensive on his extremely rich backers who'd put him into power to do just that. At the same time, he started lumping more and more taxes on blue and white-collar workers.
Today, Emmanuel Macron is facing the prospect of a ninth weekend of demonstrations by overly taxed, low income French men and women: the yellow vest movement — les gilets jaunes:
Despite disparaging reports you might have heard about them, they're painfully ordinary people struggling to survive in Macron's France. There's a lot of them and they're composed of that most dangerous segment of any electorate, those pushed into a corner with no way out and not much to lose.
As I listen to French talk radio (RMC) every weekday, I have been following this movement with interest — and the way in which Les Grandes Gueules are covering them. For the first few weeks, the hosts and panellists were empathetic. Before Christmas, their opinions became more critical, which made for interesting discussions as some panellists are still on the side of les gilets jaunes. Fair enough, shops and restaurants lost a lot of trade in cities at the heart of the protests, but the media seemed to focus on the violence rather than the vast majority of peaceful protesters. This year, the media, including the two Grandes Gueules presenters, are shifting the narrative a bit towards the 'we've all had enough of les gilets jaunes'.
One thing that did not help the yellow jackets' cause was the vehicular break-in at one of the French ministries last weekend. The other was a boxer who started punching policemen, also last weekend. He had no criminal record prior to that.
Once the weekend demonstrations became a regular fixture — about a month in — violent rabble-rousers started infiltrating the movement, which has attracted a few extremists from both the Left and the Right.
This ongoing violence gave the media carte blanche to negatively cover the movement as a whole. Lately, there has been less coverage of the ordinary gilet jaunes who gather to protest because they cannot make ends meet.
The media were rightly, in my opinion, taken to task for it today. Here is Michel Onfray, a philosopher, who tells them the media have been labelling les gilets jaunes racist, sexist, homophobic and everything else pejorative under the sun. And he accuses the two Grandes Gueules hosts of similar negative coverage — equally 'staggering' (sidérant). They did not like that at all:
This weekend, it will be interesting to see if the government — via the police — allows any protests to go ahead.
Pointman already sussed that on January 5, and referred to preventive arrests made near the end of 2018:
Riot cops or paramilitary thugs are deployed to brutally suppress public demonstrations against an administration that's becoming a dictatorship in all but name. Not only are public demonstrations being physically attacked, but wholesale arrests and incarcerations start to become the norm. Behind the scenes, preventive arrests start to be made. With regard to the weekend after weekend protests in France, numbers like 1400 arrests made are bandied about by the Quisling media, but what's not being disclosed is 1000 of these were preventive arrests. Arrest and imprisonment of people before any protest has even been made. When that begins, we're on the slippery slope with occasional stops for doing things like arresting schoolchildren and treating them like POWs.
He reminds us of the situation in Venezuela:
If the government manages to put down what is in effect a rebellion, you end up with a dictatorship with a nice name like the Democratic People's Republic of Whatever, as happened in Venezuela and with the usual dire results for the inhabitants.

The alternative is something akin to America's Revolutionary War, which had a good outcome.
Pointman then discussed President Trump and the constant opposition he is facing:
A third and extremely rare outcome is a natural leader primarily in touch with the people rising to power. Even more rarely, if not uniquely, that person comes from the super-rich classes, who're usually the power brokers and puppet masters behind the various thrones, and refuses to accommodate them. They will bring to bear every power at their command to destroy him, because he's betrayed what should be his natural class, is re-energising swathes of the electorate to re-engage with politics and they're rallying to the colours of someone who's actually doing things for them.
That is exactly why Trump haters should rethink their position. President Trump has done and will do more to help America and her people than any president in living memory.
As far as Europe is concerned, Macron won't last beyond one term (if that) and Merkel has seen the writing on the wall for her chancellorship:
The heart of power within the EU was Germany with France as the supporting act, but Fifi is finished and Merkel has become an electoral liability even for her own party. Like the stricken battleship Bismarck, she's alone and steaming around in circles with no flotilla rushing to her aid. A few more torpedoes and she, like the EU, will be out of the game.
Eastern Europe, he says, is breaking away from Western Europe's outlook on the world, recognising the sovereignty of the nation state rather than globalism.
Ultimately, voters everywhere in the West need to wake up, smell the coffee and become more engaged with what is going on. Are we being represented or, as Pointman posits, misrepresented? I think we know the answer.
On Thursday, March 23, 2017, RMC (French talk radio) had a morning discussion on the London attack which occurred the day before.
Les Grandes Gueules (The Big Mouths) discussed the trend for vehicle terrorism, an ISIS-approved method which started with the July 14, 2016 attack in Nice. The Berlin Christmas market attack on December 19 was the next spectacular. On Wednesday, it was London:
The day after the London attack, Belgian police detained a man in Antwerp for driving at speed along a main pedestrian-only street. Reuters reported:
"At about 11 a.m. this morning a vehicle entered De Meir at high speed due to which pedestrians had to jump away," a police spokesman told a news conference, referring to the street name.
He added the driver was later arrested and additional police and military personnel had been deployed to the center of Antwerp, but did not give any further details.
The Daily Mail reports that the attacker is French-Tunisian. The article has good accompanying photographs.
French media now call such attacks 'low cost' terrorism, meaning that no equipment other than a vehicle is required. The radio show panel debated on whether this was appropriate terminology. Opinion was divided. Some found it demeaning to the victims. Others thought it described the situation objectively.
Regardless, the London attack has raised the same reactions and the same questions of previous attacks.
American military veteran, author and film maker Jack Posobiec summed it up on Twitter:
An Englishman, Paul Joseph Watson, Infowars editor-at-large, tweeted:
He also made a short news video in which he put forth the inconvenient truth about the London attacks and others:
People have been speculating incorrectly on the significance of the date the London attack took place. Reuters has the answer (emphases mine below):
The mayhem in London took came on the first anniversary of attacks that killed 32 people in Brussels.
The article also stated that Khalid Masood — formerly Adrian Elms, then Adrian Ajao — whom police shot dead:
was British-born and was once investigated by MI5 intelligence agents over concerns about violent extremism, Prime Minister Theresa May said on Thursday.
The Islamic State group claimed responsibility for the attack in a statement issued by its Amaq news agency. But it gave no name or other details and it was not clear whether the attacker was directly connected to the group.
Police arrested eight people at six locations in London and Birmingham in the investigation into Wednesday's lone-wolf attack that May said was inspired by a warped Islamist ideology.
About 40 people were injured and 29 remain in hospital, seven in critical condition, after the incident which resembled Islamic State-inspired attacks in France and Germany where vehicles were driven into crowds.
The assailant sped across Westminster Bridge in a car, ploughing into pedestrians along the way, then ran through the gates of the nearby parliament building and fatally stabbed an unarmed policeman before being shot dead. tmsnrt.rs/2napbkD
"What I can confirm is that the man was British-born and that some years ago he was once investigated by MI5 in relation to concerns about violent extremism," May said in a statement to parliament.
So far, four people have died:
It was the worst such attack in Britain since [July 7] 2005, when 52 people were killed by Islamist suicide bombers on London's public transport system. Police had given the death toll as five but revised it down to four on Thursday.
Some found it strange that the March 22 London attack took place on the same day that Turkey's president Tayyip Erdogan said:
that Europeans would not be able to walk safely on the streets if they kept up their current attitude toward Turkey, his latest salvo in a row over campaigning by Turkish politicians in Europe.
While that is strange, it probably remains a coincidence. Erdogan is angry with the Netherlands and Germany at the moment.
Once again, we have the lone-wolf narrative. Patently wrong, as it has been in other terror attacks. Notice Reuters says police arrested eight people. Therefore, how could it have been a lone-wolf operation?
On the notion of normalising terror in big cities, Tucker Carlson had this to say:
Although it sounds clichéd, it is true that prayer — public and private — help greatly at a time like this.
We can pray for the families and friends of victims PC Keith Palmer, fatally stabbed by the attacker, as well as the two civilians who died: Aysha Frade (wife and mother of two daughters), Kurt Cochran (an American tourist, husband and father) and the latest victim, a 75-year-old man. We can pray for Mrs Cochran, who was injured in the attack and is in hospital. We can pray for the 40 injured. Their lives will never be the same again. They will need God's help for physical and mental recovery.
In closing, The Sun has an excellent set of photographs which tell the horrific story of the March 22, 2017 attack.
Ahh, the dog days of August. They bring to mind sunshine and the beach. The days for both are swiftly drawing to a close.
Let us, therefore, consider both for a final time this year.
The burkini
As Britain baked for two glorious days, France debated a hot question.
For the past fornight, RMC's (radio) talk shows have been crackling with daily discussions about the dreaded burkini, which, by the way, is sadly becoming part of the fundamentalist Christian wardrobe. All in the name of modesty.
Modesty, my foot. This is physically dangerous (inhibiting swimming) and socially provocative. Christian women have no business wearing such an outfit.
Around the time the Catholic priest near Rouen was stabbed to death in cold blood as he prayed the Mass — and, just as importantly, the Nice attack two days before — this notional swimming garment hit the headlines. In a preventive measure the mayor of Cannes — David Lisnard, LR (Les Républicains, conservative) — forbade burkinis on the city's beaches. The city of Nice, the nearby town of Villeneuve-Loubet and a dozen others followed suit as did the town of Sisco in Corsica. Sisco was recently the scene of a violent altercation by a group of Muslims against several locals — on the beach. No burkini appears to have been involved. A court case will be heard on September 15.
These local burkini bans are being debated at national level in a French court, in response to a complaint by a human rights group. A decision might be arrived at as I write on August 25.
The Guardian reports on the wording of relevant local law:
The various mayoral decrees do not explicitly use the word burkini; instead they ban "beachwear which ostentatiously displays religious affiliation," citing reasons such as the need to protect public order, hygiene or French laws on secularism.
French opinion is sharply divided on the burkini. Opponents say the garment goes against French values. Others surmise that it is a religious or political provocation. Coming so closely after the murder of the priest and the Bastille Day attack in Nice, the burkini does seem to be over the top. Both groups support the mayoral bans. So does the prime minister, Manuel Valls.
On the other hand, feminists, oddly enough, say it is liberating, even if they do not wear one. Muslims say it has nothing to do with religion. Secularists say that allowing the burkini promotes republican values; after all, don't people wear swimsuits everywhere?
No, they do not. Not even on the relaxed Côte d'Azur.
I know Cannes well and have stayed in Nice long enough during the summer to know who goes to the beach. Contrary to what French Muslims say, nuns, monks and priests do not go. Whilst that is stating the obvious, I have heard that argument posited on RMC nearly every day.
I have seen Westerners on the beach and Muslim African men peddling trinkets. That's it.
When I walk the streets of Cannes — and, similarly, those of Nice — everyone wears normal clothes. I have never seen anyone in a bathing suit. I mention this because pro-burkini people say that bathing suits are allowed everywhere. Whilst there are no signs forbidding them, I have never seen anyone going to or returning from the beach without a cover of tee shirt and skirt or shorts.
It's like it is in the United States, although many establishments in American beach resorts have signs on the doors saying that patrons must be dressed appropriately. Swimsuits are strictly forbidden.
The police in Nice have issued fines to 24 women seen inappropriately dressed on their beaches.
The most controversial police intervention involved a former flight attendant on Tuesday, August 23. Did it happen in Cannes or in Nice? Were there two incidents? It's hard to tell and, frankly, it's not worth the time to investigate further. You can see photos at the links.
It looks to some people as if this woman — or these two women — might have been seeking attention for the following reasons.
One, she came with no towel or beach bag and, according to reports, had one or two children with her. They were not nearby when photos were taken of the police approaching her. Furthermore, as can be seen by the photo, Nice's public beaches are stony, not sandy as they are in Cannes. Regardless of terrain, no one goes to the beach without a towel. Nobody, nobody, nobody would ever lie on a public beach without a towel. The woman just looks weird lying there curled up on uncomfortable stones. One of RMC's panellists, a grandmother, also pointed out that parents always bring toys and soft drinks for their children. I can vouch for that. There were none in the photo.
Two, even if the woman denied she was wearing a burkini, her outfit looked suspiciously just like a … burkini.
Beachgoers seemed divided. Global Scoop has more.
I read in passing on a French site that Frenchwomen opposed to the burkini did not want fundamentalist Muslim ladies to turn public beaches into places where modesty patrols take place. One lady wrote:
What happens when children see a lot of women in burkinis? Do they look at those of us in swimsuits and say, 'Look at the Frenchwomen prostituting themselves'?

I predict that, next summer, Muslims will be requesting their own public beaches, in the same manner no-smoking stretches of beach were allocated in France a few years ago.
Regardless, informal modesty and vice patrols could become a reality.
On August 24, The Guardian reported on the trial of a British convert to Islam found guilty of assaulting a teenager hugging his own girlfriend:
Michael Coe, 35, was driving through east London when he spotted the two 16-year-olds hugging on the pavement. He pulled over to confront the pair, demanding to know if they were Muslims and calling the girl a "whore".
He then grabbed the boy by the throat and threw him to the ground, kicking his head and leaving him unconscious and bleeding from two injuries. When passing schoolteacher Boutho Siwela tried to come to the teenager's aid, he was also attacked.
Coe admitted "shoving" the boy, but claimed he was acting in self-defence. He was convicted after a trial at Southwark crown court of assault occasioning actual bodily harm and battery in Wilson Road, Newham, on 15 April.
The jury returned unanimous guilty verdicts after 90 minutes of deliberation.
Coe was convicted of a similar offence in May 2013, after getting out of his car to confront a group of young people about their "inappropriate language" on an estate in east London. During that incident, he allegedly called a girl a "slut" and the others "kafir scum".
And that's appropriate language?
In any event:
Judge Michael Gledhill described Coe as a danger to the public and warned him that he faced a "substantial" term of imprisonment. Sentencing was adjourned until 21 September for further reports.
And who knows the motive behind the murder by a French national of a young British woman in Queensland? The perpetrator, making the usual cry ('AA!'), also killed a dog at the hostel and injured a man who tried to intervene in the attacks.
A happier subject: the man tan
It's summer. It's supposed to be a happy time. So, let's end on a lighter note.
A few summers ago, the French newsweekly Marianne had a humorous yet true analysis of the link between the man tan and social status.
If people from the ancient world, whether Mesopotamia, Greece or Rome, were to come back to life now, they would be shocked to see that the Western male with the highest social status today has the suntan a slave would have had a few millennia ago. Only a senior executive or wealthy business owner has deep and (nearly) all-encompassing colour.
The plagiste — private beach attendant (plage means 'beach') — has the same skin tone from his summer on the sand, however, a tee shirt and shorts limit his man tan coverage. A plagiste directs you to a chaise longue and gives you a beach towel. He also takes your order for — and may serve — drinks and snacks.
Last year, I spoke with a senior executive who worked as a plagiste in France one summer when he was a university student 20 or so years ago. Like many French, he has dark hair and colouring. He said that, by the end of the summer, his hair was blond. Although we did not discuss man tans, he did volunteer what happened to the soles of his feet. In his day, he and his colleagues were barefoot during their working hours:
The hot sand hurt like anything. It took weeks to build up calluses which served like a shoe sole. After that, we felt no pain. I didn't think anything more of it, until term started again. I was off the beach, back in socks and shoes. By October, the calluses were coming off — in big strips of skin. It was weird at first. Oh, and, by the way, my hair grew out too — back to its normal colour, as you can see.
Beneath the plagiste in the pecking order is the construction worker, who has the same man tan but lacks the advantage of working on the beach.
At the bottom of the pile is the man who had no opportunity to seek sunshine and relaxation. Marianne said, tongue in cheek, that he deserves our empathy. Indeed.
I hope that all my readers had the chance for a relaxing summer holiday, even if it was one at home. I also hope that the sun shone brightly on you and your chaise longue.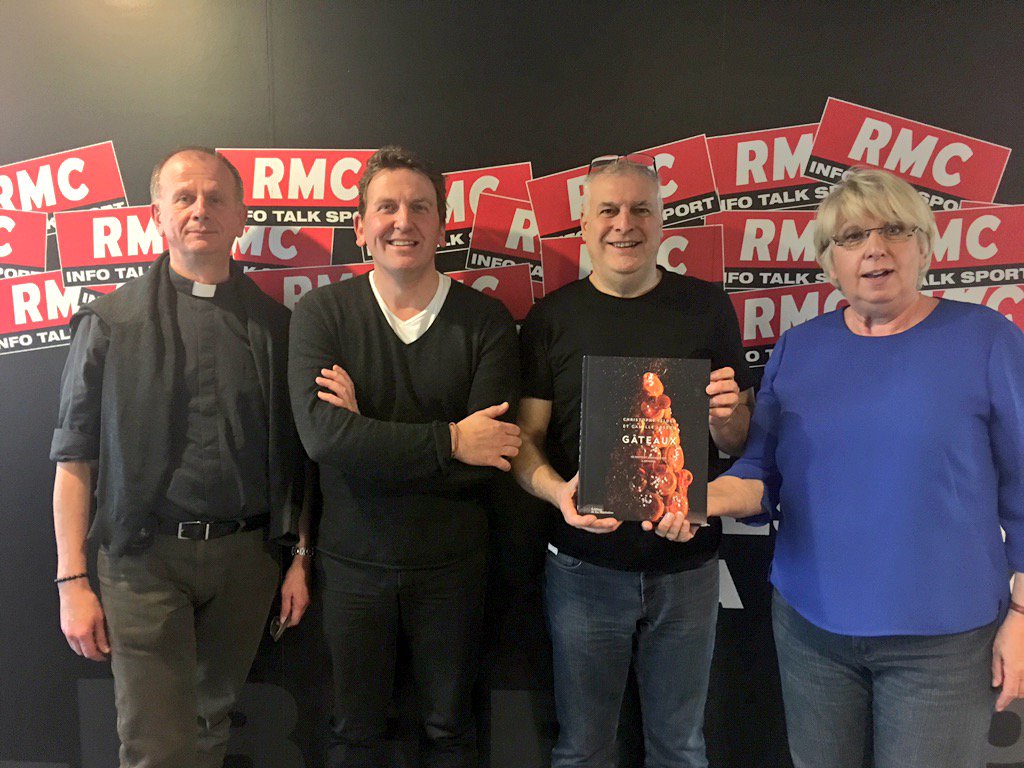 As a maître pâtissier, Christophe Felder is Alsace's pastry king.
On Christmas Eve 2015, he was the special guest on RMC's Les Grandes Gueules (Les GG), a three-hour radio news and current affairs talk show with a group of regulars from social workers to cheese makers to judges. The panellists change daily, yet, after a while, one feels as if one knows them well.
Felder is in the v-neck in the photo from Les GG's Twitter feed. Around him are panellists Père Patrice Gourrier, educator Etienne Liebig (holding Felder's latest book Gâteaux ['Cakes']) and businesswoman Claire O'Petit. The hosts, Alain Marschall and Olivier Truchot, are not in frame.
Les GG are in the process of interviewing famous French chefs. On New Year's Eve, Philippe Conticini appeared on the show. Like Conticini, Felder baked a cake. Or is that, 'Felder baked a cake and Conticini did, too'? (I'm moving backward with the interviews.)
Felder wrote one of my favourite books, Patisserie: Mastering the Fundamentals of French Pastry. If anything approximates a 'bible' of desserts, with each step of every recipe accompanied by a colour photograph, this is it.
SpouseMouse bought our copy in 2013 from Amazon.co.uk, however, it appears now that only Amazon in the US has it. If you are living in Britain, you can sign on to Amazon UK, then go through to the US site and order it — provided the seller ships to Britain. If you are ordering it as a gift, have it sent directly to the recipient, otherwise, postage is going to cost a fortune. (Photo credit: Amazon.com)
I have tried several of the recipes and each one worked the very first time! You will be able to make all your favourite French cakes, tarts, biscuits, macarons and chocolates — including decorations and glazes — in no time. Recipes are grouped by category — types of pastry, cakes, macarons — and so on. Each category's set of recipes is ranked from easy to difficult. You can comfortably work your way through each chapter and progress as you go. The book is very heavy and one should handle it with care, because the paper and cardboard binding is not the best.
It makes a perfect gift for a family member or friend who wants to be able to bake what they see in French pastry shop windows. The lucky recipient will never need another dessert cookbook.
Now on to the show! (Translations mine below.)
Rants galore
During the first segment the panellists ranted about all their pastry pet peeves. I got the impression the hosts were a bit embarrassed, but that's the nature of the show.
That said, everything kicked off very early.
No sooner had they introduced Felder and the gloves were off, not against him but the French pastry situation in general.
Etienne Liebig was angry that so many small shops no longer make their own croissants and macarons but buy them from large companies that make these items on an industrial scale. He does not like paying '€1.30 for something that costs 30 cents' and isn't even made on the premises.
Felder countered that the same thing happens in a restaurant. How many buy cash-and-carry desserts? How many make their own ice cream? Much of it is bought elsewhere. This is why I ask for a cheese plate or, where available in the UK, a savoury.
Claire O'Petit said she is a competent cook when it comes to savoury dishes, which she can easily adjust for taste and texture, but when it comes to dessert, she feels frustrated, as if she has no chance of success. She later said that Felder's recipes look achievable and that she wouldn't need to 'waste an hour of reading' to understand them.
Père Gourrier announced that he is gluten intolerant:
So, what's out there for me? Everything has flour in it. I can't eat it.
Felder suggested a dacquoise, made with ground almonds and (left unsaid) meringue.
Gourrier was unimpressed:
I'm not about to start making meringues.
He then asked:
When is someone going to come out with a gluten-free croissant?
The break and the cake
Then there was a commercial break and everyone, except the priest, tucked into the cake.
By the time the next segment started, O'Petit was very quiet. One of the hosts remarked on it and asked if she was enjoying every mouthful.
Gourrier interjected:
I'm having a fine time just sitting here watching all of you tuck in.
Felder's advice to young hopefuls
Like Conticini, Felder was accustomed to the food trade. Conticini's parents ran a Michelin-starred restaurant. Felder's father was a successful baker in Alsace.
Unlike Conticini, who believes that young people should pass their baccalauréat, Felder says that any adolescent who is serious about baking or pastry should become an apprentice at the age of 15.
He believes that is a good age because romantic attachments haven't yet formed:
Later on, they're reluctant to move 300 kilometres away for a career. They have a girlfriend and get too attached.
(Most pastry apprentices and chefs are men, hence the girlfriend reference.)
Felder had worked for his father by the age of 14 and, the following year, 1979, he was apprenticed to the Litzer-Vogel pâtissiers in Strasbourg, where the head pâtissier was very elderly yet went to work every day.
He told les GG that, unlike cookery school, this work — which includes training — doesn't cost parents anything. Furthermore, as an added bonus, their children can bring earned money home.
Also:
By the age of 17, they're quite good.
And so it proved in Felder's case. At that tender age, he had won his first gold medal at the Foire européenne de Strasbourg.
Felder's trajectory
Felder moved to Paris where he worked for Fauchon, makers of luxury breads and pastries near the church of La Madeleine in the 8th arrondissement. He then worked for Guy Savoy, who ran a Michelin-starred restaurant in the upmarket 16th arrondissement. (By 2002, Savoy had earned his third Michelin star, which he still retains today. He has since opened his own restaurants in Las Vegas and Singapore.)
In 1988, Felder began working at the prestigious Hotel Crillon as a pastry chef. He stayed there for 15 years.
Incidentally, when he first started, there was no air conditioning in the Crillon's pastry kitchen. He described the near impossibility and frustration of making croissants with butter melting in front of him. (Butter needs to be firm for puff pastry, the stuff of which these delights are made.)
Return to Alsace
These days, Felder is based in Alsace.
He prefers it, especially for his young apprentices. He and his staff train and mentor them. Having families nearby makes it easier for everyone:
In Paris, you can feel a bit lost. You need money for rent, you don't really know anyone and it can be a bit overwhelming.
In Alsace, our apprentices live nearby and can work more flexible hours. They can come in early and go home late.
It's also helpful to get to know their parents. We have discussions with them. Some say, 'My child is a bit excitable'. Such conversations help us to manage a situation and guide the apprentices.
Hard work
Felder spoke a lot about hard work in the pastry kitchen.
He cited a young apprentice of his who asked why Felder was 'punishing' him. Felder replied that there was no punishment — that was the nature of the job:
Sure, there are a great many shared moments, but there is also a lot of pressure every day.
And not everyone can handle that pressure.
Dessert evolution
The panel asked about the continuous change in French desserts.
Felder explained that, in the old days, sugar and fat were used as preservatives. These days, with near-universal refrigeration and modern cooking methods, we can buy products with much more fresh fruit as well as less fat and sugar.
In addition to owning his own business, Felder also works for a firm in Japan, which is interested in anticipating the next dessert trends. The Japanese are fascinated to find that French techniques remain classic yet move with the times. Felder helps this company determine how that is done and develop new recipes accordingly.
Conclusion
Most of us — younger or older — are not fit for a pastry kitchen.
As Felder says, you're on your feet all day. The atmosphere is demanding. It requires a lot of stamina, self-discipline and patience.
Working in a pastry kitchen will be unsuitable for many, but most pastry chefs want — and feel obliged to — pass knowledge on to the next generation and to the general public.
Christophe Felder is one of them.
For that, many of us are grateful.
As my regular readers will know, in 2015, I wanted to learn more French techniques for cooking and baking.
During a two-week stay last June in France, I watched Christophe Michalak's Dans la peau d'un chef (DPDC), which is an excellent programme featuring home cooks vying to see who can make the best dish assigned by either Michalak or one of his guest chefs. The winner receives €1,000 and can continue to compete the following day. These two posts feature short videos from DPDC:
Decorating fruit tarts — the French touch (Christophe Michalak)
Piping whipped cream — the French touch (Christophe Michalak)
One of the guest chefs on DPDC was Philippe Conticini, who owns Pâtisserie des Rêves ('Pastry of Dreams') in Paris. Since he began his career in the 1980s, he has won many awards from a Michelin star from his days as a restauranteur, following in his parents' footsteps, to honours from the French government. He also appears as a guest judge on a number of cookery shows, including the French version of The Great British Bake Off — Le meilleur pâtissier. (Photo credit: Sortiraparis.com)
Married and father of a 14-year old daughter, Conticini is evolving his recipes to make the classics lighter and more flavoursome. Over the past several years, he has been experimenting successfully with his hot and cold technique which helps to produce spongier cakes with better rise. Dorie Greenspan's Madeleine recipe is one example; Conticini taught her how to employ his hot and cold technique. Proust would have loved them!
Although he needs a walking stick, Conticini continues to work. He nearly died in 2010, afflicted with an illness that put him into a coma for 18 months. Since then, he has problems with his right hand and has had to learn to work with his left.
On New Year's Eve, he gave an interview to RMC's Les Grandes Gueules ('The Big Mouths'), where he discussed his work and created a cake just for them. One of the panellists pronounced it 'sublime'. What follows is a summary of what Conticini said.
Popularity of baking
Conticini says that television shows have done much to enhance the profile of baking, likening the phenomenon to sport. The more sport is televised, the more people are interested. It is the same with baking.
Wherever he goes, Conticini is met with all sorts of questions from the public about ingredients, measurements and quality of the end product. He thinks this is because people are engaging with cookery shows.
Advice to young people
Conticini is softly spoken and mild mannered. Yet, he had firm advice for would-be apprentices:
Absorb instruction like a sponge — and, even better, be quiet.
All renowned chefs expect — and want — to transmit their knowledge to the next generation. Conticini is no exception, and, like his peers, expects his apprentices to remain silent and listen to what he has to say — then follow through as told.
He said that many who interview are sure they know how to bake a croissant until the time comes and they cannot. Hence the need for on-the-job training — learning by doing.
Conticini said there is no substitute for a good apprenticeship. Cookery school can teach you only so much. You have to know what the actual working environment is like, whether it is a restaurant or a pastry kitchen. The main problem is that there are fewer bakeries in France to meet demand.
He says that young people should definitely finish secondary school and pass their baccalauréat, the equivalent of an American high school diploma. Then they can go on to decide what sort of restaurant/catering course to take and gain on-the-job experience at the same time.
Technical recipe development
Along with other great chefs, Conticini is focussing on reducing fats and sugars without compromising taste and textures.
This involves understanding the molecular structures of mousses and cakes. He gave a detailed description of how he has made his cream fillings lighter by replacing fat with air and gelatin, both of which, oddly, give a better structure and enhanced flavour.
One of RMC's panellists said it was like listening to a NASA engineer. Conticini said that, in a sense, he is an engineer because there are many technical aspects to creating new methods in pastry making.
Another panellist countered, 'Surely you are an artist, first and foremost'. He replied that he was not an artist at all. There are precise techniques and measurements to master. Whilst there is creativity, all of that comes from understanding the underlying basics and knowing how to employ them.
After the November 2015 attacks
Conticini said that sales took a hit after the Paris attacks last November.
Footfall is also down. Yet, online sales have increased. People are hesitant about going into Paris.
That said, Christmas was a busy time. Sixty employees started fulfilling orders at 10 p.m. on December 23. They worked through the night to have cakes and pastries ready for pick up on Christmas Eve.
His customers have been asking for the more classic pastries since November 13. He surmises that remembering one's childhood through sweet favourites provides a measure of comfort.
The future
Although Conticini occasionally has overseas assignments, he has no plans to open shops in foreign countries. He wants to be near his wife — his childhood sweetheart — and daughter before she grows up and leaves home.
In September 2015, he opened a cookery school featuring short classes which teach the basics of understanding flavours and making pastries to the general public.
He is convinced that anyone can make good desserts provided they have the right instructions. He promised to send Les Grandes Gueules the recipe for the cake he brought them.
Ultimately, he wants to transmit his knowledge as broadly as possible.
Les Grandes Gueules have had other recent interviews with French chefs. More will follow here. You'll find much of what they say is similar, with sharing knowledge and a generous spirit coming first and foremost.
I will have links to this series on my Recipes / Health / History page under 'Great chefs'.