You are currently browsing the tag archive for the 'Rudy Giuliani' tag.
Just to keep everyone updated: President Donald Trump has not conceded.
On Friday, December 4, Sean Hannity spoke with former New York City mayor Rudy 'America's Mayor' Giuliani about vote discrepancies in the contested states, beginning with Nevada:
Giuliani said that when someone brings a civil lawsuit, the judge assumes that the allegations are 'true and correct', yet 'the judge' — US state unspecified — 'did just the opposite' (emphases mine):
Now, we can get it reversed but he's accomplished what he wants to accomplish.
He's delayed things, and, I'm sorry to say, he's a Democrat. And you can't tell me he's made this decision based his on legal knowledge unless he really didn't go to law school.
On a motion to dismiss, you have to assume that every allegation we make is true, and then say it doesn't violate the law.
Later on, you get to make a motion for summary judgement … we get a chance for a hearing.
The reason I went to the state legislatures, Sean, is because I saw what the courts were doing, and I wanted to go around them …
The Georgia court wouldn't have allowed those courts to put those witnesses up. The legislature did. In Michigan, the same thing.
We had two Democrat judges and they weren't allowing us to put witnesses up. But, I was able to get some of the witnesses up there because I went to the legislature.
Now, the simple fact is, we don't need courts.
The United States Constitution gives sole power to the state legislatures to decide presidential elections.
In fact, if we go back to the Founding Fathers, they would tell us that we're making a mistake.
This should be thrown right back to the House of Representatives and to the Senate — in each state — and they should hold hearings, they should make factual determinations, and they should decide what the right voter count is.
President Trump sounded off against Governor Kemp of Georgia:
Giuliani had a photo of the suitcases full of ballots in Georgia; I posted a video on Friday:
In Wisconsin, the state's supreme court threw out a Trump lawsuit: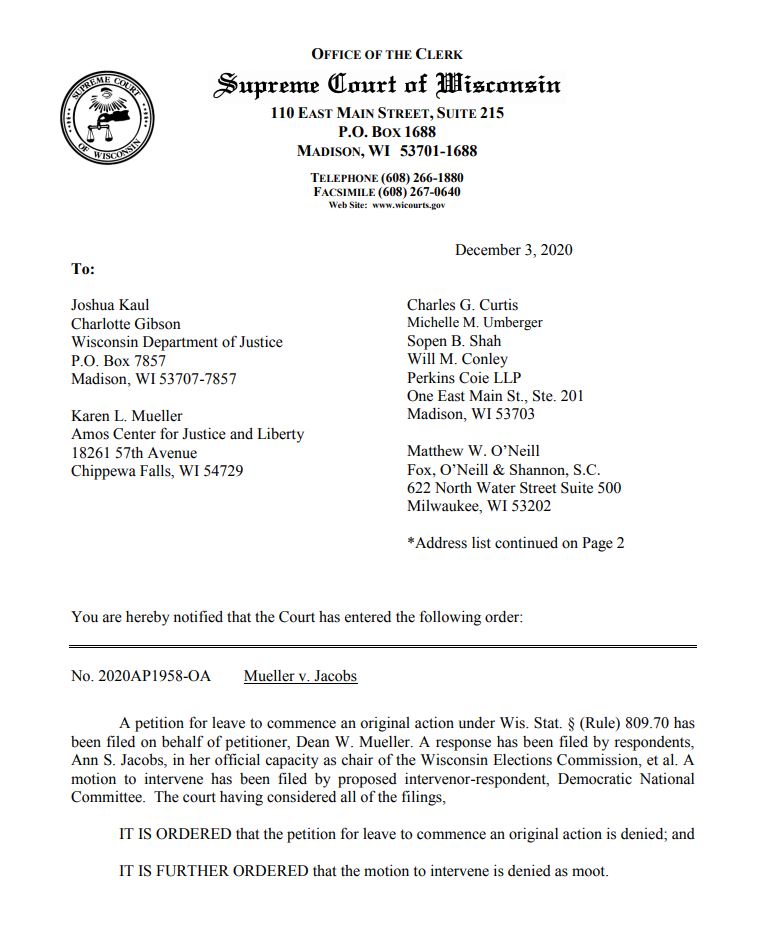 On Friday, December 4, the Daily Mail reported:
A divided Wisconsin Supreme Court on Thursday refused to hear President Donald Trump's lawsuit attempting to overturn his loss to Democrat Joe Biden in the battleground state, sidestepping a decision on the merits of the claims and instead ruling that the case must first wind its way through lower courts.
In another blow to Trump, two dissenting conservative justices questioned whether disqualifying more than 221,000 ballots as Trump wanted would be the proper remedy to the errors he alleged.
The defeat on a 4-3 ruling was the latest in a string of losses for Trump's post-election lawsuits. Judges in multiple battleground states have rejected his claims of fraud or irregularities.
Trump asked the Wisconsin Supreme Court to disqualify more than 221,000 ballots in the state's two biggest Democratic counties, alleging irregularities in the way absentee ballots were administered. His lawsuit echoed claims that were earlier rejected by election officials in those counties during a recount that barely affected Biden's winning margin of about 20,700 votes.
Trump's attorney Jim Troupis said he would immediately file the case in circuit court and expected to be back before the Supreme Court 'very soon.'
However, a hearing will take place in Wisconsin on December 11.
The Gateway Pundit reported:
Wisconsin Republicans will convene a public hearing on the 2020 election irregularities on December 11th. 'Mil' below is Milwaukee County:
Who would have ever thought voter fraud could take place in the land of touristy 'Food, Cheese, Gifts' (a ginormous sign I saw in my youth on trips to Wisconsin)?
Meanwhile, in Arizona, the state's Speaker of the House declined requests to overturn the certification of the vote count. In short:
It's so much easier to do nothing at all. However, doing nothing at all against the Democrats will have severe repercussions for the Great Republic:
It gets worse. Gateway Pundit continues to produce evidence that C h i n a was printing bogus ballots for the election. They have been following this story since November 28.
On December 5, they reported about a video, which has been properly translated into English (emphases in the original):
In the video a caller is heard requesting a bulk order of ballots to ship to the United States.
Here is the video with the translation.
FYI- Our Mandarin speaker confirmed the translation is accurate.
The order was reportedly for 5 million votes.
Two readers noticed that at the 0.54 second mark you can see "Charlotte County Florida" on the ballots …
Here are templates of the Mississippi counterfeit ballots printed in China.
Gateway Pundit have been talking to a former insider, Vinness A. Ollervides, the source for their information:
Here is the video:
On Saturday, President Trump held a successful afternoon rally in Valdosta, Georgia, for the Republican candidates in the state's run-off election early in January 2021. You can read more about it here. The candidates spoke briefly, while the audience voiced their support for the president with cries of 'Fight for Trump':
Elsewhere, President Trump's supporters are also fighting for him:
The battle continues, so, as my late grandfather used to say, 'Don't give up the ship!'
During the 1980s I was privileged to work with what seemed like an office full of New Yorkers, all of whom grew up in one of the city's boroughs.
It was sometime after Hurricane Gloria when I asked them if they'd ever thought a disaster could hit New York City. The answers I received ranged from 'You're crazy!' to 'Look, my father is a building contractor. He's worked all over the city. Nothing will ever happen there. The backup systems are incredible.'
Now Hurricane — or 'superstorm' — Sandy ripped through the iconic city several days ago, and it is in chaos. Mayor Bloomberg is serving (I used the term advisedly) his third term and, whilst controlling residents' soft drink and smoking habits, does not feel obliged to send for the National Guard, despite pleas from the well-respected Brooklyn President Marty Markowitz for public safety.
Fox Nation reports that Bloomberg does not wish to see a 'police state' – ha! (emphases mine):
"We don't need it," Mayor Bloomberg said on Wednesday during a press update on the city's ongoing Hurricane Sandy cleanup. "The NYPD is the only people we want on the street with guns."
Markowitz demanded the National Guard's help just an hour before Bloomberg's press conference, claiming that the NYPD and FDNY are "brave — but overwhelmed" by all the challenges Sandy brought when it visited the borough on Monday night: flooding, power outages, and looting.
Meanwhile, Bloomberg was willing to let the New York Marathon go ahead on Sunday, November 4, until persuaded otherwise at the 11th hour. What was he thinking, especially when generators were sitting near the starting point in Manhattan? Aren't his citizens more important than a marathon? Some runners went on foot in groups to the outer boroughs instead to hand out relief supplies. They also participated in what appears to be a 'post-Sandy relief effort' run on Monday, November 5.
That same day, a National Dance for Obama Day took place in Manhattan's Herald Square (34th Street and Sixth Avenue). In the event, only a dozen dancers attended. What were they thinking?
Going back to Brooklyn, however, Marty Markowitz has a point in asking for the National Guard: see what one home in Sheepshead Bay looks like — structurally unsound, yet the owner is afraid to leave it to looters. And Brooklyn is not the only borough affected. It is estimated that between 30,000 and 40,000 residents might have to be permanently relocated. Where is anyone's guess.
On Sunday, the Washington Times described the post-Sandy disaster and its dangers to life and health:
The storm hit one week ago. What is the status of the states hardest hit? Dire. There are still 2.5 million without power, and temperatures have dipped into the 20s (another powerful storm is blowing up the coast and expected to hit the region by midweek). Bodies are still being recovered in Staten Island. Chaos reigns in the streets of the outer boroughs. Residents have taken up arms — baseball bats, machetes, shotguns — as crime and looting soar. Handmade signs popped up: "Looters Will Be Shot" and "Block Protected By Smith & Wesson."
"It's like the Wild West, a borderline lawless situation," said one resident as he stockpiled knives, a machete and a bow and arrow.
Just a day after the storm, frightened citizens queued up for hours in lines to buy gas: Five days later, when the federal government announced free gas (well, free for storm victims; U.S. taxpayers foot the bill), thousands flooded the handout sites. Armed police battled some who cut lines as frustration ran high. At one site for free gas, the line was 16 hours long.
Queens residents are also loading up with some means of home protection. The New York Daily News warned:
Ever since Sandy strafed the Queens peninsula and tore up the boardwalk, it's become an often lawless place where cops are even scarcer than electrical power and food. Locals say they are arming themselves with guns, baseball bats, booby traps — even a bow and arrow — to defend against looters.
Thugs have been masquerading as Long Island Power Authority (LIPA) workers, knocking on doors in the dead of night. But locals say the real workers have been nowhere in sight, causing at least one elected official — who fears a descent into anarchy if help doesn't arrive soon — to call for the city to investigate the utility.
In Manhattan, the road tunnels flooded. Either the giant doors couldn't be closed in time or weren't closed tightly enough. Subway transport has been limited since the storm struck but is getting back to normal. Electricity was non-existent on the trendy Lower East Side for days, meaning that food was impossible to come by: shops and restaurants were shut.  After the storm, residents took to dumpster diving:
Water, socks, shoes and blankets are in scarce supply. Many reports in comments to newspaper and website reports say that the most the Red Cross is doing is handing out only hot chocolate and cookies. The Salvation Army and other relief agencies are supplying blankets and, where possible, directing displaced residents to temporary shelter. Staten Island Borough President James Molinaro called the Red Cross 'an absolute disgrace' and advised people to stop donating to them, adding:
You know, I went to a shelter Monday night after the storm. People were coming in with no socks, with no shoes. They were in desperate need. Their housing was destroyed. They were crying. Where was the Red Cross? Isn't that their function? They collect millions of dollars. Whenever there's a drive in Staten Island, we give openly and honestly. Where are they? Where are they? I was at the South Shore yesterday, people were buried in their homes. There the dogs are trying to find bodies. The people there, the neighbors who had no electricity, were making soup. Making soup. It's very emotional because the lack of a response. The lack of a response. They're supposed to be here….They should be on the front lines fighting, and helping the people."
A few hours later, the Red Cross arrived … with soup. But what if Molinaro hadn't made a fuss?
Meanwhile, the media and other leftists laid into Mitt Romney for his collection of donations on stops from the northern Midwestern states eastward, where basics — easy-to-eat food, basic essentials, nappies and toiletries — made their way to Sandy's victims. Everyone said (paraphrased), 'The Red Cross said they would take care of it, so butt out, Mitt. Who does he think he is, anyway?'
Yet — once again — Mitt was right. And what is Staten Island Borough President Molinaro rightly pleading for today, Election Day, November 6? Clean underwear for his residents. Not to put too fine a point on it, but MITT WAS RIGHT!
FEMA ran out of drinking water for storm victims at the weekend and said it would take until Monday, November 5, before they would have more shipments. All the more reason to consider what Mitt said about devolving certain FEMA functions back to the states. The Left criticised that, too. So, the private sector corporations are stepping into the breach on this and other functions. From ABC News:
About 44 thousand cases of water instead of brew are heading to the New York/New Jersey area free of charge.
"Personally, for me it does mean a little bit more because I do have family affected by it," said Anheuser-Busch Plant Manager Scott Vail, who is originally from New Jersey.
It sounds novel, but Anheuser-Busch has been converting beer lines to water lines for disaster relief dating back to the San Francisco earthquake of 1906.
Since 1988, the company has donated 71 million cans of water …
Anheuser-Busch is not the only company stepping out their box to help in Sandy relief efforts.
Victoria's Secret known for sexy ladies wear generated attention for loaning their generators to the National Guard during the storm.
Hess is delivering their gasoline to rival gas stations in need.
In neighbouring New Jersey, martial law has been declared in certain areas (see midpoint in the ABC news headlines video):
An interstate controversy over union versus non-union electrical linesmen also created a storm:
DECATUR, Alabama – Ray Hardin, general manager of Decatur Utilities, verified claims that his crews were returned home from Hurricane Sandy recovery because they are not union-affiliated but he says they were not "turned away."
Media reports overnight stated that three area utilities were turned away in New Jersey, but Huntsville Utilities and Joe Wheeler Electrical Membership Cooperative said this morning the claims are not true.
Huntsville crews are working today on Long Island and Joe Wheeler crews, which are unionized, are on their way home after completing jobs in Maryland for Sandy recovery.
The press release states that six Decatur Utilities workers were not in New Jersey but were stopped at a staging area in Virginia and asked to sign papers for the International Brotherhood of Electrical Workers before they could assist in storm recovery.
And for the eco-friendly readers, these tidbits have emerged from No Quarter's regular commenter Retired_from_SPOnaj on electric cars:
Electric cars may need electricity, but it would appear that one thing that they decidedly do not need is salt water. At least that's the conclusion that can be drawn from the 16 Fisker Karmas that exploded and burned to a cinder at a Port of New Jersey holding yard when they made contact with that part of the Sandy-inspired Atlantic that did not recede under the Obama administration. Our stimulus tax dollars quite literally went up in smoke.
Apparently, and ironically considering that the Karmas are built in Finland, Fisker Karmas and the Newcomers from Alien Nation have something in common, after all.
Ironically, just before Sandy, Fisker had unveiled two new planned models: the "Atlantic" (presumably named after the ocean that destroyed the Karma) and the "Surf and Sunset" …
Americans with long memories recall then-Senator Obama saying that he would ensure another Katrina could never occur. However, it has — and on his watch.  From Hot Air:
So on Wednesday [October 31], the mainstream media, Michael Bloomberg and Chris Christie [R-NJ] were all tripping over each other to see who could praise Barack Obama the most for the work he's done in response to Sandy. And the President was so efficient in his good jobness that he went back out on the campaign trail, seeing that his work there was finished.
And that's about where we stand now. Only the Borough Presidents, former New York City mayor Rudy Giuliani — and Mitt — are interested at this point. It will be instructive to see how many New York and northern New Jersey residents voted today — and a realistic, not spun, count at that.
As for Bloomberg? Well, let him focus on soft drinks and cigarettes whilst he decries a 'police state' response from the National Guard which would keep New Yorkers safe. (Sarcasm alert.)
Oh, the horror.
I know many Americans will have mixed thoughts on New York and her residents. However, the average New Yorker — as well as the New Jersey resident — is friendly, witty and caring. Like the Katrina victims, they don't deserve being left like this. Their holiday season is likely to be ruined.
Please pray for them. Thank you.
As I said at the beginning of this post, everyone in that part of the world thought that all safeguards were in place: 'It will never happen'. Giuliani said, pointing the finger at FEMA and at Obama:
It's quite obvious they didn't pre-plan for water, they didn't pre-plan for the generators, they didn't pre-plan for the gasoline.
The president getting all this credit so early, maybe the first day or two he was paying attention, but the minute he got his credit, the minute he got his pat on his back, we had the same situation as we had in Benghazi. He loses focus. He goes back to being campaigner-in-chief rather than commander-in-chief.