You are currently browsing the tag archive for the 'Rule of Six' tag.
This week, the UK government's scientific advisers and Prime Minister Boris Johnson said that new, stricter coronavirus measures would come into effect on Thursday, September 24.
On Monday morning, Chris Whitty and Sir Patrick Vallance presented their latest figures, which looked as if they must have come (once again) from Prof Neil Ferguson, they are that exaggerated. You can see the graph further down in my post:
This is utter madness, reminiscent of the WMD days when Tony Blair told us that a WMD could reach our shores within 45 minutes:
Their presentation, given against a No. 10 backdrop, had the purpose of preparing the public for Boris Johnson's announcements on Tuesday. They took no questions.
They showed graphs of where Spain and France are, with an uptick in 'cases'. Again, that means positive test results, most of which do not require hospitalisation.
Strangely enough, the Rule of Six only came in on Monday. Let's let it bed in for a few days, fellas, before taking more measures. They're doing exactly what they did in March, though. On March 16, new measures came in. On March 23, we had lockdown.
The Rule of Six is a Belgian tactic that SAGE thought would work in England. As such, they recommended it to the Government.
Perhaps this is the reason the two scientists did not mention Belgium once in their presentation:
I am glad someone will be tracking the progress of the projections over the next few weeks:
On Tuesday, Boris addressed Parliament and gave a short address that evening, televised to the nation.
In short:
– Pubs and restaurants must close by 10 p.m.
– They must offer table service only.
– All retail workers in hospitality settings must wear masks, along with customers, unless they are eating or drinking.
– Fines for breaking the Rule of Six or not wearing a face covering will result in an initial fine of £200, up from £100, for a first offence.
– Indoor five-a-side football matches have been banned.
– Wedding attendance has been reduced from 30 to 15; funeral attendance remains capped at 30.
– Police are allowed to call the military to fulfil office duties and/or to guard protected sites, leaving the police more capacity to fight crime.
– The plan to return a limited number of fans to sports stadia on October 1 is now postponed indefinitely.
The Daily Mail has a comprehensive article, including Boris's transcript, on the scathing reactions from police and business owners, particularly publicans. Sir Andrew Lloyd Webber said that this could sound the death knell for commercial theatre.
The Telegraph's Matt has this take on Army assistance:
The chances of that happening are very low:
The sad thing is that only five per cent of COVID-19 infections occur in a hospitality environment!
The Government and SAGE know this — yet they pressed on with restrictions!
The Daily Mail reported (emphases mine):
Public Health England data reveals that of the 729 outbreaks in the week to September 13, only five per cent occurred in food outlets such as restaurants and pubs – 45 per cent were in care homes, 21 per cent in schools and 18 per cent in places of work.
Wetherspoons founder Tim Martin said: 'The curfew doesn't even stand up to five minutes consideration by an intelligent person because if you look at the stats… there are relatively few transfers of infections in pubs.
Kate Nicholls, chief executive of trade body UK Hospitality, urged the Government to heed its own statistics because the curfew could take a sledgehammer to the industry which is already 'on its knees'.
She said this morning: 'People will think it's not that significant, but it really will have a big economic impact on jobs, not just on pubs, but also for cafes and restaurants.'   
Martin Wolstencroft, head of Arch Inspirations, which runs 17 bars and restaurants in Leeds, Manchester, York and Newcastle, said the curfew will not make it viable to open some of his venues.
Ironically, August was the month of discount lunches in Chancellor Rishi Sunak's successful initiative, Eat Out to Help Out, which the hospitality industry welcomed.
The Government's new restrictions will largely destroy any uplift participating restaurants received from it.
What on earth is going on?
Toby Young, who was at Oxford with Boris, says that something has changed — and not for the better. Note that Prince Charles approves of military intervention for climate change. Scary:
It's entirely possible that these ruinous measures have no basis in scientific fact, devastating people's livelihoods and families:
Conservative backbench MPs sounded off.
On Tuesday, Sir Desmond Swayne, who has commented both in and outside the House of Commons, tweeted:
His blog post states, in part:
Flu kills all year round – In the last weeks of July it killed 1000 of us (where Covid-19 killed only 200)- but it is seasonal: it certainly kills a lot more of us in the winter. Equally, we should stop talking about another wave of Covid-19 and instead, like flu, start expecting its annual season.
Having peaked in April Covid-19 abated over the summer. Inevitably it will get worse in winter. It may also be worse this winter than might otherwise have been the case. This is because we carried on with a number of restrictions on normal social life during the summer, reducing our ability to acquire and share herd immunity and wasting the opportunity provided by the weakest period for the virus.
My contention remains, as I have said many times over the last months, that our over-reaction to the disease has done much more lasting economic damage, and, counter-intuitively, even more damage to our health than the disease itself.
The current strategy merely kicks the can down the road. If the measures work and reduce the spread, the virus will simply reappear later.
Of course, we could be lucky and get a vaccine or a cure, or even 'moon-shot' daily tests to enable us to return to normality, but none of these are certain.
One day there may be a virus that threatens our whole way of life – but this isn't it, even if we are behaving as if it were.
Sir Desmond retweeted a neurologist's comment on the outrageous graph of projected 'cases' this autumn — in reality, positive tests:
Today, Sir Desmond gave an interview to the BBC about the continuing and questionable restrictions on civil liberties:
Richard Drax rightly predicted economic disaster, ruining the lives of millions:
Lucy Allan also spoke out on Twitter.
She tweeted Monday's graph from SAGE:
She rightly opposes putting everyone on restrictions when we should be protecting those most at risk:
She retweeted an open letter from Profs Sikora, Heneghan and several other leaders in British medicine:
She also called for the precise definition of a 'case':
That's probably why Whitty and Vallance didn't take questions.
Sir Edward Leigh also had a lot to say on this week's announcements:
He is rightly concerned about the blind faith we place in authority and the gradual erosion of civil liberties:
I couldn't agree more:
At least 1,000 people die in the UK every day.
Below are the causes of death per day in September.
Note where COVID-19 is: second from the bottom, dwarfed by heart disease and cancer.
There were nearly twice as many suicides than deaths from the Chi-vi: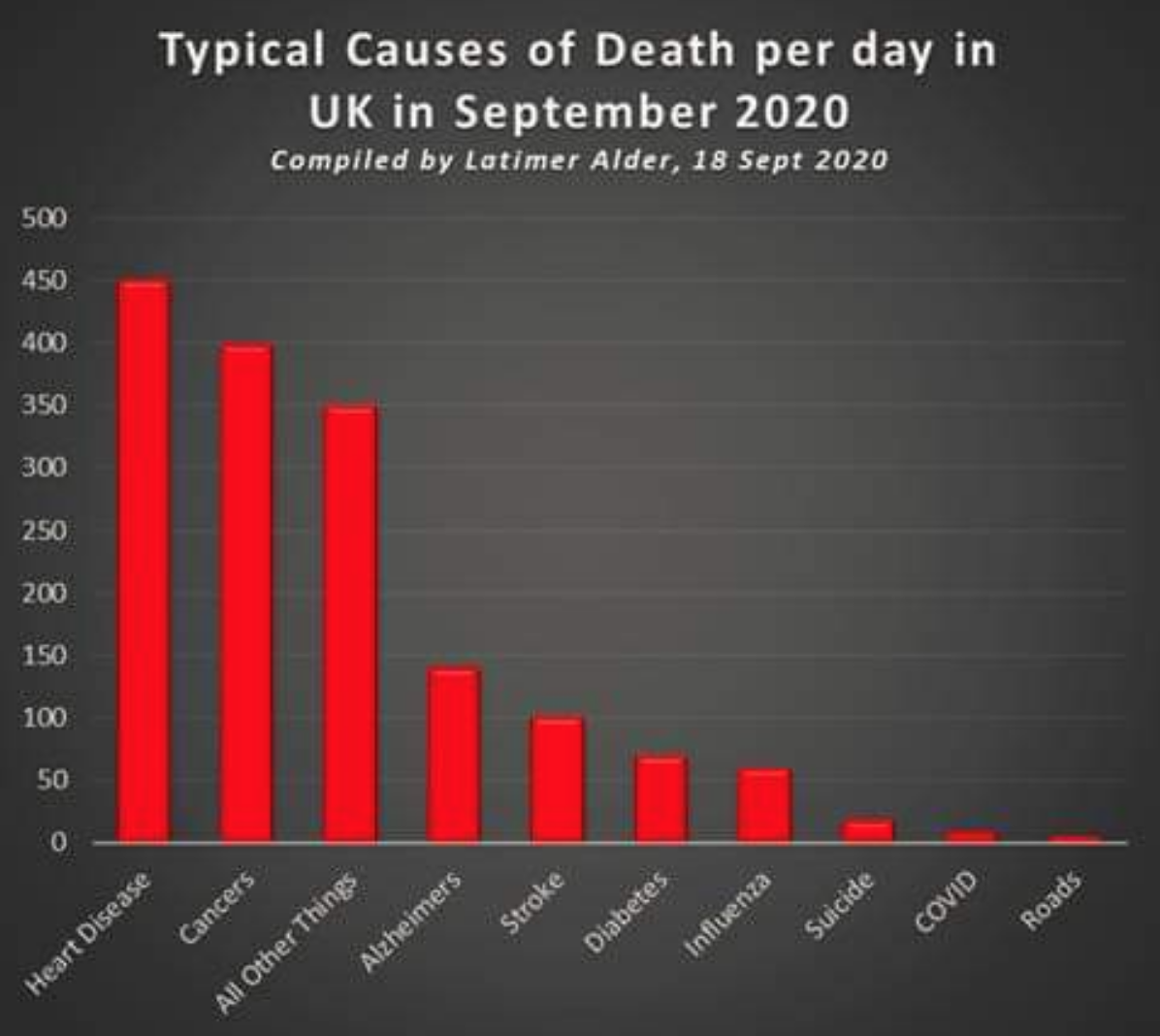 Steve Baker is also concerned about the restrictions bypassing Parliament:
Wow. Sir Graham Brady could pit a load of Tory rebels against the government. Good show:
The article from The Critic says:
Unless Matt Hancock finds a workable accommodation with Sir Graham Brady, the chairman of the 1922 Committee of Tory backbench MPs, the government faces the prospect of defeat next Wednesday when the Coronavirus Act 2020 comes up for its six-monthly renewal in the House of Commons.
The scale of backbench unhappiness is such that according to Steve Baker, who is working alongside Sir Graham, "the magic number was exceeded with 24 hours" of his beginning to canvas support for an insurrection among fellow Conservative MPs. Victory would require Labour and SNP MPs to seize on the opportunity to inflict a humiliating defeat on the government by voting with the Tory rebels. Indications increasingly suggest that this could happen. An increasingly dispirited Whips Office, which feels ignored and disrespected by Downing Street, is especially concerned at the sight of the former ERG "Spartans" leader, Baker, at Westminster furiously tapping away on his phone – a colliery canary of trouble ahead.
The government is equally concerned that the rebellion is being led by Sir Graham Brady, whose role as chairman of the 1992 Committee makes him the most authoritative channel of backbench opinion. In a sign of how seriously Downing Street management is taking the senior shop steward's challenge, on Monday evening the prime minister privately went to see the 1922's executive committee.
The primary complaint is that the government is using powers granted to it under the 1984 Public Health Act and 2020 Coronavirus Act to enact previously unconscionable measures without any prior debate in the Commons. Brady has condemned ministers who "have got into the habit of ruling by decree."
MPs were prepared to cede considerable authority to the government in March in a period of acute crisis when there appeared to be only weeks if not days to "flatten the sombrero" to save the NHS from being overwhelmed. But Boris Johnson's admission in his statement to Parliament today that the latest curtailments (which include further restrictions on hospitality opening hours and the number of people who can congregate at weddings, funerals and other public, private and sporting functions), would likely last at least six months has alerted MPs to the reality that government by decree may last until a vaccine is approved. If, indeed, a vaccine is approved. This is a war that will not be over by Christmas.
Far from persuading potential rebel MPs that a new crisis is looming, the performance of the government's chief medical and scientific officers, Chris Whitty and Sir Patrick Vallance, at their press conference yesterday has heightened consternation that the government is over-reliant on advice predicated upon worst case scenarios that is trumping competing economic and civil liberty considerations.
The likelihood of executive mission creep was foreseen back in March by David Davis and Steve Baker who pushed the government into adopting an amendment reducing from two years to six months the period in which the powers of the Coronavirus Act must be renewed by parliament. That renewal debate will now take place next Wednesday.
I remember that debate from March and also wondered if the Government were as good as their word.
Whilst they are unlikely to call for a wholesale repeal of the Coronavirus Act, Sir Graham Brady could call for a scrutiny clause appended to the Act so that every new statutory instrument connected to the legislation would have to go through Parliament first. To date, many of them have not. Therefore:
Rebels are pinning their hopes on this prospect. They may find a friend in the The Speaker, Sir Lindsay Hoyle, who has already made clear his intense irritation with Matt Hancock's disregard for informing parliament first of major legal changes like the "rule of six" and for the government's brusque imposition of restrictions in his own Chorley constituency …
The appeal of such a mechanism is obvious to Tory backbenchers concerned that laws are being made without scrutiny and are difficult to repeal. But there is no in-principle reason why Opposition parties need object to such a parliamentary safeguard either. Hence the likelihood of a rebellion having the numbers to succeed next Wednesday.
I can hardly wait.
Iain Duncan Smith is also airing his views. Note what he says and compare it to the death graph above:
Brexit better be more than BRINO, otherwise that prediction about the Conservatives could come true.
Former Brexit Party MEP and owner of England's greatest smoked salmon business, Forman's, said:
How true.
Unfortunately, at today's PMQs, Boris said that restrictions will continue until a vaccine is found! Dangerous.
Last week proved to be another emotive and passionate one in the House of Commons with regard to coronavirus and Brexit.
This post concerns coronavirus.
On Monday, September 14, Prime Minister Boris Johnson's Rule of Six, which he announced on September 9, came into effect. It sounds rather Chinese.
It means that people living in England cannot meet in groups of greater than six, indoors or outdoors. If we do, according to him, we 'will be breaking the law'.
He also introduced a new platoon to keep us in line: COVID marshals, to remind us of existing coronavirus rules in England — 'hands, face, space'.
Recall that Boris said after the December 2019 election that we now have the People's Government. Hmm.
The UK government is copying a Belgian idea. The Rule of Six reduced their second spike.
Increasingly, Britons have been looking back at Sweden, which refused to lock down. Fraser Nelson is the editor of The Spectator. Chris Whitty is our Chief Medical Officer; in May, he said that coronavirus was harmless for most people and most of us would never get it:
Michael Gove MP, a Cabinet minister and Chancellor of the Duchy of Lancaster, made matters worse when he confirmed that under-12s were part of the Rule of Six, unlike in Scotland and Wales, where under-12s are not. With life getting back to normal as school has started again, this came as a blow to many families:
The Telegraph reported that the Cabinet was split on the proposals (emphases mine):
… one senior Tory source said that "half the Cabinet" had doubts about the so-called 'rule of six', and it was "pretty hard to find a Conservative member of Parliament who agrees with all of this".
The COVID marshals are also a problem for police and local councils:
Meanwhile, Mr Johnson's plan for coronavirus marshals to help enforce the six-person rule was unraveling as police derided them as "Covid Wombles" and councils said they were a "gimmick".
Downing Street admitted councils would not be given any money to pay for the marshals, suggesting volunteers could do the job, and said it would be up to individual local authorities to decide whether they actually wanted them.
It got worse, as curfews were mooted:
The Government has discussed going even further with new lockdown restrictions, and has drawn up "a well-developed proposal" for a nationwide curfew which was discussed at ministerial level.
My head spun.
Then the ministerial snitch crowd appeared on weekend news programmes to say that people must tell on their neighbours if they are seen to be violating the Rule of Six:
Political journalist Isabel Oakeshott rightly responded:
I couldn't agree more. This is supposed to be the People's Government, isn't it?
History will not look kindly on 2020 with regard to the measures taken to combat the virus:
I was wrong.
Home Secretary Priti Patel said that people should not even talk when they see friends in the street, even at a distance (audio here, thanks to Guido Fawkes, and there's video, too):
Yebbut, if you DO report what appears to be criminal activity, allegedly, the police do not want to know. Here is a printscreen of a set of comments on a Guido Fawkes thread. I call your attention to the last two. Police would rather pick on mums and their children. Ironically, that was posted on the anniversary of the Battle of Britain. Go figure.
A mild-mannered man from Buckingham called talkRADIO to say he would not comply with the Rule of Six because the Government had gone too far.
So did a lady from Brighton, saying that the Rule of Six was about:
control. They're trying to see how much they can get away with.
Another talkRADIO host, Julia Hartley-Brewer, had a go at Roy Lilley, former NHS Trust chairman. She said:
We are being scared into thinking we have to give up our civil liberties when that won't save lives. Being sensible will save lives.
The Telegraph's Salley Vickers wrote of the restrictions on her and her loved ones:
I would rather risk dying and have the joy of their company than lose that vital contribution to my own happiness.
With the festive season only several weeks away, the Daily Mail's Peter Hitchens told talkRADIO's Mike Graham that the Rule of Six has:
made Christmas an arrestable offence.
Another Daily Mail journalist, Bel Mooney, wrote an editorial for Conservative Woman saying that she was surprised at the amount of resistance she received when she wrote that she would be defying the Rule of Six at Christmas:
… in response to Matt Hancock's sudden, arbitrary and illogical 'rule of six' diktat, I wrote a strong opinion piece (at the request of my newspaper) headlined 'NO, NO, NO! I'm having Christmas for 14 – and no puffed-up Covid marshal will stop me'.
As you might expect, there was a huge response. I never look online, and am not on Twitter (I expect there was a lot of poison swilling around out there). I am talking about emails to me and the newspaper. What interested me was the fact that, if I am to be honest, the antis outnumbered the pros. I didn't expect that from Mail readers.
You can never tell with Mail readers, though. They're a tricky lot.
Oxford University's Professor Carl Heneghan and honorary research fellow Tom Jefferson wrote an article for The Spectator against the Rule of Six, saying that Boris must bin it:
At Oxford University's Centre for Evidence Based Medicine, we have spent years trawling through the scientific evidence on the effects of measures such as distancing on respiratory viral spread. We are not aware of any study pointing to the number six. If it's made up, why not five or seven? …
Northern Ireland has taken a more measured approach and not announced any changes to how many people can meet. These disagreements in policy reveal how decisions are being made without evidence. It seems that somebody in government sat in a cabinet office room and said six is a good idea and nobody disagreed …
The problems with policy stem from the current cabinet's vast inexperience: the Health Secretary has been in post for just over two years now; the PM and the Chief Medical Officer a year. The Joint Biosecurity Centre is overseen by a senior spy who monitors the spread of coronavirus and suppresses new outbreaks. Add to this mix the new chair of the National Institute for Health Protection, who similarly has little or no background in healthcare. Our leaders amount to little more than a Dad's Army of highly paid individuals with little or no experience of the job at hand.
This inexperience leads to rash decisions and arbitrary policies.
One example is that entire areas can be locked down if they have 50 cases per 100,000 people. Yet the recognised alert threshold for 'regular' acute respiratory infections is 400 cases per 100,000.
Lord Sumption, who has been speaking out against lockdown this year, said that the Rule of Six will be unenforceable. I hope he is right:
Tom Tugendhat (Tunbridge and Malling, Con) expressed his concerns about the new rule and rightly wanted MPs to vote on it and similar measures:
It's unlikely that the House of Lords can help, either. They already have a full schedule. We should thank Lord Lamont for raising the issue of consulting the public, however. 'SI' means 'statutory instrument':
Monday, September 14
Behind the scenes and well outside of Parliament, an email emerged dated May 23, wherein Chief Scientific Adviser Sir Patrick Vallance stated he had pushed the most for March's lockdown:
Guido Fawkes has the full text of the email. I am not sure how Sir Patrick thinks that a vaccine will achieve herd immunity, though.
In the first of the debates on the Brexit-related Internal Market Bill, Charles Walker MP (Broxbourne, Con) prefaced his comments by expressing his dismay about the Rule of Six, the lack of consultation with Parliament and the fining of Jeremy Corbyn's brother Piers at the anti-lockdown rally on Saturday, September 12.
Thank you, Charles Walker:
This is short and well worth watching:
Tuesday, September 15
Secretary of State for Health and Social Care Matt Hancock poled up to make a statement to MPs about the Rule of Six and testing.
Excerpts follow:
There are signs that the number of cases in care homes and the number of hospitalisations is starting to rise again, so last week we acted quickly, putting in place new measures—the rule of six, which came into force yesterday. We do not do this lightly, but the cost of doing nothing is much greater.
Testing also has a vital part to play. Everyone in this House knows that we are doing more testing per head of population than almost any other major nation, and I can tell the House that we have now carried out over 20 million tests for coronavirus in this country. As we expand capacity further, we are working round the clock to make sure that everyone who needs a test can get a test. The vast majority of people who use our testing service get a test that is close to home, and the average distance travelled to a test site is now just 5.8 miles —down from 6.4 miles last week; but the whole House knows that there are operational challenges, and we are working hard to fix them.
We have seen a sharp rise in people coming forward for a test, including those who are not eligible.
Jonathan Ashworth (Leicester South, Lab/Co-op), speaking for the opposition, said:
I am grateful for advance sight of the Secretary of State's answer. That was decent of him.​
Yesterday LBC revealed that there were no tests available in covid hotspots, including Rochdale, Pendle and Bradford. Over the weekend in Bolton, where infections are the highest in the country, a mobile testing centre failed to turn up. Meanwhile, in Bury hundreds queued for five hours for a test. In Walsall, a father with his sick child travelled 76 miles to an appointment in Wales, only to find on arrival that tests had run out. Increasing numbers of teachers and pupils are not in school. In hospitals, operations are cancelled while NHS staff are stuck in limbo, waiting for tests.
The Secretary of State blames increased demand, but when tracing consistently fails to reach 80% of contacts, when less than 20% of those with symptoms self-isolate properly and there is a lack of financial security, infections rise. When schools reopen and people return to workplaces and social distancing becomes harder, infections rise. Extra demand on the system was inevitable. Why did he not use the summer to significantly expand NHS lab capacity and fix contact tracing?
Just as demand is increasing, the ability to process tests is diminishing. Post-graduate students working in the Lighthouse labs are returning to university, so why did the Secretary of State not plan for the inevitable staff shortages in the Lighthouse labs? Those commercial pillar 2 labs, The Sunday Times revealed at the weekend, have a huge backlog of 185,000 tests. Thursday's data revealed that 65,709 test results were not returned by the end of the week. Care home residents now wait an average of 83 hours for their result. The Prime Minister promised us a 24-hour turnaround for results, so what is going on? What is the current backlog and what is the timeframe for clearing it?
We were promised a world-beating system, so why are we sending tests to Germany and Italy for processing? But, most importantly, people want to know when they will get a test and when this mess will be fixed. Today there will be thousands of ill people trying to book a test, only to be told none is available. When will people be able to book a test online again, or has the online booking system been deliberately disabled? When will ill people no longer have to travel hundreds of miles for a test that should be available on their doorstep? When will pupils and teachers out of school get access to testing, so they can get back to school? When will NHS staff have access to regular testing, so they can focus on their patients and not be sitting at home?
We are at a perilous moment. Imperial College estimates the virus is doubling every seven to eight days. We all want to avoid further restrictions or another national lockdown, but when testing and contact tracing break down, the growth of the virus cannot be tracked. The Prime Minister promised us whack-a-mole, but instead his mallet is broken. The Secretary of State is losing control of the virus; he needs to fix testing now.
Many MPs — from both Opposition and Conservative benches — said that their constituents could not get tests.
Even the Speaker of the House tweeted that his constituents were having similar problems:
The testing situation is shocking — as Terry-Thomas used to say in the Boulting Brothers films: 'An absolute shower!'
On the upside, the British coronavirus jobs situation is improving, thank goodness (more from Guido here):
Wednesday, September 16
Deputy Labour Leader Angela Rayner (Ashton-under-Lyne) stood at the Opposition despatch box for Prime Minister's Questions (PMQs), as Sir Keir Starmer was self-isolating:
She did a good job.
She began by saying:
Many people in the Chamber will think that the battle of Britain is today, but actually we marked the 80th anniversary of those veterans yesterday, and I want to put on record our thanks to all those who fought for our country in the past.
I want to start by reading to the Prime Minister a message that I have received from a man called Keir. Keir was not able to go to work today and his children could not go to school because his family had to wait for their coronavirus test results, despite the Prime Minister's promise of results within 24 hours. Keir was able to do the right thing and self-isolate and work from home, but other people are not in this position, and many of them are the very people who were getting us through this crisis, such as the care workers, who I used to work alongside before I was elected to this House. The Prime Minister once earned £2,300 an hour; can he tell us the average hourly rate of a care worker in this country?
Boris was singularly unimpressed, although he had a neutral expression on his face, even when discussing Starmer:
I congratulate the hon. Lady on her elevation. She speaks of the constituent Keir, and I can tell her that—allegedly, apparently—he has had a negative test, and I do not know quite why he is not here. But 89% of those who have in-person tests get them the next day, and we are working very fast to turn around all the test requests that we get. I think that most people looking at the record of this country in delivering tests across the nation will see that that compares extremely well with any other European country. We have conducted more testing than any other European country, and that is why we are able to deliver tests and results in 80% of cases where we know the contacts.
The hon. Lady asks about care homes, and I can tell the House that today we are launching the winter care home action plan. She is right to raise the issue of care homes, and we are concerned about infection rates in care homes, but we will do everything we can to ensure that care homes and their workers are protected.
On the hon. Lady's final point, I am proud that it is this Government who have instituted the national living wage to ensure that every worker in this country, including care home workers, is paid substantially more, thanks to the care and the work of the people of this country.
Boris listened attentively and responded sensitively to all the points that Angela Rayner raised until this point, which came several minutes in, when she said:
Infections are rising. The testing system is collapsing. When you are the Prime Minister, you cannot keep trying to blame other people for your own incompetence. We have the highest death toll in Europe, and we are on course for one of the worst recessions in the developed world. This winter, we are staring down the barrel of a second wave, with no plan for the looming crisis. People cannot say goodbye to their loved ones. Grandparents cannot see their grandchildren. Frontline staff cannot get the tests that they need. And what was the top priority for the covid war Cabinet this weekend? Restoring grouse shooting.
I suppose that is good news for people like the Prime Minister's friend who paid for a luxury Christmas getaway to a Caribbean island and funded his leadership campaign, and just so happens to own two grouse moor estates. So Prime Minister, is this really your top priority?
The Prime Minister answered:
While the Labour Opposition have been consistently carping from the sidelines throughout this crisis and raising, frankly, issues that are tangential, if not scare stories about what is going on, we are getting on with delivering for the British public. We are not only massively ramping up. She has not contested any of my statistics today about the extent to which this country is now testing more than any other European country.
She has not disputed the massive acceleration in our programme. [Interruption.] I will answer the substance of her question, thank you very much. We are getting on with delivering on the priorities of the British people: getting us through this covid crisis; delivering on making our country safer, bringing forward measures to stop the early release of dangerous sexual and violent offenders, which I hope she will support; strengthening our Union, which in principle Opposition Front Benchers should support; and building more homes across this country and more affordable homes across this country, which she should support. That is in addition to recruiting more doctors and more nurses, and building more hospitals.
I do not think anybody is in any doubt that this Government are facing some of the most difficult dilemmas that any modern Government have had to face, but every day we are helping to solve them, thanks to the massive common sense of the British people, who are getting on with delivering our programme and our fight against coronavirus. It is with the common sense of the British people that we will succeed, and build back better and stronger than ever before.
If only.
That day, news of an upcoming curfew in London emerged.
Apparently, the British people don't have much common sense, after all.
Currently, London has some of the fewest new coronavirus cases (i.e. positive tests, little hospitalisation):
Guido rightly wrote (emphases in the original here):
If this afternoon's splash from the Evening Standard is true, it is a step too far. The London director of Public Health England (yes, the organisation is still limping on for now, despite the Health Secretary announcing its abolition back in August) has issued a "curfew alert" to the capital through the newspaper, saying residents could face a mandatory curfew if Covid cases continue to rise. A ridiculous suggestion that should be forcefully opposed.
Shutting pubs, bars, restaurants, and just about everything else at an arbitrary hour will obviously do nothing to stop the spread of coronavirus. If anything, the move will be counter-productive – compressing the same number of customers into a shorter time and making social distancing harder still. Or pushing social gatherings into homes not bars, which are thought to be more likely to spread the virus. This no doubt ineffective PHE [Public Health England] nannying should have been dumped when the organisation was. The government need to remember there is a limit to people's compliance. This might just hit it.
As I write early on Tuesday, September 22, Boris is planning to bring in an England-wide curfew for pubs and restaurants on Thursday. As if the virus will know the difference between a 10 p.m. closing time versus the usual one of 11 p.m. The mind boggles.
Thursday, September 17
Matt Hancock appeared again with another update on coronavirus.
This time, it was about measures taken on lockdown in the North East of England. This includes strict adherence to household bubbles, table service only in hospitality venues and a curfew between 10 p.m. and 5 a.m.:
Once again, he was straining every sinew, an expression he has been using since March:
The battle against coronavirus is not over, and while we strain every sinew to spring free of its clutches, with winter on the horizon we must prepare, bolster our defences and come together once again against this common foe.
Then he announced upcoming plans to make everyone using A&E (Accident and Emergency) departments to make a booking! Good grief:
… we are working to get patients the right care in the right place, by expanding the role of NHS 111. During the peak of this pandemic, we saw millions of people using NHS 111, on the phone or online, to get the best possible advice on coronavirus, helping them to stay safe and, where possible, to stay out of hospital, where they could have unknowingly spread the virus. It is crucial that, ahead of winter, we use this window of opportunity to seek out what worked and build on it, so we provide a better service for patients and protect the NHS. Of course, no one will ever be turned away from our emergency departments in the most serious of cases; however, we have worked with the royal colleges, the NHS and others to develop a better, quicker and more clinically appropriate service for patients by using NHS 111 first.
This is how it works. We will invest £24 million to increase call-handling capacity and to make sure there are more clinicians on hand to provide expert advice and guidance, and we will build on our trials to make NHS 111 a gateway to the emergency care system, providing a first port of call for patients. In future, rather than having to queue in an emergency ward, we are testing that people should call NHS 111 first to book an appointment with whoever can give them the most appropriate care, whether it is a GP, a specialist consultant, a pharmacist, a nurse or community services. Of course if they need to go to the emergency department, NHS 111 will be able to book them into an appropriate time slot. We want to see this approach lead to shorter waiting times and better availability of appointments for patients. We will consult on how its performance is best measured, and, with successful pilots, we will roll out NHS 111 First to all trusts from December.
This is the bit that galled me the most:
The purpose of 111 First is to improve access, including in terms of inequalities in the NHS, by ensuring that people get the right treatment in the right place and easier access if they do need to go to an emergency department, because the emergency ​department will know that they are coming. It is commonplace now in almost every part of our life to let people know that we are coming. If we are going to do something as important as visit an emergency department, it will help both the patient seeking treatment and the NHS to let them know that they are coming first. That is the principle behind 111 First. It sits alongside 999, which anybody should call in a serious incident.
'People's government', my eye.
Nor is the NHS the people's health service.
If you have a serious injury, you or your loved ones could be losing life- or limb-saving time by calling 111 or 999.
Based on what I read during the March lockdown, calling 111 was life-threatening. Children calling on behalf of elderly parents were told, 'If your relative is not turning blue, do the best you can.'
Calling the ambulance service on 999 generally produced this result: 'We're overloaded. If you can take your relative to hospital yourself, please do so.'
Over the past few months, I have heard NHS senior executives give testimony to Select Committees. They do not want patients coming in to a hospital, to a GP surgery — anywhere on NHS property.
An absolute shower!
Speaking of absolute showers, Baroness Harding — Dido Harding, a former jockey and failed business consultant/corporate director — gave testimony to a Select Committee, the Commons Science and Technology Committee, led by Greg Clark MP (Tunbridge Wells, Con).
Wow. It was car-crash television on BBC Parliament.
Baroness Harding is, inexplicably, the director of NHS Test and Trace programme.
Greg Clark is no slouch. He pressed and pressed the same question. Did she not anticipate the increase of demand for tests after lockdown lifted?
Finally, she gave the answer.
The Independent reported:
Demand for coronavirus tests is three to four times the number available, the director of NHS test and trace has admitted.
Baroness Dido Harding, who told MPs there was capacity to carry out 242,817 tests a day, said the "sizeable" rise in demand had been unexpected.
Boris Johnson has pledged to raise capacity to 500,000 by next month – but Baroness Harding's estimates suggest that even that figure would not be enough to satisfy demand.
Even then:
despite images of queues outside Covid-19 drive-in centres, the testing tsar said: "I strongly refute that the system is failing."
She put the blame on SAGE …
Baroness Harding insisted current capacity had been based on modelling provided by the government's Scientific Advisory Group for Emergencies (Sage) and suggested that around a quarter of those seeking tests did not have symptoms.
… and the testing laboratories:
Quizzed by the committee chair and former Tory minister Greg Clark on the current issues in the system, she said that the "constraint" in the testing was in processing and laboratories.
On Friday, Sir Jeremy Farrar, a SAGE member and director of the Wellcome Trust, hit back.
The Telegraph reported:
Sir Jeremy Farrar, the director of the Wellcome Trust, who sits on the Government's Scientific Advisory Group for Emergencies, said the body had given "clear advice" that a fully functioning test, track and trace system should be in place …
Responding to her comments on social media, Sir Jeremy said he had personally warned that a growing testing crisis was looming.
"Interesting to be blaming Sage," he wrote on Twitter. "Has been clear, and in the advice, that the UK faced an inevitable increase in community transmission and cases after the summer and needed a fully functional and trusted test, track and trace in place."
Sir Jeremy posted his comments from a BBC interview with Andrew Marr in June, in which he warned of a "nasty rebound" if steps were not taken to improve testing. He also re-posted an article from May in which he warned that lifting restrictions was difficult even with a fully working testing programme in operation.
The testing crisis deepened on Friday when it emerged that children at four out of five schools are staying at home because they cannot get a test …
This coronavirus business will only get worse. Watch and wait.
Part 2 concerns the Brexit-related Internal Market Bill.