You are currently browsing the tag archive for the 'Russia' tag.
Although the results of the Conservative Party leadership contest were not announced until Monday, September 5, 2022, it was widely believed that Liz Truss would emerge the victor.
So, on Sunday, September 4, the BBC's Laura Kuenssberg interviewed Truss on her morning current events show.
It was as much as a debut for Truss as it was for Kuenssberg. Although Kuenssberg has been on our television screens for several years, it was the first time in this format.
No longer much of a viewer of the regular BBC output outside of BBC Parliament, I only watched a short clip that Guido Fawkes posted:
Truss was polite and constructive. She explained that her policies were based on growth rather than redistribution:
Guido's post says, in part (emphases his):
The goal of Liz Truss's government should be to provide the framework for economic growth, growth that provides high paying jobs, not optimises universal credit. The Treasury has been trapped in the logic of Gordon Brown for too long, tinkering with taxes and benefits instead of turbo-charging the economy. We can't tax or redistribute our way to prosperity, Liz Truss knows this and has the drive to reform government policy. It is a positive, optimistic agenda on which she needs to move fast, starting this week…
Kuenssberg acted like the cool girl from school. (How did her hair grow so much in such a short space of time, one wonders.) She asked Truss:
You will come and see us again, won't you?
A Telegraph review of the new show mentioned that Kuenssberg couldn't interview Truss in detail because she had to move on to an interview with Ukraine's Olena Zelenska (emphases in purple mine):
One hopes … that the busy format can be slimmed down when the need arises, to allow for longer-form interviews and tougher interrogation. Kuenssberg did not, for example, have time to ask Truss about crime, immigration or education, because the programme also had to fit in an interview with Ukraine's first lady, Olena Zelenska (unfortunately, interviews conducted via a translator rarely make for riveting TV), fleeting discussions of Nasa's Artemis launch and the Taylor Hawkins tribute concert, plus some banter with the panel.
It is just like the BBC to give priority to foreign nations over our own citizens' needs and concerns.
Another mistake might be the addition of notional comic Joe Lycett, who insulted the then-future Prime Minister and made the Mail's front page on Monday:
The British public received more insight from Mark Littlewood, the director of the Institute of Economic Affairs (IEA). Littlewood (H/T to Guido Fawkes) was up at Oxford with Truss in the early 1990s and said she would be:
the most radical British Prime Minister in over a century.
Excerpts from Littlewood's article for The Sunday Telegraph follow:
The first myth that needs to be laid to the rest is that Liz Truss is some sort of wily, calculating chameleon who changes her political colours, depending on prevailing political circumstances, to suit her own narrow ends.
I first met Liz Truss over twenty-five years ago at Oxford University and have detected no shift in her underlying political philosophy in that time. She has not jumped from left to right or from radical to reactionary – she is, and has always been, a market liberal with a deep suspicion of entrenched, vested interests. She instinctively believes that the state has a greater propensity to do harm than to do good.
How then to reconcile her record as a pro-EU, Liberal Democrat at university with her Tory policy platform today? You only need to appreciate how politics have changed so markedly since the mid-1990s to understand that while the world itself might not be very consistent, Liz Truss very much is …
I would argue that Liz Truss's changing position on the EU reflects a consistent application of her underlying principles to changing circumstances. To go right back to the 1990s, the single market had just come into being. On the face of it, the European project was on an exciting, liberalising trajectory. It was about removing barriers erected by nation states in order to facilitate trade and free exchange. Over many years – and only incrementally – did the EU's obsession with regulatory conformity oblige free market liberals to seriously question whether the European Union was now more of a socialist than a liberal enterprise …
Although she was hostile to the EU's heavy-handed intervention, she also recognised that many of the problems afflicting Britain were homegrown. Most of the policy reforms she craved could be carried out whether or not we were a member of the European Union.
In wishing to move Britain in a liberalising, more market-orientated direction, Liz Truss would have judged Brussels to have been bad, but probably Whitehall to be worse …
Her approach to date on the energy crisis is a classic example of this. Whilst politicians of all stripes seem to want the government to take even more action to fix the price of energy, Truss's starting position would be to allow the price mechanism to operate freely and then consider how one might mitigate the effects. She would rather offset the soaring price of utility bills through meaningful tax cuts, than appoint a central committee to pronounce on the exact price we should all be paying per kilowatt hour.
But it's not merely the underlying instincts of Liz Truss that has led so many free marketeers to get excited about her upcoming premiership. We can also expect her to act decisively. This doesn't mean she is a dogmatic individual although, for sure, she is guided by an underlying ideology in a way our last three Conservative Prime Ministers have not been …
I suspect we are about to bear witness to the most radical British Prime Minister in over a century.
We can expect to see a whirlwind of activity and announcements from the very first minutes of her entering Downing Street. Given the speed she is going to have to operate at, there inevitably will be missteps. But the overall direction of travel in the Truss administration will be crystal clear – to move power and money away from the state bureaucracy and into the hands of ordinary men and women.
It remains to be seen exactly how far she can move Britain in that direction in the limited time she has available to her, but I can't wait to find out.
The Sunday Telegraph granted Truss an editorial that day which bear out what Littlewood wrote:
… My plan for growth is built on Conservative ideas: tax cuts, supply-side reform and deregulation. I will grasp the nettle on the ambitious reforms needed to get our economy growing, including working with local communities to create low-tax, opportunity-rich investment zones and make Britain the home of innovation and start-ups …
We will break with the same old tax and spend approach by focusing on growth and investment. The heaviest tax burden in 70 years cannot go on. We will change the Treasury investment rules to drive opportunity across every part of our United Kingdom. As Prime Minister, I will terminate the technocratic excesses that have crept into government and our economy.
I will be on the side of the people who drive Britain forward: from our hard-working taxpayers to our dynamic businesses and the self-employed. In the same spirit, I will take on whatever holds us back.
Too often, people face a morass of bureaucracy to get things done. It cannot be right that the last reservoir or new nuclear power station was over a quarter of a century ago. It's time to get Britain building and liberate our enterprising spirit.
At this critical moment, we can shape the future of our economy through the decisions we make. I am prepared to be bold in order to transform our economy into the powerhouse I know it can be. That is how we will deliver a better future for the British people and ensure together that our best days lie ahead.
On the morning of Monday, September 5, Red Wall MP Lee Anderson (see parts 1, 2, 3, 4 and 5) reacted to Laura Kuenssberg's Sunday show.
Guido reported:
Speaking to Mike Graham on TalkTV this morning, he's just called for the whole BBC to be shipped off to a desert island, because "they do not represent what this country wants."
One minute before the leadership contest results were announced, Guido tweeted about an extravagant bet he made on a Truss victory:
Sir Graham Brady, chairman of the 1922 Committee of Conservative backbench MPs, announced the result promptly at 12:30 in the Queen Elizabeth II conference centre, not far from Parliament.
Guido could rest easy. Truss won and would become our new Prime Minister:
Sir Graham read out the results from the Party members' ballots in full. Rishi Sunak did better than most pundits and pollsters predicted.
We also discovered the true number of Conservative Party members, heretofore unknown:
Rishi Sunak received 60,399 votes (42.4%)
Liz Truss received 81,326 votes (57.1%)
There were 172,437 eligible electors. Turnout was 82.6%.
There were 654 rejected ballots – probably mostly write ins for Boris. Which means 142,379 votes were returned.
58,378 electors voted by post and 84,001 electors voted online.
Before the result was announced, Conservative Home's Paul Goodman tweeted his expecations based on conversations with Party MPs and activists:
He found that Opinium was the most accurate polling company in the contest:
Look how far off the mark Conservative Home was.
Opinium readily acknowledged that doing party-specific polls were much more challenging than those from the general public:
Opinium has once again won the crown for most accurate poll during the Tory leadership election. After winning the same accolade at the 2019 election, Opinium were closest to the final result. They add the usual caveats that polling political parties is much trickier than the general public…
Truss and Sunak were seated next to each other as the votes were announced. Whe she got up to give her speech she rushed past Sunak without a glance or a handshake. Oh, well.
Her short speech didn't tell us anything we didn't already know:
Guido has the video, in which she was emphatic about one thing:
I campaigned as a Conservative and I will govern as a Conservative.
She also paid tribute to Boris Johnson:
Guido reported that Boris quickly congratulated Truss and said that the two had met before the contest was over:
Boris has congratulated Liz Truss on a "decisive win" in the leadership race:
I know she has the right plan to tackle the cost of living crisis, unite our party and continue the great work of uniting and levelling up our country. Now is the time for all Conservatives to get behind her 100 per cent.
It's not like Boris stayed neutral throughout the race. This morning the BBC's Chris Mason reported that Liz visited Boris at Chequers to ask his advice on how to be PM. 
Rishi has tweeted, through obviously gritted teeth, "It's right we now unite behind the new PM, Liz Truss, as she steers the country through difficult times."
Meanwhile, Carrie took to Instagram to wish Liz and her family well, alongside a photo of her, Boris, Wilf and Romy stepping through the No. 10 door into Downing Street for the last time.
I expect Wilf and Romy won't remember it but they've had an incredibly happy start to their lives growing up here.
Let's hope the garish wallpaper didn't leave a permanent imprint on their young minds.
Unfortunately for Truss and the Conservatives, the longstanding co-chairman of the Party, Ben Elliot, resigned that evening:
Ben Elliot is an entrepreneur, not an MP. He has incredible social connections and has raised a lot of money for the Conservatives.
Elliot is best known for his personal concierge subscription service which he started many years ago.
Ben Elliot, a close ally of Boris Johnson, announced he was stepping down from the role – leaving Miss Truss with the headache of trying to find a powerful replacement.
Mr Elliot spearheaded the drive to amass a £56millon war chest in the run-up to the 2019 election, of which £23million was raised in the four weeks prior to polling day.
Controversially, Mr Elliot used donor clubs to generate funds – including the use of an 'advisory board' for £250,000-a-head contributors – which attracted allegations that he was deploying 'cash-for-access' techniques.
But it also allowed the party to comprehensively outgun Labour in the income stakes.
One of Mr Elliot's friends said that 'Ben's own initiative and contacts' had been responsible for more than one third of donor income.
The friend said:
He is going because he recognises that Liz will want the freedom to appoint her own chair, and wants to spend more time concentrating on his businesses.
Hmm.
Elliot thanked the groups he worked with in the Party, adding:
I would like to thank Boris Johnson for appointing me, and wish Liz Truss every success in leading our great country, particularly given the challenges of the winter ahead.
The article concludes with this:
Darren Mott, chief executive of the Conservative Party said: 'The whole Conservative Party wants to thank Ben Elliot for his tireless service over the past three years. Without his incredible efforts, the 2019 landslide would not have been possible. We wish him all the best in his future endeavours.'
Moving on to Parliament, which resumed sitting on Monday afternoon, changes were afoot.
Boris loyalist Nadine Dorries's Online Safety Bill was scheduled to be debated further that day, but was suddenly pulled from the Order Paper.
Mark Spencer, still in post at that point as Leader of the House, announced:
With permission, Mr Speaker, it may help if I inform the House that, following the election of the new leader of the Conservative party, the business managers have agreed that the Government will not move the Second Reading and other motions relating to the Data Protection and Digital Information Bill today to allow Ministers to consider the legislation further. The remainder of this week's business is as I announced on 21 July.
That was one piece of good news, as it is draconian.
The other good news was that Home Secretary Priti Patel resigned that day, after giving her last Q&A session on Home Department progress over the summer. She had a lot to say but not much to report, which was typical of her performance since 2019:
I had such high hopes for her, but, between civil servants and lingering EU laws to which we are still subject, she couldn't get anywhere, internationally with migration or domestically with policing.
Returning to Liz Truss, the Russians were not happy that she is now Prime Minister. One Russian broadcaster said:
Elizabeth Truss wants to achieve something entirely different — the end of the world.
Good. Truss is right over the target.
More flak came Truss's way here in the UK from the usual suspects:
As for Boris, was he as bad a Prime Minister as all the Remainers said? No. Not at all.
Labour's Gordon Brown is still our most unpopular PM of living memory:
Guido wrote:
The usual blowhards like Alastair Campbell and James O'Brien like to claim that Boris was the worst Prime Minister of all time. That's not a view reflected by the public. According to data compiled by Britain Elects and published by the New Statesman, during his premiership Boris never reached the depths of unpopularity reached by most of his recent predecessors as PM. Tony Blair was more unpopular before he left office, Gordon Brown was far more unpopular during his tenure and Theresa May sunk lower in popular esteem than ever Boris did. Of recent PMs only David Cameron was less negatively perceived at his lowest point. Dave didn't have the almost universal and unforgiving disdain of the europhile chattering classes against him though…
Tuesday, September 6, was a busy day and, unfortunately, too much for the Queen, who, as I write on Thursday, is gravely unwell at Balmoral.
Sir Lindsay Hoyle, the Speaker of the House of Commons, interrrupted the energy debate to make a brief announcement, asking for thoughts and good wishes for the Queen and her family at this time.
Tomorrow's post will discuss Boris's and Liz's respective trips to Balmoral to meet with the Queen.
In the meantime, my prayers go to our monarch for her recovery and to the Royal Family.
Continuing my series on Red Wall MPs and, most recently, Lee Anderson, this post gives his positions on various topics in British life.
Those who missed previous instalments can read about his adventures and opinions in Parts 1, 2, 3 and 4.
Rail strikes
This week, England has been crippled by a series of rail strikes, one every other day, which means that on the days there are no strikes, it is still fruitless trying to travel by rail.
On Monday, June 20, 2022, the House of Commons held a debate, Industrial Action on the Railway.
Lee Anderson was the last MP called to speak. He asked the following question of Grant Shapps, Transport Secretary (emphases mine):
This strike is a real kick in the teeth for hard-working taxpayers, who have dug deep over the past 18 months to keep this industry alive. Does my right hon. Friend agree that the Labour party—the spineless party opposite—should grow a backbone and condemn these strikes?
Grant Shapps replied:
That is an appropriate place to end. My hon. Friend is absolutely right. People have dug deep—that is exactly what they have done; it was £600 per household. People are furious. They paid out that money to make sure that nobody lost their jobs, and what thanks have they got? Where is the reward? Where is the "thank you" for keeping the railway going? It is a strike that will put people out of pay and hit people's pockets once again, and Labour Members cannot even find their way to say, "We condemn the strikes." It is a disgrace.
Immigration
On Wednesday, June 15, Home Secretary Priti Patel made a statement about the fact that the June 14 flight to Rwanda with scheduled deportees never took off. There were originally 37 people who were to be deported. Because of last minute legal delays, only a handful boarded the charter flight and, by 11 p.m., even they were taken off.
The Opposition parties hate the idea of sending illegals to Rwanda for processing. Strange that, as it is called the Switzerland of Africa.
Labour, the Lib Dems and Scotland's SNP have all said during debates about illegal migration that people can legitimately come to the UK from France. Such a statement implies that France is not a safe country.
In the June 15 debate, Migration and Economic Development Partnership with Rwanda, Lee Anderson asked Priti Patel:
Just when you think this place cannot get any dafter, you turn up and listen to the rubbish that the Opposition are coming out with today. Is the Home Secretary aware of the sniggering, smugness and delight shown on the out-of-touch Opposition Benches about the cancelled Rwanda flight? Will she please advise me? I need some travel advice—I am going away this summer. Is France a safe country to go to?
Priti Patel replied:
For the benefit of the British people, the public, I have in my hand just four pages with a list of Opposition Members making exactly that point with glee—basically wanting the policy to fail, condemning it and saying all sorts of things without coming up with alternative solutions.
My hon. Friend is absolutely right about France as a safe country. This is a fundamental principle of working with our colleagues more broadly—[Interruption.] Those on the Opposition Front Bench have already had their chance to speak. These are safe countries and there are people who are effectively picking to come to the UK. That is something we have to stop by going after the people smugglers and breaking up their business model.
Moral failings of Tony Blair versus Boris Johnson
Also on June 15, Boris Johnson lost his latest ethics adviser, Lord Geidt, who suddenly resigned.
This month, for whatever reason, Tony Blair became a member of the prestigious Order of the Garter, an honour the Queen decides independently.
On GB News, Patrick Christys asked a panel who was less ethical, Boris or Blair. Lee Anderson was one of the participants. He said that he had canvassed his constituents in Ashfield, Northamptonshire, and all said that Blair was less ethical. Anderson said there is no comparison between a Prime Minister being presented with cake and one who got us into a highly costly war in Iraq. The second tweet shows Blair with his spin doctor Alastair Campbell at the time:
The full discussion follows:
Labour
Anderson was a member of the Labour Party until 2018, when he switched to the Conservatives.
He has no praise for Labour MPs, especially Deputy Leader Angela Rayner. On May 22, she was angry with Chancellor Rishi Sunak for giving more aid to Ukraine.
The Daily Mail reported:
The party's deputy leader sparked outrage after she told the Chancellor on Twitter to 'do one' – a slang insult meaning 'get lost'.
The message was posted in response to a weekly No 11 newsletter from Mr Sunak, in which he detailed an additional £40 million of aid for Ukraine.
It is not the first time the senior Labour figure has landed herself in hot water for her remarks about those on the other side of the Commons. The former care worker resorted to calling senior Conservatives 'a bunch of scum, homophobic, racist, misogynistic, absolute pile of… banana republic… Etonian … piece of scum' in a foul-mouthed tirade at last year's Labour party conference.
Lee Anderson made his views known:
Lee Anderson, Tory MP for Ashfield, accused Ms Rayner of behaving pathetically after the latest controversial outburst.
He said: 'I don't know what it is about Angela Rayner and the Left that have it in for successful people running the country, surely it's much better for successful people who are successes in business to hold the purse strings of the country rather than somebody whose only claim to fame is dishing out insults.
'She is someone throughout her career who has made childish insults against Conservative politicians and now she's having a go at Rishi, who by the way is one of the most polite politicians you'll ever wish to meet. He's a real gentleman, regardless of your politics.'
Green energy policies
As is the case in most European countries, the prices of home fuel and petrol have gone through the roof.
On January 3, Nigel Farage asked Anderson for his views on what the UK should do. Anderson said that while it was imperative that we leave the planet in better shape for the next generation, he and his Ashfield constituents think that some of Boris's Net Zero policies need to be wound back. Furthermore, he wants us, rightly, to use our own energy sources during our transition period to Net Zero:
Two months later, Anderson appeared on Farage's Talking Pints segment of his show. They discussed the necessity of energy independence, which the UK can easily achieve. Instead, the Government prefers a policy of importing coal and gas from Russia:
You can see the full interview here, where Anderson says:
We should be selling gas to the rest of Europe!
The BBC
Anderson remains a firm supporter of Boris Johnson and wants him to be allowed to get on with his job. He accuses the BBC of conducting a witch hunt against the Prime Minister.
This interview took place the day after Boris survived a Conservative vote of confidence. Anderson laid his dislike of the BBC's tactics on the line. This is short, sharp and to the point:
Guido Fawkes wrote (emphases in the original):
Lee Anderson provided daytime fireworks as he confronted the BBC over anti-Boris bias live on the channel. He also called them "quite sad" over their refusal to let the Boris leadership question drop, accusing them of spearheading a witchhunt. Agree or not, it was great TV…
Not surprisingly, it was Guido's most popular post that day:
That night, the question of a BBC witch hunt popped up on Dan Wootton's GB News show:
Wootton invited Anderson on to discuss the issue with left-wing pundit Nina Myskow, who defended the BBC. Anderson said that his constituents supported Boris. He invited Myskow to speak with his constituents to hear their views. She replied, although not in this clip, that she never travels north of Selfridges:
Russia
On April 27, Anderson was disappointed not to have made the list of 287 MPs that Russia sanctioned.
He wrote a letter to the Russian ambassador to the UK to ask that his name be added to the list:
Crime
Lee Anderson has been outspoken against crime. I posted some of his perspectives last week.
During his candidacy in the autumn of 2019, he proposed creating forced labour camps for noisy council tenants:
After Winston Churchill's statue was desecrated in June 2020, during the pandemic and 'mostly peaceful' protests, Anderson gave a brief interview to a young independent reporter. He ended by saying:
You wouldn't be stood here today, young man, talking to me if it wasn't for Churchill.
On March 16, 2021, Anderson participated in the Crime Bill debate. Highlights follow:
Here's another, courtesy of Guido:
Ashfield's straight-talking MP Lee Anderson gave the Labour Party both barrels last night in the Crime Bill debate. Effusively supporting the Bill, no-nonsense Anderson took aim at what he sees as Labour's hypocritical positions:
I find it strange that Labour are talking about tougher sentences for crimes against women, yet in December they were trying to stop us deporting foreign rapists. One Labour MP said we should not deport these criminals in December as it was too close to Christmas. I disagree. I thought it was a great Christmas present.
Guido is fairly sure that the residents of Ashfield will be in overwhelming agreement. For such a short speech, many shots were fired – rounding off on some Labour politicians' attitude to the law…
Seven months later, his fellow Conservative MP Robbie Moore led a debate on the sexual exploitation of young girls by a certain demographic. Sadly, the 'grooming gang' phenomenon is growing to the extent that it is said to be present in every town in the UK.
Moore focused his attention on Bradford.
Guido points out that none of the three Labour MPs for Bradford bothered to show up for the debate.
Anderson contributed and, as one would expect, has strong views on what should happen to such politicians:
Away from the noise of the Budget, earlier this week Conservative MP Robbie Moore led a Commons debate on child sexual exploitation across Bradford, calling for a "Rotherham-style inquiry" into the scandal and claiming it had been "swept under the carpet" by the local authorities. Although the debate only attracted small number of MPs – none of the three Labour MPs for Bradford bothered to appear, despite two previously claiming they would – there was one booming voice lending his support to Moore's campaign: the Honourable Member for Ashfield, Lee Anderson. Asking Moore to give way twice so he could give the Chamber a piece of his mind, Anderson said:
The only way that we know the full scale of these vile crimes in Bradford is for a full Rotherham-style… investigation, and would he also agree with me that certain local politicians on the council, and the mayor, should hang their heads in shame.
Once this inquiry takes place, and we get to the bottom of this, and these grooming gangs are put away where they rightly belong in prison, then the next call will be these lazy politicians – and they need locking up too.
Even Moore sounded a bit surprised by Lee's fury…
Guido has the video:
Anderson's no-nonsense speech might have been partly due to his appointment to the Women and Equalities Committee in May 2021:
Guido wrote:
Guido learns that parliament's wokest committee – the Women and Equalities Committee – is to welcome two new, perhaps unexpected, members: Philip Davies and Lee Anderson. Philip Davies is making a, no doubt, welcome return after having served on it in 2016 – where he made headlines calling for the word "women" to be removed from the Committee's name. Lee Anderson is a co-conspirator favourite: from saying nuisance tenants should be forced to live in tents; to recently ranting that he's torn up his licence fee. Confirming the appointment, Lee told Guido:
The great women of Ashfield have been the backbone of my community for hundreds of years with barely any recognition.
Yes the men have worked down the pits and gone off to war but its our women that have kept everything together.
The women in communities like Ashfield need a voice in Parliament and anyone who knows me will tell you that I am a firm believer in better rights for women. I am a modern man with a modern outlook who is keen to speak up for the women in my community.
They deserve to be on a level playing field with us men which is not always the case. I will still open doors for women and give up my seat on public transport as I am a gentleman first and a politician second, but you can be assured that I will be fighting on all fronts for the women of Ashfield.
Both men will no doubt relish the appointments, which they richly deserve. Guido sends his warmest congratulations to the pair. Chapeau to the 1922 Committee on the wit and wisdom of their appointments.
Returning to politicians, on November 9, he had a go at convicted Labour MPs and recommended that they should work as a condition of their licence:
This morning in Parliament, straight-talking Lee Anderson told Deputy Prime Minister Dominic Raab exactly how he thinks the government should solve labour shortages:
Prisoners and ex-offenders out on licence should help fill the labour shortage and […] on release, all prisoners – including ex-Labour MPs – should be ready for work and starting work should be a condition of their licence.
Guido has the video:
Nutritious meals on the cheap
As I wrote in my third post on Lee Anderson, he took a lot of unnecessary stick in May 2022 for saying that people can make nutritious meals for only 30 pence per portion.
He revealed that he, too, had been a single parent for many years and lived scrimping and saving. He still got pilloried.
On May 26, however, the Mail profiled a partnered mother of three who makes meals for 29 pence a portion.
Was there any criticism of her from other media outlets, such as the BBC? No, there was not.
Such double standards. Such hypocrisy.
Conclusion
Regrettably, I have run out of Lee Anderson anecdotes.
He is my favourite MP. I would love to see him as the next Conservative leader, if not Prime Minister.
Sadly, that will not happen. He is not Establishment enough and never will be.
I hope that he is re-elected as MP for Ashfield and wish him all the best in his Parliamentary career.
We need more MPs like him.
A profile of another Red Wall MP will appear next week.
What follows is a short, subtitled video interview of a retired Russian military officer Mikhail Khodaryonok, who discusses the reality of the battles in Ukraine.
The news show hosts, particularly anchor Olga Skabeyeva, were not best pleased to hear that things are not going well for Mother Russia:
He is a reliable analyst:
Olga Skabeyeva tried to push the motherland's line throughout the interview, but Khodaryonok was undaunted.
He said that Russia's performance was not 'normal', which means 'okay' in their language. He added that no country is supporting Russia in this conflict. He pointed out that 42 nations adamantly oppose Russia's invasion of Ukraine.
Skabeyeva asked if Putin could 'make friends with London', to which he replied, 'No'.
Furthermore, he added that China's and India's support is 'not unconditional'.
Khodaryonok said that old Soviet tactics, such as invading Finland, would look silly:
He suggested that morale on the Russian side is not very good, whereas the Ukrainian troops are ready to fight to the death. Quoting Lenin and Marx, he said that, in order to win, an army must have strong resolve:
Replies to the tweet with the video questioned what Khodaryonok's interview is meant to signal to the Russian people.
Nothing like this would be broadcast, people say, without some sort of authorisation from the Kremlin:
Perhaps it signals an upcoming admission of Russian defeat:
Or perhaps there will be a temporary Russian withdrawal in order for them to regroup and invade again:
This is not the first time Khodaryonok has spoken out about Russia's attacks on Ukraine. In the second video below, he says how difficult it would be to amass air, naval and land power. To get new planes would take until 2023. A new naval fleet would take two years. As for land power, he says that Russian materiel is simply too old and that NATO has 21st century equipment. As for boots on the ground? See the first video:
Those are great videos worth watching in under five minutes.
I pray this conflict ends sooner rather than later.
It happened, but it happened two years too late.
A third Telegraph journalist has come out against Joe Biden.
Earlier this month, Tim Stanley declared that Trump made the right assessment about Russia.
This week, Nile Gardiner asked whether Europe has finally awakened to the truth about Joe Biden.
Two days later, on March 30, 2022, Allister Heath wrote 'Joe Biden is president in name only but the US establishment refuses to admit it'.
Heath details the chaos of the White House at home and abroad. Emphases mine below.
First, there were his pronouncements about Putin and Russia from last month to the present:
His embarrassingly downgraded role became obvious last week when he suddenly veered off-script during his keynote address in Poland, ad-libbing of Vladimir Putin that "for God's sake, this man cannot remain in power". It was a dramatic escalation, a clear and simple message that no reasonable person could possibly misinterpret, and yet the White House appeared not even to ask him for permission before "clarifying" his statement. Biden's people – who are supposed to work for him, rather than the other way around – immediately denied that he was calling for regime change. They claimed, within seconds of his speech, that the words he uttered didn't actually mean what he obviously intended them to signify.
They were undoubtedly seeking to protect Biden from himself, and to look after US interests, by cancelling an intervention that could have provoked a furious Russian reaction. But it was an astonishing moment none the less, demonstrating that Biden's role is now largely ceremonial: this is a collegiate administration, with an all-powerful Democratic Cabinet and federal bureaucracy. What Biden says should not be taken too seriously. He is not the fount of power, and has a habit of blurting out what colleagues might have been discussing in private.
Time and again in recent days, the President's pronouncements have been "walked back" by those really in charge. Most notably, he wrongly told members of the 82nd Airborne Division that they would be "going to" Ukraine soon; he said America would respond "in kind" were the Russians to use chemical weapons.
His worst blunder came when he claimed prior to Russia's invasion of Ukraine that "it's one thing if it's a minor incursion and then we end up having a fight about what to do and not do". He was then asked whether he was "effectively giving Putin permission to make a small incursion into the country". Biden's answer sent an even more catastrophic message to the Russians: "Good question. That's how it did sound like, didn't it?"
Heath notes that the American media are, unsurprisingly, giving Biden a pass:
… the president isn't really presiding and … America's constitution is once again in deep crisis. It is a scandal.
Mainstream commentators were grumpy at the White House denials, but refused to ask the obvious questions about the president's series of gaffes or to demand an investigation into why this may be happening. Had this been Trump, there would have been calls for the Cabinet to at least consider invoking the 25th amendment to the US constitution relating to whether a president could be considered unfit to remain in office …
There is no excuse for failing to scrutinise and hold to account any president, regardless of party.
Then there are Biden's Afghanistan disaster as well as his intent to turn back the clock with Iran:
On foreign policy, he is seeking to turn the clock back to the time when he was vice president. Biden is proposing a disastrous surrender to Iran on the nuclear issue, and even to remove the Revolutionary Guards' terrorist designation. His withdrawal from Afghanistan was right in theory but catastrophically executed, and helped signal to rogue regimes that the US had gone soft.
Biden has done no better domestically. He began rolling back Trump's successes as soon as he was sworn in.
Now he is considering a radically left tax plan for Americans — taxing unrealised capital gains. Scary. This would affect many middle class taxpayers:
Biden's shocking weakness also helps to explain the disastrous drift of US policy in all other respects. He was supposedly elected as a reasonable centrist, a liberal rather than a woke activist, a traditional Democrat rather than a neo-socialist.
Yet on economics, his latest tax proposal is far worse than anything Jeremy Corbyn dreamt up. Biden wants to tax unrealised capital gains, something that has never been attempted before in this way. He wants to tax wealthy Americans – in reality, not just billionaires but many other entrepreneurs and investors without whose contributions the US economy would collapse – on the basis of the paper increase in their fortunes. This would be a recipe for economic meltdown, a brain drain, capital flight and a massive recession.
Heath concludes that radical advisers behind the scenes are running the show:
The fact that Biden is in office, but not in power, has given his party's hardliners free rein to wreak havoc. His presidency is turning out to be a catastrophe for America, and a calamity for the rest of the world. For how much longer will we have to put up with this travesty?
There's no way back for the time being.
It is hard to imagine that voters preferred Joe Biden to Trump and his 'mean tweets' in 2020, but there we are.
Mid-term elections cannot come soon enough. All being well, Republican control will pave the way for further victory in 2024.
Over the past month, Neil Oliver has had some exceptionally good Saturday night programmes on GB News.
While his shows are a must in my household, for those who haven't been tuning in, his shows over the past month have contained even more insight than usual.
This video is from February 26, 2022, the week when Russia invaded Ukraine:
Oliver's editorial begins at the 5:00 point. He rightly wonders what the invasion is really about. He says that he cannot rely on mainstream media to tell the truth.
However, he also discusses the situation in the West and says that we do not realise how exceptional our era of individual liberty and freedom over the past few decades has been.
He points out that we are taking it for granted.
Unfortunately, the pandemic has seen Western governments become authoritarian. He points to Justin Trudeau, who condemns Putin when he himself has had the bank accounts of protesting truckers frozen because they protested against mandatory vaccinations. Oliver says that the sheer hypocrisy of it all is stunning.
He also lambastes the leaders in New Zealand and Australia for authoritarian measures during the pandemic, making the point that, given mankind's natural inclination towards dictatorial policies, Western leaders are happily following along. Therefore, we need to keep an eye on what they are doing and call them out accordingly.
He says that we need to get serious: stop worrying about identity politics and pronouns. Instead, we have our freedoms to defend.
At the 21:00 point, he interviews a journalist to discuss what is really happening in Ukraine. The journalist said that China is also a player in this situation. Although it looks to most people as if Russia and China are enemies, they have a common goal: to bring down the West.
At the 23:00 mark, welcomes Sebastian Gorka to give his views.
Gorka says that Putin's invasion of Ukraine would not have happened had Joe Biden not pulled out of Afghanistan last year. He says that President Trump would have managed Afghanistan much differently and that, consequently, the Ukraine invasion would not have happened.
Gorka also brings up energy independence, which Trump initiated in the United States and warned Europe about in 2017. (Everyone laughed. They're not laughing now.) Gorka said that it was 'moronic' for Biden to reverse Trump's energy policy in the US.
On Biden, I was heartened to see another article in The Telegraph which has been critical of him.
On March 28, the paper's Nile Gardiner asked, 'Will Europe finally wake up to the truth about Joe Biden now?'
He writes (emphases mine):
It is amateur hour on the world stage from the Biden Presidency. His visit last week to Europe was a train wreck, from his bizarre press conference in Brussels to the ad-libbed final words of his speech in Warsaw.
At times Mr. Biden looked dazed and confused, struggling to command his sentences, and drifting into incoherence. The messaging was muddled, forcing even the president's top officials to disown their own leader's comments.
In 20 years in Washington, I have not seen a White House more disorganised, incompetent or mismanaged, in both the president's and vice president's office. It has a distinctly Monty Python-esque feel to it. Having visited the Trump White House on multiple occasions, and met with the former president several times, I can attest it was a model of efficiency compared to what we're seeing now.
On no fewer than three separate occasions, Biden's own staff had to clarify or even refute the words of their commander in chief. Biden officials had to explain to the world's media that he was not calling for US troops to go into Ukraine, that the United States would not respond to Russia with chemical weapons if Moscow used them, and that the Biden administration was not seeking regime change in Moscow. These are big misstatements, not minor gaffes, with major global ramifications, and a direct impact on the war in Ukraine.
There is a major lack of discipline in messaging from the Biden administration, and clearly deep-seated divisions as well among policy staff. Biden himself has been stung by the charge from political opponents that he has been weak over Ukraine, as well as by sinking poll numbers, and is trying to overcompensate with tough rhetoric on Putin. His own aides are trying to rein him in. As a result, confusion reigns …
By contrast:
Donald Trump used to come under heavy fire from the French, Germans and European elites at Nato summits, and his message was not always popular. But he was far more effective than Joe Biden at getting results, increasing defence spending, and shaking up the complacent status quo in Europe.
True!
As Neil Oliver says, our leaders are not up to scratch.
Furthermore, we, the general public, must also stop being complacent about civil liberties and our Western freedoms. As we saw in the pandemic, our leaders can take them away instantly, without any qualms. Restoring them will take much longer.
This week, Mark Steyn visited Ukraine for GB News.
Before we get to those videos, however, here is his broadcast from Thursday, March 10, 2022:
Halfway through is his interview with Harry Kazianis, a defence specialist, who explains why retaliative air strikes are a huge mistake that would lead to World War III. Kazianis said that even if Ukrainian pilots know how to fly certain types of aircraft, that the controls may be laid out differently and the descriptors will be in a foreign language, e.g. Polish. He said that it would take much longer than a day to train Ukrainian pilots to fly them competently. Kazianis ended by pointing out that, in order to be successful, retaliative air strikes would be dependent on Ukrainians destroying Russian combat infrastructure first, which is unlikely, hence his warning about triggering World War III. He concluded:
This is not a video game.
At 47:11, Steyn discusses the oil and gas situation with Thane Gustafson from Georgetown University. He wrote a book called The Bridge, which has an entire chapter devoted to Ukraine. Ukraine was the original supplier of gas in the Soviet Union until it was tapped out. The pipelines are still there. Gustafson says that this has been an underlying source of tension between Ukraine and Russia ever since: 'a messy divorce'. Russia and some of the 'stans' are now members of OPEC, which has decided not to produce more oil in order to keep the price up. Steyn asked about the 'majors' pulling out of Russia. Gustafson said that the only company that would be significantly affected would be the French company, Total, which has invested heavily in LNG development in a private sector startup, Novatec. The French do not want to give up this partnership. (Perhaps that's why Emmanuel Macron has been to see Putin?) Gustafson agreed with Kazianis in that the situation is dangerous and unstable.
Incredibly, Mark Steyn began broadcasting from Ukraine on Tuesday, March 15, Day 20 of the conflict. One side of his family, long gone, came from Odessa on the south coast. Steyn went to a border town near Hungary — in the region of Trans-Carpathia — where he stayed for three days. In this video he explains from his hotel how many people from Kyiv are there. One woman from Kyiv is actually cooking at the establishment. It's pretty mind blowing:
He tells us about Trans-Carpathia, which he says is the crossroads of history. He shows a beer tap of a Ukrainian beer which is no longer available because Chernihiv, the city where it's made, has been reduced to rubble. He then goes out on the streets to speak with two Ukrainian men, one of whom translates for Steyn. They tell him that some men in rural districts have been taking home-brewed alcoholic drinks out to the Russian troops. When the troops get drunk and fall asleep, the Ukrainians steal their weapons.
Back at the hotel, Steyn introduces us to Janos, who runs the hotel bar. He shows Steyn a local wine. Janos describes it as 'vinegar' and Steyn says 'wine'. This is significant because the Ukrainian government had banned alcohol consumption at the beginning of the conflict. March 15, the day of the broadcast, was the first day alcohol became legal again. Janos probably didn't want any trouble with the law, hence his use of the word 'vinegar'.
After the commercial break, John O'Sullivan, one of Margaret Thatcher's speechwriters goes on air to give a geopolitical view of what is happening between Ukraine and Russia. At one point he says that Putin is:
a nasty son of a bitch.
In the next segment Steyn discusses the exodus that Ukrainians have made from cities under attack. He says that he has met people from all over Ukraine just in the hotel itself. He tells us about the lady who is running the hotel. Amazingly, she has just escaped from Lviv. The cook has just come in from another city in Ukraine. From that, it would seem that the men who had those roles previously must have gone off to war, and these newcomers are temporary replacements.
After that, Steyn talks with a Polish man who is an authority on the Donbas region. The man is speaking from Norway. Steyn asked him how well the Russians were doing in Donbas. He thinks that the Russian strategy is to surround cities in the east and the south coast. He also said that it is likely that Putin will send in more troops, but probably not right away. It could be in two weeks or even two months:
I'm afraid that this war is going to continue. 
The man had been in Odessa two days before. The port city has always had close links with Russia. However, from what he heard from people there is that they want to stay in Ukraine. He said that he had also travelled elsewhere in the country. Each town has its own defence force, so they are prepared to fight. He said that people have told him they have a duty to stay put and fight for their freedom. He said that he had also heard many anecdotes in the past few days about the cruelty of Russian soldiers.
In the final segment, a Ukrainian journalist from Odessa tells Steyn that if Putin 'loses it', he will unleash a massacre on the city, which will serve only to strengthen Ukrainian resolve. Odessa's port, Steyn says, is still operating. Its exports go to the Middle East and North Africa. The journalist said that those cities that have been taken over thus far were not prepared for the invasion. Therefore, everyone else is prepared now, so the Russians will have less success.
Steyn's broadcasts from Ukraine continued on March 16:
He said that in Chernihiv, where the aforementioned beer used to be made until Russians destroyed it, troops massacred ten people who were in a queue for bread. This was the day when the theatre in Mariupol was destroyed, with children inside. (When you see aerial photos of the theatre, you see a word painted on the pavement in front and at the rear of the theatre. That word is 'children'.)
Steyn then introduces us to the woman from Lviv who is running the hotel where he is staying. Before leaving Lviv, the lady told her 13-year-old son to make his way to Poland, then get to Germany where he would find refuge. Understandably, he cried. In the end, he did what his mother asked. She put him in touch with people along the way so that he could communicate by phone with them for the next stage of his journey. He did end up in Germany and Steyn showed us a clip of him on television there.
How did this happen? The woman's sister is a television presenter in Ukraine. She got in touch with contacts in Germany, hence the boy's appearance on a German channel. Thanks to his aunt, he has also been on Ukrainian television. That was a few years ago, when he conducted an interview of his own at the age of nine. He had taken a broadcasting course for children. We see a clip of the interview. The child has a future in broadcasting for sure. He was incredibly professional and poised.
Britain's Lt Gen Jonathon Riley was the next interviewee, speaking from his home. There is a large Russian naval presence off Odessa at present. So far, Riley said, it has not been used. He said that there are other military formations that we have not yet seen. He said that destroying Odessa and Kyiv would be important for Russia. Riley said that it was unusual for Russian generals to be killed; four had met their death at that point. He said they have had to go to the front line in order to get their troops to fight. Morale is bad. Ukrainian troops currently outnumber the Russians.
Steyn then talked with an English teacher from Kyiv. It took her three days to reach the town Steyn was in. She has no plans to leave Ukraine and is looking forward to returning to Kyiv, where her friends are taking care of her cat. Pets figure hugely in Steyn's interviews with Ukrainians; the mother of the 13-year-old said that she made arrangements for her pets to be cared for in her absence. More of these stories followed on Thursday.
Steyn then spoke with Dennis, who is also from Kyiv. He got a call from his mother early in the morning when the conflict started. He didn't believe her, so checked online for confirmation. He did not expect the conflict because:
this is 2022.
Dennis is in the quarrying business and exports Ukrainian granite to Asia. His quarry is in one of the hot spots. He tried work in the early days of the conflict but got too distracted.
Lord Black — Conrad Black — was the last guest. He said that the Americans might send sophisticated drones to Ukraine, which he thinks would be most helpful in attacking Russian vehicles. Black does not foresee nuclear war.
The last video is from Thursday, March 17, day 22 of the conflict:
Steyn opened with thoughts on the four — possibly five — Russian generals who have been killed so far. That is either 20 per cent or 25 per cent of all of Russia's generals:
That is extraordinary.
He talks about the thousands of troops killed so far, which also struck him as extraordinary.
Putin is out to terrorise Ukrainians, but it isn't working. Steyn says that these attacks are only causing people to display more
cold hard contempt
for Putin.
Steyn then went out on the streets of the town where he is staying. One couple who live near Kyiv were on holiday when the conflict started. How inconvenient! Their children are staying with family. Her father is at home with four dogs. She says that it is important to stay in Ukraine. She does not know how long the conflict will last.
While the woman is talking, the street is abuzz with people. One woman nonchalantly carries a pastry box back home. Everyone is walking around, shopping, chatting. Then again, that part of Ukraine is not under attack, but one must admire their sang froid nonetheless.
Inna Sovsun, a former Ukrainian education minister talks to Steyn from her home. She is positive about the conflict so far, except for the air strikes, such as the one over the theatre in Mariupol. They discussed how unusual it is for so many civilian targets to be attacked. She said there is a big morale problem. Russian soldiers take all the alcohol they can find off supermarket shelves so that they can drink. Steyn said that he heard Russian soldiers are literally shooting themselves in the foot so they can be sent home injured. Inna Sovsun confirmed that story.
Steyn returned to the street where he was before and pointed out how normal everything seemed. However, he said that most of the people were not from that town, rather it was the place they are living in for the time being, having left their homes elsewhere. He talked to a man from Kyiv who is there with his family. They arrived two weeks ago. Incredibly upbeat, he said he is looking forward to returning to Kyiv to restore their house once the conflict is over. He thinks that Russia will be finished by the time this is over. He ended with this:
We are freedom country. We can live without Putin and Russia. 
From his hotel, Steyn told us about the Ukrainian who was driving down an isolated street when he saw a Russian armoured vehicle. He stopped the car, got out and put his hands up. The Russians shot him dead.
Steyn then interviewed an Orthodox priest, Joel Sterling Brown, an American who was assigned to a parish in Ukraine and married a local girl. He has been married and living the Ukrainian life for several years now. He loves it. He is currently aiding in the refugee effort. It seems he has turned his church hall into a refugee centre. He takes in 300 to 500 people a day. He said they spend the night and leave the next day to go to their final destination. They come from all over Ukraine. They tell him they'll return home one day:
We'll be back when we win.
He said he will stay, because, if he leaves, what message would it send about his faith?
Back on the street, Steyn interviewed a young woman who was with her mother and sister. She said that relatives are minding her flat in another city — along with her cat, even though they have brought their dogs with them. She and her sister said that they were not Russian and wanted Ukraine to stay as it is. She said:
Okay, Crimea is gone, but just leave the rest of us alive.
Mark Steyn said on Tuesday that he hoped to be able to see more of the country, because it might be his only opportunity to do so. Even if he didn't get to Odessa, where his ancestors were from, at least he got to see Ukraine and meet a lot of the people there.
I admire the Ukrainians. The West has a lot to learn from watching these displaced persons who are acting so normally.
They are handling their plight perfectly.
No one is crying.
Everyone is upbeat.
May God continue to watch over them.
No Briton in any position of influence likes President Donald Trump.
That outlook extends to 99% of the British middle classes.
Throughout Russia's invasion of Ukraine, I couldn't help but think that, were President Trump still in the White House, Putin never would have dared to try it.
Finally, a British journalist has spoken up, saying the same thing.
Enter The Telegraph's Tim Stanley, a never-Trumper, who wrote 'Trump was right on Russia. He could have been its deterrent', published on Monday, March 7.
Excerpts follow, emphases mine:
Donald Trump is like one of those Roman emperors who everyone hated at the time but historians later admit was prophetic …
… Putin took Crimea in 2014, under Obama, and invaded Ukraine in 2022, under Biden, so it's reasonable to guess that this invasion wouldn't have happened under Trump because it didn't.
Trump says this is because he told Putin he was ready to drop a bomb on Moscow ("he sort of believed me like 5 per cent or 10 per cent – that's all you need"), which is embarrassing if a lie and terrifying if true, but it does fit with the substantive record of his administration.
This is a good contrast between the Obama and Trump administrations:
Obama resisted sending lethal aid to Ukraine; Trump did so. From 2017-19, the Trump administration carried out 52 policy actions against Russia, ranging from sanctions to military action against Putin's client Bashar al-Assad. When Assad used chemical weapons under Obama, America did not reply with force. When he tried the same trick under Trump, Trump hit a Syrian airbase with 59 tomahawk missiles. Separately, US commandos engaged directly with Syrian soldiers and Russian mercenaries. The details were classified but the President bragged about it at a fundraiser.
Trump was also right about NATO:
Trump called out the bad; he mocked the pretensions of the good. At the 2018 Nato summit, he demanded that his allies spend more on the military and pointed out that they were buying energy from the very country, Russia, that they expected America to protect them from. The West wasn't just sanctimonious, it was cheap and greedy, and its decadence was sapping its deterrence.
Contrary to what Trump haters say, he wanted NATO members to stump up their fair share of cash to keep it going. The US was — and still is — overwhelmingly funding NATO, although Germany has been doing better. Britain is in second place, after the US.
Although labelled as an isolationist, Trump went to the troubled areas and leaders of the world no other US president wanted to get involved with. He attempted to broker a deal with North Korea. He succeeded in the Middle East, with influential Arab countries and Israel. For all of his bellicosity, which these leaders respected, he was a man of peace, not war.
Stanley says:
Trump, despite being labelled an isolationist, stood in a long line of Republicans who asserted the best way to avoid a fight is to signal to your opponent that if they lay one finger on you, you'll break their nose.
Stanley mentions the parlous state of affairs with Biden and other Western leaders:
… does anyone doubt that Biden's incompetent withdrawal from Afghanistan encouraged Russia to try its luck? Weakness escalates tensions; politicians typically try to extricate themselves from the resulting crises through over-reaction – to bomb North Vietnam or surge troops in Iraq – and now there is talk of imposing a no-fly zone over Ukraine. If we don't do it, says Zelensky, we are complicit in the murder of citizens. His anger is righteous. But the same Westerners who tell us Putin is insane and desperate can't then advise us to risk nuclear war with him. When a house is on fire, we try to put it out: we don't show our solidarity by burning down the whole street.
Stanley points out that Trump did not have time for idealism:
Another common notion is that the Ukrainians are defending the universal principle of "democracy", when what they're really fighting for is their homes. That's a noble cause and we're right to back them, but Trump regarded such ideological abstractions as artificial, expensive and best avoided. All nations are in competition, he would argue, regardless of political system, and their goals are shaped by history and geography. Russia wants, and will always want, a buffer zone to the West. Trump had no problem with that, in theory, and it was a mistake to needle Moscow with the threat of Nato extension.
On Russia's invasion of Ukraine, Stanley rightly concludes:
Given the obvious blow to Pax Americana that the invasion has inflicted, it's hard to imagine that a second-term Trump would have tolerated it.
Too right!
Personally, I doubt that Trump will run again in 2024, although he might.
If he doesn't, I hope that the Republican candidate adopts a similar position of toughness.
It's the only language some world leaders understand.
Everyone laughed in 2019 when comic actor Volodymyr Zelenskyy was elected as Ukraine's president.
The following thread explains why he won:
Zelenskyy, 44, has a Law degree and speaks fluent English. Prior to entering politics at the most senior level, he starred in Ukraine's hit television show, Servant of the People, which he also created and produced.
The following clip comes with a bit of choice language which perfectly expresses his frustration as a teacher who, as a taxpayer, has to fund corrupt politicians. The teacher then runs for president of Ukraine — and wins. Life imitates art.
And, yes, Zelenskyy can dance, too:
His wife, Olena Zelenska, also 44, trained as an architect at university. However, she became a writer for his comedy troupe instead. As first lady, she has graced the cover of the Ukrainian version of Vogue twice.
The Zelenskyys met at university. They are parents to a son and a daughter.
Zelenska was initially opposed to her husband's intention of running for president, but, as the Daily Mail reports, gave up her objections and joined him on the campaign trail. She now accompanies him on his many engagements:
When her husband first told her of his plans to leave his career to run for president, she said publicly that she was 'aggressively opposed' to the 'project'.
And yet, when the time came for him to campaign, Olena dutifully appeared by his side for photo ops and campaign speeches. Now, less than three years after Zelensky's landside victory, the mother-of-two has fully embraced her role as a First Lady on the global stage. 
She accompanies her husband on his engagements and is forging her own career as a First Lady of action, using her influence and position to champion causes including childhood nutrition and gender equality. 
The couple visited Buckingham Palace in 2020, warmly received by the Duke and Duchess of Cambridge.
Today, while Zelenskyy is fearing for his life and fighting off the Russian Bear, his wife is busy keeping up Ukrainian resolve:
Now Olena is once again rising to the challenge and has remained a steadfast support of her husband in the face of Putin's aggressions. Despite being personally at risk, the couple have chosen to remain in Kyiv. 
Sharing a photo of the Ukrainian flag on Instagram on Friday, she wrote: 'My dear people! Ukrainians! I'm looking at you all today. Everyone I see on TV, on the streets, on the Internet. I see your posts and videos. And you know what? You are incredible!
'I am proud to live with you in the same country! It is said that many people are a crowd. This is not about us. Because many Ukrainians are not crowds. This is an army!
'And today I will not have panic and tears. I will be calm and confident. My children are looking at me. I will be next to them. And next to my husband. And with you. Love you! I love Ukraine!'
Yesterday she shared a photo of a baby born in a Kyiv bomb shelter, along with the rousing message: 'This was to take place in completely different conditions, under peaceful skies. It is what children should see.
'But the main thing is that despite the war, there were doctors and caring people on our streets next to her. She will be protected and defended.
'Because you are incredible, dear compatriots! In those two days, you all became an army. In the subway, bomb shelters, with children and pets (because you don't leave younger brothers either) – you do your job, you have time to take care of others, to help each other.
'Get together on social media to protect homes and help lonely neighbors. Offer your home to those who need shelter. You prepare food for the terrorists and sign up for it yourself. Donate blood for soldiers and victims. Report the movement of enemy vehicles.
'And, of course, you are helping the Armed Forces, which are fighting on all fronts. For days, you can spend "eSupport" money to help the army (this can be done in the "Action" application). We are the army, the army is us.
'And children born in bomb shelters will live in a peaceful country that has defended itself.'
In related news, Prime Minister Boris Johnson, who has spearheaded an international effort — yes, including the US — to help Ukraine, appeared at the Ukrainian cathedral in London's Mayfair on Sunday evening, February 27:
He lit a candle and gave a short, supportive address to the congregation:
The next two tweets have the content of his address:
When Boris finished, the Ukrainians gave him a standing ovation:
It is touching to see how much they appreciate Boris. I wish more Britons saw him in a better light.
That said, Boris's ratings have gone up this week, thanks to his action on Ukraine, no doubt. For the first time in a few months, he's back on level pegging with Labour's Keir Starmer:
On Wednesday, March 2, the Ukrainian ambassador was a guest in the House of Commons gallery for Prime Minister's Questions. After the Speaker of the House, Sir Lindsay Hoyle, told MPs of their guest, the whole House rose and gave the ambassador a standing ovation, accompanied by spontaneous applause — normally forbidden in the Chamber, although Sir Lindsay said that, on this occasion, it was certainly warranted:
Nearly every MP is wearing Ukrainian ribbons or a UK-Ukraine lapel pin.
This is a great image; I don't know who made it: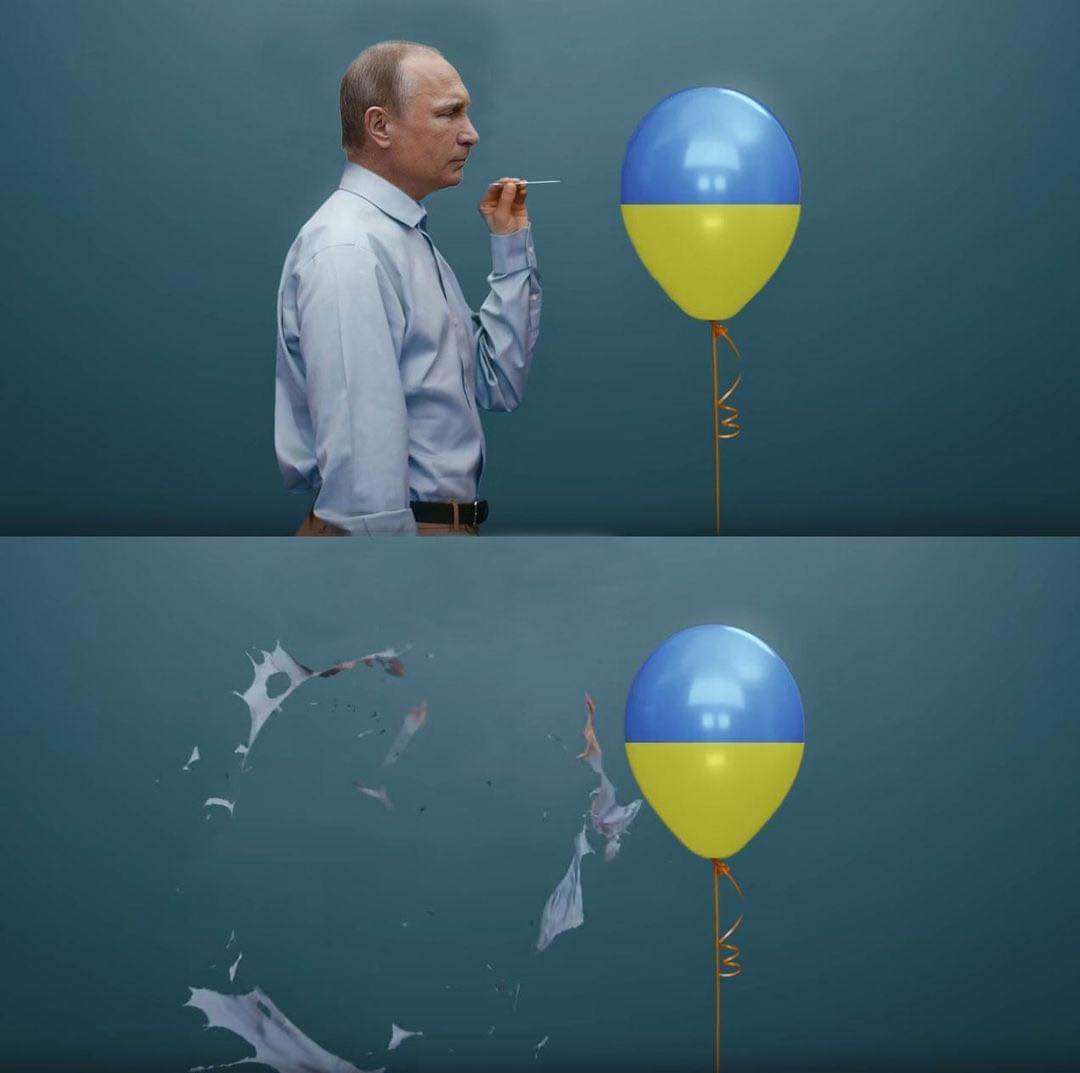 Together, let's hope that we can help Zelenskyy and his countrymen make Putin go pop.
Since November 2016, all we have heard about is President Trump's alleged collusion with the Russians which supposedly tipped the election in his favour.
Riiiight.
To date, no evidence has come to light.
On the other hand, we have Trump's 2016 opponent, white as snow as presented in the media.
Will her crimes ever be investigated?
I pray that someone somewhere in the United States in a position of authority is investigating her.
I pray that, one morning when we all wake up, we will be pleasantly surprised to find the relevant authorities bringing Hillary Clinton to justice.
Politically and culturally, the whole of this year in the US has been a build-up to the mid-term elections.
I barely scratched the surface of everything I wanted to cover in this regard, so I might use that material to analyse the results in the days to come.
Two things are clear.
One: this is a referendum on Donald Trump's presidency.
Two: the Democrat Party is dying. (I refuse to write 'Democratic', because they do not live up to it.)
That said, it is incumbent on independents and Republicans to go out and vote on Tuesday, November 6. Here are Cuban immigrants' views:
The US needs another monster Republican vote to overcome voter fraud.
What follows are my final thoughts before Election Day, written at the end of October.
Trump and young black conservatives
By the time you read this, President Trump will have welcomed a large group of young black conservatives to the White House:
On October 23, the New York Post reported that the first ever Young Black Leadership Summit is sponsored by Turning Point USA (TPUSA), a conservative student organisation founded by Charlie Kirk (see tweets throughout this post). Candace Owens is TPUSA's Director of Communications and has been pivotal in getting Kanye West to speak out about his support for President Trump.
The Post's article says, in part (emphases mine):
Owens, who was gaining traction as a black YouTube star with right political leanings, wanted to hold a forum for young black Americans who were "conservative curious," as she once was, from day one.
"So my mission was always really clear when Charlie and I met. One of the first things he asked me was, 'What do you want to do?' And I said, really, in plain words, 'I'd like to lead the black revolution against the Democrat Party,'" Owens told The Post.
While Owens joined the group in November, the plan to hold a conference for young black people got a shot of dragon energy in April.
Just days before he would put on the MAGA hat and pronounce his love for Trump, rapper Kanye West tweeted, "I love the way Candace Owens thinks," the first online suggestion that he was more Republican-leaning.
Kirk said that West's tweet made both Owens and Turning Point more prominent.
"And kind of gave more reinforcement to the idea of a black leadership summit because during that moment we saw hundreds of blacks across the country come out and say to Candace, 'Oh my goodness, this is an amazing thing that you're doing, we love you, we're afraid to voice our mind," Kirk explained to The Post. "Candace and I wondered, 'I wonder how many there really are?'"
Turns out there are at least 350 to 400 young black people interested in hearing Trump speak.
Kanye was not at the conference and by Monday, October 29, had pulled away from the Turning Point organisation over a disagreement about Blexit (black exit) merchandise marketing.
That said, the crowd attending President Trump's address to them was highly enthusiastic:
This is news bad for the Dems:
Border security
ICE have a tough job, especially as they are under-manned patrolling the southern border. That said, they rack up some incredible accomplishments, as TPUSA's Charlie Kirk tweets:
Think about that, especially when Democrats, the media and other leftists plea for us to 'think about the children!'
When it comes to illegal entry, there are a lot of bad, exploitative people crossing the border. When I think of the children among them, I think of the human and sex trafficking victims, exploited people.
Obama, when he was a senator, also said that the rule of law must be respected with regard to crossing the border:
The 'caravan'
While the world still believes the Trump campaign is guilty of colluding with Russia two years ago at this time, there is little news associating the human caravan in Mexico — happening right before the election — with foreign interests.
Vice President Pence said it is being 'financed by Venezuela' which is a nuanced way of saying that foreign powers that own and influence the impoverished nation are behind it. The Conservative Treehouse (CTH) explains:
Announcing the migrant caravan is "financed by Venezuela" is a direct notification the Central American invasion force is being funded by Russia and China.  Venezuela doesn't have any money to sustain its own operational government – let alone a 10,000 person convoy.  Venezuela is entirely reliant upon massive investment from Russia and China.
In fact China owns 49% of Venezuela's state run PDVSA energy production. A collateral system where Beijing takes oil as payment for prior loans the Maduro regime cannot pay back.  With the crippling treasury department sanctions President Trump put on Venezuela last year, Trump has punched Maduro and Xi-Jinping hard.
With Mike Pence pointing a finger at Venezuela the politics behind the invasion force begin to make much more sense. The invasion objective takes on a geopolitical angle directly targeting a series of U.S. policies that are against the interests of Russia and China.
The post goes on to say that Trump and Treasury secretary Steve Mnuchin have sanctioned Venezuela and limited their ability to expand state oil revenue. China cannot trade directly with Venezuela at the risk of losing access to the US banking system. China continues lending to Venezuela, which will have little chance of repaying the loans.
Furthermore, the US has withdrawn $900m in aid from Pakistan in an effort to stop them enabling extremism in Afghanistan. As China is Pakistan's main trading partner, Pakistan looks to them to fill the aid gap, unless the World Bank decides to bail them out.
Russia is being squeezed as the US increases its influence in the energy markets in Europe. European nations that were getting their energy supplies from Russia are increasingly turning towards the US for LNG, oil and coal.
The CTH post has more details, but, from this, we see that it is entirely plausible for Vice President Pence to conclude that 'Venezuela' is behind the human caravan just before the mid-terms. If so, this constitutes election meddling by a foreign power.
On that note, the Gateway Pundit reported that tens of thousands of migrants are already pouring across the southern border into the United States — including Chinese citizens:
Thousands of illegal aliens are swarming the Texas border this month in advance of the migrant caravan marching through Mexico, prompting Chief Patrol Agent Manuel Padilla, Jr., the Customs and Border Patrol Sector Chief of the Rio Grande Valley, to beg for help dealing with the onslaught of illegal aliens, gang members and drug cartel smugglers. Just on Saturday over 700 illegal aliens were caught, with over 12,000 caught in the past three weeks. In addition, safe houses have been busted and drug smugglers intercepted by the overstretched CBP in the Rio Grande Valley.
16,000 "family units" were reported caught in the last month in the RGV sector by CBP. All these illegals take manpower and resources to detain, process, house, clothe, feed, and give medical treatment.
Padilla sent out several tweets this weekend with the message, "We need #personnel #technology #infrastructure", in conjunction with video reports by on scene Fox News Channel reporter Griff Jenkins …
In his interview Sunday with Jenkins about the migrant caravan marching through Mexico, Padilla said that just the day before his sector reported 700 illegal aliens caught at the border, 8 human smuggling cases, one dead body recovered, a potential river drowning (body not surfaced yet), over 700 pounds of marijuana and 68 pounds of peyote seized–all on Saturday.
In a separate report, Jenkins noted a group of illegal aliens from China were caught.
This migration is being orchestrated. It is not a spontaneous 'humanitarian' movement. It is designed to provoke Trump into taking violent action before November 6.
Nationalism
Nationalism has been a dirty word for nearly 20 years, unless a Democrat uses it favourably. Then it's okay:
At a recent campaign rally, President Trump described himself as a 'nationalist' in the MAGA sense. On October 23, CNN's Jim Acosta, the son of immigrants, took him to task for it in the Oval Office. Trump replied that he is tired of seeing the US pay more than its fair share when it comes to NATO and trade. Trump's answer is excellent and measured, especially to a journo who should have had his White House press privileges revoked last year:
Selected state races
Here is an update on a few state races.
North Dakota
On October 17, I wrote about the deleterious effect the Dems' antics during the Kavanaugh hearings had on American voters. I mentioned North Dakota, where Heidi Heitkamp is running for re-election against Kevin Cramer. Up until the Kavanaugh hearings, she looked comfortable. Now, not so much. She also had to suspend campaigning after her team released an ad which identified victims of sexual assault:
Worse was to come. That day, James O'Keefe's Project Veritas released an expose of her and her campaign team. Her campaign workers say that, if the Democrats win a majority, her political stance will move further to the left. Currently, she tries to present herself as a centrist, even refusing an appearance from Obama, so as not to offend Trump Democrats who might vote for her. However, it's all for show:
Michigan
Another Democrat senator running for re-election is Michigan's Debbie Stabenow. Her GOP opponent is a young veteran and West Point graduate, John James. Unfortunately, only lately has James's campaign been getting much traction. That's because he is a political outsider:
Here's a short, honest advert from James. I hope he wins:
Florida
Andrew Gillum is the Democrat candidate running for governor in Florida.
He has influential money behind him, as the Tampa Bay Times reported on July 23, which was during primary season:
Billionaire environmentalist Tom Steyer's group NextGen America made waves last month when it announced it is backing Democrat Andrew Gillum in the Florida governor's race.
This week, the group is putting some more money where its mouth is.
NextGen America is making a six-figure digital ad buy in support of Gillum, pushing two new ads on Twitter, Facebook, Instagram and other online platforms, according to a release obtained by the Tampa Bay Times.
"We know that young voters are online, and a strong and smart digital campaign will be key to pushing Andrew Gillum across the finish line on August 28th," Steyer, the president of NextGen America, said in the release.
Gillum won the Dem nomination, but questions arose soon afterwards:
Gillum admits the following is true and that he has a '15-year relationship' with another influential donor:
On September 3, this appeared:
In that interview, the show's host Chuck Todd summarised Gillum's platform:
You ran as an unabashed progressive Democrat. You're for Medicare for all, you talk about getting rid of ICE …
No wonder those two billionaires are supporting him. That's exactly what they want.
On October 14, online host Bill Mitchell did a little social media stumping for Gillum's Republican opponent:
Meanwhile, Breitbart was digging into Gillum's background. On October 17, they gave us more information about the Soros connection (bold emphasis in the original, the one in purple mine):

Florida gubernatorial candidate Andrew Gillum graduated from an Oakland, California-based training school for progressive revolutionaries that has spawned a list of activists who have gone on to become the who's who of the far-left leadership world, with many taking senior positions at organizations financed by billionaire George Soros.
In scores of cases, graduates of the Rockwood Leadership Institute founded or directed notorious Soros-financed activist groups, such as Black Lives Matter, Media Matters for America, MoveOn.org and the Tides Foundation, one of the nation's largest funders of progressive groups.
Soros's own Open Society Foundations sent top staff to Rockwood for training. Notorious radicals Van Jones and Linda Sarsour are among the many famous names listed as alums.
Gillum graduated from Rockwood in 2012, yet he told independent journalist Joe Biggs (see above tweet), that he has a '15-year relationship' with Soros. Interesting.
Breitbart's article describes how Soros donates to Gillum's campaign (emphases mine):
Soros, meanwhile, has directly donated to organizations seeking to get Gillum elected. Days before Gillum's Aug. 28 primary, Soros joined with billionaire Tom Steyer to lead a group of donors making a $650,000 infusion into Gillum's coffers.
Soros also contributed to The Collective, a little-known but increasingly influential political organization that says it is seeking to build a "black political power" movement. The Collective reportedly injected nearly $2 million into Gillum's campaign, funding television and radio ads, get-out-the-vote drives, and playing a key role in helping Gillum defeat his Democratic opponents, some of whom were better-funded and had more statewide name recognition. The group announced plans to continue backing Gillum during the current general election campaign.
On October 20, Breitbart reported voting irregularities among Gillum's siblings:
Leon County voting records show Marcus Gillum voted by absentee in the 2012 general election, absentee in the 2014 primary election, and early voted in the 2016 general election.
But the trouble is, months before he cast that 2016 ballot in Florida, Marcus Gillum, in an affidavit for an unrelated court case, swore under oath he was a resident of Chicago.
Also, according to records, Marcus Gillum is still currently registered to vote in Leon County at a home that his brother, gubernatorial candidate Andrew Gillum, sold over three years ago. The Leon County Property Appraiser indicates that Andrew Gillum sold 5325 St. Ives Lane on February 27th, 2015.
Furthermore, Florida Department of Motor Vehicle records show that Marcus Gillum has not had a valid Florida drivers license since 2011 …
This information was presented to Leon County Supervisor of Elections Mark Earley. "Based on this information I will initiate an investigation into potential voter ineligibility," Earley said.
Earley also added that fraudulent voting is actually very difficult to prevent.
"It could be that (ineligible voters) consider Leon County to be their place of residence," Earley said. "But the reality is until they notify us that it isn't their residence, or we are notified by a different jurisdiction we have nothing to go on to remove them as an active voter."
But voting irregularities involving Andrew Gillum's siblings may not be confined to his brother Marcus. Voter records indicate that Monique Gillum, Andrew Gillum's sister, voted in Florida despite questions about residency.
Monique Gillum voted absentee in the 2012 general election, absentee in 2014 primary election, early voted in the 2016 general election, and voted in the 2018 primary election.
However, like her brother Marcus, voting records also show that Monique Gillum is still currently registered to vote at the St. Ives address. However, the mailing address she provided to the Leon County Supervisor of Elections is a P.O Box in New York City.
Public records show Monique Gillum does have a current Florida drivers license with a Tallahassee address. However, the address is different from the two provided to the Leon County Supervisor of Elections.
Also, other records, including work she did as a registered lobbyist for the Southern Poverty Law Center, indicate that Monique resided in Montgomery, Alabama from 2014 to 2016 …
Hmm.
On October 23, news emerged that Gillum's ticket to the musical Hamilton came from an undercover FBI agent:
The Miami Herald broke the story, which also involves Gillum's aforementioned brother Marcus:
Undercover FBI agents paid for Tallahassee Mayor Andrew Gillum's hotel room and his ticket to the Broadway musical "Hamilton" during a 2016 trip to New York City, according to a bombshell trove of records that raises new questions two weeks before the Nov. 6 election for Florida governor.
Among the records released Tuesday: photos, a video and dozens of text messages between Gillum, who is the Democratic nominee for governor, former lobbyist Adam Corey and an undercover FBI agent. They appear to contradict Gillum's explanation for the expenses, which have been made a major issue by his Republican rival, Ron DeSantis.
Gillum's campaign has maintained — and continued to do so Tuesday after the records were released — that Gillum's brother, Marcus, handed him the ticket the night of the show.
But text messages at the time of the trip show Gillum was told the tickets came from "Mike Miller," an FBI agent looking into city corruption who was posing as a developer …
The campaign has not said how Marcus Gillum, who lives in Chicago, came by such a sought-after Broadway ticket, or whether Andrew Gillum asked his brother about it.
"These messages only confirm what we have said all along,"Andrew Gillum said on Facebook Live on Tuesday. "We did go to see 'Hamilton.' I did get my ticket to 'Hamilton' from my brother. At the time, we believed that they were reserved by friends of Adam's, Mike Miller.
"And when I got there after work, got my ticket, we went in there and saw it, assumed my brother paid for it, and so far as I know, that was the deal" …

Once a close friend of Gillum's, Corey is at the center of the FBI's long-running probe into corruption in Tallahassee. No one has been charged, and Gillum has said that agents assured him he was neither a target nor a focus of the probe.
Gillum has repeatedly given vague answers to questions about who paid for the New York City trip. His avoidance of a direct answer became pronounced during a Sunday debate on CNN between DeSantis and Gillum.
"Did you pay for the 'Hamilton' tickets?" DeSantis asked.
But there's more. The new information raises a question over how the trip to New York was financed:
They show that undercover FBI agents posing as businessmen were working for months to get an out-of-state meeting with Gillum, and that Gillum appeared willing to oblige them.
In June 2016, Corey texted Miller, the undercover agent, telling him that he would discuss options with Gillum.
"I just want to make it a good trip and Sweets and B will be booked on something else if we don't lock something down," Miller replied.
"Mike Sweets" and "Brian Butler" were the two other undercover FBI agents posing as businessmen …
… they met in New York, while Gillum was attending a conference on behalf of the People for the American Way Foundation, a liberal advocacy group that employed him.
Text messages show Miller paid for the airfare and hotel room for Gillum's brother, Marcus.
"Send me the mayor and his brother's information and I will have my girl book their flights," Miller wrote.
Corey replied that Gillum had already booked his flight, but he would send his brother's information "ASAP."
"Just tell them to let me know what their flights cost and I will cover it," Miller said.
The ethics complaint was filed against Gillum in June this year, and Gillum met with investigators in early September …
Tuesday's document dump was the type of event Democrats feared when Gillum won the party's nomination in August but hoped would never come. Though supporters generally dismissed the significance of the texts and emails between Gillum and Corey, one Democratic consultant acknowledged that anyone on the fence about Gillum could be deflated.
The timing of the release — exactly two weeks before Election Day and on the second day of early voting — comes during a key period for the Democratic Party, when voters typically begin showing up to the polls in large numbers and making up the advantage Republicans build during absentee voting …
On October 31, Project Veritas issued a damning video of Gillum's campaign and a written summary. Gillum is left wing, not just left-of-centre. Omar Smith, the main campaign worker interviewed, said Gillum promises things he will not be able to accomplish. Be prepared for untoward remarks about Floridians:
James O'Keefe, the founder of Project Veritas, went to follow up. Omar Smith, the main speaker in the video, has asked that these videos not be circulated. This is bad news for Gillum:
From 1968 …
In closing, this 50-year-old poster about voting helped Richard Nixon and Spiro Agnew win an election in a highly turbulent year in the US (Martin Luther King Jr's assassination, Bobby Kennedy's assassination and the riots by radicals during the Democratic National Convention in Chicago). It's no surprise that Republicans won that year:
It has the same message that Republicans are trying to get out today, especially taking other people along so that they, too, can vote.
Fifty years on, here is the unofficial, but no less powerful, Republican slogan circulating online:
President Trump has tweeted #JobsNotMobs several times recently, including in the tweet below with a short video from his Houston rally, promising what Republicans will continue to do to shore up the US:
PROMISES MADE. PROMISES KEPT.