You are currently browsing the tag archive for the 'SAGE' tag.
On Friday, January 4, news emerged that SAGE, the scientific and clinical group advising the Government on coronavirus, will no longer be meeting regularly.
Pictured on the left is Sir Patrick Vallance, chief scientific officer, and, on the right, Sir Chris Whitty, chief medical officer:
Guido Fawkes's post says (emphases in the original):
The pandemic is over and, rightly, SAGE is gone. Announced this afternoon, the freedom-hating advisory board will stop meeting regularly, though the government has placated hypochondriacs by promising they stand ready to reform. Like an epidemiological Take That…
SAGE met monthly from January 2020, though increasingly pushed for lockdowns and Covid measures, which when ignored by Boris proved massively surplus to requirement. The government has taken back control once again…
SAGE were the ones responsible for repeated lockdowns, the U-turn on masks and 'hysterical', as the Swedes put it, modelling. Here is one example: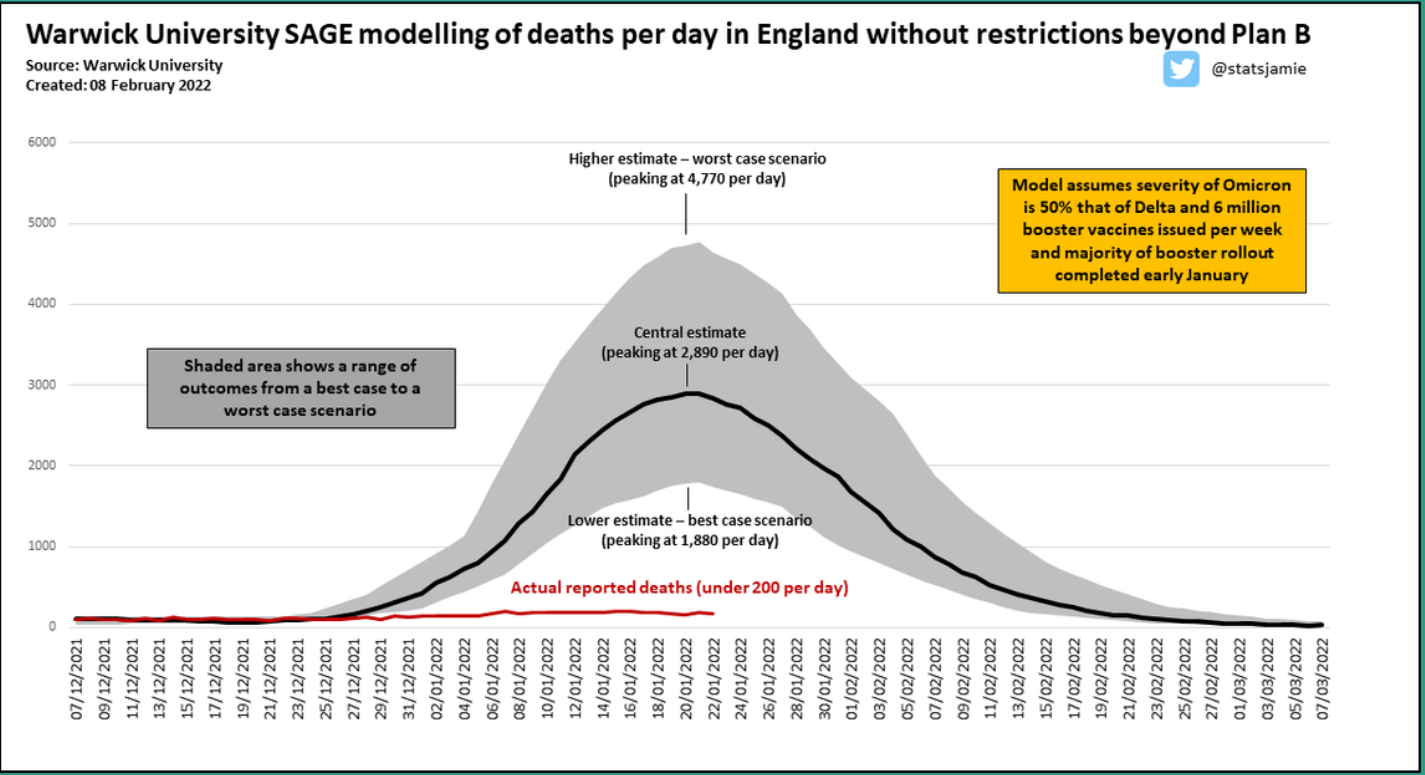 Shameful.
The Daily Mail reported (emphases mine):
The scientific advisory group, chaired by Sir Patrick Vallance and Sir Chris Whitty, 'stands ready' to reconvene if the virus rebounds.  
It marks another significant step in the return to normal and suggests even No10's famously cautious advisers recognise the worst of the pandemic is over.  
The influential panel – made up of 90 leading experts and officials – has met at least monthly since January 2020, and multiple times a week during surges. 
There had been growing calls for the group to be reviewed amid claims it held too much power over the Government and did not have enough diversity of opinion.   
Much of the criticism has been aimed at SAGE's pessimistic projections, most recently warning of up to 6,000 Omicron deaths per day this winter. It has also been accused of leaking proposals to the media in order to pressure ministers to back stricter measures. 
Sir Chris and Sir Patrick will continue to advise ministers on Covid, as will the UK Health Security Agency and Joint Committee on Vaccination and Immunisation (JCVI). 
It comes a week after Boris Johnson lifted all pandemic laws in England as part of his 'living with Covid' strategy, with free testing due to be axed next month. 
Conservative MP Steve Baker was generous in his assessment of the freedom-depriving scientific group:
We have seen that experts are only human too.
That said, he added:
As we now pick up the pieces after the collateral damage of lockdowns and restrictions, we see more clearly than ever before that we need competitive, multi-disciplinary expert advice with challenge. Boris ought to implement reforms now.
Indeed.
Even though most of us never heard of SAGE until two years ago, the committee has been around for well over a decade:
SAGE was initially set up to provide 'coherent, coordinated advice' on the science surrounding pandemics and other emergencies.
It was a little-known body before the Covid crisis, and had only occasionally been called upon to assist in decision making.
It first met in 2009 for the swine flu pandemic, and then in 2014 to advise on Ebola, in 2016 over Zika and in 2018 over the Salisbury poisoning.
The group met only once in 2019 amid concerns the Toddbrook Reservoir dam in Derbyshire would collapse.
But since the pandemic began it has convened meetings at least once a month, with the first held two weeks after the first cases of the virus emerged in Wuhan, China, in December 2019.
The group has met more frequently during fresh waves of the virus, convening eight meetings since Omicron emerged in late November. 
Other than Whitty and Vallance, we knew most about the SAGE subgroups SPI-M, the modellers, and SPI-B, the behaviourists:
SAGE meetings have a shifting membership drawn from a panel of about 90 scientists and medical experts. 
Dozens more sit on sub-groups, including controversial epidemiologist Professor Neil Ferguson, who was kept on as an adviser despite being forced to apologise for breaking lockdown rules during an affair with a married woman.
It is unclear how often the SAGE subcommittees will meet.   
My first inclination on seeing this news was that SAGE will now get involved in climate change.
I hope that the Ukraine situation has put paid to that.
I have some highly uncharitable things to say about SAGE.
GB News's Mark Dolan expressed his dissatisfaction with SAGE much better than I could in this well considered editorial at the weekend. He is right to say that SAGE caused damage to Britain that Vladimir Putin could only have dreamed of:
May we never see their like again. Somehow, sadly, I think we will.
Despite receiving more brickbats this week, Prime Minister Boris Johnson is still standing as Parliament enters its February recess.
Former PM John Major had a go at Boris about Brexit in a speech he gave to the Institute for Government this week. Like another former PM, Theresa May — still a serving MP — Major is a staunch Remainer.
Writing for The Spectator, historian Nigel Jones discussed the Blob (our Swamp) on Thursday, February 11, 2022 (emphases mine throughout except for Guido Fawkes's posts):
Still fighting their neverendum certain Blobbers, so used to having things go their way for the past half century, view the man who brought us Brexit as the one who betrayed the favourite cause of his caste. For that alone he must be punished. They seek not only Johnson's removal from office but his total humiliation …
The Mays and the Majors of this world, uniting with the legions of the left who have always loathed Johnson, cannot bear it that someone who sums up in his rumpled and hitherto popular persona all that they are not, is, after all the ordure that they have poured over him, like Elton John: still standing. After weeks of sustained bombardment with the most vicious projectiles his enemies can muster, the object of their righteous wrath is still withstanding the siege from the Downing Street bunker, even belting out 'I will survive!'
… And those such as Johnson's former editor Max Hastings, who has predicted the PM could be gone within weeks, could yet be proven wrong. But if Boris does go he will not have been brought down in a flood of booze but by the bile of 'the Blob' against the black sheep who dared, by accident or design, to stray from the flock.
The Spectator's Katy Balls says Boris is succeeding because he is buying himself time, putting forward his 'red meat' policies to win back MPs and those souls who voted Conservative in 2019:
After a difficult few weeks, Boris Johnson has made it to parliamentary recess. Given few expect a no confidence vote to be held during recess, time away from parliament gives the Prime Minister much-needed breathing space. After the seemingly never-ending parade of partygate stories, there have been times when MPs were sceptical he would make it this far.
Instead, the Prime Minister has succeeded in buying himself time — talking down would-be plotters and rushing out a string of red meat announcements to keep the right of his party on side. The announcement this week that all Covid restrictions could end a month early is a prime example of this. When MPs return from recess, Johnson will unveil his plan for living with the virus — which will include the guidance rather than law (self-isolation is expected to become just advice) and reduced access to tests.
Boris made his liberating announcement about lifting coronavirus restrictions to the House of Commons on Wednesday, February 9:
Guido Fawkes wrote:
Boris in the Chamber just now announcing that the final Covid restrictions, including the legal requirement to self-isolate after a positive test, are likely to be lifted after the February recess. The "living with Covid" plan will be revealed on 21st February. A full month ahead of schedule…
February 24 could be our third liberation day. We already had Independence Day on July 4, 2020, followed by Freedom Day on July 19, 2021 and now this. Let's hope it is permanent.
In any event, the announcement made two front pages on Thursday, February 10, with the Daily Mail being more positive about this world leading move than The Star. I can empathise with both:
When SAGE's scientists and the unions object, we know Boris is on the right track. Boris didn't even bother consulting the former, as The Mail reported:
Unions are already digging their heels in after Boris Johnson revealed he intends to ditch all remaining Covid laws within a fortnight as a poll revealed that three in four workers ground down by almost two years of lockdowns and restrictions want to continue with self-isolation.
Unison, Britain's largest union serving more than 1.3million members from swathes of the public sector, has accused the Prime Minister of going 'too far, too soon', insisting that the virus 'hasn't disappeared' — despite a raft of data suggesting the worst is now over.
SAGE scientists have also warned of the 'dangers' of the PM's plan to make England the first country in the world to scrap all Covid rules, after it emerged Mr Johnson had not discussed it with the committee which is now infamous for its gloomy predictions about the pandemic.
Boris appears to be placing more weight on what is actually happening rather than alarming data projections from SAGE:
The resistance comes despite Covid infections falling consistently, with even the gloomiest surveillance study now accepting that the country's outbreak has peaked — mirroring the official numbers.
The milder nature of Omicron, coupled with sky-high immunity, mean the NHS never came under the levels of pressure that No10's experts feared would happen, with hospitalisations and deaths both now in freefall.
People with fragile health should note that they will be free to continue self-isolating. That freedom is an individual choice rather than a mandate by law.
The same goes for masks.
Boris is no doubt trying to encourage the socialist governments in Wales and Scotland to do the same thing:
The announcement annoyed the devolved governments in Scotland and Wales – with Nicola Sturgeon's administration calling it a publicity stunt to divert from the Partygate scandal that has left the PM fighting for his job.
The First Minister did this afternoon pledge to ditch face masks in Scotland's classrooms from February 28 — keeping them in communal areas — but says she will wait for expert advice before following Boris's lead on any other rules.
The Scottish Government is unlikely to go as far as dropping all rules when it publishes its strategy for living with Covid in the months ahead on February 22. The plans will be debated by MSPs, meaning any changes could be several weeks behind England. The Scottish Government is even set to extend its Covid powers until September 24.
Conservatives applauded Boris's move:
Lord Frost, who dramatically quit Cabinet partly in protest at draconian curbs, was among the senior Tories praising the move. 'The PM's plan to end all Covid restrictions a month early is the right thing to do & is extremely welcome. I hope the government will also make clear we will not go down the road of coercive lockdowns ever again,' he tweeted.
Tory MPs last night insisted that lockdowns should never be deployed again. 'I am glad to see the emphasis on learning to live with Covid,' said Bob Seely, who represents the Isle of Wight …
David Jones, a former Cabinet minister, welcomed the 'very positive' news, adding: 'The PM deserves credit for this. We have locked down for too long and we now need a commitment that we will not lock down again, save for in the most exceptional of circumstances.'  
Steve Baker hit the nail on the head. The lifting of restrictions is meaningful only if Boris reforms the Public Health Act of 1984 — and, may I add, scraps the Coronavirus Act of 2020:
Former minister Steve Baker added: 'I welcome this announcement but we are not out of the woods until the Public Health Act has been reformed, we have new rules for better modelling, competitive, multi-disciplinary expert advice and wellbeing-based cost-benefit analysis covering the costs of lockdowns and restrictions. There is much to do!'
Earlier this week, Boris made another reshuffle involving the Cabinet Office and Downing Street, in line with the preliminary recommendations from Sue Gray's report on Boris's lockdown parties on January 31. Boris had met with Conservative MPs that evening:
Guido's accompanying post reads in part:
It could be "imminent".
Guido was also first to reveal the PM won over swathes of support from wavering MPs by promising to massively up their involvement in No. 10's policy-making, saying he liked Graham Brady's suggestion of 1922-organised MP policy committees.
In a sign of how the day had played out, in the evening Birmingham 2019 MP Gary Sambrook put out a gushing tweet about the PM:
Guido understands he's now withdrawn his letter of no confidence to Graham Brady. After the vaccine rollout and Brexit, the new shadow whipping operation has to be one of the most impressive things Boris's No. 10 has managed to organise…
On Tuesday, February 8, GB News gave us the details on the reshuffle:
Jacob Rees-Mogg will be the minister responsible for "Brexit opportunities" in the first move confirmed as part of Boris Johnson's reshuffle.
The shake-up of the ministerial team follows the appointment of Stephen Barclay as the Prime Minister's chief of staff and comes as Mr Johnson seeks to relaunch his administration following the partygate row.
Mr Rees-Mogg, previously the Leader of the House of Commons, will still sit at the Cabinet table in his new role as Minister for Brexit Opportunities and Government Efficiency …
Former Chief Whip Mark Spencer has been confirmed as the new Leader of the House of Commons to replace the vacant role left by Jacob Rees-Mogg.
Mark Spencer has been the MP for Sherwood since 2010 and has previously been Deputy Leader of the House of Commons.
Stuart Andrew has been appointed as Minister of State (Minister for Housing) in the Department for Levelling Up, Housing and Communities; he has been the MP for Pudsey since 2010, he has most recently been a deputy whip.
Chris Heaton-Harris has been confirmed as the Government's new Chief Whip; he has served as MP for Daventry since 2010, he had most recently been Minister of State for Europe and is famed in Westminster for his use of Twitter to post one-liner jokes.
James Cleverly MP will become Minister of State (Minister for Europe) in the Foreign, Commonwealth and Development Office as part of the shake-up of the Government frontbench, Downing Street said.
Wendy Morton MP to be a Minister of State in the Department for Transport.
Rt Hon Christopher Pincher MP to be Treasurer of HM Household (Deputy Chief Whip).
Samantha Jones, the Prime Minister's adviser on the NHS and social care, has been appointed as the new No 10 permanent secretary and chief operating officer, Downing Street said.
Samantha Jones, who is a civil servant, is a former NHS trust executive.
She helped develop the plan to reduce hospital waiting lists, but it did not go down well in Parliament this week when Health Secretary Sajid Javid announced it. Even Conservative MPs thought it was weak, especially as a record high of 6.1 million patients are awaiting surgery or other medical procedures.
Samantha Jones will be both an interim No 10 permanent secretary and its COO, both new posts, as The Telegraph reported on February 9:
Boris Johnson has appointed a former NHS trust executive who advises him on health policy to the newly created position of No 10 permanent secretary.
In the latest move to shake-up his inner circle, the Prime Minister announced that Samantha Jones will take the role for six months on an "interim" basis.
Ms Jones had been Mr Johnson's expert adviser on NHS transformation and social care, meaning she helped craft the newly announced plan to bring down NHS waiting lists.
The former nurse and NHS veteran will also hold the title of Chief Operating Officer for Downing Street as she helps shape the new civil service structure being created for the Prime Minister.
There was another appointment, that of Stuart Andrew MP as Levelling Up Minister:
Andrew Griffith, one of the MPs who was reshuffled in the first week of February, laid out his plans as Boris's new Director of Policy:
You would not know it from the media headlines, but families want to hear about our plans to grow employment, tackle the NHS backlog, control our borders, make their streets safer, bring down the cost of living and return rapidly to the point when we can cut taxes to let everyone keep more of their own money – all policies that are rooted in strong Conservative values.
As the Prime Minister's Director of Policy, these are my top priorities together with delivering the tangible opportunities from Brexit that will allow our economy to be more competitive and the reform of government to deliver better public services. Whilst the Policy Unit's remit is to advise the Prime Minister across the widest breadth of government policy, we will be unafraid to ruthlessly focus on the key issues. It is ultimately outputs that matter.
Elected in 2019, he is far from the Sir Bufton Tufton brand of Conservative MP and has been against the EU since John Major's time as PM:
From a comprehensive school in south-east London, I was the first in my family to go to university, where campaigning to keep the UK out of the Exchange Rate Mechanism turned me into a lifelong Conservative.
Jacob Rees-Mogg went further, asking Sun readers for suggestions on which EU regulations should be rolled back in the UK:
The opportunities in front of us are immense. Huge parts of our economy are no longer regulated by the EU.
Before Brexit, many of my constituents would write to me to complain about regulations that burdened them daily.
From farmers to electricians, on so many issues I had to tell them that even as an MP I could not help to solve their problems, as these rules were set by the EU, not the British Parliament.
Thanks to Brexit, that has all changed. Sun readers can hold their MPs accountable, as the buck truly stops with them …
You are the ones who know the red tape binds your hands, and to do my job I need your wisdom. Ronald Reagan rightly said: "The nine most terrifying words in the English language are, 'I'm from the Government, and I'm here to help'." This needs to be turned on its head: Britain needs The Sun readers' help instead.
I implore you all to write to me with the regulations you want abolished — those which make life harder for small businesses, which shut out competition, or simply increase the cost of operating. Through thousands of small changes, we can enact real economic change — which means The Sun's readers will feel a real Brexit bonus in their pockets and in their lives  every day.
WRITE TO ME: Jacob Rees-Mogg, House of Commons, London SW1A 0AA
EMAIL: jacob.reesmogg.mp@parliament.uk
In other news, the UK economy grew 7.5% in 2021:
Guido has the quote from the ONS:
 Darren Morgan, ONS: 
"Despite December's setback, GDP grew robustly across the fourth quarter as a whole with the NHS, couriers and employment agencies all helping to support the economy," he said.
"Overall, GDP in December was in line with its level in February 2020, before Covid-19 struck, while in the fourth quarter as a whole, it was slightly below that of the fourth quarter in 2019."
People are trying to cast shade on this achievement, but even The Spectator, hardly pro-Boris, has a compliment for his administration. Today, Katy Balls pointed out:
With prices soaring, interest rates rising and the cost of living crisis growing more acute by the day, we could do with some more positive news: and this morning's GDP update has played a small part in providing it.
Despite suffering the largest economic contraction in 300 years in 2020 – and taking the biggest economic hit in the G7 – Britain had the fastest growing economy in the G7 last year, boosting its GDP by 7.5 per cent.
It's still a mixed story: looking at where the UK economy is now compared with pre-pandemic levels, it ranks average within the G7. But with one of the steepest hills to climb back to recovery, the UK's relatively fast growth enabled the economy to get there several months before it was forecast to do so …
… while the economy did take a slight hit at the end of last year, it did not fall back below pre-pandemic levels. Britain can still boast that it made a full economic recovery – and hopefully recoup December's losses fairly quickly, given how quickly fears about Omicron's severity were put to bed.
Finally, with local elections coming up in May, Boris will be doing what he does best — campaigning around England (with one stop in Wales):
Guido notes that not all of Boris's destinations will be holding an election this Spring, but the PM needs to turn things around for the Conservatives:
Boris has spent a lot of time on the road recently. Almost every day he seems to show up at another school, building site, or hospital somewhere outside SW1 – in just the last 5 weeks, he's made 10 trips across the UK. Coincidentally, 7 of those trips happen to be in seats which are holding local elections in May …
With Labour and much of the media hammering away at Partygate since December inside the Westminster bubble, Boris obviously knows his best chance of turning things around is to get back into campaign mode. It is what he does best, after all…
Although Labour are still ahead in the polls, an amazing reversal that began when the Downing Street parties during lockdown came to light, a pollster from Savanta ComRes thinks that it will be easier for Boris to win his 2019 voters back than it will be for Starmer to encourage them to vote Labour:
This is what Savanta ComRes uncovered from their latest focus group — Starmer isn't capturing their collective imagination, so Boris is still in with a chance:
I will have more next week on Boris's attempt to survive at No. 10.
The UK had another big weekend of news, which, as I said last week, is unusual, given that Christmas is just around the corner.
One of the big scoops was The Spectator's revelation as to why every SAGE scenario is based on a worst-case outcome.
Fraser Nelson, the magazine's editor, had an online exchange with Graham Medley from SAGE, which can be seen in his article, 'My Twitter conversation with the chairman of the Sage Covid modelling committee', which is a must-read.
Excerpts follow, emphases mine.
Medley is a professor at London School of Hygiene & Tropical Medicine (LSHTM). Last week, LSHTM published another alarming set of figures for the Omicron variant that, naturally, make the case for more lockdowns.
By contrast, JP Morgan came up with a different conclusion after looking at LSHTM's data:
JP Morgan had a close look at this study and spotted something big: all the way through, LSHTM assumes that the Omicron variant is just as deadly as Delta. 'But evidence from South Africa suggests that Omicron infections are milder,' JP Morgan pointed out in a note to clients.
JP Morgan concluded:
Bed occupancy by Covid-19 patients at the end of January would be 33% of the peak seen in January 2021. This would be manageable without further restrictions.
Fraser Nelson says:
So JP Morgan had shown that, if you tweak one assumption (on severity) then – suddenly – no need for lockdown.
Nelson went online to find out why LSHTM didn't do the same thing:
Medley seems to imply that the Government wants the worst case scenario:
Nelson says:
Note how careful he is to stay vague on whether any of the various scenarios in the Sage document are likely or even plausible. What happened to the original system of presenting a 'reasonable worse-case scenario' together with a central scenario? And what's the point of modelling if it doesn't say how likely any these scenarios are?
From what Prof Medley says, it's unclear that the most-likely scenario is even being presented to ministers this time around. So how are they supposed to make good decisions? I highly doubt that Sajid Javid is only asking to churn out models that make the case for lockdown. That instruction, if it is being issued, will have come from somewhere else.
He concludes that there is an ethical issue with SAGE's pronouncements:
Prof. Robert Dingwall, until recently a JCVI [Joint Committee on Vaccines and Immunisation] expert, has said that Medley's candour reveals "a fundamental problem of scientific ethics in Sage" – ie, a hardwired negativity bias. "The unquestioning response to the brief is very like that of SPI-B's behavioural scientists," he says and suggests that the Covid inquiry looks into all this.
At a time when we have just been given a new set of 'scenarios' for a new year lockdown it might be good if someone – if not Prof Medley – would clear up what assumptions lie behind the new 6,000-a-day-dead scenario, and if emerging information from South Africa about Omicron and its virulence have been taken into account. And how probable it is that a double-jabbed and increasingly boosted nation (with 95 per cent antibody coverage) could see this worst-case scenario come to pass.
In my view, this raises serious questions not just about Sage but about the quality of the advice used to make UK lockdown decisions. And the lack of transparency and scrutiny of that advice. The lives of millions of people rests on the quality of decisions, so the calibre of information supplied matters rather a lot – to all of us.
Too right.
I haven't believed SAGE at all, from the beginning. I am also still angry about how much taxpayers' money has been pumped in for a pandemic that needed a common sense solution in March 2020, such as, 'There are a lot of unknowns here. We will provide updates. However, we advise that anyone who feels sick to get a test then isolate at home for 10 days. Keep your distance from those outside your household. Keep your hands clean. Above all: use the same precautions you would in any potentially contagious environment.'
That's it in a nutshell. Not a lot more needed to be said.
But no.
We plebs couldn't have that. We cannot be trusted.
Chief Medical Officer Prof Chris Whitty implied that we do not know what we are talking about.
This video is from Whitty's appearance before a parliamentary Select Committee on Thursday, December 16. Dean Russell MP (Conservative) asked him whether the NHS risks prioritising the virus over cancer. While it might not be Dean Russell's view, this is a prevailing opinion among many members of the public.
Whitty wasted no time in shooting that down, saying that we do not understand 'health' and insisting that lockdowns helped to save the NHS, which would have collapsed otherwise. Along with Prof Gordon Wishart, I also beg to differ, but here is the exchange:
People are frustrated:
General practitioners are wrapped up in this, too:
Coronavirus has overtaken their surgeries. It was already nearly impossible to get an online appointment, never mind one in person. As of last week, GPs' priority from the Government is to dispense boosters:
No, pandemics are not a regular occurrence, but the NHS should be prepared to deal with one.
On Monday, December 20, Boris convened the Cabinet for a two-hour meeting to discuss the possibility of imposing a Christmas lockdown in England. Sir Patrick Vallance presented a doom-and-gloom scenario.
Bear in mind that Boris is skating on thin ice at the moment politically. A lockdown might have caused some of them to resign their Cabinet positions.
In the end, they decided not to go for a lockdown in England, at least over Christmas weekend:
Well, five of them did, at least.
Foreign Secretary Liz Truss had to leave early:

Guido Fawkes has more (red emphasis his, the purple one mine):
The Times and Telegraph have the most comprehensive write-ups, reporting Rishi, Steve Barclay and Grant Shapps were those leading the sceptics' charge. The Times reports Jacob Rees-Mogg had a prolonged argument with Vallance about their modelling, telling Boris to trust the people rather than the scientists. Truss, Kwarteng, Alister Jack, Nadhim Zahawi and Nigel Adams are all also reportedly sceptical about the threat of Omicron…
On the other side of the divide backing restrictions, according to The Telegraph, are (unsurprisingly) Javid and Gove; Nadine Dorries and Chief secretary to the Treasury Simon Clarke. We can only presume the PM also errs towards this group. There's set to be one more Cabinet before Christmas day that could still decide to recall MPs before New Year.
Katy Balls of The Spectator reports that this is the first time in ages that the Cabinet has been consulted on coronavirus policy:
So what happened in that meeting? 'Boris did a great job and encouraged a proper discussion and respected other views,' says one minister. 'He had quite a lot humility'. Michael Gove was, as usual, leading the arguments for more lockdown. But this was based on Sage forecasts of what might happen which have lost some credibility in the eyes of Cabinet members who were — for the first time in a while — genuinely being consulted.
Boris knows he's in trouble:
Several members of Johnson's Cabinet are vocally opposed to new restrictions. They argue that there needs to be clearer data before any restrictions are brought in – with whispers of resignations if Johnson pressed on without this. These members of government hope that more time will offer clarity that could show omicron is milder than previous variants.
Behind the scenes, the Chancellor is understood to have played a key role warning against rushing into decisions that could cost billions. Other ministers keen to see more modelling include Commons leader Jacob Rees-Mogg and Transport Secretary Grant Shapps ("although it was never quite clear what he was saying," I'm told.) Other ministers have been pressing on Johnson the idea of limiting any new measures to guidance.
But when Johnson emerged talking about the need to observe the data, and questions about Omicron's severity, he was using the language of those who opposed lockdown. They argue, in effect, that Sage models cannot be trusted as they are composed of hypotheticals – and that we need to wait for real-world data. The next few days of hospital data, it's argued, will tell us much about how severe Omicron is and if lockdown is needed. Data is emerging not just from South Africa (where cases now seem to be falling) but Denmark where Omicron has been found to be significantly less likely to put patients in hospital. At least some Sage modellers produced figures on the assumption that Omicron is no less likely to hospitalise or kill: one scenario talks about deaths peaking a day …
Johnson faces a parliamentary party filled with MPs vehemently opposed to any new restrictions and who could question his ability to lead as a result. When the Whips office sent a note around this afternoon telling MPs that the parliamentary away day has been cancelled, one messaged me to say:
'It's probably for the best. If we were all in one place for a few days, we could work out a successor'
But there are Tory MPs who believe action is required. One senior Tory concludes:
'This is a Prime Minister paralysed between science and his backbenchers. It's depressing.'
The Times reports on Leader of the House Jacob Rees-Mogg's words of wisdom. He, too, read Fraser Nelson's article. Good man:
Jacob Rees-Mogg, leader of the Commons, said the government should trust people to do the right thing rather than introduce further restrictions. He said many people had voluntarily changed their behaviour as the threat posed by Omicron became clear.
The prime minister said Rees-Mogg's argument was interesting but asked how he would justify his approach at a press conference. He said that as prime minister he had to look after everyone's health. Rees-Mogg is understood to have responded: "I would stand up and say I respect them for doing the right thing." The prime minister is said to have suggested that this would not be enough if the NHS were at risk of being overwhelmed.
Rees-Mogg is also understood to have criticised official modelling suggesting that without further action 3,000 Omicron patients a day could need a hospital bed. He asked if Johnson had read an article by Fraser Nelson, editor of The Spectator, questioning the assumptions behind the data.
Sir Patrick Vallance, the chief scientific adviser, is said to have responded directly to Rees-Mogg that the modelling had included scenarios where the Omicron variant was deemed less severe than the Delta variant.
If so, why did Vallance not present those data?
Boris made a brief announcement after the Cabinet meeting, saying that he is still keeping all options open after Christmas:
On Wednesday, December 22, Health minister Gillian Keegan told LBC's Nick Ferrari not make firm plans for New Year's parties because of ongoing 'uncertainty':
As people have been cancelling dinner reservations and reneging on trips to the pub, Chancellor Rishi Sunak has had to come up with a £1bn compensation plan for the hospitality sector, which amounts to £6000 per business. A nightclub owner says it's 'insulting'. I agree with the person replying — just drop any remaining restrictions:
When is this going to end?
Oh, well. At least we're not in the socialist nations of Scotland or Wales, where things have been far worse and continue so to be.
People in England are ready to comply with Government measures on the new Omicron variant.
The measures went into effect at 4 a.m. on Tuesday, November 30 and include compulsory face coverings in shops and on public transport:
Most Britons would like to see more mask mandates in secondary schools:
On that basis, one wonders if theatre and cinema audiences will stay at home over Christmas:
Most of us are following Omicron news:
Mixed public opinion
Despite the uniformity of YouGov's survey results, opinion is more mixed, as GB News discovered when discussing the new measures on Carnaby Street in the heart of London. Everyone had a different opinion:
Mixed messages from Government ministers and advisers
Government ministers are trying to be measured in their assessment of the new variant.
On Wednesday, December 1, the Daily Mail had a round-up of the mixed messaging.
Prime Minister Boris Johnson and Health Secretary Sajid Javid held a press conference on booster shots the afternoon before.
Boris wants people in England to carry on with Christmas plans (emphases mine):
Prime Minister Boris Johnson urged people not to cancel Christmas parties or school nativity plays. He also promised to 'throw everything' at the booster vaccination campaign to tackle the virus's spread.
Sajid Javid is cautious:
There are 'no guarantees' that there won't be a lockdown this Christmas, the Health Secretary warned today.
In an ominous shift in tone from recent days, Sajid Javid insisted another festive shutdown was 'not the plan', but said: 'We can't rule out any particular measure at this point in time because we always have to look at the data and do what we need to protect people.'
He even urged people to take Covid tests before going to Christmas parties and wear facemasks while partying amid mounting fears about the so-called 'Omicron' variant … 
Asked if he would wear a mask if he was at a Christmas party, Mr Javid told Sky News's Kay Burley: 'It depends if I am walking around or sitting down. It depends if I'm eating. People just need to make a decision based on the guidance.'
Elsewhere, Dr Jenny Harries, who heads the ominous sounding UK Health Security Agency, is not keen on group celebrations:
Dr Jenny Harries recommended people reduce the extent to which they socialise this winter – in a hint that restrictions could go further.
Last year, Harries discouraged going to pubs in one of the televised coronavirus briefings, so this comes as no surprise.
Another NHS bigwig also issued a warning to health staff:
Saffron Cordery, deputy chief executive of NHS Providers, which represents NHS trusts, said some NHS organisations had asked staff 'not to mix in big groups' in the run-up to Christmas owing to fears off staff absences.
Understandably, the hospitality industry is concerned about the reaction to Omicron:
Hospitality leaders now fear another hammering to their industry this December. Kate Nicholls, the chief executive of UKHospitality, told Radio 4's Today programme that Saturday's press conference had had a 'chilling effect on consumer confidence'. She warned against 'the threat of a stop-start to the economy again' in the run up to Christmas …
'I think it's driven largely by consumer confiden[ce]. I think there's also a sense of trepidation that their plans might be disrupted again, and so that irrespective of whether there are government controls imposed on the economy, that is having a cooling effect undoubtedly on hospitality.
'We already saw that bookings were subdued this year compared to pre-pandemic levels. And this will clearly have a further adverse impact on our businesses.'
Trouble started for the travel industry almost immediately after last Saturday's press conference:
New curbs on global travel including the addition of 10 countries to the UK's so-called 'red list', a return of testing rules, and quarantine hotels have also spooked travellers – and sparked a wave of cancellations of bookings at airport hotels …
The Arora Group said travellers who stay at hotels at Heathrow, Gatwick and Stansted airports before catching early morning flights are axing their December bookings. They are even suspending corporate events at the four-star Fairmont in Windsor in January due to mounting uncertainty about the spread of the Covid variant, group chairman Surinder Arora said.
He told the Today programme: 'It's been a bit of a rollercoaster ride. Obviously we had the quarantine hotels at the beginning of this year, and then over the past few weeks as we've been trying to return to some kind of normality, most of the hotels have gone back to operating normal commercial hotels.
'And then of course last week we were hit with this new virus, so sadly that's all changed again and the Government's obviously introduced 10 new countries on the red list which means they need a few hotels to go on the quarantine programme.
'Over the last few weeks, when the quarantine finished we were thankful for getting back to some kind of normality. Since this latest news, instead of getting new bookings the guys are getting a lot of cancellations …
'And not just the leisure business, we're getting quite a few bookings cancelled for meetings and events. I know, for instance, some of the larger bookings – we just recently opened our new flagship at the Fairmont in Windsor, and they actually had big large corporates who had bookings in January who are saying "actually, we may want to push it back to further, later in the year to get some more clarity on where we're heading".'
It's all so sad. If only the Government were less cowed by health advisers.
Behavioural scientist Susan Michie and the BBC
Speaking of health advisers, SAGE and Independent SAGE member Susan Michie, an avowed Communist, has been making the rounds on the BBC once again.
In July, one week before our Freedom Day on the 19th — already delayed from June — she disparaged scientists who wanted to lift lockdown:
To behavioural scientists, we are things to be manipulated:
On Monday, November 29, The Times had a scathing, yet accurate, article: 'The BBC has a blind spot over the bias of its Covid expert Susan Michie'.
Excerpts follow:
Professor Susan Michie, of University College London, a super-rich longstanding member of the Communist Party of Britain, was lined up as a main expert to pass judgment on the prime minister's announcement of measures to tackle the new Omicron variant.
Michie, dubbed "Stalin's nanny" when she was a student at Oxford, is often simply introduced as someone who sits on the Sage committee, the government's Scientific Advisory Group for Emergencies.
This doesn't tell the whole story: Michie is part of the Covid-19 Scientific Pandemic Influenza Behaviour team (SPI-B), a sub-group of Sage made up of almost 50 people from many disciplines and backgrounds. In other words, Michie is one voice — and not necessarily the most important — in the room.
She is not a medical doctor or a virologist but a health psychologist. What overarching qualifications she has to pass judgment on air — and so often — on a range of pandemic policies is open to question …
She has tweeted that "China has a socialist, collective system … not an individualistic, consumer-oriented, profit-driven society badly damaged by 20 years of failed neoliberal economic policies".
Michie's revolutionary views — she is said to be dedicated to establishing a socialist order in the UK — are surely relevant when evaluating her critique of pandemic policies.
However, by Wednesday, Susan Michie had appeared three times on the BBC, which every household in Britain has to pay for via the licence 'fee' (tax?):
Guido Fawkes had a video and an article:
Guido cites The Times's second article on the BBC's invitations to Michie (purple emphases mine):
It's not just Guido criticising the corporation's attitude here. In a Times article yesterday, senior Cambridge University clinical research associate Raghib Ali said:
"I think it would have been helpful to say to the viewers there may have been a conflict of interest. I also think scientists' track record should be taken into account. For example Professor Michie's organisation Independent Sage has repeatedly made inaccurate forecasts overestimating infections since July."
Professor Simon Clarke, associate professor in cellular microbiology at Reading University, also said:
"I see nothing wrong with Professor Michie being given air time, but it should be in a more balanced way. But that's not her responsibility to ensure, it's the BBC's."
Only ITV's Good Morning Britain has told the truth about Michie:
So far the only prime time presenter to call out Michie's hardline beliefs for the transparency of viewers is Richard Madeley…
Coronavirus cousins could help combat Covid variants
In better news, a London consortium of scientists posits that the common cold, also a type of coronavirus in some cases, could help fight COVID-19 variants.
On November 30, The Times reported:
Professor James Moon, a consultant cardiologist who last week was named on a list of the world's most influential researchers, is chief investigator of the Covidsortium, a group of researchers from University College London (UCL) and St Bartholomew's Hospital that was assembled before the start of the first UK pandemic wave in March 2020. Showing remarkable foresight and, in research terms, unprecedented speed, Moon and his colleagues recruited 400 hospital staff working with infected patients in a bid to find out how and why some of the health workers might be more susceptible to infection than others. Funding was sourced — initially through a JustGiving campaign, then boosted with a significant contribution from the investment bank Goldman Sachs — in a matter of days.
Within a week they had collected blood, saliva and nasal samples and continuing data from the participants, and produced findings that informed policy from very early in the pandemic. "It is information that has proven impossibly valuable," Moon says. "It provides the only cohort of samples taken before anyone had been infected or had a vaccination or booster."
To date the team has published more than 20 papers, with more in the pipeline, and its attention is turning to Omicron and whether revisions to vaccines will be necessary to defy it …
… clues to how new vaccines might be developed could evolve from the most recent published findings of the Covidsortium, which identified "parts of the virus that might make for a very good vaccine that may be effective against different variants".
Reporting in the journal Nature, the team discovered that blood samples taken from about one in ten of their participants revealed markers that showed they had been exposed to Covid, yet didn't fall ill. Unlike people who are asymptomatic — those infected with Covid but who don't develop symptoms — this small group appeared to evade it altogether, remaining uninfected and without symptoms or a positive test.
What their blood samples did show, however, was that a subset of T-cells known to recognise and react to coronavirus appeared to have been present and poised for action even before the pandemic took hold. And the reason these people seemed to be super-protected could be down to the common cold …
However, this is more complex than catching a cold and thinking that it offers protection against coronavirus:
There are more than 200 cold viruses — none is exactly the same and only about 10 per cent are caused by coronaviruses. The chances of you catching the right cold at the right time to prime your defences is minimal. And even if you did catch the right sort of cold early on, any added resistance it may have provided has probably waned.
Omicron might have been a blessing in disguise, because Covidsortium was planning on disbanding in April 2022. They now plan to continue their research:
Moon says that the team had planned to wind down their research programme next April because immunity would be waning — until last week when Omicron scuppered that. "We are clearly going to have to keep going as our research still has so much relevance," he says. "We have samples from so many people stored in our freezers and they contain so much unique information about their antibodies and T-cells, and the questions that only we can answer are not running out."
I wish them every success.
Let there be light
In further happier news, Parliament's Christmas tree is casting light in the darkness.
The Lord Speaker — John McFall, Lord McFall of Alcluith — is delighted to make up for lost time:
We must make the best of this time, knowing our restrictions could be far worse. We only have to look at the EU to see that: full lockdowns in some countries, with the possibility of mandatory vaccinations in all EU nations.
Previews of a 151-page report from two parliamentary select committees appeared on October 12, 2021.
Jeremy Hunt, chairs the Health and Social Care Committee, and Greg Clark is chairman of the Science and Technology Committee. The report represents the unanimous conclusions of the 22 Conservative, Labour and SNP MPs serving on them.
Whilst one can appreciate the hours of work it took to create a report out of many hours of testimony since 2020, it might as well have been compiled from newspaper reports.
I have not yet found the full report online, but media reports have been appearing throughout the morning.
In summary, although the vaccine rollout was a great success, the Government made a lot of mistakes: not locking down sooner (!?!), neglecting the elderly, being late in creating a test and trace system and relying too much on SAGE:
Guido Fawkes looked at the criticism of SAGE (emphases in the original):
… What caught Guido's eye in the report, however, was how critical it is of the scientific advice that dictated the government's response at the start of the pandemic:
"In the first three months the strategy reflected official scientific advice to the Government which was accepted and implemented. When the Government moved from the 'contain' stage to the 'delay' stage, that approach involved trying to manage the spread of covid through the population rather than to stop it spreading altogether […] The fact that the UK approach reflected a consensus between official scientific advisers and the Government indicates a degree of groupthink that was present at the time which meant we were not as open to approaches being taken elsewhere as we should have been."
In other words, the government was wrong to consistently accept the scientific advice, and should have challenged SAGE's input more often. Quite the departure from the Twitterati's squawks that the government should always and only "follow the science"…
The report later adds:
"We accept that it is difficult to challenge a widely held scientific consensus. But accountability in a democracy depends on elected decision-makers taking advice, but examining, questioning and challenging it before making their own decisions."
The government made lots of mistakes last year, yet it's clear they were also being guided by ill-informed voices. Of course, that's bound to happen in the chaos of a pandemic; it was a novel virus and no one really had all the right answers. Hindsight makes this look a lot easier. Still, this hardly vindicates Whitty, Vallance, and SAGE – and going forward, as the report says, there should be an effort to "include more representation and a wider range of disciplines" when making these decisions…
The Times picked up on 'group-think':
"Group-think" among ministers, scientific advisers and civil servants meant that a lockdown was not brought in quickly enough early last year, ranking as "one of the most important public health failures the United Kingdom has ever experienced".
However, the Daily Mail reports that Chief Scientific Adviser Sir Patrick Vallance hit back, especially about 'following the science' (emphases mine):
Ministers shouldn't have said they were being 'led by the science' throughout the Covid pandemic, Sir Patrick Vallance has said.
No10's chief scientific adviser claimed science doesn't decide nor does it 'lead the way', insisting that there were other complex matters that needed to be factored in for crucial decisions.
He said No10 should have stuck to the phrase 'informed by science', rather than implying they were 'slavishly following' evidence 'because science doesn't have all the answers to these things'.
In his first in-depth interview since the virus hit the UK, he also said he doesn't 'sugar coat' information for the Government.
Sir Patrick, who became a household name during the course of the pandemic due to his frequent appearances at daily televised press briefings in Downing St, said he views his job as 'giving scientific advice, like it or not, to the Prime Minister and Cabinet to enable them to make decisions'.
And he revealed that his mantra has always been to act early when adopting lockdown restrictions to thwart the spread of coronavirus.
Did Vallance ever advise the Prime Minister and Cabinet ministers against saying 'follow the science' or similar? It would appear not, as they said it dozens of times in press conferences and in Parliament.
Dominic Cummings took advantage of the report to lambaste Boris again. The Mail reported:
Speaking to Sky News outside his home, the Prime Minister's former chief adviser said: 'Me and others put into place work to try to improve the system in 2020 after the first wave.
'Unfortunately, the Prime Minister being the joke that he is has not pushed that work through.
Mr Cummings, who has been a vocal critic of Mr and Mrs Johnson since he left Downing Street, added: 'Now we have a joke Prime Minister and a joke leader of the Labour party, and we obviously need a new political system.'
The report recommends better planning for the future. Ho-hum. The Government had a chance to do that following a 2016 report and the three-day-long Exercise Cygnus on how better to manage influenza. Jeremy Hunt, one of the authors of today's report, was Health Secretary at the time. He didn't do anything about the recommendations then. Therefore, it's a bit rich for him to criticise now, yet, he heads the Health and Social Care Committee and that's part of his job.
A formal inquiry on the UK's response to the coronavirus pandemic is expected to begin in 2022.
On Monday, July 5, 2021, Richard Madeley, an occasional co-presenter on ITV's Good Morning Britain (GMB), asked SAGE member Susan Michie if her avowed Communism affects her coronavirus recommendations to the general public:
It must have come as a surprise to a number of GMB's viewers who probably did not suspect that a card-carrying Communist works for the Government.
Michie, a psychologist who is also a professor at University College London, works on the SPI-B — behavioural — committee of SAGE which has been driving public behaviour during the pandemic. She appears most frequently on the BBC but also on other television channels.
She was also a speaker at the UN's Psychology Day in 2020. The Division of Health Psychology of the British Psychological Society, of which she is a member, tweeted:
I've written about Michie three times before, twice in the run-up to Christmas (here and here) and once in June.
Before I get to Richard Madeley's interview with Prof Michie, the tweets below show what Communist health policy looks like. We've been living under such rules for 16 months and counting.
2018 Daily Mail article
But first, here is a brief retrospective from the time when Jeremy Corbyn was Labour leader.
In 2018, the Daily Mail posted an extensive article about her support of Corbyn and her praise of Communism. Excerpts follow, emphases mine.
This is her family background. Much of the £52 million she inherited from her mother was in a Picasso, which she and another family member sold:
Susan Fiona Dorinthea Michie is the granddaughter of Henry McLaren, the 2nd Baron Aberconway, an Eton-educated Edwardian industrialist and Liberal MP. 
He inherited major interests in coal, iron, steel and engineering conglomerates, and created the sumptuous gardens at Bodnant House, a stately home set in 5,000 acres near Snowdonia.
Her mother, Dame Anne McLaren, was born at Aberconway House, the family's imposing 2,800-square-metre second residence in London's Mayfair, and was one of the world's leading biologists. When she died in 2007, aged 80, she left £52million in her will.
Ms Michie's father, meanwhile, was an eminent computer scientist who was the son of a wealthy banker whose photo is among the National Portrait Gallery's collection.
Despite these moneyed roots, the blue-blooded Susan, 62, marches to the beat of her own drum.
She stretches her every sinew in pursuance of a class war as a member of the Communist Party of Britain.
The article then described the speech she gave in early March 2018:
On Monday night, she addressed a meeting of about 40 true believers at the Marx Memorial Library in London's Clerkenwell.
She delivered her speech while standing beneath a portrait of Cuban dictator Fidel Castro, a bronze of Lenin and an array of Soviet flags. 
Seemingly oblivious to the irony, this lifelong beneficiary of inherited wealth began by saying: 'We, the working class.'
During the course of a two-hour talk, Ms Michie (whose day-job is as a university academic) made a comment that broke almost a century of hard-Left tradition. 
Britain's Communist Party, she said, is urging its members to work 'full tilt' to help get a Labour prime minister.
This development — after decades of Communists and Labour operating on very separate lines — is a direct result of Labour's lurch to the hard Left under Jeremy Corbyn.
Already, there have been signs of this change of policy with the Communists deciding last year not to split the Left-wing vote by fielding their own candidates at the General Election.
With the two parties increasingly in harmony (Ms Michie declared it 'a really good situation to work much more closely than we have in the past'), the Communists — by way of a 'priority' — are advising their comrades to actively campaign on Corbyn's behalf.
In the general election of December 2019, Labour suffered its worst result since 1935.
Sir Keir Starmer eventually replaced Jeremy Corbyn as Labour leader.
Now on to Michie's activity as a SAGE member.
Regular media appearances
By May 2020, Michie was already becoming a regular guest on various news programmes:
As Guido Fawkes explained, Michie is not only a member of SAGE but also Independent SAGE, a breakaway group (emphases in the original, those in purple mine):
Susan Michie is a Marxist campaigner who has managed to get herself on not only the activist dominated fake SAGE, she is also on the official SAGE. Quite an achievement and evidence of the time and effort she is dedicating to the cause…
Michie is Professor of Health Psychology and Director of the Centre for Behaviour Change at UCL, so prima facie she has the credentials to be a scientific advisor. What is never mentioned at any point to give context to her many media appearances, in which she usually launches a tirade at the government, is that she has for 40 years been a member of of the Communist Party of Britain.
All this has not precluded her from using family wealth to financially support the Labour Party under the Corbyn leadership. In March 2018, it was Michie who said that the Communist Party would no longer stand against Labour in general elections and she should be "working full tilt" for the election of Corbyn as PM. Hardly surprising given her daughter was appointed under him to Labour HQ and her ex-husband was Corbyn's close adviser. That illustrates the level of her dedication to far-left politics.
Two days later, the Father of the House, Peter Bottomley MP (Con), appeared on Radio 4's Broadcasting House programme to lambaste the BBC for not revealing her political philosophy and connections:
He said (audio in Guido's post):
If one of your previous contributors has been a member of a far left party for decades, donated more to the Labour Party under Corbyn than I've given to the Tory Party in forty years, was the wife of a former Labour Party special adviser and mother of Labour's head of complaints, that might have been better than just saying she's a member of SAGE.
The BBC called Bottomley's remarks an:
ad hominem attack.
Prof Stephen Reicher, who teaches at St Andrews in Scotland, is another SAGE member who works on SPI-B. He took issue with Prime Minister Boris Johnson for not sacking his then-special adviser Dominic Cummings after his fateful trip to County Durham during lockdown. Michie agreed:
She is clearly not a Boris fan, nor is The Guardian's Carole Cadwalladr:
Lockdown and mask fan
In May, it was becoming clear to a segment of the British population that Michie favoured a Chinese-style handling of the pandemic. An Anglican clergyman tweeted:
The accompanying article from Michie in The Psychologist is a mild one about directing the public's response to the pandemic. Notable is this sentence (emphases mine below):
If these behaviours changed across the population (as seatbelt use and smoking in public places have), the Covid-19 pandemic would extinguish.
In July 2020, masks had been compulsory on public transport since mid-June, but were not yet mandatory elsewhere. Michie told LBC's Andrew Castle that they must be required:
By November, more Britons were finding out the truth about Michie:
When Boris banned Christmas, lockdown sceptic Dick Delingpole tweeted:
Michie started 2021 by asking why people were not complying with the mask mandate:
In April, mainstream journalists were finally beginning to reveal Michie's political persuasion:
Guido Fawkes reminded his readers that he had unearthed the information in May 2020:
In June, despite Boris's stellar rollout of the vaccine programme — still the best in Europe — Michie, laughing, told Channel 5 News that we would have to wear masks 'forever' (00:57 – 1:05):
A week later, she complained to Freddie Sayers of UnHerd that she had been misquoted (video at the link):
I actually used four words [in that interview with Channel 5], and only one of them was reported. The full words I used were "forever to some extent". What I mean by this is that, sadly, this isn't going to be the last pandemic. For as long as humans are around viruses are going to be around …
In reality, as you can see in the Channel 5 video above, her first answer was 'Forever'. When the interviewer expressed her astonishment, Michie gave the longer response.
She told Sayers that she wanted a delay to Freedom Day, which was to have been on June 21. She must be happy:
I don't think there's really any alternative other than delaying for four weeks and seeing what's happening. It's a very tricky situation… I think [Boris] is right — I think the question is: is it going to be sufficient?
She probably opposes the possible July 19 Freedom Day, too.
She clearly did not want to discuss her communist beliefs with Sayers:
My politics are not anything to do with my scientific advice. And I've never discussed my politics with people like yourself, so nor am I going to now. And the important thing is that when one gives scientific advice, one does so using the expertise one has — not going beyond the expertise, being transparent about what expertise you provide. And I think that the kind of articles you refer to are a really disturbing kind of McCarthyite witch hunting, which I don't think should have any place in a liberal tolerant society.
Richard Madeley's interview
This brings me neatly to Richard Madeley's interview from Monday morning, July 5.
Guido Fawkes broke the story, along with the video (emphases in the original):
Guido commends Richard Madeley for being the first TV host in the country to invite "Independent" SAGE's Susan Michie on to their show and finally confront her about her hard-left politics. Madeley rightly points out that activist expert Michie's love of national Covid restrictions may not be born from her concern for the nation's health, rather the default policy position of a hard-core, state-loving communist. It looked like Susan didn't appreciate this line of questioning…
Lockdown Sceptics has the transcript (emphases in purple mine):
Richard Madeley: There's a point I really have to put to you and you'll be aware of this because there's been a lot of commentary about this in the British media about you and it's to do with your politics and you know what I'm going to ask you. You've been a member of the Communist Party for about 40 years now, you're still a member, and we know that they're statist. We look at Communist countries around the world and we see that they are tremendously top down dominant and controlled societies that they rule over. I just wonder – and I'm putting this question on behalf of those who wonder about your politics – if your politics actually informs your sense of control? It's not just the medical arguments, but you have a kind of a political bent to want the state to tell people what to do?
Susan Michie: I've come on your programme as a scientist, as do all people who come on to your programme as scientists. They come on to talk about the evidence, relevant theories, how we approach our scientific disciplines, and you don't ask other scientists about politics so I'm very happy to speak about science which is what my job is and to limit it to that.
RM: So you're saying that your politics doesn't inform your opinion on this subject?
SM: I'm saying that I agreed to come on this programme as a scientist and I'm very happy to talk to you about the issues that you're raising as a scientist which is the same for other scientists that you invite on to the programme.
Michie has a large house in a leafy part of London, but the video clip says Berkshire for her location. So, she must be one of those privileged people with two homes. Could one call her Berkshire place a dacha?
If Michie thought her interview with Richard Madeley was a one-off, she was wrong.
On Tuesday, July 6, Times journalist Matthew Syed brought up her Communism in his interview with the BBC's Jo Coburn on Politics Live:
Syed mentioned Michie by name and said that it would be wrong for a political agenda to determine a pandemic response:
Guido Fawkes provided this analysis of what Syed said:
On Politics Live earlier Matthew Syed succinctly made the point that Richard Madeley was inching towards yesterday – the issue of the card-carrying communist Susan Michie, of the self-appointed "Independent" SAGE, being given frequent media platforms to smuggle in her political agenda under the guise of "science". Michie is a committed Marxist ideologue, and central committee member of the British Communist Party. This is relevant.
Marxist analysis understands socialism itself to be a scientific method for understanding and predicting social, economic and material phenomena to derive probable outcomes and probable future developments. Her life-long ideology feeds into her work as director of UCL's Centre for Behaviour Change. That theoretical underpinning to her ideas on behavioural change and social compliance has gone unexplored even as she has been given a position advising the government in these matters. She has spoken approvingly of the Chinese Communist dictatorship's authoritarian methods and of her belief that restrictions in Britain should continue "forever, to some extent." Her whole mindset is one of top-down control and diktat that is incompatible with a free and open society.
Before anyone claims that Syed is a misogynist or a right-wing Murdoch lackey – he has a very readable intellectual column in the Sunday Times – Guido would remind them that he stood as the Labour candidate in the 2001 UK general election. At the very least it is fair to discount Michie's advice in the light of her ideological activism.
However, as the aforementioned Lockdown Sceptics article says, complete with a tweet, one woman accused Good Morning Britain of misogyny and asked people to stop watching the programme in protest.
Toby Young, who wrote the article, says that her sex had nothing to do with Madeley's question. It was her politics (emphases mine):
I really don't get why it was "misogynistic" of Madeley to ask Susan Michie whether her hard left politics have affected her position on mask mandates. Of course they have! After all, forcing people to wear masks as a condition of participating in certain activities is a flagrant breach of their liberty and the reason Michie doesn't care about that and thinks public health concerns should take priority (even though there's precious little evidence that masks reduce transmission of the virus) must in part be because she's a communist, who famously don't put much value on individual freedom. And the reason Madeley hasn't put the same question to other members of SAGE is not because Michie's a woman, but because she's the only one who's been a member of the Communist Party for the past 40 years.
True.
However, by July 8, Ofcom, the media watchdog, received 145 complaints about Madeley's interview:
Guido reported that one of the 145 complainants was Michie herself (emphases in the original):
Ofcom are unlikely to rule against Madeley for asking a question Michie did not want to answer; that's an editorial judgement way outside Ofcom's remit. Yet apparently for 145 viewers, it was all too much. Of course, amongst those complaining was Michie herself, who took to Twitter to write:
"A complaint has been submitted and a public apology requested".
If Michie and 144 other pearl-clutching viewers were upset by Madeley, Guido has to wonder what they thought of Matthew Syed's comments on Politics Live yesterday…
What concerns me is that Susan Michie might not be the only Communist in SAGE.
If only we could find out more about the political proclivities of the other members.
One year ago, July 4 was England's Independence Day from coronavirus.
Shops and restaurants re-opened, albeit with requirements for masks.
One year on, and it's Groundhog Day. After a prolonged period of restrictions from Christmas 2020, England awaits Freedom Day, which Prime Minister Boris Johnson and his Cabinet ministers assure us will be on July 19.
On Monday, July 5, 2021, when the Duchess of Cambridge began self-isolating for ten days and her husband Prince William attended an NHS service of thanksgiving at St Paul's Cathedral, Boris gave a coronavirus briefing about what we can expect on Freedom Day. Health Secretary Sajid Javid gave Parliament a briefing at the same time.
All being well, tomorrow, I will report on the details of what they had to say.
It was largely good news, except for some ambiguity about masks, which could lead to mask rage once restrictions are relaxed.
Below is relevant analysis aired and published before Boris and Saj (as he is now known) delivered their remarks.
Masks
The most contentious lifting of restrictions concerns masks.
Masks are the new Brexit referendum. They have divided England enormously, as Matthew Lynn wrote in the Telegraph on July 5 (emphases mine):
Maskers and anti-maskers look set to become the new Remainers and Leavers (with almost, if not quite, the same tribes in both camps). Very few people on either side of that bitter debate were actually very interested in the finer points of tariffs on citrus fruits, or what the European Commission's plans for the digital transformation of European industry might be this week. They wanted to say something about themselves.
He is not wrong. Anti-maskers, for the most part, appear to be Leavers. Pro-maskers are Remainers.
The Sunday news shows seemed to bear this out.
Housing Secretary Robert Jenrick told Trevor Phillips on Sky News that he would stop wearing one as soon as restrictions are lifted:
By contrast, Prof Adam Finn, a member of the JCVI (Joint Committee on Vaccination and Immunisation) told Phillips that he would continue to wear his mask 'indefinitely':
Finn is a man who manages to travel to holiday locations on taxpayer's money. Here he is in Coimbra, Portugal. Nice work if you can get it. Wouldn't Portugal have been on the amber list at the time of this interview? Interesting. Another case of 'For me, but not for thee'.
So, how exactly will this mask dilemma play out in real life? This is what Matthew Lynn foresees:
London mayor Sadiq Khan, a man who never saw a cynical political gesture without wanting to give it a big hug, is reportedly toying with demanding that masks continue to be worn on public transport in the capital, whatever the Government decides. If he goes through with it, it can surely only be a matter of seconds before Wales's Mark Drakeford and Scotland's Nicola Sturgeon follow suit, saltire or dragon optional, while every grandstanding local politician will soon be jumping on that bandwagon.
Likewise, businesses will be coming up with their own rules, based on what they see as their core demographic. A sports bar in Chelmsford, decked out in England flags? My feeling is it won't require masks. A vegan cafe in Islington or Bristol? You will have to wrap up your face before ordering that soyamilk fair trade latte.
There was a time — at the height of the pandemic in Spring 2020 — when we had no masks. Somehow, the vast majority of us did not catch coronavirus.
Lynn reminds us of the absurdity of the rules:
We can also all argue about whether masks were ever necessary. The scientific evidence was always shaky, which was why most governments in Europe, as well as the US, were reluctant to impose them in the first place. The rules governing masks have become increasingly bizarre, too. Why the virus doesn't spread while you are eating a meal at a restaurant, for example, but does while you walk to the lavatory, defies any rational explanation.
Nonetheless, Lynn sees masks and lockdowns as yet more tools of social division:
We might have hoped that Covid-19 would soon be behind us. There seems little chance of that now. The divisions lockdowns have opened up and exacerbated will run for years.
Hope amidst ambiguity
The Telegraph's Tim Stanley wrote 'The British must reject fear and dump their masks'.
He began by saying:
Hope, at last! The Government has indicated that all legal lockdown restrictions will end in England on July 19 and that even masks will become a question of choice, in which case I choose to burn mine. I've only worn the wretched thing "to make others feel comfortable", and my heroes are the religious cranks and anti-social yobs who refused to play along.
He is pinning his hopes on new Health Secretary Sajid Javid:
Javid, one hopes, has taken a fresh look at the data and concluded that cases are rising significantly but hospitalisations and deaths are not, which suggests the emergency is under control.
Stanley says we must adjust our outlook towards coronavirus:
We need to shift from disaster containment to threat management. Think of it as living in an earthquake zone: you're conscious of the risk and prepare for the worst, but you don't walk around acting like an earthquake is happening right now, with your knees bent, holding onto the furniture. Nor should we act as if Covid will kill us all, because it won't.
He has two suggestions for the Government in order to make things clear to the public and avoid ambiguity:
The Government needs to get two things right. One is consistency: if adults are free, children should be too. It makes no sense whatsoever that they are isolating from school, or even routinely tested, if this disease doesn't pose a direct threat to them and the vulnerable are double-jabbed. If we keep this silly regime going on in schools, it would both be unjust and sow confusion and fear: how are we supposed to feel safe if kids are treated like unexploded bombs?
And, second – this is so crucial – the Government mustn't allow legal restrictions to be replaced with ongoing "advice" or "guidance", because we've never got to the bottom of which is what, and the result – if trains or supermarkets are still advising us to distance and people assume they have to comply – will be de facto lockdown.
SAGE and communitarianism
SAGE continue to try to make the UK a communitarian, authoritarian society with their rules and restrictions.
Sorry, we are not the Far East, and most of us do not want to transform Britain into that type of society.
Here is a good example of SAGE-think. On Sunday, July 4, the Telegraph reported:
Prof Stephen Reicher at the University of St Andrews, a member of the Sage subcommittee advising on behavioural science, said it was frightening to have ministers "who want to make all protections a matter of personal choice when the key message of the pandemic is "this isn't an 'I' thing, it's a 'we' thing."
No, it is not a 'we' thing. It never should have been.
Reicher gets a lot of airtime on the BBC, especially in Scotland.
Prof Stephen Powis, the NHS medical director for England, told the BBC's Andrew Marr on Sunday that we must continue to protect the NHS by getting vaccinated twice. He said that the link between infection and hospitalisation is 'severely weakened' but not yet broken:
When asked about masks, he said:
Some people may choose to wear face masks in particular circumstances, such as crowded environments, and that's not necessarily a bad thing. Those habits to reduce infections are a good thing to keep.
Millions of us would disagree.
As for official figures in England:
Official figures showed there had been 24,248 Covid cases in the last 24 hours, up 161 per cent on a fortnight ago and highest daily figure since January, but only 15 more people had died as more than half English residents have now been double-jabbed.
These scientists must be from SAGE:
Some UK scientists warned however, that the lifting of all Covid-19 restrictions was like building new "variant factories" at a very fast rate.
If it were up to them, we, the great unwashed, would never see freedom again.
A new 'broom', a new outlook
We are fortunate to have a new health secretary who is a new broom, so to speak, with a new outlook.
Sajid Javid is on the same page as Chancellor Rishi Sunak and Boris himself.
Spectator editor Fraser Nelson explained the alliance for the Telegraph on Thursday, July 1:
Unlocking on July 19 now looks a near-certainty, but so does the surge in Covid cases. So the Prime Minister will need to explain to a nervous country why, all of a sudden, people should be relaxed when the virus rises. Javid will need a version of the "live without fear" theme that Sunak was developing last summer. To say that most of these cases are now among the under-25s, so hospitalisations should be low, posing no serious threat to the NHS. And it's best to get this "exit wave" over with now, rather than wait for the winter.
This will be the next battle: whether Covid-style techniques (self-isolation, classroom closures) should be used to fight back whatever winter brings. This is perhaps where a Sunak-Javid alliance will really come into play. Last summer, the Treasury vetoed an NHS plan to expand hospital capacity on the (now laughable) logic that Test and Trace would quash any second wave. Extra capacity is needed now. Lockdowns, of course, hurt the economy and hit future ability to pay for the NHS.
When the vaccines were first proven to work, Johnson's first thought was that this meant things should be over quickly. Surely they'd only need to protect the over-50s, he thought, then life could then get back to normal. It all turned out very differently, and he ended up caught in a Whitehall war. In Sunak and Javid, he now has two of his most senior ministers committed to an irreversible reopening.
They might not succeed. But this time, he can't say he lacked the support that he needs.
I hope the plan for July 19 works, especially as it would send a clear message to SAGE about the direction of the future for the UK. A data review will take place on Monday, July 12.
This week, Prime Minister Boris Johnson postponed Freedom Day from June 21 to July 19, 2021.
Although a vote on this passed comfortably on Wednesday, June 16 — 489 to 60 — the number of rebel MPs, mostly Conservative, increased compared with previous votes on coronavirus restrictions. This page shows who voted No.
Boris and Matt Hancock might want to rethink their dependence on the lefty scientists of SAGE, but will they?
SAGE are effectively running this nation … into the ground.
Chesham & Amersham by-election upset
In addition, on Thursday, June 17, the Conservatives lost a by-election in Chesham & Amersham in leafy Buckinghamshire, not far from London. It had been a safe Conservative seat since the 1970s. A journalist from the Financial Times tweeted that he was sure they would win it once again:
In reality, it was a hat made out of fabric. Jim Pickard took three small bites of it, washed down with water. Sensible, as it could have been made in the world's largest manufacturing country (no prizes for guessing correctly). H/T Guido Fawkes:
Now they have a Liberal Democrat MP, the lady pictured below standing next to party leader Ed Davey MP. The reply to the tweet blames the win on local opposition to a high speed railway (HS2) and to extending lockdown:
However, the Lib Dems never really opposed HS2:
The by-election took place because Dame Cheryl Gillan MP died on April 4. Despite a long term illness, she was an active participant in parliamentary debates until the end.
According to a Guido Fawkes reader, this was the vote tally on Thursday compared with 2019's general election:
2019 results:
Conservative 30,850
Lib Dems 14,627
Labour 7,166
2021 Votes:
Conservative 13,489
Lib Dems 21,517
Labour 622
The only consolation is that the Labour vote sank like a stone:
Coronavirus cases rise in Cornwall after G7 summit
The virus lives and is on the rise in Cornwall:
In addition to the G7 and half term, another factor could be the warm weather last Sunday, attracting people to beaches.
Guido Fawkes has maps and the figures (emphasis in the original):
Last week, both St. Ives and the Carbis Bay area had two positive cases respectively. Now, St. Ives has 36 cases, and Carbis Bay has 15. That's a 1,700% increase in the former, and a 650% rise in the latter…
One of Guido's readers replied that a hotel and university are responsible (emphases mine below):
Tosh. The rise in St Ives/Carbis Bay happened before G7 kicked off and was down to the staff in one hotel and is linked back to the plastic University at the top of Penryn.
Cases, however, are only positive tests. Not all should require hospitalisation.
Wednesday's vote in Parliament
On Wednesday, June 16, Matt Hancock opened the debate on coronaivirus restrictions in the House of Commons.
He said, in part:
Thanks to the protection of the vaccination programme, huge advances in treatments like dexamethasone, which was discovered a year ago today, and the resolve of the British people in following the rules that this House has laid down, we have been able to take the first three steps on our road map, removing restrictions and restoring colour to the nation, but we have always said that we would take each step at a time and look at the data and our four tests before deciding whether to proceed. The regulations before the House today put into effect our decision to pause step 4 on our roadmap until 19 July. Before outlining the regulations that will put this into effect, I would like to set out why we made this difficult but essential decision.
Unfortunately, there has been a significant change since we started on our journey down the road map in February. A new variant has given the virus extra legs, both because it spreads more easily and because there is some evidence that the risk of hospitalisation is higher than for the alpha variant, which was, of course, previously dominant in this country. The delta variant now accounts for 96% of new cases. The number of cases is rising and hospitalisations are starting to rise, too—they are up 48% over the past week. The number of deaths in England is thankfully not rising and remains very low, but, as I told the House on Monday, we do not yet know the extent to which the link between hospitalisations and deaths has been broken, so we propose to give the NHS a few more crucial weeks to get those remaining jabs into the arms of those who need them.
Mark Harper (Con) intervened:
Can I just ask my right hon. Friend what we expect to achieve in the four weeks? I think I am right in saying that there are 1.3 million people in priority groups one to nine who have yet to have a second dose of the vaccination. The good point is that that means we have vaccinated 96% of people in those groups, but I just wonder—after four weeks, I doubt that we will get to 100%, so there will still be a significant number of people in those groups not vaccinated with two doses, and at that point, there is still going to be some risk. My worry, and the worry of others, is that we are going to get to this point in four weeks' time and we will just be back here all over again extending the restrictions. That is what we are concerned about.
Hancock said he was sure that four weeks would be sufficient. He's said that before.
Steve Baker (Con) also intervened:
Is not the problem with the two-week checkpoint that it creates another moment of hope for people who still feel even these restrictions very acutely, and that if we create hope and then shift the goalposts again, people will continue to deepen their despair? What will he say to those people?
Hancock said the public understood the reasons for the delay.
After Hancock finished speaking, it was the turn of the Shadow Health Secretary Jonathan Ashworth (Lab) to respond.
Ashworth largely agreed with the Government's extension to Freedom Day, but he rightly posed questions, such as this one:
Will we continue wearing masks?
At which point, Desmond Swayne (Con), who wears a silk scarf instead of a mask, shouted:
No!
Steve Brine (Con), former Public Health minister, intervened, recalling a bad flu year:
The right hon. Gentleman is right: we had a battle royal with influenza in the first year that I was in the job, but the difference was that we did not have any non-pharmaceutical interventions. Our interventions were about the take-up of the vaccine—yes, for children as well as for adults, especially the vulnerable. One of our chief advisers, the deputy chief medical officer then, one Professor Chris Whitty, never suggested masks, let alone closing schools—just a really good roll-out of the flu vaccine. We lost 22,000 people that year. Never were those numbers rolled on BBC News; never did we know the R number, but there was a point where we accepted an element of risk in society. I guess that was the point of my earlier intervention on the hon. Gentleman: what element of risk is he prepared to accept? Because that is what it comes down to—our own mortality is part of the human condition.
Ashworth replied, in part:
I do not want to see it done by some of the wider restrictions and lockdowns that we have heard about. That is why I would be interested to know whether the Department has developed plans for restrictions this winter and whether the Secretary of State has been discussing that with Whitehall colleagues.
Mark Harper intervened again:
On the point about the restrictions, I know that those discussions are going on because I have seen documents from within Government with very detailed suggestions about what measures may continue. I asked the Secretary of State about this when he was in the Commons earlier this week, and he did not rule out bringing in restrictions this winter. That is partly why some Conservative Members are very concerned and why we are not going to vote for these regulations today. However, I want to take the right hon. Gentleman back to his comments on what Chris Hopson said about the fact that the NHS is very busy at the moment. There is a danger here. I am very sympathetic to colleagues who work in the NHS, who have done a fantastic job, but we cannot get to a point where we restrict and manage society in order to manage NHS waiting lists. That is not the right way round. The NHS is there to serve society. If we need to enable it to do that, we have to think of a way of doing it other than putting restrictions on the rest of society. That is not a sustainable or a desirable position, but it is the logical consequence of what Chris Hopson was saying earlier this month.
Here's the video, which begins with Ashworth sitting down to give way to Harper:
Ashworth replied, beginning with this:
Even though we will find ourselves in different Lobbies this evening, I think there is more in common between us than perhaps one might expect. I do not want restrictions to remain in place for any longer than they need to. I want to move to a system where we are trying to push down covid infection rates by, yes, rolling out vaccination as far and as fast as possible to everybody, but also putting in place the proper framework so that those who are ill or a contact of someone who has been ill with covid is able to isolate themselves.
He took more interventions from Conservative MPs, then concluded:
The House is being asked to extend these restrictions, but there are a number of pressing issues. First, many of us have been contacted by business people in our constituencies who are deeply concerned about the extension of these restrictions. For my constituency in Leicester, which has been living under a form of restrictions more severe than other parts of the country, other than perhaps parts of Greater Manchester, this has been particularly devastating. I hope that the Government will be putting in place full support for businesses such as mine in Leicester and Greater Manchester and elsewhere.
The second issue, which we have touched on a little bit, is whether these restrictions will ever end, or whether the Prime Minister has trapped us in Hotel California, where we can never leave. He has talked about 19 July as the terminus date, but the explanatory notes themselves say that the four tests will apply on 19 July, and that these four weeks will be used to gather more data.
Hancock said later on that July 19 is still the terminus date and that data would be examined in two weeks' time.
The general debate took off from there, with Sir Desmond Swayne (Con), the original rebel, the first to speak. He criticised SAGE and one of its members, Susan Michie, the Communist:
I never believed that it was proportionate, even from the outset, for Ministers to take such liberties with our liberty. I always thought that it was wrong for them to take our freedoms, even though they believed that they were acting in our best interests in an emergency, but by any measure that emergency has now passed and yet freedoms are still withheld and the Government will not allow us to assess for ourselves the risks that we are prepared to encounter in our ordinary, everyday lives. The Government do not trust the people whom they govern.
Many members of SAGE—a misnomer if ever there was one—have been out busily undermining public morale. One of them even shared her dystopian vision that we must all remain masked and distanced in perpetuity—a shocking, horrible prospect. The fact is that once the consequences of this virus in terms of their financial and health impacts have long been addressed, the moral impact will remain. The Government have set a disastrous precedent in terms of the future of liberty on these islands. I could understand it if we were a communist party, but this is the party that inherited the true wisdom of the Whig tradition. This is the party of Margaret Thatcher, who said that liberty was indivisible. This is the party that only recently elected a leader whom we believed was a libertarian. There is much on which we are going to have to reflect.
Here is the video of his remarks:
Smoking also came up in the debate:
Sir Charles Walker (Con), another early rebel, spoke. He wants a reform of SAGE. Excerpts follow:
I wish to try to be constructive about how we can improve SAGE. As you know, Mr Deputy Speaker, SAGE has huge power over our lives. It has power over whom we hug and hold. It has power over which businesses open and which businesses close. In essence, it has power over who keeps their job and who loses their job. We, too, in this place have great power, but our power is matched by accountability.
Accountability is very important in the exercising of power, so I want to suggest some reforms to SAGE—some quite technical reforms. First, there is a need for greater financial transparency from members of SAGE in line with that expected of Members of Parliament. For example, I think when we look at SAGE members, we should be able to see what their annual income is—not only from their substantive job, but from their pensions accrued or the pensions they might well be in receipt of. This is something that is freely available for all Members of Parliament. I think we should also know and constituents should know if they have any significant shareholdings in companies, in the same way that our constituents know if we have significant shareholdings in companies. We could also look at whether they get other forms of income—from rent, for example …
… in the case of young people, many SAGE experts say that young people should be working from home. We know that young people are now tied to their small kitchen table or in their bedroom in miserable environments—the new dark satanic mills—and working endless hours in appalling circumstances, because people with nice gardens and comfortable homes think that is what they should be doing.
There should also be far greater personal accountability. There should be no more, "Here is Sir Mark Walport—of SAGE, but here in a personal capacity". Nonsense! He is there because he is a member of SAGE. We should also have elections to SAGE, so we could see Sir Mark Walport, Professor Susan Michie, John Edmunds and regular talking heads in our TV studios challenged by people with a different perspective—people such as Professor Karol Sikora, Professor Paul Dolan, who is an expert on human behaviour and quality of life, and Professor Ellen Townsend, who has a huge interest in the welfare of children and adolescents who are now being plagued by anxiety and eating disorders …
So here it is: full financial disclosure from members of SAGE and full elections, or they advise the Government, and if they do not want to do that, but want to advise TV studios, they do that, but they do not do both.
Here is the video of his speech in full:
Graham Stringer (Lab), also a rebel, spoke next. He rightly said that MPs do not have enough scientific data to make an informed decision about restrictions. Excerpts follow:
As ever, it is an honour to follow the hon. Member for Broxbourne (Sir Charles Walker). On his interesting point about SAGE, we could do with full disclosure from the Government about all the facts that they have available to them on covid. In the Science and Technology Committee this morning, we were told that vaccinations have saved 14,000 lives. I have no doubt that that is an accurate figure, but there are many figures that have not been given. As we said the last time we debated this issue, only one side of the equation is given. Let me ask this question: how many lives have been lost in order to save capacity in the NHS? When it comes to looking at people untested and untreated for cancer, heart disease and other diseases, we will find that the figures are of a similar, if not greater, magnitude than the number of people who have died from covid …
There is a great deal more information that we require in order to make a rational decision about whether the lockdown should continue. I agree with the right hon. Member for New Forest West (Sir Desmond Swayne) that what we have here is the Government asking for emergency powers when there is no longer an emergency …
The Government have refused on a number of occasions to give out that information. They have run a campaign to scare people into accepting their decisions …
One of the things that has annoyed me most in the last 15 months is when the Prime Minister and the Secretary of State for Health and Social Care say, "We instruct you"—meaning the population—"to do various things," when there is nothing in the legislation that would give the Secretary of State or the Prime Minister the ability to instruct individuals. We live in a liberal democracy in which we pass laws that are enforced by the police, and then the courts make a decision if there is a prosecution, not one in which the Secretary of State acts like some kind of uniformed Minister of the Interior.
I will vote against the regulations today. We need a more direct debate on the issue and we need what Members have searched for—a straightforward comparison, with real statistics, of what risks everybody faces.
Steve Baker (Con) agreed with Mark Harper about society and the NHS:
I refer the House to the declarations that I have made relating to the Covid Recovery Group.
No one can deny the brilliance of the Government's—the NHS's—vaccination programme. By mid-April, the over-50s and the vulnerable had had their first vaccination, and overwhelmingly they have now had their second. That is reflected in the Office for National Statistics antibody data, which shows extraordinary levels for anyone over 50. Antibodies are there in that population, which is vulnerable to the disease.
That brings me to the best case that the Government could make for the regulations before the House, which is that the ability of the NHS to provide other healthcare could be compromised by admissions from a younger population, because a small percentage of a big number is still a big number. But the huge problem with that is that it concedes the point that our liberties can be used to manage the capacity of the NHS. I cannot concede that. As my right hon. Friend the Member for Forest of Dean (Mr Harper) said, that is not the way in which we should be going as a society. If the restrictions that we are extending had been proposed for that purpose in the past, we would never have accepted them.
In Wycombe, people have of course been dutifully washing their hands, covering their faces and keeping social distancing rules, yet early in this pandemic, I remember one dear, sweet, older lady was beside herself with anxiety at the thought of having to go about her ordinary life with her face covered, and look at us now, taking it for granted. This is not normal. This is the dystopia that I stood here and forecast on the day we went into lockdown …
One of the most important things that we have learned from Mr Cummings' leaked WhatsApp messages is that it seems that the Government have been significantly influenced by polling. I fear we have had a real doom loop here between polling and policy making, which has driven us into a disastrous position. We now must not tolerate lockdowns being perpetually on the table. We must not tolerate a situation going on where we and the police are unclear about what the law is and how it should be applied. Imagine that you can hug but not dance—what madness is this? We cannot tolerate a situation any more in which a Government social scientist told the author of the book "A State of Fear" that the Government had used unethical techniques of behavioural science to deliver a policy which he said, in his own words, "smacks of totalitarianism".
We have transformed this society for the worst. We have it put in place a culture and habits that will take years to shake off and that distance people from one another and diminish their quality of life and the quality of relationships that they have with one another. High streets are in danger of becoming haunted alleyways. We are in danger of hollowing out and destroying the entertainment industry—much of what makes life worth living. Today's vote will go through—it is a foregone conclusion—but as my right hon. Friend the Member for New Forest West (Sir Desmond Swayne) implied, if the Conservative party does not stand for freedom under the rule of law, in my view, it stands for nothing. We have got to have a turning point. We have got to recapture a spirit of freedom.
Mark Harper spoke later on, at which point the Labour benches were empty. It is important for Britons reading this post to look at what he has uncovered. The Government continue to be dishonest not only with MPs but also the public:
Well said!
Please also note the following about winter. Meanwhile, Democrat-run New York and California are now open:
May our merciful God help the UK out of this unholy mess.
On Monday, June 14, Prime Minister Boris Johnson postponed Freedom Day from Monday, June 21 to Monday, July 19.
Quelle surprise!
Although the data for hospitalisations and deaths look better than ever thanks to the vaccine rollout, SAGE modelling shows that if figures of cases — positive tests — continue to increase 'exponentially', then we could be in for a big problem:
However, the reality is more like this:
Incredibly, Britons support the delay:
Protest at Downing Street
Earlier in the afternoon, when it became clear that Boris was going to delay England's reopening, a protest took place outside of Downing Street.
The BBC's Nick Watt got caught up in it on his way to the mid-afternoon press briefing for journalists. I have no idea why the crowd harassed him, but the Metropolitan Police did not seem bothered:
Coronavirus briefing
Boris held his televised coronavirus briefing at 6 p.m.
Boris should have had Matt Hancock, Secretary of State for Health and Social Care, go to Parliament first to make this announcement, then give his press conference. Hancock poled up in the House of Commons two hours after Boris's press conference. More on that below.
At the coronavirus briefing, Boris was accompanied by Sir Patrick Vallance and Prof Chris Whitty. Here are the highlights:
Sure, just as he announced June 21 would be a few months ago. I'll believe it when I see it.
Some restrictions have been lifted for weddings and funerals:
The delay is partly because of the Delta variant from India:
Sure thing, Chris. By July, there could be another variant:
Even though Boris is trying to keep us hopeful, there is no way we would open in two weeks' time instead of four:
This is because — as has been explained at previous coronavirus briefings — it takes four weeks for a full cycle of effects to complete before a decision can be made: cases, hospitalisations, deaths.
Keep in mind that our vaccination programme has been wildly successful. The elderly and vulnerable have had their second shot and 18-24 year olds are now invited to get their first inoculation.
The vaccines used thus far — AstraZeneca and Pfizer — are said to be highly effective against the virus, especially after two injections:
One of the three men said that we would have to 'learn to live with this virus'. We know that, fellas, so open up.
We know that people are going to die, just as they do from flu:
That's exactly what they said in April.
Labour are quite happy with an extension of restrictions. No surprise there:
Matt Hancock's statement in the House of Commons
Matt Hancock announced the delay in the Commons that evening at 8:30.
Once again, the Government evaded going to Parliament first, followed by the media and public.
The Speaker, Sir Lindsay Hoyle, was not happy. This is not the first time Hoyle has reprimanded Hancock:
Sir Lindsay said that he is ready to arrange a private meeting with the Prime Minister to discuss these continuing evasions of Parliament:
Hancock said:
That tweet is spot on. In March 2020, it was about 'squashing the sombrero' of hospital admissions, as Boris put it.
Then we had the rest of the list in that tweet.
Now it seems to be about zero COVID.
That's quite a leap.
Hancock's statement and the subsequent debate are available on Hansard. Excerpts follow. All MPs below are Conservative.
Jeremy Hunt MP, the chair of the Health and Social Care Committee and former Health Secretary, said (emphases mine):
May I start by saying that I totally agree with your expression of disappointment, Mr Speaker, that in a parliamentary democracy Parliament heard about this news after the media, and much as I respect my right hon. Friend it should be the Prime Minister who is here this evening?
I happen to support these measures and the caution the Government are showing, but may I suggest to my right hon. Friend that one of the reasons for the disappointment many people feel is the use of words like "irreversible"? Tonight, Sir Patrick Vallance said that we will be living with covid for the rest of our lives. If there is a vaccine-busting variant that threatens another 100,000 lives, these measures will not be irreversible, and we have a duty to be completely honest with people about the bumpiness of the road ahead. So may I urge the Health Secretary to be as cautious with the language we use as he rightly is with NHS bed capacity?
Mark Harper is one of the few MPs who wants England to open up now. He said:
Before I ask the Secretary of State my question, I should just say—as a former Government Chief Whip, it does not give me any great pleasure to do so—that I wholly associate myself with your remarks earlier, Mr Speaker. This statement should have been made to this House by the Prime Minister before it was made to the media. I hope that we do not see a recurrence of it and I wish you well in your meeting with him.
The Secretary of State has set out that it is not the Government's policy to get to zero covid—indeed, that is not possible. Can he say whether it is the Government's policy to maintain a low prevalence of this virus? If it is not, can he confirm the Prime Minister's sentiments today that 19 July is a terminus date, and can he rule out bringing back restrictions in the autumn and winter when we see an inevitable rise in what is a respiratory virus?
Hancock replied:
Well, it is not inevitable—I do not think it is inevitable. It may happen, but it is not inevitable because we also have the planned booster programme to strengthen further the vaccination response. But it is absolutely clear, based on all the clinical advice that I have seen, that a goal of eradication of this virus is impossible. Indeed, there is one part of this country that tried it for a bit in the summer and found it to be impossible. Therefore, we must learn to live with this virus and we must learn how we can live our normal lives with this virus, so I reflect the Prime Minister's words, which, of course, I concur with entirely, on 19 July. Our goal is to make sure that we get as much vaccination done between now and then—especially those second doses—to make sure that we can open up safely, even if there is a rise in cases, by protecting people from hospitalisation and especially from dying of this awful disease.
Steve Brine was, rightly, unhappy:
Last week, the Secretary of State told me:
"Our goal…is not a covid-free world…the goal is to live with covid".—[Official Report, 7 June 2021; Vol. 696, c. 678.]
Well, you could have fooled me, and many of our constituents. There is dismay out there tonight. The reopening of the wedding industry is not a meaningful reopening and I think it is cruel the way some are being misled. The Prime Minister and my right hon. Friend have been very clear today that 19 July is not a new "not before" date but an end to all this, so will the Secretary of State tell the country his assessment of risk and personal responsibility and whether he feels that as a country we remotely have that right at this time?
Hancock replied (in part):
Once we have the offer of a vaccine to everybody, and once we have protected and mitigated the large part of that risk, we do need to move back to a world based on personal responsibility. That is right, and that is where we intend to go. I think that we have made steps already in that direction in steps 1, 2 and 3. This country is freer than almost any other in Europe in terms of our economy and of our society. That is partly because of the very rapid vaccination effort here, but I hope that my hon. Friend can take from that the direction we intend to go.
Peter Bone made excellent points on the Government's disrespect for the Commons:
I am sure, Mr Speaker, that the Secretary of State for Health heard what you said at the beginning of this statement. May I ask the Secretary of State how we got ourselves into this position? He has been very good at coming to the House and making statements on covid, but on the biggest, most important day, the press were given an embargoed statement at 3 o'clock and the Prime Minister had a big showy press conference at 6, yet he could not be bothered to turn up until 8.30. This is a clear breach of the ministerial code. How did it happen? Who thought it was a good idea, and who actually broke the ministerial code?
Hancock had little to say in response but said he would continue answering questions.
Sir Geoffrey Clifton-Brown asked on what basis the decision to delay was made. Hancock said:
… Central to the judgment today is the fact that we are seeing a rise in hospitalisations, especially over the past week, and especially among those who are unvaccinated or have just had a single jab. Those people are not largely those who are unvaccinated out of choice; it is those who are unvaccinated because they have not yet had the opportunity because they are younger.
Until about a week ago, hospitalisations were basically flat. We thought that the link might have been completely broken between cases and hospitalisations or that it might be a lag. Sadly, hospitalisations then started to rise. For deaths, we have not yet seen that rise, which I am very pleased about; hopefully they will never rise, in which case the future will be much easier. It may still be that there is an element of it that is a lag, and we will be looking out for that very carefully over the couple of weeks ahead, but nevertheless our goal is to get those vaccines done in the five weeks between now and 19 July in order to make sure that this country is safe. I will commit to publishing anything further that we can that underpinned the decision, but I can honestly say to my hon. Friend that most of it is already in the public domain.
The morning after with talkRADIO's Julia Hartley-Brewer and guests
On Tuesday, June 15, Israel ditched its mask mandate:
They vaccinated quicker than the UK, which they could do as a much smaller country:
TalkRADIO's Julia Hartley-Brewer interviewed three interesting guests, whose videos are all worth watching.
Clearly frustrated by this delay, she asked her audience about their mood:
She opened her show with an editorial on selfishness, because many people say that her civil liberties stance is 'selfish'. She turned the tables on her accusers:
She interviewed David Paton, the Professor of Industrial Economics Nottingham University Business School. He has been running his own models and studying the national statistics since the early days of the pandemic last year.
This is his take. He observes that we are doing much better than SAGE models suggest:
He also told Julia that we are doing much better than the SAGE models purport:
Next up was Hugh Osmond, the founder of the Punch Taverns chain. He said that the medical experts wanted to remove all joy from our lives. He also pointed out that hundreds of pubs have closed because of the government's handling of the pandemic and that if the pub summer season is short this year, hundreds more will go to the wall by the end of 2021:
Julia's next guest was Mark Harper MP, chairman of the parliamentary Covid Recovery Group, quoted in the aforementioned Hansard excerpt. I agree with him in that these restrictions might never end:
He cannot understand why the Government is not more positive about the success of the vaccine rollout. He also discussed the negative fear-mongering from the media. Note the reply tweet which is spot on re the G7 get-togethers:
Julia's third guest in her coronavirus segment was barrister Francis Hoar, who has been anti-lockdown from the start:
Before his interview, he reiterated his concern about increased government control via a (Chinese style) social credit system:
He also retweeted the following:
This appears to be a quote from Sir Charles Walker MP (Conservative), who is also against lockdowns:
It is hard to disagree with him as the Government keeps moving the goalposts:
Francis Hoar told Julia Hartley-Brewer that Boris looked as if he had been taken hostage at last night's coronavirus briefing and that he is deeply concerned about the future of young people today because of continuing restrictions. He is very much a supporter of having our personal freedoms restored yesterday:
Conclusion
I really do hope that England reopens on July 19. I wanted the nation to reopen on June 21.
However, if it does not, then it is unlikely to reopen until Spring 2022. That could be June 2022.
My reasoning is as follows. September is the month when schools reopen, so that is a risk factor. Then comes flu season when coronavirus will worsen. The experts and the Government will say that we shouldn't have big Christmas celebrations at home, in the pub or in a restaurant because it's just too risky. Winter is always a bad time for illness, and we don't want to overburden the NHS, so we have to wait until sometime during the springtime.
Therefore, if reopening does not take place on July 21, 2021, then the next possible date is between mid-March (after the Cheltenham Festival, likely to be a 'pilot' event) and June 2022.
I hope I am wrong. I truly do.