You are currently browsing the tag archive for the 'Sajid Javid' tag.
On Thursday, September 9, the Scottish parliament voted in a motion to implement vaccine passports for the nation, beginning October 1:
Patrick Harvie's Greens, who are in a new alliance with the governing SNP, changed their minds about vaccine passports and decided to vote in favour of them:
Some of the MSPs lost their internet connection during the vote. That does not matter, because they, along with MSPs voting from home, can let the moderator know and she will allow them to cast their vote in person or over the telephone. Those votes are broadcast in the chamber.
The incident gives me a chance to show you the interior of Holyrood, where MSPs meet:
The day before the Holyrood vote, MPs in Westminster debated the implemention vaccine passports for England.
Nadhim Zahawi, the vaccines minister, gave a statement about the plans. It did not go well for him.
MPs — including his fellow Conservatives — quoted his previous statements in which he said the passports would not be implemented domestically.
William Wragg (Con), a member of the awkward squad of backbenchers, chided Zahawi (emphases mine):
What a load of rubbish. I do not believe that my hon. Friend believes a word he just uttered, because I remember him stating very persuasively my position, which we shared at the time, that this measure would be discriminatory. Yet he is sent to the Dispatch Box to defend the indefensible. We in this House seem prepared to have a needless fight over this issue. It is completely unnecessary. We all agree that people should be encouraged to have the vaccine, and I again encourage everybody to do so, but to go down this route, which is overtly discriminatory, will be utterly damaging to the fabric of society.
Zahawi replied:
I am grateful to my hon. Friend, who has made his view clear to me on many occasions. It pains me to have to take a step like this, which we do not take lightly, but the flipside to that is that if we do not and the virus causes super-spreader events in nightclubs and I have to stand at the Dispatch Box and announce to the House that we have to close the sector, that would be much more painful to me.
Mark Harper, another Conservative who has opposed coronavirus restrictions, voiced his disapproval:
I have to say that I agree with the Chairman of the Public Administration and Constitutional Affairs Committee, my hon. Friend the Member for Hazel Grove (Mr Wragg). The Minister set out earlier this year that this policy was discriminatory. He was right then and that remains the case. It is a discriminatory policy. The vaccines are fantastically effective at reducing hospitalisation and death. They are very much less effective in reducing transmission of the Delta variant. This is a pointless policy with damaging effects. I am afraid that the Minister is picking an unnecessary fight with his own colleagues. I say to him that the Government should think again. The Leader of the House has been clear that we do not believe—the Government do not believe—that this policy is necessary for us to meet here in a crowded place. Let us not have one rule for Members of Parliament and another rule for everybody else. Drop this policy.
Zahawi replied, saying he hoped the vaccine passports would be temporary:
This is not something that we enter into lightly, but it is part of our armoury to help us transition over the winter months from pandemic to endemic status. I hope to be able to stand at this Dispatch Box very soon after that and be able to share with the House that we do not need to do this any more as we will be dealing with the virus through an annual vaccination programme.
An SNP MP hoped there would be proportionality:
I pay tribute to all those involved in the vaccination programme. It has been extraordinary. In Scotland, we have 4.1 million adults with a first dose and almost 4 million with a second dose, which means that north of 90% of all adults have had at least one dose. It is a fantastic result across the UK since last December, but the pandemic is not over. Lives are still at risk and the pressures on the NHS are very real, so we in Scotland are introducing a vaccine passport, but, broadly, it will be limited to nightclubs, outdoor standing events with more than 4,000 people and any event with more than 10,000 people. While the rules in England may be slightly different, I hope that they are as proportionate as that.
Zahawi said that more details would be forthcoming.
Zahawi's voice faltered several times during the debate:
It pains me to have to stand at the Dispatch Box and implement something that goes against the DNA of this Minister and his Prime Minister, but we are living through difficult and unprecedented times. As one of the major economies of the world, our four nations have done an incredible job of implementing the vaccination programme. This is a precautionary measure to ensure that we can sustainably maintain the opening of all sectors of the economy.
A Liberal Democrat MP, Munira Wilson, picked up on Zahawi's delivery:
I almost feel sorry for the Minister because he really is struggling to defend this policy. However, he has failed to answer the fundamental question posed by my right hon. Friend the Member for Orkney and Shetland (Mr Carmichael) about this deeply illiberal, discriminatory and unnecessary policy: will this House get a vote on the implementation of covid vaccine passports—yes or no?
Zahawi answered:
There will be appropriate parliamentary scrutiny, as I have said today and in the past.
Not one MP approved of the proposed policy measure in the debate.
On Friday, September 10, news emerged that, if implemented, vaccine passports could open the way for sweeping powers. They could eventually become a national ID 'card'. The Telegraph's Madeline Grant tweeted:
The Telegraph's news that day cited an article from The Sun saying that we might have to have a vaccine passport to go to the pub:
Britons could be required to show vaccine passports at more businesses, the Culture Secretary has suggested amid reports the Prime Minister is preparing to unleash a "toolbox" of contingency measures. 
The Government is set to push ahead with mandatory Covid certification for nightclubs at the end of the month.
But The Sun reports that this will be widened to include other venues such as stadiums and pubs, which will be announced next week by Boris Johnson as part of plans to control the virus through the autumn and winter. 
Oliver Dowden told Sky News: "We will be looking at bringing in certification for nightclubs at end of the month.
"If there is a need to further extend that certification according to the public health need, we will look at doing so but we're always reluctant to impose more restrictions on businesses unless we really need to."
However, having voted in the unpopular increase in National Insurance contributions and the poll result showing a Labour lead for the first time since January, the Government reconsidered their stance on vaccine passports.
On Sunday, September 12, Health Secretary Sajid Javid appeared on the BBC's Andrew Marr Show to say that vaccine passports in England will not be going ahead. I would add 'for now', because this Government is on a right merry-go-round with regard to coronavirus policies:
Mark Harper MP welcomed the news:
Even Public Health England (PHE) statistics show two inoculations (I use the term advisedly) offer little protection:
TalkRADIO's Julia Hartley-Brewer points out that vaccine passports cannot save lives and are discriminatory:
Yet, Scotland's First Minister Nicola Sturgeon insists the decision to implement them north of the border is the right thing to do:
However, one of Scotland's coronavirus advisers, behavioural psychologist Stephen Reicher implied that England, not Scotland, made the right decision:
Guido Fawkes has a quote from Reicher (emphases in the original):
They are a double edged sword. Passports accelerate uptake in the willing but accentuate opposition in the sceptical. They increase safety but can increase complacency.
Quite a departure from Sturgeon's claim that they "have part to play". At least she insisted they were "a very limited scheme"…
Scotland could still backtrack on vaccine passports, as their September 9 vote was on a motion only, not legislation:
It is good to see that politicians are taking note of the public mood — for once.
Last weekend, the biggest news in Britain was a proposed permanent tax rise on National Insurance (NI) to finance the NHS backlog from coronavirus, then social care.
The NHS needs £10bn within the coming months to begin to take care of the missed appointments, treatments and operations caused by coronavirus. In 2025, the revenue will go towards social care, legislation for which is non-existent at present.
For a low-tax party, the Conservatives have managed to increase taxes to their highest level since the Second World War. Britain has had Conservative prime ministers since 2010:
This is the current situation:
The TaxPayers' Alliance posted a petition against the NI tax rise:
The TaxPayers' Alliance has been keeping a gimlet eye on public sector expenditures, including 'golden goodbyes' for senior civil servants.
On Sunday, September 5, the Telegraph's Christopher Hope reported (emphases mine):
More than 1,000 senior civil servants have received six-figure "golden goodbyes" worth over £100 million since MPs passed a law five years ago to outlaw them, The Telegraph can disclose …
The Enterprise Act – which was passed into law in May 2016 – expressly put a £95,000 cap on exit payments in the public sector.
However, it was not actually implemented until Nov 2020. It was in place for just three months before a court challenge overturned it.
This has allowed senior civil servants to continue to pocket payments of more than £100,000 each.
Analysis by the TaxPayers' Alliance of severance payments in departmental annual reports in 2017/18, 2018/19 and 2019/20, as well as including those reports filed so far for 2020/21, found 1,032 civil servants had received the sums.
In the most recent year The Treasury – which is in charge of the policy – was one of the biggest offenders handing £100,000 payouts to seven civil servants.
Returning to the NI tax rise, Hope retweeted the link to his article on Tuesday:
On Monday, September 6, it appeared that a number of Conservative MPs would rebel on Wednesday, the 8th, when the vote on the measure was held.
Christopher Hope reported on the fact that this tax is likely to affect low-income earners much more than the wealthy:
One Cabinet minister described it as "a tax raid on supermarket workers and nurses so the children of Surrey homeowners can receive bigger inheritances" …
Former minister and Tory MP Jake Berry told the BBC that the rise would disproportionately affect working people "on lower wages than many others in the country", who would end up "paying tax to support people to keep hold of their houses in other parts of the country where house prices may be much higher".
Robert Halfon, chairman of the education select committee, and a former deputy chairman of the party, added that "it's going to hit the low paid, then I think that would cause me huge worries".
On Tuesday, the day when Boris Johnson introduced the proposal to MPs, various think tanks said the same thing. Paul Johnson of the Institute for Fiscal Studies said why NI was being targeted instead of, say, income tax. Both employer and employee will pay a quick and consistent source of revenue:
A levy of 1.25% on employee earnings and on employer wage costs (so a 2.5% overall increase in the tax rate on earnings), will raise £14 billion a year. The extension of this levy to those over state pension age and to dividends is welcome, but this remains a tax which will be overwhelmingly borne by workers with very little coming from pensioners. This continues a trend seen over many decades of the burden of tax being shifted towards earnings. The creation of an entirely new tax will mean yet more quite unnecessary complexity.
CAPX had more on tax disparity, especially for young people, and public sector inefficiency:
… raising NI has been called a 'reverse Robin Hood' tax. The beneficiaries of hikes to NICs would be the already wealthy and their relatives, especially as you don't have to pay NI on income from investments or rental properties.
Meanwhile a 1% rise would see the average earner's tax bill go up by £204 and those earning over £50,000 a year will pay an extra £404 a year. Worst of all, unlike income tax, those on the very lowest wages still have to pay NI. That particularly rankles coming from a party that has spent so long talking about 'taking the lowest paid out of tax' by increasing the personal allowance …
As set out in a previous Adam Smith Institute paper, social care is already cursed with being run by inefficient government bodies. With staff shortages, an ageing population and an inundated NHS, this is a sector facing myriad problems that a tax hike alone won't get near solving. As the ASI's Eamonn Butler puts it, throwing money at the sector without fixing its underlying problems is 'like pouring oil into a rusty engine – it still gets you nowhere'.
That said, if you are going to raise money for the sector, there are some obvious places to look before raising taxes on working age people. We could start by means-testing some of the universal benefits given to pensioners, such as free bus passes and the Winter Fuel Allowance. If the Government is determined to fund it through NICs, at least change the system so that working pensioners pay it as well.
Sadly, as The Sun's Harry Cole tweeted, this tax will only increase:
Worst of all, at the moment, NI revenue doesn't stay segregated. It is used for all and sundry expenditures, as the i paper's Mark Wallace pointed out:
It isn't an "insurance" scheme at all. It's just a second income tax.
There is no "pot" being paid into, no "contributions" in any meaningful sense, and no deal by which what you pay in buys you the benefits that are supposedly purchased. When you "pay in", your money just goes into general taxation, to be spent on whatever the government of the day wants …
At best, the money you pay goes back out of the door in the form of pensions and benefits to an earlier generation of workers. Fulfilling the salesman's promise with the fees of new customers is a Ponzi scheme tactic that Bernie Madoff himself would recognise.
As well as being immoral, this framing distorts our political debate. The confusion makes NI easier to exploit than plain old income tax – as YouGov found in a recent poll, raising the former is sizeably more popular than raising the latter.
Prior to Boris's announcement to MPs, the Government issued MPs with the plan for health and social care funding:
He also sent a detailed letter to the First Ministers of Scotland, Wales and Northern Ireland, whose nations will also benefit from this revenue.
In his statement to MPs, he explained why he broke his party's manifesto commitment not to raise NI contributions:
He concluded his statement with this:
After all the extraordinary actions that have been taken to protect lives and livelihoods over the last 18 months, this is the right, reasonable and fair approach, enabling our amazing NHS to come back strongly from the crisis; tackling the covid backlogs; funding our nurses; making sure that people get the care and treatment they need, in the right place, at the right time; and ending a chronic and unfair anxiety for millions of people and their families up and down this country. I commend this statement to the House.
Sir Keir Starmer, Labour leader, gave the Opposition's response, which was negative. Labour, incidentally, were in power for 13 years — 1997 to 2010 — and never came up with a social care plan, needed then as much as it is needed now.
Boris Johnson responded:
He added:
Let us be in no doubt: if we did what we have heard from the Labour party over the past few weeks, we would still be in lockdown, because the right hon. and learned Gentleman opposed coming out of stage 4; we would have absolutely nothing by way of dealing with the NHS backlogs; and after decades of inertia from the Labour party we would have absolutely no way of dealing with the anxiety of millions of families across this country who face the prospect of catastrophic social care costs.
This Government are dealing with those things—we are dealing with all of them. We are getting on with it. We are taking the decisive action. We are doing it all together. This is the Government who get on and deal with the people's priorities; this is the Government who tackle social care; and, indeed, this is the party of the NHS.
The House of Commons voted on the NI increase on the following day, September 8.
That morning, some in the business world grumbled (Rishi Sunak, Chancellor of the Exchequer, pictured below):
Health Secretary Sajid Javid vowed to make every penny count …
… however, the NHS plans to press on with hiring more useless managers who earn much more than the Prime Minister:
By the time the debate before the vote took place, most Conservative MPs had calmed down.
The New Statesman, a Labour-supporting magazine, explained why:
What has changed? The main thing is the Tory sense of pragmatism that has seen the party shapeshift, change leaders and directions time and again to electoral advantage. One Conservative MP says they understand that this health and social care levy is a "flagship policy" of the government – not one they can rebel on lightly without inflicting serious harm on their own brand. A cynic might also wonder if rumours of a cabinet reshuffle before Conservative Party conference … have helped to inspire loyalty in the Conservative ranks.
There is a second factor that has influenced those on the back benches. Conservative MPs have reluctantly concluded that they will be in a weak position to ask for more money for the NHS in their constituencies if they oppose a levy designed to raise funds for it. Tory MPs are competing against each other for money from the towns fund, levelling-up fund, and for a piece of the pie in new funding for NHS hospitals. They know their negotiating hand is weakened if they rebel.
The third factor in squeezing the rebellion is, quite simply, that Tory MPs think the Prime Minister's plan is better than they had initially feared. The proposal was first reported over the weekend, before the government had decided the final details of the policy, leaving critics time to get ahead of the story without anyone from No 10 making the case for it. Expanding the national insurance levy to include pensioners in work has done something to allay Tory fears that this is an unfair tax on younger people, as has the dividends tax hike.
In the end, the NI increase was voted in comfortably — 319 to 208:
Only five Conservative MPs voted against the bill:
However, 37 Conservatives abstained.
The public are divided on increasing NI, according to Opinium (more here):
However, YouGov's poll results were much closer:
It will be interesting to see what happens in 2025, when the NI increase is shifted from the NHS to social care, because the NHS always demand more money:
And what happens if Labour are in charge again someday?
I might not like it, but I hope this works, for Conservatives and the UK.
Monday, July 19, 2021, will not be the long-awaited Freedom Day in England, just an unlocking for larger gatherings and venues, including theatres, nightclubs and strip clubs.
Mask wearing will still be 'expected'.
In his coronavirus briefing on Monday, July 12, Prime Minister Boris Johnson no longer used the words 'terminus' or 'irreversible'. In fact, he warned about the winter months ahead.
Health Secretary Sajid Javid had announced the very same in his statement to the Commons earlier that afternoon.
At this point, I doubt that we will see any semblance of pre-coronavirus normality until next year. We might even have to have coronavirus passports. Here is the minister in charge of the vaccination programme, Nadhim Zahawi:
Incidentally, French president Emmanuel Macron announced his plans for such passports on Monday for France. He also suggested that vaccinations could be made mandatory if there is not enough take up.
The Telegraph summarised the position in England (emphases mine):
People will be expected to continue wearing masks in indoor spaces, a stricture that will no doubt remain a requirement of entry for shops and hospitality venues as well as being mandated on public transport. Companies eager for their staff to return to the office have been left in an impossible position by ambiguous guidance about working from home. Employees are not being told to stay away but nor are they expected to go to work.
Since Mr Johnson previously said it was "now or never" to end these restrictions, the inescapable conclusion is that it is to be never. If they are to be requirements now, in the middle of summer, how will they not be in the autumn and winter when the number of Covid and flu cases will rise? Some scientists, indeed, have argued that distancing and face coverings should be made permanent.
In the Commons, the Health Secretary, Sajid Javid, confirmed the new tone, saying that next Monday would not be a terminus after all but another step on the road back to normality, though with no indication of when that might be.
If there are good public health reasons for this circumspection then let ministers say so and produce the evidence to justify it. If, however, the four tests set for a full reopening have been met – as Mr Javid told MPs they had been – then let it happen. Worryingly, however, the pledge of an "irreversible" course out of lockdown is no longer being heard.
It is, of course, to be welcomed that Stage 4 of the road map will be implemented next Monday. But for as long as ministerial pronouncements seeking to influence how we should behave stay in place, "Freedom Day" will remain some way off.
The Telegraph's Sherelle Jacobs wrote an excellent editorial on the subject: 'Boris Johnson has lost his nerve and condemned us to Covid no-man's land'.
She points out that, despite the stellar vaccine rollout, the Government's response to the virus is essentially the same as it was early in 2020:
I do not envy the Prime Minister. He is having to make decisions in the face of violent resistance from scientists who have strayed far beyond their proper roles as apolitical advisers. It is, however, astonishing that 16 months and 45 million vaccinations later, our basic approach to Covid is still no more sophisticated than it was in March 2020.
She sees the NHS as the tail wagging the British dog, which, by the way, is also true in the devolved nations (Scotland, Wales and Northern Ireland):
… No 10's priority appears to remain to "protect the NHS" at all costs. Restrictions are still deemed to be a vital tool to prevent ICUs becoming overwhelmed. Far from Britain breaking free, one can only conclude that our liberties will be tethered to ICU capacity indefinitely, with the Government loosening and tightening the reins as Covid fluctuates with the seasons.
The Government may think that it has public opinion on its side. Recent polling suggests that a sizeable proportion of the population would be happy for some restrictions to remain forever, even once the threat of Covid has faded …
The only answer is reforming the NHS:
There is one obvious way out of this. If the NHS is so precious that it is in danger of being overwhelmed even after one of the most comprehensive vaccination programmes in history, then the priority now must be to reform the service to make it fit for purpose. Germany, for instance, with its insurance-based model, has more than four times as many critical care beds per capita as Britain.
The NHS has become the new secular national religion in Britain.
Applauding it last year over so many Thursday nights at 8 o'clock has put it on a pedestal it might not wholly deserve:
The NHS has become Britain's all-consuming project, the millstone around its neck and the cloying source of confected national pride. Its hold over the country is so powerful that even a so-called libertarian Conservative PM decided this week to risk sacrificing our ordinary freedoms rather than dare to reform it.
She adds an interesting fact about NHS financing in 1948, when it was founded:
As noble as the idea behind the NHS might have been, it is founded on delusions about Britain's finances. (Indeed Westminster initially partly bankrolled it with foreign money, splitting 1940s Marshall aid between its domestic healthcare dreams and ailing colonial dominions).
We cannot go on like this forever, even though some would like to do so:
… the downsides of lockdowns are becoming too enormous to ignore. Their effectiveness is limited in free Western countries plagued by widespread low-level non-compliance and inadequate infection control in care homes and hospitals. Contrastingly, the damage lockdowns cause is limitless – from decimating mental health to destroying children's education. It is extraordinary that, even now, Johnson only pays lip service to this inescapable truth.
The biggest problem for the foreseeable future will be masks, especially as the Government says they are 'expected' in crowded, enclosed spaces. What does that really mean?
Another Telegraph article, by The Spectator's Anglo-American Kate Andrews, offers a suggestion to make things clearer:
Boris Johnson's message last night was that he 'expects and recommends' that people continue to wear masks in 'crowded' and 'enclosed' spaces, or where you come into contact with strangers: a vague, yet seemingly large request. The message could be far more simple: be aware of your surroundings and make an informed decision. This would be a real breakaway from our Covid lifestyles, and a return to the notion of personal responsibility.
The continuation of masks and compliance in this regard could be interpreted in a sinister way:
Perhaps the mask debate playing out now is the one we should have had in the first place. After the Government's most senior medical and scientific advisers spent months last spring telling the public not to buy or wear masks, the rule changed to mandate them on public transport, punishable by fines. Did we need to criminalise people for not wearing a mask, or might guidance have done the trick? But even now, the push for guidance often reveals itself as a push to keep emergency laws — not to be clearer with the public, but to be harsher.
There has been consensus throughout the pandemic that the British public have been wonderful: thoughtful and willing to uphold their social contract to strangers, to protect the lives of the vulnerable and elderly. Now, as their freedoms are set to be returned, that consensus is breaking. It seems when some were praising the public, they were really praising the rules that hovered over them.
Perhaps so. It is a sobering thought.
In any event, July 19 will not be Freedom Day by any stretch of the imagination. It will certainly not affect me personally, especially if I am still expected to wear a face covering.
I had been looking forward to going out for a long, languorous, maskless lunch in London next month. That will have to wait, probably until 2022.
This week's coronavirus debates in both houses of Parliament are proof that only the Left want masks and lockdown to stay.
Below are revealing excerpts from debates in the Commons and the Lords.
Emphases mine.
House of Commons
Health Secretary Sajid Javid appeared twice in the House of Commons this week.
Monday, July 5
He delivered his statement about lifting all restrictions, including those for masks, on Monday, July 5.
Shadow Health Secretary Jonathan Ashworth (Lab) objected:
He will be aware that Israel has reintroduced its mask mandate because of the delta variant, so why is he planning to bin ours? Masks do not restrict freedoms in a pandemic when so much virus is circulating. They ensure that everyone who goes to the shops or who takes public transport can do so safely, because wearing a mask protects others. If nobody is masked, covid risk increases and we are all less safe. He must understand that those in the shielding community are particularly anxious. Why should they feel shut out of public transport and shops because he has abandoned the mask mandate? That is no definition of freedom that I recognise.
Who else suffers when masks are removed? It is those working in shops, those who drive the buses, those who drive taxis and those who work in hospitality—it is the low-paid workers who have also been without access to decent sick pay. Many of them live in overcrowded accommodation. It is those who have been savagely, disproportionately impacted by the virus from day one and now the Secretary of State is asking them to bear the brunt of the increased risk again. Will he explain why he thinks abandoning masks is a sensible proposal to follow?
Dr Philippa Whitford (SNP) also objected:
Why is he planning to end even simple measures such as mask wearing?
As did Caroline Lucas (Green):
Failing to mandate mask-wearing in stuffy crowded places such as public transport, where people are often pressed together for much longer than 15 minutes, risks high costs, and allowing people to choose whether or not to put others at risk is both reckless and unfair. If the freedom to pelt down the motorway at 100 mph is restricted because it poses risks to others, why, with millions still unvaccinated, with some immunosuppressed and with the risk of long covid rising, does the Health Secretary not apply the same logic to mask-wearing?
Patrick Grady (SNP) wants masks to become 'routine' in the notional new normal:
Given that masks help to reduce the spread of not just covid, but all kinds of respiratory diseases, is it not important to avoid mixed messages and encourage everyone to continue that kind of practice and the likes of good hand hygiene as a relatively routine part of a new normal, to stop coughs and sneezes from spreading diseases?
Paul Blomfield (Lab) said:
We all want to unlock the economy, but surely we should maintain barriers to infection where we can. The Secretary of State has said that wearing masks would be a good thing, so will he accept that requiring them on public transport, in essential shops and in similar locations would make sense and would reassure people?
Tuesday, July 6
On Tuesday, July 6, Javid delivered a statement on self-isolation and vulnerable people.
By way of response, Jonathan Ashworth had more to say on masks:
Getting back to normal, which we all want to do, depends on people feeling safe. Does the Secretary of State appreciate that those who are immunocompromised, or for whom the vaccination is less effective, will have their freedoms curtailed by ditching masks on public transport? Blood Cancer UK warned yesterday that people with blood cancer will feel like their freedoms have been taken away when mask wearing lifts. What is his message to those with blood cancer? It is not good enough simply to say that people should travel or go to the shops at less busy times.
Of course, the Secretary of State understands the importance of masks. I have now read his Harvard pandemic paper, to which he likes to refer. He praises the use of masks in this paper, but he also warns:
"Changing course in policy making…is an essential feature of good policy making. Yet, politicians find it hard"—
because of—
"the tendency for decisions to become psychologically and emotionally anchored."
Well, I agree with him, and I hope he still agrees with himself. Let us have a U-turn on mask wearing. Yes, let us have freedom, but not a high-risk free for all. Keep masks for now, fix sick pay and let us unlock in a safe and sustainable way.
Martyn Day (SNP) agreed:
In a poll by New Scientist, a majority of disease experts said that some form of mask-wearing would be required until 2022. Others thought that 2023 or later was the correct time to lift mask requirements—more than agreed with the Government's position of ending the requirements this year. For the sake of clarity and honesty, can the Secretary of State confirm that the UK Government have stopped listening to the science on their covid policy? Tragically, we have 150,000 people dead already, and the Prime Minister has said that we must reconcile ourselves, sadly, to more deaths from covid, so perhaps the Secretary of State can enlighten us as to how many more deaths the UK Government think acceptable.
Tulip Siddiq (Lab) brought up public transport:
The flu season that we have just been through was the mildest on record, thanks in no small part to the fact that we have all been wearing masks to protect against coronavirus. Public Health England has warned that we could see a flu surge in winter, as we have not had much recent exposure to and therefore immunity from other respiratory viruses. What is the Secretary of State doing to prepare for this? Does he agree that we should keep the wearing of masks compulsory on public transport to keep covid cases down and prepare for the flu season?
Matt Western (Lab) wants England to emulate the Far East:
Case rates are currently eight or nine per 100,000 in Korea and Japan, yet those countries—certainly Korea—are still mandating the wearing of masks. In the light of that, what does the Secretary of State think we should be doing, because those places are clearly having success?
House of Lords
The House of Lords held debates on Sajid Javid's vaccine-driven strategy for Freedom Day on July 19.
The Left-leaning among the noble lords were furious.
Tuesday, July 6
Below are excerpts from Tuesday's debate.
The Lords direct their questions to a Government minister, in this case, Lord Bethell (Con).
Baroness Thornton (Lab) had a lot to say about masks. She is old enough to have had both 'jabs', therefore, in theory, she should not be worried:
We have government Ministers saying different things about what they personally intend to do; last night, we had a clear message from the CMO [Chief Medical Officer, Chris Whitty] about the circumstances under which he intends to wear a mask. So I think that we have every right to be concerned that the debate may cause confusion and compromise crucial safety.
Let us look at public transport, for example. I have been using public transport throughout. I started wearing a mask long before it became mandatory. I still do not feel safe on a very crowded Tube, and I still do not want anyone to sit next to me. I test twice a week, and I have self-isolated twice since January when I got pinged. I do not think that I am unusual or nervous, but I feel strongly that I have a duty not to unwittingly spread the virus, and I do not want people to infect me. In a recent travel study, a majority of passengers said that they would lose confidence if the use of face masks were reduced. Many people, especially those who are more vulnerable, may become more anxious about using public transport if face masks become voluntary.
What is the Minister's answer to these legitimate concerns? Does it go with the view that we let the virus rip and take the consequences? Given that we know that bus and taxi drivers experience Covid and death, what does the Minister have to say to them about their safety in these circumstances? Masks do not restrict freedoms in a pandemic when so much virus is circulating; they ensure that everyone who goes to the shops or takes public transport can do so safely. Who suffers most when masks are removed? It is those working in the shops, those driving the buses and taxis, and low-paid workers without access to decent pay, many of whom live in overcrowded housing and have been savagely, disproportionately impacted by this virus from day one.
We know that masks are effective when a virus is airborne. Given that high circulations of virus can see it evolve and possibly escape vaccine, what risk assessment have the Government done on the possibility of a new variant emerging? Will the Minister publish that assessment?
Baroness Brinton (Lib Dem) followed her, also with much to say on masks, putting forward the example in the Far East:
We on these Benches want to start with a return to normal and to lift restrictions. We desperately need to kick-start the economy, to start to socialise again and, as my noble friend Lord Scriven said last month, to live with Covid as it is now endemic and will be with us for some years to come. However, that means providing the safety net needed to ensure that people are as safe as possible. Asian countries that managed their pandemic well learned from SARS. The use of face masks became routine and a matter of personal and wider social responsibility, allowing life to continue in the flu season and in the pandemic. They also maintain strong and effective test, trace and isolate systems all the time. We will be discussing test, trace and isolate in detail following the Statement that is due to come to your Lordships' House on Thursday, but the proposed reductions in test, trace and isolate will remove the UK's ability to manage outbreaks swiftly, during which time others will catch and pass on Covid.
When we drive into our towns and cities, we rely on local authorities to set up traffic systems, including traffic lights, to help to guide us on safe journeys, regulate movement and reduce harm and damage. But it is as if "freedom day" is getting rid of all our traffic lights.
Proportionate responses are needed, and these include face masks. Early last year, even the WHO was equivocal on the use of face masks but, as the world became aware that this is a respiratory disease passed on through droplets, most countries moved to face mask mandates. On 19 July we switch to rules that make it only the responsibility of individuals. Thankfully, most people have taken that responsibility seriously, but not everyone has. That is important because, despite what the Minister said in response to my question yesterday about the clinically extremely vulnerable, there is no direct reference to the CEV in this Statement—unless he meant the passing reference to them being part of the priority group that will get the third jab. They need to know where they stand. There is no new advice, just the burning of the remaining rules that keep them safe.
I'm including part of Lord Bethell's reply, because I have not covered the Lords as much as I have the Commons:
I have four children—who are vectors of infection, to put it politely—and I attend a large number of business meetings, including here in the House, and I regard myself as a high-risk candidate for carrying the disease.
I have never caught it myself and I have been vaccinated but when I sit on a Tube train I wear my mask, not to protect myself but to protect the person next to me. That is my personal assessment and my personal decision. That is the spirit in which we are inviting people to step forward and make their own decisions and to be considerate to each other.
We cannot have laws on all these matters for the rest of time. At some point we have to ask the country to step up and take responsibility and to have personal agency in these decisions. If we do not put that challenge to the country in the summer months, when our hospitals are relatively safe and the virus has the right conditions, when will we be able to make those decisions?
Lord Campbell-Savours (Lab) put forward a case for the vulnerable, a tiny proportion of the English population:
My Lords, is it not obvious that if you reduce mask wearing on public transport and in public places, those who believe they are more exposed to the virus will then reduce their use of public transport and avoid public places? People who are fearful of more liberated environments will avoid them, leading to a slowdown in the return to work that the Government want. Indeed, it is the reverse of what the Government want. Why remove those restrictions that offer the only way of securing public confidence in the new regime that is being proposed?
Lord Bethell replied:
I applaud the noble Lord for his advocacy of mask wearing, but of course this issue cuts both ways. He is right that we need to build back trust in sharing space with one another, but I am not sure that mandatory mask wearing either builds trust or erodes it. If we give people the impression that wearing masks is somehow a panacea that protects everyone on a tube train or in a lift, that is a false impression. Masks are not a panacea. In fact, for some people, they can be a source of grave concern and be enough to send them back home to seek safety. I take the noble Lord's point that we have to be clear about this, but I am not sure that mandatory mask wearing, or even ubiquitous mask wearing, is either a universal antidote to the spread of the disease or necessarily builds trust in the manner he describes.
Baroness Tyler of Enfield (Lib Dem) spoke next:
My Lords, continuing on this theme: "masks work" is the clear message from Public Health England. Both Sir Patrick Vallance and Professor Chris Whitty have said that they will continue to wear a mask in crowded indoor spaces, primarily because it protects others. Critically, it does not hold back the opening up of the economy, but rather provides a safeguard as social distancing rules are relaxed. Can the Minister tell me why there is so little in the Statement about our social responsibility to others, including front-line transport and shop workers, and the clinically extremely vulnerable? In this scrapping of masks, we are condemning millions with poor immune systems to be trapped in their homes, too afraid to go to the shops or their workplace or to use public transport.
Lord Bethell responded, saying that people who are ill should stay at home:
Since this is the second question on masks, I hope the noble Baroness will not mind if I go off on a tangent. Masks do work a bit; they are not a panacea. What is really important is that when you are ill, you stay at home. That is the big behavioural change that will make a big difference in the year to come. That is where Britain has got it wrong in the past. Too often we have put our workmates, fellow travellers and school friends at risk by heroically going into crowded indoor places and coughing all over them. I hope that is one habit that will stop and that that will be a legacy of this awful pandemic.
Baroness Donaghy (Lab) said that not enough people were being penalised for ignoring the mask mandate:
My Lords, one person's choice is another's imposition. Even when mask wearing was mandatory on the tube, some broke the law and there was no policing. So-called choice will cause conflict and confusion. Can the Minister assure me that the Government are not reverting to type and their original herd immunity policy based not on the science but on "let us see how it falls"? Although he does not accept any deaths, as he said, what assessment has been made of the impact of this new policy on death rates and long Covid rates?
Lord Bethell countered, saying that a lot of fines had been issued:
My Lords, I do not have the figures to hand, but I reassure the noble Baroness that the policy on masks was very diligently imposed and a large number of people did get fined. We have to ask ourselves as a society whether we really want to live in a country where simple behavioural habits, such as wearing a mask or not, make you susceptible to arrest or fines. That is a very uncomfortable place for a country to find itself. The noble Baroness is right: that does introduce ambiguity, but we are sophisticated people and can live with a degree of ambiguity. We need to learn how to live not only with this disease but with each other. The dilemma that the noble Baroness points out is one that we will all have to debate, understand and learn to live with. We are not in any way letting this disease get on top of us. We are fighting it through the vaccine, we are supporting the vaccine with test and trace, and we have a tough borders measure. We are taking the battle to the virus and will continue to do so.
Only one Conservative peer spoke out in favour of masks, Lord Bellingham, who said:
My Lords, as a strong supporter of the Government's policy on the coronavirus, I was nevertheless critical of them being very slow to enunciate a clear policy on masks over a year ago—so I have a lot of sympathy with those noble Lords who have expressed concern about the imminent lifting of compulsion regarding masks. Surely one possible compromise might be to keep masks where you have passengers on public transport sitting or standing next to each other?
Lord Bethell replied, saying that it would be up to local councils and transport companies, rather than the Government:
My Lords, I hear my noble friend's words loud and clear. The Government have indicated that we will leave it to those who run the transport systems themselves and to local politicians. There is a good case for a degree of devolvement and subsidiarity in this matter. He is right that masks do perform an important role, but they are not a catch-all, and it is therefore reasonable to leave those who run the transport systems to make decisions for themselves.
Thursday, July 8
On Thursday, July 8, another debate on the Government's new coronavirus strategy took place.
Once again, Baroness Thornton (Lab) had a lot to say. With regard to masks, she mentioned the tiny minority of people living in England with poor health:
Does the Minister appreciate that those who are immunocompromised or for whom the vaccine is less effective will have their freedoms curtailed by ditching masks on public transport? Blood Cancer UK warned yesterday that people with blood cancer will feel that their freedoms have been taken away from them.
Baroness Brinton (Lib Dem) followed her. She was horrified by what she saw on television following the England-Denmark match:
Wonderful as yesterday's England victory was, the sight of 60,000 fans walking down Wembley Way in very close proximity with hardly a mask in sight was concerning. As with the England-Scotland match, we must expect a surge in cases. Yesterday, the BBC asked Dr Mike Ryan of the World Health Organization about the UK proposals to lift all restrictions on 19 July. He replied:
"The logic of more people being infected is better is, I think, logic that has proven its moral emptiness and epidemiological stupidity".
The letter in today's Lancet from 100 senior medics and scientists echoes the WHO view. What are the Government doing to explain to the experts why their strategy is safe? …

Last night, Sebastian Payne of the Financial Times reported the re-election of Sir Graham Brady MP as chairman of the 1922 committee, and tweeted:
"Brady's re-election is … a reminder of why Johnson is dropping masks and nearly all other … restrictions on July 19: ministers privately say the government no longer had the … votes to keep the measures in place. Relying on Labour would have been … difficult for the PM."
Are the Prime Minister and the so-called Covid Recovery Group now putting health and lives at risk for their own principles?
Lord Bethell replied, saying that it was better to reopen England now rather than wait until autumn or winter, when the NHS would be under pressure:
… the noble Baroness, Lady Thornton, half-answered her own question, because she is entirely right: we need to focus on getting the NHS back to speed in order to address the very long waiting lists and to get elective surgery back on track. It is very difficult to find an answer to the question, "If not now, when?" That has been tackled by the CMO and a great number of people. It must surely be right that we take the inevitable risks of restarting the economy and getting people back to their normal lives at the moment of minimum risk from the virus, which has to be in the middle of summer. Assessing those risks precisely is incredibly complex. Impact assessments of the kind that we would normally associate with legislation are the product of months of analysis. They often identify one relatively straightforward and simple policy measure. We are talking here about a machine of a great many moving parts.
I cannot guarantee that any model anywhere could give us accurate projections of the exact impact of what is going to happen this summer. We are, to a certain extent, walking into the unknown: the Prime Minister made that extremely clear in his Statement. As such, we are ready to change and tweak our policy wherever necessary in reaction to events. However, what we know very well now on the basis of our assessment of the data, and because of the pause we put in place to give ourselves breathing time to assess and additional time to roll out the vaccinations, is that that direct correlation between the infection rate and severe disease, hospitalisation and death has massively diminished. There is a relationship, but it is a fraction of what it used to be.
We can therefore look at a period where those who are at extremely low risk of any severe disease may see an increase in the infection rate, because we know that those in the highest-risk groups have been protected by two doses of the vaccine, and two weeks, and because we are working incredibly hard to get as many in the high-risk groups vaccinated as possible—half a million a day—and to roll out the vaccine to younger cohorts. That is the balance. I cannot deal in certainty here, because certainty does not exist. Balance is key, and I believe the balance we have here is the right one.
A Cross-bencher, Baroness Bull, cited the editor-in-chief of The Lancet — another leftist, as we saw last summer — which called the Government's new policy 'libertarian':
My Lords, 120 scientists have written to the Lancet and today come together in an emergency summit to ask the Government to rethink their plans. The editor in chief warned against
"a plan driven more by libertarian ideology than prudent interpretation of the data"
and called for continued mask-wearing, distancing and increased vaccine coverage. A YouGov survey found that two-thirds of people want to continue with masks and an ALVA survey found that three-quarters of people did. So why have the Government decided to end this simple yet effective measure? It costs the economy nothing, but it would be life-changing for the clinically extremely vulnerable, who will be forced back into lockdown by this shift from a public health approach to so-called personal responsibility.
Lord Bethell said that the policy was not at all 'libertarian':
I am always grateful for the challenge of medics in the Lancet and elsewhere. I would like to reassure them that this is not a question of libertarian ideology but a question of assessing the risks faced by the country. We have discussed masks several times in the Chamber. I would like to reassure the noble Baroness that masks simply are not a panacea; were the whole country to wear masks for the rest of their lives, we would still have pandemics because they offer only marginal protection.
One peer voiced his disapproval:
Nonsense!
Lord Bethell replied:
I am afraid we cannot have in place laws on the intimate practicalities of people's lives for the long term. We do not have a law on sneezing. I would not think of sneezing in the presence of noble Lords, but I do not accept that I should be given a fine for doing so.
I'll leave it at that.
Conclusion
It is abundantly clear, with only one Conservative peer speaking in favour of masks and many Left-leaning MPs and peers supporting continued muzzling, that they do not trust the general public — the great unwashed who pay their salaries.
We, the great unwashed, however, do have the brains, the intellect and the discernment to think for ourselves and do the right thing.
If that is libertarianism, count me in.
My post yesterday discussed the analysis of what Prime Minister Boris Johnson and Secretary of State for Health and Social Care Sajid Javid might announce on Monday, July 5, with regard to England's Freedom Day, pencilled in for July 19.
Speaker of the House Sir Lindsay Hoyle wanted to ensure that both men gave their announcements at the same time:
Boris Johnson's coronavirus briefing
Rev.com has a transcript of Boris's televised coronavirus briefing.
Excerpts follow, emphases mine.
Boris acknowledged that cases would continue to rise for the time being, however, the highly successful vaccine rollout would mitigate the dangers to the general public:
As we predicted in the roadmap in February, we're seeing cases rise fairly rapidly. There could be 50,000 cases detected per day by the 19th, and again, as we predicted, we're seeing rising hospital admissions, and we must reconcile ourselves, sadly, to more deaths from COVID. In these circumstances, we must take a careful and a balanced decision, and there's only one reason why we can contemplate going ahead to step four in circumstances where we'd normally be locking down further, and that's because of the continuing effectiveness of the vaccine rollout.
Reopening now, in mid-summer, will be safer than waiting until autumn or winter, when demand for the NHS will be much higher for respiratory disease. As such, the only alternative would be not to reopen at all this year:
… we must be honest with ourselves that if we can't reopen our society in the next few weeks, when we will be helped by the arrival of summer and by the school holidays, then we must ask ourselves, when will we be able to return to normal? And to those who say we should delay again, the alternative to that is to open up in winter, when the virus will have an advantage, or not at all this year.
The Government and SAGE will look at the latest data on July 12, which will determine a final decision on July 19.
Boris laid out his five-point plan. First, the vaccine rollout is being ramped up:
… without preempting the decision on the 12th of July, let me set out today our five point plan for living with COVID, in the hope that it will give families and businesses time to prepare. First, we will reinforce our vaccine more, reducing the dose interval for under 40s from 12 weeks to eight, so that everyone under 18 should be double jabbed by the middle of September, in addition to our autumn program of booster vaccines for the most vulnerable.
Secondly, nearly all restrictions will be lifted, including working from home:
Second, we will change the basic tools that we have used to control human behavior, we'll move away from legal restrictions and allow people to make their own informed decisions about how to manage the virus. From step four, we will remove all legal limits on the numbers meeting indoors and outdoors. We will allow all businesses to reopen, including nightclubs. We will lift the limit on named visitors to care homes, and on numbers of people attending concerts, theater, and sports events. We will end the one meter plus rule on social distancing, and the legal obligation to wear a face covering, although guidance will suggest where you might choose to do so, especially when cases are rising and where you come into contact with people you don't normally meet in enclosed spaces, such as obviously crowded public transport.
It will no longer to be necessary for government to instruct people to work from home. So, employers will be able to start planning a safe return to the workplace. There will be no COVID certificate required as a condition of entry to any venue or event. Although businesses and events can certainly make use of certification, and the NHS app gives you a COVID pass as one way to show your COVID status.
Thirdly, test-trace-isolate will continue, and the Government will plan something different for schools in future:
Third, we will continue from step four to manage the virus with a test, trace and isolate system that is proportionate to the pandemic. You will have to self-isolate if you test positive, or are told to do so by NHS test and trace. But we're looking to move to a different regime of fully vaccinated contacts of those testing positive, and also for children. And tomorrow, the education secretary will announce our plans to maintain key protections, but remove bubbles and contact isolation for pupils.
The fourth point involves maintaining 'tough' border controls (hmm):
Fourth, from step four we will maintain our tough border controls, including the red list, and recognizing the protection afforded by two does of vaccine, we will work with the travel industry towards removing the need for fully vaccinated arrivals to isolate on return from an amber country, and the transport secretary will provide a further update later this week.
The fifth, and final, point is to do everything possible to avoid a winter lockdown:
Last, we will continue to monitor the data and retain contingency measures to help manage the virus during higher risk periods, such as the winter. But we will place an emphasis on strengthened guidance and do everything possible to avoid reimposing restrictions, with all the costs that they bring.
The rest of the transcript covers the latest data, which Sir Patrick Vallance presented, and answers to the press from Prof Chris Whitty, both of whom are SAGE members.
The BBC's Vicki Young asked the three men about mask wearing.
Boris said that people should start taking personal responsibility for their own decisions:
On your question about will I personally wear a mask, I think that, as I said earlier on, it will depend on the circumstances. I think that what we're trying to do is move from a universal government diktat to relying on people's personal responsibility.
Boris doesn't need to wear a mask, as he's already had the virus. However, he probably wants to set an example for the nation.
Chris Whitty threw a spanner into the works with his answer:
In terms of wearing a mask, I would wear a mask under three situations and I would do so particularly at this point when the epidemic is clearly significant and rising. And the first is in any situation which was indoors and crowded or indoors with close proximity to other people. And that is because masks help protect other people, this is a thing we do to protect other people, as it's by far its principle aim. The second situation I'd do it is if I was required to by any competent authority, I would have no hesitation about doing that and I would consider that within a reasonable and sensible thing if they had good reasons to do that. And the third reason is if someone else was uncomfortable if I did not wear a mask, as a point of common courtesy of course I would wear a mask. So under all those circumstances I would do so.
Sir Patrick confirmed Whitty's response:
… just a reminder masks are most effective at preventing somebody else catching the disease from you. They have some effect to prevent you catching it as well. And the situation you're most likely to catch COVID in is indoors crowded spaces. So that's the obvious place where mask wearing becomes an advantage.
Tell me that will not cause mask rage on and after July 19.
Earlier that day, Guido Fawkes reported that Labour's big city mayors all want to keep a mask mandate, as do union bosses (emphases in the original):
Labour mayors Sadiq Khan, Andy Burnham, Dan Norris and Steve Rotheram all seem reluctant to bin the masks. As such it's unclear whether masks will continue to be mandated on public transport – which is under the remit of mayors. If Khan had his way, Guido suspects that no one would be boarding the freedom train any time soon…
Unite the union are also calling on ministers to keep face masks mandatory on public transport, writing that optional face coverings would be "an act of gross negligence by the government". 
However, a Conservative MP is rightly vexed by the ambiguity of the Government's upcoming guidance on the matter:
Huw Merriman, Tory Chairman of the Commons Transport Committee has slammed the government's "confusing" policy arguing that scrapping mask laws whilst simultaneously recommending they be worn is a "cop out." He says guidance should be scrapped in its entirety… 
I couldn't agree more. Why squander the success of the vaccination programme?
Sajid Javid
In his statement to the House of Commons, Sajid Javid said much the same as Boris.
He explained that hospitalisations and deaths are decreasing:
As such, even if cases continue to increase over the coming weeks, there will be less pressure on the NHS (the original reason for lockdown in 2020):
We cannot live like this 'forever'. Furthermore, because of the pandemic, we have other challenges that need to be addressed:
Social distancing will go, except at ports of entry for travel and for medical settings:
Javid did warn that flu might be a problem this winter:
School bubbles will also be abolished:
It was then the turn of Shadow (Opposition) Health Secretary Jonathan Ashworth to respond.
Not surprisingly, Ashworth wants masks to continue:
These photos are from Javid's statement and the ensuing debate. Clockwise from top left are Jonathan Ashworth, Sajid Javid, Father of the House (longest serving male MP) Peter Bottomley and the SNP's Dr Philippa Whitford:
On Tuesday, July 6, Javid returned to the Commons to make a statement on self-isolation, which will be relaxed in certain circumstances:
He reiterated the need for personal responsibility to begin, as there are other looming health issues that have gone unaddressed:
Jeremy Hunt (Con), his predecessor (before Matt Hancock), is rightly concerned about delays to cancer treatment:
Gavin Williamson
On Tuesday, Secretary of State for Education Gavin Williamson, laid out his plans for schools after Freedom Day.
Bubbles and isolation at home have been causing a lot of disruption. They will be abolished for test and trace:
Isolation will be mandated only when there are positive test results. Staggered starting times for schools will go, and there will be no restrictions on universities:
I watched the debates with interest.
My original suspicion from last year still holds true; only the Left want restrictions to continue.
More on that soon.
One year ago, July 4 was England's Independence Day from coronavirus.
Shops and restaurants re-opened, albeit with requirements for masks.
One year on, and it's Groundhog Day. After a prolonged period of restrictions from Christmas 2020, England awaits Freedom Day, which Prime Minister Boris Johnson and his Cabinet ministers assure us will be on July 19.
On Monday, July 5, 2021, when the Duchess of Cambridge began self-isolating for ten days and her husband Prince William attended an NHS service of thanksgiving at St Paul's Cathedral, Boris gave a coronavirus briefing about what we can expect on Freedom Day. Health Secretary Sajid Javid gave Parliament a briefing at the same time.
All being well, tomorrow, I will report on the details of what they had to say.
It was largely good news, except for some ambiguity about masks, which could lead to mask rage once restrictions are relaxed.
Below is relevant analysis aired and published before Boris and Saj (as he is now known) delivered their remarks.
Masks
The most contentious lifting of restrictions concerns masks.
Masks are the new Brexit referendum. They have divided England enormously, as Matthew Lynn wrote in the Telegraph on July 5 (emphases mine):
Maskers and anti-maskers look set to become the new Remainers and Leavers (with almost, if not quite, the same tribes in both camps). Very few people on either side of that bitter debate were actually very interested in the finer points of tariffs on citrus fruits, or what the European Commission's plans for the digital transformation of European industry might be this week. They wanted to say something about themselves.
He is not wrong. Anti-maskers, for the most part, appear to be Leavers. Pro-maskers are Remainers.
The Sunday news shows seemed to bear this out.
Housing Secretary Robert Jenrick told Trevor Phillips on Sky News that he would stop wearing one as soon as restrictions are lifted:
By contrast, Prof Adam Finn, a member of the JCVI (Joint Committee on Vaccination and Immunisation) told Phillips that he would continue to wear his mask 'indefinitely':
Finn is a man who manages to travel to holiday locations on taxpayer's money. Here he is in Coimbra, Portugal. Nice work if you can get it. Wouldn't Portugal have been on the amber list at the time of this interview? Interesting. Another case of 'For me, but not for thee'.
So, how exactly will this mask dilemma play out in real life? This is what Matthew Lynn foresees:
London mayor Sadiq Khan, a man who never saw a cynical political gesture without wanting to give it a big hug, is reportedly toying with demanding that masks continue to be worn on public transport in the capital, whatever the Government decides. If he goes through with it, it can surely only be a matter of seconds before Wales's Mark Drakeford and Scotland's Nicola Sturgeon follow suit, saltire or dragon optional, while every grandstanding local politician will soon be jumping on that bandwagon.
Likewise, businesses will be coming up with their own rules, based on what they see as their core demographic. A sports bar in Chelmsford, decked out in England flags? My feeling is it won't require masks. A vegan cafe in Islington or Bristol? You will have to wrap up your face before ordering that soyamilk fair trade latte.
There was a time — at the height of the pandemic in Spring 2020 — when we had no masks. Somehow, the vast majority of us did not catch coronavirus.
Lynn reminds us of the absurdity of the rules:
We can also all argue about whether masks were ever necessary. The scientific evidence was always shaky, which was why most governments in Europe, as well as the US, were reluctant to impose them in the first place. The rules governing masks have become increasingly bizarre, too. Why the virus doesn't spread while you are eating a meal at a restaurant, for example, but does while you walk to the lavatory, defies any rational explanation.
Nonetheless, Lynn sees masks and lockdowns as yet more tools of social division:
We might have hoped that Covid-19 would soon be behind us. There seems little chance of that now. The divisions lockdowns have opened up and exacerbated will run for years.
Hope amidst ambiguity
The Telegraph's Tim Stanley wrote 'The British must reject fear and dump their masks'.
He began by saying:
Hope, at last! The Government has indicated that all legal lockdown restrictions will end in England on July 19 and that even masks will become a question of choice, in which case I choose to burn mine. I've only worn the wretched thing "to make others feel comfortable", and my heroes are the religious cranks and anti-social yobs who refused to play along.
He is pinning his hopes on new Health Secretary Sajid Javid:
Javid, one hopes, has taken a fresh look at the data and concluded that cases are rising significantly but hospitalisations and deaths are not, which suggests the emergency is under control.
Stanley says we must adjust our outlook towards coronavirus:
We need to shift from disaster containment to threat management. Think of it as living in an earthquake zone: you're conscious of the risk and prepare for the worst, but you don't walk around acting like an earthquake is happening right now, with your knees bent, holding onto the furniture. Nor should we act as if Covid will kill us all, because it won't.
He has two suggestions for the Government in order to make things clear to the public and avoid ambiguity:
The Government needs to get two things right. One is consistency: if adults are free, children should be too. It makes no sense whatsoever that they are isolating from school, or even routinely tested, if this disease doesn't pose a direct threat to them and the vulnerable are double-jabbed. If we keep this silly regime going on in schools, it would both be unjust and sow confusion and fear: how are we supposed to feel safe if kids are treated like unexploded bombs?
And, second – this is so crucial – the Government mustn't allow legal restrictions to be replaced with ongoing "advice" or "guidance", because we've never got to the bottom of which is what, and the result – if trains or supermarkets are still advising us to distance and people assume they have to comply – will be de facto lockdown.
SAGE and communitarianism
SAGE continue to try to make the UK a communitarian, authoritarian society with their rules and restrictions.
Sorry, we are not the Far East, and most of us do not want to transform Britain into that type of society.
Here is a good example of SAGE-think. On Sunday, July 4, the Telegraph reported:
Prof Stephen Reicher at the University of St Andrews, a member of the Sage subcommittee advising on behavioural science, said it was frightening to have ministers "who want to make all protections a matter of personal choice when the key message of the pandemic is "this isn't an 'I' thing, it's a 'we' thing."
No, it is not a 'we' thing. It never should have been.
Reicher gets a lot of airtime on the BBC, especially in Scotland.
Prof Stephen Powis, the NHS medical director for England, told the BBC's Andrew Marr on Sunday that we must continue to protect the NHS by getting vaccinated twice. He said that the link between infection and hospitalisation is 'severely weakened' but not yet broken:
When asked about masks, he said:
Some people may choose to wear face masks in particular circumstances, such as crowded environments, and that's not necessarily a bad thing. Those habits to reduce infections are a good thing to keep.
Millions of us would disagree.
As for official figures in England:
Official figures showed there had been 24,248 Covid cases in the last 24 hours, up 161 per cent on a fortnight ago and highest daily figure since January, but only 15 more people had died as more than half English residents have now been double-jabbed.
These scientists must be from SAGE:
Some UK scientists warned however, that the lifting of all Covid-19 restrictions was like building new "variant factories" at a very fast rate.
If it were up to them, we, the great unwashed, would never see freedom again.
A new 'broom', a new outlook
We are fortunate to have a new health secretary who is a new broom, so to speak, with a new outlook.
Sajid Javid is on the same page as Chancellor Rishi Sunak and Boris himself.
Spectator editor Fraser Nelson explained the alliance for the Telegraph on Thursday, July 1:
Unlocking on July 19 now looks a near-certainty, but so does the surge in Covid cases. So the Prime Minister will need to explain to a nervous country why, all of a sudden, people should be relaxed when the virus rises. Javid will need a version of the "live without fear" theme that Sunak was developing last summer. To say that most of these cases are now among the under-25s, so hospitalisations should be low, posing no serious threat to the NHS. And it's best to get this "exit wave" over with now, rather than wait for the winter.
This will be the next battle: whether Covid-style techniques (self-isolation, classroom closures) should be used to fight back whatever winter brings. This is perhaps where a Sunak-Javid alliance will really come into play. Last summer, the Treasury vetoed an NHS plan to expand hospital capacity on the (now laughable) logic that Test and Trace would quash any second wave. Extra capacity is needed now. Lockdowns, of course, hurt the economy and hit future ability to pay for the NHS.
When the vaccines were first proven to work, Johnson's first thought was that this meant things should be over quickly. Surely they'd only need to protect the over-50s, he thought, then life could then get back to normal. It all turned out very differently, and he ended up caught in a Whitehall war. In Sunak and Javid, he now has two of his most senior ministers committed to an irreversible reopening.
They might not succeed. But this time, he can't say he lacked the support that he needs.
I hope the plan for July 19 works, especially as it would send a clear message to SAGE about the direction of the future for the UK. A data review will take place on Monday, July 12.
On the evening of Saturday, June 26, many Britons were relieved that Prime Minister Boris Johnson appointed a new Secretary of State for Health and Social Care so soon after Matt Hancock's resignation.
Although lockdown supporters say that Sajid Javid has no experience in health, that is why many of us think he is a good choice. He will give the department a fresh pair of eyes and a new perspective, one that isn't tied to SAGE or 'our NHS', which has become a cult religion over the past 16 months (March 2020 – June 2021).
Since the pandemic began, it has become very difficult being able to see a general practitioner (GP) in person.
The Telegraph's Ross Clark wrote (emphases mine):
… many patients struggle to get a doctor to see them even at the surgery. Hancock's vision of us all consulting medical staff via smartphone app doesn't allow for the fact that, according to Ofcom, only 55 percent of the over-65s – ie those who need the NHS the most – use a smartphone. Even if it did, it ignores the views of cancer specialists who have warned that cancer is often diagnosed via subtle changes in a patient's appearance – something you can't capture by uploading a photograph of a spot.
Hopefully, the new health secretary will bring a keen eye to Hancock's failures and won't shy away from tackling vested interests so that we can a real doctor, in real life, when we need to.
GB News covered the appointment on their Sunday morning programme:
TalkRADIO's Julia Hartley-Brewer also thought Javid's appointment was good news:
Mark Harper MP of the Covid Recovery Group (CRG) in Parliament tweeted his congratulations:
The Sunday Times said that Carrie Johnson, who once worked for Javid in government, was influential in getting him the job:
The Mayor of London appeared on Andrew Marr's show on Sunday to congratulate a fellow son of a bus driver (video here):
This confused Deputy Labour Leader Angela Rayner, who also said 'fragrant' instead of 'flagrant' in an interview this week:
Later that day, Times journalist Steven Swinford was told that the security camera in Hancock's former office — now Javid's — had been turned off:
Monday's front page of the Telegraph reported a positive outlook from the new Health Secretary:
That morning, Javid gave an interview to Sky News expressing his desire for a quick lifting of coronavirus restrictions:
However, as Guido Fawkes pointed out, Javid has voted with the Government on continuing restrictions (emphasis in the original):
Co-conspirators will be relieved to hear that given hitherto he has voted in favour of every lockdown. Javid also confirmed the notorious camera lurking in his new office has now been disabled, though not by him personally…
Late Monday afternoon, Javid delivered his first statement in Parliament as Health Secretary. Excerpts from Hansard follow, emphases mine.
He stated the positives about the vaccine rollout, beginning with a brief tribute to Hancock:
I want to take this opportunity to pay tribute to my predecessor, my right hon. Friend the Member for West Suffolk (Matt Hancock), who has worked hard throughout all these testing times. He achieved a great amount in the work that he did, and I know that he will have more to offer in public life. I wish him the very best.
There remains a big task ahead of us to restore our freedoms—freedoms that, save in the gravest of circumstances, no Government should ever wish to curtail. My task is to help to return the economic and cultural life that makes this country so great, while, of course, protecting life and our NHS. That task has been made all the more difficult by the delta variant, which we now know makes up some 95% of new cases in the UK. Not only does it spread more easily, but the evidence points to a higher risk of those who have not been vaccinated needing hospital treatment, compared with the previously dominant alpha variant.
This narrowing of the race between the virus and the vaccine led to this Government's difficult decision to pause step 4 on our road map until 19 July. We are using this extra time to protect as many people as we can. When the Government took that decision on 14 June, more than 4.3 million over-40s had had a first dose but not a second. The figure is now down to 3.2 million people over 40. We can all be reassured by how many more people are getting the life-saving opportunity that a vaccine offers.
At this two-week review point, I want to update the House on our progress on our road map to freedom. Our aim is that around two thirds of all adults in this country will have had both doses by 19 July. We are bringing forward second doses, and bringing forward our target for first doses too, so we can meet that 19 July goal. Vaccine uptake remains sky-high. We have seen that age is no barrier to enthusiasm for getting the jab: as of this weekend, more than half of adults under 30 have taken up the chance to be vaccinated—including, in the past couple of weeks, all three of my own adult children.
Our vaccines are working, including against the delta variant. The latest modelling from Public Health England shows that they have saved more than 27,000 lives and have prevented more than 7 million people from getting covid-19. We know that, after a single dose of vaccine, the effectiveness is lower against the new delta variant, at around a 33% reduction in symptomatic disease, but two doses of the vaccine are just as effective against hospital admission with the delta variant as with the alpha variant.
The jabs are making a difference in our hospitals, too. In January, people over 65 who were vaccinated earlier in our programme made up the vast majority of hospital admissions; the latest data shows that that group now makes up less than a third. While cases now are ticking up, the number of deaths remains mercifully low, and we will continue to investigate how our vaccines are breaking that link between cases, hospitalisations and deaths. I am also encouraged by new data just today from Oxford University's mix and match trial, which shows that a mixed schedule of jabs, such as getting the AstraZeneca jab first and the Pfizer second, could give our booster vaccination programme more flexibility and possibly even some better immune responses …
I spent my first day as Health Secretary—just yesterday—looking at the data and testing it to the limit. While we decided not to bring forward step 4, we see no reason to go beyond 19 July because, in truth, no date we choose comes with zero risk for covid. We know we cannot simply eliminate it; we have to learn to live with it. We also know that people and businesses need certainty, so we want every step to be irreversible. Make no mistake: the restrictions on our freedoms must come to an end. We owe it to the British people, who have sacrificed so much, to restore their freedoms as quickly as we possibly can, and not to wait a moment longer than we need to.
With the numbers heading in the right direction, all while we protect more and more people each day, 19 July remains our target date. The Prime Minister has called it our terminus date. For me, 19 July is not only the end of the line, but the start of an exciting new journey for our country. At this crucial moment in our fight back against this pandemic, we must keep our resolve and keep on our road map to freedom so that together we can beat this pandemic and build back better. It is a task that I am deeply honoured to lead and one I know will succeed. I commend this statement to the House.
Shadow Health Secretary Jonathan Ashworth (Lab) responded for the Opposition, pointing out that Javid's optimism might be misguided:
Can I just say at the outset that, despite our fierce political differences, my dealings with the previous Secretary of State, the right hon. Member for West Suffolk (Matt Hancock), were always courteous, respectful and professional, and I wish him well in resolving his personal difficulties.
I welcome the right hon. Member for Bromsgrove (Sajid Javid) to his place and thank him for advance sight of his statement. He will find working with the NHS and social care staff both inspirational and rewarding, and I hope he will agree to make arrangements for them to receive a fair pay rise and not the real-terms pay cut that is currently pencilled in.
Today, the Secretary of State has let it be known that the 19 July reopening will effectively go ahead. He told the news this morning that there is "no going back" and that lifting restrictions will be "irreversible". A word to the wise: I have responded to a lot of these statements these past 15 months, and I remember Ministers telling us there was "nothing in the data" to suggest that 21 June would not go ahead. I remember children returning to school for one day before the January lockdown. I remember, "It will all be over by Christmas". I remember, "We will send it packing in 12 weeks".
Well, we have seen around 84,000 cases in the past week—an increase of around 61%. Today, we have seen the highest case rate since January. If these trends continue, we could hit 35,000 to 45,000 cases a day by 19 July. That will mean more long covid—the Secretary of State did not mention more long covid—and it will mean more disruption to schooling. For some, it will mean hospitalisation, and we know that even after two doses, someone can catch and transmit the virus, so what is he going to do to push infections down? Vaccination will do it eventually, but not in the next four weeks.
I want to see an end to restrictions and our constituents want to see an end to restrictions, but I hope the Secretary of State's confidence today about 19 July does not prove somewhat premature or even, dare I say it, hubristic. Can he confirm that by "irreversible" he is ruling out restrictions this winter? Has he abandoned the plan that the previous Secretary of State and officials were drawing up for restrictions this winter? …
Javid responded, without addressing possible winter restrictions:
… With all the data I saw yesterday—I sat down and discussed it with the experts and my colleagues—it is very clear that we are heading in the right direction, and I am very confident about that date of 19 July …
Lucy Allan (Con), who has voiced her scepticism about coronavirus restrictions before, asked about the terminus date:
Can my right hon. Friend confirm that 19 July will mark the end of the road map out of lockdown, that "terminus" means the end of the line, not an interchange, and that it is his intention that all restrictions will be lifted on that date?
Javid replied:
… As she will have heard in my statement, it is absolutely our intention to have step 4 commence on 19 July and to remove restrictions and start returning to normal. She asked me specifically about all restrictions, or which restrictions. It is certainly our intention to remove restrictions, but as we follow the data in the coming days, we will set out more in due course.
Jim Shannon (DUP), a staunch Anglican, asked about loosening restrictions on church worship:
… If we are aiming for progression and moving away from restrictions such as the wearing of masks, may I ask when people will be able to attend worship and sit in churches self-distanced, without wearing a mask, just as diners can sit in a restaurant self-distanced without a mask? If we are going to have parity, then I believe that churches should have parity with restaurants.
Javid gave a reassuring reply:
I thank the hon. Gentleman for his remarks. I agree with him that as we move towards removing restrictions and step 4, we should take seriously into account what he said about people attending churches and the restrictions that they currently face. That is certainly my intention.
John Redwood (Con) asked whether Javid would look into improvements in ventilation and cleaning for various types of establishments to improve the air flow. Javid said that he would do so.
Theresa Villiers (Con) also asked about church, specifically singing hymns:
… Now that thousands of people are allowed to gather together at a football match to shout and cheer as much as they want, is it not time that we allowed congregations in church to sing hymns together?
Javid responded positively, which is more than Hancock ever did when asked similar questions:
I can tell my right hon. Friend that that is certainly what I would like to see and it is certainly my intention to allow that to happen as soon as possible. When it does, I hope we can sing a hymn together.
Richard Drax (Con) asked how long it would take before people could see their GPs in person again.
It looks as if Javid will address that issue, which Hancock did not much care about, insisting that phone and video conferences were highly successful:
My hon. Friend has raised an important issue. Even before I had this job, that issue came up again and again when I was a constituency MP just like him, and I absolutely understand it. It has especially been raised by older members of my constituency; people have brought this issue up where they are perhaps not as familiar with technology and they want that face-to-face meeting. I have already asked for advice on that and I will write to him on it, if I may.
Liam Fox (Con) asked for more data to be made public:
… As for the data we get, it is not just about the number of infections—it is about who is infected, what age they are, whether they have pre-existing conditions, and whether they have been offered a vaccine, but have refused. It is not just about hospitalisations and how many people are in hospital. How long have they been hospitalised compared with the figures for previous parts of the pandemic? How many of them require extra care and how many are in intensive care units? We need to understand much better how the Government are reaching their decisions. The British people are not stupid, and Parliament needs to be taken into the Government's confidence much more. I trust, given the previous examples of how he has conducted himself, that my right hon. Friend can do that.
Javid replied:
… On his important point about data, I saw the data in the Department for the first time yesterday. I saw the detail that it provides and how granular it is. I was impressed with that data, so I can give my right hon. Friend reassurance that the Government are looking at the data, and are absolutely taking it into account. I would also like to find a way to make sure that we can share as much of that data as possible so that others can benefit from it, and I will certainly look at ways in which we can do just that.
Dr Ben Spencer (Con) asked about winter measures:
… Does he share my concerns regarding this winter, when we predict that an increase in covid hospitalisations may be superimposed on normal NHS winter pressures? Can he confirm that plans and preparations are being put in place now to support our NHS in what may be a very difficult winter indeed?
Javid responded in the affirmative:
My hon. Friend is right to raise this issue. I can absolutely confirm that plans are being put in place. A huge amount of work was done by my predecessor and, of course, I will continue that work—just yesterday, I had meetings on winter plans. I can give my hon. Friend the absolute assurance, not just on vaccinations but on dealing with the backlog, that there are plans in place, and in due course I will come to the House and set them out.
Huw Merriman (Con) asked about a return to international travel, especially for those who have had two vaccinations.
Javid said:
First, my hon. Friend will know that, in terms of 19 July and the restrictions that will be removed, we are focusing on domestic restrictions. He knows that, separately, we also take very seriously the border controls, the border restrictions and the so-called traffic light system. In terms of making any further decision on that, he will know that it is kept under constant review on a very regular basis, and it is something that I intend to sit down and discuss with my right hon. Friend the Transport Secretary as soon as I can.
Mark Harper (Con) pressed Javid with a question on winter restrictions:
… I welcome my right hon. Friend's tone and his intent to get us back to normal, but let me pick up on his earlier answer to our hon. Friend the Member for Runnymede and Weybridge (Dr Spencer). There are those in government, from documents that I have seen, who are preparing the ground for the return of restrictions in the autumn and the winter. Will he rule out the use of lockdowns and restrictions in the winter as a mechanism for managing covid, and look at alternatives to ensure that the NHS is able to deal with us getting back to normal?
Javid answered:
… I am very happy to meet with him to discuss the issues in more detail and listen to his views. He should know that it is my intention, and the Government's intention, as I have said from day one on this job, to remove all restrictions as quickly as possible.
Steve Brine (Con) asked about the disruptive self-isolation rules following positive test results, especially for schoolchildren:
… I am looking for a change in policy as much as a change in tone. I return him to the subject of education. Estimates suggest that a quarter of a million children are missing school today due to precautionary isolations, the vast majority of them sequential due to the bubbles that they are caught in. Under the current rules, 10 days of isolation is then unavoidable, even with a negative PCR test. Have our young people not suffered enough? Are we really going to continue to do this to ourselves? Is this not an area, given the availability and reliability of testing now, where I might find the change of policy that I am looking for?
Javid replied:
Other hon. Members have rightly raised this very important issue, and my hon. Friend is right to draw attention to it once again. It is something that I have focused on from day one on the job. That is why I have asked for fresh advice on it. As he knows, that decision was made with the data that was available at the time. Clearly, data is changing all the time, and we must ensure that we keep that under review for exactly the reasons that he has just set out. As I say, I have asked for advice on that and will hopefully be able to say more on it as soon as possible.
This is what journalists and the public picked up from that debate.
The Sun's Deputy Political Editor Kate Ferguson tweeted about the terminus date …
… and singing in church:
GB News was a bit more cautious:
The Telegraph's Alison Pearson gave Javid five suggestions for improvement, including sacking SAGE and publishing COVID-19 recovery data with the public:
… It was pure speculation by Sage that led to the cancellation of Freedom Day on June 21. Subsequent figures have shown that we are not seeing any sign of hospitalisations for Covid "rocketing" or "surging" as we were warned two weeks ago. On the contrary, NHS England currently has just 1,445 Covid patients (one per cent of all beds). The rolling seven-day average of deaths after a positive test with Covid is 17. Sir John Bell, regius professor of medicine at Oxford, says the vaccines are holding up really well against variants. Asked about the large number of "cases", he said, "This is trivial, actually. Most who test positive are under 30 and they don't get very sick." Sir John is clearly far too sane to qualify as a government adviser. Maybe have a word with him?
As for publishing the recovery data:
Matt Hancock promised he would last summer; the slippery eel never did. We are among the only countries in the world not to trust its people with positive information from which they can calculate their own risk. Please stop infantilising us.
The Telegraph's Jeremy Warner has hope that, by working together, Javid and Chancellor of the Exchequer Rishi Sunak can turn this parlous situation around:
Like the new Health Secretary, Sunak has always been at the libertarian end of the debate on lockdown, as he must given his interest in a functioning, tax generating economy. So unusually, we for now have a Chancellor and a Health Secretary who are actually on the same page. The Prime Minister should enjoy the harmony while it lasts. The Treasury and Health department are not natural bedfellows.
On the other hand, Bob Moran, the Telegraph's cartoonist and a coronavirus sceptic, was unimpressed:
Someone picked up on 'Build Back Better':
However, author Carl Vernon, also a coronavirus sceptic, was positive:
I tend to agree with him.
As Sajid Javid has worked for some of the world's greatest investment banks, I hope that he will cast a gimlet eye over all of the data and ask probing questions of SAGE when they make recommendations on continuing restrictions.
I wish our new Health Secretary all the best.
Last Friday's post was about Matt Hancock's fall from grace as Health Secretary as featured on the front page of The Sun.
The Queen had lost confidence in him before then, as my post explains, covered in another front page feature, in The Times.
Hancock's final 48 hours as health secretary were pivotal, not only for his political but also his personal life.
Thursday, June 24
The Sun allegedly contacted Hancock to ask him if he had any comment before they published the compromising photo of him in a steamy embrace with a female aide.
Hancock went home that evening and dropped a life-changing bombshell on his wife and youngest child. 
On Sunday, the Mail reported (emphases mine):
Mother-of-three Martha was reportedly blissfully unaware of her husband's infidelity until he broke the news to her on Thursday night when it became clear the footage would be published the next day.  
And he reportedly even woke up the couple's youngest child, aged eight, to tell him he was leaving. 
How unspeakably cruel.
My commiserations to both — as well as to his two other children.
Apparently, Hancock is serious:
Friday, June 25
On Friday, YouGov and Savanta ComRes took snap polls to test public opinion on The Sun's revelations about Hancock.
It was clear that this representative portion of the public were deeply unhappy and thought he should resign.
These were YouGov's results:
Savanta ComRes found that 46% of Conservative voters thought Hancock should resign:
The full video of Hancock's illicit embrace became available online.
A number of newspaper columnists expressed their disgust with Hancock's hypocrisy.
The Telegraph's Emily Hill wrote:
Four days after Freedom Day failed to dawn, what fun it is for the masses who must continue to abide by the Minister's absurd rules to see this! Dancing inside at a wedding – verboten. Nightclubs – verboten. Standing at the bar in a pub talking to perfect strangers – verboten. It's as if they don't want the young and fit and healthy to mate anymore. Sex privileges, it seems, are reserved for middle-aged men in Westminster while the rest of us can only watch, helpless, wondering how much their cheating is costing the taxpayer.
… But it is now the afternoon and Hancock has merely cancelled his appearance at a vaccine centre while Grant Shapps [Secretary of State for Transport] was sent out to inform us: "First of all, I think the actual issue is entirely personal for Matt Hancock." Seconds later he stated: "whatever the rules are, the rules will have to be followed" in relation to the ministerial code. This makes hypocrites of much of the Government, not to mention every world leader who flouted social distancing rules so publicly at the G7 summit.
The Telegraph's Alison Pearson pointed out how much the British public has sacrificed in personal relationships over the past year and a bit because of Hancock's restrictions:
Thousands of people posted reactions on social media. Some were bitterly mocking the official mantras: "Hands, Face, Back to My Place". "Saving Lives, Shagging Wives".
Others were simply devastating: "I wasn't even allowed to kiss my dying father because of Hancock."
The anger and disbelief were palpable. Was this really the minister who told us on the 17th May that, after fourteen months of physical and emotional self-denial, we were free to hug our loved ones, when, a fortnight earlier, he'd been giving mouth-to-mouth to some glamorous chum he'd put on the public payroll? Knowing Hancock, he'd call it First Aide.
We are all humble sinners and a man or woman's private peccadillos shouldn't disqualify them from doing their job. But no such understanding or humanity – not a sliver of mercy – has been shown by the Secretary of State or this Government to members of the public who have broken often cruel and arbitrary rules. Remember how we watched in horror as police arrested a retired nurse as she tried to drive her 97-year-old mother away from a care home. Hundreds of thousands of people have departed this life without a last touch or kiss from their best beloveds because the restrictions forbade it so relatives sobbed in the carpark because Matt Hancock said it must be so. Almost 30,000 children have been put on anti-depressants yet just one positive test (without any Covid symptoms) can still send an entire year group home to self-isolate for ten lonely days. Parents know this is insanity, but they must suck it up because that prating popinjay Hancock tells them it's vital to keep us "safe"…
If I had a gasket left to blow it would have exploded when Culture and Sports minister John Whittingdale explained this week how up to 3,000 Uefa officials will be allowed to arrive in the UK, without quarantine, for the Euro semis and finals. "We've always said that for some people who are important…", said the hapless minister, accounting for the fact that normal people would be held to different standards.
"All animals are equal but some animals are more equal than others." I never ever thought George Orwell's satirical take in Animal Farm on an arrogant, unaccountable elite patronising the masses would apply in our country. More fool me. We're all in this together, eh, Matt? …

Trust me, it's not closed. There are millions of us, and we are raging now, and we will not allow it to be closed. If the Government permits one law for Hancock and "important people" and another for the rest of us then it is morally bankrupt. Boris must act this very day to restore the people's faith, to prove that we haven't been mugs.
Fraser Nelson, also writing for the Telegraph, pointed out how Hancock insisted on following his draconian rules, therefore, he should not expect privacy now:
Mr Hancock has always been one of the most emphatic for the rules. In internal government debates, he has invariably pushed for the toughest restrictions and wanted 10-year jail sentences as a penalty for trying to dodge draconian quarantine rules. "I make no apologies for the strength of these measures," he said: they'd target a "minority who don't want to follow the rules." Who, presumably, he thinks, deserve everything coming their way. When two women were fined by police for walking together, Mr Hancock was unforgiving. "Every time you try to flex the rules,' he said, "that could be fatal" …
This is the irony in his request on Friday for "privacy for my family on this personal matter" now. There is no doubt his family deserves it. But a great many other families would have been grateful for more privacy over the last 15 months. Instead, the Tory Government decided to legislate for what people do in their own homes. And in so doing, set up a system where people came to worry that they'd be reported to the police – perhaps by their neighbours – if they stretched the rules by inviting children over to play in their back gardens. Greater Manchester Police issued a statement boasting that they had raided a family home to break up a child's birthday party.
Sweden managed to fight back two Covid waves while respecting privacy and civil liberty. There are bans on mass gatherings, and a rule of eight for public places. But no rules would apply inside anyone's property, where they had sovereignty. Government would not come through your front door: in Sweden, your home is your castle. It wasn't so long ago when this respect for privacy summed up civic life in Britain.
When Mr Hancock started issuing advice on where we should hug (embracing outside, he said, was better than inside) alarm bells ought to have been ringing in Number 10. It was a sign that the Government machine had gone way out of control, losing any sense of its remit or boundaries. Number 10 should have stepped in, and perhaps asked for a study on the efficacy of the intrusions or work of Project Fear: the blood-curdling posters showing Covid victims on their deathbeds. If there was no proof that the campaign was making a difference, they could have been told to change tack …
Paul Waugh of HuffPost dug up a quote from April 2020 (and a 2021 photo), showing how dictatorial Hancock was:
Conservatives in Parliament began complaining about Hancock. Christopher Hope, writing for the Telegraph, reported:
Baroness Foster of Oxton, a Tory peer, accused Mr Hancock on Twitter of having "used emergency powers to impose these punitive restrictions leading to horrendous consequences across society without debate yet ignored them himself & at work!"
Backbench Conservative MPs contacted their whips about the Health Secretary. One texted: "You don't need me to tell you what I think." Another said that "children have missed out in so many ways" and that Mr Hancock's behaviour was "so hypocritical", while a third MP said the Government "is looking ridiculous now, I am sorry to say".
Oddly, the Shadow (Opposition) Health Minister Jonathan Ashworth was silent.
The day ended with The Sun's Harry Cole appearing on the BBC's Newsnight:
Saturday, June 26
The Telegraph had running live coverage of the Hancock debacle. Excerpts follow.
Coverage began at 9:01 a.m.:
Tory MPs urged Boris Johnson to "pull the plug" on Mr Hancock and expressed their frustration to party whips over the Health Secretary's "hypocritical" behaviour …
A senior government source said public reaction was being monitored and could determine Mr Hancock's fate.
At 9:30:
The Telegraph understands Mr Hancock had no idea the camera existed when it captured him kissing adviser Gina Coladangelo, and government sources said it was "unheard of" for cameras to be installed in ministers' offices.
It raises the possibility that the camera was deliberately placed by someone with access to his office with the intention of catching the pair cheating on their spouses and breaking Covid rules. It is the first time a Cabinet minister has been filmed in their own office without their knowledge.
In a further twist, the Department of Health and Social Care's offices use CCTV cameras made by the Chinese company Hikvision, which is banned in the US because of national security concerns.
At 10:20:
A healthcare company which employs as a senior director the brother of the aide Matt Hancock was pictured kissing has insisted it had never benefited from the connection to the Health Secretary.
Reports suggested Roberto Coladangelo, strategy director at Partnering Health Limited (PHL Group), was the brother of Gina Coladangelo, a familial connection later confirmed.
At 11:06:
The Health Secretary is under mounting political pressure this morning after a video was published of him hugging and embracing Gina Coladangelo, a non-executive director in his department, in early May.
At the time, hugging and socialising indoors with people outside one's household was banned.
But according to The Sun, they have been "all over each other" again this week in the same ninth-floor office of the Department of Health and Social Care.
At 11:19:
Duncan Baker, Conservative MP for North Norfolk, has called for Matt Hancock to resign.
Mr Baker, who was elected in 2019, is believed to be the first Tory MP to openly call for Mr Hancock to go and told his local newspaper the Eastern Daily Press: "In my view people in high public office and great positions of responsibility should act with the appropriate morals and ethics that come with that role …
"I will not in any shape condone this behaviour and I have in the strongest possible terms told the Government what I think."
Duncan Baker was not alone. Three other Conservative MPs spoke out against Hancock — Esther McVey, William Wragg and Sir Christopher Chope:
Sir Christopher told the Dorset paper, the Daily Echo:
"I think that he should resign rather than be sacked because this should actually be an issue for him and his conscience.
"One of the benefits of having been around for a long time is that I've seen this sort of thing before and the strength of feeling is such, within the party and outside,  that this will not simply go away. 
"The sooner he resigns the better so we can have a new secretary for health who commands public respect.
"Hancock is finished.
"The sooner he goes the sooner he can be rehabilitated."
That afternoon, Hancock and Prime Minister Boris Johnson had a conversation. Hancock wrote a letter of resignation. Boris responded with a written reply:
Around 6 p.m., Hancock announced his resignation via a personal video:
Shadow Health Secretary Jonathan Ashworth said that Boris should have sacked Hancock:
However, given Boris's philandering, that would have been hypocritical.
Also, Hancock will now return to the backbenches. Boris will want to keep him sweet. Even I can figure that out.
Around two hours later, it was announced that Sajid Javid would be Hancock's replacement. Javid has been Home Secretary and Chancellor of the Exchequer, so he will be comfortable with another post in the Cabinet.
This means that Boris's expected reshuffle will not now take place until perhaps later in the year. A smart move:
This thread summarises Javid's career. He is the son of a bus driver. His teachers told him that he should pursue television set repair as a career. Were they ever wrong:
Dominic Cummings was quick to react, blaming Boris's wife Carrie for the appointment. She had at one time worked for Javid. Cummings said he himself had 'tricked' Boris into firing Javid from Her Majesty's Treasury (HMT):
Sky News's Beth Rigby appeared outside of No. 10 late on Saturday:
Beth has some nerve. She was suspended from Sky News for a few months for having revelled in a non-coronavirus-compliant way at her colleague Kay Burley's 60th birthday party evening in central London:
Sunday, June 27
Newspaper editors must have been pulling out their hair in changing their front pages for Sunday.
The Sun went for a play on words (matt paint):
The Mirror had the same idea, adding that his aide has quit her job, too:
The Times had a front page article adding that Hancock used a personal Gmail account to conduct Department of Health business. Apparently it's done now, but any of those emails are subject to FOIA requests with regard to Government business. It also means that the Government might not be able to get a trail of all of his activity with regard to contracts:
The Express said that Conservative donors threatened to stop contributions if Hancock stayed in office:
I will stop there for now.
The Sunday articles and news programmes had much more to explore.
For now, it looks as if Sajid Javid has a more libertarian approach to handling the virus and wants restrictions lifted as soon as practicable.
In case you haven't read them, don't miss Parts 1 and 2 of my series on today's modern Conservative Party.
Part 1 includes a glimpse on one of Prime Minister Boris Johnson's ancestors, a Muslim from Turkey.
Today's post focuses solely on another MP who was elected in 2010, when David Cameron became Prime Minister: Sajid Javid.
Sajid Javid (Bromsgrove)
Sajid Javid's life story is a true lesson on the wrong type of education.
Not all school guidance advisers are good ones.
One can only hope that Sajid Javid's are having difficulty swallowing their respective lunches. Even if they vote Labour, I hope they follow Conservative Party news.
How many of Javid's teachers and advisers got far enough in life to work at JPMorgan and serve as Chancellor of the Exchequer? None of them!
The beginning
Although Sajid Javid was born in Rochdale, Lancashire, to a Pakistani family, he grew up in Bristol, in the south-West of England.
Today, Bristol is a very leftist city, sadly, as is the city's university.
Perhaps it wasn't when Sajid Javid was growing up.
The former Chancellor of the Exchequer (July 2019 – February 2019), succeeded by Rishi Sunak, is sure to make a comeback sooner rather than later.
However, his teachers and advisors clearly missed his potential in the late 1980s. He was born in 1969.
Perhaps they relied only on the background of his Pakistani parents. His father had been a bus driver in Rochdale and his mother did not speak English until she had lived in England for ten years.
Once the family moved to Bristol, his parents bought a shop. The family lived in a flat above it.
Yet, that was not good enough for Sajid's teachers and advisors at school.
Adolescence
At the age of 14, while attending a state comprehensive school — an average high school, in American terms — near Bristol, Sajid Javid developed an interest in the stock market and The Financial Times.
Incredibly, at that age, he was able to borrow £500 from a bank in order to invest in stock market shares.
However, his teachers and guidance counsellors took little notice and advised him to become … a TV repairman!
Good grief.
Young adulthood
Javid duly went on to further his studies at Filton Technological College in Stroud (South Gloustershire). From there, he went on to complete his education at the University of Exeter from 1988 to 1991, where he read economics and politics.
During that time, he joined the Conservative Party.
At the age of 20, he campaigned against the Thatcher government's decisions to join the ERM (Exchange Rate Mechanism), joining the UK to the EU.
Early career
Javid left the UK in the early 1990s for New York City.
In 1992, he not only rose to become the youngest vice president of Chase Manhattan Bank, but also served as an aide to Rudy Giuliani's successful mayoral campaign in 1993.
So much for his career as a TV repairman!
Banking career
Savid Javid, destined by his school to become a TV repairman, worked for Chase Manhattan Bank in South America.
Upon his return to London in 1997, he relocated to Singapore, where he became head of Deutsche Bank's credit trading, equity convertibles, commodities and private equity businesses in Asia,[24] and was appointed a board member of Deutsche Bank International Limited.
Political career
In 2009, Javid decided to pursue a career in politics.
He was selected to succeed Julie Kirkbride, a Conservative who was standing down from her seat in the Bromsgrove constituency, located in Worcestershire.
He won the May 2010 election by a comfortable margin. He won again in 2015 and 2017. In 2019, he further increased his lead over Labour.
During his early years in Parliament, he served as Economic Secretary to the Treasury (2012-2013) and Financial Secretary to the Treasury (2013-2014).
After that, he served as Secretary of State to three different departments: Culture, Media and Sport (2014-2015); Business, Innovation and Skills (2015-2016) and Housing, Communities and Local Government (2016-2018).
Britons know Javid best as Home Secretary under Theresa May (2018-2019) and as Boris Johnson's first Chancellor of the Exchequer (2019-2020). He was replaced in February 2020 by Rishi Sunak. Today, Javid is on the Conservative backbenches, still working hard for the people of Bromsgrove.
During his time as Home Secretary, Javid spoke out against 'sick' paedophiles who had finally been brought to justice; he said such men would find no favour with him.
He was also committed to reducing harms to children online. The Online Harms white paper was issued in April 2019:
An Online Harms bill is expected to pass Parliament sometime in 2021.
In 2019, Javid's popularity was such that he was one of those running for Conservative Party leader to replace Theresa May. Boris Johnson won the contest.
In August 2019, as Chancellor, he promoted a no-deal Brexit:
However, Boris's top adviser at the time, Dominic Cummings, did not seem to like some of Javid's advisers. In August 2019, Cummings appeared to have been behind the sacking of Javid's media person, Sonia Khan. She was sacked without Javid's knowledge, leaving him understandably furious.
In the House of Commons, Javid had to put up with the odious then-Speaker of the House, John Bercow, who interrupted his spending review statement:
This was the substance of Javid's 2019 spending review, covering a variety of areas:
Things were going so well at the time:
However, Boris Johnson and Dominic Cummings didn't like Javid's spending plans. They did not think Javid was spending enough.
On September 20, 2019, not long after the spending review statement and just before the annual Party conference, the Daily Mail reported that No. 10 was looking at Rishi Sunak as a replacement (emphases mine):
The animosity between No 10 and No 11 Downing Street is over a serious of announcements Mr Johnson wants to make at the Conservative Party Conference at the end of the month.
No 10 is furious at attempts by former leadership challenger Mr Javid to water down some of Mr Johnson's plans to open the cash taps with a series of announcements to the party faithful in Manchester, the Guardian reported.
Team Javid is said to be furious at the central role being played by divisive Downing Street adviser Dominic Cummings, and efforts to bypass the Chancellor in favour of his more accommodating deputy, Chief Secretary to the Treasury Rishi Sunak.
A Whitehall source told the website: 'There is no sign of change, in fact it has got worse. 
'Saj [Javid] remains furious because he is not part of the decision-making process on government expenditure. 
'It all comes from Cummings and a small number of No 10 people. A lot of people are saying that Saj's days are numbered. No 10 is much happier with Rishi.' 
Mr Johnson is believed to want to make domestic spending announcements in areas like housing, the NHS and social care, with Mr Javid wanting to take a more cautious, longer-term approach.
It makes one wonder how Javid would have handled the coronavirus crisis spending were he still Chancellor. That's an interesting question.
At the 2019 Party conference, Javid made another forceful case for the Brexit mandate:
He had planned on having special 50p commemorative coins minted for Brexit that year:
The minting had to wait until the end of January 2020:
I have never seen this coin in real life. Apparently, a limited number were minted, with more to follow later in the year. Coronavirus probably put paid to that plan. What a shame.
Returning to the end of 2019, things were really looking up for Britain:
Boris launched another Brexit campaign for the snap general election held on December 12 that year. He had pledged to negotiate a new Withdrawal Agreement with Brussels, which he did accomplish:
During the campaign, Javid pressed home Conservative values, particularly where the economy and taxes were concerned:
It was a wonderful moment when the election programmes announced early on that Conservatives won by a landslide, even in Northern constituencies that had always voted Labour.
While the first weeks of 2020 left Conservatives heady with excitement, Sajid Javid's days were far less happy.
At the end of January 2020, a comedian, Shazia Mirza, insulted Javid, and, sadly, a BBC news presenter found it funny (more here):
More importantly, No. 10 continued to plot against the Chancellor.
Boris had a reshuffle planned. On February 13, he told Javid that he (Javid) would have to sack all his advisers and accept those that No. 10 would choose for him.
Not surprisingly, Javid refused to accept those conditions.
I had read that people at No. 10, probably Dominic Cummings, suspected that some of Javid's advisers were leaking confidential information about government policy to the media. I don't know how true that is.
Sajid Javid resigned that day and wrote an excellent letter to the Prime Minister:
The BBC pressed him on Dominic Cummings, but he said that the conditions came from the Prime Minister himself, adding:
I don't believe any self-respecting minister would accept such conditions so therefore I felt the best thing to do was to go.
Of course, he was obliged to give a resignation speech before Parliament, which he did a fortnight later on February 26:
Guido Fawkes urged readers to view it (emphasis in the original):
Watch his properly Conservative, spending restraining, tax cutting resignation speech in full…
At that time, our domestic airline, FlyBe, was in deep trouble financially. Javid had never promised a bailout, nor had his successor Rishi Sunak:
As lockdown took hold, having begun on Monday, March 23, 2020, Sajid Javid's thoughts turned towards abused children.
On May 30, the Telegraph reported that he would be leading an investigation into sexual abuse of children:
The economic impact of the lockdown will pale by comparison to the "perfect storm" leaving vulnerable children "isolating alongside their abusers", Sajid Javid has warned.
Writing for The Telegraph, the former Home Secretary said the current restrictions appeared to be facilitating a "surge" in sexual abuse of children which he predicted would be reflected in figures later this year.
Mr Javid is to lead a new "no holds barred" investigation into child sexual abuse in Britain, along with the Centre for Social Justice think tank. Mr Javid said the inquiry would not be impeded by "cultural and political sensitivities" after the men convicted in recent high-profile cases were disproportionately of Pakistani, Kashmiri, Bangladeshi and Bengali heritage.
His intervention follows repeated warnings by children's charities about the increased risks of child abuse while children are being kept at home during the lockdown.
Last month The Telegraph disclosed that the number of vulnerable children "out of contact" as a result of the lockdown was causing alarm among ministers studying the cost of measures designed to halt the spread of coronavirus.
As we are still in lockdown, with a brief reprieve for a few months last year, this investigation will probably take some time to complete.
On August 17, 2020, although Sajid Javid is still an MP, he began serving as a senior adviser to his former employer JPMorgan, on the bank's European Advisory Council.
His role at the bank will be "strictly ringfenced" from his political position and has been signed off by the UK government's Advisory Committee on Business Appointments, according to a person briefed on the details.
Among other members of the council are Esko Aho, the former Finnish prime minister, and Vittorio Grilli, the former Italian finance minister, who has taken over as chair.
The council is made up of senior business and political leaders from across Europe, the Middle East and Africa and meets periodically throughout the year.
"We are delighted to welcome Sajid back to JPMorgan as a senior adviser, and we look forward to drawing upon his in-depth understanding of the business and economic environment to help shape our client strategy across Europe," the bank said in a statement to the Financial Times.
JPMorgan declined to provide details on how much Mr Javid would be paid.
Conclusion
I am grateful we have Sajid Javid on the Conservative benches.
One wonders what his school teachers think of him now.
I hope that whoever told him that he should be a television repairman has been eating a lot of humble pie over the past few years.
More on Conservative MPs from minority backgrounds will follow tomorrow.
Britain's Conservatives have had a highly successful party conference in Manchester.
They have had the highest attendance in 20 years, with many more young members showing up.
Conservatives seen as Party of Brexit
Voters now think that the Conservatives are definitely a party of Brexit, a dramatic turnaround since the days of Theresa May in April 2019, as a YouGov poll from October 1 shows:
Guido Fawkes writes (emphasis in the original):
New YouGov polling has revealed that more Leave voters now think that the Tory party is a pro-Brexit party in a direct contrast to the last time the question was asked. Back in April, Leave voters were found to be substantially more likely to think the Tories were actually anti-Brexit (40%) than pro-Brexit (23%). The more pro-Brexit the Tories are seen as, the higher their polling climbs…
Hearteningly for Tory strategists, the proportion of Brexit Party voters who see the Tories as anti-Brexit has collapsed from 65% to just 24%.
This exchange is representative of voters' perceptions:
One of Guido's readers provided an excellent analysis (emphases mine) and meme featuring Chancellor Sajid Javid, Home Secretary Priti Patel, Leader of the House Jacob Rees-Mogg and Foreign Secretary Dominic Raab:
The core Cabinet + Lynton Crosby + Dominic Cummings are driving policy in a very interesting way.
They are commissioning an unprecedented number of focus groups and private polls. They are scouring the social media. They will even be reading this comment (Hi!).
They then use this knowledge of what the public actually want to form policy and to craft the messages in their speeches, press releases and other output.
They are doing what a government should do. They have become the servants of the people.
This is why Boris says we are leaving, deal or no deal. He is 100% sure that this is what the vast majority want. And he knows how massively unpopular the Quislings are.
The other parties are just bumbling round in the dark with their blindfolds on.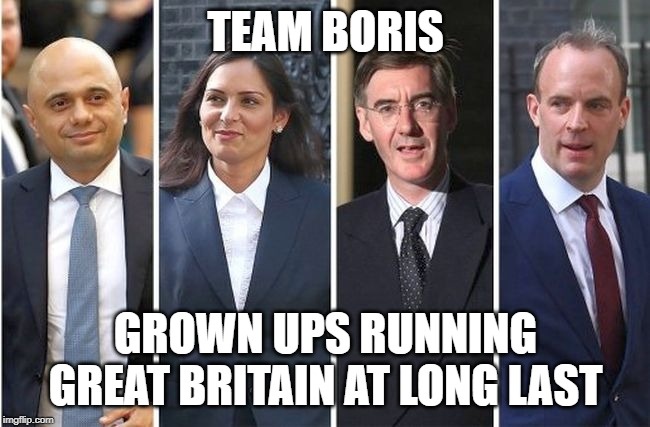 I don't know about 'grown ups' as much as a group of people who have the mettle to keep going, in spite of all obstacles, not least the daily nastiness from the Left. This went up near Manchester in nearby Salford just before Conference began on Sunday, September 29:
Boris best PM since Maggie
Many Britons have said anecdotally online that Prime Minister Boris Johnson is the best since Margaret Thatcher, who stood down in 1990. The following is something any Briton over 60 will tell you about when you ask about the 1970s and her party's defeat of Labour. She faced a national mess, one that affected everyone with regular power outages, strikes and so on:
Whilst it's early days, here are poll results from this week for Boris …
… and the Conservatives:
Conservatives — the party of the people and of diversity
From the introductory speech by the female chairperson of the conference until the end, the Conservative message was:
We don't care where you come from, but where you are going.
How true.
Under Boris Johnson, we have the most diverse Cabinet in British history.
Despite all their rhetoric on people and diversity, Labour's Shadow Cabinet barely comes close.
Labour are also under investigation on charges of anti-Semitism.
On Monday, September 30, a young Conservative Party member introduced the Chancellor of the Exchequer. Mercy Meroki is no fan of the Labour Party. She is currently studying at Oxford:
Now is a good time for people like me to find out how to pronounce the Chancellor's name:
He greeted his mother, who was in the audience. This is probably the first time Punjabi has been heard at a Conservative Party conference. I wonder about the Labour and Lib Dem conferences in that regard, too, though:
The biggest headline from the Chancellor's speech is a proposed abolition of inheritance tax, rightly viewed by Britons to be the most unfair:
The Party of Law and Order — Conservatives
I sincerely hope that Priti Patel can be a better Home Secretary than her predecessors Amber Rudd and Theresa May.
Her speech went down very well with conference attendees and people watching from home.
Whilst I applaud the addition of 20,000 more police from the PM and her, we have heard this before. For various reasons, it never happens.
I also question the Australian points system for future immigrants. Surely, there must be a better way, as an article from October 1 in The Guardian, 'Oxford professor's children refused visas to join her in UK'. This is what happens in the academic world, so heaven only knows what happens to others than senior executives or the very wealthy (emphases mine):
Dr [Amber] Murrey, an expert on social change in Africa, who has published widely and previously held positions at universities in Cairo, Massachusetts and Ethiopia, took up her post in Oxford last year. Without proof of residency she couldn't set up schooling or somewhere to live in advance, so the couple decided she should establish a base in Oxford before moving the family. While she has been returning to Cameroon to see her daughters and husband in the university holidays, she says this has been an emotional strain.
"It has been really hard, because I need to spend more time with my daughters but I am wary of being out of the UK for too long in case it jeopardises the terms of my tier 2 visa," she says.
The news has hit the family hard. Murrey says: "My nine-year-old had been so excited about her new school, and our apartment near a meadow. After I told her their visas had been denied she told me: 'I know why they rejected me, it's because I've been misbehaving this week, Mama'. We both cried very hard."
The Home Office rejection letters say that under immigration rules a child may only be given a visa if both parents are living together in the UK. This would be waived if the parent living here had sole responsibility for the children, or the other partner had died.
"This policy seems to operate under the guise of keeping families together, but it is splitting mine apart," Murrey says.
Ultimately the couple want the whole family to live together in Oxford, but Murrey says that right now they are just trying to "do what is best for our daughters".
She doesn't know whether she has been singled out as a risk because her husband is from Cameroon. "We have family members and friends there who have been rejected for British visas in the past," she says.
The Wellcome Trust, a health research charity, has evidence of around 100 cases in which academics, especially from African countries, have been refused visas to come to the UK for conferences, often for spurious reasons …
A young Canadian academic, who wished to remain anonymous, recently encountered a similar pop-up window when applying for a full-time lectureship that should have qualified her for a tier 2 visa at a London university.
"It said: 'It is highly unlikely that you would obtain permission to work in the UK on the basis of an offer for this … job. It is therefore recommended that you do not continue with your application'."
She says this felt like a sign saying: "foreigners go home". She blames the government rather than universities, but says that after a year of applying for jobs she is beginning to feel desperate.
Gareth Edwards, a senior geography lecturer at the University of East Anglia and co-founder of International and Broke, which campaigns against high visa costs for academics, says international academics are getting this sort of pop-up warning when applying for permanent lectureships. "Those jobs are most certainly eligible for sponsorship," he says.
Meanwhile, we've got illegals coming here on dinghies from the Dunkirk area. They have friends or family members pick them up in coastal arrival points in the UK to take them to their new home.
It seemed to be just a few cases last year, but LBC (radio) recently sent someone undercover to investigate, and it's a regular trafficking programme with dozens of people being smuggled across the Channel every night. On a slow day, only 20 to 25 go across. Normally, twice that many people make the crossing nightly, often with the blessing of the local gendarmerie. I will write about this in a separate post.
Immigration aside, the levels of crime on our streets are far different than they were 25 or 30 years ago. Crime used to make the national news. Now there are so many incidents that local newspapers cover them instead. So, on that basis, Priti Patel's policies — really Boris's, as he came up with them first — have been applauded:
And, ironically, before the Home Secretary spoke on the dais to formally announce this new commitment, security staff duly ejected a Conservative MP from an event at the International Lounge. Either he or his guest lacked the relevant pass to gain entry. They were then asked to leave the conference altogether:
The BBC reported:
A staff member guarding the door of the International Lounge said the incident was sparked by a disagreement.
"It was a small misunderstanding," the man said.
BBC Political Editor Laura Kuenssberg said the incident happened just before home secretary Priti Patel stood up to make a speech "trying to reclaim the Tories as the party of law and order".
A Greater Manchester Police spokesman said an attendee "attempted to enter the International Lounge area of the conference without the relevant pass".
"Security staff intervened and resolved the situation without any breach of security occurring," he added.
Also:
The incident led to a lockdown of part of the Manchester Central Convention Centre for about 20 minutes. The MP apologised "unreservedly".
A Conservative spokesman said: "The incident was totally unacceptable."
"Geoffrey has been asked to leave Conference and we are establishing all of the facts to see if further action is necessary," he added.
"We will always adopt a zero tolerance approach to any inappropriate behaviour towards our hardworking staff."
The Cotswolds MP said in a statement: "This was a minor verbal misunderstanding.
"The police have not contacted me at all. I am mortified that something so minor seems to have been blown out of all proportion and if anyone has been offended, I apologise unreservedly.
"I will co-operate with the party in any investigation."
Tweets show this incident caused concern:
Boris's speech — backing Britain
Of course, most reading this want to know what Boris said just before midday on Wednesday, October 2.
As one would expect, he was witty and to the point. As one reader of Guido Fawkes points out:
… Boris in a nutshell: HE CHEERS US UP.
True!
Others agreed:
Were any other former PMs there? No:
You can see Boris's speech in full, beginning at one hour and 36 minutes in:
Note his Brexit coloured tie.
He began by paying tribute to his predecessor, Theresa May. He also thanked the outgoing leader of the Scottish Conservatives, Ruth Davidson. Neither is a particular fan of his, but Boris did the right thing.
He then said:
We have so many reasons to feel confident about our country.
Finally. Having watched portions of the Lib Dem and Labour conferences, it was a relief to hear a party leader talking positively about Britain.
He referred to Labour as the:
anti-Semitic Marxists in Brighton last week.
Boris then wittily criticised Jeremy Corbyn for not voting for a general election. Corbyn, lest we forget, asked for one 35 times, no exaggeration. Boris put forward a motion twice in September, and Labour voted No. Then he went on to discuss the Supreme Court overruling the recent prorogation, which had Royal assent:
He brought up Brexit:
He rightly asked when any Conservative leader last spoke about capitalism:
The answer is Theresa May in 2017. Prior to that, David Cameron did at some point.
He spoke up for Britain and our nation's great innovations throughout history:
I'm fed up with being told our country can't do something when I passionately believe that it can.
He gave a shout out to the Commonwealth.
He praised Priti Patel for supporting law and order policies.
He called for London to elect Shaun Bailey as its next mayor.
He spoke about buses, his favourite vehicle.
He said that wind and solar energy were far more productive than originally claimed. It turns out his sister, Remainer Rachel, was sceptical. Boris picked up on it at the time in one of his Telegraph columns:
At the end, Boris received a standing ovation.
No one slept through his speech.
He did not use an autocue, either, which was refreshing.
'No disposable cups'
The comedy moment of the conference occurred on Tuesday, October 1.
Boris really wanted a cup of coffee, and a male aide handed him one. A female assistant quickly whisked it out of his hand.
Apparently, it was because it was in a disposable cup. I do think the Conservatives are taking this eco-thing a bit too far:
Watch Boris extend his hands, not quite believing what happened and not having any coffee. He's a good sport:
It reminded me of that Seinfeld episode, 'The Soup N@zi': 'No soup for you!'
Comedy gold.
Guido Fawkes reports (emphasis in the original):
After a slue of late night receptions with Tory members, Boris was denied his much needed caffeine hit this morning by his press team – all because it came in the wrong cup. When Number 10 Press Secretary Rob Oxley handed the Prime Minister a cup of coffee, it was swiftly snatched away by events aide Shelley Williams-Walker who scolded him saying "No disposable cups." Oxley was later spotted buying a KeepCup and a mug at the Tory Party conference shop…
UPDATE: Several hours later…
My observations
After Boris's speech, the Conservative Party Conference drew to a close for another year.
My brief observations follow, contrasting this to the two left-wing conferences.
First, everyone at the Conservative conference was tidy and well groomed. Most of the men wore jackets and ties.
Secondly, proceedings ran to time. Boy, did they ever.
Finally, everyone who spoke was articulate and delivered their speeches well.
Bravo!
Now, it's onwards and upwards to GET BREXIT DONE!