You are currently browsing the tag archive for the 'salvation' tag.
The First Sunday of Advent is on November 27, 2022.
It is the first day of the new Church year.
As such, we move to a new year in the Lectionary, from C to A, for our readings, which can be found here.
In addition, as we are in Advent, the colour of the celebrant's vestments is purple until the midnight service on Christmas Eve.
The Gospel reading is as follows, emphases mine:
Matthew 24:36-44
24:36 "But about that day and hour no one knows, neither the angels of heaven, nor the Son, but only the Father.
24:37 For as the days of Noah were, so will be the coming of the Son of Man.
24:38 For as in those days before the flood they were eating and drinking, marrying and giving in marriage, until the day Noah entered the ark,
24:39 and they knew nothing until the flood came and swept them all away, so too will be the coming of the Son of Man.
24:40 Then two will be in the field; one will be taken and one will be left.
24:41 Two women will be grinding meal together; one will be taken and one will be left.
24:42 Keep awake therefore, for you do not know on what day your Lord is coming.
24:43 But understand this: if the owner of the house had known in what part of the night the thief was coming, he would have stayed awake and would not have let his house be broken into.
24:44 Therefore you also must be ready, for the Son of Man is coming at an unexpected hour.
Commentary comes from Matthew Henry and John MacArthur.
If this reading sounds familiar, we had Luke's version a fortnight ago on the Twenty-second Sunday after Trinity, Year C.
The Gospel readings for Advent and the last Sundays after Trinity/Pentecost are designed to encourage us to think about our own mortality and repentance.
Our Lord's discourses on His Second Coming take place in the same circumstances, just a few days before the Crucifixion. In Luke 21, His disciples admired the beauty of the temple.
We have the same in Matthew 24:
1 Jesus left the temple and was walking away when his disciples came up to him to call his attention to its buildings. 2 "Do you see all these things?" he asked. "Truly I tell you, not one stone here will be left on another; every one will be thrown down."
Luke places his Second Coming discourse at the temple. By contrast, Matthew's is at the Mount of Olives:
3 As Jesus was sitting on the Mount of Olives, the disciples came to him privately. "Tell us," they said, "when will this happen, and what will be the sign of your coming and of the end of the age?"
Note Matthew 24:35:
35 Heaven and earth will pass away, but my words will never pass away.
Matthew Henry's commentary says:
Christ here assures us of the certainty of them (v. 35); Heaven and earth shall pass away; they continue this day indeed, according to God's ordinance, but they shall not continue for ever (Ps 102 25, 26; 2 Pet 3 10); but my words shall not pass away. Note, The word of Christ is more sure and lasting than heaven and earth. Hath he spoken? And shall he not do it? We may build with more assurance upon the word of Christ than we can upon the pillars of heaven, or the strong foundations of the earth; for, when they shall be made to tremble and totter, and shall be no more, the word of Christ shall remain, and be in full force, power, and virtue. See 1 Pet 1 24, 25. It is easier for heaven and earth to pass, than the word of Christ; so it is expressed, Luke 16 17. Compare Isa 54 10. The accomplishment of these prophecies might seem to be delayed, and intervening events might seem to disagree with them, but do not think that therefore the word of Christ is fallen to the ground, for that shall never pass away: though it be not fulfilled, either in the time or in the way that we have prescribed; yet, in God's time, which is the best time, and in God's way, which is the best way, it shall certainly be fulfilled. Every word of Christ is very pure, and therefore very sure.
John MacArthur summarises the events of that Passover week leading up to this discourse and what was going through the disciples' minds:
He has done signs and wonders to prove His kingdom power. He has recently denounced the false religious leaders of Israel. He has cleansed out the temple of all of the godless enterprises that were being done in that place. He has also announced that there will come soon a desolation of the whole temple complex, and He even has pronounced the truth that He would come in glory. And all of these things have led them to believe that it must be very, very soon. In fact, Luke 19:11 says they thought that the kingdom of God should immediately appear. I mean it seemed to them that He was there announcing Himself as King, He was there destroying the false religious system that existed in order that He might establish the true spiritual kingdom promised to them by the prophets of old. And so they were filled with anticipation.
Jesus said that, of the day and the hour of His Second Coming, no one knows when it will happen, not the angels, not He Himself, only the Father (verse 36).
MacArthur explains why no one knows:
It is a day and an hour we're looking at, not an era. We don't know what generation it'll come upon, but we do know this, that whatever generation it starts with, it'll end with, right? That's verses 32 to 35. The generation that sees the beginning is going to see the end because it's going to come so fast …
God has chosen not to reveal that specific moment and to give no specific sign of that specific moment. And there's reason in His great wisdom for that. If men knew the exact moment when the Lord would come, they might be godless until just short of that moment. Or even the people who were prepared might be living in panic or might be giving up, thinking the time was too short. Life would become hopeless if you knew exactly when the Lord was going to come. There could be no plans, there could be no ongoing relationships, and everything would be affected dramatically by that knowledge. So the Lord has chosen not to give us that knowledge but to live every moment expecting His coming, every moment expecting His intervention, so that there is preparedness all the time. If the world knew the very moment of the coming of Christ, it would dawdle itself away thinking that in that last and final moment it might take the steps to make things right just in time and so God has not told us that. So no man knows that. It is hidden from men.
And then He says, "No, not the angels of heaven." Even the angels don't know it. The natural world does not know it and neither does the supernatural world …
Furthermore, if you remember in Matthew 13, it tells us that the angels are the agents of judgment in the second coming. When God reaches out to judge the world and gather men into that judgment, He sends His angels who are the reapers, you remember, to gather the wheat and the tares in. So angels are very involved in the judgment activity. In verse 31 of our chapter we're looking at now, the angels are the ones sent out to gather the elect as well. So though angels are the intimates of God and though they are face-to-face with God in a spiritual sense, doing His bidding, and though they are the agents of judgment and the gathering in of the godly and the ungodly in that time of Christ's coming, they – in spite of all of that – do not know the exact moment. God has chosen not to reveal it to them. And He has His reasons.
Then we come to the question of when Jesus Christ came to know the day and the hour. From the time of either His resurrection or ascension, He knew:
Now, the better manuscripts of Matthew indicate to us that it also should be included in the text "nor the Son" – "nor the Son." In Mark 13:32, which is the parallel passage, it is definitely included by Mark, "Of that day and that hour knoweth no man, no not the angels who are in heaven, neither the Son, but the Father." And it would be best to include it here in Matthew. I think in the New American Standard and the New International version, they correctly do include it. Jesus says, "Even the Son of Man doesn't know" – "even I don't know." And, of course, this has created all kinds of interesting discussion. How is it that Jesus Christ, who is God, cannot know something? How is it that Jesus Christ, who is God, who is omniscient – which means He knows everything – can't know something or doesn't know something?
Well, that's, I believe, rather easily explained if we understand the meaning of His incarnation. Jesus Christ is fully God, very God of very God, theologians used to say. He is God fully and totally because you can't be part God, He is all God. But when He became a man, He voluntarily restricted the use of His godhood, of His divine attributes. It wasn't that He laid the attributes aside; it wasn't that He set His deity aside; it was that He restricted the use of those things. He had them as instruments but chose not to pick them up and use them. So He lived, as it were, without using His omniscience unless the Father told Him to use it.
We know He was omniscient on some occasions. John 2, He says He needed not that anybody should tell Him what was in the heart of a man because He knew what was in the heart of a man. There are many indications of His great knowledge, of His divine knowledge. But He restricted the use of His omniscience to those things which the Father desired Him to know. That is the design of the incarnation. When the Bible says He became a Son, He took upon Him the form of a servant. It means that He submitted Himself to that which the Father wanted Him to do, that which the Father wanted Him to say, and that which the Father wanted Him to know. That's why in John 15:15, you have a very, very important verse in understanding Christ. It says this – Jesus speaking to the disciples – "Henceforth, I call you not servants for the servant knows not what his lord does. But I have called you friends" – now listen to this – "for all things that I have heard of My Father, I have made known unto you."
In other words, Jesus' knowledge in His incarnation was qualified by what the Father had revealed to Him. And the Father revealed things to Him through Scripture; that is, the Old Testament, as He studied the Scripture, through experience as He walked in the world and saw the moving of the power of God, and through direct revelation. But Jesus limited His knowledge to what the Father chose to reveal to Him. He didn't have to do that but He chose to do that to play the role of a servant to accomplish the redemption of mankind. It's a very important concept so that when it says He humbled Himself and took upon Him the form of a servant, was made in fashion as a man, and so forth, it means that He limited the use of those attributes. And if you studied, for example, in the passages that deal with His early life, you will remember that it says Jesus grew in wisdom and stature, you remember, and favor with God and man. He grew in wisdom …
Now, it is my own personal feeling that after the resurrection, this was revealed to Him. That when He came out of the grave in the glory of His resurrection life, it says in Matthew 28:18, He said to His disciples, "All authority is given unto Me in heaven and earth." And I think what that's saying is nothing is missing; I have authority over all things. And then in Acts 1:7, He said this: "But unto you it is not given to know the times and the seasons which My Father has put in His own power," and He doesn't include Himself anymore. He says "unto you it isn't given." So it may well be that after the resurrection, His knowledge was complete. It's as if the Father only revealed to Him the next great event, and He never revealed to Him the full moment of His second coming until He had already come out of the grave and accomplished the resurrection, and then the Father opened to Him the next event in His marvelous, marvelous work.
Therefore, Jesus knew the day and the hour, if not at His resurrection, then at His ascension:
… when Jesus entered into His glory, if not immediately after His resurrection, certainly after His ascension, He then was entered back into the fullness of that which He had before the incarnation and this moment right now, He knows fully when that second coming moment will be. But in the midst of that incarnation, that had been abandoned in favor of learning what the Father would tell Him and nothing more.
MacArthur believes that God is waiting for an excess of sin, iniquity that has reached its limit:
He is allowing sin to run its reckless course, to spend itself, to ripen to the point where it will be fully, finally, and forever harvested.
Paul wrote similarly to the Thessalonians about the Jews who had prevented the Gospel from being spread. My Forbidden Bible Verses post from Sunday, November 20 discussed Thessalonians 2:16:
16 by hindering us from speaking to the Gentiles that they might be saved—so as always to fill up the measure of their sins. But God's wrath has come upon them at last![a]
The persecuting Jews of Paul's time hadn't been divinely judged at that time, which was 20 years before the destruction of the temple. Nonetheless, Paul was saying that they had sinned to such an extreme that God's judgement was as good as done, on earth and in the next life. When iniquity has reached its full extent, God acts.
However, there is another equally important reason God has timed the Second Coming perfectly, and that is because He wishes to save as many people as possible from judgement, Jew and Gentile alike:
… that reason is indicated to us in Romans chapter 11 verse 25. And it says, "I would not, brethren, that you should be ignorant of this mystery, this unrevealed truth, lest you should be wise in your own conceit, but blindness, that blindness in part is happened to Israel until the fullness of the Gentiles be come in." The fullness of the Gentiles speaks of the gathering in of the church in this age. And I believe another reason the Lord waits is for the gathering of the church. I believe He is waiting to gather all the saints whose names are written in the Lamb's book of life. He is waiting to collect the Gentiles who will forever and ever and ever throughout eternity give Him glory, give Him praise, give Him honor, give Him adoration and serve Him. He is gathering together occupants for His eternal heaven to praise and glorify His name. And also, after "the fullness of the Gentiles be come in" – verse 26 says – "so all Israel will be saved." There has to be also in the future the salvation of Israel, that Jew and Gentile together through all eternity may praise God.
So there's been a time going on since the first coming. We've waited all this two thousand years and He's not yet come. And the reasons are twofold. One, that sin may ripen; two, that the redeemed who have been planned for His glory eternally may be brought to that eternal glory. So it is for sin and for salvation.
Jesus said that, as things were in the time of Noah, so they will be when the Son of Man comes again (verse 37).
It took Noah 120 years to build the ark to God's specifications. Noah was not a natural builder. He was originally a preacher. Those who lived around him laughed at him, because they lived in a desert.
Consider that every moment of every day for those 120 years, every bit of that ark was a daily call for them to repent of their sins or be destroyed in the flood, which did come to that part of the world. Talk about the patience of God! And still, the people laughed.
Imagine what it will be like just before the Second Coming.
MacArthur illustrates it for us:
You know, not only do people not know the day and the hour the Lord is coming, but most of them aren't even going to care. Even with all the signs and all the wonders and all the things going on, they're not going to care. They're not even going to think about it. They won't even be considering that as an alternative. It's hard to imagine that. I mean it's really hard to imagine that. They'll be scoffing and mocking like in 2 Peter chapter 3. And they'll be getting out their little slide rules and they'll be getting out their little charts and they'll be fussing around with their computers and they'll be analyzing the universe to try to explain scientifically why everything's going haywire. Why there are earthquakes and why there are all kinds of movements in the heavens and why the tides are all messed up and why the moon goes out and why the sun isn't working properly and why daylight has been shortened and why there's blood in the seas and there's bitterness in the fresh water and why people are slaughtering each other and why there are terrible massacres all around the world. They're going to be trying to figure all this out sociologically, scientifically, rationally. But they're not going to look to the truth of the Word of God.
Jesus had more to say about Noah's era. People were preoccupied with a comfortable life, eating and drinking, marrying and giving people in marriage, until the day Noah entered the ark (verse 38).
Henry says that their comforts and passions consumed them. The same was true before the destruction of the temple in AD 70:
Eating and drinking are necessary to the preservation of man's life; marrying and giving in marriage are necessary to the preservation of mankind; but, Licitus perimus omnes—These lawful things undo us, unlawfully managed. First, They were unreasonable in it, inordinate and entire in the pursuit of the delights of sense, and the gains of the world; they were wholly taken up with these things, esan trogontes—they were eating; they were in these things as in their element, as if they had their being for no other end than to eat and drink, Isa 56 12. Secondly, They were unreasonable in it; they were entire and intent upon the world and the flesh, when the destruction was at the door, which they had had such fair warning of. They were eating and drinking, when they should have been repenting and praying; when God, by the ministry of Noah, called to weeping and mourning, then joy and gladness. This was to them, as it was to Israel afterwards, the unpardonable sin (Isa 22 12, 14), especially, because it was in defiance of those warnings by which they should have been awakened. "Let us eat and drink, for to-morrow we die; if it must be a short life, let it be a merry one." The apostle James speaks of this as the general practice of the wealthy Jews before the destruction of Jerusalem; when they should have been weeping for the miseries that were coming upon them, they were living in pleasure, and nourishing their hearts as in a day of slaughter, Jam 5 1, 5.
Jesus continued, saying that the people of Noah's time knew nothing of the flood until it came to sweep them away; so shall it be when the Son of Man returns (verse 39).
Henry says that material security breeds carnality:
First, Therefore they were sensual, because they were secure. Note, the reason why people are so eager in the pursuit, and so entangled in the pleasures of this world, is, because they do not know, and believe, and consider, the eternity which they are upon the brink of. Did we know aright that all these things must shortly be dissolved, and we must certainly survive them, we should not set our eyes and hearts so much upon them as we do. Secondly, Therefore they were secure, because they were sensual; therefore they knew not that the flood was coming, because they were eating and drinking; were so taken up with things seen and present, that they had neither time nor heart to mind the things not seen as yet, which they were warned of. Note, As security bolsters men up in their brutal sensuality; so sensuality rocks them asleep in their carnal security. They knew not, until the flood came. 1. The flood did come, though they would not foresee it. Note, Those that will not know by faith, shall be made to know by feeling, the wrath of God revealed from heaven against their ungodliness and unrighteousness. The evil day is never the further off for men's putting it far off from them. 2. They did not know it till it was too late to prevent it, as they might have done if they had known it in time, which made it so much the more grievous. Judgments are most terrible and amazing to the secure, and those that have made a jest of them.
He has a present day application for us:
The application of this, concerning the old world, we have in these words; So shall the coming of the Son of man be; that is, (1.) In such a posture shall he find people, eating and drinking, and not expecting him. Note, Security and sensuality are likely to be the epidemical diseases of the latter days. All slumber and sleep, and at midnight the bridegroom comes. All are off their watch, and at their ease. (2.) With such a power, and for such a purpose, will he come upon them. As the flood took away the sinners of the old world, irresistibly and irrecoverably; so shall secure sinners, that mocked at Christ and his coming, be taken away by the wrath of the Lamb, when the great day of his wrath comes, which will be like the coming of the deluge, a destruction which there is no fleeing from.
MacArthur provides this analysis of the comparisons with the people of Noah's time:
It's almost unbelievable that they knew not, that the people in the time of Noah didn't know it was going to rain because they had had somebody telling them that for 120 years. Noah was a preacher of righteousness. And he preached righteousness and judgment. And he gave them a very large sign of coming judgment by building a massive boat, an ark. Literally the word means "wooden chest." This was the symbol and the sign, 120 years in building, that God was going to bring a devastation to drown the world. And it says until the Flood came and engulfed them, they didn't realize it. They just went on eating, drinking, marrying, and giving in marriage. In other words, they went on with the routines of life, literally ignoring the preaching of judgment, literally ignoring the sign and the symbol of the coming Flood. And so it will be in the day of the second coming of Christ …
They will ignore even the sign of the Son of Man in heaven; they will explain it away; they will rationalize it away. They will do something with it other than accept what it intends to purvey, what it intends to communicate, what it intends to say. And when Jesus comes, they'll be shocked. Hard to imagine, but such is the blindness of the human heart. Such is the darkness of the human mind. Listen, they couldn't even tell when God Himself walked in their midst. Why should they be better able in that period to understand than they were when Jesus was here? When the truth is, all hell having broken loose on the earth in that age, sin will be worse than it's ever been.
So they'll not see the truth. Oh, there will be a great salvation. The Jews will be redeemed and there will be a great redemption among the Gentiles, as Revelation 7 says. But there will still be a massive, worldwide populace of people who, having lived through all of the unbelievable events which we've chronicled in chapter 24, will still find the second coming of Jesus Christ occurring to them in an unexpected way. It's unbelievable. In spite of all the signs …

Also:
You see, in the days of Noah, people ignored the truth, didn't they? Do you know how long Noah preached? Second Peter 2:5 calls Noah a preacher of righteousness. Do you think he just built a big wooden chest – that's the word ark, it's a – the word is the word for a wooden chest, he built a big wooden chest in the middle of the desert and told people there was going to be a flood. And they laughed because it had never rained. There was no such thing as rain. And there was no water there. And you know how long he built that boat? A hundred and twenty years and they laughed and they ridiculed and they mocked and they derided him.
But 2 Peter 2:5 says he was a preacher of righteousness. He wasn't just a boat builder, he was a preacher. Before he was a boat builder, he was a preacher. And for 120 years while he built the boat, he must have been asked a million times, "Why are you building the boat?" Right? "Why are you building the boat?" And that was the trigger for the sermon, "Because God is going to judge the wickedness of this world, and only those who put their faith in Him are going to escape. And I'm building the boat as a way of escape. Would you like to come on?" And they laughed and they laughed and they mocked. For 120 years, they went on with life as usual while he preached judgment, preached judgment, preached judgment, and demonstrated it to them by building a great big wooden chest right in the middle of everywhere so everyone could see it. And they didn't buy it. And I'm sure the first time a raindrop hit somebody's nose, they thought a dinosaur sneezed behind a hill or something. Still wouldn't believe it. They didn't want to believe that. They could have come up with all kinds of excuses not to believe that.
Jesus described simultaneous salvation and damnation in the next two verses.
Henry says that this took place when the temple was destroyed. No Christians in Jerusalem perished, a historic fact:
When ruin came upon Jerusalem, a distinction was made by Divine Providence, according to that which had been before made by divine grace; for all the Christians among them were saved from perishing in that calamity, by the special care of Heaven. If two were at work in the field together, and one of them was a Christian, he was taken into a place of shelter, and had his life given him for a prey, while the other was left to the sword of the enemy. Nay, if but two women were grinding at the mill, if one of them belonged to Christ, though but a woman, a poor woman, a servant, she was taken to a place of safety, and the other abandoned. Thus the meek of the earth are hid in the day of the Lord's anger (Zeph 2 3), either in heaven, or under heaven. Note, Distinguishing preservations, in times of general destruction, are special tokens of God's favour, and ought so to be acknowledged. If we are safe when thousands fall on our right hand and our left, are not consumed when others are consumed round about us, so that we are as brands plucked out of the fire, we have reason to say, It is of the Lord's mercies, and it is a great mercy.
Jesus said that two — two men, that is — are in the field working, one will be taken and one will be left (verse 40).
MacArthur confirms that Jesus spoke of men:
The word "one" in verse 40 is masculine in gender … The man's task in that particular agricultural part of the world in that time was to be in the field …

Not forgetting women, Jesus said that two of them would be grinding meal — grain — together; one will be taken and one will be left (verse 41).
MacArthur says:
The "one" in verse 41 is feminine in gender … the women were there with the stone, the mill, grinding that which was harvested by the men.
We can interpret 'taken' as being saved or judged. Either is correct.
Henry leans towards salvation:
We may apply it to the second coming of Jesus Christ, and the separation which will be made in that day. He had said before (v. 31), that the elect will be gathered together. Here he tells us, that, in order to that, they will be distinguished from those who were nearest to them in this world; the choice and chosen ones taken to glory, the other left to perish eternally. Those who sleep in the dust of the earth, two in the same grave, their ashed mixed, shall yet arise, one to be taken to everlasting life, the other left to shame and everlasting contempt, Dan 12 2. Here it is applied to them who shall be found alive. Christ will come unlooked for, will find people busy at their usual occupations, in the field, at the mill; and then, according as they are vessels of mercy prepared for glory, or vessels of wrath prepared for ruin, accordingly it will be with them; the one taken to meet the Lord and his angels in the air, to be for ever with him and them; the other left to the devil and his angels, who, when Christ has gathered out his own, will sweep up the residue. This will aggravate the condemnation of sinners that others shall be taken from the midst of them to glory, and they left behind. And it speaks abundance of comfort to the Lord's people. [1.] Are they mean and despised in the world, as the man-servant in the field, or the maid at the mill (Exod 11 5)? Yet they shall not be forgotten or overlooked in that day. The poor in the world, if rich in faith, are heirs of the kingdom. [2.] Are they dispersed in distant and unlikely places, where one would not expect to find the heirs of glory, in the field, at the mill? Yet the angels will find them there (hidden as Saul among the stuff, when they are to be enthroned), and fetch them thence; and well may they be said to be changed, for a very great change it will be to go to heaven from ploughing and grinding. [3.] Are they weak, and unable of themselves to move heavenward? They shall be taken, or laid hold of, as Lot was taken out of Sodom by a gracious violence, Gen 19 16. Those whom Christ has once apprehended and laid hold on, he will never lose his hold of. [4.] Are they intermixed with others, linked with them in the same habitations, societies, employments? Let not that discourage any true Christian; God knows how to separate between the precious and the vile, the gold and dross in the same lump, the wheat and chaff in the same floor.
MacArthur interprets 'taken' as if in judgement:
It's based on that picture of the flood sweeping men away into death. Two are going to be in the field when that final devastating flood of fire comes. And one is taken in judgment. Two at the mill and one is taken in judgment. And the other left – the other left – what are they left for? They're left to go into what? Into the kingdom ... They are the redeemed. So you'll have people on the job. Some will be believers and some will be unbelievers. The unbelievers will be swept away and the believers will be preserved.
Jesus told His disciples — and us — to stay awake, to be aware, for we do not know what day the Lord is coming (verse 42).
Henry tells us that sleep is akin to sinfulness. All of us will die, so we need to be prepared:
Note, It is the great duty and interest of all the disciples of Christ to watch, to be awake and keep awake, that they may mind their business. As a sinful state or way is compared to sleep, senseless and inactive (1 Thess 5 6), so a gracious state or way is compared to watching and waking. We must watch for our Lord's coming, to us in particular at our death, after which is the judgment, that is the great day with us, the end of our time; and his coming at the end of all time to judge the world, the great day with all mankind. To watch implies not only to believe that our Lord will come, but to desire that he would come, to be often thinking of his coming, and always looking for it as sure and near, and the time of it uncertain. To watch for Christ's coming, is to maintain that gracious temper and disposition of mind which we should be willing that our Lord, when he comes, should find us in. To watch is to be aware of the first notices of his approach, that we may immediately attend his motions, and address ourselves to the duty of meeting him. Watching is supposed to be in the night, which is sleeping time; while we are in this world, it is night with us, and we must take pains to keep ourselves awake.
… Be ye also ready. We wake in vain, if we do not get ready. It is not enough to look for such things; but we must therefore give diligence, 2 Pet 3 11, 14. We have then our Lord to attend upon, and we must have our lamps ready trimmed; a cause to be tried, and we must have our plea ready drawn and signed by our Advocate; a reckoning to make up, and we must have our accounts ready stated and balanced; there is an inheritance which we then hope to enter upon, and we must have ourselves ready, made meet to partake of it, Col 1 12.
Jesus gave a practical analogy: if the owner of a house knew when the thief was coming, then he would have stayed awake and not allowed his house to be broken into (verse 43).
Jesus meant that He will return suddenly, like a thief in the night. Thieves move quickly. By prefacing it with 'understand this', He was putting emphasis on it.
MacArthur explains the verse:
"But know this" – or "I think this" – it could be an imperative, it could be an indicative. I like to think it's an indicative. That is, it states a fact. Comparing with verse 42, "You do not know what hour your Lord does come, but you do know this." I mean this is obvious. You do know this. "That if" – and it's "if" with a condition in the Greek that is contrary to fact – if and he doesn't, but if he did, if the householder had known in what watch, that is, in what three-hour period during the night. The Jews divided the night into four three-hour periods from 6:00 p.m. to 6:00 a.m. 6:00 to 9:00, 9:00 to 12:00, 12:00 to 3:00, 3:00 to 6:00. He says, "If a householder knew what hours in the middle of the night the thief would come, he would have watched and allowed his house – not allowed his house to be broken into." Literally the Greek word for breaking in is "digging through" …
So He says you don't know when the Lord's coming, but you do know this, if a man knew when a thief was coming, if he knew in general, not the minute or even the hour, but if he just knew the general watch, if he knew the general timeframe, he sure would be ready for him when he got there, right? He sure would. And that's what He's saying. That you do know. Any fool knows that if a robber's coming and you know he's coming, you're going to be ready for him when he gets there.
And the Lord's coming is often likened to the coming of a thief. And it would be good at this point to say that it is not because it is a criminal coming. The likening of the Lord's coming to a thief, which occurs here, 2 Peter 3:10, Revelation 3:3, Revelation 16:5, Luke 12:35-40, which I'll show you in a moment. It also occurs in 1 Thessalonians 5:2 and following. And those places where the Lord's coming is likened to a thief, it is not that Christ is like a thief, it is that Christ will come suddenly and unexpectedly like a thief comes suddenly and unexpectedly. That's the only analogy. That's the only analogy.
Jesus ended His discourse by saying that we must also be ready, for the Son of Man is coming at an unexpected hour (verse 44).
This refers to death as well as the Second Coming, as Henry explains:
We know not the day of our death, Gen 27 2. We may know that we have but a little time to live (The time of my departure is at hand, 2 Tim 4 6); but we cannot know that we have a long time to live, for our souls are continually in our hands; nor can we know how little a time we have to live, for it may prove less than we expect; much less do we know the time fixed for the general judgment. Concerning both we are kept at uncertainty, that we may, every day, expect that which may come any day; may never boast of a year's continuance (James 4 13), no, nor of tomorrow's return, as if it were ours, Prov 27 1; Luke 12 20 …
… his saying "I come quickly." obliges us to be always expecting him; for it keeps us in a state of expectancy. In such an hour as you think not, that is, such an hour as they who are unready and unprepared, think not (v. 50); nay, such an hour as the most lively expectants perhaps thought least likely. The bridegroom came when the wise were slumbering.
It is best for us to get our spiritual house in order, starting now, so that we are ready for our deaths:
Note, First, We have every one of us a house to keep, which lies exposed, in which all we are worth is laid up: that house is our own souls, which we must keep with all diligence. Secondly, The day of the Lord comes by surprise, as a thief in the night. Christ chooses to come when he is least expected, that the triumphs of his enemies may be turned into the greater shame, and the fears of his friends into the greater joy. Thirdly, If Christ, when he comes, finds us asleep and unready, our house will be broken up, and we shall lose all we are worth, not as by a thief unjustly, but as by a just and legal process; death and judgment will seize upon all we have, to our irreparable damage and utter undoing. Therefore be ready, be ye also ready; as ready at all times as the good man of the house would be at the hour when he expected the thief: we must put on the armour of God, that we may not only stand in that evil day, but, as more than conquerors, may divide the spoil.
In studying the Gospels, we notice that Jesus often told parables about being prepared for the master or the bridegroom.
MacArthur gives us one example:
… the Lord very often taught the same lessons using the same illustrations or very closely related ones. As any good teacher knows, you repeat good things and you repeat good illustrations in different settings because they're helpful to people. And the Lord here in Luke chapter 12 is also concerned in warning people about His second coming. He says, "Let your loins be girded about and your lamps burning, and you yourselves like men that wait for their lord when he will return from the wedding, that when he comes and knocks you may open unto him immediately." I mean, be ready so that when he comes back, everything is as it ought to be. "Blessed are those servants whom the lord when he comes shall find watching. Verily I say unto you that he shall gird himself and make them to sit down to eat, and will come forth and serve them."
Amazing. When the Lord comes back, if you've been faithful, He'll sit you down to eat and He'll serve you. That's the kingdom. If you're prepared when He comes, you'll sit down with Him in His kingdom and He will serve you. And if He should come in the second watch or come in the third watch and find them so, then blessed are those servants because they're ready whenever He comes. They know He's coming. They don't know when it is, but they're ready. "And this know, that if the owner of the house had known what hour the thief would come, he would have watched and not permitted his house to be broken through. Be ye therefore ready also for the Son of Man comes at an hour when you think not."
Now you can go back to Matthew 24. It's the same idea. It's the same basic lesson. It's the same idea that He has given here, that when He comes is a devastating judgment. When He comes is an immediate glory for the redeemed. So be ready. And since we don't know when it is, and no one knows when it is, and no one can know when it is, we need to be ready at all times – at all times. So alertness and readiness.
Advent readings are to remind us of repentance and new life. John the Baptist preached before Jesus began His ministry. Advent is that time of preparing ourselves for His coming to earth as a humble infant to save us as the adult who died humiliatingly for our sins.
Reign of Christ — Christ the King — Sunday is on November 20, 2022.
Readings for Year C can be found here.
The Gospel reading is as follows (emphases mine):
Luke 23:33-43
23:33 When they came to the place that is called The Skull, they crucified Jesus there with the criminals, one on his right and one on his left.
23:34 Then Jesus said, "Father, forgive them; for they do not know what they are doing." And they cast lots to divide his clothing.
23:35 And the people stood by, watching; but the leaders scoffed at him, saying, "He saved others; let him save himself if he is the Messiah of God, his chosen one!"
23:36 The soldiers also mocked him, coming up and offering him sour wine,
23:37 and saying, "If you are the King of the Jews, save yourself!"
23:38 There was also an inscription over him, "This is the King of the Jews."
23:39 One of the criminals who were hanged there kept deriding him and saying, "Are you not the Messiah? Save yourself and us!"
23:40 But the other rebuked him, saying, "Do you not fear God, since you are under the same sentence of condemnation?
23:41 And we indeed have been condemned justly, for we are getting what we deserve for our deeds, but this man has done nothing wrong."
23:42 Then he said, "Jesus, remember me when you come into your kingdom."
23:43 He replied, "Truly I tell you, today you will be with me in Paradise."
Commentary comes from Matthew Henry and John MacArthur.
Apologies in advance for another long post, but what our commentators have to say will open our eyes to the true depth of this reading.
John MacArthur says that the story of the penitent thief is found only in Luke's Gospel:
The story of the penitent thief is not in Matthew, Mark or John.  It is only in Luke.  This is all we have.  And in a sense, as we look at verses 39 to 43 and consider this miraculous conversion of a thief hanging on a cross next to Jesus, we might conclude that this is a rather cryptic account.  Perhaps we would wish that Matthew had given us another look at it or Mark or both or John, but this is all we have …
… we come to the conversion at Calvary, the story of the salvation of a crucified thief.  And as I said, as you first look at it, it seems a bit brief and perhaps not very revealing, but you will find by the time we're done that it is anything but that.
MacArthur explains that our Lord's crucifixion was set up to play out as a comedy for both Romans and Jews:
I understand that's a stunning notion, that this is a comedy, but it is precisely that which was intended by the crucifiers.  To them, Jesus was an object of absolute ridicule.  As a king, he was laughable.  This whole thing was intended to be a mockery of the fact that he was a king.  He had no army.  He had no sovereignty over anything or any place.  He had meager and minimal followers.  He had conquered no one and nothing and delivered no one.  There was nothing about him that looked as if he was a massive power, but rather he was increasingly weaker and weaker and weaker.  And so the whole thing was so comedic they turned it into a kind of burlesque.  Here, those that are gathered around the cross are mocking, sneering and hurling abuse at Jesus with sarcasm.  They're endeavoring to treat the Son of God with as much dishonor as they can muster, with as much disrespect and disdain and shame as they can possibly generate. 
Along with Judas's betrayal a few days beforehand, this is one of history's greatest sins. Both show how horrible spiritual blindness truly is:
Here is sin at its apex.  Here is sin at its ultimate.  Here is blasphemy at its pinnacle.  Mocking deity, sneering at the incarnate God, and with glib satisfaction piling sarcastic scorn on the Creator and the Redeemer – the true King; the true Messiah.  Sinners cannot to worse than this.  Nothing that sinners can do could more offend God than this.  Blasphemy can't be worse than this.  We might ask that in light of the heinousness of this, maybe this is time for God to act.  We should be expecting a holy, righteous God to react to this kind of ultimate blasphemy by pouring out wrath and vengeance and fury on those who are perpetrating this on him …

Judgment will come 40 years after this in the destruction of Jerusalem by the Romans.  Many, if not most of these people, gather today who are still alive 40 years later will perish in that judgment.  Many will die before that ever comes.  But doesn't this seem like an undue patience?  Just how tolerant is holiness?  Just how patient is righteousness?  Just how enduring is divine mercy and grace?  If ever there seemed to be a time when God's wrath would be justified if it came swiftly, this would be it.
Well, in a strange irony, His judgment did come swiftly at the cross, but it didn't come on the crowd, it came on Jesus on behalf of those who blasphemed him.  The Old Testament is clear about blasphemy.  It says this in Leviticus 24:16, "Anybody who blasphemes my name shall die."  It is a capital crime to blaspheme the name of God.  They are blasphemers.  They know that.  They're content to blaspheme Him, to pronounce curses on Him, to heap abuse on Him.  That is exactly what they are doing.  In a perverted twist, however, they accuse him of being the blasphemer.  When earlier in his ministry Jesus demonstrated the power to forgive sin, Matthew 9, they said this man blasphemes.  You come to the end of Matthew – or toward the end of Matthew in chapter 26, Jesus says, "You've said it yourself, nevertheless I tell you that you shall see the Son of Man sitting at the right hand of power and coming on the clouds of heaven.  And the high priest tore at his robes saying, "He has blasphemed.  What further need do we have of witnesses.  Behold, you have heard the blasphemy.  He is deserving of death."  And they spit in his face and beat him with their fists and slapped him.
They are the blasphemers, but in a perverted twist, they make him into the blasphemer and they are the ones who think they're upholding righteousness. 
MacArthur reminds us of God's infinite patience:
When you run out of patience, God does not.  When you look, at something and think the patience of God must be exhausted because my patience would have been long ago exhausted, God's is not.  And the answer is that God is far beyond us, infinitely beyond us, in how He thinks and how He acts.  The uniqueness of God is this: when He is massively offended and when He is relentlessly offended, He still comes to the offenders, and warning them of the judgment to come offers them forgiveness and mercy and grace and compassion and makes them His children and takes them to His holy heaven forever.  It is that God who is hanging on the cross.  That God whose patience is far beyond ours because His ways are not our ways, His thoughts are not our thoughts.  The stunning contrast at Calvary is the contrast between the merciless insults of the crowd and the merciful intersession of the Christ, and those are the two points I want you to look at.  The merciless insults of the crowd, verse 35.  We're going to look at the merciless insults of the crowd.  The crowd is made up of four groups.  There's the people, the leaders, the soldiers and the thieves and they all have the same response to Jesus.  They're literally without sympathy.  They are heartless, cruel, brutal.
When the Romans — 'they' — came to the place that is called The Skull, or Golgotha, they crucified Jesus with the two criminals, one on His right and one on His left (verse 33).
Matthew Henry's commentary says:
… he was crucified at a place called Calvary, Kranion, the Greek name for Golgotha—the place of a skull: an ignominious place, to add to the reproach of his sufferings, but significant, for there he triumphed over death as it were upon his own dunghill. He was crucified. His hands and feet were nailed to the cross as it lay upon the ground, and it was then lifted up, and fastened into the earth, or into some socket made to receive it. This was a painful and shameful death above any other.
Our Lord's place in the middle of the two men was significant:
… he was crucified in the midst between two thieves, as if he had been the worst of the three. Thus he was not only treated as a transgressor, but numbered with them, the worst of them.
Jesus interceded to His Father asking Him to forgive them because they didn't know what they were doing; the soldiers cast lots to divide His clothing (verse 34).
MacArthur says that casting lots for a criminal's belongings was normal:
That's standard procedure, by the way.  The executioners were given the right to keep the possessions, the final possessions of clothing and things of the people who were executed.  That was sort of a small job benefit, I guess, a perk.  Now there's a little more detail on this back in John because John gives us some insight into exactly what the soldiers did.  In 19 John 23, "The soldiers, therefore, when they crucified Jesus, took his outer garments and made four parts."  There would be four parts.  There would be four garments that a man would wear in that day.  There would be an outer cloak that you kept warm with, like a jacket, and you slept on and used as a blanket.  There would be shoes or sandals.  There would be a headpiece.  There would be a sash or a belt.  Four pieces. 
Psalm 22 prophesied this would happen:
We know that there were four Roman soldiers assigned to a crucifixion.  If you look in 12 Acts 4, you read about a squad of Romans.  It's a quaternion made up of four.  In fact a full one was four units of four, so it's very likely that there were four soldiers in a death squad.  That's why the four garments could be divided one to each of the four, but there was also a tunic which would have been his regular garment and the tunic was seamless, woven in one piece, so they said let's not tear it.  Let's cast lots for it to decide whose it shall be.  That the scripture might be fulfilled they divided my outer garments among them and for my clothing they cast lots.  That, too, in Psalm 22. 
Out of the four groups of people there that MacArthur wants us to look at, we see the soldiers first:
We might expect cruelty out of Roman soldiers because they did this all the time. 
The people stood by watching, and the leaders scoffed at Jesus, saying that if He saved others, let Him save Himself if He is the Messiah of God, His Chosen One (verse 35).
Here Luke shows us the crowd and the leaders.
Remember that every Jew possible was in Jerusalem for the Passover, so it was a huge crowd.
Of them, MacArthur gives us something to think about:
… these are the people, probably, who had been healed by Jesus of certain diseases.  These might be people who had had experiences of other miracles that Jesus had performed in the area of Judea and Jerusalem, and there were lots of them from, of all places, Galilee in the north.  There may have been, and surely were, people in the crowd who were fed among the 5,000 when Jesus made the food.  There were certainly people who knew well those who had been healed, maybe been given their hearing or their sight, or raised up to walk from a state of paralysis.  I mean wouldn't we expect to find something sympathetic out of them and didn't they hear Jesus teaching, and didn't they experience the meekness and gentleness of Christ and the love of Christ that was so manifest in the beauty and magnificence of what he taught? 
But even the crowd is merciless.  You say, "Wait a minute.  All it says in that verse is the people stood by looking on."  Well, that's not all that can be said about the merciless crowd, I'm sorry to say.  This is a large crowd.  They've come from everywhere.  It's Passover.  The city has swelled by hundreds of thousands of people and the crowd moving toward Calvary from the public trial early in the morning is growing and growing and growing, because Jesus is the most popular person in the country by far and he's drawing a massive crowd that are now collected around the cross.  These are people who were there to hail him as the potential king on Monday when he came into the city.  They were the same people who were there to scream, "Crucify him!  Crucify him!" earlier in the day, and now they sort of appear to be exhausted, I guess, sort of blank stares from what Luke tells us.  But Matthew and Mark tell us more.  Matthew and Mark tell us what we need to know.  Matthew 27:39, "And those passing by, the milling crowd, were hurling abuse at him, wagging their heads, a gesture of taunting, and saying, "You who are going to destroy the temple and rebuild it in three days, save yourself.  If you are the son of God, come down from the cross in the same way," the priests, etc.
MacArthur thinks the leaders influenced the crowd:
Mark 15 verse 29, "And those passing by the milling crowd were hurling abuse at him saying, "Ha!" Wagging their heads, "You are going to destroy the temple and rebuild it in three days.  Save yourself and come down from the cross."  Again, in the same way which sorts out the rulers from the passing, milling crowd.  The crowd were in it.  They had been orchestrated by the leaders.  They're easily seduced by their evil hearts of unbelief, easily seduced by the manipulation of their leaders.  They'd picked up the comedic game and they pour out the venomous sarcasm on Jesus.  They never do the right thing, this crowd.  They haven't done the right thing all week.  Here they're just vicious, merciless, to the merciful son of God.  It's amazing.  It's amazing.  This is the worst possible conduct by the people of Israel.  So the merciless crowd, then the merciless rulers – back to Luke 23:35, "And even the rulers were sneering at him."  Of course they had orchestrated all of it, "Saying he has saved others, let him save himself if this is the Christ of God, His Chosen One."  Then they use to Messianic terms, The Christ of God, the Anointed; the word Messiah, and His Chosen One a Messianic title taken from Daniel chapter 9.  The Old Testament expressions related to the Messiah are in reference – in general reference when they use the term the Christ of God.  The specific words, "His Chosen One" comes from Daniel 9 and definitely is a Messianic title. 
The soldiers joined in the mocking, offering him sour wine (verse 36) in His moment of greatest thirst and taunting Him, saying that if He were the King of the Jews, He should save Himself (verse 37).
Of the sour wine, Henry says it was a taunting invitation to drink with them:
They mocked him (v. 36, 37); they made sport with him, and made a jest of his sufferings; and when they were drinking sharp sour wine themselves, such as was generally allotted them, they triumphantly asked him if he would pledge them, or drink with them.
MacArthur discusses the Greek word for 'taunt' and the sour wine:
The actual Greek word empaiz is to taunt.  Inflicting even more pain on him to his face as he hangs in agony.  And in a mock act of obeisance and service to him as if he were a king, they offer him sour wine.  Now there are a couple of occasions that are clearly identified when Christ was crucified in which he was offered something to drink.  The first one was when they got him to the place to be crucified, you remember they offered him a drink that had a sedative in it, that would probably be used to sedate the person a little bit so it would be easier to nail him to the cross and he wouldn't fight.  And Jesus refused that, remember? 
And then when he comes to the very end of his dying, six hours later, at the very end, at 3:00 in the afternoon when he's about to die, he says, "I'm thirsty," and they lift up to him a drink on a sponge on the end of a stick.  This seems to me to be something different from both of those.  This seems to me to be part of the game they were playing.  This is certainly not their giving him the wine in response to his asking.  This does not appear to be the sedative because he's already there and the mockery is already full scale.  It seems to me that they are offering him sour wine and saying at the same time, if you're the King of the Jews, save yourself.  It's a pretend act of obeisance, as if they were bringing royal wine to the king.  The mockery just reaches ultimate proportions.  Roman soldiers drank a cheap form of wine.  They offered it to him, mimicking the rulers, mimicking the people, spewing out the same taunts.
MacArthur looks at Matthew's account and prophecies from the Old Testament:
According to Matthew's account, Matthew 27:42, "He saved others, he can't save himself.  He is the King of Israel.  Let him now come down from the cross and we'll all believe him.  He trusts in God, let Him deliver him now if he is taking pleasure in him, for he said, "I am the son of God."  You know, they say these things and they just have no idea what they're saying.  Listen to this.  Psalm 22 looks at the cross of Christ.  It's prophecy.  It starts out this way.  Here's the beginning of 22 Psalm, "My God, my God, why have you forsaken me?"  Does that sound familiar?  The very words of Jesus on the cross. But go down to verse seven, 22nd Psalm 7, "A reproach of men despised by the people, all who see me sneer at me.  They separate with the lip.  They wag the head."  That's exactly what they did.  "Saying commit yourself to the Lord.  Let Him deliver him. Let Him rescue him because he delights in him."  All that sarcasm was predicted in the Psalm.  They fulfilled it to the letter. 
They knew about the title of the Chosen One, because Jesus had applied it to Himself during His ministry:
… you can go back to the ninth chapter of Luke and in verses 20 and 35 you will see that Jesus did take the title The Christ of God and he did take the title His Chosen One.  They knew he claimed it.
Paul said that the Jews would find Jesus to be a stumbling block and the Gentiles would find Him foolish, things that are still true today. MacArthur addresses that and dying on a tree, the ultimate curse for a Jew:
Remember, Paul says in 1 Corinthians 1 that a crucified Messiah is to a Jew a stumbling block, and of course to the gentile, foolishness.  They thought of someone hanging on a tree according to 21 Deuteronomy 23 as cursed by God and Jesus was cursed by God, and so they heap on him all the scorn of this notion that he is the true Messiah and King that they've been waiting for.  How could that possibly be true?  It's absurd.  The leaders orchestrate this and egg on the mindless crowd.  Little did they know, as I said, that he was being cursed by God.  That was true.  Further, 53 Isaiah 4 says, "He was smitten by God and afflicted," and verse 10 says, "The Lord was pleased to crush him, putting him to death."  Paul looks back on that and said he was made a curse for us.  But it was all nonsense to the people. 
Henry says this mocking of Jesus was a moment of unity between Roman and Jew:
… they said, If thou be the king of the Jews, save thyself; for, as the Jews prosecuted him under the notion of a pretended Messiah, so the Romans under the notion of a pretended king.
There was an inscription over Jesus: 'This is the King of the Jews' (verse 38).
Although Luke doesn't say so, it was written in Latin, Greek and Hebrew. Our commentators place great emphasis on it being in those three languages.
Henry says that it was part of God's plan to spread the Gospel:
That the superscription over his head, setting forth his crime, was, This is the King of the Jews, v. 38. He is put to death for pretending to be the king of the Jews; so they meant it; but God intended it to be a declaration of what he really was, notwithstanding his present disgrace: he is the king of the Jews, the king of the church, and his cross is the way to his crown. This was written in those that were called the three learned languages, Greek, and Latin, and Hebrew, for those are best learned that have learned Christ. It was written in these three languages that it might be known and read of all men; but God designed by it to signify that the gospel of Christ should be preached to all nations, beginning at Jerusalem, and be read in all languages. The Gentile philosophy made the Greek tongue famous, the Roman laws and government made the Latin tongue so, and the Hebrew excelled them all for the sake of the Old Testament. In these three languages is Jesus Christ proclaimed king. Young scholars, that are taking pains at school to make themselves masters of these three languages, should aim at this, that in the use of them they may increase their acquaintance with Christ.
MacArthur explains why Pontius Pilate wanted the inscription to read just that:
We know historically that when people were crucified, their crime was posted and since Jesus committed no crime there could be no crime posted over him.  So Pilate decided what was going to go on the sign.  Pilate, 19 John 19, Pilate wrote an inscription and put it on the cross.  This was Pilate's thing and this is what it said, "Jesus, the Nazarene" or Jesus of Nazareth, "The King of the Jews."  If you combine Matthew, Mark, Luke and John, it actually says, "This is Jesus of Nazareth, The King of the Jews."  It was all placarded there.  Well, therefore this inscription many of the Jews read for the place Jesus was crucified was near the city, again reason for the huge crowd.  It was written in Hebrew, Latin and Greek.  Pilate wanted everybody to know it and so the chief priests and the Jews were saying to Pilate, "Do not write the King of the Jews, but that he said, "I am King of the Jews."  Pilate answered, "What I have written I have written."  Pilate wouldn't change it because this is Pilate's way to mock them.  They had mocked him.  They had backed him into the proverbial corner and blackmailed him into a executing a man he knew was innocent.  Even his wife said wash your hands of this innocent man.  Pilate said multiple times, "I find no fault in him."  Herod found no crime.  And Pilate had been made to look like a fool and he wasn't going to leave it at that, so he wanted to turn the tables and make them look like fools.  It was Pilate's little joke.  This is Jesus of Nazareth, the King of the Jews.  They said take that down and put up he said he's the King of the Jews and he said what I have written I have written.  So you have the people mocking Jesus and Pilate mocking the people.
Then we meet the last group, the two criminals on crosses next to Jesus.
One of them also joined in the mocking, saying Jesus that, if He were the Messiah, He should save Himself — and them (verse 39).
MacArthur tells us that in Matthew's and Mark's accounts, both thieves had been mocking our Lord:
One of the thieves, only one is quoted by Luke, but Matthew and Mark tell us the rest of the story.  Here's what Matthew says, 27 Matthew 44, "The robbers were also insulting him with the same words," both of them; plural.  15 Mark 32, "Those who were crucified with him were also insulting him."  They both joined in; the whole crowd, all the rulers, all the soldiers, both thieves.  All Luke does is record for us what one of the two said, but they were both involved.  "Are you not the Christ?" again with scorn and sarcasm, "Save yourself and us." 
The silent thief rebuked the other, asking him if he did not fear God, for both were under the same sentence of condemnation (verse 40).
The penitent thief told his companion that both of them were justly condemned but that 'this man' — Jesus — had done nothing wrong (verse 41).
Henry points to divine grace in the spiritual transformation of the penitent thief:
2. He owns that he deserves what was done to him: We indeed justly. It is probable that they both suffered for one and the same crime, and therefore he spoke with the more assurance, We received the due reward of our deeds. This magnifies divine grace, as acting in a distinguishing way. These two have been comrades in sin and suffering, and yet one is saved and the other perishes; two that had gone together all along hitherto, and yet now one taken and the other left. He does not say, Thou indeed justly, but We. Note, True penitents acknowledge the justice of God in all the punishments of their sin. God has done right, but we have done wickedly. 3. He believes Christ to have suffered wrongfully. Though he was condemned in two courts, and run upon as if he had been the worst of malefactors, yet this penitent thief is convinced, by his conduct in his sufferings, that he has done nothing amiss, ouden atopon—nothing absurd, or unbecoming his character. The chief priests would have him crucified between the malefactors, as one of them; but this thief has more sense than they, and owns he is not one of them. Whether he had before heard of Christ and of his wonderous works does not appear, but the Spirit of grace enlightened him with this knowledge, and enabled him to say, This man has done nothing amiss.
MacArthur describes what happened to the penitent thief physically and spiritually:
As the hours passed on the cross, one of the two most thoroughly degenerate people on the mountain, at the scene, a man devoted to violent robbery, a wicked criminal, has a massive transformation.  It is shocking; 180 degrees.  His taunting goes silent and while his body is in horrible trauma and agony, the unparalleled suffering of crucifixion, his mind might be assumed to go foggy as he tries to deal with the pain.  And as some kind of shock would set in, just to protect him from agonies that would be totally unbearable, and we know the body has the capacity to send us into shock in order to mitigate those kinds of excruciating experiences, but in the moment of the worst imaginable kind of agony, his mind becomes crystal clear with a clarity and perception of reality and truth that he'd never experienced in his life.  With a clarity and a perception of truth and reality that he hadn't experienced a moment before.  Something has happened.  All of a sudden, he turns to his friend and rebukes him for doing what he had just been doing.  What has happened?
I'll tell you what has happened.  A divine, sovereign miracle has happened.  There is no other explanation.  You want a parallel to this?  Paul on the Damascus Road.  That's the best parallel.  His thoughts of Jesus are thoughts of hate.  His thoughts toward those who confess the name of Jesus are thoughts of persecution and execution.  Paul has papers.  He's on his way to Damascus to persecute and execute those who named the name of Christ.  And while he's on his way with his papers in his hand, God invades his life, slams him to the dirt, blinds him and saves him.  That's how salvation works, folks.  It is a sovereign miracle.  Not always that dramatic, but sometimes that dramatic …

The penitent thief is a form of the Prodigal Son:
If you want to connect this with somebody else, this man would be the prodigal.  This is a wicked man, but all of a sudden in the moment he is dramatically transformed and it becomes immediately evident what has happened.  He goes from blaspheming Jesus to being horrified at the other criminal blaspheming Jesus.  His whole perception of how you treat Jesus is completely changed and that's where the story begins.  The other criminal has had no such change, hanging there hurling abuse at Jesus with the same mocking sarcasm, "Are you not the Christ?  Save yourself and us."  It must have shocked him to hear from the other side of Jesus, his friend, verse 40, who answered and rebuking him said, "Do you not even fear God since you're under the same sentence of condemnation?  And we, indeed, justly for we're receiving what we deserve for our deeds.  But this man has done nothing wrong."  This must have been a shock to the other thief who was hurling the abuse.  What happened to you?  What happened to you since you were nailed up there?  The transformed man finds the taunts coming out of the mouth of his companion criminal repulsive to him and frightening to him and they had just come out of his mouth.  What this man says is the evidence of his changed heart. Salvation is a divine miracle and it manifests itself.  There's a lot more here than you might think. 
First of all, he becomes very, very aware of God and the fear of God.  Then he openly acknowledges his own sin.  Then he confesses the sinlessness of Christ and affirms his messiah-ship and his savior-hood.  It's an amazing thing.  And all of these are responses to the miraculous sovereign work of the spirit of God on his dark heart.  This is the light of the glorious gospel of Christ shining in the midst of the darkness and dispelling it.  I want to sort of unpack those elements that are the manifest evidences that God has done the work of transformation.  The other sinner, no fear of God, no fear of judgment, no sense of sinfulness, no sense of justice, no sense of guilt, no desire for forgiveness, no longing for righteousness, no desire for reconciliation.  And the thief who has been transformed confronts that tragic condition, which moments before had been his own condition.  He can't understand it any more.  In a moment of time he went from being a part of it to not being able to comprehend it.  How can you act like that?  How can you talk like that?  Don't you fear God?  Don't you know you're getting what you deserve?  Don't you know this man is righteous?  What a transformation.  Let's look a little more closely at it.
While the one criminal is hurling abuse at Jesus, the other answered and rebuking him said – rebuking is a very strong word.  Epitima.  He said, "Do you not even fear God?"  Let me tell you the first evidence that God is doing the work of conversion:  the fear of God.  The fear of God.  If someone is converted to Christ, if someone is regenerate and someone is born again, made new, Paul says in 2 Corinthians 5:17 he becomes a new creature, old things pass away and all things become new.  Boy, do we see that here.  And the first thing you see in a real conversion is a heightened awareness that God is a threat.  To be afraid of God, literally to fear God.  He really is not seeking someone to get him off the cross.  He's not trying to find someone who can save him from physical death.  He wants to make sure he is saved from divine judgment.  His problem is not really what's happening to him on the earth, it's what's going to happen to him when he comes to the throne of God.  He's a Jew, no doubt, raised to know the laws of God, to understand God – God's holiness, God's law, obedience to God's law.  He is a violator of God's law.  He is an open violator of God's law.  He is a known violator of God's law.  He is a tried and proven violator of God's law and he's dying a death that is just and he says it.  And the law of men was a reflection of the law of God, certainly in Israel, and so he knows that if this is what men to do him for breaking the law of God, what in the world is God going to do to me?  All of a sudden he has clarity on what he had learned about the law and guilt and sin and judgment.  He knew he was a violator.  He was internally convicted by the work of the Holy Spirit, to be aware that what he was getting from a human judge was only a small sampling of what he was going to get from a divine judge.  And to add to his guilt, which put him on the cross, you can add that he had been blaspheming the Messiah and he now knows it, producing an even greater guilt.  From this place of clarity he can't even imagine that he did that, that he said what he said to Jesus and he can't understand how his friend can say that.  He says in verse 40, "Do you not even fear God since you're under the same sentence of condemnation?"  They're two of a kind.  Look, we're getting exactly what we deserve.  Don't you have a fear of what's going to happen when we wind up before God?  As Jesus said in Luke 12:4-5, "I don't fear those who destroy the body, but fear him who destroys both soul and body in hell."  I will tell you this, and you need to remember this, Romans 3:18 says this when it defines the inherent nature of fallen man and his sinfulness, "there's none righteous, no not one, there's none that understand, none that is good," etc.  That text from verse 10 of Romans 3 to verse 18, ends in verse 18 with this statement:  "There is no fear of God in their eyes."  It is characteristic of the unregenerate not to fear God.  This is a typical unregenerate comment, "I've lived a pretty good life.  Certainly God will take me to heaven."  Like the Jews in Romans 10 who didn't understand the righteousness of God.  The sinner does not live under the fear of God.  He must be brought under the fear of God by the convicting power of God.  This thief who is still hurling abuse at Jesus has no fear of God like all other sinners.  But the sinner who comes to salvation has been brought by the power of the Spirit of God to a deadly fear of divine judgment.  And friends, as we communicate the gospel with sinners, you can't hold back that reality.  The gospel is not telling sinners that Jesus will make them happy or Jesus will give them a better life or Jesus will fix up the pain and bring fulfillment and all of that.  The message of salvation is you are a violator of God's law and you are headed for eternal punishment under the wrath of God. You'd better fear God.  That's the message.  And when you see a real conversion, you see this and it's reminiscent, isn't it, of Luke 18.  What is the public doing as he pours his head down and looks at the ground and pounds his breast saying, "Lord, be" – what – "merciful to me, a sinner."  Don't give me justice.  Don't give me judgment … 
… All of a sudden, he had crystal clarity in his mind on the fact that he was going to stand before God as a sinner with nothing that could rescue him.  That's the first evidence of a work of salvation in the heart.  The second one is a sense of one's sinfulness.  They go together.  The fear of God coupled with a sense of one's guilt.  Verse 41, we indeed, justly, we're receiving what we deserve for our deeds.  He says I'm a lawbreaker.  I know that.  It's a true assessment of his condition.  Like the prodigal, who in getting down with the pigs and trying to eat and be on the brink of death, he says – and Jesus told the story in Luke 15 – he came to his senses.  That's where true repentance begins, when you come to your senses.  He's guilty, he's aware of his sinfulness, he's in a sense saying I am a sinner.  I know I am a sinner.  I am receiving what I deserve for my deeds.  This is the attitude of a true repenter.  He understands that if justice is operating in his life, then he is going to get exactly what he's getting.  No excuses.  He's not saying I was led astray and there were evil influences in my life.  I was molested when I was four or whatever it might be.  He's saying look, we're receiving exactly what we deserve for our deeds.  Justice is operating and it will operate not only in the human world, in the world of men, but it will operate in God's realm as well.  Spiritual reality makes clear that in spite of the system of Judaism teaching salvation by works, salvation by self effort, salvation by ceremony, etc., the true convert pleads nothing but confesses his utter guilt and absolute bankruptcy.  He has nothing to offer God; nothing to commend himself.  Like the prodigal he comes back stinking and dying.  He needs mercy, he needs grace and he knows it.  He's an unworthy sinner.  These are the evidences of a saving work of God.  He needs mercy and it's never been this clear.  By the way, sin never becomes as clear to the sinner as when he's in the presence of righteousness.  Like Isaiah, who in the presence of God, who was holy, holy, holy, said, "damn me, for I am a man of unclean lips."  He had a clear perception of the judgment of God which he was deserving and a clear perception of his great guilt. 
There's a third element that becomes in evidence for us of the work of God in his heart and that is that he believed in Christ.  He believed in Christ.  We talk about two things that make up a real conversion repentance under the fear of divine wrath and faith in the Lord Jesus Christ, and we see that.  The things that he says about Christ, though brief, are really quite stunning.  The end of verse 41 he does what the sinner must do.  He compares himself with the perfection of Christ.  "We're getting exactly what we deserve for our deeds.  But this man has done nothing wrong."  Here the story moves from an assessment of his own condition to an assessment of Jesus Christ.  That's what happens in a true conversion.  And he goes beyond saying Jesus isn't guilty of the crime for which he's being crucified to saying something far broader than that.  He has done nothing wrong.  I don't know how much he knew about all the attempts to try and find a crime for which they could legitimately crucify Christ and they never could find one.  I don't know what exposure he had to Christ.  I don't know what he heard other people say about the perfections of Jesus Christ, but our Lord had been on display for three years with all of his perfections and no one had ever been able to lay any legitimate charge against him.  He is given, by the power of the Spirit of God, clarity to understand that he is hanging on a cross as a sinner who is getting what he deserves next to someone who is righteous and is getting what he doesn't deserve.  He believes, then, in the righteousness of Christ. 
The repentant thief asks Jesus — by name — to remember him when He comes into his kingdom (verse 42).
It's a highly humble request.
Henry also says the request showed that the man believed in the righteousness of Christ:
1. Observe his faith in this prayer … Christ was now in the depth of disgrace, deserted by his own disciples, reviled by his own nation, suffering as a pretender, and not delivered by his Father He made this profession before those prodigies happened which put honour upon his sufferings, and which startled the centurion; yet verily we have not found so great faith, no, not in Israel. He believed another life after this, and desired to be happy in that life, not as the other thief, to be saved from the cross, but to be well provided for when the cross had done its worst. 2. Observe his humility in this prayer. All his request is, Lord, remember me. He does not pray, Lord, prefer me (as they did, Matt 20 21), though, having the honour as none of the disciples had to drink of Christ's cup and to be baptized with his baptism either on his right hand or on his left in his sufferings when his own disciples had deserted him he might have had some colour to ask as they did to sit on his right hand and on his left in his kingdom. Acquaintance in sufferings has sometimes gained such a point, Jer 52 31, 32. But he is far from the thought of it. All he begs is, Lord, remember me, referring himself to Christ in what way to remember him. It is a request like that of Joseph to the chief butler, Think on me (Gen 40 14), and it sped better; the chief butler forgot Joseph, but Christ remembered this thief. 3. There is an air of importunity and fervency in this prayer. He does, as it were, breathe out his soul in it: "Lord, remember me, and I have enough; I desire no more; into thy hands I commit my case." Note, To be remembered by Christ, now that he is in his kingdom, is what we should earnestly desire and pray for, and it will be enough to secure our welfare living and dying. Christ is in his kingdom, interceding. "Lord, remember me, and intercede for me." He is there ruling. "Lord, remember me, and rule in me by thy Spirit." He is there preparing places for those that are his. "Lord, remember me, and prepare a place for me; remember me at death, remember me in the resurrection." See Job 14 13.
MacArthur looks at the thief's calling Jesus by name:
"Jesus, yeshua."  What does that mean?  Jehovah saves.  "We shall call him Jesus for he will save his people from their sins," Matthew 1:21.  Yeshua.  He recognizes Jesus as righteous.  He recognizes Jesus as a source of forgiveness and grace and mercy.  He recognizes that Jesus is so merciful and gracious that he's not even holding the sin of these people against them, but rather desirous of their forgiveness.  And he sees, I think, all of this with clarity given only by the spirit of God who drew, perhaps out of his background, perhaps out of conversations – who knows where it came from – to focus the clarity because he had to know the truth about Christ.  Then when he says, "Jesus," there's a lot in that word.  He recognizes Jesus as the Savior.  How do you know that?  Why would he then ask him to remember him when he comes into his kingdom unless he thought he was the one who could save him?  He doesn't say to him, "Dear sir, could you find somebody that could save me."  He doesn't say, "Could you connect with whoever's in charge of saving people like me?"  He says, "Jesus.  Yeshua."  Save me.  Remember.  More than a thought.  We think about remember, it's a hazy, foggy kind of thing.  That's not what he's talking about.  Much, much more than that.  It's a plea of a broken penitent, an unworthy sinner, for grace and forgiveness.  And what he's really saying is save me from the judgment of God.  Save me from what I deserve.  Forgive me.  You've prayed it.  Can I be one of those that's in answer to your prayer? 
And then I love this.  Boy, he's got a pretty comprehensive Christology because he says, "Remember me when you come in your kingdom."  He's got the Old Testament eschatology.  What did the Old Testament teach?  That the Messiah would come in the end of the age, gloriously, and establish a kingdom, right, fulfilling all the promises to Abraham, all the promises to David and fulfilling all the reiterated promises of the Old Testament that are rehearsed again and again by the prophets, including the new covenant salvation to Israel, and that there would be a kingdom established on earth that's defined and described in great detail in the Old Testament …  Nobody survived crucifixion, so he also believed that Jesus would die and what, rise again and bring his kingdom.  That's pretty good Christology.  That's exactly what he was saying.  Remember me when you come in your kingdom.  He is saying this isn't the end of you. Like the Centurion, remember, who says surely this is the son of God.  He's convinced.

Jesus replied, beginning with 'Truly I tell you' — meaning emphatically and sincerely — that the repentant thief would be that day, with Him, in Paradise (verse 43).
Paradise was the third of the heavens referred to in that era. It meant the highest heaven.
MacArthur discusses our Lord's reply and promise:
Did he have a right to be with Christ?  Are you kidding me?  With me?  Today.  What had he done to earn it?  Nothing.  He'd be dead before he could do anything.  This is grace, isn't it?  This is the father kissing the son.  This is full reconciliation; instantaneous.  Today.  Paradise, paradeisos, an old Persian word for garden.  It's a synonym for heaven.  In 2 Corinthians 12 Paul says in verse two, "I was called up to the third heaven."  And in verse four he says he was called up to paradise.  Same thing.  Third heaven, first heaven, atmospheric, second heaven, celestial, third heaven the abode of God.  That's paradise.  Or in relation to seven, Jesus says, "To him who overcomes I will grant the tree of life which is in the paradise of God."  If you turn to Revelation 21 and 22, the tree of life is in heaven.  So he's not saying anything but you're going to be with me in heaven today.  There's no waiting place.  There's no transitional place.  Absent from the body, present with the Lord, to depart and be with Christ.  If that is not the great illustration of grace I don't know what is.  This is a man whose whole life qualified him for hell.  And in one moment a sovereign God swept down, gave him complete clarity on himself and on Christ and by the power of the Holy Spirit rescued him from divine judgment and that same day met him in heaven and fellowshipped with him. 
Henry has this analysis:
1. Christ here lets us know that he was going to paradise himself, to hades—the invisible world. His human soul was removing to the place of separate souls; not to the place of the damned, but to paradise, the place of the blessed. By this he assures us that his satisfaction was accepted, and the Father was well pleased in him, else he had not gone to paradise; that was the beginning of the joy set before him, with the prospect of which he comforted himself. He went by the cross to the crown, and we must not think of going any other way, or of being perfected but by sufferings. 2. He lets all penitent believers know that when they die they shall go to be with him there. He was now, as a priest, purchasing this happiness for them, and is ready, as a king, to confer it upon them when they are prepared and made ready for it. See here how the happiness of heaven is set forth to us. (1.) It is paradise, a garden of pleasure, the paradise of God (Rev 2 7), alluding to the garden of Eden, in which our first parents were placed when they were innocent. In the second Adam we are restored to all we lost in the first Adam, and more, to a heavenly paradise instead of an earthly one. (2.) It is being with Christ there. That is the happiness of heaven, to see Christ, and sit with him, and share in his glory, John 17 24. (3.) It is immediate upon death: This day shalt thou be with me, to-night, before to-morrow. Thou souls of the faithful, after they are delivered from the burden of the flesh, immediately are in joy and felicity; the spirits of just men are immediately made perfect. Lazarus departs, and is immediately comforted; Paul departs, and is immediately with Christ, Phil 1 23.
What an amazing illustration of forgiveness, divine grace and salvation.
MacArthur has an interesting observation on the Jews' misunderstanding of Passover during that era. This ties in with the Crucifixion:
There's another irony, that the Jews want him dead so they can get on with the celebration of the Passover that points to his death.  The Jews want to get on with the slaying of the lambs that can never take away sin while rejecting the one, true lamb of God how alone can take away the sin of the world.  While they are busy killing the lambs who had no power, God was by their hands, killing the lamb to whom all salvation power belongs.  The Jews looked at Passover as God rescuing them from Pharaoh.  That really wasn't what the Passover was.  They looked at the Passover as God rescuing them from the power of Pharaoh in Egypt.  It was really far more than that.  While there was a deliverance from Egypt, there was a far greater deliverance in the Passover.  Do you remember what the Passover was?  The word came from God that he was going to come in sweeping judgment on both Egyptians and Jews, and the only people who would be protected from that judgment would be those who put the blood of the lamb on the door post and the lintel.  Otherwise, the judgment of God would hit that house and take the life of the first born.  And God did not discriminate between the Jews and the Egyptians.  He would take the life of any first born.  He would bring wrath and judgment on any household that was not covered by the blood of the Passover lamb.  The night of the Passover, then, was not truly a deliverance from the power of the Pharaoh and the wrath of Pharaoh, it was a deliverance from the wrath of God.  Somehow they had skewed that thinking that they were delivered from the wrath and power of Pharaoh.  They celebrated that part of it and they forgot that the real Passover was a deliverance from the wrath of God.  And all sinners are always deserving of wrath unless they're covered by the blood, and the blood of bulls and goats can't take away sin and can't really cover the sinner.  So they had no idea what as going on at their cross of Calvary when the true Passover lamb was dying so that his blood might become the protection of all who believe in him.
So in not saving himself, Jesus was able to save others, exactly opposite their assumption that he couldn't save anybody because he couldn't even save himself.  How twisted their perception.  How wrong.  And the whole scene was feeding this twisted perception.  There was no clarity anywhere.  The leaders didn't have clarity.  The people didn't have clarity.  The Romans didn't have clarity.  The high priests didn't have clarity.  The chief priests didn't have it.  Nobody had it.  Everybody had a twisted and perverted understanding of what was happening and in the midst of all of this, one man gets clarity.  In spite of everything that's going on around him in which he's been a participant, the light dawns.  Life comes out of death.  Knowledge comes out of ignorance.  Light dispels the darkness.  And that's the story of this man that we call the penitent thief.  It's a personal story. It's a very personal story.  It's about one man.  It's a personal story of salvation, but it's also the pattern of the story of all people's salvation … 
MacArthur sums up these verses as follows for what to remember about the Crucifixion and what happened at the first Pentecost:
Without argument what is being spewed out of these evil hearts and evil mouths right at the son of God is the supreme blasphemy, the ultimate desecration of holiness, the lowest sin every committed, wickedness at its lowest, and it is deserving of divine cursing, divine threatening, divine vengeance, divine judgment, divine damnation.  This is injustice without parallel, transgression without equal.  This is heresy above heresy, irreverence above irreverence, profanity above profanity, sacrilege beyond comprehension.  We would expect Jesus to pour out furious denunciations on all of them, to judge them, to make them pay for their outrageous, extreme iniquity immediately on the spot, but he doesn't.
Contrary to that he says, "Father, forgive them for they know not what they're doing."  He asks God to provide forgiveness for them.  Now Jesus spoke seven things from the cross.  He spoke to one of the thieves and said, "Today you'll be with me in paradise."  Then he spoke to his mother and John and said, "Behold your mother, behold your son," and gave the care of his mother to the apostle John who were standing far, far away.  And then for three hours the whole earth was dark and he spoke not at all.  And after the darkness he spoke to God and he said, "My God, my God, why have you forsaken me?"  And then he spoke to the soldiers and said, "I'm thirsty," and they gave him the sponge.  And then he spoke to himself and said, "It is finished."  And then he spoke to God and said, "It's at thy hands I commit my spirit."  But the first thing he said, before any of those was, "Father forgive them for they know not what they do."  His first words were words seeking divine forgiveness for the world's most wretched sinners.  Certainly this is Jesus, the Father, running to embrace the stinking prodigal, isn't it?  This is not surprising.  Jesus even said that the more someone is forgiven the more they love, so he set himself up to forgive great sinners so that he might experience from them great love. 
Peter says that when he was reviled he was reviled not again and that when he was being abused he did not cry out for vengeance, 1 Peter 2:23 and 24.  Stephen picked up on this and when Stephen saw life was being crushed out by the bloody stones, Stephen, following his Lord said, "Lord, lay not this sin to their charge."  This is a general prayer.  To understand what he meant by this, it is a general prayer for all the world to know that there's no sin against the son of God that is so severe it cannot be forgiven if one will repent.  That's the message.  If there is forgiveness for these people, there is forgiveness for anyone.  You can't get beyond this.  But it's more than just a general prayer, it's a specific prayer.  When he said, "Father, forgive them for they know not what they're doing," he knew who the "them" were because on the day of Pentecost, 3,000 Jews in Jerusalem were converted to Christ and baptized and the church was begun.  Within a few weeks another 5,000 men and more and more and it moves into tens of thousands of people in Jerusalem who embrace the faith of Jesus Christ, and there must have been many of those who came to Christ in those weeks after the resurrection who were there in that crowd, so that it is a general prayer telling the whole world that the sinner who repents and comes to Christ can be forgiven of the worst crime ever committed.  But it is also a specific prayer that God knows in His mind from before the foundation of the world, who in that crowd He will truly forgive.  A church was born out of these people who stood at the foot of Calvary and mocked the son of God.  They became the first church.  Not only that, there was a soldier among the soldiers.  One of them came to salvation.  23 Luke 47 when the Centurion saw what had happened, he began praising God saying, "Certainly this man was innocent."  And Matthew says he said something besides that, he said, "This was the son of God."  And by the way, don't think it was just that Centurion.  Listen to 27 Matthew 54, "Now the Centurion and those who were with him keeping guard over Jesus said, "Truly, this was the son of God."  The prayer was answered on the spot.  Some in the crowd formed the first church.  Some among the soldiers affirmed the deity of Jesus Christ, and a Roman Centurion praising the true God of Israel and affirming the reality of His son and others with him?  By the way, some of the leaders also were saying it.  In 6 Acts 7, "The word of God kept on spreading.  The number of the disciples continued to increase greatly in Jerusalem."  Listen to this:  "And a great many of the priests were becoming obedient to the faith."  And by the way, there was one of the two thieves who said, "Remember me when you come into your kingdom," and to him Jesus said today, "I'll meet you in paradise."
In one sense it's a general prayer that throws open the forgiveness of God for all who have rejected Christ no matter how great the crimes committed against him, but on another level this is a very specific prayer that was immediately answered among the crowd, among the soldiers, among the thieves and even among the priests.  The great irony of Calvary is that while all this scorn was being heaped on Christ, he was bearing the curse of God far worse than anything they could put on him.  You think it's bad to be cursed by men, he was being cursed by God.  But in taking both the curses from men and the curse from God, he provided the very atonement which makes the forgiveness he prayed for possible. 
Christ the King: truly He is, now and forever.
This is the last Sunday in the 2021-2022 Church year. Next Sunday, a new Church year begins with the season of Advent, and a new set of Lectionary readings from Year A.
May everyone reading this have a blessed Sunday.
The Seventeenth Sunday after Trinity is on October 9, 2022.
Readings for Year C can be found here.
The Gospel reading is as follows (emphases mine):
Luke 17:11-19
17:11 On the way to Jerusalem Jesus was going through the region between Samaria and Galilee.
17:12 As he entered a village, ten lepers approached him. Keeping their distance,
17:13 they called out, saying, "Jesus, Master, have mercy on us!"
17:14 When he saw them, he said to them, "Go and show yourselves to the priests." And as they went, they were made clean.
17:15 Then one of them, when he saw that he was healed, turned back, praising God with a loud voice.
17:16 He prostrated himself at Jesus' feet and thanked him. And he was a Samaritan.
17:17 Then Jesus asked, "Were not ten made clean? But the other nine, where are they?
17:18 Was none of them found to return and give praise to God except this foreigner?"
17:19 Then he said to him, "Get up and go on your way; your faith has made you well."
Commentary comes from Matthew Henry and John MacArthur.
As regular readers of this series of exegeses for Year C during the season of Trinity know, we have been studying our Lord's lessons to His disciples and others from Luke 9 onwards. We will soon reach their conclusion in Luke 19.
In those chapters, Luke takes us through the last six months of our Lord's ministry.
John MacArthur says:
During this period of Jesus' journeys which really began in chapter 9 verse 51 when it's recorded that He moved in the direction of Jerusalem, we're in the final months of Jesus' life.  It isn't a direct route.  It's taking months to finally arrive for the last time in Jerusalem.  He will make that arrival in chapter 19 verse 28.  He will go into Jerusalem through Jericho in the 18th chapter, so we're getting close to that great moment.
During this time of months and months of ministry there were many healings, and many miracles, and many casting out of demons.  And there were multiple times of teaching and ministering as He moved with His disciples and apostles around the land.  Luke, however, records five miracles for us.  They aren't the only five by any means.  During the time of His ministry, He nearly banished disease from the whole of Israel.  There is no way to even calculate the number of His miracles.  Even the New Testament testifies to the fact that the things that He said and done couldn't be contained in the books of the world.
But we do have five miracles during this journey period. This is the fourth miracle.  The first three involve one person. The last one involves two in Jericho when Jesus heals two blind men.  Luke focuses on one; Matthew fills us in on the other one.  But here is a miracle that involves ten people, ten people with the most terrible disease. The disease is leprosy.
Matthew Henry's commentary tells us that Luke is the only Gospel writer to record this particular miracle, mentioning that Jesus went out of His way to find these lepers in order to heal them. Leprosy was considered a severe divine curse for sin:
We have here an account of the cure of ten lepers, which we had not in any other of the evangelists. The leprosy was a disease which the Jews supposed to be inflicted for the punishment of some particular sin, and to be, more than other diseases, a mark of God's displeasure; and therefore Christ, who came to take away sin, and turn away wrath, took particular care to cleanse the lepers that fell in his way. Christ was now in his way to Jerusalem, about the mid-way, where he had little acquaintance in comparison with what he had either at Jerusalem or in Galilee. He was now in the frontier-country, the marches that lay between Samaria and Galilee. He went that road to find out these lepers, and to cure them; for he is found of them that sought him not.
On His way through the region between Samaria and Galilee (verse 11), ten lepers approached him from a distance (verse 12).
If there is any mercy in leprosy, it is in the death of nerve endings. A leper cannot feel his extremities drop off.
Today, this horrifying disease is still active, for the most part in Asia and Africa.
MacArthur tells us more about leprosy, which, among modern medics, is called Hansen's Disease, or HD:
Leprosy can be a general word, lepis in the Greek, meaning scaly and is a word that can be used to describe a number of skin diseases.  They could be of various kinds, not very serious to the worst kind which is created by a bacillus, a bacteria, that is the disease we know as leprosy.  This is such a serious and such a communicable disease that the Old Testament made proscriptions about people who had it.  And, in fact, this is a very ancient disease.  It has been found in mummies, so it goes way back.  Medical historians believe that leprosy originated in Egypt where it was found in a very ancient mummy.
Leviticus chapter 13 and 14 lays out a very long and careful prescription for determining whether somebody had this disease.  And the local health inspectors were the priests. That was part of their function.  Since they were responsible to know the law of God and apply the law of God and since this was laid out in the law of God, if you had a skin disease of any kind, you went to the priest and you went through a process of all that was required in Leviticus 13 and 14 so there could be a determination as to what exactly you had.  And if it is discovered that you have that communicable disease called leprosy that's so horrific, you were then removed from all social contact and the only people you could ever associate with were other lepers.  It was the worst, the absolute worst.  The people you needed most, the loving family and friends, you couldn't come near.  You couldn't associate with other people in the synagogue or any social environment whatsoever.  You were an alien from all of life and left only with others in your same horrific misery.  So these were the most miserable of all people, believing that they had been cursed by God and cursed by man as well.  And when Jesus comes, they are healed.  It is an astounding and incredible healing from all human viewpoints.
Let me just tell you a little bit about leprosy without going into unnecessary detail.  This severe type of leprosy is caused by a bacteria.  It attacks the nerves and the skin.  It anesthetizes the body and the limbs so that feeling is lost.  And then the potential for serious injury becomes large.  It starts, we're told, with a white or pink patch of skin usually on the brow, the nose, the ear, the cheek, the chin and the head.  The patch then begins to spread in all directions, a portion of the eyebrows disappears; spongy, tumorous swellings grow, first of all, all over the face and then begin to descend all over the body as the disease becomes systemic.  It becomes also involved with the internal organs as well as the skin.  Fingers and toes can be absorbed into the body, literally absorbing themselves into the body because of the bacillus invading the bone marrow, impairing blood supply, causing the bones to shrivel and the rest of the body to shrivel as well.  With the accompanying loss of feeling in the body due to nerve disease, the victim destroys his own tissue because he has no feeling.  The bacillus can destroy the eye, causing blindness; penetrates the teeth so they fall out, penetrates all the bodily organs and affects the larynx so that one winds up with a weak and raspy voice.
The medical history on this is abundant.  Just a few things that might help you understand this plight.  The skin loses its original color, becomes thick, glossy, and scaly.  As the sickness progresses, the thickened spots become dirty sores and ulcers due to poor blood supply.  The skin, especially around the eyes and ears, begins to bunch with deep furrows between the swelling so that the face of the afflicted individual begins to resemble that of a lion.  Fingers drop off or are absorbed.  Toes are affected similarly.  Eyebrows and eyelashes drop out.  By this time, one can see the person in this pitiable condition is truly a leper.  By the touch of the finger one can feel it. One can even smell it for a leper emits a very unpleasant odor, open sores.  Morever, in view of the fact that the disease-producing agent frequently attacks the larynx, says this writer, the leper's voice acquires a grating quality.
Dr. Paul Brand is the modern, world-renowned expert on leprosy, gives us some wonderful insight in a modern up-to-date look.  It's called Hansen's Disease, HD. It is cruel, not at all the way other diseases are.  It primarily acts as an anesthetic, numbing the pain cells of hands, feet, nose, eyes, ears.  Not so bad really, one might think; most diseases are felt because of their pain. What makes a painless disease so horrible?  Hansen's Disease's numbing quality is precisely the reason it is so horrible.  For thousands of years people thought this disease caused the ulcers on hands and feet and face which eventually led to rotting flesh and loss of limbs.  Mainly through Dr.  Brand's research it's been established that in 99 percent of the cases HD only numbs the extremities, the destruction follows solely because the warning system of pain is gone.  Basically people destroy their own limbs.
How does the decay happen?  In villages of Africa and Asia, a person with HD has been known to reach directly into a charcoal fire to retrieve a dropped potato. Nothing in his body tells him not to.  Patients at Brand's hospital in India would work all day gripping a shovel with a protruding nail or extinguish a burning wick with their bare hands or walk on splintered glass.  Watching them, Brand began formulating his radical theory that HD was chiefly anesthetic and only indirectly a destroyer.  On one occasion he tried to open the door of a little storeroom but a rusty padlock would not yield.  A patient, an undersized, malnourished, ten-year-old approached him smiling, "Let me try, Sahib Doctor," he offered and reached for the key.  With a quick jerk of his hand, he turned the key in the rusty lock.  Brand was dumbfounded.  How could this weak youngster show more strength than him?  His eyes caught a tell-tale clue.  Was that a drop of blood on the floor?  Upon examining the boy's fingers, Brand discovered the act of turning the key had gashed the finger open to the bone.  Skin, fat, and joint were all exposed yet the boy was completely unaware of it.
The daily routine of life grinds away at the HD patient's hands and feet.  No warning system alerts him.  If an ankle is turned, tearing tendon and muscle, he will adjust and walk crooked.  If a rat chews off a finger in the night, he will not discover it even missing until the next morning.  And so the sad story goes.
Stanley Stein went blind because of another quirk of HD.  Each morning he would wash his face with a hot washcloth.  But neither his hand nor his face was sensitive enough to temperature to warning him that he was using scalding water, gradually destroyed his eyes.  That's how it worked.
The disease went from ten to thirty years with victims usually dying from low resistance, other diseases, or infections.  It can be easily transmitted by inhalation or bodily contact or even contact with the clothing.  That's why the clothing are involved in Leviticus 13 prescriptions.  Since 1982, by the way, so you know that, there has been an effective treatment that can kill the bacterium.  Still there are probably a million and a half cases in the world, mostly in third world countries where they don't have that kind of protection.  This disease is still with us.
There were times when God cursed individuals in the Old Testament with leprosy:
In biblical times the effect was so severe and the potential for wiping out a population was so great that God laid down proscriptions.  "Command the children of Israel that they put out of the camp every leper."  Put him out.  This is too horrific, too horrible to leave these people in any proximity to the healthy.  God even used leprosy as a punishment.  The Jews had a reason that they saw it as a curse of God.  Naaman was a leper by divine punishment … Uzziah was a leper by divine punishment. Being a leper was the worst, and they had a lot of lepers in Israel, as Luke 4:27 says.  There were many lepers in the day of Elijah and Elisha; obviously they were still there in the day of Jesus.  Religiously, socially defiled in every way; no family, no job, no friends, no worship, no hope, they were walking illustrations of sin, they were walking illustrations of divine judgment, horrific life. Little wonder that when Jesus came to their village, they cried out to Him collectively.
Before going further, did anyone read this as both a real-life account and a parable? Those readers who did would be correct in their assessment.
MacArthur tells us that this miracle is a sign:
… of divine power, to reverse that disease, to bring it to a screeching halt and restore fully all ten people to their pure and whole condition. As in the case of all of Jesus' miracles, they were instantaneous and complete.  It is also an astounding story of ingratitude, shocking.  It is also a wonderful story, more importantly, of gratitude, worship and salvation.
I want us to look at the story as a story.  But I can't help but think this story is intended by the Spirit of God to be more than just a story for its own sake. I have to believe that this is also a parable.  Most of Jesus' parables were stories that He invented.  But many other things that happened in His life are marvelous analogies and illustrations, and this certainly is one.  First, the story, then we'll see its broader implications.
The lepers called out (verse 13), no doubt in raspy voices, 'Jesus, Master, have mercy on us!'
Henry points out that they did not ask for a cure, only for His mercy on them:
Those that expect help from Christ must take him for their Master, and be at his command. If he be Master, he will be Jesus, a Saviour, and not otherwise. They ask not in particular to be cured of their leprosy, but, Have mercy on us; and it is enough to refer ourselves to the compassions of Christ, for they fail not.
MacArthur focuses first on their calling Jesus 'Master', then their request for mercy:
Of all the words they might have chosen, they chose "Master."  In the Greek it's epistats. It's used only by Luke and only here is it used to refer to Christ by any other than His followers.  It was a word of some weight.  It was a word of some honor.  In fact, epistats is a word that speaks of someone who has notable authority, or notable power, even miraculous power, of course.  And that's why it's used to apply to Jesus.  So here these men are borrowing a word that affirms they recognized the notable authority and power of Jesus, which is to say that they had had some exposure to His power and His abilities.  They knew His reputation; let's put it that way.  They may have known it from the massive healings that He had done in His Galilee ministry, or from His healings in the Judean ministry prior to that and since leaving Galilee in chapter 9 and coming through the area of Judea He had done many more miracles.  His reputation was widely known.
This was their only hope.  This was their only chance.  They had no way out of their dilemma.  There were no cures.  There were no solutions.  Their faith may be meager but they are desperate men.  What other option do they have?  And so they say, "Have mercy on us," a phrase that recognizes that one is in a pitiful condition, that one is unable to solve a problem, that one is in a dilemma about which he can do nothing and must depend upon a superior power.  That's why they ask for mercy. Have mercy on us, a common expression.  By the way, in Matthew, Mark and Luke this is commonly the expression used by people who are asking Jesus to heal them.  And we're going to find it again in the 18th chapter when the blind man says, "Have mercy on me," meaning show me pity and power, You are one greater than I am, You are one who is known to have power to deal with my infirmity.  It expresses a recognition of superior power and one who at the same time is approachable.  Not just a recognition of power but to cry "Have mercy!" assumes that someone before has indicated to you that this man listens to people who cry for mercy.  So His power and His compassion are widely known.  They're aware of it, aware enough of it to cry out to Him for healing.
Interestingly, Jesus told them to present themselves before the priest then, as they walked away, healed them (verse 14).
Henry says that He did so in order for them to obey:
He did not tell them positively that they should be cured, but bade them go show themselves to the priests, v. 14. This was a trial of their obedience, and it was fit that it should be so tried, as Naaman's in a like case: Go wash in Jordan. Note, Those that expect Christ's favours must take them in his way and method. Some of these lepers perhaps would be ready to quarrel with the prescription: "Let him either cure or say that he will not, and not send us to the priests on a fool's errand;" but, over-ruled by the rest, they all went to the priest.
It is likely that Jesus told them to visit the priest before healing them so that the priest would be an indirect witness of His divine power:
As the ceremonial law was yet in force, Christ took care that it should be observed, and the reputation of it kept up, and due honour paid to the priests in things pertaining to their function; but, probably, he had here a further design, which was to have the priest's judgment of, and testimony to, the perfectness of the cure; and that the priest might be awakened, and others by him, to enquire after one that had such a commanding power over bodily diseases.
Unlike His earlier healing of a leper, this time Jesus tells the healed men to present themselves to their priest.
MacArthur says that it was because His death was but a short time away:
In that miracle with regard to the leper in Luke 5, He told him not to tell anybody because it was such a stunning thing to heal a leper, not only from the sympathy side and the power side, but the overturning of what they perceived as a divine curse.  He told that first leper in Luke 5 don't tell anybody because it could foment overwhelming enthusiasm, unrealistic messianic expectations and bring to bear upon Him undue pressure that could force Him out of His Father's timetable.  But that was long ago.  Here He doesn't tell them that because it's very near already to the Father's timetable for the cross.
MacArthur says that our Lord's healing miracle was a dramatic one of compassion, as He removed the divine curse of the disease:
Lepers were, of all people, the most to be avoided.  Obviously these people had the real leprosy.  That's why it tells us they stood at a distance.  Jesus then demonstrates on this occasion compassion, sympathy, and power.  And also, undoes what the people would have assumed would be a divine curse.  As we learned through the gospel record, the people had the idea that sickness came as a result of sin.  And leprosy, of all things, so horrific, was viewed as a divine judgment.  And so here is Jesus, sympathetic, compassionate, powerful and overturning divine judgment.  In this case then you have a stunning miracle by all perspectives.
It was important for the priest to verify this miracle, not only to know the power of the Messiah but also to pronounce the men as clean individuals who could finally live a normal life.
MacArthur explains:
By the way, the leper in chapter 5 He went near and touched him.  Jesus had no reluctance to go near lepers or to touch lepers.  In this case, He didn't do that.  I don't know what the circumstances were, but He didn't go to them, He simply said to them, verse 14, "Go and show yourselves to the priest."  Now that seems like a very strange thing to say.  Why didn't He say, "Be healed"?  Why did He say, "Go and show yourselves to the priest"?  Because He's doing a couple of things here.  He's testing their faith.  It may have been a meager faith, but this is a good test.  He's also affirming the viability of divine law.  He knew Leviticus 13 and 14, of course.  And He is upholding that law.  "Go show yourselves to the priest." That's exactly what He told the leper in chapter 5 verse 14, because leprosy required that.  You had to go to the priest. There was a rather long and involved protocol you went through.  The priests, as I said, were the health inspectors. You went to the priest. You went through the whole thing.  It was an eight-day process that could be repeated another eight days and another.  It could even lead to necessary sacrifices.  It could even take you all the way to Jerusalem to make those sacrifices before the priest would pronounce you clean.  So He says, "Go show yourselves to the priest."
That is a pretty big assumption.  You wouldn't want to go anywhere near the priest if you still had leprosy.  You'd be going to the wrong people.  You'd be going to the health inspectors with your disease …
Leviticus 13 and 14…Leviticus 14 even prescribes what you do when it is verified.  There are ceremonies and washings and sacrifices and all those kinds of things and lepers are touched in certain places, a tip of the ear, and it's a huge thing when somebody is being certified that they're cleansed from leprosy.  And Jesus sent the first leper in chapter 5 to the priest and He sends these ten to the priest.  And there's a wonderful footnote on that.  The priests who rejected Jesus, as you know… There were a few who believed on Him finally at the end, but en masse they pretty much rejected Jesus, the priests.  And here come ten lepers and they're going to have to validate this healing so they're going to become very reluctant, very unwilling witnesses to the compassion and the power of Jesus and they're going to be very clear eyewitnesses to the fact that Jesus overruled any assumption that these men were cursed by God.  This is some kind of power.  The priests would be forced to confirm the supernatural power of Jesus.  Really if they were honest, forced to confirm His deity and as well His adherence to the law.  So they became reluctant witnesses to His deity when the men arrived and went through the process.  That part of it isn't in the story.  For eight days though, at least, the men would be living testimonies to the power of Jesus' divine power.  The priests would have to validate that publicly.
The final verses enter the realm of a parable, what we would call 'life imitating art'.
One man turned back, a Samaritan — an outsider as far as the Jews were concerned. He did three things: a) praised God with a loud voice, b) prostrated himself at our Lord's feet and c) thanked Him (verses 15, 16).
It's not the nine Jews who turn back. No. It is the Samaritan, the outcast of mixed Jewish and Gentile blood.
MacArthur says:
So he comes back and he does three things.  First, says, end of verse 15, "Glorifying God with a loud voice."  Perhaps a voice that now was able to do what it hadn't been able to do for years. No more squeaky, raspy, leprosy-affected larynx.  Now he could cry out with new vocal chords.  This is a phns megals, a big loud voice.  Luke likes that.  He has Elizabeth doing that when she was filled with the Holy Spirit in chapter 1.  Even has an unclean spirit shouting with a loud voice when confronted with the power of the Son of God, Luke 8:28.  This is Luke's way of expressing the idea of great emotion; it just burst out in a loud voice.  He comes back at the top of his lungs glorifying God, meaning he knew where the power had come from, he knew who had healed him and he knew Jesus was more than a mere man because he doesn't just glorify God, he…notice it…verse 16, fell on his face at His feet.  He worships Him.  And he knew, but they all knew, Samaritan and Jew, that God and God alone was to be worshiped.  He takes a worshiping posture.
And, thirdly: giving thanks to Him.  He knew that it was God in Jesus that had given him this gift.  He could not restrain his praise, he could not restrain his worship, he could not restrain his thanks, but his posture is there saying, "I want a relationship with You, I want everything You have to give."  He knew he was in the presence of God.
Jesus asks where the other nine men were (verse 17), not expecting the Samaritan to know, but asking aloud, knowing that He healed them. Where was their praise and thanksgiving to Him and to God? There was only 'the foreigner' (verse 18).
This shows that the nine might have thought that the temple was the only place where God dwelt.
They were wrong, displaying once again the mistaken notions the Jews of our Lord's time had of God. Yet, somehow, the Samaritan recognised that Jesus was the Messiah. Oh, the sad irony of it all.
MacArthur gives us this analysis:
Interesting way to look at that: What are the other nine guys doing?  They're moving toward the priests, maybe with a view, we're going to go, we're clean, he's going to see it, we're clean then we're going to the temple.  We're going to the temple, because you ultimately have to go there to make the sacrifices that are required of one who's been cleansed.  We're going to the temple and when we get to the temple, sure we're grateful, we're excited, we're enthusiastic.  This is an unbelievable thing.  When we get to the temple we'll…We'll worship God where we should worship God, in the temple.  We'll thank God there and we'll praise God when we get to the place where God dwells.
Hmm, guess what?  God doesn't dwell in that temple.  God hadn't been in that temple in a long, long time.  Ichabod was written on that temple long ago when the glory departed.  That was an apostate temple and an apostate form of religion.  And that's why Jesus said, "The time is coming when you won't worship God in Jerusalem or in Mount Gerizim, because you're going to worship God in spirit and in truth and you're going to worship Him from the heart any place," but most significantly this man knew where to worship God, where God really dwelt.  And where God really dwelt was in Jesus Christ. That was the real temple.  He goes back to the true temple of God.  He recognizes that wherever the compassion of God is, God is.  Wherever the power of God is, God is.  Wherever the grace of God is, God is.  And that's where Jesus is and so that's where God is.  Jesus is the true temple.  God doesn't dwell in Jerusalem, He dwells in Jesus.  And he knows it.   And here's the punch line.  "And he was a Samaritan," the least likely from a Jewish viewpoint to be healed, an outcast.  The only reason he could associate with Jews at all was because they were all lepers and their common misery obviated the normal social separation. 
According to John 4:9 the Jews had no dealings with the Samaritans, they hated each other.  Samaritans had intermarried with Gentiles and from a Jewish standpoint polluted their race, polluted their religion.  They had a strange, hybrid religion on Mount Gerizim that the Jews despised.  They had no relationships with them at all.  They were forced together in their misery.  Surely no one would expect God to heal a Samaritan.  But not only did God heal one, but God saved another one.  Started out saving Samaritans, remember?  The first person to whom Jesus revealed His messiahship was a Samaritan woman in John 4.
And so this man knows that God is not like the people he's used to.  God is not a racist.  And he knows that God is a Savior and a Redeemer and he comes back and he worships.  Verse 17, Jesus answered and said…and here are three rhetorical questions that drive home an important point of ingratitude and indifference.  "Were there not ten cleansed?"  The structure, by the way, expects a positive answer.  "Were there not ten cleansed?"  There were ten cleansed, weren't there?  That would be another way to say that.  And then He asks a second rhetorical question, "But the nine, where are they?"  The "where" is last in sort of a punctuation point place of primacy.  In other words, it would read like this in the original, "But the nine, they are where?"  They ought to be here. They're where?  No answer, presumably they're on the way to the priest …
And then He asks a third question.  "Was no one found who turned back to give glory to God except this allogens, The word "foreigner" was a strong word.  Nobody came back except this man of another race?  It reminds me of John 1:11, "He came unto His own, His own received Him not."  By the way, that word allogens, "foreigner," was written on the outer wall of the temple forbidding any foreigner from access to the temple precincts, the areas only allowed for the Jews.  There was a Court of the Gentiles, but they couldn't go anywhere beyond that.  He is a foreigner. He is one outside the Covenant, outside the people of God, outside the promises, outside the adoption.  That's the… That's the real jolt.  He's a Samaritan.  He's a foreigner.  He can't go into the forbidden, inner court of the temple, but instead he walks right back face-to-face with God Himself and goes into His own Holy of Holies.  He couldn't get near the inner court, let alone the holy place, let alone the Holy of Holies in the temple, but he went straight into the Holy of Holies, fell on his face before the Holy One Himself and worshiped in humility and joy. 
It could also be that the nine Jews were interested only in the healing and nothing more:
They don't have any interest in Jesus anymore.  They got what they wanted out of Him.  They're very shallow, very superficial.  They have no desire to worship Him, no desire to glorify Him, no desire to thank Him.  They don't see Him as God. They don't fall down and give to Him what you only give to God.  They don't glorify Him as God.  And again we're face-to-face with this dominant attitude among these people that we see all through the ministry of Jesus. We are the people of God and God gives us what we deserve.  Our souls are fine.  No sense of sin.  They're like the rich young ruler.  No sense of remorse, no sense of desperation.  They are not looking for a Savior from sin. They're looking for a political Messiah. They're looking for somebody who will feed them free food.  They're looking for somebody who will heal all their diseases.  They'll take that, they'll take the food, they'll take the healing, they'll take all that but they don't want anything else.  We've got a lot of people in the evangelical world today who are offering that kind of Jesus.  This one man knew he needed a Savior.  He knew he had come face-to-face with God and his soul was traumatized.  He knew he was a sinner, but he knew that God had showed him mercy and compassion, kindness, power.  He could process the implications of what had just happened.  The others, hard-hearted, impenitent, satisfied with themselves; sought nothing more from Jesus.  And you know, the sad thing is He really doesn't have anything to offer you on a permanent basis unless it's eternal life and salvation.  If you don't come to Him for that, you cheat yourself out of what really He came to bring …
And they walked away to their dead, blind, cold religion with no more interest in Jesus at all.
Jesus told the Samaritan to rise and be on his way, 'Your faith has made you well' (verse 19).
The Samaritan exhibited faith. He knew his sin, his spiritual weakness:
… he also knows that God offers more than just a physical healing.  That isn't the real issue in his life, that's only a temporal detail.  He returns not just to be thankful for a healing. He returns to seek what his soul really desired and needed, salvation.  How do I know that?  Because that's exactly what Jesus gave him. 
MacArthur says that the word 'well' in that verse does not accurately describe the spiritual healing the man also experienced. The man was not only healed physically but also saved:
The English is misleading.  Many translations say, "Has made you well."  Everybody was made well, all ten were made well. That's not a definitive ending to the story.  The verb is not the word for "healed," iaomai, which is used earlier in the story in verse 15. It's not the word for "cleansed," katharizo, which is used also back earlier in the story in verse 14.  It's the word sz. It's the word sz.  It is the word for "salvation."  In the gospels it's used for that and in the epistles it's the word that's used for "saved" and "salvation."  It's translated that way, and I don't know why translators treat it arbitrarily. There are some contexts in which it can mean something less than salvation, but in the context where that's obvious it should be translated that way.  For example, in Luke 7 Jesus forgives the sins of a woman and in verse 50 He said to the woman, "Your faith has saved you."  Same word, your faith has saved you.  Here it's very obvious that this man has come back and he has come penitently, worshipfully and the Lord has healed his soul and given him salvation.  It should then be translated as it is in chapter 7, verse 50: "Your faith has saved you."  This refers to a second miracle uniquely for this man.
MacArthur wraps up the context of the parable in this real-life miracle:
… it's not just a story of an individual, it's a parable.  Of what?  I can't help but look at the nine and believe that the Spirit of God would want me to see in those nine the general attitude of the Jews toward Jesus.  They are representative of the general attitude toward Jesus.  Give us healing, give us food, deliver us from demons, do miracles, but do not expect worship.  Do not expect praise, adoration, thanks.  Do not expect us to acknowledge you as God.  Listen, this man fell down glorifying God.  I believe He knew God was in Jesus.  Obviously his theology wasn't fully developed.  Then he worshiped, and knowing that worship belongs to God.  And he knew God was the source of his miracle and he thanked Jesus, he thanked Him as well as worshiped Him.  He came back with the right attitude.  So while the ungrateful nine illustrate the general attitude of the Jews, we'll take everything You give, we'll take all the benefits, we'll take all the miracles, just don't expect worship.  The one Samaritan is a picture of the outcasts, the remnant, the ten percent, like Isaiah 6, the tenth that will believe the doctrine of the remnant.  The grateful Samaritan is a picture of the outcast who believed.  Might be a Samaritan like the Samaritan woman in John 4, might be Jews who were tax collectors and sinners, the riff-raff, the scum, the thugs, the lowlifes, the prostitutes who surrounded Jesus and of whom He said He'd come to call the sinners not the righteous.  Everybody heard the message.  Everybody enjoyed the benefit of Jesus' power.  Everybody basked in the wonder of His teaching and His miracles.  But only a few came, fell at His feet, glorified Him as God, worshiped Him, humbled themselves, and offered Him thanks.  The majority, they were the takers.  Small group were the ones who gave Him worship.  The majority were content with fixing their life up a little bit, superficial, temporal.  Small group wanted Him to change their souls, transform their hearts.
Well, the warning here is that you can experience the goodness and common grace of God and you do, the whole world does.  He makes the sun rise on all of us, the rain to fall on the just and the unjust.  He's good to all men.  You can be blessed by God in an earthly physical way.  He is a Savior temporally of all men.  You can be even blessed to hear the stories of Jesus and gospel truth and you can say I'll take what I get, I'll take my life I like it the way it is.  OK, God gave it to me, I thank God for it. You hear people say that all the time, thank God that I'm healthy, thank God that I have my children, thank God for my job, etc., etc.  And you can walk away right into eternal hell.  Or you can come back and fall on your face before Jesus Christ and embrace Him as your Master and Savior.  And the miracle that He did for that one man, He will do for you this day. 
May everyone reading this enjoy a blessed Sunday.
On Monday, September 19, 2022, the United Kingdom held its first state funeral since the death of Winston Churchill in 1965.
The public viewing of the Queen's casket at Westminster Hall ended at 6:30 a.m.:
I am certain that more than 250,000 people filed past in four days in London, because in 2002, 200,000 filed past her mother's coffin in three days. I was one of them. It was an unforgettable experience.
The Sky News article had more numbers before the Queen's funeral at Westminster Abbey began:
The Mayor of London's office said an estimated 80,000 people were in Hyde Park, 75,000 in ceremonial viewing areas and 60,000 on South Carriage Drive.
Overall numbers will be much higher as crowds formed on virtually the entire route to Windsor, where Thames Valley Police said 100,000 people had turned out.
The Telegraph reported much higher numbers for Westminster Hall. These seem more realistic to me:
The four-day lying-in-state ceremony has seen more than a million mourners packing the banks of the Thames, waiting in a queue which, at its peak, took 24 hours and stretched 10 miles, beyond London Bridge to Southwark Park.
On the final day, Westminster Hall was attended by dozens of foreign leaders and royals who have arrived in London ahead of the state funeral, which starts at 11am.
They included Joe Biden, the US President, Emmanuel Macron, the French leader, Olena Zelenska, the First Lady of Ukraine, President Jair Bolsonaro of Brazil and his wife Michelle, King Felipe and Queen Letizia of Spain, and King Phillipe and Queen Mathilde of Belgium.
On Sunday morning, the Government warned people not to travel to the queue "to avoid disappointment".
Another Telegraph article had more statistics about the Elizabeth Line (emphases mine):
At an average queueing time of 12 hours – perhaps even more – they had clocked up a total of 4.8 million hours between them as they shuffled forward, uncomplainingly, in the sunshine, and in the cold, and in the dark. It means that since the late Queen's lying in state began last Wednesday, her people had spent a cumulative 550 years saying their final thank you.
And if each of them entered the winding, folding queue at its end in Southwark Park, they would have walked 4 million miles between them, the equivalent of 153,846 marathons.
The fact that all of them knew how arduous the wait would be, having been given ample warning, is an even more reliable measure of how much Queen Elizabeth meant to them.
From children in push-chairs to pensioners and even global celebrities, they patiently waited their turn to spend only a few minutes in the presence of the late Queen's coffin, almost all of them pausing to bow or curtsy, many of them turning away in tears.
As one of my readers, dearieme, pointed out, this shows the trust our Queen had in her subjects and foreign visitors:
How often in the history of civilisations would governments, here or elsewhere, have allowed – even encouraged – huge mobs of the public to congregate, and trust largely to their natural instincts to keep themselves in order?
I think the answer might be "rarely".
Douglas Murray pondered all of the above in his Telegraph article: 'Our late Queen's final act was to bring her nation and the world deeply together'.
Excerpts follow:
The passing of Elizabeth II is remarkable for many reasons. But just one of them is the way in which the Queen's final act seems to have been to bring her nation deeply together.
There is the literal way in which that has happened, with the mini-nationalists across Britain ceasing – for a moment at least – their relentless task of trying to tear our country apart. The Scottish nationalists observed the death of our monarch without a series of "buts". Even Sinn Fein paid tribute and passed condolences to the Queen's son and heir – an act that would have been unthinkable beforehand.
People have rightly remarked on the way in which hundreds of thousands of people have queued to pay their own personal respects to the late Queen. But almost as remarkable is the way in which other nations around the world, as well as their media, have mourned her death …
The Queen leaves behind a Commonwealth that has been united in mourning – hardly the expected reaction if she had been the cruel tyrant of the New York Times's imagination.
What is more, although the dissenters have received an extraordinary amount of attention, more extraordinary by far is how united the world's response has been.
France, for instance, is not a country known for its love of monarchy. But on the death of Queen Elizabeth the French political and media class were united in paying tribute to her. She was honoured on the cover of almost every French magazine and periodical, as she was across the European and world media.
This reaction is largely a tribute to a reign of unparalleled length and dignity, a life given to the service of the country and the deepening of alliances with our friends and allies. But it also serves as a reminder of the way in which Britain is regarded around the world. With the exception of a few raucously noisy malcontents, we find that most people do not regard Britain as some terrible tyrannical power, either now or in history. Most see us, rightly, as having been among the fairer, certainly more benign, world powers …
This is the Britain that is still influential both in its impact abroad and also in the lives of its citizens. I doubt that there has been a figure in history whose death has led to such a voluntary outburst of feeling. There may have been despots whose death had to be mourned by their citizens and subjects, but there can have been few, if any, who have ever produced such willing devotion.
And there is a lesson in this for our institutions, and for institutions and nations around the world: people are loyal to institutions that are loyal to them. Break any part of that pact and you break the whole; sustain it and you sustain the whole.
Queen Elizabeth II swore an oath to this country as a young woman, and it was an oath she kept until her dying day. That loyalty is what is being honoured and mirrored today: the respect of people around the world for a life of service and duty. Something to remember, certainly. But something to emulate and live up to as well.
On the subject of tributes from abroad, a Belgian created this inspired photo montage of the Queen:
The next two short videos are well worth watching. The first is about Elizabeth II's 'Queenhood', probably written by the poet laureate with footage from her coronation. The second is a film montage of her entire life from beginning to end:
Operation London Bridge — the Queen's funeral plan — was now in its final phase in the capital and at Windsor Castle.
A military procession arrived at Westminster Hall to take the Queen for her final time to Westminster Abbey.
A new bouquet of pink and purple flowers with foliage and herbs — rosemary for remembrance and myrtle from the plant which supplied the sprigs for her wedding — replaced the white wreath for her lying in state:
Eight pallbearers from the military carefully placed her coffin onto a gun carriage. Naval ratings holding onto ropes in front and in back guided the gun carriage on its way.
This tradition began with Queen Victoria's funeral, which took place in January 1901. Horses were supposed to transport the gun carriage, but part of it snapped off in the cold, thereby making it impossible. Prince Louis Battenberg, who was Prince Philip's grandfather, came up with the solution, which, he said, had operated satisfactorily during the Boer War:
If it is impossible to mend the traces you can always get the naval guard of honour to drag the gun carriage.
The tradition continued throughout the 20th century:
The gun carriage is part of the materiel of the King's Troop, commanded for the first time by a woman, Captain Amy Hooper. She told The Telegraph that she was in Canada when the Queen's death was announced:
"BRIDGE, BRIDGE, BRIDGE," the text stated. "Operation LONDON BRIDGE has been activated. Initiate telephone cascade. All personnel are to return to camp" …
She was in Calgary when the news broke, along with soldiers exercising alongside Canadian mounted units. The British party was flying back to the UK within five hours …
Soldiers as far away as Turkey and America had to cancel their family holidays and return to the UK …
On Monday, she will be leading the gun team in Hyde Park for the Queen's funeral.
King's Troop, a unit of about 160 soldiers with an equal split of men and women, has one of the most important ceremonial roles in the British armed forces.
Their six 13-pounder quick-fire guns, built between 1913 and 1918, all of which have seen active service in the First and Second World Wars, are used regularly for royal salutes in Hyde Park, Green Park or Windsor Great Park for State Occasions and to mark royal anniversaries and royal birthdays …
The gun carriage is known as the George Gun Carriage, and carried King George VI's coffin from Sandringham Church to Wolferton Station in February 1952. It was also used in the funeral of the Queen Mother in 2002.
Queen Elizabeth's funeral had more troops and regiments than had ever been gathered at one time.
These included troops from around the Commonwealth, particularly Canada and Australia:
The soldiers walked at a 75 beat per minute pace, which is slow and difficult to sustain.
The Times reported on the use of a metronome, mimicked on the day by drum beats to ensure proper timing:
Military chiefs have been told to "up their game" for the Queen's funeral today and listen to a metronome at 75 beats per minute to ensure the right pace during the procession.
Admiral Sir Tony Radakin, the chief of the defence staff, admitted to nerves but said an enormous amount of planning for the event had gone on for "a very long time". He said more than 10,000 soldiers, sailors and airmen and women would perform their "last duty" to the Queen during the day's events.
Queen Elizabeth wished to have her funeral at Westminster Abbey because she had been married and crowned there.
The last monarch to have a funeral at the Abbey was George II on November 13, 1760. The other monarchs had theirs at St George's Chapel at Windsor Castle.
The Queen's children along with Princes William and Harry walked in the procession to the Abbey.
Meanwhile, heads of state and dignitaries took their places inside. Charity workers also were seated.
The Queen Consort and the Princess of Wales arrived with Prince George, 9, and Princess Charlotte, 7:
The procession arrived at the Abbey and the pallbearers carefully carried the Queen's coffin inside:
You can find the Order of Service here:
The Times has an excellent article on the service.
You can see the procession from Westminster Hall and the full funeral service. As with the other Royal Family YouTube links I have posted, if you get a message saying it cannot be viewed, click on 'Watch on YouTube' or this tweet:
The Queen chose the music, which held particular significance to her and to the Abbey:
Pardon the irreverence, but this is an aerial view of the seating plan in the transept. Look how far back Joe Biden was. Apparently, his Beasts and motorcade got caught up in traffic, although he arrived before the service began. By contrast, the dignitaries who took the white coaches in the 'podding' system got there on time. Even if he hadn't been late, he would still have been seated in the same place.
The altar is to the left and, out of shot, to the right are more seats for guests: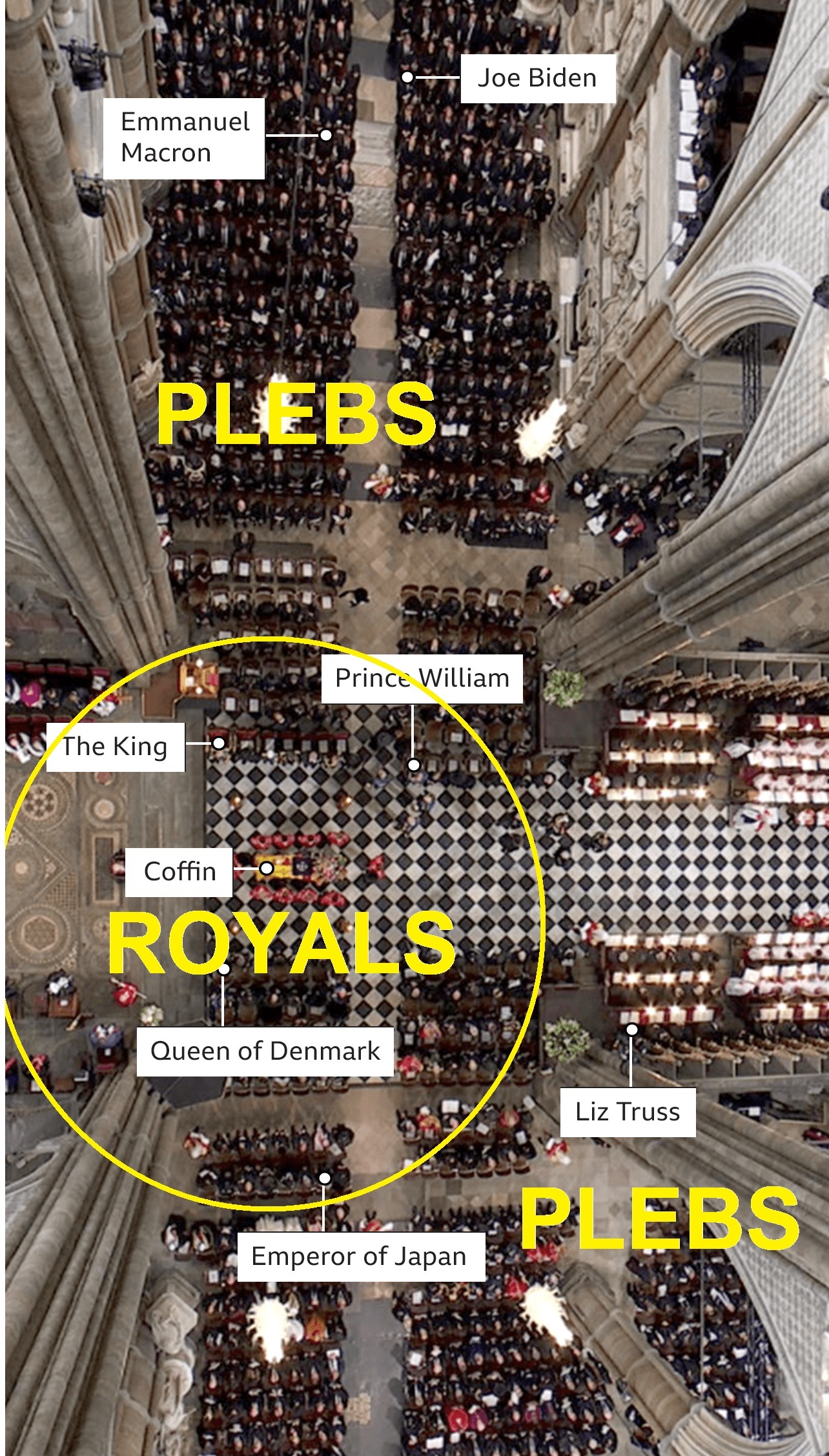 Likely sitting out of shot was, ironically, The Guardian's editor, Kath Viner:
Guido Fawkes has a quote from one of her recent editorials. I cannot bear to cite it in full, so here are the first and last sentences:
Royal rituals are contrived affairs meant to generate popular attachment to a privileged institution and to serve as reminders of a glorious past … How much Britain will be changed once this moment floats past the country is as yet unknown.
Guido commented (emphasis his):
Of course that didn't stop the Guardian's editor Kath Viner accepting a ticket to the funeral from the "privileged institution" herself. Maybe she's sentimental…
Another hypocrite turned up, Scotland's First Minister Nicola Sturgeon, she of the second independence referendum.
The Times has a photo of her and her husband, Peter Murrell, along with a few quotes:
Nicola Sturgeon has said it was an "honour to represent Scotland" as leaders from across the world joined the royal family and other mourners at the state funeral.
The first minister was among some 2,000 mourners at Westminster Abbey along with leaders of the other main Scottish political parties. She spoke of a "final and poignant goodbye to a deeply respected and much-loved monarch".
As I listened to the liturgy, I could not help but think that this is the last time we will hear language from the King James Version of the Bible and the 1662 Book of Common Prayer at a service for the Royals. How I will miss it. I hope I am wrong.
There was one prayer from an even earlier version of the Book of Common Prayer, Archbishop Cranmer's, from 1549. This was put to music. The choir did it full justice:
THOU knowest, Lord, the secrets of our hearts; shut not thy merciful ears unto our prayer; but spare us, Lord most holy, O God most mighty, O holy and most merciful Saviour, thou most worthy Judge eternal, suffer us not, at our last hour, for any pains of death, to fall from thee. Amen.
This was the Bidding Prayer:
O MERCIFUL God, the Father of our Lord Jesus Christ, who is the resurrection and the life; in whom whosoever believeth shall live, though he die; and whosoever liveth, and believeth in him, shall not die eternally; who hast taught us, by his holy Apostle Saint Paul, not to be sorry, as men without hope, for them that sleep in him: We meekly beseech thee, O Father, to raise us from the death of sin unto the life of righteousness; that, when we shall depart this life, we may rest in him, as our hope is this our sister doth; and that, at the general Resurrection in the last day, we may be found acceptable in thy sight; and receive that blessing, which thy well–beloved Son shall then pronounce to all that love and fear thee, saying, Come, ye blessed children of my Father, receive the kingdom prepared for you from the beginning of the world. Grant this, we beseech thee, O merciful Father, through Jesus Christ, our mediator and redeemer. Amen.

The entire liturgy was a lesson about faith and salvation. Even an unbeliver could not miss it.
I pray that it works on the hearts and minds of those in attendance who are indifferent.
The Queen always liked Psalm 42 for its reference to the hart, which reminded her of Scotland:
LIKE as the hart desireth the water–brooks : so longeth my soul after thee, O God.
My soul is athirst for God, yea, even for the living God : when shall I come to
appear before the presence of God?
My tears have been my meat day and night : while they daily say unto me, Where is
now thy God?
Now when I think thereupon, I pour out my heart by myself : for I went with the
multitude, and brought them forth into the house of God;
In the voice of praise and thanksgiving : among such as keep holy–day.
Why art thou so full of heaviness, O my soul : and why art thou so disquieted within
me?
Put thy trust in God : for I will yet give him thanks for the help of his countenance.
Prime Minister Liz Truss read the second Lesson, John 14:1-9a:
LET not your heart be troubled: ye believe in God, believe also in me. In my Father's house are many mansions: if it were not so, I would have told you. I go to prepare a place for you. And if I go and prepare a place for you, I will come again, and receive you unto myself; that where I am, there ye may be also. And whither I go ye know, and the way ye know. Thomas saith unto him, Lord, we know not whither thou goest; and how can we know the way? Jesus saith unto him, I am the way, the truth, and the life: no man cometh unto the Father, but by me. If ye had known me, ye should have known my Father also: and from henceforth ye know him, and have seen him. Philip saith unto him, Lord, shew us the Father, and it sufficeth us. Jesus saith unto him, Have I been so long time with you, and yet hast thou not known me, Philip? He that hath seen me hath seen the Father.

After Psalm 23 was sung, the Archbishop of Canterbury's sermon followed:
Near the end, clergy from the main Christian denominations recited their own prayers in thanksgiving for the Queen's long reign of service.
The Abbey's Precentor then recited a prayer from John Donne (1573-1631):
BRING us, O Lord God, at our last awakening into the house and gate of heaven, to enter into that gate and dwell in that house, where there shall be no darkness nor dazzling, but one equal light; no noise nor silence, but one equal music; no fears nor hopes, but one equal possession; no ends nor beginnings, but one equal eternity; in the habitation of thy glory and dominion, world without end. Amen.
After the blessing, the State Trumpeters of the Household Cavalry sounded The Last Post:
The congregation sang two verses of the National Anthem.
The funeral service closed with a poignant military lament, Sleep, dearie, sleep, performed by the Queen's Piper, Warrant Officer Class 1 (Pipe Major) Paul Burns. He stood on a balcony overlooking the congregation. Words cannot describe it.
This video has brief highlights from the funeral:
After the funeral ended, the Queen's coffin resumed its place on the gun carriage for a procession past Whitehall, down The Mall, then past Buckingham Palace, finishing at Wellington Arch on Constitution Hill.
A gun salute also took place:
The Royals walked with the military, as before. This was a long walk.
Every person in this procession has seen active military service. I put that in bold, because some living overseas think that these are 'toy soldiers', as it were. They are anything but.
Here they are in front of Buckingham Palace. Note that the Queen's household are standing in front of the gates in their normal working clothes to pay their respects:
The horses leading the procession were gifts to the Queen from the Royal Canadian Mounted Police (RCMP), or the Mounties. The Queen was their honorary commissioner.
George, Elizabeth, Darby and Sir John are the latest in a long line of horses given by Canada to the Queen and ridden by senior royals, including King Charles and the Princess Royal, during the annual ceremony of Trooping the Colour …
In 1969, the RCMP presented her with Burmese, a seven-year-old black mare who went on to become the Queen's favourite horse.
She rode her at Trooping the Colour for 18 years, including in 1981 when Marcus Sarjeant, then 17, shot six blank rounds at the Queen as she was travelling down The Mall to the parade that marks her official birthday.
Although Burmese was briefly startled, the horse won praise for remaining calm due to her RCMP training, in which she had been exposed to gunfire.
Burmese, who died in 1990, was the first of eight horses given to the Queen by the Mounties. George was given to her in 2009. Now 22, he has been ridden each year at Trooping the Colour by Charles.
Elizabeth, now 17, named in honour of the Queen Mother, was a gift to mark the Queen's Diamond Jubilee in 2012 …
Sir John, 14, was a 90th birthday present for the Queen and is ridden at Trooping the Colour by Princess Anne, a former Olympic equestrian.
Darby, a 16-year-old Hanoverian gelding, was one of two horses received by the late monarch in 2019.
[Sergeant Major Scott] Williamson is one of four RCMP officers who will ride at the front of tomorrow's funeral procession after the Westminster Abbey service.
It will travel up Whitehall and along The Mall, passing Buckingham Palace before ending at Wellington Arch. Here, the Queen's coffin will be transferred from the state gun carriage to a hearse for her final journey to Windsor.
I will cover the committal service at Windsor in tomorrow's post.
The three-year Lectionary that many Catholics and Protestants hear in public worship gives us a great variety of Holy Scripture.
Yet, it doesn't tell the whole story.
My series Forbidden Bible Verses — ones the Lectionary editors and their clergy omit — examines the passages we do not hear in church. These missing verses are also Essential Bible Verses, ones we should study with care and attention. Often, we find that they carry difficult messages and warnings.
Today's reading is from the English Standard Version with commentary by Matthew Henry and John MacArthur.
7 Now if the ministry of death, carved in letters on stone, came with such glory that the Israelites could not gaze at Moses' face because of its glory, which was being brought to an end, 8 will not the ministry of the Spirit have even more glory? 9 For if there was glory in the ministry of condemnation, the ministry of righteousness must far exceed it in glory. 10 Indeed, in this case, what once had glory has come to have no glory at all, because of the glory that surpasses it. 11 For if what was being brought to an end came with glory, much more will what is permanent have glory.
—————————————————————————————–
Last week's entry discussed Paul's comparison of Christ to a triumphal leader of a victory procession, where a fragrance of life or death, depending on whether one is a believer or an unbeliever, is present.
In today's verses, Paul compares and contrasts the Old Covenant with the New Covenant. He did this because Judaizers were infiltrating the Corinthian congregation, insisting that Mosaic Law be followed as well as Christian teachings. An example of this theological error would be to stipulate that Gentile males be circumcised, otherwise they could not be true Christians.
John MacArthur explains (emphases mine):
There were those in Corinth doing that. Coming along and demanding that the people who were already redeemed in Christ, in order to validate their redemption and to assure their redemption, needed to keep the ceremonial Law of Moses. These gentiles needed to be circumcised. They needed to make sure they followed through on washings and ceremonies and sacrifices and et cetera. They were demanding a return to old-covenant symbols which were now obsolete since the reality had come. Going back and exalting the symbols is pointless. It not only rejects the reality of the gospel but perverts the purpose and meaning of the symbol. It never w[as] intended to minister grace. It never w[as] intended to minister spiritual life, but only to be pictures of that which could and would do that.
So in dealing with this in Corinth, Paul writes in this section a concern that people understand the difference between the new covenant and the old. Or better stated, that people will understand the transition from the old covenant to the new. It isn't that the old covenant and new covenant are opposites. It isn't that they are opposed to each other. It is that one gives way to the next. The old covenant, in and of itself, was not complete. It could not save. It could not grant righteousness. It had to pass away and be replaced by the new. The old covenant, however, did serve a purpose, a very good purpose. And that purpose was fulfilled historically, and when the time came for that purpose to fade, it faded, and the new covenant came in its place.
Paul discusses Moses's receiving the law from God, which made his face blindingly brilliant, like the sun, even though that brilliance faded (verse 7).
When Moses was alone on the mountain, he had asked to see God's glory. God granted his request, hence Moses's brilliance in front of the Israelites when he returned to them. Because they could not look at him without being blinded, he put a veil over his face. Even then, his brilliance began to fade. By the time he removed the veil, he was back to normal.
MacArthur explains:
… in verse 7, the Law came with glory. The glory of God was on the face of Moses when he delivered the Law. What he's saying is, the Law is glorious; it is reflective of God. You see, the Apostle Paul had been accused by the Judaizers and the circumcision party of being against the Law, speaking against the Law, denigrating the Law, depreciating the Law, ignoring the Law, discounting the Law, or lowering the Law. He never did that. He realized that the Law, the old covenant, came in glory. It came with glory …
End of verse 7, he says, "–the sons of Israel could not look intently at the face of Moses because of the glory of his face," and then he throws this in, "fading as it was." The point is, the glory that was on Moses' face was temporary. After that encounter and that experience, it was gone; it faded. In fact, it faded even as he was there, talking to the people. And when he put the veil over his face, it would fade.
It was a "fading" glory.
Paul calls the law of God 'the ministry of death' because no Jew was capable of obeying over 600 laws regulating every part of his or her life.
The law was there to convict God's people of their sins. They were meant to take the law to heart and repent, which few did.
God had always intended for Jesus to redeem Jew and Gentile alike through His Son.
MacArthur tells us how redemption worked under the Old Covenant:
The old covenant could provide a basis of damnation, but not of salvation; a basis of condemnation, but not of justification; a basis of culpability, but not purity. Something had to be added.
You say, "Well, did the Jews know it was coming? Were they ever told?"
Sure. Jeremiah made it as clear – as crystal clear as it could be made. Jeremiah 31:31, he says this, "Behold, days are coming," declares the Lord, "when I will make a new covenant with the house of Israel and with the house of Judah, not like the covenant which I made with their fathers in the day I took them by the hand to bring them out of the land of Egypt, My covenant which they broke," not like that one, "this is the covenant I'll make with the house of Israel after those days. I'll put my Law within them and on their heart I'll write it, and I'll be their God, and they'll be my people, and I'll forgive their iniquity, and their sin I'll remember no more." They should have known that the old covenant wasn't the last …
The ministry of Old Testament prophets – and we don't have time to get into this – the ministry of Old Testament prophets was to call the people to repent. Over and over and over again, right on down to John the Baptist. Repent, repent, repent, repent, repent. That was the whole point. You're brought against the Law. The Law reveals your sin. You're called to repent.
See, what happened was, most of the Jews knew they couldn't keep the moral Law, so they figured out a way to get saved. "Oh, we can't keep the moral Law, but what we do, what we will keep, we'll keep the ceremonial Law, and the ceremonial Law will save us." So, they imposed the ceremonial Law on top of the moral Law as the savior, and that's what it means that they worshiped according to the letter of the Law. And that was damning.
But let's take a true Jew who really believed. What would he do? He'd come to God repentant, pleading for grace and pleading for mercy. He saw the ceremonial Law as symbolic of God's provision for him somewhere down the future. He knew God would provide. He knew God would be gracious, and God would be merciful, because that's the kind of God he was. And he cast himself on God's mercy and God's grace, and he would be redeemed, based upon what Christ would do in his behalf.
But for most Jews, the vast majority apart from that true remnant, they disobeyed the Law, offered no genuine repentance, exercised no saving faith in God, depended not on God's grace but on their own works, keeping the external ceremonial religion, and that was really a killer. And along came the prophets and constantly called them to repentance, and called them to repentance, and called them to repentance. That's always the message. It boggles my mind how that people can say today that we don't have to preach repentance. It's always been the message.
Paul asks that if the Old Covenant — the law of God — came in glory, how much greater then is the ministry of the Spirit, the New Covenant (verse 8).
MacArthur says:
The term "ministry of the Spirit" is Paul's descriptive term for the new covenant. He calls the new covenant the "ministry of the Spirit." The Law, written on stone, was a killer, but written on the heart by the Holy Spirit, is a life-giver and produces righteousness. The Law, written on stone, condemns. The Law, written on the heart by the Holy Spirit, saves.
Therefore, if there was glory in the ministry of condemnation — the Old Covenant — the ministry of righteousness of the New Covenant must far exceed it in glory (verse 9).
MacArthur tells us why that is true:
What does the new covenant bring? Righteousness. The new covenant changes God's view of the sinner. It changes his attitude. He sees him clothed in the righteousness of Christ. "Garmented with a robe of righteousness," Isaiah calls it, covered with the righteousness of Christ, having the righteousness of Christ imputed to him, put to his account.
Paul goes further by saying that the glorious Old Covenant no longer has glory because the glory of the New Covenant has surpassed — eclipsed — it (verse 10).
Matthew Henry elaborates:
The law was the ministration of condemnation, for that condemned and cursed every one who continued not in all things written therein to do them; but the gospel is the ministration of righteousness: therein the righteousness of God by faith is revealed. This shows us that the just shall live by his faith. This reveals the grace and mercy of God through Jesus Christ, for obtaining the remission of sins and eternal life. The gospel therefore so much exceeds in glory that in a manner it eclipses the glory of the legal dispensation, 2 Corinthians 3:10; 2 Corinthians 3:10. As the shining of a burning lamp is lost, or not regarded, when the sun arises and goes forth in his strength; so there was no glory in the Old Testament, in comparison with that of the New.
In verse 11, Paul says that the New Covenant is permanent in all its glory. Christ's sacrifice on the Cross has reconciled us to God.
Henry says:
Not only did the glory of Moses's face go away, but the glory of Moses's law is done away also; yea, the law of Moses itself is now abolished. That dispensation was only to continue for a time, and then to vanish away; whereas the gospel shall remain to the end of the world, and is always fresh and flourishing and remains glorious.
As for those who do not know God, an Anglican priest, the Revd Peter Mullen, wrote an inspired article for Conservative Woman, 'God leaves His calling cards', which concludes with this encouraging, simple instruction and prayer:
You seek God's comfort and the certainty of this presence? Just ask him for it.
O God, take away all my faithlessness and fear, and give me imagination that I may know certainly that thou art ever near. Make me bold to look for thee, that I might ever find thee.
What a marvellous message on which to end.
May everyone reading this have a blessed week ahead.
Next time — 2 Corinthians 6:14-18
In 2021, the Fourth Sunday in Lent is March 14.
This is also Laetare Sunday, one of joy and hope for the risen Christ.
In the United Kingdom, Laetare Sunday is also Mothering Sunday, or Mother's Day. You can read about the history behind this in the following posts:
Laetare Sunday, Mother's Day and the Golden Rose
Laetare Sunday is Mothering Sunday
My posts explain that Laetare Sunday is when clergy used to wear rose coloured vestments instead of purple. (Some still do.) It is traditionally the happy Sunday in Lent, as laetare means 'rejoice'. The name comes from the opening words of the traditional Latin Introit, which in English translate to 'Rejoice, Jerusalem'. Salvation is coming.
The readings for Year B in the three-year Lectionary are below:
Readings for the Fourth Sunday in Lent — Laetare Sunday — Year B
The Gospel reading is as follows (emphases in bold mine):
John 3:14-21
3:14 And just as Moses lifted up the serpent in the wilderness, so must the Son of Man be lifted up,
3:15 that whoever believes in him may have eternal life.
3:16 "For God so loved the world that he gave his only Son, so that everyone who believes in him may not perish but may have eternal life.
3:17 "Indeed, God did not send the Son into the world to condemn the world, but in order that the world might be saved through him.
3:18 Those who believe in him are not condemned; but those who do not believe are condemned already, because they have not believed in the name of the only Son of God.
3:19 And this is the judgment, that the light has come into the world, and people loved darkness rather than light because their deeds were evil.
3:20 For all who do evil hate the light and do not come to the light, so that their deeds may not be exposed.
3:21 But those who do what is true come to the light, so that it may be clearly seen that their deeds have been done in God."
Commentary for today's exegesis comes from Matthew Henry and John MacArthur.
It is important to put these verses into context. It is a pity that the Lectionary editors did not think it appropriate to add the preceding 13 verses:
You Must Be Born Again
3 Now there was a man of the Pharisees named Nicodemus, a ruler of the Jews. 2 This man came to Jesus[a] by night and said to him, "Rabbi, we know that you are a teacher come from God, for no one can do these signs that you do unless God is with him." 3 Jesus answered him, "Truly, truly, I say to you, unless one is born again[b] he cannot see the kingdom of God." 4 Nicodemus said to him, "How can a man be born when he is old? Can he enter a second time into his mother's womb and be born?" 5 Jesus answered, "Truly, truly, I say to you, unless one is born of water and the Spirit, he cannot enter the kingdom of God. 6 That which is born of the flesh is flesh, and that which is born of the Spirit is spirit.[c] 7 Do not marvel that I said to you, 'You[d] must be born again.' 8 The wind[e] blows where it wishes, and you hear its sound, but you do not know where it comes from or where it goes. So it is with everyone who is born of the Spirit."
9 Nicodemus said to him, "How can these things be?" 10 Jesus answered him, "Are you the teacher of Israel and yet you do not understand these things? 11 Truly, truly, I say to you, we speak of what we know, and bear witness to what we have seen, but you[f] do not receive our testimony. 12 If I have told you earthly things and you do not believe, how can you believe if I tell you heavenly things? 13 No one has ascended into heaven except he who descended from heaven, the Son of Man.[g]
Nicodemus was a religious ruler, a Pharisee: very learned in Scripture and Mosaic law. He was a member of the Sanhedrin, the Jewish hierarchy.
He went to see Jesus at night either because he was too busy to meet him during the day, or, more likely, because he did not want to incur the wrath of the Sanhedrin.
Jesus compares Himself to the staff with the brass serpent on it that God told Moses to raise in order to end the plague of fiery serpents that He had visited upon the Israelites (verse 14). Those who looked upon the brass serpent were cured. Those who refused to look at it died.
Those who believe in Jesus will never die (verse 15).
That serpent on the pole was a figurative representation of Christ on the Cross.
Matthew Henry's commentary explains this in full:
The Son of man is lifted up, as the serpent of brass was by Moses, which cured the stung Israelites. 1. It was a serpent of brass that cured them. Brass is bright we read of Christ's feet shining like brass, Revelation 1:15. It is durable Christ is the same. It was made in the shape of a fiery serpent, and yet had no poison, no sting, fitly representing Christ, who was made sin for us and yet knew no sin was made in the likeness of sinful flesh and yet not sinful as harmless as a serpent of brass. The serpent was a cursed creature Christ was made a curse. That which cured them reminded them of their plague so in Christ sin is set before us most fiery and formidable. 2. It was lifted up upon a pole, and so must the Son of man be lifted up thus it behoved him, Luke 24:26,46. No remedy now. Christ is lifted up, (1.) In his crucifixion. He was lifted up upon the cross. His death is called his being lifted up, John 12:32,33. He was lifted up as a spectacle, as a mark, lifted up between heaven and earth, as if he had been unworthy of either and abandoned by both. (2.) In his exaltation. He was lifted up to the Father's right hand, to give repentance and remission he was lifted up to the cross, to be further lifted up to the crown. (3.) In the publishing and preaching of his everlasting gospel, Revelation 14:6. The serpent was lifted up that all the thousands of Israel might see it. Christ in the gospel is exhibited to us, evidently set forth Christ is lifted up as an ensign, Isaiah 11:10. 3. It was lifted up by Moses. Christ was made under the law of Moses, and Moses testified of him. 4. Being thus lifted up, it was appointed for the cure of those that were bitten by fiery serpents. He that sent the plague provided the remedy. None could redeem and save us but he whose justice had condemned us. It was God himself that found the ransom, and the efficacy of it depends upon his appointment. The fiery serpents were sent to punish them for their tempting Christ (so the apostle saith, 1 Corinthians 10:9), and yet they were healed by virtue derived from him. He whom we have offended is our peace.
John MacArthur offers us a practical application of those two verses:
But there's more to this than just being lifted up in His death. It means that you give Him all your attention. You elevate Him above all others, over all others, as the preeminent one and you look to Him in faith and Him alone for salvation.
The bitten Jews were healed from the poison by a look of faith. They had to believe I'm going to go where that thing is. I'm going to go there, I'm going to look, and if they would do that, they would be healed. And so it is that all God asks of us is to look at His Son, lift Him up. The Jews who were bitten didn't have to do anything. There were no works. Nothing for which to atone. No restitution, nothing; just look and you have life. What a beautiful analogy. And I know when it happened it was in the plan of God that it would be the analogy of the simplicity of salvation by faith–Christ lifted up; we look at Him and that's enough, we have life.
And here's the heart of the heavenly message that Jesus brought down. Verse 15, "So that whoever believes in Him will have eternal life. Whoever believes will have eternal life. That's all the sinner can do. Belief, belief–that's the heart of the gospel.
Jesus sums everything up in verse 16, one of the most famous in the New Testament:
"For God so loved the world that he gave his only Son, so that everyone who believes in him may not perish but may have eternal life.
God did not send Jesus to lead a temporal kingdom or to bring social justice. God sent Jesus to save us from being enslaved by sin and bring us to everlasting life in the world to come, with Him.
Let's go back to the earlier verses in the chapter where Jesus tells Nicodemus that one must be born again of the Holy Spirit.
MacArthur explains:
Simply stated, What contribution did you make to your physical birth? What? None. You didn't make a contribution and that's why the Lord chose this. And nor will you make a contribution to your spiritual birth. So the first thing Jesus says to Nicodemus is—and this stops him dead in his legalistic tracks—something has to happen to you from above and you have no part in it. Try that on the next time you evangelize somebody. You need something you can't do. You need something you can't participate in. You need something you can't contribute to. You need heaven to come down. And oh, by the way, unless you're born from above, born again, unless you're born of the Spirit, you'll never enter the kingdom of God. And by the way, the Spirit comes and goes when He wills, and you can't call Him and you can't dismiss Him. And this is the doctrine of divine calling, the effectual call, the efficient call. This is what some call irresistible grace. This is the calling that identifies the church as the called. It's divine.
All of this speaks of an incomprehensible love that God has for mankind. We will never be able to comprehend this during our temporal lives.
Jesus tells Nicodemus that God does not wish to condemn the world but to save it (verse 17), although those who do not believe in Jesus will be condemned forever (verse 18).
Henry makes this observation of the believer:
The cross perhaps lies heavy upon him, but he is saved from the curse: condemned by the world, it may be, but not condemned with the world, Romans 8:1,1 Corinthians 11:32.
He has much to say about unbelievers, whom God condemns in this life and the next:
Observe, [1.] How great the sin of unbelievers is it is aggravated from the dignity of the person they slight they believe not in the name of the only-begotten Son of God, who is infinitely true, and deserves to be believed, infinitely good, and deserves to be embraced. God sent one to save us that was dearest to himself and shall not he be dearest to us? Shall we not believe on his name who has a name above every name? [2.] How great the misery of unbelievers is: they are condemned already which bespeaks, First, A certain condemnation. They are as sure to be condemned in the judgment of the great day as if they were condemned already. Secondly, A present condemnation. The curse has already taken hold of them the wrath of God now fastens upon them. They are condemned already, for their own hearts condemn them. Thirdly, A condemnation grounded upon their former guilt: He is condemned already, for he lies open to the law for all his sins the obligation of the law is in full force, power, and virtue, against him, because he is not by faith interested in the gospel defeasance he is condemned already, because he has not believed. Unbelief may truly be called the great damning sin, because it leaves us under the guilt of all our other sins it is a sin against the remedy, against our appeal.
Jesus explains God's judgement to Nicodemus: when people turn away from the light of Christ it is because they prefer the darkness of evil (verse 19). He adds that such people do not want divine light to expose their evil deeds of darkness (verse 20).
It is still hard for me to believe that unbelievers could actively reject Christ, but MacArthur explains why people are enslaved to sin:
There's one reason people don't believe in Christ, one reason. They love their sin. They don't want to come near Christ 'cause He shines a light on their sin, exposes their sin. Sinners love sin. It's not ignorance. It's not lacking the basic faculties of reason. It's not misunderstanding. Sinners prefer moral darkness. They're like bugs that run for the dark when you pick the rock up. They love their corruption. They delight in their evil and love darkness, hate light, don't want to come to the light because if they come to the light they'll be exposed for what they are. So they resent the truth, they resent the Scripture, they resent the church, they resent Christians, they run from us. It's strong—it's a strong, dominating compulsion in a fallen heart. If you look at John 7:7 it says, "The world cannot hate you," Jesus talking, "but it hates Me because I testify of it that its deeds are evil." They hate Christ because He exposes their sin. That eventually gets passed down to us.
And how. We live in a time of Christian censorship which, in some cases, extends to active persecution.
Jesus ends his discourse by saying that those who do what is right come to the light so that it is clear that God is working through them (verse 21).
MacArthur tells us:
… if you're one of those who practices the truth, the light comes on and you take a look at your life in the light and you say, "What's going on in me is wrought by God." And there's confidence and assurance and joy in that. We come to the light, we love the light, we welcome the communion with Christ. And there's no fear; there's complete acceptance and security and joy and protection and love. Boy, what a…what a…what a message Nicodemus got that day and he never even asked a question. He just got his heart read.
MacArthur gave this sermon in 2013, when Rick Warren's book on 'purpose' in the Church was popular. MacArthur rightly says that notion is false:
Stop saying, "Do you want purpose in your life? Jesus will give you purpose." Stop that. Stop saying Jesus will make you happy, give you a better life, solve your problems, make you better, make you richer—stop. That produces false converts because that sheds no light on the sinner's wretchedness. That uncovers nothing. That exposes nothing. That's a lie. What you want to do is shine the light of the pure righteousness of Jesus Christ as brightly as you can on the sinner and see if the sinner runs. That has no value to people, that kind of stuff—produces nothing but false converts. The issue is to confront sin in all its horror and all its ugliness and they will seal their sentence by rejecting Christ because they love their iniquity. Or by the grace of God they will run to the truth, verse 21, "He who practices the truth comes to the light so that his deeds may be manifested as having been wrought in God."
MacArthur has more advice on evangelising:
So when you talk to people, I think it's sometimes okay to say, "You know, you're a lawbreaker, you've broken this law, broken that law, broken the Ten Commandments, fine. That's all forgivable." Sooner or later in the conversation, and may I suggest sooner rather than later, you need to address people about what they think concerning Jesus Christ and cut to the chase and say, "If you do not believe in the Lord Jesus Christ as Redeemer, and Savior, and Lord, you will die in your sins and go to hell. That is the one unforgivable sin" …

What you're going to say when you stand before God is this, "I refuse to believe in Jesus Christ," and that's the issue. And that will be the issue. You have been judged already—you're condemned and sentenced. And if you continue in unbelief, you will perish.
What can we do? Pray for unbelievers, known and unknown. Unbelievers can also pray for faith — and more faith — through divine grace.
In closing, I wish all my British readers who are mothers a very happy Mothering Sunday (sadly, the second one under coronavirus lockdown).
In 2021, the Second Sunday in Lent is February 28.
The readings for Year B in the three-year Lectionary are below:
Readings for the Second Sunday in Lent — Year B
There are two choices for the Gospel reading. I have chosen the first, where Jesus tells His disciples that He must die (emphases mine below):
Mark 8:31-38
8:31 Then he began to teach them that the Son of Man must undergo great suffering, and be rejected by the elders, the chief priests, and the scribes, and be killed, and after three days rise again.
8:32 He said all this quite openly. And Peter took him aside and began to rebuke him.
8:33 But turning and looking at his disciples, he rebuked Peter and said, "Get behind me, Satan! For you are setting your mind not on divine things but on human things."
8:34 He called the crowd with his disciples, and said to them, "If any want to become my followers, let them deny themselves and take up their cross and follow me.
8:35 For those who want to save their life will lose it, and those who lose their life for my sake, and for the sake of the gospel, will save it.
8:36 For what will it profit them to gain the whole world and forfeit their life?
8:37 Indeed, what can they give in return for their life?
8:38 Those who are ashamed of me and of my words in this adulterous and sinful generation, of them the Son of Man will also be ashamed when he comes in the glory of his Father with the holy angels."
Commentary for today's exegesis comes from Matthew Henry and John MacArthur.
Sometimes, the older versions of the above verses are so well known that it is good to refer to them. Here is the King James Version:
31 And he began to teach them, that the Son of man must suffer many things, and be rejected of the elders, and of the chief priests, and scribes, and be killed, and after three days rise again. 32 And he spake that saying openly. And Peter took him, and began to rebuke him. 33 But when he had turned about and looked on his disciples, he rebuked Peter, saying, Get thee behind me, Satan: for thou savourest not the things that be of God, but the things that be of men. 34 And when he had called the people unto him with his disciples also, he said unto them, Whosoever will come after me, let him deny himself, and take up his cross, and follow me. 35 For whosoever will save his life shall lose it but whosoever shall lose his life for my sake and the gospel's, the same shall save it. 36 For what shall it profit a man, if he shall gain the whole world, and lose his own soul? 37 Or what shall a man give in exchange for his soul? 38 Whosoever therefore shall be ashamed of me and of my words in this adulterous and sinful generation of him also shall the Son of man be ashamed, when he cometh in the glory of his Father with the holy angels.
Just before Jesus spoke those words, He asked His disciples two questions:
27 And Jesus went on with his disciples to the villages of Caesarea Philippi. And on the way he asked his disciples, "Who do people say that I am?" 28 And they told him, "John the Baptist; and others say, Elijah; and others, one of the prophets." 29 And he asked them, "But who do you say that I am?" Peter answered him, "You are the Christ." 30 And he strictly charged them to tell no one about him.
Why those verses could not have been added to today's reading in order to provide context is perplexing. As I have often said, that is why the Lectionary can be irritating. No wonder people don't read the Bible more often.
On one level, the disciples know that Jesus is the Messiah. On the other hand, people are confused because they expect a temporal Messiah, one with the appearance of a king.
John MacArthur explains:
… through the years, they struggle with that. They don't struggle because there's no evidence of divine power. They just struggle because He doesn't conform to their preconceived patterns. It's like he that is convinced against his will is unconvinced still. It's just a really hard hurdle to get over. They struggle with doubts because, as the people concluded, He can't be the Messiah, so He has to be somebody short of the Messiah – John the Baptist, the forerunner to the Messiah; Elijah, who will come back before the Messiah; Jeremiah, who will come back before the Messiah. But nobody's saying He's the Messiah. He doesn't fit the preconceived theological package. He's maybe, obviously, a prophet of God; we'll grant Him that, but He just hasn't done what the Messiah will do. Where's the conquest? Where's national independence? National freedom? Power? Blessing? Where's the overthrow of Rome? And He's so meek, and lowly, and humble, and submissive, and pays taxes to Rome, and He's hated by the leaders of Israel.
In fact, it was so bewildering, compared to their messianic view, that even John the Baptist got confused. John the Baptist, the one who was His forerunner, the one who was related to Him, the one whose mothers were related, who talked about all these issues. John the Baptist must have heard from His own family all the story about how the angel came and announced to His mom and dad that He would be born, and that He would be the forerunner of the Messiah. And they must have told Him about how Mary came and bore the child who was the Messiah, and Jesus was His relative, and he knew who He was, and it was all angelic, divine revelation. And he heard perhaps again and again the incredible stories of the annunciation and the birth of the Messiah. And yet, he gets confused. Why? Well, he's in prison. This doesn't look like the right plan here.
Jesus tells the disciples about what 'must' happen to Him: rejection, suffering, death and resurrection (verse 31).
Peter was profoundly affected by that announcement and took Jesus to one side to 'rebuke' Him (verse 32). One wonders whether 'rebuke' in this verse is the same as it usually is, one of reprimand and condemnation. Peter loved Jesus and wanted to protect Him.
MacArthur says:
Matthew says it this way, "God forbid, Lord; this shall never happen to You." He's not asking questions; He's making statements. And idiomatically, an interesting phrase in Matthew, "May God grant You better than that." Whoa. "This isn't going to happen, and we're not going to allow this."
Matthew Henry says:
He took him—proslabomenos auton. He took hold of him, as it were to stop and hinder him, took him in his arms, and embraced him (so some understand it) he fell on his neck, as impatient to hear that his dear Master should suffer such hard things or he took him aside privately, and began to rebuke him. This was not the language of the least authority, but of the greatest affection, of that jealousy for the welfare of those we love, which is strong as death. Our Lord Jesus allowed his disciples to be free with him, but Peter here took too great a liberty.
That explanation reminds me of an illustration I used to see in my youth of Peter embracing Jesus, his head on His shoulder, weeping. It might have been in our family Bible. However, it was a powerful depiction of this particular moment.
Jesus immediately rebukes Peter — in the traditional sense of the word — correcting him with harsh words in front of the other disciples (verse 33).
MacArthur tells us:
First of all, Matthew said He said, "You're a stumbling block" – you're in the way; you're a hindrance. Then the real blow, "Get out of My sight, Satan." That's literally what it says. "Get out of My sight, Satan." It's a bad idea for followers to play God. When you put yourself in the place of God, you end up putting yourself in the place of Satan. He says to him, "You're not setting your mind on God's interests, but man's." That's an indictment of Peter. Peter didn't want a cross. These guys were looking for glory. Do we remember that James and John had come with their mother to ask if they could sit on the right and the left hand in the kingdom? I mean it was all about elevation, glory, power, prosperity. Jesus says, "You are an offense to Me," according to Matthew. "You're a skandalon." Skandalon means you're a trap. "You're a baited trap; you're a Satan trap; you're a Satan stumbling block. If you're trying to dissuade Me from the cross, you're on Satan's side. Get out of My sight."
Far from speaking about glory, Jesus then says that His followers will have to suffer in His name by denying themselves and taking up their own cross (verse 34).
Henry explains the verse this way:
Those that will be Christ's patients must attend on him, converse with him, receive instruction and reproof from him, as those did that followed him, and must resolve they will never forsake him.
Jesus continues by indicating the way to salvation: caring more about eternal life than temporal life (verse 35).
MacArthur lists other difficult verses on the same theme:
Jesus said the very same thing in Matthew repeatedly, Matthew 10, Matthew 16, and alluded to it elsewhere. He said it in Luke – Luke chapter 9, verses 23 to 27 is a direct repeat of what we read in Mark. And then at the end of Luke 9, verses 57 to 62, Jesus basically says, "If you say you want to follow Me, but you have any other agenda that is more important immediately than Me, then you can't be My disciple."
Remember a man said, "Oh, I want to follow you, but I need to go home and get my inheritance. Oh, I want to follow you, but I've got to go bury my father. I want to follow you, but I've got to go negotiate some things of my family so I make sure I have some money while I'm following You."
Jesus said, "Don't do that. Don't start to follow and turn back or you're not worthy." He's always talking about the price of following Him. In the twelfth chapter of Luke – and Luke is particularly strong in emphasizing these teaching passages of our Lord with regard to invitations. He says in verse 51 of 12, "Do you suppose that I came to grant peace on Earth? I tell you, no, but rather division; from now on five in one household will be divided, three against two and two against three." Two become a believer and the other three don't; three become believers, and the other two don't. "They'll be divided, father against son, son against father, mother against daughter, daughter against mother, mother-in-law against daughter-in-law, daughter-in-law against mother-in-law." Again it is this emphasis that you pay a price relationally when you come to Christ …
And He said to them, "Strive to enter through the narrow door. For many, I tell you, will seek to enter and will not be able." This is not easy. Why? You have to say no to self. You have to say no to family. You have to say no to the things of the world, no to the love of sin. People want the kingdom. It's attractive. They want forgiveness, they want eternal life, but the price is everything. That's why later in chapter 14, another time, he said, "If anyone comes to Me and doesn't hate His own father and mother, and wife and children, and brothers and sisters, and even his own life, he can't be my disciple." He doesn't mean hatred in the sense that you despise the people that you love. He simply means that you treat them as if they aren't nearly as significant as coming to Christ. So, you're willing to say, "I'll go to Christ; I'll follow Christ, even if it costs me my family."
"And it might even cost you your life," He said. And in the twelfth chapter of John, He said the same thing in verse 25, "You better be willing to hate your own life." So, coming to Jesus was not easy. Coming to Jesus was not something that you could simply do because you wanted the pluses that Jesus offered. It demanded much more than that. Jesus' invitation was not easy. It was even severe because He threatened those who rejected it. It was hard because the cost was so high. So high.
Jesus then asks two questions.
What good is it having everything possible in this world only to lose one's soul in the next and be condemned to eternal death (verse 36)? What price has a man's soul (verse 37)?
MacArthur explains:
Remember the man about whom Jesus spoke, the man who kept building bigger barns and bigger barns and bigger barns because he had more stuff and more stuff? And he said, "Okay, soul, take your ease. Eat, drink, and" – what? – "be merry." And boom comes the divine voice, "Tonight you die." And then what? What are you going to profit if you gain the whole world? That's hyperbole. Nobody could gain the whole world. Nobody. But even if you could gain the whole thing, actually, who would want it? But even if you could gain the whole thing, what would it matter if you lost your eternal soul? It is the common belief of man that he is the happiest when he has the most stuff – the most that the world has to offer. And what a delusion that is if he forfeits his soul.
"Because" – verse 37 – "what are you going to give in exchange for your soul?" How are you going to buy back your soul? You think you can – if you owned the whole world, could you pay that price for your soul? If you had the whole world – all the money in the world, all the resources in the world, all the power in the world – with it could you buy your soul? What are you going to give in exchange for your soul? What is of equivalent value to your soul?
You want to look at this the other way? Your soul is worth more than everything in this world because this world will burn up. You will live forever. You say, "I don't – I even rent my house; I don't own any of it. I lease my car; I don't own anything." You, my dear friend, are more valuable than everything material in this world. There is no price for your soul except the provision of Jesus Christ on the cross. He paid an infinite price because of an infinite value attached to you. That's the gift of salvation.
Jesus ends His discourse by saying that those who are ashamed of Him in this life will not inherit eternal life in the world to come, because our Lord will be ashamed of them (verse 38).
MacArthur puts it equally plainly:
This is a severe invitation because judgment is attached to it. This is a hard invitation because it requires total abandonment, self-denial, cross bearing, loyal obedience, giving up your life to save it. And if you choose not to do it because you want to hang onto your own life, and you're ashamed of Christ and ashamed to identify with His words, His teaching, and you want to fully embrace your place in the middle of this adulterous and sinful generation – if that's where you want to be, the Son of Man will be ashamed of you when He comes at His coming in the glory of His Father with the holy angels. And you take your place with the perishing world, with the doomed rejecters to whom the gospel is a shameful thing, to whom Christ is a shameful person; you will face divine judgment. When Christ comes, He comes to judge the world. That's what it says.
This is a powerful verse …

It certainly is a powerful verse, giving us much to contemplate in the week ahead.
May everyone reading this have a blessed Sunday.
The three-year Lectionary that many Catholics and Protestants hear in public worship gives us a great variety of Holy Scripture.
Yet, it doesn't tell the whole story.
My series Forbidden Bible Verses — ones the Lectionary editors and their clergy omit — examines the passages we do not hear in church. These missing verses are also Essential Bible Verses, ones we should study with care and attention. Often, we find that they carry difficult messages and warnings.
Today's reading is from the English Standard Version with commentary by Matthew Henry and John MacArthur.
20 Each one should remain in the condition in which he was called. 21 Were you a bondservant[a] when called? Do not be concerned about it. (But if you can gain your freedom, avail yourself of the opportunity.) 22 For he who was called in the Lord as a bondservant is a freedman of the Lord. Likewise he who was free when called is a bondservant of Christ. 23 You were bought with a price; do not become bondservants of men. 24 So, brothers,[b] in whatever condition each was called, there let him remain with God.
——————————————————————————————————————–
Last week's entry discussed Paul's words of comfort to Jewish and Gentile men converting to Christianity. There was no need for the Jew to fret that he had been circumcised as an infant. Similarly, there was no need for the Gentile convert to become circumcised.
These verses discuss the state of men and women converting to Christianity. Paul offers similar words of comfort, saying that God knows the circumstances in which we live and He accepts us all (verse 20). Christianity has to do with our spiritual rather than our physical state or social status.
John MacArthur explains (emphases mine):
The point is this: a relationship to Christ is compatible with any social status. You can be single, married, widowed, divorced. You can be a slave, a free man. You can be a Jew. You can be a Gentile. You can be a man. You can be a woman. You can live in any kind of society: democracy or total anarchy, or you can live in a dictatorship. You can be anywhere from America to Cuba to Red China to any place in the world, and Christianity is compatible with any social status. Why? Because it is internal, not external …
Paul's concern here is that the Christians realize that the primary business is being a Christian, not outward circumstances that are relatively or totally unimportant. Don't ever let outward things become a major importance.
You're saying, "This means you can't have any progress?"
No, he isn't saying that. He isn't saying you can't have a promotion, you can't advance in your business or your education, or seek a better life, or seek to increase your income or get a better job or change employment. No.
What he is saying is don't disrupt the social balance in the name of Christ. In other words, nobody should desire to change his status in life simply because he's a Christian, as if Christian was incompatible with certain kinds of social positions. It isn't. It's compatible with anything. It's well-suited to any man or any woman in any situation in life as long as that person realizes that the key thing is to keep the commandments of the Lord. Obedience is possible in any situation. Now you may pay a higher price for it in some than in others, but it's possible.
You see, when the Lord saved you, He didn't save you to change your earthly status; He saved you to change your soul and your eternal destiny.
Today's verses concern slavery, which was widespread throughout the ancient world. To be a bondservant meant that you had no property of your own and that you were essentially your master's property.
That's a bad state of affairs.
However, in the ancient world, slaves could a) purchase their freedom (e.g. by working long enough to pay off their financial debt to their master) or b) become free men during a census period or c) if master and slave arranged for freedom before a provincial official.
Depending on where one lived at that time, there were closed systems and open systems regarding freed men and women. A closed system still relegated a freed person to the bottom rungs of society with limited participation in it. An open system allowed freed persons to participate much more in society with certain rights guaranteed.
Whatever the case, the good news is that Paul wants slaves to know that their status is no bar to becoming a Christian. At the end of Romans, Paul speaks of various people he has encountered during his journeys and church planting. Some of those people were slaves and they were well respected Christians (see Romans 16:7-10 and Romans 16:14-16).
MacArthur continues:
You say, "John, did the Bible say slavery doesn't matter?"
No. No, the Bible doesn't say slavery doesn't matter; the Bible says if you were saved as a slave, don't worry about it. You can be a Christian as a slave. Can't you? You can be a Christian as an anything, socially speaking. I'm not talking about moral things, but social. Paul is not approving of slavery; he is merely saying that slavery is not an obstacle to Christian living.
We see in verse 21 that Paul encourages those slaves who can gain their freedom to do so.
Paul goes on to say that a slave on Earth is a free man as far as Christ is concerned (verse 22). We are all equal in His sight.
MacArthur says:
… what he's saying here is if you're saved a slave, don't worry about it. But if freedom comes along, grab it. And, you know, in Rome, there was the provision. In fact, many owners kept a nest egg, and they added money into it all the time, until finally it got to the place where the guy could buy his own freedom. So, the definition wasn't that, necessarily, oppressive. In some cases there were cruel masters, but you could be a slave. And it could be tolerable. Don't worry about it. But if you're freedom comes, use it. And this just means God's giving you that and taking you another step.
He then explains the story of the Book of Philemon, which concerns one of Philemon's slaves, Onesimus, who was on the run:
There's a good illustration of this in the little book of Philemon. Philemon is an interesting little book, right after Titus and before the book of Hebrews. And Philemon was a Christian man in Colossi. He had a slave, among other slaves. He was probably a very wealthy man. One of his slaves was named Onesimus. And Onesimus decided he wanted his freedom. So, Onesimus stole some stuff out of Philemon's house, packed his little bag, and hustled off to Rome. And what he was figuring, to lose himself in the mob at Rome.
And while he was mingling with the crowd at Rome, he ran into a very interesting man by the name of Paul, which began a very dramatic transformation in the life of Onesimus. In verse 10, Paul says, "I beseech you for my son Onesimus, whom I have begotten in my bonds." Now, we don't know how – Paul was undoubtedly a prisoner here, and somehow he got in connection with Onesimus, and led Onesimus to Christ.
Onesimus became a Christian, and oh, Paul loved him. In verse 11 he says, "This guy was profitable, and I really cared for him. And he was important to me."
But one day, Paul and Onesimus were kind of getting down to it, and they sat down, and Onesimus says, "Hey, Paul, I've got to tell you something. I don't know how this is going to go over, but I'm a runaway slave." Well, that must have really crushed Paul. What was he going to do?
"Well, who's your master?"
"Well, he's Philemon. You know, a Christian over at Colossi." That even made it worse.
"Oh." Well, what could Paul do? "Well, look, slavery's a rotten institution anyway. Just cool it, and I'll keep you here, and no one will ever know. That's one thing; we'll just hide you. The other one would be I'll send you back with a letter telling Philemon what I think of him as a slave owner." And Philemon could have been, "Dear Philemon, let all your slaves go. Slavery's a rotten institution."
Or Paul could have just said, "No, according to this society, we have a social status of masters and slaves. You're a slave. You disobeyed the rules of society. You have to go back and make it right."
And that's what he did. And he sent Onesimus back with a letter. And you know what the letter says? "Hey, Philemon, here comes your slave, and he's really been great to me, and I've led him to Jesus Christ. Would you accept him as a brother? Would you take him back in good graces as your good slave? I think he'll serve you better than he's ever served you."
And off hustles Onesimus with a letter. And, you know, he had a lot to risk, because slaves in those days, for running away, could be killed, or at best they could have a brand on their head. They put a big F on their head for fugitīvus which meant runaway. So, he could have paid a high price. But Onesimus, now in the bonds of Christ, goes back and gives the letter, and tradition tells us Philemon embraced him with open arms, and they were accepted as brothers together, even though he continued to be his servant and his slave.
Now, in all of Philemon, Paul says nothing about slavery. He doesn't condemn it. He doesn't tell Philemon to set Onesimus free. He just accepts the social status that Onesimus was in and knew he could go back and be a slave, and it wouldn't have any effect on his Christian life.
Slavery in the US and in former British colonies was in the news a lot last year. Marxists have long condemned the Church for not having done enough about it. They conveniently ignore the abolitionist movement, more about which below.
However, MacArthur offers a reason why there were no Christian revolutions about slavery in the New Testament era. It would have completely taken Jesus out of the equation. Jesus came to offer us salvation, not a socio-political revolution:
Now, some people have criticized Paul for not attacking the system of slavery. But the point is this, people, if Christianity had encouraged the ending of slavery, then Christianity would have been seen as a political revolution, and Christians would have been killed in a revolution.
And I would add another thing. If Christian slaves had started to disrupt society, then the major issue would have been lost: the issue of faith in Jesus Christ.
Now, you know what's happened in America. Every time 'Christianity' attaches itself to a social movement, the message of Christianity gets totally lost. Given the Christian faith, emancipation is bound to happen. At the time, it was not right. So, Paul says, don't concern yourself with your earthly state; don't concern yourself with a situation that is superficial. The major issue is internal.
Therefore, a slave can live as a slave and still be redeemed by Christ. To Christ, the slave is a free man (verse 22).
However, Paul adds in that verse that a free man becomes a slave to Christ upon his conversion:
All he's simply saying is, "You may be a slave physically, but you're a free man spiritually. And you may be a free man physically, but you're a slave spiritually."
In other words, he just kind of shows the fact that nothing really matters on the surface. It doesn't matter whether you're physically bound or free, it only matters that you're both spiritually bound and free in the paradox of Christianity. Do you understand that paradox? That as a Christian, you're the servant of Jesus Christ; and yet, as a Christian, you're free from the law, from sin, from Satan, from hell, from the curse. You understand that paradox? That's what he's saying.
Christ has totally set you free to be His servant. Don't worry about the superficial situation you're in.
MacArthur reminds us that the abolitionist movement in Britain and the United States came from Christians:
Did you know that the concentration of righteousness that was in Christianity really became the catalyst that ultimately abolished slavery in the world? Christianity has done that. The important thing, you see, is to serve God. And a slave shouldn't worry about the fact that he's a slave; he should just serve God. And as this whole righteous kind of life begins to penetrate and spread, the downfall of an enslaving system will occur.
Where does slavery exist today? Mostly in Asia. However, in Africa, it still exists in Mauritania, even if the government says it doesn't. It would be interesting for protesters from the US to go there and urge the Mauritanian government to get everyone to free their slaves. They could protest, riot and topple statues. One wonders what would happen.
In 2018, The Guardian published an article, 'The unspeakable truth about slavery in Mauritania', which begins as follows:
In 1981, Mauritania made slavery illegal, the last country in the world to do so. Nonetheless, tens of thousands of people – mostly from the minority Haratine or Afro-Mauritanian groups – still live as bonded labourers, domestic servants or child brides. Local rights groups estimate that up to 20% of the population is enslaved, with one in two Haratines forced to work on farms or in homes with no possibility of freedom, education or pay.
Slavery has a long history in this north African desert nation. For centuries, Arabic-speaking Moors raided African villages, resulting in a rigid caste system that still exists to this day, with darker-skinned inhabitants beholden to their lighter-skinned "masters". Slave status is passed down from mother to child, and anti-slavery activists are regularly tortured and detained. Yet the government routinely denies that slavery exists in Mauritania, instead praising itself for eradicating the practice.
On June 26, 2020, The Daily Caller published an article, 'An African Country Still Has Slavery — Obama Awarded Them Trade Benefits, Trump Reversed It':
There are currently an estimated 21 million to 45 million people trapped in slavery today, and an estimated 9.2 million of them are in Africa. Among these countries, the Islamic Republic of Mauritania is perhaps the only place in the world where people can still be born into slavery.
But I digress.
In verse 23, Paul reminds the Corinthians that Christ paid the price for their spiritual freedom by dying on the Cross.
Therefore, Christians should not worry about their temporal condition (verse 24).
Matthew Henry sums up these verses as follows:
Note, The special presence and favour of God are not limited to any outward condition or performance. He may enjoy it who is circumcised; and so may he who is uncircumcised. He who is bound may have it as well as he who is free. In this respect there is neither Greek nor Jew, circumcision nor uncircumcision, barbarian nor Scythian, bond nor free, Colossians 3:11. The favour of God is not bound.
God knows where we are in life. Similarly, our Lord Jesus knows. Christians can fulfil God's will by obeying the Commandments and be certain of the life of the world to come through salvation through Christ Jesus.
Next time — 1 Corinthians 7:25-28
The three-year Lectionary that many Catholics and Protestants hear in public worship gives us a great variety of Holy Scripture.
Yet, it doesn't tell the whole story.
My series Forbidden Bible Verses — ones the Lectionary editors and their clergy omit — examines the passages we do not hear in church. These missing verses are also Essential Bible Verses, ones we should study with care and attention. Often, we find that they carry difficult messages and warnings.
Today's reading is from the English Standard Version with commentary by Matthew Henry and John MacArthur.
2b Do you not know what the Scripture says of Elijah, how he appeals to God against Israel? 3 "Lord, they have killed your prophets, they have demolished your altars, and I alone am left, and they seek my life." 4 But what is God's reply to him? "I have kept for myself seven thousand men who have not bowed the knee to Baal." 5 So too at the present time there is a remnant, chosen by grace. 6 But if it is by grace, it is no longer on the basis of works; otherwise grace would no longer be grace.
———————————————————————————————————–
Last week's entry discussed Paul's mention of Isaiah's disappointment in the disobedient and stubborn Jews of his time.
In Romans 11, he changes tack, introducing his audience of Jewish converts to the fact that there is a remnant who will become faithful to Jesus Christ.
In order to do so, he takes them back to Elijah's time, when the vast majority of God's people were worshipping Baal under the wicked Ahab and Jezebel. It was so bad that Elijah felt he was the only faithful Jew left. In fear of his life, he fled to the desert. There he prayed (verse 2).
Paul cites the relevant Scripture passage describing that episode (verse 3), 1 Kings 19:10:
10 He said, "I have been very jealous for the Lord, the God of hosts. For the people of Israel have forsaken your covenant, thrown down your altars, and killed your prophets with the sword, and I, even I only, am left, and they seek my life, to take it away."
Paul reminds the Jews that, even in the worst times of their wickedness, there was always a faithful remnant (verse 4). God told Elijah that He had a remnant of 7,000 Jews who had not succumbed to idolatry, 1 Kings 19:18:
18 Yet I will leave seven thousand in Israel, all the knees that have not bowed to Baal, and every mouth that has not kissed him."
Elijah did not know that because the idolatry was so rampant.
Matthew Henry says:
Now the description of this remnant is that they had not bowed the knee to the image of Baal, which was then the reigning sin of Israel. In court, city, and country, Baal had the ascendant; and the generality of people, more or less, paid their respect to Baal.
Paul tells his audience that there was a similar remnant of faithful in his and the Romans' own era, 'chosen by grace' (verse 5). That means God knew from the beginning of time who would be among the elect and His remnant in every generation.
Henry explains (emphases mine):
This is called a remnant according to the election of grace; they are such as were chosen from eternity in the counsels of divine love to be vessels of grace and glory. Whom he did predestinate those he called. If the difference between them and others be made purely by the grace of God, as certainly it is (I have reserved them, saith he, to myself), then it must needs be according to the election; for we are sure that whatever God does he does it according to the counsel of his own will.
Paul then tells the Romans that because the remnant's election is by grace — a free gift from God — it is not an election by works, i.e. according to Mosaic law. If it were election by works, then grace could not be a part of that election (verse 6).
Henry has more:
Now concerning this remnant we may observe, First, Whence it takes its rise, from the free grace of God (Romans 11:6), that grace which excludes works. The eternal election, in which the difference between some and others is first founded, is purely of grace, free grace; not for the sake of works done or foreseen; if so, it would not be grace … Election is purely according to the good pleasure of his will, Ephesians 1:5. Paul's heart was so full of the freeness of God's grace that in the midst of his discourse he turns aside, as it were, to make this remark, If of grace, then not of works. And some observe that faith itself, which in the matter of justification if opposed to works, is here included in them; for faith has a peculiar fitness to receive the free grace of God for our justification, but not to receive that grace for our election. Secondly, What it obtains: that which Israel, that is, the body of that people, in van sought for (Romans 11:7): Israel hath not obtained that which he seeketh for, that is, justification, and acceptance with God (see Romans 9:31), but the election have obtained it. In them the promise of God has its accomplishment, and God's ancient kindness for that people is remembered. He calls the remnant of believers, not the elect, but the election, to show that the sole foundation of all their hopes and happiness is laid in election. They were the persons whom God had in his eye in the counsels of his love; they are the election; they are God's choice. Such was the favour of God to the chosen remnant.
John MacArthur summarises the remnants throughout the Bible:
In Elijah's time there were seven thousand in the remnant. In Isaiah's time there was a very small remnant. Do you remember chapter 6? God says to Isaiah, "You go out and preach the message and know this, that their ears will be fat, their eyes will be blind, their minds will not understand but you preach anyway till all the cities are laid waste, until there's no inhabitants in the land. Because when it's all said and done you'll find a tenth and they'll be a godly seed." There's always a godly seed. In Elijah's time it was a remnant. In Isaiah's time it was remnant. In the captivity, when they were in Babylon, there was a small remnant. The remnant was people like Daniel, like Ezekiel, like Shadrach, like Meshach, like Abednego, like Mordecai, like Esther, they were part of the remnant in captivity, while the rest of the people were rejecting the truth of God. And when they returned to the land, a remnant returned under the leadership of Ezra and Nehemiah. In Malachi's time, there was a remnant and that remnant sought to have their names written in God's book of remembrance, Malachi 3:16 says, "And the Lord had their names written there and He said, I will punish this whole nation for their apostasy but I have your names written in my book of remembrance." And He said, "They shall be Mine in the day that I make up My jewels." God had His remnant in Malachi's time.
And when Jesus came, the whole nation of Israel was apostate, but He had His remnant. And His remnant was John the Baptist and his followers. And His remnant was Anna. And His remnant was Simeon, and those who looked for the redemption of Jerusalem. There was always a remnant. And in Paul's time, look at verse 5, "Even so then at this present time there is a remnant, according to the election of grace." Even in the time of Paul the whole of Israel hadn't rejected. There was a remnant. I mean, there were the apostles. And there was the church at Jerusalem. Three thousand people converted at the day of Pentecost, thousands and thousands more in [Acts] chapters 4 and 5, you're up to twenty thousand, by the time you get to chapter 8 they fill Jerusalem with their teaching.
There are more and more Jews being converted, there was a remnant of tens of thousands of them, no doubt, by the time the apostle Paul penned the epistle to the Romans. There was even then a remnant of believing Jews, according to the election of grace. The church at Jerusalem was growing under the leadership of James. They even founded a church in Antioch. And then that church sent out apostles, Paul and Barnabas to found churches all around the world. And in any city they went to, where did they go first? To the what? To the Jewish synagogue. And Jews were being saved all around. So there was a remnant according to the election of God's grace.
There will always be a remnant, today and in future:
If you're a Christian, beloved, it's because God chose you before the foundation of the world and it was made manifest in your lifetime. The remnant is elected by grace, it is all of God's sovereign love, all of God's sovereign will, has nothing to do with human performance and that's what Paul is saying. God has elected His remnant. God has chosen His remnant in every time period.
Chapter 9 verse 11, it says there, "According to the purpose of God, according to election." It's the same concept back in chapter 9 verse 11. So, there is a remnant. The salvation of the remnant, like the salvation of everyone else, is wholly based on God's free gift of sovereign grace. Now listen, God chose a nation graciously, sovereignly. He determined by His own will to love that nation. Therefore in every period of time out of that nation He determines to love a remnant of people. Now may I add, so that you're not confused, that that choosing is not without the response of faith, but it is initiated by the sovereign choice of God? All men deserve death, none of us has a right to be saved, no Jew has a right to claim salvation, but God graciously grants it.
So the first six verses add up to the reality then that God is not finished with the Jews. He [ha]s not cast off the nation of Israel, as Paul's conversion proves, verse 1; and as the remnant proves, verse 2 through 6. There always will be a faithful group. There always will be a believing remnant to fulfill the Word of God. So very, very important.
As I write, many churches are succumbing to politics rather than pursuing holiness. Many of us feel as if we are alone in wanting to hear more about the Bible from our clergy in these troubled times.
Matthew Henry has these wise words of advice:
Note, First, Things are often much better with the church of God than wise and good men think they are. They are ready to conclude hardly, and to give up all for gone, when it is not so. Secondly, In times of general apostasy, there is usually a remnant that keep their integrity–some, though but a few; all do not go one way. Thirdly, That when there is a remnant who keep their integrity in times of general apostasy it is God that reserves to himself that remnant … The best evidence of integrity is a freedom from the present prevailing corruptions of the times and places that we live in, to swim against the stream when it is strong. Those God will own for his faithful witnesses that are bold in bearing their testimony to the present truth, 2 Peter 1:12. This is thank-worthy, not to bow to Baal when every body bows. Sober singularity is commonly the badge of true sincerity.
Churches are reopening this weekend in England. If our established church is any bellwether, many sermons will probably be about identity politics and social justice rather than this Sunday's readings. If so, more's the pity, as the Gospel reading is particularly pertinent during our health and social crises.
In closing, if you feel alone spiritually during this time, be assured that there are many others who feel the same way. Together, I pray that we are the remnant.
Next time — Romans 11:7-10
The three-year Lectionary that many Catholics and Protestants hear in public worship gives us a great variety of Holy Scripture.
Yet, it doesn't tell the whole story.
My series Forbidden Bible Verses — ones the Lectionary editors and their clergy omit — examines the passages we do not hear in church. These missing verses are also Essential Bible Verses, ones we should study with care and attention. Often, we find that they carry difficult messages and warnings.
Today's reading is from the English Standard Version with commentary by Matthew Henry and John MacArthur.
20 Now the law came in to increase the trespass, but where sin increased, grace abounded all the more, 21 so that, as sin reigned in death, grace also might reign through righteousness leading to eternal life through Jesus Christ our Lord.
———————————————————————————————
Last week's post discussed circumcision in Romans 4; Paul points out that it was not salvific in and of itself, although it served as a seal of the covenant that God made with the Jews.
In Romans 5, Paul tells us that faith through divine grace brings us peace with God, made possible by Christ's one sufficient sacrifice for our sins.
He then goes on to say that, although through Adam's Original Sin, we lived in perpetual darkness, but, that, with Christ, eternal life is open to us. Taking the chapter up at verse 15, we read (emphases mine):
15 But the free gift is not like the trespass. For if many died through one man's trespass, much more have the grace of God and the free gift by the grace of that one man Jesus Christ abounded for many. 16 And the free gift is not like the result of that one man's sin. For the judgment following one trespass brought condemnation, but the free gift following many trespasses brought justification. 17 For if, because of one man's trespass, death reigned through that one man, much more will those who receive the abundance of grace and the free gift of righteousness reign in life through the one man Jesus Christ.
18 Therefore, as one trespass[f] led to condemnation for all men, so one act of righteousness[g] leads to justification and life for all men. 19 For as by the one man's disobedience the many were made sinners, so by the one man's obedience the many will be made righteous.
Why the Lectionary editors left today's verses — the conclusion of Romans 5 — out of their readings for public worship mystifies me. They are beautiful.
In verse 20, Paul asks what the purpose of God's law is. He answers by saying that it is to make us more aware of how disgusting and displeasing to God our sins are. That is what 'the law came in to increase the trespass' means. It does not mean that the law causes us to sin more but, thanks to God's law, we recognise that we have done wrong in His eyes. Believers want to please God, even though we know we need His grace to do that. God provides us with infinite grace to enable us to do the right thing.

This means that, as powerful as sin is in leading us down the path of spiritual death, God's grace is infinitely stronger, leading to the promise of eternal life thanks to our Lord Jesus Christ (verse 21).
Matthew Henry explains:
The greater the strength of the enemy, the greater the honour of the conqueror. This abounding of grace he illustrates, Romans 5:21. As the reign of a tyrant and oppressor is a foil to set off the succeeding reign of a just and gentle prince and to make it the more illustrious, so doth the reign of sin set off the reign of grace. Sin reigned unto death; it was a cruel bloody reign. But grace reigns to life, eternal life, and this through righteousness, righteousness imputed to us for justification, implanted in us for sanctification; and both by Jesus Christ our Lord, through the power and efficacy of Christ, the great prophet, priest, and king, of his church.
John MacArthur says:
And would you notice how the chapter ends? "By Jesus Christ our Lord." Beloved, it's all there, isn't it, in Him. Would you note that that's really the theme that's woven through this whole chapter. Look at verse 1, and let me give you a quick 15-second tour. Verse 1, "Through our Lord Jesus Christ." Verse 9, "Saved from wrath through Him." Verse 10, "Reconciled to God by the death of His Son. Being reconciled be saved by His life." Verse 11, "We have joy in God through our Lord Jesus Christ." Verse 15, "By one man Jesus Christ." Verse 17, "Shall reign in life by one, Jesus Christ." Verse 21, "By Jesus Christ our Lord." Now do you understand why the apostle said, "Neither is there salvation in any other name, for there's none other name under heaven given among men whereby we must be saved."
What's the practical use of this? I'll tell you what it is. I'm going to close with this. Listen, don't turn off your mind now. Listen to this. Every one of us should bow before God in humiliating consciousness that we are vile sinners worthy of death. Every one of us should realize that apart from the work of Jesus Christ we would be doomed to eternity forever without God because God hates sin. But O my, where there was the reign of death, God came with His grace and overpowered that and death is overruled by life for all who believe in Jesus Christ.
May God continue to bless us with His grace.
May we never diminish what Christ did for us on the Cross.
May we always wish to live with Him forever.
Next time — Romans 7:1-3