You are currently browsing the tag archive for the 'Satan' tag.
The three-year Lectionary that many Catholics and Protestants hear in public worship gives us a great variety of Holy Scripture.
Yet, it doesn't tell the whole story.
My series Forbidden Bible Verses — ones the Lectionary editors and their clergy omit — examines the passages we do not hear in church. These missing verses are also Essential Bible Verses, ones we should study with care and attention. Often, we find that they carry difficult messages and warnings.
Today's reading is from the English Standard Version Anglicised (ESVUK) with commentary by Matthew Henry and John MacArthur.
6 And you know what is restraining him now so that he may be revealed in his time. 7 For the mystery of lawlessness is already at work. Only he who now restrains it will do so until he is out of the way. 8 And then the lawless one will be revealed, whom the Lord Jesus will kill with the breath of his mouth and bring to nothing by the appearance of his coming. 9 The coming of the lawless one is by the activity of Satan with all power and false signs and wonders, 10 and with all wicked deception for those who are perishing, because they refused to love the truth and so be saved. 11 Therefore God sends them a strong delusion, so that they may believe what is false, 12 in order that all may be condemned who did not believe the truth but had pleasure in unrighteousness.
———————————————————————————————————-
Last week's post discussed Paul's description of the Second Coming, which, whilst brief, it is the starkest outside of the Book of Revelation.
He ended by discussing the saints who would marvel at the glory of the Lord on that day.
In the concluding verses of 2 Thessalonians 1, Paul says that he prays — or he, Timothy and Silas (Silvanus) pray — for the congregation to be upheld in their faith (emphases mine below):
11 To this end we always pray for you, that our God may make you worthy of his calling and may fulfil every resolve for good and every work of faith by his power, 12 so that the name of our Lord Jesus may be glorified in you, and you in him, according to the grace of our God and the Lord Jesus Christ.
Paul has more about the Second Coming in 2 Thessalonians 2, which begins as follows:
The Man of Lawlessness
2 Now concerning the coming of our Lord Jesus Christ and our being gathered together to him, we ask you, brothers,[a] 2 not to be quickly shaken in mind or alarmed, either by a spirit or a spoken word, or a letter seeming to be from us, to the effect that the day of the Lord has come. 3 Let no one deceive you in any way. For that day will not come, unless the rebellion comes first, and the man of lawlessness[b] is revealed, the son of destruction,[c] 4 who opposes and exalts himself against every so-called god or object of worship, so that he takes his seat in the temple of God, proclaiming himself to be God. 5 Do you not remember that when I was still with you I told you these things?
Verse 2 indicates that someone other than Paul spoke to or wrote to the Thessalonians about the Second Coming. In fact, it seems someone claiming to be Paul sent them a letter. The content must have alarmed them, because Paul felt the need to write this short second letter to the congregation.
It is strange how wrapped up people have been throughout history with regard to this event. Yet, they give little thought to the state of their souls with regard to death, likely to be the more immediate event. Some obsess over the end of the world yet neglect to prepare themselves for their leaving this mortal coil.
The man of lawlessness is the Antichrist, the real one to come in a time of apostasy.
Matthew Henry's commentary sagely reminds us that there has always been a period of apostasy after a rise in piety, including in Old Testament times:
By this apostasy we are not to understand a defection in the state, or from civil government, but in spiritual or religious matters, from sound doctrine, instituted worship and church government, and a holy life. The apostle speaks of some very great apostasy, not only of some converted Jews or Gentiles, but such as should be very general, though gradual, and should give occasion to the revelation of rise of antichrist, that man of sin. This, he says (v. 5), he had told them of when he was with them, with design, no doubt, that they should not take offence nor be stumbled at it. And let us observe that no sooner was Christianity planted and rooted in the world than there began to be a defection in the Christian church. It was so in the Old-Testament church; presently after any considerable advance made in religion there followed a defection: soon after the promise there was revolting; for example, soon after men began to call upon the name of the Lord all flesh corrupted their way,—soon after the covenant with Noah the Babel-builders bade defiance to heaven,—soon after the covenant with Abraham his seed degenerated in Egypt,—soon after the Israelites were planted in Canaan, when the first generation was worn off, they forsook God and served Baal,—soon after God's covenant with David his seed revolted, and served other gods,—soon after the return out of captivity there was a general decay of piety, as appears by the story of Ezra and Nehemiah; and therefore it was no strange thing that after the planting of Christianity there should come a falling away.
Paul, reviewing what he had told the Thessalonians when he was with them, says that they know what is restraining the Antichrist until the appropriate time (verse 6).
John MacArthur says:
Paul had told them. When he was with them he told them. We can only had wished that he had repeated it here. But he didn't, he just says, "You know," and so we're all saying, "Right, they know but are we sure?" How did they know? He taught them when he was with them. It was information well known to them, if not to us. That which is restraining, notice it there, literally the verb means to hold down, or to hold back. And so he says you know what the restraining force is. It is in the neuter here. So here you're talking about a force …
Human forces deal with human issues, not supernatural issues. Human forces, human power, human ingenuity, human society, human institutions do not cope well with supernatural forces.
So the power that holds back Satan from bringing the Antichrist and the final apostasy must be supernatural. Now let me give you a little insight here. Satan doesn't want to wait for God's timetable. You understand that? He is in a hurry. If he had his way the Antichrist would be here now. If he had his way the Antichrist would have already been here. But that's not God's plan. God has a timetable and God is operating that timetable. And Satan wants it to happen now. He wants the final rebellion now. He wants the false Messiah now. He wants the blasphemy now. He wants to set himself up as the controller of the universe and his Antichrist, as it were, as Christ now. But God says no and he is being restrained by God through a supernatural means. The man of sin cannot come until God removes this restraining force.
So there is a power in operation and it has to be a supernatural power. It has to be dealing on another level, not just an earthly one. And it is retarding Satan from pulling off his plan with a final Antichrist. Now remember, this will be a human being. 
I think the Second Coming will be a long way away, because certain criteria must be fulfilled before the Antichrist comes to power.
MacArthur tells us:
You say, "What is the season?" Listen very carefully, you'll understand it. God is redeeming His church. Before the foundation of the world, God ordained who would be redeemed. Their names were written in the Lamb's Book of Life. If Satan were not restrained, he would come, he would send the Antichrist, he would bring the holocaust of final blasphemy and disaster and then God would step in and judge the whole thing and the Day of the Lord would come and the end would come but the problem would be there would still be people who had been planned by God to live and believe and populate His eternal kingdom who would not yet have been born. You understand that? So God must wait until the fullness of the Gentiles be come in, to borrow Paul's term in Romans 11, until the whole plan is consummated, until all those from before the foundation of the world set for eternal redemption are born and believe, and only then can it come, otherwise Satan has successfully thwarted the plan of God. So, only in his time will he be revealed. Not Satan, not demons, not any human enterprise or human force of fallen men, no devilish plan, no purpose from hell can operate until God allows it. His plan, His power control everything including Satan and Antichrist. As one commentator put it, "Evil will not pass beyond its limits." God would never allow that …
In God's perfect time the Messiah came, and in God's perfect time the false Messiah comes. In God's perfect plan, Christ came. In God's perfect plan, Antichrist comes on time on the schedule God has eternally ordained. He controls all of it. And He has ordained a specific time for the appearing, the manifestation, the apocalypse, the revelation, the unveiling of Antichrist just as He did for the appearing of Jesus Christ the first time and the appearing of Jesus Christ the second time. God the Father knows exactly when Christ will appear. You remember, Jesus said, "No man knows the day nor the hour except the Father," He does know the day, He does know the hour, He knows the split second and He operates the plan that way.
Paul goes on to say that the 'mystery of lawlessness' — sin — is already at work then adds, 'Only he who now restrains it will do so until he is out of the way' (verse 7).
Henry relates the first part of this verse to the Church from its earliest days:
The apostle justly calls it a mystery of iniquity, because wicked designs and actions were concealed under false shows and pretences, at least they were concealed from the common view and observation. By pretended devotion, superstition and idolatry were advanced; and, by a pretended zeal for God and his glory, bigotry and persecution were promoted. And he tells us that this mystery of iniquity did even then begin, or did already work. While the apostles were yet living, the enemy came, and sowed tares; there were then the deeds of the Nicolaitans, persons who pretended zeal for Christ, but really opposed him. Pride, ambition, and worldly interest of church-pastors and church-rulers, as in Diotrephes and others, were the early working of the mystery of iniquity …
MacArthur relates it more generally to Western society:
The true character of lawlessness, follow this, the true character of lawlessness is already at work. It's already at work.  But you haven't yet seen the final picture of it.  That's the idea.  It's already working.  Evil men are growing worse and worse, 2 Timothy 3:13. It already is visible.  We're watching a dying culture.  We see iniquity prevailing and escalating.  And so the mystery is gradually unfolding.  It is already at work, but we have not yet seen in this world what lawlessness is really like. It is still somewhat of a secret.  And the world will not know how wretched sin is, how wicked Satan is, how evil the kingdom of darkness is until the mystery is fully revealed.  That happens when the apostasy takes place and the Antichrist sets himself as God …
But even now, he says, the mystery is already at work. It's already working powerfully and effectively.  In our world we have evil and wretchedness and vileness and wickedness and lies and hypocrisies and false teachers and false religions and they get worse and worse and worse and it's almost as if the mystery is capped, but it's in a jar maybe but it leaks and finally someday the whole thing is going to blow.  The final satanic plan to overthrow God and bring the false Christ is the ultimate form of the mystery of lawlessness and it's not yet revealed.  But the spirit of this is in action.  First John 2:18 says, "There's coming an Antichrist in the future but even now there are many Antichrists."  That's the same concept.  We can see the spirit of Antichrist.
MacArthur says that the second half of verse 7 explains verse 6, the force keeping the Antichrist at bay:
"Only He who now restrains will do so until He's taken out of the way." The mystery will not be fully revealed until He who restrains is taken out of the way. Now here's a very important change. In verse 6, what restrains was neuter. Now we have "He" who restrains. We've moved from a neuter, a force, to a masculine, a person. And I believe this is a good indication that there is a person here, that there is a supernatural person who is exerting the force in verse 6. There is a force that restrains but there is a "He" who exercises that force.
Who is it? I believe the best understanding would lead us to believe it is the Holy Spirit. The Holy Spirit is the person who exerts the force that holds back Satan …
So we have a number of passages in which the Holy Spirit is seen dealing with sin, wrestling with sin, confronting sin, convicting of sin, restraining sin.  No doubt He could be assisted by Michael, but Michael is not omnipresent.  And Michael is limited because he is a created angel.  I wouldn't argue that He may use someone like Michael, an angel like Michael or other holy angels, but I believe it is the Holy Spirit who is the restrainer.
Now please note.  The Holy Spirit's restraint will go on until half way through the time called the tribulation.  The period called the great tribulation is the second half of the seven years.  The Holy Spirit restrains until the mid point and then He allows the Antichrist to go into the temple, do the abomination, bring the apostasy, and then the horrors described in the book of Revelation take place, which lead to the Day of the Lord.  So that restraint will go on until the man of sin is revealed in God's perfect time.  The Holy Spirit then, I believe, is most likely the restrainer because it must be a supernatural being. The Holy Spirit is the one most frequently associated with dealing with sin, restraining, convicting.  And we could see it as a neuter because there is a force that He exerts and as a masculine because He is a person.
By the way as a footnote for you that are interested, in the Upper Room discourse, Jesus spoke about the Holy Spirit.  And in that discourse as He spoke about the Holy Spirit interestingly enough, He fluctuated between the neuter and the masculine genders.  If you study the Greek text of the Upper Room discourse, John 13 to 17, you will see Him fluctuate between the neuter and the masculine referring to the Holy Spirit, depending on whether He was using a gender to agree with a grammatical term or whether He was using a gender to emphasize personality.  So the Holy Spirit can be spoken of in the neuter. After all, pneuma the Greek word for Spirit, is neuter. He can be spoken of in the masculine when He's identified as a person.  So that's not an unfamiliar thing in Scripture.  So I would take it that the Holy Spirit is preventing Satan from the full, final lawlessness under Antichrist until God's perfect time.  And it has to be in God's time because He has to redeem the church that is ordained from before the foundation of the world, He has to accomplish all that that involves.
The Holy Spirit will always be present, even during the tribulation period:
Listen, in the first place, the Holy Spirit is omnipresent, right? So He has to be everywhere. In the second place, people are going to be saved during this time and nobody is saved who isn't begotten again by the Spirit. So the idea that the Holy Spirit leaves is not true. What happens is the Holy Spirit is taken out of the way in terms of blocking Satan, in terms of His restraining ministry. So the Holy Spirit is simply taken out of the way as a restrainer, removed as a roadblock, not removed from the world or no one could be saved and God wouldn't be effecting His purposes and His plans. So we don't want to make too much out of that. It is the Holy Spirit, He is not removed from the world, or there could be no evangelization by the 144 thousand, there could be no comprehension of the gospel because the Spirit has to quicken the mind, there could be no conversion because He alone is the one who gives eternal life, so He has to be here doing His work. He just stops the restraining part of it.
Once unrestrained, Paul says, the Antichrist is revealed and, at the Second Coming, Christ will kill him with the breath of His mouth and bring him to nothing (verse 8).
Henry posits that Paul wishes to comfort the Thessalonians:
The apostle assures the Thessalonians that the Lord would consume and destroy him; the consuming of him precedes his final destruction, and that is by the Spirit of his mouth, by his word of command; the pure word of God, accompanied with the Spirit of God, will discover this mystery of iniquity, and make the power of antichrist to consume and waste away; and in due time it will be totally and finally destroyed, and this will be by the brightness of Christ's coming. Note, The coming of Christ to destroy the wicked will be with peculiar glory and eminent lustre and brightness.
MacArthur says that Paul is using an Old Testament expression in that verse:
This is very interesting: "By the breath of His mouth."  He will be slain by the breath of His mouth.  In other words, the Lord doesn't even have to do anything to destroy him, as formidable as he is, as powerful as he is, as monumental as he is in human history, the greatest world ruler the world has ever known. He has surpassing control over the whole of the earth. This massive Satanic empowered man is so powerful and yet Christ doesn't have to do anything, He doesn't have to call an army, He doesn't have to speak a word, all He has to do is breathe and he will be destroyed.  That phrase, by the way, is an Old Testament one used in 11 of Isaiah, chapter 11 verse 4, "With righteousness He will judge the poor and decide with fairness for the afflicted of the earth, He will strike the earth with the rod of His mouth. With the breath of His lips He will slay the wicked."  That's obviously where Paul got it, with the breath of His lips He will slay the wicked, in this case the wicked one, even the Antichrist.
Again in Isaiah 30 verse 33, that phrase is used again.  "The breath of the Lord, like a torrent of brimstone, sets afire."  God, as it were, lets the breath out of His mouth and it comes like fire and brimstone to consume and destroy.  Psalm 33:6 has a similar expression.
Notice again back there in verse 8, a second statement, "He will slay him with the breath of His mouth and bring to an end," and bring to an end. Literally abolish, render inoperative, immobilize. Both verbs side by side give you the full annihilation of this man and his enterprise. Satan's false Christ, he's a counterfeit-like Jesus Christ.
Paul says that Satan will direct the Antichrist 'with all power and false signs and wonders' (verse 9).
Henry explains that these will seem to be supernatural signs but are not:
A divine power is pretended for the support of this kingdom, but it is only after the working of Satan. Signs and wonders, visions and miracles, are pretended … and lying wonders, or only pretended miracles that have served their cause, things false in fact, or fraudulently managed, to impose upon the people: and the diabolical deceits with which the antichristian state has been supported are notorious. 
MacArthur says that the Antichrist will make sure that what he does looks as much as what Christ did:
He has a parousia, he has a revelation just like Jesus Christ.  He has a message which is a lie.  He has a day just like Jesus Christ has a day.  He has power to do signs and wonders.  He even has a kind of resurrection, Revelation 13:12 and 13 indicates.  He has a supernatural person behind him.  In all of those ways he's like Christ.  Christ has a coming, a revelation.  Christ has a message.  Christ has a day. Christ has the power to do signs and wonders.  Christ had a resurrection.  Christ has behind him the supernatural God.  But this one comes to a quick end and he's destroyed with the breath of God's mouth.  His whole enterprise is brought to an end.  Please note when it happens: By the appearance of His coming, that's the Second Coming of Christ …
And what happens to him? Revelation 20 verse 10 says he's thrown into the lake of fire and brimstone and tormented there forever and ever, along with the devil and his angels and the false prophet. So we see the revelation of this man. He will be revealed in God's time. And we see the destruction of the man. 
This will be a very difficult time for believers, I think, because unbelievers will persecute them for not believing in the Antichrist. We know how hysteria builds on social media. This will carry out into real life. Anyone who doesn't believe in this satanic fraud will be considered a heretic.
MacArthur says the Antichrist's works will all be very convincing:
So powerful is he, verse 10, that with all the deception of wickedness he works.  Now here he tells us about his power.  Paul says he comes in accord with the activity, the energeia, the energy of Satan.  By the way, that word energeia is used in Scripture for power in action.  You see it in Ephesians 1:19 and 20, you see it in Ephesians 3:7, Ephesians 4:16, Paul uses it a lot in that letter and it means power in action.  He comes with real power, okay?  This is not just deception.  This is not just tricks, magic.  He comes in real satanic power.  Satan's power is limited, but it is real.  It is limited but it is real.  And so he comes in the actual energy of Satan.  It is limited in terms of comparison to God's unlimited power, but whatever it is able to do he will be the manifestation point.
Then note again, "With all power and signs and false wonders."  Power, signs, wonders, or you could translate it, miracles, signs and wonders. Dunamis is the word for power, also translated miracles.  What about that strikes you?  The same strikes me. Those are the same three things that are used to describe the works of whom?  Christ, miracles, signs, wonders, Acts 2:22.  Those are the same things that are used to describe the apostles, Hebrews 2:4, miracles, signs, wonders.  He's a counterfeit. He's a counterfeit. He mimics the true Christ.  And while it is not just magic, it is real supernatural power, it does have its limitations but it is convincing.
Note that Paul says the Antichrist will operate 'with all wicked deception' for those perishing — those condemned to Hell — because they refused to love the truth and, thereby, be saved (verse 10).
Again, this will be a terrible time for Christians who are alive to experience it.
MacArthur tells us:
Verse 10 says it is convincing enough to deceive people with all the deception that wickedness can muster. Would you please note it says with all power, or all miracles, signs and false wonders, literally miracles, signs and wonders that are false and deceptive; false not in the sense that they're fakery, but that they lead to false conclusions about who he is. Power, what is that? Mighty displays of supernatural acts. Signs: Pointing to him as the one who does them, pointing to his supernatural power. Wonders: Getting the astonishing results. He will do powerful miracles which will point to him as a supernatural being and create wonder and shock and astonishment, so much so that people will conclude that he is divine, the Jews will conclude that he is the Messiah, people will conclude that he is God, he will set himself up as God, the world will fall at his feet and worship him. He will consume all other religion, the whole world will bow down to him and anybody who doesn't will be destroyed by him. He will do mighty acts, pointing to himself as a supernaturally energized person, exciting and eliciting astonishment and wonder from the world.
The word "false" should be taken with all three. It's pseudos, from which we get "pseudo."  It shows the effect of the miracles, not the nature of them. They're not false miracles in the sense that it's fakery.  They are supernatural, satanic things, not like the miracles of God, but enough to be convincing.  The effect of them is to make people believe a lie.
And then verse 10, "With all the deception of wickedness."  That is, all that wickedness can do to deceive, all the deceit that wickedness has at its disposal, all the deception that wickedness at its worst can produce.  The whole operation is a lie, it is false. It lures people to believe that Antichrist is the world's savior, the world's Messiah.  Even non-religious people are going to see him as the one who will solve the world's problems, who will fix the world.  You can see how our world today would bow at the feet of a man like that, can't you?  Especially if he could do supernatural things.  They're going to believe that this is the man to deliver the world from all its troubles.  Religious people are going to believe this is God's man; this is the world's deliverer.  And every hellish, supernatural ploy Satan has will be used to achieve this deception. And he'll do it and he'll be successful because the Holy Spirit will step out of the way and not restrain it.  All of evil's undiluted, unrestrained power to deceive will act.
MacArthur explains the second half of verse 10:
In verse 10, he comes with all the deception of wickedness for those who perish because they did not receive the love of the truth so as to be saved.  The extent of his influence: On all who perish.  Literally those who are perishing, those who reject the truth, those who do not love the truth, the truth written, the truth incarnate.  If you don't love the Word of God and love the Lord Jesus Christ so as to be saved, you will be caught up in the deception. The unregenerate will believe the lie.  Listen, they always believe a lie.  And you remember back in John 8 Jesus said to the Jews, "You're not of God, you're of your father the devil, and he's a liar from the start."  If you don't believe the truth of God, you'll believe the lie of the devil.  This is the class of people who will succumb to Satan's deception.
In Matthew 24:24 we have a very important statement being made there.  There will be people being converted at this time and believing the truth and it says that this guy will be so formidable and so deceptive and so many signs and so many wonders will come so as to mislead if possible even the what? The elect, but it isn't what? Possible.  The unregenerate, yes.  Their blindness is self-imposed because they did not receive the love of the truth so as to be saved.  It's the only time in the New Testament that phrase is used.  It doesn't say they didn't receive the truth, he adds that compelling thought they didn't receive the love of the truth to show you that true salvation is a love relationship with truth written and truth incarnate.  The love of the truth, the gospel, they gave it no welcome, they didn't want it, they didn't love it.
Back in chapter 1 verse 8 it says that the unsaved do not know God and do not obey the gospel.  They don't know God, they don't obey the gospel and they don't love the truth.  John 3 says men love darkness rather than light because their deeds are evil.  They reject Christ's words, they reject Christ's person.  He said, "I am the way, the truth and the life," He is the truth incarnate, embodied.  Ephesians 4:21, "If indeed you have heard Him and have been taught in Him just as truth is in Jesus."
They don't love Jesus, they don't love truth.  Their unbelief is not a matter of mind, it is not a matter of intellect. It is a matter of heart. It is a matter of affection.  They may have heard, they may have understood, they may have even thought it was true, but they had no love for the truth.  I think we have a lot of people today who if you asked them – do you believe Jesus is God, died and rose again for salvation – would say yes but they don't love Him or His truth.  This is the test of destiny.  If they had loved the truth, if they had loved Christ, they would have been saved and delivered from Satan's lies and deception and destruction. So the guilt is theirs.  All unredeemed people are under some damning level of satanic deception.  Did you get that?  All unredeemed people on the face of the earth are under some damning level of satanic deception. They are all believing a lie.  And we're not surprised to find these folks sucked up in the lie of Antichrist because it's the most powerful embodiment of satanic deception in the history of the world.
Ultimately, this is Paul's message to the Thessalonians:
… So Paul says, look, don't be deceived, don't be forgetful and don't be ignorant.  You are not in the day of the Lord, it hasn't come. It won't come until the apostasy pulled off by this man of lawlessness. 
Paul's final two verses discuss unbelievers.
Because they refused to love the truth (of Christ), God sends them a strong delusion so that they can believe what is false (verse 11).
Henry says that this is God's judgement. God withdraws divine grace from them:
God shall send them strong delusions, to believe a lie. Thus he will punish men for their unbelief, and for their dislike of the truth and love to sin and wickedness; not that God is the author of sin, but in righteousness he sometimes withdraws his grace from such sinners as are here mentioned; he gives them over to Satan, or leaves them to be deluded by his instruments; he gives them up to their own hearts' lusts, and leaves them to themselves, and then sin will follow of course, yea, the worst of wickedness, that shall end at last in eternal damnation. God is just when he inflicts spiritual judgments here, and eternal punishments hereafter, upon those who have no love to the truths of the gospel, who will not believe them, nor live suitably to them, but indulge false doctrines in their minds, and wicked practices in their lives and conversations.
MacArthur posits that unbelief is a moral decision and a conscious one at that:
Scripture is absolutely crystal clear on this issue. Going back, for example, to the words of our Lord Himself in John chapter 5 and verse 39, Jesus speaking, "You search the Scriptures because you think that in them you have eternal life.  And it is these that bear witness of Me."  Then verse 40, "And you are unwilling to come to Me that you may have life."  Your problem is not a lack of information.  You search the Scriptures and they tell about Me, but you won't come to Me that you might have life.  Their antipathy, listen, their antipathy to truth is not intellectual.  Their antipathy to truth is moral.  Did you get that?  Their resistance to the gospel is not intellectual. Their resistance to the gospel is moral.  In John 8 verse 24, Jesus said this, "I said therefore to you that you shall die in your sins, for unless you believe that I am He, you shall die in your sins."
Why do people go to hell?  Because they die in their sins.  That is, their sins have never been forgiven, atoned for, or covered, and so hell is where they will pay for them forever.  Why do they die in their sins?  Because they believe not on Me.  Why do they not believe?  Because they are unwilling to believe; it is a question of human volition.  And again I say, their antipathy is not intellectual. It is moral.  It is moral.  If you go to someone and say, "There is a God who loves you.  There is a God who loves you so much that He came into the world in the form of a man to die on a cross to pay the penalty for your sins.  And He wants to forgive you all your sins.  And He wants you to be free from any guilt or any condemnation or any judgment and He wants you to spend eternity in glory and bliss and joy and happiness and peace."  I daresay to you that anybody is going to say, "I like that." I like that.  I like a God who is willing to forgive any of my sins.  I am very excited about a God who paid the penalty for my sins so that I will never be punished for any of them.  I like a God who wants to remove all my guilt, I like that.  I like a God who wants to give me peace and joy and love and satisfaction.  I like that."
But the kicker in the whole story is this. Are you willing to abandon your sin, repent of it, and turn toward the path of righteousness, and embrace Jesus Christ as Lord?  You see, the decision is a moral one, not an intellectual one.  You give someone the intellectual data of the gospel. But now you confront them and you say, will you love the truth or will you love your sin?  And you have faced them with a moral dilemma.  And, in fact, according to John 3:19, it is simply resolved in these words, "Men love darkness rather than light because their deeds are evil."
Coming to Christ is not an intellectual decision, it is a moral one.  It is a decision that says I will no longer love my sin, I will love Christ.  Would you please notice verse 10?  They perish because they did not receive the love of the truth so as to be saved.  If they had received the love of the truth, they would be saved.  Note this, please. It doesn't say they did not receive the truth, but they did not receive what? The love of it.  This marvelous, enlightening phrase, used only here, tells us what is really involved in accepting Christ and the gospel.  They had no desire to be saved.  They loved their sin, not the truth.
Now what is the truth?  Well certainly it's the gospel of the Lord Jesus Christ, the truth that saves, the love of the truth so as to be saved.  So it would have to be saving truth and saving truth is the gospel.  But I think it could even be a capital "T" and refer to Christ Himself.  First Corinthians 16:22 says, "If any man love not the Lord Jesus Christ, he is accursed."  So it is the truth of the gospel as embodied in the Truth who is the gospel, the Lord Jesus Christ.  He's saying to them, "You refuse to love Christ and His saving truth.  That's your problem.  You love your sin" …

They love their sin, they love what they believe, and what they believe is in themselves. They love the lie of Satan and they hate the gospel and Christ. That is a human choice. That is a willful choice and they bear completely the guilt for that refusal. As I said, one can actually receive the truth but not love it. One can make an intellectual apprehension of the truth and not love it.
Somehow, and for whatever reason, unbelievers think:
that sin is beneficial.
God's judgement in leaving unbelievers to their own devices results in their condemnation because they took pleasure in unrighteousness rather than the truth (verse 12).
MacArthur says:
Verse 11, "God will send upon them…" Folks, that's divine judgment. That is divine judgment. God will send upon them. What a thought. The sovereign power of God is going to act on unbelievers to seal their fate, to seal their fate.
We have scriptural evidence for it:
In the case of Matthew chapter 13 Jesus speaks in parables.  Why?  Why does He speak in parables?  Why doesn't He just speak clearly?  And He says, "I speak in parables," Matthew 13:13, "because while seeing they do not see, while hearing they do not hear, nor do they understand," and I am fulfilling the prophecy of Isaiah, "you will keep on hearing but will not understand, you will keep on seeing but will not perceive, for the heart of this people has become dull and their ears they scarcely hear and they have closed their eyes lest they see with their eyes and hear with their ears and understand with their heart and return and I should heal them."  In other words, they've done it on their own and now I'm doing it to them.  That is repeated in Mark 4:12, Luke 8:10, John 12:40, Acts 28:26 and 27, that same Isaiah passage.  If you will not hear and will not hear and will not see and will not see, the day will come when you cannot hear and cannot see.  If you reject the truth the day will come when all you can believe is a lie as God hardens you in the path which you have chosen …
What does that mean? That means they passed the point of grace. That means God let go. God turned them over to the consequence of their own choice … Evangelists through the centuries have said, "Don't you continue to sin past the period of grace." You will wake up in the period of judgment and you will have no capacity to believe anything but the lie …
It's a set condition that man brings upon himself by willful unbelief that ultimately becomes a judicial consequence of his own chosen course of action, sealing him in the chains of his own iniquity. He refuses light and chooses darkness, then he'll have darkness and he'll never recognize light. He hardens his heart? Then hardened it shall be. He refuses the love of the Truth? Then let him receive a lying spirit and embrace the ultimate lie of idolatry and worship the man of lawlessness. He spurned eternal life? Then let him have eternal death. So they reap the reward of their unbelief and God even uses Satan and Antichrist to punish him. In all ages, not just the time of the Antichrist, in all ages those who persist in sin may find that eventually they won't be able to change the pattern.
Paul's message here is:
if you want to look joyfully at the return of Christ, if you want to be eager about His coming, if you want to love His appearing, then don't be deceived and don't be forgetful and don't be ignorant, and please, most of all, don't be unbelieving. Any of those should produce anxiety.
Paul ends the chapter with another uplifting message for the Thessalonians, reminding them of their election, their faith and the Holy Spirit's sanctification. Note 'stand firm':
Stand Firm
13 But we ought always to give thanks to God for you, brothers beloved by the Lord, because God chose you as the firstfruits[d] to be saved, through sanctification by the Spirit and belief in the truth. 14 To this he called you through our gospel, so that you may obtain the glory of our Lord Jesus Christ. 15 So then, brothers, stand firm and hold to the traditions that you were taught by us, either by our spoken word or by our letter.
16 Now may our Lord Jesus Christ himself, and God our Father, who loved us and gave us eternal comfort and good hope through grace, 17 comfort your hearts and establish them in every good work and word.
With this, Paul finishes writing to the Thessalonians about the Second Coming.
Next week begins the final chapter of 2 Thessalonians.
Next time — 2 Thessalonians 3:1-5
Those who missed my retrospective on Pope Benedict XVI's papacy can read parts 1 and 2.
Today's post, the last one about this holy man, looks back at lesser known facts about his life.
N.B.: This is a lengthy post!
Let's start with Charles Moore's January 3 article for The Telegraph, 'Pope Benedict XVI was the last of the generation of leaders that knew war'.
Conversations about the Second World War with John Paul II
Charles Moore met Benedict only once, about 20 years ago. At that time, he was Joseph Cardinal Ratzinger, Prefect of the Congregation for the Doctrine of the Faith, popularly known as God's rottweiler.
Moore says that (emphases mine):
the bit of the job he enjoyed the most was each Friday evening when he, a German (who had been forced into the Hitler Youth, aged 12) would spend an hour or more in informal conversation with the Polish pope (who had endured the Nazi persecution of his church about an hour's drive from Auschwitz).
These two men, both born in the 1920s, had experienced Germany's disgraceful assault on Poland, which plunged the world into violence. They had seen Hitler's diabolical destructiveness followed by Stalin's reign of atheistic tyranny over eastern Europe. Yet here in Rome, half a century later, the German and the Pole were friends, co-workers and men of God, talking about theology, in a world largely at peace.
I think this shared experience, from unwillingly opposite sides, gave the two popes a depth of understanding which those of us brought up in easier times tend to lack. The passing of their generation should be acknowledged as a loss. There are many lessons to be learnt from them … and indeed from their entire age-cohort.
John Paul II and the future Benedict XVI agreed on most things, but had different emphases. The Pole, a philosopher by training, was obsessed by the possibilities of human love, which he saw fulfilled in Jesus Christ. This made him full of optimism and courage. "Be not afraid" was the text of his great inaugural sermon as pope, which inspired millions suffering behind the Iron Curtain.
The German agreed but, being a theologian and an official of the Curia, he thought more specifically about the Church. He had a strong sense of the depth and continuity of Christian civilisation, particularly in Europe. This made him passionately interested in liturgy. It should not be rendered "flatter" in order to improve superficial comprehension, he argued, because liturgy is not "like a lecture": it works "in a manifold way, with all the senses, and by being drawn into a celebration that isn't invented by some commission but that comes to me … from the depth of the millennia and, ultimately, of eternity".
Benedict also, perhaps, had more cultural pessimism than John Paul II. Living in the post-war West, he witnessed not tyranny but consumerism, triviality and boredom. The Church's duty to understand the spirit of the age did not mean it had to accept it. It had to shelter truth, as well as proclaiming it.
Being Prefect of the Congregation for the Doctrine of the Faith
The then-Cardinal Ratzinger told Moore that, as Prefect of the Congregation for the Doctrine of the Faith under John Paul II:
it was his job to "help the Pope with the necessary Noes", given that John Paul II was temperamentally inclined to say "Yes".
Margaret Thatcher met two Popes
Margaret Thatcher and her husband Denis were Protestant but, for whatever reason, were among the couples who received a papal blessing from Paul VI in June 1977, some years after they had married.
Moore has the story, which she related to him when they met Benedict XVI:
When Margaret Thatcher was old, a kind friend, Carla Powell, invited her to stay with her near Rome and meet Pope Benedict in the Vatican. I was asked to accompany the party. By this stage, Lady Thatcher had poor short-term memory. I felt I should remind her of what was happening. "Isn't it exciting?" I said to her. "We're going to see the Pope tomorrow." "Yes," she replied, "but what does one say to a pope?"
It was a reasonable question. I must admit that I had no answer to it, and still don't. The formalities of a brief audience leave no time to ask for useful tips about the secrets of the universe. Besides, Benedict XVI was a shy man and Lady Thatcher had become, as I say, rather vague.
I need not have worried. Even in old age, she was a tremendous actress, and once she was on the dais and recognised by the crowds, she behaved with perfect poise as pope and ex-prime minister exchanged pleasantries. As we descended, I pointed out to her the pen in which newly married couples, in their finery, always gather for a papal blessing. Lady T rushed up to them, "We did that a long time ago," she announced, recalling her wedding with Denis nearly 60 years earlier, "and it's a wonderful thing to do."
Joseph Ratzinger's childhood dream
Melanie McDonagh's New Year's Day column for The Telegraph tells us that young Joseph Ratzinger's childhood dream was to be a priest.
I was somewhat envious reading the following, as I, too, wanted to be a priest in my childhood but, unlike the young Bavarian, had to make do with my grandmother's green silk scarf for a vestment and the coffee table as an altar:
The death of Pope Benedict has left me desolate, not least because I muffed a chance to have a last interview with him. I thought I could postpone a meeting until I was properly prepared, which is always stupid when you're talking about a 95-year-old. Yep. I am an idiot. But his death led me back to Peter Seewald's biography, which is revelatory about his early life. It recalls little Joseph's Christmas letter to the Christ Child at the age of seven, asking for a green vestment to play at saying mass with his brother and sister. Back then in Bavaria, you could get tiny altars, with all the kit, for the purpose. In later life, Pope Benedict would recall that playacting at saying mass somehow made the future come to life. But the real giveaway about his direction of travel was that when people asked the little boy what he wanted to be when he grew up. He would answer solemnly: "A cardinal". He went one better than that though.
Amazing. Childhood really can influence our adult lives.
Rosamund Urwin's obituary of the late Pope for The Sunday Times was excellent. It also includes a photograph of young Joseph Ratzinger in his Luftwaffe uniform. Excerpts follow in the next several sections.
Childhood
Urwin tells us that the Ratzinger household was a devout one:
Born Joseph Ratzinger in 1927 in Bavaria, the son of a policeman, his pious parents had him baptised four hours after delivery. He was a child when Adolf Hitler came to power in 1933.
The home atmosphere also influenced his brother Georg. I wonder if Joseph shared his Mass kit with him:
In 1951, he was ordained alongside his brother, who died in 2020.
The Guardian has more:
Born in the village of Marktl am Inn, Bavaria, Joseph was the third child of three and second son of a former hotel cook, Maria (nee Peintner) and a police commissioner, also Joseph, both devout Catholics. His childhood was unusual because of the extraordinary piety of the family, which separated him from his contemporaries. There was never, it seems, a time when young Joseph did not want to be a priest.
His father's opposition to the Nazis is reported to have curtailed his police career. A lasting memory for Joseph was, as a boy, seeing Nazi supporters beat up his local parish priest in Traunstein, near the Austrian border. On another occasion, in 1941, a younger cousin who had Down's syndrome was taken away by Nazi officials under their eugenics programme to perish with many others.
Membership of the Hitler Youth was compulsory for the two Ratzinger boys.
Wartime
Returning to Rosamund Urwin's article, it is hard to imagine what serving a sick despot must have been like:
The family opposed fascism and the Nazi party, but he was forced to join the Hitler Youth at 14 when it became compulsory, and was later drafted into the German military, serving on the auxiliary staff in the Luftwaffe and then digging trenches on the Hungarian border. After Hitler's death, he deserted, risking being shot if captured.
His horror at Nazi Germany and the bloodshed was part of the inspiration for his becoming a priest after the war ended, when he found consolation in the sight of Ulm Cathedral. When he arrived home, he said: "The heavenly Jerusalem itself could not have appeared more beautiful to me."
The aforementioned Guardian obituary has more about his wartime service:
Like other 16-year-olds, Joseph was called up in 1943, serving first with an anti-aircraft battery in Munich and then with an infantry unit on the Hungarian border, before finding himself for six weeks in an American prisoner of war camp.
Ministry
Rosamund Urwin says that the Revd Joseph Ratzinger did not spend much time as a pastor. Academia took him to the top:
His time in parish ministry was limited: he preferred academia, becoming a professor of theology at Bonn University. In 1977, he became archbishop of Munich and Freising, and then a cardinal. This allowed him to vote in the conclave to elect the new pope after the deaths of Paul VI and John Paul I.
In Rome, Ratzinger met the charismatic Polish cardinal Karol Wojtyla, on whose behalf he campaigned and who became Pope John Paul II. The pair grew close and Ratzinger became the pontiff's right-hand man, their partnership shaping the church for the next three decades.
However, it appears that Cardinal Ratzinger wanted to retire but John Paul II refused his request:
Benedict did not appear to want to be Pope before he was elected in 2005. Then simply Cardinal Ratzinger, he was already 78 and had previously stated that he would like to retire to his house in Bavaria and write books. The historian Michael Hesemann, who interviewed Ratzinger's older brother Georg at length, said the brothers, who were close, had intended to travel together. After a number of mini-strokes in the 1990s, the cardinal asked the man he would succeed as pope, John Paul II, if he could retire from his position, but was turned down.
It was his leadership of John Paul II's funeral that put him in the media spotlight and made cardinals see him as John Paul II's natural successor, and he became the first German to be elected pope in almost a thousand years.
It was a good funeral. The BBC televised it, and I ran across many non-Christians who watched it with great interest, glued to the screen. I was happy to answer their questions.
From progressive to conservative
When I was growing up, my mother found Ratzinger's pronouncements appalling. This was before he was put in charge of the Congregation of the Doctrine of the Faith. She went so far as to vent her frustration to the nuns at my school. Unfortunately for her, the nuns were on Ratzinger's side of the argument. Those were the days of the later and looser implementations of Vatican II in parish churches.
By the time he became Benedict XVI, she was too ill to notice, but she would have been pleased to know that he became theologically conservative over the years:
In his younger years, Ratzinger had been viewed as a progressive, but he became a resolute theological conservative as he aged, earning the nickname "God's rottweiler".
The aforementioned Guardian obituary states that Ratzinger's views on Vatican II began to change in 1968:
His personal Road to Damascus came in 1968 at Tübingen, which had embraced the Europe-wide outbreak of student unrest of that period. It profoundly disturbed Ratzinger and caused him to decamp the following year for the more traditionally minded Regensburg, and, more significantly, prompted a wholesale re-evaluation of his commitment to the reform movement in the church.
In Catholic circles, he began to voice his disillusion at the effects of the modernisation ushered in by the council, and at the constant demand for change and innovation. He started to advocate a reinvigorated central church government to hold the line against liberals, and to defend the traditions of Catholicism that he came to see increasingly as its strength. As a symbol of this change of heart, in 1972 Ratzinger defected from Concilium to the group of conservative-minded theologians who were founding a rival journal, Communio.
The need to halt the reform process was fast becoming mainstream thought in the European Catholic church. When, in 1977, Ratzinger was appointed by the Vatican as cardinal archbishop of Munich, he used his new platform to attack progressive theologians, such as his former academic colleague and friend the Swiss theologian Father Hans Küng.
Such a stance chimed well with the incoming regime of Karol Wojtyła, elected in 1978 as Pope John Paul II. He was another second Vatican council figure who was also now wary of what it had set in train. In 1981, Ratzinger was named head of the Congregation for the Doctrine of the Faith, one of the most senior positions in the Roman curia. He worked closely and harmoniously with John Paul, notably to rein in the radical liberation theologians of Latin America, whom both suspected of importing Marxist thought into Catholicism by the back door, and to silence dissenters such as the distinguished American scholar Father Charles Curran, who had publicly questioned official teaching on sexual morality …
It was often easier for otherwise loyal Catholics concerned by the draconian actions of the Vatican in regard to popular, liberal theologians to blame Ratzinger rather than John Paul II. The pope managed to evade any sort of categorisation within his lifetime, not least by dint of his personal charisma, while, as his right-hand man, the apparently dour, inflexible Ratzinger was a more convenient target. But, as pope, Benedict largely avoided such targeting of individuals. The attack on dissidents was, it seems, his master's bidding.
I am not surprised. I never liked John Paul II, having always suspected there was something else behind his ever-present smile. It was during his tenure that I left the Catholic Church and became an Episcopalian.
The Guardian has more on this topic:
In September 2005, soon after his election, he spent four hours in discussion with his former friend Küng. Under John Paul II, Küng had been banned from teaching in Catholic universities. Yet at the end of their meeting, Benedict put out a statement praising Küng's work on dialogue between religions. His guest remained to be convinced. "His stances on church policy," Küng remarked, "are not my own."
Benedict was also rather better than John Paul II at giving the impression of listening and consulting. Some spoke of him having a "big tent" approach to the church, wanting to restore harmony to what had become a fractured and fractious world Catholic family. His decision in 2007 to relax restrictions on the use of the Tridentine Rite, a 16th-century form of the mass that had been largely withdrawn, to the distress of many elderly and traditionally minded Catholics in the late 1960s, was another aspect of the same all-inclusive approach (though his move was later reversed by Pope Francis).
He was also the first Pope in years to don traditional papal garb, engaging in:
the occasional bout of dressing up in long-discarded items from the wardrobes of medieval popes such as the camauro, a red bonnet trimmed with white fur. He may not have had charisma, like his predecessor, the former actor John Paul II, but he undeniably had charm.
Fanta, cats and a pilot's licence
Urwin tells us how Ratzinger enjoyed spending his free time:
Those around him described him as warm but shy. A bibliophile, he was reported to have told visitors: "My true friends are the books." He played the piano and loved classical music, especially Mozart and Beethoven, his pet cats and Fanta — having a can of the fizzy drink every day.
Benedict held a pilot's licence and when he was younger used to fly a helicopter from the Vatican to the Pope's summer residence, Castel Gandolfo. He had an interest in style too, wearing fashionable sunglasses and slip-on shoes that many thought were made by Prada (they weren't).
A clerical outfitters near the Vatican supplies all the Popes with their clothing and shoes. Pope Benedict opted for the traditional garments, including papal slippers, which are made of the softest leather.
Benedict was the first Pope to adopt social media:
Though traditional, he — or his advisers — did embrace social media, joining Twitter a decade ago using the handle @Pontifex, which Francis has since inherited.
By the way, the 2019 film about him and his successor Francis has a fictitious scene in it:
The 2019 film The Two Popes, which starred Anthony Hopkins as Benedict and Jonathan Pryce as Francis, fuelled wider interest in their relationship. It was a heavily fictionalised account, ending with the pair watching football as Francis tried to teach Benedict the joys of the sport. Its director later admitted the bromance-style denouement was made up — Benedict was more of a Formula One fan.
Papal problems
Benedict had many problems to face during his time as Pope:
It would not be an easy eight years: accusations of child sexual abuse by priests and a broader cover-up by the church dogged his tenure.
He repeatedly spoke out against misconduct, demanded investigations and issued new rules to make it easier to discipline predatory priests, but was criticised for seeming unwilling to hold the wider church hierarchy to account. The sexual abuse scandals threatened to overshadow his trip to the UK in September 2010, but in the end it was deemed a success and Benedict was applauded for his warmth and for urging Britain to work for the common good of society.
As head of the Congregation for the Doctrine of the Faith under John Paul II, it had been his responsibility to read dossiers compiled about priests accused of child abuse, and many, even among the faithful, felt he should have done more to stem and to punish abuse.
He later became the first pope to meet victims of clerical paedophiles. In February, he asked for forgiveness from victims of sexual abuse, but denied accusations that he was involved in concealing cases while he was Archbishop of Munich and Freising.
However, as I wrote, a group of French men and women stated in a 2010 letter that Benedict XVI was, in their words:
the first pope to address head-on, without compromise, the problem. Paradoxically, he is the subject of undermining and personal attacks, attacks relayed with a certain complacency on the part of the press.
Even The Guardian agrees with that assessment. John Paul II, the darling of everyone everywhere, did not even look at it:
He was the first pope to look the abuse scandal in the eye and attempt to tackle it. He may have made only a start, but his predecessor had simply swept it under the carpet and even given sanctuary to known abusers. Benedict withdrew that protection and promised a thorough review that would stop such a betrayal happening again. Delivery of the promise, though, was patchy …
Benedict, to his credit, did not try to bury his head in the sand over the scandal. When details had first emerged in the late 1980s in the US and Canada, some reports ended up on the desk of Cardinal Ratzinger at the Congregation for the Doctrine of the Faith.
Later, it was alleged that he had failed to acknowledge them, but the cardinal archbishop of Vienna, Christoph Schönborn, presented a different picture – of Ratzinger wanting to set up full investigations into accusations against a number of senior clerics – including Schönborn's own predecessor, Cardinal Hans Groër, later exposed as a paedophile – but being blocked by other senior figures around the now grievously ailing John Paul II, notably the secretary of state, Cardinal Angelo Sodano.
By 2001, the reports of abuse and cover-up had grown so serious and so widespread that Ratzinger was placed in charge of coordinating the church's response. His first act was to demand that every accusation be reported to him – in an effort to stop local bishops sweeping reports of abuse under the carpet, paying off victims with out-of-court settlements that bought their silence, and then reassigning the culprits to new parishes where they could carry on preying on the young. However, John Paul's inner circle continued to limit Ratzinger's ability to act in his new role.
It is possible that he was too elderly by the time he became pope to effect any real change:
His efforts, though sustained, were insufficient in their scope. There remained a tendency – clearly expressed in his letter to the Irish – to lay the blame on the local bishops and therefore to distance the Vatican from any responsibility. In such a centralised, hierarchical structure as world Catholicism, the buck should always end up in Rome.
Try as he undoubtedly did, with sincerity and anguish, Benedict was perhaps too old and too set in the ways of the church he had grown up with to contemplate more radical change.
Returning to Urwin's article, ill health continued to dog him, and his retirement paved the way for Francis to take a similar decision, should he wish to do so:
When he was asked why he had chosen to resign, Benedict explained that the decision had come about during a mystical experience: "God told me to do it."
It is likely that he has set a helpful precedent for his successor: Francis, who had half of his colon removed in 2021, has repeatedly said that he too would step down if his health became a barrier to serving as pope.
Benedict's death makes the possibility of retirement for Francis less contentious, as it would mean there would be only two popes — one serving and one emeritus — rather than three. However, his retirement plans would again expose their differences: the humble Francis has said he would call himself the emeritus bishop of Rome and would not live in the Vatican — instead choosing a home for retired priests in the Italian capital "because it is my diocese".
'The devil worked against him'
In my second post, I said that I had read years ago that the devil was plaguing Benedict and there were certain rooms in the Vatican that he no longer felt comfortable entering because he felt a deep spiritual attack in those places.
I was relieved to find a new article on the subject to share with you. On January 2, Crux posted 'Personal secretary to Benedict XVI says "the devil worked against him"':
Retired Pope Benedict XVI's longtime personal secretary has given an interview in which he says he believes the devil was working against Benedict throughout his papacy, but the scandals which erupted during his reign had nothing to do with his historic resignation.
Speaking to the Italian newspaper La Reppublica, German Archbishop Georg Gänswein said the word "scandal" was perhaps "a bit strong" to describe the many crises that erupted during Benedict XVI's papacy, but that "it's true that during the pontificate there were many problems" …
"It's clear, he always tries to touch, to hit where the nerves are exposed and do the most damage," he said, saying he could often feel the devil at work, and, "I felt him very against Pope Benedict."
Gänswein, 66, currently serves as Prefect of the Papal Household and was Benedict XVI's personal secretary since before his election to the papacy in 2005, meaning he accompanied the late pontiff throughout his eight-year reign and remained with him after his historic resignation and the nearly 10 years since.
Gänswein recalled the moment when Cardinal Ratzinger became Pope Benedict XVI. He found it unusual, even portentous:
Gänswein said the large doors to the Sistine Chapel swung open and he entered the chapel, but didn't know that his boss had been elected until "I saw him, down at the end. He was all white, even his face. His hair was already white."
Benedict, he said, was already wearing the white papal zucchetto and his white cassock,
"But he was pallid, very pallid. And there, in that moment, he looked at me," Gänswein said, saying his response was, "Holy Father, I don't know what to say, congratulations or prayers."
He then pledged his life to serve the newly elected pope, in life and "until or also in death."
Gänswein said that his experience of his boss's resignation was far from straightforward:
Reflecting on the day Benedict's historic resignation went into effect, Gänswein said the first thing that comes to mind is the moment they left the apostolic palace to board the helicopter for Castel Gandolfo.
"I turned out the lights, and this for me was already a very emotional act, but also very sad," he said, saying he tried to hold himself together, "but the pressure was too big," and he began to weep, describing the feeling as "a type of tsunami above, under, around. I no longer knew who I was."
Benedict, he said, "was in a state of incredible calm, as he was in the days preceding."
Gänswein said Benedict XVI had first confided his decision to resign several months prior, in September 2012, and that his first reaction was "Holy Father it's impossible. We can think of reducing your commitments, this yes, but to leave, to renounce, it's impossible."
He said Benedict let him speak, but responded saying, "you can imagine that I have thought well about this choice, I have reflected, I have prayed, I have fought, and now I communicate to you a decision made, not a thesis to be discussed. It is not a quaestio disputanda, it is decided."
From that moment, Gänswein said he was sworn to silence.
In hindsight, Gänswein said he recalled that Benedict had been "very closed, very pensive," since the summer of 2012, which he thought was because the late pontiff was concentrated on finishing the last in his Jesus of Nazareth book series.
"When he revealed his decision to me, I understood that I was mistaken: it was not the book that worried him, but it was the internal battle of this decision, a challenge," he said, saying things went ahead like normal for the next few months.
Gänswein said that the child abuse scandals affected Benedict deeply. He began dealing with them as Prefect of the Congregation for the Doctrine of the Faith and was the first senior prelate so to do:
Asked if Benedict XVI was referring to the clerical abuse scandals when, shortly after his election, he denounced "filth in the church" while presiding over the Via Crucis at the Colosseum during Holy Week in 2005, Gänswein said, "It must not be forgotten that as prefect he was the first, one of the first, to come into contact with this terrible scourge of abuse."
"It's obvious that that experience couldn't not be present in the Via Crucis of 2005," he said, recalling how Benedict at the beginning of his papacy asked for prayers so that "I may not flee for fear of the wolves."
Gänswein said he is unaware of what exactly, or who, Benedict was referring to, but the image of the wolf in that context "means it is not easy to be coherent, counter-current, and maintain this direction if many are of another opinion."
Gänswein also said that Benedict's visit to Celestine V's tomb in 2009 had nothing to do with his resignation, either. Celestine V was the last pope to retire. He retired 600 years before Benedict did.
Furthermore, the other problems during Benedict's papacy did not influence his decision to retire:
Gänswein also rejected rumors that the crises which erupted during Benedict's papacy, and the intense criticism he endured, were factors in his decision to resign. He said he once asked Benedict about it, and the response was, "No, the question never influenced my resignation."
"Feb. 11, 2013, I said my motives: I lacked the strength to govern. To guide the church, today, strength is needed, otherwise it doesn't work," was Benedict's response, Gänswein said …
Responding to critics who frowned on Benedict's decision to resign while his predecessor, John Paul II, continued to reign while openly afflicted by the effects of Parkinson's, Gänswein said Benedict was never bothered by the comparison.
"He told me once: I cannot and do not want to copy the model of John Paul II in sickness, because I have to face my life, my choices, my strengths. This is why the pope allowed himself to make this decision, which to me required not only a lot of courage, but also a lot of humility," he said.
Gänswein said the decision to announce Benedict's resignation on Feb. 11 was made to coincide with the feast of Our Lady of Lourdes …
He and Benedict were together that morning but, outside of praying, they were silent.
Gänswein described the atmosphere in the room when Benedict announced his retirement to the cardinals:
Benedict chose to make his announcement in Latin, Gänswein said, because he insisted that "an announcement like that must be made in the language of the church, the mother tongue."
"You heard from his voice that the pope was moved and tired, both things," he said, saying he began to notice "movement" among the cardinals when Benedict began to speak in Latin, and that some understood "there was something strange" happening faster than others.
By the time the former dean of the College of Cardinals, Italian Cardinal Angelo Sodano, who passed away last year, got up and responded to Benedict, saying his announcement came like lightening in a clear blue sky, "everyone realized what was happening," Gänswein said.
In terms of Benedict's post-retirement title of "pope emeritus," Gänswein said it was chosen by Benedict himself.
"I think that faced with a decision so exceptional, to return to cardinal would not have been natural. But there is no doubt that there was always only one pope, and he is called Francis," he said.
Benedict's resignation, he said, shows that "the sacred is sacred, and it also has human aspects."
"I believe that with his resignation Pope Benedict also demonstrated that the pope, if he is always the successor of Peter, remains a human person with all of their strengths, but also with their weaknesses," he said, saying, "one is needed, but you must also live the other. Because strength is needed to accept one's own weakness."
Defender of celibacy in the priesthood
The Guardian's obituary tells us that Benedict felt strongly about Catholic priests remaining celibate:
In January 2020, Benedict publicly defended clerical celibacy, as Francis was considering allowing married men to become priests in limited circumstances. "I cannot keep silent," he wrote in a book, From the Depths of Our Hearts: Priesthood, Celibacy and the Crisis of the Catholic Church, arguing that priestly celibacy protected the mystery of the church.
An atheist's apologia for Benedict
Brendan O'Neill, an atheist, wrote a moving post for Spiked on the day Benedict died, December 31, 2022.
In it, he explored the late Pope's understanding of freedom and the Enlightenment:
In the 2000s, both before and during his papacy, Benedict devoted his brilliant mind to doing battle with moral relativism. He viewed relativism, where the very 'concept of truth has become suspect', as the great scourge of our times. He railed against 'the massive presence in our society and culture of [a] relativism which, recognising nothing as definitive, leaves as the ultimate criterion only the self with its desires'. He said that the cultural elites' dismantling of truth, even of reality itself (witness transgenderism's war on biology), might present itself as 'freedom' but it actually has severely atomising and authoritarian consequences. The postmodern assault on truth is pursued under the 'semblance of freedom', he said, but 'it becomes a prison for each one, for it separates people from one another, locking each person into his or her own ego'.
In short, absent any notion of universal truth, devoid of social standards we might define ourselves by (or against), we're left with just the individual, playing around in his own prison of identity. 'A large proportion of contemporary philosophies… consist of saying that man is not capable of truth', said Benedict. 'But viewed in that way, man would not be capable of ethical values, either. Then he would have no standards. Then he would only have to consider how he arranged things reasonably for himself…' Relativism means letting oneself be 'tossed here and there, carried about by every wind of doctrine', he said. We're in that moment now. The march of moral relativism has not made a freer, more content society but an agitated, uncertain one. Post-truth, post-reality, even post-biology, the individual is not liberated, but lost, left utterly alone to 'arrange things reasonably for himself'.
Perhaps Benedict's most important insight was that this dictatorship of relativism represented a negation of the Enlightenment.Too many right-wingers and 'Trad Caths'– youthful influencers who take refuge from wokeness in the incense-fused safe space of the Catholic Church – blame every ill on the Enlightenment. Technocracy, scientism, the pseudo-rational deconstruction of language and reality – it's all apparently a logical consequence of man's grave folly of believing he could master nature and shape the future.
Benedict knew better. What we are witnessing is a 'radical detachment of the Enlightenment philosophy from its roots', he said. Modern rationalists tell us that 'man, deep down, has no freedom', and also that he 'must not think that he is something more than all other living beings', Benedict noted. This is proof, he said, that those who pose as the contemporary guardians of Enlightenment thought have in fact come to be 'separated from the roots of humanity's historical memory'. Enlightenment thinkers did believe man was higher than beasts. They did believe man was capable of freedom. Today's supposed rationalists act 'in total contradiction with the starting point of [Enlightenment thought]', Benedict said.
It should not be surprising that Benedict had a deeper, more subtle understanding of the Enlightenment than many of the coarse rationalists in the New Atheist set did. For he was a critical student of Enlightenment thought, as Maurice Ashley Agbaw-Ebai outlined in his excellent study of Benedict published last year: Light of Reason, Light of Faith: Joseph Ratzinger and the German Enlightenment. Agbaw-Ebai argues that Benedict's theology was one steeped in rationality, speaking to his decades-long engagement with Enlightenment thinkers.
Indeed, Benedict held that Christianity was a 'religion according to reason'. He argued, rightly, that the Enlightenment sprung from the traditions and tensions within Christianity itself – 'the Enlightenment is of Christian origin', he said. One of his most striking utterances was to say that the Enlightenment had 'given back reason its own voice'. That is, it took ideas of reason from Christianity and expressed those ideas in the voice of reason alone …
Benedict's beef was not with reason, then, as his ill-read critics would have us believe, but with what he referred to as 'purely functional rationality'. Or scientism, as others call it: the modern creed of evidence-based politics that judges everything by experiment rather than morality. Ours is a 'world based on calculation', Benedict lamented. '[It] is the calculation of consequences that determines what must or must not be considered moral. And thus the category of good… disappears [my emphasis]. Nothing is good or bad in itself, everything depends on the consequences that an action allows one to foresee.'
We see this cult of calculation everywhere today. Industry and growth are judged not according to whether they will be good for us, but through the pseudo-science of calculating their impact on the planet. Human activity is likewise measured, and reprimanded, by calculating the carbon footprint it allegedly leaves. Parenting has been reduced from a moral endeavour to a scientific one – you must now follow the calculations of parenting experts and gurus if you don't want your kids to be messed up. Benedict was right about our world of calculation – it chases out questions of morality, truth and freedom in preference for only doing what the calculating classes deem to be low-risk in terms of consequences. When everything is devised for us by a calculating elite, freedom suffers, said Benedict – for 'our freedom and our dignity cannot come… from technical systems of control, but can, specifically, spring only from man's moral strength'.
Benedict was most concerned with defending the specialness of humankind against the claim of the 'functional rationalists' that man is essentially little more than a clever animal. This is why he agitated so firmly against the calculating classes' belief that 'man must not think that he is something more than all other living beings'. He'd be branded a speciesist if he said this today – how dare you assume that polluting, marauding mankind is superior, more important, than the beasts of the Earth? One of my favourite comments from Benedict was made at his installation Mass as pope in April 2005. He said: 'We are not some casual and meaningless product of evolution. Each of us is the result of a thought of God. Each of us is willed, each of us is loved, each of us is necessary.'
No, I do not share Benedict's belief in God. I am an atheist. But Benedict's agitation against the idea that humanity is a consequence of evolution alone was a profoundly important one. A key part of today's functional rationalism is evolutionary psychology, a science particularly beloved of Dawkinites and the so-called Intellectual Dark Web. It holds that virtually everything human beings think and do can be explained by evolutionary processes, as if we are indistinguishable from those monkeys that first came down from the trees; as if we are propelled into tribal affiliations and warfare and sex by traits stamped into us by the ceaseless march of nature. This, too, chases out the small matter of morality, the small matter that we have risen above our nature and now really are 'more than all other living beings', in Benedict's words. We are capable of choice, we are capable of good. Good – a terribly old-fashioned concept, I know.
A life in pictures
The Guardian has a marvellous selection of photographs of Joseph Ratzinger throughout his life, including a family photo and one of the joint ordination with his brother Georg, who predeceased him in 2020.
Benedict's legacy
Commonweal's obituary states that opinion will be divided on Benedict's papacy:
After the "long nineteenth century" (as characterized by John O'Malley) of the Catholic Church was brought to an end by the calling of the council in 1959, Benedict XVI was in some ways the last pope of the delayed conclusion of the twentieth-century Catholic Church, a short century beginning with John XXIII and Vatican II and ending in 2013 with the election of the first non-European and non-Mediterranean pope. Joseph Ratzinger was a brilliant theologian and public intellectual, but also a provocative cleric who as pope had the courage to risk unpopularity. He will remain one of the most widely published and widely read popes in Church history, and likely one of the most controversial. Few committed Catholics will be indifferent or dispassionate about him.
Lying in state and funeral
On New Year's Day 2023, the day after Benedict's death, the Vatican issued an announcement about his funeral. The Sunday Telegraph reported:
Pope Emeritus Benedict XVI will have a "solemn but simple" funeral this week, the Vatican said, in a ceremony that will be presided over by a sitting pope for the first time in centuries.
The funeral on Thursday will be in accordance with the former pontiff's wishes and will be led by Pope Francis.
The unusual circumstances will mean the Vatican is navigating uncharted waters as it hammers out the finer details of the event.
I am certain that everything worked out well. His funeral was held today, Thursday, January 5.
The article has a photo of him lying in state privately at the Vatican in a chapel. That was taken before he was moved to St Peter's Basilica for public viewing:
The Vatican released the first photos of Benedict following his death on Saturday at the age of 95, showing him resting on a catafalque in the chapel of the former convent inside the Vatican city state where he spent his retirement.
His head resting on a pillow, the former pope was dressed in red vestments and a cream-coloured mitre, his hands clutching a rosary.
The corpse was flanked on one side by a Christmas tree and on the other by a Nativity scene.
On Monday morning, Benedict's body will be transferred to St Peter's Basilica, where the faithful will be able to pay their respects.
After the funeral, he will be buried in the papal tombs under St Peter's Basilica.
On Monday, January 2, the Mail reported on the crowds paying their respects at St Peter's. The paper included many moving photographs:
Catholics bowed their heads and say prayers as they fill up St Peter's Basilica to pay their respects to Pope Emeritus Benedict XVI – this is where he will lie in state for three days before a 'simple' funeral at the Vatican on Thursday.
The doors of the basilica were swung open just after 9am today so the public, some of whom had waited for hours, could visit the late pontiff …
His body – dressed in a mitre, the headgear of a bishop, and a red cloak-like vestment in preparation – was placed on a simple dais, with two Swiss guards standing on either side as mourners walked by … 
Before the rank-and-file faithful were allowed into the basilica, prayers were intoned and a small cloud of incense was released near the body, its hands clasped on its chest.
By mid-morning the queue to enter the basilica snaked around St Peter's Square.
Once allowed to enter, the public filed up the centre aisle to pass by the bier with its cloth draping.
While the number of visitors was large, there were no signs of the huge crowds who came to pay their respects to Pope John Paul II in 2005, when millions waited for hours to enter the basilica. 
Last night, Benedict's long-time secretary, Archbishop Georg Gaenswein, and a handful of consecrated laywomen who served in his household, followed a van by foot in a silent procession toward the basilica. 
Some of the women stretched out a hand to touch the body with respect.
The Catholic News Agency has the prayers for Benedict's funeral Mass, some of which were read in Latin.
Francis's future
News reports have been circulating that Pope Francis could retire.
On the day that Benedict died, The Guardian reported:
For the first time in almost 10 years, there will be only one pope. But that may be temporary.
Pope Benedict XVI's death, nine years and 10 months after he unexpectedly stepped down, eases the way for his successor, Francis, to follow suit. It is a move he has long suggested he wants to make.
Benedict was the first pontiff for 600 years to retire rather than die in office – a shock move that was a gamechanger, according to Vatican experts.
Soon after Francis greeted hundreds of thousands of followers gathered in St Peter's Square following his election, Benedict's successor began hinting at the possibility of his own retirement.
He said he would like to see the resignation of popes become normalised, and later said he had a feeling his pontificate would be brief, describing his predecessor's decision to step down as "courageous".
Last summer, he raised the prospect again. On his return to Rome after a papal visit to Canada, he told reporters the "door is open" to his retirement. It would not be "a catastrophe", he said …
The Vatican is a deeply factional place. There are many enemies of Pope Francis's relatively progressive agenda with its focus on poverty, refugees and the climate crisis. This Christmas, he criticised "hunger for wealth and power".
Some of Francis's opponents have tried to rally support for conservative values around Benedict as an alternative figurehead.
In thinking about the possibility of retirement, Francis – who turned 86 earlier this month – will have considered the impact of two retired popes on his own successor.
With Benedict's death, the path to retirement becomes a little easier. 13 March will be the 10th anniversary of Francis's election as the Roman Catholic church's 266th pontiff. Some time around then, or in the following months, perhaps after a key synod of bishops in the autumn, may seem an appropriate time for an announcement.
The veteran Catholic journalist Catherine Pepinster gave us more of a picture for the paper, 'It's a papal version of Succession: at Benedict XVI's funeral, the plotting will begin':
Airlines usually upgrade cardinals to first class and offer them champagne. But when the leaders of the Roman Catholic church fly into Rome's Fiumicino airport this week for the funeral of the former pope Benedict XVI, they may well forgo the fizz as a sign of their mourning. It's hard to imagine, though, that they will refrain from engaging in the whispers and the politicking that is so typical of a gathering of top Catholic prelates. The funeral will be a time to remember and mourn Benedict – but the plotting that will take place may resemble an episode of Succession …
When a pope dies in office, cardinals come from across the globe to bury him and elect his successor. This time, of course, there is no need to do so. There is already a pope – Francis, the man picked in 2013 to succeed him. But when he leads Benedict's funeral on 5 January, the cardinals may well wonder if they will be back in Rome soon for another conclave. At 86, Francis himself is already physically frail …
There are some in the Roman Catholic church who would dearly love another pope to be elected very soon …
Certain followers of Benedict who asserted that all Catholics should be utterly loyal to a pope when he sat on the throne of Peter have shown no such fidelity to Francis, and have constantly criticised his efforts at reform …
In 2005, when John Paul II died, the conservatives were well-organised and encouraged the voting members of the College of Cardinals ­– those under 80 – to pick Joseph Ratzinger, who took the name Pope Benedict XVI. When Benedict quit eight years later, the liberals were better organised …
Who will the cardinals elect next time? We Catholics in the pew, whether conservatives or progressives, have to accept that cardinals are as human as the rest of us, and not averse to plotting. But maybe we should offer a prayer that the Holy Spirit may, on the next occasion, help them find someone who could be what a pope always used to be – a unifying figure.
On January 3, The Times reported that the conservatives are gearing up:
The death of Pope Emeritus Benedict XVI could deepen divisions at the top of the Catholic Church by both "removing a brake" from Pope Francis and emboldening his conservative critics to try to succeed him, analysts said today.
Giuseppe Rusconi, a leading Vatican journalist, said the death of Benedict, formerly Joseph Ratzinger, at the age of 95 would have consequences for his conservative followers and his more progressive successor.
"The conservatives have been weakened by Ratzinger's death but they will now feel authorised to be more openly critical of Pope Francis, while Francis will no longer feel overshadowed by Pope Benedict and be free to cross new boundaries in his reforms," Rusconi said. "A brake has been removed, both as regards the conservatives' criticisms and the radical quality of Francis' reforms" …
Sandro Magister, another veteran Vatican observer, noted there was a void on the conservative wing of the church, and predicted a competitive "free for all" in the Vatican, with different agendas jostling for influence. Magister said Benedict's continued presence in the Vatican after his retirement had acted as a check on Francis and his supporters. "[Now] there's likely to be a free for all, without any clear guidelines. We are in a phase of confusion now, the opposite of the clear, limpid, rational thought of Pope Benedict," he added.
Of the 132 cardinals aged under 80, and therefore eligible to vote in a conclave to elect a new pope, 83 were appointed by Francis. About a dozen cardinals, mainly senior conservatives, will also lose the right to vote this year.
Unlike other commentators, these two journalists do not think Francis will retire any time soon:
Rusconi does not expect Francis, born Jorge Mario Bergoglio in Buenos Aires, to follow Ratzinger's example any time soon …
Magister said Francis was unpredictable but was unlikely to resign soon. "His resignation is more practicable now, but I don't see it as imminent," he said. "His activism is remarkable for a man of his age. His diary is packed with engagements."
However, the editor of the Catholic paper La Croix International said that Francis's health is very poor:
Robert Mickens, the editor-in-chief of La Croix International, a Catholic newspaper, said he expected Francis to resign as early as this year, possibly after the October synod. Mickens said the Pope was having difficulty with unscripted speech, sometimes slipping into Spanish expressions and rambling. "He's way overweight, which doesn't help his knee problem," he added …
Mickens said there would be a gathering of ultra-conservative political leaders and representatives of European royalty at Benedict's funeral on Thursday. "Ratzinger represents a Europe that is no longer or is slipping away. His funeral brings down the curtain on an era."
Although Francis may have stacked the deck in favour of church liberals with his appointments to the college of cardinals, it was impossible to predict who might emerge as Pope from the next conclave, he said. "I know conservatives are working right now, trying to influence the succession. Bergoglio has opened a Pandora's box with synodality [increased democratic debate] and conservatives are alarmed that it could result in radical changes that can't be undone," Mickens added.
Talk about the end of an era, which is where I began this post.
Fortunately, Joseph Ratzinger is now at rest with such temporal worries behind him. I hope to meet him one day in eternity.
May I wish all my readers a very happy, healthy and prosperous New Year!
In 2023, there are three choices of readings for January 1, which falls on a Sunday.
One can choose from the Holy Name of Jesus, the First Sunday after Christmas Day (Year A) or New Year's Day:
Readings for New Year's Day — the Holy Name of Jesus (all Lectionary years)
Christmas 1 – Year A (all readings)
Readings for New Year's Day (general, all Lectionary years)
I have chosen the last one, the Gospel for which is as follows (emphases mine):
Matthew 25:31-46
25:31 "When the Son of Man comes in his glory, and all the angels with him, then he will sit on the throne of his glory.
25:32 All the nations will be gathered before him, and he will separate people one from another as a shepherd separates the sheep from the goats,
25:33 and he will put the sheep at his right hand and the goats at the left.
25:34 Then the king will say to those at his right hand, 'Come, you that are blessed by my Father, inherit the kingdom prepared for you from the foundation of the world;
25:35 for I was hungry and you gave me food, I was thirsty and you gave me something to drink, I was a stranger and you welcomed me,
25:36 I was naked and you gave me clothing, I was sick and you took care of me, I was in prison and you visited me.'
25:37 Then the righteous will answer him, 'Lord, when was it that we saw you hungry and gave you food, or thirsty and gave you something to drink?
25:38 And when was it that we saw you a stranger and welcomed you, or naked and gave you clothing?
25:39 And when was it that we saw you sick or in prison and visited you?'
25:40 And the king will answer them, 'Truly I tell you, just as you did it to one of the least of these who are members of my family, you did it to me.'
25:41 Then he will say to those at his left hand, 'You that are accursed, depart from me into the eternal fire prepared for the devil and his angels;
25:42 for I was hungry and you gave me no food, I was thirsty and you gave me nothing to drink,
25:43 I was a stranger and you did not welcome me, naked and you did not give me clothing, sick and in prison and you did not visit me.'
25:44 Then they also will answer, 'Lord, when was it that we saw you hungry or thirsty or a stranger or naked or sick or in prison, and did not take care of you?'
25:45 Then he will answer them, 'Truly I tell you, just as you did not do it to one of the least of these, you did not do it to me.'
25:46 And these will go away into eternal punishment, but the righteous into eternal life."
Commentary comes from Matthew Henry and John MacArthur.
This is a long post, because there are important points to understand about this passage and Matthew's Gospel in general.
How is it, one might ask, that we have a reading about Christ's Second Coming when we are still in the Christmas period of the Church year?
John MacArthur explains the reason why:
Now let me say something that maybe you've never thought of in these terms. The remarkable thing about Christ is not His second coming. The amazing thing about Christ is not His return. The wonder of wonders is not that Jesus will come in glory and judge the world. The amazing marvelous incredible indescribable mysterious truth is not that He will come the second time, but that He came the first time to do what He did. It is amazing that a holy God came to forgive sinners, not that a holy God comes to judge sinners. You understand that? The wonder is not the second coming, the wonder is the first coming, that He condescended to redeem us, to love us when we were unlovely, to provide a salvation into which any man can enter, any woman can enter by a choice. The wonder of wonders is that He stooped to be what we are, that He stooped to die our death, to bear our sin, to be separated from God. That is the wonder of wonders. The fact that He comes back to judge sin is not remarkable at all. That is only utterly consistent with His nature. And if you go back to the Old Testament, you find that God has always been a God who judges sin. And so we are not surprised at all that He is going to come and ultimately do that and finally do that and deal with sin in a final way. What is remarkable is that He came to redeem sinners who were worthy only of His judgment. And so He will come and we should not be so surprised that He will, since He is an infinitely holy God. And when He comes to judge, it is going to be a scene that language has strained to attempt to communicate.
Those who know Matthew's Gospel recall that Chapter 25 has two parables of warning, that of the Ten Virgins and that of the Talents, or Bags of Gold.
The Parable of the Ten Virgins has stuck with me since I was in my formative years, because it seems so contemporary. It is about preparedness, yet, as it was in my schooldays, there are always those who are unprepared and expect others to pick up the slack for their carelessness:
The Parable of the Ten Virgins
25 "At that time the kingdom of heaven will be like ten virgins who took their lamps and went out to meet the bridegroom. 2 Five of them were foolish and five were wise. 3 The foolish ones took their lamps but did not take any oil with them. 4 The wise ones, however, took oil in jars along with their lamps. 5 The bridegroom was a long time in coming, and they all became drowsy and fell asleep.
6 "At midnight the cry rang out: 'Here's the bridegroom! Come out to meet him!'
7 "Then all the virgins woke up and trimmed their lamps. 8 The foolish ones said to the wise, 'Give us some of your oil; our lamps are going out.'
9 "'No,' they replied, 'there may not be enough for both us and you. Instead, go to those who sell oil and buy some for yourselves.'
10 "But while they were on their way to buy the oil, the bridegroom arrived. The virgins who were ready went in with him to the wedding banquet. And the door was shut.
11 "Later the others also came. 'Lord, Lord,' they said, 'open the door for us!'
12 "But he replied, 'Truly I tell you, I don't know you.'
13 "Therefore keep watch, because you do not know the day or the hour.
MacArthur says that Jesus spoke these words the day before the Last Supper:
Here with the privacy of His disciples, having been found on the Mount of Olives, as He has left the temple ground and now talks with them in the privacy of the evening, Wednesday before His Friday crucifixion, He shares with them that He indeed is the Son of Man who is also the King who will come and judge to establish His kingdom.
Here we have our Lord's description of His Second Coming. While our Lord has infinite love and will take His saints with Him to glory, He will also come in judgement for those who preferred to live a life of sin, in league with Satan and the world.
MacArthur explains what Matthew's Gospel is meant to convey to the Jews, his primary audience:
Mark's purpose was not to present Christ as King. Luke's purpose was not particularly to emphasize Christ's Kingship either and neither was John's. The gospel which is intended to present Christ as King is Matthew. And that is why the great emphasis of the second coming comes in the gospel of Matthew because Matthew is wanting to present to us the triumph of the regal King, the Lord Jesus Christ. And that is why Matthew is the one chosen to give this passage.
Let me just remind you of Matthew's emphasis. Matthew has focused primarily on Jesus as the King – King of Israel, King of glory, the one with the right to rule, the majestic one, the regal one. That has been his emphasis. And it falls into three basic categories. First of all, Matthew treats the King revealed – the King revealed. In other words, as the person of Christ unfolds in Matthew, He unfolds as a regal person. Whereas Mark treats Him as human; Mark emphasizes His humanity; and Luke talks about His servanthood; and John emphasizes His deity. Matthew's emphasis is on His royal character, His Kingship.
And first of all, he emphasizes that the King is being revealed. For example, it is Matthew that has His ancestry traced from a royal line. It is Matthew who has His birth being dreaded by a rival king who is threatened by another king coming on the scene. It is Matthew who makes great emphasis on the wise men, who are oriental king makers, who come and offer Jesus homage and present Him royal gifts. It is Matthew who emphasizes that He has a herald to announce His coming as kings always did. It is Matthew who tells us that in His temptation, as it reached its climax, Satan offered Him all the kingdoms of the world knowing that indeed He was entitled to them all. It is Matthew who emphasizes that Jesus proclaimed in the Sermon on the Mount the standards of His kingdom. It is Matthew who uses the miracles of Jesus as His royal credentials, who emphasizes that His teaching was the royal law, that His parables are the mysteries of the kingdom of which He was the King. He is hailed by Matthew as the Son of David, a royal name. He claimed royal rights as the Son of God. He made a royal entry into Jerusalem and claimed absolute sovereignty. He told a story about a king's son and He told it about Himself and it's recorded in Matthew. And while facing the cross, Matthew records that He looked beyond the cross to the reigning and the glory that would follow. It is Matthew who emphasizes His commanding power over legions of angels. It is Matthew who records for us His last words, "All power has been given unto Me in heaven and in earth, go ye therefore" – in other words, He is commanding as a monarch who has all authority for such a command. So Matthew makes a great emphasis on the Kingship of Christ being revealed.
Secondly, on the Kingship of Christ being rejected. Matthew all the way through not only presents the regal character of Christ, but also shows how He was rejected as King. Before He was born, His mother was in danger of being divorced. Worse than that, she was in danger of being stoned as an adulteress. And so it could have been that His life would have been snuffed out before ever He could have reached the throne. At His birth all Jerusalem was troubled, and Herod who was threatened by the thought of another king on the scene sought to kill Him. And in the plains of Bethlehem, not longer after the angelic choir was absent and silent, those little hills began to ring again, but it wasn't with the songs of angels, it was with the weeping and the mourning of mothers who were crying as their babies were being slaughtered, as Herod attempted to stamp out the would-be king by obliterating every child under the age of two.
And it is Matthew who tells us that Jesus had to escape for his life to Egypt. And then when He came back to His own homeland, He hurried away to live thirty years in obscurity in a non-descript off-the-road village called Nazareth where He was without honor and where on one occasion the people of the city itself tried to throw Him off a cliff and kill Him. Matthew makes a point of telling us that even His herald was imprisoned and eventually his head was chopped off. And it is Matthew who reminds us that Jesus had no place to lay His head. He was accused of being a drunkard. He was accused in Matthew of being gluttonous. He is accused of being from hell, from Satan, having a demon. And as he records His own parables, they mark out the rejection that was thrust against Him, how it was desired by people to take His life, to kill Him as they had killed the prophets who spoke about Him. And even in His death it is Matthew who has Him say, "My God, My God, why have You forsaken Me?" In none of the other gospels, then, is the regal presentation as complete or is the rejection as complete as it is in Matthew.
But finally, Matthew presents Him not only as the revealed King and the rejected King but as the returning King. And in chapter 24 and 25, there is this great sweeping sermon of our Lord about His second coming. And it is not the first time it is mentioned in the gospel of Matthew. It is mentioned previous to this on several occasions in our Lord's conversations with His disciples. It was of major importance to the Lord and of major importance to Matthew as well. In Matthew 16:28, "Verily I say unto you, there are some standing here who shall not taste death till they see the Son of Man coming in His kingdom." Verse 27, "The Son of Man shall come in the glory of His Father with His angels and reward every man according to His works." Matthew 19:28 similarly says that He will come in the regeneration and the Son of Man will sit on the throne of His glory and that the disciples will sit on twelve thrones judging the twelve tribes of Israel and so forth. So He has spoken about it before to the disciples, but now in a great sermon embracing two chapters, the Lord speaks of His second coming and Matthew records it as the completion of His presentation of the royal character of Jesus Christ. He is coming as regal reigning sovereign King – that's the message.
Jesus said that when the Son of Man — He Himself — comes in glory, accompanied by all the angels, He will sit on His throne of glory (verse 31).
MacArthur tells us:
And so Christ will come and not alone, but with His mighty angels in flaming fire. And He will take vengeance on them that know not God and that obey not the gospel of our Lord Jesus Christ. And they will be punished with everlasting destruction from the presence of the Lord and the glory of His power. And then He will be glorified in His saints and admired in all them that believe. So there will become a dividing then, there will be vengeance and punishment to those who do not obey, and there will be glory and honor and reward and respect toward Him for those who do know Him through Christ the Savior. So that is the judgment that occurs at His coming. It's indescribable, but He comes with all of His holy angels …
Now Revelation 19 needs to be considered for a moment because this describes the scene itself in detail. In Revelation 19:11, "I saw heaven opened." The doors of heaven all of a sudden swing open in the vision of John, and what is revealed is a white horse and one sitting on it called Faithful and True. By the way, this is the second time heaven opened in the book of Revelation – the second time. The first time heaven opened was in chapter 4 verse 1, "After this I look and behold a door was opened in heaven."
Matthew Henry's commentary discusses the term Son of Man, one which Jesus often used of Himself:
Here, as elsewhere, when the last judgment is spoken of, Christ is called the son of man, because he is to judge the sons of men (and, being himself of the same nature, he is the more unexceptionable); and because his wonderful condescension to take upon him our nature, and to become the son of man, will be recompensed by this exaltation in that day, and an honour put upon the human nature.
MacArthur says that Jesus called Himself the Son of Man so that we could relate better to Him and to avoid further blasphemy charges from the Jewish hierarchy:
So it is the Son of Man who is none other than Jesus Christ. I don't think we need to take a lot of time, but only to remind you that the most familiar, the most common, the most used title by Jesus of Himself is Son of Man. He called Himself that all the time. That was His choice title for Himself. And I believe there were several reasons for that. Reason number one was that it confirmed His humiliation. It affirmed that it was an incarnation, that God had come all the way to being man. It was an affirmation of incarnation, of submissiveness, of the servant heart, the servant spirit, of coming not to be ministered unto but to minister and give His life. He became one of us. And Son of Man emphasized His condescension, His humiliation, His identification, His understanding, His sympathy with men. He became what we are. That was one reason He used it.
The second reason that I believe this was a good choice and common to our Lord's use was that it tended to be less offensive then if He were to call Himself Son of God all the time. If He were to call Himself Son of God constantly, He would have created more hostility than He did, at least initially. Calling Himself Son of God continually in front of the Jewish leaders would have fomented problems beyond the problems He had. And of course, as you well know, after three years of ministry they finally took His life with great hostility. It's very likely that had He continually called Himself Son of God, the whole plan could have been brought to a halt a lot earlier and things that God had intended to accomplish would not have been accomplished. And of course that kind of conjecture is only conjecture since He didn't call Himself Son of God but may explain to us some reason why He didn't.
Thirdly, if He had called Himself continually Son of God, not only would His rejectors have been more angry, but His friends might have been more pushy. Had He called Himself Son of God or had He even called Himself King, had He called Himself all the time Messiah, there would have been even a greater pressure put upon Him by the people to take over the kingdom, to take over and rule, to dominate, to overthrow the Romans. So I believe Son of Man was the lowest title, the lowest profile that Jesus could take. It is a denial of any significant title. It is simply saying, "I'm one of you. I'm a son of man." That's all. It is true He was also Son of God; it is true He was also King of Kings; but had He paraded those things outwardly, it would have changed the whole series of events. And so He communicates Himself as Son of Man to emphasize His humiliation and identification, to deflect hostility and to deflect those who would force Him to become a King, as obviously many wished to do and even tried to do in Galilee.
There's another reason. I think He chose to use Son of Man because it provides such a profound contrast to the titles that He will have when He comes in His glory. And it helps us to understand the distinction between the first and second coming of Christ. It provides a marvelous contrast, which contrast is pointed up to us here in Matthew chapter 25. Notice verse 31, He calls Himself Son of Man; then in verse 34, "Then shall the King;" in verse 30 – verse 40, rather, "And the King shall answer." It isn't long now in this particular message before He turns from Son of Man to King. But He starts out with Son of Man so that they might know who the King is. Right? If He just said, "When the King shall come," somebody might say, "Well, it's other than Him." So He says, "When the Son of Man comes, then will the King say" – and He affirms that He is both Son of Man and King. Son of Man, humble, condescending, humiliated; King, glorious, sovereign, reigning, judging, establishing His kingdom. And so here He turns a corner. Beloved, this is very, very significant. He does not call Himself King up to this point. He tells a parable about a King's son. He tells a parable about a King who is God the Father. But now He calls Himself King. It's time to talk about His return. It's time to talk about His reign as King of Kings and Lord of Lords. It's time to look beyond humiliation and beyond condescension and see the one who will come in blazing glory. So the emphasis is on the kingship.
And may I remind you, too, that He's talking, as 24:3 tells us, privately to His disciples – privately to His disciples. He maintained the privacy of His message about Kingship.
MacArthur says that the number of all the angels is an impressive one:
When He comes with all the holy angels with Him, not some but all of them. Ten thousand times ten thousand times ten thousand and thousands of thousands, an innumerable number, when He comes with all of them and all of His glory and all of His saints and when He sits on His glory throne – when He sits on His glory throne, that's the time this judgment takes place.
Henry says the angels will be there to serve their Lord:
… his holy myriads, who will be not only his attendants, but ministers of his justice; they shall come with him both for state and service. They must come to call the court (1 Thess 4 16), to gather the elect (ch. 24 31), to bundle the tares (ch. 13 40), to be witnesses of the saints' glory (Luke 12 8), and of sinners' misery, Rev 14 10.
Jesus spoke here of all the people alive at His Second Coming. Unbelievers will not have a second chance to repent or believe:
So during that period there will be saved Jews and saved Gentiles. Those people will be persecuted by the Antichrist. Many of them will survive his persecution. So they will be alive at the end. There will also be the ungodly. The ungodly will be devastated by the judgments of God during that period. Some of them will survive. So at the end of the tribulation time you have saved and unsaved people, from all over the globe, who have survived the judgment of God and the holocaust of Antichrist. They have lived through the plagues. They have lived through the disasters, the diseases, the wars, the wrath of Christ and the wrath of Antichrist. They have lived through the judgment on the armies at Armageddon, and there are still multitudes, multitudes left. But all of those who are left, who haven't faced God in death to be judged. will now face Him in His second coming. All the people. The word ethnē means peoples. So either a person faces God in death for judgment or at the second coming of Jesus Christ. And if you're counting on waiting till then, remember this, it's too late then. When the bridegroom comes, if you don't have oil in your lamp, the door will be shut and you'll never get in. There's no second chance. And what happens here is irreversible, as verse 46 says, "Some go into everlasting punishment, others into everlasting life." So what happens here is irreversible.
Also:
when He comes, in the moment of His coming there will be an instantaneous judgment. I don't believe that when He comes there's going to be a gap of time for people to decide what they want to do. It's verse 31, "When the Son of Man comes." Verse 34, "Then shall the King say," and so forth. It's when He comes, then He judges. There's no reason to assume an interval.
Jesus continued, saying that all the nations of the world will be gathered before Him, and He will separate people from one another as a shepherd separates sheep from goats (verse 32).
He will put His sheep at His right hand and the goats at His left (verse 33).
Henry explains:
the Lord knows them that are his, and he can separate them. This separation will be so exact, that the most inconsiderable saints shall not be lost in the crowd of sinners, nor the most plausible sinner hid in the crowd of saints (Ps 1 5), but every one shall go to his own place. This is compared to a shepherd's dividing between the sheep and the goats; it is taken from Ezek 34 17, Behold, I judge between cattle and cattle. Note, 1. Jesus Christ is the great Shepherd; he now feeds his flock like a shepherd, and will shortly distinguish between those that are his, and those that are not, as Laban divided his sheep from Jacob's, and set three days' journey between them, Gen 30 35, 36. 2. The godly are like sheep—innocent, mild, patient, useful: the wicked are like goats, a baser kind of animal, unsavoury and unruly. The sheep and goats are here feeding all day in the same pasture, but will be coted at night in different folds. Being thus divided, he will set the sheep on his right hand, and the goats on his left, v. 33.
MacArthur has more:
All people are going to be separated. They're only going to be separated into two classes: Sheep and goats, in this analogy. Sheep go into the kingdom, goats go out of the kingdom. So there will only be two classes of people. As my grandfather used to say, "The saints and aints." Only two classes of people, the redeemed and the unredeemed, the saved and the lost, that's the basic classification into which everybody falls ultimately and eternally. There are only two destinies, heaven and hell.
And so that division must be made in regard to all people. There is no distinction here, beloved, about Jew or Gentile. That is not a distinction made particularly in this text. It's just all the people. And the distinction here has nothing to do with ethnic identity, it has only to do with relationship to Christ. All the people. Now you say, well who are these people? Well, they have to be people that are alive when Jesus comes again. That's what I want you to understand. They will be people alive on the earth at the coming of Christ.
Jesus, referring to Himself as King, said that He will beckon those on His right hand — those whom His Father has blessed — to inherit the kingdom prepared for them from the foundation of the world (verse 34).
That is a significant verse. Jesus spoke of election, predestination and inheritance as adopted sons and daughters of the kingdom of God.
Recall that, in those days, being adopted put one — always a man, in legal terms — ahead of the other family members. The adopted man became the head of the household and the man who adopted him took a back seat. The adoptive father's sons took a back seat. The adopted son was in charge of everything: the estate, family decisions and so on. Why? Because the adoptive father considered him to have greater intelligence and capability than his own sons.
MacArthur addresses the importance of the right hand:
The right hand is the hand of blessing. The right hand is the hand of honor. The right hand is the hand – are you ready? – of inheritance – of inheritance. That is the preferred hand. The sheep here are preferred in the analogy. As I said, they are submissive; they are gentle; they are docile. The goats are unruly and rough and rugged and so forth and they represent those who are the non‑blessed …
By the way, in Greek, Roman, and Talmudic sources, the good people in any kind of adjudication, any kind of a trial situation, always went to the right side of the judge. So this fits that pattern. "Come you blessed of My Father, inherit the kingdom prepared for you from the foundation of the earth" – or the world.
Henry points out the individuality of our relationship with God through His Son and our inheritance of His kingdom. This is one of the few times Henry uses 'you' in his commentary:
It is prepared on purpose for them; not only for such as you, but for you, you by name, you personally and particularly, who were chosen to salvation through sanctification.
Henry discusses what lies behind election and predestination with regard to the kingdom:
It is prepared from the foundation of the world. This happiness was designed for the saints, and they for it, before time began, from all eternity, Eph 1 4. The end, which is last in execution, is first in intention. Infinite Wisdom had an eye to the eternal glorification of the saints, from the first founding of the creation: All things are for your sakes, 2 Cor 4 15. Or, it denotes the preparation of the place of this happiness, which is to be the seat and habitation of the blessed, in the very beginning of the work of creation, Gen 1 1. There in the heaven of heavens the morning stars were singing together, when the foundations of the earth were fastened, Job 38 4-7.
Secondly, The tenure by which they shall hold and possess it is very good, they shall come and inherit it. What we come to by inheritance, is not got by any procurement of our own, but purely, as the lawyers express it, by the act of God. It is God that makes heirs, heirs of heaven. We come to an inheritance by virtue of our sonship, our adoption; if children, then heirs. A title by inheritance is the sweetest and surest title; it alludes to possessions in the land of Canaan, which passed by inheritance, and would not be alienated longer than to the year of Jubilee. Thus is the heavenly inheritance indefeasible, and unalienable. Saints, in this world, are as heirs under age, tutored and governed till the time appointed of the Father (Gal 4 1, 2); and then they shall be put in full possession of that which now through grace they have a title to; Come, and inherit it.
MacArthur offers us this analysis:
First of all, "Come" – here comes number one point – "ye blessed of My Father." That emphasizes the source of their salvation. You are blessed of My Father. You are entering into the kingdom because My Father has determined to bless you. Here you have sovereign grace beautifully expressed. By the way, the phrase in the Authorized, "You blessed of My Father," in the Greek literally says, "My Father's blessed ones." You are coming into My kingdom because God predetermined sovereignly to bless you. He redeemed you out of His sovereign love. So verse 34 expresses the innate reality of redemption and salvation and justification.
And then it says, "Come you who are the blessed who belong to My Father, inherit" – inherit, which implies something very important. You inherit something because you are born into a family. Right? It implies again that they belong to the family of God, to which you belong by faith. You inherit what is yours because by faith you have become a joint heir with Christ, if we can sort of borrow Paul's thought in Romans 8. So you are the elect by sovereign grace, the chosen to be blessed by the Father. And you are those who inherit because you belong to the family by faith, you are sons of God. And so you see the source of salvation and you see the gift of salvation given to those who are the children of God.
Further it says, "Inherit the kingdom prepared for you." And that again emphasizes the selectivity of salvation. When God prepared the kingdom it was for you that He prepared it. You were chosen; you were ordained to this; you are those whom the Father designed to love. So you have the source of salvation in the Father's blessing, desire to bless, you have the reception of salvation in the faith that brings you into the inheritance, you have the selectivity of salvation in the fact that the kingdom was prepared for those people. Let me tell you something, whoever it was prepared for are going into it. God isn't going to lose any and He knows who He prepared it for.
And then a further thought. It was prepared from the foundation of the world. Now that emphasizes the eternal covenant that God made with Himself to redeem a people selected before the foundation of the world. Who are these people going in? They're not just people who got involved in social action. They're not just people who did good deeds on the earth. These are those chosen from the foundation of the world by sovereign God to receive His grace and be blessed and who responded by faith and became His heirs in the family. And all of that soteriological richness is compacted in verse 34. And that can't be missed, that can't be missed.
Jesus said that those inheriting the kingdom will have given Him food when He was hungry, drink when He was thirsty or a welcome when He was a stranger (verse 35).
They were the ones who gave Him clothing when He had none or cared for Him when He was sick or visited Him in prison (verse 36).
The righteous will respond by asking when they did any of those things (verses 37-39).
The King — Jesus — will respond by saying that when they did those good deeds towards 'the least of these who are members of my family', they did them to Him (verse 40).
MacArthur explains:
The good deeds mentioned in 35 and 36 are not the primary emphasis. The primary emphasis in identifying these people is in verse 34. The good deeds are the fruit of the redemption defined for us in such simple yet profound terms in verse 34. And the people who get confused by this passage get confused because they perhaps haven't looked as closely as they ought to look at verse 34. And looking at verses 35 and 36 alone might provide some difficulty …
The real fact of salvation is in verse 34. The proof of it is in verses 35 and 36. They are only outward evidences of an inward sovereign grace …
… it isn't the deeds alone that qualify them. It's their redemption which issues in those deeds. So when He says, "Come in on this basis," He is judging them according to their works but only insofar as their works are a manifestation of the redeeming act which God foreordained in their behalf …
Verse 37, now watch this, "Then shall the righteous answer Him saying" – stop there for a minute. Who answered Him? The good deeders, the good doers, the philanthropists, the social activists? Then answered Him – who? – the righteous. And that is not just forensic. That is, it's not just declared righteousness, it's real righteousness. It's imputed righteousness. And here again we are reminded that the reason these people do this is because they are made righteous in Christ. And this is the outflow of that miracle. It's the righteous, it's the blessed of the Father, it's the inheritors of the kingdom, it's the predetermined and foreordained who demonstrate their righteousness in good deeds …
"And the King shall answer and say unto them, 'Verily I say unto you, inasmuch as you have done it unto one of the least of these My brethren, you have done it unto Me.'" What a statement. Who are His brethren? Well Hebrews 2:11 and 12 says He's not ashamed to call us who believe His brethren. I believe He's referring to the redeemed people. I believe He is simply saying this, "Whatever you do to meet the need of a fellow Christian, you do to Me." Is that not right? Because, "He that is joined to the Lord is one spirit," 1 Corinthians 6:17. "Nevertheless I live, yet Christ lives in me," Galatians 2:20. Paul celebrates that again and again, we are in Christ and Christ is in us. Christ is in His people. What is done to me as a Christian is done to Him. He is so intimately identified with me.
Back in Matthew 18 He says, "When you receive one such little child," Matthew 18 – I think it's 4 and 5 there – "When you receive one such little child in My name, you receive Me." And He means there not a physical child but a spiritual child. When you receive another believer and you open your arms and you meet their need and you embrace them and you take them in and you strengthen them and you encourage or you help them or whatever, you accept them, you do it to Christ. Whatever you do to another believer, you do to Christ. That's the bottom line. That's the simple yet profound truth that the Lord is endeavoring to communicate. Whatever you do to a fellow believer, you do to Christ. It's that simple. And that is a truth that is oft indicated in the texts of Scripture. "He that receiveth you," Matthew 10:40 says, "receiveth Me, and he that receiveth Me, receiveth Him that sent Me." Boy that's another dimension. When you open your arms to a fellow believer, you're receiving Christ. And when you're receiving Christ, you're receiving the Father whom Christ represents. It's a tremendous thought. What you do to another believer is what you do to Christ.
After addressing the saints, Jesus will turn His attention to those on His left, saying that they, the accursed, will depart from Him into the eternal fire prepared for the devil and his angels (verse 41).
Henry answers all the questions of those who might think our Lord will offer a reprieve:
[2.] If they must depart, and depart from Christ, might they not be dismissed with a blessing, with one kind and compassionate word at least? No, Depart, ye cursed, They that would not come to Christ, to inherit a blessing, must depart from him under the burthen of a curse, that curse of the law on every one that breaks it, Gal 3 10. As they loved cursing, so it shall come unto them. But observe, The righteous are called the blessed of my Father; for their blessedness is owing purely to the grace of God and his blessing, but the wicked are called only ye cursed, for their damnation is of themselves. Hath God sold them? No, they have sold themselves, have laid themselves under the curse, Isa 50 1.
[3.] If they must depart, and depart with a curse, may they not go into some place of ease and rest? Will it not be misery enough for them to bewail their loss? No, there is a punishment of sense as well as loss; they must depart into fire, into torment as grievous as that of fire is to the body, and much more. This fire is the wrath of the eternal God fastening upon the guilty souls and consciences of sinners that have made themselves fuel for it. Our God is a consuming fire, and sinners fall immediately into his hands, Heb 10 31; Rom 2 8, 9.
[4.] If into fire, may it not be some light or gentle fire? No, it is prepared fire; it is a torment ordained of old, Isa 30 33. The damnation of sinners is often spoken of as an act of the divine power; he is able to cast into hell. In the vessels of wrath he makes his power known; it is a destruction from the presence of the Lord, and from the glory of his power. In it shall be seen what a provoked God can do to make a provoking creature miserable.
[5.] If into fire, prepared fire, O let it be but of short continuance, let them but pass through fire; no, the fire of God's wrath will be an everlasting fire; a fire, that, fastening and preying upon immortal souls, can never go out for want of fuel; and, being kindled and kept burning by the wrath of an immortal God, can never go out for want of being blown and stirred up; and, the streams of mercy and grace being for ever excluded, there is nothing to extinguish it. If a drop of water be denied to cool the tongue, buckets of water will never be granted to quench this flame.
[6.] If they must be doomed to such a state of endless misery, yet may they not have some good company there? No, none but the devil and his angels, their sworn enemies, that helped to bring them to this misery, and will triumph over them in it. They served the devil while they lived, and therefore are justly sentenced to be where he is, as those that served Christ, are taken to be with him where he is … The fire is said to be prepared, not primarily for the wicked, as the kingdom is prepared for the righteous; but it was originally intended for the devil and his angels. If sinners make themselves associates with Satan by indulging their lusts, they may thank themselves if they become sharers in that misery which was prepared for him and his associates.
Jesus Christ, the King of Kings, will tell the condemned that they gave Him no food, no drink (verse 42), no welcome, no clothes and no visit in prison (verse 43).
Henry says that these are sins of omission, similar to the servant who buried his talent, the gold, that his master gave to him:
Now, [1.] All that is charged upon them, on which the sentence is grounded, is, omission; as, before, the servant was condemned, not for wasting his talent, but for burying it; so here, he doth not say, "I was hungry and thirsty, for you took my meat and drink from me; I was a stranger, for you banished me; naked, for you stripped me; in prison, for you laid me there:" but, "When I was in these distresses, you were so selfish, so taken up with your own ease and pleasure, made so much of your labour, and were so loth to part with your money, that you did not minister as you might have done to my relief and succour. You were like those epicures that were at ease in Zion, and were not grieved for the affliction of Joseph," Amos 6 4-6. Note, Omissions are the ruin of thousands.
[2.] It is the omission of works of charity to the poor. They are not sentenced for omitting their sacrifices and burnt-offerings (they abounded in these, Ps 50 8), but for omitting the weightier matter of the law, judgment, mercy, and faith. The Ammonites and Moabites were excluded the sanctuary, because they met not Israel with bread and water, Deut 23 3, 4. Note, Uncharitableness to the poor is a damning sin. If we will not be brought to works of charity by the hope of reward, let us be influenced by fear of punishment; for they shall have judgment without mercy, that have showed no mercy. Observe, He doth not say, "I was sick, and you did not cure me; in prison, and you did not release me" (perhaps that was more than they could do); but, "You visited me not, which you might have done." Note, Sinners will be condemned, at the great day, for the omission of that good which it was in the power of their hand to do. But if the doom of the uncharitable be so dreadful, how much more intolerable will the doom of the cruel be, the doom of persecutors!

Then the accursed will respond by asking when they neglected the Lord (verse 44).
The Lord will respond by saying that whatever they neglected towards the least of His people, they neglected unto Him (verse 45).
MacArthur brings us back to the five foolish virgins and to the servant with the buried talent:
You remember the virgins? It didn't say, "And five virgins went into the wedding and five were shut out for being vile, immoral, ugly, gross, evil, wretched sinners." No, it wasn't what they did that left them out, it was what they didn't do. They didn't get any oil. The point there was that they didn't have oil. It was something they didn't have, they didn't do. Not something they did that damned them. There's nothing you can do in terms of sin. No matter how gross that sin is that results in your damnation, it's what you don't do. It's the failure to believe in the Lord Jesus Christ. It's the same with the servant. The third one who got one talent, it wasn't what he did, it was what he didn't do. He just buried it and paid no attention to it that damned him and sent him to outer darkness.
The virgins weren't vile they were just negligent. And the servant wasn't immoral, he just did nothing. And people are damned to hell by what they don't do. And what they don't do is believe in the Lord Jesus Christ. It is the absence of righteousness. It is the absence of the love of God that comes through faith in Christ. It is the absence of those kind of deeds that demonstrate righteousness and demonstrate God's love. It is the absence of the sin of – it is the presence of the sin of unbelief, the absence of faith.
Jesus concluded by saying that those who neglected Him and His people will depart into eternal punishment, while the righteous will go on to eternal life (verse 46).
Of the former group and their fate, Henry says:
Note, (1.) The punishment of the wicked in the future state will be an everlasting punishment, for that state is an unalterable state. It can neither be thought that sinners should change their own natures, nor that God should give his grace to change them, when in this world the day of grace was misspent, the Spirit of grace resisted, and the means of grace abused and baffled. (2.) The wicked shall be made to go away into that punishment; not that they will go voluntarily, no, they are driven from light into darkness; but it bespeaks an irresistible conviction of guilt, and a final despair of mercy.
I also read this passage as a warning about death. We do not know the time or the hour for that eventuality, either.
MacArthur says:
when any person dies they immediately enter into that judgment right then. And the decision of their eternal destiny is rendered.
At the Second Coming, those of us who died previously will all appear to have our verdicts at death renewed and those who are saints, whose souls have been at rest with God since their death, will receive their glorified bodies, just as Christ received His at the Resurrection.
Henry says:
Note, The judgment of the great day will be a general judgment. All must be summoned before Christ's tribunal; all of every age of the world, from the beginning to the end of time; all of every place on earth, even from the remotest corners of the world, most obscure, and distant from each other; all nations, all those nations of men that are made of one blood, to dwell on all the face of the earth.
While this is hardly the cheeriest passage for the New Year, it does provide food for thought as to a resolution for the coming 12 months.
We worry so much about resolving to do something about our physical appearance or health. Is it not time to pay more attention to our spiritual state in the year ahead? We know not the hour …
The story goes that when the Swiss Reformer Zwingli said that Holy Communion was a mere symbol, an appalled Martin Luther observed that 'another spirit' was working through him, meaning the devil.
Sadly, we have had a lot of 'another spirit' news in 2022.
Let's get through that first in order to move on to other items.
'Another spirit' news
From the family structure to euthanasia, the devil never stops.
Canada's 'killing fields'
On December 16, the Mail had an excellent article about the many Canadians being urged to undergo euthanasia.
Canada's national euthanasia programme is called MAiD (Medical Assistance in Dying), but this is no comely lass, rather a killing machine of sorts, so much so that even the UN wants to call time on it (emphases mine):
… the progressive administration of Prime Minister Justin Trudeau now finds itself in the deeply embarrassing position of being attacked by human rights campaigners and the United Nations over MAiD. 
Three UN experts last year concluded the law appeared to violate the Universal Declaration of Human Rights. Euthanasia — from the Greek for 'good death' — is a means of release to people in unimaginable and incurable pain, especially if expected to die soon. 
This is how Canada's 'killing fields', as the Mail rightly says, entered the statute books:
Canada's Supreme Court dismissed as scaremongering fears of a 'descent down a slippery slope into homicide' when it overturned a ban on euthanasia in 2015, ruling that it was unconstitutional as it deprived people of dignity and autonomy. 
The following year, Canada's Parliament passed legislation allowing euthanasia, but only for people suffering from a terminal illness whose death was 'reasonably foreseeable'. 
Within five years, it became clear that Canada was, indeed, sliding down the slope when — again under pressure from the courts — MPs passed Bill C-7, which scrapped those criteria. 
From 2021, anyone suffering from an illness or disability that 'cannot be relieved under conditions' that he or she 'considers acceptable' can, with the approval of two doctors or nurse practitioners, get MAiD free. 
The patient must be found to be competent to make the decision and wait a minimum 90-day assessment period before death is provided. 
If a doctor refuses to sign off the request, patients can shop around for one who is more amenable. And unlike other countries, including Belgium and the Netherlands, where euthanasia is legal, Canadian patients are not required to have exhausted all treatment alternatives first. 
Last year, 96 per cent of MAiD applications were approved. 
Seeking to understand why so many in government and healthcare appear to be pushing MAiD enthusiastically, critics point to a 2017 study by the University of Calgary that estimated medically-assisted dying could reduce national healthcare spending by $139million a year (£83 million). 
The report noted that in some Canadian provinces, caring for patients in the last six months of life accounted for more than a fifth of healthcare costs.
This page from a MAiD pamphlet didn't come from the Mail, but its egregious typeface and presentation make such a death look harmless and normal: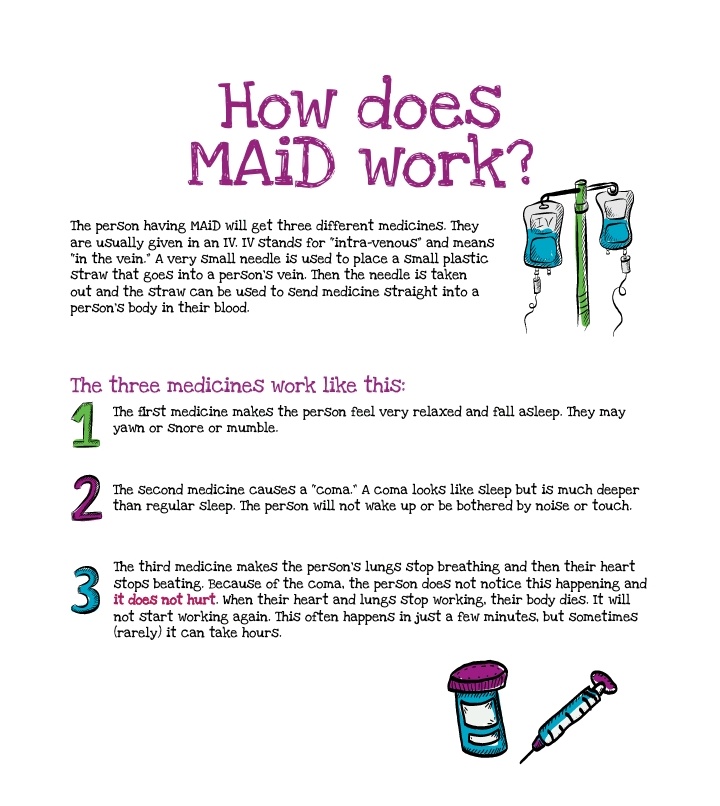 All manner of Canadians — totalling 10,000 in 2021 — have gone to their rest via MAiD. These are photo captions from the Mail where their stories are explored in greater detail. Note the financial reasons:
Michael Fraser, 55, was euthanised by his GP after he pleaded poverty
Wheelchair-bound Les Landry, 65, an ex-lorry driver from Medicine Hat, Alberta, is one of those seeking assisted suicide primarily for financial reasons 
Christine Gauthier, a paraplegic army veteran who competed in the 2016 Paralympics, told MPs how, after five years of trying to obtain a stairlift for her home, a Veterans Affairs official told her that if she was 'desperate', they could offer her MAiD
Here in the UK, both Houses of Parliament have been debating legislating for end of life choices. Some peers (Lords) and MPs (Commons) are all for the Canadian model, about which, it seems, they know very little:
In both Canada and the UK, euthanasia is defined as the act of deliberately ending a person's life to relieve suffering. 
It is often referred to as 'physician-assisted dying' or 'assisted dying' and is distinct from 'assisted suicide' which is helping someone to kill themselves by, say, obtaining lethal drugs for them. 
Just months after the House of Lords halted an attempt to legalise euthanasia in the UK, the Commons last week launched a new inquiry into assisted dying with 'a focus on the healthcare aspects', including the role of doctors, access to palliative care, criteria for eligibility and 'what protections would be needed to safeguard against coercion'. 
Successive UK governments have refused to legalise euthanasia but inquiry chairman [Conservative] Steve Brine MP said there was now 'real-world evidence' to look at from those countries where it is legal. 
What has also changed is that the British Medical Association, Britain's biggest doctors' union, took a landmark vote last year that ended its long- standing opposition to euthanasia. 
It is possible that even children will be able to request MAiD in 2023:
Many are deeply concerned by next spring's extension of MAiD to people with mental illnesses and — pending a parliamentary review — to 'mature minors' above the age of 12. 
MAiD has its critics among clinicians, but does it have enough of them?
This was the most apt description of the process:
Professor Tim Stainton, director of the Canadian Institute for Inclusion and Citizenship at the University of British Columbia, described Canada's law as 'probably the biggest existential threat to disabled people since the Nazis' programme in Germany in the 1930s'. 
It's hard to disagree.
Woe betide Canada. It used to be such a lovely country.
More dismantling of marriage
Two weeks ago, I featured news stories from November advocating that couples abandon the marital bed.
On December 15, The Guardian's Emma Brockes promoted living apart: 'Why are so many women living in separate homes from their partners and kids? Because it's a win-win situation'.
This is obviously for upper middle class types who can afford two homes:
The overheads on two households are eye-bleeding.
Even so, it's another slippery slope article.
As usual, this trend emanates from North America and was first trumpeted in the New York Times, where the devil seems to have a comfy home:
In the New York Times this week – sound the klaxon – a new trends piece drops on the growing numbers of women in the US who, post-pandemic, are opting to sustain the separate household model of marriage, established during lockdown by some families to reduce Covid transmissions, and proving so preferable to the norm, apparently, that they're in no hurry to reunite with their husbands.
It's well known that among straight couples, women initiate most divorces – by some reckonings 70% – and pushing for separate households is, I would imagine, a staging post towards this end for many of the numbers in this new trend. But for others, perhaps it really is a viable solution to the problem of loving your spouse but not wanting them underfoot all the sodding time.
How frightfully sad.
This began years before the pandemic:
What's new is the surge in those who still identify as married but live apart from their spouse; in the US, married couples maintaining separate households rose by a quarter between 2000 and 2019, and in 2021, that number sharply climbed again, according to the New York Times. It is estimated by the Census Bureau that 3.89 million Americans, or 2.95% of married couples, live apart. They even have a little acronym: Lat, or "living apart together".
The trend appears a likely result both of everyone being home for the past two-plus years and driving each other insane, and the fact that after lockdown ended, studies showed that men swiftly dropped the childcare and domestic work some had adopted during that period. Judging by case studies in the article, for some women, quarantining in a quiet, separate residence while their husbands shouldered the caretaking at home, struck them at the level of a revelation. For others, the fact that even a global pandemic did little to undermine – or in some cases, actively deepened – the division of labour at home along traditional gender lines had a straw-that-broke-it effect.
How utterly, utterly selfish.
New York Times crossword puzzle
As we're on the subject of the New York Times, here is their December 18 crossword puzzle. December 18 was the first night of Hanukkah, yet the paper produced a gamma-shaped puzzle. Hmm. Why?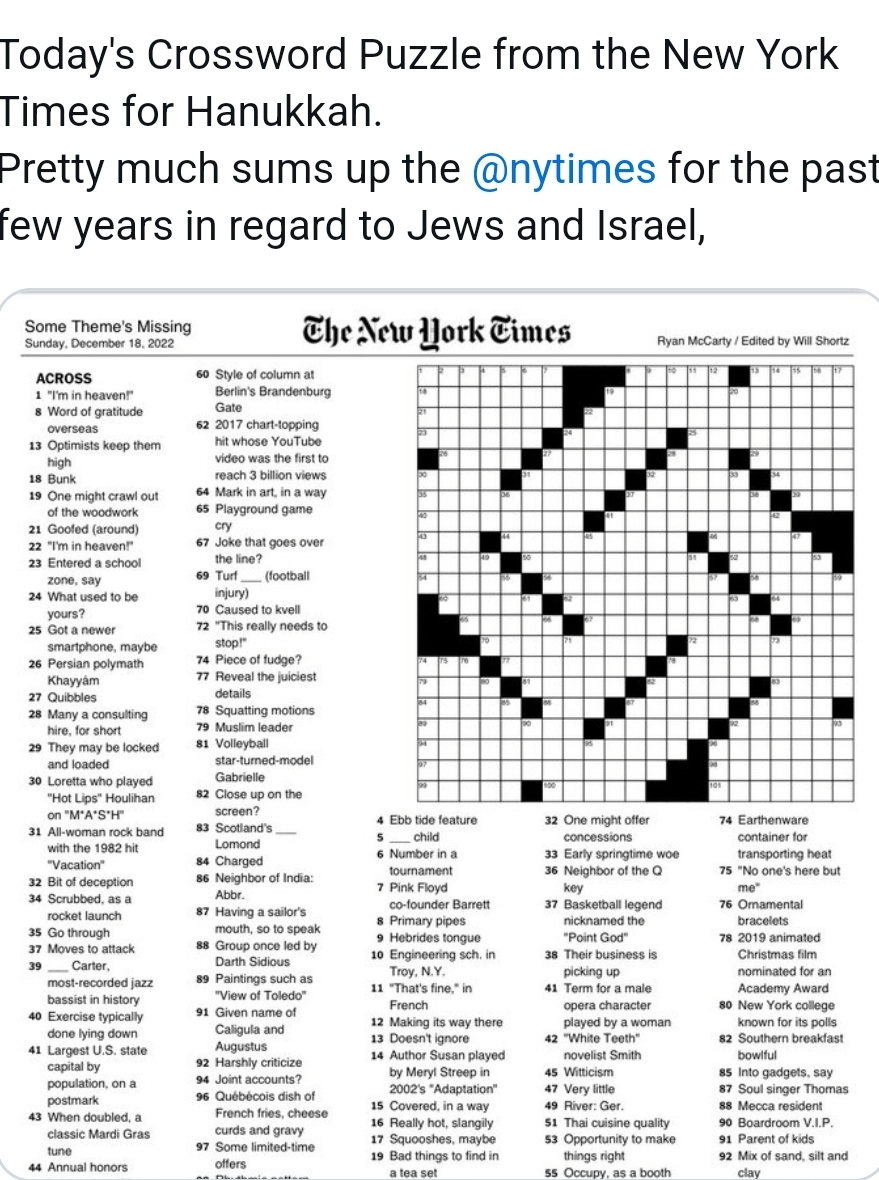 Despite complaints from prominent Jews around the world, the paper defended the puzzle's shape, saying:
'This is a common crossword design: Many open grids in crosswords have a similar spiral pattern because of the rules around rotational symmetry and black squares,' a Times spokesperson told DailyMail.com on Monday. 
Although Carlos Slim is the current owner, the famous Ochs-Sulzberger family are still in charge of content:
The paper is run by AG Sulzberger – the sixth member of the Ochs-Sulzberger family to serve The Times as publisher since the newspaper was purchased by Adolph Ochs in 1896. The family is of both German and Jewish ancestry. 
This is not the first time such a design has appeared:
A similar incident occurred in 2017, and at that time the newspaper responded in a tweet: 'Yes, hi. It's NOT a swastika. Honest to God. No one sits down to make a crossword puzzle and says, "Hey! You know what would look cool?"' 
One wonders.
Christian doctor told to attend 'boundaries' course
I was amazed to see a praying Christian physician, Dr Richard Scott, appear in The Telegraph on September 27.
His is such an old — and sad — story. It goes back to 2019 and has only now been resolved.
The 62-year-old was nearly struck off the medical register for praying by request with his patients in Kent. Someone complained, and you can guess the rest.
The article says:
A tribunal that could have taken away his right to practice was called off after a last-minute settlement with the NHS, but Dr Scott will have to attend a £500 one-day training course on "professional boundaries".
The tribunal was due to consider complaints relating to a telephone interview Dr Scott took part in on BBC Radio 4 in 2019 discussing his use of prayer in his practice.
On the radio programme he also said: "As a Christian doctor you have to ask yourself, who's your ultimate boss? And it's not the GMC [General Medical Council]. It's Jesus Christ."
He said he offered spiritual care to around one in 40 patients, and around 80 per cent of people offered prayer or religious support accepted the offer.
The tribunal was set to begin in Ashford on Monday to determine whether he could still be allowed to work as an NHS doctor.
He had previously been ordered to attend a three-day course costing £1,800 aimed at people who had been accused of sexual impropriety.
Dr Scott was not accused of sexual misconduct and refused to attend the course or undertake a psychiatric assessment. The GMC had twice ruled that the Christian doctor had not breached any of its guidelines.
Following the settlement with the NHS, Dr Scott will now take part in a one-day training course costing £500 relating to "professional boundaries". He said that he did try to "follow the General Medical Council guidelines and if you read them correctly, they allow you and encourage you to speak to patients about religion where it's relevant to their care".
"Some people are desperate for help and I can give any number of examples of people I've helped through spiritual care – which is done on my own time and fully consented." he added.
Andrea Williams, chief executive of the Christian Legal Centre, which supported Dr Scott, said: "Dr Scott is a highly experienced doctor whose life and career has been committed to serving his patients and community.
"He is loved and respected by his community which he has served for decades. His love for Jesus and dedication to his faith is also well known where he works and within the community.
"There is no evidence that Dr Scott's practice of praying with his patients has in any way interfered with his delivery of excellent medicine – in fact, quite the opposite."
NHS England has been contacted for comment.
That poor man. It's hard to imagine the stress he has been under for the past three years. I hope that he and his family have a blessed, relaxing Christmas this year.
House of Lords climate change paper
This month, the House of Lords published a paper on climate change — 'In our hands: behaviour change for climate and environmental goals'.
It's 140 pages long and a product typical of today's left-leaning peers, including a number of the Conservatives lurking there, too.
I've been reading the chapter called 'Behaviour change for climate and environmental goals', because this is what the average Briton will experience in the years to come via media bombardment.
Of course, the Lords worry about 'misinformation' and 'disinformation', meaning any evidence contrary to their Net Zero narrative.
This is from page 84 of the paper (page 86 in the PDF linked to above):
309. Several witnesses expressed concern about the spread of misinformation—incorrect or misleading information—and disinformation—deliberately deceptive information—related to climate change and the environment on social media. Carnegie UK described research carried out by the Institute for Strategic Dialogue (ISD), which compared the levels of engagement on social media platforms generated by reliable scientific organisations and climate sceptic actors respectively and found that the posts from the latter frequently received more traction and reach than the former. Carnegie UK explained:
"In the fortnight over which COP26 took place, sceptic content garnered 12 times the level of engagement of authoritative sources on the platform; and 60 per cent of the "sceptic" posts they analysed could be classified as actively and explicitly attacking efforts to curb climate change."530
310. Witnesses had several suggestions as to how misinformation and disinformation about climate change and the environment on social media could be tackled. Mr Smith suggested traditional broadcasters—like the BBC—must play an important role as "trusted sources" in a landscape of disinformation online. 531 Carnegie UK expressed concern that the Government's Online Safety Bill "does little to tackle climate change information", and proposed amendments to bring climate change disinformation into the scope of the draft Bill in a "proportionate manner".532
Pages 95 and 96 highlight the Conservative government's deficiences in bold text, paragraph after paragraph. Contrary to what the Lords say, this is a good thing.
Here are two sections, emphases theirs, from page 96 (page 98 of the PDF):
362. The public expect the Government to take a leadership role to enable behaviour change, but the Government's reticence to address key areas—such as what people eat, how we heat our homes, what we buy and how we travel—which is largely a result of a reluctance to be perceived as reducing freedom of choice, undermines individuals' willingness and ability to take action.
364. The Government should apply behavioural science to all its policies and initiatives. It should urgently review the Net Zero Strategy and policies and initiatives in place to deliver it and rectify where its six principles underpinning green choices are not being delivered.
Satan has obviously found a home on the cushy red benches of the Lords.
Good on the Conservative government in taking little to no action on this guff. Long may it remain so.
Starving mother struggles to feed children
This is another story that causes one to shake one's head in disbelief or despair.
It appeared on ITV News on Monday, December 19:
A mother-of-four from Bath says she is having to live off her children's leftovers because she no longer has enough money to pay for her own meals.
Victoria Walker will not be able to afford Christmas for her family as food prices continue to rise.
She rarely turns the heating on and tries not to eat so that her children can have food.
"Unless I really have to, I won't eat," she said. "I fill myself up with tea and coffee. I like the children to eat so I tend to have the leftovers."
Recently her 11-year-old daughter even started offering her pocket money to help buy food essentials like bread and milk.
She added: "It just makes me sad. It breaks my heart. Christmas is looking sad for me. I can't afford Christmas."
Victoria is receiving help from Action for Children, a charity created to help vulnerable children, young people and their families in the UK.
Unfortunately, the accompanying video, which can be seen at the link, undermines the mother-of-four's case for hunger.
ITV also showed her in their social media post about the story: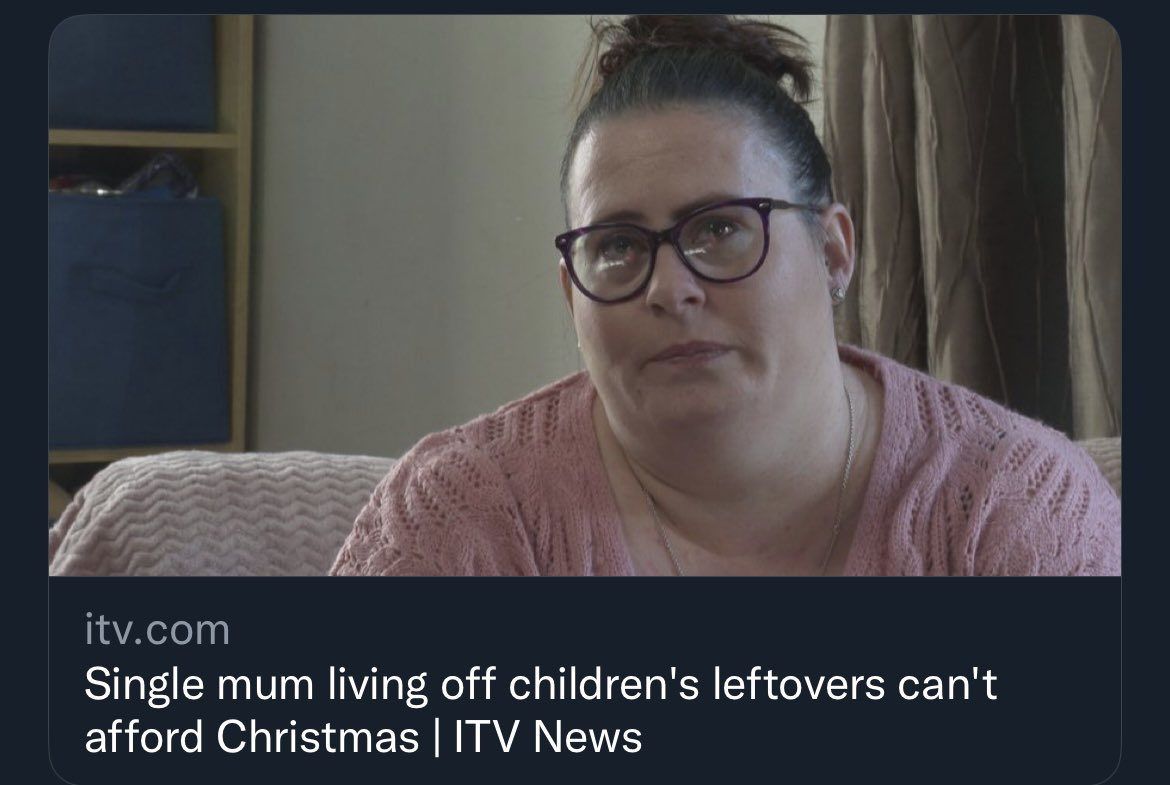 No further comment.
Political theatre: they're all friends, really
We mere mortals think that politicians from opposite sides of the spectrum oppose each other in real life.
However, the Queen's mourning period proved that what we see on television and read in the papers is nothing more than political theatre. I refer specifically to the gathering of hundreds of MPs, Prime Ministers and peers from past and present gathering to see King Charles take the Oath of Affirmation shortly after his mother died.
These men and women, whether Labour or Conservative, have a real rapport with each other.
On September 13, six days before Queen Elizabeth's funeral, The Telegraph's Tom Harris, a former MP himself, discussed the meeting of the Privy Council that day and featured a photo of former Prime Ministers Gordon Brown (Labour) and Boris Johnson (Conservative) sharing a laugh together.
Harris explained why this was not unusual:
Consider this: what if the Queen's death and preparations for her funeral were not forcing natural enemies to behave in public, but were allowing our political leaders the rare opportunity genuinely to enjoy each other's company? …
Cross-party friendships are always surprising to outside observers, though within Westminster's walls they are so common that they are rarely commented upon. True, the tea room, where most of the House of Commons gossip is shared, is strictly split up into party areas. But those demarcations are informal and there is much interchange and banter, including the sharing of tables by MPs of different parties.
The fact is that many MPs will feel more comfortable sitting in the smoking room after a late night vote, having a drink and sharing a joke with colleagues from the opposite party, than they will having a beer after a meeting of their local party. After all, outside those fraught occasions when constituency mergers and boundary changes are in prospect, an MP will see no rival when he gazes around the chamber of the Commons. Everyone there, by definition, already has a seat and is too concerned with holding onto theirs to cast envious eyes on their own.
It's a shame that friendships between MPs of opposition parties is the love that dare not speak its name. Only when tragedy rears its head do we catch a glimpse of those relationships. In a touching tribute to John Smith just a day after the Labour leader's unexpected death in 1994, John Major told of late night drinks in his study with his political rival, meetings which started off with drink singular and then progressed to the plural pretty quickly.
As an MP I would frequently join colleagues from different parties to sample Soho's various karaoke bars … These events were not unusual in themselves; what was unusual was how quickly, the day after, everyone once again sworn political enemies.
Ironic, then, that it is the speeches and barbs of the Commons and TV studio debates, not the joyful, slightly inebriated singing, that are the more performative. Constituents expect it. The first rule of Karaoke Club is that no one talks about Karaoke Club, not just because MPs can't be seen to be enjoying themselves during the week instead of keeping their heads down in the Commons library, but also because it just wouldn't do to be seen to be friends with the other side.
And, finally — Bruce Springsteen
On Monday, November 14, Bruce Springsteen cleared up a long-running argument — apparently — about the lyrics to his 1975 hit 'Thunder Road'.
The next day, The Telegraph reported:
The 73-year-old's fans have long disputed whether the opening line to 1975 hit Thunder Road begins with the slam of a screen door followed by "Mary's dress" either swaying or waving.
Knowing he would be asked about the crucial word during an appearance on US talk show The Tonight Show by host Jimmy Fallon on Monday, Springsteen arrived prepared with an original vinyl LP detailing the song's lyrics.
The Boss declared the LP had the lyrics incorrectly printed as "waves", adding that he had sung "sways" for nearly half a century …
The debate over the wording re-emerged on social media last year after two copies of the handwritten lyrics went to auction, one saying "sways" and the other "waves".
Springsteen's own publications also bear the hallmarks of confusion, with his 2016 autobiography Born to Run using "sways" and his website referring to "waves".
Jon Landau, Springsteen's manager and co-producer on Born to Run, said last year that the lyric was "sways" and that "any typos in official Bruce material will be corrected".
"That's the way he wrote it in his original notebooks," Landau said.
Good to know in case anyone starts a dispute about it after too much Christmas cheer.
More news to follow in the coming days.
The three-year Lectionary that many Catholics and Protestants hear in public worship gives us a great variety of Holy Scripture.
Yet, it doesn't tell the whole story.
My series Forbidden Bible Verses — ones the Lectionary editors and their clergy omit — examines the passages we do not hear in church. These missing verses are also Essential Bible Verses, ones we should study with care and attention. Often, we find that they carry difficult messages and warnings.
Today's reading is from the English Standard Version Anglicised (ESVUK) with commentary by Matthew Henry and John MacArthur.
3 Therefore when we could bear it no longer, we were willing to be left behind at Athens alone, 2 and we sent Timothy, our brother and God's co-worker[a] in the gospel of Christ, to establish and exhort you in your faith, 3 that no one be moved by these afflictions. For you yourselves know that we are destined for this. 4 For when we were with you, we kept telling you beforehand that we were to suffer affliction, just as it has come to pass, and just as you know. 5 For this reason, when I could bear it no longer, I sent to learn about your faith, for fear that somehow the tempter had tempted you and our labour would be in vain.
——————————————————————————————————————————-
Last week's post discussed Paul's yearning to see the Thessalonians again to check on their spiritual health; he said that Satan — through the persecuting Jews — prevented him from doing so.
The first verse of this chapter picks up where 1 Thessalonians 2 left off:
20 For you are our glory and joy.
3 Therefore when we could bear it no longer, we were willing to be left behind at Athens alone …

Paul was so consumed with love and concern for the new congregation in Thessalonica that he was willing to be left alone in Athens (verse 1).
John MacArthur gives us the chronological background. Recall that the three had been driven out of Thessalonica and, shortly afterwards, Paul from Berea (emphases mine):
Paul and Silas and Timothy had come to Thessalonica in Acts 17. They had preached there in the synagogue for three Sabbaths and then done some work among the Gentiles and established a church.  Paul, Silas, Timothy then left Thessalonica. They left.  Paul then left Silas and Timothy at Berea, left them there to carry on a work. And in Acts 17 it says he went to Athens by himself.  So Paul went to Athens all alone.  Later it is obvious that Silas and Timothy came back and rejoined Paul at Athens because Paul here says he was left at Athens alone because he sent Timothy away.  And as I noted for you, Silas also was sent to Macedonia.  So they were left in Berea for a time.  Paul was alone in Athens for a while. Then they came and joined him in Athens.  Not long after that — we don't have any time frame on this — according to verse 2, Timothy was then sent to Thessalonica, according to Acts 18:5, Silas was sent to Philippi, and Paul was again alone in Athens.
Now when he's writing this he's in Corinth.  He stayed in Athens for a while. Then he went to Corinth.  When he got to Corinth, Timothy came back to him and Silas came back to him.  So they were all rejoined in Corinth and it was after Timothy had come back there that he wrote this letter because now he had the information he wanted and he could write back and say how thankful he was about the good report from Timothy and he could also record some of these things about the integrity of his life, what he did, what he said, what he was, and what he felt, for the record.  But as he writes in chapter 3, he reminds them of the time when he was in Athens and sent Timothy to them and was left alone.
Coming to the second verse, note the different wording in the ESVUK above and those versions of our two commentators.
This is what Matthew Henry's Bible version says:
2 And sent Timotheus, our brother, and minister of God, and our fellowlabourer in the gospel of Christ, to establish you, and to comfort you concerning your faith:
This is John MacArthur's:
2 And we sent Timothy, our brother, and God's fellow worker in the gospel of Christ, to strengthen and encourage you as to your faith

Paul is referring to himself once again in the first person plural. He did this in his other letters. It seems he viewed using the first person singular — 'I' — as being vulgar. He did not want to make his letters all about himself. Today, we would view what we call the 'Royal we' as being pompous, but it was not so centuries ago.
Timothy, as students of Paul's letters know, was much younger than Paul. Yet, the Apostle viewed him as being spiritually one with him. In some letters, he refers to Timothy as 'a son'. Here he refers to him as 'our brother'. In all cases, he normally attributes a description, as he does here as 'minister of God' or 'God's fellow worker' or 'God's co-worker'. Paul was willing to dispense with his help in order to go check in on the Thessalonians' spiritual development, to establish — confirm — and exhort — encourage and comfort — them in their faith (verse 2).
Henry's commentary explains Paul's selflessness in sending Timothy:
We sent Timotheus, our brother. Elsewhere he calls him his son; here he calls him brother. Timothy was Paul's junior in age, his inferior in gifts and graces, and of a lower rank in the ministry: for Paul was an apostle, and Timothy but an evangelist; yet Paul calls him brother. This was an instance of the apostle's humility, and showed his desire to put honour upon Timothy and to recommend him to the esteem of the churches. He calls him also a minister of God. Note, Ministers of the gospel of Christ are ministers of God, to promote the kingdom of God among men. He calls him also his fellow-labourer in the gospel of Christ. Note, Ministers of the gospel must look upon themselves as labourers in the Lord's vineyard; they have an honourable office and hard work, yet a good work. This is a true saying, If any man desire the office of a bishop, he desires a good work, 1 Tim 3 1. And ministers should look upon one another, and strengthen one another's hands, not strive and contend one with another (which will hinder their work), but strive together to carry on the great work they are engaged in, namely, to preach and publish the gospel of Christ, and to persuade people to embrace and entertain it and live suitably thereto.
The end and design why Paul sent Timothy: To establish you and to comfort you concerning your faith, v. 2. Paul had converted them to the Christian faith, and now he was desirous that they might be confirmed and comforted, that they might confirmed in the choice they had made of the Christian religion, and comforted in the profession and practice of it. Note, The more we are comforted, the more we shall be confirmed, because, when we find pleasure in the ways of God, we shall thereby be engaged to continue and persevere therein. The apostle's design was to establish and comfort the Thessalonians concerning their faith,—concerning the object of their faith, namely, the truths of the gospel, and particularly that Jesus Christ was the Saviour of the world, and so wise and good, so powerful and faithful, that they might rely upon him,—concerning the recompence of faith, which was more than sufficient to balance all their losses and reward all their labours.
MacArthur recaps the times Paul sent Timothy to other churches:
It wasn't easy for him to be dispossessed of his precious friends. But that kind of sacrifice marks the pastor's heart. For the sake of someone else, he would gladly give up the best that he has. In this case it was Timothy. First Corinthians chapter 4, he was so concerned about the Corinthian church he said, "I'm going to send you Timothy. I'm going to send him to you." To the Philippian church, chapter 2 he says in verse 19, "I hope to send Timothy to you." In verse 20 he says, "I have no one else of kindred spirit who will genuinely be concerned for your welfare." He dispatched Timothy a lot of places. It wasn't easy to let him go, but it was necessary, and Timothy was his best and he gave his best. That's what sacrifice is all about, it's all about giving your best.
Paul didn't have any worthy goods. He didn't have anything worth value in terms of economics, monetary value. What he did have and what was so precious to him were his friends. I can understand that life would be extremely lonely and threatening for him. And the presence of friends was the best that he had. And when he gave it, he showed you the unselfishness of his heart.
MacArthur looks at the wording of the verse, explaining some of the Greek manuscript:
… he calls him "God's fellow worker." Many manuscripts say, "God's servant."  It's almost a toss-up, very hard to make a decision.  God's servant, diakonos, would mean God's servant, God's minister, and surely he was that.  The word here in some manuscripts is sunergon, God's fellow worker, God's fellow doer.  He was both God's minister or God's servant and God's fellow worker.  And so he commends Timothy not only for his relationship to himself as his brother but for his relationship to God as God's fellow worker, God's servant, if you will, either one.  During their 20-year relationship the apostle had discipled Timothy and all during that 20-year relationship, that young man, Timothy, was the man to whom Paul would give his mantle.  And from the very beginning Paul trusted him. This, by the way, was Paul's missionary trip, still in progress, the first trip Timothy ever took with him.  He's brand new.  He joined Paul in Acts 16. In Acts 17 they're in Thessalonica.  So Timothy is pretty new.  Yet the deep trust had developed, a deep confidence, a settled confidence.  Paul really believed in this young man and he sent him to the very difficult places.
MacArthur summarises Paul's deep friendship with Timothy:
During those years of relationship he never lost that trust.  And as Timothy was floundering a little bit at the end, he had to write 1 and 2 Timothy to really strengthen him just before his own death so Timothy would carry on the work. But from the start he trusted him and he respected him.  And he said, "He's our brother and God's fellow worker," I love this, "in the gospel of Christ."  He's involved in extending the gospel.  He's involved in the salvation message.  Three times in chapter 2 the gospel is called the gospel of God; now it's called the gospel of Christ, same gospel.  God is source, Christ is subject, right?  God is source, Christ is subject, same gospel, the good news of salvation provided by God in Christ.
So he sent Timothy, the best, the very best, gave his best gift, his dearest friend, his companion, though it meant hardship, personal loneliness, and exposure for him.  Truly a good reminder, good lesson for me.  You spend your time discipling men and some day you think maybe you'll pass the mantle onto them, but God begins to move and all of a sudden you have to let them go. Somewhere else calls and you have to send your best.  We've been doing that for many years.  It's hard to do that, to let some of the best men go.  It's wonderful that God lets you keep some but you have to send some where they're needed and you can't be selfish. You have to be unselfish.
MacArthur elaborates on Paul's deep desire to see the Thessalonians strengthened, encouraged and comforted in their faith:
Compassion for the people, compassion for his people. This flows out of that affection and that unselfishness. And when I say compassion I'm not using that word in a very general sense but in a rather specific sense. It means to suffer with. And that's exactly the sense in which I mean it.
The pastor's heart feels the heart of his people. We find that in verse 2. Let's look at it. Timothy was sent, and here's the reason, "To strengthen and encourage you as to your faith," to strengthen and encourage you as to your faith. Now the Thessalonian Christians were good. In fact, chapter 1 outlines how really noble they were. We went through that in great detail. They had heard the Word, and applied it. They had become imitators of the apostle and his companions and the Lord. They had endured some persecution. They had turned to God from idols. They were waiting for the Second Coming. They were really a noble bunch. But they were still a baby church. They were still young in the faith. They still needed nurturing and growth. And he says, "I'm sending Timothy for the express purpose of strengthening and encouraging you as to your faith …
This was Timothy's task. And certainly he had seen it modeled by Paul. You notice those two words "strengthen and encourage." Very simply let me tell you what they mean. The word "strengthen" means to support or establish, it's the idea of buttressing something, to support it. In other words, I want your faith in God to be strong, to be established, to be firm, to be solid, to be unwavering. And then I want to encourage you to apply what you know. I want to strengthen the foundation of your faith and I want to encourage you to apply it.
Now he's not saying, "I want to strengthen and encourage you in any other specific" than in your faith. You say, "Well why does he sort of reduce it to that?" Because listen, folks, it's very simple. If you are strong in your faith in God and Christ, then you have a foundation by which you can live your life. If you are weak in that, it's hard to apply it. But once that foundation is strong and you're firm, you can be encouraged to apply what you know.
Let me say it another way. What you believe about God and what you believe about Christ are the key to how you live. The stronger my knowledge of God and Christ, the stronger my trust in them, right? The more I know about God through His revelation, the more I know about Christ, the more that is deeply imbedded in my heart, the stronger, more resolute and unwavering my confidence in Him will be. And then I can be encouraged to make application of those things I know. But if I don't know too much about God, then I don't know enough to trust Him in every issue. If I don't know that much about Christ, then I can get knocked all over the place when somebody attacks me because I…I don't know that much, my faith is vacillating.
Paul is saying, "I want Timothy to come and increase your capacity for trusting God and therefore encouraging you to apply God's truth." If I don't trust God, I'm going to worry about everything. And if I don't know all I need to know about God and about Christ, I don't have enough information to make application. So he says I'm going to have Timothy come.
Paul says he is sending Timothy so that none of them will be 'moved' — discouraged — by their afflictions, because believers are destined for 'this', meaning a challenge to one's faith by false teachers, who were already in Thessalonica, as well as persecution (verse 3).
Henry says:
There was danger, [1.] By reason of affliction and persecution for the sake of the gospel, v. 3. These Thessalonians could not but perceive what afflictions the apostles and preachers of the gospel met with, and this might possibly stumble them; and also those who made profession of the gospel were persecuted, and without doubt these Thessalonians themselves were afflicted.
MacArthur says that Paul was worried about the Thessalonians, so new to the faith, being lured away from it or vaccilating in it because of false teachers and/or persecution:
That is a very interesting verb, sainō. It means to wag and it was used of a dog wagging his tail.  I don't want any of you going through this, being…going back and forth, back and forth.  In fact, it had a kind of an interesting possible meaning as well, it came to mean to allure, to fascinate, flatter or beguile.  You say, "How does that connect with a dog wagging his tail?"   Well, because when a dog comes up and wags his tail it is usually trying to draw attention to itself because it wants something.  And the word sort of went through an etymology and finally meant to allure, to fascinate, to flatter, to beguile.  I don't want anybody either to knock you around and I don't want anybody to fascinate, beguile, or allure you away from the truth.  So either meaning could have been in Paul's mind. It's difficult to know which.
Now what's going to cause that? What's going to cause them to waver or to be [lured] away from truth? He says, "These afflictions," these pressures, these tests of faith. They can do that. I don't want that to happen. So I've got to get Timothy there to get you strong. And he says, "I…I know they're coming, for you yourselves know that we have been destined for this." How did they know? "For indeed when we were with you we kept telling you in advance that we were going to suffer affliction and so it came to pass, as you know." It was inevitable that it was going to come, we told you it was going to come, but when it comes I don't want you to start moving around and being beguiled. I want you to stay strong and firm and true so I'm sending Timothy to do that. And he was already feeling their pain and their pressure and their tribulation and identifying with it.
It is important for true believers not to sugar-coat the Gospel, because our Lord Himself said that there would be trouble for new believers before there is inner peace:
That phrase, "You yourselves know that we have been destined for this," boy, we ought to really camp on that today. You can say to someone when you're leading them to Christ, "By the way, you're not only destined for eternal glory, you're destined for temporal trouble." That's right. There is no health, wealth, prosperity gospel being preached here. Paul is not saying Jesus is the answer to all of your problems. He is saying Jesus is the path to some new ones. When you give your life to Jesus Christ, you are promised eternal peace and temporal trouble. It's guaranteed, it's built in. "All that will live godly in this present age will suffer persecution." Expect it, that's how it is. We're called to this. Peter says, "After you've suffered a while the Lord will make you perfect." James says, "Count it all joy when you fall into these trials" because God is using them to perfect you. Paul says, "All these things that happen to you work together for good." And he says, "No matter what comes against you, life, death, principalities, powers, things present, things to come, height, depth, nothing is going to ultimately move you from the love of God." But the other side of it is, get ready cause it's all going to come. It's all going to come. You are destined for trouble. Jesus said, "That they treated Me this way, do you think they'll treat you any different?" "In this world you shall have (what?) tribulation, be of good cheer, I have overcome the world." In other words, you're going to have temporal trouble, look ahead to eternal glory …
Preaching a prosperity 'gospel' or telling a convert that Christianity means a trouble-free life are causing that person to stumble:
You preach that stuff to people that Jesus will make you trouble free and then they have trouble and they're going to question whether Jesus can do anything. They're going to question His power. They're going to question their conversion. Confusion is endless, because whether they preach a prosperity gospel or not, people are going to have trouble. They can preach it all they want, it won't change anything, it isn't reality. People are going to have trouble. Now you might as well be told, folks, you come to Christ, you're going to have trouble, lots of trouble, because you're living in a fallen world and you're a fallen person. And not only that, you have enough trouble just being fallen in a fallen world, now you're going to have trouble from the other fallen people in the fallen world who don't like what you claim in Christ. So you're going to have a different kind of trouble, a new kind of trouble.
But be of good cheer because what you have that they don't have is you know it's temporary. 
Paul tells the Thessalonians that when he was with them, he said they would suffer affliction, which it had and they knew it (verse 4).
MacArthur says:
"When we were with you we kept telling you in advance." We were predicting it, that you were going to suffer affliction, you were going to be put under pressure. You knew it, we told you. But even though we told you, I also know you've got to be strong to deal with it.
MacArthur looks at Paul's words and, universally, what should be a good pastor's heart in leading a congregation:
Sometimes I wonder what people think a pastor is supposed to do. Some people think he's supposed to entertain them. What a pastor is supposed to do is help you to get your faith so strong that when you go through trouble you can be encouraged to apply your faith. That's a pastor's responsibility. That's a pastor's heart. And in order to do that, you have to care about that. And Paul had compassion. He felt their pain, he hurt when they hurt, he was weak when they were weak. When they sinned he felt the pain.
Trouble, that's inevitable. That's the way it is in this world. Jesus said it, didn't He? Let's go a step above Paul and look at an even better model, Jesus said, "Blessed are you when all men revile you, persecute you and say all manner of evil against you falsely for My sake." Jesus said in Matthew chapter 10, you can expect that the pupil will be like his teacher, the servant will be like his master. Implication, if they treat the master one way, they'll treat the servant the same way. Expect it. Jesus gave us that pattern and He was so compassionate because He understood the trouble. Give me a pastor who expects that the Christian life is going to have pain and sorrow and difficulty and trouble, because then I'll have the compassion that the pastor is supposed to have. Deliver me, Lord, from ever being under somebody who thinks life ought to be without trouble.
What is a pastor's heart? The pastor's heart is a heart that has affection for his people, the heart that is unselfish toward his people, a heart that has compassion for the trouble of his people. All that moved Paul to do what he did.
Paul then repeats some of the words he used in the first verse to impress upon the Thessalonians that, when he could bear his inner pain for them no longer, he sent Timothy to see how they were progressing in the faith; Paul did not want 'the tempter' — Satan — to cause them to vacillate in their faith, rendering his efforts useless (verse 5).
Paul faced trouble in Athens, but he sent Timothy to the Thessalonians anyway.
MacArthur reminds us:
… the work at Athens where he was when he sent Timothy was difficult.  He was facing cynical philosophers and speculators.  He was in a very anti-God, anti-Christ situation.  It would have been easy for him to say, "I wish I could send Timothy but I need him so much here, we're trying to reach a whole city full of philosophers. We're trying to reach a city on its way to hell.  I need his help.  I don't want to be alone in trying to confront this cynical culture."  But he said, "I couldn't endure the separation, I couldn't endure not knowing about you.  I couldn't stand the lonely ignorance and so I thought it best to be left behind at Athens alone and sent Timothy."  This is unselfishness.
MacArthur describes what the Thessalonians were experiencing:
They were being persecuted.  They were being attacked.  Satan was after them.  Demons were after them. Godless men and women were after them.  And again I submit to you that Jesus is the perfect model of compassion again, for it is He who is the sympathetic high priest who is touched the feelings of our infirmities, who is the perfect Shepherd, the true Shepherd, the great Shepherd, the Good Shepherd, who feels the pain of His wounded people.  Jesus, the true Shepherd, Paul the under-shepherd had a pastor's heart marked by affection, unselfishness and compassion …
MacArthur explains the fifth verse:
For this reason, he says, when I could endure it no longer, so I sent to find out about your faith.  What's the reason?  The fear that the tempter had tempted you and all our effort was for nothing.  I wanted to protect you from the tempter.  This is the real care of the pastor.  Paul had a great sense of watchfulness, a sense of protectiveness.  He was deeply concerned.  To be real honest with you, when he sent Timothy… Now remember, he was in Athens when he sent Timothy. Later on in Corinth, Timothy returned back and told him everything was well at Thessalonica, and that's when he wrote this letter back.  So the commendation of this church in chapter 1 is based on Timothy going and bringing back the report.  But at the time when he sent Timothy, he had no such report.  He didn't know if their faith would stand the test.  Consequently he didn't know if it was real faith.
There is a kind of response to the gospel that springs up for a little while.  Remember the rocky ground in Matthew 13?  And when the tribulation comes and the pressure and the persecution, it dies.  There is a kind of response that springs up for a little while, but it's the weedy ground, and the cares of the world and the deceitfulness of riches and the allurements of the flesh choke it out and it dies, and only time will tell.  And when Paul sent Timothy, he didn't have any word yet about their labor of love and their patience of hope.  He didn't have any word about the fact that they were imitators of Paul and the others.  He didn't have any word yet that the Word was sounding out from them.  He didn't have any word yet that they had truly turned from idols to serve the living God and that they were waiting for Jesus Christ.  That's what he wanted to know.  Was their faith real?  You can't tell at the moment.  You may not be able to tell in the first few weeks.  But when the trials come and the testing comes, then you can tell …
What does Satan want to do when the seed is sown?  Well if he can't come along and pick it right off, he wants to destroy it with the heat of persecution.  He wants to choke it out with the enticing lusts of the flesh and the eyes and the pride of life that are lured by the world and riches.
Henry says that Satan takes advantage of believers' suffering and lures them away from faith:
The devil is a subtle and unwearied tempter, who seeks an opportunity to beguile and destroy us, and takes all advantages against us, both in a time of prosperity and adversity; and he has often been successful in his attacks upon persons under afflictions. He has often prejudiced the minds of men against religion on account of the sufferings its professors are exposed to. We have reason therefore to be jealous [protective] over ourselves and others, lest we be ensnared by him …
Note, It is the devil's design to hinder the good fruit and effect of the preaching of the gospel. If he cannot hinder ministers from labouring in the word and doctrine, he will, if he be able, hinder them of the success of their labours. Note also, Faithful ministers are much concerned about the success of their labours. No one would willingly labour in vain; and ministers are loth to spend their strength, and pains, and time, for nought.
MacArthur explains Paul's concern that his work in planting the Thessalonian church might have been in vain:
"Our fear would be that the tempter would come and tempt you and our labor should be in vain."  What a statement.  That Satan would come and snatch the seed away.  Satan would come and bring the pressure and the plant would die, choke off, and it would all be for nothing.  Our labor, that word kopos, sweat, toil, would be for nothing, useless, empty, void, wasted, pointless.
And so he was a protector.  He didn't want to work for nothing.  He didn't want to come to the end of his life and realize that all the effort he made was absolutely empty and void.  And if their faith did fail, then it would have been for nothing.  If their faith failed then they weren't real Christians at all.  Or if their faith failed, they had those initial longings toward believing but they were choked out, and even if their faith was real and they were true Christians and they fell into gross sin at some point, temptation, victims of those attacking them, it would have broken his heart and he would have felt like he failed.  So there's a…there's a protectiveness.
Jesus thought and prayed similarly:
As He prayed to His Father, the 17th chapter of John's gospel, verse 15, He says, "I don't ask you to take them out of the world, but to keep them from the evil one."  He prayed a protective prayer, too.  He told Peter, "I'm going to protect you.  Satan's going to sift you, he's going to throw you in the air, turmoil, trouble, but I'm going to protect you."
Today we learned more about the characteristics of a true pastor, a shepherd of the flock:
What marks the true shepherd's heart?  Affection, unselfishness, compassion, protectiveness.  Let me give you a fifth, delight in his people. 
We'll find out more about the fifth characteristic next week.
Next time — 1 Thessalonians 3:6-8
The three-year Lectionary that many Catholics and Protestants hear in public worship gives us a great variety of Holy Scripture.
Yet, it doesn't tell the whole story.
My series Forbidden Bible Verses — ones the Lectionary editors and their clergy omit — examines the passages we do not hear in church. These missing verses are also Essential Bible Verses, ones we should study with care and attention. Often, we find that they carry difficult messages and warnings.
Today's reading is from the English Standard Version Anglicised (ESVUK) with commentary by Matthew Henry and John MacArthur.
Paul's Longing to See Them Again
17 But since we were torn away from you, brothers, for a short time, in person not in heart, we endeavoured the more eagerly and with great desire to see you face to face, 18 because we wanted to come to you—I, Paul, again and again—but Satan hindered us. 19 For what is our hope or joy or crown of boasting before our Lord Jesus at his coming? Is it not you? 20 For you are our glory and joy.
——————————————————————————————————————————-
Last week's post discussed Paul's displeasure with the Jews who prevented the Thessalonians from extending his ministry there, saying that the congregation suffered as much as the Judean converts did.
In true Pauline fashion, the Apostle wears his heart on his sleeve in today's verses.
I want to show you the difference in the first few words of verse 17 in three translations, the first being from the ESVUK above:
But since we were torn away from you, brothers,
The second is Matthew Henry's:
But we, brethren, being taken from you
The third is John MacArthur's:
But we, brethren, having been bereft of you for a short while
The verb, whether 'torn away', 'taken' or 'bereft' denotes an unwilling and forced departure, in this case, to Berea, as I explained last week. Paul's time in Berea was similarly short-lived for the same reasons.
Henry's commentary says (emphases mine):
Here observe, 1. He tells them they were involuntarily forced from them: We, brethren, were taken from you, v. 17. Such was the rage of his persecutors. He was unwillingly sent away by night to Berea, Acts 17 10.
John MacArthur tells us:
He doesn't say "having been gone from you" in just sort of generic terms. The verb here, "having been bereft of you" is used only here in the New Testament, but we know its meaning from other uses. It means "to be orphaned, to be bereaved." It literally means "to be torn away from." And that's what he felt.
Henry's and MacArthur's respective translations begin with 'But we, brethren', meaning in contrast with the Jews who would not allow the Gospel to be preached at all.
MacArthur explains:
Look at verse 17. "But we," boy, that is a strong contrast, "But we," compared to whom? We're going back to the prior passage. He talks about the Jews in verse 14 who killed the Lord Jesus and the prophets and drove us out, the Jews who are hostile to all men, hindering us from speaking to the Gentiles that they might be saved. Contrary to the Jews who don't care that you get the gospel, contrary to the Jews who don't care that you know Christ, contrary to the Jews who don't care about your spiritual condition, we do. That's the contrast. "But we," in contrast to the Jews who resented Christianity, Christians and Christ, we do, brethren.
Paul says that, even though he was torn away from them physically for a short while, but not in heart — not emotionally — he tried all the more, eagerly and with great desire, to see them face to face (verse 17).
That is one powerful verse.
MacArthur analyses Paul's emotions as well as the quality of the Thessalonian congregation in faith and love:
The work was not done. He stayed in Ephesus three years, and, Ephesus, it's questionable whether they had the quality of Thessalonica. He stayed in Corinth 18 months and the Corinthian church certainly didn't have the quality of Thessalonica. There's no way he wanted to stay only a few weeks in Thessalonica. He was ripped out of there, torn out of there. He experienced a forced, sudden separation and he felt orphaned. Remember back in verse 7 he talked about himself as a nursing mother who cares for his children, and back in verse 11 as a father who encourages and exhorts and implores his children. He had that parental heart and now he feels like a parent who has been torn away from his beloved children …
… he says, "We've been ripped away from you," note this, please, "for a short while." It indicates that though it had only been a brief separation so far, and though it might be only a temporary one as he, on his third journey, may have gone back to them, he still had a great longing in his heart for them. Even though Timothy had brought word back and said they're progressing, they love you, Paul, they love you, their faith is solid, their faith is growing, he still wanted to be with them. That's the heart of the shepherd; you can't rip him away from his sheep. That's the heart of a spiritual mother; you can't tear her away from her children. That's the heart of a spiritual father; you can't rip him away from his children.
… though they are physically separated, they are still in his thoughts. "I have you in my heart." His inward affection for them was strong, even though the physical separation existed. They had his heart, if not his face. I'm reminded of Colossians 2:5 where Paul says to the Colossians, "Even though I am absent in body, nevertheless I am with you in spirit." Why? "I want to see your good discipline and the stability of your faith." I want to see how you live, how you walk, you're on my heart.
… It had to do with the weight that was laid on the man's emotion, on his heart, because of the immense capacity he had to care about people. And because he cared so deeply and so widely, he bore this immense burden of care.
MacArthur discusses Paul's passion, as evidenced by 'more eagerly' and 'great desire'. These are strong words:
… he says, "We were all the more eager with great desire to see your face." Now that little phrase is just a sort of an emotional stack, just a piling of words with intense significance. He starts out, "We were all the more." That means abundantly, excessively, fervently and it's a comparative. We were more abundantly, more excessively, more fervently. Then he adds the word "eager" which means haste; you're in a hurry. It's sort of a compelling thing, short of breath, anticipation. He's saying we were more abundantly, more excessively, more fervently eager.
And then he adds, if that isn't enough, "With great desire." And he throws in the word epithumia which most often is used of sexual desire, sexual passion. It is a neutral word. It can be used of any kind of passion, any kind of compelling, any kind of driving desire, any kind of desire that dominates. And so he is saying we have a fierce passion driving us greatly into an abundant, excessive, fervent eagerness. Boy, that's pretty strong stuff.
Paul specifies he wants to see them 'face to face' or 'to see your face'.
MacArthur looks at that, combined with Paul's passion for the Thessalonians:
If we had time, we'd find that that's a rich biblical statement, to see your face. It means to come into intimacy with you ... Seeing the face is the full expression of the person … That's why the telephone is only marginal. Sometimes we'll say, "Ah, this is too important to talk on the telephone, I want to see you face to face," right? Because there's…there's an interchange of life, not just words. And so he says, "I want to be intimate with you, I want to make contact with your eyes. I want to look in your face. I want to be there." That was his strong, compelling, fierce, passionate, abundant, successive, fervent desire. Boy, that's strong language.

From verse 17, we can feel Paul's passion for the Thessalonians' spiritual well being. It's obvious that, even if he did not get to know them well, he loves them like a spiritual father.
The next thing we discover about the Apostle is that he knows his enemy.
He says that he wanted to see the Thessalonians again and again, but Satan hindered him (verse 18).
Henry says that Satan worked through Paul's enemies to get him out and prevent him from returning:
He tells them that Satan hindered his return (v. 18), that is, either some enemy or enemies, or the great enemy of mankind, who stirred up opposition to Paul, either in his return to Thessalonica, when he intended to return thither, or stirred up such contentions or dissensions in those places whether he went as made his presence necessary. Note, Satan is a constant enemy to the work of God, and does all he can to obstruct it.
Sometimes Paul refers to himself as 'we' rather than 'I'. MacArthur says that here, he is referring to Silas and Timothy, too, then himself:
He's "we" in verse 17 and "we" in verse 18, embracing Timothy and Silas, and now, all of a sudden, he says, "I, Paul, more than once." And he says, "I'm not just talking about the group here, I, Paul." "More than once" means repeatedly. It's the same term used in Philippians 4:16, the Philippians gave money to Paul repeatedly. And here he says, "Repeatedly, I, Paul, personally want to see your face." Can't delegate compassion, can't delegate concern, can't delegate love, can't leave it to someone else to be concerned about the condition of your flock while you're only concerned about the expansion of your ministry.
Paul did send Timothy back, but Paul as much as he wanted to go couldn't go. It wasn't from a lack of concern. It wasn't from a lack of effort. He loved his people. He desired to be with them. He didn't want to drop a load of information on them and then get out of there. He wanted to find out their spiritual condition, nurture that spiritual condition.
MacArthur points out that Paul knew when the Holy Spirit prevented him from going places and when Satan hindered him:
Paul was very discerning. You know, in Acts chapter 16 verses 6 and 7 the apostle Paul was moving on his missionary enterprise when he was stopped by the Holy Spirit. Acts 16:6, they passed through the Phrygian and Galatian region, having been forbidden by the Holy Spirit to speak the Word in Asia. When they had come to Mysia, they were trying to go to Bithynia and the Spirit of Jesus didn't permit them. Now here he is being stopped by the Holy Spirit. Over here he says, "I'm being stopped by Satan." Here was a man of discernment. I believe this man walked with God in such a way that he knew the Spirit of God from Satan. He understood when Satan invaded his territory. "Satan thwarted us."
This is another relationship that any servant of the Lord has to take into account. If you're going to be an effective servant of the Lord, plan on satanic attack. That malignant, evil, spiritual, supernatural person, Satan, that fallen angel, is going to get in the way of effective ministry. Here was Paul separated from these believers, longing to be with them. His heart was there. His parental instincts were there. He had been ripped apart from them. He wanted to go there. More than once he tried to go there. He could never get there. Why? Satan was thwarting him. Satan is very active in doing that. I'm not under any illusions about that. There are many times when I believe that I need to accomplish something for the Lord, to speak some place, to get a radio program on in a certain city, to accomplish some ministry here in the church and it just never happens. It's a good and noble effort and you make it several times, but it never happens. Satan thwarts it …
MacArthur gives us instances in the New Testament where Satan was on the attack:
Now when he comes to attack, he desires to attack the church. No question about that. He desires to attack the church. He attacked the first church in Jerusalem. He moved right inside Ananias and Sapphira to make them lie to the Holy Spirit and God had to kill them before the whole church. He was attacking the integrity of the first church, the only church right after its birth in Acts 5. He attacks the church. That's one of his major ploys, to thwart the church, to prevent it from doing what it would otherwise do. Paul told the Corinthians, don't be taken advantage of by Satan. He's after the church. You read Revelation if you have any question about that. Just listen to this, Revelation 2:9, the church at Smyrna, "You have there" He says "blasphemy by those who say they are Jews and are not, but are a synagogue of Satan, an assembly of Satan." Pretty strong. You find in chapter 2 verse 13, the church at Pergamum. "I know where you dwell, where Satan's throne is." And He says there are some who died, even Antipas, who was killed among you where Satan dwells. Satan always attacks the church. Chapter 2, verse 24, the church at Thyatira, He says, "The rest who are in Thyatira who do not hold this teaching, who have not known the deep things of Satan." There were some in the church who were into the deep things of Satan, wittingly or unwittingly. Chapter 3 verse 9, it says here about the Philadelphia church, "I will cause those of the synagogue of Satan who say they are Jews and are not but lie…" and so forth and so on. Satan's always in and around the church.
Let me go a step further. He particularly attacks the leaders. In 1 Timothy chapter 3 it tells us that when we choose elders and deacons, "They must have a good reputation with those outside the church so that they may not fall into reproach and the snare of the devil." The devil wants to snare leaders. Why do you think there are so many scandals among leaders? Money scandals, sex scandals, why? Because he wants to snare leadership in the church. He's after the church. He's after the church's leaders. He went to God one day and he said, "I want Job. I'll destroy him." God said, "Have at him." Couldn't destroy him. But he wanted the most righteous man who was the most faithful representative of the true God and he wanted to tear him down. He wanted to devour him. He didn't succeed.
You come into the New Testament, who is the leading apostle? Who is it? Who is number one of the twelve? Peter. Satan again comes to God and according to Luke 22:31 Satan says to God, "I want Peter." God…Christ said, "Satan has asked for you, he wants you, Peter, to sift you like wheat." What does that mean? You know how they sifted wheat? They took a big basket; they threw it in the air like this. They sifted it that way. And then they would put it through a process where that which was heaviest would fall back down. Obviously the wind would blow the chaff away. And there were other processes of turbulence. And so what is being said here is Satan wants to shake your life up. He wants to flip everything in the air and shake it all loose. He went after Peter. Why? Because Peter was the key guy. Peter said, "I'll go to prison and I'll die for You, I don't care what he does." Huh. The Lord said, "No you won't, you'll deny Me but you'll get restored." He'll get you temporarily but he won't get you permanently. So he tried Peter and didn't succeed.
Satan came back to God and he said, "There's another guy I want, I want Paul. I want Paul." And he gave to Paul, according to 2 Corinthians 12, a thorn what? In the flesh, a messenger of Satan sent to buffet me. Satan went to God because he can't go to any of God's servants without permission. He said, "I want Paul, You give me Paul, I'll destroy him. I'll destroy him." Couldn't do it. Paul prayed three times for that satanic thorn to be removed. God said no every time and then Paul said, "Fine, my weakness becomes God's (what?) strength." He's always after the leaders.
He got Judas. Satan entered into Judas and he betrayed Christ. But he was never God's to begin with. He can only get his own, he can't get God's. But he'll come after the church and he'll come after the Jobs and the Peters and the Pauls and anyone who is in spiritual leadership. He's not omnipresent, he can't be everywhere. but he goes after certain leaders.
And what does he want to do? He wants to hinder the progress. That word "hinder" or "thwart," very interesting word, it's a military word. It means to dig a trench or to break up a road. If you've got your army sitting here and here comes the enemy, one of the ways that you would defeat the enemy is by making sure he can't get access to you. What you would do is send your soldiers out and dig a massive trench. They can't cross the trench. Or you would go out and break up the road, tear up the road. Roads would be made of stone. You just tear it up so that they can't traverse. You hinder their progress.
Paul says, I want to come, Satan's breaking up the road. Satan's dug a bunch of trenches, I can't get there. I can't get it done. A warring tactic.
And it shows that the…the servant of God must understand not only loving his people but he has to understand his enemy. He's got to recognize satanic opposition.
MacArthur explains that God sometimes allows satanic attacks if they further His plan:
Now remember this, though Satan is opposing us, he is controlled by the overruling providence and sovereignty of God. He can only do what he can do within the limits that God allows. God allowed him to go after Job. God allowed him to sift Peter. God allowed him to deal with Paul. Why? Because in Job's weakness he was made strong. In Peter's weakness he was made strong. In Paul's weakness he was made strong. And the end product benefits God's work. So within the limits that God allows, Satan hinders, prevents God's servant from doing what he desires to do.
MacArthur cites the Lutheran theologian and Bible scholar Richard C H Lenski (1864-1936), who wrote the following:
This by no means excludes divine providence which rules in the midst of our enemies. Satan entered the heart of Judas so that he made plans to betray Jesus and God permitted the betrayal for His own divine and blessed ends. So Satan succeeded in frustrating Paul's plans to return to Thessalonica, but only because this accorded with God's own plans regarding the work Paul was to do. Satan has brought many a martyr to his death and God permitted it. The death of these martyrs was more blessed for them and for the cause of the gospel than their life would have been. It is ever so with Satan's successes. No thanks to Satan, his guilt is the greater.
Paul turns his attention to the Thessalonians' spirituality, paying them a great compliment in saying that they are his hope, his joy, his heavenly crown; he hopes to boast of them to the Lord at His Second Coming (verse 19). He repeats himself, telling them that they are his glory and his joy (verse 20).
Henry says:
They were his hope, and joy, and crown of rejoicing; his glory and joy. These are expressions of great and endeared affection, and high estimation. And it is happy when ministers and people have such mutual affection and esteem of each other, and especially if they shall thus rejoice, if those that sow and those that reap shall rejoice together, in the presence of our Lord Jesus Christ at his coming.
MacArthur says this brings us to the third aspect of a good servant of the Lord — anticipating His return:
If you are to be a good servant, you must love your people; you must understand your enemy; thirdly, you must anticipate your Lord.
MacArthur explains these verses in light of any detractors Paul might have had who infiltrated the Thessalonian congregation:
Paul lived in the light of the return of Christ. He says in verse 19 that very thing. "For who is our hope or joy or crown of exultation? Is it not even you in the presence of our Lord Jesus at His coming, for you are our glory and joy." The great motivation of the apostle Paul was that the Lord was coming, the return of the Lord. This is a marvelous statement. Listen very carefully to what he's saying here, very rich. He says this, "Who is our hope? Who is it that we are hoping to see? Who is that which is all bound up with our future hope?" He's talking about his hope of eternal reward, his hope of eternal blessing. Who will be that hope? Who will fulfill that anticipation? And he secondly says, "Who is our joy? Who is the source of our eternal happiness? Who is the source of our eternal bliss? Who is the source of our eternal satisfaction?"
Then he adds this, "Who is our crown of boasting?" That's what exultation means. "Who is our crown to boast about?" He's using crown, festive wreath, victor's crown. "Who is my hope in? Who is my source of joy? Who will be my eternal reward? Who will cause the burst of joy coming out of my heart when Jesus comes? Who?" Well, you'd think it would be Christ and surely it is, but that's not his point here. Look what he says, verse 19, "Is it not even you in the presence of our Lord Jesus?" It's the whole thing, it's the presence of the Lord Jesus but it's you in His presence. That's my joy. That's my hope. Paul is saying, "Can you imagine that the critics are right in suggesting I don't care about you when you are my hope and you are my joy and you are my eternal reward?" You're it. What a statement, what a marvelous statement.
And it wasn't just them. To the Corinthians he wrote, 2 Corinthians 1:14, "We are your reason to be proud as you also are ours in the day of our Lord Jesus." Paul said, "I'm going to boast about you in the day of the Lord Jesus. When I see the Lord Jesus you're going to be my boast, you're going to be my joy, you're going to be the fulfillment of my hope." Oh did he understand ministry. What he understood was, when you get to glory you're not going to get a crown for your glorified head.
Here is the application for us:
Your crown is going to be the presence of the people that you were responsible to lead to the knowledge of Christ, the people with whom you planted the seed or watered or harvested, the people whose lives were influenced by your teaching and your living and your praying. That's your eternal reward. It isn't something you stick on your head and parade around saying, "I've got more of these than you." It isn't something like that. It is the accumulated impact of your life on the lives of others. That's why in Luke 16 Jesus says, "Use your money to purchase friends for eternity." Spend your money as well as your time and effort to bring people to the knowledge of Christ so that you can know them forever as your friends and the source of your eternal joy.
Henry and MacArthur disagree on whether Paul saw the Thessalonians once more.
Henry says:
The apostle here puts the Thessalonians in mind that though he could not come to them as yet, and though he should never be able to come to them, yet our Lord Jesus Christ will come, nothing shall hinder this.
MacArthur thinks that Paul returned, as alluded to in Acts 20:
… in God's providence things cooled down and apparently he was able to get back on his third missionary journey. You can read Acts 20 and take note of that.
Acts 20:1-6 might well be that passage, as Luke says two Thessalonians joined him:
4 Sopater the Berean, son of Pyrrhus, accompanied him; and of the Thessalonians, Aristarchus and Secundus; and Gaius of Derbe, and Timothy; and the Asians, Tychicus and Trophimus.
In closing, MacArthur describes his own personal longing to check in with his own church when he is away:
I, while not comparing myself in any measure to Paul, understand this to some degree. People always ask me, "When I'm gone why I call back to the church every day?" For the days that I'm gone, there's a very few days that I would not call back and the reason is not because I have something to do or some question to ask, but because I must know the state of the congregation. I need to know how it is with the sheep. I find it very difficult to think about leaving this church, as many as offers as I might have to do that, I find it difficult to consider any of them because I feel I would spend the rest of my life wondering about your spiritual condition. That's just how it is.
It isn't that the leader seeks the socialization and the sentiment of fellowship, but he seeks the responsibility of fellowship, which is to see the spiritual condition of the people, to be sure that all is well …
There are people in ministry, I fear, who care very little, who care a lot about their sermons, who care a lot about how they come across, who care a lot about their popularity, who care a lot about drawing a crowd, who care a lot about traveling around and being well known, who care a lot about their preeminence, who care a lot about satisfaction, who care a lot about success, who care very little about their people. There are, on the other hand, many faithful servants of God who care much about their people, who in continuous prayer and concern hold up their people before God, who are very uncomfortable when being dispossessed from their people, who long to be in the place of responsibility, the place of accountability, so they know the condition of their flock. That's Paul. These people were new to him. It wasn't that there was some lifelong sentimentality. It wasn't that there was some bonding, as they say today, that was deep and profound over a long period of time, not at all. These were strangers in a sense. And yet because they had become his charge and he was now their spiritual mother and father, his heart was there. That's how it must be in ministry. You cannot effectively serve whom you cannot love and be concerned about.
In next week's verses, Paul explains why he sent Timothy back to the Thessalonians.
Next time — 1 Thessalonians 3:1-5
The Third Sunday after Trinity is July 3, 2022.
Readings for Year C can be found here.
The Gospel reading is as follows (emphases mine):
Luke 10:1-11, 16-20
10:1 After this the Lord appointed seventy others and sent them on ahead of him in pairs to every town and place where he himself intended to go.
10:2 He said to them, "The harvest is plentiful, but the laborers are few; therefore ask the Lord of the harvest to send out laborers into his harvest.
10:3 Go on your way. See, I am sending you out like lambs into the midst of wolves.
10:4 Carry no purse, no bag, no sandals; and greet no one on the road.
10:5 Whatever house you enter, first say, 'Peace to this house!'
10:6 And if anyone is there who shares in peace, your peace will rest on that person; but if not, it will return to you.
10:7 Remain in the same house, eating and drinking whatever they provide, for the laborer deserves to be paid. Do not move about from house to house.
10:8 Whenever you enter a town and its people welcome you, eat what is set before you;
10:9 cure the sick who are there, and say to them, 'The kingdom of God has come near to you.'
10:10 But whenever you enter a town and they do not welcome you, go out into its streets and say,
10:11 'Even the dust of your town that clings to our feet, we wipe off in protest against you. Yet know this: the kingdom of God has come near.'
10:16 "Whoever listens to you listens to me, and whoever rejects you rejects me, and whoever rejects me rejects the one who sent me."
10:17 The seventy returned with joy, saying, "Lord, in your name even the demons submit to us!"
10:18 He said to them, "I watched Satan fall from heaven like a flash of lightning.
10:19 See, I have given you authority to tread on snakes and scorpions, and over all the power of the enemy; and nothing will hurt you.
10:20 Nevertheless, do not rejoice at this, that the spirits submit to you, but rejoice that your names are written in heaven."
Commentary comes from Matthew Henry and John MacArthur.
This is a long exegesis requiring a cup of tea and perhaps a snack.
Today's reading follows on from last week's, which was about the Samaritans' rejection of our Lord's planned visit, the fury of James and his brother John at the refusal and the Lord's subsequent refusal to accept three potential disciples.
What we learned about Luke 9 was that it represents a turning point in Luke's account. Jesus has but one year of ministry left; what we discover through to Luke 19 is how He trains and prepares His disciples for His imminent death.
'After this' — meaning after Jesus turned down the three offers of discipleship from men who were deeply flawed with internal conflicts — He appointed 70 — some translations say 72 — disciples, sending them in pairs to towns and places where He intended to visit (verse 1).
These disciples were heralds, or, in today's parlance, advance men.
There are some numbers in the Bible that are referred to as divine numbers, because they have a religious significance. The number three is significant for the Persons of the Trinity. Twelve is another: the twelve tribes of Israel, the twelve Apostles.
Matthew Henry's commentary explains the significance of 70:
As in the choice of twelve apostles Christ had an eye to the twelve patriarchs, the twelve tribes, and the twelve princes of those tribes, so here he seems to have an eye to the seventy elders of Israel. So many went up with Moses and Aaron to the mount, and saw the glory of the God of Israel (Exod 24 1, 9), and so many were afterwards chosen to assist Moses in the government, in order to which the Spirit of prophecy came unto them, Num 11 24, 25. The twelve wells of water and the seventy palm-trees that were at Elim were a figure of the twelve apostles and the seventy disciples, Exod 15 27. They were seventy elders of the Jews that were employed by Ptolemy king of Egypt in turning the Old Testament into Greek, whose translation is thence called the Septuagint. The great sanhedrim consisted of this number.
In the beginning of Luke 9, Jesus had already given the Apostles His own gifts, sending them out to preach and heal. Now it is the turn of these 70 or 72 disciples.
Jesus sent them out in pairs for mutual support: physically, emotionally and spiritually.
Jesus said that the harvest was plentiful but the workers to gather it were few; therefore, it was important to ask the Lord of the harvest for more labourers to gather the harvest (verse 2).
Henry says that the harvest refers to lost souls, those whom the Jewish hierarchy neglected. The disciples were to bring them to salvation, especially with the presence of Christ in the region:
They must be duly affected with the necessities of the souls of men, which called for their help. They must look about, and see how great the harvest was, what abundance of people there were that wanted to have the gospel preached to them and were willing to receive it, nay, that had at this time their expectations raised of the coming of the Messiah and of his kingdom. There was corn ready to shed and be lost for want of hands to gather it in. Note, Ministers should apply themselves to their work under a deep concern for precious souls, looking upon them as the riches of this world, which ought to be secured for Christ. They must likewise be concerned that the labourers were so few. The Jewish teachers were indeed many, but they were not labourers; they did not gather in souls to God's kingdom, but to their own interest and party. Note, Those that are good ministers themselves wish that there were more good ministers, for there is work for more. It is common for tradesmen not to care how few there are of their own trade; but Christ would have the labourers in his vineyard reckon it a matter of complaint when the labourers are few. (2.) They must earnestly desire to receive their mission from God, that he would send them forth as labourers into his harvest who is the Lord of the harvest, and that he would send others forth; for, if God send them forth, they may hope he will go along with them and give them success. Let them therefore say, as the prophet (Isa 6 8), Here I am, send me. It is desirable to receive our commission from God, and then we may go on boldly.
Matthew's account also includes our Lord's mention of the harvest.
John MacArthur tells us about that and the gut-wrenching compassion that Jesus, in His humanity, felt for the lost souls:
Go back to verse 35, Matthew 9:35.  Jesus was going about all the cities, all the villages, and this is in Galilee.  And He was teaching in their synagogues.  He was proclaiming the gospel of the kingdom, healing every kind of disease, every kind of sickness.  "And seeing the multitudes, He felt compassion for them, because they were distressed and downcast, like sheep without a shepherd.  Then He said to His disciples, 'The harvest is plentiful, but the workers are few.'" That statement was born of His compassion. It was born of His compassion.  Everywhere the Lord went in His ministry, and particular in Galilee, but everywhere else the Lord went in His ministry, He was moved with compassion.
For example, if you go through Matthew, you see Matthew 14:14 in addition to this, Matthew 15:32, Matthew 18:27, Matthew 20 verse 34, and it will say, "The Lord was moved with compassion, the Lord felt compassion."  Luke 7:13, "The Lord was moved with compassion."  And again other places in Luke; this is just a sampling.  The Lord moved through His ministry literally overcome with compassion.
Now this word is the strongest word for "compassion" in the language, the Greek language.  It refers to a deeply felt sympathy.  It refers to a deep pain that comes from empathy or affection.  You feel this one.  It actually comes from a root word that has to do with abdominal pain.  You feel it in the pit of your stomach where suffering emotions are felt even by folks like us.  What it's saying is the Lord felt an aching in His stomach.  It is to say the Lord was nauseated physically.  You see Him, for example, at the tomb of Lazarus in the 11th chapter of John and the picture of Him there is first He's sobbing and then He's groaning, and then He bursts out into tears and then He shudders over the plight of sinners when He sees the reality of a dead Lazarus and a weeping Mary and Martha.  And it's not all this agony simply over Lazarus and Mary and Martha because He was going to raise him from the dead and stop all the pain, but it's the agony of seeing that as an illustration of the horrendous suffering in the world.  Lazarus was an illustration of what all of humanity goes through.  And Jesus literally sobbed, groaned, burst into tears, and shuddered with agony. 
MacArthur tells us of the horrifying plight of the lost souls, the lost sheep, that Jesus saw through that compassion:
Isaiah said about Him, "He would be a man of sorrows, acquainted with grief."  And Matthew, as I said, uses the strongest word for "compassion," one that indicates that the Lord had a deep ache, a pain, a nauseating churning in His stomach over the future condition of the unregenerate, as well as their present state.  Look back at that passage in Matthew.  It says He saw them as distressed and downcast, eskylmenoi and errimmenoi. Those two words mean worn out, exhausted, or literally flayed, skinned, like sheep whose shepherds had not only exhausted them, not fed them, but then flayed them, as it were, injured them, wounded them.  The second word, errimmenoi, means thrown down, lying prostrate, totally helpless.  He looked at the sheep of the shepherds of Israel, the scribes and the Pharisees and religious leaders and their sheep were not healthy, they were not well fed, they were not well watered, they were not well cared for, they were literally wounded and injured, they had been attacked and assaulted and left for near dead by their evil false shepherds.  And these people would have some kind of vague craving for satisfaction and not have any idea how to find it.  As Psalm 111:4 says, "The Lord is gracious and full of compassion." That's describing God, and here is God in human flesh and His heart is literally aching.  On another occasion He wept over the city of Jerusalem, the ache was so profound.  He looks at the people of Israel and He sees them like flayed, mangled corpses.  They're sort of like road kill sheep who have been totally destroyed by their own shepherds.  And there they lie bewildered and desolate.  They have been treated mercilessly.  They have been devoured by their own shepherds, as Jesus said of the Pharisees in Matthew 23:13.  And so He is so overwhelmed with sympathy for them that He says to His disciples, "The harvest is plentiful but the workers are few."
However, there is another meaning to 'harvest' and that is one of burning chaff during the time of reaping. The farmer saves the good crops and burns whatever was unproductive. This refers to judgement.
MacArthur has more:
The Jews knew about a harvest. They knew about a harvest. The prophets had talked about a harvest. In fact, Joel chapter 3 verse 12, "Let the nations be aroused and come to the valley of Jehoshaphat. I'll sit to judge and all the surrounding nations, put in the sickle for the harvest is ripe. Come tread, for the winepress is full, the vats overflow, for their wickedness is great. Multitudes, multitudes in the valley of decision, for the Day of the Lord is near in the valley of decision. The sun and the moon grew dark. The stars lost their brightness as the Lord roars from Zion." That…That's the harvest. It's the harvest of the final judgment. And that's why the compassion of the Lord is excited because He sees these people on a path to devastation. He sees them not only in their stricken condition, but in their disastrous future. He looks ahead, down human history, as it were, and He sees many who will be literally devastated, depressed and destroyed by false leaders, false shepherds. And His heart aches over them because they're headed for the final harvest and it is a harvest of judgment. The New Testament follows that imagery. The Lord Himself in Matthew 13 verse 30 talks about the wheat and the tares growing together and He says they will grow together until the harvest. And the time of harvest will come, I'll say to the reapers, "Gather up the tares. Bind them in bundles to burn them. But gather the wheat into My barn." Again, the harvest is the end of the age when the angels gather together God's people and put them in His kingdom, that's the barn, and gathers together the ungodly and they burn forever in hell. That is clearly explained later in Matthew 13 verse 39. "The enemy who sowed the tares is the devil. The harvest is the end of the age and the reapers are angels. Therefore just as the tares are gathered up and burned with fire, so shall it be at the end of the age. The Son of Man will send forth His angels, they'll gather out of His kingdom all stumbling blocks, all those who commit lawlessness, cast them into the furnace of fire. In that place, there will be weeping and gnashing of teeth." That's the harvest … It's not a harvest that we often think about like there are all those souls that need to be harvested for the gospel. That's not the imagery. The imagery is this, these unredeemed, unconverted people, deceived and left destitute by their false religious leaders and fake shepherds, are headed toward a harvest of judgment and it is a massive harvest. It is a worldwide harvest. It reminds us again that few there be that find the narrow way. The mass of humanity are headed toward a divine harvest.
And in verse 14 of chapter 14 of Revelation, we read further and more specifically about that harvest. Listen to these gripping words, "I looked and behold, a white cloud. Sitting on the cloud was one like a Son of Man, having a golden crown on His head and a sharp sickle in His hand." That was the tool of harvest. "And another angel came out of the temple crying with a loud voice to Him who sat on the cloud, 'Put in your sickle and reap because the hour to reap has come because the harvest of the earth is ripe.' And He who sat on the cloud swung His sickle over the earth and the earth was reaped." The next few verses carry the imagery. "Another angel came out of the temple which is in heaven. He also had a sharp sickle and another angel, one who had the power over fire came out of the altar and called with a loud voice to the one who had the sharp sickle and said, 'Put in your sharp sickle and gather the clusters from the vine of the earth because the grapes are ripe.' And the angel swung his sickle to the earth and gathered the clusters from the vine of the earth and threw them into the great winepress of the wrath of God."
The harvest is associated with wrath. Wrath at the end of the tribulation, wrath at any point at the coming of Jesus Christ, it is the wrath of God at the end of time. And so the Lord looks at the people and His heart is just overturned. He is literally sick in His stomach because He sees the future all the way out to the great, horrific wrath of the final harvest. And to compound the matter, back to verse 2, the laborers are few. You've got this mass of humanity moving toward judgment and only a few laborers, only a few.
Therefore, prayer was — and remains — important:
That leads to a second essential motive and that is prayer.  You stand there and say, "Well how are we going to do anything about it?"  And the Lord says in verse 2, "Therefore," in consequence, "beseech," beg, plead with "the Lord of the harvest to send out laborers into His harvest."  You don't just pray for the salvation of people. You do that, 1 Timothy 2 makes it clear. "Pray for all men, for kings and those in authority, and everybody else to be saved." You don't just do that though. You pray that the Lord will raise up more missionaries, that the Lord will save more and send more.  By the way, the Lord of the harvest, isn't that an interesting phrase?  Who is the Lord of the harvest?  The judge.  John 5:22 to 29 says, "The Father has committed all judgment to Christ."  So Christ is going to be the judge.  Christ is the executioner.  This is amazing.  The Lord Himself, the Lord of the harvest says, "Pray to Me and ask Me to send laborers to go out to deliver people from Me."  It's amazing.  It is the Lord Himself in 2 Thessalonians 1, the Lord Jesus, who is "revealed from heaven with His mighty angels in flaming fire, dealing out retribution to those who do not know God, to those who do not obey the gospel of our Lord Jesus."  It is Jesus who is the Lord of the harvest.  It is Jesus who is the one who comes back with the sword in his mouth.  It is Jesus who brings the sickle along with the angels who attend His return.  It is Jesus who is the judge.  It is Jesus who is the executioner.  And it is also Jesus who is the one who hears your prayer and sends the people to deliver those who are perishing from His execution.  You can put it this way. Pray to Jesus to send somebody to deliver people from Jesus.  Pray to the Son of God and ask Him to send more messengers to reach this great harvest to deliver them from the Son of God.  Saved from what?  Saved from hell, yes.  But saved primarily from the God who sends you there and the God who sends you there has delegated that authority to His Son, so the Son says, "Pray to Me and ask Me to send messengers to preach a gospel so sinners can be delivered from Me."  Amazing.  Amazing depth and profundity.
Jesus told His disciples to go on their way; He was sending them out like lambs into the midst of wolves (verse 3).
In other words, they were to expect rejection, possibly persecution.
However, as Henry says, one of the gifts that Jesus gave the disciples was courage, which would give them fortitude and perseverance:
They must set out with an expectation of trouble and persecution: "Behold, I send you forth as lambs among wolves; but go your ways, and resolve to make the best of it. Your enemies will be as wolves, bloody and cruel, and ready to pull you to pieces; in their threatenings and revilings, they will be as howling wolves to terrify you; in their persecutions of you, they will be as ravening wolves to tear you. But you must be as lambs, peaceable and patient, though made an easy prey of." It would have been very hard thus to be sent forth as sheep among wolves, if he had not endued them with his spirit and courage.
In the next several verses, Jesus, as He did with the Twelve, instructs the disciples on how to evangelise, beginning with their personal behaviours.
They were not to carry any purse — money bag — or bag for clothes and possessions, no extra pair of sandals; furthermore, He told them not to greet anyone along the way (verse 4).
With regard to material possessions, they were to go with what they had on them already and nothing more. They were to trust that He would ensure they would have what they needed.
With regard to refusing to greet strangers along the way, this refers not to a simple greeting of 'Hello' or 'Good day' but developing a relationship with people, which could prove to be a distraction.
MacArthur says that Jesus implied urgency with these instructions:
The Lord just collects seventy who have denied themselves, taken up their cross, followed Him. They are genuine and true believers. They have entered into His kingdom. That's enough, go your way and tell them I'm coming. The mission is immediate. It is urgent. The time is short. The cross is only months away. There are many, many, many villages and towns all across Judea and Perea, across the Jordan, that need to be ready for His coming and they need a full explanation of who He is so that when He gets there they'll be ready to receive what He has to say. Evangelism is immediate. And I say this, if you are a Christian, I don't care if you were saved five years ago or you were saved yesterday, start today with your ministry of evangelism. It's urgent. Today is the day of salvation, 2 Corinthians 6. This is the time, don't wait.
Henry cites a precedent in the Old Testament for going on a mission without a bag and not to greet strangers along the way:
They must not encumber themselves with a load of provisions, as if they were going a long voyage, but depend upon God and their friends to provide what was convenient for them: "Carry neither a purse for money, nor a scrip or knapsack for clothes or victuals, nor new shoes (as before to the twelve, ch. 9 3); and salute no man by the way." This command Elisha gave to his servant, when he sent him to see the Shunamite's dead child, 2 Kings 4 29. Not that Christ would have his ministers to be rude, morose, and unmannerly; but, (1.) They must go as men in haste, that had their particular places assigned them, where they must deliver their message, and in their way directly to those places must not hinder or retard themselves with needless ceremonies or compliments. (2.) They must go as men of business, business that relates to another world, which they must be intent in, and intent upon, and therefore must not entangle themselves with conversation about secular affairs. Minister verbi est; hoc age—You are a minister of the word; attend to your office. (3.) They must go as serious men, and men in sorrow. It was the custom of mourners, during the first seven days of their mourning, not to salute any, Job 2 13. Christ was a man of sorrows and acquainted with grief; and it was fit that by this and other signs his messengers should resemble him, and likewise show themselves affected with the calamities of mankind which they came to relieve, and touched with a feeling of them.
MacArthur tells us more about the ancient meeting of greeting someone:
… greeting in the ancient Near East was a big event kind of thing. You stayed and you got involved. Don't depend on friendships to sustain you. Don't depend on making relationships with people so that they provide for you. Don't…don't go the human route. Just go, don't stop to make relationships, and know this, I will provide even if you have no human relationships to depend on. That's the great lesson of trust. You're going to have to be cared for by strangers you don't even know, people you haven't even cultivated a relationship with. This is just trust. You go, you trust, wherever God sends you, you go, you preach the gospel, you leave the results to the Lord. If you have nothing, you go, He provides. If you have everything, you go, you use what you have and if you ever come to a point where you have need, you know He's going to step in and make provision. Don't worry about the friendship side of it. Keep the message clear … But it is interesting that this was not friendship evangelism which may be…some people may overrate. I think friendship evangelism is good, you should evangelize your friends, but I don't think you should wait to evangelize someone until after you've made a friendship. I don't think that's necessary. People are saved by the power of the gospel, not by the power of a friendship.
Jesus told them about where they were to stay and how to handle the initial greeting at those homes.
The disciples were to proclaim peace to that house (verse 5). If someone there shared in that peace, it remained with them, but if someone refused the offer of peace, it would return to the disciples (verse 6).
Henry says:
"You will meet with others that are no ways disposed to hear or heed your message, whole houses that have not one son of peace in them." Now it is certain that our peace shall not come upon them, they have no part nor lot in the matter; the blessing that rests upon the sons of peace shall never come upon the sons of Belial, nor can any expect the blessings of the covenant that will not come under the bonds of it. But it shall return to us again; that is, we shall have the comfort of having done our duty to God and discharged our trust. Our prayers like David's shall return into our own bosom (Ps 35 13) and we shall have commission to go on in the work. Our peace shall return to us again, not only to be enjoyed by ourselves, but to be communicated to others, to the next we meet with, them that are sons of peace.
Where they did find a home of peace, the disciples were to stay there and not seek another abode; they were to eat and drink what was provided, as that was to be their only wage (verses 7, 8).
Henry says that we should learn not to be fussy about our hosts' food nor, as did some of the ancient Jews, enter into rigid beliefs about nourishment:
Be thankful for plain food, and do not find fault, though it be not dressed according to art." It ill becomes Christ's disciples to be desirous of dainties. As he has not tied them up to the Pharisees' superstitious fasts, so he has not allowed the luxurious feasts of the Epicureans. Probably, Christ here refers to the traditions of the elders about their meat which were so many that those who observed them were extremely critical, you could hardly set a dish of meat before them, but there was some scruple or other concerning it; but Christ would not have them to regard those things, but eat what was given them, asking no question for conscience' sake.
MacArthur has more about our Lord's proscription on moving from house to house and taking a wage. That is how false prophets made their money:
This was all about authenticating the integrity of the messengers because it was very typical of false prophets, false teachers everywhere who were itinerant, they were like ants, they were all over everywhere.  And they were looking for the…for the most comfortable situation.  They were looking for the place where they could get the most money.  They would go into a place; they would go into a home. They would take whatever the home had to offer.  They would then go somewhere else.  They would keep moving up the ladder, taking money from as many as they could and bettering their circumstances.  That was the pattern.  False teachers are always in it for the money.  They're always in it for filthy lucre.  How often do you meet a false teacher, long-term false teacher who hasn't managed to make money off his lies and deceptions?  That's why they do what they do.  Some of them make an awful lot.
Typically the itinerant preachers would take advantage of as many people as they could, as many houses as they could and as many comforts as were available.  Jesus says when you find a worthy place, you find a son of peace, for the sake of fellowship, for the sake of comfort, for the sake of discipleship and for the sake of integrity and sincerity and honesty and as an example that sets you apart from false teachers, stay there, don't seek a better place.  Don't seek any other food than what they give you.  If the food is meager, so be it; if it's unappetizing, tough luck.  If it's different than you're used to, you'll have to learn to endure it.  Whether it's clean or unclean, whether it's idol food, whether it's a Jewish house or a Gentile house, stay there, accept the accommodations and accept the food.  Don't be discontent.  Let them see that you live for the peace gospel; you don't live for your own personal gain.  This will set you apart from false teachers very rapidly.
Jesus said that, where people accepted them, the disciples were to cure the sick telling them, 'The kingdom of God has come near to you' (verse 9).
What does that message mean?
MacArthur says that the kingdom of God is moving throughout human history, but especially for those sons and daughters of peace, because the long-awaited Messiah was in their midst and would be in person soon:
It has arrived. Eggiz is the Greek verb. It has arrived and nothing can stop it.  I don't know if I can give you the picture, but the kingdom is moving and it's moving through human history and finally the acceptable year of the Lord has arrived, the Messiah is here, the kingdom has come in the fullness of the very King Himself.  And for the people who were sons of peace, this was the fulfillment of all their dreams, all their aspirations, all their hopes, all their longings, all their desires.  The kingdom had come for their peace.  The kingdom had come for their peace.  It's here now today and for all who believe in the King and submit their lives to Him, all who repent of sin, trust Christ and submit to Him, they enter into the kingdom.  The kingdom is peace to them.  We have peace with God through our Lord Jesus Christ.  When you embrace the King, you enter the kingdom of peace.
However, for those places that did not welcome the disciples (verse 10), Jesus told them to shake the dust off their feet in that place — in the traditional Jewish way — and warn them, 'Yet know this: the kingdom of God has come near' (verse 11).
That warning was to be made public, as MacArthur explains:
Don't steal away quietly in the night. "Go out in the streets and say…" Go right in the middle of the street in that place and make a public announcement.  Expose that rejection at the widest level possible.
The idea is not to pronounce some quiet judgment on rejecters but a public judgment.  Declare openly God's absolute displeasure with that rejection.  Make it as public as it possibly can be made.  And make it known that they have rejected the King and the kingdom of peace and then say this, verse 11, "Even the dust of your city which clings to our feet, we wipe off in protest against you." Can you imagine that vivid thing going on?  They stand in the middle of the town wiping off the dirt from that town from their feet?  That in the ancient Near East was the most demonstrative expression of disdain.  When the Jews went into a Gentile country and came back, they shook the dust off their garments. They washed the dust off their feet so they didn't bring Gentile dust into the holy land.  That showed their hatred, their disdain for the Gentiles.  And here are the servants of the King, the kingdom messengers, missionaries who came in with the message of grace and a message of peace and a message of salvation and they leave town with a message of judgment, of warning, of condemnation, of disdain, a message literally of punishment.  We will have nothing to do with you and symbolically, of course, and neither will the King, except to treat you in this same way with the same disdain and the same rejection that you have treated Him.  "If they don't receive you" means as back in chapter 9 verse 5, "as for those who do not receive you as you go out from that city, shake off the dust from your feet as a testimony against them."  The apostles did it and now the seventy are doing it.  Show God's displeasure openly before the whole town and do it with an abject lesson.
MacArthur says that this applies even today:
It is literally the testimony of God against those rejecters that they are acting out.  You can't let people sort of come into the church and hear the gospel, or go to them and give them the gospel and then they don't receive and quietly go away.  It demands a strong, final gesture, effort, proclamation of the reality of the implications of that rejection.  That is the last appeal, you see.  You have to understand what you're doing.
As I was saying in talking to a prominent person not too long ago, at the end of our two-hour conversation, I just said, "You have to understand the consequences. You have to understand the consequences.  To reject Jesus Christ is to be rejected by Jesus Christ and that is to spend all eternity in torment in the punishments of hell."  I don't discharge my responsibility if I don't say that.  That in itself, while a statement of judgment, is also a last appeal.
So this is the message and this is the messenger's responsibility.  Find those who hear, give them the truth, and the kingdom will come in peace.  When you find those who don't hear, you give them the truth and the kingdom will still come but will come in punishment.  Look at the end of verse 11, how interesting, "Yet be sure of this," even where a rejection occurs, "be sure of this, the kingdom of God has come near."  You know, the picture is this, folks, the kingdom of God is moving inexorably through history and you are either getting swept up in the kingdom or crushed by it.  That's it.  It is the dominant reality in existence in the spiritual realm.  The kingdom of God is moving. It is moving through the world and it is gathering those who bow to the King in peace and it is crushing those who reject it.  That is the gospel.  It is good news.  But it is the worst news to those who refuse it.  The kingdom moves.  Preach the kingdom.  It's no effort to change the strategy.  There's no effort to…nothing here that says, "You know if they reject you, go back and retool the gospel.  Hang around and make some friends."  It doesn't say that.  Give the gospel, the gospel is the gospel.  When heard is either believed or rejected.  When believed it brings peace.  When rejected it brings punishment.  But be sure of this, you will not avoid the kingdom.  You will not avoid the King.  Every human being, whoever has lived on the planet will stand one day before the King and either that King will say, "Enter into the joy of your Lord," or He will say, "Depart from Me, you workers of iniquity."  But He will render the final judgment on everyone because there's only one King in the world, there's only one King in the universe, the King of kings and Lord of lords.  His kingdom is for peace or it is for punishment.  It is for salvation, forgiveness and heaven, or sin, guilt, judgment and hell.  We are this generation's kingdom missionaries and God calls us to this same challenging task.
Now we get into some of the Lectionary's sins, the omitted verses. Their omission proves MacArthur's point. We can't just have the positives, we also have to have the warnings. Here they are:
12 I tell you, it will be more bearable on that day for Sodom than for that town.
13 "Woe to you, Chorazin! Woe to you, Bethsaida! For if the miracles that were performed in you had been performed in Tyre and Sidon, they would have repented long ago, sitting in sackcloth and ashes. 14 But it will be more bearable for Tyre and Sidon at the judgment than for you. 15 And you, Capernaum, will you be lifted to the heavens? No, you will go down to Hades.[b]
In verse 12, Jesus meant that any town that rejected His imminent arrival and the word of His disciples would suffer a worse judgement than Sodom.
Henry says that this is because Sodom rejected Lot's warnings but these towns were rejecting the Messiah and Lord of all who was ministering to the people:
The Sodomites indeed rejected the warning given them by Lot; but rejecting the gospel is a more heinous crime, and will be punished accordingly in that day. He means the day of judgment (v. 14), but calls it, by way of emphasis, that day, because it is the last and great day, the day when we must account for all the days of time, and have our state determined for the days of eternity.
As for verses 13 through 15, you can read more about the significance of our Lord's mention of them. This is my post from Forbidden Bible Verses, which are also Essential Bible Verses:
Luke 10:13-15 – condemned towns: Chorazin, Bethsaida, Capernaum; Sodom, Tyre and Sidon
Because the people in these towns actually saw and heard Him, yet disbelieved or were indifferent, Jesus says their punishment will be greater than that of Sodom, Tyre and Sidon.
Jesus explained the judgement by saying that whoever rejects the disciples rejects Him and that anyone who rejects Him rejects He who sent Him, meaning God the Father (verse 16).
MacArthur elaborates on the meaning of that verse:
If you think it's going to be bad in eternity for the people who rejected the law of Moses, it's going to be worse for the people who've rejected Jesus Christ.  There are degrees of punishment in eternity.  There are degrees of suffering in hell.  And the more you know about the gospel and reject it, the severer will be your punishment.
To make it very practical, if you're a non-believer, being in this church and hearing the gospel is high-risk behavior.  You'd be better off to climb Everest in a snowstorm or jump out of an airplane with a parachute with a huge hole in the middle of it.  Or better yet, jump out of an airplane with an umbrella than to sit in this church and listen to the gospel because the implications of rejecting it are so severe forever.  Don't just come here, sit, know more and more about the gospel and continue in your rejection and not expect to be eternally held accountable for that rejection.  The severest eternal punishment belongs to those who rejected the most exposure to the gospel.
You say, "Why are you telling all this to us?"  Because this is exactly the point of the text.  Let's go back to Luke 10.  This is the point of this text.  Let me pick up the text in verse 12, Luke 10:12.  "I say to you, it would be more tolerable in that day for Sodom than for that city.  Woe to you, Chorazin, woe to you, Bethsaida, for if the miracles had been performed in Tyre and Sidon which occurred in you, they would have repented long ago sitting in sack cloth and ashes.  But it will be more tolerable for Tyre and Sidon in the judgment than for you.  And you, Capernaum, will not be exalted to heaven, will you?  You will be brought down to Hades," or hell.  "The one who listens to you listens to Me.  The one who rejects you rejects Me.  And he who rejects Me rejects the One who sent Me."
The message here is very clear.  There are comparative punishments in hell.  The more exposure you have to the glory of Christ, the more potential judgment you will receive if you reject it.
Turn over to the 11th chapter of Luke. This is not an isolated teaching from Jesus, it is oft repeated.  In the 11th chapter of Luke verse 29, the crowds were increasing.  He began to say this generation is a wicked generation.  It seeks… It was a religious one, it was steeped in Judaistic religion, but it was wicked by Jesus' judgment.  "It seeks for a sign and yet no sign shall be given it but the sign of Jonah for just as Jonah became a sign to the Ninevites, so shall the Son of Man be to this generation.  The queen of the south shall rise up with the men of this generation at the judgment and condemn them because she came from the ends of the earth to hear the wisdom of Solomon and behold, something greater than Solomon is here."
This is an interesting statement.  Jesus is saying the queen of the south, the pagan, Gentile queen at least was so stunned and struck by the glory of Solomon as to come and give honor to Solomon, and here when a pagan woman gave honor to a great king like Solomon, she demonstrated the appropriate response to the glory of a man.  You, who are Jews, who are the people of God's promise, cannot even give honor to one far greater than Solomon who comes to you.  And so in the Day of Judgment the queen of the south, that is to say a pagan, is going to stand up to your condemnation.  She showed an attitude toward a man that you didn't even show toward the Son of God.  You'll be condemned even by what she did.
Luke's account then gives us a glimpse of joy as the disciples returned rejoicing that, when they invoked the Lord's name, even the demons submitted to them (verse 17).
Henry says:
Though only the healing of the sick was mentioned in their commission (v. 19), yet no doubt the casting out of devils was included, and in this they had wonderful success. 1. They give Christ the glory of this: It is through thy name. Note, all our victories over Satan are obtained by power derived from Jesus Christ. We must in his name enter the lists with our spiritual enemies, and, whatever advantages we gain, he must have all the praise; if the work be done in his name, the honour is due to his name. 2. They entertain themselves with the comfort of it; they speak of it with an air of exultation: Even the devils, those potent enemies, are subject to us. Note, the saints have no greater joy or satisfaction in any of their triumphs than in those over Satan. If devils are subject to us, what can stand before us?
MacArthur expands on the theme of joy:
Joy is the operative word. We're going to talk about joy here. The seventy returned with joy. Nobody died in this effort. They were willing. They came back and after going out in all these towns and being rejected in many places, being certainly put out of town, run off, having to give warnings, shake dust off their garments, pronounce judgment. They also had spiritual success. There also, as always, was a remnant out there that responded positively. They gave up their lives. They gave up their comfort, their money, their popularity. And what they got in return for that was joy. They returned after their first effort into these various towns and villages all over the place where Jesus was going to eventually come. And they were full of joy. And we ask the question immediately, "Where did the joy come from?" In the light of such a demanding call to discipleship, where did the joy come from? …
Reason number one: divine power over Satan's kingdom, divine power over Satan's kingdom. Verse 17, "And the seventy returned with joy saying, 'Lord, even the demons are subject to us in Your name'" …
The key phrase, "in Your name." That is, by Your power. There was no other power that could command demons. You remember the exorcist in the 19th chapter of Acts, they were trying to cast out demons and the demons said, "Jesus we know, and Paul we know, but who are you?" You have no authority over us. It may…it may not have been that they even particularly went to cast out demons, it doesn't say when it tells about the power they had back earlier in chapter 10. It says in verse 9, "They had power to heal the sick." It doesn't say specifically that they were given power to cast out demons, they may have been. But it may well have been that when they were preaching the gospel, the power of the gospel was delivering people who responded and believed and therefore the demons were thus overpowered and perhaps manifestly so. They saw the power of Christ flowing through them, conquering the power of Satan …
In other words, you're going to invade the kingdom of darkness and rescue the souls of men and women.  Paul says that was my commission and I was obedient to it.  Well who wouldn't be?  What a calling.  And it's true for us.  I mean, think of how your life really should matter.  When you go out and faithfully proclaim the gospel of Jesus Christ, you literally invade the kingdom of darkness to rescue the souls there.  Through your faithfulness to the proclamation of the message, the power of God flows to awaken the dead, give sight to the blind, and rescue the perishing as the old hymn put it, out of the kingdom of darkness, literally, Colossians 1:13, transferring them from the kingdom of darkness into the kingdom of God's dear Son.  This is what we do.  Is that cause for joy?  To have your life matter like that?  What else matters?
Jesus said that He knew of their success against the powers of darkness, telling them that He saw Satan fall from heaven like a flash of lightning (verse 18).
MacArthur explains the Greek words from the original manuscript:
You guys were out there, you were preaching, people were hearing, they were being delivered.  I was watching.  I was watching, theōreō in the imperfect tense. I was a spectator continuously.  It's not talking about a one-time event, the fall.  Not talking about a one-time event, the temptation.  Not talking about a one-time event, the future, although I think He saw the future fall of Satan in that.  I think that was in certainly in His mind and in His view.  But for this moment He was saying, "I was watching Satan fall from heaven like lightning."  Have you ever been in a lightning storm?  Sha-koom! And then it's black.  Sha-koom! And then it's black.  Choo! And then it's black. And choo! It's black.  And I was watching you.  Satan in a final flash and then the soul was rescued and he was gone.  Then I saw it again.  Then I saw it again.  Then I saw it again.  Then I saw it again.
Jesus told the disciples that He had given them authority over all unpleasant beasts, such as snakes and scorpions — synonymous with evil spirits — and over the power of the enemy; therefore, nothing could hurt them (verse 19).
'See' in that verse is sometimes translated as 'Behold', an emphatic word that demands attention.
MacArthur has more on this verse:
The thought might be, "You know, we could get ourselves in trouble with the forces of hell and that might not be too good."  So immediately in verse 19 Jesus says this, "Behold," a startling fact is coming, that's why He uses this term "behold."  "Behold, I" love that, the divine sovereign Lord have given you, perfect tense in the past with continuing effect, I have permanently given you exousia, dominance, right, authority, "power to tread upon serpents and scorpions and over all the power of the enemy and nothing shall injure you."  Wow!  They might not like you and they might want to stop you but they can't.  I, the sovereign divine Lord, have given you permanently as My own the power and dominance that gives you the right to tread upon serpents and scorpions.  Sounds like the Marine image, doesn't it?  Serpents and scorpions… He's not talking about the literal animals, bugs.  That's metaphorical for demons.  Satan is viewed as a serpent.  In the book of Revelation chapter 9, demons have tails like scorpions and a scorpion king over them. The angel of the abyss called Abaddon and Apollyon.  In Revelation 16 demons are like slimy frogs.  These deadly kinds of creatures, serpents and scorpions, are metaphors for the subtle, sneaky, deadly demons.  Those are well-known symbols, by the way, of evil spirits.
Jesus concluded by saying that, while that power was a real cause for joy, there was a greater one: the fact that their names were written in heaven (verse 20). Therefore, they would know salvation.
MacArthur explains the reference to names written in a book, an ancient custom of the time:
In Jewish thinking there was a Book of Life. Exodus 32:32 and 33 talks about it, Psalm 69:28 talks about it, Isaiah 4:3, Daniel 12:1, Revelation 3:5, Revelation 13:8. There was a Book of Life and God has written the names of His own in the book.  That's the way they did it in ancient times.  In towns they had a book and all the citizens who were in good standing were in the book.  God has a book and all the citizens of heaven have their name there.  And He says your names are there because you're My true disciples.  If you're going to rejoice supremely, rejoice in that.
I would like to close with an observation from MacArthur which is particularly pertinent to atheists and agnostics.
People have said to me, 'He's your God, not mine. I have nothing to fear from a so-called Last Judgement.'
MacArthur explains that unbelievers live in a kingdom, just as believers live in the kingdom of God. Both kingdoms will fall under divine judgement:
… when you become a Christian, you enter a kingdom.  In fact, the apostle Paul in Colossians 1:13 says you're delivered out of the kingdom of darkness into the kingdom of His dear Son.  Lest people get the wrong idea, if you're not in the kingdom of God, that doesn't mean you're free, you're just in the kingdom of darkness and you're under another sovereign, and that sovereign is Satan and you're a slave to sin.  Everybody lives in a kingdom.  You just live in the kingdom of darkness or the kingdom of light, the kingdom of Satan, or the kingdom of the Savior.  You live in a kingdom.  You are subject to the authority and the power of the enemy of your soul, or you are subject to the authority and power of the Savior of your soul.  You are either in the kingdom that ends up in hell, or the kingdom that ends up in heaven.  You're either a slave to sin, or a servant of righteousness.  Don't be under any illusion that somehow coming into the kingdom of God takes away all your freedom.  You really have no freedom except the freedom to sin.  You can choose your poison, that's all.
This is how you must view the spiritual realities of life …
I wish when we preached the gospel we talked more about it like that.  We talk so much about sharing Christ, like you're inviting people to get in on something that's the sort of superficially enjoyable.  What we're asking people to do is to come into a kingdom and submit their lives entirely to a King, an absolute monarch who has the right to determine everything without our consultation and who has revealed His will to us in the pages of the Word of God and calls on us to live in absolute submission and obedience to that revelation.  It's not about your self-satisfaction. It's not about your self-promotion or your self-fulfillment. It says: We've been saying about self-submission and self-suicide, it's the end of you because you've had enough of you. You refuse to associate any longer with the person you are.  You're sick of the kingdom of darkness, you're sick of the kingdom of sin and Satan and you are now ready to submit yourself to the benevolent, gracious, loving Lord and King Jesus Christ who will give you forgiveness of your sins and the promise of eternal blessing in His perfect kingdom.
There is a sense in which God is King over the whole universe, His kingdom rules over all, Psalm 103 says.  But we're not talking about that sort of universal kingdom, the realm of His creation.  We're talking about the spiritual kingdom in which He rules over the souls of those who have come to Him through Christ.  This is what we preach, but we preach a kingdom and nothing less and we preach a King and no one less and this King is an absolute monarch.  That is why it says in Romans 10 that if you want to be saved, you must confess Jesus as (what?) Lord.  And Lord is the name above every name.  Lord is the name in which every knee bows.  Lord is a synonym for King.
My sincere thanks to anyone who made it this far, however, this reading has several eternal truths which needed exposition and explanation.
May everyone have a blessed Sunday.
The First Sunday in Lent is March 6, 2022.
Readings for Year C can be found here.
The Gospel reading is as follows (emphases mine):
Luke 4:1-13
4:1 Jesus, full of the Holy Spirit, returned from the Jordan and was led by the Spirit in the wilderness,
4:2 where for forty days he was tempted by the devil. He ate nothing at all during those days, and when they were over, he was famished.
4:3 The devil said to him, "If you are the Son of God, command this stone to become a loaf of bread."
4:4 Jesus answered him, "It is written, 'One does not live by bread alone.'"
4:5 Then the devil led him up and showed him in an instant all the kingdoms of the world.
4:6 And the devil said to him, "To you I will give their glory and all this authority; for it has been given over to me, and I give it to anyone I please.
4:7 If you, then, will worship me, it will all be yours."
4:8 Jesus answered him, "It is written, 'Worship the Lord your God, and serve only him.'"
4:9 Then the devil took him to Jerusalem, and placed him on the pinnacle of the temple, saying to him, "If you are the Son of God, throw yourself down from here,
4:10 for it is written, 'He will command his angels concerning you, to protect you,'
4:11 and 'On their hands they will bear you up, so that you will not dash your foot against a stone.'"
4:12 Jesus answered him, "It is said, 'Do not put the Lord your God to the test.'"
4:13 When the devil had finished every test, he departed from him until an opportune time.
Commentary comes from Matthew Henry and John MacArthur.
Before beginning the exegesis on this passage, I commend thoroughly the commentary from Matthew Henry and the sermons by John MacArthur.
I could write a week's worth of posts on this passage. Indeed, a seminary candidate could write a thesis on these thirteen verses, there is so much theology to explore.
I will try to make this as brief as I can but would suggest that if you want a cup of tea or a snack, get it now. This will be a long read.
In Luke 3, we read of John the Baptist's ministry, followed by the baptism of Jesus and ending with Joseph's geneaology which, for earthly intents and purposes, leads all the way back to Adam and, ultimately, to God.
Let's look at a few principal verses from that chapter.
We know that the world is sinful and evil:
19 But when John rebuked Herod the tetrarch because of his marriage to Herodias, his brother's wife, and all the other evil things he had done, 20 Herod added this to them all: He locked John up in prison.
The baptism of Jesus saw Him imbued with the Holy Spirit and lovingly commended by God the Father:
21 When all the people were being baptized, Jesus was baptized too. And as he was praying, heaven was opened 22 and the Holy Spirit descended on him in bodily form like a dove. And a voice came from heaven: "You are my Son, whom I love; with you I am well pleased."
Jesus is the Son of Adam and the Son of God:
38 the son of Enosh,
the son of Seth, the son of Adam,
the son of God.
Matthew Henry notes that, while Adam succumbed to temptation in a perfect atmosphere of the Garden of Eden, Jesus did not falter in a frightful desert for 40 days and nights:
The last words of the foregoing chapter, that Jesus was the Son of Adam, bespeak him to be the seed of the woman; being so, we have here, according to the promise, breaking the serpent's head, baffling and foiling the devil in all his temptations, who by one temptation had baffled and foiled our first parents. Thus, in the beginning of the war, he made reprisals upon him, and conquered the conqueror.
Luke tells us that Jesus, being full of — or thorougly imbued with — the Holy Spirit left the Jordan, the place of His baptism, and was led by the Spirit into the wilderness (verse 1).
John MacArthur explains why this was necessary:
So Luke for three chapters has been massing all the proof to indicate that Jesus is, in fact, the Messiah, Son of God, Savior of the world.  But if one is to be the Savior of the world, there is one rather formidable credential that one must possess.  Since the problem in the world is a sin problem, and since it is sin that has damned all humanity, since it is sin that has produced death, since it is sin that brings about the death that catapults sinners into eternal hell, since sin is under the aegis of the prince of this world, the ruler of this world, namely the devil, if one is to come and break the power of sin and conquer evil and defeat Satan, He must be able to combat the devil and come out the victor.  And that's precisely what Luke tells us He is able to do in this chapter.
Messiah's credentials would be incomplete without this battle.  If Jesus cannot defeat Satan head on, one on one, then He is not adequate to redeem sinners.  If He Himself is not impervious to sin, if He is not impeccable, if He is not invulnerable to sin, if He does not come out pure and spotless in the midst of the most violent conflict with the devil, then He cannot be the Savior.  If He is to save sinners from their sin, if He is to save them from the devil, if He is to save them from death and hell, then He must conquer sin and Satan himself.  That is what this text intends to prove.
This, as I said, is the capstone on messianic credentials.  This is what ultimately has to be known.  If we are to trust our time in eternity to Christ, if we are to trust Him as our Savior and the forgiver of our sins, if we are to trust Him to overpower sin and overpower death and overpower the devil and overpower hell and set us free and bring us to heaven, then we need to know that He has the ability to conquer Satan in the most intense confrontation.
MacArthur says that the place where Jesus went is terrifying:
Let me talk about the wilderness a little bit.  I've been there.  I've stood in that place.  And some of you have done it as well.  The last time I went to Israel we took a group of people and we gave them an experience, the likes of which they're not likely to forget, and that is we took them into this wilderness on the road from Jericho to Jerusalem, not the main road, not the road everybody travels, but the old road that runs along the area called "the devastation."  This is a frightening and terrifying kind of experience.  That is where the Holy Spirit leads Jesus …
… the area between the Dead Sea, the Jordan river, the Dead Sea and Jerusalem.  It is an area in the Old Testament called Jeshimon, and it's called… It could be translated "the devastation."  It's a really terrifying place.  To take a ride in a vehicle up that road is frankly very frightening.  Many people have been frightened by that.  It is a precipitous area, loose rock. It is rock, rock, rock and more rock, jagged, ragged, craggy peaks with severe ravines that go down hundreds of feet.  It is dry.  It is barren.  It is inhabited by wild animals, snakes, scorpions and all of that.  It is barren.  It is the worst part of the Judean desert.  It is certainly a place where Jesus would be more alone than any other place in Palestine.  And the fact of the matter is, the only reason we even know what happened there is because Jesus allowed it to be recorded because He was the only one there.  It's about a thirty-five by fifteen mile area, be very hard to move around in that area.  I have felt the rocks sliding under my feet.  I remember standing on a little knoll and feeling the rocks sliding under my feet as I was trying to get closer to the edge and seeing the sheer drop down to a bottom I couldn't even see.  It's that kind of an area; very difficult area to traverse, almost unthinkable experience to spend forty days there, six weeks.
The devil tempted Jesus there for 40 days, during which time He ate nothing; when they ended, He was famished (verse 2).
There is much to look at in this verse.
One aspect of theology I find problematic is the reference to Jesus as the Son of Adam, who capitulated to sin in the Garden of Eden, where everything was perfect.
MacArthur explains:
There once was a man who was perfect.  There once was a man who was without sin.  There once was a man who was undefiled.  There once was a man who lived in a perfect environment, a perfect place, a perfect world.  There once was a man who had everything that could possibly be given him by God and that man, the first time he was ever assaulted with temptation, fell, both he and his wife, and catapulted all of humanity into condemnation.  Is Jesus like Adam?  Is this another Adam, who though perfect at the start, can't sustain that in the battle with the enemy?  We need to know that.
And Luke knows we need to know that and the Holy Spirit knows we need to know that.  We cannot have a victim for our Savior.  We can only have a victor.  We cannot have someone who is as susceptible to sin as we are, as susceptible to death and hell and the devil as we are.  We have to have someone who can conquer sin, conquer death, conquer Satan, conquer hell …
He is not like Adam and yet He is like Adam.  He is a son of Adam, but He is far beyond Adam.  Though He, like Adam, is truly human, He, unlike Adam, cannot sin.  Let me kind of help you a little bit to see deeper into that contrast because I think it really elucidates this account.
All the way back, son of Adam, Son of God, that is to say Jesus is truly human, He is truly and fully human.  He is not like a man.  He doesn't look like a man or act like a man, He is a man.  He is 100 percent fully human.  Hebrews 2:17 puts it this way, "He had to be made like His brethren in all things."  There is no area in Jesus' existence that is not fully human.  He is fully human.  He is truly a son of Adam.  He was born as a human.  He was a babe in the womb of His mother.  He lived as an infant, as a toddler, as a child, as a young person, as a teen-ager, as a young adult, as a mature adult, and according to chapter 2 verse 40 and verse 52, He grew in wisdom and stature and favor with God and man.
Remember, one of the most important messages I gave you a few weeks ago was on the humanity of Jesus.  He is God, but He voluntarily set aside the independent exercise of His deity.  He didn't cease to be God, He is fully God and fully man, but He voluntarily set aside the independent exercise of His deity and submitted Himself to the Father's will and the Spirit's power.  He did what the Father wanted Him to do and He did it by the power of the Holy Spirit.  So He set aside the use of His divine powers and submitted Himself to true humanness and allowed the Spirit of God to work His work through Him …
So, this is a monumental moment.  This is the second Adam being confronted with a massive assault like the first Adam.  The first Adam was also sinless, like the second Adam.  But the first Adam fell. The second Adam did not, cannot, and will not.  Adam then puts the whole race into sin and damnation, and Jesus lifts sinners to heaven.  It all comes down to the issue of defeating sin.  He was a true Son of Adam then, truly human, and as a man His Father could say of Him, "This is My beloved Son in whom I am well pleased.  Thirty years He's lived, He's never thought, said, or done anything that didn't please Me.  That is His perfection."  He is then going to be attacked, as it were, by Satan and where the first Adam fell, He triumphs …
So here is Jesus Christ, the second Adam, the head of a new humanity who will rise to glory rather than fall to hell like the old humanity led by the first Adam.  It tells us that He has infinitely greater power in Himself than Adam ever had.  Adam was just a man, this is the God-Man and His humanity is protected from sin by His deity.
Think about the circumstances that make the distinction between Jesus and Adam so obvious.  Adam was in a garden, the best imaginable place.  He was in Eden, he was in paradise.  Jesus was in an anti-Eden, the most desolate, forsaken, and dangerous place in the Judean desert, barren and empty.
Adam lived in a sinless world, a sinless environment.  Jesus lived in a sinful world.  Adam never had known any temptation.  Adam fell at the first temptation, which means there was no prior assault to try to break down his resistance.  Jesus has had thirty years of temptation and then forty days of temptation before the final three come, all that attempting to break down His resistance.
Adam had perfect human strength, perfect human strength.  Adam was delightfully and wonderfully fed by all the lush provisions of the garden.  Jesus was weakened by forty days with no food.
Adam had all conceivable things to enjoy, never knowing hunger.  Jesus was hungry, well He was starving.  Adam needed nothing, he needed nothing.  He had everything.  He ruled everything.  Jesus had nothing, no food, no authority, nothing, no kingdom, no sphere of rule.  He's all alone.
And Adam certainly had no need to test God to see if God really cared, to see if God really loved him, since he had ample evidence that God loved him and God cared while he was wandering around in the lavishness of Eden.  Jesus deprived of all of that and everything else, with nothing but a desolate desert and Satan trying to push Him to test God to see if God really does love Him …
So, Jesus with a right to eat as the Creator has no food.  Jesus with the right to rule as King has no kingdom.  Jesus with the right to divine care and divine protection and divine blessing is exposed to the severest dangers.  And the point should be clear. Jesus didn't fall, Adam did.  And that tells you what a vast difference there is between Jesus and Adam.  In the best of circumstances, Adam fell.  In the worst imaginable circumstances, Jesus did not.  This is our Savior.  This is our Messiah.  And this is the proof of it.  Adam, innocent, perfect, rich, lacking nothing, fell under the first assault.  Jesus did not. Poor, alone, weary, hungry and He is triumphant.
I can't tell you other than to say this is absolutely critical to the issue of salvation.  That's why it's here.  It's not just an interesting incident. It's the heart and soul of everything.  Jesus can't save us from sin and death and hell if He Himself cannot conquer it.  So where the first man failed, in Adam we all died, the second man succeeds, in Christ we all live.
Another point to explore before going any further is the Jewish belief in the devil. Although they acknowledge that sin exists, most Jews today do not believe in Satan. They find it quaint that Christians do.
MacArthur says that this was not always so:
Now the Jews knew about the devil.  In the Old Testament he was called Satan, which means adversary, or enemy.  He first appears by name, of course, in Job, then again in Zechariah, then again in 1 Chronicles, but he appears, first of all, as a serpent in the third chapter of Genesis.  The Jews knew about the enemy, the adversary.  They knew about the personification of evil.  They knew Satan as the source of evil.  They knew that he had brought down the whole human race in Eden.  And the question was: If Jesus is the Messiah, can He overturn this?  Can He bring back the paradise lost?  Can He conquer the enemy of God and the enemy of our souls? …

Obviously Jesus triumphs over Satan.  That is absolutely critical … That is the last capstone on the wall of messianic credentials.  This is the final exam that Jesus passes to qualify as the Savior of sinners …
Now devil…the devil, as he is called here in verse 2, is the Greek word diabolos and it means "accuser," and it means "slanderer."  And that's what Satan does.  That's what he is.  He's the accuser of the brethren.  He's the slanderer.  And, of course, he would love to bring an accusation against God's elect, and the Lord, of course, defends us from that, according to Romans 8, because we belong to Him and Jesus has already paid the penalty for our sins.  It is also true that he would want to bring an accusation against Jesus Himself, but he had none that he could bring legitimately.  "He has no claim on Me. He has nothing in Me."  There was no justifiable charge of sin that ever could be leveled at the Son of God.
There is also the question of the deity of Jesus, which even some of today's clergy doubt, sadly. MacArthur says that Satan and his demons have never questioned that Jesus is the Son of God:
Some people question the deity of Jesus. Lots of people question the deity of Jesus.  Mormons deny the deity of Jesus.  Jehovah's Witnesses deny the deity of Jesus.  Liberals deny the deity of Jesus.  But I'll tell you one group who don't: Demons.  Demons do not deny the deity of Jesus and the devil never denies the deity of Jesus. He always assumes it.  Repeatedly he says to Him, "If" or since "You are the Son of God." verse 3.  It never was a question, never.  They know who they are dealing with and Satan knew exactly who he was dealing with and he knew exactly what he wanted to accomplish and that was somehow to put so much subtle, powerful, clever pressure on Jesus as to overturn His holiness and force Him into sin so that he could literally destroy Jesus' ability to save sinners and to destroy him, the devil.
The final theological point to look at is how Jesus was tempted and how He managed to resist sin:
He knew He was the Son of God.  He knew why He had come.  He grew like any person grows, like any human being grows.  And as He grew as a real man, the Spirit of God gave to Him more and more of the truth of His personhood.  And as He grew He was exposed to temptation.  When the writer of Hebrews says He was at all points tempted like as we are, it means in all points in the chronology of His life.  He was tempted as an infant, the way infants are tempted.  He was tempted as a child the way children are tempted.  He was tempted as a young adult the way young adults were tempted and so forth and so forth.  All through His life He was tempted, with one great distinction, and you must understand this, all the temptations, all the solicitations to evil that ever came to Jesus stayed on the outside.  This is why it's impossible for us to grasp that because we don't understand temptation in that sense.  Why?  Because for us temptation takes place predominantly on the inside; but for Jesus, there was nothing in Him that could internalize that temptation and work it toward evil …
So, He was in all points tempted like as we are, yet without what?  Without sin.  Because He had no capacity to internalize it.  But nonetheless the onslaught came and He heard it and He heard all the cleverness of it and He saw it in the world around Him and in people and the demons that orchestrated it and here Satan himself who orchestrates it.  He could see the temptation.  He could understand the temptation, but He could not internalize it, mixing it with some evil intent because it didn't exist in Him.  He was true humanity, He was holy, He was unfallen and He was perfect, but different than Adam in that Adam apparently did have the capacity to internalize temptation and turn it into sin. Jesus did not.  That's why I love the statement Jesus made in John 14:30, He said that, "The ruler of the world," Satan, "is after Me but he has nothing in Me." He has nothing in Me, he has nothing on Me, he can lay no claim on Me, he can make no justifiable charge of sin." 
… Now this brings up the question and theologians have always liked to talk about this question, although I've always thought it was kind of silly to do that. The question is: Could He have sinned?  This is called the debate about the impeccability of Jesus, and you can read all kinds of material on this.  Could Jesus have sinned?  And there have been theologians through the years who have said yes He could have sinned.
They're wrong, clearly. I don't even know why anybody would discuss it. Of course He couldn't sin. Can God sin?  God can't sin. "He's of purer eyes than to behold evil," "can't look upon iniquity."  He has no capacity to sin.  Jesus had no capacity within Him to turn anything into a sin. He couldn't conceive anything in such a way, mixing it with lust and evil intent as to produce a sin.  It was impossible because there was nothing in His nature to do that, nothing …
Well then, some theologians would say, "Well if He couldn't sin then temptation wasn't real."  That's not true.  That's… That's not true.  You don't always sin when you're tempted which means you could be tempted and not sin.  You can be hit with some strong temptation and you can be victorious and walk away and not sin and thank God and praise God and be triumphant.  As Christians we do that.  That doesn't mean it wasn't a temptation.  The fact that Jesus couldn't sin doesn't mean He couldn't be tempted.  Look, Satan tempted Him, he tempted Him personally.  The devil came and tempted Him personally.  Demons came and tempted Him personally.  Demons working in the wicked leaders of Israel and others came after Jesus. He was exposed to sin all around Him as the system of Satan worked its way through human depravity.  It came at Him on the outside. He saw it all.  He understood it in His mind but He had no internal capacity to turn that into a sin.  But it doesn't mean that He didn't feel or experience the reality of that temptation …
Westcott says, "Sympathy with the sinner in his trial does not depend on the experience of sin, but on the experience of the strength of the temptation to sin which only the sinless can know in its full intensity," end quote.  That's exactly right.  Only the sinless One knows how intense the temptation can be, every temptation, because he never gives in and finally the temptation having exhausted itself departs.
Returning to our Lord's hunger, the devil said to Him that 'if' — MacArthur prefers 'since' — He is the Son of God, He can command a stone to become a loaf of bread (verse 3).
The devil was tempting Jesus in a way that only He could be tempted: to perform a miracle to stave off His hunger.
MacArthur elaborates:
Satan senses in that hunger a new vulnerability. He senses that in the fact that Jesus is feeling hunger that Jesus is beginning to feel His mortality. He moves in for what he thinks might be the kill. What happens is three temptations that Satan devises that are the most brash, the most ruthless and the most clever. He keeps them until he finds in Christ this moment of vulnerability …
… the pattern of battle is very, very important. The temptations directed at Jesus Christ are unique to Him, and I want you to understand that …
MacArthur says that, although Satan tempted Jesus in the way only He could be, the common thread of any temptation is the sense that God does not love us. Satan works on that deception carefully. He did with Jesus, albeit unsuccessfully, and he does the same with us:
We can understand that categorically, can't we?  That's there.  I can't turn stones into bread but I can be tempted to distrust God's love for me.  And the question, why it is that I don't have the things that I think would be given to me would be measures in some way of God's love for me.  And that's precisely the category, but the temptation is specific.  Let's look at it.
Verse 3: "The devil said to Him." All the way through the devil speaks, by the way, with a measure of truth.  Deception only works if it somehow has partial truth in it.  And so when the devil speaks, he starts from a point of truth. That's the subtlety of his deception.  So the devil said to Him, "If" or probably better translated, "Since…" This is a first class conditional with a particle, which is ei in the Greek. And a first class conditional does not presume doubt. It does not presume doubt.  So he's really saying, "Since…since You are the Son of God."  This is true and this is the measure of truth with which Satan launches the deception …
The implication here is to distrust God's love.  The implication here is based upon the fact that Satan knew that Jesus had restricted His independent use of His own deity to do only the will of the Father through the power of the Spirit, and that He wasn't to do anything that the Father didn't will and the Spirit empower.  In fact, Jesus said, John 4:34, "My food is to do the will of Him who sent Me."  Numerous times in the gospel of John Jesus says that one way or another. "I only do what the Father tells Me to do, I only do what the Father shows Me to do.  I've come to do the Father's will, that's it."
Part of the self-emptying — the kenosis as theologians call it — part of Jesus' humiliation was to set aside the independent use of His own deity and operate only under the Father's will in perfect submission and by the Spirit's power in effecting that will. That was part of His full … condescension.
So the implication here is to say, look, if God really loved You, You wouldn't be hungry.  How much does God really love You?  You've waited all this time in Nazareth, You had Your moment in the sun down there at the Jordan river at Your baptism, and now for forty days You've been out here in this God-forsaken place and You've been in conflict with the devil and You've had nothing to eat for forty days and now You're very hungry and God hasn't provided anything for You.  So You think You can trust God's love?   Do You think that's an evidence that God really loves You?  Maybe God doesn't love You as much as You think He loves You.
This is exactly the…the formula that Satan used with Eve, isn't it?  What Satan was saying to Eve in the Garden is, "You mean to tell me there's a tree that has fruit on it and God doesn't want you to have it?  Well if God really loved you, why would He restrict you?  God probably isn't as loving as you think He is. He's probably not as kind as you think He is.  He's probably not as good as you think He is or He wouldn't…He wouldn't restrict you from eating that true…that tree.  Don't you think that maybe God isn't quite as good as you think He is, or as loving as you think He is.  In fact, you know I'll tell you why He doesn't want you to eat that, because if you eat that you'll be like Him and He hates competition at that level.  And that will tell you He's really not good at all because the reason He doesn't want you to eat of that is you'll be like Him and He doesn't want that kind of competition."
And Eve bought into the lie that God wasn't as good as she thought He was; He wasn't as kind as she thought He was; He wasn't as loving as she thought He was.  And so she ate.  That's the same scenario here.  You think God is loving?  You're the Son of God, how come You're hungry?  You think God is loving?  Didn't You just hear God out of heaven down at the Jordan river say, "This is My beloved Son in whom I am well pleased," so is this how He demonstrates it?  Forty days in the wilderness, forty days in here in conflict with Satan in this precipitous, dangerous, God-forsaken place, forty days with nothing to eat, this is love?  Since You're the Son of God, let me suggest to You it's time to use Your own prerogatives.  And what…what Satan wants to do is to set Jesus against the Father and the Spirit, acting independently on His own.  And he can't appeal to Him in His deity so he appeals to Him as the God-Man through His humanity.  You shouldn't be hungry, You shouldn't be suffering this.  You shouldn't be going through this.  You're the Son of God …
You see, he's never denying the deity of Jesus. He's never denying He's the Son of God. He just wants to get Him through this clever manipulation to act independently of the Father, therefore express disobedience, which is sin, and that's the idea. Distrust God …
Jesus responded by quoting Scripture — 'It is written' — 'Man does not live by bread alone' (verse 4).
Henry says that it is important for us to know Holy Scripture, because it is a principal weapon in spiritual warfare:
… it is a quotation out of the Old Testament, to show that he came to assert and maintain the authority of the scripture as uncontrollable, even by Satan himself. And though he had the Spirit without measure, and had a doctrine of his own to preach and a religion to found, yet it agreed with Moses and the prophets, whose writings he therefore lays down as a rule to himself, and recommends to us as a reply to Satan and his temptations. The word of God is our sword, and faith in that word is our shield; we should therefore be mighty in the scriptures, and go in that might, go forth, and go on, in our spiritual warfare, know what is written, for it is for our learning, for our use. The text of scripture he makes use of is quoted from Deuteronomy 8:3: "Man shall not live by bread alone. I need not turn the stone into bread, for God can send manna for my nourishment, as he did for Israel; man can live by every word of God, by whatever God will appoint that he shall live by." How had Christ lived, lived comfortably, these last forty days? Not by bread, but by the word of God, by meditation upon that word, and communion with it, and with God in and by it; and in like manner he could live yet, though now he began to be hungry. God has many ways of providing for his people, without the ordinary means of subsistence; and therefore he is not at any time to be distrusted, but at all times to be depended upon, in the way of duty. If meat be wanting, God can take away the appetite, or give such degrees of patience as will enable a man even to laugh at destruction and famine (Job 5:22), or make pulse and water more nourishing than all the portion of the king's meat (Daniel 1:12; Daniel 1:13), and enable his people to rejoice in the Lord, when the fig-tree doth not blossom, Habakkuk 3:17.
The devil then showed Jesus all the kingdoms of the world in an instant (verse 5).
MacArthur thinks that such a vision was real, but Henry says it was a mirage, a phantasm, something Satan conjured up:
He gave him a prospect of all the kingdoms of the world in a moment of time, an airy representation of them, such as he thought most likely to strike the fancy, and seem a real prospect. To succeed the better, he took him up for this purpose into a high mountain; and, because we next after the temptation find Christ on the other side Jordan, some think it probable that it was to the top of Pisgah that the devil took him, whence Moses has a sight of Canaan. That it was but a phantasm that the devil here presented our Saviour with, as the prince of the power of the air, is confirmed by that circumstance which Luke here takes notice of, that it was done in a moment of time; whereas, if a man take a prospect of but one country, he must do it successively, must turn himself round, and take a view first of one part and then of another. Thus the devil thought to impose upon our Saviour with a fallacy–a deceptio visus; and, by making him believe that he could show him all the kingdoms of the world, would draw him into an opinion that he could give him all those kingdoms.
The devil said that he would give these kingdoms to Jesus, including authority over them because they were his to give (verse 6), provided that Jesus worship him (verse 7).
MacArthur points out that was Satan's huge failure. One could say that Satan 'jumped the shark' with that one:
Satan makes this serious overstatement in verse 6, "For it has been handed over to me and I give it to whomever I wish."  Oh really?  Boy, did he have an inflated opinion of himself and his power.  There is some truth in that and Satan always likes to deal in half-truth.  He is called in John 12:31, John 14:30, John 16:11, "the ruler of this world."  That's true.  In 1 John 5:19 it says, "The whole world lies in his lap."  In 2 Corinthians 4:4 he's called, "the god of this age."  It does not mean that he literally possesses the nations of the world.  What it means is that he rules the system of evil that dominates the nations of the world …
… He simply rules the system of evil. He does not determine the nations and who rules the nations. In fact, Romans 13 says the hours that be are ordained by God. But Satan is a liar. Not only did he not have the power to give it, it wasn't his to begin with anyway.
Once again, Jesus responds by quoting Scripture: 'It is written'. He quotes the Old Testament, whereby we are to worship the Lord our God and serve only Him (verse 8).
Henry says:
Such a temptation as this was not to be reasoned with, but immediately refused; it was presently knocked on the head with one word, It is written, Thou shalt worship the Lord thy God; and not only so, but him only, him and no other. And therefore Christ will not worship Satan, nor, when he has the kingdoms of the world delivered to him by his Father, as he expects shortly to have, will he suffer any remains of the worship of the devil to continue in them. No, it shall be perfectly rooted out and abolished, wherever his gospel comes. He will make no composition with him. Polytheism and idolatry must go down, as Christ's kingdom gets up. Men must be turned from the power of Satan unto God, from the worship of devils to the worship of the only living and true God.
Satan then launched his final unsuccessful temptation. Wanting to be kingmaker, he took Jesus to Jerusalem, which MacArthur says would have been possible supernaturally, placed him on the pinnacle of the temple and commanded Him to throw Himself off of it, since if He were the Son of God (verse 9), it is written that God would command His angels to protect Jesus (verse 10), as they would not allow Him to dash His foot against a stone (verse 11).
MacArthur describes the setting:
There is a point on the temple mount in Jerusalem that is the dizzying height. You know, if you have any kind of fear of heights, you don't want to go near this corner. It's the southeast corner. The temple mount, of course, is a massive, massive patio kind of thing, a massive place where today is the Dome of the Rock and the Mosque of Omar, as it's called, two great Muslim places. And up at the north end of it is where they believe the original temple was, and it's surrounded by a wall and it sits up on what is really Mount Moriah, Moriah where Abraham went to sacrifice Isaac. And so it's been flattened out and you ascend it long stairs from the southern side. Those gates, by the way, and the stairs there are the very ones Jesus went in and out of the temple of in His lifetime. So it's a remarkable place. I've preached on those very steps.
But on the southeast corner there is a corner of the temple ground that sinks down into the valley, the Kedron valley where the Kedron stream goes through and it is a dead straight drop of 450 feet to the ground. Tradition, Eusebius, tells us that the brother of our Lord, James, who was the leader of the Jerusalem Council, was thrown to his death from that corner. They threw his… They threw him alive off that 450-foot edge.
As for Satan's quoting Scripture, Henry points out the deception therein:
It is true, God has promised the protection of angels, to encourage us to trust him, not to tempt him; as far as the promise of God's presence with us, so far the promise of the angels' ministration goes, but no further: "They shall keep thee when thou goest on the ground, where thy way lies, but not if thou wilt presume to fly in the air."
Once more, Jesus quoted Scripture: 'Do not put the Lord your God to the test' (verse 12).
Henry explains the verse and the context:
Christ quoted Deuteronomy 6:16, where it is said, Thou shalt not tempt the Lord thy God, by desiring a sign for the proof of divine revelation, when he has already given that which is sufficient; for so Israel did, when they tempted God in the wilderness, saying, He gave us water out of the rock; but can he give flesh also?
Then the devil departed, until an opportune time (verse 13).
The 'opportune time' refers to Judas's betrayal (Luke 22:53). Jesus said to the Jewish hierarchy — led by Judas — at His arrest at the Mount of Olives:
53 When I was with you day after day in the temple, you did not lay hands on me. But this is your hour, and the power of darkness."
In closing, MacArthur quotes John Milton and says that the theology in Paradise Regained is spot on:
Now in John Milton's famous Paradise Regained, the author expresses the purpose of Jesus' temptation in the wilderness and he does so in the following words, as though spoken by God, His Father.  Milton writes as if God is speaking, "But first I mean to exercise Him in the wilderness.  There He shall first lay down the rudiments of His great warfare, ere I send Him forth to conquer sin and death, the two grand foes, by humiliation and strong suffering," end quote.
Well, the…the wisdom of John Milton is obviously legendary and Milton had it right.  When he penned those words it was God sending forth His Son for His exercise in the wilderness in which He would defeat the devil and then demonstrate there the power for the great warfare in which He would on the cross conquer sin and at the grave conquer death.  If Jesus would triumph in the wilderness, then He would triumph at Calvary and He would triumph in the garden.  He would triumph at the cross and triumph at the tomb.  And if Jesus could conquer Satan, then we can be assured of that triumph and that there will be paradise regained …
So you see, what happens here in the temptation is a foretaste of what is to come through all of the great events of the life and ministry of the King, the Messiah, the Son of God, the Savior of the world. We believe that He will conquer in the future because He conquered in the past, and this is where it all began. It's as if the…the guarantee of His future conquerings was established in the event of His temptation in the wilderness when Satan came and hit him with the full fury of his best assaults. And Jesus withstood them all triumphantly.
May everyone reading this have a blessed Sunday.
The three-year Lectionary that many Catholics and Protestants hear in public worship gives us a great variety of Holy Scripture.
Yet, it doesn't tell the whole story.
My series Forbidden Bible Verses — ones the Lectionary editors and their clergy omit — examines the passages we do not hear in church. These missing verses are also Essential Bible Verses, ones we should study with care and attention. Often, we find that they carry difficult messages and warnings.
Today's reading is from the English Standard Version with commentary by Matthew Henry and John MacArthur.
12 And what I am doing I will continue to do, in order to undermine the claim of those who would like to claim that in their boasted mission they work on the same terms as we do. 13 For such men are false apostles, deceitful workmen, disguising themselves as apostles of Christ. 14 And no wonder, for even Satan disguises himself as an angel of light. 15 So it is no surprise if his servants, also, disguise themselves as servants of righteousness. Their end will correspond to their deeds.
—————————————————————————————–
Last week's post discussed Paul's refusal to take money from a church he was planting. He took money only from churches that he had established. Those donations went towards his upkeep and to the new church.
John MacArthur sums up those verses — 7 through 11 — and today's as follows (emphases mine):
In the passage in which we are now involved, verses 7 through 15 of 2 Corinthians chapter 11, Paul is doing what is very necessary. He is contrasting true apostles with false apostles. He is contrasting himself as the true man of God, spokesman for the Lord with the false apostles and false teachers who had come into Corinth claiming to be apostles of Christ and messengers of God who were not. And the contrast that he makes is built around three areas, or three categories: humility, truth and love. Those are the three marks of a true apostle, a true prophet, a true teacher, a true preacher.
This applies to today's true clergy:
Humility, truth and love will mark their lives. They will be humble in the sense that they will be self-effacing. They will be sacrificial. They are marked by truth in they are void of deception. And it is truth that they live for not only in what they say, but in their own personal lives. It will be truth not only from them, but truth in them. And they will be marked by love. That is to say they will be far more concerned with others than they are themselves, and they will be willing and eager to spend themselves for the sake of others, because that's the character of love; it gives sacrificially.
True teachers – just mark it out – look at their life. Do you see manifest evidence of humility? Do you see manifest truth and manifest love? Those are the things that mark them. Really there couldn't be a better summation of the character of true apostles and true teachers than those three virtues.
Paul lays it on the line in these four verses.
First, he says that he will continue conducting his ministry in the way he always has done; this is to undermine the false teachers who claim to be doing the same work as he (verse 12).
He wanted to make sure that his ministry provided a sharp contrast to theirs, particularly when it came to money, which he refused to accept from the Corinthians when he was establishing their church.
MacArthur says that the false teachers hoped Paul would start taking money from the Corinthians as they were doing to bring him down to their level:
… it was the objective of Paul's rivals to be elevated to the level of a true apostle as many people thought Paul was; and he really was. They wanted to be up on the level of those who thought Paul was an apostle; they wanted to be considered equal with Paul.
And how were they going to be able to be considered equal with Paul among those who believed that Paul was a true apostle? How could they succeed in being considered equal with Paul if Paul wasn't taking any money? If Paul took money, then they could claim that, "Well, we just operate the way Paul does. We're on the same level he's on."
Paul goes on to call 'such men' what they truly are: 'false apostles' who are 'disguising themselves as apostles of Christ' (verse 13).
Paul does not name them, but MacArthur surmises that everyone in Corinth knew who they were:
The church in Corinth knew exactly who he was talking about. They knew their names. They knew their names, and they knew their addresses. They knew everything there was to know about them.
Paul writes bluntly because the truth of the Gospel is at stake:
Now some have criticized Paul for using rather potent language here. We would agree as to the potency of the language. If those guys were sitting near the front of the church when this letter was read, it would appear to be extremely potent to them, I'm quite confident, and everybody else listening; for it was. Paul is not tolerant. He is not even pleasant when the truth is at stake.
When it is a matter of the honor of God, the honor of Christ, the truth of the gospel and Scripture, this is a time for potency in language; this is not a time to equivocate. So he pulls no punches. He says, "They're false apostles, deceitful workers, disguising themselves as apostles of Christ."
… Paul says such men are false apostles, pseudapostolos. Paul probably coined the word. They claimed to be equal to Paul … In fact, he says at the end of verse 13, "They disguise themselves as if they're apostles of Jesus Christ." They're claiming to be equal with Paul, and Peter, and James, and John, and Andrew, and Philip, and the rest …
I mean, that's the whole game. They come in. They do whatever their lust and desires tell them to do. They're driven by their own passions to fulfill their own desires at the expense of people. They are false apostles. But they always make these grandiose claims. They always make these high claims to be spokesmen for God, because then you can't question them without somehow being accused of questioning God.
Paul says that such deception isn't anything to wonder about, given that Satan disguises himself as an angel of light (verse 14).
Matthew Henry's commentary says:
And no marvel (says the apostle); hypocrisy is a thing not to be much wondered at in this world, especially when we consider the great influence Satan has upon the minds of many, who rules in the hearts of the children of disobedience. As he can turn himself into any shape, and put on almost any form, and look sometimes like an angel of light, in order to promote his kingdom of darkness, so he will teach his ministers and instruments to do the same.
Satan is not going to present himself to us as he really is. He will appear through others as appealing, even ingratiating, in order to seduce us into error and sin. He disguised himself as a serpent when he encountered Eve and got her to question God's command not to eat the fruit of the tree of knowledge. He worked on her. He persuaded her that she misunderstood God's command. And so she ate the fruit.
Paul tells the Corinthians it is no surprise that Satan's servants disguise themselves as servants of righteousness but warns that their end will result in God's judgement (verse 15):
Their end will correspond to their deeds.
MacArthur says:
Satan is most effective in the church when he comes not as an open enemy, but as a false friend. He's most effective against the church not when he attacks the church, but when he joins the church; not when he attacks the pulpit, but when he stands in it …
Bottom line: they're not getting away with it, right?
You often ask the question, you know, "Well, Lord, why don't You stop this stuff? Why can't You bring the church to truth? Why do we have to deal" – they won't get away with it. God just has a different time table than you and I, right? It's going to happen. And the destiny of the false teachers will be consistent with their deceptive deeds.
There are several references to false prophets in the Bible, including the Old Testament.
MacArthur tells us what to look for in these deceivers:
If you were to go back to Jeremiah 5:31 you would see that false teachers are characterized by authoritarianism. They tend to be domineering, dominating, over-bearing personalities, always right. And if you don't agree with them, you are really in some serious trouble. You will receive their curse.
They are authoritarian. They don't want to be questioned. They are right. They come from God. They have the final word. That's typical of false teachers, and that's a manifestation of their pride. Whereas the true teacher is always humbling himself under the Word of God, and seeing himself as merely a servant of that truth.
Secondly, if you study the Bible you will find that false teachers are identified as to their pride by presumption. They tend to be presumptuous as well as self-willed. Peter writes about it as well. They tread into sacred things, just blissfully making havoc out of truth and things like that for their own ends.
Thirdly, according to Isaiah 29:16, they're idolatrous. That is to say they want to be worshiped. They want to be set up as little gods and have everybody bowing down to them. They want to be the big hero. They love their name in lights.
So you see the pride of the false teachers in their authoritarianism, their presumption, their idolatry. You also see it in their greed. And, perhaps, that's the dominating thing as you look at false teachers through the Scripture is that they're doing what they're doing to get rich, to extract out of people the things of life so that they can ingratiate themselves …
Just look when you're assessing whether someone is a true or a false teacher. Do you see humility or do you see pride? Do you see a person sacrificing his life to give away the truth with only regard for service to others; or do you see one who is building an empire, building an estate, becoming rich, one who is parading his authority, one who is always right, one who demands that we bow before him, one who wants almost to be worshiped and adored? Those are the questions.
Imagine if Paul were with us today, preaching and planting churches. He would be less popular than even Donald Trump, that is certain. Imagine the left-wing media excoriating him day after day. Imagine the scathing words about him on social media.
MacArthur puts it this way:
Critics today even in the "Christian church," quote-unquote, don't like people who are potent like Paul. Paul would have a hard time today, because there's a little, very little conviction and an awful lot of tolerance. But may I suggest to you that the truth is always intolerable to those who are distinguished by error. You just need to know that. The people who make the biggest fuss about the truth are the people who have the most to lose, right? And what do you have to lose when the truth invades? Your precious, protected error.
May we always strive to seek and understand the truth, no matter how unpalatable it seems in our era.
Next time — 2 Corinthians 11:16-21
The three-year Lectionary that many Catholics and Protestants hear in public worship gives us a great variety of Holy Scripture.
Yet, it doesn't tell the whole story.
My series Forbidden Bible Verses — ones the Lectionary editors and their clergy omit — examines the passages we do not hear in church. These missing verses are also Essential Bible Verses, ones we should study with care and attention. Often, we find that they carry difficult messages and warnings.
Today's reading is from the English Standard Version with commentary by Matthew Henry and John MacArthur.
The Temple of the Living God
14 Do not be unequally yoked with unbelievers. For what partnership has righteousness with lawlessness? Or what fellowship has light with darkness? 15 What accord has Christ with Belial?[a] Or what portion does a believer share with an unbeliever? 16 What agreement has the temple of God with idols? For we are the temple of the living God; as God said,
"I will make my dwelling among them and walk among them,
    and I will be their God,
    and they shall be my people.
17 Therefore go out from their midst,
    and be separate from them, says the Lord,
and touch no unclean thing;
    then I will welcome you,
18 and I will be a father to you,
    and you shall be sons and daughters to me,
says the Lord Almighty."
———————————————————————————————–
Last week's post concerned the greater glory of the New Covenant compared with the Old Covenant, which is no more.
In today's reading, Paul addresses the Corinthians' syncretic (false) religion combining Christianity with idolatry.
John MacArthur describes their situation, exacerbated by false teachers (emphases mine):
When a person becomes a believer they are transported out of one world into another.  And shuttling back and forth is absolutely unacceptable.  And that is precisely what the Corinthians were trying to do.  Having named the name of Christ, identified with Him, come into the church, they were still hanging on to their own idolatry, their old pagan ways …
Corinth was dominated above the city by an acropolis, a high mountain on top of which was the temple to the false deities which engaged itself in pagan ritual and worship and priestess prostitution.  This temple not only was the center of that religion, but from it disseminated its religious viewpoints and ideologies through the entire culture of Corinth.  It was a part of everything in life.  Holidays, festivals, celebrations and so forth.  And it was a constant pull to the Corinthians to fall back into those old patterns.  And they did. 
Additionally, the false teachers had come in and they had brought a quasi-Christian syncretism and eclectic religion which took Christianity, a little bit of Jewish legalism and some pagan religion, and melted it all together and offered it as the truth.  And that compromise had found its way into the Corinthian church and found an audience and some of them were listening and believing and accepting it.  You see, the false teachers wanted to make Christianity more popular, less demanding, less distinct, less narrow, less offensive, less different, less exclusive so they'd get more people in on it, so they could get more money, which is always what false teachers want. 
And so here is the Corinthian church, new and fresh and being assaulted by pagan religion around it.  You couldn't separate the social life from the religion.  You couldn't separate the historical life of that village in terms of its patterns from the religion.  And that village that became a city bore all of the signs of the religion that moved in its growth.  It was a full-blown pagan system down to the very core.  And it was hard to sort it out. 
To be involved at all in the life of the culture was to be involved in the paganism, unless you made a very clean break.  The Corinthians didn't do it.  And as I said, then add to that the confusion of the false teachers …
It's very much like modern Christianity today, by the way, that seeks to blend Christianity with popular culture, wants to make Christianity more popular, less different, more palatable, less offensive, less narrow, less exclusive.  And the result of it is that true Christianity and the purity of God's Word gets corrupted by compromise, and the church can become useless and shameful and blasphemous in mocking the truth. 
With that in mind, Paul instructs the Corinthians to have nothing to do with unbelievers, asking what partnership righteousness has with lawlessness or light with darkness (verse 14).
The answer is none; the two are mutually exclusive, as MacArthur says:
The terminology is clear.  One of those worlds is marked by righteousness, light, Christ, believers, and the presence of God.  The other is marked by lawlessness, darkness, Satan, unbelievers, and the presence of false gods.  And these two worlds are utterly different and distinct, so much so that they are mutually exclusive. 
They cannot work together in common partnership; they cannot fellowship together.  They are not in harmony with one another.  One is old; the other is new.  One is earthly; the other is heavenly.  One is deadly; the other is life giving.  One is wicked; the other holy.  One is built on lies; the other is all truth.  One perishes and the other lives eternally.
Paul then is making it clear that believers can't live in both worlds.  Certainly, John said this in his first epistle, 1 John, when he clearly identified this disparity between the two worlds with these familiar words, "Do not love the world, nor the things in the world.  If anyone loves the world, the love of the Father is not in him."  Mutually exclusive worlds.  You can't be in both at the same time.
MacArthur explains that lawlessness in the Bible is used to describe unbelievers:
Question number one, "For what partnership have righteousness and lawlessness?"  Partnership is metoch.  It's the only place it's used in the New Testament, it's really a synonym for the word Koinonia, which means partnership.  It means a common sharing together, the common engagement in a common effort.  And obviously righteousness and lawlessness can't join hands in the same enterprise.  Righteousness is that which pleases and honors God.  Lawlessness is that which displeases and dishonors God.  Righteousness is doing what is right.  Lawlessness is doing what is wrong. 
Believers are classified in the Bible as righteous.  The righteousness of Christ has been imputed to us ... God has covered us with the righteousness of Christ which includes the forgiveness of sins.  On the other hand, unbelievers are lawless, unrighteous.  Their sins are not forgiven.  There is no possible partnership for those two very opposite categories.
What about unbelievers?  In what way are they lawless?  Well it simply means they do not abide by God's law.  They violate it, they rebel against it, and they disobey it.  And the Bible characterizes unbelievers as lawless.  They will be damned to eternal punishment because they are lawless, because they are unrighteous, because they violate God's law and there is no possible cure for that violation because they do not come to the Savior who alone provides forgiveness.  So they die, as Jesus said, in their sins and are punished eternally. 
Jesus classifies them that way.  For example, in Matthew 7:23 He says to those who claim to know Him, "I never knew you, depart from Me – " and here's His characterization of those to be judged – "you who practice lawlessness."  The pattern of their life is an ongoing, constant, uninterrupted, violation of God's law, God's command, God's will and God's Word. 
Therefore, Paul's primary purpose of that verse is to make it clear that the unrighteous should not be involved with leadership positions in church.
MacArthur has more. He gave this sermon in 1995:
What we're talking about here is any linking together with an unbeliever in any religious or spiritual enterprise.  That's what we're talking about.  We're not talking about mutual funds; you can rest easy.  We're not talking about you should quit your job cause you work with non-believers.  We're not talking about Christians pulling out of the school because he doesn't have a Christian teacher.  We're not talking about leaving your neighborhood.  We're not talking about any of that.  We're talking about a spiritual enterprise, worship, ministry, evangelism.
Religious cooperation between the kingdom of darkness and the kingdom of light is ridiculous.  Why would we want to give Satan access?  You say, "Is this…is this a problem?"  Is this a problem?  This is Satan's number one ploy.  I remember when I was a student in college … I was first confronted with the fact that huge massive evangelistic endeavors were being held in America.  And the committees were made up of Christians and non-Christians, people who believed the Bible and people who denied the Bible and were theological liberals.  And I wasn't particularly profound, believe me, at that age ...  But it was in those years and I was asking, "How can they do that?  I don't understand how you can bring unbelievers and believers together in a common spiritual enterprise."  It doesn't make any sense.  I mean, why would you invite Satan in?
We still have that today.  Satan still endeavors to encroach.  Recently we had the Promise Keepers event in Los Angeles.  And right around the time of the Promise Keepers, I picked up the Los Angeles Times and found that the Cardinal…the Catholic Cardinal had affirmed everything about the Promise Keepers and encouraged all the parish priests to take all their men.  That was followed in an article, I think a day later, by the local Mormon bishop who said that he was encouraging all the Mormons to go.  What does that say about Promise Keepers?  Nothing.  What it says about Satan is everything.  That's always been his approach.  He doesn't want to fight it; he wants to what?  He wants to join it. 
If we are married to unbelievers, we should not divorce them, because God hates divorce.
However, Christians looking for a spouse should be careful, nonetheless.
MacArthur relates this true story:
I'll never forget a young man with whom I had a close association in seminary, one of the most tragic things.  We were dear friends.  We participated in all kinds of activities together.  He was headed to the ministry, as I was.  We graduated from Talbot Seminary the same year.  He married a Buddhist.  It wasn't long until there was a Buddhist altar in his house.  It wasn't long until he had abandoned the faith.  One wife.  You know, whenever I see men who are notably in the mainstream of the church and evangelicalism, and all of a sudden they seem to fall off into some serious deviation or error, I always want to ask, "What is the wife like?"  Certainly in many, many cases, if not most, that's where Satan's subtleties enter in.
Paul goes on to ask what accord Christ has with Belial, or Satan, and what portion does a believer share with an unbeliever (verse 15).
The answer, again, is absolutely none.
Matthew Henry's commentary states another important consideration about a forming a close relationship with an unbeliever:
Believers are made light in the Lord, but unbelievers are in darkness; and what comfortable communion can these have together? Christ and Belial are contrary one to the other; they have opposite interests and designs, so that it is impossible there should be any concord or agreement between them. It is absurd, therefore, to think of enlisting under both; and, if the believer has part with an infidel, he does what in him lies to bring Christ and Belial together.
What a terrifying way to lay out the truth of the matter.
The next three verses — 16 through 18 — are a summary of four verses from the Old Testament.
MacArthur tells us:
"Just as God said I will dwell in them and walk among them, and I will be their God and they shall be My people."  And by the way, that mosaic of Old Testament texts is the blending together of statements made in Leviticus 26:11 and 12, Jeremiah 24:7 and Ezekiel 37 and 27.  He is just taking what is the Old Testament teaching and sort of pulling it together in a mosaic and summarizing it, and saying God says He will dwell in His people and walk among them and be their God and they'll belong to Him.  We are the temple of the living God. 
Paul asks what agreement the temple of God has with idols, stating that we are the temple of the living God, as He said, 'I will make my dwelling among them and walk among them, and I will be their God, and they shall be my people' (verse 16).
MacArthur says:
I love the fact that He is called the living God as over against the dead idols.  That's a common expression with Paul in contrast to dead idols.  He uses it in Romans, 2 Corinthians, Thessalonians and 1 Timothy.  Any joining to unbelievers is putting idols in the temple of God, or putting the temple of God in an idol temple.  It is blatantly, overtly, intolerably sacrilegious.  And he confirms it with that little phrase, "Just as God said."  And if you do that, you are openly, flagrantly assaulting what God has said. 
Paul continues his scriptural summary, saying that the Lord says to be separate from unbelievers and touch no unclean thing (verse 17), a reference to idols. Then He will welcome us.
Henry has another stern warning:
There is a great deal of danger in communicating with unbelievers and idolators, danger of being defiled and of being rejected; therefore the exhortation is (2 Corinthians 6:17; 2 Corinthians 6:17) to come out from among them, and keep at a due distance, to be separate, as one would avoid the society of those who have the leprosy or the plague, for fear of taking infection, and not to touch the unclean thing, lest we be defiled. Who can touch pitch, and not be defiled by it? We must take care not to defile ourselves by converse with those who defile themselves with sin; so is the will of God, as we ever hope to be received, and not rejected, by him.
Paul concludes, saying that, if we do these things, the Lord Almighty will be our Father and we will be His sons and daughters (verse 18).
Henry asks:
… is there a greater honour or happiness than this? How ungrateful a thing then must it be if those who have this dignity and felicity should degrade and debase themselves by mingling with unbelievers! Do we thus requite the Lord, O foolish and unwise?
Here's a question that many will probably want an answer to: can we take unbelievers to church?
MacArthur says that we definitely can do so:
You say, "Do you mean unbelievers shouldn't come to church?"  No, I don't mean that.  I pray God that they will, and when they do that they'll be saved.  What I mean is church isn't to be designed to make pagans feel comfortable.  That is not its purpose.  They should be starkly held to accountability for their sins when they enter into the place of worship.  And they should feel uncomfortable and disconcerted.
So, what can we do about unbelievers we know and love?
Pray, pray and pray again that God draws them to Himself through Jesus Christ. I have been praying for months for someone I know to come to the faith. I will continue to do so. It is a long-term project of mine.
Next time — 2 Corinthians 8:1-6