You are currently browsing the tag archive for the 'scandal' tag.
Those who missed my retrospective on Pope Benedict XVI's papacy can read parts 1 and 2.
Today's post, the last one about this holy man, looks back at lesser known facts about his life.
N.B.: This is a lengthy post!
Let's start with Charles Moore's January 3 article for The Telegraph, 'Pope Benedict XVI was the last of the generation of leaders that knew war'.
Conversations about the Second World War with John Paul II
Charles Moore met Benedict only once, about 20 years ago. At that time, he was Joseph Cardinal Ratzinger, Prefect of the Congregation for the Doctrine of the Faith, popularly known as God's rottweiler.
Moore says that (emphases mine):
the bit of the job he enjoyed the most was each Friday evening when he, a German (who had been forced into the Hitler Youth, aged 12) would spend an hour or more in informal conversation with the Polish pope (who had endured the Nazi persecution of his church about an hour's drive from Auschwitz).
These two men, both born in the 1920s, had experienced Germany's disgraceful assault on Poland, which plunged the world into violence. They had seen Hitler's diabolical destructiveness followed by Stalin's reign of atheistic tyranny over eastern Europe. Yet here in Rome, half a century later, the German and the Pole were friends, co-workers and men of God, talking about theology, in a world largely at peace.
I think this shared experience, from unwillingly opposite sides, gave the two popes a depth of understanding which those of us brought up in easier times tend to lack. The passing of their generation should be acknowledged as a loss. There are many lessons to be learnt from them … and indeed from their entire age-cohort.
John Paul II and the future Benedict XVI agreed on most things, but had different emphases. The Pole, a philosopher by training, was obsessed by the possibilities of human love, which he saw fulfilled in Jesus Christ. This made him full of optimism and courage. "Be not afraid" was the text of his great inaugural sermon as pope, which inspired millions suffering behind the Iron Curtain.
The German agreed but, being a theologian and an official of the Curia, he thought more specifically about the Church. He had a strong sense of the depth and continuity of Christian civilisation, particularly in Europe. This made him passionately interested in liturgy. It should not be rendered "flatter" in order to improve superficial comprehension, he argued, because liturgy is not "like a lecture": it works "in a manifold way, with all the senses, and by being drawn into a celebration that isn't invented by some commission but that comes to me … from the depth of the millennia and, ultimately, of eternity".
Benedict also, perhaps, had more cultural pessimism than John Paul II. Living in the post-war West, he witnessed not tyranny but consumerism, triviality and boredom. The Church's duty to understand the spirit of the age did not mean it had to accept it. It had to shelter truth, as well as proclaiming it.
Being Prefect of the Congregation for the Doctrine of the Faith
The then-Cardinal Ratzinger told Moore that, as Prefect of the Congregation for the Doctrine of the Faith under John Paul II:
it was his job to "help the Pope with the necessary Noes", given that John Paul II was temperamentally inclined to say "Yes".
Margaret Thatcher met two Popes
Margaret Thatcher and her husband Denis were Protestant but, for whatever reason, were among the couples who received a papal blessing from Paul VI in June 1977, some years after they had married.
Moore has the story, which she related to him when they met Benedict XVI:
When Margaret Thatcher was old, a kind friend, Carla Powell, invited her to stay with her near Rome and meet Pope Benedict in the Vatican. I was asked to accompany the party. By this stage, Lady Thatcher had poor short-term memory. I felt I should remind her of what was happening. "Isn't it exciting?" I said to her. "We're going to see the Pope tomorrow." "Yes," she replied, "but what does one say to a pope?"
It was a reasonable question. I must admit that I had no answer to it, and still don't. The formalities of a brief audience leave no time to ask for useful tips about the secrets of the universe. Besides, Benedict XVI was a shy man and Lady Thatcher had become, as I say, rather vague.
I need not have worried. Even in old age, she was a tremendous actress, and once she was on the dais and recognised by the crowds, she behaved with perfect poise as pope and ex-prime minister exchanged pleasantries. As we descended, I pointed out to her the pen in which newly married couples, in their finery, always gather for a papal blessing. Lady T rushed up to them, "We did that a long time ago," she announced, recalling her wedding with Denis nearly 60 years earlier, "and it's a wonderful thing to do."
Joseph Ratzinger's childhood dream
Melanie McDonagh's New Year's Day column for The Telegraph tells us that young Joseph Ratzinger's childhood dream was to be a priest.
I was somewhat envious reading the following, as I, too, wanted to be a priest in my childhood but, unlike the young Bavarian, had to make do with my grandmother's green silk scarf for a vestment and the coffee table as an altar:
The death of Pope Benedict has left me desolate, not least because I muffed a chance to have a last interview with him. I thought I could postpone a meeting until I was properly prepared, which is always stupid when you're talking about a 95-year-old. Yep. I am an idiot. But his death led me back to Peter Seewald's biography, which is revelatory about his early life. It recalls little Joseph's Christmas letter to the Christ Child at the age of seven, asking for a green vestment to play at saying mass with his brother and sister. Back then in Bavaria, you could get tiny altars, with all the kit, for the purpose. In later life, Pope Benedict would recall that playacting at saying mass somehow made the future come to life. But the real giveaway about his direction of travel was that when people asked the little boy what he wanted to be when he grew up. He would answer solemnly: "A cardinal". He went one better than that though.
Amazing. Childhood really can influence our adult lives.
Rosamund Urwin's obituary of the late Pope for The Sunday Times was excellent. It also includes a photograph of young Joseph Ratzinger in his Luftwaffe uniform. Excerpts follow in the next several sections.
Childhood
Urwin tells us that the Ratzinger household was a devout one:
Born Joseph Ratzinger in 1927 in Bavaria, the son of a policeman, his pious parents had him baptised four hours after delivery. He was a child when Adolf Hitler came to power in 1933.
The home atmosphere also influenced his brother Georg. I wonder if Joseph shared his Mass kit with him:
In 1951, he was ordained alongside his brother, who died in 2020.
The Guardian has more:
Born in the village of Marktl am Inn, Bavaria, Joseph was the third child of three and second son of a former hotel cook, Maria (nee Peintner) and a police commissioner, also Joseph, both devout Catholics. His childhood was unusual because of the extraordinary piety of the family, which separated him from his contemporaries. There was never, it seems, a time when young Joseph did not want to be a priest.
His father's opposition to the Nazis is reported to have curtailed his police career. A lasting memory for Joseph was, as a boy, seeing Nazi supporters beat up his local parish priest in Traunstein, near the Austrian border. On another occasion, in 1941, a younger cousin who had Down's syndrome was taken away by Nazi officials under their eugenics programme to perish with many others.
Membership of the Hitler Youth was compulsory for the two Ratzinger boys.
Wartime
Returning to Rosamund Urwin's article, it is hard to imagine what serving a sick despot must have been like:
The family opposed fascism and the Nazi party, but he was forced to join the Hitler Youth at 14 when it became compulsory, and was later drafted into the German military, serving on the auxiliary staff in the Luftwaffe and then digging trenches on the Hungarian border. After Hitler's death, he deserted, risking being shot if captured.
His horror at Nazi Germany and the bloodshed was part of the inspiration for his becoming a priest after the war ended, when he found consolation in the sight of Ulm Cathedral. When he arrived home, he said: "The heavenly Jerusalem itself could not have appeared more beautiful to me."
The aforementioned Guardian obituary has more about his wartime service:
Like other 16-year-olds, Joseph was called up in 1943, serving first with an anti-aircraft battery in Munich and then with an infantry unit on the Hungarian border, before finding himself for six weeks in an American prisoner of war camp.
Ministry
Rosamund Urwin says that the Revd Joseph Ratzinger did not spend much time as a pastor. Academia took him to the top:
His time in parish ministry was limited: he preferred academia, becoming a professor of theology at Bonn University. In 1977, he became archbishop of Munich and Freising, and then a cardinal. This allowed him to vote in the conclave to elect the new pope after the deaths of Paul VI and John Paul I.
In Rome, Ratzinger met the charismatic Polish cardinal Karol Wojtyla, on whose behalf he campaigned and who became Pope John Paul II. The pair grew close and Ratzinger became the pontiff's right-hand man, their partnership shaping the church for the next three decades.
However, it appears that Cardinal Ratzinger wanted to retire but John Paul II refused his request:
Benedict did not appear to want to be Pope before he was elected in 2005. Then simply Cardinal Ratzinger, he was already 78 and had previously stated that he would like to retire to his house in Bavaria and write books. The historian Michael Hesemann, who interviewed Ratzinger's older brother Georg at length, said the brothers, who were close, had intended to travel together. After a number of mini-strokes in the 1990s, the cardinal asked the man he would succeed as pope, John Paul II, if he could retire from his position, but was turned down.
It was his leadership of John Paul II's funeral that put him in the media spotlight and made cardinals see him as John Paul II's natural successor, and he became the first German to be elected pope in almost a thousand years.
It was a good funeral. The BBC televised it, and I ran across many non-Christians who watched it with great interest, glued to the screen. I was happy to answer their questions.
From progressive to conservative
When I was growing up, my mother found Ratzinger's pronouncements appalling. This was before he was put in charge of the Congregation of the Doctrine of the Faith. She went so far as to vent her frustration to the nuns at my school. Unfortunately for her, the nuns were on Ratzinger's side of the argument. Those were the days of the later and looser implementations of Vatican II in parish churches.
By the time he became Benedict XVI, she was too ill to notice, but she would have been pleased to know that he became theologically conservative over the years:
In his younger years, Ratzinger had been viewed as a progressive, but he became a resolute theological conservative as he aged, earning the nickname "God's rottweiler".
The aforementioned Guardian obituary states that Ratzinger's views on Vatican II began to change in 1968:
His personal Road to Damascus came in 1968 at Tübingen, which had embraced the Europe-wide outbreak of student unrest of that period. It profoundly disturbed Ratzinger and caused him to decamp the following year for the more traditionally minded Regensburg, and, more significantly, prompted a wholesale re-evaluation of his commitment to the reform movement in the church.
In Catholic circles, he began to voice his disillusion at the effects of the modernisation ushered in by the council, and at the constant demand for change and innovation. He started to advocate a reinvigorated central church government to hold the line against liberals, and to defend the traditions of Catholicism that he came to see increasingly as its strength. As a symbol of this change of heart, in 1972 Ratzinger defected from Concilium to the group of conservative-minded theologians who were founding a rival journal, Communio.
The need to halt the reform process was fast becoming mainstream thought in the European Catholic church. When, in 1977, Ratzinger was appointed by the Vatican as cardinal archbishop of Munich, he used his new platform to attack progressive theologians, such as his former academic colleague and friend the Swiss theologian Father Hans Küng.
Such a stance chimed well with the incoming regime of Karol Wojtyła, elected in 1978 as Pope John Paul II. He was another second Vatican council figure who was also now wary of what it had set in train. In 1981, Ratzinger was named head of the Congregation for the Doctrine of the Faith, one of the most senior positions in the Roman curia. He worked closely and harmoniously with John Paul, notably to rein in the radical liberation theologians of Latin America, whom both suspected of importing Marxist thought into Catholicism by the back door, and to silence dissenters such as the distinguished American scholar Father Charles Curran, who had publicly questioned official teaching on sexual morality …
It was often easier for otherwise loyal Catholics concerned by the draconian actions of the Vatican in regard to popular, liberal theologians to blame Ratzinger rather than John Paul II. The pope managed to evade any sort of categorisation within his lifetime, not least by dint of his personal charisma, while, as his right-hand man, the apparently dour, inflexible Ratzinger was a more convenient target. But, as pope, Benedict largely avoided such targeting of individuals. The attack on dissidents was, it seems, his master's bidding.
I am not surprised. I never liked John Paul II, having always suspected there was something else behind his ever-present smile. It was during his tenure that I left the Catholic Church and became an Episcopalian.
The Guardian has more on this topic:
In September 2005, soon after his election, he spent four hours in discussion with his former friend Küng. Under John Paul II, Küng had been banned from teaching in Catholic universities. Yet at the end of their meeting, Benedict put out a statement praising Küng's work on dialogue between religions. His guest remained to be convinced. "His stances on church policy," Küng remarked, "are not my own."
Benedict was also rather better than John Paul II at giving the impression of listening and consulting. Some spoke of him having a "big tent" approach to the church, wanting to restore harmony to what had become a fractured and fractious world Catholic family. His decision in 2007 to relax restrictions on the use of the Tridentine Rite, a 16th-century form of the mass that had been largely withdrawn, to the distress of many elderly and traditionally minded Catholics in the late 1960s, was another aspect of the same all-inclusive approach (though his move was later reversed by Pope Francis).
He was also the first Pope in years to don traditional papal garb, engaging in:
the occasional bout of dressing up in long-discarded items from the wardrobes of medieval popes such as the camauro, a red bonnet trimmed with white fur. He may not have had charisma, like his predecessor, the former actor John Paul II, but he undeniably had charm.
Fanta, cats and a pilot's licence
Urwin tells us how Ratzinger enjoyed spending his free time:
Those around him described him as warm but shy. A bibliophile, he was reported to have told visitors: "My true friends are the books." He played the piano and loved classical music, especially Mozart and Beethoven, his pet cats and Fanta — having a can of the fizzy drink every day.
Benedict held a pilot's licence and when he was younger used to fly a helicopter from the Vatican to the Pope's summer residence, Castel Gandolfo. He had an interest in style too, wearing fashionable sunglasses and slip-on shoes that many thought were made by Prada (they weren't).
A clerical outfitters near the Vatican supplies all the Popes with their clothing and shoes. Pope Benedict opted for the traditional garments, including papal slippers, which are made of the softest leather.
Benedict was the first Pope to adopt social media:
Though traditional, he — or his advisers — did embrace social media, joining Twitter a decade ago using the handle @Pontifex, which Francis has since inherited.
By the way, the 2019 film about him and his successor Francis has a fictitious scene in it:
The 2019 film The Two Popes, which starred Anthony Hopkins as Benedict and Jonathan Pryce as Francis, fuelled wider interest in their relationship. It was a heavily fictionalised account, ending with the pair watching football as Francis tried to teach Benedict the joys of the sport. Its director later admitted the bromance-style denouement was made up — Benedict was more of a Formula One fan.
Papal problems
Benedict had many problems to face during his time as Pope:
It would not be an easy eight years: accusations of child sexual abuse by priests and a broader cover-up by the church dogged his tenure.
He repeatedly spoke out against misconduct, demanded investigations and issued new rules to make it easier to discipline predatory priests, but was criticised for seeming unwilling to hold the wider church hierarchy to account. The sexual abuse scandals threatened to overshadow his trip to the UK in September 2010, but in the end it was deemed a success and Benedict was applauded for his warmth and for urging Britain to work for the common good of society.
As head of the Congregation for the Doctrine of the Faith under John Paul II, it had been his responsibility to read dossiers compiled about priests accused of child abuse, and many, even among the faithful, felt he should have done more to stem and to punish abuse.
He later became the first pope to meet victims of clerical paedophiles. In February, he asked for forgiveness from victims of sexual abuse, but denied accusations that he was involved in concealing cases while he was Archbishop of Munich and Freising.
However, as I wrote, a group of French men and women stated in a 2010 letter that Benedict XVI was, in their words:
the first pope to address head-on, without compromise, the problem. Paradoxically, he is the subject of undermining and personal attacks, attacks relayed with a certain complacency on the part of the press.
Even The Guardian agrees with that assessment. John Paul II, the darling of everyone everywhere, did not even look at it:
He was the first pope to look the abuse scandal in the eye and attempt to tackle it. He may have made only a start, but his predecessor had simply swept it under the carpet and even given sanctuary to known abusers. Benedict withdrew that protection and promised a thorough review that would stop such a betrayal happening again. Delivery of the promise, though, was patchy …
Benedict, to his credit, did not try to bury his head in the sand over the scandal. When details had first emerged in the late 1980s in the US and Canada, some reports ended up on the desk of Cardinal Ratzinger at the Congregation for the Doctrine of the Faith.
Later, it was alleged that he had failed to acknowledge them, but the cardinal archbishop of Vienna, Christoph Schönborn, presented a different picture – of Ratzinger wanting to set up full investigations into accusations against a number of senior clerics – including Schönborn's own predecessor, Cardinal Hans Groër, later exposed as a paedophile – but being blocked by other senior figures around the now grievously ailing John Paul II, notably the secretary of state, Cardinal Angelo Sodano.
By 2001, the reports of abuse and cover-up had grown so serious and so widespread that Ratzinger was placed in charge of coordinating the church's response. His first act was to demand that every accusation be reported to him – in an effort to stop local bishops sweeping reports of abuse under the carpet, paying off victims with out-of-court settlements that bought their silence, and then reassigning the culprits to new parishes where they could carry on preying on the young. However, John Paul's inner circle continued to limit Ratzinger's ability to act in his new role.
It is possible that he was too elderly by the time he became pope to effect any real change:
His efforts, though sustained, were insufficient in their scope. There remained a tendency – clearly expressed in his letter to the Irish – to lay the blame on the local bishops and therefore to distance the Vatican from any responsibility. In such a centralised, hierarchical structure as world Catholicism, the buck should always end up in Rome.
Try as he undoubtedly did, with sincerity and anguish, Benedict was perhaps too old and too set in the ways of the church he had grown up with to contemplate more radical change.
Returning to Urwin's article, ill health continued to dog him, and his retirement paved the way for Francis to take a similar decision, should he wish to do so:
When he was asked why he had chosen to resign, Benedict explained that the decision had come about during a mystical experience: "God told me to do it."
It is likely that he has set a helpful precedent for his successor: Francis, who had half of his colon removed in 2021, has repeatedly said that he too would step down if his health became a barrier to serving as pope.
Benedict's death makes the possibility of retirement for Francis less contentious, as it would mean there would be only two popes — one serving and one emeritus — rather than three. However, his retirement plans would again expose their differences: the humble Francis has said he would call himself the emeritus bishop of Rome and would not live in the Vatican — instead choosing a home for retired priests in the Italian capital "because it is my diocese".
'The devil worked against him'
In my second post, I said that I had read years ago that the devil was plaguing Benedict and there were certain rooms in the Vatican that he no longer felt comfortable entering because he felt a deep spiritual attack in those places.
I was relieved to find a new article on the subject to share with you. On January 2, Crux posted 'Personal secretary to Benedict XVI says "the devil worked against him"':
Retired Pope Benedict XVI's longtime personal secretary has given an interview in which he says he believes the devil was working against Benedict throughout his papacy, but the scandals which erupted during his reign had nothing to do with his historic resignation.
Speaking to the Italian newspaper La Reppublica, German Archbishop Georg Gänswein said the word "scandal" was perhaps "a bit strong" to describe the many crises that erupted during Benedict XVI's papacy, but that "it's true that during the pontificate there were many problems" …
"It's clear, he always tries to touch, to hit where the nerves are exposed and do the most damage," he said, saying he could often feel the devil at work, and, "I felt him very against Pope Benedict."
Gänswein, 66, currently serves as Prefect of the Papal Household and was Benedict XVI's personal secretary since before his election to the papacy in 2005, meaning he accompanied the late pontiff throughout his eight-year reign and remained with him after his historic resignation and the nearly 10 years since.
Gänswein recalled the moment when Cardinal Ratzinger became Pope Benedict XVI. He found it unusual, even portentous:
Gänswein said the large doors to the Sistine Chapel swung open and he entered the chapel, but didn't know that his boss had been elected until "I saw him, down at the end. He was all white, even his face. His hair was already white."
Benedict, he said, was already wearing the white papal zucchetto and his white cassock,
"But he was pallid, very pallid. And there, in that moment, he looked at me," Gänswein said, saying his response was, "Holy Father, I don't know what to say, congratulations or prayers."
He then pledged his life to serve the newly elected pope, in life and "until or also in death."
Gänswein said that his experience of his boss's resignation was far from straightforward:
Reflecting on the day Benedict's historic resignation went into effect, Gänswein said the first thing that comes to mind is the moment they left the apostolic palace to board the helicopter for Castel Gandolfo.
"I turned out the lights, and this for me was already a very emotional act, but also very sad," he said, saying he tried to hold himself together, "but the pressure was too big," and he began to weep, describing the feeling as "a type of tsunami above, under, around. I no longer knew who I was."
Benedict, he said, "was in a state of incredible calm, as he was in the days preceding."
Gänswein said Benedict XVI had first confided his decision to resign several months prior, in September 2012, and that his first reaction was "Holy Father it's impossible. We can think of reducing your commitments, this yes, but to leave, to renounce, it's impossible."
He said Benedict let him speak, but responded saying, "you can imagine that I have thought well about this choice, I have reflected, I have prayed, I have fought, and now I communicate to you a decision made, not a thesis to be discussed. It is not a quaestio disputanda, it is decided."
From that moment, Gänswein said he was sworn to silence.
In hindsight, Gänswein said he recalled that Benedict had been "very closed, very pensive," since the summer of 2012, which he thought was because the late pontiff was concentrated on finishing the last in his Jesus of Nazareth book series.
"When he revealed his decision to me, I understood that I was mistaken: it was not the book that worried him, but it was the internal battle of this decision, a challenge," he said, saying things went ahead like normal for the next few months.
Gänswein said that the child abuse scandals affected Benedict deeply. He began dealing with them as Prefect of the Congregation for the Doctrine of the Faith and was the first senior prelate so to do:
Asked if Benedict XVI was referring to the clerical abuse scandals when, shortly after his election, he denounced "filth in the church" while presiding over the Via Crucis at the Colosseum during Holy Week in 2005, Gänswein said, "It must not be forgotten that as prefect he was the first, one of the first, to come into contact with this terrible scourge of abuse."
"It's obvious that that experience couldn't not be present in the Via Crucis of 2005," he said, recalling how Benedict at the beginning of his papacy asked for prayers so that "I may not flee for fear of the wolves."
Gänswein said he is unaware of what exactly, or who, Benedict was referring to, but the image of the wolf in that context "means it is not easy to be coherent, counter-current, and maintain this direction if many are of another opinion."
Gänswein also said that Benedict's visit to Celestine V's tomb in 2009 had nothing to do with his resignation, either. Celestine V was the last pope to retire. He retired 600 years before Benedict did.
Furthermore, the other problems during Benedict's papacy did not influence his decision to retire:
Gänswein also rejected rumors that the crises which erupted during Benedict's papacy, and the intense criticism he endured, were factors in his decision to resign. He said he once asked Benedict about it, and the response was, "No, the question never influenced my resignation."
"Feb. 11, 2013, I said my motives: I lacked the strength to govern. To guide the church, today, strength is needed, otherwise it doesn't work," was Benedict's response, Gänswein said …
Responding to critics who frowned on Benedict's decision to resign while his predecessor, John Paul II, continued to reign while openly afflicted by the effects of Parkinson's, Gänswein said Benedict was never bothered by the comparison.
"He told me once: I cannot and do not want to copy the model of John Paul II in sickness, because I have to face my life, my choices, my strengths. This is why the pope allowed himself to make this decision, which to me required not only a lot of courage, but also a lot of humility," he said.
Gänswein said the decision to announce Benedict's resignation on Feb. 11 was made to coincide with the feast of Our Lady of Lourdes …
He and Benedict were together that morning but, outside of praying, they were silent.
Gänswein described the atmosphere in the room when Benedict announced his retirement to the cardinals:
Benedict chose to make his announcement in Latin, Gänswein said, because he insisted that "an announcement like that must be made in the language of the church, the mother tongue."
"You heard from his voice that the pope was moved and tired, both things," he said, saying he began to notice "movement" among the cardinals when Benedict began to speak in Latin, and that some understood "there was something strange" happening faster than others.
By the time the former dean of the College of Cardinals, Italian Cardinal Angelo Sodano, who passed away last year, got up and responded to Benedict, saying his announcement came like lightening in a clear blue sky, "everyone realized what was happening," Gänswein said.
In terms of Benedict's post-retirement title of "pope emeritus," Gänswein said it was chosen by Benedict himself.
"I think that faced with a decision so exceptional, to return to cardinal would not have been natural. But there is no doubt that there was always only one pope, and he is called Francis," he said.
Benedict's resignation, he said, shows that "the sacred is sacred, and it also has human aspects."
"I believe that with his resignation Pope Benedict also demonstrated that the pope, if he is always the successor of Peter, remains a human person with all of their strengths, but also with their weaknesses," he said, saying, "one is needed, but you must also live the other. Because strength is needed to accept one's own weakness."
Defender of celibacy in the priesthood
The Guardian's obituary tells us that Benedict felt strongly about Catholic priests remaining celibate:
In January 2020, Benedict publicly defended clerical celibacy, as Francis was considering allowing married men to become priests in limited circumstances. "I cannot keep silent," he wrote in a book, From the Depths of Our Hearts: Priesthood, Celibacy and the Crisis of the Catholic Church, arguing that priestly celibacy protected the mystery of the church.
An atheist's apologia for Benedict
Brendan O'Neill, an atheist, wrote a moving post for Spiked on the day Benedict died, December 31, 2022.
In it, he explored the late Pope's understanding of freedom and the Enlightenment:
In the 2000s, both before and during his papacy, Benedict devoted his brilliant mind to doing battle with moral relativism. He viewed relativism, where the very 'concept of truth has become suspect', as the great scourge of our times. He railed against 'the massive presence in our society and culture of [a] relativism which, recognising nothing as definitive, leaves as the ultimate criterion only the self with its desires'. He said that the cultural elites' dismantling of truth, even of reality itself (witness transgenderism's war on biology), might present itself as 'freedom' but it actually has severely atomising and authoritarian consequences. The postmodern assault on truth is pursued under the 'semblance of freedom', he said, but 'it becomes a prison for each one, for it separates people from one another, locking each person into his or her own ego'.
In short, absent any notion of universal truth, devoid of social standards we might define ourselves by (or against), we're left with just the individual, playing around in his own prison of identity. 'A large proportion of contemporary philosophies… consist of saying that man is not capable of truth', said Benedict. 'But viewed in that way, man would not be capable of ethical values, either. Then he would have no standards. Then he would only have to consider how he arranged things reasonably for himself…' Relativism means letting oneself be 'tossed here and there, carried about by every wind of doctrine', he said. We're in that moment now. The march of moral relativism has not made a freer, more content society but an agitated, uncertain one. Post-truth, post-reality, even post-biology, the individual is not liberated, but lost, left utterly alone to 'arrange things reasonably for himself'.
Perhaps Benedict's most important insight was that this dictatorship of relativism represented a negation of the Enlightenment.Too many right-wingers and 'Trad Caths'– youthful influencers who take refuge from wokeness in the incense-fused safe space of the Catholic Church – blame every ill on the Enlightenment. Technocracy, scientism, the pseudo-rational deconstruction of language and reality – it's all apparently a logical consequence of man's grave folly of believing he could master nature and shape the future.
Benedict knew better. What we are witnessing is a 'radical detachment of the Enlightenment philosophy from its roots', he said. Modern rationalists tell us that 'man, deep down, has no freedom', and also that he 'must not think that he is something more than all other living beings', Benedict noted. This is proof, he said, that those who pose as the contemporary guardians of Enlightenment thought have in fact come to be 'separated from the roots of humanity's historical memory'. Enlightenment thinkers did believe man was higher than beasts. They did believe man was capable of freedom. Today's supposed rationalists act 'in total contradiction with the starting point of [Enlightenment thought]', Benedict said.
It should not be surprising that Benedict had a deeper, more subtle understanding of the Enlightenment than many of the coarse rationalists in the New Atheist set did. For he was a critical student of Enlightenment thought, as Maurice Ashley Agbaw-Ebai outlined in his excellent study of Benedict published last year: Light of Reason, Light of Faith: Joseph Ratzinger and the German Enlightenment. Agbaw-Ebai argues that Benedict's theology was one steeped in rationality, speaking to his decades-long engagement with Enlightenment thinkers.
Indeed, Benedict held that Christianity was a 'religion according to reason'. He argued, rightly, that the Enlightenment sprung from the traditions and tensions within Christianity itself – 'the Enlightenment is of Christian origin', he said. One of his most striking utterances was to say that the Enlightenment had 'given back reason its own voice'. That is, it took ideas of reason from Christianity and expressed those ideas in the voice of reason alone …
Benedict's beef was not with reason, then, as his ill-read critics would have us believe, but with what he referred to as 'purely functional rationality'. Or scientism, as others call it: the modern creed of evidence-based politics that judges everything by experiment rather than morality. Ours is a 'world based on calculation', Benedict lamented. '[It] is the calculation of consequences that determines what must or must not be considered moral. And thus the category of good… disappears [my emphasis]. Nothing is good or bad in itself, everything depends on the consequences that an action allows one to foresee.'
We see this cult of calculation everywhere today. Industry and growth are judged not according to whether they will be good for us, but through the pseudo-science of calculating their impact on the planet. Human activity is likewise measured, and reprimanded, by calculating the carbon footprint it allegedly leaves. Parenting has been reduced from a moral endeavour to a scientific one – you must now follow the calculations of parenting experts and gurus if you don't want your kids to be messed up. Benedict was right about our world of calculation – it chases out questions of morality, truth and freedom in preference for only doing what the calculating classes deem to be low-risk in terms of consequences. When everything is devised for us by a calculating elite, freedom suffers, said Benedict – for 'our freedom and our dignity cannot come… from technical systems of control, but can, specifically, spring only from man's moral strength'.
Benedict was most concerned with defending the specialness of humankind against the claim of the 'functional rationalists' that man is essentially little more than a clever animal. This is why he agitated so firmly against the calculating classes' belief that 'man must not think that he is something more than all other living beings'. He'd be branded a speciesist if he said this today – how dare you assume that polluting, marauding mankind is superior, more important, than the beasts of the Earth? One of my favourite comments from Benedict was made at his installation Mass as pope in April 2005. He said: 'We are not some casual and meaningless product of evolution. Each of us is the result of a thought of God. Each of us is willed, each of us is loved, each of us is necessary.'
No, I do not share Benedict's belief in God. I am an atheist. But Benedict's agitation against the idea that humanity is a consequence of evolution alone was a profoundly important one. A key part of today's functional rationalism is evolutionary psychology, a science particularly beloved of Dawkinites and the so-called Intellectual Dark Web. It holds that virtually everything human beings think and do can be explained by evolutionary processes, as if we are indistinguishable from those monkeys that first came down from the trees; as if we are propelled into tribal affiliations and warfare and sex by traits stamped into us by the ceaseless march of nature. This, too, chases out the small matter of morality, the small matter that we have risen above our nature and now really are 'more than all other living beings', in Benedict's words. We are capable of choice, we are capable of good. Good – a terribly old-fashioned concept, I know.
A life in pictures
The Guardian has a marvellous selection of photographs of Joseph Ratzinger throughout his life, including a family photo and one of the joint ordination with his brother Georg, who predeceased him in 2020.
Benedict's legacy
Commonweal's obituary states that opinion will be divided on Benedict's papacy:
After the "long nineteenth century" (as characterized by John O'Malley) of the Catholic Church was brought to an end by the calling of the council in 1959, Benedict XVI was in some ways the last pope of the delayed conclusion of the twentieth-century Catholic Church, a short century beginning with John XXIII and Vatican II and ending in 2013 with the election of the first non-European and non-Mediterranean pope. Joseph Ratzinger was a brilliant theologian and public intellectual, but also a provocative cleric who as pope had the courage to risk unpopularity. He will remain one of the most widely published and widely read popes in Church history, and likely one of the most controversial. Few committed Catholics will be indifferent or dispassionate about him.
Lying in state and funeral
On New Year's Day 2023, the day after Benedict's death, the Vatican issued an announcement about his funeral. The Sunday Telegraph reported:
Pope Emeritus Benedict XVI will have a "solemn but simple" funeral this week, the Vatican said, in a ceremony that will be presided over by a sitting pope for the first time in centuries.
The funeral on Thursday will be in accordance with the former pontiff's wishes and will be led by Pope Francis.
The unusual circumstances will mean the Vatican is navigating uncharted waters as it hammers out the finer details of the event.
I am certain that everything worked out well. His funeral was held today, Thursday, January 5.
The article has a photo of him lying in state privately at the Vatican in a chapel. That was taken before he was moved to St Peter's Basilica for public viewing:
The Vatican released the first photos of Benedict following his death on Saturday at the age of 95, showing him resting on a catafalque in the chapel of the former convent inside the Vatican city state where he spent his retirement.
His head resting on a pillow, the former pope was dressed in red vestments and a cream-coloured mitre, his hands clutching a rosary.
The corpse was flanked on one side by a Christmas tree and on the other by a Nativity scene.
On Monday morning, Benedict's body will be transferred to St Peter's Basilica, where the faithful will be able to pay their respects.
After the funeral, he will be buried in the papal tombs under St Peter's Basilica.
On Monday, January 2, the Mail reported on the crowds paying their respects at St Peter's. The paper included many moving photographs:
Catholics bowed their heads and say prayers as they fill up St Peter's Basilica to pay their respects to Pope Emeritus Benedict XVI – this is where he will lie in state for three days before a 'simple' funeral at the Vatican on Thursday.
The doors of the basilica were swung open just after 9am today so the public, some of whom had waited for hours, could visit the late pontiff …
His body – dressed in a mitre, the headgear of a bishop, and a red cloak-like vestment in preparation – was placed on a simple dais, with two Swiss guards standing on either side as mourners walked by … 
Before the rank-and-file faithful were allowed into the basilica, prayers were intoned and a small cloud of incense was released near the body, its hands clasped on its chest.
By mid-morning the queue to enter the basilica snaked around St Peter's Square.
Once allowed to enter, the public filed up the centre aisle to pass by the bier with its cloth draping.
While the number of visitors was large, there were no signs of the huge crowds who came to pay their respects to Pope John Paul II in 2005, when millions waited for hours to enter the basilica. 
Last night, Benedict's long-time secretary, Archbishop Georg Gaenswein, and a handful of consecrated laywomen who served in his household, followed a van by foot in a silent procession toward the basilica. 
Some of the women stretched out a hand to touch the body with respect.
The Catholic News Agency has the prayers for Benedict's funeral Mass, some of which were read in Latin.
Francis's future
News reports have been circulating that Pope Francis could retire.
On the day that Benedict died, The Guardian reported:
For the first time in almost 10 years, there will be only one pope. But that may be temporary.
Pope Benedict XVI's death, nine years and 10 months after he unexpectedly stepped down, eases the way for his successor, Francis, to follow suit. It is a move he has long suggested he wants to make.
Benedict was the first pontiff for 600 years to retire rather than die in office – a shock move that was a gamechanger, according to Vatican experts.
Soon after Francis greeted hundreds of thousands of followers gathered in St Peter's Square following his election, Benedict's successor began hinting at the possibility of his own retirement.
He said he would like to see the resignation of popes become normalised, and later said he had a feeling his pontificate would be brief, describing his predecessor's decision to step down as "courageous".
Last summer, he raised the prospect again. On his return to Rome after a papal visit to Canada, he told reporters the "door is open" to his retirement. It would not be "a catastrophe", he said …
The Vatican is a deeply factional place. There are many enemies of Pope Francis's relatively progressive agenda with its focus on poverty, refugees and the climate crisis. This Christmas, he criticised "hunger for wealth and power".
Some of Francis's opponents have tried to rally support for conservative values around Benedict as an alternative figurehead.
In thinking about the possibility of retirement, Francis – who turned 86 earlier this month – will have considered the impact of two retired popes on his own successor.
With Benedict's death, the path to retirement becomes a little easier. 13 March will be the 10th anniversary of Francis's election as the Roman Catholic church's 266th pontiff. Some time around then, or in the following months, perhaps after a key synod of bishops in the autumn, may seem an appropriate time for an announcement.
The veteran Catholic journalist Catherine Pepinster gave us more of a picture for the paper, 'It's a papal version of Succession: at Benedict XVI's funeral, the plotting will begin':
Airlines usually upgrade cardinals to first class and offer them champagne. But when the leaders of the Roman Catholic church fly into Rome's Fiumicino airport this week for the funeral of the former pope Benedict XVI, they may well forgo the fizz as a sign of their mourning. It's hard to imagine, though, that they will refrain from engaging in the whispers and the politicking that is so typical of a gathering of top Catholic prelates. The funeral will be a time to remember and mourn Benedict – but the plotting that will take place may resemble an episode of Succession …
When a pope dies in office, cardinals come from across the globe to bury him and elect his successor. This time, of course, there is no need to do so. There is already a pope – Francis, the man picked in 2013 to succeed him. But when he leads Benedict's funeral on 5 January, the cardinals may well wonder if they will be back in Rome soon for another conclave. At 86, Francis himself is already physically frail …
There are some in the Roman Catholic church who would dearly love another pope to be elected very soon …
Certain followers of Benedict who asserted that all Catholics should be utterly loyal to a pope when he sat on the throne of Peter have shown no such fidelity to Francis, and have constantly criticised his efforts at reform …
In 2005, when John Paul II died, the conservatives were well-organised and encouraged the voting members of the College of Cardinals ­– those under 80 – to pick Joseph Ratzinger, who took the name Pope Benedict XVI. When Benedict quit eight years later, the liberals were better organised …
Who will the cardinals elect next time? We Catholics in the pew, whether conservatives or progressives, have to accept that cardinals are as human as the rest of us, and not averse to plotting. But maybe we should offer a prayer that the Holy Spirit may, on the next occasion, help them find someone who could be what a pope always used to be – a unifying figure.
On January 3, The Times reported that the conservatives are gearing up:
The death of Pope Emeritus Benedict XVI could deepen divisions at the top of the Catholic Church by both "removing a brake" from Pope Francis and emboldening his conservative critics to try to succeed him, analysts said today.
Giuseppe Rusconi, a leading Vatican journalist, said the death of Benedict, formerly Joseph Ratzinger, at the age of 95 would have consequences for his conservative followers and his more progressive successor.
"The conservatives have been weakened by Ratzinger's death but they will now feel authorised to be more openly critical of Pope Francis, while Francis will no longer feel overshadowed by Pope Benedict and be free to cross new boundaries in his reforms," Rusconi said. "A brake has been removed, both as regards the conservatives' criticisms and the radical quality of Francis' reforms" …
Sandro Magister, another veteran Vatican observer, noted there was a void on the conservative wing of the church, and predicted a competitive "free for all" in the Vatican, with different agendas jostling for influence. Magister said Benedict's continued presence in the Vatican after his retirement had acted as a check on Francis and his supporters. "[Now] there's likely to be a free for all, without any clear guidelines. We are in a phase of confusion now, the opposite of the clear, limpid, rational thought of Pope Benedict," he added.
Of the 132 cardinals aged under 80, and therefore eligible to vote in a conclave to elect a new pope, 83 were appointed by Francis. About a dozen cardinals, mainly senior conservatives, will also lose the right to vote this year.
Unlike other commentators, these two journalists do not think Francis will retire any time soon:
Rusconi does not expect Francis, born Jorge Mario Bergoglio in Buenos Aires, to follow Ratzinger's example any time soon …
Magister said Francis was unpredictable but was unlikely to resign soon. "His resignation is more practicable now, but I don't see it as imminent," he said. "His activism is remarkable for a man of his age. His diary is packed with engagements."
However, the editor of the Catholic paper La Croix International said that Francis's health is very poor:
Robert Mickens, the editor-in-chief of La Croix International, a Catholic newspaper, said he expected Francis to resign as early as this year, possibly after the October synod. Mickens said the Pope was having difficulty with unscripted speech, sometimes slipping into Spanish expressions and rambling. "He's way overweight, which doesn't help his knee problem," he added …
Mickens said there would be a gathering of ultra-conservative political leaders and representatives of European royalty at Benedict's funeral on Thursday. "Ratzinger represents a Europe that is no longer or is slipping away. His funeral brings down the curtain on an era."
Although Francis may have stacked the deck in favour of church liberals with his appointments to the college of cardinals, it was impossible to predict who might emerge as Pope from the next conclave, he said. "I know conservatives are working right now, trying to influence the succession. Bergoglio has opened a Pandora's box with synodality [increased democratic debate] and conservatives are alarmed that it could result in radical changes that can't be undone," Mickens added.
Talk about the end of an era, which is where I began this post.
Fortunately, Joseph Ratzinger is now at rest with such temporal worries behind him. I hope to meet him one day in eternity.
Anyone who has missed the previous entries in the series of former Health Secretary Matt Hancock, now a backbench MP with the Conservative whip withdrawn, can catch up on Parts 1, 2, 3, 4 and 5.
I left off on Friday, June 25, 2021, with Dominic Cummings's Substack post on Hancock's and Boris Johnson's handling of the pandemic.
However, the big news that day was The Sun's front page — a 'world exclusive' — which had a large photo of Hancock handling a part of his assistant's anatomy. A security camera captured the image a few weeks before, when social distancing was still in place:
It was bad enough, as I wrote, that he lost all credibility with the Queen the day before when she aired her views to Boris during their weekly meeting.
But The Sun's scoop surely meant that Hancock's dictatorial time was up. And, lo, so it was:
UK coronavirus news: Matt Hancock's final 48 hours as Health Secretary (June 25-27)
That post included these tweets, the first about his marital situation …
… and the second and third featuring polls saying that Britons wanted him gone, especially under those circumstances:
It was a wonderful start to the weekend.
Matt Hancock's side of the story
In the final instalment of Hancock's Pandemic Diaries that the Mail published, he tells his side of the story. Emphases mine below.
Friday, June 25:
The Sun published the story at 2am as a 'world exclusive'. The picture was a grainy CCTV image of me and Gina embracing in my departmental office.
It was immediately obvious that the story would be huge.
I knew I had to get out of London, and my wonderful driver Mark came to pick me up very early and take me to stay discreetly in the countryside.
At about 8am, a welcome call from No 10: Dan Rosenfield [chief of staff] to say they'd got my back. He offered any support we might need, including sending a Conservative Party press officer to my house.
By 9am I'd had half a dozen sympathetic messages from ministerial colleagues: a terrible sign. They knew that I was in deep trouble.
Nadhim [Zahawi, Minister for vaccine deployment] sent me a piece of advice 'from a brother', which sounded very much like an appeal not to resign.
Meanwhile, I went back over all our movements and tried to think of any other rules we might be accused of breaking. Other than the one-metre-plus rule, I couldn't think of any. 'Should I do a fast apology for letting everyone down/breaching guidance?' I asked.
Gina thought it was a good idea, so Damon [Poole, media adviser] began crafting a short statement. I tried to focus on the words, but my head was spinning. The final version of the statement, which went out at lunchtime, accepted that I breached social-distancing guidance and said I was still focused on working to get the country out of the pandemic. I hoped it would quiet the furore.
Yet the story continued to rage: on all the news websites, on the BBC, on Twitter and on just about every other conceivable news outlet.
By mid-afternoon, there were still suggestions that we'd broken the law. It was categorically untrue, and Damon thought we needed to brief harder or put out another line. 'What's wrong with 'No laws were broken'?' I suggested.
Round and round in circles we went, trying to find the right words. Damon's mobile phone was practically melting, and I was more stressed than I have ever been in my entire life.
All afternoon, the 'what, when, where, who, why, how much?' questions continued. Journalists began suggesting I might have broken the Ministerial Code. I hadn't, but I could see the way this was going.
My local constituency association in Suffolk was wonderfully supportive. Allan [Nixon, special adviser] worked the phones, trying to get MPs to say something helpful.
My spirits lifted a little when William Hague [former Tory leader] publicly declared that I shouldn't resign. Not for long, though: by late afternoon it was clear tomorrow's papers will be hideous.
Saturday, June 26:
Privately, I was still getting positive messages from colleagues. Publicly, few were willing to defend me. Politically, I was increasingly isolated. I felt desperate for my family, my children and Gina's family and her children, and powerless to protect them. Worse was the knowledge that Gina and I had brought all this on them.
Gina's feelings of shame and guilt were nearly overpowering her. The jokes and cartoons on social media were excruciating. We were being publicly humiliated, again and again.
While close friends and family were amazing, I also had messages from friends and colleagues who had had terrible lockdown experiences and were very upset. Their disappointment in me – and their sense of betrayal – was agonising.
It is all my fault, of course. I knew I had to take responsibility. I knew in my heart that I had to resign.
I went to Chequers to see the PM. I explained that I had been thinking about what had happened and how it had made people feel – and that my mind was made up. The damage to my family and to the Government was too great.
I told Boris I had to resign.
He was regretful but didn't argue. We sat on the patio and talked about what this would mean for the management of the rest of the pandemic.
An exchange of letters was prepared, offering and accepting my resignation, and we each edited our letters. We had to decide how to make the announcement, what to say and how.
I must have shot a thousand videos over the course of the pandemic, levelling with the public and thanking the NHS for their dedication. This would be the last.
In the end, the great machinery of the State was nowhere. It was just me and the PM fumbling around with an iPhone. He stood on the grass, holding the phone while I said my piece. It took a few goes to get it right.
He nodded sympathetic encouragement so much throughout the first take that the camera waved up and down. In the end it wasn't perfect, but I was beyond caring: I had to get it out.
Now messages of sympathy and support flooded in: from my team, the Prof [Chris Whitty, the Government's Chief Medical Officer], JVT [Jonathan Van-Tam, the Deputy Chief Medical Officer], Pascal [Soriot, head of AstraZeneca] – and just about everyone else who worked so hard alongside us to save lives.
I'm incredibly grateful to all my team, especially my spads [special advisers] and private office, for going above and beyond in supporting me in what is such a difficult time for them, too.
'I'm so sorry,' I told them all. 'I mean, the honest truth is I made a mistake due to love and it doesn't matter that it was only guidance. I should not have broken advice that I myself signed off.'
This evening Jamie N-G [Njoku-Goodwin, former spad] whose endless advice – offered long after he stopped working for me – has been so valuable throughout the pandemic, messaged to say I'd done the right thing.
'There is so much you have done that you should be incredibly proud of. There are people alive today who wouldn't be if you hadn't made the decisions you did,' he said.
'I love her. That's what screwed my judgment,' I replied wretchedly. 'Love does that to us all. I hope you can both be happy,' he said.
'Of that I have no doubt,' I replied.
As for Boris – well, if anyone knows how to survive a catastrophic political and personal mistake, it's him.
'Time to dive beneath the ice cap,' was his advice.
Here's the awkward video from Sky News:
That concludes the Mail's excerpts from Pandemic Diaries. The paper posted the following (emphasis in the original):
Matt Hancock's book sale royalties will be donated to NHS Charities and good causes relating to dyslexia. 
Hancock is a dyslexic and had special tutoring to enable him to pursue his studies at Oxford University.
The book is available now. Someone on social media repositioned it at a bookshop in the Crime section: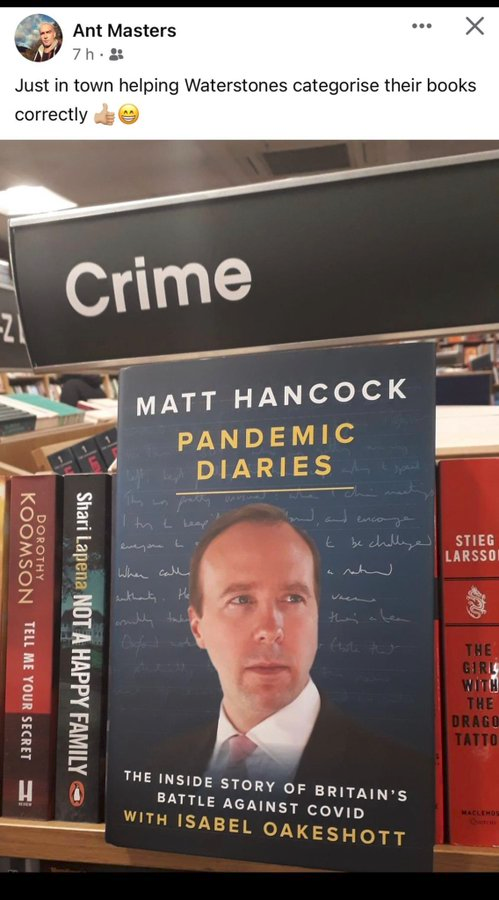 However, as my post on his last 48 hours as Health Secretary pointed out, Hancock told us in April 2020 that social distancing was more than guidance, it was an 'instruction'. I'd included this tweet as proof:
In the days that followed, Sajid Javid — Boris's first Chancellor — became our new Health Secretary. Questions whirled about the camera, security breaches and ministerial code breaches. Oliver Tress is the name Hancock's girlfriend's husband. He owns the Oliver Bonas chain of shops:
UK news: Sajid Javid's return to Cabinet as Health Secretary (June 27-28)
UK coronavirus news: will Matt Hancock be investigated? (June 28; Oliver Tress, restriction-free Wimbledon video)
MPs worried about Matt Hancock's security camera (June 28)
By now, most Britons know that Hancock met his girlfriend when they were undergraduates at Oxford. They both worked at the student radio station. Recollections from their contemporaries differ as to whether Hancock was part of the in crowd or whether he was a geek on its periphery.
Sky News's Beth Rigby put that period of history in perspective for us:
On June 26, 2021, The Telegraph explained how the woman got involved in Hancock's parliamentary career:
Gina Coladangelo started work for Matt Hancock during his short-lived Conservative Party leadership campaign in 2019, it has emerged.
Sources said Ms Coladangelo provided unpaid advice on the Health Secretary's bid to replace Theresa May.
The work coincided with Mr Hancock sponsoring a parliamentary pass at the same time for his longtime friend, who has worked as communications director of Oliver Bonas, the homeware store, since 2014.
Mr Hancock declared his candidacy during a broadcast interview on May 25 2019, saying "we need a leader for the future, not just now".
He quit the race on June 14 2019 – a day after coming sixth in the first ballot of Conservative MPs.
Ms Coladangelo was registered as holding a pass sponsored by Mr Hancock under her married name, Gina Tress, from June 2019.
Sources suggested she then started providing unpaid advice to Mr Hancock during the Covid-19 pandemic, before she was hired as a non-executive director at the Department of Health in September.
Her non-executive directorship also raised eyebrows. Who appointed her and how?
Tatler's profile of Hancock, published on June 28, told us:
… Both Hancock and Coladangelo, who were contemporaries at Oxford, have three children …
But, what of this relatively youthful minister? In 2014, he was touted as a junior minister with the skills 'to reach the top'. Certainly, academically, his results are a tour de force of excellence, a first at Exeter College, Oxford, in what many consider a politician's 'rite of passage', Politics, Philosophy and Economics (PPE). He worked briefly for a Tory backbench MP before breaking loose as an economist at the Bank of England specialising in the sterling money markets and on housing, before being sent to do a masters at Cambridge. On return, he was plucked out by George Osborne (in 2005) to join the Conservative economics team, later becoming the future chancellor's chief of staff, and a bonafide 'high-flyer'.
It was in 2010 that he became an MP for West Suffolk, and today – or at least before the lockdown – he balanced his time between his weekday home in London and his abode in Little Thurlow, in his Newmarket constituency, at the weekends. He has admitted that the work-life balance can sometimes be a challenge, explaining in an interview with the Financial Times in 2014, 'I pay a lot of attention to timetabling. Both my professional and social and family time gets booked up a long way in advance and then you have to be strict about it.'
Hancock married an osteopath, Martha Hoyer Millar, in 2006, and together they have three small children, a daughter and two sons as well as a dachshund called Hercules (which Hancock will occasionally document via his Instagram). With noble connections, Martha, a red head, is the granddaughter of Frederick Millar, 1st Baron Inchyra, a British diplomat who served as Ambassador to West Germany from 1955 to 1956. Baron Inchyra had four children, two sons and two daughters, their youngest, Dame Annabel Whitehead, was a Lady-in-Waiting to Princess Margaret and later to the Queen …
By his own admission, Hancock is fiercely competitive. He once, in 2012, trained as a jockey and won a race at the beating heart of British racing, Newmarket, in his constituency. Going the whole hog, he trained rigorously, shedding two stones and even seeking advice from champion jockey Frankie Dettori. He keeps it up; in December, 2019 he posted a video of himself galloping atop a racehorse on the Newmarket heath, summarising afterwards, 'absolutely exhilarating, every single time'.
It's been far from plain sailing for Hancock, he's overcome his own difficulties. One being dyslexia. His political career apparently practically ended before it even started, when a simple spelling mistake relayed the dead opposite of what he was trying to communicate. As a young Tory campaigner in Guildford he wrote an election leaflet. Instead of saying that candidate Nick St Aubyn wanted to 'unite' the community during the 2001 election, a then 22-year-old Hancock wrote: 'I want to untie the community'. The mistake was spotted after the leaflet had been printed and landed in 50,000 letterboxes. St Aubyn went on to lose the seat by 538 votes.
Hancock reportedly winces at the memory, but told the tale since he does not want other dyslexics growing up thinking they are 'useless' like he did. His wife, too, is dyslexic. He says he got on by focusing on numbers-based subjects, taking A Levels in maths, physics, computing and economics, but told the Telegraph, 'I wish I had been diagnosed earlier'.
Sheer hypocrisy
On June 25, before he resigned, the media rightly began enumerating Hancock's diktats and his own actions, proving the man's hypocrisy.
… How has the Secretary of State for Health and Social Care managed to cling on this long in the first place? …
As the man in charge of England's health system when the pandemic struck, he is accused of overseeing the disastrous discharge of Covid-positive hospital patients into care homes, mismanaging the supply of personal protective equipment, and the multi-billion pound failure that is NHS Test and Trace.
According to Mr Cummings, Mr Hancock "lied" to Mr Johnson and the public about much of this …
Mr Hancock strenuously denies much of this.
Nevertheless, it comes on top of allegations that he awarded a lucrative contract to supply the Government with tens of millions of Covid test vials to a former neighbour, who lacked experience producing medical supplies after he received a WhatsApp from him.
He also committed a "technical" breach of the ministerial code by failing to declare that a firm run by his sister, in which he has a 20 per cent stake, had been awarded an NHS contract …
The danger lies in the familiar territories of hypocrisy and the alleged "chumocracy" of the Johnson administration.
If Mr Hancock's embrace of Ms Coladangelo contravened government guidelines, as he has now admitted it did, many will remember his reaction to last year's Neil Ferguson scandal, where he suggested it could be a matter for the police, not to mention countless hugs with loved-ones missed over recent months.
Meanwhile, if evidence emerges suggesting that Ms Coladangelo was brought into the Government because of her personal relationship with Mr Hancock, rather than her expertise, the rap sheet all too quickly becomes too heavy to survive.
The Spectator's Steerpike, their gossip columnist, posted 'Nine times Matt Hancock told us to obey the rules', most of which follows (bold dates in the original):
From threatening to ban outdoor exercise and close the beaches to advising against sex outside 'established' relationships, Mr S presents his round-up of Hancock's best/worst moments:
9 February 2021:  Ten years in jail for Covid returnees
Hancock announced that people returning from holidays who conceal that they've been in a red list country would face a prison sentence of up to ten years …
1 February 2021 'Don't even think about stretching Covid rules'
At another No. 10 press conference, Hancock gave an update on the South African variant in which he said that those living in postcodes affected by the mutation should 'not even think about stretching the Covid rules.'
10 January 2021: Hancock claimed that flexing of rules 'could be fatal'
The Health Secretary appeared on the Andrew Marr Show where he was asked about the police fining two women who went for a walk five miles from their homes. Hancock told Marr: 'Every time you try to flex the rules that could be fatal' and that staying at home is the 'most important thing we can do collectively as a society.'
24 September 2020:  Hancock warned people to 'be sensible' when having sex during lockdown
Asked about the government's guidance that only 'established' couples should be having sex, Hancock told Sky News: 'There have to be boundaries, to coin a phrase.' He warned against casual sex, advising the public to stick to 'well-established relationships' and joking, 'I know I am in an established relationship,' with his wife …
5 July 2020: Hancock threatened to shut down non-compliant businesses
In an interview with Sky Hancock said: 'We also have the authority to shut down a business if it doesn't follow that [Covid] guidance.' When asked by Sophy Ridge if he is 'looking at shutting down businesses' Hancock replied: 'Yes and that's happened, absolutely'. He added: 'We're not just asking nicely, we're very clear to businesses that these are their responsibilities.'
25 June 2020: Hancock theatened to close the beaches
After sun lovers flocked to the seaside on Britain's hottest day of the year, Hancock warned that he could close beaches …
5 April 2020: Hancock threatened to ban outdoor exercise
At the beginning of the first lockdown, Hancock criticised sunbathers and warned the government would ban outdoor exercise if people continue to ignore government advice. He said on Sky that those who flout the guidance were 'putting others' lives at risk and you are putting yourself in harm's way'. He told Andrew Marr that same day: 'I don't want to have to take away exercise as a reason to leave home… if too many people are not following the rules.' He added: 'If you don't want us to take the next step and ban exercise… then the message is very clear… you have to follow the rules.'
Sickening.
The Mail has a report with reactions from several journalists also calling out Hancock's disgusting hypocrisy, well worth reading.
Questions, questions
Also on June 25, The Spectator's Isabel Hardman asked:
Why was it appropriate for Gina Coladangelo to have a parliamentary pass, to become an unpaid adviser at the department and then to receive the paid non-executive director post?
… the important matter here isn't the affair: these things happen and they're not normally anyone else's business. But where it becomes other people's business is when the affair is interlinked with government business and taxpayer's money. 
Then there's the hypocrisy charge, not just from someone in a government that has restricted personal freedoms so much this past year, but from the very minister responsible for the lockdown legislation and guidance. 
Questions about the camera and security were many.
At lunchtime that day, The Telegraph reported:
The Government Security Group, which is in charge of security at 800 buildings across Whitehall, has been asked to investigate, with Alex Chisholm, the Cabinet Office Permanent Secretary, expected to be in charge of an inquiry.
There have also been calls for MI5 to get involved in order to rule out any involvement from hostile foreign states.
Government insiders said it is "unheard of" for security cameras to be placed in the offices of Secretaries of State, raising questions about whether the footage of Mr Hancock was filmed on a pre-existing camera or could even have been filmed by a camera deliberately placed there to catch him out.
Day-to-day security at government buildings is typically contracted out to private firms, though the Department of Health and Social Care has yet to confirm if this was the case at their offices in London's Victoria Street …
One source said: "There are an awful lot of questions that need answering. Lots of government buildings have cameras outside offices that film people going in and out, but I have never seen one inside a Secretary of State's office. It's unheard of.
"What was that camera doing there, was it even a CCTV camera, and did Matt Hancock know it was there?
"More importantly, who is it that has access to what is going on inside that office? We are talking about people being able to spy on a Secretary of State, so this is a serious breach of security, regardless of what you think of Matt Hancock's behaviour" …
Among the questions the Government Security Group will have to answer is whether proper vetting was carried out of staff who have access to CCTV footage, and whether they have been required to sign the Official Secrets Act.
Breaches of the Official Secrets Act can carry a maximum punishment of 14 years imprisonment.
The paper had a follow-up article that evening:
The Telegraph understands Mr Hancock had no idea the camera existed when it captured him kissing adviser Gina Coladangelo …
It raises the possibility that the camera was deliberately placed by someone with access to his office with the intention of catching the pair cheating on their spouses and breaking Covid rules. It is the first time a Cabinet minister has been filmed in their own office without their knowledge.
In a further twist, the Department of Health and Social Care's offices use CCTV cameras made by the Chinese company Hikvision, which is banned in the US because of national security concerns …
One theory being investigated is that the footage was filmed by someone on a mobile phone as it was being played on a CCTV screen, which could make it more difficult to prove who was responsible.
While the revelation could spell the end of Mr Hancock's Cabinet career, the leak has also triggered a red alert in the Government over who could be spying on the country's most senior ministers …
A source told The Sun that the pair had regularly been caught embracing and that their affair was an open secret among staff. The newspaper claimed the footage was released by a whistleblower disgusted that Mr Hancock was breaking Covid rules while telling people to obey them.
At the time, the country was in stage two of the lifting of lockdown, meaning hugging anyone from outside your own household was banned. On Friday, Mr Hancock admitted breaching social distancing guidance and said he was sorry for having "let people down" …
The £144 million building is owned by Singapore-based property firm Ho Bee Land, which bought it five years ago and has not so far responded to requests for comment.
Cameras on the outside were made by Hikvision, which is owned by the Chinese state and banned in the US because of national security concerns and alleged human rights violations. The firm is alleged to have provided cameras that monitor Uighur Muslims in concentration camps in Xinjiang …
One covert security expert said: "In all my years of working in this field I have never known a camera to be positioned inside an office like this. An office is a private space and that raises all sorts of issues.
"The camera is facing the door so it will give you a record of who is coming and going. But if you wanted to do that you would place the camera outside of the office in the corridor. Also, the angle of the camera is all wrong because if someone walks into the office with their head down this will not be able to see their features. To me it smacks more of a small covert camera that has been placed in a light fixture" …
The fact that the camera was part of the overall CCTV network ruled out any suggestion that Ms Coladangelo could have been behind the leak, and friends of Dominic Cummings, the former Downing Street special adviser who has waged a campaign against Mr Hancock since leaving his job last year, insisted he had nothing to do with the leak.
One government source suggested it was possible the camera had been placed in the office to increase security as a result of the Covid pandemic, while another person familiar with the layout of the office speculated that extra cameras could have been put there because it has a balcony, making it more vulnerable to break-ins …
Indignity for his wife
On Saturday, June 26, the papers had stories about what was happening in the Hancock's marital home.
The Mail's first report was 'Callous Matt Hancock dumped wife on Thursday after learning his affair would be finally exposed':
Matt Hancock dumped his university sweetheart on Thursday night after learning video footage of him kissing an aide in his ministerial office would be exposed.
The ex-Health Secretary, who announced his resignation this evening, raced home to tell his wife of 15 years that he would be leaving her after he was contacted by The Sun newspaper over his affair with Gina Coladangelo …
Martha Hancock, a 44-year-old osteopath, had no clue about the affair until her husband told her their marriage was over, reports The Sunday Times …
The reports of the affair came just weeks after Hancock was seen enjoying lunch out with Martha – the granddaughter of Frederick Millar, 1st Baron Inchyra – in London.
The pair were seen waiting for a taxi after eating at Exmouth market in the capital.
They were last seen together in public at the England vs Scotland Euro 2020 match at Wembley a week ago …
Mrs Hancock is said to have met her future husband while they were students at Oxford University. Both are dyslexic and he once revealed that the condition helped them bond. 
Descended from a baron and a viscount, Mrs Hancock had a privileged upbringing. Her father, Old Etonian Alastair Hoyer Millar, 84, was secretary of The Pilgrim Trust between 1980 and 1996. The organisation supplies grants to preserve historically significant buildings or artefacts. 
Her mother, Virginia Hoyer Millar, 70, an antiques dealer, was yesterday pictured comforting her daughter in the street by putting her arms around her shoulders. They also linked arms as they strolled around North-West London.  
The couple [the Hancocks] divide their time between London and their West Suffolk constituency home, where there was no sign of Mr Hancock following his resignation.
The ex-Health Secretary wrote in his letter: 'The last thing I would want is for my private life to distract attention from the single-minded focus that is leading us out of this crisis.
'I want to reiterate my apology for breaking the guidance, and apologise to my family and loved ones for putting them through this. I also need (to) be with my children at this time.'
Another report from the Mail followed that day, discussing Conservative MPs' disgust with their colleagues and more information about the respective marriages involved, complete with photographs:
… Mrs Hancock looked sad and upset as she left the couple's home but didn't speak to reporters about her husband's alleged infidelity.  Her husband was nowhere to be seen, however, she was still wearing her wedding ring.    
The shutters were closed at the £4.5million South London home Mrs Coladangelo shares with Oliver Tress and their three children yesterday. They are also believed to have a country home near the West Sussex coast. She has been working as an advisor for Mr Hancock since last year, with one source saying: 'Before Matt does anything big, he'll speak to Gina' …
Mr Hancock was meant to be at Newmarket Racecourse to visit the vaccination centre but a spokesman revealed he cancelled at the last minute 'early this morning'. 
A Department of Health probe into how the footage from outside Mr Hancock's office was leaked is expected, with the whistleblower described as a former civil servant who was angry about his 'brazen' affair, adding: 'They have tried to keep it a secret but everyone knows what goes on inside a building like that' …  
Mrs Coladangelo was appointed as a non-executive director at the department in September, meaning she is a member of the board.
She can claim up to £15,000 in taxpayers' money in the role, though there is no public record of her appointment …
The woman Matt Hancock has been allegedly having an affair with is married to the millionaire founder of fashion firm Oliver Bonas and has worked as its communications director for the past seven years. 
Gina Coladangelo, 43, knows the Health Secretary from Oxford University, where they both worked on the student radio station and studied politics, philosophy and economics (PPE) – and where he also met his wife Martha, 44. 
Mrs Coladangelo remains Facebook friends with Mr Hancock's osteopath wife – with whom the Conservative politician has two sons and a daughter – after they both graduated from the university at around the same time. 
And they all reside in London, with Mrs Coladangelo living with her multi-millionaire fashion tycoon husband Oliver Tress and their three children in Wandsworth, while the Hancocks live in Queen's Park with their children … 
Mr Hancock met Mrs Coladangelo when they worked on Oxford student radio together in the 1990s. Mr Hancock was a minority sports reporter on Oxygen FM and they would have socialised together at Exeter College, Oxford.
… Mrs Coladangelo went on to marry Mr Tress, 53, who is founder of fashion chain Oliver Bonas, named after his ex-girlfriend Anna who is cousin of Prince Harry's former partner Cressida Bonas.
It is not known exactly when Mrs Coladangelo and Mr Tress wed, although they were listed on the electoral roll together with her maiden name as recently as 2008, and then her married name of Gina Tress by 2011.
Mr Tress founded Oliver Bonas in London in 1993 with handbags and jewellery he had brought from Hong Kong where his parents lived, and his wife began working there in June 2014 after 11 years at Luther Pendragon. 
They live together in a five-bedroom detached property believed to be worth around £4million in Wandsworth, South West London, on a quiet tree-lined street with residents-only parking bays that is popular with families.
Many of the cars parked in the street – which is a 20-minute drive away from Central London – are top-of-the range BMW 4x4s and Volvos. Neighbours of Mrs Coladangelo remained tight lipped and refused to comment.
But one visiting workman who left a neighbouring home was unimpressed by Mr Hancock. He said: 'The guy had been caught bang to rights on film. He will have to do some smart talking to get out of that one with the wife.'
The Spectator's editor, Fraser Nelson, called readers' attention to a Sunday Times report saying that Hancock took his girlfriend to a G7 summit:
The Sunday Times has something more significant: that Hancock took Mrs Coladangelo to the G7 health ministers' summit, raising questions about whether they stayed together (the event took place a month after their being filmed canoodling in his office). The brilliantly-informed Tim Shipman has a devastating quote from a Cabinet source.
She went with him to the G7 health ministers summit. Did he disclose this to the PM? If it was shown he was shagging on the taxpayer he had to go. He's been puritan-in-chief in the government and now it turns out he's a massive, lying hypocrite.
… In this week's magazine, Kate Andrews has dossier of how ministers have been living la vida loca, travelling globally at a time when they made it illegal for others to do so. All within the loophole-addled rules, yes, but generally conducting themselves in a way that others have been unable to do.
The girlfriend's brother
More news emerged on June 26, this time concerning Hancock's girlfriend's brother.
Sky News reported:
A relative of the Whitehall director alleged to have had an extramarital affair with Matt Hancock, the health secretary, is an executive at a private healthcare company which has won a string of NHS contracts.
Sky News can reveal that Roberto Coladangelo – who is Gina Coladangelo's brother – works at Partnering Health Limited (PHL Group), a specialist in the provision of urgent and primary care services to NHS patients …
People who know Mr Coladangelo said that he and Mr Hancock's aide were siblings, and social media profiles and electoral roll data appear to confirm a relationship between them.
None of those contacted by Sky News on Friday afternoon would confirm or deny the relationship between the Coladangelos.
Weekend papers
The weekend papers were magic for those of us rejoicing over Hancock's resignation:
Also see The Observer and The Sunday Telegraph.
Of the resignation news, the redoubtable Peter Hitchens tweeted that it was sad that the government didn't believe in their guidelines but the public did — 'our tragedy':
He added that, given all the damage Hancock caused Britain, it was ironic an illicit grope brought him down:
Maybe that's why Hancock wants to return to private life after the next general election. Will the formal coronavirus inquiry advance that far in two years' time? If not, he could be safe in the knowledge he won't be asked to testify.
No. 10: photos 'in the public interest'
On July 16, The Telegraph had a follow-up on The Sun's photos: 'Leaked Matt Hancock CCTV footage was "in public interest", says Boris Johnson's office':
The leaked CCTV footage which exposed Matt Hancock's affair was in the public interest, the Prime Minister's spokesman has said, as an investigation into an alleged data breach continues.
Two people suspected of recording the film without consent had their homes raided on Thursday by officials from the Information Commissioner's Office (ICO).
Police and Crime Commissioners have also called for the police to launch an urgent investigation amid concern over the security of government buildings.
But the Prime Minister's official spokesman said Boris Johnson believed in the importance of a free press being able to investigate matters that were in the public interest …
Excellent!!!
There ends the resignation saga.
A final instalment on Hancock's time as a backbencher will come next week.
Those who missed the first instalment of Boris Johnson's downfall can read it here.
The Queen's Platinum Jubilee weekend at the beginning of June cannot have been an easy one for the Prime Minister, who turned up with his wife Carrie at the public events.
Pressure was mounting for a vote of confidence by Conservative backbenchers.
On the morning of Sunday, June 5, the last day of the Jubilee weekend, Transport Secretary Grant Shapps told the BBC that there would be no such vote, but even if one took place, Boris would win it (video):
By the time the Queen had celebrated her historic jubilee that weekend, Sir Graham Brady, chair of the Conservative 1922 Committee, had received the requisite number of letters from the Party's backbench MPs to trigger such a vote.
The vote took place on Monday, June 6. Shapps was correct in saying that Boris would win it. Shapps went on to run for the Party leadership himself in July.
Unfortunately, after the confidence vote, more events occurred making Boris's position as Party leader untenable.
Earlier, in May, the Conservatives had taken a drubbing in the local elections.
Then came the two by-elections on Thursday, June 23.
One was for Neil Parish's seat of Tiverton and Honiton in Devon. The farmer had stood down on April 30 after two fellow Conservative MPs saw him viewing tractor porn on his phone in the Palace of Westminster. Liberal Democrat Richard Foord won handily.
The second was further north, in Wakefield, where another disgraced Conservative-then-Independent MP, Imran Ahmad Khan, had to stand down for being convicted on April 11 of assault on a 15-year-old boy in 2008. On May 23, Khan was sentenced to 18 months in prison. The West Yorkshire seat reverted to Labour, with the election of Simon Lightwood.
Then came the Chris Pincher groping scandal. Pincher was Deputy Chief Whip but resigned on Thursday, June 30, after a lubricious episode at the Carlton Club in St James. The Carlton is a private club for Conservatives. Pincher had allegedly groped two men at an event there.
Boris had to sign off on Pincher's appointment as Deputy Chief Whip. However, even if Boris had objected, the Chief Whip could have appointed Pincher, anyway. As I explained on July 6, whoever the Chief Whip wants for a deputy, the Chief Whip gets.
However, the Party whip had not been withdrawn from Pincher, and MPs were incandescent.
On Friday, July 1, an article appeared in The Telegraph: 'The "disturbing" call about Chris Pincher's lurid behaviour that forced Boris Johnson to act'.
GB News interviewed Neil Parish, who was furious.
The Telegraph article says:
The low point of yet another chaotic 24 hours for Boris Johnson came when disgraced "tractor porn MP" Neil Parish popped up on the airwaves to give him a lecture on moral standards in government.  
As the Prime Minister and his aides were holed up in Number 10 deciding how to respond to the growing Chris Pincher scandal, the "very cross" former backbencher was giving them both barrels on television. 
"I can't believe they haven't done it," he said incredulously, when asked why the whip had not been removed. Referring to his own punishment for watching pornography in the House of Commons, he added: "It's double standards. Come on, let's be fair."
His righteous outrage encapsulated how untenable Downing Street's insistence that Mr Pincher would be able to remain a Conservative MP, despite accusations he drunkenly groped two men, had become.
Someone must have been watching GB News that afternoon or the fury from MPs must have increased to the extent that the Chief Whip, Chris Heaton-Harris, withdrew the Party whip:
Just over two hours later, Chris Heaton-Harris, the Chief Whip, put out a statement reversing that decision, following a day of growing anger amongst backbench Tories at the Prime Minister's failure to act. 
However, there was a problem in that, the day before, Boris did not think things needed to go that far. He thought that Pincher's resignation from the Deputy Chief Whip role sufficed (emphases mine):
Downing Street was bullish as the news broke at 8pm, with a Tory source insisting: "The PM thinks he's done the decent thing by resigning. There is no need for an investigation and no need to suspend the whip."
Even into Friday afternoon, Boris's stance had not changed:
… at noon, No 10 still remained defiant – with the Prime Minister's spokesman telling reporters he considered the matter closed, since Mr Pincher had resigned and that there was no investigation into his conduct.
Heaton-Harris and Boris received pushback for their inaction.
Finally, later on Friday Pincher became an Independent MP:
Early in the evening Downing Street was eventually forced to act and announced it had stripped Mr Pincher of the whip, given that a formal complaint had been made to Parliament's harassment watchdog.
The question was how much did Boris know about Pincher — past and present — and when did he know it?
Regarding the Carlton Club:
The Prime Minister had also been "troubled" by a "disturbing" call from one of the MPs who witnessed the incident and relayed to him a detailed account of what had happened, according to a source close to him.
The article has the details of what happened with Pincher at the club.
One MP was so unnerved that he rang Heaton-Harris at 3 a.m.:
One Tory MP who was present at the scene told The Telegraph how they "threw out" a "very drunk" Mr Pincher after being told about one of the two sexual assaults and then called the chief whip at 3am to inform him.
Another waited until daylight to inform him:
A second MP who witnessed at least one of the groping incidents also informed Mr Heaton-Harris the following morning. "This is not something that should be brushed over," the MP told The Telegraph.
That MP says Pincher's reputation was known, and it is true that he did have to stand down from another post when Theresa May was Prime Minister:
"Given the nature of the behaviour and the seniority of the role he held, it was highly inappropriate behaviour. This is not the first time there have been conversations about this person either. Many of us were surprised when that appointment was made."
It is the second time that Mr Pincher has been forced to resign from the whips' office over allegations of sexual impropriety. In 2017, he quit a more junior position after being accused by a former Tory candidate of trying to chat him up.
Returning to Boris:
"Boris has set the level and now everyone else is trying to imitate him, it is a constant drip drip. It all adds up, doesn't look good," one former minister told The Telegraph.
"The worrying thing is this is beginning to shape up so much like sleaze in the 90s under Major, where it was a whole series of inappropriate and pretty seedy actions by ministers and Tory MPs that completely undermined him."
Lord Hague, the former Conservative leader, said the Prime Minister had been too slow to act, with a "whole day of everybody speculating and talking". He added: "These things need dealing with decisively."
That day, The Telegraph had a related article, 'Boris Johnson v John Major: How Tory sleaze scandals under the two leaders stack up'. The scores are pretty even. I remember reading it and thinking that things did not look good for Boris.
There were two other things that did not bode well for him that week: a proposed treehouse for his son and an upcoming investigation by the Privileges Committee over Partygate.
Let's look at the treehouse first. Labour MPs were apoplectic that Boris wanted to have one built at Chequers for young Wilf.
Guido Fawkes has the story (emphases his):
Eyebrows were raised in Downing Street over the weekend after the publication of a story in The Sunday Times that Boris had looked into having a £150,000 treehouse built for son Wilf at Chequers. The story – undisputed since publication – goes he had once again entered into discussions about Lord Brownlow forking out for the cost, however plans were eventually scuppered by police security concerns given the house would be visible from the road. Despite the design including bulletproof glass, which raised the cost significantly…
Guido was amused to learn that Downing Street's eyebrows weren't raised by the Sunday Times's story, instead by Labour MPs' attacking the plans on the grounds of Boris being out of touch. Vauxhall's Florence Eshalomi, Rhondda's Chris Bryant, Wallasey's Angela Eagle, and Hull's Karl Turner were all among those laying into the PM.
Guido points out Labour's hypocrisy, because it was Tony Blair who had a tennis court complex installed at the Prime Minister's weekend retreat (purple emphases mine):
No. 10 sources wryly note, however, that it wasn't that long ago when it was a Labour PM splashing huge wads of cash to renovate Chequers – without a whimper of controversy. In 1999, one Tony Blair added a luxury tennis court complex to the PM's Buckinghamshire residence, something since enjoyed by successive MPs including David Cameron and Boris Johnson. Sources in the know tell Guido that the courts weren't built using public cash, nor did they come out of the Chequers Trust, implying the extortionate costs either came out of Blair's personal pocket, or a private donor. Given Guido unfortunately can't make it to Blair's big centrist jamboree today, perhaps an on-hand hack might like to raise the question of who paid for the courts…
Labour: it's okay when they do it.
The Privileges Committee are investigating Boris for Partygate, specifically on whether he deliberately lied to the House of Commons in saying he was unaware any coronavirus rules were breached. That was before he received his fine.
Labour's Harriet Harman is leading the investigation. Labour's Chris Bryant recused himself from that responsibility because he has made no secret of his dislike for Boris.
However, as Guido pointed out on June 17, Harman is hardly impartial:
It's now emerged his replacement, Harman, has not been neutral on the question up until this point either. She has tweeted her views relating to allegations around the PM's truthfulness, with one saying "If PM and CX admit guilt, accepting that police right that they breached regs, then they are also admitting that they misled the House of Commons". You wouldn't favour your chances going to trial if the judge was on the record with such levels of preconceived bias…
Conservative MPs are also aware of her bias:
Yesterday in the Commons, Andrew Murrison asked Michael Ellis whether he agreed "that those placed in a position of judgment over others must not have a previously stated position on the matter in question". The Cabinet Office minister replied:
It is, of course, an age-old principle of natural justice that no person should be a judge in their own court.
Where an individual has given a view on the guilt or innocence of any person, they ought not to then sit in judgment on that person. I know that point he is referring to, and I have no doubt that the right honourable lady will consider that.
It seems to be yet another own goal by Labour, mind-made-up Harman's appointment totally undermines the impartiality of the privileges committee investigation…
The investigation formally began on June 29:
The problem with this investigation is that it has to prove intent on Boris's part to mislead the House. How will Harman prove it?
If Boris is found guilty of deliberately misleading the House, it will have severe ramifications for parliamentary proceedings. Ministers might fear expanding on certain subjects in case they get a figure or another type of detail wrong.
We should find out the result in September.
What Labour are trying to do with this process is ensure that Boris loses his parliamentary seat for good, which is what will happen if he's guilty. That way, he can never be an MP again.
Meanwhile, some Conservative MPs were disgruntled that Boris had won the confidence vote in June. Under the current 1922 Committee rules another one cannot be held until 12 months have elapsed. They wanted Sir Graham Brady to change the rules to allow another vote before then.
On Monday, July 4, Mail+ said that Boris was 'still the best man to lead Britain':
THE Prime Minister returns to his desk today after an impressive display of statesmanship on the world stage.
Following a Commonwealth conference in Rwanda aimed at building a common future, he returned to Europe to galvanise Nato and a wavering G7 into hardening their support for Ukraine.
Sadly, though, his achievements were overshadowed by yet another Tory sleaze row, leading to inevitable further attacks on his leadership. There are even reports that rebel backbenchers are plotting another attempt at regicide – just a month after the last one failed.
When will this self-mutilation end? Yes, the Chris Pincher affair is ghastly and should have been handled better. But there are far bigger issues at stake.
There's a painful cost of living crunch, war in Europe and a migration crisis. Meanwhile, Tony Blair and his embittered Remainer chums are on a renewed mission to strangle Brexit.
Instead of dissipating energy on brainless infighting, the parliamentary Conservative Party needs to focus on the problems its constituents actually care about. They can only do that by getting behind their leader.
For all his recent troubles – some self-inflicted – this paper unequivocally believes Boris Johnson is the right man to lead the party and the country.
None of the potential replacements has his almost unique ability to connect with voters across the social and political spectrum. Crucially, he is the only one capable of winning the next election …
That Mail+ editorial has its finger on the pulse of the nation. I will come back to what voters think in a future post.
On Tuesday, July 5, Chris Pincher was in the news again after Baron McDonald of Salford — Simon McDonald — the Permanent Under-Secretary to the Foreign and Commonwealth Office between 2015 and 2020, wrote about the MP's past and what he thought Boris knew to Kathryn Stone OBE, the Parliamentary Commissioner for Standards for the House of Commons.
I wrote about this at length on July 6, concluding that there was bad blood between the life peer and Boris. Boris sacked him when the Foreign Office was merged with the Department for International Development. To soften the blow, Boris elevated him to the House of Lords. It should be noted that Baron McDonald is also a Remainer.
Wikipedia has a summary of Pincher's parliamentary history of appointments under Theresa May and Boris Johnson:
Pincher served as an Assistant Whip and Comptroller of the Household in 2017, before he resigned after being implicated in the 2017 Westminster sexual misconduct allegations, having been accused of sexual misconduct by Tom Blenkinsop and Alex Story. Two months later, in January 2018, he was appointed by Theresa May as Government Deputy Chief Whip and Treasurer of the Household. After Boris Johnson became Prime Minister in July 2019, Pincher was appointed Minister of State for Europe and the Americas. In the February 2020 reshuffle, he was appointed Minister of State for Housing. In February 2022, he returned to his former role of Government Deputy Chief Whip and Treasurer of the Household.
As to what the peer alleges Boris knew about Pincher, here are two possibilities:
The matter was discussed on that morning's Today show on BBC Radio Four.
Guido has the dialogue, with Deputy Prime Minister Dominic Raab responding for the Government. Raab said:
Aside from the Westminster rumour mill, any allegation that had resulted in formal disciplinary action… whilst there was inappropriate behaviour [from Pincher], it didn't trip the wire into disciplinary action… the individual who made the complaint did not want formal disciplinary action taken.
McDonald was on next. He said:
I disagree with that, and I dispute the use of the word 'resolved'… the complaint was upheld… Number 10 have had five full days to get the story correct, and that still has not happened… it's sort of telling the truth and crossing your fingers at the same time and hoping people aren't too forensic in their subsequent questioning.
Guido said:
In a matter of hours, the line has gone from "it's not true" to "the PM didn't know of any formal complaints". Chaos.
The Paymaster General, Michael Ellis, addressed the matter in Parliament, intimating that Boris forgot a prior briefing on Pincher:
From that point, the spiral turned ever downward.
That day, Sajid Javid resigned as Health and Social Care Secretary.
Shortly afterwards, Rishi Sunak resigned as Chancellor.
That evening, an article by Lord Frost appeared in The Telegraph: 'It is time for Boris Johnson to go':
No one is more downhearted than me at the events of the last few days. Over the years, I have worked as closely as anyone with Boris Johnson. I know, therefore, that he is a remarkable man and a remarkable politician. Only he could have cut through the mess left by Theresa May and delivered on the verdict of the people in the Brexit referendum. He took the country with him through the pandemic and has shown huge leadership on policy towards Ukraine.
But this country now faces formidable challenges. Facing them requires not just the ability to talk about a vision but the determination and steeliness to establish a credible pathway to it. It requires a leader who knows where he wants to take the country and can set out how he intends to get there, in a way that is consistent with the traditional Conservative vision.
I had hoped Boris Johnson could be that person, but I have realised that despite his undoubted skills he simply can't be. As I have often said, his Government has drifted far too much to the Left on economic matters, not only on tax and spend but by being too quick to regulate and too willing to get captured by fashionable trivia. It is tax-raising while claiming to be tax-cutting, regulatory while claiming to be deregulatory. It purports to be Conservative while too often going along with the fashionable nostrums of the London Left …
… I can't honestly see what this Prime Minister's economic philosophy is, beyond the content-free concept of "levelling up", and accordingly I no longer believe we will ever see a consistent drive towards low taxation, low spending, attractiveness to investment, and deregulation on the scale needed. 
But even more than that I have become worried by the style of government. The whole partygate affair could have been dealt with more straightforwardly and honestly by setting out right from the start what had gone wrong in No 10, taking responsibility, and explaining why it would not happen again. By the time those things had been said, they seemed to have been dragged unwillingly from the Prime Minister rather than genuinely meant. Accordingly they lacked credibility …
The Pincher affair then showed in a real-life case study that [reform of Downing Street] was not going to happen. Confronted with a problem which appeared to reflect badly on the Prime Minister's judgment, we saw once again the instinct was to cover up, to conceal, to avoid confronting the reality of the situation. Once again that instinct, not the issue itself, has become the story and the problem. Worse, this time round, ministers have been sent out repeatedly to defend suspect positions that came apart under closer examination. This is no way to run a government …
Boris Johnson's place in history is secure. He will be one of the past century's most consequential prime ministers. If he leaves now, before chaos descends, that reputation is what will be remembered. If he hangs on, he risks taking the party and the Government down with him. That's why it is time for him to go. If he does, he can still hand on to a new team, one that is determined to defend and seek the opportunities of Brexit, one that is able to win the next election convincingly. That is in the Conservative Party's interest, in Leave voters' interest, and in the national interest. It needs to happen.
On Wednesday, July 6, all hell broke loose.
The prime minister's authority over his party is crumbling as three more ministers plus two parliamentary aides resigned this morning and a string of previously loyal MPs turned on his leadership.
Rebel MPs believe that a routine meeting of the executive of the 1922 Committee of Conservative backbenchers this afternoon could be the trigger point for changing the rules that at present mean Johnson cannot be ousted for another 11 months.
Sir Graham Brady, the 1922 Committee chairman, has told the 16 members of the executive to arrive promptly for the meeting, an instruction being taken by some of those on the executive as a sign that he wants to discuss options for ousting Johnson …
At midday he will take prime minister's questions knowing that about half — perhaps more — of the Conservative MPs on the benches behind him want him gone …
Rebel Conservatives have been contacting Brady today to demand a rule change that would allow Johnson to be ousted as soon as possible. "It is being made very clear to Graham that this needs to happen sooner rather than later," said one …
One former minister said that there was a very strong feeling amongst MPs that the issue needed to be brought to a conclusion. "Boris has made very clear that it will take a forklift truck to get him out of Downing Street. So it's now up to us to assemble the forklift truck."
The article goes on to list the resignations which came in by 11:30 a.m. that day. More followed in the afternoon.
To make matters worse, Boris got a grilling during his appearance at the Liaison Committee, comprised of the heads of the Commons select committees.
That evening during a telephone call, Boris sacked Michael Gove, who was the Levelling-up Secretary.
Gove had contacted Boris that morning to tell him he should resign before PMQs at noon.
Somehow, the news reached the media.
Gove's allies claimed it was Downing Street that had briefed the media that Gove had told Johnson to resign. They said it was an attempt to make him look disloyal and distract attention from the wider revolt.
"It did not come from us," one said. "They want to paint Michael as the villain trying to orchestrate a revolt against the PM. Nothing could be further from the truth." They added that the sacking had then come out of the blue in a call from Downing Street. "He just told Michael that given their conversation in the morning he had no choice but to sack him," the ally said.
I wonder. Gove is incredibly untrustworthy and, according to the article, he and Boris have had a difficult relationship since their days at Oxford.
Before Boris sacked Gove, a number of Cabinet ministers had urged him to stand down, including Priti Patel and Kit Malthouse, who had worked with Boris during his time as Mayor of London:
Patel's intervention was striking because of her longstanding support of Johnson, having been home secretary throughout his time as prime minister.
In a one-to-one meeting in No 10 she is understood to have conveyed to him the overwhelming views of the parliamentary party. She said there was no way he could continue to govern without the support of his party.
A similar message was conveyed by Malthouse, her deputy, who was also one of Johnson's deputies when he was mayor of London.
[Brandon] Lewis travelled back from Belfast to tell the prime minister that he believed he should resign. On his flight a passenger heckled him, telling him: "You are complicit in the betrayal of this country by Boris Johnson," the BBC said.
[Grant] Shapps told the prime minister that he stood little chance of commanding a majority in a second confidence vote. [Kwasi] Kwarteng told Chris Heaton-Harris, the chief whip, that Johnson should resign for the good of the country.
I will have more on the resignations tomorrow.
Prime Minister Boris Johnson is quickly going from hero to zero.
Lately, he has been beset by scandals, some from other Conservative MPs but others which can be laid only at his door.
At least he has a new baby daughter to provide some distraction.
N.B. Some tweets below come from a Boris parody account, such as these:
Downing Street flat refurbishment
Carrie Johnson wanted to refurbish the Downing Street flat.
Most PMs' wives have done it on a careful budget. Samantha Cameron redid the flat when her husband David was PM between 2010 and 2016. Unlike the other PMs's wives, she spent £100,000, which included a brand new kitchen.
Theresa May was more prudent when she redecorated further.
According to Tatler, Theresa May's taste was too 'John Lewis', so Carrie enlisted the help of interior designer Lulu Lytle.
On March 1, 2021, news emerged that, before Carrie Symonds married the Prime Minister, her fiancé wanted to set up a charity to fund the costs, as the White House does. The Daily Mail reported (emphases mine):
Boris Johnson is secretly trying to set up a charity to help pay for a costly makeover of his official flat by his fiancée, it has been claimed.
The scheme is based on one used by the White House to raise millions of dollars for interior design, antiques and art.
The presidential charity is bankrolled by private donors – and the proposed Downing Street version is expected to be funded largely by wealthy Tory benefactors.
It runs the risk of claims of conflict of interest if it is seen as a back-door way of providing a financial benefit to the Prime Minister.
Mr Johnson has complained the cost of the refurbishment by Carrie Symonds was 'totally out of control', the Daily Mail has been told. He reportedly said during one meeting that the sum amounted to 'tens and tens of thousands'. On another occasion he said it was 'over a hundred grand'.
He is said to have told one minister he was particularly alarmed by the cost of wallpaper chosen by Miss Symonds, saying she appeared to have ordered 'gold wall coverings'.
Mr Johnson has asked multi-millionaire financier and Tory peer Lord Brownlow, who has close links with the Royal Family, to run the charity. It is believed that an application to register it with the Charity Commission is under way.
The official purpose of the charity is to raise funds to preserve No 10 and No 11 Downing Street for the nation on heritage grounds.
But insiders say the proposal stemmed from the soaring cost of a makeover of the No 11 flat, which is preferred by prime ministers with families because it is bigger than the No 10 flat …
The Charity Commission said it was not aware of any application to set up a Downing Street charity.
Conservative Party HQ, the Cabinet Office, Lord Brownlow and Miss Lytle declined to comment.
The article includes photos of the newly decorated room which looks as if it came out of a harem. What were they thinking?
The hallway is better but is still an acquired taste.
On March 12, the cost came up for discussion in the House of Lords. Journalist John Rentoul put together a graph from the figures that Lord True gave to the Lords:
When this came up earlier this year, it seemed like revenge at Boris for Brexit.
On Wednesday, April 28, the left-leaning Electoral Commission announced a formal investigation into the refurbishment.
Guido Fawkes reported that the Commission's spokesperson said, in part (emphases in the original):
We are now satisfied that there are reasonable grounds to suspect that an offence or offences may have occurred. We will therefore continue this work as a formal investigation to establish whether this is the case.
"The investigation will determine whether any transactions relating to the works at 11 Downing Street fall within the regime regulated by the Commission and whether such funding was reported as required …
Guido pointed out that Prime Minister's Questions (PMQs) took place that day:
Incredibly awkward timing ahead of PMQs…
Sure enough, it was awkward for Boris, facing Labour's Sir Keir Starmer at the despatch box, as Guido later reported, complete with a video (emphases mine):
Boris ended his PMQs spar with Sir Keir visibly furious after four questions about who paid for the No. 10 flat renovation. The PM copied the CCHQ strategy of relying on the specifically-worded phrase "I paid for [the] Downing Street refurbishment personally". Asked whether Lord Brownlow paid the initial refurbishment invoice, Johnson dodged the question, saying "I think I've answered this question several times, the answer is I have covered the cost."
The session finished with an incredible rant from the PM, which resulted in [Speaker of the House] Lindsay Hoyle having to ask him to "Calm it down a little."
Guido and his team discussed the issue on Friday, April 30.
Around that time, Tatler published the text of an email from Lord Brownlow regarding a donation:
The Mail claims that the email appears to prove that the Tories planned to claim the £58,000 was paid not by Lord Brownlow but by a 'soon to be formed Downing St Trust' that did not exist – and still doesn't, officially.
The email, sent by wealthy donor Lord Brownlow last year, on 14 October was marked 'Donation' and reads: 'Hi Mike … further to our conversation I am making a donation to the Party. It includes the £15,000 you and I have agreed – plus £58,000 to cover the payments the Party has already made on behalf of the soon to be formed "Downing Street Trust" – of which I have been made chairman, as you know.'
… Prime Ministers typically receive about £30,000 of public money to redecorate but Johnson is reported to have complained to advisers about the high costs he incurred for his upmarket interior design project.
A Conservative spokeswoman told the Times : 'All reportable donations to the Conservative Party are correctly declared to the Electoral Commission.'
On August 26, Conservative Party headquarters provided an update. Guido reported that the following was buried in the footnote of page 25/26 of the annual report (emphases in the original):
The Conservative Party officially say they provided a "bridging loan" of precisely £52,802 "in relation to the renovation of the Prime Ministerial residence in Downing Street" in anticipation of the formation of the PM's now-abandoned "Downing Street Trust". Conservative Central Office was then invoiced by the Cabinet Office in June 2020. Lord Brownlow then reimbursed the party…
CCHQ continues, "In March 2021, the Prime Minister personally settled the costs incurred by Lord Brownlow", before pointing to the Independent Adviser on Ministers' Interests review, which found the loan provided by CCHQ constituted financial support to the PM. The full stop at the end of the long-running row?
No, that was not the end of the matter. Yesterday, Thursday, December 9, Guido updated us with the news that the Electoral Commission fined the Conservative Party £17,800:
It just one thing after another for No. 10 this morning, as the Electoral Commission fines them £17,800 for failing to "accurately report a donation and keep a proper accounting record" in regards to the Downing Street flat refurb:
" … The investigation found that the party failed to fully report a donation of £67,801.72 from Huntswood Associates Limited in October 2020. The donation included £52,801.72 connected to the costs of refurbishment to 11 Downing Street. The full value of the donation was not reported as required in the party's Q4 2020 donation report.
The Commission also concluded that the reference in the party's financial records to the payment of £52,801.72 made by the party for the refurbishment was not accurate."
It never rains but it pours…
Sleaze
A sleaze scandal involving Conservative MPs erupted in November, resulting in the resignation of Owen Paterson, MP for North Shropshire. A by-election for his successor will be held on Thursday, December 16.
However, as I was on the subject of flats, the Political Editor of The Sun reports that, even though it became an issue in 2012, it appears that MPs buy London flats to rent out then reclaim the expense for the flat:
Guido exposed the practice in 2012. It allegedly involved at least one Labour MP and the then-Speaker of the House John Bercow covering it up (emphasis in purple mine):
The first and most simple method of rent-swapping involves the MPs who make money renting out their own previously taxpayer-funded properties while claiming expenses to rent out homes nearby. According to The Telegraph Chris Bryant rents out his mansion flat in Bloomsbury while claiming £2,000 expenses for rent on another London property. We have repeatedly asked him for an explanation this morning without receiving any reply. The Speaker claims the truth cannot be released because it would pose a security risk. Laughable, Guido and anyone else who wants to know, already knows where he lives.
The second, far more serious, category of rent-swapping covers a handful of MPs suspected of renting out properties to each other, effectively an "I'll pay yours if you pay mine" scheme. MPs are banned from renting homes to relatives but a loophole in the rules allows them to trouser huge sums of money by renting out properties to other current and former MPs. Bercow cites security reasons for not revealing the address or names of landlords, but there is absolutely no reason why he cannot release the names of the MPs involved in this form of rent-swapping. It is a cover up.
There is also potentially a third category: the so-called "phantom" rent swap. This involves the possibility of MPs telling the authorities they have moved when in reality they have not, and then swapping their rent on the quiet.
If these people were claiming housing benefit "Rent Swapping" like this would fall into the category of benefit fraud plain and simple, it is in the parlance of welfare fraud investigators a "contrived tenancy" punishable by up to 10 years imprisonment.
Now on to the big Opposition sleaze attacks from this year.
In April, Labour and Scotland's SNP MPs accused the Conservatives of cronyism when obtaining last year's emergency PPE and equipment contracts to fight the pandemic. On April 26, Michael Gove responded:
Only 0.5% of PPE wasn't up to scratch …

The Dyson texts were about securing ventilators for the frontline …
In November, the Owen Paterson controversy broke. Paterson had been working for the Northern Irish healthcare company Randox, whilst he was Shadow Northern Ireland Secretary. That was before the Conservative-Lib Dem coalition took office in May 2010. In 2015, he began working as a consultant for the company. By 2019, he was earning £8,333 a month for a monthly commitment of 16 hours in that role.
In 2020, the Government awarded two contracts to Randox for producing coronavirus testing kits. The first contract, awarded in March, was worth £133 million. In April 2020, Paterson represented Randox in a call with Lord Bethell, the minister responsible for awarding contracts. Unusually, no minutes of the call were available. Later that year, Randox won another contract worth £347 million. In neither case were other companies allowed to bid for those contracts.
Owen Paterson also worked for another company based in Northern Ireland, Lynn's Country Foods Ltd. They paid the then-MP £12,000 per annum for 24 hours of work.
In October 2021, on Political Correction, Nigel Farage interviewed Paterson on GB News. Paterson said that he had been under investigation by the Parliamentary Commissioner for Standards for many months. Paterson told Farage that, in June 2020, his wife, Rose, asked him one weekend how long the investigation would go on. He replied that he did not know. Little did he know that she was preparing to take her own life in the days that followed. She committed suicide on Wednesday, June 24, 2020. She had been so concerned for him that it was taking a toll on her mental health. Paterson and their three children were devastated.
In October 2021, the Parliamentary Commissioner for Standards concluded her investigation. Wikipedia states:
The Commissioner said Paterson had "repeatedly used his privileged position to benefit two companies for whom he was a paid consultant, and that this has brought the house into disrepute" and that "no previous case of paid advocacy has seen so many breaches or such a clear pattern of behaviour in failing to separate private and public interests".
Paterson told Farage that at no time was he allowed to present his case to the Parliamentary Commissioner for Standards.
The Commons Select Committee on Standards recommended that Paterson undergo a 30-day suspension from Parliament. That length of suspension could have triggered a recall of the MP from his constituency, resulting in a by-election.
In order to avoid that situation — and because some Conservative MPs thought Paterson had suffered enough through his wife's suicide brought on because of the pressure of waiting for the investigation to conclude — Andrea Leadsom MP brought forward an amendment to the motion to suspend him. It involved delaying consideration of the suspension until a new proposed cross-party committee of MPs could investigate the disciplinary process for MPs. The Government supported Leadsom's amendment and appointed a three-line Conservative whip, obliging the party's MPs to vote for it.
The amendment passed: 250–232. Paterson was able to vote for it.
On November 3, Paterson thought he would be able to clear his name. The Guardian quoted him as saying (emphases mine):
The process I was subjected to did not comply with natural justice.
No proper investigation was undertaken by the commissioner or committee.
The standards commissioner has admitted making up her mind before speaking to me or any witnesses.
All I have ever asked is to have the opportunity to make my case through a fair process.
The decision today in parliament means that I will now have that opportunity.
After two years of hell, I now have the opportunity to clear my name.
I am extremely grateful to the PM, the leader of the house and my colleagues for ensuring that fundamental changes will be made to internal parliamentary systems of justice.
I hope that no other MP will ever again be subject to this shockingly inadequate process.
That night, there was outrage among MPs, including Conservatives, and in the media.
Early in the afternoon the following day, Boris Johnson reversed his support for Paterson.
The Guardian reported:
MPs are expected to get another vote "as soon as possible" on suspending the Conservative MP Owen Paterson from parliament, after Boris Johnson made a U-turn and ditched immediate plans to overhaul the standards system.
Following a wave of anger from within his own party and allegations of Tory sleaze, the prime minister retreated. He signalled that he would not go ahead with a new committee chaired by a Conservative MP to review the case and wider sanctions policy, given that opposition politicians had vowed to boycott it.
A motion trying to reverse Wednesday night's vote is expected to be debated next week before the Commons goes into recess, when further details will be set out of how changes to the standards system will be taken forward on a cross-party basis.
Early that evening, Paterson announced that his resignation as MP for North Shropshire.
The Guardian said:
There is a Westminster joke about how eventually everyone gets let down by Boris Johnson, and the U-turn meant that Paterson – who yesterday enjoyed the full support of the No 10 machine – was today facing inevitable suspension from the Commons, and a possible recall election too … Johnson's U-turn makes the government less vulnerable to the toxic charge of corruption and cronyism than it was, but the episode must have caused some reputational damage and Tory MPs who loyally defended what the government was doing yesterday are looking particularly exposed.
The Paterson controversy resonated with many Britons who remember the MPs' expenses scandal that The Telegraph exposed more than a decade ago. Most of us have a dim view of Parliamentarians anyway, with the word 'trough' popping up more often than not in any mention of either House, Commons or Lords.
Interestingly, on November 30, Guido reported that Kathryn Stone, the Parliamentary Commissioner for Standards, cleared another Conservative MP, Geoffrey Cox (purple emphases mine):
of using his Commons Office during a Zoom call for his second job , on the grounds there is insufficient evidence to justify beginning an inquiry. Despite screenshots and videos having him bang to rights…
Stone's limp-wristed decision sets an alarming precedent, arguing the rules on the use of taxpayer-funded parliamentary offices should be operated with a degree of proportion. While this creates an absurdly subjective grey area, Guido confesses he worried this would be the outcome. As the scandal played out last month, he spotted that while the 2010 MP's handbook had explicitly said Commons Offices must not be used for non-MP work, this rule had been written out of the guidelines come the 2017 update …
Unfortunately, this means that Labour MPs using their offices and equipment to campaign for their candidates in by-elections are well in their rights to do so:
Far from this decision only impacting Geoffrey Cox, it also jettisons Guido's campaign against five Labour MPs he'd caught using their parliamentary offices to campaign in by-elections: Matt Western and Catherine West for Batley & Spen; Helen Hayes and Vicky Foxcroft for Old Bexley & Sidcup; and Kate Green for both.
Guido wrote to all five last Friday asking why they thought it an appropriate and fair use of taxpayer-funded resources, unsurprisingly receiving no reply from any. Guido reckons Kathryn Stone must be one of the few taxpayers in the country happy to fork up her cash for MPs like Cox et al to abuse the system and let them get away with it…
Of course, Conservatives hardly have a monopoly on sleaze. There are Opposition MPs who are also raking it in with second jobs. That's another subject for another day.
The result of the sleaze revelations was that Boris and his Government began slipping in the polls. In recent weeks, Labour have taken the lead in some of them.
Therefore, it was hard to see how Boris could manage to make things even worse for himself or the public.
On November 22, Patrick Christys of GB News said that Boris would be unlikely to survive anything further:
But what happened next?
Amazingly, Boris initiated Plan B coronavirus restrictions for England.
Find out why on Monday in Part 2.
Hint: his reason has nothing to do with health.
In 1995, a Church of England scandal made national news.
Reading an update on it this week reminded me of the Corinthians, whom St Paul reproved for becoming debauched. Their carnal attitude permeated their church services: babbling nonsense ecstatically 'in tongues', which was part of pagan worship, and drunken Communion services.
During the 1980s and early 1990s, something similar happened to a church in Sheffield. Unfortunately, there were no senior Church of England clergy to censure the vicar. As it happened, they encouraged a programme about which they knew little.
This week, The Times recapped what happened at St Thomas's Church in Sheffield at what was called the Nine O'Clock Service, or NOS.
The NOS was held every Sunday.
A young Christian rock musician — and ex-nightclubber — Chris Brain, led the NOS, which The Times describes as:
a radical mix of rave culture, social and environmental campaigning and religion that drew queues of black-clad young followers for its weekly gatherings.
Instead of reminding Chris Brain of pertinent chapters of 1 Corinthians, the clergy wanted to extend the NOS throughout the United Kingdom (emphases mine):
The hierarchy was buzzing at the prospect of a vibrant model of service that might be copied around the country to attract new congregations.
Chris Brain, the charismatic young Christian rock musician who had emerged as leader of the NOS, met Dr George Carey, who was soon to be the Archbishop of Canterbury, and later recalled: "He said to me, 'I'd be very happy to see an NOS in every town and city in the UK'."
Carey, who met Brain in 1990, was interested in getting more converts, and rightly so. As the Archbishop of Canterbury, he declared the 1990s to be the Decade of Evangelism. He is best remembered for propagating the Alpha Course nationwide. Alpha started at Holy Trinity Brompton Church in London. It has been an international phenomenon for many years.
Returning to the NOS, in 1989, the Bishop of Sheffield, the Right Rev David Lunn, had confirmed 100 people — nearly all NOS attendees — at St Thomas's. That is an extraordinary number of confirmands for any church at any one time:
It was a moment of great excitement for the church hierarchy because they were almost all young people, usually thought of as being out of reach.
As a result, Brain became a diocesan star of sorts, seen as being ideal for the priesthood:
Brain was fast-tracked for ordination and invited to contribute to the archbishop's collection of essays on evangelism. Lunn told the BBC that the NOS had a "permanent significance" and was a "new development in the way we understand the Christian religion".
The church authorities were either unaware of, or happy to turn a blind eye to some more disturbing aspects of the movement.
Brain's ordination in 1992 was rather extraordinary:
When Brain was ordained in 1992, the NOS borrowed at considerable expense the robes worn by Robert de Niro in the film The Mission for the service.
He became St Thomas's vicar.
Behind the scenes, however, carnality prevailed with Brain and some NOS adherents, particularly women. It was turning into a cult:
There were allegations of controlling behaviour and followers handing over thousands of pounds while cutting themselves off from their friends and families. Young women were enlisted as "postmodern nuns" in Brain's Homebase Team. Some allegedly gave massages and engaged in sexual activity when putting him to bed.
Brain rationalised their behaviour, as one woman later recalled:
One member of the group, interviewed by the BBC, said: "He would talk about how we were discovering a postmodern definition of sexuality in the church. It's just language — language covering up the fact of what was really going on: one bloke getting his rocks off."
Things started getting out of hand in 1992:
There had been consternation in 1992 when an NOS service at a Christian festival included a troupe of dancers in black Lycra bikinis cavorting in front of 15,000 people.
A few laypersons and clergy complained to church authorities, but nothing was done until 1995:
Church leaders finally listened in August 1995 after disclosures by three whistleblowers:
One woman claimed that there was bullying and people were "blurring boundaries sexually". She worried about how money was spent. The NOS charity, the Nine O'Clock Trust, recorded an income of £272,000 in 1994.
That amount of money is something an average Anglican church can only dream of.
Church authorities suspended Brain's ministry. A month later, he tried to downplay the extracurricular activities of the NOS:
In a September 1995 interview with a Sunday newspaper he said that the sexual contact he had with women followers was "heavy petting" but "non-penetrative". The Homebase Team had been created to help his wife at home because he was so busy with his work. "It was like any other vicarage, you always get ladies helping the vicar's wife. They set up a rota but the idea of handmaidens is ridiculous," he said.
Brain added: "These were relationships which began 10 or 12 years ago when I was part of the nightclub scene. When I became a priest, I should have done something about them . . . I didn't and that was wrong."
He said that his ordination never should have happened:
He claimed that it was "utterly ridiculous that I was made a priest . . . I was the breakthrough for the church but it changed everything for me. Everyone became dependent on me."
Yes, congregants depend a great deal on their vicars. They expect spiritual leadership and guidance. He is their shepherd.
The Times is revisiting this story because, after 25 years, former NOS members are now seeking compensation:
Former members of the Nine O'Clock Service, which was known as the NOS and drew hundreds of young people to nightclub-style evangelical services in Sheffield in the 1980s and 1990s, have approached the church alleging that they endured abuse and exploitation.
The current Bishop of Sheffield, the Right Rev Pete Wilcox, said that:
the survivors had given "harrowing testimonies" about their experiences, and their concerns were being taken "very seriously".
More ex-members could be coming forward:
to allege sexual exploitation and psychological abuse.
One member explained that the reason for waiting a quarter of a century to come forward was because the Church of England advised them to stay silent:
One former member of the group said: "People have been silent for a long time and it has caused them huge distress and trauma. The church told them at the time that they should keep silent, don't talk about it, the press will destroy you. I think after the MeToo movement people felt 'enough is enough' and they made a decision to come forward."
Some of those seeking help are considering legal action for damages because church leaders had overtly supported the NOS, believing that it would attract younger congregations.
The article says that the hierarchy even gave the NOS financial backing.
The 'postmodern nuns' wore unusual habits and had unorthodox duties:
Brain resigned his ministry in 1995 as the scandal unfolded. It emerged that his entourage included a group of "postmodern nuns" who wore black miniskirts and whose tasks ranged from housekeeping duties to "putting him to bed" at night.
He told a BBC documentary in 1995 that he had been "involved in improper sexual conduct with a number of women".
Fast forwarding to the present, Brain is now 63. The article says that he has changed his first name from Chris to James. He is currently:
co-director of a "transformation design" consultancy based in Manchester.
The Times reported that he did not respond to their attempts to contact him.
The NOS, The Times says, had between 300 to 500 members. A number of them forsook family and friends for the movement, filling its coffers with large sums of money.
At the time the scandal broke, the then-Bishop of Sheffield, Bishop Lunn, said that:
the hierarchy was not responsible for any wrongdoing.
The current incumbent, Bishop Wilcox, is taking a much different stance:
Wilcox said: "We can confirm a group of survivors of the appalling conduct at the Nine O'Clock Service in the Diocese of Sheffield, which originally surfaced in the 1990s, have contacted the Church of England. Their concerns and harrowing testimonies are being taken very seriously. Support is being offered and the church is working closely with the statutory authorities."
A large law firm, Slater & Gordon, is representing the former members. One of their solicitors (attorneys), Richard Scorer, said:
The Church of England has a moral and legal responsibility to those harmed by abuse in the Nine O'Clock Service and it must honour that and ensure that the appalling harm suffered by victims is properly acknowledged.
I remember when the story broke. It was in the papers for several weeks. Even the atheists I knew at the time expressed their shock and said that priests should not act like that.
The Times has done an admirable job of returning this harrowing story to the spotlight.
I hope that settlements can be reached and that the Church of England learns an important lesson from this.
However, I have a few old bookmarks on the Nine O'Clock Service, which say that Chris Brain's departure did not end the movement. Furthermore, The Independent reported at the time that Bishop Lunn was quick to demand that Brain resign as vicar and that the Archbishop of York had already banned him from performing priestly duties.
More to come on Monday.