You are currently browsing the tag archive for the 'school' tag.
My series on Matt Hancock MP continues.
Those who missed them can catch up on parts 1 and 2.
Today's post takes us further into the late Spring up to the early autumn of 2020. The Government's policy on coronavirus held the UK hostage at home, for varying amounts of time, depending on what part of the country one lived in.
Testing centres popped up around the country. Hancock, who was Health Secretary at the time, urged everyone to go to one of these centres to find out if they had the virus. The narrative was that the asymptomatic could still have it and transmit it to someone else. What a load of cobblers. As Mike Yeadon, who used to work for Pfizer said, if you're ill, you'll know about it.
A mobile phone app also appeared: Test and Trace. Another load of rubbish, which was very expensive. Surprisingly, many Britons with smartphones used it. Another good reason for not having a smartphone.
Imperial College's SAGE modeller, Prof Neil Ferguson, was discovered to have broken lockdown with his mistress, who lived on the other side of London.
In May, news emerged that Boris's top adviser Dominic Cummings slipped off from London with his wife and son to Barnard Castle, County Durham. As penance, Boris made Cummings give a 90-minute press conference in the Downing Street Rose Garden. Excruciating.
England's Independence Day was declared on the Fourth of July. Then-Chancellor Rishi Sunak's hospitality plan, Eat Out to Help Out, started a short while later, boosting restaurant sales.
During this time, the borders were open and people could travel freely. The problem were the sudden embargos which interrupted holidays at inconvenient hours of the day. Britons were often told to return home from a European country, mostly France and Spain, at midnight or 4 a.m.
However, it wouldn't be long before the long tentacles of SAGE would find more doom and gloom in the autumn.
More extracts from Matt Hancock and Isabel Oakeshott's Pandemic Diaries, serialised in the Mail, continue, with news items I bookmarked from the time. Emphases mine below.
May 2020
Amazingly, Hancock managed to achieve his testing goal of 100,000, which seemed impossible when he announced it only a month earlier.
These are the principal extracts from the Mail for the entries below, unless otherwise indicated.
Friday, May 1:
We did it, and with a very comfortable margin. 122,347 tests! Let the naysayers put that in their pipe and smoke it! I'd be lying if I didn't say I enjoyed my moment, given how desperately certain people were willing me to fail.
Then-Prime Minister Boris Johnson was fascinated by Australia's low rate of infection. Little did he know at the time that Australia would go into a prolonged lockdown lasting months.
Sunday, May 3:
We still haven't figured out what to do about borders. [Dominic] Raab, [Grant] Shapps and Sunak all want to keep the borders open. Crucially, they're supported by the Prof [Chief Medical Officer Chris Whitty]. On the other side, Priti Patel and I are in favour of far tougher measures, as is Boris.
Scotland's First Minister Nicola Sturgeon was enjoying her power over her people, starring in daily briefings which the BBC televised. She gave her briefings at lunchtime. The UK government gave theirs in the early evening.
Monday, May 4:
Tonight, Nicola Sturgeon announced a 'summer push to elimination [of Covid]', a policy which has about as much hope of working as Chairman Mao's attempt to eliminate sparrows by getting the Chinese population to bang pots and pans.
Much as I'm sure Nicola would love to build a Trump-style wall between her fiefdom and the rest of Great Britain, we're all in this together. One person who's clearly not keen on a hermit lifestyle is Prof Neil Ferguson [who was advising the Government on its Covid response]. 
I wasn't particularly sympathetic when I heard he'd been caught breaking the rules [by meeting with his lover]. He's issued a grovelling apology, but it was obvious he couldn't continue to act as a Government adviser.
Ferguson resigned from SPI-M, SAGE's modelling team, but was reinstated in 2021.
The care home situation continued to loom large. Infections and deaths were ever present. Furthermore, families were rightly distressed by having to press up against a window to see their elderly loved ones, a situation that persists in some care homes even today.
Boris suggested that Hancock hire Kate Bingham, a venture capitalist with a background in pharmaceuticals, as the head of the Vaccine Taskforce.
Also on May 4, we discovered that Good Morning Britain's star presenter Piers Morgan was a 'Government-designated essential worker'. His test was negative, but he was experiencing symptoms, so he stayed off air for a few more days. The Mail reported that Hancock tweeted his best wishes before Morgan got the results of his test:
Mr Hancock, who had his own battle with coronavirus and who has previously clashed with the GMB host on the ITV morning show, tweeted that he hoped if Mr Morgan did test positive for Covid-19 that the symptoms would be mild. 
On May 7, Hancock announced that Baroness Dido Harding would head the Test and Trace programme:
On May 9, the Mail on Sunday reported that Boris and Cabinet members were clashing with the beleaguered Health Secretary:
Matt Hancock is living on 'borrowed time' as Health Secretary following clashes with the three most powerful members of the Government over the Covid crisis, The Mail on Sunday has been told.
Mr Hancock is understood to have pleaded 'give me a break' when Boris Johnson reprimanded him over the virus testing programme – leading to open questioning within Downing Street over Mr Hancock's long-term political future.
His run-in with Mr Johnson follows battles with both Rishi Sunak and Michael Gove over the best strategy for managing the pandemic.
Shortly after Mr Johnson returned to work at No 10 a fortnight ago, he and Mr Johnson had a tense exchange about the the Health Department's 'grip' on the crisis, during which Mr Hancock said to the Prime Minister, in what has been described as a 'petulant' tone: 'That's not fair – give me a break.'
He is also being blamed in some Government quarters – or scapegoated, according to his allies – for not moving quickly enough to do more to protect care homes from the epidemic. 
On Wednesday, May 13, Hancock announced a new genomics initiative in order to better understand the virus:
People are starting to blame us for discharging elderly people from hospital into residential settings without testing them properly, before we introduced strict rules. The evidence simply doesn't bear that out: care home outbreaks rose sharply long after we had enough tests to put that right.
That day, a Labour peer was mystified as to why the Government did not know how much PPE there was:
Friday, May 22:
Westminster is abuzz with claims that Cummings broke lockdown rules, going to stay with his parents while he had Covid, which looks like a mega breach.
Saturday, May 23:
Downing Street called asking if I'd do some media [to support Cummings], but I'm uneasy. Despite all the reassurances, it feels off.
In the end, I issued a supportive tweet, saying he was right to find childcare for his toddler when both he and his wife were getting ill.
[Former Chancellor] George Osborne messaged me this evening warning me not to stick my neck out for Cummings again. 'Lie low' was his advice.
Sunday, May 24:
I spent much of the day fielding angry messages, many of them questioning why the PM is still standing up for Cummings. The answer is that he rules through fear and intimidation, squashing those who dare to challenge him or get in his way.
Monday, May 25:
Cummings tried to draw a line under the Barnard Castle affair by holding a press conference in the Downing Street garden. He sat behind a table, squinting awkwardly into the sun, looking like a sulky teenager who'd been sent outside to do his work for disrupting the class.
Afterwards, I found myself feeling strangely sorry for Boris.
Cummings has only one setting – divide and destroy – and now the boss is having to say some pretty stupid things as he machetes his way through the resulting mess.
The only thing for it was to keep backing Cummings – silence from me would only create an unhelpful story – so this evening I tweeted that I welcome the fact that Cummings 'has provided substantive answers to all the questions put to him'. Apparently it got me some credit in No 10, but I can't say I felt good about it.
Away from the Cummings s*** show, we had a Cabinet meeting to discuss plans for easing restrictions. It was a bizarre Cabinet, held on Zoom without a single mention of the Cummings-shaped elephant in the room. 
In fact, an absurd amount of bandwidth was occupied by a discussion about whether – when we allow two households to get together outside – people should be permitted to walk through a house to get to a friend's garden. 
It's fine by me, but are people going to ask whether they will also be able to go inside to use the loo? 'If they're quick and disinfect the handle?' the Prof replied.
Who could believe that under a Conservative government, the long arm of the State would find its way into people's loos?
On Tuesday, May 26, a Sky News reporter called out to Hancock asking if he was going to sack Cummings. Ermm, it wasn't Hancock's responsibility, only Boris's:
June 2020
Thursday, June 4:
Boris messaged me at 6.43am saying he was 'going quietly crackers' about not testing enough people. He told me he sees it as our 'Achilles heel'. He was in a proper flap. 'What is wrong with our country that we can't fix this?' he complained. 
I tried to calm him down. 'Don't go crackers,' I said. 'We now have the biggest testing capacity in Europe.' Tempting as it was, I refrained from saying we did this against the obstruction of his own No 10 operation.
Wednesday, June 17:
In an embarrassingly crude power grab, [European Commission President] Ursula von der Leyen is trying to wrest control of vaccine research and procurement from EU member states.
Never mind that health is a matter for individual countries: the woman who once sent German army units on manoeuvres with broomsticks – because they didn't have any rifles – wants to move responsibility for scientific development and manufacture into the sticky paws of Brussels bureaucrats.
I may have voted to Remain, but it's enough to make a Brexiteer out of anyone.
Friday, June 19:
A massive blow-up with Kate [Bingham, head of the Vaccine Taskforce]. She simply doesn't see the need to order 100 million doses of the Oxford vaccine – she wants 30 million – and can't seem to grasp almost everyone may want or need it.
I warned her during today's meeting that if we don't get our ducks in a row on this one, we risk a complete car crash.
She pushed back hard. But with the other elected Ministers on my side, I won the argument [for buying 100 million doses].
'I'm not happy with that meeting,' Kate snapped afterwards. 'Nor me,' I replied.
'We will create a guide for you to explain what we are doing – there are enormous risks with this,' she said, as if I don't spend all my time thinking about how to save lives.
Kate pressed on, claiming that the technology that underpins the vaccine Oxford is working on [Astra-Zeneca] 'is neither proven nor scaled', and that she has 'an expert team who are working round the clock, pushing hard'.
I told her: 'We need to have tried everything feasibly possible to accelerate delivery. I've been asking the same question over and over again and not yet had a satisfactory answer – hence my frustration.'
This only seemed to wind her up further, prompting a mini-lecture about the dangers of trying to go too far too fast.
'The worse case is we kill people with an unsafe vaccine,' she said. 'We need to tone the comms to register the fact this is risky and unproven.'
If there's one thing I can't stand, it's being patronised.
On Wednesday, June 24, Hancock, riding high as the chap in charge of the nation's health, appeared on Robert Peston's ITV current affairs show:
July 2020
July 4 was Independence Day from coronavirus in England.
However, separate regulations applied in Leicester, which still had a high rate of infection. Even so, nothing was stopping them travelling elsewhere to socialise or shop:
On Sunday, July 5, Hancock expressed concern over high infection rates and overcrowded working conditions in certain factories in Leicester. It seems he was thinking of certain textile factories operating like sweatshops:
Monday, July 6:
The Vaccine Taskforce have consistently argued that we only need to back three [vaccine] brands. My view is that, to hedge our bets, we need more. Any one of the vaccines could fail in clinical trials.
Fortunately, Rishi and Steve Barclay at the Treasury are totally onside.
Wednesday, July 8:
Rishi's announced a new Eat Out To Help Out initiative. I did my best to sound supportive, but in truth I'm worried that it might backfire and lead to a spike in cases.
In my box tonight was one particularly startling note relating to the way Covid has been getting into care homes. The main takeaway is that the virus is primarily being brought in by staff, not by elderly people who've been discharged from hospital.
This explains a lot, including why the rise in care home deaths came so much later than would have been the case if hospital discharges were the primary cause. We must ban staff movement between care homes, fast.
On Friday, July 17, news emerged that deaths from natural causes were being classified as coronavirus deaths because of a previous positive test. A retired journalist had the story:
He pointed out that Public Health England (PHE) never announced how they were tabulating deaths. Scotland, of course, tabulated theirs differently:
The question remains: how many 'Covid' deaths were true Covid deaths?
Saturday, July 25:
Anyone coming back from Spain from midnight tonight will have to self-quarantine for 14 days. This is very bad news for a lot of British holidaymakers.
Department for Transport officials kept pushing for 24 hours' notice for the Spain decision, which I thought was curious – Grant Shapps is normally an 'action this day' Minister – until I discovered that Grant and his family had just flown there on holiday. The officials were trying, perhaps too hard, to protect their Minister.
In Cobra meetings, Nicola Sturgeon's political games have become incredibly debilitating and significantly limit scope for open discussion. She sits like a statue, lips pursed like the top of a drawstring bag, only jolting into life when there's an opportunity to say something to further the separatist cause.
The minute someone presses 'End Meeting', you can almost hear her running for a lectern so she can rush out an announcement before we make ours. We now chew over big decisions elsewhere and relegate formal meetings to rubber-stamping exercises.
Monday, July 27:
Downing Street is in a semi-panic about a second wave.
Tuesday, July 28:
Sturgeon is on manoeuvres again, trying to persuade us all to sign up to her impossible and anti- scientific zero-Covid plan.
Sure, we'd all love zero Covid, but that's about as realistic as a bagpipe-playing unicorn.
She just wants to look and sound tough, then blame us when her policies don't work.
I can hardly bear to watch her on TV any more.
Wednesday, July 29:
Testing is a continuing concern. We still haven't sorted procurement for what Boris calls 'Operation Moonshot'. The idea is to carry out literally millions of Covid tests a day to keep the economy going.
Officials say we mustn't eliminate staff movement across care homes because it might lead to a shortage of staff. Yet research shows the risk of outbreaks in care homes doubles if carers are coming and going.
On Thursday, July 30, Bradford was experiencing a high rate of coronavirus. Hancock put restrictions in place.
This was Bradford Council's message:
Hancock's restrictions prohibited people meeting up at each other's homes:
SkyNews had a report on the story:
Fortunately, for them, it might have felt like an eternity but it was temporary.
What wasn't temporary was his announcement earlier that day that GP appointments would have to take place remotely. This is still in place today, causing untold distress to millions of Britons.
The Guardian reported:
All GP appointments should be done remotely by default unless a patient needs to be seen in person, Matt Hancock has said, prompting doctors to warn of the risk of abandoning face-to-face consultations.
In a speech setting out lessons for the NHS and care sector from the coronavirus pandemic, the health secretary claimed that while some errors were made, "so many things went right" in the response to Covid-19, and new ways of working should continue.
He said it was patronising to claim that older patients were not able to handle technology.
The plan for web-based GP appointments is set to become formal policy, and follows guidance already sent to GPs on having more online consultations.
But the Royal College of GPs (RCGP) hit back, saying it would oppose a predominantly online system on the grounds that both doctors and patients benefited from proper contact.
They don't seem to think so now, do they?
The article continues:
Addressing the Royal College of Physicians in London, Hancock noted the huge increase in online consultations as much of the NHS closed its doors to focus on the crisis. In the four weeks to mid-April, 71% of routine GP appointments were done remotely against 25% in the same period a year before.
Outlining what he said were the ways the pandemic had demonstrated the need for greater uses of technology in healthcare, Hancock said that before the coronavirus, "there was a view advanced by some which held that anyone over the age of 25 simply could not cope with anything other than a face-to-face appointment".
He said: "Of course there always has to be a system for people who can't log on. But we shouldn't patronise older people by saying they don't do tech."
The rise in online consultations had been welcome, he argued, especially in rural areas. "So from now on, all consultations should be tele-consultations unless there's a compelling clinical reason not to," Hancock said.
"Of course, if there's an emergency, the NHS will be ready and waiting to see you in person – just as it always has been. But if they are able to, patients should get in contact first – via the web or by calling in advance."
Sure, Matt.
What a disaster that policy has proven to be.
The month seemed to end on a positive note with regard to agency staff working in multiple care homes.
Good news on banning staff movement in care homes. After I blew my top, officials got the message.
August
By August, even though England was open and people were socialising again, rules were still in place. They caused a lot of confusion, including in Government. Only Boris had mastered them.
Monday, August 3:
To ram home his point about how complicated the Covid rules have got, Boris went round the [Cabinet] table asking everyone to set them out simply. We had endless different answers, and he got them all right. 
'I hope colleagues feel I have justified my general reputation for mastery of detail by being RIGHT this morning about the rules. It's two households inside and six outside,' he said triumphantly.
Boris was eager for people to get back to work. He saw self-administered tests — lateral flow tests — as the answer.
Friday, August 7:
Boris is having a sugar rush about DIY Covid testing, which he believes could lead us to what's he's dubbed – in emphatic capital letters – 'COVID FREEDOM DAY'. I have no idea who he's been talking to, but he's very fired up.
He thinks rapid home tests are the way to 'get Whitehall and the whole British army of bludgers and skivers' back to the office and 'douse all remaining embers of the disease'. Today, I'm on a short break in Hay-on-Wye. When we got to the pub, there was great excitement. I'm not used to people recognising me, so the universal recognition is a bit of a shock. Something I'll have to get used to, I suppose.
The following year, everyone would know who he was — and not just in the UK. How happy I am that The Sun released that photo of him and his girlfriend. It went viral, worldwide.
Hancock announced the end of Public Health England, which, strangely enough, still seems to be around.
Tuesday, August 18:
[Hancock has announced plans to abolish Public Health England.] On reflection, I should have been more brutal earlier. It wasn't fit for purpose, and I should have cleared out senior figures who blocked the expansion of testing, basically because they didn't want the private sector involved.
In response, Angela Rayner [deputy Labour leader] has been tweeting the usual tripe about Tories wanting to privatise the NHS by stealth. Does anyone seriously listen to this c**p any more?
The truth is, we wouldn't stand a chance of winning this fight against Covid if it wasn't for support from business. From manufacturing tests to developing the vaccine, the private sector – alongside the NHS and academia – has been critical to the fight.
Friday, August 21:
Border enforcement is a mess. Everyone who flies in to the UK has to fill out a passenger locator form, which they're supposed to hand to officials on arrival at the airport, but half the time the documents go straight in the bin.
We can blame compulsory masks for secondary school pupils on Nicola Sturgeon. The UK government fears the woman.
Tuesday, August 25:
Nicola Sturgeon blindsided us by suddenly announcing that when schools in Scotland reopen, all secondary school pupils will have to wear masks in classrooms. In one of her most egregious attempts at oneupmanship to date, she didn't consult us. The problem is that our original guidance on face coverings specifically excluded schools.
Cue much tortured debate between myself, Education Secretary Gavin Williamson and No 10 about how to respond.
Much as Sturgeon would relish it, nobody here wants a big spat with the Scots. So, U-turn it is.
Amazing — and not in a good way.
Boris was worried about the British economy, and rightly so.
Wednesday, August 26:
I was minding my own business, when suddenly, ping! Ping! Boris sprang into life. It was 6.29am. He veered off the reservation, suddenly going off on one about how the virus isn't really killing many people any more so 'how can we possibly justify the continuing paralysis?'
He noted that an 80-year-old now has a six per cent chance of dying, which he didn't think was enough to justify what we're doing.
'If I were an 80-year-old and I was told that the choice was between destroying the economy and risking my exposure to a disease that I had a 94 per cent chance of surviving, I know what I would prefer,' he argued.
This exchange, which continued on WhatsApp pretty much all morning, was more than a little stressful, given that it represented a fundamental challenge to our entire pandemic response.
I'm not quite sure what he expected – that the Chief Medical Officer, Chief Scientific Adviser, Cummings and I would all suddenly throw our hands up and say: 'You know what, you're right, this whole thing has been a huge mistake. Let's ditch everything we're doing and pretend none of it ever happened'?
Fortunately, after a few hours he ran out of both statistics and steam. All the same, I sense a very definite shift in attitude. Something has unsettled him. Who has he been on holiday with?
By the next day, Boris had gone back to normal.
Thursday, August 27:
Overnight, Boris's creeping suspicion that everything we're doing has been a catastrophic over-reaction has evaporated as quickly as it appeared, to be replaced by annoyance at the discovery that there is a supply/demand gap for testing. 
In fact, we are a victim of our own success. Our advertising campaign encouraging more people to come forward for tests has been a bit too effective, and now we're overwhelmed.
Saturday, August 29:
Boris has started going on about 'freedom passes'. I think he envisages some sort of app that would allow anyone who can prove they're negative to get back to normal. I can see the appeal, but I can also see the likely furore over anything resembling 'Papers, please'.
Covid cases are rocketing in France. 'We need to draw lessons pronto,' Boris said, asking if the French have tried local lockdowns or whether it is 'a case of the whole frog getting slowly boiled?'
September 2020
Wednesday, September 2:
Test and Trace is now identifying more than half of new cases. 'It's like the system actually works!' I messaged Dido Harding [head of Test and Trace] excitedly. 'Who would have guessed!!' she replied.
Hancock talked about a vaccine in a coronavirus briefing.
Tuesday, September 8:
I got a blast from No 10 about talking up the vaccine yesterday. Other than Boris, nobody there has ever really believed we can make it happen. In reality, their scepticism suits me, because it means they're not meddling. The last thing I need is Cummings interfering or the project going through the Cabinet Office mincer.
Restriction tiers across England were looming. An example would be the aforementioned restrictions in Leicester and the north of England where coronavirus was prevalent.
Tuesday, September 15:
The PM is still dithering over restriction tiers, a classic Boris battle between head and heart.
Thursday, September 17:
Cases are growing. Sage [the Scientific Advisory Group for Emergencies] thinks we need a two-week 'circuit-breaker'. Boris seemed confused, doing that thing he does, emphatically verbalising the arguments for and against out loud – alarming everyone as they try to work out where he's going to land.
Friday, September 18:
We are now at 6,000 new Covid infections a day in England alone, nearly double the figure last week.
By 10pm, No 10 had done a complete about-turn. They now want tougher local lockdowns and more warnings about what happens if people don't follow the rules. Apparently the PM wants to explain that we have to balance Covid with other health and economic factors. 
Well, no s***. What's really infuriating is that the people who want action to control the virus didn't insist on me being there [at meetings] to press the point.
Monday, September 21:
Boris is torn. Everyone's getting heavy with him, from the Prof to Sage, who say there will be 'catastrophic consequences' if we don't act now. They've proposed a two-week circuit-breaker.
Friday, September 25:
An alarming note from the modelling people who advise Sage. They say the epidemic is 'close to breaching the agreed reasonable worst-case scenario'. Meanwhile, public finances are a horror show – from April to August, the figure borrowed was £173.7 billion. 
Rishi has clearly been using these figures to freak out the PM. But the only sustainable way to get the economy back on track is to defeat the virus, not pretend it's gone away.
Saturday, September 26:
We've spent millions promoting the [NHS Covid] app, including buying wraparound ads in loads of publications. Just as I was allowing myself a moment of satisfaction at a job well done – or at least not ballsed up – there came news of fresh horror. A major glitch has emerged: the app can't take data from NHS Covid tests.
I sat very still, trying to absorb the full implications of the fact that we've just spent tens of millions of pounds of taxpayers' money on an NHS app that… doesn't link to the NHS. Which genius thought it would not need to do this, first and foremost? Which other genius signed it off on this basis?
Given the multiple overlapping responsibilities of the various quangos involved, Whitehall's institutional buck-passing and the involvement of two mega tech companies (Google and Apple), we just didn't know.
What I did know was the buck stopped with me, and it was probably time to adopt the brace position. I prayed that word of this hideous blunder would not reach Cummings, but that was of course too much to hope. Naturally he went nuts when he found out, and I can't say I blame him.
I find this sort of screw-up personally mortifying. Should I have asked such a basic and obvious question? I took it for granted that we would link our own app up to our own tests. Never assume!
To be continued tomorrow.
In writing this week's Forbidden Bible Verses post on Philippians 2:14-18, I used, as per usual, John MacArthur's sermons.
'Stop Complaining, Part 1' begins with his view of an overly indulged, complaining generation.
He says that the problem is getting worse, rather than better.
Emphases mine below:
Let me sort of ease in to our subject a little bit, if I might.  We're in Philippians chapter 2 verses 14 through 16.  And I titled the message, "Stop Complaining."  There's a reason for that, and it's fairly obvious if you look at verse 14 where Paul says, "Do all things without grumbling or disputing," which are really two ways of saying stop complaining.  And as I was thinking about this very pertinent message about living your Christian life without complaining, it became very apparent to me that we live in a very complaining society.  And I really believe we are breeding a generation of complainers, and they seem to be getting worse with each passing generation. 
And as I've said to you on a number of occasions, it is a curiosity to me that the most indulged society is the most discontent society, that the more people have, the more they seem to be discontent with what they have and the more complaining they seem to be.  In thinking about this, and there would be many ways to approach it, I was just inadvertently flipping on the radio this week and I heard a speech by a sociologist that was quite curious to me and quite interesting.  The sociologist made a very interesting point.  He was talking about the young people in our culture, talking about their discontent, talking about their complaining attitude, their resistance to responsibility, and how that nothing is ever the way they would like it.  And they go through life with a kind of sullen discontent, kind of rejection of things the way they are.  And he had an interesting thesis.  What he basically said was this: that in many ways this discontented generation of young people is a product of small families.  His thesis was that where you have families where the average is two or less, of course the average family now in America is 1.7 children, which is kind of strange to think about; as one brother said to his sister, "I'm the one and you're the point seven."  But every family seems to come out at about 1.7.7.  We realize that families are getting smaller and smaller and moving toward one child families, if that.  Most families in America have either none, one, or two children …
And the difference is where you have a small family, the system bends to the child.  Where you have a large family, the child bends to the system.  And so, what you have, he said, is young people growing up in an environment where the system bends to them.  And you have child-centered parenting.
MacArthur grew up in a large family, where choice was not an option:
I know as a child myself, one of the reasons I wanted to grow up was I wanted freedom.  I lived in a totally conformed society.  I ate what they gave me.  I don't ever remember going shopping with my mother, ever.  I wore whatever she brought home.  I never picked out a thing, never.  I don't even remember going to a department store clothing section as a young person.  My mother brought me what I needed, and I put it on.  And I conformed to the system.  And I looked forward to adulthood so that I could be free to make my own choices.  The reverse is true now; children grow up controlling the family and they don't want to become adults because that means conformity.  Then, they have to go to work, and nobody at work says, "Now, how would you like your office decorated?  And what time would you like to take a break for lunch?"  Nobody says that.  They put you on an assembly line or they put you in a place where you are forced to conform, so what you have then is a generation of young people who don't want to grow up.
And this sociologist said on the radio, you ask the average high-school kid, what do you want to do when you get out of school?  What's his answer?  "I don't know."  You ask the average college student, what do you want to do when you're out of college?  "I don't know."  And the reason he doesn't know is because he is postponing responsibility because responsibility means conformity to a system, whereas childhood for him has been absolute freedom.  Eat what you want when you want, wear what you want when you want, and your mother will take you anywhere you want to go whenever you want.  And so, you breed a generation of young people who are irresponsible.  And when they do get a job, they get a job simply to finance themselves so they can enjoy their indulgences, and then when they're 28 years old their license plate says, "He wins who has the most toys."  And the whole idea of adulthood is to collect toys, boats, cars, vacation trips, on and on and on.
Now, what you have in this kind of thing, said this sociologist, is breeding moody discontent.  And you build young people who cannot conform and cannot be satisfied, over-indulged kids who don't want to be adults, continue to push off responsibility; they grow up in an environment they control.  They don't like being controlled.  And they become discontent.  They don't want to take responsibility.  They don't want to work.  And their adult years are sad.  They become sullen, very often, they become complainers.  And I really believe that he's right in many cases.  One of the curses of our culture are overindulged childish kind of adults who are really complainers about everything.  Nothing is ever enough.  That's why we have a whole society with a critical mentality, constantly attacking everything.
The church environment is no different:
Now, I want you to know this has found its way into the church.  And the church is full of its own complainers, and what is really sad is many of them are run by their children's discontent.  People leaving the church because their children don't like it.  Can't imagine such a thing, unless their children control the family.  The church has its complainers.  And here we are with so much, so much.  How in the world could we possibly complain just because every little thing in life isn't exactly the way we want it?  Frankly, I would suggest to you that few sins are uglier to me and few sins are uglier to God than the sin of complaining.  Frankly, I think the church at large does much to feed this thing by continuing to propagate this self-esteem, self-fulfillment garbage that just feeds the same discontent.  There's little loyalty.  There's little thankfulness.  There's little gratitude.  And there's very little contentment.  And sadly, what happens eventually is your griping, grumbling, murmuring discontent is really blaming God because, after all, God is the one who put you where you are.  So, just know who you're complaining against.
He discusses how famous people from the Bible railed against God, from the very beginning:
Now, having said all of that there is a sense in which this complaining is part of our culture.  There's another sense in which it's not new at all.  Who was the first complainer who ever walked the earth?  Who was it?  The first complaining human being who ever walked was the first human being whoever walked.  And what was Adam's first complaint?  "God, the woman You gave me."  We are in this mess because of this woman.  He didn't blame Eve; he blamed God.  Eve had nothing to do with it.  God made Eve.  Adam wasn't married; he woke up one morning he was married.  God could have picked anybody He wanted, He picked her.  Why?  It's God's fault.  She led the whole human race in sin.  The woman You gave me, complaining.  Cain complained to God about God's work in his life, Genesis 4:13 and 14.  Moses complained to God for not doing what he wanted Him to do when he wanted Him to do it, Exodus 5:22 and 23.  Aaron and Miriam complained to God against Moses, His chosen leader and their own brother in Numbers chapter 12.  Jonah complained to God because he was mad at God for saving the Ninevites, Jonah chapter 4 verses 9 and 10.  And it is still a popular pastime to complain at God.  And may I say that all of your complaints in one way or another are complaints against the providential purpose and will of God.
There's a new book out called "Disappointment With God," very popular and being promoted very heavily.  It seems to me to make complaining against God okay.  It sort of tries to define God as a lonely misunderstood lover who is really trying to work things out, but is really kind of a victim of all of us and we shouldn't complain against Him, we ought to love Him.  What a strange view of God.  He is not some lonely misunderstood lover; He is the sovereign God who has ordered the circumstances of all of our lives.  And to complain against God, to grumble against God is a sin and we must see it as such.
In the ninth chapter of Romans verse 20, "O man, who answers back to God?  The thing molded will not say to the molder, 'Why did you make me like this,' will it?"  Who in the world are you to answer back to God?  What an unthinkable thing to do.  And when describing the apostates in Jude 16, it says they are grumblers finding fault following after their own lusts.  All they want is what they want when they want it, they don't get it, they grumble and find fault.  It's characteristic sin of the proud and it is characteristic sin of the wicked.
Now, the tragedy of this particular sin is that it is so contagious.  Let me take a minute to usher you back into the Old Testament, chapter 13 of Numbers.  And I want you to follow me and we'll at least get through this little introduction and I think set the stage for what is ahead of us.  This is really very, very interesting and very important.  We go back to the number one illustration of grumbling, murmuring belly-aching griping people the world has ever known, namely whom?  The Israelites.  Numbers 13 just gives us a little insight in to the potential power of this attitude to spread.  Verse 30 says, "Caleb quieted the people before Moses and said, we should by all means go up and take possession of it for we shall surely overcome it."  Joshua, you remember, and Caleb came back from spying out the land and they said we can do it; God is on our side, we can take it.  "But the men who had gone up with him said, we are not able to go up against the people for they are too strong for us."  Which is nothing but doubting God.  "So, they gave out to the sons of Israel a bad report of the land which they had spied out saying the land through which we have gone in spying it out is a land that devours its inhabitants, and all the people whom we saw in it are men of great size."  And then, they said this, "Also we saw the Nephilim, the sons of Anak are part of the Nephilim, and we became like grasshoppers in our own sight and so were we in their sight."
So, they come back with this complaining: we'll never do it, we can't make it, we can't defeat them.  It's a bad report.  It will fail, it will never make it.  Prophets of doom, they are.  And they're really complaining against the fact that God has told them to go in.
God hates complaining as much as He hates sin.
God killed complaining Israelites. The wages of complaining were death:
Now, go over to chapter 14, watch what happens in verse 36, "As for the men whom Moses sent to spy out the land and who returned and made all the congregation," what?  "Grumble against him by bringing out a bad report concerning the land, even those men who brought out the very bad report of the land," follow this, "died by a plague before the Lord."  You know what the Lord thinks of grumblers?  He killed them because they spread a brooding discontent against God.  That's the issue.  These people complained against God, they complained against God calling them to go into the land, they complained because the odds were against them humanly speaking.  And in their disbelief and complaining against God, they caused the whole nation to grumble, and as a result God killed them with a plague.  Grumbling really spreads, and your discontent, and your critical spirit, and your grumbling attitude, and your murmuring complaints will infect other people.
Here were the children of God.  They had been led out of Egypt.  God had parted the Red Sea for them.  They had seen ten plagues, miraculous plagues at the point of their deliverance.  And as soon as they got out of the land of Egypt they started to complain, and it never really ended.  Can I take you through a little trek?  Go back to Exodus and let's go back to where it started in the Exodus.  Verse 11 of chapter 14, "Then, they said to Moses," and they're out in the wilderness now.  "Is it because there were no graves in Egypt that you have taken us away to die in the wilderness?"  They said, "What do you bring us out here for, because there weren't any graves in Egypt?"  Which is a mocking statement.  I mean, wasn't there a place to bury us there?  You're going to have to take us to the desert to bury us?  "Why have you dealt with us in this way, bringing us out of Egypt?"  Here's the complaint, it's not like they want it.  They've left Egypt, it's not the way they want it.  Pharaoh is moving after them, and they begin to complain.  Of course, God did a marvelous thing, He opened the Red Sea, drowned Pharaoh's entire army and saved them.
Go to chapter 15, they come through the Red Sea, they've been delivered, and in that great 15th chapter, the song of Moses sings of God's great deliverance.  And it's no sooner than they've done that, verse 22, then Moses led Israel from the Red Sea, and they went out into the wilderness of Shur, and they went three days and they didn't have any water, three days.  And they came to Marah, they couldn't drink the waters of Marah, they were bitter therefore it was named Marah, so the people what?  Grumbled at Moses saying, "What shall we drink?"  Again, the same attitude.  Chapter 16, by the way, God provided water for them.  You remember it.  Verse 27 of chapter 15, 12 springs of water and they camped there and 70 date palms and they had a feast.  "Then, they set out from Elim and all the congregation of the sons of Israel came to the wilderness of Sin which is between Elim and Sinai, on the 15th day of the second month after their departure from the land of Egypt, and the whole congregation of Israel grumbled against Moses."  Nothing is ever enough.  Part the Red Sea, provide the water, more grumbling.  "Would that we had died by the Lord's hand in the land of Egypt, we would have been better off there when we sat by the pots of meat, when we ate bread to the full."  Boy, this is a crass crowd, right?  They don't care about anything but food.  "We're all going to die of hunger."  Boy, they're real deep, aren't they?  Real deep people.  "And the Lord provides again."  It's absolutely incredible.  God sends quail, God sends manna down.
Then, you come to chapter 17.  "Then, all the congregation of the sons of Israel journeyed by stages from the wilderness of Sin according to the command of the Lord and camped at Rephidim and there was no water for the people to drink.  Therefore the people quarreled with Moses and said, give us water that we may drink."  See, here's more complaining, griping, grumbling, quarreling, disputing.  "Moses said to them, why do you quarrel with me?  Why do you test the Lord?  He is the one who has ordained the circumstances.  But the people thirsted there for water and they grumbled against Moses and they said, why now have you brought us up from Egypt to kill us and our children and our livestock with thirst?"
Well, Moses is getting to the end of his rope.  So, Moses cried to the Lord, and I'm sure it was loud, "What shall I do to this people?  A little more and they'll stone me."  Some group, huh?  So, the Lord said, "Pass before the people, take with you some of the elders of Israel, take in your hand your staff with which you struck the Nile and go.  I'll stand before you there on the rock at Horeb and you'll strike the rock and water will come out of it the people may drink.  Moses did so in the sight of the elders of Israel, he named the place Massah and Meribah because of the quarrel of the sons of Israel, and because they tested the Lord saying, is the Lord among us or not?"  It doesn't take very long for people to forget the provision of God.
Now, go over to Numbers for just a moment or two because I want you to see this pattern.  Now, they're at the other end of the 40 years.  They're ready.  Time is ready to go into the land.  And it's not much different.  Verse 1 of chapter 11 of Numbers, "Now, the people became like those who complain."  You ought to underline that.  "They became like those who complain of adversity.  Complaining of adversity in the hearing of the Lord."  That's where their complaint really was directed.  "And when the Lord heard it His anger was kindled, and the fire of the Lord burned among them and consumed some of the outskirts of the camp.  The people therefore cried out to Moses and Moses prayed to the Lord and the fire died out.  So, the name of the place was called Taberah because the first of the Lord burned among them."  40 years later, and they have been complaining the whole time about everything.
Verse 4 says, "The rabble who were among them had greedy desires, and the sons of Israel wept again and said, who will give us meat to eat?  We remember the fish and the cucumbers and the melons and the leeks and the onions and the garlic, and we've got nothing but manna, crummy manna."  Day after day, this is typical complaining.  Chapter 14, God keeps on providing.  God sends the spies into the land.  And what happens?  They come out, they give this evil report, we can't do it.  Verse 27 of chapter 14, "How long," the Lord says to Moses and Aaron, "shall I bear with this evil congregation who are grumbling against Me?  I have heard the complaints of the sons of Israel which they are making against Me.  Say to them as I live, says the Lord, just as you have spoken in my hearing, so I will surely do to you.  Your corpses shall fall in this wilderness, even all your numbered men according to your complete number from 20 years old and upward who have grumbled against Me."  God says I'll kill the whole lot of you, you'll never enter the promised land, and He did it.  He did it.
Chapter 16 verse 41, "On the next day," what next day?  The next day after God had just punished some people for invading the priesthood.  The next day after God's object lesson about serious treatment of His law, "All the congregation of the sons of Israel," verse 41, "grumbled against Moses and Aaron, and they're saying you are the ones who caused the death of the Lord's people."  And the Lord was furious.  Verse 45, He says, "Get away from among this congregation that I may consume them instantly.  Then, they fell on their faces."  And Moses said to Aaron, "Take your censer and put in a fire from the altar and take incense in and bring it quickly to the congregation and make atonement for them, for wrath has gone out from the Lord, the plague has begun.  Then, Aaron took it as Moses had spoken, ran into the midst of the assembly, for behold the plague had begun among the people so he put on the incense and made atonement for the people.  And he took his stand between the dead and the living and the plague was checked, but those who died by the plague were 14,700, besides those who died on account of Korah," where the ground swallowed them all up.  God just starts slaughtering thousands of them because of their grumbling, complaining, discontent.
You find it again in chapter 20.  You find it again in chapter 21.  I won't read them to you.  I suppose the summary of all of it could be in Psalm 106, just listen to this, verse 25.  It says, "They didn't believe in His word but grumbled in their tents.  They didn't listen to the voice of the Lord.  Therefore, He swore to them that He would cast them down in the wilderness."  And that's exactly what He did.
I read with interest and thought that this must be quite a recent sermon.
How old do you think it is?
MacArthur delivered that sermon on January 15, 1989!
Let's return to our generation of complainers from that era, 33 years ago, as I write in 2022.
Their parents would have been born in the late 1950s through to the early 1960s, in most cases.
Those young adults, their children, in 1989, would have started getting married and bearing their own offspring in the 1990s.
Here we are, three decades — and three generations — later.
I have an update on today's youth from Saturday's Telegraph, July 30, 2022: 'Our fixation with feelings has created a damaged generation'.
The article is about British youth. Post-pandemic, the main topic that appears in many news articles and parliamentary debates is mental health.
If I had £1 for every time I've heard the words 'mental health' in parliamentary debates between 2020 and 2022, I'd be living in Monaco right now.
Not only do we have a new generation of complainers, they say they are suffering.
They are suffering because they are too introspective.
Feelings are the order of the day. A dangerous solution to that is the Online Safety Bill currently in the House of Commons. Pray that we can put an end to it, because it has provisions for 'legal but harmful' speech. The Secretary of State for Digital, Culture, Media and Sport — currently Nadine Dorries — can decide what is 'legal but harmful' speech.
Whoa!
That is a very dangerous route.
Even more dangerous are the voices coming from Labour MPs, who say that if they are ever in government again — a likely possibility — they will clamp down on whatever free speech remains.
Even worse, the legislation has not been passed, yet, here are Hampshire Constabulary just last Saturday, July 30, 2022, arresting a military veteran for tweeting a meme. The person who complained said that the meme caused him or her 'anxiety'.
The police don't ordinarily go to people's homes to investigate crime these days. Yet, they are all too ready to look into social media.
Five officers attended this man's residence and arrested him. It appears that no charges stuck, possibly because of the Reclaim Party's Laurence Fox's video of the incident. Perhaps the police were embarrassed?
The man tweeting this — unrelated to the incident — is former firefighter Paul Embery, a GB News panellist and Labour Party member who is active in unions, someone concerned about freedom of expression:
Guido Fawkes has more on the story and points out (emphasis in the original):
Arresting people for causing offence or anxiety, all while Hampshire recorded 8,000 burglaries in the last year, probably isn't the best use of police time…
How did we get here?
The Telegraph article consists of an interview with Gillian Bridge, 71, who is an addiction therapist, mental health advocate, teacher and author of many years' experience in schools and prisons.
Now you might think she makes all manner of apologies for today's youth.
Au contraire!
Gillian Bridge was aghast to find that the BBC put great emphasis earlier this year on how young Britons were reacting to the war in Ukraine. She said:
… there was this expectation that they were going to be enormously distressed – and about something that was not affecting them directly. Meanwhile, what were they doing in Ukraine? Living in bomb shelters; giving birth in cellars. But we were supposed to worry about the 'anxiety' young people were experiencing here? Frankly, I found that terrifying.
She said that this was not surprising, because in our post-pandemic world, feelings in a world of short attention spans are the only thing that matter.
As such, Ukraine is less important now. It shouldn't be, but it is:
Terrifying, but "not surprising", she adds with a sigh. "And you'll notice that just like other political subjects that have prompted huge emotional outpourings on and off social media of late, things have now gone very quiet on that front. Once we've had these 'big' emotions, we are no longer particularly interested, it seems." She cites our celebration of the NHS as another example. "People were virtually orgasmic about their pan-banging, but how many of them then went on to volunteer or do something tangibly helpful?" It's in part down to our gnat-like attention span, says Bridge, "but also the fact that a lot of the time we're not interested in the actual subject, just the way we feel about it."
Mental health problems, real or otherwise, have spun out of control over the past few years, even pre-pandemic:
… the 71-year-old has watched our "fixation with feelings" balloon out of all proportion, eclipsing reason, and predicted how damaging it would be, especially for the young. However, even Bridge was shocked by figures showing that more than a million prescriptions for antidepressants are now written for teenagers in England each year, with NHS data confirming that the number of drugs doled out to 13 to 19-year-olds has risen by a quarter between 2016 and 2020.
Child mental health services are reported to be "at breaking point", with referrals up by 52 per cent last year and some parents even admitting that they have been sleeping outside their children's bedrooms in order to check they are not self-harming. There is no doubt that we are dealing with an unprecedented crisis – one that was definitely heightened by the pandemic. "But Covid cannot be held responsible for all of it," cautions Bridge. "And while antidepressants can be very effective, we need to be asking ourselves how we reached this point? Because whatever we've been doing clearly isn't working."
Bridge blames this on too much introspection:
At the Headmasters' and Headmistresses' Conference in 2019 Bridge told the 250 independent school heads in attendance what she believed to be the root cause of this mass unhappiness: "This focus on 'me, myself and I' is the problem… It's taking people who are vulnerable to begin with and asking them to focus inwards." And in Bridge's ground-breaking book, Sweet Distress: How Our Love Affair With Feelings Has Fuelled the Current Mental Health Crisis, the behavioural expert explains why too much emphasis on emotion is as bad for our health as a surfeit of sweet treats. Indeed the "empty calories contained in some feelings" have only helped our "sense of self-importance to grow fat", she says. Hence the "emotional obesity many are suffering from now".
Cancel culture and censorship are part of this dreadful focus on feelings:
The book – which kicks off with Bridge's assertion, "We've been living in a gross-out world of personal emotional self-indulgence and sentiment for decades now … decades which have seen the nation's mental health worsening" – is a succession of equally magnificent declarations. Magnificent because she has pinpointed the cause of a whole range of societal problems, from mental distress and the determined fragility of the young to the woke chaos of universities and cancel culture.
Interestingly, Bridge believes that this toxic focus on feelings began in the 1970s. MacArthur and the sociologist he cited spoke in 1989. The timing makes sense.
Bridge told The Telegraph:
Certainly the touchy-feely approach to things had already started in classrooms back in the 1970s.
From there, it gradually expanded, year after year, decade after decade:
Flash forward to today, when every boss can be silenced by an employee starting a sentence with: "I just feel that …"
Whereas you could do so in the old days, it is now taboo to downplay someone's feelings, and that is not a good thing:
The great value of feelings today, Bridge tells me, "is that no one else can ever deny them … so if you feel offended then someone has genuinely harmed you". Celebrity culture has promoted this new way of thinking as much as social media, "where you can witness people actually gorging on themselves, getting high on the strength of their own feelings just as they do on sugar – self-pleasuring, basically. And listen, it may feel good in the short term, but it's very bad for us in the long run."
People can convince themselves that their feelings are the truth, their truth, anyway. That omits fact, what really happened. Bridge mentioned Meghan Markle's complaints:
Take the Duchess of Sussex, she points out, and her litany of "heartfelt" complaints. "Just last week there she was explaining that she didn't lie to Oprah about growing up an only child, because she felt like one, so it was, as she put it 'a subjective statement'." Bridge laughs; shakes her head. "We really are tying ourselves up in knots now, aren't we? Because it's all about me, myself and I, and someone like Meghan has made it so much easier for people to follow in her footsteps, when the reality is that feelings are not immutable. They are not fixed, an absolute. They are not fact. And they are certainly not something that must override everything else."
Yet there is a natural neurological process whereby the brain is able to turn feelings into fact, Bridge explains. "If you revise, rehearse, repeat and reinforce, then you create a fact, and that fact will then be embedded in your memory: 'your truth'. Going back to Markle, that's crucially a truth that no amount of counter-evidence can challenge."
Bridge says that encouraging children to emote and focus on their feelings is unhelpful for them and for society at large. The focus on feelings originated in the United States, the source of all bad ideas in our time:
"The worst possible thing you can do with a child is to give them a fixed idea that they are feeling a certain way," she says with aplomb. So those "emotional literacy" classes that started in California and are now being taught at schools here in the UK? The ones using a "traffic light" system, with pupils as young as four being asked to describe their "happiness levels" accordingly? "A terrible idea," Bridge groans. "Feelings are simply physiological sensations mediated by cultural expectations; they go up and they go down!" Yet thanks to the pervasive narrative that every feeling should be given weight, "instead of enjoying the limitless health and optimism of youth" many youngsters "are now entrenched in their own misery".
Bridge then tapped unknowingly into what MacArthur preached about in 1989, the notion that there were once roles for us in life, conformity to social expectations:
The desire to feel significant (either by embracing victimhood or by other means) is hardly new where young people are concerned, Bridge reminds me, and her tone is notably empathetic. "Let's not forget that people used to have a role in life assigned for them within their communities. You might do an apprenticeship and then go and work in a factory or go into your father's firm, or you might be preparing to get married and have babies. Now people have to find their role, they have to choose an identity, and that is much more complicated for them."
Remember when we older folk — the 60+ group — were taught resilience at home when we were children? 'Tomorrow's another day'? It meant that today's setback was temporary and, sure, we were hurt or upset, but better times were on the way. And, sure enough, they were.
Parents and schools are not teaching children about the temporary nature of setbacks. Therefore, today's children lack resilience, which gave all of us who learned it so long ago hope for the future:
"The reason 'everything will look better in the morning' is so important," says Bridge, "is that just like the children who did well in [Walter Mischel's famous 1972] marshmallow experiment, they were able to predict the future based on their past." That ability to delay and see the bigger picture is closely associated with the development of the hippocampus, she explains, "which is memory, navigation and good mental health. Yet by immersing ourselves in feelings and the now, we've blotted out the 'OK so I'm feeling bad, but tomorrow will be another day' logic, and we're trusting the least intelligent part of our brains. As parents, we should all be discouraging this in our children. Because a child has to believe in tomorrow."
Developing resilience is good for brain health, and it helps us to survive.
Bridge says that altruism also helps our brain health. We look out for others, not just ourselves. She says:
Studies have shown that it protects us from mental decline in our later years, but that the self-involved are more likely to develop dementia.
She cautions against cancelling or revising our history, whether it be factual or cultural:
Learning and a sense of history are equally important when it comes to brain health. "Yet again we seem to be distancing ourselves from the very things that we need to thrive. We're so threatened by history and its characters that we try to cancel them! When you only have to read something like Hamlet's 'to be, or not to be' speech to understand that it encapsulates all of the issues and irritations we still suffer from today. And surely knowing that gives you a sense of belonging, a sense of context, continuity and, crucially, relativity?"
Alarmingly, Bridge says that some young people believe that suicide is a melodrama, not a final act:
… they don't actually realise it's the end of them. Instead, they are almost able to view it as a melodrama that they can observe from the outside. Which is a deeply distressing thought.
Scary.
Bridge warns that too much introspection can lead to criminality:
Although it's hard to condense everything she learnt about the criminal brain during those years down to a tidy sound bite, "what was notable and important in this context," she says, "was their fixation on themselves. So the more a person looks inwards at the me, myself and I, the more they're likely to run afoul of everything, from addiction to criminality. In a way, the best thing you can do for your brain is to look beyond it."
She tells me about a prisoner she was working with "who came up to me and said: 'I've got mental health' – as though that were a disorder. Because people have become so 'into' the problem that the phrase is now only negative. That's surely one of the most worrying developments of all. And it's why I refuse to use or accept the term 'mental health' unless it is prefixed by 'good' or 'bad'."
Incredibly, with all the misplaced importance on feelings, Bridge says she has never had a bad reception to her talks:
… she stresses she "has never encountered negativity anywhere I have spoken". Yet another reason why Bridge isn't about to dampen her argument.
She thinks there might be the seeds of a turnaround, based on news items over the past few weeks:
"I think people understand that it's time for some tough talking," she writes in Sweet Distress. "There is increasing evidence that families, schools and universities are being overwhelmed by an epidemic of mental ill health." So whatever we are doing isn't just "not helping", but harming? "Absolutely. But I am seeing more and more people speaking up about this now. The narrative is changing. Just look at what the Coldstream Guards fitness instructor, Farren Morgan, said last week about body positivity promoting 'a dangerous lifestyle'. He's right." She shrugs. "It's no good saying 'it's OK to be any size you please' when we know that if children have bad diets, that can in turn lead to obesity – which in turn makes it more likely that they will suffer both physically and mentally later on."
She mentions the new smart dress code implemented by the head of Greater Manchester Police – the one that, according to reports last week, helped turn the force around into one of the "most improved" in the country. "These officers were performing better at work because they were dressed smarter. So what does that tell us? That if you have a disciplined life and if you accomplish the things you set out to do, that gives you self-esteem – which makes you happier. But of course none of this happens if we are just sitting around 'feeling' things."
She suggests that a good way of getting young people out of the cancel culture narrative is to point out that, someday, they might be cancelled, too. Also note the final word:
How do we get people out of themselves when they are so entrenched, though? How do we root them when they are flailing to such an extent? "By giving them a sense of being part of history! By getting them to see that if they want to cancel someone who lived 50 or 100 years ago, then in 50 or 100 years' time someone may have entirely 'valid' reasons to cancel them. By building the inner scaffolding that will keep them standing throughout life's ups and downs. And you know what that inner scaffold is called?" she asks with a small smile. "Resilience."
Get Gillian Bridge into the new Government, coming soon, as an adviser. The nation needs someone like her. She would be perfect in helping us to defeat our mental health pandemic.
Last weekend saw an Anglican news story make the papers: that of ordinand Calvin Robinson, who is effectively being prevented from taking Holy Orders in the Church of England.
Even though he is mixed-race black, he appears to be the 'wrong sort' of minority for the C of E: too biblical, too conservative, too traditional.
I wrote about him a month ago, when it was clear he was having problems securing a priestly placement, even though he had been offered one in central London at St Alban's in Holborn.
Background
In 2020, Calvin Robinson was a campaigner for Defund the BBC. Here he tells Dan Wootton, then a broadcaster on talkRADIO, that it was absurd for the BBC's Countryfile to suggest that people of colour would feel awkward in the countryside. Robinson said that he practically grew up in Sherwood Forest in Nottinghamshire:
He had more to say in September, when the BBC's A Question of Sport revamped its panel because of their skin colour. Robinson called for more diversity of thought and economic background instead, i.e. conservative working-class people:
Robinson worked as a schoolteacher and assistant principal before entering the seminary. He was also a school governor, so a well-rounded children's education remains important to him. On October 15, he took exception to radical 'theories' entering the British school system:
He had more to say a few days later when Parliament debated the subject. Kemi Badenoch MP is at the despatch box. The Opposition view her as the 'wrong sort' of minority woman:
He deplored the National Education Union's push for school closures early in 2021 because of the pandemic:
Shortly after he tweeted that, he had appeared on a BBC Sunday morning show, The Big Questions. His appearance brought reaction in the form of verbal insults from an activist and academic at Leeds Beckett University, more about whom below. On February 18, he wrote an article about it for the Mail:
… after I had appeared on the long-running BBC discussion show The Big Questions last Sunday morning, I saw a message on Twitter from Aysha Khanom, the founder and director of the Race Trust charity, which works with schools and universities and purports to promote 'racial equity'.
Aysha Khanom personally tweeted of me: 'Please somebody deal with this man!'
I found that menacing. I don't know exactly what she meant by it, but it echoes the sort of language that Tony Soprano would use when he wanted a rival rubbed out.
'Deal with' could easily be read as an incitement to violence.
But I shrugged it off. If I obsessed over every piece of abuse I receive through my phone, I would never think about anything else.
Shortly afterwards, though, the Race Trust Twitter account also attacked me — and this time it was less ambiguous.
'Calvin Robinson,' the tweet read, 'does it not shame you that most people see you as a house n****?'
I knew immediately that any decent person would find that language abhorrent. And sure enough, within 48 hours, Leeds Beckett University, which had worked closely in the past with the Race Trust, cut all ties and deleted Aysha Khanom's profile from its website.
For what it's worth, Race Trust now denies Aysha Khanom sent that second tweet. It claims it came from an anonymous employee without approval, and that this unnamed person has since been dismissed …
There was no apology to me for labelling me with a racist slur …
The sad truth is that many on the Left want to remove my freedom to speak independently.
To them, my skin colour means I am supposed to be part of a homogenous, faceless group, without a mind of my own.
But I am more than that. I am British, a Christian, a Midlander, a former computer programmer, a qualified teacher, a political adviser, a son and a brother.
I have many elements to my identity, and all these things have far more effect on how I see the world.
Above all, I believe in self-reliance and personal responsibility. I want to make the most of my life and refuse to see myself as oppressed or downtrodden …
After Oprah Winfrey's interview with the Sussexes aired, Robinson was dismayed that Meghan claimed the Archbishop of Canterbury married her and Harry privately in the garden when it was only a rehearsal. Robinson explains the C of E criteria for a wedding ceremony:
Robinson joined GB News as a panellist and presenter soon after its launch in the summer of 2021.
This appearance of his from August 2021 was excellent. In it, he defended traditional Christian values which have informed the UK's way of life for centuries:
Two weeks earlier, he reminded us that then-Health Secretary Matt Hancock resolutely said in November 2020 that the coronavirus vaccines would not be given to children. Robinson is opposed to children receiving the vaccine. Yet, by the time he posted this tweet, schoolchildren were receiving it. What a difference several months make:
On August 18, he was very generous in defending the free speech of the aforementioned academic at Leeds Beckett University who called him something offensive. He wrote an article for Spiked about her, saying:
It is for that reason that I haven't joined in the demands for academic Aysha Khanom to lose her job. Leeds Beckett University has cut ties with Khanom after an organisation she runs, the Race Trust, racially abused me on social media.
Earlier this year, I appeared on BBC One's The Big Questions to discuss the state of racism in the UK. I spoke about how I have been racially abused for not holding the 'correct' opinions. In response, the Race Trust tweeted: 'Does it not shame you that most people see you as a house negro?'
Khanom maintains that the 'house negro' tweet was not sent by her, though she accepts responsibility for it. Either she or someone at her organisation was clearly comfortable using such racist language in public. The good news is that the tweet was rightly challenged and 'ratioed' by the masses on Twitter …
In my eyes, what's most worrying about this incident is that Khanom's organisation was set up to promote this critical race theory view – or what it calls 'race literacy' – in schools and universities. Sadly, this is what passes for 'anti-racism' today. Is this really the kind of worldview we want to indoctrinate our young people into?
The rise of identitarian racism should definitely worry us, but we won't be able to challenge it openly if its defenders aren't free to express themselves.
On Remembrance Sunday last year, an asylum seeker attempted to bomb Liverpool Cathedral but set himself off at the nearby children's hospital instead. He had converted to Christianity. Pictured below is a man from his church who housed him for a while. Calvin voiced his opinion:
By early 2022, anyone not towing the media-Government line on coronavirus was anathema. Robinson was empathetic but frank with a university student who lost her friends because she dared to dissent:
Calvin Robinson anathema to C of E bishops
This brings us to the present, the past week, in fact.
On Friday, May 20, Robinson said on GB News that he had no choice but to leave the Church of England. He announced that he would be joining GAFCON, Global Anglican Future Conference, which is traditional in its teaching and practice.
The Mail on Sunday was already working on the story. A Mail+ article from Saturday, May 21, reported (emphases mine):
Internal emails obtained by The Mail on Sunday reveal that Archbishop of Canterbury Justin Welby asked to be shown examples of Mr Robinson's tweets amid mounting alarm within the Church over his criticism of 'bleeding-heart liberal vicars' and the Church's race policy.
In one, The Rt Rev Rob Wickham, Bishop of Edmonton, voiced his fears to senior church leaders after Mr Robinson insisted that Britain was not riven with racism. 'Calvin's comments concern me about denying institutional racism in this country,' he wrote.
Mr Robinson also claimed that the Bishop of London, the Rt Rev Sarah Mullally, lectured him about racism in the church, insisting that 'as a white woman I can tell you that the Church is institutionally racist'.
Mr Robinson, a former teacher who has trained for two years to become an ordained member of the clergy, has been told that plans for him to serve as a deacon at a parish in London have been axed.
Last night he described the decision as 'soul-destroying' and claimed it followed a 'sustained campaign' against him by the Bishop of Edmonton over his views, including on whether Britain and the Church were institutionally racist. 'These people are claiming they are institutionally racist, yet they are disregarding the opinion of an ethnic minority because it is not fitting their narrative,' he said.
In comments set to rock the Church's hierarchy, he questioned whether the Archbishop of Canterbury, who has claimed the Church is 'deeply institutionally racist', had a part in blocking his ordination.
'I would love to know how big a role the Archbishop had in it because he has certainly been a part of the conversation. He is the boss and the fact they have gone ahead and cancelled me suggests that he was happy with that.'
… The Church said last night there were only a few clergy positions in London and 'no suitable option' available in London for Mr Robinson, who became a trainee vicar – an ordinand – at St Stephen's House, a theological college at the University of Oxford, in October 2020.
Yet, Robinson had already been offered a post at St Alban's, Holborn.
I gave you his background above because that is what the bishops were examining:
The emails reveal that even before starting his studies, Mr Robinson's public comments were being scrutinised by church leaders. He claimed on ITV's Good Morning Britain in September 2020 that the Black Lives Matter movement was stoking racial tensions, adding: 'There are elements of racism in this country we need to stamp out, but while we are seeing everything as racist we are kind of undermining those racial issues we need to address.'
That day the Bishop of Edmonton emailed the Bishop of London, the Rt Rev Sarah Mullally, and a PR adviser to the Diocese of London to register 'concern' about Mr Robinson's denial of institutional racism in Britain. 'Calvin Robinson is not only a political commentator, but he's an ordinand and former teacher in this area,' he added. Despite the Church's view on racism, the Commission on Race and Ethnic Disparities concluded in March 2021 that Britain did not have a systemic racism problem. In November 2021 senior Church leaders received a complaint after Mr Robinson shared on social media a Daily Mail investigation that exposed how the Church gave official advice that being baptised could help failed asylum seekers stay in Britain.
It followed news that suicide bomber Enzo Almeni, who detonated a device at a hospital in Liverpool last year, was baptised there as a Christian in 2015. Mr Robinson, by then a GB News commentator, tweeted that 'misguided bleeding-heart liberal vicars could be complicit in recent terror attack', adding: 'Not to mention abuse of the Holy Sacrament of Baptism.'
Bishop Wickham criticised the 'highly irresponsible' comments in an email to Emma Ineson, assistant bishop to the Archbishops of Canterbury and York, and said they remained online after 27 migrants died in the English Channel. 'These are clear examples as to why, in my opinion, his ordination should be looked at very closely indeed,' he wrote. 'Calvin's Twitter feed is here. It is worth scrolling down.' He revealed the Archbishop of Canterbury had 'asked for examples of Calvin Robinson's tweets' and highlighted that Mr Robinson had also criticised the findings of the Church's anti-racism taskforce, which recommended quotas to boost the number of black and ethnic-minority senior clergy. Bishop Ineson said she would show the information to Archbishop Welby.
Mr Robinson was to be ordained as a deacon with a part-time role as assistant curate at St Alban's Church in Holborn, central London. But in February the Bishop of Fulham, the Rt Rev Jonathan Baker, told him the role was 'likely to prove problematic, and would not lead to a fruitful or happy formation for you in your early years in ordained ministry'. Mr Robinson offered to reduce his media work but was told he would still not be able to take up the proposed role because 'that moment had passed'.
The Bishop of London suggested he was stoking division:
At a meeting with Mr Robinson this month, Bishop Mullally insisted the decision was not about his politics, but because his 'presence' on social media and TV 'is often divisive and brings disunity'.
Robinson received support from a young Conservative MP, Tom Hunt:
Tory MP Tom Hunt backed Mr Robinson last night, saying: 'The message the Church seems comfortable to send out is that it's OK to propagate some political views but not others. Sadly, Church of England congregations will continue to decline as millions of Christians are alienated by its behaviour.'
The C of E prelates involved in deciding Robinson's fate as a future priest declined to comment:
The Archbishop of Canterbury and Bishops of Edmonton and London declined to comment. The Diocese of London said: 'We have a limited number of curacies available. In this instance, it is felt that there is no suitable option available that London can offer. We continue to be in conversation with Calvin, are willing to work with him to discern the right way forward, and we keep him in our prayers.'
The Mail on Sunday's article has this title: 'EXCLUSIVE: Not woke enough to be a vicar! Black political commentator Calvin Robinson who said Britain is NOT a racist country is BLOCKED from becoming a priest by a white bishop as a result'.
That title sums the situation up perfectly. Is not the bishops' attitude a racist one, as in 'We whites know better than you'?
Calvin tweeted the article:
The article is the same as Mail+'s, but it does include photos of the main players in this story.
The Mail kindly gave space for Robinson to respond beneath their article.
Excerpts follow:
Sitting in an ornate study in the Old Deanery – a 17th Century mansion house opposite St Paul's Cathedral – the Bishop of London put her hand on my arm and quietly said something that left me astounded.
'Calvin, as a white woman I can tell you that the Church IS institutionally racist,' the Rt Rev Sarah Mullally told me.
We had been discussing the Church's race policy, which I had been vocally objecting to for some time. The Bishop could not understand that as a black man, I simply did not share her – and the Church hierarchy's – view on this contentious issue.
The Archbishop of Canterbury, Justin Welby, has proclaimed that the Church of England is 'deeply institutionally racist' and called for 'radical and decisive' action. Last year an Anti-Racism Task Force recommended using quotas to boost the number of black and ethnic-minority senior clergy, introducing salaried 'racial justice officers' in all 42 dioceses and launching 'racial justice Sunday' once a year.
I fundamentally disagreed with this approach, which is based on a faith in divisive Left-wing Critical Race Theory, instead of the teachings of Christ. I believe it is divisive and offensive.
I have experienced plenty of racism in my life, but it has always been down to a minority of malicious individuals. I do not think the claim that either the Church, or wider society, is institutionally racist has ever been supported by robust evidence.
The Bishop of London's hushed condescension during our meeting made me realise that any dissent from the Church's ingrained view, which to me seems like nothing more than virtue-signalling, is not welcomed. The Church claims it wants to listen to the perspectives of minorities – well, I am one of them but it doesn't appear to want to hear my view because it also happens to be a conservative one.
For the past two years I have been training for ordination at St Stephen's House at the University of Oxford. I was due to begin a curacy at a lovely parish in Holborn, Central London, and within a year I hoped to be ordained a priest.
It takes a long time to acknowledge a call from God to serve as a priest, and it's a vocation that often involves the sacrifice of leaving behind a successful career. I gave up my career as an assistant headteacher and consultant for the Department for Education to throw myself into my theological studies.
He said that the role at St Alban's would have allowed him time to still appear on GB News and do other media work:
as an acknowledgment that I see my media work, which reaches a huge audience, as part of my calling and future ministry.
Another bishop was involved with deciding Robinson's fate, the Bishop of Fulham, also in London:
During a Zoom call, the Bishop of Fulham, the Rt Rev Jonathan Baker, told me that there had been 'a lot of turbulence' over some of the views I had expressed online and on TV. It was no secret that senior figures in the Church disliked me. I am after all a traditionalist – which means I do not believe in the ordination of women – and I have never been afraid to voice my criticism of the Church's drift away from what I, and many of its parishioners, think are its core values.
I did not expect everyone to agree with me, but what I did expect is the right to express my own opinions. I had always been taught that the Church of England was a broad church.
I later discovered that Church leaders in London appeared to have had deep misgivings about my ordination from the very beginning of my training – despite spending more than £20,000 of parishioners' money on sending me to study theology at Oxford.
Emails that I obtained via data-protection rules revealed that bishops at the very top of the Church had been closely scrutinising my public comments.
'His political agenda is I guess what you would call libertarian – anti-woke, anti-identity politics, Covid-sceptical,' the Bishop of Fulham wrote in one email. 'His tweets get him into trouble sometimes and there have been complaints to the Bishop of London that he shouldn't be ordained.'
Robinson rightly asks why, if the Church is institutionally racist, these white bishops have not tendered their resignations:
If the Church is institutionally racist, as the Archbishop of Canterbury insists, then why have he and other senior figures, including Stephen Cottrell, the Archbishop of York, and Sarah Mullally, the Bishop of London, not resigned? After all, they have all been bishops for years, which suggests they have been unable to solve the problem.
He warns that the C of E is entering apostasy. He is not wrong:
If you defend family values, the sanctity of marriage, all human life being sacred, or the fact that God made us male and female, you'll face opprobrium.
Something has gone wrong. The established Church is entering apostasy, and the faithful masses in the congregations and the hard-working clergy deserve better.
Fortunately, he has received much support from clergy and laity:
Since my ordination was blocked I've been contacted by clergymen and lay people up and down the country who have been sharing their stories of how they've been silenced by the Church for holding conservative views.
He confirmed that he will be joining GAFCON and explained why it is so heartbreaking for him to leave the C of E:
After becoming increasingly disillusioned, I recently decided to leave the Church of England and join a more orthodox institution, the Global Anglican Future Conference (GAFCON). Walking away from the Church of England has been heartbreaking.
People often quizzed me on why, if I was so troubled by its direction, I was also so determined to take holy orders in the Church of England. It was because, for me, the Church is the body of Christ and, perhaps naively, I thought I could help pull things back on track from within.
The Sunday Telegraph provided a few more details:
He had been training to become a priest at the University of Oxford for the past two years and was due to begin a curacy at a parish in Holborn, London, but was turned down for the role by the Bishop of Fulham, the Rt Rev Jonathan Baker, in February …
Mr Robinson submitted a subject access request (SAR) to the Church of England – asking the organisation for access to the personal information it held on him.
It was then that he discovered a series of internal emails between Church bosses raising concerns over his opinions on institutional racism in Britain …
In another email, the Bishop of Fulham writes: "I wanted a word about an ordinand, Calvin Robinson. You might be aware of him … "
Of the Bishop of London, he pointed out the irony of her insisting that the Church was institutionally racist:
Former teacher Mr Robinson added: "She was just ignorant. She accused me of being controversial so I said to her in a polite way that some of the things she says are controversial too – like the fact that she thinks the Church is institutionally racist. And then she turned around and said that.
"She was contradicting herself because in one instance she's saying the Church is racist and needs to listen to the lived experiences of ethnic minorities, but then she was refusing to listen to my lived experience as a black man because it didn't fit with her narrative."
On Sunday evening, he appeared on Mark Dolan's GB News show:
On Monday, May 23, The Times carried a report.
In it, we discovered that the Bishop of Edmonton's child or children attended the school where Robinson was an assistant principal:
Calvin Robinson has been blocked as a priest by the Church of England after the Right Rev Rob Wickham, the Bishop of Edmonton, privately warned church leaders against ordaining him. Robinson, a social commentator, was an assistant principal at a school where Wickham was a parent …
Robinson said that he was shocked to be told in February that his ordination was likely to be problematic. He applied under the Data Protection Act to see the information the church had on him.
He discovered that the Bishop of Edmonton had been reporting him to church leaders since he began his studies. Robinson went on Good Morning Britain in September 2020 to say that he was against Black Lives Matter because it was increasing racial tensions, and he believed that everyone in this country had an equal opportunity to succeed. The same day Wickham wrote to the Right Rev Sarah Mullally, the Bishop of London, to "bring it to your attention . . . Calvin Robinson is not only a political commentator, but he's an ordinand and former teacher in this area who has just started at St Stephen's House. Calvin's comments concern me about denying institutional racism in this country."
In December last year, Wickham wrote to the Right Rev Emma Ineson, Bishop to the Archbishop of Canterbury, and also to the Bishop of London. Wickham sent them some of Robinson's tweets, adding: "These are clear examples as to why his ordination should be looked at very closely."
Robinson said he felt "betrayed and a bit heartbroken" at Wickham's conduct. He said: "To hear that people are campaigning behind your back after you have given them all that you have got, I don't know how to put it into words."
Church sources said that Wickham's status as a parent at the school had no bearing on this matter.
Robinson rightly urges the C of E to return to the fundamentals of faith:
The TV pundit, who now works for GB News, accused the church of apostasy by "moving away from core tenets of the faith. They need to focus on scripture because that's the word of God."
He said that he had now joined the Global Anglican Future Conference and would be ordained to one of its parishes. "My hope is to attract all the people who feel the Church of England doesn't represent them because it is obsessed with woke issues."
The Diocese of London issued an updated statement:
A spokesman for the Diocese of London said: "We wish him well in the ministry he is now going to exercise."
On Monday evening, Douglas Murray's editorial for The Times appeared. It listed a modern litany of the C of E's preoccupation with race at the expense of everything else, including during the time when an African, the Right Revd John Sentamu, now retired, was Archbishop of York. Oh, the irony:
It is two years since Justin Welby, the Archbishop of Canterbury, gave a speech to the General Synod in which he apologised for the "institutional racism" of the Church of England. "I am sorry and ashamed," the archbishop said. "I'm ashamed of our history and I'm ashamed of our failure. There is no doubt when we look at our own church that we are still deeply institutionally racist."
It was a strange claim to make — not least because at the time the next most important bishop in the church was John Sentamu, the Archbishop of York.
Murray rightly points out the diversity among C of E clergy:
This fatal combination of ignorance and present-era preening seems to have become the tenor of the established church — and in no area so much as in the church's demands for clergy representation. As it happens, the Anglican communion has one of the most diverse bodies of clergy that any religious denomination could wish for. But the church has declared that it will continue to be racist until such a day as minority ethnic groups (or UKME as the acronym-laden C of E likes to call them) are over-represented among the clergy.
Even my church has had a minority vicar, who has since been promoted within the Church.
Murray then discussed Calvin Robinson's sad situation:
And in a way, here is revealed the modern Church of England's actual party political affiliation.
Having shut its doors throughout the Covid-19 crisis, the church now seems to be back with a new faith: an evangelical and dogmatic belief in its own iniquity and racism. Fail to go along with that belief and the church has no place for you.
So determined is the C of E about this new gospel that a church hierarchy of white people is even willing to bar a young black man from joining the clergy because he will not agree with their insistence that their own church is racist. It is a farce, certainly, but a tragedy, too — for a church that has need of talent, and an era that has need of institutions that are not principally intent on blowing themselves up.
On GB News Monday evening, presenter Dan Wootton chose the Bishop of Edmonton as his Union Jackass of the day. Good on the former Brexit Party MEP, the lady on the right, for nominating him:
Conclusion
Calvin Robinson is surely doing all the right things. That is why our pharisaical clergy have opposed his ordination.
May God continue to sustain Calvin with his grace. May our Lord Jesus continue to give him inner peace. And may the Holy Spirit continue to enhance his gifts of wisdom, fortitude and discernment.
I wish him all the best as he pursues a path to ordination.
Jonathan Gullis, a Red Wall MP who is the first Conservative representing Stoke-on-Trent North, is a larger than life Member of Parliament.
The constituency was created in 1950 and has had Labour MPs from then until December 12, 2019.
Stoke-on-Trent has three constituencies, each of which contain two of the historic six towns of the Potteries; over the centuries, they have given us some of the world's best ceramics and porcelain.
Over the years, the Potteries have shed many jobs, with the result that the number of registered jobseekers was higher than the national average ten years ago: 5.2% to 3.8%.
However, despite the pandemic, employment has been improving since 2015, as Jonathan Gullis explained in a September 15, 2021 debate on levelling up. Ruth Smeeth was the constituency's MP in 2015, but the more important change was that the local council control shifted from Labour to Conservative (emphases mine):
I will read out some statistics, because for too long, sadly, Stoke-on-Trent was talked about in a negative light by my predecessors, so I will talk about how great Stoke-on-Trent actually is and what it has been doing under not only a Conservative Government but a Conservative-led city council, led by the fantastic Councillor Abi Brown.
Stoke-on-Trent was ranked first for jobs growth in 2020. Between 2015 and 2018 it saw wages increase by 11.7%, with a 3.9% annual increase. In 2019-20 we built over 1,000 new homes, of which 97% were built on brownfield land. We are the eighth fastest growing economy in England, which includes London. We have created over 8,000 jobs in the last five years. We have the Ceramic Valley enterprise zone, which is one of the most successful enterprise zones in the UK. I am delighted that Tunstall Arrow phase 2 is effectively already under way and bookings are being made. The city council has done a fantastic thing by carrying on the business rates relief, using its own finances to encourage more businesses to come to the area. There is a fantastic story here for Stoke-on-Trent.
I am very sorry to get into the petty party politics, as some people might accuse us of, but I do so because when the Labour party lost Stoke-on-Trent North, Kidsgrove and Talke, it was because it spent too long talking the area down and never talked it up. It spent too long telling people how poor they were and how deprived they were, but never offering a solution to the problem. In fact, Labour's legacy in Stoke-on-Trent was to build a hospital—the Royal Stoke University Hospital—with a disastrous private finance initiative debt, which means £20 million a year is being stolen from the frontline to pay that debt. Labour built a hospital with 200 fewer beds than the old hospital, which is even more insane.
We saw jobs and ceramics enterprises being shipped off to China, which means I am very grateful still to have Churchill China, Steelite International and Burleigh Pottery in my constituency. They are still doing well, but sadly that industry dying meant that towns such as Burslem and Tunstall, two of the five original towns of Stoke-on-Trent, are now in a much worse state. Those places were forgotten, because for 70 years they had Labour Members of Parliament.
I am the first ever Conservative Member of Parliament for my constituency. What has happened over time, as we have seen that transition from Labour to the Conservatives, is that things are now happening. By the way, that does not mean that I do not acknowledge that there are challenges in Stoke-on-Trent. As I say, the mother town of Burslem has one of the highest number of closed shops anywhere in the United Kingdom. The town used to thrive off Royal Doulton and many other Pot Bank factories, but now that is simply not the case. I am trying to find a future for that town. I was delighted to have spent my summer handing out a survey asking residents for their views—over 300 responses have come in—and I am working with the city council to create a vision, perhaps for an arts and creative culture that will link in with Middleport Pottery.
In Tunstall, the high street is predominantly privately owned. I know that because I rent my constituency office on that high street—it is in an old shop. The top end of the high street is falling into disrepair, but I am delighted that the city council is working with me to hold private landlords to account for allowing their shops to fall into disrepair.
However, to offer the Minister more evidence of levelling up, it is the Conservative-led Stoke-on-Trent City Council that has invested £4 million into Longton town hall, in the constituency of my hon. Friend the Member for Stoke-on-Trent South (Jack Brereton), and it is spending over £4 million on Tunstall town hall in my constituency of Stoke-on-Trent North, Kidsgrove and Talke. That will see council offices, a police post, a children's centre and much more bringing this heritage building back to life, which will bring more footfall to the town centre and hopefully see it rejuvenate.
There is so much more opportunity. I fell in love with the city back in 2018, when I first started campaigning there, because I saw what others did not, which is a people who were desperate for change but just needed someone to go and fight for them. I am absolutely delighted to be their champion, as I have said many times.
I know that we have just heard some hon. Members talk about the town deal fund. I am a member of Kidsgrove's town deal board. It is important to remember that these towns got this money before I was even elected as a Member of Parliament, but it was a Conservative Government who decided that the town of Kidsgrove, which is linked with Talke and Newchapel, would benefit from a town deal fund that, in total and including the advance town deal payment, came to £17.6 million. I can tell Members that when I go out door-knocking in Kidsgrove, the people there cannot believe what that money has done.
We have invested £2.75 million in Kidsgrove sports centre, which means that this facility will reopen in spring 2022. Rather than building a new one at higher expense to the taxpayer, the existing one will be refurbished and reopened … In 2017, the then Labour-run Newcastle-under-Lyme Borough Council was offered the sports centre for £1, and it said no. There was a fantastic, community-run campaign led by Mark Clews, Dave Rigby, Ray Williams and Councillor Gill Burnett, who was a Labour councillor but has since become a Conservative over the decision on the sports centre. They got the borough council behind it, and they certainly got me behind it. Ultimately, we will see that facility reopened, which means swimming and a gym will return to Kidsgrove, which has one of the highest childhood obesity rates in the country.
Gullis gave several more examples of improvements to the local area then returned to the sports centre:
This is what a town deal has done for my area, and I am proud to be part of it. I will benefit from the fact that the swimming pool exists—as a Kidsgrove parish resident, my daughter, who is just over a year old, will be able to learn to swim in her local swimming facility. Every pound invested by the community into that sports centre is going straight back into it, because the community group that ran the campaign are taking over the day-to-day running of that fabulous facility.
Several hundred civil service jobs will also be coming to Stoke-on-Trent. Having a voice in government was a factor in Stoke-on-Trent voting for Brexit in 2016:
… under the Places for Growth programme, 550 jobs are coming to Stoke-on-Trent via the Home Office. A new innovation centre will provide jobs at all career stages, including apprenticeships to help Stokies get into great civil service careers. Initially, there will be 50 caseworker roles, with a further 200 jobs at an asylum co-ordination hub, and that will expand to about 560 jobs by 2025. In addition to the caseworker roles, the centre will include operational, IT, policy and corporate functions, and will offer exciting career paths to local people. There will also be a number of senior civil service roles in Stoke-on-Trent, meaning that the people there will have a voice in Government. If anyone wants to understand why the people of Stoke-on-Trent voted overwhelmingly to leave—by 73%, in my constituency—it is because they thought that if London did not care about them, then Brussels would not have a bloody clue about their local area. That is why we are finally seeing a big change there.
What can the Government continue to do? The shopping list has not ended unfortunately, Minister. Stoke has had an appetiser and a bit of a main course, but we are still hungry for more, and dessert will come in the form of the levelling-up fund bid that we have submitted. We are lucky to be rated as a grade 1 priority area. We thank the Government for listening to our calls and understanding the deprivation.
He was aware of having a strong link between an MP and local government. Furthermore, he realised that local votes had been lent to him in 2019:
… the relationship between the local council and the local MP is so important, because if we end up butting heads nothing will happen. That is not benefiting the people who have elected us to serve them.
I take the fact that those votes will end. I do not sit here arrogantly; they were lent votes, and if I do not deliver, I will be sacked. Every single one of my constituents is a Lord Sugar, so they will hire me or fire me. I take that responsibility absolutely seriously. I say on every doorstep that I do. That is why I do not stop banging on about my local area. That is why the Minister must be bored to death of hearing about Stoke-on-Trent from me and my hon. Friends the Members for Stoke-on-Trent Central (Jo Gideon) and for Stoke-on-Trent South—the Stoke mafia, as we have come to be known in the Tea Room. We will keep fighting for our local area. Councillor Abi Brown is a tour de force—a young, dynamic, forward-thinking council leader paving the way, and now having a major role in the Local Government Association as well.
Let us go over the levelling-up fund bid, which for me is a litmus test of the Government's commitment. It is a £73.5 million bid. Some £3.5 million will go into Tunstall, which will turn an old library and swimming baths back into a mixed-use facility, including flats, a multi-purpose exhibition space and a café. It will turn one of the largest city centre regeneration areas in the West Midlands into a thriving hotel, flat accommodation and hopefully indoor arena that will specialise in e-sports. There is so much potential in those fantastic bids, which are in with the Treasury. I know that the Minister wants to make my Christmas. One way that she can achieve that is by ensuring that we deliver on those bids. We have bid for the transport elements as well.
We have also bid on the Stoke-to-Leek line through the Restoring your Railway fund. It is a fantastic bid, with four constituency MPs bidding for it jointly. It will unlock people being able to commute around north Staffordshire, meaning that we finally have better transport. I hope that, alongside rail, we will get some Bus Back Better opportunities, because 30% of the people of Stoke-on-Trent do not have access to a car, and the current bus service is not good enough.
Jonathan Gullis is also concerned about immigration, because Stoke-on-Trent takes in many immigrants. They are fifth on the list of areas taking in the most.
In a March 22, 2022 debate on the Nationality and Borders Bill, he rightly had an issue with Labour's approach to immigration:
I am getting rather confused. The Labour party seems to be saying that we should not remove pull factors that mean that people are willing to risk their lives crossing the English channel and put money into the hands of the people smugglers. What has happened to the Labour party? Back in 2004, Baroness Scotland, a Labour Minister, said that
"a person should seek protection in the first safe country where they have the chance to do so."—[Official Report, House of Lords, 5 April 2004; Vol. 659, c. 1684.]
What happened to that Labour party?
Later in the debate, he took on Stuart C McDonald, an SNP MP, about illegal immigration:
We both served on the Bill Committee but we seem to have a very different recollection. George Brandis, the Australian high commissioner, talked about a three-part effect, with push-back, offshoring and deterring by having tougher sanctions for those who enter illegally all having worked in tandem with one another to deter people from making the journey. That is unlike what the hon. Gentleman is trying to portray, which is that one silver bullet was the magic answer—it simply was not. It is just a shame that only two local authorities in the entirety of Scotland take part in the asylum dispersal scheme, unlike Stoke-on-Trent, which is the fifth largest contributor.
Stuart C McDonald replied:
Conservative Members can continue to try to upset local authorities in Scotland and achieve absolutely nothing in doing so, but on the more substantive—
Gullis was insistent:
It is fact—[Interruption.]
McDonald went on before Gullis had another chance to intervene:
I am grateful to the hon. Gentleman for giving way after mentioning Stoke-on-Trent. The leader of Stoke-on-Trent City Council is annoyed about the asylum dispersal scheme because only a third of local authorities are currently part of it. The council is asking for other areas—such as the 30-plus local authority areas in Scotland—to step up and do their bit because our city of Stoke-on-Trent is now at the one in 200 threshold in terms of refugee versus local citizen. Instead of attacking Stoke-on-Trent City Council with some vague quote, let us get into the facts of the matter. If Scotland stepped up to the plate and did its bit, Stoke-on-Trent would not have to carry the burden for the rest of the country.
McDonald said that Scotland was awaiting Government funding to do so. Hmm.
Gullis returned to criticising Labour and the SNP later on. I saw the debate. The bit about 'wokerati' below, referencing the metropolitan elite, was a classic:
Let us be very clear. Currently, illegal economic migrants are entering this country across the English channel from a safe mainland European country, France. That situation is totally unacceptable to the people of Stoke-on-Trent North, Kidsgrove and Talke, because they believe in fairness and they believe in doing things by the book.
People with a legitimate claim to come to our country to escape persecution and flee for their lives are being put at the bottom of the list because of people who are illegally entering our country via small boats—and what do the Opposition parties think? They support the Lords amendments, which would simply make it even easier for people to try to come across the channel, making a dangerous journey, risking their lives and putting money into the hands of criminal gangs. Let us not forget that 70% of the individuals who are currently making that channel crossing are men, predominantly single men in their 20s and 30s. Let us not forget that it is women and children who are most at risk: they are being left at home, where they are being persecuted.
The Labour party thinks that people in places like Stoke-on-Trent are racist because 73% voted for Brexit. It thinks that they are thick and uncompassionate, despite the fact that we are the fifth largest contributor to the asylum dispersal scheme in our United Kingdom.
That is why Stoke-on-Trent kicked Labour out, and why the people there will not want it back any time soon. Labour does not understand that when people voted for this Government and elected, for the first time ever, a Conservative Member of Parliament for Stoke-on-Trent, North Kidsgrove and Talke, they did so because they wanted to take back control—which is what they did in 2016 when they voted for Brexit. The out-of-touch wokerati on the Opposition Benches are constantly obsessed with being popular with Twitter and Londoners, so this does not surprise me one bit.
As for the Scottish National party, only one Scottish local authority takes part in the asylum dispersal scheme. To be fair, it is Glasgow, the largest contributor to the scheme. Despite the pontificating, the grandstanding and the virtue-signalling, the fact is that the SNP does not stand up and help out as it should. It is about time that Scotland did its bit, went out and signed up. The Minister is on the Front Bench: let SNP Members go and sign the paperwork with him, and let us get refugees into local authority areas in Scotland. Stoke-on-Trent is doing its bit. It is about time that others, whether in the north Islington coffee bar elites or the Scottish National party-run local authorities, did their bit as well.
Gullis is an active contributor in parliamentary debates, but his ten-minute maiden speech on January 14, 2020 was a veritable tour de force. He was surrounded by many other new Red Wall MPs when he delivered it:
We discovered that the now 32-year-old taught school for several years before entering politics; he taught religious education. He believes that a good education is the best pathway towards social mobility.
He clearly loves Stoke-on-Trent:
"Ay Up Duck" is how I should start, Madam Deputy Speaker, and I hope my hon. Friend the Member for Stoke-on-Trent South (Jack Brereton) will be happy with my pronunciation.
May I start by saying what an honour and a privilege it is to make my maiden speech today, and to represent the people of Stoke-on-Trent North, Kidsgrove and Talke? I could not be prouder to serve and, as I said to the Stoke Sentinel at 5.30 in the morning of election night, I will "work my bum off" to deliver the change that my constituents deserve.
I would like to pay tribute to my predecessor, Ruth Smeeth. She will be remembered as a tireless campaigner for our armed forces, against holiday hunger and fighting antisemitism. The abuse that she has suffered as a result of her Jewish heritage is a disgrace. I know she will continue in her work to combat antisemitism and all other forms of racism, and she can count on me to stand shoulder to shoulder with her on such issues.
As a teacher, a school trade union representative and a Tory, I realise I am not the typical stereotype, and I could not think of a more fitting debate in which to make my maiden speech. Education is by far the most powerful tool we have to improve social mobility. In my own family, I have seen this at first hand. My mother, who joins me in the Gallery today, got into a grammar school off the estate in London. My father, having failed his O-levels, took up work as a caretaker to attend night school, ending up at Durham University with a Masters. The hard work, resilience and determination of my parents has allowed them to achieve more than what many, and indeed they themselves, would have anticipated had they been confined to the lazy stereotypes placed upon them. Teachers serve the young people they educate outside the bounds of academia, often assuming the role of mentor, providing intellectual and emotional support. For most of us there is that one stand-out teacher who changed the way we think and made a difference to our lives. The teacher who inspired me is Dr Simon Peaple. He was the head of history and politics at my school. My right hon. Friend the Member for Tamworth (Christopher Pincher), who cannot be here, will know him well, because he is now the leader of the Labour group on Tamworth Borough Council. His teaching was so effective that, despite him coming to campaign for my predecessor, I was able to make it on to the Green Benches today. But, in all seriousness, his dedication to his students, extensive subject knowledge and passion for the job stuck with me, and I would like to thank him for all that he did.
Getting education right across Stoke-on-Trent North, Kidsgrove and Talke is crucial. In 2018 the progress 8 scores showed a majority of children underachieving and only 1% of students getting AAB at A-level compared with 12% across the rest of the West Midlands. However, signs of improvement are beginning to show: today, over 80% of schools are rated good or outstanding, and 2019 GCSE results showed a 6% increase in the pass rate for English and maths across the city of Stoke-on-Trent. And with the Government's support via the Stoke-on-Trent opportunity area, more breakfast clubs and a 4.7% increase in per pupil funding, the city is on the up.
I say the city is on the up because for too long it has been perceived negatively. Football pundits talk about whether players can perform on a cold Tuesday night in Stoke-on-Trent and last week Piers Morgan wondered whether the Duchess of Sussex would ever want to face opening a community hall on a wet Wednesday in Stoke. In addition, the town of Kidsgrove has been passed from pillar to post in Boundary Commission changes and is now being nicknamed the forgotten town. Well, I say that Stoke-on-Trent is a city to be proud of, Kidsgrove will no longer be forgotten, and it is time that we started talking about Talke—a bit of cheese.
If Members are looking for somewhere to spend their next bank holiday weekend, they need look no further. After enjoying a cheesy Staffordshire oatcake they can make their way to the mother town of Burslem, birthplace of Lemmy from Motörhead, 16-time world dart champion Phil "the Power" Taylor and Robbie Williams. They can also go for a walk around the award-winning park or pop down to Vale Park and see Port Vale FC play, or see local businesses such as Synectics Solutions, Titanic Brewery and Autonet, which together employ thousands of local residents.
Burslem was the heartbeat of this city and hosts its ceramic industry from Royal Stafford to Moorcroft. In neighbouring Middleport we can see Steelite and go on a tour of Middleport Pottery. The place is home to "The Great Pottery Throw Down" on Channel 4 and was used for filming on the TV series "Peaky Blinders".
Next, we can visit another of the original six towns, Tunstall, where we will soon be able to visit the newly refurbished town hall, go shopping at the indoor market and see another ceramics giant in Churchill China.
We can then make our way to Kidsgrove and Talke. Here we can walk along the beautiful Trent and Mersey canal to see the Harecastle tunnel; at one and a half miles long it was once the longest in the country, responsible for taking the coal to the kilns. We can also see the site of the old sports centre, which, thanks to the efforts of Kidsgrove sports centre community group and the Conservative-led Newcastle-under-Lyme Borough Council, will be refurbished and reopened next summer so it can retain its place as a key community asset.
It is said that World War Two was won in the skies, as alluded to by my hon. Friend the Member for Eastleigh (Paul Holmes), thanks to a little plane called the Spitfire. In Talke my hon. Friend the Member for Eastleigh can visit the Reginald Mitchell peace garden, named after the Spitfire inventor and yards from where he was born. Reginald Mitchell is heavily celebrated across the Potteries and in 2003 was voted the greatest Midlander in the BBC's online TV and radio vote.
Lastly, we have Chatterley Whitfield colliery. It is one of the most complete former colliery sites in Europe and has been designated a scheduled ancient monument. It was the first colliery in the country to achieve an annual output of 1 million tonnes, which was achieved in 1937 and again in 1939. The colliery ceased production and closed its doors on working miners in March 1977. The hard work undertaken by the Friends of Chatterley Whitfield has seen some buildings brought back to use, sell-out tours on heritage weekends and important documents saved. However, this important piece of heritage is still at risk of being lost. The potbanks would not have fired if it were not for the coal brought from the deep mines at Chatterley Whitfield. The Potteries would not have existed. I made it a central pledge in my campaign to protect and preserve the site with a long-term plan. The loss of such a site would mean that future generations could be denied an invaluable opportunity to learn about their past. I will not stand by and let that happen.
Talking up an area is very important, but it is crucial to acknowledge the challenges we face. We need more school places, better public transport and to bring more high-skilled, high-wage jobs to Stoke-on-Trent, Kidsgrove and Talke. We must invest in the city by opening up free schools to offer more parental choice. We must reverse some of the Beeching cuts by opening up the old mineral line and ensure the city of Stoke-on-Trent becomes the core of the tech revolution. Silicon Stoke is an ambition to put this city at the centre of future skills and jobs. We are rated as having some of the best 4G download speeds in the country and we are leading the way by rolling out 60 miles of full fibre broadband across the city, thanks to Swedish firm VX Fiber and this Government's investment of over £9 million. According to council officers, that could generate a £625 million boost to the Stoke-on-Trent economy, meaning more jobs and higher wages.
Stoke-on-Trent, one of the great cities of the industrial revolution, knows what it means to be at the centre of the country's economy. I wish to see the city reignited at the heart of the coming technological revolution. One of my roles as a Member of Parliament is to represent the people, the place and the history of Stoke-on-Trent North, Kidsgrove and Talke. I will pursue relentlessly the potential and ambition of my constituency, and I will shout at every turn about how amazing the city is and the opportunities it possesses. Make no mistake: we are on the up.
However, Gullis struggles with mental health issues. Negative emotions from his formative years, including suicidal thoughts, still haunt him, as he told the Stoke Sentinel in March 2020 — 'I self-harmed after bullying':
He fought and won an election campaign set against the most toxic atmosphere in modern political history – yet behind the mask Jonathan Gullis still has days when he wishes he was dead.
Jonathan, Conservative MP for Stoke-on-Trent North, suffered relentless bullying as a teenager, to such an extent that he used to self-harm.
At his lowest point he even mapped out a plan to take his own life in a way which would mean his family were spared the trauma of seeing his body.
Now Jonathan says he has been inspired to speak out after reading about others who have told their stories as part of StokeonTrentLive's mental health and suicide prevention campaign.
Jonathan, a former teacher who was elected to Parliament in December, said: "I always thought that if I did share my experiences, it would be at a time when I was in a position of influence, and hopefully that would make other people feel more confident.
"I went to see a psychiatrist at the age of 14.
"I had been having a very difficult time at school. My whole identity – or my alleged identity – was attacked.
"I had held back a lot of grief over my grandmother, who passed away when I was aged eight. I had not processed it to the point that I was extremely angry at the world, I was lashing out at my peers and my family.
"Other days I was crying and self-harming. I used to cut myself and hide it from my parents and keep it hidden when I played rugby.
"Children can be cruel and I had years and years of bullying. It was name calling …
"At 14, I had taken knock after knock and one day I completely lost my temper.
"My brother said something similar to what I was being called at school and I completely lost it and held a knife to him.
"My mum came in and shouted at me and I completely broke down in tears and told her how I hated what I was going through and how my identity was attacked.
"You can imagine how sorry I am to my brother to this day. To lose it so much that I reached that point of anger."
Jonathan began speaking regularly about his difficulties to his school chaplain and then received professional help. He was taught some coping strategies, but it wasn't until leaving school and going to university that he was able to 'reinvent himself'.
After graduating from university, Jonathan then began a successful teaching career.
He became head of year at his school in Birmingham, responsible for the behaviour and well-being of more than 250 students.
He also became a trade union representative for NASUWT before getting into politics.
Yet he still battles with his mental health to this day.
"There are still days when I feel disconnected and a lack of energy and just down. I get very frustrated at myself," said Jonathan.
"To meet me, you would think I am very self-confident, but it is just a mask. I'm the most insecure person. I worry about everything, whether my family are happy, whether I'm doing a good job for my constituents.
"Some days I hate myself. I hate looking in a mirror and I hate how I feel inside.
"The last time I self-harmed was in September 2019.
"My depression got really bad around 2015/16. I went on medication, but it made me feel worse.
"I kept thinking about whether to kill myself and how I could do it without upsetting my family. How I could do it so they didn't see the body.
"There are some lovely country walks where I was living before I was selected. There was a particular spot I found. I remember thinking I could telephone the police and then leave a note just saying I'm really sorry.
"It's horrible. I hate waking up feeling trapped in my own head. It breaks my heart to say it, but sometimes I have wished I wouldn't wake up.
"I still think that now, occasionally. But I think how my dad would feel and how it would affect my family and loved ones – I couldn't put them through that.
"My parents are aware that I struggle, but I don't think they are aware of how bad it is."
The article says that three out of four MPs suffer mental health problems. Hmm:
A study carried out last year – before Jonathan was elected to Parliament – found that three out of four MPs suffer from poor mental health.
The analysis found that long hours, the stress and isolation of the job, coupled with constant criticism and even personal abuse on social media, meant that MPs are more likely to suffer from depression and anxiety than people in many other professions.
Gullis feels under a lot of pressure to succeed:
He said: "Being an MP is isolating and there is massive pressure to deliver for my constituents.
"I love my job and the fact I have been given this opportunity. There is no-one more fearful than me of not delivering.
"I question every day whether I have done a good job. I'm terrified of being a failure because I have had so much trust put in me.
"I'm lucky that my family and loved ones are around me.
"When I get hate on social media, I try to see it as a joke. I try to see the funny side …
"I have fallen in love with this area and I want to make a difference so badly. I set such high standards and expectations on myself and my staff."
I have never read such honest testimony from a public figure about such a sensitive issue.
He is divorced but has a daughter with his current partner, Nikita.
Easter recess has begun. I hope that he gets time to relax a bit and enjoy his family.
In any event, I wish Jonathan Gullis the greatest of success as an MP. He deserves it.
Recently, I've been writing about Red Wall MPs in England.
Mark Jenkinson, who represents the Workington constituency in the north west of Cumbria, is among their number.
The constituency was established in 1918.
Until Jenkinson's victory in December 2019's general election, Workington had only one Conservative MP, Richard Page, who, thanks to a by-election, held his seat between 1976 and 1979. In the 1979 general election, a Labour candidate reclaimed the seat.
Therefore, Mark Jenkinson is the first Conservative to represent Cumbria as the result of a general election. He defeated Labour's Shadow Environment Secretary Sue Hayman by a majority of 4,136 votes.
Jenkinson's campaign in 2019 saw the creation of a new name for working class voters turning Conservative: Workington man. Wikipedia explains:
Workington man describes the stereotypical swing voter who it was believed would determine the election result.[1][2] Their support of the Conservatives in the 2019 election helped the party break the Labour Party's Red Wall of safe seats.[2]
And:
Going into the 2019 general election, it was seen as a key marginal seat for the Conservatives to win from Labour. On a 9.7% swing, it fell to the Conservatives on election night, marking the first time the seat had elected a Conservative at a general election.
In his youth, Jenkinson attended a Catholic high school and, afterwards, an agricultural institution, Newton Rigg College in Penrith.
However, he joined British Steel as an apprentice. Before becoming an MP, he was a self-employed contractor in the nuclear supply chain.
Politically, Jenkinson is rather libertarian in outlook. He was the UKIP candidate in the 2015 general election.
He was a founding member of UKIP's West Cumbria branch but left in 2016, having been concerned about the party's approach to the EU referendum that year and what his Wikipedia profile describes as 'internal democracy'.
2019 was a big year for Jenkinson. Having joined the Conservative Party, he was elected to the Seaton and Northside Ward of Allerdale Borough Council, where he became deputy leader. In addition, he was the chairman of Seaton Parish Council, a position he relinquished after having been elected MP in December that year.
Jenkinson is married and has four children.
Despite Boris Johnson's troubles with lockdown parties, Jenkinson remains enthusiastic about the Prime Minister.
On January 13, 2022, he told GB News's Gloria De Piero, a television presenter and former Labour MP, that his constituents also like Boris and appreciate his upbeat messages. He says that he reads every email in his inbox. At that time — the height of Partygate, days before Boris's apology to the House of Commons — he said he received fewer messages about that than he did the Policing and Crime Bill which Parliament was debating.
However, he did say that both he and Boris promised a lot to Workington and there is now a shorter timeframe in which to make those promises a reality. Again, the pandemic put paid to quick action in short order:
De Piero asked Jenkinson about his Private Member's Bill on careers advice to school students. He said that, as a father of four, he was concerned about students receiving good advice on what to do with their lives, particularly when it comes to training and apprentice programmes. The reply to the following tweet goes to the heart of the issue:
This aspect of education does need to be strengthened, something on which all parties agree, as proved during the debate on Jenkinson's bill the following day.
I saw the debate, which was heartwarming, as all sorts of little details popped up, not all of which were germane to the proposed legislation.
Private Member's Bill days are held on a Friday, from mid-morning until 2:30 p.m. The atmosphere is a bit more relaxed and both sides of the House are able to agree on most of the legislation.
I will share some of Jenkinson's contributions made on January 14 then go into other heartwarming aspects.
Jenkinson said (emphases mine):
I am delighted to present the Bill to the House for its Third Reading. It heralds a sea change in how we prepare the next generation to meet the career challenges that lie ahead. It will serve to embed careers advice throughout the secondary phase of education through the provision of regular and ongoing support for students every step of the way. In short, it is designed to give our young people the best start and to maximise their opportunities.
I am delighted that, through the Bill, I will make a positive difference to the lives of young people in my Workington constituency and across England. As a father of four, it is an issue that is close to my heart. The changes that the Bill will help to bring about are important and overdue, and I have no doubt that its effects will be positive and far-reaching.
At present, the statutory duty to provide careers guidance falls on maintained schools, special schools and pupil referral units but not academies. The Bill seeks to address that anomaly by placing the same requirement on all types of state-funded secondary schools, which will help to create a level playing field. I hope that that will encourage a culture where young people, regardless of social background, can advance through merit and hard work.
It is essential that the advice available to our young people is consistent, of the highest quality and accessible to everyone. As a blue-collar Conservative from a working-class community, I am a staunch believer in the value of meritocracy. The standard of careers guidance should not be a postcode lottery—we cannot leave the education of the next generation to chance—and must be based on a set of clear principles that are clearly focused on the best interests of children.
It is also important to develop a more joined-up system in which careers advisers, education providers and employers work together to share information and signpost young people to the opportunities available. I know how frightening it can be for a young person to make momentous and life-changing decisions about his or her future career, and that process becomes even more stressful if they are not in possession of the information that they need to make the choices that work for them.
In previous stages of the Bill, I joked that I am 39 and remain undecided about what I want to be when I grow up. At the end of the month, I will hit the big four-o and I am even less decided than I was. On a more serious note, it is easy for young people to find themselves on the wrong path or facing the wrong direction, and without the proper guidance, the risk of that happening becomes even greater.
That is why it is important to give our young people the best careers advice we can at the earliest opportunity. Such a crucial decision cannot be determined on the basis of an occasional meeting, but must be part of a long-term process that is continually reviewed in the light of changes in the labour market and the child, and of the developing aspirations of the young people themselves.
He received support from the few Labour MPs who showed up for the debate.
Jenkinson recognised the existing problems plaguing young people. Coronavirus measures made these issues worse:
The Bill is particularly timely given the disruption and disorientation caused by covid-19. It is hardly surprising that young people are worried about their education and employment prospects in these unprecedented times. Uncertainty and change inevitably fuel anxiety, and covid-19 has forced many young people to reconsider their options and look again at their career paths …
In my constituency, as in others across England, there are pockets of deprivation, unemployment and sometimes, I have to say, hopelessness. I am acutely aware of the stark disadvantages faced by so many young people. They have so much to contribute, but so often they are written off too soon. If we are serious about "levelling up"—if it is to be more than just a slogan or a soundbite—giving all children access to good-quality careers advice is one of the most important weapons in our fight against poverty and despair. We must leave no child behind.
Providing this enhanced careers education and guidance makes economic sense too, as it will contribute to a high-skills and high-productivity recovery. The Bill will help all young people to develop the skills and attributes that will enable them to succeed in the workplace, and in some cases it will nurture the community leaders of the future.
He went on to discuss the work in this area being done nationally and in Cumbria:
… As a direct result of the Bill, approximately 650,000 year 7 pupils across England will become entitled to independent careers guidance, and we are bringing 2,700 academies into scope. The Bill puts into statute the Government's commitment in the "Skills for jobs" White Paper for the UK's post-pandemic recovery. It builds on the important work that is already being done nationally to develop a coherent and well-established careers system—a sector in which Cumbria is a leading light.
As Members will know, the Government are already committed to the national roll-out of careers hubs, and have taken action to support the careers of young people through schemes such as kickstart. As I said earlier, the Careers & Enterprise Company is increasing young people's exposure to the world of work, and helping schools and colleges to deliver world-class careers guidance for their students in line with the Gatsby benchmarks. The National Careers Service provides careers information, advice and guidance through a website and a telephone helpline. More than 3,300 business professionals are now working as enterprise advisers with schools and colleges, doing a lot of the face-to-face guidance that strengthens employer links with schools. The result is that 3.3 million young people are now having regular encounters with employers, up 70% in just two years.
Education providers, training providers and careers services in my Workington constituency continue to rise to the challenge in the face of often large socioeconomic challenges. The Cumbria careers hub was launched in January 2019 to deliver the Government's careers strategy for Cumbria after the local enterprise partnership's skills investment plan identified a significant challenge in developing skills in our county.
The process is accelerating, with 100% of schools in the hub matched with an enterprise adviser from a pool of senior business volunteers. It has been successfully replicated across the country, with 45% of secondary schools and colleges now in careers hubs. We are seeing rapid improvements in hubs, with disadvantaged areas among the best performers. The link between careers and career pathways is essential for developing and attracting talent to Cumbria, owing to the area's declining working-age population, and their success is to be celebrated.
It is therefore critical that we nurture homegrown talent by giving young people the skills and confidence they need to make the most of the opportunities within a forward-looking global Britain, to help close the skills gaps in areas like Cumbria and to attract investment. It is simply not enough to nurture talent; we must also work to retain it and attract it. Furthermore, careers advice, in line with the Gatsby benchmarks, must be tailored to the jobs market in a local area, which is why conversations and relationships between employers, schools and careers advisers are so important. This Bill ensures that those channels of communication are built upon. The Bill helps to ensure young people are aware of the opportunities that lie on their doorstep, as well as those that exist further afield. Young people often tell us that one of the biggest barriers is not knowing what careers exist …
Careers advice has to start at a young age, he said:
We need to start setting out to children, as soon as possible, the options that will be available to them—not just sixth form and university but further education, apprenticeships, T-levels and other technical education qualifications. The earlier our young people start to consider these options and receive the appropriate guidance, the greater their chance of making the best possible choice.
University technical colleges—I have a fantastic one in my constituency—form an important part of the offer, but that could mean changing schools at 14. This option should not be put in front of a child at 13. It should be talked about from a much earlier age. Although it is important that young people are aware of their options, the last thing we want is for them to get to year 9 and feel like options are being imposed on them or, worse still, are non-existent, which is why flexibility must also be built into the guidance.
Engaging with employers from an early age can inspire young people and help them relate to the career opportunities to which their circumstances, abilities and interests are suited. The Bill recognises and makes use of the work already undertaken as part of the national careers system and, more importantly, it continues to raise young people's aspirations through regular and meaningful engagement with employers and workplaces.
Having spoken in depth with education providers, parents and guardians, careers advisers, employers and, most importantly, young people themselves, I am more convinced than ever that this Bill will help to unlock the potential of generations to come. It is difficult to imagine a more worthy cause than to give our children the confidence and skills they need to be able to fulfil their dreams.
I am grateful to everyone who has worked on the Bill and helped to shape it. Their research, knowledge and observations have been invaluable and have created something that will serve our young people well. This Bill is about helping young people navigate through obstacles and avoid blind alleys, and it will prevent them from ending up in a career cul-de-sac.
Alex Burghart, the Parliamentary Under-Secretary of State for Education, replied on behalf of the Government:
What a pleasure it has been to take part in this debate. We have had some medieval history from me, some family history from my hon. Friend the Member for Hertford and Stortford (Julie Marson) and some personal and socialist history from Opposition Members—or the Opposition Member, I should say.
We all thank my hon. Friend the Member for Workington (Mark Jenkinson) for this excellent Bill, which will improve a lot of young people's lives. That is what we are all here to do. The Government are fully committed to education and to careers education and guidance, which is an essential underpinning of our reforms. It has been clear at every stage that the Bill has cross-party support and co-operation, and I genuinely thank the hon. Member for Chesterfield (Mr Perkins) for his party's support during the Bill's progress.
We are at an important juncture for skills reform in this country, and I thank my hon. Friends for supporting the Skills and Post-16 Education Bill, which will soon return to the House on Report. The careers work we are pleased to be doing with my hon. Friend the Member for Workington underpins a lot of that Bill, and it is wonderful to hear my hon. Friends cite great examples from their constituencies for us to dwell on.
My hon. Friend the Member for Beaconsfield (Joy Morrissey) made a powerful speech on what happens in alternative provision settings. These young people, on whom so much rests, have too often been forgotten. The most important piece of careers advice I ever heard was on a visit to an alternative provision setting in Wandsworth [south London] about 12 years ago. It was a fantastic setting in which the headteacher had created a number of studios for practical vocational education: a car mechanic's workshop; a hairdressing salon; a cookery school; and a bricklaying studio. The headteacher said to the gentleman who taught bricklaying, "Will you tell our visitor what your last job was? This is what you tell all the pupils." And the bricklayer said, "I was an armed robber. I earned £10,000 on my last job and now I earn nearly £30,000 a year working here." That was an extraordinarily valuable and inspiring careers lesson for young people to hear in such a setting.
We want to make sure that young people in all settings, regardless of their background, have access to high-quality careers education, which is what our reforms will do. We want to level up opportunity, and the reforms set out in our skills for jobs White Paper will give a genuine choice between high-quality technical and academic routes. It is vital that everyone has access to careers guidance of the highest standards so that they are well informed on what will happen afterwards.
We cannot overstate the importance of careers advice, and I thank all hon. Members for their contributions at this and previous stages. I congratulate my hon. Friend the Member for Workington again on bringing this Bill to the House.
Jenkinson responded by thanking all the MPs who supported his bill. He ended by quoting a famous Prime Minister from the 19th century:
It was Benjamin Disraeli who said:
"The greatest good you can do for another is not just to share your riches but to reveal to him his own."
This Bill is true to the spirit of those words.
Now to other heartwarming moments, beginning with ancient English history.
Sir Christopher Chope (Conservative) participated in the debate. He represents Christchurch constituency in Dorset.
Alex Burghart, the Government's Under-Secretary of State for Education, said earlier in the debate:
I often think of my hon. Friend when I am reading the Anglo-Saxon Chronicle, which is one of my favourite early medieval texts. As you will know well, Mr Speaker, after King Alfred the Great died, his nephew, a nobleman, tried to seize the throne. He did so by starting at Tweoxneam, which is the archaic name for Christchurch. Whenever I think of that noble rebel of old, my mind sometimes flits to my noble friend from Christchurch today.
We also had a workhouse story from another Conservative MP, Julie Marson:
I want to give a little bit of perspective from my own background. In my maiden speech, I referred to my family background as moving from workhouse to Westminster. My great grandmother was born in a workhouse in the east end of London. She was a foundling and she met my great grandfather in the Foundling Hospital, so they had very modest beginnings. The emphasis in the Foundling Hospital was not on a choice of careers but on set career paths. All the boys who were put into the Foundling Hospital were trained to become Army bandsmen, and all the girls were trained to become maternity nurses—midwives. They did not have a choice in that.
My great grandparents went on to have great careers, in the Army and as a midwife. They met each other in the hospital, and it absolutely changed their lives. They had rewarding careers and their own family, and—workhouse to Westminster—I managed to get here, for some reason. I think that shows the fundamental need for a career and a job to make our lives what we want them to be. That opportunity, which is fundamental to levelling up and everything that we stand for—
The Speaker of the House, Sir Lindsay Hoyle, cut her off at that point and asked her to stick to the legislation.
However, I'm glad it is on the record. Other MPs had equally moving examples of career development, so interested readers might be moved to skim through the debate.
Returning to Mark Jenkinson, his libertarian side came through when he said that he did not want to attend the 2021 Conservative Party Conference if vaccine passports were mandatory:
In the end, I recall that they were made optional.
In November 2021, he wrote an article for Conservative Home about his concerns regarding sexual identity, a hot topic at the time when the question of cervices came up: 'My Twitter monstering. I never thought that saying there are two biological sexes would cause such a stir'.
It's a long and considered article. A few excerpts follow:
I never considered that making a statement of indisputable scientific fact – that there are only two biological sexes, each with their own set of immutable characteristics – would cause such a stir. And then I see the Labour Party eating themselves alive over it, trying hard to lose the votes of the 51 per cent of the electorate that are female.
Gender Recognition Certificates, some based on self-identification, were a topic of discussion in Parliament last year:
I am an instinctive libertarian. Everyone should be free to live their lives, as fully as possible and in a way that makes them happy. Free to live with, sleep with and love whomever they wish. Neither the state or I have any business intervening, other than to stop serious harms. But when I see the direction we're sleepwalking in, I can no longer stay quiet …
As it is only this year that we'll start to track prisoners with GRCs, we don't know how many male-bodies there are in the female prison estate, where some of our most vulnerable women are housed.
We do know that at the latest datapoint in 2019, there were 129 males who identified as transgender held in the male estate, and that 57 per cent of them had at least one previous conviction for sexual offences, compared to 17 per cent of men and two per cent of women convicted of the same.
Despite exemptions for single sex spaces in the equality act, the NHS allows access to same-sex wards depending on how you present not your biological sex. Despite exemptions for necessarily same-sex services, hospital trusts are referring to 'birthing people' and 'cervix havers' – while also referring to only men having prostates.
The Scottish Government is set to introduce gender self-identification, significantly speeding up legal recognition of gender in all spheres while reducing to the age requirement to 16 – meaning those transgender prisoners can move more easily to the female estate.
Meanwhile, the UK government is toughening up on the recording of statistics around sex and gender, but is also seeking to ban conversion therapy, on the back of an unprecedentedly-short six week consultation.
As Conservatives, it's time we stopped staying silent because it's the nice thing to do: emotion cannot trump biological reality.
That debate will run and run.
In closing, Mark Jenkinson was pleased to host the Prime Minister along with four other Conservative MPs during the recent February recess. He took them on a quick tour of Workington and events around Cumberland on Valentine's Day. Judging from his tweet, all appeared to have had a grand day out.
That month, he was made a parliamentary private secretary for DEFRA, the Department for Environment, Food and Rural Affairs. DEFRA needs some common sense, so his appointment is most welcome.
It is good to have Red Wall MPs in the House. I wish Mark Jenkinson every success in his Parliamentary career.
Isn't it interesting that the media narrative has changed from wall-to-wall coronavirus coverage to Ukraine?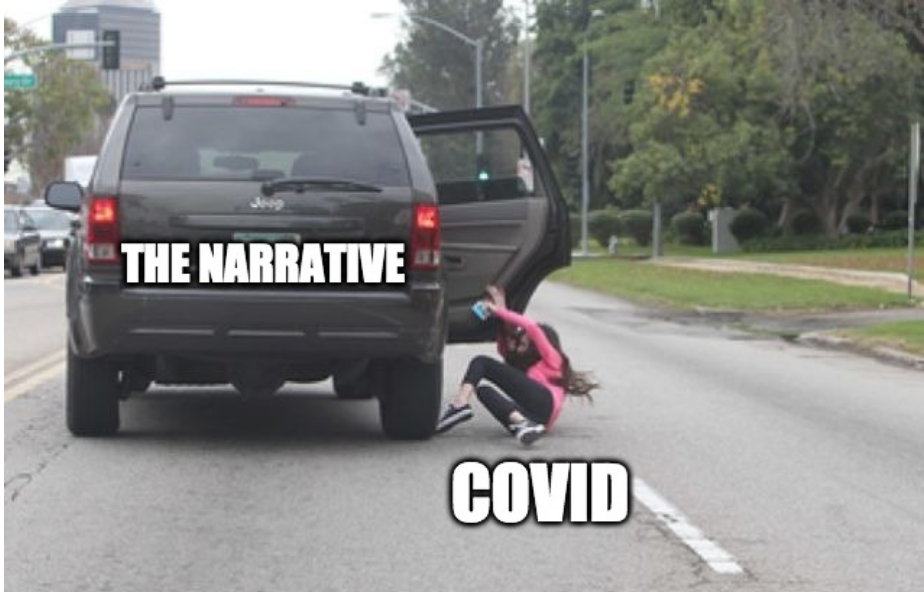 It seems that there is never room for more than one media narrative at a time. Sadly, this is now true even on GB News.
Fortunately, I have a few coronavirus gems from last month.
We must never forget what our notional betters did to us over the past two years.
The UK will hold a formal inquiry, although we do not know when it will start.
On Saturday, February 5, GB News's Neil Oliver delivered a five-star editorial on coronavirus measures in Scotland and other Western nations:
This was the theme:
Well, the narrative certainly changed by the end of the month.
Nonetheless, even as I write, coronavirus measures are still a thing in Scotland. First Minister Nicola Sturgeon has lifted some, with others to go this month. However, it might be some months before all of them disappear north of the border.
This was the state of play in Scotland in early February:
Somehow, Covid still manages to be in our faces – suffocating us bit by bit and all the time.
My children are still required to wear masks at school all day every day – rebreathing their own exhaust fumes for hours at a time.
In Scotland last week, first minister Nicola Sturgeon said her devolved assembly would spend hundreds of thousands of taxpayers' pounds cutting the bottoms off classroom doors so as to improve air flow in schools.
Seriously – that's what she said. Get this: she actually said there's a worry about how much CO2 children are inhaling in improperly ventilated classrooms.
They have to keep the masks on – so that they exist in a permanent cloud of their own, self-generated CO2, held over their mouths and noses like a smothering hand, but rather than let them take off those masks and breathe air like free people should, Sturgeon's proposed solution is to take a saw to the bottom of the classroom doors.
To say you couldn't make it up is an insult to made up things.
The fact that you can open a door to increase ventilation, on account of its hinges, the fact that doors exist in schools at least in part to inhibit the spread of smoke and flames in the event of fire, significantly more of a threat to the lives of children and staff than Covid ever was, has apparently passed Sturgeon by.
But, hey-ho, if there's one thing we've learned after two years, it's that everything is all and only about Covid.
Some days it feels like it always will be.
Covid could and should be behind us, as I have already said, but the powers that be keep pulling it back around until it's front and centre.
[Boris] Johnson announced some sort of an end to restrictions, but still, that air of lives limited, lives controlled, prevails, like the smirking grin that remains after the Cheshire Cat has otherwise disappeared.
And do you want to know why? Because after these two years like no others in our history, Covid is all they've got to explain and to justify everything else.
He took issue with Western governments:
Governments need Covid, and desperately …
All the money we ever had and most of the money we might ever dream of having – they blew the lot on Covid.
And since Covid is all the Governments have got now, by God they're determined to keep it.
Covid, as it turns out, is like a sort of Swiss Army knife, equipped with all sorts of useful little tools for all sorts of jobs, large and small. And meanwhile the evidence of manmade disaster is all around us.
He referred to the Johns Hopkins study that came out a few days beforehand:
A recently published study from the world-renowned Johns Hopkins University, in Baltimore, found lockdowns had had little to zero public health benefits and instead imposed enormous economic and social costs.
Like we didn't know that already, having been there while it was actually happening – but anyway, let's hear it again.
Researchers found lockdowns in Europe and the US lessened the Covid-19 mortality rate by just 0.2 percent.
The authors concluded that lockdown policies are ill founded and should be rejected in future.
Everywhere they were applied – everywhere – lockdowns caused enormous economic and social costs.
He went on to discuss how our various governments 'blew it':
Allow me to summarise those findings even more: Our governments blew it.
Faced with what they told us was the greatest threat to our civilisation in our lifetimes, for a hundred years or more, our governments took a bad thing and, through over-confidence, monumental incompetence and with the dull-eyed stubbornness of mules made it massively worse.
More importantly, when they must have known they were making it worse, they did it again. And again.
Now, rather than take responsibility and own up to their catastrophic failures – maybe say sorry for all the lives ended, lives ruined, lives compromised, a generation of children used like sandbags to protect the vulnerable from a flood, like stab vests worn on the chests of adults – they keep holding up the tattered rags of Covid, like the remnants of a curtain to stop us seeing the reality that lies behind it.
What lies behind that shabby curtain are consequences, and even now those powers that be don't want us looking at them, far less talking about them and thereby understanding the crippling reality of them.
Isn't it convenient that the TPTB now have Ukraine with which to distract us? Thanks, Putin. The news overkill on that is the ultimate distraction.
Oliver then talked about the horrors of quantitative easing:
What they did with money – your money, my money, everybody's money – during the pandemic is what the banks have been doing with money for decades now, and it's largely to blame for the bigger mess we're in now.
Quantitative Easing, they called it – printing money, to you and me.
For decades the tactic applied by the banks, with governments in cahoots, was to print uncountable, unthinkable amounts of money.
"We don't have any money left."
"Well print more, then."
"How much?"
"As much as you like – and keep it coming, I need another super yacht, and so does my mum. No one'll notice. And if they do, say it was Covid."
Imagine a glass of orange squash – a little bit of concentrate, topped up with water.
Tastes like orange, you know how it goes.
Then imagine tipping that glass-full into an empty swimming pool and turning on the taps.
By the time the pool is filled up with water, any orange in the mix is so diluted as to be utterly undetectable.
That, more or less, is what has happened to our money.
The value of our money has been so diluted it is quite literally not worth the paper it's printed on – which probably explains why they don't seem to want to actually print it on paper anymore.
They just add more zeros on their computer screens instead. Look at what they did with some of that pretend money: trillions of pounds worth of debt that will never, ever be repaid.
Billions blown on dodgy PPE, billions handed over as 'Bounce Back Loans' to companies that didn't even exist. Gone.
Those gazillions are gone – and the truly troubling point is that in every way that matters, they didn't really exist in the first place.
Rishi Sunak and Boris Johnson and the like have the gall to say they've got a way to fix the mess.
They might as well try to put out a factory fire by blowing on it.
On account of all that funny money, and then their use of Covid as a hammer to flatten business after business, the economic and financial model we've taken for granted for the last 50 years or more is finally done.
He looked at Covid measures in various countries:
Much of Europe is an interesting watch, to say the least. Austria is a police state now, in all but name, thanks to Covid.
Papers, please! Italy and Germany are much the same.
France would likely go the same way – except President Macron is too properly scared of too many of his own people to go all the way to vaccine mandates.
Instead, he remains committed to making the lives of the unvaccinated as miserable as possible. In Western Australia unvaccinated parents are barred from the hospitals where their children lie sick, dying.
In Canada the GoFundMe organisation has withheld millions of dollars raised in good faith, in support of the truckers protesting vaccine mandates.
What will become of that money, donated by hundreds of thousands of ordinary Canadians, remains unclear.
More and more questions are being asked about the vaccines, all around the world.
Questions about efficacy, about safety, and yet governments like the US, Canada and Australia, as well as here and just about everywhere else continue to dig in, more and more determined to get a needle into every arm on the planet.
Israel is beavering away with injection number four – and the positive cases are spiking in what looks, on the graphs, like a vertical line pointed into space.
With the Covid narrative in tatters now, new weapons of mass distraction are being deployed to stop us thinking too much about the mess.
Enter Putin with his invasion of Ukraine. How timely. In early February, we knew it was coming:
I'd like to say, Don't Mention the War, but of course there's Russia and Ukraine to look forward to as well.
Oliver brought up non-Covid health issues:
There was a GP on the telly last week saying the stress of lockdown is causing heart attacks and strokes.
Well, I never.
He brought up the irony about the silence surrounding all the plastic face masks being dumped into the environment:
Climate crisis and environmental meltdown are back to the fore again – never mind the fact we've dumped trillions of filthy face masks, and Covid tests into that environment, that doesn't seem to matter.
He concluded:
Weapons of mass distraction or not, there'll be no hiding the fuel bills due in a few weeks' time.
People forced to choose between eating and heating tend to behave differently than before.
Energy black hole, Net Zero and its consequences and only pretend money with which to pay for it all.
How much longer can our dear leaders hide behind Covid?
We do a lot of weather forecasting on this channel. I tell you this – there's a storm coming.
Oliver then had Benjamin Loughnane (pron. 'Loknayn') from The Bow Group think tank to discuss the Johns Hopkins study about lockdown. This was also a very good segment:
Richard Tice from the Reform Party also appeared to talk about our leaders' mistakes:
You can see the full show below. Almost all of it concerns coronavirus:
Later in the evening, Mark Dolan presented an excellent editorial on how the media and Government handled the pandemic:
The replies to the tweets were worthwhile, such as this one:
Some of us knew from the beginning that most of the coronavirus measures in Western countries were bogus, but anyone who mentioned that PCRs were picking up old viruses was dismissed as a crank.
Lo, it emerged last month that the intrusive PCR testing was proven to be ineffective in accurately diagnosing coronavirus.
Dolan said (emphases mine):
A major new study confirms that PCR tests are horribly inaccurate. There's a surprise.
According to researchers at the University of Oxford, if you've heard of it, a third of people who tested positive for coronavirus via PCR tests were not contagious and did not need to self-isolate.
The study found that many laboratories are setting the positivity bar very low, meaning they're picking up people, who are – quotes – "a danger to no one".
Hand sanitising is also inconclusive:
Do you remember our blistered skin, in March 2020?
Sing happy birthday twice, as you wash your hands? After which a couple of scientists with half a brain cell, pointed out that the virus is transmitted through the air, via aerosols. No sugar, Sherlock.
Perspex screens in shops — or, in cars, as was the case in France — might not have been a good idea, either:
A report came out in August of last year, suggesting those environmentally catastrophic Perspex screens you see in shops, offices and on TV, may make matters worse.
The Environmental Modelling Group, a panel of 16 SAGE experts, said "There is some epidemiological and mechanistic evidence, that suggests screens could increase risks of aerosol transmission, due to blocking/changing airflow patterns or creating zones of poor air circulation behind screens.
Well done everyone.
The best masks couldn't stop the rise in contagion:
Even where countries have demanded better N95 masks, like Austria, cases have sky rocketed nonetheless.
There was no evidence that vaccine passports stopped the spread:
What about vaccine passports? We're saving lives aren't we?
Except that cases have continued to soar in countries that have implemented these divisive measures, which link your medical status to certain basic rights, freedoms and privileges, including in particular in France and Italy.
The same held true for closing nightclubs:
What about closing nightclubs?
The Welsh first Minister Mark Drakeford, who likes a boogie himself, was able to demonstrate no evidence that closing nightclubs would have an impact on spread.
After two years, our health service is on backlog overload and probably will be until the end of the decade.
Some people's lives are in ruins: closed businesses, relatives' suicides, nervous breakdowns, missed diagnoses of terminal illness. I could go on.
Dolan said:
Two years in which we have incarcerated the healthy, stopped people from going out to work and making a living, closed once viable businesses, wrecked mental health and ignored worse diseases like cancer.
The Telegraph are reporting that up to 87,000 cancer diagnoses may have been missed. And the rest.
If you think Covid is worse than cancer, there is something wrong with you.
But that's been the message of the pandemic response.
'If it's not Covid, they don't care' is something I've heard from so many of you over the last two years.
The famously deadly disease of cancer, that affects all age groups, has been relegated in importance for two years, with tragic consequences that will be with us for years to come, with cases like young mothers who didn't get that lump checked or weren't able to. Well done everyone.
There will be a day of reckoning for what Professor Jay Bhattacharya, one of the most respected medics in the world, has called the biggest public health mistake in history. He's being polite.
Dolan rightly took issue with governments, modellers and the media:
So who's to blame?
Well, weak politicians who panicked in March 2020 and discarded decades of pandemic planning …
I blame the modellers like the randy professor, Professor Pants Down himself, Neil Ferguson, who predicted half a million deaths at the start of the pandemic, which spooked ministers into taking this ruinous path.
Some government scientific advisors predicted 6000 deaths a day if we didn't cancel Christmas …
I blame Sage, who failed to equate economic damage with death.
The University of Bristol have told me that half a million people will die as a result of creating the biggest recession in 300 years. And what about wrecked lives?
It's a question no one has ever been able to answer me. Why is it okay to wreck lives? Of course, it isn't. But wreck them we did. And it's most reprehensible when you think of the needless impact on young people and children, who face vanishing threats from the virus. So who else do I blame?
Well I blame the media …
… I blame the media for offering just one narrative. Lockdowns work, masks work and absolutely everybody's got to have the vaccine.
Now these views are valid, arguably the majority of people and perhaps most scientific professionals think exactly that. No problem. Let's hope you're right, because that's the hell you've put us through.
As data come in from around the world, based upon different approaches, with no obvious difference from where I'm standing, I have my doubts. But remember those press conferences – the Beeb, Sky, ITV – why are we not locking down longer, tougher, harder?
By offering such one-sided coverage of the pandemic, by betting everything on the words of SAGE, and freezing out other scientific voices like Sunetra Guptha, Carl Henegan, Martin Kulldorf and Jay Bhattacharya, the media let us down.
To say that the media have lied to you is a bit strong. But they have not provided the full picture.
And any lawyer will tell you concealing information is tantamount, in its own way, to an untruth.
Shall we be polite and just call it government propaganda? I think that'll do.
I shouldn't name names, but I will. The Mail and the Telegraph are the only papers I can think of that have consistently balanced their reporting and have dared to offer a critique about these debatable lockdowns.
The Guardian is a paper I've always admired and read every day.
But where was their coverage of the Johns Hopkins University report, a meta analysis of 24 studies into lockdown, suggesting the measures saved 0.2% of lives, whilst of course exacting colossal harm.
Not peer reviewed and the study has been done by economists, but worth reporting?
I'd say so.
Sweden got it right. That was something that many of us were criticised for saying offline.
Dolan said:
Sweden have seen a fraction of the economic damage, the societal damage and have had fewer per capita deaths than so many countries that locked down hard.
He concluded:
In the end I think the media have got this wrong – they've backed the wrong horse and they are on the wrong side of history.
So there will be a day of reckoning for their one-sided coverage. But will we ever get an admission of guilt, or dare I say it, an apology? I doubt it.
There will be no contrition. And for all of those well paid and high profile figures in the media – we know who they are – the relentless cheerleaders for these disastrous and, in my view, failed measures, sorry seems to be the hardest word.
Now to the present day.
On Wednesday, March 2, the House of Commons Science and Technology Select Committee gathered oral evidence on coronavirus in a session called 'UK Science, Research and Technology Capability and Influence in Global Disease Outbreaks'. Greg Clark (Conservative) chaired the session.
You can watch it here.
After the first hour, Prof Graham Medley — who exchanged tweets late last year with The Spectator's Fraser Nelson on modelling — gave his oral evidence on SPI-M's modelling of the pandemic. He is SPI-M's chair.
Sorry seemed to be the hardest word for him, too, as he saw no need to apologise for Prof Neil Ferguson's mad models which the Swedes described as 'hysterical'.
Medley told MPs that SPI-M 'didn't have the time' (his words) to calculate the probability or feasibility of their overblown scenarios. They plugged garbage in, and, lo, garbage came out. However, he defended everything. He had no regrets.
Three MPs gently took him to task for the modelling. Labour's Graham Stringer came right out and said that he doesn't trust modelling at all, none of it.
One of the MPs tried to press him on the Twitter exchange with Fraser Nelson. Medley replied:
I wish you wouldn't do that.
In the end, he managed to get himself out of any controversy.
Most of the other MPs wanted to question the person from the behavioural part of SAGE, SPI-B. This person was to have sat along side Medley. However, the SPI-B representative cancelled. How convenient.
Dr Camilla Holten-Møller appeared in the final segment. She is the Chair of the Expert Group for Mathematical Modelling at Statens Serum Institut (SSI) in Denmark. What a breath of fresh air she was.
She admitted that SSI did get one of their models woefully wrong, so they quickly regrouped, studied their mistakes and liaised more closely with university research and clinical groups who provide them with data.
It would be nice if Medley had showed the same candour. As it was, he didn't even look bothered.
I can hardly wait for the formal coronavirus inquiry in the UK. The Science and Technology Select Committee will write a report on this evidence session, as they have with others, and submit it to the Government. The reports will be part of the inquiry process.
At least one Collins book can be found in nearly every English-speaking household in the UK.
Speaking personally, we have a Collins Bible, Book of Common Prayer and several dictionaries, including the incomparable Collins Robert French Dictionary. In the past, I also bought annual Collins calendar diaries.
What I did not know until reading the recent obituary of Jan Collins, one of the publishing house's heirs, was that it was started by a Scottish Evangelical.
The Times published Jan Collins's obituary on February 14, 2022. Jan, who died at the age of 92 on January 29, will be remembered as much for his tennis prowess as his publishing career.
Of Billy Collins, the publishing house's founder, the obituary states (emphases mine):
Founded in 1819 by Jan Collins's great-grandfather William Collins, an evangelical Christian, it was known primarily for its printing of Bibles, dictionaries and diaries. In the early Thirties, more than 600,000 Bibles were published annually. One sales jingle declared: "Satan trembles when he sees/Bibles sold as cheap as these."
Jan Collins joined his family's business, then called William Collins, after he graduated from Oxford in 1952. He was assigned to the Bible department, located in Glasgow:
At the time it was still the leading publishing house in Scotland, with some 2,500 people employed in its Glasgow printing presses in Cathedral Street, which could produce up to 15,000 books an hour.
The company's fiction and non-fiction books were published in London:
The general fiction and non-fiction titles division was based in St James's Place, London, meanwhile, and was being considerably expanded by Collins's father, Billy Collins, with the addition of bestselling authors such as Agatha Christie, Enid Blyton, Alistair MacLean and Patrick O'Brian. In 1956 the firm's last substantial British acquisition was Hatchards bookshop in Piccadilly. In 1960, Collins published 576 new editions, the most in the UK.
Jan Collins was responsible for bringing us The Good News Bible. Love it or loathe it, I know several Americans who told me it was the only version of the Bible they could actually read and understand:
After a decade working in the Bible department he hit upon the money-spinning idea of teaming up with the American Bible Society to publish the New Testament in contemporary English, an edition known as Good News for Modern Man. A decade after that, the Old Testament was included and it was known under the title of the Good News Bible, which is still the most popular Bible currently published. More than a million copies were sold in the first year and subsequently nearly a billion copies have been printed throughout the world.
He then turned his attention to dictionaries and the printing presses in Scotland:
Jan Collins also rebuilt the Collins Dictionary business and spearheaded the modern bilingual dictionaries, forging partnerships with Robert in Paris and Mondadori in Italy. In 1971 he was appointed vice-chairman and by the mid-Seventies was in charge of the manufacturing side of the business. He was responsible for moving the entire printing department from Cathedral Street to a new site on the outskirts in Bishopbriggs, which employed 2,000 people.
When his father Billy Collins died in 1976, the atmosphere in the company became turbulent:
Collins was appointed executive chairman of the entire group but within a few years, boardroom tensions developed between the London and Glasgow-based divisions of the company, particularly because of the persistent losses in the print division and differing opinions about possible solutions. There were also questions raised regarding the management style of Jan Collins and, as a consequence, he stepped down in 1979 but remained as non-executive chairman until 1981. At this point, he and his mother sold their shares to Rupert Murdoch and he stepped down as non-executive chairman as well.
Rupert Murdoch ended up buying the company, which is now known as HarperCollins:
Murdoch held 41.7 per cent of the shares. He made a bid to take a controlling interest in William Collins, but was opposed by the new chairman Ian Chapman (obituary, November 30, 2019) and the rest of the board, which included a number of other Collins family members.
Murdoch finally succeeded in taking over the company in 1989, when he merged it with his other publishing holdings in the US and Australia to become HarperCollins, now one of the three biggest English-language book publishers in the world.
Jan Collins had a rareified upbringing in Scotland and England:
William Janson Collins was born in Great Western Terrace, Glasgow, in 1929, son of Sir William "Billy" Collins, who was head of William Collins and the grandson of the founder of the publishing house, and Priscilla Marian Lloyd. Billy Collins was considered one of the last of the benevolent despots in publishing, who scrutinised every aspect of the business. According to one employee, he combined "the necessary elements of the hustler and the showman with the more discreet and urbane attitudes of the worldly gentleman publisher".
Shortly after Jan's birth, the Collins family moved to a William Adam mansion on the outskirts of Troon, the favoured Ayrshire seaside resort of Glaswegian millionaires, thanks to its golf courses. The extended Collins family were all passionate sportsmen, which rubbed off on Jan, who apart from golf, took up shooting and tennis. His parents were both talented players and his uncle Ian Collins played at Wimbledon 12 times, making it to the final of the doubles and mixed doubles in the early Thirties. His father was on the All-England Club committee until late in life, while in the late Forties Jan came only one round short of making the championships at Wimbledon.
He was sent to prep school at Ludgrove, and then Eton, where he was All England Racquets champion at 14, in the first XI cricket team and president of Pop, the elite club of Eton prefects. When Collins was 15, he met his wife, Lady Sally Hely-Hutchinson, at the Eton and Harrow cricket match at Lord's.
Being president of Pop is a huge deal. Allow me to digress for a while with an article by an Old Etonian, Bill Coles, who wrote about the exclusive club for The Express in 2011, the year of its bicentenary. Coles somewhat regretted that he was never elected to be a member:
The Eton Society – or Pop as it's known – this year celebrates its 200th anniversary and though Prince William and his uncle Earl Spencer will both have been invited to the £250-a-head party in its honour, I will sadly not be among their number.
… At first glance Pop looks like nothing more than a very posh sixth form club. But Eton (with fees of £30,000 a year) is still regarded by many as the top elite school in the country – one that has provided 19 prime ministers (not least our current one) as well as old boys ranging from George Orwell and James Bond author Ian Fleming to Boris Johnson and Hugh Fearnley-Whittingstall. And if Eton is an educational elite then Pop is an even smaller elite within it – one that elects its own members, who form not just an exclusive network but one that doesn't always admit the members you might expect.
… well they looked like peacocks strutting among a horde of black crows and to a stripling teenager it all seemed rather exotic. Here, in full, was the uniform of an Eton Popper: a black tailcoat with braid piping; spongebag trousers in a houndstooth check; and a starched wing collar with a white (hand-tied) bow tie.
The uniform would usually be capped off with a thick cow-lick of hair, spit-polished black lace-ups pickers), plus a gardenia or a rose in the button-hole. While the rest of us schoolboys had been shoe-horned into grubby black waistcoats the Poppers were allowed to wear any waistcoat they pleased, at least a dozen and you can only imagine the glorious oneupmanship that was involved.
I remember waistcoats of green leather, waistcoats spangled with Pearly King buttons, and even a hideous fur electric pink number. Prince William, when he was a Popper, tended towards the staid and I believe his most daring outfit was a patriotic Union Jack. To all intents and purposes the Poppers don exactly the same sort of clothes that the gentlemen will be wearing at next month's royal wedding …
When this article appeared, David Cameron was Prime Minister and Boris Johnson was Mayor of London:
Once you realise the sheer showiness of the Pop uniform it is all too easy to understand how David Cameron came to be quite so enamoured with the Bullingdon Club at Oxford. For, if he had been elected into Pop he might never had quite such an urge to dress like a foppish Bullingdon blue-blood (though London Mayor Boris Johnson was in both Pop and the Bullingdon Club). Within Eton, Pop was a self-electing club for the sports stars, which certainly did not include me, and the hearty good guys. There were about 25 of them and they were charged with keeping the 1,300 other boys for such misdemeanours as not being properly dressed, or even "socking" (eating) in the street.
I still recall how, when I was 13, an enormous Popper accosted me in the street for not wearing any cuff links. "Have a pound in my room by lock‑up," he told me. Ostensibly all this loot went to charity, though doubtless the Poppers were just using it for extra beer money at the school pub, Tap. Speaking to contemporaries who were members, one is struck by the fact that while Pop is exclusive it does not necessarily bother itself with the most opulent surroundings.
"It was a bit like a St James's club in that boys were put up for election but if there was a single blackball against them then they weren't in. Things have changed more recently and now the Eton masters have a right of veto. You probably don't get quite so many bad eggs …
One can see how Jan Collins's sporting prowess appealed to Pop members:
Pop was predominantly filled with sports buffs and swells and that's still pretty accurate to this day. It appeals to people who like to dress up as a peacock." Pop was founded in 1811 and it was originally a debating society and had the name "Popina", from the Latin for "Tea-Shop" which is where the boys used to meet. In its heyday Pop was the ultimate networking tool and could open the most incredible doors. One can even see Pop's shadow hanging over Prime Minister Harold Macmillan when he culled half his cabinet during "The Night of the Long Knives" in the late Fifties.
It's said that Macmillan sacked half his friends from Pop – only to replace them with the other half. Fagging at Eton is now a distant memory but in my time in the Eighties a Popper could fag off any boy on the street, sending him off to do any chore he pleased. I still remember my outrage when a Popper took offence at my smirking face and sent me to Windsor to buy him a postcard for his mother. Another extraordinary aspect of the society was that 50 years ago Poppers were empowered to deliver a "Pop tan" – where reprobate boys would be flogged by every member of Pop …
One Old Etonian told Bill Coles:
One of the strange things about Pop is that it never goes away. You find it cropping up in a lot of Etonians' obituaries. These are people who may well have won VCs or who are captains of industry – and yet for some reason the fact that they were a member of Pop is seen to be on a par with anything else that they've done.
And, lo, we discover that Jan Collins was not only in Pop but also one of its presidents.
Now, back to the rest of the publisher's life.
He did his National Service as a young officer in the Coldstream Guards. The obituary has a stunning photograph of him in dress uniform.
Jan Collins married Lady Sally Hely-Hutchinson while he was reading English at Magdalen College, Oxford:
while his sporting prowess continued, winning blues in tennis, squash, cricket and fives. Later in life, he said that his family were "all frightful sporting bores".
In 1952, they moved to Scotland:
The newly married couple moved to Troon in 1952, and he remained in Ayrshire for the rest of his life.
Lady Sally had a career as a novelist:
Under the pen name of Harriet Martyn, Lady Sally wrote three girls' boarding school works of fiction — the Balcombe Hall stories — which were inspired by the escapades of her daughter Jane at St Mary's, Wantage; and as Sara Healy, three historical novels including a Second World War evacuee story inspired by her own experiences. She died in 2013. He is survived by their four children, Noel, an entrepreneur, Jane who runs her own publishing company in Ireland, Tiffany, a company director, and Bryony who is in technology.
Meanwhile, apart from owning and operating three restaurants that closed in relatively short order, Jan devoted the rest of his life to tennis:
After retiring, he became a fully qualified tennis coach. He was appointed MBE for services to tennis in 2004, after raising nearly £2 million to create the largest junior tennis programme in Scotland. He was the oldest surviving member of the All England Lawn Tennis Club, having first joined 70 years ago, in 1952. In fact, he had attended every Wimbledon tennis tournament since then, including last year. He was especially proud of winning the over-85 category of the British veterans' grass court championship at Wimbledon in 2014.
During lockdown in 2021, Jan Collins raised money for charity:
In the summer of 2021, when lockdown regulations meant no golf clubs were open throughout the UK, a private five-hole course was suddenly created in the rear garden of a 90-year-old golfer in Troon. Inspired by the story of Captain Sir Tom Moore, Jan Collins raised £8,000 by playing 1,000 holes of golf in his back garden.
But his was not a totally serious life of work and tennis. Privately, he was known for his wit and harmless pranks.
There was no mention of any religious aspect to his life, but Jan Collins lived quite the life. May he rest in peace.
Over the weekend, I read two contrasting approaches to coronavirus, going from the sublime to the ridiculous.
El Salvador
This is the latest message from the government in El Salvador about coronavirus. It advocates exercise, achieving a normal weight, eating properly and getting enough sleep:
It is sublime. If only other governments had advocated the same thing over the past 22 months. Then again, there's no Big Pharma involvement, so this never could have happened in the West.
France
Now we move to the ridiculous.
Last summer, the French government mandated the vaccine passport, popularly called le pass sanitaire, when in reality it is le pass vaccinale.
In August 2021, the Minister for Work, Elisabeth Borne, said that anyone refusing to get a vaccine passport would be denied his/her salary or unemployment benefit. Someone replied to this tweet with a quote from February 2021 in which Borne said that, as a woman of the Left, fighting for social justice and equal opportunity were her two biggest objectives in life. Oh, the irony:
Initially, at least, vaccine passports were required even to go into a supermarket.
Here's a chap at Carrefour who could not get past the security guard on August 17 at Noisy le Grand, just outside of Paris:
Two more videos appeared on August 18. One was in the city of Pau in the south west of France. Police prevented angry shoppers from entering Leclerc:
The second confrontation took place at an Auchan in Marseille. Shoppers chanted 'Liberté, liberté':
I don't know what happened after that, but I haven't heard or seen any more about people being prevented from entering a supermarket.
I did see videos with police checking people sitting outdoors at cafés and bars for vax passport status.
Fast forwarding to January 2, 2022, Prime Minister Jean Castex said that food and drink can only be taken in bars and cafés sitting down. A bit like Wales and Scotland, then:
That same day, the education minister, Jean-Michel Blanquer, explained that every school would have a list of students showing their vaccination status, thereby violating the principle of privacy with regard to personal health records — a slippery slope:
The following day, the president of France's parliament, Richard Ferrand, got coronavirus. No one was allowed to ask questions, though, because it wasn't anyone's business. Circulez, il n'y a rien a voir. Keep moving, nothing to see here:
Incidentally, no vax passport is required in France's parliament. Typical:
On January 4, French president Emmanuel Macron said that he wanted to 'p— off' as many unvaccinated as possible. This means that the unvaccinated will not be able to go to sports fixtures, the cinema — or even restaurants, bars and cafés.
Contrast that with what he said on December 15, 2021: 'With some things I've said, I've hurt people. I won't do it again':
There is even an older statement from Macron from April 29, 2021, in which he pledged there would never be a mandatory vax passport in France:
Jean Castex refused to comment on Macron's pronouncement about p—ing off the unvaccinated:
Meanwhile, an anti-vax passport petition circulated online. It had over 1.2 million signatures as of January 5. The initiator of the petition was not allowed to present it to parliament. Police restrained him:
France's senate will be voting on further vax passport measures this week, postponed from last week:
Constitutionalists say that the vax passport measures are unconstitutional:
Here is a roadside hoarding (billboard) critical of Macron's vaccination policies:
The vaccine passport mandate was supposed to end on November 16, 2021. Yet, it is still in place.
On Saturday, January 8, many thousands of French citizens took to the streets to protest.
This was the scene in Aix-en-Provence:
Paris had the largest demonstration, despite the rain:
Here's another view:
Of course, the media, in this case BFMTV, reported 'only a few thousand' protesters. They would, wouldn't they?
On Monday, January 10, a French physician who works in ER called for the abolition of vaccine passports and urged the government to focus on treating the sick — 'Revenons au basique', or 'Back to basics':
Just before Christmas, a general practitioners' union pledged their support for the unvaccinated, a clear refutation of Macron's policy:
France's talk radio station, RMC, discussed the unvaccinated on Monday. Here's the segment from Les Grandes Gueules [The Big Mouths], for any interested Francophones.
A general practitioner who is a regular guest on the show said that anyone spreading 'disinformation' should be put in prison. Unbelievable:
One of the panellists complained about the constant testing of schoolchildren, which she thought was a waste of time and money:
Some time ago, when waffling on about the necessity for constitutional reform, Macron pledged that any petition with more than 1 million signatures would go to a referendum in order to give the French people a voice. As the anti-vax passport petition has 1.2 million signatures, will Macron prove good on his word?
Even during an election year, I wouldn't hold my breath.
Macron's voters are pro-vaccine and pro-vaccine passport people. Sadly, I think he will win another five-year mandate in May 2022.
There was a time when one could get an excellent job in the UK without a university degree.
In fact, one could get an excellent job even without secondary school qualifications.
It was so long ago, however, that those days have vanished in the mists of time.
At the end of October 2021, I read The Telegraph's obituary of advertising genius Mo Drake, who died in August at the age of 93.
By today's standards, on paper, Mo Drake would appear to be a scholastic failure and doomed to a life on the dole. Yet, he worked in advertising and gave the UK one if its best known slogans for Heinz Baked Beans: Beanz Meanz Heinz.
This advert is from the early 1960s:
During the Second World War, Drake's schooling was interrupted to the point where he received very little of it:
He passed the 11-plus but could not take up a place at grammar school because of the outbreak of war – and in fact did not attend secondary school at all until he was 14, and even then he left after a few months.
He was born a Cockney, within the range of the Bow (church) bells:
Maurice Drake was born in working-class Bromley-by-Bow, east London, on May 20 1928 to Thomas and Sarah Jane Drake. The family moved to Ilford [Essex] when he was three.
Nothing there in 2021 spells 'success'.
However, young Mo Drake spent a lot of time reading. As such, he absorbed the cadence of the English language and developed a way with words.
As an adolescent, he started work at a London advertising agency:
After leaving school he worked as a filing clerk for the Thames advertising agency, before National Service in the RAF.
Afterwards, he worked for a PR agency:
He then joined the PR firm Armstrong Warden, where he proved so good at drafting publicity blurb that he was appointed a full-time copywriter.
Then he worked for a time as a comedy writer. He managed to link this to his former employers which ended up catapulting him to one of the top ad agencies, Young & Rubicam:
For a short spell in the early 1950s he left the company after he and a friend, Jack Potter, began to submit jokes to Bob Monkhouse, then a BBC scriptwriter, who introduced them as joke-writers to other entertainers such as Arthur Haynes and Bruce Forsyth. In the process he provided Drake with useful contacts in the entertainment industry on whom he could call after he returned to Armstrong Warden – and at Young & Rubicam, which he joined in 1959.
That was the start of a beautiful career, involving well known celebrities such as Bruce Forsyth and Frank Muir:
Thus Bruce Forsyth agreed to front a campaign for Maxwell House coffee, while he got Frank Muir to sing "Everyone's a Fruit and Nut Case" for Cadbury's.
Everyone over the age of 60 remembers 'Fruit and Nut Case':
As the years passed, more successful adverts followed, such as the iconic 'Just one Cornetto' for Wall's, which I remember well:
When the Wall's ad came out, Mo Drake was creative director of Grey Advertising and Lintas. His team had written the ad.
When Drake — the man with no school qualifications — retired, he lectured at universities and held a regular seminar at Trinity College, Oxford. That would never happen today.
In 2003, Mo Drake disparaged today's advertising, criticising it for concentrating too much on special effects rather than a memorable slogan, invoking another advert of his:
For years after the Murray Mints campaign came out people were going round singing 'Murray Mints, Murray Mints, the too good to hurry mints'. You can't imagine that happening now.
Drake's wife predeceased him. I wish his three daughters and a son all the best in the months ahead. They must surely miss their father.
Reading about his career, I could not help but wonder whether we will ever recapture the time when someone enterprising and literate can get a good job without school qualifications.
Today, it would be impossible to work in advertising without proper connections and a university degree. If Mo Drake were a teenager in 2021, he'd never get a look in. His job application would go in the bin, accompanied by peals of laughter. More's the pity.
The Taliban never change, except that they have allowed themselves a bit of fun.
During the past week, I saw several tweets of the Taliban on pedalos. It was unclear whether the images were photoshopped.
However, on September 19, the Mail on Sunday posted similar photos of the armed misogynists on pedalos which were taken at Band-e Amir National Park, which used to be a tourist attraction.
Interestingly, the park is 45 miles away from Bamiyan, formerly the home of the Buddhas of Bamiyan, which the Taliban destroyed in 2001.
The Mail's article also gave an update on the Taliban's treatment of girls and women.
The Women's Affairs Ministry is now the Ministry for the Propagation of Virtue and the Prevention of Vice, which, if I recall correctly, was in existence in 2001. It is designed to repress women severely. Once again, no more lipstick, visible hair or legs.
For the moment, girls are allowed to attend primary school only, under the pretext of security reasons. They might be allowed to attend secondary school at some point.
Women are allowed to attend private universities:
but with harsh restrictions on their clothes and movement.
There is some resistance to the new education policy (emphases mine):
A statement from the education ministry last Friday demanded: 'All male teachers and students should attend their educational institutions.' It made no mention of female teachers or pupils.
Some Afghan women are now protesting the return to repression, with boys also refusing to attend class in solidarity. One boy was pictured in a Twitter post holding a sign that says: 'We don't go to school without our sisters'. 
Afghans voiced their support for the child in the post's replies, with one saying: 'Education is the right of every Afghan. We hope that the Taliban will allow our sisters to open schools as well.' 
How sad for the Afghans.
UNICEF have issued a statement condemning the policy. It is unlikely the Taliban will be worried about that.
As for the ladies who worked at the Women's Affairs Ministry:
Videos posted to social media showed female ministry workers protesting outside after losing their jobs.
What a pathetic state of affairs.
The Times was able to interview former president Hamid Karzai, who wore the exquisite long silk jackets. He spoke out from his home in Kabul.
He told the paper that he is in regular discussions with the Taliban, especially on the egregious education policy, making Afghanistan:
the only country on earth to exclude girls from secondary education.
He said that he despairs of the current situation in Afghanistan:
Afghanistan's former president Hamid Karzai has spoken out against the Taliban for the first time, decrying their restrictions on girls' education and revealing his despair at seeing so many talented young Afghans fleeing the country.
"Education of girls is extremely important," he told The Sunday Times in an interview at his house in Kabul, now guarded by the Taliban. "There is no other way. This will not be a country which stands on its own feet without education, especially for girls."
He has three daughters:
Karzai, 63, ran the country's western-backed government for 13 years after the Taliban was toppled in 2001. He has three daughters, aged 4, 7 and 9, and said that one of his proudest achievements from his time in office was that millions of girls returned to school.
… many believe that Karzai is courting danger by criticising the country's new masters now.
He intends to "continue to speak out and speak out strongly", he said from his library, where the shelves are lined with photos of himself with the likes of Prince Charles and President George W Bush. "I stayed because I love my country and wanted to reassure people. We need a government that brings development and delivers services, has good relations with the rest of the world and where people live happily without fear or repression, and we must keep working for it" …

"The fact is this is a society which has changed massively in the last 20 years. It's the responsibility of the Taliban to make sure young educated Afghans stay for the wellbeing of our country."
He shared his sadness at knowing that so many women MPs, judges and activists are now in hiding. "People are fearful. The Taliban should work to remove this environment of fear and create an environment both physically and psychologically that's conducive for people to stay."
That seems rather unlikely.
Karzai was known for criticising the West and foreign military over night raids and airstrikes that killed civilians.
As such, he was happy to see the departure of troops:
"I am not unhappy the foreign troops have gone," said Karzai. "They were not respecting our culture, and this country needs to stand on its own."
However, to date, his discussions with the Taliban have been less than successful, and the whole country, including Panjshir province, is under their control:
He helped to mediate an end to the fighting in Panjshir, the region which held out the longest against the Taliban, and was initially positive about his negotiations with the victorious Islamists. Now, however, he admits he is disappointed. "From the very beginning in all our talks we emphasised three fundamentals: education and education for girls, inclusivity in government, and the place of women in our society. We also spoke of the importance of the national flag and values of the country.
"They fully agreed and said all the right things, but so far things didn't happen that way. We need their actions to match their words or Afghanistan will again be cut off from the world."
Any one of us could have told him that much.
And to think that Biden considers this disaster of his will be forgotten in time for the 2022 mid-term elections. I certainly hope not.