You are currently browsing the tag archive for the 'Scottish Nationalist Party' tag.
On Thursday, September 9, the Scottish parliament voted in a motion to implement vaccine passports for the nation, beginning October 1:
Patrick Harvie's Greens, who are in a new alliance with the governing SNP, changed their minds about vaccine passports and decided to vote in favour of them:
Some of the MSPs lost their internet connection during the vote. That does not matter, because they, along with MSPs voting from home, can let the moderator know and she will allow them to cast their vote in person or over the telephone. Those votes are broadcast in the chamber.
The incident gives me a chance to show you the interior of Holyrood, where MSPs meet:
The day before the Holyrood vote, MPs in Westminster debated the implemention vaccine passports for England.
Nadhim Zahawi, the vaccines minister, gave a statement about the plans. It did not go well for him.
MPs — including his fellow Conservatives — quoted his previous statements in which he said the passports would not be implemented domestically.
William Wragg (Con), a member of the awkward squad of backbenchers, chided Zahawi (emphases mine):
What a load of rubbish. I do not believe that my hon. Friend believes a word he just uttered, because I remember him stating very persuasively my position, which we shared at the time, that this measure would be discriminatory. Yet he is sent to the Dispatch Box to defend the indefensible. We in this House seem prepared to have a needless fight over this issue. It is completely unnecessary. We all agree that people should be encouraged to have the vaccine, and I again encourage everybody to do so, but to go down this route, which is overtly discriminatory, will be utterly damaging to the fabric of society.
Zahawi replied:
I am grateful to my hon. Friend, who has made his view clear to me on many occasions. It pains me to have to take a step like this, which we do not take lightly, but the flipside to that is that if we do not and the virus causes super-spreader events in nightclubs and I have to stand at the Dispatch Box and announce to the House that we have to close the sector, that would be much more painful to me.
Mark Harper, another Conservative who has opposed coronavirus restrictions, voiced his disapproval:
I have to say that I agree with the Chairman of the Public Administration and Constitutional Affairs Committee, my hon. Friend the Member for Hazel Grove (Mr Wragg). The Minister set out earlier this year that this policy was discriminatory. He was right then and that remains the case. It is a discriminatory policy. The vaccines are fantastically effective at reducing hospitalisation and death. They are very much less effective in reducing transmission of the Delta variant. This is a pointless policy with damaging effects. I am afraid that the Minister is picking an unnecessary fight with his own colleagues. I say to him that the Government should think again. The Leader of the House has been clear that we do not believe—the Government do not believe—that this policy is necessary for us to meet here in a crowded place. Let us not have one rule for Members of Parliament and another rule for everybody else. Drop this policy.
Zahawi replied, saying he hoped the vaccine passports would be temporary:
This is not something that we enter into lightly, but it is part of our armoury to help us transition over the winter months from pandemic to endemic status. I hope to be able to stand at this Dispatch Box very soon after that and be able to share with the House that we do not need to do this any more as we will be dealing with the virus through an annual vaccination programme.
An SNP MP hoped there would be proportionality:
I pay tribute to all those involved in the vaccination programme. It has been extraordinary. In Scotland, we have 4.1 million adults with a first dose and almost 4 million with a second dose, which means that north of 90% of all adults have had at least one dose. It is a fantastic result across the UK since last December, but the pandemic is not over. Lives are still at risk and the pressures on the NHS are very real, so we in Scotland are introducing a vaccine passport, but, broadly, it will be limited to nightclubs, outdoor standing events with more than 4,000 people and any event with more than 10,000 people. While the rules in England may be slightly different, I hope that they are as proportionate as that.
Zahawi said that more details would be forthcoming.
Zahawi's voice faltered several times during the debate:
It pains me to have to stand at the Dispatch Box and implement something that goes against the DNA of this Minister and his Prime Minister, but we are living through difficult and unprecedented times. As one of the major economies of the world, our four nations have done an incredible job of implementing the vaccination programme. This is a precautionary measure to ensure that we can sustainably maintain the opening of all sectors of the economy.
A Liberal Democrat MP, Munira Wilson, picked up on Zahawi's delivery:
I almost feel sorry for the Minister because he really is struggling to defend this policy. However, he has failed to answer the fundamental question posed by my right hon. Friend the Member for Orkney and Shetland (Mr Carmichael) about this deeply illiberal, discriminatory and unnecessary policy: will this House get a vote on the implementation of covid vaccine passports—yes or no?
Zahawi answered:
There will be appropriate parliamentary scrutiny, as I have said today and in the past.
Not one MP approved of the proposed policy measure in the debate.
On Friday, September 10, news emerged that, if implemented, vaccine passports could open the way for sweeping powers. They could eventually become a national ID 'card'. The Telegraph's Madeline Grant tweeted:
The Telegraph's news that day cited an article from The Sun saying that we might have to have a vaccine passport to go to the pub:
Britons could be required to show vaccine passports at more businesses, the Culture Secretary has suggested amid reports the Prime Minister is preparing to unleash a "toolbox" of contingency measures. 
The Government is set to push ahead with mandatory Covid certification for nightclubs at the end of the month.
But The Sun reports that this will be widened to include other venues such as stadiums and pubs, which will be announced next week by Boris Johnson as part of plans to control the virus through the autumn and winter. 
Oliver Dowden told Sky News: "We will be looking at bringing in certification for nightclubs at end of the month.
"If there is a need to further extend that certification according to the public health need, we will look at doing so but we're always reluctant to impose more restrictions on businesses unless we really need to."
However, having voted in the unpopular increase in National Insurance contributions and the poll result showing a Labour lead for the first time since January, the Government reconsidered their stance on vaccine passports.
On Sunday, September 12, Health Secretary Sajid Javid appeared on the BBC's Andrew Marr Show to say that vaccine passports in England will not be going ahead. I would add 'for now', because this Government is on a right merry-go-round with regard to coronavirus policies:
Mark Harper MP welcomed the news:
Even Public Health England (PHE) statistics show two inoculations (I use the term advisedly) offer little protection:
TalkRADIO's Julia Hartley-Brewer points out that vaccine passports cannot save lives and are discriminatory:
Yet, Scotland's First Minister Nicola Sturgeon insists the decision to implement them north of the border is the right thing to do:
However, one of Scotland's coronavirus advisers, behavioural psychologist Stephen Reicher implied that England, not Scotland, made the right decision:
Guido Fawkes has a quote from Reicher (emphases in the original):
They are a double edged sword. Passports accelerate uptake in the willing but accentuate opposition in the sceptical. They increase safety but can increase complacency.
Quite a departure from Sturgeon's claim that they "have part to play". At least she insisted they were "a very limited scheme"…
Scotland could still backtrack on vaccine passports, as their September 9 vote was on a motion only, not legislation:
It is good to see that politicians are taking note of the public mood — for once.
On Saturday, August 7, 2021, Mark Dolan of GB News interviewed a Scottish clergyman on his late night show.
The Revd Dr William Philip is the pastor of Tron Church in Glasgow. Earlier this year, he led a handful of other Scottish clergy in filing a successful lawsuit against the Scottish government for having closed churches in 2020 during lockdown.
In the 20-minute interview below, he explained why it is so important to be able to gather together to worship during the coronavirus crisis. Believers need to gather together in one place — church — for communal prayer and fellowship. His words were well received not only by Dolan and his guests but also on YouTube:
Philip, who worked as a hospital physician before ordination, also does not think that vaccine passports are necessary:
While churches in England and Wales re-opened in July 2020 and closed again for three weeks in October, Scotland took different measures. In January 2021, Nicola Sturgeon's SNP government forbade — criminalised — public worship during new lockdown measures.
On January 6, Philip and five other Protestant clergy sent a letter to Nicola Sturgeon, which reads, in part (emphases in the original):
We write as ministers and leaders of churches in Scotland, supported by colleagues across the United Kingdom, to raise our profound concerns at the measures to suspend public worship in Scotland as part of the currently increased restrictions.
We understand entirely the exceptional difficulties of leading the country at the present time, and we and our churches have prayed for wisdom and clarity for your government repeatedly. But we strongly disagree with the decision to prevent the gathering of the Church at this time, which we believe is profoundly unhelpful and may be unlawful.
As pointed out by Sir Edward Leigh in his letter to you of 4 January, Article 9 of the European Convention of Human Rights prohibits governments from interfering with religious practice unless demonstrated as essential for public health because church services were proven a significant source of spread of disease. We know of no evidence of any tangible contribution to community transmission through churches in Scotland; to the contrary, since churches re-opened in July we have demonstrated that places of worship and public worship can be made safe from Covid transmission. It is for such reasons that legal challenges in other jurisdictions have overturned prohibitions of the freedom to gather for worship.
However, above all we are dismayed because there seems to be a failure in the Scottish Government to understand that Christian worship is an essential public service, and especially vital to our nation in a time of crisis …
In national times of crisis past, governments have looked to the church and sought leadership in a national call to prayer to the Living God. We urge you not to be the government which denies our nation the collective prayer of the churches of our land in days when it is most greatly needed.
We echo the words of the Archbishop [of Canterbury] and other leaders to the Prime Minister and call on the Scottish Government to recognise and support this, and enable us to continue to worship safely, as part of the essential fabric of the nation.
On February 9, Philip wrote an article for The Critic: 'Meeting others to worship is a lifeline'. Excerpts follow (emphases mine):
A group of Clergy taking government to court might seem a surprisingly 'un-Christian' thing to do, when closing churches is to 'save lives'. In fact, the reason we have commenced action against Scottish Minsters is born of profound Christian love for our nation. We all recognise the challenges facing the government. But we believe that, however well-intentioned, criminalising corporate worship is both damaging and dangerous for Scotland …
There is an urgent need for a message beyond that of health and safety: a message of hope and salvation. This is the calling of the Christian Church – especially in dark and difficult days: to 'hold fast the confession of our hope without wavering' (Hebrews 10:23). Jesus Christ is the only hope that dispels all fear, death included.
That is not to say Christians don't care about present physical threats. Indeed, it is this eternal perspective that liberates to love and serve neighbours truly, and fearlessly. As CS Lewis pointed out 'those who want heaven most have served earth best'. This is what our society needs to witness, proclaimed boldly by Christian leaders and adorned visibly in the worshipping Church. So it is of great damage to Scotland that corporate worship is now illegal.
It also brings great danger.
Many in the world today brave huge threats to worship as Christ's Church. We do not remotely claim such persecution; however, our situation is unprecedented in modern times. For centuries Scottish law has embedded the truth that both Church and Civil government are ordained by God and subject to Him, but their roles are distinct and government must not interfere in the Church. It was the Stuart monarchs seeking to undermine this 'twa kingdoms' doctrine that led to a century of conflict before religious toleration prevailed across Scotland and England with the Claim of Right Act 1689. Scots law reiterated then that Jesus Christ alone is head of the Church and this remained paramount in the Union of 1707, was reinforced again in the 1921 Church of Scotland Act, and is affirmed by each monarch in the Coronation Oath …
I never imagined myself involved in action like this. But Scots would not have precious freedoms today had our Kirk forebears shrunk back in their time. I truly hope that our government will see what a grave incursion this ban on public worship is – to centuries-old Scots law as well as modern Human Rights protections – and also the suffering it is inflicting on many. The proper place of Christian worship must be restored so that, as Martin Luther said (amid a far more deadly epidemic), our people may 'learn through God's word how to live and how to die'."
One week later, Lord Braid of the Scottish High Court granted permission for a hearing. By then, 27 clergy had pledged their support. Christian Today's article says:
Lord Braid has granted permission for a hearing which will take place remotely on 11 and 12 March after Scottish ministers rejected the arguments of 27 Scottish church leaders in a pre-action letter.
The church leaders argue that the "disproportionate" closures are a breach of human rights law and the Scottish constitution, and are preventing them from meeting the material, emotional and spiritual needs of their congregations and communities.
In their response, Scottish ministers said the state was within its rights to "regulate the secular activities of Churches…for the purposes of protecting public health", and that churches were compelled to "comply with secular law."
The church leaders come from a broad range of denominations, including the Free Church of Scotland, Free Church of Scotland (Continuing), Church of Scotland and a number of independent churches …
Rev Geoffrey de Bruin, leader at Christian Revival Church Edinburgh, said: "This is now a crucial moment for the freedom of the church in Scotland …
"For Christians, spiritual health is more important than physical health.
"Churches serve as lifelines of support to the most vulnerable during the toughest times and we pray that these important principles and beliefs will be recognised and upheld by the courts in March."
The Christian Legal Centre (CLC), founded in 2007, took the case on behalf of the clergy.
Fortunately, the clergy won their case in March. Christian Concern issued a statement on the outcome:
Permission for a judicial review was granted and heard at the Scottish High Court on 11 March 2021.
On 24 March 2021, judgment was handed down by Lord Braid, ruling that the Scottish Ministers' decision to ban and criminalise gather church worship during lockdown was unconstitutional and disproportionate.
The Tron Church serves a diverse congregation in central Glasgow. In 2012, it broke away from the Church of Scotland, opposing its move to accept gay clergy, although it maintains a cordial relationship with the Kirk, as the state church is known. The Tron is now part of the West of Scotland Gospel Partnership.
In February 2020, the SSE Hydro stadium in Glasgow cancelled an appearance by the Revd Franklin Graham, Billy's son, amid accusations of 'homophobia'.
Philip joined several other clergy from the West of Scotland Gospel Partnership in signing a letter to The Herald, expressing their disappointment. Excerpts follow:
THE cancellation by the SSE Hydro in Glasgow of the Franklin Graham event is a deeply disturbing decision that is antithetical to freedom of speech, freedom of religion, and to true democratic values.
Franklin Graham is being discriminated against for having on occasions expressed mainstream Judaeo-Christian views on sexuality. His views in this area are not religiously extreme, indeed they simply reflect the historic and orthodox teachings of the Roman Catholic Church, the Church of England and countless other denominational groups. Like all mainstream Christian leaders Franklin Graham believes that every human being is a precious soul made in the image of God, and thus should be loved and treated with respect accordingly.
The planned event is one in a rich tradition of such Christian activity going back centuries in both Glasgow and the country at large. As Rev Graham has expressed himself his mission is not political but to make known the good news about Jesus Christ to every person regardless of their sexuality or any other characteristic …
Christians disagree about many things, but Christians all agree that respect for religious freedom and freedom of speech is fundamental to a free society. Therefore, we ask that the SSE Hydro management, and those political leaders who have influence in such matters, reverse this decision.
A failure to do so would be an ominous move towards a less free society and one that will in time have serious repercussions for the civic liberties of all.
The Revd Dr Philip sounds like a good clergyman and one who refuses to stand by when the Church is discriminated against.
Although the late comedian Jackie Mason thought that the UK's House of Commons was akin to a 'sanitarium', there are inviolable rules for suspension from the Chamber.
Criminal charges or sexual harassment will do the trick. Often, the party whip is removed from the MP in question, rendering them Independent unless the whip is restored.
Here are two other ways that MPs can be suspended.
Grabbing the mace
When the Commons is in session, the mace sits atop the desk in front of the Speaker.
Only the Serjeant at Arms is allowed to handle it. He/She puts it in place before the session and removes it afterwards.
On Wednesday, December 16, 2020, the SNP's Drew Hendry was vexed about the Internal Market Bill, which is part of the post-Brexit legislation.
He claimed that it would interfere with Scottish devolution because Parliament would be taking decisions he believed the Scottish government should take.
Excerpts of his speech and the debate follow, emphases mine (unless otherwise stated):
Westminster Ministers will still have the right to impose lower food, environmental and other devolved standards on Scotland, regardless of the view of Holyrood. This Bill is the biggest assault on devolution in the history of the Scottish Parliament. It undermines devolved policy making, grabs spending powers, and removes state aid from being a devolved responsibility. The Scottish Parliament and the Welsh Assembly refused to give this Bill consent, and it is outrageous that the UK Government are once again ignoring the wishes of the people of Scotland as well as Wales …
The only reason for this Bill as it now stands is to demolish devolution. If the Government take this Bill forward today, as they obviously will, that is what they will be doing. Any pretence thereafter by the Scottish Tory MPs that they respect the democratic rights of the people of Scotland will be blown apart if they support this today. In fact, they have already supported it, because it seems that it will go through. They have done nothing to protect the democratic rights of the Scottish people.
People in Scotland are watching. People in Scotland, when they see the effects of this Bill, will be angry about the fact that their rights are being taken away by these Tory Ministers, aided by their Labour bedfellows. They will be furious about the fact that their rights are being stripped from them. They are listening, they are watching, and they are seeing developments in this place. They are understanding, now, that the only way to protect their Parliament, their rights and their democracy in Scotland is to go forward as an independent nation—and they will be voting for that, I am sure, in due course.
Yet another SNP rant about rights, democracy and independence.
The debate went on for some time. At the end, the presiding minister responding for the Government — Conservative MP, Paul Scully — concluded:
I welcome the contributions and the constructive discussions that we have had in recent days with Opposition Members in both Houses that have got us to this place. We have had some passionate debates on the Bill, because of the importance of the issues. However, the Bill will ensure that UK businesses can trade across the four parts of the UK in a way that helps them to invest and create jobs, just as they have for hundreds of years. I am therefore delighted to ask the House to agree to the amendments, and to complete our scrutiny and consideration of the Bill.
At that point, Drew Hendry stood up and walked towards the centre of the Chamber, a big no-no. Then he grabbed the mace:
Dame Rosie Winterton was the Deputy Speaker for the debate.
This was the exchange between her and Hendry:
Hendry: This is an outrage to Scotland. It is not acceptable.
Winterton: Order. The hon. Gentleman must resume his seat, and he knows that. [Interruption.] This is just showing off. He should resume his seat, otherwise I will name him and order him to leave. [Interruption.] Does he want to be named? Is that what is happening? [Interruption.] If that is what is happening, we can do it. [Interruption.] Okay—I will name him. I know what he is doing. [Interruption.] Oh, for goodness' sake! Very childish.
Hansard records that the suspension took place under Standing Order No. 44:
Drew Hendry, Member for Inverness, Nairn, Badenoch and Strathspey, was named by the Deputy Speaker for disregarding the authority of the Chair (Standing Order No. 44).
Motion made, and Question put forthwith (Standing Order No. 44),
That Drew Hendry be suspended from the service of the House.—(David T. C. Davies.)
Question agreed to.
The Deputy Speaker directed Drew Hendry to withdraw from the House, and the Member withdrew accordingly.
Guido Fawkes posted the BBC video the next day. His readers were appalled:
It was a costly move on Hendry's part. One of Guido's readers recalled that Labour MP Lloyd Russell-Moyle also grabbed the mace. That was on December 18, 2018, also in a Brexit-related debate; he was suspended only for the rest of the day:
Guido's report explained the £7,000 (emphases in the original):
SNP MP Drew Hendry made a bit of a fool of himself last night, shouting to disrupt proceedings and then seizing the mace – all over the passage of the Internal Market Bill. As a result of his actions he was officially 'named' and suspended from the House for five working days. Despite some news outlets claiming the suspension is just 24 hours, Guido's well placed source says they have got it wrong.
Two aspects of the suspension that have gone unreported are that; firstly it is without pay and secondly it covers five working days. Meaning that after today and tomorrow, the House will have to sit for three more days before Hendry can be paid again. Even if the Commons returns for an extraordinary day or two to ratify a potential Brexit deal, it is unlikely there will be a third sitting day until well into January. It's possible therefore that Hendry's five sitting days suspension could end up lasting for a calendar month – costing the MP almost £7,000 in lost salary. A very expensive mace grab.
It's hard to know what happened in the end, but a £7,000 penalty would have been fitting.
Accusing an MP of lying
Another way of getting suspended from the Commons is to accuse an MP of lying, which is what Labour's Dawn Butler did on the final day before this year's summer recess.
On Thursday, July 22, 2021, in the Summer Adjournment debate, she said, in part:
While the NHS was coping with 130,000 people dying from the pandemic, the Prime Minister was making his mates rich. Cronyism is rife and old chums are given jobs regardless of their skillset—some a little bit on the side. This has been one big experiment for this corrupt, authoritarian, racism-laden Government, and I am not scared of saying it like it is …
Poor people in our country have paid with their lives because the Prime Minister spent the last 18 months misleading this House and the country.
Peter Stefanovic from the Communication Workers Union has a video with more than 27 million views online. In it he highlights that the Prime Minister says: that the economy has grown by 73%—it is just not true; that he has reinstated nursing bursaries—just not true; that there is not a covid app working anywhere in the world—just not true; and that the Tories invested £34 billion in the NHS—not true. The Prime Minister said
"we have severed the link between infection and serious disease and death."
Not only is that not true but it is dangerous.
It is dangerous to lie during a pandemic, and I am disappointed that the Prime Minister has not come to the House to correct the record and correct the fact that he has lied to this House and the country over and over again.
Having watched enough of these debates and all of Boris's coronavirus briefings, he did not say any of those things.
Judith Cummins MP (Lab) was Deputy Speaker while Dame Rosie Winterton was self-isolating with the virus. She did a great job in handling the situation:
Cummins: Order. I am sure the hon. Lady will reflect on her words and perhaps correct the record.
Butler: What would you rather, Madam Deputy Speaker, a weakened leg or a severed leg? At the end of the day, the Prime Minister has lied to this House time and time again. It is funny that we get in trouble in this place for calling out the lie rather than for lying.
Cummins: Order. Can you please reflect on your words and withdraw your remarks?
Butler: Madam Deputy Speaker, I have reflected on my words. Somebody needs to tell the truth in this House that the Prime Minister has lied.
Standing Order No. 43 was invoked:
The Deputy Speaker ordered Dawn Butler, Member for Brent Central, to withdraw immediately from the House during the remainder of the day's sitting (Standing Order No. 43), and the Member withdrew accordingly.
Guido's team posted the video:
The accompanying post had this sentence (highlight in the original):
This attention-seeking stunt will work as desired…
Unfortunately, Butler left the Commons at 3:49 p.m., and summer recess began around 5 p.m., so any salary deductions were minimal.
Even so, the left-leaning PARLYappteam thought Judith Cummins did the right thing:
But there was more. Stuart Andrew MP responded to the debate on behalf of the Government. I really like him. He came from humble circumstances and is now the Treasurer of Her Majesty's Household.
Of Dawn Butler, he said:
I cannot ignore the disappointing tone of the hon. Member for Brent Central (Dawn Butler). It was disappointing to hear the constant accusation of cronyism and corruption. I took particular offence at being described as a member of a racism-enabling Government. I have faced prejudice in my life, and I have ended up in hospital, as did my father, because of my sexuality. I took offence at being told that I do not believe in the NHS, as I spent most of my working life working for the hospice movement, and at being told that we do not care about poorer families, as my dad spent a lot of time in unemployment—I had to have free school meals. I take exception to such accusations.
I will stand up to anyone who discriminates against any single person for who or what they are, or for who they love. I will defend the NHS for as long as I am alive. I believe that the best way to help our poorest families is to give them the opportunity to have a job that pays well, because being able to support themselves is their best opportunity for a better life.
PARLY picked up on it:
Later that afternoon, Butler tweeted:
She tweeted again that evening with another video:
In between those tweets, The Independent's Chief Political Commentator, veteran journalist John Rentoul, hardly a conservative, appeared on GB News to say that Butler's actions were 'a cheap political stunt'. Someone replied with a news story about Butler from 2012:
John Rentoul — and Guido — were correct.
On Friday, July 23, Guido reported on the great social media results for the MP:
Dawn Butler's Commons hissy fit yesterday went exactly as planned: her own Twitter clip is currently on 1.4 million views, though she's retweeted various other uploads of the clip which total 6.3 million in about half a day. She even had a speedily filmed and produced Byline TV interview out on the strop stunt…
The monetary fine was negligible:
It turns out Dawn's stunt came very close to backfiring. Thankfully for her she was only suspended for the remainder of the day's sitting – if she'd been thrown out using a similar standing order, and been suspended until the next sitting day, she would have remained a suspended MP going into the Summer recess, thereby being unable to draw a salary for over six weeks. Six weeks of an MP's salary would have come to £9453. Commons sources suggest Dawn's dodging of this unlucky outcome was unlikely to have been deliberate after a careful reading of Parliamentary procedure…
There is much more to write about her, but that will have to wait for another day.
This week's coronavirus debates in both houses of Parliament are proof that only the Left want masks and lockdown to stay.
Below are revealing excerpts from debates in the Commons and the Lords.
Emphases mine.
House of Commons
Health Secretary Sajid Javid appeared twice in the House of Commons this week.
Monday, July 5
He delivered his statement about lifting all restrictions, including those for masks, on Monday, July 5.
Shadow Health Secretary Jonathan Ashworth (Lab) objected:
He will be aware that Israel has reintroduced its mask mandate because of the delta variant, so why is he planning to bin ours? Masks do not restrict freedoms in a pandemic when so much virus is circulating. They ensure that everyone who goes to the shops or who takes public transport can do so safely, because wearing a mask protects others. If nobody is masked, covid risk increases and we are all less safe. He must understand that those in the shielding community are particularly anxious. Why should they feel shut out of public transport and shops because he has abandoned the mask mandate? That is no definition of freedom that I recognise.
Who else suffers when masks are removed? It is those working in shops, those who drive the buses, those who drive taxis and those who work in hospitality—it is the low-paid workers who have also been without access to decent sick pay. Many of them live in overcrowded accommodation. It is those who have been savagely, disproportionately impacted by the virus from day one and now the Secretary of State is asking them to bear the brunt of the increased risk again. Will he explain why he thinks abandoning masks is a sensible proposal to follow?
Dr Philippa Whitford (SNP) also objected:
Why is he planning to end even simple measures such as mask wearing?
As did Caroline Lucas (Green):
Failing to mandate mask-wearing in stuffy crowded places such as public transport, where people are often pressed together for much longer than 15 minutes, risks high costs, and allowing people to choose whether or not to put others at risk is both reckless and unfair. If the freedom to pelt down the motorway at 100 mph is restricted because it poses risks to others, why, with millions still unvaccinated, with some immunosuppressed and with the risk of long covid rising, does the Health Secretary not apply the same logic to mask-wearing?
Patrick Grady (SNP) wants masks to become 'routine' in the notional new normal:
Given that masks help to reduce the spread of not just covid, but all kinds of respiratory diseases, is it not important to avoid mixed messages and encourage everyone to continue that kind of practice and the likes of good hand hygiene as a relatively routine part of a new normal, to stop coughs and sneezes from spreading diseases?
Paul Blomfield (Lab) said:
We all want to unlock the economy, but surely we should maintain barriers to infection where we can. The Secretary of State has said that wearing masks would be a good thing, so will he accept that requiring them on public transport, in essential shops and in similar locations would make sense and would reassure people?
Tuesday, July 6
On Tuesday, July 6, Javid delivered a statement on self-isolation and vulnerable people.
By way of response, Jonathan Ashworth had more to say on masks:
Getting back to normal, which we all want to do, depends on people feeling safe. Does the Secretary of State appreciate that those who are immunocompromised, or for whom the vaccination is less effective, will have their freedoms curtailed by ditching masks on public transport? Blood Cancer UK warned yesterday that people with blood cancer will feel like their freedoms have been taken away when mask wearing lifts. What is his message to those with blood cancer? It is not good enough simply to say that people should travel or go to the shops at less busy times.
Of course, the Secretary of State understands the importance of masks. I have now read his Harvard pandemic paper, to which he likes to refer. He praises the use of masks in this paper, but he also warns:
"Changing course in policy making…is an essential feature of good policy making. Yet, politicians find it hard"—
because of—
"the tendency for decisions to become psychologically and emotionally anchored."
Well, I agree with him, and I hope he still agrees with himself. Let us have a U-turn on mask wearing. Yes, let us have freedom, but not a high-risk free for all. Keep masks for now, fix sick pay and let us unlock in a safe and sustainable way.
Martyn Day (SNP) agreed:
In a poll by New Scientist, a majority of disease experts said that some form of mask-wearing would be required until 2022. Others thought that 2023 or later was the correct time to lift mask requirements—more than agreed with the Government's position of ending the requirements this year. For the sake of clarity and honesty, can the Secretary of State confirm that the UK Government have stopped listening to the science on their covid policy? Tragically, we have 150,000 people dead already, and the Prime Minister has said that we must reconcile ourselves, sadly, to more deaths from covid, so perhaps the Secretary of State can enlighten us as to how many more deaths the UK Government think acceptable.
Tulip Siddiq (Lab) brought up public transport:
The flu season that we have just been through was the mildest on record, thanks in no small part to the fact that we have all been wearing masks to protect against coronavirus. Public Health England has warned that we could see a flu surge in winter, as we have not had much recent exposure to and therefore immunity from other respiratory viruses. What is the Secretary of State doing to prepare for this? Does he agree that we should keep the wearing of masks compulsory on public transport to keep covid cases down and prepare for the flu season?
Matt Western (Lab) wants England to emulate the Far East:
Case rates are currently eight or nine per 100,000 in Korea and Japan, yet those countries—certainly Korea—are still mandating the wearing of masks. In the light of that, what does the Secretary of State think we should be doing, because those places are clearly having success?
House of Lords
The House of Lords held debates on Sajid Javid's vaccine-driven strategy for Freedom Day on July 19.
The Left-leaning among the noble lords were furious.
Tuesday, July 6
Below are excerpts from Tuesday's debate.
The Lords direct their questions to a Government minister, in this case, Lord Bethell (Con).
Baroness Thornton (Lab) had a lot to say about masks. She is old enough to have had both 'jabs', therefore, in theory, she should not be worried:
We have government Ministers saying different things about what they personally intend to do; last night, we had a clear message from the CMO [Chief Medical Officer, Chris Whitty] about the circumstances under which he intends to wear a mask. So I think that we have every right to be concerned that the debate may cause confusion and compromise crucial safety.
Let us look at public transport, for example. I have been using public transport throughout. I started wearing a mask long before it became mandatory. I still do not feel safe on a very crowded Tube, and I still do not want anyone to sit next to me. I test twice a week, and I have self-isolated twice since January when I got pinged. I do not think that I am unusual or nervous, but I feel strongly that I have a duty not to unwittingly spread the virus, and I do not want people to infect me. In a recent travel study, a majority of passengers said that they would lose confidence if the use of face masks were reduced. Many people, especially those who are more vulnerable, may become more anxious about using public transport if face masks become voluntary.
What is the Minister's answer to these legitimate concerns? Does it go with the view that we let the virus rip and take the consequences? Given that we know that bus and taxi drivers experience Covid and death, what does the Minister have to say to them about their safety in these circumstances? Masks do not restrict freedoms in a pandemic when so much virus is circulating; they ensure that everyone who goes to the shops or takes public transport can do so safely. Who suffers most when masks are removed? It is those working in the shops, those driving the buses and taxis, and low-paid workers without access to decent pay, many of whom live in overcrowded housing and have been savagely, disproportionately impacted by this virus from day one.
We know that masks are effective when a virus is airborne. Given that high circulations of virus can see it evolve and possibly escape vaccine, what risk assessment have the Government done on the possibility of a new variant emerging? Will the Minister publish that assessment?
Baroness Brinton (Lib Dem) followed her, also with much to say on masks, putting forward the example in the Far East:
We on these Benches want to start with a return to normal and to lift restrictions. We desperately need to kick-start the economy, to start to socialise again and, as my noble friend Lord Scriven said last month, to live with Covid as it is now endemic and will be with us for some years to come. However, that means providing the safety net needed to ensure that people are as safe as possible. Asian countries that managed their pandemic well learned from SARS. The use of face masks became routine and a matter of personal and wider social responsibility, allowing life to continue in the flu season and in the pandemic. They also maintain strong and effective test, trace and isolate systems all the time. We will be discussing test, trace and isolate in detail following the Statement that is due to come to your Lordships' House on Thursday, but the proposed reductions in test, trace and isolate will remove the UK's ability to manage outbreaks swiftly, during which time others will catch and pass on Covid.
When we drive into our towns and cities, we rely on local authorities to set up traffic systems, including traffic lights, to help to guide us on safe journeys, regulate movement and reduce harm and damage. But it is as if "freedom day" is getting rid of all our traffic lights.
Proportionate responses are needed, and these include face masks. Early last year, even the WHO was equivocal on the use of face masks but, as the world became aware that this is a respiratory disease passed on through droplets, most countries moved to face mask mandates. On 19 July we switch to rules that make it only the responsibility of individuals. Thankfully, most people have taken that responsibility seriously, but not everyone has. That is important because, despite what the Minister said in response to my question yesterday about the clinically extremely vulnerable, there is no direct reference to the CEV in this Statement—unless he meant the passing reference to them being part of the priority group that will get the third jab. They need to know where they stand. There is no new advice, just the burning of the remaining rules that keep them safe.
I'm including part of Lord Bethell's reply, because I have not covered the Lords as much as I have the Commons:
I have four children—who are vectors of infection, to put it politely—and I attend a large number of business meetings, including here in the House, and I regard myself as a high-risk candidate for carrying the disease.
I have never caught it myself and I have been vaccinated but when I sit on a Tube train I wear my mask, not to protect myself but to protect the person next to me. That is my personal assessment and my personal decision. That is the spirit in which we are inviting people to step forward and make their own decisions and to be considerate to each other.
We cannot have laws on all these matters for the rest of time. At some point we have to ask the country to step up and take responsibility and to have personal agency in these decisions. If we do not put that challenge to the country in the summer months, when our hospitals are relatively safe and the virus has the right conditions, when will we be able to make those decisions?
Lord Campbell-Savours (Lab) put forward a case for the vulnerable, a tiny proportion of the English population:
My Lords, is it not obvious that if you reduce mask wearing on public transport and in public places, those who believe they are more exposed to the virus will then reduce their use of public transport and avoid public places? People who are fearful of more liberated environments will avoid them, leading to a slowdown in the return to work that the Government want. Indeed, it is the reverse of what the Government want. Why remove those restrictions that offer the only way of securing public confidence in the new regime that is being proposed?
Lord Bethell replied:
I applaud the noble Lord for his advocacy of mask wearing, but of course this issue cuts both ways. He is right that we need to build back trust in sharing space with one another, but I am not sure that mandatory mask wearing either builds trust or erodes it. If we give people the impression that wearing masks is somehow a panacea that protects everyone on a tube train or in a lift, that is a false impression. Masks are not a panacea. In fact, for some people, they can be a source of grave concern and be enough to send them back home to seek safety. I take the noble Lord's point that we have to be clear about this, but I am not sure that mandatory mask wearing, or even ubiquitous mask wearing, is either a universal antidote to the spread of the disease or necessarily builds trust in the manner he describes.
Baroness Tyler of Enfield (Lib Dem) spoke next:
My Lords, continuing on this theme: "masks work" is the clear message from Public Health England. Both Sir Patrick Vallance and Professor Chris Whitty have said that they will continue to wear a mask in crowded indoor spaces, primarily because it protects others. Critically, it does not hold back the opening up of the economy, but rather provides a safeguard as social distancing rules are relaxed. Can the Minister tell me why there is so little in the Statement about our social responsibility to others, including front-line transport and shop workers, and the clinically extremely vulnerable? In this scrapping of masks, we are condemning millions with poor immune systems to be trapped in their homes, too afraid to go to the shops or their workplace or to use public transport.
Lord Bethell responded, saying that people who are ill should stay at home:
Since this is the second question on masks, I hope the noble Baroness will not mind if I go off on a tangent. Masks do work a bit; they are not a panacea. What is really important is that when you are ill, you stay at home. That is the big behavioural change that will make a big difference in the year to come. That is where Britain has got it wrong in the past. Too often we have put our workmates, fellow travellers and school friends at risk by heroically going into crowded indoor places and coughing all over them. I hope that is one habit that will stop and that that will be a legacy of this awful pandemic.
Baroness Donaghy (Lab) said that not enough people were being penalised for ignoring the mask mandate:
My Lords, one person's choice is another's imposition. Even when mask wearing was mandatory on the tube, some broke the law and there was no policing. So-called choice will cause conflict and confusion. Can the Minister assure me that the Government are not reverting to type and their original herd immunity policy based not on the science but on "let us see how it falls"? Although he does not accept any deaths, as he said, what assessment has been made of the impact of this new policy on death rates and long Covid rates?
Lord Bethell countered, saying that a lot of fines had been issued:
My Lords, I do not have the figures to hand, but I reassure the noble Baroness that the policy on masks was very diligently imposed and a large number of people did get fined. We have to ask ourselves as a society whether we really want to live in a country where simple behavioural habits, such as wearing a mask or not, make you susceptible to arrest or fines. That is a very uncomfortable place for a country to find itself. The noble Baroness is right: that does introduce ambiguity, but we are sophisticated people and can live with a degree of ambiguity. We need to learn how to live not only with this disease but with each other. The dilemma that the noble Baroness points out is one that we will all have to debate, understand and learn to live with. We are not in any way letting this disease get on top of us. We are fighting it through the vaccine, we are supporting the vaccine with test and trace, and we have a tough borders measure. We are taking the battle to the virus and will continue to do so.
Only one Conservative peer spoke out in favour of masks, Lord Bellingham, who said:
My Lords, as a strong supporter of the Government's policy on the coronavirus, I was nevertheless critical of them being very slow to enunciate a clear policy on masks over a year ago—so I have a lot of sympathy with those noble Lords who have expressed concern about the imminent lifting of compulsion regarding masks. Surely one possible compromise might be to keep masks where you have passengers on public transport sitting or standing next to each other?
Lord Bethell replied, saying that it would be up to local councils and transport companies, rather than the Government:
My Lords, I hear my noble friend's words loud and clear. The Government have indicated that we will leave it to those who run the transport systems themselves and to local politicians. There is a good case for a degree of devolvement and subsidiarity in this matter. He is right that masks do perform an important role, but they are not a catch-all, and it is therefore reasonable to leave those who run the transport systems to make decisions for themselves.
Thursday, July 8
On Thursday, July 8, another debate on the Government's new coronavirus strategy took place.
Once again, Baroness Thornton (Lab) had a lot to say. With regard to masks, she mentioned the tiny minority of people living in England with poor health:
Does the Minister appreciate that those who are immunocompromised or for whom the vaccine is less effective will have their freedoms curtailed by ditching masks on public transport? Blood Cancer UK warned yesterday that people with blood cancer will feel that their freedoms have been taken away from them.
Baroness Brinton (Lib Dem) followed her. She was horrified by what she saw on television following the England-Denmark match:
Wonderful as yesterday's England victory was, the sight of 60,000 fans walking down Wembley Way in very close proximity with hardly a mask in sight was concerning. As with the England-Scotland match, we must expect a surge in cases. Yesterday, the BBC asked Dr Mike Ryan of the World Health Organization about the UK proposals to lift all restrictions on 19 July. He replied:
"The logic of more people being infected is better is, I think, logic that has proven its moral emptiness and epidemiological stupidity".
The letter in today's Lancet from 100 senior medics and scientists echoes the WHO view. What are the Government doing to explain to the experts why their strategy is safe? …

Last night, Sebastian Payne of the Financial Times reported the re-election of Sir Graham Brady MP as chairman of the 1922 committee, and tweeted:
"Brady's re-election is … a reminder of why Johnson is dropping masks and nearly all other … restrictions on July 19: ministers privately say the government no longer had the … votes to keep the measures in place. Relying on Labour would have been … difficult for the PM."
Are the Prime Minister and the so-called Covid Recovery Group now putting health and lives at risk for their own principles?
Lord Bethell replied, saying that it was better to reopen England now rather than wait until autumn or winter, when the NHS would be under pressure:
… the noble Baroness, Lady Thornton, half-answered her own question, because she is entirely right: we need to focus on getting the NHS back to speed in order to address the very long waiting lists and to get elective surgery back on track. It is very difficult to find an answer to the question, "If not now, when?" That has been tackled by the CMO and a great number of people. It must surely be right that we take the inevitable risks of restarting the economy and getting people back to their normal lives at the moment of minimum risk from the virus, which has to be in the middle of summer. Assessing those risks precisely is incredibly complex. Impact assessments of the kind that we would normally associate with legislation are the product of months of analysis. They often identify one relatively straightforward and simple policy measure. We are talking here about a machine of a great many moving parts.
I cannot guarantee that any model anywhere could give us accurate projections of the exact impact of what is going to happen this summer. We are, to a certain extent, walking into the unknown: the Prime Minister made that extremely clear in his Statement. As such, we are ready to change and tweak our policy wherever necessary in reaction to events. However, what we know very well now on the basis of our assessment of the data, and because of the pause we put in place to give ourselves breathing time to assess and additional time to roll out the vaccinations, is that that direct correlation between the infection rate and severe disease, hospitalisation and death has massively diminished. There is a relationship, but it is a fraction of what it used to be.
We can therefore look at a period where those who are at extremely low risk of any severe disease may see an increase in the infection rate, because we know that those in the highest-risk groups have been protected by two doses of the vaccine, and two weeks, and because we are working incredibly hard to get as many in the high-risk groups vaccinated as possible—half a million a day—and to roll out the vaccine to younger cohorts. That is the balance. I cannot deal in certainty here, because certainty does not exist. Balance is key, and I believe the balance we have here is the right one.
A Cross-bencher, Baroness Bull, cited the editor-in-chief of The Lancet — another leftist, as we saw last summer — which called the Government's new policy 'libertarian':
My Lords, 120 scientists have written to the Lancet and today come together in an emergency summit to ask the Government to rethink their plans. The editor in chief warned against
"a plan driven more by libertarian ideology than prudent interpretation of the data"
and called for continued mask-wearing, distancing and increased vaccine coverage. A YouGov survey found that two-thirds of people want to continue with masks and an ALVA survey found that three-quarters of people did. So why have the Government decided to end this simple yet effective measure? It costs the economy nothing, but it would be life-changing for the clinically extremely vulnerable, who will be forced back into lockdown by this shift from a public health approach to so-called personal responsibility.
Lord Bethell said that the policy was not at all 'libertarian':
I am always grateful for the challenge of medics in the Lancet and elsewhere. I would like to reassure them that this is not a question of libertarian ideology but a question of assessing the risks faced by the country. We have discussed masks several times in the Chamber. I would like to reassure the noble Baroness that masks simply are not a panacea; were the whole country to wear masks for the rest of their lives, we would still have pandemics because they offer only marginal protection.
One peer voiced his disapproval:
Nonsense!
Lord Bethell replied:
I am afraid we cannot have in place laws on the intimate practicalities of people's lives for the long term. We do not have a law on sneezing. I would not think of sneezing in the presence of noble Lords, but I do not accept that I should be given a fine for doing so.
I'll leave it at that.
Conclusion
It is abundantly clear, with only one Conservative peer speaking in favour of masks and many Left-leaning MPs and peers supporting continued muzzling, that they do not trust the general public — the great unwashed who pay their salaries.
We, the great unwashed, however, do have the brains, the intellect and the discernment to think for ourselves and do the right thing.
If that is libertarianism, count me in.
The English, Welsh and Scottish election results from Thursday, May 6, were mostly complete on Saturday, May 8.
Brief analyses of results
Various pundits gave analyses of the results.
However, before going into those, this is the change in voting among NHS and other health workers from Labour to Conservative. I've never seen anything like it:
Guido Fawkes says that Labour no longer represents the working class:
Andrew Neil of The Spectator summarised a Wall Street Journal article about the elections:
Andrew Neil himself says this is a 'watershed' moment:
Mark Wallace of Conservative Home says that, locally, even Labour councillors acknowledge that voters are bullish on Boris:
Dan Hodges interviewed several people in various towns in the North East. Most were bullish on Boris and the Conservatives. In Middlesbrough (emphases mine):
It's here that one of the nation's largest vaccination centres has been established, and the local residents filing out into car park E after receiving their jabs have a different perspective to the Prime Minister's critics.
'Boris is doing what he could,' Louisa tells me. 'It's a very difficult situation. He's been fantastic.' 
Victoria Newell agrees: 'I think he's done a fantastic job. The whole vaccination programme has been really well managed.'
Some Labour strategists have been pointing to the vaccination success as the primary reason for Tory buoyancy in the polls. 
One Shadow Minister told me: 'People are getting their jabs, the sun's out and the pubs are open again. They're going to do well.'
Dan Hodges visited Redcar, which used to have a huge steelworks, long gone. He then went to other parts of the Tees Valley:
The Redcar works may be gone but, as you head towards Stockton, the giant cooling towers of the Billingham manufacturing works punch up through the skyline, while the drive out of Darlington brings you face to face with the monolithic new Amazon warehouse that employs more than 1,000 staff. 
And this is what Boris – and [Tees Valley mayor Andy] Houchen – are betting their political lives on. That they can turn around decades of 'managed decline' under Labour and get the nation's economic engine room motoring again.
Back in Hartlepool, the voters have started delivering their verdict. And again, another fashionable Westminster 'narrative' is running head-first into the British people.
You can't currently buy a pint inside The Rossmere Pub on Balmoral Road, but you can cast a ballot.
And builder Geoff Rollinson is planning to deliver his for Boris. 'He's been amazing. I love him,' he tells me. 'What have Labour done for this town in over 50 years? Boris has pumped billions into furlough, he's given people here a wage. Labour would never have done that.'
Outside Mill House Leisure Centre, Mark Robinson delivers the same message. 'I voted Conservative,' the charity worker tells me. 'Boris is trying to get the job done.'
What about the furore over sleaze and bodies? 'I wouldn't want to be in his shoes with Covid and all the stuff he's had to deal with. I think he's doing his best.'
English council wrap-up
Most of the English county council results were tabulated by Saturday night. There were big gains for the Conservatives:
The biggest news was the loss of a Labour majority of Durham County Council — the first in over a century:
English mayoral elections
I'm of two minds about regional mayors, a relatively recent development using up more taxpayer money.
Former Labour MP Andy Burnham won a comfortable re-election in Manchester.
In the Tees Valley, Conservative Ben Houchen also won a decisive re-election:
Houchen told The Spectator in March that he was eager to rebuild the steel industry in the region but is finding a certain UK Government department difficult:
'I've said to Boris himself, I've said to No. 10 and Rishi and the five new colleagues that I've got in Westminster: there's nowhere left to hide now,' he explains. 'It's a strong Tory government. Loads of Tory MPs in the region, a regional Tory mayor (at least for a couple of months), so there's no one left to blame any more. We either really deliver something different in the next four years, or people will go back to voting for other parties.'
… His re-election campaign is based on a new project: to 'bring steelmaking back to Teesside' with electric arc furnace technology. It's seen in America and elsewhere as the future of the steel industry, he says — but not in Westminster, where he regards the Theresa May-created department of Business, Energy and Industrial Strategy (BEIS) as part of the problem, since it clings to the declinist view of the steel industry.
'The biggest problem with the steel industry in the UK is Whitehall,' he says. 'The UK steel policy and the BEIS team are absolutely useless.' Successive governments, he says, have failed British steelmaking for 40 years. 'It has become a sticking plaster. Oh, British Steel's fallen over, how do we rescue it? Oh, now south Wales is in trouble, how do we rescue it?' There's too much worrying about failure, he says, and not enough planning for success. 'It's never: what do we want the steel industry to look like? What can we do as a developed nation when we're having to compete with places like China?'
… He admits that his various schemes have 'raised eyebrows' but puts it in part down to Teesside Tories being a slightly different breed. 'This isn't a one-size fits all,' he says. 'I would say Conservatives in this region are much more practical. I don't remember having a discussion with any Tory in Teesside about free market economics and right-wing politics. It's very much pragmatic.'
In the West Midlands, his Conservative counterpart Andy Street also won a second term, defeating former Labour MP Liam Byrne by 54% to 46%:
In London, Labour's Sadiq Khan was re-elected for a second term, but by a narrower margin than expected. His first preference votes were down by 130,000 from 2016:
Given the fact that the Conservative candidate Shaun Bailey got so little media coverage — and, oddly, no support from his own party — he did remarkably well, winning boroughs in the South West of the capital along with Labour-dominated Brent & Harrow as well as Ealing & Hillingdon (see map) in the North West. (In 2016, Khan won Brent & Harrow comfortably.) Bailey also won Croydon and Sutton to the South:
Bailey arrived at City Hall for the final count on Saturday evening:
Labour still dominate the London Assembly. Bailey will retain his seat there:
London is beginning to vote Conservative again because of the high crime rates under Sadiq Khan's leadership. On the day the results were announced, there was a stabbing at Selfridges in Oxford Street. Unthinkable:
In Cambridgeshire and Peterborough, Labour defeated the Conservatives:
Labour held on to Bristol, with Greens in second place:
Labour MP Tracy Brabin has been elected as the first mayor of West Yorkshire. I hope that she will have to resign her Parliamentary seat as a result.
Scotland
Scotland's SNP are just one seat of an overall majority.
Nicola Sturgeon has been re-elected to Holyrood and remains First Minister.
Independence referendum redux
Naturally, the Sunday news shows raised the matter of a second independence referendum with UK Cabinet minister Michael Gove, who has the rather grand political title of Chancellor of the Duchy of Lancaster. He plainly told Sophy Ridge of Sky News:
Gove, himself a Scot and being interviewed in Glasgow, rightly pointed out that, when the first independence referendum was held — the one that was supposed to be 'once in a generation' — the SNP had an overall majority in Holyrood under Alex Salmond:
Over to the east coast of Scotland, in Edinburgh, Nicola Sturgeon, having campaigned this year on no second independence referendum because of coronavirus, is now game for one:
One of Guido Fawkes's readers, someone with a Scottish surname, laid out his plan for the next independence referendum. This is excellent, especially the bit about stopping the Barnett formula three years before the referendum. Enough English financing of Scotland, especially as it was supposed to be a temporary measure — in 1979:
I would allow a referendum. On the date of my choosing. Voters must be over 18 and resident in Scotland for the previous 5 years. Why on earth Boris allowed Wales and Scotland to extend their franchises beats me, children vote, students vote TWICE. My referendum will be in 3 years time and to help voters decide I'm stopping the Barnett formula at midnight tonight and any English infrastructure spending in Scotland so they get a clear idea of their economic muscle. Scotland will leave the union with all the SNO's own debts and 10% of the UK National debt. Scottish 'ministers' and council leaders will not be allowed to travel overseas or Zoom with foreign politicians without permission of my Secretary of State. English, Welsh and N Irish students will no longer qualify for grants or loans to attend Scottish universities and Scottish students will pay foreign student fees to study outside Scotland. The NHS in England and Wales will be closed to Scottish residents. Etc. Etc. Three years. Then Orkney and Shetland will be offered the chance to be UK dependant territories with tax haven and Freeport status. Etc. Etc.
Even the BBC's Andrew Marr, himself a Scot, knows that England helps to finance Scotland. Sturgeon refused to admit it on Sunday morning:
Apparently, now that the election is over, the SNP plan to put their case for independence forward in foreign capitals. I hope they will not be using Barnett consequentials to finance their flights:
Scottish blogger Effie Deans wonders how well other countries will receive Scotland's plan for secession. It did not work well for Catalonia:
The UK Government has a plan to counteract the SNP's independence goal — give money directly from London (Westminster) to Scottish councils, bypassing Holyrood:
There have been complaints of coronavirus funds going from Westminster to Scotland and not being allocated locally to ease the damage done by the pandemic. Furthermore, nearly £600,000 seems to be unaccounted for in SNP funds, as can be seen in the Private Eye article below:
Results
Now on to the results. The SNP needed 65 seats for a majority:
One of the regional BBC shows in Wales or Northern Ireland said on Sunday that this was the SNP's 'best ever result', but it is not:
The fly in the ointment was Aberdeen West (see Balmoral below), which the Scottish Conservatives managed to hold on to with an increased majority from 900 to 3,000, probably thanks to George Galloway's new All for Unity Party:
They were pleased with their wins, which also included re-election in constituencies along the border with England:
And what happened to Alex Salmond's brand new Alba Party? There was no predicted 'supermajority'. Alba won no seats:
Interestingly, a poll in the SNP's favoured newspaper, The National, polled readers on May 4. Alba was mentioned favourably more than once in the polling. Forty-nine per cent of those polled were planning on voting for Alba on their list (peach coloured) ballot. Alex Salmond was also the most impressive independence campaigner next to Nicola Sturgeon (43% to 46%).
Wales
Last, but not least, is Wales, which everyone knew would largely vote Labour, as is their wont.
Prif Weinidog (First Minister) Mark Drakeford won re-election.
Like the Scots, they are 1 seat short of a majority.
This is their Senedd (Senate) result:
That said, Labour's vote share is up, and so is the Conservatives', as predicted on Election Day:
Guido Fawkes has a summary.
It is unlikely Wales will push for independence any time soon.
Houses of Parliament
On Tuesday, the formal reopening of the Houses of Parliament will take place.
Her Majesty the Queen will give her speech which outlines the Government's agenda in the House of Commons for the coming months.
More on that this week.
Continuing on Scotland's upcoming election, I have been astonished by some of the articles and social media messages appearing north of the border.
Scottish women — and sensible Scotsmen — are increasingly concerned by the encroaching activism of a small minority of Scots with regard to certain aspects of gender recognition, including self-identification.
The SNP do not seem to care, and no one knows how the new Hate Crime legislation will work against anyone who is worried about a man wandering into a ladies' room or a women's changing room.
In a guest post for Wings Over Scotland on March 31, 2021, Margaret Lynch a long-time activist, first for Labour, then for the SNP and now for the Alba Party, wrote about the topic in 'Why women want Alba' (emphases mine):
The inability of the SNP leadership to accept the simple distinction between sex and gender has led them into very troubled waters and has done real harm. It has led to vulnerable women in prisons being subjected to sexual assault by men who "identify" as women, to a local authority adopting a "gender neutral" approach to domestic violence which saw funding removed from Women's Aid groups because they refused to admit men to refuges or work with perpetrators.
Lastly and perhaps most ludicrously it's seen a situation arise where crossdressers – but not real women – are protected by a Hate Crimes Bill which omits misogyny from the list of prejudices it seeks to prohibit.
The response of the SNP leadership to those women who did try and constructively engage within the SNP around these issues was genuinely shocking. They stood by and watched prominent female SNP elected representatives be hounded and abused, and said nothing. They colluded in attempts to prevent the selection of gender critical candidates using all manner of chicanery.
Alex Salmond of the new Alba Party has spent the past few years defending his reputation against SNP smears, so there is a certain irony that a man falsely accused of preying on women now appears to be their defender in Scotland, at least where pro-independence parties are concerned:
The irony of Alex Salmond presenting a solution to our problems has not escaped me. Some feminists think this is a bridge too far. But what I know is that Alex Salmond's political survival now depends on him demonstrating at all times and to all people that he can be trusted in women's company and to defend women's rights.
Nicola [Sturgeon], who I have long admired and liked, has demonstrated over and over again that she CANNOT be trusted to defend women's rights – and in fact would throw them under a bus in a heartbeat to gain the support of the fanatical youth wing of the party, and the Greens who appear to care less about the environment than they do about bedding down Queer Theory in Scotland's political institutions.
What drew me to join Alba was the tactical opportunity it presented:
– to ensure that there's a party which will protect women's rights in Scotland, and provide a safe harbour for those of us who want independence to cast our votes in the coming election without betraying our sex.
– to act as a countermeasure to the malign forces which have propelled the SNP leadership towards an agenda which is dismantling women's rights, to speak out on the matters which affect us, and to retain safe spaces and representation.
That same day, Wings Over Scotland featured another guest post by a former SNP member, Morag Kerr, who explains why she has cancelled her party membership. Her article is called 'To the National Secretary'. Excerpts follow:
During the first 25 years of my membership I made many friends and had many wonderful experiences. I never imagined for a moment that I would leave the party before independence day.
However the past four years have been an entirely different experience and that time has now come. I cannot remain a member of the SNP for the following reasons.
1. Lack of any progress towards independence since 2015, including the lack of preparation of the infrastructure that will be needed by an independent country.
2. Failure to capitalise on the very real opportunities which arose between 2016 and 2019 in the run-up to Brexit.
3. The explicit ruling-out of viable routes to independence, and the imposition of conditions which would stand in the way of viable routes to independence.
4. The insulting dangling of "vote SNP for a new indyref" when an election was at hand, followed by the inevitable kick into the long grass soon afterwards.
5. The lack of rebuttal of unionist attacks and talking-points, combined with currying favour with the unionist mainstream media while attacking and indeed monstering pro-independence online media. The donation of a substantial sum of public money to prop up the Unionist print press was absolutely inexplicable.
6. The fitting-up of Alex Salmond on false allegations of sexual assault intended to prevent his returning to politics to do something about points 1 to 5 …
9. The appalling Hate Crime Bill which will criminalise simple disagreement if someone simply chooses to take offence at it, and the exclusion of women as a protected category while including men in drag on their way to a stag night.
(I can't believe I'm even writing that, and [Justice Secretary] Humza Yusuf's sneering jibe that a woman would be protected in the event she were mistaken for a transwoman was simply the last straw.) …
13. The rewriting of the rules with the obvious express purpose of preventing Joanna Cherry from being considered as a candidate in the Holyrood election …
20. Promotion of highly unsuitable sex education material to young children.
On April 6, an Edinburgh blogger, Calton Jock — hardly a political conservative — wrote about the close alliance between certain gender/lifestyle identity organisations and the Scottish government:
LGBT Youth Scotland was formerly called the Stonewall Youth Project and is mainly funded by the state (in other words us), with over 75% its annual income coming from the Scottish Government, local councils and the National Health Service. (Scottish schools to get updated guidance on supporting transgender pupils).
Bear in mind that the co-founder of Stonewall, Simon Fanshawe, broke away from the organisation and condemned its "extreme" position on transgender rights. Yet we have the Scottish Government determined to change the Gender Reform Act (GRA) and to continue to permit children to be given permanently damaging puberty blockers, despite a ruling in the English courts that this has to stop. (Letters to the Times) …
The Scottish Government and opposition parties have agreed to continue talks about freedom of expression elements of the hate crime bill.
It follows concern about the impact of some of the amendments proposed to the legislation on the transgender community.
The Justice Committee considered stage two amendments to the Hate Crime and Public Order (Scotland) Bill'.
Justice Secretary Humza Yousaf had originally proposed an amendment seeking to protect "discussion or criticism of matters relating to transgender identity", provided the behaviour was not threatening or abusive …
People are questioning the influence of "Stonewall" on Scotland's civil service after it emerged that controversial policies have been introduced in alignment with Stonewall's political aims. These include a compulsory "Diversity Objective" for all staff to make the Scottish Government "a more diverse and inclusive place to work", training on "intersectionality" and "unconscious bias", and the use of gender-neutral language. The Civil Service is also included on Stonewall's "Diversity Champions Index" …
The Deputy Director for Public Affairs at The Christian Institute said:
"The extent of Stonewall's influence on the Civil Service is alarming, particularly given the controversial nature of some of its political aims. Stonewall's stance on trans issues is strongly opposed by women's organisations, medics and faith groups. Yet, the Civil Service appears to endorse it wholesale. How does this fit with the Service's duty to remain politically impartial? Staff are encouraged to attend training sessions on "intersectionality" and "unconscious bias". These controversial ideas are disputed in wider society. So it's concerning that they are written into the training schedule for Civil Service employees. The compulsory "Diversity Objective" also raises questions. What happens to staff members who hold religious beliefs which differ from those championed by Stonewall? Are they marked down? This could constitute direct discrimination on the grounds of religious belief."
Gender identity activism also affects the Liberal Democrats as Calton Jock explained in an April 6 post, 'The Threat to Women is a Real and Present Danger'. He discovered that this goes back to 2019 when then-party leader Jo Swinson put gender identity into the party manifesto before the general election that December. To think that most of us saw her — and her party's candidates — as being anti-Brexit. No, there was much more.
Calton Jock has an image of one of Swinson's tweets before the election. It reads, in part:
Introduce an 'X' gender option on passports and extend equality law to cover gender identity and expression …
Thank goodness she lost her seat as an MP. So did many other Lib Dems. There are only 11 of them now in the House of Commons.
Calton Jock explains why the Lib Dems have these policies:
Assisting their efforts with donations exceeding £1.3million, is Ferring Pharmaceuticals a company that markets drugs used in gender-identity clinics to delay puberty.
The party has already upset feminists, who worry that the "extreme trans-ideological" policies in its manifesto will put vulnerable women at risk.
The company is owned by the Swedish billionaire Frederik Paulsen and markets the drug, which is used to block puberty among adolescents.
The Lib Dem manifesto pledges "complete reform of the Gender Recognition Act to remove the requirement for medical reports, scrapping fees and recognition of non-binary gender identities" …
A Drugs company owned by a Swedish billionaire philanthopist and explorer, who is an honorary Russian consul and lives in Switzerland, has given nearly £500k to the Liberal Democrats.
Frederik Paulsen, who lives in Lausanne, is worth an estimated £3bn and owns Ferring Pharmaceuticals. The company is ultimately controlled from Curacao, a Caribbean tax haven.
Electoral Commission records show that the British arm of the company, based in West Drayton, west London, gave four donations to the Liberal Democrats between December 2013 and June 2014. Three of them exceeded £100,000.
The British arm of Ferring Pharmaceuticals was set up in 1975. Ferring said the company had made the donations because it supported Liberal Democrats policy on Europe. (Sunday Times)
Comment: And the Lib/Dems had the hard neck to criticise Alex Salmond for broadcasting his show on RT!!!
Paulsen was personally awarded an "Order of Friendship" medal by Putin himself. The Vlad acolyte who has poured huge amounts of cash into Russia, was given the gong by the Russian Foreign ministry, and is an honorary Russian citizen …
On April 9, an Alba Party member, Denise Findlay, wrote about the lack of political will in standing up for protecting women: 'Life begins on the other side of despair', a guest post on Yours For Scotland.
An excerpt follows:
It has been a hard few years for the women who support Scottish independence. The women have endured vicious bullying, name calling, doxing and rape threats simply for trying to stand up for their rights. All from those who are meant to on the same side in the independence debate. Women have now struggled for years against their own party and movement. Many honourable men have joined the debate giving women their support but still truckloads of abuse are heaped on the women's heads every day.
Women's concerns have not been heard. All parties in the Scottish Parliament are signed up in varying degrees to gender ideology.
The Greens and LibDems are irretrievably anti-women in hock to an ideology which is dangerous to the health and well being of women and girls. Andy Wightman resigned from the Greens due to their intolerance of any discussion of women's rights claiming party leader Patrick Harvie is captured by Queer Theory.
Labour is unfortunately losing three MSPs who actually backed women; Johann Lamont, Jenny Marra and Elaine Smith and Anas Sarwar the new Labour leader is unwilling to take on the gender ideologues within his own party.
The Conservatives although they voted against the Hate Crimes Bill that was because of its general infringement of the right to freedom of expression and it is a sad day when it is the Conservatives who are our only slim hope.
The SNP leadership is fully signed up to the gender ideology and have a number of policies that are dangerous to women.
Just before recess the Scottish Parliament passed the Hate Crimes Bill (HCB). This bill does not give protection to women who as a sex have been ignored by this bill. A man dressed as a woman has more protection against hate than a woman. But it does pose significant danger and risk to women.
The bill introduces a new offence of 'stirring up hatred' which requires that behaviour must be judged "abusive or threatening" by a "reasonable" person.
Define 'Reasonable' when using the word 'female' can be judged transphobic. When our own justice secretary can't say if there are two sexes and a judge in England ruled that belief in two sexes was 'not worthy of respect in a democratic society'. When many women's accounts have been suspended or banned from social media for stating biological fact.
During the passage of the bill amendments that would have given women a small measure of protection, were withdrawn due to an outcry by the trans lobby.
There is little doubt that women arguing on the basis of sex will be reported to the police, this coupled with doubts over the independence of the crown office will have a chilling effect of women's freedom of expression.
One would have thought that, with all the equality legislation in the UK, including Scotland, these issues should not have arisen. But, no. Things have become worse:
In the new parliament the SNP intends to reform the Gender Recognition Act (GRA) which would allow a man to legally change his sex to female purely on his own say-so. The GRA was introduced prior to same sex marriage, it was to allow people who suffer from gender dysphoria – which at that time was a mental illness – and have changed their bodies to legally become the opposite sex in order to marry.
At the time it was understood that it impacted women's rights because women's sex-based rights are necessarily exclusive as they exclude males. But the European Court of Human Rights decided that the numbers were so small women could just accommodate them.
Over time same sex marriage was made legal which negated the original need for a GRA. A further ruling of the European Court of Human Rights meant that people would not have to change their bodies to obtain a GRA and the World Health Organisation (WHO) determined that gender dysphoria was not a mental illness.
This greatly increased the number of men who could claim to be women and the trans umbrella is now large, it includes men with gender dysphoria who have changed their bodies but also cross-dressers, men who have a sexual fetish about being a woman or being accepted as a woman, exhibitionists and men who believe they have a lady brain. As well as the increase in the number of men now considered trans and who feel they are entitled to access women only spaces and services there is also an issue of abuse of the system.
With self-id there is no gate-keeping so this opens it up to the risk of predatory men taking advantage. Male sexual offenders are identifying as women and being housed in women's prisons, this is already happening in Scottish prisons.
The ramifications of self-id for women's sex-based rights are considerable, already mixed sex toilets in schools are causing teenage girls to miss school in particular when they have their period, there are mixed sex changing rooms, mixed sex hospital wards, women's refuges and rape crisis centres. All places where women are vulnerable and predatory men or men indulging their sexual fetishes can take advantage.
Denise Findlay concludes:
The very real prospect of the complete loss of women's rights in Scotland and the risk of a criminal prosecution if we complain.
Then into this hopeless situation strode hope.
Hope in the form of the Alba Party who just might save the rights of Scottish women and girls, while gaining us our independence.
This weekend it is the Alba Party Women's Conference. Women will have a voice. All is not yet lost. We still have Hope.
The Alba Party Women's Conference was held online. It was well attended and watched by hundreds of women in Scotland.
One of the more disturbing revelations from the Women's Conference was news from a guest speaker that gender activists in Scotland want the age of consent lowered to the age of 10.
The Rev. Stuart Campbell of Wings Over Scotland has more on this development in 'The Paedophile Charter':
ILGA World –  the International Lesbian, Gay, Bisexual, Trans and Intersex Association – is an organisation that we hadn't heard of until today. Just over a year ago they released, as part of a 200-member caucus of other groups, something called "The Feminist Declaration". It's a mostly-innocuous document of demands about women's rights, but buried in the middle of it is a very disturbing section.
The section, a screenshot of which is in his post, encourages a de-stigmatisation of adolescent sexuality.
Campbell continues (emphases his):
The World Health Organisation defines "adolescents" as people aged from 10 to 19.
So the only possible interpretation of "end the criminalization of adolescents' sexuality" is a reduction in the age of consent to 10 years old. Indeed, a slightly earlier paragraph of the Declaration is more explicit about it:
"Eliminate all laws and policies that punish or criminalize same-sex intimacy, gender affirmation, abortion, HIV transmission non-disclosure and exposure, or that limit the exercise of bodily autonomy, including laws limiting legal capacity of adolescents, people with disabilities or other groups to provide consent to sex"
While it doesn't go into more detail, one would like to imagine that the intent would be to remove laws limiting capacity for consent only within that age group, ie to make it legal for all adolescents to have sex with each other, rather than to let older people have sex with them. But it doesn't actually say that anywhere.
Even if it did, alert readers will note that that would still make it legal for 19-year-olds to have sex with 10-year-olds, and to put it very mildly that seems a somewhat controversial position.
So who are the organisations signing up to this "feminist" demand under the ILGA umbrella? On its list of member organisations, sure enough, appear the names of LGBT Youth Scotland and Stonewall Scotland.
Just 12 years ago LGBT Youth Scotland was at the centre of Scotland's biggest ever paedophile scandal, with its chief executive James Rennie sentenced to life imprisonment for a string of offences …
It appears that it's entirely true – the SNP are indeed paying lobby groups with your money to try to reduce the age of consent in Scotland to 10.
We wish we could be confident that the danger of that actually happening was only theoretical.
Stonewall Scotland disputed the Wings Over Scotland claims, but Rev. Stuart Campbell stood by his post and responded in 'If it hit you in the eye':
So the only possible thing about adolescent sexuality that could currently be decriminalized in Scotland, England or Wales is the requirement for both of the participants to be at least 16, or at a minimum over 12. Or put more simply, the reduction of the age of consent.
(It offers no alternative definition of the word to the widely-agreed ones already in existence saying it starts at 10.)
And as Stonewall Scotland are (through ILGA) signatories to that declaration, then there is simply no interpretation possible other than that they're calling for a reduction in the age of consent. If they didn't MEAN to do that, they need to withdraw their membership of ILGA, or get ILGA to withdraw its signature from the Declaration, or immediately have the document rewritten to remove that sentence. Because that is unambiguously and unequivocally what it demands.
But notably, they haven't done that. They've just angrily asserted that it doesn't say what it says. That isn't a denial of the material facts, it's a denial of language and a denial of the entire concept of reality.
He returned to the subject in 'What you find under rocks'. He concluded as follows, issuing an important disclaimer (purple highlight mine):
Paedophiles have a long and well-documented history of trying to infiltrate and hijack LGBT groups, and Scotland is no exception. Indeed, it has very disturbing recent history. Observing that fact does not amount to an accusation and it absolutely certainly does NOT imply any intrinsic link between homosexuality and paedophilia. Wings is not aware of any statistical predilection of homosexual people towards paedophilia compared to heterosexual people.
But anyone who reacts with outrage and evasion and deflection to a basic minimum of scrutiny and vigilance about the safeguarding of 10-year-olds (and especially if, as with ILGA and LGBT Youth Scotland, they've had previous and very severe problems with paedophile infiltration) is probably someone over whom there should be rather MORE scrutiny and vigilance, not less.
The prospect of a lower age of consent was also a topic among some Unionists. George Galloway of Scotland's fledgling All For Unity party is a married father of six. On April 11, he tweeted about the possibility of home schooling:
An article from 2020 in Scottish Review discusses Scotland's education curriculum in this regard. Bruce Scott's article, 'The crisis of consent in Scottish schools' is detailed and well worth reading. He made Freedom of Information requests of the Scottish government, which he said were not answered satisfactorily. With regard to faith groups and home schooling he says (emphases mine):
I also enquired what faith groups had been consulted as part of their working group/implementation group (e.g., Muslim, Jewish, Christian, Hindu, etc). So far, it seems that the wide variety of faith groups in Scotland have not been consulted on the Scottish Government's LGBT Inclusive Education proposals.
One thing I have gleamed from my inquiries is that contrary to some reports, the LGBT Inclusive Education in Scotland is not mandatory; parents are within their rights to withdraw their children if they wish. Further, all schools have to implement the LGBT Inclusive Education curriculum in consultation with parents of children at the school and tailor it to their needs. This is not common knowledge. But, and it is a big but, as the LGBT focus is going to be disseminated throughout all aspects of the curriculum, the only option for parents who object to this curriculum would be withdraw their child from the school completely; a fait accompli on the part of the Scottish Government. I predict they will come for those who decide to home school next.
A supporter of gay and lesbian rights also spoke out against a lower age of consent:
She is not wrong. This Twitter thread — which contains photos not to be shared with children or the vulnerable — explains how Scotland arrived where it is today. The gender issue started in 1974 in Edinburgh. Less than 20 years later, ILGA was an international NGO recognised by the United Nations and remains so today. Graham Linehan, creator of several hit sitcoms in the UK, wrote an article based on the Twitter thread: 'If you say so'. Linehan is also deeply concerned about protecting women's and children's rights.
In closing, The Scotsman reported that the speaker at the Alba Party Women's Conference came under fire for discussing the possibility of a lower age of consent (emphases mine):
Responding to a request for comment, an Alba spokesperson said the women's conference was a "great success" and defended Ms Lynch's statement.
They said: "The organisations referenced have both signed up to this demand, and both have received substantial amounts of Government funding. These are reputable organisations that make a positive impact on the lives of many in Scotland.
"If the organisations do not support what they have signed up to it is for them to say or provide clarification, it is not for women that attended our women's conference to defend concerns that women have raised based on fact."
The Alba Party manifesto makes a clear commitment to protecting women's rights (item 8):
One wonders if this situation will have an impact on Scottish voters next Thursday, May 6.
When former SNP leader and long-serving Westminster MP Alex Salmond launched the ALBA Party, founded by journalist Laurie Flynn, on Friday, March 26, 2021, I watched the video with interest:
Unfortunately, they had several technical difficulties during the first 30 minutes and I stopped watching.
SNP MP Pete 'Runrig' Wishart was annoyed that Salmond pronounced 'Alba' with two syllables rather than three:
Two days later, there was also a data leak of 'thousands of names' of Scots who signed up to the party. Around 4,000 names were visible on their website. Allegedly, the list included prominent SNP names.
Salmond and Alba supporters see the party as a way of creating a supermajority for independence. Their website says:
Almost one of two pro-independence votes go to waste because of the Additional Member System (AMS) used in Scottish elections.
The #Supermajority strategy creates the opportunity to secure over one million additional votes for independence.
Their Supermajority page has more about the overall voting strategy — each voter receives a constituency and a list ballot — beginning with this (emphases mine below):
The more success a party has on the constituency vote, the less well it does on the regional list vote. That's why in 2016 #BothVotesSNP led to 1 million wasted pro-independence list votes.
Voting Alba Party on May 6th will make sure no pro-independence vote goes to waste by securing a #Supermajority for independence.
Let's tip the balance in Scotland's favour.
By Sunday, March 28, two SNP MPs serving in Westminster, Kenny MacAskill and Neale Hanvey, defected to Alba.
Kenny MacAskill wrote a letter to his constituents explaining why he was leading the Lothian list. It says, in part:
My office will continue operating for constituents and I will continue serving as MP. Along with other colleagues in Alba I will work with the SNP Group in Westminster in opposing the harm that's being done to our land by the UK Government.
Neale Hanvey will stand as a candidate in the Mid Scotland and Fife region.
This all looked quite threatening to First Minister Nicola Sturgeon. She was Deputy First Minister for Scotland when Alex Salmond was First Minister:
That day, the BBC reported:
Alba now has more MPs than Scottish Labour who only have Edinburgh South MP Ian Murray.
Also:
With Neale Hanvey and former SNP councillors Lynne Anderson and Caroline McAllister joining today, Alba also appears to be a home for those who fear that gender self-identification for trans people poses a threat to women's rights.
I will come back to gender recognition issues in another post. It is a big deal in Scotland, especially with the nation's new Hate Crime legislation.
Regarding Scottish MPs running for Holyrood seats in the May 6 local elections, some voters think that should trigger a by-election. After all, the SNP's Neil Gray resigned his seat in Westminster before running for a seat in Holyrood. Others, however, point out that not resigning as MPs is an insurance policy should they lose next week:
With regard to independence, a number of SNP supporters do not think Nicola Sturgeon has done enough during her time in Holyrood. As such, they find the Alba Party a welcome development, as this journalist for the Herald Scotland says:
The Greens appeared to be threatened. A new face, that of Lorna Slater — a Canadian — popped up on television when viewers expected to see the Scottish Green leader Patrick Harvie:
Lorna Slater has appeared on more television programmes since then.
The euphoria surrounding the Alba Party vanished quickly. On Monday, March 29, a BBC Scotland spokesperson said that Alex Salmond would not feature in an upcoming election debate of party leaders:
On Tuesday, the Herald Scotland criticised the calibre of one Alba candidate:
The Herald reported that the candidate, a former boxer, also voiced his opinions about some of the homeless in Edinburgh and came out against coronavirus vaccines.
The paper also reported that Neale Hanvey said that a 'supermajority for independence' would not reflect voters' wishes:
Neale Hanvey, who defected from the SNP, said such an outcome would be "representative of the electoral system that exists in Scotland", rather than its people.
He told BBC Radio Scotland that was down to Westminster devising Holyrood's elections.
He said: "I didn't design the system. If anyone… needs to answer to the electoral system that's been put in place in Scotland it's certainly not me."
In an interview with the Daily Record today, Nicola Sturgeon was scathing about the supermajority plan.
She said: "At the end of the day, we've got to win independence fair and square. We can't game, or cheat, our way to that."
Mr Hanvey also said SNP MPs had "very little influence" on policy at Westminster, and that they would be "more than welcome" to defect to Alba.
On the other hand, the Rev. Stu Campbell of Wings Over Scotland painted a fuller picture of Alba candidates in 'Rallying to the Banner'. He listed all of them and wrote about the party's diversity:
The new party's new members/candidates are impressively diverse, despite the lack of any crude and/or illegal gerrymandered selection tactics to impose that diversity. They feature a range of ages from 20s to 60s, from all class backgrounds, six of the 12 are women, Eva Comrie is disabled (and we mean actually disabled, with an artificial leg, rather than just bad at spelling) and Irshad Ahmed of Scots Asians For Independence is the first high-profile BAME defector from the SNP to Alba.
They've joined for a variety of reasons, from delivering a supermajority (Hanvey) to the SNP's dire weakness on women's rights (Anderson, McAllister, Comrie), to its lack of serious commitment to a second indyref (Bews and Wilson), and the parlous, corrupt state of the SNP's internal democracy (Ahmed, who told Wings last night that party HQ had bizarrely refused to let him see the results of the recent list elections until the COVID-19 crisis was over).
The increasingly panicky attempts of Unionists, bitter media columnists and woke SNP activists to paint Alba as some sort of last redoubt for old white men look more and more ridiculous with every passing day. We look forward to continuing developments.
One of Alba's candidates is Scotland's longest serving SNP councillor:
By the end of March, Alba was polling at 3% for list votes:
Another poll showed promise for Alba:
However, on April 8, Guido Fawkes, citing a third poll, by Opinium, said that optimism about Alba was misplaced (emphases in the original):
Guido suspects the disastrous polling numbers for the Alba Party are most likely to bring a smile to Nicola Sturgeon's face. According to Opinium, Salmond's new pet project is unlikely to gain a single seat in Holyrood next month, polling at just 2% in the regional vote. It looks like the declining support for Labour and the Tories has fallen in Sturgeon's favour – not Salmond's…
It's clear Scottish voters just don't trust Alex Salmond. A poll by Savanta Comres yesterday showed the former First Minister's net favourability rating stuck in the gutter at -51% (lower than Boris Johnson's), and today's data bears that out. Over 63% of Scots take an unfavourable view of a coalition between Alba and the SNP…
Alba supporters were undeterred. Alex Salmond gave an interview the day before that attracted much favourable comment:
Meanwhile, Alba launched a two-week crowdfunder which they completed successfully on April 16:
On 16th April 2021 we successfully raised £54,100 with 1257 supporters in 14 days
What chances does Alba have next Thursday? At the end of March, Policy Exchange summed it up this way, alluding to the way Nicola Sturgeon's SNP tried to smear him (emphases mine):
Will anyone listen? That is where Mr Salmond comes in. For all that he is a much-diminished figure, and for all the fact he is now entirely ostracised by Nicola Sturgeon and her coterie, polls suggest that around a third of SNP voters still approve of him. He is still seen by many as the man who nearly led Scotland to independence and who – in the eyes of many Nationalist supporters – has been the victim of a conspiracy to wreck his reputation. So it's to be expected that plenty of these voters will be attracted to his latest ruse. A scenario which sees Mr Salmond's party win around 10-12% of the party list vote – enough to win up to 2 seats in each of Scotland's 8 regions – is therefore possible. And while some of these would come from the pro-independence Greens, the majority would be at the expense of the Conservatives, Labour and the Liberal Democrats.
That is the worst case scenario for the Unionist cause. The more optimistic take would see the pro-independence movement descending into chaos over the next four weeks of the campaign, with splits and divisions dominating coverage. It would also see cautious soft-SNP voters who have been won over by Nicola Sturgeon's approach taking fright and either declining to vote, or switching back to Labour.
True to form, Mr Salmond has decided to roll the dice and find out. There is impeccable and calculated method in his latest move. We're now set to find out whether he remains as good a judge of Scotland's mood as he once was.
Last week, Alba published their manifesto, along with a video. The manifesto includes a proposal for a written constitution for an independent Scotland (point 5) and a new Scottish currency in the case of independence (point 9):
Wings Over Scotland said:
Had we formed our own party it's pretty much the manifesto we'd have written …
On Sunday, April 25, a new poll appeared. The Alba Party remained stuck on 3%:
At this stage, it does not appear as if Alba has much traction with voters. This article from an Edinburgh blogger says that the BBC strictly controls what hits the airwaves during election campaigns.
It looks as if there will be another SNP/Green sweep. The Greens' votes have helped the SNP pass legislation in the past. This is likely to continue:
However, I would bet against a motion on Scottish independence for the foreseeable future.
Many moons ago last century, I spent three happy holidays in Scotland.
My first was during my time at university, when I was studying on the Continent. I bought a souvenir, a dark green lambswool pullover from the Edinburgh Woollen Mill which was then located in the Royal Mile. Unfortunately, I had to throw it out recently, just weeks short of its 43rd birthday.
The Scots I met were hospitable and interesting, regardless of what they did for a living. On my trip in 1978, when a group of us were at a pub in Edinburgh, I asked them what they thought of the Queen. They all liked her. Did they ever want independence? No.
There was a long hiatus before I returned. In those intervening years, I contented myself by keeping abreast of their music in the 1980s. Fortunately, the radio station I listened to in the US played British music most of the time. Their other offering was reggae. Radio heaven.
In my humble opinion, 1983 was a banner year for Scottish bands.
My all time favourite has to be Aztec Camera, led by the highly talented and, at the time, a very young Roddy Frame, who has lived in London since the 1980s.
Their 1983 album High Land, Hard Rain is hard to fault. I have a few favourite tracks from that album, but my all-time favourite is 'Oblivious'. Roddy Frame's Spanish guitar riffs are superb. The best thing is that one can listen to this any time of day or night and enjoy it:
The band performed this live at Aston University, Birmingham, on 13 December 1983. This was broadcast on the BBC's Whistle Test On The Road on 16 December 1983.
Frame wrote the melody and the lyrics, which begin with this:
From the mountain tops
Down to the sunny street
A different drum is playing a different kind of beat …

Then there was Big Country, who, in 1983, had one Top 40 hit in the United States, 'In a Big Country', a rousing example of Celtic-influenced rock, complete with bagpipe riffs. This video comes from BBC's Top of the Pops:
Their attire reminds me of that of the schoolboys I saw on public transport every day when going to work: pullovers and baggy wide-wale corduroys. It was a nice look for an American city.
Then there was Runrig. Their 1983 hit was the anthem for Scottish independence, 'Alba' (pron. 'Al-i-ba'). The lyrics are in Scottish Gaelic, but this video has English subtitles:
This was filmed in Edinburgh: on Calton Hill and Arthur's Seat (or so it looks).
On my return trips to Scotland in the late 1980s, I bought three Runrig albums.
Now I am sorry I did.
One of their number, Pete Wishart, who plays keyboard in the video, is the longest serving SNP MP in Westminster. He was first elected MP in 2001.
I watch a lot more BBC Parliament than listen to music these days. Watching Wishart sneer in the House of Commons is too much. Whether it is for show or whether he really does dislike the English as much as it appears, I have no idea. Whatever the case, it vexes me that, even in a small way, I helped to put money in his pocket and bread on his table.
This brings me to the larger question of the SNP and their drive for Scottish independence, particularly as the UK has local elections coming up on Thursday, May 6, 2021.
On my stays along the east coast of Scotland, I never did meet anyone who supported independence.
Yet, the Scottish National Party, which was founded in 1934, has grown in popularity over the past two decades to become the largest Scottish political party in both Holyrood (Scotland's assembly in Edinburgh) and in Westminster (London, seat of the UK Parliament). In London, they have 44 MPs. By contrast, the Liberal Democrats have only 11.
Only Scottish voters can cast a ballot for the SNP.
The current SNP leader and First Minister is Nicola Sturgeon.
Before her, it was Alex Salmond, who served as an MP for 30 years, from 1987 to 2017.
Once I moved to the UK, I began watching Channel 4 News every night. I broke that habit many years ago. That said, they invariably had a news item on or interview with Alex Salmond. For whatever reason, he became quite the globetrotter, visiting China, the United States and Qatar. He also spoke at a UN Climate Change Conference in Copenhagen.
I could never understand how an MP whose party was not in government could be allowed to make all those trips. He was hardly a hanger-on, either. He met very powerful people, as one can see from the photos on his Wikipedia page.
His downfall came with the Scottish independence referendum in 2014. On September 18 that year, voters living in Scotland went to the polls. Disappointingly for the SNP, 55% voted to stay in the UK. It was a big deal at the time and, although the SNP deny it today, it was billed as a once-in-a-generation referendum. Salmond stood down as First Minister. His deputy was Nicola Sturgeon. She succeeded him.
Wikipedia summarises the referendum as follows (emphases mine):
Prominent issues raised during the referendum included what currency an independent Scotland would use, public expenditure, EU membership, and North Sea oil. An exit poll revealed that retention of the pound sterling was the deciding factor for those who voted No, while "disaffection with Westminster politics" was the deciding factor for those who voted Yes.[3]
For the past few years in the Commons, SNP MPs have been railing against 'this UK government' and have been talking a lot about a second referendum.
Few specifics have been published on a concrete plan for independence. One would think that, having failed to win in 2014, a solid proposition regarding currency, a central bank and trade is critical. However, none exists.
Alex Salmond, who is leading the new — and tiny — rival independence party Alba (pron. 'Al-i-ba'), is the only one who has even a rough outline of a plan involving a Scottish currency.
For the purposes of this election, however, the SNP are banking on a platform of coming out of the coronavirus crisis. Based on First Minister Nicola Sturgeon's track record so far — a steep decline in Scottish education standards and the most drug deaths of any European nation — it does not inspire confidence:
This pamphlet says that another independence referendum will be held once the coronavirus crisis is over:
That could be years away.
Others mention independence without adding 'after the crisis', such as this one:
There are two votes to be had in this election, which, in Scotland, are counted in a system of proportional representation, the D'Hondt method. There is a constituency ballot and a list ballot. I'll discuss this on another day. For now, it explains why the leaflets advise voting SNP on both ballots:
Here is another two-vote plea:
Then there are 'free stuff' policies such as these for bicycles. Given the parlous state of Scotland's rural roads, one hopes there will be a lot of money in this particular pot:
A universal basic income is also part of the SNP platform. For my readers who do not live in the UK, it is worth noting that taxpayers living in England forfeit some public money through the Barnett formula to help finance Scotland, Wales and Northern Ireland. There are also top-ups for certain expenditures, e.g. coronavirus programmes, which are called Barnett consequentials. This is a sore point for English taxpayers. A universal basic income — 'Minimum Income Guarantee' — at this stage is beyond the pale:
The SNP were very much against Brexit. Most Scots voted against it in the 2016 referendum. As such, the SNP would like for Scotland to join the EU as an independent nation. To some south of the border, the logic appears baffling (not my illustration):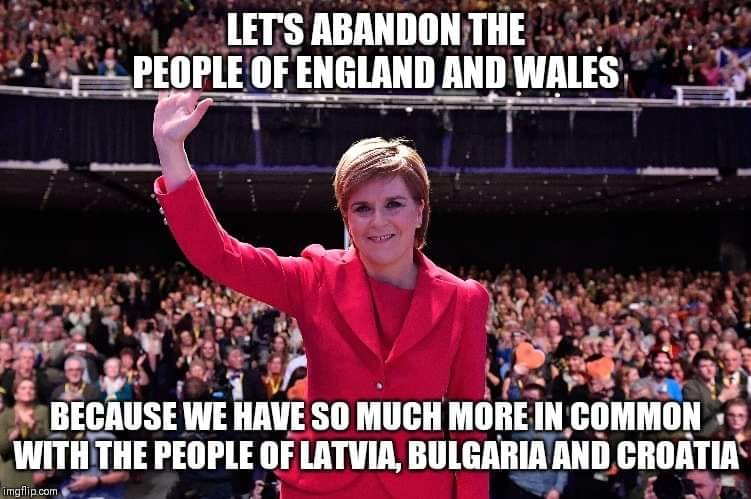 Even today, most regions of Scotland would still vote against independence. I was surprised to see that the Highlands, where one would expect independence fervour to be great, is still, albeit just, a majority No. The only Yes areas — the green ones — are around Glasgow and further east in Dundee. I picked this map up online today: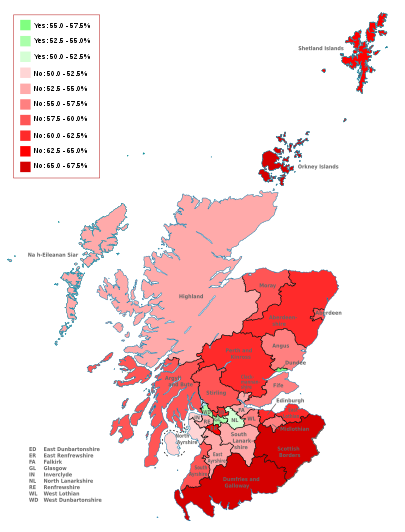 I am very much looking forward to the results of Scotland's election, which will not be available until May 7 or 8.
Meanwhile, a number of voters committed to independence are walking away from the SNP.
More about that in a future post.
Parliament is entering Easter recess on Thursday, March 25, 2021.
A few notable news items follow from both Houses — and the Scottish Parliament.
Scottish Parliament — MSPs standing down
A number of MSPs are standing down from their seats in Holyrood. Scots will elect new MSPs in May.
The Scotsman has a useful list, complete with photos, cited below. Emphases mine:
While all 129 of Holyrood's seats will be contested at this year's ballot, more than a quarter of the current crop of MSPs are standing down – including high profile figures like Ruth Davidson, Iain Gray and Jeane Freeman.
Highlights follow.
Independent
I will miss Ken Macintosh, who was a faultless convener presiding over fractious debates during the past year:
Ken Macintosh has been an MSP since the opening of the parliament in 1999, before unsuccessfully seeking the Labour leadership twice. He was elected as the parliament's fifth presiding officer in 2016, but announced in September that he would not be seeking re-election as an MSP.
Scottish Conservatives
Ruth Davidson will be elevated to the House of Lords:
The former Scottish Tories leader took over the party's reins at Holyrood once more when MP Douglas Ross was elected as the new leader last year. Ms Davidson will now take up a seat in the House of Lords.
Scottish Labour
Iain Gray is ending a long career as an MSP:
Former Scottish Labour leader Iain Gray was first elected to the Scottish Parliament in 1999 and is currently Labour's education spokesman at Holyrood.
SNP
Here is the list of SNP MSPs who are standing down. Many have been in Holyrood for a number of years:
Jeane Freeman was in charge of health during the coronavirus crisis. Many residents of Scottish care homes died during that time.
One wonders what she will do next:
Health Secretary Jeane Freeman confirmed she will not seek re-election. The Carrick, Cumnock and Doon Valley MSP said she had "more she wanted to do" outside of politics.
The Scotsman has an interesting article from 2018 about her career history at that time:
Jeane Freeman, for it was she, has moved on to greater things as Health Minister in the Scottish Government. In the first half of this decade, she was a useful cog in the SNP machine as a former Labour apparatchik who, when the wind changed, discovered she was really a Nationalist.
Long a habituée of the quango circuit, Ms Freeman's new appointments included the disastrous Scottish Police Authority. In her peak year of 2013-14, she pulled in £57,000 from that source alone. There were a couple of NHS roles, not forgetting the Judicial Appointments Board.
All this added up to 376 paid days in the financial year. One might have thought the Scottish Commissioner for Public Appointments (for such a person exists) might have done the arithmetic and asked questions but that is to over-estimate the vigilance of our non-barking watchdogs.
At the same time, Ms Freeman fronted "Women for Independence" and ran a lobbying firm which targeted the public sector. When a member of the public tabled a Freedom of Information request in 2015 about her business meetings with Scottish Ministers and officials, he was given the classic brush-off – the question would cost too much to answer.
Not unreasonably, he then wondered how lobbying activity could be monitored if ministers refused to provide information about their contacts on such implausible grounds. Another of our civic protectors, the Freedom of Information Commissioner, dismissed his complaint. Scotland really is a village …
There are still individuals floating around the Scottish quango circuit who were being put up for every chairmanship that occurred 20 years ago. The qualifications are that they challenge nothing, remain anonymous and nod their heads when directed by ministers. Political influence is as prevalent as it ever was – just much less transparent. Ask Ms Freeman.
This all fits into the wider pattern of centralisation which has systematically downgraded every other centre of influence within Scotland – public bodies, local government, police boards, funding-dependent third sector organisations – in order to create a closely integrated structure which brooks no challenge.
There is a powerful political agenda waiting to be created around the need to restore diversity and scrutiny within Scotland in order to challenge the power of the centre. Some might see that requirement as a paradoxical outcome of devolution while others recognise it as depressing – but largely predictable.
Linda Fabiani was the convener for the Holyrood inquiry examining the way Alex Salmond's case was conducted. Hmm. Interestingly, The Scotsman makes no mention of this:
Ms Fabiani was first elected to the Scottish Parliament in 1999 as an MSP for Central Scotland, but since 2011 she has represented East Kilbride.
Then there's Mark McDonald:
The Aberdeen Donside MSP resigned from the SNP after sending a woman an inappropriate text message which referenced a sex act.
House of Commons news
Historic Westminster by-election in Scotland
A historic by-election will be taking place in Scotland as the SNP's Neil Gray announced he would be standing down. He made his final speech in Westminster — the mother of all Parliaments — on Tuesday, March 23:
An arcane parliamentary point needs to be explained:
Although the actual Manor of Northstead in Yorkshire no longer exists, the estate has been redeveloped as a park.
In political terms, this is a temporary position for MPs who have resigned and is given out at the pleasure of the Chancellor of the Exchequer. Wikipedia explains:
By virtue of the fact that it became and was retained as a Lordship of the Crown beyond the sale and eventual disappearance of the estate, since the nineteenth century the post of Crown Steward and Bailiff of the Manor of Northstead has played a role in the procedure for effecting resignation from the British House of Commons by Members of Parliament (MPs). While no longer having any actual role or responsibility, it remains a nominal paid office of the Crown, a sort of sinecure, appointment to which is one of the things that by law disqualify an MP from the House. This principle goes back to the Act of Settlement 1701, and is now regulated by the House of Commons Disqualification Act 1975. Since 1624, MPs have not been permitted to resign their seats directly. While several such offices have been used for this purpose in the past, in the present day only two are used: the Northstead post and that of Crown Steward and Bailiff of the three Chiltern Hundreds of Stoke, Desborough and Burnham.[1][2]
… Appointments to the posts are made by the Chancellor of the Exchequer. Using two posts allows more than one MP to resign simultaneously, although more commonly, single resignations are effected by alternating appointments to the Northstead and Chiltern Hundreds offices. One of the most recent MPs to be appointed to the Northstead office was former Prime Minister David Cameron, who announced his decision to resign from his Parliamentary seat of Witney on 12 September 2016.[5]
Neil Gray was praised again in the House of Commons today during Business Questions, including by Leader of the House Jacob Rees-Mogg. Here are more compliments from Tuesday:
This means there will be a by-election in Gray's former constituency of Airdrie and Shotts:
This is the first time there will be a Commons by-election in an SNP-held seat:
Boris reasserts his position as Prime Minister
On March 24, Prime Minister Boris Johnson appeared before the Liason Committee, comprised of heads of the parliamentary Select Committees.
The session lasted around 90 minutes and covered several topics, one of which was devolution.
Scotland and Wales are trying to whittle away the significance of the UK government.
Stephen Crabb (Conservative, Preseli Pembrokeshire) asked Boris how he saw his position. He confirmed that he is the Prime Minister of Scotland as well as the United Kingdom:
Part of the answer is to employ civil servants with the ability to accommodate the interests of the United Kingdom as well as those of the devolved nations:
House of Lords news
Two notable things happened in the House of Lords this week.
Unusual tie vote
The Lords voted on an amendment to a Government bill, only to find the result was tied. As such, the amendment failed, meaning that the Government won that round:
Hereditary peer says old biscuits perfectly edible
The House of Lords still has 90 hereditary peers.
One of them is Lord Palmer, whose family part owns the famous biscuit manufacturing firm Huntley and Palmers Ltd.
If anyone in the Lords should know when a biscuit is past its best, it would be he.
I'm bookmarking this for future reference:
With Parliament in recess, I'll be able to do some springtime projects around the house. If I find a stale biscuit, I'll let you know.
For months now, questions have been asked of Scotland's first minister, Nicola Sturgeon, leader of the SNP.
They have to do with how much she knew about the Me Too case surrounding her SNP predecessor, Alex Salmond.
The powerful political party of independence in Scotland has been in the headlines for months as other sexual harassment complaints have been levelled between other SNP members. To say that some of them have their minds in the gutter is an insult to gutters.
Furthermore, earlier this month, the Scottish Parliament passed the SNP's far-reaching Hate Crime Bill.
Local elections will be taking place in May. Will the SNP still control Scotland's devolved government at Holyrood?
Returning to Sturgeon and Salmond, the main question has been 'What did she know and when did she know it?'
Tom Harris of The Telegraph has an excellent summary of past and present from Monday, March 22, 2021: 'James Hamilton's convenient conclusions don't exonerate Nicola Sturgeon entirely'.
Let us begin with the past, when Alex Salmond lived and worked at the first minister's residence in Edinburgh, Bute House, which is an elegant Georgian building located just off Princes Street in Charlotte Square.
Emphases mine below:
Let us revisit those years in which Salmond was first minister, and let us not fail to remind ourselves that during that entire time, Sturgeon was not only his deputy but his closest friend and colleague as well as a senior minister. For it is events in that period, not more recent events, that were at the root of the current crisis. The SNP and its followers have spent a good deal of time on social media and elsewhere trying to promote the narrative that somehow the complainants have been let down both by the Scottish government (meaning the civil service, not its political leaders) but also by the partisan manoeuvrings of the MSPs who make up the committee; a leak of its conclusions became a political football last week.
But it was Salmond's tenure at Bute House, not events since, that is key to all this.
During that period, rumours swirled around Westminster and across news rooms about unhappy civil servants, mainly women, who were unhappy with the first minister's behaviour. The rumours were no doubt exaggerated and it should be pointed out that when Salmond was finally brought to trial for sexual offences based on the evidence of ten complainants, he was acquitted on all charges. Nevertheless, the complaints were made and everyone in politics knew about them, and we knew (or thought we knew) the identity of at least some of those who had complained.
But you know who didn't know about those rumours? You know who was completely blindsided until she first heard, from Alex Salmond's own mouth, about the complaints against him as late as 2018, four years after he left office? That's right, his protégé and trusted lieutenant, Nicola Sturgeon. We are asked to believe that this was a coffee-spitting moment, that nothing had prepared her for what Salmond was about to tell her.
In fact, women had been complaining about Salmond since 2009:
In 2009, Angus Robertson, the then Westminster leader of the SNP, was asked by the management of Edinburgh Airport to speak to Salmond about the "inappropriate" nature of then serving first minister's behaviour towards female members of staff. Robertson did so; he interviewed Salmond, put the complaints to him and then concluded that there was nothing else to report and closed the case …
But even though this event happened in 2009, while Sturgeon was Salmond's loyal deputy, we are asked to believe that no report or hint about it was ever conveyed to her.
Is it not rather more likely that Sturgeon was as aware of these rumours as every journalist in Scotland and beyond. Is it not more logical to conclude that she chose not to do anything about them because she considered that the greater prize, one far more important than the safety at work of female civil servants or airport staff, was the SNP's central goal of independence?
Now let us fast forward to the present.
The SNP are a particularly tightly knit party:
The same Angus Robertson is a close political ally of Sturgeon's; he is standing in May's Holyrood elections and was selected after the ruling SNP executive – controlled by Sturgeon and her husband, party chief executive Peter Murrell – made it almost impossible for Robertson's most likely rival for the nomination, Joanna Cherry MP, to stand. Robertson's account of his intervention on behalf of Edinburgh Airport was detailed in a letter Robertson wrote to the committee investigating the Salmond scandal.
Earlier in March, Sturgeon gave evidence to the Holyrood committee investigating the Salmond inquiry. It was an eight-hour session, and I watched the last three hours.
Salmond had appeared the week before in front of the committee. His evidence was concise and judicious.
Sturgeon, on the other hand, answered every question with a form of 'I don't know' or 'I cannot remember'. She often used a form of the words 'soul searching' more than once to indicate that she wished she could remember more details, including those from a meeting at Bute House between her and Salmond.
The committee was comprised of four SNP MSPs (including the convener, Linda Fabiani) and one MSP each from Scottish Labour, Scottish Conservatives and the Liberal Democrats.
The question afterwards was, 'Did Nicola Sturgeon break the ministerial code?' Did she withhold knowledge from the committee?
It was up to barrister James Hamilton to decide in the first instance. He determined that Sturgeon did not, in fact, break the ministerial code. (Full report here.)
The Telegraph's article led with this:
So the (rather unsurprising) verdict is in: Nicola Sturgeon's own adviser to her government has concluded that she did not break the ministerial code in statements to the Scottish Parliament.
Barrister James Hamilton delivered his verdict to a breathless press pack this afternoon. His conclusions will be welcomed by the SNP and by Sturgeon herself, obviously, as a glimmer of light in a very dark landscape recently. As if there was much doubt about it, she will now lead her party into May's elections, and elections are what the SNP care about most.
Sturgeon spoke to the media on Monday after his findings were announced:
However, the story does not end there.
On Tuesday, March 23, The Telegraph had a follow up article: 'Holyrood inquiry: Nicola Sturgeon misled parliament and SNP government "badly" let down Alex Salmond complainants'.
It says:
James Hamilton, the Irish lawyer who conducted the ministerial code investigation, concluded that it was for the Scottish Parliament to decide whether they were misled.
This new report is the one from the aforementioned Holyrood committee: the four SNP MSPs and the three others.
The report is 192 pages long. The article summarises the report's findings:
Nicola Sturgeon misled parliament and her government "badly" let down women who lodged complaints against Alex Salmond, a damning Holyrood inquiry has concluded.
The committee examining the Scottish Government's handling of harassment complaints against Mr Salmond found the First Minister gave "an inaccurate account" of what happened at a meeting with him and so misled the cross-party investigation.
In a 192-page report, the MSPs also said the Scottish Government's handling of harassment complaints, and the subsequent judicial review, was "seriously flawed".
The two civil service complainers who triggered the investigation told the committee in private they had not seen a "meaningful change in culture" in Ms Sturgeon's government and it had "given itself a bigger hill to climb because of the failure of the process."
The complainers – Ms A and Ms B – also said they had been "taken aback by the lack of contact and support from the Scottish Government" following the conclusion of the judicial review, adding that "it felt as though we were just left to swim."
The report said there was a "fundamental contradiction" between Ms Sturgeon's evidence about her meetings with Mr Salmond and that of his team.
MSPs concluded she had left him with the impression she might intervene in the complaints process. They also said that her written evidence was "an inaccurate account of what happened", and that "she has misled the committee on this matter".
They also said they were "concerned" about how long it had taken Ms Sturgeon to inform the government's permanent secretary that she was aware of the complaints and it was "inappropriate for the first minister to continue to meet and have discussions" with Mr Salmond.
It seems unlikely that Nicola Sturgeon could be forced to stand down as Scotland's first minister.
However, the Scottish Conservatives tried to by holding a vote of no confidence at Holyrood on March 23:
Murdo Fraser, a Tory member of the committee, said: "The committee verdict is in – Nicola Sturgeon misled Parliament and the public.
"It seems clear that Nicola Sturgeon will refuse to abide by the principle of democratic accountability for her government's monumental mistakes.
Someone will have to be the fall guy or gal, because the report states:
The Committee finds that this state of affairs is unacceptable by an organisation such as the Scottish Government and that those responsible should be held accountable.
There is much more in the article.
Nicola Sturgeon skates away, like water off a duck's back.
The Rev. Stuart Campbell is the author of the best known pro-independence website, Wings Over Scotland.
On March 23, he commented on the above findings in 'The Switch'. He concludes:
The committee's key finding that it "may have insufficient powers to hold the executive to account" was OPPOSED by the four SNP members.
In other words, they actually WANT the Scottish Parliament to be too weak to hold the Scottish Government to account, and for it to have fewer and weaker powers …
The abject refusal by SNP MSPs of more powers for Holyrood in case those powers might impose actual democratic accountability on their own administration is in some senses the most revealing and most shaming aspect of the entire affair.
It is an all but open admission that Nicola Sturgeon has survived only by using every means at her disposal to escape proper scrutiny …
But more than that, they show a First Minister very comfortable within the confines and limits of devolution, and deeply unwilling to accept significantly more power for Scotland's parliament because of the difficult responsibilities that come with it.
And that's a characteristic which readers might wish to reflect honestly and soberly on when considering the likelihood of her ever delivering independence.
One of Wings Over Scotland's readers summed up then-Prime Minister Tony Blair's approach to his concept of Scottish devolution, an executive without checks and balances:
Tony Blair's Labour basically designed something for Scotland they would have wanted for Westminster: an executive that could not be held to account by the parliament or the judiciary.
When Alex Salmond became First Minister in 2007, he tried to separate the powers by NOT having the Lord Advocate as a minister in his government. Nicola Sturgeon invited the Lord Advocate right back in.
That the SNP under Sturgeon is now endorsing the flawed devolved parliament design is the real tragedy for Scotland …
Right now, they're very happy with devolution – with periodical noses about "independence" when they need to harvest votes at an election – and in the unlikely event that Scotland became independent under Sturgeon's SNP, she and her cabal and acolytes would be perfectly happy to keep the original devolved parliament design flaws and have the parliament and judiciary of an independent country firmly under the control of the executive, with no accountability or transparency.
Anybody who desires an independent Scotland that aspires to be an open, transparent, accountable, modern democracy should recoil in horror from Nicola Sturgeon's vision for Scotland.
One wonders if many Scots will forget all of this by the time the May elections roll around.
Sixteen-year-olds will also be able to cast their ballots, probably bringing more votes the SNP's way.
As I write, informed Scottish voters, whether pro-independence or unionist, are figuring out how to vote strategically. Many are suspicious of Sturgeon's stated desire for independence. Is it just a cynical ploy for SNP votes? More on that in a future post.