You are currently browsing the tag archive for the 'Scottish Nationalist Party' tag.
The SNP (Scottish National Party) are currently looking for a new leader with the recent resignation of Nicola Sturgeon, Scotland's First Minister.
I'm doing a brief series on Sturgeon's time in office. Part 1 appeared last week.
Style over substance
Sturgeon will long be remembered for her expensive suits and shoes.
She prioritised style over substance and often had a grand project in mind, such as a publicly owned not-for-profit energy company announced in 2017, which never saw the light of day:
In 2019, she gave us her reading list, which, ironically, included 1984. A Twitter user reminded her that the SNP were imitating Orwell's dystopia rather too well. Their Named Person project would have seen a government representative monitor each child's upbringing:
During the 2021 election campaign, a local one for much of England but one of governance for the devolved nations, Sturgeon felt the need to announce her pronouns:
While Sturgeon did participate in some debates during the 2021 campaign …
… she pulled out of the BBC Question Time special. Guido Fawkes pointed out that, suddenly, after giving coronavirus press briefings nearly every day, she became camera-shy (red emphases his):
When Boris refused to debate Sturgeon in 2019, the SNP put out a Facebook graphic accusing him of "running scared" and being a "big feartie".
Sturgeon hasn't been having a great campaign, getting dragged into debate scraps with Douglas Ross, and appearing relatively low-energy. Today's poll has the SNP's constituency vote share down by 3%, and their list voting intention down to 38%. It's amazing someone who's hosted unchallenging live television briefings almost every day throughout the last year has suddenly become camera-shy…
When put on the spot, Sturgeon does not react well. In this BBC interview, fellow Scot Andrew Neil gave her a grilling over her poor record on almost everything north of the border. Unfortunately, the following clip does not include her response, but her facial expression is a familiar one, often seen at First Minister's Questions when Scottish Conservatives leader Douglas Ross and Scottish Labour leader Anas Sarwar question her government's shortcomings:
Scotland's drug deaths highest in Europe
One of Sturgeon's most appalling failures is the number of drug deaths in Scotland.
During the 2021 election campaign, Douglas Ross asked her about them.
Guido had the story and a video:
Nicola Sturgeon was put on the back foot last night during STV's Scottish leadership debate. Pressed by Douglas Ross over her appalling record on Scotland's escalating drug crisis – drug deaths have doubled since she became First Minister – Sturgeon floundered, saying:
I think we took our eye off the ball with drug deaths and I've said as much to the Scottish Parliament […] I set out at the start of this year £250 million investment programme to build up rehabilitation services including residential rehabilitation to make sure we give more support to community services, to make sure we provide faster access to treatment.
… Taking her eye off the ball is putting it mildly…
On August 2 that year, Dr Campbell Campbell-Jack, a retired Presbyterian minister, wrote an article for The Conservative Woman: 'Sturgeon's catalogue of catastrophe'.
On the drug deaths, he says (purple emphases mine):
… some SNP failures enter the realm of the tragic. If we are to judge a government on how they treat society's most vulnerable members, the SNP have a long way to go before their practice matches their pronouncements on the country's drug crisis.
A report released by the National Records Scotland on Friday shows that for the seventh year running Scotland had a record number of drug deaths last year with 1,339. The rate of drug deaths in Scotland, 231 people per million, is more than three and a half times higher than that in the rest of the UK and is the worst in Europe, 15 times higher than the European average. Statistics from developing countries are hard to come by but it is generally acknowledged that Scotland's record is one of the worst in the world. 
The SNP government, which has devolved power over health, has been in place since 2007. The number of drug deaths in 2007, when it came to power, was 455. This was considered scandalous at the time.
Nicola Sturgeon said the number of lives lost 'is unacceptable, each one a human tragedy'. She added, 'Today, my thoughts are with every family who has lost a loved one – I am sorry for the loss you have suffered.' Ms Sturgeon, however, has previously admitted some responsibility, saying that her government 'took our eye off the ball' on drug deaths.
Not surprisingly, the SNP blame the UK government for not allowing Scotland to have supervised shooting galleries for drug users.
However, the other three nations of the UK do not have the same problem:
Whilst it is possible to make an argument for a health-based approach to drug use, one wonders why if present drug laws do so much supposed harm in Scotland they don't do equivalent harm in England and Wales? Scotland's drug problem cannot be argued away by saying 'It wisnae me, a big boy did it and ran away'. The SNP have to take responsibility for their actions.
Dr Campbell Campbell-Jack alleges some drug users are so desperate for rehabilitation treatment that they commit a crime in order to get it in prison:
Rather than funding more rehab facilities and restoring the budgets of local alcohol and drug partnerships, which is within their power, the SNP have taken the easy way out by accusing the UK government of binding their hands by blocking plans for their innovative policies such as safe consumption rooms where addicts could shoot up in sanitary conditions rather than in underpasses and waste ground.
There is such an acute shortage of publicly funded rehabilitation places and cuts to local multi-agency drugs services that Scotland has entered Kafkaland where some addicts pursue what seems to them a logical course of action: they choose to commit crimes ensuring a prison sentence rather than remaining in the community because they know they have a better chance of accessing treatment behind bars. For Scotland's addicts, HMP Barlinnie beats NHS Scotland.
A failed lawyer [Sturgeon] leading a failed government is leading almost inexorably to a failed country, and the most vulnerable are paying the price.
On February 19, 2023, four days after Sturgeon stood down as SNP leader, veteran political journalist Simon Heffer wrote an article for The Telegraph: 'Nicola Sturgeon's dreamland is over — Scotland faces a painful reckoning'.
Since 2021, there have been only nine fewer drug deaths — 1,330 instead of 1,339:
An indication of the state of Scottish society is that nearly 60,000 people in a country whose population is five and a half million have a drug addiction problem. That is a higher proportion of addicts than any other country in Europe. Recent figures showed that Scotland had an annual rate of 1,330 deaths from drug addiction. In Slovakia, which has an identical-sized population, the number of deaths (in 2017) was 19.
In Scotland, the government-run treatment services for addicts are dismal. Around 40pc of Scottish addicts are in treatment, compared with 60pc in England. The rate of around 25.2 deaths per 100,000 of the population is three and a half times England's.
Incredibly, Sturgeon's government blames Margaret Thatcher, who left office in 1990:
When being forced to admit this shocking failure, the SNP blames Margaret Thatcher and the legacy of her economic policies for closing down much (inefficient and obsolete) Scottish heavy industry. In other words, the failure of the British state (which the SNP purports to loathe) to use the money of predominantly English taxpayers to subsidise the inefficiency and restrictive practices that undermined so much Scottish industry is the cause of the country's out-of-control drugs problem.
Mrs Thatcher left office more than 32 years ago; an SNP administration has run Scotland since 2007. There are, frankly, no excuses. If parts of Scotland are enduring poverty it is largely down to the failings of those who have ruled the country for the last 16 years, whose hostility to capitalism and incomprehension of business were proved by the many businesses that planned to relocate in England had the referendum in 2014 gone the other way.
Education disaster
Simon Heffer reminds us that Scottish schools were, until recently, the envy of the world. They aren't anymore:
Education has also been a disaster under the SNP. Scotland's schools were once among the finest in Europe; in the 18th and 19th centuries they sent young people to university from social classes that would not get inside an English university until the 1940s.
In June 2021, however, the Organisation for Economic Co-operation and Development (OECD) said that the SNP administration had no long-term strategy or vision for schools, and had failed to keep abreast of best practice. It attacked the examinations system, curriculum development, the management of teachers and the availability of data for measuring schools' performance. John Swinney, who has proved an entirely incapable education minister, was so embarrassed that he delayed publishing the report until after that year's Holyrood elections.
For maths and sciences, in which high attainment is now considered essential for the prosperity and development of any society, Scotland ranks 25th and 24th respectively among OECD countries. In 2019-20, the proportion of pupils in Scottish schools passing three or more Highers was 43pc lower than in any other year since 2015, when another international report from the Programme for International Student Assessment [PISA] condemned the standards of attainment in reading, maths and science.
To try to massage the figures, the SNP has relied on a feeble system of continuous assessment rather than rigorous examinations. This has ensured that the gap in attainment between those at the bottom of the ladder economically and those at the top has widened.
The other consequence of this failure to develop Scotland's human resources through education is that the brains, skills and talent that might improve the Scottish economy are scarce: and for those whose talents are developed, Dr Johnson's adage that the noblest prospect many of them ever see is the high road that takes them to England remains painfully true.
NHS and National Care Service in dire straits
At First Minister's Questions, Sturgeon becomes deeply annoyed at questions from Douglas Ross and Anas Sarwar over the lingering problems with the NHS and Scotland's National Care Service.
It is worth noting that Sturgeon was Scotland's health secretary for several years before becoming First Minister in 2014. According to Ross and Sarwar, some of the existing problems began then.
Simon Heffer tells us:
If the NHS is said to be on its knees in England, it is prostrate in Scotland. The British Medical Association said last month that the country was 2,000 GPs short and about three in 20 vacancies for consultants were unfilled. There were also 6,400 vacancies in nursing and midwifery. A Royal College of Nursing spokesman said that six in 10 nurses were thinking of leaving their profession because they have had enough of their overloaded working conditions.
The medical and paramedical professions in Scotland have repeatedly savaged Humza Yousaf, the Scottish Health Minister, for having (in the words of a Scottish geriatrician) "no plan, no strategy", and therefore inspiring "no trust" from the professions.
Waiting times in A&E have reached a record high, with 5,000 people in the last week of 2022 waiting over eight hours, and half of them for over 12 hours. The malfunctioning of Scotland's National Care Service means hospital beds are filled with people who otherwise could be discharged. Over 600,000 people are awaiting "planned procedures" compared with just over 300,000 when Ms Sturgeon took office in 2014.
High taxation, sluggish economy
The SNP are fond of blaming Brexit and the UK government for Scotland's economic woes.
However, Heffer says that a report from January 2023 points out that Sturgeon's government has no clear economic strategy:
The report said there was no clear strategy for innovation, that for the last decade productivity had been "muted" and that Scotland had failed to become a "hotbed of start-up activity". The SNP blame Brexit for this, which hardly explains why other cities in Britain are performing far better; the SNP will not admit that it has no idea how to encourage and support entrepreneurs …
The entrepreneurs Scotland so desperately needs are driven away by high taxation, the deep economic uncertainty provided by the threat of separatism, and a shrinking skills base.
Independence dream dies
During the 2021 election campaign, Holyrood magazine featured Mandy Rhodes's highly critical editorial, 'The mendacity of hope'.
Rhodes takes us back to the 2014 independence referendum campaign:
Back in 2014 in a campaign video for the independence referendum, Nicola Sturgeon asked us to imagine a baby – Kirsty – and to think about what kind of country we wanted her to grow up in.
It was a brilliant, evocative message, a hopeful one, with a positive vision that things could only get better, that our children could live their best lives. And who wouldn't want that?
Two years later, after the SNP were re-elected, Sturgeon made this pledge:
Let's all resolve that, when this parliament dissolves five years from now, we'll be able to say we've done everything we can to give all of Scotland's young people the best possible future.
Rhodes continues:
Well, we are now five years on, with independence no closer and Baby Kirsty now seven. The SNP heads into an election that it will win, still stuck on repeat, pledging to make Scotland the best country for any child to grow up in.
The SNP has been in power for 14 years and despite cleverly positioning itself as the party of opposition, lest you blame it for any of the country's ills, it is set to return to power on the back of yet more promises for that same change.
So, when is it coming?
… Yet here we are, with the SNP still winning votes on the back of a promise to build a fairer, more equal, Scotland. If it's window dressing you are after, then artifice has won over substance.
Every opinion poll has the SNP winning this next election. The only question now, is by how much.
Yet contrast that 2014 video message of hope, that forward-looking vision for a more positive future, with the dystopian styled, party-political broadcast issued by the SNP last week and the difference is clear. Fourteen years in government, and the SNP can't offer a positive narrative for its record, it can only blame Westminster for everything that is still wrong …
But if the Scottish Parliament does not have the powers to find Scottish solutions to Scottish problems, then what is its point? What is the point of a party of independence being in power for so long but not delivering on independence? What is the point of having a woman in power but who lets women down?
What is the point in an election that will merely deliver more of the same? And what is the point in promising a better future for children when those already growing up under the SNP's watch have been let down?
Come on. Nicola Sturgeon has said she hopes that this election will breathe fresh air onto the toxicity of our politics, but those winds of change need to sweep over her and her party too. It needs a clear out. Some fresh thinking. Some challenge, and some ambition to make the change it has promised over and over again.
There is something very sour about the SNP right now – a party that doesn't take well to criticism; that sneers at opposition; that hectors journalists, and silences its detractors.
Too often, political commentators are assumed to be people who care too much about party politics. We are accused of having an agenda, of being too close to power, of having nefarious causes that we are trying to promote. That in fact we are political stooges. But none of that is remotely true.
In the main, we are here to see change, to hold truth to power …
During the 2021 campaign, Sturgeon said she wanted to sort out the coronavirus crisis before holding a second independence referendum.
The Revd Stu Campbell of Wings Over Scotland took issue with Sturgeon's preference for 'patient persuasion' before a second referendum. On April 30 that year, he wrote:
As we noted earlier today, her "patient persuasion" has taken Yes from a 10-point lead to an 8-point deficit in the last four months. She's going backwards at a rate of knots, and in the most favourable circumstances she could ever dream of – Brexit, a pandemic in which she's been (erroneously) seen to have performed well, and a wildly unpopular and almost comically crooked complete buffoon in 10 Downing Street.
She HAD a majority for independence, and she's blown it. It's almost impossible to imagine anything that could possibly provide a bigger boost to the Yes vote than what she's already had and wasted.
She used to promise that she'd deliver a second indyref "before it is too late" to avoid the effects of Brexit. But Brexit happened 15 months ago and now we have to wait for some unspecified point at which the effects of COVID are over before she'll even begin to try. There's always an excuse, and there always will be …
The truth of the matter is that Nicola Sturgeon has poisoned the Yes movement. Every part of it is now at war with every other part, and so bitterly that it's hard to imagine the peace and unity of 2014 returning even if and when she's finally dragged kicking and screaming out of Bute House.
Simon Heffer, writing in 2023, seems to be of the same opinion:
… the nationalist movement may well become more of a minority sport. It is already split following the creation of the Alba party by Alex Salmond, who fell out with Ms Sturgeon over her handling of complaints of sexual misconduct against him. He was later acquitted of 13 offences in a criminal trial.
And although the fanatics will endure any hardship to be shot of the colonial oppressor, many others won't. Scotland reached peak Sturgeon a couple of years ago, after her polished performance in the pandemic, when she enjoyed being more welfarist at every turn than the English government.
It will require a remarkable achievement by her successor to lift support for nationalism to the point where it would look likely that the Scottish people would back separatism in a referendum. The SNP has scrapped a special conference it was holding on the question. Talk of the next UK election being a referendum on separatism is ending.
When SNP sources say, as they have in recent days, that a second referendum is off the agenda for the next five years, what they really mean – all being equal – is 10, 15 or 20 years. Every further failure in health, education, infrastructure planning and social care lines up more voters against them: for in the extensively devolved system, only they are responsible.
Heffer tells us how important English subsidies are to Scotland:
It is one thing to tell an opinion pollster that you, as a Scottish voter, would like to be shot of England; quite another to vote in a referendum, were there to be one, to cut the umbilical cord to the Treasury in Whitehall, whose subventions to Scotland under the block grant are around £41bn per year.
For every £100 the government spends per person in England, it spends £126 in Scotland. As the IFS's comments on the country's economic future imply, the SNP has nothing but pie in the sky to suggest as the source of that money post-independence.
The SNP never had a detailed plan for independence.
More on that tomorrow.
Yesterday's post covered Nicola Sturgeon's resignation as First Minister of Scotland on February 15 and the reasons for it.
The story continues.
More reaction
When Jacinda Ardern stood down in New Zealand, British conservatives wondered if Sturgeon would follow suit.
After all, the metropolitan elite adored both female 'saints', mothers of their respective nations.
On Thursday, February 16, The Telegraph's Jenny Hjul pointed out (emphases mine):
In her eight-plus years as Scotland's First Minister, Sturgeon has been loved and loathed in equal measure at home, something she acknowledged in her press conference. But beyond her domain, she has been regarded in many circles as an almost saintly presence, a pioneer of progressive causes, and a beacon of pure, strong leadership.
To the frustration of her critics in Scotland, she has been able to pull the wool over the eyes of London liberals in particular and garnered a good press over her botched handling of everything from Covid to the fall-out from Brexit.
In her parting, parallels will no doubt be drawn with that other recent quitter, and Sturgeon idol, Jacinda Ardern. Like the former premier of New Zealand, the SNP leader's attempt to portray her departure as an honourable exit will be taken at face value by those who understand little of the domestic politics that have made her position untenable in the long-term.
Sturgeon, like Ardern, banged on about running out of steam, about the pressures of the job and the constant scrutiny. And she flagged up what she saw as her achievements ("Scotland is a fairer country"), while regretting that she could not bring more rationality to politics. "If all parties were to take this opportunity to try to de-polarise public debate just a bit," she pleaded.
This is rich indeed from a politician who has thrived not just on driving divisions between Scotland and the rest of the UK but on polarising opinion north of the border.
Far from being democracy's champion, her party has shut down dissenting voices while claiming to represent the whole of Scotland. Under her tenure, Scotland has become all but a one-party state, with many public bodies, and civic and cultural organisations captured by SNP groupthink.
Sturgeon said her decision to stand down had crystallised over the past few weeks, perhaps since Ardern's resignation showed that even great (by their own reckoning) leaders have their limits. But more likely it is because her grip has gone – over her party, which is divided and growing rebellious, and her country, which is further away than ever from voting Yes …
To her wider fan club, she may have relinquished her crown with grace, but to those who know her better it is her final face-saving gesture.
The Gender Recognition Reform Bill, which the British government vetoed by using Section 35 provisions for the first time, has caused a split within the Scottish National Party. On Thursday, February 16, The Times reported that Party members' views are divided on the legislation:
The Scottish government has until April 17 to decide whether to appeal against the UK government's veto of the legislation, which would allow people to self-identify their gender and lower the age of transition to 16.
The SNP's ruling national executive committee will meet tonight to decide the rules and timetable for the leadership contest, raising the prospect that there may not be a new first minister in place before the key call has to be made …
"I think it dies in its current form," a senior SNP source said. "The sensible approach would be [for the new leader] to get round the table [with the UK government] and find a compromise on the bill."
The party is split on the bill, meaning whatever happens it will be controversial. Opening talks with Conservative ministers will anger those who lobbied for the bill to be pushed through with little compromise.
However, there is a significant number of elected representatives and grassroots members who are concerned about fighting a court case when a recent poll found that 50 per cent of voters in Scotland back the UK government's position …
Mixed reactions
When Liz Truss was Prime Minister, she labelled Nicola Sturgeon an 'attention seeker' and, as such, someone to be ignored. She never contacted Sturgeon.
Rishi Sunak was different and got in touch soon after he entered No. 10. He was rather gushing on her departure:
President Trump, on the other hand, viewed Sturgeon differently:
The day she resigned, he posted a statement on his 2024 campaign website:
Good riddance to failed woke extremist Nicola Sturgeon of Scotland! This crazed leftist symbolizes everything wrong with identity politics. Sturgeon thought it was OK to put a biological man in a women's prison, and if that wasn't bad enough, Sturgeon fought for a "Gender Recognition Reform Bill" that would have allowed 16-year-old children to change their gender without medical advice. I built the greatest Golf properties in the World in Scotland, but she fought me all the way, making my job much more difficult. The wonderful people of Scotland are much better off without Sturgeon in office!
Catalogue of failures
Is Trump right?
While he is no fan of the former US president, Scottish Conservatives leader Douglas Ross would agree with those sentiments.
On the morning of February 15, the sun was shining in the north east of Scotland, where Ross, an MP and MSP, was campaigning for candidates in an upcoming by-election. The sun was shining:
That was at 9:46. In just over an hour, the sun would shine even brighter with the unexpected news of Sturgeon's resignation.
The following tweet represents the political disconnect among the Scottish public between those who thought Sturgeon was a disaster and those who thought she was a saint:
I will certainly miss First Minister's Questions which always began with a Sturgeon-Ross face-off. In the last two sessions, Sturgeon was unable to answer Ross's question about sexual identity — 12 times, no less.
The evening that she resigned, Ross wrote in The Telegraph about her catalogue of failures:
She is, rightly, regarded as a formidable politician. But equally, it's hard to dispute that, by obsessing over independence, she has always governed in the nationalist interest, rather than the national interest.
Any rational analysis of her record as First Minister would have to conclude that it's one of failure.
On education, the policy area she asked to be judged on, it's dismal. Scotland tumbled so far down the international league tables that we were withdrawn from them to save face.
For a self-avowed "progressive", Nicola Sturgeon's abject failure to eradicate the poverty-related attainment gap, as promised, is a damning indictment of her reign.
Then, there's the increased violence in our classrooms and the first teacher strikes in almost 40 years.
On her watch, Scotland's NHS is on its knees with record waiting times for treatment and burnt-out, exhausted staff. The root cause is dismal workforce planning by successive SNP health secretaries, including Nicola Sturgeon who cut the number of funded places for homegrown medical students at Scottish universities.
Similarly, on transport, the ledger is grim. The ferries scandal is the most egregious case of wasteful public spending in the devolution era, with the latest cost estimates (£450 million) showing it's set to overtake the Scottish Parliament building as a money pit.
But it's about so much more than taxpayers' cash being squandered. It bears two other hallmarks of the Sturgeon government: remote Scotland being an afterthought and secrecy.
Meanwhile, the death toll on two of Scotland's vital trunk roads, the A9 and A96, continues to rise while the SNP, in thrall to the anti-car Greens, drag their heels on long-standing promises to expand the dual carriageways, and our trains remain over-priced and unreliable under nationalised ScotRail.
The First Minister has grown increasingly out of touch with the public mood in recent months, leaving her successor with dilemmas over whether to ditch or amend flawed policies, such as the National Care Service, the Deposit Return Scheme and, of course, gender self-ID.
By tying herself in knots over the latter, she was left in the absurd position of being unable to refer to a double rapist as a man.
That, coupled with her dismissal – indeed, smearing – of those who warned that her Gender Recognition Reform (Scotland) Bill threatened women and girls' safety betrayed her "I know best" arrogance.
Arguably, Nicola Sturgeon's greatest failing is Scotland's drug death epidemic, which has mushroomed to such an extent under her that fatality rates are now the worst in Europe by an enormous margin.
"We took our eye off the ball" was her slip-of-the-tongue mea culpa for those appalling statistics. But it could, and should, serve as her wider epitaph.
Coronavirus measures
Ross did not mention, or perhaps he agreed with, Sturgeon's draconian coronavirus policies.
From the start, she did things more radically than Boris Johnson. For whatever reason, the BBC televised her lengthy lunchtime coronavirus press conferences throughout the UK, when her policies pertained only to Scotland.
Her right-hand woman was Devi Sridhar, an American public health researcher who is the chair of global public health at the University of Edinburgh. The BBC frequently interviewed Sridhar for all the UK to see and hear, a subtle attempt to get every other Briton on board with Scotland's draconian policies.
In April 2020, the SNP's then-Westminster leader Ian Blackford MP wrote to Boris to delay full Brexit because of the pandemic.
On Sunday, April 5, The Express reported:
In his letter, Mr Blackford urges Mr Johnson to seek an extension to the current transition period in a bid to focus resources and efforts on tackling the pandemic – claiming failure to do would be "beyond reckless". He added: "We are not asking you to change your views on Brexit – we are simply asking you to recognise reality."
"This isn't about fighting old battles or rehearsing old arguments – it's about recognising the needs of people right now."
Fortunately, Boris ignored him.
However, that same day proved that the SNP was not whiter than white. Sturgeon's chief medical officer Dr Catherine Calderwood had already broken lockdown restrictions twice by travelling to her weekend home from Edinburgh.
Sturgeon did not act and even initially refused Calderwood's resignation.
If she had stayed then Ms Sturgeon and, probably the British government too, would have had to face the fact that for many politicians, the media and for huge sections of a terrified and angry general public, it will be this doctor – and not the nation's battle against a killer virus – who would have become the main issue. Dr Calderwood would have been the story, not coronavirus. And in the harsh world of politics, that's what ultimately counts.
She admitted that not once but twice she drove the 40-odd miles to her second home at a time when she is on our TV screens and in our newspapers constantly urging the rest of the population to stay at home and not to go off on non-essential trips to the countryside.
Whichever way you cut it, and although the First Minister insisted that she still depended on this lady's medical support, her foolish actions threatened to drive a coach and horses through the official advice – advice that Dr Calderwood helped draw up – on which the nation depends to beat this virus.
Ms Sturgeon was extraordinarily generous in refusing initially to accept Dr Calderwood's offer to resign and for insisting, somewhat ingenuously, that everyone makes mistakes. That is true, of course, but the reality is that for this senior official, this was no ordinary slip-up.
On the contrary, on two successive weekends Dr Calderwood decided to get into her car and do what she's been telling the rest of us not to do – and take a non-essential trip away from the city of Edinburgh to her holiday home in the Fife seaside village of Earlsferry. Trips that earned her an official and extraordinary warning from the police …
Moreover, what is already sticking in the craw of many people is that this is someone who has been a firm advocate of the severe restrictions imposed on the rest of the population who has decided to ignore them to visit her second home.
That this second home is in one of Scotland's most expensive seaside villages, much favoured by Edinburgh's better-off classes, will also not be lost on her critics.
SNP politicians said the doctor had to go, at which point Sturgeon relented:
She hoped that would have enabled the doctor to hang onto her position albeit in a backroom role but I'm certain that this experienced politician would have known that it was a hopeless situation.
That view was magnified by the ferocious level of protests she received from leading SNP politicians who said they were reflecting serious unease amongst the party faithful about Dr Calderwood's behaviour.
The hypocrisy of it all!
That month, an allegation surfaced that England was stealing Scotland's PPE supplies, a claim which Sturgeon retracted mid-month but, according to one Conservative MSP, allowed to continue spreading north of the border. On April 15, The Express reported (with a video of one of her press conferences):
At Ms Sturgeon's daily briefing, she promised to seek urgent clarity on reports that Scottish care homes were being given a lower priority for supplies of personal protective equipment. Claims of PPE priority for England surfaced on Monday and came from Donald Macaskill, the head of Scottish Care, which is the body representing private care homes in Scotland. He told BBC Radio Scotland the UK's four largest suppliers had said they were not sending to Scotland and instead prioritising "England, the English NHS and then English social care providers".
Andrew Neil mocked the First Minister of Scotland and tweeted: "Nicola Sturgeon told GMB [Good Morning Britain] that she accepts assurances that NHS England did not demand PPE suppliers give preference over Scotland …"
Jamie Greene, Scottish Conservative MSP for West Scotland tweeted: "They're still spouting the story, contrary to the language now being used by the FM, Health Secretary, and Clinical Director.
"If you're going to manufacture a grievance, at least coordinate it. Even their target audience is boring of the needless (dangerous) scaremongering."
UK Health Secretary Matt Hancock spoke to health ministers from different UK nations on Tuesday afternoon and insisted it had not instructed any company to prioritise PPE for one nation over the others.
Sturgeon often wanted to appear to be ahead of the curve as a means of scoring political points targeting Boris's policies for England. Unfortunately, he caved in all too often and followed suit.
On April 23, The Mail reported:
Ms Sturgeon has repeatedly gazumped Number 10 during the coronavirus crisis as she has moved on key issues before ministers in London. 
Previous examples include announcing a ban on large social gatherings, closing schools and saying that the original three week lockdown would be extended. 
That article laid out Sturgeon's plans to reopen Scotland soon.
Three days later, she was unable to give any further clarity, despite her announcement. As the reply says, when Boris hesitated, he was accused of obfuscation while Sturgeon was praised for her notional transparency:
Incredibly, on May 5, Sturgeon was pictured shaking hands with Bill Gates. It was okay for them, when no one else was allowed to do so. And look how close they were to each other. More hypocrisy:
Then it emerged that, like Boris, who at least had the excuse of attending Brexit transition meetings, Sturgeon also missed COBRA meetings about the pandemic. In fact, she missed six of them. This came from one of the Scottish papers: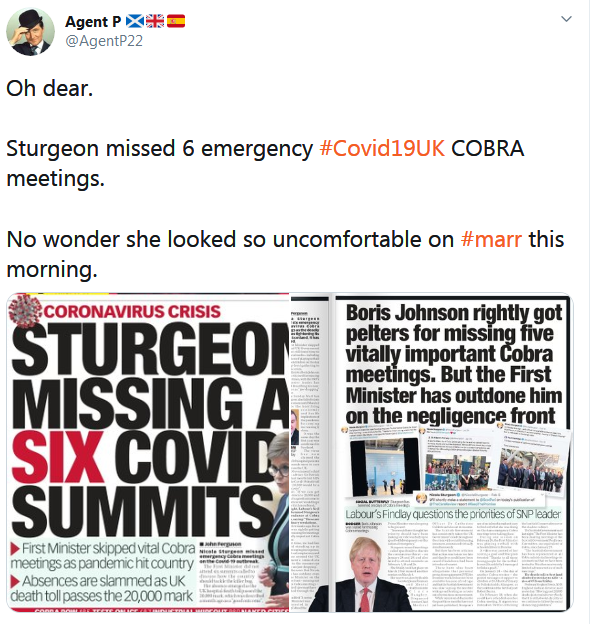 England and Wales effectively re-opened by early July, although with masks, social distancing and some visiting restrictions in place. Scotland lagged behind.
Already on July 10, it was becoming clear that Scotland's coronavirus policies were not working, as Tom Harwood wrote in The Telegraph:
Looking at Nicola Sturgeon's polling popularity it's easy to forget that the Scottish First Minister presided over a care home coronavirus death rate double that of England. It's easy to miss the fact that Scotland has been significantly behind England when it comes to the rate of testing too. As Labour's Shadow Scottish Secretary Ian Murray told a private zoom meeting at the end of May, "all of these things in Scotland are in a lot of instances worse than what's happening in England but Boris gets the blame and not Nicola Sturgeon."
How then has she managed to get away with it all so unscathed?
One answer is simple. The Westminster media bubble is so often so busy naval gazing that politicians elsewhere in the country escape the scrutiny placed on No 10. Few in the Westminster village are concerned with what's going on 400 miles north in Holyrood. This obviously allows much Scottish scandal to slide under the radar when it comes to national attention. But this explanation is to downplay the cunning strategy of the SNP Government, and its not so secret weapon. Nationalism.
Sure enough, on July 12, Sturgeon announced she was considering a mandatory quarantine of all English visitors to Scotland. Guido has the video:
On July 23, The Spectator published 'Nicola Sturgeon's care homes catastrophe':
Nicola Sturgeon is fond of telling Scots that the prevalence of Covid-19 is 'five times lower' in Scotland than in England. Or at least she was, until the Office for Statistics Regulation released a statement calling her data source 'unclear' and adding that 'we do not yet have evidence to support the validity of these comparisons'. The SNP has been retailing the notion that Sturgeon's response to the pandemic far outstrips that of Boris Johnson. The public may be on her side, but the facts are not.
… In England and Wales, deaths in care homes have accounted for 28 per cent of all fatalities involving coronavirus. In Scotland, the figure is 47 per cent. English and Welsh homes have lost 3.7 per cent of their residents to the virus while homes in Scotland have lost 5.6 per cent. This is all the more remarkable since the care home population south of the border is almost 12 times the size of that in Scotland.
One explanation is the SNP government's hive-like mentality. Dissenting views were pushed aside or ignored altogether …
Far from supplying an exemplar for others to follow, the Scottish Government has demonstrated the consequences of wrong-headed policy-making, spurning of expert counsel, and a failure to be transparent. The case for a public inquiry into what went wrong in Scotland's care homes, and in the decision-making at the top of government, is surely undeniable. With Covid-19 apparently under control at present, now is the optimal time to review policies and processes in case a second wave is looming down the line.
On July 31, Sturgeon announced a travel ban between Scotland and the north west of England:
She announced on the BBC:
I am today advising, strongly advising, people in Scotland to avoid travel to the areas affected in England… and also to ask people from these areas from these areas not to travel to Scotland.
Guido noted:
1,892 years on, Hadrian would be delighted she's picking up where he left off…
On August 5, Sturgeon effectively locked down the City of Aberdeen, although she did allow people to go to work and educational institutions. According to one person, this was because one bar was not following the rules:
On October 1, Sturgeon was slow to act on then-SNP MP Margaret Ferrier (now an Independent), who travelled by train from London to Scotland and back again, even though she knew she had the virus. By the time this appeared, Ian Blackford had suspended the whip:
The whole of the UK knew about Margaret Ferrier, who remains an Independent to this day. People were angry:
On October 7, Sturgeon announced a semi-lockdown, although she said schools would remain open and adults could leave the house:
On October 11, Sturgeon's government was failing to use its full testing capacity. It was only using half:
While hospitality establishments in England and Wales had been serving alcohol indoors since the summer and, later in 2020, with food only, Scotland opted to ban strong drink altogether until October 27 that year. Devi Sridhar probably played a role in that, too:
On November 23, Sturgeon closed the Scottish border to the rest of the UK.
Guido told us:
This weekend, in what must have been a dream come true to nationalists, Scotland closed its border to the rest of the UK. The move came as the most densely populated parts of Scotland moved into 'Tier 4' – lockdown in all but name. It is currently illegal for anyone from the rest of the UK to enter the country without a reasonable excuse. Scots are also forbidden from traveling to other parts of the UK. A dream come true for the more extreme SNP supporters.
People who enter or leave Scotland illegally are now being hit with £60 fines. Travel within Scotland is also restricted, with those living in Nicola's Tier 3 or 4 areas prohibited from leaving their local authority without a reasonable excuse. Guido gets the feeling some political tribes are secretly enjoying this pandemic…
On December 17, Sturgeon got stroppy with the Scottish Mail's political editor Mike Blackley for asking whether the self-isolation time could be cut, as was planned in the rest of the UK.
Sturgeon shot back:
Yeah, because that'd really help 'cause that would spread infections even further and that would not be doing any favours to businesses.
Guido has the video:
On December 22, Sturgeon was photographed maskless chatting to two women at a pub. They did not have masks, either, but at least they were eating, so had an excuse. Sturgeon apologised only because she was sorry she got caught:
The story caused quite a stir:
The following day, Sturgeon apologised in Holyrood:
She said she was kicking herself harder than her worst critic would:
The author of the Scottish blog Lily of St Leonards pointed out the hypocrisy not only of the mask violation but, more importantly, Sturgeon's criticism of Boris's continuation of Brexit negotiations:
Sturgeon is not merely a hypocrite about masks, she is also a hypocrite about transition periods.
Imagine if Sturgeon had been given her wish and there had been an independence referendum in 2018 and she had won it. There would have been a transition period. Let's say it was due to end in March 2020. Scottish Independence Day would have been April the First. Would Sturgeon have really extended the transition period because of the Covid outbreak? But what if she had extended it and Scotland had continued to receive money from the Treasury? When would the transition period end? When we no longer needed the money? It's another word for never.
While condemning the British Government for not extending the transition period with the EU due to Covid, Sturgeon is still planning an independence referendum for 2021. If we must extend the transition period because of Covid, why does she suppose it is sensible to have a referendum on breaking up Britain? We have had four years to prepare for leaving the EU. Sturgeon doesn't even have a plan for independence that takes into account the economic damage of 2020.
Brexit is massively easier to achieve than Scottish separatism. It doesn't involve setting up a new state. It merely involves us returning to what we had been for centuries until the early 1970s.
The winter saw a resumption of semi-lockdowns throughout the UK, in England as well as in the devolved nations.
Schools had to close just as pupils and students returned from Chrismas holidays in January.
It was thought that President Trump, having lost to Joe Biden, would be taking a golfing trip in Scotland in order to avoid handing over the presidency to him. Sturgeon put her foot down.
On January 5, NPR reported:
Scotland First Minister Nicola Sturgeon says President Trump wouldn't be allowed to visit Scotland to golf during its pandemic lockdown, responding to speculation that Trump might travel to a Scottish golf resort rather than attend President-elect Joe Biden's inauguration.
"We are not allowing people to come in to Scotland without an essential purpose right now and that would apply to him, just as it applies to anybody else," Sturgeon said after being asked about Trump on Tuesday. "Coming to play golf is not what I would consider to be an essential purpose."
Sturgeon was responding to questions spurred by a report in the Scottish newspaper The Sunday Post, which cited a source at Prestwick Airport as saying the facility has been told a U.S. military Boeing 757 aircraft will arrive on Jan. 19, the day before Trump's term expires and Biden is inaugurated …
As for the chance that Trump might use an international trip to one of his golf resorts to avoid the handover of power, Sturgeon said she has not been told of any of Trump's travel plans.
In the event, the whole world knows that Trump stayed in Washington …
Also on January 5, Scotland had not decreased the required number of days for self-isolation, as Guido reminded us:
On 22nd December, England's Covid rules changed so infected individuals can stop isolating after seven days rather than ten, so long as they test negative on day six and seven. Six days ago Wales followed suit, and a day later Northern Ireland copied the change. Leaving one obvious outlier…
It now looks like Sturgeon will confirm the cut, with a statement expected later today and her deputy John Swinney saying yesterday that their administration is "actively considering" reducing the self-isolation period.
Meanwhile, the vaccine rollout began.
On January 28, The Mail reported that Sturgeon sided with the EU in saying that the UK had too many vaccine doses and the EU too few:
Nicola Sturgeon was accused of taking the EU's side in the bitter vaccine row today as she vowed to publish details of the UK's supplies despite Boris Johnson ordering her to keep them secret.
In an extraordinary move, the First Minister risked undermining Britain's position, with Brussels heaping pressure on firms to give the bloc a bigger share of the stocks. 
Despite the PM warning that the information must be confidential to protect the rollout, Ms Sturgeon told Holyrood she will release it from next week 'regardless of what they say'. 
The timing of Ms Sturgeon's intervention was particularly provocative given that it came as Mr Johnson was on an official visit to Scotland to make the case for the Union. 
Tory MPs vented fury at Ms Sturgeon – who wants Scotland to be independent and rejoin the bloc – saying she is 'obviously more inclined to help the EU than she is the UK'. 
Tory MP Peter Bone told MailOnline: 'The simple truth is she has a tendency to support the EU rather than the United Kingdom.
'It is wrong, her behaviour. I would have thought she would praise the success of the UK because Scotland shares in that. If she was in the EU and not part of the UK she would still be waiting for her vaccines. Get behind the UK government and stop playing petty politics.' 
The row erupted as tensions between Britain and Brussels over vaccine supplies escalated again as the EU warned drug companies it will use all legal means to block the export of jabs from the continent unless manufacturers deliver the shots they have promised.
The EU's vaccination rollout continues to lag far behind the UK's, with the bloc now desperately scrambling to boost supplies – but deliveries have slowed due to production problems.
Brussels has publicly slammed AstraZeneca for failing to deliver on its contract with the bloc and has even asked the firm to divert jabs from Britain. 
Now it has emerged that European Council President Charles Michel has said in a letter to four EU leaders that the EU should explore legal means to ensure it receives the jabs it has bought.
On March 9, the Scottish Sun reported that Sturgeon was relaxing social gatherings — provided they were small, outdoors and close to home:
NICOLA Sturgeon has confirmed plans to allow four adults from two households to meet outdoors from Friday.
The First Minister also revealed older children can mix again in groups …
"And, in addition, we will make clear in our guidance that this will allow for social and recreational purposes, as well as essential exercise.
"Meeting will be possible in any outdoor space, including private gardens.
"But please, do stick to the new rules. Gatherings must be a maximum of four people, from two households. And you should only go indoors if that is essential in order to reach a back garden, or to use the toilet.
"And, for now, please stay as close to home as possible.
"We hope to be in a position to relax – at least to some extent – travel restrictions within Scotland in the weeks ahead, but it is not safe to do so just yet."
By April 2021, with the UK's schools still closed, Sturgeon was planning a phased re-opening in Scotland. In 2020, there were problems in marking exams with so much of the school year out the window. To be fair, other UK nations implemented similar policies with similar disastrous results. In 2021, Sturgeon stipulated that no exams were to be set. Understandable, but teachers needed some sort of assessment for pupils and came up with something called the Alternative Certification Model, which allowed teachers to mark pupils on what they observed in class. Sturgeon did not like the proposal and offered no alternative solution, leaving head teachers to come up with their own plans while trying to avoid the word 'exam':
At that time, booze and most hospitality was once again off the menu. Although Sturgeon followed Wales's Prif Weinidog (First Minister) in relaxing some restrictions, hospitality was not one of them:
This was less than a month before local and national elections (for Wales, Scotland and Northern Ireland) took place.
On April 13, Guido Fawkes noted that Scottish hospitality was suffering badly (red emphases his):
Sadly for Scotland's hospitality sector, Guido's tip-off that the Scottish government was to bring forward its unlocking of hospitality didn't materialise. Last night, Scotland's hospitality sector was warning the two-week lag north of the border would cost up to £20 million…
While Sturgeon often boasted at her televised briefings that Scotland had the best plan and the lowest infection rate as a result, it turned out that she was wrong.
On April 30, Guido posted that Scotland had the highest infection rates per capita in the UK:
Guido told us:
Statistics from the ONS this afternoon reveal Scotland is lagging significantly behind England, Wales and Northern Ireland in their Covid prevalence rate. Wales has the lowest rates by far, with one case per 1,570; followed by England's 1,010; and Northern Ireland's 940. Scotland, however, is well behind the rest of the country's progress, at one in every 640. Sturgeon's so-called 'good pandemic' has always been a smokescreen of spin, rather than epidemiological success…
On May 21, Sturgeon forgot to be politically correct and call the Indian variant by another name:
Guido observed:
A rule which apparently never applied to the Kent variant in the first place…
The Spectator thought along the same lines:
… newly appointed health secretary Hamza Yousaf was on hand to claim that 'a reason why we are calling it the April-02' variant is because it is 'important for us not to allow this virus to divide us as communities and people.'
Clearly the SNP feel no such qualms about doing so with the people of Kent.
On May 27, Boris's former adviser Dominic Cummings explained to a parliamentary select committee how Sturgeon sabotaged UK-wide coronavirus COBRA meetings.
Nicola Sturgeon undermined the UK's four-nations approach to tackling the coronavirus crisis by "babbling" about high-level meetings, Dominic Cummings has claimed.
Boris Johnson's former senior adviser accused the first minister of undermining meetings of Cobra, the disasters committee, by announcing the outcome of discussions at media briefings.
Sturgeon held her televised briefings daily at 12.15pm during the pandemic, so they were often directly after a UK-wide crisis meeting.
Cummings told the Westminster science and technology committee and health and social care committee that the online Cobra meetings became shams because other participants feared what Sturgeon would say on TV. This resulted in decisions not being made because of distrust, he added.
"The last Cobra meeting I can even remember downstairs in the Cobra room was essentially a Potemkin [fake] meeting because it was with the DAs [devolved administrations] and what happened was, as soon as we had these meetings, Nicola Sturgeon would just go straight out and announce what she wanted," Cummings said.
"So you had these completely Potemkin meetings without anyone actually digging into the reality in detail, because everybody thought, as soon as the meeting is finished, everyone's going to just pop up on TV and start babbling."
On June 1, Sturgeon said that the scheduled reopening of Scotland could be delayed because not enough people had been vaccinated. Once these people get hold of maximum control, they don't give it up easily:
On June 9, Sturgeon backed out of a Scotland-specific coronavirus inquiry, as did Mark Drakeford for Wales. A UK-wide inquiry would go ahead instead:
Guido pointed out that the SNP's May 2021 local/devolved election manifesto had promised one (because of the high rates of care home deaths):
Both Mark Drakeford and Nicola Sturgeon are facing backlash after seemingly cowering out of conducting their own, nation-specific Covid inquiries. Despite it being in the SNP manifesto, Sturgeon is now being warned not to break the pledge after backtracking away from the commitment. The SNP manifesto promised a Scotland-specific inquiry "as soon as possible after the election", however the first minister's spokesman told the press on Sunday that the government "was yet to decide whether Scotland needed an inquiry at all, insisting she would first wait to see the terms of reference of a proposed UK-wide probe instead." As slippery as a Sturgeon…
In Wales, Mark Drakeford didn't commit to an inquiry in his election manifesto, and is sticking to his refusal. Being pressed during first minister's questions yesterday, he told Tory leader Andrew RT Davies that the UK-wide inquiry being set up by the PM would be sufficient.
On June 29, Sturgeon had another travel ban in place between Scotland and the north west of England. Manchester's mayor Andy Burnham forced her to overturn it. She never consulted him on the matter.
Burnham called the ban hypocritical:
Guido explained:
… Health secretary Humza Yousaf confirmed in Holyrood today that the ban between Scotland and Manchester, Bolton and Salford will lift tomorrow. Sturgeon brought in the ban without approaching Burnham and without consultation. Mad with power…
Yousaf claims the restrictions are being removed "due to changes in the epidemiological position for those areas." The ban on travel between Scotland and Blackburn will remain in place, however. Guido imagines locals in Blackburn won't be too keen to travel to Scotland anyhow, given it's experiencing its largest Covid wave since the start of the pandemic…
On August 3, Sturgeon began lifting restrictions throughout Scotland. However, as Guido reported, some would stay in place for quite a while:
… the "number of mitigation measures" include
Mask mandates

which Sturgeon expects will 'likely (…) be mandated in law for some time to come."

An ongoing requirement for indoor hospitality venues to collect the contact details of customers.
Sturgeon added:
It is important to be clear that it does not signal the end of the pandemic or a return to life exactly as we knew it before Covid struck.
On August 25, Sturgeon announced that Scotland would be conducting its own coronavirus inquiry, independent of the UK-wide one. A change of heart from what she said earlier.
Nicola Sturgeon has said Scotland will launch its own judge-led public inquiry into the handling of the pandemic by the end of the year …
One of its central aims will be to investigate "events causing public concern" — specifically the excessive death rate in Scottish care homes.
Sturgeon and Jeane Freeman, the former health secretary, have both admitted that discharging 1,300 elderly people from hospitals into care homes without robust testing at the start of the pandemic had been a mistake. More than 3,000 people died in care homes, a third of all the deaths in Scotland …
Sturgeon said the Scottish government would continue to liaise with the UK government about its own inquiry.
Did that ever take place? I don't know. Certainly, no questions that I've heard have been asked in Holyrood.
Eventually, Scotland re-opened, long after England and some time after Wales.
Conclusion
From this litany of errors, including nationalism, hypocrisy and power-grabbing, we can see that Nicola Sturgeon was — and is — no saint.
More to follow on her other mistakes next week.
Wednesday, February 15, 2023, was a busy day in Britain.
The day began with Labour leader Sir Keir Starmer announcing that the former Party leader Jeremy Corbyn, would not be allowed to run for re-election under Labour. Corbyn had the Party whip removed some time ago and is an Independent MP, representing Islington.
At 11:00 a.m., Nicola Sturgeon announced her resignation as Scotland's First Minister, although she will remain an MSP (Member of the Scottish Parliament) until the next election:
Two big news events in one day caused some political reporters to race from a London airport to Edinburgh to cover both stories.
This was Metro's take on the day:
I watched most of the press conference, which, as one has come to expect from Sturgeon, was three times longer than it should have been.
She really didn't talk much about Scotland or the Scots, either, only herself:
Sturgeon said that she would remain in politics and defend women's rights, something she said she had always done.
One wonders.
Gender Recognition Reform Bill and independence sticking points
Since the Scottish Parliament passed their Gender Recognition Reform (GRR) Bill several weeks ago, regular protests for women's rights have been taking place in Glasgow's George Square. The Secretary of State for Scotland in Westminster is blocking its passage to Royal Assent by enforcing Section 35. This is the first time the UK parliament has vetoed Scottish legislation.
Scottish Labour joined the SNP and Greens in pushing the legislation through with no safeguarding amendments, as tabled by the Scottish Conservatives and duly rejected. These would have required more than a man's self-identification as a woman on his own assertion. Since then, news has emerged of a rapist dressed as a woman who was serving time in a female prison. There are other examples of male criminals claiming to be women. One such man recently abducted a little girl for 27 hours. This has not impressed Scots, especially as MSPs supporting the recent legislation said that these things never happen.
On February 9, 2023, Scotland's Daily Record reported that 30000 SNP (Scottish National Party) members have cancelled their membership (purple emphases mine):
Up to 30,000 people are said to have ­cancelled their SNP membership in response to Nicola Sturgeon's gender reforms and the ­stalling of independence.
The First Minister is under rising pressure to ­abandon her Gender Recognition Reform (GRR) Bill altogether in a bid to halt the meltdown. Polls have also shown public support for the SNP and ­independence has plunged after it emerged double rapist Isla Bryson had spent time in a women's prison.
Dozens of SNP supporters have taken to social media to say they have binned their membership cards. One said: "I cancelled my membership. Rejection of ­reasonable amendments to GRR the final straw… the ­Scottish Government look like zealots."
Another said: ­"Membership cancelled. I never signed up for regressive identity politics."
GRR, or grr, indeed.
Scottish independence also emerged as an issue for those cancelling SNP membership. Many think it's going nowhere:
Yet another added: "I am for ­independence. I don't see the SNP getting us there and have cancelled my ­membership. I believe this issue, women's rights and the need for single sex protections to be important in its own right."
Polls show that the appetite for independence has been falling recently. The GRR has probably helped that, as people think more of that type of legislation would come if Scotland withdrew from the United Kingdom.
As one commenter on a Guido Fawkes post put it:
People, in general, are happy to ignore politicians until they do something that affects them. They hadn't thought about the ramifications of "trans women are women", because it hadn't directly affected them.
Well, by putting a rapist into a women's prison, they noticed and they saw how dangerously stupid the idea of self id was. What brought her down was her inability to row back after she had painted all the people who warned this would happen as bigots.
Sturgeon also got herself tied up in knots at a press conference about the rapist in the women's prison by mixing the convict's genders, which brought more grilling by interested reporters.
The Daily Record article continues:
Support for the SNP as well as support for ­independence, has dropped, according to a YouGov poll out last week. It fell to 44 per cent from 50 per cent in December in the Holyrood constituency vote and from 40 per cent to 36 per cent in the regional list. SNP support at Westminster dropped from 43 per cent to 42 per cent while backing for ­independence dropped from 53 per cent to 47 per cent.
Sturgeon said she plans to run the next UK election as a "de facto referendum" in the hope of achieving a majority of votes north of the Border and ­securing negotiations on ­independence. The SNP does not publish membership numbers but a party source said: "This is a real and deepening crisis for the SNP and Sturgeon ­personally".
Only last month, Sturgeon was confident that she had 'plenty left in the tank' to lead Scotland to independence:
Now not so much.
Interestingly, a February 1 article in the Scottish Daily Express said that Sturgeon was due to resign soon:
David Griffiths, a former Holyrood candidate for the Alliance 4 Unity party, told the Scottish Express that sources close the SNP leadership have the First Minster's days numbered.
He caused a stir on social media on Tuesday by tweeting: "I'm told Nicola Sturgeon will shortly announce her decision to stand down as SNP leader before the next UK General Election" …
Asked for more details, he said: "Let's just say I'm acquainted with someone who is close to some of the SNP hierarchy and they've said they are hearing that she might have decided that she's had enough."
Commenting on car crash interview with Ms Sturgeon where she branded opponents to her gender policy "misogynistic, homophobic, and racist" he said: "It was just the most staggering thing I've ever heard from a senior politician in Scotland."
Someone commenting on a Wings Over Scotland post ('The Ship That Died of Shame', February 15) said a friend had heard about the upcoming resignation the evening before:
I was told last night she was going. A friend had a load of SNP big wigs in his taxi and they were talking aboout her resignation. So its come to pass. Hoepfully she's not destroyed the dream of an Independant Scotland. Now we must get the best people.
Poor polling
In recent weeks, it has come to light that the Scottish Parliament's views do not reflect those of Britons as a whole.
On February 10, UnHerd commissioned a poll conducted by FocalData about GRR based on four questions.
General statements, such as being allowed to change one's gender received broad agreement, but more specific ones, such as transgender women using women-only spaces and participating in women-only sports showed more opposition.
UnHerd has an accompanying map showing the nuanced areas of response by parliamentary constituency:
Once you start asking about specific policies and impacts, the results move in a decidedly more sceptical direction. Asked whether "transgender women should be allowed to use spaces reserved for women, such as women's toilets or changing rooms", 33% agree and 42% disagree. Most of the 53 constituencies that support the idea contain city centres and student towns, while all but one of the top 10 most opposed constituencies are in Scotland.
Whereas taken as a whole population, Scotland is only slightly more trans-sceptical than England and Wales (31% of Scottish people strongly disagree with the proposition about women-only spaces, compared with 28% in Wales and 27% in England), those areas in strongest disagreement are almost all in Scotland. In total, 45% of Scottish voters oppose the idea compared with 32% who support it. The result in Scotland underscores the political risk to First Minister Nicola Sturgeon of her Gender Recognition Bill …
Taken as a whole, there seems to be a majority of voters coming to a nuanced position on this issue: supportive of people who wish to identify as a different gender, but sharply defensive of women-only spaces and sports. And on the evidence of Scotland, the more they are exposed to the arguments the clearer that view becomes.
On February 14, The Revd Stu Campbell, founder of Wings Over Scotland, published results of a poll they commissioned from Panelbase in 'Confirmation Bias For Beginners':
He says the results show that most MSPs are not representing the views of their constituents:
… we just asked directly if people felt their MSPs were doing their jobs.
Ouch. By well over 2 to 1, respondents felt that they were being let down by the people who are supposed to speak for them. (Excluding DKs the margin is just shy of 70/30, very similar to the margin by which people in polls oppose self-ID generally.)
But it's when you drill down into the detail that it gets a bit disturbing.
Because remember, we're not asking for people's views on gender reform itself here. We're simply asking if they think the Parliament is in step with the public. And for voters of the Tories, Labour and Lib Dems, that's an easy answer.
Even though the latter two supported the GRR, their voters are clear that they did so against the wishes of the public, by margins of 14:1 (Tories), almost 4:1 (Labour) and 3:1 (Lib Dems). And that's perfectly rational, since countless polls all show the same.
SNP voters, however, are split down the middle in a statistical tie of 36-35. But far more said they didn't know than voters of the other parties, which means that barely over a third of even SNP voters think Parliament is speaking for the people …
But more than that, what they tell us is that Parliament is letting the whole of Scotland down with its dogged, pig-headed determination to force through law that nobody wants. And the people know it.
Those 'in the know' know nothing
Returning to the GRR bill, a number of MPs, pundits in London and at least one civil servant thought that enforcing Section 35 would boost Sturgeon's popularity.
Guido Fawkes posted an excellent summary of the predictions they made only a few weeks ago:
He tells us:
Following weeks of scrutiny over her controversial transgender reform bill and stance on trans rapist prisoners, Nicola Sturgeon resigned this morning. This came as a surprise to Guido – for weeks pundits were warning the government's decision to block Scotland's Gender Reform Bill was a victory for Nicola and the independence cause. Instead it's seen unionism boon and Sturgeon quit. Even Reuters is now reporting that Rishi "outmanoeuvred" the First Minister. 
Behind the scenes Sue Gray, the powerful Second Permanent Secretary to Cabinet Office, went out on a limb in Whitehall leading the mandarin's efforts to block the block. She was hyperactive behind the scenes trying to stop Alister Jack using Section 35, claiming it would be terrible for the union and boost Nicola. Her expertise on the union has been found wanting…
The Guardian's political editor Pippa Crerar's judgement was likewise shown up, as her analysis described how the SNP might weaponise a court battle, which could prove a "gift to the independence cause". Whilst New European columnist James Ball said the government's invocation of Section 35 was "every one of Sturgeon's Christmases at once". He went on to add it was "total idiocy".
The were plenty of Tories who made the same, demonstrably wrong, argument. Senior Scottish Tory MSP Jamie Greene voted for the bill on those grounds. Penny Mordaunt too warned it could backfire. Theresa May displayed her characteristically statesman-like political acumen as she came out in favour of the bill. A fair number of Tory wets were left high and dry, as they piled on to criticise the government's decision to block the move. Whilst the Tory Reform Group called UK Government intervention a "deeply concerning development" which "played into the hands of those who seek to break our Union". A reminder – "Yes" is now 12% behind in the polls.
How little those in the know actually know.
Missing money
However, there is another reason why Sturgeon might have chosen this very moment to resign: the missing sum of £600,000 from the SNP's coffers which was supposed to have been, in the Party's words, 'ring-fenced' for the independence cause.
Guido explains:
In recent days Police Scotland were finally given permission to formally interview a number of SNP and ex-SNP figures about the disappearance of £600,000 that had been donated by activists and ring-fenced as a Scottish Independence fund.
Despite the ring-fencing, when the SNP published their 2019 accounts it was noticed they had just £96,000 in the bank.
More intriguingly, it later emerged that Sturgeon's husband, Peter Murrell, loaned the party over £100,000 in June 2021, a move that Scottish Tory chairman Craig Hoy described as "beyond odd for the SNP chief executive – and Nicola Sturgeon's husband – to be lending his employer a six-figure sum of money".
Imagine if the First Minister had been a Conservative:
Guido reckons the Lobby would have spent much more time scrutinising this were she a Tory First Minister…
The missing money was old news when I first read about it in 2021. Most of the sum was comprised of Party members' contributions rather than those of big donors. Those people want to know what happened to it.
One donor on a Wings over Scotland post says:
… the missing money is, I think, the thing lurking in the shadows. I'll admit I gave money as I assumed (wrongly) we'd be getting a massive push towards a referendum and independence. I didn't expect it to vanish into a black hole where Sturgeon and her husband look iffy and now with the police getting involved, it looks as if fraud is suspected.
There will be no de facto referendum this year. Whoever takes over from Sturgeon will hang onto their position til the Westminster elections next year because that short money needs to come in. Of course, if the police do find that Sturgeon or her husband are guilty of fraud then the effects of that are going to be felt for the new FM.
I do feel there's a lot happening which hasn't spilled over into the public domain as yet, but we're seeing hints here and there … which suggest to me that something else is coming down the line.
The Revd Stu Campbell from Wings over Scotland mulled over Sturgeon's timing and the money issue:
Nicola Sturgeon told Scotland's press this morning that despite her weariness, she could have managed a few more months or even a year as First Minister, which would at least have got her halfway to keeping her promise to serve a full term if she was elected in 2021.
Which just makes her timing all the harder to explain.
Because it's hard to imagine how much less appropriate it could have been.
Firstly, the party was completely unprepared. We've spoken to several current SNP elected representatives today and none of them had had any advance warning – not even the slightest hint – of the resignation. Incredibly, the first they knew was reading about it on social media this morning. Wings knew before SNP MPs and MSPs did.
And secondly because it leaves the SNP in total chaos. Just four weeks from now it's due to have arguably the most important conference in its history, at which it'll decide how to deliver to the people of Scotland the say in their future that they've been promised since 2016.
Campbell points out that, according to SNP rules, it takes 133 days to elect a new Party leader, so Sturgeon will be with us for several months yet, unless the National Secretary amends the process. He has a screenshot of the rules in his post.
He continues:
So why the sudden rush out the door?
There is simply no rational explanation for the timing of Sturgeon's exit to be found anywhere in her resignation speech/conference, except for the last 16 seconds of it. It is an astonishing betrayal of those still loyal to her (she betrayed everyone else long ago, of course) to hand them such a short-fused fizzing timebomb and run for her life.
So if anyone can come up with a convincing alternative to the idea that she just didn't want to be actually sitting at her desk when her husband and/or herself were arrested for defrauding her own supporters out of £600,000 of their hard-earned cash, we're all ears. But it better be really, really good.
On this subject but elsewhere in the ether, someone made a mock-up of Sturgeon's perspex podium: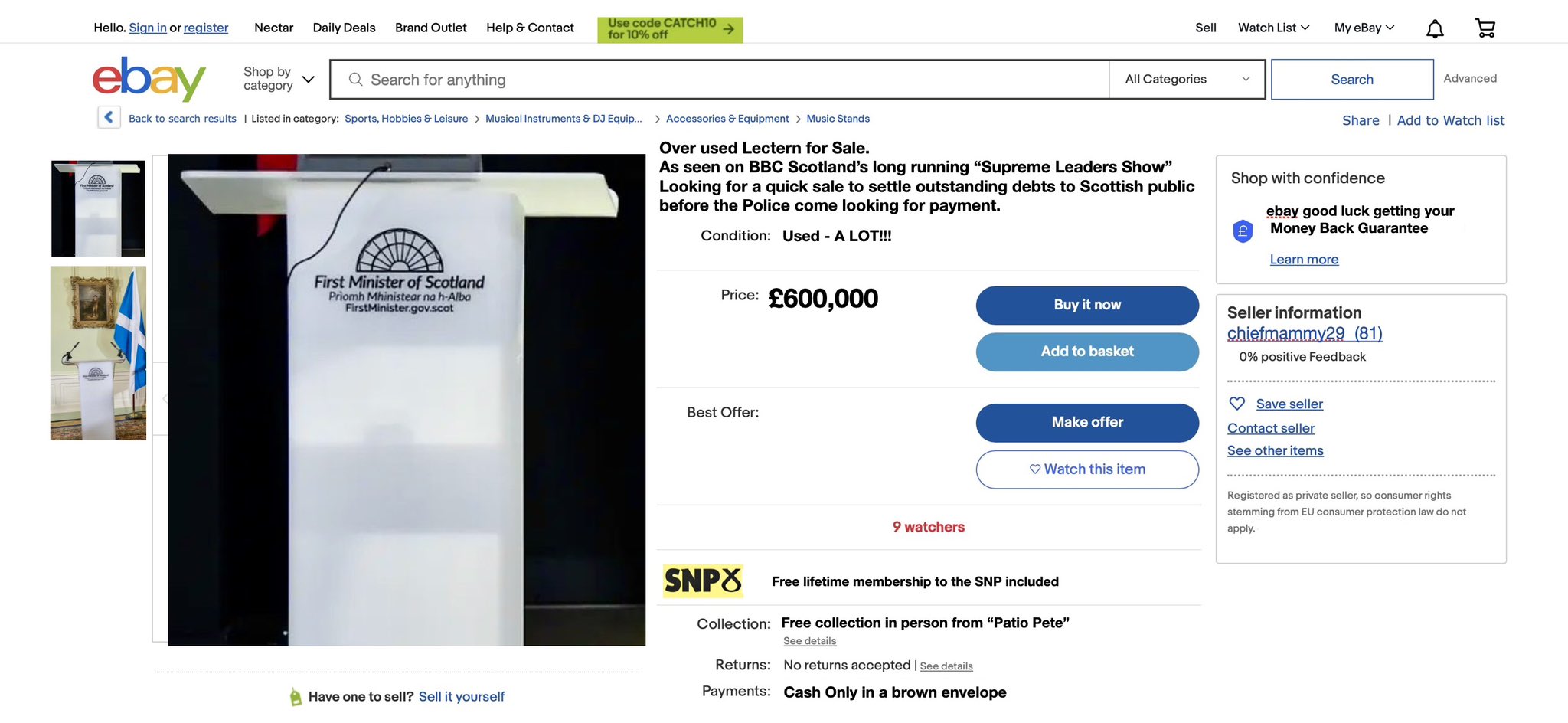 People wonder why Police Scotland hadn't stepped up to the plate over the £600,000 years ago.
Scottish law is different to that of other nations in the UK, but three comments on one of Guido's posts might go some way in explaining the delay:
If there is a criminal investigation, the police shouldn't need "permission" to interview anybody. The fact that in Scotland apparently they do tells us all rather a lot about how the SNP have been governing Scotland. I really wish the UK government would conduct a real probe into what has been going on north of the border. That might sound the death knell for devolution at last. And Brown wants to extend the whole fiasco by breaking England up into lots more individual fiefdoms as if London hasn't already shown the idea up as nonsense.
Police Scotland had to get permission from the Crown Office (their CPS) to question Sturgeon and Murrell. The head of the Crown Office also being a government adviser had absolutely nothing to do with the delay in permission being granted………
They had to wait until they could be confident their careers and/or pensions wouldn't be harmed by investigating the no-longer-golden 'girl'.
No obvious successor
Finding a successor will be interesting.
A commenter on another of Guido's posts thinks old but deep internal SNP issues will re-emerge:
The next few months will also see some very ugly wounds that have not healed … burst wide open … Whoever takes her place will be fighting several fires that have gone one for a very long time, with several pretty much out of control now. This is a very precarious time for that party, and they could very easily implode.
Despite Sturgeon saying that:
the SNP is awash with talented individuals
Guido begs to differ (see link in tweet):
It seems SNP MPs disagree – one told The Scotsman that the talent pool is a "shallow well"…
Guido recapped the top runners and riders. In the middle is Deputy First Minister John Swinney and on the right is Cabinet Secretary for Finance and the Economy Kate Forbes, currently on maternity leave:
Guido has based his profiles on the results of a Panelbase poll for The Sunday Times which shows that of all possible candidates, Don't Know wins by a whopping 69%:
Nicola Sturgeon has resigned as First Minister, brought down by her own absurd gender reform bill and crashing support for independence. As ever, Guido brings you the runners and riders for who might step up to replace her. The latest polling from Panelbase, published last week in The Sunday Times, paints a grim picture for the SNP; virtually none of the potential candidates have any name recognition or support base. Still, here's how things stand…
Kate Forbes – Scotland's current Cabinet Secretary for Finance and the Economy. By a narrow margin, the most 'popular' choice to win, although only in the loosest sense of the word – she got 7% in the Panelbase poll. At 32 years old, she'd be the youngest political leader in the UK by quite a margin. Hasn't ruled out standing, according to "a source close to her" in the Times. Crucially, she's been sceptical of Sturgeon's gender policies. Currently on maternity leave…
John Swinney – Current Deputy First Minister. Got 6% in the Panelbase poll. Loyal to Sturgeon and an experienced operator, although recently caused upset amongst the party's MSPs after he allegedly assured them they could "vote with their conscience" on the Gender Reform Bill… only to then apply a three-line whip. Was accused of withholding evidence during the Salmond Inquiry, and survived the Scottish Tories' subsequent vote of no confidence.
… With a whopping 69% in the Panelbase polling, however, was notorious political heavyweight… "Don't Know". Definitely one to watch…
John Swinney has too much past political baggage to be First Minister.
Kate Forbes would be a safe pair of hands, especially for women. She is also a devout Christian.
Outlook for Labour and Conservatives
Pundits say that Sturgeon's resignation could provide a lift for Scottish Labour. However, what those pundits aren't saying is that Labour MSPs voted overwhelmingly for GRR.
Scottish Conservatives, in my view, are better placed, provided they stop standing in the shadows. Their MSPs were the only ones who had useful safeguarding amendments to the GRR. Furthermore, only three Conservative MSPs voted for GRR.
Therefore, currently, Scottish Conservatives hold the moral high ground, even if Scots, for whatever reason, have historically loathed them.
This will be interesting to watch.
It's hard to know where to begin with this year's Christmas news, much of which is disappointing, to say the least.
That said, there is a bright Christmas message here, so please read on.
Scotland legislation latest
On Thursday, December 22, the Scottish Parliament — or Assembly, as I still call it — passed legislation for Gender Recognition Reform, specifically to grant Gender Recognition Certificates (GRCs).
The bill passed in the SNP-controlled government 86-39 with no abstentions. Only two Conservative MSPs voted for it. The rest were SNP (Scottish National Party), Scottish Greens (SNP coalition partners), Scottish Labour and Scottish Liberal Democrat MSPs.
The final contributions were largely made on the basis of feelings. Wednesday's transcript shows that every Conservative motion proposing greater controls over who can apply for a GRC and under what conditions was defeated. Debate had also taken place on Tuesday in an attempt to rush this through before Christmas break.
The Scottish Parliament thought this so important that it even cancelled their annual Christmas carol service, which, this year, was to feature Ukrainian refugees living just outside of Edinburgh.
A pro-independence — though not a pro-SNP — Scot who lives in England, the Revd Stuart Campbell, summed up the legislation in one of his Wings Over Scotland posts, 'On the hush-hush' (emphases mine):
The last few days have been perhaps the most turbulent in the entire history of the modern Scottish Parliament. Proceedings have been suspended repeatedly, members of the public thrown out and threatened with arrest, filibusters attempted, carol services cancelled, tempers frayed and sittings going on until the wee small hours.
All of this has happened in the service of the policy that the SNP has made its flagship priority for the last two years and more – the destruction not only of women's rights, but of the very CONCEPT of a woman …
So you'd imagine the party would have been tweeting about it constantly, keeping its supporters informed about all the dramatic events and the progress of the bill, if only to reassure them that they were determined to get it passed before the Christmas break come what may …
But there wasn't one solitary word about the thing it just spent three solid days forcing into law. And since it was a thing that most of its own voters, and indeed a huge majority of all Scots, were opposed to, readers might be forgiven for thinking that they just wanted it all kept as quiet as possible, as if they were ashamed.
We suspect, and very much hope, that their wish may not be granted.
The Revd Mr Campbell means that the Secretary of State for Scotland in Westminster might refuse to present the Bill for King's Assent. Let's hope so.
Another Wings over Scotland post explains what the Bill actually does:
… one of the most regressive, dangerous and frankly absurd pieces of legislation the modern world has ever seen. Last week, [First Minister Nicola Sturgeon's] government successfully managed to get the word 'woman' redefined from an adult human female to anyone to who has a piece of paper that says they are one.
Should obtaining this piece of paper involve a rigorous, measured process that takes psychological and criminal history into serious consideration and prioritises the safety of women and children, this would be permissible to the socially liberal. Alas though, the new GRA has shamelessly scrapped all safeguarding measures. For a man to legally become a woman now – and be entitled to access all female-only facilities, be it changing rooms or prisons, all he has to do is 'live as' a woman (whatever the hell that means) for three months followed by a three-month 'reflection period'.
TRA-adjacent politicians have nowhere to hide with this now. They can no longer deny that sex-based rights will be grievously compromised and that predators and fetishists now have ease of access to women (and children's) spaces, from bathrooms to sports teams.
In another post, Campbell linked to Tuesday's proceedings where a Conservative MSP tried to raise an amendment calling for greater scrutiny of sex offenders wishing to change gender. Unfortunately, 64 SNP/Green/Lib Dem MSPs voted it down. In 'The Disgraces of Scotland', Campbell wrote:
The events marked simply and unquestionably the most shameful and contemptible moment in the history of the Scottish Parliament since 1707.
1707 was the year when the Act of Union was established between England and Scotland.
He also pointed out that voting down the amendment resulted in:
ceding the moral high ground to the Scottish Conservatives …
Anyone who knows the Scots knows that anything Conservative is unpopular there. That said, the Scottish Conservatives are the official opposition party in Edinburgh.
It should be noted that anyone aged 16 1/2 and over can apply for a GRC. It would appear that no formal medical diagnosis will be required with this new legislation.
Campbell's readers have much to say on the matter. Some say this is a deleterious influence from American pressure groups. Others say that women will be in great danger.
Both are likely possibilities.
None of the MSPs supporting the Bill thinks that women will have any problem with sex offenders or deviants. However, a British substack begs to differ. 'This Never Happens' is a lengthy catalogue of gender-changers around the world who have committed horrific crimes, many of a sexual nature. Another site with a similar catalogue can be found here.
It is ironic that a woman is in charge of Scotland and she has overseen this legislation. In fact, she has supported it from beginning to end.
Scotland, like Canada, was such a beautiful country once upon a time. When I say 'beautiful', I'm referring to people. Another spirit — the devil — is moving through both nations.
One positive outcome is that the Scottish Conservatives can use this legislation to their advantage during the next election cycle. Unlike the SNP, Scottish Labour and Scottish Lib Dems, they alone voted en masse against it, showing that they are the true defenders of women and girls.
An UnHerd columnist, Joan Smith, says that this will come soon to England, should Labour win the next general election:
The man sitting next to you on a tram in Edinburgh, or turning up for a women-only swimming session, may self-identify as a woman — and the law will support him every step of the way. Centuries-old assumptions about what is real, about what people see in front of them, are being overturned. And it's coming to Westminster as well, if Sir Keir Starmer follows through on his proposal to 'update' the 2004 Gender Recognition Act.
We have less than two years before a Labour government comes to power, weighed down by promises to import the idiocy (I'm being polite here) of self-ID to the rest of the UK. Two years, in other words, to watch what happens when politicians reject biology, common sense and the imperative to protect women against male violence. 
In the meantime, prisons, hospitals and refuges outside Scotland will face the headache of what to do when a man with a Scottish Gender Recognition Certificate (GRC) — obtained with far fewer safeguards than elsewhere in the UK — demands access to women-only spaces. The prospect of expensive litigation is terrifying, but women's organisations on both sides of the border are already preparing for the fight of their lives.
So crazed are MSPs by this ideology that on Tuesday evening they voted down an amendment that would have placed barriers in the way of convicted sex offenders who seek to apply for a GRC, complete with a new female name. They even rejected an amendment — proposed by Michelle Thomson, an SNP MSP who has waived anonymity to reveal her own experience of being raped when she was fourteen years old — that would have paused the process of acquiring a certificate for men charged with sexual offences.
This is an extremely troubling development. Let's not forget that the SNP-Green government has pressed ahead with the legislation even after Lady Haldane's judgment established last week that a GRC changes someone's legal sex for the purposes of the 2010 Equality Act. Scottish women are now expected to accept that any man standing in front of them, waving a piece of paper, is a woman — even if they're in court and the man is accused of raping them. 
It's clear that a bill that was supposedly purely administrative has hugely expanded the number of individuals who can apply for a GRC, with catastrophic effects on women's rights.
The rest of the UK is about to find out what it's like living alongside a country in which observable sex no longer has any meaning. Welcome to Scotland, where the word 'woman' will now soon include any man who fancies it.
Conservatives in England and Wales can take heart from this for the general election in two years' time, pointing to their colleagues north of the border. Who are the great defenders of women and girls? It certainly won't be Labour.
Woman arrested for silent prayer
On December 6, a pro-life supporter from Worcestershire was arrested for praying silently in Birmingham in an exclusion zone around an abortion clinic.
Here is the video of her arrest:
A fundraiser is open for her:
BirminghamLive filed their report on Tuesday, December 20:
A woman has been charged with breaching an exclusion zone outside a Birmingham abortion clinic. Isabel Vaughan-Spruce, aged 45, from Malvern in Worcestershire, was arrested near the BPAS Robert Clinic in Kings Norton on December 6.
She was later charged with breaking a Public Space Protection Order, said by Birmingham City Council to have been introduced to ensure "people visiting and working there have clear access without fear of confrontation". Vaughan-Spruce will appear at Birmingham Magistrates' Court on February 2 next year.
A West Midlands Police spokesperson said: "Isabel Vaughan-Spruce, aged 45 from Geraldine Road, Malvern, was arrested on December 6 and subsequently charged on December 15 with four counts of failing to comply with a Public Space Protection Order (PSPO). She was bailed to appear at Birmingham Magistrates Court on February 2 2023."
The police must feel threatened by prayer, especially that of the silent sort.
On Friday, December 23, UnHerd 's Mary Harrington gave her thoughts on the arrest:
It's customary in these situations to decry the breach of liberal norms involved in arresting someone not for doing something wrong but merely thinking. But if, as I've suggested elsewhere, all politics is now post-liberal, that means it's once again explicitly the case that state power is aligned with a widely-shared moral order. 
This is a drum I've been banging for a little while, for contra the fond imaginings of some liberals we never really stopped ordering power to sacred values. After all, it's not really possible to have a functioning polity otherwise. This, I argued shortly before the pandemic, is why hate crime laws appeared a scant few years after the abolition of blasphemy laws: they are blasphemy laws. We've just updated what we considered blasphemous …
…  Vaughan-Spruce's arrest makes it clear that the zone surrounding an abortion centre is treated as sacred in a way that's evidently no longer meaningfully the case (at least as far as the European court is concerned) of a church. She is an activist and director of March for Life UK, and has been previously arrested for protesting against abortion. But this in no way diminishes the growing sense that the activity being protected is also increasingly treated as sacred …
We have sacralised autonomy to such an extent that laws uphold women's right to it, even at the cost of another radically dependent life. And the issue is growing ever more moralised, as evidenced by the fact that even thinking disapproving thoughts about this radical commitment to individual autonomy is now treated as blasphemous, in zones where its most extreme sacrifices are made. 
Wherever you stand on the practical issues surrounding abortion, this is indisputably a profound statement on the relative values we accord to freedom, care and dependency — one with profound ramifications for how we see the weak and helpless in any context. That the practice is taking on sacramental colouring, for a religion of atomisation, should give us all pause.
Indeed.
House of Lords Archbishop of Canterbury debate on asylum
On December 9, the House of Lords gave the Archbishop of Canterbury his annual debate. This year, the subject was the UK's asylum and refugee policy.
I hope that readers will understand if I do not excerpt his speech here. They are free to read it for themselves.
We have taken in a record annual number of illegal migrants crossing the Channel this year, expected to be over 50,000.
We have also taken in large numbers of legitimate refugees and asylum seekers. We have also given visas to many thousands of legal migrants this year, particularly from Africa and Asia, namely India and Hong Kong.
UnHerd had a good analysis of what Welby said and our current predicament:
The Archbishop says he aims to support action that would "prevent small boats from crossing the channel", but he also stresses that the UK is not taking many refugees and should take many more. 
Astonishingly, he dismisses the provision our country has made to welcome Hong Kong residents — well over 100,000 to date and many more to come — by saying "and that, by the way, is not asylum but financial visas". It may not involve an application for asylum as such, but it clearly involves flight from oppression. Welby also draws the wrong conclusion from the fact that developing countries host many more refugees than developed countries. This is much cheaper than settlement in the West and makes return more likely. Developed countries should help pay the costs, and the UK leads the way in this regard.
The control Welby claims to support does not presently exist. The small boats cannot safely be turned around in the Channel and France will not accept their immediate return. The Rwanda plan is a rational (if imperfect) attempt to address the problem, removing asylum-seekers to a safe third country, where they will be protected, yet the Archbishop decries the plan on the grounds that it outsources our responsibilities. This makes no sense, for the UK not only accepts that Rwanda must comply with international standards, but also commits to funding the protection of those who prove to be refugees. Welby asserts that the plan has failed to deter. Indeed, because it has not yet been tried at all. 
The UK has good reason to resettle in safe third countries those who enter unlawfully on small boats, which would discourage others from (dangerous) unlawful entry and restore control of our borders. The historic tradition on which the Archbishop relies is alive and well in the provision our government has made, with wide public support, for temporary protection for Ukrainians escaping Russian aggression and for resettlement of the new Huguenots, the Hong Kong residents seeking to escape the oppressive reach of the Chinese Communist state. 
Lord Lilley — former Conservative MP Peter Lilley — posed the conundrum of loving one's neighbour and not being able to accommodate everyone, especially those who arrive under false pretences:
This issue raises very difficult dilemmas for Christians. Being a very inadequate Christian myself, I take up the challenge from the most reverend Primate the Archbishop with trepidation: to try to formulate principles for governing our policy on asylum and migration. Not having direct access to the mind of God like the most reverend Primate the Archbishop, I seek those principles in the Bible.
I recall that our Lord said that the essence of Christianity is to love God and love our neighbour as ourselves. When asked who our neighbour is, he gave the parable of the good Samaritan, when a Samaritan helps a Jew—from which I deduce that our neighbour is not just the person next door to us and not necessarily a member of our own nation; it can be anyone. The first principle I therefore deduce is that, although charity begins at home, as a lot of my constituents used to tell me, it does not necessarily end at home. I am at one with the most reverend Primate the Archbishop on that.
Secondly, the Samaritan did what he practically could. We may be called on to help anyone we practically can, but we cannot help everyone. Again, the most reverend Primate the Archbishop recognised that and it is important that we recognise that our responsibilities are finite, in this respect.
Thirdly, when the Levite and the Jewish priest reached their destination, I have no doubt that they deplored how, owing to years of austerity, there had been insufficient spending on police and the health service to prevent the problem arising in the first place or to treat the person, instead of leaving it to the passing Samaritan. Therefore, my third principle is that, to be a good Samaritan, you have to give care, help and so on at your expense. We, as politicians, may have to take decisions on behalf of others but, in doing so, we should have consideration for the impact we are having on others and not imagine we are being virtuous when we do good at their expense.
The first principle is that charity begins at home, in how we treat people who have come to settle here. When I was a child, mass immigration into this country was just beginning. The parish in which I lived asked each family to link up with a migrant family, many of whom were lonely, isolated and, at worst, facing hostility. My family was linked up to a delightful Mauritian couple, whom we would invite to supper every few weeks. We became good friends. That was done by parishes across south London. I would love to hear from Bishops who have not yet spoken about what the churches are doing today to help integrate those who are here in our society and to be the good Samaritans to our neighbours from abroad.
But charity does not end at home. I pay tribute to those tens of thousands of people who opened their homes to families fleeing the bombing in Ukraine, while their menfolk remained to fight for their country. We should not imagine we are sharing in being good Samaritans if we throw open the doors of our country to everybody because, if we do that, we are doing good at others' expense. We are, in effect, saying that migrants, be they legal or illegal, asylum seekers or otherwise, through housing benefit and social housing, will have access to rented and social homes. We all have our own homes, so we will not be affected. Therefore, more young people will have to wait at home or live in cramp bed-sitters for longer, because of what we, as legislators, think we are doing generously, without taking the impact on others into account.
The second principle is that our neighbour can be anyone, but it cannot be everyone. Millions of people want to come here. Look at the impact of the green card system the Americans operate, when they make 30,000 visas to the US available to certain countries and say, "Anyone can apply; there is a ballot." Some 9% of the population of Albania applied when they heard about that being offered to them, as did 11% of the Armenian and 14% of the Liberian populations. These were only the people who heard about it and responded. The potential number who would like to come to America or Europe, if we open these so-called direct routes, would be enormous. Will we say to those who apply, at an embassy or some place abroad, that they would have the same legal rights, and opportunities to appeal or for judicial review if things are turned down? If so, potentially millions of people would join the queue. It would not shorten but lengthen it, so we have to restrict and to prioritise.
I submit to noble Lords that the priority should not be the boat people. They are not coming by boat from Basra, Somalia or Eritrea; they are coming from France, Belgium and Germany. Why are they coming here rather than staying in those safe countries? They are three or four times as likely to be rejected there. France, in the last year before the pandemic, forcibly repatriated 34,000 people. I find some strange double standards being applied here. There are no criticisms of France for being much stricter than us or of us for being much laxer than them, but one or the other must be the case.
I am coming to an end. If it is morally and legally right for the French to try to prevent people leaving their shores, and for us to pay and support the French in so doing, it should be morally and legally right for us to return them. If they cannot be returned, it is reasonable to try to deter them by saying, "If you come here, you will go to Rwanda. You always have the opportunity to stay in France." I submit that we do not always consider these opportunities.
Later on, the Archbishop of York, the Right Revd Stephen Cottrell, spoke, an excerpt of which follows. The transcript hardly does his indignation justice. He ripped right into Lord Lilley:
I say to the noble Lord, Lord Lilley, that everyone is our neighbour. Of course, we cannot take everybody, but that makes it even more important that we have a fair system for everyone.
Dehumanising language promotes fear. Threat of destitution is used as a deterrent. Children are treated as if they are adults. Yet in our own country, among our own people, in our churches, other faith groups and communities, some things have gone well, such as the Homes for Ukraine scheme, where many people have found a home, other family members have joined them, and people have been able to get work. This is really good.
But why has our response to people fleeing other conflicts been different? Currently, the definition of family in our asylum system would not allow someone to join their sibling even if they were the last remaining relative, and being able to work and contribute is a long way off. The tragedy of our system lies in its exceptionalism, meaning that people receive differential treatment usually because of their country of origin. That underpins the Nationality and Borders Act, and I fear that further legislative action will be the same.
But we could learn from what is happening in our communities. The noble Lord, Lord Lilley, asked us directly about integration. I do not know where to begin. In hundreds of parishes and schools, and in other faith communities up and down our country, that is what we are doing—in English language classes, in befriending and in teaching people. I would be the first to admit that there are lots of things about the Church of England that could be better, but that is something that we are doing, alongside others, and it shows the best of British.
We need a system that will simply provide safe and legal routes for everyone to have equal opportunities to apply for asylum. All I am saying is that I think that would be good for us, as well as for the people who are fleeing unimaginable conflict and evil.
Finally, when it comes to being able to work, the Church of England, alongside the Refugee Council and the Government's own Migration Advisory Committee, is a long-standing supporter of the Lift the Ban campaign.
I say all this—like many of us, I would wish to say more, but the most reverend Primate the Archbishop of Canterbury said most of it—as winter arrives, and it is cold, and a cost of living crisis will inevitably affect the British people's capacity to be hospitable. I say simply that a functioning asylum system is not a threat to our social cohesion as some fear or predict, but a dysfunctional, unfair one is.
As every small child knows at this time of the year, as the noble Lord, Lord Cormack, mentioned, Mary and Joseph came looking for somewhere to stay, but there was no room at the inn. Saying no, accusing those who are being hospitable of being naive, or passing the buck are easy, but saying yes, with a fair and equal system for everyone, opens up blessings for everyone.
A week later, Cottrell featured in an article in The Telegraph: 'Forgive my "predictable leftie rant" on asylum, says Archbishop of York'.
It seems he knew he was out of order with Lord Lilley, who deserved the same courtesy as the peers agreeing with the Archbishop. It was good for Lord Lilley to speak politely on behalf of the British public.
Britons are paying upwards of £7 million a day just to house those crossing the Channel.
GB News's Mark Steyn and his guest hosts have been covering the topic nearly every night:
Taxpayers are deeply upset, especially during our cost of living crisis, which is causing many to choose between food and fuel.
Combine that with taxpayers' personal expenses for Net Zero, and we are heading for disaster:
Red Wall Conservative MP Jonathan Gullis tried unsuccessfully to raise a Private Member's Bill to get illegal migrants to Rwanda sooner rather than later:
Hotels across England are being taken over by companies working for the Home Office to house the Channel-crossers:
Hospitality workers in those hotels are losing their jobs as the aforementioned companies install their own staff to manage them:
The December 22 show also featured the seemingly intractable problem:
Former Sun editor Kelvin MacKenzie then swung by to weigh in on how much migrants are costing Britons.
The Home Office — read 'civil servants' — must do something now.
It's obvious people are watching GB News, because they beat BBC News for the first time ever on December 14:
Onwards and upwards!
House of Commons recess debate
On Tuesday, December 20, the House of Commons held its Christmas recess debate.
Normally, these are rather jolly affairs where MPs air wish lists for their constituencies for the New Year. However, this year's contributions were rather grim, including those from Conservative MPs.
Once again, providentially, I tuned in at the right time to hear the member for Don Valley, Conservative MP Nick Fletcher. He closed his speech saying the following, the first part of which came as news to me:
Finally, Christian friends across the House tried to secure a Backbench debate on Christmas and Christianity, but by all accounts we were not successful. While I have this moment, I want to remind those in this place, and anyone who cares to watch, that although Christmas is celebrated in many ways across the world, the real reason is the birth of our saviour, Jesus Christ. He was sent as a saviour, and with the promise that whoever believes in him will have eternal life. I do not want anyone ever to forget that. Merry Christmas everybody.
Jim Shannon, a Democratic Unionist Party MP (i.e. from Northern Ireland), was one of the last MPs to speak. A devout Anglican — yes, they still exist — he gave a beautiful speech on the meaning of the season, most of which follows:
It is no secret that I love this time of year—I may have mentioned that a time or three in this House. There are so many things to love about Christmas: time with family; good food; fellowship; and, for me, the singing of an old Christmas carol as we gather in church. But the most wonderful thing about Christmas for me is the hope that it holds. I wish to speak this year about the Christ in Christmas, because, too often, we miss that. It would be good this year to focus on what Christmas is really all about. I ask Members to stick with me on this one.
The message of Christmas is not simply the nativity scene that is so beautifully portrayed in schools and churches throughout this country, but rather the hope that lies in the fact that the baby was born to provide a better future for each one of us in this House and across the world. What a message of hope that is; it is a message that each one of us needs. No matter who we are in the UK, life is tough. The past three years have been really, really tough—for those who wonder how to heat their homes; for those who have received bad news from their doctor; for those whose children have not caught up from the covid school closures; for those who mourn the loss of a loved one; for those who mourn the breakdown of a family unit; and for those who are alone and isolated. This life is not easy, and yet there is hope. That is because of the Christmas story. It is because Christ came to this world and took on the form of man so that redemption's plan could be fulfilled. There is hope for each one of us to have that personal relationship with Christ that enables us to read the scriptures in the Bible and understand that the creator, God, stands by his promises.
I want to quote, if I may, from four Bible texts. To know that
"my God will meet all your needs according to the riches of his glory in Christ Jesus."
That is from Philippians 4:19.
To trust that
"I am the Lord that heals you."
To believe that
"all things are possible."
That is Matthew 17:20.
We can be comforted by Psalm 147:3:
"He heals the brokenhearted, And binds up their wounds."
Isaiah 41:10 says:
"So do not fear, for I am with you; do not be dismayed, for I am your God. I will strengthen you and help you; I will uphold you with my righteous right hand."
The strength for today and bright hope for tomorrow come only when we understand who Christ is. One of my favourite Christmas passages is actually not the account of his birth, but the promise of who he is. We all know this:
"For to us a Child shall be born, to us a Son shall be given; And the government shall be upon His shoulder, And His name shall be called Wonderful Counsellor, Mighty God, Everlasting Father, Prince of Peace."
In a world where our very foundation seems to be shifting, how awesome it is to know that this our God is only a prayer away. A group of people come to the House of Commons two or three times a week, and pray for Parliament. I have to say how important it is to have those prayers.
As we think of this passing year—something that many of us do—we think about what has happened and perhaps look forward to 2023 with renewed hope for the future. I think we should look forward with hope; we have to do that. We should always try to be positive. In this passing year, my mind goes to the loss of Her Majesty the Queen. Many of us felt that so deeply, and yet her passing also carried the message of hope, because of Christ. I quoted this when we had the tributes to Her Majesty. It is important, I think, to put it on the record again.
The wonderful message that the Queen gave in one of her cherished Christmas messages—this one was in 2014—was crystal clear:
"For me, the life of Jesus Christ, the prince of peace, whose birth we celebrate today, is an inspiration and an anchor in my life."
That was Her Majesty talking.
"A role model of reconciliation and forgiveness, he stretched out his hands in love, acceptance and healing. Christ's example has taught me to seek to respect and value all people of whatever faith or none."
It is my firm belief that this true message of Christmas is what can bring hope and healing to a nation that can seem so fractured. When I look at the headlines, I sometimes despair, but that is also when I most enjoy my constituency work, and getting to see glimpses of community spirit and goodness that are done daily and yet are rarely reported. Her Majesty's speech in 2016 reflected that, when she said:
"Billions of people now follow Christ's teaching and find in him the guiding light for their lives. I am one of them because Christ's example helps me to see the value of doing small things with great love, whoever does them and whatever they themselves believe."
At that point, Conservative MP John Hayes intervened:
It is heart-warming and refreshing to hear the hon. Gentleman's plain and confident affirmation of his faith, and our faith too. By the way he speaks, he encourages all of us to reflect on the Judeo-Christian foundations on which our society and our civilisation are built, and I just wanted to thank him for that.
Jim Shannon thanked John Hayes before continuing:
The right hon. Gentleman is most kind. I am giving just a slight reminder of what Christmas is about. I think we all realise that, but sometimes it is good to remind ourselves of it. The example of Christ is one of humility, coming to the earth as a vulnerable baby, and of purpose, as we see the gold given that symbolises royalty, the frankincense to highlight his deity and myrrh to symbolise his purposeful death to redeem us all.
I am a strong advocate in this House for freedom of religion or belief, as the Leader of the House knows. She is always very kind; every week, when I suggest something that should be highlighted, she always takes those things back to the Ministers responsible. I appreciate that very much, as do others in this House. I am proud to be associated with that wonderful cause, and as long as God spares me I will speak for the downtrodden of my own faith and others. I speak for all faiths, because that is who I am, and so do others in this House with the same belief.
At the same time, however, like Her late Majesty, I am proud to be a follower of Christ. At this time of year I simply want the House to know the hope that can be found in Christ, not simply at Christmas, but for a lifetime. The babe of Bethlehem was Christ on the cross and our redeemer at the resurrection, and that gives me hope and offers hope for those who accept him and it.
From the bottom of my heart, Mr Deputy Speaker, I thank you in particular, since you have presided over this speech and the past few hours. I thank Mr Speaker and all the other Deputy Speakers, with all the things that are happening to them, the Clerks and every staff member in this place for the tremendous job they do and the graceful spirit in which everything has been carried out in the last year. I thank right hon. and hon. Members, who are friends all—I say that honestly to everyone.
I thank my long-suffering wife, who is definitely long-suffering, and my mum—
At that point, Shannon broke down in tears.
Leader of the House Penny Mordaunt stepped in quickly and graciously while Shannon composed himself:
The hon. Gentleman has often summed up how people feel, particularly at this time of year. I know he has had losses over the past few years, and he always manages to sum up the feeling of this House. Many Members in this debate have spoken about constituents or family they have lost, and we appreciate his bringing up these issues, as I appreciate all Members' doing so. There will be some people thinking about spending Christmas apart from family they are not able to see, or having suffered those losses. I thank him and we are all willing him strength as he continues his speech.
After a pause, Shannon resumed and concluded:
I thank the Leader of the House for that. I mentioned my long-suffering wife; we have been married 34 years, so she is very long-suffering, and that is probably a good thing, because we are still together. My mum is 91 years old and I suspect she is sitting watching the Parliament channel right now to see what her eldest son is up to and what he is saying, so again that is something.
I also thank my staff members. I told one of my Opposition colleagues last week that I live in a woman's world, because I have six girls in my office who look after me and make sure I am right …
Lastly, I thank my Strangford constituents, who have stuck by me as a councillor, as a Member of the Legislative Assembly and as a Member of Parliament in this House. This is my 30th year of service in local government and elsewhere. They have been tremendously kind to me and I appreciate them. I want to put on record what a privilege it is to serve them in this House and to do my best for them.
I wish everyone a happy Christmas, and may everyone have a prosperous, peaceful and blessed new year, as we take the example of Christ and act with humility and purpose in this place to effect the change that we all want and that is so needed in our nation—this great United Kingdom of Great Britain and Northern Ireland, always better together.
Mr Deputy Speaker Nigel Evans said:
Your mother and wife will be as proud of you as we all are, Jim. [Hon. Members: "Hear, hear!] As a person of faith, I thank you very much for putting the Christ back into Christmas in your speech. We come now to the wind-ups.
When acknowledging MPs' contributions in the debate, Penny Mordaunt said:
The hon. Member for Strangford (Jim Shannon) should never have to apologise for mentioning Christ in this place—especially at Christmas. We are in a place where the architecture is designed to turn our faces to God. I thank him for his Christmas message.
And, finally — best Christmas wishes to Mark Steyn
In closing, hearty Christmas wishes to Mark Steyn who is recovering from two successive heart attacks:
He is recovering in France but told viewers more on December 19. Incredibly, the first heart attack happened before he presented one of his nightly shows on the self-styled People's Channel. He presented it anyway. Wow:
The GB News host suffered the first one "without recognising" the symptoms, before hosting his show on The People's Channel.
Speaking on his current absence from GB News, Steyn said: "I'm too medicated to manage artful evasions.
"I had two heart attacks. Because I didn't recognise the first one, as such, the second one was rather more severe."
The experienced broadcaster spoke about the shocking ordeal, saying he "doesn't look right", looking back at images of himself presenting the Mark Steyn show during the first heart attack.
Speaking on SteynOnline, he said: "The good news is that the first one occurred when I was in London. If you get a chance to see that day's Mark Steyn Show, with hindsight, I don't look quite right in close-ups.
"By not recognising it as a heart attack, I deftly avoided being one of those stories we feature on the show every couple of nights about people in the UK calling emergency and being left in the street for 15 hours before an ambulance shows up.
"I had a second heart attack in France. With Audrey [his wife?] helping me in the ambulance, she told me I was 15 minutes from death."
The presenter also revealed he would remain in France over Christmas and New Year as he is unable to leave medical care and return to New Hampshire.
GB News viewers will be sending Mark every best wish for a speedy recovery — and a healthy, happy New Year! We look forward to seeing him on the airwaves soon!
Yesterday's post introduced the significance of Scotland to Queen Elizabeth II.
In it, I mentioned that, after the 1707 Acts of Union, the history of Scotland began to be romanticised through the efforts of Queen Victoria, Prince Albert as well as Walter Scott's novels.
Romantic history
A royal historian told GB News that Prince Albert was quite taken by the countryside in Aberdeenshire, which reminded him of his native Rhineland.
He and Victoria had an amazing love life, according to a television documentary I saw many years ago. In the early days, at least, he used to dress and undress her. Her silk stockings were a favourite part of the ritual.
After Albert died in 1861, Victoria moved up to Balmoral for a time and became close friends with one of his servants, John Brown, a Scot. A film about their relationship, Mrs Brown, made its debut in 1997.
In 1863, courtiers and the Royal Family thought that Brown could rehabilitate the mourning Queen. Instead, he began controlling her daily life at her holiday idyll.
In time, rumours about the extent of their relationship began circulating not only among her inner circle but also in London, where a republican sentiment began growing in her absence. Courtiers and the Royal Family changed tack, this time urging Brown to get the widowed Queen back to the capital to make public appearances.
Brown followed orders, although his and Victoria's relationship was never the same afterwards.
On the other hand, her resumption of public appearances quelled restive republicans.
Brown remained a loyal servant, foiling an assassination attempt on the Royal Family. In 1883, he contracted pneumonia. Victoria visited him in his room and apologised for not having been a better friend. Brown died a short time later and left behind a diary, which, allegedly, has disappeared.
Victoria's two main courtiers, Sir Henry Ponsonby and Sir William Jenner, found it and read it. Only they knew what happened to it afterwards. One of them said later on that the then-Prince of Wales — Edward VII — was so resentful of Brown that he threw a bust of the man over the palace wall in London after his death.
At Balmoral, John Brown is immortalised in two paintings which hang in the drawing room where Queen Elizabeth II received Boris Johnson and Liz Truss on Tuesday, September 6, 2022.
On September 7, The Times helpfully told us more about the room's features, including the paintings which flank the fireplace (emphases mine):
Victoria and John Brown, her servant and close friend after the death of Prince Albert, feature twice in the room's paintings. To the left of the mantelpiece they appear in Sir Edwin Landseer's chalk and pastel drawing Sunshine: Balmoral in 1860 or Death of the Royal Stag. Albert stands proudly in the foreground with a gun over his shoulder, dogs at his heel and a stag at his feet. In the background Victoria sits side-saddle on a horse led by Brown, her ghillie.
To the right is Gilbert Sprague's copy of another Landseer painting of Victoria, in mourning as she sits on her pony Flora outside Osborne House, her retreat on the Isle of Wight. Victoria commissioned the original in 1861 after Albert's death, telling Landseer that she wished to be depicted "as I am now, sad and lonely, seated on my pony, led by Brown, with a representation of Osborne".
Queen Elizabeth also experienced the magic of Scotland that her forebears helped to create.
As a child, she remembered happy days at Glamis Castle then Balmoral. As an adult, she associated possibly her happiest memories with Balmoral. There, the love of her life, Prince Philip, proposed to her. The happy couple also spent their honeymoon there.
On September 8, The Times published an insightful article: 'Balmoral gave Elizabeth the chance to feel "free"', excerpted below:
Scotland played a large and emotional part in Elizabeth's life. Her happiest memories were of the childhood days she spent with "Granny Strathmore"— Cecilia Bowes-Lyon, Countess of Strathmore and Kinghorne, who was also her godmother — at Glamis Castle.
At the family home in Angus she enjoyed parties, children's theatre after tea, and visits to nearby Cortachy Castle, owned by Lord Airlie, where she once "borrowed" the young David Ogilvie's little blue pedal car, much to his fury. At Balmoral, she felt she could be "normal" — almost a housewife, like ordinary people; it took her into another world. "Here I can be free," she told a friend once.
Not that it was exactly ordinary; there were certain traditions. A piper played every morning before breakfast, and, when guests were staying, there would be pipers at dinner. The ladies would depart after the meal, leaving the men to talk over the brandy.
There were shooting parties, with the Queen and her dogs driving out to join the guns at lunch, then "picking up": her dogs retrieving the birds they had shot. "She was an ace picker-up," recalled one friend. Back at the house the first duty would be to feed the dogs.
She insisted on doing the washing-up after picnics, when Philip managed the barbecue and she did the rest. Those picnics — some of them in the evening, in one or other of the huts in the grounds of the estate, always kept open, and often used by members of the public — were famous occasions, remembered by guests long after for their combination of relaxed informality and perfectly organised routine.
Then it would be back to the castle. What one friend noticed, however, was that, as soon as Elizabeth walked through the door of Balmoral Castle, she became Queen again. This was the royal residence, and there was no mistaking who was in charge.
The Queen also enjoyed an annual week-long stay in Edinburgh at the Palace of Holyroodhouse. The city's Lord Provost would deliver the keys to the palace to her in the Ceremony of the Keys and a closing ceremony of her returning them to him took place upon her departure.
She would visit St Giles' Cathedral, probably the only Presbyterian cathedral in existence, and, beginning in the late 1990s, Holyrood, the Scottish parliament.
The independence movement strengthened by an SNP government has grown leaps and bounds since I last visited Scotland 30 years ago.
It is difficult to pin down what exactly the SNP expect as an independent nation, including where they stand on the monarchy. Although First Minister Nicola Sturgeon praised the Queen in death, she was less forthcoming in June during the Platinum Jubilee weekend:
After the scandal surrounding Prince Andrew, she said that there should be a "debate" about the future of the monarchy; she notably failed to deliver a message of loyalty at the time of the Platinum Jubilee; and she did nothing to contradict a statement from the Green Party, her allies in government, which accused the monarchy of "holding back" progress.
However:
None of that has diluted the Queen's affection for Scotland, and her pride in her Scottish connections. As Sir Charles Fraser, who was purse bearer at the Palace of Holyroodhouse for nearly 20 years, commented: "Over many conversations with the Queen, she always spoke of her love for Scotland and her commitment to her Scottish ancestry. Throughout her reign she gave us leadership and hope, where others have failed."
Incidentally, former Royal servants say that all of them enjoyed being at Balmoral and could hardly wait for their annual stay there. It seems that it was as delightful for them as it was for the Queen. 
Monday, September 12
In my preceding post, I wrote about a young woman getting arrested on Sunday, September 11, near St Giles' Cathedral for an anti-monarchy poster with an obscenity written on it. This happened during the proclamation of Charles III as the new King.
People in England were upset about it, but Scotland has its own speech laws which are much stricter than ours:
Guido Fawkes thought that the arrest was overkill. I tend to agree but, then again, I don't know anything about Scottish policing (emphases his):
The 22-year-old woman who was arrested after holding up this anti-monarchy placard at St Giles' Cathedral has been charged "in connection with a breach of the peace" and is reportedly due to appear at Edinburgh Sheriff Court today. Amid the emotional royalist fervour, the country is feeling it is even more important to stand up for universal and enduring values. The Free Speech Union has expressed concern that the protester been arrested for voicing anti-monarchist views during the Proclamation of King Charles III yesterday.  Defenders of free speech know that if they don't stand up for views with which they disagree or even find offensive, they're not defending free speech. Whatever your views on the monarchy, this protester has a right to hers.
… The Free Speech Union has already reached out to the protester to offer their assistance.
That day, Guido reported that the SNP's deputy leader John Swinney expressed surprising pro-monarchy views. He sounded like a Conservative:
Guido said that, on Sunday, Swinney said he watched the broadcast of Charles III's Accession Ceremony in London:
I thought that when I watched the accession council in London yesterday because right at the heart of it was the significance of Scotland's place within the Union and the extraordinary significance that was attached to that and the declarations and commitments that the King made and the fact the Secretary of State for Scotland, the First Minister of Scotland, the Lord Advocate of Scotland, the Lord President of the Court of Session in Scotland, were signatories to the documents which essentially facilitate the accession.
On Monday, Swinney went further:
This morning, Swinney went even further in irritating the most ardent of Scottish nationalists, stating the SNP would continue to have the UK monarch be Head of State in the event of independence, as they promised during the 2014 referendum:
The monarch should be the head of state of an independent Scotland. It's what we argued in the referendum in 2014 and it's what we will continue to argue.
Will the death of the Queen accidentally cause a cooling of temperatures in the Scottish independence debate?
That is part of what Operation Unicorn — the days of mourning in Scotland — was designed to do.
For much of Monday, the Queen continued lay in rest at the Palace of Holyroodhouse. This allowed staff to pay their respects in quiet privacy from Sunday afternoon onwards.
Senior members of the Royal Family, such as Princess Anne, were there awaiting the arrival of King Charles. Upon his and the Queen Consort's arrival, the Lord Provost would go to conduct the Ceremony of the Keys.
Meanwhile, in the morning, King Charles was in London, addressing both Houses of Parliament in the ancient Westminster Hall, adjacent to the Houses of Parliament.
Westminster Hall was built by William the Conqueror's son, William Rufus (William II) in 1097. It is the largest hall of its kind in Europe. The beamed ceilings were added in 1399 when Richard II had the pillars removed so that everyone inside could see what was going on. On the two occasions when the Palace of Westminster caught on fire or when it was bombed during the Second World War, the first priority of firefighters is to save Westminster Hall over the parliamentary palace.
The building has been used throughout the ages as Parliament, as court for the trials of Charles I and the real Guido Fawkes (a traitor) but has also been the venue for coronation banquets. It is still used by both houses of Parliament and is open to the public on important occasions when it is used for the lying in state of distinguised politicians such as Winston Churchill (1965) and members of the Royal Family. The Queen Mother was the last person to lie in state there. I went to pay my respects to her in 2002. The Queen is lying in state there as I write.
The Queen also spoke there on her Silver Jubilee (1977), her Golden Jubilee (2002) and her Diamond Jubilee (2012). A beautiful stained glass window commemorating her Diamond Jubilee is installed on one side of the hall.
Charles's visit was of historical significance and not only because he is the United Kingdom's first King in 70 years.
Both Speakers — of the Lords and of the Commons — wore their dress robes, which are gilded. Their respective serjants of arms brought each House's mace up to the appropriate Speaker and laid them down on a raised platform.
The Speakers stood across from each other below the raised platform on which Charles was due to speak. The maces were covered with a black cloth, indicating not only mourning but also that they were subservient to the Sovereign.
Peers and MPs, as well as staff members, were in attendance.
The Speaker of the Lords, Lord McFall spoke first to extend his and the Lords' sympathy to the King.
The life peer, a Scot, is a testament to the progress people can make in modern Britain:
Sir Lindsay Hoyle spoke next for the Commons, reminding the new monarch of the increased powers of Parliament since the Glorious Revolution of 1688. The King smiled wryly:
Then it was time for the King to address the room:
The Telegraph's summary has the key points of his speech:
We gather today in remembrance of the remarkable span of the Queen's dedicated service to her nations and peoples.
While very young her late Majesty pledged herself to serve her country and her people and to maintain the precious principles of constitutional government which lie at the heart of our nation.
This vow she kept with unsurpassed devotion. She set an example of selfless duty which, with God's help and your counsels, I am resolved faithfully to follow.
The King had already met with senior Government ministers, including Liz Truss, over the weekend at Buckingham Palace. Shadow (Opposition) ministers also met with him:
After the event at Westminster Hall ended, a reception was held, but the King and Queen Consort did not attend as they were due to fly to Edinburgh.
While the Royal couple were on their way, people lined up along Edinburgh's Royal Mile:
Once Charles and Camilla arrived at Holyroodhouse, they and other members of the Royal Family assembled to be led by members of Scottish regiments for the procession to St Giles' Cathedral, for a service of remembrance.
I know from first hand experience that it is a long walk and did not envy the Royals who did walk behind the hearse, especially on the cobbled road.
The Royals who walked were the Queen's children: the King, the Princess Royal, Prince Andrew and the Prince Edward. Vice Admiral Sir Tim Laurence, Princess Anne's husband, also walked with them.

Prince Andrew was not allowed to wear his military uniform. He appeared in morning dress with his military medals.
A young heckler shouted at Prince Andrew in reference to sexual allegations with an underage girl, was quickly tackled by a member of the public, then police dragged him to his feet and arrested him:
He was arrested for breach of the peace:
The SNP had toughened up that law in 2010:
The procession up the ancient road was deeply moving, like something out of a film.
Prince Charles wore the green sash and star of the Order of the Thistle.
The Queen's coffin was draped in the Royal Standard of Scotland.
The Guardian's diary for the day added:
The Queen's coffin is … dressed with a wreath of flowers consisting of white spray roses, white freesias, white button chrysanthemums, dried white heather from Balmoral, spray eryngium, foliage, rosemary, hebe, and pittosporum.
The hearse is flanked by a bearer party found by the Royal Regiment of Scotland and the King's Body Guard for Scotland.
The cortege arrived at St Giles' shortly after 3 p.m. Watching the procession, I do not think they allowed enough time.
Heralds and Pursuivants of Scotland stood outside the cathedral door to receive the Queen for one last time. The Guardian has a magnificent photo of their uniforms.
The Crown of Scotland (see photo) was placed on the Queen's casket before the service.
Here is a photo of the military bearer party dressed in kilts placing the casket on the catafalque in the cathedral.
The Guardian reported (emphases theirs):
At the beginning of the service of thanksgiving for the Queen, Reverend Calum MacLeod welcomed the royal family, "representatives of our nation's life" and "people whose lives were touched by the Queen in so many unforgettable ways".
Among those attending the service are the prime minister, Liz Truss, as well as Scotland's first minister, Nicola Sturgeon.
Unfortunately, there is no video of the service, which was very well done and oecumenical.
The Order of Service is here.
Nicola Sturgeon read Ecclesiastes 3:1-15. We know the first several verses well but here are the next:
What gain have the workers from their toil? I have seen the business that God has given to everyone to be busy with. He has made everything suitable for its time; moreover, he has put a sense of past and future into their minds, yet they cannot find out what God has done from the beginning to the end. I know that there is nothing better for them than to be happy and enjoy themselves as long as they live; moreover, it is God's gift that all should eat and drink and take pleasure in all their toil. I know that whatever God does endures forever; nothing can be added to it, nor anything taken from it; God has done this, so that all should stand in awe before him. That which is, already has been; that which to be, already is; and God seeks out what has gone by.
The Church of Scotland has a transcript of the sermon that the Right Revd Dr Iain Greenshields preached:
Excerpts follow:
Death has been overcome, these are the words of hope expressed and centered around Jesus who died and rose again.
And this is clearly something that Her Majesty Queen Elizabeth acknowledged and personally embraced.
These last few days, as tributes to her Majesty have poured in and we have watched images of her on screen from her earliest years, capturing that remarkable life, yet now beginning to sink in that she is gone from us – "gone home" to express her own words.
Today, we gather in this place of worship and throughout the nation, to express our thanks to God, for her Majesty Queen Elizabeth's extraordinary life.
We are united in sorrow at the death of our Monarch, but we are also so aware that His Majesty King Charles and all his family are not just grieving the loss of their Queen, but their mother, grandmother and great-grandmother too.
Her Majesty Queen Elizabeth began her reign, like King Solomon by asking for wisdom, something that she demonstrated in large measure and to which was added duty, honour, commitment, and faith.
These are the words that we reach for today to describe the life and reign of Queen Elizabeth, whose passing is mourned not only in her native land but across the Commonwealth and the world, as has been so evident to us in recent days.
Most of us cannot recall a time when she was not our monarch.
Committed to the role she assumed in 1952 upon the death of her beloved father, she has been a constant in all of our lives for over 70 years.
She was determined to see her work as a form of service to others and she maintained that steady course until the end of her life.
People who were in her company always felt that they were being listened to carefully and attentively and with compassion.
She possessed a sharp, intelligent mind, with amazing recall, a kindly heart and a gentle sense of humour.
She understood the breadth of world affairs and also cared about what happened to all of her people.
And although sometimes buffeted by events around her, she continued resolutely and cheerfully fulfilled her responsibilities …
Much has been said about the Queen's contribution to the life of the United Kingdom and the Commonwealth which meant so much to her.
But here in Scotland we acknowledge with gratitude her deep links with our land and its people.
Her love of the Balmoral estate is well known and being there latterly brought her great comfort.
There she was valued as a neighbour and a friend and there she drew strength and refreshment during the summer months.
She was active in the life of civic Scotland, travelling across the country to support numerous causes, entertaining guests at Holyrood Palace and presiding at ceremonial events, many of which took place in this Church.
Here she received the Scottish crown in 1953, an event vividly memorialised in the painting by the Orcadian artist Stanley Cursiter.
Her links with the Scottish churches were also deep and lasting.
She was the Supreme Governor of the Church of England, but she worshipped in the Church of Scotland here north of the border, at Canongate Kirk and especially at Crathie Kirk where she took her pew each Sunday morning, prevented from doing so latterly only by infirmity.
She perceived little difficulty in belonging to two Churches and appreciating the strength of each.
It is clearly evident and without doubt that the Queen's Christian faith was genuine, and often gave clear and sincere expression in those remarkable Christmas broadcasts.
She spoke unashamedly of her trust in God and of the example and teaching of Jesus Christ whom she sought to follow as best she could – indeed, of that faith she said she had no regret …
Today we mourn her passing but we also celebrate the long and happy reign that we experienced with her.
And we pray God's blessing upon King Charles who will surely draw strength from his mother's example and the many affectionate tributes of these days and from our assurance to him as a Church of our steadfast prayers at all times and of our unstinting support to him as was offered to his mother, the Queen.
The Cathedral's website has more about the Queen's visits.
The service lasted an hour and ended at 4:15.
The Royal party then returned to Holyroodhouse.
However, their day was far from over.
The King met with Nicola Sturgeon. He and the Queen Consort then went to Holyrood to visit the Scottish parliament where MSPs delivered a motion of condolence.
At 7:20 that evening, the senior Royals returned to St Giles' for the Vigil of the Princes. It would be the first time that a female — Princess Anne — would take part.
More on that tomorrow.
It is probably no coincidence that the Queen spent her final months at Balmoral in the north east of Scotland, near Aberdeen.
Scotland, especially the eastern half of the country, is romantic in all senses of the word.
The Queen had many fond memories of her summers there.
Therefore, she and the Princess Royal — Princess Anne — devised Operation Unicorn, to be activated in case she should die in Scotland. It was a great success not only for her Scottish subjects but for all of us watching in the United Kingdom and around the world.
A brief history
The last monarch to die in Scotland was James V in 1542.
He and his family were Catholic. His infant daughter Mary Queen of Scots succeeded him. Regents governed Scotland while she was young. She was forced to abdicate in 1567 and was beheaded in England in 1587.
Mary's son, James VI of Scotland, succeeded her in 1567. He, too, had regents until he reached majority age. Elizabeth I of England died in 1603 and, unmarried, had no successors. As James was the great-great-grandson of Henry VII, he had a rightful claim not only to the Scottish throne but also those in England and Ireland.
In the Union of England and Scotland Act 1603, the three kingdoms came under James's rule. In England and Ireland, he was known as James I. His 22-year reign is known as the Jacobean era.
Interestingly, he returned to Scotland only once during that time, in 1617. He styled himself King of Great Britain and Ireland, only modified in the past century to replace Ireland with Northern Ireland.
Having the same monarch but the ability to maintain respective laws and customs allowed Scotland and England the flexibility to trade with each other without a complete union. Successive monarchs discussed union, but the two governments and the clergy vehemently disagreed on how to implement one.
By the 1690s, the whole of Europe was in a severe economic slump. In 1698, the Company of Scotland Trading to Africa and the Indies received permission to raise capital through public subscription. The Company decided to invest in the Darién Scheme. This far-sighted investment involved establishing a trading post at Darién Bay on the Isthmus of Panama — where the Panama Canal is today — to engage in commerce with the Far East. The colony was to be called New Caledonia, or New Scotland.
Unfortunately, the Darién Scheme proved to be a disaster. The wealthy Scots who invested in it lost their money and Scotland's economy collapsed.
The Act of Settlement 1701 decreed that the monarch of England and Ireland would be a Protestant member of the House of Hanover. This meant that no more descendants of Charles I could accede to the throne. Anne acceded to the throne in 1702, reigning over not only those two countries but also Scotland. In a speech to the English parliament, she said that a union was absolutely necessary.
England and Scotland continued to be divided on political union, which affected trade and the status of Scots living in England once the English parliament passed the Alien Act 1705, which made them 'foreign nationals'.
That year, with Queen Anne pressing for a resolution, negotiations between the two countries' respective parliaments and commissioners began anew. The Act of Union passed the Scottish parliament first on January 16, 1707. The Scottish peer Lord Queensberry was instrumental in its passage by 110 votes to 69. The English parliament passed the Acts shortly thereafter. This resulted in the Acts of Union 1707. Most of these 25 acts are economic in nature. One provided for the establishment of the Church of Scotland, which is Presbyterian. It is called the kirk. Another act guaranteed the continued practice of Scottish law north of the border.
While the English were happy about the new legislation, Scottish residents were somewhat angry with Lord Queensberry. This dissatisfaction carries on today with the independence movement, led by the Scottish National Party (SNP), the third largest party in the UK parliament in Westminster. Tony Blair wanted Scotland, Wales and Northern Ireland to be devolved in order for his Labour Party to dominate politics in the first two of those nations. Little did he realise that the SNP would eclipse Labour in Scotland under the leadership of Alex Salmond and, afterwards, Nicola Sturgeon, the current First Minister.
Returning to 1707, however, Scotland began to flourish. Visitors to Edinburgh can clearly see that in New Town, where Princes Street is. Behind Princes Street are streets full of stately Georgian houses. Scotland began to contribute greatly to the good of the United Kingdom in medicine, architecture, philosophy and the arts.
During the Victorian era, between the Queen and Prince Albert and the romantic novels of Walter Scott, a mythological aura began to rest over the country, creating the romantic atmosphere we know today, whether in the capital city of Edinburgh or in the countryside.
This was the Scotland that Elizabeth II became acquainted with, thanks to her mother Elizabeth Bowes-Lyon, whose father, Lord Glamis (pron. 'Glahms') and the 14th Earl of Strathmore and Kinghorne, was Scottish.
Therefore, it is no wonder that she would want to spend her last months and hours at her beloved Balmoral knowing that Operation Unicorn would proceed in all its glory.
And what a beautifully poignant few days they were this week.
September 9
On Friday, September 9, the day after the Queen's death was announced, Scotland closed its courts and lowered its flags for their esteemed monarch.
The Times reported that First Minister Nicola Sturgeon praised the Queen, saying:
"Millions around the world will share their grief but only they will feel the loss of a mother and grandmother," she said.
"The Queen was unflinching in her dedication to duty, unwavering in her commitment to public service and unmatched in her devotion to the people of this country and the wider Commonwealth.
"We are all saddened by today's news and will come together in the days ahead to mourn.
"But it is right and proper that we celebrate the unparalleled contribution she made in her 70 years as sovereign."
The first minister added that Scotland "was special to her and she was special to Scotland" as she spoke of the Queen's love of Balmoral, where she spent her final days.
The article goes on to say:
The Queen maintained a deep affection for Scotland throughout her life, having spent much time as a young princess with her parents at Balmoral or her maternal grandparents at Glamis Castle, Angus.
She gave her first public speech in Aberdeen in 1944, when she opened a home for the British Sailors' Society while still a teenager.
After acceding to the throne in 1952, she maintained the royal family's tradition of holidaying at Balmoral every summer.
Although most Scots support the monarchy, those who oppose it are hardly thin on the ground. As last weekend unfolded, I hoped that Operation Unicorn would help them understand more about the significance of the monarchy and Queen Elizabeth II in particular.
September 10
On Saturday, the Royals at Balmoral were dressed semi-formally in black. The Mail reported that they viewed the tributes at the estate and at nearby Crathie Kirk. Their photo captions read:
Lady Louise Windsor, Sophie, Countess of Wessex, Prince Andrew, Duke of York, Prince Edward, Earl of Wessex and Anne, Princess Royal wave to the public outside Balmoral Castle on Saturday
The teary-eyed Countess of Wessex, Sophie studies the floral tributes and loving messages left to her mother-in-law, the Queen, at Crathie Kirk church near Balmoral on Saturday
However, one Scottish businesswoman in the Highlands was happy when the Queen died. The Mail reported that the locals dealt with her before police arrived:
A fish and chip shop owner who celebrated the Queen's death with a bottle of champagne, shouting 'Lizard Liz is dead' has had her restaurant windows smashed in.
A photo of the vandalism was shared to Twitter on Saturday night showing the front of the shop with a shattered window and a hole in the middle. 
Angry locals also vandalised the property on Thursday evening when they pelted the store front with eggs and ketchup.
Jaki Pickett, who runs Jaki's Fish and Chip Shop in Muir of Ord, Highlands in Scotland held up a chalkboard that read 'London Bridge has fallen' with a smiley face.
She posted the now-deleted clip of her happily celebrating the Queen's death on Facebook, but it caused huge outrage with locals who blasted Ms Pickett for disrespecting the late monarch …
A Police Scotland spokesperson said: 'Officers received a report of damage to a property in the Seaforth Road area of Muir of Ord, which is thought to have happened between 7.30pm on Friday, 9 September, and 10.30am on Saturday, 10 September, 2022.
'Enquiries are ongoing to establish the circumstances.'
Police Scotland were also called to the shop on Thursday evening after it was targeted by angry residents in Muir of Ord who egged the windows.
Pictures showed broken eggshells on the ground and egg mess over the shop windows, while ketchup was splattered on a bench.
Videos circulating on social media show residents surrounding the restaurant on Thursday evening, where owner Ms Pickett was seen driving away from the area with a police escort while locals booed her for her shameless Facebook post.
A Police Scotland spokesperson said: 'Shortly after 8.30pm on Thursday, 8 September officers attended at a business in the Seaforth Road area of Muir of Ord following a report of a large crowd gathered in the area.
'Officers remained at the scene to ensure the safety of all present and the group subsequently dispersed peacefully.
'No further police action has been required.'
Earlier, in London, at the special session of the House of Commons, an SNP MP, Joanna Cherry KC, spoke of the Queen's Scottish lineage (emphases mine):
It is very humbling to follow so many great speeches. On my own behalf and on behalf of my Edinburgh South West constituents, I too rise to honour the memory of our late Queen. Much has been said of her dedication and her service, but I want to concentrate on her love of Scotland and the love of many Scots for her.
As the Queen died at Balmoral, and is to be taken first to the palace of Holyroodhouse and then to St Giles' Cathedral in Edinburgh, Scotland will be the centre of the world's attention over the next few days. That is breaking with tradition, but those were the Queen's wishes, and Scotland is honoured by them. The last monarch to die in Scotland was James V, who died at Falkland in 1542. He was, of course, the father of Mary, Queen of Scots, and it was her son James VI who presided over the union of the Crowns. Mary, Queen of Scots is the ancestor of all the Stuarts and, indeed, all the Hanoverians who followed. Elizabeth Stuart, the daughter of James VI, married one of the German electors, and with the demise of the last Stuart monarch in 1714, Elizabeth's grandson succeeded to the British throne. That is the Hanoverian line, and it can be traced directly back to Scotland's Stuarts. Our late Queen was keenly aware of that—perhaps that is why she chose Stuart names for her first two children, Charles and Anne. And, of course, her mother was a Scot.
In 1953, after her coronation, the first place our late Queen visited was Edinburgh, and throughout her reign, she returned to Scotland for important events and, indeed, chose my country to be centre stage during state visits. In 1962, she chose Scotland for the state visit of the King of Norway; in 2010—very memorably for many people of my faith—she chose Holyrood for the state visit of Pope Benedict XVI; and, of course, she officially opened Scotland's Parliament when it was reconvened in 1999.
Our late Queen embodied the union of the English and Scottish Crowns, which of course is quite different from the Union of the Parliaments and predates it by over 100 years. At a time of change, there are many in my country—particularly younger people—who might prefer a republic to a constitutional monarchy, but that did not in any way prevent the affection our late Queen held for Scotland from being returned in equal measure. Sadly, I never had the privilege of meeting Her Majesty Queen Elizabeth, the Queen of Scots, but earlier this year I did have the privilege of meeting our new King. We spoke of Scotland, and I was left in no doubt that he shared his mother's abiding love of my country.
As such, before I resume my seat, in honour of his late mother, I want to recite just a few words of Burns' poetry that I believe may be a favourite of the King:
"Farewell to the mountains, high-cover'd with snow,
Farewell to the straths and green vallies below;
Farewell to the forests and wild-hanging woods,
Farewell to the torrents and loud-pouring floods.
My heart's in the Highlands, my heart is not here,
My heart's in the Highlands, a-chasing the deer;
Chasing the wild-deer, and following the roe,
My heart's in the Highlands, wherever I go."
May she rest in peace.
Sunday, September 11
Princess Anne had the solemn duty of escorting her mother's casket from Balmoral, near Ballater, Aberdeenshire, to Edinburgh's Palace of Holyroodhouse, the official Royal residence in Scotland.
The cortege passed slowly through Ballater, Aberdeen, Dundee and Perth. Many Scots lined the roads in silence to bow in respect.
The Queen's casket was covered in her standard with a wreath of white flowers, her favourites. Among them were delicate sweet peas. It was a beautiful last memory for her subjects.
Watching her on television, I do not know how the Princess Royal managed to stay so stoic. The journey began mid-morning and lasted well into the afternoon.
Meanwhile, in Edinburgh's Old Town, where the magnificent castle is, the proclamation of Charles III was declared.
Metro reported that a young green-haired woman held up an anti-monarchy sign with an obscenity on it and was arrested:
A woman was arrested holding an anti-monarchy sign in Edinburgh today, before the Queen's cortege arrived in the city.
She was detained outside St Giles' Cathedral, where the monarch's coffin is due to be held from tomorrow after spending the night at the Palace of Holyroodhouse.
Moments before the proclamation of Charles III as new king this afternoon, a demonstrator appeared in the crowd opposite the Mercat Cross …
Officers appeared behind her and took her away, prompting the crowd to applaud.
One man shouted: 'Let her go, it's free speech,' while others yelled: 'Have some respect.'
A police spokesman said a 22-year-old woman was arrested 'in connection with a breach of the peace'.
This started an online debate about whether protest of the monarchy is freedom of speech. Surely, it is, although others say it depends on how far it goes:
That narrow thoroughfare going down the Royal Mile from the castle was teeming with people and continued to be until the late afternoon of Monday, September 12.
Metro's article on the protest continues but with a focus on the proclamation and all who wanted to pay their respects:
It came on the day thousands lined the streets to watch the Queen's coffin arrive in Edinburgh, where she will stay before continuing the journey to her final resting place.
Countless tearful well-wishers turned out to pay their respects to the late monarch as her hearse made the 175-mile journey from Balmoral.
But some hecklers were heard booing among the crowds gathered in Scotland's capital to hear the proclamation of Charles.
The Lord Lyon King of Arms gave a speech before declaring 'God save the King', which the crowd repeated.
A Sunday Times article discusses the complex feelings Scots have about the monarchy: 'She adored Scotland but the Union will wobble without her'.
Reading it made me appreciate why the Queen wanted Operation Unicorn to proceed.
Excerpts follow:
"She came here to die in the Highlands," said Elizabeth Strachan, 69, who grew up near the Balmoral Estate. "This is her homeland. It is the place she knows."
Over the long years of the Queen's reign, the United Kingdom's collective identity has changed markedly. Scottish independence went from a fringe cause to the centre of the political debate.
Some believed she gave people a feeling of Britishness, which hampered the vote for separation, that her soft power pushed together a fragmenting nation. Others believed she was viewed as being above the debate and the nationalist cause moved forward regardless.
A poll this May by British Future, a think tank, found that more than 36 per cent of Scots thought the end of the Queen's reign would be the right time to abolish the monarchy.
How will the accession of King Charles III change things? Is the political union separate, in voters' minds, to the monarchical one? And if it is, can it remain that way?
Alex Salmond, the former first minister and leader of the SNP during the 2014 referendum, thinks the impact of her death on politics will be "on the margins". He said: "Her presence did not stop the rise of Scottish nationalism over the last 70 years of her great reign so her passing will not change its direction either." Salmond, who is a privy counsellor and attended yesterday's accession council, shared the Queen's love of horseracing and has spoken warmly of her.
Still, the smallest remarks she made about the Union generated big headlines. In 1977, before a vote on the establishment of an assembly in Edinburgh, she made a speech emphasising how she was crowned Queen of all four nations. Ahead of the 2014 referendum vote, she said to a wellwisher: "I hope people will think very carefully about the future."
[Then-Prime Minister] David Cameron later told Michael Bloomberg, the former New York mayor, that the Queen "purred down the line" when she found out about the "no" result. Salmond was invited for breakfast at Balmoral the next morning.
"The Queen was absolutely furious, the angriest I'd ever seen her," said Salmond. "I don't think she was trying to stop the rise of Scottish nationalism. She wasn't dyed in the wool for the political union but I think she was dyed in the wool for the union of the Crown. She understood well the difference."
Cameron has admitted his comments were "a terrible mistake" …
Nicola Sturgeon, the first minister, has been firm in her support of the Queen and the monarchy. In May of this year she reiterated that the royal family would continue to rule regardless of a "yes" or a "no" vote.
Scottish nationalists do not all agree. Chris McEleny, general secretary of the Alba Party, which Salmond now leads, said in a statement: "If the people of the rest of the UK wish to have King Charles as their head of state then good luck to them, but there should be zero countenance of that absurdity in an independent Scotland" …
Sandra Fagan, 66, drove to Balmoral from Perth with her mother, daughter, and grandson — four generations spanning four monarchs.
Sandra's father was a "red-hot" SNP supporter, shouting at the television that it was "all about England". "But when it came to royalty and the Queen it was different. He wanted different laws for Scotland but never a different head of state. Believing in the monarchy is spiritual, it has nothing to do with separatism, which you argue about over the dinner table" …
Graham and Susan Cameron, their son, Callum, 27, and dog, "Her Royal Highness" Tia Cameron, drove 85 miles from Buckie to lay flowers at the Balmoral gates on Friday morning.
"I'm not a monarchist," said Susan, 58, "but she was like a mother to all of us. She's been a constant through a relentless period of change, tying us all together. It is a relief to have Charles — it means the monarchy goes on" …
It was in Scotland that Prince Philip mooted the idea of their marriage, where the couple spent their honeymoon and later, where the family found out about the death of Diana, Princess of Wales.
The royal property portfolio is sprawling, worth £261.5 million and including Charles's Birkhall, the Queen's beloved Craigowan Lodge, both on Balmoral, the Palace of Holyroodhouse in Edinburgh, Dumfries House in Cumnock and the Castle of Mey in Caithness.
Balmoral was said to be the Queen's favourite. She was a "neighbour", said David Cobban, 56, the owner of a gift shop in the nearby town of Ballater, who grew up on the Balmoral Estate. The Queen spoke with residents in Doric, the northeast Scots dialect, and wore country clothes much like their own.
"Up here the relationship with the royal family is more intimate," said Cobban. "They come here so they can be as normal as they can be."
I will continue with another post about Scotland tomorrow. The television coverage was compelling.
For me, the Conservative Party leadership contest is over.
I could be wrong, but it looks as if Liz Truss will be measuring curtains for No. 10 in a few weeks' time.
Barring anything unforeseen, this will be my last report on the contest until early September.
Telegraph hustings at Cheltenham
On Thursday, August 11, The Telegraph presented a Conservative Party hustings at the Cheltenham racecourse in Gloucestershire.
The paper's Camilla Tominey moderated the event.
She asked Liz Truss about her barbed exchange with TalkTV's Tom Newton Dunn earlier last week:
Camilla: Are you happy with the press this week? Because you've had a bit of a go at us.
Liz: Well, I had a go at Tom Newton Dunn, but you're asking much sounder questions Camilla.
Camilla: Thank you!
Guido has the video, in which Liz tells Camilla that she would like more questions about trade deals:
Here is the video of the hustings in full:
Viewers were given the opportunity to vote for their preferred candidate online in a poll for the paper. It appeared that people could vote more than once:
Even before the hustings began, Rishi was in the lead. Hmm:
The Telegraph featured an article highlighting readers' opinions.
It is a shame that so many Britons have forgotten the comparative 'more'. There were only two candidates, therefore, saying 'most' — implying three or more — was clearly wrong.
One of Rishi's supporters thought he could beat Labour:
Having just watched both candidates, it's not too difficult to accept that Rishi Sunak was the most inspiring. Indeed, in contrast to his wooden adversary, he gave a rousing speech. I wonder how many members watched and are open-minded enough to ditch Liz Truss? She would lose to Labour in two years' time. Sunak at least gives us a chance.
Another said Liz was 'weak':
Liz Truss's yes and no round showed her to be very weak: no dramatic reform of the BBC, no cap on immigration, keeping net zero, no dramatic reduction to the size of government. She is no Tory candidate.
Another branded her 'useless':
Liz Truss cannot answer a question properly. She is useless. At least Rishi Sunak is willing to tell some home truths even if people don't want to hear it.
However, Liz's supporters thought that she offered a fresh approach.
One said (emphases mine):
I'm beginning to like Liz Truss more and more. She's a radical democrat determined to confront the anti-democratic 'establishment'. If she wins, hers will be a revolution supported by the democratic majority in the UK.
Another said she has foresight:
Whoever wins the leadership contest, one thing is for certain – Rishi Sunak will lose the next general election. Liz Truss at least has a better chance of seeing off Labour and the Lib Dems. She has more foresight than Rishi Sunak, where he is telling the Tory members more of the same is right, where at least Liz Truss is offering a choice of something different. Time will tell if she's right.
Another said that Rishi looked too managerial:
Watching this debate reminded me of a typical departmental meeting. Rishi Sunak is the over-keen middle manager trying to impress the boss and climb the greasy pole. Liz Truss is the experienced old hand who just gets on with the job.
Yes, interesting comment, that. Who is Rishi's boss? His Infosys father-in-law?
Telegraph columnists weighed in with their verdicts.
Seasoned veteran Janet Daley noted that, while the candidates differed on strategy, they are both committed to Conservative values:
The substantive disagreement came through as clearly as I have ever heard it. Rishi believes that inflation is the greatest danger and that our primary obligation is to pay down the national debt to create a sound economy. 
Liz insists that the more serious threat is impending recession which would be made more likely by increasing taxes which would depress investment and entrepreneurialism. That's it. This was an argument about strategy rather than outcome.
Apart from that, their philosophies and values were remarkably similar. They are both sincere in their commitment to post-Thatcher Conservative values which they defined in almost identical ways: pride in the country and its values, the importance of education in providing opportunity and equality and, above all, creating the possibility for aspiration and social mobility. For all the supposed acrimony in this contest, they could certainly serve in each other's Cabinets.
She said that the candidates' ease of presentation depended on the format:
The opening statement went to Rishi who was rather manically charismatic but charming, where Liz looked uncomfortable and stiff.
But in the conversational mode with Camilla Tominey, Liz came through as relatable and convincingly thoughtful. She looked much happier talking to a person than to a large audience. Rishi seemed perfectly at home with a crowd, turning round repeatedly to make sure to address the whole room. It made him appear confident – perhaps too much so.
There was something of the conceited sixth former about him – as there has been all along.
Tim Stanley thought that Camilla Tominey came out on top.
He picked up on Liz's line about wheat fields being turned into solar farms:
Fields that should be stuffed with wheat, she said, are now planted with solar panels – and "it's one of the most depressing sights in Britain".
Oh, I can think of far worse. Such as an email from British Gas.
He prefers Rishi's stage presence but says that Liz's policies are more interesting:
The curious thing is that Rishi still looks like the frontrunner. He's got the best ad, energy and endorsers: Hague, Lilley, Lawson and the ghost of Lord Salisbury. But it's Liz who with every appearance gets more interesting. No election before 2024, she said; no windfall taxes because profit is a good thing.
In the end:
For my money, the winner of this one was The Telegraph, because it had the best presenter thus far. Camilla for PM.
Ross Clark thought that Rishi was losing ground:
He couldn't understand, he told us, why he was perceived not to be 'Brexity' enough. Both claims fell flat. No-one clapped or cheered when he tried to establish his Brexit credentials.
Moreover, Sunak's strongest suit – his warmth as a public speaker – no longer seemed quite the asset it was in earlier debates. He tried to up the tempo – with the result that he began to lose gravitas …
Clark said that Liz is developing policies as she gradually moves through the hustings:
For her part, Truss concentrated on trying to resolve the policy weaknesses which led, for example, to last week's embarrassment over regional pay boards. It was a strategy that seemed to pay off in Cheltenham. She came across as someone who is thinking carefully on policy – even though she is still lacking many answers.
Her biggest weakness was failing to answer what immediate steps she would take to help people with energy bills over the next few months; she sketched over the issue and rushed ahead onto longer-term policies such as fracking – which might be right but are not going to help people over the next few months.
In the one-to-one section of the hustings it became clear that Rishi's team is better at filling to front rows of these events with his own cheering supporters. But you sense that the rest of the audience are more interested in what Truss has to say, because she remains by far the most likely victor.
Patrick O'Flynn said that Liz's ideas for defeating the Liberal Democrats, who have been winning Conservative by-elections, topped Rishi's style over substance:
Her pledge about bringing back a special unit in CCHQ to mastermind a fightback against the Yellow Peril – the Lib Dems, with whom she enjoyed a youthful infatuation – may not have raised the roof but certainly had the wise owls in the crowd nodding sagely. Her claim that she could best beat the Liberals because she knew all about their old tricks was stretching things a bit, but then so was Sunak's attempt to be passionate about having funded "the dualling of the A417".
If this were a knife-edge contest then Sunak's slick display and his whooping fans could have conjured the illusion of him being the candidate with most momentum. And fair play to him for insisting again that he will not quit the contest prematurely. But he is so far behind on points that he would have needed a knockout blow to revive his chances and he came nowhere near that.
The paper also reported that, although things looked normal on stage, once the cameras were off:
things were frostier, with the candidates clearly avoiding crossing one another's path as they walked off stage towards their dressing rooms.
The Guardian's political editor, Toby Helm, was also in Cheltenham to assess the mood before and after the hustings:
As Conservative party members filed into the latest leadership hustings at a baking hot Cheltenham racecourse, very few among this important electorate seemed enthused by the two-way race.
Neither of the runners – foreign secretary Liz Truss nor ex-chancellor Rishi Sunak – excited much Tory passion, nor seemed the subject of heavy betting. Some of those who attended, and who will decide the identity of the new prime minister, suggested they had come along out of duty, to choose the least worst option on offer …
Lucy Coxall, a project manager for a London design company, who had travelled from Wiltshire, said she was genuinely undecided and irritated at media reports that Truss had it in the bag already. "It is ridiculous to suggest it is already over. I really want to hear what the candidates have to say," she said.
Caroline Baldwin, who runs a property business with her husband, said she was leaning to Truss but not firmly, while Jude Walker, who used to vote Labour, but had switched to the Tories a few years ago because she liked Boris Johnson, seemed to wish the dethroned PM could carry on, as she arrived to assess the qualities of his potential successors.
Ned Bowron, who runs an outside events business and is deputy chair of membership and fundraising for Stroud Conservatives, said he too was leaning in the Truss direction but was open to persuasion by Sunak, while Bob Griffin, who runs an export business, preferred Truss on the evidence thus far.
Two hours of speeches and interrogation later, many views had changed. Some undecideds had made up their minds, some decideds had switched allegiances, while others had just hardened their opinions in the direction they were already leaning. Strikingly, the movement was by no means all – or even predominantly – towards the hot favourite Truss.
The previously agnostic Coxall had decided to plump decisively for Sunak on the basis of what she had seen and heard. "I was much more convinced by Rishi and thought he had an answer for everything on the economy," she said afterwards. "He presented himself with energy. He sounded so much more progressive and had so much more of a vision for the future. Everything from Liz was short-term thinking." If Truss were to become prime minister, Coxall believes the Tories will have less chance of victory at the next general election.
Griffin, on the other hand, had become more convinced that Truss was the right choice after the meeting: "What she was trying to sell me was a genuine 'to do list' while what he was selling was 'Rishi Sunak for prime minister'."
Both Bowron and Baldwin, however, had gone from preferring Truss to thinking better of Sunak than they had before. "Liz's financial plans seemed, well, rather unbudgeted and rather worrying," said Bowron. "I am pretty sure I will vote for Rishi now. I think he is a safer pair of hands. Liz doesn't seem to understand that those who most need help don't pay tax and yet she is going on about tax cuts." Baldwin was also concerned that Truss's tax plans would not help the most needy. "I was leaning to her but now I am not sure," she said.
Boris
Boris returned from his holiday early last week and is now house-hunting.
On Monday, August 15, the Mail reported that he is looking for an abode in Dulwich Village, south London:
Boris Johnson appears to be taking notes from a former Prime Minister, as he looks to buy a house in the same south London suburb Margaret Thatcher moved to after she left No 10 Downing Street.
The outgoing Prime Minister, 58, will be leaving his role next month and has started house-hunting for a new marital home in Dulwich Village with wife Carrie, 34, and the couple's two children.
Before moving into Number 10 in 2019, Mr and Mrs Johnson bought a property overlooking Brunswick Park in Camberwell, south London.
That townhouse is now listed for sale for £1.6million, £400,000 more than they paid for it.
Not short of cash, the couple's reported budget of £3million should be more than sufficient, as properties in the leafy village have sold £1,820,887 on average in the past year, according to Zoopla.
Margaret Thatcher, however, did not stay in Dulwich Village for long:
Margaret Thatcher moved to Dulwich Village after being ousted in 1990, buying a house with her husband Dennis for £400,000.
However the Iron Lady lasted just a year in the village before moving back to a more central location in London.
Discussions on GB News at the weekend showed that Boris was still popular with the public, especially among newly-minted Red Wall Conservatives.
They liked the spark and verve he brought to the 2019 general election. They appreciated the attention he gave them.
They said that neither Truss nor Sunak seemed to be in touch with ordinary people.
The irony is that Boris isn't anymore in touch with them than either of the two leadership candidates. He just knows how to speak to people — and fire up their imaginations. He's the best campaigner the Conservative Party will have for decades.
There hasn't been any more mention of whether a special ballot will go out to Conservative members with his name on it. The petition, with nearly 20,000 signatories, was a great idea but it didn't go anywhere at CCHQ, which would have had to change the rules.
On Tuesday, August 9, one of the petition's campaigners, David Bannerman, a former Conservative MEP, told Nigel Farage that he was supporting Liz Truss:
Farage, as one would expect, presented the Conservatives as losers, saying that the public would never forgive them for the cost of living crisis.
Boris, in his detractors' minds, is somehow supposed to take care of the crisis when everyone who is anyone is on holiday at the moment.
On Monday, August 8, Scotland's Westminster leader, Ian Blackford (SNP), demanded that Boris 'come out of hiding' and recall Parliament:
Interestingly, Ian Blackford was on holiday in the western United States at the time, enjoying sights such as the Grand Canyon. Guido Fawkes has his full itinerary. Blackford did not fly home until August 6, at the earliest.
Also interesting is that, by the time Blackford issued his demand, Boris had already returned to London:
Here's Tony Blair's spinmeister Alastair Campbell also baying for Boris and saying that former Labour PM Gordon Brown should be in charge:
Voters will not care what Campbell or Blackford think. Gordon Brown piped up, too, but a lot of conservatives and Conservatives still back the former Party leader.
On Sunday, August 14, The Guardian reported:
This weekend, with less than three weeks to go before voting ends, Truss is way ahead of Sunak, according to opinion polls of the Tory membership.
Today's survey of 570 Conservative members, by Opinium, for the Observer, gives Truss a 22-point lead. She is on 61% to Sunak's 39% ….
Where this latest poll is perhaps most intriguing is in the lack of enthusiasm it shows for either Truss or Sunak among those who must choose the next leader of the party and country after September 5. This is evident when those with a vote in the contest are offered the choice of either Truss or Sunak, against the theoretical option of Johnson remaining leader and prime minister. Asked who they would prefer in No 10 – Johnson or Truss – 63% of Conservative members said they would prefer to keep Johnson while only 22% would rather have Truss. When the offer is Johnson staying on, versus Sunak taking over, 68% say Johnson and just 19% Sunak. Chris Curtis of Opinium says sellers' remorse is setting in as far as Johnson is concerned. "It could be down to people forgetting how bad things got, or a lack of appetite for the replacements," he said.
But it is hardly encouraging for the eventual winner to know that three times as many of their party's own voters would now prefer to have the previous leader than either of them to fight for a fifth consecutive Tory win at the next general election. Inside the hustings at Cheltenham, there were cheers for Truss and Sunak in equal measure. But there was deep uncertainty – and plenty who were unimpressed.
On Saturday, August 13, Jacob Rees-Mogg, former Leader of the house and current minister for Brexit opportunities and government efficiency, told MPs Esther McVey and Philip Davies, her husband, that Boris would not be returning to Downing Street.
The Telegraph reported that Rees-Mogg, a Boris loyalist, said:
life just isn't like that.
Despite Boris's hints at a return during his final PMOs …
… Rees-Mogg told the two MPs:
that it was not "realistic" to think that Mr Johnson could make a return to Downing Street …
"Nobody's come back having lost the leadership of the party since Gladstone," Mr Rees-Mogg replied. "And I just don't think in modern politics, the chance of coming back is realistic.
"Lots of people think they're going to be called back by a grateful nation which is why Harold MacMillan waited 20 years before accepting his peerage… Life just isn't like that."
It's time to let Boris get on with the rest of his life after September 5.
We won't have seen the last of him, but it will be in a different guise.
This week, I hope to write about the events that led to Boris's downfall.
So much happened in the UK this week that it is hard to find the time and the space to write about it all.
Conservative leadership contest
Liz Truss's campaign continues to motor ahead, gaining powerful MPs' backing.
On Wednesday, August 3, a new Conservative Home poll appeared, its results matching those of polling companies, e.g. YouGov. Liz is 32 points ahead:
Conservative Home's Paul Goodman analysed his site's results and YouGov's (emphases mine):
Granted, neither can be proved right or wrong: as our proprietor has it, a poll is a snapshot, not a prediction. If our survey is correct, all that follows is that Truss would win the contest, were it held now, by 32 points among those who have declared their hand.
However, if we and YouGov are right it is very hard to see how Sunak recovers in the month or so between the opening and closing of the poll. For even if during that time he won over that 16 per of undecideds and others, Truss would still beat him by 58 per cent to 42 per cent.
In short, if our survey is correct he would have to add to that 16 per cent of don't knows and others some nine per cent of Truss's supporters – i.e: persuade them to switch.
This seems most unlikely if YouGov's question about certainty of intention is taken into account. For it finds that 83 per cent of Truss voters and 70 per cent of Sunak voters have made their minds up.
What odds would you give on Sunak winning over all those don't knows and others (from our survey), and then adding to that pile over half of Truss's soft support (using YouGov's figure)? I would say that they are very long indeed …
Those interested in events slightly further back will recall that Boris Johnson beat Jeremy Hunt by 66 per cent to 34 per cent during the leadership election of 2019.  That's exactly the same margin as the Truss-Sunak forced choice I spell out above from our new survey.
One way of looking at Conservative leadership election as matters stand might be to forget the thrills and spills, hype and blunders – such as Truss's yesterday over regional public sector pay.
And stick instead to the simple thought that the Tory membership divides right-of-party-centre to left-of-party-centre by about two to one and so, all other things being equal, the leadership candidate perceived to be right-wing than the other will win by a margin about two to one.
Finally, Opinium promises a Conservative members poll next week, and it has tended recently to find better results for Sunak than ours or YouGovs.
The YouGov poll from August 3 showed that Britons believe Truss is better than Sunak on the main issues:
Liz gained another supporter in former Health Secretary Sajid Javid, who was also Boris Johnson's first Chancellor from the summer of 2019 through to February 2020, at which point Rishi Sunak took over.
Sunak worked for Javid when the latter was Chancellor. Javid mentored his younger MP friend:
However, the dynamic changed when Chancellor Sunak locked horns with Health Secretary Javid during the pandemic in 2021.
… those who know both men say there are more prescient personal and political reasons behind Javid's decision [to back Truss].
They say that tensions emerged after Javid was brought back into the government as health secretary. Sunak regarded the NHS as a bottomless drain on resources and was exasperated by what he saw as Javid's failure to spearhead fundamental reform of the health service.
Javid for his part was frustrated with the highhanded manner in which the Treasury dealt with the Department of Health and its refusal to countenance the type of spending he believed was necessary to tackle treatment backlogs coming out of the pandemic. He felt that Sunak had not shown the loyalty that he had when the power dynamics were reversed.
There are now significant policy differences as well. When Javid threw his hat in for the leadership he set out a tax-cutting agenda broadly similar to that proposed by Truss. He proposed cutting national insurance and reversing the planned corporation tax rise while Sunak stuck to his policies as chancellor.
One ally said Javid sincerely believes that only by kick-starting growth through tax cuts can public services be properly funded. They said it would have been "odd" if Javid had backed Sunak, given their different and genuinely held views on how to deal with Britain's economic uncertainties.
This is what Javid had to say about Truss in his article for The Times:
"I fought for strong fiscal rules in our last manifesto," he wrote. "But the circumstances we are in require a new approach. Over the long term, we are more likely to be fiscally sustainable by improving trend growth.
"Only by getting growth back to pre-financial crisis levels can we hope to support the high-quality public services people rightly expect."
In a direct attack on Sunak, he said: "Some claim that tax cuts can only come once we have growth. I believe the exact opposite — tax cuts are a prerequisite for growth. Tax cuts now are essential. There are no risk-free options in government. However, in my view, not cutting taxes carries an even greater risk."
He added: "With only two years before the next election, there has been a temptation to just 'get the barnacles off the boat' and avoid any short-term political pain for long-term national gain.
"We must reject that. As a nation we are sleepwalking into a big-state, high-tax, low-growth, social democratic style model which risks us becoming a middle-income economy by the 2030s with the loss of global influence and power" …
A senior Truss campaign source described Javid's endorsement as the "big one for us".
They added: "The bigger beasts of the party are uniting behind Liz because they believe in her vision for the economy. We can't have the Treasury orthodoxy and tired status quo. They believe she will turn things around in time for the next election by getting on and delivering quickly in No10."
On Wednesday, August 3, Truss and Sunak canvassed separately in Wales before meeting up for a televised hustings in Cardiff later in the day.
A Conservative Welsh Senedd (Senate) member, James Evans, changed his mind about Sunak and decided to support Truss instead. He got a lot of flak in response to his tweet:
Truss's former party, the Liberal Democrats, criticised her for taking a helicopter around Wales to get to the various Conservative associations there. Pictured is the Lib Dem leader Sir Ed Davey:
Guido Fawkes points out that the Lib Dems are suffering an attack of sour grapes — and hypocrisy (red emphases his):
… Rishi's been known to use them, so why should Liz be confined to the rail network…
i News were the ones to reveal Liz's chartering this afternoon, juxtaposing the decision against her backing of net-zero carbon emissions by 2050. The LibDems were only too happy to butt in, providing a quote for the copy that it "makes a complete mockery of her promises on Net Zero. It's clear that she is not serious on climate change." This quote came from Vera Hobhouse rather than Sir Ed Davey himself, who surely wouldn't mind the coverage…
Guido's sure Sir Ed's decision not to provide the comment has little to do with the fact that, in 2013 as Energy Secretary, he hitched a ride in the helicopter of EDF boss Henri Proglio, after handing him a nuclear deal at double the going rate for electricity. The decision raised objections from Friends of the Earth at the time, who said it "confirms how close the Big Six energy firms are to our decision-makers."  A source close to Liz Truss calls the political attack "the usual sanctimonious hypocrisy from the LibDems". Sir Ed may need to refuel his own spin machine…
While in Wales, Truss took the opportunity to have a go at First Minister Mark Drakeford (Labour), calling him:
the low energy version of Jeremy Corbyn.
Bullseye!
John McTernan, who advised Tony Blair between 2005 and 2007, wrote in UnHerd why Labour should be afraid of Truss.
I've seen John McTernan on GB News and he knows whereof he speaks.
He explains Truss's strengths:
One of her overlooked strengths is that she has been on a political journey. Changing your mind is often thought of as a weakness in politicians, whereas in reality an unchanging commitment to ideology is one of their most eccentric habits. In normal life, we change our minds frequently and without fuss. As economist Paul Samuelson said, in a line so good it is often attributed to Keynes: "Well when events change, I change my mind. What do you do?" In itself, changing their mind humanises a politician — a particular asset in a time of popular revolt against out-of-touch elites.
But, more than that, making a political journey shows character. Three of the most significant politicians of the Blair era — John Reid, Alan Milburn, and David Blunkett — were great New Labour reformers who had started on the hard Left. Their politics had been tempered and strengthened by their journey. Liz Truss was brought up on the Left and attended anti-nuclear peace camps with her mother. She then became a Liberal Democrat activist, famously demanding an end to the monarchy to Paddy Ashdown's discomfort. And when a Tory Cabinet minister she backed Remain not Leave, though she is now a passionate Brexiteer. Those surprised that Tory party members overwhelmingly see a former Remainer as the best defender of Brexit need to remember their New Testament: "There will be more rejoicing in heaven over one sinner who repents than over ninety-nine righteous persons who do not need to repent." The redemption narrative is one of our most powerful stories: she who once was blind, but now can see.
The fact Liz Truss has been on a political journey also makes her a powerful communicator. Some of the most persuasive arguments in politics are based on empathy rather than angry disagreement. Liz Truss knows why voters find progressive policies attractive, which can strengthen the persuasive power of her arguments for people to change their views. And her speaking style is clear and simple. The listener readily understands what she thinks and believes. Her opponents who too readily dismiss her as simplistic are missing the point. Politics is not a mathematical equation — a ten-point plan won't beat a five-point plan 10-5. The messages and policies that win are those that connect with the heart as much as the head.
The Truss agenda is straightforward. The educational system is failing kids. Grammar schools would identify and help some bright working-class and minority children. The cost-of-living crisis is hitting wallets and purses. A tax cut would give money back to the public. Energy prices are spiking. Pausing the green levy would reduce prices. Now, there are good arguments against each of these policies, but they are superficially strong one-liners. It takes time to explain how grammar schools distort the education of the vast majority of pupils who don't get into them, or to make the case that there is a danger that tax cuts lead to more inflation. The arguments against Liz Truss's policies are strong but they need to be explained. And, as the old political saying goes, "when you're explaining, you're losing".
… One of the best jokes in the US TV show Veep comes when Selina Myers uses the slogan "continuity with change" for her Presidential campaign. It works because it is bizarrely true — and it is true because that is what most voters want. They're not revolutionaries, they're realists.
The Truss offer is continuity with the spirit of Johnson and Brexit while meeting the demands of the voters who were, and are, angry with the status quo. That anger has been the fuel of politics since the Global Financial Crisis — it was there in Brexit, in the Scottish independence referendum, in the rise of Corbyn, and in Boris Johnson's 2019 landslide. The fact that such competing and conflicting political forces can harness that same anger signals that there is an underlying volatility in British politics that can be channelled in different directions by strong and intelligent leadership.
It is in leadership that Labour must contest most convincingly. Liz Truss will likely be undone by events. The cost-of-living crisis is of such a scale that it is hard to see any of her policies — or any of Rishi Sunak's — that will be more than a drop in the ocean. To win, Keir Starmer must learn from New Labour [Tony Blair's government]. Attack the new Prime Minister and her government, but don't nit-pick. The critique must be based on a vision of hope and a positive project that positions Labour once more as the "political wing of the British people". Otherwise, Keir Starmer risks being just one more man, in a long line of men, who have underestimated Liz Truss at their peril. After all, there are no accidental Prime Ministers, and like the rest, Truss has guile, will and talent.
Guido Fawkes adds another point:
… Truss will be the Tories' third female PM to Labour's big fat nought …
Exactly. And Conservatives didn't need to have all-women shortlists, either, unlike Labour.
For Conservative Party member Toby Young, General Secretary of the Free Speech Union, Truss's strength lies in opposing another lockdown, which she said 'No' to on Monday night in Exeter:
Also in Exeter, on Monday, Truss said that First Minister Nicola Sturgeon (SNP) was an 'attention seeker' who should be ignored. Again, I'm pretty sure Truss meant that with regard to appeals for a second independence referendum.
The Telegraph's Alan Cochrane, who lives in Scotland, said that some would sincerely welcome those words: 'Amen to that! Liz Truss finally puts the boot into Nicola Sturgeon':
It is easy to sympathise with Liz Truss's presumably exasperated and outspoken statement that the best way to deal with Nicola Sturgeon was to ignore her. 
After watching, listening and responding to this ambitious politician for more than 20 years, ignoring her is something I'd rather have been doing than countering every one of her largely lame-brained arguments for breaking up Britain.
Furthermore, the First Minister is every bit the "attention seeker" that the Foreign Secretary portrays her as – most especially when she dons her "Mother of Scotland" role and seeks to insist that she, and only she, speaks for the whole of Scotland. 
The truth, of course, is that she speaks only for her party and government, neither of which commands an overwhelming majority of Scottish opinion …
… while Ms Truss is being assailed for her choice of words by the Nationalists and those faint hearts who seek a peaceful political life, there will be more than a few who will shout "Amen to that!" when she talks of Ms Sturgeon's perpetual attention seeking.
Furthermore, a great deal more candour from Westminster in its dealings with the SNP is long overdue. Far too long. Successive UK administrations have bent over backwards not to be seen as provoking the cause of independence when the truth is that it is already on a life support system, with a fast declining appeal to the Scottish people.
The fact is that Ms Truss knows that she cannot just ignore the devolved Scottish Government and its leader. But she is to be commended for putting the boot in. It's about time someone did.
While Truss and Sunak were in Wales, Iain Duncan Smith MP was north of the border in Scotland.
He was at an event for Scottish Conservatives in Stirling, in Scotland's central belt.
The former work and pensions secretary backtracked on comments made by Truss that Nicola Sturgeon, the first minister, should be "ignored" as he criticised the UK government's approach towards the Union.
"I don't want to ignore her," he said. "What I want to do is to let the world know just exactly why Scotland is suffering so much under this incompetent regime at Holyrood. The truth is, it is a disaster: everything from health, the police, the railways — they can't even build ships sometimes on time and on budget."
He's not exaggerating. It's the raw truth.
The MP wants the next PM to have greater powers of scrutiny over the way Scotland's SNP government is run. They get billions from taxpayers in the Barnett Formula and waste it. No one, not even Scots, has any idea where the money goes.
He said:
I am desperate for greater powers for scrutiny. It is only scrutiny that unearths all this nonsense and … that the weaker scrutiny up here has allowed the Nationalists to get away with it. So I am going to take that straight back and talk to her about it and see what we could do.
Not surprisingly, the SNP were furious and, as usual, blamed Westminster:
Kirsten Oswald, the SNP deputy leader at Westminster, said: "This is an utterly ridiculous suggestion, showing that even the Tories are out of ideas for how to fix the broken Westminster system. It is not the SNP's job to explain why Westminster control is increasingly making life more difficult for the people of Scotland — even if the Tories are out of excuses.
"The job of SNP MPs in Westminster is to stand up for Scotland against a UK government choosing to ignore our interests at every turn. That is what they will continue to do."
Duncan Smith justified his desire for scrutiny saying that SNP MPs are part of the Scottish government, too:
… Duncan Smith said: "We need to turn the tables on them and start saying, 'Well, can we have a period of question time for you lot to talk about what you are doing in Scotland as the devolved administration?'
"And start examining some of this stuff because they're not just SNP protesters down in parliament, they are actually part of the government up here."
Meanwhile, Rishi Sunak told the audience in Cardiff that Truss was wrong about her public sector pay reform and tried to scare Welsh Conservatives into thinking that Truss was going to cut the pay of every single public sector worker in Wales:
However, Sunak got himself into a bit of hot water when he 'misspoke' on wind turbines at the event:
On Thursday, August 4, Guido reported:
Rishi's team has said he "misspoke" during the hustings last night when it appeared he'd u-turned on his opposition to new onshore wind. At the Wales' husting, Sunak was asked "will you be bold enough to scrap the embargo on onshore wind in England?", replying "So, yes, in a nutshell." This appeared totally contradictory to one of his previous policy announcements:
Wind energy will be an important part of our strategy, but I want to reassure communities that as prime minister I would scrap plans to relax the ban on onshore wind in England, instead focusing on building more turbines offshore,
Team Liz immediately leapt on his words as sign of yet another u-turn from Rishi, alleging it was his eleventh campaign u-turn.
This morning Team Rishi, asked to justify his words, bluntly replied "he misspoke". Much like Britain under Rishi's actual wind energy policy, he's losing fans rapidly…
Sunak is also being economical with the truth when he says that he personally came up with the idea of British freeports, which were first mooted in an early Margaret Thatcher manifesto for the Conservatives:
However, Rishi managed to get two notable endorsements, one from former Conservative Party leader Michael Howard and Nigel Lawson, who was Chancellor under Margaret Thatcher. He is also Nigella Lawson's father.
Guido has more:
Finally got an endorsement from Nigel Lawson himself, who writes in The Telegraph that Rishi is

"the only candidate who understands Thatcherite economics" …



Michael Howard opened for Rishi at Wales' Tory husting last night, saying he can provide the leadership needed "not only in this country, but across the wider western world"
Lawson must have felt obliged to endorse Sunak, given that the latter has a photo of him in his office.
Sunak was over the moon about Lawson's Telegraph article:
Boris looms large
Prime Minister Boris Johnson still looms large in the psyche of British voters.
Normally, we are all too happy when a Prime Minister stands down. When Margaret Thatcher's MPs booted her out, we breathed a sigh of relief. We'd had enough of Tony Blair when he left No. 10 to Gordon Brown. We didn't care too much about David Cameron's resignation, although we did think he was petty-minded for resigning the morning after the Brexit referendum result. And we were only too happy for Theresa May to go, although we did feel sorry for her as she cried at the Downing Street podium.
However, Boris is a different kettle of fish.
The August 3 YouGov poll showed that a) most Conservative Party members thought their MPs made a mistake in getting him to resign as Party leader and b) he would make a better PM than either Truss or Sunak:
In response to the aforementioned Welsh Senedd member's tweet, someone responded with this:
Incredibly, as ballots are currently being posted to Conservative Party members, Alex Story, the leader of the Bring Back Boris campaign, still thinks there is time to add Boris's name to the list of candidates.
He spoke to Nigel Farage on Wednesday, August 3:
He said that 14,000 members of the public wrote to Conservative Party headquarters after Boris stood down as leader.
He added that most Boris supporters knew he was economical with the truth, but they felt that his ouster was forced.
Nigel Farage countered by saying that 40% of Conservative voters wanted Boris to leave. Furthermore, he could no longer command the support of his MPs.
Story responded by saying that Boris will be like 'Lazarus [rising] from the dead … something romantic and quirky'.
That's one way of putting it, I suppose.
It is highly unlikely that Boris's name will be on the ballot, but … one cannot fault Story and Lord Cruddas for trying on the public's behalf.
More news next week.
On Monday, August 1, 2022, a hustings took place in Exeter.
The event was two hours long. Sky News filmed it, and the moderator was Sebastian Payne, the Financial Times's Whitehall editor:
The sound quality is not the best. There are lots of echoes.
The venue was full. Some supporters made their allegiances known Trump rally style, either by waving 'Ready for Rishi' placards or by wearing 'Liz for Leader' tee shirts.
The event began with a couple of videos from Conservative MPs.
Then Penny Mordaunt appeared on stage to pledge her support for Liz Truss (video clip here):
Liz took the stage afterwards (17:38 in the video) and introduced her platform.
Afterwards, Liam Fox went on stage (33:34), announcing that he would be backing Rishi Sunak.
Liz's Q&A came after that (45:00), taking questions from the audience and Sebastian Payne.
She was much more relaxed than she had been at previous events over the past two weeks. She has a sense of humour. She gesticulated in a natural way. She was conversational.
When an audience member asked if she would favour another lockdown, she gave a simple answer — 'No'. She explained that, during the pandemic, her Cabinet responsibilities lay in areas other than health and that when presented with past measures, she said others told her they were already 'a fait accompli'. Liz said she always favours the least amount of intervention:
Liz also lobbed a zinger at Scotland's First Minister Nicola (Neverendum) Sturgeon (SNP) by saying that she should was an 'attention seeker' who should be ignored. She got a huge round of applause.
This raised a stink the next day, including on GB News, but I understood it in the context of having another independence referendum eight years after the first 'once in a generation' one:
GB News has the quote (emphases mine):
Liz Truss has claimed it is best to ignore "attention seeker" Nicola Sturgeon.
The Conservative Party leadership candidate criticised Scotland's First Minister before ruling out a second independence referendum.
Ms Truss, speaking at a hustings event in Exeter, referenced growing up in Paisley before saying: "I feel like I'm a child of the union, I really believe we're a family and we're better together and I think the best thing to do with Nicola Sturgeon is ignore her."
Tory members cheered and applauded the comment, with the Foreign Secretary adding: "She's an attention seeker, that's what she is.
"What we need to do is show the people of Scotland, Northern Ireland and Wales what we're delivering for them and making sure that all of our Government policies apply right across the United Kingdom."
She replied "no, no, no" when asked about another independence referendum in Scotland if she becomes prime minister.
SNP MP Chris Law, posting on Twitter with a link to Ms Truss's remarks, said: "The only reason why Scotland needs independence. Utter contempt from the future PM."
Rishi Sunak has also ruled out having a second referendum on Scottish independence should be become Prime Minister.
He said: "I am clear that another referendum is the wrong priority at the worst possible moment.
"The SNP are wrong to try and tear the country apart when we should be pulling together. Why aren't they talking about the drugs crisis in Scotland or how we can get more money into Scottish workers' pockets?
"Just as I want to be more accountable to people in every corner of the United Kingdom, so too does the SNP need to be more accountable for their responsibilities."
That night, comedians on GB News's Headliners joked about the SNP's utter irresponsibility north of the border. Leo Kearse is Scottish and gives the full story of the disappearing billions. He says that Westminster should audit the Scottish Government:
Earlier, on Dan Wootton's show, 90% of viewers agreed with Liz on Nicola Sturgeon with regard to a second referendum:
In short, Liz came across as the continuity candidate. People who liked Boris will find an appropriate comfort level with her.
Then it was Rishi's turn to take questions (1:17:00).
Both candidates received warm applause for their policies, but some applauded only for their preferred candidate.
Rishi left the stage with a clean slate.
However, Liz got into trouble over the next 24 hours for saying that she would reform public sector pay. I took her to mean civil servants, but people got anxious and critical over teachers and NHS staff.
Liz said she would cut public sector pay outside of London, but wouldn't keeping their pay the same or upping it a pledge to 'levelling up'?
Years ago, Labour's Harriet Harman tried the same thing:
The Financial Times article that Guido Fawkes cites explains why what Liz's proposal is problematic.
Journalist Stephen Bush begins by disingenuously putting on the frighteners …
Liz Truss has promised to save £11bn a year by cutting pay for public sector workers — including civil servants, teachers and nurses — outside London and the South-East.
… before clarifying that it would take several years for the proposed plan to be rolled out to all public sector workers:
The foreign secretary said she would introduce regional pay boards that would set wages for civil servants working outside London in line with local labour market conditions and living costs. Her campaign said the regional pay would initially be introduced for new civil service recruits, but if successful would be rolled out over a number of years to all public sector workers.
From that, it is obvious that the FT want Rishi Sunak to win.
This is why public sector pay is difficult to reform:
Now, it's true to say that, in real terms, a secondary school teacher in Torridge in north Devon or Cannock Chase in Staffordshire is paid more in real terms than they are in St Albans or Hackney. And this is true across the public sector. In real terms, a public sector worker would be economically better off working in Don Valley in South Yorkshire than if they were working in the centre of Manchester.
But of course, it is also true to say that we find it easier to recruit secondary schoolteachers, GPs, firefighters and police officers in St Albans, Hackney or Manchester than we do in Don Valley, Cannock Chase or Torridge …
The policy suggestion does the rounds every so often and it founders on the same basic problem: you can't cut salaries in the places you struggle to recruit. Given that the UK state (rather like the UK as a whole) faces considerable difficulties in recruiting enough workers it is highly unlikely that the policy will succeed now.
 … What might matter is if enough Conservative members see this policy as an electorally disastrous idea they need to avoid.
One thing that would be welcome is reforming or getting rid of unnecessary posts in the public sector. Liz favours this, too:
I'll come back to that in a moment.
Polling
Stephen Bush's article gave more evidence that he and the FT are Ready for Rishi, so to speak.
Based on polling, Bush is worried that Liz might be winning:
Every scrap of data suggests Liz Truss is ahead of Rishi Sunak, and that Sunak failed to really change the dynamic of the race in any of the televised debates.
Although both Ben Wallace and Tom Tugendhat have ideological and policy reasons to endorse Truss over Sunak, it helps, of course, when everything suggests that to help Truss is to help yourself. Unless her campaign finds a way to implode or the polls are wildly out of kilter.
Now, of course, the big known unknown in this leadership election is just how big Liz Truss's lead actually is. YouGov's polls have shown the foreign secretary enjoying a 24 point lead over Rishi Sunak (opens a new window) among Tory members. The gap suggested by Opinium has been a narrower one. Its latest snap poll showed (opens a new window) Tory voters thought Truss did better in the television debate last week by 47-38.
Now another pollster, Techne, has tried its hand at a poll of the Conservative supporters (opens a new window), who comprise Tory voters that are also activists. The result is, again, a Truss lead, but not a very large one.
I wouldn't sweat this too much, frankly. What unites the various polls (Liz Truss is winning all of them) is more important than what divides them (the exact size of Liz Truss's opinion poll lead). It's possible that some error or event on the part of Truss's campaign may hand Sunak a victory, and it's possible that all the polls are wrong. Given all that, the implied 10 per cent probability of a Sunak victory suggested by the prediction website Metaculus (opens a new window) seems about right to me. But of course, if Truss's lead is only five points, this "cut public sector pay in places with greater shortages" wheeze may well prove catastrophic for her chances.
Guido has more on the Techne results.
Another interesting poll appeared on August 1. Redfield & Wilton Strategies results show that Liz Truss could just beat Labour's Keir Starmer in being perceived to be a better potential Prime Minister. Rishi, on the other hand, would lose to Starmer — 40% to 33%:
Why are all the metropolitan elite coming out for Rishi? They know he would lose and put the Conservatives out of office for years!
On Tuesday, August 2, YouGov came out with a poll also showing stonking results for Liz:
Polling took place between July 29 and August 2:
Guido also posted about the polls and another pro-Rishi publication, The Times:
Guido then posted the YouGov poll:
I couldn't agree more about voting anxiety. This reminds me of the 2019 contest between the totalitarian Jeremy Hunt and Boris 'Sunlit Uplands' Johnson.
Guido explained the stark differences between the two polls:
The Times claimed — wrongly — that Liz Truss's team commissioned the more favourable YouGov poll. Guido notes that the newspaper has since changed its copy. Good:
And someone confirmed the hypothesis that media supporting Rishi want the Conservatives to lose:
On Wednesday, August 3, YouGov published an all-party poll. After months of the Conservatives trailing Labour by a large margin, there is now only one percentage point between the two!
Amazing!
Guido wrote (red emphases his):
The YouGov poll of Tory members showing Liz looking to take two-thirds of the vote for leader was not the only surprising poll result. YouGov's regular voting intention survey has the Tories on 34% (+2 from 21-22 July), just a point behind Labour on 35% (-4). Is this an outlier?
YouGov themselves say "This shrinking of Labour's lead from 7 points to 1 point is a sharp move, but changes are either within the margin of error or close to it. It will be worth waiting to see whether further polls replicate the extent of this narrowing of the gap before we can be certain of a Tory recovery."
Yet, an IPSOS-Mori poll from Monday shows Rishi in the lead.
The Evening Standard reported:
As the 160,000 members of the Tory party prepare to start voting in the Tory leadership contest from Monday, the exclusive survey by Ipsos shows that 49 per cent of Conservative backers said the former Chancellor would make a good premier compared to 40 per cent for rival Liz Truss.
Among Conservative voters in the 2019 general election, Mr Sunak enjoys an even bigger lead over the Foreign Secretary with 49 per cent saying Mr Sunak has what it takes for the top job compared to 35 per cent for Ms Truss.
Among the general public, just over a third of people said Mr Sunak would make a good Prime Minister compared to just 24 per cent for Ms Truss.
Conservative Home's poll of its readers did not show Rishi on their chart. This is because he resigned as Chancellor and is no longer in the Cabinet:
The perils of policy on the hoof
Now that we have covered the good news, let us return to Liz's public sector statement, which is the first real blunder she has made in her campaign.
Not surprisingly, Team Rishi jumped on it.
On Tuesday, August 2, Guido reported that a Red Wall mayor is also unhappy:
Team Rishi has slammed Liz Truss over her policy announcement last night that she can save up to £8.8 billion by replacing National Pay Boards with Regional Pay Boards. This sum immediately raised eyebrows given the total Civil Service salary budget is around £16.5 billion. The footnotes of the press release specified this figure is "the potential savings if the system were to be adopted for all public sector workers in the long term," allowing her opponents to spin the policy as one of cutting nurses' and teachers' pay in the Red Wall while improving the pay packets of those in London and the South East. Tees Valley Metro Mayor Ben Houchen is not happy:
There is simply no way you can do this without a massive pay cut for 5.5m people including nurses, police officers and our armed forces outside London.
Liz Truss's campaign is explicit that their savings target is only possible 'if the system were to be adopted for all public sector workers'.
This is a ticking time bomb set by team Truss that will explode ahead of the next general election.
Just one mistake like this can help Rishi win over Conservative Party members:
Rishi doubles down by calling the policy "a gift to the Labour Party and Keir Starmer. Her plan would punish hard working nurses, police officers and soldiers across the country, including in the Red Wall just before a General Election". Rishi was already reportedly performing better among Southern members – can this latest attack help him claw back up North?
Liz and her team quickly backtracked but said it was a 'wilful misrepresentation' of the policy:
UPDATE: Team Truss say
Over the last few hours there has been a wilful misrepresentation of our campaign. Current levels of public sector pay will absolutely be maintained. Anything to suggest otherwise is simply wrong. Our hard-working frontline staff are the bedrock of society and there will be no proposal taken forward on regional pay boards for civil servants or public sector workers.
Under fire from Rishi she drops the policy. So we now have the status quo of a national pay rate for civil servants.
Another member of Liz's team told Guido that the policy will not be taken forward. Nonetheless:
Team Rishi are absolutely loving this, joking "The lady is for turning"…
Yes, one can imagine.
On GB News Tuesday afternoon, a number of presenters and pundits, some of whom think Liz either should or could win (there is a difference), thought that she made a terrible mistake with this.
One said that making policy up on the hoof was a 'dangerous' thing to do and could turn the contest against her.
However, Team Liz were ready to fire back at Rishi, accusing him of more U-turns during this campaign than at a driving test centre.
Note that only one of Liz's U-turns happened during the campaign. The other three happened when she was a young adult. The same cannot be said of Rishi:
Guido has the full story, which begins with this:
Hours after a brief campaign blip from Team Liz, which involved a somewhat humiliating climbdown from their regional pay boards policy, they've finally pulled their finger out for some return fire on the topic of u-turns. Team Rishi has spent the morning on cloud nine, joking that it turns out "The lady is for turning", and accusing Liz of having a Mayite 'Dementia Tax' moment. In return Liz Truss's team have compiled a list, which they allege shows Rishi has performed "more u-turns than a DVLA test centre". A spokesperson for Liz says:
This is all a bit rich coming from Sunak's backers when they stayed schtum on the steady stream of u-turns from Rishi over the recent weeks. He's flip-flopped on tax cuts, VAT, grammar schools, China , EU regulations, Northern Ireland protocol and planning to name a few.
Before Monday's debate, Liz issued a letter to Conservative Party members, which can be read in full here. It has way too many 'I's, which someone should have reworded.
An excerpt follows:
… If you work hard, do the right thing, save your money, or start your own business, then I am on your side.
And you can trust me to deliver. I have delivered trade deals, faced down Putin's Russia, and got on with sorting the Northern Ireland Protocol. I am honest and straight talking. I do what I say I will and I know what it takes to get things done. 
We cannot continue to have business-as-usual and I have a bold plan to get our economy back on track.
We must reject orthodoxy, the voices of decline and unleash Britain's potential in line with Conservative values. 
I will lower taxes to spark economic growth and reward people for working hard. I will seize the full opportunities of Brexit, and level up in a Conservative way. I will defend freedom at home and abroad, and keep Britain safe. 
I will ensure the police do more to crack down on real crimes, and raise defence spending. I will stand up for free speech, and protect single sex spaces for our young women. And I will abolish Soviet top-down housing targets. I know from being a councillor that local people are best-placed to deliver the housing we need. 
To win in 2024, we must work relentlessly to deliver on our promises. 
Now is the time to be bold … 
That is how Liz came across in the debate, so I was happy to see The Telegraph endorse her candidacy that night:
Ballots delayed to next week
The Party members' ballots were to have arrived this week.
However, a security issue has caused a delay, therefore, they will not be sent until next week.
Nigel Farage tweeted:
The Telegraph's Ben Riley-Smith got the scoop on the ballots. Furthermore, members can now vote only once, not twice as planned — excellent:
This might turn out to be a blessing in disguise for Liz.
A week is a long time in politics, so by the time the ballots arrive, Liz's public sector policy blunder is likely to be old news.
Even better, however, is the platform that GB News will give her on Wednesday, August 10, just as the ballots arrive:
I do not have details as to how the event was arranged nor do I know whether Rishi was invited to appear on a separate programme.
The next debate was on Sky News on Thursday, August 4. More about that in a separate post.
Picking up from where I left off yesterday with Dan Wootton's GB News poll on the next Conservative Party leader, 60,000 people responded and 49 per cent said that Boris Johnson should be the next one.
On Thursday, Wootton remarked:
The Prime Minister's swashbuckling and energetic PMQs farewell today just emphasised that point further.
Boris participated in his final Prime Minister's Questions on Wednesday, July 20, 2022, just under three years since he first stood behind the despatch box as Prime Minister.
It was one of Boris's best performances and can be viewed here. Hansard's transcript is here.
Highlights follow, emphases mine.
Labour's Sir Keir Starmer had a go at the leadership contest, particularly last week's debates and the refusal of a third debate on Sky News. The debates were a bit spiky at times, but pretty tame overall.
Boris replied:
I am not following this thing particularly closely, but my impression is that there has been quite a lot of debate already, and I think the public have ample opportunity to view the talent, any one of which—as I have said before—would, like some household detergent, wipe the floor with the right hon. and learned Gentleman. Today happens to be just about the anniversary of the exit from lockdown last year, and do you remember what he said? He said—[Interruption.] No, I am going to remind him. He said it was "reckless". It was because we were able to take that decision, supported by every single one of those Conservative candidates, opposed by him, that we had the fastest economic growth in the G7 and we are now able to help families up and down the country. If we had listened to him, it would not have been possible, and I do not think they will be listening to him either.
Starmer had a go at Rishi Sunak's accusation of Liz Truss's proposed tax cuts as 'fantasy economics'.
Boris said:
Well, Labour know all about fantasy economics, because they have already committed to £94 billion of extra tax and spending, which every household in this country would have to pay for to the tune of about £2,100. It is thanks to the former Chancellor's management of the economy—thanks to this Government's management of the economy—that we had growth in May of 0.5%. We have more people in paid employment than at any time in the history of this country. I am proud to be leaving office right now with unemployment at or near a 50-year low. When they left office, it was at 8%. That is the difference between them and us.
Then Starmer quoted Liz Truss's criticism of Rishi's economic policy for its lack of growth.
Boris answered:
I think that everybody would agree that what we saw in the last two and a half years was because of the pandemic, with the biggest fall in output for 300 years, which this Government dealt with and coped with magnificently by distributing vaccines faster than any other European Government—faster than any other major economy—which would not have been possible if we had listened to the right hon. and learned Gentleman. That is why we have the fiscal firepower that is necessary to help families up and down the country, making tax cuts for virtually everybody paying national insurance contributions. There is a crucial philosophical difference between Labour and the Conservatives: under Labour, families on low incomes get most of their income from benefits; under us, they get most of it from earnings, because we believe in jobs, jobs, jobs. That is the difference.
Starmer went on to quote Penny Mordaunt on Britain's sluggish public services.
Boris said:
… This is the Government who are investing £650 billion in infrastructure, skills and technology. He talks about public services; what really matters to people in this country right now is getting their appointments and their operations, fixing the covid backlogs—that is what we are doing—and fixing the ambulances. That is what he should be talking about. That is why we voted through and passed the £39 billion health and care levy, which Labour opposed. Every time something needs to be done, Labour Members try to oppose it. He is a great pointless human bollard. That is what he is.
Starmer referred to Kemi Badenoch's criticism of Rishi's handling of covid loans.
Boris replied:
This is one of the last blasts from Captain Hindsight, at least to me. They were the party, I remember, that was so desperate for us to be hiring their friends—they wanted a football agent and a theatrical costumier to supply personal protective equipment. Do you remember, Mr Speaker? We had to get that stuff at record speed. We produced £408 billion-worth of support for families and for businesses up and down the country. The only reason we were able to do it at such speed was that we managed the economy in a sensible and moderate way. Every time Labour has left office, unemployment has been higher. The Opposition are economically illiterate, and they would wreck the economy.
You can read more on Guido Fawkes about Labour's hilarious — well, it would be were it not so tragic — attempts to get the Government to employ their friends for pandemic related equipment.
Starmer went on for another few minutes about the nation being an utter shambles at the moment.
That is true in many instances, but Boris cited the good things that the Conservatives have accomplished over the past three years:
What does it say about the right hon. and learned Gentleman that no one can name a single policy, after three years, of the Opposition apart from putting up taxes? He is one of those pointless plastic bollards you find around a deserted roadworks on a motorway. We got Brexit done; he voted against it 48 times. We got this country fast out of covid, in spite of everything, when he would have kept us in lockdown. We are fixing social care, when the Opposition have no plan and no ideas of their own. We are now bringing forward measures, in the face of strikes, to outlaw wildcat strikes.
I can tell the House why the Leader of the Opposition does that funny wooden flapping gesture—it is because he has the union barons pulling his strings from beneath. That is the truth—£100 million.
We have restored our democracy and our independence. We have got this country through covid. I am proud to say that when it comes to tackling climate change or sticking up for Ukraine, we have led the world on the international stage. I want to thank my friends and colleagues on these Benches for everything they have done.
Guido posted the video of that portion, which is Boris at his best. Viewers will also get the mood of the Chamber, which was very noisy indeed:
After Starmer had finished, it was the turn of Ian Blackford from the Scottish National Party (SNP). As ever, he criticised the Government and put in yet another plug for a second independence referendum:
Boris said:
That is not what I observe. The right hon. Gentleman talks about records; I point to the fastest vaccine roll-out in Europe, the lowest unemployment for at or near 50 years as I have said, the lowest youth unemployment, and the fastest growth in the G7 last year, in spite of everything. As for the Scottish nationalists' record, look at where they are. I am afraid to say that Scottish school standards are not what they should be, because of the failure of the SNP. It is failing people who are tragically addicted to drugs in Scotland, and the people of Scotland are facing another £900 million in tax because of the mismanagement of the SNP.
True. All of it.
Blackford ranted once more on partygate. Incidentally, he is a multi-millionaire who likes to paint himself as a humble crofter.
Boris replied:
On the personal abuse stuff, I think the right hon. Gentleman is talking a load of tosh, but when he has retired to his croft—which may be all too soon—I hope that he will reflect on his long-running campaign to break up the greatest country in the world. I hope that he will reflect on the pointlessness of what he is trying to do, and think instead about the priorities of the people of Scotland, which are all the issues that he thought were trivial: education, crime, and the burden of taxation that the SNP is unnecessarily placing on the people of Scotland.
After Blackford sat down, Sir Ed Davey, leader of the Liberal Democrats, had his say. He indirectly accused Boris of being ambitious and 'tyrannical'. He asked whether Boris would now be devoting time to completing his book on Shakespeare. He also said there should be a general election.
Boris answered:
Polonius—that's who the right hon. Gentleman is; he needs more matter with less art. The only thing we need to know is that if there were to be a general election, the Liberal Democrats would rightly get thrashed, because that would be the moment when the public looked with horror at what the Liberal Democrats' policies really are and all those rural voters would discover the massive green taxes that they would like to apply. The only risk is that there could be some kind of crackpot coalition between those guys on the Labour Benches, the Lib Dems and the Scottish nationalists to put that into effect. That is what we must prevent.
Felicity Buchan, a Conservative who represents London's Kensington constituency, expressed her concerns about rising crime under the current Mayor of London (Sadiq Khan).
Referring to himself, Boris replied:
London once had a Mayor who cut crime by 25%, cut the murder rate by 30% and built twice as many affordable homes as the current incumbent. What London needs is another Conservative Mayor.
Another Liberal Democrat, Scotland's Jamie Stone (Caithness, Sutherland and Easter Ross) wanted a freeport in his Highlands constituency.
Boris said:
I can confirm that we are committed to funding two new green freeports in Scotland to the tune of £52 million. That would not be possible, of course, if the SNP got its way and we returned to the EU.
Boris defined levelling up:
It is not just inequality; it is inequality of opportunity, and that is what levelling up addresses.
A Labour MP moaned about the railways in the north of England.
Boris replied:
Actually, this Government are responsible for three new high-speed lines, including Northern Powerhouse Rail, which no previous Government have done.
Boris gave his advice with regard to hot weather when an MP asked about disposable barbeques and Chinese sky lanterns:
The key thing is for people to behave responsibly with the use of these things. It is clearly insane to take a disposable barbecue on to dry grass.
Another SNP MP, Dr Philippa Whitford, talked about poverty in Scotland, ending with a plug for independence.
Boris said:
Actually, we increased the living wage across the whole of the UK by £1,000, we made sure that people on universal credit got their tax bills cut by £1,000, and over the last couple of weeks we have cut national insurance contributions by an average of £330. It was because of the Union that we were able to support families up and down the country, in Scotland, with the furlough and other payments, to the tune of £408 billion.
One of the nicest contributions came from Conservative MP Andrew Bowie, who represents West Aberdeenshire and Kincardine:
May I thank my right hon. Friend for his commitment to Scotland and the entire United Kingdom over his years in Downing Street? I also thank him and my right hon. Friend the Secretary of State for Scotland for improving and increasing the visibility and involvement of the UK Government in Scotland over the past three years. Does my right hon. Friend the Prime Minister agree that whoever takes his job, and whatever comes next, the United Kingdom will always be stronger together than it ever would be apart?
Boris replied:
That was brilliantly put; I could not have put it better myself.
Then a young Labour MP asked about the slow compensation for Windrush victims.
Boris said:
Actually, I think more people have got compensation. I renew my apologies to the Windrush generation for what they have suffered, but we have greatly increased the compensation available. We have paid out, I think, more than £51 million. We are working with voluntary groups to ensure that people get what they are entitled to. I may say that Labour has never apologised for its own part in the Windrush scandal.
An MP from Northern Ireland accused the Government of ruining relationships between Ulster and the Republic.
Boris replied:
I completely disagree with that. The whole objective of the Northern Ireland (Protocol) Bill that we have passed is to support the balance and symmetry of the Belfast/Good Friday arrangements. I was very pleased that the Bill advanced to the House of Lords with no amendments.
GB News has more on the legislation:
A Conservative MP, Crispin Blunt, is not my favourite. However, here is where I agree with him. He paid a splendid tribute to Boris:
In recalling the situation that the Prime Minister inherited in July 2019, of a Parliament with a majority determined to frustrate the result of the 2016 referendum, led by a Speaker who was just slightly partial—the seemingly impossible situation he found—does my right hon. Friend understand that he has the gratitude of my constituents, who can identify the wood from the trees, and of myself, for his leadership over the last three years?
Boris replied:
I am very grateful to my hon. Friend. There is a fair amount of wood on the Opposition Benches and I think that is why we will prevail at the next general election.
Another SNP MP banged on about a second independence referendum.
Boris said:
This is the country that secured furlough and that delivered the vaccine across the whole of the UK, while the SNP gets on with overtaxing to the tune of £900 million—that is how much they are overtaxing in Scotland. And we had a referendum in 2014.
Another SNP MP complained spitefully about Boris being a nobody and about the honours list he might draw up before he leaves office.
Boris answered:
I am sure that everybody who has served this Government loyally and well deserves recognition of some kind, but as for the honours list, I am afraid the hon. Gentleman will have to contain his excitement.
Conservative MP Sir Edward Leigh was the last to speak. He, too, paid Boris tribute for the past three years:
On behalf of the House, may I thank the Prime Minister—[Interruption.] On behalf of the House, may I thank the Prime Minister for his three-year record of service? On behalf of some of the most vulnerable people in the country, can I thank him for his insistence on rolling out the AstraZeneca jab, which has saved thousands of lives around the world? On behalf of the 17.4 million people who voted Brexit, may I thank him for restoring people's faith in democracy? On behalf of northern towns, may I thank him for his commitment to levelling up? And most of all, on behalf of the people of Ukraine, may I thank him for holding high the torch of freedom and ensuring that that country is not a vassal state? For true grit and determination, keep going and thank you.
Boris replied, giving his closing remarks and advice for the future PM:
I thank my right hon. Friend, and I want to use the last few seconds to give some words of advice to my successor, whoever he or she may be.
No. 1: stay close to the Americans; stick up for the Ukrainians; stick up for freedom and democracy everywhere. Cut taxes and deregulate wherever you can to make this the greatest place to live and invest, which it is. I love the Treasury, but remember that if we had always listened to the Treasury, we would not have built the M25 or the Channel Tunnel. Focus on the road ahead, but always remember to check the rear-view mirror. And remember, above all, it is not Twitter that counts; it is the people that sent us here.
And yes, the last few years have been the greatest privilege of my life. It is true that I helped to get the biggest Tory majority for 40 years and a huge realignment in UK politics. We have transformed our democracy and restored our national independence, as my right hon. Friend says. We have helped—I have helped—to get this country through a pandemic and helped save another country from barbarism. Frankly, that is enough to be going on with. Mission largely accomplished—for now.
I want to thank you, Mr Speaker. I want to thank all the wonderful staff of the House of Commons. I want to thank all my friends and colleagues. I want to thank my right hon. Friend the Member for Ross, Skye and Lochaber (Ian Blackford). I want to thank everybody here. And hasta la vista, baby. [Applause.]
Here's the 'Hasta la vista, ba-by' video — a must-see:
The Conservatives gave him a standing ovation, with everyone applauding him, except for Theresa May, who merely stood.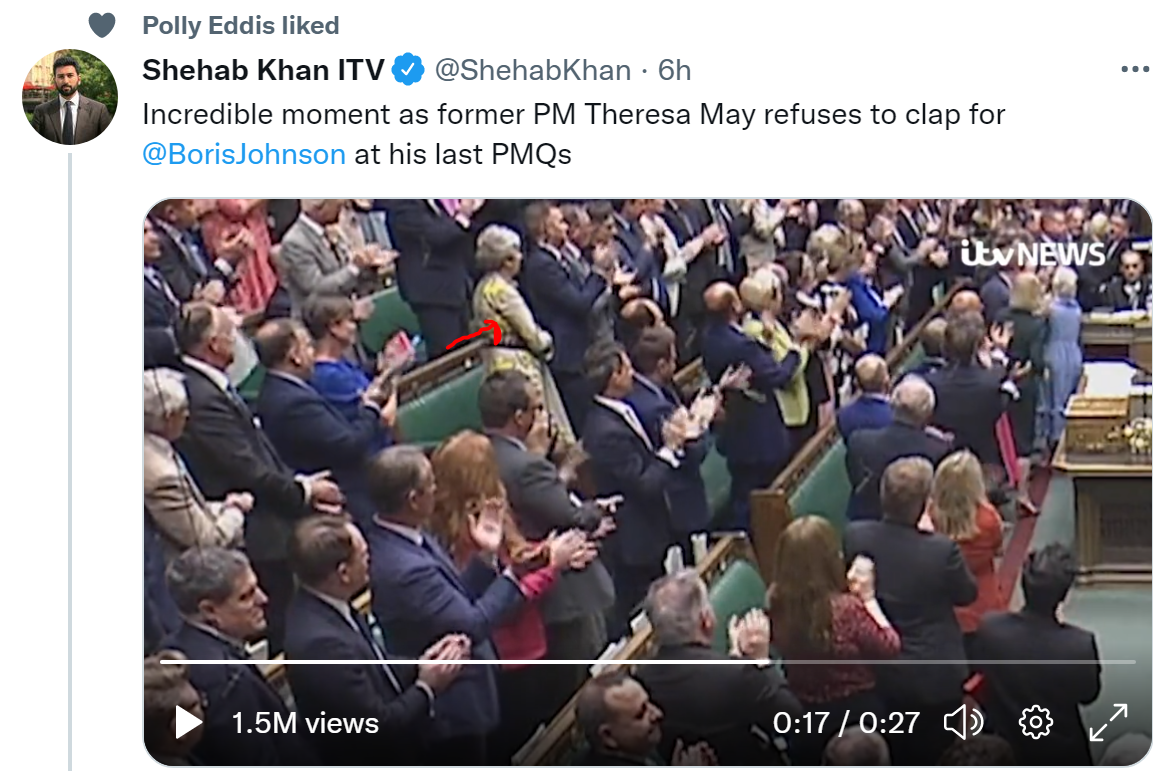 The Opposition either sat in silence or walked out.
One of Guido's readers wrote:
Lack of class from opposition MPs who can't possibly give a polite round of applause for a political opponent.
I agree. On the other hand, they hate Boris because he represents Brexit.
In Guido's comments on the same post, someone said that Boris was Britain's 'worst ever PM', which garnered this response, rightly pointing out the greater moral failings of Tony Blair, John Major and Theresa May as well as today's world leaders:
What, even worse than a Prime Minister who took the UK into an illegal war which resulted in the deaths of millions as well as thousands of UK soldiers and for which the UK is still feeling reverberations in the form of terrorist attacks? What a worse PM than a Prime Minister who signed the UK up to the Maastricht Treaty without putting it to the British people in the form of a referendum? What worse than a Prime Minister who put forward the idea of making the elderly sell their homes to pay for Health Care …
But instead listened to the people and secured an 80 seat majority to leave the EU (admittedly still leaving a lot to do). Invested in Vaccine development and procurement to ensure the UK had enough supplies for every citizen, and that the UK was at the front of the queue, and didnt go overboard on Covid restrictions, not when you look at what other countries got up to, namely Canada, China and France with Macron's "I want to punish those that won't get vaccinated" this after he was responsible for sowing Vaccine doubt simply because the Vaccine was developed in the UK – but then Johnson commited a crime so heinous – he had a piece of Birthday cake brought to him buy his wife – and that's 'your' worst Prime Minister, lol …
Journalist and former Conservative adviser Amanda Platell said she wept after PMQs:
Boris will be missed for his powerful performances at the despatch box …
… and Labour know it. One of their former advisers admits that's why Boris had to go:
Keir Starmer was often petty and unpleasant towards Boris:
That is because he knows Boris can win elections. In fact, earlier this week, Starmer was so frustrated with the Prime Minister that he insulted him on a podcast.
Starmer's deputy leader Angela Rayner said on Monday, July 18, that she would be happy with either Truss or Sunak as his successor. At the time she gave this interview, five candidates were still in the race:
I'm quite happy with any one of them. Because the one thing, and I kind of could see it… [Boris] had this, like, teflon coating… It's like a little magic. Where he was able to get through to the public and get through to the places that I actually don't see any of the five candidates that are standing having at the moment… Boris had so much going for him. He got an 80-seat majority and the country was really behind him… the five that we've got now I don't think have got that…
Here's the video:
Boris's former adviser Dominic Cummings thinks that Boris, like Arnie, will be back, if the next Conservative leader is too lacklustre:
As I wrote yesterday, thousands of voters do not want until then. Dan Wootton's viewers think that Boris's name should be on the ballot going out to Conservative Party members early in August:
Wootton's poll follows on from the ongoing petition by Party members to have Boris's name on the ballot:
The petition is being spearheaded by Lord Cruddas of Shoreditch, the Tory donor, and David Campbell Bannerman, a former Conservative Euro MP:
The Mail also has a report on the petition.
GB News interviewed David Campbell Bannerman on Thursday, July 21:
However, Labour are planning a rearguard action to prevent Boris from ever being Party leader again.
They hope to depose him as MP for Uxbridge and South Ruislip in west London:
On Thursday, July 21, GB News reported:
Boris Johnson could be forced to face a by-election if he is found to have lied to Parliament and is handed a suspension for 10 or more sitting days.
The Privileges Committee is examining whether the Prime Minister committed a contempt of Parliament by misleading MPs over the Partygate scandal.
Commons Speaker Sir Lindsay Hoyle [Labour] confirmed that the committee's findings would fall within the remit of the Recall of MPs Act, following advice from a leading lawyer.
That would mean that a suspension of 10 or more sitting days, or 14 calendar days, would trigger a recall petition.
If at least 10 percent of voters in Mr Johnson's Uxbridge and South Ruislip seat demand a by-election he would lose his place as an MP, but would be eligible to stand again in the contest.
The cross-party committee also published advice from the Clerk of the Journals, Eve Samson, the Commons' expert on parliamentary privilege, which suggested that whether or not Mr Johnson intended to mislead MPs was not a factor that needed to be considered.
But she said that intent could be seen as an "aggravating factor" when considering penalties …
The MPs intend to call Mr Johnson to give oral evidence in public in the autumn, under oath.
The committee has already said that whistleblowers will be able to give evidence about the Prime Minister anonymously.
Mr Johnson has also been ordered to hand over a cache of documents to the MPs investigating whether he lied to Parliament with his partygate denials.
The committee wrote to the Prime Minister and Cabinet Secretary Simon Case demanding details relevant to its inquiry.
On Friday, July 22, Guido posted on the upcoming inquiry, saying (emphases in red his):
While the committee will now disregard the PM's intent, the Clerk's report does say that can feed into deciding a sanction. This is all, in the understated words of The Telegraph, "a departure from precedent"…
It seems the Speaker's also got in on the act of changing rules. The Privileges Committee's announcement yesterday said Hoyle has ruled that "any suspension of the requisite length (10 sitting days or 14 calendar days) ) following on from a report from that Committee will attract the provisions of the Recall of MPs Act". Previously only recommendations of suspension from the Standards Committee would apply the recall act. Now the PM faces a by-election being forced by [Labour MP Harriet] Harman. Tory MPs are now having to fight back on his behalf, launching a petition to scrap the investigation altogether in light of his resignation…
For now, let's remember the happier times of earlier this week.
Boris held his final Cabinet meeting on Tuesday, July 19:
Despite the heat, Guido reports that there were no refreshments or food:
… there were a few presents, and a round of applause for the PM. Nigel Adams also gave a speech commending Boris's time in office, followed by a school photo.
Boris was gi[ven] a six-set first edition of Churchill's war books; surprisingly not something the ex-PM's biographer didn't already own. Guido also learns Boris was given wines that reflected significant dates in his life and political career: 1964, 2008, 2012 and 2019. He also got wine from other countries that mean a lot to him, including Ukraine and Greece …
Here's the Cabinet photo:

I hope all goes well for the Prime Minister in the weeks to come.
No doubt if Labour try to get at him, he'll find a way out.
All being well, I'll have a post next week on what really happened leading to his ouster.