You are currently browsing the tag archive for the 'sermon' tag.
My two previous posts about the Queen's death in Scotland are here and here.
Thanks to the Queen's and Princess Anne's Operation Unicorn plan for the monarch's death in Scotland, we saw their capital and the monarchy depicted magnificently.
Unicorn ticked all the boxes, especially at St Giles' Cathedral in Edinburgh.
A filmmaker could not have done better — and that was the Queen's intention.
History of St Giles' Cathedral
The Times has an excellent history of St Giles' Cathedral, the High Kirk: 'Beauty and peace of St Giles' make it a fitting place to lie at rest for Queen Elizabeth II'.
Excerpts follow, emphases mine:
St Giles' Cathedral in Edinburgh, High Kirk of the Church of Scotland, where the Queen will lie at rest, has been at the centre of Scottish history for more than 800 years. It has seen war, violence, rebellion and desecration, never more so than during the Reformation, when it was stripped to the bone by the firebrand Calvinist John Knox.
Kings and queens have left their mark on it down the ages. From it, Elizabeth's Stewart forebears in particular have tried at various stages to impose their religious beliefs on an unwilling and recalcitrant Scottish people.
Charles I gave it cathedral status in 1633 but when he insisted on introducing a common prayer book, based on the English order of worship, he provoked a riot, famously culminating in a tirade from a market trader called Jenny Geddes, who hurled a stool at the dean, forcing him to end the service abruptly.
It is also a place of beauty, its architecture lovingly restored, its 15th-century crown steeple one of Edinburgh's most distinctive landmarks — described by a historian as "a serene reminder of the imperial aspirations of the late Stewart monarchs". Here, in 1416, a graceful pair of storks made their nest, an event hailed as a portent of peace at a time of civic strife. Not until March 2020, when three birds nested at the Knepp Estate in Sussex, would storks return to Britain.
No one quite knows why the church, as it originally was, took its name from St Giles, the patron saint of lepers, but in its early days it was seen as a place with healing powers. The arm bone of the saint was brought as a relic from France, and at one stage the church had no fewer than 50 altars for those who came to pray for salvation. In the aftermath of the disastrous Battle of Flodden in 1513, when most of the Scottish nobility, and their king, James IV, were killed, Bishop Gavin Douglas held a requiem mass, a powerful act of mourning and renewal.
Knox was less forgiving. He ordered workmen to clear stone altars and monuments from the church. Precious items used in pre-Reformation worship were sold. The church was whitewashed, its pillars painted green, and St Giles's arm was hurled into the Nor' Loch. In 1558 Knox published his First Blast of the Trumpet Against the Monstrous Regiment of Women, a polemical work attacking female monarchs, and arguing that rule by women is contrary to the Bible …
The Queen will lie at peace in a place of singular beauty, close to the elegant Thistle Chapel, with which she was so familiar. Created by the great Scottish architect Robert Lorimer in 1909, it was the place where she, as senior member of the ancient Order of the Thistle, Scotland's equivalent to the Order of the Garter, welcomed new members, 16 in number, appointed on her personal recommendation.
The cathedral's interior is now a place of colour, its crown steeple is gilded with gold, its stained glass windows filter in the daylight, thanks to a renewal appeal, headed by the late financier Sir Angus Grossart, which led to the conservation of the medieval tower, the restoration of the stained glass windows, and the moving of the altar to the centre of the building. A thanksgiving service in the presence of the Princess Royal in January 2011 marked the conclusion of the project.
September 12, continued
In covering the events of Monday, September 12, 2022 in Edinburgh, I left off with the service at St Giles' Cathedral.
Afterwards, mourners were already queuing to pay their respects:
The Guardian reports that former Prime Minister Boris Johnson gave an interview to the BBC's Fiona Bruce that day. She asked him what his final meeting with the Queen at Balmoral on Tuesday, September 6, was like:
Johnson said: "In that audience, she had been absolutely on it. She was actively focused on geopolitics, on UK politics, quoting statesmen from the 50s, it was quite extraordinary.
"She seemed very bright, very focused. She was clearly not well. I think that was the thing that I found so moving when I heard about her death on Thursday, I just thought how incredible that her sense of duty had kept her going in the way that it had, and given how ill she obviously was, she could be so bright and so focused. It was a pretty emotional time."
Johnson gave a memorable tribute to the Queen in parliament on Friday, the day after her death. He told the broadcaster that her death was a "colossal" thing for him and that he felt a "slightly inexplicable access of emotion".
Shortly after 5:30 p.m., the King and Queen Consort arrived at Holyrood, Scotland's parliament, not far from the Palace of Holyroodhouse (emphases in the original):
King Charles and Camilla, Queen Consort have processed into the Scottish parliament in Holyrood, as trumpets played in the background.
They had met political leaders from Scotland beforehand, including first minister, Nicola Sturgeon, Labour leader, Anas Sarwar, and leader of the Conservative party, Douglas Ross.
Presiding officer, Alison Johnstone, opened the session and paid tribute to the Queen, who was there for the assembly's first session in 1999.
Two minutes' silence is now being held. Sturgeon will shortly move a motion of condolence.
She recounted an amusing anecdote from one of her visits to Balmoral:
I did, however, experience one rather tense moment at Balmoral. My husband and I were with the Queen before dinner when the drawing room light started to flicker. To my great alarm … my husband suddenly leapt up and darted across the room. Peter had spotted the cause of the flickering light, one of the Queen's young corgis, a beautiful pup called Sandy was eating through a lamp switch. Thankfully tragedy was adverted, not before a ticking off from his mistress.
Sturgeon, the woman who refused to deliver a message of loyalty on the occasion of the Platinum Jubilee, then waxed lyrical:
I deeply valued the time I spent alone with the Queen. Her words of wisdom, counsel, and humour will stay in my heart for the rest of my life …
The Queen has been intrinsic to the story of modern Scotland, from the opening of the Forties oil pipeline, to the Forth bridge, the Queensferry Crossing, three Commonwealth Games, she was present at so many of our iconic moments. She was a true and steadfast friend of this parliament.
Our nation is in mourning today for a Queen whose loss we have not yet begun to come to terms with. We are deeply honoured by the presence today of His Majesty King Charles III and the Queen Consort. Your Majesty, we stand ready to support you as you continue your own life of service and build on the extraordinary legacy of your mother. Queen Elizabeth, Queen of Scots, we are grateful for her life, may she now rest in peace.
After Sturgeon spoke, the other Party leaders had their turns: Douglas Ross from the Conservatives, Anas Sarwar from Labour and Patrick Harvie from the Greens.
Patrick Harvie's remarks once again revealed how far left he is. He praised all the social advances made during the Queen's reign — more than enough for most people — then said that much more needed to be done. He sounded ungrateful.
Harvie evidently did not want to meet the King. He sent the Greens' deputy leader Lorna Slater instead.
The session concluded with an address from the King:
Wearing a kilt, he stands and says:
I know that the Scottish parliament and the people of Scotland share with me a profound sense of grief at the death of my beloved mother. Through all the years of her reign, the Queen, like so many generations of our family before her, found in the hills of this land, and in the hearts of its people, a haven and a home.
My mother felt as I do, the greatest admiration for the Scottish people, for their magnificent achievements and their indomitable spirit. It was the greatest comfort for her to know, in turn, the true affection in which she was held. The knowledge of that depth and abiding bond must be a solace as we mourn the life of incomparable service.
If I might paraphrase the words of the great Robert Burns, my dear mother was the friend of man, the friend of truth, the friend of age, and guide of youth. Few hearts like hers with virtue warned, few heads with knowledge so informed.
While still very young, the Queen pledged herself to serve her country and her people and to maintain the principles of constitutional government. As we now mark with gratitude a promise most faithfully fulfilled, I am determined with God's help and with yours to follow that inspiring example.
The title of Duke of Rothesay and the other Scottish titles which I have had the honour of carrying for so long, I now pass to my eldest son, William, who I know will be as proud as I have been to bear the symbols of this ancient kingdom.
I take up my new duties with thankfulness for all that Scotland has given me, with resolve to seek always the welfare of our country and its people, and with wholehearted trust in your goodwill and good counsel as we take forward that task together.
The King and Camilla, Queen Consort, then leave the chamber while the bagpipes are being played.
By the time that the Holyrood session ended, mourners were entering St Giles' Cathedral to pay their respects.
The Vigil of the Princes took place that evening, with the Royal Family returning to St Giles' from Holyroodhouse.
The Vigil of the Princes was devised for George V's funeral in 1936. His four sons stood at his casket for a short time. It took place in Westminster Hall at 12:15 a.m. on January 28 that year, after it closed to the public.
In 2002, the Queen Mother's grandsons participated in a similar vigil in Westminster Hall.
For the first time, this silent ceremony included a woman. The Princess Royal, being one of the Queen's four children, participated in it at St Giles'.
This time, the public were able to see them in their solemn ten-minute vigil:
They have chosen not to be armed with swords, as they have the right to do so.
Charles stands at the head of the coffin, the crown behind him on top of it. He and his siblings, facing outwards, bow their heads. They are stood next to the Royal Company of Archers. Camilla is sat off to the side alongside Sophie, Countess of Wessex.
Prince Andrew and Princess Anne can be seen with their eyes closed.
Members of the public are still filing past the coffin.
It was incredibly moving. Two videos follow:
The Royals then returned to Holyroodhouse to spend the night.
The Queen lay at rest in the cathedral until early Tuesday afternoon, at which point staff and the military prepared for her casket to be put in the hearse for the journey back to London.
People queued all night. By the time the viewing closed on Tuesday, 26,000 people paid their respects. They were of all ages and included quite a few children, some dressed in their school uniforms.
The Guardian had a report on the mourners at the close of Monday:
Many thousands of people are waiting for hours in long queues through central Edinburgh to see the Queen lying in rest at St Giles' Cathedral, with some facing a wait until early morning before they pass the coffin.
Mourners queueing in George Square, an early Georgian square now part of the University of Edinburgh, have been waiting for over three hours, with the line six to eight people abreast in places.
The Scottish government responded by increasing the number of lines at the security checkpoint on George IV Bridge, dramatically increasing the numbers of people being cleared to move on to the cathedral. Officials estimate that up to 6,000 people per hour were being allowed through.
Aaron Kelly, 32, a psychotherapist originally from Belfast, who lives close to George Square, had been timing his wait on iPhone. It had clocked up three hours and five minutes by about 8.15pm. He felt it was essential to be there.
"This is a moment in history and I think the Queen has done so much for the nation; it just felt it was apt to come and pay our final respects," he said.
Behind him stood Corey Docherty, 14, and his mother, Mary, and their friend Janis. After travelling from the Glasgow area, and with school tomorrow, he faced getting home after midnight. Docherty has visited Balmoral, Buckingham Palace and Clarence House, the king's former residence in London.
"It's just the most famous royal family in the world," he said. Of the new king, he said: "He's the king. We must support him. He has waited 73 years."
Norman Davenport, 68, who recently retired after 18 years as an officer in the RAF reserve and before then 20 years as an army reservist, began queueing for the cathedral at 2pm on Monday, in good time for it to open to the public at 5.30pm, and arrived there by around 7pm. By 8.30pm, he was in George Square for a rest and a sandwich.
The queen was honorary air commodore of his RAF reserve unit, 603 (City of Edinburgh) Sqdn. He had met her twice. "I have a huge connection with her, from that point of view, as a personal thing. She was my sovereign, my commander in chief, my honorary air commodore."
The City of Edinburgh Council's website had a helpful list of guidelines for mourners.
The Guardian's Murdo MacLeod has an excellent photo compilation of the long queue as it grew throughout the night.
September 13
On Tuesday morning, September 13, The Guardian had an update on the mourners:
Tens of thousands of people, including royalists, "soft republicans" and the plain curious, have queued through the night in Edinburgh to view the Queen's coffin lying at rest.
The queues stretched several kilometres from St Giles' Cathedral on the Royal Mile – with the route winding past security checks, Scotland's national museum, Edinburgh university's student union and library on George Square, then on to The Meadows, a tree-lined park on the city's south side – in an event without modern parallel in Scotland.
Over Monday night, the queues were eight to 10 people abreast in places, with mourners and well-wishers – helped by dry and temperate weather – waiting more than five hours to reach the Queen's coffin.
At 5am on Tuesday, they queued in the open for more than hour to view the coffin, which was guarded by four green-garbed members of the Royal Company of Archers, each holding an upright bow, and four police officers wearing white gloves.
The Scottish government expects the queue – remarkable in its size – to grow again on Tuesday morning, before public viewing ends at 3pm. At about 5pm, the Queen's coffin will be taken by hearse to Edinburgh airport, accompanied by Princess Anne, the Princess Royal, then flown by military aircraft to RAF Northolt, before being driven to Buckingham Palace …
Victoria, 53, an artist, and her daughter Grace, 20, an art and philosophy student, woke up at 3.45am to come from Linlithgow, West Lothian, by train. Both women said they had an emotional response to the Queen's death, which contradicted their republican sympathies.
"We're not royalists but it has been a very strange thing, to be affected by the Queen dying," Victoria said. "And Grace was very affected too, so we thought: 'Let's go.'
"From a political point of view, I'm just a bit confused because it's what I'm against politically, but I just felt an emotional desire to come. I wasn't expecting to feel this way" …
Brian Todd, 51, who had joined the Royal Navy at 16 before serving as a fire fighter, and his partner, Allison Pearson, 55, a property manager, travelled from Livingston, West Lothian, getting up at 3.30am. They said they were monarchists, born to monarchist parents …
For Todd, originally from County Durham, the three days of events in Scotland attached to the Queen's death at Balmoral – events which began with the funeral cortege's slow 170-mile drive through eastern Scotland to Edinburgh on Sunday – were significant and resonant.
"Scotland needed this as well," he said. "Everything seems to be London-centric and set down south. It's not great that the queen has passed away, but it has been great for Scotland. At least we can say we did her proud. It's not just about London."
Meanwhile, at Holyroodhouse, the King and Queen Consort were preparing for a day in Northern Ireland while Princess Anne steeled herself to accompany her mother's casket on a flight back to London to rest overnight at Buckingham Palace. Her husband, Vice Admiral Sir Tim Laurence, accompanied her.
The plan was for the King and Queen Consort to arrive at Buckingham Palace in time to meet his mother's casket.
At 12:15, the Scottish Government reported on the visitors at St Giles':
The queue was still long, but by the end of the viewing, everyone was accommodated at St Giles':
The King and Queen Consort touched down in Belfast shortly after noon that day:
At 12:30 p.m., the King and Queen Consort had arrived at the official Royal residence in Northern Ireland, Hillsborough Castle, which had a huge crowd waiting to greet them.
The Royal couple did a walkabout before viewing an exhibition about the Queen's long association with Northern Ireland.
The Guardian reported that the crowd chanted 'God save the King':
He and the Queen Consort Camilla were greeted by delighted crowds. He went along the line smiling and laughing and receiving flowers for over five minutes.
"I spoke to him and he spoke back!" yelled one woman in delight as he passed.
The Daily Mail has a video of well-wishers, including a corgi:
The floral tributes were many.
Just before 1:30, the King met the new Northern Ireland Secretary, Chris Heaton-Harris, inside the castle.
The Northern Ireland Assembly, which meets at Stormont in Belfast, gathered at the castle to present official condolences to the monarch. This took place a short time after the King's meeting with the Northern Ireland Secretary.
The Assembly's speaker, Alex Maskey MLA, opened proceedings:
Maskey, a Sinn Féin member of the assembly, directly addressed the political context of the changes in Northern Ireland during Queen Elizabeth's lifetime, saying:
On the walls of parliament building in Stormont are images from two of Queen Elizabeth's visits during the coronation year 1953 and the second for the diamond jubilee in 2012. It is extraordinary to consider how much social and political change Queen Elizabeth witnessed in the time between those visits, and indeed throughout her long reign. Yesterday an assembly of Unionists, Republicans, nationalists met to pay tribute to the late Queen. When she first came to the throne, no one would have anticipated an assembly so diverse and inclusive.
Also:
It was notable that neither the speaker of the Northern Ireland assembly, Sinn Féin's Alex Maskey, nor the new King, shied away from talking about the history of Northern Ireland or the long years of conflict, and Maskey alluded to the current stalemate.
Maskey said that at one point it would have been unthinkable for someone "from my own background and political tradition" being in the position to deliver this address. He said:
… Queen Elizabeth was not a distant observer in the transformation and progress of relationships between these islands. She proudly demonstrated that individual acts of positive leadership can help break down barriers and encourage reconciliation. Queen Elizabeth showed that a small but significant gesture – a visit, a handshake, crossing the street or speaking a few words of Irish can make a huge difference and change attitudes and build relationships. Her recognition of both British and Irish citizens as well as the wider diversity of our community was undoubtedly significant.
Of course, such acts of leadership do not come without risks, or the need for courage and determination to see them through. I represent the elected assembly of a society which has struggled with the legacy of our past and how to move on from it without leaving those who have suffered behind.
During her visit to Dublin, Queen Elizabeth said that whatever life throws at us, our individual responses will be all the stronger for working together and sharing that load. Let us all pay heed to that. As we remember Queen Elizabeth's positive leadership, let us all reflect that such leadership is still needed. And let us be honest with ourselves enough to recognise that too often, that leadership has been lacking when it has been most required.
Maskey's reference to 'a handshake' recalled the time she shook Martin McGuinness's hand in 2012. She was wearing gloves. McGuinness was a pivotal figure in the IRA, which was responsible for assassinating one of the Queen's relatives, Lord Moutbatten, in 1979.
The King responded to Maskey's speech:
Charles says that his mother, the Queen, was aware of her own role, saying:
My mother felt deeply the significance of the role she has played in bringing together those who history had separated, and extending a hand to make possible the healing of long-held hurts.
He said he would dedicate himself to a similar role, saying:
At the very beginning of her life of service, she made a pledge to dedicate herself to her country and her people and to maintain the principles of constitutional government.
This promise she kept with steadfast faith.
Now with that shining example for me, and with God's help, I take up my new duties resolved to seek the welfare of all the inhabitants of Northern Ireland.
He recalled Lord Mountbatten's death:
King Charles thanked Northern Ireland for the condolences, and said that his mother never ceased to pray for the best of times for its people, "whose sorrows our family had felt", in a reference to the death of Lord Mountbatten in 1979.
Here is the video:
Then, the King met Northern Ireland's political leaders. The Guardian has photos of him with DUP (Democratic Unionist Party) leader Sir Jeffrey Donaldson MP, Northern Ireland Assembly speaker Alex Maskey, Alliance Party leader Naomi Long and Sinn Féin vice president Michelle O'Neill, who is the most senior member of the Assembly.
At the end of the Royal couple's visit, the King experienced pen problems once more as he signed the visitors' book. This time, it was more than a misplaced tray of pens. His fountain pen was well and truly leaking. The Queen Consort helped to dry it with a handkerchief, which ended up soaked with ink. Sky News has a subtitled version:
The Daily Mail's description reads:
'Can't bear this bloody thing!' King Charles frustrated by leaking pen, but Queen Consort Camilla saves the day. This is the moment King Charles blasts a leaking pen that threatens to ruin his mood just hours after the new monarch was warmly embraced by the people of Northern Ireland during his inaugural trip as monarch. King Charles III, sitting inside the royal residence of Hillsborough Castle appeared visibly frustrated as he tried wiping off dripping ink during a book signing towards the end of his visit. Charles complained about the faulty instrument he was using to sign his name, pronouncing he 'can't bear this bloody thing' as he briskly turned on his heels and left the room flanked by aides. The leaky pen was swiftly replaced by flustered courtiers before Queen Consort Camilla sat down to sign the book herself from inside the historic residence.
Afterwards, the Royal couple returned to Belfast for a Service of Reflection at St Anne's Cathedral (Anglican).
It was very moving, as have been all the religious services for the late Queen. You can find the Order of Service here.
Clergy representing Northern Ireland's main Christian denominations all participated.
Alex Maskey MLA read Philippians 4: 4-9:
Rejoice in the Lord always; again I will say, rejoice. Let your gentleness be known to everyone. The Lord is near. Do not worry about anything, but in everything by prayer and supplication with thanksgiving let your requests be made known to God. And the peace of God, which surpasses all understanding, will guard your hearts and your minds in Christ Jesus. Finally, beloved, whatever is true, whatever is honourable, whatever is just, whatever is pure, whatever is pleasing, whatever is commendable, if there is any excellence and if there is anything worthy of praise, think about these things. Keep on doing the things that you have learned and received and heard and seen in me, and the God of peace will be with you.
Also notable was the prayer before the sermon for its use of 'felicity', a word I have not heard in decades:
O Lord, our heavenly Father, high and mighty, King of kings and Lord of lords, the only ruler of princes, who from your throne beholds all who dwell upon earth; grant to us understanding of your will and thankfulness of heart for the life and reign of our most beloved Queen, and to her everlasting joy and felicity, through Jesus Christ our Lord. Amen.
The Most Reverend John McDowell, Archbishop of Armagh and Primate of All Ireland delivered the sermon, which was gentle in tone yet hard hitting in content when it came to reconciliation.
To me, this was the best sermon of all from the Services of Reflection.
Excerpts follow:
In the Name of the Father and of the Son and of the Holy Spirit. In anim a Athair, agus a Mhic agus a Spiorad Naomh. Amen.
For many of us in the United Kingdom there were two people whose deaths we could never imagine. Our own and the Queen's. I think that is one of the reasons why the death of Queen Elizabeth was literally felt so keenly by so many people when the news broke on Thursday afternoon. It was as though the nation's collective grief was gathered up in those remarkable words of Christopher Marlowe's:
"If I had wept a sea of tears for her, it would not ease the sorrow I sustain".
And if that was how those of us felt who were her adopted family through her coronation oath, how much more profound must that feeling of loss be to those of the Queen's blood family; those who knew her best and loved her most; Your Majesty, our prayers will be with you and your family for a long time to come.
St Paul could be a bit of a gloomy old moralist at times and some of the injunctions contained in his letters are far from easy to put into practice. It is pretty difficult to "have no anxiety about anything". But I would dare to suggest that for the family of the late Queen and for millions of others, there will be no difficulty whatsoever, when she comes to mind, in following St Paul's command to think on "whatever is true, whatever is just, whatever is pure, whatever is lovely, whatever is gracious and whatever is worthy of praise".
There were many other words used about the late Queen during her long reign. Faithfulness, care, dutifulness, love and devotion. All of these could be employed to describe her relationship with Northern Ireland (with patience binding them all together) but paying attention especially to what she said most recently, the word which I think will be most associated with Queen Elizabeth and Ireland, north and south, is reconciliation.
It is a great New Testament word and it is a great civic word; and it is a hard word. So hard in the religious sense that it was beyond the power of humanity to achieve, and God himself had to give it to us as a gift in his Son. And as a disciple of Jesus Christ, Queen Elizabeth followed where Jesus led as women often have in the elusive and unfinished work of reconciliation here in Ireland.
For where the Master is, there will his servant be also.
It has always been love's way that in order to rise, she stoops; so the bowing of her head in respect was far more powerful than much grander gestures would have been. Love listens far more than she speaks, so a few words in an unfamiliar language and a judicious sentence or two of heartfelt regret and wisdom said far more than ceaseless volubility. Love never rushes into anything for fear of overwhelming the beloved, but when the moment is right she walked the few steps between two Houses of Prayer in Enniskillen alongside the beloved, in encouragement and affection. Although love is easily injured, she keeps no record of wrongs and extends the open hand of sincerity and friendship, with courage, to create an environment and an atmosphere where reconciliation has a chance.
And love never fails; for where the Master is there will his servant be also.
Reconciliation is about the restoration of broken relationships. And the word should never be cheapened by pretending it is an easy thing to achieve. By and large in the work of reconciliation most of our victories will be achieved quietly and in private: and most of our humiliations will be in public.
Reconciliation requires the greatest of all religious virtues, love; and it requires the greatest of all civic virtues, courage. But as the great apostle of reconciliation says: "What you have learned and received and heard and seen in me, do; and the God of peace will be with you" …
It is only an impression, but it seemed to me that in the last years of her reign the tone and content of the Queen's broadcasts became more overtly religious and perhaps a little more personal. On Christmas Day 2017 she said this:
Although we are capable of great acts of kindness, history teaches us that we sometimes need saving from ourselves – from our recklessness and greed. God sent into the world a unique person – neither a philosopher or a general, important as they are; but a saviour with the power to forgive. Forgiveness lies at the heart of the Christian faith. It can heal broken families, it can restore friendships and it can reconcile divided communities. It is in forgiveness that we feel the power of God's love.
At her baptism Elizabeth Alexandra Mary was signed on her forehead with the sign of sacrifice; the cross. And for 96 years in a life which was a prodigy of steady endeavour she offered herself, her soul and body, as a living sacrifice to the God who loves her with an everlasting love.
So, I want to finish by reminding you of those final words spoken by Mr Valiant for Truth in Bunyan's Pilgrim's Progress, some of which the Queen herself used in her very first Christmas televised broadcast in 1957:
Then he said, I am going to my Fathers, and though with great difficulty I am got hither, yet now I do not repent me of all the trouble I have been at to arrive where I am. My sword I give to him who shall succeed me in my pilgrimage, and my courage and skill to him that can get it. My marks and scars I carry with me, that I have fought his battles who will now be my Rewarder. When the Day that he must go hence was come, many accompanied him to the riverside, into which as he went he said, Death where is thy sting; and as he went down deeper he said, Grave where is thy victory? So he passed over, and the trumpets sounded for him on the other side.
All these words I have offered from an unworthy heart.
God save the King
Oecumenical prayers followed.
Two verses of the National Anthem followed:
God save our gracious King,
Long live our noble King,
Thy choicest gifts in store
On him be pleased to pour,
To sing with heart and voice,
God save the King.
The service closed with a Celtic blessing.
The Belfast News Letter has a collection of photos from the service, leading with one of Prime Minister Liz Truss sitting next to Ireland's Taoiseach (pron. 'Tee-shuck') — Prime Minister — Micheal (pron. 'Mee-hull') Martin.
According to television reports, various politicians, including Truss and Martin, spent a long time in the cathedral talking after the service.
The Daily Mail reported that Truss and Martin will meet after the Queen's funeral on Monday, September 19:
Liz Truss is expected to hold talks with Irish premier Micheal Martin about Northern Ireland's Brexit political impasse when he visits London for the Queen's funeral.
They are expected to meet after the Taoiseach represents Ireland at the Westminster Abbey ceremony on Monday …
It comes after Mr Martin suggested the Queen's death was an opportunity to 'reset' relations between Britain and Ireland following bitter Brexit disputes.
Northern Ireland is currently gripped by heightened political tensions at Stormont and between the UK and Irish governments over post-Brexit arrangements for Northern Ireland. 
Sinn Fein became the largest party at the assembly in May's election but the DUP has refused to restore the power-sharing executive until the Northern Ireland Protocol of the UK/EU Brexit deal is replaced.
Ms Truss is also threatening to push ahead with legislation at Westminster to scrap key elements of the Protocol if negotiations with the EU on revamping trade rules continue to stall.
This has caused a furious response from both Dublin and Brussels, with the bloc launching fresh legal action against the UK.
After greeting clergy and other dignitaries, the King and Queen Consort returned to Belfast Airport to return to RAF Northolt in north west London.
The Daily Mail has a video showing the amazing crowds in Belfast and Hillsborough:
Back in Edinburgh, the military attending during the Queen's lying in state at St Giles' carefully placed her coffin in the hearse to go to Edinburgh Airport.
Princess Anne and her husband were there to accompany it.
People lined the roads on the way to the airport.
The Daily Mail has an article with many photographs showing the Princess and her husband making the sorrowful six-hour journey from Balmoral to Edinburgh on Sunday. Undertakers William Purves, which have been operating since the 19th century, provided the service. They followed up with a second article with more photos.
At least the ride to Edinburgh Airport was much shorter.
The number on the RAF aircraft, a C-17 Globemaster — also used to transport our military home from Afghanistan — was ZZ177, or Liz. Note that the Scottish Crown was removed, as it stays in Scotland: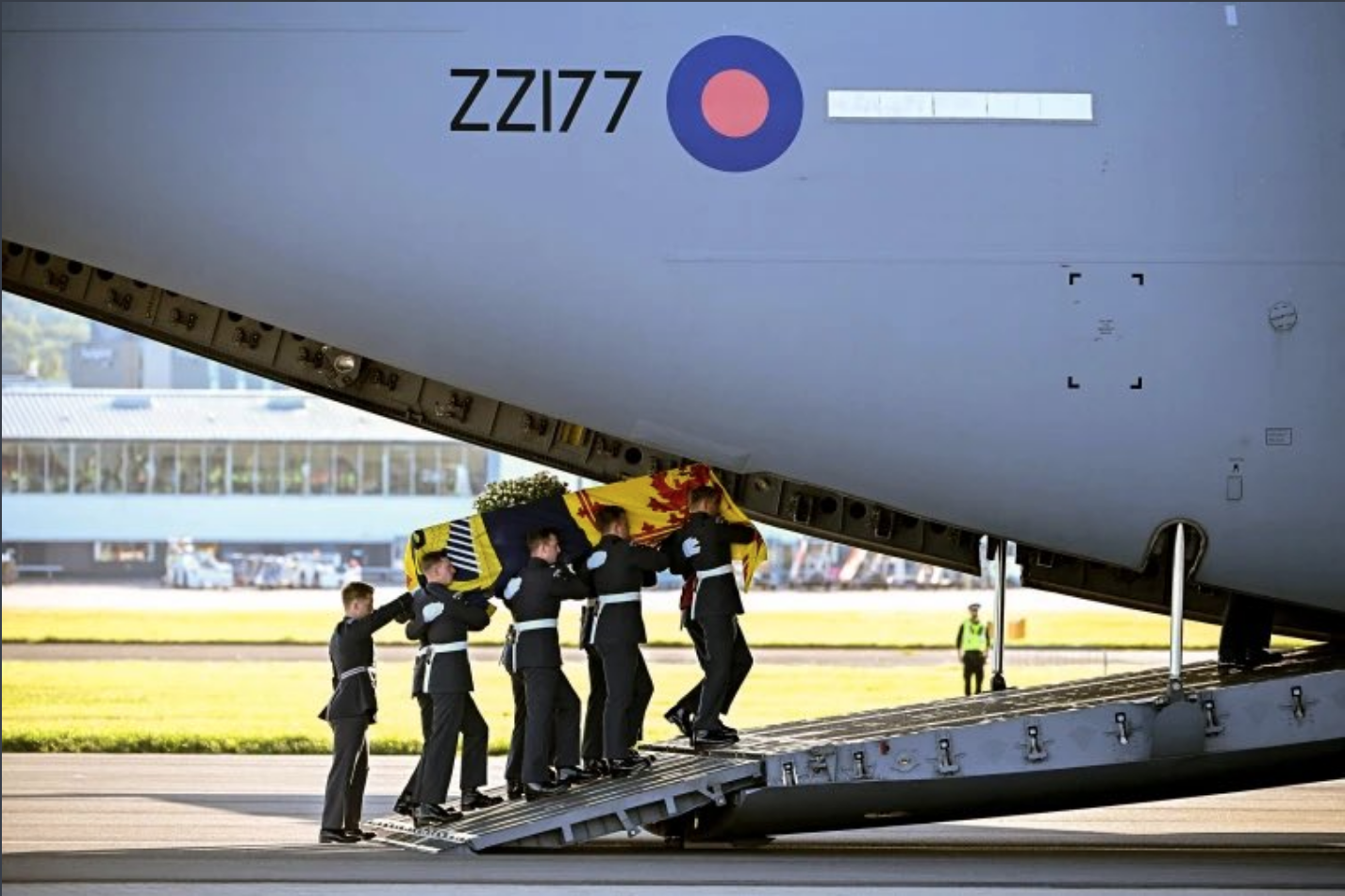 As Princess Anne and her husband prepared for takeoff, the King and Queen Consort arrived in London.
Crowds gathered around Buckingham Palace to welcome them.
The flight with the Queen's casket landed at RAF Northolt just after 7 p.m. Liz Truss and a senior Anglican clergyman, who offered a blessing, were present.
Crowds lined the route on the way into the capital. Rod Stewart's wife Penny Lancaster was outside RAF Northolt as a special constable, keeping order. You could not make this up:
The 51-year-old, who is married to crooner Rod Stewart, began working as a special constable last year and earlier confirmed she would be working during the Queen's funeral on Monday.
On Tuesday evening she was pictured engaging and marshalling expectant crowds and helping a wheelchair user.
The cortege arrived at Buckingham Palace an hour later:
The Queen's casket rested in the Bow Room of the palace overnight before moving to Westminster Hall on Wednesday.
On Wednesday, September 13, the Mail reported on the statement the Princess posted online after she reached London on Tuesday evening:
The Princess Royal has paid tribute to her mother and said it had been 'an honour and a privilege' to accompany the Queen on her final journeys as she travelled with the monarch's coffin back to London.
Princess Anne, the late monarch's only daughter, told how she was 'fortunate to share the last 24 hours of my dearest mother's life'.
She said the love and respect shown to the Queen on her journey from Balmoral to Edinburgh and onto London had been 'both humbling and uplifting'.
Anne also thanked the nation for the 'support and understanding offered to my dear brother Charles' as he takes on his duties as King.
She ended her statement with the words: 'To my mother, The Queen, thank you.' 
More will follow beginning next Monday, continuing on with Wednesday's events in London, Friday's trip to Wales and the Queen's funeral.
This has been an incredible period not only in British history, but also the world's.
We are experiencing the end of an era.
The ongoing preoccupation and concern about how Anglican parishes will survive, especially in rural England, might be resolved soon.
On June 26, 2022, The Sunday Telegraph reported that wealthier parishes could be allowed to give more to poorer ones. The plan will be debated at the upcoming General Synod meeting in July (emphases mine):
Wealthy church dioceses will be allowed to share funds with their poorer neighbours under plans to be voted on by the Church of England.
The proposals, which have been submitted before the General Synod, the Church of England's legislative body, will mean that for the first time cash can be more evenly distributed.
The move would remove some barriers to dioceses sharing resources and comes amid concern about the viability of smaller, poorer and more rural parishes.
Why did that not happen sooner? It's common sense. In Paul's epistles, we read of his collection for the poor church in Jerusalem. The other churches he planted in Asia Minor and Macedonia gave generously, and he succeeded in presenting the donation to the struggling congregation in Jerusalem.
It will be left to the dioceses to decide if they wish to participate. Hmm. Based on previous diocesan splurging of money on rather useless 'initiatives', I do hope they will be generous towards their poorer congregations:
In papers published last week and submitted to the Synod for its conference in July, David White, deputy director of finance for National Church Institutions, said that his amendment would "in effect, enable a Diocesan Board of Finance to grant funds from its income account for use by other dioceses in the Church of England if it wished to do so" …
In May the archbishops admitted that they "got it wrong" by not prioritising rural parishes over city churches, as they announced funding worth £3.6 billion.
We shall see.
On June 23, Andrew Selous MP, the Second Church Estates Commissioner, answered a question from Labour MP Ben Bradshaw on putting more clergy into neglected parishes. I agree with the Revd Giles Fraser of St Anne, Kew, that Selous's response was far from reassuring:
Churches are struggling to obtain curates, as obtaining more clergy is not in their direct control:
The Save the Parish network will be meeting before the Synod members get together. I wish them all the very best. They have two champions in the Revds Giles Fraser and Marcus Walker, rector of St Bartholomew the Great in London:
Giles Fraser is enjoying his new assignment at the Parish Church of St Anne in southwest London:
He is out and about meeting fellow residents:
On a serious note, Fraser warns of the Lords Spiritual — serving Church of England bishops in the House of Lords — becoming irrelevant if the parish system breaks down:
In his recent article in UnHerd, he says:
… the bishops draw their moral authority from the fact that the Church of England operates a universal service provision. We serve in all communities, from the richest to the poorest, from cities to rural areas. The bishops are in fact well suited to the Lords because they connect it to every parish in the country — well, in England at least. And if there is a current threat to bishops in the Lords it comes not from the fact that they sometimes irritate the government with moral pronouncements — 'twas ever thus — but rather because the bishops are dismantling the source of their own authority. Armed with half-arsed MBAs, they want the Church to be run with increasingly centralised efficiency; inefficient parishes are being closed. As a result, the connection between the bishops and the parishes is being severed, and with it the source of their authority to sit in the legislature.
Fraser warns that this plays into secularists' hands:
The role of the bishops is to represent the whole country spiritually. On the whole, other faiths are glad of this particular role held by the Church of England. The National Secular Society and other troublemakers are keen to sow division among people of faith in order to argue that no one church should have legislative priority over another. But this is simply a ruse to dislodge religion from the public sphere. The Church of England is not a special interest group, it exists for all. Even, heaven help us, for secularists.
On that note, the Revd Stephen Heard is concerned about the single-minded political leanings of C of E clergy, starting with the archbishops. Their constant political pronouncements could be alienating the laity — and potential converts:
He cites an article from The Critic, 'The closing of the Episcopal mind', which provides bishops' opinions dating back to the 19th century, and concludes:
Given this deep uncertainty and debate as to the political implications of Christianity, total political consensus among its leadership makes me very uneasy. It alienates large swathes of lay Anglicans who, in perfectly good faith, come to conclusions that differ from the liberal-left consensus, and makes our mission as a broad national church harder. It belies a real lack of intellectual vibrancy and curiosity, and implies, by some curious happenstance, that the political spirit of a restless and secular age has magically aligned itself with the truths of the Christian religion … What providential perfection! And what an unlikely state of affairs all round.
Political causes have even entered into baptismal and confirmation vows in the Diocese of Oxford, which now requires a promise to uphold God's creation.
Marcus Walker rightly points out that this places Christ, the Person to whom we pledge our faithful allegiance, in second position:
He wrote an article about it for The Telegraph:
In it, he says:
Baptism and Confirmation are two of the most important steps a human being can make. I say this, I concede, as a clergyman, but what happens at these sacraments is not just a significant religious service, but an event that transforms a person's life, temporal and eternal.
This is why it's really important that the Church avoids putting barriers up that would discourage people from encountering this grace. It is difficult enough for the Church to persuade people that the Christian message is true (we've all seen the stats). Pushing away those who don't hold to the ideologies of the current bench of bishops is foolish in the extreme.
This week, the Bishop of Oxford has decided to add to the service of Baptism and Confirmation a new little exchange: "Will you strive to sustain the integrity of creation, and sustain and renew the life of the earth?" "With the help of God, I will." It is important to note that this is not a change to the actual baptismal vows. It's part of a rather naff "commissioning" that the new prayer book, Common Worship, allows at the end of these services. Nobody knows what happens if a candidate says "no", mostly because none of the other questions are controversial so this issue has not come up before.
At this point you might be saying, "but there's nothing controversial here either", and, if speaking entirely for myself, I would agree. You might also say that this seems pretty consonant with long-standing mainstream Christian and Anglican theology and this would be true.
But the question of how we engage with environmental concerns has become a major political issue recently, one controversial enough to have even caused long standing conservatives to reconsider their loyalty to the Crown in anger at the way some members of the Royal Family proselytise about "The Environment".
This is the only part of the service which engages directly with a live political discourse. We are not asked to pledge anything to do with poverty, international relations, race, or even loyalty to the Supreme Governor of the Church of England …
Walker acknowledges that the 1662 Book of Common Prayer (BCP) requires confirmands to pledge loyalty to the monarch and says that it is no longer used in today's confirmation ceremonies:
… to use it now would turn away any republican. It would cause those who don't think this country should have a monarch to have second thoughts about finding God. High Tory though I am, I would not want to stand before the Throne of Judgment and have held against me the souls I had turned away because of my politics.
Which means my advice to the Bishop of Oxford is not to mess with this liturgy; to those cheerleading the move to ask yourself what if the boot were on the other foot and you were being forced to assent to a political position you dissent from as a condition of baptism; to the Church to be grateful for anyone willing to commit themselves to Christ and to welcome them with open arms.
In closing, this guidance on sermon writing from 2017 is worthwhile reading. It could apply to any essay. Parts of it remind me of the Expository Writing course I took at university many moons ago.
This is called 'Good to Great: Turning a Decent Sermon into a Wonderful One':
It's excellent advice — and difficult to achieve, therefore, all the more worthwhile in the pursuit of 'good to great'.
One of John MacArthur's sermons that I used for my Holy Saturday exegesis on the Epistle is 'Breaking Sin's Grip' from 1992.
It might seem as if 1992 were a long time ago, but his sermon is as fresh today 30 years on as it was then.
In it, he asks, 'Whatever happened to sin?'
Excerpts follow, emphases mine:
… it struck me that the present political scene is talking a lot about values.  Have you noticed that?  Everybody wants to talk about family values, moral values, traditional values, and it strikes me as a rather a fruitless discussion since no one is willing to talk about sin.  And as long as you will not define sin then you cannot define morality; and so all the talk about values amounts to little more than some sentimentality.
In fact, I've been so concerned about this that I have a three-book contract with Word Publishers and I said to them, I said, "This third book that I'm going to write which hasn't yet been done, I would like to write on the subject of sin," thinking that I would immediately get told that that would never work.  I was amazed when they responded by saying, "We think that's great."  So I'm prepared in the next few months to dig into the subject of whatever happened to sin.
And it's kind of a curious thing to me because it's, if anything is true of our society, true that we don't want to even acknowledge sin.  We continue down a path of improperly diagnosing man's behavior and therefore not having any clue about how to cure it.
Several years ago Dr. Karl Menninger, of the famous Menninger Clinic, which is a psychiatric clinic and he's a world-famous psychiatrist, wrote a book and the title of the book was just that, Whatever Happened To Sin?  Here was a renowned psychiatrist basically saying, "I operate a psychiatric clinic and if I'm going to help people with their problems, I have got to tell them about sin."  He tried to make people face the reality of sin as the curse that creates the problems of life.  The book was somewhat widely read but also widely rejected.
Frankly, sin isn't as nearly as marketable as other things.  Today in our culture I think it would be fair to say that sin isn't even an acceptable word.  You don't hear anybody talk about sin, certainly not a politician, rarely a preacher in some cases.  Not only is it an unacceptable word, it is an unacceptable cause for the troubles of man.  With all this talk about values and no talk about sin, the definition of values is hopelessly vague.
Certainly sin is not an acceptable diagnosis of man's problems.  We look at the world and what do we see?  We see evil everywhere but it's not defined as evil.  We see sin everywhere but it's not defined as sin.  It's not an acceptable word. It's not an acceptable cause. It's not an acceptable diagnosis of man's nature.
In fact, things that we used to willingly say were sin we don't want to call sin anymore.  There was a column in the August 29 Dallas Morning News written by columnist Anne Melvin.  She wrote this column about sin interestingly enough. This is what it says, part of it: "Most sins have gained respectability through politics or profitability.  They're mostly all legalized, advertised, organized, supervised and taxed.  We've got liquor by the drink, and young girls dress like hookers just to be in fashion at their homecoming dance.  We've got your basic graphic sex on cable TV and an entertainment market from wind-up toys to electronic state-of-the-art based solely on violence. So, hey, is it fair to name all these little diversions sins?"
She goes on, "Sin, go figure out how you can make a fortune for Time Warner with a recording about killing cops, how you can refuse to let school children say grace for lunch and then teach them how to use a condom before recess.  Clearly we are foundering here, a society preoccupied with values yet hopelessly vague on sin," end quote.
It isn't just the politicians and it isn't just the profit takers who want to market sin and sell it.  The politicians don't want to talk about sin because they don't want to alienate any sinning votes.  The entrepreneurs and the materialists don't want to talk about sin because they can sell it.  The government doesn't want to talk about sin because they can tax it.   But what is really most amazing, I guess, of all is that even the people helpers, the counselors, the psychologists, the psychiatrists, they don't want to talk about sin either.  And again I remind you, they don't want to talk about sin because they don't want to deal with the sin in their own lives, and secondly, because sin doesn't sell very well.  Sickness sells a lot better.   Addiction is a much nicer word than iniquity.
I read a book yesterday, the title of it is, I'm Dysfunctional, You're Dysfunctional.  It's a short book, I read it in the morning and then I thought about it in the afternoon.  It's written by a lady by the name of Wendy Kaminer and it's a secular book.  And in this secular book she confronts as a critic the new anthropology, the new theology, the new psychology.  That new stuff that is called abuse psychology, or codependency, all of that kind of stuff that basically is saying, "You're really a wonderful person and everybody keeps abusing you and what's happening outside of you is the problem because everything inside of you is so wonderful."
She talks about the fact that this new anthropology, this new sociology, psychology, theology and she even lists…well she lists secular sociologists, secular psychiatrists, Christian psychologists into one big bag as all affirming basically the same thing.  She writes this in evaluating the movement and articulating what they believe. This isn't her view but this is what she says they are espousing, "No matter how bad you've been in the narcissistic 1970s and the inquisitive 1980s, no matter how many drugs you've ingested, or sex acts you've performed, or how much corruption you've enjoyed, you're still essentially innocent.  The divine child inside you is always untouched by the worst of your sins."
And then she further says these new definers of man's nature say, quote: "Because no one is inhabited by evil or unhealthy urges because inside every addict" that's the new word for sinner "is a holy child yearning to be free."  And then she goes on assessing what they say, "They say inner children are always good, innocent and pure, like the most sentimentalized Dickens characters, which means that people are essentially good and evil is merely a mask, a dysfunction."  She says, "The therapeutic view of evil as sickness not sin is strong in codependency theory." that's that new kind of theory.  "Shaming children, for example, is considered a primary form of abuse."
In other words, what she's saying, if I can digress, is that if you make your child feel any shame about anything, any guilt about anything, that is a form of child abuse.  That will wind up, you can be sure, in the courts, and it already has as child abuse.
She goes on, "Both guilt and shame are not useful, they say."  And then she adds, "Someone should remind these people that there is a name for people who lack guilt and shame. They're called sociopaths."  She's right.
But here is a secular writer looking at the face of the people-helping industry and saying these people are saying that innately inside in the deepest heart of man, he is innocent, pure, holy and good.  Boy, it's amazing how all these people who are that way on the inside can be so rotten on the outside.
The point is this. You basically have a culture that denies the reality of sin.  And as we said in our discussions about homosexuality, if you misdiagnose the problem then you're not going to be able to offer the proper cure.  So what happens is, if you alleviate people of the responsibility for dealing with the sin in their lives, you have, in effect, made them unredeemable.  You have damned them.
That's the kind of culture we live in, not just minimizing sin but eliminating it.  And then coming up with the unbelievable idea that man is some kind of good, holy, pure thing inside, longing to be free from these terrible dysfunctions that have occurred on his outside because of the way he's been abused by others, usually his parents.
Now we're victims, to some extent, of that kind of thing in our culture.  We have as wicked, as wretched, as sinful, and as vile a culture as could be imagined.  And at the same time we have a massive campaign to remove the word "sin" from our vocabulary.  You talk about putting people in an unredeemable position. They aren't even going to understand that they are responsible for their own offense against God. They're not even going to be in a position to seek a deliverer from their iniquity, thus they are unredeemable.  I can't imagine that Satan could have devised any more effective plan than to move a culture toward the most wretched, vile kind of life, and at the same time sell it wholesale the philosophy that no such thing as sin exists innately in the human heart.  Talk about damning a culture, damning a world, that's how to do it.
Now the fallout to this…the fallout to this we feel in the church, and the church tends to minimize the reality of sin, even in its own life even among Christians.  We tend to be desensitized, don't we, to the iniquity around us, and if we are desensitized, let me tell you this, to the iniquity around us we will be desensitized to the iniquity in us.  If I am not outraged by the sin I see outside, then I will be less likely to be outraged by the sin I see inside.  People always decry the Victorian era, periods of history where even the society itself has had a highly developed sense of sin.  But those kinds of societies at least articulated a morality that held the church accountable.  Now society holds the church accountable for nothing because society has no morality, no definition of sin, therefore the church can behave itself in just about any way it wants.  In fact, I imagine today that because of the way the church has behaved itself in our culture, it would be very hard for anybody in the church to do anything that would shock the world.
So the fallout of this kind of sinless definition of man and the overexposure that even Christians have to iniquity and to sin through the media, desensitizes us to our own sin.  And I'll tell you what that can do.  Because we don't really see the sinfulness of sin, because we don't really see how sinful we are, it is possible to think of ourselves as more holy than we really are.  If you go back, for example, and read in the writings of godly men in…in the past, you very often find them bemoaning and bemoaning and bemoaning their own sin.  And you read about their lives and they seem so holy and so pure and so devoted to Christ and yet so overwrought with sin.  Sin was highly defined in ancient times, even in the society in many cases.  And it held even the people who were Christians up to a high standard.  Nobody was letting them off the hook in the culture.  Nobody was blaming their parents for the way they acted, nobody was blaming some codependency or some addiction. Everybody was dealing in the culture with sin as sin, at least to some degree.  And consequently people were confined to those definitions, saw them for what they really are and I think in some ways the sort of general human goodness in the culture, the sort of pervasive morality helped control the thinking even of Christians.  Now we don't have that benefit.  We can just about call ourselves Christians and live any way we want to live.  And if we sort of exceed the average, we tend to think of ourselves as holy.
J.I. Packer, who is a well-known theologian and a skilled thinker, writes this, "Christians often imagine themselves to be strong, healthy and holy.  But the way to health is to recognize that we are weak and sick and sinful."
The point is, don't let the society give you the standard.  I mean, if you're a little better than the society you're in, that doesn't make you very good because they don't have any definition of sin.
Packer goes on to say, "The first truth is that we are all invalids in God's hospital," all of us Christians. He's talking about believers.  "In moral and spiritual terms we are sick and damaged, diseased and deformed, scarred and sore, lame and lopsided to a far, far greater extent than we realize.  We need," he writes "to realize that the spiritual health we testify to is only partial and relative, a matter of being less sinful and less incapacitated than we were before." And then here's a great statement: "Our spiritual life is a fragile convalescence.  It is a fragile convalescence easily disrupted and we are prone to damaging delusions about it." Profound.
I grieve because the way our culture goes does affect the church.  And because we're two notches above the way they live we assume that we are holy.  We are engaged in a fragile convalescence from the near fatal disease of unregenerate life. Therefore we need to deal with sin and we need to deal with it strongly in our lives.  And we cannot allow the world's standard to become ours.  The politicians can talk all they want about values, family values, traditional values, but when they talk about that they do not mean what you and I understand as biblical Christianity.  We've got to deal with it on biblical terms.
At that point in the sermon, MacArthur begins preaching on 1 Peter 4:1-8, on turning from sin to doing God's will.
He discusses our Lord's death on the Cross, taking our sins onto His body, which believers remembered on Good Friday last week:
… sin was thrown upon Him in its fullness as He bore our sins.  In fact, the Bible says He was made sin on the cross and there the heavy weight of sin was placed upon Him.  He suffered, as it were, in the flesh and He suffered from the attacks of sin.  Sin attacked Him in temptation, obviously from outside since He was impeccable, sinless and could not sin on the inside because He was holy God.  Sin attacked Him through the persecutions.  Sin, of course, then was even poured upon Him in its fullness by God the Father as He became the substitute.
In every case remember this, will you, sin made Christ suffer.  He battled it through temptation.  He suffered the indignities and the persecution and the blasphemy and the hatred and the hostility and the violence of evil men and women.  And He suffered until it crushed out His life when He bore sin on the cross.
So look back.  If you're going to entertain sin in your life, says Peter, look back.  He's reminding persecuted believers here, by the way, who are undergoing some heavy, heavy persecution.  And under that kind of duress it is not unreasonable to assume that some of them may have begun to defect, maybe not wanting to take the heat, some small compromises.  And he reminds them that Christ, the very One he has just described in verses 18 to 22 of chapter 3, who gave His life for them, who when reviled reviled not again, who when He was being evil spoken of never retaliated, and who paid for their sins, that same Christ suffered extremely beyond anything they will ever know and never sinned and never fell to sin, and never stopped trusting the Father, and never yielded up His confidence, and never gave away His hope, and never defected.  And He becomes your pattern.
Sin did everything it could to destroy Christ.  It was ineffective and He was triumphant.  But He endured it all and it was all painful.  Even temptation must have been some kind of an offense to His holy nature.  Certainly blasphemy was and mockery and all the rest, and to say nothing of sin bearing.  He suffered.  He suffered and naver…never gave in.  He suffered and never sinned.  And he says, does Peter, you have to arm yourself with the same purpose and you know that the one who has suffered in the flesh has ceased from sin.  The one who goes all the way to death is relieved from sin.
Well what is that point?  The point is this, if you're faithful like Christ was even to the place where they take your life, as bad as it sounds it's really good because when you die you cease from what? From sin.  That's the arm… That's how you arm your mind.  You say, "I will be holy and I will be pure like my Lord, He is the author and the finisher of faith.  He is the model and the example and He suffered all the way to blood.  And if I go that far in my suffering, if I stand for Christ and holiness and righteousness and it cost me my life, the reward is no more sin, for death means sin has ceased."
When Christ died on the cross He was relieved from sin.  Never again would He be tempted.  Never again would He be persecuted.  Never again would anybody spit in His face.  Never again would they mock Him to His face.  He was exalted to the right hand of the Father.  Never again would He bear in His own body our sins.  Sin was gone forever from any personal contact with Christ.
And so it is with us.  He says, look, if you're going to deal with sin you've got to have the same kind of purpose, the same kind of…the word in the Greek means idea, thought, concept, the same perspective is probably the best way to say it, that Christ had.  I will endure to the very end, even if I die in the process I will then be freed from sin for good.  That's the resoluteness of purpose that you see exemplified in Christ.  The One who was made sin, the One who came into the world in the likeness of sinful flesh, Paul says in Romans 8:3, gives us the pattern.  If we're going to live no longer in the flesh, following the lusts of men, we have to have that kind of perspective.
And then there's a second thought here at the end of verse 2 that strikes me.  If we are going to have this same perspective, and if we're going to see what sin did to Christ and therefore its horror and its heinousness and realize that like He we are to endure without compromise to the very end because even that means only reward and bliss, beyond that if we're going to live the rest of the time in the flesh we have to recognize not only how sin affected Christ, but how it affects God, how it affects God.
Look back in the past.  He says you are to live no longer in the lust of men but for the will of God.  You've got to realize that every time you've committed a sin in your past, you've defied God's will, you've disobeyed God's will, you've rejected God's will.  In a sense, you've usurped the throne.  You've pushed God aside and said I will take command of my life; I will do whatever I want to do.  You're not in charge, I'm in charge.  It is the ultimate act of blasphemy, really, because it questions God's authority, it questions God's sovereignty.  Follow this, it questions God's wisdom.  It questions God's goodness because sin says I'm in charge, I'll do it if I want, I'll make this thing work out into my life, I'll do it because it will bring me pleasure, it will bring me satisfaction.  And all of that says, "God, You don't really love me or You wouldn't withhold this thing from me cause it's going to be so good.  God, You're not really wise or You'd really see how this thing can work in my life some way and produce some benefit.  You're not really in charge because You can't stop me from doing this."
You see all of that is inherent in sinning.  When I sin I say, "God, move over, I'm in charge."  I say, "God, You're not as wise as You think You are because if You were You'd let me do this and understand it will all work out.  And thirdly, You're not as good and gracious and kind as You ought to be because if You were You'd let me have what I so desperately want."
You see, all of that attacks the character and the purpose of God and I become then a rebel.  Look back at your sin and understand what it was. It was an attack on the will of God, an attack on the authority of God, the sovereignty of God, the purpose of God.  It is flat, outright, overt disobedience to God.  And how can you, as we read this morning, say you love Him and not obey Him?  See sin for what it is.  Back in Psalm 51 David said, "Against Thee, Thee only, have I sinned."  All sin is against God.  It attacks Him first and foremost.  That's why the point of confession is to God.  You may affect others with your sin but the primary point of confession is always to God.  You may need to seek forgiveness from others because you have sinned against them. The primary point of confession is still God.  He is the One most holy, He is the One most offended.
If I'm going to deal with sin in my life, then, I've got to look back and see what it did to Christ, how it pursued Him all through His life and brought Him only pain, only sadness, even tears, ultimately death.  That's what sin is like, it wants to kill Christ. It wants to kill the purest who ever lived.  You need to remember that.  That's what it wants to do and that's what it wants to do to you, kill what is pure, what is Christ-like.
And, secondly, you need to remember, too, that sin is a violation of the will of God.  And every time you have sinned in the past you have, as it were, usurped the role that God has as the authority and the leader.  Jeremiah, the prophet, wrote a couple of times the words where God said, "I have spoken to you again and again yet you haven't listened to Me."  How it must grieve the heart of God that His children are so rebellious.  Every time we sin it is outright rebellion, and what a long track record of rebellion.  It isn't helpful to go back into the past and regurgitate all your specific sins. God has forgotten them.  He's buried them in the depths of the deepest sea. They're removed as far as the east is from the west.  He remembers them no more.  But it is good to remind yourself that every time you ever sinned you absolutely, rebelliously struck a blow against the will of God.
And there's a third thing that I think comes out in this text and that is very vivid in verses 3 to 5.  You must remember what sin has done to lost humanity. You must remember what sin has done to lost humanity.  Or to put it more personally, remember what sin was doing in your life before you became a Christian. 
What a powerful meditation for Easter Week.
Let us remember the power of the Crucifixion and the Resurrection as we move forward in the Easter season. More loving acts have never been done for sinful mankind.
Therefore, let us show God and His Son Jesus Christ the reverence and devotion they so rightly and richly deserve from us.
Let us turn away from sin and lead a new life, following in their Commandments.
John Donne wrote an excellent sermon which is a good meditation for Easter: 'The Sedulity of the Devout Women'.
'Sedulity' means 'diligence'. Those women were most sedulous in going to the tomb where Christ lay.
Donne takes for his text Mark 16:2:
And very early in the morning the first day of the week, they came to the sepulcher at the rising of the sun.
This is Donne's sermon, which encourages us to be as devoted and diligent towards Christ as these ladies were (emphases mine):
Consider their sedulity — sedulity that admits no intermission, no interruption, no discontinuance, no indifference in religious offices. Consider we therefore their sedulity, if we can. I say, if we can; because if a man should sit down at a beehive or an ant hill, and determine to watch such an ant or such a bee in its work, he would find that bee or that ant so sedulous, so serious, so various, so concurrent with others, so contributory to others, as that he would quickly lose his marks and his sight of that ant or that bee. So, if we fix our consideration upon these devout women, and the sedulity of their devotion, as the several evangelists present it to us, we may easily lose our sight, and hardly know which was which, or at what time she or she came to the sepulchre. "They came, in the end of the Sabbath, as it began to dawn toward the first day of the week," says St. Matthew; "they came very early in the morning, the first day of the week, at the rising of the sun," says St. Mark; "they prepared their spices, and rested the Sabbath, and came early the next day," says St. Luke; "they came the first day when it was yet dark," says St. John. From Friday evening till Sunday morning they were sedulous, busy upon this service; so sedulous, that thinks these women came four several times to the sepulchre, and that the four evangelists have relation to their four comings, and argues that this variety is no sign of untruthfulness in the evangelists, but testifies the sedulity of the women they speak of, going and coming, and unwilling to be far distant or long absent from their devout exercise. Beloved, true devotion is a serious, a sedulous, an impatient thing. He who said, "I fast twice in the week," was but a Pharisee; he who can reckon his devout actions is no better; he who can tell how often he has thought upon God today, has not thought upon Him often enough. It is St. [unknown] 's holy circle, "to pray that we may hear sermons profitably, and to hear sermons that we may learn to pray acceptably." Devotion is no marginal note, no interlineary gloss, no parenthesis that may be left out; it is no occasional thing, no conditional thing: "I will go if I like the preacher, the place, the company, the weather;" but it is of the body of the text, and lays upon us an obligation of fervour and continuance.

(John Donne, D. D.)

Donne points out the truth of our failings in our Christian walk. So often, for myself included, it has been one of occasion — and, yes, dependent on the celebrant or the weather — when it should rightly be one of constancy.
We can apply the same obligation of sedulity, or diligence, to our reading of Scripture and particularly of prayer. Donne is so right in saying that if we know how many times a day or a week we are doing these things, we haven't done them nearly enough.
The women wanted to be near their Lord, hence their diligent devotion to Him, even as He lay in the tomb. They, like the other disciples, were not to immediately understand that Jesus would vanquish death and rise on the third day, even though on more than one occasion He said that He would. On that day, they were 'terrified' to find the tomb empty, according to Luke 24:5.
As the women acted towards Jesus in death, let us behave towards Him more reverently and diligently as He lives and reigns as the Risen Christ forever.
Of everything in our lives, He is the most worthy of our sedulity, so let us practice unending, diligent devotion towards Him.
Anyone interested in reading more of Donne's sermons can find a selection of them at Bible Hub.
Last week, I profiled John Donne, who made an incredible personal journey from a handsome rake to devoted husband and father to the Dean of St Paul's Cathedral.
Most of us remember his poetry from English Literature class.
Although digital collections of his sermons exist, only one — and a partial one at that — is in an easily accessed format categorised by Scripture. Thank you, BibleHub.
John's Gospel has the most detailed account of Jesus's final teaching at the Last Supper, which we remember on Maundy Thursday.
John Donne was inspired to write an entire sermon on John 14:20 alone. Excerpts follow, emphases mine.
First, let's look at John 14 in its entirety. Jesus spoke these words while He and the Apostles were in the upper room at the Last Supper. Judas Iscariot had already left. The Judas referred to in verse 22 is Jude Thaddeus, who wrote the shortest book in the Bible, Jude:
I Am the Way, and the Truth, and the Life
14 "Let not your hearts be troubled. Believe in God;[a] believe also in me. 2 In my Father's house are many rooms. If it were not so, would I have told you that I go to prepare a place for you?[b] 3 And if I go and prepare a place for you, I will come again and will take you to myself, that where I am you may be also. 4 And you know the way to where I am going."[c] 5 Thomas said to him, "Lord, we do not know where you are going. How can we know the way?" 6 Jesus said to him, "I am the way, and the truth, and the life. No one comes to the Father except through me. 7 If you had known me, you would have known my Father also.[d] From now on you do know him and have seen him."
8 Philip said to him, "Lord, show us the Father, and it is enough for us." 9 Jesus said to him, "Have I been with you so long, and you still do not know me, Philip? Whoever has seen me has seen the Father. How can you say, 'Show us the Father'? 10 Do you not believe that I am in the Father and the Father is in me? The words that I say to you I do not speak on my own authority, but the Father who dwells in me does his works. 11 Believe me that I am in the Father and the Father is in me, or else believe on account of the works themselves.
12 "Truly, truly, I say to you, whoever believes in me will also do the works that I do; and greater works than these will he do, because I am going to the Father. 13 Whatever you ask in my name, this I will do, that the Father may be glorified in the Son. 14 If you ask me[e] anything in my name, I will do it.
Jesus Promises the Holy Spirit
15 "If you love me, you will keep my commandments. 16 And I will ask the Father, and he will give you another Helper,[f] to be with you forever, 17 even the Spirit of truth, whom the world cannot receive, because it neither sees him nor knows him. You know him, for he dwells with you and will be[g] in you.
18 "I will not leave you as orphans; I will come to you. 19 Yet a little while and the world will see me no more, but you will see me. Because I live, you also will live. 20 In that day you will know that I am in my Father, and you in me, and I in you. 21 Whoever has my commandments and keeps them, he it is who loves me. And he who loves me will be loved by my Father, and I will love him and manifest myself to him." 22 Judas (not Iscariot) said to him, "Lord, how is it that you will manifest yourself to us, and not to the world?" 23 Jesus answered him, "If anyone loves me, he will keep my word, and my Father will love him, and we will come to him and make our home with him. 24 Whoever does not love me does not keep my words. And the word that you hear is not mine but the Father's who sent me.
25 "These things I have spoken to you while I am still with you. 26 But the Helper, the Holy Spirit, whom the Father will send in my name, he will teach you all things and bring to your remembrance all that I have said to you. 27 Peace I leave with you; my peace I give to you. Not as the world gives do I give to you. Let not your hearts be troubled, neither let them be afraid. 28 You heard me say to you, 'I am going away, and I will come to you.' If you loved me, you would have rejoiced, because I am going to the Father, for the Father is greater than I. 29 And now I have told you before it takes place, so that when it does take place you may believe. 30 I will no longer talk much with you, for the ruler of this world is coming. He has no claim on me, 31 but I do as the Father has commanded me, so that the world may know that I love the Father. Rise, let us go from here.
John Donne's sermon on John 14:20 is called 'Christ's Legacy'. Most of it follows below:
I. THE LEGACY ITSELF: Knowledge. "Ye shall know." God delivered the Jews to some extent from ignorance by the law, which was their schoolmaster. But in the gospel we are graduates, and know as a matter of history and experience what was only previously known in prophecy and type, in the manifestation of Christ, and the presence of the Spirit …
II. THE TIME WHEN THIS LEGACY ACCRUES TO US. "At that day."

1. The word itself affords cheerfulness. When God inflicted the greatest plague on Egypt it was at midnight; and when He would intimate both deaths at once He says, "Thou fool, this night," etc. Against all supply of knowledge He calls him fool; against all sense of comfort in the day He threatens night.

2. It was a certain day: "That" — and soon. For after Christ had made His will at this supper, and given strength to His will by His death, and proved His will by His resurrection, and left the Church possessed of His estate by His ascension, within ten days after that He poured out this legacy of knowledge.

3. On that day the Holy Ghost came as a wind to note a powerful working; filled them, to note the abundance; and gave them utterance, to infer the communication of their knowledge to others. But He was poured forth for the benefit of all. The prophets, high as their calling was, saw nothing without the Spirit; with the Spirit simple man understands the prophets.

III. OUR PORTION IN THIS LEGACY — the measure of the knowledge of those mysteries which we are to receive. When Felix the Manichaean would prove to that was the Holy Spirit who should teach all truth, because Manes [Mani] taught many things of which men were ignorant concerning the frame and nature of the heavens, Augustine answered, "The Holy Ghost makes us Christians, not mathematicians." This knowledge is to know the end and the way — heaven and Christ. Now, in all our journeys, a moderate pace brings a man most surely to his journey's end, and so does a sober knowledge in the mysteries of religion. Therefore, the Holy Ghost did not give the apostles all kind of knowledge, but knowledge enough for their present work, and so with us. The points of knowledge necessary for our salvation are three.

1. The mystery of the Trinity. "I am in My Father." tells us that the principal use of knowledge is to know the Trinity. For to know that there is one God, natural reason serves our turn. But to know that the Son is in the Father I need the Scriptures, and the light of the Holy Spirit on the Scriptures, for Jews and Arians have the Bible too. But consider that Christ says, "ye shall know," not "ye shall know how". It is enough for a happy subject to enjoy the sweetness of a peaceable government, though he knows not the ways by which his prince governs, so it is enough for a Christian to enjoy the working of God's grace, though he inquire not into God's unrevealed decrees. When the Church asked how the body of Christ was in the sacrament we see what an inconvenient answer it fell upon. Make much of that knowledge with which the Spirit hath trusted you, and believe the rest. No man knows how his soul came into him, yet no man doubts that he has a soul.

2. The mystery of the Incarnation — "Ye in Me." For since the devil has taken manhood in one lump in Adam, Christ to deliver us as entirely took all mankind upon Him. So that the same pretence that the devil hath against us, "You are mine, for you sinned in Adam," we have also for our discharge, we are delivered, for we paid our debt in Christ.

3. The assurance of this grows from the third part of our knowledge the mystery of our redemption, in our sanctification. "I in you." This last is the best. To know that Christ is in the Father may serve me to convince another who denies the Trinity; to know we are in Christ may show that we are more honoured than angels. But what worth is this if I know not that Christ is in me. How then is this? Here the question is lawful, for it has been revealed. It is by our obedience to His inspiration, and by our reverent use of His sacrament, when the Spirit visits us with effectual grace, and Christ marries Himself to our souls.

What stood out for me were four things:
First, Donne clearly understood Paul's epistles about the shortcomings of the law in the Old Covenant. It could not — and cannot — save. Note that Donne calls the law the Jews' 'schoolmaster'. How true.
Secondly, the Holy Spirit is available to all, not just a select few. Furthermore, St Augustine said that the primary purpose of the Spirit is to help us to live a Christian life. Donne makes it easy to grasp by saying that the Spirit enables simple man to understand the prophets. One does not need a university degree to understand the Bible.
Thirdly, if the devil tempts us by telling us we are doomed, we should keep in mind that Christ paid our debt in full. We are no longer slaves to sin.
Finally, Christians are not required to understand how the holy mysteries work, only to believe, through the workings of the Holy Spirit, that they exist, e.g. the Triune God, one in three Persons. Donne wisely noted the ancient controversy in the Church that took place over what happens during the consecration of bread and wine, still a contentious subject today.
————————————————
Readings, exegeses and other observations about Wednesday of Holy Week, or Spy Wednesday, as it is traditionally known, follow:
Readings for Wednesday of Holy Week — Spy Wednesday
Wednesday of Holy Week — Spy Wednesday (2017, Henry and MacArthur on Judas: bad hombre)
The other week I read a profile of a senior Anglican clergyman, more about whom tomorrow.
At the weekend I read an article in The Telegraph about a long-deceased past Dean of St Paul's Cathedral, John Donne (1572-1631), whom his biographer Katherine Rundell describes as 'the greatest writer of sex in the English language'.
The article was timely, as the Anglican Communion remembers the poet and preacher on March 31.
It is difficult to know where to begin and where to stop with John Donne (pron. 'Dun'). One could easily write about him every day for a year. Many of us read at least one of his poems in English class many moons ago. However, he was more than a poet. He was also a womaniser, a scholar, a lawyer, and an adventurer. Later on, he was ordained and had a tremendous following in London for his powerful preaching.
Katherine Rundell's article about her new book on Donne begins with this (emphases mine):
The power of John Donne's words nearly killed a man. It was the late spring of 1623, on the morning of Ascension Day, and Donne had finally secured for himself celebrity, fortune and a captive audience.
He had been appointed the Dean of St Paul's Cathedral two years before: he was 51, slim and amply bearded, and his preaching was famous across the whole of London. His congregation – merchants, aristocrats, actors in elaborate ruffs, the whole sweep of the city – came to his sermons carrying notebooks and ink, wrote down his finest passages and took them home to dissect and relish, pontificate and argue over. He often wept in the pulpit, in joy and in sorrow, and his audience would weep with him. His words, they said, could "charm the soul".
That morning he was not preaching in his own church, but 15 minutes' walk across London at Lincoln's Inn, where a new chapel was being consecrated. Word went out: wherever he was, people came flocking, often in their thousands, to hear him speak. That morning, too many people flocked. "There was a great concourse of noblemen and gentlemen," and in among "the extreme press and thronging", as they pushed closer to hear his words, men in the crowd were shoved to the ground and trampled. "Two or three were endangered, and taken up dead for the time."
There's no record of Donne halting his sermon; so it's likely that he kept going in his rich voice as the bruised men were carried off and out of sight.
That year, he had a serious illness inspiring him to write a poem about it, a way of self-treatment that he employed throughout his life.
The Poetry Foundation tells us more. Note the language Donne employed, recalling his time as an adventurer at sea during the era of the world's great explorers:
A serious illness that Donne suffered in 1623 produced a still more startling poetic effect. In "Hymn to God, my God, in my Sickness" the poet presents his recumbent body as a flat map over which the doctors pore like navigators to discover some passage through present dangers to tranquil waters; and he ponders his own destination as if he himself is a vessel that may reach the desirable places of the world only by negotiating some painful straits:
Is the Pacific Sea my home? Or are
The eastern riches? Is Jerusalem?
Anyan, and Magellan, and Gibraltar,
All straits, and none but straits, are ways to them.
By this self-questioning he brings himself to understand that his suffering may itself be a blessing, since he shares the condition of a world in which our ultimate bliss must be won through well-endured hardship. The physical symptoms of his illness become the signs of his salvation: "So, in his purple wrapped receive me Lord, / By these his thorns give me his other crown." The images that make him one with Christ in his suffering transform those pangs into reassurance.
He was most conscious of his sin and the necessary repentance needed to reach union with Christ. He also used his surname as a pun with the word 'done' as we can see in this religious poem, again employing a maritime reference:
In Donne's poetry, language may catch the presence of God in our human dealings. The pun on the poet's name in "done" registers the distance that the poet's sins have put between himself and God, with new kinds of sin pressing forward as fast as God forgives those already confessed: "When thou hast done, thou hast not done, / For, I have more." Then the puns on "sun" and "Donne" resolve these sinful anxieties themselves:
I have a sin of fear, that when I have spun
My last thread, I shall perish on the shore;
But swear by thy self, that at my death thy son
Shall shine as he shines now, and heretofore;
And, having done that, thou hast done,
I fear no more.
For this poet such coincidences of words and ideas are not mere accidents to be juggled with in jest. They mark precisely the working of Providence within the order of nature.
Ten years earlier, in 1613, two years before he took Holy Orders, he wrote a meditation about Good Friday as he journeyed from one friend's house to another for Easter. Again, repentance looms large:
A journey westward from one friend's house to another over Easter 1613 brings home to Donne the general aberration of nature that prompts us to put pleasure before our due devotion to Christ. We ought to be heading east at Easter so as to contemplate and share Christ's suffering; and in summoning up that event to his mind's eye, he recognizes the shocking paradox of the ignominious death of God upon a Cross: "Could I behold those hands, which span the poles, / And turn all spheres at once, pierced with those holes?" ("Good Friday, 1613. Riding Westward"). An image of Christ's degradation is directly imposed upon an image of God's omnipotence. We see that the event itself has a double force, being at once the catastrophic consequence of our sin and the ultimate assurance of God's saving love. The poet's very journey west may be providential if it brings him to a penitent recognition of his present unworthiness to gaze directly upon Christ:
O Saviour, as thou hang'st upon the tree;
I turn my back to thee, but to receive
Corrections, till thy mercies bid thee leave.
O think me worth thine anger, punish me,
Burn off my rusts, and my deformity,
Restore thine image, so much, by thy grace,
That thou mayest know me, and I'll turn my face.
Now that we have the measure of the man in his later years, let us look at his life's journey.
John Donne was born into a good family with good connections, even though, for many years, he and his wife lived in penury with a house full of children.
Donne was born on January 22, 1572, to John Donne and Elizabeth Heywood, both of Welsh descent.
Biography tells us:
His mother, Elizabeth Heywood, was the grand-niece of Catholic martyr Thomas More.
Donne was a middle child, the third of six children.
The Donnes were Catholic. During the Elizabethan era, it was dangerous to be anything but Anglican. Donne's father was a wealthy merchant who was a warden of the Ironmongers Company, one of the Guilds in the City of London. He kept a low public profile because of his Catholicism. He died when young John was only four years old.
Approximately six months later, Elizabeth remarried. Her new husband, Dr. John Syminges, was a wealthy physician with three children of his own. He, too, had been widowed.
John was privately educated. At the age of 11, he went up to Oxford University, to Hart Hall, which is now Hertford College.
After spending three years at Oxford, he went up to Cambridge, where he studied for another three years.
He left both universities with no degree. This was because he refused to take the Oath of Supremacy, because of his Catholicism.
In 1591, he was accepted to the Thavies Inn law school, which was associated with Lincoln's Inn, one of the Inns of Court. He was admitted to Lincoln's Inn the following year.
1593 proved to be an alarming and pivotal year for John Donne. Elizabeth I issued a statute against Catholics, 'An Act for restraining Popish recusants', for not participating in Anglican worship. It had a drastic effect on the Donne family. One of John's brothers, Henry, who was a university student at the time, was arrested and imprisoned for harbouring a Catholic priest, William Harrington.
Henry died in Newgate Prison of bubonic plague. At that point, John began to question his Catholic faith. At the time, illness was still connected — as it had been for time immemorial — with a judgement from God.
Donne was known as Jack in those years. He began writing love poems, circulated to a small group of friends and never intended for widespread publication.
Biography says:
During the 1590s, he spent much of his inheritance on women, books and travel. He wrote most of his love lyrics and erotic poems during this time. His first books of poems, "Satires" and "Songs and Sonnets," were highly prized among a small group of admirers.
Katherine Rundell's article for The Telegraph features and discusses a portrait Donne had commissioned, which now hangs in the National Portrait Gallery in London. (Image credit: Wikipedia/BBC News)
When Jack was 23, he:
sat for a portrait. The painting was of a figure who knew about fashion; he wore a hat big enough to sail a cat in, a big lace collar, an exquisite moustache. He positioned the 
pommel of his sword to be just visible, an accessory more than a weapon. Around the edge of the canvas was painted in Latin, "O Lady, lighten our darkness"; a not-quite-blasphemous misquotation of Psalm 17, his prayer addressed to a lover. And his beauty deserved walk-on music, rock-and-roll lute: all architectural jawline and hooked eyebrows …
To call anyone the "best" of anything is a brittle kind of game – but if you wanted to play it, Donne is the greatest writer of desire in the English language. He wrote about sex in a way that nobody ever has, before or since: he wrote sex as the great insistence on life.
Here is one of his verses from that period, in which he compares a lover to the New World:
License my roving hands, and let them go
Behind, before, above, between, below!
O my America! My new-found land!
My kingdom, safeliest when with one man manned!
There is also 'The Flea':
The speaker watches a flea crawl over the body of the woman he desires:
Mark but this flea, and mark in this
How little that which thou deny'st me is;
Me it sucked first, and now sucks thee,
And in this flea, our two bloods mingled be.
The sort of love he wrote about was not merely about the union of a man and a woman, but of a transcendent relationship.
Here we encounter some very 21st century language, which I will highlight in bold below.
Rundell says:
There is the meat and madness of sex in his work – but, more: Donne's poetry believed in finding eternity through the human body of one other person. It becomes akin to sacrament. Sacramentum is the translation in the Latin Bible for the Greek word for mystery: and Donne knew it when he wrote, "We die and rise the same, and prove/ Mysterious by this love." He knew awe: "All measure, and all language, I should pass/ Should I tell what a miracle she was." And in "The Ecstasy", love is both a mystery and its solution. He needed to invent a word, "unperplex", to explain:
"This ecstasy doth unperplex,"
We said, "and tell us what we love…"
But as all several souls contain
Mixture of things, they know not what,
Love these mixed souls doth mix again,
And makes both one, each this and that.
"Each this and that": his work suggests that we might voyage beyond the blunt realities of male and female.
In 1596, eight years after the sinking of the Spanish Armada, Donne began two years on the high seas. He fought alongside the Earl of Essex and Sir Walter Raleigh against the Spanish at Cadiz that year, and, in 1597, the Azores, where he witnessed the sinking of the San Felipe.
Donne also went to Italy. He immersed himself in the culture of the countries he stayed in during those years.
His earliest biographer, Izaak Walton, wrote:
… he returned not back into England till he had stayed some years, first in Italy, and then in Spain, where he made many useful observations of those countries, their laws and manner of government, and returned perfect in their languages.
In 1597, he returned to London, prepared for a diplomatic career.
Soon after that, Sir Thomas Egerton, the Lord Keeper of the Great Seal, hired Donne to be his chief secretary. He was based at Egerton's home, York House, close to the seat of power, the Palace of Whitehall, the main residence of the English monarchs.
Like Donne, Egerton had also been a Catholic. He became an Anglican in 1570 in order to continue his career.
Egerton was a widower. His second wife was Elizabeth Wolley, a widow. Her maiden name was More. I am intrigued to know if she was also related to Thomas More, as was Donne's mother.
In any event, while Donne was working for Egerton, he met his employer's niece, Anne More, who ended up being his grand passion.
Anne More was a teenager at the time she and Donne met. He was in his twenties.
Katherine Rundell provides us with the love poem Donne wrote for her, which says that if he loved her in wintertime, he loved her even more during Spring. I have excerpted it below:
You cannot claim a man is an alchemist and fail to lay out the gold. This, then, is an undated poem, probably written for the woman he married, Anne More, some time in his 20s, known as "Love's Growth":
I scarce believe my love to be so pure
As I had thought it was,
Because it doth endure
Vicissitude and season as the grass;
Methinks I lied all Winter, when I swore
My love was infinite, if Spring make't more …
If as in water stirred more circles be
Produced by one, love such additions take;
Those, like to many spheres, but one heaven make,
For they are all concentric unto thee;
And though each Spring do add to love new heat –
As princes do in times of action get
New taxes, and remit them not in peace –
No winter shall abate the spring's increase.
Anne's father, George More, was the Lieutenant of the Tower of London.
Both he and Egerton strongly disapproved of the love match.
Regardless, the couple decided to marry in secret in 1601. Anne would have been 16 or 17 at the time. An Anglican priest, Samuel Brooke, a contemporary of Donne's, conducted the ceremony.
When Egerton and More found out about the wedding, Donne lost his job and was sent to Fleet Prison, along with Brooke. When Egerton and More satisfied themselves that the marriage was valid, they had Donne released from prison. Donne then had Brooke and another man involved released.
Donne's earliest biographer, his contemporary Izaak Walton, tells us what the poet wrote to his wife upon his release:
John Donne, Anne Donne, Un-done.[14]
Indeed, he was undone, because the next several years were wintry for him and his young wife. They lived in penury while she bore him a child every year.
The Donnes were despatched to the Surrey countryside to a small house that Anne's cousin, Sir Francis Wolley, owned. They lived there until 1604.
In 1605, they moved to Mitcham in South London. There they lived in another small house, unfit for a growing family.
In 1602, Donne was elected as an MP for a Northamptonshire constituency, Brackley. However, as MPs were not paid in that era, he had to search for whatever work he could get. He performed poorly paid law work and also wrote commissioned poems for wealthy patrons. Regardless, the family were only just getting by.
In 1603, Elizabeth I died. James I (James VI of Scotland) succeeded her.
It wasn't until 1609 when George More reconciled with Donne and gave him Anne's dowry.
In 1610, Donne met the man who would become his chief patron, Sir Robert Drury of Hawsted, who gave Donne and his family rooms in his house in Drury Lane, London.
That year, Donne wrote Pseudo-Martyr, a tract which encouraged Catholics to take the Oath of Allegiance to the King. Donne made his points about obedience reliant on Scripture and natural law.
Biography notes:
This won him the king's favor and patronage from members of the House of Lords.
In 1614, Donne was elected as MP once more, this time for Taunton, in Somerset. Although he received five parliamentary appointments, he made no speeches that were recorded.
In 1615, James I encouraged Donne to take Holy Orders. Soon afterwards, he became Royal Chaplain.
The Poetry Foundation tells us that it was a difficult decision for Donne, who felt unworthy. Yet, once ordained, he became a true vicar of Christ:
Donne took holy orders in January 1615, having been persuaded by King James himself of his fitness for a ministry "to which he was, and appeared, very unwilling, apprehending it (such was his mistaking modesty) to be too weighty for his abilities." So writes his first biographer, Izaak Walton, who had known him well and often heard him preach. Once committed to the Church, Donne devoted himself to it totally, and his life thereafter becomes a record of incumbencies held and sermons preached.
Sadly, in 1617, the love of Donne's life, his dear wife Anne, died in childbirth. Wikipedia tells us about her married life. After her death, Donne, despite his post as Royal Chaplain, seriously contemplated suicide:
Anne gave birth to twelve children in sixteen years of marriage, (including two stillbirths—their eighth and then, in 1617, their last child); indeed, she spent most of her married life either pregnant or nursing. The ten surviving children were Constance, John, George, Francis, Lucy (named after Donne's patron Lucy, Countess of Bedford, her godmother), Bridget, Mary, Nicholas, Margaret, and Elizabeth. Three (Francis, Nicholas, and Mary) died before they were ten. In a state of despair that almost drove him to kill himself, Donne noted that the death of a child would mean one mouth fewer to feed, but he could not afford the burial expenses. During this time, Donne wrote but did not publish Biathanatos, his defense of suicide.[15] His wife died on 15 August 1617, five days after giving birth to their twelfth child, a still-born baby.[2] Donne mourned her deeply, and wrote of his love and loss in his 17th Holy Sonnet.
Biathanatos is Greek for 'life and death'.
However deeply Donne agonised over Anne's death, God blessed him with the power of religious oratory and as the Dean of St Paul's Cathedral.
Of this period, Biography says:
His elaborate metaphors, religious symbolism and flair for drama soon established him as a great preacher …
In 1621, Donne became dean of St. Paul's Cathedral. During a period of severe illness, he wrote "Devotions upon Emergent Occasions," published in 1624. This work contains the immortal lines "No man is an island" and "never send to know for whom the bell tolls; it tolls for thee." That same year, Donne was appointed Vicar of St. Dunstan's-in-the-West and became known for his eloquent sermons.
The Poetry Foundation says that Donne's sermons moved the hardest of hearts:
160 of his sermons have survived. The few religious poems he wrote after he became a priest show no falling off in imaginative power, yet the calling of his later years committed him to prose, and the artistry of his Devotions and sermons at least matches the artistry of his poems.
The publication in 1919 of Donne's Sermons: Selected Passages, edited by Logan Pearsall Smith, came as a revelation to its readers, not least those who had little taste for sermons. John Bailey, writing in the Quarterly Review (April 1920), found in these extracts "the very genius of oratory … a masterpiece of English prose." Sir Arthur Quiller-Couch, in Studies in Literature (1920), judged the sermons to include "the most magnificent prose ever uttered from an English pulpit, if not the most magnificent prose ever spoken in our tongue."
Over a literary career of some 40 years Donne moved from skeptical naturalism to a conviction of the shaping presence of the divine spirit in the natural creation. Yet his mature understanding did not contradict his earlier vision. He simply came to anticipate a Providential disposition in the restless whirl of the world. The amorous adventurer nurtured the dean of St. Paul's.
Katherine Rundell tells us that Donne invented words for his sermons. These are very 21st century:
A few years before his own death, Donne preached a funeral sermon for the poet George Herbert's mother Magdalen, who would "dwell bodily with that righteousness, in these new heavens and new earth, for ever and ever and ever, and infinite and super-infinite forevers". In a different sermon, he wrote of how we would one day be with God in "an infinite, a super-infinite, an unimaginable space, millions of millions of unimaginable spaces in heaven". He loved to coin formations with the super- prefix: super-edifications, super-exaltation, super-dying, super-universal, super-miraculous. It was part of his bid to invent a language that would reach beyond language, because infinite wasn't enough.
John Donne died on March 31, 1631, hence the reason the Anglican Communion remembers him on that day. A large memorial stone statue of him was erected in the old St Paul's Cathedral. Donne appears in his glorified body wearing the Crown of Life. His memorial started the trend for such church monuments during the 17th century.
He was buried in the old St Paul's Cathedral, which the Great Fire of London destroyed in 1666. Incredibly, the stone statue of Donne survived the fire and is now displayed in the current St Paul's Cathedral.
How can one summarise John Donne in one sentence? It would be impossible, for he was a man who was able to combine the earthy with the divine and make both sublime, as God intended them to be.
The Poetry Foundation says:
The transformation of Jack Donne the rake into the Reverend Dr. Donne, dean of St. Paul's Cathedral, no longer seems bizarre. To impose such clear-cut categories upon a man's career may be to take too rigid a view of human nature. That the poet of the Elegies and Songs and Sonnets is also the author of the Devotions and the sermons need not indicate some profound spiritual upheaval. One reason for the appeal of Donne in modern times is that he confronts us with the complexity of our own natures.
Katherine Rundell concludes:
Sometime religious outsider and social disaster, sometime celebrity preacher and establishment darling, John Donne was incapable of being just one thing. He reimagined and reinvented himself, over and over: he was a poet, lover, essayist, lawyer, pirate, recusant, preacher, satirist, politician, courtier, chaplain to the King, dean of the finest cathedral in London. It's traditional to imagine two Donnes – Jack Donne, the youthful rake, and Dr Donne, the older, wiser priest, a split Donne himself imagined in a letter to a friend – but he was infinitely more various and unpredictable than that …
And then there was the transformation of himself: from failure and penury, to recognition within his lifetime as one of the finest minds of his age; one whose work, if allowed under your skin, can offer joy so violent it kicks the metal out of your knees, and sorrow large enough to eat you. Because amid all Donne's reinventions, there was a constant running through his lifeand work: he remained steadfast in his belief that we, humans, are at once a catastrophe and a miracle …
He believed our minds could be forged into citadels against the world's chaos: "be thine own palace, or the world's thy jail". Tap a human, he believed, and they ring with the sound of infinity. Joy and squalor: both Donne's life and work tell that it is fundamentally impossible to have one without taking up the other.
In the 21st century, Donne's imagination offers us a form of body armour. His work is protection against the slipshod and the half-baked, against anti-intellectualism, against those who try to sell you their money-ridden vision of sex and love. He is protection against those who would tell you to narrow yourself, to follow fashion in your mode of thought.
It's not that he was a rebel: it is that he was a pure original. They do us a service, the true uncompromising originals: they show us what is possible.
God broke the mould when he made John Donne. We are blessed to have his poems, essays and sermons as a legacy that withstands the test of time.
Tomorrow, in Part 2, we discover more about an Anglican clergyman who is quite the opposite.
John MacArthur often laments the state of the Church today.
In May 1998, he gave a sermon on 2 Corinthians 13:1-2, which I cited in my post yesterday.
The sermon is called 'The Pattern of Sanctification, Part 1: Church Discipline'.
Whilst discussing the first two verses of 2 Corinthians 13, he also gave an excellent exposition of everything that is wrong in the Church today. Excerpts follow, emphases mine below.
Since 1998, the following has exploded in churches around the Western world. Around the end of the 20th century, church growth rose to prominence. Moving on to the 21st century, the last decade saw a rise in home churches. Online church services surfaced during the pandemic and became normalised. The Church of England hierarchy wants more online services and fewer church buildings, retaining them only in community 'hubs'. I do despair.
MacArthur points out the folly of it all:
Now, before we look at the text itself, I want to kind of get us into the importance of the subject and the importance of the attitude of the apostle Paul here by sharing with you perspective that I think exists in the Church today. Many people are concerned about the state of the Church. The condition of churches today have caused a myriad of seminars and conferences and books to be written. There are constant calls for renewal in the Church, for better understanding of the culture, for changing the style of the Church to fit the style of the '90s, replacing preaching of the Scripture with more interesting methodologies and technologies.
All across our country – in fact, all around the world there are these efforts being made to reinvent the Church. The fear is that the Church is not speaking to the time, people are not listening. The Church has somehow become irrelevant; it has become obsolete. Self-styled experts are saying that the future of the Church is in the balance, and the Church may not survive in the West if it doesn't become culturally relevant, if it doesn't learn how to package its message better, if it doesn't target felt needs, if it doesn't employ more popular and efficient communication devices that it currently uses.
All of this comes into focus in a new book that's just been out a couple of weeks. It's one of those books that you could pick up and read rather rapidly. I read it fairly rapidly; I couldn't put it down. It just kept compelling me to read. It was sort of like enjoying the pain, actually. It was like there's something redeeming in this self-flagellation that I'm going through, and I'm going to carry it all away to the end. The book pained me deeply, and every page added more to my pain, but I couldn't put it down because I was so startled by what the book was saying.
It is a book that calls for the Church to do what I just said: reinvent itself. And it says, on the cover of the book, "Today's Church is incapable of responding to the present moral crisis. It must reinvent itself or face virtual oblivion by mid twenty-first century." End quote.
So, the book says that if the Church doesn't reinvent itself, and put itself in better cultural relevance, it's going to go out of existence in 50 years. That statement alone was overwhelming for me. Do you mean to tell me that the eternal God who determined in the counsels of the Trinity, before the foundation of the world, before time began, who He would redeem and how He would gather His own to Himself and bring them to eternal glory is somehow going to find His whole plan coming unglued in the next 50 years? Do you mean to tell me that the Church which Jesus Christ purchased with His own blood is somehow going to escape His purposes for redemption and atonement? Do you mean to tell me that the Church which Jesus said He would build, and the gates of Hades could not prevail against it is somehow going to become victimized by its own inept[itude]? That is a brash and irresponsible statement, to say that if the Church doesn't reinvent itself, it'll face oblivion by the mid twenty-first century.
The only thing that could possibly obliterate the Church on earth by then would be the end of the age and the return of Jesus Christ and the glorification of the Church. That's a very irresponsible thing to say. And the author of the book fearing – and I think he probably genuinely fears that the Church might go out of existence – suggests that there are some ways to save the Church, and these are the suggestions. "Develop cyber churches, virtual churches on the Internet.
"Secondly, develop house churches which appeal to people because they have low control, low authority, and operate without historical tradition, I might add, or theology." "Eliminate congregational churches" – like this – "for more congenial, less confrontational, and more dispassionately interactive forums. Preachers must be replaced by presenters who have no notes and don't hide behind pulpits, and who generate a more positive response for their listeners.
"We must get rid of sermons, because one-sided communication is ineffective, and eliminate series and Bible exposition, because everybody's attendance is sporadic, and people really get irritated coming in and out of series that they can't consistently hear. So, we need to play to their sporadic attendance. And every sermon should be a unit in itself because most of the folks will miss the next two weeks before they decide to come back."
You say, "Well, where did he get those ideas?"
They were the result of a survey. If you ask unbelievers outside the Church what they want, you can get answers like that. If you ask unbelievers inside the Church what they want, you can get answers like that. If you ask believers in the Church, ignorant of Scripture, what they want, you can get answers like that. But if you were to survey biblically literate believers, you wouldn't get answers like that.
So, who is it that determines the character of the Church? You go to the lowest possible source. Unbelievers outside the Church, unbelievers inside the Church, or ignorant believers in the Church. What is the hope of the Church? Is this really it, if we can just disband congregational churches and develop a virtual church on the Internet, will that solve our problem? Will that dramatically affect the Church's ability to confront the moral crisis of our day, as if that were somehow our reason for existence? And it's not. Ours is not a moral agenda. Ours is a spiritual one.
Would it be better if we had presenters instead of preachers, and we got rid of pulpits, and got rid of sermon notes, and sat on stools, would that be the difference? And just sort of told stories?
Would it be better if instead of somebody preparing to preach a sermon and giving forth an exposition of Scripture we had a pooling of everyone's ideas? Would it be better if we never had any continuity in or sermons but had little units week in and week out? Would that really save the Church from virtual oblivion?
And by the way, are we the ones responsib[le for] sav[ing] the Church from going out of existence? Is that our job? That's all the result of a survey. You see, that's what people want. And what they want is what they should get. That's the basic thesis behind all of that.
Now, if you ask me what the Church needs, I don't need a survey. I just ask the Lord of the Church, and He's revealed it in His Word. And what the Church really needs is more consistent, faithful, clear theological exposition of the mind of God through the pages of Scripture. What it needs is better preaching, better sermons – and I may get in trouble for saying this – fewer small churches with ungifted, untrained, and unskilled preachers.
The Word must dominate the Church and bear its God-intended power and authority over all who hear. You see, the only way that the Church will ever effectively counter the crisis of our time – moral crisis, spiritual crisis – is when the Word of God is working powerfully in the Church – listen to what I say – to produce not information, but "holiness." There's the operative word, folks. Write that down somewhere; that's the theme of the message this morning.
You see, the hope of the Church and the impact of the Church is all connected to the purity of the Church. Holiness is the issue. When Jesus first addressed the Church in Matthew 18, the first time he ever said anything related to the Church, in that great sermon in Matthew 18:7, the first thing he said about it is this, "If somebody's in sin, go to him. If he doesn't listen, take two or three witnesses. If he doesn't listen, tell the church. And after the church has pursued him, if he still doesn't repent, throw him out; treat him like an outcast.
The first instruction our Lord ever gave to the CHURCH had to do with sin. In that very first sermon, Jesus said, "If you ever lead another believer into sin, you'd be better off if a millstone were put around your neck and you were drowned in the depths of the sea." The Lord of the Church is concerned about the purity of the Church. He's concerned about the holiness of the Church. Sin is the issue to the Lord of the Church, and it should be the issue for us. But I daresay you can go from conference to conference to conference, and book to book to book, and this is not the concern today. You won't hear talk about the holiness of the Church, the purity of the Church.
When I was at Moody this week, I spoke, and I basically said to them, "You know, I'm going to preach the sermon I've prepared for my own church on Sunday." I kind of tweaked it here and there a little bit. But I said to them what I'm going to say to you, because everybody's talking about church growth and how to grow your church and have a successful church in a flourishing ministry and more folks and church growth is a begin thing. And I said to them, "It may surprise you to hear this, but I really believe the single greatest contributor to the impact of our church, to the growth of our church, to the ministries of our church, to the effect of our church – the single greatest factor that exists – has existed through the years of Grace Community Church – the single greatest contributor to the influence, and the strength, and the growth of our church has been" – and I paused, and it got real quiet, and I said – "church discipline." And there was a pall over the meeting.
Church discipline. That is not normally considered a principle of church growth. Most people would assume, "If you want to kill a place, do that. Just start poking around in everybody's life and they'll split." Not the people who love righteousness. Not the people who hate sin. Not the people who want to honor God. Not the people who care about obedience. And that's the Church, isn't it? That's the true and redeemed Church.
It may surprise you to hear this. I believe that ignoring church discipline is the most visible and disastrous failure of the Church in our time. Because what it conveys is we aren't really concerned about – what? – sin. The Lord of the Church is concerned about sin. The apostle Paul was concerned about sin. It left him with a constant, unrelenting ache in his heart.
The problem with the Church is not that it's got bad methodology or bad technology. The problem with the Church is it's lost its interest in holiness. It's lost its interest in maintaining purity. Churches have become content to be fellowships of independent members with minimal accountability to God, and even less to each other …
The absence of church discipline – and I mean it's absolutely a foreign thing in churches – the absence of church discipline is a symptom of the moral decline, the theological indifference of the Church. It's a symptom, I believe, of a shallow commitment to Scripture. It's not as if the Bible is unclear on the subject. It couldn't be more clear. It is a lack of reverence for the Lord of the Church. It is saying, "Well, I know you're concerned about the holiness of the Church, but we're really not. We have other things to be concerned about." Church discipline is not an elective; it is not an option; it is a necessary an integral mark of true Christianity and life in the church.
And I say it again; the absence of church discipline is the most glaring evidence of the worldliness of the Church. And the worldliness of the Church is the reason for its impotence. And you can have all of the entertainment, and all the hoopla, and all the big crowds that you want and not impact the world. It's the purity of the Church; it's the holiness of the Church that is the cause of its power. The problem is the Church is unholy.
Even the idea of confession of sin is outdated in an age of moral relativism and moral ambiguity. The answer is not let's break up the congregation and produce less accountability; let's get down to house churches where we have less authority, less confrontation, more autonomy, more independence. The answer is not let's have more compassion; let's have a kinder, gentler church.
Albert Mohler, who's the president of Southern Seminary, writes – and I quote – "Individuals now claim an enormous zone of personal privacy and moral autonomy. The congregation, redefined as a mere voluntary association, has no right to intrude into this space. Many congregations have forfeited any responsibility to confront even the most public sins of their members." He says congregations are consumed with pragmatic methods of church growth and what he calls congregational engineering. And most churches just ignore the issues of sin.
Let us contrast that approach with that of St Paul:
Well, the apostle Paul wasn't that way. We're learning, at the end of the book here, about the faithful pastor's concerns. What is it that concerns a faithful pastor? What is it that concerns Paul? Well, he's giving us a summary of that, starting in chapter 12, verse 19, running all the way to chapter 13, verse 10. That whole section is a summation of what concerns Paul.
And we could sum it up in a word. He's concerned with the spiritual well-being of his flock. That's what he's concerned about. Corinth was a challenge. The city was gross in terms of its wickedness. People who came to Christ in that city were coming out of very immoral backgrounds. They brought some of that garbage into the church. He had to write to them 1 Corinthians to confront a long litany of iniquities that they were still engaging in, even though they were in the church and calling themselves believers.
Having sorted out those problems in the writing of 1 Corinthians, it wasn't long until false teachers had come, and along with false teachers came pride, and along with pride came more sin. And Paul could see the subsequent impotence of that unholy situation and the loss of testimony, the loss of evangelistic impact that would follow.
Paul knew that the problem in Corinth was not going to be whether they were culturally relevant or not. The false teachers criticized Paul for not having a relevant message, not taking into account the expectations of the Corinthians for what oratory ought to be because of what they were used to. They had criticized Paul because his person, his persona was unimpressive, and his speech was contemptible; he was a lousy communicator; he didn't speak in the venue that people were used to hearing. He didn't have all of the personal charm to woo the audience.
He had already addressed the issues that he didn't speak with men's wisdom, and he didn't come in the wisdom of the world to achieve divine purposes. He already had laid it down that he was going to come and speak the Word of God, and he believed the Word of God, and he believed the Word of God was the power. And behind that came this conviction and commitment to the fact that the church had to be holy. And what Paul feared in his church was error and sin. Either one of those destroys the church. Theological error, theological ignorance or inequity devastates the church.
I can think of very few pastors who would pursue Paul's route. Yet, it is the correct one for the Church.
There is the world, the slave to sin. And there is the Church, which teaches that the way to eternal life is through the repentance of sin, a turning around of ourselves and our worldly ways towards … holiness.
Do we notice how the more modern and relevant the Church becomes, the more people avoid it?
There is another problem and that is the use of churches as tools for evangelising. Evangelising is a necessary activity but, done properly, it takes place outside of the church service, not during it.
The church service is designed for worship of our Lord and the exposition of Scripture, not winning converts off the street.
How bad do things have to get before our clergy realise the error of their ways? Sadly, I fear this will drag on and on for decades.
Yesterday's post gave a potted biography of one of the first Anglican evangelicals, Charles Simeon (1759-1836).
(Image credit: Wikipedia)
It is useful in order to glean a better understanding of what he says of Matthew 7:6 (ESV):
"Do not give dogs what is holy, and do not throw your pearls before pigs, lest they trample them underfoot and turn to attack you.
This is the King James Version:
Give not that which is holy unto the dogs, neither cast ye your pearls before swine, lest they trample them under their feet, and turn again and rend you.
Charles Simeon had a very difficult time as vicar of Holy Trinity Church, Cambridge. The congregation and students actively rejected and persecuted his piety and preaching for 12 years. Even after more than 50 years there, he still received a measure of opposition from the townspeople and some at the university. Yet, he died among faithful friends and left a deep spiritual legacy. His Simeon Trust is still active today.
As Simeon had such an awful time as vicar, he was careful to preach according to his audience. His essay, 'Caution to Be Used in Reproving' is on the second half of a very helpful page of insights on Matthew 7:6 at the Precept Austin site.
Although excerpts and a summary of Simeon's essay follow, please take the time to read it in full. Emphases in bold are in the original; those in purple are mine.
The second half of the introduction discusses judging others rightly, considering their state of mind, and ensuring we do so with a pure heart:
To judge others uncharitably will expose us to similar treatment from them, as well as to the displeasure of Almighty God. Before we presume to judge others at all, we ought to be diligent in searching out and amending our own faults; without which we are but ill qualified to reprove the faults of others. We ought also to consider the state of the person whom we undertake to reprove: for if he be hardened in his wickedness, and disposed to resent our well-meant endeavours, it will be more prudent to let him alone, and to wait for some season when we may speak to him with a better prospect of success. Such is the import of the caution in our text; from whence we may observe,
I. That religious instruction is often most unworthily received—
The value of religious instruction is but little known—
[… A richly-furnished mind, a cultivated taste, a polished manner, are distinctions which the richer part of the community particularly affect: and they are most envied who possess in the highest measure such accomplishments. But divine knowledge is considered as of little worth: though it would enrich the soul beyond all conception, and adorn it with all the most amiable graces, and is therefore most fully characterized by the name of "pearls," yet has it no beauty, no excellency, in the eyes of carnal men: the generality are as insensible of its value as swine are of the value of pearls, which they would "trample under their feet" as mire and dirt …]
Many, instead of being pleased, are only irritated and offended at it—
[Nothing under heaven has ever given more offence than this. Men may utter lewdness and blasphemy, and create but little disgust: but let them bear their testimony against sin, or proclaim the unsearchable riches of Christ, and instantly an indignation is excited in every bosom. In the house of God indeed a certain licence is allowed, provided the preacher be not too faithful: but in a private company the mention of such things is considered as a death-blow to social comfort, and is reprobated as an insufferable nuisance. Even in the public ministry those who "labour with fidelity in the word and doctrine" are not unfrequently treated with every species of indignity. No name is too odious for them to bear, no opposition too violent to be raised against them …
The essay goes on to explore various examples from the Bible, especially involving our Lord and later St Paul who suffered from rejection of their teachings, concluding:
there ever have been multitudes who would take offence at the kindest efforts for their welfare, and, like ferocious "dogs, would turn again and rend you." Reprove iniquity, and you will still be deemed "the troublers of Israel;" and those who are reproved will say of you, "I hate Micaiah, for he doth not speak good of me, but evil."]
From this aversion which men feel to religious instruction, it appears,
II. That great caution is to be used in administering it—
The direction in our text was given to the whole multitude of those who heard our Lord's discourse; and therefore may be considered as applicable,
1. To ministers—
[Though it is not to be confined to them, it does not exclude them. Doubtless where numbers of persons are assembled to hear the word of God, it is not possible to suit oneself to the disposition and taste of every individual … He should consider the state of his hearers, and should adapt his discourses to their necessities … we should be content to give "milk to babes," and to reserve the "strong meat" for such as are able to digest it … we should "search out acceptable words," and be especially careful to "speak the truth in love." Our great object should be not to "deliver our own souls," (though doubtless we must be careful to do that,) but principally to "win the souls" of others.]
2. To Christians in general—
[… in endeavouring to instruct others, we should consider the tune, the manner, the measure of instruction, that will be most likely to ensure success. In particular, we should not press matters when our exhortations are contemned as foolish, or resented as injurious. Not that our concern should be about ourselves, as though we feared either the contempt of men, or their resentment; but we should be afraid of hardening them, and thereby increasing their guilt and condemnation … If, indeed, after all our labour, we find that our efforts are only rejected by them with disdain, we may then with propriety leave them to themselves, and, like the Apostles, bestow our attention on more hopeful subjects. As the priests imparted of the holy food to every member of their families, but gave none of it to dogs, so may you give your holy things to others, and withhold it from those who have shewn themselves so unworthy of it.]
We will now apply the subject,
1. To those who are strangers to the truth—
[From the indifference which is usually shewn to divine things, it is evident that the value of religious knowledge is but little known. If we could inform persons how to restore their health, or how to recover an estate, or how to obtain any great temporal benefit, they would hear us gladly, and follow our advice with thankfulness; but when we speak of spiritual benefits, they have no ears to hear, no hearts to understand: they are ready to say to us, as the demoniac to Christ, "Art thou come to torment us before our time?" …]
2. To those who know it—
[Whilst we exhort you to be cautious in admonishing others, we would caution you also against being soon discouraged. Think not every one assimilated to dogs or swine because he resists the truth for a season; … if God peradventure will give them repentance, and that they may recover themselves out of the snare of the devil, by whom they have been led captive at his will."
And whilst you take upon you to admonish others, be willing to receive admonition also yourselves … Watch over your own spirit, therefore, and exemplify in yourselves the conduct you require in others.]
This is such a great essay with so much truth. Although Simeon intended it for clergy and seminarians, Christian bloggers can also glean much wisdom from it.
Tomorrow: more on Charles Simeon
Most Sunday sermons we hear involve themes, either on various virtues or on the common challenges of everyday life.
Often, these thematic sermons do not fully explain the Gospel reading of the day.
Sometimes only one or two verses are emphasised, occasionally out of context.
At other times, only part of the reading is explained.
I could not help but think of the Laetare Sunday sermon I heard on March 6, where the vicar explained the Parable of the Prodigal Son without discussing the Prodigal Son's brother — the faithful one. The Prodigal Son is a difficult parable to understand, and I would posit that it makes former churchgoers hate the Bible, the Church — and very possibly — our Lord. The reason is that these former churchgoers are struggling with family obligations to parents. Said parents are ungrateful or demanding of these sons and daughters, but never of the black sheep in the family who seem to receive all their kindly, compassionate attention. When I find a good explanation of the parable, I'll write about it. But I digress.
It seems that clergy avoid expository preaching because it will make people uncomfortable. Modern-day thinking — and seminary training — tell us that everyone must leave church happy.
False!
We should leave church comforted as well as convicted of our sin and our lack of faith. Only by understanding the entire reading can we come to understand Christ's intentions for us.
GotQuestions.org discusses expository preaching versus topical and textual preaching. Expository preaching is (emphases mine):
the exposition, or comprehensive explanation, of the Scripture; that is, expository preaching presents the meaning and intent of a biblical text, providing commentary and examples to make the passage clear and understandable. The word exposition is related to the word expose — the expository preacher's goal is simply to expose the meaning of the Bible, verse by verse …
In expository sermons, the Bible passage is the topic, and support materials are used to explain and clarify it.
To prepare an expository sermon, the preacher starts with a passage of Scripture and then studies the grammar, the context, and the historical setting of that passage in order to understand the author's intent. In other words, the expositor is also an exegete—one who analyzes the text carefully and objectively.
Contrast that with topical preaching, which more often than not, involves prooftexting:
To prepare a topical sermon, the preacher starts with a topic and then finds a passage in the Bible that addresses that topic. For example, for the chosen topic of "Laziness," the preacher might refer to Proverbs 15:19 and 18:9 and touch on Romans 12:11 and 2 Thessalonians 3:10. None of the passages is studied in depth; instead, each is used to support the theme of laziness.
Textual preaching offers little improvement:
the preacher uses a particular text to make a point without examining the original intent of that text. For example, someone could use Isaiah 66:7-13 to preach on motherhood, although motherhood is only peripheral in that text, being merely an illustration of the true theme, which is the restoration of Israel during the Millennial Kingdom.
George Campbell Morgan, an expository preacher, was the pastor at Westminster Chapel of London between 1904-1919 and 1933-1943. During the intervening years, he conducted an itinerant ministry throughout the United States and Canada. By preaching solely on the Bible, he attracted thousands of people, not only on Sundays but also, in London, for his Friday evening Bible classes.
GotQuestions.org mentions this great preacher, the son of a Baptist minister, who was:
known as "the prince of expositors," taught that a sermon is limited by the text it is covering. Every word from the pulpit should amplify, elaborate on, or illustrate the text at hand, with a view towards clarity. He wrote, "The sermon is the text repeated more fully." A sermon's primary function is to present the text.
I couldn't agree more. It is a pity that not only do most Catholic and Protestant churches follow the Lectionary schedule with all its omitted verses but their congregations have to put up with topical or textual sermons that leave people none the wiser about the actual Bible readings heard just minutes before. All of it, sermon included, goes in one ear and out the other.
By contrast, expository preachers such as G Campbell Morgan and, in our time, John MacArthur, attract thousands of people at every service. This is because they are explaining Holy Scripture one verse at a time.
Although I prefer following readings relevant to the Church calendar, it would be better if clergy adopted the expository method so we walked out of Sunday services or Mass with a proper understanding of Scripture.
preaching verse by verse through books of the Bible is the most reasonable way to teach the whole counsel of God …
Also, the only effective way of seeing the significance of a passage is in its context.
And:
Each [book in the Bible] was designed by the Holy Spirit so that you have the Holy Spirit communicating something powerfully and clearly in the whole letter: you dare not miss a single part!
If I received five letters in the mail one day, it would make no sense to read a sentence or two out of one, skip two, read a few sentences out of another, and go to the next one and read a few out of that, and on and on. If I really want to comprehend the letter—what is going on, the tone, the spirit, the attitude, and the purpose—I must start from the beginning and go to the end of each one. If that is true of personal correspondence, I believe it is even more important when interpreting divine revelation.
Matthew Henry is the other prominent verse-by-verse expositor I know of whose writings are available to the public online. Although he died in the early 18th century, his messages are still valid today.
This is why I use Henry and MacArthur as my go-to men for making Scripture come alive.
My thanks to all readers who have been reading my near-weekly posts on the four gospels. After I complete Matthew's gospel, I will continue with the New Testament, specifically, the Book of Acts.
One of my readers, LCMS member Brad Grierson, recently wrote a short but essential post on pastors' sermons, 'Jesus is not a cameo guest star'.
A brief excerpt follows:
Too many pastors treat Jesus as the cameo guest star. It's absolutely amazing how these so called pastors can spend over an hour preaching on finances or good sex and never touch the gospel. They just bring Jesus out, bound and gagged mind you so that he doesn't interfere with the message, and say, "Hey look, it's Jesus," thereby giving the impression that the Son of God actually approves of what is being said despite having absolutely nothing to do with him.
I couldn't agree more. I have heard too many modern sermons from Protestant and Catholic clergymen alike who shoehorn Jesus into their preaching as if a mere mention — a sentence or two — will do. And, as Brad Grierson says, the clergyperson might be falsely linking Jesus's sayings with unbiblical concepts.
Grierson's advice is to hightail it out of churches where the Word is not preached. Where the Word is not preached, the Gospel is lacking.