You are currently browsing the tag archive for the 'Sir Graham Brady' tag.
Although the results of the Conservative Party leadership contest were not announced until Monday, September 5, 2022, it was widely believed that Liz Truss would emerge the victor.
So, on Sunday, September 4, the BBC's Laura Kuenssberg interviewed Truss on her morning current events show.
It was as much as a debut for Truss as it was for Kuenssberg. Although Kuenssberg has been on our television screens for several years, it was the first time in this format.
No longer much of a viewer of the regular BBC output outside of BBC Parliament, I only watched a short clip that Guido Fawkes posted:
Truss was polite and constructive. She explained that her policies were based on growth rather than redistribution:
Guido's post says, in part (emphases his):
The goal of Liz Truss's government should be to provide the framework for economic growth, growth that provides high paying jobs, not optimises universal credit. The Treasury has been trapped in the logic of Gordon Brown for too long, tinkering with taxes and benefits instead of turbo-charging the economy. We can't tax or redistribute our way to prosperity, Liz Truss knows this and has the drive to reform government policy. It is a positive, optimistic agenda on which she needs to move fast, starting this week…
Kuenssberg acted like the cool girl from school. (How did her hair grow so much in such a short space of time, one wonders.) She asked Truss:
You will come and see us again, won't you?
A Telegraph review of the new show mentioned that Kuenssberg couldn't interview Truss in detail because she had to move on to an interview with Ukraine's Olena Zelenska (emphases in purple mine):
One hopes … that the busy format can be slimmed down when the need arises, to allow for longer-form interviews and tougher interrogation. Kuenssberg did not, for example, have time to ask Truss about crime, immigration or education, because the programme also had to fit in an interview with Ukraine's first lady, Olena Zelenska (unfortunately, interviews conducted via a translator rarely make for riveting TV), fleeting discussions of Nasa's Artemis launch and the Taylor Hawkins tribute concert, plus some banter with the panel.
It is just like the BBC to give priority to foreign nations over our own citizens' needs and concerns.
Another mistake might be the addition of notional comic Joe Lycett, who insulted the then-future Prime Minister and made the Mail's front page on Monday:
The British public received more insight from Mark Littlewood, the director of the Institute of Economic Affairs (IEA). Littlewood (H/T to Guido Fawkes) was up at Oxford with Truss in the early 1990s and said she would be:
the most radical British Prime Minister in over a century.
Excerpts from Littlewood's article for The Sunday Telegraph follow:
The first myth that needs to be laid to the rest is that Liz Truss is some sort of wily, calculating chameleon who changes her political colours, depending on prevailing political circumstances, to suit her own narrow ends.
I first met Liz Truss over twenty-five years ago at Oxford University and have detected no shift in her underlying political philosophy in that time. She has not jumped from left to right or from radical to reactionary – she is, and has always been, a market liberal with a deep suspicion of entrenched, vested interests. She instinctively believes that the state has a greater propensity to do harm than to do good.
How then to reconcile her record as a pro-EU, Liberal Democrat at university with her Tory policy platform today? You only need to appreciate how politics have changed so markedly since the mid-1990s to understand that while the world itself might not be very consistent, Liz Truss very much is …
I would argue that Liz Truss's changing position on the EU reflects a consistent application of her underlying principles to changing circumstances. To go right back to the 1990s, the single market had just come into being. On the face of it, the European project was on an exciting, liberalising trajectory. It was about removing barriers erected by nation states in order to facilitate trade and free exchange. Over many years – and only incrementally – did the EU's obsession with regulatory conformity oblige free market liberals to seriously question whether the European Union was now more of a socialist than a liberal enterprise …
Although she was hostile to the EU's heavy-handed intervention, she also recognised that many of the problems afflicting Britain were homegrown. Most of the policy reforms she craved could be carried out whether or not we were a member of the European Union.
In wishing to move Britain in a liberalising, more market-orientated direction, Liz Truss would have judged Brussels to have been bad, but probably Whitehall to be worse …
Her approach to date on the energy crisis is a classic example of this. Whilst politicians of all stripes seem to want the government to take even more action to fix the price of energy, Truss's starting position would be to allow the price mechanism to operate freely and then consider how one might mitigate the effects. She would rather offset the soaring price of utility bills through meaningful tax cuts, than appoint a central committee to pronounce on the exact price we should all be paying per kilowatt hour.
But it's not merely the underlying instincts of Liz Truss that has led so many free marketeers to get excited about her upcoming premiership. We can also expect her to act decisively. This doesn't mean she is a dogmatic individual although, for sure, she is guided by an underlying ideology in a way our last three Conservative Prime Ministers have not been …
I suspect we are about to bear witness to the most radical British Prime Minister in over a century.
We can expect to see a whirlwind of activity and announcements from the very first minutes of her entering Downing Street. Given the speed she is going to have to operate at, there inevitably will be missteps. But the overall direction of travel in the Truss administration will be crystal clear – to move power and money away from the state bureaucracy and into the hands of ordinary men and women.
It remains to be seen exactly how far she can move Britain in that direction in the limited time she has available to her, but I can't wait to find out.
The Sunday Telegraph granted Truss an editorial that day which bear out what Littlewood wrote:
… My plan for growth is built on Conservative ideas: tax cuts, supply-side reform and deregulation. I will grasp the nettle on the ambitious reforms needed to get our economy growing, including working with local communities to create low-tax, opportunity-rich investment zones and make Britain the home of innovation and start-ups …
We will break with the same old tax and spend approach by focusing on growth and investment. The heaviest tax burden in 70 years cannot go on. We will change the Treasury investment rules to drive opportunity across every part of our United Kingdom. As Prime Minister, I will terminate the technocratic excesses that have crept into government and our economy.
I will be on the side of the people who drive Britain forward: from our hard-working taxpayers to our dynamic businesses and the self-employed. In the same spirit, I will take on whatever holds us back.
Too often, people face a morass of bureaucracy to get things done. It cannot be right that the last reservoir or new nuclear power station was over a quarter of a century ago. It's time to get Britain building and liberate our enterprising spirit.
At this critical moment, we can shape the future of our economy through the decisions we make. I am prepared to be bold in order to transform our economy into the powerhouse I know it can be. That is how we will deliver a better future for the British people and ensure together that our best days lie ahead.
On the morning of Monday, September 5, Red Wall MP Lee Anderson (see parts 1, 2, 3, 4 and 5) reacted to Laura Kuenssberg's Sunday show.
Guido reported:
Speaking to Mike Graham on TalkTV this morning, he's just called for the whole BBC to be shipped off to a desert island, because "they do not represent what this country wants."
One minute before the leadership contest results were announced, Guido tweeted about an extravagant bet he made on a Truss victory:
Sir Graham Brady, chairman of the 1922 Committee of Conservative backbench MPs, announced the result promptly at 12:30 in the Queen Elizabeth II conference centre, not far from Parliament.
Guido could rest easy. Truss won and would become our new Prime Minister:
Sir Graham read out the results from the Party members' ballots in full. Rishi Sunak did better than most pundits and pollsters predicted.
We also discovered the true number of Conservative Party members, heretofore unknown:
Rishi Sunak received 60,399 votes (42.4%)
Liz Truss received 81,326 votes (57.1%)
There were 172,437 eligible electors. Turnout was 82.6%.
There were 654 rejected ballots – probably mostly write ins for Boris. Which means 142,379 votes were returned.
58,378 electors voted by post and 84,001 electors voted online.
Before the result was announced, Conservative Home's Paul Goodman tweeted his expecations based on conversations with Party MPs and activists:
He found that Opinium was the most accurate polling company in the contest:
Look how far off the mark Conservative Home was.
Opinium readily acknowledged that doing party-specific polls were much more challenging than those from the general public:
Opinium has once again won the crown for most accurate poll during the Tory leadership election. After winning the same accolade at the 2019 election, Opinium were closest to the final result. They add the usual caveats that polling political parties is much trickier than the general public…
Truss and Sunak were seated next to each other as the votes were announced. Whe she got up to give her speech she rushed past Sunak without a glance or a handshake. Oh, well.
Her short speech didn't tell us anything we didn't already know:
Guido has the video, in which she was emphatic about one thing:
I campaigned as a Conservative and I will govern as a Conservative.
She also paid tribute to Boris Johnson:
Guido reported that Boris quickly congratulated Truss and said that the two had met before the contest was over:
Boris has congratulated Liz Truss on a "decisive win" in the leadership race:
I know she has the right plan to tackle the cost of living crisis, unite our party and continue the great work of uniting and levelling up our country. Now is the time for all Conservatives to get behind her 100 per cent.
It's not like Boris stayed neutral throughout the race. This morning the BBC's Chris Mason reported that Liz visited Boris at Chequers to ask his advice on how to be PM. 
Rishi has tweeted, through obviously gritted teeth, "It's right we now unite behind the new PM, Liz Truss, as she steers the country through difficult times."
Meanwhile, Carrie took to Instagram to wish Liz and her family well, alongside a photo of her, Boris, Wilf and Romy stepping through the No. 10 door into Downing Street for the last time.
I expect Wilf and Romy won't remember it but they've had an incredibly happy start to their lives growing up here.
Let's hope the garish wallpaper didn't leave a permanent imprint on their young minds.
Unfortunately for Truss and the Conservatives, the longstanding co-chairman of the Party, Ben Elliot, resigned that evening:
Ben Elliot is an entrepreneur, not an MP. He has incredible social connections and has raised a lot of money for the Conservatives.
Elliot is best known for his personal concierge subscription service which he started many years ago.
Ben Elliot, a close ally of Boris Johnson, announced he was stepping down from the role – leaving Miss Truss with the headache of trying to find a powerful replacement.
Mr Elliot spearheaded the drive to amass a £56millon war chest in the run-up to the 2019 election, of which £23million was raised in the four weeks prior to polling day.
Controversially, Mr Elliot used donor clubs to generate funds – including the use of an 'advisory board' for £250,000-a-head contributors – which attracted allegations that he was deploying 'cash-for-access' techniques.
But it also allowed the party to comprehensively outgun Labour in the income stakes.
One of Mr Elliot's friends said that 'Ben's own initiative and contacts' had been responsible for more than one third of donor income.
The friend said:
He is going because he recognises that Liz will want the freedom to appoint her own chair, and wants to spend more time concentrating on his businesses.
Hmm.
Elliot thanked the groups he worked with in the Party, adding:
I would like to thank Boris Johnson for appointing me, and wish Liz Truss every success in leading our great country, particularly given the challenges of the winter ahead.
The article concludes with this:
Darren Mott, chief executive of the Conservative Party said: 'The whole Conservative Party wants to thank Ben Elliot for his tireless service over the past three years. Without his incredible efforts, the 2019 landslide would not have been possible. We wish him all the best in his future endeavours.'
Moving on to Parliament, which resumed sitting on Monday afternoon, changes were afoot.
Boris loyalist Nadine Dorries's Online Safety Bill was scheduled to be debated further that day, but was suddenly pulled from the Order Paper.
Mark Spencer, still in post at that point as Leader of the House, announced:
With permission, Mr Speaker, it may help if I inform the House that, following the election of the new leader of the Conservative party, the business managers have agreed that the Government will not move the Second Reading and other motions relating to the Data Protection and Digital Information Bill today to allow Ministers to consider the legislation further. The remainder of this week's business is as I announced on 21 July.
That was one piece of good news, as it is draconian.
The other good news was that Home Secretary Priti Patel resigned that day, after giving her last Q&A session on Home Department progress over the summer. She had a lot to say but not much to report, which was typical of her performance since 2019:
I had such high hopes for her, but, between civil servants and lingering EU laws to which we are still subject, she couldn't get anywhere, internationally with migration or domestically with policing.
Returning to Liz Truss, the Russians were not happy that she is now Prime Minister. One Russian broadcaster said:
Elizabeth Truss wants to achieve something entirely different — the end of the world.
Good. Truss is right over the target.
More flak came Truss's way here in the UK from the usual suspects:
As for Boris, was he as bad a Prime Minister as all the Remainers said? No. Not at all.
Labour's Gordon Brown is still our most unpopular PM of living memory:
Guido wrote:
The usual blowhards like Alastair Campbell and James O'Brien like to claim that Boris was the worst Prime Minister of all time. That's not a view reflected by the public. According to data compiled by Britain Elects and published by the New Statesman, during his premiership Boris never reached the depths of unpopularity reached by most of his recent predecessors as PM. Tony Blair was more unpopular before he left office, Gordon Brown was far more unpopular during his tenure and Theresa May sunk lower in popular esteem than ever Boris did. Of recent PMs only David Cameron was less negatively perceived at his lowest point. Dave didn't have the almost universal and unforgiving disdain of the europhile chattering classes against him though…
Tuesday, September 6, was a busy day and, unfortunately, too much for the Queen, who, as I write on Thursday, is gravely unwell at Balmoral.
Sir Lindsay Hoyle, the Speaker of the House of Commons, interrrupted the energy debate to make a brief announcement, asking for thoughts and good wishes for the Queen and her family at this time.
Tomorrow's post will discuss Boris's and Liz's respective trips to Balmoral to meet with the Queen.
In the meantime, my prayers go to our monarch for her recovery and to the Royal Family.
Those who missed the first instalment of Boris Johnson's downfall can read it here.
The Queen's Platinum Jubilee weekend at the beginning of June cannot have been an easy one for the Prime Minister, who turned up with his wife Carrie at the public events.
Pressure was mounting for a vote of confidence by Conservative backbenchers.
On the morning of Sunday, June 5, the last day of the Jubilee weekend, Transport Secretary Grant Shapps told the BBC that there would be no such vote, but even if one took place, Boris would win it (video):
By the time the Queen had celebrated her historic jubilee that weekend, Sir Graham Brady, chair of the Conservative 1922 Committee, had received the requisite number of letters from the Party's backbench MPs to trigger such a vote.
The vote took place on Monday, June 6. Shapps was correct in saying that Boris would win it. Shapps went on to run for the Party leadership himself in July.
Unfortunately, after the confidence vote, more events occurred making Boris's position as Party leader untenable.
Earlier, in May, the Conservatives had taken a drubbing in the local elections.
Then came the two by-elections on Thursday, June 23.
One was for Neil Parish's seat of Tiverton and Honiton in Devon. The farmer had stood down on April 30 after two fellow Conservative MPs saw him viewing tractor porn on his phone in the Palace of Westminster. Liberal Democrat Richard Foord won handily.
The second was further north, in Wakefield, where another disgraced Conservative-then-Independent MP, Imran Ahmad Khan, had to stand down for being convicted on April 11 of assault on a 15-year-old boy in 2008. On May 23, Khan was sentenced to 18 months in prison. The West Yorkshire seat reverted to Labour, with the election of Simon Lightwood.
Then came the Chris Pincher groping scandal. Pincher was Deputy Chief Whip but resigned on Thursday, June 30, after a lubricious episode at the Carlton Club in St James. The Carlton is a private club for Conservatives. Pincher had allegedly groped two men at an event there.
Boris had to sign off on Pincher's appointment as Deputy Chief Whip. However, even if Boris had objected, the Chief Whip could have appointed Pincher, anyway. As I explained on July 6, whoever the Chief Whip wants for a deputy, the Chief Whip gets.
However, the Party whip had not been withdrawn from Pincher, and MPs were incandescent.
On Friday, July 1, an article appeared in The Telegraph: 'The "disturbing" call about Chris Pincher's lurid behaviour that forced Boris Johnson to act'.
GB News interviewed Neil Parish, who was furious.
The Telegraph article says:
The low point of yet another chaotic 24 hours for Boris Johnson came when disgraced "tractor porn MP" Neil Parish popped up on the airwaves to give him a lecture on moral standards in government.  
As the Prime Minister and his aides were holed up in Number 10 deciding how to respond to the growing Chris Pincher scandal, the "very cross" former backbencher was giving them both barrels on television. 
"I can't believe they haven't done it," he said incredulously, when asked why the whip had not been removed. Referring to his own punishment for watching pornography in the House of Commons, he added: "It's double standards. Come on, let's be fair."
His righteous outrage encapsulated how untenable Downing Street's insistence that Mr Pincher would be able to remain a Conservative MP, despite accusations he drunkenly groped two men, had become.
Someone must have been watching GB News that afternoon or the fury from MPs must have increased to the extent that the Chief Whip, Chris Heaton-Harris, withdrew the Party whip:
Just over two hours later, Chris Heaton-Harris, the Chief Whip, put out a statement reversing that decision, following a day of growing anger amongst backbench Tories at the Prime Minister's failure to act. 
However, there was a problem in that, the day before, Boris did not think things needed to go that far. He thought that Pincher's resignation from the Deputy Chief Whip role sufficed (emphases mine):
Downing Street was bullish as the news broke at 8pm, with a Tory source insisting: "The PM thinks he's done the decent thing by resigning. There is no need for an investigation and no need to suspend the whip."
Even into Friday afternoon, Boris's stance had not changed:
… at noon, No 10 still remained defiant – with the Prime Minister's spokesman telling reporters he considered the matter closed, since Mr Pincher had resigned and that there was no investigation into his conduct.
Heaton-Harris and Boris received pushback for their inaction.
Finally, later on Friday Pincher became an Independent MP:
Early in the evening Downing Street was eventually forced to act and announced it had stripped Mr Pincher of the whip, given that a formal complaint had been made to Parliament's harassment watchdog.
The question was how much did Boris know about Pincher — past and present — and when did he know it?
Regarding the Carlton Club:
The Prime Minister had also been "troubled" by a "disturbing" call from one of the MPs who witnessed the incident and relayed to him a detailed account of what had happened, according to a source close to him.
The article has the details of what happened with Pincher at the club.
One MP was so unnerved that he rang Heaton-Harris at 3 a.m.:
One Tory MP who was present at the scene told The Telegraph how they "threw out" a "very drunk" Mr Pincher after being told about one of the two sexual assaults and then called the chief whip at 3am to inform him.
Another waited until daylight to inform him:
A second MP who witnessed at least one of the groping incidents also informed Mr Heaton-Harris the following morning. "This is not something that should be brushed over," the MP told The Telegraph.
That MP says Pincher's reputation was known, and it is true that he did have to stand down from another post when Theresa May was Prime Minister:
"Given the nature of the behaviour and the seniority of the role he held, it was highly inappropriate behaviour. This is not the first time there have been conversations about this person either. Many of us were surprised when that appointment was made."
It is the second time that Mr Pincher has been forced to resign from the whips' office over allegations of sexual impropriety. In 2017, he quit a more junior position after being accused by a former Tory candidate of trying to chat him up.
Returning to Boris:
"Boris has set the level and now everyone else is trying to imitate him, it is a constant drip drip. It all adds up, doesn't look good," one former minister told The Telegraph.
"The worrying thing is this is beginning to shape up so much like sleaze in the 90s under Major, where it was a whole series of inappropriate and pretty seedy actions by ministers and Tory MPs that completely undermined him."
Lord Hague, the former Conservative leader, said the Prime Minister had been too slow to act, with a "whole day of everybody speculating and talking". He added: "These things need dealing with decisively."
That day, The Telegraph had a related article, 'Boris Johnson v John Major: How Tory sleaze scandals under the two leaders stack up'. The scores are pretty even. I remember reading it and thinking that things did not look good for Boris.
There were two other things that did not bode well for him that week: a proposed treehouse for his son and an upcoming investigation by the Privileges Committee over Partygate.
Let's look at the treehouse first. Labour MPs were apoplectic that Boris wanted to have one built at Chequers for young Wilf.
Guido Fawkes has the story (emphases his):
Eyebrows were raised in Downing Street over the weekend after the publication of a story in The Sunday Times that Boris had looked into having a £150,000 treehouse built for son Wilf at Chequers. The story – undisputed since publication – goes he had once again entered into discussions about Lord Brownlow forking out for the cost, however plans were eventually scuppered by police security concerns given the house would be visible from the road. Despite the design including bulletproof glass, which raised the cost significantly…
Guido was amused to learn that Downing Street's eyebrows weren't raised by the Sunday Times's story, instead by Labour MPs' attacking the plans on the grounds of Boris being out of touch. Vauxhall's Florence Eshalomi, Rhondda's Chris Bryant, Wallasey's Angela Eagle, and Hull's Karl Turner were all among those laying into the PM.
Guido points out Labour's hypocrisy, because it was Tony Blair who had a tennis court complex installed at the Prime Minister's weekend retreat (purple emphases mine):
No. 10 sources wryly note, however, that it wasn't that long ago when it was a Labour PM splashing huge wads of cash to renovate Chequers – without a whimper of controversy. In 1999, one Tony Blair added a luxury tennis court complex to the PM's Buckinghamshire residence, something since enjoyed by successive MPs including David Cameron and Boris Johnson. Sources in the know tell Guido that the courts weren't built using public cash, nor did they come out of the Chequers Trust, implying the extortionate costs either came out of Blair's personal pocket, or a private donor. Given Guido unfortunately can't make it to Blair's big centrist jamboree today, perhaps an on-hand hack might like to raise the question of who paid for the courts…
Labour: it's okay when they do it.
The Privileges Committee are investigating Boris for Partygate, specifically on whether he deliberately lied to the House of Commons in saying he was unaware any coronavirus rules were breached. That was before he received his fine.
Labour's Harriet Harman is leading the investigation. Labour's Chris Bryant recused himself from that responsibility because he has made no secret of his dislike for Boris.
However, as Guido pointed out on June 17, Harman is hardly impartial:
It's now emerged his replacement, Harman, has not been neutral on the question up until this point either. She has tweeted her views relating to allegations around the PM's truthfulness, with one saying "If PM and CX admit guilt, accepting that police right that they breached regs, then they are also admitting that they misled the House of Commons". You wouldn't favour your chances going to trial if the judge was on the record with such levels of preconceived bias…
Conservative MPs are also aware of her bias:
Yesterday in the Commons, Andrew Murrison asked Michael Ellis whether he agreed "that those placed in a position of judgment over others must not have a previously stated position on the matter in question". The Cabinet Office minister replied:
It is, of course, an age-old principle of natural justice that no person should be a judge in their own court.
Where an individual has given a view on the guilt or innocence of any person, they ought not to then sit in judgment on that person. I know that point he is referring to, and I have no doubt that the right honourable lady will consider that.
It seems to be yet another own goal by Labour, mind-made-up Harman's appointment totally undermines the impartiality of the privileges committee investigation…
The investigation formally began on June 29:
The problem with this investigation is that it has to prove intent on Boris's part to mislead the House. How will Harman prove it?
If Boris is found guilty of deliberately misleading the House, it will have severe ramifications for parliamentary proceedings. Ministers might fear expanding on certain subjects in case they get a figure or another type of detail wrong.
We should find out the result in September.
What Labour are trying to do with this process is ensure that Boris loses his parliamentary seat for good, which is what will happen if he's guilty. That way, he can never be an MP again.
Meanwhile, some Conservative MPs were disgruntled that Boris had won the confidence vote in June. Under the current 1922 Committee rules another one cannot be held until 12 months have elapsed. They wanted Sir Graham Brady to change the rules to allow another vote before then.
On Monday, July 4, Mail+ said that Boris was 'still the best man to lead Britain':
THE Prime Minister returns to his desk today after an impressive display of statesmanship on the world stage.
Following a Commonwealth conference in Rwanda aimed at building a common future, he returned to Europe to galvanise Nato and a wavering G7 into hardening their support for Ukraine.
Sadly, though, his achievements were overshadowed by yet another Tory sleaze row, leading to inevitable further attacks on his leadership. There are even reports that rebel backbenchers are plotting another attempt at regicide – just a month after the last one failed.
When will this self-mutilation end? Yes, the Chris Pincher affair is ghastly and should have been handled better. But there are far bigger issues at stake.
There's a painful cost of living crunch, war in Europe and a migration crisis. Meanwhile, Tony Blair and his embittered Remainer chums are on a renewed mission to strangle Brexit.
Instead of dissipating energy on brainless infighting, the parliamentary Conservative Party needs to focus on the problems its constituents actually care about. They can only do that by getting behind their leader.
For all his recent troubles – some self-inflicted – this paper unequivocally believes Boris Johnson is the right man to lead the party and the country.
None of the potential replacements has his almost unique ability to connect with voters across the social and political spectrum. Crucially, he is the only one capable of winning the next election …
That Mail+ editorial has its finger on the pulse of the nation. I will come back to what voters think in a future post.
On Tuesday, July 5, Chris Pincher was in the news again after Baron McDonald of Salford — Simon McDonald — the Permanent Under-Secretary to the Foreign and Commonwealth Office between 2015 and 2020, wrote about the MP's past and what he thought Boris knew to Kathryn Stone OBE, the Parliamentary Commissioner for Standards for the House of Commons.
I wrote about this at length on July 6, concluding that there was bad blood between the life peer and Boris. Boris sacked him when the Foreign Office was merged with the Department for International Development. To soften the blow, Boris elevated him to the House of Lords. It should be noted that Baron McDonald is also a Remainer.
Wikipedia has a summary of Pincher's parliamentary history of appointments under Theresa May and Boris Johnson:
Pincher served as an Assistant Whip and Comptroller of the Household in 2017, before he resigned after being implicated in the 2017 Westminster sexual misconduct allegations, having been accused of sexual misconduct by Tom Blenkinsop and Alex Story. Two months later, in January 2018, he was appointed by Theresa May as Government Deputy Chief Whip and Treasurer of the Household. After Boris Johnson became Prime Minister in July 2019, Pincher was appointed Minister of State for Europe and the Americas. In the February 2020 reshuffle, he was appointed Minister of State for Housing. In February 2022, he returned to his former role of Government Deputy Chief Whip and Treasurer of the Household.
As to what the peer alleges Boris knew about Pincher, here are two possibilities:
The matter was discussed on that morning's Today show on BBC Radio Four.
Guido has the dialogue, with Deputy Prime Minister Dominic Raab responding for the Government. Raab said:
Aside from the Westminster rumour mill, any allegation that had resulted in formal disciplinary action… whilst there was inappropriate behaviour [from Pincher], it didn't trip the wire into disciplinary action… the individual who made the complaint did not want formal disciplinary action taken.
McDonald was on next. He said:
I disagree with that, and I dispute the use of the word 'resolved'… the complaint was upheld… Number 10 have had five full days to get the story correct, and that still has not happened… it's sort of telling the truth and crossing your fingers at the same time and hoping people aren't too forensic in their subsequent questioning.
Guido said:
In a matter of hours, the line has gone from "it's not true" to "the PM didn't know of any formal complaints". Chaos.
The Paymaster General, Michael Ellis, addressed the matter in Parliament, intimating that Boris forgot a prior briefing on Pincher:
From that point, the spiral turned ever downward.
That day, Sajid Javid resigned as Health and Social Care Secretary.
Shortly afterwards, Rishi Sunak resigned as Chancellor.
That evening, an article by Lord Frost appeared in The Telegraph: 'It is time for Boris Johnson to go':
No one is more downhearted than me at the events of the last few days. Over the years, I have worked as closely as anyone with Boris Johnson. I know, therefore, that he is a remarkable man and a remarkable politician. Only he could have cut through the mess left by Theresa May and delivered on the verdict of the people in the Brexit referendum. He took the country with him through the pandemic and has shown huge leadership on policy towards Ukraine.
But this country now faces formidable challenges. Facing them requires not just the ability to talk about a vision but the determination and steeliness to establish a credible pathway to it. It requires a leader who knows where he wants to take the country and can set out how he intends to get there, in a way that is consistent with the traditional Conservative vision.
I had hoped Boris Johnson could be that person, but I have realised that despite his undoubted skills he simply can't be. As I have often said, his Government has drifted far too much to the Left on economic matters, not only on tax and spend but by being too quick to regulate and too willing to get captured by fashionable trivia. It is tax-raising while claiming to be tax-cutting, regulatory while claiming to be deregulatory. It purports to be Conservative while too often going along with the fashionable nostrums of the London Left …
… I can't honestly see what this Prime Minister's economic philosophy is, beyond the content-free concept of "levelling up", and accordingly I no longer believe we will ever see a consistent drive towards low taxation, low spending, attractiveness to investment, and deregulation on the scale needed. 
But even more than that I have become worried by the style of government. The whole partygate affair could have been dealt with more straightforwardly and honestly by setting out right from the start what had gone wrong in No 10, taking responsibility, and explaining why it would not happen again. By the time those things had been said, they seemed to have been dragged unwillingly from the Prime Minister rather than genuinely meant. Accordingly they lacked credibility …
The Pincher affair then showed in a real-life case study that [reform of Downing Street] was not going to happen. Confronted with a problem which appeared to reflect badly on the Prime Minister's judgment, we saw once again the instinct was to cover up, to conceal, to avoid confronting the reality of the situation. Once again that instinct, not the issue itself, has become the story and the problem. Worse, this time round, ministers have been sent out repeatedly to defend suspect positions that came apart under closer examination. This is no way to run a government …
Boris Johnson's place in history is secure. He will be one of the past century's most consequential prime ministers. If he leaves now, before chaos descends, that reputation is what will be remembered. If he hangs on, he risks taking the party and the Government down with him. That's why it is time for him to go. If he does, he can still hand on to a new team, one that is determined to defend and seek the opportunities of Brexit, one that is able to win the next election convincingly. That is in the Conservative Party's interest, in Leave voters' interest, and in the national interest. It needs to happen.
On Wednesday, July 6, all hell broke loose.
The prime minister's authority over his party is crumbling as three more ministers plus two parliamentary aides resigned this morning and a string of previously loyal MPs turned on his leadership.
Rebel MPs believe that a routine meeting of the executive of the 1922 Committee of Conservative backbenchers this afternoon could be the trigger point for changing the rules that at present mean Johnson cannot be ousted for another 11 months.
Sir Graham Brady, the 1922 Committee chairman, has told the 16 members of the executive to arrive promptly for the meeting, an instruction being taken by some of those on the executive as a sign that he wants to discuss options for ousting Johnson …
At midday he will take prime minister's questions knowing that about half — perhaps more — of the Conservative MPs on the benches behind him want him gone …
Rebel Conservatives have been contacting Brady today to demand a rule change that would allow Johnson to be ousted as soon as possible. "It is being made very clear to Graham that this needs to happen sooner rather than later," said one …
One former minister said that there was a very strong feeling amongst MPs that the issue needed to be brought to a conclusion. "Boris has made very clear that it will take a forklift truck to get him out of Downing Street. So it's now up to us to assemble the forklift truck."
The article goes on to list the resignations which came in by 11:30 a.m. that day. More followed in the afternoon.
To make matters worse, Boris got a grilling during his appearance at the Liaison Committee, comprised of the heads of the Commons select committees.
That evening during a telephone call, Boris sacked Michael Gove, who was the Levelling-up Secretary.
Gove had contacted Boris that morning to tell him he should resign before PMQs at noon.
Somehow, the news reached the media.
Gove's allies claimed it was Downing Street that had briefed the media that Gove had told Johnson to resign. They said it was an attempt to make him look disloyal and distract attention from the wider revolt.
"It did not come from us," one said. "They want to paint Michael as the villain trying to orchestrate a revolt against the PM. Nothing could be further from the truth." They added that the sacking had then come out of the blue in a call from Downing Street. "He just told Michael that given their conversation in the morning he had no choice but to sack him," the ally said.
I wonder. Gove is incredibly untrustworthy and, according to the article, he and Boris have had a difficult relationship since their days at Oxford.
Before Boris sacked Gove, a number of Cabinet ministers had urged him to stand down, including Priti Patel and Kit Malthouse, who had worked with Boris during his time as Mayor of London:
Patel's intervention was striking because of her longstanding support of Johnson, having been home secretary throughout his time as prime minister.
In a one-to-one meeting in No 10 she is understood to have conveyed to him the overwhelming views of the parliamentary party. She said there was no way he could continue to govern without the support of his party.
A similar message was conveyed by Malthouse, her deputy, who was also one of Johnson's deputies when he was mayor of London.
[Brandon] Lewis travelled back from Belfast to tell the prime minister that he believed he should resign. On his flight a passenger heckled him, telling him: "You are complicit in the betrayal of this country by Boris Johnson," the BBC said.
[Grant] Shapps told the prime minister that he stood little chance of commanding a majority in a second confidence vote. [Kwasi] Kwarteng told Chris Heaton-Harris, the chief whip, that Johnson should resign for the good of the country.
I will have more on the resignations tomorrow.
Candidates for the Conservative Party leadership race began putting their hats in the ring last weekend.
Many of those MPs are promising everything, and pundits are having a field day in the press:
While it is true to say that a lot of them are alike — yet not all — in policies, let us look at the diversity among the original 11 candidates:
Among those original 11, we had five women and six minority candidates.
No one can say today, as Theresa May did many years ago, that the Conservatives are the 'nasty party':
The Conservatives had no quotas. These MPs merely had to come forward and declare their interest in the leadership contest.
As I write in the early afternoon of Wednesday, July 13, we now have eight candidates.
Four are women and four are from racial minorities:
Brexit Leaver and former Labour MP Kate Hoey, now an unaffiliated Baroness in the House of Lords, told Mark Steyn of GB News how pleased she is that the Conservatives managed to accomplish what Labour only talk about:
How the winner is chosen
Late on Monday, Sir Graham Brady, chairman of the 1922 Committee of backbench MPs, announced the Conservative Party leadership rules. The loud voice heard in the background is none other than the daily disrupter, Steve Bray:
Darren McCaffrey of GB News has more:
The goal is to have a new Prime Minister in place by September 5, when Parliament returns from summer recess.
Conservative MPs will participate in a series of voting rounds between now and July 21, when Parliament goes into summer recess. The final two MPs on the list will then spend the next several weeks going around the country to campaign to Conservative Party members.
Party members will receive a ballot with the final two names and vote for their choice.
GB News has more on how the voting will proceed, beginning on Wednesday, July 13:
Sir Graham said the first ballot will be conducted on Wednesday with candidates required to obtain backing from a minimum of 20 MPs.
In the second ballot, on Thursday, MPs are required to obtain support from 30 MPs in order to progress to the next round, accelerating to the final two as soon as possible.
Disillusionment and a wish for Boris to return
Conservative voters, including those who are not Party members, are disillusioned about this contest.
Many wish that Boris Johnson's name were on the ballot. This petition to 'reinstate' him 'as Prime Minister' has garnered 15,000 signatures in only a few days. However, Boris is still Prime Minister, just not the leader of the Conservative Party.
Neil Oliver, not a Boris supporter, by the way, tweeted that the leadership decision has already been made:
It is rumoured that Bill Gates arrived in England just before Boris resigned. If true, that would not come as a surprise:
Bob Moran, the former Telegraph cartoonist, hit the nail on the head as he expressed the sentiment of many of those who voted Conservative in 2019. We also need an outsider to win so that we have some fresh thinking in Downing Street:
A number of the candidates have ties with the World Economic Forum. One is known to be friends with Bill Gates. Ideally, we would have transparency in this area:
Former Chancellor Rishi Sunak has been in the lead since the contest began. He was one of the first two main Cabinet members to announce his resignation last week. Former Health Secretary Sajid Javid was the first.
It has come to light that the photo of the Downing Street drinks party held during lockdown in 2020 was taken from No. 11, where Rishi Sunak worked. Some people think that Boris's then-adviser Dominic Cummings played a part in getting those photos released to the press. Did Rishi know?
Sajid Javid declared his candidacy, possibly taking a pop at Rishi Sunak's slick candidacy operation.
On Monday, July 11, GB News reported:
Former Health Secretary Sajid Javid addressed media gathered at Westminster this afternoon, outlining his leadership bid.
Mr Javid said "I don't have a ready made logo or slick video ready to go", adding: "I have a passion and desire to get Britain on the right course."
Acknowledging his resignation last week, Mr Javid said "Five days ago I stood up in Parliament and I spoke from the heart and I believe I spoke in the national interest."
Former Prime Minister Boris Johnson endured a series of scandals throughout his premiership, most recently Partygate and the allegations against Chris Pincher.
Addressing the ongoing investigations, the former Health Secretary said: "We need a leader who makes credible promises."
He added that "our party has lost its way".
Javid bowed out late on Tuesday. No one was disappointed:
Rishi, on the other hand, seems to have had his candidacy in mind for some time, since 2020. Interesting:
Note his professional campaign logo in the upper left hand corner of this tweet:
Guido Fawkes has a critique of the various logos, some of which have been rushed to market, as it were.
To make matters worse, rumours have circulated about infighting and dirty tricks among Conservative MPs. The public have taken note:
The Sun's political editor, Harry Cole, tweeted:
On that note, is it possible that Conservative Party members might not even get a vote should one of the final two winners concede to the other? That is what happened in 2016, when Theresa May became PM. Andrew Bridgen MP thinks this is a possibility:
Voting records
This graphic (credit here) shows how the candidates have voted in Parliament on various issues:
Candidates who bowed out
Let us look at the candidates who have bowed out thus far.
Sajid Javid
Conservative voters thought that Sajid Javid was a safe pair of hands as Health Secretary until he started laying out his coronavirus wish list. Only last month, Desmond Swayne MP pointed out the online job advert for a national manager of coronavirus passports:
On July 10, Javid appeared on a Sunday news programme.
He promised tax cuts. No surprise there. It was also unconvincing, considering the tax burden we have been under the past several months, possibly higher than we would have had under Labour's Jeremy Corbyn:
Javid also discussed his non-dom status, which is curious, as he was born in Rochdale:
On Tuesday, July 12, broadcasting from Northern Ireland, Mark Steyn said this about Javid's bowing out of the race:
Rehman Chishti
Rehman Chishti had an even more lacklustre campaign.
He was still on the fence last Saturday, proving that dithering gets one nowhere quick:
He declared on Sunday. Unfortunately, the photo is not a good one:
He dropped out on Tuesday:
Grant Shapps
Transport Secretary Grant Shapps declared his candidacy on Saturday, making much of his loyalty to Boris (Nadhim Zahawi is pictured below):
He appeared on Sky News on Sunday morning.
Meanwhile, viewers and voters rooted round to find out more about Shapps's parliamentary career.
Cabinet of Horrors has a fascinating profile of him, the first half of which follows (emphases mine):
Grant Shapps resigned as a minister in 2015 following revelations of his involvement with a bullying scandal that had led to a young Conservative Party activist taking their own life. Few would have imagined he could ever be reappointed to cabinet, still less to a more senior role. But in July 2019 Boris Johnson replaced the hapless and incompetent Chris Grayling as Transport Minister with someone even more discredited: Grant Shapps.
Then again, Shapps is no stranger to the art of reinvention. Indeed, he has proved remarkably inventive with his own identity.
In 2012, one of his constituents noticed that, while working as an MP, Shapps had also been peddling get-rich-quick-schemes online under the assumed names 'Michael Green' and 'Sebastian Fox'. The schemes, marketed by Shapps' company How To Corp under such titles as 'Stinking Rich 3', promised unwary punters that they could make large amounts of money very rapidly if they followed 'Michael Green's' instructions.  These included the instruction to recruit more punters to sell get-rich-quick schemes to the public – a classic feature of pyramid-selling schemes.
Shapps at first attempted to deny this, saying: 'Let me get this absolutely clear… I don't have a second job and have never had a second job while being an MP. End of story.' He also threatened to sue the constituent who had uncovered what he had been up to. Days later, he was forced to admit the truth, though he did this in a characteristically slippery manner, saying that he had 'over-firmly denied' the story.
One might think that being exposed as a liar, a huckster and a bully would have led to an immediate end to Shapps' career in politics. Instead, he was demoted from cabinet but handed a more junior ministerial portfolio and allowed to continue as co-chair of the Conservative Party.
On Sky News's Sunday news programme, Shapps presented his credentials.
He was squeaky clean. Hmm:
He took credit for Boris's resignation as party leader. Really?
He promised a tax cut:
He said he was relaxed about identity issues:
And he was sure he had the numbers:
Then, suddenly, he didn't.
Oh, well. Too bad.
Conservative Party voters name their candidates
Since the weekend, various polls have been conducted of rank and file Party members.
The results go against the MPs' wishes.
This is where MPs are as voting opens on Wednesday afternoon. I'll post results tomorrow:
A Conservative Home poll (image credit here) shows that Party members want either Penny Mordaunt or Kemi Badenoch to win. Rishi Sunak is a distant third on 12.1% support:
The next poll shows the wishes of Conservative members in Mrs Thatcher's birthplace of Grantham, part of the Grantham and Stamford constuency. They are not fans of Rishi Sunak, either:
However, Rishi does top another poll of Conservative and other voters. Note the Don't Know (read Boris?) percentage:
Some dispute the results. However, as someone points out, this could have to do with name recognition from news programmes and the papers:
I'll have more on today's vote tomorrow.
'No one is remotely indispensable'.
So were the words of Boris Johnson as he stood in front of Downing Street in the early afternoon of Thursday, July 7, 2022, to announce that he was standing down as Conservative leader. He said that he planned to stay on as Prime Minister until a new leader is chosen.
Boris's resignation speech
The Prime Minister's speech is just over six minutes long:
Knowing how quickly the leadership contests moved in 2016 (David Cameron to Theresa May) and in 2019 (May to Johnson), we are likely to see a new party leader in place before Parliament's summer recess. Regardless of what news outlets say, it no longer takes two or three months. The timing — i.e. summer resignations in all three cases — will accelerate because of recess.
Guido has the transcript of Boris's speech, excerpts of which follow (I've put in punctuation, paragraphs and emphases):
It is now clearly the will of the parliamentary Conservative party that there should be a new leader of that party and, therefore, a new Prime Minister and I have agreed with Sir Graham Brady, the chairman of our backbench MPs [the 1922 Committee], that the process of choosing that new leader should begin now and the timetable will be announced next week.
And I have today appointed a cabinet to serve – as I will – until a new leader is in place.
So I want to say to the millions of people who voted for us in 2019 – many of them voting Conservative for the first time — thank you for that incredible mandate, the biggest Conservative majority since 1987, the biggest share of the vote since 1979.
And the reason I have fought so hard for the last few days to continue to deliver that mandate in person was not just because I wanted to do so but because I felt it was my job, my duty, my obligation to you to continue to do what we promised in 2019, and of course I am immensely proud of the achievements of this government …
He went on to list Brexit, the coronavirus vaccine rollout, coming out of lockdown the earliest of any other Western nation and showing leadership with regard to Ukraine.
He clearly regretted that he had to stand down:
If I have one insight into human beings it is that genius and talent and enthusiasm and imagination are evenly distributed throughout the population but opportunity is not, and that is why we need to keep levelling up, keep unleashing the potential of every part of the United Kingdom. And if we can do that in this country, we will be the most prosperous in Europe.
And in the last few days I have tried to persuade my colleagues that it would be eccentric to change governments when we are delivering so much and when we have such a vast mandate and when we are actually only a handful of points behind in the polls, even in mid term after quite a few months of pretty unrelenting sledging, and when the economic scene is so difficult domestically and internationally. And I regret not to have been successful in those arguments and, of course, it is painful not to be able to see through so many ideas and projects myself.
But as we've seen at Westminster, the herd is powerful and when the herd moves, it moves and,
my friends, in politics no one is remotely indispensable.
And our brilliant and Darwinian system will produce another leader equally committed to taking this country forward through tough times, not just helping families to get through it but changing and improving our systems, cutting burdens on businesses and families and – yes – cutting taxes, because that is the way to generate the growth and the income we need to pay for great public services.
And to that new leader I say, whoever he or she may be, I will give you as much support as I can and, to you the British people, I know that there will be many who are relieved but perhaps quite a few who will be disappointed. And I want you to know how sad I am to give up the best job in the world, but them's the breaks.
I want to thank Carrie and our children, to all the members of my family who have had to put up with so much for so long. I want to thank the peerless British civil service for all the help and support that you have given, our police, our emergency services and, of course, our NHS who at a critical moment helped to extend my own period in office, as well as our armed services and our agencies that are so admired around the world and our indefatigable Conservative Party members and supporters whose selfless campaigning makes our democracy possible.
I want to thank the wonderful staff here at Number Ten and, of course, at Chequers and our fantastic protforce detectives – the one group, by the way, who never leak.
And, above all, I want to thank you the British public for the immense privilege you have given me.
And I want you to know that from now until the new Prime Minister is in place, your interests will be served and the government of the country will be carried on.
Being Prime Minister is an education in itself. I have travelled to every part of the United Kingdom and, in addition to the beauty of our natural world, I have found so many people possessed of such boundless British originality and so willing to tackle old problems in new ways that I know that even if things can sometimes seem dark now, our future together is golden.
Thank you all very much.
Boris delivered his speech in a normal, matter-of-fact way, which was good, especially given the circumstances.
Now that he has resigned from the Conservative leadership, some ministers are willing to come back into Government for the interim period.
As such, Boris held a Cabinet meeting at 3 p.m. today:
Those who read my post from yesterday will recall that I had not expected to cover this development until next week at the earliest.
However, yesterday afternoon into this morning was pure political carnage.
Wednesday, July 6
Junior ministerial resignations continued to pour in throughout the day, into the night.
Mid-afternoon, Boris held a second online meeting with Conservative MPs:
Guido has the story (emphases in red his):
In a sign of a continuing effort to hold on to his job, the PM has held a second meeting of Tory MPs in his parliamentary office, just 19 hours after his last meeting. Last night's turnout was said to be around 80 – today's turnout is said to have fallen to around 30. A loyalist MP spins that the PM was in a "buoyant mood and keen to get on with the job". Presumably he was just happy his PMQs slagging was over and done with…
Boris apparently pointed to polls narrowing to "about five points" and left his reduced coterie of supporters under no doubt that "he's going nowhere… no chance of stepping aside". We'll see what the 1922 Committee has to say about that this evening…
Guido's mole concluded that "Basically the current challenge is all about personality and not policy. It's a coup attempt before recess" The timetable observation is, at least, objectively correct…
At 3 p.m., Boris appeared for 90 minutes before the Liaison Committee, which is comprised of all the MPs who head Select Committees.
They grilled him on his performance and whether he would resign.
I've never seen anything like it. You can watch the proceedings using the link below:
These were the topics of discussion and the names of the MPs questioning him. Sir Bernard Jenkin chaired the session. Conservative MPs Tobias Ellwood and Jeremy Hunt might have their eyes on the leadership. Boris defeated Hunt in the 2019 contest:
All were brusque, including Bernard Jenkin, sadly.
That said, in May, Jenkin did write to the Leader of the House, Mark Spencer, to express his disappointment that some Government ministers were not appearing as scheduled before Select Committees:
The Liaison Committee were vipers. They were on the attack relentlessly.
Boris stood his ground. He reminded one MP that, in 2019, he had more than doubled the number of sitting Conservative MPs:
He also stated that he did not want another unnecessary general election when he had a clear mandate from the electorate to carry out. You can see how nasty Bernard Jenkin got in this short exchange:
Huw Merriman went so far as to send Sir Graham Brady, Chair of the 1922 Committee, a letter of no confidence during the session:
Meanwhile, Guido Fawkes and his team were busy updating Wednesday's list of resignations.
The 1922 Committee was — perhaps still is — considering a rule change allowing for more than a 12-month gap between votes of confidence in a Prime Minister. Pathetic.
Guido has the story (purple emphases mine):
There are some reports that the 1922 Committee may move in the next 24 hours-or-so to dispose of the PM. Bloomberg is reporting that "The Tory backbench 1922 Committee will meet at 5 p.m. Wednesday and will discuss changing the rules to allow another party-leadership ballot. If there is a majority opinion in favor, a ballot could be held as soon as next week." James Forsyth of the Spectator reports rule change or not, a senior committee member tells him "they now favour a delegation going to Johnson to tell him that it is over and that they will change the rules to allow another vote if he doesn't quit".
Guido's post has a list the 1922's executive members and whether or not they favour this rule change.
Later on, the 1922 decided not to change the rules — for now — because they will be holding their executive election on Monday, July 11:
Guido reported:
Surprisingly the 1922 executive has decided against changing the rules to allow a second vote of no confidence in the PM. Instead executive elections will go ahead on Monday, 2pm to 4pm. 
Critics of the prime minister are organising a slate of candidates who are expected to win a majority of places, given most backbenchers voted to oust Johnson in last month's vote. They are then expected to endorse a rule change.
During the afternoon, it was rumoured that the Chief Whip, Chris Heaton-Harris, was going to tell Boris that time was up.
Boris was hemhorrhaging support. The resignations were coming thick and fast from junior ministers. This is how it is done. The same thing happened when Labour wanted rid of Jeremy Corbyn as leader:
I used to like most of the Conservative MPs. Given what happened yesterday, I am not so sure anymore.
Those who have gone down in my estimation include former Equalities Minister Kemi Badenoch; Lee Rowley; Liam Fox; Red Wall MPs Dehenna Davison, Jacob Young and Jo Gideon; Ed Argar and former Welsh Secretary Simon Hart.
And that's not counting the rest of them that Guido has named, including those from Tuesday.
The only one I'm willing to give a pass to is Lee Anderson.
The hubris and hypocrisy got worse.
Attorney General Suella Braverman appeared on Robert Peston's show on ITV that night to announce her withdrawal of support for Boris. I really had expected better of her, especially as Peston has been anti-Boris for years. To add insult to injury, she went on to announce on his show that she would be running for leader:
Cabinet members visit Boris
Just before 5 p.m. a small Cabinet delegation visited Boris in Downing Street.
Guido wrote:
A Cabinet delegation of Nadhim Zahawi, Grant Shapps, Brandon Lewis, Simon Hart and Michelle Donelan are currently waiting in Downing Street to tell Boris the jig is up, and it's time for him to step down. Kwasi Kwarteng has also reportedly lost confidence. Beginning of the end…
Note Michelle Donelan's name in that list. Boris had just made her Education Secretary after Nadhim Zahawi moved into the Chancellor's role.
What did Michelle Donelan do? She resigned after 36 hours in the role:
Yes, of course, she got a pay out — one of £16,876.25:
The others got pay outs, too. I read that the total for ministers who resigned is over £120,000.
That's not a Conservative plan, by the way.
That's how the system works.
The caboose
Just before midnight, the final resignation of the day rolled in, that of Gareth Davies, making him the 35th that day. There were ten more from Monday as well as Michael Gove, summarily sacked. It's hard to disagree with the person comparing this to Trump:
Michael Gove
It was time for this duplicitous man to go. I never trusted him and never will.
When he turned from supporting Boris in the 2016 leadership campaign to start his own before supporting Theresa May, he stabbed him in both the front and the back.
One thing we have learned during Boris's premiership is that he — Boris — is one to forgive.
He made Gove part of his Cabinet in various high profile roles.
On Wednesday, Gove decided to tell Boris to resign:
Gove, most recently the Levelling Up minister, was conspicuous by his absence in the House of Commons. He missed Prime Minister's Questions:
News emerged at 9:30 that Boris sacked Gove — via a telephone call:
I will be very disappointed if Gove returns to a Government role. He is a Scot who, in my opinion, is too young at the age of 54 to appreciate the Union fully, and he does not have the Englishman's best interests at heart.
I've never heard him say anything about England other than to do away with English Votes for English Laws (EVEL) in 2021. As the then-Chancellor of the Duchy of Lancaster, he deemed it unnecessary in Parliament. It was a quick, quiet moment in the Commons. I do wonder why it went unchallenged by English MPs.
Yet, the English are the ones who have been overlooked the most over the past 25 years, beginning with Tony Blair, a quasi-Scot who pumped our Government and media full of many more Scots, e.g. Gordon Brown, to name but one. My apologies to Scottish readers, whom I admire greatly, but it is true.
Christian Calgie from Guido's team explains that Boris might have sacked Gove because, unlike the Cabinet secretaries who had descended upon him earlier, Gove allegedly told Boris to resign:
By the end of Wednesday, it became clear that Boris was not about to leave:
Guido reported:
Guido has had it confirmed by a PM ultra loyalist that Boris Johnson is not resigning tonight, and is understood to be planning a reshuffle. The news will spark further senior cabinet resignations…
According to reports, Boris sat down individual members of the Cabinet – including those involved in the coup – and cited his 2019 mandate, as well as the belief the government needs to spend the summer focusing on the economy and not a leadership election …
I watched four hours of analysis on GB News on Wednesday, beginning with Nigel Farage …
… and concluding with Dan Wootton, who had a great interview with Boris's father Stanley Johnson (see the 1 hour 15 mark, or, if the GB News clock shows, 10:21). Stanley is a big supporter of his son, which was heartening to see:
Thursday, July 7
Conservative ministers continued to resign en masse on Thursday morning, July 7.
Guido has a timeline of resignations and other events of the day.
Just before 9 a.m., Chancellor Nadhim Zahawi sent Boris a formal letter requesting his resignation.
Just after 9 a.m., Defence Secretary Ben Wallace — also thought to be a candidate for Conservative leader — tweeted MPs to say that they should make use of the 1922 Committee to get rid of Boris:
At 9:07 a.m., news emerged that Boris agreed to resign as Conservative Party leader. I agree that the next demand from the braying hypocrite hyenas in the media will be a call for a general election. Disgusting:
Guido reported:
Chris Mason has been told the PM has agreed with Graham Brady that he will resign, allowing a Tory leadership race to take place ahead of the Tory Party conference in October. A letter has been written. He'll quit as Tory leader today. Guido's frankly not sure how Boris can stay on for the summer with so many ministerial holes in his government…
Perhaps we can get by with fewer ministers, as someone said in Parliament this morning.
I hope that Boris's Cabinet meeting at 3 p.m. went well.
Not everyone has been happy with the coup so far. Former Conservative Prime Minister John Major is fuming. It's interesting he never reacted like that about David Cameron or Theresa May:
In brighter news, Boris's loyal friend from Ukraine rang him with his condolences and thanks:
1457: PM has spoken to Zelensky on the phone. Finished the call by praising him: "You're a hero, everybody loves you."
Yes, well, I wished our MPs loved Boris as much as President Zelenskyy does.
Ladies and gentlemen, this was a coup.
It was for a ridiculous reason, too: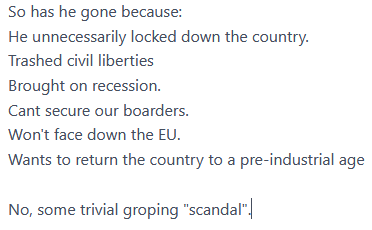 Don't forget: this was ALL ABOUT BREXIT.
More to follow next week.
Saturday and Sunday, June 4 and 5, 2022, were a time of fun and frolic, ending the four-day Platinum Jubilee holiday.
As delightful as it was, unfortunately, the first news item on Monday morning was that Prime Minister Boris Johnson would undergo a vote of confidence early that evening.
Sir Graham Brady, the chairman of the 1922 Committee, the Conservative group of backbench MPs, made the announcement at 8 a.m.:
He gave a short press conference outside the Palace of Westminster:
Brady had already received 54 letters from Conservative backbenchers, the minimum number of no confidence letters needed — 15% of Conservative MPs — in order to trigger the vote:
He had received most of them before the Platinum Jubilee celebrations started. He probably has more than 54 letters; someone on GB News said that he had received 83.
Sir Graham arranged a time for Boris to have right of reply to his party's MPs, scheduled for 4 p.m.
GB News interviewed a number of Conservative MPs during the day. Those supporting Boris said that MPs calling for him to stand down are either Remainers, those who never liked him, those who never received a Cabinet post and those who fell out with him and were reshuffled from Cabinet. Some of the MPs falling into the last three categories voted for Brexit.
It's a pity that Boris's premiership has been far from perfect, unlike the resplendent appearance of the Duchess of Cambridge:
Most of the viewers writing into GB News are Boris supporters. This was the result of Dan Wootton's Monday night poll on whether Boris should lead the Conservatives into the next election (2023 or, more likely, 2024):
Jacob Rees-Mogg, former Leader of the House and current Minister for Brexit Opportunities, tweeted that rebel MPs should remember that voters elected Conservative MPs, i.e. Boris, therefore, for MPs to depose him implies that people's votes do not count. As such, Conservatives could lose the next election largely for that reason:
UPDATE — The 1922 Committee announced the result of the vote at 9 p.m. Boris has won but not by as big a margin as John Major in the 1990s or Theresa May a few years ago:
Speaking after Sir Graham Brady announced the vote result, Boris said that the Government can move on and focus on the things that 'really matter':
Jacob Rees-Mogg, a monarchist, no doubt thoroughly enjoyed the Platinum Jubilee weekend and tweeted a Telegraph editorial which said that the Queen has increased the UK's love of the monarchy:
Interestingly, the editorial is dated June 1, the day before the long weekend.
However, it was spot on, because Jubilees have united the nation like nothing else, other than the Olympics and Paralympics. This is why (emphases mine):
Since we have no national day in the United Kingdom, the four significant jubilees of the Queen's reign have each served to reassert a patriotism that is always present but only occasionally allowed to flourish.
People need events such as these to feel a sense of belonging beyond our immediate family, neighbourhood or region. To manifest itself through the Queen, rather than a nebulous concept of nationhood, makes it more personal – a relationship that is never possible between citizens and an elected politician.
While a proportion of her subjects will recall the reign of her father, or even her uncle and maybe her grandfather, for the vast majority of the population the Queen is the only head of state we have known – a constant companion through our entire lives, the still point in an often turbulent world.
In a statement in February to mark her accession, the Queen signed off as "Your Servant", which is how she has always seen herself. As the heir-presumptive in 1947, still not expecting to take the throne for many years, she gave a radio broadcast to declare: "My whole life, whether it be long or short, shall be devoted to your service and the service of our great imperial family to which we all belong."
Mercifully, it has turned out to be a long life and Her Majesty has more than lived up to the pledge she gave then …
With that, let us look at the Jubilee events of Saturday, June 4.
The Queen did not attend one of her favourite racing events, the Epsom Derby. She watched it on television instead:
The Princess Royal, Princess Anne, represented her mother at Epsom. I do wish Anne could succeed her. She does so much unsung work for charity — and we have no idea what she thinks about climate change:
Forty jockeys wore the Queen's silks in honour of her 70-year reign. She has met some of them:
Princess Anne was not the only member of the Royal Family representing the Queen in the UK that day.
Prince Edward and Sophie, Countess of Wessex, travelled to Northern Ireland for official engagements:
The following video shows the Queen on her previous visits to the province also known as Ulster:
The Cambridges had an equally busy day, especially the children.
The Countess of Cambridge, better known as Kate, made cupcakes with the children for a Sunday street party in Cardiff:
The family also visited Cardiff on Saturday:
In the evening, they attended the concert, the Platinum Party at the Palace:
Earlier, while in Cardiff, they were able to meet performers and planners for the Welsh contribution to the concert:
As happened during the Diamond Jubilee, the concert was a true son et lumière — sound and light — experience:
There was a terrific light show with drones. This bit with a corgi dropping a bone is amusing:
Although the Queen was in absentia, she opened the show with a brilliant comedy sketch she secretly recorded in March with Paddington Bear.
The Sunday Times has the story:
At 96, the Queen showed she has lost none of her humour, starring in a surprise televised sketch with the fictional bear from darkest Peru. The skit opened the Platinum Party at the Palace, a live concert at Buckingham Palace broadcast by the BBC.
It echoed the James Bond spoof at the opening ceremony of the 2012 London Olympics, in which she and her corgis appeared with the actor Daniel Craig at the palace, and the Queen later appeared to jump out of a helicopter and parachute into the stadium.
During her encounter with Paddington in the crimson drawing room at Windsor Castle, the Queen laughed as the clumsy bear caused chaos, accidentally depriving her of a cup of tea, glugging directly from the spout of the teapot and spraying her footman with cream from a chocolate éclair.
As he showed Her Majesty the marmalade sandwiches he stores under his red hat, the Queen prised open her black Launer handbag, confiding, "I keep mine in here," before closing her bag and wryly observing: "For later."
Paddington, who is created with CGI and voiced by the actor Ben Whishaw, congratulated the Queen on her historic reign, wishing her a "happy jubilee, Ma'am" and adding: "And thank you. For everything." The Queen replied: "That's very kind."
The Queen has worn Launer handbags since 1968. She awarded them with a Royal Warrant many years ago and visited their factory in 1992. A Launer is hardly a handbag in which one would store marmalade sandwiches.
The sketch had to segue perfectly into Queen's — the band's — performance:
Rosie Alison, of Heyday Films, which produced the two Paddington films and is making a third this year, said: "Filming Her Majesty's tea party with Paddington Bear was such an emotional day for the entire crew. All of us were in awe of the Queen's wit, warmth and radiant aura as she patiently engaged with a polite, clumsy but very well-intentioned bear. Of course, she shone, and put all of us at ease."
Mark Sidaway, executive producer of the BBC's Platinum Party at the Palace, said: "We were thrilled and honoured when we learnt Her Majesty had agreed to run with this touching yet joyful idea the team had come up with — although it was slightly nerve-racking ensuring it all blended seamlessly with the live performance from Queen."
One of my readers, Sylvia, sent in the link to a Mail article which has a link to the full video and terrific concert photos. Many thanks, Sylvia!
This version has the addition of the Monarch and Paddington Bear tapping their tea cups to Queen's opening number. We also get a glimpse of the crowd as it was at that moment:
Here are more scenes from the concert, which featured much musical talent from past and present, including Rod Stewart, Elton John, Duran Duran and Diana Ross. The following video shows more of the drone light displays, which were amazing:
At the concert, Princes Charles and William paid tribute to the Queen.
What follows comes from The Sunday Times report.
William spoke first:
Earlier in the evening, Prince William, 39, an ardent environmentalist, used his tribute to hail his grandmother's calls over the years to protect the planet and spoke of his "pride" that "my grandfather and my father have been part of those efforts". Sir David Attenborough also gave a tribute praising the royal family's commitment to conservationism.
Before William appeared on stage, the German composer Hans Zimmer and an orchestra performed a specially arranged version of the Planet Earth II Suite, followed by a performance by the Royal Ballet, as words from the Queen's 1989 Christmas message, focusing on the environment, were broadcast: "The future of all life on Earth depends on how we behave towards one another and how we treat the plants and animals that share our world with us. We share the Earth as human beings. All of us. And together as the nations of the world will leave it to our children and children's children. We must be kind to it for their sake."
William called his grandmother the Queen 'of hope':
A clip from the Queen's message to COP26 last year was also shown.
Charles said, in part:
Taking to the stage in front of Buckingham Palace, which was illuminated with images of the Queen personally chosen by Charles, the prince was cheered by a crowd of more than 20,000 as he addressed his mother, who was watching on television from Windsor Castle.
"Your family now spans four generations. You are our head of state. And you are also our mother … Looking back, we think of the countless state occasions that are milestones along this nation's road. And you will think of red boxes, filled with government papers, at the end of the day … We think of all you have done to make the Commonwealth such an important force for good. You continue to make history" …

"I know what really gets my mother up in the morning is all of you, watching at home.
"You have met us and talked to us. You laugh and cry with us and, most importantly, you have been there for us, for these 70 years. You pledged to serve your whole life — you continue to deliver. That is why we are here. That is what we celebrate tonight. These pictures on your house are the story of your life — and ours. So, your Majesty, that is why we all say thank you."
He ended his tribute by calling for "three cheers for Her Majesty".
Here is the video:
Members of the Royal Family were out in force. The Sussexes did not attend, however.
Many politicians also attended, including Boris and his wife Carrie, Labour's Sir Keir Starmer, Scotland's First Minister Nicola Sturgeon and her husband, the Welsh First Minister Mark Drakeford and the Mayor of London Sadiq Khan.
The weather in London held out for Saturday. However, all changed overnight.
I'll cover Sunday's Platinum Jubilee Pageant tomorrow.
This is a follow-up to my post of Friday, February 4, on Prime Minister Boris Johnson's attempt to placate his fellow Conservative MPs.
After he met with MPs on Monday, January 31 following his statement on the Sue Gray party report, Boris committed himself to reforming the way Downing Street works.
Several MPs whom I've seen interviewed on television have said that Boris does not communicate with them at all. This is especially true for the Red Wall MPs from 2019.
Boris now has to woo every one of his backbench MPs or risk letters of no confidence from them about his premiership.
Sir Graham Brady MP chairs the 1922 Committee for Conservative MPs who are not in the Cabinet.
Disgruntled MPs send their no confidence letters to him. If he receives 54 such letters, he can hold a vote of no confidence among all Conservative MPs. Should the vote not go in Boris's favour, the MPs can run for party leadership. MPs select a short list of those candidates. The party members across the nation vote on the short list, and whoever wins would become the new Prime Minister.
With the resignation of five civil servants last Thursday and Friday, Boris realises he has to get moving — now.
On Friday, he sent a letter to backbench Conservative MPs telling them of his proposal to involve them more. He has asked them to engage with him in the process of re-establishing backbench policy committees:
Guido Fawkes posted about this development on Friday. Boris says he is now willing to communicate more with MPs (emphases mine):
… It is vital that we harness all the energy. experience, and insight from our Members of Parliament. This won't just help improve existing policy, it will help us deal with the many challenges we will face together in the future.
One of the ways I want to achieve this is by working with Sir Graham Brady MP, and colleagues on the Executive of the 1922 Committee, to re-establish backbench policy committees. I want these policy committees to play an important role in generating ideas and discussion and so I encourage colleagues from across the party to get involved.
Sir Graham Brady MP will write to you with specific details on how the process of forming these committees will work. For them to be a success it is vital that government departments and ministers engage with them properly, and I will ensure that the Cabinet understand the importance of taking them seriously. I will also ask Conservative Campaign HQ to link this work up with the work of the Conservative Policy Forum.
I understand the deep importance of engaging with colleagues in Parliament and listening to your views and that is why I want colleagues to have a direct line into 10 Downing Street. With the appointment of Andrew Griffith MP as Director of Policy we will provide whatever engagement and support is necessary to make this a success.
I promised change and that is what we will now deliver together.
However, it came too late for Aaron Bell who had already made up his mind to write to Sir Graham Brady. Bell had spoken up to Boris last Monday in Parliament about a family funeral he attended during lockdown. He asked if Boris took him for a fool for having obeyed all the rules:
Around the same time as Boris's letter reached MPs on Friday afternoon, Guido reported on Bell's letter. Some people replying to Guido's tweet say that he had allegedly submitted it in late January:
Bell wrote that he had consulted with his constituency's councillors and council candidates running in May's local elections. He says he wrote the letter on January 12 after that day's Prime Minister's Questions:
The Daily Mail gave the names of seven other MPs who have sent letters to Brady: Sir Gary Streeter, Anthony Mangnall, Andrew Bridgen, Peter Aldous, Tobias Ellwood, Douglas Ross (Scottish Conservative leader) and the long-serving Sir Roger Gale.
Former education minister Nick Gibb followed, filing his letter on Friday.
The Mail says that Brady could have received many more letters:
The true number of letters to have been submitted is thought to be several times higher the eight figure because most MPs do not publicly divulge writing to Sir Graham. 
The threshold for triggering a vote of no-confidence is currently set at 54 letters and many Tory MPs believe it is now 'inevitable' the figure will be reached.   
Mr Johnson's position in Number 10 is increasingly precarious and some Cabinet ministers believe there is a strong chance he will be forced to quit. 
One Cabinet minister told The Times: 'It feels like the end, it's all falling apart. It's 50/50 in my view at the moment' …

But a Cabinet minister told Politico: 'He promised action on Monday night and the action has begun. There's more planned. The restructuring is on its way. It will unfold over the next 48 hours. He'll move things up a gear and get some discipline.'
LBC's article on Bell's letter refers to what is known as the Pork Pie Plot, involving the new 2019 intake of Red Wall MPs who represent former Labour seats:
He is the latest Red Wall Conservative to turn on the PM amid what has been dubbed the Pork Pie Plot – so-called because one of the ringleaders hoping to oust Mr Johnson is reportedly Leicestershire MP Alicia Kearns, whose constituency includes Melton Mowbray, the town famous for baking the pastry.
Hmm. Alicia Kearns. I hope that is not true. She rather reminds me of the women MPs who turned against Theresa May over Brexit in 2019 and had the whip removed. They were not re-elected in the general election that year and faded into obscurity.
On Saturday, January 5, Downing Street announced changes at No. 10. The Welsh journalist Guto Harri (pron. 'Gitto Harry'), Boris's director of external affairs during the first four of his eight years as London mayor, will be joining the team:
Unfortunately, most conservative-minded people outside of London only know Harri — real name Guto Pritchard-Jones — for taking the knee during his brief tenure at GB News last summer on the day of the Euro final in solidarity with the England team. His co-presenter, Mercy Muroki, a staunch conservative, could not believe her eyes:
He was roundly criticised on Twitter and GB News never brought him back on air.
Harri's Wikipedia entry says:
On 13 July 2021 Harri took the knee on GB News to show support for the England football team's kneeling for anti-racism; following backlash from viewers, GB News suspended him indefinitely for failing to maintain the editorial standards expected by the network.[22][23] Shortly afterwards he resigned from GB News,[24] having written in The Sunday Times that the channel was "becoming an absurd parody" that was replicating cancel culture on the far right.[25][26]
In 2018, Harri lashed out at both Brexit and Boris:
Harri is a critic of Brexit.[17][18] After Johnson likened Prime Minister Theresa May's Chequers Brexit agreement to a "suicide vest" around the British constitution in September 2018,[19] Harri said: "Unfortunately he is now dragging us into a place where we think that we can joke about suicide vests and that we can be sexually incontinent. Somebody needs to take the spade out of his hand or it looks to me like he's digging his political grave." He also said Johnson had become "more tribal, and tribal within the tribe, so that he would now be—if he were to become leader—a hugely divisive figure".[20]
Hmm. Although that was two-and-a-half years ago, how can Boris have the confidence to welcome him to No. 10?
Some conservatives think that Boris hired him because he will be a dab hand at handling the media, lefty to lefty.
But there is something else, a link to Huawei. On Sunday, February 6, the Sun's political editor Harry Cole reported:
NEW No10 spin chief Guto Harri lobbied the Government on behalf of toxic Chinese tech giant Huawei, The Sun can reveal.
The controversial firm was banned from building the UK's 5G network in 2020 because of its links to the Chinese Communist Party and spying fears.
But top-level Whitehall sources have confirmed Mr Harri was directly involved in talks with senior ­officials trying to head off the landmark ban.
Last night Mr Harri resigned from Hawthorn Advisers to become Downing Street's Director of Communications.
The lobbying firm included Huawei as a major client in the two years that the former BBC journalist worked there. Sources say he had "a hands-on role".
Friends last night insisted there was no problem with his work for the Chinese company, due to its previous key role providing 3G and 4G coverage to the UK.
And a Downing Street source said: "This is separate to his new role in No10. This Government is committed to removing Huawei from UK 5G networks by 2027."
Labour will have a field day with this:
… Labour said: "We can't have the revolving door from lobbying to Government see potential ­national security issues arise."
Deputy leader Angela Rayner demanded answers.
I'm also concerned about Steve Barclay, one of the good guys, being able to handle three jobs: MP, Chancellor of the Duchy of Lancaster (formerly Michael Gove's role) and now Chief of Staff, integrating the new Office of the Prime Minister with the Cabinet Office.
Since everyone is putting names into the hat for the next Conservative Party leader, I'll add Steve Barclay's. He has the gravitas and the presence. He could win over the party faithful. You read it here first.
Boris, as ye sow, so shall ye reap. Good luck. You'll need it.
With regard to Omicron, this is where we left off on Monday in the UK — one death:
Guido Fawkes's accompanying post says (emphasis in the original):
Boris has claimed this morning that one hospital patient has died with the Omicron variant, telling cameras "Sadly yes, Omicron is producing hospitalisations, and sadly at least one patient has been confirmed to have died with Omicron." It is not yet known whether the patient had comorbidities...
So far, it is believed that Omicron is a relatively mild variant. The Singaporean Ministry of Health has stated (H/T Guido Fawkes; emphasis mine):
Cases who have been detected around the world have mostly displayed mild symptoms, and no Omicron-related deaths have been reported so far. Common symptoms reported include sore throat, tiredness and cough.
The numbers hospitalised with Omicron are in single digits …
… never mind what Justice Secretary Dominic Raab said on this morning's news round:
Dominic Raab doesn't appear to know how many patients are in hospital with Omicron. Yesterday, Sajid Javid said it was "around ten", with Raab this morning claiming on Sky News that the figure had now jumped up to 250, which would be an alarming leap in just 24 hours. Thirty minutes later on BBC Breakfast, however, Raab inexplicably slashed that number all the way down to 9. The new antiviral treatments are good – they aren't that good.
Regardless, today, after the Government already implemented it last week, MPs voted on Plan B for England. There were four separate divisions (votes). One was on coronavirus passports.
When Tuesday's parliamentary session began, Plan B involved wearing masks in enclosed spaces and public transport as well, working from home as well as a return to quarantine.
When Health Secretary Sajid Javid began his address, he mentioned that quarantine would be less severe. It would now involve daily testing instead of a mandated policy to stay indoors (emphases mine):
At the end of last month, this House passed regulations requiring all close contacts of a suspected or confirmed omicron case to self-isolate for 10 days, but given the increasing dominance of omicron, this approach no longer makes sense for public health purposes and nor is it sustainable for the economy. So we are drawing on the testing capacity that we have built to create a new system of daily testing for covid contacts that has started today. Instead of close contacts of confirmed cases or suspected cases having to self-isolate, all vaccinated contacts, irrespective of whether the contact was with an omicron case, will be asked to take lateral flow tests every day for seven days. Regulation No. 1415 allows us to put this plan into action by revoking the omicron-specific provisions for self-isolation.
Ahead of the official vote, The Telegraph's cartoonist Bob Moran took action on masks on Saturday, December 11:
Not surprisingly, Plan B has begun to wreak havoc with cancellations of international travel and Christmas gatherings in hospitality venues.
At least 80 Conservative MPs were expected to rebel and vote against the Government. On the day, 98 rebelled against the vaccine passport, along with three others spotted by Labour Whips. They included Sir Desmond Swayne and Bob Seely. I plan to discuss the results in another post:
Although a rebellion by Conservatives alone did not stop the Government winning the votes — thanks to Labour! — it should send a clear message to Boris.
Alicia Kearns tweeted that she would vote against coronavirus passports:
People living in England are concerned about the constant moving of goalposts with regard to coronavirus restrictions.
Conservative MPs became angry last week. In his press conference on Wednesday, December 8, when he announced Plan B, Boris mooted the idea of 'a national conversation' about mandatory vaccinations:
The rebel MPs' reaction was immediate:
Guido began compiling his list on December 9. A selection of comments from MPs follows:
Alexander Stafford said "he cannot and will not support mandatory vaccinations", adding that working from home "disproportionately negatively affects younger people and those starting out in their careers".
Douglas Ross said "There is no evidence that vaccine passports stop the spread of Covid" and that since he didn't vote for them in Holyrood, he wouldn't vote for them in Westminster either.
Graham Brady said in the chamber last night that "it's deja vu all over again, isn't it?"
Peter Bone slammed compulsory vaccinations on Newsnight, calling the idea "completely outrageous", and even saying "I'd be the first to say the PM should go" if they were implemented.
Simon Jupp said "I don't support Plan B", called vaccine passports "divisive & discriminatory", and made it clear that he "won't vote for these measures."
Steve Baker insisted it is "vital that the maximum number of Conservative MPs vote against Plan B, whatever our useless Opposition do".
Over the weekend, Steve Baker tweeted that he would be relaunching his Conservative Way Forward movement, open to MPs and the general public. It is meant to restore the Conservative Party to its proper origins rather than a Boris-led Blairite/Labour-lite party:
Sir Edward Leigh MP stated his intention to vote against the Government for the first time during this Parliament:
Mark Harper MP pointed out:
"there is no exit strategy", and asked "why should people at home…do things that people working in Number 10 Downing Street are not prepared to do?" 
The Spectator's Kate Andrews also noted the same thing, comparing the content of December 8's press conference with the others that had preceded it. The Government and scientific advisers have made many poor contradictions and bad comparisons between the UK with a strongly vaccinated population versus one like South Africa's:
The Spectator contrasts what our scientific experts from SAGE put forward compared with the real statistics. SAGE have a lot of explaining to do, yet Boris continues to court their shamefully extreme modelling.
Guido's December 9 poll of the public shows that they are increasingly concerned about scope creep, especially with regard to Plan B:
Guido's post reveals who led the press ('lobby') briefing that day. It was not the Department for Health and Social Care (DHSC):
A poll of 3,170 Guido readers opened earlier has less than one-in-seven believing the government's timing of Plan B yesterday was based on epidemiological reasons, and not politics.
Guido can't say he's surprised. Sources suggest that while a quad meeting was always scheduled for yesterday afternoon, Plan B was not on the table. During the morning the briefings were coming from Downing Street not DHSC, further suggesting the move was more politically than epidemiologically motivated.
William Wragg MP was the first to notice the political end to Plan B — a diversion from the Christmas party debacle — and actually challenged Boris on it last Wednesday at PMQs, only hours before the press conference. Tom Newton Dunn tweeted:
Senior Tory William Wragg challenges Johnson directly during PMQs over if he's bringing in Plan B today, and says "few will be fooled by this diversionary tactic". Johnson doesn't deny, but says: "No decisions will be taken without consulting the Cabinet".
It would have been even better if Sir Keir Starmer, leader of the Opposition had said that, but, alas, he's all on board with further restrictions. If he were Prime Minister, we would have never had Freedom Day on Monday, July 19. We would have been where Scotland and Wales continue to be, still restricted in many ways, with compulsory masks and vaccine passports.
On Monday evening, December 13, Sir Keir somehow got media outlets to televise his support for Plan B. The reason for this baffles me, as he is not in Government.
It does appear as if we have a coalition Conservative-Labour government, because the latter jumps on every coronavirus restriction bandwagon going. The Sun's Trevor Kavanagh told Nigel Farage that this is not a good thing:
According to a GB News poll for Dan Wootton Tonight, the public strongly disapprove of Plan B:
Sadly, we now have Plan B in England: face coverings in enclosed spaces, vaccine passports for large venues/events and mandatory vaccines for NHS/care home staff by April 2022. Self-isolation with daily testing was approved unanimously; there was no division on that motion.
The question remains: do we get another lockdown, i.e. Plan C, in the New Year?
Boris wouldn't dare, would he?
Omicron has British politicians reaching for the Control button yet again.
On Tuesday, November 30, 2021, the House of Commons voted overwhelmingly for new face-covering restrictions: 434 to 23. The new self-isolation rules also passed: 431 to 36.
I watched the three-hour debate that afternoon. Apart from the dissenters — all Conservative MPs — it was soul destroying, particularly since there were only three Labour MPs in attendance!
The debate transcript is on Hansard. Excerpts follow, emphases mine.
Maggie Throup was the minister who laid out the restrictions on face coverings for the next three weeks and new self-isolation rules for the next three months. She also closed the debate prior to the division (vote).
This debate concerned the wearing of masks for the next three weeks on public transport, including taxis, and in shops, post offices, banks, beauty salons, takeaways, veterinary clinics and driving instruction vehicles.
Throup did not list all of those. She did add that exemptions are in place:
Given the potential severity of the consequences of not responding swiftly to this new variant, the Government have taken decisive action to bring back compulsory face-covering wearing in an array of settings. Face coverings are again compulsory in shops and on public transport, unless an individual has a medical exemption or a reasonable excuse.
It is illegal for anyone to query why or what the exemption/excuse is.
As many organisations are now cancelling large Christmas celebrations in light of the Omicron variant, Sir Desmond Swayne was rightly concerned about the hospitality industry, which has only started recovering from a long lockdown during the first half of this year:
Will the Minister deprecate those public appointees who, notwithstanding the clear proportionate advice of the chief scientific adviser, have been on the airwaves telling people that they should not socialise, to the huge detriment of people's wellbeing and of an industry struggling to recover from earlier lockdowns?
Throup replied saying that the restrictions were:
proportionate, precautionary and balanced, and are being made in response to the specific threat.
These restrictions will expire in three weeks' time, at which point Parliament will be in Christmas recess. Therefore, if they need to be extended, the Government could automatically do so without another vote.
The Shadow (Opposition) Health Minister, Alex Norris (Labour), said that he was grateful the restrictions were brought forward for a vote.
Mark Harper, a doughty opponent of coronavirus restrictions, intervened in Norris's speech, saying that Parliament should be recalled during Christmas recess if there were an extension or a strengthening of these restrictions:
I am very pleased to hear the hon. Gentleman say that about parliamentary scrutiny. He will know that yesterday I asked the Government for assurances if they were to want to extend or strengthen these measures after the House has risen for the Christmas recess, as I feel that if that is the case the House should either continue sitting or be recalled. In answer to my question, the Leader of the House suggested that it would be up to the House. I therefore ask this of the hon. Gentleman speaking for the Opposition: if the Government were to bring forward strengthened measures or want to extend them after the House has risen, would the Opposition support the House being recalled so that we can debate and vote on the matters in advance, or is he prepared to give the Government a blank cheque?
Another Conservative MP, Karl McCartney, asked Norris whether he preferred a recall before or after Christmas.
Norris refused to commit a preference for either time period.
Sir Graham Brady, who chairs the 1922 Committee of backbench Conservative MPs, asked why the Government's regulations had become effective at 4 a.m. on the day of the debate, which was held in the afternoon:
Why on earth did the regulations come into force at 4 am today when we are here now, at 20 minutes to 2 in the afternoon, debating them? Surely it would have been possible to have a debate yesterday, or indeed to delay their implementation until this afternoon. I think that indicates a rather casual attitude to parliamentary scrutiny that persists in Government.
My right hon. Friend the Member for Forest of Dean (Mr Harper) has asked important questions about what will happen if the regulations are renewed after the three-week period, when the House is not sitting. We still have no clarity as to whether the House would be recalled or whether the regulations would simply be extended for a period of weeks without the House having the opportunity to comment.
Mark Harper noted that there was plenty of time for the debate on Monday evening, since the House of Commons had adjourned early:
It is also worth saying that one of the things we get from Ministers when we press them on these things is about parliamentary time, but my hon. Friend will know that the House normally sits until 10.30 pm on a Monday. Looking at yesterday's performance, the House got to the Adjournment debate at about quarter past 7. There were hours yesterday when the House could easily have debated both these measures, which means we could have debated them before they came into force. Even the Opposition agree that that is invariably the better solution when it is at all possible.
Sir Graham Brady agreed:
Absolutely. As a former Chief Whip, my right hon. Friend knows very well that there is always parliamentary time available when the Government want to do something; it is only when they are reluctant to do something that parliamentary time becomes elusive.
There is a further question as to why only one of the instruments before us has an expiry date in the regulations. Surely it would have been better to put an expiry date in place, which would have required some positive action to renew or extend the regulations if that was deemed necessary.
A few minutes later he said:
In the summer of 2020, the Prime Minister said that it was time to move on and time to start to trust people to make decisions for themselves. I rejoiced at that and thought what a wonderful thing it was that we were moving to a point where we would advise people, inform people and make sure they had the best evidence to make decisions in their own lives. Now, however, we see the first instinct of the Government when we do not even have any evidence that the omicron variant is worse in its effects. There is some suggestion from South Africa that it might be less severe, but the Government's first instinct is to introduce further compulsory measures and regulations relating to self-isolation and to face coverings in some settings but only until 20 December, plus measures that affect the travel industry, particularly the move back to PCR tests on day two.
He added:
We cannot move, as we appear to have done, to an environment in which the Government simply assume they can instruct us whenever there is the first small evidence from anywhere in the world of a new strain that might behave in a different way, and new and potentially swingeing public health measures are put in place. I ask Ministers to consider the implications of that and for looking at other diseases. Will we start to treat other diseases and viruses in the same way, assuming the best thing to do is to compel people and instruct them on what actions they need to take?
He was clearly disappointed with the new regulations and the continuing Coronavirus Act 2020:
We have now lived it for 18 months and we can see this reaching ahead. We think back to when the Coronavirus Act 2020 was renewed again, taking us through to spring next year, and the assurances we were given that that would be the last time. I thought we would not need this kind of legislation again, but we see the Government's immediate assumption that they should reach for new controls, new compulsion and new rules to inflict on the British people. We need to move away from that and back to a world where we trust people, engage with the public and recognise that the Government are there to serve the people, not the other way around.
Steve Brine pointed out the lack of MPs on the Opposition benches:
It was bad enough when the extension of the Coronavirus Act 2020 was nodded through without a vote. There has been lots of excitement and flurry recently about Members of Parliament and the work that we do. There is now one Labour Back Bencher, one Liberal Democrat—albeit that she is one twelfth of the parliamentary party—and one Democratic Unionist party Member in the Chamber. I understand why SNP Members are not here in force, because they rightly do not vote on English matters, but I think that this is something that the public should be concerned about. We are making an impact on their lives today, and it is a disgrace that this House is so empty.
Is anybody other than the Minister going to speak in favour of the regulations today? In the House of Commons, in my experience of 11 and a half years, you do not just have to win the vote; you have to win the argument as well. Of course the Government will win the vote today, because the Opposition—who always say "How high do you want us to jump?" when the Government propose new restrictions on our lives—will pretend to ask difficult questions while voting for the restrictions anyway. They said that they would vote for them before they had even seen the published regulations. Frankly, I think that that is a derogation of duty from Her Majesty's Opposition.
He questioned the way the new self-isolation text was worded:
Under new regulation 2B(1)(ba)—I know; how are the public meant to follow this?—of the Health Protection (Coronavirus, Restrictions) (Self-Isolation) (England) Regulations 2020, if one child in a class of 30 has had close contact with someone who
"is suspected of, or confirmed as, having an Omicron variant",
presumably the other 29 are out. We are not just looking at a pingdemic in our economy and in our businesses; we are looking at a pingdemic that will devastate education again. After everything that we have learned—everything that I have felt in my own family—are we really, seriously, going to do that to our children again?
He deplored the fact that schools are cancelling Nativity plays and that big Christmas celebrations are being cancelled:
What concerns me is the chilling effect that this is having on the rest of our society. The fact that No. 10 Downing Street, the centre of government, has taken to the national newspapers today to ask head teachers not to cancel nativity plays because of the announcement that we made on Saturday night makes me ask, "What on earth are we doing?"
We should think of the effect that this is having on confidence, on society and on hospitality. Those in hospitality have put everything into this Christmas in order to survive and to save their year. There is nothing in these regulations that says Christmas parties must be cancelled—unless, of course, Dr Harries [head of the new Health Security Agency] is in charge—but there is everything in the language and the narrative coming out of the Government right now that is causing Christmas parties to be cancelled left, right and centre. I have seen organisations in my constituency cancel events that were due to happen within the next few weeks, on a "just in case" basis. These regulations will have a chilling effect, and we should not underestimate that just because it is not written in black and white.
Brine questioned whether the Department for Health and Social Care consulted other government departments before coming up with these restrictions. Travel reservations will decrease once again. Travel agencies are also adversely affected.
Mark Harper intervened to say that the Government has not been involving other departments in coronavirus legislation:
My hon. Friend has touched on an important point about the process within Government to ensure that all aspects are considered. What normally happens is that regulations are thought about and there is a right-round process—which, for the benefit of those listening to the debate, means that all Government Departments have the opportunity to provide an input. One thing we have discovered is that in the case of covid regulations, that right-round process does not operate in the normal way. Through my hon. Friend, I ask the Minister to clarify in her winding-up speech whether, as these regulations were being drafted, other Departments were consulted and given the usual opportunity to provide an input, or whether this was done purely in the Department of Health and No. 10 Downing Street.
Sir Christopher Chope gave a long but excellent speech.
He noted that most people who wear masks are not wearing them correctly, rendering them useless:
Very few people wear their face mask correctly. The World Health Organisation's advice says that people should wash their hands as soon as they take off their face mask, that they should discard temporary face masks and that they should wash their hands again when they put on a fresh face mask.
I had a discussion with Mr Speaker on this subject some months ago and, while we were having that discussion, one of our colleagues came into the Tea Room wearing a mask, took it off and put it on the breakfast table. I said to Mr Speaker that it really makes my point. Frankly, if we are talking about public hygiene and public health, the Government should be saying, "If you think you want to wear a mask, go and wear a mask but, for crying out loud, make sure you don't contaminate yourself and others by not wearing it correctly."
He said that he could not vote in favour of the restrictions:
I cannot support these oppressive, authoritarian and dictatorial regulations, which are neither necessary nor desirable. They will have an adverse effect on lives, livelihoods and the mental health of our constituents. The Secretary of State for Health and Social Care considers that
"the requirements imposed by these Regulations are proportionate to what they seek to achieve, which is a public health response to the threat."
Where is the evidence? The Under-Secretary of State for Health and Social Care, my hon. Friend the Member for Erewash (Maggie Throup), adduced no evidence whatsoever, and there is no regulatory impact assessment—the excuse is that the regulations will be in force for less than a year. Why is there no regulatory impact assessment? Why are we being asked to support a policy for which there is no evidence?
If there had been a regulatory impact assessment, there would be a requirement on the Government under the regulation rules of the Cabinet Office to put forward the possible alternatives to these regulations. We need goal-setting requirements, rather than prescription. More and more prescription seems to be the Government's recipe.
To take an example, why is a shopkeeper not allowed to permit people to shop without wearing a face covering, provided those people have had a proper vaccination? Why is the keeper of a small shop not allowed to keep their front door open and allow people to go in and out without the need to wear a face covering—there would be adequate ventilation—or perhaps, as some small shops in my constituency do, have a one-in, one-out rule so that there is only one person in the shop with them? Why are we not allowing shops to have that freedom?
If we want to have a consistent policy, why are we treating those who have been fully vaccinated in the same way as those who have not been fully vaccinated? That seems to be wholly inconsistent with the regulations introduced by the Government in relation to people who work in care homes, and they propose to bring in similar restrictions for those working in the health service. If, having required those people to be double-vaccinated, we are saying that they are not in a privileged position when it comes to going into their local shop, what is the point of depriving those who have not been double-vaccinated of their right to work? There does not seem to be any consistency.
He also pointed out an inconsistency on mask wearing exemptions which Maggie Throup said will be corrected.
He concluded:
Obviously, people out there will be wondering about exemptions and reasonable excuses. The hon. Member for Sheffield South East (Mr Betts), who chairs the Select Committee on Levelling Up, Housing and Communities, drew attention in his intervention to the fact that young people are going around in shopping centres saying that they have a reasonable excuse for not complying with the regulations and for not wearing face masks. What is the problem with that? If people have a reasonable excuse for not wearing face coverings, let us not get too fussed about it. That is why these regulations are part of a scaremongering propaganda campaign on the part of the Government that is designed to try to stop or restrict social interaction between social animals who happen to be living in the United Kingdom. That is potentially the most damaging aspect of the regulations before us today: they are designed to suppress freedom of the individual and to suppress social contact and they are doing that through unreasonable fearmongering.
Craig Mackinlay said there were too many absurdities in the regulations for him to support them:
We are, though, left with a gross absurdity that will perhaps face everyone in the House over the next few weeks. When someone goes to the off-licence on the way to a party later, it might take them only 45 seconds to get their tipple of choice but they will have to wear a mask on pain of a fine. They can then make their way to a house party, with 100 people or perhaps more—perhaps an infinite number of people—where it will be enclosed, warm, cosy and friendly and they can take that same face mask off. Really? It is an infantile proposal and we are in danger of falling down the same absurdities as we fell down before, with the madness of the couple who could walk across a golf course but dare not play on it. This is the absurdity that I have voted against previously and will vote against again.
Let me move on to the self-isolation requirements. I am afraid that the proposals mean we are going to fall into a new pingdemic. There is nothing in the regulations, in anything the Minister has said or in anything else I have heard to date to say that the testing regime will be backed up with proper genome sequencing at the right rate, so we can get back to a situation in which people can be told, "No, your contact was not omicron. You're fine." My hon. Friend the Member for Winchester picked up on a very dangerous phrase in the regulations, and that is "suspected of". I do not know what that means. I know what "confirmed as" means—to be confirmed through a proper genome-sequence test—but what about "suspected of"? When people get that phone call, text, email or ping from the NHS—if they have been daft enough to have the app on their phone—are they now going to hear, just because the words "suspected of" have been added, "Thou shalt be held indoors for 10 days"? This is where we end up with mission creep and the chilling effect that my hon. Friend the Member for Winchester mentioned.
I am going to be somewhat concerned about going to that Christmas party or that pub, because I have friends and family coming round for Christmas day. This legislation is going to have a dangerous pingdemic effect, either through a proper pingdemic or just through the effect of fear. I asked the hon. Member for Central Ayrshire (Dr Whitford), who spoke for the SNP and is knowledgeable on these matters, whether we might be able to get a new lateral flow test that is specific to omicron, but I think the answer is possibly no. We are in a confused state and I am concerned that the regulations will shatter businesses that are getting ready for Christmas. With the support of Opposition parties, sadly the regulations are likely to go through.
Mark Harper gave another excellent speech.
First, he pointed out that the NHS was not under strain from coronavirus patients, the usual rationale for restrictions, but rather a backlog of patients who could not be treated during the pandemic:
… it is not facing pressure from the number of patients in hospital because of covid, which is around 6% of total bed capacity. The NHS is under enormous pressure dealing with the significant number of patients who were both unable to be treated and scared away from the national health service during the pandemic. We must be careful not to repeat the mistake and scare away a whole new set of patients, as it will take the NHS another very significant period of time to deal with them. There is nothing about the measures that she suggested that will deal with those pressures; they will just make them worse.
He deplored the lack of evidence for the Government's coronavirus decisions:
I listened carefully to the speech of my hon. Friend the Member for Altrincham and Sale West (Sir Graham Brady), and I agree that it is disappointing that we have moved away from a model where the Government lay out the evidence and the arguments and allow people to make their own decisions. That was a big choice that the Government made last year, and I am very disappointed that they have moved away from it. Weighing against that—this was set out very clearly by the Chairman of the Transport Committee, my hon. Friend the Member for Bexhill and Battle (Huw Merriman), and my hon. Friend the Member for Winchester (Steve Brine), a distinguished former public health Minister—is that at least those regulations have quite a tight expiry date, and they will expire in three weeks' time. Although I do not like the move back to mandating, I am prepared on this occasion—balancing up the pressures, and because there is an expiry date—not to oppose the regulations, but I will not support them either.
In the end, he voted against the self-isolation regulations.
He was also concerned about the expiry date occurring during Christmas recess, favouring a recall, if necessary:
My final point is the one that I made yesterday. Ministers have said that they will review the measures in three weeks' time, as of yesterday. That would be 20 December, when the House will have risen for the Christmas recess—I touched on this in my intervention on the Opposition spokesman. If any of the measures are to be extended, or if further measures are to be brought in, it would be unacceptable for Ministers to do it by decree, which is effectively what the Minister at the Dispatch Box did with these two orders. They should be brought forward to this House for a debate in advance of their coming in. If we have to sit in the days running up to Christmas, so be it. Many people in this country work over the Christmas period in many industries serving the public. We are better paid than most of those people, so if we have to come here and do our jobs, working on behalf of the public, to scrutinise the laws that affect their lives, then I for one am very happy to do so. It would be a failure of the responsibilities that Ministers have if they do not seek to keep the House sitting or recall it if they wish to take those powers. Ministers are accountable to the House and to our constituents through us, and they would be wise never to forget it.
You can watch his speech here:
Steve Baker followed Mark Harper.
He has been consistently concerned about the erosion of civil liberties:
… the issue is that we are taking away the public's right to choose what they do, based on flimsy and uncertain evidence. We do not know the extent to which this new variant will escape the vaccines and we do not know how harmful it would be. This debate goes to the heart of the nature of the society that we are creating.
… now that we have got the case fatality rate down to a comparable level with that of flu, we should be living with coronavirus like we live with flu. As my hon. Friend asked, are we going to manage other diseases like this?
Let me turn to the point that I really want to flesh out. The Government's approach seems to be to say, "Better safe than sorry. You can't be too careful.". The trouble is that we really can be too careful. There is a problem that I call tunnel vision and my friend, Professor Paul Dolan from the London School of Economics, calls situational blindness, whereby we end up looking only at the disease. My hon. Friend the Member for Winchester [Steve Brine] has set out brilliantly the harm that will be done to children. I cannot begin to understand the psychological harm to children of being in masks all the time; we cannot go back and repeat the experience of a missed nativity play, and so on …
Where is the hope from the Government? I know young people who are demoralised and depressed, and who have been telling me that we will go back into lockdown, and I have been saying, "No, because the vaccines are working and I do not believe that Conservative Ministers will do this to us", but we have already started to see the scope creep, the mission creep, and the goalposts perhaps being slightly unshackled from the ground, ready to be moved.
Today's debate is not about face coverings or the coming pingdemic through self-isolation measures. It is about how we react and the kind of nation and civilisation that we are creating in the context of this new disease. What is the relationship between the state and the individual? Are we to be empty vessels or mere automata—things to be managed, as if a problem? Or are we free spirits with, for want of a better term, a soul? We are free spirits with a soul—people who deserve the dignity of choice and the meaning in our lives that comes from taking responsibility. It is possible that meaning in our lives comes from little else. This is a fundamental choice between heading towards heaven and heading towards hell. If we continue to react to these fears and uncertainties by taking the authoritarian course, without impact assessments—because the regulations are only temporary, you know—we are embarked on that downward course.
Even loneliness shortens lives. Again, Paul Dolan has been very clear with me that loneliness cuts lives short, and yet we find an official going beyond Government policy to say that we should not have unnecessary socialising. The most extraordinary set of choices are being taken because of an overwhelming, narrow focus on the one issue of coronavirus. It falls on Ministers to provide the lead, the breadth of thinking, the vision and the values to set out what broad kind of society we are trying to create. Where are we going as a society and civilisation? What will be our redemption and salvation? How will we provide that hope for our future? I believe that it will be by having faith in one another. The public are not fools. We are not here to govern idiots. I have faith in the British public that they can choose for themselves to do the right thing: to wear a mask when it is sensible, to pay attention to the level of cases, to choose for themselves whether they go to a restaurant, and, indeed, to choose whether they visit vulnerable relations in care homes—I could tell a sad story about that point …
He then told the story of a constituent who is currently stuck in South Africa without accommodation and badly needs a refill of his anti-anxiety medication.
Steve Baker concluded:
There is no plausible path set out before us that leads to a genuine public health emergency, yet the Government are choosing to react in this way. As a result, I am afraid that the Government are choosing that downward path towards, frankly, hell—the hell of minute management of our lives by edict, with nothing that we can do about it and not even a say in advance in Parliament—and, incredibly, a clear majority of this House is going along with it. Some of us today have to take a decision to vote no to everything. I, for one, intend to chart a course towards heaven, and I hope that hon. Members will come with me.
You can see his speech here:
Bob Seely's speech criticised Neil Ferguson's deeply flawed modelling over the past 20 years:
I want to look particularly at Imperial College and Professor Ferguson. I have a great deal of respect for them and I will be careful how I phrase this, but I am concerned that some of the forecasting we have had has had a track record in, frankly, getting it wrong repeatedly. In 2001, Professor Ferguson predicted 150,000 human deaths from foot-and-mouth; under 200 died. In 2002, he predicted between 50 and 50,000 deaths from BSE; in the end, 177 died. In 2005, he said that 150 million people could be killed by bird flu; 282 died. In 2009, a Government estimate based on his advice said that a "reasonable worst-case scenario" for swine flu would lead to 65,000 British deaths; in the end, 457 people died. I am happy to be corrected on any of those points, but that is the publicly available information.
Moving forward to covid, Ferguson predicted 85,000 deaths in Sweden; in fact, 6,000 Swedes have died. Anders Tegnell, Sweden's chief epidemiologist, said in September 2020:
"We looked at the"
Imperial
"model and we could see that the variables that were put into the model were quite extreme…Why did you choose the variables that gave extreme results?
I love experts—don't get me wrong; I know we sometimes have our issues with them—but it is helpful if they are right, if only very occasionally. Johan Giesecke, Sweden's former chief epidemiologist, said that Ferguson's models were "not very good". The Washington Post quoted Giesecke as saying that Imperial's forecasts were "almost hysterical". This is the forecasting that has been, in part, driving Government action.
In this country, oncology professor Angus Dalgleish, in this country, described Ferguson's modelling as "lurid predictions". He said that Ferguson and his colleagues were getting it "spectacularly wrong". He said:
"Unfortunately, we have a Sage committee advising a government that is devoid of any scientific expertise, on speculative concepts such as the R number"—
which we now all know is the reproductive rate—
"and the need for everyone to stay indoors, even though the evidence strongly suggests that people are less likely to catch Covid-19 outside."
So some of the scientific evidence may have actually driven the rising covid rates in the same way that going into hospital may have been the place that people caught covid and died from it.
Viscount Ridley has criticised Ferguson's modelling. Lund University has applied Ferguson's models and found a massive difference between his predictions and what actually happened. Professor Michael Thrusfield from Edinburgh University said that Ferguson's previous modelling of foot-and-mouth was "severely flawed".
Bob Seely gave many more examples. He then said:
Every time Professor Ferguson's forecasts have been verifiable, they have been seen to be very badly flawed, and this is a serious man and a serious university.
He concluded:
We need a precautionary principle, but we need a sense of balance so that we do not overstep the mark, damage our society, damage our young people and damage poorer people by seeking to control when we need to learn to live with this. My final question to the Minister is: will the Government look into forecasting and perhaps hold an inquiry into the success of forecasting and what we can learn from it, so that we do it less badly in future?
Dr Andrew Murrison, who is a practising physician, voted for the mask restrictions but against the isolation ones.
He remains concerned about the long term effects of these measures on the public and businesses:
While they have been happy to go along with some of the impositions that we have had over the past 18 months, they are now coming to the point where they are thinking, "This could basically be the new normal. This will go on and on, and on what basis will we continue to invest in our businesses if every few months we have these kinds of things and goodness knows what else that may follow?" I am worried about that.
I am also deeply worried, as other hon. and right hon. Members have pointed out, about this "suspected of" bit. That seems to me to be rather clumsy and I am not comfortable with it. Presumably, anybody showing any coronavirus symptoms could be "suspected of" having the omicron variant …
The Government are right to be cautious—of course they are—but we also need a sense of proportion. We need to understand that everything we do in this place with regard to regulation has a consequence for liberty and livelihoods, for the economy in general and for young people in particular. I made that point in connection with the apparent suggestion of the hon. Member for St Albans (Daisy Cooper) that it was a no-cost measure. We need to be careful about the impact that it all has on young people and especially on mental health.
This is so depressing. It is hard to predict how this will affect Boris in polling. Surprisingly, many people in England support the restrictions.
Tomorrow's post will look at the reaction around England to the new restrictions.
On Monday, July 12, the day after the Euro 2020 final, GB News presenter Guto Harri took the knee in solidarity with the cause.
His co-presenter, Mercy Muroki, looked on, silently embarrassed for him:
Fallout
That was the last the channel's viewers saw of Guto Harri, a Welshman who used to work at the BBC and also advised Boris Johnson when he was Mayor of London.
On July 13, Harri defended his gesture:
On Thursday, July 15, GB News tweeted:
That evening, The Guardian posted an article about the channel's tanking ratings after the Harri incident (emphases mine, unless stated otherwise):
GB News attracted zero viewers during some of its broadcasts this week, according to official television audience figures produced by rating agency Barb, after a viewer boycott prompted by one of its presenters taking the knee in solidarity with the England football team …
Business editor Liam Halligan and former Labour MP Gloria De Piero attracted no measurable audience to their show between 1pm and 1.30pm on Wednesday afternoon. During the same timeslot the BBC News channel attracted 62,000 viewers, while Sky News had 50,000 people watching.
GB News' audience again briefly dipped to zero at 5pm, during a late-afternoon programme co-hosted by ex-BBC presenter Simon McCoy and former Ukip spokesperson Alex Phillips.
The Guardian also acknowledged GB News's aforementioned tweets.
On July 16, Guido Fawkes wrote that no one was sure whether Harri had been suspended for a time or whether he was fired.
In any event, Harri's Twitter bio no longer mentions GB News.
Programming director quits
That same day, the channel's programming director, John McAndrew, quit, something that management confirmed only on July 28:
Guido wrote that McAndrew was second in command and disagreed about the channel's focus:
Apparently McAndrew had been in favour of more local reporting and open discussions rather than the Wootton-style culture war rants.
To be fair, the local reporters appear on the daytime shows. The evening programmes, such as Dan Wootton's, discuss socio-political issues.
The channel was quick to implement schedule changes last weekend:
TalkRADIO's Mark Dolan hired
Mark Dolan's Saturday night show aired for the first time on July 24. Nana Akua, the former presenter in that slot, has been moved to a daytime show.
Nana Akua has no time for wokery, as her last show in the Saturday night slot proved. The Express had the story on Sunday:
A GB News clash erupted last night after host Nana Akua urged Meghan Markle and Prince Harry to "just stop talking please". This prompted a defence from Tonight Live guests Nicola McLean and Martin Offiah, who argued that Meghan and Harry "were connecting with people". The trio had discussed reports of new details about Prince William's rift with his brother Harry.
Mark Dolan was a top-rated host on talkRADIO. The Express reported:
Mark is best known for hosting his own Drivetime show on TalkRadio for the past two years but he is jumping ship to join GB News from Friday, July 23, 2021. With 20 years of broadcasting experience behind him, he will be taking Nana's Friday and Saturday night slots to oversee proceedings on his chat show, Late Night Live. It will run from 9pm until 12am and he will speak to numerous guests about topical matters making the headlines.
On joining the network, Mark said: "I've had a wonderful time at TalkRadio but the opportunity to shake up the current affairs broadcasting with GB News is just too good to miss.
"My show will tackle the issues that really matter to people across the United Kingdom in a stimulating, informative but entertaining way.
"My one promise is that I won't be boring," he concluded …
He certainly was not boring. His is a good show.
Nigel Farage to the rescue — five days a week
The biggest catch of all is Nigel Farage, who is now on GB News five days a week: Monday through Thursday at 7 p.m. and Sunday mornings:
Farage had the Sunday morning show since GB News launched, but the addition of the 7 p.m. slot, which premiered on Monday, July 19, has been a real fillip for the channel's ratings.
On July 19, Freedom Day, an anti-lockdown protest took place outside of Downing Street. Political correspondent Tom Harwood, who used to work for Guido Fawkes, tried to file a report but Nigel had to cut him off because of all the obscenities being shouted at him. The Express reported:
Spotting the difficulties in the broadcast, Nigel quickly took action and decided to end Tom's report there.
Cutting him off, Nigel said: "Okay, Tom, I'm sorry, I don't want to cut you off, I really don't."
The camera then cut to Nigel in the studio as he continued: "11 people have been arrested so far,
"But you can see, talk about don't shoot the messenger, there's Tom Harwood reporting for us and there are obscenities being shouted at Tom because he's a member, he's part of the media … "
One of the big features of Farage's weeknight show is the 'Talking Pints' segment.
He has had an eclectic assortment of guests in that slot, beginning with Sir Graham Brady MP, who heads the 1922 Committee of Conservative backbenchers:
On Tuesday, July 27, former Conservative MP, Brexit Party MEP and devout Catholic, Ann Widdecombe, who was drinking cola, as she is teetotal. She disparaged Boris as PM but said that he is still '100 times stronger' than Labour leader Sir Keir Starmer. I always look to see how much drink both host and guest consume. In this episode, Farage downed the most ever — half a pint:
By Monday, July 26, Farage's show was climbing in the ratings, beating Sky News's show in the 7 p.m. slot:
Guido has the ratings from Monday-Thursday last week. Farage's show beat Sky News Tonight every evening.
On Tuesday, July 27, Farage's ratings took over the BBC's in that slot (emphases in the original):
UPDATE 28.07: Nige beat both the BBC and Sky News last night –
Farage – 90.8k

Sky News Tonight – 55.1k

BBC Outside Source – 89.1k
Congratulations…
It happened again on Wednesday, with an even greater figure — 107.7k to 93.3k:
Well done, Nigel!
Digital ratings
Rebecca Hutson, Head of Digital and occasional co-presenter, is keen to target younger audiences via Facebook, Twitter, YouTube, Instagram and — incredibly — TikTok. GB News is the only British broadcasting channel to use the Chinese-owned social media video platform.
On July 21, Hutson explained her strategy to Press Gazette:
… the fledgling brand said social media engagement figures show it is resonating with younger audiences to a perhaps surprising extent.
Head of digital and presenter Rebecca Hutson … said GB News is really a "digital media business that has a TV channel attached" …
Hutson told Press Gazette: "We know that traditional linear consumption has really changed. People don't sit at home for three hours and watch a show. Instead they want to snack on the best bits for them on the platforms that they're already using.
"So that's why we publish natively across Facebook, Twitter, Instagram, YouTube, TikTok and we tailor the content specifically for the platform that it's on so we're pretty agnostic in terms of how the content looks and feels across the different destinations that we have and the website."
For example, she added, the brand is more likely to put an eight-minute monologue on YouTube and short snippets on Twitter which is a "much quicker platform".
"Rather than trying to turn all of our platforms into a homogenous output, we spend a lot of time looking at the analytics and amending how the content appears on there and that's really paying off," Hutson said …
TikTok has been useful in attracting younger viewers:
On TikTok GB News has had 24,500 likes and more than 350,000 views across 30 videos and 4,000 followers so far.
Hutson said the numbers may be "quite surprising for people who would maybe think that we don't have relevance or resonance to that younger audience when we clearly do".
Hutson said explainer videos decoding the news are proving to work best for TikTok. The most-watched GB News TikTok so far explains who Sajid Javid is after he replaced Matt Hancock as Health Secretary …
Almost a third (31%) of 18 to 24-year-olds use TikTok, and 9% get news on it.
As for demographics:
On TV only, excluding the likes of TikTok and Instagram, almost a third (32%) of GB News' audience is aged between 18 and 34. Some 39% are aged 55 and above.
Some 62% of the TV audience is in the middle class ABC1 demographic – a drop from the 82% ABC1 demographic thought to have tuned in for Andrew Neil's opening show on 13 June.
The new shows, higher ratings and digital strategy are welcome developments for GB News, which is an excellent channel. Now that Parliament is in summer recess, I have been watching quite a lot of their output. The shows present alternative viewpoints, from libertarian to left-wing: a good thing.
Once again, coronavirus measures featured strongly in this week's debates in the House of Commons.
Yesterday's post explained that a compromise was reached over the proposed Brady Amendment and covered the subsequent debate on the renewal of the Coronavirus Act 2020.
In the end, only a handful of MPs voted against the extension. Congratulations to them and to the Liberal Democrats, all of whom voted No:
The Labour MPs were Dawn Butler, Kevan Jones, Rebecca Long-Bailey, John Spellar, Graham Stringer and Derek Twigg. I do have a particular admiration for Graham Stringer who adds lucidity in every discussion in which he participates. I've seen him in Select Committee hearings and he's brilliant.
Below is a review of coronavirus debates from the other days.
Monday, September 28
Steve Baker (Con) was in rebel mode on his way to the Commons that morning:
In the afternoon, Secretary of State for Health and Social Care Matt Hancock appeared at the despatch box for a debate on COVID-19 measures.
He received several interventions (interruptions).
Sir Edward Leigh (Con) was the first. He also mentioned Sir Graham Brady of the eponymous amendment (emphases mine below):
If the first duty of Government is to keep people safe, will the Secretary of State remember that the first duty of Parliament is to hold Government to account? I know that he wants to take public opinion with him, but will he therefore reassure us that he is also determined to take Parliament with him? In that respect, may I urge him to meet with my hon. Friend the Member for Altrincham and Sale West (Sir Graham Brady) and come to a compromise to ensure that, if there are further national lockdowns, Parliament will be fully involved in the process?
He agreed, but note the 'where possible' in his reply:
We are looking at further ways to ensure that the House can be properly involved in the process—in advance, where possible. I hope to provide the House with further details soon. I will take up the invitation to a further meeting with my hon. Friend the Member for Altrincham and Sale West (Sir Graham Brady), whom I have already met to discuss this matter, to see what further progress can be made. I hope that that, for the time being, satisfies my right hon. Friend.
Mark Harper and Steve Baker, both Conservatives, hit the nail on the head.
Harper said:
To develop the point made by my right hon. Friend the Member for Gainsborough (Sir Edward Leigh), I accept the points about scrutiny that the Secretary of State makes, but it is about not just scrutiny but the laws we are making. The laws that came in at midnight, for example, were 12 pages of laws, with lots of detail, criminal offences and duties not mentioned when they were set out in a statement last week. That includes duties on employers, directors and officers, with serious criminal penalties. We need to scrutinise the detail of the legislation before it comes into force and give our assent, and not, I am afraid, just allow the Secretary of State to put it into force by decree.
Hancock batted that away, as if it were nothing:
Of course, sometimes in this pandemic we have to move fast. Sometimes we have had to move fast, and we may need to do so again. The challenge we have in this House is how to ensure proper scrutiny while also being able, when necessary, to move fast in response to the virus. That is the challenge that collectively we all face.
Steve Baker dismissed that answer with facts but had to couch it, knowing how thin-skinned Hancock is:
I reassure my right hon. Friend that I am going to praise him later, but the Constitution Unit at University College London tweeted earlier about the regulations mentioned by my right hon. Friend the Member for Forest of Dean (Mr Harper) that
"this policy was briefed to the media 8 days ago. Was it really not possible to schedule proper, detailed parliamentary debate during that time, given the far-reaching consequences?"
It added:
"Given the current mood, it seems very likely MPs will ask this."
Well, I am asking. Surely it was possible, in eight days, to have the debate that my right hon. Friend has called for.
Hancock replied that both he and Prime Minister Boris Johnson had made statements about the new laws the week before.
Labour's John Spellar, who voted against the extension of the Coronavirus Act 2020, pressed Hancock on the issue:
It is nice to be informed, nice to be consulted and nice to be able to scrutinise, but in the end it is about who decides. Can the Secretary of State explain why he is so against Parliament's making the decision, even if he argues for urgency and immediacy —within two days, for example—to either confirm or revoke those regulations? Why is he against Parliament's being the one that finally decides on this? It is quite clear that this is not even being decided in Cabinet, but just by one or two Cabinet members. Let Parliament decide.
Hancock said he hoped to find a way forward.
Jonathan Ashworth, Shadow Health Secretary, replied on behalf of Labour.
This was an excellent debate, one worth reading in full. A few more highlights follow.
John Spellar pointed out that a vaccine would give no guarantees:
There has been much mention of the success of a vaccine, but, first, it is unclear when that is likely to be and, secondly, surely even if we have a vaccine, it will not be 100% effective.
Sir Desmond Swayne (Con) gave the best speech of the debate — a must-watch at just under two minutes:
He took exception to Chief Medical Officer Dr Chris Whitty and Chief Scientific Officer Sir Patrick Vallance's televised presentation the week before with a graph that strained credulity. They took no questions from the press. No government minister was present, either, even though they sat in front of a No. 10 backdrop.
Swayne rightly railed about it and them:
Less than a year ago, I celebrated what I thought was the election of a sceptical and liberal Conservative Administration. Now, I am left wondering if the Prime Minister has not been abducted by Dr Strangelove and reprogrammed by the SAGE over to the dark side.
The purpose of politicians is to impose a sense of proportion on science and not to be in thrall to it. I will make myself very unpopular, but I believe that the appearance of the chiefs last week should have been a sacking offence. When they presented that graph, it was with the caveat that it was not a prediction, but nevertheless it was clear that they presented it as a plausible scenario, with its 50,000 cases per day by mid-October based on the doubling of infections by the week. Not on one day since March have there been infections on a day that were double that of the same day of the week preceding—not once. Where did this doubling come from? What was their purpose in presenting such a graph? It was the purpose of the fat boy in "The Pickwick Papers":
"I wants to make your flesh creep."
It was "project fear". It was an attempt to terrify the British people, as if they had not been terrified enough.
I have been banging on about this since March, and with every criticism I have made, I have been told that the Government were relying on the best possible science. So I was delighted by the letter one week ago today with the nuanced criticism of Professors Heneghan, Gupta and Sikora. I believe that the Government now have to answer that criticism. I am glad that the consensus in the scientific community is broken and the critics are speaking out.

I do not underestimate for one moment the horrible nature of this disease and its post-viral syndrome, but in terms of the United Kingdom's killers, it is 24th in the league, accounting for only 1.4% of deaths. As a consequence, I believe the Government's policy has been disproportionate. By decree, they have interfered in our private and family lives, telling us whom we may meet, when we may meet them and what we must wear when we meet them. We have the cruelty of elderly people in care homes being disoriented, unable to see ​the faces of their loved ones or to receive a hug. We have the tsunami of deaths that we may experience shortly as a consequence of undiagnosed cancers and heart disease, and the discontinuation of clinical trials.
He praised Sweden's lack of lockdown and compared the Government's warning about Christmas celebrations to Cromwell, who, as Lord Protector, also banned the holiday:
All sorts of criticisms are levelled against the Swedish Government that, on examination of the data and comparing like for like, are without foundation. I certainly hold up the Swedish model as an alternative.
We have seen the eye-watering costs that we must now all face for a generation, having closed down our economy for all those months as a consequence of the Government's policy. We face the crushing of enterprises, the destruction of livelihoods, and unemployment among young people, all as a consequence of an overreaction. I understand that there is now some question as to whether students will be allowed to return from university at Christmas. I say most gently to the Minister that the last Administration that sought to restrain celebrations at Christmas was during the Commonwealth, when the Lord Protector was left musing in public whether, if he were to arm one in 10, that would be enough. How many marshals will be required?
I conclude by saying that the policy of the Government has been disproportionate in response to this threat. There may be a virus one day that threatens our very way of life, but this is not it, even if we are behaving as if it were.
In other news, people in England were deeply unhappy to discover that, while they are under 10 p.m. closing time for pubs and restaurants, Parliament's bar and restaurant were allowed to stay open past that hour.
Guido Fawkes reported that a U-turn took place. The exemption was initially made because both are considered as a 'workplace canteen', as sittings in both the Commons and the Lords occasionally run into the night. Now, at least, alcohol will not be served after the witching hour:
Tuesday, September 29
The 10 p.m. closing time for bars and restaurants in England has rankled both proprietors and the public to the extent that the Mojo Bar in Manchester has banned all MPs until the curfew is cancelled:
Guido Fawkes had more details (emphasis in purple mine):
After five days of the disastrous mandatory 10 pm closing time policy for bars, pubs, and restaurants, Mojo Bar in Manchester is taking matters into its own hands. Clearly fuming at the counterproductive curfew order imposed this week, the bar took to social media to share pictures of all MPs – declaring none of them will be served until the curfew is cancelled. Clearly the management know which strings to pull to get the attention of MPs…
Managing Director Martin Greenhow tells Guido that the eye catching policy came about "from frustration and fear". Before the curfew the bar had bounced back pretty strongly from lockdown, back up to 85% of normal turnover. After the curfew was imposed it's down to just 20%.
Good grief! Stop the madness.
The coronavirus restrictions in England became so complicated that ministers, including Boris, could not keep them straight any more.
Gillian Keegan, the Parliamentary Under Secretary of State for Apprenticeships and Skills, had a rough start in the morning on BBC Radio 4's Today:
Guido had more (emphases in the original):
… she was unable to clarify the newly-imposed rules in the northeast on meeting other families, squirming "no, I'm sorry I can't clarify that… no I don't know the answer to that question", claiming she couldn't answer the ever-increasingly complex regulation question because she's "not from the northeast". Mishal Husain correctly pointed out Keegan, as a minister, couldn't understand the new rules, what hope does the general population have of being able to stick to them…
Alok Sharma, Secretary of State for Business, Energy and Industrial Strategy, also appeared on BBC radio that morning. He took issue with their 'gotcha' tactics:
Boris, too, got tripped up around lunchtime. He was asked to clarify Gillian Keegan's answer on Today:
Guido reported:
Responding to a Channel 5 question, Boris said:
"Outside the areas such as the North East where extra measures have been brought in, it's six inside and six outside, in those areas such as the North East where extra tight measures have been brought in you should follow the guidance of local authorities, but it's six in a home or in hospitality but as I understand it, not six outside. That's the situation there."
Which is precisely the opposite of what the new restrictions say, as the Government announced last night:
"Measures will be brought into law restricting inter-household mixing in indoor settings, including pubs and restaurants"
So in indoor settings no household mixing. Outdoor can see household mixing. Something the PM got 180 degrees the wrong way round…
He quickly issued an erratum early in the afternoon:
Wednesday, September 30
In the debate on extending the Coronavirus Act 2020, another highlight was Conservative MP Charles Walker's speech. He was on fire:
He said:
I first thank the Secretary of State for everything he has done to get us to this stage tonight, but 90 minutes to debate the renewal of an Act that has fundamentally changed the nature of the relationship between the state and citizens is not good enough. If this is the portent of the promises to come, it is not good enough. I need, at some stage, more than three minutes to discuss the fundamental ​hardships that are going on in my constituency—the jobs that are being lost, the opportunities that are being lost, the young people struggling to find work, to get back to university and to come back from university. Ninety minutes is an utter, utter disgrace. It is actually disrespectful to this House and it is disrespectful to colleagues.
I am sorry, Secretary of State, if I sound—actually, I am not sorry that I am angry, because a lot of people in this place are angry. We want to see this virus beaten, of course we do, but it would be nice—just nice—if this House were shown some respect.
Charles Walker is the vice-Chairman of the 1922 Committee, which Sir Graham Brady chairs. It represents backbench Conservative MPs.
Walker's righteous anger has been building since September 10:
I note that Steve Baker did not vote against the extension of the Coronavirus Act 2020, despite a bold interview days before on Sky News.
Despite that, he still has his eye on the ball. He retweeted this from Italy:
And he's doing more interviews:
We really do need to reopen the economy in full — now.
Next week, I'll have a wrap-up of the final debates of the Brexit-oriented Internal Market Bill.