You are currently browsing the tag archive for the 'Sir James Duddridge' tag.
This post concludes the story of how Rishi Sunak became Prime Minister.
Those who missed them might find parts 1 and 2 of interest.
Before concluding, an important anniversary took place this week.
On October 26, 2012, UKIP MP Douglas Carswell introduced a private member's bill, 'The People's EU Withdrawal Bill'.
The groundswell of support from Guido Fawkes's readers helped bring it to the Commons:
Guido has the video and a brief comment (emphases his):
Today history was made as the first-ever crowd-sourced Bill was debated in Parliament. The majority of 5,000 readers of this website voted for Douglas Carswell to propose Britain to withdraw from the European Union, and today Carswell stood up in the House to argue the case for the People's Bill. The debate can be watched at length here. 
Here is a short video of proceedings:
A few years later, then-Prime Minister David Cameron, frightened by the overwhelming support for UKIP in the European election, decided to give the British people a referendum. It ended up being the largest plebiscite in the history of the United Kingdom. On Thursday, June 23, 2016, in pouring rain, voters said they wanted the UK to leave the EU: 52% to 48%.
In current news, during Rishi Sunak's first week as PM, as I wrote yesterday, questions were being asked in the Commons and the Lords about Suella Braverman's reappointment as Home Secretary.
The Telegraph's Madeline Grant called Braverman 'Houdini' for not showing up for an Urgent Question in the Commons about the horrifying state of the Manston processing centre in Kent, which is turning from a short-stay to a longer-term residence for Channel migrants (emphases in purple mine):
At a second Home Office UQ, this time courtesy of Labour's Diana Johnson, the Home Secretary was a no-show again …
In truth, there were unhappy campers on both sides of the House; enough to populate Butlins, if not quite Calais …
Deputising for Houdini was Robert Jenrick – a junior Home Office minister and close ally of the PM who, some say, was appointed to keep a watchful eye on Braverman and prevent her from doing anything too mad …
Yet Jenrick's arguments were more true-blue, or at least Red Wall. He had little sympathy with illegal migrants, and the diversion of resources away from their legal counterparts, and seized eagerly on Priti Patel's pet phrase, "evil people-smuggling gangs". Reinforcements soon began to arrive from the Tory backbenches. What gave Labour the right to complain, wondered Steve Double, the MP for St Austell, when they'd voted against Patel's Nationality and Borders Bill. Lee Anderson and Richard Graham warned of Britain's imminent inundation by Albanian men.
Christopher Chope reminded the Commons that whatever the state of the Manston processing centre, conditions were a darn sight worse in the Calais Jungle. Labour MPs looked scandalised, but Jenrick agreed wholeheartedly.
When asked why he was deputising for Braverman:
Jenrick, in the spirit of Sunak, came back with an answer that was simultaneously boring and unimpeachable. "Because I'm the Minister of State for Immigration" …
It is estimated that from 1% to 2% of Albanian men are in the UK. They have places to go to once they arrive. The Albanian drug trade is the latest development in our migration story.
The situation in Dover is intensifying. The Times reported the story of the week: '"Desperate" new arrivals drive Dover into taking up arms'. Sledgehammers, more like, as firearms are largely illegal here:
Sue Doyle, 59, was sitting in her living room sipping a cup of coffee on Sunday morning when a 16-year-old Albanian migrant got in through the back door, which she had left open for her dog.
"All of a sudden he was there standing in my front room," she told The Times. "He didn't seem very friendly. He kept saying: 'no police, no police'."
Doyle, a full-time carer for her mother, said she was made to her lock her dog in a bedroom and that the teenager then asked her to drive him to Manchester. When she refused he demanded her mobile phone and used it to arrange to be picked up by a contact.
… Doyle managed to sneak out of the front door and alert a neighbour, who contacted the police and confronted the young migrant.
The neighbour, Louise Monger, 36, said she became more sympathetic when she realised his age and tried to assist him. Police arrived and he was detained before the driver arrived, she said …
The teenager who was arrested was said to be in tears as he was driven away in a police car …
A few doors down from Doyle, Kerry Jones, 45, a mother of a young autistic girl, said she now sleeps with a sledgehammer next to her bed after a migrant tried to enter her home through the back door in August …
The residents complained that not enough was being done by the council, police and border force to deal with the problem. Many spoke of seeing migrants running through the streets and residential areas or "hiding in bushes" in local parks …
When a Times reporter arrived at Dover Priory station yesterday a Syrian mother and her young child approached and asked for help getting to an "army base" where their money and belongings were.
The mother, Nur Taha, 27, said she and her son, Mohammad Salu, six, arrived in Dover ten days ago in an overcrowded dinghy that was rescued on the water and were separated from her partner Akram Salu, 49, who was detained by military police, and their possessions …
When a reporter called Kent Police to request assistance for the mother and son, he was told that no officers were available as they had more pressing priorities. The advice given was to let them roam in Dover and hope that they were safe.
In a statement on Doyle's report, the force said it received a call at about 10.45am on Sunday that a man had entered "an insecure door at a property in Dover and was seeking the use of a phone".
The force added: "He was initially arrested, then de-arrested at the scene once the circumstances had been established by speaking to both parties. The man was then detained on behalf of immigration officers."
In Nur Taha's case, it is understood she and Mohammad had been processed by Border Force officers …
The council was approached for comment.
Mass migration started during Tony Blair's government and has only become worse, as the backlog of cases is through the roof.
Twenty years on, the Home Office again needs more information on those arriving, as well as stronger co-operation with France to stem the flow. Officials often have little information on claimants, whose lack of identification may be a deliberate ploy — case workers have little choice but to believe them: 75 per cent of asylum seekers were given the right to stay in the 12 months to March, the highest rate since 1990.
Meanwhile, claims are taking longer to assess, having climbed to an average of 480 days for an initial decision to be reached.
Some in the Home Office have suggested there is a deliberate policy of slowing down the processing of claims given the high rate of people granted asylum. A six-month target for assessing claims has been ditched and the rate of cases completed in that time has fallen from 80 per cent in 2015 to 17 per cent. But this looks set to change, given the soaring cost of housing those waiting for their claim to be assessed in hotels, which now stands at £6.8 million per day.
This month, the idea of erecting tent cities in London's parks was mooted, something Paris has tried with shocking effect. Most Parisian women living near one of these tent cities can no longer go out at night. Drugs, violence and noise prevail once it turns dark.
The same Times article reported that London tent cities are unlikely to come to fruition:
The idea was raised by civil servants in meetings with leaders of London councils this month, sources said.
It was considered after efforts to persuade London boroughs and local authorities in other parts of the country to accommodate more asylum seekers failed. The Home Office had issued an emergency appeal to councils for more places earlier this year as officials struggled to cope with the growing numbers of migrants crossing the Channel.
Council leaders in the meeting dismissed the prospect of installing marquees in parks in the capital and instead urged the Home Office to lift the ban on asylum seekers being able to get a job …
The Home Office made clear last night that the plans to erect tents in London parks were no longer under consideration. It said: "It is categorically untrue to suggest that the Home Office is planning to erect tents to house asylum seekers in London parks."
The idea arose during discussions on how to deal with overcrowding at the temporary asylum processing site at Manston Airport, which is only designed to hold Channel migrants for up to 24 hours.
It is unclear what Rishi Sunak has planned for Suella Braverman.
On the one hand, Sunak's people say everything is in hand, and MI5 say they have no problem working with the Home Secretary, the Times revealed:
A former Conservative minister in the Home Office told The Times: "You can't even have the vague notion that you might leak because then all the security services will clam up on you — which is not what you need."
However, responding to claims that MI5 could withhold information from Braverman, a security source said: "This is completely untrue. The home secretary and MI5 have a strong and trusted working relationship. She will continue to receive regular intelligence briefings, as was the case when the home secretary was in post previously and with other home secretaries."
Rishi Sunak's spokesman insisted that Braverman had "strong relationships" with the security services and the prime minister's full confidence.
Oh, dear: 'the prime minister's full confidence'. Those are dangerous words, dating back from the 1990s. That means a resignation or a sacking could be coming soon.
The Star wasted no time in putting 'Leeky Sue' on their Friday front page:
On the other hand, the Times said that Sunak's allies are waiting for Braverman to go, possibly so that Jenrick can step in. He wouldn't be very good, I don't think, but that seems to be charactistic of Sunak's government — business as usual, nothing gets done:
Sunak's close ally and Braverman's deputy in the Home Office, Robert Jenrick, responded to an urgent question on crossings yesterday in her place. The sole hope now, Sunak allies have whispered, is that Braverman makes a further error and goes for good, leaving Sunak and Jenrick to press on peacefully in her absence.
That doesn't surprise me in the slightest.
The Guardian continued to cast shade on Braverman:
London's Evening Standard, however, went with the story about Cabinet minister Nadhim Zahawi's defence of the Home Secretary at the bottom of their front page:
One good thing that Rishi has done is to decline going to COP27:
A new poll shows that the Conservatives are doing better than Labour, but still have a huge hill to climb:
I disagree with Guido's assessment here. The poll decline started with Boris and Partygate nearly a year ago:
That said, Guido rightly sees this as an uphill battle:
Add to that the impending storm of budget cuts, Rishi certainly faces an uphill battle.
The poll also strengthens Reform UK's claims of a resurgence, with their support at 6% and growing representing a relatively strong showing. The Conservatives face challenges from all sides…
Finally, there's the idiocy of America's Trevor Noah calling Britain racist towards Rishi Sunak. I haven't read one negative comment about his heritage from conservatives, ever. Labour — our equivalent of the Democrats — are the ones making the racist remarks.
Rishi Sunak does not believe Britain is a racist country, a Downing Street spokesman said, following claims by Trevor Noah that there was a "backlash" after he became the UK's first British-Asian Prime Minister …
"But you heard the words in the House [of Commons] on Wednesday with regard to the [appointment of the] Prime Minister," the spokesman said. When asked whether Mr Sunak believes Britain is a racist country, the spokesman said: "No he doesn't."
His words were echoed by Sajid Javid, the former chancellor and health secretary, who said Noah was "detached from reality" when he claimed Mr Sunak's appointment provoked a racist "backlash".
… Tom Holland, a popular historian and podcaster, wrote:
—————————————————————————————————————–
Now back to the leadership contest, where we pick up on the events of Saturday, October 22, 2022.
Boris returns to the UK
The Sun's Harry Cole told TalkTV that Boris and Rishi could come up with a plan to save the country:
Sky News's Mark Stone was tracking Boris's progress back to the UK:
Sky News interviewed Chris Heaton-Harris MP, who said that Boris definitely had 100 backers (see video):
Guido was eager to confirm, as Boris's numbers were far behind Rishi's at that point:
Boris landed at Gatwick mid-morning:
Guido was hopeful for his prospects:
One German newspaper, however, was less than enthusiastic, asking, 'Seriously?':
Former Home Secretary and Boris loyalist Priti Patel declared her support:
However, the never-Boris MP, Sir Roger Gale, did not mince words in an interview with LBC:
Scottish Conservatives would agree. The Telegraph's Alan Cochrane wrote:
Just when an air of undisguised relief began to filter through the higher reaches of the Scottish Tories at the resignation of Prime Minister Liz Truss, along came Boris Johnson to dampen their ardour.
They may not have been the greatest fans of Ms Truss and were glad to see the back of her. But their view of Boris bordered on the certain belief that he was a major electoral liability north of the border. And as the news emerged that the former PM aims to stand again for the top job, one former senior minister commented: "It will destroy the Conservative Party if he does."
At lunchtime, Harry Cole produced a poll for the Sun saying that Boris still topped the charts. That must have been in England, then:
However, Lord Frost thought that Rishi was the right man for the job:
One Twitter user reminded us that Boris plucked David GH Frost from obscurity and elevated him to the House of Lords:
However, the BBC's Laura Kuenssberg and ITV News's Anushka Asthana spotted a trend. Former Boris supporters, such as Lord Frost, who also supported Liz Truss, now preferred Rishi Sunak:
That afternoon, Boris's father Stanley appeared again on GB News, saying he would vote for his son if the contest went to Party members:
Just before 3 p.m., Boris backers told the BBC's Chris Mason that the former PM had the numbers:
However, the Evening Standard's Nicholas Cecil sounded a note of caution — Boris's MPs did not want their names made public:
A Mail+ report couldn't shed much more light on the names, either:
On Saturday morning, former Home Secretary Priti Patel said she was backing Mr Johnson in the leadership race because he had a 'proven track record'. Ms Truss, Defence Secretary Ben Wallace and former Home Secretary Suella Braverman are also in Mr Johnson's camp, while former No10 chief of staff Steve Barclay and ex Brexit Minister Lord Frost have publicly backed rival Rishi Sunak.
Just before 3 p.m., another Twitter user provided this analysis, saying that Rishi had the momentum and numbers:
Just after 3 p.m., Guido's spreadsheet showed that Rishi was on 120 MPs with Boris on 71:
Red Wall MP Lee Anderson declared his support for Boris after 3:30:
That was about it for Boris's afternoon.
Shortly after 6 p.m., Guido described how he and his team were compiling their spreadsheet. The following points stood out:
Here is some insight into what has happened in the last few days: the Rishi campaign has decided in their wisdom to freeze Guido out – no briefing, no contact, effectively pretending we don't exist as a fact of political life. Petulantly putting us in the penalty box for giving Rishi a hard time in the last leadership campaign. We started reporting and publicly recording the support of MPs for Boris on Thursday, and by yesterday evening the Rishi campaign was instructing their supporting MPs to contact us to confirm their support for him. As our records showed support for Rishi catching up with and then pulling ahead of Boris, his campaign reminded supporters to confirm their pledges to us. All can now see the relative strength of candidates' support.
… MPs who have not pledged can be seen by all sides. They are either genuinely undecided – waiting to see which way the wind blows – or biding their time for Machiavellian reasons, or simply ransoming their vote for the highest bid or best favour. What MPs can't do is double pledge any more. If they tell a campaign they are backing their candidate the campaign expects them to go public. If they don't go public, they are suspect.
Yesterday the site was visited three quarters of a million times, such was the demand for data.* This kind of transparency is now a fact of political life, the game has changed. Changed for the better…
*Team Rishi's strategy of ignoring the website read by so much of the membership doesn't bode well for their success if the contest goes to the membership.
Penny who?
Meanwhile, Penny Mordaunt's leadership bid wasn't the best.
Although this was strictly for MPs, The Guardian went to her Portsmouth North constituency to find out what the public thought:
Penny Mordaunt may have been the MP for Portsmouth North for 12 years, and could perhaps be the next prime minister, but some of her constituents were perplexed when hearing her name on Friday.
"Who's she? I don't know nothing about her," said James McLeish, who added he would not recognise her if she passed him on the street. "Never seen her, don't even know what she stands for."
McLeish's bemusement came hours before Mordaunt formally announced she was standing to replace Liz Truss – stealing a march on her presumed rivals Rishi Sunak and Boris Johnson.
Speaking in Cosham High Street, which runs through the centre of a suburb to the north of the port city, McLeish, 82, had a much clearer view on Truss's resignation after a disastrous 45 days in office.
The Telegraph's Tim Stanley gave us a tongue-in-cheek profile of the Leader of the House:
What about Penny Mordaunt, bringing up the rear? She was the first candidate to declare – and she surprised everyone last time by how far she went. The Tory grassroots appear besotted with this lady, thanks to her naval career and taste for innuendo; she exudes an impression of authority that was bolstered during the accession of Charles III when she managed to read aloud from an official document clearly and without error. That's all it takes nowadays. If only she were in Parliament, Angela Rippon would be a shoe-in.
Ms Mordaunt has reportedly told Jeremy Hunt that if she wins, he can write economic policy. And Mr Hunt, no doubt, rang the Bank of England and said, "If Penny wins, you can write economic policy." The Bank rang the IMF… and on it went all the way to Joe Biden, who put a call through to his wife, even though she was lying next to him, and said, "Honey, if Penny Farthing is made Queen of England, you can write economic policy."
Stanley spoke with Conservative Party members:
What do the members think? I've put out feelers. They want Boris.
They know he's not Jesus. He might have spent 40 days in the desert, but if the Devil tried to tempt him, he'd give in on every occasion. Yet they voted for Truss, the suits kicked her out – so now they want the good times back with BoJo. He likes pina coladas and dancing in the rain. And if they want him, and assuming he can find his passport – last seen in a swimming pool locker – he'll be right with us.
Harry Cole said that Penny's backers during the Liz Truss contest during the summer were now plumping for Boris or Rishi this time around:
Deal? No deal
Boris and Rishi met on Saturday evening. The meeting lasted three hours. The Times reported it took place at Boris's office in Millbank Tower. I've been to Millbank Tower. It has lovely offices and a spectacular view of the Thames.
The Sun put the talks on its front page on Sunday, October 23:
The paper's Harry Cole tweeted when the meeting ended, which was after 11 p.m.:
On Sunday, Cole said that Boris's backers did not want to make themselves public until they were sure there was no deal:
There was no deal.
The Mail on Sunday reported that Suella Braverman was backing Rishi:
She wrote in the Telegraph: 'I have backed Boris from the start. From running alongside him in London in 2012, to supporting him to be our leader in 2019 and willing him to succeed throughout the travails of this year. His resignation in July was a loss for our country.
'But we are in dire straits now. We need unity, stability and efficiency. Rishi is the only candidate that fits the bill and I am proud to support him.'
The article gave us scant information on the meeting between Boris and Rishi:
Last night's crunch summit between Mr Johnson and Mr Sunak, which is believed to have ended shortly before 11.20pm, comes ahead of tomorrow's deadline for Tory leadership hopefuls to secure the backing of 100 MPs.
The headline banners read:
Ex-Chancellor fomally confirms candidacy for Tory leadership after late-night talks with Boris Johnson

It was claimed this morning that no agreement was struck between the pair in their three-hour negotiations

Some had been hoping for a power-sharing pact between the pair in order to avoid a divisive battle
Sunday's hope would not last
The day began well, but with Boris's numbers stagnant, reality began to set in.
That morning, Redfield & Wilton Strategies released a positive poll for Boris, taken on October 20 and 21:
Guido showed us the Mail on Sunday poll, which also showed that Boris had the best chance of stemming a Labour majority were a general election to take place that day. Guido meant 'Tory' not 'Toy', by the way:
Liz Truss's Business Secretary Jacob Rees-Mogg told Laura Kuenssberg that Boris had the numbers (video):
Rees-Mogg also defended Boris's record (video):
Later that morning, Guido said that some MPs were sounding out their constituents:
Just before 2 p.m., Foreign Secretary James Cleverly tweeted that he was backing Boris:
Meanwhile, Rishi already had 150 MPs signed up to vote for him, including names:
The Mail on Sunday reported that Boris allegedly contacted Penny Mordaunt to ask her to stand aside. The sign of a desperate man:
Penny Mordaunt, who officially declared her leadership bid on Friday, was claimed to have rebuffed Mr Johnson's attempts to get her to drop out of the Tory leadership race in a phone call this afternoon.
He was reported to have told the ex-PM that, even if she did quit, most of her supporters would switch to Mr Sunak and not Mr Johnson. 
'I'm in this to win it,' the Leader of the House of Commons declared, despite signs she is struggling to win backers.
Boris bows out
Around 9 p.m., Boris announced that he was withdrawing from the contest. The time was not right for him to return, he said.
Afterwards, the Telegraph recapped the past 24 hours and said the meeting between him and Rishi on Saturday night lasted only one hour:
It was as he sat with Rishi Sunak, face-to-face for 60 minutes with no one else in the room, that Boris Johnson rolled the dice for the last time …
Barely a word had been passed between Mr Sunak and Mr Johnson since their relationship imploded in July.
Yet on Saturday night, the two biggest names in Tory politics agreed to down tools and meet, with the keys to Number 10 the prize on the table …
But the truth was that he believed a joint ticket between the two men, with him back as prime minister, was his route back to Downing Street.
The meeting was called at the behest of Mr Johnson, not Mr Sunak.
It was also, according to one figure who was in touch with one of the two candidates on Sunday, a surprisingly convivial affair. "It was perfectly pleasant," said the source.
But Mr Johnson had been forced into a meeting with his old foe in an attempt to regain control of the corridors of power.
Above all, it was no Granita pact [one between Tony Blair as PM and Gordon Brown as Chancellor, done in a London restaurant of the same name] because of one simple reality – there was no deal. Mr Sunak did not agree to stand aside. Nor did Mr Johnson. They parted ways unresolved.
On Sunday morning, Boris rang his supporters:
His gamble to take control of Mr Sunak's bigger list of backers had failed.
That much became clear at 8am on Sunday, when Mr Johnson gathered his supporters on a video call and informed them no agreement had been reached.
We found out more about his appeal to Penny to stand aside:
Ms Mordaunt gave him short shrift. The Commons Leader, who remembers being ejected from the Cabinet by Mr Johnson on his first day in office in July 2019, told him most of her MP supporters would prefer to back Mr Sunak – and that he should consider dropping out of the race and leave her to face him alone. Her offer was refused.
On Saturday, Boris's aides even said he would keep Jeremy Hunt as Chancellor:
Searching, perhaps, to persuade MPs he had credibility as a "unity candidate", Mr Johnson's aides let it be known he would keep Jeremy Hunt in post as Chancellor if he won the contest.
Little did he know that at that moment, Mr Hunt was preparing to make his first public declaration of the leadership race since ruling himself out – by backing Mr Sunak in an article for The Telegraph.
King Charles would have said, 'Dear, oh dear'.
On Sunday, around 9 p.m., Boris threw in the towel:
By 9pm, the answer was clear.
Writing to his supporters on a WhatsApp group, Mr Johnson himself conceded defeat – but claimed he had the numbers all along.
Telling friends he had been "overwhelmed" by support from MPs, he maintained that he was "uniquely placed to avert a general election".
Stressing that he had cleared the "high hurdle" of 102 nominations including a proposer and a seconder, he said he was confident he could be "back in Downing Street on Friday".
But it appeared the concern among Tory MPs about the return of their former leader had rattled Mr Johnson.
Confirming he had "reached out" to Mr Sunak and Ms Mordaunt in an attempt to strike a deal, his message concluded: "I am afraid that the best thing is that I do not allow my nomination to go forward and commit my support to whoever succeeds."
… As he told MPs on Sunday night: "I believe I have much to offer but I am afraid this is simply not the right time."
One of Boris's main supporters, Sir James Duddridge MP, was nonplussed:
An hour later, he changed his support from Boris to Rishi:
Jonathan Gullis, a Red Wall MP, didn't wait that long:
Braverman pivotal to Rishi's support
On Monday, October 24, the Times had two articles about the importance of Suella Braverman backing Rishi.
The European Research Group of Eurosceptic backbenchers [Brexit supporters], which in previous leadership contests has acted as a bloc, is increasingly fractured.
Suella Braverman, the former home secretary who was once one of Johnson's most ardent supporters, came out for Sunak. The party, she said, could not afford to indulge in "parochial or nativist fantasies" given the "dire straits" it was in now. The world was "fundamentally different" from when Johnson was elected in 2019.
Braverman's endorsement of Sunak surprised even some of her allies, with one speculating about whether she had been offered the chance to return as home secretary. "She wouldn't have settled for much less," said one.
Braverman's support was not just a blow to Johnson, it also allowed Sunak to make the case to wavering MPs that he could command support across the party. As well as Braverman, Sunak won the backing of other former ERG stalwarts such as Steve Baker and Theresa Villiers. He has even persuaded MPs who had joined a "Back Boris 22" WhatsApp group to jump ship, including Chris Loder, MP for West Dorset.
It suggests that Sunak has made assurances to the ERG on policy and jobs, given that senior ERG figures were briefing on Friday that they would seek "guarantees" before endorsing candidates, which ranged from no concessions on the Northern Ireland protocol, reaffirming the manifesto commitment to reduce immigration and senior cabinet roles for their members.
Braverman suggested as much, saying in an article for The Telegraph website that the party needed to "move beyond Leaver or Remainer; One Nation or ERG; right of the party or left of the party; wets or Thatcherites," adding: "One person can build that team: Rishi Sunak."
The other said that Boris's team had approached her for support on Saturday but was rebuffed:
Johnson's team had made a "big pitch" to her yesterday in the hope that winning her over would persuade fellow right-wing MPs to back him. She is a former head of the European Research Group of Brexiteer MPs. It is a further sign that the ERG is split down the middle between Sunak and Johnson …
Her endorsement will deliver a big blow to Johnson's efforts to attract the remaining MPs on the right of the party, as she is seen as one of their flag-bearers and rising stars.
She is the latest figure on the right to endorse Sunak following Kemi Badenoch, the trade secretary, and Lord Frost.
Braverman also signalled that Sunak had agreed to continue with reforms she had begun working on during her short spell as home secretary, including a new law to prevent the European Convention on Human Rights allowing migrants and criminals to avoid deportation. It also suggests that Sunak has agreed to press ahead with the government's controversial Rwanda policy.
I hope that all works out for her.
Unfortunately for James Duddridge, the Boris loyalist, even though he voted for Rishi, he was sacked as Trade minister on Wednesday:
Jacob Rees-Mogg also got the sack this week and has returned to the backbenches.
Rishi's 'coronation'
On Monday morning, October 24, the outspoken Lee Anderson refused to back Rishi, swapping his vote from Boris to Penny. Interesting, to say the least:
Just before 1 p.m., Rishi had over 200 backers, double of what he needed:
At 2 p.m., the all-powerful 1922 Committee assembled at Conservative Party headquarters (CCHQ) to announce the results.
They had to meet at CCHQ, because while Rishi was the new Party leader, he was not yet Prime Minister and would not be able to enter No. 10 until he met with the King, who would grant him permission to form a government. The monarch returned to London on Tuesday, at which time Rishi's premiership was formalised.
According to the 1922 Committee, Boris had real numbers behind him — and had passed the threshold:
Guido reported:
For the historical record Nigel Adams says he met this morning with Bob Blackman, Joint Secretary of the 1922 Committee.
He has independently verified the nomination paperwork and confirmed to me that Rt Hon Boris Johnson MP was above the threshold required to stand for the Conservative Party leadership in this leadership election. Therefore Mr Johnson could have proceeded to the ballot had he chosen to do so.
The nominations process is confidential and it is up to individual MPs whether they wish to publicly announce who they back in leadership elections – Bob Blackman is verifying nominations today for the remaining candidates in this leadership election. Those still suffering from Boris Derangement Syndrome may need to seek help…
At the very last minute, Penny Mordaunt withdrew from the contest.
That meant Rishi had his 'coronation' as the only candidate left.
As such, the vote did not need to go to the Party members.
Conservative MPs were happy as Larry as they rejoiced that they finally got their man in office at last.
That evening, GB News reported that the Party's phone lines and website could not handle the amount of calls and clicks from members trying to cancel their membership.
They weren't angry at Rishi as much as they were the MPs who denied them a say.
End of series
Before going into Rishi's win in last weekend's leadership contest, a few items of current news follow.
Wednesday, October 26 saw Rishi at the despatch box for PMQs, which he handled well. Labour's Sir Keir Starmer was still going around in circles with his six questions, achieving nothing, as usual.
Home Secretary Suella Braverman's security breach dominated PMQs and Shadow Home Secretary Yvette Cooper asked an Urgent Question about it.
This morning's Telegraph editorial said (purple emphases mine):
There is something about Mrs Braverman that seems to drive the Left borderline hysterical. Her robust views on issues such as controlling the borders and tackling crime put her in the mainstream of public opinion. Somehow that is enough to earn her the sobriquet "hard-Right" among her Leftist critics.
In the Commons, Mr Sunak defended Mrs Braverman's return to the Home Office, saying that she had made an error of judgment but that she had recognised that and accepted her mistake. Her resignation last week also took place amid a row within government over immigration levels: Mrs Braverman is a firm advocate of cutting numbers.
Many Conservative voters will be reassured that she is back in office. Mrs Braverman has the right political instincts, taking a hard line for instance on the need to clamp down on disruptive climate protesters. In her previous roles, she has shown that she has the ability to master the details of complex policy areas, including on sensitive matters such as transgender rights. Now, she should be given the time and space to get on with the job.
A retired Squadron Leader wrote the Telegraph to say:
SIR – Congratulations to the new Prime Minister and to Suella Braverman on her return as the Home Secretary.
… The situation in the English Channel, with migrants entering Britain with impunity and without permission, at a cost of millions of pounds a day for hotel accommodation alone, cannot go on.
In 2021, 28,526 migrants landed in Britain without permission. This year, more than 38,000 migrants have arrived so far, with a projection of up to 50,000 by the new year.
Mrs Braverman would seem to have the answers to this problem. One can only hope that her return to the Home Office will make a difference, and quickly.
Another issue Braverman will have to deal with are alleged Chinese 'police stations' in two Glasgow restaurants.
Today — Thursday — the Times reported:
Ministers have been called on to intervene after China was accused of operating a "shadowy and chilling" secret police hub in the heart of Glasgow.
A report compiled by a human rights organisation claims that the Chinese government is operating a global network of undeclared "police stations", which are being used to intimidate and silence dissidents.
The Home Office said the claims were "very concerning" and would be taken "extremely seriously". A spokesman said: "Any foreign country operating on UK soil must abide by UK law. The protection of people in the UK is of the utmost importance and any attempt to illegally repatriate any individual will not be tolerated."
Safeguard Defenders, a Madrid-based civil liberties group, alleges one of the outposts is running from 417 Sauchiehall Street in central Glasgow, alongside two others in London. The address houses the premises of Loon Fung, one of the city's oldest and best-known Chinese restaurants …
A spokesman for Safeguard Defenders:
claimed the Scottish Fujian Chamber of Commerce, registered at the premises of Sichuan House, another Chinese restaurant based on Sauchiehall Street, also had links to the Chinese state.
The Times attempted to confirm the allegations:
The Chinese consulate in Edinburgh did not respond to a request for comment …
Loon Fung has strongly denied any involvement. "There's no secret police here," a spokesman said. Sichuan House did not respond to a request to comment. A man who answered a mobile number published online as being the contact for the Scottish Fujian Chamber of Commerce hung up when The Times introduced itself.
Returning to Braverman, on Wednesday night, Sir Jake Berry MP, the short-lived chairman of the Conservative Party under Liz Truss, gave an interview on TalkTV's Piers Morgan Uncensored, on which Nadine Dorries MP was a guest host, Morgan being on holiday.
The Times reported what Berry said, in part:
From my own knowledge, there were multiple breaches of the ministerial code …
That seems a really serious breach. The cabinet secretary had his say at the time. I doubt he's changed his mind in the last six days but that's a matter for the prime minister.
Also:
Asked whether Braverman had rapidly owned up to the mistake as she claimed, Berry replied: "I wasn't in the meeting but as I understand it the evidence was put to her and she accepted the evidence rather than the other way around" …

Berry's comments are likely to prompt further questions about the circumstances of Braverman's re-appointment as Sunak completes a reshuffle of the government's junior ranks.
Hmm. Interesting.
Berry's interview was up for discussion this morning in the House of Lords. Labour peer Baroness Smith of Basildon, leader of the Opposition, asked an Urgent Question about it. Baroness Neville-Rolfe, responding for the Government, gave a brief statement in support of the Prime Minister and the Home Secretary, which was met with audible groans from many of the peers. Several of them, including a Lord Spiritual (Anglican bishop), asked questions for several minutes.
Labour will continue to press this issue, it seems.
Guido Fawkes caught up with Sir Keir Starmer on Wednesday:
Guido wrote (emphases his):
Finding himself behind Keir Starmer in a coffee-queue this afternoon, Guido took the opportunity to ask the Leader of the Opposition about his future attack lines on the Government. The case of Suella Braverman, the Labour leader said, "wasn't going away."
It was a relatively inconspicuous item in his PMQs: "Have officials raised concerns about his decision to appoint her?" It caused a frisson among those who know how important process is, and how deadly the advice given by officials can be …
Obviously no PM is going to answer such questions, nor will he willingly surrender written advice given in ministerial confidence. However, there is a route to get it. By a Humble Address (a procedural device resurrected from ancient obscurity by the previous Speaker, John Bercow), documents of all sorts, including electronic, can be demanded by an Opposition Motion.
Labour has had next week's Opposition Day nicked by the SNP. But the issue will probably fructify rather than decay over time. It may be a little early in the new administration for 35 Tories to defy the Whip and vote for the  documents to be revealed – but if recent history is anything to go by …
Questions about Braverman continued in the House of Commons on Thursday during Cabinet Office Questions and, later, Business Questions to Leader of the House Penny Mordaunt.
A Telegraph article by Gordon Rayner said that recent Home Secretaries ended up doomed from the start:
Almost as soon as Rishi Sunak reappointed Mrs Braverman as Home Secretary, the civil service was letting it be known that there were "concerns" about whether she could be trusted with sensitive information. Simon Case, the Cabinet Secretary and head of the Civil Service, was "livid" about her appointment, sources said.
If the ultimate goal of the poisonous briefings by civil servants was to suggest the department cannot function with Mrs Braverman in charge, it will be a familiar scenario to previous holders of the post.
Priti Patel only just survived a concerted campaign to force her out by civil servants who accused her of bullying. Amber Rudd lasted two years before she was forced to resign for misleading a Commons committee, having been wrongly briefed by her department on deportation targets. As far back as 2006 Labour's John Reid declared the department "not fit for purpose".
In 2006, Labour was in power, by the way.
Gordon Rayner rightly includes Braverman's allies in his analysis:
Allies of Mrs Braverman say that her enemies in the Home Office, and on the Left, have used a technical breach of the ministerial code as a convenient excuse to attack a woman with whom their true battle lies over immigration.
Conservative Party members are likely to support Braverman:
As the current "queen of the Right" in the Government, every carping comment from a Labour MP or BBC commentator simply reinforces her popularity with Conservative Party members and a significant chunk of MPs.
Rishi Sunak reinstated her at the Home Office because he knows that to stand any chance of uniting his party, he needs a figurehead of the Right in a senior position, and in Mrs Braverman he has a former chairman of the European Research Group of Right-wing Eurosceptic Tories.
It is significant that Braverman backed Rishi last weekend:
If, as has been suggested, a return to the Home Office was the price she demanded for backing his leadership bid (and effectively killing off Boris Johnson's attempted resurrection) it simply proves the clout she now has within the Party.
Other news from Wednesday included a confirmed ban on fracking, overturning Liz Truss's decision to allow fracking in communities that overwhelmingly allow it.
——————————————————————————————————————
Now back to the leadership contest.
In the early hours of Friday, October 21, Boris Johnson was leading Rishi Sunak and Penny Mordaunt:
I left off yesterday with Stanley Johnson saying that morning that his son Boris was 'on a plane'.
Meanwhile, Liz Truss made a brief return to Downing Street, probably to collect something. The Guardian's photos show her in sportswear, a heretofore unseen Liz.
'Bring Back Boris'
Express readers opened their Friday paper to find an article by one of Boris's main backers, Sir James Duddridge MP, a champion of the Bring Back Boris, or BBB, campaign:
I was his Parliamentary Private Secretary and stayed with him right until the end. It was a mistake to force him out but now is the time to bring him back.
He is the only one who can unite the party after the turbulent last few weeks and I trust him to right the ship …
He always remained hugely popular with the party's grassroots and with large parts of the country.
There will always be socialists and angry Twitter mobs who rail against him but he is an election winner, twice in London as well as nationally.
My constituents regularly tell me they want Boris back and he still has a mandate from the country …
He has the star quality and inspirational leadership the country needs during the challenging months ahead.
It's time to Bring Back Boris.
Jacob Rees-Mogg, Truss's Business Secretary, declared his support for the former Prime Minister — 'Boris or Bust':
Pollster Matt Goodwin pointed out that while Rishi is more popular overall with British voters, Boris still leads those who voted in the 2019 election:
The video from 2012 showing Boris, who was then Mayor of London and promoting the Olympics that year, went viral: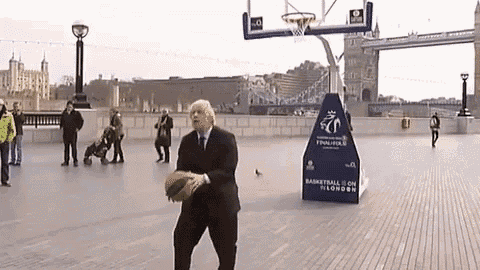 However, The Sun's Harry Cole reminded everyone that Boris still had the upcoming Privileges Committee investigation to deal with. If it goes badly, he might have to resign as an MP:
Conservative MPs could schedule a motion to cancel the investigation. That would have to be approved by the Commons, but as the Conservatives have a current majority of 71, it could still be overturned. This Sun reporter thinks it is unlikely, however:
Truss's Deputy Chief Whip Craig Whittaker requested that his name be removed from Guido's list of Boris supporters. His post requires impartiality:
Emily Maitlis, formerly of the BBC, reacted characteristically to news that Boris was running in the leadership contest:
Guido has the audio and reported:
Emily Maitlis meanwhile learnt the Boris news live on her News Agents podcast. You'll never guess her reaction…
Shouldn't hurt Boris's chances…
Rishi takes the lead
Maitlis needn't have worried.
By 11 a.m. on Friday, Rishi had just edged past Boris:
A half hour later, Rishi's momentum was beginning to build:
Boris backers hadn't lost hope, however. The fact that Ben Wallace, the Defence Secretary, supported him was an added fillip:
That afternoon, Opinium posted their snap poll on who the public supported. Rishi was the clear winner. Even Penny beat Boris:
Boris gained support from more of the Red Wall. Teesside mayor Ben Houchen is a Party member and not an MP. Simon Clarke was Truss's Levelling Up Secretary:
Guido excerpted their letter to the Telegraph …
Boris is the person we need to lead our country and our party. 
He won the greatest election victory for years on a mandate to unite and level up the UK, and inspired millions of people who had never voted Conservative before to get behind a generous, optimistic vision of what Britain can be.  
People on Teesside love Boris because he recognised that while talent is evenly distributed across the country, opportunity is not. Boris gave us that opportunity. 
…
Teesside has had difficult times and is now levelling up because of Boris. We know that for us, like Boris, the comeback will be greater than the setback.
… adding:
Houchen is a real loss for Rishi…
By 3:45, Rishi was well on his way to 100 backers. Boris was now lagging behind, and Penny was stuck:
In the early evening, an MP from the 2019 intake, Antony Higginbotham, representing the traditionally Labour constituency of Burnley, came out for Boris:
Two hours later, veteran MP Bill Cash also announced his support for Boris:
It seemed that most Boris backers were traditional Conservatives and Red Wall MPs.
Guido pointed out the Red Wall loyalty:
By contrast, Matt Hancock felt the need to produce a lengthy statement explaining why he was supporting Rishi:
Saturday's papers
Saturday's papers were a mixed bag.
Not surprisingly, the Financial Times said that investors were alarmed at the prospect of Boris's return:
The Telegraph reported that Rishi was expected to pass the threshold of 100 MPs:
The Star came up with an aubergine motif for Boris and couldn't resist featuring Lettuce Liz again:
Their Thought for the Day was:
Haven't we all suffered enough?
The lead paragraph reads:
Just when you thought all salad-based puns had been exhausted, posh aubergine Bozo Johnson has emerged as one of the favourites to replace Lettuce Liz as PM.
Rumours began circulating about joint talks between Rishi and Boris:
Two papers played to Boris supporters — the Express …
… and the Sun:
The paper's veteran Trevor Kavanagh explored both sides of the Boris equation in 'Boris Johnson is a political Humpty Dumpty with a giant ego who had such a great fall — but if he runs for PM, he'll win':
… Boris Johnson, the political Joker who makes half the nation smile while the rest are spitting chips, is gearing up for another pitch at the premiership.
He needs 100 MPs' votes and may well get more.
If he runs, he wins — that's my prediction for what it's worth in this tumultuous here-today, gone-tomorrow blur of Tory leaders, challengers and assassins.
And even if he doesn't win, what a pleasure to hear the screams of fury from Labour, Lib Dems and Scot Nats — amplified through the impartial BBC's 100-decibel speakers …
These puce-faced wets don't seem to realise they are fuelling the pro-Boris momentum which might propel him back into Downing Street and even produce another sensational election win.
Happily, their moans are drowned out by cheers from Red Wall Tory MPs who credit Boris with winning their seats in Parliament.
They want Boris back and so do millions of voters across the land.
It may be deeply irresponsible to say so, but this is diamond-studded 24-carat political entertainment and I for one am enjoying the ride.
Don't get me wrong — I am not ­watching BoJo: The Movie through rose-coloured glasses, or even suggesting that it makes sense.
Boris Johnson must take much of the blame for the catastrophic mess the country is in, politically and economically.
But he won his 2019 80-seat landslide majority fair and square.
It was an almost entirely personal achievement beyond the reach of any other politician.
He used that majority to achieve great things, ramming Brexit through Parliament, the Covid vaccination triumph and leading global support for Ukraine.
He also blew it as the "Greased Piglet" PM who believes rules are for little people, not him …
It was such casual conduct that handed Labour grounds for a kangaroo court trial for lying to Parliament — a hurdle still to be cleared.
But for such careless affronts to good governance, Boris Johnson would still be Prime Minister right now.
The Pound would be steady, mortgages manageable, inflation past its peak.
We would not have seen the eye- popping political convulsions which turned Britain into a global laughing stock.
The soap opera is not over yet.
Whoever wins next week must choose a new Cabinet and pick a way through the ruins.
If it is Boris, it should at least end the clamour — choreographed yesterday across all BBC networks — for a snap General Election.
Boris won't have to face the tricky ­question: "Who Voted for You?" …
Without Boris, the Conservative Party faces certain defeat by 2025.
Boris has the magical Heineken ability to reach voters other politicians cannot reach.
It's a gamble, a glitterball Who Dares Wins test of luck and daring.
Even Netflix couldn't make it up.
But for the Tories, it is the only game in town.
For the next 24 hours I had hope.
More on the contest will follow tomorrow.