You are currently browsing the tag archive for the 'Sir Lindsay Hoyle' tag.
In the United Kingdom, we had 12 days of wall-to-wall television coverage of the late Queen Elizabeth II and her family, which ended on Monday, September 19, 2022.
The commercial channels broadcast as usual but during the day BBC1, BBC2 and, throughout, the news channels covered her life and what the Royal Family were doing at this time.
GB News dropped all their advertising, substituting a memorial ident instead and, at other times, playing an instrumental version of the National Anthem accompanied by a photo montage of the Queen.
At first, it seemed unimaginable. Yes, our usual programmes were rescheduled for different days at different times, so we adjusted our video recorders to automatically catch up according to that day's television guide.
Yet, the reality of it was that, by the day of the funeral, I'd become quite used to the coverage. GB News had part of their broadcasts showing the live queue — the Elizabeth Line — in Westminster Hall for viewers to watch while listening to interviews in the studio. The Elizabeth Line was never boring. There was always something to see.
By mandating 12 days of mourning, it seems the Queen wanted us to learn something about our constitutional monarchy as a national institution. It seems she wanted us to reset the way we think about it and how we pass that knowledge and history on to the next generation.
This post covers the two days before the Queen's funeral on Monday, September 19, 2022, and looks at what Britons discovered throughout the days of mourning thus far.
What next for the monarchy?
If there were any lessons to be learned in the immediate aftermath of the Queen's death, it was that the monarchy goes on.
Charles became King immediately and had his Accession Ceremony two days later. There were no obstacles. The crown passed to him automatically.
A relieved nation cried, 'God save the King' and 'Hip, hip, hooray'.
On September 14, YouGov took a poll asking if the mourning period would change the way we perceive this ancient institution. Forty-four per cent said they thought it would change the UK in the long term for the better:
Bob Moran, The Telegraph's former cartoonist, was still upset that the Queen did not step in during the pandemic to call the Government to account over the sometimes fatal procedures at care homes, which are allegedy continuing in some of them:
Yet, most people interviewed on television and the clergy giving sermons at the church services remember with gratitude the Queen's message on the night then-Prime Minister Boris Johnson went to St Thomas Hospital in London with coronavirus. Neither the Queen nor we knew it at the time her message was broadcast, but who can forget her closing words about lockdown, borrowed from the wartime Dame Vera Lynn song:
We'll meet again.
The Queen was adamantly pro-vaccine and in 2021 said that people who didn't get it should think of others instead of themselves. I have seen on Mark Steyn's GB News show several people whose loved ones got the vaccine because of her words and later died of complications. The Government is giving each of those families £120,000 in compensation.
However, quibbles with the monarchy go much deeper than the pandemic. On September 15, The Telegraph addressed the issue of how monarchs attempted to stave off republicanism throughout the ages.
The 1990s were the worst years that the Queen saw during her reign. Princes Andrew and Charles divorced, Windsor Castle caught on fire and Princess Diana was killed in a car accident in Paris.
Regardless, the Royal Family regrouped and returned to normality (emphases mine):
"Diana died at the end of August 1997 and by the time of the Queen's golden wedding anniversary that November she was pretty much re-established," says royal biographer Hugo Vickers. Fast forward 15 years, to the Diamond Jubilee, and the Royal family were popular as never before, enjoying a near 50-point lead in polls over anti-monarchists.
Though so much about the British monarchy can appear unchanging, it was a hard-won transformation, relying on careful reflection and updating after the calamities of the 1990s. In making such adjustments, the royal house showed it could learn not just from its own experience, but from the experience of centuries of fluctuating royal fortunes.
In order to keep republicanism at bay, it is essential for the Royal Family to remain visible:
"In this country," says historian Andrew Roberts, author among others of a book on George III, "there are five areas that give Republicanism a chance to move from being a minority fetish into a mainstream threat." The first four are disastrous relationships, religious meddling, political interference and money. But it is perhaps the last and simplest that is the most important: steadfast presence.
"Sheer visibility is tremendously important," says Roberts. That enduring presence accounts for the astonishing popularity of Queen Elizabeth, he thinks, building on the legacy of her mother and father, who made such efforts to be visible to Britons even in the darkest days of the war. And absence has led perhaps to the darkest days of the monarchy, in the years following the death of Prince Albert, when Queen Victoria in her grief almost completely vanished from the public stage.
Centuries ago, money became a huge issue that still waxes and wanes today:
The Peasants' Revolt of 1381 is just the most notable example of a massed uprising at taxes levied by the king (in that case to support the Hundred Years' War). But grumbling about paying for the royal house's upkeep never went away. A key part of the rejuvenation of the House of Windsor's popularity in the 1990s came after the Queen agreed to pay tax. "At one stroke it took away one of the main planks of republicanism," says Roberts. Even today, some anti-monarchists are moaning about the cost of the Queen's funeral, or the income the new Prince of Wales receives from the Duchy of Cornwall, but it has become far easier to defend the Crown on cash-terms. "It's not the most gracious argument in favour of the monarchy," says Roberts, "but the pocketbook is an important one."
We all know what role religion played in British history as driven by Henry VII, Charles I and James II, so there is no need to elaborate further.
Another issue is — or was — the conflict between Parliament and the monarch. In 1649, Charles I made a fatal mistake:
He, though, committed the sin which would become unforgivable for his successors in the centuries to follow: disdaining parliament.
He was tried in Westminster Hall and executed on January 30, 1649, during the English Civil War:
Alienating, then suspending parliament was, of course, not the Stuart king's only problem. But interfering with the nation's political system was becoming an increasingly dangerous game to play. By the time James hot-footed it out of the country to be replaced by William of Orange, the era of kings by "divine right" had given way to kings approved by parliament. The constitutional monarchy had arrived.
Not that all monarchs understood. George III and prime minister Lord Bute impinged upon the supremacy of parliamentary power in the 1760s, drawing fierce criticism. "George became so unpopular in the 1760s that people pelted his carriage with dirt," says Roberts.
George III learned how to recover the situation:
… he learned his lesson and, by the time of his descent into – and recovery from – madness, he had come to be loved for his personal qualities: fidelity to his wife, frugality and piety.
Fast-forwarding to the 20th century, Prime Minister Stanley Baldwin insisted that Edward VIII abdicate. He got his way:
When it came to Wallis Simpson … Edward stayed by his woman and, on Stanley Baldwin's insistence, lost the throne.
Fortunately, George VI and the Queen Mother resolved the constitutional crisis:
George VI and his own queen Elizabeth (the late Queen Mother) were the ideal pair to succeed, setting the formula – visible, dutiful, steadfast – which so characterised their daughter's long reign.
So far, Charles III has been doing the right things, says historian Hugo Vickers:
"of course King Charles will have to be very aware. But his first speech as King dealt immediately with many of them – his new role, what he can and can't do [politically], about the Church of England, because there was talk about him wanting to be a defender of all faiths. It puts things to rest very quickly. It was very effective." The result was an immediate bounce in popular support, with the number of those who think he will make a good king near doubling to 63 per cent.
While republicanism will never die, it is hoped that people will value the monarchy over an elected president:
… from today's vantage point it seems unlikely that could be so serious as to prompt Britons to dispose of the monarchy altogether. Because ultimately, says Roberts, what makes us love it is not the individual, but the institution. "Even when individuals are unpopular, Britons recognise constitutional monarchy is a good idea, being a power above politics and therefore above politicians. And the British people like the idea of politicians not being at the top of the heap."
Well said.
Funeral attire
To find out more about the traditions of the Royal Family's funeral attire, I happened across a Telegraph article written in April 2021, after the Queen's husband, the Duke of Edinburgh, died.
The Royal Family did not always wear black.
In fact, throughout the Middle Ages until 1560, at least, there was a convention of wearing white (emphases mine):
"white mourning" or deuil blanc … deployed by medieval royals and seen in portraits of Mary, Queen of Scots after she lost her father-in-law, mother and husband within months of each other in 1560 …
The modern convention of wearing black began three centuries later, with Queen Victoria upon the death of her husband Prince Albert. However, even she had gold thread spun into her dresses, as one can see in the photograph in the article:
"Mourning dress has been part of European royal culture for centuries, but it reached its peak in the 19th century with the influence of Queen Victoria, who set a standard for the rest of society to follow," says Matthew Storey, curator at Historic Royal Palaces, which holds the Royal Ceremonial Dress collection. "When her beloved husband died in 1861 she abandoned the colourful clothes of her married life and, with the rest of the royal court, adopted black clothing as an outward sign of grief. Her subjects duly followed suit, causing a rush on suppliers of mourning fabric up and down the country."
That was a time when death was something of a societal obsession and there were strict rules around the wearing of "widows' weeds". "Widows were required to wear black, then either white or mauve, for at least three years before being able to return to richly coloured clothing. Victoria chose never to leave mourning and wore her now iconic black dresses and white widow's caps for the rest of her life," Storey continues. There was no concession even at moments of celebration: "She even insisted that her daughter, Princess Alice, had an all black trousseau when she married in 1862."
The mood oscillated from the dour to the unexpectedly glamorous; Victoria often wore her bridal veil with her black dresses and took to wearing a necklace containing a lock of Albert's hair, but she also popularised striking jet jewellery. "Her clothing was anything but dowdy," Storey confirms. "Every example in the collection is exquisitely made and highly embellished, as befitted her status. Victoria may have been a widow, but she was always a queen."

Queen Victoria died in January 1901. Her son, Edward VII, reigned until his death in 1910. His wife, Queen Alexandra, began wearing purple, although black was still the favoured colour:
After Victoria's death, mourning dress became even more opulent. An exhibition at the Metropolitan Museum of Art in New York in 2014, Death Becomes Her: A Century of Mourning Attire, included two exquisitely beautiful embellished purple gowns worn by Queen Alexandra, wife of Edward VII, in the year after her mother-in-law's demise. You'd really only know they denoted mourning if you were familiar with the strict dress codes of grief. And when Edward died, weeks before Royal Ascot in 1910, there was no question of cancelling, but attendees wore magnificent black outfits instead. That year's event is now remembered as Black Ascot.
In 1938, when the Queen Mother's mother, the Countess of Strathmore died, the Queen Mother was weeks away from joining George VI on a state visit to France. At that time, war was looming and Britain was still getting over the abdication of the King's brother, Edward VIII. Under the circumstances, black seemed too gloomy. Something had to be done, so the Queen Mother enlisted the help of her couturier, the incomparable Norman Hartnell:
A black wardrobe simply wouldn't do, as it was imperative to come bearing optimism.
Hartnell was the one who researched earlier monarchs and found the aforementioned portraits of Mary, Queen of Scots:
Within weeks he had scrapped the original colourful outfits intended for the tour and crafted an entirely white set of looks in their place.
"The Queen has taken with her on her state visit to Paris a superb white wardrobe consisting of 12 gowns, seven coats… one cape, eight hats – and a lace parasol," the Telegraph's report from July 20 1938 read. "Created by leading London designer Norman Hartnell, it symbolises the links between the two countries."
The report went on to explain that Hartnell had referenced the French Pompadour look and pannier, as well as English garden florals and Victorian silhouettes. Hartnell had the idea to revive the crinoline after being shown Winterhalter's portraits of Queen Victoria and her family by the new king.
The Queen Mother became a fashion sensation:
Though the reason for the Queen's all-white dressing was sombre, the reception to the wispy, lacy creations was rapturous. "No wardrobe of modern times has created greater interest than the state wardrobe chosen by the Queen for the visit to Paris," another glowing Telegraph review reported, going on to publish sketches of the gowns in glorious detail. The autumn fashion collections shown later that year were heavily influenced by the Queen's "white wardrobe" and her style more generally – Schiaparelli and Molyneux both included tartan as a nod to her Scottish heritage.
The Queen loved her white collection and the style muse status it had bestowed upon her so much that the following year she commissioned Cecil Beaton to photograph her at Buckingham Palace wearing the designs, resulting in a romantically optimistic set of portraits that do little to suggest that the clothes they capture are a symbol of mourning, nor that the Second World War is months away. The floaty, delicate look of Hartnell's designs influenced the Queen Mother's style for the rest of her life.
The Queen Mother's husband, George VI, died in 1952. Although he had a chronic illness, no one expected him to die while Queen Elizabeth II and Prince Philip were on holiday in Kenya. The Queen had no black dress to wear once she got off the plane in London.
Reports differ as to how a black outfit reached her. One Royal historian told GB News that an attendant was on hand when the plane reached Rome for refuelling. The Telegraph has a different account, intimating that she received mourning attire in London:
… when the plane landed, a black dress had to be taken on board for her to change into, an incident that means that no royal reportedly now travels without a black outfit in their luggage, just in case. On alighting the plane, the 25-year-old queen looked elegant yet solemn in her dark coat, brooch and neat hat.
On the day of the funeral, the Queen Mother, the Queen and Princess Margaret wore long silk veils. The Telegraph has a photo of them:
At her father's funeral, eight days later, the new queen, her mother, grandmother Queen Mary and sister Princess Margaret cast ethereal figures in their long black veils, said to be around 18 inches over the face and one and a half yards down the back. "There is no court regulation with regards to them," the Telegraph had written in 1936, "but the practice of wearing them has always been observed at the funeral of a Sovereign."
By the time the former Edward VIII, the Duke of Windsor, died in 1972, only Princess Margaret and the Duchess of Windsor wore a veil. The Queen and her mother opted for the turban, the stylish hat of the day for women:
It was notable, then, that at the funeral of the Duke of Windsor in 1972, the Royal family refrained from wearing veils. The abdicated king's wife, Wallis Simpson, however, sported a couture coat and chiffon veil that Hubert de Givenchy had reportedly stayed up all night to make for her … By contrast, the Queen wore a black version of the turban style hats she loved at the time, adding Queen Mary's Dorset Bow brooch.
When it came time for Prince Philip's funeral, the Royal Family wore black, but the Queen quickly reverted to wearing her usual clothes afterwards.
Who waited to pay respects to the Queen
For many gathering to pay their respects to the Queen, a family death brought back a deep seam of emotion.
Although The Telegraph's Lauren Libbert watched proceedings from the comfort of her home, what she experienced seemed to ring true for a goodly number of those camping outside in the cold:
For me, at 44 and then again at 49, I watched my parents being taken from their home in a coffin and transported to their final resting place at the nearby cemetery. Watching Queen Elizabeth's coffin make its journey from Balmoral to Edinburgh transported me right back to that heart-wrenching, inexplicable gut-punch of a feeling, remembering how it felt to know my beloved parent was inside and I'd never enfold them in my arms again.
It's a sadness that has not gone unnoticed at home. "But you didn't even know the Queen," said my teenage son, noting my smudged eyeliner and tears when watching the news earlier this week.
"I know," I replied. "But I really miss my mum and dad."
He held me, but he was a bit baffled at the connection. Admittedly, so am I.
Other people, whether in the Elizabeth Line, Parliament Square or near Buckingham Palace, were hardcore attendees of other Royal occasions, as The Times reported. Keep in mind that the nightly temperatures turned distinctly autumnal, in the 50s Fahrenheit:
Mary-Jane Willows loves the sound of metal barriers clattering onto the streets of Westminster. "It means everything is getting organised," she says.
It is 10pm on Thursday and Willows, 68, is settling down for a night's sleep in a camping chair just off Parliament Square. She and her crew of royal superfans are zipped into military bivvy bags and wrapped in foil blankets — at that point of the week they were not allowed to use tents or sleeping bags for security reasons.
It is a hardcore existence, but they will endure. Because on Monday, for the Queen's funeral, they will be in the "best spot in the world".
Just half a mile away there is another camp, also in the best spot in the world. They arrived "on site", on the Mall and overlooking Buckingham Palace, the previous Thursday. And they came with "equipment": bin liners and trolleys jammed with Union Jack flags, hand warmers, underwear, first-aid kits, torches, baby wipes, wine gums and corned beef sandwiches. They have been there since.
These two groups are the most dedicated royal watchers on the planet, bound by births, weddings, jubilees and deaths, and held together by WhatsApp groups and meme-sharing. They are always the first ones to arrive, pitching up on virgin pavement, knackered, cold and in it for the long haul.
John Loughrey, 67, and his friends on the Mall, Sky London, 62, and Maria Scott, 51, have done weddings together (Cambridge, Sussex, York, York), births (George, Charlotte, Louis), jubilees (Diamond, Platinum) and deaths (Diana, Princess of Wales; the Queen).
"If you want to be part of the gang you've got to be with the gang," says London. "It's the camaraderie. It's seeing history and being part of it."
However, whether remembering family losses or cadging the best seat in the house, as it were, how do these people view Britain?
Rob Johns, a politics professor at the University of Essex, claims to have the answer.
I'm not so sure.
He interviewed 400 mourners by the time The Guardian interviewed him on Saturday, September 17. Johns said:
… it is less a case of royalists simply wanting to mourn the Queen in person, and more "a collective gathering that is as much about the queue as it is about reaching the end of all the queueing".
This is the part about which I have doubts:
Who would be willing to wait outdoors for as long as 24 hours , braving the elements along the Thames, for a few seconds alongside the Queen's coffin – and why?
Now, as the Queen's lying in state in Westminster approaches its final hours before Monday's state funeral, researchers believe they have found the answer. A narrow majority vote Conservative, almost two-thirds backed remain and most of them are enjoying a feeling of "subdued positivity" as they wait in line for hours.
Really? I don't know how one could wait outdoors in the cold for a day and support EU supremacy over our monarchy.
With history and contemporary background covered, let us move on to what happened last weekend.
September 17
On Saturday, September 17, the King was back at work.
He had successfully completed his visits to the component nations of the United Kingdom during the mourning period under a plan called Operation Spring Tide. It derives its name from a particularly high tide in springtime known as king tide.
ITV reports that there were sub-operations to Spring Tide:
Scotland (Operation Kingfisher), Wales (Operation Dragon) and Northern Ireland (Operation Shamrock).
In London, Operation London Bridge continued apace.
The Queen's state funeral is the first such event to be held since Winston Churchill's in 1965.
However, unlike Churchill's funeral, the Queen's was mammoth by comparison. Police forces from around the UK travelled to London to participate in maintaining order. Only two were exempt.
The numbers of military engaged were also unprecedented.
Operation London Bridge required meticulous logistical planning to make sure everyone in the capital, including visiting heads of state and other dignitaries, were kept safe.
In the morning, the King visited members of the police and military working all hours to make this a success:
He went on a walkabout at the Elizabeth Line to express his appreciation of people's willingness to pay tribute to his late mother. William Prince of Wales and Sophie Countess of Wessex met mourners in other parts of the queue:
Then it was time for the King to return to Buckingham Palace for more meetings and a reception:
Early that evening, the Queen's grandchildren — The Prince of Wales, The Duke of Sussex, Princess Beatrice (Andrew), Princess Eugenie (Andrew), Lady Louise (Edward), Viscount Severn (Edward), Zara Tindall (Anne) and Peter Phillips (Anne) — held a Vigil of the Princes in Westminster Hall. I have added the relevant Royal parent's name in parentheses for clarity.
The aforementioned ITV article says that the events taking place at Westminster Hall were run under Operations Marquee and Feather:
This covers the four days of the Queen's lying-in-state, focusing on the arrangements inside Westminster Hall.
It's expected to begin on Wednesday, September 14, ending on Sunday before her funeral the next day.
Senior royals are also expected to pay their respects once more here, standing guard in a tradition known as the Vigil of the Princes.
It is linked to Operation Feather, the arrangements for the public who are expected to queue in their thousands for an opportunity to see the monarch's coffin as they did 20 years ago for her mother.
Here is the beginning of the grandchildren's Vigil of the Princes. Members of the Royal Family watched from a viewing point on one side of the hall. Once again, the public could file past:
This video from the Royal Family's YouTube channel has the full vigil, which was very moving indeed. Viscount Severn, who is only 14, was so composed for someone so young. As with other videos from this channel, click 'Watch on YouTube' and it should play, at least for the near future. If not, try the link in their tweet:
Here are some close-ups:
This video is of the young Royals filing out afterwards:
The days of mourning at Westminster Hall nearly passed without incident. On Friday, a man suddenly appeared in the queue outside and exposed himself to two women from behind. He jumped into the Thames but quickly got out. Police were on hand to arrest him. The Guardian reported:
… a man appeared at Westminster magistrates court following allegations that two women were sexually assaulted while they were waiting in the queue to see the Queen lying in state.
On Friday evening, a man inside Westminster Hall was arrested after lunging towards the Queen's coffin. The Telegraph reported:
The individual was reportedly taken to the floor by Metropolitan Police officers and arrested.
The Met told ITV: "At 22:00hrs on Friday 16 September officers from the Met's Parliamentary and Diplomatic Protection Command detained a man in Westminster Hall following a disturbance. He was arrested for an offence under the Public Order Act and is currently in custody".
Viewers of the BBC's live stream reported that the feed went down for 10 minutes.
The aforementioned Guardian article says:
Broadcasters showing the procession of mourners cut away from the scene and instead showed the view from outside parliament.
There are always simple ways to set things right. In this case, broadcasters were prepared with a still of the Palace of Westminster.
The Sun's political editor Harry Cole looked at the bigger picture of the mourners and tweeted a poke at the anti-monarchist metropolitan elite:
September 18
Sunday, September 18, put the logistics of Operation London Bridge to the test as 500 heads of state and other dignitaries arrived in London for the Queen's funeral.
As it would have been impossible for all of them to have been driven in separate cars to Buckingham Palace that day and to Westminster Abbey on Monday, the plan was to 'pod' the leaders into private coaches, painted in plain white.
Scheduled pickups of the great and the good at designated points in central London helped the plan run smoothly and safely.
Only Joe Biden was exempt. The Beasts — one operational and one decoy — were here along with his usual security motorcade.
France's Emmanuel Macron arrived with his wife Brigitte early enough to do an incognito walkabout during the afternoon:
Meanwhile, somehow with the permission of Speaker of the House of Commons Sir Lindsay Hoyle, the Chinese were allowed into Westminster Hall. Hoyle had pledged to MPs that they would not be allowed anywhere on the parliamentary estate:
Conservative MPs were less than impressed:
That evening, after a brief shower, a beautiful rainbow appeared, just as a double rainbow did when the flags were lowered to half mast over Buckingham Palace and Windsor Castle on the day of the Queen's death. This must mean something, surely:
The King and Queen Consort held a formal reception for the dignitaries at Buckingham Palace that evening.
Meanwhile, soldiers participating in the funeral were busy polishing medals and sewing on badges:
A few newspapers printed the last photographic portrait of the Queen for Monday's editions. Ranald Mackechnie took the photo in May, a few weeks before her Platinum Jubilee celebrations:
The Telegraph had an article about the portrait. As ever, the Queen's choice of jewelry told the story:
The Queen, who is dressed in a dusky dove blue dress with her hair neatly curled, is wearing her favourite three-strand pearl necklace, pearl earrings and her aquamarine and diamond clip brooches which were an 18th birthday present from her father George VI in 1944.
The two art deco-style pieces, worn one below the other, were made by Boucheron from baguette, oval and round diamonds and aquamarines.
The Queen wore the brooches when she addressed the nation on the 75th anniversary of VE Day in 2020 and for her Diamond Jubilee televised speech in 2012.
The image was taken by photographer Ranald Mackechnie, who also took the Jubilee portrait of the Queen released to mark the start of national festivities of her milestone 70-year reign.
I cannot help but agree with The Star's 'Kingdom United'. Thank you, your Majesty, for these 12 days of mourning:
The Independent was less sure about 'Kingdom United!' They wrote of a 'turning point':
The Guardian showed us a window of a house in Windsor and how the world was descending there and in London:
The i paper also focused on a world farewell:
The Financial Times took a final look at Westminster Hall:
In closing, The Metro published my favourite portrait of the Queen after she was inducted into the Order of the Garter. Pietro Annigoni (1910-1988) painted the portrait in 1955:
It is simply timeless, as is its subject.
I hope to cover the funeral and committal services in their entirety tomorrow.
Yesterday's post introduced the significance of Scotland to Queen Elizabeth II.
In it, I mentioned that, after the 1707 Acts of Union, the history of Scotland began to be romanticised through the efforts of Queen Victoria, Prince Albert as well as Walter Scott's novels.
Romantic history
A royal historian told GB News that Prince Albert was quite taken by the countryside in Aberdeenshire, which reminded him of his native Rhineland.
He and Victoria had an amazing love life, according to a television documentary I saw many years ago. In the early days, at least, he used to dress and undress her. Her silk stockings were a favourite part of the ritual.
After Albert died in 1861, Victoria moved up to Balmoral for a time and became close friends with one of his servants, John Brown, a Scot. A film about their relationship, Mrs Brown, made its debut in 1997.
In 1863, courtiers and the Royal Family thought that Brown could rehabilitate the mourning Queen. Instead, he began controlling her daily life at her holiday idyll.
In time, rumours about the extent of their relationship began circulating not only among her inner circle but also in London, where a republican sentiment began growing in her absence. Courtiers and the Royal Family changed tack, this time urging Brown to get the widowed Queen back to the capital to make public appearances.
Brown followed orders, although his and Victoria's relationship was never the same afterwards.
On the other hand, her resumption of public appearances quelled restive republicans.
Brown remained a loyal servant, foiling an assassination attempt on the Royal Family. In 1883, he contracted pneumonia. Victoria visited him in his room and apologised for not having been a better friend. Brown died a short time later and left behind a diary, which, allegedly, has disappeared.
Victoria's two main courtiers, Sir Henry Ponsonby and Sir William Jenner, found it and read it. Only they knew what happened to it afterwards. One of them said later on that the then-Prince of Wales — Edward VII — was so resentful of Brown that he threw a bust of the man over the palace wall in London after his death.
At Balmoral, John Brown is immortalised in two paintings which hang in the drawing room where Queen Elizabeth II received Boris Johnson and Liz Truss on Tuesday, September 6, 2022.
On September 7, The Times helpfully told us more about the room's features, including the paintings which flank the fireplace (emphases mine):
Victoria and John Brown, her servant and close friend after the death of Prince Albert, feature twice in the room's paintings. To the left of the mantelpiece they appear in Sir Edwin Landseer's chalk and pastel drawing Sunshine: Balmoral in 1860 or Death of the Royal Stag. Albert stands proudly in the foreground with a gun over his shoulder, dogs at his heel and a stag at his feet. In the background Victoria sits side-saddle on a horse led by Brown, her ghillie.
To the right is Gilbert Sprague's copy of another Landseer painting of Victoria, in mourning as she sits on her pony Flora outside Osborne House, her retreat on the Isle of Wight. Victoria commissioned the original in 1861 after Albert's death, telling Landseer that she wished to be depicted "as I am now, sad and lonely, seated on my pony, led by Brown, with a representation of Osborne".
Queen Elizabeth also experienced the magic of Scotland that her forebears helped to create.
As a child, she remembered happy days at Glamis Castle then Balmoral. As an adult, she associated possibly her happiest memories with Balmoral. There, the love of her life, Prince Philip, proposed to her. The happy couple also spent their honeymoon there.
On September 8, The Times published an insightful article: 'Balmoral gave Elizabeth the chance to feel "free"', excerpted below:
Scotland played a large and emotional part in Elizabeth's life. Her happiest memories were of the childhood days she spent with "Granny Strathmore"— Cecilia Bowes-Lyon, Countess of Strathmore and Kinghorne, who was also her godmother — at Glamis Castle.
At the family home in Angus she enjoyed parties, children's theatre after tea, and visits to nearby Cortachy Castle, owned by Lord Airlie, where she once "borrowed" the young David Ogilvie's little blue pedal car, much to his fury. At Balmoral, she felt she could be "normal" — almost a housewife, like ordinary people; it took her into another world. "Here I can be free," she told a friend once.
Not that it was exactly ordinary; there were certain traditions. A piper played every morning before breakfast, and, when guests were staying, there would be pipers at dinner. The ladies would depart after the meal, leaving the men to talk over the brandy.
There were shooting parties, with the Queen and her dogs driving out to join the guns at lunch, then "picking up": her dogs retrieving the birds they had shot. "She was an ace picker-up," recalled one friend. Back at the house the first duty would be to feed the dogs.
She insisted on doing the washing-up after picnics, when Philip managed the barbecue and she did the rest. Those picnics — some of them in the evening, in one or other of the huts in the grounds of the estate, always kept open, and often used by members of the public — were famous occasions, remembered by guests long after for their combination of relaxed informality and perfectly organised routine.
Then it would be back to the castle. What one friend noticed, however, was that, as soon as Elizabeth walked through the door of Balmoral Castle, she became Queen again. This was the royal residence, and there was no mistaking who was in charge.
The Queen also enjoyed an annual week-long stay in Edinburgh at the Palace of Holyroodhouse. The city's Lord Provost would deliver the keys to the palace to her in the Ceremony of the Keys and a closing ceremony of her returning them to him took place upon her departure.
She would visit St Giles' Cathedral, probably the only Presbyterian cathedral in existence, and, beginning in the late 1990s, Holyrood, the Scottish parliament.
The independence movement strengthened by an SNP government has grown leaps and bounds since I last visited Scotland 30 years ago.
It is difficult to pin down what exactly the SNP expect as an independent nation, including where they stand on the monarchy. Although First Minister Nicola Sturgeon praised the Queen in death, she was less forthcoming in June during the Platinum Jubilee weekend:
After the scandal surrounding Prince Andrew, she said that there should be a "debate" about the future of the monarchy; she notably failed to deliver a message of loyalty at the time of the Platinum Jubilee; and she did nothing to contradict a statement from the Green Party, her allies in government, which accused the monarchy of "holding back" progress.
However:
None of that has diluted the Queen's affection for Scotland, and her pride in her Scottish connections. As Sir Charles Fraser, who was purse bearer at the Palace of Holyroodhouse for nearly 20 years, commented: "Over many conversations with the Queen, she always spoke of her love for Scotland and her commitment to her Scottish ancestry. Throughout her reign she gave us leadership and hope, where others have failed."
Incidentally, former Royal servants say that all of them enjoyed being at Balmoral and could hardly wait for their annual stay there. It seems that it was as delightful for them as it was for the Queen. 
Monday, September 12
In my preceding post, I wrote about a young woman getting arrested on Sunday, September 11, near St Giles' Cathedral for an anti-monarchy poster with an obscenity written on it. This happened during the proclamation of Charles III as the new King.
People in England were upset about it, but Scotland has its own speech laws which are much stricter than ours:
Guido Fawkes thought that the arrest was overkill. I tend to agree but, then again, I don't know anything about Scottish policing (emphases his):
The 22-year-old woman who was arrested after holding up this anti-monarchy placard at St Giles' Cathedral has been charged "in connection with a breach of the peace" and is reportedly due to appear at Edinburgh Sheriff Court today. Amid the emotional royalist fervour, the country is feeling it is even more important to stand up for universal and enduring values. The Free Speech Union has expressed concern that the protester been arrested for voicing anti-monarchist views during the Proclamation of King Charles III yesterday.  Defenders of free speech know that if they don't stand up for views with which they disagree or even find offensive, they're not defending free speech. Whatever your views on the monarchy, this protester has a right to hers.
… The Free Speech Union has already reached out to the protester to offer their assistance.
That day, Guido reported that the SNP's deputy leader John Swinney expressed surprising pro-monarchy views. He sounded like a Conservative:
Guido said that, on Sunday, Swinney said he watched the broadcast of Charles III's Accession Ceremony in London:
I thought that when I watched the accession council in London yesterday because right at the heart of it was the significance of Scotland's place within the Union and the extraordinary significance that was attached to that and the declarations and commitments that the King made and the fact the Secretary of State for Scotland, the First Minister of Scotland, the Lord Advocate of Scotland, the Lord President of the Court of Session in Scotland, were signatories to the documents which essentially facilitate the accession.
On Monday, Swinney went further:
This morning, Swinney went even further in irritating the most ardent of Scottish nationalists, stating the SNP would continue to have the UK monarch be Head of State in the event of independence, as they promised during the 2014 referendum:
The monarch should be the head of state of an independent Scotland. It's what we argued in the referendum in 2014 and it's what we will continue to argue.
Will the death of the Queen accidentally cause a cooling of temperatures in the Scottish independence debate?
That is part of what Operation Unicorn — the days of mourning in Scotland — was designed to do.
For much of Monday, the Queen continued lay in rest at the Palace of Holyroodhouse. This allowed staff to pay their respects in quiet privacy from Sunday afternoon onwards.
Senior members of the Royal Family, such as Princess Anne, were there awaiting the arrival of King Charles. Upon his and the Queen Consort's arrival, the Lord Provost would go to conduct the Ceremony of the Keys.
Meanwhile, in the morning, King Charles was in London, addressing both Houses of Parliament in the ancient Westminster Hall, adjacent to the Houses of Parliament.
Westminster Hall was built by William the Conqueror's son, William Rufus (William II) in 1097. It is the largest hall of its kind in Europe. The beamed ceilings were added in 1399 when Richard II had the pillars removed so that everyone inside could see what was going on. On the two occasions when the Palace of Westminster caught on fire or when it was bombed during the Second World War, the first priority of firefighters is to save Westminster Hall over the parliamentary palace.
The building has been used throughout the ages as Parliament, as court for the trials of Charles I and the real Guido Fawkes (a traitor) but has also been the venue for coronation banquets. It is still used by both houses of Parliament and is open to the public on important occasions when it is used for the lying in state of distinguised politicians such as Winston Churchill (1965) and members of the Royal Family. The Queen Mother was the last person to lie in state there. I went to pay my respects to her in 2002. The Queen is lying in state there as I write.
The Queen also spoke there on her Silver Jubilee (1977), her Golden Jubilee (2002) and her Diamond Jubilee (2012). A beautiful stained glass window commemorating her Diamond Jubilee is installed on one side of the hall.
Charles's visit was of historical significance and not only because he is the United Kingdom's first King in 70 years.
Both Speakers — of the Lords and of the Commons — wore their dress robes, which are gilded. Their respective serjants of arms brought each House's mace up to the appropriate Speaker and laid them down on a raised platform.
The Speakers stood across from each other below the raised platform on which Charles was due to speak. The maces were covered with a black cloth, indicating not only mourning but also that they were subservient to the Sovereign.
Peers and MPs, as well as staff members, were in attendance.
The Speaker of the Lords, Lord McFall spoke first to extend his and the Lords' sympathy to the King.
The life peer, a Scot, is a testament to the progress people can make in modern Britain:
Sir Lindsay Hoyle spoke next for the Commons, reminding the new monarch of the increased powers of Parliament since the Glorious Revolution of 1688. The King smiled wryly:
Then it was time for the King to address the room:
The Telegraph's summary has the key points of his speech:
We gather today in remembrance of the remarkable span of the Queen's dedicated service to her nations and peoples.
While very young her late Majesty pledged herself to serve her country and her people and to maintain the precious principles of constitutional government which lie at the heart of our nation.
This vow she kept with unsurpassed devotion. She set an example of selfless duty which, with God's help and your counsels, I am resolved faithfully to follow.
The King had already met with senior Government ministers, including Liz Truss, over the weekend at Buckingham Palace. Shadow (Opposition) ministers also met with him:
After the event at Westminster Hall ended, a reception was held, but the King and Queen Consort did not attend as they were due to fly to Edinburgh.
While the Royal couple were on their way, people lined up along Edinburgh's Royal Mile:
Once Charles and Camilla arrived at Holyroodhouse, they and other members of the Royal Family assembled to be led by members of Scottish regiments for the procession to St Giles' Cathedral, for a service of remembrance.
I know from first hand experience that it is a long walk and did not envy the Royals who did walk behind the hearse, especially on the cobbled road.
The Royals who walked were the Queen's children: the King, the Princess Royal, Prince Andrew and the Prince Edward. Vice Admiral Sir Tim Laurence, Princess Anne's husband, also walked with them.

Prince Andrew was not allowed to wear his military uniform. He appeared in morning dress with his military medals.
A young heckler shouted at Prince Andrew in reference to sexual allegations with an underage girl, was quickly tackled by a member of the public, then police dragged him to his feet and arrested him:
He was arrested for breach of the peace:
The SNP had toughened up that law in 2010:
The procession up the ancient road was deeply moving, like something out of a film.
Prince Charles wore the green sash and star of the Order of the Thistle.
The Queen's coffin was draped in the Royal Standard of Scotland.
The Guardian's diary for the day added:
The Queen's coffin is … dressed with a wreath of flowers consisting of white spray roses, white freesias, white button chrysanthemums, dried white heather from Balmoral, spray eryngium, foliage, rosemary, hebe, and pittosporum.
The hearse is flanked by a bearer party found by the Royal Regiment of Scotland and the King's Body Guard for Scotland.
The cortege arrived at St Giles' shortly after 3 p.m. Watching the procession, I do not think they allowed enough time.
Heralds and Pursuivants of Scotland stood outside the cathedral door to receive the Queen for one last time. The Guardian has a magnificent photo of their uniforms.
The Crown of Scotland (see photo) was placed on the Queen's casket before the service.
Here is a photo of the military bearer party dressed in kilts placing the casket on the catafalque in the cathedral.
The Guardian reported (emphases theirs):
At the beginning of the service of thanksgiving for the Queen, Reverend Calum MacLeod welcomed the royal family, "representatives of our nation's life" and "people whose lives were touched by the Queen in so many unforgettable ways".
Among those attending the service are the prime minister, Liz Truss, as well as Scotland's first minister, Nicola Sturgeon.
Unfortunately, there is no video of the service, which was very well done and oecumenical.
The Order of Service is here.
Nicola Sturgeon read Ecclesiastes 3:1-15. We know the first several verses well but here are the next:
What gain have the workers from their toil? I have seen the business that God has given to everyone to be busy with. He has made everything suitable for its time; moreover, he has put a sense of past and future into their minds, yet they cannot find out what God has done from the beginning to the end. I know that there is nothing better for them than to be happy and enjoy themselves as long as they live; moreover, it is God's gift that all should eat and drink and take pleasure in all their toil. I know that whatever God does endures forever; nothing can be added to it, nor anything taken from it; God has done this, so that all should stand in awe before him. That which is, already has been; that which to be, already is; and God seeks out what has gone by.
The Church of Scotland has a transcript of the sermon that the Right Revd Dr Iain Greenshields preached:
Excerpts follow:
Death has been overcome, these are the words of hope expressed and centered around Jesus who died and rose again.
And this is clearly something that Her Majesty Queen Elizabeth acknowledged and personally embraced.
These last few days, as tributes to her Majesty have poured in and we have watched images of her on screen from her earliest years, capturing that remarkable life, yet now beginning to sink in that she is gone from us – "gone home" to express her own words.
Today, we gather in this place of worship and throughout the nation, to express our thanks to God, for her Majesty Queen Elizabeth's extraordinary life.
We are united in sorrow at the death of our Monarch, but we are also so aware that His Majesty King Charles and all his family are not just grieving the loss of their Queen, but their mother, grandmother and great-grandmother too.
Her Majesty Queen Elizabeth began her reign, like King Solomon by asking for wisdom, something that she demonstrated in large measure and to which was added duty, honour, commitment, and faith.
These are the words that we reach for today to describe the life and reign of Queen Elizabeth, whose passing is mourned not only in her native land but across the Commonwealth and the world, as has been so evident to us in recent days.
Most of us cannot recall a time when she was not our monarch.
Committed to the role she assumed in 1952 upon the death of her beloved father, she has been a constant in all of our lives for over 70 years.
She was determined to see her work as a form of service to others and she maintained that steady course until the end of her life.
People who were in her company always felt that they were being listened to carefully and attentively and with compassion.
She possessed a sharp, intelligent mind, with amazing recall, a kindly heart and a gentle sense of humour.
She understood the breadth of world affairs and also cared about what happened to all of her people.
And although sometimes buffeted by events around her, she continued resolutely and cheerfully fulfilled her responsibilities …
Much has been said about the Queen's contribution to the life of the United Kingdom and the Commonwealth which meant so much to her.
But here in Scotland we acknowledge with gratitude her deep links with our land and its people.
Her love of the Balmoral estate is well known and being there latterly brought her great comfort.
There she was valued as a neighbour and a friend and there she drew strength and refreshment during the summer months.
She was active in the life of civic Scotland, travelling across the country to support numerous causes, entertaining guests at Holyrood Palace and presiding at ceremonial events, many of which took place in this Church.
Here she received the Scottish crown in 1953, an event vividly memorialised in the painting by the Orcadian artist Stanley Cursiter.
Her links with the Scottish churches were also deep and lasting.
She was the Supreme Governor of the Church of England, but she worshipped in the Church of Scotland here north of the border, at Canongate Kirk and especially at Crathie Kirk where she took her pew each Sunday morning, prevented from doing so latterly only by infirmity.
She perceived little difficulty in belonging to two Churches and appreciating the strength of each.
It is clearly evident and without doubt that the Queen's Christian faith was genuine, and often gave clear and sincere expression in those remarkable Christmas broadcasts.
She spoke unashamedly of her trust in God and of the example and teaching of Jesus Christ whom she sought to follow as best she could – indeed, of that faith she said she had no regret …
Today we mourn her passing but we also celebrate the long and happy reign that we experienced with her.
And we pray God's blessing upon King Charles who will surely draw strength from his mother's example and the many affectionate tributes of these days and from our assurance to him as a Church of our steadfast prayers at all times and of our unstinting support to him as was offered to his mother, the Queen.
The Cathedral's website has more about the Queen's visits.
The service lasted an hour and ended at 4:15.
The Royal party then returned to Holyroodhouse.
However, their day was far from over.
The King met with Nicola Sturgeon. He and the Queen Consort then went to Holyrood to visit the Scottish parliament where MSPs delivered a motion of condolence.
At 7:20 that evening, the senior Royals returned to St Giles' for the Vigil of the Princes. It would be the first time that a female — Princess Anne — would take part.
More on that tomorrow.
Although the results of the Conservative Party leadership contest were not announced until Monday, September 5, 2022, it was widely believed that Liz Truss would emerge the victor.
So, on Sunday, September 4, the BBC's Laura Kuenssberg interviewed Truss on her morning current events show.
It was as much as a debut for Truss as it was for Kuenssberg. Although Kuenssberg has been on our television screens for several years, it was the first time in this format.
No longer much of a viewer of the regular BBC output outside of BBC Parliament, I only watched a short clip that Guido Fawkes posted:
Truss was polite and constructive. She explained that her policies were based on growth rather than redistribution:
Guido's post says, in part (emphases his):
The goal of Liz Truss's government should be to provide the framework for economic growth, growth that provides high paying jobs, not optimises universal credit. The Treasury has been trapped in the logic of Gordon Brown for too long, tinkering with taxes and benefits instead of turbo-charging the economy. We can't tax or redistribute our way to prosperity, Liz Truss knows this and has the drive to reform government policy. It is a positive, optimistic agenda on which she needs to move fast, starting this week…
Kuenssberg acted like the cool girl from school. (How did her hair grow so much in such a short space of time, one wonders.) She asked Truss:
You will come and see us again, won't you?
A Telegraph review of the new show mentioned that Kuenssberg couldn't interview Truss in detail because she had to move on to an interview with Ukraine's Olena Zelenska (emphases in purple mine):
One hopes … that the busy format can be slimmed down when the need arises, to allow for longer-form interviews and tougher interrogation. Kuenssberg did not, for example, have time to ask Truss about crime, immigration or education, because the programme also had to fit in an interview with Ukraine's first lady, Olena Zelenska (unfortunately, interviews conducted via a translator rarely make for riveting TV), fleeting discussions of Nasa's Artemis launch and the Taylor Hawkins tribute concert, plus some banter with the panel.
It is just like the BBC to give priority to foreign nations over our own citizens' needs and concerns.
Another mistake might be the addition of notional comic Joe Lycett, who insulted the then-future Prime Minister and made the Mail's front page on Monday:
The British public received more insight from Mark Littlewood, the director of the Institute of Economic Affairs (IEA). Littlewood (H/T to Guido Fawkes) was up at Oxford with Truss in the early 1990s and said she would be:
the most radical British Prime Minister in over a century.
Excerpts from Littlewood's article for The Sunday Telegraph follow:
The first myth that needs to be laid to the rest is that Liz Truss is some sort of wily, calculating chameleon who changes her political colours, depending on prevailing political circumstances, to suit her own narrow ends.
I first met Liz Truss over twenty-five years ago at Oxford University and have detected no shift in her underlying political philosophy in that time. She has not jumped from left to right or from radical to reactionary – she is, and has always been, a market liberal with a deep suspicion of entrenched, vested interests. She instinctively believes that the state has a greater propensity to do harm than to do good.
How then to reconcile her record as a pro-EU, Liberal Democrat at university with her Tory policy platform today? You only need to appreciate how politics have changed so markedly since the mid-1990s to understand that while the world itself might not be very consistent, Liz Truss very much is …
I would argue that Liz Truss's changing position on the EU reflects a consistent application of her underlying principles to changing circumstances. To go right back to the 1990s, the single market had just come into being. On the face of it, the European project was on an exciting, liberalising trajectory. It was about removing barriers erected by nation states in order to facilitate trade and free exchange. Over many years – and only incrementally – did the EU's obsession with regulatory conformity oblige free market liberals to seriously question whether the European Union was now more of a socialist than a liberal enterprise …
Although she was hostile to the EU's heavy-handed intervention, she also recognised that many of the problems afflicting Britain were homegrown. Most of the policy reforms she craved could be carried out whether or not we were a member of the European Union.
In wishing to move Britain in a liberalising, more market-orientated direction, Liz Truss would have judged Brussels to have been bad, but probably Whitehall to be worse …
Her approach to date on the energy crisis is a classic example of this. Whilst politicians of all stripes seem to want the government to take even more action to fix the price of energy, Truss's starting position would be to allow the price mechanism to operate freely and then consider how one might mitigate the effects. She would rather offset the soaring price of utility bills through meaningful tax cuts, than appoint a central committee to pronounce on the exact price we should all be paying per kilowatt hour.
But it's not merely the underlying instincts of Liz Truss that has led so many free marketeers to get excited about her upcoming premiership. We can also expect her to act decisively. This doesn't mean she is a dogmatic individual although, for sure, she is guided by an underlying ideology in a way our last three Conservative Prime Ministers have not been …
I suspect we are about to bear witness to the most radical British Prime Minister in over a century.
We can expect to see a whirlwind of activity and announcements from the very first minutes of her entering Downing Street. Given the speed she is going to have to operate at, there inevitably will be missteps. But the overall direction of travel in the Truss administration will be crystal clear – to move power and money away from the state bureaucracy and into the hands of ordinary men and women.
It remains to be seen exactly how far she can move Britain in that direction in the limited time she has available to her, but I can't wait to find out.
The Sunday Telegraph granted Truss an editorial that day which bear out what Littlewood wrote:
… My plan for growth is built on Conservative ideas: tax cuts, supply-side reform and deregulation. I will grasp the nettle on the ambitious reforms needed to get our economy growing, including working with local communities to create low-tax, opportunity-rich investment zones and make Britain the home of innovation and start-ups …
We will break with the same old tax and spend approach by focusing on growth and investment. The heaviest tax burden in 70 years cannot go on. We will change the Treasury investment rules to drive opportunity across every part of our United Kingdom. As Prime Minister, I will terminate the technocratic excesses that have crept into government and our economy.
I will be on the side of the people who drive Britain forward: from our hard-working taxpayers to our dynamic businesses and the self-employed. In the same spirit, I will take on whatever holds us back.
Too often, people face a morass of bureaucracy to get things done. It cannot be right that the last reservoir or new nuclear power station was over a quarter of a century ago. It's time to get Britain building and liberate our enterprising spirit.
At this critical moment, we can shape the future of our economy through the decisions we make. I am prepared to be bold in order to transform our economy into the powerhouse I know it can be. That is how we will deliver a better future for the British people and ensure together that our best days lie ahead.
On the morning of Monday, September 5, Red Wall MP Lee Anderson (see parts 1, 2, 3, 4 and 5) reacted to Laura Kuenssberg's Sunday show.
Guido reported:
Speaking to Mike Graham on TalkTV this morning, he's just called for the whole BBC to be shipped off to a desert island, because "they do not represent what this country wants."
One minute before the leadership contest results were announced, Guido tweeted about an extravagant bet he made on a Truss victory:
Sir Graham Brady, chairman of the 1922 Committee of Conservative backbench MPs, announced the result promptly at 12:30 in the Queen Elizabeth II conference centre, not far from Parliament.
Guido could rest easy. Truss won and would become our new Prime Minister:
Sir Graham read out the results from the Party members' ballots in full. Rishi Sunak did better than most pundits and pollsters predicted.
We also discovered the true number of Conservative Party members, heretofore unknown:
Rishi Sunak received 60,399 votes (42.4%)
Liz Truss received 81,326 votes (57.1%)
There were 172,437 eligible electors. Turnout was 82.6%.
There were 654 rejected ballots – probably mostly write ins for Boris. Which means 142,379 votes were returned.
58,378 electors voted by post and 84,001 electors voted online.
Before the result was announced, Conservative Home's Paul Goodman tweeted his expecations based on conversations with Party MPs and activists:
He found that Opinium was the most accurate polling company in the contest:
Look how far off the mark Conservative Home was.
Opinium readily acknowledged that doing party-specific polls were much more challenging than those from the general public:
Opinium has once again won the crown for most accurate poll during the Tory leadership election. After winning the same accolade at the 2019 election, Opinium were closest to the final result. They add the usual caveats that polling political parties is much trickier than the general public…
Truss and Sunak were seated next to each other as the votes were announced. Whe she got up to give her speech she rushed past Sunak without a glance or a handshake. Oh, well.
Her short speech didn't tell us anything we didn't already know:
Guido has the video, in which she was emphatic about one thing:
I campaigned as a Conservative and I will govern as a Conservative.
She also paid tribute to Boris Johnson:
Guido reported that Boris quickly congratulated Truss and said that the two had met before the contest was over:
Boris has congratulated Liz Truss on a "decisive win" in the leadership race:
I know she has the right plan to tackle the cost of living crisis, unite our party and continue the great work of uniting and levelling up our country. Now is the time for all Conservatives to get behind her 100 per cent.
It's not like Boris stayed neutral throughout the race. This morning the BBC's Chris Mason reported that Liz visited Boris at Chequers to ask his advice on how to be PM. 
Rishi has tweeted, through obviously gritted teeth, "It's right we now unite behind the new PM, Liz Truss, as she steers the country through difficult times."
Meanwhile, Carrie took to Instagram to wish Liz and her family well, alongside a photo of her, Boris, Wilf and Romy stepping through the No. 10 door into Downing Street for the last time.
I expect Wilf and Romy won't remember it but they've had an incredibly happy start to their lives growing up here.
Let's hope the garish wallpaper didn't leave a permanent imprint on their young minds.
Unfortunately for Truss and the Conservatives, the longstanding co-chairman of the Party, Ben Elliot, resigned that evening:
Ben Elliot is an entrepreneur, not an MP. He has incredible social connections and has raised a lot of money for the Conservatives.
Elliot is best known for his personal concierge subscription service which he started many years ago.
Ben Elliot, a close ally of Boris Johnson, announced he was stepping down from the role – leaving Miss Truss with the headache of trying to find a powerful replacement.
Mr Elliot spearheaded the drive to amass a £56millon war chest in the run-up to the 2019 election, of which £23million was raised in the four weeks prior to polling day.
Controversially, Mr Elliot used donor clubs to generate funds – including the use of an 'advisory board' for £250,000-a-head contributors – which attracted allegations that he was deploying 'cash-for-access' techniques.
But it also allowed the party to comprehensively outgun Labour in the income stakes.
One of Mr Elliot's friends said that 'Ben's own initiative and contacts' had been responsible for more than one third of donor income.
The friend said:
He is going because he recognises that Liz will want the freedom to appoint her own chair, and wants to spend more time concentrating on his businesses.
Hmm.
Elliot thanked the groups he worked with in the Party, adding:
I would like to thank Boris Johnson for appointing me, and wish Liz Truss every success in leading our great country, particularly given the challenges of the winter ahead.
The article concludes with this:
Darren Mott, chief executive of the Conservative Party said: 'The whole Conservative Party wants to thank Ben Elliot for his tireless service over the past three years. Without his incredible efforts, the 2019 landslide would not have been possible. We wish him all the best in his future endeavours.'
Moving on to Parliament, which resumed sitting on Monday afternoon, changes were afoot.
Boris loyalist Nadine Dorries's Online Safety Bill was scheduled to be debated further that day, but was suddenly pulled from the Order Paper.
Mark Spencer, still in post at that point as Leader of the House, announced:
With permission, Mr Speaker, it may help if I inform the House that, following the election of the new leader of the Conservative party, the business managers have agreed that the Government will not move the Second Reading and other motions relating to the Data Protection and Digital Information Bill today to allow Ministers to consider the legislation further. The remainder of this week's business is as I announced on 21 July.
That was one piece of good news, as it is draconian.
The other good news was that Home Secretary Priti Patel resigned that day, after giving her last Q&A session on Home Department progress over the summer. She had a lot to say but not much to report, which was typical of her performance since 2019:
I had such high hopes for her, but, between civil servants and lingering EU laws to which we are still subject, she couldn't get anywhere, internationally with migration or domestically with policing.
Returning to Liz Truss, the Russians were not happy that she is now Prime Minister. One Russian broadcaster said:
Elizabeth Truss wants to achieve something entirely different — the end of the world.
Good. Truss is right over the target.
More flak came Truss's way here in the UK from the usual suspects:
As for Boris, was he as bad a Prime Minister as all the Remainers said? No. Not at all.
Labour's Gordon Brown is still our most unpopular PM of living memory:
Guido wrote:
The usual blowhards like Alastair Campbell and James O'Brien like to claim that Boris was the worst Prime Minister of all time. That's not a view reflected by the public. According to data compiled by Britain Elects and published by the New Statesman, during his premiership Boris never reached the depths of unpopularity reached by most of his recent predecessors as PM. Tony Blair was more unpopular before he left office, Gordon Brown was far more unpopular during his tenure and Theresa May sunk lower in popular esteem than ever Boris did. Of recent PMs only David Cameron was less negatively perceived at his lowest point. Dave didn't have the almost universal and unforgiving disdain of the europhile chattering classes against him though…
Tuesday, September 6, was a busy day and, unfortunately, too much for the Queen, who, as I write on Thursday, is gravely unwell at Balmoral.
Sir Lindsay Hoyle, the Speaker of the House of Commons, interrrupted the energy debate to make a brief announcement, asking for thoughts and good wishes for the Queen and her family at this time.
Tomorrow's post will discuss Boris's and Liz's respective trips to Balmoral to meet with the Queen.
In the meantime, my prayers go to our monarch for her recovery and to the Royal Family.
Picking up from where I left off yesterday with Dan Wootton's GB News poll on the next Conservative Party leader, 60,000 people responded and 49 per cent said that Boris Johnson should be the next one.
On Thursday, Wootton remarked:
The Prime Minister's swashbuckling and energetic PMQs farewell today just emphasised that point further.
Boris participated in his final Prime Minister's Questions on Wednesday, July 20, 2022, just under three years since he first stood behind the despatch box as Prime Minister.
It was one of Boris's best performances and can be viewed here. Hansard's transcript is here.
Highlights follow, emphases mine.
Labour's Sir Keir Starmer had a go at the leadership contest, particularly last week's debates and the refusal of a third debate on Sky News. The debates were a bit spiky at times, but pretty tame overall.
Boris replied:
I am not following this thing particularly closely, but my impression is that there has been quite a lot of debate already, and I think the public have ample opportunity to view the talent, any one of which—as I have said before—would, like some household detergent, wipe the floor with the right hon. and learned Gentleman. Today happens to be just about the anniversary of the exit from lockdown last year, and do you remember what he said? He said—[Interruption.] No, I am going to remind him. He said it was "reckless". It was because we were able to take that decision, supported by every single one of those Conservative candidates, opposed by him, that we had the fastest economic growth in the G7 and we are now able to help families up and down the country. If we had listened to him, it would not have been possible, and I do not think they will be listening to him either.
Starmer had a go at Rishi Sunak's accusation of Liz Truss's proposed tax cuts as 'fantasy economics'.
Boris said:
Well, Labour know all about fantasy economics, because they have already committed to £94 billion of extra tax and spending, which every household in this country would have to pay for to the tune of about £2,100. It is thanks to the former Chancellor's management of the economy—thanks to this Government's management of the economy—that we had growth in May of 0.5%. We have more people in paid employment than at any time in the history of this country. I am proud to be leaving office right now with unemployment at or near a 50-year low. When they left office, it was at 8%. That is the difference between them and us.
Then Starmer quoted Liz Truss's criticism of Rishi's economic policy for its lack of growth.
Boris answered:
I think that everybody would agree that what we saw in the last two and a half years was because of the pandemic, with the biggest fall in output for 300 years, which this Government dealt with and coped with magnificently by distributing vaccines faster than any other European Government—faster than any other major economy—which would not have been possible if we had listened to the right hon. and learned Gentleman. That is why we have the fiscal firepower that is necessary to help families up and down the country, making tax cuts for virtually everybody paying national insurance contributions. There is a crucial philosophical difference between Labour and the Conservatives: under Labour, families on low incomes get most of their income from benefits; under us, they get most of it from earnings, because we believe in jobs, jobs, jobs. That is the difference.
Starmer went on to quote Penny Mordaunt on Britain's sluggish public services.
Boris said:
… This is the Government who are investing £650 billion in infrastructure, skills and technology. He talks about public services; what really matters to people in this country right now is getting their appointments and their operations, fixing the covid backlogs—that is what we are doing—and fixing the ambulances. That is what he should be talking about. That is why we voted through and passed the £39 billion health and care levy, which Labour opposed. Every time something needs to be done, Labour Members try to oppose it. He is a great pointless human bollard. That is what he is.
Starmer referred to Kemi Badenoch's criticism of Rishi's handling of covid loans.
Boris replied:
This is one of the last blasts from Captain Hindsight, at least to me. They were the party, I remember, that was so desperate for us to be hiring their friends—they wanted a football agent and a theatrical costumier to supply personal protective equipment. Do you remember, Mr Speaker? We had to get that stuff at record speed. We produced £408 billion-worth of support for families and for businesses up and down the country. The only reason we were able to do it at such speed was that we managed the economy in a sensible and moderate way. Every time Labour has left office, unemployment has been higher. The Opposition are economically illiterate, and they would wreck the economy.
You can read more on Guido Fawkes about Labour's hilarious — well, it would be were it not so tragic — attempts to get the Government to employ their friends for pandemic related equipment.
Starmer went on for another few minutes about the nation being an utter shambles at the moment.
That is true in many instances, but Boris cited the good things that the Conservatives have accomplished over the past three years:
What does it say about the right hon. and learned Gentleman that no one can name a single policy, after three years, of the Opposition apart from putting up taxes? He is one of those pointless plastic bollards you find around a deserted roadworks on a motorway. We got Brexit done; he voted against it 48 times. We got this country fast out of covid, in spite of everything, when he would have kept us in lockdown. We are fixing social care, when the Opposition have no plan and no ideas of their own. We are now bringing forward measures, in the face of strikes, to outlaw wildcat strikes.
I can tell the House why the Leader of the Opposition does that funny wooden flapping gesture—it is because he has the union barons pulling his strings from beneath. That is the truth—£100 million.
We have restored our democracy and our independence. We have got this country through covid. I am proud to say that when it comes to tackling climate change or sticking up for Ukraine, we have led the world on the international stage. I want to thank my friends and colleagues on these Benches for everything they have done.
Guido posted the video of that portion, which is Boris at his best. Viewers will also get the mood of the Chamber, which was very noisy indeed:
After Starmer had finished, it was the turn of Ian Blackford from the Scottish National Party (SNP). As ever, he criticised the Government and put in yet another plug for a second independence referendum:
Boris said:
That is not what I observe. The right hon. Gentleman talks about records; I point to the fastest vaccine roll-out in Europe, the lowest unemployment for at or near 50 years as I have said, the lowest youth unemployment, and the fastest growth in the G7 last year, in spite of everything. As for the Scottish nationalists' record, look at where they are. I am afraid to say that Scottish school standards are not what they should be, because of the failure of the SNP. It is failing people who are tragically addicted to drugs in Scotland, and the people of Scotland are facing another £900 million in tax because of the mismanagement of the SNP.
True. All of it.
Blackford ranted once more on partygate. Incidentally, he is a multi-millionaire who likes to paint himself as a humble crofter.
Boris replied:
On the personal abuse stuff, I think the right hon. Gentleman is talking a load of tosh, but when he has retired to his croft—which may be all too soon—I hope that he will reflect on his long-running campaign to break up the greatest country in the world. I hope that he will reflect on the pointlessness of what he is trying to do, and think instead about the priorities of the people of Scotland, which are all the issues that he thought were trivial: education, crime, and the burden of taxation that the SNP is unnecessarily placing on the people of Scotland.
After Blackford sat down, Sir Ed Davey, leader of the Liberal Democrats, had his say. He indirectly accused Boris of being ambitious and 'tyrannical'. He asked whether Boris would now be devoting time to completing his book on Shakespeare. He also said there should be a general election.
Boris answered:
Polonius—that's who the right hon. Gentleman is; he needs more matter with less art. The only thing we need to know is that if there were to be a general election, the Liberal Democrats would rightly get thrashed, because that would be the moment when the public looked with horror at what the Liberal Democrats' policies really are and all those rural voters would discover the massive green taxes that they would like to apply. The only risk is that there could be some kind of crackpot coalition between those guys on the Labour Benches, the Lib Dems and the Scottish nationalists to put that into effect. That is what we must prevent.
Felicity Buchan, a Conservative who represents London's Kensington constituency, expressed her concerns about rising crime under the current Mayor of London (Sadiq Khan).
Referring to himself, Boris replied:
London once had a Mayor who cut crime by 25%, cut the murder rate by 30% and built twice as many affordable homes as the current incumbent. What London needs is another Conservative Mayor.
Another Liberal Democrat, Scotland's Jamie Stone (Caithness, Sutherland and Easter Ross) wanted a freeport in his Highlands constituency.
Boris said:
I can confirm that we are committed to funding two new green freeports in Scotland to the tune of £52 million. That would not be possible, of course, if the SNP got its way and we returned to the EU.
Boris defined levelling up:
It is not just inequality; it is inequality of opportunity, and that is what levelling up addresses.
A Labour MP moaned about the railways in the north of England.
Boris replied:
Actually, this Government are responsible for three new high-speed lines, including Northern Powerhouse Rail, which no previous Government have done.
Boris gave his advice with regard to hot weather when an MP asked about disposable barbeques and Chinese sky lanterns:
The key thing is for people to behave responsibly with the use of these things. It is clearly insane to take a disposable barbecue on to dry grass.
Another SNP MP, Dr Philippa Whitford, talked about poverty in Scotland, ending with a plug for independence.
Boris said:
Actually, we increased the living wage across the whole of the UK by £1,000, we made sure that people on universal credit got their tax bills cut by £1,000, and over the last couple of weeks we have cut national insurance contributions by an average of £330. It was because of the Union that we were able to support families up and down the country, in Scotland, with the furlough and other payments, to the tune of £408 billion.
One of the nicest contributions came from Conservative MP Andrew Bowie, who represents West Aberdeenshire and Kincardine:
May I thank my right hon. Friend for his commitment to Scotland and the entire United Kingdom over his years in Downing Street? I also thank him and my right hon. Friend the Secretary of State for Scotland for improving and increasing the visibility and involvement of the UK Government in Scotland over the past three years. Does my right hon. Friend the Prime Minister agree that whoever takes his job, and whatever comes next, the United Kingdom will always be stronger together than it ever would be apart?
Boris replied:
That was brilliantly put; I could not have put it better myself.
Then a young Labour MP asked about the slow compensation for Windrush victims.
Boris said:
Actually, I think more people have got compensation. I renew my apologies to the Windrush generation for what they have suffered, but we have greatly increased the compensation available. We have paid out, I think, more than £51 million. We are working with voluntary groups to ensure that people get what they are entitled to. I may say that Labour has never apologised for its own part in the Windrush scandal.
An MP from Northern Ireland accused the Government of ruining relationships between Ulster and the Republic.
Boris replied:
I completely disagree with that. The whole objective of the Northern Ireland (Protocol) Bill that we have passed is to support the balance and symmetry of the Belfast/Good Friday arrangements. I was very pleased that the Bill advanced to the House of Lords with no amendments.
GB News has more on the legislation:
A Conservative MP, Crispin Blunt, is not my favourite. However, here is where I agree with him. He paid a splendid tribute to Boris:
In recalling the situation that the Prime Minister inherited in July 2019, of a Parliament with a majority determined to frustrate the result of the 2016 referendum, led by a Speaker who was just slightly partial—the seemingly impossible situation he found—does my right hon. Friend understand that he has the gratitude of my constituents, who can identify the wood from the trees, and of myself, for his leadership over the last three years?
Boris replied:
I am very grateful to my hon. Friend. There is a fair amount of wood on the Opposition Benches and I think that is why we will prevail at the next general election.
Another SNP MP banged on about a second independence referendum.
Boris said:
This is the country that secured furlough and that delivered the vaccine across the whole of the UK, while the SNP gets on with overtaxing to the tune of £900 million—that is how much they are overtaxing in Scotland. And we had a referendum in 2014.
Another SNP MP complained spitefully about Boris being a nobody and about the honours list he might draw up before he leaves office.
Boris answered:
I am sure that everybody who has served this Government loyally and well deserves recognition of some kind, but as for the honours list, I am afraid the hon. Gentleman will have to contain his excitement.
Conservative MP Sir Edward Leigh was the last to speak. He, too, paid Boris tribute for the past three years:
On behalf of the House, may I thank the Prime Minister—[Interruption.] On behalf of the House, may I thank the Prime Minister for his three-year record of service? On behalf of some of the most vulnerable people in the country, can I thank him for his insistence on rolling out the AstraZeneca jab, which has saved thousands of lives around the world? On behalf of the 17.4 million people who voted Brexit, may I thank him for restoring people's faith in democracy? On behalf of northern towns, may I thank him for his commitment to levelling up? And most of all, on behalf of the people of Ukraine, may I thank him for holding high the torch of freedom and ensuring that that country is not a vassal state? For true grit and determination, keep going and thank you.
Boris replied, giving his closing remarks and advice for the future PM:
I thank my right hon. Friend, and I want to use the last few seconds to give some words of advice to my successor, whoever he or she may be.
No. 1: stay close to the Americans; stick up for the Ukrainians; stick up for freedom and democracy everywhere. Cut taxes and deregulate wherever you can to make this the greatest place to live and invest, which it is. I love the Treasury, but remember that if we had always listened to the Treasury, we would not have built the M25 or the Channel Tunnel. Focus on the road ahead, but always remember to check the rear-view mirror. And remember, above all, it is not Twitter that counts; it is the people that sent us here.
And yes, the last few years have been the greatest privilege of my life. It is true that I helped to get the biggest Tory majority for 40 years and a huge realignment in UK politics. We have transformed our democracy and restored our national independence, as my right hon. Friend says. We have helped—I have helped—to get this country through a pandemic and helped save another country from barbarism. Frankly, that is enough to be going on with. Mission largely accomplished—for now.
I want to thank you, Mr Speaker. I want to thank all the wonderful staff of the House of Commons. I want to thank all my friends and colleagues. I want to thank my right hon. Friend the Member for Ross, Skye and Lochaber (Ian Blackford). I want to thank everybody here. And hasta la vista, baby. [Applause.]
Here's the 'Hasta la vista, ba-by' video — a must-see:
The Conservatives gave him a standing ovation, with everyone applauding him, except for Theresa May, who merely stood.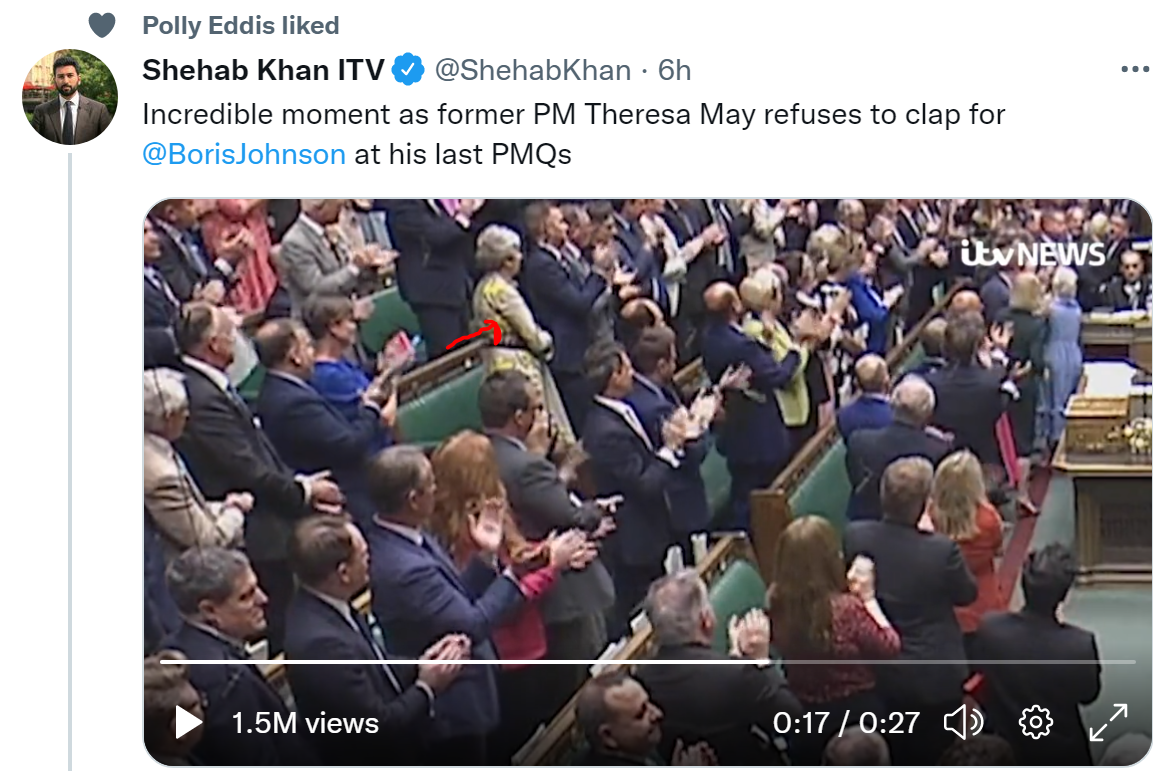 The Opposition either sat in silence or walked out.
One of Guido's readers wrote:
Lack of class from opposition MPs who can't possibly give a polite round of applause for a political opponent.
I agree. On the other hand, they hate Boris because he represents Brexit.
In Guido's comments on the same post, someone said that Boris was Britain's 'worst ever PM', which garnered this response, rightly pointing out the greater moral failings of Tony Blair, John Major and Theresa May as well as today's world leaders:
What, even worse than a Prime Minister who took the UK into an illegal war which resulted in the deaths of millions as well as thousands of UK soldiers and for which the UK is still feeling reverberations in the form of terrorist attacks? What a worse PM than a Prime Minister who signed the UK up to the Maastricht Treaty without putting it to the British people in the form of a referendum? What worse than a Prime Minister who put forward the idea of making the elderly sell their homes to pay for Health Care …
But instead listened to the people and secured an 80 seat majority to leave the EU (admittedly still leaving a lot to do). Invested in Vaccine development and procurement to ensure the UK had enough supplies for every citizen, and that the UK was at the front of the queue, and didnt go overboard on Covid restrictions, not when you look at what other countries got up to, namely Canada, China and France with Macron's "I want to punish those that won't get vaccinated" this after he was responsible for sowing Vaccine doubt simply because the Vaccine was developed in the UK – but then Johnson commited a crime so heinous – he had a piece of Birthday cake brought to him buy his wife – and that's 'your' worst Prime Minister, lol …
Journalist and former Conservative adviser Amanda Platell said she wept after PMQs:
Boris will be missed for his powerful performances at the despatch box …
… and Labour know it. One of their former advisers admits that's why Boris had to go:
Keir Starmer was often petty and unpleasant towards Boris:
That is because he knows Boris can win elections. In fact, earlier this week, Starmer was so frustrated with the Prime Minister that he insulted him on a podcast.
Starmer's deputy leader Angela Rayner said on Monday, July 18, that she would be happy with either Truss or Sunak as his successor. At the time she gave this interview, five candidates were still in the race:
I'm quite happy with any one of them. Because the one thing, and I kind of could see it… [Boris] had this, like, teflon coating… It's like a little magic. Where he was able to get through to the public and get through to the places that I actually don't see any of the five candidates that are standing having at the moment… Boris had so much going for him. He got an 80-seat majority and the country was really behind him… the five that we've got now I don't think have got that…
Here's the video:
Boris's former adviser Dominic Cummings thinks that Boris, like Arnie, will be back, if the next Conservative leader is too lacklustre:
As I wrote yesterday, thousands of voters do not want until then. Dan Wootton's viewers think that Boris's name should be on the ballot going out to Conservative Party members early in August:
Wootton's poll follows on from the ongoing petition by Party members to have Boris's name on the ballot:
The petition is being spearheaded by Lord Cruddas of Shoreditch, the Tory donor, and David Campbell Bannerman, a former Conservative Euro MP:
The Mail also has a report on the petition.
GB News interviewed David Campbell Bannerman on Thursday, July 21:
However, Labour are planning a rearguard action to prevent Boris from ever being Party leader again.
They hope to depose him as MP for Uxbridge and South Ruislip in west London:
On Thursday, July 21, GB News reported:
Boris Johnson could be forced to face a by-election if he is found to have lied to Parliament and is handed a suspension for 10 or more sitting days.
The Privileges Committee is examining whether the Prime Minister committed a contempt of Parliament by misleading MPs over the Partygate scandal.
Commons Speaker Sir Lindsay Hoyle [Labour] confirmed that the committee's findings would fall within the remit of the Recall of MPs Act, following advice from a leading lawyer.
That would mean that a suspension of 10 or more sitting days, or 14 calendar days, would trigger a recall petition.
If at least 10 percent of voters in Mr Johnson's Uxbridge and South Ruislip seat demand a by-election he would lose his place as an MP, but would be eligible to stand again in the contest.
The cross-party committee also published advice from the Clerk of the Journals, Eve Samson, the Commons' expert on parliamentary privilege, which suggested that whether or not Mr Johnson intended to mislead MPs was not a factor that needed to be considered.
But she said that intent could be seen as an "aggravating factor" when considering penalties …
The MPs intend to call Mr Johnson to give oral evidence in public in the autumn, under oath.
The committee has already said that whistleblowers will be able to give evidence about the Prime Minister anonymously.
Mr Johnson has also been ordered to hand over a cache of documents to the MPs investigating whether he lied to Parliament with his partygate denials.
The committee wrote to the Prime Minister and Cabinet Secretary Simon Case demanding details relevant to its inquiry.
On Friday, July 22, Guido posted on the upcoming inquiry, saying (emphases in red his):
While the committee will now disregard the PM's intent, the Clerk's report does say that can feed into deciding a sanction. This is all, in the understated words of The Telegraph, "a departure from precedent"…
It seems the Speaker's also got in on the act of changing rules. The Privileges Committee's announcement yesterday said Hoyle has ruled that "any suspension of the requisite length (10 sitting days or 14 calendar days) ) following on from a report from that Committee will attract the provisions of the Recall of MPs Act". Previously only recommendations of suspension from the Standards Committee would apply the recall act. Now the PM faces a by-election being forced by [Labour MP Harriet] Harman. Tory MPs are now having to fight back on his behalf, launching a petition to scrap the investigation altogether in light of his resignation…
For now, let's remember the happier times of earlier this week.
Boris held his final Cabinet meeting on Tuesday, July 19:
Despite the heat, Guido reports that there were no refreshments or food:
… there were a few presents, and a round of applause for the PM. Nigel Adams also gave a speech commending Boris's time in office, followed by a school photo.
Boris was gi[ven] a six-set first edition of Churchill's war books; surprisingly not something the ex-PM's biographer didn't already own. Guido also learns Boris was given wines that reflected significant dates in his life and political career: 1964, 2008, 2012 and 2019. He also got wine from other countries that mean a lot to him, including Ukraine and Greece …
Here's the Cabinet photo:

I hope all goes well for the Prime Minister in the weeks to come.
No doubt if Labour try to get at him, he'll find a way out.
All being well, I'll have a post next week on what really happened leading to his ouster.
It is apposite to follow my posts about Lee Anderson with a series on his fellow Red Wall MP Marco Longhi.
Among other things, they have in common a dislike of Steve Bray, the noisy anti-Brexit protester who had his amplifying equipment taken by police this week.
Steve Bray
This is where I left off yesterday:
I'll get to the debate in which Marco Longhi said those words.
First, however, Steve Bray reappeared in the area around Parliament on Wednesday, June 29, 2022, with a new boombox:
Guido Fawkes had the story and a video:
His post says (emphases in the original):
Just when you thought it was all over, Steve Bray's back for an encore. With his boombox ripped from his hands yesterday by a swarm of Met officers, it looked like it was finally time to say bye, bye Bray-by. Not so much.
Undeterred, and as promised during a BBC interview yesterday afternoon, Bray is back on his island outside Parliament, having found a new boombox to blast his tunes at full volume as MPs walk past. He's also picked up a gang of new supporters to chant along with him. Presumably they don't have jobs to go to either. Chopper [The Telegraph's Christopher Hope] even claims he's seen pedestrians hand Bray some cash in solidarity. It's not like Met officers have far to commute given New Scotland Yard's just metres away…
On May 11, Marco Longhi mentioned Steve Bray, although not by name, in a parliamentary debate, Preventing Crime and Delivering Justice.
Guido covered the bit about Bray:
Guido wrote:
… Speaking in the Chamber yesterday afternoon alongside Bray's arch nemesis Lee Anderson, Longhi said:
I will not dignify his existence by tarnishing Hansard with his name, but there is a noisy man outside who dresses up as a clown and harasses and chases Members of Parliament and our staff from his little camp on the crossing island on Parliament Street. He is someone else who serves no public benefit whatsoever… This person needs to have his loudspeaker system confiscated and to be moved on. Personally, I would like to see him locked up in the Tower with a loudspeaker playing "Land of Hope and Glory" on repeat at maximum volume. The Met really should deal with him.
Labour's Lloyd Russell-Moyle intervened to offer swapping offices with Longhi so that "there will be no problem and we will not need to shut down free speech either"…
Guido concluded by saying that, like Lloyd Russell-Moyle, he has no problem with Bray's braying as it shows we tolerate free speech.
Personally, I disagree. After six years of his daily noise, the Met should put a stop to it.
Returning to the debate, which took place after the Queen's Speech in May, Longhi discussed the people from his constituency, Dudley North, and their concerns, among them Brexit and re-establishing law and order (emphases mine):
I was going to confine my speech to the Public Order Bill, but I will follow up on a few comments that the right hon. Member for East Antrim (Sammy Wilson) made. The more I listen to him, the more I think he speaks a good deal of common sense. I would like him to know that I for one, and a number of my colleagues, agree with much if not everything of what he says, and we have a steely resolve to make sure that we are one United Kingdom. That is what we voted for when we voted for Brexit.
My daughters, for some unfathomable reason, sometimes describe me as a grumpy old man. I really do not know why. However, there are a few things that can make me a little bit miserable, and one thing that has really grated on me in recent years is the minority of protesters who have pretty much used guerrilla warfare to disrupt the everyday lives of the vast majority of our constituents—not just mine, but everybody's.
The good people of Dudley North are ordinary folk, working hard to make a living, a living that is increasingly harder to make in the current climate. I cannot fathom how the privileged and entitled few think it is acceptable to stop our carers and nurses from being able to get to work to care for our sick and elderly, or to blockade a fire appliance from getting to a serious fire burning a local business to the ground—or, more tragically, perhaps preventing people inside the burning building from being saved. Of course, that applies to any blue light service, not just the fire service. That minority of criminals truly disgust me. They have no concept of the real world out there. They have no concept of the misery they bring to those less fortunate than themselves.
I hope that you, Mr Deputy Speaker, and those on the Front Benches will join me in making working here more bearable for our staff, myself and my colleagues. I will not dignify his existence by tarnishing Hansard with his name, but there is a noisy man outside who dresses up as a clown and harasses and chases Members of Parliament and our staff from his little camp on the crossing island on Parliament Street. He is someone else who serves no public benefit whatsoever.
Lee Anderson intervened:
I know the character my hon. Friend alludes to, and I have witnessed some ferocious verbal attacks on my hon. Friend from that character, who patrols Whitehall like a public nuisance. May I suggest telling him that, if he is interested in changing things in this country, he should come to Dudley North and stand against my hon. Friend at the next general election?
Longhi replied:
In fact, that invitation has already been made. I am going to print off a set of nomination papers, but I wonder about the 10 people this person might need for the form to be valid.
My staff cannot hear distressed constituents on the phone through the awful racket he causes. All our staff who have offices in 1 Parliament Street suffer considerable stress and anxiety from the disruption he causes to their, and our, work. I doubt that staff in the Department for Digital, Culture, Media and Sport and Her Majesty's Revenue and Customs, the buildings opposite, would say anything different—[Interruption.] Is someone wanting to intervene? I do not know. I heard some noises. It is like a Hoover—an irritating thing in the background. I do not know what it is.
This person needs to have his loudspeaker system confiscated and to be moved on. Personally, I would like to see him locked up in the Tower with a loudspeaker playing "Land of Hope and Glory" on repeat at maximum volume. The Met Police really should deal with him. He is causing misery to hundreds of staff, he is intimidating many—
Then Labour's Lloyd Russell-Moyle, who is quite the leftie, intervened for a bit of to-ing and fro-ing:
Russell-Moyle: No, he's not!
Longhi: I think someone wants to intervene, Mr Deputy Speaker. This person intimidates many who are passing by, going about our business and representing our constituents—
Russell-Moyle: No, he doesn't!
Longhi: Would the hon. Gentleman like to intervene?
Russell-Moyle: The hon. Member clearly does not know how Parliament works, but we often make sounds across the Chamber when we disagree with someone, and I disagree with him. I am happy to swap offices: I will take his office and he can have my office. Then there will be no problem and we will not need to shut down free speech either. Win-win!
Longhi: I am actually very comfortable for the hon. Member to come to Dudley North and make those very arguments, because he would be out of office completely. Please do come and make those very arguments. I am not going to allow this kind of behaviour from someone outside, who is a public nuisance, to force us to have to make changes for him.
Our police, whether in Dudley, the Met or elsewhere, need the tools to better manage and tackle the dangerous and highly disruptive tactics used by a small minority of selfish protesters to wreak havoc on people going about their daily lives. Our police already have enough to be doing without the unnecessary burden of a privileged few who seek to rinse taxpayers' money.
It will come as no surprise that I wholeheartedly support the Public Order Bill. If that disruptive minority want to glue themselves to anything, maybe the Bill should make it easier for them to have their backsides glued to a tiny cell at Her Majesty's pleasure. They would be most welcome.
Kit Malthouse MP, the minister for Crime and Policing, concluded the debate. Malthouse, incidentally, worked for Boris Johnson in a similar position when the latter was Mayor of London:
… We have had a variety of contributions this afternoon, falling broadly into three categories. First, there were the constructive contributions. My hon. Friend the Member for Bracknell (James Sunderland) talked about antisocial behaviour in his constituency, a theme we heard from several hon. Members. The three graces—my hon. Friends the Members for Ashfield (Lee Anderson), for Peterborough (Paul Bristow) and for Dudley North (Marco Longhi)—expressed strong support for the Public Order Bill. The general theme was expressed pithily by my hon. Friend the Member for Peterborough:
"We want criminals to be scared of the law. We do not want the law-abiding majority to be scared of criminals"—
a sentiment with which the Government heartily agree. My hon. Friend the Member for Stoke-on-Trent North (Jonathan Gullis) made his usual vigorous and wide-ranging contribution, illustrating neatly why his part of the world is becoming more of a Conservative stronghold with every month that passes …
I wrote about Jonathan Gullis in April.
Malthouse ended with this. I do hope he is correct when he says:
As my right hon. Friend the Home Secretary set out earlier in this debate, the first job of any Government is to keep their people safe, which is why we are delivering ambitious reforms to do just that by cutting crime, delivering swifter justice and making our streets safer. We are backing the ever-growing numbers of police with the tools and support they need, making sentences tougher for violent and sexual crimes, strengthening victims' rights and restoring confidence in the criminal justice system. We will ensure that we strike the right balance in our human rights framework so that it meets the needs of the public and commands their confidence, strengthens our traditions of liberty, particularly the right to free speech, adds a healthy dose of common sense and curtails abuses of our justice system. I commend the Government's programme on crime and justice to the House.
In the beginning
Marco Longhi was born in the Midlands town of Walsall, Staffordshire, on April 22, 1967, to an Englishwoman and an Italian airline worker. He grew up in Rome.
He took after both parents in his personal choices.
Following his father's interest in airlines, he trained as a pilot. Later, following the example from his mother's family, he entered politics.
In between, he studied at Manchester University and worked in the oil and gas industry. Later on, he became interested in real estate and was the director of the lettings (rental) firm Justmove. He also owns ten houses in Walsall.
His grandfather Wilfred Clarke was mayor of Walsall in 1978. Longhi became a Conservative councillor for the town in 1999 and served two terms as its mayor, in 2017 and 2018.
Dudley North
Longhi ran successfully for election to Parliament in 2019, after the much-admired Labour MP, subsequently Independent, Ian Austin, stood down for Dudley North.
The constituency of Dudley North was created in 1997. Labour's Ross Cranston served as its MP between 1997 and 2005. Afterwards, Ian Austin succeeded him until 2019. Austin became an Independent in February 2019. He resigned from Labour because he was troubled by its anti-Semitism, which prevailed in some factions of the party under Jeremy Corbyn's leadership. Austin's adoptive father Fred was a Czech Jew who was adopted by an English family, hence the surname change from Stiller to Austin. Fred Austin was the headmaster of The Dudley School from its foundation in 1975 to his retirement in 1985.
In December 2019, Marco Longhi handily defeated Labour's appropriately named Melanie Dudley with a majority of 11,533, a swing of 15.8 per cent.
Maiden speech
Longhi gave his maiden speech to the Commons on February 26, 2020, during the debate on the Environment Bill.
Although coronavirus was seeping into the news narrative, getting on with Brexit was still the main topic of discussion among Conservative MPs. The debates were marvellous, imbued with optimism.
Everyone was also happy with the relatively new Speaker of the House, Sir Lindsay Hoyle, who was a breath of fresh air compared with his predecessor John Bercow who did so much to try and thwart Brexit.
Longhi's speech tells us about Dudley and his hopes for the historic town:
Let me start by thanking you, Mr Deputy Speaker, for allowing me to present my maiden speech today, and to thank your staff—and, indeed, all staff on the estate—for keeping us safe and looking after us so well and with such professionalism. I should like you to convey my more profound thanks, if that is possible, to Mr Speaker for the way in which he has signalled that he will carry out his office as Speaker of the House, in complete contrast to his predecessor. The conventions and integrity that he is restoring in such an unassuming way are having a much greater impact in restoring faith in our democracy than any commentators may be giving him credit for, which is why I want to do so today.
It is the convention to comment on one's predecessor in a maiden speech. I shall do so, but not for that reason: I will because I want to. I am certain than many in this place will want to recognise Ian Austin for his integrity, and for the brave way in which he decided to stand up against antisemitism. There is not a person in my constituency to whom I have spoken who does not speak well of Ian, even when they disagreed with his politics. So I want to thank him for his efforts as a local MP, and for the example that he has set for many of us, on both sides of the House, in standing up to prejudice and hatred. I suspect that some of my colleagues on this side of the House—myself included—may wish to thank him for other reasons too.
I say with a degree of both pride and humility that I am the first ever Conservative Member of Parliament for Dudley North, the first ever Member called Marco, and the Member holding a larger majority than any of my predecessors in this seat. For that, I thank the people of Dudley, who, like the people in the rest of the country, decided to tell the House—yet again, at the umpteenth time of asking—what they wanted us to do.
The Dudley North constituency is made up of the town of Sedgley, the suburban areas of Upper Gornal, Lower Gornal and Gornal Wood, Woodsetton, and other conurbations around Dudley town itself. It has several attractions of national significance, including the Black Country Living Museum, Dudley Castle and Dudley Zoo.
Dudley has been a market town since the 13th century, and its fortunes over the centuries have ebbed and flowed with the economic cycles of the heavy industry that its coal-rich mines supported. This also means that it has suffered much since the decline of the traditional industries, which is why a focus on skills and future jobs is crucial if the economic prosperity of the area and the wellbeing of Dudley people are to be secured for the coming decades.
Dudley is also credited with being the birthplace of the industrial revolution, with the advent of smelting iron ore using coal instead of charcoal, which is manufactured by burning trees and therefore much rarer and more costly to obtain. Abraham Darby introduced this revolutionary method, which meant that iron and steel could be made in much larger quantities and more efficiently and cheaply. He effectively kick-started the industrial revolution, so Dudley's heritage and legacy are second to none—notwithstanding what other people in this House might say! However, I will say that competing with Magna Carta and perhaps alienating a doctor might not be my smartest move. Abraham Darby was born in Woodsetton in 1678 and is reported to have lived at Wren's Nest, which is now a site of special scientific interest—I had to practise that—and, since 1956, one of only two national nature reserves assigned on geology alone because of the variety and abundance of fossils found on the site.
However, although the new industrial revolution brought wealth, it also resulted in the area being named the most unhealthy place in the country in the mid-19th century, because of the dreadful working and living conditions. That led to the installation of clean water supplies and sewerage systems. Dudley had the highest mortality rate in the country. In the 21st century we are faced with the fourth industrial revolution, characterised by a range of new advancements in the digital and biological worlds, but with a different impact on human wellbeing.
Improving health and wellbeing and seeking to tackle mental ill health are some of the areas on which I wish to focus during my time in this House, for the benefit of everyone at home and in their workplaces. If we tackle the issue of poor mental health at its core and in its infancy, we can prevent crisis moments and the devastating consequences that they can have. That it is also why having an environment that we can all enjoy, which supports us in our own wellbeing and that we can leave as a positive legacy to our children and grandchildren, is so important. Mother Nature has been talking to us for some time, and it is time we did more than simply listen. It is time to take action as well, which is why the Bill is so welcome.
Mr Deputy Speaker, if you ever come to Dudley, the capital of the Black Country, you will be warmly welcomed, because that is the nature of Dudley people. You will also feel a sense of expectation—a feeling that change is about to happen, a feeling of optimism—and this is another reason why I am so privileged to represent the town and its people. In the near future, we will be seeing the demolition of the infamous Cavendish House in the town centre to make way for many new homes, the metro extension and I hope—subject to consent—a very light rail system.
Like many high streets around the country, Dudley's has suffered much. Nobody has a silver bullet to fix that, but increasing footfall by attracting more people feels like part of the solution. If attracting more people into the town centre is part of the solution, and if the focus on skills for future jobs is key, I would like to see our plans for a university campus on the edge of Dudley town centre finally being delivered. I am pleased that the Prime Minister agrees with me on that. These game-changing plans were drawn up before my arrival, and some have been spoken about for many years. Now is the time to turn words into action and to deliver for Dudley. My pledge to all Dudley people is that I will fight every step of the way to make things happen and bring about the change that they want. It is Dudley's turn now.
On May 12, 2021, he rightly objected to lefties trolling him over Brexit in the Better Jobs and a Fair Deal at Work debate, which followed that year's Queen's Speech:
"Your name isn't English, why don't you go back to where you came from?" That is a recent Facebook comment from an articulate but clearly limited left-wing activist, so I took some pleasure in replying in Italian "Che in realtà sono nato da un minatore di carbone del black country"—that I was in fact born to a Black Country coalminer.
More condescending left-wingers recently said this:
"You'd think Marco would understand why Brexit is bad. He's lived in Italy and EVEN his Dad is Italian. Why is he such a strong Brexiteer? He must be stupid."
Well, brownie points for working out that my dad is Italian. I did explain at length why Brexit is vital, but it became clear to me that there was a limit to their thinking, too—I mean Marco, Italian, therefore remainer, otherwise stupid is a bit of a "micro-aggression", and is rather limited thinking isn't it, Mr Deputy Speaker?
Here is my suggestion for the Labour party: set up an internal limited-thinking focus group to eradicate it from among their ranks, because how can they represent people who are clearly not limited? They may want to start in Amber Valley where the Labour leader blamed voters for their election results; it might prove more useful than rearranging the deckchairs on their Front Bench.
So, yes, my name is Marco, and, yes, my father is Italian, but here I am. How did I get here? Two words: opportunità e lavoro—opportunity and graft. My grandfather's story is one of rags to riches and my parents are examples of blue-collar workers who for years lived hand to mouth. They bent over backwards to give me opportunities, and I put in the work.
Opportunity and work are two pillars of Her Majesty's Gracious Speech. People out there do not want handouts; they want a hand getting back on their feet. More than anything, they want opportunities to do well. The lifetime skills guarantee is a massive investment in education and apprenticeships, readying people for the jobs coming their way. We may remember the Prime Minister—or "our Boris" as they say back home—visiting Dudley and going to the site of our new Institute of Technology, where he delivered his "jobs, jobs, jobs" vision. The pandemic has shown that fish can be necessary, but fishing rods are what people really need, and that institute will provide the rods.
The Queen's Speech contained a vast array of steps that will take us out of the clutches of the pandemic, freeing us to be even stronger than when we entered it. The commitment to our NHS and continuing with our investment in the vaccination programme and in private sector life sciences are huge bonuses that this country will benefit from.
The roaring '20s are upon us. Dio salvi la Regina—God save the Queen.
I hope he is right about the roaring '20s being upon us.
One year on, and it's hard to see. However, that is no fault of Marco Longhi's.
I will have more on this gently witty and highly incisive Red Wall MP next week.
The UK Parliament was prorogued early Thursday afternoon, April 28, 2022.
The new session will begin on Tuesday, May 10, with the Queen's Speech. One wonders if she will be there in person or delegate Prince Charles to deliver it for her.
We will have one news story to watch, however, besides local elections on Thursday, May 5. Durham Constabulary is said to be reconsidering re-examining their decision not to investigate Keir Starmer, who appeared indoors at the Labour offices at the end of April 2021 after election campaigning, when indoor election meetings were forbidden because of coronavirus.
This decision by the Durham Constabulary is in response to Conservative Red Wall MP Richard Holden's letter to the Chief Constable about the matter. Holden represents Durham North.
On Wednesday, April 26, Guido Fawkes tweeted about the re-examination and someone helpfully posted a video of Starmer, MP Mary Foy and other Labourites enjoying beer one evening:
And there's this further down in response to Guido's tweet about Starmer, whom his detractors call Keith rather than Keir, for whatever reason:
The letter from Durham Constabulary to Richard Holden is below. Based on the wording, one wonders exactly how much will be reconsidered:
If it weren't for Guido and Holden, this issue probably would have never resurfaced.
Guido has a great GIF compilation of Starmer on the campaign trail. It alleges that he might have committed as many as seven violations of the campaign restrictions last year. The second tweet features Labour's deputy leader, Angela Rayner MP. Hmm:
Twitter has a new trending topic, #durhampartygate :
Here is a selection of tweets on #durhampartygate :
In other Labour MP news, Liam Byrne has been suspended for two days, meaning he will lose pay for those days:
Now onto the prorogation. Thanks to Boris Johnson's premiership, I have seen three since 2019:
The order paper for the House of Commons was brief, in expectation of a Royal Commission, whereby Black Rod would officially summon the Commons to go to the House of Lords. All of that takes place in rather elegant language:
The mood around 11:30 a.m. was light, almost festive. Even the Speaker of the House, Sir Lindsay Hoyle, fluffed his lines:
One part of the proceedings is spoken in Norman French: 'La Reyne le veult', or 'The Queen wills it'. This tweet shows the five most senior Lords entering their chamber in formal robes:
Until 1967, every time a law was passed, proceedings in the Lords were briefly suspended to allow for an announcement of new legislation, followed by 'La Reyne le veult':
Since 1967, a simple announcement has been made to the Lords of Royal Assent to new legislation:
The King or Queen used to preside over prorogations in person. Queen Victoria was the last monarch to do so. That was in 1854:
You can see Black Rod coming in to summon the Commons at 12:27 p.m. on this video. The prorogation in the Lords starts at 12:30 p.m. on this video. Afterwards, MPs return to the Commons. Go back to the first video to find the Commons Speaker confirm to MPs what was read out in the Lords, even though they had heard everything there themselves minutes earlier. When he finishes, he instructs MPs to leave the chamber:
True. It finished at 12:52 p.m.
The Lords' business was thin on the ground. Their session began at 11:07 a.m.:
This thread summarises a prorogation:
In a time of emergency, the monarch can recall Parliament during prorogation.
It's a highly formal ceremony and well worth watching.
Now on to the May 5 council and Northern Ireland Assembly elections, which should be interesting.
There was little of an Easter recess for some British parliamentarians, especially Boris Johnson.
That said, the relatively short break proved once again that a week is a long time in politics.
The Archbishop
The Archbishop of Canterbury's Easter sermon continued to rattle cages last week. Boris was the last to chime in on Tuesday, April 19, when he spoke to Conservative MPs after making another apology in Parliament for being fined in relation to a Downing Street lockdown gathering.
The Times reported that Boris defended the new policy of flying illegal immigrants to Rwanda for processing (emphases mine):
Boris Johnson took aim at the Archbishop of Canterbury last night as he criticised senior members of the clergy for having "misconstrued" the policy of sending some asylum seekers to Rwanda.
Sources close to the prime minister said he told Conservative MPs in a private meeting that it was a "good policy" despite some "criticism on the BBC and from senior members of the clergy".
Johnson said that some clergymen "had been less vociferous in their condemnation on Easter Sunday of Putin than they were on our policy on illegal immigrants".
Justin Welby, the Archbishop of Canterbury, used his Easter Day sermon to condemn the policy, in which some migrants will be flown to Rwanda on a one-way ticket. He said it raised "serious ethical questions", contradicted Christian values and would not "stand the judgment of God".
On Wednesday, The Times reported that the Church of England fired back:
John Bingham, the Church of England's head of news, said: "If true, a disgraceful slur." He highlighted Welby's recent criticism of the invasion as a "great act of evil". Some of the country's most senior clerics today joined Welby in condemning the Rwanda policy.
Why is it a 'slur' and a 'disgraceful' one at that? Boris's words were polite enough.
The Times article also said that Boris was critical of the BBC. Hmm, I wonder:
At the private meeting of Tory MPs Johnson was also critical of the BBC's coverage of the asylum plans, claiming it had misunderstood the proposal to send migrants on a one-way flight to the African country as early as next month.
The Telegraph put the story of alleged criticisms of the BBC on their front page, which Keir Starmer picked up on at Prime Minister's Questions on Wednesday. Apparently, there was a misunderstanding between reporters and Downing Street:
The Spectator's Melanie McDonagh, a practising Catholic, explained why some sort of policy was necessary, particularly to stem the daily multiple Channel crossings to England from France:
Certainly, as the reading that preceded the Gospel in the service today [Easter] makes clear, 'God has no favourites'. By this was meant Jews and Gentiles, but by all means, make the point that asylum seekers are of equal worth to Spectator readers. But it doesn't follow that this prescribes any particular asylum policy. When the Archbishop says that the deportation to Rwanda policy 'cannot carry the weight of our national responsibility as a country formed by Christian values', he's being a little disingenuous. When Britain was far more overtly Christian than it is now – say, a couple of generations ago – it actually had a far more restrictive approach to immigration and asylum. The concept that anyone who wanted to come, should be able to come, is pretty well a product of the Blair government's opening the floodgates from 1997, 25 years ago. Before that, yearly immigration levels were in the tens of thousands; asylum claims were far lower than now but were probably dealt with more individually than at present.
As I say, declaring that 'the details are for politicians' leaves an important question hanging: should anyone who wants to come to Britain, and can get to Britain, be allowed to stay? Who should be returned? Of the 600 a day who arrive here by boat alone (leaving out of account every other means of entry), only two per cent have passports; should they by virtue of abandoning their identity documents automatically be granted leave to remain? When is it right to return people either back to where they came from, or indeed to Rwanda? (He doesn't suggest they will be persecuted there.) And what about the EU countries on the frontline of the asylum influx (on a scale that far surpasses Britain); are they ever justified in turning back boats? How many people must European countries admit? And if the Archbishop thinks there can be no sending back asylum seekers or economic migrants, he must say so. But he must also acknowledge the consequences for the host countries.
I am not so stupid as to suggest that clergy should stay out of politics; the Archbishop was speaking in Canterbury cathedral where Thomas Becket was killed for taking issue with the king. But the Archbishop – like Pope Francis in other contexts – is being disingenuous in criticising a government policy as unChristian without any attempt to acknowledge the scale and nature of the problem it is designed to address.
And there is no denying that the C of E is political. GB News's conservative commentator and former teacher Calvin Robinson is an Anglican ordinand in the Diocese of London, which claims it cannot give him an assignment, even though he has had offers:
Here's an interesting exchange on that tweet:
On Easter Monday evening, the Archbishop of Canterbury's name came up on Dan Wootton's GB News show, and one of the panellists, Emma Webb, nominated Calvin Robinson for Greatest Briton. Patrick Christys, filling in for Dan, chose Nathan Dunne, who is raising money for charity by walking across the country barefoot:
The Prime Minister
On April 12, Tuesday in Holy Week, Boris Johnson received a fine from the Metropolitan Police for an event during lockdown nearly two years ago. So did the Chancellor, Rishi Sunak.
Both men paid their fixed penalty notice — 'It's not a fine!' — promptly.
Naturally, Boris had to apologise before the House of Commons again, as he did earlier in January this year.
There was a feeling of déjà vu about it all:
… let me begin in all humility by saying that on 12 April, I received a fixed penalty notice relating to an event in Downing Street on 19 June 2020. I paid the fine immediately and I offered the British people a full apology, and I take this opportunity, on the first available sitting day, to repeat my wholehearted apology to the House. As soon as I received the notice, I acknowledged the hurt and the anger, and I said that people had a right to expect better of their Prime Minister, and I repeat that again in the House now.
Let me also say—not by way of mitigation or excuse, but purely because it explains my previous words in this House—that it did not occur to me, then or subsequently, that a gathering in the Cabinet Room just before a vital meeting on covid strategy could amount to a breach of the rules. I repeat: that was my mistake and I apologise for it unreservedly. I respect the outcome of the police's investigation, which is still under way. I can only say that I will respect their decision making and always take the appropriate steps. As the House will know, I have already taken significant steps to change the way things work in No. 10.
The only difference was the mention of the Ukraine conflict:
I travelled to Kyiv myself on 9 April—the first G7 leader to visit since the invasion—and I spent four hours with President Volodymyr Zelensky, the indomitable leader of a nation fighting for survival, who gives the roar of a lion-hearted people. I assured him of the implacable resolve of the United Kingdom, shared across this House, to join with our allies and give his brave people the weapons that they need to defend themselves. When the President and I went for an impromptu walk through central Kyiv, we happened upon a man who immediately expressed his love for Britain and the British people. He was generous enough to say—quite unprompted, I should reassure the House—"I will tell my children and grandchildren they must always remember that Britain helped us."
But the urgency is even greater now because Putin has regrouped his forces and launched a new offensive in the Donbas. We knew that this danger would come. When I welcomed President Duda of Poland to Downing Street on 7 April and Chancellor Scholz the following day, we discussed exactly how we could provide the arms that Ukraine would desperately need to counter Putin's next onslaught. On 12 April, I spoke to President Biden to brief him on my visit to Kyiv and how we will intensify our support for President Zelensky. I proposed that our long-term goal must be to strengthen and fortify Ukraine to the point where Russia will never dare to invade again …
This Government are joining with our allies to face down Putin's aggression abroad while addressing the toughest problems at home, helping millions of families with the cost of living, making our streets safer and funding the NHS to clear the covid backlog. My job is to work every day to make the British people safer, more secure and more prosperous, and that is what I will continue to do. I commend this statement to the House.
The Commons was lit, especially the Opposition benches, more about which below.
Going back to June 19, 2020, grateful conservatives were happy that Boris was even alive to celebrate his birthday, which The Times reported on the following day. No one said anything negative at the time.
Boris had survived coronavirus but was far from well. It took the rest of the summer for him to recover. Even in September, he still looked and sounded somewhat peaky.
Furthermore, some pundits and MPs have said that Downing Street is a Crown estate, thereby exempt from the rules.
We will have to see what transpires from the Metropolitan Police and civil servant Sue Gray's respective reports.
The Opposition
After Boris apologised on Tuesday of Easter Week, a number of MPs on both sides of the aisle were talking animatedly.
Keir Starmer responded for the opposition benches, which agitated his side even more:
What a joke!
Even now, as the latest mealy-mouthed apology stumbles out of one side of the Prime Minister's mouth, a new set of deflections and distortions pours from the other. But the damage is already done. The public have made up their minds. They do not believe a word that the Prime Minister says. They know what he is.
As ever with this Prime Minister, those close to him find themselves ruined and the institutions that he vows to protect damaged: good Ministers forced to walk away from public service; the Chancellor's career up in flames; the leader of the Scottish Conservatives rendered pathetic. Let me say to all those unfamiliar with this Prime Minister's career that this is not some fixable glitch in the system; it is the whole point. It is what he does. It is who he is. He knows he is dishonest and incapable of changing, so he drags everybody else down with him. [Interruption.] The more people debase themselves, parroting—[Interruption.]
The Speaker, Sir Lindsay Hoyle, interrupted:
Order. I cannot hear what is being said because there is so much noise.
There were also cries of disagreement about Starmer's labelling Boris dishonest:
Withdraw!
The Speaker agreed:
Order. What I will say is that I think the Leader of the Opposition used the word "dishonest", and I do not consider that appropriate. [Hon. Members: "Breaking the rules!"] We do not want to talk about breaking rules, do we? I do not think this is a good time to discuss that.
I am sure that if the Leader of the Opposition withdraws that word and works around it, he will be able—given the knowledge he has gained over many, many years—to use appropriate words that are in keeping with the good, temperate language of this House.
Starmer accepted the Speaker's direction and said:
I respect that ruling from the Chair, Mr Speaker. The Prime Minister knows what he is.
Starmer then launched an attack on the Conservative MP for Lichfield, Michael Fabricant, without naming him. If you wish to mention an MP by name, you must ask their permission beforehand:
Last week, we were treated to a grotesque spectacle: one of the Prime Minister's loyal supporters accusing teachers and nurses of drinking in the staff room during lockdown. Conservative Members can associate themselves with that if they want, but those of us who take pride in our NHS workers, our teachers, and every other key worker who got us through those dark days will never forget their contempt.
Casting our minds back to January — and Boris's first apology — Michael Fabricant suggested resurrecting an idea of Tony Blair's: an Office of Prime Minister, which would allow Boris to control No. 10 the way the US president does the White House. The context of Fabricant's intervention was in response to Boris saying that he was going to improve the way Downing Street is run:
On Tuesday in Holy Week, Fabricant suggested that Downing Street get a bar so that staffers would not need to wheel luggage to the local shops in order to bring alcohol back to No. 10:
Guido Fawkes had the story and accompanying audio:
Expertly reading the room, Michael Fabricant used an interview on 5 Live in the wake of Boris, Rishi and Carrie receiving pre-notices to defend staffers wheeling in suitcases of booze to Downing Street during lockdown:
There is no bar in Downing Street… That's the only way you can actually get any alcohol into Downing Street.
He then went on to argue the suitcase claims makes the argument for a bar being installed in No. 10, like there is in the Houses of Parliament.
It seems reasonable enough, provided the room is under lock and key until after hours.
The next day, however, Fabricant went further, which is what Starmer was talking about:
Guido's tweet brightened my day. It goes so far in explaining why the UK and Ireland used to be so much fun, once upon a time. Unfortunately, that fun ended by the mid-1990s as we imported an increasingly American mindset.
A terrific exchange followed his tweet, with others recalling similar memories of secondary school:
But I digress.
I don't remember how many times Boris apologised after MPs' comments.
Earlier that day, the Speaker announced that Starmer had approached him about Boris's fixed penalty notice, the lockdown 'parties' at Downing Street and the issue of parliamentary privilege:
Before we come to today's business, I wish to make a short statement. I have received letters from a number of hon. and right hon. Members, including the right hon. and learned Member for Holborn and St Pancras (Keir Starmer), the Leader of the Opposition, requesting that I give precedence to a matter as an issue of privilege. The matter is the Prime Minister's statements to the House regarding gatherings held at Downing Street and Whitehall during lockdown. The procedure for dealing with such a request is set out in "Erskine May" at paragraph 15.32.
I want to be clear about my role. First, as Members will appreciate, it is not for me to police the ministerial code. I have no jurisdiction over the ministerial code, even though a lot of people seem to think that I have. That is not the case. Secondly, it is not for me to determine whether or not the Prime Minister has committed a contempt. My role is to decide whether there is an arguable case to be examined.
Having considered the issue, and having taken advice from the Clerks of the House, I have decided that this is a matter that I should allow the precedence accorded to issues of privilege. Therefore, the right hon. and learned Member for Holborn and St Pancras may table a motion for debate on Thursday. Scheduling the debate for Thursday will, I hope, give Members an opportunity to consider the motion and their response to it. The motion will appear on Thursday's Order Paper, to be taken after any urgent questions or statements—hopefully, there will not be any. I hope that this is helpful to the House.
Incredibly, the Speaker — a Labour MP — granted five and a half hours of debating time. Some weeks back, the Opposition benches were allowed a generous two or three hours of debating Boris's suitability for office in light of these 'parties'.
How much debating time does one need?
It started at 11:30 a.m. and ended at 4:30 p.m., so, five hours in length. Here's the transcript. I saw about a third of it. Again, much like Boris's second apology, this was much like listening to the other debate from earlier this year.
What more can they reasonably say? Not a lot.
Most people I know would like for the media and the opposition to leave Boris alone. As I said above, he wasn't well at that point in 2020, was taking advice from other people upon whom he relied heavily — rightly or wrongly — and would have trusted the person(s) who said that having a short birthday get together was permissible.
It lasted around ten minutes, apparently, and the cake was left unopened in its Tupperware container.
Returning to last Thursday's debate on privilege and Boris. A division — vote — was expected, but, in the event, none took place.
The end result was that the matter will now be referred to the Committee of Privileges pending the release of the Metropolitan Police report. Chris Bryant (Lab) chairs the committee, which is cross-party:
Resolved,
That this House
(1) notes that, given the issue of fixed penalty notices by the police in relation to events in 10 Downing Street and the Cabinet Office, assertions the Rt hon Member for Uxbridge and South Ruislip has made on the floor of the House about the legality of activities in 10 Downing Street and the Cabinet Office under Covid regulations, including but not limited to the following answers given at Prime Minister's Questions: 1 December 2021, that "all guidance was followed in No. 10", Official Report vol. 704, col. 909; 8 December 2021 that "I have been repeatedly assured since these allegations emerged that there was no party and that no Covid rules were broken", Official Report vol. 705, col. 372; 8 December 2021 that "I am sickened myself and furious about that, but I repeat what I have said to him: I have been repeatedly assured that the rules were not broken", Official Report vol. 705, col. 372 and 8 December 2021 "the guidance was followed and the rules were followed at all times", Official Report vol. 705, col. 379, appear to amount to misleading the House; and
(2) orders that this matter be referred to the Committee of Privileges to consider whether the Rt hon Member's conduct amounted to a contempt of the House, but that the Committee shall not begin substantive consideration of the matter until the inquiries currently being conducted by the Metropolitan Police have been concluded.
It should be noted that no other British political leader or minister serving during the pandemic has been fined or censured for breaking lockdown or violating other coronavirus restrictions: Nicola Sturgeon (Scotland, twice); Vaughan Gething (Wales, once), Michelle O'Neill (Northern Ireland, once) or Mark Drakeford (Wales, once).
Only Boris, our Prime Minister, is in trouble.
And that trouble could become very deep, indeed.
A week really is a long time in politics.
More to follow tomorrow.
Everyone laughed in 2019 when comic actor Volodymyr Zelenskyy was elected as Ukraine's president.
The following thread explains why he won:
Zelenskyy, 44, has a Law degree and speaks fluent English. Prior to entering politics at the most senior level, he starred in Ukraine's hit television show, Servant of the People, which he also created and produced.
The following clip comes with a bit of choice language which perfectly expresses his frustration as a teacher who, as a taxpayer, has to fund corrupt politicians. The teacher then runs for president of Ukraine — and wins. Life imitates art.
And, yes, Zelenskyy can dance, too:
His wife, Olena Zelenska, also 44, trained as an architect at university. However, she became a writer for his comedy troupe instead. As first lady, she has graced the cover of the Ukrainian version of Vogue twice.
The Zelenskyys met at university. They are parents to a son and a daughter.
Zelenska was initially opposed to her husband's intention of running for president, but, as the Daily Mail reports, gave up her objections and joined him on the campaign trail. She now accompanies him on his many engagements:
When her husband first told her of his plans to leave his career to run for president, she said publicly that she was 'aggressively opposed' to the 'project'.
And yet, when the time came for him to campaign, Olena dutifully appeared by his side for photo ops and campaign speeches. Now, less than three years after Zelensky's landside victory, the mother-of-two has fully embraced her role as a First Lady on the global stage. 
She accompanies her husband on his engagements and is forging her own career as a First Lady of action, using her influence and position to champion causes including childhood nutrition and gender equality. 
The couple visited Buckingham Palace in 2020, warmly received by the Duke and Duchess of Cambridge.
Today, while Zelenskyy is fearing for his life and fighting off the Russian Bear, his wife is busy keeping up Ukrainian resolve:
Now Olena is once again rising to the challenge and has remained a steadfast support of her husband in the face of Putin's aggressions. Despite being personally at risk, the couple have chosen to remain in Kyiv. 
Sharing a photo of the Ukrainian flag on Instagram on Friday, she wrote: 'My dear people! Ukrainians! I'm looking at you all today. Everyone I see on TV, on the streets, on the Internet. I see your posts and videos. And you know what? You are incredible!
'I am proud to live with you in the same country! It is said that many people are a crowd. This is not about us. Because many Ukrainians are not crowds. This is an army!
'And today I will not have panic and tears. I will be calm and confident. My children are looking at me. I will be next to them. And next to my husband. And with you. Love you! I love Ukraine!'
Yesterday she shared a photo of a baby born in a Kyiv bomb shelter, along with the rousing message: 'This was to take place in completely different conditions, under peaceful skies. It is what children should see.
'But the main thing is that despite the war, there were doctors and caring people on our streets next to her. She will be protected and defended.
'Because you are incredible, dear compatriots! In those two days, you all became an army. In the subway, bomb shelters, with children and pets (because you don't leave younger brothers either) – you do your job, you have time to take care of others, to help each other.
'Get together on social media to protect homes and help lonely neighbors. Offer your home to those who need shelter. You prepare food for the terrorists and sign up for it yourself. Donate blood for soldiers and victims. Report the movement of enemy vehicles.
'And, of course, you are helping the Armed Forces, which are fighting on all fronts. For days, you can spend "eSupport" money to help the army (this can be done in the "Action" application). We are the army, the army is us.
'And children born in bomb shelters will live in a peaceful country that has defended itself.'
In related news, Prime Minister Boris Johnson, who has spearheaded an international effort — yes, including the US — to help Ukraine, appeared at the Ukrainian cathedral in London's Mayfair on Sunday evening, February 27:
He lit a candle and gave a short, supportive address to the congregation:
The next two tweets have the content of his address:
When Boris finished, the Ukrainians gave him a standing ovation:
It is touching to see how much they appreciate Boris. I wish more Britons saw him in a better light.
That said, Boris's ratings have gone up this week, thanks to his action on Ukraine, no doubt. For the first time in a few months, he's back on level pegging with Labour's Keir Starmer:
On Wednesday, March 2, the Ukrainian ambassador was a guest in the House of Commons gallery for Prime Minister's Questions. After the Speaker of the House, Sir Lindsay Hoyle, told MPs of their guest, the whole House rose and gave the ambassador a standing ovation, accompanied by spontaneous applause — normally forbidden in the Chamber, although Sir Lindsay said that, on this occasion, it was certainly warranted:
Nearly every MP is wearing Ukrainian ribbons or a UK-Ukraine lapel pin.
This is a great image; I don't know who made it: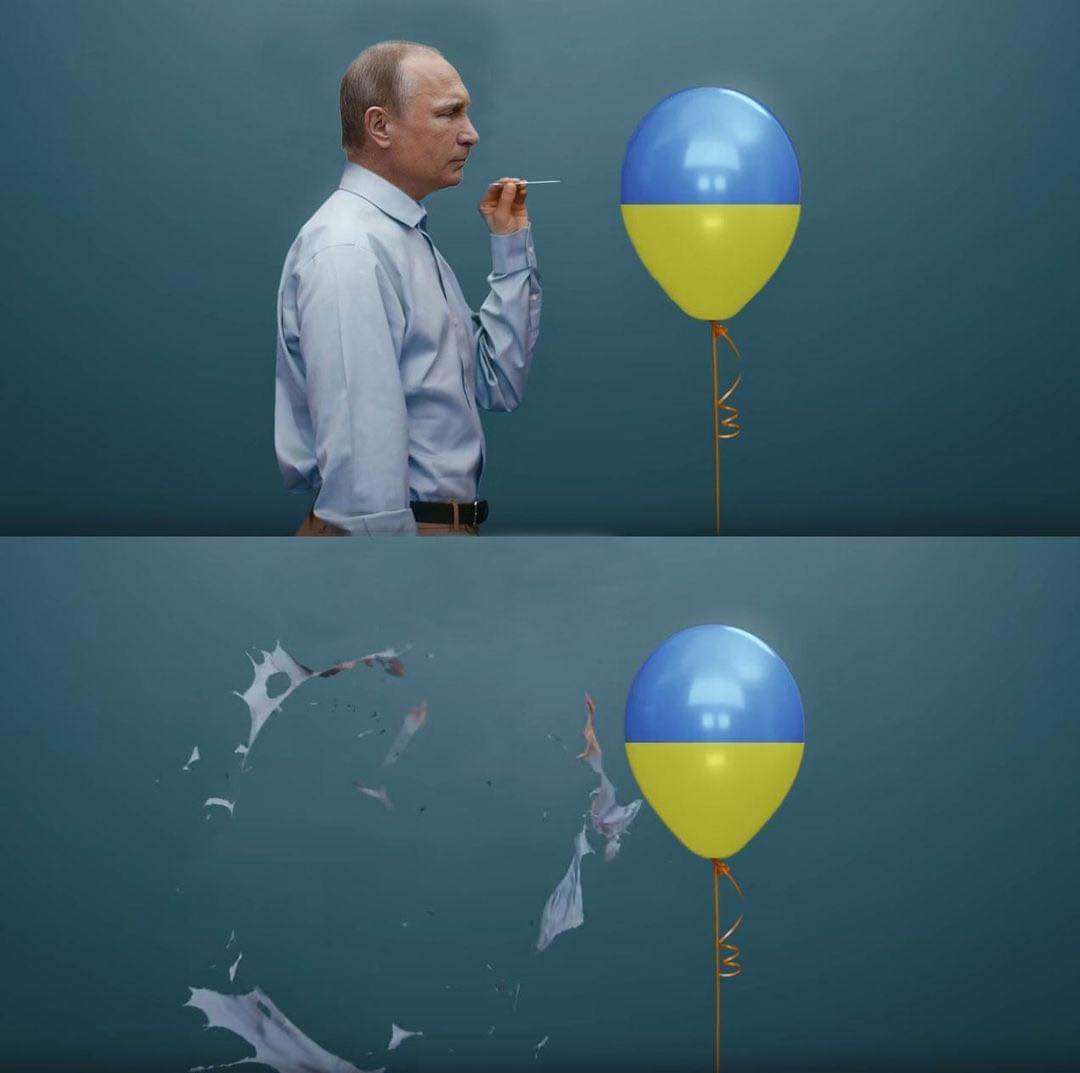 Together, let's hope that we can help Zelenskyy and his countrymen make Putin go pop.
Sometimes things are not as they appear.
Badgering Boris Johnson to resign over the Downing Street parties during lockdown is an attempt to overturn Brexit.
It is also a sign of envy on the part of the journalists, most of whom are Remainers, attacking him verbally. What journalist — and Boris was one of them for many years — doesn't have an 'If I ruled the world' fantasy? Boris has achieved that dream. They have not.
Here is former Conservative MP Michael Heseltine, a prominent Remainer, saying that Boris's departure could reopen the possibility of re-entering the European Union:
It's misleading the house, it's misleading the people and it's misleading the whole country in a general election because if it were to be established that the PM has been lying then that is going to open a can of worms because very large numbers of people – now the majority of people – believe that the Brexit case was actually a pack of lies… now if he proves to be a liar – to the public, to parliament – what does that do for the very large numbers of people who think it is a catastrophic misjudgement to have severed our good relationships with our European neighbours.
Meanwhile, the general public doesn't care about the parties, especially his birthday party: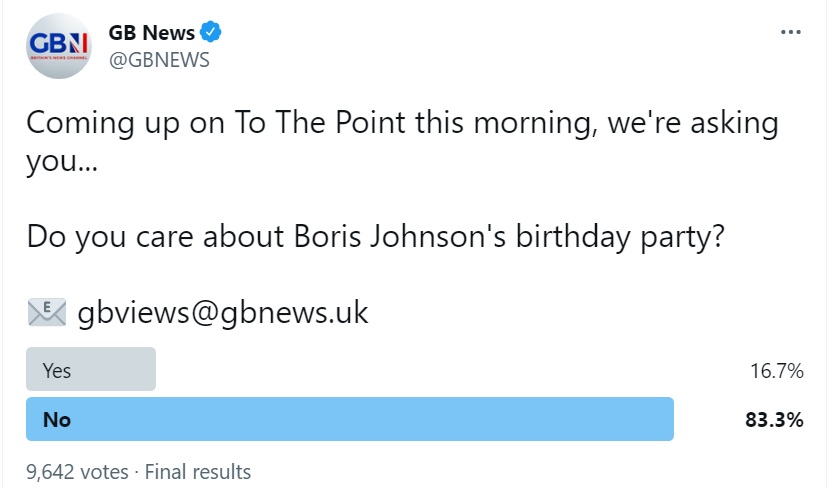 Police investigation
The eminent civil servant Sue Gray had been preparing a report on the Downing Street parties.
Then, the Metropolitan Police stepped in. On Tuesday, January 25, 2022, Commissioner Dame Cressida Dick told the London Assembly, headed by Mayor Sadiq Khan of the news. As such, the Met informed Sue Gray to issue only a summary report so as not to interfere with their own investigation.
GB News has a summary of the social events. Most but not all of them took place at Downing Street, nor did Boris attend all of them (emphases mine):
The Metropolitan Police will investigate a "number of events" alleged to have taken place in Downing Street, Commissioner Dame Cressida Dick has said.
Dame Cressida declined to say which alleged parties are being investigated, nor would she put a timeline on when officers could detail their findings.
The gatherings were already under investigation by senior official Sue Gray, and the Cabinet Office said her work continues.
Here is a list of the alleged gatherings, which in several cases have been admitted to.
– May 15 2020: Downing Street garden party …
– May 20 2020: BYOB garden party …
– June 19 2020: Birthday party for Boris Johnson …
– November 13 2020: Leaving party for senior aide …
– November 13 2020: Johnsons' flat party …
– November 25 2020: Treasury drinks …
– November 27 2020: Second staff leaving do …
– December 10 2020: Department for Education party …
– December 11 2020: Wine fridge delivered to Downing Street for staff's 'wine-time Fridays' …
Mr Johnson was said to have attended a "handful" of these gatherings.
– December 14 2020: Party featuring Tory London mayoral candidate Shaun Bailey and staff …
– December 15 2020: Downing Street quiz …
– December 16 2020: Department for Transport party …
– December 17 2020: Cabinet Office "Christmas party" …
– December 17 2020: Leaving drinks for former Covid Taskforce head …
– December 18 2020: Christmas party at Downing Street …
Mr Johnson's spokeswoman, Allegra Stratton, quit after being filmed joking about it with fellow aides at a mock press conference.
– Run-up to Christmas 2020 …
– April 16 2021: Drinks and dancing the night before the Duke of Edinburgh's funeral …
The Telegraph quoted a No 10 spokesman as saying Mr Johnson was not in Downing Street that day and is said to have been at Chequers.
Strangely, at the time, no one cared:
Now everyone does.
Downing Street has not helped. They are now denying there was a cake:
On January 25, the Paymaster General, Michael Ellis MP, drew the short straw and had to answer an Urgent Question (UQ) from Labour's deputy leader Angela Rayner (pictured in the top left photo):
This was the UQ:
To ask the Chancellor of the Duchy of Lancaster to make a statement on the status of the investigation into Downing Street parties following the statement from the Commissioner of the Metropolitan Police.
I felt very sorry for Ellis, who had to reply for the Chancellor of the Duchy of Lancaster, absent from the chamber. The transcript makes for grim reading.
Sir Edward Leigh, one of the first MPs to speak, tried to put things into perspective but to no avail:
When Europe stands on the brink of war and there is a cost of living crisis, can we please have a sense of proportion over the Prime Minister's being given a piece of cake in his own office by his own staff?
The verbal attacks were many and vicious.
Ellis was able to put one Scottish MP, Pete Wishart (SNP), in his place.
Wishart asked:
Does the Paymaster General not think that it would be a good idea to set up a police special operations unit room in No. 10 Downing Street, because, while the police are looking at this case, they could perhaps look at cash for honours, cash for access, personal protective equipment for pals, paid advocacy, breaking the ministerial code, and all the other general Tory badness?
Ellis responded:
I have to say that a quick Google analysis of the SNP would not be particularly edifying. Despite noises off, this Prime Minister is focused on what matters to the British people and it is right that those matters conclude in an orderly way.
On Friday, January 28, news emerged that the Met told Sue Gray not to publish her report in full:
That day, The Guardian reported that a comedian issued a fake Sue Gray report:
The comedian Joe Lycett, who apparently caused chaos and "mass panic" in government when he tweeted a fake version of Sue Gray's "partygate" report, has said his social media stunt was motivated by anger after the death of a close friend during the first lockdown.
Lycett tweeted a parody Gray report with a fake Cabinet Office letterhead, titled: "A summary of my main findings", captioning his tweet: "BREAKING: Leaked Sue Gray report reveals shocking abuse of rules. Hard to see how the PM can cling on after this."
He later shared a message that he said came "from someone who works for a cabinet minister. Source verified."
The message, purportedly from someone who works in parliament, read: "Your tweet this morning was read as an actual serious leak from Sue Gray's report. U had MP staff literally running around panicking from what it said. Panic dialling MPs like we need to discuss this right now."
On Saturday, January 29, Steven Swinford of The Times reported that Sue Gray was just putting the finishing touches on her report when the Metropolitan Police intervened.
Swinford's first sentence drew me in. It's hard not to like an article that begins with this:
Sue Gray had been looking forward to a holiday.
It is unclear why the Met intervened when they did:
The timing of her intervention is said to have surprised Gray and her team of investigators. She had been in discussions with the Met for weeks, sharing information as she went along. Yet the force had declined to get involved until the point when her report was almost completed and ready for publication …
"She's in a horrible position," a Whitehall source said. "The delay just creates an air of conspiracy. Sue's integrity is at risk here. If a partial report is produced it will look like she's been got at. She just wants a holiday, she feels like she's had enough of it. Very few people could do what she does but she just wants to be on the other side of this one."
Some think that the Met's intervention could be good news for Boris:
Johnson's critics and supporters agreed that the Met's intervention strengthened his position. One cabinet minister said: "Sue Gray cannot prejudice the Metropolitan Police's investigation. It would be insane if she went ahead and published the details. The longer this goes on, the more ridiculous it looks. The prime minister is out of the danger zone, the worst is over."
Or is he?
Sue Gray 'update'
On Monday, January 31, Sue Gray issued a summary — termed an 'update' — of her report.
Guido Fawkes has the update in full.
Gray concluded:
a number of these gatherings should not have been allowed to take place or to develop in the way that they did. There is significant learning to be drawn from these events which must be addressed immediately across Government. This does not need to wait for the police investigations to be concluded.
At 3:30, Boris addressed MPs (see full transcript of the session). He said that he was sorry and that changes would be made in Downing Street.
He concluded with this:
First, it is time to sort out what Sue Gray rightly calls the "fragmented and complicated" leadership structures of Downing Street, which she says
"have not evolved sufficiently to meet the demands"
of the expansion of No. 10. We will do that, including by creating an Office of the Prime Minister, with a permanent secretary to lead No. 10.
Secondly, it is clear from Sue Gray's report that it is time not just to review the civil service and special adviser codes of conduct, wherever necessary, to ensure that they take account of Sue Gray's recommendations, but to make sure that those codes are properly enforced. Thirdly, I will be saying more in the coming days about the steps we will take to improve the No. 10 operation and the work of the Cabinet Office, to strengthen Cabinet Government, and to improve the vital connection between No. 10 and Parliament.
Mr Speaker, I get it and I will fix it. I want to say to the people of this country: I know what the issue is. [Hon. Members: "No!"] Yes. [Hon. Members: "You!"] It is whether this Government can be trusted to deliver. And I say yes, we can be trusted—yes, we can be trusted to deliver. We said that we would get Brexit done, and we did. We are setting up freeports around the whole United Kingdom. I have been to one of them today that is creating tens of thousands of new jobs. We said we would get this country through covid, and we did. We delivered the fastest vaccine roll-out in Europe and the fastest booster programme of any major economy, so that we have been able to restore people's freedoms faster than any comparable economy. At the same time, we have been cutting crime by 14%, building 40 new hospitals and rolling out gigabit broadband, and delivering all the promises of our 2019 agenda, so that we have the fastest economic growth of the G7. We have shown that we have done things that people thought were impossible, and that we can deliver for the British people. [Interruption.] I remind those on the Opposition Benches that the reason we are coming out of covid so fast is partly because we doubled the speed of the booster roll-out.
I can tell the House and this country that we are going to bring the same energy and commitment to getting on with the job, to delivering for the British people, and to our mission to unite and level up across this country. I commend this statement to the House.
It did not go down well with the Opposition benches, nor some of the Conservative MPs.
Theresa May was deeply unhappy:
She said:
The covid regulations imposed significant restrictions on the freedoms of members of the public. They had a right to expect their Prime Minister to have read the rules, to understand the meaning of the rules—and, indeed, those around them him to have done so, too—and to set an example in following those rules. What the Gray report does show is that No. 10 Downing Street was not observing the regulations they had imposed on members of the public, so either my right hon. Friend had not read the rules, or did not understand what they meant—and others around him—or they did not think the rules applied to No. 10. Which was it?
The SNP's Westminster leader, Ian Blackford, followed the former Prime Minister. He cited two of Boris's contradictions and ended with this:
Nobody—nobody—believed him then, and nobody believes you now, Prime Minister. That is the crux. No ifs, no buts; he has wilfully misled Parliament.
Blackford broke two rules there. First, he said 'you'. Secondly, he said 'wilfully misled'.
The Speaker of the House, Sir Lindsay Hoyle, interrupted him:
Order. It would be acceptable to say "inadvertently misled the House", but "misled the House" is not acceptable. The right hon. Member must withdraw that comment.
Blackford doubled down, concluding:
… the public know that this is a man they can no longer trust. He is being investigated by the police. He misled the House. He must now resign.
The exchange between him and the Speaker continued for some time. Blackford refused to withdraw his remark.
At that point, the Speaker was ready to suspend him, but Blackford left voluntarily:
Order. Under the power given to me by Standing Order No. 43, I order the right hon. Member to withdraw immediately from the House—
Another MP said:
He has left anyway!
Here's the video:
Hoyle concluded:
It's all right; we do not need to bother. Let us move on.
Aaron Bell MP spoke later on. Although he is Conservative, he made a good point, asking if Boris was trying to make a fool of him for obeying the restrictions at a family funeral:
Not surprisingly, the Mirror (Labour) picked up on it:
Boris was at the despatch box for a little over two hours.
That evening, he met with a group of Conservative MPs, wherein he pledged to reform how Downing Street operates. Guido's colleague Christian Calgie said it went well:
Meanwhile, Labour MPs and the media hit the bar:
Incidentally, while Boris was giving his afternoon statement to Parliament, one of the bars there re-opened for business.
The next day, Mark Harper MP gave a good interview to Julia Hartley-Brewer at talkRADIO:
Labour's Chinese spy story ignored
In mid-January, news emerged that a Chinese operative had donated £500,000 over a period of several years to a Labour MP. Yet, apart from GB News, no one in the media was — or is — talking about that (Labour leader Sir Keir Starmer is pictured, not the MP involved):
Subplots
There are two important subplots running through this sorry saga: Boris's mention of Labour leader Keir Starmer's record as Director of Public Prosecutions (DPP) with regard to Jimmy Savile (a celebrity paedophile) and the revelation of ghastly text messages by members of London's Metropolitan Police, casting doubt on the force's investigation of the Downing Street parties.
Metropolitan Police
The Metropolitan Police are investigating the Downing Street parties, which is interesting, since the organisation said initially that they would not be doing so, as the events happened too long ago.
One wonders, however, how credible any investigation would be since Commissioner Dame Cressida Dick has come under fire for her leadership. Some constables in the Met have been texting violent and vicious messages that are misogynistic and hateful.
Although Dame Cressida cannot be expected to know everything that her constables are doing, these text messages could cast doubt on the credibility of the investigation.
Furthermore, it is interesting that Dame Cressida announced the Met's investigation of Downing Street at a meeting of the London Assembly, headed by the capital's mayor Sadiq Khan (Labour).
Sir Jimmy Savile
On Monday, January 31, Boris gave the House of Commons an update on Sue Gray's inquiry into the Downing Street parties.
The Metropolitan Police allowed the civil servant to write a summary report pending their own inquiry, which is still ongoing.
As such, there is no conclusion as to whether Boris should resign.
However, Labour and the other Opposition parties have been pushing for Boris to stand down for weeks now.
On Monday, in response to Boris's statement, Labour leader Sir Keir Starmer said:
Conservative Members can heap their reputation, the reputation of their party, and the reputation of this country on the bonfire that is the Prime Minister's leadership, or they can spare the country a Prime Minister totally unworthy of his responsibilities. It is their duty to do so. They know better than anyone how unsuitable he is for high office. Many of them knew in their hearts that we would inevitably come to this one day and they know that, as night follows day, continuing his leadership will mean further misconduct, cover-up and deceit. Only they can end this farce. The eyes of the country are upon them. They will be judged by the decisions they take now.
Boris replied:
There is a reason why the right hon. and learned Gentleman said absolutely nothing about the report that was presented by the Government and put in the Library of this House earlier today. That is because the report does absolutely nothing to substantiate the tissue of nonsense that he has just spoken—absolutely nothing. Instead, this Leader of the Opposition, a former Director of Public Prosecutions—although he spent most of his time prosecuting journalists and failing to prosecute Jimmy Savile, as far as I can make out—chose to use this moment continually to prejudge a police inquiry. That is what he chose to do. He has reached his conclusions about it. I am not going to reach any conclusions, and he would be entirely wrong to do so. I direct him again to what Sue Gray says in her report about the conclusions that can be drawn from her inquiry about what the police may or may not do. I have complete confidence in the police, and I hope that they will be allowed simply to get on with their job. I do not propose to offer any more commentary about it, and I do not believe that he should either.
The Speaker objected:
Boris's mention of Starmer's failure to get the Crown Prosecution Service (CPS) to investigate Savile ran all week long. Conservative MPs also objected to it. It is unclear why that is; after all these years, someone needed to speak up:
Boris's opponents call it a 'far-right conspiracy theory', although Starmer was in charge of the CPS at the time Savile's activities came to light. Starmer even issued an apology for the oversight at the time:
More recently, when Starmer ran for the Labour leadership, he said:
Hear me out: I had 8,000 staff for five years as the director of public prosecutions. And I acted, I hope, in the right way with them, which is when they had victories I celebrated victories on their behalf, I picked up awards on their behalves. When they made mistakes, I carried the can. I never turn on my staff and you should never turn on your staff… I will carry the can for mistakes of any organisation I lead.
Starmer's biography states he was responsible for all criminal prosecutions in England and Wales:
Leader of the House, Jacob Rees-Mogg rightly defended Boris's remark on Thursday, February 3:
In any event, that day, four Downing Street staffers resigned.
Munira Mirza, who had worked for Boris for 14 years — since he was Mayor of London — was the most prominent. The former policy chief said that she took strong objection to her boss's mention of Savile:
Guido posted part of Mirza's resignation letter:
I believe it was wrong for you to imply this week that Keir Starmer was personally responsible for allowing Jimmy Savile to escape justice. There was no fair or reasonable basis for that assertion. This was not the usual cut and thrust of politics; it was an inappropriate and partisan reference to a horrendous case of child sex abuse. You tried to clarify your position today but, despite my urging, you did not apologise for the misleading impression you gave.
In a second post, Guido said that Boris asked Mirza to hold off until he gave a briefing to the media. The briefing only caused her to confirm her resignation:
When the pool clip came without an apology, more of a clarification, she confirmed her resignation via an email which concluded:
Even now, I hope you find it in yourself to apologise for a grave error of judgement made under huge pressure. I appreciate that our political culture is not forgiving when people say sorry, but regardless, it is the right thing to do. It is not too late for you but, I'm sorry to say, it is too late for me.
The public do not understand what the problem is with the mention of Starmer's indirect failure to investigate Savile:
Furthermore, we all understand that Boris wasn't implying that Starmer was personally responsible. However, he was the head of the CPS, so he bore responsibility for it, as Boris told the media:
Let's be absolutely clear, I'm talking not about the Leader of the Opposition's personal record when he was DPP and I totally understand that he had nothing to do personally with those decisions. I was making a point about his responsibility for the organisation as a whole.
Too right.
One of Guido's readers summarised what Boris was saying in Parliament and to the press. It concerns double standards, wherein Starmer expects the Prime Minister to take responsibility for Downing Street activities but not for his own sins of omission at the CPS. This is a good get-out rationale from Guido's reader paraphrasing Boris:
I was not aware of event X being organised or taking place, and so while I apologise it happened under my watch and plan to change systems to avoid such events in future, it is not reasonable for me to resign over it. That is entirely consistent with the Leader of the Opposition's own behaviour while DPP over the Savile issue.
In any event, three more Downing Street staffers resigned after Mirza did, including Martin Reynolds, who issued the email about one of the parties, requesting that people bring their own alcoholic beverages:
It is unclear why the other three left. Some say that they are afraid of being investigated. Others say it was an excuse for Boris to clean house.
Of the three additional resignations, GB News reported:
Martin Reynolds is one of the most senior officials in No 10 but had largely avoided the limelight until the emergence of his email inviting colleagues to "socially-distanced drinks" during England's first coronavirus lockdown.
As Boris Johnson's principal private secretary, he played a key role advising the Prime Minister on a wide range of issues, but resigned from the role on Thursday alongside three other senior Downing Street aides …
Mr Johnson's former adviser Dominic Cummings previously said the influence wielded by the principal private secretary within Downing Street was not widely appreciated.
"The PPS exercises far more influence and actual power over many issues than Cabinet ministers," Mr Cummings said.
"He can nudge policy, he can nudge vital appointments (real power). He can and does walk into the PM's office and exclude all political people 'on security grounds'."
A leaked photograph of the Prime Minister and officials drinking in the No 10 garden on May 15 2020 – five days before the "bring your own booze" event that Mr Reynolds invited colleagues to – showed the PPS sitting at the same table as Mr Johnson …
Mr Reynolds offered his resignation on Thursday alongside Downing Street chief of staff Dan Rosenfield, hours after policy aide Munira Mirza and director of communications Jack Doyle both quit.
A No 10 spokeswoman said: "Dan Rosenfield offered his resignation to the Prime Minister earlier today, which has been accepted.
"Martin Reynolds also informed the Prime Minister of his intention to stand down from his role as principal private secretary and the Prime Minister has agreed to this.
"He has thanked them both for their significant contribution to government and No 10, including work on the pandemic response and economic recovery.
"They will continue in their roles while successors are appointed, and recruitment for both posts is under way."
As I write on Friday morning, an aide to Munira Mirza has also resigned:
Tom Harwood adds that Chancellor Rishi Sunak has been keeping his distance from the Prime Minister and did not defend the remark about Keir Starmer and the Jimmy Savile case.
One of the commenters makes an excellent point about civil servants finding the Savile remark more offensive than what happened to 60+ million people for … a virus:
Those people live in their own bubble.
Interestingly, Boris has appointed an MP rather than a civil servant to succeed Mirza. Andrew Griffith represents the Arundel constituency on the south coast of England. He seems to have a truly Conservative voting record.
Therefore, it seems as if Boris is cleaning house, which can only be a good thing for him. The civil servants do not seem to have been doing him many favours.
In more positive news for the Conservatives, Anna Firth won the by-election in Southend West, served by Sir David Amess until he was stabbed to death last October:
Because of the nature of Sir David's death, Labour and the Liberal Democrats did not put up candidates to run against Anna Firth, although minor political parties did.
Therefore, although she won 86% of the vote, only 24% of the electorate went to the polls.
The party debacle is far from over. This will run and run and run.
A few days ago, I happened across some interesting illustrations of the parliamentary estate in London, old and new.
The first tweet shows the complex as it was in the mid-1500s. The text about Bishop Thirlby pertains to his membership of the House of Lords as a Lord Spiritual, a bishop in the Church of England:
The Lords Spiritual still exist today, with the Right Revd David Urquhart as their convenor:
Returning to the illustration of the parliamentary estate, here is another illustration from the same period. This is what the House of Lords looked like in the Elizabethan era:
The above illustrations show what Parliament looked like when the Gunpowder Plot of 1605 took place (image credit: Wikipedia).
A small group of English Catholics attempted to blow up the House of Lords on November 5 that year. The objective was to remove James I, a Protestant, from the throne and re-install a Catholic monarchy. Robert Catesby led the group of men, although the perpetrator we remember best is Guy (Guido) Fawkes, for whom the evening of November 5 — our fireworks/bonfire night — is named. Fawkes was in charge of the explosives. Traditionally, a 'guy', an effigy, was made. People contributed loose change to calls for 'a penny for the guy' to pay for the effigy and associated fireworks. The effigy was then burnt and fireworks let off as a way of saying that traitors will not prevail against our government.
Half a century later, we have an example of what written legislation looked like. Note the French language at the top, a legacy of the Norman invasion of 1066. 'Le Roy le veult' is archaic French for 'The King wills it'. The feminine version, for Elizabeth I, was 'La Reyne le veult'. The text of the law is written in English:
It was not unusual for accidental fires to break out in or near the estate.
A bad one occurred in 1779 (pictured in the next tweet), but the one that ravaged nearly everything, except for Westminster Hall and a few lesser structures, occurred in 1834:
On October 16, 1834, an overheated wood-burning stove caught fire. In 1835, King William IV assured Parliamentarians that the blaze had been accidental.
A fierce competition to rebuild Parliament took place among leading British architects divided into one of two camps: neoclassical or neo-Gothic.
In the end, Charles Barry's neo-Gothic design won. A young architect, Augustus Pugin, had to submit his design under Barry's name. This was because Pugin had recently converted to Catholicism and his earlier designs for other buildings in England were rejected for that reason.
While the argument over architectural style raged on, Barry supervised construction of the new Palace of Westminster until his death in 1860. By then, Barry had received a knighthood for the building of both houses of Parliament, the Commons and the Lords.
This is a painting of the new structure in 1864:
As for the clock tower, the Elizabeth Tower that houses Big Ben, Pugin designed that, too, although Barry, his superior, added a few finishing touches and submitted the plans under his own name.
"I never worked so hard in my life [as] for Mr Barry for tomorrow I render all the designs for finishing his bell tower & it is beautiful & I am the whole machinery of the clock."[38]
Pugin is largely responsible for the lavish, church-like interior. In his other work, Pugin designed churches and other religious buildings. In 2012, the BBC broadcast a documentary about him called God's Own Architect.
Pugin predeceased his boss, Charles Barry. In February 1852, he suffered a nervous breakdown whilst on a train to London with his son Edward. When the train arrived in the capital, Pugin was incoherent and unable to recognise anyone. He was in two different asylums until September that year, when his wife Jane was able to take him to the home he had designed for them, The Grange, in Ramsgate, Kent. Pugin died on September 14. He is buried next door at a church he designed, St Augustine's, a Catholic Church.
The design of the current Palace of Westminster is still contentious today:
The architectural debate continues. People love the neo-Gothic style or loathe it. I find it beautiful:
Today, the Palace of Westminster is undergoing much-needed renovation. The scaffolding continues to be removed from the Elizabeth Tower, and soon Big Ben will be ringing again.
It has taken ten years to replace the Victorian cast iron roof, the largest in Europe, if not the world. The two Speakers of the House — Lord McFall of Alcluith (Lords) and Sir Lindsay Hoyle (Commons) — admire the finished product. Click on the photos to see them fully. Sir Lindsay Hoyle is in the red jacket:
The Palace of Westminster is a magnificent structure.
It is thought that the Elizabeth Tower will reopen for tours sometime this year.
A thing of beauty is a joy forever.