You are currently browsing the tag archive for the 'Sir Lindsay Hoyle' tag.
On Monday, June 14, Prime Minister Boris Johnson postponed Freedom Day from Monday, June 21 to Monday, July 19.
Quelle surprise!
Although the data for hospitalisations and deaths look better than ever thanks to the vaccine rollout, SAGE modelling shows that if figures of cases — positive tests — continue to increase 'exponentially', then we could be in for a big problem:
However, the reality is more like this:
Incredibly, Britons support the delay:
Protest at Downing Street
Earlier in the afternoon, when it became clear that Boris was going to delay England's reopening, a protest took place outside of Downing Street.
The BBC's Nick Watt got caught up in it on his way to the mid-afternoon press briefing for journalists. I have no idea why the crowd harassed him, but the Metropolitan Police did not seem bothered:
Coronavirus briefing
Boris held his televised coronavirus briefing at 6 p.m.
Boris should have had Matt Hancock, Secretary of State for Health and Social Care, go to Parliament first to make this announcement, then give his press conference. Hancock poled up in the House of Commons two hours after Boris's press conference. More on that below.
At the coronavirus briefing, Boris was accompanied by Sir Patrick Vallance and Prof Chris Whitty. Here are the highlights:
Sure, just as he announced June 21 would be a few months ago. I'll believe it when I see it.
Some restrictions have been lifted for weddings and funerals:
The delay is partly because of the Delta variant from India:
Sure thing, Chris. By July, there could be another variant:
Even though Boris is trying to keep us hopeful, there is no way we would open in two weeks' time instead of four:
This is because — as has been explained at previous coronavirus briefings — it takes four weeks for a full cycle of effects to complete before a decision can be made: cases, hospitalisations, deaths.
Keep in mind that our vaccination programme has been wildly successful. The elderly and vulnerable have had their second shot and 18-24 year olds are now invited to get their first inoculation.
The vaccines used thus far — AstraZeneca and Pfizer — are said to be highly effective against the virus, especially after two injections:
One of the three men said that we would have to 'learn to live with this virus'. We know that, fellas, so open up.
We know that people are going to die, just as they do from flu:
That's exactly what they said in April.
Labour are quite happy with an extension of restrictions. No surprise there:
Matt Hancock's statement in the House of Commons
Matt Hancock announced the delay in the Commons that evening at 8:30.
Once again, the Government evaded going to Parliament first, followed by the media and public.
The Speaker, Sir Lindsay Hoyle, was not happy. This is not the first time Hoyle has reprimanded Hancock:
Sir Lindsay said that he is ready to arrange a private meeting with the Prime Minister to discuss these continuing evasions of Parliament:
Hancock said:
That tweet is spot on. In March 2020, it was about 'squashing the sombrero' of hospital admissions, as Boris put it.
Then we had the rest of the list in that tweet.
Now it seems to be about zero COVID.
That's quite a leap.
Hancock's statement and the subsequent debate are available on Hansard. Excerpts follow. All MPs below are Conservative.
Jeremy Hunt MP, the chair of the Health and Social Care Committee and former Health Secretary, said (emphases mine):
May I start by saying that I totally agree with your expression of disappointment, Mr Speaker, that in a parliamentary democracy Parliament heard about this news after the media, and much as I respect my right hon. Friend it should be the Prime Minister who is here this evening?
I happen to support these measures and the caution the Government are showing, but may I suggest to my right hon. Friend that one of the reasons for the disappointment many people feel is the use of words like "irreversible"? Tonight, Sir Patrick Vallance said that we will be living with covid for the rest of our lives. If there is a vaccine-busting variant that threatens another 100,000 lives, these measures will not be irreversible, and we have a duty to be completely honest with people about the bumpiness of the road ahead. So may I urge the Health Secretary to be as cautious with the language we use as he rightly is with NHS bed capacity?
Mark Harper is one of the few MPs who wants England to open up now. He said:
Before I ask the Secretary of State my question, I should just say—as a former Government Chief Whip, it does not give me any great pleasure to do so—that I wholly associate myself with your remarks earlier, Mr Speaker. This statement should have been made to this House by the Prime Minister before it was made to the media. I hope that we do not see a recurrence of it and I wish you well in your meeting with him.
The Secretary of State has set out that it is not the Government's policy to get to zero covid—indeed, that is not possible. Can he say whether it is the Government's policy to maintain a low prevalence of this virus? If it is not, can he confirm the Prime Minister's sentiments today that 19 July is a terminus date, and can he rule out bringing back restrictions in the autumn and winter when we see an inevitable rise in what is a respiratory virus?
Hancock replied:
Well, it is not inevitable—I do not think it is inevitable. It may happen, but it is not inevitable because we also have the planned booster programme to strengthen further the vaccination response. But it is absolutely clear, based on all the clinical advice that I have seen, that a goal of eradication of this virus is impossible. Indeed, there is one part of this country that tried it for a bit in the summer and found it to be impossible. Therefore, we must learn to live with this virus and we must learn how we can live our normal lives with this virus, so I reflect the Prime Minister's words, which, of course, I concur with entirely, on 19 July. Our goal is to make sure that we get as much vaccination done between now and then—especially those second doses—to make sure that we can open up safely, even if there is a rise in cases, by protecting people from hospitalisation and especially from dying of this awful disease.
Steve Brine was, rightly, unhappy:
Last week, the Secretary of State told me:
"Our goal…is not a covid-free world…the goal is to live with covid".—[Official Report, 7 June 2021; Vol. 696, c. 678.]
Well, you could have fooled me, and many of our constituents. There is dismay out there tonight. The reopening of the wedding industry is not a meaningful reopening and I think it is cruel the way some are being misled. The Prime Minister and my right hon. Friend have been very clear today that 19 July is not a new "not before" date but an end to all this, so will the Secretary of State tell the country his assessment of risk and personal responsibility and whether he feels that as a country we remotely have that right at this time?
Hancock replied (in part):
Once we have the offer of a vaccine to everybody, and once we have protected and mitigated the large part of that risk, we do need to move back to a world based on personal responsibility. That is right, and that is where we intend to go. I think that we have made steps already in that direction in steps 1, 2 and 3. This country is freer than almost any other in Europe in terms of our economy and of our society. That is partly because of the very rapid vaccination effort here, but I hope that my hon. Friend can take from that the direction we intend to go.
Peter Bone made excellent points on the Government's disrespect for the Commons:
I am sure, Mr Speaker, that the Secretary of State for Health heard what you said at the beginning of this statement. May I ask the Secretary of State how we got ourselves into this position? He has been very good at coming to the House and making statements on covid, but on the biggest, most important day, the press were given an embargoed statement at 3 o'clock and the Prime Minister had a big showy press conference at 6, yet he could not be bothered to turn up until 8.30. This is a clear breach of the ministerial code. How did it happen? Who thought it was a good idea, and who actually broke the ministerial code?
Hancock had little to say in response but said he would continue answering questions.
Sir Geoffrey Clifton-Brown asked on what basis the decision to delay was made. Hancock said:
… Central to the judgment today is the fact that we are seeing a rise in hospitalisations, especially over the past week, and especially among those who are unvaccinated or have just had a single jab. Those people are not largely those who are unvaccinated out of choice; it is those who are unvaccinated because they have not yet had the opportunity because they are younger.
Until about a week ago, hospitalisations were basically flat. We thought that the link might have been completely broken between cases and hospitalisations or that it might be a lag. Sadly, hospitalisations then started to rise. For deaths, we have not yet seen that rise, which I am very pleased about; hopefully they will never rise, in which case the future will be much easier. It may still be that there is an element of it that is a lag, and we will be looking out for that very carefully over the couple of weeks ahead, but nevertheless our goal is to get those vaccines done in the five weeks between now and 19 July in order to make sure that this country is safe. I will commit to publishing anything further that we can that underpinned the decision, but I can honestly say to my hon. Friend that most of it is already in the public domain.
The morning after with talkRADIO's Julia Hartley-Brewer and guests
On Tuesday, June 15, Israel ditched its mask mandate:
They vaccinated quicker than the UK, which they could do as a much smaller country:
TalkRADIO's Julia Hartley-Brewer interviewed three interesting guests, whose videos are all worth watching.
Clearly frustrated by this delay, she asked her audience about their mood:
She opened her show with an editorial on selfishness, because many people say that her civil liberties stance is 'selfish'. She turned the tables on her accusers:
She interviewed David Paton, the Professor of Industrial Economics Nottingham University Business School. He has been running his own models and studying the national statistics since the early days of the pandemic last year.
This is his take. He observes that we are doing much better than SAGE models suggest:
He also told Julia that we are doing much better than the SAGE models purport:
Next up was Hugh Osmond, the founder of the Punch Taverns chain. He said that the medical experts wanted to remove all joy from our lives. He also pointed out that hundreds of pubs have closed because of the government's handling of the pandemic and that if the pub summer season is short this year, hundreds more will go to the wall by the end of 2021:
Julia's next guest was Mark Harper MP, chairman of the parliamentary Covid Recovery Group, quoted in the aforementioned Hansard excerpt. I agree with him in that these restrictions might never end:
He cannot understand why the Government is not more positive about the success of the vaccine rollout. He also discussed the negative fear-mongering from the media. Note the reply tweet which is spot on re the G7 get-togethers:
Julia's third guest in her coronavirus segment was barrister Francis Hoar, who has been anti-lockdown from the start:
Before his interview, he reiterated his concern about increased government control via a (Chinese style) social credit system:
He also retweeted the following:
This appears to be a quote from Sir Charles Walker MP (Conservative), who is also against lockdowns:
It is hard to disagree with him as the Government keeps moving the goalposts:
Francis Hoar told Julia Hartley-Brewer that Boris looked as if he had been taken hostage at last night's coronavirus briefing and that he is deeply concerned about the future of young people today because of continuing restrictions. He is very much a supporter of having our personal freedoms restored yesterday:
Conclusion
I really do hope that England reopens on July 19. I wanted the nation to reopen on June 21.
However, if it does not, then it is unlikely to reopen until Spring 2022. That could be June 2022.
My reasoning is as follows. September is the month when schools reopen, so that is a risk factor. Then comes flu season when coronavirus will worsen. The experts and the Government will say that we shouldn't have big Christmas celebrations at home, in the pub or in a restaurant because it's just too risky. Winter is always a bad time for illness, and we don't want to overburden the NHS, so we have to wait until sometime during the springtime.
Therefore, if reopening does not take place on July 21, 2021, then the next possible date is between mid-March (after the Cheltenham Festival, likely to be a 'pilot' event) and June 2022.
I hope I am wrong. I truly do.
May this be the only time the State Opening of Parliament has to be so pared down.
In December 2019, the last time this ceremony took place, everything was normal, with peers, MPs and distinguished guests filling every available space.
My post from that year explains how the ceremony and the Queen's Speech — written by the Government — unfolds and concludes.
Tuesday, May 11, 2021, was the 67th occasion on which the Queen has opened Parliament. This was her first formal engagement since the death of Prince Philip:
Steeped in tradition, the State Opening brings together all three parts of Parliament: the House of Commons, the House of Lords and the Monarch.
Prince Charles accompanied the Queen, as he did in 2019. This was the first year that the Duchess of Cornwall attended.
Prince Charles and the Duchess of Cornwall, who are at Clarence House in St James, arrived by car at the Monarch's Entrance to the Palace of Westminster.
The Queen left Buckingham Palace by car and arrived a short time later.
Inside the House of Lords, the throne for the Queen's Consort — Prince Philip — had been removed and is in safekeeping. There was one throne and, off to the side, two plush chairs for Prince Charles and the Duchess of Cornwall.
Once the Queen enters the Palace of Westminster, the Union flag on top of the building is lowered and her standard is raised. Upon her departure, her standard is lowered and removed and the Union flag raised.
The Queen entered the House of Lords with Prince Charles. The Duchess of Cornwall walked behind them, socially distanced.
This video might be geo-localised, however, for those fortunate enough to see it, it has the whole ceremony. The Lords must wear their formal robes (a sign language version is also available):
Other participants must also wear ceremonial dress or robes for their office, including the Speakers of the Commons and the Lords:
These are the robes the Lords Spiritual — Church of England bishops — wear:
Here is the Speaker of the House of Commons along with his deputy speakers:
Yeoman warders from the Tower of London are part of the ceremony:
They are shown below in the Royal Gallery, which leads to the House of Lords:
On Tuesday, socially distanced MPs sat on one side and Lords on the other. Those who wished to attend submitted their names, and the requisite number of persons was chosen by lottery:
The Queen makes her entrance to the House of Lords via the Royal Gallery and exits in the same manner:
Here she is prior to giving her speech, awaiting the arrival of members of the House of Commons, summoned by Black Rod:
Normally, the speech is handed to her, but because of health restrictions, it was already sitting on the table next to her.
The transcript is available online:
To allow for flexibility, allowance is made for any additional legislation that might arise. One example of this from the previous parliamentary year was the infamous Coronavirus Act 2020, which is still in effect:
The Queen ends her speech with a blessing:
This is a summary of the new legislation:
In addition, there will be legislation on repealing the Fixed Term Parliament Act so that elections can be more easily called (rather than every five years), an anti-hate speech online law (Online Harms Bill) and a measure to introduce voter ID. Why we need voter ID, I have no idea; we receive electoral roll cards prior to every election. Those work perfectly well. There was only ONE case of voter fraud in 2019. Postal voting is a bigger cause of any electoral fraud.
Only a small number of MPs were allowed to be in the Lords chamber for the speech: Commons Speaker Sir Lindsay Hoyle, Prime Minister Boris Johnson, Leader of the House of Commons Jacob Rees-Mogg, Labour Leader Sir Keir Starmer and the party whips. Any other MPs showing up in person had to remain in the Commons chamber.
A new Lord Speaker was in attendance, Lord McFall (Labour) who succeeds the recently retired Lord Speaker, Lord Fowler, who returns to the Conservative bench in the chamber:
After the Queen delivers her speech and leaves, parliamentary business can begin.
Both Houses debate the contents — proposed legislation — of the Queen's Speech. The debate is called the Humble Address:
Once back in the House of Commons, the Serjeant at Arms replaces the mace and a new set of debates on future legislation can begin. The next two tweets explain the relationship between the Commons — the locus of legislation — and the Lords, who debate the proposed laws and suggest changes — amendments — before the various bills return to the Commons:
There is also the ceremonial matter in the Commons of the 'release' of an MP who, traditionally, is held at Buckingham Palace while the Queen's Speech takes place. This year it was Marcus Jones (Conservative), who is also Vice Chamberlain to Her Majesty's Household:
In addition to new legislation, there are three upcoming by-elections:
The SNP MP for Airdrie and Shotts, Neil Gray, has been elected to the Scottish Parliament. The Conservative MP for Chesham and Amersham died a few weeks ago; Cheryl Gillan had participated regularly in Commons debates until just before her death. Labour MP Tracy Brabin has just been elected as the first Mayor of West Yorkshire.
Speaking of by-elections, Tuesday was the day when Harlepool's new MP, Jill Mortimer (Conservative), took her oath of office:
She is probably the only MP in living memory who could not shake the Speaker's hand. However, depending on how long coronavirus restrictions are in place, she might not be the last:
Both Houses have changed their typeface for their call lists. Why? The old version is on the right — and has more gravitas:
Commons Speaker Sir Lindsay Hoyle has instituted a flag representing the House of Commons, which made its debut today and will fly every day when the House is in session. Hmmm:
In closing, today marks the sad anniversary of a Prime Minister who was assassinated in 1820:
Thank goodness such events have been rarities in Britain. Long may they remain so.
May the Lord guide both Houses through the new parliamentary year.
Sadly, Prince Philip, the Duke of Edinburgh, died on Friday, April 9, 2021, exactly two months short of his 100th birthday:
The Queen has lost her best friend. My deepest sympathies to her for the unimaginable loss of her long-time husband and daily confidant. My condolences also go to the Royal Family in their grief.
Young love
The couple first met in 1934, and began corresponding when the Prince was 18 and a cadet in the Royal Navy. Princess Elizabeth was 13 at the time.
She was smitten with him from the start.
Prince Philip served with distinction during the Second World War in the Mediterranean and Pacific fleets.
After the war ended, he could have had a stellar career in the Royal Navy. His superiors praised his clear leadership skills.
However, love intervened and the rest was history.
Born Prince Philip of Greece and Denmark, he renounced his foreign titles and took British citizenship before he and Princess Elizabeth were engaged. He took the surname of his maternal grandparents: Mountbatten.
He and Princess Elizabeth were engaged in July 1947. They married on November 20 that year. Shortly before the wedding, George VI gave him the titles of Duke of Edinburgh (created for him), Earl of Merioneth and Baron Greenwich.
Prince Philip remained in the Royal Navy until July 1951. He retired with the rank of Commander.
Royal succession — and surname
In January 1952, he and the Queen began a tour of the Commonwealth countries. They were in Kenya when news reached them that the Queen's father, George VI, died on February 6 that year.
Although she became Queen immediately upon her father's death, her coronation took place in 1953, as it had to be planned meticulously.
On Coronation Day, he knelt before her, clasped her hands and swore an oath of allegiance to her:
He also had to touch her crown and kiss her on the cheek.
He never had a constitutional role, nor was he ever formally given the title of Royal Consort. The courtiers did not like him, nor did they trust him. They believed his personality to be brash and unbecoming of the Royal household. They shut him out of as much decision making as possible.
When Elizabeth became Queen, the question about her family name arose. Prince Philip suggested that the Royal Family be known as the House of Edinburgh. Upon discovering that suggestion, Queen Mary, Elizabeth's grandmother, wrote to Prime Minister Winston Churchill, who advised the young monarch to issue a royal proclamation saying that the Royal Family would continue to be known as the House of Windsor.
In his inimitable style, Prince Philip complained privately:
I am nothing but a bloody amoeba. I am the only man in the country not allowed to give his name to his own children. [57]
The Queen did nothing until eight years later, in 1960, 11 days before she gave birth to Prince Andrew. She issued an Order in Council declaring that the surname of her and her husband's male-line descendants who are not styled as Royal Highness or titled as prince or princess would be Mountbatten-Windsor.
Pater familias
Prince Philip had to carve a role out for himself. He became the pater familias and, through the years, his role expanded to cover not only his four children but his grandchildren. He listened to their concerns, shared their joys and gave them advice. He knew everything that went on in their lives.
Although the public knew him for speaking as he saw — rather bluntly, on occasion — behind closed doors Prince Philip was known to be a warm, loving man.
He also favoured a more transparent Royal Family. According to the BBC, it was he who encouraged the Queen to make a multi-episode documentary on their daily lives, including those of their four children. It was broadcast in the late 1960s. I remember seeing it in the United States.
When Princess Diana died on August 31, 1997, Prince Philip was the one who kept an eye on the public mood that fateful week. He, the Queen and Princes William and Harry were at Balmoral in Scotland for their summer holiday. When the young princes wanted to attend church, their grandparents took them to the Sunday service on the day of their mother's death. Later in the week, it was Prince Philip who encouraged the boys to walk behind the funeral procession the following Saturday. He said:
If you don't walk, I think you'll regret it later. If I walk, will you walk with me? [93]
One cannot imagine what he thought of Prince Harry's departure for the United States to live a life separate from his closely knit family. I did read that the Royal Family shielded information about the Oprah interview from him.
John F Kennedy's funeral
Prince Philip was in Washington for John F Kennedy's funeral in 1963.
He had a friendly encounter with John Jr, who was still a toddler and known as John-John at the time. The child wondered where his father was, as he had no one with whom to play. The Prince stepped in to fill that gap. In 1965, the British government gave an acre of land at Runnymede to the United States for use as a memorial to JFK:
Funeral arrangements
Prince Philip was self-effacing and did not like a fuss to be made over him.
Therefore, the funeral arrangements will respect his wishes, which is rather convenient, as coronavirus restrictions are still in place. Up to 30 people will be allowed at his funeral, in line with legislation across the nation:
The funeral is scheduled to take place on Saturday, April 17:
It is interesting that Prince Harry will be able to attend when we have a 10-day quarantine in place for arrivals into the UK under coronavirus regulations.
The Sunday Mirror reported on Prince Harry's return to the UK:
He could also be released from quarantine if he gets a negative private test on day five, under the Test to Release scheme.
Given his status as a member of the Royal Family travelling to support the Queen, Harry might be considered exempt from travel restrictions.
Wow. It's nice to know we have a two-tiered quarantine system in place /sarc.
A championship boxer remembers the Prince
Former WBC Heavyweight Champion Frank Bruno MBE posted his memories of meeting Prince Philip. He is at the top left in the following photo:
An Anglican priest remembers the Prince
The Revd Peter Mullen, an Anglican priest, recalled his encounters with Prince Philip for Conservative Woman on April 10 in 'A personal recollection'.
He first met the Prince during his schooldays:
The first time I met the Prince was in connection with his Duke of Edinburgh's Award Scheme which gave a leg up to youngsters from what would now be called the less privileged parts of the country. He paid a visit to the Leeds branch of the Church Lads' Brigade of which, aged fourteen, I was a member. We were in the church hall making things. My task was to make a table lamp. I was hopeless at it.
The Duke got hold of my half-finished creation, held it up to one eye and said, 'I suppose this hole is where the flex goes?'
'I think so, Sir.'
'You think so? I was never any good at this sort of thing either!'
And he was off . . . 
As an adult, Mullen met him on more than one occasion thanks to the Honourable Company of Air Pilots. The Prince was its Grand Master. Mullen served as chaplain.
He recalls:
The Company gave a lunch for him to mark his 80th birthday and I recall how jovial he was, making light of his years: 'I believe I have lasted so long because you people are always toasting my good health, but I don't want to live to be a hundred. Things are dropping off already!'
At another luncheon one of our Liverymen who had his own port wine business presented the prince with Bottle Number One, the first fruits, so to speak. As he left, the duke handed the bottle to me: 'You have this, Peter. Our house floats on the bloody stuff.'
'Well, Sir, now I don't know whether to drink it or frame it.'
'Gerrit down ya neck!'
Prince Philip on MPs
Guido Fawkes came up with a good quote from one of the Prince's trips to Ghana. It concerns MPs. His Ghanaian hosts told him the country had 200 MPs. Prince Philip replied:
That's about the right number. We have 650 and most of them are a complete bloody waste of time.
Incidentally, Parliament will be recalled one day early from Easter recess. On Monday, April 12, MPs and Lords paid tribute to the Prince in their respective Houses:
That afternoon, the House of Commons reconvened to pay their tribute — from 2:30 p.m. until 10 p.m. (good grief).
Speaker Sir Lindsay Hoyle spoke first:
Prime Minister Boris Johnson had this to say:
Boris Johnson, who was invited to the funeral but declined so that another member of the Royal Family can attend, said that he would forego a pint when pub gardens reopen on April 12, out of respect for the Prince. Guido Fawkes, however, thinks that the Duke of Edinburgh would have wanted us to toast his memory, especially at a pub that bears his title in Brixton, south London:
Guido had a second tweet on the subject with another quote from the Prince:
Agreed.
Prince Philip on Australia
This is too funny. For those who are unaware, Australia was established as a place where Britain could send convicts. That was a long time ago, but the nation's original purpose was to serve as a prison: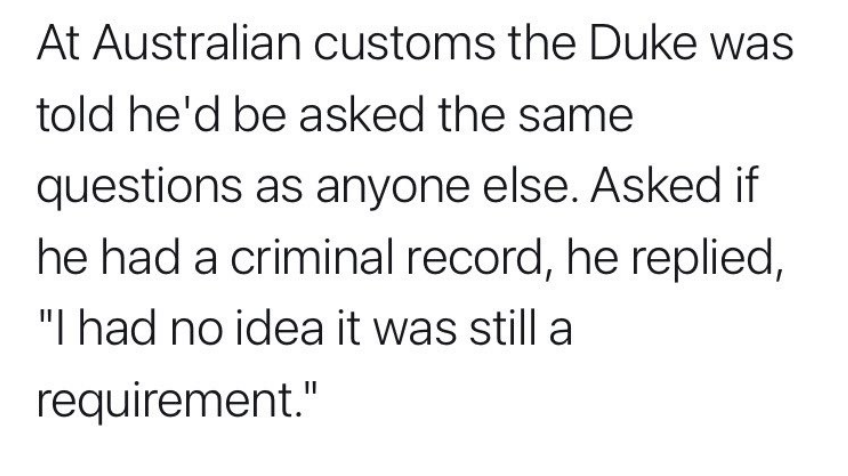 Prince Philip on civil liberties
On a serious note, the 12-minute interview below from 1984 is well worth watching, especially in the coronavirus era.
Prince Philip firmly supported the rights of the individual and believed that the state should serve the individual, not, as in our times, the other way around.
This is from a Thames Television programme originally broadcast on ITV:
I have posted the video below in case the tweets are deleted:
The Prince also said that certain subjects are out of bounds, such as the media and the NHS.
He said that the media are incapable of taking a joke about themselves and, as for the NHS, well, one cannot say anything against it. He didn't necessarily dislike the NHS but thought it was held in too high a regard. Nothing is perfect in this world.
We have been travelling a long road towards the point where we are at present: ruled by the media (they clamoured for coronavirus restrictions) and worship of the NHS. This is how Health Secretary Matt Hancock, Prime Minister Boris Johnson and SAGE have been able to rule our lives. It's been at least 40 years in the making.
BBC coverage on Friday
I was watching BBC Parliament early Friday afternoon, around 1:15, when the programme was interrupted by a broadcast from the BBC News Channel.
I checked the schedule an hour later, which said that the programme would last until 4 p.m. It was still going when I was preparing dinner at 5 p.m.
The final of MasterChef was to have been broadcast that night on BBC1. This was a clip from Thursday's programme:
Pictured are the hosts and judges, chef/restaurateur John Torode on the left and former greengrocer, now television presenter, Gregg Wallace on the right:
BUT:
The BBC News channel was simulcast all afternoon and all night long, not only on BBC Parliament but also on BBC1, to the dismay of MasterChef fans (myself included), and BBC2. BBC4 was suspended for the evening.
I read on social media that the BBC also broadcast continuous coverage of Prince Philip on their radio stations, including Radio 2, knocking out Steve Wright's drive-time show on Friday afternoon.
A friend of mine said that most of the BBC's employees were probably rubbing their hands with glee because it meant an early weekend for them. It's a cynical perspective that could well turn out to be true. We'll find out when someone writes his or her memoirs.
Everyone with a television set receives the BBC News channel. It comes into our homes at no extra charge. There was no need for the BBC to take over every channel for hours on end. By the way, if one had watched two hours of the Prince Philip coverage, as I did, one would have seen and heard everything in its entirety.
The BBC braced themselves for a plethora of complaints; they took the relevant page down on Sunday. Good. I am sure Prince Philip would have objected, too.
As much as I love the Queen, I hope they do not try this when her day comes. God willing, may it be long into the future.
Record-beating prince
Prince Philip established two records as consort to the Queen. He was the longest-serving royal consort in British history. He was also the longest-lived male member of the British royal family.
May he rest in eternal peace with his Maker.
May our gracious Lord grant the Queen, Defender of the Faith, His infinite peace and comfort in the months ahead. May He also bless the Royal Family during this difficult time.
The coronavirus lockdown has certainly contributed to the rising ratings for BBC Parliament and parliamentlive.tv.
More people are tuning in and the BBC have restyled the chyron on their screen to make it more user friendly. We now know what the debate topic is as soon as we tune in.
However, ratings for televised coverage of Parliament began climbing in 2015, when David Cameron was Prime Minister.
On February 12, 2016, Total Politics reported (emphases mine, apart from the italics):
BBC Parliament has reported a record high of an average of two million viewers a month for the first time ever in 2015.
This is an increase of 150,000 viewers each month on the 2014 figures – and it marks the first time the BBC's dedicated parliamentary channel has broken the two million viewers per month threshold.
The channel has more live coverage than ever before and covers proceedings from Westminster, the European parliament, the Welsh and Northern Ireland Assemblies and the Scottish Parliament.
BBC Parliament controller Peter Knowles told TP:
"Providing more live coverage of the key political debates and discussions has meant that during 2015, a dramatic year in politics, we've seen a surge in people using BBC Parliament to follow proceedings.
"New camera positions are also giving our coverage a fresh feel as this parliamentary term is now in full flow."
Apparently the new camera angles, brought in last year, represent the first such change since 1989. According to a BBC spokesman, the new camera angles "bring audiences closer to the key exchanges, debates and votes".
So much for the public being turned off by politicians…
In 2020, in a review of the 2017-2019 Parliament under Theresa May's premiership and with John Bercow as egotistical Speaker of the House, The Institute for Government stated:
Members of the public can now view parliamentary proceedings on a variety of platforms. Run by the parliamentary Digital Service, parliamentlive.tv is the most comprehensive source of parliamentary video and audio, publishing recordings of all events – including meetings of select committees – taking place in public.[24] The site allows members of the public to watch events live, access video on demand and search archive footage going back to December 2007. It is also possible to download clips from parliamentlive.tv – with nearly one thousand clips downloaded on average each week between 5 March 2018 and 30 December 2019. These clips are often shared by MPs, interest groups and political parties on social media. BBC Parliament also carries live coverage of key parliamentary activity.
Parliamentary tensions over Brexit were a massive driver of viewers for Parliamentlive.tv. 
Average daily viewer numbers increased over 150% from 6,552 per day in 2017 to 16,607 per day in 2019. BBC Parliament also saw record viewing figures – the only BBC TV channel experiencing an increase in viewers. An average of one million adults tuned into the channel for at least three minutes each week during 2019, with viewing figures exceeding two million in several key weeks. One commentator described the channel as "the ratings hit that's Big Brother meets 24 – with added Bercow".[25]
Controversial and compelling Brexit debates continued when Boris Johnson became Prime Minister.
On Wednesday, September 4, 2019, the Radio Times reported:
BBC Parliament hit an all-time ratings high on Tuesday as Boris Johnson suffered his first defeat as Prime Minister, with MPs voting to take control of the House of Commons in order to force a vote on a bill that will prevent a no deal Brexit.
Some 1.5m viewers tuned in across the course of the day, marking the biggest 24 hours for the channel on record.
The drama in Westminster continues into Wednesday, as opposition parties and Tory rebels lead a debate on Labour politician Hilary Benn's bill to block a no deal Brexit …
The channel is providing live coverage from the House of Commons throughout the ongoing Brexit crisis, and it is captivating the nation – even drawing viewers away from the beloved Great British Bake Off, which aired its latest episode on Channel 4.
The Radio Times article included two tweets, the first of which is from British television's most famous money pundit, Martin Lewis:
Last year:
Even on less contentious days, the debates can be absorbing, such as a recent closing debate about the threat to driving tests in High Wycombe, Buckinghamshire, not far from London. I watched it while preparing dinner when it aired, and it was compelling. Mail on Sunday columnist Dan Hodges, who is actress/former MP Glenda Jackson's son, tweeted:
Once one starts watching Parliament in action, it is difficult to stop. We get to know the MPs and predict what they will say. With coronavirus, we have the added bonus of seeing what the interiors of their houses look like.
The day's order papers are on the PARLY and House of Commons Twitter feeds:
The most recent development in broadcasting from the Houses of Parliament is a new fit-for-purpose gallery, which Speaker of the House Sir Lindsay Hoyle visited on Tuesday, March 2, 2021:
In a further development, Chancellor for the Exchequer Rishi Sunak will be giving the first-ever press conference about the budget on national television following his statement in Parliament on March 3. Guido Fawkes has more:
After presenting his budget in the House of Commons on Wednesday, the Chancellor will scarper over to No. 10 to take questions on it from the public and journalists from 5pm. The televised event will be the first of its kind on Budget Day …
More on that and the budget tomorrow.
Yesterday's post detailed the first day of Brexmas — Christmas Eve 2020 — when the UK and the EU signed the deal to end the transition period and move on to a future outside of EU control.
MPs and the Lords were preparing to vote on the deal on Wednesday, December 30, in a special recall of both Houses of Parliament.
The Brexit referendum in 2016 attracted more voters and two of the largest campaign donations in British history.
The days between Christmas and December 30 seemed like a long wait. We were in lockdown, to various extents, at the time. However, Leavers were able to get an idea of how MPs thought about the new trade agreement, which is a treaty. A summary of practical considerations for Britons can be found here.
We also garnered snippets from journalists on some of the deal/treaty provisions.
Natasha Clark, who writes about politics for The Sun, tweeted:
Some pointed out a few downsides. There are concerns about British financial services operating overseas, the performing arts and, equally important, international security:
That said, Sir John Redwood MP was optimistic:
Even better, the hardline Brexit group, the European Research Group (ERG), was all in for the deal:
The ERG issued a three-page statement of support on Tuesday, December 29, concluding:
Our overall conclusion is that the Agreement preserves the UK's sovereignty as a matter of law and fully respects the norms of international sovereign-to-sovereign treaties. The "level playing field" clauses go further than in comparable trade agreements, but their impact on the practical exercise of sovereignty is likely to be limited if addressed by a robust government. In any event they do not prevent the UK from changing its laws as it sees fit at a risk of tariff countermeasures, and if those were unacceptable the Agreement could be terminated on 12 months' notice.
Even Labour — and Opposition — leader Sir Keir Starmer said that he would back the deal (starting at 1:30):
Sixty per cent of Conservative Home readers considered the deal a win.
On the morning of December 30, Graham Stringer, a Labour MP, said that Parliament should support the deal:
However, MPs from Northern Ireland thought differently. They have to abide by the EU rules because they border the Republic of Ireland. MSN Money published a fuller statement from the DUP (Democratic Unionist Party), which reads in part (emphases mine):
Whilst we accept that this agreement does bring about zero tariff and quota arrangements between the United Kingdom and the European Union thus removing many goods from attracting tariffs between Great Britain and Northern Ireland, the fact remains that this agreement does not assist Northern Ireland in the context of having to operate under the Northern Ireland Protocol.
When Parliament is recalled on Wednesday we will vote against this agreement. We will do so as a point of principle and not because we supported a no deal option. A free trade deal is better than no deal but for Northern Ireland this deal does not undo the detrimental aspects of the Protocol.
Understandably many in Great Britain will be able to support these arrangements as applied to Great Britain but sadly for Northern Ireland we will be governed by the arrangements in the Protocol. While Northern Ireland will remain in the UK customs territory and we are out of the Common Agricultural Policy and the Common Fisheries Policy we will be aligned with the EU for manufactured goods and food and animal products alongside other EU imposed restraints.
The removal of a so-called cliff edge on 1 January will be welcomed but more work will be required to ensure that we can maintain free flowing business supply lines from Great Britain into Northern Ireland. To that end we will continue to work with the Government to mitigate against those damaging practical outcomes flowing from the Protocol.
It was a long day in the House of Commons. When bringing in the motion, Speaker of the House, Sir Lindsay Hoyle, mistakenly referred to the Chancellor of the Duchy of Lancaster, Michael Gove, by his first name:
Leader of the Opposition Starmer said that not voting for the agreement was akin to voting 'no deal':
Prime Minister Boris Johnson introduced the new legislation. Scotland's SNP Westminster leader Ian Blackford stuck his oar in, but Boris wasn't having it:
Even the Speaker of the House told Blackford to not intervene — not once, but twice — as time was short. However, Blackford, as always, persisted in interrupting with the same broken record he always plays. I enjoyed when Boris called Blackford's party the Scottish Nationalist Party. It's Scottish National Party, but Boris knew and said 'nationalist … with a small "n"':
Blackford persisted, causing the Speaker to ask him a third time to stop intervening:
Not surprisingly, Scotland's SNP voted against the agreement, the subject of the EU Future Relationship Bill. Gove, also a Scot, called them out in his summation speech before the vote. This is one for the archives. It was pointed yet witty. This was Gove at his best (even though I don't trust the man):
The SNP's Ian Blackford and Stuart O'Grady are on the far right in the video:
Going back to Boris's introduction of the bill. After he spoke, Keir Starmer gave his response as Leader of the Opposition. When he urged his MPs to vote for the agreement, an indignant Theresa May rose to speak her mind. Labour and the other Opposition parties had opposed her deal throughout 2019, leading to her resignation as PM.
The second clip below — 'May's finest moment' — is from 2019. Labour MP Rupa Huq had accused her of 'parliamentary ejaculation'. May said that if Huq 'looked more closely' she would find that she (May) was incapable of such a thing:
On December 30, May was upset with Starmer for not having voted for her deal in 2019. Starmer had called Boris's agreement 'thin' — meaning not enough integration with the EU. May pointed out that if he had voted for her deal the previous year, he would not have had that complaint, 'so I will take no lectures from the Leader of the Opposition on this deal':
When it came time for the vote, 37 Labour MPs rebelled, with three having to resign their shadow front bench posts. One of them, Helen Hayes, is pictured below:
The Mirror reported:
Moments after the result of the vote was declared, frontbencher Helen Hayes announced she had quit her role.
She tweeted: "I'm grateful to all who've contacted me on the EU Future Relationship Bill.
"I can't vote for this damaging deal & have abstained today.
"With much sadness & regret I've offered my resignation as Shadow Cabinet Office Minister. It's been a privilege to serve."
MP for Gower, South Wales, Tonia Antoniazzi said it was "with the deepest regret" she was resigning as a parliamentary aide to the Shadow Scotland and Work and Pensions teams …
Florence Eshalomi, MP for Vauxhall, South London, quit as a whip – a frontbencher responsible for enforcing the leader's power.
She said: "This Bill was rushed and a 'no deal' is the worst outcome for the country but I cannot support the bill and I have abstained.
"I have offered my resignation as an Opposition Whip."
The resignations are a blow for Mr Starmer's bid to reposition the party.
He ordered Labour MPs to back the agreement, believing Labour needed to show voters in its traditional heartlands – most of which overwhelmingly backed Leave in the 2016 referendum – that it has heeded the result.
Urging MPs to back the deal, Mr Starmer told the Commons: "This is a simple vote with a simple choice – do we leave the transition period with the treaty negotiated with the EU or do we leave with no deal?
"Labour will vote to implement this treaty today to avoid no-deal and to put in place a floor from which we can build a strong future relationship with the EU."
It didn't matter much in the end, because the EU Future Relationship Bill passed with 'a stonking majority', as Guido Fawkes put it:
AYES 521
NOES 73
The vote lists aren't out yet, however we can assume around 40 rebels abstained.
PARLY had a further breakdown:
The Conservatives must have been relieved to be able to tweet this — after four and a half years:
The bill was quickly rushed to the House of Lords, which had to debate and vote on it.
Nigel Farage watched the proceedings on BBC Parliament:
A vast majority of the Lords are Remainers.
However, I hope that Farage did not miss Kate Hoey's — Baroness Hoey of Lylehill and Rathlin in the County of Antrim's — tribute to him in the Lords. I saw it and couldn't believe she mentioned him in the Valley of the Remainers, but she did. I was delighted:
The Lords debated for the rest of the night, then voted.
The Queen's Royal Assent was the final step.
One reporter had a very long day:
Royal Assent was granted shortly after midnight on New Year's Eve:
Shortly afterwards, the Daily Mail carried a report with rare, behind-the-scenes photos:
Boris Johnson has heralded a 'new beginning in our country's history' after his Brexit trade deal was signed into law, setting the stage for a smooth divorce from the EU tonight.
The Prime Minister thanked MPs and peers for rushing the Bill through Parliament in just one day so it could take effect at exactly 11pm this evening when the UK's transition period ends.  
At 12.25am, Commons Speaker Sir Lindsay Hoyle told MPs that the EU (Future Relationship) Act 2020, had been granted royal assent by the Queen. 
It enshrines in legislation the trade agreement finally negotiated between London and Brussels last week following more than four years of wrangling since the referendum. 
Shortly before Her Majesty gave the Act her seal of approval, a bullish Mr Johnson marked out a new chapter for Britain, which first joined the bloc in 1973.
He said in a statement: 'I want to thank my fellow MPs and peers for passing this historic Bill and would like to express my gratitude to all of the staff here in Parliament and across Government who have made today possible.
'The destiny of this great country now resides firmly in our hands.
'We take on this duty with a sense of purpose and with the interests of the British public at the heart of everything we do.
'11pm on December 31 marks a new beginning in our country's history and a new relationship with the EU as their biggest ally. This moment is finally upon us and now is the time to seize it.'
More on that and what it means for Boris Johnson's premiership tomorrow.
The centenary of Remembrance Sunday in Britain was marred by coronavirus, especially the lockdown throughout England.
Nonetheless, ceremonies around the United Kingdom and Northern Ireland went ahead, thank goodness:
The main ceremony is held in London at the Cenotaph in Whitehall, which you can watch in full. Even drastically pared down, it was beautiful whilst poignant:
I had no idea how small the march past would be until I saw it on BBC1. It was restricted to 26 people. Normally, there are 10,000.
So many veterans wanted to be in Whitehall on November 8, as General Sir Nick Carter, Chief of the Defence Staff, told the BBC's Andrew Marr:
The general public were not allowed to gather at Horse Guards Parade, either. In fact, police did not want anyone in the near vicinity:
However, a group of veterans and members of the public gathered at the the Royal Artillery Memorial Hyde Park Corner, as a Conservative Woman post, 'Remembrance under lockdown', discusses. An excerpt and tweet follow:
One such event was organised by a group of veterans codenamed 08 1030Z NOV20, standing for 1030 Zulu (GMT) November 8, 2020. It is telling that even though Covid restrictions were followed, a detailed risk assessment completed and all the required precautions taken, they prefer to remain anonymous fearing establishment reprisal with the injustice of an undeserved £10,000 fine.
Veterans and members of the public including Laurence Fox, leader of the Reclaim Party, and Martin Daubney, former MEP and presenter of Unlocked formed up in Green Park and paraded to the Royal Artillery Memorial Hyde Park Corner. The parade was cheered along by the public and supported by the police who stopped traffic allowing a safe crossing across Duke of Wellington Place.
Now back to Whitehall.
The ceremony at the Cenotaph starts with the laying of the wreaths. The Royal Family begin, followed by politicians, then diplomats representing the Commonwealth countries.
Prince Charles has been laying the Queen's wreath for a few years now. She watches from the balcony:
I did not like the military-style fringe epaulets on Kate Middleton's coat, an Alexander McQueen design.
Prime Minister Boris Johnson, Leader of the Opposition Sir Keir Starmer and SNP Leader (Westminster) Ian Blackford laid their wreaths:
The Speaker of the House, Sir Lindsay Hoyle, attended a ceremony in his constituency of Chorley, Lancashire, last week. On Sunday, he presented his wreath at the Cenotaph:
Here he is with Lord Fowler, Speaker of the House of Lords:
Political party leaders and the Home Secretary, Priti Patel, are pictured in the first tweet below, along with the two Speakers:
Afterwards, a short religious service, led by the Bishop of London, takes place.
After it ends and the dignitaries around the Cenotaph leave, a military band plays a variety of music for the march past.
This must be a moving sight to contemplate:
Remembrance ceremonies took place elsewhere at the same time.
Dame Eleanor Laing MP attended a ceremony in her constituency, Epping Forest:
Remembrance Sunday is such an important day for so many — and not only those veterans who died in the Great War, but also the Second World War …
… and the many conflicts of our time.
I hope that 2021 will afford us the normal Remembrance Sunday celebrations.
Bob Moran drew this bittersweet cartoon for Remembrance Sunday for The Telegraph:
As Wednesday is November 11 — Armistice Day — millions of us will remember the gallant and brave efforts of those whom the Cenotaph commemorates: The Glorious Dead, who fought for our freedom and liberty.
In our year of coronavirus, I hope that our politicians restore those hallmarks of Western life — freedom and liberty — quickly next year.
On the evening of October 31, 2020, the English received a Halloween trick rather than a treat.
Prime Minister Boris Johnson held a press conference to announce that England would be going into a second nationwide lockdown on Thursday, November 5.
How ironic that the Government chose November 5, Guy Fawkes Night, when, in 1605, Fawkes and group of his mates tried to blow up Parliament. This is England's night for fireworks and bonfires remembering that Fawkes and his pals were imprisoned and that traitors will never succeed. But I digress.
The Chief Medical Officer, Prof Chris Whitty, and Chief Scientific Officer, Sir Patrick Vallance, accompanied Boris. They showed yet another alarming set of statistics, an incomplete set of hospitals (showing 29 out of a total of 482) and updated heat maps showing that even regions of England with low rates of 'infection' were in potential danger if 'no action' were taken:
At the time of the press conference, half of the country, including London, had been in either one of the two new designations, Tier 2 or Tier 3. People in those tiers were told that it would take a few weeks to see any tangible decrease in the R ('infection') rate. Action was being taken.
Yet, Boris — urged by SAGE, of which Whitty and Vallance are members — did not bother to wait to see if the numbers in Tiers 2 and 3 were decreasing. He went straight for another national lockdown.
Once again, Boris circumvented presenting the plan to Parliament first for scrutiny. He claimed it was so urgent that he had no time for that.
What made matters worse is that an unknown someone leaked the lockdown plan to the media. MPs were in recess at the time. They returned to the Commons on Monday, November 2.
Speaker of the House Sir Lindsay Hoyle was not happy.
No. 10 launched a enquiry with regard to the leak. The police might get involved, if necessary.
The Daily Mail has a full timeline of events from Friday, October 30. Excerpts follow, emphases mine:
Furious Speaker Lindsay Hoyle today demanded a personal apology if a Cabinet minister is found to have leaked the PM's lockdown plan.
The Commons chief read the riot act to the government after the bombshell news spilled over the weekend, rather than being announced to Parliament first …
'I expect the Prime Minister to keep the House updated on his leak inquiry,' he said.
'I also hope that if the leaker is identified and if a member of this House, that member will make a full apology to the House for the discourteous and unacceptable behaviour.'
Separately, science chief Patrick Vallance is facing a backlash over a grim off-the-record briefing to reporters on Friday afternoon, in which he underlined SAGE's push for an immediate lockdown – alongside figures suggesting more than 85,000 people could die this winter.
Sir Patrick's office insist his briefing on Friday afternoon was just a regular off the record discussion with journalists, and dismiss the idea he was pre-empting any government move …
Sir Patrick suggested to reporters that it was too late for a two-week circuit breaker, and a four-week lockdown similar to that introduced in France was the best way to control the R number.  
Mr Johnson had still been wavering on the issue that morning, when Foreign Secretary Dominic Raab was sent out to defend the local 'Tiers' system on the airwaves.
But, confronted with Sir Patrick and Chris Whitty's dire predictions he set the wheels in motion on a month-long lockdown. 
Within hours the tentative decision taken by the elite group was leaked to the Daily Mail and Times – before the full Cabinet had been informed – in an apparent effort to prevent the PM changing his mind. 
By Saturday morning the BBC's political editor Laura Kuenssberg was giving details of two key documents that were shown to the 'quad' [core group of decision makers], a controversial prediction that the daily death toll would hit 4,000 a day and that NHS hospitals would be overwhelmed. 
There has since been criticism that the 4,000 a day projection was already out of date. It was produced by experts from the University of Cambridge and Public Health England who have since revised their numbers and lowered the possible numbers of deaths. 
Nevertheless, both slides formed a key part of the data finally officially presented on Saturday night, when a livid Mr Johnson brought forward his announcement after a call with his clueless wider Cabinet.
A formal leak inquiry has now been launched to find the culprit – with claims that just 15 people, including Sir Patrick, chief medical officer Chris Whitty and NHS England head Sir Simon Stevens were in the meeting.
There have even been dark threats that the police could be called in to find who undermined the PM's approach …
A former Cabinet minister told MailOnline that the behind-the-scenes manoeuvring over the lockdown was 'very odd'.
They suggested that the intervention from Sir Patrick could have been part of an effort to 'bounce' the PM. 'It does sound like a bounce. If he was briefing people in advance he was obviously trying to build up a head of steam behind the notion of a lockdown,' they said …
The MP said the figures being used to support the lockdown move, including claims that deaths could hit 4,000 a day, were questionable
'The figures don't appear to have been updated to reflect the true state of affairs,' they said …
Mr Johnson will today try to head off a mounting Tory revolt against his nationwide lockdown by warning coronavirus deaths this winter could otherwise by double the first wave. MPs have been raging at the 'evil' new rules, likening them to something from a 'totalitarian regime'.
On Tuesday, November 3, Whitty and Vallance appeared before the Science and Technology Select Committee, headed by the estimable MP, Greg Clark.
The Telegraph details the reasons why they were asked to appear at such short notice: spurious statistics given at Saturday's press conference used to justify a second lockdown.
The two physicians faced questions not only from Clark but also the other MPs who sit on that committee:
That link is still working, so, while there is no transcript, you can watch the proceedings, which last a little over two hours.
It was an engrossing session and, based on the replies to that tweet, no doubt many lockdown sceptics tuned in to watch:
What follows are highlights of the Select Committee hearing. MPs asked good questions:
An MP was able to get Whitty and Vallance to admit that they had not taken the effect of the tier system into account before the press conference last Saturday:
Greg Clark did an excellent job of chairing the hearing:
The duo explained that the reason they pushed for a lockdown was because R >1 across England, even in regions which are in the Medium (no tier) range. I disagree that this means 'cases are doubling'; they are not:
Graham Stringer (Lab) is one of my favourite MPs. He said that Saturday's alarmist graphs scared the public. Vallance's response follows:
Jeremy Hunt (Con) also asked about the projected 4,000 deaths:
The duo were also asked about the subtle blame they were putting on university students as being part of the cause of the increase in R. They quickly walked back the insinuation:
The duo were asked whether it might be a good idea to have an economist on SAGE to present the economic damage of lockdowns. Whitty seemed more open to this than Vallance, who was vehemently opposed. He said that SAGE were not responsible for economic modelling and said that was the remit of the Treasury:
The replies to the next tweet mention soundbites on other questions:
Around halfway through, it was apparent that the duo were uncomfortable with the probing nature of MPs' questions. Vallance glared at one point.
Chris Whitty is shown below:
When asked about the test and trace system in place, they said that it works best at the beginning of a pandemic when cases are just beginning to climb rather than later on. The Government has put a huge emphasis on our test and trace system. As such, it is viewed as being essential by MPs and the public:
They were asked about excess deaths taking place because of all the emphasis being put on COVID-19:
There is doubt that much of the NHS was overrun, even at the height of the pandemic:
Later on, talk turned to the ban on public worship and outdoor sports for children which come into effect today. The two admitted that their 'evidence' about closing houses of worship was 'anecdotal'. When pressed, Whitty said that he would not answer theological questions. When Greg Clark pursued the subject of outdoor sports for children, Whitty refused to say it was a low-risk activity that would help keep youngsters in better health.
Not everyone was happy with the line of questioning, although it was much better than I'd expected.
Barrister Francis Hoar had submitted questions to the select committee which were not asked. I, too, would like answers to these but think the discussion would have taken up much of the two hours:
The following day, Chris Whitty sent a letter to Greg Clark retracting a statement he had made earlier about infection rates in the over-60s in Liverpool:
The following statement is correct:
Based on the admittedly bogus data, it seems incongruous that we should have a second England-wide lockdown:
Nonetheless, after a debate in Parliament on Wednesday, October 4, MPs voted overwhelmingly — 516-38 — for a second lockdown:
I am pleased to say that, during the debate, several MPs from both sides of the aisle pressed the Government for a change of tack on banning public worship and certain outdoor sports, including for children. Unfortunately, the Government refused to budge.
Guido Fawkes has a list of the MPs who voted No. Four of those were from Northern Ireland's Democratic Unionist Party (DUP); sadly, I did not see Jim Shannon's name among their number.
Clearly, there weren't enough rebels, but I am most grateful for those who stood up for their principles — and for us.
On November 5, Chancellor of the Exchequer Rishi Sunak delivered a statement to Parliament announcing an extension to his original furlough scheme:
Lockdown ends on December 2, at which point the Government with local officials, including the NHS, will decide what regions need to return to the Tier system.
Yesterday's post discussed England's new three-tier lockdown system and the 10 p.m. curfew on hospitality venues.
I ended with tweets from a publican in Essex, whose story I will go into below.
However, a few news items are worth looking at first.
Yesterday was Global Handwashing Day:
That day, Matt Hancock, Secretary of State for Health and Social Care, announced that more cities in the north of England would be moving to Tier 2. London and the adjacent county of Essex are also moving to Tier 2 as of Saturday morning, 00:01:
Essex has a low rate of positive tests, or 'cases':
London also has a low case rate. With a population of 9.3 million, it currently has 40 hospital admissions per day. On March 23, that figure was 505.
The death rate in the capital is also very low compared with the height of the pandemic earlier this year.
Conservative MPs representing London constituencies were not happy with all 32 boroughs being in Tier 2:
Here's a more detailed graph of London:
These lockdowns no longer make sense:
Imagine the impact on the hospitality industry:
Guido Fawkes has the Tier 2 rules (emphasis in the original):
People must not meet with anybody outside their household or support bubble in any indoor setting, whether at home or in a public place

All businesses and venues can continue to operate, in a Covid-secure manner, other than those that remain closed in law, such as nightclubs and adult entertainment venues

Certain businesses selling food or drink on their premises are required to close between 10pm and 5am. Businesses and venues selling food for consumption off the premises can continue to do so after 10pm as long as this is through delivery service, click-and-collect or drive-thru

Schools, universities and places of worship remain open

Weddings and funerals can go ahead with restrictions on the number of attendees

Organised indoor sport and exercise classes can continue to take place, provided the Rule of Six is followed

The "Rule of Six" will continue to apply outdoors and in private gardens

People should aim to reduce the number of journeys they make where possible. If they need to travel, they should walk or cycle where possible, or to plan ahead and avoid busy times and routes on public transport
As I pointed out yesterday, there is money to be had in Tier 2 and Tier 3 lockdowns:
As London will be in Tier 2 lockdown, Speaker of the House Sir Lindsay Hoyle has banned alcohol in the House of Commons catering outlets on the Parliamentary estate:
The Government have stated that their new tiered rules make them easier for the public to understand, but they are still confusing.
Adam Brooks, who owns two pubs in Essex, has been tweeting about the regulations:
This week, Spiked interviewed Adam Brooks for his perspective on pubs during the coronavirus crisis:
The interview appeared on October 13: '"The pub industry is on the verge of collapse"'. Excerpts follow, emphases mine.
Adam Brooks says that the pandemic has damaged two viable businesses which are seasonal, something many of us do not consider when thinking about pubs. The mask policy has not helped:
… I have never known anything like this – it's quite worrying.
One of my pubs is very seasonal in its trade – it's in the middle of the forest, and it's food-focused. Lockdown meant I missed all the good weather of April, May and June. I normally make losses through the winter, and those months get me where I want to be. But I have not had that this year. We were lucky to have good weather when we reopened, and up until about two and a half weeks ago, I was optimistic that we would get through to March and have a fairly normal 2021, or if anything a good one, due to people's desire to celebrate freedom. But the past two and a half weeks, with these added restrictions, have put a real dent in takings. The mask rule has put some people off – I have got friends that just don't want to go out because they don't want to wear masks.
My other pub is a backstreet pub. It survived on 60 to 70 people standing up around the bar on Friday and Saturday nights. New things like table service and having to have extra staff make it a real challenge. If the government brings in more rules, I think it would be the final nail in the coffin for a lot of us. At that point, it would probably be best if we closed and did some sort of deal with the breweries to reopen in more normal times. But, unfortunately, that would not protect the staff.
I am losing as much as or more than I would be if my pubs were closed. The worst thing is that being a leaseholder often means having personally to guarantee any future debts against your house. That means I have also got the risk of losing my house down the line if things go really badly.
He described the profile and habits of customers at his backstreet pub:
My backstreet pub is situated amid housing and other restaurants and shops. In the past I would have customers come in before they went for a meal at a restaurant. Then, around half past nine or 10, I would have customers come in who had finished their meals in restaurants, and just wanted an hour or so to chill out or to catch up in the pub. I have lost all of those people. I have lost the people who get home from work on a Friday night, put the kids to bed and pop to the pub. They are just not coming out because it's not worth it. Overall, the curfew and the mask rules have reduced that pub's trade by about 35 per cent.
Although Brooks appreciates having been able to take advantage of the coronavirus support from earlier in the year, he has little confidence in the Government's handling of the crisis:
We were promised the initial lockdown would be brief, and I accepted it. But since June I have been unable to back this government on Covid. We have seen no evidence for the measures enforced on hospitality. It seems to me like the government is trying to put together retrospective evidence to back up these restrictions – and I don't think it has got any …
If the government could explain why it is doing these things, that would be fair enough. But it can't. Covid cases linked to hospitality are hovering at around three to five per cent of the total. To see an industry crash when there is no real proof that it is causing a problem is really hard to take.
Essex County's move into Tier 2 could be very damaging for his pubs. Tier 2 was not yet on the cards when Brooks explained the effect of another lockdown or more restrictions:
This is a bit of a grey area. If we are suddenly hit with a law, not just a guideline, that says people from separate households can't mix, we will be choked out over two or three months. If there are any more restrictions than we have in my area now – masks, the curfew, tables of six and the various other stipulations that we have – I think the industry will collapse. I really do. If it's for any more than a couple of months, I can't see the industry surviving.
A lot of publicans realise we are probably not going to earn any money until March. I have not really earned a penny since last March. Many of us can get by with the loans. But we cannot get by if our businesses are losing £2,000 a week or more until next year. In that scenario, we are goners.
The pub industry is meaningful to many people, a home away from home:
My old backstreet boozer-type pub really is the front room of many older people who want some peace and quiet or some social interaction outside of their family home. It's a meeting point and it's a community hub. A lot of the time, the pub is these people's lives. During the initial lockdown, when my pub in the forest was closed, I saw two or three old guys with cans of lager sitting on the pub benches outside. That was very telling. We had stripped away a huge part of their lives that they could not do without. They could not get drinks from the pub, but they were just coming for the scenery and hoping that sufficed. Socially, it would be a disaster if pubs did not survive.
He also pointed out that an important supply chain revolves around pubs:
The pub industry employs something like a million people. If it collapsed, the supply chains would collapse, too. And that includes everything from breweries to greengrocers to meat suppliers to wholesalers to cleaners. People don't realise what the pub industry supports in this country, and that's a shame because sometimes people just think I'm sticking up for a place where people get drunk and disorderly. Your average pub isn't like that.
Brooks rightly takes issue with the Government for not consulting people at all levels to understand the pub industry. At minimum, he says, Government ministers could have met with a CEO from a brewery to get a better picture.
He also has a low view of the covid crisis modellers from SAGE:
The scientific modellers, who have arguably got us into this mess, don't seem to understand how people behave.
Brooks thinks that the 10 p.m. curfew should go in return for the following:
I have come up with a list of a few measures pubs could take in return for getting rid of the curfew. It includes things like having a designated staff member encouraging people not to congregate outside at the end of the night. We could allow the authorities access to our CCTV if they think there is a problem. We could commit to sending a weekly report to licensing authorities. We could have a rule whereby the last customer entry is an hour before closing. These are basic things we can do in return for dropping the 10pm curfew.
He concluded by expressing his disappointment that, up to now, the big breweries and pub chains have not said much about coronavirus regulations.
However, Tim Martin, who founded the JD Wetherspoon chain, has been speaking out. Today, Friday, October 16, the London Evening Standard reported that his chain is losing money. He also thinks that England should move towards the Swedish 'herd immunity' approach:
In the year to July sales plunged 30% to £1.26 billion and the divided to shareholders – which includes 10,000 of the staff – went from 12p a share to zero.
Last year, 'Spoons made a profit of £102 million on sales of £1.8 billion.
Mr Martin called on the Government to follow Sweden's coronavirus-tackling approach in a bid to save his pubs.
Sweden was one of the few European countries not to impose a compulsory lockdown, with pubs and restaurants allowed to stay open, as health officials opted for a "herd immunity" drive to combat the pandemic.
The outspoken chairman suggested the UK follow suit, as more than half of England prepares to enter the Government's "high" or "very high" risk Covid alert tiers.
Yesterday, the Evening Standard reported on the damage that the tiered system is likely to cause the pub industry:
As Emma McClarkin, chief executive of the British Beer & Pub Association puts it: "Tier two measures mean pubs can remain open, but households cannot mix inside them. This completely kills our pubs' business model making many of them totally unviable."
… UKHospitality's chief executive Kate Nicholls said: "Being moved into tier 2 is a curse for businesses. They will be trapped in a no man's land of being open, but with severe restrictions that will significantly hit custom, all while unable to access the job support available in tier 3. It is the worst of both worlds for businesses."
Unfortunately, we have Government and SAGE members driving pubs into the ground.
Here's Sir Patrick Vallance saying there is no such thing as herd immunity. Wow:
Here's Matt Hancock condemning herd immunity in Parliament earlier this week:
Iain Duncan Smith MP (Con) has written an article for The Telegraph saying that our economy cannot go on like this:
I agree.
While everyone is empathetic to those who have lost friends or family to COVID-19, this is also true:
I hope that Adam Brooks's pubs survive. May they prosper next year.
I wish all publicans the very best for the future. This is a parlous state of affairs.
Breweries and heads of pub chains really should try to arrange a meeting with Matt Hancock or a Cabinet minister representing business interests.
Last week, I wrote about the Brady Amendment, brought by Sir Graham Brady MP to stop the Government ruling 'by decree' when it comes to local coronavirus lockdowns and other measures.
Prime Minister Boris Johnson and Health Secretary Matt Hancock have been appearing at the despatch box to announce these lockdowns and measures without allowing MPs to debate them in the Commons first.
As I wrote then, because Sir Graham and Steve Baker MP were confident they had the numbers for it to pass on Wednesday, September 30:
It's all good news — but only if Speaker of the House Sir Lindsay Hoyle allows Brady to bring the proposed amendment forward for debate.
In the end, conversations took place behind closed doors and the Speaker did not table it for debate.
Here is what happened in the meantime.
On Thursday, September 24, Guido Fawkes posted a copy of it (emphases in the original):
Prior parliamentary scrutiny of major national coronavirus regulations
Line [1], leave out from "expire" to end and add "provided Ministers ensure as far as is reasonably practicable that in the exercise of their powers to tackle the pandemic under the Coronavirus Act 2020 and other primary legislation, including for example Part 2A of the Public Health (Control of Disease) Act 1984, Parliament has an opportunity to debate and to vote upon any secondary legislation with effect in the whole of England or the whole United Kingdom before it comes into effect."
Member's explanatory statement
This amendment appends to the statutory motion, Section 98.2 of the Coronavirus Act, a provision that Parliament shall have the opportunity to debate and vote upon secondary legislation of major national importance before it comes into effect. The amendment makes clear Parliament's intent to renew the powers of the Coronavirus Act with this provision.
Dr Ruth Fox, Director of the Hansard Society, wrote an analysis of it: 'Building on the Brady Amendment: how can Parliament scrutinise Coronavirus regulations more effectively?'
At that point, 46 MPs had signed the amendment. Forty of the MPs are Conservatives.
On Sunday, September 27, the BBC's Andrew Marr interviewed the new leader of the Liberal Democrats, Sir Ed Davey, who said he was 'hugely sympathetic' to the amendment, would 'almost certainly' vote for it and said it doesn't go far enough:
On Monday evening, Steve Baker tweeted to say that the Conservative Whip invited him and other signatories to discuss the matter with Matt Hancock and Leader of the House Jacob Rees-Mogg:
William Wragg (Con) is also one of the good guys. His tweet below met with mixed reactions from the British public:
Bloomberg's economics editor tweeted …
… as did The Spectator's deputy political editor:
Katy Balls's article, 'Is No. 10 about to move on the Brady amendment?'
She wrote, in part (emphases mine):
The critical conversations … have been going on out of sight. As Tory support grows for the Brady amendment — which seeks to give parliament a say on changes to coronavirus restrictions currently covered by emergency laws — government chief whip Mark Spencer has spent his afternoon meeting with would-be Tory rebels.
While it's still unclear whether the amendment will even be selected on Wednesday for a vote (the expectation in government is that it will be ruled out of scope by the Speaker), the size of the potential rebellion has been enough to focus minds …
Former ERG chair Steve Baker described the meeting online as 'cordial and constructive'. The expectation among those rebels who attended today's meeting is that the government is in 'listening mode' and will come back with a proposal in due course. However, while there is room for negotiation here, a red line among many of the leading rebels is that it isn't enough to be given more time for speeches, MPs need a say — they need votes. Up until now, that's something No. 10 has been reluctant to give.
On Tuesday, Guido tweeted:
By that time, 80 Conservative rebels had signed the amendment.
Guido's accompanying post was, as usual, accurate in predicting what would happen on Wednesday. ITV's Robert Peston was spot on (emphases in the original):
By all accounts a deal is close to being struck before Wednesday's vote. Robert Peston reckons Hancock will acquiesce at the Despatch Box tomorrow, and allow MPs to vote on national coronavirus measures – albeit reserving the power to delay the vote until a few days after the imposition of a new restriction in the case of "an emergency". Rebels are holding what specific procedure they would agree to close to their chest, although Steve Baker described yesterday's meeting as "cordial and constructive"…
While the Brady Amendment could still be ruled out of scope by the Speaker on Wednesday instead of being put to a vote, Number 10 has been at pains to communicate that it understands the swelling sense of feeling on its back benches. Guido is told by one senior rebel that they are "confident a solution will be found"…
On Wednesday, September 30, the Speaker sympathetically announced why he rejected the Brady Amendment. However, he also rebuked the Government:
I will now look the the Government to rebuild trust with this house and not treat it with the contempt it has shown.
Here's the video:
He allowed a 90-minute debate that afternoon, followed by a vote, on renewing the Coronavirus Act 2020.
The first part of his statement pertains to the Government and the latter half to the Brady Amendment (emphases mine):
I wish to make a statement about this House's scrutiny of delegated powers during the pandemic, and on the selection of amendments to the motion relating to the Coronavirus Act 2020 later today.
The way in which the Government have exercised their powers to make secondary legislation during this crisis has been totally unsatisfactory. All too often, important statutory instruments have been published a matter of hours before they come into force, and some explanations why important measures have come into effect before they can be laid before this House have been unconvincing; this shows a total disregard for the House.
The Government must make greater efforts to prepare measures more quickly, so that this House can debate and decide upon the most significant measures at the earliest possible point. The use of made affirmative statutory instruments under the urgency procedure gives rise to particular concern. I will give very sympathetic consideration to applications for urgent questions or emergency debates in such cases, requiring Ministers to come to the Dispatch Box to justify the use of such powers.
That last sentence means that Matt Hancock will have to appear at the despatch box to answer questions and allow debate.
Moving along to the debate held that afternoon and to the Brady Amendment:
I hope that all hon. Members will have a chance to express their views through substantive amendable motions on scrutiny of delegated powers, or on the operation of the Coronavirus Act 2020, or both.
I turn now to the motion to be considered later today, which invites the House to make a narrow, binary choice as to whether the temporary provisions of the Coronavirus Act 2020 should or should not expire. Unfortunately, as it is only a 90-minute debate as a proceeding under an Act under Standing Order No. 16, I am disappointed that I cannot give additional time to discuss the issues. I know some Members will be disappointed.
When I became Speaker, I made it clear that I would take decisions on matters relating to procedure guided by professional advice. I have concluded, on the basis of advice that I have received, that any amendment to the motion before the House risks giving rise to uncertainty about the decision the House has taken. This then risks decisions that are rightly the responsibility of Parliament ultimately being determined by the courts. Lack of clarity in such important matters risks undermining the rule of law. I have therefore decided not to select any of the amendments to the motion.
As I hope my earlier comments show, I have not taken this decision lightly. I am looking to the Government to remedy a situation I regard as completely unsatisfactory. I now look to the Government to rebuild the trust with this House and not treat it with the contempt that they have shown.
Matt Hancock introduced the debate of the renewal of the Coronavirus Act 2020 and said:
This has been an unprecedented time. This House has had to do many unprecedented things, many of which have been uncomfortable. I have listened to the concerns raised about scrutiny. As you pointed out earlier, Mr Speaker, there have been times when this pandemic has challenged us all and we have not been able to do this as well as we would have liked. I therefore propose that we change the approach to bringing in urgent measures. I am very grateful to all colleagues we have worked with to come forward with a proposal that will allow us to make decisions and implement them fast, yet also ensure that they are scrutinised properly.
Today, I can confirm to the House that for significant national measures with effect in the whole of England or UK-wide, we will consult Parliament; wherever possible, we will hold votes before such regulations come into force. But of course, responding to the virus means that the Government must act with speed when required, and we cannot hold up urgent regulations that are ​needed to control the virus and save lives. I am sure that no Member of this House would want to limit the Government's ability to take emergency action in the national interest, as we did in March.
We will continue to involve the House in scrutinising our decisions in the way my right hon. Friend the Prime Minister set out last week, with regular statements and debates, and the ability for Members to question the Government's scientific advisers more regularly, gain access to data about their constituencies and join daily calls with my right hon. Friend the Paymaster General. I hope these new arrangements will be welcomed on both sides of the House, and I will continue to listen to colleagues' concerns, as I have tried my best to do throughout.
That said very little. I remain unconvinced.
Sir Graham Brady was the first to respond:
I thank my right hon. Friend for being prepared to listen and for the constructive conversations that we have had over the last couple of weeks. As he said, Members on both sides of the House understand the importance of Ministers having the freedom to act quickly when it is necessary, but we are grateful that he and other members of the Government have understood the importance of proper scrutiny in this place and the benefits that that can bring for better government.
Steve Baker also expressed his thanks.
A few minutes later, Steve Brine (Con) pointed out that some of these dangers to civil liberties come from older legislation:
I thank the Secretary of State very much for the sensible measures the Government have taken today on the involvement and ongoing consent of this House. There is widespread public concern out there about consent and the measures we are imposing on their lives. Just to be clear for the public, and some sectors of the media, watching this debate: many of the restrictions that we are reluctantly having to place on our constituents' lives do not come through the Coronavirus Act 2020; they come through many other pieces of legislation, but primarily the Public Health (Control of Disease) Act 1984.
Mark Harper (Con) asked for more detail on how this new rapprochement would work:
May I just press the Secretary of State? He said in his remarks that the Government will bring forward votes in advance of the measures coming into force on national measures covering the whole of England or the whole of the UK. Obviously, some of the measures that have come into force so far have been quite significant, covering large parts of the country and millions of people. I accept there is a judgment to be made here; can he say a little more about where the line will be drawn about what is brought to this House in advance?
Hancock gave a slippery answer:
In a way my right hon. Friend, who has huge experience in these matters, answers his own question, because of course there is a judgment to be made. We have made a very clear commitment to the process that we will follow, and I hope that over the weeks to come we will demonstrate through our actions and through what we bring forward that we are true to that commitment, which essentially will become a new convention.
'A new convention'! It is standard parliamentary procedure.
Tim Farron (Lib Dem) asked about the seeming inconsistency of social distancing and the harm to certain businesses:
Will he agree, though, that the inconsistent and sometimes nonsensical application of some of the rules is doing damage to some of the businesses that he talks about? In particular, I am thinking of the wedding industry and the many families who have been affected by that. The rule of six surely can apply so that a place that can take many multiples of six could host weddings and give people their special day, and so that it does not kill a vital industry not just in the lakes and the dales, but across the country.
Hancock gave a stock answer about following public health evidence.
Andrew Mitchell (Con) also asked about weddings as well as the events industry:
I have a lot of sympathy with what the Secretary of State is saying, but may I also support what was said by the hon. Member for Westmorland and Lonsdale (Tim Farron), not only about the wedding industry but about the exhibitions and events industry? Will my right hon. Friend at least bear in mind that good sense from careful people who seek to be covid-sensible and compliant would enable him to exercise some flexibility in the very inflexible rules that currently govern those two important industries, which are flat on their backs?
Edward Timpson (Con) was also concerned about wedding venues:
On the 15-person limit at wedding venues, it would help a lot of those in the industry, which is struggling desperately, if they could see the public health evidence and anything else taken into consideration in coming to that judgment. The difference between them and the rest of the hospitality industry does stand out, and they are going to be in a further desperate state for the next six months.
Hancock referred him to the Business Secretary!
Nick Thomas-Symonds responded on behalf of Labour to Hancock's statement.
Sir Graham Brady rose to speak:
Mr Speaker, may I begin by thanking you? Although you gave your reasons earlier for not selecting the amendments in my name and that of 80 other colleagues across the House, you also made your expectations of Government crystal clear. No one could doubt your commitment to upholding the Standing Orders of this House, Mr Speaker, and nor have you left any doubt about your resolve in defending parliamentary democracy and the right of this House to scrutinise and hold Ministers to account.
I am also pleased to be able to thank my right hon. Friend the Secretary of State. Throughout my discussions with him, he has accepted the need to find a better approach to scrutiny and parliamentary approval of coronavirus measures. The new procedure that he has committed the Government to follow shows a genuine understanding of what has been wrong in the past and a real promise of transparency and engagement in the future. I believe the outcome we have reached is in the interests of Parliament, in the interests of better government and, most importantly, it gives the British people reassurance that measures that restrict their liberty, interfere with their family life, and very often threaten their livelihoods will not be implemented without important questions being asked and answers given in advance.
This video is a must watch as Hancock looks absolutely petulant:
Chris Bryant (Lab) asked Brady:
Can the hon. Gentleman tell us what this new procedure is?
Brady replied:
The hon. Gentleman is an expert on procedure, and he will soon get to grips with it. It is the made affirmative procedure, which entails the setting of a commencement date in the future for measures, which will allow for a debate and vote to take place in advance of commencement. The House will therefore have that crucial ability to refuse consent.
It isn't often that I agree with Chris Bryant, but I did here. He came back with this:
But the Government decide.
Brady said:
These things will be brought forward. We have had the assurance, and we will hold the Government to it. The hon. Gentleman will see it very soon.
I will close by thanking those Members across the House who, by supporting my amendment publicly or privately, have helped to achieve what I believe will be an important step forward for all of us.
The Speaker set a three-minute time limit on the rest of the speeches, in order to fit everyone in:
Scotland's Ian Blackford (SNP) banged on for 20 minutes, beginning as follows:
I regret the fact that this is only a 90-minute debate. The Government should have ensured that a more appropriate amount of time was given. In that context, I will not do what I normally do; I apologise to Members, but because of time, I will not be taking interventions. [Hon. Members: "Hooray!"] That is utterly pathetic.
Jim Shannon (DUP) asked about a future vaccine, hoping that its uptake would be voluntary:
Very quickly, one of the issues that has come to my attention—the number of emails has been enormous—is to do with the enforcement of vaccines on those people who do not wish to have them. I personally would take such a vaccine, but others will not. Does my hon. Friend agree that when it comes to vaccines, it should be by choice only?
I couldn't agree more.
Sammy Wilson (DUP) had the best speech, because he wanted to find out more specifics of this 'new convention' of Hancock's. He began by replying to Jim Shannon:
Well, of course, that is an issue that the Government will have to address in the future, if ever a vaccine is found.
The important thing is the frustration that many in the public are experiencing at present. It might not have been totally wiped out, but I believe there certainly would have been far more scrutiny if this House had not just had the ability to listen to statements or ask questions, but had actually had the real sanction that if the Minister did not make a consistent and competent case for the measures that he was introducing, they could be voted down. That is why the demand that there be effective scrutiny by this House is important.
We have listened to what the Minister has said, but I am not convinced that we will see that effective scrutiny; because if I heard him right, first, it would only be for matters that are significant. Now, who will make the judgment on whether the issue is significant? I can tell the Minister that, if I own a business and it is decided that it could be closed down, that is significant; yet we do not know who will make that final decision.
The scrutiny will only be for issues that are national. Sixteen million people are currently affected by a range of local decisions and local restrictions. That, to me, is as bad—half the nation, half the country, is affected—yet according to the Minister's definition today that would not be covered because it would not be a national decision. And, of course, scrutiny will happen where possible. I suppose if the Government wished to escape scrutiny they could always say, "But this has suddenly emerged," even though the data could have been collected days and days before. So who will decide whether it is possible to have the time to do this?
Hancock gave him a deathly stare.
After an intervention, he continued and concluded:
It certainly should not be left to those who have wanted to rush through decisions and those who in the past have wanted to escape scrutiny because the decisions have been illogical and inconsistent, and people cannot understand them, and even some of those who have made the decisions do not understand them and sometimes have a different interpretation.​
This is not just about MPs having a sense of their own importance. This is important if the measures are to have acceptance among the public, because with that kind of scrutiny, with a final vote, at least if we were not convinced that the measures were necessary, if we were not convinced that they would not have disproportionately damaging effects, if we were not convinced that they would actually work, if we were not convinced that the public would understand them, we would have the right to say, "Minister, you cannot proceed with them," and have the opportunity to vote them down. I do not think we have had a convincing assurance from the Secretary of State today about when we would have that kind of role, and if we do not have that kind of role, I do not think that we should support the continuation of these kinds of measures.
In the end — because of Ian Blackford:
Shameful.
After a few more MPs spoke, it was time for Hancock to wrap things up prior to the vote on the extension of the Coronavirus Act 2020.
He gave a very watery response to Sammy Wilson:
I listened with care to the right hon. Member for East Antrim (Sammy Wilson). I urge him to support the Coronavirus Act this evening, not least because he knows, from the commitments I have given, that there will be further chances for both scrutiny and votes on measures in future thanks to the discussions we have had today.
Unfortunately, the Act was renewed: 330-24.
More on this to follow tomorrow.