You are currently browsing the tag archive for the 'Sir Lindsay Hoyle' tag.
The UK Parliament was prorogued early Thursday afternoon, April 28, 2022.
The new session will begin on Tuesday, May 10, with the Queen's Speech. One wonders if she will be there in person or delegate Prince Charles to deliver it for her.
We will have one news story to watch, however, besides local elections on Thursday, May 5. Durham Constabulary is said to be reconsidering re-examining their decision not to investigate Keir Starmer, who appeared indoors at the Labour offices at the end of April 2021 after election campaigning, when indoor election meetings were forbidden because of coronavirus.
This decision by the Durham Constabulary is in response to Conservative Red Wall MP Richard Holden's letter to the Chief Constable about the matter. Holden represents Durham North.
On Wednesday, April 26, Guido Fawkes tweeted about the re-examination and someone helpfully posted a video of Starmer, MP Mary Foy and other Labourites enjoying beer one evening:
And there's this further down in response to Guido's tweet about Starmer, whom his detractors call Keith rather than Keir, for whatever reason:
The letter from Durham Constabulary to Richard Holden is below. Based on the wording, one wonders exactly how much will be reconsidered:
If it weren't for Guido and Holden, this issue probably would have never resurfaced.
Guido has a great GIF compilation of Starmer on the campaign trail. It alleges that he might have committed as many as seven violations of the campaign restrictions last year. The second tweet features Labour's deputy leader, Angela Rayner MP. Hmm:
Twitter has a new trending topic, #durhampartygate :
Here is a selection of tweets on #durhampartygate :
In other Labour MP news, Liam Byrne has been suspended for two days, meaning he will lose pay for those days:
Now onto the prorogation. Thanks to Boris Johnson's premiership, I have seen three since 2019:
The order paper for the House of Commons was brief, in expectation of a Royal Commission, whereby Black Rod would officially summon the Commons to go to the House of Lords. All of that takes place in rather elegant language:
The mood around 11:30 a.m. was light, almost festive. Even the Speaker of the House, Sir Lindsay Hoyle, fluffed his lines:
One part of the proceedings is spoken in Norman French: 'La Reyne le veult', or 'The Queen wills it'. This tweet shows the five most senior Lords entering their chamber in formal robes:
Until 1967, every time a law was passed, proceedings in the Lords were briefly suspended to allow for an announcement of new legislation, followed by 'La Reyne le veult':
Since 1967, a simple announcement has been made to the Lords of Royal Assent to new legislation:
The King or Queen used to preside over prorogations in person. Queen Victoria was the last monarch to do so. That was in 1854:
You can see Black Rod coming in to summon the Commons at 12:27 p.m. on this video. The prorogation in the Lords starts at 12:30 p.m. on this video. Afterwards, MPs return to the Commons. Go back to the first video to find the Commons Speaker confirm to MPs what was read out in the Lords, even though they had heard everything there themselves minutes earlier. When he finishes, he instructs MPs to leave the chamber:
True. It finished at 12:52 p.m.
The Lords' business was thin on the ground. Their session began at 11:07 a.m.:
This thread summarises a prorogation:
In a time of emergency, the monarch can recall Parliament during prorogation.
It's a highly formal ceremony and well worth watching.
Now on to the May 5 council and Northern Ireland Assembly elections, which should be interesting.
There was little of an Easter recess for some British parliamentarians, especially Boris Johnson.
That said, the relatively short break proved once again that a week is a long time in politics.
The Archbishop
The Archbishop of Canterbury's Easter sermon continued to rattle cages last week. Boris was the last to chime in on Tuesday, April 19, when he spoke to Conservative MPs after making another apology in Parliament for being fined in relation to a Downing Street lockdown gathering.
The Times reported that Boris defended the new policy of flying illegal immigrants to Rwanda for processing (emphases mine):
Boris Johnson took aim at the Archbishop of Canterbury last night as he criticised senior members of the clergy for having "misconstrued" the policy of sending some asylum seekers to Rwanda.
Sources close to the prime minister said he told Conservative MPs in a private meeting that it was a "good policy" despite some "criticism on the BBC and from senior members of the clergy".
Johnson said that some clergymen "had been less vociferous in their condemnation on Easter Sunday of Putin than they were on our policy on illegal immigrants".
Justin Welby, the Archbishop of Canterbury, used his Easter Day sermon to condemn the policy, in which some migrants will be flown to Rwanda on a one-way ticket. He said it raised "serious ethical questions", contradicted Christian values and would not "stand the judgment of God".
On Wednesday, The Times reported that the Church of England fired back:
John Bingham, the Church of England's head of news, said: "If true, a disgraceful slur." He highlighted Welby's recent criticism of the invasion as a "great act of evil". Some of the country's most senior clerics today joined Welby in condemning the Rwanda policy.
Why is it a 'slur' and a 'disgraceful' one at that? Boris's words were polite enough.
The Times article also said that Boris was critical of the BBC. Hmm, I wonder:
At the private meeting of Tory MPs Johnson was also critical of the BBC's coverage of the asylum plans, claiming it had misunderstood the proposal to send migrants on a one-way flight to the African country as early as next month.
The Telegraph put the story of alleged criticisms of the BBC on their front page, which Keir Starmer picked up on at Prime Minister's Questions on Wednesday. Apparently, there was a misunderstanding between reporters and Downing Street:
The Spectator's Melanie McDonagh, a practising Catholic, explained why some sort of policy was necessary, particularly to stem the daily multiple Channel crossings to England from France:
Certainly, as the reading that preceded the Gospel in the service today [Easter] makes clear, 'God has no favourites'. By this was meant Jews and Gentiles, but by all means, make the point that asylum seekers are of equal worth to Spectator readers. But it doesn't follow that this prescribes any particular asylum policy. When the Archbishop says that the deportation to Rwanda policy 'cannot carry the weight of our national responsibility as a country formed by Christian values', he's being a little disingenuous. When Britain was far more overtly Christian than it is now – say, a couple of generations ago – it actually had a far more restrictive approach to immigration and asylum. The concept that anyone who wanted to come, should be able to come, is pretty well a product of the Blair government's opening the floodgates from 1997, 25 years ago. Before that, yearly immigration levels were in the tens of thousands; asylum claims were far lower than now but were probably dealt with more individually than at present.
As I say, declaring that 'the details are for politicians' leaves an important question hanging: should anyone who wants to come to Britain, and can get to Britain, be allowed to stay? Who should be returned? Of the 600 a day who arrive here by boat alone (leaving out of account every other means of entry), only two per cent have passports; should they by virtue of abandoning their identity documents automatically be granted leave to remain? When is it right to return people either back to where they came from, or indeed to Rwanda? (He doesn't suggest they will be persecuted there.) And what about the EU countries on the frontline of the asylum influx (on a scale that far surpasses Britain); are they ever justified in turning back boats? How many people must European countries admit? And if the Archbishop thinks there can be no sending back asylum seekers or economic migrants, he must say so. But he must also acknowledge the consequences for the host countries.
I am not so stupid as to suggest that clergy should stay out of politics; the Archbishop was speaking in Canterbury cathedral where Thomas Becket was killed for taking issue with the king. But the Archbishop – like Pope Francis in other contexts – is being disingenuous in criticising a government policy as unChristian without any attempt to acknowledge the scale and nature of the problem it is designed to address.
And there is no denying that the C of E is political. GB News's conservative commentator and former teacher Calvin Robinson is an Anglican ordinand in the Diocese of London, which claims it cannot give him an assignment, even though he has had offers:
Here's an interesting exchange on that tweet:
On Easter Monday evening, the Archbishop of Canterbury's name came up on Dan Wootton's GB News show, and one of the panellists, Emma Webb, nominated Calvin Robinson for Greatest Briton. Patrick Christys, filling in for Dan, chose Nathan Dunne, who is raising money for charity by walking across the country barefoot:
The Prime Minister
On April 12, Tuesday in Holy Week, Boris Johnson received a fine from the Metropolitan Police for an event during lockdown nearly two years ago. So did the Chancellor, Rishi Sunak.
Both men paid their fixed penalty notice — 'It's not a fine!' — promptly.
Naturally, Boris had to apologise before the House of Commons again, as he did earlier in January this year.
There was a feeling of déjà vu about it all:
… let me begin in all humility by saying that on 12 April, I received a fixed penalty notice relating to an event in Downing Street on 19 June 2020. I paid the fine immediately and I offered the British people a full apology, and I take this opportunity, on the first available sitting day, to repeat my wholehearted apology to the House. As soon as I received the notice, I acknowledged the hurt and the anger, and I said that people had a right to expect better of their Prime Minister, and I repeat that again in the House now.
Let me also say—not by way of mitigation or excuse, but purely because it explains my previous words in this House—that it did not occur to me, then or subsequently, that a gathering in the Cabinet Room just before a vital meeting on covid strategy could amount to a breach of the rules. I repeat: that was my mistake and I apologise for it unreservedly. I respect the outcome of the police's investigation, which is still under way. I can only say that I will respect their decision making and always take the appropriate steps. As the House will know, I have already taken significant steps to change the way things work in No. 10.
The only difference was the mention of the Ukraine conflict:
I travelled to Kyiv myself on 9 April—the first G7 leader to visit since the invasion—and I spent four hours with President Volodymyr Zelensky, the indomitable leader of a nation fighting for survival, who gives the roar of a lion-hearted people. I assured him of the implacable resolve of the United Kingdom, shared across this House, to join with our allies and give his brave people the weapons that they need to defend themselves. When the President and I went for an impromptu walk through central Kyiv, we happened upon a man who immediately expressed his love for Britain and the British people. He was generous enough to say—quite unprompted, I should reassure the House—"I will tell my children and grandchildren they must always remember that Britain helped us."
But the urgency is even greater now because Putin has regrouped his forces and launched a new offensive in the Donbas. We knew that this danger would come. When I welcomed President Duda of Poland to Downing Street on 7 April and Chancellor Scholz the following day, we discussed exactly how we could provide the arms that Ukraine would desperately need to counter Putin's next onslaught. On 12 April, I spoke to President Biden to brief him on my visit to Kyiv and how we will intensify our support for President Zelensky. I proposed that our long-term goal must be to strengthen and fortify Ukraine to the point where Russia will never dare to invade again …
This Government are joining with our allies to face down Putin's aggression abroad while addressing the toughest problems at home, helping millions of families with the cost of living, making our streets safer and funding the NHS to clear the covid backlog. My job is to work every day to make the British people safer, more secure and more prosperous, and that is what I will continue to do. I commend this statement to the House.
The Commons was lit, especially the Opposition benches, more about which below.
Going back to June 19, 2020, grateful conservatives were happy that Boris was even alive to celebrate his birthday, which The Times reported on the following day. No one said anything negative at the time.
Boris had survived coronavirus but was far from well. It took the rest of the summer for him to recover. Even in September, he still looked and sounded somewhat peaky.
Furthermore, some pundits and MPs have said that Downing Street is a Crown estate, thereby exempt from the rules.
We will have to see what transpires from the Metropolitan Police and civil servant Sue Gray's respective reports.
The Opposition
After Boris apologised on Tuesday of Easter Week, a number of MPs on both sides of the aisle were talking animatedly.
Keir Starmer responded for the opposition benches, which agitated his side even more:
What a joke!
Even now, as the latest mealy-mouthed apology stumbles out of one side of the Prime Minister's mouth, a new set of deflections and distortions pours from the other. But the damage is already done. The public have made up their minds. They do not believe a word that the Prime Minister says. They know what he is.
As ever with this Prime Minister, those close to him find themselves ruined and the institutions that he vows to protect damaged: good Ministers forced to walk away from public service; the Chancellor's career up in flames; the leader of the Scottish Conservatives rendered pathetic. Let me say to all those unfamiliar with this Prime Minister's career that this is not some fixable glitch in the system; it is the whole point. It is what he does. It is who he is. He knows he is dishonest and incapable of changing, so he drags everybody else down with him. [Interruption.] The more people debase themselves, parroting—[Interruption.]
The Speaker, Sir Lindsay Hoyle, interrupted:
Order. I cannot hear what is being said because there is so much noise.
There were also cries of disagreement about Starmer's labelling Boris dishonest:
Withdraw!
The Speaker agreed:
Order. What I will say is that I think the Leader of the Opposition used the word "dishonest", and I do not consider that appropriate. [Hon. Members: "Breaking the rules!"] We do not want to talk about breaking rules, do we? I do not think this is a good time to discuss that.
I am sure that if the Leader of the Opposition withdraws that word and works around it, he will be able—given the knowledge he has gained over many, many years—to use appropriate words that are in keeping with the good, temperate language of this House.
Starmer accepted the Speaker's direction and said:
I respect that ruling from the Chair, Mr Speaker. The Prime Minister knows what he is.
Starmer then launched an attack on the Conservative MP for Lichfield, Michael Fabricant, without naming him. If you wish to mention an MP by name, you must ask their permission beforehand:
Last week, we were treated to a grotesque spectacle: one of the Prime Minister's loyal supporters accusing teachers and nurses of drinking in the staff room during lockdown. Conservative Members can associate themselves with that if they want, but those of us who take pride in our NHS workers, our teachers, and every other key worker who got us through those dark days will never forget their contempt.
Casting our minds back to January — and Boris's first apology — Michael Fabricant suggested resurrecting an idea of Tony Blair's: an Office of Prime Minister, which would allow Boris to control No. 10 the way the US president does the White House. The context of Fabricant's intervention was in response to Boris saying that he was going to improve the way Downing Street is run:
On Tuesday in Holy Week, Fabricant suggested that Downing Street get a bar so that staffers would not need to wheel luggage to the local shops in order to bring alcohol back to No. 10:
Guido Fawkes had the story and accompanying audio:
Expertly reading the room, Michael Fabricant used an interview on 5 Live in the wake of Boris, Rishi and Carrie receiving pre-notices to defend staffers wheeling in suitcases of booze to Downing Street during lockdown:
There is no bar in Downing Street… That's the only way you can actually get any alcohol into Downing Street.
He then went on to argue the suitcase claims makes the argument for a bar being installed in No. 10, like there is in the Houses of Parliament.
It seems reasonable enough, provided the room is under lock and key until after hours.
The next day, however, Fabricant went further, which is what Starmer was talking about:
Guido's tweet brightened my day. It goes so far in explaining why the UK and Ireland used to be so much fun, once upon a time. Unfortunately, that fun ended by the mid-1990s as we imported an increasingly American mindset.
A terrific exchange followed his tweet, with others recalling similar memories of secondary school:
But I digress.
I don't remember how many times Boris apologised after MPs' comments.
Earlier that day, the Speaker announced that Starmer had approached him about Boris's fixed penalty notice, the lockdown 'parties' at Downing Street and the issue of parliamentary privilege:
Before we come to today's business, I wish to make a short statement. I have received letters from a number of hon. and right hon. Members, including the right hon. and learned Member for Holborn and St Pancras (Keir Starmer), the Leader of the Opposition, requesting that I give precedence to a matter as an issue of privilege. The matter is the Prime Minister's statements to the House regarding gatherings held at Downing Street and Whitehall during lockdown. The procedure for dealing with such a request is set out in "Erskine May" at paragraph 15.32.
I want to be clear about my role. First, as Members will appreciate, it is not for me to police the ministerial code. I have no jurisdiction over the ministerial code, even though a lot of people seem to think that I have. That is not the case. Secondly, it is not for me to determine whether or not the Prime Minister has committed a contempt. My role is to decide whether there is an arguable case to be examined.
Having considered the issue, and having taken advice from the Clerks of the House, I have decided that this is a matter that I should allow the precedence accorded to issues of privilege. Therefore, the right hon. and learned Member for Holborn and St Pancras may table a motion for debate on Thursday. Scheduling the debate for Thursday will, I hope, give Members an opportunity to consider the motion and their response to it. The motion will appear on Thursday's Order Paper, to be taken after any urgent questions or statements—hopefully, there will not be any. I hope that this is helpful to the House.
Incredibly, the Speaker — a Labour MP — granted five and a half hours of debating time. Some weeks back, the Opposition benches were allowed a generous two or three hours of debating Boris's suitability for office in light of these 'parties'.
How much debating time does one need?
It started at 11:30 a.m. and ended at 4:30 p.m., so, five hours in length. Here's the transcript. I saw about a third of it. Again, much like Boris's second apology, this was much like listening to the other debate from earlier this year.
What more can they reasonably say? Not a lot.
Most people I know would like for the media and the opposition to leave Boris alone. As I said above, he wasn't well at that point in 2020, was taking advice from other people upon whom he relied heavily — rightly or wrongly — and would have trusted the person(s) who said that having a short birthday get together was permissible.
It lasted around ten minutes, apparently, and the cake was left unopened in its Tupperware container.
Returning to last Thursday's debate on privilege and Boris. A division — vote — was expected, but, in the event, none took place.
The end result was that the matter will now be referred to the Committee of Privileges pending the release of the Metropolitan Police report. Chris Bryant (Lab) chairs the committee, which is cross-party:
Resolved,
That this House
(1) notes that, given the issue of fixed penalty notices by the police in relation to events in 10 Downing Street and the Cabinet Office, assertions the Rt hon Member for Uxbridge and South Ruislip has made on the floor of the House about the legality of activities in 10 Downing Street and the Cabinet Office under Covid regulations, including but not limited to the following answers given at Prime Minister's Questions: 1 December 2021, that "all guidance was followed in No. 10", Official Report vol. 704, col. 909; 8 December 2021 that "I have been repeatedly assured since these allegations emerged that there was no party and that no Covid rules were broken", Official Report vol. 705, col. 372; 8 December 2021 that "I am sickened myself and furious about that, but I repeat what I have said to him: I have been repeatedly assured that the rules were not broken", Official Report vol. 705, col. 372 and 8 December 2021 "the guidance was followed and the rules were followed at all times", Official Report vol. 705, col. 379, appear to amount to misleading the House; and
(2) orders that this matter be referred to the Committee of Privileges to consider whether the Rt hon Member's conduct amounted to a contempt of the House, but that the Committee shall not begin substantive consideration of the matter until the inquiries currently being conducted by the Metropolitan Police have been concluded.
It should be noted that no other British political leader or minister serving during the pandemic has been fined or censured for breaking lockdown or violating other coronavirus restrictions: Nicola Sturgeon (Scotland, twice); Vaughan Gething (Wales, once), Michelle O'Neill (Northern Ireland, once) or Mark Drakeford (Wales, once).
Only Boris, our Prime Minister, is in trouble.
And that trouble could become very deep, indeed.
A week really is a long time in politics.
More to follow tomorrow.
Everyone laughed in 2019 when comic actor Volodymyr Zelenskyy was elected as Ukraine's president.
The following thread explains why he won:
Zelenskyy, 44, has a Law degree and speaks fluent English. Prior to entering politics at the most senior level, he starred in Ukraine's hit television show, Servant of the People, which he also created and produced.
The following clip comes with a bit of choice language which perfectly expresses his frustration as a teacher who, as a taxpayer, has to fund corrupt politicians. The teacher then runs for president of Ukraine — and wins. Life imitates art.
And, yes, Zelenskyy can dance, too:
His wife, Olena Zelenska, also 44, trained as an architect at university. However, she became a writer for his comedy troupe instead. As first lady, she has graced the cover of the Ukrainian version of Vogue twice.
The Zelenskyys met at university. They are parents to a son and a daughter.
Zelenska was initially opposed to her husband's intention of running for president, but, as the Daily Mail reports, gave up her objections and joined him on the campaign trail. She now accompanies him on his many engagements:
When her husband first told her of his plans to leave his career to run for president, she said publicly that she was 'aggressively opposed' to the 'project'.
And yet, when the time came for him to campaign, Olena dutifully appeared by his side for photo ops and campaign speeches. Now, less than three years after Zelensky's landside victory, the mother-of-two has fully embraced her role as a First Lady on the global stage. 
She accompanies her husband on his engagements and is forging her own career as a First Lady of action, using her influence and position to champion causes including childhood nutrition and gender equality. 
The couple visited Buckingham Palace in 2020, warmly received by the Duke and Duchess of Cambridge.
Today, while Zelenskyy is fearing for his life and fighting off the Russian Bear, his wife is busy keeping up Ukrainian resolve:
Now Olena is once again rising to the challenge and has remained a steadfast support of her husband in the face of Putin's aggressions. Despite being personally at risk, the couple have chosen to remain in Kyiv. 
Sharing a photo of the Ukrainian flag on Instagram on Friday, she wrote: 'My dear people! Ukrainians! I'm looking at you all today. Everyone I see on TV, on the streets, on the Internet. I see your posts and videos. And you know what? You are incredible!
'I am proud to live with you in the same country! It is said that many people are a crowd. This is not about us. Because many Ukrainians are not crowds. This is an army!
'And today I will not have panic and tears. I will be calm and confident. My children are looking at me. I will be next to them. And next to my husband. And with you. Love you! I love Ukraine!'
Yesterday she shared a photo of a baby born in a Kyiv bomb shelter, along with the rousing message: 'This was to take place in completely different conditions, under peaceful skies. It is what children should see.
'But the main thing is that despite the war, there were doctors and caring people on our streets next to her. She will be protected and defended.
'Because you are incredible, dear compatriots! In those two days, you all became an army. In the subway, bomb shelters, with children and pets (because you don't leave younger brothers either) – you do your job, you have time to take care of others, to help each other.
'Get together on social media to protect homes and help lonely neighbors. Offer your home to those who need shelter. You prepare food for the terrorists and sign up for it yourself. Donate blood for soldiers and victims. Report the movement of enemy vehicles.
'And, of course, you are helping the Armed Forces, which are fighting on all fronts. For days, you can spend "eSupport" money to help the army (this can be done in the "Action" application). We are the army, the army is us.
'And children born in bomb shelters will live in a peaceful country that has defended itself.'
In related news, Prime Minister Boris Johnson, who has spearheaded an international effort — yes, including the US — to help Ukraine, appeared at the Ukrainian cathedral in London's Mayfair on Sunday evening, February 27:
He lit a candle and gave a short, supportive address to the congregation:
The next two tweets have the content of his address:
When Boris finished, the Ukrainians gave him a standing ovation:
It is touching to see how much they appreciate Boris. I wish more Britons saw him in a better light.
That said, Boris's ratings have gone up this week, thanks to his action on Ukraine, no doubt. For the first time in a few months, he's back on level pegging with Labour's Keir Starmer:
On Wednesday, March 2, the Ukrainian ambassador was a guest in the House of Commons gallery for Prime Minister's Questions. After the Speaker of the House, Sir Lindsay Hoyle, told MPs of their guest, the whole House rose and gave the ambassador a standing ovation, accompanied by spontaneous applause — normally forbidden in the Chamber, although Sir Lindsay said that, on this occasion, it was certainly warranted:
Nearly every MP is wearing Ukrainian ribbons or a UK-Ukraine lapel pin.
This is a great image; I don't know who made it: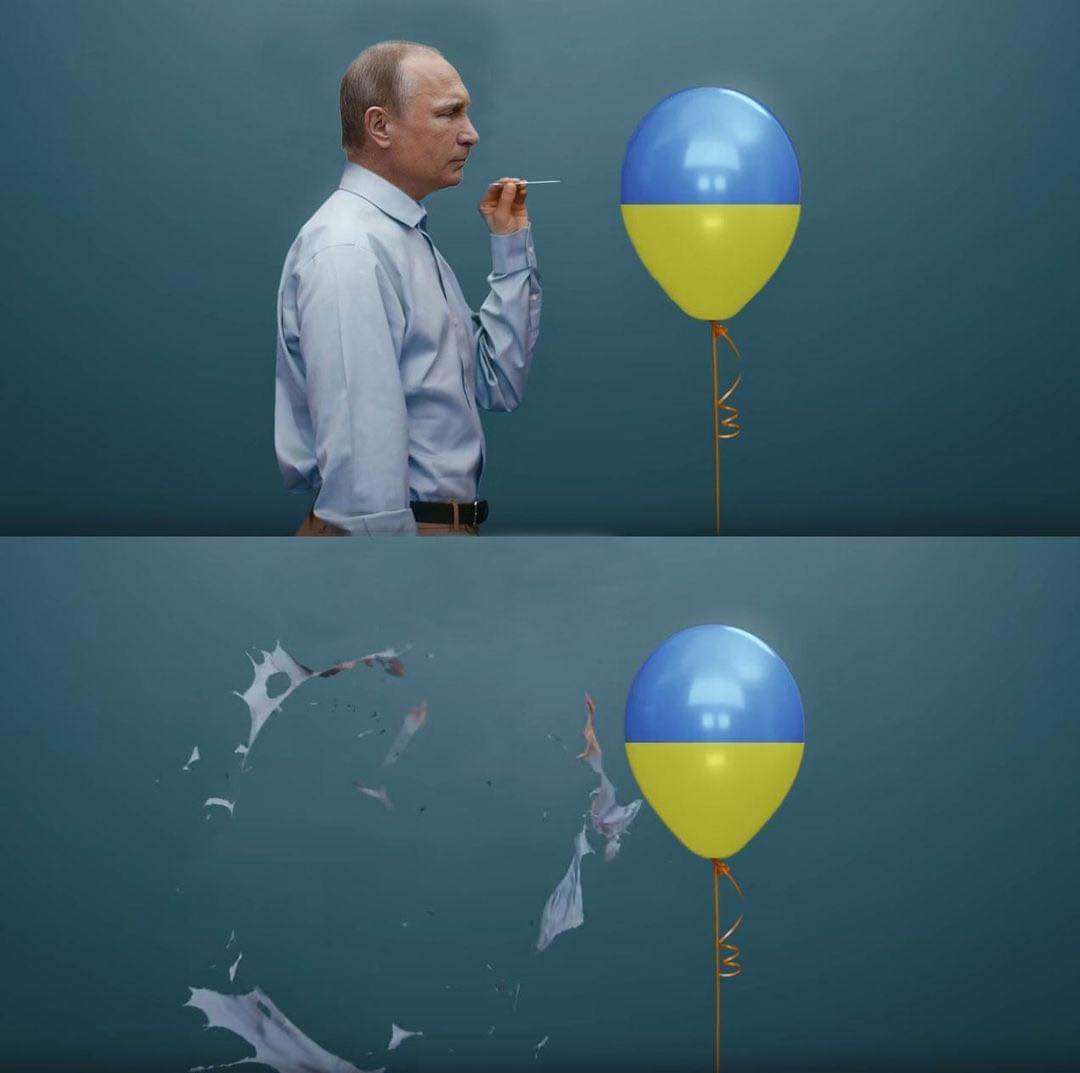 Together, let's hope that we can help Zelenskyy and his countrymen make Putin go pop.
Sometimes things are not as they appear.
Badgering Boris Johnson to resign over the Downing Street parties during lockdown is an attempt to overturn Brexit.
It is also a sign of envy on the part of the journalists, most of whom are Remainers, attacking him verbally. What journalist — and Boris was one of them for many years — doesn't have an 'If I ruled the world' fantasy? Boris has achieved that dream. They have not.
Here is former Conservative MP Michael Heseltine, a prominent Remainer, saying that Boris's departure could reopen the possibility of re-entering the European Union:
It's misleading the house, it's misleading the people and it's misleading the whole country in a general election because if it were to be established that the PM has been lying then that is going to open a can of worms because very large numbers of people – now the majority of people – believe that the Brexit case was actually a pack of lies… now if he proves to be a liar – to the public, to parliament – what does that do for the very large numbers of people who think it is a catastrophic misjudgement to have severed our good relationships with our European neighbours.
Meanwhile, the general public doesn't care about the parties, especially his birthday party: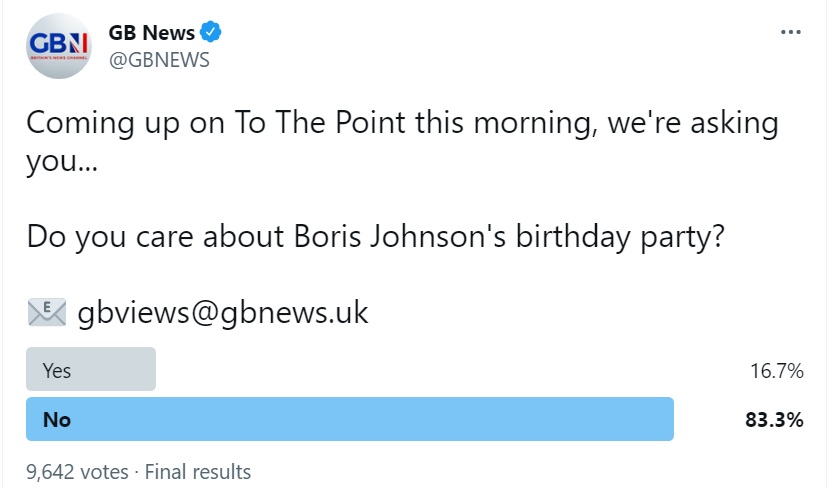 Police investigation
The eminent civil servant Sue Gray had been preparing a report on the Downing Street parties.
Then, the Metropolitan Police stepped in. On Tuesday, January 25, 2022, Commissioner Dame Cressida Dick told the London Assembly, headed by Mayor Sadiq Khan of the news. As such, the Met informed Sue Gray to issue only a summary report so as not to interfere with their own investigation.
GB News has a summary of the social events. Most but not all of them took place at Downing Street, nor did Boris attend all of them (emphases mine):
The Metropolitan Police will investigate a "number of events" alleged to have taken place in Downing Street, Commissioner Dame Cressida Dick has said.
Dame Cressida declined to say which alleged parties are being investigated, nor would she put a timeline on when officers could detail their findings.
The gatherings were already under investigation by senior official Sue Gray, and the Cabinet Office said her work continues.
Here is a list of the alleged gatherings, which in several cases have been admitted to.
– May 15 2020: Downing Street garden party …
– May 20 2020: BYOB garden party …
– June 19 2020: Birthday party for Boris Johnson …
– November 13 2020: Leaving party for senior aide …
– November 13 2020: Johnsons' flat party …
– November 25 2020: Treasury drinks …
– November 27 2020: Second staff leaving do …
– December 10 2020: Department for Education party …
– December 11 2020: Wine fridge delivered to Downing Street for staff's 'wine-time Fridays' …
Mr Johnson was said to have attended a "handful" of these gatherings.
– December 14 2020: Party featuring Tory London mayoral candidate Shaun Bailey and staff …
– December 15 2020: Downing Street quiz …
– December 16 2020: Department for Transport party …
– December 17 2020: Cabinet Office "Christmas party" …
– December 17 2020: Leaving drinks for former Covid Taskforce head …
– December 18 2020: Christmas party at Downing Street …
Mr Johnson's spokeswoman, Allegra Stratton, quit after being filmed joking about it with fellow aides at a mock press conference.
– Run-up to Christmas 2020 …
– April 16 2021: Drinks and dancing the night before the Duke of Edinburgh's funeral …
The Telegraph quoted a No 10 spokesman as saying Mr Johnson was not in Downing Street that day and is said to have been at Chequers.
Strangely, at the time, no one cared:
Now everyone does.
Downing Street has not helped. They are now denying there was a cake:
On January 25, the Paymaster General, Michael Ellis MP, drew the short straw and had to answer an Urgent Question (UQ) from Labour's deputy leader Angela Rayner (pictured in the top left photo):
This was the UQ:
To ask the Chancellor of the Duchy of Lancaster to make a statement on the status of the investigation into Downing Street parties following the statement from the Commissioner of the Metropolitan Police.
I felt very sorry for Ellis, who had to reply for the Chancellor of the Duchy of Lancaster, absent from the chamber. The transcript makes for grim reading.
Sir Edward Leigh, one of the first MPs to speak, tried to put things into perspective but to no avail:
When Europe stands on the brink of war and there is a cost of living crisis, can we please have a sense of proportion over the Prime Minister's being given a piece of cake in his own office by his own staff?
The verbal attacks were many and vicious.
Ellis was able to put one Scottish MP, Pete Wishart (SNP), in his place.
Wishart asked:
Does the Paymaster General not think that it would be a good idea to set up a police special operations unit room in No. 10 Downing Street, because, while the police are looking at this case, they could perhaps look at cash for honours, cash for access, personal protective equipment for pals, paid advocacy, breaking the ministerial code, and all the other general Tory badness?
Ellis responded:
I have to say that a quick Google analysis of the SNP would not be particularly edifying. Despite noises off, this Prime Minister is focused on what matters to the British people and it is right that those matters conclude in an orderly way.
On Friday, January 28, news emerged that the Met told Sue Gray not to publish her report in full:
That day, The Guardian reported that a comedian issued a fake Sue Gray report:
The comedian Joe Lycett, who apparently caused chaos and "mass panic" in government when he tweeted a fake version of Sue Gray's "partygate" report, has said his social media stunt was motivated by anger after the death of a close friend during the first lockdown.
Lycett tweeted a parody Gray report with a fake Cabinet Office letterhead, titled: "A summary of my main findings", captioning his tweet: "BREAKING: Leaked Sue Gray report reveals shocking abuse of rules. Hard to see how the PM can cling on after this."
He later shared a message that he said came "from someone who works for a cabinet minister. Source verified."
The message, purportedly from someone who works in parliament, read: "Your tweet this morning was read as an actual serious leak from Sue Gray's report. U had MP staff literally running around panicking from what it said. Panic dialling MPs like we need to discuss this right now."
On Saturday, January 29, Steven Swinford of The Times reported that Sue Gray was just putting the finishing touches on her report when the Metropolitan Police intervened.
Swinford's first sentence drew me in. It's hard not to like an article that begins with this:
Sue Gray had been looking forward to a holiday.
It is unclear why the Met intervened when they did:
The timing of her intervention is said to have surprised Gray and her team of investigators. She had been in discussions with the Met for weeks, sharing information as she went along. Yet the force had declined to get involved until the point when her report was almost completed and ready for publication …
"She's in a horrible position," a Whitehall source said. "The delay just creates an air of conspiracy. Sue's integrity is at risk here. If a partial report is produced it will look like she's been got at. She just wants a holiday, she feels like she's had enough of it. Very few people could do what she does but she just wants to be on the other side of this one."
Some think that the Met's intervention could be good news for Boris:
Johnson's critics and supporters agreed that the Met's intervention strengthened his position. One cabinet minister said: "Sue Gray cannot prejudice the Metropolitan Police's investigation. It would be insane if she went ahead and published the details. The longer this goes on, the more ridiculous it looks. The prime minister is out of the danger zone, the worst is over."
Or is he?
Sue Gray 'update'
On Monday, January 31, Sue Gray issued a summary — termed an 'update' — of her report.
Guido Fawkes has the update in full.
Gray concluded:
a number of these gatherings should not have been allowed to take place or to develop in the way that they did. There is significant learning to be drawn from these events which must be addressed immediately across Government. This does not need to wait for the police investigations to be concluded.
At 3:30, Boris addressed MPs (see full transcript of the session). He said that he was sorry and that changes would be made in Downing Street.
He concluded with this:
First, it is time to sort out what Sue Gray rightly calls the "fragmented and complicated" leadership structures of Downing Street, which she says
"have not evolved sufficiently to meet the demands"
of the expansion of No. 10. We will do that, including by creating an Office of the Prime Minister, with a permanent secretary to lead No. 10.
Secondly, it is clear from Sue Gray's report that it is time not just to review the civil service and special adviser codes of conduct, wherever necessary, to ensure that they take account of Sue Gray's recommendations, but to make sure that those codes are properly enforced. Thirdly, I will be saying more in the coming days about the steps we will take to improve the No. 10 operation and the work of the Cabinet Office, to strengthen Cabinet Government, and to improve the vital connection between No. 10 and Parliament.
Mr Speaker, I get it and I will fix it. I want to say to the people of this country: I know what the issue is. [Hon. Members: "No!"] Yes. [Hon. Members: "You!"] It is whether this Government can be trusted to deliver. And I say yes, we can be trusted—yes, we can be trusted to deliver. We said that we would get Brexit done, and we did. We are setting up freeports around the whole United Kingdom. I have been to one of them today that is creating tens of thousands of new jobs. We said we would get this country through covid, and we did. We delivered the fastest vaccine roll-out in Europe and the fastest booster programme of any major economy, so that we have been able to restore people's freedoms faster than any comparable economy. At the same time, we have been cutting crime by 14%, building 40 new hospitals and rolling out gigabit broadband, and delivering all the promises of our 2019 agenda, so that we have the fastest economic growth of the G7. We have shown that we have done things that people thought were impossible, and that we can deliver for the British people. [Interruption.] I remind those on the Opposition Benches that the reason we are coming out of covid so fast is partly because we doubled the speed of the booster roll-out.
I can tell the House and this country that we are going to bring the same energy and commitment to getting on with the job, to delivering for the British people, and to our mission to unite and level up across this country. I commend this statement to the House.
It did not go down well with the Opposition benches, nor some of the Conservative MPs.
Theresa May was deeply unhappy:
She said:
The covid regulations imposed significant restrictions on the freedoms of members of the public. They had a right to expect their Prime Minister to have read the rules, to understand the meaning of the rules—and, indeed, those around them him to have done so, too—and to set an example in following those rules. What the Gray report does show is that No. 10 Downing Street was not observing the regulations they had imposed on members of the public, so either my right hon. Friend had not read the rules, or did not understand what they meant—and others around him—or they did not think the rules applied to No. 10. Which was it?
The SNP's Westminster leader, Ian Blackford, followed the former Prime Minister. He cited two of Boris's contradictions and ended with this:
Nobody—nobody—believed him then, and nobody believes you now, Prime Minister. That is the crux. No ifs, no buts; he has wilfully misled Parliament.
Blackford broke two rules there. First, he said 'you'. Secondly, he said 'wilfully misled'.
The Speaker of the House, Sir Lindsay Hoyle, interrupted him:
Order. It would be acceptable to say "inadvertently misled the House", but "misled the House" is not acceptable. The right hon. Member must withdraw that comment.
Blackford doubled down, concluding:
… the public know that this is a man they can no longer trust. He is being investigated by the police. He misled the House. He must now resign.
The exchange between him and the Speaker continued for some time. Blackford refused to withdraw his remark.
At that point, the Speaker was ready to suspend him, but Blackford left voluntarily:
Order. Under the power given to me by Standing Order No. 43, I order the right hon. Member to withdraw immediately from the House—
Another MP said:
He has left anyway!
Here's the video:
Hoyle concluded:
It's all right; we do not need to bother. Let us move on.
Aaron Bell MP spoke later on. Although he is Conservative, he made a good point, asking if Boris was trying to make a fool of him for obeying the restrictions at a family funeral:
Not surprisingly, the Mirror (Labour) picked up on it:
Boris was at the despatch box for a little over two hours.
That evening, he met with a group of Conservative MPs, wherein he pledged to reform how Downing Street operates. Guido's colleague Christian Calgie said it went well:
Meanwhile, Labour MPs and the media hit the bar:
Incidentally, while Boris was giving his afternoon statement to Parliament, one of the bars there re-opened for business.
The next day, Mark Harper MP gave a good interview to Julia Hartley-Brewer at talkRADIO:
Labour's Chinese spy story ignored
In mid-January, news emerged that a Chinese operative had donated £500,000 over a period of several years to a Labour MP. Yet, apart from GB News, no one in the media was — or is — talking about that (Labour leader Sir Keir Starmer is pictured, not the MP involved):
Subplots
There are two important subplots running through this sorry saga: Boris's mention of Labour leader Keir Starmer's record as Director of Public Prosecutions (DPP) with regard to Jimmy Savile (a celebrity paedophile) and the revelation of ghastly text messages by members of London's Metropolitan Police, casting doubt on the force's investigation of the Downing Street parties.
Metropolitan Police
The Metropolitan Police are investigating the Downing Street parties, which is interesting, since the organisation said initially that they would not be doing so, as the events happened too long ago.
One wonders, however, how credible any investigation would be since Commissioner Dame Cressida Dick has come under fire for her leadership. Some constables in the Met have been texting violent and vicious messages that are misogynistic and hateful.
Although Dame Cressida cannot be expected to know everything that her constables are doing, these text messages could cast doubt on the credibility of the investigation.
Furthermore, it is interesting that Dame Cressida announced the Met's investigation of Downing Street at a meeting of the London Assembly, headed by the capital's mayor Sadiq Khan (Labour).
Sir Jimmy Savile
On Monday, January 31, Boris gave the House of Commons an update on Sue Gray's inquiry into the Downing Street parties.
The Metropolitan Police allowed the civil servant to write a summary report pending their own inquiry, which is still ongoing.
As such, there is no conclusion as to whether Boris should resign.
However, Labour and the other Opposition parties have been pushing for Boris to stand down for weeks now.
On Monday, in response to Boris's statement, Labour leader Sir Keir Starmer said:
Conservative Members can heap their reputation, the reputation of their party, and the reputation of this country on the bonfire that is the Prime Minister's leadership, or they can spare the country a Prime Minister totally unworthy of his responsibilities. It is their duty to do so. They know better than anyone how unsuitable he is for high office. Many of them knew in their hearts that we would inevitably come to this one day and they know that, as night follows day, continuing his leadership will mean further misconduct, cover-up and deceit. Only they can end this farce. The eyes of the country are upon them. They will be judged by the decisions they take now.
Boris replied:
There is a reason why the right hon. and learned Gentleman said absolutely nothing about the report that was presented by the Government and put in the Library of this House earlier today. That is because the report does absolutely nothing to substantiate the tissue of nonsense that he has just spoken—absolutely nothing. Instead, this Leader of the Opposition, a former Director of Public Prosecutions—although he spent most of his time prosecuting journalists and failing to prosecute Jimmy Savile, as far as I can make out—chose to use this moment continually to prejudge a police inquiry. That is what he chose to do. He has reached his conclusions about it. I am not going to reach any conclusions, and he would be entirely wrong to do so. I direct him again to what Sue Gray says in her report about the conclusions that can be drawn from her inquiry about what the police may or may not do. I have complete confidence in the police, and I hope that they will be allowed simply to get on with their job. I do not propose to offer any more commentary about it, and I do not believe that he should either.
The Speaker objected:
Boris's mention of Starmer's failure to get the Crown Prosecution Service (CPS) to investigate Savile ran all week long. Conservative MPs also objected to it. It is unclear why that is; after all these years, someone needed to speak up:
Boris's opponents call it a 'far-right conspiracy theory', although Starmer was in charge of the CPS at the time Savile's activities came to light. Starmer even issued an apology for the oversight at the time:
More recently, when Starmer ran for the Labour leadership, he said:
Hear me out: I had 8,000 staff for five years as the director of public prosecutions. And I acted, I hope, in the right way with them, which is when they had victories I celebrated victories on their behalf, I picked up awards on their behalves. When they made mistakes, I carried the can. I never turn on my staff and you should never turn on your staff… I will carry the can for mistakes of any organisation I lead.
Starmer's biography states he was responsible for all criminal prosecutions in England and Wales:
Leader of the House, Jacob Rees-Mogg rightly defended Boris's remark on Thursday, February 3:
In any event, that day, four Downing Street staffers resigned.
Munira Mirza, who had worked for Boris for 14 years — since he was Mayor of London — was the most prominent. The former policy chief said that she took strong objection to her boss's mention of Savile:
Guido posted part of Mirza's resignation letter:
I believe it was wrong for you to imply this week that Keir Starmer was personally responsible for allowing Jimmy Savile to escape justice. There was no fair or reasonable basis for that assertion. This was not the usual cut and thrust of politics; it was an inappropriate and partisan reference to a horrendous case of child sex abuse. You tried to clarify your position today but, despite my urging, you did not apologise for the misleading impression you gave.
In a second post, Guido said that Boris asked Mirza to hold off until he gave a briefing to the media. The briefing only caused her to confirm her resignation:
When the pool clip came without an apology, more of a clarification, she confirmed her resignation via an email which concluded:
Even now, I hope you find it in yourself to apologise for a grave error of judgement made under huge pressure. I appreciate that our political culture is not forgiving when people say sorry, but regardless, it is the right thing to do. It is not too late for you but, I'm sorry to say, it is too late for me.
The public do not understand what the problem is with the mention of Starmer's indirect failure to investigate Savile:
Furthermore, we all understand that Boris wasn't implying that Starmer was personally responsible. However, he was the head of the CPS, so he bore responsibility for it, as Boris told the media:
Let's be absolutely clear, I'm talking not about the Leader of the Opposition's personal record when he was DPP and I totally understand that he had nothing to do personally with those decisions. I was making a point about his responsibility for the organisation as a whole.
Too right.
One of Guido's readers summarised what Boris was saying in Parliament and to the press. It concerns double standards, wherein Starmer expects the Prime Minister to take responsibility for Downing Street activities but not for his own sins of omission at the CPS. This is a good get-out rationale from Guido's reader paraphrasing Boris:
I was not aware of event X being organised or taking place, and so while I apologise it happened under my watch and plan to change systems to avoid such events in future, it is not reasonable for me to resign over it. That is entirely consistent with the Leader of the Opposition's own behaviour while DPP over the Savile issue.
In any event, three more Downing Street staffers resigned after Mirza did, including Martin Reynolds, who issued the email about one of the parties, requesting that people bring their own alcoholic beverages:
It is unclear why the other three left. Some say that they are afraid of being investigated. Others say it was an excuse for Boris to clean house.
Of the three additional resignations, GB News reported:
Martin Reynolds is one of the most senior officials in No 10 but had largely avoided the limelight until the emergence of his email inviting colleagues to "socially-distanced drinks" during England's first coronavirus lockdown.
As Boris Johnson's principal private secretary, he played a key role advising the Prime Minister on a wide range of issues, but resigned from the role on Thursday alongside three other senior Downing Street aides …
Mr Johnson's former adviser Dominic Cummings previously said the influence wielded by the principal private secretary within Downing Street was not widely appreciated.
"The PPS exercises far more influence and actual power over many issues than Cabinet ministers," Mr Cummings said.
"He can nudge policy, he can nudge vital appointments (real power). He can and does walk into the PM's office and exclude all political people 'on security grounds'."
A leaked photograph of the Prime Minister and officials drinking in the No 10 garden on May 15 2020 – five days before the "bring your own booze" event that Mr Reynolds invited colleagues to – showed the PPS sitting at the same table as Mr Johnson …
Mr Reynolds offered his resignation on Thursday alongside Downing Street chief of staff Dan Rosenfield, hours after policy aide Munira Mirza and director of communications Jack Doyle both quit.
A No 10 spokeswoman said: "Dan Rosenfield offered his resignation to the Prime Minister earlier today, which has been accepted.
"Martin Reynolds also informed the Prime Minister of his intention to stand down from his role as principal private secretary and the Prime Minister has agreed to this.
"He has thanked them both for their significant contribution to government and No 10, including work on the pandemic response and economic recovery.
"They will continue in their roles while successors are appointed, and recruitment for both posts is under way."
As I write on Friday morning, an aide to Munira Mirza has also resigned:
Tom Harwood adds that Chancellor Rishi Sunak has been keeping his distance from the Prime Minister and did not defend the remark about Keir Starmer and the Jimmy Savile case.
One of the commenters makes an excellent point about civil servants finding the Savile remark more offensive than what happened to 60+ million people for … a virus:
Those people live in their own bubble.
Interestingly, Boris has appointed an MP rather than a civil servant to succeed Mirza. Andrew Griffith represents the Arundel constituency on the south coast of England. He seems to have a truly Conservative voting record.
Therefore, it seems as if Boris is cleaning house, which can only be a good thing for him. The civil servants do not seem to have been doing him many favours.
In more positive news for the Conservatives, Anna Firth won the by-election in Southend West, served by Sir David Amess until he was stabbed to death last October:
Because of the nature of Sir David's death, Labour and the Liberal Democrats did not put up candidates to run against Anna Firth, although minor political parties did.
Therefore, although she won 86% of the vote, only 24% of the electorate went to the polls.
The party debacle is far from over. This will run and run and run.
A few days ago, I happened across some interesting illustrations of the parliamentary estate in London, old and new.
The first tweet shows the complex as it was in the mid-1500s. The text about Bishop Thirlby pertains to his membership of the House of Lords as a Lord Spiritual, a bishop in the Church of England:
The Lords Spiritual still exist today, with the Right Revd David Urquhart as their convenor:
Returning to the illustration of the parliamentary estate, here is another illustration from the same period. This is what the House of Lords looked like in the Elizabethan era:
The above illustrations show what Parliament looked like when the Gunpowder Plot of 1605 took place (image credit: Wikipedia).
A small group of English Catholics attempted to blow up the House of Lords on November 5 that year. The objective was to remove James I, a Protestant, from the throne and re-install a Catholic monarchy. Robert Catesby led the group of men, although the perpetrator we remember best is Guy (Guido) Fawkes, for whom the evening of November 5 — our fireworks/bonfire night — is named. Fawkes was in charge of the explosives. Traditionally, a 'guy', an effigy, was made. People contributed loose change to calls for 'a penny for the guy' to pay for the effigy and associated fireworks. The effigy was then burnt and fireworks let off as a way of saying that traitors will not prevail against our government.
Half a century later, we have an example of what written legislation looked like. Note the French language at the top, a legacy of the Norman invasion of 1066. 'Le Roy le veult' is archaic French for 'The King wills it'. The feminine version, for Elizabeth I, was 'La Reyne le veult'. The text of the law is written in English:
It was not unusual for accidental fires to break out in or near the estate.
A bad one occurred in 1779 (pictured in the next tweet), but the one that ravaged nearly everything, except for Westminster Hall and a few lesser structures, occurred in 1834:
On October 16, 1834, an overheated wood-burning stove caught fire. In 1835, King William IV assured Parliamentarians that the blaze had been accidental.
A fierce competition to rebuild Parliament took place among leading British architects divided into one of two camps: neoclassical or neo-Gothic.
In the end, Charles Barry's neo-Gothic design won. A young architect, Augustus Pugin, had to submit his design under Barry's name. This was because Pugin had recently converted to Catholicism and his earlier designs for other buildings in England were rejected for that reason.
While the argument over architectural style raged on, Barry supervised construction of the new Palace of Westminster until his death in 1860. By then, Barry had received a knighthood for the building of both houses of Parliament, the Commons and the Lords.
This is a painting of the new structure in 1864:
As for the clock tower, the Elizabeth Tower that houses Big Ben, Pugin designed that, too, although Barry, his superior, added a few finishing touches and submitted the plans under his own name.
"I never worked so hard in my life [as] for Mr Barry for tomorrow I render all the designs for finishing his bell tower & it is beautiful & I am the whole machinery of the clock."[38]
Pugin is largely responsible for the lavish, church-like interior. In his other work, Pugin designed churches and other religious buildings. In 2012, the BBC broadcast a documentary about him called God's Own Architect.
Pugin predeceased his boss, Charles Barry. In February 1852, he suffered a nervous breakdown whilst on a train to London with his son Edward. When the train arrived in the capital, Pugin was incoherent and unable to recognise anyone. He was in two different asylums until September that year, when his wife Jane was able to take him to the home he had designed for them, The Grange, in Ramsgate, Kent. Pugin died on September 14. He is buried next door at a church he designed, St Augustine's, a Catholic Church.
The design of the current Palace of Westminster is still contentious today:
The architectural debate continues. People love the neo-Gothic style or loathe it. I find it beautiful:
Today, the Palace of Westminster is undergoing much-needed renovation. The scaffolding continues to be removed from the Elizabeth Tower, and soon Big Ben will be ringing again.
It has taken ten years to replace the Victorian cast iron roof, the largest in Europe, if not the world. The two Speakers of the House — Lord McFall of Alcluith (Lords) and Sir Lindsay Hoyle (Commons) — admire the finished product. Click on the photos to see them fully. Sir Lindsay Hoyle is in the red jacket:
The Palace of Westminster is a magnificent structure.
It is thought that the Elizabeth Tower will reopen for tours sometime this year.
A thing of beauty is a joy forever.
It is safe to say that the two most controversial British Prime Ministers of living memory are Margaret Thatcher (Conservative) and Tony Blair (Labour).
Baroness Thatcher has gone to her rest, so we are left with Tony Blair.
Blair's knighthood of the Most Noble Order of the Garter made the news at the end of 2021. On Saturday, January 1, 2022, The Guardian reported (emphases mine below):
Appointments to this ceremonial order are made without prime ministerial advice and are usually announced on St George's Day, on 23 April. Founded in 1348 by Edward III, it is the oldest and most senior British Order of Chivalry and a recognition of significant public service. Sir John Major [Conservative], Blair's predecessor, was the last to receive the honour.
The monarch makes this appointment, supposedly independently, but one wonders.
Only a year ago, the media reported that the Queen had refused to appoint him to the Garter. Incidentally, Blair has been sticking his nose in everywhere, especially Brexit. From this, we can deduce that he dislikes the average Briton:
Over the weekend, Angus Scott launched a petition on Change.org to have Blair's knighthood rescinded. By Tuesday, January 4, the petition had 500,000 signatures. Unfortunately, as the petition was not created on the parliamentary website, it is likely to be ignored. More importantly, as this appointment is the Queen's, Parliament cannot do anything about it.
The petition reads:
Tony Blair caused irreparable damage to both the constitution of the United Kingdom and to the very fabric of the nation's society. He was personally responsible for causing the death of countless innocent, civilian lives and servicemen in various conflicts. For this alone he should be held accountable for war crimes.
The Government rejected the petition:
The aforementioned Guardian article says that the Iraq war is still an issue with many members of the public. Speaker of the House Sir Lindsay Hoyle stepped in to defend his fellow Labourite. Not only that, he poured more oil on the flames by saying that every Prime Minister should be knighted, by virtue of their position. No, just no:
Sir Tony, rather than Sir Anthony, as he is now known, has been made a Knight Companion of the Most Noble Order of the Garter, 14 years after leaving Downing Street. But the honour has been criticised by Blair's political opponents and those who argue the legacy of his invasion of Iraq in 2003 makes him unsuitable.
Speaking on Saturday morning Hoyle said he felt the honour, the oldest and most senior British order of chivalry, was "a fitting tribute" for a former prime minister, although he felt it was not a political decision.
"Whatever people might think, it is one of the toughest jobs in the world," the Speaker said, "and I think it is respectful and it is the right thing to do, whether it is Sir David Cameron. They should all be offered that knighthood when they finish as prime minister."
Hoyle was talking to Today programme presenter Martha Kearney on BBC Radio 4 when he was asked if he believed all recent former prime ministers should now be knighted.
"If you have been prime minister of this country, I do believe the country should recognise the service given. Absolutely. You finish in the office and when you've finished it is the respect that we give to those prime ministers," he replied.
I'm going off Lindsay Hoyle rather rapidly.
Other new appointees to the Garter include Camilla, Duchess of Cornwall and to the former Labour cabinet member Lady Amos, the first black person to be honoured this way.
On Tuesday, January 4, The Guardian reported that Sir Keir Starmer, Labour Party leader, defended the knighthood on Good Morning Britain:
The Labour leader said Blair was a worthy recipient of the Knight Companion of the Most Noble Order of the Garter, received in the new year honour's list.
"I don't think it's thorny at all. I think he deserves the honour. Obviously I respect the fact that people have different views," Starmer told ITV's Good Morning Britain.
"I understand there are strong views on the Iraq war. There were back at the time and there still are, but that does not detract from the fact that Tony Blair was a very successful prime minister of this country and made a huge difference to the lives of millions of people in this country."
Blair, who led Labour to three election victories, was prime minister during the allied military invasions of Iraq and Afghanistan.
On Monday, January 3, Christine Hamilton, whose husband was a Conservative MP then a member of the Welsh Senedd ('Senate', Assembly), told Dan Wootton of GB News that there are reasons why Blair should not receive this honour: Iraq, Afghanistan, Brexit. She surmises that if Prince Philip were still alive, this appointment never would have happened:
Several years ago, The Telegraph had an article entitled 'Tony Blair believed God wanted him to go to war to fight evil, claims his mentor'. Unfortunately, it has since been withdrawn from their website.
Another Telegraph gem that no longer exists is the former Conservative MP Norman Tebbit's blog post, 'Gordon Brown is not as vain or greedy as Tony Blair but he is in deep denial and must be removed from office'.
Money, money, money
Blair watchers know that he loves his money.
Unfortunately, this Telegraph article is also gone: 'Tony Blair earned £680,000 for his foundation for 50 hours' work'. That was about The Tony Blair Faith Foundation. You could not make this up.
In March 2010, the Daily Mail reported that Tony Blair needed £5 million a year just to get by. How many properties did he own by then? Six? How many properties does he own now? Eight?
The Mail says:
Tony Blair has told friends he needs to earn at least £5million a year just to break even.
The former prime minister has been heavily criticised for cashing in on his contacts for personal gain and is thought to have made around £20million since leaving office.
But last night his former election agent John Burton claimed Mr Blair needed the astonishing annual income – and possibly much more – to pay spiralling wage bills at his growing list of companies and charities.
The revelation about his finances came as the former premier returned to the political fray with a lukewarm televised endorsement of Gordon Brown.
Mr Burton, one of Mr Blair's most loyal political friends, said: 'What I asked him was, you know he gets this criticism about what he earns. I said how many people do you employ? And he said 130.
'I mean it was 25 about two years ago and he said to me I have got to earn £5million a year to pay the wages, so God knows what he has got to earn now to pay the wages.'
2010 saw the Conservatives regain Government in May thanks to a coalition with the Liberal Democrats. David Cameron, mentioned below, became Prime Minister. The Mail's article appeared during the campaign:
The former prime minister was making a controversial intervention in the election campaign yesterday as he addressed the Labour Club in his old constituency.
It followed a warning from a former defence minister that his appearance could trigger a public backlash against Labour from those angry over the Iraq War as well as Mr Blair's business dealings.
Sporting a bizarre orange tan, Mr Blair spoke in support of his long-time rival Gordon Brown and attacked the ' vacuous' Tories – but stopped short of personally criticising David Cameron.
The Tories were relaxed about the appearance, with Mr Cameron taking a dig at the former premier's lecture circuit earnings, joking: 'It is nice to see him making a speech that no one is paying for.'
Security was tight as Iraq War protesters demonstrated outside the Trimdon Labour Club, in the Sedgefield constituency in County Durham …
But many senior Labour figures fear his involvement could harm the party. Chief among critics was former defence minister Peter Kilfoyle, who warned that Mr Blair was now a 'negative factor'.
He said: 'He evokes a strong antagonism, particularly because of the Iraq War, but not only that.
'Also the kind of things going on with allegedly Blairite former ministers and their apparently venal approach to life. He epitomises everything people think is wrong about New Labour.
'It is a mistake by the so-called strategists. It may seem a good idea to them, but to many people at the grassroots level it is not.'
Kilfoyle was not wrong.
On May 25, 2010, a few weeks after David Cameron became PM, The Telegraph reported, 'Tony Blair hired by US billionaire Vinod Khosla for climate change advice'. What does Tony Blair know about climate change?
The billionaire thought Blair was an expert, apparently:
The agreement will see Tony Blair Associates give strategic advice to Khosla Ventures, a venture capital firm that invests in companies pursuing green technologies. Mr Khosla, who made his fortune as co-founder of computing giant Sun Microsystems, is hoping that Mr Blair's decade on the global stage helps unlock doors for the companies that California-based Khosla Ventures invests in …
Mr Khosla said that "with Tony's advice and influence' we will create opportunities for entrepreneurs and innovators to devise practical solutions that can solve today's most pressing problems."
It wasn't disclosed how much Mr Blair will be paid for the advice he gives to Khosla. He already has a £2m lobbying post with JP Morgan Chase and a £500,000 job with Zurich Financial.
Mr Blair also charges tens of thousands of pounds for public speaking, received a £4.5m advance for his memoirs and set up Tony Blair Associates to advise foreign countries including Kuwait. In total, he is estimated to have earned at least £15 million since leaving office two and a half years ago.
Good grief.
Let's go back to Blair's properties. Most of them are stately homes or properties out of the reach of most people in the UK.
Less than a year after Blair left office as Prime Minister, he was somehow able to buy his sixth property. How can that happen on a PM's salary?
On May 4, 2008, the Mail reported (and included must-see photos):
Tony and Cherie Blair have added a £4million stately home once owned by Sir John Gielgud to their property portfolio.
The seven-bedroom mansion in Buckinghamshire is a few miles from Chequers, the prime ministerial retreat the Blairs gave up to Gordon Brown when he took over at No 10.
Mrs Blair was said to have longed for another historic home in the same area.
A source said: "It ticked all of Cherie's boxes. She wanted a small stately home within a 20-mile radius of Chequers."
The Grade I listed South Pavilion, in Wotton Underwood, brings to six the number of properties the couple now own.
They have two houses in London, two flats in Bristol and Mr Blair's former constituency home in Durham …
Since he left office last June Mr Blair is estimated to have signed deals worth nearly £10million.
Last month the former Prime Minister reportedly earned up to £240,000 for making a 90-minute speech to businessmen in Spain.
Theoretically Mr Blair could have written a cheque for £4million to buy the property outright, but it seems more likely the couple have taken out another mortgage.
If so it would double their mortgage debt to around £8million and push their payments to more than £30,000 a month, experts estimate.
Iraq War: Dr David Kelly's death and apologies
On June 26, 2010, the Mail alleged a cover up in the death of Dr David Kelly, said to have been unmasked as the source of the claim that the Blair government had 'sexed up' claims for a war in Iraq. Dr Kelly's case is still a mystery.
The Mail article says, in part:
The official story of Dr David Kelly is that he took his own life in an Oxfordshire wood by overdosing on painkillers and cutting his left wrist with a pruning knife …
A subsequent official inquiry led by Lord Hutton into the circumstances leading to the death came to the unequivocal conclusion that Kelly committed suicide.
Yet suspicions of foul play still hang heavy over the death of the weapons expert whose body was found seven years ago next month in one of the most notorious episodes of Tony Blair's premiership.
Many believe the truth about the manner of Dr Kelly's death has never been established properly. Some even fear that the 59-year-old, the world's leading expert in biological and chemical weapons, was murdered …
The blanket of secrecy thrown over the case by the last Labour Government has only fuelled the sense of mystery.
In January this year, it emerged that unpublished medical and scientific records relating to Dr Kelly's death – including the post-mortem report and photographs of his body – had been secretly classified so as not to be made public for 70 years.
Lord Hutton, who had been appointed by Blair, was responsible for this extraordinary gagging order, yet its legal basis has baffled experts accustomed to such matters.
Against this shadowy background, we have conducted a rigorous and thorough investigation into the mystery that surrounds the death of David Kelly. And our investigation has turned up evidence which raises still more disturbing questions.
Our new revelations include the ambiguous nature of the wording on Dr Kelly's death certificate; the existence of an anonymous letter which says his colleagues were warned to stay away from his funeral; and an extraordinary claim that the wallpaper at Dr Kelly's home was stripped by police in the hours after he was reported missing – but before his body was found.
Until now, details of Dr Kelly's death certificate have never been made public.
But the certificate was obtained by a group of leading doctors who have spent almost seven years investigating the case; doctors who believe it is medically implausible that he died in the manner Hutton concluded and are alarmed at the unorthodox way the death certificate was completed.
Near the top of all British death certificates is a box headed 'Date and place of death', in which a doctor or coroner should declare the exact location of a death, if it has been established.
Dr Kelly's certificate gives his date of death as July 18, 2003. It then states in reference to place of death: 'Found dead at Harrowdown Hill, Longworth, Oxon'.
Why was the word 'found' used? Why was the crucial question of 'place of death' not answered? The death certificate should be precise about the time, cause and location of death.
The doctors who have investigated the case believe the failure to answer this question leaves open the possibility that Dr Kelly died somewhere other than Harrowdown Hill, the wood where his body was discovered. If this was the case, they are concerned the law may have been subverted over Dr Kelly's death …
A full coroner's inquest, which, by law, must be held following any sudden, unexpected or violent death, would have addressed these discrepancies.
But no full inquest was ever held.
Oxfordshire Coroner Nicholas Gardiner opened an inquest on July 21. But on August 13 the then Lord Chancellor Lord Falconer, Tony Blair's former flatmate, ordered it to be adjourned indefinitely.
Falconer used an obscure law to suspend proceedings, and for the first time in English legal history he replaced an inquest with a non-statutory public inquiry to examine a single death, seemingly without any public explanation.
On October 24, 2015, The Telegraph reported that Blair gave an interview to CNN in which he partially apologised for the war in Iraq:
Tony Blair has apologised for some of the mistakes that were made during the Iraq War, and says he recognises "elements of truth" behind opinion that the invasion caused the rise of Isil.
In a candid interview with CNN, the former prime minister was challenged by US political broadcaster Fareed Zakar who accused Blair of being George Bush's 'poodle' over the conflict.
During the exchange, which will air on CNN Europe at 11am and 7pm on Sunday, Mr Blair says: "I apologise for the fact that the intelligence was wrong. I also apologise, by the way, for some of the mistakes in planning and certainly, our mistake in our understanding of what would happen once you removed the regime. But I find it hard to apologise for removing Saddam."
When asked whether he thought the invasion led to the rise of Isil, he says: "I think there are elements of truth in that. Of course you can't say those of us who removed Saddam in 2003 bear no responsibility for the situation in 2015."
… Blair's acknowledgement of responsibility, if not apology, for the rise of Islamic extremism, is aptly timed.
In 2004, he told MPs: "I will not apologise for the conflict. I believe it was right" and in 2007, he repeated this sentiment, saying: "I don't think we should be apologising at all for what we are doing in Iraq."
Last week, The Telegraph reported the inquiry was facing more chaotic delays after a leaked memo signalled Blair had signed up to the war in Iraq a year before it started.
It has also been reported that former David Blunkett, the former Labour home secretary, has revealed that he challenged Blair before the war about how to avoid any chaos after Saddam's downfall.
Meanwhile, it was revealed that Mr Blair made a secret trip to the White House to broker a deal on behalf of Muammar Gaddafi that deprived British victims of Libyan terrorism of millions of pounds in compensation.
Mr Blair acted as a go-between in negotiations between Gaddafi and President George Bush over payments to terror victims, according to a senior source.
The disclosure was made as Mr Blair ignored a deadline to explain his role to a parliamentary committee investigating the deal. He was invited to respond by Friday but instead sent a letter at 6pm on the day of the deadline, asking when the deadline was.
The source said Mr Blair travelled to Washington to intervene on behalf of Gaddafi in February 2008, after first meeting the dictator in Libya.
The new evidence suggests Mr Blair, who had quit as prime minister less than a year earlier, had played an important role in negotiations between President Bush and Gaddafi.
At the time, Libya was being sued through the US courts for committing terror atrocities, and billions of pounds of Gaddafi's assets were at risk of being frozen as part of the lawsuits.
The deal struck by President Bush and Gaddafi led to US victims receiving £1  billion in compensation , but in exchange all court cases were dropped under an act of Congress.
But British victims, who had brought cases in the US, including almost 200 families of victims of IRA terrorist attacks, were not included in the deal. Mr Blair has always insisted he had "nothing whatever to do with any compensation legislation signed by President Bush".
See? He does not like his own people.
On July 2, 2016, The Telegraph reported that Blair would not be investigated for war crimes in Iraq, although British soldiers could be:
Prosecutors at the International Criminal Court will examine the Chilcot report for evidence of abuse and torture by British soldiers but have already ruled out putting Tony Blair on trial for war crimes, The Telegraph can disclose.
The decision has outraged families of troops killed in Iraq who blame Mr Blair for engineering the war.
Sir John Chilcot's report will finally be published on Wednesday and is expected to strongly criticise Mr Blair's role in the US-led invasion of Iraq in 2003.
But in an official statement to the Telegraph, the International Criminal Court (ICC) said its prosecutors would comb through the 2.3 million word report for evidence of war crimes committed by British troops but that decision to go to war remained outside its remit.
It means individual soldiers could be prosecuted for war crimes but not Mr Blair.
The ICC, based in the Hague, has begun a 'preliminary examination' of claims of torture and abuse by British soldiers, after receiving a dossier from human rights lawyers acting for alleged Iraqi victims.
Brexit
In 1983, a young Tony Blair, running for MP in his first election standing in Sedgefield, pledged to support leaving the EU.
A campaign leaflet of his from that year surfaced, as a regional paper for the North East of England, The Chronicle, discovered:
Former Prime Minister Tony Blair hasn't half changed his tune on Brexit since the heady days of 1983.
A campaign leaflet from Mr Blair's first election standing in Sedgefield in 1983 has resurfaced online.
In the Labour literature, the bouffanted Oxford University graduate declares he wants to leave the European Economic Community, which later became the EU.
The pamphlet said: "We'll negotiate a withdrawal from the E.E.C. which has drained our natural resources and destroyed jobs."
On June 26, 2016, three days after the Brexit referendum, Blair pledged to seek a second referendum. Obviously, the British people are too stupid to handle such issues via the ballot box.
The Evening Standard reported:
When asked on the BBC's Sunday Politics programme about the possibility of another vote, he said: "As I'm looking at it here, I can't see how we can do that.
"But, you know, the point is, why rule anything out right now? As I say, you are going to have a reality to test yourself against."
Blair said the nation needs to "see the consequences" of Brexit as they play out in the coming weeks and months.
"I can't see how you would go through all of the mechanics of another referendum now," he continued. I just can't see it.
"But on the other hand I also think there will be a lot of people in the country who will say 'well, let's have a look at this and see what we are going to do' and Parliament will want to look at it."
Blair was still at it a year later, asking for a delay to Brexit negotiations:
In 2019, Blair asked for a second referendum, claiming it would be 'healing'. Oh, my:
A month later, this Brexit poll appeared, which the Tony Blair Institute for Global Change conducted:
Hilarious!
It should be noted that Blair did not offer British voters a referendum on the Treaties of Amsterdam and Nice during his time in office:
Do we need any further proof that Blair dislikes the British people? Perhaps we do.
Migration to UK unexpected
Then there was the issue of migration to the UK, which Blair facilitated during his time as PM.
On March 19, 2017, Tony Blair said he did not anticipate the number of migrants who would come to the UK when he opened the borders to European workers.
The former Labour leader relaxed immigration controls in 2004 after 10 new nations including Poland, Lithuania and Hungary, were admitted to the EU.
He tried to play down the significance of opening Britain's borders, arguing that most EU migrants came to the UK after 2008.
However, official figures show that the number of EU migrants who came to Britain rose from just 15,000 in 2003 to 87,000 the following year. That figure increased to 104,000 in 2006 and 127,000 in 2007.
Mr Blair also made a factual error by suggesting that he could only have imposed transitional controls, temporarily barring migrants for four years.
In fact other EU nations including Germany introduced the measures for up to seven years.
Those numbers, which continued to increase through subsequent years, represent one small city per year in the UK.
——————————————————–
What has Tony Blair done to deserve the Order of the Garter? Nothing whatsoever.
Yesterday's post discussed the vote on coronavirus measures — Plan B — for England, which saw a sizeable Conservative rebellion, while most Labour MPs voted with the Government.
Labour is supposed to be the main Opposition party. Yet, their MPs, along with most Conservative MPs, seem to be in lockstep. How sad.
In a late-breaking development to Plan B, self-quarantine rules have been changed to daily testing for seven days. On Tuesday, December 14, Sajid Javid told MPs the following before the Plan B votes, which were split into four divisions (emphases mine below):
Instead of close contacts of confirmed cases or suspected cases having to self-isolate, all vaccinated contacts, irrespective of whether the contact was with an omicron case, will be asked to take lateral flow tests every day for seven days. Regulation No. 1415 allows us to put this plan into action by revoking the omicron-specific provisions for self-isolation.
That's good news.
As for the other three provisions, sadly, all passed.
This is one of the few times when tellers for the divisions — votes — were from the same party:
Here's what happened:
1/ Masks are once again compulsory in public, enclosed spaces, including houses of worship:
2/ Coronavirus vaccines will be required for NHS and social care, including care home, staff by April 2022:
3/ Coronavirus passports will be mandatory for large gatherings and venues:
That said, note the big opposition votes for mandatory vaccines and the vaccine passports. Guido Fawkes has a list of 98 Conservatives who voted against the Government on vaccine passports. Well done, rebels!
Labour Party whips spotted three more, including Sir Desmond Swayne and Bob Seely:
The number of Conservative rebels far exceeded the predicted 81. A few Labour MPs joined in as well as ten of 11 Liberal Democrats. Sir Ed Davey, Lib Dem party leader, was self-isolating with coronavirus. As there is no more remote voting by proxy, as there was during hybrid Commons proceedings this year, he could not register his votes.
Labour's Mary Kelly Foy couldn't vote, either, for the same reason:
By the way, this is how the voting is done as of the middle of 2021. The Commons is modernising with card readers that record votes:
Beware of dubious interpretations of these new rules, as much as millions of us disagree with them.
We need to read the full headlines. The Telegraph says that vaccine passports do not apply to MPs — but, if we read carefully, we see that is only in the House of Commons. They will be subject to the law elsewhere, just like everyone else:
On that story, Scotland's The Herald reports:
Recent social distancing rules in the chamber ended this week. 
Former Tory chief whip Mark Harper, who chairs the lockdown-sceptic Covid Recovery Group, raised a point of order about busy sessions in the chamber being regulated.
He said: "It seems to me, particularly on a Wednesday when we get back to normal, that definition could equally apply to this House of Commons.
"It'd be outrageous if the executive were to attempt to prevent any Member of Parliament attending this House to represent our constituents without first undergoing a medical procedure."
He added: "Your 17th century predecessor, Speaker Lenthall, stood up very effectively against an overmighty executive and it didn't end well for the overmighty executive."
Sir Lindsay replied: "It did lead to the end of the monarchy as well, I might add, for a short period so let's hope we're not quite going back that far."
…
"There is nothing to stop a member coming in to here, you have the right to come to this House unless this House otherwise says so.
"The Government's not been in touch, I don't expect them to be in touch because, as far as I'm concerned, it doesn't apply to members."
The Telegraph's Alison Pearson would disagree with my calling Conservative rebels 'rebels'.
She — perhaps rightly — calls them 'the true Conservatives':
Please don't call the MPs who voted against vaccine passports 'Tory rebels'. In my book, those upstanding men and women are the true Conservatives. Rather, it is those who pushed through this repellently un-British measure, with the help of the Labour Party, who are the traitors to our philosophy …
From head boy of the old school, Sir Graham Brady, to 28-year-old blonde bombshell of the Red Wall Dehenna Davison, via former Royal Air Force engineer Steve Baker (more sense than the entire Cabinet combined) through that lioness Esther McVey, keenly compassionate Sir Charles Walker and Miriam Cates (both rightly devastated by the collateral damage of lockdown) to fearless, principled Nus Ghani and the swashbuckling Sir Desmond Swayne… These are my heroes – and all the rest who dug in their heels on the slippery slope to authoritarianism.
As Cates put it: "The new measures threaten to cement a permanent shift in the balance of power between the Government and the British people that has been brought about by two years of 'hokey-cokey' restrictions on our freedom. This is a shift that is no doubt being celebrated by those on the Left, but it should chill Conservatives to the core."
Unfortunately, after the vote, new, positive data came out about the Omicron variant:
As I was writing this, there landed a fresh blow to the Government's campaign of fear. The first major study found that omicron was likely to be 23 per cent less severe than the delta variant, with those of us who are double-jabbed still enjoying good protection. Far fewer people needed intensive care for omicron, with just five per cent of cases admitted to ICU compared with 22 per cent of delta patients.
Pearson sees this as good news:
By catching and shrugging off the omicron "cold", we could be minimising the risk to those who will always be vulnerable.
Things could always be worse for England. At least it's not Scotland, where First Minister Nicola Sturgeon has put the screws on for Christmas. On Tuesday, The Herald reported Sturgeon as saying there was a 'tsunami' of coronavirus cases in Scotland:
Nicola Sturgeon is urging Scots to limit socialising to a maximum of three households at a time …
The first minister said: "We are not banning or restricting household mixing in law as before. We understand the negative impact this has on mental health and wellbeing."
… "However, if you do plan on socialising – either at home or in indoor public places – we are asking that you limit the number of households represented in your group to a maximum of 3. And make sure you test before you go." 
Sturgeon advised businesses as follows:
For retail, it will include "a return to the kind of protections from the start of the pandemic – like measures to avoid crowding and bottlenecks. This will include physical distancing, measures to control the flow of customers, and protective screens."
For hospitality, "it will mean for example, measures to avoid crowding at bars and between tables, and a reminder of the requirement to collect contact details of customers to help with contact tracing."
The article said that only two people have been hospitalised in Scotland with the Omicron variant, yet:
The first minister said: "The R number associated with Delta is around 1. But the R number for Omicron appears to be well over 2, and possibly above 4."
She added that this was why Scotland was facing a "tsunami" of cases.
Okay. I remain to be convinced. I hope that most Scots are also unconvinced.
This saga will roll on into the New Year, no doubt.
Remembrance Sunday in Britain saw a return to normal.
In 2020, the main walk past at the Cenotaph in London was depressingly sparse because of coronavirus restrictions.
Fortunately, this year, England saw a return to normal. Between 9,000 (the BBC's estimate) and 10,000 (GB News's) people participated at the Cenotaph.
Thousands of others gathered in their own towns and villages en masse to remember their war dead. It was heartening to see so many young people, from children through to adolescents, coming together. Some honoured family members who had died in battle. Others came to remember in a more general way.
2021 marked the centenary of Remembrance commemorations.
As I watched the BBC's coverage, it occurred to me that Remembrance Day and Remembrance Sunday are the only days left where a group of people can gather in unison and concord to remember the sacrifice of the men and women who died for our freedom.
These are the only days left where a common objective unites all of us, regardless of political persuasion or social class.
The Royal British Legion — now 100 years old — posts commemorative religious symbols to donors which they can mail back to the Legion with the names of soldiers they would like remembered. Most often, these are family members. This was the display near Parliament:
On Remembrance Sunday, the Bishop of London (Anglican) leads a short Christian service after politicians and Commonwealth representatives lay commemorative wreaths, as illustrated in the following photographs from the Speaker of the House of Commons, Sir Lindsay Hoyle.
Starting with the second photograph, the UK's political leaders and Hoyle approach with their wreaths. Left to right, we see Sir Lindsay Hoyle, Sir Jeffrey Donaldson (Democratic Unionist Party, Northern Ireland), Sir Ed Davey (Liberal Democrats), Ian Blackford (Scottish National Party), Sir Keir Starmer (Labour Party) and Prime Minister Boris Johnson (Conservative Party). The Prime Minister is the first to lay his wreath, followed by Labour, SNP and so on, with the Speaker being the last in that group.
The first photograph shows some of the Commonwealth nations' representatives behind the Speaker:
Unfortunately, for the first time in 22 years, the Queen was unable to attend the ceremony at the Cenotaph. According to Buckingham Palace, she is recovering from a sprained back following a few weeks of rest on health grounds.
The Daily Mail reported:
Boris Johnson has reassured the public that The Queen is very well after seeing her last week. 
The Prime Minister gave an update on the 95-year-old monarch's health in a Downing Street conference on Sunday evening after she missed the Remembrance Sunday ceremony today for the first time in 22 years due to a back injury. 
Buckingham Palace said she made the decision not to attend the service at the Cenotaph in London on Sunday morning 'with great regret' and was 'disappointed' to miss the event.   
Speaking at the conference, Mr Johnson said: 'I know that everybody will be wanting to offer their best wishes to Her Majesty the Queen.
'I just want to reassure everybody by saying that I did see the Queen for an audience last week on Wednesday in Windsor and she is very well.
'It shouldn't need saying, but I just wanted to say it anyway.' 
The daily list of official royal engagements showed that Mr Johnson had an audience with the Queen on Friday, as he was in Glasgow on Wednesday speaking at the Cop26 climate change summit. 
Queen Elizabeth had planned on attending the Remembrance Day service at the Cenotaph in London on Sunday and it would have marked her first in-person public engagement since she was advised to rest following a night in hospital last month.
It is understood the Queen's back sprain is unrelated to her doctor's recent advice to rest.
Buckingham Palace said: 'The Queen, having sprained her back, has decided this morning with great regret that she will not be able to attend today's Remembrance Sunday Service at the Cenotaph.
'Her Majesty is disappointed that she will miss the service.
'As in previous years, a wreath will be laid on Her Majesty's behalf by the Prince of Wales.
'His Royal Highness, along with the Duchess of Cornwall, the Duke and Duchess of Cambridge, the Earl and Countess of Wessex, the Princess Royal and Vice Admiral Sir Tim Laurence, the Duke and Duchess of Gloucester, the Duke of Kent and Princess Alexandra will be present at the Cenotaph today as planned.'
The event on Whitehall was given added poignancy by a return to pre-pandemic numbers of participating veterans and military, as well as onlookers.
The Prince of Wales and Prime Minister were among those laying a wreath at the war memorial for the National Service of Remembrance.
Boris Johnson, who appeared sombre as he laid a wreath, said it was a moment to 'come together to remember those who sacrificed everything in service of our country'.
The Queen served in the British Army during the Second World War as a mechanic. When she became Queen, she still wore her Army uniform on Remembrance Sunday in the early years of her reign. Guido Fawkes posted a rare photo of her in uniform laying a wreath in the 1950s.
The Royal Family never left London during the Second World War, even though they were in as much danger as everyone else in the capital at that time.
The House of Commons was destroyed in the Blitz in May 1941:
Fortunately, it was faithfully restored to the way it was in the 19th century when the Palace of Westminster was rebuilt following a devastating fire.
Returning to the sentiments behind Remembrance Sunday, a small minority of Britons does not view it the way the rest of us do. Here is a tweet from the radical side of the Labour Party:
In that same vein, Mary Harrington wrote an excellent historical review of what happened in the years following the Great War (1914-1918) for the Daily Mail.
Those in positions of influence wanted to remake the Western world and thought it would be a good idea to erase the major unifying aspects of our society, particularly Christianity.
A century on, we are feeling those effects even more deeply.
Excerpts follow, emphases mine:
From the perspective of the ordinary citizen, the poppy simply marks an unimaginable loss. You'll find a memorial in every parish up and down the country, some huge and some simple plaques. They're markers of a collective grief, all the more unspeakable because it is so universal …
But today, those who remember the fallen are almost all gone themselves. So what is the loss we're left to remember?
The loss perhaps most clearly visible is the one concerning the values that, sadly, we no longer feel able to celebrate.
For the Great War saw the beginning of the end for faith in the foundations of a European culture that had held fast for generations.
By the end of the war in 1918, George V presided over a broken, debt-ridden empire, Tsar Nicholas was killed by revolutionaries and Kaiser Wilhelm was deposed and exiled.
The war spawned the first Communist state, and it shattered confidence in Western civilisation. Patriotism took a hammering and, perhaps more profoundly, so did institutional Christianity.
Indeed, most Christian denominations on both sides supported the conflict, with many at the time viewing it as a 'holy war'.
Notoriously, in 1915, the Bishop of London declared it the duty of 'everyone that puts principle above ease' to 'kill Germans… not for the sake of killing, but to save the world'.
The aftermath of the First World War saw a backlash by society's elite – not just against nationalism, but also against traditional religious faith and cultural forms.
Historian Anna Neima shows how many among the world's avant-garde sought to create new, ideal communities. They wanted to reimagine human society, so that nothing as horrifying could ever happen again, by transcending borders of faith or nation.
Humanity, such visionaries hoped, might be induced to forge links across what was considered to be mere national identity in favour of something higher. The elite that shared this inspiration was moulded by contact across the world as it attempted to shape humanity atop the smoking rubble of the imperialist 19th Century. Some went on to found their own visionary communities, such as the one set up at Dartington Hall in Devon by Dorothy and Leonard Elmhirst. It became a magnet for artists, architects, writers, philosophers and musicians from around the world, establishing a centre of creative activity.
It was at Dartington that the Labour politician Michael Young wrote the party's post-war manifesto. At Dartington, and other communities like it, traditional practices and values were deemed worthy only for the scrap-heap – classical music, realist painting, traditional architecture. Everything should be new, stripped of the old-fashioned loyalties that had led to the slaughter of millions and left Europe in ruins …
Everyone blamed that catastrophe on nationalism, religion and realpolitik. Elites tried to abolish all those things for good. For the good of humanity.
Significant in this was the high American ideal – inspired by President Woodrow Wilson – of nations shaping their own destinies.
With hindsight, even this now looks like realpolitik: a high ideal designed to end the empires of America's European political rivals.
And now the liberal internationalism that Wilson set in motion has itself, ironically, come adrift in another set of poppy fields: those of Afghanistan. The American civilisation that took the torch from Europe is itself embattled, under economic and cultural siege …
That said, yesterday's gatherings in England, especially London, gave me hope for the future. Thousands of people came together to meet with their comrades, relive experiences, share laughs and lively conversation. On the sidelines, away from the Cenotaph, there were shared songs and even applause as the media interviewed various military participants, from current officers in the Armed Forces to old soldiers.
Our commonly held social values will survive, but we will need to constantly cherish and protect them.
As George Orwell wrote:
All animals are equal but some are more equal than others.
This will certainly be even truer in the House of Commons.
As Speaker of the House Sir Lindsay Hoyle reopens that part of the Parliamentary estate on Monday, July 19, just days before summer recess.
MPs can walk around — and attend the chamber — maskless but their staff must remain muzzled:
Guido Fawkes confirmed the arrangement (emphasis in the original):
One miffed staffer points out that for MPs in the chamber, masks will be recommended, however they'll be "required" for everyone else on the estate…
He adds:
From the start of summer recess, MPs will be able to decide how many of their staff are allowed to return to the office.
In the chamber, social distancing will disappear, and the public gallery will be reopened:
The prayer cards mentioned in that tweet do have a religious significance, although they are largely used for a secular purpose. An MP can write his name on a blank white card and place it in the chamber to reserve his seat for the day. Of course, in order to claim it, he must attend the short prayer session before the Commons day begins. 
The Speaker is calling time on the highly successful hybrid proceedings:
September will see the return of crowded benches. MPs will also be able to travel to Amber list countries:
Mr Speaker is thrilled:
The Commons' restaurants and watering holes will also reopen:
One rule for MPs, another rule for their staff — and us.
What a surprise!
On Monday, June 14, Prime Minister Boris Johnson postponed Freedom Day from Monday, June 21 to Monday, July 19.
Quelle surprise!
Although the data for hospitalisations and deaths look better than ever thanks to the vaccine rollout, SAGE modelling shows that if figures of cases — positive tests — continue to increase 'exponentially', then we could be in for a big problem:
However, the reality is more like this:
Incredibly, Britons support the delay:
Protest at Downing Street
Earlier in the afternoon, when it became clear that Boris was going to delay England's reopening, a protest took place outside of Downing Street.
The BBC's Nick Watt got caught up in it on his way to the mid-afternoon press briefing for journalists. I have no idea why the crowd harassed him, but the Metropolitan Police did not seem bothered:
Coronavirus briefing
Boris held his televised coronavirus briefing at 6 p.m.
Boris should have had Matt Hancock, Secretary of State for Health and Social Care, go to Parliament first to make this announcement, then give his press conference. Hancock poled up in the House of Commons two hours after Boris's press conference. More on that below.
At the coronavirus briefing, Boris was accompanied by Sir Patrick Vallance and Prof Chris Whitty. Here are the highlights:
Sure, just as he announced June 21 would be a few months ago. I'll believe it when I see it.
Some restrictions have been lifted for weddings and funerals:
The delay is partly because of the Delta variant from India:
Sure thing, Chris. By July, there could be another variant:
Even though Boris is trying to keep us hopeful, there is no way we would open in two weeks' time instead of four:
This is because — as has been explained at previous coronavirus briefings — it takes four weeks for a full cycle of effects to complete before a decision can be made: cases, hospitalisations, deaths.
Keep in mind that our vaccination programme has been wildly successful. The elderly and vulnerable have had their second shot and 18-24 year olds are now invited to get their first inoculation.
The vaccines used thus far — AstraZeneca and Pfizer — are said to be highly effective against the virus, especially after two injections:
One of the three men said that we would have to 'learn to live with this virus'. We know that, fellas, so open up.
We know that people are going to die, just as they do from flu:
That's exactly what they said in April.
Labour are quite happy with an extension of restrictions. No surprise there:
Matt Hancock's statement in the House of Commons
Matt Hancock announced the delay in the Commons that evening at 8:30.
Once again, the Government evaded going to Parliament first, followed by the media and public.
The Speaker, Sir Lindsay Hoyle, was not happy. This is not the first time Hoyle has reprimanded Hancock:
Sir Lindsay said that he is ready to arrange a private meeting with the Prime Minister to discuss these continuing evasions of Parliament:
Hancock said:
That tweet is spot on. In March 2020, it was about 'squashing the sombrero' of hospital admissions, as Boris put it.
Then we had the rest of the list in that tweet.
Now it seems to be about zero COVID.
That's quite a leap.
Hancock's statement and the subsequent debate are available on Hansard. Excerpts follow. All MPs below are Conservative.
Jeremy Hunt MP, the chair of the Health and Social Care Committee and former Health Secretary, said (emphases mine):
May I start by saying that I totally agree with your expression of disappointment, Mr Speaker, that in a parliamentary democracy Parliament heard about this news after the media, and much as I respect my right hon. Friend it should be the Prime Minister who is here this evening?
I happen to support these measures and the caution the Government are showing, but may I suggest to my right hon. Friend that one of the reasons for the disappointment many people feel is the use of words like "irreversible"? Tonight, Sir Patrick Vallance said that we will be living with covid for the rest of our lives. If there is a vaccine-busting variant that threatens another 100,000 lives, these measures will not be irreversible, and we have a duty to be completely honest with people about the bumpiness of the road ahead. So may I urge the Health Secretary to be as cautious with the language we use as he rightly is with NHS bed capacity?
Mark Harper is one of the few MPs who wants England to open up now. He said:
Before I ask the Secretary of State my question, I should just say—as a former Government Chief Whip, it does not give me any great pleasure to do so—that I wholly associate myself with your remarks earlier, Mr Speaker. This statement should have been made to this House by the Prime Minister before it was made to the media. I hope that we do not see a recurrence of it and I wish you well in your meeting with him.
The Secretary of State has set out that it is not the Government's policy to get to zero covid—indeed, that is not possible. Can he say whether it is the Government's policy to maintain a low prevalence of this virus? If it is not, can he confirm the Prime Minister's sentiments today that 19 July is a terminus date, and can he rule out bringing back restrictions in the autumn and winter when we see an inevitable rise in what is a respiratory virus?
Hancock replied:
Well, it is not inevitable—I do not think it is inevitable. It may happen, but it is not inevitable because we also have the planned booster programme to strengthen further the vaccination response. But it is absolutely clear, based on all the clinical advice that I have seen, that a goal of eradication of this virus is impossible. Indeed, there is one part of this country that tried it for a bit in the summer and found it to be impossible. Therefore, we must learn to live with this virus and we must learn how we can live our normal lives with this virus, so I reflect the Prime Minister's words, which, of course, I concur with entirely, on 19 July. Our goal is to make sure that we get as much vaccination done between now and then—especially those second doses—to make sure that we can open up safely, even if there is a rise in cases, by protecting people from hospitalisation and especially from dying of this awful disease.
Steve Brine was, rightly, unhappy:
Last week, the Secretary of State told me:
"Our goal…is not a covid-free world…the goal is to live with covid".—[Official Report, 7 June 2021; Vol. 696, c. 678.]
Well, you could have fooled me, and many of our constituents. There is dismay out there tonight. The reopening of the wedding industry is not a meaningful reopening and I think it is cruel the way some are being misled. The Prime Minister and my right hon. Friend have been very clear today that 19 July is not a new "not before" date but an end to all this, so will the Secretary of State tell the country his assessment of risk and personal responsibility and whether he feels that as a country we remotely have that right at this time?
Hancock replied (in part):
Once we have the offer of a vaccine to everybody, and once we have protected and mitigated the large part of that risk, we do need to move back to a world based on personal responsibility. That is right, and that is where we intend to go. I think that we have made steps already in that direction in steps 1, 2 and 3. This country is freer than almost any other in Europe in terms of our economy and of our society. That is partly because of the very rapid vaccination effort here, but I hope that my hon. Friend can take from that the direction we intend to go.
Peter Bone made excellent points on the Government's disrespect for the Commons:
I am sure, Mr Speaker, that the Secretary of State for Health heard what you said at the beginning of this statement. May I ask the Secretary of State how we got ourselves into this position? He has been very good at coming to the House and making statements on covid, but on the biggest, most important day, the press were given an embargoed statement at 3 o'clock and the Prime Minister had a big showy press conference at 6, yet he could not be bothered to turn up until 8.30. This is a clear breach of the ministerial code. How did it happen? Who thought it was a good idea, and who actually broke the ministerial code?
Hancock had little to say in response but said he would continue answering questions.
Sir Geoffrey Clifton-Brown asked on what basis the decision to delay was made. Hancock said:
… Central to the judgment today is the fact that we are seeing a rise in hospitalisations, especially over the past week, and especially among those who are unvaccinated or have just had a single jab. Those people are not largely those who are unvaccinated out of choice; it is those who are unvaccinated because they have not yet had the opportunity because they are younger.
Until about a week ago, hospitalisations were basically flat. We thought that the link might have been completely broken between cases and hospitalisations or that it might be a lag. Sadly, hospitalisations then started to rise. For deaths, we have not yet seen that rise, which I am very pleased about; hopefully they will never rise, in which case the future will be much easier. It may still be that there is an element of it that is a lag, and we will be looking out for that very carefully over the couple of weeks ahead, but nevertheless our goal is to get those vaccines done in the five weeks between now and 19 July in order to make sure that this country is safe. I will commit to publishing anything further that we can that underpinned the decision, but I can honestly say to my hon. Friend that most of it is already in the public domain.
The morning after with talkRADIO's Julia Hartley-Brewer and guests
On Tuesday, June 15, Israel ditched its mask mandate:
They vaccinated quicker than the UK, which they could do as a much smaller country:
TalkRADIO's Julia Hartley-Brewer interviewed three interesting guests, whose videos are all worth watching.
Clearly frustrated by this delay, she asked her audience about their mood:
She opened her show with an editorial on selfishness, because many people say that her civil liberties stance is 'selfish'. She turned the tables on her accusers:
She interviewed David Paton, the Professor of Industrial Economics Nottingham University Business School. He has been running his own models and studying the national statistics since the early days of the pandemic last year.
This is his take. He observes that we are doing much better than SAGE models suggest:
He also told Julia that we are doing much better than the SAGE models purport:
Next up was Hugh Osmond, the founder of the Punch Taverns chain. He said that the medical experts wanted to remove all joy from our lives. He also pointed out that hundreds of pubs have closed because of the government's handling of the pandemic and that if the pub summer season is short this year, hundreds more will go to the wall by the end of 2021:
Julia's next guest was Mark Harper MP, chairman of the parliamentary Covid Recovery Group, quoted in the aforementioned Hansard excerpt. I agree with him in that these restrictions might never end:
He cannot understand why the Government is not more positive about the success of the vaccine rollout. He also discussed the negative fear-mongering from the media. Note the reply tweet which is spot on re the G7 get-togethers:
Julia's third guest in her coronavirus segment was barrister Francis Hoar, who has been anti-lockdown from the start:
Before his interview, he reiterated his concern about increased government control via a (Chinese style) social credit system:
He also retweeted the following:
This appears to be a quote from Sir Charles Walker MP (Conservative), who is also against lockdowns:
It is hard to disagree with him as the Government keeps moving the goalposts:
Francis Hoar told Julia Hartley-Brewer that Boris looked as if he had been taken hostage at last night's coronavirus briefing and that he is deeply concerned about the future of young people today because of continuing restrictions. He is very much a supporter of having our personal freedoms restored yesterday:
Conclusion
I really do hope that England reopens on July 19. I wanted the nation to reopen on June 21.
However, if it does not, then it is unlikely to reopen until Spring 2022. That could be June 2022.
My reasoning is as follows. September is the month when schools reopen, so that is a risk factor. Then comes flu season when coronavirus will worsen. The experts and the Government will say that we shouldn't have big Christmas celebrations at home, in the pub or in a restaurant because it's just too risky. Winter is always a bad time for illness, and we don't want to overburden the NHS, so we have to wait until sometime during the springtime.
Therefore, if reopening does not take place on July 21, 2021, then the next possible date is between mid-March (after the Cheltenham Festival, likely to be a 'pilot' event) and June 2022.
I hope I am wrong. I truly do.