You are currently browsing the tag archive for the 'smoking' tag.
Gosh, what a lot of news to cover in one post.
Admittedly, a few of these items are a bit old but fit in thematically.
Theresa May U-turns on support for Scottish gender reform legislation
I wrote yesterday about former Prime Minister Theresa May's support for Scotland's Gender Recognition Reform bill on Tuesday, December 27.
Within 24 hours she had made a U-turn, thankfully, although she did it through a spokeswoman.
On Wednesday, December 28, The Times reported (emphases mine):
In the wake of the interview the BBC issued a press release which stated: "On the subject of Scotland's proposed gender recognition laws, Ms May said she was disappointed the Westminster government wasn't supporting them."
Yesterday, however, a spokeswoman for the Maidenhead MP insisted that was not the case.
"As prime minister, Theresa launched a consultation looking at gender recognition laws with the aim of providing a more sensitive approach to transgender people, but she does not agree with Nicola Sturgeon's legislation and is particularly concerned about the consequences it could have for children in Scotland and across the UK," she said.
We can but hope that the Secretary of State for Scotland does not send the legislation for Royal Assent:
Immediately after MSPs voted in favour of the legislation Alister Jack, the Scottish secretary, threatened to invoke section 35 of the Scotland Act, which allows him to prevent the legislation from receiving royal assent.
Although gender recognition is devolved to Holyrood, the Equality Act — with which the new law will interact — is reserved to Westminster.
As nearly two-thirds of Scottish voters — even SNP supporters — think this legislation is a terrible idea, Westminster can show the 'Union dividend' in being 'better off together'.
Gas futures coming down
On Thursday, December 29, The Guardian had encouraging news about the price of natural gas futures in Europe:
European gas prices have dropped back to levels seen before the Ukraine war began in February, as fears of a gas crisis this winter ease.
The month-ahead European gas future contract dropped as low as €76.78 per megawatt hour yesterday — its lowest level in 10 months, data from Refinitiv shows.
As this chart shows, gas prices have fallen back from their surge in March, and again in the summer as European countries scrambled to fill their gas storage tanks.
Prices have dropped thanks to warmer-than-normal temperatures this winter, which have limited demand for gas, after the European Union successfully filled reserves to a peak of almost 96% in November.
Consumption reduction targets have also helped to limit demand, with the EU aiming to cut its gas consumption by 15%.
Earlier this week, 83.2% of EU gas storage was filled, data from industry body Gas Infrastructure Europe shows, still above the target of 80% set for the start of November.
Traders are confident that inventories will end winter at a very comfortable level with a very low risk of falling to critically low levels, says John Kemp, energy market analyst at Reuters.
UK gas prices have also dropped back from their highs earlier this year. The day-ahead gas price closed at 155p per therm yesterday, compared with 200p/therm at the start of 2022, and over 500p/therm in August.
The UK versus the EU
All year long in Parliament we've heard that the UK is 'broken' and that we should have stayed in the EU.
Polls have been published showing that Brexit voters have buyer's remorse. Well, they shouldn't have. We are much better off outside an unelected European Commission. Furthermore, EU countries are not doing substantially better than Blighty.
France
This week, I received the latest copy of Marianne, the French newsweekly. Part of its cover story headline, referring to the state of their nation, reads:
EN PANNE
meaning, 'out of order', 'not working'.
On Wednesday this week, The Spectator had an excellent article about our neighbour: 'All is not well in Macron's France':
In 2021, both World Bank and United Nations GDP (nominal) rankings have the UK at 5th and France 7th. International Monetary Fund estimates for 2022 show India overtaking the UK to claim the 5th spot for world GDP, but with France still 7th.
One may question the reliability of GDP as a comparator, but a host of other measures regularly show France worse off than the UK. Debt to GDP ratios show France at some 115 per cent, the UK 99.6 per cent. Meanwhile the Bank for International Settlements gives France's total public and private debt (non-financial) at 351 per cent; the UK at 271 per cent.
One can rightly point to France's present day lower inflation at 7.1 per cent (EU harmonised) compared to the UK's 10.7 per cent. But as French debt statistics above show, president Emmanuel Macron began forcing down domestic inflation by subsidising prices during his 2022 presidential election campaign. French unemployment at 7.4 per cent compares unfavourably with the UK's 3.4 per cent. Meanwhile France is the highest taxed OECD and EU state, leaving little margin for manoeuvre. Her balance of payments figures are as gloomy as the UK's, together with her flat economic growth.
While Britain's position is not rosy, France's is certainly no better. That is why recent predictions in a certain European press, not least in France, taken up by British elites, that the UK was descending into terminal decline has lost all proportion. If the French press enjoy a touch of schadenfreude at the expense of the old enemy, and French politicians are glad to distract from their own problems, the willingness of much of the British middle class to swallow the same view can only be explained by ingrained cultural habit aggravated by post-Brexit resentment. Today, with Macron utterly wedded to the EU project, France for British elites is ipso facto superior to Britain. Yet France's moral state is parlous.
Since the 2022 presidential and legislative elections Macron's centrist party has no overall majority. France is stalemated and drifting towards ever more radical politics. Macron's prime minister Élisabeth Borne, unable to command a majority in the National Assembly, struggles to get her business other than by the constitutional sleight of hand of article 49,3, which guillotines parliamentary debate. With the chamber split four ways the question remains as to whether Macron will eventually dissolve parliament. Opinion polls suggest this would be a gift to Marine Le Pen's party, already the single largest opposition party with 89 seats. France might then come to replicate the present radical right Italian government.
Socially and culturally French society is far from healthy. Other than worsening violence and lawlessness in the banlieues – conveniently out of sight of English elites' visits to France – the French model of assimilation and laïcité is being tested to destruction. Official Justice Ministry statistics for July 2021 show 24.6 per cent of the prison population as foreign (double the proportion in Britain).  The French Interior Minister publicly stated this summer that, although foreigners make up 7.4 per cent of the French population, they account for 19 per cent of all delinquency nationally, and that 48 per cent of arrested delinquents in Paris are foreigners, 55 per cent in Marseille, 39 per cent in Lyon.
… The general picture is of a France far from at ease with itself. The prospect of a member of France's ethnic minorities leading the country with no fuss in the near future, as has just happened in Britain, seems impossible.
And remember the cries of 'Brexit is bad' when the Paris stock exchange overtook London's in November?
I don't recall any mea culpas from the metropolitan elite once we resumed normal service ten days later:
Guido Fawkes posted (emphases his):
The London stock market has re-overtaken Paris's after falling behind for 10 days, with a lead of $63 billion. A 2.5% rally in the value of the pound led to the improvement, and morale booster, compared to a modest 0.7% improvement for the Euro …
Germany
While Remainers in Britain's metropolitan elite moan about food inflation, our friends in Germany have experienced similar price hikes.
On October 14, September figures for the UK showed that our grocery price inflation hit an all-time high of 13.9%.
Yet, JustFood reported that Germany's grocery price inflation also reached historic highs:
Inflation levels in Germany reached their highest levels in three decades in September with food prices rising 18.7% year on year, figures show.
In a continued squeeze on consumer pockets, inflation reached 10% – its highest level since the country's reunification in 1990, the federal statistical office said.
Consumers faced the sharpest rises in edible fats and oils, which were up by 49%. Dairy products and eggs increased by 29.1%, meat and meat products 19.5% and bread and cereals 18.5%.
Month-on-month comparisons show consumers paid 1.8% more for food in September than in August, with vegetables 3.9% more expensive and dairy products up by 2.2%.
The consumer price index for food in Germany, measured against a 2015 baseline of 100, stood at 135.4 year-on-year in September, compared to 121.1 overall.
The federal statistical office said the cost of energy was leading inflation but food also played a major role, with both contributing to an overall 10% rise in prices.
Without food and energy rises in the equation, the country's inflation rate is reduced by over half to 4.6%. The prices of all goods increased by 17.2% in September 2022 compared to 2021, but the prices of non-durable consumer goods, which include food and energy, increased by 23.3%.
We cannot blame German inflation on Brexit. As Conservative ministers rightly say at the despatch box, inflation is up all over Europe and the West.
UK to relax egg rules to line up with EU
Another thing we hear from Remainers, especially in the Houses of Parliament, is that British food regulations are weaker than the EU's!
Nothing could be further from the truth! Our food standards have been higher than the EU's for decades.
Anyone wanting up-to-date proof can read an article in Wednesday's Guardian — 'UK free-range egg rules could be relaxed in line with EU for avian flu outbreaks':
Free-range egg rules in the UK could be relaxed in response to the European Union preparing to overhaul regulations after the biggest avian flu outbreak on record.
Ministers are understood to be considering a change to the rules that would mean eggs laid by hens kept in barns for months on end could be classed as free range.
Currently, eggs cannot be classed as free range if birds are indoors for more than 16 weeks. Farmers have that grace period in both the EU and UK, which means eggs can still be labelled as free-range if a government-issued housing order for birds is in place up to 16 weeks.
Subsequently, labels need to be added to packaging making it clear that those are now classified as barn eggs.
Whitehall sources told the Daily Telegraph that the Department for Environment, Food and Rural Affairs (Defra) is considering changing the regulations in order to keep farmers competitive with Europe …
The European Commission put forward a proposal in September, which stated "where temporary restrictions have been imposed on the basis of EU legislation, eggs may be marketed as 'free-range' notwithstanding that restriction".
The proposal, which is awaiting approval by the European parliament, means eggs could be classed as free range even if hens are forced to spend months indoors due to government rulings.
In September, egg producers in the UK said it was essential that the government now followed suit to avoid British suppliers being undercut by EU imports.
Climate change
Climate change sceptics will be on the right side of history in time.
Guido Fawkes's readers posted about deforestation in this post.
One chap posted an article about the increasing need for balsa wood from Latin and South America for blades on wind farms. Apparently, indigenous communities have not been consulted: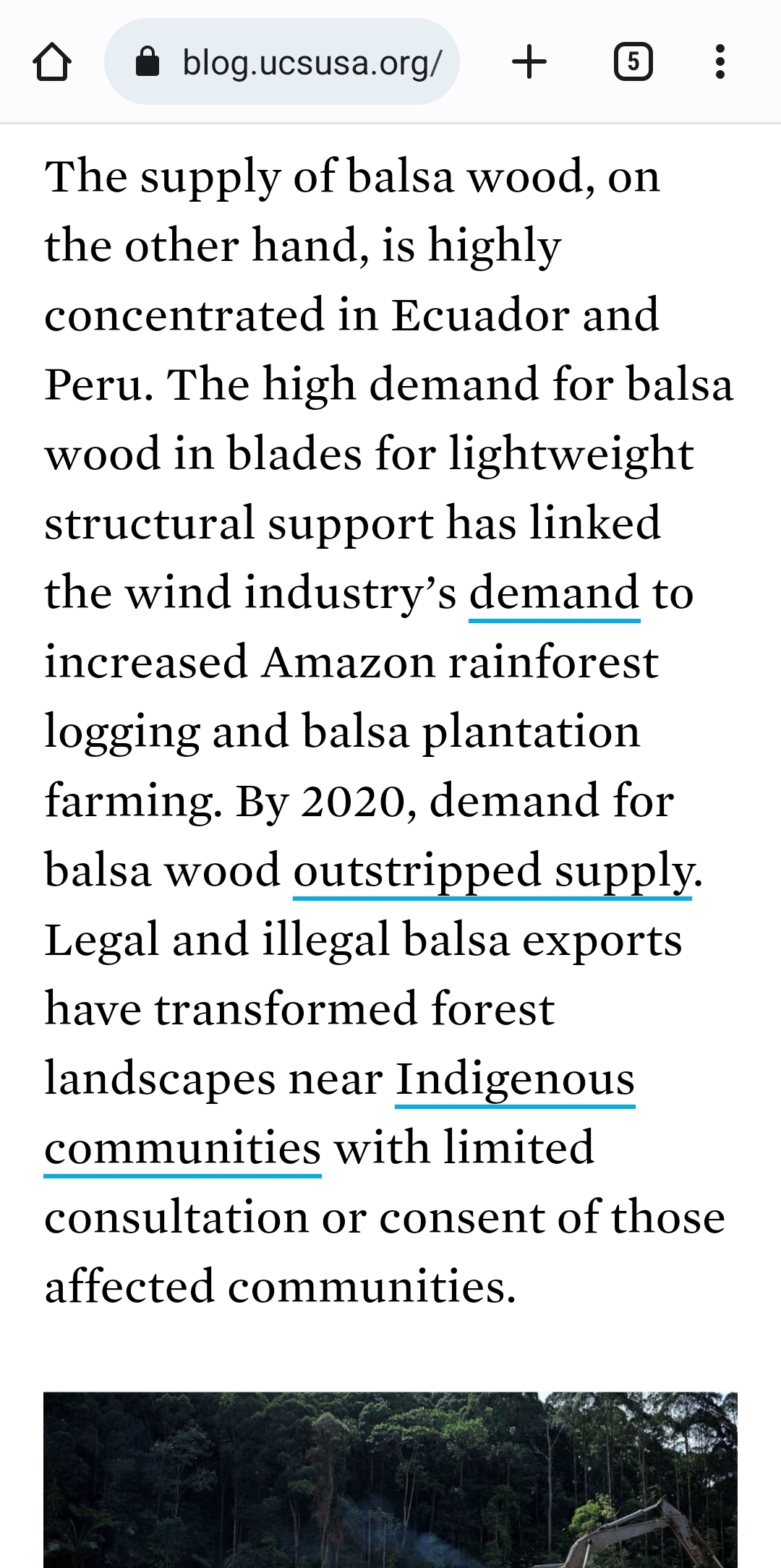 The article continues, stating that some companies are switching from balsa to oil byproducts, such as PET and PVC, or to cellulose: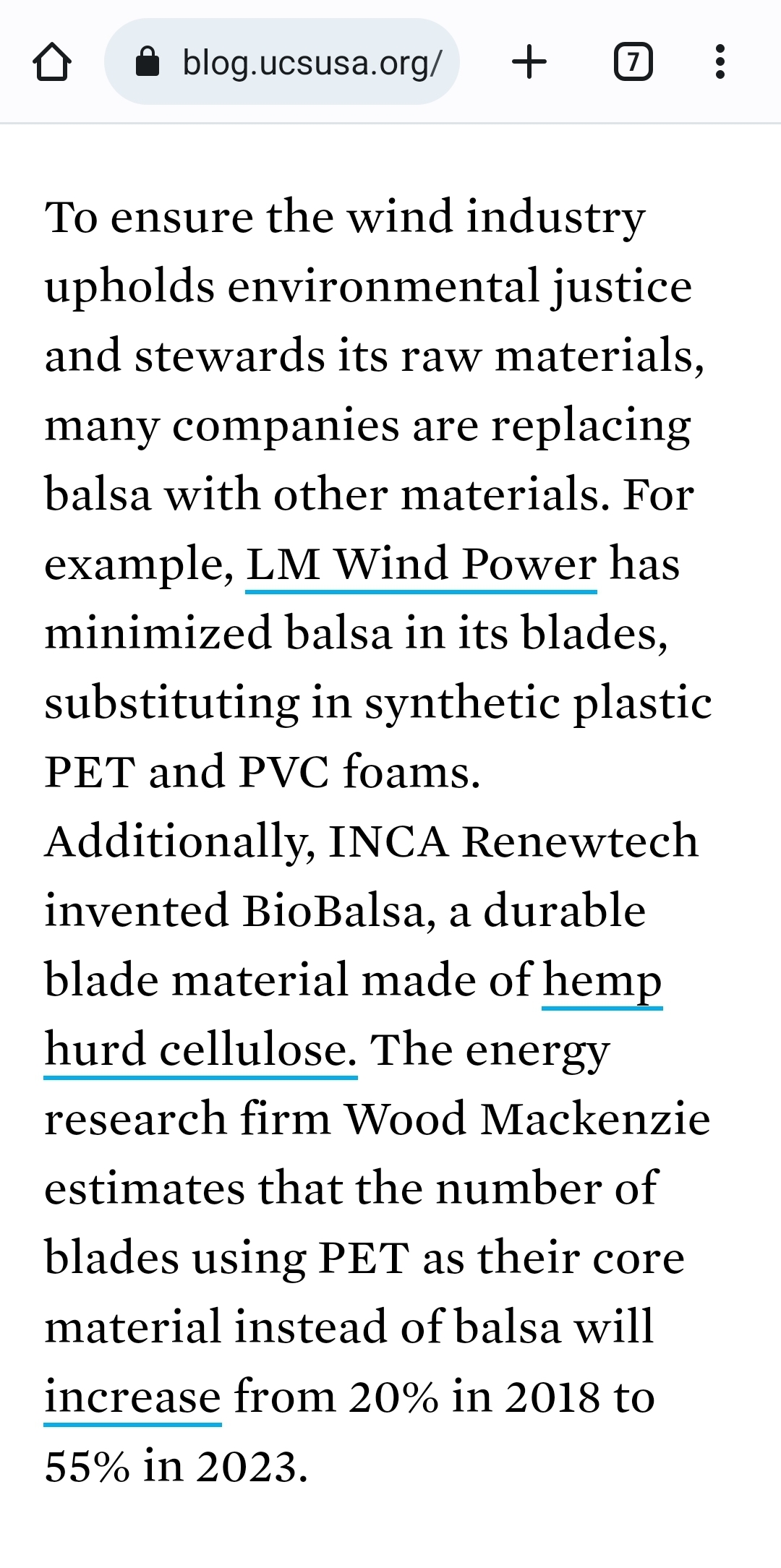 The man who posted the article pointed out:
BALSA is being replaced with PET and PVC (yep- crude oil) but are also experimenting with cellulose– which needs highly toxic chemicals to make.
Someone responded with this:
Synthetic PET usually uses food starch as a replacement for oil based derivatives. These divert food crops away from human and livestock consumption. They also encourage the use of GM crops and pesticides.
PVC production creates sodium chloride, which is a cause of acid rain.
The eco loons really didn't think this through.
Ultimately:
The eco l00ns NEVER think anything through.
And they hope we won't notice.
It's part of the reason why 'climate science is settled' and they refuse to debate.
You know how it goes.
Fracking bad – mining cobalt (even using young children) good.
You flying -bad- them flying- good.
On a similar note, an UnHerd article laments the loss of the hearth in 'Firewood will save the West'. The author, Paul Kingsnorth, lives in Ireland and has his firewood delivered to his home:
The Irish government is currently campaigning against households which burn turf or wood, the former on the grounds of CO2 emissions, and the latter on the grounds of air quality. As ever, the campaign is driven from Dublin, and mostly takes Dublin sensibilities into account. Rural households in Ireland have been burning turf and wood forever, with little significant impact on "air quality" — or at least, no impact comparable to that which Ireland's "Celtic Tiger" modernisation has had. Suddenly, though, the media is full of scientists armed with studies demonstrating how getting a fire going in your cottage in winter will lead to cancer and lung disease on a widespread scale.
That is nonsense. Until recently, Man had been surrounded by smoke for millennia.
Essentially, the Irish government, in line with other Western governments, wants to do away with fireplaces:
This new tilt against household fireplaces is not just an Irish phenomenon: it is suddenly popping up everywhere. Woodstoves are, curiously, becoming the number one air pollution villain. Never mind mass car use, accelerating air travel or industrial pollution. Never mind the emissions caused by the massive increase in Internet server farms, which within just a few years could be using up an astonishing 70% of this country's electricity. These days, if you want to demonstrate your social responsibility, you should be all aboard with the abolition of the traditional fireplace and its replacement with "green" alternatives.
He explains that the home hearth has been not only traditional but also atavistic throughout mankind's history. He cites the philosophical polymath John Michell (1933-2009):
The fireplace, whether our dessicated urban authorities know it or not, has a primal meaning, even in a world as divorced as ours from its roots and from the land.
In his short essay "Fireside Wisdom", the uncategorisable John Michell suggested that the "displacement of the hearth or fireplace" from the home was one of the many reasons for the craziness of the modern world which his life had been spent playfully exploring. The fireplace at the centre of the home, he wrote, was both an ancient practicality and a device of "cosmological significance" across cultures and time: "Conversation is directed into the fire while dreams and images are drawn out of it."
In the past, the act of sitting staring into the smoky fire with family or neighbours was the genesis of the folk tale and folk song which tied the culture together. Now we stare at digital fires hemmed into boxes manufactured by distant corporations who also tell us our stories. No song we can dream up around a real fireplace can compete with what these boxed fires can sell us. "Thus," wrote Michell, "the traditional cosmology is no longer represented by its domestic symbols, and a new, secular, restless, uncentred world-view has taken its place."
Focus, Michell explained, is "the Latin name for the central fireplace. The fire not only warms but, as a symbol, illuminates the corresponding images of a centre to each of our own beings and of a world-centre which is divine, eternal and unchanging." Lose your fires, and you literally lose your focus as a culture. In this context, a government spokesman telling his population, as one minister here recently did, that they should "get over" their "nostalgic" attachment to the hearth fire and install ground source heat pumps instead is more than just a nod to efficiency. It is an assault on what remains of the home and its meaning. It is an attack on the cultural — even the divine — centre.
Paul Kingsnorth posits that each move away from self-sufficiency, e.g. using one's own fireplace, puts us more under the control of government:
When you can no longer grow your own wood or cut your own turf to heat your own parlour, you are made that little bit more dependent on the matrix of government, technology and commerce that has sought to transmute self-sufficiency into bondage since the time of the Luddites. The justification for this attack on family and community sufficiency changes with the times — in 17th-century England, the enclosures were justified by the need for agricultural efficiency; today they are justified by the need for energy efficiency — but the attack is always of the same nature. Each blow struck against local self-sufficiency, pride and love of place weaves another thread into the pattern which has been developing for centuries, and which is almost complete now in most affluent countries …
In my lifetime, in my part of the world, the notion and meaning of "home" has steadily crumbled under external pressure until it is little more than a word. The ideal (post)modern home is a dormitory, probably owned by a landlord or a bank, in which two or more people of varying ages and degrees of biological relationship sleep when they're not out being employed by a corporation, or educated by the state in preparation for being employed by a corporation. The home's needs are met through pushing buttons, swiping screens or buying-in everything from food to furniture; for who has time for anything else, or has been taught the skills to do otherwise?
He refers to a 1980 manuscript, 'Family Work', by the American essayist Wendell Berry:
Like so much of Berry's work, it locates the centrepoint of human society in the home, and explains many of the failures of contemporary Western — specifically American — society as a neglect of that truth. The home, to Wendell Berry, is the place where the real stuff of life happens, or should: the coming-together of man and woman in partnership; the passing-down of skills and stories from elders; the raising and educating of children; the growing, cooking, storing and eating of food; the learning of practical skills, from construction to repair, tool-making to sewing; the conjuration of story and song around the fire …
Even back in 1980, Berry recognised that the home had become an "ideal" rather than a practical reality — precisely because the reality had been placed out of reach for many. What killed the home? Three things, said Berry: cars, mass media and public education. The first meant that both work and leisure could, for the first time in history, happen a long way from home. The second — "TV and other media" — have played a role, since the mid-20th century, in luring us all into a fantasy world of freedom from obligation, and a limitless, fun consumer lifestyle. "If you have a TV," writes Berry, "your children will be subjected almost from the cradle to an overwhelming insinuation that all worth experiencing is somewhere else and that all worth having must be bought." Finally, the school system is designed "to keep children away from the home as much as possible. Parents want their children kept out of their hair." Schools exist to train children to fit into individualistic, consumer societies; to internalise and normalise their ethics and goals, and to prepare for a life serving their needs.
I have to disagree with his disparagement of television, as my better half and I watch a lot of French programmes, food shows in particular. For us, it is a window into a culture we love very much. Were it not for television, we would have to visit France in person much more often. As it is, we can experience France from our sitting room and perfect our language skills while learning more about the world's finest cuisine.
Berry's solution is to make the home a welcoming, peaceful place for everyone living there:
… he suggested that we should "try to make our homes centres of attention and interest"; to make them as productive and nurturing as we can … you will see new possibilities begin to open up. You will see, in Berry's words, that "no life and no place is destitute; all have possibilities of productivity and pleasure, rest and work, solitude and conviviality that belong particularly to themselves", whether in the country, the city or the suburb. "All that is necessary," he suggests, is "the time and the inner quietness to look for them."
Television is a good thing
On the subject of television, a 104-year-old Australian woman told her grandson that it was probably the greatest development in her lifetime.
Lewis Isaacs wrote her story for The Guardian: 'My 104-year-old Nan's secret to a long life':
A life as long as hers can be hard to comprehend. Asked what the biggest change to the world she'd seen across her life was, Nan replied that it was television. Life when she grew up rarely extended past her suburb. Television connected the living room to the world.
How true! Well said, Nan!
The article has family photographs, too.
So what is Coral Isaacs's secret to longevity?
She says it comes down to genetics and finding the right partner. She was widowed more than 30 years ago and says the life she built with my Pop has supported her since. It helps to remember your pills, she adds, and to get up, shower and make your bed every day.
I suspect the truth about her endurance is something different though. Nan is determined to keep her eyes focused on the future. Even when the days are hard, she still looks forward.
I was hoping she would mention smoking a crafty cigarette or enjoying a daily digestif, but, sadly, no.
Churchill's cigar goes on sale
For a smoking story, we had to go to an auction house.
On Thursday, December 29, The Times reported that one of Winston Churchill's cigars is expected to fetch £3,000 at auction:
The former prime minister gave the Cuban cigar to an RAF doctor who helped him when he broke his leg in 1962.
The doctor's grandson has put the rare cigar up for sale with Hansons Auctioneers, which said it would be an "impressive item" for any Churchill collector. Charles Hanson, the owner, said: "We occasionally see Churchill cigar stubs that people have picked up after he dropped them. But to gain a whole cigar in such pristine condition, given as a gift in unusual circumstances, is special."
Churchill, who died in 1965 aged 90, was a lifelong smoker. While he was at boarding school, his mother learnt he had taken up smoking cigarettes and tried to bribe him to stop by promising him a pistol and a pony.
He switched to cigars after spending time in Cuba after his graduation from Sandhurst military academy, and friends, dealers and associates sent him regular deliveries of cigars from then on.
The circumstances are most Churchillian:
The auction house said the cigar under auction was given to an RAF squadron leader, Bertram AJ Barrow. Churchill fractured his femur while getting out of his bed at the Hotel de Paris in Monte Carlo, and was flown back to London on an RAF plane while in a waist-to-ankle plaster cast.
Barrow, the leader of the medical team, plucked up the courage to ask Churchill for one of his famous cigars.
For decades the treasured cigar was kept in a bedside drawer, but will now go under the hammer at on January 9 with an estimate of £2,000 to £3,000.
Barrow's grandson, Thomas Barrow, 33, an employment law adviser from London, said: "Bertram asked for a cigar as a keepsake, and Churchill advised that he could have 'one that he had been saving' — which was Cuban and still in its glass case."
What a story!
Conclusion
As my later grandmother-in-law, a lifelong Londoner, was fond of saying:
The old ways are the best.
I couldn't agree more.
Let's try to recapture them in 2023.
Britain's veteran television presenter Richard Madeley has a weekly agony uncle column in The Telegraph.
Recently, a 76-year-old lady from Argyll and Bute in Scotland wrote to him complaining about her 73-year-old husband's smoking and drinking.
Excerpts of the letter and Madeley's wise reply follow, emphases mine.
Anon writes:
I am 76 and I don't smoke or drink. My husband is 73: he drinks strong lager every day, he smokes and he takes no exercise whatsoever.
All of this is making me increasingly worried and angry. He is a good man, but I fear that he has deliberately set himself on a path to self-destruction. (Certainly he seems to take no evident pleasure from his habits.) He knows my views on the matter but we have never argued about it.
Richard Madeley begins by asking where the harm is in her husband's habits, as he is in his eighth decade. He tells the woman that she is:
over-worrying a bit about this.
It's not as if your husband is shooting up on class-A drugs every night or downing a whole bottle of whisky before sunset; he is indulging in some pretty mild vices. Yes, smoking is especially harmful, but if he hasn't managed to kick the habit by now I think it's probably a lost cause.
You say that he knows your views on the matter but quietly carries on puffing away and snapping open those tinnies anyway. You also say that you don't argue about it and he doesn't behave objectionably after he has sunk a few.
So my advice? Leave him be. It is not a perfect situation and you are quite right to be concerned about what his habits are doing to his liver and his lungs, but ultimately that is his responsibility, isn't it? Carry on enjoying your own retirement in your own way and let him enjoy his on his terms.
Live and let live. Or, rather, live and let smoke and drink. There are worse things in a marriage, you know.
I couldn't agree more.
This lady should be thanking God for a lasting marriage — and enjoying her husband's company more often. No doubt he was smoking and drinking lager when she married him. If it wasn't a problem then, it shouldn't be one now.
We've been told for decades that smoking could damage our health and that it can kill.
Over the past 20 years or so, the message is even more pervasive — and questionable: SMOKING KILLS.
Naturally, when the novel (new) coronavirus reared its ugly head, the WHO told us that smokers were among the first who could become infected.
In reality, the opposite seems to have happened, such that a group of French researchers studied nicotine and coronavirus.
On April 23, the Telegraph recapped the early COVID-19 warnings to deadly, filthy smokers — of whom I am one. I never believed this for a second, because, according to our betters in health organisations worldwide, smokers are susceptible to everything (emphases mine):
A study from China prompted Public Health England and the Centers for Disease Control and Prevention in the United States to put smoking on the list of 'risk factors' for coronavirus earlier in the crisis.
Public Health England said: "Smoking tobacco is known to damage the lungs and airways causing a range of severe respiratory problems. The evidence clearly shows Covid-19 virus attacks the respiratory system, which explains why smokers are at greater risk. A small but highly impactful survey from China finds that smokers with Covid-19 are 14 times more likely to develop severe disease."
Quick, panic stations!
Once coronavirus patients entered hospital, the opposite happened. On April 22, the Daily Mail reported:
One study in China, where the pandemic began, showed only 6.5 per cent of COVID-19 patients were smokers, compared to 26.6 per cent of the population.
Another study, by the Centers for Disease Control in the US, found just 1.3 per cent of hospitalised patients were smokers – compared to 14 per cent of America.
And research by hospitals in Paris found that smokers were under-represented in both inpatients and outpatients, suggesting that any protective effect could affect anyone, not just those hospitalised by their illness.
The Mail credited veteran smoker, English artist David Hockney, with this prediction:
It comes after world-famous artist David Hockney last week said he believes smoking could protect people against the deadly coronavirus.
I did not read exactly what David Hockney said, but my own take is that smoke and tar in the lungs will put paid to coronavirus — in many cases.
France was the only nation with enough bottle (audacity) to study this in detail after finding a low number of smokers in Parisian hospitals. On April 23, RFI reported:
Researchers from several institutions saw that of the 11,000 or so patients hospitalised in Paris public hospitals for Covid-19 at the start of April, only 8.5 percent were smokers, compared to 25.4 percent of the general public.
They then looked more closely at 482 patients at the Pitié-Salpêtrière hospital in Paris who tested positive for Covid-19 and found a similar phenomeon: the 343 hospitalised for serious complications had  a smoking rate of 4.4 percent, and 5.3 percent of the 139 who were sent home with less serious symptoms smoked.
Upon further investigation, accounting for age and sex, the researchers found that the small number of smokers appeared to have had some kind of protection against the virus.
The findings were in line with a study on Covid-19 in China, published at the end of March in the New England Journal of Medicine, that found 12.6 percent of 1,099 people studied, who tested positive for Covid-19 were smokers, while the smoking rate in China is around 28 percent.
Researchers from the CNRS (French National Centre for Scientific Research), INSERM (National Institute for Health and Medical Research), l'Assistance Publique — Hôpitaux de Paris (public hospitals in Paris), the Sorbonne, the Collège de France and the famous Pasteur Institute jointly published an article summarised here in French.
Qeios has a scientific summary in English. The French researchers are now treating some patients with nicotine patches, believing that nicotine may be repelling the coronavirus.
Their preliminary conclusions are the following:
Nicotine may be suggested as a potential preventive agent against Covid-19 infection. Both the epidemiological/clinical evidence and the in silico findings may suggest that Covid-19 infection is a nAChR disease that could be prevented and may be controlled by nicotine. Nicotine would then sterically or allosterically compete with the SARS-CoV-2 binding to the nAChR. This legitimates the use of nicotine as a protective agent against SARS-CoV-2 infection and the subsequent deficits it causes in the CNS. Thus, in order to prevent the infection and the retro-propagation of the virus through the CNS, we plan a therapeutic assay against Covid-19 with nicotine (and other nicotinic agents) patches or other delivery methods (like sniffing/chewing) in hospitalized patients and in the general population.
In conclusion, we propose, and try to justify, the hypothesis that nAChRs play a critical role in the pathophysiology of SARS-CoV-2 infection and as a consequence propose nicotine and nicotinic orthosteric and/or allosteric agents as a possible therapy for SARS-CoV-2 infection. Interestingly, ivermectin, which has been recently shown to inhibit the replication of SARS-CoV-2 in cells in vitro [53], is a positive allosteric modulator of a7 nAChR [54]. The nicotinic hypothesis might be further challenged by additional clinical studies and by experimental observations determining whether SARS-CoV-2 physically interacts with the nAChR in vitro, for instance by electrophysiological recordings, high resolution EM and by animal model studies. Further work should also specify the still enigmatic relationships between ACE2 and nAChRs in the nervous system.
One should not forget that nicotine is a drug of abuse [55] responsible for smoking addiction. Smoking has severe pathological consequences and remains a serious danger for health. Yet under controlled settings, Nicotinic agents could provide an efficient treatment for an acute infection such as Covid-19.
The Guardian has more on how the studies were and are being carried out. The renowned Pitié-Salpêtrière hospital in Paris was also involved in the report and is taking part in further research:
The renowned French neurobiologist Jean-Pierre Changeux, who reviewed the study, suggested the nicotine might stop the virus from reaching cells in the body preventing its spread. Nicotine may also lessen the overreaction of the body's immune system that has been found in the most severe cases of Covid-19 infection.
The findings are to be verified in a clinical study in which frontline health workers, hospital patients with the Covid-19 virus and those in intensive care will be given nicotine patches …
"Our cross-sectional study strongly suggests that those who smoke every day are much less likely to develop a symptomatic or severe infection with Sars-CoV-2 compared with the general population," the Pitié-Salpêtrière report authors wrote.
"The effect is significant. It divides the risk by five for ambulatory patients and by four for those admitted to hospital. We rarely see this in medicine," it added.
The Telegraph looked at what the Pasteur Institute has been doing:
It may sound counterintuitive that people who puff on Gauloises are less likely to catch a virus that can cause deadly attacks on the lungs. However, that was the statistical outcome of an in-depth study conducted by the Pasteur Institute, a leading French research centre into the disease.
The institute tested almost 700 teachers and pupils of a school in Crépy-en-Valois in one of the hardest-hit areas in France, as well as their families. The "highly accurate" tests found that only 7.2 per cent of smokers from among the adults tested were infected while four times as many non-smokers, some 28 per cent, were infected.
Arnaud Fontanet, an epidemiologist at the institute, warned that they were not encouraging people to take up smoking, remarking that those smokers who do catch the virus "risk suffering more complications" than others. Scientists suggested it could be the nicotine in cigarettes that was behind the surprising results regarding infection, although more research is needed. 
Even a tobacco control researcher agrees that, during the coronavirus crisis, nicotine may benefit those who use it. Also see Thread Reader:
She had a bit more:
I look forward to a future update from the French.
Meanwhile, it's good news for smokers during the pandemic.
On Thursday, December 27, the good Lord took Richard Arvin Overton, America's oldest veteran and living male, to his heavenly rest.
Mr Overton was 112 years old and died of pneumonia-related complications.
A God-fearing churchgoer, he was of the old school in his daily habit of smoking Tampa Sweet cigars — up to 12 — and enjoying whisky. He was still driving a car at the age of 109.
This intriguing video shows us more about this good man, who served his country during the Second World War:
Black History Heroes honoured him on Veterans Day this year:
Prior to that, Richard Overton, a lifelong Texan, received other public honours, as Wikipedia tells us:
Overton gained media attention during the 2013 Memorial Day weekend when he told Fox News he would spend his Memorial Day "smoking cigars and drinking whiskey-stiffened coffee."[11] On that same Memorial Day, Overton met with Texas Governor Rick Perry. Overton was also invited to the White House where he met with President Barack Obama, and to the Veterans Day ceremony at Arlington National Cemetery, where he was singled out by name for praise by the President.[5][12][13]
During an NBA game between the San Antonio Spurs and the Memphis Grizzlies on March 24, 2017, Overton was honored during a half-time break.[14]
Overton is the subject of a 2016 documentary, Mr. Overton, in which he is interviewed about his daily routine, thoughts on his longevity, and his military service.[15][16] On May 3, 2016, he became the oldest surviving American veteran after the death of Frank Levingston.[17][18][19]
On his 111th birthday, the University of Texas club feted him with a luncheon. Biography reports that he said:
111, that's pretty old, ain't it. I can still get around, I can still talk, I can still see, I can still walk.
His home city of Austin — the Texas state capital — even officially designated his birthday as Richard Overton Day. How cool is that?
Richard Overton was born to Gentry Overton, Sr. and Elizabeth Franklin Overton Waters on May 11, 1906, in Bastrop County, Texas. He was a great grandson of John Overton Jr., whose father served as a political adviser to President Andrew Jackson.
Wikipedia provides us with details about his tour of duty during the Second World War:
Overton enlisted into the U.S. military on September 3, 1940 at Fort Sam Houston, Texas.[8]
He served in the South Pacific from 1940 through 1945, including stops in Hawaii, Guam, Palau and Iwo Jima. He left the U.S. Army in October 1945 as a technician fifth grade.[9]
He earned several service medals, including the Meritorious Unit Commendation, the US Army Good Conduct Medal, the American Campaign Medal, the Asiatic-Pacific Campaign Medal and the World War II Victory Medal.
After the war ended, Overton worked in furniture shops before taking on a position with the Texas Department of the Treasury, as it was known at the time.
He married twice and had no children.
In 2016, his relatives launched a GoFundMe campaign so that he could continue to live in his own home rather than go to an assisted living facility. The GoFundMe campaign was wildly successful and raised more than $200,000 as of 2017. Biography says that Home Depot and Meals on Wheels also made their own donations. Ultimately, Richard Overton was able to have his house refit to accommodate his changing health circumstances and enable round the clock care at home.
Biography tells us that, when asked if he had any secrets to a long life:
Overton simply replied that he has none. "I don't have a secret," he told People. I am here because the man upstairs wants me to be here… He put me here, and he decides when it's my time to go."
Well said!
His funeral will take place in Austin on January 12, 2019; KXAN has details. His house could well be turned into a museum — his dying wish.
Richard Overton honoured God, his country, his family and his fellow citizens.
One cannot say better than this …
… other than to add: may he rest in peace.
The 2016 presidential primary season in the United States is unprecedented. We've never seen anything like it in living memory.
Every day brings intrigue and drama, especially on the Republican side. You could not make it up.
A few years from now, someone should make a television series of it in documentary form with news clips and objective narration.
What follows are viewpoints on two candidates and one upcoming concern.
Ted Cruz
City dwellers and suburbanites in southern Wisconsin chose Ted Cruz over Donald Trump in their primary on April 5, 2016. This demographic handed the win to Cruz. (Bernie Sanders beat Hillary Clinton.)
They voted for the GOPe(stablishment) man 'showing America the face of God', as his wife Heidi puts it.
Nearly one month ago I wrote a piece on Cruz and Donald Trump. It discussed Cruz's dominionist religiosity and the globalist connections through his wife. I concluded:
I'll take an honest sinner any day.
One of my readers, chrystalia99 of Fortune's Thoughts, recently posted several more reasons not to vote for Cruz. Everyone who thinks he is a true outsider and upstanding man should read her post. I was particularly intrigued by the reasoning behind his desire to possibly abolish the IRS. It's not necessarily an altruistic one.
Here's Cruz trying to kiss his elder daughter in February:
This video shows Cruz coaching his family on doing campaign ads for him:
Some might find that convincing or heartwarming. Others will cringe.
GOP Convention
We're still a few months away from the Republican convention in Cleveland.
Trump supporters are rightly worried that their man will be deprived of the Republican nomination. The GOPe are doing nothing to dispel that concern. In fact, they are stoking it.
Some people want to go and protest. Riots are rumoured. However, Fortune's Thoughts explains the narrative of notional 'delegate stealing' and advises caution to those wanting to protest at the convention in July (highlights and caps in the original):
THE DELEGATES ARE NOT BEING STOLEN. Delegates aren't magic beings–they are ordinary people from Main street. Anyone who is a republican can be elected a state delegate, and get to the National convention as well. What is happening is very simple. Cruz is playing the game, making sure that those who vote for HIM go the extra step and go for a delegate slot. And the GOPers are busily helping him, by making sure that their PRECINCT PEOPLE, OR THOSE WHO VOTE ON DELEGATES, ARE EITHER CRUZ SUPPORTERS OR ARE VOTING FOR PEOPLE WHO ARE. This is how the delegate system works. It is NOT the GOP's "job" to make sure a candidate's delegates actually support them.
Also:
I really shouldn't have to spell this out, but I will anyway. THE GOPers KNOW CRUZ IS NEARLY COOKED. They also know that Trump IS our choice, which scares the Bejeevers out of them, for good reason. If Trump gets 1237+ the ONLY thing they can do to stop him is change the rules at the convention (which they do have the right to do BTW, yet ANOTHER reason we need to take back the GOP). They also know if they do that, we'll likely go write in, or revolt. To prevent Trump REACHING 1237+, they have to demoralize the voting base. They have to convince people Trump is losing (look at the news and nonsense over WI, for instance), or that Trump HAS ALREADY LOST PLEDGED DELEGATES WHEN HE HASN'T.
As for the MSM:
The media is deliberately trying to create panic and civil unrest, by allowing people to think we're "doomed", WHEN THIS IS NOT THE CASE.

The media is also making sure that they don't tell you the whole story, because if they told you what I wrote above, you'd do 2 things–you'd say "oh, OK, so I'll LEARN HOW TO PLAY THE GAME SO MY VOTE COUNTS", and you'd stop worrying about delegates in states where they have already been chosen, and start worrying about states going forward, and lock in THOSE delegates.

They are NOT telling you the whole story, or telling what they ARE telling you accurately, because they are hoping either Trump or the voters do something stupid that violates some arcane RNC by-law, so they can nullify the binding pledge, making ALL THE DELEGATES UNBOUND AT THE CONVENTION. They are doing this at the behest of the GOPers.
Here are excellent reasons not to march on Cleveland during the convention (purple highlights mine):
But, and this is far more important at this point: The media and the uniparty, both GOPers, AND Dems, are trying to get the people angry enough to fall for idiocy like Roger Stone's "Days of Rage", and march on Cleveland "just to be sure the people are listened to". 
AND IF WE DO THAT–WE LOSE. EVERYTHING. THE NOMINATION, TRUMP IN THE WHITE HOUSE, AND PERHAPS WORSE. WHY???   THINK, AND THINK HARD, ABOUT THIS–
Under the RNC rules, if the convention isn't "safe", they can suspend it. Technically, as the rules expire THE NIGHT BEFORE THE CONVENTION, They can just change them anyway.
The RNC also has rules in place that allow them to nominate who they choose, if the binding of delegates is nullified by some action on the part of the candidate. Do you think they couldn't make a case that Roger Stone is employed by Trump? Or that Roger Stone is trying to create civil unrest because Trump told him to? THINK AGAIN.
Chrystalia99 goes on to explain that the Left are bringing out their own people to protest Trump's nomination. Cleveland Police are gearing up for riots. The National Guard will be on alert. As this concerns the presidency, anyone arrested for disrupting proceedings or protesting could be charged with a felony. With things being as they are today, charges of terrorism could also apply.
Cleveland has a population of only half a million people. The city will find the convention challenging enough without the added chaos from protesters, left-wing or conservative.
Roger Stone, who, as chrystalia99 says, does talk about this a lot with Alex Jones, really should stop. Although he is no longer working directly for the Trump campaign, he is investigating cases of alleged voting fraud for them.
Trump supporters should stay at home and let him do the 'art of the deal' with the GOPe at the convention. The media would be only happy to portray any peaceful protests from the his supporters as 'angry', 'unhinged' displays that they told us we could expect from them. This is a no-win proposition.
Bernie Sanders
Wouldn't it be great if it were Donald Trump v Bernie Sanders in the general election?
Two renegades from New York battling it out for the presidency!
Every day of the campaign would engage the American public and the world, just as the primary season has.
Sanders has a one-minute campaign ad called 'Bringing People Together':
It hasn't gone down well with everyone. Veteran blogger Dave Hitt is one of them. In his post on the advert, he says:
… it's a reason so many of us are deeply afraid of a Bernie presidency.
I don't want the government to bring me together with anyone. I, and I alone, should get to pick who I get together with. They, and they alone, get to decide if they want to get together with me. Choosing your own associations is one of the most basic of all human rights.
You want to get us together, Bernie? Then get out of the damn way. Let us peacefully decide what we want to do and who we want to do it with. Let us start a business doing whatever we want, without thousands of dollars worth of permits and three-inch-thick books of regulations. Let us decide for ourselves how we want to live our lives, and keep the resources we need to do it.
Hitt then reminisces about the brilliant cigar evenings he used to enjoy in a brew pub, where he and his friends were a microcosm of what Sanders wants to see:
There were about twenty of us. It would be hard to imagine a more diverse group. We were different races, had different educational backgrounds and were on different rungs of the socioeconomic ladder. Our politics and religious beliefs were all over the place. We had different jobs and different interests. The only thing we all had in common was the love of fine cigars …
Everything was good, but the conversations – the conversations were great. We'd joke and discuss and debate and explain and argue and be charming and offensive and everything in between, and never once, in all the years we did it, was a voice ever raised in anger. Nothing brings out good conversation better than fine cigars.
Then the smoking ban in his state took effect, which broke the group up. Hitt rightly observes:
Your tribes took that from us, Bernie. Your Government Tribe and your Nanny Tribe reached in with their diseased claws and ripped it from our lives. They intentionally destroyed something wonderful that brought people together.
Just so!
But, is Sanders himself an anti-smoker? The incomparable Frank Davis did some investigating and found that, indeed, he is. From 'Tearing People Apart':
This may clarify:
The Senate health committee took up anti-smoking legislation that would authorize the Food and Drug Administration to regulate the marketing, advertising and product standards of cigarettes and other tobacco products. "I support this long-overdue legislation. If anything, I don't think this bill goes far enough," Sanders said. He suggested doubling the current level of resources for programs to help smokers quit. He also compared tobacco company executives to heroin dealers. "The only difference is they wear three-piece suits and hang out at country clubs."
I think it's pretty clear where Bernie Sanders is coming from.
Me, too. Thanks, Frank. No different to Hillary Clinton, then — at least on that score.
Conclusion
2016 will see the beginning of 'yuge', as Trump would say, change in the United States. It will be real change, too, starting at the ballot box in early November.
We will not see another election cycle like this for at least a generation, probably longer. It will go down in history as being one of the most memorable, especially during the primaries. Millions of us have never paid any attention to them. Millions of Americans who have never voted in their lives have registered to vote in the primaries!
The votes Americans cast this year will, as Trump says, be the most important ones of their lives, regardless of whom they vote for.
America may never be the same again. Let us pray that the Great Republic is transformed rather than destroyed.
Two of my posts last week — here and here — discussed the role of British women in the Great War.
Today's post concludes the series, which will be included on my Recipes/Health/History page.
Much of the information in this series is from Kate Adie's Women of World War One, based on her book Fighting on the Home Front, and was shown on BBC2 on August 13, 2014.
Smokes for Soldiers
Cigarettes — 'fags' in the vernacular — were seen to be as important a ration for soldiers as food and medicine.
Lady Denman, so instrumental in furthering Britain's Women's Institutes and a suffragette, initiated one of the funds for Lord Kitchener's programme called Smokes for Soldiers.
Some cigarette cards, which accompanied the packs, showed soldiers in rare moments of quiet contemplation. Those pictured here are from Tony Allen's fascinating page, Cigarettes & Tobacco and WWI Soldiers.
Carrera's Black Cat cigarettes had a series of women on their cards. These depicted ladies working in war effort occupations, among them mechanics, coal workers and game keepers. The backs of the cards had brief descriptions of their duties. These made the troops aware that women were doing their part in what was probably seen as being an unheard of and fascinating way. Adie said that the cards proved to be very popular.
Food production
As yesterday's post on the Women's Institutes showed, ensuring Britons had enough food was paramount.
The government had statistics showing that farmers' wives were the most likely 'to go insane'. Indeed, the WI was able to help them to get out and about, if only to their meetings.
Women working in agriculture now had a new-found purpose, ensuring they could alleviate food shortages.
A further effort was made with the government's introduction of the Women's Land Army. Twenty-three thousand young volunteers were sent around the country to till the land, pick fruit, milk cows and take on other responsibilities. Farmers objected that the women were wearing trousers. The government assured them that the workers were feminine and ladylike.
The Women's Land Army also participated in the same activities during the Second World War, spearheaded by the aforementioned Lady Denman who was their honorary head, sponsored by the Ministry of Agriculture and Fisheries.
Shipbuilding and dock work
Another controversial workplace for women were docks and shipyards.
Not surprisingly, male workers were concerned that low wages for inexperienced women would push their own pay packets downward. Unions ensured that any work arrangements were to be for the duration of the war only.
Women worked at several shipyards, including A&P in Tyne and Wear. The work that men previously did was divided up among women which made the pay and employment conditions more acceptable to long-standing male employees.
Medicine
The Voluntary Aid Detachment was comprised of upper and upper middle class women volunteers who cared for soldiers returning from the Front. Downton Abbey explored this.
The late Lady Jane Grey was interviewed in 1986 and said that as a young Voluntary Aid Detachment member she watched a doctor extract a bullet from a wounded soldier.
Nurses were concerned that the volunteers might not be able to care for the soldiers properly and that their recovery might be compromised as a result. However, with the number of injured men returning, they grudgingly agreed that the volunteers were needed.
Where doctors were concerned, only a few hundred women were physicians at the beginning of the war. They treated only women and children.
Some medical school professors refused to have women in their classes. Kate Adie said that, where women were taught, no professor showed them diagrams of the male anatomy.
In Edinburgh, the pioneering doctor Elsie Inglis established the Scottish Women's Hospitals for Foreign Service Committee, a suffragette-sponsored medical team that provided all-women units to treat the Allied wounded. They had sent teams to France, Serbia and Russia. When Inglis approached the Royal Army Medical Corps, saying the Committee could offer their services, a representative from the War Office responded:
My good lady, go home and sit still.
Instead, the French government took Inglis up on her offer. She and her physicians went to Serbia under their aegis.
Two other suffragette physicians, Dr Flora Murray (left) and Dr Louisa Garrett Anderson (right) had better luck in
establishing the Endell Street Military Hospital in Covent Garden, London. Perhaps this is because Murray was Emmeline Pankhurst's personal physician. Alternatively, it might be because the hospital was in London and not overseas. In any event, Endell Street opened in May 1915 and stayed open until August 1919.
The hospital, staffed entirely by women, treated 24,000 men and carried out 7,000 operations. A convoy of ambulances arrived every night with soldiers requiring triage and emergency treatment. One who was treated there said:
This hospital is a triumph for women.
The Great War showed everyone — from soldiers to the general public to the War Office — that women could indeed practise medicine every bit as well as men.
In 1917, both women were made CBEs — Commanders of the British Empire. Today, a home for the elderly, Dudley Court, has replaced the hospital in Endell Street. It, too, has a medical centre, but no doubt staffed by men and women.
The vote
By 1917, there was little women could not do — except vote.
In parliamentary debates, Winston Churchill, who was then a young MP, said that women's interests were adequately represented by either their husbands or male family members.
However, with most men still fighting in Europe and elections looming, Prime Minister Lloyd George and MPs debated the subject again. On February 6, 1918, they approved the Representation of the People Act by an overwhelming majority: 385 – 55.
It was thought that had the measure not been approved, suffragette demonstrations and violence could continue and perhaps escalate. MPs feared that the Bolshevik revolution might drift to the UK.
The new act did not enfranchise every woman, although it did respond directly to what the suffragettes wanted. (Suffragists, on the other hand, wanted universal suffrage for all men and women.) This act granted the vote to all women over 30 who either owned property or who were married to a registered voter. Many women were still unable to vote, including former suffragettes and those who were working in the war effort.
In some ways, the act did more for men. Prior to that, many were also unable to vote, including the troops in the trenches. Afterward:
All males over 21 gained the vote in the constituency where they were resident. Males who had turned 19 during service in connection with the First World War could also vote even if they were under 21, although there was some confusion over whether they could do so after being discharged from service. The Representation of the People Act 1920 clarified this in the affirmative, albeit after the 1918 general election.
It should be noted that some men — e.g. those affiliated with universities and property owners who had two homes — had a plural vote. In the case of university affiliation, they could vote in both the consituency where they were studying and in their home one. A property owner could vote where he lived and also where he owned property. This was abolished in 1948 in another Representation of the People Act.
Universal women's suffrage was granted in the 1928 Representation of the People (Equal Franchise) Act, which gave all women over 21 the right to vote. The suffragists' cause was finally won.
Post-war women's work
After the war ended, women employed outside the home feared for the future.
Men returning home from the war expected and got their jobs back.
Six thousand munitionettes marched on Parliament for the right to continued employment. However, the government sent the message that women should now return home to be good wives, mothers and homemakers. The government said their efforts were greatly appreciated, but that time had now ended.
The level of women working outside the home soon returned to pre-war numbers. Mary Macarthur, the women's union leader, was disgusted. She died of cancer in 1921.
The Church

In matters ecclesiastical, the controversial pacifist Maude Royden, who became assistant preacher at the nonconformist City Temple (United Reformed Church) in 1917, was the first woman to preach from a Church of England pulpit. That event took place in 1921 at St Botolph's Church in London.
In 1929, she started the official campaign for women's ordination. In 1931, she was the first woman to earn a Doctor of Divinity degree. By then, she had already completed preaching tours around the world.
Conclusion
Although the suffragettes and women working in the war effort were not all saints, they were highly capable at a crucial time in history.
What the Great War demonstrated was women's worth in the working — perhaps, especially, a man's — world.
It would be difficult to put women back in their box afterwards.
It is also worth remembering that it also became necessary for women to earn a living. No other generation of women in recent history lost more fiancés and husbands than that one. Thousands of widows and spinsters needed to work to support themselves and their children. They had to man up.
And finally …
You can see IBT's collection of Getty photos (mustn't copy!) of women — mostly British, some French — working in factories and as policewomen during the Great War. It's a fascinating mix of posters and photographs.
Earlier this year I met someone who works for a 'tobacco addiction group'.
That's not a group of smokers getting together for high tea, rather the opposite.
This person works in Oxford in an organisation which is part of or affiliated with the Nuffield Department of Primary Care Health Sciences in the Medical Sciences Division.
I asked her why she was working there, and she responded by saying what a strange question that was. She then replied, 'I want to help people'.
I said that was a strange response, considering how many smokers have been hindered rather than helped by the likes of her and everyone else in Tobacco Control.
Before I get into detail, my British readers will be wondering if this woman has ever met Debs Arnott from ASH. No, she hasn't but has 'heard of her'.
This woman really does live in a bubble along with the rest of her colleagues not only in Oxford but around the world. She said:
Smokers were free to smoke — no one was stopping them;
She did not feel that enough smokers knew tobacco and nicotine were harmful;
She has not seen the graphic made-up or otherwise falsified (e.g. neck tumour) photos on cigarette packets: 'Why would I look at those?';
She did not know about the meme — see cigarette packets — that male fertility and libido are supposedly harmed by tobacco; never mind that when smoking was at its peak we had the Baby Boom;
She did not know that rented accommodation in the UK is nearly all non-smoking and has been for nearly 15 years;
She is happy that all UK hotel rooms are non-smoking;
She doubted whether much-touted smoking-cessation prescription drugs caused suicide or depression;
She is delighted with the 2007 smoking ban in England;
She thinks smokers are clogging up the NHS;
She supports the introduction of plain packaging;
My better half and I were seen as being okay to smoke because we are 'educated' and 'understand the risks involved'.
We discussed everything point by point. Please interpret 'discussed' loosely, as outside of what I've just written in bullet points, she had very little to say. I did most of the talking and told her frankly yet politely how wrong she and her ilk were:
It's difficult to smoke anywhere now in the UK unless you own your own home; even then, you hardly dare to smoke outdoors unless you are 100% sure your neighbours are okay with it (think of the children!);
London's powers that be have suggested that the capital's public parks be 'smoke free'; renters thinking of stepping out for a crafty gasper will have many fewer places to go if a local law eventually goes through;
I asked her if she had considered the employment discrimination against smokers — she hadn't;
I asked her if it was right for an aged old soldier to have to stand outside a private club to have a smoke — she hadn't thought about it but agreed I had a point;
I asked if she had thought about all the lost friendships and vanished camaraderie the smoking ban brought, especially to the elderly — she hadn't;
We are sick and tired of being constantly portrayed as selfish, inconsiderate, morally derelict, stinky, generally disagreeable and that people we meet are surprised to discover we smoke — as was she;
I explained that the shocking cigarette packet photos are fake and told her that lungs inside a dead smoker are pink;
I told her that most smokers will never get lung cancer, die grisly deaths in hospital and that a fair number of us are on track to see to see our 100th birthday.
I didn't go on to ask if she favoured dope smoking or hard drugs over cigarettes. There's a simple reason for that; she couldn't — or wouldn't — respond much beyond saying, 'No, that's not true' and 'Mmm'. She was remarkably tight-lipped.
Overall, she seemed really stunned to be confronted by — gasp — a smoker.
There were a few more things which bear elaboration.
Considering that smokers pay so much in sin tax, I told her that we resented paying her and Tobacco Control's salaries only to be endlessly harassed and preyed upon — audibly (televisual nagging), emotionally and financially.
She told me I was wrong: how could my better half and I possibly pay her salary when the government contributed to it. I asked her how the government gets its money. She said nothing. This woman went to one of the world's top universities and does not understand that simple point? Perhaps she does now.
I said that if she really wanted to help people, she really should go into another line of work. I asked her once again, 'Why smoking?' All she could say was, 'I really want to help people.'
At that point, I gave up.
This was a social occasion at a top London venue, incidentally. We were near the main refreshments table. When I turned around, the catering staff had been listening intently. For a moment, it seemed as if they were going to burst into applause.
I said what I had to say. It has been bubbling up for nearly 20 years.
And now, it's off my chest and my bucket list! Happy days!
Parents might be surprised to find that a number of athletes still smoke tobacco.
Caution should be exercised when pointing out to children that athletes are good, healthy-living role models. In fact, an increasing number of American athletes smoke dope. More on that tomorrow.
For now, let's explore the history of athletes and tobacco, past to present.
Tobacco and sports champions
This vintage Camels ad features a number of sports personalities at the top of their game in the middle of the 20th century. To see a larger image, visit South Florida Filmmaker.
Ellsworth Vines Jr was a champion tennis player. As an amateur, he won Wimbledon in 1932. In 1934, he began playing professionally and was the leading pro player until 1938. In 1942, he became a professional golfer and won three tournaments between then and 1951. Vines died in 1994 at the age of 82.
Helen Hicks was one of the first women professional golfers. She won the 1937 Women's Western Open and the 1940 Titleholders Championship. She married Whitney Harb in 1938 and competed as Helen Hicks Harb until 1948. In 1950, she and 12 other women founded the LPGA. Hicks died in 1974 at the age of 63 from throat cancer.
Harold 'Stubby' Kruger represented the United States in swimming at the 1920 Olympics in Antwerp. He was also a water polo star and friend of Johnny Weismuller. After their athletic careers ended, Weismuller went on to play Tarzan in 12 films and Kruger pursued a long career as a Hollywood stunt man. He died in 1965 at the age of 68. In 1986, he was inducted into the International Swimming Hall of Fame as a 'pioneer swimmer'.
Another athlete advertised Lucky Strikes in the 1920s, legendary tennis ace Bill Tilden, who won 138 of 192 amateur tournaments between 1912 and 1930. He won Wimbledon, his last major title, at the age of 37 in 1930. He turned professional after Wimbledon and went on to tour with a select few fellow players until 1945. He died in 1953 at the age of 60 from heart complications. He was inducted into the International Tennis Hall of Fame in 1959. Many tennis fans consider him as one of the greatest tennis players of all time. Incidentally, he played his closest rival Ellsworth Vines Jr six times in the latter half of 1934 and lost each time.
Around the same time, British school teacher Tom Hampson won the 800m gold in the 1932 Olympics held in Los Angeles. The Independent tells us:
he is said to have started the day with a fry-up, a cup of tea and a cigarette.
When he was at Oxford, famous middle-distance runner Roger Bannister's closest rival was Eric Mackay:
who, according to legend, "could not last the nine laps of a three-mile race without a cigarette and had a friend standing by with one ready for a quick drag before the bell".
In the middle of the 20th century, legendary baseball player Joe DiMaggio appeared in Chesterfield adverts. Golfer Arnold Palmer smoked L&Ms on the fairway.
Closer to the present day, footballer Johan Cruyff — voted European Player of the Century in 1999 — and considered one of the most influential players in the game's history smoked 20 cigarettes a day until 1991, at which point he had double heart bypass surgery:
Proof, if any, that smoking a lot does not stop you becoming one of the world's greatest footballers.
As a manager, Cruyff went on to make Ajax a powerhouse in the 1990s. His coaching methods injected new life into FC Barcelona.
21st century athletes
Some sports fans think that their heroes abhor tobacco. Although many do — and some have turned to drugs — there are still a few traditionalists around.
Cricket
Record-breaking Australian cricketer Shane Warne is the best of his generation with:
145 test matches, 194 ODIs, over 50,000 balls bowled on an international stage. Oh yeah, 1,000 international wickets too.
He:
not only smoked, he was a chain smoker …
Retired England cricketer, Phil Tufnell:
took over 1,000 wickets across all first-class cricket, and his personality, trademark behaviour and "great control of flight" when playing made him a popular sports personality.[2]
I saw him on television a few weeks ago (C4's At Home with Steph and Dom). He was puffing away quite happily.
Tennis
German tennis player Karsten Braasch, who retired in 2005, used to smoke between changeovers and:
was described by one journalist as "a man whose training regime centred around a pack of cigarettes and more than a couple bottles of ice cold lager."[2]
He was known for defeating both Serena and Vanessa Williams in a 'Battle of the Sexes' contest at the 1998 Australian Open when he was ranked 203:
playing a single set against each, beating Serena 6–1 and Venus 6–2.[3]
The unforgettable Russian Anna Kournikova, who now lives in Miami Beach, immersing herself in charity work, including the occasional match for a good cause, was known to smoke during her career:
In 2000 she admitted enjoying a smoke to wind down telling a French newspaper: 'My smoking has nothing to do with my tennis.

'It is absolutely my business when I smoke cigarettes. And I like to have a few cigarettes, especially in the evening after a hard day.'
Tim Henman also smoked at least occasionally during his career. He was very careful to keep it secret.
Football (soccer)
Goliath published an article last month: '10 Athletes You Didn't Know Smoked'.
Among them are footballers.
Wayne Rooney has:
been seen and criticized for smoking on holiday, proving that when you are a household name, your every move will be watched and scrutinized.
Mario Balotelli is an inveterate smoker. He is now on loan to AC Milan and is contractually obliged to obey a good behaviour clause, one where:
of course, smoking is strictly prohibited.
Ashley Cole:
is known to smoke heavily during the off-season, and his friends claim that he will chain smoke cigarettes whilst on vacation.
Golf
Irrepressible and unconventional golfer John Daly has stopped drinking but:
He does, however, still smoke around 40 cigarettes a day. The 49-year-old very recently collapsed whilst playing in a tournament in Mississippi on the 18th hole, and this was due to a collapsed lung from a rib injury he suffered in 2007. In typical John Daly fashion, he returned to the course the next day and was even spotted smoking a cigarette on the clubhouse patio. Although not exactly a positive role model for kids, Daly is a fan favorite due to his attitude and his non-country club appearance and lifestyle.
Baseball
New York Yankees star Alex 'A-Rod' Rodriguez:
is also a cigar smoker, and will often be seen lighting one up after an impressive performance.
Basketball
Legendary Michael Jordan, the greatest basketball player of all time:
is also a cigar aficionado. This is not something that he has picked up since retiring either, as he would also smoke a cigar before every single home game to relax. There are not many players that could get away with doing something like this, but "His Airness" is not like most other players. His first cigar was given to him by Jerry Reinsdorf (Bulls owner) after winning the first NBA title, and he soon fell in love with sparking up. Jordan is not seen too often these days, but when he is he will often be seen with a cigar in his mouth. He has even appeared on the cover of the popular magazine Cigar Aficionado, where he revealed how stepping back from the public eye has allowed him to enjoy himself.
Recent Olympians
Most people consider that Olympians lead the lives of saints. It is unthinkable that any of them would smoke.
Yet, London's Olympic Village had designated smoking areas for the 2012 Games. This was the first time in many years that an Olympic Village has had such a provision. Well done to them, because, as even anti-smokers had to admit, including New Zealand's chef de mission Dave Currie:
"I was going to raise it at the chefs meeting and rant and rave but my experience is that in a village some people smoke and you usually find piles of cigarette butts in furtive corners.
"It's a bit of a 'name and shame' approach I suppose because these things are right in middle of walkways and people use them to smoke. Ideally it'd be great if they didn't have them but it is probably a better option than people lurking in odd places.
"It is the first time I can recall there has been a smoking pod …"
The article adds a bit of Olympics history with regard to tobacco:
When Mark Todd won his first Olympic gold medal on Charisma in 1984 he nervously dragged on a cigarette as the competition leader, American Karen Stives, took to the showjumping ring. Stives knocked off a rail on the penultimate jump, and Todd took gold. Todd is to compete in his seventh Olympics when the three-day eventing starts next week.
Three-time Olympic gold medallist Peter Snell [1960, 1964] used to work for cigarette manufacturer Rothmans.
The world was somewhat surprised when 2012 Tour de France winner and Olympic gold medal winner Sir Bradley Wiggins finally got a chance to rest after several weeks of cycling and — gasp — smoked a cigarette:
Wiggo seemed happy and relaxed as he enjoyed the balmy evening.
Good for him. Tour de France winners often smoked cigarettes in the old days.
The Independent told us about Wiggins's lung capacity:
One of the keys to Bradley Wiggins' four Olympic golds, not to mention his Tour de France victory, is his lung capacity: eight litres, compared to the average man's six. Perhaps that substantial natural advantage – inherited from his cyclist father – is why Wiggins was content to partake of a cigarette on holiday in Mallorca this week. He certainly isn't the first celebrated athlete to relax with a crafty puff.
Nor will he be the last!
Conclusion
As a post at Smokescreens explains, the thing to remember is that these smoking athletes have outperformed non-smoking athletes:
Take a second to take that information in: the smokers, breathing in their deadly, unnecessary and toxic smoke, are physically fitter and healthier, and superior in a sporting sense over the athletes from their country who don't smoke.  Now I am not for a moment suggesting that the smoking is responsible for their being chosen, but clearly it has not hindered them in the slightest. 
How true. Time to look at all the facts for once.
Tomorrow: Dope-smoking athletes
After four centuries of smoking in Western countries — longer in others, especially by Indian tribes and other indigenous peoples — lung cancer was so rare that many doctors had not heard of it.
Smoking might help alleviate lung ailments
Most readers will say, 'Smoking causes lung cancer'. Yet, as I wrote last year, most smokers will never get lung cancer. That is not an endorsement of smoking or vaping, just an attempt to show how statistics can be manipulated, biased and presented to the public.
Whilst the underlying source seems to have disappeared from the Internet, Wisp of Smoke summarises findings on tuberculosis (first emphasis in the original, the one in purple mine):
Nicotine suppresses cell death of neurons (it also promotes vascular growth factor, e.g. growth and branching of capillaries). (Another advantage of nicotine is that Nicotine Slays TB. The link to this mainstream article is prefaced by this comment, "This article was written in 2001 and since then the ban on smoking in public places and taxing tobacco has grown. Extremely-Drug-Resistant Tuberculosis strains will continue to spread and multiply. The resulting global XDR-TB epidemic will be an untreatable and unstoppable calamity.")
I wondered. Although I could not find more on TB, there was something else — on lung cancer.
Lung cancer rare until 1940s
The late Joe Vialls was what one would call today a citizen journalist. He debunked much popular science concerning health, especially smoking.
In one of his articles, 'Smoking Helps Protect Against Lung Cancer', Vialls states that lung cancer was virtually unknown after five centuries of smoking until the 1940s which brought experiments and detonation of nuclear weapons (emphasis in the original):
By the early 20th Century almost one in every two people smoked, but the incidence of lung cancer remained so low that it was almost immeasurable. Then something extraordinary happened on July 16, 1945: a terrifying cataclysmic event that would eventually cause western governments to distort the perception of smoking forever.
This was the notorious "Trinity Test", the first dirty nuclear weapon to be detonated in the atmosphere. A six-kilogram sphere of plutonium, compressed to supercriticality by explosive lenses, Trinity exploded over New Mexico with a force equal to approximately 20,000 tons of TNT. Within seconds, billions of deadly radioactive particles were sucked into the atmosphere to an altitude of six miles, where high-speed jet streams could circulate them far and wide.
Atmospheric testing of this nature did not stop until 1963, by which time:
more than 4,200 kilograms of plutonium had been discharged into the atmosphere. Because we know that less than one microgram [millionth of a single gram] of inhaled plutonium causes terminal lung cancer in a human, we therefore know that your friendly government has lofted 4,200,000,000 [4.2 Billion] lethal doses into the atmosphere, with particle radioactive half-life a minimum of 50,000 years.
'Prove' smoking — not atmospheric testing — causes lung cancer
By 1963, lung cancer went from being a rare disease to something being diagnosed with increasing regularity. What could explain it? (Emphases in purple are mine.)
The only obvious substance that people inhaled into their lungs, apart from air, was tobacco smoke, so the government boot was put in. Poorly qualified medical "researchers" suddenly found themselves overwhelmed with massive government grants all aimed at achieving the same end-result: "Prove that smoking causes lung cancer". Real scientists (especially some notable nuclear physicists) smiled grimly at the early pathetic efforts of the fledgling anti-smoking lobby, and lured them into the deadliest trap of all. The quasi-medical researchers were invited to prove their false claims under exactly the same rigid scientific rules that were used when proving that radioactive particles cause lung cancer in mammals.
However:
The real scientists had the quasi-medical researchers by the throat, because "pairing" the deadly radioactive particle experiment with the benign tobacco smoke experiment, proved conclusively for all time that smoking cannot under any circumstances cause lung cancer. And further, in one large "accidental" experiment they were never allowed to publish, the real scientists proved with startling clarity that smoking actually helps to protect against lung cancer.
Of course, government-generated radioactive rubbish around the world couldn't be revealed to the public. Smoking, particularly cigarettes, had to be perceived to be responsible for the surge in lung cancer:
Government pressure was immediately brought to bear and the facts suppressed, but this did not completely silence the real scientists. Tongue-in-cheek perhaps, Professor Schrauzer, President of the International Association of Bio-inorganic Chemists, testified before a U.S. congressional committee in 1982 that it had long been well known to scientists that certain constituents of tobacco smoke act as anti-carcinogens (anti-cancer agents) in test animals. He continued that when known carcinogens (cancer-causing substances) are applied to the animals, the application of constituents of cigarette smoke counter them.
Nor did Professor Schrauzer stop there. He further testified on oath to the committee that "no ingredient of cigarette smoke has been shown to cause human lung cancer", adding that "no-one has been able to produce lung cancer in laboratory animals from smoking." It was a neat answer to a rather perplexing problem. If government blocks publication of your scientific paper, take the alternate route and put the essential facts on the written congressional record!
Predictably, this hard truth drove the government and quasi-medical "researchers" into a frenzy of rage. By 1982 they had actually started to believe their own ridiculous propaganda, and were not to be silenced by eminent members of the scientific establishment. Quite suddenly they switched the blame to other "secret" ingredients put into cigarettes by the tobacco companies. "Yes, that must be it!" they clamored eagerly, until a handful of scientists got on the phone and pointed out that these same "secret" ingredients had been included in the mice experiments, and had therefore also been proved incapable of causing lung cancer.
Between the 1960s and 1980s, 'smoking causes lung cancer' became a mantra in medical school. Think of the tens of thousands who were studying and earning degrees in medicine during those years — not to mention between the 1980s and the present day!
Vialls' article states that any medical student who questioned this was told to be quiet or to stop being stupid.
To counter this, more propaganda emerged, namely the black lungs. As I said three years ago, an autopsy on a smoker's lungs will reveal pink lungs, just as in a non-smoker. Black lungs are present in those — mostly miners — who suffer from the eponymous disease. The warning pictures on cigarette packets are fake. Many are, in fact, photoshopped.
Vialls explains:
Even blind faith needs a system of positive reinforcement, which in this case became the advertising agencies and the media. Suddenly the television screens were flooded with images of terribly blackened "smoker's lungs", with the accompanying mantra that you will die in horrible agony if you don't quit now. It was all pathetic rubbish of course. On the mortuary slab the lungs of a smoker and non-smoker look an identical pink, and the only way a forensic pathologist can tell you might have been a smoker, is if he finds heavy stains of nicotine on your fingers, a packet of Camels or Marlboro in your coat pocket, or if one of your relatives unwisely admits on the record that you once smoked the demon weed.
The black lungs? From a coal miner, who throughout his working life breathed in copious quantities of microscopic black coal dust particles. Just like radioactive particles they get caught deep in the tissue of the lungs and stay there forever. If you worked down the coal mines for twenty or more years without a face mask, your lungs will probably look like this on the slab.
It should be noted that hospitals transplant lungs from smokers into non-smokers.
How smoking protects the lungs
The following will shock most people reading this.
Just remember that ever since we have been alive, we have been reading and hearing the meme that smoking causes lung cancer.
However, just to recap, lung cancer was not commonplace until the 1940s.
Over the past three decades, many smokers became ex-smokers.
Yet — and some non-smokers might not know this — despite many fewer smokers on the planet, lung cancer rates continue to rise, especially in never-smokers.
How can this be? And how is it that most smokers never get lung cancer?
Vialls has the most plausible answer, although non-smokers will not like it:
Many people ask exactly how it is that those smoking mice were protected from deadly radioactive particles, and even more are asking why real figures nowadays are showing far more non-smokers dying from lung cancer than smokers. Professor Sterling of the Simon Fraser University in Canada is perhaps closest to the truth, where he uses research papers to reason that smoking promotes the formation of a thin mucous layer in the lungs, "which forms a protective layer stopping any cancer-carrying particles from entering the lung tissue."
This is probably as close as we can get to the truth at present, and it does make perfect scientific sense. Deadly radioactive particles inhaled by a smoker would initially be trapped by the mucous layer, and then be ejected from the body [coughing] before they could enter the tissue.
Well, no one will fund further study on that in the present climate.
Before accepting decades-old 'truths' on health, it is useful — sometimes unpalatable — to research what is being suppressed. What we find may well surprise us and give us something more to consider.