Tag Archive
You are currently browsing the tag archive for the 'social media' tag.
August 22, 2022 in history | Tags: Aberdeen, Alexandra Marshall, Andrew Doyle, Australia, Boris Johnson, Canada, censorship, Conservative Party, coronavirus, David GH Frost, Donald Trump, Edinburgh, England, freedom, freedom of movement, freedom of speech, GB News, Guido Fawkes, history, humour, Jolyon Maugham, Justin Trudeau, Kathy Gyngell, Konstantin Kisin, London, Mark Steyn, Matt Ridley, Nadine Dorries, Ottawa, Parliament, protest, Salman Rushdie, Scotland, social media, Speaker's Corner, television, The Spectator, Toby Young, UK, vaccine | 5 comments
Last week I posted about the comedian Jerry Sadowitz, whose Fringe show was cancelled by Edinburgh's Pleasance Theatre.
We have seen more examples of the demise of free speech, particularly in the UK, in 2022.
Restaurant's help wanted ad
In February 2022, Steve Bothwell, who owns the 27-year-old Aberdeen restaurant Cafe 52, placed a no-nonsense advert online in an attempt to hire more staff:
On February 28, Scotland's Daily Record reported that the advert went viral and received much online how-dare-he criticism, included in its article.
However, the ad's wording spells out what Steve Bothwell wants: a hard-working employee who is focused on continuing the excellent reputation of the restaurant rather than his or her social identity politics.
I admire a man who says he doesn't want mask wearing Guardian readers, virtue signallers and self-testers. I wouldn't, either. He was also right to say that hospitality works only when staff:
leave their egos in their lockers.
He gave an interview to the paper (emphases mine):
Speaking to the Daily Record he said: "I don't regret the wording [of the job advert], but I wish people would get on their pins about more important issues.
"I'm not banning anyone. The advert was tongue in cheek."
He added: "I've had three good applications this morning off the back of the advert."
Some weeks later, one of The Guardian's restaurant critics, Grace Dent, had lunch at Cafe 52. Wow! If any of my readers are in Aberdeen, this place looks great. It's right across the street from Aberdeen Market.
Dent's review, complete with must-see close-up photos, appeared on April 1, but this was no April Fool's joke:
The menu was full of delicious-sounding things such as cullen skink, hot smoked mackerel, and Normandy chicken casserole with leeks and tarragon. As I loitered by the door, something about the cafe's name rang a bell, then, to my glee, I realised this was the place whose owner famously doesn't like Guardian readers, and who earlier this year penned a job advert banning them. Perhaps I should have been offended, but there was a bread-and-butter pudding made with crumpets on the menu, plus, to quote Groucho Marx, "I refuse to join any club that would have me as a member."
… This charming, long, narrow strip of a bistro has survived for more than 25 years without the likes of me, and is these days serving a sort of boho, rustic, French-Scottish, casual-elegant menu to a unending stream of walk-ins. Cafe 52 has no need for my pronouncements.
Dent was complimentary about the servers as well as the food. So, the advert worked!
She described the food as follows:
I like Aberdeen a great deal, and spent three wonderful days there alone, talking to strangers and eating …
But Cafe 52 was my favourite. Proprietor Steve Bothwell … has created a place where glorious food matters, and I can say beyond doubt that my restorative bowl of Normandy chicken casserole will be one of the greatest things I'll eat all year. Chicken soup – or stew, in this case – does touch the soul, and a good one is as close to a cuddle from Mother T herself as you can get. This one featured five or six chunks of soft, stewed breast, thigh and leg in a clear tarragon broth with the very occasional chunk of soft potato or slice of garlicky mushroom, and was way more than the sum of its parts. This stew, topped with a vivid pink bundle of pickled red cabbage, was a wonder, with fragrant tarragon the hero ingredient. I ate it with a side of kale, deep fried and laced with chilli, which is the only way to treat it – that is, mercilessly …
Steve Bothwell's mother, who is in her 80s, makes all the desserts. Amazing:
Bothwell's octogenarian mother makes all the puddings at Cafe 52, and just two spoons into her crumpet bread-and-butter pudding I felt the need to check with the staff if anyone had written down the recipes for her carrot and brandied fruit cake or her coffee cake with rum syllabub. The bread pudding is a fearsome, rib-sticking challenge of a dessert, with crumpet after crumpet smothered in sweet, eggy custard and served with vanilla ice-cream. It's the sort of dish that makes guests at other tables wink and wish me luck, as if I was some sort of amateur at this game. The first four or five spoons were sublime, all sticky and compelling; I was living my best life.
The owner also asked if she had enjoyed her lunch:
"Yer stew all right?" he asked, semi-begrudgingly, as if he didn't really care what the answer was going to be, but was curious anyway.
"Incredible," I said. "I loved it."
"Fine," he said, and walked off without another glance in my direction. I have paved a way for all of us. Just don't go in carrying this newspaper.
Edinburgh Fringe's best jokes
Speaking of Scotland, the Edinburgh Fringe is supposed to be — and once was — the world's edgiest comedy festival.
It was last held in 2019 and resumed again this year.
Each year, a series of comedy awards are bestowed upon the best talent. They were once sponsored by Perrier and propelled comedians to stardom. Now it seems that the UK comedy channel Dave has assumed the mantle.
On Monday, August 22, The Guardian gave us the top, award-winning jokes from the 2022 Fringe.
At best, these are Christmas cracker jokes, most of which a 10-year-old could tell:
1. I tried to steal spaghetti from the shop, but the female guard saw me and I couldn't get pasta – Masai Graham (52%)
2. Did you know, if you get pregnant in the Amazon, it's next day delivery? – Mark Simmons (37%)
3. My attempts to combine nitrous oxide and Oxo cubes made me a laughing stock – Olaf Falafel (36%)
4. By my age, my parents had a house and a family, and to be fair to me, so do I, but it is the same house and the same family – Hannah Fairweather (35%)
5. I hate funerals. I'm not a mourning person – Will Mars (34%)
6. I spent the whole morning building a time machine, so that's four hours of my life that I'm definitely getting back – Olaf Falafel (33%)
7. I sent a food parcel to my first wife. FedEx – Richard Pulsford (29%)
8. I used to live hand to mouth. Do you know what changed my life? Cutlery – Tim Vine (28%)
9. Don't knock threesomes. Having a threesome is like hiring an intern to do all the jobs you hate – Sophie Duker (27%)
10. I can't even be bothered to be apathetic these days – Will Duggan (25%)
Dire.
On Sunday, the topic came up for discussion on Andrew Doyle's Free Speech Nation show for GB News (54:43 to 58:00):
Doyle's guests, fellow comedians, deplored the level of comedy at this year's Fringe.
One said that there are 'tastemakers' who nominate comedians for an award and go on to nationwide shows.
Another said that, if this trend continues and edgy comedians like Jerry Sadowitz aren't allowed back in, it will spell curtains for the top Fringe venue:
The Pleasance will die.
Another intimated that the establishment wanted to reshape comedy into something anodyne:
These big venues are getting large donations from the Scottish Government.
That might well be true. I read or heard somewhere that someone from the Scottish National Party owns a few comedy clubs in Edinburgh.
Hmm.
Censored television shows versus nudity
On the topic of censored comedy, British actress Vicki Michelle from the classic sitcom 'Allo, 'Allo! weighed in last week on the current preference for saucy reality shows over reruns of old family-oriented shows.
'Allo, 'Allo! satirised the Second World War and was a huge hit that ran for ten years. Until recently, it, and other classic sitcoms from the 1960s through to the 1980s, were often shown on the BBC.
Now they are all on a paid-subscription streaming platform called BritBox. It's odd that the British paid in television tax to see these shows, now they are expected to pay again to see them.
BritBox has put content warnings on 'Allo, 'Allo! and other programmes from that era.
Television and streaming services are dictating what we can and cannot see.
On August 19, Vicki Michelle gave an interview to The Mirror, which The Telegraph reprised:
A string of content warnings for TV series was issued last year by streaming service BritBox – a collaborative venture between the BBC and other broadcasters – including one advisory note which told viewers that 'Allo 'Allo! featured "outdated" material.
"Comedy is being neutralised – or nuked," Ms Michelle said. "I think 80 per cent of this country would love comedy like 'Allo 'Allo! to be made again, so 20 per cent might take aversion to some of the content."
The series which ran from 1982 to 1992 was set at the Cafe Rene in the town of Nouvion and followed the comic troubles of proprietor Rene Artois – played by Gorden Kaye – as he juggled the dangers posed by British airmen, the French resistance and Nazi occupiers.
The humour stemmed from innuendo and mockery of national stereotypes and accents, and in 2021 Britbox warned modern audiences about the supposedly dated content of the decades-old programme, with a note stating: "This classic comedy contains language and attitudes of the time that may offend some viewers."
BritBox explained at the time that certain classic programmes required advice on the "potentially sensitive language or attitudes of their era".
The actress objects, pointing out the near-obscene content of some of our reality television shows, both visually and orally:
Michelle argued that contemporary television is far more offensive than the comedy now deemed worthy of content warnings, telling the Daily Mirror: "People eff, blind and use the c-word on telly and that's considered fine.
"And on reality TV people make love under a sheet, and that's fine. There was none of that in 'Allo 'Allo!. I don't think there's anything in there that would upset a normal person.
She added: "'Allo 'Allo! didn't send up anyone in particular – we sent up everyone.
"It was a family show where the adults got the double entendres and the children just thought the situations were funny. You can see someone on telly in a bikini and their boobs out."
Let's look at it another way. If Blazing Saddles were shown on television now, it would only be seven minutes long: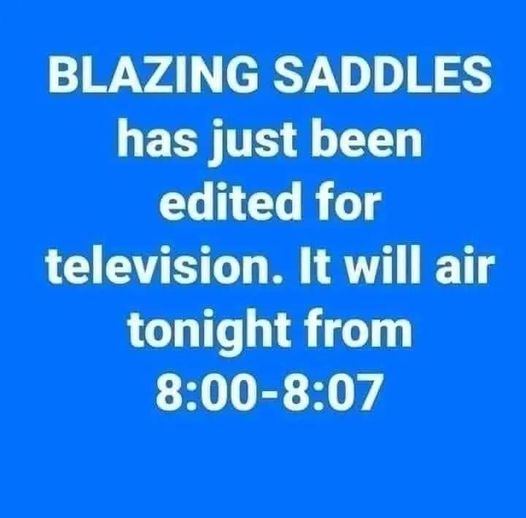 Free speech, Salman Rushdie and the average Twitter user
Along with many millions, I hope that Sir Salman Rushdie is making a steady recovery from his attack less than a fortnight ago.
Conservative commentator Emma Webb told Andrew Doyle on his show last night (see video above) that no publisher would dare print anything like Satanic Verses today. Publishing houses are self-censoring, as if there were a blasphemy law in place:
'If a publisher potentially thought that a book was blasphemous they wouldn't touch it with a barge pole'

Commentator Emma Webb says books like The Satanic Verses wouldn't be written today because the West has 'internalised Islamic blasphemy laws.' pic.twitter.com/EeqKjyiCsN

— GB News (@GBNEWS) August 21, 2022
This year, a few high-profile arrests have been made in the UK with regard to tweets that have caused other Twitter users 'anxiety'. Not long ago, a middle-aged man was pinned down by five police officers in his garden, so it is a bit rich of Boris Johnson to come across as a big supporter of free speech in Salman Rushdie's case when the average Joe is being arrested for lesser offences: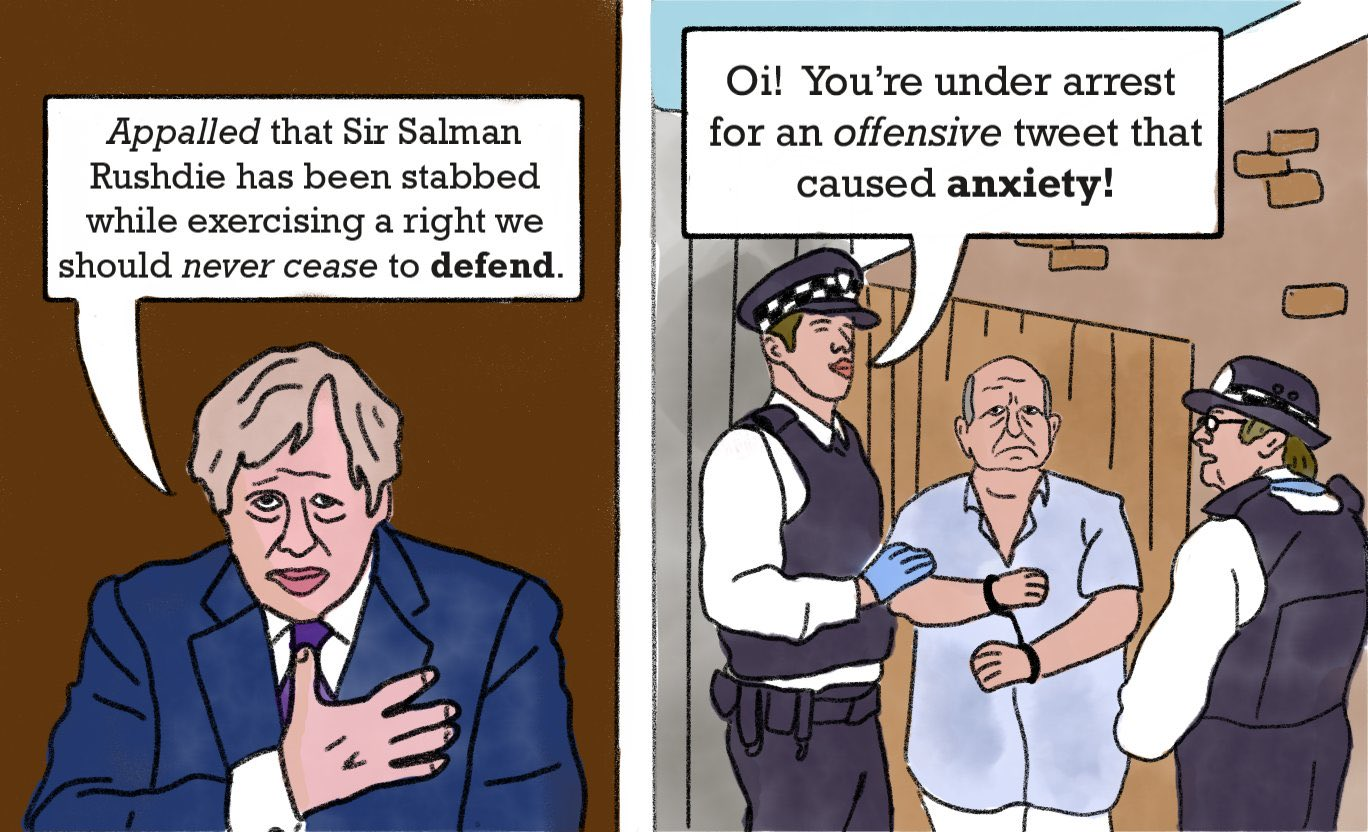 On that subject, lefty lawyer Jolyon Maugham rightly condemned the attack on Rushdie, then asked who has a platform on which to speak.
Well, I do wonder.
A reply to Maugham's tweet told the raw truth of the matter. The Left used to advocate free speech when they thought theirs was censored. Now that the leftist point of view is ubiquitous, they censor any opposing view: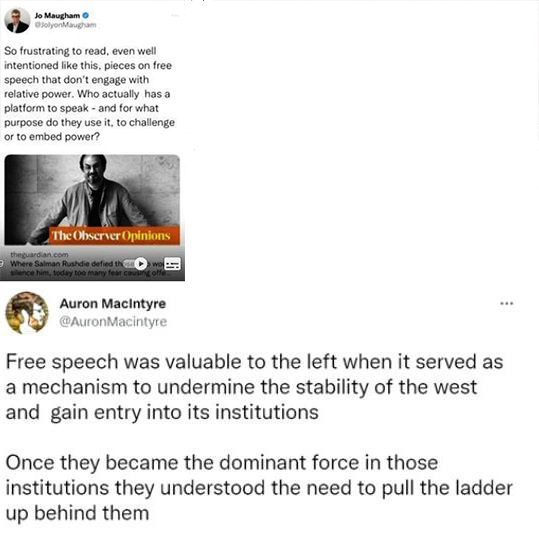 Scarily, this clampdown extends to health issues now.
Censorship of coronavirus vaccine opposition
The truckers' protest in Ottawa in February showed how draconian censorship can get.
The men and women were protesting against the Canadian government for mandating coronavirus vaccines as a condition of employment. Justin Trudeau took the extraordinary action of freezing some protesters' — and contributors' — bank accounts.
On March 8, The Spectator's Jane Stannus wrote an excellent article about this, just as Premier Justin Trudeau visited the UK: 'Where's the outrage over Trudeau's trip to Britain?'
She wrote:
Trudeau used the Emergencies Act to allow banks to unilaterally freeze accounts and assets, not only of participants in the peaceful Ottawa freedom convoy but also of anyone who supported the protest financially – all without a court order and legal immunity. And insurance policies of participants were subject to cancellation. Nothing says 'free country' like being able to freeze the assets of your political opponents without notice, judicial oversight, or possibility of legal recourse, on suspicion of having donated $25 to a trucker who parked in front of Canada's parliament because he didn't want the government to take away his job. 
Perhaps this seems unfair. Trudeau may have invoked the never-before-used Emergencies Act to resolve a parking problem. An error in judgement, but in the end he rescinded it.
Quite true. But not before he suspended Canadians' rights to due process and to peaceful assembly. Or delayed the Act's debate in the Canadian House of Commons until after the protestors were forcibly removed by police. Or cynically strong-armed its approval through the House of Commons via a confidence vote – cleverly changing the subject of the vote to whether or not MPs wanted to call an election. And remember too that he hinted that the Act would be needed for months to come. Can the country ever be considered truly safe when – at any time – a truck driver apparently going about his business might approach the heart of Canada's capital city and run up the Canadian flag, thereby magically metamorphosising into a terrorist?
Trudeau lifted the Emergencies Act on 23 February when it became apparent that the Canadian Senate was likely to vote against it. The next day, Russia attacked Ukraine and both national and international attention turned elsewhere – doubtless to the Liberal government's great relief.
But anyone who thinks Trudeau has learned his lesson is sadly naïve. In a speech to the Toronto Ukrainian community on 4 March, he had the audacity to deplore the 'slippage in our democracies' and express concern about countries around the world 'turning towards slightly more authoritarian leaders'. Why is this happening? According to Trudeau, it's because 'misinformation and disinformation' are allowed to be shared on social media, thus 'turning people against the values and the principles of democracies'. Right. To preserve democracy, what we need is censorship?
For all Trudeau's talk, the real threat to Canadian democracy is not the truckers' movement, whose actions revealed that large numbers of Canadians just want a return to normal life. No: the real threat to democracy is Canada's ideologically driven leadership, seizing more and ever more unchecked power so as to force Canadian society into the mould of a collectivist utopia. It would be nice if the British parliament cared enough to discuss it.
Lord Ridley — Matt Ridley — pointed out that it was quite the opposite for the British parliament with regard to President Donald Trump. MPs wanted to ban Trump for 'hate speech':
"In 2016, the British parliament debated whether Donald Trump ought to be banned from the UK for inflammatory 'hate speech'. When Trudeau announced his visit to the UK, did the House of Commons ask itself whether he should be made welcome?" https://t.co/8QUG1MpStq

— Matt Ridley (@mattwridley) March 9, 2022
When Trump came to the UK, neither House of Parliament extended him an invitation.
Yet, when Trudeau uttered real hate speech against people who did not want to be vaccinated, that was A-okay with our parliamentarians:
"…by criminalising peaceful protest. He invoked emergency powers to inflict extreme punishment on those who objected to his Covid policies while denying them proper due process. Does no one in the UK government find that troubling?" https://t.co/8QUG1MpStq

— Matt Ridley (@mattwridley) March 9, 2022
Fortunately, he was not invited to address Parliament.
He did, however, address EU parliamentarians in Brussels. A German MEP, Christine Anderson, took strong exception to Trudeau's actions over the truckers' protest and pointed out his love of Chinese coronavirus policies.
This very short video is a must-watch. Anderson's English is flawless in every respect:
🇨🇦🇬🇧|Yesterday, Canada's Prime Minister @JustinTrudeau visited the #EU Parliament to give a speech. I took the opportunity to give him an appropriate "welcome" there. Short, concise and right hitting the bull's eye! #ID pic.twitter.com/qpcQyGTixQ

— Christine Anderson (@AndersonAfDMdEP) March 24, 2022
I don't know what the reaction was, but at least she said it and he was there to hear it.
GB News's Mark Steyn has been interviewing British family members of those who have died from the coronavirus vaccine and have been receiving compensation (£100,000) from the British Government.
Unfortunately, many are heartbroken as they share their stories on Twitter and other social media platforms. Not only do they get harsh feedback from readers accusing them of lying, but the social media moderators accuse these people of peddling mis- or disinformation.
This has been going on not only in the UK, but also in other Western countries.
Alexandra Marshall, the editor of the online edition of The Spectator in Australia, says the censorship is taking place because the push to get people to take potentially harmful vaccines has been a 'global error', one that, in some countries, could result in class action lawsuits. This catastrophic failure is too big to fail and no politician wants to jeopardise his or her career by facing a legitimate pushback from citizens. This video is from May 11:
The Online Safety Bill
Meanwhile, our Conservative Government has put forward a potentially damaging Online Safety Bill, notionally designed to protect the most vulnerable but which, in reality, will 'protect' — restrict — everyone else.
Nadine Dorries, the Secretary of State for Digital, Culture, Media and Sport said that she wanted to stop social media 'pile-ons'. It's like using a sledgehammer to crack a nut.
Guido Fawkes explains in a Twitter thread:
Nadine Dorries has just told the commons chamber she wants to force social media companies to stop "pile ons". How will that work without hindering free speech?

— Media Guido (@MediaGuido) April 19, 2022
Who is going to define what a 'pile-on' actually is?
How will a "pile on" be defined? How many people acting in concert will constitute a "pile on". What if the people piling on are correct and what I have said is wicked and wrong? Will they be suspended and my wrongful wickedness be allowed to stand?

— Media Guido (@MediaGuido) April 19, 2022
And will different rules apply online and offline? Think of newspapers:
If newspapers are exempt from anti pile on laws will that apply to their online websites?

— Media Guido (@MediaGuido) April 19, 2022
On May 11, Kathy Gyngell, editor of The Conservative Woman, wrote:
YESTERDAY marked a black day in British history. It was the most repressive Queen's Speech ever. A reversal of Britain's centuries-long march to freedom. 
It contained not one, but a number of 'innovative' measures that threaten to curtail our basic rights, including our freedom of speech and movement, under the guise of what are, I am afraid, spurious claims to reform the law and protect us.   
The proposed new Bill of Rights and a series of other state interventionist and regressive measures will make it harder for any who 'dissent' the official narrative – whether on 'pandemic' policy, vaccine risks or further lockdowns – to air and share their critiques and evidence, or to publicly protest against such curtailing of our rights. 
The Bill of Rights is set to replace current Human Rights law in the name of curbing an incremental rights culture. However, it will quite specifically undermine, if not take away, individual choice and responsibility when and where it is deemed to conflict with the State's definition of the common good.  
Back in March, I asked whether this was the reform of human rights we need? My answer was that it emphatically was not. I argued that the proposed legislation is a perversion of the traditional notions of rights and duties, and a mendacious and threatening one at that.  
Who will decide what those broader interests of society may be? The Government, the World Health Organisation, or any other international public health body with undue influence over our political masters? The last two years of irrational lockdown and all but compulsory vaccination, all in the name of the higher public good, fills me with foreboding. 
The proposed Online Safety Bill is also deeply worrying. Under its terms, 'major social media firms will face fines worth up to ten per cent of their global turnover if they fail to tackle illegal content getting on to their sites under reintroduced duty of care plans to protect users from online harms'.
At the rate we at TCW are already being censored, under the notion of 'harms', this also bodes very ill for us and any other dissenting or free speech site …

The proposed Public Order Bill and its additional police powers, also in yesterday's speech, again would be welcome if it was restricted to stopping eco-protesters blocking roads and inflicting fuel shortages on motorists, and not used against peaceful protest against government policy.  
However, it will allow police to ban suspected troublemakers from attending specified events. Does that mean Piers Corbyn, for example? I defend his right to protest and so should anyone. Does it mean in fact any government critic or opponent could be singled out? How will it be interpreted? The degree to which the police are already politicised and discriminate does not augur well … 
All this proposed new legislation needs to have a bright torch shone on it. We need to protest against it and remember those of centuries past who gave their lives for today's, now to be curtailed, freedoms.
I could not agree more. It is difficult to believe that Conservatives have come up with this unholy intrusion into our lives and thoughts.
Labour have since said that they would take these laws even further once — or if — they are ever in power. We would do well to take them at their word.
On June 27, Lord Frost urged Conservatives to scrap the Online Safety Bill. The Daily Mail reported:
The Tory peer claims the Online Safety Bill contains so many flaws 'it is hard to know where to start'.
He singles out for criticism the fact that it will outlaw comments on social media that would be legal in the real world.
Lord Frost, the former Brexit minister, says the move will be 'highly damaging' to free speech and will benefit only the 'perennially offended' who want to be protected from anything they disagree with.
He says: 'A Conservative Government should not be putting this view into law. The best thing the Government could do would be to slim down the Bill so they can proceed rapidly with the genuinely uncontroversial aspects, and consign the rest where it belongs – the wastepaper basket.'
It is hoped that a new Prime Minister will sink this bill once and for all in September.
I certainly hope so. We have bigger worries right now.
My advice to social media users? If you can't stand the heat, get out of the kitchen.
The 150th birthday of Speaker's Corner
In late June, advocates of free speech gathered at London's Speaker's Corner to celebrate its 150th birthday.
The day before, police arrested a female Christian apologist at Speaker's Corner because she wore a tee shirt with a Charlie Hebdo cartoon featuring an image many think should not see the light of day.
I do not know if this was the same lady who was brutally attacked with a knife there some months earlier for giving a defence of the Christian faith.
Toby Young, the General Secretary of the Free Speech Union, was at Speaker's Corner on its 150th birthday and gave Mark Steyn his report, including one about the Christian lady:
Young pointed out that, in Victorian times — certainly leading up to the founding of Speaker's Corner in 1872 and beyond — people were much more able to speak their minds than they are today.
Young lamented the fact that not many people were present at the 150th birthday celebration. Nor did the mainstream media cover such an important event.
He said that, if people want to read or hear free speech, they now have to go online.
Conclusion
The great irony in all of this censorship is that it took a Russian emigré to the UK to point it out.
Author, comedian and podcaster Konstantin Kisin is putting his views, personal and historical, into a book on the subject: An Immigrant's Love Letter to the West.
On July 10, he discussed free speech with Andrew Doyle and told him that, right now:
We are in the late Soviet stage …
He went on to describe how his grandfather fell foul of this in Stalin's Soviet Union. He lost his job and ended up in a gulag as a result.
Here's the video:
It is sad that it takes an emigré to point out how far down the rabbit hole we are.
That said, thank goodness for Konstatin Kisin. I hope that people listen to him and read his book.
We must defend free speech at all costs.
June 1, 2022 in history | Tags: 2022, climate change, Davos, freedom, freedom of speech, GB News, Geneva, history, hypocrisy, Jack Posobiec, Mark Steyn, Neil Oliver, police, social media, Sophie Corcoran, Switzerland, WHO | 2 comments
Last week, Mark Steyn had excellent coverage of the World Economic Forum (WEF) meeting in Davos.
Neil Oliver also had a round-up of Davos news on his GB News show on Saturday, May 28, 2022. One of his guests was Sophie Corcoran, who went to the Swiss resort with Rebel News. She then went on to cover the WHO meeting.
Most of the tweets below are hers, although there are also some from Mark Steyn's correspondent.
Sophie, a British university student and regular GB News commentator, left for Switzerland on Saturday, May 21:
Here's the Rebel News team and a cartoon insight of the elites at play:
The summit started on Sunday, May 22. Apparently, attendees had to be treble-vaxxed in order to get in:
Employees had to be masked:
One wonders if the masked woman was able to enter the Equality Lounge. Probably not, because she would not have had a badge:
A small anti-WEF protest about the planet took place:
There was also an anti-coronavirus restriction protest:
On a lighter note, Sophie met a Swiss GB News fan:
Cars were heavy on the ground:
The great and the good relied on cars throughout their stay:
I saw the following video on Mark Steyn's show. It's short and to the point. The Rebel News reporter, Avi Yemini, was gentle and polite when he asked the New York Times journo to answer a brief question, but she refused. This has been going on for decades at these events, as the quote from David Rockefeller shows:
Day 1 left Sophie singularly unimpressed:
The next day did not change her mind as she saw all the private jets. There was a record number of them this year:
Yes, they are hypocrites:
TalkTV — and former GB News presenter — Tonia Buxton agreed:
This is yet another case of 'for thee but not for me':
British television presenter (and GB News guest) Carol McGiffin approved of Sophie's coverage:
Another security measure was the WEF's own police force. Interesting:
So many questions — and no answers:
Oh to have been a fly on the wall in the conference proceedings. If only:
Avi Yemini of Rebel News had the good fortune of running into UN Special Envoy for Climate Change Mark Carney, a Canadian who used to head the Bank of England. When asked about the huge carbon footprint of those few days, Carney replied jovially, 'Drop it! Drop it!' The two ran into each other again the next day:
WEF co-founder and head Klaus Schwab proclaimed, 'The future is built by us':
Mark Steyn picked up on that for his show:
Here's a bit more about Klaus:
Freedom of speech will have to be curtailed, according to this WEF panel:
Twitter, it has been reported, even suspended the account of the person who first tweeted that video.
Natalie Winters from National Pulse said that the woman calling for a curb on freedom of speech used to work for Twitter. Hmm. Interesting, in light of the aforementioned account suspension:
Some journalists ran into trouble:
This video is about one of them, Jack Posobiec:
Here's his video account of the incident:
Here is Sophie's coverage of Day 2:
It received this reply:
On Day 3, Sophie visited the shops:
Keeping in mind the aforementioned David Rockefeller quote, here is the Wall Street Journal stand:
On a happier note, she was looking forward to discussing her trip with Neil Oliver on his Saturday evening show:
Bill Gates spoke on Day 3, about — surprise, surprise — preparing for the next pandemic:
He also thought that vaccine passports were useless. That's easy to say after the fact:
That day, Dr Tedros was re-elected as the head of WHO. We hope that the UK does not sign up to the WHO treaty about global management of the next pandemic:
On a related topic, National Pulse's Natalie Winters discovered alleged deletions of certain attendees' names:
The next video comes from Sav Hernandez for Rebel News. This is one of the few times I've agreed with a left-winger:
Meanwhile, Reuters was busy fact-checking independent journalists:
On Mark Steyn's show, True North journalist Andrew Lawton discussed Metaverse's Nick Clegg, the one-time Deputy Prime Minister, and his hefty security entourage:
The next day, Lawton reported on the head of Oxfam who spoke about how profitable the pandemic was for some. From what Lawton said, it was not meant as a criticism:
The next video is of Albert Bourla, head of Pfizer, moaning with Klaus Schwab about people who disagreed with coronavirus vaccines:
Meanwhile, Sophie spoke with a Colombian who said that lockdowns were so helpful during the coronavirus crisis that they should be implemented for the climate crisis. He said that the climate could renew itself while people stayed at home:
Who is going to argue with a military officer, though?
Lockdowns only work if people are getting paid to do nothing. Perhaps that's part of the plan, but where will the money come from?
As Sophie points out, if they're so concerned about the planet, perhaps Zoom would have been a better vehicle than a private jet, helicopter and limo:
They're lording it all over the rest of us:
Ironically, this year's WEF summit theme was regaining public trust:
It seems the WEF lost world leaders' trust, too, as very few heads of state attended.
It also seems that, to the WEF, everyone else is a problem. The theme of their 2017 summit was populism.
On May 25, the Rebel News team gave their conclusions of the summit. Concerning the reply, I agree that the WEF is what happens when a majority of people lose their religious faith, and more than just the global elites:
Sav Hernandez said that Davos is a microcosm of the world as WEF would like to see it, with the great unwashed (my words) looking in from a very safe distance outside. Another reporter said that he was shocked to see how small the WEF bubble is and how isolated it is from society. Someone also remarked at the shock of WEF attendees in being confronted by independent journalists. 
And they wonder why they have lost the public's trust:
Rebel News boss Ezra Levant was proud of his team:
He is looking for more talent to join Rebel News:
Then it was time for Sophie Corcoran and Sav Hernandez to travel to Geneva for the WHO assembly, where the new global treaty for pandemic response was discussed. One pandemic, as mentioned above, could be climate change:
They went straight to the WHO upon arrival:
Although there are no mask mandates in Switzerland, isn't there an irony in the WHO support for masked children during the pandemic. Did this lady wear a mask at the height of the pandemic?
Here's the thing about the WHO. We will never truly learn what goes on there outside of what we read in mainstream media:
Sophie was delighted to have been able to make the trip from Thurrock, Essex, to the WEF and WHO:
She appeared on Neil Oliver's show on May 28:
Her segment was excellent.
Oddly enough, although most people do not pay any attention to what the WEF does at Davos, it is possible that what they discuss does have an impact on our daily lives.
What about this experiment in Wales with serving schoolchildren protein-rich bugs for lunch?
Just below is a charming film from the WEF about eating less meat.
Keep in mind that Welsh farmers produce some of the world's best lamb.
Why then should Welsh schoolchildren be eating locusts? First Minister Mark Drakeford (Labour) has much for which to answer:
But, wait, there's more in store for children — and not just in Wales:
In conclusion, it's hard to disagree with Sophie when she explains the WEF post-pandemic slogan:
I fully agree — let's get back to normal:
In closing, I'll leave you with Neil Oliver's excellent opening editorial from last Saturday on Davos. It's a must-watch and is just under ten minutes long:
The full transcript of his editorical can be found here.
These are his last three paragraphs about our being frogs in an ever warming pot:
Now a handful of frightened billionaires and their enablers seek to make the pot a prison. By the manipulation of fear and the application of propaganda, they want us to be and to remain forever as frightened as they are.
They tell those of us who've noticed that we are being silly, that nothing of the sort is happening. This is gaslighting – and that is the gas that's already lit under the pot. But look at what they've done. Having slipped and shouldered their way further and further into our lives, every aspect of our lives, they've only made a mess of everything. For all their wealth and their so-called wisdom we're all about to get poorer, colder and hungrier. Already millions have had their health – physical mental or both – hopelessly compromised. It is increasingly hard not to see this as having been the plan all along. After all, surely no one in authority is stupid enough to have caused all this harm by accident.
As far as I am concerned, the social contract has been broken – not by we the many law-abiding, tax-paying majority, but by the few of the State.
Of course, an analogy only goes so far. We are not frogs. We are human beings. This is our country, our world. In the moment we decide collectively that we have nothing to fear from those who would take advantage of our good nature … in that moment the fear is gone. And somewhere in their hearts, and somewhere in their heads, the billionaires in Davos must know it too.
One can only hope so.
When is the wool going to drop from everyone's eyes about the WEF?
Their next meeting is likely to be in December.
May 30, 2022 in Anglican, clergy, priests, Protestant | Tags: Anglican, Anglican priests, Archbishop of Canterbury, Ascension, Calvin Robinson, Dr Michael Banner, England, Justin Welby, Protestant, slavery, social media, William Wilberforce | 2 comments
You could not make this up.
Ascension Day was last Thursday, May 26, 2022, a principal feast of the Church year. Without our Lord's ascension, He could not have sent His disciples the Holy Spirit on that first Pentecost, which is the Church's birthday.
In 2022, we read Luke's Epistle and Gospel accounts of that miraculous event of Jesus returning to His Father to sit on His right hand in glory.
However, Anglican clergy chose not to discuss that.
On May 29, the Daily Mail reported that the Archbishop of Canterbury opined on social media instead. Another clergyman discussed colonialism.
Excerpts follow, emphases mine:
Social media is polarising society and destroying the 'common narrative' of the Christian story uniting Britain, the Archbishop of Canterbury warned yesterday.
Justin Welby criticised online platforms for giving people 'a very loud voice' and creating colliding 'waves' of opinions.
The Archbishop, who has 173,000 Twitter followers, said social media had led to the erosion of shared experiences.
'People don't know the narratives and the stories of the Christian faith – the Good Samaritan, the Prodigal Son, the Lost Sheep,' he added.
And whose fault is that?
Anglican pronouncements are no better than an op-ed page in an average newspaper. They tell us nothing about the Gospel story.
Here's another secular perspective, from the Dean of Trinity College Cambridge, the Reverend Dr Michael Banner.
This was his Ascension Day message:
A leading clergyman has accused Christianity of spreading colonialism around the globe – and wants the Church of England to make reparations for its 'corporate and ancestral guilt'.
Preaching in an Ascension Day service broadcast on Radio 4, the Reverend Dr Michael Banner said Christians had marched around the world, 'subduing and rendering it one vast kingdom hand in hand with merchants and colonialists'.
Dr Banner, Dean of Trinity College Cambridge, said Christ urged disciples to be his witnesses, but added: 'We were not witnesses, but a scandal.' He told worshippers at St Martin-in-the-Fields, central London on Thursday: 'Now is the time for moral repair and reparations.'
In September, he became the first clergyman to call for the Government to make reparations, but said it was not 'a demand for a pile of cash' but 'a holistic healing of the wounds of colonialism'.
Well, there you go. There is much spiritual enlightenment there for Ascension Day, wouldn't you agree?
It is highly unfortunate that Banner omitted that it was an English MP, William Wilberforce, a Yorkshireman, who made it his life's ambition to abolish slavery.
Wilberforce became an Evangelical in 1785 and began looking at the world entirely differently, all thanks to his Christian faith. He became England's leading abolitionist. His 20-year campaign in Parliament resulted in the Slave Trade Act of 1807.
Even when he left Parliament in 1826 because of ill health, he continued to campaign against the evils of slavery. He died three days after the Slavery Abolition Act 1833 was passed.
Wilberforce was also instrumental in persuading the US Navy to co-ordinate interdiction efforts with the Royal Navy off the coast of West Africa in an effort to stamp out slave trade.
I did like the way the Mail's piece on Banner's sermon concluded:
Last week, black commentator Calvin Robinson told The Mail on Sunday he was blocked from becoming an Anglican priest because he refused to endorse the view that the Church of England was racist.
Indeed. Here's my message to senior C of E clergy: mote, meet plank.
Readers can learn more about Calvin Robinson's sad situation that has caused him to join a less judgmental and more traditional Anglican movement, GAFCON, here.
August 6, 2021 in history | Tags: 2021, coronavirus, England, GB News, Guido Fawkes, history, identity politics, Jeremy Clarkson, London, masks, media, Neil Oliver, New Zealand, Olympics, Paul Embery, police, propaganda, SAGE, Scotland, social media, sports, UK, women | Comments closed
Below are snippets from this week's news, involving coronavirus and the Tokyo Olympics.
Coronavirus
TikTok is looking for a 'GP' to deliver TikTok scripts on coronavirus.
Presumably, the popular Chinese-owned video platform wants to dispel what they consider to be myths and conspiracy theories about the virus and the vaccines.
However, it is unclear whether TikTok are seeking an actual general practitioner — licensed physician — or someone who can impersonate a GP. The pay is £100 per diem.
Here's the advert, which I saw online in a comments section on another website:

Then there are the mask snitches. Since July 19, the Government has told us to use common sense in densely populated enclosed spaces, such as trains. There is no longer a Government mandate to wear masks, although transport companies and retailers can request them. They are also a given in clinical environments and in some pharmacies.
One chap tweeted the London Metropolitan Police about the lack of masks on his train the other day. Surely, one would have tweeted the British Transport Police in the first instance. That said, the Met asked for more information. Many Londoners wish they were as responsive to crime reports as they are to missing muzzles:
On the other side of the coronavirus debate, Neil Oliver of GB News voiced his call for freedom from coronavirus restrictions in a powerful broadcast last weekend. He got a lot of criticism from Twitter users:
His colleague Dan Wootton asked him about the blowback. Oliver said that only 20% of the UK population are on Twitter, so they are a minority. He said that the YouTube of his editorial garnered many positive comments. He has also received letters thanking him for his stance, as the average Briton has no public voice. Oliver spoke from his home in Stirling, Scotland:
Meanwhile, in England, former Top Gear star Jeremy Clarkson dispensed common sense in voicing his opinion on SAGE to the Radio Times. The magazine interviewed him for a lockdown edition of his popular Amazon series, The Grand Tour. Clarkson also hosts another well-received Amazon programme, Clarkson's Farm, in which he is learning how to become a farmer.
The Guardian was horrified at Clarkson's views on coronavirus: 'Jeremy Clarkson criticises Covid scientists, saying "if you die, you die"'.
Excerpts follow from the August 3 article. Emphases mine below (unless stated otherwise):
Now Jeremy Clarkson has opened himself up to more anger after he criticised "those communists at Sage" preventing opening up because, he argues, "if you die, you die."
The paper could not resist editorialising:
In an interview with the Radio Times, Clarkson gives his views on the pandemic and what should happen next. Many will find his thoughts typically boorish and insensitive.
In his interview with the Radio Times, Clarkson said:
"When it started, I read up on pandemics and they tend to be four years long," he said.
"I think the politicians should sometimes tell those communists at Sage to get back in their box. Let's just all go through life with our fingers crossed and a smile on our face. I can see Boris doesn't want to open it up and shut us back down again. But if it's going to be four years … and who knows, it could be 40 years."
Or it could be for ever. "Well, if it's going to be for ever, let's open it up and if you die, you die."
Guido Fawkes saw the coverage …
… and opined (emphasis in the original):
Guido can't see anything objectionable about his usual no-nonsense, factual, appraisal…
Tokyo Olympics
Clarkson also voiced his views on the Olympics:
Clarkson's comments come as he was on Monday labelled the "Grand Bore" by, of all publications, the Daily Star. It published on its front page an unflattering photograph of a topless Clarkson and asked: "Why is it the tubs of lard who are so critical of our Olympic heroes?"
That backlash came after a newspaper column in which he dismissed shot putting, diving and dressage as pointless fringe sports. Why do we care, he asked. "Nothing marks out a country's minor-league standing more effectively than its pride in things that really don't matter."
Any MP would tell Clarkson that he is missing the point, because the Olympics are about 'soft power'. Team GB is currently sixth in the medals table in terms of gold and fourth overall.
These are the first Games in which a trans person, Laurel Hubbard from New Zealand, has participated. You can read all about Hubbard, offspring of a former mayor of Auckland, in the Daily Mail.
Hubbard's speciality is weightlifting, but that proved to be a damp squib. You can see the short video at Guido Fawkes. Hubbard now wishes to slink into obscurity.
GB News commentator and author Paul Embery, who describes himself as Blue Labour, tweeted about the fact that Hubbard's participation had to be handled as if one were walking on eggshells:
Guido's article on Hubbard discusses the sensitivity of the topic of sexual identity and how activists want the media to report it (emphases in the original):
Guido appreciates the BBC has the freedom to be biased towards Team GB, though spots the corporation's sports voiceover chose to wish the first trans Olympian "all the success" before Laurel Hubbard crashed out of the competition, having failed to lift in any round. They also pityingly said that she'd given her "absolute all". 
It seems the BBC had been reading from the Olympics' official guide to wokery; taking their seats, sports reporters found every desk adorned with a "Guide for journalists covering LGBTQ athletes & issues at the summer Olympics and Paralympics". The guide's "terms to avoid" section included "Born male/born female. No one is born with a gender identity". The Telegraph's Chief Sports Writer Oliver Brown asks how it was allowed to be disseminated at an Olympic venue as a supposedly balanced document…
Guido posted the document, which one can read in full.
I feel sorry for the female New Zealand weightlifter who was next in line and could not participate.
In closing, outside of the rowing, Team GB did a fantastic job in Tokyo. Congratulations!
July 2, 2021 in history, school | Tags: 2021, Boris Johnson, children, coronavirus, Gavin Williamson, medical testing, Parliament, school, social media, UK | 3 comments
On Thursday, July 1, news emerged that some British schoolchildren are creating false positives on their lateral flow tests in order to avoid school.
i News reported that videos have been circulating on TikTok since April, causing disruption in certain schools:
Yes. I thought they were tested in school. It comes as a surprise to find out they can self-test at home.
The problem is that other students in the same school bubble must also self isolate:
The videos are still on TikTok:
Whole bubbles and whole classes have been broken up around the country this year. Pupils and students must self-isolate for ten days.
In another i News article, one father expressed his frustration. Matthew is not his real name (emphases mine below):
Matthew*, a parent in the Greater Manchester area, was dismayed when his 14-year old son was sent home from school earlier this week after a friend faked a positive test reading after following videos she'd come across on TikTok.
"We were told our child has been in close contact with someone who's had a positive result, a girl who's one of his close friends. He said that she'd faked it and that she'd seen it on TikTok, that there were loads of videos on how to fake it," he told i.
"As she wanted to fake the result as an easy way to stay off school, it meant around 10 of their close friends were all told to stay at home. I'd say around half of them don't care, they'll get to stay in bed all day.
"You are going to get kids who can exploit this. In the general scheme of things, their whole education has been fairly screwed up, so it's annoying when it's intentional and one person can have such a big effect on their immediate friends."
Matthew said he had asked the girl to explain to her mother that the test wasn't legitimate and to do a PCR test to confirm she didn't have the virus after a second lateral flow test conducted in front of a teacher returned a negative result …
While Matthew's son is supposed to be off school until 8 July, it's not currently clear when he'll be able to return to school.
"Her mum has agreed to ring the school and lie and said she'd had a negative PCR test, but we're not sure when my son will be able to go back," he said.
"We know that he's off because of this person, but because of data protection, we can't prove it. There's a chance it could be someone else who's genuinely positive, but it's all very murky.
"For my son, this is an inconvenience because if he's told to stay inside for 10 days, we'll make him stay inside for 10 days, other parents maybe aren't as bothered. He's the one that's been pushing for her to come clean, which has been controversial because some of the other friends are just happy to have the 10 days of extra holiday."
'Lost children of lockdown'
On Sunday, June 27, the Mail reported that nearly 100,000 children have dropped out of full-time education since lockdown began last year:
Analysis of official figures by the Centre for Social Justice (CSJ) has identified 93,514 pupils who were mostly absent between September and December – more than the capacity of Wembley stadium.
The figure for those off school more often than they were present has rocketed by more than 50 per cent on the previous year, with a particularly 'alarming' rise in primary schools, as the chaos caused by Covid made it easy for vulnerable youngsters to slip through the net.
It is feared many will end up being expelled or simply drop out of education altogether after the disruption of the past year, putting them at risk of being drawn into a life of crime …
CSJ chief executive Andy Cook said: 'When a child disappears from our school system, their future often disappears with them …
'These are the lost children of lockdown. Charities working with these children are telling us there's now a real risk of children being picked up by street gangs.'
These figures are on top of those missing class because someone in their bubble tested positive:
These absences were additional to the 33 million days lost because of Covid, which saw children either fall ill or forced to stay at home because a classmate tested positive. Bradford, Knowsley in Merseyside and Newcastle upon Tyne had the highest absence rates.
It is unlikely that parents of the 'lost children of lockdown' will care about advice from the Department for Education:
The Department for Education said it had acted swiftly to help minimise the impact of the pandemic on pupils' education and provided extensive support for schools, colleges and early years settings.
Its guidance makes clear that parents have a legal duty to ensure children of compulsory school age attend school regularly, but schools should authorise absences due to illness, related to both physical and mental health.
It's time to bring back truant officers rather than hire Covid marshals.
Conservative MPs have been vexed over this situation, and Gavin Williamson, Secretary of State for Education, has been a milquetoast about depriving so many children of their education.
MPs did not know about the TikTok videos at the time of the debate in the House of Commons on Wednesday, June 30.
Williamson's responses, such as the following, are unhelpful:
… more than 50 million tests have already been conducted across schools and colleges. We are very much aware that testing has been an important part of getting schools reopened, and we continue to work with colleagues in the Department for Health and Social Care and in track and trace to ensure that testing is available to all pupils and their families …
I do not want to pre-empt the decision across Government on the next stage, but our direction is very clear about lifting the restrictions and ensuring that children are not in a situation where they have to bubble. That is very much part of the course of the road map, and of course we would very much expect that our children would not be facing that in September …

On July 2, the Mail had an article about Prime Minister Boris Johnson's government plan on bubbles, which might not be lifted before schools close for the summer on July 19:
Mr Johnson is under pressure after it was revealed that 375,000 children had been sent home because a member of their 'bubble' had tested positive for Covid.
They have to isolate for ten days if another pupil in their group gets the virus. Education Secretary Gavin Williamson has suggested that school bubbles will end when classes return after the summer holidays in September.
He has also indicated that the changes could happen when the next stage of easing restrictions takes place on July 19.
But this is the date that many schools are due to break up for summer, making it a meaningless promise in practice.
Conservative MPs are up in arms:
Senior Tories told the Telegraph today that the PM's remarks had fallen 'on stony ground'. 

The former Scottish Tory leader Ruth Davidson joined the clamour for a swifter release from the bubbles today … 
Tim Loughton, a Tory MP and former children's minister, told the Telegraph: 'Common sense has been thrown out the window, they just need to get rid of all these bubbles asap.
'The whole Department for Education operation has lacked a sense of urgency and the children have been the collateral damage.'
Former party leader Sir Iain Duncan Smith is among 48 MPs to have signed a letter to the Prime Minister warning that the current policy is 'disproportionate' and 'unsustainable'.
They said it was essential that schools 'go back to normal' when lockdown is lifted, even if it is 'just for the last few days of term'.
'This will send an important signal ahead of the autumn that the route to freedom is a "one-way road",' the letter said.
It added that pupils have suffered 'unnecessary and significant disruptions' in order to keep the rest of the country safe.
'They have lost physical fitness, suffered mental health damage, and experienced catastrophic learning loss,' it said.
Other signatories include former cabinet minister Esther McVey and Commons education committee chairman Robert Halfon.
I could see this happening last year. Education ministers said that the most vulnerable would be able to continue to go to school with children of necessary workers. Who would make vulnerable children attend? Certainly not their parents, in most cases.
How the UK will recover from this disaster is anyone's guess at the moment.
March 17, 2021 in history | Tags: 2019, 2020, 2021, censorship, Duchess of Sussex, Duke of Sussex, Good Morning Britain, history, ITV1, media, Piers Morgan, Prince Andrew, social media, television, Twitter, UK | 7 comments
Last week, the United Kingdom saw three significant developments curbing freedom of expression.
This post explores the first incident.
On the morning of Monday, March 8, 2021, the nation received snippets of the Duke and Duchess of Sussex interview with Oprah Winfrey.
ITV broadcast the interview in full that evening.
ITV is also home to Good Morning Britain (GMB), the rival programme to BBC Breakfast.
Until last week, Piers Morgan was a co-host on the show with Susanna Reid. Weatherman Alex Beresford also sits down to join in the conversation.
ITV recruited Piers several years ago to help prop up the show's sagging ratings. The strategy worked. Regardless of what one thinks of him, he is a polemicist sans pareil.
On September 25, 2019, the show welcomed then-MP Rory Stewart (Conservative) to talk about the court case against Boris Johnson's prorogation of Parliament and Brexit. It was a dismal time for the Government.
Piers noted that Stewart had won the award from GQ: Politician of the Year.
The Express reported (emphases mine below):
"You've had the old GQ curse," Morgan added. "Because I was made GQ's Editor of the Year and later GQ's TV Personality of the Year, both cases I lost my job that I got it for within several months.
Rory Stewart became confused and walked off the set, by mistake. For whatever reason, he thought the interview was over.
However, although Piers Morgan's remark was blunt, it ended up being true. Not only did Stewart not stand for re-election in December 2019, he also packed in his campaign to run for Mayor of London in 2020.
On November 18, Morgan rightly took issue with Prince Andrew's interview with the BBC's Emily Maitlis. The Express reported about Morgan's tweet, which read:
"Brilliant forensic dissection by @maitlis – desperate, toe-curling bulls*** from Prince Andrew.
"Why on earth did he do this? Insane."
Morgan is known for his continuous tweeting. One wonders how he manages to find time to do anything else.
On Friday, December 13, there was a right royal row on GMB after Jeremy Corbyn's Labour lost in the worst drubbing since 1935. I watched this and it was magic. The Conservative pundit Iain Dale, who was part of the mostly female panel, actually walked off the set. This was pure ratings heaven, partly thanks to Piers Morgan:
The Sun has more about Morgan's scathing views of Labour and celebrity Remainers from that day.
Here's one of his tweets, which, like it or not, is spot on:
In 2020, just after the New Year, the Sussexes announced they would be pursuing their life together away from the Royal Family.
Morgan tweeted furiously on January 8, replying to cricketer Kevin Pietersen:
He tweeted about their announcement, his dislike of the Duchess, his disappointment in the Duke, the couple's hypocrisy, their media rules, the shabby way they treated the Queen and his criticism of people who know nothing about the Royal Family.
The following day, Morgan wrote a column for the Daily Mail railing against the couple. The newly elected Conservative MP Jonathan Gullis was so taken aback that he invited the Duchess to his constituency of Stoke-on-Trent North to see the sights:
Guido Fawkes has more on the story.
By the middle of January 2020, the couple were living in Canada. Piers's column for the Daily Mail on January 15 criticised the Duchess for visiting a homeless women's shelter. He tweeted like mad that day, too.
The Mail promoted his article:
One week later, Morgan and weatherman Alex Beresford had a discussion about the backlash against the Duchess. Both points of view are understandable, but you can see Morgan's skill as a polemicist in play, thanks to his long background as a journalist and tabloid editor:
The perspectives in that exchange resurfaced in March 2021.
On Monday, March 8, before the interview was aired, GMB had ITV's royal correspondent Chris Ship on to discuss the snippets that had appeared so far from Oprah's interview broadcast in the US on Sunday:
Already, there were calls for Piers to go:
Tuesday, March 9, proved to be the final straw. Here he is with Alex Beresford discussing the interview which ITV had aired the night before. Piers had enough and walked off:
He later returned to finish the show:
Remember that a big part of a polemicist's role is to attract attention. In the case of GMB, Morgan was after ratings. He was not wrong.
Like it or not, his strategy worked:
Hours later, he and ITV agreed he should leave GMB (more here):
Here is a short version from the Daily Mirror's Showbiz Editor Mark Jefferies:
The next day, Chris Ship tweeted that the Duchess had complained about Morgan's polemics:
In his farewell tweet to his colleagues, Morgan mentioned ratings. Job done!
A lot of people seriously dislike Piers Morgan. I am in complete disagreement with his support of the Government's coronavirus damaging strategy. Americans dislike him for his views on gun control. Millions of Britons are angry with him about his views on the Sussexes.
However, there is something important for us to bear in mind, in Piers Morgan's own words:
We have to get comfortable talking about the uncomfortable.
I fully agree. We used to be able to have civilised debates on television. Sadly, we have lost the 'lively art of conversation', as the late Chicago talk show host Irv Kupcinet used to say.
In closing, Piers Morgan encouraged the participation of his son in last summer's protests and tweeted about it at the time.
So, rather than censor, let's have the maturity to discuss and listen to all points of view, few of which are as binary as censors — official or unofficial — like to claim.
January 11, 2021 in history | Tags: 2020, 2021, Boris Johnson, Donald Trump, election, history, hypocrisy, Mark Steyn, Nancy Pelosi, protest, riot, Sir Lindsay Hoyle, social media, The Deplorables, Tucker Carlson, UK, United States, voter fraud, Washington DC | 8 comments
Somehow, a majority of the world's population — and 99% of the media-political class — find it entirely believable that Russians interfered in the 2016 presidential election but equally incredulous that election fraud could have taken place in 2020.
Why that is I do not know.
All I can say is that the vitriol heaped upon President Trump after his huge rally in Washington DC on Wednesday, January 6, 2021 was meant equally for his supporters: Deplorables, Irredeemables, as Hillary Clinton labelled them four and a half years ago.
Last Friday, most of the world rejoiced as the American president was banned permanently from Twitter as well as all the other social media on which he had a presence.
Trump has been universally accused of inciting violence, when his final tweets — which Twitter deleted on Wednesday — urged his base to remain peaceful and to return home.
Twitter said they deleted those so that he would not foment further violence. Okay, sure.
It never occurred to Trump loathers that the invasion of the Capitol building was an infiltration of Trump supporters by what we in Europe would call a 'bloc', intended to cause mayhem and destruction. We know they exist, because they disrupt peaceful demonstrations here, most notably those of the 'yellow jackets', France's gilets jaunes.
Instead of offering more of my own opinions on the matter, I am borrowing from other sources.
A comment on one of Guido Fawkes's articles describes concisely what took place last Wednesday. Hundreds of thousands of Trump supporters gathered in the US capital. Unfortunately, Guido's comment system has no permalinks, but here is the comment, which begins with a complaint against a conservative pundit, Daniel Hannan (emphases mine):
Very disappointed in Daniel Hannan accusing POTUS Donald Trump of treason in the Telegraph .
Trump was not responsible for the mayhem at the US Capitol building. He called for a peaceful demonstration demanding free and fair elections and told people to go home when things got out of hand.
Utah BLM activist John Sullivan was filmed inside the Capitol building encouraging others and persuading the police to leave their posts. Before entering the building he is heard saying " Lets burn this ****** down " He organised an Antifa protest near the US Capitol on Wed 6th January and tweeted about BLM buses in DC. He is known for taking part in riots , making threats of violence and criminal mischief and took part in a riot which resulted in the shooting of a motorist ..
Police arrested him on Friday. He was subsequently released. UPDATE — January 14: Gateway Pundit posted a video of Sullivan — Jayden X — bragging he had disguised himself as a Trump supporter on January 6; he was arrested in Utah on January 14, and Gateway Pundit has a photo of his mug shot, courtesy of Tooele County Sheriff's Office.
Here is the rest of the comment:
It was inevitable that the Democrats would use their Antifa and BLM people to infiltrate the Trump protest and cause trouble for which the Trump supporters would be blamed. They hated Trump because he stated openly that he intended to expose the corruption within government and ' drain the swamp'. Unfortunately the corruption was far deeper than even he realised.
This was one of Trump's final tweets, which Twitter quickly suppressed:
It is most unfortunate that, despite hundreds of affidavits and video evidence showing election interference and fraud, the president of the United States was unable to get legal 'standing' in his own re-election. The Supreme Court had backed away weeks earlier.
On Wednesday, Vice President Mike Pence backed away, rewarded later with an elbow bump and a commemorative coin from Nancy Pelosi. Only a handful of Republican legislators objected to the Electoral College vote tally in the disputed states.
Yes, it's so much easier to appease the Democrats than fight for the truth.
The Democrats enjoy protests, just not truly largely peaceful ones by Trump supporters. The only trouble was at the Capitol.
Last summer's fiery, but 'mostly peaceful', protests resulted in a new plaza in Washington, DC: B L M Plaza.
Last week's rally resulted in universal condemnation by the world's main leaders, including Boris Johnson, who called it 'completely wrong' (see around the 29-minute mark here).
Our Speaker of the House, Sir Lindsay Hoyle, a Labour MP, sent an empathetic letter to his US counterpart, Nancy Pelosi:
It reads as follows (H/T Guido Fawkes):
Dear Nancy
I just wanted to express my shock at last night's events in the Capitol, and to offer you my solidarity against such unprovoked violence.
Seeing your office trashed in that way and its occupation by one of the rioters was particularly outrageous. I am just so relieved you were not hurt, although I can only imagine how violated you must feel after having a protester at your desk.
I hope none of your personal effects were damaged, particularly the lovely picture you so proudly showed me of Churchill's address to the joint session of US Congress in 1941, which was witnessed by your father.
Suffice to say, you are in my thoughts and prayers – and I look forward to welcoming you to the UK later this year.
With warmest wishes
Lindsay
Sir Lindsay Hoyle Speaker of the House of Commons
I hope that everyone will be happy with Joe Biden and Kamala Harris. They did not mind last year's protests. They want to transform America totally, including renaming military bases.
On January 6, Mark Steyn appeared on Tucker Carlson Tonight to discuss the hypocrisy that Democrats display. Kathy Gyngell, editor of Conservative Woman, had a good article on what he had to say, 'Sensational Mark Steyn: This IS who we are'.
The Capitol building, apparently, is known as the People's House. I'd always thought that name was reserved for the White House, but what do I know, having been educated in the US so many decades ago?
Steyn said:
Congress has an approval rating that falls somewhere between Isis and child pornographers. Pundits and politicians can wax mawkish about "the people's house" but you'd be hard-pressed to find one in a thousand citizens who's ever used those words in a non-contemptuous sense – and most of the other 999 would assume that the phrase referred to some long-term care facility Andrew Cuomo moves the old folks into for his Covid express checkout.
He touched on the hypocrisy when he implied that it's okay if one group protests but not another:
People are surprised when a tactic that's proved effective by one group of people, is taken up by another group . . .
People say "this is not who we are". Have you not turned on the TV since Memorial Day? This is exactly who we are . . .
Nancy Pelosi told us she didn't care about old statues. Mitch McConnell said he didn't care about the names of military bases. But suddenly this old building is important now?
Last June, CNN's Chris Cuomo — New York State governor Andrew Cuomo's brother — said, when covering the urban protests, 'Citizens have no duty to check their outrage'.
Tucker Carlson's editorial on Friday included Chris Cuomo's soundbite in a review of last summer's riots, in which innocent people lost their businesses because their premises were set on fire.
Carlson made it clear that he opposes all violent protests but pointed out that last year's protests were viewed as acceptable yet this year's — with minor damage and only in the Capitol building — were not. Again, I am sure the Trump supporters were infiltrated.
You'll see Mark Steyn after Tucker shares his thoughts. Worth watching, as it's only around six minutes long:
Something to think about.
I'll have more on this later in the week.
December 1, 2020 in Uncategorized | Tags: 2020, Brannon Howse, Christopher Miller, CIA, conspiracy, coup, Deep State, Democratic Party, Dennis Montgomery, DOJ, election, FBI, Germany, history, James Clapper, Joe Biden, John Brennan, John H Durham, Kraken, Larry Johnson, Louie Gohmert, Mary Fanning, media, Michael Flynn, Mike Esper, Obama, Robert Mueller, Sidney Powell, social media, Thomas McInerney, treason, United States, voter fraud, William Barr | 4 comments
This is my longest post to date, but it is informative. You might need a cuppa and a snack.
At the weekend, I read a few articles on the mid-November raid on the CIA server farm in Frankfurt, Germany.
It sounds like something out of a blockbuster film, but when I saw two retired generals' names in the mix, I began to pay closer attention.
First, my thanks to reader john cheshire who sent me the link to a Bill Still video on this topic from Saturday, November 28.
Unlike the usual Bill Still videos, this one is only seven minutes long and well worth watching, especially for the night-time footage of Ospreys flying over the server farm:
Still is reserving comment until more information comes out to authenticate everything.
Secondly, consider everything developing, although we do have the recently-pardoned General Michael Flynn's word that the election was stolen. More on that later in this post.
Before proceeding, Rep. Louie Gohmert (R-Texas) brought news of the raid on Friday, November 13:
🚨BREAKING 🚨

Rep Louie Gohmert drops on an online conference that on Monday, US Army Forces RAIDED Scytl Corporation in Frankfurt Germany where their servers are located (relocated from Barcelona to Frankfurt after bankruptcy).

WE HAVE THE SERVERS!https://t.co/ZY2eZzqmTi
☕✝️

— Silence Dogood, MBA (@familyman20181) November 13, 2020
On Sunday, November 29, Andrea Widburg wrote another considered article for American Thinker: 'New reports about election manipulation read like a Tom Clancy novel'. They certainly do.
First of all, for those who want to know what the Kraken is in US military intelligence parlance, it is (emphases mine):
the nickname of the 305th military intelligence battalion; that The Kraken identified China, Iran, and Russia as being involved in using the Hammer & Scorecard system to manipulate American votes; that the servers used for this were in a CIA facility in Frankfurt; that special forces raided the facility; and that there were casualties …
However, Kraken — especially as top lawyer Sidney Powell refers to it — also encompasses the US Department of Defense's:
cyber warfare weapons ("Kraken") …
Widburg did a good job of summarising what allegedly happened:
On Friday, a retired top Air Force intelligence analyst stated with certainty during an interview that special forces had secured a CIA-run facility in Germany that had computers showing election manipulation. If this report is real, we are witnessing the biggest coup attempt, sabotage, and treason in American history. No matter what, though, because this report is out there and comes from serious people, it deserves serious investigation.
I have no idea whether this raid happened. Its having taken place, however, is consistent with my ruminations about Trump's peculiarly-timed shake-up at the Pentagon: Firing defense secretary Mark Esper and replace him with Christopher Miller, a special forces man; moving special forces into their own command, rather than having them function as subsets of other military branches; and firing potentially disloyal members of the civilian Defense Policy Board. These actions indicated that Trump was clearing the decks for something big.
In this post, I'll sum up the most recent reports about events in Germany, although without taking any stand as to their veracity because I can't take a stand. I don't know enough.
For several days, rumors have swirled that there was a "military" raid in Germany, either against Scytl (the Spanish company that processes American voting data in a facility in Frankfurt, Germany) or against a CIA station that is also located in Germany. On Friday, those rumors coalesced into an affirmative report about the CIA station in Germany.
Widburg then cited an article from Friday, November 27 from Dr Mike Adams, AKA Healthranger: 'Situation Update — Nov. 27th — DoD vs. CIA firefight in Frankfurt as covert war against the deep state RAGES across the globe'.
Excerpts follow, emphases in the original. Mine are in purple:
At this very minute, a covert war is raging across the globe, pitting Trump's DoD and DIA (Defense Intelligence Agency) against black hat deep state factions running the CIA.
The good news is: Trump is winning.
As you know by now, the DoD launched a raid on a CIA-run server farm in Frankfurt, Germany, to secure servers that contain proof of CIA interference with the 2020 election (i.e. backdoor manipulations of election results via Dominion voting machines). But new information is now surfacing that indicates there was a firefight at the server farm facility, involving US Army Special Forces units, engaging with CIA-trained paramilitary units that were flown in from Afghanistan in an emergency effort to defend the facility.
One CIA officer was killed during the firefight, and he is now being reported across the mainstream media as being "killed in Somalia." Five US Army soldiers were also killed, and they are being explained away as dying in a "helicopter crash" in Egypt.
Despite the deaths, the servers were successfully acquired by the DoD, and those servers were turned over to President Trump's private intelligence group, which is now once again led by Gen. Michael Flynn, recently pardoned and now allowed to process top secret information, since his security clearance has been restored.
Enter the fearless Sidney Powell:
Sidney Powell is about to roll out expert witnesses in the Georgia and Michigan lawsuits. One of these witnesses has been handed details of the vote theft which were acquired through two means: 1) The "Kraken" cyberwarfare program run by the DoD, and 2) Information found in the servers which were acquired during the multiple raids. (There were also server farm raids in Bercelona and Toronto, we are told.)
One of these witnesses is Dr. Keshavarz-Nia, a well-known cybercrimes investigator, who has a long history of working with U.S. military counterintelligence, as well as the NSA and CIA.
He has now offered sworn statements to Sidney Powell, which can be viewed at this link.
Dr Adams shares a portion of Dr Keshavarz-Nia's testimony:
I have previously discovered major exploitable vulnerabilities in DVS and ES&S that permit a nefarious operator to perform sensitive functions via its built-in covert backdoor. The backdoor enables an operator to access to perform system updates and testing via the Internet without detection. However, it can also be used to conduct illicit activities such as shifting votes, deleting votes, or adding votes in real-time… I conclude with high confidence that the election 2020 data were altered in all battleground states resulting in a hundreds of thousands of votes that were cast for President Trump to be transferred to Vice President Biden.
I really hope Mike Adams is correct:
And so the circle is complete: DoD forces deploy cyber warfare weapons ("Kraken") as well as kinetic troops (Special Forces, under the US Army) to acquire physical servers, all the information derived from these operations is extracted by DIA forensic analysts, it is then handed over to various expert witnesses who are prepared to testify under oath, resulting in the courts nullifying the fraudulent vote manipulations in the swing states.
This is how Trump gets to 300+ electoral votes and secures his second term as President. If successful, these revelations will also utterly destroy the Democrat party and result in thousands of treasonous actors going to prison for their roles in this attempted cyber warfare election theft to overthrow the United States government.
Wow. You could not make this up.
Some of us are familiar with a retired US military officer who writes under the pseudonym of Turcopolier.
On November 15, two days after Louis Gohmert's news of the raid emerged, Turcopolier posted an article by former long-time CIA analyst Larry Johnson, 'Unraveling the Deep State Coup'. Excerpts follow, emphases mine.
I have been reading Larry Johnson since 2008. He has never been wrong.
Johnson explains why many of us doubted not Gohmert as much as the information he received:
When I saw this it did not make sense. Let me explain. I spent four years working at State Department's Office of Counter Terrorism (now it is the Bureau of Counter Terrorism). I was one of two officers who dealt directly with the FBI in the investigation of the terrorist bombing of Pan Am 103. I learned through this experience that US law enforcement cannot operate in other countries without the permission of those countries.
I also spent 22 years scripting terrorism exercises for U.S. military special operations. My job was to replicate State Department and Embassy communications that would occur during a terrorist crisis. So, I have a lot of experience in working real world with US law enforcement, US military and our Embassies in sorting out the issues that arise when the United States wants to pursue a law enforcement or military operation in a foreign country.
The U.S. Army did not conduct a raid in Germany on either Sctyl or Dominion offices or servers. They are foreign nationals and we must operate in accordance with German law. Moreover, the U.S. Army does not have law enforcement powers with respect to such entities.
However, there is a group who can bypass these restrictions:
So what happened? I am reliably informed that a unit under the command of USEUCOM (i.e., United States European Command) did in fact conduct an operation to take control of computer servers. But these servers belong to the CIA, not Dominion or Sctyl. The U.S. military has full authority to do this because any CIA activity in the European theater is being conducted using military cover. In other words, CIA officers would be identified to the German government (and anyone else asking) as military employees or consultants.
Such an operation would have been carried out with U.S. law enforcement present to take custody of the evidence. That means that the evidence will be under the control of the Department of Justice through US Attorneys and can be used in court or other judicial proceedings.
This is not the first time that a military unit attached to EUCOM has compelled a CIA computer facility to hand over evidence. A dear friend of mine (a retired DEA officer) told me about an incident where he entered a CIA facility in Frankfurt backed up by the US Army to get info the CIA was withholding (this took place in the 1980s).
Johnson surmises that the CIA and FBI directors were unaware of the raid at the time:
I also have confirmed what Jim Hoft reported the other night–the CIA's Gina Haspel was not informed in advance of this operation. Based on this fact, I think it is correct that action was taken in Germany on territory under U.S. control and that a CIA facility was targeted.
I also have learned that FBI Director Christopher Wray was excluded from this operation. Wray, more than Haspel, has been working aggressively to undermine and sabotage Donald Trump. This means that some other U.S. law enforcement agency (e.g., US Marshals, DEA, Secret Service, etc) had the lead in collecting the evidence.
But there's more.
On Saturday, November 28, retired US Army Generals Michael Flynn and Thomas McInerney, an expert in cyber warfare, gave an interview to WorldViewWeekend.com on Brannon Howse's show, World View Report. Mary Fanning also participated. She is the author of the book: THE HAMMER is the Key to the Coup "The Political Crime of the Century": How Obama, Brennan, Clapper, and the CIA spied on President Trump, General Flynn … and everyone else.
Healthranger kindly provided a full transcript of the interview. Excerpts follow. I have divided the text into paragraphs for easier reading.
Healthranger provided a useful summary before going into the transcript:
HAMMER and various cyber weapons were previously used by the USA against other countries, now the weapons are being deployed against us. Obama is behind everything.

Creator of HAMMER and Scorecard is Den[n]is Montgomery, former CIA analyst.

Fox flipped against America, deep state coup coordinators recruited the entire U.S. media and Big Tech to defeat the Republic and overthrow the U.S. Constitution.

The Dec. 14th deadline doesn't matter. President Trump should not leave office until all the facts surrounding election theft are analyzed, including vote count distributions "caused by fraudulent electronic manipulation of targeted voting machines."
The fact that all 5 battleground states stopped counting at the same time, "Demonstrates prior coordination by election officials in five battleground states." Then they used HAMMER and Scorecard, plus Dominion, to move Joe Biden into the lead. It is a "mathematical impossibility" the way the votes came in. An algorithm was used.
In PA, 1.8 million ballots mailed out to people. 2.5 million came back in. Someone had a printing press and was printing them out.

The 305th Battalion military intelligence is "Kraken."

China, Iran, Russia were all involved in manipulating votes.

Confirmed that US Special Forces Command seized servers from the CIA server farm in Frankfurt.

Confirmed there were US soldiers killed during the raid on the CIA server farm in Frankfurt. (As we reported in yesterday's Situation Update.)
Chris Miller is Secretary of Defense because of the 305th Battalion. Consider why…

Chris Krebs at CISA committed treason and is part of the coup.

What went down during the election is TREASON

at the highest level, not just politics.
Trump can maintain control over the White House, under oath, until a full investigation is complete, and there are no artificial deadlines that can stop him.

The President took an oath that obliges him to defend the country against all enemies, foreign and domestic.

This is why he cannot turn over the White House to political puppets (Biden) controlled by America's enemies (China, Iran).
The big evidence from the seized servers is going to come out at SCOTUS, not before.

Once caught, mid-level treasonous actors will point fingers at Biden and Obama, saying they were ordered to carry out the treasonous acts.

Georgia's runoff election is already stolen by the Democrats unless we stop the vote theft. It's just a digital theft for them. This means the Senate will be lost to the Democrats unless this vote fraud infrastructure is exposed and defeated.

A lot of instability is coming if we allow the government to be seized by communists.

All this goes up to the very top, implicating Joe Biden, Adam Schiff, Barack Obama and others.
Trump knew all this was going to happen and had planned for it.
This was Gen Flynn's first interview after President Trump pardoned him.
Brannon Howse invited him to speak first.
Flynn said:
… I would tell you what's happening in this country should never happen, and we are going through, there's no doubt in my mind, we're going through a crucible of history.
If we don't correct what it is that's happening right now over the next couple of weeks, then I really hate to even think about what will happen in our country going forward into the latter part in December and certainly into the next month. I do not believe for a second that the country will accept Vice-President Biden as the next president, based on what we know to be probably the greatest fraud that our country has ever experienced in our history.
What we're seeing, what I'm in right in the middle of it right now, and I will tell you that, first of all, the President has clear paths to victory. They have clear paths to victory, and they actually don't require a lot of courtroom action. What they require is they require a lot of honesty out of elected officials and frankly, a lot of Americans who are coming forward and telling us their stories. The hundreds and hundreds of Americans around the country in different states, not just the swing states, but many, many other states that are coming forward with their stories and putting them down on affidavits as witnesses.
We had probably 10 or 12 affidavits come in from one particular state today, and because there's been a number of threats to people, these particular Patriots, they sent their photos in with their affidavits and said, "Put mine up at the top of the list because I want people to know that I'm not going to be afraid of these people that are threatening our country and our way of life."
I say all that and on one hand and the other hand as I just described, we have clear paths to victory for this President. Frankly, he's going win Pennsylvania. He's going to win Arizona. He's going to win Georgia. He's going to win Nevada. He's going to win Michigan. The other one that he's probably going to pull in is Wisconsin too, because there's a discrepancy in Wisconsin of 130,000 … ballots that they just found, they just discovered. There's a lot of things happening and it's all, to me, it's all positive.
I was asked today on a scale of 1 to 10, who will be the next President, and I said, 10 it'll be Donald Trump. It'll be president Trump. There's no doubt in my mind that he won this election hands down in a landslide, probably somewhere between 350 and 400 electoral college votes.
What we have seen is over, and I know this, over the last probably two decades and probably longer, I can give you a little bit of a history lesson in that, but I won't. But over the last couple of decades, what we have seen is a complete shift in how fast I believe that communist China in their long-term plan decided that to sort of move up their plans to become the global superpower, sole global superpower on the planet.
Their sort of plan was by about the middle of this century that we're in right now, and I believe when during the last 2016 election, when they didn't get the candidate that they needed and the kind of ideology that they saw America moving towards, they were not going to allow 2020 to happen, and so now what we have is this theft with mail in ballots.
The theft with this software, Smartmatic software and Dominion, these Dominion systems. These are systems that are not owned by this country. They're owned by other — they were introduced into this country. How can we say as the United States of America, how can we say that we accept a system that is not made in this country and in many cases, the ballots aren't even tallied in this country? …
They weren't in 2012, either. I remember reading that the Obama-Romney votes were counted in … Spain. Romney was ahead until the very end, when the votes flipped. I could not believe my eyes as I watched a major US network's coverage.
Flynn continued:
We probably, in fact, we know we have evidence of previous elections where this happened as well, but we're now focused on this one. I'm going to tell you, we're not in this to lose. We are not in this to lose these battles, we're in this to win these battles and I believe we're going to. I believe we're going to win, and I'm confident we are because we have the right people, we have the right plan and strategy, and it's a little bit of direct and a little bit of indirect that we're taking, and people are talking all the time to each other. I'm anxious and you probably hear it in my voice that I'm a little anxious because I just cannot believe the media and the censorship that is going on. Just look at what they do to the President of the United States of America. Look what Twitter is doing to the President of the United States of America. This is, it's infuriating to me … It's an abomination of the first amendment, our freedom of speech. Frankly, for the President of United States of America, the only means that he really has to be able to communicate is when he walks outside, or he goes in front of a group of people, or he walks outside and talks to the press, or he uses social media to communicate because the media is not going to allow him to get his message out there.
He cited the case of a retired military officer, now a state senator, who gave a closing speech at the hearing in Pennsylvania last Wednesday. Twitter removed the man's account:
It was an extraordinary hearing with politicians from Pennsylvania centers on a panel, and the one Senator that ran the panel for the state of Pennsylvania, that listened to the hearing, listen to a bunch of witnesses, listen to Rudy, listened to Jenna Ellis, and others on their team. The individual that ran it was a retired Military Colonel, and he's now a state senator in Pennsylvania, and he gave, at the very end of it, he gave a really good short summary speech, and it was heartwarming because it was sort of a mom and apple pie that, "Hey, we can't allow this to happen in our country. We cannot portray ourselves to the world as a third world nation". It was a really, really good closing speech, and what did Twitter do? Twitter took him offline immediately. They completely removed his Twitter account so people couldn't follow this guy. It's just outrageous, it's outrageous. That's a social media company that is a part of the public square. They are taken advantage of what they have been given, which is a real privilege and they're abusing it. I could go on and on, I'm going to stop and just see if you have any questions on anything or you want to jump in on anything I said, but I, I'm upset, I am determined, I'm going to be resilient, and I believe that I reflect millions and millions of millions of people across this country who feel the exact same way that I do.
Howse asked Flynn about his use of the word 'coup' in his thank you speech to President Trump.
Flynn gave a long reply, the nub of which follows:
This COVID situation that we we're having to deal with now. That's the first phase if you will. That's something that's been going on for years. Now, we're moving into something different. Not different in terms of it, this is still a coup in progress, but now it's a little bit different and it's actually — it's sort of they upped their game when they lost in 2016. I think that there was a decision and I believe this, but there was some type of decision to say, "We're not going to allow this to happen again".
All you got to do is go back and listen to some of the comments this past summer from some of the senior people that are part of this, this democratic party, right? I mean, Hillary Clinton, I think it was back in July or certainly mid-summer timeframe where she said, no matter what Joe Biden should not concede. What are we talking about there? I mean, why would she say that in the middle of the summer, three, maybe four months before an election?
One of the things that I do know from my experience in the military and in different places around the world, is when your enemy tells you that they're going to do something, you better pay attention to what they said, and you better have some plans, and you better have some ideas about how to deal with that if in fact that does come to fruition.
Well, in this case, we have opposing camps and in our opposing camps of our political parties, and we know that the political party on the left is really way, way over on the left. I have a hard time calling it or calling someone a Democrat or the democratic party. That's a name only folks, because it's really the democratic socialist party of America that has usurp to taken over that element, and they are a very loud voice. So, they sort of [do a] 'Katy, bar the door' assault on us, on our country and our way of life, and they're doing anything they can right now to try to pretend like, okay, nothing to see here, and Joe is going to be our next president here.
Flynn said that Democrats are also filing affadavits about what they saw during the election:
People who have stood up and said, "I'm sick of it". These are Democrats and Republicans. We just got another piece tonight in another part of the country from a Democrat, a woman who's just absolutely sick and tired of what she saw, and she just wasn't sure what to do, and she finally said, "I got to go forward, and I got to report this. I can't live with myself". That is what's happening with people who are feeling in their heart that sense of patriotism to still say, "Look, I don't want my country to turn into something else because that's what these people want" … People want to live the life that they have with the liberties and freedoms that we have under this great constitutional republic that we have. That's sort of where we are and that's what I mean by that. This is an ongoing effort.
Flynn said that the media have been an essential element to the Democrats' efforts:
The only way you can do that in a country our size, with all of the ways that we communicate is you got to basically get the media on your side. That's taken some number of years, but I can't stand here and tell you that that's not the case because it is, everybody knows. Everybody knows the, "mainstream media", which is a pretty robust group of organizations and that includes the tech companies, right? I say tech companies, the social media tech companies, everything from Facebook to Instagram, of course, Twitter I mentioned. All of these things, they are trying to control a narrative and tell the American people what they should know instead of allowing the American people information and letting each of us decide what's important or not.
Brannon Howse asked if this was a form of information warfare.
Flynn replied, mentioning China:
It's more than that but yes, it's kind of the type of warfare.
In fact, if you study Chinese doctrine, Chinese doctrine has six phases. The first five phases all have to do with information. The last part of it would be if those failed or if you needed an additional "umph" so to speak, you go to the gates I say. That's when you may see something kinetic. We're in this sort of period of information warfare that it's unprecedented.
I'm going to stand on my box here and say the President of the United States of America is being censored by US companies. Think about that, I'm at a loss sometimes when I talk about it and I talk about it a couple of times a day to different people in different groups, and I'm trying to say, "Okay, at a certain point in time, that has to stop being allowed".
He brought up the woeful Thanksgiving Day press conference from November 26:
Look at the interview that he did yesterday, where we had, somebody is talking to the President of United States in his office there, and he had to counsel the person. "Don't talk to them. Don't talk to me like that. Don't talk to the President of United States like that". It's like a bunch of school punks in a school yard. We can't have that in this country. Debate and sharp questions but not totally, totally disrespect, to not just the President.
You may not like him and that's fine, but he represents the Presidency of the United States of America. He represents our flag, our constitution, our country.
Everything that we're experiencing right now actually is more than just an assault on President Trump. This is an assault on the American Republic, on this great country that we have and people around the country.
I know they're fed up with it and they're not going to put up with it. What they're waiting to see is they're waiting to see the outcome of their own elected officials in the states do their job. Just because CNN or Fox News or a governor or a secretary of state certify an election, if the state legislature has not certified the election then it's not certified in a particular state. If there's a challenge and there's a legitimate legal challenge then they can't sit there and certify it while there's a legal challenge ongoing, it's just not the way it works.
The media is not going to cover any of that for you. The big media, they're just not going to cover it, and it's sad because they're trying to shove it down our throat, and the American public, they see right through it.
While Flynn gave Sidney Powell credit for 'some really good filings', he did not want to discuss her work.
However, he did include her in the group of lawyers working hard for Trump. He concluded:
With people like Sidney Powell, like Rudy Giuliani and his team, like people like Lin Wood, who's fighting tooth and nail. Most people don't even know, his case that he's got going on in Georgia just got picked up by the 11th circuit, down in Georgia, and that's a good sign, because that means that the one judge down there that thought he was going to dismiss his case, the 11th circuit pulled it out of him and brought it up to their level, to an appeals level because they saw that there was enough evidence. So, I believe we're going to see some momentum changing here. There are already is an undercurrent of momentum shifting for the president, and I believe that at the end of the day, we're going to find out that he won by a massive landslide, and he'll be inaugurated this January.
Howse segued to the part of the interview with Gen McInerney.
Flynn said:
Great friend, and Tom, thank you for giving me the invite. God bless America. Thank you. Thank you.
Gen McInerney spoke:
Well, it is absolutely vital because this was the first time that I believe that General Flynn has been able to speak publicly and in such environment, and so I want to thank you for setting this up, and I know Mary talked to you and it's very important what you have are doing tonight because it is a fast moving train, and that's why I wanted you to do it because we are seeing the most unprecedented situation in the history of America.
This is the most dangerous situation since the Civil War of keeping this nation united, and why do I say that? The Civil War, it was just warfare, the day you and General Flynn talked about cyber warfare. Cyber warfare is hidden … You don't see it coming, it happens. All of a sudden, 138,000 votes or 150,000 votes, all of a sudden they show up, and because we're looking at computers, we assume they're all legitimate, but in this particular case, they are not legitimate, and because of what Sidney Powell has been doing with General Flynn's lawyer and what she submitted in the state of Georgia and Michigan on a Wednesday night, the night before Thanksgiving, we got a document in that log, in those lawsuits from a doctor.
Navid Keshavarez-Nia, who is a 59-year-old resident of California, who spent 40 years almost in the DC metropolitan as a career intelligence community expert. I won't go into his background very much, but because of this declaration that he made in which I am quoted and independently confirming he uses my name. Kurt Weeby, who was a former NSA official, a good friend of ours, and working with Mary and I, and Dennis Montgomery, a former CIA analyst who was really the creator, inventor of the Hammer and Scorecard capabilities, and that we broke, and we broke it on Sunday and Monday before the election saying that this was going to be an action that will happen, and what transpired did in fact transpire.
Mary was very instrumental in informing me of this information, and all of a sudden, two days before, two and a half days before the voting started on the 3rd of November, this was the 1st of November, I became involved in the Voting gate. My background is a military analyst, and for 16 and a half years I was on Fox News as a military analyst. I have been the number three man in the air staff in the Air Force, and so I had a great background, but what made this so easy for me, Brannon, is I run a cloud company, an edge cloud company. I am intimately familiar with this kind of technology and what it's doing and live by it in my military days.
Everybody remembers when we attacked Tripoli in 1986. I was the commander and they launched from my bases in England. Now, I got that information from the British and other sources, but my whole life has been based on this, and what I'm seeing now is those technologies now are used against the American people. They are trying to seize control of this nation through technology and through cyber warfare. They have enlisted to include Fox News who flipped on us. They have enlisted the mainstream media and the First Amendment to try to get on their side and General Flynn talked about the censorship.
For instance, Twitter does and determines what president Trump can say. That is ridiculous. It must stop, but because of all these assets and they are using and misusing the constitution of the United States, they have put us in a position that our forefathers were not aware of cyber warfare, and so when they set out in the constitution, the process of our election and going through the electoral college, the voters meeting on 14 December, announcing who the president will be, and then going through in the 20th of November, the inauguration, that was not based upon cyber warfare, and so we have a time clock and I bring this up to our listeners.
We have a time clock, and we have to go through the legal system. This was not designed to operate in the cyber world, and so we had many judges turning down and not recognizing what has happened. That is the challenge that we are facing and what my point I wanted to get across tonight. It doesn't matter if we have locked and sealed this decision process by the 14th of December, the president should not leave office until it is adequately heard.
We, the American people will demand that these facts be analyzed and looked at, and I'm going to cover some of those facts that have made it so compelling to me that there is no question about it. Let's start with the vote count distribution in Pennsylvania, Wisconsin, Michigan, Arizona, Nevada, and Georgia are not based on normal system operation. They are caused by fraudulent electronic manipulation of the targeted voting machines. For instance, at 2:30 AM of the 4th of November, TV broadcast reported that Pennsylvania, Wisconsin, Arizona, and Nevada and Georgia have decided to seize vote counting operations and will continue the following day. This unanimous decision to initially and intentionally stopped counting by all five battleground states is highly unusual.
As a matter of fact, it is unprecedented, and it demonstrates prior coordination by election officials in battleground states. Those five states that General Flynn mentioned, and because of this big flashing light to anybody that understands the voting process, it immediately flagged this. We start looking at each one of those states because they didn't stop counting. All of a sudden in Michigan at four o'clock in the morning, 138,000 votes show up, all for, guess who: Biden. He was behind in all those States where they decided to cease voting, and that's where they employed cyber warfare, the Hammer and Scorecard, the Dominion voting machines and the software in them. That's where they put these applications on, like your iPhone and they got a smooth voting.
Now, when the numbers came, started coming back in those five states, they were different numbers. 138,000 in Michigan, 90,000 in Arizona, this is notional. The different one in Nevada and Georgia and Pennsylvania. The important point was they were exactly at the same percentage.
This is a mathematical impossibility that this could have happened, and it means that algorithm was used, and this algorithm was designed to stay within the bounds, and when the assembled numbers were put together, it wouldn't be obvious that these numbers of votes were inserted. This is a huge flashing red light, and it's important that people understand what this kind of data that we're seeing.
Sidney pointed out in Georgia, that they're 96,000 absentee votes that were disregarded in Fulton County, they had a water leak. Pennsylvania, the state of Pennsylvania mailed out 1.8 million votes to their citizens. The state did, these are not absentee ballots. These were balanced that had no chain of custody, lo and behold Brannon, 2.5 million came back.
If someone had to have a printing press and we're cranking them out, that is just the pure sniff test. It doesn't require a genius to understand if you mail out 1.8 and get 2.5 million ballots, something is wrong.
Now, Sidney and the president's crew, I believe General Flynn, got the crack in the organization. The 305 military intelligence battalion working with them because in all of this, we have not seen any footprints of the DOJ or the FBI, nor the CIA on the friendly side.
Howse asked about the Kraken.
McInerney replied:
Sidney got the term Kraken. It was actually the nickname of the 305th military intelligence battalion, and that has been her source along with other sources that Mary and I know about, but we don't want to talk about.
We're getting the different sources that are relaying this, but the important thing is they identified, now get this, they identified China, Iran and Russia as being involved in this and manipulating the vote.
In addition, the US special forces command seized a server farm in Frankfurt, Germany, because they were sending this data from those six states through the internet to Spain and then into Frankfurt, Germany. Special operation forces seized those from that facility so they have those servers and they know all this data they are providing.
Howse asked if the raid went down 'without incident'.
McInerney answered:
Well, I've heard it didn't go down without incident, and I haven't been able to verify it. I want to be careful in that. It's just coming out, but I understand my initial report is that there were US soldiers killed in that operation.
Now, that was a CIA operation, and so that's the very worrisome thing. Did that occur because of what Mary and I and Allen were notifying on the Sunday and the Monday in different networks that this was going to happen, that they were using Hammer and Scorecard, and so they decided to bounce it overseas, so the server farms and the Hammer and Scorecard we're using in the continental United States, couldn't be used? I don't know that.
In any case, it makes it more vulnerable because when you start moving that kind of data overseas, other people look at it.
Howse asked for confirmation that the server farm was a CIA operation located in Germany.
McInerney responded:
That's correct. Frankfurt, Germany.
We have all this information, General Flynn of course, people most realized, was the senior military intelligence officer in the US commands as a defense intelligence agency. He's a career intelligence officer, knows this stuff, backwards and forwards.
From my experience in the cloud business, this was a trivial operation, relatively speaking, but the magnitude, because so many people, Brannon, were involved. So many people like General Flynn mentioned, the Democratic persons who saw this are coming forward, but what we are doing, we are competing with the Constitution and the 14th December date for the electoral college. Why? Because we have this information and we know that not only did we have the deep state and the executive that President Trump had to fight, we also had it in the legislature where you have Adam Schiff, Nancy Pelosi, Schumer, all of those people were involved in this.
They were involved in the Russian hoax. They were involved in this coup d'état, but we also had the judiciary, Judge Sullivan, who was General Flynn's judge, outdid himself on this. You had the compromise there, and that's why the 305th, the Krakens were targeted and selected, I believe, because the President could trust them. That's why Chris Miller, who is now the acting secretary of defense and a former special operations hero …
Howse asked:
What about his speech that's gone viral of him directing all special operations forces to answer directly to him?
McInerney replied:
Well, that tells you something. It tells you that we had that tighten-up because there are people that are a part of this conspiracy. This is treason what we're talking about. Some people may just think, "Oh, it's just politics". No … So, President Obama used it in 2012 to win, Biden used it to win Florida. The Democrats used it during the primary so Bernie Sanders would lose, and Biden would win. You know that's politics, we've been cheating. No, it's not politics, this is treason … We haven't seen treason this magnitude ever in our history, and those politicians, those people like Chris Krebs, who was the head of the cyber warfare infrastructure security agency. He was until he was fired a couple of weeks ago by the President because this was a perfect election. He is guilty of treason. He had to be complicit, and people must understand that. You people that have done this are guilty of treason against the United States, and we are going to demand this President, insist this president not leave office until the American people have had a full disclosure of what's going on.
Howse asked if Trump needed to fulfil the oath he took at his inauguration.
McInerney said that he must do so:
That is exactly what you heard me say, Brannon. The president has in his oath to the constitution to defend the country against all enemies, foreign and domestic, and we shouldn't let a schedule that we know is so blatantly flawed that anybody can understand that with just the items I've given our listeners tonight. When you have hundreds of thousands of votes that were falsified, and we know they're falsified. I believe those servers are going to show that, and I believe that he is going to show that. It'll probably have to be done at the Supreme Court because you have judges like some of it in that that are going to try to protect themselves because the fingers are going to start pointing to everybody. "Well, I didn't know this, I didn't know that", they're going to use the Nuremberg trial. "Well, the fear told me to do this". They're going to say, "Well, President Obama knew what I was doing because he told me to do it", or vice-president Biden. "Biden was the runner here. He told me to do it". They're going to point fingers. When you have people that are driving up in cars with carloads of ballots, some not even folded, and they're driving them into these five or six battleground states, they're going to talk. They don't want to be involved in treason …
Howse said that the intelligence community wanted him to be quiet:
In general, I received three phone calls from three different people, tied to the intelligence arena a couple of weeks ago, trying to tell me that I was going to be embarrassing myself. If I didn't quit talking about this, that it was all conspiracy and fake, and it's now being revealed that those I guess, were calls to try to get me to stop using our network, our platform, to inform the American people, because now we just are starting to figure out what a lot of these words like Kraken and other things mean. It is all coming out. There are those inside the intelligence arena that were trying to shut this down. Now, I think there's some inside of the intelligence arena that are trying out to take the story and control it. Are they not?
McInerney replied:
Yes, and they are guilty of treason.
Mary Fanning spoke next, very much to the point:
I will tell you that bad actors, both foreign and domestic use these man in the middle proxies to cover their tracks. There was an attempt not just to steal the election, but to steal America. The founding fathers may not have known about cyber warfare, but they certainly recognized tyranny … President Trump cannot leave office. When we have China and Iran having access to our elections, we cannot let them steal America through their illegal acts of treason and act of war against this country.
McInerney said something interesting, not about Democrats — about whom we knew — but two people working for Trump — John Durham and Bill Barr:
Now we've got to know if John Durham, what is the status of John Durham and the attorney general? What is the status of their work? What have they done?
Mary Fanning brought up a rather recent quote from Joe Biden:
Well, there's an abundance of evidence that the 2020 presidential election was stolen from President Trump on behalf of Joe Biden, with Joe Biden's assistance, because Joe Biden said he had the greatest voter fraud group in history put together. We cannot let this stand. It will be the theft of America. The American people must stand up.
The interviews concluded with an interesting exchange between Fanning and Howse.
Fanning said that this 'treasonous activity' had gone on 'far too long':
This came directly out of the Obama administration when John Brennan and James Clapper illegally commandeered the foreign surveillance tool known as the Hammer.
Then Dennis Montgomery's name, as well as Robert Mueller's, entered the conversation.
Brannon Howse asked about the Hammer:
It was designed by Genesis Montgomery in 2003, to keep America safe, as you write. Commandeered by them about two weeks after Obama was sworn into office and put on servers. You write of the FBI honor … director … Mueller, correct?
Fanning replied:
That's correct. According to Dennis Montgomery, Robert Mueller provided the computers for the Hammer.
Wow.
Early in Trump's tenure, Dennis Montgomery appeared on a few programmes — few to none on the big networks — to warn about the depth of what goes on behind the scenes in intelligence. I always found him credible. However, his name was dragged through the mud by some commentators.
Howse said:
And of course, they tried to discredit Dennis Montgomery because you can see why now, but as we've discussed in past programs, you got two immunity deals after being interviewed and recorded. So apparently, he didn't lie, or he'd be in jail. He kept it; he got his immunity deals kept some of his security clearances is not in jail, so that should tell us a lot to the people trying to smear the guy.
If you thought it couldn't get any worse, Howse dropped this bombshell from his own shows and from Fanning's book:
Not to mention Mary, as you report in your excellent report, the perfect storm, the Jafar family, the Gulftainer family, Doctor Jafar, as you guys report, used to be the head of Saddam Hussein's nuclear program, making the nuclear beach ball as miniaturized nuclear device.
I think he was on the kill list during the war, and then his family and his business get a contract running Port Canaveral in Florida and in Wilmington, Delaware [Joe Biden's hometown], cargo containers, and yet there is some kind of business deals back with the 100% Russian owned export of the Club K Cargo that has four cruise missile silos that pop up and can deliver cruise missiles, biological weapons, nuclear weapons, and it could easily be planted down here in the US as you have translated Russian Manuals for Pearl Harbor 2.0 into English, they call for a Russian strategy of doing just that.
As you know, live on our show a few years ago, Phil Haney, former Department of Homeland Security whistle blower, revealed right on this show, "Hey, Brannon, you want another piece of interesting information to go with that?" Look at Citgo owned by Venezuela, they're in financial crisis with massive inflation. Guess who's come in and bought up a big chunk of their company? Russia. Look at all their oil terminals, up and down the Eastern seaboard. Now, Russia can bring in through the oil terminals, the cargo terminals can bring in the Club K Cargo missile launching system into this relationship with Dr. Jafar and Gulftainer, have caused now to move them into the US and plop them down at all refiners up and down the East Coast is a Trojan horse, and that's your perfect Pearl Harbor 2.0 that you've been warning about, and Phil Haney dropped that right on the news desk of our show live, and you happen to be watching that night.
So, there's way more to this than just the election. We're talking about them being inside the wire and a lot of these people, the Bidens, the Obamas, Hillary tied to some of these actors, correct?
Fanning replied in the affirmative:
Well, that's correct. Beyond which the Jafars were put on the Pentagon's blacklist meant that they were wanted for capture or [to] kill Dr. Jafar, and he's the nuclear mastermind or Saddam Hussein. In order to take back our country, we must take back this election that Donald Trump won fair and square before they started cheating with foreign actors, Russia, China, Iran, that their hand is in here for the theft of this election. That's why the American people must stand up, and that is … President Donald Trump must abide by his oath to protect this country. He cannot step down until this election is fairly, legally settled.
General McInerney had the final word:
Now this is going directly to those that want to seize this country because they've hacked my cell phone, and so everything I say on this particular open channel, they are coming. They mean business. They are deeply into this, and they now know that because of what you've done and what we've done tonight, that they are in even more trouble. We are coming against after you and the American people are going to come after you and this President won this election, and he was going to be the president for the next four years, but we're after you. You will not seize this country because this would be the last re-election we ever had, and I'm in agreement with you and Mary, that Joe Biden should step down right now.
Well, there you have it.
The coup continues — with no let up in sight.
Good grief.
This is unbelievable.
November 18, 2020 in food, history | Tags: 2020, Andrew Marr, Arla, Boris Johnson, Brexit, Brexit Chronicles, butter, David GH Frost, Denmark, food, George Eustice, history, Lurpak, social media, tariff, Twitter, UK | Comments closed
Last Sunday in the UK, we had a Twitter trend about Lurpak butter.
Lurpak is excellent butter and it is Danish.
Foodies are now concerned about tariffs on EU products beginning in January 2021.
Environment Secretary George Eustice, who was a fruit farmer in his family's business prior to entering politics, appeared on the BBC's The Andrew Marr Show to discuss Brexit. When the topic of tariffs came up, he said that EU companies with factories in the UK would not have to pay them.
Lurpak lovers began to worry. Lurpak's parent company is a large Danish dairy co-operative, Arla.
Someone tweeted a photo of his Lurpak butter dish. This was from a Christmas ad campaign several years ago featuring an animated trumpet player, if I remember rightly:
I hope that people saw the second tweet below. Adam Payne writes about Brexit for Business Insider. One quarter of Arla's milk suppliers are British:
Arla is the third largest food company in the UK. Who knew?
Case closed.
My fellow citizens should not worry: Lurpak, along with other Arla products, will still be available in the UK post-Brexit.
If George Eustice was wrong about Arla, I surely hope he is right about Dominic Cummings, who left No. 10 on Friday afternoon, November 13 (!), carrying a box with his papers and personal belongings:
Cummings was the mastermind behind Brexit, even though Baron (Lord) David Frost has been leading the negotiations with Michel Barnier.
This is what Eustice told Marr on Sunday:
Given Boris's odd behaviour after his bout with coronavirus in April, I hope very much that we will not get BRINO come December 31. As Theresa May so often said:
No deal is better than a bad deal.
She turned sour as milk and went back on her word.
Whatever happens, at least we'll still have Lurpak.
November 11, 2020 in history | Tags: 2020, Benjamin Netanyahu, Chuck Schumer, coup, Democratic Party, Donald Trump, election, history, Joe Biden, media, politics, Sidney Powell, social media, Tucker Carlson, United States, voter fraud, William Barr | 2 comments
President Trump was correct when he said a few weeks ago that the 2020 election would be:
the election of a lifetime.
It has proven to be just that, with reports of voter fraud on an epic scale as the media called the election for the Biden-Harris ticket.
Meanwhile, Twitter users are barely allowed to question the number of votes. Some users get a fact check with their tweet. Some election tweets cannot be retweeted:
On Monday, November 9, Tucker Carlson said that censorship is not part of a fair and open 'democracy' by consent (first video). He also ran through some of what happened in various states as votes were being tabulated (second video):
Even though some world leaders and politicians are congratulating Joe Biden on becoming 'president-elect' — as declared by the media — the vote count in some states had not yet been decided or declared:
Developments on November 10 — one week after the election — included the following:
Where did declaring for Biden begin on election night, Tuesday, November 3? With Fox News declaring Arizona for Biden.
What happened last week was voter fraud on an epic scale.
I have more links than I can include below, but here are two more reports from poll watchers in Michigan preceded by a tweet from Wayne Allyn Root on what he heard:
Rudy Giuliani said that Republican poll watchers were being corralled in several states — put in a part of the room too far away to watch what was happening with ballots:
Militaryvotescount.com has several links about the scale of the fraud (see halfway down the page). A few follow:
– In Pennsylvania, 26,000 mail in ballots should have been rejected for irregularities in signatures, the absence of signatures or incorrect ballot completion.
– Also in Pennsylvania — Delaware County — a poll worker fills out ballot papers for an hour.
– Investment Watch's extensive list of voter fraud from around the United States.
By the way, this is important:
Then there is the question of the voting machines and their software:
ES&S replied to NBC News at the time:
In a letter to NBC News, ES&S said it takes "great care" with its foreign supply chain, including conducting risk assessments and making on-site visits to suppliers to make sure that components "are trusted, tested and free of malware."
Fraction magic could only do so much. When it had done all it could, that's when human intervention came in:
US intelligence agencies have a system they use overseas to change election results. It is called Hammer & Scorecard. Gen Michael Flynn's attorney Sidney Powell alleges that the same system was deployed on the American people last week. She tells Lou Dobbs that it would have been run at a very high level — so, not by poll workers — and said, 'This is Coup 5.0, Lou'. She added that the Justice Department still wasn't listening. This was from several days ago:
The Democrats want to change America fundamentally. Here's Senator Chuck Schumer from New York on Saturday, November 7:
Returning to fraud, the video from the night of Sunday, November 8 with human rights lawyer Leigh Dundas is also worthwhile:
Finally, on Monday, November 9, Attorney General William Barr took notice and authorised the Department of Justice to begin investigating:
Breitbart has a copy of Barr's memo and a report (emphases mine):
The memo was addressed and signed from Barr to U.S. Attorneys, the assistant attorneys general for the DOJ's criminal division, civil rights division, the national security division, and the director of the Federal Bureau of Investigation (FBI), Christopher Wray …
Barr's memo comes after 39 House Republicans pressed Barr in a letter on Friday to allow available DOJ resources to look into allegations of voting irregularities across the country in several key battleground states. The Trump campaign has filed a number of lawsuits in some of those states.
Barr said in his memo that, although the states have the primary responsibility to conduct and supervise elections, the DOJ has "an obligation to ensure that federal elections are conducted in such a way that the American people can have full confidence in their electoral process and their government."
He added that while "most allegations" of purported election misconduct are of such a scale that they would not impact the outcome of an election that their investigation can be deferred, "that is not always the case" …
He said inquiries and reviews may be conducted if there are clear and apparently-credible allegations of irregularities that, if true, could potentially impact the outcome of a federal election in an individual state.
"While U.S. Attorneys maintain their inherent authority to conduct inquiries and investigations as they deem appropriate, it will likely be prudent to commence any election-related matters as a preliminary inquiry, so as to assess whether available evidence warrants further investigative steps," he said …
He noted that his authorization of investigations should not be taken as an indication that the DOJ has concluded that voting irregularities have impacted the outcome of the election, but to ensure trust in the voting process.
Interestingly, the Justice Department official who oversees investigations of voter fraud, Richard Pilger, resigned hours later:
Ed Timperlake, a retired Marine, former congressional staffer and author on politics in DC, wrote an article for American Thinker, 'The tide is already turning for President Trump', which concludes:
As interviews are conducted in the field and hard evidence accumulated with federal prosecutors building cases and the need for a "Rocket Docket" directly to the Supreme Court, I suspect the conspiracy will crumble as the minions and mid-level political miscreants scurry for legal safe haven. It is simple: As the DHS team chases illegal computer voting "trons," many of those in criminal legal trouble may see an opportunity to get out of jail free by singing to the feds.
Essentially, "the computer ate my homework" defense, with the press calling it a "computer glitch," will collapse, and then significant votes may swing back to the correct column.
Sadly, if it takes walking a few conspirators to identify and correct many machine-directed mis-votes, so be it.
President Trump will eventually win. Just look at this early headline at a very local level in the key battleground state of Michigan.
Soon many "computer errors," I suspect, will be corrected.
However, those election-thief conspirators that took the analog route by corrupting hard-copy ballots, by either throwing away Trump votes and/or adding illegal Biden votes, well, they can become cooperating witnesses. Or else too bad for them because I hope they enjoy their stay at a "Club Fed" and living with a lifelong felony conviction in the thereafter.
This is what needs to happen:
Some states are joining in pursuing fraudulent voting:
President Trump remains confident:
For those able to attend, there will be a MAGA march in Washington, DC on Saturday, November 14:
Those interested can register here.
Please continue to pray for President Trump, his family, those who work for him, his legal team and his millions of voters.