Tag Archive
You are currently browsing the tag archive for the 'socialism' tag.
January 14, 2022 in history, surveys | Tags: 2022, Boris Johnson, Conservative Party, coronavirus, Dan Wootton, Douglas Ross, Dr Jenny Harries, England, GB News, Glasgow, Guido Fawkes, health, history, Labour Party, Mark Drakeford, medical testing, Nadhim Zahawi, NHS, Nicola Sturgeon, party, police, pub, Sajid Javid, Scotland, Scottish Nationalist Party, socialism, survey, talkRADIO, UK, vaccine, vaccine passport, Wales | Comments closed
For the past several weeks, Prime Minister Boris Johnson and the Conservatives have been lagging behind Labour in the polls.
Boris and the Conservatives held the top spot for most of 2021, apart from one week in January. Their ratings began to sink in November, if I recall correctly. Initially, this had to do with Net Zero policies (far out of reach from the normal Briton), a tax increase to help pay for the NHS and rumours of parties during lockdown at No. 10 Downing Street.
Later, around Christmas, news emerged of parties dating from late 2020. More recently, news leaked about a No. 10 gathering on May 20, 2020 (during lockdown), for which Prime Minister Boris Johnson apologised during Prime Minister's Questions on January 12, 2022:
Today, it is alleged that parties also took place in Downing Street the evening before Prince Philip's funeral in April 2021.
For Keir Starmer and Labour to be ahead of Boris and Co for this long is a parlous state of affairs:
On January 8, 2022, GB News reported that the Conservatives were beginning to regain lost ground (emphases in purple mine throughout):
The Conservative Party has recovered some of its lost lead against the opposition Labour Party, an opinion poll showed on Saturday, but Boris Johnson's personal ratings remain deeply negative as he faces ongoing ethics questions.
Polling company Opinium said Labour's poll rating held at 39% in a January 5-7 survey, unchanged from late December, while support for the Conservatives rose two percentage points to 34%. The Liberal Democrats were on 11% and the Green Party was on 5% …
Johnson's own net approval rating in the Opinium poll was minus 24%, up from minus 31% before Christmas but well behind Labour Party leader Keir Starmer at plus 3%.
Soaring inflation was also souring the public mood, with 86% of people saying their living costs had risen, the polling company said.
On Monday, January 10, the Conservatives continued to gain ground, although they still trail Labour:
Guido Fawkes noted that not moving to Plan C coronavirus restrictions over the Christmas period probably helped:
Labour's 8 point poll lead at the end of last year has halved in the latest YouGov poll. The plunged best PM rating for Boris has bounced 6 points and Starmer's has eroded a point, though Boris still trails. Making the right call on Omicron appears to be paying off for Boris. Who knows, if the Tories get their act together and govern a bit more like Tories, they might even regain their lead…
Moving on to coronavirus measures, a number of news items broke since the New Year, some of which relate to England only; the devolved nations have their own measures, largely socialist in nature.
Self-isolation time
On Monday, Boris said he was considering lowering the number of days that people have to self-isolate:
Guido Fawkes reported that Levelling Up Minister Michael Gove said that the current Plan B measures are likely to expire as planned on January 26.
Boris's comment followed Gove's on Plan B:
This follows Michael Gove's comments earlier today on the potential lifting of Plan B measures in a few weeks, provided the NHS continues to keep Omicron under control. Looking increasingly likely that pandemic measures will – finally – wind down sooner rather than later…
On self-isolation being reduced from seven days to five, as the US is doing, Boris said:
We're looking at [it]… we will act according to the science as we always have. But what I would say to everybody is that Omicron is still out there, it's incredibly contagious. Everyone will know somebody who has had it, it can be pretty unpleasant.
Boris was likely reconsidering because British scientific advisers 'misread' US self-isolation guidance. Dr Jenny Harries, head of the UK Health Security Agency (UKHSA), is pictured:
Guido Fawkes showed the difference between the UKHSA guidance on January 1 and January 10.
Guido concludes:
The US Centres for Disease Control has now clarified their isolation periods do start after the first appearance of symptoms, giving further credence to Tory backbenchers' calls for a cut. This country has had enough of experts…
Indeed, we have had enough of experts. Unfortunately, Jenny Harries is receiving a damehood, having been on the New Year's Honours list.
The move for a shorter isolation period is to enable those with coronavirus to return to work as soon as possible.
It is a curious thing that, since the beginning of the pandemic in early 2020, I have seen the same shop assistants week after week. By contrast, when I watch the news, there is a plethora of public sector workers — the NHS and teachers, to name but two groups — who are constantly sick.
This tweet expresses the phenomenon well: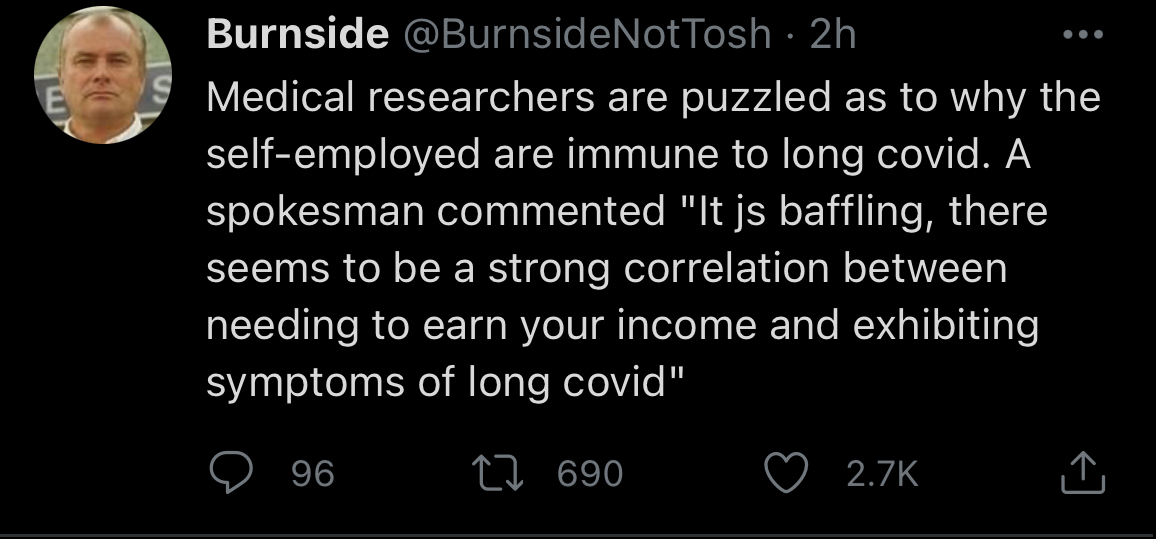 On Thursday, January 13, Health Secretary Sajid Javid announced in the House of Commons that self-isolation will be reduced to five days beginning on Monday, January 17, provided that the person involved can provide two negative lateral flow test results on Days 4 and 5:
The end of mass vaccination?
On Sunday, January 9, Dr Clive Dix, the former chairman of the UK's vaccine taskforce, said that it was time to end mass vaccination and begin urgent research into antibodies as well as T-cells.
The Observer reported:
Covid should be treated as an endemic virus similar to flu, and ministers should end mass-vaccination after the booster campaign, the former chairman of the UK's vaccine taskforce has said.
With health chiefs and senior Tories also lobbying for a post-pandemic plan for a straining NHS, Dr Clive Dix called for a major rethink of the UK's Covid strategy, in effect reversing the approach of the past two years and returning to a "new normality".
"We need to analyse whether we use the current booster campaign to ensure the vulnerable are protected, if this is seen to be necessary," he said. "Mass population-based vaccination in the UK should now end."
He said ministers should urgently back research into Covid immunity beyond antibodies to include B-cells and T-cells (white blood cells). This could help create vaccines for vulnerable people specific to Covid variants, he said, adding: "We now need to manage disease, not virus spread. So stopping progression to severe disease in vulnerable groups is the future objective."
On Wednesday, Professor Jeremy Brown of the Joint Committee on Vaccination and Immunisation (JCVI) echoed Dr Dix's call for a post-pandemic plan. He rightly pointed out that we do not test for influenza:
Schoolchildren suffering
I do feel for children having to wear masks, undergo regular testing at school and for being persuaded — with parental consent — to get vaccinated. My commiserations also go to their parents.
On Sunday, Education Secretary Nadhim Zahawi said that the rate of children's vaccinations must speed up:
The topic of mask-wearing, although confined to secondary school students, came up on a recent instalment of ITV's This Morning programme. Author and television presenter Gyles Brandreth explained how difficult this is for children with learning difficulties:
I am glad to see that pupils are refusing to wear masks: sensible kids showing common sense.
Vaccines
Having watched all the coronavirus briefings on television, I remember when either then-Health Secretary Matt Hancock or one of our senior health advisers told us that not everyone would need to get vaccinated in order to put the pandemic at bay.
This historical example from the smallpox era shows that a only relatively small percentage of people need a vaccination in order to eradicate the disease. In the case of smallpox, this was 32%: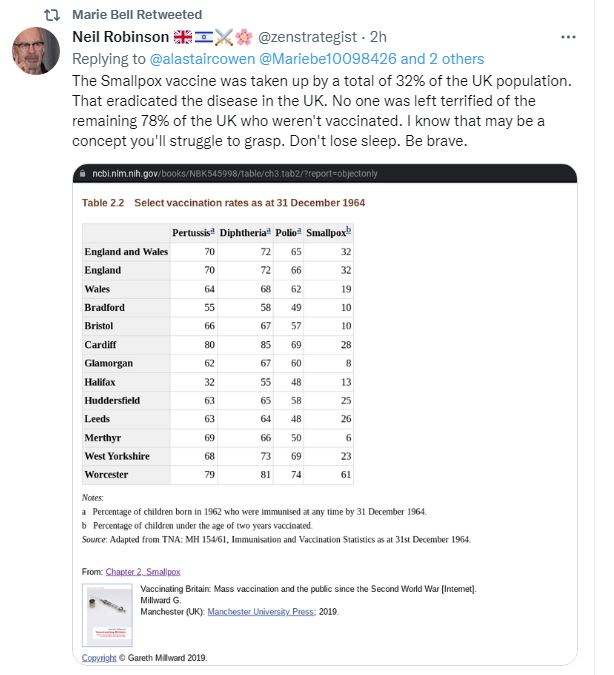 Yet, the UK is now jabbing children, mandating vaccine passports as well as threatening loss of employment in April 2022 to unvaccinated NHS and care home workers. WHY?
The biggest news story on this subject appeared on Friday, January 7.
The Telegraph reported that Steve James, a consultant anaesthetist at King's College Hospital in London told Health Secretary Sajid Javid that he had had coronavirus and has the antibodies. He said he had no intention of getting a vaccine.
He said that the science does not warrant a health worker vaccine mandate:
Here is a clip from The Telegraph's article: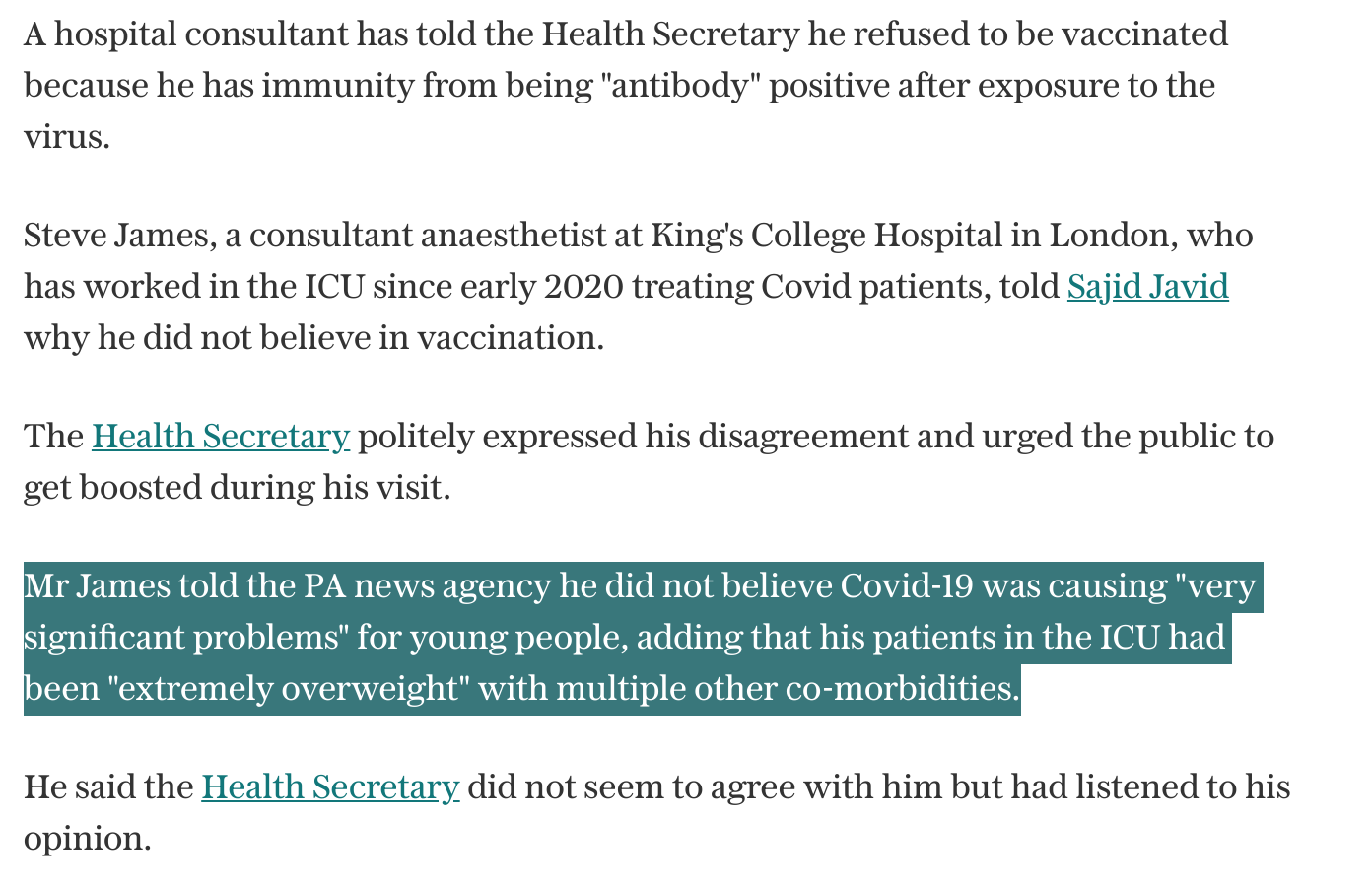 NHS is doing well
On Sunday, Education Secretary Nadhim Zahawi said that the NHS is coping well. Eight Nightingale facilities will also be opened in the coming weeks:
Socialist policies in Scotland and Wales do not work
On Monday, January 10, talkRADIO's Kevin O'Sullivan said that vaccine passports are not working in Scotland and Wales. He rightly wonders why Boris Johnson wanted to extend their reach in England.
Wales's rate of infection is three times higher than England's. Scotland recorded its highest ever number of coronavirus 'cases':
Dan Wootton of GB News also had plenty to say on the Welsh and Scottish approach to coronavirus:
The chilling reality of the United Kingdom under a Labour/SNP coalition was laid bare over the New Year period.
And it's not something any of us should want to become a reality.
More on that below.
Wales
On Sunday, January 9, Prif Weinidog (First Minister) Mark Drakeford (Labour) said that Welsh coronavirus rates are lower than England's. Note that, at one point, he did specify Welsh rates were lower than those in England's hotspots, not the whole country. In that sentence, he told the truth, less so overall:
Drakeford came up with a few more new rules before Christmas. People couldn't work in an office, but they could go to the pub.
Dan Wootton said:
In socialist Wales, Mark Drakeford – seemingly so intent on smashing the economy to smithereens – has started to fine honest folk £60 for going to work in an office.
Genuinely. I'm not making that up. Doesn't matter if you're perfectly healthy, either.
But Drakeford is the man who forced supermarkets to cordon off aisles selling toys and clothes, remember. Now the Chief Medical Officer in Wales Sir Frank Atherton is hysterically proposing that we should all self-isolate for days on end if we have a common cold.
And, with Labour's love of restrictions, circuit breakers and draconian laws controlling our behaviour, have Welsh Covid rates been any lower than the rest of the UK? Nope!
According to government data across the pandemic, Wales has had the second highest total rate of cases per 100,000 – just under Northern Ireland – at a rate of 20,386.2.
That compares to England's 20,174.2 and Scotland's 17,673.4.
In the last seven days, Wales remains the second highest, again just behind Northern Ireland.
The following tweet shows another absurd aspect of the situation, with an English non-league football (soccer) club, Chester, wondering how it can survive under Drakeford's draconian rules. Chester's stadium lies just over the border in Wales:
This exchange shows how complicated the situation is:
Scotland
North of the Border, First Minister Nicola Sturgeon (SNP) has implemented some of the strictest coronavirus restrictions in the UK.
Dan Wootton says that these are a smokescreen for the lack of a second independence referendum. Nonetheless, he details how totalitarian they are:
In Scotland, Nicola Sturgeon prizes her role as a Covid dictator using press conferences broadcast to the nation by the BBC to spread fear and introduce harsh controls on poor Scots.
She insists it's to keep them safe.
But in my opinion, it's to keep the Covid crisis running for as long as possible, so she doesn't have to face the fact her dream of a second independence referendum lies in tatters.
So to Sturgeon omicron has been a blessing, allowing her to impose new social controls essentially killing off the Scottish hospitality industry once more for months. Compare and contrast today's [January 3] Times front pages.
The English edition reports that ministers in Westminster are confident new curbs won't be needed, given Plan B has already been imposed and Omicron is a far less severe variant.
The Scottish edition, by contrast, reports that large public gatherings could be forbidden in Scotland well into the spring, with National Clinical Director Jason Leitch saying April will still be too early to host a postponed Hogmanay celebration in Edinburgh.
And it's these draconian policies propagated by Sturgeon that resulted in ridiculous police overreach and brutality in Scotland that you won't see reported in the mainstream media.
Case in point: police raiding the Avant Garde gastropub in Glasgow on New Year's Eve, where there were around 50 folk, most of them over 60-years-old, simply trying to enjoy their night.
Then, for some reason, two large police vans carrying more than 20 officers, according to witnesses, turned up because they were suspected of breaking Sturgeon's outrageously over the top Covid rules.
The pub may have been targeted because it displays this poster on its door saying…
"We have no discrepancy over whether you want to wear a mask or not." This is what happened when multiple cops stormed the pub…
The footage is included with this interview of the man who filmed it:
What a despicably unnecessary show of force from Scottish police who routinely fail to investigate muggings and burglaries.
But it's not their fault, it's Sturgeon's for introducing such authoritarian laws, banning bar service and enforcing social distancing between groups.
Sturgeon has implemented these measures despite only ONE patient with omicron having been admitted to intensive care in Scotland. Only one!
The police claim they were simply making a 'routine visit', but, come on, it should never have come to this.
Sturgeon is criminalising people drinking and having a good time.
This month — and we're less than two weeks in — she has had to backtrack on her stringent restrictions.
When the editor of the Scottish Daily Mail, Mike Blackley, asked her on December 17 if she could reduce the number of self-isolation days, she turned caustic:
Yeah, because that'd really help 'cause that would spread infections even further and that would not be doing any favours to businesses.
Guido Fawkes has an update from Wednesday, January 5:
On 22nd December, England's Covid rules changed so infected individuals can stop isolating after seven days rather than ten, so long as they test negative on day six and seven. Six days ago Wales followed suit, and a day later Northern Ireland copied the change. Leaving one obvious outlier…
It now looks like Sturgeon will confirm the cut, with a statement expected later today and her deputy John Swinney saying yesterday that their administration is "actively considering" reducing the self-isolation period. There's just one problem with the move if it goes ahead – it'll be a very embarrassing U-turn on Sturgeon's part…
So, will she now apologise to the Scottish Mail's Mike Blackley?
Unlikely.
Late last week, SNP MP Stewart Hosie appeared on the BBC's Politics Live to say that Scotland had a lower number of coronavirus cases than England.
The SNP then tweeted this news, which was based on out of date statistics:
Guido Fawkes rightly called out the SNP, including a graphic of the updated statistics.
Not only does England have a lower prevalence than Scotland, it has the lowest prevalence of all four UK nations despite having almost no legal restrictions. The lockdown lovers always say they're following the science… except when they aren't.
Last weekend, England still had a lower prevalence of coronavirus than Scotland, which demands mask wearing and vaccine passports:
Last week, Sturgeon took exception to Boris Johnson's idea to scrap free lateral flow tests. He wants to reserve them for 'high-risk settings':
On Monday, January 10, Sturgeon apparently decided Scotland will have to live with the virus. We'll see:
The Scottish Daily Express reported:
Opposition parties in Scotland are particularly keen for these restrictions to end.
The Scottish Conservatives are the main opposition party in Holyrood:
Scottish Conservative leader Douglas Ross said: "The Scottish public need to see some light at the end of the tunnel, so it's time for the First Minister to produce a timetable on the new strategic framework that she promised.
"People want reassurance that restrictions won't stay in force for a moment longer than absolutely necessary.
"After almost two years of sacrifice, the public need to see a bold timetable from the Scottish Government that will enable us to live safely with Covid."
Labour are the next largest party in opposition:
Anas Sarwar, Scottish Labour leader added: "Almost two years into the pandemic, I don't think we have yet built the resilience in the system in order to respond appropriately to Covid.
"I think we accept that Covid is a risk to people's health and wellbeing and we've also got to accept that how we respond to Covid is also a risk to people's health and wellbeing particularly their mental health.
"I think this day by day decision making and waiting to see what may and may not be said at a press conference is not actually a good way of responding to the pandemic.
"I would like to see a framework in place that builds resilience, that sets quite clearly what the trigger mechanisms for any potential restrictions are and what those restrictions maybe and also then what the trigger mechanisms are for financial support for individual businesses …
"I don't think the government has done that work here in Scotland and across the UK and I think we urgently need to do that work."
The Liberal Democrat response was the best:
Alex Cole-Hamilton MSP, leader of the Scottish Lib Dems, said: "I've been concerned at the absence of data offered to Parliament by the SNP.
"We still don't have a firm idea of those who are in hospital because of Omicron or who just test positive when they go in for something else.
"Without that information, Parliament can't take a view on whether restrictions are appropriate.
"There's no clear evidence that the enhanced restrictions in Scotland have reduced the rates of infection compared to other parts of the UK."
Too right!
Conclusion
If Boris can return to a rational outlook on coronavirus measures, England can be the first to exit the dystopia we have found ourselves in since March 16, 2020, with lockdown implemented one week later on March 23.
Let those who wish to take precautions do so.
Let those of us who wish to live and work again do so freely, without hindrance.
November 30, 2021 in history | Tags: coronavirus, England, fear, freedom, freedom of movement, Gibraltar, Ireland, Malta, Northern Ireland, Scotland, socialism, South Africa, UK, United States, vaccine, vaccine passport, Wales | 2 comments
Please, someone, stop Project Fear.
Last week, a new coronavirus variant, B.1.1.529 — initially named Nu and now changed for whatever reason to Omicron — hit the headlines, having been discovered in South Africa.
How worried should we be? I've been ignoring the news hysteria pumped out by Britain's main channels and have been focusing on the views of scientists who have offered good information in the past.
A senior scientist in vaccine research and development advises ignoring the media hysteria:
The scientist notes that full vaccination rates in South Africa are very low:
There is no need to panic, especially before Christmas. Note that the chairwoman of the South African Medical Association says the symptoms are 'extremely mild':
We cannot extrapolate whether 'cases' will spike in countries where most of the population is fully 'vaccinated'. According to another scientist who tracks viruses, it could be that the variant will not take hold quite as easily or with devastating effect:
Sir John Bell, an adviser to the UK government, agrees that the symptoms are like that of a cold. Our T-cells can probably deal with it:
Read further on for what this means for travel and our civil liberties.
First, here is confirmation that Nu was renamed Omicron in the Greek alphabet:
It seems that a Greek letter — Xi, coincidentally — was skipped:
Omicron is under the microscope not because of overflowing hospitals but rather genomic monitoring by clinicians:
As with the other variants, Delta included, Omicron would have been discovered months before now:
In fact, despite what the WHO says, the World Economic Forum (WEF) reported on it back in July:
Now for the bit on travel and our civil liberties.
As expected, travel restrictions to and from six African countries are now in place in Britain …
Travel to and from South Africa and five other southern African countries was banned from noon on Friday. Malawi and Mozambique are expected to be added to Britain's travel red list imminently and there is acceptance in Whitehall that further bans are likely while scientists attempt to assess whether Omicron evades vaccines or spreads faster.
Chris Whitty, the chief medical officer for England, described travel bans as "precautionary" and said it might be possible to lift them once the variant had been better assessed.
Travel industry bosses warned that the introduction of the red list was a "hammer blow to consumer confidence" in before the peak winter sun window.
… and in the United States. It's okay when the Democrats do it, but not when Trump did it in 2020: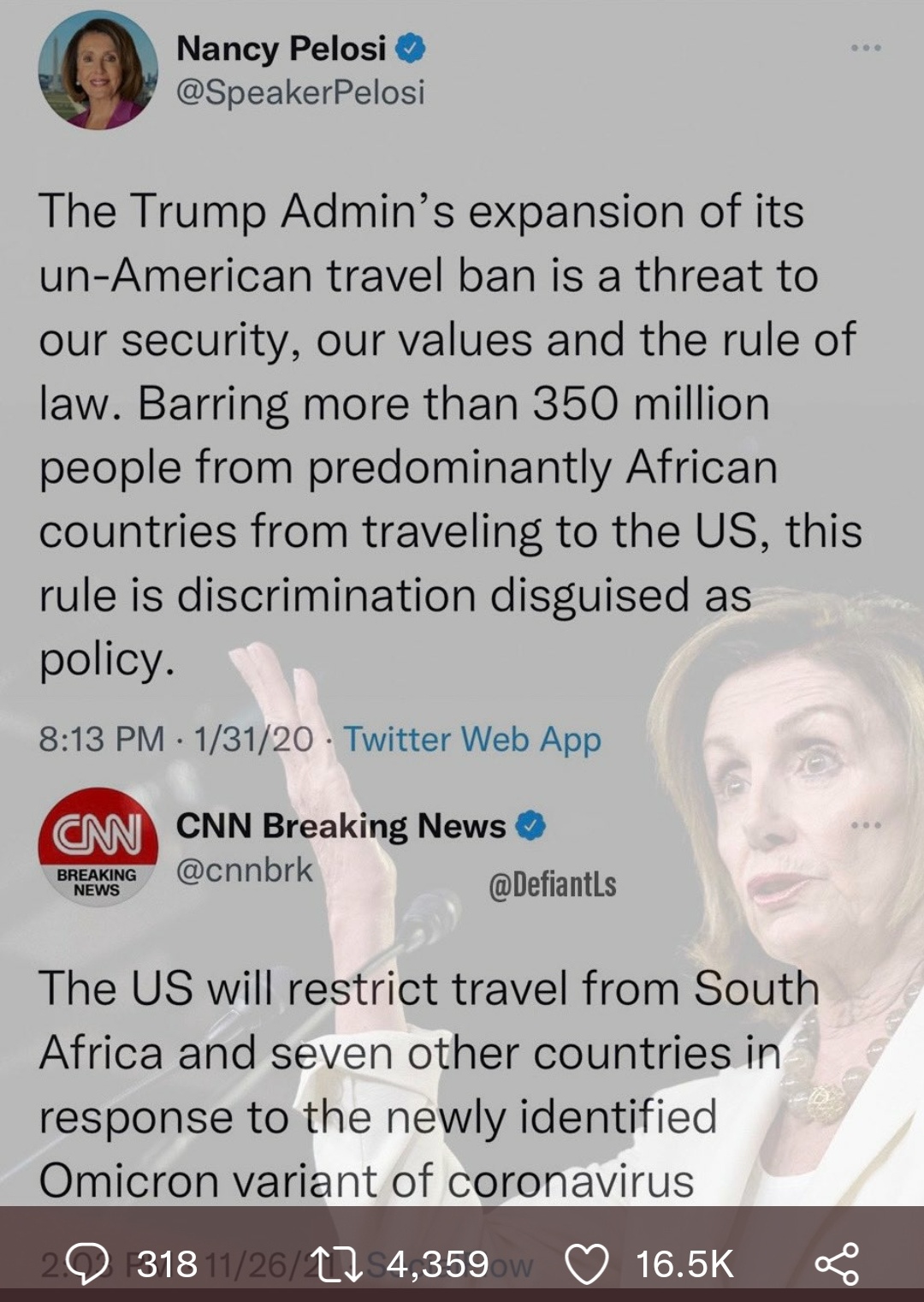 No doubt politicians will attempt to restrict our movements but, as this pathologist explains, human activity has little to do with viral transmission, which appears to be caused by seasonal activity:
Keep that in mind if there is a push for England to implement Plan B for the winter months. Plan B includes vaccine passports, something we have been able to evade, unlike Scotland and Wales (both socialist-governed nations):
On that subject, here is a coronavirus passport poster from Ireland. The Irish government now refers to freedom as 'privileges':
Journalist Julia Samuel reminds us of what the situation looked like a year ago. Remember when the vaccine rollout was nearly ready and we were told we would get our freedom back? One year on, and the Government is telling us that we will now need boosters. Who thought then that we would have vaccine passports? Northern Ireland's Assembly will be voting this week on whether to have them and where:
Julia Samuel says that the Government now considers freedom to be on loan and can be rescinded whenever our notional leaders see fit:
I deeply deplore this state of affairs but am not surprised by it.
Meanwhile, vaccine efficacy has raised a few questions. Last week on RMC (French talk radio), the mid-morning show had a heated discussion as to whether the vaccines were working.
Gibraltar has had huge problems with new cases, yet 100% of its population is fully vaccinated.
On November 17, The Express reported that The Rock has cancelled Christmas:
The Rock has urged people to "limit mixing as much as possible", in new guidance published last Friday. The Gibraltar government has also cancelled all functions across departments, including Christmas parties, in a bid to prevent the spread of the virus.
Ministers have not yet ordered the public and businesses to follow suit, but the decision had sparked anger in the hospitality sector …
Gibraltar, which has a population of around 33,000, also boasts an impressive rate of vaccination.
Gibraltar has administered 94,019 vaccine doses – meaning most of its citizens have received three jabs …
The Government of Gibraltar has nevertheless reiterated masks should be worn in shops, hospitals and public transport.
People are also encouraged to meet in outdoor spaces, where possible, despite winter drawing in.
At that point, two people were hospitalised, with one in intensive care.
Malta has the same problem in case rises. Unlike Gibraltar, many of these people are ending up in hospital:
On the other hand, a study from Northwestern University near Chicago has reported that the booster has dramatically increased antibody levels:
In a nutshell:
Data from England appear to corroborate the same findings, with lower hospital admission rates for older people:
The peer-reviewed study appeared in The Lancet (yes, I know):
This is the effect of booster shots:
The only question now is how long the 93% and 94% efficacy lasts. The public will soon tire of getting covid booster shots every six to eight months, that is for certain.
In the meantime, we must continue to keep a gimlet eye on our governments, especially where civil liberties and our God-given freedoms are concerned.
I will cover England's restrictions in a separate post.
November 19, 2021 in history | Tags: 2021, Alexandria Ocasio-Cortez, Allegra Stratton, Alok Sharma, Angela Rayner, Camilla Duchess of Cornwall, China, climate change, coal, COP26, coronavirus, Dan Hodges, GB News, Glasgow, Green Party, Greta Thunberg, Guido Fawkes, history, hypocrisy, Joe Biden, masks, Nicola Sturgeon, Scotland, socialism, Tom Harwood, UK, United States, Vietnam | Comments closed
COP26 ended last weekend.
The great Glasgow conference ended with an agreement to phase 'down' coal rather than phase 'out' coal.
This left COP26 chairman Alok Sharma MP (Conservative) in tears.
More on that below.
Let's start at the beginning of the year and work from there.
Greta Thunberg
Greta Thunberg declared early in April that she would not be attending COP26:
The budding epidemiologist (irony alert) said that the conference should be cancelled until global vaccination rates had risen.
Odd that she did not mention carbon emissions from 30,000 prospective attendees, which the Global Warming Policy Forum did in May, strongly suggesting that the conference take place virtually. Guido Fawkes said that having done so would have saved British taxpayers £200m.
The UK Government stuck to the plan, however. A spokesman said:
We are working on the basis of COP26 being held in person this November, while closely monitoring the covid situation.
The summit team is working closely with all partners and exploring what different scenarios might mean for COP26 and how we plan for that, whilst putting the health of the participants and the local community first.
We are not looking to postpone the summit.
During COP26, Greta led a rally in central Glasgow, attracting hundreds of fellow admirers in the streets.
Mixed messages from No. 10's COP26 spokeswoman
On April 20, No. 10 decided to scrap the plan for American-style press conferences which Downing Street's spokeswoman Allegra Stratton was supposed to lead. Stratton became the Government's COP26 spokeswoman instead.
What a mistake that was.
On July 27, she told Britons not to rinse their plates before putting them in the dishwasher. Good news for plumbers, then:
The next day, she — working for a Conservative government — advised Britons to join the Green Party:
This seemed to be an attempt to walk back her dishwasher advice from the day before.
Guido Fawkes wrote (emphasis in the original):
In an unexpected turn of events, Boris Johnson's COP26 spokesperson Allegra Stratton told The Independent that people should "join the Green Party" if they want to tackle climate change. When asked why organisations were critical of her advice to consider not "rinsing plates" before putting them in the dishwasher, Allegra responded by saying:
"When people say to me, 'What can they do?', they can do many things, they can join Greenpeace, they can join the Green Party, they can join the Tory Party."
A highly quotable if somewhat unusual endorsement… 
On August 2, Stratton explained to Times Radio why she still drove a diesel car rather than buy an electric one (emphases mine, unless otherwise stated):
I have a diesel Golf. It's third hand and I've had it for 8 years. I don't drive it very much because I live in London, and it wouldn't be right. I cycle, I've hurt my leg at the moment, but usually we cycle or get on the bus or walk most places. The car we use to go to granny's and grandad's who are  mostly 200, 250 miles away. I should be moving to another car, before I hurt my leg I was thinking about getting another car…My son would really like me to buy an electric car. I think it is the idea that right now, if I had one, any of those journeys to my dad in South Scotland, my mum in Gloucestershire, my in-laws in the Lake District and my Gran in North Wales, they're all journeys, that I think would be at least one quite long stop to charge. And my kids are seven and four and I don't fancy it just yet. That's not to say that very soon, that technology, the charging points, we're already seeing an increase in numbers, we're seeing the cost come down, and we are seeing the range go up. So the direction of travel is great, and is swift. So I am optimistic that at some point, like so many families around the country, I'll go for it. But right now, I have hurt my leg and I've been told I can't drive ...You know, sometimes when you've got a four year old in the car, they're asleep, and you just want to keep going to get there, because you know, if they wake up, you know, they'll want the loo, they'll want food, they might be feeling carsick and so on. So you want to be in control of that journey ... And included in that might be that the stop times for recharging improve so much that it's half an hour.
Stratton gave all the best reasons for not buying an electric car.
Commenting on Stratton's quote, Emily Carver, Media Manager at the Institute of Economic Affairs, pointed out:
Of course, when polled, the majority of the public support addressing climate change. Who wouldn't want a greener, more sustainable planet? However, as is the case with so many policies, it is far easier to support a rosy abstract goal than it is to face its real-life consequences.
Furthermore, very few in the media mention the African slave labour involved in mining cobalt for car batteries in general:
How did Stratton get a position as press secretary then Britain's COP26 spokeswoman?
Breitbart provided some clues:
Stratton became the first official White House-style press secretary for the prime minister last year. She is a former journalist who had worked with establishment outlets The Guardian, the BBC, and ITV. Despite spending £2.6 million on furnishing a press room, the government scrapped the plans in April, moving Stratton to the role of the Cop26 spokeswoman, with the conference taking place in November of this year.
The Times claimed in May that Johnson appointed the former journalist at the insistence of his then-fiancée Carrie Symonds, herself a keen environmentalist.
The newspaper of record alleged the hiring took place despite the interview panel recommending against it, with leaked remarks calling Stratton a "risky appointment" and voters allegedly preferring Ellie Price, the panel's first-choice candidate.
"The PM said it would make his life too difficult. Carrie won't accept it if it's anyone else. He said, 'I've promised this to her'," a Whitehall source told The Times, with a second source saying: "Boris said Carrie would go bananas if she didn't get her way."
In 2020, Stratton worked for Chancellor Rishi Sunak. In January 2021, TCW told us that Stratton is married to The Times's James Forsyth, who also works for The Spectator:
It's time for the journalist James Forsyth – who also writes a column in the Times – to reveal the truth about Sunak's plans. Forsyth and Sunak are close friends. They attended Winchester College together in the 1990s. Sunak was best man at Forsyth's wedding and they are godparents to each other's children. In April 2020, Sunak hired Forsyth's wife, Allegra Stratton, to be his media chief (though it's not clear if this job was ever advertised and I don't remember any of the above being declared publicly). Since then she has moved on to be No 10 press secretary.
The conference, the hypocrisy
Guido Fawkes looked through Government contracts for COP26 to see what taxpayers' money was financing.
The filming costs were exhorbitant:
The government has splashed a whopping £36,083,135.81 on a production services contract with Identity Holdings Limited which includes a supply of production and media services.
Glasgow teemed with prostitutes for the first two weeks of November. So much for women's rights and the Left's virtue signalling moral compass.
Guido reported:
The 25,000 delegates who have flooded into Glasgow have brought protestors by the thousands and, according to Guido sources, untold sex workers from around the world who are advertising their services online. In the interests of research for this story Guido has been doing research on various "adult work" websites which filter by city. According to one of the website operators, business has really hotted up, with the number of hookers advertising their services tripling from the normal three hundred or so in the city, to upwards of a thousand. 
Former Labour MP David Miliband told BBC's Newsnight that the cost of net zero would be at least £100t of ordinary people's money:
For whatever reason, a Green councillor from Brighton not only attended the conference, but flew to get there:
On November 9, Guido wrote (emphases in the original, the one in purple mine):
Why it is really necessary for a local council leader to attend a UN conference Guido doesn't know given they have absolutely no locus or input into the COP process. To make matters worse Brighton's Green council leader has been caught with his fly open and forced to apologise after jetting to COP26 in Glasgow. Just days after Caroline Lucas moaned Rishi's Budget was a joke because of its tax cuts on domestic flights…
Councillor Phelim Mac Cafferty took a plane from London to Glasgow, a 460-mile journey after which he made a speech at a protest march led by Greta Thunberg on the importance of cutting carbon emissions. He also chair's Brighton and Hove council's carbon neutral working group. According to the LNER website, the train journey from Brighton to Glasgow would have created 26.68kg of CO2 – Cafferty's plane journey created 169.94kg…
Having been found out, the councillor issued a grovelling apology to a Brighton newspaper, The Argus.
In sharp contrast, former Scottish Conservative MP Ruth Davidson spotted the Royal Train at Carlisle station:
Meanwhile, Vietnam's security minister Tô Lâm left Glasgow to journey to London for an eye-wateringly expensive gold leafed tomahawk steak at the newly opened Salt Bae Knightsbridge restaurant.
Guido has the video …
… and a post about the Communist enjoying a taste of capitalism:
… And where had he just come from prior to his luxury dining experience? A flower-laying exercise at Karl Marx's grave…
This absurd spectacle should surely call into question the millions the UK's given to the corrupt, communist state. Since 2001, £481 million of UK taxpayers' cash has been given in aid to Vietnam, and they are set to get another £7 million bung in 2021/22. Based on the video, Guido calculates the three steaks alone cost the table £2,550…
His colleagues back home are clearly displeased. The #SaltBae tag on Facebook was blocked in Vietnam to prevent people seeing the video –  something the social media giant is now investigating. Presumably if he is sacked for his typically corrupt communist antics, he can expect a golden handshake and a gold-plated pension…
One supposes he flew there and back.
Green MP Caroline Lucas has been a stickler for wearing masks in the coronavirus era, but look what she did at COP26. She dropped her mask:
The Daily Mail reported that Joe Biden had an emission problem of his own which left the Duchess of Cornwall highly amused. Foreign Secretary Liz Truss is on the left, with Camilla on the right:
Brand Scotland
More than halfway through the conference it became clear that Glasgow's hospitality sector was not reaping the post-coronavirus benefits that COP26 promoters promised.
On November 10, The Times reported (emphases mine):
While hotels across Glasgow are fully booked to accommodate the thousands of delegates, the hospitality trade is understood not to have seen any uplift in trading since the event began on October 31.
There are even suggestions the event has led to a reduction in trade for some operators. Footfall in the city centre is said to have been affected as people try to avoid the demonstrations.
There is also thought to be a number of delegations which have stayed outside of the city, with Edinburgh hotels among those which are busy.
Oli Norman, whose Ashton Properties owns venues such as Brel and Sloans, said he had heard of some publicans and restaurant owners who have seen their trading fall by up to 50 per cent, and added: "It should have signified a resurgence in the local economy but if anything it has been a damp squib."
Dan Hodges from the Mail interviewed self-employed Glaswegians in Easterhouse, a poor district away from the city centre:
Thomas is disillusioned with COP26. 'I've missed my chance,' the Glaswegian barber tells me. 'My friend rented his flat at two grand a week. He's making £6,000 and using the money to jet off for a holiday.'
I'm in Easterhouse, a few miles from where the global elite are gathering to save the world from itself. But few of them have ventured out to what was once the most deprived housing estate in Scotland. 'I'm not sure why,' Angus, the local butcher, laughs. 'Perhaps Joe Biden got lost on the M8.'
What does he think about calls for us all to go vegan to protect the planet? 'Well, I'm a butcher,' he replies. 'And my dad was a butcher and my grandad was a butcher. I grew up on pig's feet soup. So I think people round here are still going to want to eat meat.'
Angus's views could be ascribed to self-interest. The same can't be said for local cabbie Andy. He's made a small fortune shuttling delegates between Glasgow and Edinburgh at £120 a time. 'Sorry, but the whole thing is a pile of crap,' he tells me. 'They've been driving round in big convoys telling everyone else to get the bus.
'It all feels like a millionaire's party.'
While a Scottish government minister caught coronavirus at COP26 …
… First Minister Nicola Sturgeon did her best to market at least one Scottish product, Irn Bru, a popular soft drink. She gave some to Congresswoman Alexandria Ocasio-Cortez:
Sturgeon also marketed herself through a series of selfies:
This short yet amusing video tells the story perfectly:
One senior Scot noted Sturgeon's contradictory position on mask wearing:
Sturgeon had no policy mandate at COP26. She was invited only as Scotland's political leader. It was a courtesy.
Still, as such, one can understand why she wanted selfies with world leaders. It was a once-in-a-lifetime opportunity for her, even though she denied it:
How it ended
Not surprisingly, much socialism was on display at COP26.
Harry Wilkinson discussed it with Tom Harwood of GB News on the last official day, November 12. This was an excellent interview:
China and the United States signed a bilateral deal thought to be a big deal. We'll see. That said, India is the second greatest polluter after China:
Nicola Sturgeon wants a ban on nuclear fuel in Scotland, but if she does ban it too soon, the nation will not have the energy supply it needs:
In the end, coal would be phased down rather than phased out. This is because too many developing countries need it to supply energy to their citizens.
Britain's COP26 president, Alok Sharma, nearly broke down in tears, explaining why to Times Radio:
It was an emotional moment. I understood the disappointment. And six hours sleep in 3 days probably didn't help.
Before he banged down the gavel on the pact, the tearful Sharma told delegates: "I apologise for the way this process has unfolded. I am deeply sorry." The representatives of 197 countries at the summit responded with a standing ovation …
Sharma said the summit had kept "1.5 alive" but added "its pulse is weak" and described it as "a fragile win".
Nonetheless, he told the BBC's Andrew Marr that the agreement is a 'historic achievement':
Even Angela Rayner, the Labour MP who recently referred to 'Tory scum', praised Sharma for a 'tremendous job':
Sharma received many more compliments in Parliament early this week.
Those interested in combating climate change — largely impossible, in my opinion — should know that COP26 picked up from the Paris Agreement to flesh it out with specifics and COP27, to be held in Egypt in 2022, is thought to go even further with better pledges from participating nations.
COP26 starts in Glasgow on Sunday, October 31, 2021, and is expected to last until November 12, possibly a few days longer if climate talks run over schedule.
COP stands for 'conference of the parties' and is the decision-making body of the United Nations Framework Convention on Climate Change. It is comprised of 197 countries.
It was decided in 2019 that the 26th COP meeting would be hosted by the UK. Glasgow is known for its international conferences and its overall commitment to sustainability.
The conference will take place at the Scottish Event Campus on the outskirts of the city. It can accommodate 14,300 people in its arena and 3,000 in its auditorium.
The Times has more on the conference.
Although some delegates will be staying in Glasgow centre, it's just as well that COP26 is being held on the outskirts of the city, because the binmen are on strike and rats are a common sight.
This is what Glasgow's sustainability looks like:
Rail strikes are also expected, which will be a problem for delegates or their assistants who are staying in Edinburgh, a 45- to 60-minute train journey away.
Guido Fawkes has a post about everything that could go wrong during the next fortnight, excerpted below (emphases in the original):
This morning, rail and council workers confirmed they'll be taking strike action during the summit, with ScotRail striking from the second day of the conference. Unless ScotRail's pay rise demands are met by tomorrow, the travel infrastructure for thousands of COP attendees will be in total chaos. Binmen are also off, so the city streets will be piled high with weeks' worth of rubbish just as delegates arrive.
If and when the rail strikes go ahead, travelling by car won't be much use either: major roads into Glasgow, including the Clydeside Expressway and parts of the M8, will be closed from this week onwards, so those who've booked accommodation in Edinburgh will face "serious problems" with enormous Uber fares and journey times. Speaking of accommodation…
Today MPs have been warned of an "accommodation crisis" amongst attendees, with as many as 3000 people still without room bookings, and emergency accommodation now being provided in gyms and community centres. Despite being in the calendar for years, the government's accommodation provider only managed to book out "around a third" of the Glasgow area's hotel rooms.
Glasgow council is led by the Scottish National Party (SNP).
The council leader, Susan Aitken, blamed the city's filth on, of all people, Margaret Thatcher, who left office in 1990 and died in 2013.
The Daily Mail tells us more, illustrated with several photographs (emphases mine):
World leaders from 120 countries will soon descend on Glasgow – but Scotland's second city is blighted by rubbish and fly-tipping as well as some of the UK's highest poverty, drug death and crime rates.
In an evidence session with the Scottish Affairs Committee, Scottish Tory leader Douglas Ross asked Ms Aitken: 'You have been widely ridiculed across the UK for saying that Glasgow only needs a "spruce up" and is not actually filthy. Do you regret any of your previous comments?'
Ms Aitken stood by her remarks before insisting that Mrs Thatcher, the former prime minister who left office more than 30 years ago and died in 2013, was responsible for the 'challenges' facing Scotland's second city.
She then sought to downplay fears over the city's 'filthy' state, claiming 'all cities have rats' but admitting to 'possibly two' occasions in which council workers had been hospitalised after 'small incidents' with rats.
'I do not, in any way, shy away from the challenges that we face as a city, historic challenges that have been around for many, many years,' Ms Aitken claimed.
'Much of them a legacy of our post-industrial past when the Thatcher government walked away and abandoned Glasgow and left in neglect communities right across this city.'
The head of the SNP-led administration in Glasgow said she was not embarrassed by the city's deteriorating condition and insisted it was 'entirely gratuitous' to suggest it was infested with rats. 
She said Glasgow was ready to host the conference 'with caveats', adding: 'I would say the caveats are mainly technical, some of them have already been resolved or are being ticked off.'
'None of them were massive, none of them were enough to cause panic.' 
Dr Sandesh Gulhane, a Scottish Conservative MSP for Glasgow, said Ms Aitken's comments about the legacy of Thatcherism were 'completely delusional'. 
'We've heard a lot of far-fetched excuses from Susan Aitken over the past few months, but the idea that Margaret Thatcher is to blame for the current state of Glasgow's streets absolutely takes the biscuit,' he said.
'She must now stop the excuses and urgently produce some solutions – not only for Cop26 in a week's time, but for the people of Glasgow who live here all year round.'
Also:
the buildings owned by Glasgow's council are decaying, with raw sewage coursing through cellars and rats hospitalising dustmen.
To cap it all, Glasgow is currently the eighth-highest Covid hotspot in Europe, has been found to be the deadliest place to work in the UK, and the difference in life expectancy between the richest and poorest in the city has recently been found to have increased by three years. 
How sad.
This is the product of socialism, started by Scottish Labour, which led the council for many years, and now the SNP:
Incidentally, Edinburgh, Scotland's capital, is also SNP-run and has the same problems as the nation's second city. Council elections will be held in May 2022. A Scottish Conservative MSP sounded off during the summer:
🐀 Edinburgh and Glasgow have been left in a mess with weeds, potholes, uncollected refuse in the streets, and cuts to local services

🛑 What's the link you ask ? both Cities are run by the SNP

📢 At the local elections in May let's remove the SNP and restore our great Cities pic.twitter.com/RQnqLoqBYL

— Miles Briggs MSP (@Miles4Lothian) August 13, 2021
The Spectator has more on Glasgow:
Pavements strewn with household waste are a common sight. Residents routinely post images on social media of the city centre and its outer-lying suburbs covered in detritus. Glasgow's bin men are appalled and characterise the situation as a health and safety breach: they cite the risk of Weil's disease, which can be transmitted to humans through rodent urine. So far this year four Glasgow bin men have been attacked by rats.
Collection rates, uplift charges and fly-tipping are all blamed for the waste scandal. In April, the SNP council completed the switch from bin collections every fortnight to every three weeks. Three months later, a £35 bulk uplift charge was introduced for large electricals or groups of up to ten other items. It is hardly surprising that fly-tipping has become more commonplace.
Glaswegians have given up waiting for the council to fix the problem and instead are getting stuck in themselves. Clean-up efforts have popped up throughout the city. There is a determination that Glasgow must not be seen looking 'mockit' on the international stage.
Susan Aitken became the leader of Glasgow's council in 2017:
Residents are angry too. The focus is mostly on Susan Aitken, who after decades of one-party rule swept Labour out of power to become Glasgow council's first Nationalist leader in 2017. In a car-crash TV interview last month, she said that the city just needed a 'spruce up', which was seized on by opponents as a staggering understatement and proof she is out of touch. When Sir Keir Starmer visited Glasgow in August he took part in a GMB union protest and called the cleansing crisis 'a failure of leadership from the SNP council'. Aitken accused him of 'a scapegoating and a targeting of Glasgow' and even suggested the GMB was echoing the language of 'far-right organisations' that had blamed immigrants for previous waste problems in one part of the city.
Thomas Kerr, the Tory group leader on the council and a rising Conservative star in Scotland, represents the East End ward of Shettleston, which is among those worst affected. 'We've become the fly-tipping capital of Britain and host the UK's fourth-highest population of rats. That's the legacy of Glasgow's first Nationalist council,' he says.
On the other hand, the city has revived some districts for the better:
The new Glasgow is a hub of riverside redevelopment and fashionable coffee shops. The South Side is the new West End, and Partick fell to the hipsters some time ago. The homicide rate is barely one third of what it was in 2005, and the city's Violence Reduction Unit — which has been so successful at driving down knife crime that it is being replicated in London by Sadiq Khan — reports that last year Scotland saw 'one of the lowest number of recorded homicide cases for a single 12-month period since 1976'. Pockets of deep poverty and drug misuse remain, as do grimly Scottish health indicators, but none of this undercuts Glasgow's reputation as the Comeback Kid of British cities.
True, but it is still one of Europe's most dangerous cities:
Looking at COP26 itself, the leaders of China, Russia and India will not be attending. The Queen, still under medical supervision, will be sending a message via video.
However, the biggest challenge will involve a plan of action for the conference.
This issue arose several weeks ago in August:
COP26 is in deep trouble, and Boris Johnson knows it. Privately, No10 has already significantly downgraded what Glasgow can achieve. An internal row is now underway between the PM's advisers on how low to set the bar. My @EveningStandard column today.https://t.co/x0xY3Qqmbo

— Tom Newton Dunn (@tnewtondunn) August 4, 2021
Tom Newton Dunn's article for the Evening Standard says:
Where people say Paris and Kyoto, now they will also say Glasgow, the PM decreed. But it isn't working out like that. COP26 opens on October 31 and is already in deep trouble. That in turn spells trouble for Johnson. There are four reasons. First, there is still no international consensus on what should be agreed in Glasgow. That agreement was supposed to be the last act of three. If Kyoto in 1997 was about agreeing there is a problem, and Paris in 2015 was about setting a target to tackle it (limiting the Earth's temperature rise to 1.5C), Glasgow was to be about working out how to do that. The tricky bit, in other words.
Yet from deciding the date on which to close all coal-fired power stations to determining when petrol and diesel vehicles must be replaced, every attempt this year to pin something down has failed. The G7 summit in June, also hosted by Johnson, did not change matters. World leaders' eyes are elsewhere as they battle their own Covid pandemics and spiralling deficits.
Fortunately for Boris Johnson, the British public are not that interested in climate change right now. For most of us, it matters only that we hosted the conference, our second major one since leaving the EU (the first one being the G7).
More to follow on what the British think about COP26.
—————————————————————————————–
UPDATE — on the evening of October 27, a deal has been done to avert a rail strike:
Deal done to avoid a rail strike during Cop26. One year deal with 2.5% pay rise agreed between RMT, Scotrail and Scottish Govt.

— Colin Mackay (@STVColin) October 27, 2021
Thank goodness.
September 30, 2021 in history | Tags: 2021, Angela Rayner, BBC, coronavirus, Dan Wootton, England, GB News, Graham Stringer, Guido Fawkes, history, hypocrisy, identity politics, Jeremy Corbyn, John Bercow, Keir Starmer, Labour Party, Laura Kuenssberg, politics, radical Left, socialism, Trevor Phillips, UK, women | 2 comments
The only consolation for the Labour Party is that, while their party conference was a disaster, the Conservative government experienced one of its worst weeks in living memory.
Brutal fights broke out at a handful of petrol stations while the fuel shortage raged on, ginned up by the media, led by the BBC, as one can see in this poll from YouGov:
Government ministers were few on the ground, leaving the public wondering who was in charge. Dan Wootton of GB News gave this scathing editorial on Tuesday, September 28:
It's a disaster, especially the lorry driver shortage:
While all of this was going on, Labour Party members descended on the seaside resort of Brighton last weekend for their annual conference, which began on Saturday.
The first few days were taken up with party governance and policy issues. Tuesday and Wednesday featured the big-hitter speeches from shadow cabinet members, culminating with a speech from party leader, Sir Keir Starmer.
The big speeches are what most of the media will pay attention to, however, the early days of the conference revealed the most about who and what defines Labour.
Guido Fawkes and GB News kept a gimlet eye on proceedings throughout.
Fair wages
First of all, there was the question of how much Labour's conference stewards were being paid. Labour continually talk about raising the minimum wage, but fall far short from implementing it themselves:
Guido's accompanying post concludes (emphases in the original):
Stewards will be made to work everyday from 25 September through to 29 September from 8:00am to 20:00. Short changing the low paid stewards who will be working the conference floor as they debate a motion calling for £10 per hour minimum wage… 
UPDATE: Richard Holden MP says "This is utter hypocrisy from Labour. As usual, they demand one thing in public but can't even practice what they preach behind closed doors with their own staff."
Not only can Labour not implement their own policy, but Shadow Home Secretary Nick Thomas-Symonds does not even know what the minimum wage is, as the Daily Mail reported on Tuesday:
Shadow home secretary Nick Thomas-Symonds was left red-faced today as he floundered over the current level of the minimum wage.
The frontbencher struggled as he was asked for the figure – £8.91 per hour – during a round of interviews.  
Pushed by LBC radio host Nick Ferrari, Mr Thomas-Symonds said: 'It's… certainly it's below £10 er, Nick, I don't know off the top of my head.'
Challenged that he probably should have checked the figure amid a row with left-wingers who are calling for it to be hiked to £15 an hour, the MP said: 'Er, perhaps yes. I'm just being quite honest with you.'
Hopeless.
Deputy leader Angela Rayner calls Conservatives 'scum'
The most memorable event of conference was a fringe event on Saturday, September 25, where deputy leader Angela Rayner called the Conservatives 'scum':
I'm sick of shouting from the sidelines, and I bet youse lot are too. We cannot get any worse than a bunch of scum, homophobic, racist, misogynistic, absolute pile … of banana republic…Etonian…piece of scum…and I held back a little…that I have ever seen in my life…
She later tried to defend the remark, claiming that calling people 'scum' was a term of endearment used in the north of England. However, many Northerners have since said that it is not.
On Sunday, she claimed she was talking only about Boris Johnson:
However, as you can see from the quote above, she used the words 'bunch of', indicating that she meant the whole party. In the video above, Trevor Phillips says that she is implicating Conservative voters as well.
He has a point, one with which the new Conservative Party chair, Oliver Dowden MP, agrees:
By Monday, Guido had unearthed more from Saturday night (language alert):
Guido's post on the subject says:
Presumably Keir will want to have another 'private conversation' explaining how Labour getting into government requires them to win over Tory voters, not insult them…
On Monday, Rayner's colleague Emily Thornberry MP told BBC Politics Live that drink might have been involved:
However, this is not the first time Rayner has called Conservatives scum. On October 21, 2020, she called Conservative MP Chris Clarkson 'scum', which, fortunately, he brought to the Deputy Speaker of the House's attention at the time. I watched the proceedings on television when it happened. Here's the video:
Rayner later apologised, but outside of the Commons.
Gender identity politics
Another dismal conference memory will be the lingering gender identity controversy. Rosie Duffield MP said she did not feel that the conference would be safe for her to attend. Only three years ago, then-MP Luciana Berger did not attend because of anti-Semitism:
The BBC's Laura Kuenssberg once needed a bodyguard at conference.
Hmm. All three are women:
Speaker of the House Sir Lindsay Hoyle (Lab) was appalled that Duffield felt she could not attend, but Keir Starmer did not stand up for her:
The gender identity question ran and ran throughout the week.
Shadow Chancellor Rachel Reeves clearly did not want to go there, burbling to LBC's Nick Ferrari when he asked her an anatomical question about women:
Deputy leader Angela Rayner, who became a grandmother at the age of 35, was not afraid of the topic and clearly does not see the world the way Rosie Duffield does:
Six other MPs took the same line as Rayner, which should ring alarm bells with every woman. David Lammy, pictured below, told the BBC that women insisting on their own spaces were 'dinosaurs' wanting to 'hoard rights'. Here's the image in full:
Meanwhile, looking on from outside the scenes, a man who transitioned to a woman agrees with Duffield:
By Tuesday, September 28, ministers speaking at related fringe events left early:
Guido pointed out that this did not happen at other fringe events:
Labour LGBT+ have held packed fringe events for the past two days at Conference, and Guido's noticed a bit of a pattern: the high-profile shadow cabinet panelists (Rayner, Thomas-Symonds, Dodds) have all conveniently left their respective sessions early. Usually just before they're confronted with awkward questions about Rosie Duffield…
Busy as no doubt they are, this sort of behaviour doesn't appear to be happening as much at other fringe events; Guido noticed Anneliese Dodds had plenty of time to field questions with the Fabian Society yesterday, and Angela Rayner is, of course, perfectly happy to spend her hours calling the Tories "scum" in front of Labour activists. When it comes to acknowledging the transphobia row in their own party, though, there just aren't enough hours in the day. Thomas-Symonds did at least offer an anodyne soundbite about standing for trans rights in response to one question yesterday, though he soon left afterwards – the Q&A continued for about another 15 minutes.
Stephen Daisley, writing for The Spectator, has more on how this played out at conference, including a women's meeting that had to held in secret because of a related protest. Terrible.
Labour staff redundancies on hold
A few months ago, Keir Starmer planned to make 90 workers at Labour HQ redundant. That did not go down well with their union, which threatened a picket at conference.
Starmer backed down …
… as Guido reported on September 3:
Labour general secretary David Evans has avoided the prospect of a picket line at Labour conference, after telling staff this afternoon, "I am pleased to say that at this stage we see no need to consider compulsory redundancies as part of this process". Many are picking up on the key phrase being "at this stage". Guido doubts there's been any notable uptick in Labour's finances in recent months, suggesting the required 90 sacking are still necessary in the near future – i.e. post-conference. For now, at least, it seems their biggest Brighton headache will be the membership, not the staff…
We'll see what happens in early October.
Labour members allying with Jeremy Corbyn
Jeremy Corbyn lost the 2019 election with the worst results for Labour since 1935.
Keir Starmer succeeded him as party leader in 2020.
Nonetheless, Labour has been divided between Corbynites and Blairites (Starmer).
On Saturday, General Secretary Dave Evans boldly stated that he became a party member because he likes Corbyn:
This is problematic for Starmer.
That same day, The Times reported on solidly middle class Putney in south-west London, which voted Labour in 2019. The paper's reporter had trouble finding Starmer supporters (emphases mine):
… as he embarks on his first party conference at the head of Labour this weekend, with the pandemic finally beginning to fade from the headlines, Starmer is determined to command the nation's attention.
If the view from Putney is anything to go by, he has a long way to go. It took me three hours on the streets of the southwest London constituency on Thursday afternoon to find anything resembling a Starmerite. Most responses ranged from unmoved to profoundly unimpressed.
"Starmer is just middle of the road," said Nick Godfrey, 68, a retired brewery operator and lifelong Labour voter. "He gives Boris and his clowns an easy ride. He gets in a few jabs at Prime Minister's Questions and thinks he's won the war" …
"A bright light on a dark night" was how the victorious Labour MP Fleur Anderson described Putney in 2019. That was putting it mildly: the seat was the only one Labour managed to wrestle from the Tories in the entire country. As the working-class fiefdoms of the red wall crumbled, Putney showed that metropolitan Labour is alive and well. So if Starmer can't do well here, he's probably toast.
That's certainly the view of Helen and Gemma, two self-described "typical Putney mums" I found chatting over a cappuccino at Hudsons, a popular café. "I had high hopes for him but I think he's a bit ineffectual," Gemma said. "This should be Labour's time really, with a lot going wrong in the country. But I think they need somebody a bit more charismatic. He's bland, a bit nasal."
Helen voted Conservative at the last election, but she could be tempted by the right Labour leader. "I thought Starmer might have something to offer, but I don't think he does," she said. "He's weak and a bit insipid. I thought he might be charismatic and he's not."
On Monday, World Transformed held a fringe event entitled, 'Starmer Out?'
It appears to have attracted a lot of Jeremy Corbyn supporters:
Starmer's Shadow Employment minister quits
On Monday, Starmer's Shadow Employment minister, Andy McDonald, tendered his resignation:
Guido has the full text of McDonald's letter, in which the MP expresses his disappointment that Starmer has not done anything to further a £15 minimum hourly wage, neglected his ten pledges as Leader of the Opposition and broke a commitment to socialist policies.
Labour are socialist to the core. This is what McDonald wrote:
I joined your frontbench team on the basis of the pledges that you made in the leadership campaign to bring about unity within the party and maintain our commitment to socialist policies.
That's all you need to know about Labour, comrade.
McDonald also wrote an article for The Tribune about the reasons for his resignation:
It was rumoured that Jeremy Corbyn had a hand to play in this badly-timed resignation for Starmer, but Corbyn denied it:
Corbyn's advice on winning an election
Amazingly, on Tuesday at a fringe meeting, Jeremy Corbyn, the leader with the worst election results for the party since 1935, was allowed to advise on winning an election:
He was coy when asked about running as an independent candidate for MP.
Some long-time Blairite MPs, such as Barry Gardiner, want Starmer to bring Corbyn back into the party for unity's sake:
Starmer told the BBC's Laura Kuenssberg that Corbyn would have to apologise and remove an offensive online post of his:
Getting rid of Starmer is a real preoccupation. Several Corbynite MPs sit in the Commons, such as Zara Sultana:
Keir Starmer's speech
On Wednesday, Sir Keir Starmer gave a closing speech to conference.
Starmer is a lawyer. In the old days, they were paid by the word, so they were verbose.
Times have not changed. Starmer's speech lasted 90 minutes:
This is most of what one needs to know:
Other words that did not make the speech were 'comrade', 'solidarity' and 'Corbyn':
Starmer's speech came the day after a union broke away from Labour …
… and the day after The Mirror's party for delegates featured Tony Blair's 1997 campaign song, D:Ream's 1993 hit, Things Can Only Get Better:
Guido thought that should have been the tune played as Starmer walked up to the podium; it would have driven the Corbynistas mad and boosted Labour five points in the polls.
However, the song played was Fat Boy Slim's Right Here, Right Now, possibly because he and Starmer took violin lessons together at secondary school.
Starmer was heckled from the get go:
Here's another, with Sir Keir responding with a joke about Prime Minister's Questions:
It won a stammering Starmer a standing ovation. He stopped stammering after that, having found his footing.
He delivered a weak one-liner about his father and Boris's:
Starmer likes to say that his father was a tool maker, making him sound working class. In reality, Starmer's father owned a tool making company. A working class boy's parents cannot afford a violin, let alone the lessons.
Tool making was a big theme:
Here's another:
This is the woman:
In addition to the heckling, there was also a silent red card protest:
Starmer's detractors might have made him look better in the eyes of most delegates — and the public, assuming anyone watched the speech:
Guido has all nine on a short video:
Starmer channelled his inner Blair, who famously said 'Education, education, education' in 1997:
Kevin Maguire, a Labour-supporting journalist, rationalised the length of the speech, as last year's was cancelled because of coronavirus:
I feel sorry for anyone who had to listen to the whole thing:
Regardless of what Starmer said on Wednesday before the party faithful (here's the full 7,286 word transcript), below is an excerpt of an article he wrote when he was younger (also see page 21 of the July-August 1986 edition of Socialist Alternatives). He discusses revolutionary movements, saying that an economic downturn coalesces young people and the working class in a move away from conservatism: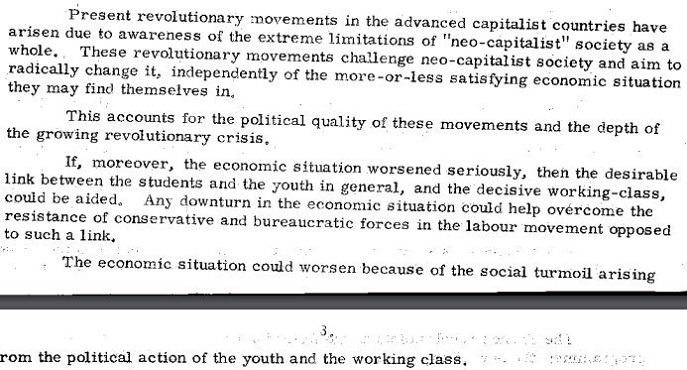 It is unlikely he has moved too far from that view over the years.
More identity politics
In addition to the sexual identity politics discussed above, there were other issues that popped up during conference, including that of race.
On Sunday, September 26, Mark Ferguson, a member of Labour's National Executive Committee and of mixed race, told his audience that too many white men had their hands up waiting to ask a question:
Ferguson stated that his instruction pertained to all conference debates, not just that particular one, as GB News reported:
"But I do not want white men to exclusively dominate this or any other debate at this conference and following on from my comrade in the chair this morning, I do wish to see the diversity of the hall reflected.
"I'm not putting anybody on the spot here, but if you want to speak do not be afraid to put your hand up, we want to hear from you, this is an inclusive conference."
GB News asked for the eminently sensible opinion of Graham Stringer MP, who would make a great party leader. Stringer said that it is the role of the chairman at the podium to regulate the balance, not the delegates themselves:
Yet more identity politics
This lady gave a speech deploring flash photography, a mainstay of party political conferences. It's always there.
I was waiting for a mention of jazz hands. Clearly, I wasn't the only one:
She even complained about a clock near the stage. She said it should have been on the left rather than the right:
The young radicals
The media never say that some Labour members are outright Marxists.
I am posting these two speeches because the young radicals making them could one day be sitting in the House of Commons.
Hannah from Edinburgh was raised in Middlesbrough, England, and was upset about her impoverished upbringing. Therefore, she advocates socialism with full enthusiasm:
This chap gave an equally impassioned speech about climate change and an internationalist, socialist approach:
On Monday, conference delegates passed a motion from Young Labour condemning Israel.
LabourList reported:
Delegates at the Labour Party annual conference in Brighton have today passed by a show of hands a composite motion on Israel and Palestine put forward by Young Labour that condemns "Israel's continuing illegal actions".
Moving the motion, Young Labour's Jawad Khan said that the motion would "bring us one step closer to finally ending the shameful century of British complicity and the denial of the right to self-determination, liberation and return".
Also addressing the annual party gathering ahead of the vote this afternoon, Labour Friends of Israel chair Steve McCabe argued that the motion was "too shouty, too angry, too one-sided and not at all focused on the search for peace".
He told the conference delegates that it was "completely hostile to the people of Israel", adding: "If Labour had adopted this approach in Northern Ireland, we would never have got to the Good Friday agreement."
Guido has more on what Steve McCabe MP, chair of Labour Friends of Israel, said about the motion:
Former MPs the public do not want to see
The conference saw the re-emergence of former MPs the public no longer want to see.
Keith Vaz
Leicester's Keith Vaz, who, in darker aspects of his private life claimed to be a washing machine salesman, spoke at a Hindus for Labour fringe event on Monday. What were they thinking?
Vaz's successor is no better, by the way:
Guido's post on Vaz's appearance says:
Vaz's presence comes just four days after a parliamentary investigation found his bullying behaviour to have been "hostile, sustained, harmful and unworthy of a member of parliament", writing that he "should be ashamed"…
Not only is Keith Vaz still allowed to remain a Labour member, he recently took up a role on the party's local government committee in Leicester. Not a good look…
John Bercow
John Bercow was Speaker of the House at the time the Brexit debate in Parliament was at its worst. He always took the side of the Remainers. He only stood down once Boris Johnson became Prime Minister.
Bercow came in as Speaker as a notional Conservative, then disavowed himself from the party.
After standing down as Speaker, he joined the Labour Party and spoke at a fringe meeting on Tuesday.
The Daily Mail reported:
Political turncoat John Bercow shamelessly hailed his new Labour 'comrades' last night – but insisted he had not quit the Tories in search of a safe Commons seat.
The former right wing Tory MP made his debut at the opposition party's conference in Brighton by offering advice on how to defeat the 'worst Government of his lifetime' at a fringe meeting …
On what the party should do next, he said: 'The Labour Party has got to excite people. It has got to excite people. It is not good enough to just have a good set of good policies.
'In fact, I would go as far as to say, that my feeling is that the Labour Party in the next election doesn't need to have a a vastly, detailed, lengthy manifesto with dozens and dozens of commitments.'
The former Commons Speaker added: 'The Labour Party has got to thrust to the fore alongside Keir who is a formidable prosecutor, a formidable advocate, and other personalities part of the leadership team, which can reach out to people and persuade people that they are different from and preferable to this shower, which frankly represents the worst government of my lifetime.'
On Sir Keir Starmer, Mr Bercow said he is a 'good guy' but that the Labour Party has got to develop a 'narrative' and clear policies'.
When asked about Labour deputy leader Angela Rayner, who recently described senior Tories as 'scum', Mr Bercow said he would have not chosen that term but insisted people should not get on their 'moral high horses' about it.
What Bercow really wants is a seat in the House of Lords. Fortunately, Boris has not deigned to give him that privilege.
Coronavirus caution out the window
On Monday, the conference organisers went against their earlier pledge for a safe environment with regard to coronavirus, especially with vaccine passes.
I went out that day. Although the morning was rainy, the sun shone in the afternoon.
Nevertheless, Labour ditched coronavirus passes, required for large gatherings:
Guido posted a copy of the Labour Party email on the subject and said:
Having spent the weekend insisting attendees show either a vaccine pass or a negative lateral flow result upon entry to the conference, it looks like Labour have now decided it wasn't worth the hassle. As of this morning, security is no longer checking for passes, instead conducting random spot checks on those already in the venue – long after attendees could have spread Covid around the conference centre. In an email to members they claim "adverse weather conditions" mean it's just easier to let everyone in and check a few once they're inside…
When Labour announced the measures last month, they insisted checks were necessary to "reduce risk and to provide reassurance to those attending", and that they were "working hard" to make sure everyone was safe. Sir Keir even claimed "passports on their own aren't enough […] It's got to be passports plus testing." Mother nature has seemingly put a stop to that – although it's currently 18 degrees and sunny in Brighton…
If they continue to be holier than thou about mask wearing in the Commons when they return in October, I hope the Conservatives will give them some grief for their hypocrisy:
Conclusion
It is hard to disagree with this summation from Patrick Christys of GB News on the disaster this party conference was:
The ordinary member of the public finds party conferences boring. The main speeches are a lot of hot air. However, what is worth noting are the fringe meetings and the other less significant events, because those reflect the party's true identity.
Labour have not changed a bit. The socialists still want to run this country down.
January 21, 2021 in history | Tags: 2021, Conservative Party, coronavirus, DUP, England, Guido Fawkes, history, Labour Party, Mark Drakeford, Nicola Sturgeon, Northern Ireland, Scotland, Scottish Nationalist Party, socialism, UK, vaccine, Wales | 2 comments
The United Kingdom has an ambitious delivery programme of coronavirus vaccines in the UK, reaching not only England but also the devolved nations of Wales, Scotland and Northern Ireland. Our armed forces are helping where necessary.
As of Monday, January 18, 2020, this was the state of play with regard to vaccines. See how far behind Scotland and Wales are in delivering injections:
It is worth noting that England has a majority of Conservative MPs.
Northern Ireland's First Minister is a member of the centre-right DUP (Democratic Unionist Party).
Scotland has a majority Scottish National Party government, socialist.
Wales has a Labour-dominated government, also socialist.
Watching the proceedings in the assemblies of the devolved nations as broadcast on BBC Parliament, there is a stark contrast between what goes on in Northern Ireland's compared with those in Scotland and Wales.
Even though the assembly in Northern Ireland's Stormont also has a fair amount of left-leaning members, complaints about money and vaccine provision from the UK government in Westminster are few and far between.
In Scotland and Wales, however, the situation is quite the opposite. The UK government — Westminster — is always to blame for lack of money.
Scotland and Wales have enough vaccine, but delivery does not seem to be getting off the ground.
In Wales, Mark Drakeford, First Minister (Prif Weinidog, in Welsh) says that he wants to ration the vaccines so that vaccinators have something to do every day:
Guido Fawkes has the audio of an interview Drakeford gave to BBC Radio 4's Today programme on Monday, January 18, and I can vouch for the fact that he said the same thing before the Welsh Senedd (Senate) last week, having seen him on BBC Parliament.
Guido says (emphases in the original, the one in purple is mine):
Appearing on the Today Programme this morning, Mark Drakeford was asked why Wales has the lowest vaccination rate of any UK nation, which the First Minister merely passed off as "marginal differences" and "not the most important issue". Drakeford is relying on the 'supply' excuse much more than any other leader in the UK, claiming Wales isn't to receive its second doses of the Pfizer vaccine until the end of the month and therefore is slowing the deployment of Pfizer vaccine:
There would be no point and certainly it would be logistically damaging to try and use all of [the Pfizer vaccine] in the first week and have our vaccinators standing around with nothing to do.
Given Wales has proportionally suffered more than England, Scotland and Northern Ireland from Covid, Drakeford should have a strategy of getting as many jabs in as many arms as quickly as possible – if there's a wait of 12 weeks for the second jab, so be it. At the weekend, Starmer called for an inquiry into the government's handling of the pandemic; Guido suggests Wales is much more in need of one…
UPDATE: According to ONS statistics just released, Covid was the leading cause of death for the month in Wales, accounting for 27.4% of all deaths in Wales, a third higher than in England where it accounts for 20.8% of all deaths.
Good grief.
In Scotland, vaccines are not being sent where they should be. Some areas receive the vaccine, others do not:
Lily of St Leonards, who writes about the state of Scotland under the SNP, has an excellent post that explains what is happening.
Her post of January 18, 'SNP mismanagement is killing Scots', is well worth reading in full. Excerpts follow, emphases mine.
She lives with her mother, who is 87 years old, in the age bracket to be vaccinated first:
My mother is nearly 88. She has yet to receive an invitation for a Covid vaccination. I hope it comes soon. The risk to her comes entirely from me. She has hardly left the house since March, but I have to go shopping. If I caught Covid on one of those shopping trips, it would be difficult to stop her catching it too. We live in the same house and I care for her. If an 88-year-old catches Covid, there is a good chance she would end up in hospital and a good chance that she would die.
Meanwhile, south of the border in England, the over 80s have already received the first of two vaccine injections:
England is about to send out vaccine invitations to the over 70s. I am left to conclude that if my mother lived in England she would already have been vaccinated. If she catches Covid in the next few weeks and dies it will be because we live in Scotland under an SNP Government that prioritises independence over healthcare.
Last year, the SNP roundly criticised the UK Government — Conservative — for not waiting for an EU rollout of the vaccine. Thank goodness we didn't, because we had one far sooner than they did and more flexibility in purchasing doses, and a large number of them at that:
We are doing better than nearly everyone else firstly because we left the EU. The EU managed the vaccine collectively and didn't do it well. The British Government did better at ordering the various vaccines and also developed our own. We made these vaccines available before anyone else and the British vaccine is easier to deliver because it does not require ultra-low temperatures.
Being a part of Britain is therefore saving Scottish lives. This is not merely because the British Army is helping to organise and administer the vaccine, but because the British Government made the right choices which led to us buying effective vaccines and developing our own. The Scottish Government neither funded, nor ordered any vaccines. We are completely dependent on the supplies we are getting from Britain. The only thing the Scottish Government is responsible for is organising the rollout of the vaccine. Healthcare unfortunately is devolved. It is doing that job worse than England and Northern Ireland.
Scotland is getting a proportional share of the vaccine. There are supply difficulties for everyone. England and Northern Ireland may have advantages because they are rather more densely populated than Scotland. It may be harder to administer the vaccine to very remote places in the Highlands and Islands. But this also makes it less likely that we will catch the virus in the first place.
Scotland may have decided to vaccinate care homes first, which given the difficulty of bringing ultra-low temperature vaccines to such places might be slowing us down. But why didn't we use the Oxford-AstraZeneca in care homes, which requires only an ordinary fridge and use the Pfizer vaccine elsewhere. I hate to think that Sturgeon doesn't want to use the English vaccine. She cannot even bear to say the word Oxford.
Covid is the defining event of our time, but the SNP's handling of it has been poor since the start. With our low population density Scotland should have done much better than England in terms of Covid cases and deaths.
Scotland has had 1,492,656 cases with 7,704 deaths.
But this is worse than any other European country with a population of 5 million.
Denmark has had 189,000 cases and 1,775 deaths.
Slovakia has had 223,000 cases and 3,474 deaths.
Norway has had 58,651 cases and 517 deaths.
Finland has had 40,337 cases and 618 deaths.
If you compare like with like, then it becomes obvious that SNP Scotland has not merely done worse than anywhere else with a population of 5 million it has done more than ten times worse in terms of deaths than Norway and Finland.
She then addresses the issue of money. First Minister Nicola Sturgeon is forever complaining about the lack of money going Scotland's way, yet the UK government has continued to pump money in throughout the coronavirus crisis:
Scotland has been kept going this year because the UK Treasury has funded us. We are receiving the vaccine only because the UK is supplying it. We have done no better than the UK as a whole with regard to Covid cases and deaths and on care home deaths, which ought to have been avoidable, we have done considerably worse. Despite having the advantage of low population density, we have done massively worse than any European country of a similar size. It is staggering to believe that so many Scots believe that Nicola Sturgeon has done a good job.
Everything that has gone well this year, such as furlough and the vaccine has been provided by the British Government. Everything that has gone badly such as our failure to deliver the vaccine as quickly as England and Northern Ireland and our decision to send people sick with Covid back into care homes has been due to decisions made by the SNP.
This year has demonstrated that Scotland has depended on the British Government for paying our wages and for the vaccine that will end the pandemic.
She concludes, referring to the failed 2014 Scottish referendum on independence:
Scots who want independence should refuse their furlough money and refuse the vaccine, because if the SNP had won in 2014, we would have got neither.
I couldn't agree more.
Be it Scotland or Wales, one thing is patently clear: socialism does not work.
March 31, 2020 in history | Tags: 2020, Andrew Marr, BBC, coronavirus, economy, EU, health, history, hospital, media, NHS, socialism, supermarket, UK | 14 comments
There is a fascinating thread on Guido Fawkes, posted on Sunday, March 29.
The subject of the post is cabinet minister Michael Gove saying we don't need ventilators from the EU, but the comments are on Britons' personal coronavirus experiences.
I found them vastly more informative and interesting than Big Media's panicky news. I hope you do, too.
Unfortunately, Guido's new comment system does not have hyperlinks to comments, so I cannot provide direct links.
A dash denotes a single comment, even with an additional paragraph.
I purposely didn't edit the comments too much in order to preserve their spontaneity.
Emphases below are mine.
PPE, ventilators and the EU
These days, PPE stands for Personal Protection Equipment, not the degree known as Philosophy, Politics and Economics.
This pertains to Gove's comments in Guido's post. A few of Guido's readers discussed France. One had sources:
On March 3, France confiscated all protective masks made in the country. "We will distribute them to healthcare professionals and to French people affected by the coronavirus," French President Emmanuel Macron wrote on Twitter. On March 6, the French government forced Valmy SAS, a face mask manufacturer near Lyon, to cancel an order for millions of masks placed by the UK's National Health Service.
In general, however, re the EU:
We wouldn't get any ventilators. They'd be sent straight to the other member states.
We would pay for them, though.
More about ventilators on the Continent. I think the first comment comes from a lady in the Netherlands:
– Too right. Netherlands has 1110 ventilators, it has as of today over 1k in icu and not a sniff of any new ventilators being provided, in fact they had to fight tooth and nail to purchase gloves and masks, they managed to purchase just over 620k of them last week from outside the EU and Dutch companies who wanted up to 300% on top of the usual costs, the Dutch companies not the ones outside, including a Dutch crowdfunding initiative that purchased over 200k of them on top of the 620k these are the only medical supplies to have arrived, unless I'm mistaken they are both EU members and party to the EU ventilator scheme. The EU can't even share basic supplies amongst its members … much needed ventilators, Germany and France even refused to send medical supplies stating their needs could be greater, not where "could be" when Italy asked for help. Note the only help currently acceptable to mutti [Angela Merkel] is for all member states that accrue financial debts over and above the EU budgetary allowance is to sign financial agreements the same as Greece did, in other words so that Germany and the IMF benefit on interest accrued on bonds, even the Spanish, and Polish governments, some Dutch MEPs are publicly declaring the lack of help coming from Ursula [von der Leyen] of any kind, note the border issue of the Greeks is disappearing from headlines at a rate of knots at the same time.
– Salvini called the EU "a nest of snakes and jackals" the other day, that Italy would "get past the virus and say goodbye to the EU without thanking them". An understandable sentiment.
Meanwhile, back in Blighty:
Mr Dyson probably could, he has an engineering center of excellence (both design and manufacturing) down there in Malmsbury, and also a mothballed production facility that until recently used to make high quality goods out of injection-moulded plastic components and electric motors. With resources like that in this country, I don't think we'll be short of ventilators for long.
The Italians are pissed off that Germany is refusing to sell them any ventilators, maybe we'll soon be in a position to help them out.
More testing = more coronavirus cases
The number of coronavirus cases is increasing in many countries, because they, including the UK, are now being able to test for the virus (emphasis in the original):
– The latest data from the German Robert Koch Institute show that the increase in test-positive persons is proportional to the increase in the number of tests, i.e. in percentage terms it remains roughly the same. This may indicate that the increase in the number of cases is mainly due to an increase in the number of tests, and not due to an ongoing epidemic.
– Actually a proportionate increase in cases would be nearer to proving that the virus was everywhere anyway.
Coronavirus deaths
As of Sunday, March 29 (emphases in the original in this section):
– 2433 new cases and 209 new deaths
Potentially dangerous lockdown
If this lockdown extends far beyond Easter into late spring or early summer, Guido's readers fear problems not only for Britons' health but also for the economy. Their fears are not misplaced:
– There are many doctors saying the results of a long lockdown will be far worse than any mortality rate from this virus.
– And the tragedies arising from the ensuing economic depression will dwarf both of them put together.
– Exactly. I'm in the 'over 60's' bracket but would rather risk getting a fec kin bad case of flu than see a lifetime of work pensions and savings go down the swanny because of some unhealthy eaters from China.
I agree. I'm not wasting 6 months of my life at my age under house arrest.
– What, the 'lockdown' that the government tried to warn everyone not to do too early so that we weren't asking the people to do too much for too long, but that the media wouldn't listen and screamed like spoilt brats until they got their way?

That lockdown?
That leads us nicely to the next section.
BBC
BBC reporters are everywhere, not only across Britain but around the world:
– It is very important to stay at home. I know because we have just been told by a BBC reporter standing outside the Palace of Westminster.
BBC news continues its Trump Derangement Syndrome:
– When will the BBC stop saying that the USA is the country with the fastest growing number of infections and deaths? It's a bloody continent!
– They won't stop, the BBC is anti US/UK and although the US isn't a continent its scale and population make it comparable to Western Europe which has a far bigger problem.
– So true. If you check on some of their reporters (Twitter etc.) you will see that there is an obsession with Trump but little interest in some of the despots elsewhere. Are they afraid of the repercussions?
Andrew Marr, presenter of the BBC's Sunday morning news show, came in for particular criticism. No surprise there:
– Marr has an anti-government agenda that is clear to everyone I hope. How this guy is still working is beyond me.
– He is a Marxist with an anti government agenda. The only surprise is the BBC has not made him Director General yet.
– There's a fine line between questioning the government to find out information and questioning to discredit. Marr is in the second camp.
Socialist celebrities
Most people are fed up with wealthy socialist celebrities:
"I'll tell you why I'm a socialist: poverty. Poverty is what makes you a socialist. When you know poverty then you know about how we have to take care of people." Actor Brian Cox.
Actually Brian, I'll tell you why I'm NOT a socialist: poverty. Poverty is what results from socialism. When you know poverty then you know about how we have to take care of people and as history and experience shows, socialism is not the answer. I will go further and suggest you are actually a believer in a mixed economy which is underpinned by a healthy capitalism required for creating the wealth necessary for the public services you and me both desire. You are not really a socialist, you just don't understand.
Someone replied:
If Cox is so keen why doesn't he go and live in the socialist heaven of Venezuela rather than the capitalist hell of New York City?
Actors aren't the only ones, either:
Same with singers ('Bonio' springs to mind). Just sing yer song and shut yer gob. Your fame does not make you an expert and your loud pronouncements are meaningless in the scheme of things.
Hospitals
There were many interesting anecdotal reports about hospitals. I have separated the A&E comments into a separate section.
This one came from Scotland:
Are we getting the true news about how the NHS and nurses/docs are coping? I see a lot of interviews and quotes from medics saying they are making life and death decisions due to 'lack of equipment'.
Someone replied, saying the media were not interested in hospitals operating as usual:
There are over 300 hospitals in Scotland with 8 in Aberdeen and 11 others in the surrounding county. There are 1245 cases in Scotland (4 per hospital if shared out equally) and chances are that they would likely try and isolate COVID19 patients as much as possible so whilst the number of cases are fairly low I imagine they would try to place the COVID19 patients in as few hospitals as possible so it could be that there weren't any CV cases at the Aberdeen Royal Infirmary.
That will be different to London (over 5,000 cases) and the Midlands (2,500 cases) where I know that the number of cases far and away outstrips the number of vacant beds that those NHS regions reported last quarter end (Dec 31).
So I very much think it depends on whether you are in a hotzone or not and if you are not you can guarantee the national media just ain't interested. There is no news in 'business as usual' in the middle of a crisis
PS You're right its good that there is still significant normality out there and presumably the lock down will see a fall off in certain types of hospitalisations but the media are never going to try and sell that narrative. Good news is no news.
Ventilators
Ventilators came up for discussion:
– I don't think the public have understood how long you stay on a ventilator with this SARS2. It is 2-3 weeks, not the 2-3 days with normal winter ailments.
– You go on to a ventilator with this she hit you're 50/50 at best with perma damage.
– … people who need to go onto ventilators for this virus would have to for other reasons as well.
– If you go onto Conservative Woman website there is an interesting article about Matt Strauss saying that ventilators are the least necessary thing. The people who have to go onto a ventilator because of Covid19 would already need it.
– Long term forced ventilation has issues of its own.
A&E (Accident & Emergency) wards
Here's another from somewhere else in the UK:
My wife passed me this posted on her Military Wives Facebook group by an NHS Paramedic member of the same group. It makes amazingly good sense…
Small rant… Having spent at least 12 hours per day for the last 8 out of 9 days in and out of A&E I have noticed one thing. The waiting rooms have been MASSIVELY less busy than normal.
There is a major health emergency going on and suddenly everyone can manage to deal with their little booboo themselves. Whilst I, as a paramedic, am extremely grateful for this, please as a nation get a grip and realise this is what you should have been doing anyway for years.
You would have saved the NHS literally billions of pounds, so once this hell is over please continue to be a brave little soldier and deal with these non-emergencies yourselves!
WELL SAID & HOW TRUE
Are A&Es empty because of fear or a sudden dawning of common sense?
Most of the departments of my local General Hospital are quiet which allows their staff to be redeployed where needed. The specialist A&E a few miles up the road is also reporting almost a complete lack of people attending with trivial injuries and the ambo service aren't getting the usual 80/20 split of unnecessary/justified 999 calls. Could it be that the time wasters are actually getting some common sense?
Here's the reply:
Unfortunately, no.
The muppets are more frightened of being with other people than their headache.
Another account rolled in:
I can substantiate that. Over the last couple of weeks I had to go to the hospital for pre-arranged but necessary scans. On both occasions the A&E waiting area was virtually deserted apart from staff.
Truth:
The amount of money wasted on hypochondria in the NHS is huge.
Supermarkets
Online deliveries have not improved since the panic buying nearly a month ago. This holds true even for the elderly, whom, the government says, supermarkets have prioritised:
A mate of mine who is over 70 enquired last weekend about a home delivery from either Sainsburys or Tesco (I forget which one) and was told it would be delivered on 19th April. He said no thanks and drove to the shop himself.
Shelves seem to be restocked. A return to normality — for now:
We went shopping in Aldi Friday morning 8am, 30 people in the queue ahead of us but we all went straight in at 8. Bought everything we wanted including a small joint of beef, perhaps people have stopped panic buying at last. But if the Govt bring in more restrictions on movement expect the panic buying/hoarding to take off again.
Another Aldi customer concurs:
Likewise at Aldi, Whitby last Thursday, and everyone behaving sensibly.
Elsewhere:
Just been out to M&S and Lidl. Both fully stocked.
A few have installed a one-metre distance between customer and the person behind the till. Others have installed perspex shields:
Much easier to clean perspex shields and they are further away from the cashier. It's better solution than face a mask for that particular purpose.
On the lighter side …
There were a few jokes, too.
We had tennis …
– I just got back yesterday after going to my mate's funeral. Sadly he got hit on the head with a tennis ball. It was a great service.
– Are your tennis racket jokes free or do they come with strings attached?
… a plumber with a marital problems …
He went home recently and said to his wife, It's over Flo.
… and the lockdown:
Wife: Are you going to sit on that sofa all day?
Me: No, I shall be sitting on the other sofa shortly.
Conclusion
I shall conclude with this comment:
If the MSM hadn`t created the panic, the authorities wouldn`t have had a population willing to have their civil liberties curtailed.
I fully agree.
Please be very careful when listening to the news and reading newspapers. There was no need, no need at all, for a shutdown or the Coronavirus Bill.
The increasingly vocal call for action to resolve the climate emergency — some say 'crisis' — involves more than climate.
It would involve a whole new way of life for the West: widespread Socialism.
Issues & Insights (I&I) had a good article, published on January 7, 2020: 'Climate Hysteria Is A Backdoor For Imposing Personal Interests On The Public'.
Excerpts follow below.
We should hope that Western governments, such as President Trump's, resist such calls to collectivise us and, and with that, restrict our choices in life.
Food and farmland
We all know about the calls from climate change campaigners for all of us to become at least partial vegetarians, yet, there's a bit of hypocrisy here with regard to their personal meat consumption (emphases mine):
None were easily found at the last United Nations climate conference in Madrid, where "U.N. bureaucrats chow(ed) down on burgers – while attacking meat."
I bet those burgers were tasty, too.
With our increased immigration numbers in Europe, we find that some nations, particularly the UK, have a housing shortage. If the trend for more immigration continues, more resources (e.g. water) will be needed along with increases in schools and medical facilities, to name but two.
Yet, at least one prominent Briton says we need to turn farmland into nature preserves. How can this make sense when, surely, we will also need more food?
Ian Boyd, a former chief scientific adviser for the government, is claiming, according to a recent British Guardian report, that "half of the nation's farmland needs to be transformed into woodlands and natural habitat to fight the climate crisis and restore wildlife."
"We need a large, radical transformation and we need to do it quickly, in the next decade" said the good professor.
Communal housing
Across the pond, a UCLA professor, Kian Goh, wants to do away with private family housing in favour of communal housing:
"If we want to keep cities safe in the face of climate change, we need to seriously question the ideal of private homeownership," says the subhead of piece published in The Nation two days before Christmas …
"The idea of cooperative living," (which clearly means "communal" living and therefore is socialism-based) "in both financial and social terms," writes Goh, "needs room to breathe and grow."
Obviously there's no room for the freedom to choose in Goh's world.
For those who are unaware, this was the mainstay of 20th century housing in the Soviet Union. I couldn't find any photos to share with you, but I have seen enough documentaries on Soviet living to know that these flats were dreary, noisy and cramped. Furthermore, kitchen and bathroom facilities were shared, which meant that there was little privacy. One also had to guard against theft; food was often kept in the private rooms of these buildings.
This way of living dated back to the days following the Bolshevik-led Russian Revolution, which began in 1917 and ended in 1923.
An article from Reviews in History, 'Gender and Housing in Soviet Russia: Private Life in a Public Space', explains:
… early Bolshevik thinkers initially imagined a Communist state that would simultaneously provide housing for all citizens and relieve women of the burdens of household labour by transferring domestic chores to socialized kitchens, laundries and childrearing institutions. Organized and financially supported by the government, such facilities would also uphold another Bolshevik aim, that of creating a collectivist society. The municipalisation of housing immediately after the Revolution signalled the inauguration of a new byt by increasing the supply of available living space and essentially decreeing that people of divergent class backgrounds cohabitate …
Providing a shared kitchen and collective childcare, this type of dwelling was seen to hold the potential to radically reconstruct bourgeois living arrangements, which, according to Bolshevik thinkers like Aleksandra Kollontai, had enslaved women. Communal housing was also perceived to be the best solution for relieving the relentless shortage of space and enforcing collectivism.
Wikipedia's entry for the communal apartment explains that the building design was often impractical and could be risky when a group of people who did not care about each other were placed together:
Space in communal apartments was divided into common spaces and private rooms "mathematically or bureaucratically," with little to no attention paid to the physical space of the existing structures. Most apartments were partitioned in a dysfunctional manner, creating "strange spaces, long corridors, and so-called black entrances through labyrinthine inner courtyards."[13] Entire families lived in a single overcrowded room, with little hope of changing their situation.[14]
The bit about light switches is surreal:
Residents were meant to share the kitchen, bathroom and corridors amongst themselves, but even these spaces could be divided. For example, each family might have their own kitchen table, gas burner, doorbell, and even light switch, preferring to walk down the hall to use their light switch to turn on the bathroom lights rather than using a closer switch belonging to another resident.[15] Furthermore, the hallways were often poorly lit, because each family had control of one of the lights hanging in the corridor, and would only turn it on for their own benefit. Though communal apartments were relatively small, residents had to wait at times to use the bathroom or kitchen sink. The kitchen was the primary place the residents interacted with one another, "sharing their joys and sorrows," and scheduling shared responsibilities. Wary of theft, residents rarely left groceries in the kitchen unless they put locks on the kitchen cabinets. However, they often stored their toiletries in the kitchen as opposed to the bathroom, because other residents could more easily use things left unattended in the bathroom. Laundry was left to dry in both the kitchen and the bathroom.[16]
One never knew what one was going to encounter in a communal apartment building.
The government forced disparate people to live there:
… the communal apartment residents were placed together at random, as a result of the distribution of scarce living space by a governing body. These residents had little commitment to communal living or to each other.[17] In spite of the haphazard nature of their cohabitation, residents had to navigate communal living, which required shared responsibilities and reliance on one another.
Every resident or family group was assigned communal duties:
Duty schedules were posted in the kitchen or corridors, typically assigning one family to be "on duty" at any given moment. The family on duty would be responsible for cleaning the common spaces by sweeping and mopping the kitchen every few days, cleaning the bathroom and taking out the trash. The length of time a family was scheduled to work usually depended on the size of the family, and the rotation followed the order of the rooms in the apartment.[18]
There were drunks living among decent people:
Communal living posed unique challenges; one author tells of an incident when a drunk neighbor passed out on the floor in front of the entrance to their room and urinated, to the horror of her mother, who was entertaining foreign guests when the "little yellow stream slowly made its way through the door of the room." She relates this incident to the experience of communal living, "both intimate and public, with a mixture of ease and fear in the presence of foreigners and neighbors." [19]
Everyone knew your business and your daily routine:
Neighbors are forced to interact with each other, and they know nearly everything about each other, their schedules and daily routines, profession, habits, relationships and opinions, prohibiting any sense of privacy in the communal apartment.[20]
The communal kitchen was an epicenter of the communal life in the apartment, with its news and gossips, joys and dramas, friendly shared salt and nasty practical jokes.
Spying for the authorities was common, too:
Spying was especially prevalent in the communal apartment, because of the extremely close quarters people lived in. It was not unusual for a neighbor to look or listen into another resident's room or the common room and to gossip about others.[21] Furthermore, the communal apartment was "a breeding ground of police informants," [22] people were encouraged to denounce their neighbors, and often did so to ensure safety for themselves or to gain their neighbor's room for themselves after they had them evicted or imprisoned.[23]
Sounds like a great plan, doesn't it?
No doubt the aforementioned Dr Kian Goh would say he has a better idea in mind.
However, collectivism never has worked and never will, from the 19th century days of religious or ideological sects searching for utopia to the 1970s communes.
Furthermore, our betters — those in government and captains of industry — would not be living like this. They would continue to live in relative freedom and privacy. This is for the little people, the plebs, the ones they detest: you (most probably) and me.
Wealth redistribution
The I&I article mentioned …
a woman described as an "environmental strategist"
… who railed against what she called 'fossil fuel capitalists', demanding reparations and redistribution of wealth:
"We will demand reparations for the harm that they caused," she tweeted. "Together we will redistribute trillions of dollars to fund a #GreenNewDeal."
According to Townhall, the woman – who was given a microphone and stage clearly to stir up emotions, and has common ground with Joe "Put Fossil Fuel Executives In Jail" Biden –  also said "let me hear your vigor for ending racism while you do it" and "we need to make them pay today." So again we find evidence that the goal isn't to stop Earth from overheating, but to fulfill a left-wing wish list.
Greta agrees
Greta Thunberg agrees that the climate emergency is about implementing socialism.
I&I quoted her speech at the COP in Madrid last December:
Last month, she told her thrilled-to-be-scolded followers that "the climate crisis is not just about the environment. It is a crisis of human rights, of justice and of political will. Colonial, racist and patriarchal systems of oppression have created and fueled it. We need to dismantle them all."
There you have it — straight from the Green Goddess herself.
The I&I article concludes on climate fanatics:
We should be appalled at the dishonesty that's at the rotten core of climate fanaticism. But we're not, because its disciples learned from some of the most deceitful and vicious characters throughout history.
I can't say better than that.
Be forewarned. Get informed.
The furore surrounding the notional climate emergency is far from what it appears to be on the surface.
It is vital that children — including adolescents — know the truth about left-wing totalitarianism.
Even though the horrors of Venezuela have been unfolding before our eyes, young Westerners are in thrall — thanks to schooling — to socialism and communism.
I saw this tweet and read the woman's story:
Carmen Alexe left Romania for the United States during the Cold War and has been a real estate lender for many years.
The Foundation for Economic Education — FEE — recently published her story, 'I Grew Up in a Communist System. Here's What Americans Don't Understand About Freedom'. Please share it with the young people in your family.
It is so important that young people understand what leftism ultimately produces: poverty and endless restrictions.
Excerpts follow, emphases mine.
Socialism or Communism?
I was born and raised in communist Romania during the Cold War, a country in which the government owned all the resources and means of production. The state controlled almost every aspect of our lives: our education, our job placement, the time of day we could have hot water, and what we were allowed to say.
Like the rest of the Eastern European countries, Romania was often referred to as a communist country. In school, we were taught it was a socialist country. Its name prior to the 1989 Revolution to overthrow the Ceausescu regime was the Socialist Republic of Romania.
From an economic standpoint, a petty fraction of property was still privately owned. In a communist system, all property is owned by the state. So if it wasn't a true communist economy, its heavy central planning and the application of a totalitarian control over the Romanian citizenry made this nation rightfully gain its title of a communist country.
Shortages — food and hot water
Despite the fact that Romania was a country rich in resources, there were shortages everywhere. Food, electricity, water, and just about every one of life's necessities were in short supply. The apartment building in which we lived provided hot water for showers two hours in the morning and two hours at night. We had to be quick and on time so we didn't miss the opportunity.
Bubblegum and chocolate bars were treasured treats. People had to make use of the black market for certain things:
Fruity lip gloss, French perfume, and jeans were but a few of the popular items available only on the black market and with the right connections. God bless our black-market entrepreneurs! They made our lives better. They gave us the opportunity to buy things we very much desired, things we couldn't get from the government-owned retail stores which were either half-empty or full of products that were ugly and of poor quality.
The food situation was dire:
The grocery stores were not any better. I get it, maybe we didn't need to be fashionable. But we needed to eat. So, the old Romanian adage "Conscience goes through the stomach" made a lot of sense.
During the late 1970s, life in Romania started to deteriorate even more. Meat was hardly a consumer staple for the average Romanian. Instead, our parents learned to become good at preparing the liver, the brain, the tongue, and other giblets that most people in the West would not even consider trying.
When milk, butter, eggs, and yogurt were temporarily available, my mom—like so many others of our neighbors—would wake up at 2:00 a.m. to go stand in line so she'd have the chance to get us these goodies. The store would open at 6:00 a.m., so if she wasn't early enough in line she'd miss the opportunity.
In 1982, the state sent their disciples to people's homes to do the census. Along with that, food rationing was implemented. For a family of four like us, our rationed quota was 1 kilogram of flour and 1 kilogram of sugar per month. That is, if they were available and if we were lucky enough to be in the right place at the right time when they were being distributed.
There was one television channel. It showed programmes about poverty in the West notionally caused by capitalism:
The one television channel our government provided for us often focused on programs related to crime and poverty in the western world. After all, people were poor and suffering because of capitalism, so we were told, so we needed socialism and communism to solve the inequalities of humanity.
Schools pushed the same line:
When in school, we learned that private property makes people greedy and is considered detrimental to society. Private property was associated with capitalism, the system that our textbooks claimed failed.
Ultimately:
In a centrally-planned environment, the various government individuals who are assigned the task of planning the economy could not possibly know how to properly allocate the scarce resources of an entire nation, no matter how smart or educated they are. Shortages are one of the consequences of improper allocation of the scarce resources.
Consequently, there was no innovation, no injection of capital. Only the party higher-ups and black marketeers were doing well.
I was glad she mentioned Venezuela:
Similar to the old Soviet lifestyle, let's remember what the typical Venezuelan family of our times worries about on a daily basis. Food to put on the table and the safety of their children. They wake up in the morning wondering how many meals they can afford that day, where to get them from, and how to pay for them.
That's putting in mildly.
It's a far cry from what Westerners experience:
We, the lucky ones to live in a relatively free-market system, don't have these kinds of worries. We go to work, get leisure time to be on Facebook, watch TV, be with our families, read books, and enjoy a hobby or two. In short, we have the personal freedom to engage in and enjoy a variety of life events because of capitalism.
But there's another important motive to desire to live in a capitalist society. We are free to create and come up with all kinds of business ideas, no matter how crazy some might be. Because we don't have to worry about tomorrow, we have—or make—the time to read, explore, and innovate.
Capitalism makes it possible for us to challenge ourselves, to have goals, and to put forth the sweat to achieve them. It gives us the freedom to try new things and explore new opportunities. It gives us the chance to create more opportunities. It helps us build strong character because when we try, we also fail, and without failure, how do we know we've made mistakes? Without failure, how do we know we must make changes?
I agree with her conclusion:
Aside from better economic and legislative policies, what America needs is a more intense appreciation of individual freedom and capitalism. Such a crazy idea is not acquired through public schools or becoming a public servant. Young people don't need more years of schooling with more worthless college degrees and student loans in default. America needs more entrepreneurs and businessmen. It needs more people with drive and ambition, more self-starters, more innovators, more people who are willing to take chances.
The same is true in other Western countries, too.
I am deeply concerned about our education systems, whether they be in the US, UK, France or elsewhere. Almost all educators are left-wing to varying degrees. They teach students that big government is the only means of survival for the 'poor'.
Very few Europeans classified as 'poor' actually are, by the way. Most are on the dole and have modern conveniences in their council flats along with plenty of junk food.
I pray that none of our nations ends up like Venezuela, which, in the 1970s and 1980s was a thriving nation. Now the best and brightest have fled the chaos, understandably. How and when that country's troubles end, no one knows.
A thread on Reddit's The_Donald from August 5, 2017 features a lengthy comment from a young Venezuelan on what a life of strife is like.
Language alert: I have put in hyphens below. I have also capitalised a few proper nouns where necessary.
The thread is about London, however, the immediate context is whether a Canadian should emigrate legally to the United States.
This is the Venezuelan's immediate response:
Listen.
I'm Venezuelan, when Chavez won, my father said he "saw it coming", but never moved.
Now, I'm plain 2017 almost 2018, I'm HERE, in Venezuela, living the very definition of lefty paradise.
Don't be retarded: get the f-ck out of there (legally) to the USA, your comment screams "I love America", so don't stand there like an idiot [–] GO.
A reader asked him what life was like and he replied:
It's 1:27am right now. I'm currently on my home, on my PC (playing games, I use Reddit on mobile.)
I've recently finished my University second semester, all the protests and constant reports of casualties has made it excruciatingly difficult to concentrate, I know one female companion that has her right leg burned due to a grenade the military threw at her, there have also been reports of tanks shooting at buildings. The following days, after finishing the university have been filled with constant rage and disappointment, rage at this damn government and the fact that I'm stuck here for something I didn't even vote for, and disappointment at the opposition failing in everything imaginable.
The idiotic previous generation decided it was a good idea to give away our guns, so we're stuck using shields and blunt weapons. (NEVER GIVE AWAY YOUR SECOND AMENDMENT, THAT SH-T IS THERE FOR A GOOD REASON!!!)
There's food scarcity, hospitals are in SH-T conditions; not to mention there is also medicine scarcity, prices are off the charts. There's massive traffic just to buy a miserable coffee, there's also diaper scarcity, and even if you were to work nonstop you wouldn't be able to pay sh-t, jobs are also at an all times low.
I originally wanted to study medicine, however, that is only given on public universities, and those are in horrible conditions and are constantly assaulted by the military. So I ended up picking organizational psychology as a career.
Daily life is sh-t. ALL thanks to socialism, and YES, it IS real socialism. Socialism was created by a massive loser called Marx who was ignorant of absolutely everything and whose only life accomplishment was marrying a rich woman.
I didn't vote for this, neither did any of my family or all my friends. And yet young people are the ones getting bullets and grenades all the time. Some even go to protests because "I'm not afraid of dying because I have nothing to lose" (AND THEY'RE NOT EXAGGERATING. THEY LEGITIMATELY HAVE NO SH-T TO LOSE!)
Socialism, communism, Globalism, Marxism, same sh-t (country going to sh-t.)
By the way: it's 1:50am right now, why? Because lights went out for a time and I absolutely won't use my mobile data, which by the way I only get a measly 300MB that I have to manage to deal with a whole MONTH. The government has been trying nonstop to get rid of the internet and any form since it's the only thing we have that can send the message.
We really need outside help for this.
This was the scene in Caracas on August 3:
By the way, I am aware this did not come from the real Julian Assange's Twitter account. It does not matter. The video is what is important.
When Chavez was alive and in power, I used to read three different Venezuelan blogs. Since then, one has gone private, another has been deleted, which leaves the third, Venezuela News and Views.
Daniel, the author, has well-written, informative posts in English. The country's latest elections were held on Sunday, July 30. He did not vote, however, his significant other did:
The summary of his experience was that his normally crowded center, a big one downtown Caracas, was empty. There were not even the normal number of attendants. There was no control except a quick glance to you ID card just before the vote. There was even political propaganda distributed INSIDE the voting area, a major rule violation in electoral law. But nobody cared, nobody monitored. He sent me a scan of some of the propaganda pro regime he received.
On Monday, July 31, Daniel wrote (emphasis in the original):
What happened in Venezuela was an historical electoral fraud of major proportions. So blatant, so nakedly obvious is the fraud that within hours more than a dozen countries have announced they would not recognize the result. And more to come. Only outlaw regimes like Cuba, or commies disguised as lefties in Europe like Iglesias or Melanchon can recognize the result …
The results are meaningless and aim only at the chavista lumpen and brain washed. Think of it this way. Maduro claims that 8 million people voted for his fraud in the middle of the major economic crisis that we have experienced in our history. No food, no jobs, no medicine, violence from crime skyrocketing, etc, etc…  And he gets almost as many votes as Chavez was getting ten years ago at his prime of massive flux of dollars and cash payment to "el pueblo".  Gimme a break! The other results that are meaningless are who won what. That is, when the injection of votes is so flagrant, so abusive that whoever won whatever seat somewhere it is because votes were allocated to that person according to the regime['s] wishes. We will soon find out, I guess, what section of chavismo has come on top, not through votes but through counting the votes in the greatest Stalinist dictum. You know, the one where he says that elections do not depend on the votes but on who counts them.
I think this is enough. If you are not convinced by this then you are either dumb or of bad faith or cashing in, which is the same as bad faith. I am sorry, I live in a dictatorship, I cannot play nice anymore.
On August 2, he wrote about the Reuters article saying that there was a manipulation of at least one million votes. The government uses Smartmatic voting machines, which were also used in the US general election in 2012. Does anyone remember how the vote tallies flipped in the final half hour of news coverage? I do! (I am positive Mitt Romney was the rightful winner.) Daniel included the Reuters  tweet and wrote:
For those late in the game, Smartmatic was an electronic voting machine manufacturer which test run was the most controversial recall election on 2004. A new comer got to organize its first try a NATIONAL election! Needless to say that this was highly controversial and Smartmatic has been enveloped in a cloud of suspicion ever since. Note that the amounts of money paid to Smartmatic by the regime, amounts never quite clarified and showered over successive elections, have allowed it to become an international company that has Venezuela as a mere client now.
Thus the questions. First, what compelled Smartmatic to come out and state that its client padded its vote result by an outrageous 1 million votes (1 in 8, or 12,5%)? Note also the "least" in the Reuters text …. Second, are we allowed to doubt previous elections held through Smartmatic machines?
So that is that.
A little comment: in spite of all that electronic speedy voting the CNE is not publishing complete and detailed results. Yet it is declaring those who won seats. The problem? The total 8+ [million] must match the sum of all the individual votes. If indeed "at least 1M" were added, who got them? Which candidates were favored? Which wing of chavismo got ahead?
Later that day, he posted again:
As I reported earlier, two Reuters dispatches told us that 1) there were less than 4 million votes cast and not 8 and 2) Smartmatic, the service provider of voting machines, said results were not those of the electoral board CNE, with a difference of at least 1 million votes, that is, at least 13%. That is just too much, too far of standard error for any election. (1) …
1) it is to be noted that before making the announcement Smartmatic vacated its offices of all material and took its people out of the country through private airplane. They certainly know how justice and investigation function in Venezuela: jail you first, see if we do anything about it some day.
His post of August 4 attracted a comment from Anonymous calling for an armed revolt as the only way to stop the dictatorship. (The chap writing to The_Donald was right about gun ownership.) Here is the first part of the comment. I have made a few corrections to the spelling:
I have been following and posting on this site for many years now, and been saying forever the only way to stop the dictatorship that happened long ago, not with this Assembly was through Venezuelans taking arms. Any other plan is an absolute waste. The opposition is completely useless, if you cannot infiltrate the brain trust of a money hungry regime as this you're not even trying. How stupid are people to now only say that a dictator is put in place via the constitutional assembly. It was way back when they trampled all over the constitution with no repercussion. The games were over[;] all that is left since then is armed rebellion which maybe 1% of the populous has the stomach for, hence it is over.
This is all very sad. I remember when Venezuela was a beautiful country. Even before Chavez, things were changing. A good friend of mine went there on business 15 years ago. I was shocked to hear that travellers were advised not to go to out day or night unless accompanied by a Venezuelan who could spot potential trouble. Wealthy Venezuelan families were also targets of kidnapping; their children were abducted for the afternoon in what Caracas residents called 'McDonald's kidnappings'. My friend was picked up and dropped off at his hotel by taxis and drivers that were pre-arranged by the company he visited.
It really looks like Venezuela will go the way of Cuba unless another nation steps in.
I also wonder if there was — or is — a similar plan for the United States to go the same way.