You are currently browsing the tag archive for the 'Spain' tag.
Anyone, especially men, who worked in London in the 1980s will tell you how wonderful business lunches were in that era.
They were long and languorous, fuelled with alcohol.
The 1990s put paid to all that, and lunch al desko with fizzy pop or coffee became the norm, which, sadly, still exists today.
Therefore, it is good to read that long 1980s style lunches are back, in England, at least.
That's the only good thing that can be said about coronavirus.
According to food critic Kate Spicer, writing for The Sunday Times, the trend started during curfew mandates in Ibiza in 2020 (emphases mine):
Daylight decadence is back. As someone recently said to me: "It's literally carpe diem." It arguably all started in Ibiza. With clubs closed, hedonism was a sit-down affair, and lunch became the island's big ticket.
When holidaying Britons returned from the Spanish resort and our restaurants reopened, lunch followed.
Restaurateurs in London are loving it:
Dan Keeling can tell you what a good lunch sounds like. The co-owner of the highly praised Noble Rot restaurants in London has his office above the dining room at the Lamb's Conduit Street site. "There's no maybe about it — people are relishing lunch," he says. "I know when we're having a good service because the rumble of laughter, the roar of conversation, the actual vibrations of convivial good living rise up through the floorboards. A service like that can go off on a Tuesday. I love it. I feel like a kid up there, listening to my parents having a party."
"We've been scooping grown men giggling into taxis at 6pm all summer,'' says Fitzdares's CEO, William Woodhams. ''What I see is people planning lunches weeks in advance — off the cuff is over, it's all about a lunch as a main event. Reservations start with a table for two and snowball. With everyone half in the office, half WFH, people are not in London all the time. They'll come in, plan a morning of, say, three meetings where they might have originally done eight in a day, and then devote the afternoon to lunch."
This phenomenon is an urban one:
Keeling thinks the urban exodus during the pandemic has reminded people exactly why we love our big British cities: "It's impossible to recreate that urban glamour and energy in the shires."
How true!
Other big cities are benefiting, such as Manchester:
At Manchester's Hawksmoor, the high-end steak and seafood restaurant, lunches are as busy as they have ever been since opening in 2015. Co-founder Will Beckett puts it down to people wanting "face time not FaceTime. It's not about what's new and centred round the 'chef's vision'. They want a restaurant that nails the food and atmosphere but puts customers at the centre of the meal, somewhere they'll feel comfortable and loved."
Not everything is rosy, however. Brexit and coronavirus resulted in Europeans moving back to the Continent. That said, we have six million who successfully applied to remain in the UK, so we should be able to get European hospitality workers, surely.
Still, for those restaurants that can open for lunch, the world is their oyster. One London restaurant co-owner described it as 'Christmas every day':
At Luca, the unimpeachable Italian in Farringdon, the co-owner Johnny Smith says they could book lunch sittings several times over. He describes the energy then as celebratory. "It feels like Christmas every day. And when people come they have it all — the prelunch drink at the bar, all the courses."
Good!
Here's a glimpse of the 1980s lunch, as served at Langan's, which is reopening on October 30:
At its epicentre was Langan's Brasserie in Mayfair, then owned by Peter Langan and the actor Michael Caine. It was the destination for "languid, long, late and liquid business lunches", as Richard Young, the photographer who documented its glory days, remembers. When the stars came out, he would often spot the same people sitting there at 8pm, rolling lunch over to dinner. One of the restaurant's new owners, Graziano Arricale, says it won't be having any express-menu business either when it reopens in October after recent refurbishment. "People see Langan's as an escape from work," he says. "I don't think the two-bottle business lunch will come back, but going out for friends is different. Our lunch crowd will be in for a long, celebratory two or three hours."
Excellent!
Another fan of the 1980s lunch was the late Keith Waterhouse, who even wrote a book about it:
The writer and satirist Keith Waterhouse rose at dawn, worked until lunch and then spent the rest of the day over a meal he eulogised in The Theory and Practice of Lunch. The book, published in 1986, is worth digging out to remind our fretful, workaholic Pret generations what it's like to breathe into the afternoon and take time over eating during the daylight hours. "Lunch at its lunchiest," he wrote, "is the nearest it is possible to get to sheer bliss while remaining vertical."
I could not agree more.
However, alcohol is not necessary for a good lunch:
… it doesn't have to be drunken. Good company is its own high, says the model, make-up artist and sidesaddle stuntwoman Lady Martha Sitwell, who has mastered the sober long lunch. "If it's a good crowd I'll slam a few sugary drinks and a good atmosphere will pull you into the afternoon. It doesn't have to be messy." Not that she's anti that. "It's just pointless pretending you can work," she says. "It's straight to the sofa to rehydrate and brainless Friends reruns."
Yes, it is one's lunchmates who make the afternoon a memorable one.
That's why my far better half and I are looking forward to another long, languid London lunch with friends next week. I can hardly wait.
January is a time for many people to cut back on an excess of Christmas food and drink.
In the UK, a popular way to attempt this for one month is through a vegan diet, hence Veganuary.
This year, despite the economic vagaries of coronavirus, meat consumption actually rose:
On March 4, 2021, FarmingUK reported that January sales of red meat and dairy was up compared with the same month last year. In fact, meat sales have risen throughout the pandemic (emphases mine below):
Latest Kantar data shows overall volume sales of red meat were up 15 percent and almost 12 percent for dairy, compared with January 2020.
Red meat and dairy retail sales have seen solid growth since Covid-19 restrictions began last March, with shoppers buying more through retail than pre-Covid.
Over the last quarter, growth across all red meat and dairy has been stronger than overall grocery growth at 10 percent.
Primary red meat volume has seen an 18% increase, with mince driving much of the growth within beef, along with burgers and steaks, but shoppers have also brought traditional roasting joints back to the table.
The seasonal lockdown has also led to more shoppers buying primary red meat, with increased household penetration at 83 percent, Kantar figures show …
Rebecca Miah, AHDB's Strategy Director for beef and lamb, said the red meat and dairy sectors had an excellent start to the New Year.
"[They] reflect how highly valued red meat and dairy are to consumers," she explained.
"While alternatives show growth from a small base, these are mostly complimentary additional purchases driven by interest and variety, rather than a move away from real meat and dairy consumption."
That's great news for our farmers.
Christophe Pelletier, a Canadian who studies food trends, says that increased meat and dairy consumption has also been observed in other countries:
Pelletier retweeted this thread about a University of Kansas study showing that Americans preferred beef to veggie burgers:
On March 3, the university posted an article on the subject, 'Study: consumers favor ground beef over plant-based alternatives'.
An excerpt follows:
Ground beef – offered with 10%, 20% and 30% fat — was strongly preferred for taste and flavor over plant-based alternatives, and less than one-third of the respondents said they would buy the plant-based alternatives in the store or retail settings, according to K-State meat scientist Travis O'Quinn.
"The results are pretty stark," O'Quinn said. "Our three ground beef products were highly desired by consumers. We didn't witness many differences among the three fat levels we offered, but when we compared those to the ground beef alternatives, every one of the alternatives had a tendency to fall out (of favorability with consumers)."
Consumers rated the plant-based alternatives as "extremely dry," according to O'Quinn, and rated those products "very low" for flavor. In one test, only 18% of the consumers said they would be willing to buy the plant-based ground beef alternative.
O'Quinn said the researchers tested ground beef alternatives designed for retail and food service use, and another consisting of a traditional soy protein base.
It's great to read that consumers are voting with their pocketbooks in favour of meat.
For too long now, we have been bombarded with anti-meat propaganda such as this:
The truth is that many people's health has improved because they eat meat:
Perhaps that is why we are being 'nudged' away from it: less money for Big Pharma's coffers.
Instead, we are told that meat harms our health and is responsible for pandemics:
The World Economic Forum (WEF) that meets at Davos every year insists we switch to a plant-based diet. One wonders if the bigwigs at the WEF have a plant-based diet?
The WEF works closely with the UN on food issues.
Smaller farmers are pushed out of the picture in favour of multinationals:
Yet, production of fruit and vegetables is not always kind to the environment. What about avocado production that is harming wildlife in Africa? The tweet about growing avocados is tongue-in-cheek but the effect on elephants and other native species is real:
What about this plastic monstrosity for fruit and veg in Spain? Immigrants from North Africa make up the bulk of the workers:
The Netherlands can do the same more sustainably:
There are better ways of growing crops and rearing meat. They are being implemented right now.
Here is an integrated farm of wheat and cattle. The cattle fertilise the wheat naturally. Some of the grain harvest is for them. The rest is used for consumer foods:
Smaller growers in the US and in France have been adopting this method, too.
I have seen two documentaries over the past couple of years on farming that uses an ecosystem.
One was with an American cheese maker who grows his own crops to feed the cows but also has other farm animals to keep the soil in balance.
Last week, I saw another, featuring a Frenchman who grows vegetables. He, too, has a variety of farm animals, including cows, which achieve the same objective.
And, yes, there are perfectly natural ways to reduce methane from cattle — grass grazing or a seaweed supplement:
Conclusion: the future of agriculture is hardly as bleak as we are told. Farmers are thinking out of the box — and very successfully.
The future of meat is positive — and is here to stay.
As we approach 2021, a growing number of Europeans are sceptical about our governments' respective responses to coronavirus.
My guess is that people are becoming suspicious about the loss of their civil liberties, which was only supposed to last for two to three weeks, yet continues to this day — nine months on.
There is no end in sight as we face the possibility of another sharp, nationwide lockdown early in the New Year.
France
This was a major topic of discussion on RMC's Les Grandes Gueules today.
Vaccinations have reached saturation point in France, even though the programme has barely started. Perhaps the government was too slow in obtaining more doses at the outset:
Regardless, in France, as well as everywhere else, even the vaccinated will need to continue to wear masks — possibly even after their second BioNtech/Pfizer jab:
Of course, mass vaccination is the only way that a nation's economy can once again flourish. Recall that for most age groups — up to the 70+ cohort — the average death rate is around 0.05%:
In the meantime, the question arose over whether future lockdowns should be national or regional. (We've tried both recently in England and Wales. It doesn't seem to make much difference.) This educator says that we can't stay locked down for the next ten years — 'I'm horrified. We're in a world of madness":
The lawyer on the panel disagreed, saying that we need lockdowns until we get the all clear. Someone responded to the tweet casting doubt on government statistics, saying that lies are a way of dramatising the situation — Project Fear:
Listeners rang in to say that they were sceptical about lockdowns and mandatory vaccines. The lockdowns don't seem to work and there aren't enough data yet to show that the vaccines are reliable and safe, especially if they operate like the flu vaccine, meaning that one is still susceptible to getting coronavirus, albeit a milder form of it.
Spain
The Spanish government is considering whether to develop a list of residents who do not take the vaccine then circulate those names to other countries to restrict their movements.
British talk show host Maajid Nawaz of LBC warned that this is a very dangerous step for a nation to take. He said that, years ago, he was a prisoner of conscience in Egypt and found out how far the state can go in controlling one's life. The response to his video is quite telling:
Someone else replying said that Spain would not be able to circulate the list because of personal privacy laws under the Europe-wide GDPR regulations. Hmm, I wonder:
England
Maajid Nawaz had another excellent commentary on the futility of lockdowns. He said that only one person in the UK has put together a cost benefit analysis for public consumption and that only the Times has published it. Apparently, 500,000 lives are adversely affected among the general population and they are not COVID-19 'cases' or inpatients. He added that Government ministers have a lot of data they refuse to reveal to the public. I would go further and say they are not even revealing it to MPs. Matt Hancock lets nothing out in Parliament, only more fear-mongering messages, then expects MPs to approve more restrictions:
Simon Dolan, a businessman who has sued the Government over lockdown, points out that lockdown relies on asymptomatic transmission being true. However, yet another study shows that there is no truth behind asymptomatic transmission:
The latest study, which the JAMA published, focusses on household transmission:
On lockdown, Simon Dolan posits:
Yes, most probably.
But what about the lorry drivers stranded at Dover because Emmanuel Macron didn't want them coming into Calais unless they were tested? Only a tiny number tested positive:
It's no wonder people are sceptical.
In closing, I have been waiting for an ecological impact assessment on masks. Here it is:
Does anyone else find it odd that, given the alarm over coronavirus, no country has any HAZMAT bins for used masks? Shouldn't worn masks be considered hazardous waste?
It makes one wonder …
More to come.
This week, the UK government's scientific advisers and Prime Minister Boris Johnson said that new, stricter coronavirus measures would come into effect on Thursday, September 24.
On Monday morning, Chris Whitty and Sir Patrick Vallance presented their latest figures, which looked as if they must have come (once again) from Prof Neil Ferguson, they are that exaggerated. You can see the graph further down in my post:
This is utter madness, reminiscent of the WMD days when Tony Blair told us that a WMD could reach our shores within 45 minutes:
Their presentation, given against a No. 10 backdrop, had the purpose of preparing the public for Boris Johnson's announcements on Tuesday. They took no questions.
They showed graphs of where Spain and France are, with an uptick in 'cases'. Again, that means positive test results, most of which do not require hospitalisation.
Strangely enough, the Rule of Six only came in on Monday. Let's let it bed in for a few days, fellas, before taking more measures. They're doing exactly what they did in March, though. On March 16, new measures came in. On March 23, we had lockdown.
The Rule of Six is a Belgian tactic that SAGE thought would work in England. As such, they recommended it to the Government.
Perhaps this is the reason the two scientists did not mention Belgium once in their presentation:
I am glad someone will be tracking the progress of the projections over the next few weeks:
On Tuesday, Boris addressed Parliament and gave a short address that evening, televised to the nation.
In short:
– Pubs and restaurants must close by 10 p.m.
– They must offer table service only.
– All retail workers in hospitality settings must wear masks, along with customers, unless they are eating or drinking.
– Fines for breaking the Rule of Six or not wearing a face covering will result in an initial fine of £200, up from £100, for a first offence.
– Indoor five-a-side football matches have been banned.
– Wedding attendance has been reduced from 30 to 15; funeral attendance remains capped at 30.
– Police are allowed to call the military to fulfil office duties and/or to guard protected sites, leaving the police more capacity to fight crime.
– The plan to return a limited number of fans to sports stadia on October 1 is now postponed indefinitely.
The Daily Mail has a comprehensive article, including Boris's transcript, on the scathing reactions from police and business owners, particularly publicans. Sir Andrew Lloyd Webber said that this could sound the death knell for commercial theatre.
The Telegraph's Matt has this take on Army assistance:
The chances of that happening are very low:
The sad thing is that only five per cent of COVID-19 infections occur in a hospitality environment!
The Government and SAGE know this — yet they pressed on with restrictions!
The Daily Mail reported (emphases mine):
Public Health England data reveals that of the 729 outbreaks in the week to September 13, only five per cent occurred in food outlets such as restaurants and pubs – 45 per cent were in care homes, 21 per cent in schools and 18 per cent in places of work.
Wetherspoons founder Tim Martin said: 'The curfew doesn't even stand up to five minutes consideration by an intelligent person because if you look at the stats… there are relatively few transfers of infections in pubs.
Kate Nicholls, chief executive of trade body UK Hospitality, urged the Government to heed its own statistics because the curfew could take a sledgehammer to the industry which is already 'on its knees'.
She said this morning: 'People will think it's not that significant, but it really will have a big economic impact on jobs, not just on pubs, but also for cafes and restaurants.'   
Martin Wolstencroft, head of Arch Inspirations, which runs 17 bars and restaurants in Leeds, Manchester, York and Newcastle, said the curfew will not make it viable to open some of his venues.
Ironically, August was the month of discount lunches in Chancellor Rishi Sunak's successful initiative, Eat Out to Help Out, which the hospitality industry welcomed.
The Government's new restrictions will largely destroy any uplift participating restaurants received from it.
What on earth is going on?
Toby Young, who was at Oxford with Boris, says that something has changed — and not for the better. Note that Prince Charles approves of military intervention for climate change. Scary:
It's entirely possible that these ruinous measures have no basis in scientific fact, devastating people's livelihoods and families:
Conservative backbench MPs sounded off.
On Tuesday, Sir Desmond Swayne, who has commented both in and outside the House of Commons, tweeted:
His blog post states, in part:
Flu kills all year round – In the last weeks of July it killed 1000 of us (where Covid-19 killed only 200)- but it is seasonal: it certainly kills a lot more of us in the winter. Equally, we should stop talking about another wave of Covid-19 and instead, like flu, start expecting its annual season.
Having peaked in April Covid-19 abated over the summer. Inevitably it will get worse in winter. It may also be worse this winter than might otherwise have been the case. This is because we carried on with a number of restrictions on normal social life during the summer, reducing our ability to acquire and share herd immunity and wasting the opportunity provided by the weakest period for the virus.
My contention remains, as I have said many times over the last months, that our over-reaction to the disease has done much more lasting economic damage, and, counter-intuitively, even more damage to our health than the disease itself.
The current strategy merely kicks the can down the road. If the measures work and reduce the spread, the virus will simply reappear later.
Of course, we could be lucky and get a vaccine or a cure, or even 'moon-shot' daily tests to enable us to return to normality, but none of these are certain.
One day there may be a virus that threatens our whole way of life – but this isn't it, even if we are behaving as if it were.
Sir Desmond retweeted a neurologist's comment on the outrageous graph of projected 'cases' this autumn — in reality, positive tests:
Today, Sir Desmond gave an interview to the BBC about the continuing and questionable restrictions on civil liberties:
Richard Drax rightly predicted economic disaster, ruining the lives of millions:
Lucy Allan also spoke out on Twitter.
She tweeted Monday's graph from SAGE:
She rightly opposes putting everyone on restrictions when we should be protecting those most at risk:
She retweeted an open letter from Profs Sikora, Heneghan and several other leaders in British medicine:
She also called for the precise definition of a 'case':
That's probably why Whitty and Vallance didn't take questions.
Sir Edward Leigh also had a lot to say on this week's announcements:
He is rightly concerned about the blind faith we place in authority and the gradual erosion of civil liberties:
I couldn't agree more:
At least 1,000 people die in the UK every day.
Below are the causes of death per day in September.
Note where COVID-19 is: second from the bottom, dwarfed by heart disease and cancer.
There were nearly twice as many suicides than deaths from the Chi-vi: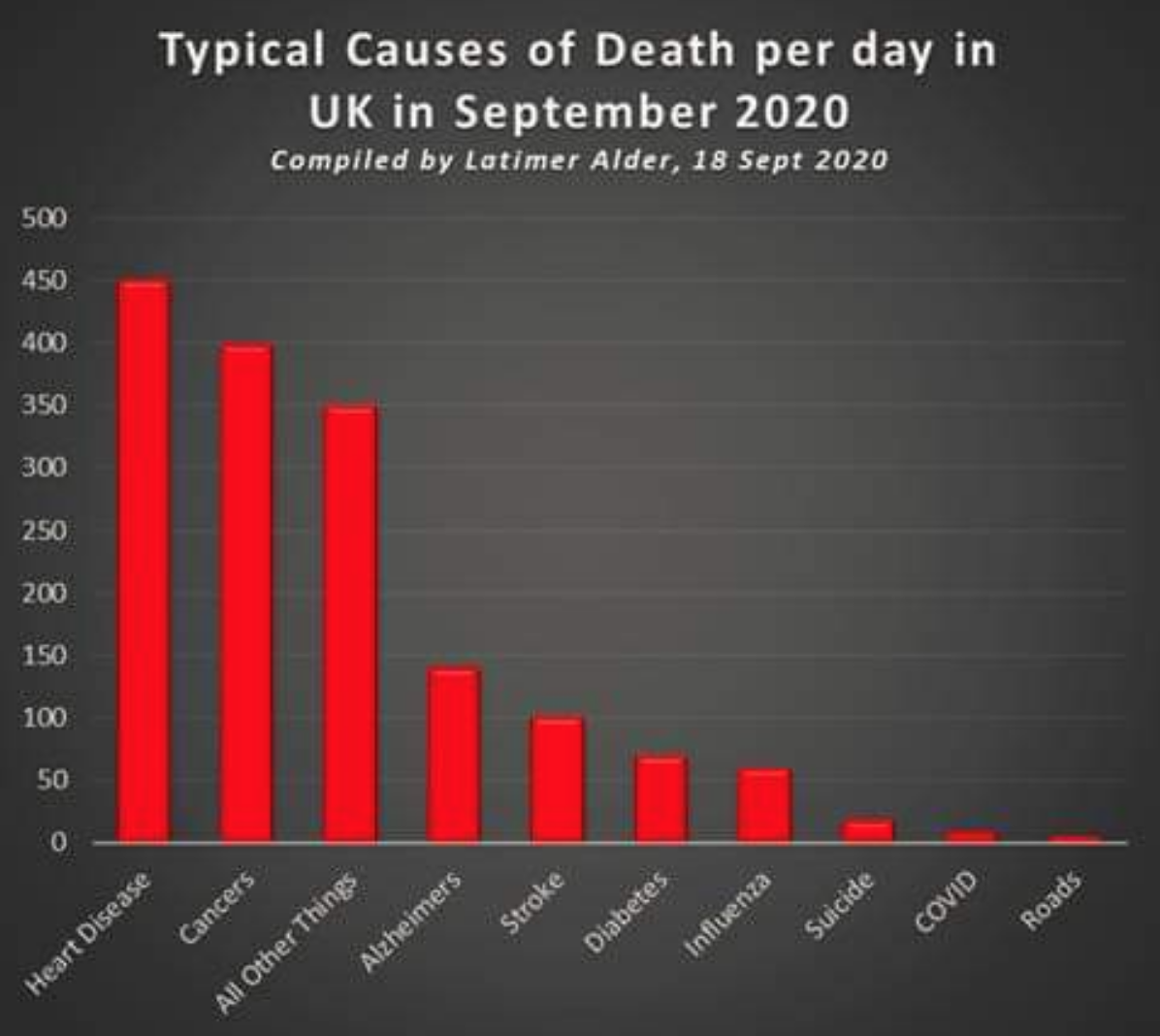 Steve Baker is also concerned about the restrictions bypassing Parliament:
Wow. Sir Graham Brady could pit a load of Tory rebels against the government. Good show:
The article from The Critic says:
Unless Matt Hancock finds a workable accommodation with Sir Graham Brady, the chairman of the 1922 Committee of Tory backbench MPs, the government faces the prospect of defeat next Wednesday when the Coronavirus Act 2020 comes up for its six-monthly renewal in the House of Commons.
The scale of backbench unhappiness is such that according to Steve Baker, who is working alongside Sir Graham, "the magic number was exceeded with 24 hours" of his beginning to canvas support for an insurrection among fellow Conservative MPs. Victory would require Labour and SNP MPs to seize on the opportunity to inflict a humiliating defeat on the government by voting with the Tory rebels. Indications increasingly suggest that this could happen. An increasingly dispirited Whips Office, which feels ignored and disrespected by Downing Street, is especially concerned at the sight of the former ERG "Spartans" leader, Baker, at Westminster furiously tapping away on his phone – a colliery canary of trouble ahead.
The government is equally concerned that the rebellion is being led by Sir Graham Brady, whose role as chairman of the 1992 Committee makes him the most authoritative channel of backbench opinion. In a sign of how seriously Downing Street management is taking the senior shop steward's challenge, on Monday evening the prime minister privately went to see the 1922's executive committee.
The primary complaint is that the government is using powers granted to it under the 1984 Public Health Act and 2020 Coronavirus Act to enact previously unconscionable measures without any prior debate in the Commons. Brady has condemned ministers who "have got into the habit of ruling by decree."
MPs were prepared to cede considerable authority to the government in March in a period of acute crisis when there appeared to be only weeks if not days to "flatten the sombrero" to save the NHS from being overwhelmed. But Boris Johnson's admission in his statement to Parliament today that the latest curtailments (which include further restrictions on hospitality opening hours and the number of people who can congregate at weddings, funerals and other public, private and sporting functions), would likely last at least six months has alerted MPs to the reality that government by decree may last until a vaccine is approved. If, indeed, a vaccine is approved. This is a war that will not be over by Christmas.
Far from persuading potential rebel MPs that a new crisis is looming, the performance of the government's chief medical and scientific officers, Chris Whitty and Sir Patrick Vallance, at their press conference yesterday has heightened consternation that the government is over-reliant on advice predicated upon worst case scenarios that is trumping competing economic and civil liberty considerations.
The likelihood of executive mission creep was foreseen back in March by David Davis and Steve Baker who pushed the government into adopting an amendment reducing from two years to six months the period in which the powers of the Coronavirus Act must be renewed by parliament. That renewal debate will now take place next Wednesday.
I remember that debate from March and also wondered if the Government were as good as their word.
Whilst they are unlikely to call for a wholesale repeal of the Coronavirus Act, Sir Graham Brady could call for a scrutiny clause appended to the Act so that every new statutory instrument connected to the legislation would have to go through Parliament first. To date, many of them have not. Therefore:
Rebels are pinning their hopes on this prospect. They may find a friend in the The Speaker, Sir Lindsay Hoyle, who has already made clear his intense irritation with Matt Hancock's disregard for informing parliament first of major legal changes like the "rule of six" and for the government's brusque imposition of restrictions in his own Chorley constituency …
The appeal of such a mechanism is obvious to Tory backbenchers concerned that laws are being made without scrutiny and are difficult to repeal. But there is no in-principle reason why Opposition parties need object to such a parliamentary safeguard either. Hence the likelihood of a rebellion having the numbers to succeed next Wednesday.
I can hardly wait.
Iain Duncan Smith is also airing his views. Note what he says and compare it to the death graph above:
Brexit better be more than BRINO, otherwise that prediction about the Conservatives could come true.
Former Brexit Party MEP and owner of England's greatest smoked salmon business, Forman's, said:
How true.
Unfortunately, at today's PMQs, Boris said that restrictions will continue until a vaccine is found! Dangerous.
During July, there were several British news items I did not have time to cover.
Without further ado, here they are …
St Swithin's Day
July 15 was St Swithin's Day, traditionally thought to successfully predict the weather for the next 40 days.
It was cool and cloudy.
So it is two weeks later.
The Mirror tried to debunk centuries of tradition that day by saying temps would reach 29° C that weekend. They never did, at least in the UK. We had a maximum of 24°.
Since then, it's been cool, cloudy and rainy — with a few hours of sunshine here and there.
The Mirror was wrong. As my late grandmother-in-law always said: 'The old ways are the best'.
This isn't the first year I've tracked the weather following St Swithin's Day.
Trust what happens on July 15 in the UK. That's the weather for the next six weeks.
Admittedly, we might get the odd, sunny, warm day, such as today — but, that might be a rarity during the month ahead.
Friday, July 17
This was the day when temps reached a maximum of 24°.
More importantly, Princess Beatrice was married at Windsor. Her father, Prince Andrew, stayed out of the photos.
The wedding was small, in keeping with coronavirus guidelines:
Another wonderful event took place that day at Windsor. Captain Tom Moore, 100, received a socially-distanced knighthood from the Queen:
Captain Sir Tom Moore raised tens of millions of £££ for the NHS during the height of the pandemic by walking around his garden 100 times on a zimmer frame (walker). I am sure that was not easy for him, yet he persevered.
Afterward, the Second World War veteran said:
It's been an absolutely outstanding day and you could never have believed I was never going to get such an honour as I have today. I really believed never ever would I be so privileged I could be so close to the Queen and speak to her, and that really was something absolutely outstanding.
Fantastic! May God continue to bless him abundantly.
Boris's first anniversary as PM
Thursday, July 23 marked Prime Minister Boris Johnson's first anniversary.
This delightful video shows clips of him promoting the 2010 Olympics when he was Mayor of London:
Although it's been a miserable year, he has achieved the impossible, as Guido Fawkes reminds us:
Defeated Corbyn

Delivered Brexit

Won an 80 seat Conservative Party majority
Boris listed many more achievements over the past year. He could not even list them all in two minutes:
But there was no time to rest, as Boris was busy planning for the best and the worst in the months ahead:
Conservatives are still happy with his performance:
Writing for UnHerd, Matthew Goodwin, professor of politics at the University of Kent, analysed Boris's appeal among his supporters (emphases mine):
To find a similar degree of constant and tribal support for the Conservative brand, you have to go all the way back to the spring of 1987 when Margaret Thatcher began a similar period of total dominance in the polls that lasted for around two years. Though even that is a little misleading — Thatcher might have had a lot going on, but she never had to grapple with a global pandemic and the shutdown of the entire economy …
… why have Johnson's voters stayed so loyal? …
The first thing to remember is how Boris Johnson achieved power. He pushed through what David Cameron had little interest in and Theresa May never really understood — the "realignment" of British politics. By organising around Brexit, which was itself an expression of a deeper fault line, Johnson was able to consolidate the Leave vote.
By doing so, he was able to anchor his party far more securely in a cross-class coalition of traditional "true blue" Tories and instinctively socially conservative blue-collar workers. By doing so, Johnson injected a greater degree of tribalism into his electorate and, by extension, a greater degree of "cultural polarisation" into the country. In a country where six in every ten constituencies broke for Brexit, this strategy makes sense. You might not like it but, electorally, strategically, it makes complete sense.
It also brings us to a point that many of his critics have failed to grasp. What unites Boris Johnson's voters is not so much their economic experience, as their values. They prioritise the nation and the national community. They prefer stability over change. And they favour continuity over disruption and discontinuity. This is why they cherish Britain's history, heritage and collective memory and are more sensitive to attempts to deconstruct them. And while they acknowledge that this history is complex, they believe that, on the whole, it was positive and that Britain has been a force for good in the world. In short, they believe in their country. They are proud of it. And they are proud of their fellow citizens …
… Johnson is offering a positive and forward-looking creed that is more interested in national renewal and salvation than decline and repudiation. He is proud of the country and its people. And until his opponents figure this out and change track, then I suspect that many of those voters will continue to stand behind him while keeping their distance from his critics.
Boris's war on fat
Boris has been on a diet since recovering from coronavirus. So far, he has lost a stone (14 pounds):
Now he wants all of us to lose weight — five pounds each — and save the NHS an estimated £100m. Hmm.
Guido Fawkes reported (emphases in the original):
Boris promises his health push will "not in an excessively bossy or nannying way, I hope" persuade Britons to lose a few pounds. Which is a curious line given the now-almost imminent, nonsensical ban on pre-watershed 'junk food' ads…
Agreed.
Last summer, London's mayor Sadiq Khan banned what he termed 'junk food' adverts across the capital. Last June, when Wimbledon was in full swing, Guido reported:
London's blanket ban on 'junk food' advertising is not only ineffective, inconsistent and impractical, it's going to cost a fortune too! Estimated at a whopping £35 million, it will deprive dilapidated public services of desperately needed investment. Who's decided that chicken burgers are not junk food but olive oil is? And no mince pies allowed at Xmas? No strawberries and cream for Wimbledon?
The simple truth is ad bans don't work – there's no proof they reduce childhood obesity. However, there is clear evidence that wide-ranging, collaborative and positive approaches are an effective solution. In Amsterdam, childhood obesity rates fell by 12% between 2012-15, through investment in positive lifestyle and education campaigns.
Telling people what they can do is much more effective than hectoring them about what they can't. Evidence-based solutions are more effective than political ones.
One year later, Boris thinks this is a great idea for television:
British artist David Hockney, who opposed the UK's smoking ban in 2007, was less than impressed:
I said to my far better half on Monday that they will probably target all the good foods, e.g. butter and meat.
The next day, I drank my morning coffee while waking up to this:
I love hummus! It's good for you, too.
Guido posted an extensive list of what falls under the category of junk food, based on UK government guidelines.
In addition to hummus and raisins we find butter (as I predicted), more than half of all meats (mm-hmm, also as predicted), margarine, pesto, tomato soup, nearly all cheese, most yoghurts and, strangely, the driest, blandest thing on the planet: cream crackers, which have no cream in them, by the way. Hell is a cream cracker.
Something's gone very wrong with this Conservative government. Most of us thought Boris was a libertarian.
Whatever the case, there must be a better way than another ban:
Maybe Boris is still frightened from his serious illness. I suspect it took him a long time to recuperate, judging from his appearance in the weeks that followed.
Cat contracts coronavirus
On Monday, July 27, Reuters reported:
The British environment ministry said "all available evidence" suggested the cat had contracted the coronavirus from its owners, who had both tested positive for COVID-19.
Both the cat and the humans made a full recovery and there was no transmission to any other animals or people in the household, the ministry said without identifying the individuals involved.
"This is the first case of a domestic cat testing positive for COVID-19 in the UK but should not be a cause for alarm," said Yvonne Doyle, medical director at Public Health England.
"The investigation into this case suggests that the infection was spread from humans to animal, and not the other way round," Doyle added.
The government said the infection was confirmed in lab tests on Wednesday, adding there was no evidence that cats could transmit the virus to humans.
The World Health Organisation (WHO) has said cats are the most susceptible animal species to the SARS-CoV-2 coronavirus and are able to transmit it to other cats.
Delays in getting stranded Britons home explained
When the pandemic broke, the Foreign Office pulled out all the stops to get stranded Britons back to the UK.
Arranging flights for some tourists overseas took longer than for others because hundreds were in remote places of the world.
Now it emerges there were other factors involved:
NHS relaxes self-isolation for patients entering hospital for treatment
Not so long ago, the NHS wanted all patients attending hospital for treatment or operations to self-isolate for 14 days beforehand.
Thankfully, as of Tuesday, July 28, that is no longer the case. The Daily Mail reported:
Updated guidance says strict social distancing and hand washing is enough to cut the risk of patients taking the virus into hospitals in England.
NHS patients will only need to self-isolate for a few days after taking a test in the run-up to them entering hospital, health bosses now say.  
Surgeons hope the relaxation of rules will help them to tackle the huge waiting lists that have built up during the Covid-19 crisis.
But they called for all patients to be given tests for the coronavirus before and after their operation to keep a lid on any potential outbreak.  
The change in advice was made because the virus is circulating at much lower levels than it was during the peak of the crisis in March and April.
Lewis Hamilton opines on a COVID-19 vaccine
Formula 1 champion Lewis Hamilton had to walk back a video and post he made on social media regarding a COVID-19 vaccine:
On Monday, July 27, The Guardian reported:
Hamilton has since deleted the video and published a statement saying he hadn't seen the comment attached to the clip, but wanted to show there is "uncertainty around side effects" of vaccines.
"I've noticed some comments on my earlier post about the coronavirus vaccine, and want to clarify my thoughts on it, as I understand why they might have been misinterpreted," he said.
"Firstly I hadn't actually seen the comment attached so that is totally my fault and I have a lot of respect for the charity work Bill Gates does.
"I also want to be clear that I am not against a vaccine and no doubt it will be important in the fight against coronavirus, and I'm hopeful for its development to save lives.
"However after watching the video, I felt it showed that there is still a lot of uncertainty about the side effects most importantly and how it is going to be funded. I may not always get my posting right. I'm only human but I'm learning as we go."
I agree with the highlighted bit 100%.
Holidays abroad
Whether it's a good idea or not right now, Britons want to enjoy a summer holiday in Europe.
Some made their reservations early in the year, before the pandemic arrived. Understandably, they want to get what they paid for.
Transport Secretary Grant Shapps and his family managed to arrive in Spain hours before the UK declared a quarantine for British travellers returning from that country. Shapps flew back to the UK on Wednesday, July 29:
He is returning early to get through a 10-day quarantine and, in the meantime, from home, to 'handle this situation'. The Foreign Office has advised against all non-essential travel to Spain.
Presumably, Europeans are travelling all across the continent.
The result is that coronavirus cases are rising again:
On July 28, RMC's Les Grandes Gueules (The Big Mouths) interviewed Dr Robert Sebbag, a specialist in infections who works at La Pitié Salpêtrière hospital in Paris. He said that, although the COVID-19 ward is seeing a small uptick in hospitalisations, no one is on a ventilator and most cases are 'mild' compared to what they were only a few months ago. If I understood correctly, the hospital has 24 patients in that particular ward. He said that the uptick in non-hospitalised cases points to those that can be treated safely whilst self-isolating at home.
Dr Sebbag wasn't too concerned and said that it was the normal progression of the cycle of a virus. The question remains, he said, whether or how COVID-19 will mutate.
For now, we will have to find ways of learning to live with the virus. Dr Sebbag does not see that herd immunity will become widespread. He estimates that only 6% to 10% of the French are immune.
Lockdown in the north west of England
As of Thursday, June 30, a lockdown is now in place in parts of the north west of England.
Matt Hancock should have announced it via a formal press conference. Instead, he did so via a pooled television interview, leaving it to Boris to do a coronavirus briefing from Downing Street on Friday to further explain the new measures.
Because of this new lockdown and rises in cases elsewhere, the proposed measures for reopening more facilities and close-contact beauty services are on hold for the foreseeable future.
Masks must now be worn in nearly all enclosed public spaces, not only in shops, but also in museums and houses of worship.
Boris also encouraged Britons to enjoy a staycation in the UK rather than abroad.
Brexit
Meanwhile, in Brexit news, the international trade secretary, Liz Truss, announced that she would like to get haggis with meat into the US as part of a trade deal:
Earlier this year, exports of Macsween's vegetarian haggis — branded as Scottish Veggie Crumble — were allowed into the US just in time for Burns Night on January 25. That was the first time in 49 years that any type of Scottish haggis was allowed in America.
And that concludes my roundup of the second half of July 2020.
Roll on August, come what may.
Food Republic — an eclectic site for people who enjoy dining — interviewed the British restaurant critic A A Gill in May 2015.
Gill is someone one either respects or loathes in equal measure.
I quite enjoy his reviews, especially his acerbic wit.
Absence of French classics
He told Food Republic something with which I can deeply empathise (emphases mine):
I sometimes just take stock and think, what is it that I'm missing? Because I eat everything, and I eat everywhere. And what is it that I haven't had for a bit, that I'm missing. And the thing that I miss most now is classic French restaurant food. Bourgeois food, haute cuisine. And nobody's making it in France, or very few people …
I really miss the French food that most of those of my generation who grew up loving food and being interested in food — that was where we started. And it's very difficult to find … now.
Hear, hear.
Gill is around my age. When we were growing up, the big middle class family restaurant experience was eating classic French food. It didn't happen often, at least in my family, and was reserved for once-in-a-lifetime occasions. Dad saved up and Mum chose the restaurant.
I don't recall the 'heavy sauces' that so many complain about. I doubt if those people ever set foot in a French restaurant. That's just another cliché spouted by those who know no better.
Gill is right to say that few restaurants in France feature elegant classics of Escoffier's era.
French food has gone global. They even have food trucks now. Recently, they had national — wait for it — burger week! Whatever next?
World's 'best' restaurants?
What compounds the problem, especially for French classics, are notional global best restaurant designations.
The most recent appeared on June 1, 2015: The World's 50 Best Restaurants Awards. The Telegraph reported:
The avant-garde Spanish restaurant El Celler de Can Roca has won back the World's Best Restaurant crown.
The restaurant in Girona is owned by three brothers – Joan, Josep and Jordi – and is famed for cutting-edge, playful dishes that still pay homage to classic Catalan cooking.
Hmm. I've eaten Catalan cooking in Barcelona. Classic Catalan cuisine is succulent roast kid, suckling pig and beautifully grilled prawns.
Have a look at the photograph accompanying The Telegraph article. It's clearly some sort of molecular cuisine.
A gushing review in the paper from October 2014 proves it — and has accompanying photographs:
After more than a dozen courses, and almost as many glasses of wine, my tasting notes had become somewhat perfunctory. "Pig – delicious" was all I could manage for what was perhaps my favourite dish; "all the prawn" was the enigmatic description of another; while some had vanished from the record books altogether. With pork disguised as fish, ceviche hidden beneath the frozen face of tiger, and puddings that pulsate, it's easy to get lost in the moment at a place like El Celler de Can Roca.
There's more. After pre-prandials and amuse-bouches:
An "autumn vegetable stock" came next, cooked with the sort of precision you expect from the disciples of molecular gastronomy ("80 degrees for three hours"). It was crystal clear, with an unusual, almost gelatinous consistency, and bursting with 10 or more individually distinguishable flavours.
To follow was perhaps the most eye-catching dish – Leche de Tigre, a lobster ceviche topped with a disc of frozen lime branded with the image of a growling tiger. It, like many of the dishes, pushed the boundaries in terms of texture, but – thankfully – was less quirky when it came to flavour, with the sharpness of a classic ceviche.
The photo of Leche de Tigre — Tiger's Milk — makes it look positively revolting. See for yourself. I would be unable to eat that. It is evident that some sort of chemical has to go in it in order to produce a semi-coagulated result.
And there are other similar restaurants on this world's best list.
French food then takes a hit. The French media ask, 'Why is our food so bad?'
But that's not the question nor the conclusion to draw.
Classic French food is excellent. As A A Gill says, we see too little of it.
The problem is that most award-winning restaurants are those that favour molecular cuisine — or, if you prefer, molecular gastronomy.
All the rage
I spoke with someone a few weeks ago who makes a living by charting culinary trends for restaurants and cafés.
He told me, 'That's what people want.' I countered that we are persuaded to think we want it. It isn't our choice.
The media message is, 'If you want to be hip and cool, you'll seek molecular gastronomy.'
People pay hundreds of dollars/pounds/euros for a multi-course tasting menu. After that, I'd be in search of a McDonald's, and I haven't had one of those for, erm, 20 years.
For me — and countless others — restaurant food should offer a) a recognisable, goodly portion of protein, b) a satisfying yet creative sauce and c) easily identifiable vegetables.
Remember the interests behind the push for molecular cuisine: big business, always big business. There are companies which make the necessary chemicals for this type of dining experience. They can branch out from commercially processed food to top restaurants. The result is that consumers see chemicals as good, interesting and elegant.
A further result is that we will be able to buy them for use at home. We'll also have accompanying cookbooks to match.
This means more money for the manufacturers of said chemicals and additives. Ker-ching!
Bucking the trend
French food critic Périco Légasse, who also writes for the newsweekly Marianne, had something to say about the 2014 World's 50 Best Restaurants Awards.
After the list appeared, he said that the Danish winner Noma — also known for molecular cuisine — was responsible for 63 diners becoming ill from badly-done 'chemical combinations'.
He also accused sponsors Nestlé and San Pellegrino of an 'anti-French campaign':
There is a political will to denigrate French cuisine.
Couldn't agree more.
In another article, this one for Marianne, he reported on what Olivier Roellinger, chef of the three-Michelin Cancale, and equally esteemed Joël Robuchon of Fleury-Michon thought.
Roellinger said:
Molecular cuisine is a lure for people who don't really know that much about food to begin with. It's really [like] selling wind. And who's financing this lobbying? A syndicate of industrial flavouring companies … It's absolutely abominable.
Robuchon, even though he admires Spain's award-winning Ferran Adria, went further:
Additives aren't good. I've done everything to avoid using them at Fleury-Michon. In today's molecular cuisine we find additives which aren't even allowed in industrial food processing. I am 200% against molecular cuisine, for the good reason that I work with health and industrial services encouraging the elimination of acidifiers, colourings and additives, some of which have secondary effects.
In 2010, the Italian government banned the use of certain chemical additives and liquid nitrogen in molecular cuisine. The current status is unknown as the 2010 law was only in force for one year. It is unclear whether a new law has replaced it.
Cook and Food Network presenter Alton Brown, an American, had this to say in 2011 (emphases in the original):
Every generation develops tools. And the tools are a wonderful way to explore the possibilities of the world and of creation. I use some emulisifiers. Yes, there's xantham gum in my kitchen. Why? Because I'm tired of shaking up a salad dressing. You know, it's practical things. Is it really cool to be able to make corn flakes out of peanut butter? Sure, it's a great trick. But it's a novelty, by and large.
My worry about molecular gastronomy, especially with young cooks, is that they will try use it replace knowing how to cook. Food. Show me you can cook a chicken breast, properly. Show me you can cook a carrot, properly. Now do it a hundred times in row. Then we can play around with white powders.
It's an interesting skill set, it's an interesting bunch of tools. You can't live on it. It's not food.
He later clarified his position:
Just to set record straight: molecular gastronomy is not bad…but without sound, basic culinary technique, it is useless.
Natural or harmful?
To be fair, a number of additives with odd sounding names are perfectly natural — some come from seaweed — and have been used in mass-produced food for years.
Science Fare has a lengthy list with explanations of each popular molecular gastronomy ingredient.
India's Mid-day has an interesting interview from May 2015 with chef and food stylist Michael Swamy who explains that just because something is natural does not automatically mean it is healthful to eat.
It all rather depends. Swamy discussed the freshwater basa fish, a new trendy yet inexpensive protein in India. He warned:
The fish is highly toxic and has a high amount of lead.
Swamy had this to say about molecular gastronomy (emphases mine):
One meal is equivalent to your one year's quota of toxins as you only consume chemicals. The other day, someone told me that they had something called a bubble kulfi, which had dry ice. Everyone knows that dry ice is very poisonous but it is still added to cocktails and so on.
Swamy is correct. Laboratory assistants who work with liquid nitrogen — dry ice — in a clinical or scientific context wear gloves when handling the tanks. It can burn.
In 2012, Time magazine reported on a young Englishwoman who had to have her stomach removed after drinking a cocktail with dry ice. The then-teen suffered the horrendous consequences:
after drinking a Jagermeister cocktail made with liquid nitrogen at a bar in northern England.
The article goes on to explain the uses of liquid nitrogen in a medical setting — freezing warts, removing cancerous cells — as well as in a culinary one — ice-cream making.
The issue is knowing how to handle it for human consumption:
The main point is that liquid nitrogen must be fully evaporated from the meal or drink before serving, said Peter Barham of the University of Bristol's School of Physics. It can safely be used in food or drink preparation, but it should not be ingested.
Barham and another scientist told the BBC:
Professor Barham adds that just as no-one would drink boiling water or oil, or pour it over themselves, no-one should ingest liquid nitrogen …
Science writer and fellow at the Royal Society of Chemistry John Emsley says if more than a "trivial" amount of liquid nitrogen is swallowed, the result can be horrendous. "If you drank more than a few drops of liquid nitrogen, certainly a teaspoon, it would freeze, and become solid and brittle like glass. Imagine if that happened in the alimentary canal or the stomach.
"The liquid also quickly picks up heat, boils and becomes a gas, which could cause damage such as perforations or cause a stomach to burst," he says.
Conclusion
Imagine.
A large number of molecular gastronomy fans are probably people who enjoy working out at the gym and regular detoxes.
Little do they know what they are ingesting and what the long term effects of those substances are.
What struck me were the following points:
– Joel Robuchon saying that some of these ingredients aren't even legal in industrial food production;
– Michael Swamy's warning that one of these dinners can give you a year's worth of toxins in just one evening;
– The possibly fatal dangers of liquid nitrogen in the hands of someone who does not understand what he is doing when preparing a new kind of cocktail.
Caveat emptor! Consumer be warned!
Mary Poppins is a staple of British televsion programming at Christmas.
I remember seeing the film shortly after it was first released. As with so many Disney films (e.g. Fantasia) it was way too long and, frankly, somewhat boring. I fell asleep through part of it as I had done when going to several of his other productions.
Disney's treatment of PL Travers's Mary Poppins is far from her novel. According to English television presenter Victoria Coren Mitchell — daughter of the late Alan Coren who wrote for Punch and wife of comic actor David Mitchell — this children's story is punctuated by episodes of uncertainty and fear. She has written about it in the latest edition of the Radio Times (30 November – 6 December 2013, pp. 20-22).
For centuries, children's stories — oral and written — have introduced peril, myth, morality and loss to young people. Through them, we become acquainted with good and evil as well as what we can expect from life itself — endless uncertainty in a fallen world.
On this point, PL Travers's book does not disappoint, Mitchell says. She read it as a child.
Also in this week's Radio Times is an interview with actor Tom Hanks (pp. 24-27), who stars with Emma Thompson in Saving Mr Banks, the story of Travers and Walt Disney bringing Mary Poppins to celluloid.
What follows are aspects of the film as well the lives of Travers and Disney which are less well known. Saving Mr Banks explores some of them, although I have not seen the film.
As far as Mary Poppins is concerned, Travers objected to Disney's sugarcoating the film by making the nanny a cheery, happy character.
PL Travers
Helen Lyndon Goff was born in 1899 to a bank employee and niece of a Premier of Queensland, Boyd Dunlop Morehead. Travers Robert Goff — originally from Deptford (London, England)  moved his family from Maryborough to Allora — another town in that Australian state — in 1905. He died of influenza in 1907. His widow, Margaret, and three daughters moved to neighbouring New South Wales. Helen attended boarding school in Sydney during the years of the Great War.
Helen was known by family and friends as Lyndon. She wrote stories for her sisters as well as poetry. She also became interested in acting and toured with a Shakespeare company as Pamela Lyndon Travers. The troupe ended up in England in 1924, where Travers settled and became a writer. She and a friend Madge Burnand eventually moved to Sussex, where Travers began writing Mary Poppins in 1933.
Once in England, she made connections in the literary world. Her first publisher was the inspiration for Peter Pan, JM Barrie's adopted son Peter Llewellyn Davies. She also visited Ireland and made friends with writers such as WB Yeats and a number of poets. They introduced her to mythology. An American publisher acquainted with that circle, Jane Heap, got Travers interested in Gurdjieff's Fourth Way, a good works-based 'universal brotherhood' combining various religious traditions with gnosticism and mysticism.
Travers never married and is said to have had romantic relationships with both men and women.
At the age of 40, on one of her trips to Ireland, she visited the home of Joseph Hone, the first biographer of WB Yeats. He and his wife Vera had seven grandchildren living with them. Two of them were twin baby boys — Anthony and Camillus. Taking an astrologer's advice, she adopted Camillus.
At the age of 17, it appears that Anthony discovered his twin was living in London. He went to Travers's house there. Camillus tried to cope with this surprise discovery but, four years later, was in Stafford Prison, serving a six-month sentence for drink driving. He died in London in 2011.
Travers was made an Officer of the Order of the British Empire (OBE) in 1977. She also earned royalties from Disney's film Mary Poppins.
Travers died in London in 1996. Her ashes were scattered in the churchyard of St Mary the Virgin in Twickenham (west London). (This should not be construed necessarily as a conversion to Christianity; it is traditional for authors and actors — regardless of belief — to have a funeral and/or 'resting place' at Anglican churches.)
It is interesting that, during the Second World War, Travers worked in Manhattan for the British Ministry of Information. It was at that time that Roy Disney — Walt's brother — contacted her about adapting the Mary Poppins books for film. After the war ended, she spent two summers travelling the American Southwest studying Indian tribes. She was also Writer-in-Residence at Radcliffe, Harvard and Smith before returning to England.
Walt Disney
There are two versions of Walt Disney's origins.
The official one is that he was born in 1901 in the Kelvyn Grove (now Hermosa) area on the Northwest Side of Chicago.
His ancestor Robert d'Isigny was thought to have gone to England with William the Conqueror in 1066. (It is probable that he was from Normandy or La Manche. There are two towns in northwestern France which carry the name: Isigny-sur-Mer and Isigny-le-Buat.) The anglicised version of the name is Disney. Robert's descendants were thought to have settled in Norton Disney, Lincolnshire. Walt's branch later moved to Ireland before sailing to Ontario. In the 19th century, they relocated to Ellis, Kansas, where they bought a farm.
Disney's father Elias was a gold prospector in California before returning to the farm. With the advance of the railroads, he worked for the Union Pacific, a principal railway company until the late 20th century when a number of mergers put paid to most of them.
It was during his time on the Union Pacific that Elias fell in love with Walt's mother Flora (née Call). They married on New Year's Day 1888 in Acron, Florida, 40 miles from Walt Disney World.
Elias Disney and his family moved back and forth between Chicago and Missouri at the turn of the century. Elias's brother, Robert, lived in Chicago and helped them financially. In 1906, when Walt was four, Elias and his family moved to Marceline, Missouri, where another brother Roy had a farm. In 1911, they moved to Kansas City, where one of Walt's classmates Walter Pfeiffer introduced him to cinema and vaudeville. Walt and Walter became firm friends, the former clearly intrigued by the Pfeiffer family's entertainment interests and the arts in general. Walt took courses at the Kansas City Art Institute.
In 1917, Elias bought shares in a Chicago jelly company O-Zell and moved the family back to Illinois. Once back in Chicago — then an exciting city of commerce and culture, remaining so until the 1980s — young Walt continued supplementing his state school education with courses at the Art Institute of Chicago, one of the world's best museums in its category.
As this was during the Great War, it is not surprising that Walt was absorbed not only by events in Europe but also America's place in the world. He and a friend decided to join the Red Cross. However, Walt was initially refused because he lacked a birth certificate. I've highlighted that, because we'll return to it below. Suffice it to say that it was not unusual for births to have gone unregistered. Women often gave birth at home with the help of midwives and it wasn't until after that war that hospitals became a more mainstream, albeit not yet universal, place for an expectant mother to deliver a child. The state was also not as encroaching then as it is now, therefore, other records (e.g. school and work) could help to reasonably verify a person's age.
Walt never did finish high school. However, he and his friend did drive ambulances for the Red Cross in France, after the Armistice in 1918.
Once he returned to the United States, he was certain about pursuing a career in illustrating. He moved back to Kansas City to work for an art studio and the rest is history.
The unofficial story of Walt's early life is quite different — and contentious. I read it in Le Monde in 2001 and was shocked.
The Guardian also carried the story — nearly 12 years ago to the day now. Citations and references below are from the article.
Two American authors — Marc Eliot (celebrity biographer) and Christopher Jones (son of a Disney press agent) — were unearthing evidence which they claimed (separately) to prove that Walt Disney was actually born in Mojacar, Spain. He was purported to be the son of two local lovers, Walt's putative mother eventually emigrating to the United States where she offered her son up for adoption and the Disneys supposedly taking the boy in as their own.
Indeed, Mojacar — a village of 5,000 people in Andalucia along the southeast coast — claims Disney as a son. However, their Wikipedia entry does not include this bit of information.
This story dates back to 1940, thanks to an article which appeared in a Spanish movie magazine Primer Plano.
Marc Eliot picked up on this article and the Mojacar connection in his 1993 biography Walt Disney: Hollywood's Dark Prince. The author claims that the entertainment company mogul was an FBI informer under J Edgar Hoover. The Disney family
hired William Webster, FBI director under George Bush Sr, to refute that and other claims about his role as a prized FBI informer.
If true — and it is difficult to find any follow-up online — Walt's interest in his birth came about in 1917 when he asked his mother Flora for his birth certificate in order to apply as a Red Cross volunteer in Europe for the war effort. Flora signed an affadavit swearing that he was born in Chicago:
The fact that it concerned him seems to have been confirmed by Hoover himself. In a declassified FBI document, Hoover pledged to help Disney. "I am indeed pleased that we can be of service to you in affording you a means of absolute identity through your lifetime," he wrote.
Eliot alleged that Flora signed a second affadavit in 1934 concerning Walt's birth. This was two years before she died.
Eliot received over 600 pages of documentation from the FBI in 1992 relating to Walt Disney.
Recall that Walt's brother Roy met PL Travers when the latter was in New York working for the British Ministry of Information during the Second World War.
The Mojacar connection started, according to the townspeople, in 1940 when, at the end of the Spanish Civil War, two Americans arrived. They were smartly dressed and, naturally, had suitcases.
Their arrival took the residents by surprise. Mojacar had fallen on hard times after the closure of local copper and iron mines. The village must have appeared primitive to the two visitors. There were no basic conveniences of the 20th century, including electricity. Women collected water from wells which they carried home on their heads. The people's faith, whilst notionally Catholic, was syncretic, recalling Moorish (Muslim) occupation centuries before. The women wore veils which they held between their teeth when they were busy with their hands.
The Americans asked to see the village priest, the Revd Federico Acosta. Acosta's nephew was visiting at the time from Madrid where, you will be interested to know, Snow White had just made its premiere.  The nephew, Jose Acosta — a journalist and lawyer — was 71 in 2001. He remembered the encounter between his uncle and the Americans as follows (emphases mine):
"He told us that some gentlemen from the US had come to find the birth certificate of one Jose Guirao. They were shown the page in the register. Later, when he looked again, the page had been ripped out," he recalls.
"He told me they had come not to find Jose Guirao's birth certificate, but to destroy it," says Acosta.
Jacinto Alarcon also saw the Americans in town. He later became Mojacar's mayor. Although he died before 2001, author Christopher Jones was able to speak with him in his final years. Jacinto's son Juan said at the time of the Millennium:
Jones has a taped interview with him in which he tells the story, agreeing on the basic facts with Acosta. "Virtually everybody is convinced he was born here. Only the Americans don't want to admit it," explains Jacinto's son Juan, who now owns Mojacar's tobacconists.
Even today, Mojacar families know the story of little Jose Guirao. It is not quite straightforward, as two men are involved. A poor young woman Isabel Zamora is acknowledged as the mother. A similarly poor man's name appears on Jose's birth certificate; we know only that his surname is Guirao and that he worked as a miner. However, people surmise that the child's real father was the local physician, Gines Carrillo. Because he was a doctor, Carrillo was one of the few men parents allowed their daughters to see unaccompanied.
Mojacar residents viewed Carrillo benignly. Not only was he a doctor who lived in a magnificent villa — Torreon, by name. He was also profoundly interested in the arts and aesthetics. He added a Venetian-style theatre to the town and held rehearsals for plays at Torreon.  The town's children learned how to play musical instruments at his estate. Residents could also admire his collection of exotic birds.
Carrillo also constructed a beach house in Mojacar. Although his descendants had it razed, it bore similarities to Disney's castle which features so prominently in the title sequence of his television programme and at his parks. Carrillo's was:
a fantasy creation of his own, topped with towers. Its eccentric aspect adds extra weight, in villagers' minds, to the idea that this man must have spawned Walt Disney.
In 2001, Torreon was a private guest house. The lady who owns it, Charo Lopez, told The Guardian:
"Disney certainly wasn't born in this house. But this is where he was conceived," she states. "This is like the existence of God. Either you believe he was born in Mojacar, or you don't."
Carrillo had a son, Diego, who is also a doctor. He told The Guardian that he did not wish to give an interview. He says that Carrillo would have gone along with the story as a good joke. He added:
If you think my father and Walt Disney look alike, you should see pictures of my uncle. He looks even more like Disney – and he did like the ladies.
One of the uncle's grandsons — Diego's nephew, also a physician — told the paper:
"Mojacar was a boring place then. My grandfather died when I was young but he was a lecher, a ' viejo verde ', in his old age and interested in the occult. The whole thing was cooked up by Jacinto [the aforementioned mayor] and him when those journalists arrived from the film magazine."
Other variations of the Mojacar connection exist. One says that Walt Disney personally wrote the parish priest in 1925 asking for his birth certificate — that of Jose Guirao Zamora — when he was preparing to marry Lillian Bounds, his wife of 41 years. Another story says that Isabel Zamora worked for the Disney family and had an affair with Walt's father Elias. Yet another has two Franciscans requesting the birth certificate in the 1950s.
The surviving Carrillos told The Guardian that they would be happy to take DNA tests to prove the veracity or otherwise of the Mojacar connection. However, it appears that the Disney family — perhaps rightly, under the circumstances — preferred to put this story behind them. The Guardian article does acknowledge that much of Mojacar's younger generation thinks it is either gossip and doesn't really care.
As for the other popular criticisms of Disney — anti-Semitism and insensitivity because of his father's treatment of him — I have a few comments.
First, there were anti-American forces at work in the entertainment world at the time. This is why the McCarthy investigations were so criticised by far-left elements and why McCarthy continues to be vilified. Disney is long gone, although, unfortunately, lefty media types are still with us. He refused unionisation in his company, no doubt because he could see socialist or communist infiltration at work. His wasn't the only animation or film studio in town. Dissatisfied animators and other employees sought employment elsewhere.
Second, I surmise that what the Left interprets as pure anti-Semitism was probably anti-Communism. It is a coincidence that these organisers for unionisation happened to be Jewish — and secular Jews at that. If Walt Disney were really so inclined, it seems highly unlikely that he would have befriended Walter Pfeiffer as a boy, especially as he spent more time at the Pfeiffer house than at home.
Third, Disney critics say he was hard-hearted and that this is because his father Elias beat him. Well, the reality is that nearly every child was beaten then by parents, teachers or nannies; that's just they were brought up at the turn of the century. I also find it interesting that they mention that Elias was an 'Evangelical', as if, in and of itself, that were necessarily a bad thing. That's every bit as bad as anti-Semitism. I'm also not clear how they arrive at this as being a certainty. If the Mojacar story has any veracity, Isabel Zamora might well have chosen a Catholic adoption agency in the United States, meaning that one or both of the Disney parents would probably have been Catholic. Catholic agencies then dealt with Catholics, not with all-comers.
Fourth, men of Disney's generation were not touchy-feely postmodern types. You can read biographies of Fabians, Communists and other leftists of the period to find that they, too, were emotionally distant. However, because the Left control most of the media messages, you'll be less likely to readily discover such facts.
In closing, Walt Disney was no better or no worse than many other men. He ran, with his brother Roy, a globally successful company. He was a husband and father of two daughters.
He brought a lot of people much happiness. Nearly every Westerner today remembers seeing their first Disney production, whether a cartoon or film. Millions have also visited Disneyland and Walt Disney World as well as his park outside of Paris.
Perhaps that is all that remains to be said.
If you missed yesterday's post on the 16th century Huguenot settlement in present-day South Carolina, it's worthwhile reading before continuing with their story in Florida.
As the Florida story opens, keep in mind that the Huguenots arrived there in 1562 before sailing for what is now the Sea Islands in Port Royal Sound in South Carolina. Jean Ribault and his men did not settle in Florida, although they did explore some of the St John's River — what he had called the May River — and coastal features whilst sailing northward.
By 1564, Ribault was lying low in England, seeking refuge as a Huguenot. Meanwhile, in his home country, King Charles IX wished to send another ship to Florida. He called on René Goulaine de Laudonnière to lead the expedition.
It is possible he chose Laudonnière because he had been second in command in Charlesfort under Jean Ribault. Therefore, he already knew the region. As Ribault was in England, Laudonnière was the next best choice. In addition to colonisation, part of the objective of the trip was also to give Huguenots safe haven.
Laudonnière was a nobleman and member of the Huguenot merchant class. It is unclear where he was born and raised. Some say it was near the town of Laudonnière, the family seat of the Goulaine family, near the busy port of Nantes. Other historians claim he came from further south in Poitou, near the port of Sables d'Olonne.
Charles IX gave Laudonnière 50,000 crowns, three ships and 300 Huguenot colonists. Laudonnière set sail from Le Havre on April 22, 1564. He and his men arrived at the mouth of the May (St John's) River on June 22 that year.
Laudonnière first renewed his acquaintance with the Saturiwa Indians — a branch of the larger Timucua tribe. As I said yesterday:
It's important to remember that here, as well as in Brazil and on St Kitts, the French treated the Indians with kindness.
That remained largely true in Florida, until later, when the Indians were angry that the French had demanded too many provisions from them. The settlers also met with an unknown tribe, and tensions quickly appeared.
Fort Caroline, 1564
After befriending the Indians, Laudonnière and his crew then sailed north to what is now Jacksonville, Florida. There they established the colony of Fort Caroline, named for Charles IX.
Life in the new colony was arduous. The Frenchmen went hungry. Some of the men staged a mutiny and destroyed one of the ships. Laudonnière was able to subdue the rebellion by executing the ringleaders.
Interestingly, amongst all he had to do in Florida, Laudonnière had not forgotten an important detail from Charlesfort up north. That was the rescue of the young man Guillermo Rouffi. Laudonnière had found out that Rouffi never sailed back to France with the last of the Charlesfort settlers and decided to bring him back to the new colony in Florida.
In January 1565, Laudonnière sent a ship to Port Royal Sound to search for Rouffi. However, no one knew that Rouffi left the settlement with the invading Spanish six months earlier. One wonders what happened to him.
Meanwhile, Laudonnière and his colonists had expected Jean Ribault to return to France and then Florida, stocked with supplies. However, France's involvement in wars at home and abroad prevented him from sailing at the appointed time. He did not arrive until August 28, 1565.
During the intervening months, Laudonnière was ready to abandon Fort Caroline. In addition to the aforementioned mutiny, other of his men became pirates and attacked Spanish ships in the Caribbean. On the mainland, another Timucua tribe, the Utina, clashed with the French.
When Ribault arrived, he assumed governorship of Fort Caroline. Laudonnière was unhappy with this arrangement and arranged to return to France. Ribault's 800 settlers, which included women and children, rebuilt and repaired the fort's dilapidated buildings.
Spanish attack, 1565
Just weeks later, a Spanish expedition led by Pedro Menéndez de Avilés arrived at the behest of Philip II to drive out the French, just as they had further north in Port Royal Sound in 1564. Spain believed they held claim to the lands their explorer Juan Ponce de León — he of the fountain of youth — had discovered in 1513.
Ribault was aware of the Spanish presence and sailed with most of Fort Caroline's soldiers to Saint Augustine on September 10, 1565. They encountered a strong tropical storm.
On the morning of September 20, Menéndez and his men attacked Fort Caroline. Despite the same raging tropical storm that Ribault encountered, they managed to capture the settlement. One hundred thirty-two Frenchmen died; another 45 escaped. Around 50 women and children were held hostage. Menéndez quickly renamed the colony Fort San Mateo and set out looking for the escapees.
Ribault's and Laudonniere's whereabouts
Meanwhile, Ribault and his men were washed ashore near what is now Daytona Beach. The storm had destroyed their ships and many of the men had drowned. The survivors began walking the coastline and soon fell into Spanish hands at Matanzas Inlet. In accordance with Philip II's edict, all Huguenots who refused to recant their 'heresy' were to be executed. The Spanish took them behind a sand dune and killed them using swords. Ribault — a Huguenot — was among those who met their death. The Catholics and a group of musicians on Ribault's ships were allowed to live.
You might be wondering what happened to Laudonnière, as he was left at Fort Caroline when Ribault set sail for St Augustine. Laudonnière was among the escapees during the Spanish attack.  He managed to make his way to the mouth of the May (St John's) River, where Ribault's son had anchored three ships.
From there, Laudonnière and Ribault's son set sail for Europe, however, Laudonnière arrived alone — in Wales. From Wales, it is thought that he travelled overland via Bristol and London to the coast, where he was able to cross the Channel and arrive in Paris around December 1565.
Once back in France, Laudonnière maintained a low profile, although he did write his memoir of Florida, L'histoire notable de la Floride, contenant les trois voyages faits en icelles par des capitaines et pilotes français ('The notable history of Florida, containing the three voyages made by French captains and pilots'), published in 1586, 12 years after his death in 1574.
What happened to the Huguenots at Fort Caroline
Menéndez killed most of the settlers at Fort Caroline and hanged their bodies from trees. By way of explanation, he erected an inscription which read:
Not as Frenchmen but as Lutherans.
Calling Protestants 'Lutherans' — regardless of their religious preference — was still widespread practice at the time on the part of Catholics.
When this news reached France, both Catholics and Huguenots were outraged. The French court complained to the Spanish court. Spain responded by granting Menendez and his men honours and recognition.
Avenging the massacre at Fort Caroline
One French Catholic who was so outraged that he decided to take action against the Spanish was Dominique de Gourgue.
Gourgue came from a prominent family near Bordeaux. He served in several conflicts and had been captured by the Spaniards in 1557.  He also travelled to Brazil and the West Indies, although it is unclear whether he was among the Huguenot expeditions there. In any event, once he left his military service and expeditions behind, the Guise family — leaders of the Catholic League — employed him against the Huguenots.
Regardless, Gourgue's dislike of the Spanish outweighed any animosity he had towards Huguenots.
He sold everything he had and even enlisted the financial help of his brother Antoine to purchase three small ships. He recruited men on the premise that, together, they would sail to Cuba.
This they did. Once they arrived in Cuba, Gourgue revealed his primary intent: to sail to San Mateo (formerly Fort Caroline) and avenge the deaths of their fellow countrymen. He met with no objection.
In 1568, the tiny fleet arrived near San Mateo. Gourgue was quick to first make friends with and enlist the help of the Timacuan tribes the French knew earlier: the Saturiwa and the Tacatacuru.
Gourgue and his men — including the Indians — then attacked San Mateo. They killed the Spanish colonists and — just as Menéndez had with the Huguenots — hanged their bodies from trees with a similar style of inscription:
Not as Spaniards but as murderers.
Upon his return to La Rochelle in 1568, Gourgue met with a mixed reaction. The governor of Bordeaux, his home city, gave him a warm welcome. However, the French court, worried about reprisals from Spain, distanced itself from Gourgue.
He went to live in obscurity and poverty in the northern city of Rouen, until the French court decided to employ him in 1572 by giving him command of a ship. Ironically, he went on to command the largest vessel against the Huguenots at the Siege of La Rochelle.
Later in 1592, the Portuguese claimant to that country's throne, Don Antonio de Crato, enlisted Gourgue's help by putting him in charge of that country's fleet against Philip II of Spain. Whilst on the way to Portugal, Gourgue died. Dom de Crato died in Paris three years later, unable to ever become king of Portugal, a position Philip II continued to hold.
End of the 2013 series on the Huguenots
On May 28, a Frenchwoman, Nathalie Masseron, launched a new association for French smokers called l'Union pour les Droits des Fumeurs Adultes (UDFA) — the Union for Adult Smokers' Rights. All being well, their website content should be up and running by the time you read this post.
As Ms Masseron explained to Agence France Presse, and reported on 20Minutes.fr:
We want to defend our liberty … We are forbidden from café terraces, certain people want to prevent us from accessing parks where there are children, certain hotels are non-smoking, soon smokers will be prevented from renting apartments and they're even talking about banning smoking in cars!
As a libertarian and as a smoker, I wish her and the UDFA every success as they battle their opponents, the highly vocal DNF — Association des Droits des Non-Fumeurs. They have brought 15 cases to court asking that café owners stop allowing smokers to light up under plastic sheeting — bâches — sheltering them from wind and rain.  So far, none, thankfully, has been successful. Non-smokers wanted to go inside and wanted smokers outside. That's the price to pay. Wouldn't it have been much better with smoking and non-smoking sections? Or a fumoir in the back where staff and patrons could go to have a congenial smoke amongst themselves?
Hocine, a smoker who waits tables at at the Café d'Albert in Montmartre, famous for artists who also enjoyed tobacco, said that the latest attempt by DNF to restrict smoking mostly altogether in cafés would lower the takings and see people go home for a cigarette and coffee. His customer Sophie, a non-smoker agreed:
If you ban smoking, no one will come to the café anymore.
And, quelle surprise, it has been the same with pubs and bingo halls in the UK since 2007. Instead of going out for a drink, former smoking pubgoers now share the hosting of 'smoky-drinkies', where people bring their own drinks and cigarettes. Bingo hall devotees who smoke now play online in the privacy of their own homes, even if they lose out on lunch or 'tea' with their friends. (Afternoon telly in the UK is full of ads for online bingo.)
In Denmark, Niels Ipsen, environmental biologist, and Klaus Kjellerup, researcher, journalist and musician, wrote in October 2011 (emphases mine):
A total of 9,000 English and Irish pubs are today abandoned after bankruptcy, and many breweries are closed (5). Result: Increased debt, broken [futur]es and unemployment.
In Denmark, the phenomenon is seen in the so-called outlying Denmark: The cafe closes in the small town's main street. Subsequently, fewer residents visit the end of the main street, and [thus] slowly begin[s] the negative economic spiral that hits the street's remaining stores one by one. Eventually, the town [is] deserted: Marginal Denmark in [2011].
More smoking ban[s] will accelerate this process.
The smoking ban started in Britain and Denmark in 2007. Anti-smoking and cancer-fighting charities can be proud of the jobs they have lost for the nation. And, as our Danish correspondents have revealed — which comes as no surprise to those following European and American smoking blogs — the same occurs everywhere that smoking bans have been enforced. Jobs lost? Who cares? Businesses closing? So what?
Klaus Kjellerup's blog also carried an item about the situation in Spain, which also has a smoking society scene. Between 2006 and 2011, small bar and café owners could allow smoking or provide a smoking room elsewhere on the premises. Early in 2011, Spain's government — driven by the World Health Organisation (WHO) — decreed that all premises had to be non-smoking. Keep in mind that this is a country where people who are retired or who work part-time can go to an establishment in their free time to spend a few hours with friends and neighbours over coffee and pastry or a beer and a snack followed by a cigarette or two. Each person would conceivably spend an hour or two at least in their favourite café or bar. Within a few months of the ban taking place:
The Spanish hotel and restaurant association FEHR says that after three months with smoking law has [seen] 53,200 employees in serving the industry [sacked]: "The smoking ban is the main reason for these layoffs," the president said in FEHR, Jose Maria Rubio, who calls the law "a tragedy" [for] the Spanish cafes.
"The figures are even worse than they seem because there had been 15.5% more tourists in Spain in the first quarter because of unrest in the Arab Mediterranean countries," says Rubio.
"This law is creating an economic disaster of historic proportions for our members and for many Spanish families," he writes on the association's website .
Non-smokers are not of the café-bar culture. And that might include many of my readers, which is fine. Yet, to many patrons of these places — even North Americans — meeting up with like-minded people does everyone a lot of good, even if smoking is involved.
Many difficulties arise with smoking bans. As Ms Masseron stated, there are problems with:
– Renting a flat.
– Spending one's free time quietly minding one's own business.
– Going to bars or cafés.
– Being able to smoke in a hotel room or on a beach or in a park, even with no children around.
Along with that, in the US, are bans on hiring smokers — even if they have a quiet gasper off-premises. In the UK, some smokers must clock off and on when they go for a smoke break.
What about the non-smokers who waste endless hours talking about nonsense when taking a notional tea break? Believe me, I've seen more than I care to remember. Meanwhile, smoking rooms in the UK were full of people reviewing reports, presentations and holding one-on-one meetings.

At the Cleveland Clinic, the CEO — Dr Toby Cosgrove — bans potential employees who test positive for nicotine:
As a healthcare institution devoted to the health and well-being of our patients and employees, it is our responsibility to do something to help those who suffer from this terrible addiction.
Except he is doing nothing to help smokers. He's only preventing honest people from getting a job. That's helpful?
As the Canadian volunteer association CAGE (Citizens against Encroaching Government) observes:
In fact you can be engaging in criminal activities outside your working hours and you can still get a job at the Cleveland Clinic but if you test positive for nicotine you become persona non grata. 
That's right, and there are other companies around North America who also do this. They're probably starting in Britain, too. I remember in 2006 when the executive in charge of our division took a phone call to answer a survey on employees who smoked (I was in the room). This person responded:
I would rather not employ smokers, but I have two who are very efficient workers. But I am against smoking.
She actually had more smokers than that under her supervision. She only reported on the ones of whom she knew.
Sadly, many British physicians today would deny smokers NHS care, when smokers pay at least three times more tax to support it than they receive in treatment for tobacco-related diseases. The Christian Post carried a précis of an article from the UK's Observer:
In an optional opinion poll taken out by Doctors.net.uk, 54 percent of 1,096 British doctors said they believe they should have a right to withhold care to non-emergency patients in an effort to spare limited resources.
The doctors were asked, "Should the NHS be allowed to refuse non-emergency treatments to patients unless they lose weight or stop smoking?"
It is hoped that astute readers noted the words 'patients unless they lose weight'. The goalposts are always shifting.
Seriously, smokers should go to the head of the queue for NHS treatment. They've earned the equivalent of the Olympic Gold for tax payment. More than 75% of the price of a pack of cigarettes in the UK is tax. In France, it is 80%.
And that goes for Americans, too. For these gold-plated employee health insurance plans, if the employer is so belaboured by smoking employees, why doesn't he allow them to pick up the monthly excess? The payroll department could easily figure it out.
The Czech Republic has realised how important smokers are to tax revenue. Klaus Kjellerup's blog reported in September 2011 (emphases in the original below):
It is rare to hear political authorities … say … that the state [does well out of] smoking, and that today's smokers are over taxed because of high tobacco taxes.
It happened, however, in Prague in [A]ugust 2011, national public TV channel, Czech Television, the Czech Minister of Health & [M]edical, Leos Heger was interviewed about a new government analysis of smoking effects on the Czech economy.
The analysis shows that the tobacco tax in the Czech Republic [contribute]s 10 times more than the cost of disease treatments of Czech smokers.
But, that's not enough. As I write, UK supermarkets are in the process of placing all tobacco products behind white or black shutters labelled with the words … 'TOBACCO PRODUCTS'. A laminated sheet of paper lists the cigarettes and tobacco available. Shutters must be opened and shut for every tobacco request. Halfway around the world, Australia is currently conducting an energetic debate on whether to have plain packaging for cigarettes. The same debate is going on in the UK.
MEP (European Parliamentarian) Roger Helmer wrote:
There is no question that smoking is a bad for your health. I would recommend that anyone who does smoke stops. However, this doesn't mean I believe it is justifiable that the state should intervene to remove the intellectual property of a company selling a legal product in a misguided attempt to stigmatise a legal activity …
There is no majority consensus behind standardised packaging, despite what we were told by a recent YouGov poll. The poll in question made claims based on a highly leading question and the President of YouGov happens to be on the Board of Trustees of a taxpayer funded anti-smoking lobby organisation, ASH. And even if there was a consensus, government should exist to support individual rights rather than to pander to calls from vested interest groups …
As a non-smoker, the reason I am deeply concerned by this proposal is because I believe that people should be able to do as they please, without interference from a nanny state. Government should not be able to force its views on adults engaging in a legal activity; free citizens who choose to smoke shouldn't be a target for the Department of Health ...
Government is the tool of its citizens – it exists to serve them – not to belittle or marginalise them and this is exactly what this preposterous piece of legislation does. It says that smokers are pariahs on society who need special laws for their products, such as the introduction of the display ban last month. The organisations that the Department of Health funds to campaign against smokers call this process "denormalisation", a phrase that sounds like it was handpicked from Orwell's 1984.
I remember clearly when liberal and conservative journals of American record said at the end of  1984, 'See, nothing happened, despite the doom-mongering about Orwell. Except that you now have to wear seat belts. And you might not be able to smoke on short-distance flights. But that's only for two hours. So what?'
Now look what's happened. Scope creep.
My theory — and I'm sticking to it — is that the Left drives the Nanny State. I picked this up from the fora on France's RMC (Radio Monte Carlo, broadcast from Paris's 15th arrondissement). The most rabid anti-smoking listener there has a Che Guevara avatar. He is forever banging on about smoking. The more conservative members advise a bit of give and take. No, he won't have it. Also, just before the first round of the presidential elections in France in 2012, Nathalie Arthaud of the hard-Left Lutte Ouvrière told RMC's Les Grandes Gueules ('The Big Mouths'):
Drinking is so dangerous. We advise all our members against consuming alcohol.
Yet, France has one of the most sensible alcohol policies in the world. And — every bar and café has the rather lengthy law on public drunkenness prominently displayed in its premises behind the bar. Look for it — it's even framed.
But, you may say, 'Churchmouse, there are plenty of conservatives who oppose smoking and drinking. Church groups, too.'
They only pull it in from the Left. And don't get me started on pietism and holiness folks, they of the whited sepulchres.
The Left starts the debate, makes a moral crusade out of it and, before you know it, conservatives and churchgoers — dopey as some of them are — jump on the bandwagon, fearful of being left out: 'Oh, golly, I'd like to be a part of that, too!'
As a result, we have gay marriage, STDs, teenage pregnancies, spiralling abortions and other moral relativist positions — where does it end? Oh, no, it's smoking — and drinking — which are immoral.
A young Dane, Rasmus Brewer, observed that his fellow Danes of a similar age are Socialist — and conformist:
I prefer to think that this is a more deep[er]-lying instinct to limit freedom, for those who are different than ourselves. I think that somewhere inside of us all is an ugly need to undermine other people's work – especially those who are more successful. It has magically been done in the middle of [the] '68-ers rebellion to disguise this hatred and confuse the hippie movement [with] the proclaimed love for everything socialist.
Note the constant mentions in the West of communitarianism: 'Your right stops with me'. In other words, 'My rights count more than yours do'. How warped is that?
Let's be careful how we journey along this dark road. There are rights and there are responsibilities. Not so long ago, we were all able to get along peaceably. Since then, in the socio-political realm, online debate has become more hostile. Internet frequenters noticed this during the 2008 Obama-McCain presidential contest — ugly and vile, especially towards Sarah Palin. There are things, including slogans, which the Left produced and cannot be repeated here. They were absolutely foul. I believe they were angry with John McCain for having chosen a female running-mate when their side forced their woman — Hillary Clinton — to give in without a primary count at the Democratic National Convention. No, I'm not a Hillary fan, but, good heavens, let's do things by the book.
Meanwhile, back in France, an RMC forum reader, YANNGIO says that the level of debate on the radio station's fora has gone downhill quickly. Whatever happened to civility and tolerance of differing views?
Angel06 responds with:
Let others rest on their convictions. They'll go into meltdown. Some on here have reinforced the truth … That's the way forward … 
And that's my position on smokers in society.
Tomorrow I'll start exploring some of the nefarious untruths of advocacy groups, taxes and anti-smoking policy.
UPDATE – November 20, 2014: The UFDA site has relocated to Twitter.
A week late, but just a short thank you to France Télévisions, ITV4 and RMC (Radio Monte Carlo) for another cracking three weeks featuring the greatest cycling in the world, the Tour de France.  (Click on the official map to see more of the route.)
ITV4 received their feed from France 2 and France 3.  Many cameramen and transmission technicians were on hand in planes, helicopters, motorcycles and studios in both countries to bring us live coverage of each stage, complemented by beautiful scenery of the French countryside and the centre of Paris.
We in the mousehole enjoyed watching each day's stages in full — a first for British television.  The ITV4 commentators did a fabulous job, as ever.
In the last couple of weeks, I also listened to commentary live on RMC.  Their enthusiasm was palpable and I could hardly wait to see the live coverage, which I had recorded in the afternoon, to watch in the evening.
A lot of work goes into producing this fine sporting event.  Thankfully, dope appeared to be non-existent this year.  I think only one test turned up 'positive'.
The results showed a real Anglo-French result.  Cadel Evans of Australia worked hard to win the Tour, and the Schleck brothers from Luxembourg — sharing the podium in Paris with him ('the Schleck sandwich') — did not disappoint.  Congratulations also to Britain's Mark Cavendish, winner of the green jersey for overall best sprinter; France's Thomas Voeckler, from Alsace but resident in Brittany, who came fourth and wore the maillot jaune for 10 days running; France's Pierre Rolland, winner of Best Young Rider and Spain's Samuel Sanchez, who won Man of the Mountain and the polka dot jersey.
We're already looking forward to next year's race!
Postscript: ITV4 also broadcast a 2010 film, Chasing Legends, which not only traces the history of the Tour from 1903 but also follows the HTC (Mark Cavendish's) team throughout the 2009 Tour.  It also features ITV4's commentators — and former riders — Phil Liggett and Paul Sherwen.  It's an excellent 90-minute film which shows you how a team prepares for each stage and all those multitasking behind the scenes.  If you ever have a chance to see it, don't miss it, especially if you're a cycling enthusiast!