You are currently browsing the tag archive for the 'Stanley Johnson' tag.
This post concludes the story of how Rishi Sunak became Prime Minister.
Those who missed them might find parts 1 and 2 of interest.
Before concluding, an important anniversary took place this week.
On October 26, 2012, UKIP MP Douglas Carswell introduced a private member's bill, 'The People's EU Withdrawal Bill'.
The groundswell of support from Guido Fawkes's readers helped bring it to the Commons:
Guido has the video and a brief comment (emphases his):
Today history was made as the first-ever crowd-sourced Bill was debated in Parliament. The majority of 5,000 readers of this website voted for Douglas Carswell to propose Britain to withdraw from the European Union, and today Carswell stood up in the House to argue the case for the People's Bill. The debate can be watched at length here. 
Here is a short video of proceedings:
A few years later, then-Prime Minister David Cameron, frightened by the overwhelming support for UKIP in the European election, decided to give the British people a referendum. It ended up being the largest plebiscite in the history of the United Kingdom. On Thursday, June 23, 2016, in pouring rain, voters said they wanted the UK to leave the EU: 52% to 48%.
In current news, during Rishi Sunak's first week as PM, as I wrote yesterday, questions were being asked in the Commons and the Lords about Suella Braverman's reappointment as Home Secretary.
The Telegraph's Madeline Grant called Braverman 'Houdini' for not showing up for an Urgent Question in the Commons about the horrifying state of the Manston processing centre in Kent, which is turning from a short-stay to a longer-term residence for Channel migrants (emphases in purple mine):
At a second Home Office UQ, this time courtesy of Labour's Diana Johnson, the Home Secretary was a no-show again …
In truth, there were unhappy campers on both sides of the House; enough to populate Butlins, if not quite Calais …
Deputising for Houdini was Robert Jenrick – a junior Home Office minister and close ally of the PM who, some say, was appointed to keep a watchful eye on Braverman and prevent her from doing anything too mad …
Yet Jenrick's arguments were more true-blue, or at least Red Wall. He had little sympathy with illegal migrants, and the diversion of resources away from their legal counterparts, and seized eagerly on Priti Patel's pet phrase, "evil people-smuggling gangs". Reinforcements soon began to arrive from the Tory backbenches. What gave Labour the right to complain, wondered Steve Double, the MP for St Austell, when they'd voted against Patel's Nationality and Borders Bill. Lee Anderson and Richard Graham warned of Britain's imminent inundation by Albanian men.
Christopher Chope reminded the Commons that whatever the state of the Manston processing centre, conditions were a darn sight worse in the Calais Jungle. Labour MPs looked scandalised, but Jenrick agreed wholeheartedly.
When asked why he was deputising for Braverman:
Jenrick, in the spirit of Sunak, came back with an answer that was simultaneously boring and unimpeachable. "Because I'm the Minister of State for Immigration" …
It is estimated that from 1% to 2% of Albanian men are in the UK. They have places to go to once they arrive. The Albanian drug trade is the latest development in our migration story.
The situation in Dover is intensifying. The Times reported the story of the week: '"Desperate" new arrivals drive Dover into taking up arms'. Sledgehammers, more like, as firearms are largely illegal here:
Sue Doyle, 59, was sitting in her living room sipping a cup of coffee on Sunday morning when a 16-year-old Albanian migrant got in through the back door, which she had left open for her dog.
"All of a sudden he was there standing in my front room," she told The Times. "He didn't seem very friendly. He kept saying: 'no police, no police'."
Doyle, a full-time carer for her mother, said she was made to her lock her dog in a bedroom and that the teenager then asked her to drive him to Manchester. When she refused he demanded her mobile phone and used it to arrange to be picked up by a contact.
… Doyle managed to sneak out of the front door and alert a neighbour, who contacted the police and confronted the young migrant.
The neighbour, Louise Monger, 36, said she became more sympathetic when she realised his age and tried to assist him. Police arrived and he was detained before the driver arrived, she said …
The teenager who was arrested was said to be in tears as he was driven away in a police car …
A few doors down from Doyle, Kerry Jones, 45, a mother of a young autistic girl, said she now sleeps with a sledgehammer next to her bed after a migrant tried to enter her home through the back door in August …
The residents complained that not enough was being done by the council, police and border force to deal with the problem. Many spoke of seeing migrants running through the streets and residential areas or "hiding in bushes" in local parks …
When a Times reporter arrived at Dover Priory station yesterday a Syrian mother and her young child approached and asked for help getting to an "army base" where their money and belongings were.
The mother, Nur Taha, 27, said she and her son, Mohammad Salu, six, arrived in Dover ten days ago in an overcrowded dinghy that was rescued on the water and were separated from her partner Akram Salu, 49, who was detained by military police, and their possessions …
When a reporter called Kent Police to request assistance for the mother and son, he was told that no officers were available as they had more pressing priorities. The advice given was to let them roam in Dover and hope that they were safe.
In a statement on Doyle's report, the force said it received a call at about 10.45am on Sunday that a man had entered "an insecure door at a property in Dover and was seeking the use of a phone".
The force added: "He was initially arrested, then de-arrested at the scene once the circumstances had been established by speaking to both parties. The man was then detained on behalf of immigration officers."
In Nur Taha's case, it is understood she and Mohammad had been processed by Border Force officers …
The council was approached for comment.
Mass migration started during Tony Blair's government and has only become worse, as the backlog of cases is through the roof.
Twenty years on, the Home Office again needs more information on those arriving, as well as stronger co-operation with France to stem the flow. Officials often have little information on claimants, whose lack of identification may be a deliberate ploy — case workers have little choice but to believe them: 75 per cent of asylum seekers were given the right to stay in the 12 months to March, the highest rate since 1990.
Meanwhile, claims are taking longer to assess, having climbed to an average of 480 days for an initial decision to be reached.
Some in the Home Office have suggested there is a deliberate policy of slowing down the processing of claims given the high rate of people granted asylum. A six-month target for assessing claims has been ditched and the rate of cases completed in that time has fallen from 80 per cent in 2015 to 17 per cent. But this looks set to change, given the soaring cost of housing those waiting for their claim to be assessed in hotels, which now stands at £6.8 million per day.
This month, the idea of erecting tent cities in London's parks was mooted, something Paris has tried with shocking effect. Most Parisian women living near one of these tent cities can no longer go out at night. Drugs, violence and noise prevail once it turns dark.
The same Times article reported that London tent cities are unlikely to come to fruition:
The idea was raised by civil servants in meetings with leaders of London councils this month, sources said.
It was considered after efforts to persuade London boroughs and local authorities in other parts of the country to accommodate more asylum seekers failed. The Home Office had issued an emergency appeal to councils for more places earlier this year as officials struggled to cope with the growing numbers of migrants crossing the Channel.
Council leaders in the meeting dismissed the prospect of installing marquees in parks in the capital and instead urged the Home Office to lift the ban on asylum seekers being able to get a job …
The Home Office made clear last night that the plans to erect tents in London parks were no longer under consideration. It said: "It is categorically untrue to suggest that the Home Office is planning to erect tents to house asylum seekers in London parks."
The idea arose during discussions on how to deal with overcrowding at the temporary asylum processing site at Manston Airport, which is only designed to hold Channel migrants for up to 24 hours.
It is unclear what Rishi Sunak has planned for Suella Braverman.
On the one hand, Sunak's people say everything is in hand, and MI5 say they have no problem working with the Home Secretary, the Times revealed:
A former Conservative minister in the Home Office told The Times: "You can't even have the vague notion that you might leak because then all the security services will clam up on you — which is not what you need."
However, responding to claims that MI5 could withhold information from Braverman, a security source said: "This is completely untrue. The home secretary and MI5 have a strong and trusted working relationship. She will continue to receive regular intelligence briefings, as was the case when the home secretary was in post previously and with other home secretaries."
Rishi Sunak's spokesman insisted that Braverman had "strong relationships" with the security services and the prime minister's full confidence.
Oh, dear: 'the prime minister's full confidence'. Those are dangerous words, dating back from the 1990s. That means a resignation or a sacking could be coming soon.
The Star wasted no time in putting 'Leeky Sue' on their Friday front page:
On the other hand, the Times said that Sunak's allies are waiting for Braverman to go, possibly so that Jenrick can step in. He wouldn't be very good, I don't think, but that seems to be charactistic of Sunak's government — business as usual, nothing gets done:
Sunak's close ally and Braverman's deputy in the Home Office, Robert Jenrick, responded to an urgent question on crossings yesterday in her place. The sole hope now, Sunak allies have whispered, is that Braverman makes a further error and goes for good, leaving Sunak and Jenrick to press on peacefully in her absence.
That doesn't surprise me in the slightest.
The Guardian continued to cast shade on Braverman:
London's Evening Standard, however, went with the story about Cabinet minister Nadhim Zahawi's defence of the Home Secretary at the bottom of their front page:
One good thing that Rishi has done is to decline going to COP27:
A new poll shows that the Conservatives are doing better than Labour, but still have a huge hill to climb:
I disagree with Guido's assessment here. The poll decline started with Boris and Partygate nearly a year ago:
That said, Guido rightly sees this as an uphill battle:
Add to that the impending storm of budget cuts, Rishi certainly faces an uphill battle.
The poll also strengthens Reform UK's claims of a resurgence, with their support at 6% and growing representing a relatively strong showing. The Conservatives face challenges from all sides…
Finally, there's the idiocy of America's Trevor Noah calling Britain racist towards Rishi Sunak. I haven't read one negative comment about his heritage from conservatives, ever. Labour — our equivalent of the Democrats — are the ones making the racist remarks.
Rishi Sunak does not believe Britain is a racist country, a Downing Street spokesman said, following claims by Trevor Noah that there was a "backlash" after he became the UK's first British-Asian Prime Minister …
"But you heard the words in the House [of Commons] on Wednesday with regard to the [appointment of the] Prime Minister," the spokesman said. When asked whether Mr Sunak believes Britain is a racist country, the spokesman said: "No he doesn't."
His words were echoed by Sajid Javid, the former chancellor and health secretary, who said Noah was "detached from reality" when he claimed Mr Sunak's appointment provoked a racist "backlash".
… Tom Holland, a popular historian and podcaster, wrote:
—————————————————————————————————————–
Now back to the leadership contest, where we pick up on the events of Saturday, October 22, 2022.
Boris returns to the UK
The Sun's Harry Cole told TalkTV that Boris and Rishi could come up with a plan to save the country:
Sky News's Mark Stone was tracking Boris's progress back to the UK:
Sky News interviewed Chris Heaton-Harris MP, who said that Boris definitely had 100 backers (see video):
Guido was eager to confirm, as Boris's numbers were far behind Rishi's at that point:
Boris landed at Gatwick mid-morning:
Guido was hopeful for his prospects:
One German newspaper, however, was less than enthusiastic, asking, 'Seriously?':
Former Home Secretary and Boris loyalist Priti Patel declared her support:
However, the never-Boris MP, Sir Roger Gale, did not mince words in an interview with LBC:
Scottish Conservatives would agree. The Telegraph's Alan Cochrane wrote:
Just when an air of undisguised relief began to filter through the higher reaches of the Scottish Tories at the resignation of Prime Minister Liz Truss, along came Boris Johnson to dampen their ardour.
They may not have been the greatest fans of Ms Truss and were glad to see the back of her. But their view of Boris bordered on the certain belief that he was a major electoral liability north of the border. And as the news emerged that the former PM aims to stand again for the top job, one former senior minister commented: "It will destroy the Conservative Party if he does."
At lunchtime, Harry Cole produced a poll for the Sun saying that Boris still topped the charts. That must have been in England, then:
However, Lord Frost thought that Rishi was the right man for the job:
One Twitter user reminded us that Boris plucked David GH Frost from obscurity and elevated him to the House of Lords:
However, the BBC's Laura Kuenssberg and ITV News's Anushka Asthana spotted a trend. Former Boris supporters, such as Lord Frost, who also supported Liz Truss, now preferred Rishi Sunak:
That afternoon, Boris's father Stanley appeared again on GB News, saying he would vote for his son if the contest went to Party members:
Just before 3 p.m., Boris backers told the BBC's Chris Mason that the former PM had the numbers:
However, the Evening Standard's Nicholas Cecil sounded a note of caution — Boris's MPs did not want their names made public:
A Mail+ report couldn't shed much more light on the names, either:
On Saturday morning, former Home Secretary Priti Patel said she was backing Mr Johnson in the leadership race because he had a 'proven track record'. Ms Truss, Defence Secretary Ben Wallace and former Home Secretary Suella Braverman are also in Mr Johnson's camp, while former No10 chief of staff Steve Barclay and ex Brexit Minister Lord Frost have publicly backed rival Rishi Sunak.
Just before 3 p.m., another Twitter user provided this analysis, saying that Rishi had the momentum and numbers:
Just after 3 p.m., Guido's spreadsheet showed that Rishi was on 120 MPs with Boris on 71:
Red Wall MP Lee Anderson declared his support for Boris after 3:30:
That was about it for Boris's afternoon.
Shortly after 6 p.m., Guido described how he and his team were compiling their spreadsheet. The following points stood out:
Here is some insight into what has happened in the last few days: the Rishi campaign has decided in their wisdom to freeze Guido out – no briefing, no contact, effectively pretending we don't exist as a fact of political life. Petulantly putting us in the penalty box for giving Rishi a hard time in the last leadership campaign. We started reporting and publicly recording the support of MPs for Boris on Thursday, and by yesterday evening the Rishi campaign was instructing their supporting MPs to contact us to confirm their support for him. As our records showed support for Rishi catching up with and then pulling ahead of Boris, his campaign reminded supporters to confirm their pledges to us. All can now see the relative strength of candidates' support.
… MPs who have not pledged can be seen by all sides. They are either genuinely undecided – waiting to see which way the wind blows – or biding their time for Machiavellian reasons, or simply ransoming their vote for the highest bid or best favour. What MPs can't do is double pledge any more. If they tell a campaign they are backing their candidate the campaign expects them to go public. If they don't go public, they are suspect.
Yesterday the site was visited three quarters of a million times, such was the demand for data.* This kind of transparency is now a fact of political life, the game has changed. Changed for the better…
*Team Rishi's strategy of ignoring the website read by so much of the membership doesn't bode well for their success if the contest goes to the membership.
Penny who?
Meanwhile, Penny Mordaunt's leadership bid wasn't the best.
Although this was strictly for MPs, The Guardian went to her Portsmouth North constituency to find out what the public thought:
Penny Mordaunt may have been the MP for Portsmouth North for 12 years, and could perhaps be the next prime minister, but some of her constituents were perplexed when hearing her name on Friday.
"Who's she? I don't know nothing about her," said James McLeish, who added he would not recognise her if she passed him on the street. "Never seen her, don't even know what she stands for."
McLeish's bemusement came hours before Mordaunt formally announced she was standing to replace Liz Truss – stealing a march on her presumed rivals Rishi Sunak and Boris Johnson.
Speaking in Cosham High Street, which runs through the centre of a suburb to the north of the port city, McLeish, 82, had a much clearer view on Truss's resignation after a disastrous 45 days in office.
The Telegraph's Tim Stanley gave us a tongue-in-cheek profile of the Leader of the House:
What about Penny Mordaunt, bringing up the rear? She was the first candidate to declare – and she surprised everyone last time by how far she went. The Tory grassroots appear besotted with this lady, thanks to her naval career and taste for innuendo; she exudes an impression of authority that was bolstered during the accession of Charles III when she managed to read aloud from an official document clearly and without error. That's all it takes nowadays. If only she were in Parliament, Angela Rippon would be a shoe-in.
Ms Mordaunt has reportedly told Jeremy Hunt that if she wins, he can write economic policy. And Mr Hunt, no doubt, rang the Bank of England and said, "If Penny wins, you can write economic policy." The Bank rang the IMF… and on it went all the way to Joe Biden, who put a call through to his wife, even though she was lying next to him, and said, "Honey, if Penny Farthing is made Queen of England, you can write economic policy."
Stanley spoke with Conservative Party members:
What do the members think? I've put out feelers. They want Boris.
They know he's not Jesus. He might have spent 40 days in the desert, but if the Devil tried to tempt him, he'd give in on every occasion. Yet they voted for Truss, the suits kicked her out – so now they want the good times back with BoJo. He likes pina coladas and dancing in the rain. And if they want him, and assuming he can find his passport – last seen in a swimming pool locker – he'll be right with us.
Harry Cole said that Penny's backers during the Liz Truss contest during the summer were now plumping for Boris or Rishi this time around:
Deal? No deal
Boris and Rishi met on Saturday evening. The meeting lasted three hours. The Times reported it took place at Boris's office in Millbank Tower. I've been to Millbank Tower. It has lovely offices and a spectacular view of the Thames.
The Sun put the talks on its front page on Sunday, October 23:
The paper's Harry Cole tweeted when the meeting ended, which was after 11 p.m.:
On Sunday, Cole said that Boris's backers did not want to make themselves public until they were sure there was no deal:
There was no deal.
The Mail on Sunday reported that Suella Braverman was backing Rishi:
She wrote in the Telegraph: 'I have backed Boris from the start. From running alongside him in London in 2012, to supporting him to be our leader in 2019 and willing him to succeed throughout the travails of this year. His resignation in July was a loss for our country.
'But we are in dire straits now. We need unity, stability and efficiency. Rishi is the only candidate that fits the bill and I am proud to support him.'
The article gave us scant information on the meeting between Boris and Rishi:
Last night's crunch summit between Mr Johnson and Mr Sunak, which is believed to have ended shortly before 11.20pm, comes ahead of tomorrow's deadline for Tory leadership hopefuls to secure the backing of 100 MPs.
The headline banners read:
Ex-Chancellor fomally confirms candidacy for Tory leadership after late-night talks with Boris Johnson

It was claimed this morning that no agreement was struck between the pair in their three-hour negotiations

Some had been hoping for a power-sharing pact between the pair in order to avoid a divisive battle
Sunday's hope would not last
The day began well, but with Boris's numbers stagnant, reality began to set in.
That morning, Redfield & Wilton Strategies released a positive poll for Boris, taken on October 20 and 21:
Guido showed us the Mail on Sunday poll, which also showed that Boris had the best chance of stemming a Labour majority were a general election to take place that day. Guido meant 'Tory' not 'Toy', by the way:
Liz Truss's Business Secretary Jacob Rees-Mogg told Laura Kuenssberg that Boris had the numbers (video):
Rees-Mogg also defended Boris's record (video):
Later that morning, Guido said that some MPs were sounding out their constituents:
Just before 2 p.m., Foreign Secretary James Cleverly tweeted that he was backing Boris:
Meanwhile, Rishi already had 150 MPs signed up to vote for him, including names:
The Mail on Sunday reported that Boris allegedly contacted Penny Mordaunt to ask her to stand aside. The sign of a desperate man:
Penny Mordaunt, who officially declared her leadership bid on Friday, was claimed to have rebuffed Mr Johnson's attempts to get her to drop out of the Tory leadership race in a phone call this afternoon.
He was reported to have told the ex-PM that, even if she did quit, most of her supporters would switch to Mr Sunak and not Mr Johnson. 
'I'm in this to win it,' the Leader of the House of Commons declared, despite signs she is struggling to win backers.
Boris bows out
Around 9 p.m., Boris announced that he was withdrawing from the contest. The time was not right for him to return, he said.
Afterwards, the Telegraph recapped the past 24 hours and said the meeting between him and Rishi on Saturday night lasted only one hour:
It was as he sat with Rishi Sunak, face-to-face for 60 minutes with no one else in the room, that Boris Johnson rolled the dice for the last time …
Barely a word had been passed between Mr Sunak and Mr Johnson since their relationship imploded in July.
Yet on Saturday night, the two biggest names in Tory politics agreed to down tools and meet, with the keys to Number 10 the prize on the table …
But the truth was that he believed a joint ticket between the two men, with him back as prime minister, was his route back to Downing Street.
The meeting was called at the behest of Mr Johnson, not Mr Sunak.
It was also, according to one figure who was in touch with one of the two candidates on Sunday, a surprisingly convivial affair. "It was perfectly pleasant," said the source.
But Mr Johnson had been forced into a meeting with his old foe in an attempt to regain control of the corridors of power.
Above all, it was no Granita pact [one between Tony Blair as PM and Gordon Brown as Chancellor, done in a London restaurant of the same name] because of one simple reality – there was no deal. Mr Sunak did not agree to stand aside. Nor did Mr Johnson. They parted ways unresolved.
On Sunday morning, Boris rang his supporters:
His gamble to take control of Mr Sunak's bigger list of backers had failed.
That much became clear at 8am on Sunday, when Mr Johnson gathered his supporters on a video call and informed them no agreement had been reached.
We found out more about his appeal to Penny to stand aside:
Ms Mordaunt gave him short shrift. The Commons Leader, who remembers being ejected from the Cabinet by Mr Johnson on his first day in office in July 2019, told him most of her MP supporters would prefer to back Mr Sunak – and that he should consider dropping out of the race and leave her to face him alone. Her offer was refused.
On Saturday, Boris's aides even said he would keep Jeremy Hunt as Chancellor:
Searching, perhaps, to persuade MPs he had credibility as a "unity candidate", Mr Johnson's aides let it be known he would keep Jeremy Hunt in post as Chancellor if he won the contest.
Little did he know that at that moment, Mr Hunt was preparing to make his first public declaration of the leadership race since ruling himself out – by backing Mr Sunak in an article for The Telegraph.
King Charles would have said, 'Dear, oh dear'.
On Sunday, around 9 p.m., Boris threw in the towel:
By 9pm, the answer was clear.
Writing to his supporters on a WhatsApp group, Mr Johnson himself conceded defeat – but claimed he had the numbers all along.
Telling friends he had been "overwhelmed" by support from MPs, he maintained that he was "uniquely placed to avert a general election".
Stressing that he had cleared the "high hurdle" of 102 nominations including a proposer and a seconder, he said he was confident he could be "back in Downing Street on Friday".
But it appeared the concern among Tory MPs about the return of their former leader had rattled Mr Johnson.
Confirming he had "reached out" to Mr Sunak and Ms Mordaunt in an attempt to strike a deal, his message concluded: "I am afraid that the best thing is that I do not allow my nomination to go forward and commit my support to whoever succeeds."
… As he told MPs on Sunday night: "I believe I have much to offer but I am afraid this is simply not the right time."
One of Boris's main supporters, Sir James Duddridge MP, was nonplussed:
An hour later, he changed his support from Boris to Rishi:
Jonathan Gullis, a Red Wall MP, didn't wait that long:
Braverman pivotal to Rishi's support
On Monday, October 24, the Times had two articles about the importance of Suella Braverman backing Rishi.
The European Research Group of Eurosceptic backbenchers [Brexit supporters], which in previous leadership contests has acted as a bloc, is increasingly fractured.
Suella Braverman, the former home secretary who was once one of Johnson's most ardent supporters, came out for Sunak. The party, she said, could not afford to indulge in "parochial or nativist fantasies" given the "dire straits" it was in now. The world was "fundamentally different" from when Johnson was elected in 2019.
Braverman's endorsement of Sunak surprised even some of her allies, with one speculating about whether she had been offered the chance to return as home secretary. "She wouldn't have settled for much less," said one.
Braverman's support was not just a blow to Johnson, it also allowed Sunak to make the case to wavering MPs that he could command support across the party. As well as Braverman, Sunak won the backing of other former ERG stalwarts such as Steve Baker and Theresa Villiers. He has even persuaded MPs who had joined a "Back Boris 22" WhatsApp group to jump ship, including Chris Loder, MP for West Dorset.
It suggests that Sunak has made assurances to the ERG on policy and jobs, given that senior ERG figures were briefing on Friday that they would seek "guarantees" before endorsing candidates, which ranged from no concessions on the Northern Ireland protocol, reaffirming the manifesto commitment to reduce immigration and senior cabinet roles for their members.
Braverman suggested as much, saying in an article for The Telegraph website that the party needed to "move beyond Leaver or Remainer; One Nation or ERG; right of the party or left of the party; wets or Thatcherites," adding: "One person can build that team: Rishi Sunak."
The other said that Boris's team had approached her for support on Saturday but was rebuffed:
Johnson's team had made a "big pitch" to her yesterday in the hope that winning her over would persuade fellow right-wing MPs to back him. She is a former head of the European Research Group of Brexiteer MPs. It is a further sign that the ERG is split down the middle between Sunak and Johnson …
Her endorsement will deliver a big blow to Johnson's efforts to attract the remaining MPs on the right of the party, as she is seen as one of their flag-bearers and rising stars.
She is the latest figure on the right to endorse Sunak following Kemi Badenoch, the trade secretary, and Lord Frost.
Braverman also signalled that Sunak had agreed to continue with reforms she had begun working on during her short spell as home secretary, including a new law to prevent the European Convention on Human Rights allowing migrants and criminals to avoid deportation. It also suggests that Sunak has agreed to press ahead with the government's controversial Rwanda policy.
I hope that all works out for her.
Unfortunately for James Duddridge, the Boris loyalist, even though he voted for Rishi, he was sacked as Trade minister on Wednesday:
Jacob Rees-Mogg also got the sack this week and has returned to the backbenches.
Rishi's 'coronation'
On Monday morning, October 24, the outspoken Lee Anderson refused to back Rishi, swapping his vote from Boris to Penny. Interesting, to say the least:
Just before 1 p.m., Rishi had over 200 backers, double of what he needed:
At 2 p.m., the all-powerful 1922 Committee assembled at Conservative Party headquarters (CCHQ) to announce the results.
They had to meet at CCHQ, because while Rishi was the new Party leader, he was not yet Prime Minister and would not be able to enter No. 10 until he met with the King, who would grant him permission to form a government. The monarch returned to London on Tuesday, at which time Rishi's premiership was formalised.
According to the 1922 Committee, Boris had real numbers behind him — and had passed the threshold:
Guido reported:
For the historical record Nigel Adams says he met this morning with Bob Blackman, Joint Secretary of the 1922 Committee.
He has independently verified the nomination paperwork and confirmed to me that Rt Hon Boris Johnson MP was above the threshold required to stand for the Conservative Party leadership in this leadership election. Therefore Mr Johnson could have proceeded to the ballot had he chosen to do so.
The nominations process is confidential and it is up to individual MPs whether they wish to publicly announce who they back in leadership elections – Bob Blackman is verifying nominations today for the remaining candidates in this leadership election. Those still suffering from Boris Derangement Syndrome may need to seek help…
At the very last minute, Penny Mordaunt withdrew from the contest.
That meant Rishi had his 'coronation' as the only candidate left.
As such, the vote did not need to go to the Party members.
Conservative MPs were happy as Larry as they rejoiced that they finally got their man in office at last.
That evening, GB News reported that the Party's phone lines and website could not handle the amount of calls and clicks from members trying to cancel their membership.
They weren't angry at Rishi as much as they were the MPs who denied them a say.
End of series
Before analysing the latest Conservative Party leadership contest last weekend, I am pleased to report that …
Rishi Sunak reappointed Suella Braverman as Home Secretary.
Braverman resumed work late in the afternoon on Tuesday, October 25, on Rishi's first day as Prime Minister.
More about Braverman follows later in this series.
1922 Committee changes rules
On Thursday, October 20, no sooner had Liz Truss resigned as Party leader than Sir Graham Brady, the chairman of the 1922 Committee representing Conservative backbenchers and Jake Berry MP, the then-chairman of the Conservative Party, devised a rule change for the election of the next leader.
Late that afternoon, The Sun's Harry Cole tweeted:
NEW: Brady and Berry about to announce 100 threshold for nominations… means maximum of 3 candidates will go to vote of MPs. That will happen Monday then likely online voting by membership – with result announced next Friday.
Guido Fawkes had more. Jake Berry said there would be a Party members vote only if there were two final candidates:
Brady is pictured on the left of this photo, with Berry on the right:
Guido's post announced the timeline (emphases his):
If there's one candidate, the UK will get its new PM on Monday, if two we'll know on Friday.
There is one interesting aspect to those rules. They were designed to eliminate Boris Johnson, who had been in Colorado giving a speech and, at the time the contest was announced, was enjoying a holiday in the Dominican Republic.
The chairman — so far, it has always been a man — of the 1922 Committee is one of the most powerful men in the UK.
The committee forced out the formidable Margaret Thatcher in 1990 and made her cry. She called them 'the men in the grey suits'.
When Conservative MPs want a new Party leader, they write to the chairman of the Committee. The chairman may choose to let the Party leader know that opposition is gathering against him or her.
One thing that the chairman never reveals, however, is the number of no-confidence letters he has received.
During Liz Truss's last week in office, she and Sir Graham Brady spoke every day.
She knew the men in the grey suits were on their way when she sacked Kwasi Kwarteng the week before:
Shortly before her resignation last Thursday, Harry Cole wondered if their meeting that day would be their last. He had heard that Truss asked to see Brady, rather than the other way around:
Perhaps Truss had seen the column that her fellow Conservative Robert Largan (High Peak) had written for the Glossop Chronicle on Tuesday, October 18: 'Warning of the danger of dumpster fires'. Excerpts follow, emphases mine:
I've spent a lot of my time issuing warnings this year.
Back in January, I first highlighted the danger of rising energy bills …
In July, I started warning about the precarious economic situation and the Government's limited fiscal room for manoeuvre, urging politicians to resist the temptation of unfunded tax cuts or unfunded spending commitments.
The subject of this week's column, however, concerns warning about another important and oft overlooked phenomenon: dumpster fires.
Fire and rescue services attend around 300 significant fires at waste sites each year. The two most common causes of these fires are spontaneous combustion and arson.
Without action, dumpster fires can rage on for long periods of time, spreading quickly and causing major structural damage.
For some, watching these fires rage elicits a grim fascination and the chance to speculate about just how long it will continue to burn.
Extinguishing a dumpster fire is risky business and likely to be messy …
I am deeply committed to protecting our environment and our beautiful country. I firmly believe that we need to tackle dumpster fires when they occur, regardless of how messy or unappealing this may be.
Indeed, the act of extinguishing the flames could well be the end of the skip they originated in. But urgent action is necessary nevertheless.
Guido Fawkes posted a link to the article that day, interpreting it as a dog whistle about Liz Truss:
Guido's post read:
Chapeau to Red Wall Tory MP Robert Largan who has used a local campaign to warn about the state of the Tory party. His weekly column focuses on the clear and present danger of dumpster fires. Beyond the otherwise ironic headline, it reads like a normal campaigning piece from a constituency MP. Up until the final sentence:
Indeed, the act of extinguishing the flames could well be the end of the skip they originated in. But urgent action is necessary nevertheless.
Quite…
The Telegraph also picked up on Largan's article on Wednesday, October 19:
… He wrote: "The longer the fire is left to rage, the greater the danger to the integrity of the skip, as the metal starts to warp and twist out of shape, beyond all recognition, eventually becoming completely unusable."
The piece was viewed in Westminster as a not-very-subtle shot across the bows of the Government.
His Tory MP colleague, William Wragg, has now said he agrees with Mr Largan's assessment of the situation.
Wragg is a vice-chairman of the 1922 Committee.
Last Thursday morning, hours before Truss resigned, The Times reported:
Liz Truss's government is teetering on the brink after a day of chaos for the Tory party.
Members of the 1922 Committee, in charge of running Conservative Party leadership contests, are set to meet later today to discuss the escalating crisis.
Speculation is growing that Sir Graham Brady, the committee's chairman, has already received more than 54 letters calling for a no-confidence vote in the prime minister — the threshold for triggering one if Truss was not in the 12 months' grace period for new leaders.
Last night senior Conservative MPs warned that Truss's departure may be accelerated. "We could be talking days, not weeks," they added.
It was early that afternoon:
Polls slipping since November
The Conservative Party's slide in the polls began when Boris Johnson's involvement in Partygate was revealed late in November 2021.
Labour's rise accelerated during the summer. On Friday, October 21, their lead increased to a historic 35 points in this People Polling poll commissioned by GB News, 'the People's Channel':
Guido's post includes two other polls:
Polling since Liz Truss's resignation paints one of the bleakest pictures ever for the party. People Polling puts Labour on 53%, with the Conservatives on a miserable 14%. The Liberal Democrats are just 3 points behind. Pollster Matt Goodwin points out it is the lowest level of support for the Tories in British polling history.  He adds the party is "on life support".
This isn't the only psephological headache for the Conservatives. A poll from Omnisis, conducted after the resignation, gives Labour a stonking 57% with the Conservatives on 22%. The 35-point lead is an increase of 14 on Omnisis' previous poll.
Meanwhile, according to YouGov's Daily Question, 63% of the public, and 38% of Conservative voters, want a general election.
Call for Boris
Most MPs, regardless of party, think that their voters are stupid.
However, it was hard for voters to dismiss what had happened in one week.
On October 19, Toby Young, founder of the Daily Sceptic, wrote 'Are We Witnessing a Globalist Coup?':
As listeners to my London Calling podcast will know, I'm deeply sceptical about conspiracy theories …
But my scepticism has been sorely tested by the events of the last few days. The reaction of the bond markets and the currency markets to the mini-budget, the U-turn over cutting the top rate of tax, Kwasi Kwarteng's defenestration, his replacement by arch-Remainer and Zero Covid zealot Jeremy Hunt and now the sudden departure of sound-as-a-pound Suella Braverman and the elevation of Grant Shapps … it all seems like a globalist coup. Indeed, Suella used the word 'coup' to describe the attempts to discredit the mini-budget at the Conservative Party Conference.
Liz Truss, when she gave her press conference on the steps of Downing Street last Friday, looked as though someone had kidnapped her children and she was reciting from a script the kidnapper had handed her. And now Suella has gone too. It seems every genuinely conservative, pro-Brexit member of the Government is being picked off, one by one. Suella might have actually done something about the boats crossing the channel. She'd already spoken up about the police acting like the paramilitary wing of the Guardian and she is a steadfast Brexiteer who did some work on dismantling the Northern Irish Protocol as Attorney General. Was she really forced out because of what looked like a very minor security breach? Or have her children been kidnapped, too?
… it's getting increasingly hard to persuade the conspiracy theorists they're wrong.
That morning, Foreign Secretary James Cleverly had the unenviable task of doing the morning news round. The Telegraph summarised what he said:
James Cleverly has suggested the same Tory MPs who ousted Boris Johnson are now working to do the same to Liz Truss. 
The Foreign Secretary said it is "many of the same people" who "defenestrated Boris" who are now criticising the new Prime Minister.
Mr Cleverly argued that none of the challenges facing the UK would be solved by "removing another prime minister" as he said the Government must focus on delivery if it wants to reverse dire opinion polls.
Told that a poll of Tory members found 55 per cent want Ms Truss to resign, Mr Cleverly said: "We have gone through quite recently a situation where lots of people were saying Boris has got to resign and at the time I said okay, you might not be happy, but what is your plan for what happens next?
"For those people who defenestrated Boris, they didn't have a plan for what's happening next, they are now criticising the new Prime Minister, many of the same people, and I just say again, look, what we need at this point is we need to get focused on delivery, delivering those minimum service agreements so communities can get to work, delivering the infrastructure so that we can grow the economy, deliver calm, confidence to the markets. I don't think any of those things would be served by removing another prime minister."
The next day, Thursday, Toby Young wrote, 'It's Got to be Boris':
I can see a lot of readers balking at that headline …
But my gut says that Rishi would be worse …
It's true that the Tory Party will look absurd if it makes Boris leader again six weeks after defenestrating him. But it's going to look absurd whatever it does. Would it be any less ridiculous to appoint a third leader in as many years? …
Suppose you think Rishi would be preferable to Boris. Maybe so, but would Keir Starmer be preferable to Boris? On lockdowns, vaccine passports and Net Zero he's even more of a zealot than BoJo, and with Rishi at the helm Labour's victory at the next General Election is almost inevitable.
Finally, just think of how angry all the Boris-haters will be. As I've written about before, the reason Boris is so unpopular with the Establishment – the reason he brings certain members of the ruling class out in hives – is because he's the embodiment of Merrie England. They detest his devil-may-care attitude, his disregard for conventional morality, the fact that he has three wives and god knows how many children. He's Sid James and Falstaff and Benny Hill rolled into one. He's a saucy seaside postcard come to life … It would be like the restoration of Charles II, except the Interregnum will only have lasted six weeks.
I'm sure many people are unconvinced and Boris hasn't even said he's going to run yet. But I expect he will and if he does I'll be holding my nose and backing him.
That afternoon, Guido tweeted a YouGov poll from that week showing most Conservative Party members thought that Boris should be the next leader:
Guido added that, if Boris became leader again, Labour would have no grounds on which to demand a general election:
A short time later, Guido heard Boris was returning to the UK:
The news also circulated from other sources.
At 4 p.m., Boris loyalist and Red Wall MP Marco Longhi tweeted, showing the Black Country flag from his part of the Midlands:
Fifteen minutes later, The Telegraph's Ben Riley-Smith tweeted the names of Longhi and seven other loyal MPs who were backing Boris, who, it should be noted, had not officially declared:
Shortly afterwards, one of them, Brendan Clarke-Smith, made an articulate case as to why Boris should be the next leader. Guido has the video:
Guido and his team started a new leadership contest spreadsheet, which the BBC referenced that evening. The Boris backers had a clear lead, with Penny Mordaunt in third:
Some Boris backers also came from the 1922 Committee, rather surprisingly. That said, many of the MPs wished to remain anonymous:
An Opinium poll showed that Boris in charge would save the most Conservative seats were a general election held. It is worth noting that, in this contest, only Rishi, Penny and Boris were in the running. Suella Braverman and Kemi Badenoch were not:
Conservative Party members began contacting their MPs with 'strongly worded' pro-Boris emails:
Millions of British voters rejoiced at the prospect of Boris's return:
The Sun put the news on Friday's front page:
The Telegraph reported it, too:
The BBC's Newsnight referenced Guido's spreadsheet in their coverage that night:
The morning of Friday, October 21, a fishmonger in Birmingham told a BBC Breakfast reporter that Boris needed to succeed Liz Truss. Look at her facial expression:
Guido mentioned the interview as well as another pro-Boris one from the evening before, in Rushcliffe, also on the BBC:
Stanley Johnson told Good Morning Britain that he thought his son was on a plane:
The enthusiasm for Boris was palpable.
Friday saw more developments, which I will go into tomorrow.
This has not been the best Conservative Party Conference, and here's why:
1/ Bombastic Boris is no longer Prime Minister;
2/ Liz Truss is still finding her feet as his successor;
3/ A train strike is taking place on the final day, so a lot of people left before Liz spoke on Wednesday.
On Wednesday morning, October 5, GB News's Darren McCaffrey, a veteran of many party conferences, said that the mood in Birmingham was very low this year, as if, after 12 years, the Conservatives think that their time in Government could be up.
It doesn't help that Labour's Shadow Chancellor Rachel Reeves has been spreading lies about Kwasi Kwarteng's fiscal event, either:
Meanwhile, the people in Boris Johnson's constituency of Uxbridge in west London miss him dearly:
Anyone who missed the controversies of the Conservative Party Conference can catch up here and here.
On Tuesday night, former Conservative adviser Amanda Platell, who writes for the Daily Mail, said she is praying that Liz Truss can actually govern without opposition from her own MPs. Platell described Michael Gove as 'a jackal'. Platell added that the Leader of the Commons, Penny Mordaunt, wasn't a very good employee when she worked for her several years ago:
After Amanda Platell spoke in that clip, it was time for Stanley Johnson, Boris's father, to give his impressions of this year's conference.
He said that he must have been to a different one, because everyone he saw was upbeat and the conference hall was full for Chancellor Kwasi Kwarteng's speech. Stanley Johnson blames the negativity on an ongoing media narrative:
I didn't see this gloom and doom meeting at all. 
When Dan Wootton asked Stanley about Michael Gove, the former Prime Minister's father replied:
I'm not going to talk about wildlife of any kind … I'm going to sing Michael Gove's praises because he has been a really good Secretary of State for the Environment.
Wootton countered:
He stabbed your son in the back.
Stanley said:
I'm not going to talk about it … I'm speaking as an environmentalist.
In another part of the show, Stanley said that he is '100% certain' that Boris will not be back as Conservative Party leader, i.e. Prime Minister.
Robert Buckland's advice to rebels: 'Shut up'
On Tuesday afternoon while listening to GB News, one of the presenters said that the Secretary of State for Wales, the mild mannered Robert Buckland, told Michael Gove to 'shut up'.
Hoping it was true, I searched Wednesday's headlines but saw only that Buckland had issued his advice indirectly, via Global Radio's News Agents podcast, featuring ex-BBC broadcasters Emily Maitlis, Jon Sopel and Lewis Goodall.
Buckland was mild mannered throughout:
The i paper confirms that no direct confrontation took place:
Welsh Secretary Robert Buckland appealed to recently sacked ministers to "shut up" but indicated he wants to see benefits rise in line with inflation, telling Times Radio he believes in supporting "those who genuinely cannot share … In growth and prosperity".
One can only hope that Gove and his Sunak-backing allies got the message.
On Tuesday night, The Telegraph urged MPs to rally behind their new Prime Minister: 'Tories owe Liz Truss their full support' (emphases in purple mine):
Ms Truss has an ambitious set of policies that she set out in the leadership campaign, yet there is now a danger that she will be thwarted at every turn by a fresh coalition of opponents in her own party.
MPs should remember that the Prime Minister won fairly and squarely under the rules after they removed a leader who had delivered an 80-seat majority just three years ago. She did not engineer a coup and, indeed, stayed loyal to Boris Johnson until the end.
Senior backbenchers and former ministers such as Michael Gove and Grant Shapps, who have been in the vanguard of recent criticism, should consider the damage they are doing to the party's re-election prospects. The only beneficiaries are their political opponents.
Conservative values championing a small state, low taxes and deregulation are being replaced by social democratic nostrums that brook no spending cuts and take the same attitude to wealth creators as the Left. The pandemic lockdowns did not help matters by fostering a widespread sense that the state will always step in to help in difficult times, as it has done again with energy bills.
As we have argued consistently, the UK needs a growth strategy, and Ms Truss is at least providing one. The alternative is to manage the nation's decline into a high-tax, low-productivity economy. She needs the full support of the parliamentary party in her endeavour, starting now.
Left-wing lies persist over economic measures
Last week, the Bank of England had to take action to counter what appeared to be an immediate effect of the Chancellor's fiscal event of Friday, September 23.
However, Guido Fawkes cited a report from the Financial Times which said that the economic hiccup originated with the pensions industry.
Note the exposed deception in this Twitter thread:
Yes, I can well imagine that it was Mark Carney's fault. He was Andrew Bailey's predecessor at the Bank of England. Both are worthless, yet the media deifies Carney as some sort of miracle worker.
The left-wing narrative, spun by Shadow Chancellor Rachel Reeves and the media, persists that the taxpayer is being hung out to dry.
Guido wants to correct that narrative, noting that the BBC's Nick Robinson has already apologised for getting it wrong:
Guido's post from Tuesday, October 4, — which includes audio — says (emphases his):
Since the Bank of England announced market operations to purchase gilts last Wednesday, Westminster politicos have been struggling to get their heads round the intricacies of gilt markets. It therefore comes as no surprise to Guido that Nick Robinson was forced into a correction today, after incorrectly repeating the widely tweeted claim that the Bank of England has spent "£65 billion to prop up the markets" …

The claim is somewhat misleading. The Bank of England pledged to buy gilts to the tune of a maximum of £5 billion a day, over two weeks, to assure markets. This means the maximum possible spend was £65 billion, though the actual number will be far smaller. In reality the bank has purchased around £3.66 billion so far, with yesterday's purchases coming in at just £22 million. The smaller purchase signals the Bank is comfortable with the current state of gilt markets as its credible commitment appears to have paid off. Guido appreciates that the BBC this time took the effort to get the facts right…
Shadow Chancellor Rachel Reeves, who should know better as an ex-Bank of England employee, repeated the same line: "The fact the Bank of England had to step in with a £65 billion bailout with taxpayers money is deeply shameful." It is not a fact.
Firstly, the market operation will be nowhere near £65 billion. Secondly, it is not money from taxpayers … with the purchases even having the potential to make a profit* on resale. So her "taxpayers' money" claim is also incorrect. Robbo we can excuse, he only has a PPE degree from Oxford. The Shadow Chancellor, a trained economist, is deliberately and wilfully misrepresenting the facts for political advantage…
*A market source says that marked-to-market the Treasury is currently in profit on the trade.
In the comments, one of Guido's readers clarified what happens with the Asset Purchase Facility — APF — in this case:
It's not from Treasury reserves. Treasury has no reserves. It's not money from taxpayers either. Neither the bank nor Treasury has any taxpayer money.
The Bank has extended a loan to the APF, and credited the APF's account in the Banking Department with an advance. That is then used to pay whoever is selling the Gilts to the APF, which result in a transfer from the APF's account in the Banking Department to a commercial bank's settlement account in the Banking department.
The end result is Gilt assets in the APF balanced by a liability to the Banking department of the Bank of England. The Bank of England has a loan asset to the APF balanced by a liability to the commercial bank.
It's just good old bank lending. As happens a bazillion times every day across the banking system.
Another reader called out the media for lazy journalism:
All MSM are as bad, Sky and ITV actively promote their left-wing Labour bias too, especially activists like Ed Conway and Peston, respectively, are rarely challenged, and the public generally don`t realise they are being lied to and manipulated. Creating hysteria and headlines are more important now than the truth and lazy groupthink "journalists" just follow the herd. Where is the giant good news headline that the £ is now trading higher than before the mini-budget and the euro is below parity with the dollar, no, they prefer reporting negative UK news to deliberately topple this government.
Kwarteng's U-Turn U-turn
Thankfully, Kwarteng has recovered from the shock of having to make an economic U-turn on the 45% rate of tax and, although that is still off the table for now, he is reneging on bringing forward a vote on a more detailed plan on November 23.
On Tuesday evening, The Telegraph reported that he has postponed this to next year:
Crunch votes to implement last week's mini-Budget will not take place until next spring, The Telegraph understands, putting off potential rebellions until 2023.
Many of the tax-cutting measures which Kwasi Kwarteng, the Chancellor, announced last month will not need to be passed in the House of Commons until next March.
That includes bringing forward the 1p cut in the basic rate of income tax and scrapping a planned rise in corporation tax, two of the most costly moves in the package.
It means that Tory rebels hoping to attach amendments to the Finance Bill may have to wait almost six months, potentially buying Liz Truss some political breathing room …
There was confusion on Tuesday as Mr Kwarteng appeared to row back on Downing Street indications on Monday night that he would reveal his new fiscal plan earlier than planned.
Mr Kwarteng said that the so-called "medium-term fiscal plan", which will spell out his approach to bringing down debt and restraining spending, was coming on November 23.
But that appeared to contradict word from his allies 24 hours earlier suggesting the announcement and the Office of Budget Responsibility (OBR) forecast would actually come sooner.
The OBR forecast is another part of the ongoing anti-Truss narrative. Since its inception by then-Chancellor George Osborne over a decade ago, its forecasts have rarely been accurate. Guido regularly posts on how the economy does much better in reality, putting the OBR to shame.
Yet, the OBR is considered as an oracle:
The failure to produce an OBR forecast alongside the mini-Budget was jumped on by economists and critics to partly explain the reaction from the markets.
It is, in fact, useless.
On Tuesday, Kwarteng gave his reasons for the rushed fiscal event. Contrary to what the lefty narrative says, he was not blaming the Queen, just reminding people of the timeline:
Mr Kwarteng on Tuesday also appeared to cast some blame on the "pressure" of the Queen's death for mistakes in his tax-cutting fiscal statement.
He said: "We had a nation in mourning and then, literally, four days after the funeral we had the mini-budget.
"It was a high speed, high-pressure environment and we could, as David Cameron used to say, have prepared the pitch a bit better."
Kwarteng was rightly disappointed that the Government was not given credit for helping out the nation with their winter fuel bills. This is another part of the false lefty narrative that needs exposure:
Speaking at a fringe event at the Conservative conference on Tuesday night, Mr Kwarteng complained that his energy price freeze was getting too little attention because of the 45p tax row.
The Chancellor said: "If you look at the energy intervention, I mean, nobody's talking about the energy intervention.
"That was a huge use of the balance sheet to help people. People were facing bills of potentially £6,000 next year, and we've intervened.
"There's gonna be a limit of £2,500. That's a huge intervention."
Agreed. He did what people bayed for.
He criticised Rishi Sunak's handling of taxpayer's money, turning the former Chancellor's cries of morality back on him:
Mr Kwarteng has also said the Treasury he inherited from Rishi Sunak and Boris Johnson was "unsustainable".
He said: "We were spending billions and billions and billions and raising the money in tax."
"How can that be sustainable, when we have a very, very high tax burden and very low growth? We had to come off that trajectory."
He called himself a "compassionate Conservative" inspired by his mother …
He added: "It's the people's money – we raise it through tax. And if we do that we have a moral obligation to look after it."
Benefits increases
In line with Kwarteng, Liz Truss wants to be careful about taxpayer's money.
Benefits will have to be raised, but the question is by how much.
One tranche of Conservative MPs says that it must be in line with inflation. Another group says it should be in line with salaries.
Early on Tuesday, The Sun reported:
She is under pressure to hike benefits for the poorest after repeatedly refusing to confirm they will go up in line with inflation.
Speaking at the party conference in Birmingham, the PM said: "We face massive challenges as a country and we need to get through this economic crisis and this energy crisis.
"And we need Britain to come out stronger on the other side, and I want to win over hearts and minds in the country, but also amongst my parliamentary colleagues, to make sure that we are able to deliver for the people of Britain" …
Emboldened rebel MPs are now pushing for further changes having forced her to ditch one flagship measure — with efforts now focusing against a real terms cut to Britain's benefits bill.
Even her own Cabinet Ministers are ratcheting up the pressure for Ms Truss to commit to raising benefits with inflation and not wages.
Penny Mordaunt told the Times it "makes sense" to uprate benefits with prices.
The Commons leader said: "I have always supported, whether it's pensions, whether it's our welfare system, keeping pace with inflation."
But Ms Truss insisted no decision had been made, yet reiterated her promise to keep the pensioners' triple lock.
She admitted the reaction to her Growth Plan had not been "absolutely perfect" but insisted it – and the energy – package will help struggling families braced for a gruelling winter.
It includes cutting stamp duty, income tax and capping the price of energy so the typical household will pay no more than £2,500.
Here's The Spectator's list of the benefits rebels hoping for an increase with inflation rather than wages.
Penny Mordaunt was one of Truss's rivals in the leadership contest and the other five — led by Michael Gove — were staunch Sunak supporters:
Penny Mordaunt
Michael Gove
Damian Green
Esther McVey
John Glen
Mel Stride
Who can forget the day MPs eliminated Mordaunt from the leadership contest, leaving Truss and Sunak as the last two standing?
On July 20, Guido wrote about Mordaunt's last ditch appeal:
It turns out Penny Mordaunt's effort to run a "clean" campaign that puts an end to "toxic politics" lasted as long as she thought she had a chance of winning. Now that Liz Truss is the bookies' favourite, and Kemi Badenoch's voters are up for grabs, the Mordaunt camp has other ideas. This morning, Mordaunt tweeted an Allison Pearson Telegraph article headlined "Tory MPs – vote for Rishi Sunak or Liz Truss today and you'll murder the party you love", which went down like a bucket of cold sick with just about everybody. Don't bother trying to find the tweet – she's since deleted it…
Truss wisely made Mordaunt Leader of the House, probably the safest place for her.
The benefits row is likely to erupt after Parliament reconvenes next week. Gove is pictured with Truss:
On Tuesday morning, Guido posted an audio clip of Mordaunt speaking to Times Radio about increasing benefits in line with inflation:
… on Times Radio … Leader of the Commons Penny Mordaunt was busy once again going characteristically off-script, claiming "it makes sense" to commit to the uplift come rain or shine. Michael Gove is – predictably – saying the same. Even DWP Secretary Chloe Smith has been going around saying "protecting the most vulnerable is a big priority for me", which surely signals the way the wind is blowing… 
However, as The Spectator's editor Fraser Nelson points out, Liz Truss is not being stingy in wanting to increase benefits with salaries rather than inflation:
Difficult decisions lie ahead for Liz Truss as she thinks of ways to constrain spending. One option is to increase benefits in line with average salaries (6.2 per cent), rather than CPI inflation (9.9 per cent): why, it might be argued, should someone on welfare see their income rise faster than someone in work? And with public sector wages rising at just 2 per cent, can government really give a near-10 per cent rise to those out of work? …
So she is considering, at very least, uprating benefits by earnings rather than inflation. But if she's ready for a fight, then so are her Tory opponents. Intriguingly, Penny Mordaunt now seems to be among them.
… Truss may struggle to get a lean settlement through the House of Commons. That's why it matters that Mordaunt, the leader of the House of Commons, has declared in favour of increasing welfare by inflation. Such open lobbying by a cabinet member is rare and indicates a collapse in discipline …
Uprating benefits to inflation would be hugely expensive due to the staggering number currently on out-of-work benefits: 5.3 million in total. This figure has yet to be acknowledged by the government (which prefers a more narrow definition of unemployment) and can only be produced by drilling into its website. There's a six-month lag, such is the lack of attention to this figure. But it amounts to 13 per cent of the UK working-age population, rising to 20 per cent in Manchester and Birmingham and 25 per cent in Blackpool. Here's the breakdown, which we keep updated on The Spectator data hub …
Nelson has included The Spectator's graph in the article. It's rather shocking.
He says it is time to get the nation back to work but realises that could be a hard sell for Truss to make:
As I've argued, the real scandal here is the waste of human potential, more than the waste of money. We have a near-record number of vacancies in the UK – about 1.1 million (hence a lot of the pressure to relax immigration rules), and to combine this with near-record levels on welfare is quite a feat. But it's also a very expensive situation and a problem that will not be helped by decreasing the factor by which people would be better-off in work.
This is a complex and difficult argument to make – and one distinguishing feature of Liz Truss's government is that it struggles to have such discussions even with the Tory party, let alone the country …
… this is a pre-rebellion from Mordaunt: she is describing a situation she'd like, not one that exists. By declaring the restoration of cabinet government, are cabinet members taking back control?
I have written this before Liz Truss gives her speech on Wednesday morning, closing the conference.
The question remains as to whether she can stamp her authority on the Cabinet and Conservative rebels. A tired Tom Harwood, who was also at Labour's conference last week, explains the situation on GB News:
I will feature brighter aspects of the conference in tomorrow's post.
This is the final instalment of my series on Boris Johnson's downfall.
Those who missed them can read parts 1, 2, 3, 4, 5 and 6.
Also of interest are:
Developing news: how long can Boris last as PM? (July 5-6)
Boris stays as PM for now but stands down as Conservative leader: 'When the herd moves, it moves' (July 6-7)
This post discusses two groups of people who are still wild about Boris: British voters and the Ukrainians.
British voters
On June 11, 2022, one week after Boris survived a vote of confidence by his fellow Conservative MPs, The Observer — the Sunday edition of The Guardian — posted the results of a poll they commissioned.
The findings were surprising for a left-wing newspaper (emphases mine):
Boris Johnson makes a better prime minister than Keir Starmer would despite Partygate, the cost of living crisis and the confidence vote in Johnson held by his MPs, according to the latest Observer poll.
Granted, the results were close, but Boris managed to come out on top, with the Conservatives two points behind Labour:
The Opinium figures, which will raise further concerns within Labour over the party leader's performance, shows that the prime minister has a two-point lead over his opponent. It also reveals that Starmer's party holds a narrow two-point lead, compared with a three-point lead in the last poll a fortnight ago. Labour are on 36% of the vote, with the Tories up one point on 34%. The Lib Dems are on 13% with the Greens on 6% …
While 28% think Johnson would make the best prime minister, 26% opted for Starmer.
On June 13, the i paper's Hugo Gye posted a few pages from the book Moonshot, by Pfizer's chairman Albert Bourla:
Two excerpts follow. These pertain to late 2020 and early 2021:
From my perspective, the UK was doing an exceptional job under tremendous pressure.
At that time, the UK was the only vaccinating so quickly that demand surpassed supply. As a result, we worked on a plan to meet the UK's needs …
Yet, in the UK, it was only the Conservatives and conservatives remembering Boris's efforts during that time period:
On June 14, the Mail's Alex Brummer wrote a positive article about the British economy, explaining why things weren't as bad as the media and pundits portray them:
So, yes, we face serious challenges. And yet I simply do not believe there is any justification for the gloom-laden interpretation by large sections of the broadcast media and fierce critics of Boris Johnson's government.
These Cassandras peddle a diet of relentless financial woe as they carelessly claim that the nation is in recession or heading for one.
But closer inspection shows not only that things are nowhere near as bad as they claim, but that there are serious grounds for hope in certain sectors, too.
Brummer explored the possibilities of what could happen either way:
True, the UK economy lost momentum recently, shrinking by 0.3 pc in April.
But what no one has mentioned is that this was largely down to a statistical quirk, and respected City forecasters are still actually predicting a 3.2 pc expansion of the UK economy this year, followed by 0.9 pc in 2023.
The big danger is that the constant barrage from the doom merchants could begin to influence events and destroy the resilience of consumers and enterprise — resilience which is still delivering for this country.
What is more, with a change of tack in the Government's approach, I believe the economy could be recharged.
Of course, the country will struggle if it is required to contend with inflation, rising interest rates and a mountainous tax burden all at the same time. If consumers and businesses are doubly squeezed by higher interest rates and higher taxes, household incomes will be devastated …
Brummer disagreed with Rishi's tax hikes:
The truth is that, with the nation close to full employment and the City of London and services — comprising more than 70 pc of national output — performing well, there was absolutely no need to urgently hike taxes, if at all.
Income tax, national insurance receipts, VAT and corporation tax receipts have all been flowing into the exchequer in record volumes. All that future rises will do is stymie spending and the willingness of companies to invest.
And the main reason for that fall in output of 0.3 pc in April? It is because the Government suddenly ended the NHS's Test and Trace operations — which had grown into a formidable industry, employing tens of thousands of people — as the country emerged from the pandemic.
In fact, April saw activity in consumer services jump by 2.6 pc. In spite of the £100-a-tank of petrol, the £8-a-pint of best IPA and rocketing food prices, a recession — defined as two quarters of negative growth — is unlikely.
Brummer did support Rishi's help to the neediest families:
Even if Rishi Sunak does not cut taxes, his £15 billion package of targeted support to help poorer households with the rising cost of living means incomes should now rise in the second and third quarter of the year. It is equal to nearly 2 pc of their earnings and will boost the country's spending power.
There were more reasons not to believe the doom-mongers, who, as I write in early September, are getting shriller and shriller:
What the doom-mongers fail to tell you is that investment bankers Goldman Sachs recently pointed out that consumer services are 'robust' and Britain's economy is 0.9 pc larger now than it was before the nation went into lockdown.
Economic activity in the crucial services sector, meanwhile, is 2.6 pc higher.
But it is not just the consumer activity — along with the £370 bn plus of pandemic savings in the current and savings accounts of households — propping up the economy.
New data just released shows that the drive towards the UK becoming a high-tech, high-value nation continues to make Britain prosper.
So far this year, the country has sucked in £12.4 bn of investment into the tech industry, the highest level of any country other than the United States.
And let no one blame Brexit:
As for the argument that Brexit has done for Britain, it is comprehensively rubbished by the City consultancy firm EY, which argues that, when it comes to financial services, 'six years since the EU referendum, we can be confident that Brexit has not damaged the UK's fundamental appeal'.
Since the financial and professional services are the biggest generator of income for HMRC, and the UK's most successful export to the rest of the world, this should surely be a source of national pride rather than Remoaner carping.
Indeed, wherever you look, the excellence of Britain's life sciences sector — as evidenced by the rapid development and distribution of the Oxford-AstraZeneca vaccine during the pandemic — continues to shine …
Ultimately, taxes do need to be cut:
But more needs to be done. And by that I mean Rishi Sunak must put an end to the tax hikes — or even reverse them …
… he froze personal tax allowances until 2025-6, along with the thresholds for capital gains tax.
… this will provide additional revenues to the Government of about £20.5 bn a year.
Sunak also opted to raise corporation tax from 19 pc to a whopping 25 pc next year. And to help pay for the NHS and social care, every employee and employer in the country is now paying a 1.25 pc surcharge on national insurance.
Together, all these measures (before inclusion of the windfall tax on oil production) mean that Boris Johnson's government is raising more tax from the British people and commerce than any UK government since the 1940s.
Such a position, given the precarious economic circumstances we face, is completely unsustainable. If the Johnson government wants to fight the next election with a healthy economy, taxes have to be cut with a decisive policy shift.
And if that happens, it could just be the magic pill for a Tory revival.
Meanwhile, Boris took a brief staycation in Cornwall while he helped campaign for the Conservative candidate in Neil 'Tractor Porn' Parish's constituency for the by-election, which, unfortunately, the Liberal Democrats won.
The Mail reported on Boris's schedule:
Boris Johnson has been pictured walking on a Cornish beach with his son Wilfred as he chose a staycation amid weeks of chaos at Britain's airports for millions desperate for a post-pandemic foreign break.
The Prime Minister has been in the West Country campaigning as he tries to win the Tiverton and Honiton by-election for the Tories on June 23, but is squeezing in a short family holiday.
And after a flying visit to the Devon constituency he headed to Cornwall to launch his food strategy at the wheel of a tractor before relaxing on the award-winning Porthminster beach, St Ives.
Unfortunately, on Wednesday, June 15, Lord Geidt quit as Boris's ethical adviser, which made all of his opponents question whether he should still be in office. This came a day after Geidt had appeared before a parliamentary select committee. I saw parts of that session. Geidt did not exactly inspire me with confidence.
Lord Geidt, a former private secretary to the Queen, announced his resignation in a 21-word statement the day after MPs accused him of "whitewashing" Johnson's conduct and questioned whether there was "really any point" to him.
Geidt, 60, came close to quitting last month after concluding that there were "legitimate" questions about whether the prime minister breached the ministerial code. He said that Johnson's fine for breaking coronavirus rules threatened to undermine his role and risked leaving the ministerial code open to ridicule.
He also received a "humble and sincere" apology from Johnson in January after the prime minister withheld critical messages from Geidt's inquiry into the refurbishment of his Downing Street flat.
A statement from Geidt published on the government website this evening said simply: "With regret, I feel that it is right that I am resigning from my post as independent adviser on ministers' interests."
In a bruising encounter with the public administration and constitutional affairs select committee yesterday, Geidt admitted that he had been "frustrated" by the prime minister's approach to the scandal.
William Wragg, the Conservative chairman of the committee, told The Times: "Lord Geidt is a person of great integrity, motivated by the highest ideals of public service. For the prime minister to lose one adviser on ministers' interests may be regarded as a misfortune. To lose two looks like carelessness."
Then again, William Wragg is not a fan of Boris's, prompting his supporters to think there was a stitch up, especially as Tony Blair had just been installed as a new member of the Order of the Garter.
Geidt's letter seems to be focused on Boris's fixed penalty notice for Partygate, but Boris's response, published in The Guardian, is about steel tariffs: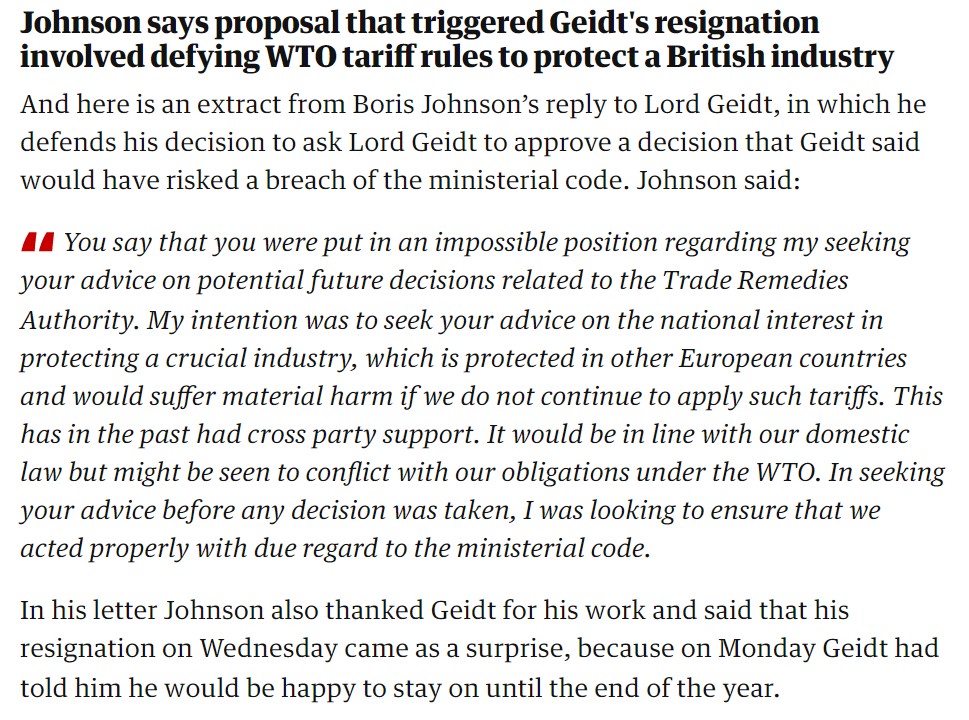 GB News's Patrick Christys explained this before going into Tony Blair's offences during his time as Prime Minister, including the Iraq War and letting IRA terrorists walk free. It's a shame the video isn't clearer, but the audio is compelling. After Christys introduced the subject, a panel debate took place:
Christys ran a poll asking if Boris is more unethical than Blair. Seventy per cent said No:
Blair's former adviser John McTernan said that, unlike Boris, Blair had been cleared of a fixed penalty notice (for an irregularity in paying London's congestion charge). But was Blair actually cleared? The BBC article from the time suggests that he wasn't:
On June 24, after the Conservatives lost Neil Parish's seat to the Lib Dems and the Wakefield seat to Labour, The Telegraph reported that the co-Chairman of the Conservative Party, Oliver Dowden MP, resigned. He seemed to blame the loss on Boris, although mid-term by-election victories often go to an Opposition party, something Dowden should have known:
Oliver Dowden has resigned as chairman of the Conservative Party after it suffered two by-election defeats, saying in a letter to Prime Minister Boris Johnson that "someone must take responsibility".
Mr Dowden's resignation came at 5.35am, shortly after the announcement of the two defeats. He had been scheduled to appear on the morning media round before he decided to step down.
In Tiverton and Honiton the Liberal Democrats overturned a 24,000 Tory majority to win, while Labour reclaimed Wakefield.
The contests, triggered by the resignation of disgraced Tories, offered voters the chance to give their verdict on the Prime Minister just weeks after 41 per cent of his own MPs cast their ballots against him.
Guido Fawkes posted Boris's generous letter of thanks to Dowden and his video explaining that mid-term by-election results often explain voters' frustration with the direction of the Government:
As usual, Blair's former spin doctor Alastair Campbell posted another inaccuracy, this time about Labour's by-election results:
At the time, Boris was away in Kigali, Rwanda, for CHOGM (Commonwealth Heads of Government Meeting). While there, he clarified sex and gender. The Times reported:
A woman cannot be born with a penis, Boris Johnson said last night, adding that there were "particular problems" around "issues of gender", but he said it was important to be "as understanding of everybody else as possible".
Asked whether a woman could be born with a penis, Johnson replied: "Not without being a man".
This has been an ongoing controversy for the past year. Neither Rishi Sunak nor Keir Starmer have been willing to answer that question. Boris met that challenge.
By the time Boris resigned on Thursday, July 7, millions of voters thought it was a stitch up.
Dan Wootton expressed our thoughts magnificently in his editorial that evening on GB News:
Excerpts from his transcript follow:
They won, folks.
They got him in the end.
Let's be honest for a moment, they were never going to stop until they'd secured Boris Johnson's head.
Since December, the campaign by the political establishment, the Remoaner elite, the civil service blob and – crucially – the country's biased broadcast media, notably BBC News, ITV News and Sly News, has been fever pitch.
Eventually, the Conservative Party decided it was impossible to govern while also fighting such dark and powerful forces.
These are deeply depressing times for British democracy.
Boris is the third Tory Prime Minister brought down in six years.
The febrile and hostile establishment and the MSM knows the power they have to bring political paralysis to the country.
And why were they so determined to destroy Boris?
Think about it.
He was a transformational Prime Minister.
A Prime Minister who stared them all down to finally deliver Brexit.
A Prime Minister who had vowed to cut the size of the civil service and demanded they return to their damned desks.
A Prime Minister who was going to scrap the hated BBC licence fee and sell the far-left Channel 4 News.
It's not hard to see why they would stop at nothing to discredit him.
I mean, last night the BBC quoted a source saying Boris Johnson "is now like Putin".
That's how deranged and determined his critics have become.
The celebration that broke out across the airwaves today – especially on the Boris Bashing Corporation once known as the BBC – blew up any final suggestion that we have an impartial broadcast media here in Britain …
I wanted to share with you part of a conversation I had earlier today with a source close to the Prime Minister.
They told me: "People had no interest in talking about the quite historic leadership achievements be that dragging us through a pandemic, a world leading vaccine programme rollout and a quite uniquely special performance in regards to that European war."
"Those people who wanted him gone never wanted to acknowledge that at any point. Never ever. It was always just the Westminster personality stuff. That was the only focus."
"Labour has had not one policy or grown-up policy discussion. It has been an out and out campaign to remove Boris. And you always have to ask yourself why. Why did they want to get rid of Boris so much? Why did sections of the media do that? Ultimately, wounded or not, he is the Conservative's best chance of winning an election" …

As the Daily Mail said today: "The truth is, Mr Johnson stands head and shoulders above almost all his assassins. Compared with the mountains he has scaled, their combined achievements are little more than molehills" …
To Boris Johnson, it was a project not completed, largely down to external forces.
But thank you for delivering us Brexit; that is an achievement for the ages that will go down in the history books.
It was a sad evening, indeed.
However, in time, there might be an upside. Maybe he could appear on GB News now and again:
Boris won that night's Greatest Briton accolade:
Wootton's focus on Brexit was confirmed by The Telegraph's Sherelle Jacobs the following day. She fears that Boris's resignation will give a lift to prominent Remainers:
… With the implosion of Boris Johnson, the Brexit war threatens to start anew. Tory Leavers must accept their vulnerability. The Prime Minister who ended the last battle by getting a Brexit deal done has just fallen in ignominious circumstances. Meanwhile, Remainers – who will never give up the fight – scent weakness.
While Andrew Adonis rallies against a "revolution which devours its children", Michael Heseltine has declared that "if Boris goes, Brexit goes". It might be tempting to dismiss all this as the hopeful rantings of bitter men. After all, Sir Keir Starmer has been at pains to reassure voters in recent days that Labour will not take Britain back into the European Union.
But even if the leader of the Opposition – a Remainer who voted six times against a Brexit deal – is genuine, he is powerless to stop the rejuvenation of the Remainer campaign. As support for Brexit in the polls has seeped away in recent months, in part because of the chaos that has gripped the Government, ultra-Remainers have been on manoeuvres. With the fall of Johnson, they think their time has almost come.
Over the next two years, they will likely proceed with a calculated mixture of boldness and caution. Already the public is being relentlessly bombarded with misinformation, which erroneously links every ill facing Britain with the decision to leave the EU. As the Tory party is distracted by internal dramas, negative Brexit sentiment will mount. This is already starting to happen, as critics in the business world become blunter in their criticisms – from the aviation industry to the CBI.
Meanwhile, some Tory MPs have been discreetly arguing in favour of a softer Brexit. Indeed, while the removal of the PM was by no means a Remainer plot, some of his internal enemies were motivated by a desire for greater alignment with EU rules – or at least by their opposition to what they consider to be an excessively aggressive attitude towards fixing the Northern Ireland protocol …
In truth, Conservative fealty to the Brexit cause has been disintegrating even under Boris Johnson, as the Blob has sapped the Government's will …
The great fear is that the Tory party now elects a closet Remainer who does not have the conviction to take all this on. That Brexit dies with a whimper, smothered by bureaucratic inertia and then finally strangled after the next election. If Brexiteers want to avoid this fate, they must think like war strategists once again. That means confronting the extent of their current weakness, and taking their opponents seriously.
Boris also shares that same worry and said so in Parliament on July 19, the day of his final Prime Minister's Questions:
Right after Boris's resignation, an online petition appeared: 'Reinstate Boris Johnson as PM'. It currently has over 23,000 signatures making it one of the top signed petitions on Change.org.
On Saturday, July 9, the i paper had an interesting report with several interviews:
The atmosphere sounded surreal:
"It was a bit weird", a source said of the Cabinet meeting Boris Johnson convened on Thursday just two hours after he said he would step down, effectively putting Britain on pause.
The Prime Minister was flanked by senior ministers, some of whom, less than 24 hours, had earlier led a delegation of men and women in grey suits to No 10 to urge him to quit …
Bill committees examining legislation line-by-line had to be cancelled, or they had newly resigned ministers sitting on them as backbenchers, while the whips who lacked the required specialist knowledge of the issues at stake were leading for the Government …
Contenders to take over as PM, when Mr Johnson does go, have been preparing for a contest months as the writing has slowly been scrawled on the wall of No 10.
Tom Tugendhat, Penny Mordaunt, and Jeremy Hunt were the most active hopefuls this week, contacting MPs and arranging meetings …
As the leadership contenders jostled, the Whitehall blame game began over Mr Johnson's spectacular fall from grace. The Prime Minister entirely overhauled his inner circle in February, after the initial "Partygate" allegations broke, and it is largely this team that will shepherd the Government through the final few months of his premiership …
The arrival of Guto Harri, one of Mr Johnson's oldest allies, as director of communications is seen by many as a contributor to the Prime Minister's downfall …
The spin chief had a habit of making up policies off the cuff, prompting advisers in other departments to joke about "the Guto special" when confronted with unexpected announcements from No 10. One Whitehall official concluded: "He is good for journalists, I'm not sure he's good for HMG [Her Majesty's Government]" …
But others pin the ultimate blame firmly at Mr Johnson's door.
One of Mr Johnson's closest former advisers told i that it "all went wrong for the PM" when he stopped listening to those from Vote Leave …
One of the former ministers who quit said on Thursday simply: "Everything is his fault. I spent months defending, or at least being generous about, his mistakes.
"Not after the last 24 hours. Appalling."
On July 12, Guido reported that Boris loyalist Jacob Rees-Mogg thought that the Prime Minister's name should be on the Conservative MPs' ballot (emphases his):
… he affirmed it was "unjust" to deny the Prime Minister the opportunity to fight for his position amongst Tory members. This comes in the context of his previous arguments for the growing presence of personal mandates in British political leaders. Unfortunately, Guido doesn't believe this strategy is quite in line with the contest rules…
I think this gave Boris's supporters false hopes:
People in Conservative constituencies began emailing their MPs:
With no result, the question then turned to whether Boris's name should be on the ballot for Conservative Party members.
On Saturday, July 16, The Times's Gabriel Pogrund and Harry Yorke posted an article: 'How the Tories turned the heat on Rishi Sunak'. In it, they introduced Lord Cruddas, who would go on to campaign for Boris's name to be on the members' ballot:
Both men were Eurosceptics who had supported the Vote Leave campaign when it might have been politically advantageous not to do so. Both were the beneficiaries of Boris Johnson's patronage. Cruddas had been given a peerage despite official objections. Sunak had been plucked from obscurity the previous year and made one of the youngest chancellors in history.
In 2021:
Sunak was the most popular politician in Britain and second only to Liz Truss in Conservative Home members' polls, having overseen the furlough and Eat Out to Help Out schemes. In the chamber, Cruddas gave his own vote of confidence, saying Sunak's budget "had established a clear path for the country to move from these difficult times", praising his "thoughtful" approach and arguing it would "not just to reinvigorate the economy post Covid but to help propel the post-Brexit opportunities".
By July 2022, everything had changed:
A week into the most toxic Tory leadership election in memory, the fact such comments were made feels inconceivable. Cruddas, 68, who remains close to Johnson, has shared posts on social media describing Sunak as a "rat", "a snake", a "little weasel", a "backstabber", "a slimy snake", a "treacherous snake", "Fishy Rishi", "Hissy Rishi", "Judas", "the traitor", "the Remainer's choice", a "sly assassin", a "Tory wet" promoting high taxes and the leader of a "coup" who "must be removed at all costs". Cruddas also retweeted claims about the financial affairs of Sunak's wife, Akshata Murty.
Tonight the peer said there had indeed been a "coup", adding: "I planned to donate a total of £500,000 this year but that is on hold and will not be paid unless the membership have a chance to vote on Boris being PM. I have no interest in Rishi who I deem to be not fit for high office due to his plotting and the orchestrated way he and others resigned to remove the PM." He also accused Sunak, 42, of setting up his leadership "before Christmas" and choreographing his resignation to inflict maximum damage.
The problem for Sunak is that such sentiment — especially the notion that he behaved improperly and cannot be trusted on the economy — is not confined to a fringe on social media. He might be the frontrunner but "Anyone But Rishi" reflects the opinion of Johnson and a coalition within the party. This includes cabinet ministers, staff inside Downing Street and Conservative Campaign Headquarters (CCHQ), Johnson's biggest donors, MPs opposed to higher taxes, and rivals for the leadership.
On July 22, The Telegraph's Christopher Hope added support for Boris's return and, in the meantime, addition to the ballot:
Tim Montgomerie, a former aide to Mr Johnson who has since been critical of him, said he had been told by sources close to the Prime Minister that he was convinced he would be back.
In a well-sourced post on social media, Mr Montgomerie wrote: "Boris is telling aides that he'll be PM again within a year" …
It comes as a row broke out among senior Conservatives about a campaign among party members to allow them a vote on whether Mr Johnson should continue as Prime Minister.
By Friday night, 7,600 members – all of whom have given their membership numbers – had signed a petition calling for the vote.
Lord Cruddas of Shoreditch, the former party treasurer who organised the petition, said "several MPs" had started to "make noises" about supporting his campaign …
Conservative MPs panicked:
The next day, The Times stirred the pot even more with 'Is Boris Johnson really planning another run at No 10?'
On Wednesday afternoon, moments after Liz Truss and Rishi Sunak were announced as the final two Conservative Party leadership contenders, a group of "red wall" MPs met on the House of Commons terrace to reflect on the result. "Is it too late to withdraw my resignation letter?" mused an MP, who held a junior ministerial role until the coup against Boris Johnson. "Shouldn't we just bring back Boris?" she said, leaving the question to hang in the air …
… Much like the Roman republic after Caesar's assassination, Whitehall is now riven by internecine warfare and a government paralysed by indecision …
For a man who just 18 days ago was brutally ousted from the job he has coveted his entire political life, Johnson appears to be living out his final days in Downing Street in a cheerful mood. Freed from the never-ending cycle of Westminster scandals, Johnson is relaxed and has spent the past few days hosting friends, relatives and other allies at Chequers and preparing a number of set-piece events leading up to his departure from No 10 in September …
Johnson, who allies claim remains furious with Sunak for his part in the coup, has sought to distract himself from the race to select his successor through media-friendly stunts …
Several MPs who helped oust Johnson have received a backlash from their constituents, stoking fears that they may face the same electoral retribution inflicted on Conservative MPs who ousted Margaret Thatcher. Backbenchers in red wall seats have been inundated with emails from voters who are furious at their role in ousting the prime minister.
They added that their postbag was filled with messages from newly converted Tory voters who have warned they will not vote for the party again now Johnson is gone. A colleague of Gary Sambrook, MP for Birmingham Northfield, claimed he had received hundreds of emails from constituents since he stood up in the Commons earlier this month and accused Johnson of refusing to accept responsibility for his mistakes …
Johnson leaves, aides say, with the air of someone with unfinished business. Whether this is the end of the Johnsonian project, or a precursor to his own Hollywood-esque sequel, remains to be seen.
On July 25, Christopher Hope wrote that the Boris petition had garnered 10,000 signatures:
Insiders say he is obsessed with delivering for the 14 million voters who voted Conservative in 2019, many for the first time because of him.
There are already stirrings of a revolt among the members. By Saturday night, 10,000 Conservative members had signed a petition organised by Lord Cruddas of Shoreditch, former Party treasurer, and David Campbell-Bannerman, former Tory MEP, demanding a say over his future.
The members want a second ballot to confirm MPs' decision to force his resignation, to run concurrently with the official leadership ballot between Liz Truss and Rishi Sunak.
That evening, Dan Wootton stated his belief that Boris's name should be on the members' ballot:
He asked his panel, which included Boris's father Stanley about it:
You can see relevant portions in these shorter extracts: Stanley supporting his son, Stanley verbally sparring with a journalist for the i paper as well as the opinion of former Boris adviser, Tim Montgomerie.
In the end, nothing happened. There was no Boris ballot.
Early this week, I heard one of the campaigners tell GB News that CCHQ are asking the organisers to do a sanity check on the signatories, confirming their Party membership number and clearing out any duplicates. If the number is still sizeable, CCHQ will discuss a possible changing of the rules for any future contests.
This is good news, in a way, but it will not help the Conservatives in the next general election. Boris's supporters are still angry.
Ukrainians
The Ukrainians will miss their biggest supporter.
They were saddened by his resignation:
Boris offered them his reassurance:
Volodymyr Zelenskyy even made a special announcement to the Ukrainian people about it:
Guido Fawkes wrote:
After leaving office Guido suspects Boris may end up reflecting more proudly on his work supporting Ukraine than even his Brexit legacy. Since the announcement of his resignation, Ukrainians have come out en masse to voice their sadness about his impending departure … Taking to Telegram late last night, Zelenksyy posted a touching video saying "Today, the main topic in our country has become the British topic – Boris Johnson's decision to resign as party leader and Prime Minister" …

Boris's hair has become a bit of an icon there (just as Trump's had in the United States). Guido has the images:
Boris's popularity among Ukrainians has already been well-reported since the outbreak of war. Streets have been named after him, as have cakes in a Kyiv patisserie. Yesterday Ukraine's national railways redesigned their logo to include an unmistakable mop of blonde hair, as did major supermarket Сільпо…
Boris once joked that the reason he'd left journalism for politics was because "no one puts up statues to journalists". It seems that, thanks to his efforts in Ukraine, he did manage achieved his wish for public deification – just not in the country in which he was elected…
On July 8, Ukraine's youngest MP made a video praising Boris:
Boris Johnson took a clear stand when so many others looked the other way.
In August, someone was inspired to paint a mural of Boris:
On August 24, Boris made his farewell — and surprise — visit to Ukraine on the nation's Independence Day:
Guido wrote:
Boris has made yet another surprise visit to Ukraine on its independence day — and the sixth month anniversary of its invasion. He used the visit, his last as PM, to announce a £54 million aid package to the country of 2000 state-of-the-art drones and loitering munitions …
Slava Ukraini…
Guido also posted this video:
GB News had more on the story:
Mr Johnson's visit came as Ukraine marked 31 years since its independence from Moscow's rule.
And it also came six months on from Russia's invasion of Volodymyr Zelenskyy's nation …
He said in Kyiv today: "What happens in Ukraine matters to us all.
"That is why I am in Kyiv today. That is why the UK will continue to stand with our Ukrainian friends. I believe Ukraine can and will win this war" …
The Prime Minister used his meeting with Mr Zelenskyy to set out a further package of military aid, including 2,000 drones and loitering munitions.
He also received the Order of Liberty, the highest award that can be bestowed on foreign nationals, for the UK's support for Ukraine.
Mr Johnson said: "For the past six months, the United Kingdom has stood shoulder-to-shoulder with Ukraine, supporting this sovereign country to defend itself from this barbaric and illegal invader.
"Today's package of support will give the brave and resilient Ukrainian armed forces another boost in capability, allowing them to continue to push back Russian forces and fight for their freedom."
The package includes 850 hand-launched Black Hornet micro-drones – smaller than a mobile phone – which can be used to provide live feeds and still images to troops, particularly important in urban warfare.
The support also includes larger drones and loitering weapons, which can be used to target Russian vehicles and installations.
The UK is also preparing to give mine-hunting vehicles to operate off the coast, with Ukrainian personnel being trained in their use in UK waters in the coming weeks.
Ukraine's ambassador to the UK Vadym Prystaiko marked the occasion by urging UK citizens to be "patient" as the war-torn country "cannot afford to lose your support".
He said: "You are playing a very important part in this fight. Ukraine will do what it takes to claim victory."
But will Britons continue to love Ukraine as much when the winter and higher fuel bills kick in?
Boris told us that we must do it, we must suffer, for Ukraine:
He has a point, but I do wonder how well this will play by the end of the year.
At least Boris got his Churchillian international claim to fame.
What next?
This week, Boris made a farewell tour of the UK, topped off with a dawn police raid of a house:
Guido has the video and explains the greeting:
This morning Boris accompanied the police on a home raid. Given we're now comfortably into the 21st century, it didn't take long for one of the occupants to realise the PM was in his home and film the experience, asking Boris 'wagwan'. Boris politely asked the filming resident "how you doing?". The Snapchatter could have at least offered Boris a cuppa…
It's rumoured that Michael Gove might be off to edit a newspaper:
Guido has the story and the audio of Gove's plans:
This morning Michael Gove laughed off the suggestion he's planning an imminent return to Fleet Street, insisting on the Today Programme he's "definitely planning to stay in Parliament" and won't be stepping down any time soon. Rumours have been building in SW1 that Gove had his eye on the editorship of, erm, one particular Murdoch-owned broadsheet, should a vacancy become available …
No, no. I think my first responsibility and duty is to my constituents in Surrey Heath. I'm going to stay on as MP, argue for them, and also argue for some of the causes in which I believe. I think it's vitally important that we continue to make the case for levelling up. I think Boris Johnson is absolutely right to focus on the need to provide additional support for overlooked and undervalued communities…
Gove added he still has "a reservoir" of affection for Boris despite being the only Minister the PM actually sacked in July. Boris is also rumoured to be sticking around until the next election. Could make for awkward small talk on the backbenches.
I predict they will stay on as MPs until the next election, just show up less often in the Commons.
As for Rishi, The Guardian said on Friday, September 2, that he was being compared with Michael Heseltine, one of the MPs who brought down Margaret Thatcher:
One of the most familiar refrains of the Conservative leadership contest was candidates earnestly inviting comparisons to Margaret Thatcher.
But after his resignation as chancellor brought down Boris Johnson's wobbling house of cards, a Tory insider said Rishi Sunak found himself with "the curse of Heseltine hanging round his neck".
Despite long having been talked of as a likely future prime minister, Sunak struggled to shed the parallel with the man who helped bring down Thatcher but failed in his own tilt at the top job – before coining the famous political cliche: "He who wields the knife never wears the crown."
I'll leave the final word to The Spectator's political editor James Forsyth, who muses on what politics will look like after Boris leaves:
His absence will reshape the political landscape because his presence defined it.
We will find out who Boris's successor is on Monday. The Guardian has a report on what we should expect:
The candidate who receives the most votes will be revealed on Monday by Sir Graham Brady, the chair of the 1922 Committee, a gathering of Conservative backbench MPs (not named after the average year of birth of its members but the year in which it was founded) …
The formal handover will take place on Tuesday. The Queen is recovering from the outgoing prime minister's tenure in her Scottish pile Balmoral and will appoint the new PM there, which will be a challenge as it requires the winner to leave Westminster.
Johnson is expected to make a farewell address outside 10 Downing Street at about 9am on Tuesday. It is not known whether he has written two versions of the speech, one based on staying, one based on leaving.
More next week as a new chapter in Conservative politics begins.
End of series
'No one is remotely indispensable'.
So were the words of Boris Johnson as he stood in front of Downing Street in the early afternoon of Thursday, July 7, 2022, to announce that he was standing down as Conservative leader. He said that he planned to stay on as Prime Minister until a new leader is chosen.
Boris's resignation speech
The Prime Minister's speech is just over six minutes long:
Knowing how quickly the leadership contests moved in 2016 (David Cameron to Theresa May) and in 2019 (May to Johnson), we are likely to see a new party leader in place before Parliament's summer recess. Regardless of what news outlets say, it no longer takes two or three months. The timing — i.e. summer resignations in all three cases — will accelerate because of recess.
Guido has the transcript of Boris's speech, excerpts of which follow (I've put in punctuation, paragraphs and emphases):
It is now clearly the will of the parliamentary Conservative party that there should be a new leader of that party and, therefore, a new Prime Minister and I have agreed with Sir Graham Brady, the chairman of our backbench MPs [the 1922 Committee], that the process of choosing that new leader should begin now and the timetable will be announced next week.
And I have today appointed a cabinet to serve – as I will – until a new leader is in place.
So I want to say to the millions of people who voted for us in 2019 – many of them voting Conservative for the first time — thank you for that incredible mandate, the biggest Conservative majority since 1987, the biggest share of the vote since 1979.
And the reason I have fought so hard for the last few days to continue to deliver that mandate in person was not just because I wanted to do so but because I felt it was my job, my duty, my obligation to you to continue to do what we promised in 2019, and of course I am immensely proud of the achievements of this government …
He went on to list Brexit, the coronavirus vaccine rollout, coming out of lockdown the earliest of any other Western nation and showing leadership with regard to Ukraine.
He clearly regretted that he had to stand down:
If I have one insight into human beings it is that genius and talent and enthusiasm and imagination are evenly distributed throughout the population but opportunity is not, and that is why we need to keep levelling up, keep unleashing the potential of every part of the United Kingdom. And if we can do that in this country, we will be the most prosperous in Europe.
And in the last few days I have tried to persuade my colleagues that it would be eccentric to change governments when we are delivering so much and when we have such a vast mandate and when we are actually only a handful of points behind in the polls, even in mid term after quite a few months of pretty unrelenting sledging, and when the economic scene is so difficult domestically and internationally. And I regret not to have been successful in those arguments and, of course, it is painful not to be able to see through so many ideas and projects myself.
But as we've seen at Westminster, the herd is powerful and when the herd moves, it moves and,
my friends, in politics no one is remotely indispensable.
And our brilliant and Darwinian system will produce another leader equally committed to taking this country forward through tough times, not just helping families to get through it but changing and improving our systems, cutting burdens on businesses and families and – yes – cutting taxes, because that is the way to generate the growth and the income we need to pay for great public services.
And to that new leader I say, whoever he or she may be, I will give you as much support as I can and, to you the British people, I know that there will be many who are relieved but perhaps quite a few who will be disappointed. And I want you to know how sad I am to give up the best job in the world, but them's the breaks.
I want to thank Carrie and our children, to all the members of my family who have had to put up with so much for so long. I want to thank the peerless British civil service for all the help and support that you have given, our police, our emergency services and, of course, our NHS who at a critical moment helped to extend my own period in office, as well as our armed services and our agencies that are so admired around the world and our indefatigable Conservative Party members and supporters whose selfless campaigning makes our democracy possible.
I want to thank the wonderful staff here at Number Ten and, of course, at Chequers and our fantastic protforce detectives – the one group, by the way, who never leak.
And, above all, I want to thank you the British public for the immense privilege you have given me.
And I want you to know that from now until the new Prime Minister is in place, your interests will be served and the government of the country will be carried on.
Being Prime Minister is an education in itself. I have travelled to every part of the United Kingdom and, in addition to the beauty of our natural world, I have found so many people possessed of such boundless British originality and so willing to tackle old problems in new ways that I know that even if things can sometimes seem dark now, our future together is golden.
Thank you all very much.
Boris delivered his speech in a normal, matter-of-fact way, which was good, especially given the circumstances.
Now that he has resigned from the Conservative leadership, some ministers are willing to come back into Government for the interim period.
As such, Boris held a Cabinet meeting at 3 p.m. today:
Those who read my post from yesterday will recall that I had not expected to cover this development until next week at the earliest.
However, yesterday afternoon into this morning was pure political carnage.
Wednesday, July 6
Junior ministerial resignations continued to pour in throughout the day, into the night.
Mid-afternoon, Boris held a second online meeting with Conservative MPs:
Guido has the story (emphases in red his):
In a sign of a continuing effort to hold on to his job, the PM has held a second meeting of Tory MPs in his parliamentary office, just 19 hours after his last meeting. Last night's turnout was said to be around 80 – today's turnout is said to have fallen to around 30. A loyalist MP spins that the PM was in a "buoyant mood and keen to get on with the job". Presumably he was just happy his PMQs slagging was over and done with…
Boris apparently pointed to polls narrowing to "about five points" and left his reduced coterie of supporters under no doubt that "he's going nowhere… no chance of stepping aside". We'll see what the 1922 Committee has to say about that this evening…
Guido's mole concluded that "Basically the current challenge is all about personality and not policy. It's a coup attempt before recess" The timetable observation is, at least, objectively correct…
At 3 p.m., Boris appeared for 90 minutes before the Liaison Committee, which is comprised of all the MPs who head Select Committees.
They grilled him on his performance and whether he would resign.
I've never seen anything like it. You can watch the proceedings using the link below:
These were the topics of discussion and the names of the MPs questioning him. Sir Bernard Jenkin chaired the session. Conservative MPs Tobias Ellwood and Jeremy Hunt might have their eyes on the leadership. Boris defeated Hunt in the 2019 contest:
All were brusque, including Bernard Jenkin, sadly.
That said, in May, Jenkin did write to the Leader of the House, Mark Spencer, to express his disappointment that some Government ministers were not appearing as scheduled before Select Committees:
The Liaison Committee were vipers. They were on the attack relentlessly.
Boris stood his ground. He reminded one MP that, in 2019, he had more than doubled the number of sitting Conservative MPs:
He also stated that he did not want another unnecessary general election when he had a clear mandate from the electorate to carry out. You can see how nasty Bernard Jenkin got in this short exchange:
Huw Merriman went so far as to send Sir Graham Brady, Chair of the 1922 Committee, a letter of no confidence during the session:
Meanwhile, Guido Fawkes and his team were busy updating Wednesday's list of resignations.
The 1922 Committee was — perhaps still is — considering a rule change allowing for more than a 12-month gap between votes of confidence in a Prime Minister. Pathetic.
Guido has the story (purple emphases mine):
There are some reports that the 1922 Committee may move in the next 24 hours-or-so to dispose of the PM. Bloomberg is reporting that "The Tory backbench 1922 Committee will meet at 5 p.m. Wednesday and will discuss changing the rules to allow another party-leadership ballot. If there is a majority opinion in favor, a ballot could be held as soon as next week." James Forsyth of the Spectator reports rule change or not, a senior committee member tells him "they now favour a delegation going to Johnson to tell him that it is over and that they will change the rules to allow another vote if he doesn't quit".
Guido's post has a list the 1922's executive members and whether or not they favour this rule change.
Later on, the 1922 decided not to change the rules — for now — because they will be holding their executive election on Monday, July 11:
Guido reported:
Surprisingly the 1922 executive has decided against changing the rules to allow a second vote of no confidence in the PM. Instead executive elections will go ahead on Monday, 2pm to 4pm. 
Critics of the prime minister are organising a slate of candidates who are expected to win a majority of places, given most backbenchers voted to oust Johnson in last month's vote. They are then expected to endorse a rule change.
During the afternoon, it was rumoured that the Chief Whip, Chris Heaton-Harris, was going to tell Boris that time was up.
Boris was hemhorrhaging support. The resignations were coming thick and fast from junior ministers. This is how it is done. The same thing happened when Labour wanted rid of Jeremy Corbyn as leader:
I used to like most of the Conservative MPs. Given what happened yesterday, I am not so sure anymore.
Those who have gone down in my estimation include former Equalities Minister Kemi Badenoch; Lee Rowley; Liam Fox; Red Wall MPs Dehenna Davison, Jacob Young and Jo Gideon; Ed Argar and former Welsh Secretary Simon Hart.
And that's not counting the rest of them that Guido has named, including those from Tuesday.
The only one I'm willing to give a pass to is Lee Anderson.
The hubris and hypocrisy got worse.
Attorney General Suella Braverman appeared on Robert Peston's show on ITV that night to announce her withdrawal of support for Boris. I really had expected better of her, especially as Peston has been anti-Boris for years. To add insult to injury, she went on to announce on his show that she would be running for leader:
Cabinet members visit Boris
Just before 5 p.m. a small Cabinet delegation visited Boris in Downing Street.
Guido wrote:
A Cabinet delegation of Nadhim Zahawi, Grant Shapps, Brandon Lewis, Simon Hart and Michelle Donelan are currently waiting in Downing Street to tell Boris the jig is up, and it's time for him to step down. Kwasi Kwarteng has also reportedly lost confidence. Beginning of the end…
Note Michelle Donelan's name in that list. Boris had just made her Education Secretary after Nadhim Zahawi moved into the Chancellor's role.
What did Michelle Donelan do? She resigned after 36 hours in the role:
Yes, of course, she got a pay out — one of £16,876.25:
The others got pay outs, too. I read that the total for ministers who resigned is over £120,000.
That's not a Conservative plan, by the way.
That's how the system works.
The caboose
Just before midnight, the final resignation of the day rolled in, that of Gareth Davies, making him the 35th that day. There were ten more from Monday as well as Michael Gove, summarily sacked. It's hard to disagree with the person comparing this to Trump:
Michael Gove
It was time for this duplicitous man to go. I never trusted him and never will.
When he turned from supporting Boris in the 2016 leadership campaign to start his own before supporting Theresa May, he stabbed him in both the front and the back.
One thing we have learned during Boris's premiership is that he — Boris — is one to forgive.
He made Gove part of his Cabinet in various high profile roles.
On Wednesday, Gove decided to tell Boris to resign:
Gove, most recently the Levelling Up minister, was conspicuous by his absence in the House of Commons. He missed Prime Minister's Questions:
News emerged at 9:30 that Boris sacked Gove — via a telephone call:
I will be very disappointed if Gove returns to a Government role. He is a Scot who, in my opinion, is too young at the age of 54 to appreciate the Union fully, and he does not have the Englishman's best interests at heart.
I've never heard him say anything about England other than to do away with English Votes for English Laws (EVEL) in 2021. As the then-Chancellor of the Duchy of Lancaster, he deemed it unnecessary in Parliament. It was a quick, quiet moment in the Commons. I do wonder why it went unchallenged by English MPs.
Yet, the English are the ones who have been overlooked the most over the past 25 years, beginning with Tony Blair, a quasi-Scot who pumped our Government and media full of many more Scots, e.g. Gordon Brown, to name but one. My apologies to Scottish readers, whom I admire greatly, but it is true.
Christian Calgie from Guido's team explains that Boris might have sacked Gove because, unlike the Cabinet secretaries who had descended upon him earlier, Gove allegedly told Boris to resign:
By the end of Wednesday, it became clear that Boris was not about to leave:
Guido reported:
Guido has had it confirmed by a PM ultra loyalist that Boris Johnson is not resigning tonight, and is understood to be planning a reshuffle. The news will spark further senior cabinet resignations…
According to reports, Boris sat down individual members of the Cabinet – including those involved in the coup – and cited his 2019 mandate, as well as the belief the government needs to spend the summer focusing on the economy and not a leadership election …
I watched four hours of analysis on GB News on Wednesday, beginning with Nigel Farage …
… and concluding with Dan Wootton, who had a great interview with Boris's father Stanley Johnson (see the 1 hour 15 mark, or, if the GB News clock shows, 10:21). Stanley is a big supporter of his son, which was heartening to see:
Thursday, July 7
Conservative ministers continued to resign en masse on Thursday morning, July 7.
Guido has a timeline of resignations and other events of the day.
Just before 9 a.m., Chancellor Nadhim Zahawi sent Boris a formal letter requesting his resignation.
Just after 9 a.m., Defence Secretary Ben Wallace — also thought to be a candidate for Conservative leader — tweeted MPs to say that they should make use of the 1922 Committee to get rid of Boris:
At 9:07 a.m., news emerged that Boris agreed to resign as Conservative Party leader. I agree that the next demand from the braying hypocrite hyenas in the media will be a call for a general election. Disgusting:
Guido reported:
Chris Mason has been told the PM has agreed with Graham Brady that he will resign, allowing a Tory leadership race to take place ahead of the Tory Party conference in October. A letter has been written. He'll quit as Tory leader today. Guido's frankly not sure how Boris can stay on for the summer with so many ministerial holes in his government…
Perhaps we can get by with fewer ministers, as someone said in Parliament this morning.
I hope that Boris's Cabinet meeting at 3 p.m. went well.
Not everyone has been happy with the coup so far. Former Conservative Prime Minister John Major is fuming. It's interesting he never reacted like that about David Cameron or Theresa May:
In brighter news, Boris's loyal friend from Ukraine rang him with his condolences and thanks:
1457: PM has spoken to Zelensky on the phone. Finished the call by praising him: "You're a hero, everybody loves you."
Yes, well, I wished our MPs loved Boris as much as President Zelenskyy does.
Ladies and gentlemen, this was a coup.
It was for a ridiculous reason, too: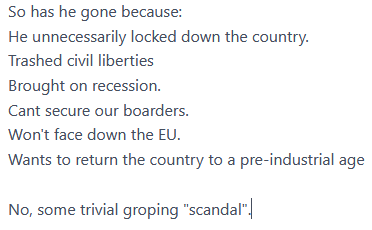 Don't forget: this was ALL ABOUT BREXIT.
More to follow next week.
When I left off on Wednesday, Prime Minister Boris Johnson said that day that there was no public appetite for a referendum on whether the UK government should continue with its goal of Net Zero:
I would not be too sure about that. There is a petition on the UK government site requesting such a referendum:
Guido Fawkes's accompanying post says (emphases in the original):
Despite Boris's attempts to resist calls for another referendum, a petition calling for the government to hold a vote on whether to keep the 2050 net zero target has today reached 10,000 signatures – meaning that the government must formally respond. If the petition hits 100,000 signatures it will have to be debated in Parliament, so Boris may have to reconsider his stance yet. Re-ordering our society to achieve net zero is a massive change; one that has not yet been democratically endorsed. Let the politicians who want us to eat bugs, have cold showers, lukewarm heat pumped houses, higher energy bills and far more expensive foreign holidays, make their case!
Writing early Friday afternoon, I saw that over 12,000 people have signed it. The map showing signatures by constituency is quite interesting. Nearly every constituency has signed up in lesser or greater numbers. Only Glasgow North East had 0 signatures.
The British are not the only ones who are upset about what they have seen on the news about COP26. On Thursday, I listened to a lively — heated — debate on RMC, France's talk radio station, about the blatant hypocrisy on the part of the elites with their private jets and limos who want to legislate us into serfdom when we already have high enough taxes and other things on our minds.
Returning to the UK, it seems to me that half the public are pretty incensed by what they have witnessed this week via television in Glasgow.
Boris Johnson
YouGov's latest poll, taken between November 3 and 4, have shown a drop in popularity for the Conservatives. They are now only one percentage point ahead of Labour. It wasn't too long ago that Labour overtook them for a week in the polls.
Guido Fawkes attributes this to the resignation of a Conservative MP yesterday for allegedly promoting a firm paying him as a consultant, but, like some of Guido's readers, I think it has less to do with Owen Paterson and more to do with COP26, which is the straw that could break the camel's back:
Guido's post says, in part:
The 2.5% swing sees Labour up two points to 35% and the Tories down three to 36%, the smallest Tory lead for The Times since Rishi's social care tax rise in September. 22% of 2019 Tory voters are now undecided about who to vote for…
How did Boris become such an unabashed climate change spokesman? Was it only because he was hosting COP26? Or are there influencers, such as his wife Carrie, not to mention his father Stanley?
On October 21, Conservative Home posted a profile of the elder Johnson, 81: 'A serious environmentalist who, as COP26 looms, has at last made a convert of his son'.
Andrew Gimson, the author, tells us of Stanley's early life, his interests and the jobs he had during his career.
Excerpts follow, emphases mine:
There is scarcely an endangered animal for which Johnson has not campaigned, a senior environmentalist with whom he has not made common cause, and his efforts have been recognised by prizes awarded by Greenpeace, the World Wildlife Fund, the RSPCA and the RSPB among others …
In February 2016, Johnson became Co-Chairman of Environmentalists for Europe, a group set up to campaign for Britain to remain in the EU, and set out his case in a piece for ConHome in which he recalled how poor Britain's environmental performance was before 1973 …
… the tone is serious. Johnson's record as a committed environmentalist stretches back half a century. In 2017 he switched sides and accepted Brexit, but the environmentalism remains a constant.
On television, Stanley displays a jokey joviality, a characteristic Boris has adopted.
Andrew Gimson concludes:
Various characteristics have come down from Stanley to his eldest son, including an indefatigable, at times almost unhinged optimism; a compulsion to make every joke suggested by any given situation; and a fondness for the mannerisms of a stage Englishman, occasionally hard to distinguish from those of a cashiered major.
What lies behind such persistent frivolity? What is each of them hiding? The angry but lazy answer is nothing, which is one reason why the Prime Minister's chances of success have been so persistently underestimated.
In Stanley's case, there is the serious, long-term commitment to the environment, and as COP26 comes into view, he finds he has made a convert of his son.
On Tuesday, November 2, Boris flew back to London for a dinner with Telegraph journalists at the Garrick in Pall Mall, London:
Guido says (emphasis in the original):
Instead of wasting his time schmoozing celebrity swampies in Glasgow with the Prince of Wales, Leonardo DiCaprio and Stella McCartney, Boris was instead at a far more important and influential event: a reunion dinner party for Telegraph leader writers at the Garrick.
It's not the dinner or the private club that is irksome, but the fact that Boris flew back from Glasgow whilst telling the rest of us that we will have to lower our own standard of living.
The Mail's veteran columnist Richard Littlejohn wrote about the sheer hypocrisy of it all (emphases mine):
For the record, I have no problem with a few like-minded chaps getting together for Chateaubriand washed down with Chateauneuf du Pape.
I don't even care if Boris takes a private plane back from an international summit.
It's the stinking hypocrisy that sticks in my craw, the 'Do as I say, not as I do' arrogance of all this.
I couldn't give a monkey's about the double-standards of Joe Biden, Jeff Bezos, or any other of the preening global junketeers who turned up in Glasgow this week.
But I am extremely concerned about the behaviour of our Prime Minister and his Cabinet, who increasingly behave as if the rules they impose upon on the rest of us don't apply to them.
Boris has spent the week warning about climate change apocalypse. In pursuit of his insane Net Zero vanity project, he proposes to make us colder and poorer, change our diets and cut back on travel, especially foreign holidays.
After banging on about aviation and vehicle emissions destroying the planet, does he really think taking a private plane and a thirsty Range Rover to a jolly-up at an exclusive London club is a proper way to behave?
What kind of example does that set? If catching the train back from Glasgow meant missing a dinner with Lord Snooty and his pals, so what?
Sadly, this pattern of behaviour has become the norm among our ruling elite, ever since Boris's ex-sidekick Dominic Cummings flouted the Covid lockdown by driving to Durham.
Ministers exempted themselves from the travel ban and the need to self-isolate. On the pretext of combating global warming, the Tories' Cop26 champion Alok Sharma flew to no fewer than 30 countries, never once quarantining on his return to Britain.
Next month, it'll be two years since we gave Boris a thumping 80-seat majority. It should have been the start of a national renaissance under a popular, self-proclaimed libertarian PM.
Admittedly, the pandemic changed everything. But that is no excuse for what has happened subsequently. I've been asking friends and family who voted Tory in 2019, some for the first time, if they can name a single one of this Government's policies they actually support.
Other than getting Brexit done and sub-contracting the vaccine programme to Kate Bingham, most came up blank.
Somewhere along the line, a so-called Tory Government has completely lost the plot …
I could not agree more.
The Royal Family
After having read about COP26, a good friend of mine told me the other day that he would not be upset if the Royal Family disappeared into oblivion after the Queen departs this mortal coil:
At least with a president, we can get rid of him in four or five years.
I do not yet share my friend's sentiment, but this week's events have pushed me ever closer.
The Queen
Is the Queen coming out as an environmentalist, further honouring her late husband, Prince Philip, founder of the World Wildlife Fund?
Was it appropriate for her to give a statement via video about COP26? I'm of two minds about it. Then again, only those at the VIP reception at Kelvingrove Museum in Glasgow got to see it. The following article from the Mail has the transcript in a sidebar.
The Daily Mail reported on the reception, held on Monday, November 1:
Her Majesty, 95, told leaders 'to rise above the politics of the moment, and achieve true statesmanship.'
She went on to say that 'none of us will live forever' and 'we are doing this not for ourselves but for our children and our children's children, and those who will follow in their footsteps' as she urged leaders to reach decisive COP climate change deals. 
In her most personal speech ever, the monarch also paid tribute to Prince Philip and described how 'the impact of the environment on human progress' was a subject close to the heart of her 'dear late husband' – who in 1969 told an academic gathering: 'If we fail to cope with this challenge, all the other problems will pale into insignificance.'  
Was it appropriate for her to express her opinion on coronavirus vaccinations last Spring, intimating that those who did not get them were selfish and self-centred? That was bang out of order, in my opinion.
The Queen is now speaking out publicly on subjects that have traditionally been out of bounds for the Royal Family, the monarch in particular. One dreads to think what will be in her televised Christmas message this year.
Prince Charles
On Monday, I watched Prince Charles's brief speech at COP26.
As expected, he catastrophised, calling on everyone to adopt a 'war footing'.
The apple does not fall far from the tree. He is like his father in that respect.
As with his mother, is this the sort of thing he should be pontificating on in public? Climate change is highly political.
The Cambridges
The Duke of Cambridge — Prince William — has embraced environmentalism as, so it would appear, his wife, the Duchess, a.k.a. Kate.
The aforementioned Mail article gushed about her outfit, far out of reach for mere mortals:
Kate Middleton looked the picture of poise in a blue coat dress and navy heels as she walked alongside Prince William in a dapper suit at the arrival. 
Wearing her hair back in a low bun, the Duchess opted for a glamorous make-up look for the ceremony tonight where she was hosted Prince Charles, Camilla, Duchess of Cornwall and Boris Johnson as well as key members of the Sustainable Markets Initiative and the Winners and Finalists of the first Earthshot Prize Awards.
Her custom dress came from Eponine's SS20 collection and made from a double wool crepe fabric, the price is available on application but similar dresses cost around $3,278.
Meanwhile, Camilla, 74, opted for a teal Bruce Oldfield featuring buttons recycled from another outfit.
William and Kate's appearance comes just hours after royal couple, both 39, visited Alexandra Park Sports Hub in Dennistoun to meet with Scouts from and learn more about the group's' #PromiseToThePlanet campaign.
Meanwhile, the article says that Prince William had a laugh with Joe Biden, as did the Duchess of Cornwall — Camilla — with Angela Merkel.
The Cambridges will never have to worry about installing heat pumps. They will be able to live in warm rooms and enjoy hot baths or showers thanks to traditional boilers. Meanwhile, any member of the public foolish enough to go along with installing and running a heat pump will never be warm again, either while dressed or abluting. Heat pumps stop working at 4°C. Furthermore, installing one requires tearing up one's back garden at a cost of £12,000.
Conclusion
The world has changed. We have more inequality now than we did when Prince Charles was born after the Second World War.
UnHerd has a profile of the prince, which has quite a few sad anecdotes in it, and concludes with the world's changes over the past 70 years:
Charles never changes. But the world always does. When he was born in 1948, wars and revolutions had levelled everything. There was a 'Great Compression'; inequality was suppressed, by accident, bloodletting, and design. For 30 years there were high taxes, good novels, middle-class successes, and an operational meritocracy.
By the Nineties, Tory politicians in Britain could dream of a "classless" society. Charles was most-lambasted in this midlife period, not merely because of the "War of the Waleses", but because this socially democratic mood made the monarchy itself look ridiculous. "Who knows what fate will produce?" Diana said, ominously, at the time.
Fate dispatched her, then produced a vastly more unequal world. Meritocracy calcified into an aristocracy. It treats national and international institutions as outdoor relief for its favoured families. After Iraq, the financial crisis, and 2016, this elite, viewed from below, began to look like an Ancien Régime. With their fabulous wealth, estates, yachts, villas, servants, and elaborate sex lives, this class resembles the Windsors, just with stronger chins.
And those are the people who are going to tell us how to live our lives according to the new religion of climate change.
Bring on that Net Zero referendum! We need it!
Happy Bonfire Night to my British readers.
As I write, Prime Minister Boris Johnson is on holiday in Spain.
He, his wife Carrie and their young son Wilfred left for Lord Goldsmith's holiday villa after the Conservative Party Conference ended on Wednesday, October 6.
It is a well-deserved break. His stay in Cornwall in August lasted 24 hours before he had to return to Downing Street to deal with the fallout from Joe Biden's abrupt withdrawal from Afghanistan.
Despite Britain's crises of fuel and food, he needed a break before Parliament resumes next week.
However, a pivotal personal event also occurred during this time: the death of his mother, Charlotte Johnson Wahl, whose funeral was held on September 28.
A Remainer campaigner sent a nasty tweet asking who was in charge of the Government:
Boris's sister replied:
Boris has not taken any bereavement leave until now.
However, with every lamented death comes new life. Carrie Johnson will be giving birth again in a few weeks' time, which will be a consolation to the Prime Minister.
Budding artist
Charlotte Maria Offlow Fawcett was born in 1942 in Oxford to Frances (née Lowe) — 'Bice' — Fawcett.
Her father, James Fawcett, was a barrister. Three decades later, Sir James Fawcett assumed the presidency of the European Commission for Human Rights.
Years later, Charlotte described her childhood family and friends as 'rich socialists'. She never voted Conservative, although she told Boris that she did vote 'Leave' in the 2016 Brexit referendum.
Charlotte's mother, Bice, was close friends with a woman from another prominent family, Elizabeth Pakenham. Elizabeth and her husband had a baby girl, Rachel.
In a tribute to her friend which she wrote for The Times, Rachel Billington said (emphases mine):
In May 1942 our mothers, Bice Fawcett and Elizabeth Pakenham, both had babies in Oxford and walked our prams side by side. Her family, the Fawcetts, were clever, artistic and international; the Pakenhams were political and literary. Charlotte and I were fat little girls together, waving our Peace in Europe flags and trying to keep up with our siblings. She ended up with four siblings, while I had seven. When both families were in London, I was jealous of music in her house and the sense of an intellectual world beyond my grasp. And she was jealous of my rumbustious life, with a house in the country and horses. Not that she had any wish to ride.
Rachel Billington says that Charlotte attended Catholic school and said her prayers every night, kneeling at her bedside. This religious education might well have imparted the wisdom she gave to Boris, who remembers her talking about 'the equal value of every human life'.
The Fawcetts moved to the United States for a time. Billington recalls:
When her family went to live in America and her youngest brother acquired an American accent, I realised she inhabited a wider world.
The family returned to England. By then, Charlotte was interested in painting and pursued her artistry at Oxford, the university that Billington also attended. Charlotte was reading English:
At Oxford, her intensity was reflected in her small college room where the objects were ordered as if already in a painting. She was painting and drawing complicated faces and patterns. Her essays were remarkably short and there was never anything regurgitated from "further reading". She discovered her views from the text and from her imagination.
Meeting Stanley at Oxford
Charlotte met her first husband, Stanley Johnson, at Oxford.
In a 2015 interview, she recalled how they met at a university dinner:
… she told Tatler magazine in 2015: 'I was engaged to somebody called Wynford Hicks, who was extraordinarily beautiful to look at but actually quite boring.
'Anyway, [after the dinner] Stanley sent me a note asking if he could come to tea and go for a walk.
'So a few days later we went for a walk and he suddenly said, 'Love is sweet. Revenge is sweeter far. To the Piazza. Ah ha ha har!", which made me laugh so much I fell in love with him.'
When he earned a scholarship to study in America, Charlotte accompanied him. They married in 1963 and their first child, Alexander Boris, was born a year later.
Billington explained his middle name. Stanley and Charlotte were on holiday in Mexico City at the time:
The name Boris, incidentally, arose when they ran out of money at the airport on the way to New York where Charlotte was to have the baby, and an impatient passenger in the queue offered to pay what they needed. "That's terrific," Stanley said gratefully, "We'll call the baby after you if it's a boy. What's your name?" "Boris," answered the gentleman. In fact it is our prime minister's second name; while he was at Eton Alexander was dropped in its favour.
However, Boris is still known to his nearest and dearest, Billington included, as Al or Alexander.
Charlotte painted a portrait of her son as a young boy, who grew up with shoulder-length hair:
The casually dressed, floppy-haired boy looks up from his painting. He is relaxed but serious, his complexion fair.
The Johnsons returned to England for a time. Charlotte and Rachel resumed their friendship:
Nothing seemed impossible to this glittering couple and Charlotte returned to resume her degree with Stanley and Alexander while also pregnant with her daughter Rachel. Through these perambulations and my own, Charlotte and I remained close; I was Al's godmother and later Charlotte was my eldest son, Nat's. Friendship was very important for Charlotte and she had the kind of loving warmth that made even newer friends bond to her for life. And tell her their stories and listen to their jokes and laugh. Lots of laughter.
It seems likely that Charlotte named her daughter Rachel in honour of her friend.
Charlotte completed her degree at Oxford as the first married female undergraduate at her college, Lady Margaret Hall.
Ruined marriage
Stanley received a transfer back to the US to work at the World Bank in Washington DC.
Billington was also in the US, working for ABC television in New York.
She remembers meeting up with her friend, the mother of four:
With the Johnsons living in Washington, where Stanley was working at the World Bank, enjoying a highly sociable life, plus now having four children, it seemed extraordinary that Charlotte's painting life could continue. Yet when I visited from New York where I was working for ABC TV, she still had the energy to go down to Rehoboth Beach [Delaware] and bebop with the rest of us.
In the 1970s, the Johnsons' marriage began to break down once the family returned to London.
The Mail alleges:
Mrs Johnson Wahl had an unhappy marriage to Boris' father Stanley, who was accused of breaking her nose in the 1970s.
Charlotte's mental state disintegrated, to the point where she had to be admitted to the Maudsley Hospital in London.
Billington visited her:
… suddenly I was visiting my brilliant friend in the Maudsley Hospital suffering from the problems that pressure and an obsessional nature can bring, properly called obsessive compulsive disorder. While the children ran round in the garden, Charlotte and I talked and I discovered that every day she was painting for hours at a time. Eventually, nearly 80 paintings were exhibited in the hospital, terrifying pictures of people in despair, agony or just misery. Yet also implying hope in the vibrant beauty of the colours and quite often a kind of wry humour, as if saying, "This is my life at the moment."
The Times obituary notes:
She had already become "extremely phobic . . . terrified of all forms of dirt". Eventually she had a breakdown and spent eight months at the Maudsley hospital in south London as a patient of Hans Eysenck, the influential psychologist.
While Charlotte was in the Maudsley, Stanley was transferred to Brussels. He took the children with him.
Charlotte discussed the difficult marriage in a 2008 interview:
"My husband and I were not making each other happy, to put it mildly. It was ghastly, terrible," she told the Daily Telegraph in 2008, tears filling her bespectacled eyes. "The children used to come over from Brussels to see me in hospital. They'd run down the passage and it was sickeningly painful because then they'd go away again. It took me a long time to recover."
Once Charlotte recovered, she was able to move to Brussels and, during holidays, welcome guests at the family farm in Exmoor in Devon. Billington remembers her stays with the Johnsons:
As Charlotte recovered, the family moved to Brussels, but when they were in England I would join them in the house on Exmoor that Stanley inherited from his father. It was a glorious cold comfort farm, but friends, if they survived the long pot-holed driveway, were fed hugely and taken on challenging treks that usually included river swimming and mountain climbing. Well, hills. It was hard for Charlotte to paint there, yet the pictures of her children and her friends' children prove she was still managing. I have three from that period.
The renowned journalist and author Tom Bower has written a biography of Boris, The Gambler. The Mail's obituary of Charlotte recaps how Stanley treated her:
A biography of the Prime Minister claimed her marriage became 'irredeemably fractured' due to her husband's 'neglect and philandering'.
The Gambler, by Tom Bower, alleged that doctors spoke to Stanley 'about his abuse' while the couple's children were told a car door had hit their mother's face.
The most shocking claim was that in the 1970s Stanley hit the Prime Minister's mother in a domestic violence incident that broke her nose and left her requiring hospital treatment.
Mr Bower describes Stanley's first marriage, to Mr Johnson's mother Charlotte, as violent and unhappy, quoting her as saying: 'He broke my nose. He made me feel like I deserved it.'
It was claimed that the incident took place in the 1970s when Mrs Johnson Wahl was suffering from obsessive compulsive disorder and had 'flailed' at Stanley, who broke her nose when 'flailing back'.
Stanley, now 81, is said to have deeply regretted the incident and denied he had been violent on any other occasion.
By the end of the decade, the couple separated. They divorced in 1979.
Billington lived five minutes away from Charlotte, once she separated and could really throw her energies into painting:
After her separation from Stanley, paintings poured out from her flat at the top of a large building in Elgin Crescent in Notting Hill, London, happily just five minutes' walk from me.
The Mail says Charlotte refused financial support from Stanley:
After moving to a flat following her divorce, she refused to accept money from her ex-husband and made a living selling paintings. She later recalled she was 'very hard up'.
Dr Nick Wahl, second husband
Charlotte found happiness with her second husband, Dr Nick Wahl, an American professor. They married in 1988.
The Times obituary tells us how they met in 1982 and summarises their life together:
… she met Nick Wahl, an American academic. "We were at a dinner party in Brussels given by [the diplomat] Crispin Tickell and Nick asked could he see my paintings," she told Tatler. "He was on a trial separation from his wife. There was an immediate connection. I flew out to see him and he came to see me. There were an incredible number of crossings of the Atlantic." They married in 1988, by which time her youngest son was in his final year at Eton, and lived on Washington Square, New York. Wahl died from cancer in 1996 and she returned to London, settling in Notting Hill in a flat that, according to one visitor, resembled "an Aladdin's cave with exotic carpets, a dolls' house, flowers, cherubs on the wall and oil paintings everywhere, including several of the flaxen-headed children".
Billington recalls those years:
That was a great period of creativity that was reinforced by her marriage to Nick Wahl and a double life in London and Washington Square, New York where Nick was professor at the university. It gave her a chance to play with the Manhattan skyline and the sardine tin of the subway to dazzling effect, sometimes on giant canvases. In London, she modestly remarked, "I just paint what I see", but Elgin Crescent had never looked so dramatic. My son Nat snapped up one, which I visit just to see what she made of a fairly ordinary London street.
As her beloved children grew up and made their own paths, and she no longer had the constant responsibilities of motherhood, I saw a painter at the peak of her powers. Now when I visited Manhattan, we ate out for every meal, feeling young and independent, both of us with four adored children, but free to do what we wanted. She painted, I wrote, and of course Charlotte had a whole lot of fascinating New York friends.
Unfortunately, around the time Charlotte met her second husband, she was diagnosed with Parkinson's disease. That was in 1982, when she was only 40 years old.
Her quality of life diminished until 2013, when she underwent state of the art treatment in London.
The Times obituary says:
A cocktail of drugs helped to slow the progress of the disease, but the quality of her life was impeded. "The worst thing is a terrible stiffness," she said. "When you want to walk you can't — you freeze and your feet become attached to the ground." In 2013 she achieved something of a medical breakthrough when Ludvic Zrinzo at the National Hospital in Bloomsbury introduced two electrodes into her brain and linked them to a battery in her chest. "It means I don't jerk any more and I can go to the cinema and the theatre again. It's bliss," she said.
Political opposites
The Mail's obituary states that Charlotte was amazed to be the mother of four children who are all Conservatives:
She was described in a 2015 article in the Evening Standard as 'left-wing'.
Boris Johnson's sister, Rachel, said in the article, about two-party families, 'We are a very mixed-race family politically and my father tends to marry socialists.
She later described her mother as 'the only red in the village when we lived on Exmoor'. And she herself once admitted that she had never voted Conservative, despite two of her sons being Tory MPs.
She told the Radio Times in 2015: 'I find it extraordinary that I should have married a Tory and have four Tory children.
'I've never voted Tory in my life. My parents were very socialist – rich socialists with three cars and two houses, but they were socialists in the days when that happened' …
Along with Boris Johnson, she was also the mother of former Conservative MP Jo Johnson, journalist Rachel Johnson, and entrepreneur Leo Johnson.
The Prime Minister's son Wilfred was her 13th grandchild.
Charlotte had several exhibitions of her paintings, and she sold many. She was also commissioned to paint celebrity portraits, which were equally well received.
May Charlotte Johnson Wahl rest in peace. Hers was a life well lived. Most importantly, she was able to overcome adversity.
Sources:
'Boris Johnson's mother Charlotte Johnson-Wahl dies "suddenly and peacefully" at the age of 79', Daily Mail (includes family photos)
'Charlotte Johnson Wahl was my best friend', The Times
'Charlotte Johnson Wahl, the prime minister's mother, dies aged 79', The Times
Yesterday's post discussed Prime Minister Boris Johnson's third marriage and Catholic Canon Law.
Today's post looks at the way Boris and Carrie Symonds — now Carrie Johnson — were able to keep their plans secret, which is not easy in No. 10, well known for its leaks.
Although his former special adviser Dominic Cummings gave scathing testimony about Boris and Carrie to a parliamentary Select Committee on Wednesday, May 26, by the end of the week, the Prime Minister's fortunes had improved.
Although we are not that happy with aspects of Boris's handling of the pandemic, more of us trust him than we do Cummings:
On Friday, the Independent Advisor on Ministerial Interests Lord Geidt concluded that Boris's renovations on his Downing Street flat did not break the ministerial code:
That day, he was also photographed running for a train. When was the last time any Prime Minister in living memory ran for a train? Scenes like these endear Boris to the British public:
He even waved to a woman who called out, 'Hi, Boris':
Guido Fawkes posted the video. One of Guido's readers responded with a lyric from My Fair Lady:
"Girls come and kiss me, say that you'll miss me
But get me to the church on time"
Little did anyone know how true that was.
Saturday, May 29, began with a good poll, in spite of Cummings's testimony:
Downing Street confirmed wedding day after it happened
There were no announcements from Downing Street of the wedding on Saturday, May 29.
On Sunday, the BBC's political correspondent Nick Eardley wrote (emphases mine):
It can't have been easy to keep yesterday's wedding – between a former journalist and someone who works in public relations – under wraps.
But it seems to have taken almost everyone in Westminster by surprise.
Such was the desire to keep it quiet, Downing Street only officially confirmed it had happened on Sunday morning – the day after the wedding.
The accompanying article stated:
The marriage took place in a "small ceremony" on Saturday afternoon, a Downing Street spokesman said.
The spokesman added that the couple would celebrate again with family and friends next summer, with their honeymoon also delayed until then …
Downing Street did not reveal any details of who was invited and whether any of Mr Johnson's Cabinet colleagues were among the guests …
Musicians were pictured leaving No 10 on Saturday night.
At Westminster Cathedral that day, visitors were asked to leave in the early afternoon:
Members of the public were asked to leave Westminster Cathedral just after 13:30 BST, the Sun reported.
shortly after 1.30pm, confused tourists were ushered out of the building on the basis that it was going into lockdown.
This is a photo of the Johnsons at Downing Street afterwards (another made the front page of The Telegraph). Look at Boris's tie:
Guido Fawkes wrote 'Amoris Laetitia' in his post. This is Latin for 'The Joy of Love' and the title of Pope Francis's exhortation on love in family life.
How events unfolded at Westminster Cathedral
The Telegraph reported that, around 2 p.m. on Saturday:
Miss Symonds, who has since taken her husband's name, swept into the piazza in front of the cathedral in a limousine, wearing a £2,870 embroidered tulle gown but no veil.
Close friends and family and the couple's one-year-old son, Wilfred, were in attendance as they were married by Father Daniel Humphreys, the head of the cathedral.
He was the priest who had baptised their son six months earlier in the same Lady Chapel, an ornately decorated room which hosts morning and evening prayer.
The couple had been instructed by him to ensure that they were both prepared for the marriage "over many months", sources told the Telegraph.
After the ceremony, the guests – understood to include Mr Johnson's siblings Rachel, Jo and Leo Johnson, his father, Stanley, and half-sister Julia – were whisked back to Downing Street.
The first official photograph was released on Sunday morning and showed the couple embracing in the garden. Mr Johnson even appeared to have brushed his famously unruly hair for the occasion, though his tie remained askew.
They opted to hire an external photographer, Rebecca Fulton, rather than using Andrew Parsons, a special adviser who takes pictures of Mr Johnson on official visits. Her prices begin at around £2,300 for a day's wedding shoot – although it is possible the Prime Minister received a bargain rate as the ceremony was so short.
Downing Street reception
The same Telegraph article says that a marquee was already in the Downing Street garden for a prior event:
It had been used days earlier to host a meeting between the Prime Minister and small businesses that had made a net zero commitment.
The atmosphere was relaxed:
the garden decked out with lanterns, bunting and hay bales, which it appeared were being used as seats as well as table legs to hold up a tray of drinks.
Also:
After much speculation about their nuptials, and a save-the-date for July 30, 2022 card sent just six days before they married, people were expecting an elaborate affair. But in the end Mr Johnson's third marriage was a low-key celebration which saw guests dancing to Don McLean's American Pie played by a wandering acoustic fiddle band.
Top secret
The article says that Saturday's wedding took six months of secret planning:
The event was planned in secret over the last six months, and even the small number of guests allowed under Covid restrictions were only told at the last moment, it is understood.
The Daily Mail reported:
The premier is understood to have picked his closest brother Leo – co-presenter of Radio 4 series Future Proofing –to stand by his side as his best man and provide moral support on his big day. 
Fellow Johnson siblings Jo, Julia and Rachel were also in attendance at the small wedding, the premier's third.
Both the bride and groom's mothers joined the summer festival-themed party in the Downing Street garden, but Carrie's father Matthew Symonds was not present. It is not known if he was invited by the couple.
It is also thought that none of Mr Johnson's four grown-up children from his second marriage to the QC Marina Wheeler were there to see their father remarry.
No Cabinet ministers or Tory MPs were thought to have been invited to the top-secret wedding either, the Sun reports.
The couple were expected to spend the rest of the Bank Holiday weekend at Chequers, the Prime Minister's country retreat in Buckinghamshire.
They have chosen to delay their honeymoon until summer 2022, when they will also hold a bigger wedding celebration, according to the Telegraph.
The article says that Carrie rented her dress:
The bride, who hired her £2,870 wedding dress by designer Christos Costarellos for just £45 from MyWardrobeHQ for the day, said she was 'very, very happy'.
In order to keep arrangements low-key, she hired three decoy dresses. The Daily Mail describes her plan:
Carrie Symonds hired three decoy dresses to throw snoops off the scent before her secret marriage to Boris Johnson. 
Prime Minister Boris Johnson's new blushing bride hired the dresses from eco fashion business My Wardrobe HQ and returned the one she settled on for £45 today from Greek designer Christos Costarellos …  
The new Mrs Johnson, 33, often orders clothes to the couple's Downing Street home so wanted to throw snoops off the scent by hiring three other bridal frocks.   
The company she ordered the dresses from only found out they had supplied the wedding dress for the UK's first lady when they saw pictures of the secret wedding. 
Co-founder Sacha Newall told The Times: 'We didn't know what it was for. We were just asked to supply some items. Then we saw what happened this weekend. It was all a bit of a surprise.'
They revealed that Mrs Johnson has asked for four dresses in a variety of shades.  
And it's not the first time Mrs Johnson has worked with the company – she used their services when she was finding a dress to meet the Queen at Balmoral in 2019. 
Ms Newall added that while Carrie isn't particularly into fashion she is making an effort to take an interest. 
She said: 'There is an awareness that as the prime minister's wife she needs to be dressed in a certain way… She doesn't want to feel that she is letting the side down.'  
And the first time Carrie was spotted standing next to Mr Johnson on the steps of Downing Street in her iconic pink Ghost dress, she had rented the frock from My Wardrobe HQ.  
My Wardrobe HQ's business will be going through the roof now. I wish them every success.
How Boris met Carrie
It wasn't only the wedding that was kept under wraps. Even the development of their relationship is rather private.
The first the public had heard of Carrie Symonds was in the summer of 2019, when she and Boris had a row at her home in London, more about which below.
The Telegraph reported that the two have known each other since 2012:
For a relationship that began under the shroud of rumour and has been conducted largely in private, it was only fitting that the marriage of Boris Johnson and Carrie Symonds included the element of secrecy.
The world now knows that the Johnsons' wedding anniversary will forever be May 29 2021. But precisely when their relationship started is a little harder to pin down.
Miss Symonds, a Warwick University graduate who instantly progressed through the ranks of the Conservative Party, is thought to have got to know Mr Johnson when she worked on the 2012 Back Boris campaign for his re-election to become mayor of London. After that experience, she developed a habit of praising his speeches on social media.
It was six years later, in 2018, when Mr Johnson was serving as foreign secretary and Miss Symonds as the party's head of communications, when whispers about their escalating friendship emerged. In February of that year, a ruddy-faced Mr Johnson, then 51, was photographed chatting playfully with a glamorous-looking Miss Symonds, then 29, outside the Tories' Black and White Ball at the Natural History Museum.
A week later, it was reported that the pair enjoyed a Valentine's Day meal at one of Mr Johnson's favourite haunts, Rules, in Covent Garden. The next month there were cocked eyebrows all around Westminster when social media chatter revealed that Mr Johnson, Michael Gove and Sajid Javid, at that time all Cabinet heavyweights, were spotted gyrating to Abba in a room full of drunk millennials at Miss Symonds's 30th birthday party in north London.
"The feeling inside Number 10 at the time was very much along the lines of: 'What on earth were they doing there?'" one former Downing Street aide told The Telegraph later that year …
Another source cattily remarked that, "Carrie is not what you'd describe as a girly girl. She's more of a man's woman. And by that I mean an older man's woman." Yet of the three older, married Cabinet ministers at the party, the rumour mill was only concerned with one.
By September, both Mr Johnson and Miss Symonds moved on from their respective roles – she took up a role with a conservation organisation, while he resigned from the Cabinet in protest at Theresa May's handling of Brexit – and Mr Johnson had announced his divorce from his second wife, Marina Wheeler, after 25 years of marriage.
By now, that rumour mill was churning wildly, and given grist in the form of one particularly juicy morsel of Westminster chatter suggesting Mr Johnson sent a car to collect Miss Symonds from a colleague's wedding when he was still foreign secretary.
The car, it was said, brought her to his grace-and-favour residence, Chevening, and to top it off, the wedding was held at Penshurst Place, Kent, which used to play host to King Henry VIII while he secretly courted his mistress, Anne Boleyn.
Despite an almost 24-year age gap, the burgeoning relationship appeared to make some sense: both were metropolitan and sociable, both had backgrounds in the media (in Miss Symonds's case it was in the family – her estranged father is Matthew Symonds, the co-founder of The Independent; her mother is Josephine Mcaffee, once one of the paper's lawyers), both were on the green side of the Tory party with their mutual friend Zac Goldsmith, and both were undeniably ambitious.
Just how they managed – and still manage – to keep their relationship so private puzzled some observers. But Miss Symonds was well-positioned to ensure discretion: she has friends and connections all over Fleet Street, as well as countless powerful Tory allies.
In 2019, Symonds began getting closer to Boris and his father:
The drip-feed of gossip continued to find its way into the public domain, however. That Miss Symonds had been showing friends mischievous texts she'd received from Mr Johnson. That she called him "Bozzie Bear", and he called her his "otter". That his photograph was her phone screensaver. That Stanley Johnson, Boris's father, joining Miss Symonds on an anti-whaling march in January 2019 was proof things were serious. That Mr Johnson was losing weight and keeping his hair trim not for the electorate but for her. That he and Miss Symonds were "very much in love", and had moved in together in her flat in Camberwell, south London …
Locals in Camberwell, who weren't overcome with joy at the news, remember seeing "the unmistakable, hunched blonde figure of Boris" cycling to and from Miss Symonds' home each day.
They were rarely seen together at public events, however:
The closest thing to an official confirmation, in fact, was Miss Symonds' appearance at Mr Johnson's campaign launch for Conservative leader in June 2019. In a deep red Karen Millen dress, Miss Symonds entered the public eye just months before her partner was favourite to become prime minister.
I read at the time that the dress sold out immediately.
Then came the row:
The pressure clearly told. A few weeks later, police were called to the Camberwell flat after neighbours heard an argument taking place. Helpfully, they had recorded the row and told a newspaper that Miss Symonds could be heard telling Mr Johnson: "You just don't care for anything because you're spoilt. You have no care for money or anything."
However, that blew over quickly.
Shortly afterwards, she moved into Downing Street with him. I have no objection to people living together except when it involves a high-profile person in a high-profile setting. Call me old-fashioned, but it is just wrong. Unfortunately, Boris has now set a precedent:
When Mr Johnson secured the keys to 10 Downing Street, Miss Symonds joined him. Not literally – she stood watching his victory speech on the other side of the camera, rather than just behind him, as Philip May and most other prime ministers' spouses had – but she moved in, and quickly gained a reputation as an influential figure in the Prime Minister's inner circle.
As if to mark the start of a new family, Mr Johnson and Miss Symonds adopted Dilyn, a Jack Russell cross, shortly after taking residence in Downing Street.
Carrie became pregnant. Weeks before she was due to deliver, Boris was hospitalised with coronavirus. He was close to death:
It was to prove not only a national crisis for the Prime Minister, but also a terrifying personal battle. After testing positive for Covid-19, Mr Johnson was taken to intensive care at St Thomas's Hospital, London, in April 2020.
Afterwards, stories circulated about Boris's affair with an American during the 2010 Olympics held in London. Then came Wallpaper-gate. And, now, the couple have married. Carrie Symonds is now officially Carrie Johnson.
History in the making
The last Prime Minister to get married while in office was also a Conservative: Robert Banks Jenkinson — Lord Liverpool. He remarried in 1822.
The Daily Mail stated:
Mr Johnson is the first premier to marry in office in 199 years. He follows in the footsteps of Lord Liverpool, who married Mary Chester in 1822 and was prime minister for 15 years.
Mary Chester was a close friend of his wife Louisa, who died at the age of 54.
One wonders if Boris's original date of July 30, 2022 was planned to deliberately coincide with this 200-year anniversary.
This is the final instalment of my long-running series, the Brexit Chronicles.
My previous post discussed the December 30 vote on the EU Future Relationship Bill which passed both Houses of Parliament and received Royal Assent in the early hours of the final day of Brexmas, December 31, 2020.
New Year's Eve was a quiet affair in Britain, as we were in lockdown.
One week earlier, Boris said that he would not be dictating to Britons how they should celebrate our exit from the EU, which was a bit rich, because he had already put us into lockdown before Christmas:
What UK independence from the EU means for Boris
The UK negotiating team did some star turns with this agreement, which polished Prime Minister Boris Johnson's political reputation.
Boris's ratings had taken an understandable hit during a year of coronavirus, which included a lot of flip-flopping on his part, however the trade agreement improved things considerably. Liz Truss, who has been negotiating our trade deals with more than 50 countries, deserves her place at the top:
According to an Opinium poll, an overwhelming majority of Britons — even Remainers — wanted MPs and the Lords to pass the deal:
Troublingly for the anti-deal SNP, the poll's sub sample of Scottish voters shows that by 47% to 19%, Scots want their MPs to vote for the deal too…
The Norwegians said that the UK had negotiated a better deal with the EU than they had:
Guido Fawkes thinks that this could give Norway the impetus to renegotiate their terms with the EU. I hope so (emphases in the original):
Marit Arnstad, parliamentary leader of Norway's Centre Party, argues that the UK deal is better than the Norwegian deal her country has as a member of the European Economic Area (EEA). "The UK has now reached an agreement that gives them more freedom and more independence" she tells Klassekampen, Norway's answer to the Guardian, "the British have a better agreement than the EEA. They get access to the internal market and the common trade that is desirable, but they do not have to be part of a dynamic regulatory development that places strong ties on the individual countries' national policies. …The most difficult thing for Norway is that we are bound in areas that are national policy, and that it happens in more and more areas. The British have now taken back this authority, and it is extremely interesting".
Arnstad is not the only politician complaining, the leader of the Norwegian Socialist Party's EEA committee, Heming Olaussen, also believes that the British agreement with the EU is better than the EEA, "because the British escape the European Court of Justice. Then they are no longer subject to EU supremacy and must not accept any EU legislation in the future as we must. This agreement is qualitatively different and safeguards national sovereignty in a better way than the EEA does for us".
Could we soon see Norway and the other EEA countries try to renegotiate their terms?
Prime Minister Boris Johnson made sure that he got everything possible arranged by the end of the day, including Gibraltar. The first tweet has a statement from Foreign Secretary Dominic Raab:
Remainers constantly brought up the future of the Nissan car plant in Sunderland. They can silence themselves now.
Chronicle Live reported:
Automotive giant Nissan has welcomed the UK's post-Brexit trade deal with the EU, which appears to have safeguarded the future of its Sunderland plant.
The plant has been at the centre of the Brexit debate over the last decade, with both Remain and Leave campaigners using it to back up their respective arguments.
A number of global Nissan executives have used visits to Sunderland to warn that its future was threatened by a no-deal Brexit, and two models either being made or due to be made at the plant have been cancelled since the 2016 referendum.
But the Christmas Eve agreement of a deal that appears to allow tariff-free access to EU markets for British-made goods has been welcomed by the company.
On Boxing Day, The Telegraph — Boris's former employer — published an interview with him, excerpts of which follow (emphases mine):
"I think it has been a long intellectual odyssey for many people of this country," he said, casting back to 1988, shortly before he, an up-and-coming journalist at The Telegraph, was dispatched to Brussels to report on the European Commission.
"The whole country has been divided about this issue, because we are European, but on the other hand we don't necessarily want to feel that we're committed to the ideology of the European Union.
"That's been the problem and I think it is absolutely true that Margaret Thatcher … she did begin this period of questioning. Her Bruges speech was very, very important."
Mr Johnson is referring to a speech that, to many Eurosceptics, formed the foundations of the bitter and protracted political struggle against ever closer union that ultimately set Britain on the path to Brexit.
At the height of her power and railing against Jacques Delors' latest move towards deeper integration, in 1988 Baroness Thatcher urged the Commission to abandon aspirations of a "European super-state" which would infringe on the "different traditions, parliamentary powers and sense of national pride in one's own country".
Her warning went unheeded, however, and just four years later the UK signed up to the Maastricht Treaty and with it the creation of the European Union as it is constituted today.
And yet, even after she was toppled and replaced by John Major, an ardent Europhile, the seeds of discontent and the desire to reclaim British sovereignty had been sown in Bruges.
He explained that we will always be European, just not part of the huge project that seems to continually move the goalposts of membership obligations:
"I think this gives us a basis for a new friendship and partnership that should attract people who love Europe and want to have a great relationship with it, who want to feel close to it.
"But it should also be something that is welcome to people who see the advantages of economic and political independence. I think the country as a whole has got itself into a new and more stable footing. It's a better relationship and a healthier relationship."
… The tariff and quota-free deal covers £660bn worth of trade a year, which Mr Johnson said will still be "smooth" but with new customs procedures and paperwork which will mean things are "different and there will be things that businesses have to do".
In particular, he is keen to stress that the UK will be free to diverge from EU standards.
This is particularly gratifying for Mr Johnson, who said that after being accused of "cakeism for so many years," he has achieved what his critics said was impossible: "That you could do free trade with the EU without being drawn into their regulatory or legislative orbit."
Boris enjoys his 'cakeism' references. He made one on Christmas Eve upon the announcement of the deal and he made yet another on January 1, which was Guido Fawkes's Quote of the Day:
I hope I can be forgiven for reminding the world that many people used to insist that you couldn't do both: you couldn't have unfettered free trade with the EU, we were assured, without conforming to EU laws. You couldn't have your cake and eat it, we were told. Maybe it would be unduly provocative to say that this is a cake-ist treaty; but it is certainly from the patisserie department.
The Spectator had an excellent article on the new treaty, 'The small print of Boris's Brexit deal makes for reassuring reading'. Brief excerpts follow. The article has much more:
The Brexit deal takes things back to where they were before Maastricht. The EU is limited now in any meddling to very specific areas indeed. It ends the oddity where because circa seven per cent of UK business trade with the EU, 100 per cent have their laws made by the EU (although that is a bit more blurred in supply chains) …
There are parts of the deal that mean that, should Britain wish to diverge, then UK committees will have to talk to EU committees. Requiring the UK to 'consult' on implementation and change of the agreement etc. But how this is done in practice is left free and thus pretty non-enforceable and limited in scope. It is diplomacy now, not law …
While there is a lot of hot air in the treaty, it does not go beyond that. Lord Frost and his team seem to have seen off the (no doubt many) attempts to get EU regulation in through the back door. The UK is leaving the European Union and the lunar orbit of its regulations. It depends on your politics whether you approve of concessions over fish and some aspects of trade. But the legal question – to take back control – has been accomplished.
In The Atlantic, Tom McTague, a balanced journalist, looked at Brexit from the Conservatives' 2019 manifesto policy of 'levelling up' all parts of the United Kingdom:
… at root, Brexit was a rejection of the economic status quo, which too many had concluded was benefiting the country's urban centers at the expense of its more rural regions. And not without evidence: Britain is the most unequal economy in Europe, combining a supercharged global hub as its capital with areas a three-hour drive away that are as poor as some of the least-developed parts of the continent.
Brexit was not solely a vote of the "left behind"—much of the wealthy and suburban elite also voted to leave. But Brexit was a rejection of the direction the country was taking, a desire to place perceived national interests above wider European ones that too many Britons did not believe were also theirs. Is this entirely unreasonable?
The Revd Giles Fraser, rector of the south London church of St Mary's, Newington — and co-founder of UnHerd — wrote an excellent article on Boris, Brexit and old Christmas traditions involving seasonal games of chaos and fools. He also delves into the Bible. 'Why chaos is good for Boris — and Brexit' is worth reading in full.
You will want to see the photo he includes in his article, which begins as follows:
Back in early December, after a dinner between the British negotiating team and their EU counterparts, a photograph was released that, it was said, "sums everything up". A characteristically dishevelled Boris Johnson was unflatteringly contrasted with the smartly dressed Michel Barnier. "Johnson's loose tie, shapeless suit and messy hair alongside Frost's errant collar stood out somewhat beside an immaculately turned out Ursula von der Leyen and chief EU negotiator Michel Barnier" reported the Huffington Post, while reproducing a series of damning twitter observations …
Fraser points out that Brexit is charting a new course. The old rules no longer apply. Boris seems to be the king of chaos, perhaps a 'fool':
The problem with an orderly approach to things such as Brexit is that most problems, especially the large ones, are always going to be imperfectly and incompletely specified. In such a context, it is not always a straightforward matter to argue in a linear way from problem to solution. Indeed, when situations seem to require some sort of paradigm shift, the rules of the old order present a block on the emergence of the new. Things will always seem chaotic when change does not travel according to pre-established ideas of how one thing follows from another.
In his fascinating book Obliquity, the economist John Kay describes the shortcomings of turning decision making within a complex environment into some sort of algebra. Often, he argues, "complex outcomes are achieved without knowledge of an overall purpose". The importance of rational consistency is exaggerated. Some values are incommensurable, not plottable on a single system of reference. In such situations, neatness is overrated, distorting even.
That, I take it, is partly why Boris Johnson remains ahead in the polls, even now. Yes his shambolic manner, strongly contrasted with Keir Starmer's orderly, lawyerly disposition, speaks to a refusal of some imposed authority. It's a kind of trick, perhaps, given that he is the authority. And Old Etonians are not typically chosen as "the lowly" who are lifted up as per the Magnificat.
But the importance of Johnson "the fool" exceeds the fact that he has become an unlikely poster-boy of some unspecified insurgency against the established European rules based system of governance. The fool understands something the rationally wise does not. "Man plans, God laughs" goes an old Jewish proverb. Much to the deep frustration of its proponents, order can never be finally imposed upon chaos. And those who are comfortable with this, celebrate it even, are often better able to negotiate the complexities of life. Being chaotic might just turn out to be Johnson's unlikely super-power.
Boris certainly has had a good track record over the past 12 years. The coronavirus crisis is the only obstacle remaining:
What independence from the EU means for Britons
The BBC website has a short but practical guide to changes that came into effect on January 1.
In addition, UK drivers licences will be recognised in EU member countries as they were before:
With regard to students and foreign study, we will no longer be part of the EU-centric Erasmus study programme beginning in September 2021. The UK government is developing the worldwide Turing programme, named for Alan Turing:
… Unlike the Erasmus programme, which was founded in 1987 "to promote a sense of European identity* and citizenship among its participants", the new scheme will have a global outlook, targeting students from disadvantaged backgrounds and areas boosting students' skills and prospects, benefitting UK employers. It will be life changing for the student participants.
A year of Erasmus-funded reading of Sartre at the Sorbonne in Paris, or a year of Turing-funded study of Nano-engineering at the Indian Institute of Technology in Madras? It is a no-brainer to choose the exciting future that is beyond Little Europe.
*The EC in latter years funded a post-graduate exchange programme that offered opportunities outside Europe. Some 95% of the budget still focuses on Europe.
Women will be pleased that the EU tax — VAT — on sanitary products is no more.
How we celebrated, despite lockdown
On New Year's Eve, I was cheered to see an article by The Guardian's economics editor Larry Elliott, 'The left must stop mourning Brexit — and start seeing its huge potential'. YES! Every Labour, Lib Dem and SNP MP should read it.
He, too — like the aforementioned Tom McTague of The Atlantic — sees Brexit as an upending of the status quo. He tells his readers on the Left that they should be happy about this (emphases mine):
Many in the UK, especially on the left, are in despair that this moment has arrived. For them, this can never be the journey to somewhere better: instead it is the equivalent of the last helicopter leaving the roof of the US embassy in Saigon in 1975.
… It marked the rejection of a status quo that was only delivering for the better off by those who demanded their voice was heard. Far from being a reactionary spasm, Brexit was democracy in action.
Now the UK has a choice. It can continue to mourn or it can take advantage of the opportunities that Brexit has provided. For a number of reasons, it makes sense to adopt the latter course.
For a start, it is clear that the UK has deep, structural economic problems despite – and in some cases because of – almost half a century of EU membership. Since 1973, the manufacturing base has shrivelled, the trade balance has been in permanent deficit, and the north-south divide has widened. Free movement of labour has helped entrench Britain's reputation as a low-investment, low-productivity economy. Brexit means that those farmers who want their fruit harvested will now have to do things that the left ought to want: pay higher wages or invest in new machinery.
The part of the economy that has done best out of EU membership has been the bit that needed least help: the City of London. Each country in the EU has tended to specialise: the Germans do the high-quality manufactured goods; France does the food and drink; the UK does the money. Yet the mass exodus of banks and other financial institutions that has been predicted since June 2016 has not materialised, because London is a global as well as a European financial centre. The City will continue to thrive.
If there are problems with the UK economy, it is equally obvious there are big problems with the EU as well: slow growth, high levels of unemployment, a rapidly ageing population. The single currency – which Britain fortunately never joined – has failed to deliver the promised benefits. Instead of convergence between member states there has been divergence; instead of closing the gap in living standards with the US, the eurozone nations have fallen further behind.
I was especially pleased that he pointed out the coronavirus vaccine. We were the first in the world to approve one and get it rolled out:
The Covid-19 crisis has demonstrated the importance of nation states and the limitations of the EU. Britain's economic response to the pandemic was speedy and coordinated: the Bank of England cut interest rates and boosted the money supply while the Treasury pumped billions into the NHS and the furlough scheme. It has taken months and months of wrangling for the eurozone to come up with the same sort of joined-up approach.
Earlier in the year, there was criticism of the government when it decided to opt out of the EU vaccine procurement programme, but this now looks to have been a smart move. Brussels has been slow to place orders for drugs that are effective, in part because it has bowed to internal political pressure to spread the budget around member states – and its regulator has been slower to give approval for treatments. Big does not always mean better.
Later on — at 11 p.m. GMT, midnight Continental time — millions of us in Britain were only too happy to toast each other, confined in our own homes, and say:
Free at last!
Here's Nigel Farage:
Baroness Hoey — formerly Kate Hoey, Labour MP — worked tirelessly for Leave in 2016.
She had a message for her late mother …
… and for Guy Verhofstadt, who is shown below a few years ago in London with the Liberal Democrats campaigning against Brexit:
In the days that followed …
On New Year's Day, Labour leader Sir Keir Starmer gave an optimistic message for 2021 — 'the UK's best years lie ahead':
The Sun's political editor, Harry Cole, urged all of us to unite behind a new Britain:
Boris Johnson's father, Stanley, continues to pursue his quest for French citizenship, having researched his family tree.
Nigel Farage's new campaign will be against dependence on China:
Our ports have been problem-free:
On that cheery note, after four and a half years, this completes my Brexit Chronicles! Onwards and upwards!
Before reading this, here are Parts 1, 2 and 3 of a series on coronavirus and lockdown.
It seems that the British silent majority were largely fine with obeying the rules that Boris Johnson's government set until the end of May.
By then, they began asking questions about the duration.
During the first two months of lockdown, they understood that the reasons were not to put too much pressure on the NHS.
However, as Boris and his ministers are taking only 'baby steps' (Boris's words) to release us, many wonder what the real plan is.
Rightly or wrongly, suspicion is rife:
There is also the question about the NHS and the need for treatment outside of COVID-19.
Those of us who watch the daily coronavirus briefings from the government can't help but notice the messaging, especially from Health Secretary Matt Hancock:
I missed this little titbit from the coronavirus briefing on Friday, June 5. Hancock said, 'As the NHS reopens'. Hmm:
Yet, Britons are still missing out on non-coronavirus NHS treatments that are urgent:
I couldn't agree more with this next observation from Prof Karol Sikora:
Then we have the unknown consequences of Big Data intrusions into our lives:
This is now climbing up the chain to stain Prime Minister Boris Johnson, the champion of his soi-disant 'Government of the People':
The goalposts have clearly shifted since Boris's stonking victory in December 2019:
Lockdown has now gone on too long:
Despite what the government and scientists say on the weekday coronavirus briefings, other statistics find their way through the established narrative:
Yet, part of the blame also lies with the proportion of the British public who are afraid of re-engaging with society the way they did before lockdown:
Those who are afraid can stay at home. Let the rest of us get back to real life.
This London Assembly member from the Brexit Party is spot on. Lockdown must end:
Social distancing will end up being a killer, too:
One hopes it doesn't come to this:
One wonders whether there is such a thing as conservatism any more:
Or is the WHO driving this? They must think we are stupid. Perhaps we are:
We will never be in a risk-free, virus-free world.
Ending on Boris, for now, this is something I missed. Then again, I don't listen to BBC Radio 4. Even if I had, I would have thought that Boris's father Stanley was voicing his own views, not his son's:
Boris is still better than his Labour counterparts — Jeremy Corbyn (then) and Keir Starmer (now).
However, his polling will take a dive unless he restores what he called the People's Government.
More tomorrow: coronavirus and the June riots.