You are currently browsing the tag archive for the 'statistics' tag.
In late November, I ran across a tweet saying that relative poverty around the world has decreased since the Millennium.
Alexander Hammond is the director of the Initiative for African Trade and Prosperity, Free Trade fellow of the Institute of Economic Affairs and senior fellow of African Liberty. Here he is speaking at Durham University:
The measurement of measuring extreme poverty has also changed from $1 to $1.90 per person per day:
Although there is a long way to go, capitalism has made this encouraging development possible.
Weeks ago, the UK government announced that June 21 could well be Freedom Day, with confirmation coming on June 14.
This week, not surprisingly, the government and SAGE began backtracking.
Matt Hancock's testimony
Yesterday, Matt Hancock gave four and a half hours' worth of testimony to the Health and Social Care Select Committee.
Today, Friday, June 11, talkRADIO's Julia Hartley-Brewer picked up on the same lockdown point as I did in my post. They will not hesitate to use it again:
The vaccines minister Nadhim Zahawi defended Matt Hancock's claim that there was never a PPE shortage. Good grief. I watched the debates in Parliament at the time. There definitely WAS a PPE shortage (and not just in the UK):
Dominic Cummings, Prime Minister Boris Johnson's former special adviser and Matt Hancock's nemesis, surfaced as expected:
SAGE
Members of SAGE and Independent SAGE want lockdown to stay.
SPI-M is SAGE's modelling committee, the one with all the dodgy numbers:
Publican Adam Brooks makes an excellent point, although he meant to write 'without culpability'. The modellers will continue to rake in their salaries:
Here's another tweet about the dodgy data modelling — disgraceful:
To top it off, card-carrying Communist Susan Michie, a behavioural psychologist and member of SAGE's SPI-B committee, says that masks and social distancing should be with us forever:
Michie gave the interview to Channel 5 News (the Daily Mail has more):
Carl Vernon analyses it:
Now, Michie is backtracking:
On April 24, the Daily Mail posted a profile of Susan Michie by Peter Hitchens. Excerpts follow (emphases mine):
The super-rich Communist Susan Michie is so militant that her fellow Marxists once searched her baby's pram for subversive literature.
They lifted the tiny infant out of the way, to check that the future Professor of Psychology was not smuggling ultra-hardline propaganda into a crucial conference.
No wonder that fellow students at Oxford a few years before had called her 'Stalin's nanny'.
The 1984 pram-searching incident, disclosed in 2014 by a far- Left website called The Weekly Worker, is far from being the oddest thing about this interesting person.
The oddest thing about her is that she is a senior adviser to Boris Johnson's Tory Government, a regular participant in the official Sage committee and the SPI-B committee, which have had such influence over the handling of Covid.
Yet despite, or perhaps, because of being very wealthy indeed, she has been a fervent Communist since 1978, and still clings to the Hammer and Sickle long after the collapse of her creed's regimes from East Berlin to Moscow.
Her favourite place in the world is Havana, infested with secret police spies and one of the last tottering strongholds of Leninist rule.
It is quite possible to argue that Britain has undergone a revolution in the past year: a cultural revolution in which we have put health and safety above liberty in an astonishing way; a political revolution in which Parliament has become an obedient rubber-stamp and opposition has evaporated, while Ministers rule through decrees; and an economic revolution in which millions of previously independent people have become wholly dependent on the state for their wellbeing.
Perhaps, then, we should look for some revolutionaries. For what an opportunity they have been given by the Covid crisis.
Widespread fear of a mysterious plague led millions to seek safety in the arms of the state. But was this just a natural reaction, or was there any encouragement?
A now-notorious document was issued in March 2020 by Sage, called 'Options for increasing adherence to social distancing measures'. It concluded that we were not yet frightened enough.
It said: 'A substantial number of people still do not feel sufficiently personally threatened.' So we needed to be scared a bit more. It recommended: 'The perceived level of personal threat needs to be increased among those who are complacent, using hard-hitting emotional messaging.'
Well, most of us can recall such messaging. Wherever can it have come from?
The Government, supposedly led by a liberty-loving conservative, deployed intense and repeated propaganda, about the overwhelming of the NHS. It united us around a sort of worship of care workers.
It cleverly portrayed quarantine measures, from house arrest to mask-wearing, as selfless and generous, so making nonconformists and dissenters appear stupid, selfish and mean …
Susan Michie has not responded to my requests for an interview, either directly to her email or through the press office of University College London, where she works. So I cannot say whether her lifelong belief in Communism, apparently inherited from her equally militant scientist parents and shared with her ex-husband, the former Jeremy Corbyn aide Andrew Murray, has had any influence on her advice.
Hitchens says that Michie advocates a zero-COVID policy, which means we'll die in penury from permanent lockdown and be told by the state — Chinese style — when we can leave the house:
Vaccines reduce illness, and hence death rates, for all variants. Most young and healthy people are safe from Covid-19, and always have been. Most of the old are now protected from serious illness via the vaccine.
But can it overwhelm the idealists – Utopians in fact – of Zero Covid, a well-organised and active lobby who believe that the virus needs to be eliminated completely?
Susan Michie seems to be a supporter of this idea. On July 30, 2020, she tweeted: 'To get people out & about, schools back, workplaces open, economy recovering we need #ZeroCOVID.'
On February 24, perhaps recognising that Zero Covid might put some people off, she tweeted: ' 'Maximum suppression' seems to be a good way of expressing the goal of ZeroCOVID (without getting side tracked into wilful or other misinterpretation).'
Where does this desire for elimination of the virus actually lead? Many people have praised China's response to Covid. But in reality China still has Covid outbreaks, and responds to them with measures of extraordinary ruthlessness.
It has also used Covid to speed up and strengthen its worrying 'social credit' system, which puts everyone under surveillance, rewards conformity and punishes misbehaviour by denying access to the small joys of life.
Freedom is conditional, and the gift of the state and the Communist Party. In Peking, which is virtually Covid-free, citizens must use a smartphone to scan a QR code for every mode of transport. Contact-tracing is constant.
Anyone who leaves or arrives in the city must be tested. As David Rennie, Peking bureau chief of The Economist, recently observed: 'It's very hard to know where Covid containment starts and a Communist police state with an obsession with control kicks in.'
The government
The Indian variant is being used as the excuse for not reopening on Freedom Day, June 21:
Julia Hartley-Brewer has exposed the government's new zero-COVID strategy:
It is thought that restrictions on weddings could be lifted:
Adam Brooks has this to say about Freedom Day:
Travel is still a no-no:
Conclusion
I could write more, but knowing that a Communist is controlling our behaviour and is advising a Conservative government makes me nauseous.
Therefore, in conclusion, there is no good reason for the government to refuse to reopen the nation on June 21. Deaths, even from 2020, are still average. This year, so far, they are below average:
We will find out the government's latest excuse on Monday, June 14. More to follow.
On Wednesday, January 27, 2021, Prime Minister Boris Johnson held a televised coronavirus briefing, announcing that the number of COVID-19 deaths in the UK had reached 100,000.
He pronounced it 'a grim milestone'.
A friend of mine living in France thinks that the British must be dropping like flies from coronavirus. Who could blame her, given not only the reporting in the media but also the Government's own disingenuous narrative?
It was known by the summer of 2020 that British deaths were recorded as COVID-19 even if the primary cause was a longer, underlying disease. If the deceased had a positive COVID-19 test result in the month before death, COVID-19 was one of the causes on the death certificate. Even when COVID-19 was shown as a secondary or tertiary cause of death, the death was counted as a COVID-19 fatality.
This situation led to the question of death 'of' or 'with' coronavirus. Dying 'of' coronavirus would mean that COVID-19 was the primary cause of death. Dying 'with' it would mean that it was another factor, but not the primary cause, which could have been cancer, heart disease or Alzheimer's.
Conservative Woman had an article about this: 'Why the "grim milestone" of 100,000 Covid deaths is nonsense' wherein James Delingpole helpfully pointed to another article and set of statistics explaining his position:
… I heartily recommend this most excellent deep-dive by Simon Elmer of Architects for Social Housing. (Which is where you'll find those ONS charts I mentioned near the beginning). It covers things like the dubious way the government calculates its Covid deaths (such as the fact that even if you die of cancer or Alzheimer's or anything else, it still gets whacked down as Covid if it's within 28 days of one of those dodgy, oversensitive PCR tests); and the way influenza, historically a reliable annual culler of the old and infirm, has mysteriously vanished from the statistics, almost as if – imagine! – thousands of flu deaths are now being misrepresented as Covid deaths.
Before I go there, here is a chart with data from ONS — the Office for National Statistics — showing that 2020's deaths were not unusual. The last time they were that high was in 2008. The graph, which charts deaths from 1960 to 2020, is not mine. I found it at Lockdown Sceptics in a comment:
Now on to Simon Elmer's 'Lies, Damned Lies and Statistics: Manufacturing the Crisis' at Architects for Social Housing. It is a long and thorough post with a table of contents.
Simon Elmer begins, in part, with this:
As always — although we appear to have forgotten it along with everything else we knew about the world in which we live — the old adage about 'lies, damned lies and statistics' holds true to this greatest of all lies, the manufacturing of the coronavirus crisis. What I want to do in this article, in contrast, is look at the figures for the mortality rates, places and causes of death in England in 2020 that are slowly being published by the Office for National Statistics in 2021, and discuss what they can tell us about what really happened last year. The figures aren't conclusive, as the changes to disease taxonomy, protocols for filling in death certificates, criteria for recording deaths, and the flawed testing programme mean we'll never know how many people actually died from COVID-19 in the UK in 2020; but if we analyse these figures accurately and in their context, it is possible to see some way through the deception to the reality they conceal.
The first section — '1. Laying the Foundations' — begins with the recording of deaths last year from the pandemic onwards. The author includes a screenshot of a death certificate illustrating my earlier point about causes of death:
Elmer explains how recording of deaths changed last year:
Given these five changes, 1) to disease taxonomy, 2) to the criteria for attributing a death to COVID-19, 3) to identifying the underlying cause of death on a death certificate, 4) to identifying infection with SARS-CoV-2, and 5) to identifying the clinical presence of COVID-19 — all but one of which were in place before the end of March, 2020 — how do we establish how many people actually died of COVID-19 in the UK or, to the contrary, how many deaths from cancer, heart disease, dementia, diabetes, influenza and the other primary causes of death in the UK have been incorrectly diagnosed and/or recorded as 'COVID-19 deaths'?
The second section — '2. Competing Causes of Death' — elaborates further and includes illustrative charts:
In July 2020, the Office for National Statistics published data on 'Pre-existing conditions of people who died with COVID-19'. To qualify as such, a pre-existing health condition must appear on the death certificate either below COVID-19 in Part 1, and therefore in the causal chain leading to death, or in Part 2, and therefore as a contributing cause to death, if COVID-19 is mentioned in Part 1. Alternatively, if COVID-19 is mentioned in Part 2 of the death certificate, a pre-existing health condition must appear as the underlying cause of death in Part 1.
Following these definitions, the ONS reported that, of the 50,335 deaths attributed to COVID-19 in England and Wales between March and June 2020, 45,859, 91.1 per cent, had at least one pre-existing health condition, with a mean average of 2.1 conditions for those aged 0 to 69 years of age and 2.3 for those aged 70 years and over. The accompanying dataset recorded that, in the 4 months between March and June 2020, the most common 'main' pre-existing health condition recorded on death certificates in England and Wales was dementia and Alzheimer's disease, with 12,869 deaths constituting 25.6 per cent of all deaths attributed to COVID-19.
By a 'main' pre-existing condition the ONS means the condition that is most likely to cause death in the absence of COVID-19. How they derive this is complicated, and I won't go into it here; but they take their lead from the World Health Organisation's rules for identifying the 'underlying cause' of death, which as we have seen have been changed to ensure that COVID-19 always appears on death certificates in this category, and in doing so excludes everything appearing above Part 1.
After dementia and Alzheimer's disease, ischaemic heart diseases — meaning those causing stroke through a blood clot or other blockage — were the next most common, with 5,002 death certificates recording it as the 'main pre-existing health condition' constituting 9.9 per cent of all deaths attributed to COVID-19. This was followed by influenza and pneumonia, which were present as the main condition on 4,582 death certificates. Of the 50,335 deaths attributed to COVID-19, 4,476 had no main pre-existing health condition on the death certificate, just 8.9 per cent of the total.
But that's not all. When recording all pre-existing health conditions, their presence on the death certificates of 'COVID-19 deaths' is even higher, with 13,840 deaths attributed to COVID-19 having dementia and Alzheimer's disease also listed, 11,029 deaths having influenza and pneumonia, and 9,820 having diabetes.
However, in the middle of 2020, the ONS stopped recording pre-existing conditions that could have caused death (emphases mine):
… since July no other data on the pre-existing health conditions, main and common, of people whose deaths have been officially attributed to COVID-19 has been published by the Office for National Statistics. I've written to the ONS to ask when they will update their records, and they responded that they are hoping to do so in February 2021. Why they stopped doing so in July I will leave to you to judge; but when these figures are published I shall add them to this article.
The third section — '3. Evidence for Lockdown Deaths' — explores what happened as the National Health Service became the National Covid Service, stopping or slowing procedures for non-coronavirus diseases. This gives a monthly rundown on the detrimental impact of not treating people with heart conditions and cancer. The conclusion is that lockdown and the focus of the NHS on coronavirus has been dangerous for millions of people:
… policies which are not only having a devastating impact on the lives of nearly 68 million people but, according to these reports, have already caused the deaths of tens of thousands of UK citizens and will continue to kill tens of thousands more, for as long as these restrictions are imposed by the Government, enforced by the police and complied with by the public.
The next section — '4. Recovering the Dead' — explains why we will never know the true number of people who died from coronavirus.
With regard to deaths in care homes since March 2020:
… there were 26,202 excess deaths in care homes over the same period. Here, however, 20,574 were attributed to COVID-19, largely on the say-so of the private companies running the homes and without a corroborating medical diagnosis, leaving 5,628 excess deaths. That's a total of 41,861 deaths above the 5-year average unaccounted for.
… in April 2020, the Care Quality Commission, the regulator of health and social care in England, introduced what it called a 'new way' to understand whether COVID-19 was 'involved in the death' of someone in a care home. This merely requires a statement from the care home provider that COVID-19 was 'suspected' as the cause of death, and which 'may or may not' correspond to a medical diagnosis, a positive RT-PCR test result for SARs-CoV-2, or even be reflected in the death certificate. It's by this criteria that 20,574 deaths in care homes were attributed to COVID-19 in 2020.
The author reaches the following conclusion:
… given that the deceased are now gone, and their falsified death certificates are all we have left of the causes of their deaths, how can we find evidence for the manufacture of tens of thousands of 'COVID-19 deaths' from their cremated and buried bodies? This is the task of reparation and remembrance with which any true account of 2020 must begin if it is to recover the truth about their deaths from the lies in which they have been shrouded.
The fifth section looks at mortality rates in the UK since 1941 and has accompanying statistics and charts with ONS data.
The next section — '6. What Happened to the Excess Deaths?' — states:
Given the deliberate inaccuracy of the criteria for attributing a death to COVID-19, largely dependent upon a positive test using an RT-PCR test at thresholds where it can identify so-called 'cases' of COVID-19 from fragments of dead coronavirus, it is almost impossible that these thousands of 'lost' deaths, and the thousands more caused by lockdown, have not been misdiagnosed and/or incorrectly recorded as 'COVID-deaths'. But how do we corroborate this thesis with facts?
On 14 January, Public Health England published its analysis of ONS figures on deaths over a shorter timeframe, between 21 March, 2020 and 1 January, 2021, the period under which England has been under various degrees of lockdown restrictions. These show that, even with the WHO's instructions to medical practitioners that COVID-19 must always be listed as the 'underlying cause' of death, a total of 7,511 excess deaths in which other health conditions were listed as such were recorded as 'COVID-19 deaths'.
… deaths from heart diseases, cerebrovascular diseases, other circulatory diseases, dementia and Alzheimer's disease, urinary diseases, liver diseases, and from causes other than COVID-19, numbered 11,013 over the 5-year average; yet 5,057 of these were listed as 'COVID-deaths'. Even when deaths from the underlying cause were below the 5-year average, as they were for cancer, acute respiratory infections, chronic lower respiratory diseases, other respiratory diseases and Parkinson's disease, 2,454 deaths were still registered as 'COVID-19 deaths'.
Nearly 75 per cent of excess deaths in which dementia and Alzheimer's disease were listed as the underlying cause were still recorded as 'COVID-19 deaths'; over 41 per cent of excess deaths from urinary diseases; nearly 40 per cent of excess deaths from cerebrovascular diseases; 41 per cent of excess deaths disease from other circulatory diseases; 33 per cent of excess deaths from heart diseases; and 31 per cent of excess deaths from liver diseases. While over 50 per cent of excess deaths from all other causes other than COVID-19 were still recorded as COVID-19 deaths.
We should remember that, if COVID-19 had been listed as the 'underlying cause' on any of these death certificates, they would all have been recorded as 'COVID-19 deaths' by the Office for National Statistics; yet for all these other underlying causes their appearance on the death certificate wasn't enough to overcome the changes to the ONS criteria for compiling statistics on mortality in the UK. If not quite proof, this is further evidence of a deliberate and very successful attempt to falsify the official tally of 'COVID-19' deaths.
How could this have happened?
The most logical answer to that question is the changes to disease taxonomy, protocol on completing death certificates, criteria for attributing a death to COVID-19, the false positives produced by the RT-PCR testing programme, and the equation of such a positives with symptoms of COVID-19. To this end, the guidelines for death certification from the World Health Organisation about what defines a COVID-19 death are decisive: 'A death due to COVID-19 may not be attributed to another disease (e.g. cancer)'. Given these changes — which unlike the deaths from COVID-19 truly can be called 'unprecedented' — we'll never know how many people actually died of the disease; but these figures give us some indication of the percentage of deaths misdiagnosed as such. What we do know is that, throughout 2020 and into 2021, the British Heart Foundation, the Institute of Cancer Research, the Alzheimer's Society, the British Medical Journal and other organisations monitoring the nation's medical treatment, health and mortality have all recorded and predicted huge increases in deaths from the withdrawal and reduction of medical care under lockdown restrictions.
The final section has conclusions.
While coronavirus has to be taken seriously, 2020 seems to be the first year in living memory when the general public were forced to pay attention to human mortality, even if the death rates are well within the norm for any given year:
In 2004, for example, the rate of mortality (1,163.0 per 100,000 of the population) was as high above what it was in 2020 (1,043.5) as last year was above 2019 (925.0), which had the lowest rate ever. The year before that, 2003, it was even higher (1,232.1). So the exaggerated claims of an unprecedented rise in mortality rate from 2019 to 2020 is not borne out by the facts. What was different was how, after a period of sustained fall, this rise on overall mortality was explained to a public previously unaware of mortality rates, and what this suddenly increased awareness of our mortality has been used to justify.
The vast majority of the people dying have been elderly:
84 per cent of the deaths attributed to COVID-19 in 2020, over 68,000 deceased, were of people aged 70 years and over. 61 per cent were aged 80 years and over, the average life expectancy in the UK. Around 90 per cent had at least one pre-existing health condition, with most having two.
It is not surprising.
Nor did lockdown help the elderly dying of other causes:
To put these figures into context, in 2020 there were 9,189,000 people aged 70 years and over in the UK, and 412,408 of them, 4.48 per cent, died of causes not attributed to COVID-19. 0.7 per cent of them officially died of COVID-19. It wouldn't take much to push a population of such elderly and frail people into a life-threatening situation. Lock them up for months on end. Deny them human contact on pain of arrest and fines they couldn't hope to pay. Withdraw medical treatment. Quarantine their carers. Terrorise them with propaganda about a civilisation-ending disease. Order them to stay at home and avoid the contact of other people like the plague. Tell them hospitals standing empty are on the verge of being overwhelmed. Turn medical centres into places to fear, the breeding grounds of a deadly new disease. That should be more than enough. It has been more than enough. Then, change the medical protocol and criteria for identifying and recording the cause of their deaths, and against all the evidence against its fitness for such use, employ a medically meaningless test to turn traces of a virus that presents no threat to 80 per cent of the population into proof of infection and cause of death. This is how a crisis has been manufactured. This is how a virus is being used to justify the programmes and regulations of the UK biosecurity state.
Simon Elmer says that the UK Government has no qualms about prolonging this dire state of affairs:
The truth is that there was never a question of whether this Government would impose another lockdown on the UK in 2021. Lockdown isn't a consequence of the failure of coronavirus-justified programmes and regulations: it's the product of their success in implementing the UK biosecurity state. After a brief summer recess under the system of tiered restrictions, the following winter will see the lockdown of the UK imposed again under newly notifiable diseases from new viruses and new strains, new protocols for certification and new criteria for deaths, the new medical categorisation of new cases which, like the present ones, present little or no threat to public health, but which like it will be used to enforce new technologies, new programmes and new regulations. This is the 'New Normal' we were promised, and it's being built on a foundation of lies, damned lies and statistics.
Sometimes, things are not what they seem.
The 100,000+ coronavirus deaths in the UK are but one example.
Further reading — ONS statistics:
Annual deaths and mortality rates, 1938 to 2020 (provisional)
Coronavirus (COVID-19) Infection Survey, UK: 29 January 2021
On the evening of October 31, 2020, the English received a Halloween trick rather than a treat.
Prime Minister Boris Johnson held a press conference to announce that England would be going into a second nationwide lockdown on Thursday, November 5.
How ironic that the Government chose November 5, Guy Fawkes Night, when, in 1605, Fawkes and group of his mates tried to blow up Parliament. This is England's night for fireworks and bonfires remembering that Fawkes and his pals were imprisoned and that traitors will never succeed. But I digress.
The Chief Medical Officer, Prof Chris Whitty, and Chief Scientific Officer, Sir Patrick Vallance, accompanied Boris. They showed yet another alarming set of statistics, an incomplete set of hospitals (showing 29 out of a total of 482) and updated heat maps showing that even regions of England with low rates of 'infection' were in potential danger if 'no action' were taken:
At the time of the press conference, half of the country, including London, had been in either one of the two new designations, Tier 2 or Tier 3. People in those tiers were told that it would take a few weeks to see any tangible decrease in the R ('infection') rate. Action was being taken.
Yet, Boris — urged by SAGE, of which Whitty and Vallance are members — did not bother to wait to see if the numbers in Tiers 2 and 3 were decreasing. He went straight for another national lockdown.
Once again, Boris circumvented presenting the plan to Parliament first for scrutiny. He claimed it was so urgent that he had no time for that.
What made matters worse is that an unknown someone leaked the lockdown plan to the media. MPs were in recess at the time. They returned to the Commons on Monday, November 2.
Speaker of the House Sir Lindsay Hoyle was not happy.
No. 10 launched a enquiry with regard to the leak. The police might get involved, if necessary.
The Daily Mail has a full timeline of events from Friday, October 30. Excerpts follow, emphases mine:
Furious Speaker Lindsay Hoyle today demanded a personal apology if a Cabinet minister is found to have leaked the PM's lockdown plan.
The Commons chief read the riot act to the government after the bombshell news spilled over the weekend, rather than being announced to Parliament first …
'I expect the Prime Minister to keep the House updated on his leak inquiry,' he said.
'I also hope that if the leaker is identified and if a member of this House, that member will make a full apology to the House for the discourteous and unacceptable behaviour.'
Separately, science chief Patrick Vallance is facing a backlash over a grim off-the-record briefing to reporters on Friday afternoon, in which he underlined SAGE's push for an immediate lockdown – alongside figures suggesting more than 85,000 people could die this winter.
Sir Patrick's office insist his briefing on Friday afternoon was just a regular off the record discussion with journalists, and dismiss the idea he was pre-empting any government move …
Sir Patrick suggested to reporters that it was too late for a two-week circuit breaker, and a four-week lockdown similar to that introduced in France was the best way to control the R number.  
Mr Johnson had still been wavering on the issue that morning, when Foreign Secretary Dominic Raab was sent out to defend the local 'Tiers' system on the airwaves.
But, confronted with Sir Patrick and Chris Whitty's dire predictions he set the wheels in motion on a month-long lockdown. 
Within hours the tentative decision taken by the elite group was leaked to the Daily Mail and Times – before the full Cabinet had been informed – in an apparent effort to prevent the PM changing his mind. 
By Saturday morning the BBC's political editor Laura Kuenssberg was giving details of two key documents that were shown to the 'quad' [core group of decision makers], a controversial prediction that the daily death toll would hit 4,000 a day and that NHS hospitals would be overwhelmed. 
There has since been criticism that the 4,000 a day projection was already out of date. It was produced by experts from the University of Cambridge and Public Health England who have since revised their numbers and lowered the possible numbers of deaths. 
Nevertheless, both slides formed a key part of the data finally officially presented on Saturday night, when a livid Mr Johnson brought forward his announcement after a call with his clueless wider Cabinet.
A formal leak inquiry has now been launched to find the culprit – with claims that just 15 people, including Sir Patrick, chief medical officer Chris Whitty and NHS England head Sir Simon Stevens were in the meeting.
There have even been dark threats that the police could be called in to find who undermined the PM's approach …
A former Cabinet minister told MailOnline that the behind-the-scenes manoeuvring over the lockdown was 'very odd'.
They suggested that the intervention from Sir Patrick could have been part of an effort to 'bounce' the PM. 'It does sound like a bounce. If he was briefing people in advance he was obviously trying to build up a head of steam behind the notion of a lockdown,' they said …
The MP said the figures being used to support the lockdown move, including claims that deaths could hit 4,000 a day, were questionable
'The figures don't appear to have been updated to reflect the true state of affairs,' they said …
Mr Johnson will today try to head off a mounting Tory revolt against his nationwide lockdown by warning coronavirus deaths this winter could otherwise by double the first wave. MPs have been raging at the 'evil' new rules, likening them to something from a 'totalitarian regime'.
On Tuesday, November 3, Whitty and Vallance appeared before the Science and Technology Select Committee, headed by the estimable MP, Greg Clark.
The Telegraph details the reasons why they were asked to appear at such short notice: spurious statistics given at Saturday's press conference used to justify a second lockdown.
The two physicians faced questions not only from Clark but also the other MPs who sit on that committee:
That link is still working, so, while there is no transcript, you can watch the proceedings, which last a little over two hours.
It was an engrossing session and, based on the replies to that tweet, no doubt many lockdown sceptics tuned in to watch:
What follows are highlights of the Select Committee hearing. MPs asked good questions:
An MP was able to get Whitty and Vallance to admit that they had not taken the effect of the tier system into account before the press conference last Saturday:
Greg Clark did an excellent job of chairing the hearing:
The duo explained that the reason they pushed for a lockdown was because R >1 across England, even in regions which are in the Medium (no tier) range. I disagree that this means 'cases are doubling'; they are not:
Graham Stringer (Lab) is one of my favourite MPs. He said that Saturday's alarmist graphs scared the public. Vallance's response follows:
Jeremy Hunt (Con) also asked about the projected 4,000 deaths:
The duo were also asked about the subtle blame they were putting on university students as being part of the cause of the increase in R. They quickly walked back the insinuation:
The duo were asked whether it might be a good idea to have an economist on SAGE to present the economic damage of lockdowns. Whitty seemed more open to this than Vallance, who was vehemently opposed. He said that SAGE were not responsible for economic modelling and said that was the remit of the Treasury:
The replies to the next tweet mention soundbites on other questions:
Around halfway through, it was apparent that the duo were uncomfortable with the probing nature of MPs' questions. Vallance glared at one point.
Chris Whitty is shown below:
When asked about the test and trace system in place, they said that it works best at the beginning of a pandemic when cases are just beginning to climb rather than later on. The Government has put a huge emphasis on our test and trace system. As such, it is viewed as being essential by MPs and the public:
They were asked about excess deaths taking place because of all the emphasis being put on COVID-19:
There is doubt that much of the NHS was overrun, even at the height of the pandemic:
Later on, talk turned to the ban on public worship and outdoor sports for children which come into effect today. The two admitted that their 'evidence' about closing houses of worship was 'anecdotal'. When pressed, Whitty said that he would not answer theological questions. When Greg Clark pursued the subject of outdoor sports for children, Whitty refused to say it was a low-risk activity that would help keep youngsters in better health.
Not everyone was happy with the line of questioning, although it was much better than I'd expected.
Barrister Francis Hoar had submitted questions to the select committee which were not asked. I, too, would like answers to these but think the discussion would have taken up much of the two hours:
The following day, Chris Whitty sent a letter to Greg Clark retracting a statement he had made earlier about infection rates in the over-60s in Liverpool:
The following statement is correct:
Based on the admittedly bogus data, it seems incongruous that we should have a second England-wide lockdown:
Nonetheless, after a debate in Parliament on Wednesday, October 4, MPs voted overwhelmingly — 516-38 — for a second lockdown:
I am pleased to say that, during the debate, several MPs from both sides of the aisle pressed the Government for a change of tack on banning public worship and certain outdoor sports, including for children. Unfortunately, the Government refused to budge.
Guido Fawkes has a list of the MPs who voted No. Four of those were from Northern Ireland's Democratic Unionist Party (DUP); sadly, I did not see Jim Shannon's name among their number.
Clearly, there weren't enough rebels, but I am most grateful for those who stood up for their principles — and for us.
On November 5, Chancellor of the Exchequer Rishi Sunak delivered a statement to Parliament announcing an extension to his original furlough scheme:
Lockdown ends on December 2, at which point the Government with local officials, including the NHS, will decide what regions need to return to the Tier system.
Andrew Neil's Spectator TV posted its sixth episode of The Week in 60 Minutes on Thursday, October 8, 2020:
Guests included Prof David Nabarro, World Health Organization special envoy for Covid-19; Andy Preston, mayor of Middlesbrough; Pat Leahy, political editor of the Irish Times and a few Spectator journalists.
The programme began with the status of coronavirus measures in Ireland.
Pat Leahy, political editor of the Irish Times, says that the Irish government was surprised by the recent recommended lockdown which they ultimately rejected. The Irish government were highly critical of the proposed measures, privately and publicly. Leahy explained that the head of the public health advisers has been off work because of compassionate leave, then, last Sunday, he returned and recommended another lockdown. The Irish government took it as, he says, a 'power play'.
The government objected to the health experts' very quick meetings amongst themselves and with government officials. Leahy said that the government were 'annoyed'.
The government did not disagree with the recommended measures per se, but there was a fine balance to be achieved. The minister of finance warned of employment and social consequences, because a number of jobs would not be coming back. He and his staff needed to consider if other measures could be taken instead.
Neil mentioned today's minimal COVID-19 deaths in Ireland. Leahy agreed and said that the so-called second wave has much less severe than the first. That said, the admissions to hospitals have been rising dramatically. So, there is a question about whether the second wave is different from the first. The Irish government felt they could weigh the statistics, adopting a wait-and-see approach. Leahy said that Dr Leo Varadkar, a physician who was formerly the prime minister and is now the deputy prime minister, essentially threw the nation's chief medical officer Tony Holohan 'under the bus'.
Leahy said that the part of Ireland's problem was assigning decisions to scientists and doctors in the first wave earlier this year. Currently, scientific advice 'is only one factor' in the decision making process that the Irish government will take with regard to coronavirus measures. Leahy said that time will tell whether the public will back the government. The economic factors are such that things could change in the weeks to come.
Katy Balls was up next, advocating Swedish models that a number of Conservative MPs back. A number of backbenchers disapprove of Drs Whitty and Vallance.
Conversation then turned to the WHO's Prof David Nabarro who says we are still in a bit of the first wave and we're not over it, so we need to learn how to live with the virus without lockdown and the 'closing down of economies'. What he calls 'the middle path' requires holding the virus at bay while allowing the economy to resume in order to make certain we can put safeguards in place, so that we can stop the virus whilst getting local 'actors', as well as testing and tracing, involved as much as possible and a common commitment to each other to keep everything as safe as possible. He said that lockdowns serve only to give a health service some breathing space.
Nabarro said that is what South East Asian countries are doing, also Germany and Canada. As lockdown lifts, nations can deal with increased cases 'elegantly'.
As for Ireland, Nabarro sided halfway with the Irish government and halfway with the scientific advisors. He did caution that public buy-in was necessary for any success.
Nabarro predicted many more weeks of uncertainty but that we would feel 'much more comfortable' in the New Year.
Neil asked Nabarro about Prof Sunetra Gupta's views on a milder lockdown. Nabarro said that the WHO do not advocate lockdowns as an absolute principle. (UK government: please take note!) He cited the damage done to the Caribbean and Pacific tourist industry. As a result, many more people could lapse into poverty.
Neil brought up Scotland's coming lockdown and a possible one in the North of England.
Kate Andrews had current statistics, comparing them to Sir Patrick Vallance's alarming case graph from the third week of September. So far, we are not close to Vallance's projection, but the UK is higher than France's and Spain's cases, respectively.
The effect of local lockdowns showed a skyrocketing in positive tests ('cases').  According to statistics, it is possible that Leicester should have already been taken out of lockdown.
Kate Andrews showed graphs that revealed that hospitality was responsible for a very low number of cases: around four per cent, not dissimilar to this pie chart, which I cited last Friday.
Nabarro intervened, saying he preferred 'local integrated responses', because breaking the virus involves input from every institution, be it a factory or a house of worship. He praised Leicester for its diversity, holding it up as a model for the world.
The Spectator's political editor, James Forsyth, came on to comment about the former Labour 'Red Wall' in the North. Much of that Red Wall voted for Conservatives in December 2019. Forsyth said that lockdown will be viewed as flooding has been in recent years: even if measures taken are not political, they look as if they ARE political. Northerners see that London and the surrounding Home Counties will not be locked down, and, as a result, will suffer fewer socio-economic casualties.
Andy Preston, the Independent mayor of Middlesbrough, was the next guest. He has been positively incandescent about lockdown. The transmission is a bit choppy, but Preston said that many of his residents didn't personally know many people who had or died of COVID-19. He added that Middlesbrough's residents have paid more in tax whilst losing out locally. He felt that 'the Government is doing stuff to us'.
Preston has asked for a temporary ban on in-house socialising but supports frequenting restaurants. He said that local government and the UK government need to work together on measures.
Preston said that he thought there was an 'inside group' of advisers to the government, with no one from Middlesbrough involved.
He said that this type of decision making could go 'very badly wrong for the country'.
Talk then turned towards the American vice presidential debate. Freddy Gray covered this segment. He said that Mike Pence is 'a very accomplished performer', 'intelligent and he spoke very fluently'. He disclosed that he has never been a Pence fan but predicted that he could be the next Republican nominee in 2024.
Neil said that a Trump-Biden virtual debate would not be the first. Nixon broadcasted in 1960 from Los Angeles. Gray said that no one knew what is going on in Trump's mind and said that the American president had gone 'full gonzo'.
Viewers' questions came next.
The first had to do with successful measures against COVID-19. Nabarro commented on coronavirus success in South East Asia, which he attributed to community buy-in and no delay in taking action, which can result in more problems later.
Another viewer said that England's mayors needed to come together with regard to England's lockdown. Andy Preston said he would back Manchester's Andy Burnham, a former Labour MP.
A third viewer wondered about the vote coming up this week on England's 10 p.m. curfew. Katy Balls said she doubted whether Labour would oppose the vote, but Conservative rebels might have their chance in the weeks to come to succeed in voting against the Government. (Personally, I don't think it will happen. Most of the Opposition support lockdown measures and restricting civil liberties.)
James Forsyth says that half the Conservative MPs really detest the Government's coronavirus restrictions. He cited the communications surrounding them and questioned what the £12bn poured into the 'test and trace' programme has actually achieved. He said it was 'not delivering'.
Andrew Neil asked about the Great Barrington Declaration, which Prof Sunetra Gupta and many other physicians signed a week ago in Massachusetts. Kate Andrews said that Prime Minister Boris Johnson said there would be a 'game changer' with no social restrictions a year from now. As such, time is not a big deal for Boris. Neil said that Boris sounded like Chauncey Gardiner. I don't like saying this, but I tend to agree with his assessment. Boris seems off the rails right now.
Leahy had the final word, measuring the rising positive tests with closed pubs and other measures. The Irish government, he says, needs to give these new measures time to work, including buy-in from the public to avoid another lockdown. He predicts another two to three weeks.
The final question came to Nabarro about the origin of the virus. He said, in short, that there was no definitive answer. 'You [have to] bring in independent actors', therefore, the WHO would need 'to bring in other staff to help'.
Hmm. Interesting.
Then, in an abrupt change of tone, Nabarro sounded a blast at certain countries, including Belarus and Spain, saying that a second wave could come soon and that no nation should be complacent.
Hmm.
Charles Stanley Wealth Managers sponsored this week's programme. For that, we are most grateful. Agree or disagree, Spectator TV is manna in a desert of dry, one-way MSM broadcasts.
Public Health England is being reorganised, but not before they have a go at coronavirus statistics.
As of October 9, 2020, coronavirus and flu stats COULD appear combined in ONE statistic:
Here we go (note the yellow highlight below). This went into effect on Thursday, October 8, 2020:
Let this news sink in and click on the text image (see 11:12 below) for more information:
Good grief.
Where could this lead?
Those who have listened carefully to Matt Hancock, the Secretary of State for Health and Social Care, have made the following observation, probably concerning the absolute necessity (not) of getting a flu jab (shot, vaccine):
Even lockdown advocates should be concerned:
Standing back for just a moment, will this be a report that clearly separates the two maladies?
Which takes precedence — COVID-19 or the flu?
Whatever the case, this has a huge bearing on how the English lead their lives during the foreseeable future. Sadly, we have no answer and no influence:
We can but see.
However, has this tactic from public sector organisations and the Government come too late in the game?
For those who doubt the reason behind this move, think about looking at a blurry photograph or video of your loved ones, impossible to identify, and being asked if you wanted to keep it. Most people would say, 'No, thanks, I have better ones already'. This is the same type of situation.
When it comes to health, we need to see specifics, not blended statistics that leave us in the dark.
Meanwhile, Matt Hancock continues to fearmonger, claiming that a vaccine is the only way out:
Thankfully, some replied:
Please, Lord, how long can this go on?
What are the unknown stories and statistics behind the dangers of lockdown?
One day, we will find out. We will not be happy.
There are two more increasingly popular Spectator TV videos to view, brilliantly presented by Andrew Neil.
Each of the episodes below is one hour long, but it is unlikely that those seeking real news and analysis will be bored.
As a supporter of President Trump, I was somewhat less impressed with Episode 3, from September 17, which downplayed his chances for re-election as well as his foreign policy, as many of us consider it a peacetime triumph:
Sweden's state epidemiologist Anders Tegnell was the first to be interviewed about his nation's handling of coronavirus. As we know, they had no lockdown.
Tegnell regretted not having controlled the many deaths in care homes — similar to those in other Western nations. There were also other lives that could not be saved because of co-morbidities. He said that a lockdown would not have saved them.
The problem in the care homes related to their separation from a national health care system, again, not dissimilar to the tragic result seen in other nations, particularly the United Kingdom and the Netherlands.
He indicated that Sweden wanted to ensure that care home fatalities were resolved going forward as well as those among minority populations. He said that an EU commission was looking into those challenges.
Neil asked why Sweden was one of the few countries that ignored the projections from Imperial College London earlier this year. Tegnell replied that Imperial's models were 'quite extreme' and 'doubtful'. He added that models are not made 'for prognosis' because 'you don't really know' what is going to happen.
He said, 'This is not a competition' and expressed his desire for more international collaboration and discussion to find a common pathway towards fighting the a second wave of the pandemic as well as agreement on testing.
He said that Sweden had been conducting 80,000 tests a week with no recent deaths.
Good for Sweden. They did well considering they bucked all the odds.
In case the interview is difficult to listen to because Tegnell is on a train, here is another transmission:
Episode 4 of Spectator TV, from Thursday, September 24, covered a multitude of health, economic and political topics:
Kate Andrews talked about the broadcast that Dr Chris Whitty and Sir Patrick Vallance made about coronavirus last week. Rishi Sunak, Chancellor of the Exchequer, gave a statement last week on a winter economic programme. It focussed on a change from furlough, which expires in October, to a jobs subsidy for viable employment. She said that there is no doubt that unemployment will rise in the UK in the coming months.
James Forsyth echoed that and said that Rishi Sunak's plan is to retain as many current jobs as possible but also to create many more.
On that note, Katy Balls said that there is some tension between 10 and 11 Downing Street. Boris errs on the side of health and personal safety. Rishi is more focussed on the economic numbers in order to keep Britain afloat.
With regard to coronavirus, Dr Flavio Toxvaerd, an economic epidemiologist from Cambridge University, said that epidemiologists do not have a good estimation of human behaviour. He did not believe that we were likely to see the latest coronavirus predictions from Whitty and Vallance's graphs come true. That said, there is a delicate balance to be struck between health and the economy in dealing with COVID-19. Both are critical at this time. Neither can be viewed in isolation.
With regard to his eponymous amendment anticipated to be brought before the House of Commons, Sir Graham Brady said he felt confident that any future coronavirus-related statutory instruments would have to be brought before the House of Commons for debate and a vote prior to implementation.
Questions have been raised as to Boris Johnson's future as Prime Minister. Katy Balls and James Forsyth both thought that he would not be gone by the end of the year, as many have predicted over the past several days. Leaving the EU, they predicted, will put fuel in the tank for 2021, so to speak.
Turning to the upcoming US elections, Dominic Green said that a Biden administration would favour the EU more than the United Kingdom emerging from Brexit. Again, this assumes that Joe Biden will win the election. Green rightly warned that polls are unreliable. (We saw the same situation four years ago with the polls and the 'Trump can't win' theme. We are seeing it again now.)
Thousands of us are grateful to the NatWest Group for sponsoring these useful broadcasts.
This week, the UK government's scientific advisers and Prime Minister Boris Johnson said that new, stricter coronavirus measures would come into effect on Thursday, September 24.
On Monday morning, Chris Whitty and Sir Patrick Vallance presented their latest figures, which looked as if they must have come (once again) from Prof Neil Ferguson, they are that exaggerated. You can see the graph further down in my post:
This is utter madness, reminiscent of the WMD days when Tony Blair told us that a WMD could reach our shores within 45 minutes:
Their presentation, given against a No. 10 backdrop, had the purpose of preparing the public for Boris Johnson's announcements on Tuesday. They took no questions.
They showed graphs of where Spain and France are, with an uptick in 'cases'. Again, that means positive test results, most of which do not require hospitalisation.
Strangely enough, the Rule of Six only came in on Monday. Let's let it bed in for a few days, fellas, before taking more measures. They're doing exactly what they did in March, though. On March 16, new measures came in. On March 23, we had lockdown.
The Rule of Six is a Belgian tactic that SAGE thought would work in England. As such, they recommended it to the Government.
Perhaps this is the reason the two scientists did not mention Belgium once in their presentation:
I am glad someone will be tracking the progress of the projections over the next few weeks:
On Tuesday, Boris addressed Parliament and gave a short address that evening, televised to the nation.
In short:
– Pubs and restaurants must close by 10 p.m.
– They must offer table service only.
– All retail workers in hospitality settings must wear masks, along with customers, unless they are eating or drinking.
– Fines for breaking the Rule of Six or not wearing a face covering will result in an initial fine of £200, up from £100, for a first offence.
– Indoor five-a-side football matches have been banned.
– Wedding attendance has been reduced from 30 to 15; funeral attendance remains capped at 30.
– Police are allowed to call the military to fulfil office duties and/or to guard protected sites, leaving the police more capacity to fight crime.
– The plan to return a limited number of fans to sports stadia on October 1 is now postponed indefinitely.
The Daily Mail has a comprehensive article, including Boris's transcript, on the scathing reactions from police and business owners, particularly publicans. Sir Andrew Lloyd Webber said that this could sound the death knell for commercial theatre.
The Telegraph's Matt has this take on Army assistance:
The chances of that happening are very low:
The sad thing is that only five per cent of COVID-19 infections occur in a hospitality environment!
The Government and SAGE know this — yet they pressed on with restrictions!
The Daily Mail reported (emphases mine):
Public Health England data reveals that of the 729 outbreaks in the week to September 13, only five per cent occurred in food outlets such as restaurants and pubs – 45 per cent were in care homes, 21 per cent in schools and 18 per cent in places of work.
Wetherspoons founder Tim Martin said: 'The curfew doesn't even stand up to five minutes consideration by an intelligent person because if you look at the stats… there are relatively few transfers of infections in pubs.
Kate Nicholls, chief executive of trade body UK Hospitality, urged the Government to heed its own statistics because the curfew could take a sledgehammer to the industry which is already 'on its knees'.
She said this morning: 'People will think it's not that significant, but it really will have a big economic impact on jobs, not just on pubs, but also for cafes and restaurants.'   
Martin Wolstencroft, head of Arch Inspirations, which runs 17 bars and restaurants in Leeds, Manchester, York and Newcastle, said the curfew will not make it viable to open some of his venues.
Ironically, August was the month of discount lunches in Chancellor Rishi Sunak's successful initiative, Eat Out to Help Out, which the hospitality industry welcomed.
The Government's new restrictions will largely destroy any uplift participating restaurants received from it.
What on earth is going on?
Toby Young, who was at Oxford with Boris, says that something has changed — and not for the better. Note that Prince Charles approves of military intervention for climate change. Scary:
It's entirely possible that these ruinous measures have no basis in scientific fact, devastating people's livelihoods and families:
Conservative backbench MPs sounded off.
On Tuesday, Sir Desmond Swayne, who has commented both in and outside the House of Commons, tweeted:
His blog post states, in part:
Flu kills all year round – In the last weeks of July it killed 1000 of us (where Covid-19 killed only 200)- but it is seasonal: it certainly kills a lot more of us in the winter. Equally, we should stop talking about another wave of Covid-19 and instead, like flu, start expecting its annual season.
Having peaked in April Covid-19 abated over the summer. Inevitably it will get worse in winter. It may also be worse this winter than might otherwise have been the case. This is because we carried on with a number of restrictions on normal social life during the summer, reducing our ability to acquire and share herd immunity and wasting the opportunity provided by the weakest period for the virus.
My contention remains, as I have said many times over the last months, that our over-reaction to the disease has done much more lasting economic damage, and, counter-intuitively, even more damage to our health than the disease itself.
The current strategy merely kicks the can down the road. If the measures work and reduce the spread, the virus will simply reappear later.
Of course, we could be lucky and get a vaccine or a cure, or even 'moon-shot' daily tests to enable us to return to normality, but none of these are certain.
One day there may be a virus that threatens our whole way of life – but this isn't it, even if we are behaving as if it were.
Sir Desmond retweeted a neurologist's comment on the outrageous graph of projected 'cases' this autumn — in reality, positive tests:
Today, Sir Desmond gave an interview to the BBC about the continuing and questionable restrictions on civil liberties:
Richard Drax rightly predicted economic disaster, ruining the lives of millions:
Lucy Allan also spoke out on Twitter.
She tweeted Monday's graph from SAGE:
She rightly opposes putting everyone on restrictions when we should be protecting those most at risk:
She retweeted an open letter from Profs Sikora, Heneghan and several other leaders in British medicine:
She also called for the precise definition of a 'case':
That's probably why Whitty and Vallance didn't take questions.
Sir Edward Leigh also had a lot to say on this week's announcements:
He is rightly concerned about the blind faith we place in authority and the gradual erosion of civil liberties:
I couldn't agree more:
At least 1,000 people die in the UK every day.
Below are the causes of death per day in September.
Note where COVID-19 is: second from the bottom, dwarfed by heart disease and cancer.
There were nearly twice as many suicides than deaths from the Chi-vi: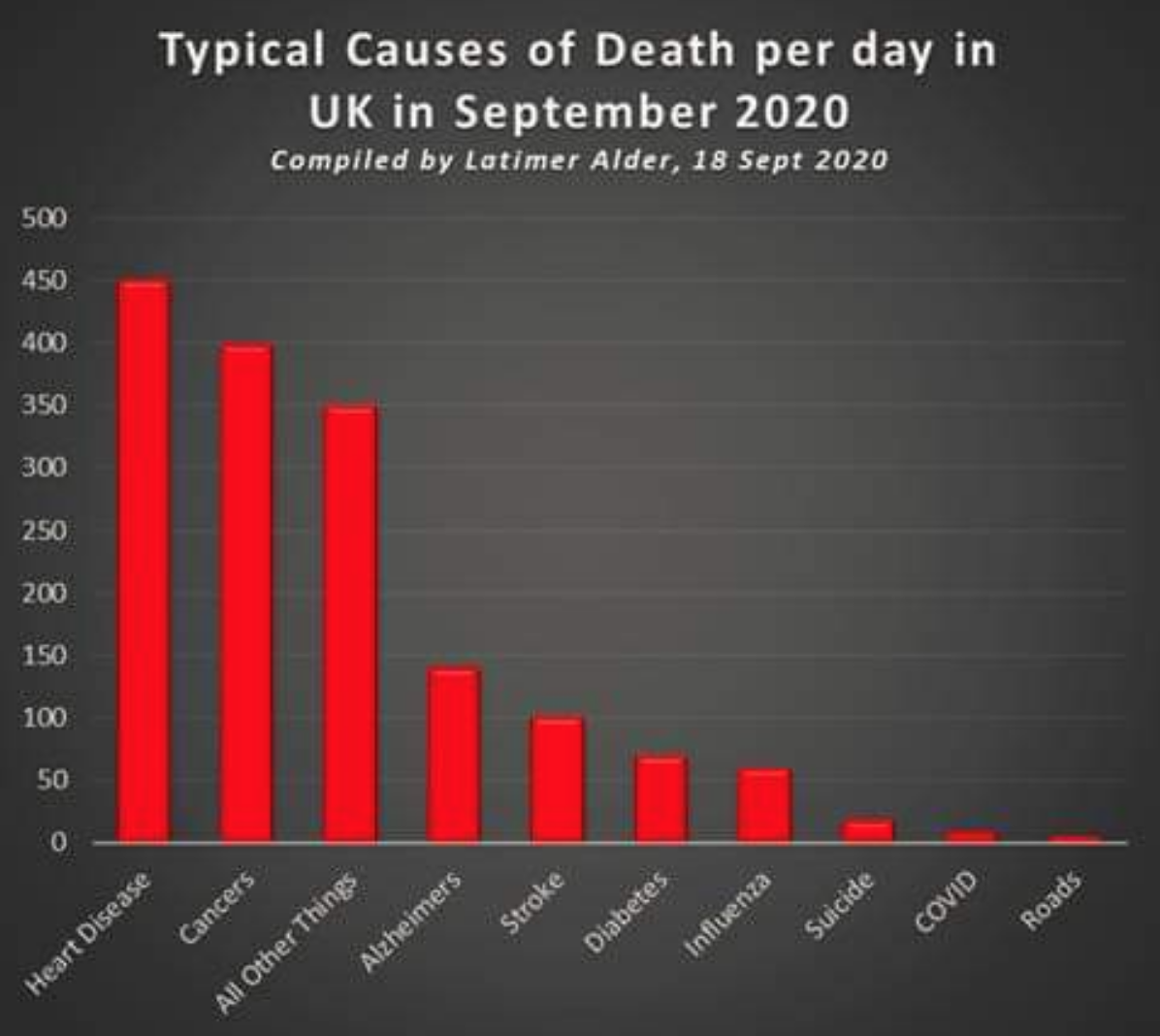 Steve Baker is also concerned about the restrictions bypassing Parliament:
Wow. Sir Graham Brady could pit a load of Tory rebels against the government. Good show:
The article from The Critic says:
Unless Matt Hancock finds a workable accommodation with Sir Graham Brady, the chairman of the 1922 Committee of Tory backbench MPs, the government faces the prospect of defeat next Wednesday when the Coronavirus Act 2020 comes up for its six-monthly renewal in the House of Commons.
The scale of backbench unhappiness is such that according to Steve Baker, who is working alongside Sir Graham, "the magic number was exceeded with 24 hours" of his beginning to canvas support for an insurrection among fellow Conservative MPs. Victory would require Labour and SNP MPs to seize on the opportunity to inflict a humiliating defeat on the government by voting with the Tory rebels. Indications increasingly suggest that this could happen. An increasingly dispirited Whips Office, which feels ignored and disrespected by Downing Street, is especially concerned at the sight of the former ERG "Spartans" leader, Baker, at Westminster furiously tapping away on his phone – a colliery canary of trouble ahead.
The government is equally concerned that the rebellion is being led by Sir Graham Brady, whose role as chairman of the 1992 Committee makes him the most authoritative channel of backbench opinion. In a sign of how seriously Downing Street management is taking the senior shop steward's challenge, on Monday evening the prime minister privately went to see the 1922's executive committee.
The primary complaint is that the government is using powers granted to it under the 1984 Public Health Act and 2020 Coronavirus Act to enact previously unconscionable measures without any prior debate in the Commons. Brady has condemned ministers who "have got into the habit of ruling by decree."
MPs were prepared to cede considerable authority to the government in March in a period of acute crisis when there appeared to be only weeks if not days to "flatten the sombrero" to save the NHS from being overwhelmed. But Boris Johnson's admission in his statement to Parliament today that the latest curtailments (which include further restrictions on hospitality opening hours and the number of people who can congregate at weddings, funerals and other public, private and sporting functions), would likely last at least six months has alerted MPs to the reality that government by decree may last until a vaccine is approved. If, indeed, a vaccine is approved. This is a war that will not be over by Christmas.
Far from persuading potential rebel MPs that a new crisis is looming, the performance of the government's chief medical and scientific officers, Chris Whitty and Sir Patrick Vallance, at their press conference yesterday has heightened consternation that the government is over-reliant on advice predicated upon worst case scenarios that is trumping competing economic and civil liberty considerations.
The likelihood of executive mission creep was foreseen back in March by David Davis and Steve Baker who pushed the government into adopting an amendment reducing from two years to six months the period in which the powers of the Coronavirus Act must be renewed by parliament. That renewal debate will now take place next Wednesday.
I remember that debate from March and also wondered if the Government were as good as their word.
Whilst they are unlikely to call for a wholesale repeal of the Coronavirus Act, Sir Graham Brady could call for a scrutiny clause appended to the Act so that every new statutory instrument connected to the legislation would have to go through Parliament first. To date, many of them have not. Therefore:
Rebels are pinning their hopes on this prospect. They may find a friend in the The Speaker, Sir Lindsay Hoyle, who has already made clear his intense irritation with Matt Hancock's disregard for informing parliament first of major legal changes like the "rule of six" and for the government's brusque imposition of restrictions in his own Chorley constituency …
The appeal of such a mechanism is obvious to Tory backbenchers concerned that laws are being made without scrutiny and are difficult to repeal. But there is no in-principle reason why Opposition parties need object to such a parliamentary safeguard either. Hence the likelihood of a rebellion having the numbers to succeed next Wednesday.
I can hardly wait.
Iain Duncan Smith is also airing his views. Note what he says and compare it to the death graph above:
Brexit better be more than BRINO, otherwise that prediction about the Conservatives could come true.
Former Brexit Party MEP and owner of England's greatest smoked salmon business, Forman's, said:
How true.
Unfortunately, at today's PMQs, Boris said that restrictions will continue until a vaccine is found! Dangerous.
My apologies. This is a long but important post on the endgame for coronavirus, as things stand at present.
On Wednesday, September 2, 2020, the House of Commons' adjournment debate was about coronavirus measures in England.
Sir Christopher Chope MP (Conservative, Christchurch) voiced disapproval on behalf of his constituents.
Sir Christopher has a good track record for representing the people, such as in this heated debate on Brexit in March 2019:
Before Parliament reconvened on Tuesday, September 1, many English residents became concerned about the Government's response to coronavirus, particularly after lockdown began to be lifted early this summer. The following tweets reflect their concerns:
In the middle of August, The Human Unleashed Team posted an excellent article about two possible strategies the Government has. Excerpts from 'COVID: The Case Against the UK Government' follow, emphases in purple mine.
It begins as follows:
Has the U.K. Government acted in good faith over the COVID-19 crisis?
In this post, we'll examine the UK Government's actions around the COVID crisis alongside various data published by official sources. The goal is to get insight into whether the Government has acted honestly and in good faith.
For now let's put aside the science around whether the disease known as COVID-19 is caused by the novel coronavirus (SARS-CoV-2) and focus on the evidence as it emerged.
Let's keep two alternative possibilities in mind as we look at the facts.
The first, "Case A" is that the UK Government has conducted itself in good faith, in the genuine belief that this is a pandemic, and has done all it can to reverse it, so that the country can safely return to normal as soon as possible.
The second possibility, which we'll call "Case B", is the possibility that the UK Government knows that the pandemic is no longer present, but does not wish a swift return to normal, and is therefore continuing to push the pandemic narrative for some other reason.
The article is complete with graphs, such as the one charting talk about a second wave when the initial deaths from the first wave had only just appeared in March:
If Case A (the Government is acting in good faith), this really does not make sense. The public did not suddenly starting talking about it for no reason. Why would the key influencers (WHO, Government, and media) seed the idea of a second wave so soon?
It only makes any sense in Case B (the Government is knowingly rolling out a prepared agenda), where it could be argued that the idea of "second wave" is being implanted into the public's consciousness. Why? Is it to set expectations of a second wave that is already planned?
Talk of a vaccine started trending two weeks before that, at the end of February:
Considering that the public's interest is guided by the media narrative, it is interesting that the public's attention was guided to terms like "second wave" and "vaccine" so early in the lifecycle of this pandemic.
Once lockdown started (Monday evening, March 23) 'flatten the curve' disappeared quickly from the official narrative:
Why was "flatten the curve" hailed as the nation's priority in March, but then swiftly dropped even before the fatality curve peaked?
Furthermore (and this is a recurring theme), if flattening the curve was ever truly the goal, we would now be celebrating the fact that the curve has been flat for nearly two months. We are not. Neither the Government nor mainstream media have been cheering the fact that the COVID wave has, to all extents and purposes, ended and that the country can return to normal.
The death curve has been flat since the end of July:
Even in the hardest-hit groups (60 years and 80-plus), the curve is now objectively flat. Why are we not partying in the streets? (When it comes to younger age groups, the picture is even more ridiculous. The official NHS numbers show that only two people aged under forty have died in hospital in the past month related to COVID.)
If Case A were true, you would expect that the Government would be proudly announcing its success in halting COVID mortality. However, there have been no such announcements. On the contrary, the narrative from both Government and state news sources continue to stress the threat of another wave. Case A makes no sense.
It does all fit with the Case B scenario. If the Government's purpose involves perpetuating the fear level thus justifying continuing the increased level of control over the population's freedoms, then you can see why they would choose to ignore the simple fact that today there is no epidemic in the UK.
In fact, this summer, there were more fatalities from seasonal flu than there were from COVID-19:
You can see that, following a tremendous spike in death rates, since mid-June deaths linked to COVID have been significantly lower than flu/pneumonia deaths …
Again, if Case A were true, the Government would be wasting no time in announcing the end of the epidemic and delivering the good news that everything can now return to normal. Considering the incredible damage that has already been inflicted on the UK economy, you would imagine that the party in power would be anxious to lift the restrictions.
As none of that has happened, we must consider Case B. Not only has the Government resisted the clear opportunity to end all the restrictions, they have actually implemented new rules, including the requirement to wear face coverings in enclosed public spaces, backed up with the threat of a £100+ fine, since July 24th.
What can we conclude?
Think it through. If both diseases are the result of similar, communicable viruses, why are more people now dying every day from flu than from COVID-19?
One possible explanation that has been suggested could be that the virus that causes COVID-19 is far more contagious than the influenza virus. If that were the case, it would suggest the novel coronavirus spread like wildfire through the UK population, but killing the elderly almost exclusively. And if that were true, it would mean that we have already reached the fabled "herd immunity", suggesting that you could make an argument that the elderly and infirm should still be protected, but that the rest of the UK public could return to normal immediately.
So we must conclude that we have either achieved "herd immunity", which means there is no more pandemic and that the virus is no longer a high consequence infectious disease (which Public Health England in fact published back in March), or one or more of the above assertions are incorrect, suggesting that COVID-19 may not be caused by a communicable pathogen, in which case there is also no pandemic.
Over the summer, the Government's focus turned to 'cases', which has kept the psychological fear factor up among the general public:
If Case A is true, and the UK Government's priority is to protect the population and get through the COVID crisis as swiftly and as safely as possible, why would they stop talking about deaths and start talking "cases" as the death rate dropped towards zero?
Cases simply refer to positive test results. They do not mean that someone is sick, or at risk of dying. Yet testing has continued to grow week-on-week, now averaging over 150,000 tests being processed daily. Why would a Government whose priority is a rapid and safe return to normal keep increasing its efforts to find more "cases", instead of applauding the vanishing mortality numbers?
Again, only Case B makes logical sense. The Government's own actions show that it is continually pouring more resources into the search for "cases", which could have the effect of spreading fear and panic, and choosing not to report the good news that now almost nobody is dying of COVID-19, which of course would have the opposite effect.
Then there were the inflated death statistics that have now been corrected. England now has 5,000 fewer COVID deaths. Hospital admissions were also erroneously inflated:

Let us be clear. In the middle of a global disease pandemic, the Government's number one priority must be to evaluate the danger accurately. The responsibility falls on the Health Secretary, who completely failed to deliver. He had ONE JOB.
The article concludes as follows:
It is now clear, from observing its own actions, that the UK Government does not wish a timely return to normal life. If it did, it would be going to lengths to celebrate the practical eradication of the COVID pandemic in this country, and moving to reverse the extreme measures that limit the population's freedoms that have resulted in such catastrophic outcomes.
Instead, the sum of this Government's actions appear only to support the hypothesis that they wish to prolong the present restrictions by giving the impression that the pandemic is ongoing and far more serious than the data suggest.
The UK Government has some very, very serious questions to answer. This establishment must take responsibility for conspiring to extend the appearance of the alleged COVID pandemic, leading to disastrous economic outcomes for the country, but – even more importantly – the unimaginable health and emotional damage on the population of this country.
Keep all of that in mind as you read the excerpts from Sir Christopher Chope's speech and the response on behalf of the Government from Paul Scully MP (Conservative, Sutton and Cheam), who is the Parliamentary Under-Secretary of State for Business, Energy and Industrial Strategy.
Wikipedia says (emphases mine below, link added in the next sentence):
Scully's wife Emma is employed by Nudge Factory Ltd as an Office Manager and replaced her husband as 'a person with significant control' on 1 April 2018.[30][31]
The text from the adjournment debate can be found in Hansard: 'Regulatory Impact Assessments (Legislative Scrutiny)'. The crux of the debate was that the Government made emergency laws without properly assessing the impact they would have on small business owners. That said, masks also featured in the debate.
I promise that you will not be bored reading the following excerpts. Unbeknownst to me at the time, my far better half also watched the entirety of this debate in another room. Both of us were gripped.
Sir Christopher wasted no time in making his points. He expressed himself politely but with all guns blazing, so to speak. (Bold letters for MPs' names are in the Hansard document).
Sir Christopher Chope (Christchurch) (Con)
I shall start with some quotes from my constituents about the Government:
"The most inept and incompetent administration in my lifetime."
"Incoherent and indecisive." "Authoritarian and arrogant." "Inconsistent and incomprehensible." "Socialist in all but name." As these criticisms become increasingly difficult to rebut, it is indeed essential that the Prime Minister gets a grip. The constructive purpose of this debate is to remind the Government that one key tool to enable them to get a grip is to use regulatory impact assessments as part of the policy-making process.
A regulatory impact assessment is a well-established, internationally acclaimed toolkit for good policy making. It facilitates transparency and public accountability, promotes democratic discussion by enabling potential possible policy options to be evaluated and compared. It prevents the inconsistency that arises from knee-jerk reactions and policies being developed on the hoof.
It helps to ensure that sudden changes are the exception and are made in response to changes in hard evidence rather than in response to the chorus of a single-issue pressure group—and I think it is probably fair to say that the covid alarmists are the most successful pressure group in British history. If, for the past six months, the Government had been using this toolkit, it would not have been possible for commentators to observe, as one did on Sunday:
"Britain has become a paradise for those who like to answer questions with 'rules is rules'; even when they're clearly made up on the spot or nonsensical."
Allowing beard and eyebrow trimming for men but not eyebrow treatments for women was but one ridiculous example.
Most fair-minded observers supported the Government's initial response to the covid-19 pandemic. The Government had no option but to make their priority ensuring that our hospitals were able to treat all those seriously ill as a result of covid-19. Our NHS was not as well-prepared as it would have been if the recommendations of Exercise Cygnus had been implemented. Cygnus was a brilliant initiative to war-game a serious epidemic of respiratory illness in order to identify where investment was needed to fill the gaps and thereby ensure an effective response. Tragically, Public Health England did not learn the lessons identified and failed to put the recommended preparatory work in place. We, the public, have been denied access to the full results. It remains a mystery to me as to why the Government are so defensive about the whole matter—and have indeed been dodging parliamentary questions that I have put down on the subject.
… The purpose of this debate is to try to get some more assurance from the Government that they are going to apply these principles not just to covid-19 but to other regulatory measures that are, at the moment, being brought in with far too insufficient scrutiny.
Tomorrow it will be six months since the Department of Health and Social Care policy paper on coronavirus was published. This action plan, as it became, on which the Coronavirus Act 2020 was based, envisaged four phases: contain, delay, research and mitigate. The delay phase was to
"slow the spread in this country, if it does take hold, lowering the peak impact and pushing it away from the winter season".
Because of the emergency timetable, the legislation had the sketchiest of regulatory impact assessments, without any cost-benefit analysis. But who would have thought that none of the regulations being made under that primary legislation would be properly evaluated before implementation? I certainly hoped that that would happen, but it has not.
The basic steps in the RIA process should involve consultation and an assessment of the nature and extent of the problems to be addressed. There should be a clear statement of the policy objectives and goals of the regulatory proposal, which should include the enforcement regime and strategy for ensuring compliance. Alternative courses of action should be identified, including any non-regulatory approaches considered as potential solutions to the identified problem. There should also be a clear outline of the benefits and costs expected from the proposal and identified alternatives. The conclusion should not only identify the preferred solution but explain how it is superior to the other alternatives considered. Finally, there should be a monitoring and evaluation framework set out describing how performance will be measured.
Although the processes I have set out could not be embarked on in the immediate emergency of introducing lockdown, they should surely form an inherent part of the process of easing lockdown, and ensuring consistent and timely relaxations of the regulations. It is the failure to do this that has resulted in sudden and contradictory changes to the regulations.
This has also led to unacceptable mission creep, which increasingly embodies a gradual shift in objectives. Hon. and right hon. Members will remember that the original objective was to enable the NHS to provide the best care to all the victims of covid-19 who needed it. That clear mission has now widened into a mission to suppress the spread of covid-19 as an end in itself, regardless of the cost. The irony is that, in allowing the original objective to be blurred, the important subsidiary objective of preventing the virus peaking again in the winter is being put in jeopardy.​
The easing of lockdown has, sadly, become a veritable shambles. While the number of deaths from covid-19 has mercifully plummeted from its April peak, there has not been a corresponding relaxation of the emergency regulations. I shall refer later to the OECD principles of best practice for regulatory policy, but one of the key principles is:
"Proposed solutions should be appropriate to the risk posed, and costs identified and minimised."
In the statement he made yesterday to the House, the Secretary of State for Health [Matt Hancock] said that there are now
"60 patients in mechanical ventilator beds with coronavirus".—[Official Report, 1 September 2020; Vol. 679, c. 23.]
This compares with 3,300 at the peak of the epidemic, and he then said that the latest quoted number for reported deaths is two in one day. Today, The Sun newspaper has calculated from these figures that the odds of catching covid-19 in England are about 44 in 1 million per day. Economist Tim Harford, who presents what I think is one, if not the only, good programme on the BBC—the statistics programme, "More or Less"—has said:
"Covid-19 currently presents a background risk of a one in a million chance of death or lasting harm, every day."
While age, gender, geography, behaviour and other aspects affect the risk, it is now far lower than the risk of death or serious injury in a motor accident. On average, five people continue to be killed each day on our roads, yet I have not yet heard from the Government any proposals to ban people from driving because of the risks associated with so doing.
One sure way of ensuring consistency would be to impose the discipline of a regulatory impact assessment on each and every continuing restriction, so that the justification for loss of personal liberty could be evaluated against the alleged benefits. It is not too late for this to start, and I hope that the Minister, in responding to this debate, will provide an assurance that the forthcoming six-month review of the legislation will include a full regulatory impact assessment and an evaluation of the performance of the emergency regulations introduced.
The public would then be able to see the evidence about whether the decisions taken were correct. For example, was closing schools and setting back the education of the covid regeneration a proportionate and necessary measure? Was the postponement of 107,000 weddings across the United Kingdom justified? Could any of the 4,452 weddings which should have taken place last Saturday have been permitted? Why can people sit safely side by side with strangers on an aircraft, but not at a wedding breakfast or in a church, a theatre or a concert hall—or even in this Chamber?
Why was the World Health Organisation advice, which was originally that there should be 1 metre social distancing, not applied from the outset? We introduced a 2-metre or 6-foot rule, but that has now been modified with the 1 metre-plus rule, but at the same time the additional safeguards required for the 1 metre-plus situation are being applied to the 2-metre situation, which is creating all sorts of problems, conflicts and uncertainties for our constituents.
Is it protecting the NHS to create a situation where, as was revealed in The Times on 27 August, 15.3 million people are now on the hidden waiting list for treatment? ​Is it reasonable that we should try to prevent two deaths a day and keep 15.3 million people on waiting lists for treatment, with all the dire consequences that flow from that? Madam Deputy Speaker, I do not know whether you were listening to the Secretary of State for Health when he made his statement yesterday, but in my view his responses on the issue of NHS waiting lists were the weakest and least convincing parts of what he had to say.
Is the continuing economic cost of lockdown now disproportionate to the benefits? Well, let us have an exercise and see. Let us see the data presented, so that we can have a proper debate about it. I raised the importance of regulatory impact assessments in public policy making with the Leader of the House at business questions on 2 July. It was his response on that occasion which caused me to apply for this Adjournment debate, which I am delighted that we are having this evening. I said that we would be able to achieve much more consistency in Government advice with regulatory impact assessments. The Leader of the House [Jacob Rees-Mogg], however, argued that
"if we spend too long doing all this, by the time we have done it we have moved on to the next stage of the lockdown."
He accused me of "calling for bureaucratic folderol", which would inhibit moving
"at a pace to ensure that things happen in a timely manner".—[Official Report, 2 July 2020; Vol. 678, c. 534.]
Would that they were. But I must correct the Leader of the House, because, far from being the worthless trifles described in the expression "folderol", regulatory impact assessments are fundamental to ensuring that we make the right decisions as legislators.
It is incredible that, instead of lockdown continuing to be relaxed, new restrictions on freedom, such as mandatory face coverings, have been introduced. The consequence is that I detect a growing atmosphere of gloom and foreboding as we see winter approaching: no vaccine availability for many months; the economy in a worse state than most of our competitors; and the prospect of the resurgence of the pandemic coinciding with the flu season. I do not like the expression "waves" because it makes it seem as though we are talking about something equivalent to the Atlantic rollers so much enjoyed by our former Prime Minister and colleague, David Cameron. We are not talking about waves. We are talking about the potential resurgence of the pandemic—not everywhere, but in particular hotspots.
This scenario demands a rational evaluation of conflicting risks to the economy and public health, together with a cost-benefit analysis, and now is the time for the Government to reinstate the intellectual rigour of the regulatory impact assessment process. Sooner or later, the incredible economic cost of the Government's failure to remove lockdown restrictions in a timely and effective manner will become apparent. If that coincides with the Government asking their natural supporters to pay the price for their failure through higher taxes, the political consequences will indeed be dire. It is for that reason that I commend to the Government what the OECD says about regulatory impact analysis. It describes it as an
"important element of an evidence-based approach to policy-making…that…can underpin the capacity of governments to ensure that regulations are efficient and effective in a changing and complex world."​
I will not read from the whole OECD regulatory impact assessment report on best practice principles for regulatory policy, but it extends to about 40 or 50 pages and is extremely well researched and documented. As I understand it—the Minister will correct me if I am wrong—these principles are supported by the Government; the trouble is that they do not seem to be being implemented by the Government and by Government Departments. I hope that in his response the Minister will tell us what he is doing to try and put that right.
The Government should revert to following their own "better regulation framework" established under the Small Business, Enterprise and Employment Act 2015, which requires that
"A RIA should be prepared for all significant regulatory provisions as a standard of good policy making and where an appropriate RIA is expected by parliament and other stakeholders."
The interim guidance issued in March this year sets out a general threshold for independent scrutiny of regulatory impact assessments and post-implementation reviews, where the annual net direct cost to business is greater than £5 million. It calls on Government Departments to undertake proportionate cost-benefit analysis to inform decision making.
The trouble is that this is not being done, and I will give just one topical example, to which I referred in my brief comments in the previous debate. Under the Coronavirus Act 2020, there was specific primary legislation saying that residential tenancies should be protected from eviction until 20 September this year. On Friday last week—27 August—regulations were made extending that period from 20 September for another six months. The regulations came into force on 28 August, which was last Saturday, the very same day that they were laid before Parliament. Regulation 1(2) says:
"These Regulations come into force on the day after the day on which they are laid".
Those regulations have caused a storm of protest from residential landlords in my constituency; they are apoplectic about the fact that they are not going to be able to recover possession of their premises. Notwithstanding the contractual agreements they have entered into with their tenants, they are not going to be able to recover their premises until 31 March 2021.
It says in the explanatory notes to the regulations that they amend schedule 29 of the 2020 Act. This is primary legislation being amended by subordinate legislation subject only to the negative resolution procedure, and so one might have expected that there would be a regulatory impact assessment or something which would indicate to us, on behalf of our constituents, that the Government have thought this whole process through, but that is not there, and instead there is a little note which says:
"A full impact assessment has not been produced for this instrument due to the temporary nature of the provision" …

Bob Stewart [Conservative, Beckenham]

It makes us look like clowns.
Sir Christopher Chope
I hope that that is on the record—it makes us look like clowns. That is why I hope that we can persuade the Government to reform their ways. It is also extraordinary that the excuse should be put forward that this is a temporary arrangement and that is why there is no need for a regulatory impact assessment. That is not set out anywhere in any of the books on this, and it is a novel interpretation of what should be happening.
Switching away from the regulations directly related to coronavirus, I have received support for raising this issue from the Internet Association, which is the only trade association that exclusively represents leading global internet companies on matters of public policy. The organisation responded to the Government's invitation when they went out to consultation in June inquiring about the reforming regulation initiative. It said, "Regulation in the digital sector has a wide range of potential impacts which extend beyond traditional economic impact analysis. As a matter of course, the Internet Association recommends that Government Departments and regulators undertake a wider impact assessment of their proposals covering not only the economic impact, but also issues such as technological feasibility and impacts on freedom of expression and privacy." It goes on to say that "there have been a number of recent policy and regulatory initiatives in the digital sector where it has not been clear whether an impact assessment has been conducted and/or the impact assessment has not been published for external scrutiny." It gives an example of the Department for Digital, Culture, Media and Sport/Home Office online harms White Paper. The Internet Association believes that wider regulatory impact assessments, as specified, should be required for major digital policy and regulatory initiatives. Therefore, this extends into that field also, as it does to all legislative and Government policy making—or it should do—and I hope that we will be able to get ourselves back on track.
The interim guidance to which I refer, which was published in March this year, referred to the Government considering how best the better regulation framework can be delivered
"more effectively over the course of this Parliament".​
Now is the time, surely, to take some action. As their first step, the Government should promise that the six-monthly review of the Coronavirus Act 2020 will be accompanied by a full post-implementation review and that a full cost-benefit analysis of those emergency regulations that it recommends should be kept in place. I hope that the Minister will announce that he is going to do that tonight and thereby help to restore public confidence in the Government's decision making and the ability of Parliament to scrutinise it, because that is fundamental. I am grateful for the opportunity to put this point to the House.
This was the Government minister's response, which entailed further lively debate:
The Parliamentary Under-Secretary of State for Business, Energy and Industrial Strategy (Paul Scully)
… Our commitment to conducting such impact assessments remains strong. The analysis that goes into impact assessments ensures that Government consider the need for and likely impact of new regulations to support legislative change. They ensure that we consider how regulation will affect the operation of markets and best enable businesses to innovate, and, in line with the subject of this debate, they inform parliamentary decision making …
The Coronavirus Bill, introduced in March this year, provided powers needed to respond to the coronavirus pandemic. The powers enabled the Government to introduce temporary emergency legislation to respond to the pandemic. To allow the Government to deliver at the required pace, formal regulatory impact assessments are not required for better regulation purposes for the temporary measures put in place in response to the pandemic. Further flexibility in the approach to impact assessments is appropriate where permanent measures need to be enforced urgently.​
My hon. Friend mentioned some specific examples where we have assessed the impact in a different way. He is right to talk about the importance of regulatory impact assessments. Some of the guidelines that he mentioned fall within my area. The specific residential landlord and tenant issue that he mentioned falls to my colleagues in the Ministry of Housing, Communities and Local Government, but in terms of the commercial Landlord and Tenant Act 1954 changes, we found from listening and speaking to businesses over a period that some companies that were struggling to pay their rent were being wound up by some landlords, so we acted.
This is on the basis of detailed, long-standing conversation and engagement with businesses on both sides of the debate. In my short time as a Minister, I have had around 500 meetings with, I estimate, 3,000 to 4,000 businesses, so I think I have a reasonable handle on retail, hospitality, weddings and the beauticians who do eyebrows and beard trimming that my hon. Friend mentioned. It is a source of great regret that we are unable to allow wedding celebrations of more than 30 people to occur at the moment. I have seen at first hand and heard from people in the wedding sector, which is an enormous contributor to the UK economy, how badly they are suffering as a result …
At this point, the responses from Paul Scully became brittle and defensive. More importantly, Scully said that some changes will be permanent:
Sir Christopher Chope
May I present a challenge to the Minister? Will he publish for our benefit a regulatory impact assessment on the issue of not allowing larger weddings? That would bring into the open all the issues with which he is familiar but which have not yet been exposed to public debate and scrutiny. Is that not what it is all about? This has now been going on for six months, and people want to know where the future lies for the small organisations involved in weddings. Will he offer to do that for us, notwithstanding the fact that his Department is very busy? That would be really helpful.
While I have the Floor, let me also say that I am concerned that the Minister seemed to distance himself from what is happening to individual landlords. Although they may not be incorporated, they are small businesses.
Paul Scully
To answer my hon. Friend's last point, I am not distancing myself; I literally was not involved in that decision. I do not want to offer a line of thought on something that I was not involved in, but I understand his point.
On weddings and the public debate, my hon. Friend has clearly not been following my Twitter feed—totally understandably—which is full of such debates about the wedding sector. We are trying to work with the sector to make sure it can open. My primary concern is about ensuring we get our economy open again with a warm but safe welcome to people. The Government's first priority has always been to save and protect lives, but restoring livelihoods, protecting jobs and protecting businesses are right up there, for the reasons that my hon. Friend set out. If we do not get this kick-started now, the effect on the economy will be huge, so it is important that we work together to give people not just confidence but joy, so that when they come out to use services in their local high streets and city centres they enjoy the experience and come back time and time again.
A one-off hit to our economy is not good enough. We know it is not going to go back to how it was in February, and there are some permanent behaviour changes that seem to be kicking in. None the less, we need to work with the new normal, which means working with the virus, because we will be living with it. My hon. Friend talked about a second wave, or spike or whatever he wants to call it. If we learn to live with it, there may be a third and a fourth until we get a vaccine, but live with it we must. There will be a new reality of the permanent behaviour change.
Well-designed and effective regulation, which my hon. Friend wants to see in our legislation, and which we are championing, enables markets and business to flourish, grow and innovate. It can provide certainty for investors and protection for individuals and society. The use of impact assessments in informing regulatory design can help us to achieve those outcomes. Excessive or poorly designed regulation can impede innovation and create unnecessary barriers to trade, investment and economic efficiency. We have sought to limit that by ensuring that regulation changes in response to the pandemic are targeted and time-limited.
Bob Stewart
One of the biggest things that the Government have insisted on is facemasks, which we have mentioned already. I would be intrigued to know ​whether there is a regulatory impact assessment on why we all have to wear facemasks in public and various other places, because I have not seen it. If there is one that could be made public, perhaps it could be put in the House of Commons Library. There are growing numbers of people in my constituency of Beckenham who are rebelling against that idea.
Paul Scully
I thank my hon. Friend for his intervention. I get the train and the Underground into London each and every day, and the adherence of people to wearing face masks is, on the whole, good. Tube use, I am glad to say, is increasing substantially. London city centre—the central activity zone in London—is incredibly quiet. That is affecting the west end in particular, and the City.
The west end represents 3% of the entire UK economy—just the west end—so although we need to make sure that the whole country is able to restore the confidence and joy that I was talking about, it would be remiss of me, as Minister for London as well, not to showcase those areas that make up a massive amount of our capital city as a strategic and world city, so that it is ready for international travellers when they have the confidence to travel.
The Government's focus has been on improving design and proportionality in regulation. That is done through the Better Regulation Executive, which is responsible for embedding smarter, more cost-efficient and better regulation across Government, and which has recently introduced new guidance templates and training to improve the quality of impact assessments. As a result, impact assessments have clearer presentation of results, better planning for implementation and more quantification of costs and benefits.
The better regulation guidance represents the agreed Government policy on evidence and independent scrutiny, including when to seek independent scrutiny. It is clear that legislation should be accompanied by robust evidence and assessment of impact.
Bob Stewart
Forgive me. The Minister is a really good friend of mine, but he did not answer my question. I would really like to see the Government's justification, in writing, as to why so many people have to wear face masks. Can we know what that justification is in this House?
Paul Scully
There has been a long debate about the use of face masks, both on transport and in retail. There are arguments either side—whether it gives a false sense of security or whether people touch their face when they put on or take off their mask. None the less, we have a better understanding of the transmission of the virus and the aerosol nature of its transmission. That is why the World Health Organisation has changed its advice from the beginning, when it said people do not need to have masks or face coverings, to, "Yes, you do." Actually, we can learn from history. In the 19th century, cholera was assumed to be transmitted by air, but by greater understanding and by working through it—they did not need a regulatory impact assessment to figure it out— eventually people found that it was the water supply that was causing cholera, so they were able better to tackle that particular issue at that given time …​
By mentioning cholera (?!), Scully killed his own argument. He should read up on the 20th century instead, specifically, the 1918-19 influenza pandemic. In the early 1920s, medical experts concluded that masks did nothing to stop the contagion. However, I digress.
The debate continued:
Sir Christopher Chope
Is this body to which the Minister is referring going to look at the issue of face masks, or face coverings? In answer to my hon. Friend the Member for Beckenham (Bob Stewart) he has said that there are arguments on both sides of this. In those circumstances, why are the Government taking one side and criminalising behaviour instead of trusting people to reach their own decisions on the information provided by the Government?
Paul Scully
I am sure the necessary people will have heard my hon. Friend's call for that to be examined, but on the use of face masks, it is the same as self-isolation as a result of the test and trace system: the number of people who are having to self-isolate at any one time means that millions of us can go about our relatively normal lives by going to retail, hospitality or our places of work, which we were not able to do for so many months.
Those changes are evolving. I, like my hon. Friend, do not take any infringement of our civil liberties lightly, but this is a situation—I am not going to use the word "unprecedented" even though I just have; it has been used an unprecedented number of times—that we have never had to face before. No Government have ever had to face such a situation, so we are learning as we go along. We will not always get it right, but we have to make sure we are using the best engagement, listening to both sides of the argument, and working through as the science evolves and as we see what is in front of us in terms of human behaviour.
My hon. Friend the Member for Christchurch talked about the OECD, whose latest report acknowledged that better regulation is an area of strength in the UK. It notes that the UK has been a leader in regulatory policy in general, with the early adoption of the better regulation agenda. Our ambitious agenda is reflected in the results of the OECD's monitoring of regulatory management tools, as displayed in the "OECD Regulatory Policy Outlook 2018", with the UK displaying the highest composite indicator score for stakeholder engagement for primary laws. Our score for secondary legislation is also significantly above the OECD average. We also had the highest composite indicator score for regulatory impact assessments across the OECD. That includes strong formal regulatory impact assessment requirements in areas such as establishing a process to identify how the achievement of the regulation's goals will be evaluated; assessing a broad range of environmental and social impacts; and undertaking risk assessments as part of regulatory proposals. So we should be justifiably proud of our world-leading reputation in this area.
These assessments are valuable documents, and the Government should be applauded for encouraging their production and the transparent scrutiny of them, but, ​as with some individual impact assessments themselves, there is always room for improvement. As with the principles underpinning better regulation, we are always looking for ways to learn and improve our approach.
Sir Christopher Chope
Obviously, we are fortunate in having a bit of extra time this evening, which is great. Will the OECD be asked to opine on the effectiveness of the Government's regulatory response to the coronavirus epidemic? For example, will the OECD be able to comment on the distinction, which my hon. Friend has made, between rules on face coverings, for which there are lots of exemptions, and rules about isolation and quarantine, for which there are no exemptions. I am afraid that there is an anomaly there.
At that point, Scully could hardly wait to bring this important debate to a close, with no give on his part.
As you read the following (if you got this far), please note that the Government, not the requesting MP, is supposed to look into matters resulting from these debates:
Paul Scully
I am afraid I do not have the OECD on speed dial, but I am sure that my hon. Friend will be able to ask it to look into all these things. I am glad that we have extra time, because there is nothing I like more than to discuss regulatory impact assessments—I am afraid that Hansard does not detect sarcasm. Although I make light, it is good that we have parliamentary scrutiny of an important topic to cover.
As I say, there is a further cultural shift in Whitehall to make on such impact assessments across the board. We do have a responsibility to monitor the extent to which the laws we have passed are implemented as intended and have the expected impact. My hon. Friend ​is justified in raising this important issue, so that we can consider, learn and move forward together. The planning for monitoring and evaluating regulatory changes could be more effective. There is a risk that laws are passed that result in unexpected consequences or inappropriately stifle innovation. I have seen that at first hand as we have been changing and tweaking various support measures for businesses; we have had to change them so that they are supporting businesses as intended, rather than with an unintended consequence. Better planning for monitoring and evaluating will help to ensure that there is sufficient information to assess the actual state of a law's implementation and its effects.
In conclusion, regulatory impact assessments, in themselves, have evolved into an important and valuable component of the UK's better regulation system. The transparent publication of impact assessments has added accountability to the analytical dimensions to policy development, which has increased the amount of evidence presented alongside policy proposals, and the existence of the independent scrutiny has increased both the transparency of the process and the accountability of government. I thank my hon. Friend for raising this important issue.
Bravo, Sir Christopher. I hope that more of the old guard Conservative MPs continue along his line of debate. We, the people, need their support.
On the other side of the Pond, that same day — September 2 — Tucker Carlson had an excellent segment on the endgame of the coronavirus panic. According to the WHO's Dr Tedros, who is not a medical doctor, the plan is to ultimately bring in a worldwide reset to fight climate change. Bill Gates approves.
This is a short but highly instructive video:
Given all of the above, do Britons think that the UK government has been acting in good faith over coronavirus?
Boris Johnson promised us a 'people's government'. It certainly doesn't look like one at present.
Remember the events of March 2020?
It was only six months ago, yet, because of coronavirus, the world has changed dramatically for many of us in Western countries.
What was supposed to be a three-week lockdown has turned into a six-month socio-political experiment.
Science isn't settled
On August 25, Dr Malcolm Kendrick posted yet another excellent analysis of the situation: 'COVID — What have we learned?'
Excerpts follow, emphases mine.
During the past six months, the public have received contradictory messages:
We have learned that people who are asymptomatic can, cannot, can, cannot, can, cannot, can… spread the virus.
That the accuracy of PCR antigen testing is brilliant, useless, brilliant, useless, brilliant, useless.
That false positive tests are impossible, common, impossible, common, impossible, common.
That facemasks are useless, necessary, useless, necessary, useless… absolutely necessary.
We also know that some people are, are not, are, are not are, naturally immune. In addition, we know that having had COVID means that you can, cannot, can, cannot, can cannot – maybe you can, frankly who knows, get it again.
Let's not forget that, in the UK, the government downgraded coronavirus as no longer being a 'disease of high consequence' on March 19.
On March 23, the UK went into lockdown.
Dr Kendrick says:
The only disease in history which has required lockdown, including the obliteration of many basic human rights, and the trashing of the entire economy. Yet it is not a disease of high consequence?
This happened virtually unremarked. Very quietly, you could almost say sneakily. What on earth went on here? My guess is this was done to stop healthcare workers suing the NHS if they contracted COVID at work – as almost no medical staff had adequate PPE. There may be other reasons, but I struggle to think what they may be.
Then came the hydroxychloroquine (HCQ) controversy. HCQ used with azithromycin and/or zinc, according to a strict protocol (Drs Zelenko, Raoult) can help many (not all) patients in the early stages of COVID-19.
Yet, the doctors who have documented their success with HCQ, a long-standing anti-malarial drug, have been vilified. Is it because HCQ is available by prescription and is cheap as chips, alleviating the need for a vaccine?
As a physician, Kendrick read many papers on HCQ:
… having read around the area, it seemed that hydroxychloroquine might do some good. It was certainly pretty safe, and we had nothing else at the time. Thus, I recommended that it might be used.
Then, the distorting engine was switched to full power. Driven by two main fuel types. Type one was money. Companies with anti-viral agents, such as remdesivir, did not want a 'cheap as chips' drug being used. No sirree, they wanted massively expensive (and almost entirely useless) anti-virals to be used instead.
This resulted in a study published in the Lancet, no less, slamming hydroxychloroquine through the floor. It turns out the study was almost entirely fabricated, by researchers strongly associated with various companies who, surprise, surprise, make anti-virals.
The other fuel type was the hybrid money/vaccine. If hydroxychloroquine (plus zinc and azithromycin) works, then there was great concern this would lower uptake of any vaccine that was developed. In addition, it would not be possible to impose emergency vaccine laws, which would make the manufacture of any vaccine far quicker and easier.
Such laws, in the US, are known as Emergency Use Authorisation (EUA). If enacted, these laws mean that a vaccine does not have to be tested for safety and efficacy before use. Just whack it out there, untested. Also, there is no possibility of suing a vaccine manufacturer if it turns out the vaccine caused serious problems.
In the US, UK, and several other countries, complete legal protection against vaccine damage is already enshrined in the law, so nothing changes here.
Bottom line — the quest for money is determining how this scenario is unfolding, and scientists cannot agree as to how. Vested interests are at play, so the science is not settled:
So, what have we learned? We have learned that medical science is not a pure thing – not in the slightest. We have also learned that the world of research has not come together to conquer COVID, it has split apart …
It is said that the first casualty of war is the truth. Never has this been more certain that with COVID. In this case, first we killed the truth, then we killed science, then we beat inconvenient facts to death with a club. It is all extraordinarily depressing.
Lack of rational thinking
It has become clear that politicians and members of the public got caught up in a media-driven frenzy of fear.
Between March and June, I watched BBC News after each of the UK government's coronavirus daily briefings.
In mid-March, prior to March 23, presenters and reporters pleaded for a lockdown, because every other country had one.
Two months later, BBC News was asking when lockdown would be lifted. They never mentioned that we were the last European nation to lock down. Therefore, it was logical that those nations had done so earlier would reopen earlier.
In between, the BBC drove us into a COVID-dominated news cycle, stoked with fear.
On August 24, John Church, an oil and gas professional, wrote a guest post on Hector Drummond's website: 'John Church: Burning Witches'. John Church doesn't cite the media, but he does take the public to task for abandoning rational thinking:
It appears that human stupidity in the 21st century knows no bounds, and the mass stampede off the cliff that we have all made, with very few exceptions, is a testament to the validity of my concern. I don't need to describe the absurdity of the world in August 2020, because one just has to open a newspaper to read about the catastrophic damage that has been done by our actions. Totally self-inflicted. All of this has been in response to a fear of death from a viral epidemic which did indeed kill some people, as is usual with viral epidemics. But not many, and the rest of us have survived with a survival rate somewhere between 99.9% and 99.99% depending on demographics, how deaths have been counted (or miscounted), and how effectively we managed to shield the truly vulnerable. But in summary pretty much every country has a survival rate well north of 99.9%.
What on earth were we thinking ? Or was it just a case of just not thinking ? At an individual level, of course there were good analyses and examples of critical thought, but the great learning from the last four months is how society can throw rational behaviour out of the window and, in a fit of hysterical panic, just run around like headless chickens.
I would put politicians in that basket, too. Ultimately, they enacted lockdown policies.
We need to begin thinking in an informed way about death on a national level:
There is the total lack of awareness about the 'normal' number of deaths in any year, month or week. Over 600,000 people die in the UK every year, and this is entirely normal! … In the UK, at a rate of about 1600 per day. We never hear this on the news. We never hear it said that thirty people died from Covid, but this was actually only around 2% of the daily death count. And a slight pause for thought would lead to other observations: such as that if 40,000 people in the UK have died from this virus, then it means 99.94% of us have survived. Or how if we take the gigantic step of looking at the age breakdowns which can be accessed with three clicks from the website of the Office of National Statistics, over 90% of the deaths are from people over 60. And almost all of these people also had serious other diseases. Most of us take far more risk getting into a car, and yet huge numbers of young and middle aged people were genuinely worried for their health. And still are. What were we thinking?
Mr Church wisely asks us to consider the difference between 'lives' and 'livelihoods':
Secondly, the way we almost point blank refused to allow any thought or discussion to be made about equivalences between 'lives' and 'livelihoods'. Everyone wanted to save lives ("what if it was your granny?"), but no one seemed able to think about how much saving those lives would cost. It was like the sight of the oncoming tsunami of unemployment, impoverishment, additional deaths due to untreated cancers, and the general deleterious effects of a huge recession were going to happen to somebody else.
Thirdly, he rightly says that lockdown only suppresses the virus. It doesn't kill it:
And thirdly, our total inability to see that the lockdown was not a solution, just a delay of the problem. Even Boris told us: we must lockdown to "flatten the curve". But you don't have to be a rocket scientist to see beyond this brilliantly flawed strategy what the problem is. As soon as you release the lockdown, you just revive the problem you were trying to solve. Because it wasn't a solution, just a delay.
Governments will be reluctant to admit they made a mistake:
… worse, once you have locked down it becomes difficult to admit it was a mistake because, through your own sacrifice, you are now emotionally invested in the enterprise. This is known as the sunk-cost fallacy. I look around the world in amazement and see how everyone was just totally blind to this obvious issue. It's like a giant psychotic Ponzi scheme, with the hugely sad and final outcome that it will crash. Just look at Australia and New Zealand if you want to watch this tragedy unfold in slow motion. Every attempt to release themselves results in a resurgence of the problem, and, unlike European countries, the problem hasn't even really started there, so they still have it all to come. It is genuinely tragic to watch these once proud and free nations implode. What on earth were they thinking?
What should the UK have done? We should have kept going with social distancing and maintaining life as normal:
… by mid-April it was clear we had over-reacted and we should have changed track. We didn't. We doubled down, moved the goal posts and four months later this is where we are. Future generations will look back and remark on the illogicalities, the inability to mentally execute simple trade-offs, and the staggering numerical illiteracy of the people of the world in the early 21st century. For all our technological and intellectual prowess, we are no better than those who used to burn witches because the harvest failed.
Unsubstantiated ideas we fell for
On August 23, Stacey Rudin wrote an excellent article for the American Institute for Economic Research (AIER): 'Save Yourself: Stop Believing in Lockdown'.
The first myth she explores is that 'lockdown saves lives'. The West took unprecedented action based on the what China (?!) was doing:
Blind faith in lockdown rapidly took hold in March 2020 like a fire in a haystack. The spark that ignited it was terror, lit by the media's sensationalist reporting of the "disaster" in Northern Italy, shortly followed by the doomsday predictions from fancy-sounding ("Imperial College! London!") modelers. Those same modelers offered a lifeline: — lockdown, the long awaited real-life opportunity to test a pet theory. Too bad we never stopped to question their credibility ("they sound so fancy!") and motives ("we've been waiting for this moment!") before taking any action — particularly drastic, life-altering action …
A second, even bigger credibility issue is found when we consider the first lesson we ever learned about "lockdown." That lesson came from China. None of us — or even our parents — had ever heard of a population-wide quarantine until the Chinese government planted the idea with a highly-publicized "lockdown" of its own. 
This normalized the concept, preparing our minds to accept it as a scientifically-supported measure to manage infectious diseases. Then, after bombarding us with images of its citizens' sacrifices, China predictably declared, "It worked! We defeated the virus! Disease is gone!"
The lifeline. The island of escape. Thank you, China — because of you, we will not die.
Little did we know that decades of public health work unequivocally established the opposite: "There is no basis [in science] for recommending quarantine either of groups or individuals." 
The second myth is that everyone must avoid getting COVID-19:
Some people, particularly the very elderly with serious comorbidities, should indeed try to avoid infection. But for the millions of people at low risk, COVID should be treated the same as the flu. They should circulate normally, serving humanity by exposing themselves to the virus without hysteria, as the Swedes did. This will minimize overall mortality by reducing the duration of the epidemic, freeing the high-risk elderly from confinement earlier, and avoiding all of the lockdown deaths and other traumas. It is a scientific fact that every epidemic ends at the threshold of "herd immunity" — not before.
The alternative we have chosen — an epidemic identical in size, but longer in duration, with people at statistically zero risk hiding inside their homes getting more stressed, fatter, and sicker — is utter madness. The most tragic part is Imperial explained this to us on March 16, and posted it online for everyone to see:
"Once interventions are relaxed . . . infections begin to rise, resulting in a predicted peak epidemic later in the year. The more successful a strategy is at temporary suppression, the larger the later epidemic is predicted to be in the absence of vaccination, due to lesser build-up of herd immunity."
While Imperial designed lockdown as an ICU-capacity management strategy, it apparently did not foresee the difficulty in persuading people terrified by lockdown to go right back out and live two weeks later. "All clear! We have thousands of ICU beds staffed and ready for you! Good luck!"
I will come back to the ICU-management strategy versus extended measures tomorrow. It was the subject of a debate in the House of Commons this week!
The third myth is that people aren't safe without masks:
Established science says that masks and distancing don't work, anyway — COVID-19 spontaneously shows up on naval ships 49 days into isolation, and similar viruses have appeared during the 17th week of perfect Antarctic quarantines. But at least you will feel like you're doing something.
The fourth myth is feeling stupid for having fallen for lockdown:
There is no shame in falling for such a sophisticated propaganda scheme. Most people did. A few shining stars have since emerged to admit their mistake, quietly adopting the Swedish approach.
The fifth, and final, myth is that coronavirus is more dangerous than the flu:
Nope. As stated above, in terms of mortality impact, Sweden already proved that COVID-19 is indeed similar to the flu. The diseases are similar in other respects — both can have long-term health effects, both kill random outliers (the flu even kills young teachers), and both can cause hospitals to overflow, as influenza did as recently as two years ago. They have similar survival rates: ~997 out of 1,000 for COVID, ~999 out of 1,000 for flu. Over fifty percent of Americans don't even get the flu shot, yet we have destroyed the planet to "stop" COVID-19.
Why did it happen? Because the media chose to depict this virus as Black Plague — and we believed it. Now that we know that the media can do this, we can understand why the U.K. Prime Minister — and others in his position — was afraid of its powers. He reportedly imposed lockdown because he was threatened as follows: "If he didn't lock down, journalists will ask him on national television to accept responsibility and apologise to the families of those who have died as a result of Covid-19, because the rhetoric would have been that it was his fault for not locking down." In other words, the media had a three-step plan: (1) convince us that politicians have the power to stop death, (2) put the politicians in the position of needing to do what the media suggests will "save our lives," (3) watch as we drive ourselves over a cliff.
The media cannot do this without our participation. We can stop them immediately by refusing to believe their superstitious, pseudo-scientific proposition that this is the only disease in history that needed a politician-imposed lockdown to abate. They cannot trick us into burning down our own houses once we simply stop believing that politicians have the power to stop death. Standing firmly on this foundation of scientific truth, we will finally be at peace, realizing that COVID-19, like every disease in history, will infect a certain number of people, kill a minute percentage of them, and then move along, lockdown or no lockdown. 
We really must stop believing otherwise. Our credulity is destroying us …
As we enter September, not much is really opening back up. Sure, it might be doing so on paper, but, in the UK, many people are still working from home. That has a huge impact on local economies in cities. London is still a ghost town. Think of all the shops that rely on intensive daily trade: from sandwich places to shoe repair shops.
The Chancellor of the Exchequer, Rishi Sunak, had a restaurant programme that ran throughout August from Mondays to Wednesdays: Eat Out to Help Out. I'm sure it helped the restaurant trade to some extent, but if people need to travel in a mask on public transport, including taxis, then it will be some time before we can return to normality.
Furthermore, if department stores have to be one-way and COVID-compliant, no one is going to be shopping for the pleasure of it, especially if they have to wear masks. Online orders beckon.
In the beauty industry, some close-contact procedures on men and women were banned for months.
I had expected better by now, but, then, I was foolish enough to think that the lockdown was only going to last for three weeks.
How wrong I was.
How wrong our government is to persist with ever-changing rules on how businesses can and cannot operate.
If Boris and Rishi expect things to start humming along, they're going to have to persuade Health Secretary Matt Hancock to let go of the strings and let us manage our own lives — sooner rather than later.