You are currently browsing the tag archive for the 'Suella Braverman' tag.
Before I get into Thursday's voting results in the Conservative Party leadership contest, readers should note that Labour are no longer afraid of losing the next election.
Please, someone, bring back Boris:
The only candidate who could put the frighteners on Labour is Kemi Badenoch, who is excellent at the despatch box when facing the Opposition.
Thursday's vote result
Sir Graham Brady, chairman of the 1922 Committee of backbench Conservative MPs, announced yesterday's result promptly at 3 p.m.
Unfortunately, Suella Braverman had the lowest votes and had to drop out of the race. She had only 27 MPs backing her.
Going into the weekend, we have the following five candidates:
Guido Fawkes has a summary of Thursday's activity, excerpted below.
Rishi Sunak has received over 100 votes, but overall, he is not doing as well as candidates in past leadership elections:
Rishi is one of the weakest first-place candidates in recent Tory leadership elections, comparing leads in the second round of MP ballots:* … *Hat-tip: Tom Harwood
Penny Mordaunt's work ethic was slammed on Thursday. I covered Lord Frost's damning comments in yesterday's post.
Mordaunt also ran into trouble over past statements she has made on gender identity:
Ran into problems and heightened scrutiny over her trans stance, not least with a blow from newly-eliminated Suella Braverman, who accused her of not standing up for women when pushing for gender-neutral language in the ministerial maternity leave bill

Accused of lying about her trans stance by Team Truss
Kemi Badenoch is, happily, still in the race and is ahead of Tom Tugendhat, who is likely to be the next to be dropped when voting resumes on Monday.
Badenoch received 49 votes and Tugendhat 32, a decrease of five votes for him.
Early news on Friday
Much happened overnight, which I will review in recent campaign activity below.
Suella Braverman is now supporting Liz Truss.
There is likely to be increasing pressure put on Kemi Badenoch to bow out of the race. If anything, pressure should be brought to bear on Tom Tugendhat, who is in last place.
Guido calls our attention to three debates this weekend. One will be online and two will be televised (red emphases his, those in purple mine):
Today things get really interesting: it's debate time. So far candidates have taken lumps out of each other from their respective trenches, today they finally have to go over the top – a special metaphor just for Penny and Tom. Things kick off at ConservativeHome at 1pm, and continue over to Channel 4 at 19.30, where all candidates have confirmed their attendance. Followed by ITV on Sunday and Sky on Monday. 
Debates can make or break candidates at this stage, especially when there are a decent number of votes up for grabs and no one knows who's going to win. In 2019, one debate made Rory Stewart – securing his place in the next round – and the subsequent debate 24 hours later broke him, as he decided to get undressed live on air. In a sign of how febrile things are, even Rishi's agreed to join tonight's Channel 4 debate, an unedifying challenge the frontrunners are sometimes able to duck out of. Will some MPs finally have to recognise that their candidate makes Theresa May's public speaking look relaxed and charismatic? Guido looks forward to finding out…
Let's see what is going on with the various candidates.
Suella Braverman
Suella Braverman, Attorney General for England and Wales, is a committed Conservative, especially when it comes to social issues.
In 2019, along with Northern Ireland's DUP MPs and several other Conservative MPs, she voted to keep abortion illegal in Northern Ireland. However, the Government has since legalised abortion there.
Last Sunday, Danny Kruger, a thoughtful MP and Prue Leith's son, gave his reasons for backing Braverman:
Two days later, on July 12, a Conservative Home poll showed that Rishi Sunak would lose were Braverman the second remaining candidate on the ballot going to Party members:
Were Braverman up against Liz Truss, the vote would have been tied.
This was Braverman's platform — lower taxes, border control, no identity politics and commitment to the Conservatives' 2019 election manifesto:
What's not to like?
She also would have taken us out of the ECHR (European Convention on Human Rights), which is preventing us from deporting faux refugees and serious foreign criminals: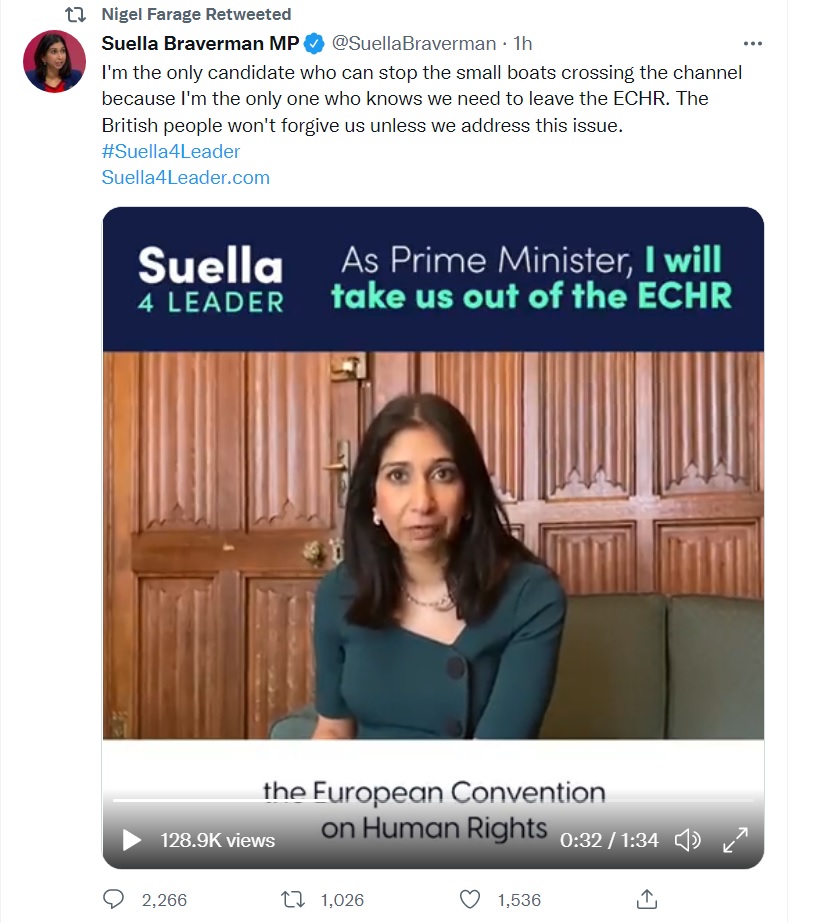 She refused to engage in 'blue on blue' sniping. Here she is with Kemi Badenoch, my other favourite:
Braverman was gracious in defeat:
She swiftly began a media round on Thursday afternoon.
Speaking to Tom Harwood of GB News, she expressed her gratitude for being able to run in the leadership contest, saying it was a real privilege. I agree that she would make an excellent Home Secretary:
She said that she sees both Rishi Sunak and Penny Mordaunt as being on the left. So true:
She criticised Penny Mordaunt's stance on gender identity and accused her of being a 'false Brexiteer':
In an interview with BBC Radio 4, Braverman pointed out that Hansard has a record of what Mordaunt has said in past debates on the Maternity Bill:
She told TalkTV's Tom Newton Dunn why she has decided to support Liz Truss:
I hope that whoever wins will retain Braverman in their Cabinet. She is a true asset to the Conservatives.
Rishi Sunak
Could the wheels be about to fall off for Rishi Sunak, our erstwhile Chancellor?
On Friday, July 15, news emerged that the Chinese government hopes Rishi will be our next Prime Minister:
Guido reported:
This morning Rishi Sunak has successfully won the leadership endorsement none of the candidates wanted: from the Chinese Government's propaganda outfit. Global Times has published an article entitled "China-UK ties 'might improve' with arrival of new PM"; subheading, "Most candidates are tough on Beijing, but 'pragmatic' one wins first round". In the piece, Beijing's mouthpiece notes concern that, despite Rishi winning among MPs, party members might vote for a rival candidate because of tax policy…
Former chancellor of the exchequer (finance minister) Rishi Sunak, the one candidate with a pragmatic view of developing balanced ties with China, has won the first round of voting by MPs.
When Sunak was the finance minister in July 2021, he used his annual Mansion House speech to insist that Britain should beef up its trading relationship with China
Apart from Sunak, almost all of the other candidates hold a very tough stance on China
As I write, mid-day, Guido is awaiting comment from Rishi's team.
In other news, Rishi is losing traction with the bookmakers. He's now in third place:
Guido tells us:
Rishi has fallen from hot favourite to his chances being third rated, with Penny as favourite and an overnight re-evaluation by punters seeing Liz move into the second favourite spot.
Allow me to repeat myself with the aforementioned Conservative Home poll from July 12. According to their readership, likely all Conservative Party members, Rishi could only beat Sajid Javid, who is no longer in the running and Tom Tugendhat, who is currently in last place:
Tom Tugendhat
I do not think that Tom Tugendhat's candidacy will last beyond Monday's vote.
I formed my opinion of him through his participation in House of Commons debates.
He is chair of the Foreign Affairs Committee.
Last August, he spoke about Biden's withdrawal from Afghanistan, where he served with the Army. His contribution gained him a round of applause, which is normally forbidden in Parliament:
America's back – back home.
In 2020, he wrote an editorial on terrorism for the Mail, calling for a return of treason laws, which Tony Blair got rid of:
In 2020, he was critical of China's lockdown policy:
Last year, when there was a suspicion that vaccine passports could be turned into digital identity cards, Tugendhat rightly opposed such a development. talkRADIO's Julia Hartley-Brewer interviewed him on the subject:
Tugendhat announced his candidacy for Conservative leadership on July 7, via an editorial for The Telegraph:
It seems to me that he makes more of his military career than perhaps he should. In one recent interview, he made himself out to be a general (H/T to my reader dearieme):
'What's the worst thing you've ever done?'
'Invaded two countries.'
Guido thinks so, too:
He has the relevant clip:
Anyway, his campaign, increasingly weak, calls for 'a clean start':
A clean start:
On July 8, the Sun featured a profile of him, including his French connection:
Tugendhat is married to Anissia Tugendhat (née Morel).
She is a French judge and civil servant and Tugendhat holds dual citizenship for France and Britain.
According to a tweet from journalist Richard Eden, the pair got engaged in 2013.
Together they have two children, a boy and a girl.
Tugendhat's mother Blandine de Loisne is also French.
Anissia comes from a family of diplomats and her brother has worked in the Foreign Ministry and the French embassy.
We did not know that before, did we? At least Tobias Ellwood told Parliament that he has dual US/UK nationality.
That's probably why he voted Remain in the 2016 Brexit referendum.
He would not be drawn on the subject of whether he regretted his vote. Probably not, then:
The public are suspicious. As he is currently in last place, MPs must be, too:
He launched his campaign on July 12. To calm his nerves, he had a crafty ciggie on the tiny balcony outside his office, forbidden on the parliamentary estate. This, in my opinion, is the only decent thing about him:
I hope he was smoking a Gauloise …
At his launch, he took only two questions from the media:
Perhaps he feared questions about his Frenchness, such as this one:
Candidates, including those running for a position as MP, should declare their nationality or nationalities:
———————————————————————————
I will have more on the leadership contest next week.
For now, I am looking forward to the debates. It will be interesting to see how Rishi and Tugendhat, both of whom are short, look next to Penny Mordaunt, much taller than either of them. Optics are important.
Yesterday's post introduced the ongoing Conservative Party leadership contest.
Today's post will discuss what happened on Wednesday and lead up to Thursday afternoon's vote, the result of which will appear tomorrow.
Before Wednesday's vote
Guido Fawkes wrote the following on the morning of Wednesday, July 13, before the first round of voting (red emphases his, purple ones mine):
Good morning. Six of the eight remaining Tory leadership candidates face an uphill battle throughout the day, as they attempt to reach the 30-MP threshold required in the first knockout round of the contest at 6pm. Rishi now has 48 backers, meaning he can basically sit back and relax for at least the next two rounds, though that hasn't stopped him adding Steve Barclay to his list of supporters this morning. Penny Mordaunt also has the 30 required. The other six, not so much…
All eyes are on Jeremy Hunt and Suella Braverman as the ones most likely not make it, though one of Hunt's backers told Guido last night they believe they have the requisite support. They also described rumours that Gavin Williamson is instructing Rishi backers to temporarily support other candidates like Hunt and Kemi, so Rishi doesn't have to face Liz in the final two, as utter rubbish, though members of other campaign teams believe it is absolutely happening. With Sajid, Shapps and Priti now out of the race, there are 30 newly floating MPs up for grabs…
News overnight includes a policy-light interview with Rishi in The Telegraph, who's trying to get the press back onside after yesterday's scenes at his campaign launch. He says he'll run the economy like Thatcher if he wins. Tom Tugendhat committed to spending 3% of GDP on defence last night.  Penny has used a Times op-ed to commit to supporting families as PM. Stay tuned for her campaign launch at 10.30 this morning…
And:
from now on candidates can also vote for themselves…
Candidates experienced highs and lows, as covered below.
Nadhim Zahawi
When Boris Johnson appointed Nadhim Zahawi as Chancellor of the Exchequer on July 5, it was remarked that he is the first Chancellor with facial hair in 65 years:
Before Harold Macmillan, we have to go back another few decades to find another bearded Chancellor:
Zahawi appears to be the man who convinced Boris that he should stand down as leader of the Conservative Party. On Thursday, July 7, the Daily Mail reported:
Boris Johnson will finally announce his resignation today – but is lining up a 'unity Cabinet' as he battles to stay in Downing Street for months longer.
The PM admitted defeat in the wake of a shattering intervention from Nadhim Zahawi, who was only appointed on Tuesday night following Rishi Sunak's departure. He told Mr Johnson that his situation is 'not sustainable'.
Two days later, on Saturday, news emerged that HMRC (Her Majesty's Revenue and Customs) were investigating Zahawi's tax situation. Hmm:
Zahawi said on a Sunday morning news programme that, if elected Party leader, he would release his tax returns. He complained of being set upon, something Boris knows only too well:
On Tuesday, July 12, he launched his campaign video in which he tells his life story. He arrived in England from Iran with his parents. He started school not knowing a word of English. Fast forward to the past two years and he was able to live his dream. He headed the coronavirus vaccine rollout and went on to become Education Secretary. Today, he is Chancellor. Amazing:
On Wednesday morning, he told LBC's Nick Ferrari that, if elected leader, he would give Boris a Cabinet post:
Guido has the video and concluded:
He's the second leadership contender to make such a pledge after Suealla Braverman. Clearly Zahawi sees some benefit in associating himself with Boris. A swift change of tone considering he was calling for Boris's resignation just a few days ago…
Agreed, but there is no way that a former Prime Minister would take a Cabinet post.
Later on Wednesday morning, someone hacked Zahawi's campaign website and redirected it to Penny Mordaunt's. Penny's website also seemed to have issues:
They are not the only ones, however, as Guido reported that Rishi Sunak's site is banned on the Parliamentary estate:
Website woes are a common theme throughout the leadership campaign, Rishi's site is blocked in Parliament as "insecure" and candidates have had their domain registration timings scrutinised. Turns out this stuff is hard to do right…
Jeremy Hunt
Conservatives either love or loathe Jeremy Hunt.
He served as Health Secretary and then as Foreign Secretary, until Boris sacked him in July 2019.
Hunt ran against Boris in the 2019 leadership contest. In one appearance during that campaign, he said his wife was Japanese. She quickly corrected him and reminded him that she is Chinese.
I wonder if he said that on purpose, because …
During the pandemic, as a backbencher, Hunt proposed Chinese-style lockdowns and mandatory vaccines for healthcare staff.
Nadine Dorries MP recalled a conversation with Hunt in July 2020:
On Christmas Day in 2021, the Mail reported that Hunt's wife presents Chinese state-sponsored television programmes, broadcast on Sky TV from London:
The wife of former Cabinet Minister Jeremy Hunt presents a TV show for China's state-run media that has been accused of 'whitewashing' the Communist Party's human rights abuses.
Lucia Guo, who has three children with the former Health Secretary and Foreign Secretary, appears on China Hour, a series broadcast on Sky TV that showcases Chinese culture to a UK audience.
It is made by the state-owned China International TV Corporation and British-based Dove Media, in partnership with the Communist regime's tourist office in London.
The programme has featured reports on the effectiveness of China's pandemic response and about the beauty of the Xinjiang region without mentioning it is the site of 're-education' camps for its persecuted Muslim Uighur population. 
Ms Guo, who is originally from the city of Xi'an in central China, hosts a feature on the show called Signature Flowers of China. 
It has been broadcast since September and is also available on YouTube.
Human rights campaigners at the US research institute Freedom House last year accused China Hour of being part of the Chinese Communist Party's international media web.
The programme has been praised in Beijing for its viewing figures while its reports on the pandemic have been credited with 'playing a unique role in communicating the Chinese narration of the epidemic to the world'.
On March 13, 2020, three days before the UK's first lockdown, Hunt wanted all British schools closed.
Although Hansard has all of Jeremy Hunt's contributions to parliamentary debates, in May 2022, he tried to walk back his promotion of Chinese-style pandemic measures.
Someone put this graphic together around May 21, a significant date for Hunt, as you will see below: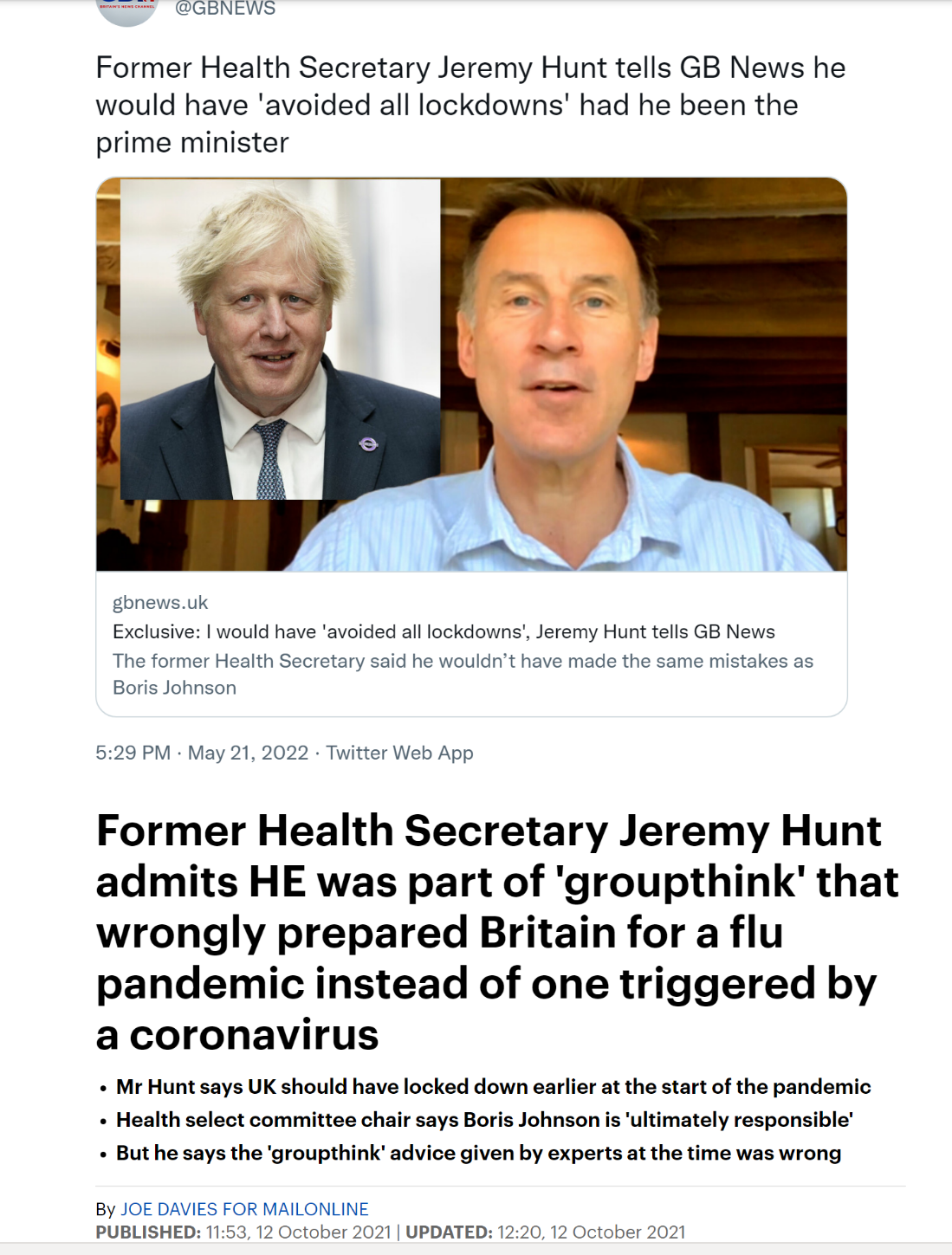 The next day, May 22, he appeared on Sophy Ridge's Sky News programme to say that he did not want to see a Conservative leadership contest:
Guido posted the video and this comment:
Maybe Hunt is one of these Tories who thinks it might be good to lose the next election? He could become leader of the opposition…
That day, a number of letters to the editor appeared in The Sunday Times. The week before, he had written an article for the paper outlining how he would reform the NHS.
A retired GP wrote the Times to point out that Hunt had ample time as Health Secretary some years before, yet he took no action:
What a nerve! Jeremy Hunt tells us "How I would fix the NHS" (News Review, last week) — but he was the longest-serving health secretary in British history and has a huge responsibility for the NHS being in this parlous state.
He did nothing to increase the capacity of our hospitals, which has resulted in ambulances queueing outside A&E departments, unable to discharge their patients. He pledged that by 2025 we would be self-sufficient in "homegrown" doctors, but a lack of planning has resulted in a huge shortage of NHS staff in all sectors. He went out of his way to alienate junior doctors, causing the unprecedented strike of 2014. He did nothing to integrate the NHS with social care.
This is the man who could replace the fool we now have as prime minister. Heaven help us.
One week later, on May 28, an article in the Mail suggested that Hunt had a plan to topple Boris:
Boris Johnson's Cabinet allies have accused supporters of former Health Secretary Jeremy Hunt of mounting a secret pub plot to oust the Prime Minister.
They suspect MPs who attended a dinner at an upmarket bar in West London called The Surprise last week were scheming to trigger a Tory leadership challenge.
The event, held the night before Sue Gray's report into Partygate was published, was hosted by Devon MP Mel Stride, a former campaign chief for Michael Gove who is seen by the Johnson camp as a rebel ringleader.
Also in attendance was long-serving Ludlow MP Philip Dunne, a key ally of Mr Hunt.
The article has two familiar names, in addition to Hunt's. Those MPs entered the current leadership contest:
Of the 16 MPs known to have been there and who voted in the 2019 leadership election, just three backed Mr Johnson.
Five backed Mr Hunt, who is widely expected to mount a leadership bid if a contest is called, while six supported Mr Gove, who is not expected to enter another contest …
Politicians at the dinner strongly denied they were scheming against Mr Johnson and accused his allies of 'paranoia'.
They pointed to the fact that Boris arch-loyalist Grant Shapps – who has himself been tipped as an outside bet for the leadership –addressed the meeting.
But a Cabinet ally of Mr Johnson said: 'Mel Stride is a Goveite looking for a new horse to hitch his wagon to. Many of the people he invited to the pub backed Gove or Hunt last time – including Dunne, who is running Hunt's latest bid.
'Any MP considering backing Hunt must be a masochist yearning for the kind of thrashing we sustained in 2017 and longing for the humiliation of a very long spell on the Opposition benches.
'Without Boris, we will be handing the next Election to a Labour-SNP coalition. But then, some of our pro-Remain MPs and those who think they were naturally destined for high office, are too bitter to care' …
Trade Minister Penny Mordaunt, considered a potential future Tory leadership contender, condemned behaviour at No 10 as 'shameful', telling the Portsmouth News she was 'angry' that people blocking 'reasonable requests to relax [Covid] restrictions, were at the same time ignoring the rules'.
I agree with whoever said that without Boris, the next election will go to a Labour-SNP coalition. Yet, here we are, sadly.
By June 6, the story of Hunt's yearning to be the next Conservative Party leader grew traction, especially with GB News presenters.
Neil Oliver threw his characteristic diplomacy away in this tweet:
Bev Turner shared a Hunt anecdote, wherein he advocated paying domestic staff low salaries:
Someone from Hong Kong confirmed the Chinese way of paying peanuts to domestic staff:
A Conservative Party member chimed in with disgust:
Adam Brooks, the publican who appears on Dan Wootton's show was grateful that Boris was at the helm during the pandemic:
Now let's look at what Jeremy Hunt told Nadine Dorries, Secretary of State for Digital, Culture, Media and Sport, back in July 2020:
Ben Leo, who works on Dan Wootton's show, tracked Hunt down in front of his house on July 9 to follow up. This is an excellent video. Readers won't be surprised to find out that Hunt said absolutely nothing:
Now let us fast forward to last weekend.
GB News viewers were aghast to find out that Esther McVey, an MP many of us admired up to that point, cast her support for Hunt, as did her husband Philip Davies:
Why would a no-nonsense, straight-talking Conservative back Jeremy Hunt?
The answer came on Sunday, July 10, when Hunt announced that, if elected leader, Esther McVey would become Deputy Prime Minister.
Guido posted the video:
She must be stupid if she believes that, I thought. It's like a would-be Romeo trying to seduce a girl. Promise her anything to get her to submit …
Just look at the man's eyes. He often looks like this:
Guido tweeted:
That's me done with McVey and Davies. I liked him, too. No longer.
On Monday, July 11, Dan Wootton warned that Conservative MPs could destroy the Party if either Rishi Sunak or Jeremy Hunt become leader:
He is not wrong in that assessment.
First round voting results
Sir Graham Brady, chairman of the 1922 Committee of Conservative backbench MPs, declared the results of the first round of voting shortly after 5 p.m.
Nadhim Zahawi, the new Chancellor, and Jeremy Hunt were eliminated from the contest:
Conservatives around the nation breathed a sigh of relief at Hunt's elimination from the race.
Perhaps Hunt should have taken a cue when the top of the bell he was ringing flew off, nearly hitting a bystander:
As for Zahawi, he posted a lengthy letter: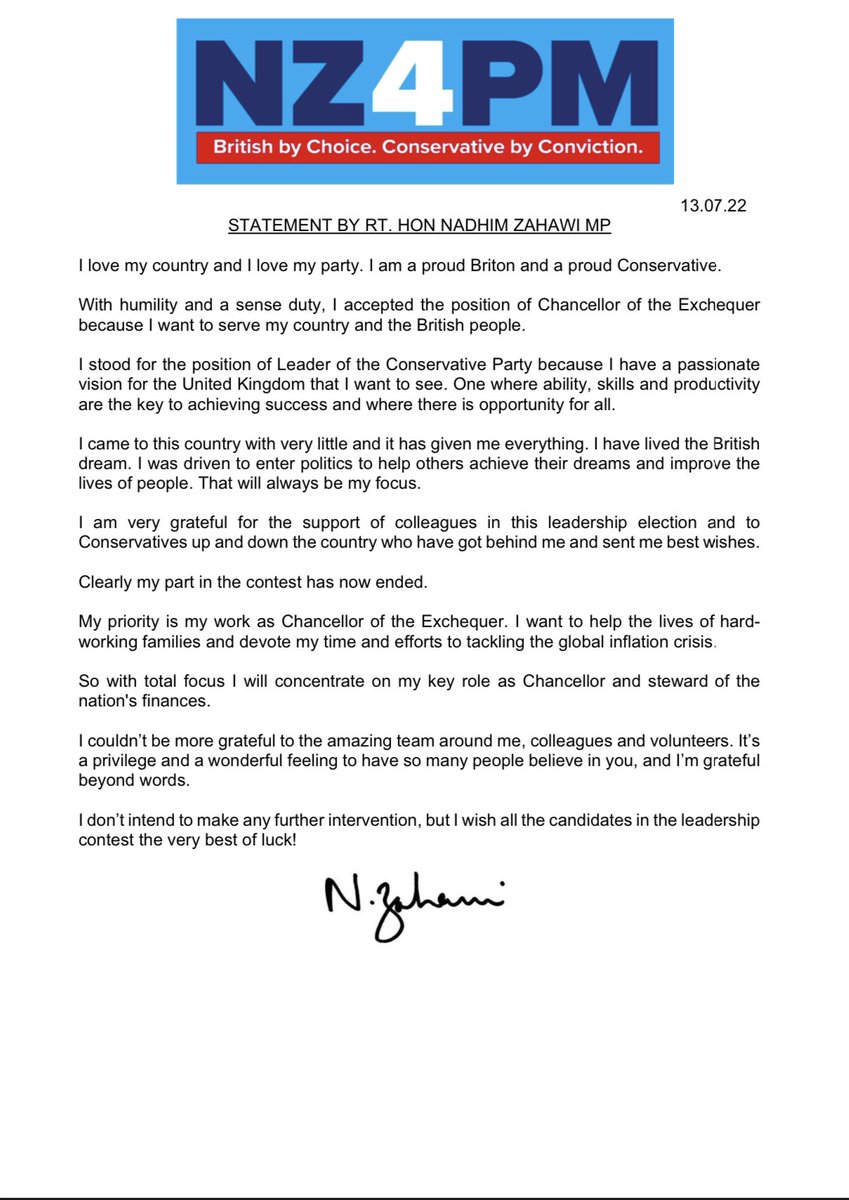 He has a lot on his plate, so perhaps it is best that he focuses on recovering some of the millions that fraudsters took during the pandemic. Those people stole taxpayers' money:
He should also do something about road fuel tax:
Meanwhile, Jeremy Hunt pledged his support for front runner Rishi Sunak:
And then there were six
As Wednesday closed, we were left with six candidates going into Thursday:
Kemi Badenoch, someone around whom most Conservatives could rally, had just over 50 MPs supporting her.
Tom Tugendhat, rather surprisingly, considering that he has a high profile, had fewer than 50.
Suella Braverman, another candidate who makes most Conservative Party members happy, has just over 40.
I think that Braverman and/or Tugendhat will lose on Thursday. Tugendhat is another one who deserves to go.
Guido summed up Wednesday's activity. Highlights follow.
Rishi Sunak could be losing momentum:
… After hogging the limelight with his campaign launch yesterday,

today he resumed being the punching bag of choice for all other candidates

.
Faced some

horrible polling from all quarters, which shows he basically stands no chance of winning among the members if he gets through to the final two

.
Penny Mordaunt did well:
A great day for Penny –

if she wins the contest, today will undoubtedly be viewed as the day she secured the victory

…
Received a major boost from

YouGov polling

that shows,

should she get through to the final two, she'd smash every other candidate

.

Remains a comfortable second among MP backers.
Liz Truss survives another day:
Vowed to halt green levies

Continued her campaign as

the 'Boris continuity candidate'

.
Suella Braverman is unlikely to make it through past Thursday's voting.
Kemi Badenoch does not want tax cuts but has gained support:
Continues to gain support

, not least with her former employers at The Spectator.
Kemi is also opposed to the current form of the dreaded Online Safety Bill, the debates on which could not be completed before summer recess, as the Northern Ireland Protocol Bill, quite rightly, took priority. There is also the debate on confidence in the Government on Monday, which should be interesting: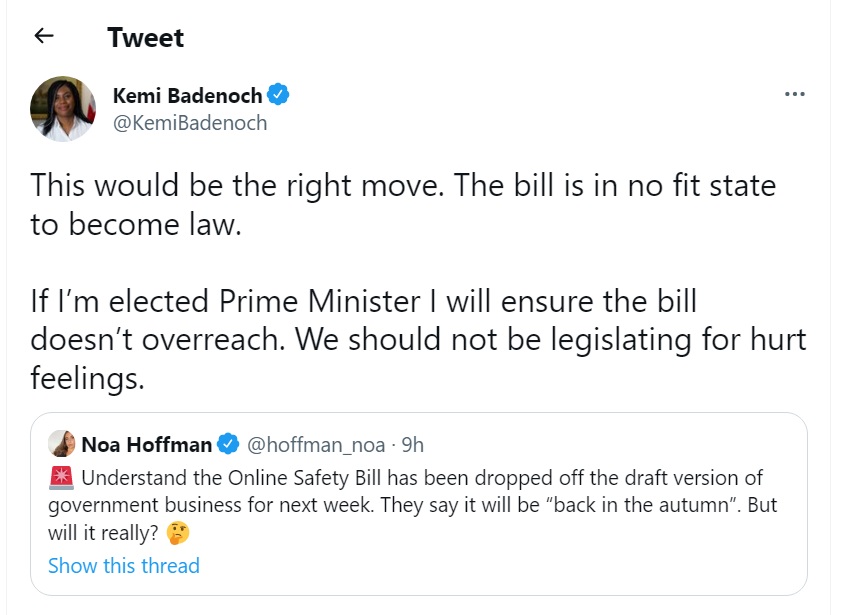 Thursday, before the vote
Guido summed up the state of play on Thursday, July 14. An excerpt follows:
In a few months' time, what will people remember of Jeremy Hunt's 2022 leadership campaign? Nothing, obviously. Seemingly just 18 MPs realised he was running one at all, which is odd as he needed 20 to get on the ballot in the first place. As Sky's Sam Coates asked last night: what exactly does Rishi gain from being endorsed by this competition's biggest loser? He certainly won't gain all of Hunt's supporters – many of them are now angry that Hunt went with Rishi, and not Tugendhat. Mind you, there was already anger towards Hunt from Team Penny, who endorsed him in 2019, as it was very clear he was never considering returning the favour this time around. Et tu, Jeremy…
Today should, in theory, be Truss's day in the spotlight. Her campaign launches bright and early in Smith Square, in two hours' time. They'll be delighted with The Mail splash this morning, which is blatantly campaigning for Liz and telling the right to unite behind her to defeat Rishi. The same front page carries a briefing from someone in the Truss camp accusing Penny of telling lies about her trans stance. Lord Frost has also just taken to the airwaves to slam Penny's record in government, saying she was so rubbish as his deputy he had to ask the PM to move her during the Northern Ireland negotiations…
Yes, this was a damning moment for Penny.
Guido has the video …
… and the quote:
To be honest I'm quite surprised that she is where she is in this leadership race. She was my deputy, notionally more than really, in the Brexit talks last year… I felt she did not master the detail that was necessary in the negotiations last year. She wouldn't always deliver tough messages to the European Union when that was necessary… she wasn't always visible. Sometimes I didn't even know where she was. I'm afraid this became such a problem that after six months I had to ask the Prime Minister to move her on… from the basis of what I saw I would have grave reservations about [Mordaunt].
Guido says that Lord Frost isn't the only one critical of her, either:
On Tuesday, CityAM published damning claims from Department for International Trade sources alleging Penny was "missing for months" as a trade minister and wasn't reliable – something Guido's ministerial sources later confirmed themselves…
As the day unfolded, Rishi tried to make his resignation and leadership candidacy appear sudden, failing to mention that he had his website domain registered in 2020:
On a lighter note, Tom Tugendhat will rue this photo of 'Tom a tart':
Oh, well, he's likely to be out by the end of the day, anyway.
It is unfortunate that so many members of the public cannot identify the next Conservative leader:
Meanwhile, among the party membership, here's the latest from Grantham & Stamford Conservative Association. I am surprised that Mordaunt is doing so well. At least Badenoch is in second place:
Today's vote began at 11:30 and closed at 3 p.m. All being well, I will have an analysis of the results tomorrow.
'No one is remotely indispensable'.
So were the words of Boris Johnson as he stood in front of Downing Street in the early afternoon of Thursday, July 7, 2022, to announce that he was standing down as Conservative leader. He said that he planned to stay on as Prime Minister until a new leader is chosen.
Boris's resignation speech
The Prime Minister's speech is just over six minutes long:
Knowing how quickly the leadership contests moved in 2016 (David Cameron to Theresa May) and in 2019 (May to Johnson), we are likely to see a new party leader in place before Parliament's summer recess. Regardless of what news outlets say, it no longer takes two or three months. The timing — i.e. summer resignations in all three cases — will accelerate because of recess.
Guido has the transcript of Boris's speech, excerpts of which follow (I've put in punctuation, paragraphs and emphases):
It is now clearly the will of the parliamentary Conservative party that there should be a new leader of that party and, therefore, a new Prime Minister and I have agreed with Sir Graham Brady, the chairman of our backbench MPs [the 1922 Committee], that the process of choosing that new leader should begin now and the timetable will be announced next week.
And I have today appointed a cabinet to serve – as I will – until a new leader is in place.
So I want to say to the millions of people who voted for us in 2019 – many of them voting Conservative for the first time — thank you for that incredible mandate, the biggest Conservative majority since 1987, the biggest share of the vote since 1979.
And the reason I have fought so hard for the last few days to continue to deliver that mandate in person was not just because I wanted to do so but because I felt it was my job, my duty, my obligation to you to continue to do what we promised in 2019, and of course I am immensely proud of the achievements of this government …
He went on to list Brexit, the coronavirus vaccine rollout, coming out of lockdown the earliest of any other Western nation and showing leadership with regard to Ukraine.
He clearly regretted that he had to stand down:
If I have one insight into human beings it is that genius and talent and enthusiasm and imagination are evenly distributed throughout the population but opportunity is not, and that is why we need to keep levelling up, keep unleashing the potential of every part of the United Kingdom. And if we can do that in this country, we will be the most prosperous in Europe.
And in the last few days I have tried to persuade my colleagues that it would be eccentric to change governments when we are delivering so much and when we have such a vast mandate and when we are actually only a handful of points behind in the polls, even in mid term after quite a few months of pretty unrelenting sledging, and when the economic scene is so difficult domestically and internationally. And I regret not to have been successful in those arguments and, of course, it is painful not to be able to see through so many ideas and projects myself.
But as we've seen at Westminster, the herd is powerful and when the herd moves, it moves and,
my friends, in politics no one is remotely indispensable.
And our brilliant and Darwinian system will produce another leader equally committed to taking this country forward through tough times, not just helping families to get through it but changing and improving our systems, cutting burdens on businesses and families and – yes – cutting taxes, because that is the way to generate the growth and the income we need to pay for great public services.
And to that new leader I say, whoever he or she may be, I will give you as much support as I can and, to you the British people, I know that there will be many who are relieved but perhaps quite a few who will be disappointed. And I want you to know how sad I am to give up the best job in the world, but them's the breaks.
I want to thank Carrie and our children, to all the members of my family who have had to put up with so much for so long. I want to thank the peerless British civil service for all the help and support that you have given, our police, our emergency services and, of course, our NHS who at a critical moment helped to extend my own period in office, as well as our armed services and our agencies that are so admired around the world and our indefatigable Conservative Party members and supporters whose selfless campaigning makes our democracy possible.
I want to thank the wonderful staff here at Number Ten and, of course, at Chequers and our fantastic protforce detectives – the one group, by the way, who never leak.
And, above all, I want to thank you the British public for the immense privilege you have given me.
And I want you to know that from now until the new Prime Minister is in place, your interests will be served and the government of the country will be carried on.
Being Prime Minister is an education in itself. I have travelled to every part of the United Kingdom and, in addition to the beauty of our natural world, I have found so many people possessed of such boundless British originality and so willing to tackle old problems in new ways that I know that even if things can sometimes seem dark now, our future together is golden.
Thank you all very much.
Boris delivered his speech in a normal, matter-of-fact way, which was good, especially given the circumstances.
Now that he has resigned from the Conservative leadership, some ministers are willing to come back into Government for the interim period.
As such, Boris held a Cabinet meeting at 3 p.m. today:
Those who read my post from yesterday will recall that I had not expected to cover this development until next week at the earliest.
However, yesterday afternoon into this morning was pure political carnage.
Wednesday, July 6
Junior ministerial resignations continued to pour in throughout the day, into the night.
Mid-afternoon, Boris held a second online meeting with Conservative MPs:
Guido has the story (emphases in red his):
In a sign of a continuing effort to hold on to his job, the PM has held a second meeting of Tory MPs in his parliamentary office, just 19 hours after his last meeting. Last night's turnout was said to be around 80 – today's turnout is said to have fallen to around 30. A loyalist MP spins that the PM was in a "buoyant mood and keen to get on with the job". Presumably he was just happy his PMQs slagging was over and done with…
Boris apparently pointed to polls narrowing to "about five points" and left his reduced coterie of supporters under no doubt that "he's going nowhere… no chance of stepping aside". We'll see what the 1922 Committee has to say about that this evening…
Guido's mole concluded that "Basically the current challenge is all about personality and not policy. It's a coup attempt before recess" The timetable observation is, at least, objectively correct…
At 3 p.m., Boris appeared for 90 minutes before the Liaison Committee, which is comprised of all the MPs who head Select Committees.
They grilled him on his performance and whether he would resign.
I've never seen anything like it. You can watch the proceedings using the link below:
These were the topics of discussion and the names of the MPs questioning him. Sir Bernard Jenkin chaired the session. Conservative MPs Tobias Ellwood and Jeremy Hunt might have their eyes on the leadership. Boris defeated Hunt in the 2019 contest:
All were brusque, including Bernard Jenkin, sadly.
That said, in May, Jenkin did write to the Leader of the House, Mark Spencer, to express his disappointment that some Government ministers were not appearing as scheduled before Select Committees:
The Liaison Committee were vipers. They were on the attack relentlessly.
Boris stood his ground. He reminded one MP that, in 2019, he had more than doubled the number of sitting Conservative MPs:
He also stated that he did not want another unnecessary general election when he had a clear mandate from the electorate to carry out. You can see how nasty Bernard Jenkin got in this short exchange:
Huw Merriman went so far as to send Sir Graham Brady, Chair of the 1922 Committee, a letter of no confidence during the session:
Meanwhile, Guido Fawkes and his team were busy updating Wednesday's list of resignations.
The 1922 Committee was — perhaps still is — considering a rule change allowing for more than a 12-month gap between votes of confidence in a Prime Minister. Pathetic.
Guido has the story (purple emphases mine):
There are some reports that the 1922 Committee may move in the next 24 hours-or-so to dispose of the PM. Bloomberg is reporting that "The Tory backbench 1922 Committee will meet at 5 p.m. Wednesday and will discuss changing the rules to allow another party-leadership ballot. If there is a majority opinion in favor, a ballot could be held as soon as next week." James Forsyth of the Spectator reports rule change or not, a senior committee member tells him "they now favour a delegation going to Johnson to tell him that it is over and that they will change the rules to allow another vote if he doesn't quit".
Guido's post has a list the 1922's executive members and whether or not they favour this rule change.
Later on, the 1922 decided not to change the rules — for now — because they will be holding their executive election on Monday, July 11:
Guido reported:
Surprisingly the 1922 executive has decided against changing the rules to allow a second vote of no confidence in the PM. Instead executive elections will go ahead on Monday, 2pm to 4pm. 
Critics of the prime minister are organising a slate of candidates who are expected to win a majority of places, given most backbenchers voted to oust Johnson in last month's vote. They are then expected to endorse a rule change.
During the afternoon, it was rumoured that the Chief Whip, Chris Heaton-Harris, was going to tell Boris that time was up.
Boris was hemhorrhaging support. The resignations were coming thick and fast from junior ministers. This is how it is done. The same thing happened when Labour wanted rid of Jeremy Corbyn as leader:
I used to like most of the Conservative MPs. Given what happened yesterday, I am not so sure anymore.
Those who have gone down in my estimation include former Equalities Minister Kemi Badenoch; Lee Rowley; Liam Fox; Red Wall MPs Dehenna Davison, Jacob Young and Jo Gideon; Ed Argar and former Welsh Secretary Simon Hart.
And that's not counting the rest of them that Guido has named, including those from Tuesday.
The only one I'm willing to give a pass to is Lee Anderson.
The hubris and hypocrisy got worse.
Attorney General Suella Braverman appeared on Robert Peston's show on ITV that night to announce her withdrawal of support for Boris. I really had expected better of her, especially as Peston has been anti-Boris for years. To add insult to injury, she went on to announce on his show that she would be running for leader:
Cabinet members visit Boris
Just before 5 p.m. a small Cabinet delegation visited Boris in Downing Street.
Guido wrote:
A Cabinet delegation of Nadhim Zahawi, Grant Shapps, Brandon Lewis, Simon Hart and Michelle Donelan are currently waiting in Downing Street to tell Boris the jig is up, and it's time for him to step down. Kwasi Kwarteng has also reportedly lost confidence. Beginning of the end…
Note Michelle Donelan's name in that list. Boris had just made her Education Secretary after Nadhim Zahawi moved into the Chancellor's role.
What did Michelle Donelan do? She resigned after 36 hours in the role:
Yes, of course, she got a pay out — one of £16,876.25:
The others got pay outs, too. I read that the total for ministers who resigned is over £120,000.
That's not a Conservative plan, by the way.
That's how the system works.
The caboose
Just before midnight, the final resignation of the day rolled in, that of Gareth Davies, making him the 35th that day. There were ten more from Monday as well as Michael Gove, summarily sacked. It's hard to disagree with the person comparing this to Trump:
Michael Gove
It was time for this duplicitous man to go. I never trusted him and never will.
When he turned from supporting Boris in the 2016 leadership campaign to start his own before supporting Theresa May, he stabbed him in both the front and the back.
One thing we have learned during Boris's premiership is that he — Boris — is one to forgive.
He made Gove part of his Cabinet in various high profile roles.
On Wednesday, Gove decided to tell Boris to resign:
Gove, most recently the Levelling Up minister, was conspicuous by his absence in the House of Commons. He missed Prime Minister's Questions:
News emerged at 9:30 that Boris sacked Gove — via a telephone call:
I will be very disappointed if Gove returns to a Government role. He is a Scot who, in my opinion, is too young at the age of 54 to appreciate the Union fully, and he does not have the Englishman's best interests at heart.
I've never heard him say anything about England other than to do away with English Votes for English Laws (EVEL) in 2021. As the then-Chancellor of the Duchy of Lancaster, he deemed it unnecessary in Parliament. It was a quick, quiet moment in the Commons. I do wonder why it went unchallenged by English MPs.
Yet, the English are the ones who have been overlooked the most over the past 25 years, beginning with Tony Blair, a quasi-Scot who pumped our Government and media full of many more Scots, e.g. Gordon Brown, to name but one. My apologies to Scottish readers, whom I admire greatly, but it is true.
Christian Calgie from Guido's team explains that Boris might have sacked Gove because, unlike the Cabinet secretaries who had descended upon him earlier, Gove allegedly told Boris to resign:
By the end of Wednesday, it became clear that Boris was not about to leave:
Guido reported:
Guido has had it confirmed by a PM ultra loyalist that Boris Johnson is not resigning tonight, and is understood to be planning a reshuffle. The news will spark further senior cabinet resignations…
According to reports, Boris sat down individual members of the Cabinet – including those involved in the coup – and cited his 2019 mandate, as well as the belief the government needs to spend the summer focusing on the economy and not a leadership election …
I watched four hours of analysis on GB News on Wednesday, beginning with Nigel Farage …
… and concluding with Dan Wootton, who had a great interview with Boris's father Stanley Johnson (see the 1 hour 15 mark, or, if the GB News clock shows, 10:21). Stanley is a big supporter of his son, which was heartening to see:
Thursday, July 7
Conservative ministers continued to resign en masse on Thursday morning, July 7.
Guido has a timeline of resignations and other events of the day.
Just before 9 a.m., Chancellor Nadhim Zahawi sent Boris a formal letter requesting his resignation.
Just after 9 a.m., Defence Secretary Ben Wallace — also thought to be a candidate for Conservative leader — tweeted MPs to say that they should make use of the 1922 Committee to get rid of Boris:
At 9:07 a.m., news emerged that Boris agreed to resign as Conservative Party leader. I agree that the next demand from the braying hypocrite hyenas in the media will be a call for a general election. Disgusting:
Guido reported:
Chris Mason has been told the PM has agreed with Graham Brady that he will resign, allowing a Tory leadership race to take place ahead of the Tory Party conference in October. A letter has been written. He'll quit as Tory leader today. Guido's frankly not sure how Boris can stay on for the summer with so many ministerial holes in his government…
Perhaps we can get by with fewer ministers, as someone said in Parliament this morning.
I hope that Boris's Cabinet meeting at 3 p.m. went well.
Not everyone has been happy with the coup so far. Former Conservative Prime Minister John Major is fuming. It's interesting he never reacted like that about David Cameron or Theresa May:
In brighter news, Boris's loyal friend from Ukraine rang him with his condolences and thanks:
1457: PM has spoken to Zelensky on the phone. Finished the call by praising him: "You're a hero, everybody loves you."
Yes, well, I wished our MPs loved Boris as much as President Zelenskyy does.
Ladies and gentlemen, this was a coup.
It was for a ridiculous reason, too: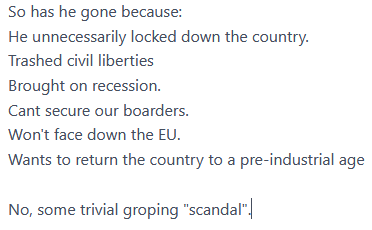 Don't forget: this was ALL ABOUT BREXIT.
More to follow next week.
My series on minority MPs in the Conservative Party continues.
In case you've missed the earlier posts in this series, here they are: parts 1, 2, 3, 4 and 5.
Today's post covers the two minority MPs who were elected during Theresa May's snap general election of June 2017.
Bim Afolami (Hitchin and Harpenden)
Bim Afolami represents the leafy Hertfordshire constituency of Hitchin and Harpenden, far enough from London to be in the countryside yet a close enough for a daily commute to and from the capital.
I always enjoy hearing what Afolami has to say in Parliament. He speeches are eloquent, considered and, above all, sensible.
Afolami was born in the Home County of Berkshire to a Nigerian father, employed as a consultant physician for the NHS. His mother works as a pharmacist.
Afolami attended Eton College and University College, Oxford, where he read Modern History. While at Oxford, he worked as a librarian for the Oxford Union Society and played football for the university team.
He worked as a lawyer prior to entering politics. His employers included the prestigious law firm Freshfields and the banking corporation HSBC.
In 2017, Hitchin and Harpenden's MP Peter Lilley stood down. Afolami was selected as the Conservative candidate.
Afolami was a Remainer, however, during his time in Parliament, he voted the Brexit line most of the time.
He has been a member of several parliamentary committees.
He has also had positions as Parliamentary Private Secretary in the Department of Transport, International Development, International Trade and the Department for Work and Pensions.
Currently, he chairs the All-Party Parliamentary Group on Credit Unions and is a Commissioner for the Financial Inclusion Commission.
Afolami is married with three children.
He describes Winston Churchill as his 'biggest hero'.
Kemi Badenoch (Saffron Walden)
Kemi Badenoch also reveres Winston Churchill, along with Margaret Thatcher.
She, too, has Nigerian roots and spent her formative years there before returning to England.
She represents the constituency of Saffron Walden in Essex, which, not surprisingly, includes the ancient town of the same name. The town of Saffron Walden was known not only for its wool production but also for its cultivation of saffron in the 16th and 17th centuries. That happy combination of industry enabled the town to develop dyes as well as provide the condiment for use in food.
Olukemi Olufunto Adegoke was born in Wimbledon, London. Her father is a GP and her mother a professor of physiology. As her mother obtained teaching positions overseas, Kemi lived in both the United States and Nigeria. She returned to England at the age of 16 to complete her A levels and attend university.
She has worked in computing for most of her career. She obtained a law degree in 2009 and went on to work as an associate director of private bank and wealth manager Coutts and was a director for The Spectator.
Kemi joined the Conservative Party in 2005.
In 2012, she married Hamish Badenoch and took his surname.
In 2015, she served on the London Assembly after Suella Fernandes Braverman had to give up her seat, since she had just been elected to Parliament.
In 2017, Kemi Badenoch succeeded Sir Alan Haslehurst as MP for Saffron Walden with a healthy majority.
In her maiden speech, she explained how she became a conservative: failing nationalised electricity and water provision during her years in Nigeria. Wow.
She also said that Brexit was the 'greatest vote ever'.
If you want to feel uplifted about Britain and conservatism, this video is definitely worth five-and-a-half minutes of your time:
She currently holds two positions, to which Prime Minister Boris Johnson appointed her in 2020: Exchequer Secretary to the Treasury and Parliamentary Under Secretary of State (Minister for Equalities) in the Department for International Trade.
The latter position has seen her come up against stiff opposition from the Opposition benches last year when it emerged that minorities were more affected by coronavirus. The protests in June exacerbated the issue.
On June 4, an SNP MP, Alison Thewliss, had the gall to intimate that Badenoch had little understanding of the black community.
Badenoch politely responded that she objected to Thewliss's 'confected outrage'.
As former Labour MP — now Baroness Hoey in the House of Lords — put it:
Guido Fawkes posted a video of the exchange and commented (emphasis in the original):
Today's BAME Urgent Question was never going to be one Parliament's more tranquil sessions given the ongoing Black Lives Matter protests. Kemi Badenoch gave a feisty performance, scolding left-wing white MPs for telling her how to feel as a black person. Her slap down of SNP MP Alison Thewliss, who conflated all black Britons with recent immigrants, is worth a watch…
The BBC also attacked her response.
On June 6, Badenoch wrote an article for the Daily Mail, which said, in part (emphases mine):
The disproportionate impact of the Covid-19 pandemic on black and minority ethnic people has been one of the most troubling aspects of the pandemic – and the Government was right to seek the expert guidance of Professor Kevin Fenton, an eminent black physician at Public Health England, to examine the issue. 
So when, as Equalities Minister, I stood up in the Commons to discuss his review and its conclusions, I expected tough questions. 
This, after all, has been a week of heightened emotion about racial divisions. Unfortunately, clumsy attempts at scrutiny by some MPs and commentators unintentionally risk inflaming racial tensions. 
Updating Parliament on the review, Labour MPs repeated racially charged claims such as: 'Being black is a death sentence.' 
One SNP MP conflated all black people with recent immigrants. This language does nothing to calm tensions at a time when politicians need to set an example. 
Far more irresponsible though, was the BBC's coverage of the debate – with the headline: 'Minister rejects systemic racism claims'. I did no such thing. 
In fact, the phrase 'systemic racism' was not used once in the debate. The BBC report was shared on social media thousands of times and believed because it was from a trusted source. This is incredibly harmful. 
By implying that a black Minister has, out of hand, rejected racism as a factor, the hard work done by many ethnic minorities in Government, the NHS and Public Health England is discredited, trust is lost and race relations become worse. 
Yes, there are gaps in PHE's review. By its nature, it highlights what we don't know and must investigate further. 
We will build on this work, engaging with individuals and organisations within communities, to protect lives in this pandemic … 
We need to be more circumspect; we need real journalism, not campaigning. 
We must address prejudice but this is impossible if our national broadcaster, politicians and commentators play a social media game to achieve outrage rather than enlightenment. 
We must combat the real inequities in society, but we do everyone a disservice if we give in to culture warriors whose relevance depends on inflaming tensions. 
By hijacking the Government's work to improve the lives of BAME people, those spoiling for a fight are sacrificing the hope of so many young people for little more than clicks, likes and retweets. 
In October, Badenoch volunteered to take part in a vaccine trial:
Moving to the present day — February 2021 — issues have arisen with minorities reluctant to get vaccinated when the time comes. Personally, I do not blame them. There is a lot we do not know about their long-term effects, particularly the mRNA vaccines. So that minorities would feel more reassured, the Government appointed Nadhim Zahawi MP to oversee vaccine rollout in the UK. His brief includes visiting minority communities to encourage uptake:
In January, minority MPs from both sides of the aisle took part in a video to promote the vaccine programme.
Badenoch was criticised for not having taken part. She said it was because she was participating in the aforementioned vaccine trial:
Let's return to last year.
In October 2020, Badenoch spoke in Parliament about Black History Month in the UK. She said that she was taken aback by something her daughter said:
That month, she participated in a Spectator discussion debunking various socio-political left-wing theories and promoting conservatism.
This triggered a severe reaction from the Left in November.
Several radical left-wing academics took issue with what she said:
Guido Fawkes provided the exhaustive list along with the radical positions of each academic, explaining the background (red emphases in the original, those in purple mine):
Equalities minister Kemi Badenoch sent Twitter's wokesters and academia's race baiters into meltdown a fortnight ago when her savaging of "Critical Race Theory" (CRT) went viral, with 2.4 million views. Guido's since picked up on an open letter doing the rounds in nutty left-wing academic circles, who – unable to take on the substance of what Badenoch argues – have chosen instead to misrepresent her words. Aside from their attacks on the substance of Kemi's words – incorrectly claiming she wants "the banning of certain ideas or schools of thought" and that she misunderstands history and CRT – the mostly former-polytechnic-based academics now claim CRT has "scientific principles" behind their ideology. Eugenicists, phrenologists and Marxists have argued the same for decades...
Looks like Kemi's on pretty sound ideological ground…
I wish Kemi Badenoch all the very best in holding her ground so consistently.
Tomorrow's post concludes this series.
Parts 1, 2 and 3 of this series show what a diverse party the Conservatives have become in England.
More black and ethnic minority Conservatives entered Parliament during the years when David Cameron was Prime Minister between May 2010 and June 2016.
The list continues.
James Cleverly (Braintree)
James Cleverly is a Londoner, born and bred.
He has served the Essex constituency of Braintree since 2015. He also was the London Assembly member for Bexley and Bromley between 2008 and 2016, during which time Boris Johnson was Mayor of London.
Prior to entering politics, Cleverly worked in publishing, both print and digital.
He has also been a member of the Territorial Army since 1991 and is currently a Lieutenant Colonel.
James Cleverly's father is white British. His mother is originally from Sierra Leone. In 2020, at the height of last summer's protests, to which he firmly objected, Cleverly told a BBC Question Time panel that he grew up at a time when interracial marriages were unusual. He said that the early 1970s for him were unpleasant and hurtful as a child as people sometimes made open remarks to or about his parents as they walked down the street.
One of his pet peeves is the biased BBC:
Cleverly is the first black to be appointed as Deputy Chairman of the Conservative Party (2018-2019) and Co-Chariman (2019-2020). Ben Elliot was the other Co-Chairman:
He laid out the Party manifesto in this short video:
Prior to that appointment, he worked on Brexit as a junior minister for the Department for Exiting the European Union:
Later that autumn, he campaigned tirelessly for the Conservatives before the December 12 general election, in which they routed Labour …
… including in constituencies that had never before had a Conservative MP, such as Bishop Auckland (near Durham) and North Stoke (Stoke on Trent):
Early in 2020, he enjoyed posting this video in which Prime Minister thanked Labour voters for their support:
He was also able to get his Brexit countdown clock back on the wall:
Cleverly is currently the Minister for State for the Middle East and North Africa, to which he was appointed on February 13, 2020.
He is married and has two children.
Nus Ghani (Wealden)
Nus Ghani has served the constituency of Wealden, East Sussex, since 2015.
She was born in Kashmir to Pakistani parents in 1972. Her parents later moved to Birmingham, where she grew up.
Ghani worked in the charity sector before becoming an MP.
Since 2015, she has held a variety of posts on parliamentary committees and all-party groups.
She was Lord Commissioner of the Treasury, serving under Theresa May (2019) and was also Parliamentary Under-Secretary for Aviation and Maritime under May and Boris Johnson (2018-2020).
Ranil Jayawardena (North East Hampshire)
Ranil Jayawardena is the son of a Sri Lankan father and Indian mother.
He has served the North East Hampshire constituency since 2015. He knows Hampshire well, having spent most of his life there. His parents moved there from London when he was a boy.
He graduated from the London School of Economics and worked as a senior manager for Lloyds Banking Group in capital markets, corporate banking and group executive functions.
Between 2008 and 2015, Jayawardena was a councillor of the borough of Basingstoke and Deane.
Since becoming an MP in 2015, he has held a number of positions on All-Party Parliamentary Groups. He has also served as Parliamentary Private Secretary to the Department for Work and Pensions as well as to the Ministry of Justice.
He was Deputy Chairman of the Conservative Party in the early part of 2020.
Jayawardena is currently the Parliamentary Under-Secretary of State for International Trade and helped to formulate Britain's new trade deal with Japan:
He is now working on enhancing Britain's trade with India:
Jayawardena is a Christian and was a trustee/director of the Conservative Christian Fellowship.
He is married and has two daughters.
Alan Mak (Havant)
Alan Mak has been the MP for Havant, Hampshire, since 2015.
His parents were born in Guangdong then lived in Hong Kong before moving to England. Alan was born in Leeds in 1983.
He is the first MP of Cantonese and Asian origin. However, he wants to be known for representing all of Havant, as he told the South China Morning Post's Post Magazine:
It's a stupid story. I am not standing for the Chinese population of Britain. I am standing for the people of Havant and my country.
Mak is a high achiever. He read Law at Peterhouse, Cambridge, where he won the coveted ECS Wade Prize for Administrative Law. He then completed a post-graduate law and business diploma at Oxford, where he was runner-up for the Oxford Leadership Prize.
Before entering politics, he practised law as a solicitor for a large firm in the City of London and, in 2010, won the award of Young City Lawyer of the year in Square Mile magazine's 30 under 30 awards.
Suella Braverman (Fareham)
Suella Braverman was first elected in 2015 to represent the constituency of Fareham in Hampshire.
Born in 1980, she is the daughter of Christie and Uma Fernandes, both of Indian origin, who migrated to England from Kenya and Mauritius.
Suella Fernandes grew up and attended schools in North West London.
She read Law at Queens' College Cambridge, where she was Chairman of the Cambridge University Conservative Association.
Afterwards, she completed a master's degree in European and French Law at Pantheon-Sorbonne University. She was an Entente Cordiale Scholar.
She was called to the bar at Middle Temple in 2005 and was a barrister until 2015.
She married Rael Braverman in 2018 and took his name. The couple have one child and are expecting a second this year.
Braverman is a practising Buddhist.
A firm Brexiteer, she came to prominence in 2018, being one of the MPs who objected to Theresa May's Chequers agreement with the EU:
She also said that Britain could survive a no-deal Brexit:
She further objected to May's deal in early 2019, when it went through a series of unsuccessful votes:
During that time, she came under fire for using the term 'C u l t u r a l  Marxism'. It turned out that many of her critics thought she was white because she was a 'Conservative Brexiteer':
It took some time for the dust to settle.
Suella Braverman is currently Attorney General for England and Wales and Advocate General for Northern Ireland.
I wish her and all the aforementioned MPs continued success.
——————————————————————————
Rishi Sunak, Chancellor to the Exchequer, who also began his term as an MP in 2015, will be the subject of a post next week.