You are currently browsing the tag archive for the 'survey' tag.
What on earth is going on?
Until the deplorable death of George Floyd, most of us were told we must social distance because of coronavirus.
Now a few Western countries have been breaking that rule to protest by the thousands as well as set fires and loot.
The media have their role to play in this, too.
From former reporter Adam Housley and his Twitter followers:
Incredibly, some — not all — nurses are the common point in the Venn diagram of coronavirus and protests. Don't they have patients?
On the other end of the spectrum, we have General Mattis calling President Trump divisive because he wants to stop Washington DC from becoming an ashtray:
Remember the early days of the Trump administration? The Left didn't like Mattis. Now he's their best friend:
And what about the average guys and gals who aren't doing triage or serving in the military?
They're being told by their notional betters that they are wrong to want to hug their grandchildren, attend a funeral or go to church. Such people are called 'Grandma Killers'.
Protesting, rioting, setting streets alight and looting during a pandemic are perfectly acceptable alternatives to these people. Here's a great thread from journalist Drew Holden with a gimlet eye on his peers:
Drew Holden then brings in a few Dem governors before returning to journalists and political activists:
These are two of the replies he received. I fully agree with the sentiments:
Ian Miles Cheong, the managing editor of Human Events, is always worth a read.
Here's footage of 'peaceful' demonstrators in Seattle:
He came to this conclusion:
However, people are afraid to not support the protests, possibly like the aforementioned nurses.
Mollie Hemingway from The Federalist highlighted this poll from Emerson:
Tucker Carlson tells us not to surrender to the mob. True.
On the other hand, we need to be aware that some looters and vandals are being released from police custody:
Incredible.
Equally incredible is that churches cathedrals were vandalised across the nation. Some cathedrals now require extensive repair, as the Catholic News Agency reported on Monday, June 1 (emphases mine):
Catholic churches and cathedrals in several cities were among the buildings damaged in the protests and riots that occurred nationwide over the past week.
Church buildings in California, Minnesota, New York, Kentucky, Texas, and Colorado were attacked. Many of the defaced or damaged churches were cathedrals. The Cathedral Basilica of the Immaculate Conception in Denver sustained permanent damage.
Vandals repeatedly struck the Denver cathedral on multiple nights of the protests and riots over the weekend. The church building and rectory were spray painted with the slogans "Pedofiles" [sic], "God is dead," "There is no God," along with other anti-police, anarchist, and anti-religion phrases and symbols.
Gates surrounding the cathedral were damaged, and tear gas that was fired to disperse the protests leaked into the rectory. The doors to the cathedral are believed to have been permanently damaged by the vandalism and will reportedly need to be replaced.
Three bags of rocks were collected from the parking lot, but the cathedral's most valuable windows were unharmed. Other windows on the cathedral's campus were shattered.
St. Patrick's Cathedral in New York City was tagged with various graffiti, including profanities, "No justice, no peace," "BLM" (Black Lives Matter) "NYPDK." The name of George Floyd was also written on the stairs outside the cathedral …
Sickening.
One of the strangest journalistic twists was the invitation from the New York Times to Senator Tom Cotton (R-Arkansas) to write an editorial about the riots. He nails it:
Yes, they did apologise for it, in a way:
Ultimately:
The Federalist's Sean Davis had a go at their reporters. The responses are good, too:
In 2019, only 10 blacks died at the hands of the police. The United States has approximately 325 million people. Meanwhile, 48 police officers were fatally wounded, according to FBI data.
In 2015, under Obama's presidency, the number of blacks dying at the hands of the police was three times higher.
Tucker Carlson has the details of the ten deaths in the video below. The details of the cases come from the Washington Post. In only two of the cases, an officer was criminally charged. In the other cases, the suspects had attacked or assaulted police officers in various ways, including firing a taser and driving at full speed after them.
In 2018, over 7,000 blacks in America were murdered — no police involvement. So, that's one police murder for every 700 committed by civilians, often people they knew.
I would encourage everyone — especially those living outside of the United States — to watch Tucker run through the statistics and share them with their friends and family:
Bottom line: factually, there's no need to riot.
As a final thought, here are two great videos from a Trump supporter, who says it's time for Americans to put away their divisions and, together, embrace patriotism. Language warning, but well worth watching:
Yet, despite all this — coronavirus and riots — maybe America is poised for a swift economic recovery this year:
As the president is so fond of saying: 'The best is yet to come'.
I certainly hope so, for America's — and Donald Trump's — sake.
The coronavirus lockdown has been a blessing for Church of England clergy who want to re-do worship.
At the end of March, shortly after lockdown began, the Church's archbishops — led by Canterbury (Welby) and York (Sentamu) — forbade clergy or congregants going into church to clean or check on its condition from praying while they were there.
This did not meet with universal approval from Anglican clergy:
There is a question as to whether this prohibition is actually legal:
Quite!
Not every diocese has adopted such stringent rules, although the congregation are not allowed inside:
Therefore, services are online. Most are live-streamed and require registering as well as being able to access the right platform, in some cases:
I realise that church closures aren't a huge deal to people who don't attend church, but for those of us who do, it is. We were brought up to worship and that needs to be done regularly in what we knew as children as 'God's house'. That is an entirely different matter from a collective church comprised of people who evangelise when they are not worshipping.
This year, we missed out on worship on the Church's greatest feast, Easter. We missed Pentecost 50 days later. We missed Trinity Sunday, which was June 7.
Churches might not open in England until July 4. A Conservative MP asked Boris Johnson at PMQs on Wednesday, June 3, if the reopening could occur sooner. He burbled a bit and said he completely understood the desire to worship in church. Personally, I doubt anything will happen before July but am grateful that the MP asked the question.
On May 14, the Church Times reported that some Anglican vicars' priorities are different to their congregants' (emphases mine):
Far from rushing to unveil plans for opening up their premises, individual churches showed a marked reluctance this week to embark on any kind of detailed planning. Most acknowledge themselves to be too busy and have simply 'parked' the issue of return for the time being.
On May 29, the Church Times had an article about church after lockdown has been lifted:
Such rejuvenation may help to release us from the prison of our church building, which, for many, have become shrines to the past which not only soak up energy and resources, but also perpetuate concepts of division and hierarchy harmful to a mature understanding of who we are.
Right.
So, all of a sudden, after nearly two millennia of gathering to worship in church buildings, we should abandon them. Apparently, those who went before us and have worshipped in churches had an 'immature' understanding of Christianity and themselves.
Okay, sure (not).
The article also accuses people who enjoy attending church of:
… over-indulgence in churchiness …
Wow.
The article advocates a strong emphasis on online services.
Are we supposed to consecrate our own hosts for Communion, too? Probably. Wrong, on so many levels!
This is the cartoon that accompanied the article. How true:
On May 23, Catherine Pepinster wrote an excellent article for the Telegraph: 'Whisper it, but the C of E might not mind that much if the Covid crisis leads to church closures'.
She provided an insight into Pentecost Sunday, traditionally known as Whitsun, which was May 31 this year:
Could there be a quainter title for a poem than The Whitsun Weddings? Philip Larkin's 1955 work harks back to a once familiar tradition for church weddings to take place on what was known as Whit Saturday, the day before Whit Sunday. Today, most people will have absolutely no idea that next Sunday [May 31] is Whit Sunday and that it is a Christian feast to equal Christmas and Easter, marking the moment when the Holy Spirit came down upon the apostles after Christ had ascended to heaven. But this year on Whit Sunday, like Ascension Day which should have been marked two days ago, the churches will be empty as if Whitsun is indeed now a quaint festival, a throwback to Larkin's England. There will be no choirs, no readings, no congregation.
She has spoken with vicars during lockdown, and the news is not good:
Anglican vicars around the country, from London to Liverpool, Buckinghamshire to Lincolnshire, have been telling me how fearful they are of their parish churches going bust. Reserves are being spent. They know they are storing up more financial headaches the longer they are in lockdown. Nobody has recently crossed ecclesiastical thresholds to carry out any repairs or refurbishment, storing up costly maintenance problems in historic buildings that need regular care.
It was bad even before coronavirus:
Just a few weeks before lockdown, a report with a startling statistic dropped onto the desks of church officials: that the greatest reduction in the Church of England's stock of churches since the 16th century is under way.  Struggling, Closed and Closing Churches  – produced by the Church Buildings Council – said that in the past 50 years 2,000 churches have closed, which is about 10 per cent of the stock. Now vicars fear plenty more could be shut for good.
Yes, the C of E has made loans to churches during this time, but that will not be enough:
Given the Church Commissioners have huge amounts of money tucked away this might be surprising, and they have lent the dioceses £75 million to pay salaries during the coronavirus pandemic. Yet it's not enough to keep every church going. Liverpool diocese, for example, has already furloughed some of its curates. But it's the money that comes in via the parishes themselves that normally props up the whole system, especially those dioceses without big endowments. That is what is lacking now.
Bishops, she says, will be eager to get rid of local churches in favour of larger ones requiring transportation to get to:
Some bishops are already saying they will bring forward decisions they have been putting off and will close some churches for good. That will be popular with the accountants – but also with the people in the Church of England who like talking about 'hubs' and 'places of strength'. The jargon is used about a slimmed-down Church of England that focuses on buildings that can house large congregations to which people drive from miles around while everything else goes online.
I fully agree with her conclusion:
… a church isn't just a Facebook singalong. It's a place that evokes those who went before us and are now remembered in plaques on the wall, in the stained glass, and in the adjoining graveyard. It's a building that connects us to the present, that acts as the beating heart of a neighbourhood, even for those who do not attend on a Sunday. And if Covid-19 means some churches never re-open, that beating heart will be stilled.
The incoming Archbishop of York denies a Sunday newspaper report that he will begin closing churches. I bet he is considering it:
On June 2, the Church Times posted an article about the delay in reopening churches: 'If shops, why not churches? Government challenged over restrictions'.
Based on what I've written above, I think it's rather disingenuous to put all the blame on the government.
Churchgoers want an earlier opening than July:
A Savanta ComRes opinion poll commissioned by the National Churches Trust and published on Sunday suggested that the public backed the early reopening of churches and chapels, provided they could maintain social distancing. Forty-six per cent of the adults polled supported reopening earlier than 4 July: a tentative date mentioned at the start of May. This figure rose to 66 per cent among respondents who attended regularly.
At least one Anglican bishop has written to MPs asking for churches to reopen:
In an open letter sent on Monday to MPs whose constituencies lie in his diocese, the Bishop of Chichester, Dr Martin Warner, writes: "I hope that you would lobby for an urgent review of the continued closure of our church buildings to individuals who seek solace in such places [church buildings]. . . 
"At a time when tensions run high, I believe that there is a deep thirst for access to churches and cathedrals as places of prayer for people of committed faith, or for anyone who is in search of space in which to find peace.
"I am fortunate to live near to Chichester cathedral. Each day I see individuals peering in through its glass doors. I know from personal experience what pressing and intimate needs find expression in the prayers that they write down and leave behind.
"We urgently need places and experience that build hope, trust, and endurance. The capacity of the Christian Church to engender those virtues through prayer and stillness in its buildings should not be underestimated." 
Another bishop has been resorting to Twitter. After the daily coronavirus briefing on Pentecost Sunday:
the Bishop of Worcester, Dr John Inge, suggested: "I think we should be arguing (a) that it is too soon to open other buildings; or (b) that our churches should be allowed to open alongside them. To suggest that our churches should remain closed while other 'non-essential' shops and buildings open is to condone secularism."
The benefits of prayer were "not generally of such direct economic benefit", but that did not mean that they didn't matter, he observed. "The risk to a person sitting quietly to pray in a church which is properly cleaned and supervised is surely not greater than a trip to the supermarket?"
He was joined by Bishop Tom Wright, who wrote in The Times:
Absolutely!
Here's a Episcopal priest's view from across the pond in Cincinnati:
You can take a Church Times survey, for a limited time, on the state of the Church in England. It's got plenty of room for extended replies.
If you love the Church and live in England, please make your voice heard.
They might be small in number right now, but a growing number of doctors involved in the coronavirus outbreak are wondering about the wisdom of nationwide lockdowns.
In some countries, lockdown did not make much difference to the number of deaths.
On May 14, France's Prof Didier Raoult posted a study from Spain which showed that those who kept working outside the home were less at risk of falling victim to COVID-19. Replies follow:
Why we were told the world over to stay indoors, I do not understand. It runs counter to everything we've been taught over 120 years with regard to fighting epidemics:
This chart comes from another source and has more testimony about New York's lockdown:
A doctor from Paris can corroborate that households staying indoors did get COVID-19 more often than those who did not. People were already infected before lockdown and did not show symptoms until later on.
On Tuesday, May 26, RMC — France's talk radio station — interviewed Dr Robert Sebbag, a specialist in infectious diseases, who works at the famous Pitié-Salpêtrière hospital in Paris. The interview is a little over 19 minutes long.
Sebbag worked on the COVID-19 ward and said that if one family member was admitted to hospital with coronavirus, others from the same households were also infected days later.
He said that this led him and his colleagues to believe that general lockdowns are a bad idea. He explained that politicians were afraid of the number of deaths from this novel (new) coronavirus and decided to impose blanket lockdowns:
He said that the hospital, in the early days of the outbreak, was very gloomy indeed, with a seemingly endless number of COVID-19 patients being admitted. He, his colleagues and hospital staff were worried that they would be completely overwhelmed:
He thinks that an assessment needs to be done of how COVID-19 was handled in the first half of this year. While he personally thinks masks are a good idea, he objects to the restriction on nursing and care home visits, which he says are essential for patient well being, especially among the elderly:
Presumably, care home administrators can work out a system for visiting, perhaps requiring that healthy family members and friends make an appointment before visiting.
The greater question there surrounds infected patients being discharged from hospitals into care homes. This happened in the US, the UK, France and Germany. The very real pressure on the hospitals meant that they had to discharge elderly patients before they were fully recovered to make room for new COVID-19 patients. As such, care homes were overwhelmed with infection in some cases.
People rightly wonder if we will get a second wave. Some medical experts say no. Some say yes. Others say that we have to find a way of treating patients effectively so that coronavirus is no longer a fatal disease. The honest answer at this point is that we do not know whether there will be a second wave of infections.
As lockdowns are fully lifted in the coming weeks, we will all have to take greater responsibility for our own behaviour in a COVID-19 world. I dislike referring readers to the BBC, but they did have a good article on Sunday, May 24: Health Correspondent Nick Triggle's 'Coronavirus: How scared should we be?' It is well worth reading.
For a start, we do not live in a risk-free world:
Prof Devi Sridhar, chair of global public health at Edinburgh University, says the question we should be asking is whether we are "safe enough".
"There will never be no risk. In a world where Covid-19 remains present in the community it's about how we reduce that risk, just as we do with other kinds of daily dangers, like driving and cycling."
We might become more dependent on our 'least worst' options in managing that risk:
Statistician Prof Sir David Spiegelhalter, an expert in risk from Cambridge University and government adviser, says it has, in effect, become a game of "risk management" – and because of that we need to get a handle on the magnitude of risk we face.
There are two factors that influence the risk we face from coronavirus – our risk of becoming infected and, once infected, our risk of dying or becoming seriously ill.
We should also keep in mind that, for most people, coronavirus is relatively mild:
… only one in 20 people who shows symptoms is believed to need hospital treatment …
Think of it this way:
If your risk of dying was very low in the first place, it still remains very low.
As for children, the risk of dying from other things – cancer and accidents are the biggest cause of fatalities – is greater than their chance of dying if they are infected with coronavirus.
During the pandemic so far three under 15s have died. That compares to around 50 killed in road accidents every year.
In the months to come, there will likely be tests and tools, such as this one from University College London, that can help us assess our individual risk of catching this unpredictable and sometimes fatal disease.
The most important aspect, even more than the dreaded mask, is hand hygiene. Wash hands regularly and thoroughly with soap or soap gel, then dry them well. Damp or wet hands create a good atmosphere for viruses and bacteria.
Also keep hands away from the face, the best receptor for infections.
Last week, a few British polling companies took the pulse of the nation with regard to coronavirus.
But first, let's look at an international poll from Morning Consult of G7 countries and their leaders' popularity during the pandemic. Congratulations, Boris Johnson — far above the others in popularity!
Returning to Britain, here are the results from a YouGov/Sky News poll. Keir Starmer, incidentally, is Labour's new leader:
This is the poll in more detail. Dr Chris Whitty is the UK's chief medical adviser; Sir Patrick Vallance is the chief scientific adviser; Dominic Raab, Secretary of State for Foreign and Commonwealth Affairs, is Boris's deputy; Matt Hancock is Secretary of State for Health and Social Care; Sir Keir Starmer is the new leader of the Labour Party:
The next one is Survation's poll on trusted sources of information during the coronavirus crisis. Note that the media come lowest, well below that of despised politicians and local government, regardless of the fact that most Britons get their information from broadcast and print media:
Here is a poll from YouGov for Reuters Institute and Oxford University:
Here's one from a Twitter user. Comments follow (DM is the Daily Mail):
One radio talk show host thinks the British public are too stupid to understand media. I try not to use the word delusional, but this is delusional:
The British government are actually doing a great job in managing the coronavirus outbreak. The NHS has not been overwhelmed.
Before the crisis started, according to the Global Health Security Index, the US was rated first in the world for handling a pandemic. The UK was rated second:
Have both the US and the UK been too scrupulous in recording deaths, as — according to some graphs — both countries have the world's highest fatalities? We shall see, once this is over.
Otherwise, sure, there have been ongoing issues with obtaining PPE, BUT is that the government's fault? Aren't NHS procurement managers in charge of that? Ditto care homes, which are either privately owned or council run.
Never mind that, though. Obtaining PPE has been a problem for nearly every nation during this pandemic.
Below are photos of German medics. The BBC often asks, 'Why can't the UK be like Germany?'
Hello, BBC. Germany has a PPE shortage, too:
Despite that and despite lockdown, the British support Boris and his team. This was as of April 21, published on April 26:
Regardless of the government's careful managing of this crisis, the media dig deep every day to report only bad news. Largely, they are still hurting over Brexit, which will no doubt dominate media narratives once coronavirus is over. The negative coronavirus stories are an extension of anti-Brexit narratives:
The BBC is the only channel to broadcast the government's daily coronavirus briefings. As is customary in other nations doing these daily updates, reporters from across the country are allowed to ask questions afterwards:
Health Secretary Matt Hancock, other government ministers and the medical officers have to face a lot of awful questions. Last week, the BBC's health editor Hugh Pym asked whether the government was 'ashamed' of its coronavirus response:
People like Pym, who smile and smirk simultaneously, are the lowest of the low. They use their gotcha questions on early evening newscasts:
On Monday, April 27, Hancock got fed up with ITV's political editor Robert Peston's continuous, verbose questions. Hancock replied with a terse 'No':
Here's the deal with Peston:
Here's another example, this time from the BBC:
And another:
And another. This is BBC Newsnight's Emily Maitlis with Labour's Peter Mandelson — Baron Mandelson — who held several cabinet positions under Tony Blair and Gordon Brown when they were Prime Minister:
But I digress. Back now to the daily coronavirus briefings.
On Monday, April 27, the government began taking at least one question a day from the general public:
Robert Peston does not like this:
Actually, Robert, the first question chosen and read out on April 27 was relevant to many Britons.
That day, the independent polling company the government uses to select the questions chose one from a grandmother who wanted to know how much longer she would have to wait to kiss and hug her grandchildren. Honestly, I nearly welled up. Much better than taking questions from Peston, Pym and the like.
On Tuesday, April 28, they had two enquiries from the public — one read out loud from another grandmother about childminding her grandchildren and a short video from a mother asking when her son on the coronavirus isolation list could return to school. The lad has cystic fibrosis and autism:
Unfortunately, Matt Hancock had to let all three ladies down gently. It was/is still too early to say.
Interestingly, Peston didn't ask a question on Tuesday. Perhaps he's miffed that Britons are getting their own very real concerns aired? As is said in the news trade: 'Developing …'
News emerged several days ago that human testing began at Oxford University on a vaccine for COVID-19. Suppose it succeeds, which we all hope it will. Will this be the sort of questioning the government will receive? Although humorous, it's not far off the mark. Click on image to enlarge:
Actually, something just as strange happened when the vaccine news was announced. A woman with a PhD, whom the media referred to as Doctor — implying a medic — appeared in the media. She said she would be ashamed if Oxford succeeded!
She was made to appear as if she were from the university, when, in fact, she's at what used to be the city's polytechnic, now called Oxford Brookes. They are two very different institutions:
It is not unusual for the BBC to interrupt any Conservative politician, whether on television or radio. On Friday, April 24, Matt Hancock appeared on Radio 4's Today programme:
The clip below shows ITV's Piers Morgan, co-host of Good Morning Britain, having a go at Matt Hancock, not even allowing him to finish a sentence. Breathtaking arrogance, and worth a watch:
Piers should clam up — and tone down his tweets. Good Morning Britain's ratings have been tanking during the coronavirus crisis (more here):
On April 16, during the daily coronavirus briefing, Channel 4's Alex Thomson asked if the government was trying to kill the elderly. Sitting at home viewing, my far better half and I were astonished. Guido Fawkes has the story:
At the more serious end of broadcasting, Channel 4 News' Alex Thomson last night was on a quest for culpability. His crass question at the Downing Street briefing basically accused Hancock and his advisers of choosing to kill off old people to prioritise protecting the young.
We stopped watching Channel 4 News years ago. It got too left-wing in its bias. Here's another example from Guido's article, involving Home Secretary Priti Patel (emphasis in the original):
Earlier in the week, Channel 4 News' reporter repeatedly demanded from Priti Patel an apology. This type of performance isn't holding power to account or about purely eliciting information. It is gotcha journalism and because journalists at the press conferences are asking their questions through the prism of establishing political culpability, they are getting defensive responses. It would be better to leave that to the opposition in parliament and leave the made-for-social-media infotainment to Piers. It might also arrest the dramatic drop in public confidence in the news media…
Therefore, is it any wonder that former Labour MP for Vauxhall in London tweeted:
Yes, there should be a root and branch review and reform of the alleged 'nation's most trusted' broadcaster. The annual licence fee per household is £145. It is a mandatory charge. As such, some Britons call it a tax.
I have a lot more to say about the media's handling of coronavirus. More to follow at some point.
It's bad enough being laid off during the coronavirus outbreak.
Imagine how bad it is when the emergency paycheck funding pot is empty and the Democrat-dominated House won't vote to replenish it. Here is the Senate Majority Leader Mitch McConnell (R-Kentucky):
So do I.
The following video from James Corden's show features Speaker of the House Nancy Pelosi (D-California) at home around Easter. It's a must watch. She has brand new, gleaming stainless steel freezers full of ice cream. I cannot believe she had the nerve to post this herself, yet she did:
That photo was taken at the Pelosi family estate in California.
How nice for them.
President Trump had a go at her over the inaction with regard to emergency paycheck funding:
He reminded people that Pelosi encouraged Californians to go to San Francisco for Chinese New Year celebrations:
There was intense Democrat reaction to Trump's closing the border with China, where air traffic was concerned:
Also:
On the other side of the world, and related to this, an Australian MP points out what China was doing with regard to airspace:
And remember this from the WHO a week before?
Whatever is going on with the WHO, President Trump was right to withhold funds for the time being.
But Pelosi isn't having any of it.
On April 17, Moonbattery reported:
Confirming yet again that the Democrat Party is not on America's side, Nancy Pelosi set aside her designer ice cream long enough to rage over Trump sensibly suspending funding to the malign World Health Organization:
"This decision is dangerous, illegal and will be swiftly challenged," Pelosi said. …

Pelosi's comments come after the president announced Tuesday that the United States would immediately halt funding for the health organization, saying it had put "political correctness over lifesaving measures," noting that the U.S. would undertake a 60-to-90 day investigation into why the "China-centric" WHO had caused "so much death" by "severely mismanaging and covering up" the coronavirus spread.
The United States is the world's largest donor to the WHO, a UN organisation (emphases mine):
The United States is the WHO's largest single donor, and the State Department had previously planned to provide the agency $893 million in the current two-year funding period. Trump said the United States contributes roughly $400 million to $500 million per year to WHO, while China offers only about $40 million.
Pelosi has her own interests at heart:
Why should Americans pay for a Chinese propaganda platform when we have our own urgent needs? Maybe because Pelosi is heavily invested in China.
Readers might also be interested in this:
The World Health Organization in Europe is asking government officials to restrict access to alcohol as citizens continue widespread lockdowns amid the coronavirus pandemic.
As Moonbattery points out:
Even Stalin let his slaves drink vodka. The technocrats of the WHO make the communist dictator look like a libertarian.
Enough said.
However, it isn't only Democrats opposing President Trump's pandemic policies.
The Bushes are at it, too:
President Trump called it correctly then and he continues to take correct decisions now.
Given the current circumstances, this is probably the right thing to do, especially as an April 13 Ipsos poll found that eight out of ten Americans want a moratorium on immigration:
As for his handling of the coronavirus pandemic:
Even New York's governor Andrew Cuomo had to give the federal government credit:
By the way, if you've ever wondered how CNN and MSNBC know exactly when to pull the plug on the daily coronavirus briefings, a reporter explains all:
Returning to Nancy Pelosi, the Trump campaign team have made a short advert about her and her ice cream:
Excellent work.
Medical experts from various governments around the world have told us that coronavirus is here to stay for the immediate future.
The UK, France and the US took additional steps this week to delay its spread.
I did not have time to write about those developments today, or my last two trips into London, so will delay those until next week.
For me — and for the government — the 2020 budget was the highlight of an otherwise rather grim week.
Budget speech
On Wednesday, March 11, Britain's new Chancellor of the Exchequer, Rishi Patel, delivered his first budget and the first one that the UK has had since the autumn of 2018.
Prime Minister and First Lord of the Treasury Boris Johnson appointed Rishi only four weeks ago. He is our first Hindu Chancellor.
Rishi's predecessor, Sajid Javid — the first Muslim Chancellor — has the sad distinction of having served the shortest period of time of any Chancellor in the past 50 years. He was asked to fire his special advisers, which he refused to do, so he resigned. Under normal circumstances, he would have delivered the 2019 budget last November 6; as an election was taking place on December 12, it was postponed to 2020. He came up with a budget, much of which Rishi Patel presented on Wednesday in the House of Commons.
Funds will go towards the work required after the ravages of the winter floods and, now, coronavirus:
On a subject that has been raging among left-wing women for the last few years in papers such as The Guardian, the Chancellor announced that tax on sanitary products will be abolished once the UK leaves the EU at the end of this year. Former Labour MP Paula Sherriff should be happy.
I watched the Chancellor's presentation, which was excellent, every bit as good as Ken Clarke's in the early 1990s and Dominic Lawson's in the late 1980s:
He even worked in a joke or two. When he announced that he would be removing VAT from books, he quipped about the Shadow Chancellor's — John McDonnell's — 'little-read' (little red) book on economics. Even McDonnell had to laugh:
The Chancellor ended a ten-year-long period of austerity under the Conservatives, freezing almost all existing duties, except for tobacco, and pledged spending hikes. Labour should be happy:
Analysis
Political pundit Guido Fawkes gave his view of the budget, 'Big State "One Nation Toryism" is Back', which refers to the Prime Minister's top adviser Dominic Cummings (emphasis in the original):
The headlines will focus on the £30 billion debt-fuelled stimulus package, "only" £12 billion of which is in response to the coronavirus. The coronavirus gives cover for the big state 'One Nation Toryism' that many in Downing Street have always wanted. Dominic Cummings is not a tax-cutting, free market loving, state shrinking, right-winger.
It appears that most voters who opted for Conservative candidates last December do not mind an increase in spending. David Jeffery, writing for UnHerd, examined the British Election Study which canvassed 32,177 participants who responded after last December's election.
As Jeffery, a lecturer in British Politics at the University of Liverpool, says, voters are saying No to the post-Brexit aspiration of making the UK Singapore-on Thames. Last December saw a surprising number of Labour constituencies going Conservative. Those previously impenetrable constituencies are known as the Red Wall.
One would think that this study would show a stark difference between Red Wall and more conventional Conservative voters. Not so.
Both groups are rather close — with minimal percentage differences (from less than one point to four points) — with regard to self-identifying on the political spectrum, concern for the working classes, spending and national debt. Jeffery concludes (emphases mine):
For all the talk of the Red Wall budget, Red Wall Conservatives are not so different from other Tories. Although they are slightly more wary of environmental regulation and take a more favourable view of redistribution, Conservative voters as a whole think austerity has gone too far, want to see more money spent on key services and accept that this means fewer tax cuts and no budget deficit. This is not what we're typically told Conservatives want, and with his first budget Sunak should show he's listening.
The Chancellor got that memo loud and clear.
Paul Goodman, who heads the website Conservative Home, says that the Chancellor adopted much of what Labour wanted in the budget. That said, the main difference is this:
… we're not in hoc to a hateful ideology; are more pragmatic; more business-friendly; more sensible; better – at least as politicians …
"A People's Budget from a People's Government," the Chancellor perorated. There you have it. Not a Thatcherite one from a Conservative one – or even a plan that is recognisably Tory at all, at least by the standard of recent years. The voice was the voice of Sunak, but the hands were those of Vote Leave.
John Glen MP (Salisbury), also writing for Conservative Home, provided more details about the intended spending plans this year. He said they are achievable:
The ambitious capital budget announced yesterday by the Chancellor can be achieved with relatively modest increases to the deficit as a percentage of GDP. And at a time of record low interest rates with no sign of increases on the horizon, it is an appropriate moment to avail ourselves of this opportunity to upgrade the country's infrastructure and to make the economy more productive.
We do not yet know what the full impact of coronavirus will be. But the Budget leaves us well prepared to tackle its short-term challenges as well as helps shape the long-term trajectory of the economy through capital investment and the reduction of regional imbalances.
And, finally, Robert Halfon MP (Harlow) wrote in his article for Conservative Home that we desperately need to start upgrading our 'social infrastructure':
The immediate goal? Aside from addressing the economic challenges presented by the coronavirus, there will be a commitment to 'level up' across the country. Manifesto pledges on rail, roads, energy, broadband and freeports; all are enormously welcome and will go some way to connecting left behind places to the opportunities that others routinely enjoy.
But, if this cash injection is to get the UK going again, we must also invest in 'social infrastructure'. It is the people of the UK that will bind physical infrastructure to economic growth, not the other way around.
In its broadest sense, social infrastructure is investment in people. In its most transformative form, it allows disadvantaged individuals to overcome entrenched social challenges and turn their lives around.
I had no idea the UK had so many social problems until I started watching BBC Parliament on a regular basis. Even Conservative MPs agree that additional money must be given to various social programmes for retraining, improving education and fighting drug addiction. Of course, the NHS comes into this equation, too.
Additional information
You can read the Budget in full here. My fellow Britons might wish to check out the Budget 2020 calculator to find out how they will be affected.
In another historic moment, Dame Eleanor Laing, the Chair of the Ways and Means Committee and Senior Deputy Speaker, was the first woman to preside over the budget presentation. In this short and interesting video she explains her role and the purpose of the budget presentation:
Afterwards, in giving the response for the opposition, Labour leader Jeremy Corbyn, looking characteristically grumpy, read his poorly-written text which referred to Ms Laing as Mr Speaker instead of Madam Deputy Speaker. Sad.
More on the coronavirus developments next week.
This is my last post on British politics before the December 12 election.
I have already written about Labour and the Liberal Democrats.
Like the Britons in the video below, 17.4 million of us would like to finally see Brexit delivered so that we can move on to trade negotiations with the EU and the world at large. Only one person can lead Parliament to bring this to fruition — Prime Minister Boris Johnson:
Voters have confidence in his leadership thus far (130 days and counting):
Contrary to the misinformation the media have been ramming down our throats, many British voters would be perfectly happy with a no deal or a Boris Brexit:
Although Labour have been promising households in Britain everything except a free puppy, the harsh reality would mean more — and higher — taxes for nearly everyone, 'the many, not the few', to borrow their slogan:
The Institute for Fiscal Studies (IFS) calls Labour's spending plans 'colossal'! Venezuela, here we come:
Labour's proposed higher corporation tax would not only stifle innovation but consumer prices would go up in order to compensate for those taxes:
However, under the Conservatives — even with Parliament's prolonging Brexit uncertainty — Britain has record employment and buoyant wages:
Our currency recently rallied, too. The Boris effect?
The Leader of the House is entirely correct in his assessment of the Prime Minister's support of free enterprise:
Those worried about the NHS should keep in mind that a healthy economy promotes a healthy population.
Since November 6, Conservatives have been campaigning across the country.
The Prime Minister has made several campaign stops every day to factories, schools and hospitals. In November, he visited his constituency of Uxbridge and South Ruislip in west London with his father Stanley, a television celebrity in his own right:
Last week, he made another stop in London: Grodzinski's bakery in Golders Green. The video of Boris piping 'Get Brexit Done' on doughnuts is subtitled. This must be the friendliest and most heart-warming video of the campaign for any party:
Another Conservative of note is Jacob Rees-Mogg, most recently Leader of the House, and current incumbent candidate for North East Somerset:
His sister, Annunziata, is one of four Brexit Party MEPs who, last week, urged voters to back the Conservatives:
Rees-Mogg has been campaigning in North East Somerset since Parliament was dissolved in November. It is a delightful part of England, even when cooler temperatures and rain dominate the landscape:
There is always room for humour in a political campaign. For those unfamiliar with British English, 'moggy' is slang for 'cat':
This is my favourite photo, and it is hard to disagree with the reply:
Conclusion
Only a majority Conservative government can break the Brexit logjam by the time of our next deadline:
Once post-Brexit trade negotiations start in earnest during the transition period, MPs can then begin to focus on what matters to the British:
Are these sensible policies important to you?
While our other political parties, especially the Scottish National Party (SNP), want to break up the Union which has held strong since 1707, the Conservatives will continue to hold it together, because:
On Thursday, December 12, a Conservative vote makes sense:
I'm borrowing this GIF to say …
Back Boris.
If there weren't already a Magic Johnson, I would have given Boris that nickname.
Last week, Boris surged in a polling question that Survation fielded about the public's preferred Prime Minister:
Jeremy Corbyn (red, Labour) and Jo Swinson (yellow, Lib Dems) are trailing miserably. Good!
About that result, Guido Fawkes said (emphasis in the original):
Boris has taken an even more commanding lead in Survation's preferred Prime Minister polling. The PM is up six points on last month, with the Lib Dems crashing down to place Swinson behind Corbyn, who himself has fallen by two points.
This mirrors Deltapoll's findings over the weekend that saw the Lib Dems tumble five points to just 11%. Ironically the Tories are worried that if Swinson's party continues to plummet, the Remain vote won't be split enough to win back key targets in metropolitan places like London…
Even better!
Here are two results from the weekend.
One model predicts a clear Conservative majority — provided, I would caution, that those who go out on Thursday, December 12 vote True Blue — Conservative:
Two other polls show the Conservatives sailing ahead. Again, nothing happens unless Conservative voters go and vote True Blue on December 12:
But, hold on, here's a third, from Opinium. 'Blair territory' means a wipeout, as in 1997. Again, all depends on True Blue voters going out on December 12:
Going back to earlier in the month, on Tuesday, November 12, the Conservatives launched their first election video of the campaign. Given that this would have been scripted, Boris is a natural in front of the camera and makes this four-minute chat look spontaneous:
On Monday, November 18, a reliable commenter on Guido Fawkes had this to say about the Prime Minister (emphases mine):
One small problem with supranational empires such as the EU is that history tells us that they always, without exception, fail. The Roman Empire, Alexandra the Great, the Persian Empire, Genghis Khan, the Soviet Empire, Timur, the British Empire, the Third Reich, Napoleon, and so on. The reason they fail is because nationalism and patriotism are immensely powerful forces that cannot be overcome. No matter how much subjugation and assimilation is forced on people they will always fight against the imperialists.
A very good book about this effect is The Dream of Rome. It explains how even after hundreds of years of being Romans, with a united language, currency, government and legal system the people still fought and died to get their countries back. This book was written by Boris Johnson.
The very fact that the BBC hate Boris, portraying him as a bumbling idiot and doing everything they can to denigrate him is just brilliant for him. It proves that he is not an evil Globalist like they are.
Some people say that it is in the very nature of Boris that he is good at every job he is given, but it is only when he gets the top job that he excels. We saw this when he was a two term Mayor of London. He did the job brilliantly. The evidence for this is irrefutable, just look at the slow motion train wrecks of his predecessor, Ken Livingstone, and his successor, Sadiq Khan, who were both abject failures who failed to meet the challenges of the job. Those who were close to Boris during his tenure say that his especial brilliance was in putting teams together and getting them to work. Exactly what is needed from a leader in government.
Boris has amazing genes, both his parents are Oxford graduates who have achieved much with their lives. Boris too went to Oxford, winning a scholarship. He read Classics there, which is one of the most intellectually demanding courses and he was elected to be President of the Oxford Union. Boris speaks Latin, French and Italian fluently with good German and Spanish.
Then there are the books. Boris has eleven published books with a twelfth, on Shakespeare, due. His biography of Winston Churchill is especially incisive, readable and well thought of.
Boris is not how the Globalist press portray him. But then they are intellectual pygmies next to him, so he must give them a huge inferiority complex. He is the first true patriot we have had as Prime Minister since Margaret Thatcher. And he is almost certainly the best person in Britain for the job.
I fully agree.
Boris has genuine appeal and energy combined with self-effacement and humour. I met him once in 2001 when he was campaigning to become MP for Henley, a constituency in Oxfordshire that he represented very well indeed. Along with a friend of mine, I chatted with Boris for several minutes. He was humble, self-effacing and ineffably courteous, yet, resolute.
He has done much in his career, both as the editor of The Spectator — which has gone downhill since then — and as a politician.
He brought back a newish Brexit deal from Brussels. Everyone said it could not be done, but he did it. No one gives him credit for his time as Foreign Secretary under Theresa May. However, that post gave him an entry point for negotiating with the EU.
Let's have another couple of Stefan Rousseau's excellent photographs for the PA (Press Association) to lead us out in a positive mood:
Boris Johnson will seek to represent the country's best interests and I hope that the voters of his current constituency, Uxbridge & South Ruislip in west London, re-elect him as their MP, so that he can continue his quest as Prime Minister to put the Great back into Britain.
It is rare that the House of Commons meets on a Saturday.
Before October 19, the last time was in 1982 when Argentina invaded the Falkland Islands. That was only the third Saturday session since the Second World War. Margaret Thatcher was Prime Minister at the time.
The Telegraph has a short, informative video on the agenda for October 19:
The Rugby World Cup was on, so special arrangements were made for MPs who wanted to see the televised England v Australia match from Japan that morning.
However, the House of Commons was full to bursting by the time the session started at 9:30 a.m. As there are never enough seats on the benches for all MPs, several had to huddle together just inside the entrance to the chamber.
Those watching at home — and I was one of them — were looking forward to the session, like this Twitter user:
By 3:30 p.m., we were sorely disappointed, agreeing with ITV's Piers Morgan:
The Letwin amendment
The day's business began with a debate on the Letwin amendment, brought forward by outgoing MP, Sir Oliver Letwin, a notional Conservative — a rebel who had the whip removed.
This is not the first time Letwin has frustrated the Brexit process. He did so in April, when we had a short two-week extension from March 29 to April 12. He co-sponsored a bill with Labour MP Yvette Cooper to ensure we did not leave then, either:
Then — as now — the amendment was designed to thwart a No Deal exit. It passed. Conservative Woman discusses the amendment, but, more importantly, Letwin's less than trustworthy tenure as an MP. About the Cooper-Letwin Bill from April, CW's article says (emphases mine below, unless otherwise stated):
Thanks to Oliver Letwin's machinations with Yvette Cooper, we woke yesterday to hear that MPs had voted by majority of one 'to force the prime minister to ask for an extension to the Brexit process, in a bid to avoid a no-deal scenario'. Not that Mrs May needed any forcing. The constitutional outrage of the Bill currently being rammed through Parliament is that against the people's will it will prevent us leaving the EU, for a second time, despite the referendum, despite the main party manifestos, the European Withdrawal Act, and the Prime Minister's repeated promises, on April 12.
That Mrs May is now playing kneesy-kneesy with Jeremy Corbyn and shuffling us toward a customs union worse than either leaving or remaining we have to thank Sir Oliver, useful idiot and Member of Parliament for the safe seat of West Dorset.
That, as a result of his Parliamentary coup, she's collaborating and consulting a terrorist-loving Labour Leader in preference to her conservative colleague Jacob Rees-Mogg you'd think might trouble his conscience.
Not if you understand what shaped him as politician.
After Boris Johnson became Prime Minister, Letwin confirmed at the end of August that Speaker of the House John Bercow was working behind the scenes from his holiday bolthole in Turkey to frustrate Brexit before the Commons reconvened in September.
On September 12, The Sun reported on Letwin's agenda:
SACKED Tory rebel Sir Oliver Letwin wants to create a "zombie parliament" by delaying Boris Johnson's general election until next summer at least if he fails to get a new Brexit deal.
He warned there was a cross-party majority in favour of blocking going to the polls until our EU split is resolved — either by passing a deal or holding a second referendum.
Sir Oliver, a leading architect of the law to block a No Deal, said going back to the people to vote on Brexit must come first as an election would "muddle things up".
But Tory Brexiteer Iain Duncan Smith accused him of "stabbing Conservative MPs in the back".
Letwin's successful amendment to Boris's new deal in October prevents any exit until all legislation is agreed. By its very nature, it automatically triggered implementation of the Benn-Burt Act, which stipulates that Boris must send a letter to the EU to ask for an extension. As I write, it is unclear what the EU will do. Benn-Burt even specifies the exact text of the letter. More on that below.
Veteran broadcaster and publisher Andrew Neil explains the strategy behind Letwin's move:
After Letwin's amendment passed, The Telegraph rightly took issue with him:
The Mail on Sunday alleged that Letwin had help in devising the amendment from Lord Pannick, an ardent Remainer:
On Sunday, Letwin confirmed that Lord Pannick was helping him:
Not surprisingly, a number of former Conservative MPs — the rebels — voted for the Letwin amendment:
It is important to keep in mind that Northern Ireland's DUP also voted for the Letwin amendment, even though Boris's new Brexit deal has removed the contentious trade/customs backstop that Theresa May's had. However, the DUP MPs are unhappy that there will be a virtual customs border in the Irish Sea:
If those two groups had not voted Aye, Letwin's amendment would have failed. The result was close: 322-306.
However, if Labour think they now have the DUP onside, they should think again. On Monday, October 21, MP Jim Shannon said:
Guido Fawkes explains (emphasis in the original):
Big news if remain MPs were hoping to get a customs union amendment through on the back of DUP support. Sighs of relief from Downing Street…
Interestingly, the UK edition of HuffPost says that we might have reached what journalist Paul Waugh calls 'peak Letwin'. After the vote, he wrote (emphases in the original, those in purple mine):
today it felt like we had reached 'Peak Letwin'. And although the large crowd in Parliament Square roared when the vote was announced on a huge screen, that too felt like the last dying twitch of a movement that now looks doomed …
The pro-People's Vote MPs will push one final time when the Withdrawal Agreement Bill arrives next week. But having waited and waited for their moment in the hope they can bring more MPs on board, that moment may have now passed. They won't be able to amend the second reading of the bill, which may itself be passed with a hugely important vote for Johnson's deal.
‌Most important of all, the People's Vote campaign has been waiting for 'moderate' Tories to come on board (one claimed that half of the 21 would back a referendum), but those same Tories now look ready to call it a day and back the PM. The DUP are so upset with No.10 they are flirting with a second referendum threat, but few think that will happen.
The EU, which will probably hold off until Tuesday to see whether parliament really can pass the deal, may then offer only a short extension to say mid-November to allow time for the legislation and ratification by the EU itself. Again, that can only help Johnson and focus MPs' minds once more on 'this deal or no-deal'.
Confusion ensued
While we all knew that the Letwin amendment passed, confusion ensued as Saturday's session ended.
Even MPs were left wondering what had happened.
It seemed to some of us, including MPs, that Boris's deal had passed along with Letwin's amendment. Although there was no vote on Boris's deal, approving Letwin's amendment seemed to imply that by voting for it, Boris's deal had also been approved.
The parliamentary journal of record, Hansard, provided no clarity on the matter, either.
Letwin gave a statement after his amendment passed and House Leader Jacob Rees-Mogg made a Point of Order, not the customary Business Statement:
SNP MP Joanna Cherry checked Hansard but still has questions:
Jacob Rees-Mogg
As I said, Jacob Rees-Mogg made a Point of Order and delayed his usual customary Business Statement for Monday.
A lengthy 45-minute discussion ensued, mostly from Scottish MPs, such as Jo Cherry, who asked Speaker Bercow what was going on.
As Rees-Mogg made a Point of Order, he was not obliged to explain his statement that there would be a 'full emergency business statement on Monday':
Rees-Mogg sat there being discussed in the third person, which, while strange, conforms with parliamentary protocol:
Speaker Bercow reassured MPs that he would take legal advice at the weekend and make a statement on Monday:
The vote on the content of the Queen's Speech was scheduled for early next week, too:
Then, Jacob Rees-Mogg quietly got up and walked out of the chamber (start at 4 sec. point):
Discussion went on for a few more minutes in his absence before concluding with this from Bercow:
Police protection required
The People's Vote demonstration was going on outside the Palace of Westminster, as was a pro-Brexit gathering.
Although a few pro-Brexit jerks verbally attacked Labour MP Diane Abbott, the People's Vote Remainers were far more serious about preventing Conservative MPs from leaving Parliament safely.
Some Cabinet MPs required a phalanx of police to escort them to their cars:
What happened to Rees-Mogg and his 12-year-old son, who had been in the Public Gallery, did the Remain/Second Referendum movement no favours:
However, Rees-Mogg received at least one shout out of support. This video also shows his son, who looks and dresses like his father:
Such heinous harassment will do Remainers no favours.
Boris complies with the law
That evening, Boris complied with the law.
Whether Remainers will approve (see below) is another matter.
However, I'm glad the PM complied with the Benn-Burt Act the way he did.
The Mail on Sunday reported:
Late yesterday – just before the midnight deadline stipulated by 'wrecker' MPs – a total of three letters were due to be sent from the Government to Donald Tusk, the president of the European Council.
The first was the letter demanded by the Benn Act, which asks the EU to delay Brexit beyond the October 31 deadline – but not signed by Boris Johnson – using the exact wording specified in the legislation.
The second was a covering letter, written by Sir Tim Barrow, the UK's Permanent Representative in Brussels, which made clear that the first letter was from Parliament, not the Government.
And the third was a letter from Mr Johnson, which was also sent to the leaders of the other 27 EU nations, in which he disavowed the first letter by making clear that he does not want any delay to Brexit.
In it, the PM said any further hold-up would be 'deeply corrosive', and would 'damage the interests of the UK and our EU partners'.
He said UK would continue to ratify the deal and urged Brussels to do the same.
Donald Tusk confirmed he received them:
Tim Barrow's cover letter prefaced the Benn-Burt letter, unsigned:
The PM also sent a letter to MPs, exhorting (encouraging) them to support his deal:
More Scottish anti-Brexit lawsuits to come
This week, Jo Maugham QC and Joanna Cherry MP, also a QC, will bring more anti-Brexit lawsuits in Edinburgh.
The first is about Boris's handling of his obligations under the Benn Act.
While Parliament convened, Jo Cherry included, Jo Maugham prepared for the week ahead in Spain:
Calm and witty though his tweets might be, it is nonetheless hard to forget that, on October 17, Maugham called Rees-Mogg a 'notorious talker of tripe'. That was not a one-off against the Conservatives, either.
What happens next?
On October 19, the BBC reported that the government plans to bring back a vote on Boris's deal by holding:
a "meaningful vote" on the Withdrawal Agreement Bill on Tuesday.
This would corner MPs into a Yes/No vote on their deal, and given there are a fair number of Labour rebels, the government could well win.
Certainly, the vote would put any number of Labour MPs – and MPs for other parties – from Brexit-voting constituencies in a very awkward place.
Watch out for an attempt to attach a second referendum to the deal in some way.
But the success of that effort would require full-throated support (and whipping of their MPs) from the Labour Party. They are not there yet, and they may never be.
If the government wins a "meaningful vote" on Tuesday, the legislation to underpin the new deal would then go forward – and that would provide further opportunities to attempt amendments.
Winning the next meaningful vote is only the beginning of a new phase of Brexit; it's not even the beginning of the end.
How true.
Along with many other Britons, I wish they would just pass Boris's deal, along with the legislation, and get on with leaving on October 31 …
… because, at that point, our transition period begins. It would be scheduled to last until December 2020. It is during that time that trade — and other — deals can be fully negotiated.
More to follow this week.
Britain's Conservatives have had a highly successful party conference in Manchester.
They have had the highest attendance in 20 years, with many more young members showing up.
Conservatives seen as Party of Brexit
Voters now think that the Conservatives are definitely a party of Brexit, a dramatic turnaround since the days of Theresa May in April 2019, as a YouGov poll from October 1 shows:
Guido Fawkes writes (emphasis in the original):
New YouGov polling has revealed that more Leave voters now think that the Tory party is a pro-Brexit party in a direct contrast to the last time the question was asked. Back in April, Leave voters were found to be substantially more likely to think the Tories were actually anti-Brexit (40%) than pro-Brexit (23%). The more pro-Brexit the Tories are seen as, the higher their polling climbs…
Hearteningly for Tory strategists, the proportion of Brexit Party voters who see the Tories as anti-Brexit has collapsed from 65% to just 24%.
This exchange is representative of voters' perceptions:
One of Guido's readers provided an excellent analysis (emphases mine) and meme featuring Chancellor Sajid Javid, Home Secretary Priti Patel, Leader of the House Jacob Rees-Mogg and Foreign Secretary Dominic Raab:
The core Cabinet + Lynton Crosby + Dominic Cummings are driving policy in a very interesting way.
They are commissioning an unprecedented number of focus groups and private polls. They are scouring the social media. They will even be reading this comment (Hi!).
They then use this knowledge of what the public actually want to form policy and to craft the messages in their speeches, press releases and other output.
They are doing what a government should do. They have become the servants of the people.
This is why Boris says we are leaving, deal or no deal. He is 100% sure that this is what the vast majority want. And he knows how massively unpopular the Quislings are.
The other parties are just bumbling round in the dark with their blindfolds on.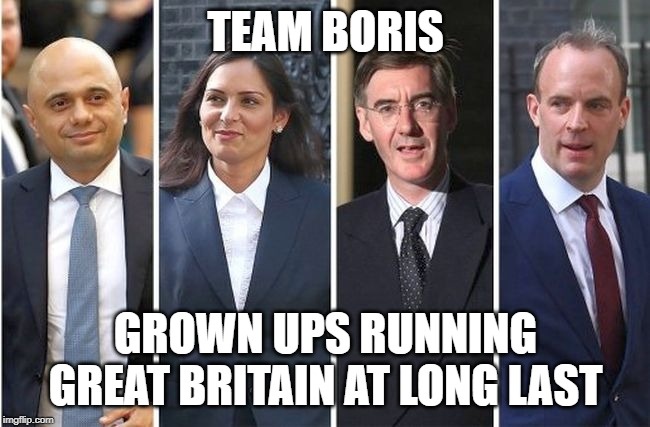 I don't know about 'grown ups' as much as a group of people who have the mettle to keep going, in spite of all obstacles, not least the daily nastiness from the Left. This went up near Manchester in nearby Salford just before Conference began on Sunday, September 29:
Boris best PM since Maggie
Many Britons have said anecdotally online that Prime Minister Boris Johnson is the best since Margaret Thatcher, who stood down in 1990. The following is something any Briton over 60 will tell you about when you ask about the 1970s and her party's defeat of Labour. She faced a national mess, one that affected everyone with regular power outages, strikes and so on:
Whilst it's early days, here are poll results from this week for Boris …
… and the Conservatives:
Conservatives — the party of the people and of diversity
From the introductory speech by the female chairperson of the conference until the end, the Conservative message was:
We don't care where you come from, but where you are going.
How true.
Under Boris Johnson, we have the most diverse Cabinet in British history.
Despite all their rhetoric on people and diversity, Labour's Shadow Cabinet barely comes close.
Labour are also under investigation on charges of anti-Semitism.
On Monday, September 30, a young Conservative Party member introduced the Chancellor of the Exchequer. Mercy Meroki is no fan of the Labour Party. She is currently studying at Oxford:
Now is a good time for people like me to find out how to pronounce the Chancellor's name:
He greeted his mother, who was in the audience. This is probably the first time Punjabi has been heard at a Conservative Party conference. I wonder about the Labour and Lib Dem conferences in that regard, too, though:
The biggest headline from the Chancellor's speech is a proposed abolition of inheritance tax, rightly viewed by Britons to be the most unfair:
The Party of Law and Order — Conservatives
I sincerely hope that Priti Patel can be a better Home Secretary than her predecessors Amber Rudd and Theresa May.
Her speech went down very well with conference attendees and people watching from home.
Whilst I applaud the addition of 20,000 more police from the PM and her, we have heard this before. For various reasons, it never happens.
I also question the Australian points system for future immigrants. Surely, there must be a better way, as an article from October 1 in The Guardian, 'Oxford professor's children refused visas to join her in UK'. This is what happens in the academic world, so heaven only knows what happens to others than senior executives or the very wealthy (emphases mine):
Dr [Amber] Murrey, an expert on social change in Africa, who has published widely and previously held positions at universities in Cairo, Massachusetts and Ethiopia, took up her post in Oxford last year. Without proof of residency she couldn't set up schooling or somewhere to live in advance, so the couple decided she should establish a base in Oxford before moving the family. While she has been returning to Cameroon to see her daughters and husband in the university holidays, she says this has been an emotional strain.
"It has been really hard, because I need to spend more time with my daughters but I am wary of being out of the UK for too long in case it jeopardises the terms of my tier 2 visa," she says.
The news has hit the family hard. Murrey says: "My nine-year-old had been so excited about her new school, and our apartment near a meadow. After I told her their visas had been denied she told me: 'I know why they rejected me, it's because I've been misbehaving this week, Mama'. We both cried very hard."
The Home Office rejection letters say that under immigration rules a child may only be given a visa if both parents are living together in the UK. This would be waived if the parent living here had sole responsibility for the children, or the other partner had died.
"This policy seems to operate under the guise of keeping families together, but it is splitting mine apart," Murrey says.
Ultimately the couple want the whole family to live together in Oxford, but Murrey says that right now they are just trying to "do what is best for our daughters".
She doesn't know whether she has been singled out as a risk because her husband is from Cameroon. "We have family members and friends there who have been rejected for British visas in the past," she says.
The Wellcome Trust, a health research charity, has evidence of around 100 cases in which academics, especially from African countries, have been refused visas to come to the UK for conferences, often for spurious reasons …
A young Canadian academic, who wished to remain anonymous, recently encountered a similar pop-up window when applying for a full-time lectureship that should have qualified her for a tier 2 visa at a London university.
"It said: 'It is highly unlikely that you would obtain permission to work in the UK on the basis of an offer for this … job. It is therefore recommended that you do not continue with your application'."
She says this felt like a sign saying: "foreigners go home". She blames the government rather than universities, but says that after a year of applying for jobs she is beginning to feel desperate.
Gareth Edwards, a senior geography lecturer at the University of East Anglia and co-founder of International and Broke, which campaigns against high visa costs for academics, says international academics are getting this sort of pop-up warning when applying for permanent lectureships. "Those jobs are most certainly eligible for sponsorship," he says.
Meanwhile, we've got illegals coming here on dinghies from the Dunkirk area. They have friends or family members pick them up in coastal arrival points in the UK to take them to their new home.
It seemed to be just a few cases last year, but LBC (radio) recently sent someone undercover to investigate, and it's a regular trafficking programme with dozens of people being smuggled across the Channel every night. On a slow day, only 20 to 25 go across. Normally, twice that many people make the crossing nightly, often with the blessing of the local gendarmerie. I will write about this in a separate post.
Immigration aside, the levels of crime on our streets are far different than they were 25 or 30 years ago. Crime used to make the national news. Now there are so many incidents that local newspapers cover them instead. So, on that basis, Priti Patel's policies — really Boris's, as he came up with them first — have been applauded:
And, ironically, before the Home Secretary spoke on the dais to formally announce this new commitment, security staff duly ejected a Conservative MP from an event at the International Lounge. Either he or his guest lacked the relevant pass to gain entry. They were then asked to leave the conference altogether:
The BBC reported:
A staff member guarding the door of the International Lounge said the incident was sparked by a disagreement.
"It was a small misunderstanding," the man said.
BBC Political Editor Laura Kuenssberg said the incident happened just before home secretary Priti Patel stood up to make a speech "trying to reclaim the Tories as the party of law and order".
A Greater Manchester Police spokesman said an attendee "attempted to enter the International Lounge area of the conference without the relevant pass".
"Security staff intervened and resolved the situation without any breach of security occurring," he added.
Also:
The incident led to a lockdown of part of the Manchester Central Convention Centre for about 20 minutes. The MP apologised "unreservedly".
A Conservative spokesman said: "The incident was totally unacceptable."
"Geoffrey has been asked to leave Conference and we are establishing all of the facts to see if further action is necessary," he added.
"We will always adopt a zero tolerance approach to any inappropriate behaviour towards our hardworking staff."
The Cotswolds MP said in a statement: "This was a minor verbal misunderstanding.
"The police have not contacted me at all. I am mortified that something so minor seems to have been blown out of all proportion and if anyone has been offended, I apologise unreservedly.
"I will co-operate with the party in any investigation."
Tweets show this incident caused concern:
Boris's speech — backing Britain
Of course, most reading this want to know what Boris said just before midday on Wednesday, October 2.
As one would expect, he was witty and to the point. As one reader of Guido Fawkes points out:
… Boris in a nutshell: HE CHEERS US UP.
True!
Others agreed:
Were any other former PMs there? No:
You can see Boris's speech in full, beginning at one hour and 36 minutes in:
Note his Brexit coloured tie.
He began by paying tribute to his predecessor, Theresa May. He also thanked the outgoing leader of the Scottish Conservatives, Ruth Davidson. Neither is a particular fan of his, but Boris did the right thing.
He then said:
We have so many reasons to feel confident about our country.
Finally. Having watched portions of the Lib Dem and Labour conferences, it was a relief to hear a party leader talking positively about Britain.
He referred to Labour as the:
anti-Semitic Marxists in Brighton last week.
Boris then wittily criticised Jeremy Corbyn for not voting for a general election. Corbyn, lest we forget, asked for one 35 times, no exaggeration. Boris put forward a motion twice in September, and Labour voted No. Then he went on to discuss the Supreme Court overruling the recent prorogation, which had Royal assent:
He brought up Brexit:
He rightly asked when any Conservative leader last spoke about capitalism:
The answer is Theresa May in 2017. Prior to that, David Cameron did at some point.
He spoke up for Britain and our nation's great innovations throughout history:
I'm fed up with being told our country can't do something when I passionately believe that it can.
He gave a shout out to the Commonwealth.
He praised Priti Patel for supporting law and order policies.
He called for London to elect Shaun Bailey as its next mayor.
He spoke about buses, his favourite vehicle.
He said that wind and solar energy were far more productive than originally claimed. It turns out his sister, Remainer Rachel, was sceptical. Boris picked up on it at the time in one of his Telegraph columns:
At the end, Boris received a standing ovation.
No one slept through his speech.
He did not use an autocue, either, which was refreshing.
'No disposable cups'
The comedy moment of the conference occurred on Tuesday, October 1.
Boris really wanted a cup of coffee, and a male aide handed him one. A female assistant quickly whisked it out of his hand.
Apparently, it was because it was in a disposable cup. I do think the Conservatives are taking this eco-thing a bit too far:
Watch Boris extend his hands, not quite believing what happened and not having any coffee. He's a good sport:
It reminded me of that Seinfeld episode, 'The Soup N@zi': 'No soup for you!'
Comedy gold.
Guido Fawkes reports (emphasis in the original):
After a slue of late night receptions with Tory members, Boris was denied his much needed caffeine hit this morning by his press team – all because it came in the wrong cup. When Number 10 Press Secretary Rob Oxley handed the Prime Minister a cup of coffee, it was swiftly snatched away by events aide Shelley Williams-Walker who scolded him saying "No disposable cups." Oxley was later spotted buying a KeepCup and a mug at the Tory Party conference shop…
UPDATE: Several hours later…
My observations
After Boris's speech, the Conservative Party Conference drew to a close for another year.
My brief observations follow, contrasting this to the two left-wing conferences.
First, everyone at the Conservative conference was tidy and well groomed. Most of the men wore jackets and ties.
Secondly, proceedings ran to time. Boy, did they ever.
Finally, everyone who spoke was articulate and delivered their speeches well.
Bravo!
Now, it's onwards and upwards to GET BREXIT DONE!