You are currently browsing the tag archive for the 'survey' tag.
Continuing my series on Red Wall MPs and, most recently, Lee Anderson, this post gives his positions on various topics in British life.
Those who missed previous instalments can read about his adventures and opinions in Parts 1, 2, 3 and 4.
Rail strikes
This week, England has been crippled by a series of rail strikes, one every other day, which means that on the days there are no strikes, it is still fruitless trying to travel by rail.
On Monday, June 20, 2022, the House of Commons held a debate, Industrial Action on the Railway.
Lee Anderson was the last MP called to speak. He asked the following question of Grant Shapps, Transport Secretary (emphases mine):
This strike is a real kick in the teeth for hard-working taxpayers, who have dug deep over the past 18 months to keep this industry alive. Does my right hon. Friend agree that the Labour party—the spineless party opposite—should grow a backbone and condemn these strikes?
Grant Shapps replied:
That is an appropriate place to end. My hon. Friend is absolutely right. People have dug deep—that is exactly what they have done; it was £600 per household. People are furious. They paid out that money to make sure that nobody lost their jobs, and what thanks have they got? Where is the reward? Where is the "thank you" for keeping the railway going? It is a strike that will put people out of pay and hit people's pockets once again, and Labour Members cannot even find their way to say, "We condemn the strikes." It is a disgrace.
Immigration
On Wednesday, June 15, Home Secretary Priti Patel made a statement about the fact that the June 14 flight to Rwanda with scheduled deportees never took off. There were originally 37 people who were to be deported. Because of last minute legal delays, only a handful boarded the charter flight and, by 11 p.m., even they were taken off.
The Opposition parties hate the idea of sending illegals to Rwanda for processing. Strange that, as it is called the Switzerland of Africa.
Labour, the Lib Dems and Scotland's SNP have all said during debates about illegal migration that people can legitimately come to the UK from France. Such a statement implies that France is not a safe country.
In the June 15 debate, Migration and Economic Development Partnership with Rwanda, Lee Anderson asked Priti Patel:
Just when you think this place cannot get any dafter, you turn up and listen to the rubbish that the Opposition are coming out with today. Is the Home Secretary aware of the sniggering, smugness and delight shown on the out-of-touch Opposition Benches about the cancelled Rwanda flight? Will she please advise me? I need some travel advice—I am going away this summer. Is France a safe country to go to?
Priti Patel replied:
For the benefit of the British people, the public, I have in my hand just four pages with a list of Opposition Members making exactly that point with glee—basically wanting the policy to fail, condemning it and saying all sorts of things without coming up with alternative solutions.
My hon. Friend is absolutely right about France as a safe country. This is a fundamental principle of working with our colleagues more broadly—[Interruption.] Those on the Opposition Front Bench have already had their chance to speak. These are safe countries and there are people who are effectively picking to come to the UK. That is something we have to stop by going after the people smugglers and breaking up their business model.
Moral failings of Tony Blair versus Boris Johnson
Also on June 15, Boris Johnson lost his latest ethics adviser, Lord Geidt, who suddenly resigned.
This month, for whatever reason, Tony Blair became a member of the prestigious Order of the Garter, an honour the Queen decides independently.
On GB News, Patrick Christys asked a panel who was less ethical, Boris or Blair. Lee Anderson was one of the participants. He said that he had canvassed his constituents in Ashfield, Northamptonshire, and all said that Blair was less ethical. Anderson said there is no comparison between a Prime Minister being presented with cake and one who got us into a highly costly war in Iraq. The second tweet shows Blair with his spin doctor Alastair Campbell at the time:
The full discussion follows:
Labour
Anderson was a member of the Labour Party until 2018, when he switched to the Conservatives.
He has no praise for Labour MPs, especially Deputy Leader Angela Rayner. On May 22, she was angry with Chancellor Rishi Sunak for giving more aid to Ukraine.
The Daily Mail reported:
The party's deputy leader sparked outrage after she told the Chancellor on Twitter to 'do one' – a slang insult meaning 'get lost'.
The message was posted in response to a weekly No 11 newsletter from Mr Sunak, in which he detailed an additional £40 million of aid for Ukraine.
It is not the first time the senior Labour figure has landed herself in hot water for her remarks about those on the other side of the Commons. The former care worker resorted to calling senior Conservatives 'a bunch of scum, homophobic, racist, misogynistic, absolute pile of… banana republic… Etonian … piece of scum' in a foul-mouthed tirade at last year's Labour party conference.
Lee Anderson made his views known:
Lee Anderson, Tory MP for Ashfield, accused Ms Rayner of behaving pathetically after the latest controversial outburst.
He said: 'I don't know what it is about Angela Rayner and the Left that have it in for successful people running the country, surely it's much better for successful people who are successes in business to hold the purse strings of the country rather than somebody whose only claim to fame is dishing out insults.
'She is someone throughout her career who has made childish insults against Conservative politicians and now she's having a go at Rishi, who by the way is one of the most polite politicians you'll ever wish to meet. He's a real gentleman, regardless of your politics.'
Green energy policies
As is the case in most European countries, the prices of home fuel and petrol have gone through the roof.
On January 3, Nigel Farage asked Anderson for his views on what the UK should do. Anderson said that while it was imperative that we leave the planet in better shape for the next generation, he and his Ashfield constituents think that some of Boris's Net Zero policies need to be wound back. Furthermore, he wants us, rightly, to use our own energy sources during our transition period to Net Zero:
Two months later, Anderson appeared on Farage's Talking Pints segment of his show. They discussed the necessity of energy independence, which the UK can easily achieve. Instead, the Government prefers a policy of importing coal and gas from Russia:
You can see the full interview here, where Anderson says:
We should be selling gas to the rest of Europe!
The BBC
Anderson remains a firm supporter of Boris Johnson and wants him to be allowed to get on with his job. He accuses the BBC of conducting a witch hunt against the Prime Minister.
This interview took place the day after Boris survived a Conservative vote of confidence. Anderson laid his dislike of the BBC's tactics on the line. This is short, sharp and to the point:
Guido Fawkes wrote (emphases in the original):
Lee Anderson provided daytime fireworks as he confronted the BBC over anti-Boris bias live on the channel. He also called them "quite sad" over their refusal to let the Boris leadership question drop, accusing them of spearheading a witchhunt. Agree or not, it was great TV…
Not surprisingly, it was Guido's most popular post that day:
That night, the question of a BBC witch hunt popped up on Dan Wootton's GB News show:
Wootton invited Anderson on to discuss the issue with left-wing pundit Nina Myskow, who defended the BBC. Anderson said that his constituents supported Boris. He invited Myskow to speak with his constituents to hear their views. She replied, although not in this clip, that she never travels north of Selfridges:
Russia
On April 27, Anderson was disappointed not to have made the list of 287 MPs that Russia sanctioned.
He wrote a letter to the Russian ambassador to the UK to ask that his name be added to the list:
Crime
Lee Anderson has been outspoken against crime. I posted some of his perspectives last week.
During his candidacy in the autumn of 2019, he proposed creating forced labour camps for noisy council tenants:
After Winston Churchill's statue was desecrated in June 2020, during the pandemic and 'mostly peaceful' protests, Anderson gave a brief interview to a young independent reporter. He ended by saying:
You wouldn't be stood here today, young man, talking to me if it wasn't for Churchill.
On March 16, 2021, Anderson participated in the Crime Bill debate. Highlights follow:
Here's another, courtesy of Guido:
Ashfield's straight-talking MP Lee Anderson gave the Labour Party both barrels last night in the Crime Bill debate. Effusively supporting the Bill, no-nonsense Anderson took aim at what he sees as Labour's hypocritical positions:
I find it strange that Labour are talking about tougher sentences for crimes against women, yet in December they were trying to stop us deporting foreign rapists. One Labour MP said we should not deport these criminals in December as it was too close to Christmas. I disagree. I thought it was a great Christmas present.
Guido is fairly sure that the residents of Ashfield will be in overwhelming agreement. For such a short speech, many shots were fired – rounding off on some Labour politicians' attitude to the law…
Seven months later, his fellow Conservative MP Robbie Moore led a debate on the sexual exploitation of young girls by a certain demographic. Sadly, the 'grooming gang' phenomenon is growing to the extent that it is said to be present in every town in the UK.
Moore focused his attention on Bradford.
Guido points out that none of the three Labour MPs for Bradford bothered to show up for the debate.
Anderson contributed and, as one would expect, has strong views on what should happen to such politicians:
Away from the noise of the Budget, earlier this week Conservative MP Robbie Moore led a Commons debate on child sexual exploitation across Bradford, calling for a "Rotherham-style inquiry" into the scandal and claiming it had been "swept under the carpet" by the local authorities. Although the debate only attracted small number of MPs – none of the three Labour MPs for Bradford bothered to appear, despite two previously claiming they would – there was one booming voice lending his support to Moore's campaign: the Honourable Member for Ashfield, Lee Anderson. Asking Moore to give way twice so he could give the Chamber a piece of his mind, Anderson said:
The only way that we know the full scale of these vile crimes in Bradford is for a full Rotherham-style… investigation, and would he also agree with me that certain local politicians on the council, and the mayor, should hang their heads in shame.
Once this inquiry takes place, and we get to the bottom of this, and these grooming gangs are put away where they rightly belong in prison, then the next call will be these lazy politicians – and they need locking up too.
Even Moore sounded a bit surprised by Lee's fury…
Guido has the video:
Anderson's no-nonsense speech might have been partly due to his appointment to the Women and Equalities Committee in May 2021:
Guido wrote:
Guido learns that parliament's wokest committee – the Women and Equalities Committee – is to welcome two new, perhaps unexpected, members: Philip Davies and Lee Anderson. Philip Davies is making a, no doubt, welcome return after having served on it in 2016 – where he made headlines calling for the word "women" to be removed from the Committee's name. Lee Anderson is a co-conspirator favourite: from saying nuisance tenants should be forced to live in tents; to recently ranting that he's torn up his licence fee. Confirming the appointment, Lee told Guido:
The great women of Ashfield have been the backbone of my community for hundreds of years with barely any recognition.
Yes the men have worked down the pits and gone off to war but its our women that have kept everything together.
The women in communities like Ashfield need a voice in Parliament and anyone who knows me will tell you that I am a firm believer in better rights for women. I am a modern man with a modern outlook who is keen to speak up for the women in my community.
They deserve to be on a level playing field with us men which is not always the case. I will still open doors for women and give up my seat on public transport as I am a gentleman first and a politician second, but you can be assured that I will be fighting on all fronts for the women of Ashfield.
Both men will no doubt relish the appointments, which they richly deserve. Guido sends his warmest congratulations to the pair. Chapeau to the 1922 Committee on the wit and wisdom of their appointments.
Returning to politicians, on November 9, he had a go at convicted Labour MPs and recommended that they should work as a condition of their licence:
This morning in Parliament, straight-talking Lee Anderson told Deputy Prime Minister Dominic Raab exactly how he thinks the government should solve labour shortages:
Prisoners and ex-offenders out on licence should help fill the labour shortage and […] on release, all prisoners – including ex-Labour MPs – should be ready for work and starting work should be a condition of their licence.
Guido has the video:
Nutritious meals on the cheap
As I wrote in my third post on Lee Anderson, he took a lot of unnecessary stick in May 2022 for saying that people can make nutritious meals for only 30 pence per portion.
He revealed that he, too, had been a single parent for many years and lived scrimping and saving. He still got pilloried.
On May 26, however, the Mail profiled a partnered mother of three who makes meals for 29 pence a portion.
Was there any criticism of her from other media outlets, such as the BBC? No, there was not.
Such double standards. Such hypocrisy.
Conclusion
Regrettably, I have run out of Lee Anderson anecdotes.
He is my favourite MP. I would love to see him as the next Conservative leader, if not Prime Minister.
Sadly, that will not happen. He is not Establishment enough and never will be.
I hope that he is re-elected as MP for Ashfield and wish him all the best in his Parliamentary career.
We need more MPs like him.
A profile of another Red Wall MP will appear next week.
Last week, I posted the first part of my defence of a constitutional monarchy.
Today's post concludes that defence of the UK's system of government, the Queen being our Head of State.
Longest reigning monarch?
Since I wrote the first part of this series, the Queen became one of the world's longest-serving monarchs.
On June 12, 2022, the Mail on Sunday reported (emphases mine):
The Queen has reached an incredible new milestone after becoming the world's second longest reigning monarch.
Her Majesty, 96, will overtake Thailand's King Bhumibol Adulyadej, who reigned for 70 years and 126 days between 1946 and 2016, from today.
Earlier this month, the Queen surpassed Johan II of Liechtenstein, who reigned for 70 years and 91 days, until his death in February 1929. 
Louis XIV of France remains the longest-reigning monarch, with a 72-year and 110-day reign from 1643 until 1715, while the Queen's stint on the throne now stands at 70 years and 126 days, equal to King Bhumibol Adulyadej's.
The milestone comes as Her Majesty celebrated her Platinum Jubilee last week, with four days of parades, street parties, and other events, after officially reaching the milestone on February 6 this year.
But — and it's a BIG BUT — two days later, on June 14, the Daily Mail posted an article proclaiming, 'Queen is the world's longest actively reigning monarch, royal expert claims':
Although it's widely reported she holds little interest in breaking records, her astonishing reign would only be beaten in length by King Louis XIV of France.
Known as Louis the Great, the French ruler became king at the tender age of four following the death of his father Louis XIII, and he ruled from 14 May 1643 to 1 September 1715.
According to the record books, only Louis XIV, or 'The Sun King', ruled for longer than the Queen.
But royal biographer Hugo Vickers says Her Majesty may be able to lay claim to being the world's longest actively serving monarch by virtue of the fact the French monarch did not fully ascend the throne when he was aged four.
Although he was crowned King Louis XIV from May 1643, he technically served under his mother Queen Anne's regency for eight years, owing to his tender age. 
In a letter sent to the Times, Mr Vickers writes: 'In Louis XIV's reign, there was a regency between May 14, 1643, and September 7, 1651, until he reached the age of 13.
'Hence, while he may have been king the longest, our Queen is unquestionably the longest actively reigning monarch in the world.'
Sour republicanism
Republicans, i.e. anti-monarchists, are a dour lot.
Cromwell had Charles I beheaded and banned Christmas celebrations, so it was a relief when, after England's Civil War, Charles II ascended the throne in 1660. That period in British history is called the Restoration.
The anniversary of the Restoration is on May 29:
Maypoles, music and gaiety were also banned. The Calvinistic Puritans were the Taliban of their time.
Like the Taliban, they ruled for the people's 'own good':
The article that barrister Francis Hoar cites says, in part:
The seventeenth century Puritans did not impose their austere rules purely for the sake of it … Their banning of Maypoles and Christmas and football was ultimately about top-down, rationalistic social control to the end of spiritual and ethical purity, an attempt to eliminate anything untidy, spontaneous, and in particular to impose their own (extremely unpopular) ideas within the cultural and social vacuum thereby created.
Moving to the present day, in 1977, pundits predicted that few in Britain cared about the Queen's Silver Jubilee, especially with the Sex Pistols' caustic God Save the Queen being banned from the airwaves but purchased in record stores such that the single sold out.
Columnist Rod Liddle remembered the mood well. That year, he, too, was caught up in punk and republicanism. On June 5, 2022, he wrote an article for The Sunday Times: 'As a teenage punk, I sneered at the Queen. Sadly, the music is almost over':
I enjoyed the Queen's Silver Jubilee immensely, shouting out horrible things about our monarch on stage with my punk band at a "Stuff the Jubilee" gig in a pleasant suburb of Middlesbrough. We were in a tent, erected with great magnanimity by the organisers slap bang in the middle of the proper, official Silver Jubilee celebration, with its stalls of cakes and beer wagons and plates bearing pictures of her Maj.
It may have been HM's Silver Jubilee, but 1977 was also the year of punk, even if its impact on the charts was marginal. It is often suggested that punk was a left-wing phenomenon, but in truth it was far from it — even if one or two of the bands, such as the Clash, later proclaimed their left-wing credentials for the benefit of the very liberal hippy music press. In truth, punk at its core was energetically poujadist. It was lower-middle-class kids who were tired of, or bored with, the sclerotic institutions in our country — the big record companies, the civil service, the BBC, the aristocracy and so on.
It was individualistic, not communitarian. It had no great quarrel with capitalism, only with capitalism done badly. It saw Great Britain as stagnating and it wanted change. It had no time for the unions either — it was the unions that boycotted the pressing of the Sex Pistols' second single, God Save the Queen.
The Queen represented continuity, much as did Jim Callaghan's hobbled government. We didn't want that and nor did the newish leader of the opposition [Margaret Thatcher], who was also lower middle class, despised outdated institutions such as the trade unions and the BBC, and was for individualism …
As for 2022, with age, Liddle has had a change of heart:
This weekend's celebrations are very different. Never before have we craved continuity quite as much as we do now, faced with an array of existential threats from which you can take your pick as to which is the most pressing: newly belligerent Russia, China's quest for world domination, radical Islam, climate change, weird viruses …
Under a lesser monarch our disaffection with the royal institution — and, as a corollary, with our own history as a nation — might have spilt over long before. But she ruled with a dignity, duty and dexterity that precluded such an eventuality.
I wish I'd remembered, while standing on stage in that tent 45 years ago, the words of an old hippy: "Don't it always seem to go that you don't know what you've got 'til it's gone."
Returning to 1977, in a retrospective for the Queen's Platinum Jubilee, The Telegraph pointed out that people turned out in the millions to celebrate her Silver Jubilee, proving that republicanism was as unpopular then as it is now:
Elizabeth II has demonstrated that, in fact, the monarchs do possess a power: an unactivated power, one that a partisan, career-politician president would hastily trigger – and divide us – but which the Queen handles judiciously. She uses the authority of her office to carry out and promote public duty. And, refreshingly, she simply gets on with things – no grumbling, no complaint.
When the country celebrated her Silver Jubilee, in 1977, the cynics predicted a washout: what was the relevance of royalty in an age of strikes and national decline, they asked? In the end, one republican rally, on Blackheath, attracted just five people and was cancelled. Millions turned out to celebrate the Queen, with such passion that it surprised even her: I had "no idea", she told a lady in waiting, that the people valued her so much.
On May 30, 2022, the left-wing New Statesman tried to rally its readers around republicanism, but the magazine's Twitter thread was unimpressive:
The magazine suggests eco-warrior David Attenborough as someone around whom we could all rally — heaven forfend! Ugh!
There can never be a charismatic republican leader, because that is an oxymoron.
And, no, we can't have Boris, either. Although he's probably not much of a republican, when he was a boy, he announced to his family:
he would be "world king" one day. 
On Friday, June 3, some broadcasters picked up booing outside of St Paul's Cathedral as he and his wife arrived for the Queen's Service of Thanksgiving:
Boris was booed only on one side of the cathedral's exterior. This is why the BBC did not pick up the sound on the day, whereas some other networks did. It depended on where their film and sound crews were located:
The culprit was a Frenchman:
I do hope that M. Jacquemin did not have the bad grace to take advantage of Boris's Special Status scheme, granting — to as many EU citizens as cared to apply — official leave to remain in the United Kingdom post-Brexit.
Finally, let none of us think that doing away with the British monarchy will resolve child poverty — or even pay for the NHS:
All we would get would be President Blair — UGH:
How awful that would be.
Ireland loves our Queen
Given Britain's fractious relationship over the centuries which caused the Emerald Isle to achieve independence in 1921, one would expect that the Irish would want no further reminders of the monarch.
In another retrospective for the Platinum Jubilee, The Times published a series of historic milestones about the Queen.
Regarding an independent Ireland, the article says:
Northern Ireland has been a key feature of her reign, during which the Troubles have erupted, calmed and simmered. This conflict hit close to home in 1979 with the IRA's murder of her cousin, Earl Mountbatten of Burma. Time heals many wounds but forgiveness is a choice. So it was, in 2012, she shook the hand of Martin McGuinness, the former IRA man who was then deputy first minister in the province. Queen or not, it was an act of which many would not have been capable.
It came as a direct consequence of her successful state visit to Ireland the year before, the first by a reigning British monarch since independence. The events were examples of where she has perhaps done her greatest work: as a stateswoman.
The Irish were indeed delighted to have the Queen visit in 2011. A 2010 article from the Irish Independent reported that many towns and villages requested that she pay them a visit:
THE British Ambassador to Ireland has revealed he has received dozens of letters from towns and villages across the country inviting Queen Elizabeth to various events.
As speculation grows over a visit by the British monarch, the ambassador Julian King said his government was committed to a visit.
He said he was encouraged by the response among Irish people. Mr King was speaking to reporters in Muckross House during a visit to Killarney, Co Kerry, after accepting an invitation from the chairman of the board of trustees, Marcus Treacy.
Her popularity in Ireland continues. On her Platinum Jubilee weekend, an Irish poll showed that the Queen was more popular than past or present Irish presidents. The Queen scored a 50% approval rating compared to everyone else who scored 40+ per cent or lower.
Unfortunately, this clip from Mark Steyn's GB News show doesn't show the poll graphic, but the aforementioned Royal expert Hugo Vickers explained the Queen's enduring popularity and the hope he has for her successor:
The enduring Commonwealth
The Queen is credited for creating the Commonwealth of Nations affiliated with Britain and/or the Crown.
Any of these nations can pull out of the Commonwealth voluntarily. Neither the Queen nor the British Government can forbid them from doing so.
Australia is once again considering renouncing the Queen as their Head of State. However, we must remember that they have important ties with China that might be persuading them in that direction. The same is happening in the West Indies. Money talks.
Similarly, a nation that has not been part of the British Empire may apply successfully to become a member of the Commonwealth. Rwanda is one such country. It was originally a Belgian trust territory that had been a German colony until the First World War.
A nation can also leave the Commonwealth and rejoin at a later date. The Gambia left in 2013 and rejoined in 2018.
In November 2021, Barbados removed the Queen as its head of state but remains a Commonwealth member.
A Forbes article from December 2021 explains the permutations of this group of nations:
… Queen Elizabeth II currently serves as the Head of State of Antigua and Barbuda, Australia, Bahamas, Belize, Canada, Grenada, Jamaica, New Zealand, Papua New Guinea, Saint Kitts and Nevis, Saint Lucia, Saint Vincent and the Grenadines, Solomon Islands and Tuvalu.
These Queen-led nations are known as "Commonwealth Realms," which are distinct from the broader 54-nation Commonwealth of nations that have some connection to Great Britain, but do not necessarily have the Queen as Head of State.
The Queen's role as Head of State is largely ceremonial, and she is represented in each country by a governor-general who carries out the Queen's day-to-day duties.
In addition to Barbados:
The last country to remove the Queen as Head of State was Mauritius in 1992, and other Caribbean countries that have removed the Queen are Guyana, Trinidad and Tobago and Dominica, which all removed the Queen in the 1970s.
Participation in the Commonwealth is voluntary, and in response to Barbados's decision to remove the Queen, Buckingham Palace said in a statement: "This is a matter for the government and people of Barbados."
Monarchy — an eminently sensible way forward
The Revd Marcus Walker, whose thoughts have graced my 'What's on Anglican priests' minds' series, wrote a thoughtful piece for The Critic this month.
In it, he points to the great strengths of the British monarchy:
He begins by giving us the sour republican narrative:
The State Opening of Parliament last month saw three narratives promulgated at the same time by very different people, all of which (deliberately or not) betray a fundamental lack of understanding of monarchy.
The first, by the Left, saw an attempt to heap ridicule on the rituals of the ceremony: of the procession of the Imperial State Crown, of the uniforms worn by those involved.
The second, by a more centrist kind of commentator, asked whether it was fair or just to have as our Head of State a woman of 96 who is no longer able physically to take part in major ceremonies.
The third, by the pro-Putin end of the Right, saw continued attacks on Prince Charles, whom they seem to have anathematised because he likes the environment. The political categorisation is a tad crude, and I'm sure you've seen overt and covert republicans using all of these lines over the last few years.
He explains why those narratives are so misguided:
What's interesting about these attacks is that they unintentionally highlight the strength of monarchy, not its weakness. The ritual is not meaningless; it unveils layers of history. The Commons slamming the door in the face of Black Rod tells of the struggles between Parliament and the King which have been settled in our constitutional framework of the Crown in Parliament.
The Crown has the history of the nation woven into it, bearing within its frame St Edward the Confessor's sapphire, the Black Prince's ruby, the Stuart sapphire, and the Cullinan diamond.
Each tells a little bit of the past that brought us to today. In the chamber we have elected parliamentarians, peers, senior judges, bishops: an interweaving of the different perspectives and professions which collectively set the political culture. This will change over the years as the nation changes, and this too will be good.
Ritual is not empty; it tells a story, and all nations have their rituals and their stories. If you are embarrassed by monarchical ritual, I caution you not to cross the Channel and find yourself in Paris for Bastille Day or Moscow for Victory Day. Losing your monarch does not remove your need for ritual and story. What you lose, though, is an embodiment of that story.
He asks us to consider the life cycle that the monarchy represents. A life cycle is something all of us can understand and appreciate:
The human realities of life, death, love, marriage, childbirth (and betrayal, hurt, and divorce) are at the core of the strength of monarchy. They are experiences we all share.
Monarchy, no matter how set-up in trappings of ritual, is a profoundly human institution. Its rhythms are human, as are its failings …
So why not be rid of the Crown and its rituals? Because they hold the space at the centre of our national life, preventing it from being held by a politician. No Trumps for us, no preening Macrons, no sour-faced Putins, no German Steinmeier with his terrible legacy of appeasing Russia. The centre holds, while the political world swirls around it.
Over this month we will be celebrating the Queen's personal achievements across her 70-year reign, but we will also be celebrating the institution which she has embodied these many years, and doing so by marking in great state that most natural and human of all things: the passing of time.
I will have more on how society has changed over the past 70 years next week and how the Queen has adapted to those changes during her marvellous reign.
At my church, the 8 a.m. service is Holy Communion with the liturgy from the 1662 Book of Common Prayer (BCP).
I am one of the privileged few in the Church of England to be able to attend this service every Sunday.
Since the 1980s, the C of E has done everything possible to take the BCP out of use. In 1980 and 1984 (the edition I have), the Church published the Alternative Service Book (ASB), which the satirical magazine Private Eye lampooned for decades in a series called The Alternative Rocky Horror Service Book. The satirists scored a bullseye with every instalment.
A newer prayer book, Common Worship, superseded the ASB in 2000. It is considerably better.
However, what both the ASB and Common Worship have done is to effectively make the BCP obsolete.
The ASB Wikipedia entry says (emphases mine):
The Prayer Book Society soon complained that it was becoming hard to find a church which used the old prayer book and that theological colleges were not introducing students to it.
I can vouch for both complaints.
I've been attending my church for nearly 30 years. In that time, we have had either vicars or curates who entered the seminary, often as second careers. They could not reasonably recite the BCP liturgy. (On the other hand, our present incumbent, a young vicar, also a second careerist, does an excellent job.)
As some of these people were older than I am, I can assume only that they were not regular churchgoers in their youth.
In any event, one of the bright aspects of the coronavirus pandemic is that our church is using the BCP exclusively at 8 a.m. on Sunday. This is because the traditional liturgy service from Common Worship calls for the Peace, which involves shaking hands.
It would seem that other C of E churches also adopted the BCP during the pandemic.
An Anglican laywoman recently posed the following question on Twitter and received encouraging replies:
A benefice is a group of churches in one catchment area.
Here's another encouraging response:
I've noticed a rise in people attending BCP services at churches I sing at, Evensong especially popular. Many of the younger generations I speak to prefer it – "it makes sense". A church using BCP has flourishing choir of young people and many young families in the congregation.
The young vicar of the Anglican church in Cheadle Hulme, Cheshire, in Greater Manchester is particularly enthusiastic:
The Revd Sarah Hancock's is a typically welcoming C of E response.
Those uncertain about reciting 17th century prayers can be drawn in:
The BCP liturgy went down well on Zoom when the churches were closed. Those who attended online are now back in church:
There were two enthusiastic responses from Cambridge.
The first is from Westcott House, the city's Anglican seminary:
The second is from Cambridge University Press:
Coincidentally, my copy of the BCP is from Cambridge University Press. It's nearly 30 years old and still looks like new. It came with an attractive yet durable slipcase, too.
Nothing would make traditionalists happier than a wider return to the BCP for some services, either on Sunday or during the week.
The BCP really does lift the soul and remind one of the communion of saints, those many generations of devout Anglicans who prayed from it through the centuries.
Long live the BCP.
As one would have expected, the Queen's Platinum Jubilee brought out a number of snide republicans — anti-monarchists — on social media.
However, there is a reason why a constitutional monarchy is still a relevant form of government today.
On June 1, 2022, writing for The Telegraph, veteran columnist Allister Heath explained (emphases mine):
The 1,136 years of Royal continuity since Alfred the Great have been a remarkable story of evolution, a shift from absolutism to rule by consent, from feudalism to a form of capitalism, from Catholicism to a multi-faith society, from Anglo-Saxon kingdom to empire to Brexit. The monarchy, paradoxically, given what it was prior to Magna Carta and the Bill of Rights, now protects the people against power. The monarch serves as a reminder to politicians that they are not, ultimately, in total control: there are forces and institutions above them.
Other methods exist to protect nations against extremism or tyranny, such as the division of powers at the heart of the US constitution. But the downside for America is constant paralysis and an inability to reform institutions that are broken. Thanks to our constitutional monarchy, we are able to evolve when necessary; others must raze everything if they are to change. This is no naive paean to a Whiggish view of history: plenty of the changes made to this country over time have been bad, with botched devolutions a case in point. But we can cope with and absorb damaging ideas or ideological revolutions without losing our souls; the French and Russians and even Americans cannot.
It used to be argued by republicans that meritocracy was incompatible with a monarchy: the huge changes of the past few decades, Big Bang in the City, the drastic progress made by the working classes in the 1980s and by minorities in the 2010s, has shown this not to be true. Anybody in Britain today can be prime minister or a billionaire.
Crucially, the monarchy's central role in British life moderates our politics and society. It drastically reduces the threat of extremism, violence or ideological overreach, a quality that the rest of the world values hugely about Britain.
A monarchy, with its titles, palaces, carriages and servants, is obviously not compatible with communism, although it can coexist with pretty radical Left-wing governments. The Royal family is inherently internationalist, as is the Commonwealth: autarky or complete isolationism would be psychologically difficult. When military personnel sign up to the Armed Forces they swear an Oath of Allegiance not to the prime minister, but to the Queen: the threat of a coup organised by some hothead demagogue is vanishingly small …
Monarchies' time horizons are extremely long, a useful counterpoint to a social media-addled age where attention spans are diminishing, where senior roles turn over too quickly in the public and private sectors, where ministers come and go every year, and where wisdom and experience are undervalued. Western societies also tend to downplay the importance of the family: nepotism is rightly taboo in educational institutions, big firms and the public sector. But in the private sphere, in the real world, the family and blood ties matter, and often more than anything else. The Royal family reminds us of the continuity between the generations, even when there are tensions, disagreements and scandals. When millions are battling atomism, a demographic implosion, loneliness and a quest for meaning, anything that rebalances our perceptions of the good life is surely welcome …
The monarchy has become a unifying focal point around which every group can coalesce without degenerating into identity politics: all can feel pride. It is an institution that reminds us of our unique history, of the extension of rights, individual and political freedoms and immense economic opportunity that has characterised British history. No honest reading of the past 1,000 years can remotely claim that we are uniquely bad – for all our flaws, all our mistakes, we have long been a beacon among nations, improving and developing before others and tackling injustices more quickly.
… Ephraim Mirvis, the Chief Rabbi, perfectly captured Her Majesty's remarkable qualities and dedication in his special Jubilee prayer: "Her crown is honour and majesty; her sceptre, law and morality. Her concern has been for welfare, freedom and unity, and in the lands of her dominion, she has sustained justice and liberty for all races, tongues and creeds."
The monarchy, and the Queen in particular, have provided us with an in-built advantage in contending with the destabilising forces battering Western democracies. For that, and for everything else Her Majesty has given us during her 70 extraordinary years on the throne, we should be eternally grateful.
On April 21, 2021, the Queen's real birthday, Mary Harrington, a contributing editor to UnHerd, also put forward the historical case for preserving the constitutional monarchy. This was just days after the Queen attended Prince Philip's funeral.
Harrington wrote:
I was reminded of her iron self-control and bird-like fragility watching our Queen enter St George's Chapel for the funeral of Prince Philip on Saturday. She stumbled momentarily as she approached the chapel door; inside, she sat alone. Born 12 years after my grandmother, she has been our Queen since 1952 and remains so today, her 95th birthday.
And yet despite the dignified pathos of last Saturday, we can be sure that some will celebrate the Queen's birthday by calling for her deposition. For many progressives view the Queen as an unacceptable relic of the past. Never mind personal travails; monarchy, they say, is undemocratic, even if the Queen never wields her power. We should have an elected head of state.
But far from being a relic of despotism, constitutional monarchy is our best protection against its reappearance. The story we like to recall traces a thousand years of royal continuity — the same deep history which progressives say demonstrates the obsolescence of our monarchy. But in truth this story skates over a profound rupture: the end of absolute kingship …
Just as the Reformation represented England's secession from spiritual absolutism, the Glorious Revolution represented something similar in the political sphere. Having got rid of one absolute monarch, the statesmen who defenestrated James II set about making sure their new monarch, William, knew his place. A 1689 Bill of Rights set out constitutional principles we have to this day, including regular Parliaments, open elections and freedom of speech. The Bill also limited and specified the monarch's powers.
The Reformation and Glorious Revolution produced an England in which both spiritual and temporal rule had the same figurehead: a head of both Church and Parliament. The change was subtle but profound, as the authority of England's priest-kings now theoretically extended across moral and political domains. But in practice, they wielded no direct power.
This homeopathic dilution of theocratic tyranny proved exceptionally liberating. The new settlement drove the emergence of our parliamentary system, our two main political parties, and — as the monarchy sought a new role — many of the High Victorian institutions such as the Royal Societies, whose grand buildings form the majestic backbone of London today …
Two world wars, one collapsed empire and a de-industrialised North later, things look rather different. Today, younger adults widely believe the world has been getting worse throughout their lives, and are pessimistic about the capacity of science, government or their own agency to change this. In parallel, the freedom of speech first guaranteed in the 1689 Bill of Rights is increasingly regarded as a stalking-horse for hatred. Growing numbers believe that what's right and wrong — especially where it concerns the rights of marginalised groups — are sufficiently self-evident they shouldn't be up for debate.
But who decides on the exceptions to our post-Glorious Revolution norm of debate? It's been nearly half a millennium since Henry VIII ended England's official embrace of the Pope in this role. Progressives have yet to offer a clear alternative to either the Pope or the Defender of the Faith, though many assert that no hereditary ruler should be allowed such spiritual clout.
Unsurprisingly, then, progressives (such as Jeremy Corbyn) who support abolishing the monarchy, often also argue for disestablishment of the Church of England. Meanwhile a growing chorus of other progressive voices calls for a lengthening list of often self-contradictory articles of faith to be excluded from legitimate debate — a move that bears comparison with the religious ordinances of England's Catholic and Anglican eras.
But what if the progressives are wrong and power can never truly be democratised? This was the argument advanced by political theorist Carl Schmitt. Schmitt argued that democracy is always compromised by absolutism, because no matter how flawless a set of rules you devise, and no matter how fair your electoral system, sooner or later a situation will crop up that doesn't fit the rules.
When that happens, you have to break the rules: a situation Schmitt called the "state of exception". Coronavirus lockdowns are a good example: of the past year, countless ordinary freedoms were abruptly suspended in the name of virus control. Schmitt argued that you can tell who's really in charge by who gets to implement such a state: "Sovereign is he who decides the exception".
Carl Schmitt was, of course, a Nazi. For him, exposing the traces of arbitrary rule that persist even in democratic government was part of a wider argument in favour of strongman rule …
… It wasn't the Queen who decided to suspend our ordinary liberties for the pandemic, but Parliament, which is made up of our elected representatives.
The role of our Queen is to symbolise that tyrannical twitch we can't wholly eradicate even in democracies, lest such twitches break out more regularly among our elected leaders. And she must do so without availing herself of actual power. As such, she acts as a kind of inoculation against real tyranny.
Our Queen has two birthdays: her actual birthdate, which is today, and her "official" birthday on the second weekend in June. This aptly reflects her double existence. On the one hand she's a human individual with a family, a birthday and a recent, terrible bereavement. On the other, she's an interchangeable cipher, a part not just replaceable but designed to be replaced by her heir apparent when the time comes. Her role is to act, with total self-effacement, as the fulcrum between tyranny and democracy. It's a position that, once understood, is rightly seen as profoundly sacred.
On the topic of coronavirus, The Telegraph's French correspondent, Anne-Elisabeth Moutet, wrote of her fellow countrymen's envy when the Queen addressed the United Kingdom on Sunday, April 5, 2020. It was a planned address but was aired — coincidentally — shortly before Prime Minister Boris Johnson was admitted to hospital with coronavirus. Talk about serendipity.
Moutet wrote of French leftists who praised the Queen:
Three weeks into le confinement, the complete lockdown French authorities have imposed on the nation, TV viewers here tuned into the Queen's address yesterday more out of curiosity than to find any kind of succour.
The nation is exhausted. A good deal of Emmanuel Macron's response to the Covid-19 crisis has been deemed flawed. The President and the country's health authorities simultaneously decreeing that masks were unnecessary for the general public and pledging to buy millions as soon as they could be sourced was rightly seen as inconsistent. So was the failure of the French health ministry's bureaucracy, for weeks, to greenlight promising antiviral therapies while deaths rose by the thousands. Trust is at its lowest.
And yet, after a four minutes and thirteen seconds speech broadcast on all our news channels, France, a country that has forgotten neither Waterloo no Mers-el-Kébir, had been utterly won over. "Queen Elizabeth II Would Make Me a Monarchist," Marion Van Renterghem, a seasoned former Le Monde reporter, who now writes for both L'Express and the Guardian, tweeted. "A model Chief of State. A class act" …
"The entire world has just been given a masterly political communication lesson in a crisis by a 93-year-old grande dame," tweeted one of France's foremost spin doctors (and a professor at Sciences Po, Paris' answer to Oxford's PPE), Philippe Moreau-Chevrolet.
In a country where, since the day of Charles de Gaulle, the President has simultaneously tried to symbolise the Republic and manage current affairs hands-on, the Queen's address has reminded everyone that there's a lot to be said for an uncontested head of state, completely detached from the fluctuations of day-to-day politics — and from politicians' vagaries. Most of Emmanuel Macron's speeches here have been too long: in time (rarely less than 20 minutes); on posturing ("We're at war," repeated 6 times in an awkward televised speech three weeks ago); on insincere technocratic babble …
"It was moving; it was subtle; it carried weight because instead of trying to instrumentalise war parallels, the Queen never even said the word, but let us all remember her and her father's history. She had grace, she had authority, she had compassion," says Moreau-Chevrolet.
That direct link between the sovereign and her people, above politics, has often been mocked in Britain as in France; but faced with it, we all recognise it. A politician who had to campaign for the job, and has to look to his numbers the following days — Blair, Sarkozy, Macron — simply can't manufacture that.
Even more notable: patriotism, a word too often used pejoratively, came spontaneously to describe the strange experience of hearing Britain's great-grandmother praising and encouraging her people in adversity. We were, to be honest, more than a little envious.
The day the Queen delivered her coronavirus message to millions of Britons …
… Tony Blair's odious spin doctor, Alastair Campbell, wrote an editorial for The Telegraph, 'From her sense of humour to sense of duty, The Queen is the most remarkable person on earth'.
I am hardly a fan of Campbell's, but he explains how he shifted from being a republican to becoming a monarchist. The Queen's example showed him the way:
My first political row, aged six or seven, was about The Queen, when my mother said I had to sit with her and the rest of the family to watch the traditional Christmas message. 'Why?' I protested. 'Why should I care what some rich woman says, just because she lives in a big posh house, wears a crown and has a silly voice?'
That was more than half a century ago, and the beginnings of fairly persistent Republicanism. My mother, born in the same year as the Queen, and with the same first name, Elizabeth, is alas no longer with us. The Queen, very much, is. How I wish my mother was here to see me write this: that in common with millions around the world, I was keen to see and hear The Queen as soon as it was announced she would be broadcasting a special message to the nation about the coronavirus crisis.
I would go further… I think it is possible to make the case that The Queen is one of, if not the, most remarkable people on the planet. Below are just ten among many reasons.
Campbell praised Her Majesty's longevity:
She has 'done the same job' for almost 70 years … 70 years; there is nobody else, in any other walk of life, who has done that.
He praised her 'enduring excellence':
… her standing with the public has never been below 60 per cent approval in the polls, and often in the 80s and 90s, because of the way she has performed her role.
He pointed to her universal fame:
Her face is perhaps the most reproduced image in the world (300 billion stamps and counting, hundreds of millions of coins and banknotes throughout the Commonwealth.) She is universally known, and near universally admired. Say 'The Queen' in conversation anywhere in the world, and she, the Monarch of all Monarchs, is the one people assume you are talking about. Her death, when it comes, will be one of the defining moments of our times, globally.
He praised her humility:
Despite that fame, and the authority that comes with her constitutional position, she wears both lightly. As one of her advisers once explained to me, 'she knows that she did nothing to deserve the privileged position she holds. She was just plonked there, an accident of birth.' Not for one second, he said, does she ever forget that.
He recalled her ability to handle a crisis, specifically Princess Diana's horrible death on August 31, 1997. Princes William and Harry were with the Queen and Prince Philip at Balmoral at the time. Tony Blair was Prime Minister then, and Campbell was working for him:
… There was considerable reluctance among many at the Palace, her included, to lowering the flag at Buckingham Palace, to returning from Balmoral, to the Queen speaking to the nation. But when she and Prince Philip decided it all needed to be done, it was all systems go, and her walkabout outside the Palace, as I recorded in my diary at the time, dramatically changed the public mood, instantly. 'The Queen,' says historian Tristram Hunt, 'will become a business-school case study in the management technique of rebooting.'
Campbell recalled her resilience when Windsor Castle caught fire in 1992, the same year when Charles and Diana's marriage was breaking down:
There have been periods when the Republican movement has felt wind in its sails, and sensed the possibility of the whole Royal edifice crumbling. She has survived them all. Her annus horribilis, 1992, amid the grisly soap opera her family had become, with the Windsor Castle fire the tipping point to tears, was the only time her courtiers feared she was losing her capacity to endure whatever life threw at her. From that too though, she emerged stronger.
He admired her humanity:
I have met a fair few of her staff, at various levels, and have yet to meet one who doesn't like as well as respect her … Another of her advisers told me that the reason she loves horses so much is that when she rides, 'she feels like an ordinary human being, not a Head of State.' 
He said she has a sense of humour, citing a quip of hers from 2002:
At the time of her Golden Jubilee, Tony Blair hosted a dinner for The Queen and all surviving Prime Ministers at Downing Street – Blair, John Major, Margaret Thatcher and Jim Callaghan – and descendants of the Prime Ministers who had died. As they all gathered somewhat nervously, she said: 'Isn't it just marvellous not to have to be introduced to anyone?'
On the subject of Prime Ministers, Campbell said the Queen has a certain mystique:
Even those who see her regularly, like her fourteen Prime Ministers with their weekly audiences, do not really know what she thinks about many of the major issues they discuss. She never puts a foot wrong on the political front, and though she is one of the most written about people on earth, we don't really know much about her beyond what we see.
He praised the Queen's sense of duty, performing the same rituals time and time again:
This defines her, really. She would not be human, if she did not occasionally think, 'oh no, not another garden party/investiture/State opening/Trooping the Colour/regional visit/Commonwealth trip/State banquet for me to read platitudes drafted by the Foreign Office.' Whatever it is, she just does it, again and again and again. Because it is her duty …
Campbell ended by noting the change through which the Queen has lived. Yet she remains a constant presence in our lives:
She has seen so much change, and helped to drive change too. But she just is; 'show not tell' at its best. The Queen of 1953 would not have had a rock star like Brian May playing the national anthem on the roof of Buckingham Palace, as happened at the Golden Jubilee. The Queen of 2002 would not have appeared in a film for an Olympic and Paralympic Games opening ceremony, with Daniel Craig as James Bond, and a Queen lookalike jumping from a helicopter, as she did in 2012.
There is so much change in those different scenarios, but the only thing different about her is her clothing, and the colour of her hair. She just is, that's it, and her latest broadcast, just being The Queen, will further add to the legend, and the history, of a truly remarkable human being.
That is the one time when Alastair Campbell and I have agreed on something.
That said, the year before, in September 2019, The New York Post published the results of a Sunday Times poll on Labourites' — Campbell's fellow travellers' — views of the Queen. Who knew there were so many republicans among their number?
Only 29% of party members polled believe in keeping the British monarchy, the Sunday Times of London reported. And only one in five would be "happy" or "proud" to sing the national anthem, "God Save the Queen" …

Even more shocking in a country that's in the midst of leaving the European Union in part because of immigration issues, almost half of the poll's respondents agreed that nations "should remove borders and people should decide where they want to live."
I had forgotten about that poll, but everything remains true today. Few Labour MPs attended the Commons debate on the upcoming Platinum Jubilee. Furthermore, with regard to illegal immigration, most of them say that there is no such thing. In other words: come one, come all, no matter how.
Speaking of Labour, in 2005, Keir Starmer had just been made a Queen's Counsel (QC). This was before he was made Director for Public Prosecutions (DPP) in 2008.
Guido Fawkes unearthed this video, in which Starmer said he was against the monarchy:
Guido posted the video on February 3, 2021.
This begs the question: as the current leader of the Labour Party and desperate to appear as a safe pair of hands, is Starmer still a republican?
Guido offered this analysis about Sir Keir, as he now is (red emphasis in the original):
The 2005 interview … shows Sir Keir smugly boasting about his long-held republican views. Sir Keir, reflecting modestly on his other achievements, brags "I also got made a Queen's Counsel, which is odd since I often used to propose the abolition of the monarchy" before smirking …
UPDATE: Owen Jones et al [more leftists] are blabbering on about the past tense of "I often used to propose the abolition of the monarchy". That strictly reads as he used to propose the abolition, now he does not. Doesn't necessarily mean Starmer has changed his mind, just his campaigning priorities. As he embarks on his patriotic makeover, it is reasonable to ask; is that a tactical change or has he truly converted to the merits of a constitutional monarchy? If so, what was it about becoming a knight of the realm that converted him?
I have much more to write about the merits of a constitutional monarchy and the Queen's role within it.
For now, I will close with the thoughts of Alexandra Marshall, an Australian who contributes to that country's edition of The Spectator.
Marshall was on Mark Steyn's GB News show prior to the Platinum Jubilee celebrations and made a solid case for a constitutional monarchy, which she also summed up in a tweet:
Precisely.
Paradoxically, today's monarchies safeguard their citizens from tyranny.
More to come on this topic next week.
In 2020, millions of Britons stood outside their houses at 8 p.m. on Thursday nights, prompted by television adverts, to applaud the NHS.
Here's then-Health Secretary Matt Hancock on the first Thursday of the embarrassing two-minute applause sessions on March 26, 2020:
Two years later, on April 27, 2022, The Spectator's Tim Knox reported that public opinion of the nation's best loved institution has fallen to a 25-year low (emphases mine):
While MPs compete to shout the loudest in their support of the UK's health services ('save our NHS!'), the British public has fallen out of love with it. More people are now dissatisfied with the NHS than are happy with it. This is true across all ages, income groups, sexes and voters of different political parties. Support for the NHS is now at the lowest level for a quarter of a century.
The public is right, the NHS is just not that good. Compare it, as I have done in a new report published today, with the health systems of 19 similarly well-off countries and it is hard to come to any other conclusion. UK life expectancy is down at 17 out of these 19 comparable nations. Our cancer survival rates are shockingly low. We are the worst for strokes and heart attacks. We are one from bottom for preventing treatable diseases. We are third from bottom for infant mortality. The only thing we top the charts on is helping diabetics avoid amputation. Sadly, despite the great efforts of NHS staff, our health system does not match the success rates of other nations: we come bottom of the league tables four times – more than any other country – and are in the bottom three for eight out of the 16 measures.
Tim Knox advocates for an insurance model. No, thanks. It is apparent that Knox has never lived under an insurance model. I have. Premiums and inefficiencies would only rise in the years to come.
Here's a better idea for the NHS: root and branch reform.
The problem is that most NHS workers are unionised, so they can go on strike. Another is that they are trained to be part of an inefficient health delivery system, which would have been much better had it stuck to the basics as it did when it was founded, e.g. emergency care, broken limbs, heart problems and cancer treatment.
This tweet comes from a former NHS nurse who has since become a barrister. Her tweet from April 11, 2020, which disapproved of the applause during the pandemic, attracted many insightful replies:
The same day that Tim Knox's article appeared — April 27, 2022 — The Spectator's Isabel Hardman wrote about the High Court ruling on what happened in care homes during the coronavirus pandemic.
Before going into that, Hardman raises a good point about the NHS and why the new levy on National Insurance will not help care homes. No, it won't initially. My understanding from parliamentary debates is that the first two years' of proceeds from the levy will be going to the NHS instead:
The phrase 'protect the NHS' was a powerful one in the public health messaging in the pandemic. It was also a description of where the focus lay in government. The health service was the priority, not the care homes these patients went into. There are lots of reasons for this, but one is clearly a political calculation that the NHS matters to the public in a way care of the elderly does not. That is why successive governments have been able to shirk proper social care reform. That includes this government, by the way, as its levy does nothing to improve the quantity or quality of care …
It is debatable that the NHS itself was really protected throughout the pandemic.
So, our lockdowns were all for nought.
Last month's High Court ruling implicated former Health Secretary Matt Hancock and the erstwhile Public Health England, so it is rather useless in order for any action to be taken against either. Why did it take two years for this ruling to be made?
That said, it could come in handy for any public inquiry into how the UK Government managed the pandemic.
Hancock denies that he said that the Government was putting 'a protective ring' around care homes, but I watched or listened to every one of the coronavirus briefings as well as his statements in Parliament. He did use those very words, time and time again.
This is what Hardman had to say about the High Court case regarding care homes during the pandemic in 2020:
The High Court's ruling today that the government broke the law on the discharge of patients to care homes in the early days of the pandemic further undermines the claim by the then Health Secretary Matt Hancock that ministers had thrown a 'protective ring' around the sector.
The case was brought by two relatives, Cathy Gardner and Fay Harris, of care home residents who died after testing positive for Covid. Their argument was that six policies in place at the start of the pandemic represented 'one of the most egregious and devastating policy failures in the modern era'. The fathers of Gardner and Harris were among the 20,000 people in care homes who died after testing positive between March and June 2020. The pair argued that one of the worst failures was the mass discharge of 25,000 patients from hospital to care homes without Covid testing or proper isolation arrangements in place, meaning the virus rampaged among vulnerable and frail populations. They also cited poor – and initially non-existent – advice on PPE which made it even harder to protect the residents of the homes.
The discharge policy is something politicians and NHS figures have been squabbling over for some time, despite Hancock's 'protective ring' line. Was it conceived in Whitehall or in the NHS itself? The rationale behind it was that it would free up beds in hospitals ahead of the anticipated wave of Covid patients. But because some of those being discharged from hospital had Covid themselves, this led to a wave within care homes: a deadly one.
The UK was far from the only country that experienced problems in hospitals and care homes during the first wave of the pandemic in 2020. Even Swedish officials were sorry for what happened in their care homes at that time.
Something must be done, not only about the NHS but also care homes, the Cinderella of health care.
However, who in Government will take on the nation's favourite institution? No one.
Warning: mature content below.
Earlier this year, I was saddened to see how much pornography has invaded the British psyche and damaged people's relationships.
On January 28, 2022, the House of Lords held a debate on the fact that online users of pornography are not required to verify their ages.
Our communications regulator Ofcom should be doing it, but the British Government has not required them to do so. Lord Morrow wants Ofcom to be given permission to proceed with age verification.
I watched part of the debate. Baroness Benjamin — Floella Benjamin, who was a BBC children's programme presenter decades ago — gave a particularly harrowing testimony at the end of her speech (emphases mine):
… While it is preferable for the Government to implement Part 3 of the DEA immediately, the suggestion of the noble Lord, Lord Morrow, that Ofcom be designated now under Section 17 of the DEA and that it commence work to prepare to be the regulator is reasonable. It would be shameful if the Government further delayed action on age verification and protecting women and girls from the harm of violent pornography by failing to act now. Children and women have waited far too long for these protections. The Government should act now to alleviate any more harm and suffering.
A mother wrote to me telling me that her four year-old daughter was sexually abused by a 10 year-old boy, who told her, "I am going to rape you and you are going to like it". Now when the daughter hears the word "rape" on the news, she asks her mother, "Did she like it mummy?" It makes me weep to tell this story, because childhood lasts a lifetime. This is why I support the Bill of the noble Lord, Lord Morrow. It is a moral issue.
That is simply horrifying in so many respects, yet that is the sad reality for too many young people. To hear that a mere child, barely out of toddlerhood, is assaulted that way by a little boy is shocking, not to mention the lad telling her that she would enjoy rape.
Our society is becoming ever sicker.
A few days later, on Wednesday, February 2, The Guardian had a long article on the adverse affects of pornography on women: '"It stopped me having sex for a year": why Generation Z is turning its back on sex-positive feminism'.
The paper says that the sex-positive feminist movement was supposed to:
free women from guilt or being shamed.
However:
now many are questioning whether it has left them more vulnerable.
The article begins with another child-centric true story:
Lala likes to think of herself as pretty unshockable. On her popular Instagram account @lalalaletmeexplain, she dishes out anonymous sex and dating advice on everything from orgasms to the etiquette of sending nude pictures. Nor is the 40-year-old sex educator and former social worker (Lala is a pseudonym) shy of sharing her own dating experiences as a single woman.
But even she was perturbed by a recent question, from a woman with a seven-year-old daughter who had caught her new partner watching "stepdaughter" porn involving teenage girls. Was that a red flag?
Given her professional training, the story set Lala's alarm bells ringing. "To me, you can't take these risks – things like that I'm willing to die on a hill for," she says. So she was taken aback by some of the comments on her Instagram account, where she asks her 175,000 followers to respond to other people's dilemmas. "There were people on that post saying: "What people watch in porn is not what they do in real life; how can you be so judgmental?'"
Lala notes that the proliferation of dating sites that make sexual encounters no different from ordering fish and chips make finding true romantic relationships difficult. Furthermore, pornography is now setting the standard for 'relationships' (I use the term advisedly):
"Since sex has become easier to get," she writes, "love has become harder to find." Through her Instagram account and the dating column she writes for OK! magazine, she hears regularly from women tolerating activities they don't enjoy in bed for fear of being rejected for someone more willing – an age-old story, except that those sexual norms are now set by pornography.
"Sexual liberation is great, but in some ways we ran with that, and then ended up in a model of sex that has been created by men," says Lala. "We have got the part where it's: 'You can do this without judgment, you don't have to be married or worry about unintended pregnancies!' but we're not balancing that with the education or that sense of what sex really is – how should it feel, when should you do it, how should you do it?"
Lala's Instagram followers had a lot of complaints about sex — violent sex — but they were afraid to tell their partners:
… almost three quarters said they had experienced rough or painful sex but had chosen not to complain about it. "It's like: 'I don't want to disappoint him, I don't want to be bad in bed.' If you really like someone but every time you have sex it hurts and you don't want that, how do you negotiate that when you're only 18?" For all her professional expertise, she says, she remembers some "pretty horrible sex" when she was younger.
How awful.
Lala is 40. Things don't get any better for younger women, though. Some begin delving into pornography while they are still young children:
In December, the singer Billie Eilish, then 19, declared that watching porn from the age of 11 had "destroyed" her brain. At first it made her feel like "one of the guys", she told the Howard Stern radio show in the US, but now she thinks it twisted her expectations: "The first few times I, you know, had sex, I was not saying no to things that were not good. It was because I thought that's what I was supposed to be attracted to."
… But Eilish is not alone in questioning the way porn tropes have coloured everyday relationships.
The statistics are shocking:
More than one in 10 teenagers claim to have had anal sex by the age of 18, according to the UK's authoritative National Survey of Sexual Attitudes and Lifestyles, which also found under-24s almost as likely as middle-aged people to have had more than 10 partners, despite being sexually active for many fewer years. But the generation most likely to have its first sexual experience via a phone screen seems increasingly willing to question what that means for individuals' lives.
It gets worse because violent sex is becoming the norm for some because of pornography:
A third of British women under 40 have experienced unwanted slapping, spitting, choking or gagging in bed, according to research carried out for the pressure group We Can't Consent to This, which campaigns to limit the so-called "rough sex" defence for murder (used by men who killed their partners to argue that the women died accidentally, in consensual sex games) …
… Lala argues, the normalisation of pain in porn may provide cover for some abusive men, and make women feel prudish for refusing potentially dangerous acts like choking. "A lot of young men have co-opted BDSM [bondage, discipline or domination, sadism and masochism]. They're not into power plays and consent. They just like hurting women."
I can believe it, sadly, only because a number of parliamentary debates concerning women have often mentioned a phenomenon called non-fatal strangulation, which is a man-on-woman means of punishment or sexual thrill — or both. I'd never heard of it before, so I have no idea how it came to be so commonplace. Perhaps through pornography?
The Guardian interviewed a post-graduate student about her experiences, a few of which were far from being joyful or romantic:
Anna-Louise Adams was in her early 20s, and at university in London, when she experienced a handful of casual sexual encounters that turned rough without warning.
… Luckily, she says, she was confident enough to object. "But I did find it quite shocking, and it did deter me from having sex for probably about a year. I'd had two or three experiences of varying degrees of extremity and I just thought: 'what's the point of this?'" she says. "I'd come to my own conclusions about sex that wasn't in a relationship, at least. I feel quite sad for my younger self, really."
Now 25, and having compared notes with friends who had similar experiences, she no longer thinks it relevant that the encounters that turned sour were casual ones. "I've heard about plenty of relationships where it's happened, and happened unexpectedly." Speaking publicly for the We Can't Consent to This campaign has, she says, also helped to channel her feelings into something constructive.
Another woman thinks that the sex-positive feminist movement has benefited men more than women:
Louise Perry, press officer for We Can't Consent to This and author of The Case Against the Sexual Revolution, due to be published this summer, argues that a movement originally meant to liberate women is being hijacked to serve men's interests. Perry, 29, held the same liberal views in her early 20s as "most other millennial urban graduates in the west" …
"I'm not anti the sexual revolution per se – I don't want to go back to having 10 children, or whatever would have been in store without the pill," she says. "But I think the beneficiaries [of sex-positive feminism] overwhelmingly have been a certain subset of men."
Perry blames this on certain dating apps and pornography:
The problem isn't just porn, she argues, but dating apps inadvertently making men less accountable for abusive behaviour. "I've spoken to women who have dated men from apps and have been sexually assaulted, then find he's deleted his profile and they don't even know his username – that's the sort of thing that really, really serves the interests of men."
Lockdown seems to have changed people's minds about relationships for the better. That's probably the only positive we can take away from being holed up in our homes for weeks on end:
The dating app OKCupid reported a rise in the number of British users seeking a long-term relationship after the 2020 lockdown while in the US, Match.com's annual Singles in America report last year found that only 11% of users claim to be seeking casual flings, with qualities such as trust and emotional maturity now prized over physical attractiveness. If only temporarily, the loneliness and insecurity of lockdown may have made cosy coupledom look more appealing.
During that time, sex-positive feminism shifted to include the right to decline sex altogether:
After all, it was never meant to be about just saying "yes" to everything. Indeed, some sex-positive activists are defined by actively not wanting sex, such as the lingerie model Yasmin Benoit, who identifies as asexual or ace – meaning that she never or rarely experiences attraction to others – but maintains she is not anti-sex just because she isn't interested, personally.
The reality of violent sex is turning some young women off sexual congress altogether:
"I think we're on the edge of a real anti-sex backlash," says the activist and writer Laurie Penny, author of Sexual Revolution: Modern Fascism and the Feminist Fightback, who points out that destigmatising sex has freed women to talk about what were once taboo subjects. "A culture where sex is stigmatised is also one where we can't talk about any of those things and I don't believe there's anything progressive about a society that wants to control or limit women's sexuality."
Penny, who uses they/them pronouns, also thinks some attacks on sex-positive feminism – such as that it means porn is beyond criticism – are fights with straw men. "There's a brilliant quote from [the porn star] Stoya, which says that trying to learn about sex from watching porn is like trying to learn to drive from watching monster truck videos. The thing is I don't often see that argument made, that you're not allowed to criticise pornography," they say.
Penny also said:
You have to actually deal with sexual violence in order to create substantive sexual liberation.
Lala agrees with that assessment:
The missing element of this half-finished revolution, Lala argues, is a cultural shift in men's attitudes. "Sex-positive feminism has laid the foundations, it's given us a platform and a voice and a space to use our voices. But without getting men on board and proper sex education, we're all going to be on the same old hamster wheel."
That won't happen overnight, she acknowledges.
There is a bright ending to the article when one man confessed he did not like choking his girlfriend — and stopped:
Recently, she counselled a man who had been choking his girlfriend during sex for years. It was only when the girlfriend mustered the courage to say she didn't like it that he admitted he didn't like it, either. They were both, it turned out, going along with what they thought the other one wanted, and each secretly wishing the other would make it stop.
I can't begin to comment on this other than to advise people to avoid pornography and stay away from pick-up dating sites.
If something feels wrong, it is wrong, so don't do it.
Continuing my series on Red Wall MPs, this week's post is about Jacob Young, who represents Redcar in North Yorkshire, formerly Cleveland.
Redcar, by the way, is pronounced 'Red-kr'.
Of the Redcar constituency, Wikipedia states (emphases mine):
The constituency was created in 1974 and was held by the Labour Party from then until 2019, except during a period between 2010 and 2015 when it was held by the Liberal Democrats. In the 2019 General Election, Redcar was the largest Labour majority overturned by the Conservatives, being represented since by a Conservative MP.
Well done, especially as he was only 26 at the time! He had a majority of 3,527, representing a swing of 15.4% from Labour to the Conservatives.
Incredibly, Jacob Young started running for Parliament at the tender age of 22, as Wikipedia tells us:
Young stood as the Conservative candidate in the Redcar constituency at the 2015 general election, but finished in fourth place behind the Labour Party, Liberal Democrat, and UKIP candidates.[8] He campaigned for Brexit prior to the 2016 United Kingdom European Union membership referendum.[4] At the 2017 general election, Young contested Middlesbrough, a safe seat for the Labour Party, and finished second to their incumbent MP, Andy McDonald.
Young's story is a case of 'If you don't succeed, try, try and try again'.
Although he did not win Middlesbrough in 2017, he made local history by becoming the first Conservative councillor elected for the Coulby Newham ward in the city.
He stood down in 2019, as he had moved out of town to Saltburn-by-the-Sea. That year, he ran for the Saltburn ward on the Redcar and Cleveland Borough Council but came fourth.
Young joined the Conservative Party at university. He became interested in conservative philosophy by working at a food bank in his native Middlesbrough and the charity Christians Against Poverty.
Of the experience, he said:
"Christians Against Poverty was more about teaching people how to budget using the money that they had and how to pay back some of their debt over an extended period of time. That attitude drew me to the Conservatives – the idea that if you work hard and you want to succeed that you can."[7]
Young holds a Higher National Certificate in chemical engineering and worked as a lead technician for a petrochemicals company.
It is always a pleasure to watch Jacob Young debate, as he expresses an enthusiastic love for his constituency.
After the 2019 election, it took months before all the new MPs could be slotted in to give their maiden speeches. According to the House of Commons rules, one is not allowed to participate in debates until the maiden speech is given.
Maiden speeches must graciously mention one's predecessor regardless of party affiliation, provide a historical view of one's constituency and contain the odd witticism or two.
Young delivered his maiden speech on March 9, 2020, most of which follows:
I am immensely proud to be in this place, representing my community. I have lived in Teesside my whole life, and Redcar is where I went to college, trained as an apprentice and cut my teeth in the chemical industry.
For a lad from Teesside to stand in the House of Commons is all a bit overwhelming. Most people down here think PPE is a degree course; where I come from, it is what you wear to work …
I stand here by the grace of God. My constituents have put their trust in me and, like my right hon. Friend the Prime Minister, I know that their votes are only lent. During my time here I will work hard to make my community proud to have elected its first Conservative Member of Parliament.
Our constituency is Redcar, but it is not just Redcar. It is Eston, South Bank, Marske, New Marske, Ormesby and Nunthorpe, to name but a few. Over the years the Redcar constituency has had many different names. From 1290 to 1832, it was part of the Yorkshire constituency. After that it was the North Riding of Yorkshire, and before it became Redcar it was Cleveland, but many of my hon. Friends will now know it as "Bluecar".
As well as being proud Yorkshiremen, we are proud Teessiders and sit as part of the Tees valley in England's north-east. We are a people with an affinity for industry and an economy based on hard graft and global trade. Although the villages of Marske, Nunthorpe, Lazenby, Lackenby and Kirkleatham go back as far as the Domesday Book, life in the Redcar constituency as we know it today started in 1841 with the discovery of iron ore in the Eston hills. Suddenly, the sleepy fishing village of Redcar and its neighbour Coatham started to grow into the Redcar town that we know today. This discovery kick-started a housing crisis in the old hamlet of Eston, due to too much employment in our now booming industry. This prompted a new neighbouring settlement to be formed, named California. Perhaps it was a sunny day in Teesside.
A number of other new areas were formed at this time, including South Bank, Normanby, Grangetown and Dormanstown, which was named after the steelmaker and former Conservative candidate, Arthur Dorman. It was these thriving towns, alongside a growing Middlesbrough, that led the parliamentary titan and free trade pioneer William Gladstone to call us the "infant Hercules". From the banks of the Tees came the industrial revolution, and Teesside became an exporting capital that built the world. From the Sydney harbour bridge to Lambeth bridge and from the Indian railways to the London underground, cities, towns and communities around the world exist today because of Teesside steel.
Our area has moved on from ironstone mining, and our steelworks closed in 2015, but industry remains our flesh and blood. Our chemical industry in Teesside still employs more than 7,500 people locally. The Wilton International site forms part of the largest chemical cluster in the UK and the second largest in Europe. At this point, Mr Deputy Speaker, I must declare an interest, having worked and trained in the Teesside chemical industry for the past nine years. I left a job as a single-use plastics producer to become a politician. I am not sure which is more popular right now, but I am sure I will find out.
We do not just make plastics. We are home to world-leading innovation centres, including the Materials Processing Institute and the Centre for Process Innovation. We are the largest producer of bioethanol in the UK, and we also notably produce more than half of the UK's commercially viable hydrogen, which is why I am pleased to be chairing the all-party parliamentary group on hydrogen as we look to further the hydrogen economy in the UK. For the people of Redcar and Cleveland, industry is our past and our present, and it will be our future. It will not be coal-fired or carbon-heavy; it will be the clean, green industry of the 21st century.
In this decade, I want Redcar to become home to sustainable steelmaking again, and I am supporting Tees Valley Mayor Ben Houchen's pledge to bring a clean electric arc furnace to Redcar so that the people who made steel for the World Trade Centre and the Shard can make steel for the world's next great buildings … In this decade—indeed, in this parliamentary term—I want Redcar to become home to one of the UK's first post-Brexit free ports …
I would also like to thank my predecessor, Anna Turley, for the work that she did for our community and for this House. Her work to bring about tougher sentences for animal cruelty is particularly commendable, and I am pleased to be supporting the private Member's Bill of my hon. Friend the Member for West Dorset (Chris Loder).
There is a lot more that I wanted to mention—parmos; lemon tops; Redcar racecourse; the Zetland, which is the UK's oldest lifeboat; Winkie's Castle, which is a cottage turned folk museum; and Ben Houchen saving Teesside airport—but I will have to save it for another time, as I want to use my final few moments to mention Redcar's famous MP, Mo.
Dr Marjorie Mowlam was one of the political giants of our age. To this day she is well thought of in Redcar by people across the political spectrum—I cannot count the number of times I have been told, "Mo was the best MP we ever had." She had an ability to see through the fog of partisan politics and recognise good intentions and great achievements on all sides. In fact, in the BBC's "100 Greatest Britons" competition, it was her advocacy for a Conservative Prime Minister that gave Winston Churchill his rightful place as our greatest ever citizen. Her co-operative spirit is something that British politics is sorely lacking today, and something that I will do my hardest to emulate.
Therefore, to finish in the spirit of co-operation, I offer my new colleagues, of all parties, some slightly paraphrased advice from the great Mo herself. There is more hope than despair, and by working together we can overcome many obstacles, often within ourselves, and by doing so we can make the world a better place.
Jacob Young has made local news on several occasions, too many to include here. A few mentions follow.
In July 2020, he was thrilled to be able to return to the barber for a haircut.
He tweeted, including before and after photos:
More Tory cuts…before and after shots.
Across the country our #barbers and #hairdressers are back and #OpenForBusiness.
With new safety guidance, disposable gowns & towels and extensive new hygiene practices – we can safely go back to getting our mops chopped!
Unfortunately, Middlesbrough's Labour MP Andy McDonald and a former Redcar and Cleveland Labour councillor did not find it funny, as the BBC reported:
Mr McDonald said: "It was a crass and insensitive comment and far from being funny for thousands of people in Redcar and across the Tees Valley who have suffered as a direct result of the political choice of his Tory party to impose austerity," he added.
The tweet was also criticised by Labour's former Redcar and Cleveland Council leader, Sue Jeffrey, who said: "I do wonder just how low these people will sink.  
"Did he really think it is okay to joke about Tory austerity policies that have ruined so many lives and left our NHS and care services so ill equipped to deal with the Covid-19 crisis?"
In April 2021, Young welcomed Home Secretary Priti Patel to Teesside. The announcement on his website said, in part:
The two sat down to discuss the Domestic Abuse Bill, immigration reform, rural crime (including the off-road bikes impacting local Eston Hills), extra funding for violent crime and the upcoming elections.
Since 2019, Cleveland Police have benefitted from 185 new police officers – with more on the way.
Thrilled by the visit, Jacob stated: "It was great to sit down and chat to Priti Patel about the people's priorities here in Redcar and Cleveland."
On January 12, 2022, when Boris was in trouble for his lockdown parties, The Northern Echo reported:
Calls of 'resign' and 'go' reverberated around the House of Commons earlier today leaving the Prime Minister, who repeatedly apologised and referred members to the official inquiry, looking deflated.
Just two North East Conservatives replied to our request, Peter Gibson and Jacob Young, who accepted the PM's apology.
But the three County Durham Conservatives, Dehenna Davison, for Bishop Auckland, Paul Howell, for Sedgefield, and Richard Holden, for North-West Durham, failed to respond …
Jacob Young, Conservative MP for Redcar, said: "My grandad died without us on 16th April 2020. We held his funeral on the 1st May, where only 10 people attended. It was one of the hardest days of my life, and made worse because I didn't hug my Mam and Dad.
"I understand the upset and anger felt by many in the country following the latest revelations from Downing Street.
"I'm grateful to the Prime Minister for his apology and his brief explanation. The inquiry should now be allowed to do its work and establish the full facts of what happened.
"We must never let our loved ones die alone again."
Six weeks later, with the lockdown party scandal still making the news, The Northern Echo's poll from the end of January projected that Young would lose a re-election bid:
The latest constituency results show Labour has an 82 per cent chance of winning Redcar, while Mr Young has an 18 per cent chance.
A study has shown Mr Young is expected to win 32.7 per cent of the vote, while Labour is expected to win 47.1 per cent of the vote.
We shall see. A week is a long time in politics. The more that Boris leads the world with regard to the conflict in Ukraine, the better he looks, especially next to Labour's Keir Starmer.
In the 2021 local elections, three Conservatives were elected to Redcar and Cleveland Council. Tees Valley's Conservative mayor Andy Houchen won re-election, and the Police Commissioner is also Conservative.
That said, this year's cost of living is expected to explode, which might affect voting intentions accordingly when the next general election.
The much-vaunted levelling up plan for Teesside did not appear to offer much that was new, according to Teesside Live on February 2, 2022:
It's been long awaited but the white paper on "Levelling Up" has now been published.
What's in it for Teesside?
The region made it into the second line of Michael Gove's foreword as seeing a "rebirth of a high-tech, high-growth, high wage economy".
However, no new money was unveiled in the long-awaited report.
And mentions of the region were used more as examples of work which was going on – or had already started – rather than for the announcement of any new hallmark schemes based here …
Middlesbrough's north-south divide was mapped out – showing its large disparity in income.
It was also named among badly performing ex-industrial towns with less than half of 16 to 64-year-olds having Level 3+ (A Level equivalent) qualifications alongside Redcar and Cleveland borough …
Levelling Up Funding for Yarm and Eaglescliffe, Towns Fund allocations for Darlington, Hartlepool, Thornaby, Redcar and Middlesbrough as well as Future High Streets cash for Stockton were also listed.
Some of the comments to the article, however, were much more positive, especially about Ben Houchen, who said:
he was "incredibly proud" of what they'd achieved across Teesside, Darlington and Hartlepool – referring to the new freeport and promises to bring 18,000 "good quality jobs" in the next five years.
One of the comments said:
As long as we have Ben we're in a good place, done more than lefties in 60 years!
Let's hope that good will extends to Jacob Young in two years' time.
It should do, especially as EDF Renewables UK announced plans for a pioneering project, Tees Green Hydrogen, which includes a new solar farm to be built near Redcar.
On March 9, the Northern Echo reported Young's enthusiasm. He said:
This is a fantastic investment from EDF Renewables which highlights just how new green technology can help create and secure jobs in existing industries, as well as enabling the UK to decarbonise.
Producing green hydrogen, using the power generated by off-shore wind, and then being able to offer that hydrogen to companies like British Steel is exactly the sort of investment we want here in Teesside.
And given the current uncertainties in gas prices, it's vital that we see more projects like this which demonstrate diversity in our energy sector and embrace the fuels of the future, like hydrogen.
At this point, I cannot see why or how Jacob Young could not win another term in Parliament.
I wish him all the best in his career. He is one of the brightest — and most positive — MPs in the Commons.
On Tuesday, March 8, 2022, President Volodymyr Zelenskyy made British history by becoming the first world leader to address Britain's Parliament in the House of Commons, with members of the House of Lords in the public gallery.
Zelenskyy's video address was remote. He ran through a brief daily diary of what happened on each day of the conflict thus far. He also quoted Shakespeare and Churchill. He also appeared to ask for a no-fly zone, which Britain rightly opposes.
Not surprisingly, the former actor earned a standing ovation and a huge round of applause. Applause is normally taboo in Parliament, but extraordinary times call for extraordinary gestures.
Guido Fawkes was quick to direct readers to The Sun's live link to the address, which took place at 5:05 p.m. that day:
Here is the full address:
Speaker of the House Sir Lindsay Hoyle posted the address on Twitter:
GB News has the highlights (emphases mine throughout, except for Guido Fawkes's post):
Addressing the House of Commons via video link, Ukrainian President Volodymyr Zelensky said "we do not want to lose what we have, what is ours, our country Ukraine".
According to the English language translation on Parliament TV, Mr Zelensky said: "Mr Speaker, all the Members of Parliament, ladies and gentlemen, I am addressing all the people of the United Kingdom and all the people from the country with a big history.
"I am addressing you as a citizen, as a president, of also a big country, with a dream and big effort.
"I would like to tell you about the 13 days of war, the war that we didn't start and we didn't want. However we have to conduct this war, we do not want to lose what we have, what is ours, our country Ukraine."
Invoking Britain's wartime leader Winston Chruchill, Mr Zelenskyy told MPs: "We will not give up and we will not lose. We will fight to the end, at sea, in the air, we will continue fighting for our land whatever the cost.
"We will fight in the forest, in the field, in the shores, in the streets.
"I would like to add that we will fight on the banks of different rivers… and we are looking for the help of the civilised countries."
Concluding his speech to the Commons, Volodymyr Zelensky thanked Boris Johnson by name and called on the UK for more support.
Speaking through a translator provided by Parliament TV, he said: "We are looking for your help, for the help of Western counties.
"We are thankful for this help and I am grateful to you, Boris.
"Please increase the pressure of sanctions against this country (Russia) and please recognise this country as a terrorist country.
"Please make sure sure that our Ukrainian skies are safe.
"Please make sure that you do what needs to be done and what is stipulated by the greatness of your country.
"Glory to Ukraine and glory to the United Kingdom."
The Times's Quentin Letts wrote a parliamentary sketch, complete with photos, about the atmosphere in the Commons when 'the Honourable Member for Kyiv' spoke:
Not all of us were given earphones to listen to the simultaneous translation of President Zelensky's speech to the Commons. Didn't matter. Instead of following what he said, one could see how he said it and the impact it had on a hushed house. There would be time afterwards to read the content. Some words, anyway, need no translation. "Bombe". He kept saying it. "Bombe, bombe, bombe", metronomic and deadly. And we all surely now had enough Ukrainian to comprehend Zelensky's husky, closing words, "glory to Ukraine, glory to Britain".
This dispatch from the jaws of hell, in the gathering gloaming of a March afternoon, knocked his audience for six.
One Labour MP afterwards reckoned Zelensky was the leader of the western world. At what a cost. The applause when his unshaven, weary face first appeared on the two overhead television screens (erected for the occasion) was almost martial in its ferocity. The chamber's galleries were packed with members of the House of Lords. Hundreds of 'em!
Never before in our long parliamentary history, noted Boris Johnson, had there been a moment like it. Foreign leaders sometimes get to speak to assembled parliamentarians in Westminster Hall or in a gallery at the Lords. Never do their words smack home like those of the Hon Member for Kyiv Central. He had been given a chance to enter the very cockpit of our legislature. The fact that he was doing so live from a capital city under mortal threat from Russian rockets lent the moment extraordinary force.
"You have the floor, president," said Speaker Hoyle. Thus it began: a worn, almost croaky delivery, delivered from behind a desk with his flag at his side, its silks a contrast to the drabness of his khaki T-shirt. In Ukraine, an exhausted but defiant statesman was fighting for his people. In Moscow his enemy was no doubt cackling in scorn.
Johnson frowned sombrely on the front bench as he listened through his headset to the urgent words. Occasionally the PM growled and nodded in agreement with what Zelensky was saying. There was a ripple of approval when he invoked Shakespeare. Ukrainians faced a question: to be or not to be. They were opting for the former …
… there was something tremendously affirming about this short occasion. "I want to express the solidarity of the House of Commons with you," said Hoyle afterwards, and there was a unified shout of agreement from the chamber and its galleries.
The Mail's Jan Moir was equally effusive. Admittedly, it was a moving, short address:
What an incredible, historic, electrifying moment of unity inside the House of Commons. 
No foreign leader has ever addressed MPs in the chamber before, yet here was President Volodymyr Zelensky being punched in from Kyiv straight into the heart of Parliament on specially installed screens.
A full house of MPs, many of them wearing Ukrainian ribbons, gave him a standing ovation before he uttered a single word.
Speaker Lindsay Hoyle, who welcomed the president, was even wearing a striped blue and yellow tie of solidarity; neatly knotted, deeply touching …
Mr Zelensky seized Churchill's soaring rhetoric of wartime defiance to illustrate the resolve of his country and his people …
Who could have imagined that here in the seat of our democracy, where those very words were first spoken just over 80 years ago, that a European leader would be using them again in deadly seriousness?
Two weeks ago it seemed inconceivable, now here we are …
The president's manner and voice were forthright and composed as he detailed the evil that has befallen Ukraine, but his briskness was not intended to dilute the horror, quite the opposite.
No MP could have been left unmoved when he talked of 'the children who have been killed, the children who could have lived, but were taken away from us'.
Mr Zelensky gave his address sitting behind a desk. As usual he was simply dressed in an olive green T-shirt; perhaps part of a combat outfit, perhaps not.
He wears no insignia, no medals, none of the terrible pomp of war.
'I'm one of you,' is what these clothes say to his countrymen, to our MPs – and to us.
'We are looking for your help, the help of civilised countries,' was his simple, powerful entreaty to the Commons yesterday.
Let us hope we do not let him down. 
Interestingly, Ukranians are very pro-Boris. After their own leader, Prime Minister Boris Johnson comes second in popularity:
Guido's post says that the UK is also Ukraine's most popular ally. Excellent news:
The poll conducted by US outlet Cyngnal finds Boris's net approval rating in Ukraine is second only to that of Zelenskyys, and is well ahead of Biden and Sholtz.
Zelenskyy: +79%

Boris: +49.6%

Biden: +25.8%

Scholz: +23.4%

Xi Jinping: -19.4%

Putin: -86.7%
The UK also stands as the most popular ally in all this, 14 points ahead of the EU and 23 points ahead of the US:
: 56%
: 42.2%
: 33.3%

Nato: -16.8%
Guido asks:
will Boris be the new baby name de jour of Ukraine when all this is over?
The day before Zelenskyy's address, his brave men managed to halt a Russian takeover of Kyiv. However, the day after, March 9, Russians destroyed a maternity hospital in Mariupol, on the south coast. The ports there are Putin's focus.
Last week, I heard a commentator on television say that Putin might adopt Stalin's practice of using cannon fodder for the opening days of the conflict before bringing in specialist troops and armaments. That sounds about right.
When Zelenskyy was elected to Ukraine's top job in 2019, we all thought he was going to root out endemic corruption in his homeland.
This thread from April 23, 2019, two days after his election, has more on the man and his mission. It also lists the Democrats who were involved with the corruption of Zelenskyy's predecessor. It's an interesting read, albeit a bit optimistic at the time.
Readers living in the UK and Ireland might wish to view the enormously popular television series that Zelenskyy starred in: Servant of the People, which is on Channel 4's All 4. The first three episodes are available now.
Incidentally, Zelenskyy named his political party after the show.
The Times has a review of the series, noting how life imitates art. They gave it four stars:
It feels grotesquely surreal writing a review of Volodymyr Zelensky's sitcom Servant of the People at the very moment he is fighting for the survival of his country and fending off Vladimir Putin's assassination attempts (three so far and counting).
It makes it almost unbearable to watch this personable, talented, charismatic man, whose very facial expressions and posture are comedic, knowing the hell he and his people are enduring. Just as it is heartbreakingly poignant to see his character Vasyl Petrovych Holoborodko, a history teacher, cycling around sunny, bustling Kyiv, its people going freely about their business, with Ukraine's buildings still intact.
No less surreal is watching how life spectacularly imitates art. Servant of the People is about an ordinary man who accidentally becomes president of Ukraine when one of his history pupils secretly videos his rant about corrupt politicians, their pay, "their corteges and their summer homes" (anyone in particular this might relate to?) becomes so popular it goes viral. "We're choosing between two bastards!" he rails …
… it is good that Channel 4 has decided to broadcast the series, with subtitles, from Sunday, partly because it will increase Zelensky's popularity even further, which will annoy Putin, and partly because it is very good. Zelensky has, as they say, funny bones and the premise is a droll way to satirise the absurdity and degeneracy of politics.
… As a humble teacher still living with his parents in a flat, wearing a white vest and struggling to pay his loans, Vasyl had little respect from anyone. He faces the sack for his rant. But the second he becomes president the entire country fawns, the bank mysteriously writes off his debts and his adviser offers him a watch "like Putin wears".
The second episode also features a rather good Putin lookalike, so the surreal moments just keep rolling in. You may not feel much in the mood for comedy but it really is worth watching. Not least because it reminds, in fiction and fact, that "non-politicians" can make great leaders.

I could not agree more.
We had another 'non-politician' who was a great leader on the world stage not so long ago; unfortunately, The Times didn't seem too taken with him.
I haven't watched Servant of the People yet but intend to do so soon.
Meanwhile, let's keep Ukraine in our thoughts and prayers. Our Lord said that faith the size of a mustard seed can move a mountain and that nothing is impossible (Matthew 17:20). Who are we to doubt Him?
As I have said before, sometimes things are not as they appear.
This is especially true of media attacks on Prime Minister Boris Johnson.
Fake news polls
On February 6, 2022, The Sunday Times published a poll showing that Chancellor Rishi Sunak is more popular with Red Wall (ex-Labour) voters than Boris.
However, Guido Fawkes has shown this is not true — including on a national level.
In fact, Boris is far more popular in Red Wall seats — and nationally — than Rishi is:
Guido seems to be the only one who has uncovered this fake news:
On Monday, Guido wrote about the poll as well as another one published last weekend and asked (emphases in the original):
Who benefits from briefing the Sunday paper most closely read by Tory MPs with fake polls that falsely inflate the electoral prospects of Rishi Sunak?
Guido resolved the issue on Tuesday, February 8:
Yesterday Guido reported on the mystery of the fake polls creating fake news in the Sunday Times. The paper claimed two polls from Survation and Focaldata showed Rishi was the top choice nationally, especially with Red Wall voters. Survation and Focaldata later denied these polls ever existed. The CEO of Focaldata now says he actually forgot* about a poll commissioned by Hanover Communications, and has since provided the data tables which generated the above chart. It shows that, based on the stated "first preference for Prime Minister", voters nationally prefer Boris and he currently ties with Starmer in Red Wall seats.
Given the Sunday Times article reported the poll as showing Rishi Sunak supposedly had the best chance of reaching voters in the Red Wall seats that flipped to the Tories in 2019, it is striking that the actual data shows Rishi well behind in the Red Wall seats and nationally as the first choice for voters. Whomever span the poll to the Sunday Times emphasised that Rishi was a strong second choice versus Starmer and Boris …
*Justin Ibbett, CEO of Focaldata, who tweeted on Sunday that he had not conducted a poll regarding a "hypothetical leader" has now explained that his firm is primarily a software platform. Customers like Hanover Communications can automate their polling without human intervention from them. Hence his ignorance of a poll his firm conducted.
Biased BBC reporting of Downing Street parties
On a related Boris-bashing topic, the media have been going into overdrive over parties in Downing Street. I fully appreciate why and agree with the exposure of rule-breaking of draconian lockdown measures which the rest of the population obeyed, being cruelly separated from loved ones in life and in death.
However, the BBC — an organisation we all have to pay for in order to watch any television — have taken their coverage of the parties to a whole new level.
On January 18, The Telegraph's Charles Moore wrote about their coverage, which is supposed to be impartial: 'The BBC has been acting like the Fox News of the Left'.
Moore wrote, in part (emphases mine):
I actually do believe that Tim Davie, the director-general, is serious about impartiality, but the corporation's implementation of his Action Plan is slow in that special way that only great bureaucracies can manage.
The story about Boris and parties is a classic case where the national broadcaster needs to show super-impartiality; but the coverage has showed no recognition whatever of what Mr Davie seeks.
On the contrary, from the news that starts the day to Newsnight, with presenters like Lewis Goodall, which ends it, the BBC has tried to prove that this is the worst scandal in living memory and will be fatal to Boris Johnson's premiership. It has dragged out the sort of disgruntled Tory backbenchers it normally despises and given them endless airtime to attack the Prime Minister. It is not far off being a Fox News of the Left, taking a line and incessantly promoting it.
Newspapers, too, have made a great meal of the scandal, and a good read it has often been. But this is exactly the sort of occasion where a compulsorily funded broadcaster should not try to ape Fleet Street. If you had relied solely on BBC coverage last week, you would have concluded that Boris was about to be kicked out. There was almost no presentation of the contrary view – which precedent suggests is likelier to be right – that he probably wasn't.
Moore points out that there are other news stories that the BBC could be covering, which are far more important in the long term than events from 2020 and 2021:
The biggest story in the world last week (and this) is the possibility of Russia invading Ukraine. The BBC virtually forgot this.
The news that a Chinese agent had donated nearly half a million pounds to the office of the Labour MP Barry Gardiner was also strong – a much more significant example of apparent political corruption than the standard "Tory sleaze" tales which the BBC relishes, yet it was downplayed.
Egregious coverage of Boris's accusation of Keir Starmer over Jimmy Savile
Speaking of Labour and the BBC, in his January 31 statement about the Sue Gray inquiry looking into the parties, Boris accused Sir Keir Starmer of not investigating Sir Jimmy Savile while Starmer was the Director of Public Prosecutions.
Savile was the BBC's darling, presenting Top of the Pops (TOTP) for many years and then his own show, Jim'll Fix It.
The BBC have said that Boris's accusation is fake news and should be retracted.
However, the accusations against Savile for taking advantage of minors have been many and have been circulating for years. One famous punk rock lead singer said several years ago on a late-night programme on another network that everyone was discussing Savile's proclivities backstage on TOTP in the 1970s!
Savile's death in 2011 provoked months of discussion on English websites asking why he was never prosecuted for taking advantage of young people who were part of the dancing audience on TOTP.
In other words, everyone knew what Savile got up to, but he was untouchable — and the BBC refuses to hear any criticism of their iconic star.
On Monday, February 7, a group of left-wing protesters which gathered in London to voice their discontent with coronavirus measures, verbally attacked Starmer while he and another Labour MP were walking back to Parliament from a meeting elsewhere.
They asked him about Freemasonry, called him a traitor, denounced his lack of opposition to the Government and — at the bottom of the list — criticised his lack of prosecution of Savile's crimes against minors. In the end, police had to escort him and the other MP to a car to drive them back.
Piers Corbyn led the anti-coronavirus protest. He has led many of these in England. He is the brother of Labour MP Jeremy Corbyn.
Piers Corbyn is not a Boris supporter.
However, the BBC blamed Boris for the mob's verbal attack on Starmer. Below is Laura Kuenssberg's analysis, saying that the Prime Minister should retract his accusation of January 31. Note how she doesn't even mention the name Jimmy Savile, only 'false claims':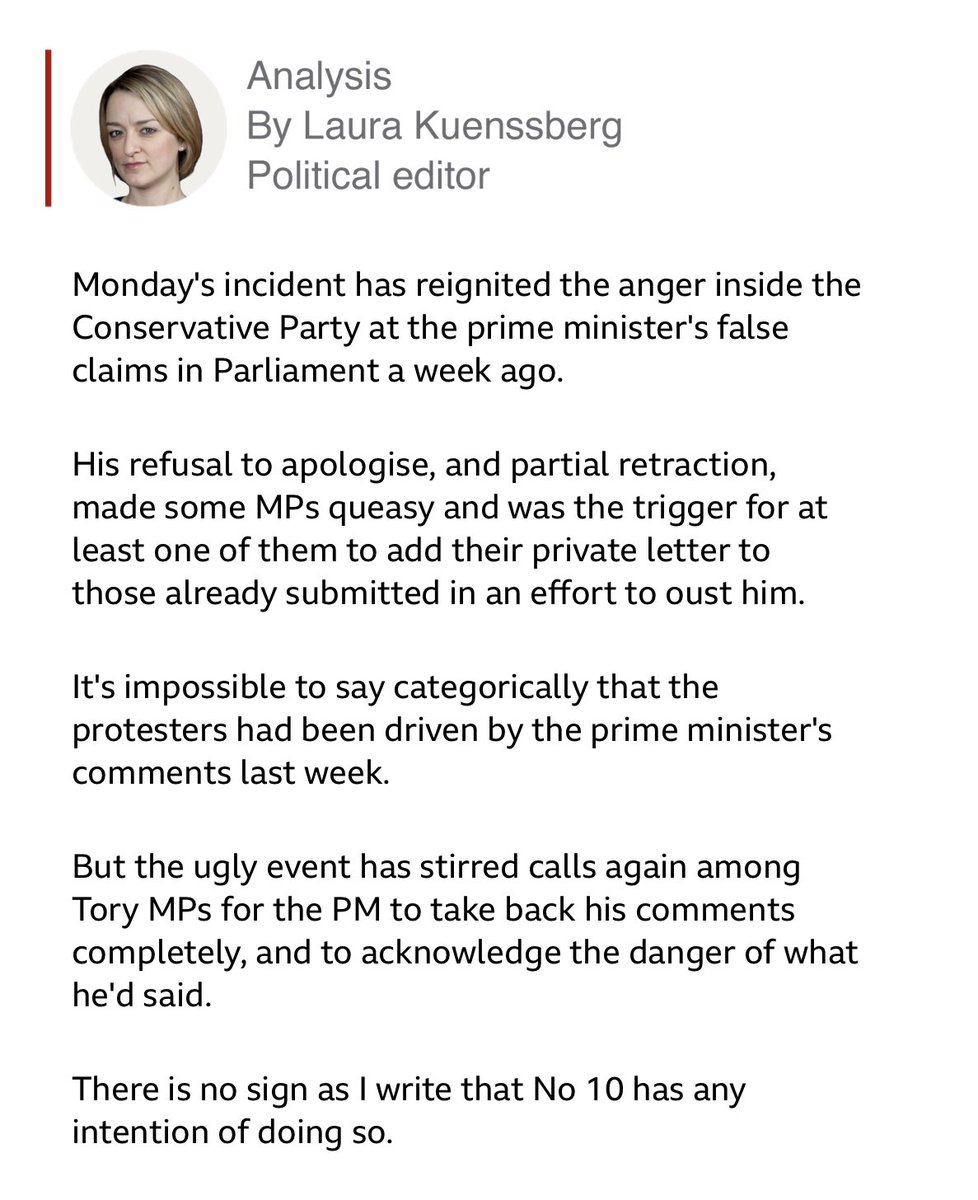 However, Channel 4 News actually interviewed Piers Corbyn, who said that Boris had nothing to do with his group surrounding Starmer in the street:
It's a good interview, with intelligent questions from the reporter.
Corbyn says that people have known about Savile for years.
Conclusion
Fake news used to be an American phenomenon.
It's quickly spreading here and, sadly, infecting what used to be our most trusted media outlets.
Readers of The Times and viewers of the BBC should be aware that not everything is as it seems.
What we are witnessing is a kangaroo media court.
Despite receiving more brickbats this week, Prime Minister Boris Johnson is still standing as Parliament enters its February recess.
Former PM John Major had a go at Boris about Brexit in a speech he gave to the Institute for Government this week. Like another former PM, Theresa May — still a serving MP — Major is a staunch Remainer.
Writing for The Spectator, historian Nigel Jones discussed the Blob (our Swamp) on Thursday, February 11, 2022 (emphases mine throughout except for Guido Fawkes's posts):
Still fighting their neverendum certain Blobbers, so used to having things go their way for the past half century, view the man who brought us Brexit as the one who betrayed the favourite cause of his caste. For that alone he must be punished. They seek not only Johnson's removal from office but his total humiliation …
The Mays and the Majors of this world, uniting with the legions of the left who have always loathed Johnson, cannot bear it that someone who sums up in his rumpled and hitherto popular persona all that they are not, is, after all the ordure that they have poured over him, like Elton John: still standing. After weeks of sustained bombardment with the most vicious projectiles his enemies can muster, the object of their righteous wrath is still withstanding the siege from the Downing Street bunker, even belting out 'I will survive!'
… And those such as Johnson's former editor Max Hastings, who has predicted the PM could be gone within weeks, could yet be proven wrong. But if Boris does go he will not have been brought down in a flood of booze but by the bile of 'the Blob' against the black sheep who dared, by accident or design, to stray from the flock.
The Spectator's Katy Balls says Boris is succeeding because he is buying himself time, putting forward his 'red meat' policies to win back MPs and those souls who voted Conservative in 2019:
After a difficult few weeks, Boris Johnson has made it to parliamentary recess. Given few expect a no confidence vote to be held during recess, time away from parliament gives the Prime Minister much-needed breathing space. After the seemingly never-ending parade of partygate stories, there have been times when MPs were sceptical he would make it this far.
Instead, the Prime Minister has succeeded in buying himself time — talking down would-be plotters and rushing out a string of red meat announcements to keep the right of his party on side. The announcement this week that all Covid restrictions could end a month early is a prime example of this. When MPs return from recess, Johnson will unveil his plan for living with the virus — which will include the guidance rather than law (self-isolation is expected to become just advice) and reduced access to tests.
Boris made his liberating announcement about lifting coronavirus restrictions to the House of Commons on Wednesday, February 9:
Guido Fawkes wrote:
Boris in the Chamber just now announcing that the final Covid restrictions, including the legal requirement to self-isolate after a positive test, are likely to be lifted after the February recess. The "living with Covid" plan will be revealed on 21st February. A full month ahead of schedule…
February 24 could be our third liberation day. We already had Independence Day on July 4, 2020, followed by Freedom Day on July 19, 2021 and now this. Let's hope it is permanent.
In any event, the announcement made two front pages on Thursday, February 10, with the Daily Mail being more positive about this world leading move than The Star. I can empathise with both:
When SAGE's scientists and the unions object, we know Boris is on the right track. Boris didn't even bother consulting the former, as The Mail reported:
Unions are already digging their heels in after Boris Johnson revealed he intends to ditch all remaining Covid laws within a fortnight as a poll revealed that three in four workers ground down by almost two years of lockdowns and restrictions want to continue with self-isolation.
Unison, Britain's largest union serving more than 1.3million members from swathes of the public sector, has accused the Prime Minister of going 'too far, too soon', insisting that the virus 'hasn't disappeared' — despite a raft of data suggesting the worst is now over.
SAGE scientists have also warned of the 'dangers' of the PM's plan to make England the first country in the world to scrap all Covid rules, after it emerged Mr Johnson had not discussed it with the committee which is now infamous for its gloomy predictions about the pandemic.
Boris appears to be placing more weight on what is actually happening rather than alarming data projections from SAGE:
The resistance comes despite Covid infections falling consistently, with even the gloomiest surveillance study now accepting that the country's outbreak has peaked — mirroring the official numbers.
The milder nature of Omicron, coupled with sky-high immunity, mean the NHS never came under the levels of pressure that No10's experts feared would happen, with hospitalisations and deaths both now in freefall.
People with fragile health should note that they will be free to continue self-isolating. That freedom is an individual choice rather than a mandate by law.
The same goes for masks.
Boris is no doubt trying to encourage the socialist governments in Wales and Scotland to do the same thing:
The announcement annoyed the devolved governments in Scotland and Wales – with Nicola Sturgeon's administration calling it a publicity stunt to divert from the Partygate scandal that has left the PM fighting for his job.
The First Minister did this afternoon pledge to ditch face masks in Scotland's classrooms from February 28 — keeping them in communal areas — but says she will wait for expert advice before following Boris's lead on any other rules.
The Scottish Government is unlikely to go as far as dropping all rules when it publishes its strategy for living with Covid in the months ahead on February 22. The plans will be debated by MSPs, meaning any changes could be several weeks behind England. The Scottish Government is even set to extend its Covid powers until September 24.
Conservatives applauded Boris's move:
Lord Frost, who dramatically quit Cabinet partly in protest at draconian curbs, was among the senior Tories praising the move. 'The PM's plan to end all Covid restrictions a month early is the right thing to do & is extremely welcome. I hope the government will also make clear we will not go down the road of coercive lockdowns ever again,' he tweeted.
Tory MPs last night insisted that lockdowns should never be deployed again. 'I am glad to see the emphasis on learning to live with Covid,' said Bob Seely, who represents the Isle of Wight …
David Jones, a former Cabinet minister, welcomed the 'very positive' news, adding: 'The PM deserves credit for this. We have locked down for too long and we now need a commitment that we will not lock down again, save for in the most exceptional of circumstances.'  
Steve Baker hit the nail on the head. The lifting of restrictions is meaningful only if Boris reforms the Public Health Act of 1984 — and, may I add, scraps the Coronavirus Act of 2020:
Former minister Steve Baker added: 'I welcome this announcement but we are not out of the woods until the Public Health Act has been reformed, we have new rules for better modelling, competitive, multi-disciplinary expert advice and wellbeing-based cost-benefit analysis covering the costs of lockdowns and restrictions. There is much to do!'
Earlier this week, Boris made another reshuffle involving the Cabinet Office and Downing Street, in line with the preliminary recommendations from Sue Gray's report on Boris's lockdown parties on January 31. Boris had met with Conservative MPs that evening:
Guido's accompanying post reads in part:
It could be "imminent".
Guido was also first to reveal the PM won over swathes of support from wavering MPs by promising to massively up their involvement in No. 10's policy-making, saying he liked Graham Brady's suggestion of 1922-organised MP policy committees.
In a sign of how the day had played out, in the evening Birmingham 2019 MP Gary Sambrook put out a gushing tweet about the PM:
Guido understands he's now withdrawn his letter of no confidence to Graham Brady. After the vaccine rollout and Brexit, the new shadow whipping operation has to be one of the most impressive things Boris's No. 10 has managed to organise…
On Tuesday, February 8, GB News gave us the details on the reshuffle:
Jacob Rees-Mogg will be the minister responsible for "Brexit opportunities" in the first move confirmed as part of Boris Johnson's reshuffle.
The shake-up of the ministerial team follows the appointment of Stephen Barclay as the Prime Minister's chief of staff and comes as Mr Johnson seeks to relaunch his administration following the partygate row.
Mr Rees-Mogg, previously the Leader of the House of Commons, will still sit at the Cabinet table in his new role as Minister for Brexit Opportunities and Government Efficiency …
Former Chief Whip Mark Spencer has been confirmed as the new Leader of the House of Commons to replace the vacant role left by Jacob Rees-Mogg.
Mark Spencer has been the MP for Sherwood since 2010 and has previously been Deputy Leader of the House of Commons.
Stuart Andrew has been appointed as Minister of State (Minister for Housing) in the Department for Levelling Up, Housing and Communities; he has been the MP for Pudsey since 2010, he has most recently been a deputy whip.
Chris Heaton-Harris has been confirmed as the Government's new Chief Whip; he has served as MP for Daventry since 2010, he had most recently been Minister of State for Europe and is famed in Westminster for his use of Twitter to post one-liner jokes.
James Cleverly MP will become Minister of State (Minister for Europe) in the Foreign, Commonwealth and Development Office as part of the shake-up of the Government frontbench, Downing Street said.
Wendy Morton MP to be a Minister of State in the Department for Transport.
Rt Hon Christopher Pincher MP to be Treasurer of HM Household (Deputy Chief Whip).
Samantha Jones, the Prime Minister's adviser on the NHS and social care, has been appointed as the new No 10 permanent secretary and chief operating officer, Downing Street said.
Samantha Jones, who is a civil servant, is a former NHS trust executive.
She helped develop the plan to reduce hospital waiting lists, but it did not go down well in Parliament this week when Health Secretary Sajid Javid announced it. Even Conservative MPs thought it was weak, especially as a record high of 6.1 million patients are awaiting surgery or other medical procedures.
Samantha Jones will be both an interim No 10 permanent secretary and its COO, both new posts, as The Telegraph reported on February 9:
Boris Johnson has appointed a former NHS trust executive who advises him on health policy to the newly created position of No 10 permanent secretary.
In the latest move to shake-up his inner circle, the Prime Minister announced that Samantha Jones will take the role for six months on an "interim" basis.
Ms Jones had been Mr Johnson's expert adviser on NHS transformation and social care, meaning she helped craft the newly announced plan to bring down NHS waiting lists.
The former nurse and NHS veteran will also hold the title of Chief Operating Officer for Downing Street as she helps shape the new civil service structure being created for the Prime Minister.
There was another appointment, that of Stuart Andrew MP as Levelling Up Minister:
Andrew Griffith, one of the MPs who was reshuffled in the first week of February, laid out his plans as Boris's new Director of Policy:
You would not know it from the media headlines, but families want to hear about our plans to grow employment, tackle the NHS backlog, control our borders, make their streets safer, bring down the cost of living and return rapidly to the point when we can cut taxes to let everyone keep more of their own money – all policies that are rooted in strong Conservative values.
As the Prime Minister's Director of Policy, these are my top priorities together with delivering the tangible opportunities from Brexit that will allow our economy to be more competitive and the reform of government to deliver better public services. Whilst the Policy Unit's remit is to advise the Prime Minister across the widest breadth of government policy, we will be unafraid to ruthlessly focus on the key issues. It is ultimately outputs that matter.
Elected in 2019, he is far from the Sir Bufton Tufton brand of Conservative MP and has been against the EU since John Major's time as PM:
From a comprehensive school in south-east London, I was the first in my family to go to university, where campaigning to keep the UK out of the Exchange Rate Mechanism turned me into a lifelong Conservative.
Jacob Rees-Mogg went further, asking Sun readers for suggestions on which EU regulations should be rolled back in the UK:
The opportunities in front of us are immense. Huge parts of our economy are no longer regulated by the EU.
Before Brexit, many of my constituents would write to me to complain about regulations that burdened them daily.
From farmers to electricians, on so many issues I had to tell them that even as an MP I could not help to solve their problems, as these rules were set by the EU, not the British Parliament.
Thanks to Brexit, that has all changed. Sun readers can hold their MPs accountable, as the buck truly stops with them …
You are the ones who know the red tape binds your hands, and to do my job I need your wisdom. Ronald Reagan rightly said: "The nine most terrifying words in the English language are, 'I'm from the Government, and I'm here to help'." This needs to be turned on its head: Britain needs The Sun readers' help instead.
I implore you all to write to me with the regulations you want abolished — those which make life harder for small businesses, which shut out competition, or simply increase the cost of operating. Through thousands of small changes, we can enact real economic change — which means The Sun's readers will feel a real Brexit bonus in their pockets and in their lives  every day.
WRITE TO ME: Jacob Rees-Mogg, House of Commons, London SW1A 0AA
EMAIL: jacob.reesmogg.mp@parliament.uk
In other news, the UK economy grew 7.5% in 2021:
Guido has the quote from the ONS:
 Darren Morgan, ONS: 
"Despite December's setback, GDP grew robustly across the fourth quarter as a whole with the NHS, couriers and employment agencies all helping to support the economy," he said.
"Overall, GDP in December was in line with its level in February 2020, before Covid-19 struck, while in the fourth quarter as a whole, it was slightly below that of the fourth quarter in 2019."
People are trying to cast shade on this achievement, but even The Spectator, hardly pro-Boris, has a compliment for his administration. Today, Katy Balls pointed out:
With prices soaring, interest rates rising and the cost of living crisis growing more acute by the day, we could do with some more positive news: and this morning's GDP update has played a small part in providing it.
Despite suffering the largest economic contraction in 300 years in 2020 – and taking the biggest economic hit in the G7 – Britain had the fastest growing economy in the G7 last year, boosting its GDP by 7.5 per cent.
It's still a mixed story: looking at where the UK economy is now compared with pre-pandemic levels, it ranks average within the G7. But with one of the steepest hills to climb back to recovery, the UK's relatively fast growth enabled the economy to get there several months before it was forecast to do so …
… while the economy did take a slight hit at the end of last year, it did not fall back below pre-pandemic levels. Britain can still boast that it made a full economic recovery – and hopefully recoup December's losses fairly quickly, given how quickly fears about Omicron's severity were put to bed.
Finally, with local elections coming up in May, Boris will be doing what he does best — campaigning around England (with one stop in Wales):
Guido notes that not all of Boris's destinations will be holding an election this Spring, but the PM needs to turn things around for the Conservatives:
Boris has spent a lot of time on the road recently. Almost every day he seems to show up at another school, building site, or hospital somewhere outside SW1 – in just the last 5 weeks, he's made 10 trips across the UK. Coincidentally, 7 of those trips happen to be in seats which are holding local elections in May …
With Labour and much of the media hammering away at Partygate since December inside the Westminster bubble, Boris obviously knows his best chance of turning things around is to get back into campaign mode. It is what he does best, after all…
Although Labour are still ahead in the polls, an amazing reversal that began when the Downing Street parties during lockdown came to light, a pollster from Savanta ComRes thinks that it will be easier for Boris to win his 2019 voters back than it will be for Starmer to encourage them to vote Labour:
This is what Savanta ComRes uncovered from their latest focus group — Starmer isn't capturing their collective imagination, so Boris is still in with a chance:
I will have more next week on Boris's attempt to survive at No. 10.