You are currently browsing the tag archive for the 'survey' tag.
In December 2022, I wrote about the UK's 2021 census that revealed we haven't had such a high number of non-Christians since the Dark Ages.
My post included this tweet:
Since then, the news in Britain seems to be worsening by the day.
Scotland has realised it has a behavioural problem in the classroom. The Times's 'End of school punishments blamed for pupil disorder' reveals that all hell is breaking loose (emphases mine):
Teachers and parents have become increasingly alarmed by a decline in classroom behaviour since the end of the pandemic — and a method imported from the justice system is being blamed.
Restorative practice, involving "constructive conversations" with unruly youngsters in an attempt to make them understand what they have done wrong, is taking the place of more traditional sanctions such as detentions or withdrawal from activities.
But members of the Scottish Secondary Teachers' Association (SSTA) have unanimously backed a motion that warns the approach is time-consuming and if mishandled can result in "severe damage to teachers' classroom authority".
Apparently, teachers are not properly trained in class discipline and even less in 'restorative practice'. It is amazing that detentions are out of fashion. The article continues:
Seamus Searson, general secretary of the SSTA, said restorative practice seemed to be "flavour of the month" when it came to managing challenging behaviour in schools …
He warned pupils were taken out of class supposedly to have restorative conversations but would then be returned to lessons without the discussion genuinely taking place …
"The youngsters in class, they see things black and white, it is either right or it is wrong. There is no half-way. They expect that if a child misbehaves something happens. If they think for one second that so-and-so can get away with that, [then they think] why can't I do it?"
This is an issue upon which all political parties north of the border agree: something must be done.
These are a few of the things going on.
First, the school bully:
One parent recalled how her six-year-old boy had come home from school and told her: "You will not believe what they have done. The teachers have taken the nastiest, most horrible boy in the class and have put him in charge of looking after the new pupil who started today."
The manoeuvre had somewhat backfired when the young delinquent began teaching his classmate how to hurl items at other kids.
Teachers thought that by shepherding the new boy, the bully would learn empathy, but the article said that no discussion about that took place.
Secondly, the reward for bad behaviour:
Other parents have described unruly children being rewarded with trips to a local café. A deputy head said one pupil with extreme problems "came into school with fast food".
The senior teacher explained: "He had been taken out for the day. He went in and rubbed it in the face of every single child around him. It alienated him from other people in the school, it alienated the child from his peers. His teacher was saying: 'What is going on?'"
I'm not sure what 'it' in the second sentence of the previous paragraph means. On first reading, I thought 'it' might mean the fast food from the local café. It would not surprise me.
Thirdly, the threat at home:
[A mother, Ms] Green describes her son being involved in a playground tussle started by another boy. They were called inside for a restorative conversation and her son was asked to understand why the boy was having a bad day. "No one asked why my son was upset," she said.
Two days after the "restorative chat", she says the aggressor appeared at her house and said to her son "when you are not in school I am going to jump you and kill you".
The article says that restorative practices are being rolled out in other British nations, which is a pathetic development:
They have crossed to education from the justice system after projects found it could reduce the chance of reoffending if criminals were put in touch with their victims.
Violent incidents are rising in primary (!) schools:
Figures uncovered by the Scottish Liberal Democrats earlier this month show 10,852 incidents of violence were recorded in primary schools in 2021-22 compared with 10,772 in 2018-19. For the secondary sector they have increased from 2951 from 2728.
Good grief. That wouldn't have happened in my day.
This is another thing that wouldn't have happened when I was at school:
Refusal to work, mobile phone misuse, disrespect and wandering around are the most common issues reported. Three quarters said they had experienced verbal aggression.
We never thought of 'wandering around'.
Not surprisingly, students often give the following excuse as the reason for misbehaving:
"because I can!"
Also:
"That child will not be short on telling people: 'nothing happened to me, I have just been put in another room'."
Furthermore, children will band together to confront a teacher:
Stuart Hunter, president of the SSTA, said he had seen restorative conversations carried out badly. In one situation, he said, two pupils raised a complaint about work they had been set. When the teacher was called into an office for the restorative discussion, she found the girls had friends with them for support. The implication, he says, was the teacher was in the wrong.
Nothing much happens to wrongdoers at all. I didn't bookmark it, but I recently read that the UK is a criminal's paradise because the police are so soft.
In fact, whether real or staged, misbehaviour is rewarded. Take the case of Bacari-Bronze O'Garro, 18 and father of one, better known as Mizzy. Within the matter of a month, the Londoner has even been on television being interviewed about his exploits, which, in some cases, were criminal:
In May 2022, O'Garro was given a community protection notice prohibiting him from trespassing on private property.[9] On 24 May 2023, he was fined £200 plus costs and surcharge (£365 in all) after admitting breaching that community protection order on 15 May and was issued with a two-year criminal behaviour order (CBO).[5][10] The next day, O'Garro was interviewed by journalist Piers Morgan on Piers Morgan Uncensored[11] who called him "an idiot" … Former politician and journalist Patrick O'Flynn praised O'Garro's entrepreneurial spirit, noting his ability to grab the media spotlight and convert it into social media fans.[13]
Remind me not to cite any further articles by Patrick O'Flynn.
At least his TikTok and YouTube accounts, on which his exploits appeared, have been terminated. Social media companies go where police and the justice system fear to tread.
What has Mizzy learned? That criminal acts have propelled him to fame:
Our political class is no better. They would rather ruin the UK than make the necessary effort to restore it to its former greatness. Pictured below are two Labour MPs Sir Lindsay Hoyle (Speaker of the House) and Keir Starmer (Labour leader) with the Conservative Prime Minister Rishi Sunak:
The Telegraph's Sherelle Jacobs tells us:
There is no delicate way of putting it: the British governing class has completely lost the plot. It would rather risk some kind of economic collapse or populist backlash than actually deal with any of the country's problems. Bereft of values and captured by institutional pessimism, our politicians are incapable of decisive action. Numbed by groupthink, and poisoned by ever-expanding managerial surveillance and ministerial turf wars, the Civil Service has been rendered inoperable. The British governing machine is broken; we are heading for total systems failure …
How did Britain end up like this? Blairite Third Way politics, devoid of principle beyond "capturing the centre ground", has a lot to answer for. It is hard to imagine a Tory party with a confident philosophy on free markets contemplating price caps; nor a Labour Party committed to a high-wage economy proving so bashful about the country's addiction to mass migration. Institutionalised back-covering, and a total breakdown in trust between ministers and officials, meanwhile, mean that any policy that is difficult or controversial is increasingly impossible to deliver.
A Ground Zero moment of implosion may now be unavoidable. At that point, we can only hope that at least one of the two major parties rediscovers its core beliefs, and regains the stomach to fight for them. Big messy wars will need to be fought – starting with a breakup of the Treasury, bringing an end to its reign of terror.
For now, though, things look pretty bleak. In complex systems theory, a system becomes pathological when it gets to the point where measures being taken to maintain equilibrium are actually destroying the system. A system is also classed as fatally neurotic when it deems the psychological cost of detaching from the status quo to be too great, even if failure to adapt threatens its own destruction. There is little doubt that the British ruling class strongly exhibits both of these symptoms. And things will get a lot worse before they get better.
Sherelle Jacobs is not wrong.
But — and it's a big BUT — two glimmers of hope have emerged.
In September 2022, two months before Britain's post-Christian census figures appeared, The Guardian published '"God gives me reason to hope": why young Britons are turning to prayer'.
Six of the paper's readers gave their reasons for praying in response to a survey which found:
More young people in the UK are turning to prayer compared with 20 years ago, with one in three 18- to 36-year-olds saying they had prayed within the past month.
… spirituality in its many forms are thought to be behind the increase.
Three of the responses are from Christians. Two of them follow.
A 32-year-old midwife says:
Since getting pregnant, I've come back to prayer. I was raised Christian and have come back to it from time to time. But this time things feel different. With the world crumbling, God has given me a reason to hope and see beyond the hopelessness of our current political and financial landscape. It's quite a scary time to be bringing a baby into the world with all the uncertainty – the financial situation and working out what kind of world he's going to be born into is quite scary. Prayer has really helped me to take myself out of those world problems and see things in a broader context.
An 18-year-old student explains:
I used to go to church with the Scouts when I was six or seven but it was never regular – I didn't really understand what was happening when I was that young. I wasn't brought up in a religious family and I didn't have a relationship with faith until recently, when I started seeing videos by priests on TikTok. After I saw that and became interested, I could understand it a bit more. I wanted to connect with faith because I wasn't happy with the way my life was going, and I wanted to be better to other people. Developing my spiritual health has made me feel happier. I pray because it's a way I can speak to God and give him my worries or concerns. I'm not involved with a particular church – I'm just trying to find my place at the moment.
Even more surprising is that nearly one-third of Britons under the age of 40 believe in the afterlife and hell, compared with 18 per cent between the ages of 60 and 77.
On May 23, 2023, The Guardian reported on these findings from the World Values Study, conducted by King's College London:
You may think the idea of hellfire belongs to an age when people's lives were shaped by the threat of eternal damnation.
Wrong, it seems: generation Z and millennials in the UK are significantly more likely to believe in hell than baby boomers, according to a new study by the Policy Institute at King's College London.
Younger people are also more likely to believe in life after death than older generations, despite being less religious generally.
The findings are part of the World Values Study, one of the largest academic social surveys in the world, which has been running for more than 40 years.
According to its data, just under half (49%) of Britons said they believed in God, down from 75% in 1981. Only five countries – Norway, South Korea, Japan, Sweden and China – are less likely to believe in God than the UK. The Philippines topped the league table [in religious belief], scoring 100%.
Good for the Philippines!
Here are the stats on heaven, hell and the afterlife:
Belief in heaven among the UK public has also fallen, from 57% in 1981 to 41% last year. But belief in hell and in life after death has remained largely consistent, at 26% and 46% respectively.
When broken down by age, 32% of those under the age of about 40 said they believed in hell, compared with 18% of those aged between 59 and 77. Belief in life after death was 51-53% for younger generations, compared with 35-39% for older people.
"Our cultural attachment to organised religion has continued to decline in the UK – but our belief that there is something beyond this life is holding strong, including among the youngest generations," said Bobby Duffy, director of the Policy Institute.
"While the youngest generations continue to have lower attachment to formal religion, many of them have similar or even greater need to believe that there is 'more than this'."
The article has international graphs to explore, which are fascinating.
Also of interest is that Britons have a newly increased confidence in religious institutions:
Another unexpected finding is that confidence in religious institutions had rebounded. Between 1981 and 2018, Britons' confidence in churches and religious organisations fell from 49% to 31%, but by 2022 had risen again to 42%.
A possible explanation is the provision by churches and other religious institutions of essential social services such as food banks, social hubs, warm spots and debt counselling as the cost of living crisis has escalated.
Duffy said religious belief in the UK was unlikely to disappear, but would keep eroding. "It looks like a slow but inevitable decline, unless organised religions can engage with that broader sense of wanting something else beyond this life," he said.
One week after this article appeared, the rector of St Bartholomew's in London, the Revd Marcus Walker, posted a series of adverts from the Episcopal Church in the United States, which seem to come from the 1980s. I don't remember these at all. I would have, too, had I seen them, as I had become an Episcopalian during that decade.
These are really powerful, especially the one about Holy Communion:
As Jesus said (John 6:47-48):
47 Very truly I tell you, the one who believes has eternal life. 48 I am the bread of life.
Everyone responding to Marcus Walker was surprised:
Someone from the Church of England should ask for permission to repurpose these. In Scotland, they could use the text as it is, because the denomination is known as The Episcopal Church there and it's not doing well.
If not, something similar can be done throughout the UK.
Let's go, clergy. What are we waiting for? Carpe diem!
Since the coronavirus pandemic abated, being able to attend church every Sunday is a joy to millions of Christians who were locked out of their churches during the second quarter of 2020.
Three years on, and the memory of not being able to observe Easter, the greatest feast of the Church year, in our houses of worship, still evokes sharp and sad memories, as can be seen in one of the The Conservative Woman's Easter 2023 posts, 'The Easter message of "Say no to lockdown"' and its many comments.
Here is but one exchange from the comments (emphases mine below).
The initial comment reads:
There can be no real healing in the church until the hierarchy admit closing their doors was an awful thing to do. A Light in the darkness? Not in March 2020 they weren't. They were a particularly bad darkness because they should have offered Christians solace but instead they were a part of the machine.
They must publicly repent, promise it will never happen again and that like Pastor Artur Pawlowski [in Canada] they will all go to prison sooner than obey such unjust laws.
Of course they will do no such thing, any more than the Cabinet ministers of the time will admit to being wrong, because God is not their real master.
The reply reads:
Worse than that, they kept those doors closed tight at Easter. That was the biggest sin. It wasnt just one denomination either, it was all the churches. That put all congregations into isolation. There was nowhere to meet as the strict house arrest policy of the time ensured it ( no one could meet up with another – remember that?). Together with the police arresting people for trying to buy Easter Eggs or lipstick or even just wearing a skirt to go for a walk. (Edit, only if you were a woman though).
The worst was, of course that Bozo Bojo didn't even order churches to close. They put themselves amongst the "Non-essential services". The fat controller had, at the time, excluded them.
When I look around, it seems to me that it was that which killed Christianity. The locking of people out of the House of God and the isolating of people so that "Church" in any guise (defined as where two or more gather together, in my name, there will I be also) could not operate.
Jesus may have risen but from 2020 onwards, the church was well and truly crucified and buried. They no longer even seem to hold true to the faith.
(I note that mo ques did not close. They carried on it seems. Quietly and no one said anything).
In late May 2020, the Church Times published a survey questionnaire to assess British Anglicans' views of locked churches. I wrote about it on June 8 that year.
In 2021, the results were posted online. On October 8 that year, Cambridge University Press published Ursula McKenna's 'Assessing the Church of England's Leadership Response to the Covid-19 Pandemic: Listening to the Voice of Rural Lay People' in the Journal of Anglican Studies.
Excerpts follow, beginning with this section from the abstract:
Of the 1460 rural lay people in England who took part in the Coronavirus, Church & You survey, 501 wrote further (sometimes detailed) comments on the back page (34 per cent participation rate). This study analyses the comments made by a subsection of these 501 rural lay people, specifically the 52 participants who voiced their views on how the Church of England's leadership responded during the first four months of the Covid-19 pandemic … Overall, rural lay people were disappointed with the response of church leadership to the first national lockdown. If these churchgoers are to be fruitfully reconnected with their churches after the pandemic, then leadership of the Church of England may need to hear and to take seriously their concerns.
The introduction gives us the directive from the Church of England the day after Boris Johnson imposed lockdown on Monday, March 23, 2020. However, as the comment above states, Boris did nothing about churches.
The Church of England did on Tuesday, March 24. This was part of the C of E's statement:
The archbishops and bishops of the Church of England have written collectively to clergy through their dioceses, urging them now to close all church buildings – other than when they are needed to keep a food bank running, but even then under strict limits. There will be no church weddings until further notice, funerals will not take place inside church buildings and the only baptisms will be emergency baptisms in a hospital or home.Footnote 2
The introduction continues:
Private prayer, including by priests, was no longer permitted in church buildings (churches were subsequently allowed to open for private prayer from 13 June 2020 and for congregational worship from 4 July 2020) …
A report published by the Centre for the Study of Christianity and Culture (CSCC), Churches, Covid-19 and Communities: Experiences, Needs and Supporting the Recovery, Footnote 6 lists a range of surveys and studies carried out by Christian organizations, other faith groups and non-faith organizations in just the first 12 months of the pandemic, all expressing a number of common concerns and difficulties.Footnote 7 Research carried out by CSCC,Footnote 8 which included surveys at three different points in time alongside qualitative interviewing, looked at three areas related to the closure of churches: the effects on the provision of social care, the exacerbation of the impact of Covid on individual and community well-being, and the impact of closure on the experience of grief and loss. Data from over 5500 respondents (mostly over the age of 60 and from rural villages or towns) who self-identified as 'church leaders', 'church members', and 'general public' provide evidence of responses reflecting 'deep frustration and anger about closure of churches',Footnote 9 with many church leaders and members expressing 'frustration at the limitations on their ability to serve communities'.Footnote 10
Another survey undertaken during the first national lockdown and from which the present study draws its data, the Coronavirus, Church & You survey, was designed to address a range of discrete but interrelated issues arising from the pandemic, from the national lockdown, and from the Church's national lock-up of churches. This survey has already been prolific in publishing its quantitative data …
Both the CSCC reportFootnote 22 and an earlier report by Nye and LobleyFootnote 23 draw attention to the perceptions of churchgoers in respect of national church leadership during the pandemic. The study by Nye and LobleyFootnote 24 draws on data from 288 Christians, the majority of whom were over 55 years of age, 57.5 per cent were Anglican and half resided in villages …
… older churchgoers aged 70 or over held a less positive attitude toward the national leadership. While 42 per cent of those under 60 considered that their denomination at the national level had responded well to the crisis, the proportion fell to 36 per cent of those aged 70 or over. While 43 per cent of the younger group considered that their denomination at the national level had done a good job of leading us in prayer, the proportion fell to 36 per cent in the older group.Footnote 28
The research aims section says:
It is against this background that the present study will draw on data collected as part of the Coronavirus, Church & You surveyFootnote 29 focusing on the views and experiences of lay people either living in rural areas or worshipping in rural churches, and exploring their perceptions of national church leadership during the first four months of the Covid-19 pandemic. While existing surveysFootnote 30 have highlighted national church leadership as an issue of concern, the current study will add detail to that concern by focusing more fully on identifying those aspects of national church leadership that rural lay people perceived to be most salient …
The Coronavirus, Church and You survey offered space for additional comments:
If you would like to write about your experiences in your own words, you can do so here, or include anything that we had not asked that you think we should have included.
The Cambridge assessment is based on those replies.
Most of those responses were negative:
Analysis of these data identified ten themes, including: lacking quality leadership, comparing with other Churches, becoming irrelevant, centralizing action, closing rural churches, neglecting rural people, neglecting rural clergy, marginalizing rural communities, using the kitchen table [in worship videos], and looking to the future.
Nearly everyone responding was over 50. I reckon that is because only older people bother to read carefully anymore, i.e. to discover there was more to the survey.
Excerpts follow:
I just think there should have been regular national encouragement and care from the Bishops of York and Canterbury. They appear to have been very quiet in the crisis rather than leading. (Male 50s)
Embarrassing lack of leadership from the Archbishops. Unsurprising, but embarrassing, nonetheless. (Female 50s)
Nationally the Church of England has seemed to be wholly absent at a time when the voice of the Church should have been transmitted loud and clear…. From my perspective there seems to have been a wholesale failure of leadership. The previous very high regard that I had for Archbishop Welby has evaporated. Where has he been? (Male 60s)
… The opportunity should have been taken to take space within national newspapers to proclaim the good news of Jesus Christ. That this has not been done is a disgrace. The C of E does not deserve to survive and probably won't. (Male 70s)
I feel quite angry that our archbishops, our diocesan bishop and local clergy have just meekly acquiesced to churches being closed … and aren't agitating to have them re-opened. (Female 70s)
Some respondents made comparisons with other denominations:
When making these comparisons, the visibility and response of the Roman Catholic Church, in particular, was frequently singled out as a contrast to the leadership actions of the Church of England which was viewed as timid and as showing a lack of courage or determination.
Responses follow:
The Roman Catholic Church seem to have done a better job and it is interesting that media seem to have mainly been interested in what the Roman Catholic Church, or humanists, have to say, rather than the Church of England, since it has closed churches and 'retreated'. (Male 50s)
The leadership provided at the top of the C of E during the pandemic has been pusillanimous. I am giving serious thought to joining our local URC [United Reformed Church, i.e. Methodists and Congregationalists]. (Male 70s)
Above all, the C of E had a golden opportunity to give prayerful leadership and was found lacking: the most inspirational, heartfelt and genuine words of spiritual comfort and belief have come from The Queen, not her churchmen. (Female 60s)
Some people said the C of E was becoming irrelevant as a result:
In the pandemic, the majority of the hierarchy of the C of E have yet again demonstrated their inability to understand the needs of humanity in pastoral as well as spiritual aspects. Closing churches … playing with online liturgies and generally avoiding most of the social and economic issues facing humankind (now highlighted by the pandemic). It is no surprise the C of E continues to decline/become irrelevant as it retreats to its ivory towers! (Male 60s)
The church, both nationally and locally, has become increasingly irrelevant during lockdown. It has failed to inspire, lead, nurture and care. Others, such as Captain Tom and Joe Wickes have captured the nation's hearts. The church has done nothing worthy of note apart from complain about lost income. (Male 50s)
Others were unhappy about the top-down approach:
Clergy and congregations should have been trusted to act sensibly, given their local circumstances, within the broad national guidelines, 'One size fits all' was neither necessary nor appropriate. (Male 70s)
As a church warden and regular churchgoer I did not feel that the church hierarchy gave us good spiritual support during the lockdown. Also, too many Bishops who don't appear to care for the grass roots of the Church. (Female 70s)
I am very disappointed with the leadership of the National Church, and I feel they have lacked courage, vision and faith in their incredibly slow reactions to the virus situation. At parish level we have done well, but no thanks to the diocese upwards! (Female 30s)
I have been deeply frustrated by the communications from central church (mostly nationally but also regionally) which have had a lot of 'can't do', often presented in an unhelpful way rather than allowing for each parish to make decisions based on their local practicalities and local needs. (Female 60s)
 There was a distinct impression that the C of E was more about social care than worship:
Disappointing church leaders didn't debate whether churches were an essential service, when bike shops, garages, hardware stores etc were regarded as 'essential'. (Male 70s)
I am outraged that the church authorities seem to have made no defence of the importance of worship. Popping to the shop for milk or a trip to the garden centre seem to have been deemed a higher priority than religious practice, and I have seen no evidence that the bishops disagree with that assessment. It has been disgraceful. (Male 30s)
Anglican Church overreacted by closing church buildings completely. This reinforced a sense that the church is now behaving as not much more than an extension of social care. (Male 60s)
Some pressed the need for individuals, even non-believers, to enter a church at a crucial time:
People in rural villages who are not churchgoers often perceive the parish church as 'their' church and may well not appreciate being locked out of it, particularly when they may feel a need for private devotion or prayer. (Male 70s)
I feel let down by the Church. Church leaders have at no time shown any interest in finding ways to open churches…. There is dismay within the non-church going community that the focal point of our village is closed at a time when it might have attracted more interest in communal worship. (Male 70s)
As churchwardens many of us could have supervised a couple of hours a day in our churches or more in some cases to allow people in, to light candles and pray while cathedrals are staffed and could have continued to open for individual prayer. To be allowed to go to off licences and supermarkets but not to church has been wrong. (Female 60s)
I am furious that the buildings have actually been locked. The shops are open so why did the C of E feel it necessary to lock churches? The Church has turned its back on the needs of those who mourn, the ill, and the dying at the very time when the Church was most needed. I have a terminal condition and am unable to go to the place where I find peace – I feel utterly abandoned. (Female 70s)
I feel so sad … and that the Church hierarchy seemed to step back from its flock, a missed opportunity to be a Presence in a time of great need. Feel let down. (Female 60s)
As an organist, I am particularly annoyed about the closure of our church buildings …. Early on in the lockdown, the Prime Minister said that you could travel to work if you absolutely cannot work from home, which, I believe, means that if I need to use the organ to practise a piece of music I am learning for a future event, I should be allowed to do so. However, the Church of England went one step further than the Government's advice and prohibited this possibility for me. I am also subsequently disappointed that, rather than appearing to lead the Church and wider community in spirituality and prayer through Holy Week and Easter, the Archbishop of Canterbury instead chose to spend time defending these actions at what is the most important season of the Church's year. (Male 30s)
The decision to ban priests from their own churches was simply wrong. It was understood as a firm directive and the Archbishop's attempt to finesse it later by saying that it was simply 'guidance' was unworthy. (Male 60s)
Some found Justin Welby's use of his kitchen table in an Easter worship video unsettling. I fully agree:
Why on earth did the Archbishop of Canterbury celebrate Easter in his kitchen, when there is a chapel in Lambeth Palace? Did he think he was being matey and 'down to earth'? No sense of spirituality. The Last Supper took place in an Upper Room, not Martha and Mary's kitchen! (Female 70s)
And as for the Easter service from Archbishop Welby's kitchen, I thought it trivialised one of the most important festivals in the church's calendar – why couldn't he alone have conducted that 'service' from a church? (Female 70s)
The Church of England has also not covered itself with any glory here either – hiding away in their kitchens trying to avoid any kind of blame as their major assets, their focal points around which their communities coalesce – the churches remain closed. Their priests barred from entering!!! (Male 60s)
Despite their scorn for the C of E leadership, respondents separated the C of E from their personal Christian faith:
My faith in Almighty God, our Creator, remains strong and firm, no thanks to the Church of England letting us down very badly, acting in an unnecessarily fearful and cautious manner – no trust in God that all will be well. In other words, when put to the test they failed. (Female 60s)
The assessment concludes:
Three conclusions emerge from these data analyses.
The first conclusion is that the rural lay people themselves took seriously the invitation and the opportunity offered by the back page of the quantitative survey. One third of the rural lay people (34 per cent) who participated in the survey took additional time to respond to the invitation …
The second conclusion is that the comments afforded rich additional insights into the theme of national church leadership among a sample of rural lay people. The themes identified by the analyses suggest that for this group of rural lay people these issues are important both for them personally and for the church. It is clear that these rural lay people were disappointed and frustrated with decisions taken at this time. In particular, they voiced concern about both the lack of any visible leadership, together with leadership that merely acquiesced to government policy as opposed to publicly challenging or asserting alternatives to that policy. The closure of churches was particularly hard to accept. This was seen as a managerial rather than a spiritual response …
… These data suggest that some churchgoers are becoming increasingly exasperated with the way in which they are being treated.
The third conclusion is that systematic attention given to the qualitative comments on the back page of quantitative surveys may be of proper benefit in shaping future research among churchgoers. The proper blend of qualitative and quantitative methods clearly enriches the science of congregation studies.
This was a useful study, particularly if, heaven forfend, this ever happens again. Will the C of E learn? I wonder.
Before David Cameron became Prime Minister in May 2010, Conservatives used to encourage marriage and the family.
Very few Conservatives these days speak highly of either institution in or out of Parliament.
Two debates in the House of Commons within a week of each other demonstrate the low regard the Conservative Government has for families.
Education
On Wednesday, March 8, 2023, at Prime Minister's Questions (PMQs), Conservative MP Miriam Cates, who represents Penistone and Stockbridge (a Red Wall constituency), expressed her concern to Rishi Sunak over the adult — not to mention deviant — nature of the sex education curricula offered in schools in England.
The Telegraph reported (emphases mine):
Rishi Sunak has ordered an urgent review of sex education after The Telegraph exposed evidence of the widespread teaching of "age inappropriate" materials in schools.
MPs have welcomed the news, but warned that the review must be independent as the Department for Education (DfE) has produced "confusing" guidance.
This week, nearly 50 Conservative MPs wrote to the Prime Minister urging him to launch an independent inquiry into "age inappropriate" sex education following evidence that graphic sexual content and gender ideology was being widely taught in schools.
The letter, co-ordinated by Miriam Cates, the MP for Penistone and Stockbridge, was signed by Priti Patel, the former home secretary; Simon Clarke, the former levelling up secretary; and Jonathan Gullis, Andrea Jenkyns, Brendan Clarke-Smith and Kelly Tolhurst, all former Cabinet ministers.
It came after The Telegraph revealed last week that some 13-year-old pupils have been taught there are 100 genders, while in some schools children as young as 12 have been asked how they feel about oral and anal sex.
On Wednesday, Mr Sunak told the Commons that he would now bring forward a review into sex education …
In the Commons, Mrs Cates said: "Graphic lessons on oral sex. How to choke your partner safely, and 72 genders. This is what passes for relationships and sex education in British schools.
"Across the country, children are being subjected to lessons that are age inappropriate, extreme, sexualising and inaccurate, often using resources from unregulated organisations that are actively campaigning to undermine parents.
"This is not a victory for equality. It is a catastrophe for childhood."
In theory, parents are supposed to be able to see the teachers' materials for these lessons. However, in reality, some parents have been denied access to them. Others can see only a broad outline of the curriculum, which does not include specific lesson content.
This has been allowed to go on since 2019, with input from sex equality charities and their activists.
One teachers' union blamed the Government. No surprise there:
James Bowen, the director of policy at the NAHT school leaders' union, said it was hard " to be anything other than deeply concerned by this announcement".
"The overwhelming majority of schools are doing nothing more than following the Government's own statutory guidance when it comes to relationships and sex education," he said.
"It is worth remembering that the current curriculum was subject to extensive consultation before it was introduced. We have seen no evidence to suggest there is a widespread problem with pupils being presented with age-inappropriate materials and if this were the situation, we would expect it to have been picked up on a case-by-case basis.
"There is a real concern that this is a politically motivated review, rather than one based on the reality of what is happening in the vast majority of schools up and down the country.
"Our appeal to [the] Government is to ensure this review is now handled with the care, sensitivity and impartiality it requires and to listen carefully to the voices of education professionals and pupils."
Notice that he omits the voice of parents.
Jeremy Hunt's budget
On Wednesday, March 15, Chancellor Jeremy Hunt presented his budget. It is rather Blairite in many ways. Most people will find it 'middle of the road'. Upon closer inspection, there is no plan for growth through tax cuts. Furthermore, corporation tax will rise to 25%. There is much more that one could criticise. Not mentioned in Hunt's speech is the drastic reduction of capital gains allowance this year and next year.
This is what Hunt had to say about working mothers (see Column 846):
For many women, a career break becomes a career end. Our female participation rate is higher than average for OECD economies, but we trail top performers, such as Denmark and the Netherlands. If we matched Dutch levels of participation, there would be more than 1 million additional women working. And we can do that.
So today I announce a series of reforms that start that journey. I begin with the supply of childcare. We have seen a significant decline in childminders over recent years— down 9% in England in just one year. But childminders are a vital way to deliver affordable and flexible care, and we need more of them. I have listened to representations from my hon. Friend the Member for Stroud (Siobhan Baillie) and decided to address this by piloting incentive payments of £600 for childminders who sign up to the profession, rising to £1,200 for those who join through an agency.
I have also heard many concerns about cost pressures facing the sector. We know that is making it hard to hire staff and raising prices for parents, with around two thirds of childcare providers increasing fees last year alone. So we will increase the funding paid to nurseries providing free childcare under the hours offer by £204 million from this September, rising to £288 million next year. That is an average of a 30% increase in the two-year-old rate this year, just as the sector has requested.
I will also offer providers more flexibility in how they operate in line with other parts of the UK. So alongside that additional funding, we will change minimum staff-to-child ratios from 1:4 to 1:5 for two-year-olds in England as happens in Scotland, although the new ratios will remain optional with no obligation on either childminders or parents to adopt them.
I want to help the 700,000 parents on universal credit who, until the reforms I announced today, had limited requirements to look for work. Many remain out of work because they cannot afford the upfront payment necessary to access subsidised childcare. So for any parents who are moving into work or want to increase their hours, we will pay their childcare costs upfront. And we will increase the maximum they can claim to £951 for one child and £1,630 for two children, an increase of almost 50%.
I turn now to parents of school-age children, who often face barriers to working because of the limited availability of wraparound care. One third of primary schools do not offer childcare at both ends of the school day, even though for many people a job requires it to be available before and after school. To address this, we will fund schools and local authorities to increase the supply of wraparound care so that all parents of school-age children can drop their children off between 8 am and 6 pm. Our ambition is that all schools will start to offer a full wraparound offer, either on their own or in partnership with other schools, by September 2026.
Today's childcare reforms will increase the availability of childcare, reduce costs and increase the number of parents able to use it. Taken together with earlier Conservative reforms, they amount to the most significant improvements to childcare provision in a decade. But if we really want to remove the barriers to work, we need to go further for parents who have a child under 3. For them childcare remains just too expensive.
In 2010, there was barely any free childcare for under-fives. A Conservative-led Government changed that, with free childcare for three and four-year-olds in England. It was a landmark reform, but not a complete one. I do not want any parent with a child under five to be prevented from working if they want to, because it is damaging to our economy and unfair, mainly to women, so today I announce that in eligible households in which all adults are working at least 16 hours, we will introduce 30 hours of free childcare not just for three and four-year-olds, but for every single child over the age of nine months.
The 30 hours offer will now start from the moment maternity or paternity leave ends. It is a package worth on average £6,500 every year for a family with a two-year- old child using 35 hours of childcare every week, and it reduces their childcare costs by nearly 60%. Because it is such a large reform, we will introduce it in stages to ensure that there is enough supply in the market. Working parents of two-year-olds will be able to access 15 hours of free care from April 2024, helping about half a million parents. From September 2024, that 15 hours will be extended to all children from nine months up, meaning that a total of nearly 1 million parents will be eligible. From September 2025, every single working parent of under-fives will have access to 30 hours of free childcare per week.
Here, too, Miriam Cates spoke out, saying that Hunt's plan did not offer parental choice:
Jacob Rees-Mogg, a father of six, had Cates on his show last night:
Guido Fawkes has the story (emphases his):
Miriam Cates has added her name to the list of those criticising the Chancellor's £4 billion childcare handouts which, as Guido pointed out yesterday, restrict choice. Speaking to an approving Jacob Rees-Mogg on GB News, Cates joined a growing list of Conservatives, including Ranil Jayawardena and Kit Malthouse, speaking out against the policy. She got to the heart of the matter:
It doesn't provide choice… many mothers do want to go back to work, but many mothers don't. And they want to look after their own children, particularly babies under two and I very much question if this is the right policy for children and families.
At least some in the Conservatives are intent on playing happy families…
I would not have thought that the Centre for Social Justice and a Conservative MP would be natural allies, but the think tank applauded her and showed a video of her testimony at Westminster Hall in a side debate:
Most other European countries lower taxes for parents. I have seen the French advert showing the mother cradling her newborn and advising that she contact her tax office as soon as practicable to let them know she has just had a child. Note that British working class voters would rather provide child care themselves were money not an object:
Conservative MP Andrea Leadsom has spoken several times over the past few years in favour of 1000 Days, a programme that promotes babies' development in the first three years of life. The CSJ refers to it below and rightly recommends the resurrection of the Marriage Allowance, a Conservative policy that disappeared some years ago:
I fully agree that any tax scheme should discourage abuse from people who are already receiving benefit, but encouraging more mothers to stay at home in those precious early years at least would effectively ward off influences from outside the home:
Guido Fawkes also supports the aforementioned French policy of tax relief:
Guido says that his wife decided to give up work to care for their children:
Other mothers agreed:
Guido has a post on the French policy and on Conservative MPs who support a family-friendly policy for parents:
Guido would suggest borrowing from our esteemed European neighbours. As Madeline Grant points out, in France, parents of two children only hit the top tax bracket when household income reaches €250,000, while the childless hit it at under €100,000. French family taxation is based on the number of adults and children within the household, rather than on the parents individually. Policy Exchange say that "at an annual income of £30,000, a UK household currently pays £3,250 in tax with an actual tax rate (ATR) of 11%. Under the French principle of quotient familial, that same household would pay no tax (an ATR of 0%)". Making babies tax deductible is a sexy policy.
If a UK household earns £70,000, they currently pay £15,500 in annual tax with an ATR of 22%. Applying the French principle would save the same family £9,000. Even in the US, Obama gave parents a $1,000 tax break per child in 2010. This would also benefit stay-at-home mums (or dads) who choose to look after their own children rather than to farm them out to strangers in order to boost GDP. Childcare policy in the UK is framed in terms of what is good for the economy rather than what is good for children and family life. Tax deductible children would please the squeezed middle-classes during tough economic times… who knows they might even vote for a party that puts it in the manifesto.
Kit Malthouse, a former Cabinet member:
had an article in The Times on same theme this morning:
If we are serious about supporting people to have children and get back into work, a major childcare overhaul is clearly the right place to start. Here is how we start.

We need to begin with the tax system. I have often wondered why we recognise children in the welfare system but not through our taxes. In that sense, they're treated like a burden that needs offsetting rather than a cause for celebration and an economic bonus. To fix that, we could abolish child benefit and simply gave parents a tax-free income allowance of, say, £15,000 per child up to 11 years old. If you are a couple on £30,000 each with two children, for instance, this would mean that with your existing personal allowance, you could jointly earn £55,140 before you paid a penny to the government …

So rather than collecting money from families in taxation, losing some of it in administration and then returning it to them as childcare, we could simply leave more of it in their pockets to do with as they see fit.
Another Conservative, Ranil Jaywardena, spoke out in favour of a flexible taxation system for families:
He said (see Column 783):
… I welcome the Chancellor's commitment to helping families with the cost of childcare specifically. It is a great starter for 10. Finding ways to keep down the cost of childcare for parents is important, but we must not lose sight of keeping down the cost of childcare for the taxpayer too. It is extraordinary to see some on the Opposition Benches and elsewhere attack the alignment of the system in England with the system in Scotland, increasing the ratio from 1:4 to 1:5, but what is missing is choice. For 25 years, the consensus has been that everyone should go to work, and the state will provide ever more free childcare, except that it is not free—taxes are at a 70-year high—and I contend that choice is missing from the equation.
Instead of a one-size-fits-all system from Whitehall, families should be able to decide what works for them. Instead of the Government dictating how many hours of free childcare and from who in the years ahead, how about moving to a system of tax reliefs, so that parents can pay for the childcare they want, and from whom they want? Indeed—a radical thought—one parent could even choose to stay at home, allowing the other to work extra hours, if that is what they want to do.
I therefore urge the Treasury to consider reigniting the review into family taxation. Things may have changed since 2019, but I recall that in 2019 single people without a family paid 8% less tax than the OECD average, but a single-earner couple, with two children, paid 26% more. There is an injustice in this that I hope the Government will address in the not-too-distant future by commissioning a family tax review.
That tax review should reflect the fact that familial support not only for childcare but for elderly relatives provides about £1 trillion of unpaid care in this country, which people could decide to pass to the state. I do not believe that is desirable, and I believe that the state should in turn provide the environment that allows people to take responsibility for themselves.
On wraparound childcare, this is an excellent step to help working parents and for them not to have to worry about what happens after school time, but I urge the Government to ensure that we give that money directly to schools and academies to do what is right, providing a co-curricular offer that is suitable for their particular community and their children, who they know best, rather than any Government Department, or indeed any local authority.
We cannot pay for any of this without strong British businesses, and I welcome the full expensing of the business investment …
Is there any chance that Jeremy Hunt will listen to these sensible suggestions?
I doubt it. They are not statist enough for him or most Conservative MPs, sadly.
Interestingly, as I close this post on Thursday afternoon, Conservative MP George Eustice, another former Cabinet member, is on the side of his colleagues quoted above. Eustice said in Parliament this afternoon that our society no longer values motherhood and considers the term 'stay-at-home mother' to be derogatory.
How right he is.
As for David Cameron, Eustice said in his speech that the former Prime Minister was the greatest supporter of marriage and family ever but that 'bean counters in the Treasury ground him down' over tax relief.
There must be some way to discourage more welfare claims for motherhood and a way to encourage two-parent families and marriage tax allowances.
It is an interesting coincidence that family policies are being debated just days before Mothering Sunday, March 19.
My post last Friday was about Liz Truss's 4,000 word essay in The Telegraph, her 49-day premiership and the support her mandate for growth subsequently received.
There is still tension among conservative and Conservative voters about the direction of Rishi Sunak's premiership, especially with Jeremy Hunt installed as Chancellor in the last days of Truss's time in No. 10. Jeremy Hunt is a man no Conservative Party member ever wanted to see in either No. 10 or No. 11 Downing Street. Since October 2022, he seems to be running the country.
Even worse, Conservative Party members were denied a vote for Truss's successor. The Parliamentary Conservative Party elected Sunak and were delighted to crown their man without input from people they consider as plebs. That said, not every Conservative MP was happy with the new Prime Minister.
Public sentiment is not in Sunak's favour, as this poll from December 19 shows. Liz had far higher ratings in September:
Guido Fawkes wrote (red emphases his):
New polling from Ipsos MORI continues to show the dire state of Rishi Sunak's party. The poll puts Labour's lead at 26%, up 7% on November, with the Conservatives' trust on the economy falling. On public trust to secure economic growth specifically, Rishi's ratings are now significantly lower than Liz Truss managed. Liz had a lead of 15% over Labour, Rishi is level.
Economic statistics paint a similar picture. The economy outperformed other months in October, registering 0.5% growth in the one month Liz was PM. It seems the public had good reason to initially back Liz's pro-growth message.
This might seem like ancient history, but Jeremy Hunt's Spring Budget is due in March. He presented his Autumn statement in November.
On November 19, Liz Truss's favourite economist Patrick Minford wrote an analysis of Hunt's budget for The Telegraph. The opening and closing paragraphs follow:
Jeremy Hunt's Autumn Statement has presented us with big tax rises and spending cuts in order to avoid a large "fiscal hole" created by the need to have the debt-to-GDP ratio falling by 2027-28 – the new "fiscal rule". But it will worsen the recession and ironically will also wreck the public finances.
In short, the Autumn Statement is a wrecking ball – worsening recession, damaging growth, degrading the long-run public finances and even raising inflationary wage costs. Commons amendments are needed to restore sanity to these plans.
He had a much better critique for non-economists on November 5. While he disapproved of Truss's and Kwasi Kwarteng's mini-Budget delivery, he wrote (purple emphases mine):
The danger now is serious. Sunak and Hunt are set on a course that will turn a stagnant economy into a shrinking one, with unemployment rising, firms folding and the quality of public services declining even more.
The whole notion of a growth agenda has tragically been rendered toxic. The track we are now on – fiscal tightening (tax rises and spending cuts) plus monetary tightening (high interest and mortgage payments) – has been tried before and invariably leads us further on to the scorched earth of more tax rises, more spending cuts and a slump in living standards.
Politically, for the Conservatives, the outlook is grim. If Sunak and Hunt press ahead in the November 17 Autumn Statement with their triple whammy of tax rises, spending cuts and higher mortgage rates, the country is unlikely to forgive them.
That same day, The Telegraph released results of an Ipsos UK poll showing that voters were deeply unhappy with Hunt's tax increases:
Tory MPs have told The Telegraph that the decision by Jeremy Hunt, the Chancellor, to raise Britain's tax burden to the highest level since the Second World War on Thursday was the "economics of a madhouse" that has made the party "more Labour than Labour".
Polling conducted for The Telegraph by Ipsos UK shows the statement has also failed to reassure voters, with almost half of the public reporting they feel more concerned about the economy and their personal finances than they did beforehand …
In the wake of the Autumn Statement, three Conservative MPs told The Telegraph they had visited constituency associations and been met with hostility from members about the tax increases.
"I had an association dinner the day after the Kwasi and Liz mini-Budget – everybody was full of enthusiasm, they were excited again, they could see ­Conservative policies coming over the hill and they were cheering," said one backbencher. In contrast, the atmosphere at a dinner following Mr Hunt's statement was "unbelievably subdued", they said. 
Jacob Rees-Mogg, the former business secretary, said: "Conservative members are fretful, I think it's fair to say. They are loyal but fretful.
"They want to support Rishi [Sunak] and they want him to do well, but they are concerned about where we are on the economy."
Sir Bill Cash, the veteran Tory MP, said there was a "sense of bewilderment by some people at seeing things brought forward that are not at all Conservative economically or politically".
Another senior Tory MP said the ­party's supporters were "furious" about the statement, which they described as "the economics of a madhouse".
"Our voters feel as if frankly we've abandoned them and that we've become more Labour than Labour," they said.
On November 20, Liam Halligan, GB News's economics editor who also writes for The Telegraph, wrote, 'The Chancellor is taking us for fools with his cynical stealth budget':
This Autumn Statement was based on a false premise: that the UK is on the brink of fiscal implosion and set to be shut out of international bond markets.
As a result, Chancellor Hunt is imposing very substantial tax rises at precisely the wrong time, which risks driving an already shrinking economy deeper into recession and undermining our public finances even more.
Hours before Jeremy Hunt stood up in the House of Commons on Thursday, the 10-year gilt yield – the annual interest the Government must pay on a new decade-long loan – was 3.14pc.
Ahead of the now notorious mini-Budget in late September, that same yield was 3.49pc ­ – considerably higher.
It's not as if Britain is so much more indebted than other comparable countries. While our national debt stands at 97pc of GDP, the figures in France, Canada and the US are 115pc, 116pc and 132pc respectively. Across the G7, only Germany has less public debt than the UK.
But prior to the measures proposed by then Prime Minister Liz Truss and her Chancellor Kwasi Kwarteng, no-one was seriously questioning the UK Government's solvency. 
They weren't before this Autumn Statement either, as illustrated by the fact that – partly because of measures Hunt already implemented since becoming Chancellor – gilt yields had fallen by a third in little more than a month.
As such, was it really necessary, in the midst of a cost-of-living crisis, to drive the tax burden even higher? Government revenue as a share of GDP – 33.1pc as recently as 2019 – is now heading for 37.1pc, the highest sustained level since World War Two.
… no other major economy is imposing sharp tax rises in the face of a slowdown.
The UK is heading "into a storm", as Hunt said. But while he attempted to come across as humane – the word "compassion" appeared five times in a speech lasting less than an hour – the Chancellor came across as rather cynical …
It's as if he thinks we are fools and won't notice we're paying much more if most headline tax rates stay put.
When Nigel Lawson introduced the 40p rate of tax in 1988, it was paid by only the highest earning 1.7 million workers. Now, those paying income tax at 40pc or more will soon number almost 8 million – a fifth of the workforce …
This is the kind of fiscal management typically associated with Labour, not the Tories. And that could turn out to be ironic – given the voter anger that will be generated as this Autumn Statement sinks in.
Meanwhile, on another front, Rishi Sunak was undoing Truss's plan for a streamlined, more controlled No. 10. 'SpAds' below means 'special advisers'. I note that Sunak's welcome into No. 10 was much more muted than Liz Truss's:
Sunak also rejected Truss's plan for more affordable childcare.
On New Year's Day 2023, The Telegraph reported:
Rishi Sunak has shelved plans for a major overhaul of the childcare system aimed at saving parents money and helping them back into work.
Liz Truss had been looking at increasing free childcare support by 20 hours a week and ending mandated staff-child ratios in what her team described as a "big bang" shake-up of the system.
But The Telegraph understands that the policy drive has been postponed indefinitely, with the scale of reforms now being considered expected to be much smaller. Any proposed changes to the rules around childcare provision are not expected for months – a much later timescale than Ms Truss's push for announcements before Christmas …
The cost of childcare is often named by MPs as a major concern for constituents, with backers of reform arguing that better, cheaper provision would allow more parents to return to work, boosting the economy.
A stark drop in the number of facilities offering childcare has been a trend for years, with an overall fall of 10,600 providers since August 2019 in England – a 14 per cent drop.
Two days later, The Times reported, 'Don't ditch my childcare reforms, Liz Truss tells Rishi Sunak'.
Here we see Conservative MP Simon Clarke appearing. He will be a Trussite force with which to be reckoned this year. He was also a Treasury minister when Sunak was Chancellor:
Liz Truss has warned Rishi Sunak not to scrap her childcare reforms amid growing frustration from Tory MPs over the "unaffordable" costs facing parents …
Supporters of Truss, including Simon Clarke, the former levelling up secretary, are among those who have publicly criticised Sunak's plans.
Truss herself is understood to disapprove of the prime minister's reluctance to embrace significant reform.
A source close to Truss told The Times: "Excessive bureaucracy is making childcare in England increasingly unaffordable for many parents. The system needs to be reformed in order to boost growth and opportunity. Junking Liz's plans for this critical policy area seems economically and politically counterproductive."
Kit Malthouse, the education secretary under Truss, urged Sunak to "push the go button as soon as possible".
"The current system is a complicated Heath-Robinson affair that means no one, parents or providers, is happy. It's fundamental for economic growth that parents are supported in work and my team and I had formed up a 'Childcare Big Bang' plan to do just that," he said …
Amid concerns from Tory MPs over the spiralling costs of childcare, the education select committee will launch an inquiry into the problem.
On January 5, The Times's Katy Balls told us more about Simon Clarke's mobilisation of Trussite MPs:
Shortly before Christmas, in a darkly lit Chinese restaurant near the Home Office, a scene played out that would alarm any government whip. There, in a corner of Ma La Sichuan, was Liz Truss, dining with three of her allies. Simon Clarke, her one-time levelling up secretary, and Ranil Jayawardena, her environment secretary, were present. They were joined by her former parliamentary private secretary Rob Butler. None of them have prospered under Rishi Sunak.
… Clarke has already opened hostilities with Rishi Sunak, pushing to overturn the ban on new onshore wind farms. He's backed by Truss and Boris Johnson. He's also setting up a new group of Tories dedicated to that Trussite watchword: growth …
The less-than-edifying circumstances of Truss's ejection from Downing Street mean that both she and members of her cabinet have been keeping largely quiet …
But as the Trussites emerge from a period of reflection, they could pose the bigger threat in an ideological fight. They did, after all, triumph over Sunak in the argument with Tory members. "These MPs haven't suddenly changed their worldview," says a former adviser to Truss. As Clarke put it in an interview with The Spectator this week, "There is a real risk that with Liz's eclipse comes the wider rejection of an entire school of Tory thinking." He warns that "a battle for the soul of the Tory party is underway".
The good news for Sunak is that as things stand, a large chunk of these MPs don't want to throw another prime minister out of Downing Street. Free market Tories in marginal seats, such as Clarke and Jacob Rees-Mogg, will be nervous about more leader volatility ahead of the next election. But they also don't want to sit back and do nothing for two years. Instead, they want to see Sunak expand his ambitions for growth across housing, childcare and work …
Clarke's new outfit — Next Generation Tories — is aimed at bringing younger voters to the party, a cause few would disagree with. But it is ultimately free market with a focus on housebuilding and planning.
Truss could join the fray next. She has hired a press chief and there are talks about the possibility of her fronting or taking a role with a think tank. Not everyone thinks it is such a great idea. "I think silence is undervalued," says a former aide …
The Truss project didn't survive long enough for her to publish her growth plan, but a draft of the eight-page document offers a taste of the kind of policies this group is likely to advocate. They include mobile phone planning reform (relaxing planning regulations to extend 5G coverage across the country) which aides predicted would cause a parliamentary row over the digging required for new cabling. On childcare, easing restrictions for childminders; on farming, slowing cuts to subsidies to give the average farmer an extra £7,000 over two years; and on immigration, removing students and temporary workers from the net migration statistics as part of a looser policy to bolster the economy.
… while some MPs undoubtedly backed Truss for careerist reasons, plenty more regard her reform pitch as the right one. "If they pick their fight well, they'll start a debate on direction," says an MP who backed Sunak.
Katy Balls, who also writes for The Spectator, revealed Truss's growth plan in the magazine on February 9. It is eminently sensible and achievable. Truss planned for much of it to be achieved in 2023. Readers may peruse it at their leisure, as there are several tables to examine.
Returning to January 2023, the Financial Times took issue with Conservative efforts to reduce the deficit. They really have moved ever leftward over the years:
It also became clear that Truss wasn't such a bad PM after all. The UK's GDP results for November 2022 were better than expected:
On January 31, The Telegraph's Tim Stanley wrote that the IMF owes Liz Truss an apology. He reminded us of their previous critique in light of their new forecast:
Conservative Greg Clark made one very good point: this is only a forecast. The IMF has been known to get those wrong.
Moreover, it's the same clever-clogs IMF that advised us not to cut tax last year that now tells us our economy is in a nosedive because we raised taxes. Somebody owes Liz Truss an apology.
The Telegraph should apologise, too, for putting words in Truss's mouth when headlining her 4,000-word essay of February 4, their grand exclusive. The problem is that people who didn't read the essay, probably among them Andrew Neil, repeated the headline:
The day after Truss's essay appeared, her Conservative Party chairman, Red Wall MP Jake Berry, told the BBC that voters in the North had enough of the status quo and wanted a new way forward, i.e. Truss's policies. Guido Fawkes has the video:
That day, Grant Shapps told the BBC that Truss's instinct to lower taxes was correct in principle, but she collided with reality. A Twitter user pointed out Shapps's error. Truss's policies would have kept the UK second only to Germany in debt-to-GDP ratio of the G7 nations:
James Dyson, the vacuum cleaner mogul, would strongly disagree with Shapps. On January 19, The Guardian recapped an article he wrote for The Telegraph in which he criticised the lack of UK growth:
The founder of the eponymous vacuum cleaner firm said "growth has become a dirty word" under the current leadership and that on current trends, the average British family will be poorer than their Polish counterpart by 2030.
Dyson, a prominent supporter of Brexit, criticised the government's "ever higher tax bills" for the private sector and regulations, saying it is imposing "tax upon tax on companies in the belief that penalising the private sector is a free win at the ballot box".
"This is as shortsighted as it is stupid," Dyson wrote in the Telegraph on Thursday. "In the global economy, companies will simply choose to transfer jobs and invest elsewhere. Our country has an illustrious history of enterprise and innovation, born of a culture which we are in the process of extinguishing. We have got through the worst of Covid, but risk wasting the recovery."
Dyson said the government's failure to get workers back to the office after the pandemic had "badly damaged the country's work ethic", arguing face-to-face interaction was important, including for the training of new and young employees. He also claimed the growth of his business, which makes vacuum cleaners, fans and hairdryers, had happened largely "despite government, rather than because of it".
However, he concluded that "it is not too late for Britain to shake off its Covid inertia" if the government acts fast. "Starting with the spring budget in March, it must incentivise private innovation and demonstrate its ambition for growth," Dyson wrote.
The government is under pressure to reduce taxes for households and businesses in the spring budget to avoid a damaging and long-lasting recession.
On Sunday, February 12, John Redwood, who has been an MP since the Thatcher years, made an appeal on Sky News for more tax cuts, beginning with corporation tax (Guido has the video):
The following day, he wrote more about it in his online diary, pointing out that high corporation tax has caused AstraZeneca to renege on future expansion in the UK. Instead, the company will be moving to Ireland:
The decision by Astra Zeneca to put a major new investment  into Ireland where they charge 15% business tax compared to our new rate of 25% shows just how stupid our high tax policy is. Instead of getting 15% of a good stream of profits over many years alongside income tax and VAT on all the well paid ,jobs they bring, the UK has settled not to have any of it. 25%  of nothing is  nothing.
The same folly is evident in the North Sea. In a rush to get a bit more revenue this year with high and erratic windfall taxes, the government has delayed or lost important investments in new gas and oil fields. Instead of generating more well paid jobs and plenty of tax revenue on the output over the next decade or two, we opt to import and to pay huge taxes away to foreign governments on all the imports. Just one of the fields not currently going ahead would generate a gross £25bn over its life, with a lot of that passing directly to the Treasury in taxes.
Ireland makes my case perfectly. With a much lower rate of business tax than us Ireland enjoys a much higher proportion of its revenues from business tax because so many businesses go there to set up an HQ and to invest in plants and offices. Ireland  has a much higher per capita national income than us thanks to all the foreign investors congregating there to create jobs and spend money. The UK should copy them with a 15% tax rate as Jeremy Hunt himself proposed last summer. We too would get more revenue and have higher per capita average incomes. Enthusiasts for the EU are always urging us to align more with our Irish neighbours. This would be a great way of doing just that.
When Margaret Thatcher and her Chancellors cut higher rate income tax from 83% to 60% and then to 40% the amount of income tax paid by the better off rose in cash terms, rose in real terms, and rose as a proportion of total income tax. What's not to like for all involved? When George Osborne drove UK corporation tax down gradually to 19%, the take from company tax went up, not down. So why do OBR and Treasury models tell Ministers any cut in tax rates will lead to a reduction in tax revenue we cannot afford? History and modern experience suggests otherwise.
Last week, economic growth continued to be a hot topic. On February 24, The Telegraph published two letters from their readers on the subject.
One reads:
SIR – For many years we have believed that we live in a rich country – one that can afford top-class services such as the NHS, social support and good roads, railways and other infrastructure, and can buy whatever food it needs from abroad rather than growing it.
Sadly this is no longer the case. Britain does not generate enough wealth to support its needs, and has been borrowing ever more to make up the shortfall. Unless we make a fundamental change and start to grow our economy, we will not be able to afford the things we think we are entitled to.
The other says:
SIR – When will the Chancellor and Prime Minister remember that taxation discourages whatever it falls on, and that, in many cases, raising tax rates leads to lower overall receipts?
… we have ended in the grotesque chaos of a Conservative government – a Conservative government – scuttling around raising corporation tax at precisely the moment it should be lowering it in order to encourage businesses to set up and invest in our economy.
Meanwhile, the wagons have been circling from both the Sunak and the pro-Boris camps.
On the Sunak side, Lee Anderson is now the Deputy Chairman of the Conservative Party and, on February 21, another Red Wall MP, Brendan Clarke-Smith, was appointed to succeed Anderson as leader of the Blue Collar Conservatives. While both will do brilliantly, is it just a cynical move from Sunak to keep Red Wall voters onside with no policy changes from Downing Street?
On the pro-Boris/Liz side of the equation, David Campbell-Bannerman, a former Conservative MEP and head of the new Conservative Democratic Organisation, says that Conservative associations across England are prepared to de-select MPs who resigned when Boris was PM so that he was himself forced to stand down. They are also angry that they voted for Liz Truss and found her similarly deposed within a few weeks.
On February 23, The Telegraph's Christopher Hope reported:
Members are particularly irked that they chose both Mr Johnson and Ms Truss, only for MPs to force out both and eventually appoint Rishi Sunak as Prime Minister. During the Conservative leadership campaign last summer, members voted by 57.4 per cent to 42.6 per cent for Ms Truss over Mr Sunak.
Last weekend Damian Green, the former de facto deputy Prime Minister under Theresa May, was not selected to fight the Weald of Kent seat at the next general election. There were reports that this was because of anger at his criticism of Mr Johnson when he was prime minister, although this was disputed by friends of Mr Green.
Scores of MPs are facing votes on whether they will stand at the next election before July 23 – known as "vesting day" in Conservative Central Office – because of a shake-up of constituency boundaries.
There were suggestions in Westminster that Sir Richard Graham, who was critical of Mr Johnson, might not be readopted by his party at a meeting of local Tories in Gloucester on Friday. Sir Richard urged Conservative colleagues to focus on defeating Labour rather than party disunity …
Mr Campbell-Bannerman, a former Conservative MEP, told The Telegraph's Chopper's Politics podcast: "I get the feel of a reckoning – MPs being held to account. MPs have caused this chaos by bringing down Boris.
"There were about 60 MPs who signed letters or resigned or said Boris should go. There's more than that, maybe 150, who didn't want Boris. I'm not saying Boris was flawless. He certainly wasn't. But look at the disaster that has followed getting rid of him. Surely they should have toughed it out, got him to improve performance?"
He added that "potentially" dozens of these MPs could now find that they are not adopted as candidates by their local parties, adding: "A lot of MPs will be coming up for selection and they will be held to account.
"I'm not advocating it, but what I'm advocating is the members have the right and the power to do this. Central Office should back off and they should be allowed to make their decisions.
"We don't have a hit list or a target list. We're not operating like that. But we support members and I think we've empowered members to take back control, to say hang on, this isn't good enough. We're not getting a good enough choice here. We want to do it our way."
He said MPs were "being held to account for plunging the party into crisis", pointing out that the Tories had plummeted in the polls.
"We've really gone down badly, due to the chaos. And you can point fingers at Liz Truss, but Liz Truss would not have been there if they had kept Boris and Rishi wouldn't be there if they had kept Boris," he added.
Good! Well said!
Liz Truss stood by Boris all the way until the end. Her South West Norfolk Conservative association awarded her with reselection for the next general election:
An indirect compliment came Liz's way from Labour's Keir Starmer. Imitation is the sincerest form of flattery. He, too, is touting a growth-led economy — for now, at least:
An exciting year lies ahead, one that will make or break either the Conservatives or Labour ahead of 2024's general election.
Readers who missed them might wish to read Parts 1 and 2 in this series on Scotland's First Minister, Nicola Sturgeon, who announced her resignation as SNP leader on Wednesday, February 15, 2023.
She will remain First Minister until the SNP membership elect a new leader. Afterwards, she will remain an MSP for Govanhill in Glasgow, which you can view in the first 11 minutes of this video:
The saga about her last few years in office continues.
Independence
Scotland held an indepence referendum in September 2014. Alex Salmond was First Minister at the time. A slim majority of Scots voted to remain part of the UK.
At the time, the SNP said that it would be a 'once in a lifetime' referendum. However, since then, it quickly became apparent that the Party hoped to increase the momentum for Yes in the years that followed.
Neither Salmond nor Sturgeon, who succeeded him in 2014 post-referendum, ever put forward a detailed, phased plan of how independence would actually work.
A Reddit thread from May 9, 2021 illustrates that independence would raise complicated issues and future arrangements. Three contributors' comments follow:
1/ … the plan is to use the pound for several years which, I'm not sure is a great plan.
2/ Weird question but what qualifies as an asset? Sometimes, some independent supporters like to say that if we have a clean break, we'd have no assets but we'd also have no debts but aren't some assets inevitable like the Scottish Parliament building, public infrastructure and all the Crown Territories etc?
3/ There will absolutely not be a clean break. HMRC will almost certainly have to collect tax on our behalf for a number of years.
I also expect us to remain part of the UK single market and customs Union immediately after independence, until something is sorted out with regards to the EU.
The first day of independence will be all about making everything exactly the same as the day before, not one thing should change, that doesn't absolutely have to. Then there should be a gradual parting of the ways over several years, where it is beneficial to do so.
Four months later, on September 9 that year, The Express reported that Sturgeon was keen on another referendum with a 'detailed prospectus' beforehand, even though polling showed that Scots weren't that interested:
The First Minister used her Programme for Government statement on Tuesday to re-pledge her desire to have a second vote on leaving the UK by the end of 2023. Ms Sturgeon argued "at this juncture in history, it is essential that we consider the kind of country we want to be, and how best to secure it".
Putting independence at the heart of her government, she ordered work to once again begin of a "detailed prospectus" outlining the case for going it alone.
But a Survation poll found only 38 percent of voters believe there should be another referendum within two years.
In another damning blow to the SNP's independence dreams, the survey also found support for remaining in the UK stood at 57 percent, with 43 percent backing independence.
The findings are in stark contrast to last December when support for quitting the UK was supported by a record high of 58 percent of Scots.
Just over a year ago, on February 10, 2022, The Spectator pointed out the difficulty with State pensions in the event of independence (emphases mine):
In an interview last night with ITV's Representing Borders programme, the First Minister said that, while she accepts 'on an ongoing basis it will be for the Scottish government to fund Scottish pensions' … she believes that 'historic assets and liabilities' will be a 'matter for negotiation.' Unfortunately, there are no historic assets and liabilities in the pensions system; the state pension is not some great historic pot but rather paid from current taxation.
Sturgeon claims such a negotiation would take account of 'the historical position in terms of National Insurance contributions, paid by Scots.' But the truth is that there is no collective National Insurance 'fund': it's effectively a convenient government myth to raise taxes by the back door. There is no legal claim on an NI fund, with no-one paying in and nothing to pay into. Is Sturgeon trying to deliberately conflate pensions with other assets and liabilities to try to trick the electorate? Or is she herself unaware about how the state pension system actually operates?

Here is a clip from the programme:
The Bow Group think tank crunched numbers for Scotland a few weeks later. On February 28, 2022, The Scottish Daily Express reported that the results were dire:
Scotland would be poorer than countries like Romania and the Czech Republic if the nation separated from the UK, a leading political expert has warned.
… Ben-Harris Quinney, chairman of the Bow Group think tank, says Scotland's economy would take a massive hit.
In the event of separation from the UK, Scotland would need to take on its share of the UK's national debt while other assets and liabilities would need to be divided.
Speaking to the Express.co.uk, Mr Quinney said: "The costs of Scotland having its own currency, splitting assets, and having a trade border with the UK is impossible to predict with any specific accuracy because the variables are too great.
"It is likely however that the costs of these shifts to the Scottish economy will be very high.
"Scotland, separated from the UK, is a relatively poor country based on its economic performance.
"Twenty per cent of Scottish citizens are considered to be living in poverty, and its total national economy of £150 billion is worth less than a quarter of London's economy.
"As an individual nation it would likely be poorer than countries like Romania or the Czech Republic."
In 2020, Romania was only the 18th richest European country with its economy valued at £182billion, contracting by just 3.9 percent and recovering strongly at 6.5 percent in the first half of 2021.
Mr Quinney also warned Scotland could be left footing a bill worth hundreds of billions of pounds if it decides to become an independent country, as it would have to take on a large chunk of the UK high national debt.
While the UK is set to pay the EU nearly £40billion over a number of years as part of a Brexit divorce settlement, Scotland could be left footing a much higher bill.
Mr Harris-Quinney further warned: "Scotland has a significant share of UK national debt, and there are several major UK assets in Scottish territory like North Sea oil and gas, military bases, and Crown territory.
"At a minimum there would have to be a negotiation on ownership of property and payments in either direction to unbind these areas.
"Scotland would likely want to keep tariff free trade with the UK, and a liberal border arrangement with the UK.
"It would rely heavily on imported goods, the majority of which coming from the UK initially, and perhaps for the foreseeable future."
Russia's invasion of Ukraine began on February 24, 2022.
On March 18, a poll found that 59% wanted independence talks halted because of the situation in Ukraine. Boris Johnson was the first world leader to step up to the plate in that regard:
On June 28, Sturgeon announced the next referendum date would be October 19, 2023. Deputy SNP leader John Swinney is walking with her at Holyrood:
The Scots were not interested. This time, rather than Ukraine, they said that the parlous state of the NHS and the police service were a national priority.
On June 30, The Times reported:
Nicola Sturgeon has been accused of neglecting Scotland's NHS and police force with her push for independence as new polls showed voters do not want another referendum on her timetable.
Surveys by YouGov and Savanta ComRes both found that more than half of people asked were against another constitutional ballot taking place on October 19, 2023 …
The Savanta ComRes poll for The Scotsman found that 53 per cent of people did not believe a referendum should take place next October, while 40 per cent said it should and the remainder were undecided.
It also found that 44 per cent of those questioned supported independence, while 46 per cent were opposed, both down one point from a survey last month. Ten per cent were undecided, which was up three percentage points.
The YouGov research, for the Scotland In Union, the anti-independence group, found that 55 per cent of people did not think a referendum should be held before the end of 2023, with 34 per cent in favour and 11 per cent unsure.
The same survey found that voters ranked it fifth in their list of priorities, with 20 per cent of people putting in the top three issues they believed the Scottish government should prioritise over the next two years.
This put a referendum behind the NHS (59 per cent), the economy (57 per cent), education (23 per cent) and climate change and the environment (21 per cent).
On July 20, Sturgeon's new prospectus for independence appeared online. Unfortunately, its cover showed an English wind farm. Admittedly, it was soon changed to a Scottish one, but, considering how the SNP despise the English, the irony was not lost on those of us south of the border:
The Conservative Party leadership contest was in full swing in July and August. Liz Truss called Nicola Sturgeon 'attention-seeking', and, as such, best left ignored.
GB News's Dan Wootton asked The Telegraph's Scottish Editor Alan Cochrane if Truss's remark would damage independence hopes. He said that the SNP was already in enough trouble already:
On Tuesday, August 9, The Express reported that Scotland's Advocate General, a Law Officer of the Crown who advises on Scots law:
submitted the UK Government's argument that constitutional matters are reserved for Westminster and a referendum on Scotland's future cannot be held without the consent of Westminster.
It comes after the SNP-led Holyrood Government claimed last month that its plans for IndyRef2 fall within the scope of its powers as the ballot would be "advisory" and have no legal effect on the union. A full hearing on the case is set to be heard by the Supreme Court in October.
UK law officers have argued that the constitution is reserved to Westminster.
Last month, the Scottish government published its case, stating the referendum is "advisory" and would have no legal effect on the union.
A spokeswoman for the UK government said: "People across Scotland want both their governments to be working together on the issues that matter to them and their families, not talking about another independence referendum.
"We have today submitted our written case to the Supreme Court, in accordance with its timetable …"
The hearing is set to take place on October 11 and 12 in London.
In the submission last month, the Scottish government said any referendum would not be "self-executing", meaning it would be advisory and only used as a way to discover the views of the Scottish people.
On Thursday, August 25, GB News reported that Sturgeon appeared at an Edinburgh Fringe venue to talk and tell the audience that an independent Scotland would remain at the heart of the British Isles:
Nicola Sturgeon has told an audience in Edinburgh that still considers herself to be British, despite the long-running campaign for Scottish independence …
Speaking at 'In Conversation with Nicola Sturgeon' at the Fringe, she said: "So, this might surprise people, but do you know I consider myself British as well as Scottish.
"British is an identity that comes from being part of the British Isles.
"We'll still be part of the British Isles. An independent Scotland would still be part of the British–Irish Council that I go to right now as First Minister.
"Identity is a complex thing. Many people live in Scotland, are as Scottish as I am, but will have a very proud Pakistani or Indian or African identity."
Speaking at a hustings in Perth on Tuesday, Ms Truss told Tory members she would "not allow" another vote on independence if she was elected as prime minister on September 5.
But former chancellor Rishi Sunak – Ms Truss's opponent in the leadership race – was less steadfast in his rejection of another vote, saying he accepted the union was "by consent" but saying he did not think "now or any time in the near future" was the time to consider another vote.
On Wednesday, November 23, The Guardian reported that the UK's Supreme Court blocked a new Scottish independence referendum:
The Scottish parliament cannot hold a second independence referendum without Westminster approval, the UK supreme court has ruled, in a unanimous judgment likely to anger Scottish nationalists who say the country's future is for Scottish voters to decide.
The first minister, Nicola Sturgeon, said immediately after the ruling: "Scottish democracy will not be denied."
She said: "Today's ruling blocks one route to Scotland's voice being heard on independence – but in a democracy our voice cannot and will not be silenced."
Sturgeon said she respected the ruling, but accused Westminster of showing "contempt" for Scotland's democratic will.
"This ruling confirms that the notion of the UK as a voluntary partnership of nations, if it ever was a reality, is no longer a reality," she told a news conference.
Sturgeon said her government would look to use the next general election as a "de facto referendum" on separating from the rest of the UK after more than 300 years.
Insisting that the SNP "is not abandoning the referendum route, Westminster is blocking it", she said: "We must and we will find another democratic, lawful and constitutional means by which the Scottish people can express their will. In my view, that can only be an election."
Scottish 'embassies'
Did you know that Scotland has notional embassies in Canada, China, America, France, Ireland, Germany, Belgium and Denmark?
On August 27, 2022, The Times told us:
Offices include a £2.5 million base in Brussels, the heart of the European Union, which employs about 20 people.
Scottish government officials said hubs increase visibility for Scotland and create new economic and trading opportunities. However, the Scottish Conservatives have accused the first minister of being "caught asleep at the country's wheel while rubbish is piling up on [our] streets".
A Scottish government spokesman said: "The first minister is visiting Denmark for a series of trade, investment and policy engagements, including meeting representatives of the Danish government" …
However, that visit did not go quite as planned.
Sturgeon planned to meet the new Danish prime minister, Mette Frederiksen, who arranged a meeting for her with Denmark's foreign minister Jeppe Kofod, instead. Good for Ms Frederiksen.
The Times said:
The pair "discussed how Scotland and Denmark can work together on issues such as the cost of living crisis, energy and the climate emergency," according to the Scottish government.
Sturgeon has been criticised for travelling to open the "Nordic Office" — which is based inside the UK embassy — with waste piling up on Scotland's streets and workers across the public sector threatening to strike …
Oh, dear. She got the early breakfast slot with Kofod:
Sturgeon met Kofod around 7am before hosting a roundtable with State of Green, a group pushing for a transition towards renewables, business and energy leaders to discuss "how Scotland and the Nordic region can work together to accelerate decarbonisation and share expertise".
That said, afterwards, there was time for Sturgeon to go fully international:
She then visited a Unicef supply warehouse in Copenhagen this afternoon to see how it is supporting children impacted by the war in Ukraine before opening the office with an official reception.
Watch for a global post for her sometime in the future.
Meanwhile, it should be noted that:
Foreign affairs are reserved powers with the UK government, but the Scottish government spends about £6 million a year on a network of overseas offices.
Thank goodness Nicola Sturgeon will no longer be First Minister. It is understood that the leadership contest will be brief.
Scotland should have a new leader by this time in March 2023, if not before.
End of series
Wednesday, February 15, 2023, was a busy day in Britain.
The day began with Labour leader Sir Keir Starmer announcing that the former Party leader Jeremy Corbyn, would not be allowed to run for re-election under Labour. Corbyn had the Party whip removed some time ago and is an Independent MP, representing Islington.
At 11:00 a.m., Nicola Sturgeon announced her resignation as Scotland's First Minister, although she will remain an MSP (Member of the Scottish Parliament) until the next election:
Two big news events in one day caused some political reporters to race from a London airport to Edinburgh to cover both stories.
This was Metro's take on the day:
I watched most of the press conference, which, as one has come to expect from Sturgeon, was three times longer than it should have been.
She really didn't talk much about Scotland or the Scots, either, only herself:
Sturgeon said that she would remain in politics and defend women's rights, something she said she had always done.
One wonders.
Gender Recognition Reform Bill and independence sticking points
Since the Scottish Parliament passed their Gender Recognition Reform (GRR) Bill several weeks ago, regular protests for women's rights have been taking place in Glasgow's George Square. The Secretary of State for Scotland in Westminster is blocking its passage to Royal Assent by enforcing Section 35. This is the first time the UK parliament has vetoed Scottish legislation.
Scottish Labour joined the SNP and Greens in pushing the legislation through with no safeguarding amendments, as tabled by the Scottish Conservatives and duly rejected. These would have required more than a man's self-identification as a woman on his own assertion. Since then, news has emerged of a rapist dressed as a woman who was serving time in a female prison. There are other examples of male criminals claiming to be women. One such man recently abducted a little girl for 27 hours. This has not impressed Scots, especially as MSPs supporting the recent legislation said that these things never happen.
On February 9, 2023, Scotland's Daily Record reported that 30000 SNP (Scottish National Party) members have cancelled their membership (purple emphases mine):
Up to 30,000 people are said to have ­cancelled their SNP membership in response to Nicola Sturgeon's gender reforms and the ­stalling of independence.
The First Minister is under rising pressure to ­abandon her Gender Recognition Reform (GRR) Bill altogether in a bid to halt the meltdown. Polls have also shown public support for the SNP and ­independence has plunged after it emerged double rapist Isla Bryson had spent time in a women's prison.
Dozens of SNP supporters have taken to social media to say they have binned their membership cards. One said: "I cancelled my membership. Rejection of ­reasonable amendments to GRR the final straw… the ­Scottish Government look like zealots."
Another said: ­"Membership cancelled. I never signed up for regressive identity politics."
GRR, or grr, indeed.
Scottish independence also emerged as an issue for those cancelling SNP membership. Many think it's going nowhere:
Yet another added: "I am for ­independence. I don't see the SNP getting us there and have cancelled my ­membership. I believe this issue, women's rights and the need for single sex protections to be important in its own right."
Polls show that the appetite for independence has been falling recently. The GRR has probably helped that, as people think more of that type of legislation would come if Scotland withdrew from the United Kingdom.
As one commenter on a Guido Fawkes post put it:
People, in general, are happy to ignore politicians until they do something that affects them. They hadn't thought about the ramifications of "trans women are women", because it hadn't directly affected them.
Well, by putting a rapist into a women's prison, they noticed and they saw how dangerously stupid the idea of self id was. What brought her down was her inability to row back after she had painted all the people who warned this would happen as bigots.
Sturgeon also got herself tied up in knots at a press conference about the rapist in the women's prison by mixing the convict's genders, which brought more grilling by interested reporters.
The Daily Record article continues:
Support for the SNP as well as support for ­independence, has dropped, according to a YouGov poll out last week. It fell to 44 per cent from 50 per cent in December in the Holyrood constituency vote and from 40 per cent to 36 per cent in the regional list. SNP support at Westminster dropped from 43 per cent to 42 per cent while backing for ­independence dropped from 53 per cent to 47 per cent.
Sturgeon said she plans to run the next UK election as a "de facto referendum" in the hope of achieving a majority of votes north of the Border and ­securing negotiations on ­independence. The SNP does not publish membership numbers but a party source said: "This is a real and deepening crisis for the SNP and Sturgeon ­personally".
Only last month, Sturgeon was confident that she had 'plenty left in the tank' to lead Scotland to independence:
Now not so much.
Interestingly, a February 1 article in the Scottish Daily Express said that Sturgeon was due to resign soon:
David Griffiths, a former Holyrood candidate for the Alliance 4 Unity party, told the Scottish Express that sources close the SNP leadership have the First Minster's days numbered.
He caused a stir on social media on Tuesday by tweeting: "I'm told Nicola Sturgeon will shortly announce her decision to stand down as SNP leader before the next UK General Election" …
Asked for more details, he said: "Let's just say I'm acquainted with someone who is close to some of the SNP hierarchy and they've said they are hearing that she might have decided that she's had enough."
Commenting on car crash interview with Ms Sturgeon where she branded opponents to her gender policy "misogynistic, homophobic, and racist" he said: "It was just the most staggering thing I've ever heard from a senior politician in Scotland."
Someone commenting on a Wings Over Scotland post ('The Ship That Died of Shame', February 15) said a friend had heard about the upcoming resignation the evening before:
I was told last night she was going. A friend had a load of SNP big wigs in his taxi and they were talking aboout her resignation. So its come to pass. Hoepfully she's not destroyed the dream of an Independant Scotland. Now we must get the best people.
Poor polling
In recent weeks, it has come to light that the Scottish Parliament's views do not reflect those of Britons as a whole.
On February 10, UnHerd commissioned a poll conducted by FocalData about GRR based on four questions.
General statements, such as being allowed to change one's gender received broad agreement, but more specific ones, such as transgender women using women-only spaces and participating in women-only sports showed more opposition.
UnHerd has an accompanying map showing the nuanced areas of response by parliamentary constituency:
Once you start asking about specific policies and impacts, the results move in a decidedly more sceptical direction. Asked whether "transgender women should be allowed to use spaces reserved for women, such as women's toilets or changing rooms", 33% agree and 42% disagree. Most of the 53 constituencies that support the idea contain city centres and student towns, while all but one of the top 10 most opposed constituencies are in Scotland.
Whereas taken as a whole population, Scotland is only slightly more trans-sceptical than England and Wales (31% of Scottish people strongly disagree with the proposition about women-only spaces, compared with 28% in Wales and 27% in England), those areas in strongest disagreement are almost all in Scotland. In total, 45% of Scottish voters oppose the idea compared with 32% who support it. The result in Scotland underscores the political risk to First Minister Nicola Sturgeon of her Gender Recognition Bill …
Taken as a whole, there seems to be a majority of voters coming to a nuanced position on this issue: supportive of people who wish to identify as a different gender, but sharply defensive of women-only spaces and sports. And on the evidence of Scotland, the more they are exposed to the arguments the clearer that view becomes.
On February 14, The Revd Stu Campbell, founder of Wings Over Scotland, published results of a poll they commissioned from Panelbase in 'Confirmation Bias For Beginners':
He says the results show that most MSPs are not representing the views of their constituents:
… we just asked directly if people felt their MSPs were doing their jobs.
Ouch. By well over 2 to 1, respondents felt that they were being let down by the people who are supposed to speak for them. (Excluding DKs the margin is just shy of 70/30, very similar to the margin by which people in polls oppose self-ID generally.)
But it's when you drill down into the detail that it gets a bit disturbing.
Because remember, we're not asking for people's views on gender reform itself here. We're simply asking if they think the Parliament is in step with the public. And for voters of the Tories, Labour and Lib Dems, that's an easy answer.
Even though the latter two supported the GRR, their voters are clear that they did so against the wishes of the public, by margins of 14:1 (Tories), almost 4:1 (Labour) and 3:1 (Lib Dems). And that's perfectly rational, since countless polls all show the same.
SNP voters, however, are split down the middle in a statistical tie of 36-35. But far more said they didn't know than voters of the other parties, which means that barely over a third of even SNP voters think Parliament is speaking for the people …
But more than that, what they tell us is that Parliament is letting the whole of Scotland down with its dogged, pig-headed determination to force through law that nobody wants. And the people know it.
Those 'in the know' know nothing
Returning to the GRR bill, a number of MPs, pundits in London and at least one civil servant thought that enforcing Section 35 would boost Sturgeon's popularity.
Guido Fawkes posted an excellent summary of the predictions they made only a few weeks ago:
He tells us:
Following weeks of scrutiny over her controversial transgender reform bill and stance on trans rapist prisoners, Nicola Sturgeon resigned this morning. This came as a surprise to Guido – for weeks pundits were warning the government's decision to block Scotland's Gender Reform Bill was a victory for Nicola and the independence cause. Instead it's seen unionism boon and Sturgeon quit. Even Reuters is now reporting that Rishi "outmanoeuvred" the First Minister. 
Behind the scenes Sue Gray, the powerful Second Permanent Secretary to Cabinet Office, went out on a limb in Whitehall leading the mandarin's efforts to block the block. She was hyperactive behind the scenes trying to stop Alister Jack using Section 35, claiming it would be terrible for the union and boost Nicola. Her expertise on the union has been found wanting…
The Guardian's political editor Pippa Crerar's judgement was likewise shown up, as her analysis described how the SNP might weaponise a court battle, which could prove a "gift to the independence cause". Whilst New European columnist James Ball said the government's invocation of Section 35 was "every one of Sturgeon's Christmases at once". He went on to add it was "total idiocy".
The were plenty of Tories who made the same, demonstrably wrong, argument. Senior Scottish Tory MSP Jamie Greene voted for the bill on those grounds. Penny Mordaunt too warned it could backfire. Theresa May displayed her characteristically statesman-like political acumen as she came out in favour of the bill. A fair number of Tory wets were left high and dry, as they piled on to criticise the government's decision to block the move. Whilst the Tory Reform Group called UK Government intervention a "deeply concerning development" which "played into the hands of those who seek to break our Union". A reminder – "Yes" is now 12% behind in the polls.
How little those in the know actually know.
Missing money
However, there is another reason why Sturgeon might have chosen this very moment to resign: the missing sum of £600,000 from the SNP's coffers which was supposed to have been, in the Party's words, 'ring-fenced' for the independence cause.
Guido explains:
In recent days Police Scotland were finally given permission to formally interview a number of SNP and ex-SNP figures about the disappearance of £600,000 that had been donated by activists and ring-fenced as a Scottish Independence fund.
Despite the ring-fencing, when the SNP published their 2019 accounts it was noticed they had just £96,000 in the bank.
More intriguingly, it later emerged that Sturgeon's husband, Peter Murrell, loaned the party over £100,000 in June 2021, a move that Scottish Tory chairman Craig Hoy described as "beyond odd for the SNP chief executive – and Nicola Sturgeon's husband – to be lending his employer a six-figure sum of money".
Imagine if the First Minister had been a Conservative:
Guido reckons the Lobby would have spent much more time scrutinising this were she a Tory First Minister…
The missing money was old news when I first read about it in 2021. Most of the sum was comprised of Party members' contributions rather than those of big donors. Those people want to know what happened to it.
One donor on a Wings over Scotland post says:
… the missing money is, I think, the thing lurking in the shadows. I'll admit I gave money as I assumed (wrongly) we'd be getting a massive push towards a referendum and independence. I didn't expect it to vanish into a black hole where Sturgeon and her husband look iffy and now with the police getting involved, it looks as if fraud is suspected.
There will be no de facto referendum this year. Whoever takes over from Sturgeon will hang onto their position til the Westminster elections next year because that short money needs to come in. Of course, if the police do find that Sturgeon or her husband are guilty of fraud then the effects of that are going to be felt for the new FM.
I do feel there's a lot happening which hasn't spilled over into the public domain as yet, but we're seeing hints here and there … which suggest to me that something else is coming down the line.
The Revd Stu Campbell from Wings over Scotland mulled over Sturgeon's timing and the money issue:
Nicola Sturgeon told Scotland's press this morning that despite her weariness, she could have managed a few more months or even a year as First Minister, which would at least have got her halfway to keeping her promise to serve a full term if she was elected in 2021.
Which just makes her timing all the harder to explain.
Because it's hard to imagine how much less appropriate it could have been.
Firstly, the party was completely unprepared. We've spoken to several current SNP elected representatives today and none of them had had any advance warning – not even the slightest hint – of the resignation. Incredibly, the first they knew was reading about it on social media this morning. Wings knew before SNP MPs and MSPs did.
And secondly because it leaves the SNP in total chaos. Just four weeks from now it's due to have arguably the most important conference in its history, at which it'll decide how to deliver to the people of Scotland the say in their future that they've been promised since 2016.
Campbell points out that, according to SNP rules, it takes 133 days to elect a new Party leader, so Sturgeon will be with us for several months yet, unless the National Secretary amends the process. He has a screenshot of the rules in his post.
He continues:
So why the sudden rush out the door?
There is simply no rational explanation for the timing of Sturgeon's exit to be found anywhere in her resignation speech/conference, except for the last 16 seconds of it. It is an astonishing betrayal of those still loyal to her (she betrayed everyone else long ago, of course) to hand them such a short-fused fizzing timebomb and run for her life.
So if anyone can come up with a convincing alternative to the idea that she just didn't want to be actually sitting at her desk when her husband and/or herself were arrested for defrauding her own supporters out of £600,000 of their hard-earned cash, we're all ears. But it better be really, really good.
On this subject but elsewhere in the ether, someone made a mock-up of Sturgeon's perspex podium: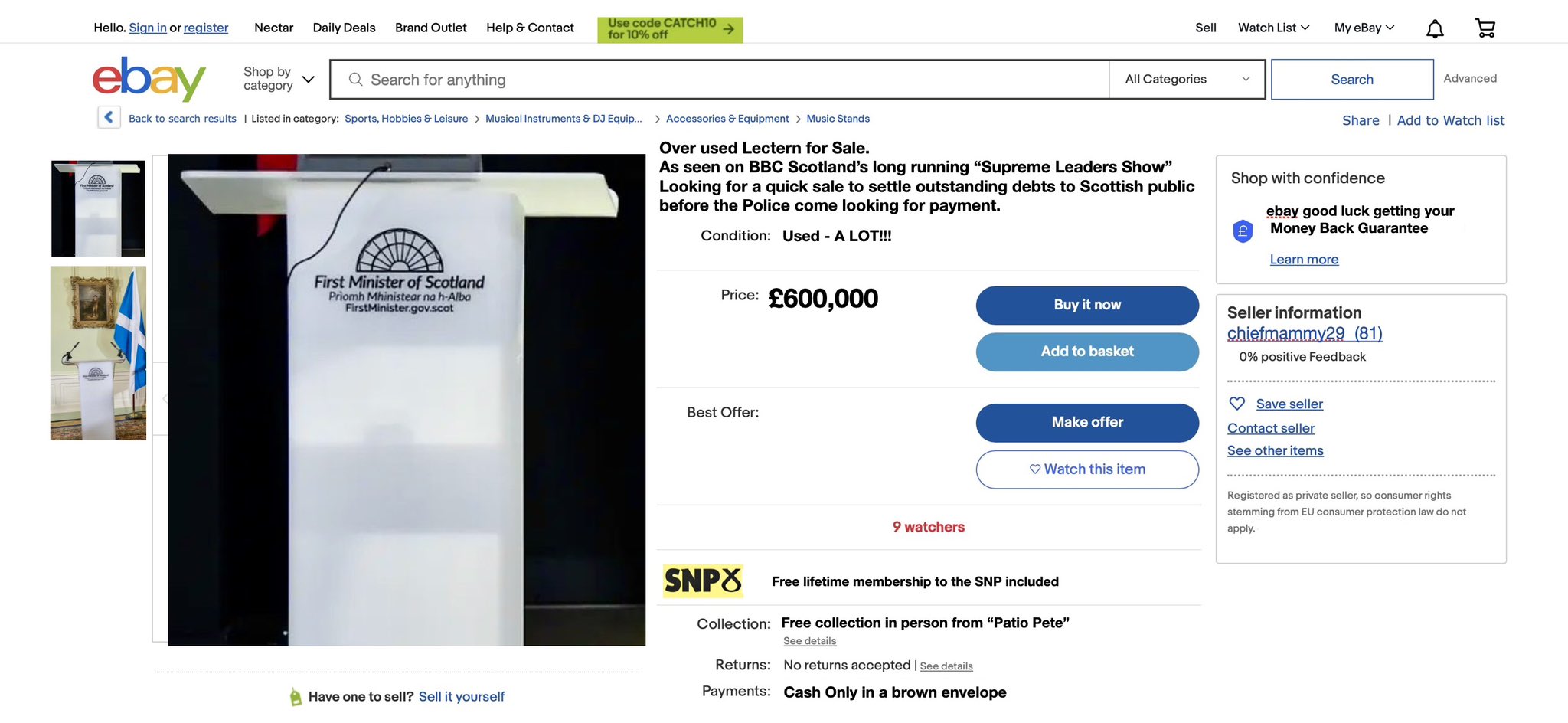 People wonder why Police Scotland hadn't stepped up to the plate over the £600,000 years ago.
Scottish law is different to that of other nations in the UK, but three comments on one of Guido's posts might go some way in explaining the delay:
If there is a criminal investigation, the police shouldn't need "permission" to interview anybody. The fact that in Scotland apparently they do tells us all rather a lot about how the SNP have been governing Scotland. I really wish the UK government would conduct a real probe into what has been going on north of the border. That might sound the death knell for devolution at last. And Brown wants to extend the whole fiasco by breaking England up into lots more individual fiefdoms as if London hasn't already shown the idea up as nonsense.
Police Scotland had to get permission from the Crown Office (their CPS) to question Sturgeon and Murrell. The head of the Crown Office also being a government adviser had absolutely nothing to do with the delay in permission being granted………
They had to wait until they could be confident their careers and/or pensions wouldn't be harmed by investigating the no-longer-golden 'girl'.
No obvious successor
Finding a successor will be interesting.
A commenter on another of Guido's posts thinks old but deep internal SNP issues will re-emerge:
The next few months will also see some very ugly wounds that have not healed … burst wide open … Whoever takes her place will be fighting several fires that have gone one for a very long time, with several pretty much out of control now. This is a very precarious time for that party, and they could very easily implode.
Despite Sturgeon saying that:
the SNP is awash with talented individuals
Guido begs to differ (see link in tweet):
It seems SNP MPs disagree – one told The Scotsman that the talent pool is a "shallow well"…
Guido recapped the top runners and riders. In the middle is Deputy First Minister John Swinney and on the right is Cabinet Secretary for Finance and the Economy Kate Forbes, currently on maternity leave:
Guido has based his profiles on the results of a Panelbase poll for The Sunday Times which shows that of all possible candidates, Don't Know wins by a whopping 69%:
Nicola Sturgeon has resigned as First Minister, brought down by her own absurd gender reform bill and crashing support for independence. As ever, Guido brings you the runners and riders for who might step up to replace her. The latest polling from Panelbase, published last week in The Sunday Times, paints a grim picture for the SNP; virtually none of the potential candidates have any name recognition or support base. Still, here's how things stand…
Kate Forbes – Scotland's current Cabinet Secretary for Finance and the Economy. By a narrow margin, the most 'popular' choice to win, although only in the loosest sense of the word – she got 7% in the Panelbase poll. At 32 years old, she'd be the youngest political leader in the UK by quite a margin. Hasn't ruled out standing, according to "a source close to her" in the Times. Crucially, she's been sceptical of Sturgeon's gender policies. Currently on maternity leave…
John Swinney – Current Deputy First Minister. Got 6% in the Panelbase poll. Loyal to Sturgeon and an experienced operator, although recently caused upset amongst the party's MSPs after he allegedly assured them they could "vote with their conscience" on the Gender Reform Bill… only to then apply a three-line whip. Was accused of withholding evidence during the Salmond Inquiry, and survived the Scottish Tories' subsequent vote of no confidence.
… With a whopping 69% in the Panelbase polling, however, was notorious political heavyweight… "Don't Know". Definitely one to watch…
John Swinney has too much past political baggage to be First Minister.
Kate Forbes would be a safe pair of hands, especially for women. She is also a devout Christian.
Outlook for Labour and Conservatives
Pundits say that Sturgeon's resignation could provide a lift for Scottish Labour. However, what those pundits aren't saying is that Labour MSPs voted overwhelmingly for GRR.
Scottish Conservatives, in my view, are better placed, provided they stop standing in the shadows. Their MSPs were the only ones who had useful safeguarding amendments to the GRR. Furthermore, only three Conservative MSPs voted for GRR.
Therefore, currently, Scottish Conservatives hold the moral high ground, even if Scots, for whatever reason, have historically loathed them.
This will be interesting to watch.
In the UK, polls have showed that Britons, particularly younger ones, have no intention of working.
The latest Government findings came out on January 22, 2023. The BBC reported (emphases mine):
Most of the 2.7 million "inactive" people under 25 are students, according to the Office for National Statistics (ONS). The majority of them don't want a job.
This was also true in 2021, as CityAM informed us:
Data from the Office for National Statistics shows of the 13m Brits who are not looking for work, over half said they were doing so because they did not want to work.
In 2015, a student posted the following message on The Student Room forum. Granted, she sees the possibility of owning her own small business but only just:
I'm 22 now and it's slowly dawned on me that I have no intention of working/having a career. I find most work boring and I am simply not inspired by the rat race. I think I want to be a small business owner and a stay at home mother.
It seems with feminism most women just aren't looking to go down the 'small job, husband and babies' route anymore. Am I the only one who doesn't want to work…at all ?
Maybe a small online store or something and a husband and kids. Nothing more (?)
Anyone else ?
The benefits balloon stretches back at least to 2013, possibly earlier. On April 24 that year, the Conservative MP Iain Duncan Smith, the then-Secretary of State for Welfare and Pensions said:
Around 1 million people have been stuck on a working-age benefit for at least three out of the past four years, despite being judged capable of preparing or looking for work.
Ten years on, The Spectator reports that real figures show that five million Britons are receiving out-of-work benefits. Their figures have been disputed, but in November 2022, the magazine's editor Fraser Nelson explained how the data were put together. For now, this is the message:
How can 20 per cent of people in our great cities be on benefits at a time of mass migration and record vacancies? It's perhaps the most important question in politics right now, but it's not being given any scrutiny because the real figures lie behind a fog of data …
Every month, an official unemployment figure is put out on a press release – and news organisations are primed to cover it. It's normally about 1.2 million looking for work: the problem, of course, is so few Brits are actually doing so …
The true benefits figure is not to be found on a press release, but buried in a password-protected DWP [Department for Work and Pensions] database with a six-month time lag …
The five million figure 'seems to be incorrect,' Full Fact said in their email to us. 'According to the most recent statistics, there are around 1.5 million people claiming out-of-work benefits.' But the real figure is more than three times higher – but rather than reply to them, I thought I'd write this blog for anyone interested …
DWP data is now on Stat-Xplore, a versatile open data tool. The password bit is deceptive: you can bypass by clicking 'Guest log in' to find an Aladdin's Cave of data. Look at the dataset 'Benefit Combinations – Data from February 2019'. Click Table 5, then click 'Open table' to get the numbers …
Nelson has posted graphs and a map to illustrate his figure of five million.
He concludes:
To fail to match up 1.2 million vacancies with at least some of those on out-of-work benefits is not just an economic failure but a moral one. But to solve a problem, you need to recognise a problem. Officially counting all five million people on out-of-work benefits would be a good way to start.
Living a life of idleness, however, is nothing new.
St Paul grappled with the same problem two millennia ago when he planted a church in Thessalonika (present day Saloniki).
The following passage, 2 Thessalonians 3:6-12, is one example of his command to work:
Warning Against Idleness
6 Now we command you, brothers, in the name of our Lord Jesus Christ, that you keep away from any brother who is walking in idleness and not in accord with the tradition that you received from us. 7 For you yourselves know how you ought to imitate us, because we were not idle when we were with you, 8 nor did we eat anyone's bread without paying for it, but with toil and labour we worked night and day, that we might not be a burden to any of you. 9 It was not because we do not have that right, but to give you in ourselves an example to imitate. 10 For even when we were with you, we would give you this command: If anyone is not willing to work, let him not eat. 11 For we hear that some among you walk in idleness, not busy at work, but busybodies. 12 Now such persons we command and encourage in the Lord Jesus Christ to do their work quietly and to earn their own living.[d]
John MacArthur explains why we must work in 'Work: A Noble Christian Duty, Part 3', from July 19, 1992.
There were reasons why some in the congregation were not prepared to work:
As we have said in the past … they perhaps have been influenced by some of the Jewish background of the scribes who thought that anything other than studying the law was an unworthy way to spend your life.  They surely were affected by the general Greek attitude that work was demeaning and sordid and base and low and belonged only to slaves and not to freemen. 
And they probably had had those predispositions somewhat exaggerated by virtue of the fact that someone had come along and told them that they were already in the day of the Lord and the return of Christ was imminent and there probably wasn't much use in doing anything other than evangelizing and studying the Word of God.  And so they had given themselves to that happily because of their disdain for work anyway.  Problem was, at least long term, if you can call several months long term for the Thessalonians in that Paul had dealt with it when he was there.  Several months later, when he wrote them the first letter, he dealt with it, and here he is writing a second letter and dealing with it a third time.  They didn't want to work.  It was beneath them. 
Homer, the famous Greek writer, had said that the gods hated man.  And the way they demonstrated their hatred was to invent work and punish men by making them work.  This kind of philosophy being existent in that time, it found its way into the lives of those people and thus, when they became converted, it found its way into the church.  Becoming a Christian doesn't change everything immediately.  We will always have residuals of our past, and we will always to one degree or another be affected by our culture.  And so here in this church in which so many good things had happened, a genuine conversion, a genuine godliness, they were not slack in spiritual service, they had a work of faith and a labor of love, and they did it with patience and endurance because they hoped in the return of Christ.  They worked hard at ministry, but they didn't want to do the jobs that they had to do in the world, at least some of them. 
And so Paul was dealing with a church that had its spiritual life on target and was doing well, excelling spiritually, but they had this one problem that dominates the church in terms of its conduct, and that was that there were people there who didn't work.  They then became a burden on everybody else, and it wasn't that they couldn't work, it wasn't that they had a physical disability, it wasn't that there wasn't a job available, they refused to work, seeing it as beneath them or not a priority for those engaged in kingdom enterprises. 
MacArthur cites American statistics on work from 1980 to 1991:
I suppose 25 years ago, a situation like this would have struggled to be relevant in our time then because America was a hard-working country 25 years ago.  In fact, the American work ethic has always been hailed as sort of the supreme work ethic of the industrialized world.  We have always sort of set the pace for productivity and enterprise – up until more recent years, that is.  Last year, Charles Colson and Jack Eckerd, who heads the Eckerd Company, which operates drug stores in other parts of America, they wrote a book and the title of their book is Why America Doesn't Work.  Now, that's really a new thought, a new concept for our culture, for our society.  The subtitle is, "How the decline of the work ethic is hurting your family and future."  The future of America is changing dramatically.  There are other nations that are putting us to shame in terms of work habits and a work ethic. 
In their book, they point out that we have in America declining rates of productivity, the loss of competitive position in some world markets, and workers who aren't working.  And they concluded it is a bleak picture.  And I suppose they ask the right question, the question we would all ask at that point:  What has happened to the industry and productivity that made this country the marvel of the world at one time? …
We have an ethical malaise all the way from the jet set corporate leaders down to the person working at the bench.  The whole concept of work has so dramatically changed, it no longer has a transcendent motive.  There's no longer something beyond me to make me perform at a certain level.  Thus, the meaning of work has been sapped from everybody from the top to the bottom, to some degree.  Obviously, some people still work harder than others. 
A 1980 Gallup Poll conducted for the Chamber of Commerce found that people still believed in work-ethic values, 1980, they still believed.  That's over ten years ago.  Eighty-eight percent said working hard and doing their best on the job was personally important.  But were they doing it?  They said they believed it, it was still sort of in the air in 1980, but were people working hard?  1982 survey came along.  In that survey, it was reported that only 16 percent said they were doing the best job they could at work.  Eighty-four percent admitted they weren't working hard – 84 percent.  So you can see they were still holding on to a residual ethic that didn't translate into how they functioned, which meant that it was somebody else's transcendent value, somebody else's ethical value imposed on them externally but not truly believed. 
Working hard, they said, was important but they weren't doing it, so how important was it?  Eighty-four percent also said they would work harder if they could gain something from it.  And now you can see that the ethic is not transcendent, the ethic is utilitarian.  It's all tied in to what I get out of it, what's in it for me.  And that's part of the cynicism of our society.  That's part of the direct consequence of the 60s' moral revolution, which is a rejection of transcendent values. 
God is not an issue in anything.  He is not an issue in the way I conduct my sexual life, He is not an issue in my marriage, He is not an issue at my job, He is not an issue in education, He is not an issue anywhere.  God is not an issue; therefore, there is no value beyond myself.  So whatever is enough to get me what I want is enough.  It is a kind of societal economic atheism.  In fact, psychologist Robert Bellah calls it radical individualism.  Surveying 200 middle-class Americans, this UCLA professor discovered that people seek personal advancement from work, personal development from marriage, and personal fulfillment from church.  Everything, he says, their perspective on family, church, community, and work is utilitarian.  It is measured by what they can get out of it, and concern for others is only secondary. 
Down to specifics, James Sheehy, an executive with a computer firm in the upper echelons of the work strata, saw first-hand how this kind of utilitarian value was affecting work.  He wanted a better understanding of the expectations and psyche of younger employees.  Looking at what the future held, what kind of people were going to come up in this generation to work in his company?  What would they be like?  So he decided the best way to find out was to spend his vacation taking a job in a fast-food restaurant.  He wrote most of his coworkers were from upper income families, they didn't need to work but they wanted extra spending money.  He watched and listened as his coworkers displayed poor work habits and contempt for customers.  His conclusion was, "We have a new generation of workers whose habits and experiences will plague future employers for years." 
He writes, "Along with their get-away-with-what-you-can attitude and indifference to the quality of performance, their basic work ethic was dominated by a type of gamesmanship that revolved around taking out of the system or milking the place dry.  Theft, skimming, and baiting management were rampant and skill levels surprisingly low.  The workers saw long hours and hard work as counter-productive.  'You only put in time for the big score,' one said."  After recounting his experience, Sheehy concluded, "Get ready, America.  There's more of this to come from the workforce of tomorrow." 
Doesn't sound too good if you happen to be an employer, does it?  A recent Harris Poll showed 63 percent of workers believe people don't work as hard as they used to.  Seventy-eight percent say workers take less pride in their work.  Sixty-nine percent think the workmanship they produce is inferior, and 73 percent believe workers are less motivated and that the whole trend is worsening and the numbers are going up. 
Imagine. If people felt that way in the 1980s, and it is probable that Britons also did at the time, we are now into a second generation of people who don't care about work, with a third generation on the way.
MacArthur says:
The more and more people demand recreation and idle time, the more corrupt they will become.  The two go hand-in-hand.  An escalating pornographic, sinful, wicked culture is sped on, the slide is greased, by a shrinking commitment to work.  And we fill up all that time with things that feed the lust of the eyes, the lust of the flesh, and the pride of life. 
He lays out why work is a God-given command:
Now, our society may not have a choice but they have to accept this, but as Christians, we can't accept this.  The Christian faith does not accept a utilitarian work ethic.  The Christian view of work is transcendent.  That is, it escapes me and my world and directs its attention toward God. 
… First, work is a command from God.  Six days shall you labor.  God commands us to work.  Secondly, work is a model established by God for it was God who worked for six days and then rested on the seventh, and God, of course, is the worker who continually sustains the universe.  Man, being created in the image of God, then, is created as a worker.  Thirdly, work is a part of the creation mandate.  In other words, what I mean by that is it is the role of man.  Stars shine, suns shine, moons shine, on the earth plants grow, animals do what they're supposed to do, rocks do what they're to do, mountains do what they're to do, water does what it's to do, clouds do what they're to do, and we do what we're to do.  As Psalm 104 says, all of creation moves in a normal course and part of it is man rises, goes to work until the setting of the sun.  It is creation mandate.  It is how we contribute to the processes of life in God's wondrous creation. 
Work is a command.  Work is established as a model by God.  Work is part of the natural creation.  Fourthly, work is a gift from God.  It is a gift from God.  It is a gift through which we glorify Him and the wonder of His creation as we produce things, putting on display the genius of God who created us, in all of our abilities.  It is a means by which we can glorify our Creator.  Just as the beast of the field gives me honor, as Isaiah said, and just as the heavens declare the glory of God by what they do, and we sit in awe of them, so man declares the glory of God, the wonder of His creative genius by doing what he has been given the ability to do.  Work is a gift from God, not only to glorify Him but to give meaning to life.  Work is a gift from God to give us something to do, which avoids the idleness that leads to sin …
Work is a gift from God also to provide for needs.  Work is a gift from God so that we can serve each other.  And lastly, in the Christian work ethic, work is to be done as if the boss was the Lord Himself.  It says in Colossians chapter 3 and Ephesians 6 that we're to work as unto the Lord and not men. 
So the Christian faith does not sanctify the kind of attitude we're seeing in our own country toward work.  In fact, as I said, 25 years ago, this message may have seemed a bit obscure when America was working productively.  Now it seems to be rather on target for we are suffering today with some of the things that Paul faced in the Thessalonian church.  But as Christians, we have to establish the standard. 
I often watch BBC Parliament, not because I love MPs or the Lords, but in order to gain a better insight in to what they are doing to us, the British people.
The number of Opposition — Labour, Liberal Democrat, SNP — MPs who complain that the Conservative government isn't giving enough handouts, when clearly it is, as we can see from the aforementioned statistics, is mind-numbing.
Moving to MacArthur's and his congregation's personal experience, and still tied in to that, this is what happens when work is suggested:
It is an aberrant unbeliever that doesn't work.  The tragedy of those people, the real tragedy, is that they are so deep in sin and so deep particularly in the sin of drunkenness and irresponsibility and immorality that they have put themselves in the position they're in.  And I again say I'm not talking about people who are genuinely in despair, and I've seen those people all around the world.  But there is a mass of people who shouldn't eat because they will not work. 
We see them here at the church.  They come by and they want money and they want food and we suggest work and they leave.  I was told today by one of the gentlemen in our church, serves with the police department, that they will hold a sign – they've tracked them – they will hold a sign, "I need work, homeless, need work," and recently in one of the shopping centers just a couple of days ago they were tracking to find out what was going on.  None of them got jobs but they were averaging $15.00 an hour in donations.  One policeman told me he went by and offered a lady a sandwich purchased at a fast food place and she said, "What's this?" and he said, "Well, it says 'homeless and hungry,' so I'm just giving you this to eat."  She put it in a bag and he said to her, "Well, aren't you hungry?"  She said, "I'll eat it when I get home." 
So you need to be careful about that.  Sometimes the car is parked around the block and the stash is growing in the back of the car.  Just have to be careful because there are people who don't work because they won't work, not because they can't work.  And if you don't work and won't work, then you don't eat, that's what the Bible says.  There needs to be an opportunity for you to earn your own food and you need to take that opportunity, and again I want to say this:  It may be that in some cultures there is not enough work to go around and that a person couldn't do enough work to really make the whole living, then in generosity and charity and love, we make up the lack, but we don't feed the indolence. 
Even our blessed Jesus encountered a crowd of this type. After He had fed the Five Thousand, they returned the next day for another miraculous meal. They became angry when He refused them and said that He was the bread of life, which is infintely more important, then and now. John 6 has the story.
MacArthur interprets the episode:
Jesus, you remember, in John chapter 6, fed the multitude and it was a large crowd.  We talk about feeding the 5,000 but it says 5,000 men, so wherever there are 5,000 men, there have to be 5,000 women, at least, and throw in a few thousand mother-in-laws and grandmas, sisters and aunts, and throw in 15,000 kids, at least, and you've got a crowd somewhere between 20 and 50 thousand.  It could have been a massive crowd and Jesus fed them all.  You remember He had those five little cakes, five loaves, they're actually little barley cakes, and two pickled fish and He just created food.  And I'll promise you, it was the best lunch they'd ever had because it bypassed the world …
Now, do you realize when He said no to breakfast, I really believe that their anger was turned on Him because in an agrarian society like that, they had to work with the sweat of their brow to produce their own food.  They didn't go down to some market and flip out food stamps or a check or a credit card or whatever it is, they didn't go to a fast food restaurant.  If they didn't work that day, they didn't have the food to eat.  And not only a matter of preparation, but a matter of provision.  And so when Jesus – when they saw Jesus make food, they thought they had just found the Messiah who would bring the ultimate and eternal welfare state.  "We don't even need food stamps, just show up and He passes it out.  And you don't even have to get in line to collect it, they serve it."  And when time for breakfast came, they were there and he left, and I think their anger and hostility turned on Him because they knew then what He could do but He refused to do it.  He could have done it for us as well, but He knows the value and the benefit and the purpose of work.
Concluding on Paul's message to the Thessalonians, MacArthur says:
So here were these Thessalonians and they wouldn't work.  And so he says if they don't work, don't let them eat.  That will help them get the message.  That's survival. 
In our world, able-bodied people, believers or not, should be made to feel guilty for depending on the taxpayer for their daily bread. As The Spectator's Fraser Nelson said above, it is a moral issue.
Whether we like it or not, work is the order of the day. We must provide for ourselves to the fullest extent possible.
May Benedict XVI's soul rest in peace with his Lord and Saviour.
Before going into little-known facts about the former Pontiff's life and influences, below are news items about his papacy (April 19, 2005 – February 28, 2013), reflecting his thoughts and attitudes towards Christianity.
World Youth Day 2005
In August 2005, Benedict addressed the young people attending World Youth Day. He hoped for ecumenism, not through plans and programmes, but through a deeper belief in Christ through the gifts of the Holy Spirit:
We cannot "bring about" unity by our powers alone. We can only obtain unity as a gift of the Holy Spirit. Consequently, spiritual ecumenism – prayer, conversion and the sanctification of life – constitute the heart of the ecumenical movement (cf. Unitatis Redintegratio, 8; Ut Unum Sint, 15ff., 21, etc.). It could be said that the best form of ecumenism consists in living in accordance with the Gospel. I see good reason for optimism in the fact that today a kind of "network" of spiritual links is developing between Catholics and Christians from the different Churches and ecclesial Communities: each individual commits himself to prayer, to the examination of his own life, to the purification of memory, to the openness of charity.
Address to young Poles
On May 27, 2006, Benedict addressed Polish youth in Krakow.
His address was excellent. It explored the notion of the family home, which can only exist in a house built upon faith in Christ. The allegories are wonderful:
… Jesus is here with us. He is present among the young people of Poland, speaking to them of a house that will never collapse because it is built on the rock. This is the Gospel that we have just heard (cf. Mt 7:24–27).
My friends, in the heart of every man there is the desire for a house. Even more so in the young person's heart there is a great longing for a proper house, a stable house, one to which he can not only return with joy, but where every guest who arrives can be joyfully welcomed. There is a yearning for a house where the daily bread is love, pardon and understanding. It is a place where the truth is the source out of which flows peace of heart. There is a longing for a house you can be proud of, where you need not be ashamed and where you never fear its loss. These longings are simply the desire for a full, happy and successful life. Do not be afraid of this desire! Do not run away from this desire! Do not be discouraged at the sight of crumbling houses, frustrated desires and faded longings. God the Creator, who inspires in young hearts an immense yearning for happiness, will not abandon you in the difficult construction of the house called life.
My friends, this brings about a question: "How do we build this house?" Without doubt, this is a question that you have already faced many times and that you will face many times more. Every day you must look into your heart and ask: "How do I build that house called life?" Jesus, whose words we just heard in the passage from the evangelist Matthew, encourages us to build on the rock. In fact, it is only in this way that the house will not crumble. But what does it mean to build a house on the rock? Building on the rock means, first of all, to build on Christ and with Christ. Jesus says: "Every one then who hears these words of mine and does them will be like a wise man who built his house upon the rock" (Mt 7:24). These are not just the empty words of some person or another; these are the words of Jesus. We are not listening to any person: we are listening to Jesus. We are not asked to commit to just anything; we are asked to commit ourselves to the words of Jesus.
To build on Christ and with Christ means to build on a foundation that is called "crucified love". It means to build with Someone who, knowing us better than we know ourselves, says to us: "You are precious in my eyes and honoured, and I love you" (Is 43:4). It means to build with Someone, who is always faithful, even when we are lacking in faith, because he cannot deny himself (cf. 2 Tim 2:13). It means to build with Someone who constantly looks down on the wounded heart of man and says: " I do not condemn you, go and do not sin again" (cf. Jn 8:11). It means to build with Someone who, from the Cross, extends his arms and repeats for all eternity: "O man, I give my life for you because I love you." In short, building on Christ means basing all your desires, aspirations, dreams, ambitions and plans on his will. It means saying to yourself, to your family, to your friends, to the whole world and, above all to Christ: "Lord, in life I wish to do nothing against you, because you know what is best for me. Only you have the words of eternal life" (cf. Jn 6:68). My friends, do not be afraid to lean on Christ! Long for Christ, as the foundation of your life! Enkindle within you the desire to build your life on him and for him! Because no one who depends on the crucified love of the Incarnate Word can ever lose …
My friends, what does it mean to build on the rock? Building on the rock also means building on Someone who was rejected. Saint Peter speaks to the faithful of Christ as a "living stone rejected by men but in God's sight chosen and precious" (1 Pet 2:4). The undeniable fact of the election of Jesus by God does not conceal the mystery of evil, whereby man is able to reject Him who has loved to the very end. This rejection of Jesus by man, which Saint Peter mentions, extends throughout human history, even to our own time. One does not need great mental acuity to be aware of the many ways of rejecting Christ, even on our own doorstep …
Dear friends, what does it mean to build on the rock? Building on the rock means being aware that there will be misfortunes. Christ says: "The rain fell and the floods came, and the winds blew and beat upon the house … " (Mt 7:25). These natural phenomena are not only an image of the many misfortunes of the human lot, but they also indicate that such misfortunes are normally to be expected. Christ does not promise that a downpour will never inundate a house under construction, he does not promise that a devastating wave will never sweep away that which is most dear to us, he does not promise that strong winds will never carry away what we have built, sometimes with enormous sacrifice. Christ not only understands man's desire for a lasting house, but he is also fully aware of all that can wreck man's happiness. Do not be surprised therefore by misfortunes, whatever they may be! Do not be discouraged by them! An edifice built on the rock is not the same as a building removed from the forces of nature, which are inscribed in the mystery of man. To have built on rock means being able to count on the knowledge that at difficult times there is a reliable force upon which you can trust.
My friends, allow me to ask again: what does it mean to build on the rock? It means to build wisely. It is not without reason that Jesus compares those who hear his words and put them into practice to a wise man who has built his house on the rock. It is foolish, in fact, to build on sand, when you can do so on rock and therefore have a house that is capable of withstanding every storm. It is foolish to build a house on ground that that does not offer the guarantee of support during the most difficult times. Maybe it is easier to base one's life on the shifting sands of one's own worldview, building a future far from the word of Jesus and sometimes even opposed to it. Be assured that he who builds in this way is not prudent, because he wants to convince himself and others that in his life no storm will rage and no wave will strike his house. To be wise means to know that the solidity of a house depends on the choice of foundation. Do not be afraid to be wise; that is to say, do not be afraid to build on the rock! …
Dear young friends, the fear of failure can at times frustrate even the most beautiful dreams. It can paralyze the will, making one incapable of believing that it is really possible to build a house on the rock. It can convince one that the yearning for such a house is only a childish aspiration and not a plan for life. Together with Jesus, say to this fear: "A house founded on the rock cannot collapse!" Together with Saint Peter say to the temptation to doubt: "He who believes in Christ will not be put to shame!" You are all witnesses to hope, to that hope which is not afraid to build the house of one's own life because it is certain that it can count on the foundation that will never crumble: Jesus Christ our Lord.
No more limbo
On April 20, 2007, the Catholic Church finally did away with the teaching of limbo, where the souls of unbaptised infants notionally went instead of going directly to be with the Lord. Reuters reported:
In a long-awaited document, the Church's International Theological Commission said limbo reflected an "unduly restrictive view of salvation".
The 41-page document was published on Friday by Origins, the documentary service of the U.S.-based Catholic News Service, which is part of the U.S. Conference of Catholic Bishops.
Pope Benedict, himself a top theologian who before his election in 2005 expressed doubts about limbo, authorized the publication of the document, called "The Hope of Salvation for Infants Who Die Without Being Baptised".
The verdict that limbo could now rest in peace had been expected for years. The document was seen as most likely the final word since limbo was never part of Church doctrine, even though it was taught to Catholics well into the 20th century.
Before that declaration, rumours had been circulating that Benedict had opposed the teaching of limbo when he was Prefect of the Congregation for the Doctrine of the Faith and Cardinal Joseph Ratzinger. Tradition in Action has the excerpt from the 1985 book, The Ratzinger Report, further excerpted as follows in his own words:
Limbo was never a defined truth of faith … Baptism has never been a side issue for faith; it is not now, nor will it ever be.
Fear from modernisers about Vatican II
In July 2007, Benedict stated that he wanted Latin Mass — the Tridentine Mass — to be more widely celebrated.
Modernisers — Vatican II supporters — were worried, as the Washington Post reported on July 21:
In making two controversial decisions this month — opening the door to wider celebration of the Latin Mass and asserting the Roman Catholic Church as the one true "church of Christ" — the Vatican insisted that no essential Catholic belief or practice had been changed.
Pope Benedict XVI and other Vatican officials stressed their decisions' coherence with the teachings of the Second Vatican Council, the international assembly that ushered in a series of reforms during the 1960s.
But the pope also made clear his conservative understanding of the council, stressing its continuity with the church's traditions, rather than the innovative and even revolutionary spirit that many believe the council embodied.
Some observers thus view the recent decisions as an effort by Benedict to correct misunderstandings of Vatican II and its teachings — an effort some say could undermine the council's legacy …
On July 7, Benedict issued a papal decree making it easier for priests to celebrate the Tridentine Mass, or Latin Mass, which had been the traditional form of the liturgy until Vatican II made Mass in local languages the norm.
In a letter to bishops accompanying his decree, Benedict dismissed any "fear that the document detracts from the authority of the Second Vatican Council."
Rather, the pope affirmed the "spiritual richness and theological depth" of the Missal — or text that guides the Mass — approved in the council's wake, which "obviously is and continues to be the normal form."
But Benedict also noted that the newer Missal had been widely misunderstood as "authorizing or even requiring creativity, which frequently led to deformations of the liturgy which were hard to bear."
Three days after that decree, the Vatican's Congregation for the Doctrine of the Faith decreed — with Benedict's approval — that the church established by Christ exists in its complete form only in the Catholic church, though other Christian denominations can be "instruments of salvation."
"The Second Vatican Council neither changed nor intended to change this doctrine," the Vatican explained, suggesting that any understanding to the contrary was due to "erroneous interpretation" …
The article explained that Benedict was of the continuity school, which says that both the traditional Mass and the Vatican II version can co-exist:
Interpreters of Vatican II have long been divided between those who stress the continuity of its teachings with traditional Catholic doctrine and those who characterize the council as a dramatic break with the past.
Benedict, who as the Rev. Joseph Ratzinger was deeply involved in the deliberations of the council, is a longstanding member of the continuity school.
2007 Advent address
Benedict gave an address to a general audience at the Vatican on December 19, 2007 about the meaning of Advent and of Christmas.
Excerpts follow, emphases mine:
Dear Brothers and Sisters,
In these days, as we come gradually closer to the great Feast of Christmas, the liturgy impels us to intensify our preparation, placing at our disposal many biblical texts of the Old and New Testaments that encourage us to focus clearly on the meaning and value of this annual feast day.
If, on the one hand, Christmas makes us commemorate the incredible miracle of the birth of the Only-Begotten Son of God from the Virgin Mary in the Bethlehem Grotto, on the other, it also urges us to wait, watching and praying, for our Redeemer himself, who on the last day "will come to judge the living and the dead" …
Each one of the invocations that implores the coming of Wisdom, of the Sun of justice, of the God-with-us, contains a prayer addressed by the people to the One awaited so that he will hasten his coming. However, invoking the gift of the birth of the promised Saviour also means committing ourselves to preparing his way, to having a worthy dwelling-place ready for him, not only in the area that surrounds us but especially within our souls.
Letting ourselves be guided by the Evangelist John, let us seek in these days, therefore, to turn our minds and hearts to the eternal Word, to the Logos, to the Word that was made flesh, from whose fullness we have received grace upon grace (cf. Jn 1: 14, 16).
This faith in the Logos Creator, in the Word who created the world, in the One who came as a Child, this faith and its great hope unfortunately appear today far from the reality of life lived every day, publicly or privately. This truth seems too great.
As for us, we fend for ourselves according to the possibilities we find, or at least this is how it seems. Yet, in this way the world becomes ever more chaotic and even violent; we see it every day. And the light of God, the light of Truth, is extinguished. Life becomes dark and lacks a compass. Thus, how important it is that we really are believers and that as believers we strongly reaffirm, with our lives, the mystery of salvation that brings with it the celebration of Christ's Birth!
In Bethlehem, the Light which brightens our lives was manifested to the world; the way that leads us to the fullness of our humanity was revealed to us. If people do not recognize that God was made man, what is the point of celebrating Christmas? The celebration becomes empty.
We Christians must first reaffirm the truth about the Birth of Christ with deep and heartfelt conviction, in order to witness to all the awareness of an unprecedented gift which is not only a treasure for us but for everyone. From this stems the duty of evangelization which is, precisely, the communication of this "eu-angelion", this "Good News" …
Reconciliation for Vatican II opponents
On January 24, 2009, Benedict reconciled four prominent Vatican II opponents to the Church, reversing a previous excommunication from years before:
In a gesture billed as an "act of peace," but one destined both to fire intra-Catholic debate about the meaning of the Second Vatican Council and to open a new front in Jewish/Catholic tensions, the Vatican today formally lifted a twenty-year-old excommunication imposed on four bishops who broke with Rome in protest over the liberalizing reforms of Vatican II (1962-65).
Ironically, news of the move came just one day before the 50th anniversary of the announcement by Pope John XXIII of his intention to call Vatican II.
The four bishops had been ordained in defiance of the late Pope John Paul II in 1988 by French Archbishop Marcel Lefebvre, whose Priestly Fraternity of St. Pius X clung to the old Latin Mass after Vatican II and also expressed deep reservations about both ecumenism and religious freedom. Lefebvre died in 1991.
The four prelates involved are Bernard Fellay, superior of the Fraternity of St. Pius X; Alfonso de Gallareta; Tissier de Mallerais; and Richard Williamson. Their legitimacy as bishops has never been in question, since under Catholic law, Lefebvre was a legitimately ordained bishop and hence any ordination he performed is considered "valid" but "illicit."
Advice about the 2008 economic crisis
At the end of February 2009, Benedict told Catholic clergy why the economic crisis of 2008 happened. The Cleveland Plain Dealer featured an editorial by Kevin O'Brien:
Pope Benedict XVI is soon to publish an encyclical commenting on the errors that have led the world to the current economic crisis.
In a public address last week to members of the Roman clergy, he tipped his hand, saying the church must denounce "fundamental mistakes that have been shown in the collapse of the great American banks."
He said the current global financial crisis is a result of "human avarice and idolatry that go against the true God and the falsification of the image of God with another god — Mammon."
Accept or reject the theological construction as you will, but few would disagree that human avarice is what started us down the progressively darkening alley that our financial institutions and our government travel today …
Regulations aren't enough. They never will be. What's really needed is something the government cannot compel: morality in the marketplace.
That's the fetter that capitalism needs. Oddly enough, it's the same fetter that government needs …
The solution to the clear problem of immorality in business is not to be found in government. The solution is in ourselves, and in moral standards that our declining culture has worked for 50 years to declare irrelevant.
The culture is wrong about that, but I'll bet the pope gets it right.
The encyclical, Caritas in veritate ("Love in Truth" or "Charity in Truth"), was signed on 29 June 2009 (the Feast of Sts. Peter and Paul) and released on 7 July 2009. The Pope criticised the economic system:
where the pernicious effects of sin are evident
and called for a renewal of personal morality and ethical responsibility.
The Church was always African
On March 19, 2009, Benedict went to Africa to address the Special Council of the Synod for Africa in Yaoundé (another copy here).
He discussed the history of the Church, which has its roots in Africa — not Europe:
Dear Cardinals,
Dear Brother Bishops,
It is with deep joy that I greet all of you here in Africa. A First Special Assembly of the Synod of Bishops was convoked for Africa in 1994 by my venerable predecessor, the Servant of God John Paul II, as a sign of his pastoral solicitude for this continent so rich both in promise and in pressing human, cultural and spiritual needs. This morning I called Africa "the continent of hope". I recall with gratitude the signing of the Post-Synodal Apostolic Exhortation Ecclesia in Africa here at the Apostolic Nunciature fourteen years ago on the Feast of the Exaltation of the Cross, 14 September 1995 …
Dear friends, at the beginning of my address, I consider it important to stress that your continent has been blessed by our Lord Jesus himself. At the dawn of his earthly life, sad circumstances led him to set foot on African soil. God chose your continent to become the dwelling-place of his Son. In Jesus, God drew near to all men and women, of course, but also, in a particular way, to the men and women of Africa. Africa is where the Son of God was weaned, where he was offered effective sanctuary. In Jesus, some two thousand years ago, God himself brought salt and light to Africa. From that time on, the seed of his presence was buried deep within the hearts of this dear continent, and it has blossomed gradually, beyond and within the vicissitudes of its human history. As a result of the coming of Christ who blessed it with his physical presence, Africa has received a particular vocation to know Christ. Let Africans be proud of this! In meditating upon, and in coming to a deeper spiritual and theological appreciation of this first stage of the kenosis, Africa will be able to find the strength needed to face its sometimes difficult daily existence, and thus it will be able to discover immense spaces of faith and hope which will help it to grow in God.
The intimate bond existing between Africa and Christianity from the beginning can be illustrated by recalling some significant moments in the Christian history of this continent.
According to the venerable patristic tradition, the Evangelist Saint Mark, who "handed down in writing the preaching of Peter" (Irenaeus, Adversus Haereses III, I, 1), came to Alexandria to give new life to the seed planted by the Lord. This Evangelist bore witness in Africa to the death of the Son of God on the Cross – the final moment of the kenosis – and of his sovereign exaltation, in order that "every tongue should confess that Jesus Christ is Lord, to the glory of God the Father" (Phil 2:11). The Good News of the coming of the Kingdom of God spread rapidly in North Africa, where it raised up distinguished martyrs and saints, and produced outstanding theologians.
Christianity lasted for almost a millennium in the north-eastern part of your continent, after being put to the test by the vicissitudes of history …
American convert receives sacraments at Vatican
On April 6, 2009, the National Catholic Register reported on a young wife and mother from California who received multiple sacraments from Benedict at the Easter Vigil Mass that year. Hers is a fascinating conversion story, but I have included only the beginning and end:
Heidi Sierras has been selected to represent North America and be baptized, confirmed, and receive first Communion from Pope Benedict XVI at the Easter Vigil in Rome.
Sierras didn't grow up with any particular faith background. Marriage first introduced her to the Catholic Church. Now, after 2 1/2 years of Rite of Christian Initiation of Adults preparation, the Ceres, Calif., mother of four will enter the Church during the Easter Vigil at St. Peter's Basilica in Rome. She recently spoke with Register senior writer Tim Drake about her anticipation for the trip and what led her to the Church …
'It's hard to describe how I feel. I feel very honored and amazed. It's hard to put into words how incredible this will be.
'My husband and two older children (my son, who is 11, and daughter, who is 9) will be traveling to Rome as well, and will receive Communion from the Pope. My daughter was to receive her first Communion in May. They allowed her to receive first Communion beforehand so that she could receive from Pope Benedict, as well.
'In addition, there will be 30 other people from our parish, St. Joseph's Catholic Church in Modesto, Calif., going to Rome, and the priest, as well. Because our priest will be gone for the Easter Vigil, our bishop is coming to our parish to baptize those who are coming into the Church. There will be 35 people coming into the Church. So, in some ways, everyone is going to benefit from us traveling to Rome.'
2009 Easter Vigil sermon
This is Benedict's sermon that Heidi Sierras heard at that Easter Vigil Mass, excerpted below:
During the Easter Vigil, the Church points out the significance of this day principally through three symbols:  light, water, and the new song – the Alleluia …
At the Easter Vigil, the Church represents the mystery of the light of Christ in the sign of the Paschal candle, whose flame is both light and heat.  The symbolism of light is connected with that of fire: radiance and heat, radiance and the transforming energy contained in the fire – truth and love go together.  The Paschal candle burns, and is thereby consumed:  Cross and resurrection are inseparable.  From the Cross, from the Son's self-giving, light is born, true radiance comes into the world.  From the Paschal candle we all light our own candles, especially the newly baptized, for whom the light of Christ enters deeply into their hearts in this Sacrament.  The early Church described Baptism as fotismos, as the Sacrament of illumination, as a communication of light, and linked it inseparably with the resurrection of Christ.  In Baptism, God says to the candidate:  "Let there be light!"  The candidate is brought into the light of Christ.  Christ now divides the light from the darkness.  In him we recognize what is true and what is false, what is radiance and what is darkness.  With him, there wells up within us the light of truth, and we begin to understand.  On one occasion when Christ looked upon the people who had come to listen to him, seeking some guidance from him, he felt compassion for them, because they were like sheep without a shepherd (cf. Mk 6:34).  Amid the contradictory messages of that time, they did not know which way to turn.  What great compassion he must feel in our own time too – on account of all the endless talk that people hide behind, while in reality they are totally confused.  Where must we go?  What are the values by which we can order our lives?  The values by which we can educate our young, without giving them norms they may be unable to resist, or demanding of them things that perhaps should not be imposed upon them?  He is the Light.  The baptismal candle is the symbol of enlightenment that is given to us in Baptism.  Thus at this hour, Saint Paul speaks to us with great immediacy.  In the Letter to the Philippians, he says that, in the midst of a crooked and perverse generation, Christians should shine as lights in the world (cf. Phil 2:15).  Let us pray to the Lord that the fragile flame of the candle he has lit in us, the delicate light of his word and his love amid the confusions of this age, will not be extinguished in us, but will become ever stronger and brighter, so that we, with him, can be people of the day, bright stars lighting up our time.
The second symbol of the Easter Vigil – the night of Baptism – is water.  It appears in Sacred Scripture, and hence also in the inner structure of the Sacrament of Baptism, with two opposed meanings.  On the one hand there is the sea, which appears as a force antagonistic to life on earth, continually threatening it; yet God has placed a limit upon it.  Hence the book of Revelation says that in God's new world, the sea will be no more (cf. 21:1).  It is the element of death.  And so it becomes the symbolic representation of Jesus' death on the Cross:  Christ descended into the sea, into the waters of death, as Israel did into the Red Sea.  Having risen from death, he gives us life.  This means that Baptism is not only a cleansing, but a new birth:  with Christ we, as it were, descend into the sea of death, so as to rise up again as new creatures.
The other way in which we encounter water is in the form of the fresh spring that gives life, or the great river from which life comes forth.  According to the earliest practice of the Church, Baptism had to be administered with water from a fresh spring.  Without water there is no life.  It is striking how much importance is attached to wells in Sacred Scripture.  They are places from which life rises forth.  Beside Jacob's well, Christ spoke to the Samaritan woman of the new well, the water of true life.  He reveals himself to her as the new, definitive Jacob, who opens up for humanity the well that is awaited: the inexhaustible source of life-giving water (cf. Jn 4:5-15).  Saint John tells us that a soldier with a lance struck the side of Jesus, and from his open side – from his pierced heart – there came out blood and water (cf. Jn 19:34).  The early Church saw in this a symbol of Baptism and Eucharist flowing from the pierced heart of Jesus.  In his death, Jesus himself became the spring.  The prophet Ezekiel saw a vision of the new Temple from which a spring issues forth that becomes a great life-giving river (cf. Ezek 47:1-12).  In a land which constantly suffered from drought and water shortage, this was a great vision of hope.  Nascent Christianity understood:  in Christ, this vision was fulfilled.  He is the true, living Temple of God.  He is the spring of living water.  From him, the great river pours forth, which in Baptism renews the world and makes it fruitful;  the great river of living water, his Gospel which makes the earth fertile.  In a discourse during the Feast of Tabernacles, though, Jesus prophesied something still greater:  "Whoever believes in me … out of his heart shall flow rivers of living water" (Jn 7:38).  In Baptism, the Lord makes us not only persons of light, but also sources from which living water bursts forth.  We all know people like that, who leave us somehow refreshed and renewed; people who are like a fountain of fresh spring water  …  Let us ask the Lord, who has given us the grace of Baptism, for the gift always to be sources of pure, fresh water, bubbling up from the fountain of his truth and his love!
The third great symbol of the Easter Vigil is something rather different;  it has to do with man himself.  It is the singing of the new song – the alleluia.  When a person experiences great joy, he cannot keep it to himself.  He has to express it, to pass it on.  But what happens when a person is touched by the light of the resurrection, and thus comes into contact with Life itself, with Truth and Love?  He cannot merely speak about it.  Speech is no longer adequate.  He has to sing.  The first reference to singing in the Bible comes after the crossing of the Red Sea.  Israel has risen out of slavery.  It has climbed up from the threatening depths of the sea.  It is as it were reborn.  It lives and it is free.  The Bible describes the people's reaction to this great event of salvation with the verse:  "The people … believed in the Lord and in Moses his servant" (Ex 14:31).  Then comes the second reaction which, with a kind of inner necessity, follows from the first one:  "Then Moses and the Israelites sang this song to the Lord …"  At the Easter Vigil, year after year, we Christians intone this song after the third reading, we sing it as our song, because we too, through God's power, have been drawn forth from the water and liberated for true life.

Catholicism 'a positive option'
In April 2009, Benedict said that the Catholic Church was 'a positive option':
"Christianity, Catholicism, is not a collection of prohibitions," the Pope said. "It is a positive option.
"It is very important that we look at it again because this idea has almost completely disappeared today.
"We have heard so much about what is not allowed that now it is time to say: we have a positive idea to offer."

2009 survey from the US
Benedict visited the United States in 2008.
On May 17, 2009, a poll of Americans' views of the then-Pope and moral issues was published. Despite the constant negative media coverage of his trip the previous year, a Knights of Columbus-Marist College survey showed that Americans in general and Catholics in particular had a positive view of Benedict.
By a nearly 3:1 margin — 4:1 among Catholics — Benedict was seen as being 'good for the Church'. Americans were eager to hear him speak on not only moral issues but also, and more importantly, his message of hope and love in Jesus Christ as Saviour.
Margaret Thatcher's 2009 visit
On May 27, 2009, former Prime Minister Margaret Thatcher visited the Vatican:
Margaret Thatcher met Pope Benedict XVI at the end of his weekly general audience today.
The 83-year-old former British prime minister, who led the country from 1979 to 1990, had earlier in the day laid flowers at the tomb of John Paul II.
An Anglican, it was Baroness Thatcher's second visit to the Vatican in less than two years, leading some to speculate whether she is thinking of joining the Church. During her previous trip, she also visited John Paul II's tomb to pay her respects. According to those who were with her at that time, she made it clear in her characteristically loud voice that it was thanks to John Paul that Soviet communism was brought down. 
Baroness Thatcher also met Paul VI back in June 1977.
Call to laity
On May 28, 2009, Benedict issued an appeal to Catholic laity for ministry:
The Pope called on the laity to become more aware of their role when he inaugurated Tuesday an ecclesial conference for the Diocese of Rome on "Church Membership and Pastoral Co-responsibility." The conference is under way through Friday.
"There should be a renewed becoming aware of our being Church and of the pastoral co-responsibility that, in the name of Christ, all of us are called to carry out …"
John Cardinal Newman beatified
On July 2, 2009, Benedict XVI announced that John Cardinal Newman would be beatified:
Cardinal Newman, the Anglican vicar who shocked Victorian Britain by converting to Roman Catholicism, is a step closer to becoming the first English saint for 40 years …
It follows the recognition by the Vatican of the healing of an American man with a severe spinal condition as a miracle which came about as a result of praying to the Cardinal.
A second miracle is needed to recognise Newman as a saint.
The beatification took place on September 19, 2010, during Benedict's visit to the UK.
A second miracle took place, and Pope Francis canonised John Henry Newman on October 13, 2019, in St Peter's Square. His feast day is on October 9 in the Catholic Church and on August 11, the day of his death, in the Anglican Church.
The Taliban warn Benedict
On July 5, 2009, the Taliban sent a warning to Pope Benedict:
The Taliban on Thursday threatened "harsh reprisals" if Pope Benedict XVI does not immediately intervene to stop Christians proselytising in Afghanistan.
In a message posted on their official website, the Taliban made the threat against the pope and Christians for spreading their faith.
The message followed video footage aired on Arabic satellite TV channel Al-Jazeera earlier this week apparently showing Christian soldiers proselytising outside the Afghan capital, Kabul, and handing out copies of the bible in Pashtun.
'One of the brightest Popes in history'
On September 25, 2009, a long-time Vatican spokesman gave his views on Benedict XVI:
Joaquin Navarro-Valls, who was the Vatican's official spokesman for 22 years, said in an interview that the Church currently has one of the brightest popes in history, and that one of the most unique aspects of Benedict XVI is his confidence in the rationality of individuals.
Navarro-Valls, who worked for almost two years with Benedict XVI, was interviewed by the Spanish daily El Mundo about his work at the Vatican and some aspects of the two Popes he served under.
Speaking about Benedict XVI, he said he considers him "the Pope with the largest and most brilliant personal bibliography in all of Church history. His conceptual wealth is fascinating. And I think people also outside the Catholic circles are aware of it. "
The former Vatican spokesman does not believe that the Holy Father is a cold person. "I would say the opposite. The manner in which he is moved—which is more frequent than believed—is to not react passionately in response to things," he said.
He also found that the most unique aspect of his Pontificate is his "confidence in the rationality of people, in their ability to seek the truth," and the great obstacle he faces is, "as he himself said a few days before he was elected pope, the dictatorship of relativism."
An Anglican take on Benedict
In October 2009, the Anglican Centrist took issue with Benedict's papacy. What seems to have rankled in particular was his creation of personal ordinariates which saw Anglican priests accepted into the Catholic Church:
The pope's decision to allow the Tridentine mass and the reinstatement of the leading figures of anti-Vatican II Roman Catholicism back into the fold may also be seen to be theologically and ecclesiologically connected to his decision to receive disgruntled Anglican clergy and laity into the Roman Catholic Church via the creation of personal ordinariates. The connection consists of Benedict's long-held antipathy for the conciliar/collegial vision of authority pointed to by Vatican II — and his long-held preference for the supremacy of papal authority. Benedict is the chief architect of the re-emphasis of central papal authority.
The debate between Cardinal Kasper and then Cardinal Ratzinger over the relationship between local and universal church — between local bishop and pope — which occurred some ten years ago — has clearly been decided in the election of Ratzinger to the throne. He is simply enforcing his top-down, centralized model of imperial authority for the papacy that Kasper and Vatican II opposed.
French support for Benedict's investigation into paedophilia scandals
On March 31, 2010, a varied group of French men and women signed a letter, 'Call to Truth', which supported Benedict's investigation into scandals involving priests and minors.
One would have thought that the media would have been relieved that a Pope wanted to investigate the scandals. Instead, they excoriated him for so doing.
Andrew Cusack reproduced the letter in English, available at the link, and introduced it as follows:
A number of prominent French men & women have written a 'call to truth' supporting Pope Benedict XVI in the current media storm and pedophilia scandal. As the Appeal's about page says, Pope Benedict XVI "is the first pope to address head-on, without compromise, the problem. Paradoxically, he is the subject of undermining and personal attacks, attacks relayed with a certain complacency on the part of the press".
The list of original signatories includes writers, essayists, literary critics, bloggers, professors, philosophers, businessmen, senators, members of parliament, mayors, publishers, actors, a Protestant minister, a Fields medal winner, and even a sexologist.
I will have more on Benedict XVI's papacy tomorrow. He was a holy man and very wise. I will never understand how and why the media despised him to the extent that they did.
May I wish all my readers a very happy Christmas!
This is 'The Adoration of the Shepherds' by Anton Raphael Mengs (1728 – 1779).  He was a Protestant from Bohemia who later became a Catholic.  In 1754, he was appointed Director of the Vatican school of painting.  You can read more about his life here.
Christmas readings and exegeses
These posts of mine explore today's Lectionary readings as well as the Gospel and Epistle:
Readings for Christmas Day — Proper III (John 1:1-14)
Christmas Day — John 1:1-14 (with commentary from Matthew Poole)
Christmas Day: exegesis on the Epistle, Hebrews 1:1-12
Further reflections
The following posts explore our Saviour's birth further:
The Christmas story in Matthew's Gospel (hermeneutics)
The Christmas story in Luke's Gospel (hermeneutics)
Migdal Eder: the shepherds provide a biblical key to unlocking the Christmas story (Luke's Gospel, Micah, Genesis; Carl H Bloch's painting The Shepherds and The Angel, oil on copper, 1879)
And light shone into the darkness (Gospels of Matthew and John)
Compliments of the season to all my readers! (features Dr Paul Copan on the manger scene)
A Lutheran defence of Nativity scenes and crucifixes
Martin Luther on the birth of Jesus
Secular worries
Most of us get anxious at Christmas.
A 2022 survey by the British supermarket chain Tesco revealed the top 50 worries surrounding the season.
On November 22, Metro published the full list and this summary:
From keeping glasses topped up, to making sure everyone has a chair around the dinner table, Christmas Day can be fraught with issues.
And now, the nation has spoken and officially ranked the hardest things to master on the biggest day of the year.
Claiming the top spot was working out what to buy awkward family members, closely followed by wrapping awkward shaped objects, and getting the timings of Christmas dinner spot-on.
Special mention goes to the 11% who said making sprouts taste nice was the biggest festive challenge, and the 12% who struggled the most with faking enthusiasm for gifts. We've all been there.
Food woes featured several times on the list, with making sure the turkey isn't too dry, making good gravy, and producing perfect roasties all getting mentioned.
It seems Brits also struggle with spending time with certain family members, as people said it was hard not to put their foot in it with the in-laws and to not appear bored when talking to relatives.
Just remember: it's only one day. That will help to keep things in perspective.
Learn from previous Christmases: what can be prepared earlier or differently to cut down on stress? Why not cook the vegetables one day earlier and reheat them on the 25th?
In any event, have a wonderful day, come what may.
May God bless you all!
Anyone who has missed the previous entries in the series of former Health Secretary Matt Hancock, now a backbench MP with the Conservative whip withdrawn, can catch up on Parts 1, 2, 3, 4 and 5.
I left off on Friday, June 25, 2021, with Dominic Cummings's Substack post on Hancock's and Boris Johnson's handling of the pandemic.
However, the big news that day was The Sun's front page — a 'world exclusive' — which had a large photo of Hancock handling a part of his assistant's anatomy. A security camera captured the image a few weeks before, when social distancing was still in place:
It was bad enough, as I wrote, that he lost all credibility with the Queen the day before when she aired her views to Boris during their weekly meeting.
But The Sun's scoop surely meant that Hancock's dictatorial time was up. And, lo, so it was:
UK coronavirus news: Matt Hancock's final 48 hours as Health Secretary (June 25-27)
That post included these tweets, the first about his marital situation …
… and the second and third featuring polls saying that Britons wanted him gone, especially under those circumstances:
It was a wonderful start to the weekend.
Matt Hancock's side of the story
In the final instalment of Hancock's Pandemic Diaries that the Mail published, he tells his side of the story. Emphases mine below.
Friday, June 25:
The Sun published the story at 2am as a 'world exclusive'. The picture was a grainy CCTV image of me and Gina embracing in my departmental office.
It was immediately obvious that the story would be huge.
I knew I had to get out of London, and my wonderful driver Mark came to pick me up very early and take me to stay discreetly in the countryside.
At about 8am, a welcome call from No 10: Dan Rosenfield [chief of staff] to say they'd got my back. He offered any support we might need, including sending a Conservative Party press officer to my house.
By 9am I'd had half a dozen sympathetic messages from ministerial colleagues: a terrible sign. They knew that I was in deep trouble.
Nadhim [Zahawi, Minister for vaccine deployment] sent me a piece of advice 'from a brother', which sounded very much like an appeal not to resign.
Meanwhile, I went back over all our movements and tried to think of any other rules we might be accused of breaking. Other than the one-metre-plus rule, I couldn't think of any. 'Should I do a fast apology for letting everyone down/breaching guidance?' I asked.
Gina thought it was a good idea, so Damon [Poole, media adviser] began crafting a short statement. I tried to focus on the words, but my head was spinning. The final version of the statement, which went out at lunchtime, accepted that I breached social-distancing guidance and said I was still focused on working to get the country out of the pandemic. I hoped it would quiet the furore.
Yet the story continued to rage: on all the news websites, on the BBC, on Twitter and on just about every other conceivable news outlet.
By mid-afternoon, there were still suggestions that we'd broken the law. It was categorically untrue, and Damon thought we needed to brief harder or put out another line. 'What's wrong with 'No laws were broken'?' I suggested.
Round and round in circles we went, trying to find the right words. Damon's mobile phone was practically melting, and I was more stressed than I have ever been in my entire life.
All afternoon, the 'what, when, where, who, why, how much?' questions continued. Journalists began suggesting I might have broken the Ministerial Code. I hadn't, but I could see the way this was going.
My local constituency association in Suffolk was wonderfully supportive. Allan [Nixon, special adviser] worked the phones, trying to get MPs to say something helpful.
My spirits lifted a little when William Hague [former Tory leader] publicly declared that I shouldn't resign. Not for long, though: by late afternoon it was clear tomorrow's papers will be hideous.
Saturday, June 26:
Privately, I was still getting positive messages from colleagues. Publicly, few were willing to defend me. Politically, I was increasingly isolated. I felt desperate for my family, my children and Gina's family and her children, and powerless to protect them. Worse was the knowledge that Gina and I had brought all this on them.
Gina's feelings of shame and guilt were nearly overpowering her. The jokes and cartoons on social media were excruciating. We were being publicly humiliated, again and again.
While close friends and family were amazing, I also had messages from friends and colleagues who had had terrible lockdown experiences and were very upset. Their disappointment in me – and their sense of betrayal – was agonising.
It is all my fault, of course. I knew I had to take responsibility. I knew in my heart that I had to resign.
I went to Chequers to see the PM. I explained that I had been thinking about what had happened and how it had made people feel – and that my mind was made up. The damage to my family and to the Government was too great.
I told Boris I had to resign.
He was regretful but didn't argue. We sat on the patio and talked about what this would mean for the management of the rest of the pandemic.
An exchange of letters was prepared, offering and accepting my resignation, and we each edited our letters. We had to decide how to make the announcement, what to say and how.
I must have shot a thousand videos over the course of the pandemic, levelling with the public and thanking the NHS for their dedication. This would be the last.
In the end, the great machinery of the State was nowhere. It was just me and the PM fumbling around with an iPhone. He stood on the grass, holding the phone while I said my piece. It took a few goes to get it right.
He nodded sympathetic encouragement so much throughout the first take that the camera waved up and down. In the end it wasn't perfect, but I was beyond caring: I had to get it out.
Now messages of sympathy and support flooded in: from my team, the Prof [Chris Whitty, the Government's Chief Medical Officer], JVT [Jonathan Van-Tam, the Deputy Chief Medical Officer], Pascal [Soriot, head of AstraZeneca] – and just about everyone else who worked so hard alongside us to save lives.
I'm incredibly grateful to all my team, especially my spads [special advisers] and private office, for going above and beyond in supporting me in what is such a difficult time for them, too.
'I'm so sorry,' I told them all. 'I mean, the honest truth is I made a mistake due to love and it doesn't matter that it was only guidance. I should not have broken advice that I myself signed off.'
This evening Jamie N-G [Njoku-Goodwin, former spad] whose endless advice – offered long after he stopped working for me – has been so valuable throughout the pandemic, messaged to say I'd done the right thing.
'There is so much you have done that you should be incredibly proud of. There are people alive today who wouldn't be if you hadn't made the decisions you did,' he said.
'I love her. That's what screwed my judgment,' I replied wretchedly. 'Love does that to us all. I hope you can both be happy,' he said.
'Of that I have no doubt,' I replied.
As for Boris – well, if anyone knows how to survive a catastrophic political and personal mistake, it's him.
'Time to dive beneath the ice cap,' was his advice.
Here's the awkward video from Sky News:
That concludes the Mail's excerpts from Pandemic Diaries. The paper posted the following (emphasis in the original):
Matt Hancock's book sale royalties will be donated to NHS Charities and good causes relating to dyslexia. 
Hancock is a dyslexic and had special tutoring to enable him to pursue his studies at Oxford University.
The book is available now. Someone on social media repositioned it at a bookshop in the Crime section: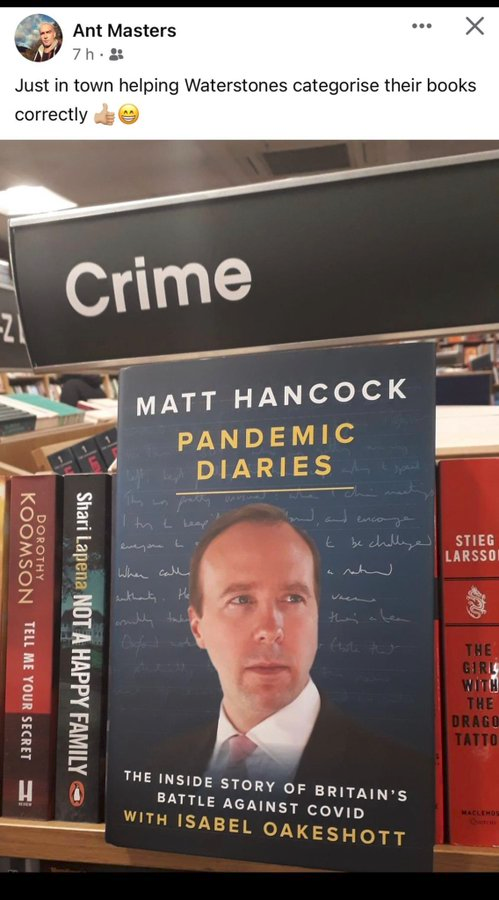 However, as my post on his last 48 hours as Health Secretary pointed out, Hancock told us in April 2020 that social distancing was more than guidance, it was an 'instruction'. I'd included this tweet as proof:
In the days that followed, Sajid Javid — Boris's first Chancellor — became our new Health Secretary. Questions whirled about the camera, security breaches and ministerial code breaches. Oliver Tress is the name Hancock's girlfriend's husband. He owns the Oliver Bonas chain of shops:
UK news: Sajid Javid's return to Cabinet as Health Secretary (June 27-28)
UK coronavirus news: will Matt Hancock be investigated? (June 28; Oliver Tress, restriction-free Wimbledon video)
MPs worried about Matt Hancock's security camera (June 28)
By now, most Britons know that Hancock met his girlfriend when they were undergraduates at Oxford. They both worked at the student radio station. Recollections from their contemporaries differ as to whether Hancock was part of the in crowd or whether he was a geek on its periphery.
Sky News's Beth Rigby put that period of history in perspective for us:
On June 26, 2021, The Telegraph explained how the woman got involved in Hancock's parliamentary career:
Gina Coladangelo started work for Matt Hancock during his short-lived Conservative Party leadership campaign in 2019, it has emerged.
Sources said Ms Coladangelo provided unpaid advice on the Health Secretary's bid to replace Theresa May.
The work coincided with Mr Hancock sponsoring a parliamentary pass at the same time for his longtime friend, who has worked as communications director of Oliver Bonas, the homeware store, since 2014.
Mr Hancock declared his candidacy during a broadcast interview on May 25 2019, saying "we need a leader for the future, not just now".
He quit the race on June 14 2019 – a day after coming sixth in the first ballot of Conservative MPs.
Ms Coladangelo was registered as holding a pass sponsored by Mr Hancock under her married name, Gina Tress, from June 2019.
Sources suggested she then started providing unpaid advice to Mr Hancock during the Covid-19 pandemic, before she was hired as a non-executive director at the Department of Health in September.
Her non-executive directorship also raised eyebrows. Who appointed her and how?
Tatler's profile of Hancock, published on June 28, told us:
… Both Hancock and Coladangelo, who were contemporaries at Oxford, have three children …
But, what of this relatively youthful minister? In 2014, he was touted as a junior minister with the skills 'to reach the top'. Certainly, academically, his results are a tour de force of excellence, a first at Exeter College, Oxford, in what many consider a politician's 'rite of passage', Politics, Philosophy and Economics (PPE). He worked briefly for a Tory backbench MP before breaking loose as an economist at the Bank of England specialising in the sterling money markets and on housing, before being sent to do a masters at Cambridge. On return, he was plucked out by George Osborne (in 2005) to join the Conservative economics team, later becoming the future chancellor's chief of staff, and a bonafide 'high-flyer'.
It was in 2010 that he became an MP for West Suffolk, and today – or at least before the lockdown – he balanced his time between his weekday home in London and his abode in Little Thurlow, in his Newmarket constituency, at the weekends. He has admitted that the work-life balance can sometimes be a challenge, explaining in an interview with the Financial Times in 2014, 'I pay a lot of attention to timetabling. Both my professional and social and family time gets booked up a long way in advance and then you have to be strict about it.'
Hancock married an osteopath, Martha Hoyer Millar, in 2006, and together they have three small children, a daughter and two sons as well as a dachshund called Hercules (which Hancock will occasionally document via his Instagram). With noble connections, Martha, a red head, is the granddaughter of Frederick Millar, 1st Baron Inchyra, a British diplomat who served as Ambassador to West Germany from 1955 to 1956. Baron Inchyra had four children, two sons and two daughters, their youngest, Dame Annabel Whitehead, was a Lady-in-Waiting to Princess Margaret and later to the Queen …
By his own admission, Hancock is fiercely competitive. He once, in 2012, trained as a jockey and won a race at the beating heart of British racing, Newmarket, in his constituency. Going the whole hog, he trained rigorously, shedding two stones and even seeking advice from champion jockey Frankie Dettori. He keeps it up; in December, 2019 he posted a video of himself galloping atop a racehorse on the Newmarket heath, summarising afterwards, 'absolutely exhilarating, every single time'.
It's been far from plain sailing for Hancock, he's overcome his own difficulties. One being dyslexia. His political career apparently practically ended before it even started, when a simple spelling mistake relayed the dead opposite of what he was trying to communicate. As a young Tory campaigner in Guildford he wrote an election leaflet. Instead of saying that candidate Nick St Aubyn wanted to 'unite' the community during the 2001 election, a then 22-year-old Hancock wrote: 'I want to untie the community'. The mistake was spotted after the leaflet had been printed and landed in 50,000 letterboxes. St Aubyn went on to lose the seat by 538 votes.
Hancock reportedly winces at the memory, but told the tale since he does not want other dyslexics growing up thinking they are 'useless' like he did. His wife, too, is dyslexic. He says he got on by focusing on numbers-based subjects, taking A Levels in maths, physics, computing and economics, but told the Telegraph, 'I wish I had been diagnosed earlier'.
Sheer hypocrisy
On June 25, before he resigned, the media rightly began enumerating Hancock's diktats and his own actions, proving the man's hypocrisy.
… How has the Secretary of State for Health and Social Care managed to cling on this long in the first place? …
As the man in charge of England's health system when the pandemic struck, he is accused of overseeing the disastrous discharge of Covid-positive hospital patients into care homes, mismanaging the supply of personal protective equipment, and the multi-billion pound failure that is NHS Test and Trace.
According to Mr Cummings, Mr Hancock "lied" to Mr Johnson and the public about much of this …
Mr Hancock strenuously denies much of this.
Nevertheless, it comes on top of allegations that he awarded a lucrative contract to supply the Government with tens of millions of Covid test vials to a former neighbour, who lacked experience producing medical supplies after he received a WhatsApp from him.
He also committed a "technical" breach of the ministerial code by failing to declare that a firm run by his sister, in which he has a 20 per cent stake, had been awarded an NHS contract …
The danger lies in the familiar territories of hypocrisy and the alleged "chumocracy" of the Johnson administration.
If Mr Hancock's embrace of Ms Coladangelo contravened government guidelines, as he has now admitted it did, many will remember his reaction to last year's Neil Ferguson scandal, where he suggested it could be a matter for the police, not to mention countless hugs with loved-ones missed over recent months.
Meanwhile, if evidence emerges suggesting that Ms Coladangelo was brought into the Government because of her personal relationship with Mr Hancock, rather than her expertise, the rap sheet all too quickly becomes too heavy to survive.
The Spectator's Steerpike, their gossip columnist, posted 'Nine times Matt Hancock told us to obey the rules', most of which follows (bold dates in the original):
From threatening to ban outdoor exercise and close the beaches to advising against sex outside 'established' relationships, Mr S presents his round-up of Hancock's best/worst moments:
9 February 2021:  Ten years in jail for Covid returnees
Hancock announced that people returning from holidays who conceal that they've been in a red list country would face a prison sentence of up to ten years …
1 February 2021 'Don't even think about stretching Covid rules'
At another No. 10 press conference, Hancock gave an update on the South African variant in which he said that those living in postcodes affected by the mutation should 'not even think about stretching the Covid rules.'
10 January 2021: Hancock claimed that flexing of rules 'could be fatal'
The Health Secretary appeared on the Andrew Marr Show where he was asked about the police fining two women who went for a walk five miles from their homes. Hancock told Marr: 'Every time you try to flex the rules that could be fatal' and that staying at home is the 'most important thing we can do collectively as a society.'
24 September 2020:  Hancock warned people to 'be sensible' when having sex during lockdown
Asked about the government's guidance that only 'established' couples should be having sex, Hancock told Sky News: 'There have to be boundaries, to coin a phrase.' He warned against casual sex, advising the public to stick to 'well-established relationships' and joking, 'I know I am in an established relationship,' with his wife …
5 July 2020: Hancock threatened to shut down non-compliant businesses
In an interview with Sky Hancock said: 'We also have the authority to shut down a business if it doesn't follow that [Covid] guidance.' When asked by Sophy Ridge if he is 'looking at shutting down businesses' Hancock replied: 'Yes and that's happened, absolutely'. He added: 'We're not just asking nicely, we're very clear to businesses that these are their responsibilities.'
25 June 2020: Hancock theatened to close the beaches
After sun lovers flocked to the seaside on Britain's hottest day of the year, Hancock warned that he could close beaches …
5 April 2020: Hancock threatened to ban outdoor exercise
At the beginning of the first lockdown, Hancock criticised sunbathers and warned the government would ban outdoor exercise if people continue to ignore government advice. He said on Sky that those who flout the guidance were 'putting others' lives at risk and you are putting yourself in harm's way'. He told Andrew Marr that same day: 'I don't want to have to take away exercise as a reason to leave home… if too many people are not following the rules.' He added: 'If you don't want us to take the next step and ban exercise… then the message is very clear… you have to follow the rules.'
Sickening.
The Mail has a report with reactions from several journalists also calling out Hancock's disgusting hypocrisy, well worth reading.
Questions, questions
Also on June 25, The Spectator's Isabel Hardman asked:
Why was it appropriate for Gina Coladangelo to have a parliamentary pass, to become an unpaid adviser at the department and then to receive the paid non-executive director post?
… the important matter here isn't the affair: these things happen and they're not normally anyone else's business. But where it becomes other people's business is when the affair is interlinked with government business and taxpayer's money. 
Then there's the hypocrisy charge, not just from someone in a government that has restricted personal freedoms so much this past year, but from the very minister responsible for the lockdown legislation and guidance. 
Questions about the camera and security were many.
At lunchtime that day, The Telegraph reported:
The Government Security Group, which is in charge of security at 800 buildings across Whitehall, has been asked to investigate, with Alex Chisholm, the Cabinet Office Permanent Secretary, expected to be in charge of an inquiry.
There have also been calls for MI5 to get involved in order to rule out any involvement from hostile foreign states.
Government insiders said it is "unheard of" for security cameras to be placed in the offices of Secretaries of State, raising questions about whether the footage of Mr Hancock was filmed on a pre-existing camera or could even have been filmed by a camera deliberately placed there to catch him out.
Day-to-day security at government buildings is typically contracted out to private firms, though the Department of Health and Social Care has yet to confirm if this was the case at their offices in London's Victoria Street …
One source said: "There are an awful lot of questions that need answering. Lots of government buildings have cameras outside offices that film people going in and out, but I have never seen one inside a Secretary of State's office. It's unheard of.
"What was that camera doing there, was it even a CCTV camera, and did Matt Hancock know it was there?
"More importantly, who is it that has access to what is going on inside that office? We are talking about people being able to spy on a Secretary of State, so this is a serious breach of security, regardless of what you think of Matt Hancock's behaviour" …
Among the questions the Government Security Group will have to answer is whether proper vetting was carried out of staff who have access to CCTV footage, and whether they have been required to sign the Official Secrets Act.
Breaches of the Official Secrets Act can carry a maximum punishment of 14 years imprisonment.
The paper had a follow-up article that evening:
The Telegraph understands Mr Hancock had no idea the camera existed when it captured him kissing adviser Gina Coladangelo …
It raises the possibility that the camera was deliberately placed by someone with access to his office with the intention of catching the pair cheating on their spouses and breaking Covid rules. It is the first time a Cabinet minister has been filmed in their own office without their knowledge.
In a further twist, the Department of Health and Social Care's offices use CCTV cameras made by the Chinese company Hikvision, which is banned in the US because of national security concerns …
One theory being investigated is that the footage was filmed by someone on a mobile phone as it was being played on a CCTV screen, which could make it more difficult to prove who was responsible.
While the revelation could spell the end of Mr Hancock's Cabinet career, the leak has also triggered a red alert in the Government over who could be spying on the country's most senior ministers …
A source told The Sun that the pair had regularly been caught embracing and that their affair was an open secret among staff. The newspaper claimed the footage was released by a whistleblower disgusted that Mr Hancock was breaking Covid rules while telling people to obey them.
At the time, the country was in stage two of the lifting of lockdown, meaning hugging anyone from outside your own household was banned. On Friday, Mr Hancock admitted breaching social distancing guidance and said he was sorry for having "let people down" …
The £144 million building is owned by Singapore-based property firm Ho Bee Land, which bought it five years ago and has not so far responded to requests for comment.
Cameras on the outside were made by Hikvision, which is owned by the Chinese state and banned in the US because of national security concerns and alleged human rights violations. The firm is alleged to have provided cameras that monitor Uighur Muslims in concentration camps in Xinjiang …
One covert security expert said: "In all my years of working in this field I have never known a camera to be positioned inside an office like this. An office is a private space and that raises all sorts of issues.
"The camera is facing the door so it will give you a record of who is coming and going. But if you wanted to do that you would place the camera outside of the office in the corridor. Also, the angle of the camera is all wrong because if someone walks into the office with their head down this will not be able to see their features. To me it smacks more of a small covert camera that has been placed in a light fixture" …
The fact that the camera was part of the overall CCTV network ruled out any suggestion that Ms Coladangelo could have been behind the leak, and friends of Dominic Cummings, the former Downing Street special adviser who has waged a campaign against Mr Hancock since leaving his job last year, insisted he had nothing to do with the leak.
One government source suggested it was possible the camera had been placed in the office to increase security as a result of the Covid pandemic, while another person familiar with the layout of the office speculated that extra cameras could have been put there because it has a balcony, making it more vulnerable to break-ins …
Indignity for his wife
On Saturday, June 26, the papers had stories about what was happening in the Hancock's marital home.
The Mail's first report was 'Callous Matt Hancock dumped wife on Thursday after learning his affair would be finally exposed':
Matt Hancock dumped his university sweetheart on Thursday night after learning video footage of him kissing an aide in his ministerial office would be exposed.
The ex-Health Secretary, who announced his resignation this evening, raced home to tell his wife of 15 years that he would be leaving her after he was contacted by The Sun newspaper over his affair with Gina Coladangelo …
Martha Hancock, a 44-year-old osteopath, had no clue about the affair until her husband told her their marriage was over, reports The Sunday Times …
The reports of the affair came just weeks after Hancock was seen enjoying lunch out with Martha – the granddaughter of Frederick Millar, 1st Baron Inchyra – in London.
The pair were seen waiting for a taxi after eating at Exmouth market in the capital.
They were last seen together in public at the England vs Scotland Euro 2020 match at Wembley a week ago …
Mrs Hancock is said to have met her future husband while they were students at Oxford University. Both are dyslexic and he once revealed that the condition helped them bond. 
Descended from a baron and a viscount, Mrs Hancock had a privileged upbringing. Her father, Old Etonian Alastair Hoyer Millar, 84, was secretary of The Pilgrim Trust between 1980 and 1996. The organisation supplies grants to preserve historically significant buildings or artefacts. 
Her mother, Virginia Hoyer Millar, 70, an antiques dealer, was yesterday pictured comforting her daughter in the street by putting her arms around her shoulders. They also linked arms as they strolled around North-West London.  
The couple [the Hancocks] divide their time between London and their West Suffolk constituency home, where there was no sign of Mr Hancock following his resignation.
The ex-Health Secretary wrote in his letter: 'The last thing I would want is for my private life to distract attention from the single-minded focus that is leading us out of this crisis.
'I want to reiterate my apology for breaking the guidance, and apologise to my family and loved ones for putting them through this. I also need (to) be with my children at this time.'
Another report from the Mail followed that day, discussing Conservative MPs' disgust with their colleagues and more information about the respective marriages involved, complete with photographs:
… Mrs Hancock looked sad and upset as she left the couple's home but didn't speak to reporters about her husband's alleged infidelity.  Her husband was nowhere to be seen, however, she was still wearing her wedding ring.    
The shutters were closed at the £4.5million South London home Mrs Coladangelo shares with Oliver Tress and their three children yesterday. They are also believed to have a country home near the West Sussex coast. She has been working as an advisor for Mr Hancock since last year, with one source saying: 'Before Matt does anything big, he'll speak to Gina' …
Mr Hancock was meant to be at Newmarket Racecourse to visit the vaccination centre but a spokesman revealed he cancelled at the last minute 'early this morning'. 
A Department of Health probe into how the footage from outside Mr Hancock's office was leaked is expected, with the whistleblower described as a former civil servant who was angry about his 'brazen' affair, adding: 'They have tried to keep it a secret but everyone knows what goes on inside a building like that' …  
Mrs Coladangelo was appointed as a non-executive director at the department in September, meaning she is a member of the board.
She can claim up to £15,000 in taxpayers' money in the role, though there is no public record of her appointment …
The woman Matt Hancock has been allegedly having an affair with is married to the millionaire founder of fashion firm Oliver Bonas and has worked as its communications director for the past seven years. 
Gina Coladangelo, 43, knows the Health Secretary from Oxford University, where they both worked on the student radio station and studied politics, philosophy and economics (PPE) – and where he also met his wife Martha, 44. 
Mrs Coladangelo remains Facebook friends with Mr Hancock's osteopath wife – with whom the Conservative politician has two sons and a daughter – after they both graduated from the university at around the same time. 
And they all reside in London, with Mrs Coladangelo living with her multi-millionaire fashion tycoon husband Oliver Tress and their three children in Wandsworth, while the Hancocks live in Queen's Park with their children … 
Mr Hancock met Mrs Coladangelo when they worked on Oxford student radio together in the 1990s. Mr Hancock was a minority sports reporter on Oxygen FM and they would have socialised together at Exeter College, Oxford.
… Mrs Coladangelo went on to marry Mr Tress, 53, who is founder of fashion chain Oliver Bonas, named after his ex-girlfriend Anna who is cousin of Prince Harry's former partner Cressida Bonas.
It is not known exactly when Mrs Coladangelo and Mr Tress wed, although they were listed on the electoral roll together with her maiden name as recently as 2008, and then her married name of Gina Tress by 2011.
Mr Tress founded Oliver Bonas in London in 1993 with handbags and jewellery he had brought from Hong Kong where his parents lived, and his wife began working there in June 2014 after 11 years at Luther Pendragon. 
They live together in a five-bedroom detached property believed to be worth around £4million in Wandsworth, South West London, on a quiet tree-lined street with residents-only parking bays that is popular with families.
Many of the cars parked in the street – which is a 20-minute drive away from Central London – are top-of-the range BMW 4x4s and Volvos. Neighbours of Mrs Coladangelo remained tight lipped and refused to comment.
But one visiting workman who left a neighbouring home was unimpressed by Mr Hancock. He said: 'The guy had been caught bang to rights on film. He will have to do some smart talking to get out of that one with the wife.'
The Spectator's editor, Fraser Nelson, called readers' attention to a Sunday Times report saying that Hancock took his girlfriend to a G7 summit:
The Sunday Times has something more significant: that Hancock took Mrs Coladangelo to the G7 health ministers' summit, raising questions about whether they stayed together (the event took place a month after their being filmed canoodling in his office). The brilliantly-informed Tim Shipman has a devastating quote from a Cabinet source.
She went with him to the G7 health ministers summit. Did he disclose this to the PM? If it was shown he was shagging on the taxpayer he had to go. He's been puritan-in-chief in the government and now it turns out he's a massive, lying hypocrite.
… In this week's magazine, Kate Andrews has dossier of how ministers have been living la vida loca, travelling globally at a time when they made it illegal for others to do so. All within the loophole-addled rules, yes, but generally conducting themselves in a way that others have been unable to do.
The girlfriend's brother
More news emerged on June 26, this time concerning Hancock's girlfriend's brother.
Sky News reported:
A relative of the Whitehall director alleged to have had an extramarital affair with Matt Hancock, the health secretary, is an executive at a private healthcare company which has won a string of NHS contracts.
Sky News can reveal that Roberto Coladangelo – who is Gina Coladangelo's brother – works at Partnering Health Limited (PHL Group), a specialist in the provision of urgent and primary care services to NHS patients …
People who know Mr Coladangelo said that he and Mr Hancock's aide were siblings, and social media profiles and electoral roll data appear to confirm a relationship between them.
None of those contacted by Sky News on Friday afternoon would confirm or deny the relationship between the Coladangelos.
Weekend papers
The weekend papers were magic for those of us rejoicing over Hancock's resignation:
Also see The Observer and The Sunday Telegraph.
Of the resignation news, the redoubtable Peter Hitchens tweeted that it was sad that the government didn't believe in their guidelines but the public did — 'our tragedy':
He added that, given all the damage Hancock caused Britain, it was ironic an illicit grope brought him down:
Maybe that's why Hancock wants to return to private life after the next general election. Will the formal coronavirus inquiry advance that far in two years' time? If not, he could be safe in the knowledge he won't be asked to testify.
No. 10: photos 'in the public interest'
On July 16, The Telegraph had a follow-up on The Sun's photos: 'Leaked Matt Hancock CCTV footage was "in public interest", says Boris Johnson's office':
The leaked CCTV footage which exposed Matt Hancock's affair was in the public interest, the Prime Minister's spokesman has said, as an investigation into an alleged data breach continues.
Two people suspected of recording the film without consent had their homes raided on Thursday by officials from the Information Commissioner's Office (ICO).
Police and Crime Commissioners have also called for the police to launch an urgent investigation amid concern over the security of government buildings.
But the Prime Minister's official spokesman said Boris Johnson believed in the importance of a free press being able to investigate matters that were in the public interest …
Excellent!!!
There ends the resignation saga.
A final instalment on Hancock's time as a backbencher will come next week.