You are currently browsing the tag archive for the 'survey' tag.
This is my last post on British politics before the December 12 election.
I have already written about Labour and the Liberal Democrats.
Like the Britons in the video below, 17.4 million of us would like to finally see Brexit delivered so that we can move on to trade negotiations with the EU and the world at large. Only one person can lead Parliament to bring this to fruition — Prime Minister Boris Johnson:
Voters have confidence in his leadership thus far (130 days and counting):
Contrary to the misinformation the media have been ramming down our throats, many British voters would be perfectly happy with a no deal or a Boris Brexit:
Although Labour have been promising households in Britain everything except a free puppy, the harsh reality would mean more — and higher — taxes for nearly everyone, 'the many, not the few', to borrow their slogan:
The Institute for Fiscal Studies (IFS) calls Labour's spending plans 'colossal'! Venezuela, here we come:
Labour's proposed higher corporation tax would not only stifle innovation but consumer prices would go up in order to compensate for those taxes:
However, under the Conservatives — even with Parliament's prolonging Brexit uncertainty — Britain has record employment and buoyant wages:
Our currency recently rallied, too. The Boris effect?
The Leader of the House is entirely correct in his assessment of the Prime Minister's support of free enterprise:
Those worried about the NHS should keep in mind that a healthy economy promotes a healthy population.
Since November 6, Conservatives have been campaigning across the country.
The Prime Minister has made several campaign stops every day to factories, schools and hospitals. In November, he visited his constituency of Uxbridge and South Ruislip in west London with his father Stanley, a television celebrity in his own right:
Last week, he made another stop in London: Grodzinski's bakery in Golders Green. The video of Boris piping 'Get Brexit Done' on doughnuts is subtitled. This must be the friendliest and most heart-warming video of the campaign for any party:
Another Conservative of note is Jacob Rees-Mogg, most recently Leader of the House, and current incumbent candidate for North East Somerset:
His sister, Annunziata, is one of four Brexit Party MEPs who, last week, urged voters to back the Conservatives:
Rees-Mogg has been campaigning in North East Somerset since Parliament was dissolved in November. It is a delightful part of England, even when cooler temperatures and rain dominate the landscape:
There is always room for humour in a political campaign. For those unfamiliar with British English, 'moggy' is slang for 'cat':
This is my favourite photo, and it is hard to disagree with the reply:
Conclusion
Only a majority Conservative government can break the Brexit logjam by the time of our next deadline:
Once post-Brexit trade negotiations start in earnest during the transition period, MPs can then begin to focus on what matters to the British:
Are these sensible policies important to you?
While our other political parties, especially the Scottish National Party (SNP), want to break up the Union which has held strong since 1707, the Conservatives will continue to hold it together, because:
On Thursday, December 12, a Conservative vote makes sense:
I'm borrowing this GIF to say …
Back Boris.
If there weren't already a Magic Johnson, I would have given Boris that nickname.
Last week, Boris surged in a polling question that Survation fielded about the public's preferred Prime Minister:
Jeremy Corbyn (red, Labour) and Jo Swinson (yellow, Lib Dems) are trailing miserably. Good!
About that result, Guido Fawkes said (emphasis in the original):
Boris has taken an even more commanding lead in Survation's preferred Prime Minister polling. The PM is up six points on last month, with the Lib Dems crashing down to place Swinson behind Corbyn, who himself has fallen by two points.
This mirrors Deltapoll's findings over the weekend that saw the Lib Dems tumble five points to just 11%. Ironically the Tories are worried that if Swinson's party continues to plummet, the Remain vote won't be split enough to win back key targets in metropolitan places like London…
Even better!
Here are two results from the weekend.
One model predicts a clear Conservative majority — provided, I would caution, that those who go out on Thursday, December 12 vote True Blue — Conservative:
Two other polls show the Conservatives sailing ahead. Again, nothing happens unless Conservative voters go and vote True Blue on December 12:
But, hold on, here's a third, from Opinium. 'Blair territory' means a wipeout, as in 1997. Again, all depends on True Blue voters going out on December 12:
Going back to earlier in the month, on Tuesday, November 12, the Conservatives launched their first election video of the campaign. Given that this would have been scripted, Boris is a natural in front of the camera and makes this four-minute chat look spontaneous:
On Monday, November 18, a reliable commenter on Guido Fawkes had this to say about the Prime Minister (emphases mine):
One small problem with supranational empires such as the EU is that history tells us that they always, without exception, fail. The Roman Empire, Alexandra the Great, the Persian Empire, Genghis Khan, the Soviet Empire, Timur, the British Empire, the Third Reich, Napoleon, and so on. The reason they fail is because nationalism and patriotism are immensely powerful forces that cannot be overcome. No matter how much subjugation and assimilation is forced on people they will always fight against the imperialists.
A very good book about this effect is The Dream of Rome. It explains how even after hundreds of years of being Romans, with a united language, currency, government and legal system the people still fought and died to get their countries back. This book was written by Boris Johnson.
The very fact that the BBC hate Boris, portraying him as a bumbling idiot and doing everything they can to denigrate him is just brilliant for him. It proves that he is not an evil Globalist like they are.
Some people say that it is in the very nature of Boris that he is good at every job he is given, but it is only when he gets the top job that he excels. We saw this when he was a two term Mayor of London. He did the job brilliantly. The evidence for this is irrefutable, just look at the slow motion train wrecks of his predecessor, Ken Livingstone, and his successor, Sadiq Khan, who were both abject failures who failed to meet the challenges of the job. Those who were close to Boris during his tenure say that his especial brilliance was in putting teams together and getting them to work. Exactly what is needed from a leader in government.
Boris has amazing genes, both his parents are Oxford graduates who have achieved much with their lives. Boris too went to Oxford, winning a scholarship. He read Classics there, which is one of the most intellectually demanding courses and he was elected to be President of the Oxford Union. Boris speaks Latin, French and Italian fluently with good German and Spanish.
Then there are the books. Boris has eleven published books with a twelfth, on Shakespeare, due. His biography of Winston Churchill is especially incisive, readable and well thought of.
Boris is not how the Globalist press portray him. But then they are intellectual pygmies next to him, so he must give them a huge inferiority complex. He is the first true patriot we have had as Prime Minister since Margaret Thatcher. And he is almost certainly the best person in Britain for the job.
I fully agree.
Boris has genuine appeal and energy combined with self-effacement and humour. I met him once in 2001 when he was campaigning to become MP for Henley, a constituency in Oxfordshire that he represented very well indeed. Along with a friend of mine, I chatted with Boris for several minutes. He was humble, self-effacing and ineffably courteous, yet, resolute.
He has done much in his career, both as the editor of The Spectator — which has gone downhill since then — and as a politician.
He brought back a newish Brexit deal from Brussels. Everyone said it could not be done, but he did it. No one gives him credit for his time as Foreign Secretary under Theresa May. However, that post gave him an entry point for negotiating with the EU.
Let's have another couple of Stefan Rousseau's excellent photographs for the PA (Press Association) to lead us out in a positive mood:
Boris Johnson will seek to represent the country's best interests and I hope that the voters of his current constituency, Uxbridge & South Ruislip in west London, re-elect him as their MP, so that he can continue his quest as Prime Minister to put the Great back into Britain.
It is rare that the House of Commons meets on a Saturday.
Before October 19, the last time was in 1982 when Argentina invaded the Falkland Islands. That was only the third Saturday session since the Second World War. Margaret Thatcher was Prime Minister at the time.
The Telegraph has a short, informative video on the agenda for October 19:
The Rugby World Cup was on, so special arrangements were made for MPs who wanted to see the televised England v Australia match from Japan that morning.
However, the House of Commons was full to bursting by the time the session started at 9:30 a.m. As there are never enough seats on the benches for all MPs, several had to huddle together just inside the entrance to the chamber.
Those watching at home — and I was one of them — were looking forward to the session, like this Twitter user:
By 3:30 p.m., we were sorely disappointed, agreeing with ITV's Piers Morgan:
The Letwin amendment
The day's business began with a debate on the Letwin amendment, brought forward by outgoing MP, Sir Oliver Letwin, a notional Conservative — a rebel who had the whip removed.
This is not the first time Letwin has frustrated the Brexit process. He did so in April, when we had a short two-week extension from March 29 to April 12. He co-sponsored a bill with Labour MP Yvette Cooper to ensure we did not leave then, either:
Then — as now — the amendment was designed to thwart a No Deal exit. It passed. Conservative Woman discusses the amendment, but, more importantly, Letwin's less than trustworthy tenure as an MP. About the Cooper-Letwin Bill from April, CW's article says (emphases mine below, unless otherwise stated):
Thanks to Oliver Letwin's machinations with Yvette Cooper, we woke yesterday to hear that MPs had voted by majority of one 'to force the prime minister to ask for an extension to the Brexit process, in a bid to avoid a no-deal scenario'. Not that Mrs May needed any forcing. The constitutional outrage of the Bill currently being rammed through Parliament is that against the people's will it will prevent us leaving the EU, for a second time, despite the referendum, despite the main party manifestos, the European Withdrawal Act, and the Prime Minister's repeated promises, on April 12.
That Mrs May is now playing kneesy-kneesy with Jeremy Corbyn and shuffling us toward a customs union worse than either leaving or remaining we have to thank Sir Oliver, useful idiot and Member of Parliament for the safe seat of West Dorset.
That, as a result of his Parliamentary coup, she's collaborating and consulting a terrorist-loving Labour Leader in preference to her conservative colleague Jacob Rees-Mogg you'd think might trouble his conscience.
Not if you understand what shaped him as politician.
After Boris Johnson became Prime Minister, Letwin confirmed at the end of August that Speaker of the House John Bercow was working behind the scenes from his holiday bolthole in Turkey to frustrate Brexit before the Commons reconvened in September.
On September 12, The Sun reported on Letwin's agenda:
SACKED Tory rebel Sir Oliver Letwin wants to create a "zombie parliament" by delaying Boris Johnson's general election until next summer at least if he fails to get a new Brexit deal.
He warned there was a cross-party majority in favour of blocking going to the polls until our EU split is resolved — either by passing a deal or holding a second referendum.
Sir Oliver, a leading architect of the law to block a No Deal, said going back to the people to vote on Brexit must come first as an election would "muddle things up".
But Tory Brexiteer Iain Duncan Smith accused him of "stabbing Conservative MPs in the back".
Letwin's successful amendment to Boris's new deal in October prevents any exit until all legislation is agreed. By its very nature, it automatically triggered implementation of the Benn-Burt Act, which stipulates that Boris must send a letter to the EU to ask for an extension. As I write, it is unclear what the EU will do. Benn-Burt even specifies the exact text of the letter. More on that below.
Veteran broadcaster and publisher Andrew Neil explains the strategy behind Letwin's move:
After Letwin's amendment passed, The Telegraph rightly took issue with him:
The Mail on Sunday alleged that Letwin had help in devising the amendment from Lord Pannick, an ardent Remainer:
On Sunday, Letwin confirmed that Lord Pannick was helping him:
Not surprisingly, a number of former Conservative MPs — the rebels — voted for the Letwin amendment:
It is important to keep in mind that Northern Ireland's DUP also voted for the Letwin amendment, even though Boris's new Brexit deal has removed the contentious trade/customs backstop that Theresa May's had. However, the DUP MPs are unhappy that there will be a virtual customs border in the Irish Sea:
If those two groups had not voted Aye, Letwin's amendment would have failed. The result was close: 322-306.
However, if Labour think they now have the DUP onside, they should think again. On Monday, October 21, MP Jim Shannon said:
Guido Fawkes explains (emphasis in the original):
Big news if remain MPs were hoping to get a customs union amendment through on the back of DUP support. Sighs of relief from Downing Street…
Interestingly, the UK edition of HuffPost says that we might have reached what journalist Paul Waugh calls 'peak Letwin'. After the vote, he wrote (emphases in the original, those in purple mine):
today it felt like we had reached 'Peak Letwin'. And although the large crowd in Parliament Square roared when the vote was announced on a huge screen, that too felt like the last dying twitch of a movement that now looks doomed …
The pro-People's Vote MPs will push one final time when the Withdrawal Agreement Bill arrives next week. But having waited and waited for their moment in the hope they can bring more MPs on board, that moment may have now passed. They won't be able to amend the second reading of the bill, which may itself be passed with a hugely important vote for Johnson's deal.
‌Most important of all, the People's Vote campaign has been waiting for 'moderate' Tories to come on board (one claimed that half of the 21 would back a referendum), but those same Tories now look ready to call it a day and back the PM. The DUP are so upset with No.10 they are flirting with a second referendum threat, but few think that will happen.
The EU, which will probably hold off until Tuesday to see whether parliament really can pass the deal, may then offer only a short extension to say mid-November to allow time for the legislation and ratification by the EU itself. Again, that can only help Johnson and focus MPs' minds once more on 'this deal or no-deal'.
Confusion ensued
While we all knew that the Letwin amendment passed, confusion ensued as Saturday's session ended.
Even MPs were left wondering what had happened.
It seemed to some of us, including MPs, that Boris's deal had passed along with Letwin's amendment. Although there was no vote on Boris's deal, approving Letwin's amendment seemed to imply that by voting for it, Boris's deal had also been approved.
The parliamentary journal of record, Hansard, provided no clarity on the matter, either.
Letwin gave a statement after his amendment passed and House Leader Jacob Rees-Mogg made a Point of Order, not the customary Business Statement:
SNP MP Joanna Cherry checked Hansard but still has questions:
Jacob Rees-Mogg
As I said, Jacob Rees-Mogg made a Point of Order and delayed his usual customary Business Statement for Monday.
A lengthy 45-minute discussion ensued, mostly from Scottish MPs, such as Jo Cherry, who asked Speaker Bercow what was going on.
As Rees-Mogg made a Point of Order, he was not obliged to explain his statement that there would be a 'full emergency business statement on Monday':
Rees-Mogg sat there being discussed in the third person, which, while strange, conforms with parliamentary protocol:
Speaker Bercow reassured MPs that he would take legal advice at the weekend and make a statement on Monday:
The vote on the content of the Queen's Speech was scheduled for early next week, too:
Then, Jacob Rees-Mogg quietly got up and walked out of the chamber (start at 4 sec. point):
Discussion went on for a few more minutes in his absence before concluding with this from Bercow:
Police protection required
The People's Vote demonstration was going on outside the Palace of Westminster, as was a pro-Brexit gathering.
Although a few pro-Brexit jerks verbally attacked Labour MP Diane Abbott, the People's Vote Remainers were far more serious about preventing Conservative MPs from leaving Parliament safely.
Some Cabinet MPs required a phalanx of police to escort them to their cars:
What happened to Rees-Mogg and his 12-year-old son, who had been in the Public Gallery, did the Remain/Second Referendum movement no favours:
However, Rees-Mogg received at least one shout out of support. This video also shows his son, who looks and dresses like his father:
Such heinous harassment will do Remainers no favours.
Boris complies with the law
That evening, Boris complied with the law.
Whether Remainers will approve (see below) is another matter.
However, I'm glad the PM complied with the Benn-Burt Act the way he did.
The Mail on Sunday reported:
Late yesterday – just before the midnight deadline stipulated by 'wrecker' MPs – a total of three letters were due to be sent from the Government to Donald Tusk, the president of the European Council.
The first was the letter demanded by the Benn Act, which asks the EU to delay Brexit beyond the October 31 deadline – but not signed by Boris Johnson – using the exact wording specified in the legislation.
The second was a covering letter, written by Sir Tim Barrow, the UK's Permanent Representative in Brussels, which made clear that the first letter was from Parliament, not the Government.
And the third was a letter from Mr Johnson, which was also sent to the leaders of the other 27 EU nations, in which he disavowed the first letter by making clear that he does not want any delay to Brexit.
In it, the PM said any further hold-up would be 'deeply corrosive', and would 'damage the interests of the UK and our EU partners'.
He said UK would continue to ratify the deal and urged Brussels to do the same.
Donald Tusk confirmed he received them:
Tim Barrow's cover letter prefaced the Benn-Burt letter, unsigned:
The PM also sent a letter to MPs, exhorting (encouraging) them to support his deal:
More Scottish anti-Brexit lawsuits to come
This week, Jo Maugham QC and Joanna Cherry MP, also a QC, will bring more anti-Brexit lawsuits in Edinburgh.
The first is about Boris's handling of his obligations under the Benn Act.
While Parliament convened, Jo Cherry included, Jo Maugham prepared for the week ahead in Spain:
Calm and witty though his tweets might be, it is nonetheless hard to forget that, on October 17, Maugham called Rees-Mogg a 'notorious talker of tripe'. That was not a one-off against the Conservatives, either.
What happens next?
On October 19, the BBC reported that the government plans to bring back a vote on Boris's deal by holding:
a "meaningful vote" on the Withdrawal Agreement Bill on Tuesday.
This would corner MPs into a Yes/No vote on their deal, and given there are a fair number of Labour rebels, the government could well win.
Certainly, the vote would put any number of Labour MPs – and MPs for other parties – from Brexit-voting constituencies in a very awkward place.
Watch out for an attempt to attach a second referendum to the deal in some way.
But the success of that effort would require full-throated support (and whipping of their MPs) from the Labour Party. They are not there yet, and they may never be.
If the government wins a "meaningful vote" on Tuesday, the legislation to underpin the new deal would then go forward – and that would provide further opportunities to attempt amendments.
Winning the next meaningful vote is only the beginning of a new phase of Brexit; it's not even the beginning of the end.
How true.
Along with many other Britons, I wish they would just pass Boris's deal, along with the legislation, and get on with leaving on October 31 …
… because, at that point, our transition period begins. It would be scheduled to last until December 2020. It is during that time that trade — and other — deals can be fully negotiated.
More to follow this week.
Britain's Conservatives have had a highly successful party conference in Manchester.
They have had the highest attendance in 20 years, with many more young members showing up.
Conservatives seen as Party of Brexit
Voters now think that the Conservatives are definitely a party of Brexit, a dramatic turnaround since the days of Theresa May in April 2019, as a YouGov poll from October 1 shows:
Guido Fawkes writes (emphasis in the original):
New YouGov polling has revealed that more Leave voters now think that the Tory party is a pro-Brexit party in a direct contrast to the last time the question was asked. Back in April, Leave voters were found to be substantially more likely to think the Tories were actually anti-Brexit (40%) than pro-Brexit (23%). The more pro-Brexit the Tories are seen as, the higher their polling climbs…
Hearteningly for Tory strategists, the proportion of Brexit Party voters who see the Tories as anti-Brexit has collapsed from 65% to just 24%.
This exchange is representative of voters' perceptions:
One of Guido's readers provided an excellent analysis (emphases mine) and meme featuring Chancellor Sajid Javid, Home Secretary Priti Patel, Leader of the House Jacob Rees-Mogg and Foreign Secretary Dominic Raab:
The core Cabinet + Lynton Crosby + Dominic Cummings are driving policy in a very interesting way.
They are commissioning an unprecedented number of focus groups and private polls. They are scouring the social media. They will even be reading this comment (Hi!).
They then use this knowledge of what the public actually want to form policy and to craft the messages in their speeches, press releases and other output.
They are doing what a government should do. They have become the servants of the people.
This is why Boris says we are leaving, deal or no deal. He is 100% sure that this is what the vast majority want. And he knows how massively unpopular the Quislings are.
The other parties are just bumbling round in the dark with their blindfolds on.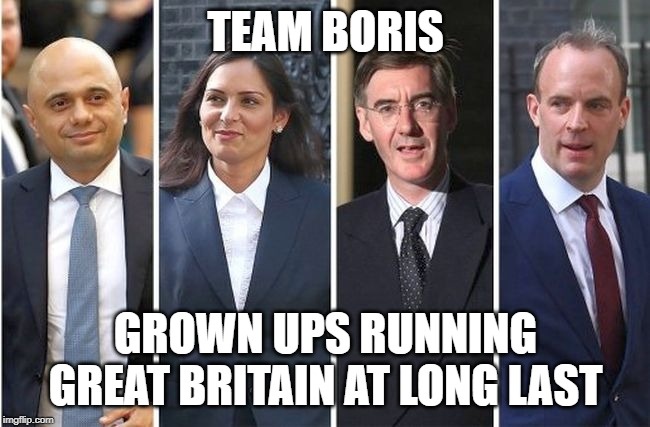 I don't know about 'grown ups' as much as a group of people who have the mettle to keep going, in spite of all obstacles, not least the daily nastiness from the Left. This went up near Manchester in nearby Salford just before Conference began on Sunday, September 29:
Boris best PM since Maggie
Many Britons have said anecdotally online that Prime Minister Boris Johnson is the best since Margaret Thatcher, who stood down in 1990. The following is something any Briton over 60 will tell you about when you ask about the 1970s and her party's defeat of Labour. She faced a national mess, one that affected everyone with regular power outages, strikes and so on:
Whilst it's early days, here are poll results from this week for Boris …
… and the Conservatives:
Conservatives — the party of the people and of diversity
From the introductory speech by the female chairperson of the conference until the end, the Conservative message was:
We don't care where you come from, but where you are going.
How true.
Under Boris Johnson, we have the most diverse Cabinet in British history.
Despite all their rhetoric on people and diversity, Labour's Shadow Cabinet barely comes close.
Labour are also under investigation on charges of anti-Semitism.
On Monday, September 30, a young Conservative Party member introduced the Chancellor of the Exchequer. Mercy Meroki is no fan of the Labour Party. She is currently studying at Oxford:
Now is a good time for people like me to find out how to pronounce the Chancellor's name:
He greeted his mother, who was in the audience. This is probably the first time Punjabi has been heard at a Conservative Party conference. I wonder about the Labour and Lib Dem conferences in that regard, too, though:
The biggest headline from the Chancellor's speech is a proposed abolition of inheritance tax, rightly viewed by Britons to be the most unfair:
The Party of Law and Order — Conservatives
I sincerely hope that Priti Patel can be a better Home Secretary than her predecessors Amber Rudd and Theresa May.
Her speech went down very well with conference attendees and people watching from home.
Whilst I applaud the addition of 20,000 more police from the PM and her, we have heard this before. For various reasons, it never happens.
I also question the Australian points system for future immigrants. Surely, there must be a better way, as an article from October 1 in The Guardian, 'Oxford professor's children refused visas to join her in UK'. This is what happens in the academic world, so heaven only knows what happens to others than senior executives or the very wealthy (emphases mine):
Dr [Amber] Murrey, an expert on social change in Africa, who has published widely and previously held positions at universities in Cairo, Massachusetts and Ethiopia, took up her post in Oxford last year. Without proof of residency she couldn't set up schooling or somewhere to live in advance, so the couple decided she should establish a base in Oxford before moving the family. While she has been returning to Cameroon to see her daughters and husband in the university holidays, she says this has been an emotional strain.
"It has been really hard, because I need to spend more time with my daughters but I am wary of being out of the UK for too long in case it jeopardises the terms of my tier 2 visa," she says.
The news has hit the family hard. Murrey says: "My nine-year-old had been so excited about her new school, and our apartment near a meadow. After I told her their visas had been denied she told me: 'I know why they rejected me, it's because I've been misbehaving this week, Mama'. We both cried very hard."
The Home Office rejection letters say that under immigration rules a child may only be given a visa if both parents are living together in the UK. This would be waived if the parent living here had sole responsibility for the children, or the other partner had died.
"This policy seems to operate under the guise of keeping families together, but it is splitting mine apart," Murrey says.
Ultimately the couple want the whole family to live together in Oxford, but Murrey says that right now they are just trying to "do what is best for our daughters".
She doesn't know whether she has been singled out as a risk because her husband is from Cameroon. "We have family members and friends there who have been rejected for British visas in the past," she says.
The Wellcome Trust, a health research charity, has evidence of around 100 cases in which academics, especially from African countries, have been refused visas to come to the UK for conferences, often for spurious reasons …
A young Canadian academic, who wished to remain anonymous, recently encountered a similar pop-up window when applying for a full-time lectureship that should have qualified her for a tier 2 visa at a London university.
"It said: 'It is highly unlikely that you would obtain permission to work in the UK on the basis of an offer for this … job. It is therefore recommended that you do not continue with your application'."
She says this felt like a sign saying: "foreigners go home". She blames the government rather than universities, but says that after a year of applying for jobs she is beginning to feel desperate.
Gareth Edwards, a senior geography lecturer at the University of East Anglia and co-founder of International and Broke, which campaigns against high visa costs for academics, says international academics are getting this sort of pop-up warning when applying for permanent lectureships. "Those jobs are most certainly eligible for sponsorship," he says.
Meanwhile, we've got illegals coming here on dinghies from the Dunkirk area. They have friends or family members pick them up in coastal arrival points in the UK to take them to their new home.
It seemed to be just a few cases last year, but LBC (radio) recently sent someone undercover to investigate, and it's a regular trafficking programme with dozens of people being smuggled across the Channel every night. On a slow day, only 20 to 25 go across. Normally, twice that many people make the crossing nightly, often with the blessing of the local gendarmerie. I will write about this in a separate post.
Immigration aside, the levels of crime on our streets are far different than they were 25 or 30 years ago. Crime used to make the national news. Now there are so many incidents that local newspapers cover them instead. So, on that basis, Priti Patel's policies — really Boris's, as he came up with them first — have been applauded:
And, ironically, before the Home Secretary spoke on the dais to formally announce this new commitment, security staff duly ejected a Conservative MP from an event at the International Lounge. Either he or his guest lacked the relevant pass to gain entry. They were then asked to leave the conference altogether:
The BBC reported:
A staff member guarding the door of the International Lounge said the incident was sparked by a disagreement.
"It was a small misunderstanding," the man said.
BBC Political Editor Laura Kuenssberg said the incident happened just before home secretary Priti Patel stood up to make a speech "trying to reclaim the Tories as the party of law and order".
A Greater Manchester Police spokesman said an attendee "attempted to enter the International Lounge area of the conference without the relevant pass".
"Security staff intervened and resolved the situation without any breach of security occurring," he added.
Also:
The incident led to a lockdown of part of the Manchester Central Convention Centre for about 20 minutes. The MP apologised "unreservedly".
A Conservative spokesman said: "The incident was totally unacceptable."
"Geoffrey has been asked to leave Conference and we are establishing all of the facts to see if further action is necessary," he added.
"We will always adopt a zero tolerance approach to any inappropriate behaviour towards our hardworking staff."
The Cotswolds MP said in a statement: "This was a minor verbal misunderstanding.
"The police have not contacted me at all. I am mortified that something so minor seems to have been blown out of all proportion and if anyone has been offended, I apologise unreservedly.
"I will co-operate with the party in any investigation."
Tweets show this incident caused concern:
Boris's speech — backing Britain
Of course, most reading this want to know what Boris said just before midday on Wednesday, October 2.
As one would expect, he was witty and to the point. As one reader of Guido Fawkes points out:
… Boris in a nutshell: HE CHEERS US UP.
True!
Others agreed:
Were any other former PMs there? No:
You can see Boris's speech in full, beginning at one hour and 36 minutes in:
Note his Brexit coloured tie.
He began by paying tribute to his predecessor, Theresa May. He also thanked the outgoing leader of the Scottish Conservatives, Ruth Davidson. Neither is a particular fan of his, but Boris did the right thing.
He then said:
We have so many reasons to feel confident about our country.
Finally. Having watched portions of the Lib Dem and Labour conferences, it was a relief to hear a party leader talking positively about Britain.
He referred to Labour as the:
anti-Semitic Marxists in Brighton last week.
Boris then wittily criticised Jeremy Corbyn for not voting for a general election. Corbyn, lest we forget, asked for one 35 times, no exaggeration. Boris put forward a motion twice in September, and Labour voted No. Then he went on to discuss the Supreme Court overruling the recent prorogation, which had Royal assent:
He brought up Brexit:
He rightly asked when any Conservative leader last spoke about capitalism:
The answer is Theresa May in 2017. Prior to that, David Cameron did at some point.
He spoke up for Britain and our nation's great innovations throughout history:
I'm fed up with being told our country can't do something when I passionately believe that it can.
He gave a shout out to the Commonwealth.
He praised Priti Patel for supporting law and order policies.
He called for London to elect Shaun Bailey as its next mayor.
He spoke about buses, his favourite vehicle.
He said that wind and solar energy were far more productive than originally claimed. It turns out his sister, Remainer Rachel, was sceptical. Boris picked up on it at the time in one of his Telegraph columns:
At the end, Boris received a standing ovation.
No one slept through his speech.
He did not use an autocue, either, which was refreshing.
'No disposable cups'
The comedy moment of the conference occurred on Tuesday, October 1.
Boris really wanted a cup of coffee, and a male aide handed him one. A female assistant quickly whisked it out of his hand.
Apparently, it was because it was in a disposable cup. I do think the Conservatives are taking this eco-thing a bit too far:
Watch Boris extend his hands, not quite believing what happened and not having any coffee. He's a good sport:
It reminded me of that Seinfeld episode, 'The Soup N@zi': 'No soup for you!'
Comedy gold.
Guido Fawkes reports (emphasis in the original):
After a slue of late night receptions with Tory members, Boris was denied his much needed caffeine hit this morning by his press team – all because it came in the wrong cup. When Number 10 Press Secretary Rob Oxley handed the Prime Minister a cup of coffee, it was swiftly snatched away by events aide Shelley Williams-Walker who scolded him saying "No disposable cups." Oxley was later spotted buying a KeepCup and a mug at the Tory Party conference shop…
UPDATE: Several hours later…
My observations
After Boris's speech, the Conservative Party Conference drew to a close for another year.
My brief observations follow, contrasting this to the two left-wing conferences.
First, everyone at the Conservative conference was tidy and well groomed. Most of the men wore jackets and ties.
Secondly, proceedings ran to time. Boy, did they ever.
Finally, everyone who spoke was articulate and delivered their speeches well.
Bravo!
Now, it's onwards and upwards to GET BREXIT DONE!
The 2019 Conservative Party conference began on Sunday, September 29.
As has been the case for the past few years, it is taking place in Manchester.
Guido Fawkes has the perfect caption:
I reported on Friday that MPs voted NOT to adjourn during these three days, despite the fact that the House of Commons did not meet for the Liberal Democrat and the Labour Party conferences. A great many Leavers fear that mischief could be afoot during the Conservatives' absence.
The Mail on Sunday reported that No. 10 Downing Street is investigating possible 'foreign collusion' on the part of Remainer MPs. It was the paper's front page story (click here and here for easier reading, as well as the website link to the article):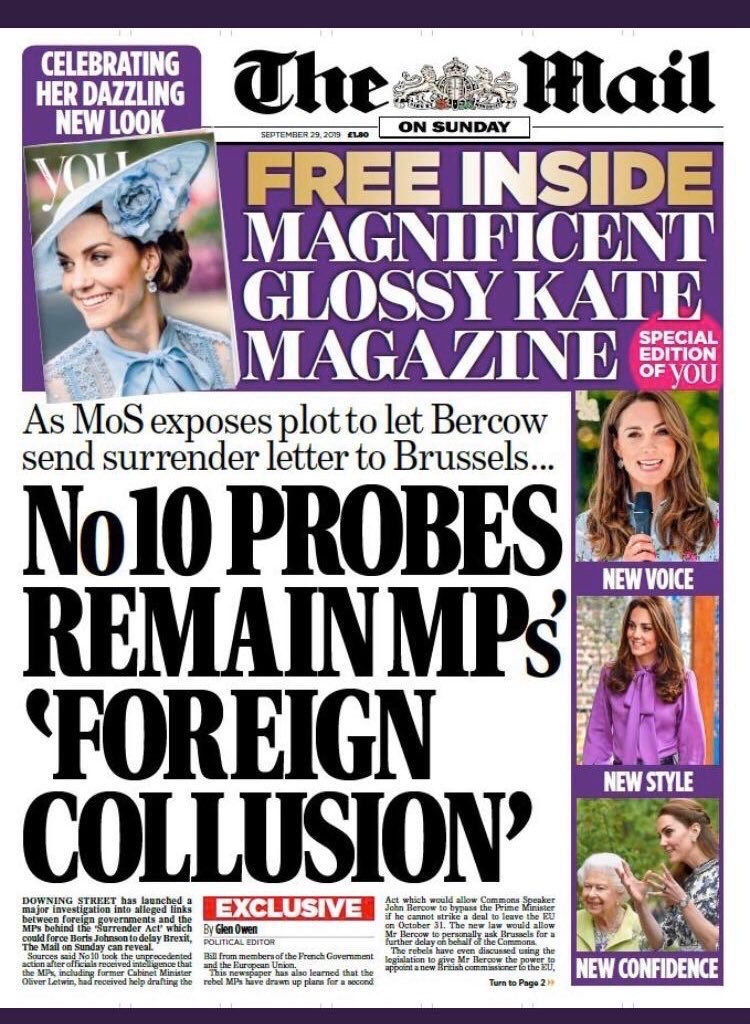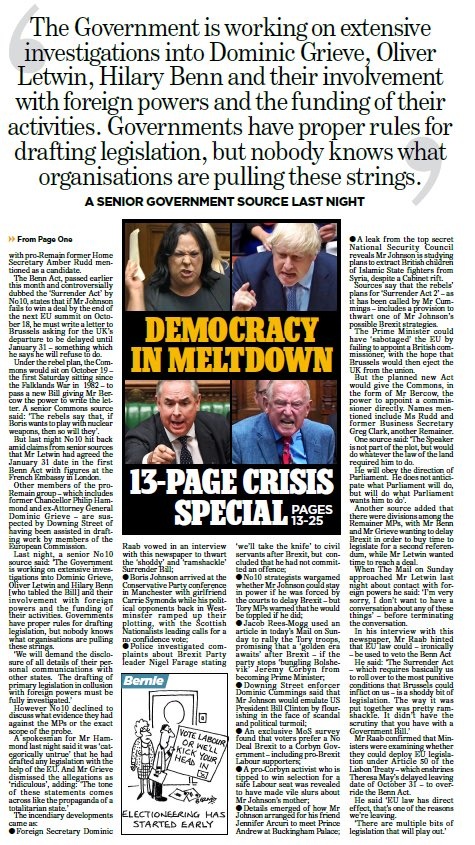 I am not sure whether anything quite like this has ever happened on this scale in Britain. It certainly hasn't in modern history, meaning the last century, at least.
If true, this is serious stuff, especially if Speaker of the House John Bercow can get involved acting as the Prime Minister. What the heck?
I did not know this about sedition. If true, sedition is not a crime anymore in the UK. Good grief. How can that be?
Note that we are talking about turncoat Conservatives here, those who have had the party whip withdrawn and are now classified as Independent MPs.
David Gauke is now an Independent MP. I agree that these are serious accusations, but he appears to be digging a hole for himself:
Hmm, with all the complaints from last week, which ran into the weekend, about Boris Johnson's language, one wonders:
As if that isn't bad enough, Labour's Jeremy Corbyn convened a meeting with the Liberal Democrats' Jo Swinson on Monday to put forward a VONC — Vote of No Confidence — against Boris Johnson. Nicola Sturgeon, the leader of the Scottish National Party (SNP), is herself not an MP but has MPs representing the party in the House of Commons. Talks are continuing:
And, the Labour vote for 16-year-olds could be scheduled during the Conservatives' absence. It is doubtful that Speaker Bercow would stop it. This is the Shadow (Labour's) Education Secretary Angela Rayner. She was on Andrew Marr's BBC show on Sunday:
As for Speaker Bercow, Guy Verhofstadt really likes him:
Bercow might be standing down at the end of October, but he can wreak a lot of havoc before then.
The other big question at the weekend was whether Boris would feel compelled to resign. The media were full of scaremongering stories. I hope this is true:
The flowchart below looks accurate:
A majority of the British public backs Boris.
Lord Ashcroft conducted a poll on Brexit for the Mail on Sunday:
My latest research, published today, looks at the fundamentals: how voters have reacted to the drama not just of the past few weeks but the years since the EU referendum, and how this week's events fit into the longer story.
For many people, and not just among those who backed Leave in the increasingly distant 2016 referendum, that story is one of frustration and failure – or, worse, deliberate actions to delay Brexit for as long as possible or stop it altogether.
Here is a key graphic from the poll: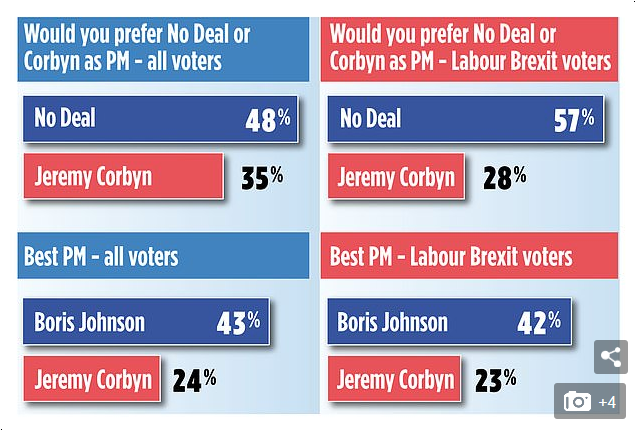 It is hard to know what to make of it all.
One thing is for sure. Even though opposition MPs are whining about the absence of democracy, their masks have slipped.
We now know they do not care one jot for 17.4m Britons who voted to Leave in 2016 — and won: 52% to 48%.
More on the latest Brexit and Boris developments to follow tomorrow.
On August 14, 2019, pollster YouGov published a study about the overlap in the British public's political views.
Their 'Left-wing vs right-wing: it's complicated' is a must-read for everyone.
Before Brexit — and Trump — shut down what used to be stimulating political discussions with friends, I, too, found this disparity. I'm glad a polling organisation has discovered this and made it public.
YouGov's article accompanying its survey results show that the left-right divide is indeed murky (emphasis in the original, purple one mine):
YouGov shows that the left-wing to right-wing political spectrum is actually much more complex than previously thought when it comes to public opinion
A new angle of attack from Jeremy Corbyn seems to be that Boris Johnson is presiding over the most right-wing government in living memory.
That might be a helpful move if politicians had an accurate assessment of where the public stands on the left-right spectrum. But if the reaction in Westminster to YouGov survey data from earlier this week showing that 75% of Brits (including 61% of Labour voters) support the PM's proposed expansion of stop and search powers is anything to go by, they may well not.
Framing politics in terms of left-wing and right-wing might be simple for politicians, and comforting to activists, but it seems that these terms just aren't that useful for talking about – or indeed to – the general public.
A new YouGov study reveals that the political wing spectrum is poorly understood and also that huge numbers of people don't hold consistent left- and right-wing outlooks.
YouGov asked participants to rank socio-political views as left-wing and right-wing. YouGov has not assigned any label to these. They have taken these perspectives from the British public:
However, when the researchers probed further, they found that the public actually hold a mix of socio-political views:
I know I certainly hold differing views, and people have asked why. I say that I am a centrist and hold conservative views on some things and more left-wing views on others. Of course, they generally accuse me, at best, of being 'inconsistent' and, at worst, a 'traitor to the cause', but I am far from alone.
Look at the crossover YouGov found:
Those charts show all manner of socio-political contradictions. Spend some time studying them. Wow!
YouGov says the public do not understand political classifications:
For those who spend their days immersed in Westminster goings on, awareness of how the left-to-right spectrum works is taken for granted. But our results show that the wider public is in fact largely unfamiliar with the categorisation.
I think that YouGov's statements there are incorrect. I do not think Parliamentarians, whether MPs or the Lords, understand the overlap in the charts above, either. I think they would be surprised. Here is one example (emphases mine):
However, these views do not appear to be distinct to one end of the spectrum over the other: 78% of right-wingers also think that green and renewable energy should be prioritised, while 78% of left-wingers also think that global population growth is a problem.
And what about these?
… a majority of left-wing Britons (59%) believe that school discipline should be stricter, making it the most commonly-held right-wing view among the left. Likewise, 55% of left-wingers believe criminal justice in Britain to be too soft, a plurality of 47% want to see tighter restrictions on immigration, and sizeable minorities of 39% support capital punishment and 36% support Britain having a nuclear arsenal.
And this one?
… among Britons who support a greater redistribution of wealth, 59% support capital punishment, 72% think the criminal justice system is too soft and 68% want tighter restrictions on immigration.
On the supposed opposite end of the spectrum:
… among Britons who want less redistribution of wealth, 47% the government to take a dominant/significant role in managing the economy, 42% think the minimum wage is too low, and 35% think the UK has a responsibility to aid poorer nations.
I would like to see a similar survey conducted in the United States and France. I reckon the findings would be similar.
In closing, although our political betters think we, the 'great unwashed', are 'stupid' or 'sheep', we, in fact, have a nuanced understanding of politics — and life.
YouGov concludes:
There is space in the current political landscape for some very radical appeals to be made that would prove very popular. This applies to all parties, not just Boris Johnson. Any politician willing to do so could find themselves with the keys to victory.
Politicians should catch up to our way of thinking. The sooner the better.
On Tuesday, May 14, 2019, Zogby Analytics published a poll showing that President Trump's popularity continues to rise:
Even the British noticed:
Larry Elder posted the link to Zogby's findings:
Zogby's article says, in part (emphases mine):
A new Zogby Poll® of 852 likely voters nationwide in the U.S., conducted from 5/2/19-5/9/19, with a margin of sampling error of +/-3.4 percentage points, shows President Trump's job approval rating at its best since we've been tracking the figure …
President Trump's job approval rating has seen a post Mueller report boost! We called it a few weeks ago. But that's not the complete story as to why the president has reached a peak in his job approval rating. Trump is also riding high on positive economic news-a record high stock market, low unemployment, and solid GDP growth at home. At the moment President Trump's approval rating is higher than Obama's at the same point in his presidency-Zogby Analytics had President Obama at 48% approve/52% disapprove on 05/09/2011.
Also:
One of the demographics to give Trump a very good job performance rating were self-identified social networkers (59% approve/40% disapprove-people who engage with social media). Trump has a huge following on Twitter and often utilizes his Twitter account to frequently get his message across to the public. The president also made strides with college educated voters (55% approve/45% disapprove), and saw support increase slightly with non-college educated voters (47% approve/50% disapprove).
Great news for 2020!
Not knowing the circumstances surrounding the inferno at Notre-Dame in Paris is bad enough.
Now lovers of the mediaeval cathedral, the French capital's monumental house of worship, wonder what is meant by the words 'restoration' and 'rebuilding'.
Does the French government consider the two words to be the same as the average person who treasures what was lost? What about expert architects? What about building contractors?
This was what the cathedral looked like at the end of the day on Wednesday, April 24, 2019. Protective coverings were placed over the vulnerable parts of the structure:
One week later, on Tuesday, April 30, Paris police released aerial footage of the protective sheet covering the cathedral's massive roof from a drone's eye view:
That day, Le Huffington Post reported findings of a YouGov poll they commissioned in France which showed that 54 per cent of people want a restoration 'identical to the original'. Only 25 per cent support President Macron and Prime Minister Philippe's plan for an 'architectural gesture':
Twenty-one percent of the people surveyed were undecided.
The more conservative the participant, the greater the desire for a full, authentic restoration: from 66 per cent to 69 per cent, depending on political orientation.
A design firm from Lyon, NAB, released its plans for a greenhouse roof garden and spire containing beehives unlikely to please those who love the original structure with its dramatic vaults. Le Huffington Post published NAB's shocking images on April 26. Have a chair nearby, because you'll need a sit down and a cuppa after seeing them.
That same day, Le HuffPo released a short video wherein an architect, a historian, an urban design expert and a sociologist gave their opinions of the current buzz by government officials, architects and building firms about the cathedral's reconstruction. Interviewed separately, they said the same things. The project seemed to be politically motivated, with an objective of proposed plans devised too hastily involving companies eager to make money at the expense of France's — and the world's — heritage. One said that the stone needs at least a year to dry out thoroughly, therefore, completing the reconstruction in five years' time was a nonsense:
Those hoping to be part of Prime Minister Philippe's working group on the way forward for Notre-Dame will need to take UNESCO's perspective on board, too. Fortunately, UNESCO agrees with the French public with whom YouGov spoke:
The Art Newspaper's editorial begins with this (emphases mine):
The 28 April appeal by over 1000 academics, restorers and architects for an extension to President Macron's five-year deadline for the restoration of Notre Dame can find comfort in the the cathedral's status as a Unesco World Heritage site, because the guidelines on how to approach restoring such a great monument already exist.
They are implicit in the conditions accepted by France when Notre-Dame was inscribed on the World Heritage List in 1991 as part of a grouping that includes the great buildings along the Seine from the Pont de Sully to the Pont de Bir-Hakeim.
First and foremost, Notre Dame's World Heritage status calls for international principles of restoration to be integrated into the discussions on how to restore it. Decisions will have to be taken on how to consolidate its structural parts, restore the damaged surfaces, reconstruct the roof, the spire and the stained-glass windows. All these choices need to be made in accordance with the conservation principles promoted by the World Heritage Convention and expressed in the Conservation Charters of the International Council on Museums and Sites (Icomos). While the international documents, starting with the 1964 Venice Charter, do not bear legal value per se, they are recognised by the French Codes as the basis for decisions on the conservation and reconstruction of historical monuments.
So far, so good.
The editorial goes on to say that this does not preclude using modern technologies and techniques to achieve a more 'resilient and secure' result. These would not affect what a visitor or regular worshipper sees, however:
The "contemporaneity" of this gesture will lie in its in its construction techniques and monitoring technologies, rather than the visible forms of the building.
But — and it's a big 'but' — more modern stained glass might be part of the renovation and restoration:
if new windows are needed, it could be a great opportunity for contemporary artists, as with the designs of Marc Chagall and Imi Knoebel for Reims cathedral.
UGH. No, just no. Those modern stained glass designs are horrible, and I've viewed a number of them in European cathedrals from the 1970s to the present.
So, although that is just one man's opinion, he happens to be Francesco Bandarin:
an architect and former senior official at Unesco, director of its World Heritage Centre (2000-2010) and assistant director-general for culture (2010-2018).
I do think a lot of French people will be upset if Notre-Dame is not restored to the original design. Admittedly, the following discussion took place on Holy Thursday, three days after the fire, when emotions were running high. From RMC's Les Grandes Gueules:
One of the panellists, a young Protestant, said she wanted the cathedral restored to the original. She put forward her case with passion:
She said that she was quite conservative when it comes to restoring historic buildings because they are testaments to their respective eras:
Traditionalists could find 21st century help a boon to their cause.
In 2015, Andrew Tallon, an architectural historian, had the foresight to capture the complete design of Notre-Dame digitally:
As for the actual building work, BFMTV's high-tech expert Anthony Morel said that the use of 3D design enabled one monument in Egypt to be rebuilt to the original, down to the smallest detail. He says the same can be done with Notre-Dame. This is a great little video. Just watch the pictures:
As for recreating the Forest — the oak roof — offers have been coming in from around the world from owners of large estates with old oak forests who are willing to cut down trees a few hundred years old and replant new ones.
So, although one of France's heritage experts said on April 16 that rebuilding the Forest cannot be done …
Bertrand de Feydeau, vice-president of Fondation du Patrimoine, said the cathedral's roof cannot be rebuilt exactly as it was before the fire because "we don't, at the moment, have trees on our territory of the size that were cut in the 13th century."
… do a search online for offers of oak donations and there are many news articles to read, including this one from England's Nottingham Post on April 19:
The Duke of Rutland has pledged to send ancient oak trees from the Belvoir Castle estate to France to help with the rebuilding of Notre-Dame following a devastating fire.
The historic cathedral in Paris was hit by fire on April 15, causing huge damage to the building, large parts of which were made from wood.
Donations have been pouring in from around the world to help with the project, and British estates and gardens have also got in on the act.
Around 100 historic homes have pledged to donate oak trees which were planted hundreds of years ago to be used for timber, including the Duke of Rutland, who owns Belvoir Castle.
He said: "Anyone who lives in an old building knows there's something special about the way it was built and the materials used.
"The trees in the original roof at Notre-Dame probably started growing over a thousand years ago.
"We're able to donate replacements because my great-great-grandfather had the foresight to plant trees that would only be valuable long after he died.
"And in turn we'll replant every tree we fell – someone will need them for something in another few hundred years …
Belvoir Castle itself has been destroyed by fire, last being rebuilt in 1832.
It is a member of Historic Houses, an association for independently owned historic homes and gardens in Britain.
It was the Duke of Rutland who suggested to the members they should donate oaks towards the rebuilding of Notre-Dame.
And even though they will only be able to donate a fraction of what is needed, they hope it will inspire others to do the same.
There is hope. People WANT to help — and ARE helping!
Let us continue to pray for the proper and full restoration of Notre-Dame Cathedral in Paris.
My next post will look at Notre-Dame from the perspective of the positive influence of aesthetics on the meaningful religious experience.
Warning: this post contains references to suicide as per reports listed below.
An American mother, Dr Free N. Hess (aka PediMom), has a warning for parents whose children watch YouTube Kids videos. Some of them have to do with suicide and contain other content inappropriate for younger viewers.
On February 23, CBS News reported:
Video promoting self-harm tips — spliced between clips of a popular video game — has surfaced at least twice on YouTube and YouTube Kids since July, according to a pediatrician and mom who discovered the video.
The suicide instructions are sandwiched between clips from the popular Nintendo game Splatoon and delivered by a man speaking in front of what appears to be a green screen — an apparent effort to have him blend in with the rest of the animated video …
The man featured is YouTuber Filthy Frank, who has over 6.2 million subscribers and calls himself "the embodiment of everything a person should not be," although there is no evidence that Frank, whose real name is George Miller, was involved in creating the doctored video. He did not immediately respond to CBS News' request for comment. 
When Free Hess found the video on YouTube last week, she posted it on her blog — warning other parents to take control over what their kids may be watching. 
"Looking at the comments, it had been up for a while, and people had even reported it eight months prior," Hess told CBS News on Friday.
Shortly after she published her blog post, YouTube took the video down, saying it violated the site's community guidelines, according to Hess.
This is not Dr Hess's first foray into YouTube videos for children. She and a group of parents were able to successfully campaign for another video's removal in July 2018.
CBS reports that Hess became concerned about what children were viewing based on her own experiences as a paediatrician (emphases mine):
Hess said after seeing higher rates of suicide in children in her own emergency room over the last few years, she made it her mission to bring awareness to disturbing and violent content being consumed by children on social media. She said she's reported hundreds of unsettling videos to YouTube, with some success. On Friday, she found and reported seven more disturbing videos on YouTube Kids, and said they were just the tip of the iceberg.
"I had to stop, but I could have kept going," Hess said. "Once you start looking into it, things get darker and weirder. I don't understand how it's not getting caught."
YouTube Kids is not for pre-teens. In fact, quite the opposite. The videos are intended for children under the age of eight.
Hess described what she saw:
She said she logs onto the app posing as a child, rather than an adult, so that she can see exactly what kids around the world are seeing. The videos Hess has found contain mentions or visuals of self-harm, suicide, sexual exploitation, trafficking, domestic violence, sexual abuse and gun violence, including a simulated school shooting. She said many of the kids she treats in the ER list videos on YouTube as a method used to learn destructive behaviors and self-harm techniques.
Good grief.
It's interesting that YouTube has no problem removing content from and accounts of conservative video posters, yet they allow this depravity aimed at small children, which was first reported in 2017.
CBS provides the apologies from YouTube, but:
This week, new cases of inappropriate content prompted high-profile responses, including from Disney and Nestle, which pulled advertising from YouTube after a blogger described "a wormhole into a soft-core pedophilia ring" on the site.
To be fair, YouTube has taken action, but compared to what they do to conservatives — actively seeking out accounts to ban — theirs is a reactive stance when it comes to perverse videos, especially where children are concerned:
Hess has more information about these videos on her website, including this:
Exposure to videos, photos, and other self-harm and suicidal promoting content is a huge problem that our children are facing today. Suicide is the SECOND leading cause of death in individuals between the ages of 10 and 34 and the numbers of children exhibiting some form of self-harm is growing rapidly. In a nationwide survey of high school students in the US 16% of students stated they had seriously considered suicide, 13% admitted to creating a plan, and 8% admitted to attempting suicide at some point in the 12 months prior to the survey. Every year 157,000 young people between the ages of 10 and 24 present to Emergency Departments for self-inflicted injuries and/or suicide attempts.
Many experts believe that access to self-harm and suicide promoting content is making the situation worse. There have been several recent reports of teens committing suicide after viewing self-harm and suicide material online and on social media platforms. More and more researchers are starting to look into how access to this type of material is linked to self-harm and suicide in adolescents. One such study has just been commissioned and will hopefully give us some good insight into this issue.
But we have to start doing something NOW and we should start by educating ourselves, educating our children, and speaking up when we see something that is dangerous for our children. We also need to fight to have the developers of social media platforms held responsible when they do not assure that age restrictions are followed and when they do not remove inappropriate and/or dangerous material when reported. 
We need to all work together to #ProtectOurKids and let them know that #ParentsDemandAction!
Who knew children's videos were so injurious to kids' mental health?
I also think that there could be peer pressure associated with these videos. Some children think these videos are 'cool' and that, if their peers do not watch them, they are wimps. Parents will have to know how to combat that, too.
In the Western world, we increasingly hear that we should be consuming less meat.
Interestingly enough, our forebears would have enjoyed the luxury of eating meat at nearly every evening meal. That option was not open for many of them.
Meat — especially red meat — has dietary importance for humans at every stage in their lives.
Children and adolescents
A 2007 study showed that meat is vital for children and adolescents. The following study, summarised below, is from the September 1, 2007 issue of The Journal of the Dieticians Association of Australia and appears at The Free Library.
These are the key points (emphases mine):
* Optimal nutrition during the first years of life is crucial for optimal growth and development and, possibly, the prevention of chronic disease of adulthood.
* Iron-deficiency anaemia in childhood and adolescence is associated with serious adverse outcomes that may not be reversible, making detection and early treatment an imperative.
* Zinc plays a major role in cellular growth.
* Vitamin A is essential for the functioning of the eyes and the immune system.
* Vitamin A is necessary for membrane stability, and zinc is essential for mobilisation of the beta-carotene. Vitamin A deficiency contributes to anaemia by immobilising iron in the reticuloendothelial system, reducing haemopoiesis and increasing susceptibility to infections.
* Like iron, iodine appears to be involved in myelin production and, hence, nerve conduction.
* Meat is a core food in the diet for children and adolescents because it provides significant amounts of these micronutrients.
Meat is essential in ensuring that nerve and motor development evolve for overall health, particularly for the myelin sheath, which a number of us will remember studying in our high school biology classes:
Development of functional activity may be associated with myelination. Many nerve fibres are covered with a whitish, fatty, segmented sheath called the myelin sheath. Myelin protects and electrically insulates fibres from one another and increases the speed of transmission of the nerve impulses. Myelinated fibres conduct nerve impulses rapidly, whereas unmyelinated fibres tend to conduct quite slowly. This acceleration of nerve conduction is essential for the function of the body and survival. In humans, the myelin sheath begins to appear around the fourth month of foetal development and first appears in the spinal cord before spreading to the higher centres of the brain. It is assumed that this myelination precedes functional activity. This paper considers micronutrient deficiency in the context of myelination and other developmental features to highlight the need for micronutrients which can be delivered in the diet through red meat.
Note: red meat.
Meat provides the following essential building blocks to good developmental health.
Iron
A young brain needs iron:
Iron is essential for brain development. Brain iron is stored preferentially in the extra pyramidal tracts and is laid down in the first 12 months of life. Once the blood-brain barrier closes, very little iron can be deposited in the brain and, hence, an adequate dietary intake of iron is essential during this critical period … Several studies have now shown that iron-deficient anaemic 6- to 24-month-old infants can score lower on tests of mental development compared with non-iron-deficient controls (13,19,20) and are at risk for poorer cognitive, motor, social-emotional and neurophysiological development at least in the short term. Furthermore, at least one study has shown that these deficits appear to be permanent. (19) These infants appeared to have reproducible deficits in body balance and coordination and in language skills, which could be interpreted as implying problems with nerve conduction and hence myelination. 
Required iron levels vary with the onset of adolescence. Boys need less. Girls need more:
With the slowing of growth, at the end of puberty, iron requirements decline. Although girls develop less extra muscle tissue than boys, menarche increases the need for iron, and this increased need continues throughout reproductive life. (37) The adolescent girl is therefore at risk for developing ID due to the combined effects of continuing growth, menstrual iron losses and a low intake of dietary iron.
Zinc
Zinc deficiencies can affect mental and physical health:
Zinc is also an essential nutrient for human health. Zinc plays a major role in cellular growth, where it is crucial in the enzyme systems necessary for the production of RNA and DNA. In the brain, zinc binds with proteins and is involved with both structure and function. Severe zinc deficiency in animals has been associated with significant malformations such as anencephaly and microcephaly, and with functional deficits such as short-term memory deficits and behavioural problems. (23) In humans, cerebella dysfunction, behavioural and emotional disturbances have all been described. (23) In spite of the proven benefits of adequate zinc nutrition, approximately 2 billion people still remain at risk of zinc deficiency. (6) When zinc is provided as a supplement to children in lower-income countries, it reduces the frequency and severity of diarrhoea, pneumonia, and possibly malaria. Moreover, studies have shown that children who receive zinc supplements have lower death rates. (6)
Vitamin A
Many children in the developing world lack adequate Vitamin A. Vitamin A needs zinc:
Vitamin A is necessary for membrane stability, and zinc is essential for mobilisation of the beta-carotene. Vitamin A deficiency contributes to anaemia by immobilising iron in the reticuloendothelial system, reducing haemopoiesis and increasing susceptibility to infections. Vitamin A is essential for the functioning of the eyes as well as the immune system.
Vitamin A deficiency is associated with impaired humoral and cellular immune function, keratinisation of the respiratory epithelium and decreased mucus secretion, which weaken barriers to infection.
Iodine
Iodine deficiency is a worldwide problem:
Iodine deficiency is estimated to have lowered the intellectual capacity of almost all of the nations reviewed by as much as 10-15%. (6) In developed nations there has been a recent and disturbing increase in iodine deficiency, with as many as 25% of children and women of child-bearing age being deficient. (6) This increase has coincided with the declining dietary intake of iodized salt and also the elimination of iodophor-based cleaning compounds in commercial dairies. (25) Impaired physical and mental development is common. (26) Foetal iodine deficiency in the first and early second trimester of pregnancy results in retardation and deaf mutism, whereas in the early postnatal period, the main abnormalities are growth stunting and somatic abnormalities. (27) The hearing loss can be variable, depending on the age of onset, and can also be associated with dysarthria and other disorders of speech … The critical stage of foetal development for iodine appears to be around the 14th week of foetal life … Like iron, iodine appears to be involved in myelin production and, hence, nerve conduction. This appears to be supported in animal model research where rats fed upon an iodine-deficient diet were found to have alterations in myelin basic protein immunoreactivity and hence function. (29) 
The paper's summary makes salient points about meat and the types of necessary meat protein:
Meat plays a central role in the diet, providing a significant contribution to the intakes of 10 key nutrients: energy, protein, vitamin A, vitamin B1, vitamin B2, niacin, vitamin B6, vitamin B12, iron and zinc. In young children, an over-dependence on milk may put young children at increased risk of poor iron status, owing to its displacement of iron-rich or iron-enhancing foods from the diet. This risk becomes nonsignificant when moderate to high amounts of iron-rich or iron-enhancing foods (e.g. meat and fruit, respectively) are also consumed. A study performed on infants in the UK has shown that the addition of meat powder to a weaning food has a marked enhancing effect on the absorption of iron, (38) which reinforces the fact that lean red meat is not only an appropriate weaning food but should be considered an essential food during the critical stages of brain development. Dietary diversification involves promotion of a diet with a wider variety of naturally iron-containing foods, especially red meat, poultry and fish. These foods have a high content of highly bioavailable haem iron, and thus are most appropriate for infants and children on weaning. Despite their widespread availability, foods from this group are not always used or may be diluted before use (e.g. meat is rich in iron but meat broth is not). Given the information above, however, it is reasonable to argue that meat is a core food in the diet for children and adolescents because it provides significant amounts of essential micronutrients.
Adult depression — and some physical ailments — linked to L-carnitine deficiency
We in the West seem to be undergoing a depression epidemic.
I know many people offine who are taking anti-depressants. We had fewer of these issues 40 years ago.
A Stanford Medicine study published on July 30, 2018 links depression to a lack of L-carnitine, an amino acid that the body produces naturally. Natalie Rasgon's study showed that patients responded positively within days to acetyl-L-carnitine supplements to ease their depression. By contrast, anti-depressants can take a few weeks to be effective.
She says that, although L-carnitine supplements are available at health food shops, more research needs to be done to find out exactly what L-cartinine supplements will help.
WebMD explains that low L-carnitine levels can be genetic or related to medicines. Ultimately:
The body can convert L-carnitine to other amino acids called acetyl-L-carnitine and propionyl-L-carnitine. But, no one knows whether the benefits of carnitines are interchangeable. Until more is known, don't substitute one form of carnitine for another.
WebMD also lists physical ailments that can arise from low L-cartinine levels:
L-carnitine is used for conditions of the heart and blood vessels including heart-related chest pain, congestive heart failure (CHF), heart complications of a disease called diphtheria, heart attack, leg pain caused by circulation problems (intermittent claudication), and high cholesterol.
Some people use L-carnitine for muscle disorders associated with certain AIDS medications, difficulty fathering a child (male infertility), a brain development disorder called Rett syndrome, anorexia, chronic fatigue syndrome, diabetes, overactive thyroid, attention deficit-hyperactivity disorder (ADHD), leg ulcers, Lyme disease, and to improve athletic performance and endurance.
However, eating meat might be the simplest way to help increase natural L-cartinine levels.
According to a 2004 abstract from the US National Library of Medicine National Institutes of Health, 'Species and muscle differences in L-carnitine levels in skeletal muscles based on a new simple assay', red meat — especially deer, horse and goat — has the highest levels of this essential amino acid:
We have adapted the enzymatic method [Biochemical and Biophysical Research Communications 176 (3) (1991) 1617] for the safe and rapid assay of L-carnitine (L-CA) in skeletal muscle using a microplate reader. The concentration of L-CA in fresh semitendinosus muscle from broiler chicken, pig, beef cattle, deer, horse and goat muscle were 0.69, 1.09, 1.86-3.57, 4.57, 4.95 and 11.36 μmol/g wet weight, respectively. The animals which had higher concentration of L-CA, also had the highest amounts of myoglobin as an index to the redness of the muscle. Furthermore, we investigated this relationship between white muscle, M. pectoralis profundus, and red muscle, M. soleus, in laying hens. The L-CA and myoglobin concentration in red muscle were significantly higher than those in white muscle (p<0.01). These findings suggest that L-CA concentration in muscle is related to oxygen metabolism and to myofiber types.
Conclusion
It's time to stop obsessing over eating meat, especially red meat, which has been a no-no for decades.
Red meat helps to ensure good health — at any stage of life.
Enjoy it.