You are currently browsing the tag archive for the 'tax cut' tag.
The Conservative Party leadership contest hustings ended in London's Wembley Arena on Wednesday, August 31.
Did it last too long? We think so only because we are having a cost of living crisis with more Project Fear pumped into our brains every day. Critics should remember that Parliament is in summer recess anyway. If things were normal with the economy, crime levels and the NHS, we wouldn't have minded so much.
Remember, if this had been a Labour leadership contest, no one would have moaned. The media would have bent over backwards justifying it.
What I do mind, however, is that Parliament will be meeting only for a short time in September then adjourning so that the Conservatives, Labour and the Lib Dems can scuttle off to their respective Party conferences. Surely, parliamentary business can continue in the Chamber during September. Not every MP needs to be at a conference every day. Most of them are held on weekends, and Parliament does not meet on Fridays, so there is no reason why the Commons cannot meet during September.
Back to the hustings.
London
I'll start with the last one in London, which was excellent:
Nick Ferrari, the host of the morning show on LBC (radio), was the moderator.
The sound quality was good as was the music. It was highly professional and everyone looked as if they enjoyed being there.
The Conservative audience was diverse: all ethnic groups and all age groups. There were even a few hipsters present.
The first hour was not filmed. Author, national wit, Celebrity Gogglebox star and former Conservative MP Gyles Brandreth, 74, opened proceedings. I wish I could have seen him. Amazingly, he broke his elbow the day before in Fife, Scotland, but still showed up at Wembley Arena the next day.
In the video, Nick Ferrari comes on at 4:13 to introduce the format, which is consistent with the other Conservative Party hustings. 
At this point in the contest, Liz Truss was seen by pollsters and bookmakers to be way ahead of Rishi Sunak, so the introductory theme was one of unity, meaning: no hard feelings, folks, our next job is to defeat Keir Starmer's Labour.
That is the message Iain Duncan Smith MP gave in his endorsement for Liz Truss (6:09), reminding the audience that:
she cut her political teeth in London.
Greenwich, to be precise.
Liz Truss's campaign video followed (13:41), then she appeared on stage, coming out like a winner and invoking the England Lionesses' ladies football win at the Euros, talking about an 'aspiration nation' and pronouncing London:
the greatest city on earth.
After Liz finished her speech, Michael Gove was next (26:08). He endorsed Rishi.
Gove also spoke about unity and had kind — penitential? — words for Boris, which met with a resounding wall of applause. He thanked Boris for 'the biggest vaccine rollout in Europe' and for being the first to support Ukraine at the end of February:
Boris, thank you for your service.
Rishi rushed on to the stage after his cringeworthy Underdog campaign video played (34:44).
The crowd went wild with cries of 'Rishi, Rishi' (36:00). His parents were in the audience and the cameras got several shots of them when their son was on stage. They sat between Rishi's wife and Michael Gove.
He said:
We value who you are not what you are.
He paid Liz credit for being:
a proud and passionate Conservative.
In his speech, he mentioned tackling the decades-old problem of grooming gangs and said he would get to grips with public safety and illegal migration.
Then it was time for Liz to answer Nick Ferrari's and the audience's questions (51:33).
Afterwards came Rishi's turn (1:25:00).
Andrew Stephenson, the co-chairman of the Conservative Party closed proceedings (1:58:26) and asked the two candidates back on stage for a final momentary appearance.
With that, the 12th and final hustings came to a close.
The Telegraph has a good recap. Emphases mine below.
Liz has had a good campaign:
… the past seven weeks have seen momentum firmly swing towards Liz Truss, and it would be a major political shock if Mr Sunak were be unveiled as the next prime minister on Monday.
Polling suggests the Foreign Secretary has a lead of around 30 points among Tory members, who have been drawn to her promises to immediately cut taxes and instigate radical economic reform.
By and large, she has also been better received at the hustings events that have taken place around the country, routinely winning applause for her positions on National Insurance, fracking and transgender issues.
Around 6,000 Conservative Party members attended the London hustings and heard Gyles Brandreth's introduction:
Gyles Brandreth, the broadcaster and former Tory MP whose arm is in a sling, has just given a speech to the Wembley Arena crowd.
"How exciting it is that two people who are intelligent, committed, capable, passionate about their country are actually ready to give service," he said.
"So whatever the result is it's going to be a great result for the United Kingdom. And whatever the result is at the end of this election, we are going to come together and support whoever the victor is to the hilt! No question of that."
He closed with a poem:
From quiet homes and first beginning
Out to the undiscovered ends,
There's nothing worth the wear of winning
But laughter and the love of friends.
Peter Booth, the chairman of the National Convention, appeared next, giving the audience guidelines on asking their questions.
The video misses out a lone protester, angry about energy charges:
A protester has just run in front of the stage – a man in a dark suit holding a sign that said dontpay.uk, writes Tony Diver, our Whitehall Correspondent, from Wembley Arena.
He was escorted out immediately by two security guards as he ran in front of cameras.
Liz put a lot of blame for London's woes on Mayor Sadiq Khan's shoulders:
Liz Truss tells the hustings it is impossible for Britain to succeed with London but it has been "let down by Sadiq Khan".
"Sadiq Khan is anti-everything – he's anti-car, he's anti-business, he's anti-opportunity and he is holding London back. And I don't believe those people who say London is a Labour city. No, it is not. London is a city where people opportunities and they want to get on in life.
"And that's what we can deliver, and we can make London Conservative again."
Sound familiar?
Nationally:
Ms Truss warns we all face dark times, vowing to reverse National Insurance and impose a moratorium on the green levy, while keeping corporation tax low.
These are her pledges:
I would be honoured to be your prime minister, first of all to deliver for the United Kingdom, to deliver an election victory for the Conservatives in 2024, and to make London a Conservative city again.
The applause for Rishi was greater than it was for Liz:
The cheers in the room are significantly louder and longer for Rishi than Liz. Audience members are on their feet and chanting his name, writes Tony Diver, our Whitehall Correspondent.
"Thank you! Thank you, Wembley!" Mr Sunak responds, after entering to The Weeknd's Blinding Lights.
He pledged an ethical approach, if elected:
He promises to lead an administration "with integrity and decency at the heart of everything we do".
Nick Ferrari tried to box Liz into a corner over domestic issues. She ably answered:
I'm the Foreign Secretary and my job is to focus on key foreign affairs issues.
She pledged that there would be no new taxes in her Government.
She also ruled out energy rationing.
She said that she would not refurbish the Downing Street flat:
Liz Truss responds that as a Yorkshirewoman, she believes in "value for money and not buying new things if you've got things that are perfectly good to use".
"I don't think I'm going to have time to think about the wallpaper or the flooring."
The papers largely picked up on her possible moratorium for 'smart motorways', those without a hard shoulder for emergencies:
Asked if she will restore hard shoulders to motorways and change speed limits from mandatory to advisory, Ms Truss replies: "I absolutely think that we need to review them and stop them if they are not working as soon as possible.
"And all the evidence I have suggests they're not working. We need to be prepared to look at that. I do believe that the smart motorways experiment hasn't worked."
Rishi defended his windfall tax, which the big companies can avoid if they prove they will invest more in the UK:
We've got it in place, but as I said in the situation that we're in it was the right thing to do, and I'm glad I did it, to be honest.
He also said that his plan to tackle inflation was the correct one:
I can guarantee that it will fall far faster with my plan than it will with anyone else's.
He, too, criticised Sadiq Khan:
Crime has become "intolerable" in London, adds Rishi Sunak, and "the first thing we need to do is hold to account Sadiq Khan for his failings".
"If you are prepared as a Mayor to do the right things… For example, stop and search. It's an effective policing tactic".
Unlike Liz, who was relieved not to have to stand up for audience questions, Rishi stood up and worked the stage.
He brought up ethics again:
In a sentence, does he think Boris Johnson was hard done by? "When it comes to those ethical issues, we can't be on the wrong side of them. We need to set a clear direction from the top, I would reappoint an ethics adviser because it sends a strong signal from the top."
The Telegraph's article ends with:
Liz Truss seems like a dead cert to become prime minister on Tuesday, and elements of Rishi Sunak's comments tonight shied away from the personal attacks that have characterised this bitter blue-on-blue campaign to lavish praise on his rival.
The cheers and chants at Wembley Arena tonight – far louder for Mr Sunak than the Foreign Secretary – told a different story from the grassroots polling, which suggests she has a lead of around 30 percentage points …
Boris Johnson's successor is likely to find themselves facing even greater challenges, and must also unite a party fractured by weeks of public division and disagreement.
Veteran political sketch writer Quentin Letts had this to say in The Times:
Surveying a throbbing crowd of 7,000 Tory activists, Sunak gasped "thank you!" nine times, the stage lights bouncing blindingly off his grinning ivories. He strode the large stage like an American presidential candidate and, for a man who must have seen predictions that he will be slaughtered when the result is announced on Monday, maintained an amazing level of pitch and thrust.
He even had an emotive card up his sleeve when he announced that his "two people who inspired me to go into public service are actually here tonight — my mum and dad". Jolly proud they looked, too. Rishi thanked his "loving, kind wife — you know what you mean to me, you chose to give up your high heels and take a chance on the short kid with a backpack". The crowd, audibly more pro-Sunak than some of the regional hustings, shouted: "Reeshi! Reeshi!"
Truss entered to strains of Taylor Swift's Change but her tactics for the evening were more cautious, playing down the clock. She was less sprightly in the opening spiels but came to life more in the questions that followed. In her opening remarks she pushed her voice hard, making it sound more strident and bunged-up. A reply to a question on Israel flew off the bat and had a Sunak supporter clapping hard. She also dealt firmly with some fluff about what sort of limousine she wanted and how she might decorate the No 10 flat. Where her campaign has succeeded with Tory activists has been in its simplicity: the basic message, whacked time and again, of lower taxes and a smaller state.
And so the campaign ends. What a festival for SW1 wonks it has been, allowing for oodles of analysis and fake crossness. The rest of the country, enjoying (lucky devils) their August, has possibly taken less notice of the contest. Sunak, smoother, more fluent, more the establishment's idea of a PM, started it as favourite. He ended last night by replaying that dreadful tough-Cockney video film about him being the underdog …
The Wembley crowd's questions were about smart motorways and advisory speed limits …, trans rights, gas prices for companies, corporate tax dodging, Ukraine, childcare costs, property prices and, commendably, the future of West End theatre.
Like Quentin Letts, I haven't gone into too many policy proposals because whoever gets in will be hit hard with reality.
There is an illusion that Party members of any stripe are being let into an honest discussion about what they want to see in a new Government. I do not believe this is what actually happens:
As evidence, let's cast our minds back to July 2019 and Boris Johnson's campaign.
He was going to ask the Queen if she wanted a new yacht to replace Britannia, which is now moored as a museum:
He also said that Sadiq Khan needed to go. Khan was re-elected in 2021. The Conservatives, for whatever reason, gave no support to their candidate Shaun Bailey. I cannot fathom why not, since Boris was Khan's predecessor. Shaun Bailey is a level-headed Conservative.
This is from the July 18, 2019 edition of The Express. Note the mention of housing and accompanying infrastructure, too. None of this happened, perhaps because of the pandemic. Even so, it shows how empty campaign promises are:
The Tory frontrunner savaged Mr Khan out of nowhere, branding him "useless" and "invertebrate" and "not a patch on the old guy." The onslaught was woven into Mr Johnson's wider solution to a question that had been posed on monocultural housing policies. A member of the audience asked the former London Mayor: "How will you ensure the Government's housing policies don't lend themselves into creating ethnic categories inadvertently?"
Without hesitation, Mr Johnson blasted: "You build fantastic housing in the right place.
"And you put in superb transport infrastructure so you can create mixed communities where there are high quality jobs.
"And if you look at the disasters of planning in the '60s and '70s where monocultural estates were built, it's because there simply wasn't the transport infrastructure.
"Look around London and look at the estates outside London – you can see exactly what went wrong."
That said, in the end, Boris did deliver on these pledges:
Other hustings
I purposely didn't cover half the hustings in separate posts, leaving off with the August 11 one in Cheltenham.
A summary of the others follows.
Perth
The next one took place in Perth, Scotland, on August 16. It was unfortunate that pro-independence supporters ruined it with verbally violent posters, throwing eggs and by spitting on older Scottish Conservative members. The SNP denied any involvement.
The Mail had a summary of what the candidates said:
Liz Truss tonight vowed to 'never, ever let our family be split up' as the Tory leadership frontrunner insisted she would not allow another Scottish independence referendum if she becomes prime minister.
Speaking at the latest Conservative hustings event in Perth, the Foreign Secretary promised to battle Nicola Sturgeon's 'agenda of separatism' as she condemned the First Minister and her SNP government for having 'let down' Scottish voters.
Ms Truss accused the SNP of ignoring issues such as schools, hospitals and public transport as they chase another Scottish independence referendum.
Her rival for the Tory leadership, Rishi Sunak, also used tonight's hustings to take a swipe at Ms Sturgeon, as he vowed to 'call out' the Scottish Government's record on drug and alcohol abuse.
He claimed it was 'completely barmy' for the SNP to be agitating for a 'divisive and unecessary constitutional referendum' amid the cost-of-living crisis. 
Ms Truss and Mr Sunak addressed Tory members inside Perth Concert Hall after reports of ugly scenes outside the hustings venue earlier in the evening.
Conservative Party co-chair Andrew Stephenson demanded Ms Sturgeon 'unequivocally condemn' the 'vile behaviour' of Scottish independence campaigners.
Belfast
The candidates converged on Belfast the next day, Wednesday, August 17:
I felt very sorry for the Northern Ireland Conservatives gathered there. The party only has 300 members, and they have no voice in Westminster.
A clear disconnect emerged between the candidates and the Party members. Everyone looked uncomfortable.
For that reason, this hustings is well worth watching.
It became apparent that neither Liz nor Rishi understands the Conservative Northern Ireland mindset. I'm no expert, but even I could have dealt with some of those issues better than they did.
The moment that sticks in my mind was when someone asked why Westminster is foisting abortion clinics on Northern Ireland. Liz matter-of-factly — and rather coldly — responded that the rest of the UK has them, so Northern Ireland has to have them, too.
Abortion is far from being the norm there, and, as Northern Ireland has a devolved government, it should have been their decision, not Parliament's.
Madeline Grant summarised the disconnect in The Telegraph:
Some English Conservatives might be surprised to learn of the existence of their fellow party members across the Irish Sea, let alone that they had a vote in the leadership contest. Yet seatless and marooned from CCHQ – and perhaps because of this – Ulster Tories are the ultimate Tories. This wasn't your average Home Counties cakewalk, there were questions on more intractable subjects than you'd get elsewhere – abortion, China, the perils of a cashless society. Some of the questioners began with a little intro about how long they'd been party members, reminiscent of Alcoholics Anonymous.
A flamboyant chap in a maroon vest had made a journey almost as ponderous as Truss's own political leap from Lib Dem republican to Tory monarchist – he'd moved to South Antrim after heading up 'Conservatives Abroad' in South Korea. Making a similarly unexplained leap, he proceeded to compare the fight against abortion in Northern Ireland to Britain's fight against the slave trade in the 19th century. Would Liz "be a modern day William Wilberforce, and end abortion and infanticide in Northern Ireland?" he asked. Truss politely declined to take up the mantle.
Unlike Madeline Grant, I did not find the Belfast hustings amusing in the slightest. It was the saddest one of the lot.
Verdict: Must do better.
Manchester
On Friday, August 19, our candidates were back on the mainland for the hustings in Manchester, which Alastair Stewart from GB News moderated (start at 6:30):
Alastair Stewart is a television veteran and knows what questions to ask:
He won high praise from Liz:
Rishi's campaign team launched his second campaign film, The Underdog, at this hustings. It was so awful, I wanted to slip through the floor in embarrassment for him.
He told his family story and said that Conservative values were 'patriotism, family, service, hard work':
He turned defensive (again) when he told Stewart that he was winning the war on inflation and being responsible with borrowing:
He told an audience member, 'We're standing up to Russian aggression':
Liz said that the police must fight crime, not patrol tweets:
She also said that left-wing politics dominates today's socio-political debates:
Rishi, too, was tired of leftist dominance — and Manchester's mayor, former Labour MP Andy Burnham. GB News reported:
Rishi Sunak has vowed to take on the "lefty woke culture that seems to want to cancel our history, our values and our women."
… Speaking to the audience, Mr Sunak pledged to "restore trust by delivering on the things that matter to people".
He continued: "That's why I've set out a plan to finally start reforming the NHS so that we can talk less about how much money we can put into it and more in the healthcare that we want to get out of it.
"It's why I want to take on this lefty woke culture that seems to want to cancel our history, our values and our women.
"And it's why we need to restore trust of communities right here by calling out the failures of the Labour mayor Andy Burnham because it simply isn't good enough.
"Just look at the record, a police force that was put into special measures, the highest rates of knife crimes almost across the UK."
He also talked about illegal migration, details of which are available on his website:
"… I've set out a radical plan to finally get to grips with illegal migration.
"Because for too long we've turned on our TV screens and seen the scenes of people coming here on boats illegally and it is wrong."
His comments come days after the number of migrants to have crossed the Channel so far this year passed 21,000.
Another GB News article about the hustings has more:
He said: "I want to move away from the European definition of what an asylum seeker is, because it is too broad and it gets exploited by lefty lawyers.
"When people shouldn't be here we must be able to send them back, it's as simple as that.
Was the next bit a dig at Liz, our Foreign Secretary and former Secretary of State for International Trade?
"We've got to toughen up our foreign policy. At the moment we have a situation, I found it bonkers, we will go to a country, we'll talk to them about a trade deal we want to do with them, but also potentially be giving them actual foreign aid.
"But at the same time we don't say to them 'hang on, you need to take back your failed asylum seekers', that's clearly wrong."
Liz also had something to say about illegal immigration:
Promoting the much maligned Rwanda policy, which saw its first planned flight grounded on the tarmac, Ms Truss vowed to expand the scheme to other countries if she was elected as Prime Minister.
She said: "What we need to find is a permanent home for those people.
"The way to solve this issue is to find a way of making sure there is a long term home for people who are involved in illegal immigration.
"The real issue is at present people are able to get on the phone to their lawyers when they get on a plane and evade being sent to Rwanda and that is the issue we have to fix, that is about the ECHR."
The candidates are not miles apart.
Liz also discussed her vision for the North:
What I want to see is a successful north of England where everyone has opportunities and we link up the great cities of the north.
From Liverpool to Manchester to Leeds and beyond and also of course Bradford.
And that's why I want to build Northern Powerhouse rail and I want those opportunities to be powered by enterprise and business unleashing investment right across the country.
I want us to make the M62 the superhighway to success.
Unfortunately for Rishi, his attempts at being a man of the people failed, as the Mail reported:
Asked at the hustings event how, as a Southampton football club fan, he could get back to 'winning ways' in the battle to become Boris Johnson's replacement, Mr Sunak attempted to make light of his woes.
But his effort at friendly banter with the Manchester audience saw him blunder in his football knowledge.
'I'm going to be unpopular for saying it here – starting by beating United this weekend!,' Mr Sunak told the event.
It was quickly noted how Southampton are not due to play Manchester United until 27th August and would, in fact, be playing Leicester City this weekend.
Mr Sunak's own goal came just two days after he was mocked for claiming to always enjoy a McDonald's breakfast wrap when out with his daughters – despite the item having not been on sale since March 2020.
Yet, the former chancellor's campaign was handed a boost tonight when Michael Gove backed him to be the next Conservative leader.
Mr Gove, the former Levelling Up secretary who was sacked by Mr Johnson last month, accused Ms Truss of taking a 'holiday from reality' with her vow to tackle the cost-of-living crisis by prioritising tax cuts.
Birmingham
On August 23, Times Radio's John Pienaar, formerly of the BBC, moderated the hustings in Birmingham, the UK's second largest city:
Chancellor Nadhim Zahawi went on stage to endorse Liz.
Liz then went on stage (5:36) and embraced him to big applause and cheers from the audience.
Andrew Mitchell followed her by announcing his support for Rishi (16:34). Rishi's newer campaign film, The Underdog, was played.
Rishi then pledged to continue levelling up the Midlands, as he has been doing (21:47).
Of his speech, Pienaar said (33:01):
That was punchy!
Someone in the audience booed when Liz took to the stage for her Q&A (33:49).
Pienaar gave her a hard time in the beginning, but she got a huge round of applause from the audience. 
Recall that The Times came out for Rishi almost immediately in July.
However, Rishi also had his beefs with Pienaar. He looked irritated (yet again) and said (1:06:00):
John, you're acting as if this is already over.
He went on to explain how well his furlough programme worked during the pandemic (1:18:00).
On the subject of Scottish independence, he said that nationalism (1:34:00):
is a romantic ideal.
Then he complained:
There's not been a single question about tax!
He then expanded on corporation tax and the largest companies. He became really agitated in an oddly friendly way.
This tells us tax is his main consideration, nothing else, no matter what he says.
The man is a technocrat.
Guido Fawkes had an excellent round up of sound bites, starting with Liz (emphases his):
If you want a flavour of the current state of Tory hustings, last night in Birmingham Liz Truss came out with the following two statements within 60 seconds of each other: "I'm not a massive fan of mice", and asked how she'd feel in the event of having to launch a nuclear weapons strike, "I think it's an important duty of the PM and I'm ready to do that." A casually blasé statement committing the UK to potential nuclear armageddon…
Also:
Suggesting she won't replace the government ethics adviser, saying: "The PM needs to take responsibility – you cannot outsource ethics to an adviser"
Suggesting she would redirect this year's £12 billion extra funding for the NHS into social care
Asked why she cut funds to the Environment agency as DEFRA secretary she said "I think there's a way with the way utilities are regulated. We were one of the first countries to regulate and privatise utilities but the world has moved on since then… some of those regulators get mission creep, they don't necessarily keep the market as properly as they should. I certainly think it's the case that water companies need to be better are stopping leaks, I think they should be better at dealing with pollution and we need to sort that out." Sounds a lot like Guido's story last Friday that she believes in a single utilities regulator…
As for Rishi:
Rishi's answers last night were less alarming albeit equally newsworthy. Primarily, he refused to commit to voting for Liz's proposed emergency budget should he lose, saying it is a hypothetical question. He reiterated his belief that her tax cut plans will result in "millions of people facing destitution." …
Rishi suggested UK aid programmes should be cut in countries that refuse to accept deportations of "failed asylum seekers" from Britain.
Rishi spoke movingly of yesterday's horrific shooting of a nine-year-old in Liverpool, saying he reacted by calling his wife, and daughter who is the same age as the victim. Rishi says the government needs to finish the Tories' 2019 policy of recruiting 20,000 policemen.
Let's go to the Rishi-supporting Times for their journalists' verdicts.
Daniel Finkelstein said:
Liz Truss is far better speaking without notes and, having delivered the same remarks over and over, she no longer needs them. Both her opening remarks and her answers to what will have been familiar questions were much better than in the early stages of the campaign. There were even flashes of the humour she shows in private …
But, however good Truss may now be, she still trails Sunak, who is just a better performer. Particularly in his answers, he was fluent, tough and compelling. His opening comments about the flaws in the Truss plan — suggesting it would leave many people destitute — were particularly arresting.
… Whoever wins, their policies have to appeal to those who are not Conservatives and need to actually work.
Winner: Rishi Sunak
Katy Balls said:
The state of the Tory leadership contest can be summed up in the video that welcomed Rishi Sunak to the stage. Last week, his team changed it from the montage played in the earlier hustings. It now has a Ray Winstone-style gangster voice boom that the former chancellor is the underdog — and the country loves an underdog. It points to Sunak's dilemma: if the polls are correct, only something drastic can change the state of play.
Although he was well received in the hall, with some of the loudest cheers, it's hard to pinpoint a "change moment" from the display. He again depicted himself as the only candidate willing to tell people hard truths about the economy. He tried again to invoke the spirit of Thatcher by pointing out that many of those who had worked with the late prime minister were backing his plan …
It helped Truss that she focused on her own plans. She came across as confident and assured. This also played well to a party growing tired of blue-on-blue. As the frontrunner, she needs only to hold the line — and she did that.
Winner: Liz Truss
Patrick Maguire said that both won but in different ways:
So how did Truss fare? As a rubber-chicken circuit speaker, just fine. They loved the answers on grammar schools, wokery and nukes. But as a prospective PM? On the biggest question — what to do about rampant inflation and crippling energy costs — Truss was revealingly unrevealing. Cagey, even. Asked how pensioners and the poor would be shielded from the coming storm, she said only that she would "look at" helping them. How to fund social care once Sunak's £13 billion national insurance hike is scrapped? "General taxation." Her cure for the mouse infestation in the Commons — "more cats" — was more detailed and offered with a good deal more enthusiasm.
Sunak attacked her economics with the kamikaze self-confidence that is likelier than not to lose him this race. It's telling. He is as sure as Ted Heath was that he will, in time, be vindicated by his rival's demise. Sunak is embracing the inevitable. Has Truss? She sounded as if she could not admit to herself — let alone the country — that compromise is coming.
Winner: on the clapometer, Truss. But Sunak won the argument.
Norwich
On Thursday, August 25, talkRADIO's Julia Hartley-Brewer moderated the TalkTV hustings in Norwich in East Anglia.
Hartley-Brewer had a great set of questions for the candidates. One wonders if some came from her and TalkTV's listeners:
While she was preparing her questions, Guido says that some Conservative MPs were annoyed with Rishi:
Allies of Liz's have slammed Rishi over his "scorched earth" policy, saying it risks destroying chances of bringing the party back together again when the contest is over. They accuse him of "behaving like a wounded stoat" and "framing us as Tory scum" over the course of the campaign. Given he said the likely next PM's plans would lead to mass homelessness, they're arguably correct…
Guido also included a photo of Rishi at his mother's former pharmacy in Southampton. Stefan Rousseau is an incomparable photographer:
His mother was a chemist you know…
I just checked Rousseau's Twitter feed, and here's the exterior of the pharmacy:
The Telegraph had a running commentary on the candidates' day and the hustings.
This was the day after Rishi's criticism of coronavirus policy appeared in The Spectator:
He had more difficulties when he went on BBC Radio 4's The World at One:
On whether he will quit if he loses the leadership vote, Mr Sunak told BBC Radio 4's World at One earlier today: "Absolutely not. Of course not.
"And I would dispute the characterisation. I'm working incredibly hard going around the country talking about my ideas for the future, and actually having a very positive reception where I'm going, and I think there's everything left to play for.
"There's still weeks to run in this campaign, and that's why I'm continuing to give it everything I've got."
Meanwhile, Liz visited a food manufacturing plant:
Liz Truss has been out and about in Norwich today, visiting Condimentum Ltd at the Food Enterprise Park in Norwich. 
Ms Truss told reporters at the factory near the Norfolk city that tax cuts and boosting energy supply were the key to addressing the cost-of-living crunch.
I think they make Colman's Mustard there.
Now on to the hustings.
The co-chairman of the Conservative Party defended the length of the leadership campaign:
Andrew Stephenson, chairman of the Conservative Party, addresses the Norwich audience. He defends the leadership contest amid criticism that it has dragged on for too long. 
Health Secretary Steve Barclay came out in support of Rishi.
Rishi said that levelling up is for all corners of the UK:
Levelling up is not just about big cities and the north – it is for everyone, including right here in east Anglia, he says and receives a round of applause.
Work and Pensions Secretary Therese Coffey declared her support for Liz:
She ends her introduction by saying: "Back Liz for leader, you can trust her to deliver."
As Liz, the MP for South West Norfolk, was on home turf, she got a standing ovation:
Huge applause and a standing ovation for Liz Truss as she takes the stage, who is the MP for South West Norfolk so this is very much home turf for her. 
"We have travelled around the entire United Kingdon but there is nothing better than being back in my adopted county of Norfolk," she says, and the audience break out into applause once again.
Rishi had to answer a question about lockdown:
Rishi Sunak defends his interview in the Spectator, saying one of the most "tragic" aspects of lockdown was the damage to children of school closures. 
He said it is always important to have an honest discussion about "trade-offs", adding: "If something sounds too good to be true it probably is".
Hartley-Brewer presented each candidate with the same series of quick-fire questions.
These were Rishi's answers:
Can you name a single public service that works well? The furlough scheme.
Macron, friend or foe? Friend
Mask mandates or no mask mandates? No mask mandates
Is a trans woman a woman? No
Who would you rather be stuck in a lift with, Keir Starmer or Nicola Sturgeon? Take the stairs
If not you, who would be a better PM, Boris Johnson or Liz Truss? Liz Truss
Hartley-Brewer had to get tough with a heckler:
Rishi Sunak is heckled by an audience member and Julia Hartley-Brewer intervenes telling him to "Sit down, Sir!"
Meanwhile another audience member asks about housing supply. Rishi Sunak says we need to overcome our aversion to "flat pack" housing.
He says he wants to help young people get on the housing ladder much faster by "turbo-charging" a scheme that allows first time buyers to purchase a home with a small deposit.
I can't believe he still peddles his daughters' concern for the environment when he's just had a full-size swimming pool installed at his home. Egregious:
Rishi Sunak tells the audience that the only thing his daughters ask him about is: "Daddy, what are you going to do for the environment?"
Then it was Liz's turn.
Hartley-Brewer asked her about lockdown:
I did question lockdown, Liz Truss says. 
"Clearly in retrospect, we did do too much. It was too draconian. I don't think we should have closed schools," she said. "A lot of children have ended up suffering."
She adds: "I can assure you that I would never impose a lockdown if I am selected as PM."
These were Liz's answers to the quick-fire questions:
Name me a single public service that works well: Our education system has got a hell of a lot better in the last ten years. 
Macron, friend or foe? The jury's out. If I become PM I will judge him on deeds not words
Mask mandates or no mask mandates? No mask mandates
Is a trans woman a woman? No
Who would you rather be stuck in a lift with, Keir Starmer or Nicola Sturgeon? I think Nicola Sturgeon. I'd hope to persuade her to stop being a separatist by the time we got to the ground floor.
If not you, who would be a better PM, Boris Johnson or Liz Truss? Boris Johnson
Hartley-Brewer asked her about unisex changing rooms at Marks & Spencer:
"M&S is a shop, they can decide their policies as they see fit," Ms Truss said. "I have been to the bra fitting service in M&S and it is behind a curtain. No one has ever tried to open the curtain while I am in there."
Liz explained why she does not want asylum seekers to work:
The Foreign Secretary says we also have huge numbers of people who are "economically inactive" and it should be our "first port of call" to get those people into work.
The reason why we don't allow asylum seekers to work is because the UK will become "even more of a magnate" for people to travel here illegally, she adds.
Good answer.
Liz reiterated her support for Net Zero.
Media outlets picked up on the candidates' responses to the 'stuck in a lift' question:

Their divergent answers on Emmanuel Macron also made the news.
Liz got both barrels, from Labour and Conservatives alike. The BBC reported:
… she was asked if Mr Macron was a "friend or foe" of the UK at a Tory leadership hustings.
She added that if elected PM she would judge him on "deeds not words".
But Labour's David Lammy accused Ms Truss of "a woeful lack of judgement", saying she had insulted one of "Britain's closest allies".
Ms Truss, widely seen as the clear front-runner to be the next Conservative leader and prime minister, made the remark at the penultimate leadership hustings in Norwich, to loud applause.
Her comment came at the end of the hustings during a series of "quickfire questions" posed by the host, TalkTV's Julia Hartley-Brewer.
When asked the same question Mr Sunak said Mr Macron was a "friend".
One Conservative minister said Ms Truss's comments had "completely undermined our relationship with France", calling her a "faux Thatcher", a reference to the infamously Eurosceptic former Tory prime minister.
In a tweet, former foreign minister Alistair Burt said Ms Truss has made a "serious error" and should have struck a more diplomatic tone.
Former Conservative minister Gavin Barwell also questioned Ms Truss's comment saying: "You would have thought the foreign secretary was aware we are in a military alliance with France."
Guido reported Macron's reaction:
Macron replies to Liz's comments on the French President at last night's husting:
"The United Kingdom is a friendly nation, regardless of its leaders, sometimes in spite of its leaders"
As for the 'better Prime Minister' question, Guido says:
When asked whether Rishi or Boris would be a better PM, Liz emphatically shot back "Boris". Not unsurprising, though rather awkward given Rishi was asked the same question of Liz and graciously chose his opponent…
Conclusion
So, here we are, at long last.
At 12:30 p.m, on Monday, September 5, Sir Graham Brady of the 1922 Committee announced that Liz Truss will be our new Prime Minister. She will meet the Queen at Balmoral on Tuesday, at which point she will form a new Government. More on that later this week.
Liz Truss is our third Party leader in six years.
Conservative MPs must stop the regicide and support her premiership.
This is the final instalment of my series on Boris Johnson's downfall.
Those who missed them can read parts 1, 2, 3, 4, 5 and 6.
Also of interest are:
Developing news: how long can Boris last as PM? (July 5-6)
Boris stays as PM for now but stands down as Conservative leader: 'When the herd moves, it moves' (July 6-7)
This post discusses two groups of people who are still wild about Boris: British voters and the Ukrainians.
British voters
On June 11, 2022, one week after Boris survived a vote of confidence by his fellow Conservative MPs, The Observer — the Sunday edition of The Guardian — posted the results of a poll they commissioned.
The findings were surprising for a left-wing newspaper (emphases mine):
Boris Johnson makes a better prime minister than Keir Starmer would despite Partygate, the cost of living crisis and the confidence vote in Johnson held by his MPs, according to the latest Observer poll.
Granted, the results were close, but Boris managed to come out on top, with the Conservatives two points behind Labour:
The Opinium figures, which will raise further concerns within Labour over the party leader's performance, shows that the prime minister has a two-point lead over his opponent. It also reveals that Starmer's party holds a narrow two-point lead, compared with a three-point lead in the last poll a fortnight ago. Labour are on 36% of the vote, with the Tories up one point on 34%. The Lib Dems are on 13% with the Greens on 6% …
While 28% think Johnson would make the best prime minister, 26% opted for Starmer.
On June 13, the i paper's Hugo Gye posted a few pages from the book Moonshot, by Pfizer's chairman Albert Bourla:
Two excerpts follow. These pertain to late 2020 and early 2021:
From my perspective, the UK was doing an exceptional job under tremendous pressure.
At that time, the UK was the only vaccinating so quickly that demand surpassed supply. As a result, we worked on a plan to meet the UK's needs …
Yet, in the UK, it was only the Conservatives and conservatives remembering Boris's efforts during that time period:
On June 14, the Mail's Alex Brummer wrote a positive article about the British economy, explaining why things weren't as bad as the media and pundits portray them:
So, yes, we face serious challenges. And yet I simply do not believe there is any justification for the gloom-laden interpretation by large sections of the broadcast media and fierce critics of Boris Johnson's government.
These Cassandras peddle a diet of relentless financial woe as they carelessly claim that the nation is in recession or heading for one.
But closer inspection shows not only that things are nowhere near as bad as they claim, but that there are serious grounds for hope in certain sectors, too.
Brummer explored the possibilities of what could happen either way:
True, the UK economy lost momentum recently, shrinking by 0.3 pc in April.
But what no one has mentioned is that this was largely down to a statistical quirk, and respected City forecasters are still actually predicting a 3.2 pc expansion of the UK economy this year, followed by 0.9 pc in 2023.
The big danger is that the constant barrage from the doom merchants could begin to influence events and destroy the resilience of consumers and enterprise — resilience which is still delivering for this country.
What is more, with a change of tack in the Government's approach, I believe the economy could be recharged.
Of course, the country will struggle if it is required to contend with inflation, rising interest rates and a mountainous tax burden all at the same time. If consumers and businesses are doubly squeezed by higher interest rates and higher taxes, household incomes will be devastated …
Brummer disagreed with Rishi's tax hikes:
The truth is that, with the nation close to full employment and the City of London and services — comprising more than 70 pc of national output — performing well, there was absolutely no need to urgently hike taxes, if at all.
Income tax, national insurance receipts, VAT and corporation tax receipts have all been flowing into the exchequer in record volumes. All that future rises will do is stymie spending and the willingness of companies to invest.
And the main reason for that fall in output of 0.3 pc in April? It is because the Government suddenly ended the NHS's Test and Trace operations — which had grown into a formidable industry, employing tens of thousands of people — as the country emerged from the pandemic.
In fact, April saw activity in consumer services jump by 2.6 pc. In spite of the £100-a-tank of petrol, the £8-a-pint of best IPA and rocketing food prices, a recession — defined as two quarters of negative growth — is unlikely.
Brummer did support Rishi's help to the neediest families:
Even if Rishi Sunak does not cut taxes, his £15 billion package of targeted support to help poorer households with the rising cost of living means incomes should now rise in the second and third quarter of the year. It is equal to nearly 2 pc of their earnings and will boost the country's spending power.
There were more reasons not to believe the doom-mongers, who, as I write in early September, are getting shriller and shriller:
What the doom-mongers fail to tell you is that investment bankers Goldman Sachs recently pointed out that consumer services are 'robust' and Britain's economy is 0.9 pc larger now than it was before the nation went into lockdown.
Economic activity in the crucial services sector, meanwhile, is 2.6 pc higher.
But it is not just the consumer activity — along with the £370 bn plus of pandemic savings in the current and savings accounts of households — propping up the economy.
New data just released shows that the drive towards the UK becoming a high-tech, high-value nation continues to make Britain prosper.
So far this year, the country has sucked in £12.4 bn of investment into the tech industry, the highest level of any country other than the United States.
And let no one blame Brexit:
As for the argument that Brexit has done for Britain, it is comprehensively rubbished by the City consultancy firm EY, which argues that, when it comes to financial services, 'six years since the EU referendum, we can be confident that Brexit has not damaged the UK's fundamental appeal'.
Since the financial and professional services are the biggest generator of income for HMRC, and the UK's most successful export to the rest of the world, this should surely be a source of national pride rather than Remoaner carping.
Indeed, wherever you look, the excellence of Britain's life sciences sector — as evidenced by the rapid development and distribution of the Oxford-AstraZeneca vaccine during the pandemic — continues to shine …
Ultimately, taxes do need to be cut:
But more needs to be done. And by that I mean Rishi Sunak must put an end to the tax hikes — or even reverse them …
… he froze personal tax allowances until 2025-6, along with the thresholds for capital gains tax.
… this will provide additional revenues to the Government of about £20.5 bn a year.
Sunak also opted to raise corporation tax from 19 pc to a whopping 25 pc next year. And to help pay for the NHS and social care, every employee and employer in the country is now paying a 1.25 pc surcharge on national insurance.
Together, all these measures (before inclusion of the windfall tax on oil production) mean that Boris Johnson's government is raising more tax from the British people and commerce than any UK government since the 1940s.
Such a position, given the precarious economic circumstances we face, is completely unsustainable. If the Johnson government wants to fight the next election with a healthy economy, taxes have to be cut with a decisive policy shift.
And if that happens, it could just be the magic pill for a Tory revival.
Meanwhile, Boris took a brief staycation in Cornwall while he helped campaign for the Conservative candidate in Neil 'Tractor Porn' Parish's constituency for the by-election, which, unfortunately, the Liberal Democrats won.
The Mail reported on Boris's schedule:
Boris Johnson has been pictured walking on a Cornish beach with his son Wilfred as he chose a staycation amid weeks of chaos at Britain's airports for millions desperate for a post-pandemic foreign break.
The Prime Minister has been in the West Country campaigning as he tries to win the Tiverton and Honiton by-election for the Tories on June 23, but is squeezing in a short family holiday.
And after a flying visit to the Devon constituency he headed to Cornwall to launch his food strategy at the wheel of a tractor before relaxing on the award-winning Porthminster beach, St Ives.
Unfortunately, on Wednesday, June 15, Lord Geidt quit as Boris's ethical adviser, which made all of his opponents question whether he should still be in office. This came a day after Geidt had appeared before a parliamentary select committee. I saw parts of that session. Geidt did not exactly inspire me with confidence.
Lord Geidt, a former private secretary to the Queen, announced his resignation in a 21-word statement the day after MPs accused him of "whitewashing" Johnson's conduct and questioned whether there was "really any point" to him.
Geidt, 60, came close to quitting last month after concluding that there were "legitimate" questions about whether the prime minister breached the ministerial code. He said that Johnson's fine for breaking coronavirus rules threatened to undermine his role and risked leaving the ministerial code open to ridicule.
He also received a "humble and sincere" apology from Johnson in January after the prime minister withheld critical messages from Geidt's inquiry into the refurbishment of his Downing Street flat.
A statement from Geidt published on the government website this evening said simply: "With regret, I feel that it is right that I am resigning from my post as independent adviser on ministers' interests."
In a bruising encounter with the public administration and constitutional affairs select committee yesterday, Geidt admitted that he had been "frustrated" by the prime minister's approach to the scandal.
William Wragg, the Conservative chairman of the committee, told The Times: "Lord Geidt is a person of great integrity, motivated by the highest ideals of public service. For the prime minister to lose one adviser on ministers' interests may be regarded as a misfortune. To lose two looks like carelessness."
Then again, William Wragg is not a fan of Boris's, prompting his supporters to think there was a stitch up, especially as Tony Blair had just been installed as a new member of the Order of the Garter.
Geidt's letter seems to be focused on Boris's fixed penalty notice for Partygate, but Boris's response, published in The Guardian, is about steel tariffs: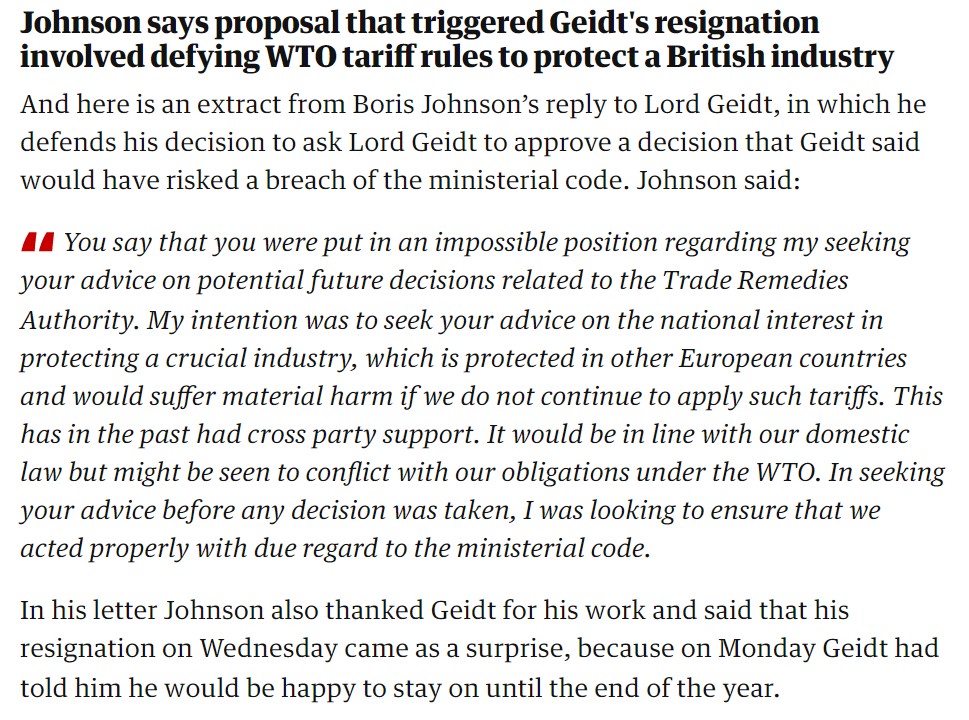 GB News's Patrick Christys explained this before going into Tony Blair's offences during his time as Prime Minister, including the Iraq War and letting IRA terrorists walk free. It's a shame the video isn't clearer, but the audio is compelling. After Christys introduced the subject, a panel debate took place:
Christys ran a poll asking if Boris is more unethical than Blair. Seventy per cent said No:
Blair's former adviser John McTernan said that, unlike Boris, Blair had been cleared of a fixed penalty notice (for an irregularity in paying London's congestion charge). But was Blair actually cleared? The BBC article from the time suggests that he wasn't:
On June 24, after the Conservatives lost Neil Parish's seat to the Lib Dems and the Wakefield seat to Labour, The Telegraph reported that the co-Chairman of the Conservative Party, Oliver Dowden MP, resigned. He seemed to blame the loss on Boris, although mid-term by-election victories often go to an Opposition party, something Dowden should have known:
Oliver Dowden has resigned as chairman of the Conservative Party after it suffered two by-election defeats, saying in a letter to Prime Minister Boris Johnson that "someone must take responsibility".
Mr Dowden's resignation came at 5.35am, shortly after the announcement of the two defeats. He had been scheduled to appear on the morning media round before he decided to step down.
In Tiverton and Honiton the Liberal Democrats overturned a 24,000 Tory majority to win, while Labour reclaimed Wakefield.
The contests, triggered by the resignation of disgraced Tories, offered voters the chance to give their verdict on the Prime Minister just weeks after 41 per cent of his own MPs cast their ballots against him.
Guido Fawkes posted Boris's generous letter of thanks to Dowden and his video explaining that mid-term by-election results often explain voters' frustration with the direction of the Government:
As usual, Blair's former spin doctor Alastair Campbell posted another inaccuracy, this time about Labour's by-election results:
At the time, Boris was away in Kigali, Rwanda, for CHOGM (Commonwealth Heads of Government Meeting). While there, he clarified sex and gender. The Times reported:
A woman cannot be born with a penis, Boris Johnson said last night, adding that there were "particular problems" around "issues of gender", but he said it was important to be "as understanding of everybody else as possible".
Asked whether a woman could be born with a penis, Johnson replied: "Not without being a man".
This has been an ongoing controversy for the past year. Neither Rishi Sunak nor Keir Starmer have been willing to answer that question. Boris met that challenge.
By the time Boris resigned on Thursday, July 7, millions of voters thought it was a stitch up.
Dan Wootton expressed our thoughts magnificently in his editorial that evening on GB News:
Excerpts from his transcript follow:
They won, folks.
They got him in the end.
Let's be honest for a moment, they were never going to stop until they'd secured Boris Johnson's head.
Since December, the campaign by the political establishment, the Remoaner elite, the civil service blob and – crucially – the country's biased broadcast media, notably BBC News, ITV News and Sly News, has been fever pitch.
Eventually, the Conservative Party decided it was impossible to govern while also fighting such dark and powerful forces.
These are deeply depressing times for British democracy.
Boris is the third Tory Prime Minister brought down in six years.
The febrile and hostile establishment and the MSM knows the power they have to bring political paralysis to the country.
And why were they so determined to destroy Boris?
Think about it.
He was a transformational Prime Minister.
A Prime Minister who stared them all down to finally deliver Brexit.
A Prime Minister who had vowed to cut the size of the civil service and demanded they return to their damned desks.
A Prime Minister who was going to scrap the hated BBC licence fee and sell the far-left Channel 4 News.
It's not hard to see why they would stop at nothing to discredit him.
I mean, last night the BBC quoted a source saying Boris Johnson "is now like Putin".
That's how deranged and determined his critics have become.
The celebration that broke out across the airwaves today – especially on the Boris Bashing Corporation once known as the BBC – blew up any final suggestion that we have an impartial broadcast media here in Britain …
I wanted to share with you part of a conversation I had earlier today with a source close to the Prime Minister.
They told me: "People had no interest in talking about the quite historic leadership achievements be that dragging us through a pandemic, a world leading vaccine programme rollout and a quite uniquely special performance in regards to that European war."
"Those people who wanted him gone never wanted to acknowledge that at any point. Never ever. It was always just the Westminster personality stuff. That was the only focus."
"Labour has had not one policy or grown-up policy discussion. It has been an out and out campaign to remove Boris. And you always have to ask yourself why. Why did they want to get rid of Boris so much? Why did sections of the media do that? Ultimately, wounded or not, he is the Conservative's best chance of winning an election" …

As the Daily Mail said today: "The truth is, Mr Johnson stands head and shoulders above almost all his assassins. Compared with the mountains he has scaled, their combined achievements are little more than molehills" …
To Boris Johnson, it was a project not completed, largely down to external forces.
But thank you for delivering us Brexit; that is an achievement for the ages that will go down in the history books.
It was a sad evening, indeed.
However, in time, there might be an upside. Maybe he could appear on GB News now and again:
Boris won that night's Greatest Briton accolade:
Wootton's focus on Brexit was confirmed by The Telegraph's Sherelle Jacobs the following day. She fears that Boris's resignation will give a lift to prominent Remainers:
… With the implosion of Boris Johnson, the Brexit war threatens to start anew. Tory Leavers must accept their vulnerability. The Prime Minister who ended the last battle by getting a Brexit deal done has just fallen in ignominious circumstances. Meanwhile, Remainers – who will never give up the fight – scent weakness.
While Andrew Adonis rallies against a "revolution which devours its children", Michael Heseltine has declared that "if Boris goes, Brexit goes". It might be tempting to dismiss all this as the hopeful rantings of bitter men. After all, Sir Keir Starmer has been at pains to reassure voters in recent days that Labour will not take Britain back into the European Union.
But even if the leader of the Opposition – a Remainer who voted six times against a Brexit deal – is genuine, he is powerless to stop the rejuvenation of the Remainer campaign. As support for Brexit in the polls has seeped away in recent months, in part because of the chaos that has gripped the Government, ultra-Remainers have been on manoeuvres. With the fall of Johnson, they think their time has almost come.
Over the next two years, they will likely proceed with a calculated mixture of boldness and caution. Already the public is being relentlessly bombarded with misinformation, which erroneously links every ill facing Britain with the decision to leave the EU. As the Tory party is distracted by internal dramas, negative Brexit sentiment will mount. This is already starting to happen, as critics in the business world become blunter in their criticisms – from the aviation industry to the CBI.
Meanwhile, some Tory MPs have been discreetly arguing in favour of a softer Brexit. Indeed, while the removal of the PM was by no means a Remainer plot, some of his internal enemies were motivated by a desire for greater alignment with EU rules – or at least by their opposition to what they consider to be an excessively aggressive attitude towards fixing the Northern Ireland protocol …
In truth, Conservative fealty to the Brexit cause has been disintegrating even under Boris Johnson, as the Blob has sapped the Government's will …
The great fear is that the Tory party now elects a closet Remainer who does not have the conviction to take all this on. That Brexit dies with a whimper, smothered by bureaucratic inertia and then finally strangled after the next election. If Brexiteers want to avoid this fate, they must think like war strategists once again. That means confronting the extent of their current weakness, and taking their opponents seriously.
Boris also shares that same worry and said so in Parliament on July 19, the day of his final Prime Minister's Questions:
Right after Boris's resignation, an online petition appeared: 'Reinstate Boris Johnson as PM'. It currently has over 23,000 signatures making it one of the top signed petitions on Change.org.
On Saturday, July 9, the i paper had an interesting report with several interviews:
The atmosphere sounded surreal:
"It was a bit weird", a source said of the Cabinet meeting Boris Johnson convened on Thursday just two hours after he said he would step down, effectively putting Britain on pause.
The Prime Minister was flanked by senior ministers, some of whom, less than 24 hours, had earlier led a delegation of men and women in grey suits to No 10 to urge him to quit …
Bill committees examining legislation line-by-line had to be cancelled, or they had newly resigned ministers sitting on them as backbenchers, while the whips who lacked the required specialist knowledge of the issues at stake were leading for the Government …
Contenders to take over as PM, when Mr Johnson does go, have been preparing for a contest months as the writing has slowly been scrawled on the wall of No 10.
Tom Tugendhat, Penny Mordaunt, and Jeremy Hunt were the most active hopefuls this week, contacting MPs and arranging meetings …
As the leadership contenders jostled, the Whitehall blame game began over Mr Johnson's spectacular fall from grace. The Prime Minister entirely overhauled his inner circle in February, after the initial "Partygate" allegations broke, and it is largely this team that will shepherd the Government through the final few months of his premiership …
The arrival of Guto Harri, one of Mr Johnson's oldest allies, as director of communications is seen by many as a contributor to the Prime Minister's downfall …
The spin chief had a habit of making up policies off the cuff, prompting advisers in other departments to joke about "the Guto special" when confronted with unexpected announcements from No 10. One Whitehall official concluded: "He is good for journalists, I'm not sure he's good for HMG [Her Majesty's Government]" …
But others pin the ultimate blame firmly at Mr Johnson's door.
One of Mr Johnson's closest former advisers told i that it "all went wrong for the PM" when he stopped listening to those from Vote Leave …
One of the former ministers who quit said on Thursday simply: "Everything is his fault. I spent months defending, or at least being generous about, his mistakes.
"Not after the last 24 hours. Appalling."
On July 12, Guido reported that Boris loyalist Jacob Rees-Mogg thought that the Prime Minister's name should be on the Conservative MPs' ballot (emphases his):
… he affirmed it was "unjust" to deny the Prime Minister the opportunity to fight for his position amongst Tory members. This comes in the context of his previous arguments for the growing presence of personal mandates in British political leaders. Unfortunately, Guido doesn't believe this strategy is quite in line with the contest rules…
I think this gave Boris's supporters false hopes:
People in Conservative constituencies began emailing their MPs:
With no result, the question then turned to whether Boris's name should be on the ballot for Conservative Party members.
On Saturday, July 16, The Times's Gabriel Pogrund and Harry Yorke posted an article: 'How the Tories turned the heat on Rishi Sunak'. In it, they introduced Lord Cruddas, who would go on to campaign for Boris's name to be on the members' ballot:
Both men were Eurosceptics who had supported the Vote Leave campaign when it might have been politically advantageous not to do so. Both were the beneficiaries of Boris Johnson's patronage. Cruddas had been given a peerage despite official objections. Sunak had been plucked from obscurity the previous year and made one of the youngest chancellors in history.
In 2021:
Sunak was the most popular politician in Britain and second only to Liz Truss in Conservative Home members' polls, having overseen the furlough and Eat Out to Help Out schemes. In the chamber, Cruddas gave his own vote of confidence, saying Sunak's budget "had established a clear path for the country to move from these difficult times", praising his "thoughtful" approach and arguing it would "not just to reinvigorate the economy post Covid but to help propel the post-Brexit opportunities".
By July 2022, everything had changed:
A week into the most toxic Tory leadership election in memory, the fact such comments were made feels inconceivable. Cruddas, 68, who remains close to Johnson, has shared posts on social media describing Sunak as a "rat", "a snake", a "little weasel", a "backstabber", "a slimy snake", a "treacherous snake", "Fishy Rishi", "Hissy Rishi", "Judas", "the traitor", "the Remainer's choice", a "sly assassin", a "Tory wet" promoting high taxes and the leader of a "coup" who "must be removed at all costs". Cruddas also retweeted claims about the financial affairs of Sunak's wife, Akshata Murty.
Tonight the peer said there had indeed been a "coup", adding: "I planned to donate a total of £500,000 this year but that is on hold and will not be paid unless the membership have a chance to vote on Boris being PM. I have no interest in Rishi who I deem to be not fit for high office due to his plotting and the orchestrated way he and others resigned to remove the PM." He also accused Sunak, 42, of setting up his leadership "before Christmas" and choreographing his resignation to inflict maximum damage.
The problem for Sunak is that such sentiment — especially the notion that he behaved improperly and cannot be trusted on the economy — is not confined to a fringe on social media. He might be the frontrunner but "Anyone But Rishi" reflects the opinion of Johnson and a coalition within the party. This includes cabinet ministers, staff inside Downing Street and Conservative Campaign Headquarters (CCHQ), Johnson's biggest donors, MPs opposed to higher taxes, and rivals for the leadership.
On July 22, The Telegraph's Christopher Hope added support for Boris's return and, in the meantime, addition to the ballot:
Tim Montgomerie, a former aide to Mr Johnson who has since been critical of him, said he had been told by sources close to the Prime Minister that he was convinced he would be back.
In a well-sourced post on social media, Mr Montgomerie wrote: "Boris is telling aides that he'll be PM again within a year" …
It comes as a row broke out among senior Conservatives about a campaign among party members to allow them a vote on whether Mr Johnson should continue as Prime Minister.
By Friday night, 7,600 members – all of whom have given their membership numbers – had signed a petition calling for the vote.
Lord Cruddas of Shoreditch, the former party treasurer who organised the petition, said "several MPs" had started to "make noises" about supporting his campaign …
Conservative MPs panicked:
The next day, The Times stirred the pot even more with 'Is Boris Johnson really planning another run at No 10?'
On Wednesday afternoon, moments after Liz Truss and Rishi Sunak were announced as the final two Conservative Party leadership contenders, a group of "red wall" MPs met on the House of Commons terrace to reflect on the result. "Is it too late to withdraw my resignation letter?" mused an MP, who held a junior ministerial role until the coup against Boris Johnson. "Shouldn't we just bring back Boris?" she said, leaving the question to hang in the air …
… Much like the Roman republic after Caesar's assassination, Whitehall is now riven by internecine warfare and a government paralysed by indecision …
For a man who just 18 days ago was brutally ousted from the job he has coveted his entire political life, Johnson appears to be living out his final days in Downing Street in a cheerful mood. Freed from the never-ending cycle of Westminster scandals, Johnson is relaxed and has spent the past few days hosting friends, relatives and other allies at Chequers and preparing a number of set-piece events leading up to his departure from No 10 in September …
Johnson, who allies claim remains furious with Sunak for his part in the coup, has sought to distract himself from the race to select his successor through media-friendly stunts …
Several MPs who helped oust Johnson have received a backlash from their constituents, stoking fears that they may face the same electoral retribution inflicted on Conservative MPs who ousted Margaret Thatcher. Backbenchers in red wall seats have been inundated with emails from voters who are furious at their role in ousting the prime minister.
They added that their postbag was filled with messages from newly converted Tory voters who have warned they will not vote for the party again now Johnson is gone. A colleague of Gary Sambrook, MP for Birmingham Northfield, claimed he had received hundreds of emails from constituents since he stood up in the Commons earlier this month and accused Johnson of refusing to accept responsibility for his mistakes …
Johnson leaves, aides say, with the air of someone with unfinished business. Whether this is the end of the Johnsonian project, or a precursor to his own Hollywood-esque sequel, remains to be seen.
On July 25, Christopher Hope wrote that the Boris petition had garnered 10,000 signatures:
Insiders say he is obsessed with delivering for the 14 million voters who voted Conservative in 2019, many for the first time because of him.
There are already stirrings of a revolt among the members. By Saturday night, 10,000 Conservative members had signed a petition organised by Lord Cruddas of Shoreditch, former Party treasurer, and David Campbell-Bannerman, former Tory MEP, demanding a say over his future.
The members want a second ballot to confirm MPs' decision to force his resignation, to run concurrently with the official leadership ballot between Liz Truss and Rishi Sunak.
That evening, Dan Wootton stated his belief that Boris's name should be on the members' ballot:
He asked his panel, which included Boris's father Stanley about it:
You can see relevant portions in these shorter extracts: Stanley supporting his son, Stanley verbally sparring with a journalist for the i paper as well as the opinion of former Boris adviser, Tim Montgomerie.
In the end, nothing happened. There was no Boris ballot.
Early this week, I heard one of the campaigners tell GB News that CCHQ are asking the organisers to do a sanity check on the signatories, confirming their Party membership number and clearing out any duplicates. If the number is still sizeable, CCHQ will discuss a possible changing of the rules for any future contests.
This is good news, in a way, but it will not help the Conservatives in the next general election. Boris's supporters are still angry.
Ukrainians
The Ukrainians will miss their biggest supporter.
They were saddened by his resignation:
Boris offered them his reassurance:
Volodymyr Zelenskyy even made a special announcement to the Ukrainian people about it:
Guido Fawkes wrote:
After leaving office Guido suspects Boris may end up reflecting more proudly on his work supporting Ukraine than even his Brexit legacy. Since the announcement of his resignation, Ukrainians have come out en masse to voice their sadness about his impending departure … Taking to Telegram late last night, Zelenksyy posted a touching video saying "Today, the main topic in our country has become the British topic – Boris Johnson's decision to resign as party leader and Prime Minister" …

Boris's hair has become a bit of an icon there (just as Trump's had in the United States). Guido has the images:
Boris's popularity among Ukrainians has already been well-reported since the outbreak of war. Streets have been named after him, as have cakes in a Kyiv patisserie. Yesterday Ukraine's national railways redesigned their logo to include an unmistakable mop of blonde hair, as did major supermarket Сільпо…
Boris once joked that the reason he'd left journalism for politics was because "no one puts up statues to journalists". It seems that, thanks to his efforts in Ukraine, he did manage achieved his wish for public deification – just not in the country in which he was elected…
On July 8, Ukraine's youngest MP made a video praising Boris:
Boris Johnson took a clear stand when so many others looked the other way.
In August, someone was inspired to paint a mural of Boris:
On August 24, Boris made his farewell — and surprise — visit to Ukraine on the nation's Independence Day:
Guido wrote:
Boris has made yet another surprise visit to Ukraine on its independence day — and the sixth month anniversary of its invasion. He used the visit, his last as PM, to announce a £54 million aid package to the country of 2000 state-of-the-art drones and loitering munitions …
Slava Ukraini…
Guido also posted this video:
GB News had more on the story:
Mr Johnson's visit came as Ukraine marked 31 years since its independence from Moscow's rule.
And it also came six months on from Russia's invasion of Volodymyr Zelenskyy's nation …
He said in Kyiv today: "What happens in Ukraine matters to us all.
"That is why I am in Kyiv today. That is why the UK will continue to stand with our Ukrainian friends. I believe Ukraine can and will win this war" …
The Prime Minister used his meeting with Mr Zelenskyy to set out a further package of military aid, including 2,000 drones and loitering munitions.
He also received the Order of Liberty, the highest award that can be bestowed on foreign nationals, for the UK's support for Ukraine.
Mr Johnson said: "For the past six months, the United Kingdom has stood shoulder-to-shoulder with Ukraine, supporting this sovereign country to defend itself from this barbaric and illegal invader.
"Today's package of support will give the brave and resilient Ukrainian armed forces another boost in capability, allowing them to continue to push back Russian forces and fight for their freedom."
The package includes 850 hand-launched Black Hornet micro-drones – smaller than a mobile phone – which can be used to provide live feeds and still images to troops, particularly important in urban warfare.
The support also includes larger drones and loitering weapons, which can be used to target Russian vehicles and installations.
The UK is also preparing to give mine-hunting vehicles to operate off the coast, with Ukrainian personnel being trained in their use in UK waters in the coming weeks.
Ukraine's ambassador to the UK Vadym Prystaiko marked the occasion by urging UK citizens to be "patient" as the war-torn country "cannot afford to lose your support".
He said: "You are playing a very important part in this fight. Ukraine will do what it takes to claim victory."
But will Britons continue to love Ukraine as much when the winter and higher fuel bills kick in?
Boris told us that we must do it, we must suffer, for Ukraine:
He has a point, but I do wonder how well this will play by the end of the year.
At least Boris got his Churchillian international claim to fame.
What next?
This week, Boris made a farewell tour of the UK, topped off with a dawn police raid of a house:
Guido has the video and explains the greeting:
This morning Boris accompanied the police on a home raid. Given we're now comfortably into the 21st century, it didn't take long for one of the occupants to realise the PM was in his home and film the experience, asking Boris 'wagwan'. Boris politely asked the filming resident "how you doing?". The Snapchatter could have at least offered Boris a cuppa…
It's rumoured that Michael Gove might be off to edit a newspaper:
Guido has the story and the audio of Gove's plans:
This morning Michael Gove laughed off the suggestion he's planning an imminent return to Fleet Street, insisting on the Today Programme he's "definitely planning to stay in Parliament" and won't be stepping down any time soon. Rumours have been building in SW1 that Gove had his eye on the editorship of, erm, one particular Murdoch-owned broadsheet, should a vacancy become available …
No, no. I think my first responsibility and duty is to my constituents in Surrey Heath. I'm going to stay on as MP, argue for them, and also argue for some of the causes in which I believe. I think it's vitally important that we continue to make the case for levelling up. I think Boris Johnson is absolutely right to focus on the need to provide additional support for overlooked and undervalued communities…
Gove added he still has "a reservoir" of affection for Boris despite being the only Minister the PM actually sacked in July. Boris is also rumoured to be sticking around until the next election. Could make for awkward small talk on the backbenches.
I predict they will stay on as MPs until the next election, just show up less often in the Commons.
As for Rishi, The Guardian said on Friday, September 2, that he was being compared with Michael Heseltine, one of the MPs who brought down Margaret Thatcher:
One of the most familiar refrains of the Conservative leadership contest was candidates earnestly inviting comparisons to Margaret Thatcher.
But after his resignation as chancellor brought down Boris Johnson's wobbling house of cards, a Tory insider said Rishi Sunak found himself with "the curse of Heseltine hanging round his neck".
Despite long having been talked of as a likely future prime minister, Sunak struggled to shed the parallel with the man who helped bring down Thatcher but failed in his own tilt at the top job – before coining the famous political cliche: "He who wields the knife never wears the crown."
I'll leave the final word to The Spectator's political editor James Forsyth, who muses on what politics will look like after Boris leaves:
His absence will reshape the political landscape because his presence defined it.
We will find out who Boris's successor is on Monday. The Guardian has a report on what we should expect:
The candidate who receives the most votes will be revealed on Monday by Sir Graham Brady, the chair of the 1922 Committee, a gathering of Conservative backbench MPs (not named after the average year of birth of its members but the year in which it was founded) …
The formal handover will take place on Tuesday. The Queen is recovering from the outgoing prime minister's tenure in her Scottish pile Balmoral and will appoint the new PM there, which will be a challenge as it requires the winner to leave Westminster.
Johnson is expected to make a farewell address outside 10 Downing Street at about 9am on Tuesday. It is not known whether he has written two versions of the speech, one based on staying, one based on leaving.
More next week as a new chapter in Conservative politics begins.
End of series
On Wednesday, August 10, 2022, Liz Truss appeared on GB News's The People's Forum to answer questions from residents of Leigh in Greater Manchester about her proposed policies:
The veteran newsreader and broadcaster Alistair Stewart ably moderated proceedings, allowing the audience to ask questions then reading viewers' questions and asking a few himself:
The programme was an hour long:
Brian Sheeran was first up to the microphone. Leigh, established in 1885, is a Red Wall constituency. They elected their first Conservative MP in 2019: James Grundy.
Sheeran asked why the people of Leigh should trust the Conservatives. Truss said that voters no longer could rely on Labour, because Labour never did anything for them:
She said that she would make sure that she started local projects as soon as possible, because people only trust a political party once they see tangible signs of improvements being made.
She also pledged to boost local businesses by rescinding EU laws that are still on the books post-Brexit.
She said that she would place a moratorium on the green levy on fuel and prepare an emergency budget as one of her first tasks as Prime Minister.
Not everything would happen straightaway. At least one measure would have to wait until April 2023 to be implemented because the Finance Act would require amending, a procedure that would require approval in both Houses of Parliament.
Another man asked what help Truss would give to working class families now, because the price of home energy has become crippling. He has had to take on a weekend job just to make ends meet:
Truss said that 'from day one', people would be able to keep more of what they earn.
He said that he needs help now, not at some point in the future. She said that she would look into all the options as soon as she becomes Prime Minister, should that happen.
Philip Orr asked about illegal immigration and was remarkably well informed on the statistics of our population increase over the past several years:
Truss summarised the situation of people trafficking across the Channel in dinghies. Criminal gangs are making big money. She hopes to make the Rwanda deportation policy work through Dominic Raab's proposed Bill of Rights. She also hopes to expand the number of countries who could take in these illegal migrants because they need more workers.
Orr suggested revoking French fishing licences if the French authorities continue to do nothing to stop the dinghies coming across the Channel.
In response, Truss said that she had had a 'tough' conversation with the French two weeks ago and that she would continue to be 'robust' in her negotiations. She cited the Northern Ireland Protocol Bill as proof that she could get things done.
She said that these migrants are in league with their lawyers before they make the trip over, enabling the lawyers to use ECHR laws to stop their deportation from the UK.
Finally, Orr asked why the UK couldn't use other countries' ports instead of being so reliant on France.
Orr called all of this 'sticking plaster politics', because nothing so far has been successful.
Jane Knight was the next to ask a question. She noted that the Government was not working. She asked what Truss's key strengths were and how she hoped to build a good Cabinet that would be ready to run on Day One:
Truss said that she has established a record of being able to get things done and has received backing from those Cabinet ministers, past and present, who have worked with her.
She said that she would be looking for three things in her Cabinet ministers: competence, the ability to stand up to civil servants in Whitehall and loyalty to her rather than to the media.
Knight said 'yes' to those but said there should be a certain amount of 'risk taking' and asked whether Kemi Badenoch, immensely popular among the people during her leadership campaign, would be able to have a Cabinet post, such as, perhaps, Foreign Secretary, Truss's current position:
Guido Fawkes has the dialogue (emphases his):
Jane Knight: I would like you to give some opportunity to maybe people that you might not know as well at the moment… certainly somebody who fired the imagination of the public was Kemi Badenoch and I'd really like to see her given a meaty role.
Truss: Do you have any ideas about what that role should be?
Knight: Oh well, Foreign Secretary! There might be a role going there!
Truss: Look, I don't want to get ahead of myself and this leadership campaign is still going on, but I can tell you that I will make sure the best players in the Conservative Party are on the pitch if I'm elected leader… Kemi – I've worked with her as Women & Equalities Minister – we've taken on a lot of the agenda of people who are trying to deny that women are women and so on, so I think she's absolutely brilliant and I would definitely want her as part of my team if I'm successful.
Knight also asked whether the Cabinet would be 'leaner, leaner, leaner', nodding for affirmation as she spoke those words.
Truss said that she could promise a 'leaner No. 10', which 'has become a bit too presidential' and she repeated her pledge to find a good post for Badenoch.
Knight said:
Ohhh, good answer.
Alistair Stewart brought up strikes at universities which prevent students from getting a full education. Some of these strikes are about changes in terms to lecturers' and professors' pensions because some universities took a 'pension holiday', not paying in continually to the pension pot. Other strikes, however, took place during the pandemic over health concerns. Either way, students are out of pocket, to the tune of £9,000 per year. They do not receive refunds for strike action.
Theo Murphin (?), a student, asked about this situation:
Truss said that she would hold universities to account to ensure that students get what they pay for.
In other strike areas, such as railways, she would ensure that industrial action would not overrun the network completely.
Theo also asked about the Online Safety Bill and the coming restrictions on freedom of speech. Truss said that her major focus of the bill would be to ensure that minors are not adversely affected by what they see online. With regard to adults, she said that one should be able to say the same things online as well as offline.
On the subject of strikes, Janice, a Daily Mail reader, wrote in with a question about the disruption of this year's strikes in various sectors across the country. Stewart asked her question for her.
Truss said she would legislate 'as soon as possible' to ensure that a minimum level of service is provided. She added that she is also concerned about activist organisations and mentioned Extinction Rebellion. She said that she would also take steps to ensure that they are dealt with, too, so as to not disrupt the daily circulation of people and goods.
Stewart brought up child grooming gangs (30:39), which seem to be everywhere in England now. He called Paul Eckersley to the microphone. Eckersley asked Truss what she planned to do about these gangs and 'bring criminals to justice':
Truss said that police should not be spending time patrolling tweets. Instead, she said, they should be fighting crime. She said that she wants to introduce police league tables on various forces' results.
Returning to the grooming gangs, she said that what has been going on has been 'absolutely repulsive'. She said that she wanted gang members to be held to account, 'but more than that' also the locals in authority — police, councillors and so forth — who did not do anything to stop them.
She received a round of applause for her answer.
Stewart then turned the subject to housing, especially getting young people on the housing ladder.
Jessica Buckthorpe, a cheerful and polite university student, asked whether Truss had any proposals to help young people in her situation, a student who works but cannot put together enough savings:
Truss proposes using young people's rental history of paying in full and on time to go on their mortgage applications, helping them to get a mortgage more easily.
Truss added that she also wanted to give more planning control to individual communities to plan for the housing they need. It is not unusual for young people to move away from where they grew up because they cannot afford the house prices.
Buckthorpe said that, while she appreciated these ideas, she said that the enormous actual mortgage deposit required is a 'pipe dream' not just for herself but for many other young adults.
Truss replied that using rental history would play an important part in enabling young adults to get a mortgage.
Truss said that it was important to keep in mind that our current inflationary period is temporary:
… we should not bake that into the future.
Stewart looked at Buckthorpe for her reaction:
There's a smile there.
A beaming Buckthorpe said:
Thank you very much.
The subject of war widows' pensions came up, especially those widows of veterans who subsequently remarried and lost their first husbands' pensions through subsequent rule changes. They are known as the WASPIs.
Stewart called on one woman who has a problem with her pension, Patricia Morgan, to ask her question. See the 2:40 point in this video:
Morgan said that, while she does not think she is getting the right amount of state pension because of a change in retirement dates, she cannot help but notice that money is going everywhere else, from coronavirus programmes to the war in Ukraine.
Truss said that she has met many such women in her own Norfolk constituency. The matter has also been addressed — unsatisfactorily, to many women — in Parliament. Truss said that she does not think that women have been looked after fairly in this regard. However, she said it would be very difficult to revisit the circumstances of the WASPIs and she apologised for that. She did, however, pledge to look at the tax system and see how it has an unfair impact on women in changing family circumstances.
Morgan politely countered by bringing up a parliamentary ombudsman's report which said that 'maladministration' had taken place. Truss said that she did not want to make promises that she could not keep. She could only address the future.
Stewart brought up the war widows' issue. Truss said she had already looked at that when she was in the Treasury. This issue, she said, she would look at again in more detail. Some 300+ women are affected.
Stewart then discussed the problems in the NHS.
Janine Ronaldson was the next person to approach the mic. She is a registered nurse with 31 years' experience, who works as a community nurse. She asked what Truss would do about the fact that nurses' salaries and benefits have decreased in recent years, resulting in many of them leaving the profession:
Truss said that nurses on the front line should be able to make more of their own decisions. She added that additional funding could come from existing funds and that the National Insurance tax rise was unnecessary. Some of this money can also go into social care, enabling hospital beds to be freed up for the elderly to go into a care home upon release from hospital. Currently, some patients have to stay in hospital because there is no satisfactory home situation for them to return to.
This, coupled with a huge post-pandemic backlog, is becoming a national problem.
Truss also pledged to look at the pension situation and talk to individuals to assess their concerns. She said that her incoming Health Secretary would also have to be committed to this.
Ronaldson said that it has been very difficult for her to see nurses leaving the profession and having to take on their workloads.
Stewart then asked for final questions on the topics that had been addressed.
One question came from Councillor Liam Billington, who asked about the child grooming problem. He said that Greater Manchester Council keep voting down motions to hold a public inquiry into what happened in Oldham. Truss responded that she would look into it and get back to him.
Johnny Riley (?) was next. He said that he had to give up his job to become a full-time carer for his wife. He receives only £70 a week from the Government in carer's allowance. He now has to use his life's savings to help them get by.
Truss thanked him for his devotion to his wife, who has cystic fibrosis. She said that her pledged review of the tax system should reveal how it works with the benefits system. She does not people like Johnny to be penalised for doing the right thing.
He said that he has paid into the system, so it's not about paying tax; it's about benefits, the least paid of all of them. Truss said that the whole system has to work, which is why she wants to look into it. She said she does not have a detailed answer. He said it was no wonder, because there has never been a detailed answer:
All we're asking for is a fair crack at the whip.
Trevor Bell asked how the Government can retain VAT on gas and electricity, when that is an EU law that should have gone once we left the European Union:
It was a Brexit promise … It should go now.
Truss reiterated that she would abolish the National Insurance tax rise and impose a temporary moratorium on the green energy levy. She also repeated that she would have an emergency budget early this autumn.
She said that the 70-year tax high is unacceptable but, right now, she cannot be more specific because the leadership contest is not yet over.
Truss said that getting rid of the green levy would save as much as getting rid of VAT.
The penultimate question came from Shelley Guest, who asked if Leigh could break away from Wigan Council and set up its own in order to use the tax receipts that it generates for its own needs (58:08). This is known as Lexit (!), something that Leigh's MP, James Grundy, also supports.
The room burst into applause.
Stewart told Truss that, while this seems like a local concern, it is also one that many other communities in England face.
Guest is concerned about rising council tax were Leigh to become independent.
Truss herself was once a local councillor. She appreciated Leigh's wish for independence and has spoken with James Grundy about it. She said she would consult the people of Leigh and appoint a Local Government Secretary to look into the matter with Grundy.
On a much lighter note, the final question came from a viewer who wanted to know about Truss's relationship with cats. Larry is the Downing Street moggie, and Liz remembered Palmerston, the Foreign Office's cat.
She replied that Larry frequently sidles up to her at Cabinet meetings, so she would like to develop her friendship with him. As for Palmerston, she said he left the Foreign Office during the pandemic and is now:
working from home. It's a true story!
She got a huge round of applause.
Some undecided voters there told Michelle Dewberry, who came on next with her show, that they really liked what Truss said.
They were a polite but hard-hitting group of real people who spoke frankly.
One wonders if Rishi Sunak would have the bottle to sit in a studio with their like. Would he or wouldn't he?
GB News has extended him an invitation to participate in his own People's Forum, so we'll see.
Speaking of Sunak, that day, a few other developments occurred.
Guido reported:
Away from the glare of the GB News cameras, Liz's team spent the day tearing chunks out of Camp Rishi on her behalf. After Rishi attacked Liz's cost of living plan for being "clear as mud", Team Truss went nuclear: "Rishi Sunak wouldn't know how people benefit from a tax cut because he has never cut a tax in his life.
People didn't vote for the Conservative Party to be subjected to old fashioned Gordon Brown style politics of envy." Team Rishi inevitably responded in kind – see below…
The mudslinging didn't stop there: Kwasi Kwarteng and Simon Clarke have an article in the Telegraph today in which they claim Rishi "dug his heels in" as Chancellor over post-Brexit reforms, particularly on plans to ditch the EU's Solvency II rule and reform the NI Protocol. You'd be forgiven for forgetting they're all in the same party. Team Rishi insist the claims in the article are "categorically untrue", and Sunak backed a muscular approach to Brussels all along…
Rishi didn't take kindly to Team Liz's attacks – it turns out being compared to Gordon Brown doesn't exactly flatter him. His team countered by claiming Liz's backtrack on regional pay boards last week was "a serious moral and political misjudgement affecting millions of people". This is the same Liz Truss whom Rishi has claimed he'll serve under in any Cabinet role.
His campaign also sent out a dubious press release claiming he'd cut taxes "16 times during and following the pandemic". One of those 'cuts' was reducing the Universal Credit taper rate, another is the promise to cut income tax by 1p in 2024 which, last time Guido checked, is two years away…
Instead of being with an average group of taxpayers, he chose to be interviewed one-on-one by the BBC's Nick Robinson:
He also promised to do more for households this winter beyond the package already announced, although didn't go into specific details on the basis that it was simply too early.

Although when asked whether it would cost "a few billion" or more than £10 billion, he said it would be "closer to the former than the latter"…
He gave Robinson an indication that he might lose the leadership contest:
He came the closest yet to admitting the race may well be over, claiming he'd always "stay true to [his] values" and he would rather lose than "win on a false promise".
It's interesting that Sunak chooses television formats that suit him rather than the electorate, even if, at present, they are Conservative Party members.
Sunak's non-participation in public fora other than Party hustings and closed interviews tells us something about the man.
Next week I will post on The Telegraph's hustings, held on Thursday, August 11.
It's difficult winning against Andrew Neil, the longtime BBC political presenter who was the leading face of GB News for a month in 2021 and who currently has his own Friday evening show on Channel 4.
When it comes to grilling politicians, no one does it better than he.
Rishi Sunak agreed to subject himself to Neil's unfailing command of the facts. So far, Liz Truss — as did Boris Johnson — has not committed to the same.
Neil's interview
Sunak appeared with Neil on Friday, July 29, 2022, to put forth his case for becoming the next leader of the Conservative Party and, by extension, the United Kingdom's next Prime Minister.
Having watched the Q&A session, I thought that Rishi did a good job.
However, there was a real dissonance between what he said his policies involved and what Neil said they did.
As such, it made for awkward viewing. Who was telling the truth? I was left none the wiser.
At times, I was focusing on Neil's hair, which he has dyed a dark brown. His natural colour is ginger.
Rishi presented himself as the sensible, cautious candidate with regard to tax and the deficit:
Rishi defended raising taxes to fund the NHS. He did well in preventing his irritability from showing, but a vulnerability did slip out here:
Neil accused him of being 'consistently inconsistent' with regard to tax reform, but Rishi said that's how it works:
Hmm.
Neil asked Rishi about his wife's non-dom status. The former Chancellor gave a short reply, saying that she addressed it. This did not satisfy me, but then I don't have a vote in this contest:
Yes, there are family obligations here, it would seem. Those appear to involve his in-laws.
Neil was surprised at Rishi's answer about curbing the number of refugees. What Neil doesn't realise is that legal immigrants and their children take a much different view on migration than the British metropolitan elite.
Neil also managed to squeeze in Rishi's televised statement from his teenage years in 2001 in which he said he had no working class friends:
Neil concluded by reiterating that Liz Truss was still welcome to appear on his show.
I did not really know what to make of this half-hour broadcast.
Only the Mail had any commentary on it.
One article with more dialogue from the programme is 'Sunak is forced to deny he has shown a "lack of consistency" on VAT to Andrew Neil'.
An excerpt follows:
Veteran broadcaster Andrew Neil said Mr Sunak's approach of tightening fiscal policy risks recession in an interview on Channel 4.
The Tory leadership hopeful replied: 'No, if you look at what's happening around the world, it's inflation that is slowing economies down. It's rising interest rates that are already putting a brake on economic activity.
'And my concern is that I want to get to grips with inflation as quickly as possible because inflation makes everybody poorer. It erodes people's living standards.'
He also insisted his policy to hike national insurance thresholds was 'undoubtedly, objectively progressive' when Neil suggested it penalised workers.
'It's an entirely progressive measure,' Mr Sunak said. 'Raising thresholds means that those with the broadest shoulders contribute the most.'
The heated exchange resulted in Neil saying that the OECD has said that Mr Sunak's plans will result in a recession for the UK economy – which the former Chancellor disputed. 
It came as Mr Sunak sat down with the fearless interviewer Mr Neil on Channel Four – after frontrunner Liz Truss refused to do the same.
Mr Neil once again extended the hand to come on his show to the Foreign Secretary – saying the 'invitation is still open'.
The Southampton-born millionaire repeated his claims that tax rises were necessary for paying for Covid measures and said that he did not want to pass debt onto future generations.
He said that it would be the 'easiest thing in the world' to cut taxes to aide his leadership campaign but that he thought it was not the responsible thing to do.
Mr Neil hit out at Mr Sunak's wife's non-dom status which hit the papers earlier this year but the former Chancellor attempted to draw a line under the line of questioning, saying that he was the one running for office – not his partner.
The line of questioning made Mr Sunak visibly uncomfortable as he tried to move on from the scandal.
The tax cuts intended to fund the NHS were another line with Mr Neil used to attack Mr Sunak – as the interviewer quoted suggestions that the waiting lists on the NHS will reach 10 million in the next two years.
Mr Sunak attempted to distance himself from the Conservative's record on health after the fierce Scot tried to pin the NHS's problems on him – saying that he has left Government to change course on the NHS.
He added that he wanted to set up over 100 'elective surgery hubs' to bring down the backlog. 
Henry Deedes examined the optics of the interview: 'The ex-chancellor sat awkwardly, like a man about to undergo an enema'.
Excerpts follow:
We immediately saw Sunak sat behind a desk, his hands placed slightly awkwardly on top of each other. Across his mouth was smeared a distinctly uncomfortable grin. He looked like a man nervously waiting to undergo an enema …
Tax was the main topic, namely why Rishi as chancellor made us pay so much of it. Sunak said he wanted to pay down the cost of the pandemic rather than saddle our grandchildren with all that debt. 'I'd like to give people all these nice things – don't you think that'd make my life easier?' he pleaded.
Rishi kept calling Neil by his first name. Most of his replies began with a chummy 'look, Andrew'. Doubtless his spin doctors thought familiarity might soften the old brute. It didn't.
Neil kept coming at him over tax rises. A Bren gun with ceaseless ammunition. Pop, pop, pop. 
Why had he frozen the income tax threshold? Why had he left comfortable pensioners alone? Why were so many people paying the top rate? Unfortunately for Sunak, Neil is that rare thing in journalism – someone who actually understands economics …
Talk turned toward the NHS. Neil pointed out that waiting lists were up, despite the gazillions of pounds which get thrown at the Health Service every year. 'These are complex issues, Andrew,' Rishi mansplained.
Yes, yes, said Neil. But it had gotten worse on the Government's watch. 'Andrew, I left the Government,' pleaded Rishi. 
'Yes, but only a few days ago,' barked Neil. Sunak's answer to the NHS backlog was to set up a task force. Yes, that should do it!
There was mention of a recent video which surfaced of Sunak in which he told an interviewer he didn't know any working class people. 
Bit odd for someone who claims to come from such a modest background. 'I grew up working in my mother's pharmacy,' Sunak reasoned. 'We know all that,' sighed Neil witheringly.
He seemed to think Sunak's 'umble roots were a tad overplayed. Especially since he was schooled at Winchester. Neil's intellect of course was forged and honed at Paisley Grammar.
A brief tit-for-tat developed over Lady Sunak's non-dom tax status. 'I'm the one running for office, not my wife,' said Rishi. His voice lowered a bit at this point. He shot Neil a steely look as if to say 'Let's leave her out of this, shall we?' Respect.
We were now out of time. To be fair to Sunak he was still standing. But only just.
Incidentally, his opponent Liz Truss had given Neil's offer of an interview a wide swerve. 'Her choice, of course,' said Neil, voice laced with irritation. Chicken? Jolly wise, I'd say…
More scrutiny
Last week, Rishi's policies and personal life came under more scrutiny.
A Mail headline from April 24 resurfaced about his lavish Yorkshire home, which has a heated pool and will soon have a new gym and tennis courts. Incidentally, he has other homes, including a pricey mews house in London:

Just a little over a year ago, on July 2, 2021, Asia Financial reported that Rishi wanted more trade between the UK and China:
UK Chancellor of the Exchequer Rishi Sunak called for a "mature and balanced relationship" with China that helps British firms to exploit "the potential of a fast-growing financial services market with total assets worth £40 trillion" ($55 trillion) in a speech on Thursday July 1 …
Sunak set out alternative plans for an independent financial services policy for the UK and spent more time discussing opportunities in China than the US, which is the UK's most important bilateral partner.
He attempted to frame the opportunity to sell financial services to China within a context of maintaining principles such as openness and commitment to a rules-based order.
"Too often, the debate on China lacks nuance," Sunak said. "Some people on both sides argue either that we should sever all ties or focus solely on commercial opportunities at the expense of our values. Neither position adequately reflects the reality of our relationship with a vast, complex country, with a long history."
Sunak highlighted the appeal of China's financial services market for UK firms, as well as the need to cooperate on global issues like health, ageing, climate and biodiversity.
He seemed to effectively offer China the opportunity to agree different financial services terms with the UK than the EU, now that Brexit has arrived without a deal on mutual recognition of standards across Europe – which was the former target of "equivalence" of regulation.
Hmm. Interesting. His father-in-law's Infosys has an office in China.
A year later, on July 25, after China's Global Times endorsed him as the next Conservative Party leader, he walked back his support and claimed Liz Truss was the greater supporter of the Communist nation.
Guido Fawkes reported (red emphases his):
It's unsurprising, given his tacit endorsement from the Chinese propaganda arm Global Times, that Rishi has decided to go in hard on the country's security threat this morning. Declaring the Chinese Communist Party "the largest threat to Britain and the world's security and prosperity this century", Sunak attacks Liz for "[rolling] out the red carpet" and turning "a blind eye to China's nefarious activity and ambitions". He calls for a new NATO alliance to be set up to counter it the threat, and pledges to close all 30 Confucius centres, which teach Mandarin in the UK and are thought to be used as fronts by the Chinese intelligence services.
In response Team Truss returned fire last night, using Iain Duncan Smith to call the policy "surprising" and asking where Sinophobe Sunak has been for the last two years. Her team points to the above Sunak's endorsement by Global Times, and says he has been consistently soft on China …
In response, a Truss ally bluntly tells Guido that Sunak's team are "moronic", given not only was Truss responsible for childcare policy as an education minister, universities policy was run out of the business department at the time. David Willets was the BIS minister responsible, who – whilst yet to declare in this leadership election – has backed Sunak's tax rises. 
Guido also exposed the fact that the Artichoke Trust received £1,234,682 through Cultural Recovery Grants during the pandemic, when Rishi was Chancellor.
The Artichoke Trust puts out 'art' like this:
Clearly, not much scrutiny took place during the pandemic. No doubt, the Treasury were all in a rush to send out grants — taxpayers' money — to all and sundry.
On Tuesday, July 26, Rishi did a huge tax U-turn, imitating his rival Liz Truss.
Only days before, Rishi told Liz that it would be 'immoral' to lower taxes, yet, here he was at the beginning of last week reversing that to sound more like his rival:
Guido rightly asked why Rishi did not cut VAT on energy bills when he was Chancellor. Oddly, he now advocates the policy:
This is what the former Chancellor said in February 2022:
Guido has more on his February comments here.
On July 27, the Mail on Sunday had an article about his U-turn, saying he was 'under pressure' since the BBC debate of July 25 (emphases in purple mine):
This morning, Truss ally Kwasi Kwarteng, the Business secretary, welcomed Mr Sunak's 'late to the party' change on taxes.
He told Times Radio: 'I think he's under a lot of pressure. That's why we see all these statements: he was the person who said the VAT cut would disproportionately benefit rich families and now he's saying that a VAT cut on energy bills is the right thing.
'He was saying that tax cuts were a fairytale, now he is proposing an unfunded tax cut.
'There comes a time in campaigns when people are under a lot of pressure, he clearly felt under a lot of pressure in the debate and he wanted to get out on the front foot and interrupt Liz.'
But Transport Secretary Grant Shapps, an ally of Rishi Sunak, defended the former chancellor's plan. He rejected the suggestion that Mr Sunak is 'flip-flopping' and said the £4.3 billion policy is sensible as it would not add to inflation.
Put to him that it is a 'flip-flop', Mr Shapps said: 'If he hadn't produced £37 billion of support, about £1,200 to the hardest-up households already – if he hadn't done any of that and then suddenly did it then you would have a point.
'But he has, he has been providing all this support, now he is saying "Here's something that won't add to inflation that would save every person watching your programme £160 off their energy bills" – I think that's worthwhile.'
Last night No10 insiders told the Daily Mail that Mr Sunak's plan was something Boris Johnson tried to implement to ease the burden on consumers – but was blocked by his then chancellor.
'Boris begged him to do it – but he wouldn't budge', said the source. 'It's astonishing that he's now claiming it as his own policy.'
Meanwhile new polling shows that the rising cost of living and handling of the NHS could cost the Tories the most votes at the next election.
The Mail on Sunday's Anna Mikhailova pointed out that Rishi hardly had a long-term career in business, despite his own claims.
Nigel Farage picked up on her tweet and called Rishi 'a fraud':
Farage had elaborated on his GB News show the day before, Monday, July 25. He pointed out that Rishi included a clip of him in his campaign video on immigration. He doubted Sunak's sincerity on China and ended by saying, 'Well, I guess that leaves us with Liz Truss':
By July 27, the bookies gave Liz Truss an 83% chance of winning the leadership contest.
That night, Dan Wootton said that 'Fishy' Rishi's tax U-turn was 'too little, too late':
John Sergeant, who reported for the BBC for decades, said that the former Chancellor appeared 'rattled':
Political commentator Patrick O'Flynn said that many intelligent politicians weren't very good at politics, Rishi being a case in point:
On Thursday, July 28, Lord Ranger, a Rishi supporter, said that if the Conservative Party members do not choose the former Chancellor as leader, they are racists.
Dan Wootton responded by pointing out that this Conservative leadership contest has been the most diverse in history:
That includes Labour, too, by the way.
Wootton said, in part:
It was still only a matter of time before Team Rishi Sunak blamed his imploding campaign on racism.
Forget the fact that Kemi Badenoch was a surprise favourite among the party membership before being booted out by MPs for being too daring and different.
Forget the fact that Liz Truss is a woman who went to a Leeds comprehensive.
Nope, Sunak's failure is nothing to do with his big state/high tax agenda, which saw him increase our tax burden to the highest it's been in 70 years.
Nothing to do with his globalist posturing and desire to cosy up to China by making the Communist country our market of choice, as revealed in bombshell leaked Treasury documents reported in The Times today.
Nothing to do with the fact he backstabbed Boris Johnson – the man to whom he owes his career – plotting his leadership campaign, all the while pretending to be his loyal Chancellor.
No, no, no, no it's down to racism.
Conservative donor and Fishy Rishi supporter Lord Ranger told Indian news network Bharat Tak: "If people reject him, it will be a bad name for the party and the country because this will be perceived as racist.
"And so there is pressure on them to prove that here race does not matter.
"Calibre matters, and Rishi's calibre is above everyone. I am optimistic that people here will be fair and will not reject anyone on the basis of race."
Lord Ranger, I can assure you the Conservative members are not rejecting Rishi based on race.
They're rejecting him based on policies and a lack of loyalty too.
As my colleague and friend Calvin Robinson tweeted in response: "'Vote for me because I am brown,' is bad enough 'if you don't you're a racist' is even worse.
"This divisive, toxic rhetoric is straight from the Leftist guidebook on Critical Race Theory and should have no place in the Conservative Party or the government of this great nation."
Former Cabinet member Michael Gove's ex-wife Sarah Vine, who writes for the Daily Mail, said that Rishi stabbed Boris in the front:
On Friday, July 28, a Techne poll showed that Liz was gaining ground over Rishi:
That morning, Defence Secretary Ben Wallace put the boot into Rishi's decision to resign as Chancellor:
Wallace told Sky News:
Wallace: Let's look at that Friday afternoon – I think it was a Friday – what if the markets had crashed? What if the Home Secretary had done that and there was a terrorist attack? What would the public think, they would never forgive us for that… I don't think people needed to walk out, the public would see that as a government not thinking about the job in hand.
The multi-year settlement [for the Department of Defence] that we got was not what the Treasury had wanted, they wanted a one-year settlement – this was back in 2019 I think – and it was vital that we got a multi-year settlement, and the PM effectively asserted his authority and made all that to happen…
Interviewer: But Mr Sunak was not in support?
Wallace: Not that I remember.
Cut the right taxes like not proceed with corporation tax rises helps growth. When Rishi was Chancellor he cut entrepreneurial relief – he cut the relief we give to entrepreneurs who've invested in this country, invested in businesses – that's not a way to help create either wealth or indeed growth.
Wallace had more to say. He said that, as Secretary of State for Defence, he did not have the 'luxury' of resigning, a pointed barb at Rishi, who, he intimated, should have stayed on as Chancellor:
Wallace pledged his support for Liz Truss.
Meanwhile, Rishi's team claimed someone was leaking official documents:
Rishi allegedly asked Simon Case, the head of the civil service, to get involved.
Guido reported:
What leaks might Rishi be upset about? The Treasury documents which completely undermined his pledge to "scrap or reform EU laws in 100 days" is a strong bet. Earlier this month, just after promising to review all of the remaining 2,400 EU laws on the statute book, Bloomberg revealed the Treasury had – under Rishi's leadership – written to Liz Truss to claim that reforming EU taxes was desirable but probably not deliverable until 2026. Last time Guido checked, that wasn't quite within 100 days. Brexit Opportunities Minister Jacob Rees-Mogg even responded by claiming it was "a surprising promise as the Treasury under his leadership was insisting that taxation was exempt from the removal of EU law." What was it Rishi said about "fairytale promises"?
UPDATE: Now a spokesperson for Liz Truss says:
We condemn the leaking of Government documents and papers. Neither campaign condones leaks of material and will not use documents it receives. Furthermore, both campaigns will report any such leaks to the Cabinet Secretary who may take action directly, or via the Police, against the individuals involved in perpetrating such leaks or receiving and not reporting material. We understand leak investigations will be carried out without fear or favour.
Word around Whitehall is that Simon Case is livid, demanded both camps issue a statement and has called in police to investigate the China leaks.
On Saturday, July 30, things got worse for Team Rishi. He had to give away tickets to what had been a £20 per person hustings event:
Then, Tom Tugendhat, he of the military service, endorsed Liz Truss:
Oh, dear.
While all that was going on, staff at the Mail on Sunday (MoS) were preparing its copy.
Late on Saturday in one of the MoS pieces, Boris loyalist Nadine Dorries MP further reinforced the notion that Rishi is not a man of the people. She wrote about a tweet she'd sent out a few days before commenting on his expensive attire:
I wanted to highlight Rishi's misguided sartorial style in order to alert Tory members not to be taken in by appearances in the way that happened to many of us who served with the Chancellor in Cabinet. The assassin's gleaming smile, his gentle voice and even his diminutive stature had many of us well and truly fooled.
I wish to stress it's not the case that I believe a rich man or woman – even if their father-in-law is one of the richest men on an entire continent – cannot be Prime Minister of this great country. But they do have to possess good judgment, understand the lives of others, have empathy, compassion and know how to fill a car with petrol and pay for it at a till.
Rishi's father was a GP, his mother a pharmacist. He attended a public school where the annual fees are about £36,000. They were in the top two per cent income bracket of all earners in the UK. To describe his background as humble is yet another indication of poor judgment.
Rishi will never know what it is like to feel scared, broke and hopeless, without a safety net provided by wealthy parents. He has never had to lie awake at night, worrying about how to pay the bills. A bailiff will never knock on his door …
Too right.
Dorries said that Boris was not best pleased when he found out that Rishi is now pledging to cut VAT on energy bills, something she said Boris begged him to do as Chancellor:
… Rishi says he wants to cut VAT on energy bills. However, Boris had been pleading with him to introduce this measure for two years as the PM had been convinced that such a cut could provide immediate relief to families.
In a speech on Thursday, Boris commented with a hint of uncustomary sarcasm: 'Turns out it was easier than we thought!'
Rishi was the classic dog in the manger as Chancellor. Whenever Boris sought him out to discuss serious issues, Rishi was always polite but unforthcoming. Never a team player.
Another MoS article revealed photos of a young Rishi Sunak at an exclusive nightclub in London's fashionable Mayfair.
Reporter Michelle Bromley included photos, writing about the young man and his then-fiancée, now wife, the Infosys heiress Akshata Murty, who lived in California in 2008:
Despite living 5,400 miles apart, the couple regularly flew back and forth across the Atlantic.
These photographs show how they spent an evening with friends at the Whisky Mist nightclub in London.
Ms Murty is seen with a cocktail while Mr Sunak (who says he's teetotal and 'a total Coca-Cola addict') generously bought all the drinks that night for the couple's friends.
At the time, the club off Park Lane was popular with the young Prince Harry and celebrities such as Beyoncé and Leonardo DiCaprio. Many years later, Tesla tycoon Elon Musk met his second wife, actress Talulah Riley, there.
Whisky Mist was apparently named after an incident during which a tipsy Queen Victoria thought she'd spotted a stag in the fog from the window of Balmoral Castle.
Friends with Mr Sunak and his girlfriend that night recall how many of the guests were focused on Ms Murty because of her family's fabulous wealth.
Her father founded global IT giant Infosys.
Mr Sunak was described by a female reveller as 'the most attentive boyfriend you have ever seen' and as 'someone who would ask a lot of questions but not give too much away about himself'.
Not long before, he had been to Africa where he met some of Barack Obama's relatives. He was photographed with them while holding a copy of the future US president's book, Dreams From My Father: A Story Of Race And Inheritance.
The picture was posted on Mr Sunak's Facebook page. Mr Obama used his book as a primer to introduce himself to the American people as he campaigned in 2008 to become the first black US president.
Fourteen years on, the young Briton captivated by that book is campaigning to become Britain's first Prime Minister of Asian heritage – and of America's greatest ally.
Nadine Dorries is right. Rishi Sunak will never have to worry about anything significant in his life.
The Sunday Telegraph said that Conservative MPs criticised Dorries for retweeting a photoshopped image showing Rishi as Brutus wielding a knife at Johnson's Julius Caesar's back. The original tweet is at the link.
The MoS also reported that some of the MPs supporting Rishi have serious doubts about his campaign:
Conservative MPs backing Rishi Sunak have privately admitted 'It's over' as panic sets into his leadership campaign.
Insiders told The Mail on Sunday that some supporters were refusing to do campaigning events for the former Chancellor.
MPs are said to be getting cold feet after Defence Secretary Ben Wallace and former leadership rival Tom Tugendhat threw their support behind Liz Truss in quick succession.
However, other MPs backing Mr Sunak insisted he was doing well with Tory members, and said private polling showed Ms Truss's supporters had been easily convinced to switch their support to him.
As this week opened, Dan Wootton's Monday poll showed that GB News viewers thought that his tax U-turn was still too little, too late:
That polling ran while Rishi and Liz were at a hustings in Exeter, more about which tomorrow.
I hope the former Chancellor, whose mother owned a pharmacy, does not get anywhere near Downing Street, except as a visitor: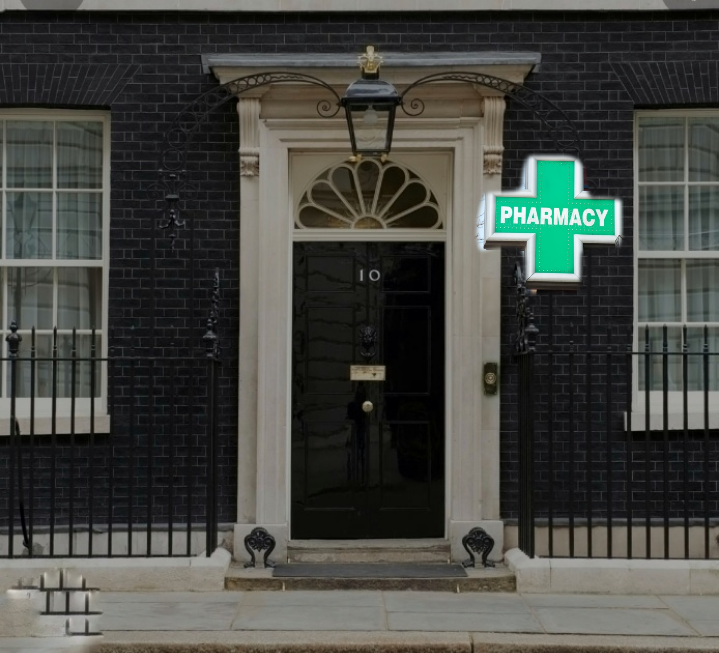 Why anyone wants Rishi to be the next occupant of No. 10 escapes me. Convince me — someone, anyone — why he should be our next Prime Minister.
On Thursday, July 28, 2022, LBC's morning host Nick Ferrari presented a hustings in Leeds for Conservative Party members:
Ferrari interviewed the candidates separately, and each had a chance to deliver a message alone to the audience.
The audience also asked questions.
Liz Truss
This year's burning question for any politician has been, 'What is a woman?' Very few have defined a woman, including Rishi Sunak.
Liz played on that theme:
This hustings took place on the same day that it was announced the Tavistock clinic was to close. This next video has an excellent interview with Dr David Bell, a whistleblower who used to work for the clinic:
Liz discussed sexual identity:
A member of the audience expressed her concern that school loos were changed to unisex during the pandemic when students were at home. Liz came out in favour of separate boys and girls facilities:
LBC's article, which has a video of the hustings in full, says:
The foreign secretary was quizzed about same-sex toilets being introduced in schools during the pandemic while speaking at LBC's Tory hustings.
When asked about returning to single-sex toilets, Ms Truss said: "I completely agree with you – I have sought to clarify that as women's minister.
"I've been very clear that single-sex spaces should be protected, particularly for young people as well as vulnerable people – vulnerable women in domestic violence shelters, for example – and I can assure you, as Prime Minister, I would direct that to happen.
"It's a difficult time being a teenager – being a young girl – and you should be able to have the privacy you need in your own loo, so I 100% agree with you and I would make that happen.
In a follow up question from LBC's Nick Ferrari about pupils who are transitioning, Ms Truss added: "First of all, I do not believe that under-18s should be able to make irreversible decisions about their own bodies that they might come to regret later.
"It's very important to note that.
"And of course, schools should be sensitive – they can provide additional facilities – but it should not be at the expense of protecting young girls."
On the subject of schools and the pandemic, Liz said it was a mistake to close schools in early 2021 and allow the pubs to stay open. She would not have closed schools but said that hindsight is a wonderful thing and no one knew at the time what to do. She did give Boris credit for doing 'his absolute best':
In response to Peter from Tadcaster, Liz said that she supports fracking but said it must have residents' consent. She also supports the smaller nuclear plants, 'like we have in Derbyshire'. She also thinks that we need to continue to use more of our own gas as an immediate response to energy demand:
There was a light hearted moment when Ferrari asked her about her university days. She admitted she was something of 'a teenage controversialist'. She said she regretted saying that the monarchy should be abolished as soon as she said it years ago. And she has since met the Queen. She also said that she had been a member of the Liberal Democrats but left when she realised 'the error of their ways':
A reality show, Love Island, has been this summer's must-watch for a proportion of the British population. Liz said she could watch only ten minutes with her teenage daughter before she turned off the television. She thinks her daughter went to watch it in another room:
Liz repeated her stance on tax, saying that the rise in National Insurance not only broke the 2019 Party manifesto but is also unnecessary as it limits growth:
Liz, who grew up in Leeds, says that the public transport there is as bad now as it was when she was a girl. She promised to improve the situation. She also pledged to cut red tape for farmers:
Ferrari asked Liz for her opinion of Theresa May and Boris Johnson, as she served in both their Cabinets. She said that she always liked Boris and supported him in the 2016 leadership contest, which Theresa May ultimately won. She gave Boris much credit during his time as Party leader and Prime Minister:
Ferrari asked her whether she would lead us into World War Three, which she dismissed as Russian propaganda and sabre-rattling. She added that the UK should have been better prepared in the past, because we did not do enough for Ukraine over Crimea and the Donbass:
On that topic, Liz said that she would raise defence spending to three per cent of GDP by 2030:
More on that below.
An audience member asked about post-pandemic staff shortages. Liz said she would tighten benefits rules to get the workshy back into paid employment. She also said she would have a training programme so that Britons had the available skillsets that we need:
Contrast her response with Rishi's below. He wants to bring more foreigners into the country and forget about our own people.
Someone from the Bury Conservative Association asked whether Liz would give Jeremy Hunt a Cabinet position. She replied that she was not thinking about a possible Cabinet at the moment but that she would appoint a broad range of Conservative talent, should she become Prime Minister:
Please, Liz, no Jeremy Hunt. He would deploy all of Beijing's coronavirus policies and have us masked up and in lockdown in perpetuity. He also said in Parliament that he wanted to make the annual flu jab mandatory. No, no and no!
Rishi Sunak
Last week, Rishi was adamant that tax cuts were 'immoral', then he did a U-turn.
He tried to convince everyone that he didn't do a U-turn on his tax policy. Hmm:
Ferrari then gave the UK's most recent statistics on our poor economic performance this year, but Rishi reminded him about 2021 figures, which were far higher than any other Western nation. Rishi also said that visas needed to be revisited to make sure we attract the 'best and brightest' into Britain. Notice how he has no plans to train young Britons for British jobs. Why am I thinking of his father-in-law's Infosys? Hmm:
Ferrari brought up the petition to the Conservative Party to put Boris's name on the members' ballots. By last Thursday, more than 14,000 people had signed the petition. Rishi said that Boris had lost the confidence of his MPs, 60 of whom resigned from various Government posts. Rishi said that a Prime Minister must have the confidence of his MPs, hence the present leadership contest:
Ferrari told Rishi that he was the first Chancellor since Labour's Denis Healey to raise corporation tax. Healey did that in 1974.
Rishi gave an incoherent answer. He said that Margaret Thatcher raised taxes in the early part of her premiership which lowered inflation. (Mmm. Actually, Margaret Thatcher got different advisers who told her to lower tax, which brought about growth.) He said that lower corporation tax has not worked over the past decade. So, he would cut tax on business investment instead.
I'll leave this to the Rishi fans to ponder and tell me why he is correct:
Ferrari said that President Zelenskyy said that he would like for Boris to remain front and centre for Ukraine and not disappear into the background. Rishi said that Boris is 'very talented' but that he would not give him a post in his Cabinet, were he to become Prime Minister:
A lady in the audience asked Rishi how he viewed our current asylum system. He said that it needs to be changed, by pulling out of the ECHR and using the international Refugee Convention instead. He said that we reject far fewer asylum claims than other European countries and that needs to be changed:
Another member of the audience asked Rishi how committed he would be to supporting Ukraine. Rishi said that he 'absolutely' would be. In elaborating, he said that sanctions towards Russia need to be changed, because, so far, they are having little effect on Putin:
Matthew from West Yorkshire asked Rishi whether he had stabbed Boris Johnson in the back and how the former Chancellor planned to reunite the Party. Rishi said that he had to resign because he and Boris differed too much in the end on economic policy (?!). He pledged to bring the best Conservatives into his Cabinet if elected leader and thinks that would reunite the Party. Watch his leg bob up and down as he answers Ferrari near the end of the video:
Verdict
Afterwards, LBC took calls and interviewed experts about what they thought of the hustings.
LBC's Ben Kentish asked his fellow presenter Iain Dale, a Conservative, for his views. Dale said that not every topic can be covered in one of these events. Therefore, topics such as child care and the NHS are discussed at other local meetings.
Dale thought that Liz 'smashed it'. She did not use any notes this time. She gave 'interesting' and 'entertaining' solo speeches, which surprised him. He said that Rishi did a good job, too, but didn't quite come up to Liz's standard that evening. He said that Rishi has a lot of catching up to do and that 'he's in a real bind now'.
He concluded that it was a 'really good evening for Liz Truss'. He gives her a 75 per cent chance of becoming the next Party leader and, by extension, Prime Minister:
Ferrari took more reactions on his Friday morning show:
Body language expert Dr Harry Witchell said that Liz was more relaxed in both her presentation and gestures than she had been previously. Rishi, he said, was much less aggressive, which was an improvement over last week's performances:
Patrick Hennessy from London Communications Agency said that Liz is likely to have won over the Telegraph's readers. the Leeds audience seemed to warm more to Liz than to Rishi. He reminded Ferrari of Matthew from West Yorkshire's aforementioned question asking Rishi if he'd stabbed Boris Johnson in the back. Indeed:
Former Conservative MP Michael Portillo said that Rishi's campaign is slipping away. He pointed out that, after the Leeds hustings, Defence Secretary Ben Wallace came out in favour of Liz Truss and, also crucially, Simon Clarke, who worked closely with Rishi, has come out in favour of Liz:
Ferrari then interviewed Defence Secretary Ben Wallace, who described Liz as 'feisty':
Ben Wallace discussed Liz's varied experience, reminding Ferrari and listeners that she had been Chief Secretary to the Treasury. The person in that post is the one who tells another Secretary of State whether they can increase their budget. Liz later worked in trade and is the current Foreign Secretary. Wallace said that he has been in meetings with her representing Britain around the world, so she has a lot of experience on the world stage:
Wallace told Ferrari that he 'didn't have the luxury' of resigning … unlike some ministers. He meant Rishi, among others. He said that he, like the Home Secretary Priti Patel, needed to stay in place for national security reasons. The Home Secretary, he explains, has warrants to sign. He, as Defence Secretary, has military operations to authorise. He also said that he did not want Boris to stand down as Party leader:
Wallace said that, in 2019, Rishi wanted to give Defence a one-year monetary settlement. Wallace said that Boris overrode that decision and gave the department a multi-year settlement instead, which is what is necessary:
LBC has more on Wallace's interview here.
All being well, tomorrow's post will be about Andrew Neil's grilling of Rishi Sunak last Friday evening on Channel 4.
On Tuesday, July 26, the UK's fledgling news channel TalkTV scheduled a Conservative Party leadership debate with The Sun for 6 p.m.:
Kate McCann was the moderator.
She was to have been joined by Guido Fawkes alumnus Harry Cole, The Sun's political editor, but he had coronavirus:
TalkTV asked for questions from viewers, as well as their audience, half of whom had voted Conservative in 2019.
It promised to be a debate quite unlike the ones on Channel 4 and the BBC:
With The Sun involved, one knew that the candidates would get hard-hitting questions rather than boring ones from the media establishment.
In the opening round, Kate McCann gave the candidates 60 seconds each to present themselves and their platform.
Rishi Sunak did well …
… even if he was still in Tony Blair mode and sounded like Labour's Keir Starmer …
… but Liz Truss had to glance at her notes:
Then it was on to the questions.
It was gratifying to see that the audience members, both in person and remotely, asked them of the candidates directly.
The first one came from John Hughes in Birmingham, who spoke remotely. He is a cancer patient and said that, since the pandemic, he has had a very difficult time getting the care and the support he needs. He said that a cancer charity has been helping him but the NHS and Macmillan Cancer Support nurses have not been available:
Rishi said that it was good that John was getting the support he needed. John retorted that he was not getting the support he needed. Rishi corrected himself.
Rishi gave a long answer, which did not respond to the question.
Sunak said that he had been criticised for raising national insurance contributions to tackle the NHS backlog and fund social care reform, but that it was a "brave decision" and the right thing to do.
Liz said that she would reform the NHS, reducing layers of management so that the focus could be on patient care rather than bureaucracy:
I want to see fewer layers of management in the National Health Service and less central direction because I simply don't think that people can sit there in Whitehall and direct everything that happens in local communities across our country.
It seemed that John preferred her answer to Rishi's. At least Liz offered a plan. Kate McCann asked John what he thought. He said that:
he remained unconvinced by their answers and stated that the Conservative Party had been given 12 years to fix the NHS.
The next question came from a member of the studio audience. A lady said that she was used to buying steak several times a week, however, the price has gone up so much that she can no longer afford to buy meat of any kind. She asked whether she should become vegetarian:
The Times reported:
The debate then moved on to the cost of living, with Gemma from Manchester, a Sun reader, telling the candidates about the rising cost of meat in supermarkets and asking if more people should go vegetarian to save money.
Rishi said:
he would ensure that prices came down by "making sure that the supermarkets and all the other people in the supply chain are being fair in how they price these things [and that] no one is taking advantage of the situation to pass on price rises."
Surely, although I agree with the principle, if everyone in the supply chain is being fairly remunerated, prices will go up even further.
Liz told Gemma that becoming vegetarian was 'a choice' and one that the Government leaves to individuals.
I understood what Gemma meant by asking about vegetarianism, because with this year's price rises, it does seem as if that is the end game.
Bloomberg's Alex Wickham summed up this refreshing debate well:
For once, we had real people asking about real problems.
However, the candidates reverted to a subject with which they were more comfortable — tax cuts.
As the i paper's Hugo Gye pointed out, it seemed as if Rishi and Liz still couldn't connect with the audience as well as a certain Prime Minister — Boris Johnson:
Harry Cole, watching from home, tweeted this at 6:27 p.m.:
The Times reported:
The candidates' response quickly turned to the economy, with Truss saying that Sunak's manifesto-breaking tax rises had been "morally wrong" as she accused the former chancellor of having policies which are "making us less competitive" as a country.
Sunak said that tackling inflation remained his priority but suggested that some businesses were also profiteering from the cost of living crisis. He said he would ensure that prices came down by "making sure that the supermarkets and all the other people in the supply chain are being fair in how they price these things [and that] no one is taking advantage of the situation to pass on price rises."
Sunak also defended his plans to increase corporation tax. He said: "I think it's entirely reasonable to ask the largest companies in this country, just the top 10 per cent of companies, to pay a bit more because they're received a lot of help during the pandemic."
Truss countered by telling Sunak: "You've made it worse". "Companies have a choice about whether they invest in the UK or whether they invest elsewhere. Rishi's policies are making us less competitive," she said.
The Mail's Henry Deedes described other exchanges between the candidates and the optics. Rishi still looked vexed when Liz contradicted him. Liz almost fell into the same trap this time (emphases mine):
Rishi seemed to have eased a little on the caffeine since the night before.
He'd also rediscovered his manners and used his opening spiel to wish his opponent a happy birthday. Truss, 47 yesterday, shot him an icicle smile. 
The Foreign Secretary wore a purple dress the colour of a Cadbury's Dairy Milk wrapper. Très snazzy. She went into a brief monologue about how her upbringing was more modest than Sunak's. 'I know what it looks like when economic times are hard,' she said. Rishi bit down and resisted making a tart response. There was a bit of early tit-for-tat, but nothing that required Kate to pull them apart. The candidates had a brief struggle over who had the stronger family connections to the NHS. 'My father was GP,' said Rishi. 'Well, my mother was nurse!' countered Liz. 
Tempers frayed whenever Truss began to discuss her economic plans. Rishi's blood pressure would visibly spike, his eyes flickering from side to side as if to say: 'Leave the maths to me, luv.' 
Once again their main beef was over taxes – Liz wants to cut them, Rishi thinks it's unaffordable to do so. 
He accused Truss of funding her cuts by saddling future generations with more debt. 'That's not true, that's not true!' Liz retorted, shaking her head crossly. 
Kate McCann was doing an excellent job as moderator, keeping everything going at a rolling pace which made it interesting. I was settling into an unusual comfort zone, which I normally don't do when watching debates.
Just after 6:30 p.m., Kate asked Liz a question.
While Liz was speaking, viewers at home could hear a soft rocking noise, possibly a perspex podium against the floor.
Seconds later, there was a crash of perspex on the floor.
Viewers saw this:
The Telegraph's Tim Stanley was also watching from home and describes what happened:
It was one of the strangest, most shocking moments in TV history. Liz Truss was in the middle of denouncing Russia with her characteristic tics – her hands gripping that invisible tea tray for dear life – when there was an almighty crash off-screen.
"Oh my God!" Liz covered her mouth. Then she stepped towards the camera.
Turns out that poor Kate McCann, the talented journalist and host, had fainted.
Rishi also went to Kate's aid, but we didn't see that.
We didn't know what had happened.
The Mail reported:
A loud noise caused the clearly worried Foreign Secretary to hold her face in shock as she exclaimed: 'Oh my God!'. Ms Truss was then seen leaving her podium and walking towards where Miss McCann had been standing.
The broadcast feed was swiftly cut, with viewers shown the message: 'We're sorry for the disruption to this programme. We're working hard to fix the issue and will return to normal programming soon.'
Stanley wrote:
For 25 excruciating minutes, viewers speculated if a light had fallen, a bomb had gone off, or Boris Johnson had rushed the stage demanding to be heard – all the while that producers tried to carry on as normal by cutting to a promo for their other shows.
What were they thinking? That this was a great chance to promote their product? We're lucky they didn't try to flog us some diamante earrings …
… debating tax policy is exactly how Liz would want to spend her birthday – and though the evening took an alarming turn, the gods did her a favour by having the camera focused on her when Kate passed out. Liz's instinct to run towards the disaster did her credit, a reminder that whatever her job, she is first and foremost a mum.
And her mother was a nurse!
Just before 7 p.m., when the debate would have ended:
TalkTV put on two talking heads who calmly discussed what we'd been watching – vegetarian options, clown doctors – without substantial reference to the one bit we were all shouting at the telly about: "What the hell just happened?!"
It was surreal: the commercial equivalent of Soviet TV cutting from the coup against Gorbachev to 72 hours of Swan Lake. Thankfully, Twitter was still reporting the news: Kate was ok. By then it was 7pm and time for Piers Morgan's landmark show on Ukraine – at which point what was probably TalkTV's largest ever audience, all 250 of us, turned off.
Kate, you're a star and your peers wish you the very best.
Henry Deedes said:
Doctor's orders were that she was done for the evening. It must have been frustrating for Team Rishi, who are running out of time. The former chancellor has agreed to be interviewed by that fearsome rottweiler of an interviewer, Andrew Neil, on Channel 4 on Friday. For politicians, such encounters rarely end well.
The candidates spent the remaining half hour talking to the studio audience:
Kate received many supportive messages.
Harry Cole tweeted:
BBC Newsnight's Nicholas Watt complimented Kate on her moderation of the debate:
The candidates also sent their best wishes, saying they would like to return to finish the debate:
I hope the debate is rescheduled — and agree that it should pick up where it left off:
Harry Cole is an excellent journalist.
That night, The Sun reported that, after all these days of insisting his tax plan was the right thing to do, Rishi decided to do an about-face and cut VAT on energy bills.
But has he stolen Work and Pensions Minister Thérèse Coffey's idea? Hmm:
Polling results must have been eating away at the former Chancellor.
The Telegraph also carried the story on its front page for Wednesday:
The Mail alleges that this was Boris's plan but Rishi wouldn't allow it:
Rishi Sunak makes a desperate bid to claw back lost ground in the Tory leadership race today by promising a £4billion VAT cut on energy bills just hours after he and his rival Liz Truss led tributes to TalkTV presenter Kate McCann after she fainted live on air.
The former chancellor has repeatedly refused to match rival Liz Truss on cutting taxes, labelling her plans a 'fairytale' and insisted such cuts must wait until inflation is curbed.
But today he pledges to scrap the 5 per cent VAT rate levied on domestic energy bills for a year.
Last night No10 insiders told the Daily Mail that this plan was something Boris Johnson tried to implement to ease the burden on consumers – but was blocked by Mr Sunak.
'Boris begged him to do it – but he wouldn't budge', said the source. 'It's astonishing that he's now claiming it as his own policy.'
A source close to Liz Truss's campaign told The Telegraph: 'It's good that Rishi has finally woken up and decided to offer something to people struggling with the rising cost of living.
'However, this feels like a screeching U-turn from someone who has spent the last few weeks of the leadership campaign branding everyone else's tax cuts immoral and fairytales.'
The article states that this was also Labour's policy:
Mr Sunak's energy bill tax move, which would save an average household £160, has been Labour Party policy for nearly a year, and Mr Sunak voted against the proposal in the Commons in January.
He told the Commons in February that the policy would 'disproportionately benefit wealthier households'.
He added: 'This would become a permanent £2.5billion Government subsidy… when we are trying to rebuild the public finances.'
This month he argued that tax cuts are 'immoral because there is nothing noble or good about racking up bills on the country's credit card that we then pass on to our children and grandchildren'.
One can understand his point, but when the Work and Pensions Minister and the Prime Minister both want it, it's the right thing to do.
I read only this week that VAT is an EU tax. Therefore, we can scrap it.
No one ever mentions that VAT is an EU tax. Why not?
The Mail says:
Until yesterday [Wednesday] Mr Sunak had refused to consider tax cuts before autumn 2023, the earliest point when a 1p cut in the basic rate of income tax could come in.
Autumn 2023 would be way too late, especially if our next general election is held in May 2024.
The Telegraph reported that Rishi's team denied a U-turn:
The Sunak camp denied there had been a U-turn, adding that the tax cut was "a tool that was always in our arsenal".
"We didn't use it back in spring because the size of the jump of the bills was way bigger, and it wouldn't have touched the sides," a source said. "This is a response to latest estimates that suggest the rise might be £100-200 more than anticipated."
For me, this volte face comes too late in the contest, because Rishi was adamant in three debates that he would not cut taxes.
As such, in Truss we trust.
———————————————————–
UPDATE — Guido Fawkes posted TalkTV's ratings for Tuesday night. The debate's 'off air' message beat Piers Morgan's show by far:
Morgan tweeted McCann, who has since recovered:
On Wednesday, July 27, the i paper reported ructions at TalkTV about the interruption of the debate, with staff asking why it didn't continue with another presenter:
Rupert Murdoch's TalkTV is holding an inquest into why there was no "plan B" to keep its Prime Ministerial debate on air after presenter Kate McCann fainted.
Presenters at TalkTV and its sister radio station were said to be ready and able to jump in and replace the stricken presenter during the abandoned live broadcast, i has been told.
As panic spread, executives asked Rishi Sunak and Liz Truss to remain at their podiums at the Ealing studio, normally used for Piers Morgan's nightly programme, while they considered their options.
However it was decided that stunned viewers would continue to be shown a recorded message saying normal programming would resume, rather than restart with a new presenter.
Trouble began behind the scenes when planned co-presenter Harry Cole was forced to pull out on the morning of the debate after contracting Covid.
An insider said: "Tom Newton Dunn (presenter of TalkTV's 7pm news show) would have stepped up to co-present but the bosses wanted Kate to front it solo as a showcase for her."
McCann, Talk's political editor, was said to be "nervous" at fronting the high-profile event but had shown no sign of ill health, even during the broadcast's first half hour.
The source said: "It was very sudden. She crashed forward into the podium. That was the loud bang viewers heard."
Truss, speaking on camera at the moment, said "oh my god" and rushed over towards McCann. At that point, with the clock showing 6.31pm, the channel cut from the debate.
"Rishi also rushed over. He knelt on the floot and held Kate's hand, he was very comforting," the insider said.
Faced with a crisis playing out live on TV and social media, some in the building believed that the show must go on.
"There were plenty of experienced on-screen talent already there who felt they could have taken over. They could have winged it."
"All the News UK bigwigs were there. There was a panicked pow-wow. Some said 'who can we get to fill in?' but they decided against it."
Instead the candidates were asked to stay in the studio and take questions informally from The Sun readers in the audience.
The insider added: "Today there is an inquest into why there wasn't a Plan B to keep the debate on air. It's a given for any serious broadcast channel" …

The incident gave a brief boost to TalkTV's struggling ratings. The channel has recorded zero viewers at low points in its schedules and Piers Morgan's flagship show has even been beaten by rival GB News on occasions.
The screen message telling viewers TalkTV was off air was watched by one of the channel's highest ever audiences.
Some 141,000 people tuned in, numbers comparable to Morgan's opening week on Talk in April before his figures tumbled.
The debate peaked with 183,000 viewers tuning in shortly after its 6pm start. However Talk's numbers dropped across the night with Morgan's programme dropping to 14,000 viewers at its conclusion.
Despite the lure of the debate, Sky News, BBC News and GB News all recorded a greater audience than TalkTV across the whole of primetime, according to Barb data.
Insiders said this would disappoint NewsUK's bosses who had hoped to relaunch TalkTV off the back of the debate, which was shared with sister title, The Sun …
The podium "crash" even gave TalkTV what it has been seeking since it launched three months ago – highly-shareable viral content that creates a buzz on social media.
On this occasion though, that content, seized upon by media rivals including the BBC, was unintended.
John Redwood certainly has a bee in his bonnet over former Chancellor Rishi Sunak.
Unusually, Redwood has been tweeting several times daily in Trumpian style over which candidate — Sunak or Liz Truss — is better as the future leader of the Conservative Party and our new Prime Minister.
He has also continued to keep his readers updated in his eponymous diary.
On July 20, 2022, the final day of Conservative MPs voting for leadership candidates, he tweeted:
Later that day, he wrote a brief diary entry, 'Then there were two':
I am delighted Liz Truss will be in the final with Rishi Sunak. I want a change of economic policy as readers of this site will know. Liz Truss will give us that change. Rishi has accepted Treasury and Bank advice which has given us a high inflation and if unaltered will give us a recession next year. We can do better.
Redwood has been an MP since Margaret Thatcher was Prime Minister. Not only does he understand her monetary policy but also the way Treasury and Bank of England forecasts have gone wrong over the past 40 years. He advised Thatcher in the middle years of her long premiership.
Boris Johnson also understands that the Treasury gets things wrong. In his final PMQs on Wednesday, July 20, he gave advice to his successor, saying (emphases mine):
I love the Treasury, but remember that if we had always listened to the Treasury, we would not have built the M25 or the Channel Tunnel.
That day, the OBR (Office for Budget Responsibility) came out with a revised forecast.
On July 21, Redwood wrote 'Some funny numbers from the Treasury and OBR':
The OBR has had to explain why it was so far out in its forecasts of the deficit and borrowings last year. They have written:
"Our latest forecast for (Central government borrowing) 2021-2 is £48.3bn below the October forecast and £131.2bn below our March 2021 forecast (the Budget)". They accept they underestimate tax revenues by a massive £77bn and overstated state spending by £48.7bn. It should be easier to forecast what you spend when you are running the spending controls.
We can all make mistakes. Forecasting is difficult. What is more difficult to forgive is that this was not the first time they have underestimated the revenues and overstated the deficit. Worse still is they used their precise forecasts of revenue and deficit to tell the Chancellor he needed to raise more taxes to reduce the gap between spending and taxing. It turns out they need not have asked him to do that as the numbers were so much better than the numbers they tried to create with tax rises.  So when I am asked how do we pay for the tax cuts, the first answer is we are so far ahead of plan there is no problem. The second answer is if you cut the right tax rates to a sensible amount you can end up with more growth and more revenue, not less.
The Treasury also needs to come clean about the debt interest. They have been using their current high figure of £83bn which includes index costs on the repayment of inflation linked debt which does not entail making any cash payments before redemption. They use this figure to scare politicians into accepting more austerity to control the debt interest. What they omit to point out is on their definition of debt interest they forecast a collapse in the cost of it to £46.7bn by 2024-5. That is a fall of £36.3bn or 44% in debt interest.
The Treasury has a tradition of overstating deficits when there is good growth and understating them in recession. There is also a danger their policy advice based on very wrong forecasts could drive us unnecessarily into recession.
Redwood tweeted that our current inflation is likely to be temporary:
As soon as Truss and Sunak were the final two contenders in the Conservative Party leadership contest, The Times endorsed Sunak.
Much of the media have also swung behind Sunak, except for the more conservative news outlets which feature more articles on Liz Truss's candidacy and Kemi Badenoch as the future of the Conservative Party, even though she was eliminated from the leadership contest.
Redwood tweeted:
True.
The Remainer media have attacked Truss's proposed policies. Sunak's softness on the EU are why the media back him. They want a return to the EU:
Sunak has been pushing the line that Margaret Thatcher had an initial high tax policy that worked well. Therefore, Sunak is high tax, in a Thatcherite mode. In reality, once Thatcher got new advisers, she began cutting taxes, which brought economic growth.
Redwood tweeted:
Redwood believes that Liz Truss has the Thatcherite economic policy in this contest:
Redwood had more to say about Sunak's performance while he was Chancellor:
I particularly enjoyed this next tweet, in which Redwood compares Sunak to Labour Chancellor Gordon Brown, who later became Prime Minister, succeeding Tony Blair:
Redwood said that he tried to advise Sunak on the economy, but to no avail:
On Friday, July 22, Redwood correctly predicted that Rishi would send a message of panic:
Sure enough, the next day, Rishi said he wanted to declare a state of national emergency:
We can only hope that Redwood is right in saying that panic puts off voters:
Sunak made the statement in Grantham, Margaret Thatcher's home-town. Redwood finds it curious that Sunak never mentioned an interest in Thatcher until this leadership contest:
As I write on Monday afternoon, I will look at that day's BBC debate between the two candidates in a separate post.
Before the debate, Redwood shared his thoughts:
In closing, Redwood reiterates why Liz Truss is the better candidate:
Even though I have no vote in this contest, Liz Truss has accomplished far more in trade deals and foreign policy than Rishi Sunak as Chancellor. His time in No. 11 was disappointing for the most part.
Conservative Party members will receive their ballots early in August, enabling them to vote by post or online. The deadline for them is August 2. A new Prime Minister should be in place by September 5.
Margaret Thatcher is growing on me.
I must have been too young at the time to appreciate her.
Here is a genius quote of hers about matters of concern to us today: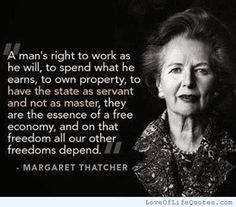 A man's right to work as he will, to spend what he earns, to own property, to have the state as servant and not as master, they are the essence of a free economy, and on that freedom all our other freedoms depend.
On Wednesday, March 22, Rishi Sunak, the Chancellor of the Exchequer, will be delivering a Spring Statement in the House of Commons.
One dreads to think what he will say. Our taxes are going up, up, up.
He has imposed the most tax increases since Labour's Gordon Brown, who was Chancellor for ten years (1997-2007). Rishi's only been in for two!
As Guido Fawkes points out, Thatcher's Nigel Lawson was the last Chancellor to cut taxes. He was in office between 1983 and 1989.
No one under the age of 40 will have experienced a cut to the overall tax burden:
Two readers of Guido's post put a mock letter to taxpayers together:
Dear common people, you must understand that our policy of massive QE to deflate your earnings and savings whilst massively enriching the globalist banks and corporations, the mass uncontrolled relentless 3rd world immigration (not forgetting the VIP illegals), the massive state support of anti-democratic and anti-conservative quangos and NGOs to champion progressive socialism, the destruction of energy security and the lunacy of net zero, the massive tax hikes with nothing in return but more state control, the Covid lockdowns built on deliberately manipulated bad data – they are all necessary if we and the rest of Westminster and Whitehall are to meet our WEF Great Reset targets. Thanks.
P.S.: I'm a multi millionaire and I can still claim my expenses including my energy bills, TV licence and everything else that I buy, so I don't really care.
That doesn't half cut to the bone.
Rishi told Sophie Ridge from Sky News that the other Chancellors did not have pandemics with which to deal. He thought that the chart should have gone back to the Second World War for a truer picture of borrowing and high taxes:
He assured her that taxes will be going down.
This was the front page of the Mail on Sunday from March 20:
Better than slashing fuel duty would be to cut the green levy, which is even greater.
Look at the third column, though (emphases mine):
… the Chancellor has asked Treasury officials to establish a new cost-of-living unit which would scrutinise all new policies for their impact on household finances. He will also chair a new Cabinet committee on financial waste which will aim to prune nearly £6billion from public spending.
I must be naïve. I was always under the impression that the Treasury's civil servants looked at ('scrutinise' is too strong a word) the impact of their policies on household finances. The same goes for financial waste.
Why do we need more civil servants doing nothing?
They cannot even be bothered to go into the office. They've been working from home since the first coronavirus lockdown, the second anniversary of which is Wednesday, March 23 — the same day as Rishi's Spring Statement.
The tax situation never gets better, does it?
Last week, I posted a series on the effect of London's metropolitan elite on England's voters in 2015 and 2019.
Those who missed it can read Parts 1, 2 and 3.
On December 12, 2019, a surprising number of staunch Labour voters in the North and the Midlands lent their votes to the Conservatives for the first time.
Those constituencies in England that switched from Labour to Conservative either for the first time or for the first time in decades are known as the Red Wall.
The Conservative MPs who represent them are local people familiar with the issues that concern their constituents.
These MPs are a far cry from the Sir Bufton Tuftons from days of yore.
When the new intake took their seats in the House of Commons, spirits were high on Conservative benches as the UK exited the European Union.
In debates in January 2020, we heard them discuss the hopes they had for Boris Johnson's levelling up plan concerning rail, roads and industry.
What follows is what is on the minds of Red Wall voters and their MPs.
Tax
Five days before Chancellor Rishi Sunak presented his dynamic budget to the House on Wednesday, January 16, 2020, a pollster surveyed Red Wall voters for their views on taxation.
Guido Fawkes has a graph and summary of the poll results: 36% wanted cuts to council tax; 29% wanted cuts to income tax and 22% wanted cuts on fuel duty.
However, Guido found that the voters surveyed contradicted themselves (red emphases in the original):
According to Opinium Research for Lansons, 42% of the famed 'Red Wall' new Tory voters state the priority measure they would like to see for this afternoon is a rise in their take-home pay being introduced in the Budget – an income tax cut in other words. That is because 41% of the new Tory voters think taxes are too high and errr, 40% of the same new Tory voters think government spending is too low. Workington, we have a problem….
If the coronavirus is an economic hit on the scale of the credit crisis, a temporary halving of VAT to 10% would incentivise spending, immediately and effectively….
Sadly, because of coronavirus, most of Rishi's budget had to be binned.
Levelling up
In September 2020, Conservative MPs created a taskforce to level up, i.e. reduce regional inequalities between the North as well as the Midlands versus the South.
The BBC reported that these poorer constituencies now have Conservative MPs:
A report produced for the taskforce says Conservatives now hold more seats in the lowest paid areas than Labour …
In the 2019 election the Conservatives won a number of seats across the Midlands and the north of England previously considered to be Labour strongholds, also known as 'the red wall' …
Now this new group, the "levelling up taskforce" – which includes many of the new "red wall" MPs – is urging the government to set itself three key tests as part of its drive to reduce geographical inequality.
It says those areas that have seen the lowest growth in earnings, should see earnings rise faster than they have in recent years; areas with the worst unemployment rate should converge with the national average; and areas with the lowest employment rate should also catch up with the national average.
It also calls on the government to set out geographical analysis of how tax and spending changes impact different areas …
Analysis produced by the Onward think tank for the new group found that of the bottom quarter of seats in Britain with the lowest earnings, more are now held by the Conservatives (77) than Labour (74).
The following month, Northern Red Wall MPs formed a new group to ensure that Boris Johnson keeps his campaign promises:
The BBC reported:
… the 35-strong Tory group say they want to ensure the government delivers.
It includes several MPs who won seats in traditional Labour heartlands – the so-called "Red Wall" – at last year's general election.
Paul Howell, who won Tony Blair's old seat, in Sedgefield, Simon Fell, the MP for Barrow-in-Furness and Sara Britcliffe, who at 24 became the youngest Conservative MP when she won Hyndburn, in Lancashire, are among those who have signed up to the group provisionally named the Northern Research Group.
Ms Britcliffe said: "I don't need to join a group to speak up for Hyndburn but I have also the responsibility of making sure that we do deliver on our promise."
The group's leader Jake Berry, who has been the Conservative MP for Rossendale and Darwen since 2010, said it was not "about giving government a bad time".
He told BBC Radio 4's The Week in Westminster: "There are arguments that we collectively as northern MPs make together, to create a compelling case for the government to invest in the north".
These include "making sure that this government delivers on its promise to 'level up' the north, deliver that Northern Powerhouse and create wealth across the north of England," he added.
"We don't form a government unless we win the north."
Mr Berry is the former minister for Northern Powerhouse, which was set up by former Chancellor George Osborne to redress the North-South economic imbalance, and to attract investment into northern cities and towns.
The problem with levelling up is that some of the local councils most in need of funds are Labour-run. As I have been writing this post on Friday afternoon, February 25, 2022, I have heard Philip Davies, who represents Shipley, tell his fellow MPs that Bradford Council has not even put together a bid in order to get levelling up funds from the Government. Other Red Wall MPs had similar complaints.
This took place during a Private Members' Bill debate on the Local Authority Boundaries Bill, urging reviews of local council boundaries and making such changes easier. Kemi Badenoch, the minister representing the Government, said that the bill would need significant rewording in order to be considered. She will work with Robbie Moore, also a Red Wall MP, to revise his proposed legislation.
Bradford Council is not the only Labour council that has been under the spotlight.
In October 2020, another Red Wall MP, Chris Clarkson, made known his concerns about Andy Burnham, the Mayor of Manchester.
That brought about a furious backlash from Angela Rayner on the Labour benches. She allegedly called him 'scum' …
… and was given a dressing down by Deputy Speaker Dame Eleanor Laing.
Paying for coronavirus
In March 2021, a pollster asked Red Wall voters how they wanted the Government to handle the cost of coronavirus.
Most Red Wall voters opposed higher taxes, preferring lower spending instead:
Guido's accompanying post says:
Research from Public First's Rachel Wolf has revealed that when asked to choose between higher taxes, borrowing, or spending cuts, a plurality of the public back spending cuts over the other options. Tax rises are most popular with high social status white collar 'AB' voters, and least popular with working class 'DE' voters, who overwhelmingly back spending cuts. Working class constituents in the red wall aren't typical Islington socialists…
Also:
The other finding is that people are less opposed to taxes they think they don't have to pay, and more opposed to taxes they think they do have to pay. In reality this translates to taxes they have to pay directly. Any tax that is indirect on business still has an economic cost that is borne in the end by individuals, for example dividend taxes reduce your pension income, business rates and carbon taxes increase consumer prices. The more taxes are understood, the less popular they become.
True. We have tax rises coming, so there will be dissatisfaction in these constituencies.
Net Zero
Another plan that will not go down well is the drive to reach Net Zero. The cost is upwards of £1.5 trillion:
This tweet from 2021 encapsulates the thinking of Red Wall MPs (ignore Michael Fabricant, who was commenting on the wrong thread). Click on the image to see all the comments, especially from Jackie Doyle-Price, who mentions the metropolitan elite:
Minimum wage
In November 2021, Rishi Sunak presented a more sombre budget as the nation was still grappling with coronavirus.
One of the more positive points was his commitment to raising the national minimum wage.
On the face of it, it would seem to appeal to Red Wall voters. However, The Spectator's Patrick O'Flynn was less sure, asking if Sunak understood them properly. Raising the minimum wage does not lift those in more responsible positions. In fact, the latter have been earning less over recent years (emphases in purple mine):
In his recent Budget, the Chancellor committed the government to several eye-catching policies, including a big uplift in the minimum wage, these days rebranded as the 'national living wage'. But something that went unremarked upon was reaffirmation of a target of raising the minimum wage as a share of average pay.
A 6.6 per cent uplift this year would, said Sunak, keep the government 'on track for our target of two-thirds of median earnings by 2024.' Many Tory MPs beamed with happiness, no doubt thinking this would further bolster the working-class parts of their new electoral coalition. But will it?
According to the OECD, the UK minimum wage was worth 34 per cent of mean earnings and 41 per cent of median earnings in the year 2000. It has since risen steadily as a share of these averages, hitting 48 per cent of mean earnings and 58 per cent of median earnings in 2020.
Think about how this must feel to workers on roughly median earnings. Two decades ago they earned two-and-a-half times as much as minimum wage workers. Now they earn less than twice as much. By 2024, Sunak has decreed that minimum wage workers in entry level roles will be earning two-thirds of the amount that median earners do. This will represent a massive compression of wages within a single generation.
For those working people who put in a lot of effort in their schooldays compared to their more idle classmates, or who perhaps underwent apprenticeships on very low earnings at the start of their careers, this is highly unlikely to feel like progress.
When you consider the extra responsibilities higher-earning working class jobs typically entail compared to minimum wage roles – and the fact that various welfare entitlements may further reduce the net advantage – this government policy is coming close to rendering the entire hardworking ethos pointless.
This issue of earnings relativities between different grades of workers has long been a highly sensitive one in industrial relations, often more so than the level of raw pay per se. Indeed, it was the cause of countless strikes in the 1970s.
Instead of anticipating a celebratory mood among new working-class Tory voters, ministers should be on the lookout for restlessness and resentment. Indeed, the former Downing Street pollster James Johnson has already spotted the first stirrings of this in focus groups with participants grumbling that too much help is being directed to those at the very bottom.
Sunak has no parallel policy of ensuring that median earnings catch up as a proportion of the top 10 or 1 per cent of earners. In other words, his approach defies logic. Those in the modest middle of the pay scale have every reason to feel victimised …
One can't help feeling that Margaret Thatcher and her advisers had an altogether better innate understanding of what makes the ambitious working classes and lower middle classes tick than Boris Johnson's administration. Which is why her flagship policy of bringing in the right-to-buy their council houses at a discount scored an electoral bullseye with aspirational voters …
If Tory MPs in red wall seats think this policy is going to delight many of their constituents then I predict that they are about to be disabused of that notion.
It is still too early to tell what most Red Wall voters think of a rise in the minimum wage, but Patrick O'Flynn's arguments make sense.
Guido Fawkes agrees with O'Flynn and thinks that Red Wall voters would benefit from a reduction in basic income tax rates. Guido took issue with an article in Politico. 'UC' stands for Universal Credit:
Sleaze
In November 2021, the then-MP for North Shropshire, Owen Paterson, faced accusations of sleaze via his lobbying. He was forced to resign the seat he had long held. A Liberal Democrat won the by-election.
Some Conservative MPs tried to save Paterson from a 30-day suspension. However, Red Wall MPs were not among them. They objected to having a whipped vote to give Paterson a reprieve. Some voted against the Government, and rightly so.
The rest of the nation also disapproved. This was the beginning of low polling results for Conservatives. It wasn't long afterwards that Labour began leading in the weekly polls. They still do.
Not only did Red Wall MPs disapprove, so did their voters, as the Daily Mail explained:
Boris Johnson is struggling to contain mounting fury on Tory benches today as a poll laid bare the damage inflicted by his bungled effort to save ally Owen Paterson from punishment for lobbying.
Research by YouGov carried out in the wake of the dramatic Commons vote to suspend the standards system showed the Tory poll lead plunging by five points.
The party is now just one point ahead of Labour, after dropping from 39 per cent to 36 per cent in a week, while Keir Starmer has seen a boost to 35 per cent, according to the survey in The Times.
Education Secretary Nadhim Zahawi tried to cool the growing backlash among MPs this morning, admitting that the government 'made a mistake' in retrospectively tying Mr Paterson's case to wider reforms.
Meanwhile, a blame game is in full swing over who was responsible for the meltdown – which culminated last night when Mr Paterson resigned from the Commons after the PM cut him loose. His exit was made official this morning when he was appointed Steward and Bailiff of the Manor of Northstead – the traditional way for MPs to quit the House.
As well as a wave of anger about Mr Johnson's lack of judgment, many Tories have been pointing the finger at chief whip Mark Spencer, saying he should have realised that the tactic would not 'fly'. One MP told MailOnline that Mr Spencer had not done his job properly. 
'If the PM was told about the extent of disatisfaction then he wouldn't have pushed it,' they said. 'You could tell there was a problem because the whips were literally running around the Commons.'
Mr Johnson's media advisers are thought to have warned that the tactics were high-risk, but those pushing the political benefits of shoring up Mr Paterson and reforming the standards regime won the internal argument.  
The premier is said to be 'p****d off' that the crisis has distracted from the progress being made on climate change at the Cop26 conference in Glasgow. Senior MPs said he was also 'livid' about triumphalist interviews by Mr Paterson in which he claimed he would not change anything about his past behaviour. 
One Conservative MP who spoke to The Mail said:
'I had two marginal male MPs from Red Wall seats in tears looking at their social media feed, looking at their emails coming in after the vote, going 'what the hell have we done?'.'
… 'The chat on the WhatsApp groups is that the whips can stick their whipping up their a***. It's now every man for himself,' they said.
Chief Whip Mark Spencer recently became the new Leader of the House as Jacob Rees-Mogg moved to a new Cabinet position for Brexit opportunities.
Latest news
Many Red Wall MPs were incensed to learn of the Downing Street parties during lockdown.
Some began joining forces on January 18, 2021, when Boris apologised to Parliament:
As someone tweeted, this could have been about damage limitation for themselves:
Boris met with his own MPs that evening:
Lee Anderson is a former Labour councillor. He often confronts Labour benches with their own dismal record in local and national government.
The Red Wall MPs' plot to write letters of no confidence to Sir Graham Brady became known as the Pork Pie Plot, because their alleged leader, Alicia Kearns, represents Rutland and Melton. Melton Mowbray is home to England's famous pork pies.
Steven Swinford, The Times's political editor, spoke with a member of Cabinet who found the rebellion a disgrace:
The Red Wall plot to remove Boris Johnson – with Tory MPs meeting to discuss submitting letters – is not going down well in Cabinet
'It's pretty sickening. They were only elected because of him. Most of them are a load of —-ing nobodies. It's nuts'
Hmm:
With the current situation in Ukraine, the Pork Pie Plot seems like a long time ago. Then again, a week is a long time in politics.
The next thing Red Wall residents can look forward to is a Northern branch of Conservative Party Headquarters in Leeds, which is not part of the Red Wall, but it's close enough. Pictured is Party chairman Oliver Dowden MP:
Guido Fawkes wrote that this had been a promise from Government since 2020:
The Tories look set to imminently boost their red wall presence – and given recent polling, not a moment too soon. A party source tells Guido that their long-awaited Leeds campaign headquarters – first announced by Amanda Milling way back in September 2020 – is set to open in mere weeks …
… staff are already at work following a prolonged recruitment drive and the project will get up to full steam when work-from-home guidance is lifted. Another source suggested given recent events the party will be keen for the moment to be noticed by the media. Guido looks forward to Dowden's forthcoming ribbon-cutting…
I will have more on the Red Wall coming soon: profiles of those MPs with the most spark.
We know that Democrats object to tax cuts.
They often say that tax cuts benefit only the rich.
However, when America was in its infancy, the Founding Fathers were against high taxes and a big central state. James Madison, who served as President between 1809 and 1817, was among them.
Fortunately, freshman Congressman Dan Crenshaw (R-Texas) knows his history and believes in the values upon which the United States was founded:
The US needs many more Congressmen like Dan Crenshaw to restore the nation to the principles upon which it was built.