You are currently browsing the tag archive for the 'tax' tag.
On Monday, May 17, 2021, Guido Fawkes posted a summary of Christopher Snowdon's Nanny State Index 2021:
It says (emphases in the original):
The Nanny State Index (NSI) has been updated for 2021, and it makes for grim reading for any libertarian – with author Christopher Snowdon claiming "everything is steadily getting worse" and that "all the momentum is with the paternalists of 'public health'" in the wake of the pandemic. Lifestyle restrictions on eating, drinking, smoking, and vaping have all steadily increased across Europe for the past four years…
The post includes a summary quote about the UK from Snowdon. Among the European countries he researched, we've become somewhat more free only because of certain duty freezes during the pandemic:
It is a sign of how much nanny state activity there has been in Europe since 2019 that the United Kingdom has slipped from fourth place to eleventh in the table without liberalising anything. This can be partly explained by the government freezing beer and spirits duty since 2018 and freezing wine duty in 2020. Adjusted for income, its alcohol taxes are now only the ninth highest of the 30 countries in the index. It also helps that the UK takes a common sense approach to e-cigarettes… It remains to be seen whether the government uses Brexit as an opportunity for further liberalisation, but it remains highly paternalistic on food, soft drinks and tobacco.
However, what follows is the biggest news gleaned from the report (purple highlight mine):
The nannying countries at the top of the table – Norway, Lithuania, and Finland – don't boast higher life expectancies or lower hospitalisations connected to smoking or drinking, though that hasn't stopped governments pushing illiberal policies further and further – especially under the cover of the pandemic. It's gesture politics at its most dangerous.
Many of us who are libertarians thought so.
It's always good to have proof of that fact.
Readers can find Christopher Snowdon's chart here along with his full 44-page report.
Page 4 of the report discusses the Nanny State's adverse impact on the poor, who rely on alcohol and cigarettes to calm their nerves. It states (emphases mine):
Insofar as 'public health' campaigners acknowledge the damage done by their policies, they argue that it is more than offset by the benefit to health – the ends justify the means. But there is little evidence that countries with more paternalistic policies enjoy greater health or longevity. As Figure 1 shows below, there is no correlation whatsoever between Nanny State Index scores and life expectancy.
Although the UK has dropped from fourth place to 12th in a year, making it freer, this is only because dealing with the pandemic has hoovered up funds that normally would have been spent on tobacco and alcohol control.
As an avid follower of the UK Parliament's debates, I am sure, sadly, that tobacco control will once again be on the agenda when it can be funded. The Government would like to resume this year. We'll see.
In any event, I am grateful that Chancellor Rishi Sunak froze tobacco duty in this year's budget, after having raised it twice last year.
In the UK, the annual budget statement is the Parliamentary event of the year for the British public.
This year, it took place on Wednesday, March 3:
In the old days, many people bought a newspaper the following day for the details on taxes.
Now everything is online and many more people are tuning in to one of the two Parliamentary channels to watch proceedings.
Why is this so important? As Chancellor of the Exchequer Rishi Sunak says, this involves taxpayers' money. It's not the government's, it's ours:
This year, he held the first-ever press conference on the budget:
Here is a bit of history on the UK budget:
In modern times, the Chancellor displays his ministerial red box for an obligatory photo op before going to Parliament:
Despite what the Opposition said on Wednesday, Rishi Sunak put in a lot of work, including television interviews:
He held an online meeting with those most affected by the coronavirus lockdown and the loss of income:
No one could have imagined that when he gave his first budget, on March 11, 2020, one that was full of optimism and big plans, how things would change within one year:
By the way, the projected coronavirus spending for this year should fall dramatically compared with 2020:
On the day the Chancellor lays out the budget, the Chairman of the Ways and Means committee presides, rather than the Speaker of the House.
Since last year's budget, Dame Eleanor Laing, also a Deputy Speaker of the House, was appointed to head this committee:
In the next video, the delightful Dame Eleanor explains what the budget is and how it is debated in Parliament after the Chancellor presents it:
Coronavirus has brought its own challenges. Normally, every MP packs into the Commons for the budget. This year, socially distancing was enforced. Most MPs participated in the initial debate virtually:
Here she is with her team. Masks are obligatory on the Parliamentary estate these days:
This is the video of the coverage as it happened. Click to watch it:
Below are the highlights.
Much of it concerns economic recovery from the pandemic:
Most taxes are frozen for now as well as personal tax thresholds:
There will also be a new taskforce to help prevent fraud in coronavirus claims:
These are designed to fit around Prime Minister Boris Johnson's roadmap to exit the coronavirus crisis:
There will be help for small-to-medium businesses:
And help for technology businesses:
There is a new visa programme to attract the brightest and best talent:
I do hope that our education system is improved so that we do not need to keep looking abroad for talent. Only 30 years ago, Britain's schools were among the best in the world. How times have changed.
You can get more detail about the budget from The Telegraph. One thing to note is that the inheritance tax threshold has not changed since 2009. It is still £325,000 per person.
Finally, in an exciting post-EU development, the Chancellor announced eight new Freeports, where favourable customs rules and tax reliefs will apply, furthering trade with other nations:
Teesside will also be the new 'campus' for the UK's treasury, just up the road from the Chancellor:
The hospitality industry, which has been closed since December — and longer in some places with regional lockdowns — welcomed the budget measures:
The director-general of the Confederation of British Industry (CBI) was also satisfied:
I am cautiously optimistic, but I felt so much happier with the 2020 budget, when we were on top of the world.
For Labour and the SNP, the spending didn't go far enough. However, as Margaret Thatcher, Britain's first female Prime Minister and a Conservative, said in 1983: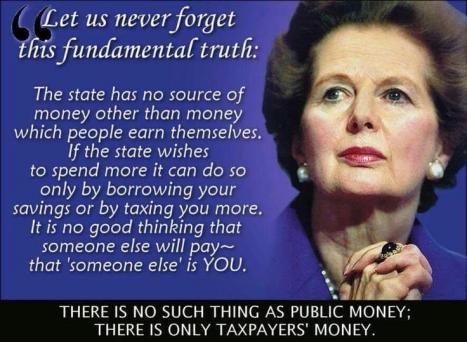 Rishi Sunak is attempting to navigate Britain's worst financial crisis since the early 1700s.
Let's hope his plan works.
Janet Yellen, the US Treasury Secretary nominee wants more of the everyday American's money and possibly property.
From patriots.win:
That means you could be taxed on 'earnings' that do not exist. The Internal Revenue Service could estimate it for you. You would pay them for a hypothetical gain that doesn't exist.
How often would the IRS make that assessment? Once a year? Once a month? With every share movement? How would they do it?
Who knows?
It could put a real and permanent dent in the stock market. Remember, a lot of everyday Americans have holdings in stocks and mutual funds. The stock market isn't just for the big players.
The idea, if it gets traction (heaven forfend), could go further.
The patriots.win thread had the following comment (emphases mine):
Yellen also mentioned having zero problem with government becoming an active 'shareholder' in companies and enterprises in the USA, and would encourage the practice.
This is called central planning. It's a required step to complete takeover of the economy by the state (call it part of the great reset or just the vanilla off-the-shelf plan on the march towards communism, all the same really)
Taxing unrealized capital gains using a mark to market formula is just a way to extort the ownership of private interests over time into the hands of the government.
Starting a new business? When you get that seed round of capital from investors of $2M and your valuation jumps from $0 to $8M overnight, welcome to your new unrealized capital gains tax of $1,650,000 in year 1 of operation. We know you're a startup and strapped for cash, so Uncle Sam will gladly take a 20% equity stake in your startup in lieu of cash. We'll be sure to send one of Pelosi's staff members to your next board meeting to help run the company and make decisions, too.
Have a rental property portfolio? Hey, well, we not only put in a moratorium on evictions due to COVID-19, so you can't get rid of the deadbeat tenants sitting there and renting out your apartments as Airbnb units and paying zero rent to you, but our assessors estimate your property value went up 28% last year because, you know, you own some prime buildings in the best locations and everyone wants to stay there so you owe us $2,100,000 in unrealized capital gains taxes this year. No cash? No worries, we'll take on an ownership stake of 9% of your portfolio (minus any liabilities for property taxes or liability, those are YOUR problem, bud), and now since you are technically part federally funded, you must adhere to these federal housing regulations we just put into place where you have to dedicate 20% of your units to refugee housing.
Oh look, how cute.. a couple that worked their asses off the past 25 years, paid off their mortgage, and are living free and clear in their home with just enough savings to maintain their independence and live out the rest of their lives in peace, maybe even one day handing down the property to their children. How quaint and racist/colonialist/sexist/etc. Well, our assessor used a nice little black box formula to estimate your property went up in value 22% last year so pay us $29,000 this year to keep your house. We don't care that market conditions don't reflect the actual value of the home according to our estimates, you're free to prove to us the house isn't worth as much as we think it is by selling it before December 31st just as all your other neighbors are selling right now because of the plummeting prices thanks to our blanket district-wide appraisal. That's just a temporary market glut and has no bearing on the actual value of your house according to our mark to market ratio.
IT'S ALL COMING — AND FASTER THAN ANYONE THINKS.
Good grief.
Pray someone does something about Biden and his team.
If this isn't communism, what is?
Andrew Neil's Spectator TV posted its sixth episode of The Week in 60 Minutes on Thursday, October 8, 2020:
Guests included Prof David Nabarro, World Health Organization special envoy for Covid-19; Andy Preston, mayor of Middlesbrough; Pat Leahy, political editor of the Irish Times and a few Spectator journalists.
The programme began with the status of coronavirus measures in Ireland.
Pat Leahy, political editor of the Irish Times, says that the Irish government was surprised by the recent recommended lockdown which they ultimately rejected. The Irish government were highly critical of the proposed measures, privately and publicly. Leahy explained that the head of the public health advisers has been off work because of compassionate leave, then, last Sunday, he returned and recommended another lockdown. The Irish government took it as, he says, a 'power play'.
The government objected to the health experts' very quick meetings amongst themselves and with government officials. Leahy said that the government were 'annoyed'.
The government did not disagree with the recommended measures per se, but there was a fine balance to be achieved. The minister of finance warned of employment and social consequences, because a number of jobs would not be coming back. He and his staff needed to consider if other measures could be taken instead.
Neil mentioned today's minimal COVID-19 deaths in Ireland. Leahy agreed and said that the so-called second wave has much less severe than the first. That said, the admissions to hospitals have been rising dramatically. So, there is a question about whether the second wave is different from the first. The Irish government felt they could weigh the statistics, adopting a wait-and-see approach. Leahy said that Dr Leo Varadkar, a physician who was formerly the prime minister and is now the deputy prime minister, essentially threw the nation's chief medical officer Tony Holohan 'under the bus'.
Leahy said that the part of Ireland's problem was assigning decisions to scientists and doctors in the first wave earlier this year. Currently, scientific advice 'is only one factor' in the decision making process that the Irish government will take with regard to coronavirus measures. Leahy said that time will tell whether the public will back the government. The economic factors are such that things could change in the weeks to come.
Katy Balls was up next, advocating Swedish models that a number of Conservative MPs back. A number of backbenchers disapprove of Drs Whitty and Vallance.
Conversation then turned to the WHO's Prof David Nabarro who says we are still in a bit of the first wave and we're not over it, so we need to learn how to live with the virus without lockdown and the 'closing down of economies'. What he calls 'the middle path' requires holding the virus at bay while allowing the economy to resume in order to make certain we can put safeguards in place, so that we can stop the virus whilst getting local 'actors', as well as testing and tracing, involved as much as possible and a common commitment to each other to keep everything as safe as possible. He said that lockdowns serve only to give a health service some breathing space.
Nabarro said that is what South East Asian countries are doing, also Germany and Canada. As lockdown lifts, nations can deal with increased cases 'elegantly'.
As for Ireland, Nabarro sided halfway with the Irish government and halfway with the scientific advisors. He did caution that public buy-in was necessary for any success.
Nabarro predicted many more weeks of uncertainty but that we would feel 'much more comfortable' in the New Year.
Neil asked Nabarro about Prof Sunetra Gupta's views on a milder lockdown. Nabarro said that the WHO do not advocate lockdowns as an absolute principle. (UK government: please take note!) He cited the damage done to the Caribbean and Pacific tourist industry. As a result, many more people could lapse into poverty.
Neil brought up Scotland's coming lockdown and a possible one in the North of England.
Kate Andrews had current statistics, comparing them to Sir Patrick Vallance's alarming case graph from the third week of September. So far, we are not close to Vallance's projection, but the UK is higher than France's and Spain's cases, respectively.
The effect of local lockdowns showed a skyrocketing in positive tests ('cases').  According to statistics, it is possible that Leicester should have already been taken out of lockdown.
Kate Andrews showed graphs that revealed that hospitality was responsible for a very low number of cases: around four per cent, not dissimilar to this pie chart, which I cited last Friday.
Nabarro intervened, saying he preferred 'local integrated responses', because breaking the virus involves input from every institution, be it a factory or a house of worship. He praised Leicester for its diversity, holding it up as a model for the world.
The Spectator's political editor, James Forsyth, came on to comment about the former Labour 'Red Wall' in the North. Much of that Red Wall voted for Conservatives in December 2019. Forsyth said that lockdown will be viewed as flooding has been in recent years: even if measures taken are not political, they look as if they ARE political. Northerners see that London and the surrounding Home Counties will not be locked down, and, as a result, will suffer fewer socio-economic casualties.
Andy Preston, the Independent mayor of Middlesbrough, was the next guest. He has been positively incandescent about lockdown. The transmission is a bit choppy, but Preston said that many of his residents didn't personally know many people who had or died of COVID-19. He added that Middlesbrough's residents have paid more in tax whilst losing out locally. He felt that 'the Government is doing stuff to us'.
Preston has asked for a temporary ban on in-house socialising but supports frequenting restaurants. He said that local government and the UK government need to work together on measures.
Preston said that he thought there was an 'inside group' of advisers to the government, with no one from Middlesbrough involved.
He said that this type of decision making could go 'very badly wrong for the country'.
Talk then turned towards the American vice presidential debate. Freddy Gray covered this segment. He said that Mike Pence is 'a very accomplished performer', 'intelligent and he spoke very fluently'. He disclosed that he has never been a Pence fan but predicted that he could be the next Republican nominee in 2024.
Neil said that a Trump-Biden virtual debate would not be the first. Nixon broadcasted in 1960 from Los Angeles. Gray said that no one knew what is going on in Trump's mind and said that the American president had gone 'full gonzo'.
Viewers' questions came next.
The first had to do with successful measures against COVID-19. Nabarro commented on coronavirus success in South East Asia, which he attributed to community buy-in and no delay in taking action, which can result in more problems later.
Another viewer said that England's mayors needed to come together with regard to England's lockdown. Andy Preston said he would back Manchester's Andy Burnham, a former Labour MP.
A third viewer wondered about the vote coming up this week on England's 10 p.m. curfew. Katy Balls said she doubted whether Labour would oppose the vote, but Conservative rebels might have their chance in the weeks to come to succeed in voting against the Government. (Personally, I don't think it will happen. Most of the Opposition support lockdown measures and restricting civil liberties.)
James Forsyth says that half the Conservative MPs really detest the Government's coronavirus restrictions. He cited the communications surrounding them and questioned what the £12bn poured into the 'test and trace' programme has actually achieved. He said it was 'not delivering'.
Andrew Neil asked about the Great Barrington Declaration, which Prof Sunetra Gupta and many other physicians signed a week ago in Massachusetts. Kate Andrews said that Prime Minister Boris Johnson said there would be a 'game changer' with no social restrictions a year from now. As such, time is not a big deal for Boris. Neil said that Boris sounded like Chauncey Gardiner. I don't like saying this, but I tend to agree with his assessment. Boris seems off the rails right now.
Leahy had the final word, measuring the rising positive tests with closed pubs and other measures. The Irish government, he says, needs to give these new measures time to work, including buy-in from the public to avoid another lockdown. He predicts another two to three weeks.
The final question came to Nabarro about the origin of the virus. He said, in short, that there was no definitive answer. 'You [have to] bring in independent actors', therefore, the WHO would need 'to bring in other staff to help'.
Hmm. Interesting.
Then, in an abrupt change of tone, Nabarro sounded a blast at certain countries, including Belarus and Spain, saying that a second wave could come soon and that no nation should be complacent.
Hmm.
Charles Stanley Wealth Managers sponsored this week's programme. For that, we are most grateful. Agree or disagree, Spectator TV is manna in a desert of dry, one-way MSM broadcasts.
This week, a mini-rebellion erupted on the Conservative back benches over coronavirus.
More on that in a moment.
First, let's have a look at Friday's headlines.
As millions of Britons are worrying about their vanishing income, it is shameful that the Independent Parliamentary Standards Authority, an independent body which oversees the system of allowances and salaries for Members of Parliament, decided to give them a pay rise! Incidentally, a Labour MP is shown in the photograph below:
Unconscionable!
Although the economy was starting to recover earlier in the summer when lockdown was lifted, things are different today:
It's been a challenging year for Rishi Sunak, the Chancellor of the Exchequer, who replaced Sajid Javid in March, just a fortnight before lockdown. He delivered a brilliant budget for a bright year ahead, then coronavirus struck.
Sunak is one of the contrarians on coronavirus and is said to prefer letting Britons get back to work.
That said, he has given billions in financial aid to the nation and delivered a Winter Economic Plan. However, pressure is on now to not only find a way to boost the Treasury's coffers but also to provide extra financial support to the areas of the country which are under what seems to be permanent lockdown. The Huffington Post has more on today's new measures.
These are the highlights:
This is his latest tax plan:
Hmm:
It's a tough job, so I'm glad Rishi is in that post. He's doing the best he can.
Next door, at No. 10 Downing Street, Rishi's former aide Allegra Stratton has been named as Prime Minister Boris Johnson's new press secretary. Conservative men across the nation had hoped for a Kayleigh McEnany, but we will wish Ms Stratton well in her new job:
Note how media and politics intertwine. Stratton is connected not only to Nos. 10 and 11 Downing Street but also to top adviser Dominic Cummings as well as to The Spectator:
Guido Fawkes says (emphases in the original):
Widely anticipated and always the bookies favourite, Allegra Stratton has been confirmed as the new Downing Street Press Secretary. Her experience as a television reporter on Newsnight, ITV News and with Peston will stand her in good stead. 40 year-old Allegra is married to the Spectator's James Forsyth. They have one child. She has done a good job spinning for Rishi and he will miss her…
Bring on the briefings…
Stratton left ITV in April to work for Rishi:
I had bookmarked a tweet from ITV's political editor Robert Peston a few months ago when No. 10 announced its search for a press secretary. Unfortunately, I subsequently deleted it. Peston tweeted that he knew of a perfect candidate, someone who had worked for him and was now working for Rishi Sunak: Allegra Stratton.
And, lo, it came to pass.
Here's an interesting tweet from May, after Dominic Cummings had to give a press conference in the garden of No. 10 to apologise for his questionable trip up North to Barnard Castle (a town named for its castle) with his wife Mary Wakefield and their four-year-old son:
One of Cummings's goals was to clear out No. 10 of Remainers in senior positions. Cabinet Secretary Sir Mark Sedwill, the most senior Remainer and the man in charge of civil servants, resigned during the summer.
Sedwill's replacement is Simon Case, who used to work for Prince William:
Guido Fawkes has posted Case's email to civil servants, popularly referred to as 'mandarins', and says:
Simon Case, Sir Mark Sedwill's replacement as Cabinet Secretary, has got off to a strong start in the job by sending an email to all civil servants boasting of his 'profound sense of pride in our nation's history", telling Whitehall staff "We must maintain our dedication to honesty, integrity, impartiality and objectivity." Guido hopes counselling will be put in place for any distressed metropolitan mandarins at this time…
Now on to coronavirus.
Scotland's Nicola Sturgeon is putting much of that nation under a 16-day 'circuit-breaker' lockdown (pubs shut, no alcohol in restaurants, no visiting) during half-term (break for schools). Yet she is decommissioning the Nightingale hospital in Glasgow. Why?
In England and Wales, questions have been raised about the new contact-tracing app:
Today (Friday), the Telegraph's Chief Political Correspondent Christopher Hope interviewed the Conservative MP, Sir Iain Duncan Smith, who had a lot to say not only on coronavirus but also Brexit (he thinks large parts of the Withdrawal Agreement should be torn up if we want a Canada deal).
Excerpts follow (emphases mine):
Boris Johnson will never defeat the coronavirus pandemic, Sir Iain Duncan Smith has said, and instead must start to help Britons to learn to live with the disease.
The former Conservative leader told today's Chopper Politics podcast … : "'I've never been to a time like this where we have almost suspended all judgement on everything else as secondary to Covid.
"And the truth is that if we go on just trying to push these spikes down the whole time … then we could be in this for years because there are very few vaccines that have been completely effective against viruses."
Sir Iain said the focus on Covid meant that other risks were being completely ignored. He said that the problem was "we've lost the balance of risks. We now have only one risk. And if you think of only one risk, then you can damage everything around you".
He added that he thought the right course of action regarding coronavirus was "managing it but not expecting that, as people say, we can defeat this, because I honestly don't think we will actually."
YES!
The 30-minute podcast is here. Hope interviews other guests, too.
Conservative MPs are warning Boris not to take the votes of former Labour-supporting area lightly. Those areas, many of which now have Conservative MPs, are the ones most affected by semi-permanent lockdown:
Earlier in the week, the Government postponed a vote on the 10 p.m. curfew on pubs and restaurants in England. It has been rescheduled for next week:
Members of the public are understandably concerned. One summarised Boris's speech at the (virtual) Conservative Party conference this week:
But I digress.
The reason the Government are picking on the hospitality sector is because of this chart, which MPs on both sides of the aisle dispute:
Hospitality venues are at the top of the list.
Note that schools and workplaces are not mentioned.
This is the reality, and this is what dissenting MPs are going by. Hospitality is ranked at 4 per cent (see pie chart):
The hospitality sector had to put a lot of money into their businesses in order to reopen during the summer, yet the Government is targeting them. That is also true in France, but we'll stick with England for now:
I am very concerned about this eventuality:
Conservative MP Steve Baker talks a good game, but he voted with the Government this week to renew coronavirus restrictions.
ITV interviewed him yesterday:
ITV has excerpts of Baker's interview:
Speaking to the Acting Prime Minister podcast, the MP said the rule is "badly evidenced and appears to be counter-productive".
He said the rule, which forces pubs to close between 10pm and 5am, is "wrecking the hospitality industry, which we only just pumped lots of taxpayers money into through Eat Out to Help Out".
He claimed the "cost of lockdowns are worse than the cost of the disease" and suggested the PM is only imposing them because of hopes of a vaccine "turning up and solving all these problems".
He said he fears the UK is in "grave danger" of "jumping into a lobster pot here from which we can't emerge" if a vaccine is not forthcoming.
"The danger we're in at the moment is we'll destroy our economy," he told podcast host Paul Brand.
He said he supports Prime Minister Boris Johnson in his response to coronavirus, but questioned whether he is "betting the country on a vaccine turning up".
"If his strategy is based on a vaccine coming, I think there's going to be a problem," he said.
The Wycombe MP appeared to suggest the team around the prime minister was not allowing him to use his strengths …
Mr Baker, who was a prominent Brexit supporter, said he "deeply" regrets the way the UK divided over EU membership and said he can feel the same happening with coronavirus.
"I'm really worried that our society is polarising with hysterical arguments on both sides.
"What I am saying is I want us to have a radical spirit of concern for one another, a radical willingness to listen to one another and then be moderate in what we say and do to try and close all these, all these divides." 
I agree wholeheartedly with every word.
In closing, I really hope that Steve Baker and the other Conservative rebels vote against the Government on the hospitality curfew next week.
They won't win, but they will send a strong message to Boris and Matt Hancock.
My apologies. This is a long but important post on the endgame for coronavirus, as things stand at present.
On Wednesday, September 2, 2020, the House of Commons' adjournment debate was about coronavirus measures in England.
Sir Christopher Chope MP (Conservative, Christchurch) voiced disapproval on behalf of his constituents.
Sir Christopher has a good track record for representing the people, such as in this heated debate on Brexit in March 2019:
Before Parliament reconvened on Tuesday, September 1, many English residents became concerned about the Government's response to coronavirus, particularly after lockdown began to be lifted early this summer. The following tweets reflect their concerns:
In the middle of August, The Human Unleashed Team posted an excellent article about two possible strategies the Government has. Excerpts from 'COVID: The Case Against the UK Government' follow, emphases in purple mine.
It begins as follows:
Has the U.K. Government acted in good faith over the COVID-19 crisis?
In this post, we'll examine the UK Government's actions around the COVID crisis alongside various data published by official sources. The goal is to get insight into whether the Government has acted honestly and in good faith.
For now let's put aside the science around whether the disease known as COVID-19 is caused by the novel coronavirus (SARS-CoV-2) and focus on the evidence as it emerged.
Let's keep two alternative possibilities in mind as we look at the facts.
The first, "Case A" is that the UK Government has conducted itself in good faith, in the genuine belief that this is a pandemic, and has done all it can to reverse it, so that the country can safely return to normal as soon as possible.
The second possibility, which we'll call "Case B", is the possibility that the UK Government knows that the pandemic is no longer present, but does not wish a swift return to normal, and is therefore continuing to push the pandemic narrative for some other reason.
The article is complete with graphs, such as the one charting talk about a second wave when the initial deaths from the first wave had only just appeared in March:
If Case A (the Government is acting in good faith), this really does not make sense. The public did not suddenly starting talking about it for no reason. Why would the key influencers (WHO, Government, and media) seed the idea of a second wave so soon?
It only makes any sense in Case B (the Government is knowingly rolling out a prepared agenda), where it could be argued that the idea of "second wave" is being implanted into the public's consciousness. Why? Is it to set expectations of a second wave that is already planned?
Talk of a vaccine started trending two weeks before that, at the end of February:
Considering that the public's interest is guided by the media narrative, it is interesting that the public's attention was guided to terms like "second wave" and "vaccine" so early in the lifecycle of this pandemic.
Once lockdown started (Monday evening, March 23) 'flatten the curve' disappeared quickly from the official narrative:
Why was "flatten the curve" hailed as the nation's priority in March, but then swiftly dropped even before the fatality curve peaked?
Furthermore (and this is a recurring theme), if flattening the curve was ever truly the goal, we would now be celebrating the fact that the curve has been flat for nearly two months. We are not. Neither the Government nor mainstream media have been cheering the fact that the COVID wave has, to all extents and purposes, ended and that the country can return to normal.
The death curve has been flat since the end of July:
Even in the hardest-hit groups (60 years and 80-plus), the curve is now objectively flat. Why are we not partying in the streets? (When it comes to younger age groups, the picture is even more ridiculous. The official NHS numbers show that only two people aged under forty have died in hospital in the past month related to COVID.)
If Case A were true, you would expect that the Government would be proudly announcing its success in halting COVID mortality. However, there have been no such announcements. On the contrary, the narrative from both Government and state news sources continue to stress the threat of another wave. Case A makes no sense.
It does all fit with the Case B scenario. If the Government's purpose involves perpetuating the fear level thus justifying continuing the increased level of control over the population's freedoms, then you can see why they would choose to ignore the simple fact that today there is no epidemic in the UK.
In fact, this summer, there were more fatalities from seasonal flu than there were from COVID-19:
You can see that, following a tremendous spike in death rates, since mid-June deaths linked to COVID have been significantly lower than flu/pneumonia deaths …
Again, if Case A were true, the Government would be wasting no time in announcing the end of the epidemic and delivering the good news that everything can now return to normal. Considering the incredible damage that has already been inflicted on the UK economy, you would imagine that the party in power would be anxious to lift the restrictions.
As none of that has happened, we must consider Case B. Not only has the Government resisted the clear opportunity to end all the restrictions, they have actually implemented new rules, including the requirement to wear face coverings in enclosed public spaces, backed up with the threat of a £100+ fine, since July 24th.
What can we conclude?
Think it through. If both diseases are the result of similar, communicable viruses, why are more people now dying every day from flu than from COVID-19?
One possible explanation that has been suggested could be that the virus that causes COVID-19 is far more contagious than the influenza virus. If that were the case, it would suggest the novel coronavirus spread like wildfire through the UK population, but killing the elderly almost exclusively. And if that were true, it would mean that we have already reached the fabled "herd immunity", suggesting that you could make an argument that the elderly and infirm should still be protected, but that the rest of the UK public could return to normal immediately.
So we must conclude that we have either achieved "herd immunity", which means there is no more pandemic and that the virus is no longer a high consequence infectious disease (which Public Health England in fact published back in March), or one or more of the above assertions are incorrect, suggesting that COVID-19 may not be caused by a communicable pathogen, in which case there is also no pandemic.
Over the summer, the Government's focus turned to 'cases', which has kept the psychological fear factor up among the general public:
If Case A is true, and the UK Government's priority is to protect the population and get through the COVID crisis as swiftly and as safely as possible, why would they stop talking about deaths and start talking "cases" as the death rate dropped towards zero?
Cases simply refer to positive test results. They do not mean that someone is sick, or at risk of dying. Yet testing has continued to grow week-on-week, now averaging over 150,000 tests being processed daily. Why would a Government whose priority is a rapid and safe return to normal keep increasing its efforts to find more "cases", instead of applauding the vanishing mortality numbers?
Again, only Case B makes logical sense. The Government's own actions show that it is continually pouring more resources into the search for "cases", which could have the effect of spreading fear and panic, and choosing not to report the good news that now almost nobody is dying of COVID-19, which of course would have the opposite effect.
Then there were the inflated death statistics that have now been corrected. England now has 5,000 fewer COVID deaths. Hospital admissions were also erroneously inflated:

Let us be clear. In the middle of a global disease pandemic, the Government's number one priority must be to evaluate the danger accurately. The responsibility falls on the Health Secretary, who completely failed to deliver. He had ONE JOB.
The article concludes as follows:
It is now clear, from observing its own actions, that the UK Government does not wish a timely return to normal life. If it did, it would be going to lengths to celebrate the practical eradication of the COVID pandemic in this country, and moving to reverse the extreme measures that limit the population's freedoms that have resulted in such catastrophic outcomes.
Instead, the sum of this Government's actions appear only to support the hypothesis that they wish to prolong the present restrictions by giving the impression that the pandemic is ongoing and far more serious than the data suggest.
The UK Government has some very, very serious questions to answer. This establishment must take responsibility for conspiring to extend the appearance of the alleged COVID pandemic, leading to disastrous economic outcomes for the country, but – even more importantly – the unimaginable health and emotional damage on the population of this country.
Keep all of that in mind as you read the excerpts from Sir Christopher Chope's speech and the response on behalf of the Government from Paul Scully MP (Conservative, Sutton and Cheam), who is the Parliamentary Under-Secretary of State for Business, Energy and Industrial Strategy.
Wikipedia says (emphases mine below, link added in the next sentence):
Scully's wife Emma is employed by Nudge Factory Ltd as an Office Manager and replaced her husband as 'a person with significant control' on 1 April 2018.[30][31]
The text from the adjournment debate can be found in Hansard: 'Regulatory Impact Assessments (Legislative Scrutiny)'. The crux of the debate was that the Government made emergency laws without properly assessing the impact they would have on small business owners. That said, masks also featured in the debate.
I promise that you will not be bored reading the following excerpts. Unbeknownst to me at the time, my far better half also watched the entirety of this debate in another room. Both of us were gripped.
Sir Christopher wasted no time in making his points. He expressed himself politely but with all guns blazing, so to speak. (Bold letters for MPs' names are in the Hansard document).
Sir Christopher Chope (Christchurch) (Con)
I shall start with some quotes from my constituents about the Government:
"The most inept and incompetent administration in my lifetime."
"Incoherent and indecisive." "Authoritarian and arrogant." "Inconsistent and incomprehensible." "Socialist in all but name." As these criticisms become increasingly difficult to rebut, it is indeed essential that the Prime Minister gets a grip. The constructive purpose of this debate is to remind the Government that one key tool to enable them to get a grip is to use regulatory impact assessments as part of the policy-making process.
A regulatory impact assessment is a well-established, internationally acclaimed toolkit for good policy making. It facilitates transparency and public accountability, promotes democratic discussion by enabling potential possible policy options to be evaluated and compared. It prevents the inconsistency that arises from knee-jerk reactions and policies being developed on the hoof.
It helps to ensure that sudden changes are the exception and are made in response to changes in hard evidence rather than in response to the chorus of a single-issue pressure group—and I think it is probably fair to say that the covid alarmists are the most successful pressure group in British history. If, for the past six months, the Government had been using this toolkit, it would not have been possible for commentators to observe, as one did on Sunday:
"Britain has become a paradise for those who like to answer questions with 'rules is rules'; even when they're clearly made up on the spot or nonsensical."
Allowing beard and eyebrow trimming for men but not eyebrow treatments for women was but one ridiculous example.
Most fair-minded observers supported the Government's initial response to the covid-19 pandemic. The Government had no option but to make their priority ensuring that our hospitals were able to treat all those seriously ill as a result of covid-19. Our NHS was not as well-prepared as it would have been if the recommendations of Exercise Cygnus had been implemented. Cygnus was a brilliant initiative to war-game a serious epidemic of respiratory illness in order to identify where investment was needed to fill the gaps and thereby ensure an effective response. Tragically, Public Health England did not learn the lessons identified and failed to put the recommended preparatory work in place. We, the public, have been denied access to the full results. It remains a mystery to me as to why the Government are so defensive about the whole matter—and have indeed been dodging parliamentary questions that I have put down on the subject.
… The purpose of this debate is to try to get some more assurance from the Government that they are going to apply these principles not just to covid-19 but to other regulatory measures that are, at the moment, being brought in with far too insufficient scrutiny.
Tomorrow it will be six months since the Department of Health and Social Care policy paper on coronavirus was published. This action plan, as it became, on which the Coronavirus Act 2020 was based, envisaged four phases: contain, delay, research and mitigate. The delay phase was to
"slow the spread in this country, if it does take hold, lowering the peak impact and pushing it away from the winter season".
Because of the emergency timetable, the legislation had the sketchiest of regulatory impact assessments, without any cost-benefit analysis. But who would have thought that none of the regulations being made under that primary legislation would be properly evaluated before implementation? I certainly hoped that that would happen, but it has not.
The basic steps in the RIA process should involve consultation and an assessment of the nature and extent of the problems to be addressed. There should be a clear statement of the policy objectives and goals of the regulatory proposal, which should include the enforcement regime and strategy for ensuring compliance. Alternative courses of action should be identified, including any non-regulatory approaches considered as potential solutions to the identified problem. There should also be a clear outline of the benefits and costs expected from the proposal and identified alternatives. The conclusion should not only identify the preferred solution but explain how it is superior to the other alternatives considered. Finally, there should be a monitoring and evaluation framework set out describing how performance will be measured.
Although the processes I have set out could not be embarked on in the immediate emergency of introducing lockdown, they should surely form an inherent part of the process of easing lockdown, and ensuring consistent and timely relaxations of the regulations. It is the failure to do this that has resulted in sudden and contradictory changes to the regulations.
This has also led to unacceptable mission creep, which increasingly embodies a gradual shift in objectives. Hon. and right hon. Members will remember that the original objective was to enable the NHS to provide the best care to all the victims of covid-19 who needed it. That clear mission has now widened into a mission to suppress the spread of covid-19 as an end in itself, regardless of the cost. The irony is that, in allowing the original objective to be blurred, the important subsidiary objective of preventing the virus peaking again in the winter is being put in jeopardy.​
The easing of lockdown has, sadly, become a veritable shambles. While the number of deaths from covid-19 has mercifully plummeted from its April peak, there has not been a corresponding relaxation of the emergency regulations. I shall refer later to the OECD principles of best practice for regulatory policy, but one of the key principles is:
"Proposed solutions should be appropriate to the risk posed, and costs identified and minimised."
In the statement he made yesterday to the House, the Secretary of State for Health [Matt Hancock] said that there are now
"60 patients in mechanical ventilator beds with coronavirus".—[Official Report, 1 September 2020; Vol. 679, c. 23.]
This compares with 3,300 at the peak of the epidemic, and he then said that the latest quoted number for reported deaths is two in one day. Today, The Sun newspaper has calculated from these figures that the odds of catching covid-19 in England are about 44 in 1 million per day. Economist Tim Harford, who presents what I think is one, if not the only, good programme on the BBC—the statistics programme, "More or Less"—has said:
"Covid-19 currently presents a background risk of a one in a million chance of death or lasting harm, every day."
While age, gender, geography, behaviour and other aspects affect the risk, it is now far lower than the risk of death or serious injury in a motor accident. On average, five people continue to be killed each day on our roads, yet I have not yet heard from the Government any proposals to ban people from driving because of the risks associated with so doing.
One sure way of ensuring consistency would be to impose the discipline of a regulatory impact assessment on each and every continuing restriction, so that the justification for loss of personal liberty could be evaluated against the alleged benefits. It is not too late for this to start, and I hope that the Minister, in responding to this debate, will provide an assurance that the forthcoming six-month review of the legislation will include a full regulatory impact assessment and an evaluation of the performance of the emergency regulations introduced.
The public would then be able to see the evidence about whether the decisions taken were correct. For example, was closing schools and setting back the education of the covid regeneration a proportionate and necessary measure? Was the postponement of 107,000 weddings across the United Kingdom justified? Could any of the 4,452 weddings which should have taken place last Saturday have been permitted? Why can people sit safely side by side with strangers on an aircraft, but not at a wedding breakfast or in a church, a theatre or a concert hall—or even in this Chamber?
Why was the World Health Organisation advice, which was originally that there should be 1 metre social distancing, not applied from the outset? We introduced a 2-metre or 6-foot rule, but that has now been modified with the 1 metre-plus rule, but at the same time the additional safeguards required for the 1 metre-plus situation are being applied to the 2-metre situation, which is creating all sorts of problems, conflicts and uncertainties for our constituents.
Is it protecting the NHS to create a situation where, as was revealed in The Times on 27 August, 15.3 million people are now on the hidden waiting list for treatment? ​Is it reasonable that we should try to prevent two deaths a day and keep 15.3 million people on waiting lists for treatment, with all the dire consequences that flow from that? Madam Deputy Speaker, I do not know whether you were listening to the Secretary of State for Health when he made his statement yesterday, but in my view his responses on the issue of NHS waiting lists were the weakest and least convincing parts of what he had to say.
Is the continuing economic cost of lockdown now disproportionate to the benefits? Well, let us have an exercise and see. Let us see the data presented, so that we can have a proper debate about it. I raised the importance of regulatory impact assessments in public policy making with the Leader of the House at business questions on 2 July. It was his response on that occasion which caused me to apply for this Adjournment debate, which I am delighted that we are having this evening. I said that we would be able to achieve much more consistency in Government advice with regulatory impact assessments. The Leader of the House [Jacob Rees-Mogg], however, argued that
"if we spend too long doing all this, by the time we have done it we have moved on to the next stage of the lockdown."
He accused me of "calling for bureaucratic folderol", which would inhibit moving
"at a pace to ensure that things happen in a timely manner".—[Official Report, 2 July 2020; Vol. 678, c. 534.]
Would that they were. But I must correct the Leader of the House, because, far from being the worthless trifles described in the expression "folderol", regulatory impact assessments are fundamental to ensuring that we make the right decisions as legislators.
It is incredible that, instead of lockdown continuing to be relaxed, new restrictions on freedom, such as mandatory face coverings, have been introduced. The consequence is that I detect a growing atmosphere of gloom and foreboding as we see winter approaching: no vaccine availability for many months; the economy in a worse state than most of our competitors; and the prospect of the resurgence of the pandemic coinciding with the flu season. I do not like the expression "waves" because it makes it seem as though we are talking about something equivalent to the Atlantic rollers so much enjoyed by our former Prime Minister and colleague, David Cameron. We are not talking about waves. We are talking about the potential resurgence of the pandemic—not everywhere, but in particular hotspots.
This scenario demands a rational evaluation of conflicting risks to the economy and public health, together with a cost-benefit analysis, and now is the time for the Government to reinstate the intellectual rigour of the regulatory impact assessment process. Sooner or later, the incredible economic cost of the Government's failure to remove lockdown restrictions in a timely and effective manner will become apparent. If that coincides with the Government asking their natural supporters to pay the price for their failure through higher taxes, the political consequences will indeed be dire. It is for that reason that I commend to the Government what the OECD says about regulatory impact analysis. It describes it as an
"important element of an evidence-based approach to policy-making…that…can underpin the capacity of governments to ensure that regulations are efficient and effective in a changing and complex world."​
I will not read from the whole OECD regulatory impact assessment report on best practice principles for regulatory policy, but it extends to about 40 or 50 pages and is extremely well researched and documented. As I understand it—the Minister will correct me if I am wrong—these principles are supported by the Government; the trouble is that they do not seem to be being implemented by the Government and by Government Departments. I hope that in his response the Minister will tell us what he is doing to try and put that right.
The Government should revert to following their own "better regulation framework" established under the Small Business, Enterprise and Employment Act 2015, which requires that
"A RIA should be prepared for all significant regulatory provisions as a standard of good policy making and where an appropriate RIA is expected by parliament and other stakeholders."
The interim guidance issued in March this year sets out a general threshold for independent scrutiny of regulatory impact assessments and post-implementation reviews, where the annual net direct cost to business is greater than £5 million. It calls on Government Departments to undertake proportionate cost-benefit analysis to inform decision making.
The trouble is that this is not being done, and I will give just one topical example, to which I referred in my brief comments in the previous debate. Under the Coronavirus Act 2020, there was specific primary legislation saying that residential tenancies should be protected from eviction until 20 September this year. On Friday last week—27 August—regulations were made extending that period from 20 September for another six months. The regulations came into force on 28 August, which was last Saturday, the very same day that they were laid before Parliament. Regulation 1(2) says:
"These Regulations come into force on the day after the day on which they are laid".
Those regulations have caused a storm of protest from residential landlords in my constituency; they are apoplectic about the fact that they are not going to be able to recover possession of their premises. Notwithstanding the contractual agreements they have entered into with their tenants, they are not going to be able to recover their premises until 31 March 2021.
It says in the explanatory notes to the regulations that they amend schedule 29 of the 2020 Act. This is primary legislation being amended by subordinate legislation subject only to the negative resolution procedure, and so one might have expected that there would be a regulatory impact assessment or something which would indicate to us, on behalf of our constituents, that the Government have thought this whole process through, but that is not there, and instead there is a little note which says:
"A full impact assessment has not been produced for this instrument due to the temporary nature of the provision" …

Bob Stewart [Conservative, Beckenham]

It makes us look like clowns.
Sir Christopher Chope
I hope that that is on the record—it makes us look like clowns. That is why I hope that we can persuade the Government to reform their ways. It is also extraordinary that the excuse should be put forward that this is a temporary arrangement and that is why there is no need for a regulatory impact assessment. That is not set out anywhere in any of the books on this, and it is a novel interpretation of what should be happening.
Switching away from the regulations directly related to coronavirus, I have received support for raising this issue from the Internet Association, which is the only trade association that exclusively represents leading global internet companies on matters of public policy. The organisation responded to the Government's invitation when they went out to consultation in June inquiring about the reforming regulation initiative. It said, "Regulation in the digital sector has a wide range of potential impacts which extend beyond traditional economic impact analysis. As a matter of course, the Internet Association recommends that Government Departments and regulators undertake a wider impact assessment of their proposals covering not only the economic impact, but also issues such as technological feasibility and impacts on freedom of expression and privacy." It goes on to say that "there have been a number of recent policy and regulatory initiatives in the digital sector where it has not been clear whether an impact assessment has been conducted and/or the impact assessment has not been published for external scrutiny." It gives an example of the Department for Digital, Culture, Media and Sport/Home Office online harms White Paper. The Internet Association believes that wider regulatory impact assessments, as specified, should be required for major digital policy and regulatory initiatives. Therefore, this extends into that field also, as it does to all legislative and Government policy making—or it should do—and I hope that we will be able to get ourselves back on track.
The interim guidance to which I refer, which was published in March this year, referred to the Government considering how best the better regulation framework can be delivered
"more effectively over the course of this Parliament".​
Now is the time, surely, to take some action. As their first step, the Government should promise that the six-monthly review of the Coronavirus Act 2020 will be accompanied by a full post-implementation review and that a full cost-benefit analysis of those emergency regulations that it recommends should be kept in place. I hope that the Minister will announce that he is going to do that tonight and thereby help to restore public confidence in the Government's decision making and the ability of Parliament to scrutinise it, because that is fundamental. I am grateful for the opportunity to put this point to the House.
This was the Government minister's response, which entailed further lively debate:
The Parliamentary Under-Secretary of State for Business, Energy and Industrial Strategy (Paul Scully)
… Our commitment to conducting such impact assessments remains strong. The analysis that goes into impact assessments ensures that Government consider the need for and likely impact of new regulations to support legislative change. They ensure that we consider how regulation will affect the operation of markets and best enable businesses to innovate, and, in line with the subject of this debate, they inform parliamentary decision making …
The Coronavirus Bill, introduced in March this year, provided powers needed to respond to the coronavirus pandemic. The powers enabled the Government to introduce temporary emergency legislation to respond to the pandemic. To allow the Government to deliver at the required pace, formal regulatory impact assessments are not required for better regulation purposes for the temporary measures put in place in response to the pandemic. Further flexibility in the approach to impact assessments is appropriate where permanent measures need to be enforced urgently.​
My hon. Friend mentioned some specific examples where we have assessed the impact in a different way. He is right to talk about the importance of regulatory impact assessments. Some of the guidelines that he mentioned fall within my area. The specific residential landlord and tenant issue that he mentioned falls to my colleagues in the Ministry of Housing, Communities and Local Government, but in terms of the commercial Landlord and Tenant Act 1954 changes, we found from listening and speaking to businesses over a period that some companies that were struggling to pay their rent were being wound up by some landlords, so we acted.
This is on the basis of detailed, long-standing conversation and engagement with businesses on both sides of the debate. In my short time as a Minister, I have had around 500 meetings with, I estimate, 3,000 to 4,000 businesses, so I think I have a reasonable handle on retail, hospitality, weddings and the beauticians who do eyebrows and beard trimming that my hon. Friend mentioned. It is a source of great regret that we are unable to allow wedding celebrations of more than 30 people to occur at the moment. I have seen at first hand and heard from people in the wedding sector, which is an enormous contributor to the UK economy, how badly they are suffering as a result …
At this point, the responses from Paul Scully became brittle and defensive. More importantly, Scully said that some changes will be permanent:
Sir Christopher Chope
May I present a challenge to the Minister? Will he publish for our benefit a regulatory impact assessment on the issue of not allowing larger weddings? That would bring into the open all the issues with which he is familiar but which have not yet been exposed to public debate and scrutiny. Is that not what it is all about? This has now been going on for six months, and people want to know where the future lies for the small organisations involved in weddings. Will he offer to do that for us, notwithstanding the fact that his Department is very busy? That would be really helpful.
While I have the Floor, let me also say that I am concerned that the Minister seemed to distance himself from what is happening to individual landlords. Although they may not be incorporated, they are small businesses.
Paul Scully
To answer my hon. Friend's last point, I am not distancing myself; I literally was not involved in that decision. I do not want to offer a line of thought on something that I was not involved in, but I understand his point.
On weddings and the public debate, my hon. Friend has clearly not been following my Twitter feed—totally understandably—which is full of such debates about the wedding sector. We are trying to work with the sector to make sure it can open. My primary concern is about ensuring we get our economy open again with a warm but safe welcome to people. The Government's first priority has always been to save and protect lives, but restoring livelihoods, protecting jobs and protecting businesses are right up there, for the reasons that my hon. Friend set out. If we do not get this kick-started now, the effect on the economy will be huge, so it is important that we work together to give people not just confidence but joy, so that when they come out to use services in their local high streets and city centres they enjoy the experience and come back time and time again.
A one-off hit to our economy is not good enough. We know it is not going to go back to how it was in February, and there are some permanent behaviour changes that seem to be kicking in. None the less, we need to work with the new normal, which means working with the virus, because we will be living with it. My hon. Friend talked about a second wave, or spike or whatever he wants to call it. If we learn to live with it, there may be a third and a fourth until we get a vaccine, but live with it we must. There will be a new reality of the permanent behaviour change.
Well-designed and effective regulation, which my hon. Friend wants to see in our legislation, and which we are championing, enables markets and business to flourish, grow and innovate. It can provide certainty for investors and protection for individuals and society. The use of impact assessments in informing regulatory design can help us to achieve those outcomes. Excessive or poorly designed regulation can impede innovation and create unnecessary barriers to trade, investment and economic efficiency. We have sought to limit that by ensuring that regulation changes in response to the pandemic are targeted and time-limited.
Bob Stewart
One of the biggest things that the Government have insisted on is facemasks, which we have mentioned already. I would be intrigued to know ​whether there is a regulatory impact assessment on why we all have to wear facemasks in public and various other places, because I have not seen it. If there is one that could be made public, perhaps it could be put in the House of Commons Library. There are growing numbers of people in my constituency of Beckenham who are rebelling against that idea.
Paul Scully
I thank my hon. Friend for his intervention. I get the train and the Underground into London each and every day, and the adherence of people to wearing face masks is, on the whole, good. Tube use, I am glad to say, is increasing substantially. London city centre—the central activity zone in London—is incredibly quiet. That is affecting the west end in particular, and the City.
The west end represents 3% of the entire UK economy—just the west end—so although we need to make sure that the whole country is able to restore the confidence and joy that I was talking about, it would be remiss of me, as Minister for London as well, not to showcase those areas that make up a massive amount of our capital city as a strategic and world city, so that it is ready for international travellers when they have the confidence to travel.
The Government's focus has been on improving design and proportionality in regulation. That is done through the Better Regulation Executive, which is responsible for embedding smarter, more cost-efficient and better regulation across Government, and which has recently introduced new guidance templates and training to improve the quality of impact assessments. As a result, impact assessments have clearer presentation of results, better planning for implementation and more quantification of costs and benefits.
The better regulation guidance represents the agreed Government policy on evidence and independent scrutiny, including when to seek independent scrutiny. It is clear that legislation should be accompanied by robust evidence and assessment of impact.
Bob Stewart
Forgive me. The Minister is a really good friend of mine, but he did not answer my question. I would really like to see the Government's justification, in writing, as to why so many people have to wear face masks. Can we know what that justification is in this House?
Paul Scully
There has been a long debate about the use of face masks, both on transport and in retail. There are arguments either side—whether it gives a false sense of security or whether people touch their face when they put on or take off their mask. None the less, we have a better understanding of the transmission of the virus and the aerosol nature of its transmission. That is why the World Health Organisation has changed its advice from the beginning, when it said people do not need to have masks or face coverings, to, "Yes, you do." Actually, we can learn from history. In the 19th century, cholera was assumed to be transmitted by air, but by greater understanding and by working through it—they did not need a regulatory impact assessment to figure it out— eventually people found that it was the water supply that was causing cholera, so they were able better to tackle that particular issue at that given time …​
By mentioning cholera (?!), Scully killed his own argument. He should read up on the 20th century instead, specifically, the 1918-19 influenza pandemic. In the early 1920s, medical experts concluded that masks did nothing to stop the contagion. However, I digress.
The debate continued:
Sir Christopher Chope
Is this body to which the Minister is referring going to look at the issue of face masks, or face coverings? In answer to my hon. Friend the Member for Beckenham (Bob Stewart) he has said that there are arguments on both sides of this. In those circumstances, why are the Government taking one side and criminalising behaviour instead of trusting people to reach their own decisions on the information provided by the Government?
Paul Scully
I am sure the necessary people will have heard my hon. Friend's call for that to be examined, but on the use of face masks, it is the same as self-isolation as a result of the test and trace system: the number of people who are having to self-isolate at any one time means that millions of us can go about our relatively normal lives by going to retail, hospitality or our places of work, which we were not able to do for so many months.
Those changes are evolving. I, like my hon. Friend, do not take any infringement of our civil liberties lightly, but this is a situation—I am not going to use the word "unprecedented" even though I just have; it has been used an unprecedented number of times—that we have never had to face before. No Government have ever had to face such a situation, so we are learning as we go along. We will not always get it right, but we have to make sure we are using the best engagement, listening to both sides of the argument, and working through as the science evolves and as we see what is in front of us in terms of human behaviour.
My hon. Friend the Member for Christchurch talked about the OECD, whose latest report acknowledged that better regulation is an area of strength in the UK. It notes that the UK has been a leader in regulatory policy in general, with the early adoption of the better regulation agenda. Our ambitious agenda is reflected in the results of the OECD's monitoring of regulatory management tools, as displayed in the "OECD Regulatory Policy Outlook 2018", with the UK displaying the highest composite indicator score for stakeholder engagement for primary laws. Our score for secondary legislation is also significantly above the OECD average. We also had the highest composite indicator score for regulatory impact assessments across the OECD. That includes strong formal regulatory impact assessment requirements in areas such as establishing a process to identify how the achievement of the regulation's goals will be evaluated; assessing a broad range of environmental and social impacts; and undertaking risk assessments as part of regulatory proposals. So we should be justifiably proud of our world-leading reputation in this area.
These assessments are valuable documents, and the Government should be applauded for encouraging their production and the transparent scrutiny of them, but, ​as with some individual impact assessments themselves, there is always room for improvement. As with the principles underpinning better regulation, we are always looking for ways to learn and improve our approach.
Sir Christopher Chope
Obviously, we are fortunate in having a bit of extra time this evening, which is great. Will the OECD be asked to opine on the effectiveness of the Government's regulatory response to the coronavirus epidemic? For example, will the OECD be able to comment on the distinction, which my hon. Friend has made, between rules on face coverings, for which there are lots of exemptions, and rules about isolation and quarantine, for which there are no exemptions. I am afraid that there is an anomaly there.
At that point, Scully could hardly wait to bring this important debate to a close, with no give on his part.
As you read the following (if you got this far), please note that the Government, not the requesting MP, is supposed to look into matters resulting from these debates:
Paul Scully
I am afraid I do not have the OECD on speed dial, but I am sure that my hon. Friend will be able to ask it to look into all these things. I am glad that we have extra time, because there is nothing I like more than to discuss regulatory impact assessments—I am afraid that Hansard does not detect sarcasm. Although I make light, it is good that we have parliamentary scrutiny of an important topic to cover.
As I say, there is a further cultural shift in Whitehall to make on such impact assessments across the board. We do have a responsibility to monitor the extent to which the laws we have passed are implemented as intended and have the expected impact. My hon. Friend ​is justified in raising this important issue, so that we can consider, learn and move forward together. The planning for monitoring and evaluating regulatory changes could be more effective. There is a risk that laws are passed that result in unexpected consequences or inappropriately stifle innovation. I have seen that at first hand as we have been changing and tweaking various support measures for businesses; we have had to change them so that they are supporting businesses as intended, rather than with an unintended consequence. Better planning for monitoring and evaluating will help to ensure that there is sufficient information to assess the actual state of a law's implementation and its effects.
In conclusion, regulatory impact assessments, in themselves, have evolved into an important and valuable component of the UK's better regulation system. The transparent publication of impact assessments has added accountability to the analytical dimensions to policy development, which has increased the amount of evidence presented alongside policy proposals, and the existence of the independent scrutiny has increased both the transparency of the process and the accountability of government. I thank my hon. Friend for raising this important issue.
Bravo, Sir Christopher. I hope that more of the old guard Conservative MPs continue along his line of debate. We, the people, need their support.
On the other side of the Pond, that same day — September 2 — Tucker Carlson had an excellent segment on the endgame of the coronavirus panic. According to the WHO's Dr Tedros, who is not a medical doctor, the plan is to ultimately bring in a worldwide reset to fight climate change. Bill Gates approves.
This is a short but highly instructive video:
Given all of the above, do Britons think that the UK government has been acting in good faith over coronavirus?
Boris Johnson promised us a 'people's government'. It certainly doesn't look like one at present.
The three-year Lectionary that many Catholics and Protestants hear in public worship gives us a great variety of Holy Scripture.
Yet, it doesn't tell the whole story.
My series Forbidden Bible Verses — ones the Lectionary editors and their clergy omit — examines the passages we do not hear in church. These missing verses are also Essential Bible Verses, ones we should study with care and attention. Often, we find that they carry difficult messages and warnings.
Today's reading is from the English Standard Version with commentary by Matthew Henry and John MacArthur (as cited below).
Submission to the Authorities
13 Let every person be subject to the governing authorities. For there is no authority except from God, and those that exist have been instituted by God. 2 Therefore whoever resists the authorities resists what God has appointed, and those who resist will incur judgment. 3 For rulers are not a terror to good conduct, but to bad. Would you have no fear of the one who is in authority? Then do what is good, and you will receive his approval, 4 for he is God's servant for your good. But if you do wrong, be afraid, for he does not bear the sword in vain. For he is the servant of God, an avenger who carries out God's wrath on the wrongdoer. 5 Therefore one must be in subjection, not only to avoid God's wrath but also for the sake of conscience. 6 For because of this you also pay taxes, for the authorities are ministers of God, attending to this very thing. 7 Pay to all what is owed to them: taxes to whom taxes are owed, revenue to whom revenue is owed, respect to whom respect is owed, honor to whom honor is owed.
——————————————————————————————————————
Last week's post largely concluded Romans 11, in which Paul wrote that God will one day lift his judgement against Israel for unbelief in His Son and bring His people into the Church in great numbers. As such, Gentiles are not to become boastful about their position in the Church. Nor are they to hate the Jews, God's rightful heirs of His covenants, Old and New.
That is a hard truth for some to accept. However, it is what Paul tells us will happen.
In the first half of Romans 13, Paul tells us what our relationship as Christians is to society at large.
These are among the most important verses in the New Testament, but, for whatever reason, the Lectionary compilers omitted them from readings used in public worship.
These days, one must offer an apology for a long post. My advice here is to grab a cuppa and a snack.
John MacArthur explains why Paul moved from the spiritual to the temporal (emphases mine):
If all Paul wanted to focus on was the matter of justification, he could have ended the epistle in chapter 11, but he doesn't. He goes on to deal with the implications of the doctrines, which have been laid down in the first 11 chapters, which implications we are now looking at. And so it is essential that a Christian understand that his relationship to authority, his relationship to government, and those who are over him is dramatically impacted by his salvation. We are called to live as model citizens, that we may reach the world around us with the saving gospel of Jesus Christ …
In other words, how you behave under the authorities in your country, your nation, your city, whatever it is, will demonstrate your faith, the legitimacy of your faith, to that society. And so we are to submit then to the king, to the governor, to anyone who is over us in authority.
We've had more than two months of 'protests' and, dare one say it, outright insurrection in Seattle and Portland.
Some might empathise with the destruction of public property and general anarchy.
However, Christians are not called on to participate in or to support lawlessness that results in chaos, loss of life and destruction of property, including businesses.
We know that insurrections have taken place throughout history. The United States was created on the back of insurrection. MacArthur thinks that was unbiblical; elsewhere, he said that some of his ancestors were Canadian. Through that filter, one can see his point. He says:
The truth of the matter is, and you need to think about this – the truth of the matter is that our own nation was borne out of a violation of this biblical text. Now that may throw you for a loss, but that's the fact. Our nation was borne out of a violation of this text, in the name of Christian freedom.
That does not mean that God doesn't overrule such violations and bring about good, which He did in this case, but that doesn't justify the means.
Yet, for just over 200 years, America was the beacon of liberty and the pursuit of happiness. For millions of people around the world, it still is.
For that reason, one can say, rightly, that the Revolutionary War gave birth to the Great Republic.
The French also had a revolution, within two decades of America's. The principal French players in this and a few American Founding Fathers travelled back and forth to exchange ideas. General Lafayette helped America's Revolutionary troops greatly.
The difference between America's and France's respective revolutions lies in the content of their constitutions, which largely say the same thing with a few exceptions. The French constitution separates church and state. America's guarantees freedom of worship. The American Declaration of Independence clearly states that powers to the citizen come from 'Nature's God', 'their Creator'. America had deist leaders. For the most part, France had atheists at the top at that time.
But I digress.
Some of the Western world has been riven by urban uprisings this year, 2020, protesting against the brutal death of a man who had a police record and, for one conviction, served five years in prison.
The colour of this man's skin has revived the awareness of blots on Western history: slavery, colonialism and police brutality.
MacArthur wrote the sermons I'm citing here in 1985, when Ronald Reagan was president.
Yet, much of what he says still holds true today.
This is what he says about injustice and what should be the Christian response, according to Paul's words:
We are to be – and listen carefully, this is an important thought – we are to be the conscience of the nation by godly living and faithful preaching. We confront the nation, not through political pressure, but through the word of God. That's how we confront the nation. We preach against sin. We preach against the evils of our time. But it is preaching and godly living that is our calling.
For some, that will be insufficient.
MacArthur goes on to define the society in which Jesus and St Paul lived:
Look at Christ for just a moment as we build a foundation for this passage. Look at Christ. He came into a very interesting world. He came into a Roman Empire where slavery flourished. Slavery. You understand that. Slavery. There were three slaves – approximately three slaves — to every free man. He also came into a world that was dominated by absolutism in terms of rulership. Men were absolutely monarchs, absolute rulers. After the end of the Roman republic, when the Caesars came in and took power, they ruled with absolute authority. And although Julius Caesar was murdered in the Roman Senate in 44 BC, this only accelerated the centralization of power. The Roman Senate declared Augustus proconsul and tribune of Rome for life, and he had absolute and total power. He was commander-in-chief of all soldiers, he stood above the senate, and he controlled all civil affairs.
So Jesus came into a world dominated by slavery and by one man rule, the absolute antithesis of democracy, which we believe to be so dear. All the power of the state was in one man's hands.
You had the same thing in Palestine, where the ruler of Palestine, who was placed there as sort of a puppet king under Rome was a man by the name of Herod. Herod was an Edomite. Herod was not a Jew. That Edomite ruler of Palestine, the king with great power, had the single authority to demand that every single baby in a certain region be massacred, and nobody could stay his hand. He had absolute authority over life and death. He murdered his whole family, his mother, his wife, his sons, and no one held him accountable.
In the time that Jesus came into the world taxes were exorbitant, and those who worked in the taxing process who sold themselves to Rome for money, exacted exorbitant taxes out of the people, overcharged them. In fact, you remember don't you, that Zacchaeus when he was converted, immediately said I'll do what? I'll pay back everything I've extorted how many times? Fourfold. Which was rather typical of the kind of thing that went on, tax collectors were extortioners. So there were unjust taxes. There was unjust rule that heard nothing from the people. In fact, Caesar August[us] decreed that all the world should be taxed, and tried to collect … from everyone.
Furthermore, Jesus came to His people, the Jews, in a very unique situation for them. They were chattel for the Romans. They were an underprivileged and oppressed minority. They had no voice in Roman government, they had to pay heavy taxes to their Roman taskmasters. Now that's the world Jesus came into. They didn't even know anything about democracy, about voting, about certain quote-unquote "freedoms" that we enjoy.
And what did Jesus say? He said this. "Render to Caesar" what? "The things that are Caesar's." You give the government its due. And to God, what? The things that are God's.
He did not come with power and force to overthrow the Roman tyranny. He did not seek social change. He did not attempt to eliminate slavery. He did not come with political or economic issues at stake. They were not the concern of his life and ministry. He did not come to bring new government, to bring democracy, to wave the flag of Judaism, even. His appeal was ever and always to the hearts of individual men and women, not their political freedoms, not their rights under government.
He did not participate in civil rights. He did not crusade to abolish injustice. He preached a saving gospel, so that once a man's soul or a woman's soul is right with God, it matters very little what the externals are. He was not interested in a new social order, but in a new spiritual order, the church. And he mandated the church to carry on the same kind of ministry.
And listen, their problems in those days were far more severe than ours, far more severe. Even people living on relief today have cars, TVs and modern conveniences.
Uprisings were not allowed in that era. The Romans relied strongly on maintaining order. Any Roman governor who allowed uprisings was called back to Rome from his post. He might have gone on trial. He risked imprisonment. In some cases, he could be put to death. In any event, he spent the rest of his days as a social and political outcast.
Moving on to today's passage, Paul makes it clear that we must be subject to our governing authorities, because God has given them to us to maintain order (verse 1).
Naturally, the first question most of us have upon reading that is about totalitarian dictatorships. MacArthur has an answer:
You say, "What about the cruel governments? How can you say that about communist governments? How can you say that about Adolf Hitler? How can you say that about abusive kinds of government? How can you say that those are ordained of God?" Well let me answer it by saying this. I didn't say it. I just read it. The Bible said it. So I'm off the hook, folks. This is not my problem. There is no power but of God.
And then the other side of it is, the power that is, is ordained by God. "You mean in our nation that's what it says?" If it is a power, it's ordained by God. Well you say, "What about the cruel abuses?" Listen, the cruel abuses and the injustices and the wrongs of governments are no reflection of God's holy nature, and no reflection of God's holy will, any more than divorce in a marriage is a reflection of God's holy will. But marriage is no less an institution of God. And though there is apostasy in the church, the church is still an institution ordained of God. But the apostasy is no reflection of the nature of God.
No, abuses do not deny the sacredness nor the divine trust and authority in any of God's institutions, be it the home, the church, or the government. Frankly, men abuse all God's gifts, don't they? And wicked rulers are part of God's plan to punish wicked nations, and to allow evil to run its course toward destruction. If the truth were known, and perhaps someday in heaven, God has designed by His sovereign purpose and will a reason for every government that exists on the face of the earth. Some are for the benefit of those who have done well. Some are for the punishment of those peoples who have done evil. We cannot second-guess why God institutes a certain kind of government in a certain place.
God has ordained government to protect and preserve men, to protect their life and their property. To do that, there must be the role of government to repress evil, to repress crime, and to hold up and honor those who are virtuous and good. So Paul says, "The powers that be are ordained by God." The powers that be are not — I hope you know this — the will of the majority. The majority only reflects the sovereign purpose of God. The powers that be are God's design. And that means any governmental power in any form.
So here, beloved, is reason number one why we submit to the government, because the government is in place by the decree of God. It is the time for God to do in a nation what He chooses to do. It is expressive of the divine will. Sometimes He wants to punish a nation. Sometimes He wants to prosper a nation. Sometimes He wants to bless a people. Sometimes He chooses to judge a people. But government in all its form is by divine decree.
Therefore, those who resist authority — be it good or bad — are going against God's will. As such, those people will fall under His judgement (verse 2).
MacArthur referred to a Russian emigré, Georgy Vinz, who had spoken at his church. This was the faithful Christian response during the repressive days of the former Soviet Union:
Way back in 1839, Robert Haldane, writing in his wonderful commentary on Romans wrote, "The people of God, then, ought to consider resistance to the government under which they live as a very awful crime, even as resistance to God, Himself," end quote. It's quite a remarkable statement, and one which I mentioned to you last week, is whole-heartedly ascribed to by Georgy Vinz and those who have come out of Russia to tell us that the dear Christian brothers and sisters in Russia will make no resistance against their government. And if they are imprisoned, it will be simply and only because of their love and proclamation of the gospel of Jesus Christ.
Wow. That is quite something.
MacArthur had this to say on judgement in verse 2:
So government is divinely decreed, and to resist it is to resist God. Now I want to take you to a third thought as we wrap up. Those who resist will be punished. Look at verse 2, again. "They that resist shall receive to themselves judgment." If you resist the government, you're going to be punished. That's the way it is. The word is krima. It's a word that means judgment.
It's used in 1 Corinthians 11:29, of the judgment of God. But here it's used, I think, primarily in reference to the punishment that comes from God through civil authorities, through civil authorities. God has ordained government to punish evildoers. And if you resist the government, you're going to get punished. Now, if like Daniel, you have to because you have a higher command, then you accept the punishment. But if it's not in that situation, if it's just a choice you make to resist, of course, you're going to receive the punishment. Now that was true in the Old Testament economy.
There is a fine line here between obeying and disobeying those in authority.
MacArthur spoke of Daniel. This is what happened when Daniel disobeyed the king's orders to eat the finest food and enjoy the finest wine:
Look for a moment in your Bible to Daniel's prophe[c]y. And here you have a very clear, precise illustration of a man who refused to do what the king said, because it would be in violation of what God had said. And you remember in Daniel chapter 1 that Daniel was taken into Babylon captive with other of the young princes of Israel, and several of them are named in verse 7. Their real Hebrew names are in verse 6, Hananiah, Mishael, and Azariah. And it says in verse 8 that Daniel purposed in his heart he would not defile himself with the portion of the king's food, nor the wine which he drank. Now here you have the occasion where Daniel is instructed by the Babylonian monarch to take the food of Babylon and eat it. To do that would have been to violate that which he knew to be laws revealed by God, for the Jews had very circumspect dietary laws, and he would not defile himself with food that was not prescribed by God. And yet, in all of Daniel's attitude there's a spirit of submission.
"He requested," verse 8 says, "of the prince of the eunuchs that he might not defile himself." He asks permission. He goes to the one who is over him, under the king, and over him, and he seeks permission. And he gets into a little dialogue. He says, "Let's try a test. I'll commit myself to eating what I would prefer to eat, and after a period of certain days, you come back. We'll look at everybody, those who've eaten the king's meat, and myself having eaten just these vegetables. Ten days will go by and we'll see who looks the best."
And this was a wonderful and conciliating way for Daniel to seek to obey God without becoming abusive of this man who was carrying out orders from his king. And so in verse 14, the man consented and ten days passed. And, of course, you know the story. When the ten days were ended and the man came into to check everybody out, Daniel and his friends far and away surpassed all the others and rose to place of prominence.
Now Daniel could have protested. He could have revolted. He could have been disrespectful to the one over him. He could have badmouthed the king. He could have done all kinds of things. But he sought a conciliating means to obey God in the midst of a difficult situation. But he would not compromise. Later on, as you follow through for a moment in the book of Daniel, you'll remember that three of his friends, of course, in chapter 3, refused to bow down to the idol image. And as a result of that, they had disobeyed the king. They were told to bow down. They would not, because they couldn't bow down to the king when God had told them to bow only to Him. And so they were caught in the same crux of the same dilemma. And they were true to God and they said, "If you want to throw us in the fire, throw us in the fire. If God wants to deliver us, He'll deliver us. And if He doesn't want to deliver us, we still won't bow down."
And so there was a no-compromise attitude. But there was a sense of respect in what they said in verse 17. "If it be so, our God whom we serve is able to deliver us from the burning, fiery furnace. And He will deliver us out of thine hand, oh king. But if not, be it known unto thee, oh king, that we will not serve thy gods nor worship the golden image which thou hast set up." They did not speak any evil words against him. They were not disrespectful. They called him by his proper title. And they simply said, "We will not do this. But we are more than happy to suffer whatever consequences you feel are just for our seeming [m]isbehavior." And, again, their attitude is remarkably conciliating and gracious in the light of what they might have said. As a result of it, chapter 3, verse 30 says, "The king promoted Shadrach, Meshach, and Abednego in the province of Babylon." They got a promotion because the king surely appreciated men with great conviction. He also wouldn't mind having people on his team who could walk through fiery furnaces.
And then in chapter 6, we find, of course, that very familiar account of Daniel in the lion's den. And now it's moved out of the Babylonian setting, and we're in the Medeo-Persian kingdom. And by the way, I want to say as a footnote here, there is absolutely nothing wrong for anyone serving in a government position. There's nothing wrong with serving in a civil government role or a state government, or any other kind of leadership. That is an honored position. And Daniel is the single best example of that in the Scripture. And every time he was uncompromising, he got a greater reputation.
And because of his uncompromising spirit, he was constantly promoted till he finally became the prime minister of the whole nation, the whole kingdom. It is an honorable thing to serve in government. It is not a dishonorable thing. Daniel is an illustration of that. But it was Daniel's wonderfully conciliating, and yet non-compromising attitude that caused him to prosper. You remember that Daniel prayed. And so those princes that wanted to get rid of Daniel got the king to sign an edict that no one was to pray to anybody, no one was to give obeisance to any other god.
And, of course, Daniel went on with his prayers. He went on with doing what he knew was right before God. And so he was thrown into the den of lions. But he was not at all disrespectful, as you know. And God…verse 21, rather, just before God protected him, "Then said Daniel to the king," verse 21, "'Oh, king,'" what? "'Live forever.'" Long live the king. This seems a strange thing for a man about to be thrown in a den of … lions by this king. But he understands that the powers that be are ordained of God. And he is submissive in a unique sense, and very trustful that no matter what that king does to him, he's in the hands of God.
God delivered him. At the end of chapter 6, verse 28 says, "So this Daniel prospered in the reign of Darius, and the reign of Cyrus the Persian." Daniel's no-compromise approach, along with his friends, meant disobeying the government. But his attitude is a model for all those who come to that…that crossroads of having to face the reality that you can't do what the government says, or you can't not do what they say to stop doing. He never wavered from honoring the king, and neither did his friends, Hananiah, Mishael, and Azariah. They were never disrespectful.
In fact, just let me give you a little bit of a pattern that I see flowing out of the experience of Daniel. First of all, normally we obey, respect, and do everything in response to and to please those in authority. We are to be model citizens, obedient not only outwardly, but obedient in spirit. Secondly, we resist and disobey only when we are commanded to do something the Word of God forbids, or are forbidden to do something the Word of God commands. And those two things are illustrated in Daniel's prophecy. He would not do what the Word of God forbid, that is, eat a certain [type] of food. And he would not stop doing what God commanded him to do, and that was pray.
The third princip[le] that flows out of it: Even when government and the Word of God conflict, we should not disobey overtly until we have done all we can to try to resolve the conflict peacefully. Did you get that? To try to resolve the conflict peacefully.
Returning to Paul, he writes to the Romans that rulers are not a threat to good judgement but to bad (verse 3). Do what is good and you will meet well with God's earthly authority, because He will act only against the wrongdoer through earthly authority (verse 4).
These days, in 2020, it seems local authorities can not even accomplish a prosecution of the wrongdoer, whether in Seattle, Portland or London.
Yet, according to Scripture and to history — excepting some of our most recent events — judges, among them magistrates, are tasked with upholding the law. Admittedly, magistrates by name are much more a feature in English law than elsewhere. However, they are in place in other nations, e.g. those such as Judge Judy who hear cases or night court judges. That is not to demean the magistrates' significance at all. Those are the lawgivers you fear the most — much more so than a high court or superior court judge.
Matthew Henry explains:
Rulers are not a terror to good works, but to the evil, &c. Magistracy was designed to be,
[1.] A terror to evil works and evil workers. They bear the sword; not only the sword of war, but the sword of justice. They are heirs of restraint, to put offenders to shame; Laish wanted such, Judges 18:7. Such is the power of sin and corruption that many will not be restrained from the greatest enormities, and such as are most pernicious to human society, by any regard to the law of God and nature or the wrath to come; but only by the fear of temporal punishments, which the wilfulness and perverseness of degenerate mankind have made necessary. Hence it appears that laws with penalties for the lawless and disobedient (1 Timothy 1:9) must be constituted in Christian nations, and are agreeable with, and not contradictory to, the gospel. When men are become such beasts, such ravenous beasts, one to another, they must be dealt with accordingly, taken and destroyed in terrorem–to deter others. The horse and the mule must thus be held in with bit and bridle. In this work the magistrate is the minister of God, Romans 13:4. He acts as God's agent, to whom vengeance belongs; and therefore must take heed of infusing into his judgments any private personal resentments of his own.–To execute wrath upon him that doeth evil. In this the judicial processes of the most vigilant faithful magistrates, though some faint resemblance and prelude of the judgments of the great day, yet come far short of the judgment of God: they reach only to the evil act, can execute wrath only on him that doeth evil: but God's judgment extends to the evil thought, and is a discerner of the intents of the heart.–He beareth not the sword in vain. It is not for nothing that God hath put such a power into the magistrate's hand; but it is intended for the restraining and suppressing of disorders. And therefore, "If thou do that which is evil, which falls under the cognizance and censure of the civil magistrate, be afraid; for civil powers have quick eyes and long arms." It is a good thing when the punishment of malefactors is managed as an ordinance of God, instituted and appointed by him. First, As a holy God, that hates sin, against which, as it appears and puts up its head, a public testimony is thus borne. Secondly, As King of nations, and the God of peace and order, which are hereby preserved. Thirdly, As the protector of the good, whose persons, families, estates, and names, are by this means hedged about. Fourthly, As one that desires not the eternal ruin of sinners, but by the punishment of some would terrify others, and so prevent the like wickedness, that others may hear and fear, and do no more presumptuously. Nay, it is intended for a kindness to those that are punished, that by the destruction of the flesh the spirit may be saved in the day of the Lord Jesus.
[2.] A praise to those that do well. Those that keep in the way of their duty shall have the commendation and protection of the civil powers, to their credit and comfort. "Do that which is good (Romans 13:3), and thou needest not be afraid of the power, which, though terrible, reaches none but those that by their own sin make themselves obnoxious to it; the fire burns only that which is combustible: nay, thou shalt have praise of it." This is the intention of magistracy, and therefore we must, for conscience' sake, be subject to it, as a constitution designed for the public good, to which all private interests must give way.
That explanation ties in well with Paul's next verse about avoiding God's wrath for the sake of conscience (verse 5).
Then we enter into Paul's dictum on taxes, none of which we like and all of which keep increasing year after year. Paul says we must continue paying them, because the authorities in charge are ordained by God (verse 6).
These are hard verses to swallow, especially the one on taxes, particularly these days when it seems we are paying for everyone but ourselves. Aargh!
Henry's explanation appears quaint today, even if there was no welfare/dole in his time:
He does not say, "You give it as an alms," but, "You pay it as a just debt, or lend it to be repaid in all the blessings and advantages of public government, of which you reap the benefit." This is the lesson the apostle teaches, and it becomes all Christians to learn and practise it, that the godly in the land may be found (whatever others are) the quiet and the peaceable in the land.
I suppose we reap it universally in the UK in some way, but, from what many of us can see tangibly, we do not do so broadly these days.
I would elaborate, but will refrain from doing so under our extraordinary circumstances in 2020.
Paul continues about taxes and other payments due (verse 7), however, we see in our time that little has changed — and not for the better, in terms of tax.
Tax aside, Paul sends an important message: pay as you owe without undue delay, showing honour and respect to those with whom you have dealt in business.
Paul was not the only one in the New Testament besides Jesus to advocate obeying the law. James and Peter also did the same in their letters to their converts.
Peaceful assembly can take place, but violence and destruction are unbiblical. Paying taxes is essential as is giving our neighbour and our businessmen their due.
Do unto others as you would be done by is the rule.
Next time — Romans 14:13-19
In September 2018, Guido Fawkes reported that 'Parliament's infamous Sports and Social bar' — his words — had been renamed The Woolsack.
The Woolsack refers to the large red upholstered bale of wool in the House of Lords.
The Woolsack is an ancient part of English history. Wikipedia explains, with photos in the entry (emphases in purple mine):
The Woolsack is the seat of the Lord Speaker in the House of Lords, the Upper House of the Parliament of the United Kingdom. Before 2006, it was the seat of the Lord Chancellor.
In the 14th century King Edward III (1327–1377) commanded that his Lord Chancellor whilst in council should sit on a wool bale, now known as "The Woolsack", in order to symbolise the central nature and huge importance of the wool trade to the economy of England in the Middle Ages.[1][2] Indeed, it was largely to protect the vital English wool trade routes with continental Europe that the Battle of Crécy was fought with the French in 1346.[3] From the Middle Ages until 2006, the presiding officer in the House of Lords was the Lord Chancellor and the Woolsack was usually mentioned in association with the office of Lord Chancellor. In July 2006, the function of Lord Speaker was split from that of Lord Chancellor pursuant to the Constitutional Reform Act 2005, with the former now sitting in the Woolsack.[4]
The Woolsack is a large, wool-stuffed cushion or seat covered with red cloth; it has neither a back nor arms, though in the centre of the Woolsack there is a back-rest. The Lords' Mace is placed on the rear part of the Woolsack.[1]
In 1938, it was discovered that the Woolsack was, in fact, stuffed with horsehair. When the Woolsack was remade it was re-stuffed with wool from all over the Commonwealth as a symbol of unity.[5]
The Lord Speaker may speak from the Woolsack when speaking in his or her capacity as Speaker of the House, but must, if he or she seeks to debate, deliver his or her remarks either from the left side of the Woolsack, or from the normal seats of the Lords.[6]
If a Deputy Speaker presides in the absence of the Lord Speaker, then that individual uses the Woolsack. However, when the House meets in the "Committee of the Whole", the Woolsack remains unoccupied, and the presiding officer, the Chairman or Deputy Chairman, occupies a Chair at the front of the table of the House.[6]
Returning to the former sports and social pub, Guido wrote in 2018 (emphases in the original):
Parliamentary authorities have sneakily reduced the number of guests allowed to be brought into the bar by a passholder from six to just two. Passholders on the Parliamentary estate can still take up to six guests elsewhere…
This move appears to be an attempt to crack down on rowdy behaviour after the bar faced closure last year over a glassing. Guido isn't convinced about this move. From his experience, it usually isn't the guests who make the trouble…
Good grief. Parliamentarians involved in a glassing? Unthinkable, yet, here we are.
On January 24, 2020, Guido posted a photo of the notice on the Woolsack's loo:
Sounds like drugs or sex, doesn't it?
Guido's post has no explanation, therefore, any revelations are for the future.
Meanwhile, this is what British taxpayers fund.
It must stop.
This is my last post on British politics before the December 12 election.
I have already written about Labour and the Liberal Democrats.
Like the Britons in the video below, 17.4 million of us would like to finally see Brexit delivered so that we can move on to trade negotiations with the EU and the world at large. Only one person can lead Parliament to bring this to fruition — Prime Minister Boris Johnson:
Voters have confidence in his leadership thus far (130 days and counting):
Contrary to the misinformation the media have been ramming down our throats, many British voters would be perfectly happy with a no deal or a Boris Brexit:
Although Labour have been promising households in Britain everything except a free puppy, the harsh reality would mean more — and higher — taxes for nearly everyone, 'the many, not the few', to borrow their slogan:
The Institute for Fiscal Studies (IFS) calls Labour's spending plans 'colossal'! Venezuela, here we come:
Labour's proposed higher corporation tax would not only stifle innovation but consumer prices would go up in order to compensate for those taxes:
However, under the Conservatives — even with Parliament's prolonging Brexit uncertainty — Britain has record employment and buoyant wages:
Our currency recently rallied, too. The Boris effect?
The Leader of the House is entirely correct in his assessment of the Prime Minister's support of free enterprise:
Those worried about the NHS should keep in mind that a healthy economy promotes a healthy population.
Since November 6, Conservatives have been campaigning across the country.
The Prime Minister has made several campaign stops every day to factories, schools and hospitals. In November, he visited his constituency of Uxbridge and South Ruislip in west London with his father Stanley, a television celebrity in his own right:
Last week, he made another stop in London: Grodzinski's bakery in Golders Green. The video of Boris piping 'Get Brexit Done' on doughnuts is subtitled. This must be the friendliest and most heart-warming video of the campaign for any party:
Another Conservative of note is Jacob Rees-Mogg, most recently Leader of the House, and current incumbent candidate for North East Somerset:
His sister, Annunziata, is one of four Brexit Party MEPs who, last week, urged voters to back the Conservatives:
Rees-Mogg has been campaigning in North East Somerset since Parliament was dissolved in November. It is a delightful part of England, even when cooler temperatures and rain dominate the landscape:
There is always room for humour in a political campaign. For those unfamiliar with British English, 'moggy' is slang for 'cat':
This is my favourite photo, and it is hard to disagree with the reply:
Conclusion
Only a majority Conservative government can break the Brexit logjam by the time of our next deadline:
Once post-Brexit trade negotiations start in earnest during the transition period, MPs can then begin to focus on what matters to the British:
Are these sensible policies important to you?
While our other political parties, especially the Scottish National Party (SNP), want to break up the Union which has held strong since 1707, the Conservatives will continue to hold it together, because:
On Thursday, December 12, a Conservative vote makes sense:
I'm borrowing this GIF to say …
Back Boris.
We know that Democrats object to tax cuts.
They often say that tax cuts benefit only the rich.
However, when America was in its infancy, the Founding Fathers were against high taxes and a big central state. James Madison, who served as President between 1809 and 1817, was among them.
Fortunately, freshman Congressman Dan Crenshaw (R-Texas) knows his history and believes in the values upon which the United States was founded:
The US needs many more Congressmen like Dan Crenshaw to restore the nation to the principles upon which it was built.