You are currently browsing the tag archive for the 'tax' tag.
On Friday, January 7, 2022, Nigel Farage wrote an editorial for The Telegraph: 'A revolt on the Right is brewing — and I'm ready to be part of it'.
Boris Johnson should be afraid, very afraid.
Nigel Farage's hour-long shows on GB News, broadcast every Monday through Thursday have examined every failing from Boris's Government. His audience ratings are excellent and I know people who will schedule their time in order to be able to watch it.
Farage is currently president of the Reform Party, which used to be the Brexit Party and, prior to that, UKIP. Businessman Richard Tice is the public face of the Reform Party.
This constant renaming is all a bit tiring, yet necessary.
In his editorial, Farage describes past general election campaigns and says that former Labour supporters have been voting either for his party or, most recently in 2019, for the Conservatives, therefore:
Once the generational link with the Labour Party was broken, switching became easy.
He then goes into a litany of Boris's failings, which, despite what No. 10 thinks, are important to a sizeable number of people who voted Conservative in 2019, especially those in Red Wall constituencies that Labour lost that year (emphases mine):
People lent their vote to Johnson in 2019 to break the Brexit logjam and to take back control of our borders because the immigration issue still matters to them. Yet just two years on, the volume of illegal Channel crossings has enraged these voters. The North East now houses 17 times as many asylum seekers as the South East, according to the Migration Observatory. The impact of this is plain for all to see. As the council house waiting list lengthens, there is a growing feeling that Johnson told voters what they wanted to hear about "taking back control" without really meaning it.

Such perceptions are electorally disastrous for any prime minister. Yet there is potentially an even bigger problem on the horizon. This year's massively increased gas and electricity bills are going to cause an enormous shock. Worse still, these large bills will coincide with tax rises. If Richard Tice can get the message through that 25 per cent of people's electricity bills is spent on green subsidies – and that the 5 per cent VAT energy rate has, despite promises, not been removed – then Reform UK will have its big chance.
The revolt on the Right ended the premierships of David Cameron and Theresa May. I founded Reform UK out of the Brexit Party, which had done its job successfully. For now, I am the party's president in a non-executive role, but I intend to increase the help that I'm giving to Richard Tice. Brexit has not been completed properly. The net zero strategy is placing our nation at a significant disadvantage. And the Channel crossings are humiliating Britain. 
I understand the disillusionment of Red Wall voters who thought Brexit would usher in a new politics. This has not happened. It's just more of the same – a metropolitan Tory chumocracy totally detached from the rest of the country. If Johnson wakes up to this, he can still save himself. I suspect, however, that the revolt on the right will cause another prime ministerial casualty.
Despite the old-style Conservative 'chumocracy', many of the Red Wall Conservative MPs are cut from different cloth. Most of them grew up in humbler circumstances and feel conservative to the depths of their being. They are actively interested in their constituencies and their constituents.
That is something Conservative-voting defectors to Reform should consider.
I enjoy watching Nigel Farage. He always brings up some new fact of which I was unaware.
However, the Reform Party is a spoiler party. I will be furious if, when the next election comes, Reform start sapping votes from the Conservatives, thereby returning Red Wall seats to Labour.
I do wonder on what side of the fence Reform actually sits. They make legitimate points but they have no chance at all in winning a seat in Parliament.
The most we can hope for is that Farage gets under Boris's skin so much that he will actually start acting like the Conservative Prime Minister most of England elected.
The Conservative Party Conference took place in Manchester from Sunday, October 3 through Wednesday, October 6, 2021.
It was the first one since 2019, which was two months before their victory in the December 12 election that year.
UK in crisis
This year's conference took place during the ongoing petrol supply problems and shock record-breaking hikes in gas futures on Tuesday and Wednesday:
On top of that, on Wednesday, Reuters reported that the UK's petroleum regulator rejected Shell's plans to redevelop the Jackdaw gasfield in the North Sea (emphases in purple mine):
"We're disappointed by the decision and are considering the implications," a Shell spokesperson said.
It was unclear on what grounds the Offshore Petroleum Regulator for Environment and Decommissioning (OPRED) refused to approve the environmental statement for the field's development.
The Department for Business, Energy and Industrial Strategy, under whose umbrella OPRED operates, did not immediately reply to a request for comment.
Maddening.
The supply chain crisis for food continues. On Wednesday, The Times reported The National Pig Association warned retailers that 120,000 pigs would have to be slaughtered because of a lack of butchers. Some pig farmers are closing down altogether.
Some supermarkets are also suffering from empty shelves. Tesco, however, is bucking the trend. The Times reported that the supermarket chain is:
often highest up the pecking order when it comes to suppliers committing to make the business a priority …
Good for them.
Conference theme disappointing
The conference theme was … Build Back Better.
How awful.
Here it is draped across Central Station Manchester:
The Conservatives riffed on this in a Bake Off-style event. Pictured with Prime Minister Boris Johnson is Home Secretary Priti Patel:
Having listened to some of the speeches and read excerpts from others, they were all light in content. Most of them were pep rally or visionary statements rather than what plans Cabinet ministers have for the nation.
As The Telegraph's Madeline Grant wrote:
Never at a Tory Conference has so little been said, by so many, to so few.
Sunday, October 3
As the conference opened, rumours circulated about three unnamed Labour MPs thinking of crossing the aisle to the Conservatives, as the Mail on Sunday reported:
Guido Fawkes had more on the story (emphases in red Guido's):
… this is due to disillusionment with Starmer's leadership, with the MPs already having opened up "lines of communication" with Tory whips. In related news, a senior Labour MP was spotted by a co-conspirator chatting with two Mail on Sunday hacks and three senior Tory advisors at a conference bar last night…
The day's big event, according to The Spectator, was the drinks party that the 1922 Committee of backbenchers held, sponsored by ConservativeHome. Interestingly, a long-time Labour MP for north-west London — Barry Gardiner — was in attendance:
… the main focus of the night was the 1922 drinks with ConservativeHome in a room stuffed full of parliamentary talent and, for some reason, Barry Gardiner.
Strangely, Boris did not appear, leaving a gap which Chancellor of the Exchequer Rishi Sunak ably filled (video):
While Johnson was not scheduled to make an appearance here, Prime Ministers have traditionally done so in the past to pay tribute to their colleagues. His 'disappointing' absence – in the words of one disgruntled backbencher – left a vacuum for Sunak to fill, in a room full of MPs who will presumably one day decide who Johnson's successor should be.
The Chancellor leapt to the stage to tell fellow Tories about what he was most looking forward too at conference: Michael Gove dancing, the PM running in a full suit (not just a shirt) and 'machine like message discipline from every single one of you – and that means you too Cabinet.' He added that 'I've got your back' to anxious MPs in the room and that 'for the record I too am a low tax conservative' – welcome words for those party donors who Mr S[teerpike, columnist] understands attended a 'tense' meeting earlier at the Midland, amid considerable unease at the recent NI [National Insurance] hike.
In such circumstances, perhaps it's understandable that Boris would stay away.
According to The Telegraph, senior Conservatives have warned Boris not to dream up any more future tax hikes:
Earlier that day, Boris gesticulated wildly at the BBC's Andrew Marr, saying, 'You have no fiercer opponent to tax rises than me'. This probably means more tax rises are on the way:
The Spectator has more on the interview.
On tax hikes, Sir Desmond Swayne MP told talkRADIO's Julia Hartley-Brewer the raw truth. He added that lower taxes will enable greater economic growth:
Another event that Boris avoided was the one by the Tory Reform Group (TRG), which wants the Conservatives to move closer to the centre politically. They are Remainers. The Spectator reported:
Theresa May's former deputy Damian Green welcomed attendees …
Green, a mainstay of various causes on the left-ish wing of the party over the past two decades, told activists that it was their task to 'make sure that the voice of moderate conservatism, centre-right conservatism is as strong as possible within the party' – a job 'never more important than today because there are times when I slightly feel that it is only people like us that stop this party drifting back to being seen as the nasty party.' A tacit rejoinder to Priti Patel perhaps?
But then it was time for the speaker and the great white hope of Tory moderation. Tom Tugendhat, the chairman of the Foreign Affairs Select Committee, took to the stage to ecstatic applause and, like Green, was under no illusions about the awesome responsibility he and his One Nation caucus members share – to keep the Conservative party effectively sane …
There was also ample time for several potshots at the current Tory leader Boris Johnson, with whom Tugendhat is said to enjoy a wary relationship.
Foreign Secretary Liz Truss, tipped to be a future Party leader, also made the rounds that day (video):
The fringes were packed last night as Tory ministers did the rounds. Liz Truss, the darling of the free market think tanks, appeared at the Think Tent equipped with a magnificent blow dry and an applause-winning speech which castigated cancel culture as 'fundamentally wrong.' That and other jibes at identity politics in her conference address lead the Daily Mail this morning to ask whether she is in fact the new Mrs Thatcher.
Several reporters wrote about her new hairdo, which, to me, didn't look much different from the old one.
Returning to the mysterious Labour people who might want to change parties, here's Manchester mayor Andy Burnham, a former Labour MP, heaping praise on Michael Gove, the minister in charge of Boris's levelling up programme. Burnham spoke to Trevor Phillips on Sky News that morning. Hmm:
Neither Andy Burnham nor Barry Gardiner is a Conservative. Crossing the aisle for ideals they don't believe in seems a rather rash way of getting their own back at Keir Starmer.
Boris made four appearances at conference that day, including one for the Scottish Conservatives. Guido captured his wit along with audio:
The PM warned of a "crackpot coalition" between the SNP and Labour – "the only way they could" kick the Tories out.
He described the Labour conference as "a total rabble", saying it had the air to him of "a seriously rattled bus conductor" facing an "insurrection on the top deck of the bus", or the "captain of a Mediterranean cruise ship facing insurrection by a bunch of Somali pirates".
Douglas Ross MP/MSP also addressed Scottish Conservatives. As party leader in Scotland, he wants to position the party as that of the nation's working class. It's a good move, as The Spectator reported:
Like all good fables, Douglas Ross's speech at Tory conference had a beginning, middle and end. Act One detailed the many iniquities of the SNP, from their dysfunctional vaccine passport scheme to their Hate Crime Act, and most of all their agitation for Scotland to break away from the UK. Act Two took the sword to Labour, bemoaned its abandonment of working-class voters and its internal divisions over the constitution. Theirs was not the party to take on the SNP. Only one party was and it was the subject of Act Three, in which Ross deepened a theme begun under Ruth Davidson's leadership: the Scottish Conservatives as the party of the Scottish working-class.
He hit all the familiar notes about the SNP's failings in government, the ones that never seem to stick longer than two or three news cycles and are invariably forgotten about by the next election. He also hinted at an interesting theme that, if teased out carefully, could come into greater play. It is the perception, no longer wholly limited to unionists, that Nicola Sturgeon is a bit… off. Out of touch. Superior. Maybe even a bit of a snob.
In other news, last week, Labour's Angela Rayner called Conservatives 'Tory scum'. Feisty Dehenna Davison MP, representing Bishop Auckland as the constituency's first Conservative, had 'Tory Scum' badges made.
This harks back to 1948, when Aneurin 'Nye' Bevan said the Conservatives were 'lower than vermin'. Following that, the Conservatives formed the Vermin Club. Club member Margaret Roberts — who would become Margaret Thatcher — also had 'Tory Vermin' badges made, as Nigel Farage told Dehenna Davison on GB News:
Party chairman Oliver Dowden pledged that the Conservatives would do away with ugly new housing developments by strengthening planning laws.
He also assured the public that they would have turkeys for Christmas, referring to ongoing supply chain problems.
Monday, October 4
Monday opened with the latest ConservativeHome popularity poll.
Liz Truss is at the top. Other MPs pictured are (left to right) Defence Secretary Ben Wallace, Leader of the House Jacob Rees-Mogg, Chancellor Rishi Sunak and Education Secretary Nadhim Zahawi:
Guido analysed the results, excerpted below:
The turn round in her fortunes from last year when she was being tipped to be sacked from the Cabinet is quite something. Liz is one of the increasingly rare consistently free market voices around the Cabinet table…
Rishi Sunak is down by some 10 points and moves from second to fifth place. Rishi's tax hikes have clearly taken the gloss off him with the true blue believers. 
Grant Shapps [Transport] and Priti Patel are bumping along the bottom in barely positive approval territory. Shapps has been doing fairly well with the incredibly difficult transport brief. Patel is suffering because she has failed to do the seemingly impossible – stop the cross channel migrants. Tory activists are unforgiving, they don't want excuses, they want results.
It was the turn of Rishi Sunak to address the party faithful.
A rise in council tax would not go down well. Meanwhile, protesters pelted Sir Iain Duncan Smith MP with a traffic cone:
Some at conference are disappointed with Sunak, whose budget comes up in a few weeks' time. Steve Baker MP is pictured in the second tweet:
Boris was out and about in Greater Manchester. He spoke to an interviewer about policing and said that the Government needs to change its culture, which has become misogynistic, particularly in light of the Sarah Everard murder earlier this year, committed by … a policeman, who recently received a life sentence.
In other news, Justice Secretary Dominic Raab plans to reform UK human rights legislation and do away with the ties to EU human rights legislation we are still under.
With regard to the Labour mystery, Manchester's mayor, Andy Burnham, had a conversation with Levelling Up minister Michael Gove, whom he had praised the day before. The Mail reported that Burnham was also due to address Conservatives at a fringe event sponsored by Transport for the North the following day. Hmm.
The cervix question that appeared at Labour's conference was also brought up with Conservatives. Dominic Raab responded by bringing up both misogyny and misandry in a highly confused way (video):
Two MPs decided to have a bit of fun with the issue as they drove to Manchester together:
Guido recapped their amusing exchange:
Health-conscious Conservative MPs Marco Longhi and Lee Anderson don't want to fanny about when it comes to their well-being. Marco, according to their road-trip video, made sure to receive a cervix exam before heading to conference this week. Always better to be safe than sorry…
Why is it that no one ever asks if women have a prostate gland?
On the subject of health, Desmond Swayne told Julia Hartley-Brewer why he is firmly against vaccine passports:
Lord Frost (pictured on the right) threatened the EU over the post-Brexit trade issues with Northern Ireland. Outside of the conference, pig farmers protested over the inability to get their stock to market. Boris had said that government cannot solve every issue, referring to the supply chain problem. He also told British businesses to hike staff salaries, which did not go down well, either:
I think they should give the meat away. A lot of poor families would appreciate it.
Tuesday, October 5
Boris began the day with an interview to LBC's Nick Ferrari. Extinction Rebellion offshoot Insulate Britain had blocked some of Britain's roads for the ninth consecutive day.
Despite injunctions from Priti Patel's Home Office, their human blockades continue.
Boris told Ferrari they are 'irresponsible crusties' (video). The question remains whether Extinction Rebellion gets any Government funding:
Dominic Raab confirmed in his speech that he would be reform the Human Rights Act to free it from EU hackles.
Guido's post includes a quote and this summary:
They will detach it from the ECHR, enabling quicker deportations of convicted criminals and swifter action on domestic abusers …
Raab's successor at the Foreign Office, Liz Truss, confirmed a trip to India later this month, ahead of COP26 in Glasgow in November.
Guido had a chat with her:
Among other topics, the foreign secretary confided in Guido she was finding the new department's mandarins to be "a bit 'Yes, Minister'"…
Rishi Sunak addressed the Northern Powerhouse Leaders' Lunch.
Guido says:
Sunak claimed that there is a "new age of optimism" in the north thanks to Red Wall Tories, and heaped them with praise for "helping to change our party and change our country". "In me, you have a Chancellor who is going to be with you every step of the way," he added.
See? I told you these speeches were content-free.
Later in the day, he appeared at a fringe event where he was asked about the cost of Net Zero. This was his alarming answer:
Health Secretary Sajid Javid promised another reform of the NHS, which mostly involves digitisation. I can think of more pressing NHS concerns and agree with Guido:
… pouring in taxpayers' money without checking how it's being spent isn't enough. That cash needs to be put to good use. Reviewing the eye-watering pay packets of some NHS diversity managers would be a start…
The Telegraph's Christopher Hope interviewed Oliver Dowden, who is thinking about resurrecting the singing of the National Anthem at conference, calling it a 'splendid idea'.
Hope also took the opportunity to present Dowden with a 'Tory Scum' badge, which he put on and said he would wear for the duration of the interview. Hope suggested he wear it until the end of conference.
This video shows the badge exchange. Hope gives us more information on the aforementioned Vermin Club:
Guido says that the badges were most popular. Dehenna Davison had to order more:
Many conference-goers have spent the last couple of days asking Davison for one of her badges, only to be disappointed upon being told she'd run out. Good news however, after Davison put in an emergency order for 400 more given their popularity…
The most outrageous session of the day — and a British first — was an address by the Prime Minister's wife to Party faithful. No Prime Minister's spouse — we've had two husbands in that role — has ever made a party political address until now:
Never mind the subject matter: was it the right thing for Carrie Johnson to do — even if she is a very good public speaker? Boris watched from a distance.
Polling stable
I'll review Boris's closing speech in tomorrow's post.
Post-conference polling is stable. YouGov's was taken on Tuesday and Wednesday:
Sir Desmond Swayne explained to Julia Hartley-Brewer that Boris's popularity and the lack of ideas from the Opposition have buoyed the Conservatives:
What Government should do next
Health Secretary Sajid Javid needs to keep a gimlet eye on NHS spending, especially on things like this:
Guido says:
The NHS is recruiting a supplier to deliver "compassionate conversations training" to 14,000 front facing NHS staff in a publicly funded contract worth a mind-boggling £3 million. The contract tender, which was published yesterday and closes on 5 November 2021, says the aim is to equip NHS staff with "the skills they need to handle challenging situations with compassion whilst ensuring they feel able to look after their own wellbeing if needed". Guido assumed that doctors were already taught about the importance of a good bedside manner…
It's almost ludicrous to think that this weekend Javid promised a forensic review of the NHS's management and leadership whilst the NHS continues to recklessly splash cash on diversity roles. Just six months ago Guido revealed that the NHS was hiring eight more 'diversity, equality and inclusion managers' across the country, with salaries up to as much as a whopping £62,000. If Javid is going to cut down those waiting list times he needs to focus taxpayers' money on the clinical front line, not nonsense make-work contracts and diversity roles…
Guido says it is also time for Boris to reconsider the current Government moratorium on fracking:
If Boris wants to energise Britain, domestic gas production should be part of that mix; it would provide energy security when Britain's energy needs are being threatened by the Russians and the the French. Boris is now in a position to do something glorious, to stop pussy-footing around and leave no stone unturned or unfracked. So get on with it…
This is what Boris had to say on the subject while he was Mayor of London:
I won't be holding my breath on either of those propositions.
Tomorrow: Boris's keynote speech
It had to happen at some point.
For the first time since January, a poll has shown that Labour is more popular than the Conservatives.
YouGov took the following poll on September 8 and 9. September 8 was the day of the parliamentary vote on an increase in National Insurance to fund the NHS and, from 2025, social care.
YouGov are also pro-Conservative.
This is a warning to Boris and his team:
The full results are here. They reveal that a high percentage of respondents — 19% — do not know for whom they would vote. That figure was 20% in the previous week's poll.
Those who would not vote in the next election, some years away, rose from 9% to 12%.
Boris Johnson is keen on polls. He should take this to heart and tell his new wife to stop running the country.
LBC's Nick Ferrari interviewed Conservative MP and Cabinet member Oliver Dowden, who said that polls go up and down:
Guido Fawkes's accompanying post says (emphases in the original):
It will have been nigh on impossible for co-conspirators not to have already seen last night's bombshell YouGov poll that sees the Tories end their 149 consecutive leads over Labour, slipping back five points down to 33% versus Labour's 35%. Dowden unsurprisingly put on a brave face, saying "polls go up, they go down". How much further down is the main question…
Meanwhile it's not just the polls that see the Tories in the mud. Guido learns that even a Tory bigwig fundraiser on Wednesday, at Mayfair's Wallace Collection, couldn't get hands reaching into pockets for the party, despite cajoling from both Boris and Rishi. Who knew Tory donors weren't keen on an enormous tax hike?
Guido's readers listed a litany of complaints against the Conservatives — and rightly so:
too much taxation and spending;
too green — also at the cost of the taxpayer, including electricity and gas bills going up dramatically this year and next;
too many economic migrants crossing the Channel from France;
too woke.
Guido also received a lot of comments to this tweet:
The public will not appreciate that Downing Street is defending the NHS in hiring more managers with outrageously high salaries:
Guido quoted a spokesperson who briefed the press (Lobby):
The public will rightly expect every penny raised by the levy to be spent on cutting Covid waiting times and finally fixing the care crisis … NHS England is already working to be more efficient and cut waste.
The spokesperson said that the NHS was already being more efficient. Guido's post says:
… there were initially "211 commissioning organisations", so the 42 executives running the new Integrated Care Services 'significantly reduce[s]' the total number of managers.
And, no, Downing Street said these managers are not 'bureaucrats':
No. 10 also pushed back on calling these managers "bureaucrats", claiming "these individuals will be responsible for a population of around a million people with billion pound budgets, and so we want highly qualified people who can deliver for the public." A reminder that some will earn 80% more than Boris himself…
Guido spotted another YouGov poll on how the imminent rise in National Insurance is going down with the public:
Here are the poll results:
Opinium's results on the same question showed that a clear majority oppose the rise:
In related news, Chancellor Rishi Sunak is suspending the triple-lock on pensions for one year, meaning that state pensions will not rise with inflation. That has not gone down well, either. Admittedly, nearly half of those polled do not know what the triple lock involves. Maintaining the triple lock was also part of the Conservative manifesto, as was the commitment not to raise National Insurance:
Boris is fortunate that Labour's Keir Starmer is so unpopular:
Boris polls way above Starmer:
That said, his popularity might not hold out in the long run.
Some pundits are beginning to refer to the Conservatives as Blue Labour.
However, Paul Embery, who really is Blue Labour, a Labour party member who likes aspects of conservatism, explains how pundits are misusing the label (emphases mine):
There is little sense either that the government understands the value that Blue Labour attaches to relationships and community. Where is the recognition of the family as the bedrock of society and the plan to strengthen that institution? How does the government propose to revitalise our disempowered local and relational institutions — the little platoons that fill the space between market and state and are the lifeblood of our civil society: credit unions, friendly societies, faith groups, co-operatives, and other voluntary or campaigning groups.
All of this stuff matters, and any government genuinely concerned about fostering the deepest social solidarity, reinvigorating democracy and restoring a true sense of community, while making our nation more just and equal, would place these questions front and centre.
But it won't happen under a Boris Johnson government. That's because, at heart, the prime minister, economically and socially, remains an instinctive libertarian. Blue Labour's "socialism with a small 'c'" runs counters to this. Johnson may have the nous to recognise that the movement's message plays well. But he doesn't really believe in it.
I agree with Paul Embery that a Conservative emphasis on family would be a good start, but Boris cannot espouse that without looking hypocritical.
As for Boris being 'an instinctive libertarian', I disagree. He's about as instinctively libertarian as he is Blue Labour.
In any event, Boris should consider these polls a wake-up call. He did say in December 2019 that the overwhelming Conservative votes were 'on loan'. Now he has to find a way to keep them.
Last weekend, the biggest news in Britain was a proposed permanent tax rise on National Insurance (NI) to finance the NHS backlog from coronavirus, then social care.
The NHS needs £10bn within the coming months to begin to take care of the missed appointments, treatments and operations caused by coronavirus. In 2025, the revenue will go towards social care, legislation for which is non-existent at present.
For a low-tax party, the Conservatives have managed to increase taxes to their highest level since the Second World War. Britain has had Conservative prime ministers since 2010:
This is the current situation:
The TaxPayers' Alliance posted a petition against the NI tax rise:
The TaxPayers' Alliance has been keeping a gimlet eye on public sector expenditures, including 'golden goodbyes' for senior civil servants.
On Sunday, September 5, the Telegraph's Christopher Hope reported (emphases mine):
More than 1,000 senior civil servants have received six-figure "golden goodbyes" worth over £100 million since MPs passed a law five years ago to outlaw them, The Telegraph can disclose …
The Enterprise Act – which was passed into law in May 2016 – expressly put a £95,000 cap on exit payments in the public sector.
However, it was not actually implemented until Nov 2020. It was in place for just three months before a court challenge overturned it.
This has allowed senior civil servants to continue to pocket payments of more than £100,000 each.
Analysis by the TaxPayers' Alliance of severance payments in departmental annual reports in 2017/18, 2018/19 and 2019/20, as well as including those reports filed so far for 2020/21, found 1,032 civil servants had received the sums.
In the most recent year The Treasury – which is in charge of the policy – was one of the biggest offenders handing £100,000 payouts to seven civil servants.
Returning to the NI tax rise, Hope retweeted the link to his article on Tuesday:
On Monday, September 6, it appeared that a number of Conservative MPs would rebel on Wednesday, the 8th, when the vote on the measure was held.
Christopher Hope reported on the fact that this tax is likely to affect low-income earners much more than the wealthy:
One Cabinet minister described it as "a tax raid on supermarket workers and nurses so the children of Surrey homeowners can receive bigger inheritances" …
Former minister and Tory MP Jake Berry told the BBC that the rise would disproportionately affect working people "on lower wages than many others in the country", who would end up "paying tax to support people to keep hold of their houses in other parts of the country where house prices may be much higher".
Robert Halfon, chairman of the education select committee, and a former deputy chairman of the party, added that "it's going to hit the low paid, then I think that would cause me huge worries".
On Tuesday, the day when Boris Johnson introduced the proposal to MPs, various think tanks said the same thing. Paul Johnson of the Institute for Fiscal Studies said why NI was being targeted instead of, say, income tax. Both employer and employee will pay a quick and consistent source of revenue:
A levy of 1.25% on employee earnings and on employer wage costs (so a 2.5% overall increase in the tax rate on earnings), will raise £14 billion a year. The extension of this levy to those over state pension age and to dividends is welcome, but this remains a tax which will be overwhelmingly borne by workers with very little coming from pensioners. This continues a trend seen over many decades of the burden of tax being shifted towards earnings. The creation of an entirely new tax will mean yet more quite unnecessary complexity.
CAPX had more on tax disparity, especially for young people, and public sector inefficiency:
… raising NI has been called a 'reverse Robin Hood' tax. The beneficiaries of hikes to NICs would be the already wealthy and their relatives, especially as you don't have to pay NI on income from investments or rental properties.
Meanwhile a 1% rise would see the average earner's tax bill go up by £204 and those earning over £50,000 a year will pay an extra £404 a year. Worst of all, unlike income tax, those on the very lowest wages still have to pay NI. That particularly rankles coming from a party that has spent so long talking about 'taking the lowest paid out of tax' by increasing the personal allowance …
As set out in a previous Adam Smith Institute paper, social care is already cursed with being run by inefficient government bodies. With staff shortages, an ageing population and an inundated NHS, this is a sector facing myriad problems that a tax hike alone won't get near solving. As the ASI's Eamonn Butler puts it, throwing money at the sector without fixing its underlying problems is 'like pouring oil into a rusty engine – it still gets you nowhere'.
That said, if you are going to raise money for the sector, there are some obvious places to look before raising taxes on working age people. We could start by means-testing some of the universal benefits given to pensioners, such as free bus passes and the Winter Fuel Allowance. If the Government is determined to fund it through NICs, at least change the system so that working pensioners pay it as well.
Sadly, as The Sun's Harry Cole tweeted, this tax will only increase:
Worst of all, at the moment, NI revenue doesn't stay segregated. It is used for all and sundry expenditures, as the i paper's Mark Wallace pointed out:
It isn't an "insurance" scheme at all. It's just a second income tax.
There is no "pot" being paid into, no "contributions" in any meaningful sense, and no deal by which what you pay in buys you the benefits that are supposedly purchased. When you "pay in", your money just goes into general taxation, to be spent on whatever the government of the day wants …
At best, the money you pay goes back out of the door in the form of pensions and benefits to an earlier generation of workers. Fulfilling the salesman's promise with the fees of new customers is a Ponzi scheme tactic that Bernie Madoff himself would recognise.
As well as being immoral, this framing distorts our political debate. The confusion makes NI easier to exploit than plain old income tax – as YouGov found in a recent poll, raising the former is sizeably more popular than raising the latter.
Prior to Boris's announcement to MPs, the Government issued MPs with the plan for health and social care funding:
He also sent a detailed letter to the First Ministers of Scotland, Wales and Northern Ireland, whose nations will also benefit from this revenue.
In his statement to MPs, he explained why he broke his party's manifesto commitment not to raise NI contributions:
He concluded his statement with this:
After all the extraordinary actions that have been taken to protect lives and livelihoods over the last 18 months, this is the right, reasonable and fair approach, enabling our amazing NHS to come back strongly from the crisis; tackling the covid backlogs; funding our nurses; making sure that people get the care and treatment they need, in the right place, at the right time; and ending a chronic and unfair anxiety for millions of people and their families up and down this country. I commend this statement to the House.
Sir Keir Starmer, Labour leader, gave the Opposition's response, which was negative. Labour, incidentally, were in power for 13 years — 1997 to 2010 — and never came up with a social care plan, needed then as much as it is needed now.
Boris Johnson responded:
He added:
Let us be in no doubt: if we did what we have heard from the Labour party over the past few weeks, we would still be in lockdown, because the right hon. and learned Gentleman opposed coming out of stage 4; we would have absolutely nothing by way of dealing with the NHS backlogs; and after decades of inertia from the Labour party we would have absolutely no way of dealing with the anxiety of millions of families across this country who face the prospect of catastrophic social care costs.
This Government are dealing with those things—we are dealing with all of them. We are getting on with it. We are taking the decisive action. We are doing it all together. This is the Government who get on and deal with the people's priorities; this is the Government who tackle social care; and, indeed, this is the party of the NHS.
The House of Commons voted on the NI increase on the following day, September 8.
That morning, some in the business world grumbled (Rishi Sunak, Chancellor of the Exchequer, pictured below):
Health Secretary Sajid Javid vowed to make every penny count …
… however, the NHS plans to press on with hiring more useless managers who earn much more than the Prime Minister:
By the time the debate before the vote took place, most Conservative MPs had calmed down.
The New Statesman, a Labour-supporting magazine, explained why:
What has changed? The main thing is the Tory sense of pragmatism that has seen the party shapeshift, change leaders and directions time and again to electoral advantage. One Conservative MP says they understand that this health and social care levy is a "flagship policy" of the government – not one they can rebel on lightly without inflicting serious harm on their own brand. A cynic might also wonder if rumours of a cabinet reshuffle before Conservative Party conference … have helped to inspire loyalty in the Conservative ranks.
There is a second factor that has influenced those on the back benches. Conservative MPs have reluctantly concluded that they will be in a weak position to ask for more money for the NHS in their constituencies if they oppose a levy designed to raise funds for it. Tory MPs are competing against each other for money from the towns fund, levelling-up fund, and for a piece of the pie in new funding for NHS hospitals. They know their negotiating hand is weakened if they rebel.
The third factor in squeezing the rebellion is, quite simply, that Tory MPs think the Prime Minister's plan is better than they had initially feared. The proposal was first reported over the weekend, before the government had decided the final details of the policy, leaving critics time to get ahead of the story without anyone from No 10 making the case for it. Expanding the national insurance levy to include pensioners in work has done something to allay Tory fears that this is an unfair tax on younger people, as has the dividends tax hike.
In the end, the NI increase was voted in comfortably — 319 to 208:
Only five Conservative MPs voted against the bill:
However, 37 Conservatives abstained.
The public are divided on increasing NI, according to Opinium (more here):
However, YouGov's poll results were much closer:
It will be interesting to see what happens in 2025, when the NI increase is shifted from the NHS to social care, because the NHS always demand more money:
And what happens if Labour are in charge again someday?
I might not like it, but I hope this works, for Conservatives and the UK.
Both houses of Parliament returned from summer recess today.
The Commons debated on whether to raise tax on National Insurance (Social Security, to my American readers) by 1% to meet 'social care' needs. I put that in quotes because, as ITV's Robert Peston wrote on Sunday, September 5, there is no social care programme from the Conservatives yet, so proceeds from the tax increase will be used for the NHS, post-pandemic. Emphases in purple mine:
Election manifestos are contracts with voters. Under our parliamentary system, their promises are supposed to be broken only in exceptional and extreme circumstances.
Boris Johnson's manifesto, his contract with us that he effectively signed in December 2019, said "I guarantee we will not raise the rate of income tax, VAT or National Insurance".
… barring a full-scale cabinet revolt that forces a climbdown – he will break that guarantee, with a rise of 1.25% in the rates of national insurance paid by employees and employers to raise more than £10bn a year.
So does the Covid-19 crisis, and its deleterious impact on the public finances, represent the kind of crisis that most people would see as rendering the manifesto null and void, as in effect triggering what in business would be called a "force majeure" clause? …

Strikingly, I cannot find a single member of Boris Johnson's cabinet who argues national insurance should rise …

This does not look like laser-like targeted help, a rare example of benign hypothecation. For most ministers, the NI rise is billions being poured into a huge and fuzzy health-and-care black hole, without even the fig leaf of a half-plan to ensure the money is spent properly.
Spending the money properly is an important consideration. The NHS, laudable as it is in principle, needs looking at with regard to how it runs on a day-to-day basis.
Last week, an NHS blog post for senior management made the rounds in the UK. Guido Fawkes picked up on it today.
Amazingly, it was written by a senior manager at the Nursing and Midwifery Council. She has a degree in American Studies.
Perhaps I'm dated, but aren't nurses and midwives there to care for patients' health and new mothers' wellbeing?
If tax has to be raised, then let us ensure it is spent on patient care.
Returning to Robert Peston's article, here are the three reasons why government ministers are concerned about this tax rise:
On the one hand, it is supposed to put the social care system – long-term care for the elderly and frail – on a sustainable financial footing.
Which would be all very well, except there has been no published government report on Johnson's watch of the social care sector's needs, despite his assurance that such a plan exists.
Second, most of the new billions will be going in the first few years to the NHS, to help it catch up with the backlog of millions of operations, procedures and treatments, that have been delayed by the invasion of Covid-19 …
Third, ministers and the PM's MPs recognise that national insurance is not necessarily the fairest tax to use to raise funds for services that are predominantly of use to the oldest, since it isn't levied on those who reach retirement age, and is levied even on young people with very low earnings.
This matters, given that both the financial crisis of 2007-9 and the Covid-19 crisis had the most damaging economic impact on young people, and the finances of the older generation largely improved.
Johnson wants to be seen as a One Nation PM.
But in taxing the young disproportionately, he looks like someone penalising younger Labour voters to protect older Tory ones.
Incidentally, today's debate on the National Insurance Contributions Bill was unrelated to the proposed tax rise:
Returning to financing the NHS with a rise in National Insurance: an increase of 1% sounds small, but it isn't. The first tweet is from the Economics Editor for the Financial Times. James McKintosh is from The Wall Street Journal:
No one interviewed on GB News — whether Liberal Democrat, Labour-leaning journalists or Conservatives — thought that raising tax on National Insurance was a good idea.
On Sunday morning, Dehenna Davison, the first Conservative MP for Bishop Auckland in the north of England, held up a copy of the 2019 party manifesto which clearly says that the main three taxes will not be increased. Arlene Foster, former DUP MP, must be happy she's out of Westminster:
Guido Fawkes has come up with more opposition:
Robert Peston says that Boris is likely to get his way and use a cabinet reshuffle as a threat to comply:
The rumours of a Thursday reshuffle may be the PM's Stalin-lite threat to colleagues to back him or risk demotion or even exile to the backbenches.
But even without that threat, Johnson's not in serious trouble. Remember he picked his cabinet for loyalty not backbone.
Boris is gambling on Keir Starmer's weakness as Leader of the Opposition.
However, Starmer won't always be Labour leader. The next one will remember this and pin it on low-taxation Conservatives at the next election; we can be sure of that:
Johnson will get his tax. And whether he likes it or not, it will always have his name on it.
Boris, a keen student of history, would do well to remember what happened to Bush I when he ran for re-election in 1992. In 1988, he promised 'no new taxes'. Taxes went up under his watch. Bill Clinton won in 1992 with 'It's the economy, stupid' and served two terms.
My message to Boris is 'Danger, Will Robinson. Danger'.
On Monday, May 17, 2021, Guido Fawkes posted a summary of Christopher Snowdon's Nanny State Index 2021:
It says (emphases in the original):
The Nanny State Index (NSI) has been updated for 2021, and it makes for grim reading for any libertarian – with author Christopher Snowdon claiming "everything is steadily getting worse" and that "all the momentum is with the paternalists of 'public health'" in the wake of the pandemic. Lifestyle restrictions on eating, drinking, smoking, and vaping have all steadily increased across Europe for the past four years…
The post includes a summary quote about the UK from Snowdon. Among the European countries he researched, we've become somewhat more free only because of certain duty freezes during the pandemic:
It is a sign of how much nanny state activity there has been in Europe since 2019 that the United Kingdom has slipped from fourth place to eleventh in the table without liberalising anything. This can be partly explained by the government freezing beer and spirits duty since 2018 and freezing wine duty in 2020. Adjusted for income, its alcohol taxes are now only the ninth highest of the 30 countries in the index. It also helps that the UK takes a common sense approach to e-cigarettes… It remains to be seen whether the government uses Brexit as an opportunity for further liberalisation, but it remains highly paternalistic on food, soft drinks and tobacco.
However, what follows is the biggest news gleaned from the report (purple highlight mine):
The nannying countries at the top of the table – Norway, Lithuania, and Finland – don't boast higher life expectancies or lower hospitalisations connected to smoking or drinking, though that hasn't stopped governments pushing illiberal policies further and further – especially under the cover of the pandemic. It's gesture politics at its most dangerous.
Many of us who are libertarians thought so.
It's always good to have proof of that fact.
Readers can find Christopher Snowdon's chart here along with his full 44-page report.
Page 4 of the report discusses the Nanny State's adverse impact on the poor, who rely on alcohol and cigarettes to calm their nerves. It states (emphases mine):
Insofar as 'public health' campaigners acknowledge the damage done by their policies, they argue that it is more than offset by the benefit to health – the ends justify the means. But there is little evidence that countries with more paternalistic policies enjoy greater health or longevity. As Figure 1 shows below, there is no correlation whatsoever between Nanny State Index scores and life expectancy.
Although the UK has dropped from fourth place to 12th in a year, making it freer, this is only because dealing with the pandemic has hoovered up funds that normally would have been spent on tobacco and alcohol control.
As an avid follower of the UK Parliament's debates, I am sure, sadly, that tobacco control will once again be on the agenda when it can be funded. The Government would like to resume this year. We'll see.
In any event, I am grateful that Chancellor Rishi Sunak froze tobacco duty in this year's budget, after having raised it twice last year.
In the UK, the annual budget statement is the Parliamentary event of the year for the British public.
This year, it took place on Wednesday, March 3:
In the old days, many people bought a newspaper the following day for the details on taxes.
Now everything is online and many more people are tuning in to one of the two Parliamentary channels to watch proceedings.
Why is this so important? As Chancellor of the Exchequer Rishi Sunak says, this involves taxpayers' money. It's not the government's, it's ours:
This year, he held the first-ever press conference on the budget:
Here is a bit of history on the UK budget:
In modern times, the Chancellor displays his ministerial red box for an obligatory photo op before going to Parliament:
Despite what the Opposition said on Wednesday, Rishi Sunak put in a lot of work, including television interviews:
He held an online meeting with those most affected by the coronavirus lockdown and the loss of income:
No one could have imagined that when he gave his first budget, on March 11, 2020, one that was full of optimism and big plans, how things would change within one year:
By the way, the projected coronavirus spending for this year should fall dramatically compared with 2020:
On the day the Chancellor lays out the budget, the Chairman of the Ways and Means committee presides, rather than the Speaker of the House.
Since last year's budget, Dame Eleanor Laing, also a Deputy Speaker of the House, was appointed to head this committee:
In the next video, the delightful Dame Eleanor explains what the budget is and how it is debated in Parliament after the Chancellor presents it:
Coronavirus has brought its own challenges. Normally, every MP packs into the Commons for the budget. This year, socially distancing was enforced. Most MPs participated in the initial debate virtually:
Here she is with her team. Masks are obligatory on the Parliamentary estate these days:
This is the video of the coverage as it happened. Click to watch it:
Below are the highlights.
Much of it concerns economic recovery from the pandemic:
Most taxes are frozen for now as well as personal tax thresholds:
There will also be a new taskforce to help prevent fraud in coronavirus claims:
These are designed to fit around Prime Minister Boris Johnson's roadmap to exit the coronavirus crisis:
There will be help for small-to-medium businesses:
And help for technology businesses:
There is a new visa programme to attract the brightest and best talent:
I do hope that our education system is improved so that we do not need to keep looking abroad for talent. Only 30 years ago, Britain's schools were among the best in the world. How times have changed.
You can get more detail about the budget from The Telegraph. One thing to note is that the inheritance tax threshold has not changed since 2009. It is still £325,000 per person.
Finally, in an exciting post-EU development, the Chancellor announced eight new Freeports, where favourable customs rules and tax reliefs will apply, furthering trade with other nations:
Teesside will also be the new 'campus' for the UK's treasury, just up the road from the Chancellor:
The hospitality industry, which has been closed since December — and longer in some places with regional lockdowns — welcomed the budget measures:
The director-general of the Confederation of British Industry (CBI) was also satisfied:
I am cautiously optimistic, but I felt so much happier with the 2020 budget, when we were on top of the world.
For Labour and the SNP, the spending didn't go far enough. However, as Margaret Thatcher, Britain's first female Prime Minister and a Conservative, said in 1983: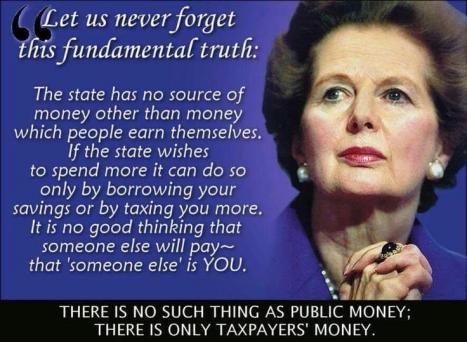 Rishi Sunak is attempting to navigate Britain's worst financial crisis since the early 1700s.
Let's hope his plan works.
Janet Yellen, the US Treasury Secretary nominee wants more of the everyday American's money and possibly property.
From patriots.win:
That means you could be taxed on 'earnings' that do not exist. The Internal Revenue Service could estimate it for you. You would pay them for a hypothetical gain that doesn't exist.
How often would the IRS make that assessment? Once a year? Once a month? With every share movement? How would they do it?
Who knows?
It could put a real and permanent dent in the stock market. Remember, a lot of everyday Americans have holdings in stocks and mutual funds. The stock market isn't just for the big players.
The idea, if it gets traction (heaven forfend), could go further.
The patriots.win thread had the following comment (emphases mine):
Yellen also mentioned having zero problem with government becoming an active 'shareholder' in companies and enterprises in the USA, and would encourage the practice.
This is called central planning. It's a required step to complete takeover of the economy by the state (call it part of the great reset or just the vanilla off-the-shelf plan on the march towards communism, all the same really)
Taxing unrealized capital gains using a mark to market formula is just a way to extort the ownership of private interests over time into the hands of the government.
Starting a new business? When you get that seed round of capital from investors of $2M and your valuation jumps from $0 to $8M overnight, welcome to your new unrealized capital gains tax of $1,650,000 in year 1 of operation. We know you're a startup and strapped for cash, so Uncle Sam will gladly take a 20% equity stake in your startup in lieu of cash. We'll be sure to send one of Pelosi's staff members to your next board meeting to help run the company and make decisions, too.
Have a rental property portfolio? Hey, well, we not only put in a moratorium on evictions due to COVID-19, so you can't get rid of the deadbeat tenants sitting there and renting out your apartments as Airbnb units and paying zero rent to you, but our assessors estimate your property value went up 28% last year because, you know, you own some prime buildings in the best locations and everyone wants to stay there so you owe us $2,100,000 in unrealized capital gains taxes this year. No cash? No worries, we'll take on an ownership stake of 9% of your portfolio (minus any liabilities for property taxes or liability, those are YOUR problem, bud), and now since you are technically part federally funded, you must adhere to these federal housing regulations we just put into place where you have to dedicate 20% of your units to refugee housing.
Oh look, how cute.. a couple that worked their asses off the past 25 years, paid off their mortgage, and are living free and clear in their home with just enough savings to maintain their independence and live out the rest of their lives in peace, maybe even one day handing down the property to their children. How quaint and racist/colonialist/sexist/etc. Well, our assessor used a nice little black box formula to estimate your property went up in value 22% last year so pay us $29,000 this year to keep your house. We don't care that market conditions don't reflect the actual value of the home according to our estimates, you're free to prove to us the house isn't worth as much as we think it is by selling it before December 31st just as all your other neighbors are selling right now because of the plummeting prices thanks to our blanket district-wide appraisal. That's just a temporary market glut and has no bearing on the actual value of your house according to our mark to market ratio.
IT'S ALL COMING — AND FASTER THAN ANYONE THINKS.
Good grief.
Pray someone does something about Biden and his team.
If this isn't communism, what is?
Andrew Neil's Spectator TV posted its sixth episode of The Week in 60 Minutes on Thursday, October 8, 2020:
Guests included Prof David Nabarro, World Health Organization special envoy for Covid-19; Andy Preston, mayor of Middlesbrough; Pat Leahy, political editor of the Irish Times and a few Spectator journalists.
The programme began with the status of coronavirus measures in Ireland.
Pat Leahy, political editor of the Irish Times, says that the Irish government was surprised by the recent recommended lockdown which they ultimately rejected. The Irish government were highly critical of the proposed measures, privately and publicly. Leahy explained that the head of the public health advisers has been off work because of compassionate leave, then, last Sunday, he returned and recommended another lockdown. The Irish government took it as, he says, a 'power play'.
The government objected to the health experts' very quick meetings amongst themselves and with government officials. Leahy said that the government were 'annoyed'.
The government did not disagree with the recommended measures per se, but there was a fine balance to be achieved. The minister of finance warned of employment and social consequences, because a number of jobs would not be coming back. He and his staff needed to consider if other measures could be taken instead.
Neil mentioned today's minimal COVID-19 deaths in Ireland. Leahy agreed and said that the so-called second wave has much less severe than the first. That said, the admissions to hospitals have been rising dramatically. So, there is a question about whether the second wave is different from the first. The Irish government felt they could weigh the statistics, adopting a wait-and-see approach. Leahy said that Dr Leo Varadkar, a physician who was formerly the prime minister and is now the deputy prime minister, essentially threw the nation's chief medical officer Tony Holohan 'under the bus'.
Leahy said that the part of Ireland's problem was assigning decisions to scientists and doctors in the first wave earlier this year. Currently, scientific advice 'is only one factor' in the decision making process that the Irish government will take with regard to coronavirus measures. Leahy said that time will tell whether the public will back the government. The economic factors are such that things could change in the weeks to come.
Katy Balls was up next, advocating Swedish models that a number of Conservative MPs back. A number of backbenchers disapprove of Drs Whitty and Vallance.
Conversation then turned to the WHO's Prof David Nabarro who says we are still in a bit of the first wave and we're not over it, so we need to learn how to live with the virus without lockdown and the 'closing down of economies'. What he calls 'the middle path' requires holding the virus at bay while allowing the economy to resume in order to make certain we can put safeguards in place, so that we can stop the virus whilst getting local 'actors', as well as testing and tracing, involved as much as possible and a common commitment to each other to keep everything as safe as possible. He said that lockdowns serve only to give a health service some breathing space.
Nabarro said that is what South East Asian countries are doing, also Germany and Canada. As lockdown lifts, nations can deal with increased cases 'elegantly'.
As for Ireland, Nabarro sided halfway with the Irish government and halfway with the scientific advisors. He did caution that public buy-in was necessary for any success.
Nabarro predicted many more weeks of uncertainty but that we would feel 'much more comfortable' in the New Year.
Neil asked Nabarro about Prof Sunetra Gupta's views on a milder lockdown. Nabarro said that the WHO do not advocate lockdowns as an absolute principle. (UK government: please take note!) He cited the damage done to the Caribbean and Pacific tourist industry. As a result, many more people could lapse into poverty.
Neil brought up Scotland's coming lockdown and a possible one in the North of England.
Kate Andrews had current statistics, comparing them to Sir Patrick Vallance's alarming case graph from the third week of September. So far, we are not close to Vallance's projection, but the UK is higher than France's and Spain's cases, respectively.
The effect of local lockdowns showed a skyrocketing in positive tests ('cases').  According to statistics, it is possible that Leicester should have already been taken out of lockdown.
Kate Andrews showed graphs that revealed that hospitality was responsible for a very low number of cases: around four per cent, not dissimilar to this pie chart, which I cited last Friday.
Nabarro intervened, saying he preferred 'local integrated responses', because breaking the virus involves input from every institution, be it a factory or a house of worship. He praised Leicester for its diversity, holding it up as a model for the world.
The Spectator's political editor, James Forsyth, came on to comment about the former Labour 'Red Wall' in the North. Much of that Red Wall voted for Conservatives in December 2019. Forsyth said that lockdown will be viewed as flooding has been in recent years: even if measures taken are not political, they look as if they ARE political. Northerners see that London and the surrounding Home Counties will not be locked down, and, as a result, will suffer fewer socio-economic casualties.
Andy Preston, the Independent mayor of Middlesbrough, was the next guest. He has been positively incandescent about lockdown. The transmission is a bit choppy, but Preston said that many of his residents didn't personally know many people who had or died of COVID-19. He added that Middlesbrough's residents have paid more in tax whilst losing out locally. He felt that 'the Government is doing stuff to us'.
Preston has asked for a temporary ban on in-house socialising but supports frequenting restaurants. He said that local government and the UK government need to work together on measures.
Preston said that he thought there was an 'inside group' of advisers to the government, with no one from Middlesbrough involved.
He said that this type of decision making could go 'very badly wrong for the country'.
Talk then turned towards the American vice presidential debate. Freddy Gray covered this segment. He said that Mike Pence is 'a very accomplished performer', 'intelligent and he spoke very fluently'. He disclosed that he has never been a Pence fan but predicted that he could be the next Republican nominee in 2024.
Neil said that a Trump-Biden virtual debate would not be the first. Nixon broadcasted in 1960 from Los Angeles. Gray said that no one knew what is going on in Trump's mind and said that the American president had gone 'full gonzo'.
Viewers' questions came next.
The first had to do with successful measures against COVID-19. Nabarro commented on coronavirus success in South East Asia, which he attributed to community buy-in and no delay in taking action, which can result in more problems later.
Another viewer said that England's mayors needed to come together with regard to England's lockdown. Andy Preston said he would back Manchester's Andy Burnham, a former Labour MP.
A third viewer wondered about the vote coming up this week on England's 10 p.m. curfew. Katy Balls said she doubted whether Labour would oppose the vote, but Conservative rebels might have their chance in the weeks to come to succeed in voting against the Government. (Personally, I don't think it will happen. Most of the Opposition support lockdown measures and restricting civil liberties.)
James Forsyth says that half the Conservative MPs really detest the Government's coronavirus restrictions. He cited the communications surrounding them and questioned what the £12bn poured into the 'test and trace' programme has actually achieved. He said it was 'not delivering'.
Andrew Neil asked about the Great Barrington Declaration, which Prof Sunetra Gupta and many other physicians signed a week ago in Massachusetts. Kate Andrews said that Prime Minister Boris Johnson said there would be a 'game changer' with no social restrictions a year from now. As such, time is not a big deal for Boris. Neil said that Boris sounded like Chauncey Gardiner. I don't like saying this, but I tend to agree with his assessment. Boris seems off the rails right now.
Leahy had the final word, measuring the rising positive tests with closed pubs and other measures. The Irish government, he says, needs to give these new measures time to work, including buy-in from the public to avoid another lockdown. He predicts another two to three weeks.
The final question came to Nabarro about the origin of the virus. He said, in short, that there was no definitive answer. 'You [have to] bring in independent actors', therefore, the WHO would need 'to bring in other staff to help'.
Hmm. Interesting.
Then, in an abrupt change of tone, Nabarro sounded a blast at certain countries, including Belarus and Spain, saying that a second wave could come soon and that no nation should be complacent.
Hmm.
Charles Stanley Wealth Managers sponsored this week's programme. For that, we are most grateful. Agree or disagree, Spectator TV is manna in a desert of dry, one-way MSM broadcasts.
This week, a mini-rebellion erupted on the Conservative back benches over coronavirus.
More on that in a moment.
First, let's have a look at Friday's headlines.
As millions of Britons are worrying about their vanishing income, it is shameful that the Independent Parliamentary Standards Authority, an independent body which oversees the system of allowances and salaries for Members of Parliament, decided to give them a pay rise! Incidentally, a Labour MP is shown in the photograph below:
Unconscionable!
Although the economy was starting to recover earlier in the summer when lockdown was lifted, things are different today:
It's been a challenging year for Rishi Sunak, the Chancellor of the Exchequer, who replaced Sajid Javid in March, just a fortnight before lockdown. He delivered a brilliant budget for a bright year ahead, then coronavirus struck.
Sunak is one of the contrarians on coronavirus and is said to prefer letting Britons get back to work.
That said, he has given billions in financial aid to the nation and delivered a Winter Economic Plan. However, pressure is on now to not only find a way to boost the Treasury's coffers but also to provide extra financial support to the areas of the country which are under what seems to be permanent lockdown. The Huffington Post has more on today's new measures.
These are the highlights:
This is his latest tax plan:
Hmm:
It's a tough job, so I'm glad Rishi is in that post. He's doing the best he can.
Next door, at No. 10 Downing Street, Rishi's former aide Allegra Stratton has been named as Prime Minister Boris Johnson's new press secretary. Conservative men across the nation had hoped for a Kayleigh McEnany, but we will wish Ms Stratton well in her new job:
Note how media and politics intertwine. Stratton is connected not only to Nos. 10 and 11 Downing Street but also to top adviser Dominic Cummings as well as to The Spectator:
Guido Fawkes says (emphases in the original):
Widely anticipated and always the bookies favourite, Allegra Stratton has been confirmed as the new Downing Street Press Secretary. Her experience as a television reporter on Newsnight, ITV News and with Peston will stand her in good stead. 40 year-old Allegra is married to the Spectator's James Forsyth. They have one child. She has done a good job spinning for Rishi and he will miss her…
Bring on the briefings…
Stratton left ITV in April to work for Rishi:
I had bookmarked a tweet from ITV's political editor Robert Peston a few months ago when No. 10 announced its search for a press secretary. Unfortunately, I subsequently deleted it. Peston tweeted that he knew of a perfect candidate, someone who had worked for him and was now working for Rishi Sunak: Allegra Stratton.
And, lo, it came to pass.
Here's an interesting tweet from May, after Dominic Cummings had to give a press conference in the garden of No. 10 to apologise for his questionable trip up North to Barnard Castle (a town named for its castle) with his wife Mary Wakefield and their four-year-old son:
One of Cummings's goals was to clear out No. 10 of Remainers in senior positions. Cabinet Secretary Sir Mark Sedwill, the most senior Remainer and the man in charge of civil servants, resigned during the summer.
Sedwill's replacement is Simon Case, who used to work for Prince William:
Guido Fawkes has posted Case's email to civil servants, popularly referred to as 'mandarins', and says:
Simon Case, Sir Mark Sedwill's replacement as Cabinet Secretary, has got off to a strong start in the job by sending an email to all civil servants boasting of his 'profound sense of pride in our nation's history", telling Whitehall staff "We must maintain our dedication to honesty, integrity, impartiality and objectivity." Guido hopes counselling will be put in place for any distressed metropolitan mandarins at this time…
Now on to coronavirus.
Scotland's Nicola Sturgeon is putting much of that nation under a 16-day 'circuit-breaker' lockdown (pubs shut, no alcohol in restaurants, no visiting) during half-term (break for schools). Yet she is decommissioning the Nightingale hospital in Glasgow. Why?
In England and Wales, questions have been raised about the new contact-tracing app:
Today (Friday), the Telegraph's Chief Political Correspondent Christopher Hope interviewed the Conservative MP, Sir Iain Duncan Smith, who had a lot to say not only on coronavirus but also Brexit (he thinks large parts of the Withdrawal Agreement should be torn up if we want a Canada deal).
Excerpts follow (emphases mine):
Boris Johnson will never defeat the coronavirus pandemic, Sir Iain Duncan Smith has said, and instead must start to help Britons to learn to live with the disease.
The former Conservative leader told today's Chopper Politics podcast … : "'I've never been to a time like this where we have almost suspended all judgement on everything else as secondary to Covid.
"And the truth is that if we go on just trying to push these spikes down the whole time … then we could be in this for years because there are very few vaccines that have been completely effective against viruses."
Sir Iain said the focus on Covid meant that other risks were being completely ignored. He said that the problem was "we've lost the balance of risks. We now have only one risk. And if you think of only one risk, then you can damage everything around you".
He added that he thought the right course of action regarding coronavirus was "managing it but not expecting that, as people say, we can defeat this, because I honestly don't think we will actually."
YES!
The 30-minute podcast is here. Hope interviews other guests, too.
Conservative MPs are warning Boris not to take the votes of former Labour-supporting area lightly. Those areas, many of which now have Conservative MPs, are the ones most affected by semi-permanent lockdown:
Earlier in the week, the Government postponed a vote on the 10 p.m. curfew on pubs and restaurants in England. It has been rescheduled for next week:
Members of the public are understandably concerned. One summarised Boris's speech at the (virtual) Conservative Party conference this week:
But I digress.
The reason the Government are picking on the hospitality sector is because of this chart, which MPs on both sides of the aisle dispute:
Hospitality venues are at the top of the list.
Note that schools and workplaces are not mentioned.
This is the reality, and this is what dissenting MPs are going by. Hospitality is ranked at 4 per cent (see pie chart):
The hospitality sector had to put a lot of money into their businesses in order to reopen during the summer, yet the Government is targeting them. That is also true in France, but we'll stick with England for now:
I am very concerned about this eventuality:
Conservative MP Steve Baker talks a good game, but he voted with the Government this week to renew coronavirus restrictions.
ITV interviewed him yesterday:
ITV has excerpts of Baker's interview:
Speaking to the Acting Prime Minister podcast, the MP said the rule is "badly evidenced and appears to be counter-productive".
He said the rule, which forces pubs to close between 10pm and 5am, is "wrecking the hospitality industry, which we only just pumped lots of taxpayers money into through Eat Out to Help Out".
He claimed the "cost of lockdowns are worse than the cost of the disease" and suggested the PM is only imposing them because of hopes of a vaccine "turning up and solving all these problems".
He said he fears the UK is in "grave danger" of "jumping into a lobster pot here from which we can't emerge" if a vaccine is not forthcoming.
"The danger we're in at the moment is we'll destroy our economy," he told podcast host Paul Brand.
He said he supports Prime Minister Boris Johnson in his response to coronavirus, but questioned whether he is "betting the country on a vaccine turning up".
"If his strategy is based on a vaccine coming, I think there's going to be a problem," he said.
The Wycombe MP appeared to suggest the team around the prime minister was not allowing him to use his strengths …
Mr Baker, who was a prominent Brexit supporter, said he "deeply" regrets the way the UK divided over EU membership and said he can feel the same happening with coronavirus.
"I'm really worried that our society is polarising with hysterical arguments on both sides.
"What I am saying is I want us to have a radical spirit of concern for one another, a radical willingness to listen to one another and then be moderate in what we say and do to try and close all these, all these divides." 
I agree wholeheartedly with every word.
In closing, I really hope that Steve Baker and the other Conservative rebels vote against the Government on the hospitality curfew next week.
They won't win, but they will send a strong message to Boris and Matt Hancock.