You are currently browsing the tag archive for the 'television' tag.
One year ago today saw the beginning of the Queen's Platinum Jubilee celebrations.
As she was in such poor health, she was only able to make balcony appearances at Buckingham Palace.
However, she was with us in spirit.
Christian faith
One of the events was a Service of Thanksgiving at St Paul's Cathedral.
The Queen was a woman of faith. It seemed that, as she grew older, she gave us more religious reflections in her Christmas addresses.
On March 1, 2016, six weeks before her 90th birthday, Fox News reported on the foreword to a book about her (emphases mine):
Britain's Queen Elizabeth II reflects on Jesus' central role in her life in a new book ahead of her 90th birthday, calling Christ "the King she serves" in the title.
"I have been — and remain — very grateful to you for your prayers and to God for his steadfast love," the British monarch writes in the foreword to The Servant Queen and the King She Serves, which is to be released in April.
"I have indeed seen His faithfulness," she adds.
Thousands of churches will reportedly be giving away copies of the book, which is being published by HOPE, Bible Society and the London Institute for Contemporary Christianity, according to the Church of England.
"As I've been writing this book and talking about it to friends, to family who don't know Jesus, to my Jewish barber, I've been struck how very interested they are to discover more about the Queen's faith," said Mark Greene, executive director of LICC, who is the co-author of the book.
"The Queen has served us all her adult life, with amazing consistency of character, concern for others and a clear dependence on Christ. The more I've read what she's written and talked to people who know her, the clearer that is," he added.
The following year, one of her chaplains, the Rt Revd Gavin Ashenden, felt pressure from Buckingham Palace to resign. He went further and, in 2019, left Anglicanism for the Catholic Church.
On December 16, 2019, Church Militant reported:
An internationally renowned Anglican bishop and former chaplain to Her Majesty Queen Elizabeth II is leaving the Anglican Church to become a Catholic.
Bishop Gavin Ashenden will be received into full communion by Shrewsbury's Bp. Mark Davies on the fourth Sunday of Advent at Shrewsbury Cathedral, England.
The outspoken prelate became a global media celebrity after he objected to the reading of the Koran at St. Mary's Episcopal Cathedral in Glasgow, Scotland.
The Koranic chapter on Mary, read from the lectern at the service of Holy Communion, on the Feast of the Epiphany 2017, explicitly denied the divinity of Jesus.
Under pressure from Buckingham Palace, Dr. Ashenden resigned his royal chaplaincy in order to be free to challenge the rising tide of apostasy in the Church of England.
Later that year, Ashenden was consecrated a missionary bishop to the United Kingdom and Europe by the Christian Episcopal Church to provide episcopal cover to traditionalist Anglicans leaving the Church of England …
Ashenden explained to Church Militant that for some time he believed he had "the advantage of working out his faith in a broad church as an Anglican," until Anglicanism capitulated "to the increasingly intense and non-negotiaible demands of a secular culture."
"I watched as the Church of England suffered a collapse of inner integrity as it swallowed wholesale secular society's descent into a post-Christian culture," he noted …
Did Ashenden's comments about the reading at the cathedral in Glasgow reach the Queen? How much influence did she have on the decision or did the prelate in charge of the Royal chaplaincy more or less make the decision himself with just a nod from her? We'll never know.
Ill health
Returning to the Queen's faith, the UK was shocked when Her Majesty missed the 2016 Christmas Day service at Sandringham because of ill health. On January 3, 2017, ITV reported:
The Queen's health continues to generate headlines all over the world as she still has not been seen in public since getting a heavy cold.
But Buckingham Palace says she is continuing to recuperate and is dealing daily with documents she receives from the government.
The Queen was last seen on our televisions in a pre-recorded speech on Christmas Day.
But it was her non-appearance at church that day that sent shockwaves throughout the world.
It is thought to be the first time in 28 years that the Queen had missed the Christmas Day service at Sandringham.
Four days after Christmas a fake BBC Twitter account sent alarm bells ringing with the false report that the Queen had died.
But when the Queen did not show up at the New Year's Day service either – fears grew despite Princess Anne telling well-wishers her mother was feeling better.
Visitors at Sandringham today were pleased the 90-year-old monarch is resting up. But it is likely the world will remain anxious until the Queen appears in public again, looking hale and hearty.
In 2022, in the run-up to the Platinum Jubilee, the Queen had not been seen in public since a Women's Institute engagement near Sandringham in February and May, when she opened the Elizabeth Line in London.
Before then, on May 11, her absence prompted Kevin Maguire, the Daily Mirror's associate editor, to say on GB News that her 'royal perks' should be removed. Dan Wootton and Calvin Robinson, who hadn't yet been ordained, reacted most strongly:
A lot of people, as can be seen from the reactions to the following tweet, did not understand why GB News was asking the question Maguire was to answer that evening:
When asked what he had ever done for his country, Maguire pompously replied, 'I do my duty talking to people like you'. I rather like the reply about removing salary and perks from Northern Ireland's MLAs who refuse to meet at Stormont. They had been out for a three-year period not so long ago, then reconvened, then dissolved again over Brexit-related issues. It's no big deal for MLAs, because they get paid salary and expenses (for what?):
Christmas broadcasts
Millions of people tuned in at 3 p.m. on Christmas Day in the UK to watch the Queen's pre-recorded addresses to the nation. My far better half and I missed only one; we were out of the country at the time.
Millions more tuned in from Commonwealth countries where her Christmas messages were also broadcast.
A selection of these messages follows. Faith features in many of them.
In 1960, she opened by greeting the Commonwealth and sending good wishes from herself and her family for Christmas and the New Year. She expressed her gratitude for all the letters and telegrams that she received from people all over the Commonwealth on the birth of her second son (Andrew). Those messages 'made me feel very close to all the family groups throughout the Commonwealth'. She was looking forward to visiting India and Pakistan then Ghana, Sierra Leone and the Gambia in 1961. Then she said that 1960 was a year of less than pleasant events, although she mentioned no specifics. She said that we can influence the world through our personal behaviour, clinging 'most strongly to all those principles we hold to be right and good'. Only that could 'halt and reverse a growing tendency towards violence and disintegration'. She said that one sign of good news was the way in which Nigeria achieved independence that year, and she was happy that it remained part of the Commonwealth. She was also happy about the growing co-operation among those countries. There was no religious message that year:
Her 1975 address is just as relevant today as it was nearly 50 years ago. At the 1:30 mark, she spoke of people being 'dominated by great impersonal forces beyond our control, the scale of things and organisations seem to get bigger and more inhuman' and of inflation, 'the frightening sickness of our world today'. She then spoke of the happiness of Christmas and our Lord's life on earth, saying that His love and example has 'made an enormous difference to the lives of people who have come to understand His teaching'. She added, 'His simple message of love has been turning the world upside down ever since'. She then examined His commandment to love one another as we love ourselves, saying, 'It is a matter of making the best of ourselves, not just doing the best for ourselves' and 'If we do this well, it will also be good for our neighbours'. She added, 'Kindness, sympathy, resolution and courteous behaviour are infectious'. That year's theme — terrorism — came at the end. The point was that, together, we can 'defeat the evils of our time':
1997's was very newsy and began with Westminster Abbey, where she and Prince Philip celebrated their golden anniversary. Princess Diana's funeral took place there, too. Windsor Castle was ready to reopen after the devastating fire from 1992. She welcomed her dear friend Nelson Mandela to the Palace. She spoke about the Commonwealth Heads of Government meeting that year. Wales and Scotland were preparing for devolution. Unity and kindness were big themes near the end. She ended by saying that St Paul spoke of the first Christmas as the kindness of God dawning upon the world (8:26). The world needs that kindness now more than ever, the kindness and consideration of others. She said it was important for people to show 'kindness and respect for one another'. She added that Christmas is a reminder that God is with us today, but, as she had discovered that year, He is always present in the kindness and love from our friends and family:
Her 2015 message topped the television ratings for Christmas Day. The Telegraph reported:
The Queen's speech topped the Christmas Day television ratings, as nearly 7.5 million viewers tuned in to watch her festive broadcast across the BBC and ITV.
The message, in which Her Majesty reflected on atrocities across the world in 2015, was watched by 6.1m people on the BBC and 1.3m on ITV.
The last ever episode of Downton Abbey drew the highest viewing figures of any single programme, with an audience of 6.9m.
The ITV show, in which much-loved characters got their happy endings, attracted a 30% share of all viewers last night.
In 2017, she said (6:27) that it was Jesus Christ's love and selfless example that has influenced her own life of service:
In her last address — 2021, the year of Prince Philip's death — she said that the teachings of Jesus Christ had formed the bedrock of her faith. She added that His birth meant a new beginning for the world, citing the carol, 'The hopes and fears of all the years are met in Thee tonight' (6:15):
Patience
In March 2022, a small piece of needlework went up for auction.
Princess Elizabeth stitched it when she was only five years old. The Mail has a photo of the postcard-sized embroidery sampler. The precision stitching is remarkable for a small child:
A delightful embroidered card made by the Queen as a child is tipped to fetch £5,000 at auction. 
The then five-year-old Princess Elizabeth painstakingly stitched an image of a baby in a green and pink pram to give to royal physician Sir Frederick Still in 1932. 
She also signed her name 'Lilibet' on a letter thanking Sir Frederick for her 'new dolly with a squeak in the tummy'. 
The little princess's stitching was far better than her handwriting.
The article continues:
The deeply personal items are part of a collection of royal memorabilia that will go under the hammer at David Lay & FRICS in Penzance, Cornwall, on Thursday.  
It also includes letters sent to Sir David by the Queen Mother, who built up a close relationship with the physician during his years in service to the Royal Family. 
Among the most touching is a letter dated December 26, 1930 that was dictated by the then four-year-old Princess Elizabeth to her mother. 
It reads: 'Dear Doctor Still. I loved my dolly that had a squeak in her tummy. Thank you for my lovely dolly, and we laughed at the squeak so much. Did you have a nice Christmas? From Lilibet.'
The young princess signed her own name and her mother added the postscript: 'A dictated letter!'
In 1927 the Queen Mother wrote to Sir David to thank him for looking after Princess Elizabeth while she joined King George VI, then the Duke of York, on a tour of Australia and New Zealand, leaving her young daughter at home …
Dr Still, who died in 1941, worked at Guy's Hospital, Great Ormond Street Hospital and the Evelina Hospital of Sick Children. 
The Londoner, often referred to as the 'father of British paediatrics', rose from humble beginnings to become Physician to the Royal Household and was knighted in 1937.
No doubt patience developed from an early age served the Queen well during her time as an Army mechanic during the Second World War:
Perseverance
The Queen had not only patience but also perseverance.
Both were put to the test in 1992, which she famously described as her 'annus horribilis'.
Royal biographer and Mail columnist Robert Hardman covered the events of 1992 in his book Queen Of Our Times: The Life Of Elizabeth II which appeared in March 2022:
It was a bold assignment. On the morning of October 22, 1992, the Royal car pulled up outside the Kreuzkirche church in Dresden, to be greeted by an uncomfortable silence. Next came a few boos. Then came the first egg …
… strong emotions were in play as the Queen embarked on her 1992 state visit to Germany. It was her first since the fall of the Berlin Wall, reunification and the collapse of Communism across Eastern Europe. Hence her visit to Dresden.
However, Her Majesty managed to turn around the mood:
Her speech at the German president's banquet touched millions, as she proclaimed: 'The Iron Curtain melted in the heat of the people's will for freedom' …
That a trip of this sensitivity and magnitude should have barely registered in British minds at the time – or since – is testimony to the relentless and enduring awfulness of 1992.
In terms of their scale, suddenness and variety, the calamities which befell the Monarch in the course of that dismal year still seem incredible.
Her problems began in January, which cast a pall over any celebrations for her 40th year on the throne:
In a memo to the Prime Minister, John Major's private secretary, Andrew Turnbull, added a handwritten note: 'Prime Minister to be aware of the Queen's attitude to her 40th anniversary.'
Just two ideas met her approval.
One was former premier Jim Callaghan's proposal for a dinner given by her Prime Ministers. The other was for a luncheon given by the City of London. That lunch would go down in history for a single phrase: 'Annus horribilis.'
Fergie was the first problem:
The trouble had started in January, when newspapers discovered photographs of the Duchess of York on holiday with an American oil executive, Steve Wyatt. Their existence reinforced widespread gossip that the Yorks' marriage was close to collapse.
The Duke of York 'hit the roof' and the couple began consulting divorce lawyers.
The next disaster was Charles and Diana's marriage:
Meanwhile, the marriage of the Prince and Princess of Wales was also starting to unravel in public.
In February, the Princess posed for the cameras in front of that eternal symbol of love, the Taj Mahal, while all alone. The messaging was clear.
The next PR issue was Anne's divorce from her first husband:
… in April, the divorce of the Princess Royal was finalised. She had been separated – amicably –from Mark Phillips for some years. The Princess stuck doggedly to her duties through it all.
The Queen took it in her stride:
The Queen was very sad about her children's marital problems – but not shocked. As she put it to one courtier: 'You know, I've decided I'm not old-fashioned enough to be Queen.'
Then came Andrew Morton's book, Diana: Her True Story.
Fergie re-entered the scene during the summer:
… the Daily Mirror recorded one of the highest sales in its entire history with intimate photographs of a topless Duchess of York on yet another holiday, this time with her 'financial adviser', John Bryan.
The Duchess was staying with the Queen at Balmoral, together with her daughters, when she came down in the morning to find members of the family agog at ten pages of unvarnished ignominy.
As did Diana:
The Sun, produced an equally devastating … recording of an innuendo-charged conversation between the Princess of Wales and James Gilbey, an old friend who had been one of the sources for Morton's book. Could things get worse? Yes – but the Queen continued to hold her nerve.
The Queen made sure that, despite their marital woes, the Prince and Princess of Wales fulfilled their obligation of undertaking a tour of Korea for the Foreign Office.
Once they returned home, tensions resumed:
Just days after their arrival home, Charles and Diana had a row which would push their marriage to the point of no return. Their sons were about to have an exeat weekend from prep school. 
The Prince had arranged for the couple to present a united front over a family-oriented shooting weekend with friends at Sandringham. 
With only a week to go, however, the Princess announced that she wanted to take William and Harry elsewhere, thus tearing up the Prince's plans.
It was starting to feel like the end of the road for both parties.
At the end of that week, the Prince resolved the time had come to commence separation plans and to call in his lawyers the following week.
Around that time, Windsor Castle caught fire on the morning of Friday, November 20:
… the first clouds of smoke were suddenly seen billowing out from the state apartments of Windsor Castle.
A major maintenance project was in progress, shielded from view by some heavy drapes. The fire began in the Queen's private chapel.
'Behind the curtains, which were obviously closed, were spotlights that lit up the altar and the ceiling,' the Duke of Edinburgh explained to me, after the restoration. 'After a bit, the lights got hot and set fire to the curtains, and the flames went up' …
Miraculously, there were no serious injuries or deaths and only one painting was lost – Sir William Beechey's colossal 1798 portrait George III And The Prince Of Wales Reviewing Troops.
The Duke of Edinburgh was overseas at the time, but the Queen quickly drove down from London. She had a very specific mission in mind.
'She went into her own apartments to take a few precious things to safety, because only she knew what they were and where they were,' says Charles Anson, her press secretary at the time. As a result, she suffered a small amount of smoke inhalation on top of a nasty cold.
Four days later came the 40th anniversary lunch at the Guildhall in the City of London:
With her throat still hoarse from both her cold and the smoke, she began: 'Nineteen Ninety-Two is not a year on which I shall look back with undiluted pleasure. In the words of one of my more sympathetic correspondents, it has turned out to be an 'annus horribilis'.' 
Though this would be the phrase remembered for ever more, the main point of the speech was not to dwell on her own misfortune (or 'One's Bum Year', as The Sun put it). Rather, it was to ask for a little more understanding from the Monarchy's critics.
There was a big furore about who should foot the bill for the extensive repairs needed at Windsor Castle:
Even the Conservative press called for the Royal Family to 'listen' and to offer up some sort of financial sacrifice. The Monarchy would end up providing the money.
Another big furore was about the Queen not paying income tax. With the kerfuffle about Windsor Castle, the Queen decided to pay it. This was a huge development:
What the critics were unaware of was that the Queen and her officials had, for more than a year, been planning a voluntary end to a historic but complex Royal tax exemption, agreed by her father after the Abdication crisis of 1936.
'Anything in the way of a dictum her father had left her was very important,' says her former private secretary, Sir William Heseltine.
John Major also says he was against any such reform. However, stung by the latest row about fire repairs, the Queen wanted to bring the plan forward.
So, just two days after her Guildhall speech, Mr Major told Parliament that the Queen and the Prince of Wales would, in future, voluntarily pay tax at the regular rate.
That the Queen was now prepared to go against her father's wishes – and indeed her Prime Minister – on such a sensitive point defines this decision as one of the most important judgment calls of her reign.
The Queen was exempt from inheritance tax, as are present and future monarchs. So I heard on GB News last night. My reader dearieme has more:
As I understand it, the position now is that there is no inheritance tax bill for anything left monarch-to-monarch. So what she left to Charles is tax-free; anything she left to her other children, or her grandchildren, is taxed in the normal fashion.
In December, Charles and Diana separated.
That same month, Princess Anne remarried:
There was a brief glimmer of happiness for the Queen at the end of that week, as the Royal Family gathered at Crathie Church, Balmoral, for the most modest Royal Wedding in history.
The Princess Royal had insisted on a low-key ceremony for her second marriage, to Commander Tim Laurence. Following a reception of soup and sandwiches, the couple enjoyed a 36-hour honeymoon on the estate while the other guests flew home.
The entire affair is believed to have cost less than £2,000.
The year ended with The Sun leaking the contents of her Christmas address:
When the broadcast finally appeared on Christmas Day, the nation heard her acknowledge her woes, without dwelling on them. 'As some of you may have heard me observe, it has, indeed, been a sombre year. But Christmas is surely the right moment to try to put it behind us.'
Some of the subsequent years also proved difficult.
1997 was particularly bad:
… the events of 1992 were the prelude to a succession of grave dynastic challenges over several years, including the Princess of Wales's fateful 1995 Panorama interview – 'there were three of us in this marriage, so it was a bit crowded' – the eventual divorces of both the Waleses and the Yorks, the decommissioning of the Queen's beloved Royal Yacht and, above all, the tragic loss of Diana in 1997.
It was Tony Blair's idea to decommission the yacht Britannia. To think, he had only been elected in May that year!
Hardman tells us that it was not Tony Blair's idea but the Palace's in dealing with Diana's death in a way that would resonate with the people:
Though it has become received wisdom that Tony Blair and his new Labour administration somehow 'saved' a dithering Monarchy in the febrile days after the Princess's death in that Paris car crash, a very different, more balanced picture now emerges 25 years on.
Within hours, a key team inside the Palace, led by the Lord Chamberlain, the Earl of Airlie Lord Airlie, and the Comptroller, Lieutenant-Colonel Malcolm Ross, were already drawing up the main elements of Diana's funeral, which would be one of the most watched Royal events in history.
Lord Airlie recalls his very first instruction to Ross and his colleagues: 'I said, 'The one thing is this – don't look at a file. This has to be de novo.' In other words, this had to be done quite differently.'
He wrote a memo to the Queen outlining a general plan.
'For instance,' he says now, 'the importance of catching and reflecting the public mood of 'the people's Princess', and ensuring that the ceremony was not overwhelmed by officialdom. I felt, too, that the procession of the coffin to Westminster Abbey should break with tradition and be somewhat radical.'
The key elements were that the event should be public, not private, and as unique as Diana herself. Invitations to the Abbey should range widely and not be governed by what was done at previous Royal funerals. The very next day, he sent all these points to the Queen at Balmoral.
'The answer came back, saying, 'Go ahead.' So that let Malcolm Ross and his chaps get on with the job, which they did brilliantly.'
All this had already been agreed by the time the first emissaries from Downing Street, including Blair's spin doctor Alastair Campbell had so much as set foot inside Buckingham Palace to discuss the nation's farewell to the Princess.
2002, the Queen's Golden Jubilee year, was bittersweet as her sister and her mother died within two months of each other, in February and April, respectively. Even before those sad events, the Queen was concerned whether people would want to celebrate her 50th anniversary:
Could her Golden Jubilee replicate the astonishing success of the 1977 Silver Jubilee?
'There's no doubt she was not confident about it,' a former senior staff member told me. 'She had been knocked by those many years of trials and tribulations.'
No sooner had the celebrations started than Princess Margaret died, aged 71. The Queen was as sad as she had ever been. 
Always protective of free-spirited, mercurial Margaret since the nursery, she had spoken to her almost every day of her life. Weeks later, she lost her mother, too.
An estimated one million people turned out to watch the Queen Mother's coffin make its final journey from Westminster Abbey to St George's Chapel, Windsor.
I paid my respects at Westminster Hall.
Robert Hardman continues:
Yet, just days later, after a bare minimum of Court mourning, the Queen embarked on her Golden Jubilee tour of the UK.
The crowds were colossal and deeply appreciative wherever she went.
For many, however, the spirit of that Jubilee summer was summed up by the sight of Queen guitarist Brian May playing a national anthem riff on the Palace roof.
Yes! As I mentioned in another post this week, my better half and I were at dinner near the Palace the night of the concert. I went up to the venue's terrace and heard Elton John. There was a real buzz in the capital.
It was a superb Jubilee year.
The next difficult year was 2021 when Prince Philip died during our semi-lockdown for the pandemic. Guests were limited to close family. The Queen sat alone, wearing a black mask.
Still, our monarch's faith, patience, perseverance — and resilience — got her through those troubling times in her reign. She showed us such an excellent example of how to live — and serve — based on biblical principles.
It is hard to believe that Queen Elizabeth II died only seven months ago and that it was one year ago that her Platinum Jubilee celebrations were just about to begin. That first weekend in June 2022 was a memorable one.
This post focuses on the Queen in film.
Royal Family
In 1969, a controversial documentary aired not only in the UK but in other countries around the world: Royal Family.
As I mentioned before, I saw it when I was growing up in the United States and found it fascinating.
This was the first time that Britain's Royals were seen up close and personal. In fact, one wonders if any other royal family ever allowed the cameras in for hours and days at a time.
Some commentators panned the programme at the time. Not surprisingly, that narrative prevails today. Yet, it was well received here and in the United States, although the media did wonder if there would be any negative repercussions for the family as a result.
I was glad to see that The Mail carried an excerpt on the subject from Royal biographer — and Mail columnist — Robert Hardman's book, Queen of Our Times, on April 5, 2022. The article also includes two still photos from it — not to be missed. Emphases mine below:
The Royal Family took part in the film, which was a combined effort between the BBC and ITV, in a bid to show they were just like their subjects, which quickly became a British phenomenon. 
It was watched over two weekends to rave reviews in June 1969, but was last shown three years later after reports Buckingham Palace feared it 'let the magic out' about the royals.
However in new book Queen of Our Times, Daily Mail Columnist Robert Hardman argued many in the royal household actually raved about the film, even nicknaming it 'Carry On Reigning'.
He wrote: 'Half a century on, some commentators have suggested that the family quickly came to regard it all as a terrible mistake, never to be seen again – a view reinforced by The Crown. Those within the Royal Household remember the complete opposite.' 
Hardman has covered the royal family extensively for the Daily Telegraph and, since 2001, writes for the Daily Mail. 
And as opposed to the film being banned from appearing on screen because it had offended the Queen, Hardman said it hadn't been shown because of copyright issues.
He wrote: 'From the outset, the film was only ever supposed to have a limited timespan before being locked away.
'Royal Family was not news footage, like the coronation or a state visit. Rather, it was seen as a personal snapshot of its time.
'The Queen retained the copyright and did not want the material being quarried or adapted for years to come.'       
The idea for the documentary, which aired in June 1969, came from the Palace's new royal press secretary William Heseltine, rather than the Duke of Edinburgh, as the Netflix hos claims.  
Heseltine wanted to encourage public support for a monarchy that was increasingly seen as out-of-touch.
The programme was met with praise and proved so popular that it was aired again that same year and once more in 1972. 
1972 was the year of the Silver Jubilee, which generated much more excitement and enthusiasm than the media predicted. (No surprise there.)
The article continues:
… [it] hasn't been broadcast in full since but short clips from the documentary were made available as part of an exhibition for the Queen's Diamond Jubilee 2012.
However, for the most part the original documentary remains under lock and key with researchers having to pay to view it at BBC HQ, only after getting permission from Buckingham Palace first.
'You're killing the monarchy, you know, with this film you're making,' the legendary anthropologist and wildlife expert David Attenborough wrote furiously in 1969 to the producer-director of the controversial and ground-breaking television documentary, Royal Family.
'The whole institution depends on ­mystique and the tribal chief in his hut,' continued Attenborough, then BBC 2 controller.
'If any member of the tribe ever sees inside the hut, then the whole system of the tribal chiefdom is damaged and the tribe eventually disintegrates', he said.
I had no idea that David Attenborough, considered to be a living saint for reasons which escape me, was a BBC controller. No wonder the broadcaster makes such a big deal out of him. It is good to see he was absolutely wrong about Royal Family.
Read his words again. They further reinforce the notion that the British public are nothing more than plebs. Now we know he has believed that for over 50 years. Furthermore, the older he gets the more it seems that he loathes humanity in general. Everything wrong in the world is the fault of everyday people going about their everyday business. He thinks we are common; that is plain to see in his interviews.
The Queen obviously liked him, though, as we'll see below. She gave him a second knighthood in 2020: Knight Grand Cross of the Order of St Michael and St George in the Queen's Birthday Honours list 'for services to TV and conservation'.
Elizabeth: The Unseen Queen
On the last Sunday in May 2022, the BBC aired hitherto unseen family film footage of the Queen's life, beginning with her childhood.
Our appetites were whetted on May 7 that year when The Telegraph reported, complete with stills from Elizabeth: The Unseen Queen:
The footage, unearthed within more than 400 reels of film watched by programme-makers, shows the Queen as a young woman, at the heart of a happy family before the weight of her public responsibility took hold.
It includes scenes of her gazing at an engagement ring just given to her by Prince Philip, before news of their betrothal was shared with the waiting world …
Elizabeth: The Unseen Queen will "offer audiences the chance to witness rare private moments from the monarch's life", the corporation said, "telling the real story of her life as a Princess – through her own eyes and in her own words from across her reign".
It will be narrated largely by the Queen herself, using clips and newsreel audio from her speeches to explain what viewers are seeing.
The 75-minute programme includes footage of the baby Princess Elizabeth being pushed in a pram by her mother, through to her Coronation in 1953 at the age of 27.
All the videos are believed to have been filmed by the Royal Family, firstly by the Queen's doting parents and later Prince Philip.
… footage from Balmoral, taken in 1951, captures the King's final visit there before his death, while home film reels show the Queen's grandfather George V – known to her as "Grandpa England" – sailing off the Isle of Wight in 1931 …
In viewing more than 400 reels of film, producers discovered lost footage from behind-the-scenes at state events, believed to have been privately commissioned by the Royal Family and given to the Queen.
They also listened to more than three hundred of the Queen's speeches across eight decades of public life.
In common with all royal videos since the 1920s, the homemade recordings had been stored carefully in the Royal Collection vaults of the British Film Institute, with no promise of being aired.
The Platinum Jubilee presented a worthy moment to air them to the public.
The Times had a delightful Twitter thread on the home movies:
If I remember rightly, the BBC rebroadcast the programme after the Queen died last September.
Elizabeth: A Portrait in Parts
Elizabeth: A Portrait in Parts came out at the end of May 2022, also in time for the Platinum Jubilee.
Unfortunately, its maker, Roger Michell, died in September 2021 before its release.
On May 26 last year, veteran columnist Simon Heffer reviewed the film, which appeared in cinemas, for The Telegraph. Heffer gave it four out of five stars:
Michell, renowned for Notting Hill and who died suddenly and too young last September, pillaged newsreels, films, television news and other documentaries to provide an eclectic, 90-minute, chapter-by-chapter remembrance of Her Majesty's life, and all the "parts" she has played.
And they are all there: from riding ponies as a child to pottering around in great old age with her contemporary David Attenborough. It is a warts-and-all picture, as directorial integrity must dictate. There is a chapter entitled "Annus Horribilis", in which the debacle of the Prince of Wales's marriage to Diana Spencer, the doomed life of the Duke of York, and the accidents-will-happen story of the Princess Royal's first marriage are interlaced with film of the Windsor Castle fire that seemed at the time, and still, to sum up the mess "The Firm" had got itself into. 
It is a mess that comes of trying to run a monarchy in a post-deferential age of 24-hour news while simultaneously rearing a family in the public eye. And it is not just the appearance of the Duke of York that reminds us that this particular chapter is not over: the Sussexes have a walk-on part too.
Speaking of the Sussexes, Meghan would not have wanted the life of a Royal:
Watching the episodic, non-chronological story of the Queen's life and reign, one is above all aware of how stalwart she is: the endless walkabouts, the myriad presentations of bouquets by winsome children, the relentless factory visits and, above all, the tourist-inducing pomp and ceremony. The effort of all that cheerfulness would kill most people. Anyone who sneers at the notion that hers has been a life of duty can't have seen this film. In its unconventional, demotic depiction of Her Majesty the film humanises her and makes her seem, frankly, all the more magnificent.
Michell's film also portrays the deference people showed our late monarch:
Of course things have changed: it is hard to imagine a man smacking a peer of the realm for being mildly rude about the Queen, as someone did to Lord Altrincham in 1957 (Michell included the clip).
I wonder if anyone would defend our present and future monarchs in that way.
Heffer continues:
… we are carried along, paradoxically by the hopping backwards and forwards in time, realising what "continuity" really means; the little girl running around in the garden with her parents and sister 85 years ago is still our Head of State today.
One also realises that, for all her constitutional functions (and the political class plays, fortunately, a small part in the film), the Queen's main function is to relate to her people: and the film shows how well she has done that. There are amusing snippets of people being told how to address her ("Your Majesty" the first time, "Ma'am" subsequently), where to stand when she is near, and generally what to do; but one realises this is not about making the Sovereign feel comfortable, it is about her vital role of making those she meets feel special. And it appears she does.
Michell did not include the Duke of Edinburgh's funeral at which the Queen sat alone in black, wearing a mask, in April 2021.
Heffer concludes that we learn as much about ourselves over the past 70 years as we do of the Queen:
… he has left us a profoundly moving portrait, made the more so by his poignant choice of music – everything from George Formby and Gracie Fields to the Beatles and Stormzy, reflecting some of the diversity of the culture of those over whom the Queen has reigned. It is first and foremost a picture of her, but it is also a picture of us; … it reminds us not just of her profound decency but also, oddly enough, of ours.
Incidentally, in 2022, the Queen made very few public appearances because of ill health. Her penultimate grand opening was at The Royal London Hospital in April that year. The final one was opening the Elizabeth Line in May.
Of the hospital visit, the Mail reported the following. Note how she replied to everyone with a kind, caring remark. The pandemic was first and foremost on everyone's minds, including the Queen's. She, too, had succumbed to the virus:
This week the Queen – who will celebrate her 96th birthday at the end of next week [April 21] – marked the opening of the Queen Elizabeth Unit at The Royal London Hospital, of which she is patron, talking to staff and one former patient. 
Wearing a floral dress with a pearl necklace, she said the staff's work was 'splendid'. 
Nurse Charlie Mort said: 'The amount of bravery that both the patients and my colleagues showed throughout the entire pandemic was amazing and the amount of kindness we were shown was inspiring. I think we will all be bonded together because of it, forever.' 
'It's amazing, isn't it, what can be done when needs be,' the Queen said. 
Imam Faruq Siddiqi, hospital chaplain, said families 'felt a sense of hope' when they knew he was visiting their loved ones. 'Although I didn't hold any miracles, I hope I was able to bring some sort of comfort to them through my presence and prayers,' he said. 
The Queen replied: 'It obviously was a very frightening experience to have Covid very badly, wasn't it?' 
Mr Siddiqi said: 'I think what made it worse was being by themselves.' 'Exactly. So they were alone, too,' the Queen remarked.
Mireia Lopez Rey Ferrer, senior sister, said that the intensive care unit had been 'unrecognisable' with so many patients. 
'As nurses we made sure they were not alone,' she said.
'We held their hands, we wiped their tears, and we provided comfort. It felt at times that we were running a marathon with no finish line.' 
'It must have been a terrible time for all of you,' the Queen said. 'Not seeing your own families and also working so very hard… That [was] the unusual part of it wasn't it, not being able to meet your relatives and being isolated.' 
Asef Hussain, a former patient, explained how he and his family had contracted Covid in December 2020. His father and brother were also treated at the unit for Covid before they passed away. 
Mr Hussain, joined by his wife, Shamina, said his brother was admitted first and died that day. He was taken to hospital himself after struggling to breathe and was put to sleep for seven weeks. 
'Once I woke up I saw the brilliant work the nurses, the doctors – the whole team here were doing. They supported me and my family in a fantastic way. 
'Unfortunately while I was asleep my father passed away from Covid as well,' he said. 
'Are you better now?' the Queen asked. 'I'm getting there, I'm recovering, I'm much better,' Mr Hussain said. 
Mr Hussain's wife explained how she prayed for his recovery on Zoom calls with family around the world. 'Praying for him, oh wonderful,' the Queen said. 
She added: 'I'm glad that you're getting better. It does leave one very tired and exhausted doesn't it, this horrible pandemic? It is not a nice result.' 
The monarch also spoke to the team behind the building of the new unit and burst out laughing when Jeff Barley, project director, told her he plundered his 'black book' to find people to help him. 
The Queen replied: 'That is marvellous isn't it. It is very interesting isn't it, when there's some very vital thing, how everybody works together and pulls together. Marvellous, isn't it.' 
Mr Barley hailed the 'little bit of Dunkirk spirit' involved, prompting the Queen, smiling, to say: 'Thank goodness it still exists', amid laughter. The plaque was then unveiled and held up to show the monarch. 
The Royal London Hospital has served the residents of East London for the past 280 years. It was granted its royal title by the Queen during a visit in 1990 to celebrate the 250th anniversary of its opening on the Whitechapel site.
On May 17, the Queen opened the Elizabeth Line, a magnificent crossrail project linking Berkshire to Essex via London. Londoners were thrilled that her health held up. As Guido Fawkes wrote, it was a 'surprise appearance'.
She did much better than Prime Minister Rishi Sunak did when he had problems paying for a soft drink in a photo opportunity:
Does a Royal peek-behind-the-scenes programme work? Only when the Queen handled it.
Unfortunately, we know too much about most of her descendants already. One way or another, they did away with any mystique they could have had over te years.
Prince William and Princess Catherine would do well to imitate Granny's example. At the moment, we know just enough about them without knowing too much. However, I would suggest waiting about 10 or 20 years, because right now we are hearing too much from and about the Sussexes.
As the Queen knew well, timing is everything.
My post from Friday, April 28, 2023 discussed Queen Elizabeth II's family history and her way of handling politics and protocol.
That post mentioned her address to the nation about the coronavirus pandemic on Sunday evening, April 5, 2020.
Although London's streets were largely deserted because of the UK's national lockdown, the address appeared at Piccadilly Circus. At just 523 words, it was a remarkably effective balm for the nation:
I also mentioned that, a short while after the Queen's broadcast aired on television, Prime Minister Boris Johnson had to be taken to St Thomas' Hospital with coronavirus. He remained there the rest of that week, alarmingly close to death.
By the time the annual Falkland Islands' penguins march would have taken place on the Queen's birthday, April 21, Boris was recuperating at Chequers and his partner Carrie was about to give birth to their son Wilfred.
Unfortunately, the penguins march had to be called off that year, but this is a past video of what it looks like:
Political leaders
Because of the Queen's ultimate discretion, especially in politics, we do not know much of what she really thought of world leaders, but a few stories arose after her death in September 2022.
The Queen and her Prime Ministers
On Tuesday, April 7, 2020, the Queen sent a message to Boris's then-partner Carrie Symonds, later the third Mrs Johnson, with get well wishes for the then-Prime Minister:
Here is Sky News's coverage about the message. Note that the Royal correspondent is at home in her kitchen:
In 2022, after the Queen's death, a Royal historian commenting on GB News said that she had a particular fondness for Labour's Harold Wilson and that she thought that Tony Blair (also Labour) was just a bit too ambitious for her liking. Wilson always had an anecdote or observation that made her chuckle.
That was about the most information we could glean about the head of state who reigned over 16 PMs. They met weekly in person until the pandemic put an end to that, when a telephone call had to suffice.
In addition, every September, the Queen extended an invitation to her Prime Ministers and their wives to stay for a few days at Balmoral. This was true even for Boris's then-partner Carrie Symonds, as The Sun reported on August 18, 2019:
CARRIE Symonds is expected to meet the Queen at her Balmoral estate — where they will enjoy an informal barbecue.
Eco-campaigner Carrie will accompany her boyfriend PM Boris Johnson to the Scottish castle during the monarch's summer holiday.
The Queen traditionally invites Prime Ministers and their spouses to stay with her during early September.
And a source revealed Carrie was "expected to go" to Scotland next month, where she and Boris are also likely to have a formal dinner.
In previous years, PMs and their spouses have been invited to walk across the Royal Deeside estate and have even watched the Queen do the washing up.
French presidents
The morning after the Queen died in September 2022, France's talk radio channel RMC devoted two hours to discussing the British monarch and her 70-year reign.
The subject of French presidents arose. One of the expert panellists said that the Queen liked the socialist François Mitterand the best. She was sceptical of Charles de Gaulle and was relieved when Georges Pompidou entered the Elysée. The French president she really disliked was Jacques Chirac. Allegedly, she did not like his innuendos or the way he would sidle up to her. He got too physically close to her on more than one occasion, the expert said.
Nelson Mandela a firm favourite
It seems that South Africa's Nelson Mandela was the Queen's favourite leader, according to Royal historians appearing on GB News. The two apparently had a mutual arrangement whereby they rang each other up at any time of day or night.
Musical tastes
It has been said that the Queen enjoyed popular music more than a classical opus.
She was no doubt fond of Dame Vera Lynn's hit singles during the Second World War.
On July 28, 2016, the Queen gave the iconic singer, then 99 and still recording, another honour. The Telegraph reported:
Dame Vera Lynn, the Forces' sweetheart, has received her latest honour from the Queen in an investiture ceremony held at her village home.
The 99-year-old, whose songs brought hope during the darkest days of the Second World War, was made a Member of the Order of the Companions of Honour in the Queen's Birthday Honours list.
She could not make it to Buckingham Palace and received the accolade – for nearly eight decades of service to entertainment and charity – at an investiture ceremony at her home in Ditchling, near Brighton, on Wednesday.
Dame Vera, who turns 100 next March, said she was "truly delighted" to be made a Companion of Honour …
Led by Peter Field, the Lord Lieutenant of East Sussex, family friend Carola Godman Irvine, who is the county's deputy lord lieutenant, read the citation which saluted Dame Vera for being "the voice of hope" during the Second World War …
Her hits included We'll Meet Again, I'll Be Seeing You, Wishing and If Only I Had Wings. In 1941, she was handed her own regular radio programme, Sincerely Yours, giving her a peak-time evening audience …
In 2002, she founded cerebral palsy charity the Dame Vera Lynn Children's Charity, based in Billingshurst, West Sussex, which provides support and education for affected families.
She is involved with many other charities throughout the UK and beyond. She has received accolades throughout her life, including an OBE in 1969, a DBE in 1975, and in 1978 she was given the Freedom of the City of London.
In 2019, a tenor who performed for her said that the Queen enjoyed musicals. The Express reported:
US-based tenor Andrew McNeil made the revelations after he was asked to perform for Her Majesty at an intimate dinner. He was invited by the US ambassador Robert Johnson to sing and instantly asked Buckingham Palace for some hints as to what the Queen likes. The event was attended by around 20 people and in one of his songs Mr McNeil sang a duet with Kathryn Jenkins.
According to People Magazine, Mr McNeil said: "We reached out to the palace for her musical tastes, and her Lady in Waiting informed us she loves show tunes.
"Especially show tunes from 'Oklahoma'."
During the event Mr McNeil performed an array of tracks including 'Oh What a Beautiful Morning' and 'It Had to be You'.
However, I always wondered which group the Queen preferred: the Beatles or the Rolling Stones.
The November 2020 issue of the high society magazine Tatler might have the answer to that burning question.
An article about younger nobles pursuing careers in music, 'Heir bands' (p. 35), states (emphases mine):
Even the Queen has a good ear: 'I want to see the Rolling Stones,' she told Dirk Bogarde before Lord Christopher Thynne and Antonia Palmer's 1968 wedding, when the rockers played to a room of blue-blooded fans at the St James's Palace reception.
Television
Our first televisual monarch …
… was also known to relax at Balmoral watching some of the nation's favourite programmes.
On July 23, 2019, The Express revealed her personal preferences:
THE Queen makes an annual request for recordings of her favourite TV shows that await her when she ventures to Balmoral every summer.
Her private secretary sends a list of shows to the Special Services department at the BBC and they arrange for DVDs to be be made of their own shows and those from other stations. A senior courier was told by the Queen that ITV drama The Bill was her favourite while it was on air. An aide told The Sun: "The Queen likes them in the form of separate discs, although of course it would be easier to transfer them digitally.
"You might call that old-fashioned, but that's the way she prefers to do her viewing."
In 2010, when The Bill was cancelled after 2,425 episodes in 26 years, the monarch was said to be disappointed.
Despite enjoying the police drama, she is reported to have said she was not a fan of "those episodes where policemen get hurt".
Eastenders star Paul Nicholls claims he saw The Bill was a favourite: "I saw that list.
"Besides The Bill there was Keeping Up Appearances, Midsomer Murders, New Tricks, Last Of The Summer Wine and the complete Doctor Who."
The list of programmes is not the only tradition in place at Balmoral.
Queen Victoria started the tradition of having a bagpiper play under the monarch's window at 9am for 15 minutes every single morning.
Meanwhile, the current Queen began a tradition of inspecting the sandwiches given to guards according to another castle insider.
After her death, at least one Royal commentator said that the Queen's favourite programme was the London-based nightly serial, Eastenders.
Racing
The Queen probably knew the most about racing than anyone in Britain or Ireland.
She was one of the world's experts on bloodlines and breeding.
King Charles sold her race horses soon after her death.
So let's remember the glory days of the Queen at the races at Cheltenham Festival, which takes place in mid-March:
Fortunately, the Queen passed her love of horses on to Princess Anne and her daughter, Zara Phillips:
After Prince Philip's funeral in April 2021, the Queen wanted to be alone on her birthday, on the 21st of that month.
On April 19, The Mirror reported:
The Queen will mark her loneliest birthday – her first without husband Philip in seven decades – with video calls from family and a walk with her new puppies.
The monarch turns 95 on Wednesday, just four days after the Duke of Edinburgh's funeral, where the Queen was forced to sit alone and wear a face mask due to England's coronavirus lockdown rules.
She and the rest of the Royal Family will still be in an official two-week period of mourning for her late husband of 73 years, who died aged 99 on April 9.
The Queen is expected to have a video call with great-grandchildren Prince George, seven, Princess Charlotte, five, and Prince Louis, two – on Wednesday, and the royals have agreed a rota to visit her ahead of her birthday, sources told the Mirror.
She was seen going out for a drive alone in a green Jaguar on Sunday, and she reportedly stopped at one of her favourite spots for a quiet moment of reflection 24 hours after the service.
And it is expected that she will mark her birthday in a similar way as she continues to grieve Philip in private and prepares to resume royal engagements following the official mourning period.
The nation was moved by the heartbreaking image of the monarch sitting alone and wearing a face mask as she gazed at her late husband's coffin inside St George's Chapel at Windsor Castle on Saturday.
She will celebrate the first birthday of her reign without her husband just 12 days after the Duke of Edinburgh's death.
Another report from The Mirror said that the Queen was not in the mood to get involved with Harry and Meghan's melodrama:
The Queen isn't in the mood to host a family summit to address the feud with Prince Harry and Meghan Markle, a royal biographer claims.
Author Ingrid Seward said the monarch, who turns 95 this week, "hates confrontation" and her children have a tough time getting her to talk about "anything other than dogs or horses".
This week, she will mark the first birthday of her reign without her late husband Prince Philip.
His funeral was the first time Harry, 36, had met up with his family since his and wife Meghan Markle's explosive interview with Oprah Winfrey last month …
Ms Seward said any kind of family summit involving the Queen, at this stage at least, to address the Oprah interview and other issues at the heart of the rift would be unlikely.
She told the Times: "His (Harry's) grandmother will not be in the mood for it. She hates confrontation.
"The children have much difficulty getting the Queen to discuss anything other than dogs or horses.
"I remember Fergie telling me it took three weeks for them to try and get her to discuss their divorce. She kept saying 'Oh, I've got to take the dogs for a walk'."
The day before her birthday in 2021, the Queen lost a close friend from the racing world, Sir Michael Oswald.
On April 20, The Sun told us that he died on the day of Prince Philip's funeral:
Her Majesty's trusted racing adviser passed away from a long illness on April 17 aged 86.
Sir Michael looked after the Queen and Queen Mother's racing interests for almost 30 years.
He was regularly pictured next to the royal at racing events over the years.
Paying tribute, Sir Michael's wife Lady Angela, who was a lady-in-waiting to the Queen Mother, told Racing Post: "He always said he had the most wonderful job anybody could ever have had and that for all his working life he was simply doing what he would have done had he been a rich man who didn't have to work."
Sir Michael was born in Walton-on-Thames, Surrey, in 1934 and attended Eton and later King's College, Cambridge.
The racing enthusiast was then recruited as manager of the Royal Studs.
He worked for the Queen Mother from 1970 until 2002 before becoming Her Majesty's racing adviser after her death.
The expert was appointed Knight Grand Cross of the Royal Victorian Order (GCVO) in last year's New Year Honours list.
He fondly remembered his time working with the Queen and once gave an insight into her dry sense of humour.
Sir Michael had called aide Barry Mitford to let him know a horse the Queen owned called Harvest Song was running and it would be shown on TV in case the monarch wanted to watch it.
He said: "Barry got rather excited at this, asking will it win and should he have a flutter. I told him under no circumstances should he waste any money on it: that I had more chance of winning the 100m at the Olympics."
Incredibly, the 50-1 outsider won the race by five and a half lengths.
When Sir Michael later rang the Queen to ask if she'd watched the race, she replied: "Oh yes, and may I say that Barry is standing next to me. If I was you, I would find some dark glasses and a good disguise next time to come anywhere near this place."
Sir Michael's death is the second tragedy to hit the Queen after her beloved husband of 73 years passed away on April 9.
This is what happens as one ages, particularly into one's 90s. We see our friends go to their eternal rest.
More on the Queen will follow tomorrow.
After 16 months as Queen, Elizabeth II had her coronation at Westminster Abbey on June 2, 1953.
This colourised version is approximately 90 minutes long and worth every second of viewing. We shall not see its like again:
It was a cold, damp day with temps only reaching the 50s in Fahrenheit. Interestingly, the weather on Sunday, June 5, 2022 — the day of local Platinum Jubilee street parties — was exactly the same. My better half and I walked down our high street, which was full of people, despite the chill, rain and wind.
The Queen's coronation took a year to plan. Eight thousand people attended. By contrast, Charles III has issued only 2,000 invitations for his coronation on Saturday, May 6, 2023. The King says it is because of the cost of living. However, when his mother was crowned, the UK was still recovering from the Second World War and was in its last year of rationing, even though countries in continental Europe had ended rationing in the late 1940s! The UK still demanded wartime ID be carried at all times. It was around this time that a civilian whom police asked for ID refused to show it and took the Government to court. He won. That was the end of mandatory ID cards in times of emergency.
The Queen's first year
In anticipation of the Queen's Platinum Jubilee, on February 5, 2022, The Telegraph carried a retrospective: 'The making of our Queen: the untold story of Elizabeth II's first year on the throne'.
Excerpts follow, emphases mine.
The story begins with her father's lying in state and funeral:
The King's lying-in-state at Westminster Hall attracted huge crowds. On the first day, 12 February 1952, close on 80,000 filed past the catafalque. Many had waited in queues the entire night. In the hours before dawn those without blankets stamped on the frosty pavement to keep warm. It was originally intended to close the doors at 10pm but such was the crush, it was 2am before the doors on the northern exit were shut behind the last of the mourners.
In all, over three days, some 300,000 people attended the lying-in-state. For those who were not eyewitnesses, a memorable account was provided by the radio commentary of Richard Dimbleby, an avuncular figure with a seductive delivery of carefully-modulated diction, whose mellifluous tones and overly reverential manner were thought to give royalty the required lustre. 'They are passing, in their thousands,' he said, 'through the hall of history while history is being made.'
Two days later, on a cloudy and misty morning, a mile-long cortege began its journey from Westminster Hall to Paddington Station. In a carriage behind the coffin came the Queen, the Queen Mother, Princess Margaret and the Princess Royal, all in black, followed on foot by the four royal dukes – Edinburgh, Gloucester, Windsor and Kent – a study in contrasts. Artillery salutes of 56 guns were fired in Hyde Park and at the Tower of London. Big Ben rang 56 chimes, one for every year of the King's life.
Though King George VI had a record of poor health, his death in February 1952 had come as a great shock. It was his valet, bringing him his morning cup of tea, who found him. He had died in his sleep, after a battle with lung cancer.
There could have been few more surprised by the sudden death than his eldest daughter. Princess Elizabeth and her husband of five years were shielded from the King's last illness. On 6 February 1952, they were in Kenya at a state dinner during the first leg of a Commonwealth tour and the news of her father's death was cabled to Government House in Nairobi the following morning.
After a delay in decoding the message (the codebook was locked in a safe and there was some difficulty in finding the key), Philip was told the news and it was he who consoled his wife as the couple walked together in the garden. The Queen did not break down or show any strong emotion but made a conscious effort to apologise to those around her for spoiling their visit to Kenya.
At that point, Elizabeth, aged 27, became Queen. She, Prince Philip and her entourage flew back to London.
Prime Minister Winston Churchill had met the young monarch only once, when she was two years old:
In 1928, after a visit to Balmoral, he told his wife Clementine that the Princess was 'a character' with 'an air of authority… astonishing in an infant'.
As she grew up, George VI taught her about going through the Royal boxes carrying Government correspondence, something the monarch does daily. The Telegraph's article has a relevant picture of the two of them doing this in 1942.
Churchill met the Queen when she arrived in London:
She descended the passenger stairs in a brisk, businesslike manner: it was in her nature and her upbringing to put on a brave face.
If only we all did that, especially today.
Then came time for her Accession Declaration, which was held in private. King Charles's was the first one to be televised.
The Queen then gave a radio broadcast to the nation:
… she looked forward to her coronation for which she was preparing 'with prayer and meditation'. She appealed to her audience to 'Pray for me on the day. Pray that God may give me wisdom and strength to carry out the solemn promises I shall be making.'
The postwar economic situation came up in conversations about the coronation:
After six years of war, a heavily-indebted Britain was still struggling to adapt to a peacetime economy. As housing minister and soon to be contender for the party leadership [and, later, Prime Minister], Harold Macmillan noted in his diary: 'There was general agreement that it should not be this year. This year the bailiffs may be in; the Crown itself may be in pawn.'
'It'll have a steadying effect next year,' said Churchill. 'Anyway it will beat the Festival of Britain.' He had objected to the 1951 Festival as an exclusively civil affair with no role for the Commonwealth and Empire or for the armed forces. It was a stunted Britain on display, argued Churchill. He was not about to commit the same mistake with the coronation.
It should be noted that Labour's Clement Attlee was Prime Minister at the time of the Festival of Britain in the summer of 1951. Churchill became PM again in the general election of October that year.
Organising the coronation began, involving some of the same positions, i.e. the two Archbishops and the Duke of Norfolk, who, incidentally is Catholic:
In June 1952, a proclamation setting the date of the coronation on 2 June 1953 was signed by the Queen and posted publicly. At the same time, 42 members of the Privy Council were appointed to a Coronation Committee. Two royal dukes, Edinburgh and Gloucester, were supported by a dozen hereditary peers. The archbishops of Canterbury and York spoke for the Church of England while senior government ministers had the right of attendance along with spokesmen for the opposition parties.
The coronation was to be an almost exclusively upper class affair. Much time was spent on efforts protecting its dignity. Under the direction of Bernard Marmaduke Fitzalan-Howard, 16th Duke of Norfolk and hereditary Earl Marshal, a souvenir committee sifted applications to produce officially recognised memorabilia. Among the approvals was a pennant with the royal cipher for cyclists and a home safe with a gilt lettered engraving promoting 'Savings in the New Reign'. Sharp's Toffee was granted permission to produce a tin with the Queen's image on the lid. Of the rejects, the vote against crown embroidered knickers was unanimous.
Interestingly, members of the Coronation Committee were horrified when the BBC requested permission to film the coronation:
… the official reaction was hostile. The Queen's advisors were as one in warning of 'an intolerable strain' and that 'no mistake could ever be rectified'. If there was to be television coverage, it had to be restricted to the procession into and out of the Abbey.
Churchill told the House of Commons: 'It would be unfitting that the whole ceremony, not only in its secular but also its religious and spiritual aspects, should be presented as if it were a theatrical performance.'
By October 1952, Churchill had changed his mind:
The House of Commons was told of Churchill's change of mind in late October. The prime minister promised that the cameras would in no way detract from 'the utmost moral seriousness' of the occasion.
Little did Churchill know that in the run up to the coronation, a spike in purchases of first-time television sets would occur across the nation. Back then, the screens were small. Nonetheless, many families opened their homes to neighbours, especially children, who were able to see television for the first time. Those who saw the coronation never forgot it.
As preparations took place, the Queen Mother dominated activity at Buckingham Palace:
Elizabeth was not short of advice on how to prepare for the great day. The strongest influence on her (much to her husband's irritation) was that of the Queen Mother, who had strong views on everything and who found it hard to take a back seat.
The young Queen was seemingly accustomed to handling her duties as a monarch and mother:
Elizabeth was well practised in royal functions. A councillor of state since the age of 18, she was familiar with state papers and had acted on behalf of her father when he was unavailable. It is unlikely that the Queen's children, Charles and Anne, noticed any great difference in their own lives. With nannies to care for them and with their parents often absent from home, they were semi-detached from the main action.
Coronation rehearsals began on May 14, 1953. They were held daily:
In her private quarters in Buckingham Palace, Elizabeth practised her role 'attached to sheets tied together to mimic her 13ft train'. Four months had been spent on finding new make-up for the Queen. The beauticians had eventually settled for a peach-tinted foundation and a lipstick to tone with the purple robes of state.
As the coronation drew near, the media indulged in an orgy of royal gossip set against an historical backdrop. When the precise significance of the sword, the sceptre and the orb had been exhausted and there was nothing more to say about the 38 earlier coronations since the Norman Conquest, a note of desperation entered the daily commentary. That St Edward's Crown was roughly equal to the weight of Debrett's Peerage while the Imperial State Crown was heavier than Who's Who was followed by the revelation that 'Her Majesty is not one of the light breakfasters. She likes to follow her fruit juice with a substantial dish of bacon and eggs.'
In her later years, breakfast became a bowl of cereal accompanied by toast. The Queen and Prince Philip had breakfast together, serving themselves cereal from Tupperware containers.
As Coronation Day neared, people from all over the UK erected bunting, banners and signs on their homes. The Telegraph has a photo showing one street display. I rather doubt we will see such visual enthusiasm outside of bunting this time around.
London became a nexus of national enthusiasm:
The sheer splendour of an occasion gave a much needed injection of confidence and hope to a beleaguered nation. A film of the procession route three days before shows crowds camping out 12 deep on both sides of the Mall. By coronation eve, some 30,000 were bedded down.
The Underground started at 3am and buses began bringing more spectators into the coronation area at 4.30am. They came equipped with spirit stoves, stools, blankets and tinned food. Portable radios and wind-up gramophones helped to pass the time. London's buskers – dancers, acrobats, singers – worked all hours.
This is how Coronation Day began at Westminster Abbey:
The doors at Westminster Abbey opened at 6am for the first guests to take their places. They huddled together against the chill. Foreign royals and other overseas dignitaries followed after 8.30am. Though most went unrecognised by onlookers they were all given a hearty cheer.
The excitement mounted with the procession into the Abbey led by royal chaplains followed by a host of all that was esoteric in the orders of chivalry, the Royal household, the Commonwealth prime ministers, Sir Winston Churchill looking distinctly grumpy in the Tudor vestments worn by Knights of the Order of the Garter, and the senior clerics of the Church of England. The four-year-old Prince Charles, in tow with his nanny, entered by a side door to sit between the Queen Mother and Princess Margaret. Proudly, he announced that he was wearing his father's hair oil. Anyone who showed an interest was invited to take a sniff.
By 11am the full congregation of 8,000 was squeezed into the Abbey and 15 minutes later the Queen arrived in the Gold State Coach, magnificent to look at but a byword for discomfort. At her side was her husband Philip, Duke of Edinburgh, in the uniform of Admiral of the Fleet. Across the country 20 million television viewers, many of them sharing sets with friends and neighbours, were tuned in to freckled screens.
The greatest royal show ever, almost certainly never to be repeated, was about to begin – and those who had spent the best part of a year in planning this once-in-a-lifetime event could be forgiven for breathing a sigh of relief.
King Charles remembers
This short retrospective video begins with the Coronation. In it, King Charles recalls that, in the weeks before the ceremony, the Queen wore the magnificent St Edward's crown when she kissed him good night. It is very heavy and she needed to wear it at length so that she got used to the weight of the Imperial State Crown, which she wore at the coronation. Later, she wore it only for state occasions, e.g. the State Opening of Parliament:
On March 11, 2023, The Telegraph's Royal Editor Victoria Ward told us 'How mischievous Prince Charles "got his paws" on the crown at his mother's coronation'. The article is accompanied by a photo of him, between the Queen Mother and Princess Margaret, looking decidedly bored.
However bored he was, he made history:
The four-year-old boy, dressed in a white silk shirt and white suit, became the first child to witness his mother's coronation on June 2, 1953.
Prince George will be the next child to follow in those footsteps:
Fast forward 70 years, and Prince George will watch from almost the same spot, as his grandfather returns to Westminster Abbey for his own turn. 
The nine-year-old future king, who is likely to be accompanied by both of his siblings, is expected to be given an official role at the ceremony.
He will also be the first future king to attend his grandfather's coronation since Edward VIII and George VI in 1902.
Returning to King Charles and his mother's coronation:
In the years since Queen Elizabeth's coronation, Charles has described his memories of the day, which he watched with rapt attention before turning first to his aunt, Princess Margaret, and then his grandmother, the Queen Mother, apparently plying them with questions.
Lady Moyra Campbell, one of the late queen's six ladies in waiting, would later recall: "We heard the Queen Mother whispering to him, telling him what was happening. He behaved impeccably. It was a lovely moment."
Having received a special, hand-painted invitation designed especially for him and adorned with marching soldiers, the young Charles was spirited into Westminster Abbey by his nanny, Helen Lightbody, to witness the moment of his mother's crowning.
After communion, he was taken "silently and unobtrusively from the church", according to reports from the time.
It was likely not a moment too soon for the young Charles, who was pictured looking more than a touch bored during the ceremony, eyes glazed and face resting dejectedly on his fist.
On the royal party's return to Buckingham Palace, the young prince was in his element, running up and down the corridors with his two-year-old sister, Princess Anne, who was deemed too young to attend the ceremony. He also sported his first medal, struck specifically for the coronation.
Lady Moyra laughed as she recalled in 2012: "He was wearing his father's hair lotion to smooth his hair and we had to sniff it and admire it."
Years later, Charles had seemingly forgotten such joy, telling his biographer that he had been annoyed that the Palace barber had cut his hair too short and plastered it with "the most appalling gunge".
At one point, the young prince caught sight of the Imperial State Crown, which weighs more than 1kg and is adorned with 2,901 precious stones, including the Cullinan II diamond.
Lady Anne Glenconner, another maid of honour, would later recall: "Prince Charles got his paws on it, however old he was, when we got back to Buckingham Palace.
"Because [the Queen] took it off, put it on a table, and Prince Charles made a beeline for it. And we thought he was going to drop it. We thought, 'Oh my goodness, that would be a bad omen'. But luckily, I think my mother, as a lady-in-waiting, seized it from him and took it away."
Meanwhile, as the Queen posed for official photographs with the Duke of Edinburgh, Charles and Anne played up by covering their faces with their hands.
The young monarch put a hand on Charles to settle him down, before Cecil Beaton's shutter came down.
Charles later described watching his young mother practising ahead of the coronation with the heavy St Edward's crown. 
"I remember my Mama coming, you know, up, when we were being bathed as children, wearing the crown. It was quite funny – practising," he said.
Previously, young Princess Elizabeth wrote down her memories of George VI's coronation at his request:
Queen Elizabeth had been in a similar position 16 years earlier, when as a young 11-year-old Princess she was present to watch her own father, George VI, crowned on May 12, 1937.
Having been thrust unexpectedly onto the throne when his brother, Edward VIII, abdicated, George wanted his daughter to feel more prepared for her own coronation day and so asked her to record her memories.
"It was very valuable," the Queen later acknowledged.
Her recollections of the two-and-a-half hour ceremony, scrawled neatly in red pen in a child's exercise book, have since been preserved in the Royal Archives.
The title page reads: "To Mummy and Papa, In Memory of Their Coronation. From Lilibet, by Herself."
She wrote: "We sat down and waited for about half-an-hour until Mummy's procession began. Then came Papa looking very beautiful in a crimson robe and the Cap of State.
"I thought it all very, very wonderful and I expect the Abbey did too.
"The arches and beams at the top were covered with a sort of haze of wonder as Papa was crowned, at least I thought so."
The young princess said the music was "lovely" and the orchestra played "beautifully".
However, she admitted that towards the end the service "got rather boring as it was all prayers".
"Grannie (Queen Mary) and I were looking to see how many more pages to the end, and we turned one more and then I pointed to the word at the bottom of the page and it said 'Finis'. We both smiled at each other and turned back to the service," she wrote …
The Queen later admitted in a 2018 BBC documentary that she could remember her father's coronation "much better" than her own.
"Because I wasn't doing anything, I was just sitting there," she said, before adding with just a touch of pride: "I've seen one coronation and been a recipient in another, which is pretty remarkable."
Whether George will be spotted taking his own notes at his grandfather's Coronation in May remains to be seen, but he will most likely have the good fortune of attending two coronations before his own big day, whenever that arrives.
Religious ceremony
On June 2, 2022, at the beginning of the Queen's Platinum Jubilee four-day weekend, the Archbishop of York, the Right Revd Stephen Cottrell wrote about the religious aspects of the coronation for The Telegraph, 'The Queen's Christianity is the lens through which she views the world':
Amid all the pomp, pageantry and pleasure the Platinum Jubilee brings, it is easy to forget that, at its heart, the Queen's Coronation nearly 70 years ago was a religious event.
While television cameras may have been granted access to Westminster Abbey that day, one moment was hidden from public view.
Her Majesty was anointed with oil and afforded a time of stillness and reflection before God. She was also given a Bible by Archbishop Fisher and reminded that scripture is "the most valuable thing this world affords".
Geoffrey Fisher was the Archbishop of Canterbury at the time, and was alongside Her Majesty as she prepared for the spiritual journey that lay ahead. One of the treasures in the Lambeth Palace library is the book of devotions that he prepared and presented to her all those years ago. It includes prayers, passages of scripture and daily meditations.
For Her Majesty, the Coronation was an intimate encounter between a monarch and her God, a moment where the Queen would be called by name and given a lifelong vocation.
It marked a moment at which her personal relationship with Christ met the national events and public moments that remind us that this country, its laws and customs and culture, is shaped by the Christian faith …  
This is a discipleship that, gently but truly and generously, makes the love of Christ and the care of God known. Quite simply, she could not be as she has been without her faith in Christ.
In Archbishop Fisher's book of private devotions, the first prayer he gave the Queen to consider was Psalm 25:3-4: "Shew me they ways, O Lord: and teach me thy paths. Lead me forth in thy truth, and learn me: for thou art the God of my salvation; in thee hath been my hope all the day long."
This prayer, which Her Majesty prayed 70 years ago, is still as relevant today, and as a Christian I too take great comfort in it as I seek to follow in the way of Christ. It is, indeed, a calling for all of us.
Nineteen copies of the Archbishop's devotions were printed. The devotions covered the month leading up to Coronation Day. He signed the books Geoffrey Cantuar (Latin for Canterbury):
I have much more to write about the Queen's coronation.
More to follow tomorrow.
On Saturday, February 11, 2023, GB News aired Charlie Peters's incredible 45-minute documentary, Grooming Gangs: Britain's Shame.
This is not easy viewing, but it is important to watch. Peters was able to interview victims and whistleblowers, mostly in Rotherham, but also in Rochdale and Telford — all in England:
Near the end of the documentary is a map of all the known towns in England — there are many — along with Glasgow where grooming gangs currently operate. If I had a still of it, I would post it. Most are in the north, but there are some in the Home Counties, too, such as leafy Wendover.
Imagine. Those are only the places known about. Some experts say that nearly every town in England has a grooming gang network.
Highlights
The following highlights from the documentary show what a serious problem this has been and continues to be.
Action was not taken because of the unique ethnicity of the perpetrators.
It should be noted that Rotherham and Rochdale, among others, have Labour councils.
Amazingly, whistleblower and youth worker Jayne Senior of Risky Business and concerned Rotherham council workers were told that the girls consented. According to English law, children cannot consent because they are not old enough to give informed consent:
Councillors in Rotherham and elsewhere knew what was going on but turned a blind eye. As I mentioned several days ago, Mark Steyn, now back in Canada, shone a spotlight on the grooming situation in Telford when he worked for GB News:
This is one of the cases Rotherham councillors knew about. Julie was 12 at the time. Her 'boyfriend' was 24. He and his mates took over her and her mother's life:
Julie's mother was terrified. The abusers were so intimidating that she felt she had no choice but to co-operate with them by allowing them in the house with access to her daughter:
Julie ended up being trafficked around the country at the whim of the gang. She ended up learning their Pakistani dialect. Two of the councillors who were briefed on her case were committee chairs but did nothing. They remain committee chairs today. One of them now heads Rotherham Council's Standards and Ethics committee:
Jayne Senior of Risky Business was shocked to learn of the Standards and Ethics committee appointment. A survivor called it 'a slap in the face':
Jayne Senior had a database of girls in Rotherham which she worked on in order to find a network of abusers. Someone unknown tampered with aspects of it.
In Rochdale, then-Detective Constable Maggie Oliver, who later retired to found the Maggie Oliver Foundation which helps victims of grooming gangs, said that her superiors told her that there was no evidence to prosecute — even though she had compiled plenty of incriminating evidence.
In every town investigated, grooming gangs treated their victims as subhumans. One was murdered. Another was raped with a broken bottle. One had petrol thrown on her with gang members lighting matches around her. Girls have been routinely tortured, gang raped, drugged, plied with strong drink, burnt — and more.
This is what Maggie Oliver had to say:
She says that, because they have been operating for decades now, grooming gangs know exactly what to look for when selecting a young girl as prey:
The following are current statistics from the Maggie Oliver Foundation:
It is very difficult for a young girl to extricate herself from the gangs.
Elizabeth, a Rotherham survivor, has a book coming out on March 31 about her harrowing experience. She was groomed by a woman who acted as a go-between with the gangs:
Samantha Smith from Telford, a long-time victim, was also in the documentary. She posts an assessment from a Rotherham victim — once one perpetrator has your number, they all have it — and adds that it is easier to treat victims as criminals rather than the perpetrators:
Samantha is now a columnist for The Telegraph, The Spectator and the Daily Mail.
If gang members treated their victims as subhumans, teachers, police and council workers did, too. Samantha said that she was made to feel as if it were her fault.
Home Office reports
There were three Home Office reports into the Rotherham scandal, which continues today.
Nothing happened as a result.
Jayne Senior says the council did not like the results of the reports:
As one newspaper reported, everything was ignored in order to 'preserve grubby political careers':
This thread discusses the Home Office reports and their findings:
Residential care workers also raised the alarm but were largely ignored:
The second and third reports from 2003 and 2006 went further than the first. Those reports revealed that criminality was clearly involved. Police and social work managers ignored them:
Rotherham Council did not want to know, either. Some councillors were in denial. Others thought it was a one-off problem:
Meanwhile, social services were becoming stretched with the numbers of victims coming forward:
Ethnicity was becoming an issue in these cases, but no one in authority wanted to acknowledge it:
No one wanted to open a powder keg. Whilst this is understandable, the problem of CSE — child sexual exploitation — will continue until this is tackled intelligently but thoroughly:
It should be noted that women were also targeted, some of whom acted as madams, by their landlords:
Rotherham's Labour council thinks that the city's designation as the 2025 Children's Capital of Culture will automatically heal all these wounds. Instead, townspeople think it is a sick joke:
Ultimately, there is a desparate need for an honest discussion:
GB News has two detailed reports on Rotherham Council's part in the scandal here and here.
Growing problem that political correctness won't stop
Charlie Peters did several interviews in the run-up to and after the broadcast of the documentary.
Here he says that girls are being ignored and that the authorities are too concerned about political correctness to do anything:
Indeed, Peters points out the problem with political correctness in the documentary:
He is correct in saying that there needs to be a 'national response' to grooming gangs:
Red Wall MP Robbie Moore of Keighley, which also has a grooming gang problem, agrees:
Rotherham's MP, Alexander Stafford, also a Red Wall parliamentarian, told Tom Harwood that he was not happy about councillors remaining in prominent positions. He thanked GB News for the documentary:
The scale is likely to be much larger than had been previously thought, says one solicitor (lawyer):
The statistics are horrifying:
One reason why is the increasing use of social media to lure vulnerable girls:
Home Office response
During last summer's Conservative Party leadership contest, Rishi Sunak said that he would tackle the problem of grooming gangs.
We haven't heard a peep since.
Home Secretary Suella Braverman's office said she was 'appalled' by the documentary's findings:
I won't hold my breath in anticipation.
Reaction
GB News presenters publicised the documentary, with some interviewing Peters.
Nigel Farage said it is a must-see:
Michelle Dewberry, originally from Hull, which also has a grooming gang problem, said the issue needs discussing:
It deserves a repeat showing, more than once:
Elsewhere, The Spectator's Ed West wondered where the moral outrage is over this problem. Note that where there is outrage, the authorities, including the Home Office, stomp on it quickly. More on Labour-run Knowsley at the end of the post:
And, across the Pond, columnist Rod Dreher says that there are lessons to be learned from this in the United States:
Last weekend's news
Knowsley, which is a Labour constituency near Liverpool, had a demonstration last weekend against Channel migrants being housed in local hotels. Families have become increasingly concerned about the safety of girls and women. One 15-year-old girl was propositioned by one of the hotel residents, who was clearly an adult. She recorded it and it went viral.
Unfortunately, the authorities and the media accused those at the peaceful protest of being far-right thugs. To be fair, the protest was later gate-crashed but probably not by the far-right. People dressed in black and wearing balaclavas infiltrated the event and became violent. Such types are likely to be from the far-left. Europeans call them black bloc. Americans call them Antifa.
In London, someone verbally lashed out at the Tate (pictured below) for holding a Drag Queen Story Hour. Again, this person was labelled far-right in the media. In light of the mad things happening in Scotland over sexual identity politics, people are worried.
The Telegraph's Alison Pearson voiced her objections to labelling: 'I'm sick of people with an ounce of common sense being labelled "far-right"':
She adds a third news story to the mix:
… we learn that four Afghan "boys" who arrived in small boats across the Channel last year have just been arrested in connection with the alleged rape of a 15-year-old girl at a school in Dover. So, are all of us who warned that there was a potential safeguarding issue around putting asylum seekers of indeterminate age into British schools still "far-Right"? 
She concludes:
If the Government and a liberal elite continue to stigmatise and silence working-class people for a perfectly rational reaction to policies which threaten their children and their communities then I'm afraid they must prepared to reap the whirlwind.
Are those who think this way far-Right? Or could it possibly be that we are just right?
Many will say that those who object are just right.
Take, for example, this February 14 verdict on a former grooming gang member from West Yorkshire. He walked free:
The defendant apparently has mental health issues. One wonders about his victim's mental health:
He did not serve any time:
One must take a moment to read the article on YorkshireLive. Excerpts follow:
A grooming gang member who was first arrested seven years ago has finally been sentenced – but has walked free from court.
Sayeed Hafeez was 23 when he took a 15-year-old girl to two beauty spots in West Yorkshire and had sexual activity with her. Bradford Crown Court heard the girl had already been groomed and abused by a number of other men who have previously been sentenced.
His Honour Judge Anthony Hatton said there was no evidence to suggest the girl had been "traded" to Hafeez, who is now 36, and it is not clear how they came to know each other. He said Hafeez had had sexual activity with the teenager at Cliff Castle and St Ives …
The court heard the prosecution could not point to anything that would suggest Hafeez, of Thomas Duggan House in Shipley, knew the girl was vulnerable.
Mitigating Taryn Turner told the court …
… the girl was "mature" at 15, and a photograph of Hafeez at the time seems to "reveal he was a much younger man still in college so perhaps the disparity in age is not so great as may be thought at first."
Again, we see the notion of a minor being able to consent. Wrong!
People should be highly upset about this — not only at the perpetrators but also at the authorities for doing absolutely nothing to stop the damaging, sometimes deadly, abuse of young girls.
Today's post concludes my three-part series on Mark Steyn's departure from GB News.
Find out why he left here. This post has more segments from his evening programme, which will be sorely missed.
What follows are clips from the best of the rest of his output for GB News.
Law and order
In 2021, the British public discovered that the police weren't much cop. They began being more interested in patrolling Twitter than investigating actual crime.
Over a year ago, on February 2, 2022, Steyn addressed this parlous state of affairs:
Nearly a week later, on February 8, Steyn pointed out that Labour's Sir Keir Starmer's record as Director of Public Prosecutions (DPP) wasn't exactly good. This editorial came on the back of then-Prime Minister Boris Johnson's accusation at the despatch box during PMQs that Starmer never did anything about BBC presenter Sir Jimmy Savile, since deceased, when two constabularies were investigating him for molesting minors. Labour took great offence at Boris's accusation. Nor did Starmer do anything about the grooming gang situation in Labour-controlled Rotherham when he was DPP:
On April 18, Steyn showed us the parlous police statistics for England and Wales. At the 51-second mark, we see that in less than 10% of cases was anyone charged or even summonsed. Meanwhile, London's Metropolitan Police were investigating Boris for get-togethers during lockdown. Steyn alleged that the Met were looking at each accusation of a party as a separate incident to boost their crime-solving figures. He was being semi-serious, but one can readily believe it:
On April 18, he informed us that, where some cases of multiple sexual assault by more than one person are concerned, the police now prefer something spurious called 'community resolution' to prosecution and sentencing. How would that apply to grooming gangs, one wonders. Dear, oh dear:
Channel migrants
On May 24, Steyn opened his editorial with all the notionally big political machinations going on: the investigation of Boris's partygate, the WEF at Davos and an ever-increasing 'big government'. He concluded that this was the 'death of democracy'. He then discussed the Home Office's plan to place 1,500 Channel migrants in a disused RAF base in tiny Linton-on-Ouse, pop. 700. Unbelievable.
The good people of this North Yorkshire village had been protesting the move for days. The migrants were scheduled to pole up on May 31. Steyn pointed out that the political class 'have everything' and 'you've got nowt':
Fortunately, the Home Office rode back on the decision. That wasn't Steyn's first mention of the village. It would be nice to think that his making it public forced the Government to backtrack.
On August 2, as tens of thousands of migrants had crossed the Channel in 2022 by that time, Steyn had a go at the Government's placing these undocumented people in decent hotels, rather than sending them back over the Channel:
Many of the arrivals from the Channel are Albanians. It seems that the UK is the only European country to admit Albanians crossing illegally. Other European countries refuse them entry. Albania is safe, so safe, in fact, that it is becoming a British tourist destination. Other GB News programmes reported last year that newly-arrived Albanians to the UK are quickly taking over the British drug trade.
On November 28, hundreds of Albanians blocked central London to celebrate Albanian Independence Day. The broadcast video was extraordinary. The Met did nothing, while a load of posh cars paraded in a convoy around the main streets near Parliament. Albanian women in their native dress danced around the cars. Traffic was at a standstill.
On November 29, Steyn said that he had to abandon the taxi he was in to walk to the GB News studio. He criticised MPs for doing nothing about the numbers of Albanians coming here illegally. They were at that time, the majority of the Channel crossers. He also criticised the police for closing a bridge near Parliament rather than breaking up the convoy. Steyn said:
The useless political class have wrecked your country, and they're not done yet.
Conservative Party
During the Conservative Party leadership campaign in July, Steyn interviewed Lord Frost, whom many want to renounce his peerage and throw his hat into the ring one day. (He would need to become an MP first or Party rules would need to be changed.) He is a proper Brexiteer and an unabashed Conservative in the best of ways.
Steyn interviewed the life peer on July 11:
Highlights follow.
Steyn said that the Party has lost its way. Frost and Steyn align on what should matter to true Conservatives:
Lord Frost said that stopping the Channel crossings was paramount:
Perhaps one day he will renounce his peerage and run as a Conservative candidate for Parliament:
Platinum Jubilee
On June 1 and 2, Steyn devoted parts of his show to the Queen's Platinum Jubilee.
Here's the full show. At 49 minutes in, he discusses Australia's new Prime Minister who installed an 'Assistant Minister for the Republic'. Not surprisingly, Steyn is critical, as is The Spectator's Australian editor Alexandra Marshall, who was appalled that the appointment was made just before Platinum Jubilee weekend. Marshall said that no mention of a republic was ever made during the general election and that most Australians are shocked by the move. She says that politicians 'do not deserve any more powers than the ones they already have':
Before that, Steyn interviewed The Conservative Woman's Laura Perrins. Although she has lived in England for many years, she is still Irish to her core and couldn't get excited about the Jubilee. Steyn was disappointed:
On June 2, Steyn paid a splendid tribute to the Queen in his editorial:
Social issues
On December 22, 2021, Steyn interviewed the Revd Will Pearson-Gee, an Anglican priest who said that, in the event of another lockdown, he would not be closing his church at Christmas:
I do not have that interview, but it does give me a chance to once again share the priest's passionate declaration that his church would remain open. In the event, he didn't have to worry about another lockdown, thanks to 101 rebel Conservative MPs:
That same evening, Steyn took exception to the 'man' who had a baby and refused to be called 'mother':
On April 6, 2022, Steyn criticised British politicians who refused to define a woman out of fear. Earlier that day, GB News's Ben Leo had interviewed several MPs on the subject. Some didn't answer. Others ran away. Well worth watching:
On April 27, Steyn had an excellent editorial on whether going to university is a good idea for everyone. Back in the 1990s, then-Prime Minister Tony Blair said that 50% of British students should go on to higher education. Currently, Steyn says, 53% now attend university. However, Blair said last year that 70% of Britons should now go to university. Steyn counters the argument by saying that, in the 20th century, the vast majority of Americans left school at the age of 13 and went on to achieve great things. Steyn poured cold water on the 'achievement' aspect of university, saying that so many are still students at the age of 28 and are working as baristas rather than in high-level employment. Furthermore, university now leaves British students in debt, so they are unable to get married and start families. As a result, British demography is suffering with an ageing population.
He is so right:
A Canadian lady, Yasmine Mohammed, appeared several times early in 2022. She discussed her time in al-Qaeda and deplored the fact that Western nations seem to bend over backward for radical philosophies. She concluded that radicals and Islamicists share the same goal, which is to bring down the West:
Dutch farmers
Until I watched Mark Steyn, I had no idea that the Dutch government wanted to seize farms in the Netherlands.
The legal philosopher, as she calls herself, Eva Vlaardingerbroek, appeared many times to keep Mark and his audience apprised of the situation.
On July 11, Eva explained why the Dutch farmers were actively protesting:
Dutch Prime Minister Mark Rutte says there is a nitrogen crisis exacerbated by farming. That idea came from the EU. Dutch farmers are some of the world's greenest in their innovations, but Rutte wants them to turn their farms over to the government.
On August 1, Eva pointed out the danger that such a move poses to individual freedom — the right to own property and to work productively as one wishes:
On December 14, for the first time, GB News's ratings overtook those of the BBC, with Sky News in third place!
Eva expressed her delight in being part of Mark Steyn's programme:
On February 6, 2023, she expressed her disgust at GB News for Steyn's departure. It should be noted that the channel's CEO has changed his own Twitter account to 'private':
Meanwhile, Eva continues campaigning for Dutch farmers.
Unfortunately for them, Mark Rutte's government is winning. This video is from February 3:
On February 8, she said in an interview that the government intends to purchase 3,000 farms by the end of the decade. Who will supply the food?
The next major farmers protest will take place on March 11 in the Hague. I wish these men and women well in their fight:
Mark Steyn update
On February 7, Press Gazette accused Steyn of launching a 'tirade' against Ofcom:
The telecoms regulator currently has two investigations open into GB News, both relating to claims around the safety of Covid-19 vaccines made on The Mark Steyn Show, which aired at 8pm on Mondays to Thursdays.
No fines have been levied against the broadcaster at present, nor any adverse rulings made against the television channel. (GB News Radio did breach a broadcast rule in March 2022 when it failed to give a full list of candidates standing in a by-election.)
Press Gazette understands Steyn has to date been presenting for GB News in a freelance capacity, and had been in negotiations for a permanent contract.
However, it appears the channel has struggled to get Steyn to comply with Ofcom's requirements under the Broadcasting Code.
In a video published to his website on Monday, Steyn referred to an instance in which, ten minutes before going on air, he had a back and forth with the channel's editorial compliance officer that ended with him calling them "Ofcom's bitch" …
It is unusual for a publisher to ask a staff member to accept the costs of a regulatory or legal sanction. It is unclear from the language in the clause whether Steyn would have automatically had to accept liability for the fines or if GB News was reserving the right to pass him costs.
Steyn said in the video: "I'm on the hook there for Ofcom fines – but, and this is the important point, I don't have any say in our defence against an Ofcom complaint. That's all done by GB News. So Ofcom's bitch, as I call the compliance officer, will be making the weedy, wimpy defence to Ofcom, and then I'm the one who has to pay the £40,000 fine or whatever it is."
Steyn went on to say "Ofcom is making a big move to take over the planet at the moment" in connection with the Online Safety Bill.
Asked about Steyn's accusations, a GB News spokesperson said: "GB News takes Ofcom compliance extremely seriously. All our presenters are expected to comply fully with the Broadcast Code and there are no exceptions.
"This does not impinge on our ability to ask tough questions, express strong opinions, and debate the issues that matter to the people of Britain."
Now comfortably back in Canada, Mark has relaunched his online show with his usual guests:
GB News viewers will miss the beauty of Eva Vlaardingerbroek, Alexandra Marshall and Leilani Dowding:
That episode can be found here.
Follow Mark Steyn and his shows here and here. He's also on Twitter.
Steyn's 'Stats Man' Jamie Jenkins will be watching — and contributing. Excellent:
In closing, The Conservative Woman's Laura Perrins is also dismayed by Steyn's departure:
She is not wrong.
GB News made a huge mistake. Let's hope they can limit the damage this will cause them.
End of series

In December 2022, the then-GB News presenter Mark Steyn suffered two heart attacks within days of each other.
The first one he ignored, because he had never suffered a heart attack and didn't recognise the symptoms.
The second occurred when he and a female friend were in France. Fortunately, he got to the hospital just in time. Fifteen minutes more and he would have died.
While he recuperated in France — there was no chance of his returning to Canada, doctors said — some of GB News's sharpest hosts stepped in to sub for him between 8 and 9 p.m. They told viewers that Mark was on the mend, until the end of January, at which point they mentioned him no more.
Don't mention the vaccines
Then, late on Monday, February 6, 2023, Guido Fawkes posted that Mark would not be returning to GB News. The news channel's CEO wanted to make Steyn liable for any Ofcom fines they received over his segments that criticised the coronavirus vaccine:
Guido tells us, complete with the relevant video clip (emphases in red his):
Mark Steyn has quit GB News on fairly bad terms after a protracted leave of absence owing to his health. A few weeks ago Guido picked up that the channel had been trying to formalise Steyn's contract, having operated on a fairly ad hoc basis since starting his show. Part of trying to get him on board as a properly contracted presenter was also an attempt to rein in his output, given that in a rather short space of time he'd managed to spark two separate Ofcom investigations into claims made on his show.
GBN offered him a new contract to sign, otherwise he'd face termination. It now looks like Steyn is declining to sign the new contract, so he's out.
In a video put out on his website today, Mark doesn't hold back on his opinion of the channel's CEO Angelos Frangopoulos, ranting about the terms of the new contract that would have made him financially liable for any fines imposed on GB News by Ofcom because of his show's output. He also calls Frangopoulos an "habitual liar". Shame – Steyn managed to consistently beat Piers's view count…
After a few months, Mark Steyn Show regularly trounced Piers Morgan's TalkTV show Monday through Thursday in the same time slot.
GB News has been scrupulous about offering both sides of any story on their shows in order to avoid censure from Ofcom. This entails having a left-wing guest oppose the host's centrist or conservative perspective.
In 2022, Press Gazette reported on the channel's potential Ofcom violations. I'll start with the story from August 8, with the communications regulator's examination of two segments, one on Nigel Farage's evening show and one from a morning show with Patrick Christys, who now hosts a three-hour afternoon slot Monday through Friday:
The first two investigations by broadcast regulator Ofcom into GB News have ended with no rebukes, keeping the TV channel's record clean as it enters its 15th month.
Critics feared the opinion-led news channel would rub up poorly against the UK's strict impartiality rules, a problem not faced by broadcasters in the US such as Fox News.
But by balancing views from presenters and guests across its schedule, GB News has avoid any Ofcom rebukes despite airing some strident views on Covid-19 lockdowns and vaccines. Two Ofcom investigations into GB News TV and radio broadcasts remain ongoing.
In October 2022, complaints about Mark Steyn's show were still ongoing:
Ofcom has opened an investigation into an episode of Mark Steyn's 4 October programme on GB News after it received 411 complaints from viewers about comments made by author and journalist Dr Naomi Wolf in relation to Covid-19 vaccines.
Ofcom said: "Specifically, our investigation will consider whether this programme broke our rules designed to protect viewers from harmful material."
Wolf was banned from Twitter last year for spreading unfounded theories about vaccines.
Ofcom is already investigating Steyn's show for a potential breach of standards on 21 April when he claimed people who had a Covid-19 booster vaccine were three times more likely to die than those who had two doses or fewer.
Press Gazette says that the April 21 episode was removed from YouTube:
In a monologue that day, Steyn said: "Why aren't we talking about this? It seems, if the booster shot is making it thrice as likely that you're going to be deadsville, that they're going to carrying you out by the handles, why aren't we talking about that?"
Fact-checking charity Full Fact said the figures used by Steyn were "broadly accurate" but that he was "wrong to claim the booster 'increases your chances of hospitalisation and death'".
Interestingly:
No Ofcom investigations have yet been started into rival TalkTV, which Rupert Murdoch's News UK launched in April.
The Guardian had more, especially about Dr Matthew Sweet, who was interviewed on the BBC and had been monitoring Steyn's show for soundbites that criticised the vaccines. Steyn often mentioned Sweet:
The latest investigation relates to an interview with the author Naomi Wolf in which she claimed women were being harmed by Covid-19 vaccines as part of an effort to "to destroy British civil society".
Ofcom said it would investigate whether the programme broke "rules designed to protect viewers from harmful material" after receiving more than 400 complaints from members of the public.
In the interview, which was originally broadcast on 4 October, Wolf also compared doctors' support for the vaccine rollout to the behaviour of the medical profession in Nazi Germany and described herself as the "last remaining independent journalist" willing to question this.
She was being interviewed on the Mark Steyn Show, which has repeatedly raised doubts over the safety of vaccines. Steyn's claims that the jabs cause "every conceivable kind of damage" have been disputed by factchecking websites. He is already the subject of a separate Ofcom investigation over previous comments about vaccination.
Wolf began as a prominent feminist writer but in recent years her career has taken a hit after she wrote a book partly based on a misunderstanding of English court records. Since then she has veered into the world of conspiracy theories about the impact of 5G telephone masts and the coronavirus vaccine.
Presenter Matthew Sweet, whose BBC interview exposed the flaw in Wolf's book, has since kept tabs on her work and GB News's coverage of the pandemic and accused the channel of repeatedly "broadcasting misinformation about vaccines and presenting conspiracy theorists as legitimate experts on medical matters".
In a letter to Sweet tweeted last month, GB News insisted that at no point had Steyn's programme adopted an "anti-vax" approach. Instead it said he was conducting probing journalism in the face of people who want GB News to be "more supportive of government policy".
As I wrote in my post last week on Big Brother Watch's exposé of Government departments' surveillance of politicians' and journalists' Twitter accounts during the pandemic, the one thing one cannot do is criticise the vaccines.
The best of Mark Steyn's GB News output
Having watched nearly every Mark Steyn show once he began broadcasting weeknights in January 2022, I bookmarked the most notable ones.
Any interested readers should view the videos sooner rather than later. YouTube have already removed some of Steyn's GB News output.
Ratings
It took a while for people to tune into Steyn, which was no fault of his. He did a memorable series in March 2022 in Ukraine and told us that he was partly of Ukranian descent. He hoped to return when the war was over. You can read more about those programmes here.
At the end of that month, he had a special edition on the second anniversary of the first coronavirus lockdown, March 23, 2020. It's a good thing I described the content, because YouTube removed the video for the usual reasons.
Then on Monday, May 16, Mark hit the jackpot, beating TalkTV's Piers Morgan for the first time in the 8 to 9 p.m. slot. Mark wasn't the only ratings star that night — all the GB News evening shows beat TalkTV's:
The following day, Guido wrote:
The slow motion collapse in ratings of Talk TV is astounding. Until now, Piers Morgan has always held his lead in his slot against Mark Steyn on GB News. Last night Steyn beat Morgan for the first time…
And it would not be the last time, either. In fact, it became a regular occurrence.
Coronavirus
On Wednesday, January 12, 2022, Steyn interviewed Lord Ridley — Matt Ridley — about the coronavirus lab leak (30:00 – 40:00):
In February, he covered the Canadian truckers' protest in Ottawa against mandated vaccines:
He also interviewed a Canadian policewoman about the protests:
On April 21, he cited UK government data which said that people over 50 who had three jabs were five times more likely to get the virus: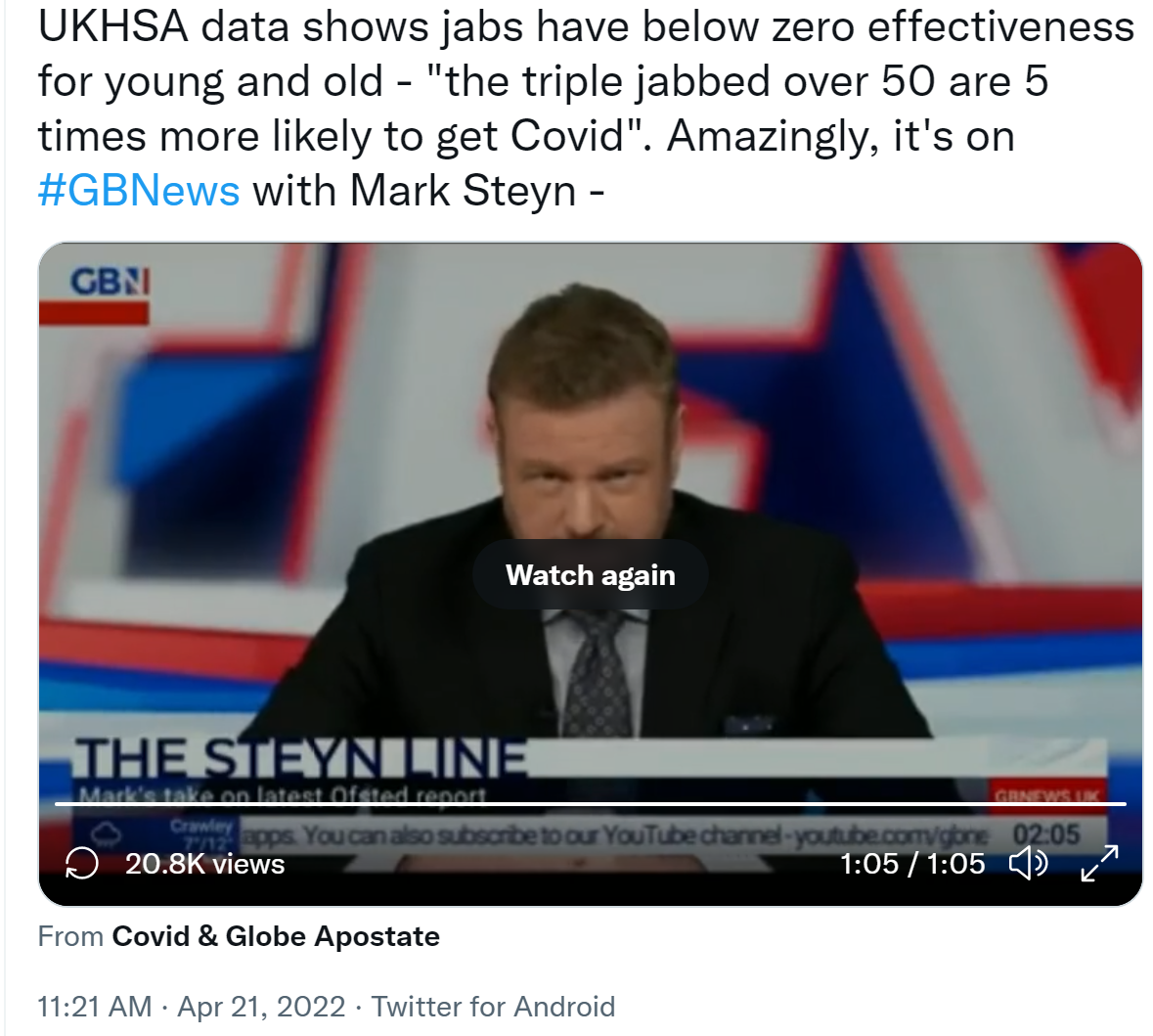 On Monday, May 9, he interviewed vaccine victims:
On May 11, he interviewed people who became seriously ill after taking the Astra Zeneca vaccine. No wonder it's no longer on the Government's vaccine list.
This man got a blood clot on the brain:
This lady suffered blood clots on her liver and lungs:
That day, Laura Perrins from The Conservative Woman waxed lyrical about Steyn's show. I, too, was a bit ambivalent about him many years ago, but as she pointed out:
It is true that a few decades ago he was considered an Establishment journalist; he has written for all your mainstream Right-wing publications. But he had long left that scene by the time I had my political awakening.
Anyway, somehow I stumbled across him, Praise be the Lord. The more I started listening, the more I read, I thought: 'Goodness gracious, hold the phone, shut the front door, this guy is the Real Deal.' This guy knows that we are being had by the political and media establishment and he is not afraid to say it …
Not only is Steyn the best-dressed, most-polished, most-sophisticated of all the presenters on TV, he says what you are thinking. For the last week or two he has been giving a voice to those the MSM have shamefully ignored – families who have lost loved ones through the 'safe and effective' non-vaccine vaccine.
… While Piers 'Lock Me Down Harder, Daddy' Morgan is interviewing Bruce Jenner, Steyn is pointing out that the lockdown has caused economic damage and inflation that the MPs like to ignore.
He also points out that when the Conservatives tell you they are getting a hold on illegal immigration, they are lying to you, they are lying to your face, dear reader.
So, do yourself a favour and watch Mark Steyn, Monday-Thursday, 8pm on GB News.
You can also catch up on YouTube when they haven't censored him for 'disinformation'. This is not a man who could ever be bought or sold for any price. I say again, Mark Steyn is the Real Deal.
The following day, news emerged that the WHO wanted nations to sign up to their pandemic treaty which would supercede national sovereignty. Unbelievable. Steyn said, 'The permanent abnormal staggers on':
On Tuesday, May 17, he talked about the WHO's involvement in the pandemic:
One week later, he interviewed a fellow broadcaster, Andrew Griffiths, who experienced serious side effects after getting the vaccine:
The Powers That Be tried to stir up fear over what is now called MPOX. On May 25, Steyn discussed Natalie Winters' findings for the National Pulse about an alleged link to the Wuhan lab:
Steyn had more on that and other topics on June 1, calling it 'the controlled demolition of the free world':
That was an exceptional show. Former ONS statistician Jamie Jenkins, one of Mark's regulars, alleged that the UK government had not collected any official statistics on vaccine injuries:
Claire Hibbs returned to discuss her injuries and the lack of compensation from the Government:
On June 16, he discussed the disastrous economic results of lockdown with Leilani Dowding:
Other Steyn broadcasts of note
In May 2022, he tapped into Canada's Rebel News output on Davos: excellent and entertaining.
On July 12, he was the only broadcaster to cover the July 12 celebrations in Northern Ireland in a non-confrontational way.
He interviewed Baroness Hoey — former Labour MP Kate Hoey — on her love for Northern Ireland and the United Kingdom:
He also spoke at length with the former leader of the Democratic Unionist Party, now-Baroness, Dame Arlene Foster:
These are just tasters. More to follow tomorrow.
No stranger to controversy
Mark Steyn has never been a stranger to controversy. Thank goodness.
Going way back in my Mark Steyn bookmarks, in 2004, he reviewed Mel Gibson's The Passion of the Christ, an incredible but much-criticised film, for The Spectator (full text here):
… Those who believe in Christ the Redeemer are booming, and Mel Gibson has made a movie for them. If Hollywood was as savvy as it thinks it is, it would have beaten him to it. But it isn't so it didn't. And as most studio execs have never seen an evangelical Christian except in films where they turn out to be paedophiles or serial killers, it's no wonder they're baffled by The Passion's success …
… Mel Gibson was driven by his own passion to make a movie that speaks to millions of people. As I said a couple of weeks back, if it's not the Jesus movie you'd have made, then go make your own. I saw it on a Monday night full house – a rare event in itself – and the crowd was rapt and eerily hushed, except for the occasional sob. It's true that if you don't believe that Christ's death on the cross is the central event in His time on earth then Mel's telling won't convince you and the film will look, as it does to Christopher Hitchens, like an S&M flayfest. One can regard this as a criticism of Gibson. On the other hand, all manner of movies – Star Wars, X-Men – leave you cold if you're not already a devotee. For millions of people, Mel Gibson shows them their Jesus and their salvation.
In 2009, Steyn wrote an article for Canada's Macleans about the danger that political correctness and censorship (i.e. 'hate speech') pose to human lives — the Fort Hood massacre (full text here):
… the old refrain echoes through the corridors of power: vigorous honest free speech will lead to mass murder unless we subject it to "reasonable limits."
Actually, the opposite is true: a constrained and regulated culture policed by politically correct enforcers leads to slaughter. I'm not being speculative here, as Commissar Lynch [Jennifer Lynch, Q.C., Canada's censor at the time] is about my murderous prose style. It's already happened, just a couple of weeks back. Thirteen men and women plus an unborn baby were gunned down at Fort Hood by a major in the U.S. Army. Nidal Hasan was the perpetrator, but political correctness was his enabler, every step of the way. In the days that followed, the near parodically absurd revelations piled up like an overripe satire …

Instead, asked "Who ya gonna believe—The Celebrate Diversity Handbook or your lyin' eyes?", more and more of us plump for the former, if only for a quiet life. Commissar Lynch has it exactly backwards: it's the craven submission to political correctness, the willingness to leave your marbles with the Diversity Café hat-check girl, that leads to death—real death, with real corpses, from Texas to Ontario.
It's amazing that the hot topics really have not changed since the Millennium. It's been the same-old, same-old for over 20 years now.
To be continued tomorrow
Gosh, what a lot of news to cover in one post.
Admittedly, a few of these items are a bit old but fit in thematically.
Theresa May U-turns on support for Scottish gender reform legislation
I wrote yesterday about former Prime Minister Theresa May's support for Scotland's Gender Recognition Reform bill on Tuesday, December 27.
Within 24 hours she had made a U-turn, thankfully, although she did it through a spokeswoman.
On Wednesday, December 28, The Times reported (emphases mine):
In the wake of the interview the BBC issued a press release which stated: "On the subject of Scotland's proposed gender recognition laws, Ms May said she was disappointed the Westminster government wasn't supporting them."
Yesterday, however, a spokeswoman for the Maidenhead MP insisted that was not the case.
"As prime minister, Theresa launched a consultation looking at gender recognition laws with the aim of providing a more sensitive approach to transgender people, but she does not agree with Nicola Sturgeon's legislation and is particularly concerned about the consequences it could have for children in Scotland and across the UK," she said.
We can but hope that the Secretary of State for Scotland does not send the legislation for Royal Assent:
Immediately after MSPs voted in favour of the legislation Alister Jack, the Scottish secretary, threatened to invoke section 35 of the Scotland Act, which allows him to prevent the legislation from receiving royal assent.
Although gender recognition is devolved to Holyrood, the Equality Act — with which the new law will interact — is reserved to Westminster.
As nearly two-thirds of Scottish voters — even SNP supporters — think this legislation is a terrible idea, Westminster can show the 'Union dividend' in being 'better off together'.
Gas futures coming down
On Thursday, December 29, The Guardian had encouraging news about the price of natural gas futures in Europe:
European gas prices have dropped back to levels seen before the Ukraine war began in February, as fears of a gas crisis this winter ease.
The month-ahead European gas future contract dropped as low as €76.78 per megawatt hour yesterday — its lowest level in 10 months, data from Refinitiv shows.
As this chart shows, gas prices have fallen back from their surge in March, and again in the summer as European countries scrambled to fill their gas storage tanks.
Prices have dropped thanks to warmer-than-normal temperatures this winter, which have limited demand for gas, after the European Union successfully filled reserves to a peak of almost 96% in November.
Consumption reduction targets have also helped to limit demand, with the EU aiming to cut its gas consumption by 15%.
Earlier this week, 83.2% of EU gas storage was filled, data from industry body Gas Infrastructure Europe shows, still above the target of 80% set for the start of November.
Traders are confident that inventories will end winter at a very comfortable level with a very low risk of falling to critically low levels, says John Kemp, energy market analyst at Reuters.
UK gas prices have also dropped back from their highs earlier this year. The day-ahead gas price closed at 155p per therm yesterday, compared with 200p/therm at the start of 2022, and over 500p/therm in August.
The UK versus the EU
All year long in Parliament we've heard that the UK is 'broken' and that we should have stayed in the EU.
Polls have been published showing that Brexit voters have buyer's remorse. Well, they shouldn't have. We are much better off outside an unelected European Commission. Furthermore, EU countries are not doing substantially better than Blighty.
France
This week, I received the latest copy of Marianne, the French newsweekly. Part of its cover story headline, referring to the state of their nation, reads:
EN PANNE
meaning, 'out of order', 'not working'.
On Wednesday this week, The Spectator had an excellent article about our neighbour: 'All is not well in Macron's France':
In 2021, both World Bank and United Nations GDP (nominal) rankings have the UK at 5th and France 7th. International Monetary Fund estimates for 2022 show India overtaking the UK to claim the 5th spot for world GDP, but with France still 7th.
One may question the reliability of GDP as a comparator, but a host of other measures regularly show France worse off than the UK. Debt to GDP ratios show France at some 115 per cent, the UK 99.6 per cent. Meanwhile the Bank for International Settlements gives France's total public and private debt (non-financial) at 351 per cent; the UK at 271 per cent.
One can rightly point to France's present day lower inflation at 7.1 per cent (EU harmonised) compared to the UK's 10.7 per cent. But as French debt statistics above show, president Emmanuel Macron began forcing down domestic inflation by subsidising prices during his 2022 presidential election campaign. French unemployment at 7.4 per cent compares unfavourably with the UK's 3.4 per cent. Meanwhile France is the highest taxed OECD and EU state, leaving little margin for manoeuvre. Her balance of payments figures are as gloomy as the UK's, together with her flat economic growth.
While Britain's position is not rosy, France's is certainly no better. That is why recent predictions in a certain European press, not least in France, taken up by British elites, that the UK was descending into terminal decline has lost all proportion. If the French press enjoy a touch of schadenfreude at the expense of the old enemy, and French politicians are glad to distract from their own problems, the willingness of much of the British middle class to swallow the same view can only be explained by ingrained cultural habit aggravated by post-Brexit resentment. Today, with Macron utterly wedded to the EU project, France for British elites is ipso facto superior to Britain. Yet France's moral state is parlous.
Since the 2022 presidential and legislative elections Macron's centrist party has no overall majority. France is stalemated and drifting towards ever more radical politics. Macron's prime minister Élisabeth Borne, unable to command a majority in the National Assembly, struggles to get her business other than by the constitutional sleight of hand of article 49,3, which guillotines parliamentary debate. With the chamber split four ways the question remains as to whether Macron will eventually dissolve parliament. Opinion polls suggest this would be a gift to Marine Le Pen's party, already the single largest opposition party with 89 seats. France might then come to replicate the present radical right Italian government.
Socially and culturally French society is far from healthy. Other than worsening violence and lawlessness in the banlieues – conveniently out of sight of English elites' visits to France – the French model of assimilation and laïcité is being tested to destruction. Official Justice Ministry statistics for July 2021 show 24.6 per cent of the prison population as foreign (double the proportion in Britain).  The French Interior Minister publicly stated this summer that, although foreigners make up 7.4 per cent of the French population, they account for 19 per cent of all delinquency nationally, and that 48 per cent of arrested delinquents in Paris are foreigners, 55 per cent in Marseille, 39 per cent in Lyon.
… The general picture is of a France far from at ease with itself. The prospect of a member of France's ethnic minorities leading the country with no fuss in the near future, as has just happened in Britain, seems impossible.
And remember the cries of 'Brexit is bad' when the Paris stock exchange overtook London's in November?
I don't recall any mea culpas from the metropolitan elite once we resumed normal service ten days later:
Guido Fawkes posted (emphases his):
The London stock market has re-overtaken Paris's after falling behind for 10 days, with a lead of $63 billion. A 2.5% rally in the value of the pound led to the improvement, and morale booster, compared to a modest 0.7% improvement for the Euro …
Germany
While Remainers in Britain's metropolitan elite moan about food inflation, our friends in Germany have experienced similar price hikes.
On October 14, September figures for the UK showed that our grocery price inflation hit an all-time high of 13.9%.
Yet, JustFood reported that Germany's grocery price inflation also reached historic highs:
Inflation levels in Germany reached their highest levels in three decades in September with food prices rising 18.7% year on year, figures show.
In a continued squeeze on consumer pockets, inflation reached 10% – its highest level since the country's reunification in 1990, the federal statistical office said.
Consumers faced the sharpest rises in edible fats and oils, which were up by 49%. Dairy products and eggs increased by 29.1%, meat and meat products 19.5% and bread and cereals 18.5%.
Month-on-month comparisons show consumers paid 1.8% more for food in September than in August, with vegetables 3.9% more expensive and dairy products up by 2.2%.
The consumer price index for food in Germany, measured against a 2015 baseline of 100, stood at 135.4 year-on-year in September, compared to 121.1 overall.
The federal statistical office said the cost of energy was leading inflation but food also played a major role, with both contributing to an overall 10% rise in prices.
Without food and energy rises in the equation, the country's inflation rate is reduced by over half to 4.6%. The prices of all goods increased by 17.2% in September 2022 compared to 2021, but the prices of non-durable consumer goods, which include food and energy, increased by 23.3%.
We cannot blame German inflation on Brexit. As Conservative ministers rightly say at the despatch box, inflation is up all over Europe and the West.
UK to relax egg rules to line up with EU
Another thing we hear from Remainers, especially in the Houses of Parliament, is that British food regulations are weaker than the EU's!
Nothing could be further from the truth! Our food standards have been higher than the EU's for decades.
Anyone wanting up-to-date proof can read an article in Wednesday's Guardian — 'UK free-range egg rules could be relaxed in line with EU for avian flu outbreaks':
Free-range egg rules in the UK could be relaxed in response to the European Union preparing to overhaul regulations after the biggest avian flu outbreak on record.
Ministers are understood to be considering a change to the rules that would mean eggs laid by hens kept in barns for months on end could be classed as free range.
Currently, eggs cannot be classed as free range if birds are indoors for more than 16 weeks. Farmers have that grace period in both the EU and UK, which means eggs can still be labelled as free-range if a government-issued housing order for birds is in place up to 16 weeks.
Subsequently, labels need to be added to packaging making it clear that those are now classified as barn eggs.
Whitehall sources told the Daily Telegraph that the Department for Environment, Food and Rural Affairs (Defra) is considering changing the regulations in order to keep farmers competitive with Europe …
The European Commission put forward a proposal in September, which stated "where temporary restrictions have been imposed on the basis of EU legislation, eggs may be marketed as 'free-range' notwithstanding that restriction".
The proposal, which is awaiting approval by the European parliament, means eggs could be classed as free range even if hens are forced to spend months indoors due to government rulings.
In September, egg producers in the UK said it was essential that the government now followed suit to avoid British suppliers being undercut by EU imports.
Climate change
Climate change sceptics will be on the right side of history in time.
Guido Fawkes's readers posted about deforestation in this post.
One chap posted an article about the increasing need for balsa wood from Latin and South America for blades on wind farms. Apparently, indigenous communities have not been consulted: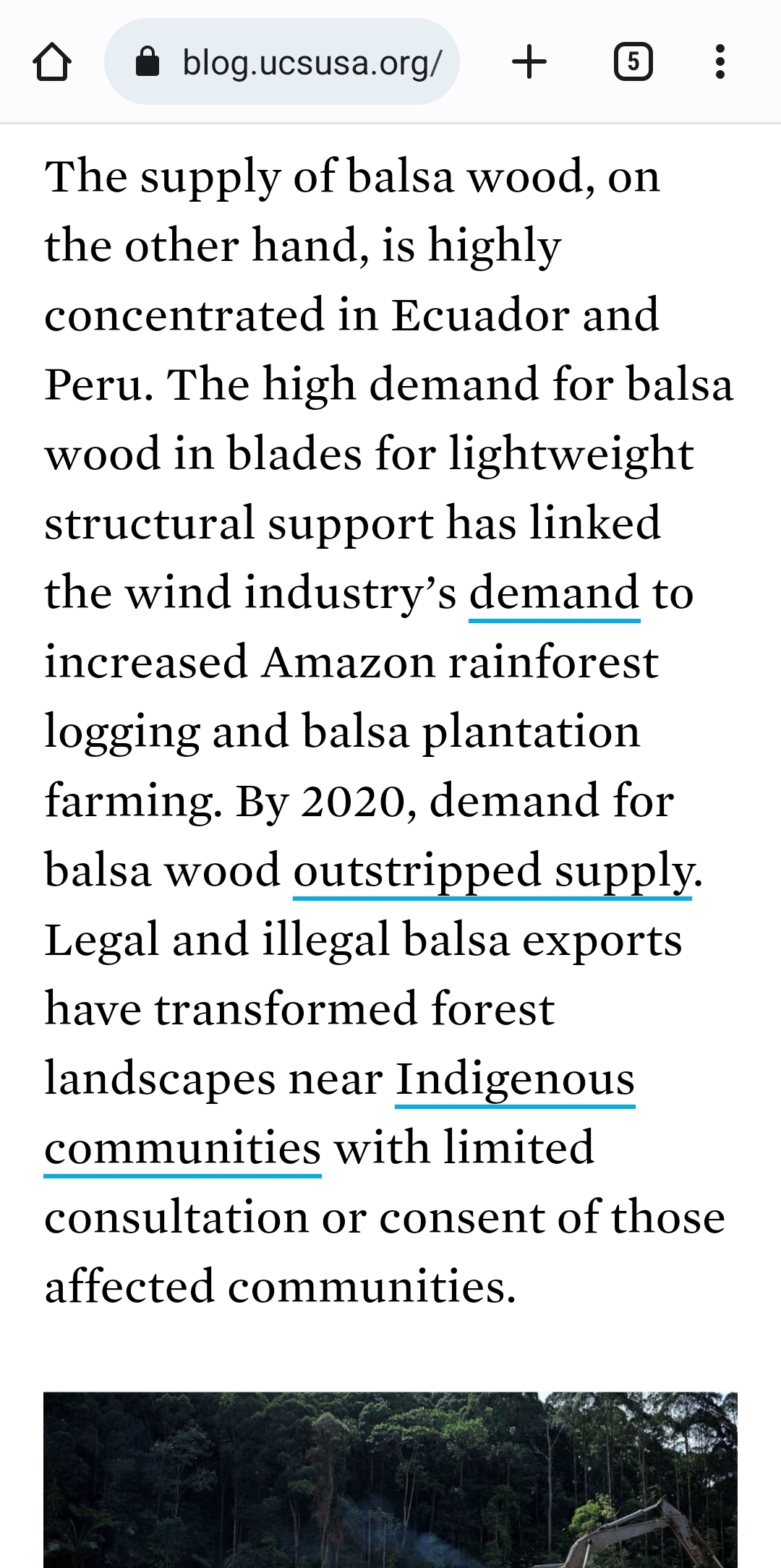 The article continues, stating that some companies are switching from balsa to oil byproducts, such as PET and PVC, or to cellulose: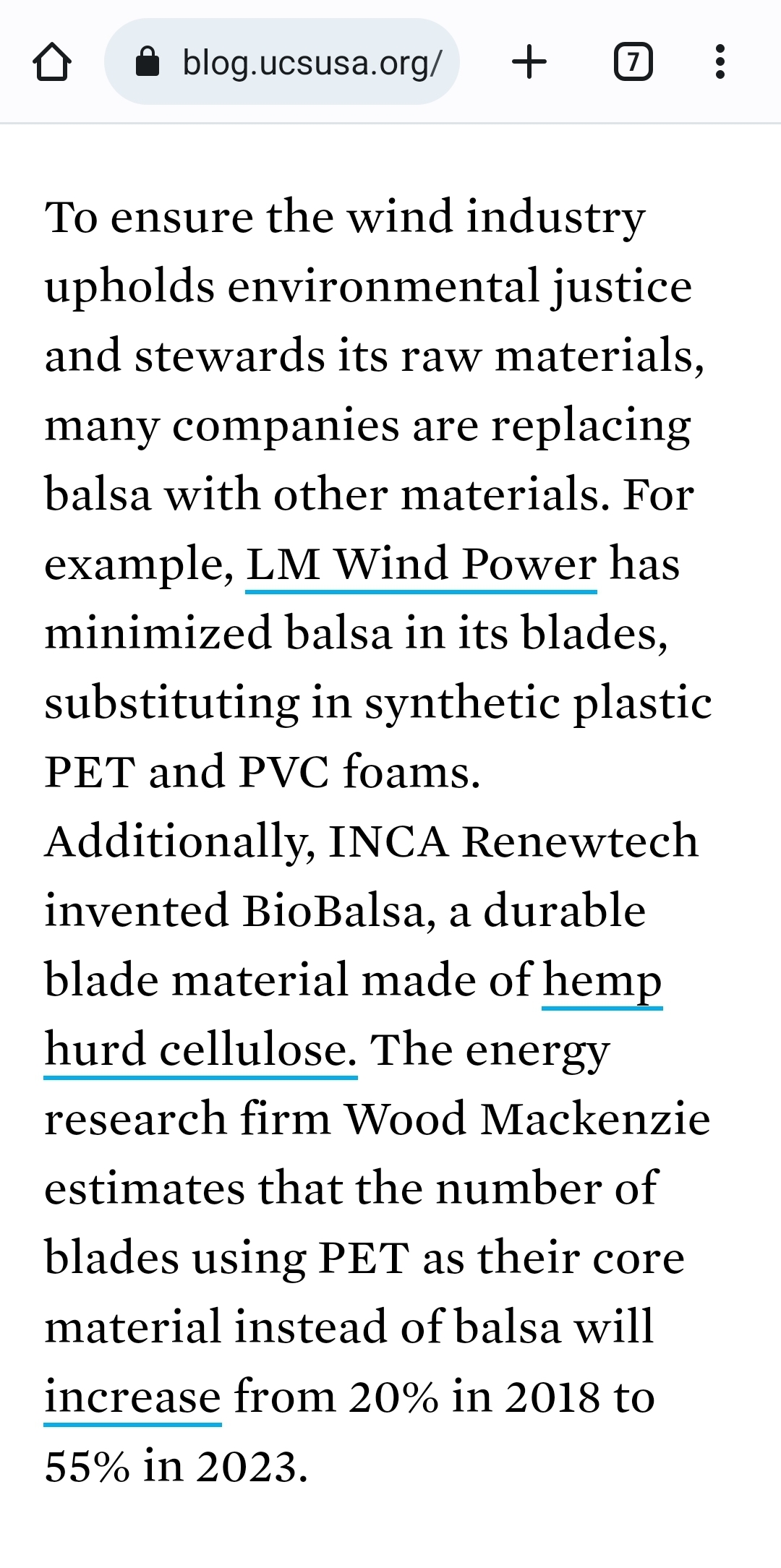 The man who posted the article pointed out:
BALSA is being replaced with PET and PVC (yep- crude oil) but are also experimenting with cellulose– which needs highly toxic chemicals to make.
Someone responded with this:
Synthetic PET usually uses food starch as a replacement for oil based derivatives. These divert food crops away from human and livestock consumption. They also encourage the use of GM crops and pesticides.
PVC production creates sodium chloride, which is a cause of acid rain.
The eco loons really didn't think this through.
Ultimately:
The eco l00ns NEVER think anything through.
And they hope we won't notice.
It's part of the reason why 'climate science is settled' and they refuse to debate.
You know how it goes.
Fracking bad – mining cobalt (even using young children) good.
You flying -bad- them flying- good.
On a similar note, an UnHerd article laments the loss of the hearth in 'Firewood will save the West'. The author, Paul Kingsnorth, lives in Ireland and has his firewood delivered to his home:
The Irish government is currently campaigning against households which burn turf or wood, the former on the grounds of CO2 emissions, and the latter on the grounds of air quality. As ever, the campaign is driven from Dublin, and mostly takes Dublin sensibilities into account. Rural households in Ireland have been burning turf and wood forever, with little significant impact on "air quality" — or at least, no impact comparable to that which Ireland's "Celtic Tiger" modernisation has had. Suddenly, though, the media is full of scientists armed with studies demonstrating how getting a fire going in your cottage in winter will lead to cancer and lung disease on a widespread scale.
That is nonsense. Until recently, Man had been surrounded by smoke for millennia.
Essentially, the Irish government, in line with other Western governments, wants to do away with fireplaces:
This new tilt against household fireplaces is not just an Irish phenomenon: it is suddenly popping up everywhere. Woodstoves are, curiously, becoming the number one air pollution villain. Never mind mass car use, accelerating air travel or industrial pollution. Never mind the emissions caused by the massive increase in Internet server farms, which within just a few years could be using up an astonishing 70% of this country's electricity. These days, if you want to demonstrate your social responsibility, you should be all aboard with the abolition of the traditional fireplace and its replacement with "green" alternatives.
He explains that the home hearth has been not only traditional but also atavistic throughout mankind's history. He cites the philosophical polymath John Michell (1933-2009):
The fireplace, whether our dessicated urban authorities know it or not, has a primal meaning, even in a world as divorced as ours from its roots and from the land.
In his short essay "Fireside Wisdom", the uncategorisable John Michell suggested that the "displacement of the hearth or fireplace" from the home was one of the many reasons for the craziness of the modern world which his life had been spent playfully exploring. The fireplace at the centre of the home, he wrote, was both an ancient practicality and a device of "cosmological significance" across cultures and time: "Conversation is directed into the fire while dreams and images are drawn out of it."
In the past, the act of sitting staring into the smoky fire with family or neighbours was the genesis of the folk tale and folk song which tied the culture together. Now we stare at digital fires hemmed into boxes manufactured by distant corporations who also tell us our stories. No song we can dream up around a real fireplace can compete with what these boxed fires can sell us. "Thus," wrote Michell, "the traditional cosmology is no longer represented by its domestic symbols, and a new, secular, restless, uncentred world-view has taken its place."
Focus, Michell explained, is "the Latin name for the central fireplace. The fire not only warms but, as a symbol, illuminates the corresponding images of a centre to each of our own beings and of a world-centre which is divine, eternal and unchanging." Lose your fires, and you literally lose your focus as a culture. In this context, a government spokesman telling his population, as one minister here recently did, that they should "get over" their "nostalgic" attachment to the hearth fire and install ground source heat pumps instead is more than just a nod to efficiency. It is an assault on what remains of the home and its meaning. It is an attack on the cultural — even the divine — centre.
Paul Kingsnorth posits that each move away from self-sufficiency, e.g. using one's own fireplace, puts us more under the control of government:
When you can no longer grow your own wood or cut your own turf to heat your own parlour, you are made that little bit more dependent on the matrix of government, technology and commerce that has sought to transmute self-sufficiency into bondage since the time of the Luddites. The justification for this attack on family and community sufficiency changes with the times — in 17th-century England, the enclosures were justified by the need for agricultural efficiency; today they are justified by the need for energy efficiency — but the attack is always of the same nature. Each blow struck against local self-sufficiency, pride and love of place weaves another thread into the pattern which has been developing for centuries, and which is almost complete now in most affluent countries …
In my lifetime, in my part of the world, the notion and meaning of "home" has steadily crumbled under external pressure until it is little more than a word. The ideal (post)modern home is a dormitory, probably owned by a landlord or a bank, in which two or more people of varying ages and degrees of biological relationship sleep when they're not out being employed by a corporation, or educated by the state in preparation for being employed by a corporation. The home's needs are met through pushing buttons, swiping screens or buying-in everything from food to furniture; for who has time for anything else, or has been taught the skills to do otherwise?
He refers to a 1980 manuscript, 'Family Work', by the American essayist Wendell Berry:
Like so much of Berry's work, it locates the centrepoint of human society in the home, and explains many of the failures of contemporary Western — specifically American — society as a neglect of that truth. The home, to Wendell Berry, is the place where the real stuff of life happens, or should: the coming-together of man and woman in partnership; the passing-down of skills and stories from elders; the raising and educating of children; the growing, cooking, storing and eating of food; the learning of practical skills, from construction to repair, tool-making to sewing; the conjuration of story and song around the fire …
Even back in 1980, Berry recognised that the home had become an "ideal" rather than a practical reality — precisely because the reality had been placed out of reach for many. What killed the home? Three things, said Berry: cars, mass media and public education. The first meant that both work and leisure could, for the first time in history, happen a long way from home. The second — "TV and other media" — have played a role, since the mid-20th century, in luring us all into a fantasy world of freedom from obligation, and a limitless, fun consumer lifestyle. "If you have a TV," writes Berry, "your children will be subjected almost from the cradle to an overwhelming insinuation that all worth experiencing is somewhere else and that all worth having must be bought." Finally, the school system is designed "to keep children away from the home as much as possible. Parents want their children kept out of their hair." Schools exist to train children to fit into individualistic, consumer societies; to internalise and normalise their ethics and goals, and to prepare for a life serving their needs.
I have to disagree with his disparagement of television, as my better half and I watch a lot of French programmes, food shows in particular. For us, it is a window into a culture we love very much. Were it not for television, we would have to visit France in person much more often. As it is, we can experience France from our sitting room and perfect our language skills while learning more about the world's finest cuisine.
Berry's solution is to make the home a welcoming, peaceful place for everyone living there:
… he suggested that we should "try to make our homes centres of attention and interest"; to make them as productive and nurturing as we can … you will see new possibilities begin to open up. You will see, in Berry's words, that "no life and no place is destitute; all have possibilities of productivity and pleasure, rest and work, solitude and conviviality that belong particularly to themselves", whether in the country, the city or the suburb. "All that is necessary," he suggests, is "the time and the inner quietness to look for them."
Television is a good thing
On the subject of television, a 104-year-old Australian woman told her grandson that it was probably the greatest development in her lifetime.
Lewis Isaacs wrote her story for The Guardian: 'My 104-year-old Nan's secret to a long life':
A life as long as hers can be hard to comprehend. Asked what the biggest change to the world she'd seen across her life was, Nan replied that it was television. Life when she grew up rarely extended past her suburb. Television connected the living room to the world.
How true! Well said, Nan!
The article has family photographs, too.
So what is Coral Isaacs's secret to longevity?
She says it comes down to genetics and finding the right partner. She was widowed more than 30 years ago and says the life she built with my Pop has supported her since. It helps to remember your pills, she adds, and to get up, shower and make your bed every day.
I suspect the truth about her endurance is something different though. Nan is determined to keep her eyes focused on the future. Even when the days are hard, she still looks forward.
I was hoping she would mention smoking a crafty cigarette or enjoying a daily digestif, but, sadly, no.
Churchill's cigar goes on sale
For a smoking story, we had to go to an auction house.
On Thursday, December 29, The Times reported that one of Winston Churchill's cigars is expected to fetch £3,000 at auction:
The former prime minister gave the Cuban cigar to an RAF doctor who helped him when he broke his leg in 1962.
The doctor's grandson has put the rare cigar up for sale with Hansons Auctioneers, which said it would be an "impressive item" for any Churchill collector. Charles Hanson, the owner, said: "We occasionally see Churchill cigar stubs that people have picked up after he dropped them. But to gain a whole cigar in such pristine condition, given as a gift in unusual circumstances, is special."
Churchill, who died in 1965 aged 90, was a lifelong smoker. While he was at boarding school, his mother learnt he had taken up smoking cigarettes and tried to bribe him to stop by promising him a pistol and a pony.
He switched to cigars after spending time in Cuba after his graduation from Sandhurst military academy, and friends, dealers and associates sent him regular deliveries of cigars from then on.
The circumstances are most Churchillian:
The auction house said the cigar under auction was given to an RAF squadron leader, Bertram AJ Barrow. Churchill fractured his femur while getting out of his bed at the Hotel de Paris in Monte Carlo, and was flown back to London on an RAF plane while in a waist-to-ankle plaster cast.
Barrow, the leader of the medical team, plucked up the courage to ask Churchill for one of his famous cigars.
For decades the treasured cigar was kept in a bedside drawer, but will now go under the hammer at on January 9 with an estimate of £2,000 to £3,000.
Barrow's grandson, Thomas Barrow, 33, an employment law adviser from London, said: "Bertram asked for a cigar as a keepsake, and Churchill advised that he could have 'one that he had been saving' — which was Cuban and still in its glass case."
What a story!
Conclusion
As my later grandmother-in-law, a lifelong Londoner, was fond of saying:
The old ways are the best.
I couldn't agree more.
Let's try to recapture them in 2023.
Before June 2022, the last time an ordination was shown on British television was when the first female Anglican priests were ordained in 1994.
I did not cover this at the time, as Boris stood down as Conservative Party leader. The news onslaught surrounding the contest for his successor, Liz Truss, lasted for the rest of the summer. Then the Queen died, sadly. It was not long after that when Truss had to stand down to make way for Rishi Sunak.
Having been refused ordination by the Church of England, Calvin Robinson was ordained a deacon on Saturday, June 25, 2022, at Christ Church Harlesden, a Free Church of England parish in north west London which is part of GAFCON:
The Global Fellowship of Confessing Anglicans — GAFCON — is a global network of conservative Anglican churches that formed in 2008 in response to an ongoing theological crisis in the worldwide Anglican Communion. Thankfully, they took in their brother Calvin and recognised his calling:
GB News was on hand to film the ceremony and broadcast it that weekend:
Calvin's GB News colleagues offered their heartfelt congratulations, such as the Conservative life peer Baroness Foster:
Some of his colleagues attended the ceremony …
… and stayed for lunch afterwards:
Those who were unable to attend also sent their best wishes. Every one of them recognised the CofE's rejection of a godly man called to Holy Orders:
Always evangelising, whether indirectly or, as is the case here, directly, Calvin never misses out an opportunity to exhort people to experience the truth and light of Christ Jesus, as he did with GB News contributor Dominique Samuels:
Other conservative media personalities who are Calvin's friends also offered their congratulations for his ministry, such as the Reform Party leader Richard Tice …
… and Margaret Thatcher's former aide Nile Gardiner:
Calvin's friends from his radio days also wished him well:
Politicians also chimed in, from former London Assembly member and Conservative candidate for Mayor of London (2021) Shaun Bailey …
… and Conservative MP Steve Baker, who has not hesitated to mention his own faith in House of Commons debates:
I'll leave the closing word to the head of the conservative think tank The Bow Group. Ben Harris-Quinney discusses choosing principle over power and achieving both:
As Calvin replied:
For the greater glory of God!
Indeed!
The Revd Calvin Robinson has his own GB News show every Sunday at 2 p.m.
He also appears as a contributor on several other of the channel's programmes throughout the day and evening.
May God's grace and the wisdom of the Holy Spirit continue to guide Calvin in his ministry for Jesus Christ, our only mediator and advocate:
Deo gratias! Thanks be to God!