You are currently browsing the tag archive for the 'television' tag.
Most of us know instinctively that the Taliban have not changed.
Unfortunately, our leaders probably do not.
A few days ago, a musician was murdered and women's voices have been banned from the airwaves.
On Sunday, August 29, the Times reported on both (emphases mine):
Taliban fighters have shot dead an Afghan folk singer after it outlawed music and women's voices on television and radio in the bellwether province of Kandahar, laying the ground for a nationwide ban in an echo of the brutal Islamist regime of 20 years ago.
When the Taliban come calling, it's not for a friendly chat:
Fawad Andarabi was dragged from his home and shot in the head in the village of Andarab, north of Kabul on Friday, his family said. The murder has provoked an outcry and fuelled fears of a return to the repressive regime of the 1990s since Taliban fighters overran Kabul two weeks ago.
Andarabi was famed for playing the ghichak, a bowed lute, to accompany folk songs about the mountains that surrounded his home, which lies near the Panjshir Valley, the last bastion of resistance to the Taliban takeover.
I wrote about the Panjshir Valley, the home of the new National Resistance Front, on Wednesday, August 25, two days before Fawad Andarabi's murder. No doubt, this will give the resistance movement added momentum:
Masoud Andarabi, the former interior minister, condemned the singer's murder. "Taliban's brutality continues in Andarab. Today they brutally killed folk singer, Fawad Andarabi who simply was bringing joy to this valley and its people," he wrote on Twitter. "As he sang here 'our beautiful valley . . . land of our forefathers' will not submit to Taliban brutality."
As for 'female sounds' on television and radio:
The order from Kandahar also confirms fears that women will be forced out of the media and off the airwaves, crushing a vital opportunity for educated, professional women that has flowered in the 20 years since the first Taliban regime was overthrown …
One female reporter in the province said: "The Taliban's ban of female journalists from TV and radio is not a surprise for me. It was expected as the Taliban started stopping women from work in media, banks, activism and other jobs before they took Kabul. Today, no female presenter or anchor were seen on TV in Kandahar. It's very sad. I know many female journalists who are in hiding or have fled. There is no space left at all for working women in Afghanistan."
How terribly sad.
I wonder if the Taliban will still allow kite flying, which they had banned until Western troops began their occupation.
An American author and physician, Dr Khaled Hosseini, who was born in Afghanistan, even wrote a book about it. The Kite Runner developed into a play and a film. Hosseini says the plot is fiction, but it does draw on other Afghans' memories of growing up under a regime of religious brutality, including male sexual assault.
It looks as if the bad old days are here again. Perhaps they never truly disappeared, despite the West's best efforts.
On Saturday, August 7, 2021, Mark Dolan of GB News interviewed a Scottish clergyman on his late night show.
The Revd Dr William Philip is the pastor of Tron Church in Glasgow. Earlier this year, he led a handful of other Scottish clergy in filing a successful lawsuit against the Scottish government for having closed churches in 2020 during lockdown.
In the 20-minute interview below, he explained why it is so important to be able to gather together to worship during the coronavirus crisis. Believers need to gather together in one place — church — for communal prayer and fellowship. His words were well received not only by Dolan and his guests but also on YouTube:
Philip, who worked as a hospital physician before ordination, also does not think that vaccine passports are necessary:
While churches in England and Wales re-opened in July 2020 and closed again for three weeks in October, Scotland took different measures. In January 2021, Nicola Sturgeon's SNP government forbade — criminalised — public worship during new lockdown measures.
On January 6, Philip and five other Protestant clergy sent a letter to Nicola Sturgeon, which reads, in part (emphases in the original):
We write as ministers and leaders of churches in Scotland, supported by colleagues across the United Kingdom, to raise our profound concerns at the measures to suspend public worship in Scotland as part of the currently increased restrictions.
We understand entirely the exceptional difficulties of leading the country at the present time, and we and our churches have prayed for wisdom and clarity for your government repeatedly. But we strongly disagree with the decision to prevent the gathering of the Church at this time, which we believe is profoundly unhelpful and may be unlawful.
As pointed out by Sir Edward Leigh in his letter to you of 4 January, Article 9 of the European Convention of Human Rights prohibits governments from interfering with religious practice unless demonstrated as essential for public health because church services were proven a significant source of spread of disease. We know of no evidence of any tangible contribution to community transmission through churches in Scotland; to the contrary, since churches re-opened in July we have demonstrated that places of worship and public worship can be made safe from Covid transmission. It is for such reasons that legal challenges in other jurisdictions have overturned prohibitions of the freedom to gather for worship.
However, above all we are dismayed because there seems to be a failure in the Scottish Government to understand that Christian worship is an essential public service, and especially vital to our nation in a time of crisis …
In national times of crisis past, governments have looked to the church and sought leadership in a national call to prayer to the Living God. We urge you not to be the government which denies our nation the collective prayer of the churches of our land in days when it is most greatly needed.
We echo the words of the Archbishop [of Canterbury] and other leaders to the Prime Minister and call on the Scottish Government to recognise and support this, and enable us to continue to worship safely, as part of the essential fabric of the nation.
On February 9, Philip wrote an article for The Critic: 'Meeting others to worship is a lifeline'. Excerpts follow (emphases mine):
A group of Clergy taking government to court might seem a surprisingly 'un-Christian' thing to do, when closing churches is to 'save lives'. In fact, the reason we have commenced action against Scottish Minsters is born of profound Christian love for our nation. We all recognise the challenges facing the government. But we believe that, however well-intentioned, criminalising corporate worship is both damaging and dangerous for Scotland …
There is an urgent need for a message beyond that of health and safety: a message of hope and salvation. This is the calling of the Christian Church – especially in dark and difficult days: to 'hold fast the confession of our hope without wavering' (Hebrews 10:23). Jesus Christ is the only hope that dispels all fear, death included.
That is not to say Christians don't care about present physical threats. Indeed, it is this eternal perspective that liberates to love and serve neighbours truly, and fearlessly. As CS Lewis pointed out 'those who want heaven most have served earth best'. This is what our society needs to witness, proclaimed boldly by Christian leaders and adorned visibly in the worshipping Church. So it is of great damage to Scotland that corporate worship is now illegal.
It also brings great danger.
Many in the world today brave huge threats to worship as Christ's Church. We do not remotely claim such persecution; however, our situation is unprecedented in modern times. For centuries Scottish law has embedded the truth that both Church and Civil government are ordained by God and subject to Him, but their roles are distinct and government must not interfere in the Church. It was the Stuart monarchs seeking to undermine this 'twa kingdoms' doctrine that led to a century of conflict before religious toleration prevailed across Scotland and England with the Claim of Right Act 1689. Scots law reiterated then that Jesus Christ alone is head of the Church and this remained paramount in the Union of 1707, was reinforced again in the 1921 Church of Scotland Act, and is affirmed by each monarch in the Coronation Oath …
I never imagined myself involved in action like this. But Scots would not have precious freedoms today had our Kirk forebears shrunk back in their time. I truly hope that our government will see what a grave incursion this ban on public worship is – to centuries-old Scots law as well as modern Human Rights protections – and also the suffering it is inflicting on many. The proper place of Christian worship must be restored so that, as Martin Luther said (amid a far more deadly epidemic), our people may 'learn through God's word how to live and how to die'."
One week later, Lord Braid of the Scottish High Court granted permission for a hearing. By then, 27 clergy had pledged their support. Christian Today's article says:
Lord Braid has granted permission for a hearing which will take place remotely on 11 and 12 March after Scottish ministers rejected the arguments of 27 Scottish church leaders in a pre-action letter.
The church leaders argue that the "disproportionate" closures are a breach of human rights law and the Scottish constitution, and are preventing them from meeting the material, emotional and spiritual needs of their congregations and communities.
In their response, Scottish ministers said the state was within its rights to "regulate the secular activities of Churches…for the purposes of protecting public health", and that churches were compelled to "comply with secular law."
The church leaders come from a broad range of denominations, including the Free Church of Scotland, Free Church of Scotland (Continuing), Church of Scotland and a number of independent churches …
Rev Geoffrey de Bruin, leader at Christian Revival Church Edinburgh, said: "This is now a crucial moment for the freedom of the church in Scotland …
"For Christians, spiritual health is more important than physical health.
"Churches serve as lifelines of support to the most vulnerable during the toughest times and we pray that these important principles and beliefs will be recognised and upheld by the courts in March."
The Christian Legal Centre (CLC), founded in 2007, took the case on behalf of the clergy.
Fortunately, the clergy won their case in March. Christian Concern issued a statement on the outcome:
Permission for a judicial review was granted and heard at the Scottish High Court on 11 March 2021.
On 24 March 2021, judgment was handed down by Lord Braid, ruling that the Scottish Ministers' decision to ban and criminalise gather church worship during lockdown was unconstitutional and disproportionate.
The Tron Church serves a diverse congregation in central Glasgow. In 2012, it broke away from the Church of Scotland, opposing its move to accept gay clergy, although it maintains a cordial relationship with the Kirk, as the state church is known. The Tron is now part of the West of Scotland Gospel Partnership.
In February 2020, the SSE Hydro stadium in Glasgow cancelled an appearance by the Revd Franklin Graham, Billy's son, amid accusations of 'homophobia'.
Philip joined several other clergy from the West of Scotland Gospel Partnership in signing a letter to The Herald, expressing their disappointment. Excerpts follow:
THE cancellation by the SSE Hydro in Glasgow of the Franklin Graham event is a deeply disturbing decision that is antithetical to freedom of speech, freedom of religion, and to true democratic values.
Franklin Graham is being discriminated against for having on occasions expressed mainstream Judaeo-Christian views on sexuality. His views in this area are not religiously extreme, indeed they simply reflect the historic and orthodox teachings of the Roman Catholic Church, the Church of England and countless other denominational groups. Like all mainstream Christian leaders Franklin Graham believes that every human being is a precious soul made in the image of God, and thus should be loved and treated with respect accordingly.
The planned event is one in a rich tradition of such Christian activity going back centuries in both Glasgow and the country at large. As Rev Graham has expressed himself his mission is not political but to make known the good news about Jesus Christ to every person regardless of their sexuality or any other characteristic …
Christians disagree about many things, but Christians all agree that respect for religious freedom and freedom of speech is fundamental to a free society. Therefore, we ask that the SSE Hydro management, and those political leaders who have influence in such matters, reverse this decision.
A failure to do so would be an ominous move towards a less free society and one that will in time have serious repercussions for the civic liberties of all.
The Revd Dr Philip sounds like a good clergyman and one who refuses to stand by when the Church is discriminated against.
On Monday, July 12, the day after the Euro 2020 final, GB News presenter Guto Harri took the knee in solidarity with the cause.
His co-presenter, Mercy Muroki, looked on, silently embarrassed for him:
Fallout
That was the last the channel's viewers saw of Guto Harri, a Welshman who used to work at the BBC and also advised Boris Johnson when he was Mayor of London.
On July 13, Harri defended his gesture:
On Thursday, July 15, GB News tweeted:
That evening, The Guardian posted an article about the channel's tanking ratings after the Harri incident (emphases mine, unless stated otherwise):
GB News attracted zero viewers during some of its broadcasts this week, according to official television audience figures produced by rating agency Barb, after a viewer boycott prompted by one of its presenters taking the knee in solidarity with the England football team …
Business editor Liam Halligan and former Labour MP Gloria De Piero attracted no measurable audience to their show between 1pm and 1.30pm on Wednesday afternoon. During the same timeslot the BBC News channel attracted 62,000 viewers, while Sky News had 50,000 people watching.
GB News' audience again briefly dipped to zero at 5pm, during a late-afternoon programme co-hosted by ex-BBC presenter Simon McCoy and former Ukip spokesperson Alex Phillips.
The Guardian also acknowledged GB News's aforementioned tweets.
On July 16, Guido Fawkes wrote that no one was sure whether Harri had been suspended for a time or whether he was fired.
In any event, Harri's Twitter bio no longer mentions GB News.
Programming director quits
That same day, the channel's programming director, John McAndrew, quit, something that management confirmed only on July 28:
Guido wrote that McAndrew was second in command and disagreed about the channel's focus:
Apparently McAndrew had been in favour of more local reporting and open discussions rather than the Wootton-style culture war rants.
To be fair, the local reporters appear on the daytime shows. The evening programmes, such as Dan Wootton's, discuss socio-political issues.
The channel was quick to implement schedule changes last weekend:
TalkRADIO's Mark Dolan hired
Mark Dolan's Saturday night show aired for the first time on July 24. Nana Akua, the former presenter in that slot, has been moved to a daytime show.
Nana Akua has no time for wokery, as her last show in the Saturday night slot proved. The Express had the story on Sunday:
A GB News clash erupted last night after host Nana Akua urged Meghan Markle and Prince Harry to "just stop talking please". This prompted a defence from Tonight Live guests Nicola McLean and Martin Offiah, who argued that Meghan and Harry "were connecting with people". The trio had discussed reports of new details about Prince William's rift with his brother Harry.
Mark Dolan was a top-rated host on talkRADIO. The Express reported:
Mark is best known for hosting his own Drivetime show on TalkRadio for the past two years but he is jumping ship to join GB News from Friday, July 23, 2021. With 20 years of broadcasting experience behind him, he will be taking Nana's Friday and Saturday night slots to oversee proceedings on his chat show, Late Night Live. It will run from 9pm until 12am and he will speak to numerous guests about topical matters making the headlines.
On joining the network, Mark said: "I've had a wonderful time at TalkRadio but the opportunity to shake up the current affairs broadcasting with GB News is just too good to miss.
"My show will tackle the issues that really matter to people across the United Kingdom in a stimulating, informative but entertaining way.
"My one promise is that I won't be boring," he concluded …
He certainly was not boring. His is a good show.
Nigel Farage to the rescue — five days a week
The biggest catch of all is Nigel Farage, who is now on GB News five days a week: Monday through Thursday at 7 p.m. and Sunday mornings:
Farage had the Sunday morning show since GB News launched, but the addition of the 7 p.m. slot, which premiered on Monday, July 19, has been a real fillip for the channel's ratings.
On July 19, Freedom Day, an anti-lockdown protest took place outside of Downing Street. Political correspondent Tom Harwood, who used to work for Guido Fawkes, tried to file a report but Nigel had to cut him off because of all the obscenities being shouted at him. The Express reported:
Spotting the difficulties in the broadcast, Nigel quickly took action and decided to end Tom's report there.
Cutting him off, Nigel said: "Okay, Tom, I'm sorry, I don't want to cut you off, I really don't."
The camera then cut to Nigel in the studio as he continued: "11 people have been arrested so far,
"But you can see, talk about don't shoot the messenger, there's Tom Harwood reporting for us and there are obscenities being shouted at Tom because he's a member, he's part of the media … "
One of the big features of Farage's weeknight show is the 'Talking Pints' segment.
He has had an eclectic assortment of guests in that slot, beginning with Sir Graham Brady MP, who heads the 1922 Committee of Conservative backbenchers:
On Tuesday, July 27, former Conservative MP, Brexit Party MEP and devout Catholic, Ann Widdecombe, who was drinking cola, as she is teetotal. She disparaged Boris as PM but said that he is still '100 times stronger' than Labour leader Sir Keir Starmer. I always look to see how much drink both host and guest consume. In this episode, Farage downed the most ever — half a pint:
By Monday, July 26, Farage's show was climbing in the ratings, beating Sky News's show in the 7 p.m. slot:
Guido has the ratings from Monday-Thursday last week. Farage's show beat Sky News Tonight every evening.
On Tuesday, July 27, Farage's ratings took over the BBC's in that slot (emphases in the original):
UPDATE 28.07: Nige beat both the BBC and Sky News last night –
Farage – 90.8k

Sky News Tonight – 55.1k

BBC Outside Source – 89.1k
Congratulations…
It happened again on Wednesday, with an even greater figure — 107.7k to 93.3k:
Well done, Nigel!
Digital ratings
Rebecca Hutson, Head of Digital and occasional co-presenter, is keen to target younger audiences via Facebook, Twitter, YouTube, Instagram and — incredibly — TikTok. GB News is the only British broadcasting channel to use the Chinese-owned social media video platform.
On July 21, Hutson explained her strategy to Press Gazette:
… the fledgling brand said social media engagement figures show it is resonating with younger audiences to a perhaps surprising extent.
Head of digital and presenter Rebecca Hutson … said GB News is really a "digital media business that has a TV channel attached" …
Hutson told Press Gazette: "We know that traditional linear consumption has really changed. People don't sit at home for three hours and watch a show. Instead they want to snack on the best bits for them on the platforms that they're already using.
"So that's why we publish natively across Facebook, Twitter, Instagram, YouTube, TikTok and we tailor the content specifically for the platform that it's on so we're pretty agnostic in terms of how the content looks and feels across the different destinations that we have and the website."
For example, she added, the brand is more likely to put an eight-minute monologue on YouTube and short snippets on Twitter which is a "much quicker platform".
"Rather than trying to turn all of our platforms into a homogenous output, we spend a lot of time looking at the analytics and amending how the content appears on there and that's really paying off," Hutson said …
TikTok has been useful in attracting younger viewers:
On TikTok GB News has had 24,500 likes and more than 350,000 views across 30 videos and 4,000 followers so far.
Hutson said the numbers may be "quite surprising for people who would maybe think that we don't have relevance or resonance to that younger audience when we clearly do".
Hutson said explainer videos decoding the news are proving to work best for TikTok. The most-watched GB News TikTok so far explains who Sajid Javid is after he replaced Matt Hancock as Health Secretary …
Almost a third (31%) of 18 to 24-year-olds use TikTok, and 9% get news on it.
As for demographics:
On TV only, excluding the likes of TikTok and Instagram, almost a third (32%) of GB News' audience is aged between 18 and 34. Some 39% are aged 55 and above.
Some 62% of the TV audience is in the middle class ABC1 demographic – a drop from the 82% ABC1 demographic thought to have tuned in for Andrew Neil's opening show on 13 June.
The new shows, higher ratings and digital strategy are welcome developments for GB News, which is an excellent channel. Now that Parliament is in summer recess, I have been watching quite a lot of their output. The shows present alternative viewpoints, from libertarian to left-wing: a good thing.
It was with sadness that I read of Jackie Mason's death at the weekend.
Still, he had a good innings. He was 93 years old.
The Daily Mail had an excellent obituary of one of the world's most consistently funny comics. Excerpts follow, emphases mine.
Life before comedy
I did not know that he was born in Wisconsin:
Mason was born in 1928 in Sheboygan, Wisconsin, as Yacov Moshe Maza to immigrant parents from Belarus.
In the early 1930s, the family moved to New York's Lower East Side. All the male relatives were rabbis and young Yacov was expected to follow in their footsteps:
'It was unheard-of to think of anything else,' Mason said. 'But I knew, from the time I'm 12, I had to plot to get out of this, because this is not my calling.'
However, there was no way out for many years. Mason earned a degree in English and Sociology at City College of New York then completed rabbinical studies at Yeshiva University, after which he became a practising rabbi. 
He served several congregations, including those in Weldon, North Carolina, and Latrobe, Pennsylvania.
Sometime in the 1950s, he began working summers in the Catskills, a mountain range in New York State, known for its resorts which attracted Jewish clientele. It is known as the Borscht Belt.
He wrote his own material, put comedy sets together and accustomed himself to being on stage.
Comedy career
It was only in 1959, after his father died, that the rabbi pursued a stand-up career full time and changed his name to Jackie Mason.
However, he did not leave his theological training behind. In 1988, he described his style of comedy to the New York Times:
'My humor — it's a man in a conversation, pointing things out to you,' 
'He's not better than you, he's just another guy,' he added. 'I see life with love — I'm your brother up there — but if I see you make a fool out of yourself, I owe it to you to point that out to you.'      
From the Catskills, he branched out into the big time, playing clubs in Miami and New York in 1960 after two television appearances on the iconic Steve Allen Show.
I am old enough to remember that Jackie Mason was on television a lot in the early 1960s.
In 1964, he appeared on another iconic programme, The Ed Sullivan Show, which aired on Sunday nights. I remember my mother got very worked up about what happened in one of his appearances, as she was a huge Ed Sullivan fan. We never missed a show. After this appearance she turned against Jackie Mason:
… after a terrible misunderstanding in 1964 between Sullivan and Mason involving a perceived obscene middle finger gesture, Jackie's career hit a major slump.
Sullivan canceled Mason's six-show contract, refusing to pay him for the performance. 
Mason eventually filed a lawsuit, and won.
Mason's career did not recover until the late 1970s:
… it would take him many years to find his momentum once again, with his comeback punctuated by well-received performances in 1979's Steve Martin film The Jerk, and Mel Brooks's History of the World: Part I two years later.
'People started to think I was some kind of sick maniac,' Mr. Mason told Look. 'It took 20 years to overcome what happened in that one minute.'
My mother would definitely have agreed with the 'sick maniac' description, unfounded though it was.
He hired a new manager Jyll Rosenfeld, whom he later married. She convinced him that there was an appetite for Borscht Belt humour beyond the Catskills. He launched a long-running show on Broadway in 1986:
Mason decided to bring his one-man comic shows The World According to Me!, to the Broadway stage in 1986.
The hit show ran for two years, and earned him a special Tony Award in 1987, followed by an Emmy for writing when HBO aired a version of the show.
From there, the legendary comedian put close to a dozen other one-man shows on Broadway, with the last being The Ultimate Jew in 2008.
Here is one of his performances from 1986:
Mason also enjoyed an on-screen appearance in Caddyshack II in 1988 and a voice-over as Rabbi Krustofsky in an early episode of The Simpsons in 1992, for which he won a second Primetime Emmy Award, for Outstanding Voice-Over Performance.
In the aforementioned New York Times interview from 1988, he was philosophical in the way only a rabbi can be:
'I've been doing this for a hundred thousand years, but it's like I was born last Thursday,' Mr. Mason told The New York Times in 1988. 
'They see me as today's comedian. Thank God I stunk for such a long time and was invisible, so I could be discovered.'
London appearances
For several years, Jackie Mason used to come to London once a year for a stand-up show that was often televised.
I was in stitches.
Guido Fawkes tweeted Mason's 2002 appearance, which was or was close to being his last over here:
Here's the video, which is just over 90 minutes long:
The next video is his 1999 performance at the London Palladium. It is just under 40 minutes long:
However, in 1992, Mason did a half-hour set at Oxford University, where he ribbed the students for their total lack of sartorial elegance and fondness of political correctness. He also made fun of the Jewish lifestyle which encompasses self-denial of Jewishness as well as certain material aspirations. The University asked him to do the set for free, something at which he also cavilled, in a humorous way:
This is his description of the video:
This is a clip from a lecture I gave at Oxford University back in 1992. They gave me an award and a fellowship in the Oxford Union Society. The first American comedian to receive such an honor. That's how they got me to work for nothing. Enjoy!
Here's the second part, which was a Q&A session:
He talked about his years as a rabbi where people didn't want the sermon and hoped for a few jokes. He said that Oxford students were very polite and he hadn't heard one four-letter word yet: 'I'm waiting, I'm waiting'.
Near the end, he said that England is the most polite society in the Western world with all the ubiquitous apologies one hears. The only exception, he noted, is in Parliament, where the raucous tone reminded him of a 'sanitarium'.
Politics and talk radio
In 1998, Mason's biography was published and he began a career in talk radio:
he published an autobiography, 'Jackie, Oy!' (written with Ken Gross), and discovered a new venture as an opinionated political commentator on talk radio.
Twenty years later, he issued a series of vlogs against then-candidate Barack Obama. I watched most of them. This one discusses the first presidential debate in September 2008:
His description of the Obama v McCain debate reads as follows:
Here are my thoughts on the first presidential debate. Although neither candidate had a clear victory Friday night, the media is saying Obama won because he didn't lose. He looked poised and presidential. Well he did look poised as he made no sense! And if looking Presidential is telling bold lies, the Hail to the Chief!
In 2016, Mason was an unabashed Trump supporter:
He was among the few well-known entertainers to support former President Donald Trump during his 2016 presidential campaign.
In October 2016, he appeared on Aaron Klein Investigative Radio, which airs in New York City and Philadelphia. Mason contrasted Trump's words about women to Bill Clinton's actual violence against his victims.
Breitbart had the story, reporting that Mason said:
What Trump ever did to women is that he called them a name because she gained too much weight so he said she got too fat and he called her a pig. Imagine if the worst thing Bill Clinton ever did was call a girl a name. He called them names after he raped them.
When he got through with them, Juanita Broaddrick wound up with a cut lip. And he had advised her to please go see a doctor. He was very compassionate about sending them to doctors. But he wasn't too concerned about beating them up in the first place. He was so busy punching them around that nobody knows if he made love to them or he just wanted to beat them up a little bit.
As for Hillary, he said:
He was really a violent, insane character. Now his wife, she had a job. Her job was to make sure that these women were never heard about it. Every time somebody threatened to talk about it she immediately went to work on destroying them. First he punched them around. Then it was her job to wipe them out altogether.
… And she's calling Trump a person who can't be trusted because of the way he treats women? This is like somebody who crossed a red light being compared to a murderer.
After Trump's election, Mason turned his attention towards the RINOs, especially the then-Speaker of the House Paul Ryan:
In March 2017, Breitbart reported:
In this week's exclusive clip for Breitbart News, Jackie weighs in on the GOP's failed healthcare bill, explaining that Republicans in Washington were focused on "repealing and replacing" the wrong thing.
"When they were talking about 'repeal and replace,' they were stupid," Jackie says. "They were talking about healthcare, they should have been talking about [House Speaker Paul] Ryan. If Ryan was repealed and replaced we would have had no problem today."
Jackie — who was born in Sheboygan, Wisconsin, in Ryan's home state — says he finds it odd that a Speaker of the House who is supposed to be some kind of "genius" can't count correctly.
"You know what Ryan should do if he wanted to save this whole country? Get another job," he says. "Find out something that you actually know. If there's nothing like that, sit in the House and don't bother anybody. Mind your own business, you'll save the country."
My deepest sympathies go to his widow and former manager Jyll Rosenfeld and his daughter Sheba Mason, from a former union with Ginger Reiter in the 1970s and 1980s.
For more Jackie Mason shows and interviews, visit TheUltimateJew channel on YouTube.
On Monday, July 5, 2021, Richard Madeley, an occasional co-presenter on ITV's Good Morning Britain (GMB), asked SAGE member Susan Michie if her avowed Communism affects her coronavirus recommendations to the general public:
It must have come as a surprise to a number of GMB's viewers who probably did not suspect that a card-carrying Communist works for the Government.
Michie, a psychologist who is also a professor at University College London, works on the SPI-B — behavioural — committee of SAGE which has been driving public behaviour during the pandemic. She appears most frequently on the BBC but also on other television channels.
She was also a speaker at the UN's Psychology Day in 2020. The Division of Health Psychology of the British Psychological Society, of which she is a member, tweeted:
I've written about Michie three times before, twice in the run-up to Christmas (here and here) and once in June.
Before I get to Richard Madeley's interview with Prof Michie, the tweets below show what Communist health policy looks like. We've been living under such rules for 16 months and counting.
2018 Daily Mail article
But first, here is a brief retrospective from the time when Jeremy Corbyn was Labour leader.
In 2018, the Daily Mail posted an extensive article about her support of Corbyn and her praise of Communism. Excerpts follow, emphases mine.
This is her family background. Much of the £52 million she inherited from her mother was in a Picasso, which she and another family member sold:
Susan Fiona Dorinthea Michie is the granddaughter of Henry McLaren, the 2nd Baron Aberconway, an Eton-educated Edwardian industrialist and Liberal MP. 
He inherited major interests in coal, iron, steel and engineering conglomerates, and created the sumptuous gardens at Bodnant House, a stately home set in 5,000 acres near Snowdonia.
Her mother, Dame Anne McLaren, was born at Aberconway House, the family's imposing 2,800-square-metre second residence in London's Mayfair, and was one of the world's leading biologists. When she died in 2007, aged 80, she left £52million in her will.
Ms Michie's father, meanwhile, was an eminent computer scientist who was the son of a wealthy banker whose photo is among the National Portrait Gallery's collection.
Despite these moneyed roots, the blue-blooded Susan, 62, marches to the beat of her own drum.
She stretches her every sinew in pursuance of a class war as a member of the Communist Party of Britain.
The article then described the speech she gave in early March 2018:
On Monday night, she addressed a meeting of about 40 true believers at the Marx Memorial Library in London's Clerkenwell.
She delivered her speech while standing beneath a portrait of Cuban dictator Fidel Castro, a bronze of Lenin and an array of Soviet flags. 
Seemingly oblivious to the irony, this lifelong beneficiary of inherited wealth began by saying: 'We, the working class.'
During the course of a two-hour talk, Ms Michie (whose day-job is as a university academic) made a comment that broke almost a century of hard-Left tradition. 
Britain's Communist Party, she said, is urging its members to work 'full tilt' to help get a Labour prime minister.
This development — after decades of Communists and Labour operating on very separate lines — is a direct result of Labour's lurch to the hard Left under Jeremy Corbyn.
Already, there have been signs of this change of policy with the Communists deciding last year not to split the Left-wing vote by fielding their own candidates at the General Election.
With the two parties increasingly in harmony (Ms Michie declared it 'a really good situation to work much more closely than we have in the past'), the Communists — by way of a 'priority' — are advising their comrades to actively campaign on Corbyn's behalf.
In the general election of December 2019, Labour suffered its worst result since 1935.
Sir Keir Starmer eventually replaced Jeremy Corbyn as Labour leader.
Now on to Michie's activity as a SAGE member.
Regular media appearances
By May 2020, Michie was already becoming a regular guest on various news programmes:
As Guido Fawkes explained, Michie is not only a member of SAGE but also Independent SAGE, a breakaway group (emphases in the original, those in purple mine):
Susan Michie is a Marxist campaigner who has managed to get herself on not only the activist dominated fake SAGE, she is also on the official SAGE. Quite an achievement and evidence of the time and effort she is dedicating to the cause…
Michie is Professor of Health Psychology and Director of the Centre for Behaviour Change at UCL, so prima facie she has the credentials to be a scientific advisor. What is never mentioned at any point to give context to her many media appearances, in which she usually launches a tirade at the government, is that she has for 40 years been a member of of the Communist Party of Britain.
All this has not precluded her from using family wealth to financially support the Labour Party under the Corbyn leadership. In March 2018, it was Michie who said that the Communist Party would no longer stand against Labour in general elections and she should be "working full tilt" for the election of Corbyn as PM. Hardly surprising given her daughter was appointed under him to Labour HQ and her ex-husband was Corbyn's close adviser. That illustrates the level of her dedication to far-left politics.
Two days later, the Father of the House, Peter Bottomley MP (Con), appeared on Radio 4's Broadcasting House programme to lambaste the BBC for not revealing her political philosophy and connections:
He said (audio in Guido's post):
If one of your previous contributors has been a member of a far left party for decades, donated more to the Labour Party under Corbyn than I've given to the Tory Party in forty years, was the wife of a former Labour Party special adviser and mother of Labour's head of complaints, that might have been better than just saying she's a member of SAGE.
The BBC called Bottomley's remarks an:
ad hominem attack.
Prof Stephen Reicher, who teaches at St Andrews in Scotland, is another SAGE member who works on SPI-B. He took issue with Prime Minister Boris Johnson for not sacking his then-special adviser Dominic Cummings after his fateful trip to County Durham during lockdown. Michie agreed:
She is clearly not a Boris fan, nor is The Guardian's Carole Cadwalladr:
Lockdown and mask fan
In May, it was becoming clear to a segment of the British population that Michie favoured a Chinese-style handling of the pandemic. An Anglican clergyman tweeted:
The accompanying article from Michie in The Psychologist is a mild one about directing the public's response to the pandemic. Notable is this sentence (emphases mine below):
If these behaviours changed across the population (as seatbelt use and smoking in public places have), the Covid-19 pandemic would extinguish.
In July 2020, masks had been compulsory on public transport since mid-June, but were not yet mandatory elsewhere. Michie told LBC's Andrew Castle that they must be required:
By November, more Britons were finding out the truth about Michie:
When Boris banned Christmas, lockdown sceptic Dick Delingpole tweeted:
Michie started 2021 by asking why people were not complying with the mask mandate:
In April, mainstream journalists were finally beginning to reveal Michie's political persuasion:
Guido Fawkes reminded his readers that he had unearthed the information in May 2020:
In June, despite Boris's stellar rollout of the vaccine programme — still the best in Europe — Michie, laughing, told Channel 5 News that we would have to wear masks 'forever' (00:57 – 1:05):
A week later, she complained to Freddie Sayers of UnHerd that she had been misquoted (video at the link):
I actually used four words [in that interview with Channel 5], and only one of them was reported. The full words I used were "forever to some extent". What I mean by this is that, sadly, this isn't going to be the last pandemic. For as long as humans are around viruses are going to be around …
In reality, as you can see in the Channel 5 video above, her first answer was 'Forever'. When the interviewer expressed her astonishment, Michie gave the longer response.
She told Sayers that she wanted a delay to Freedom Day, which was to have been on June 21. She must be happy:
I don't think there's really any alternative other than delaying for four weeks and seeing what's happening. It's a very tricky situation… I think [Boris] is right — I think the question is: is it going to be sufficient?
She probably opposes the possible July 19 Freedom Day, too.
She clearly did not want to discuss her communist beliefs with Sayers:
My politics are not anything to do with my scientific advice. And I've never discussed my politics with people like yourself, so nor am I going to now. And the important thing is that when one gives scientific advice, one does so using the expertise one has — not going beyond the expertise, being transparent about what expertise you provide. And I think that the kind of articles you refer to are a really disturbing kind of McCarthyite witch hunting, which I don't think should have any place in a liberal tolerant society.
Richard Madeley's interview
This brings me neatly to Richard Madeley's interview from Monday morning, July 5.
Guido Fawkes broke the story, along with the video (emphases in the original):
Guido commends Richard Madeley for being the first TV host in the country to invite "Independent" SAGE's Susan Michie on to their show and finally confront her about her hard-left politics. Madeley rightly points out that activist expert Michie's love of national Covid restrictions may not be born from her concern for the nation's health, rather the default policy position of a hard-core, state-loving communist. It looked like Susan didn't appreciate this line of questioning…
Lockdown Sceptics has the transcript (emphases in purple mine):
Richard Madeley: There's a point I really have to put to you and you'll be aware of this because there's been a lot of commentary about this in the British media about you and it's to do with your politics and you know what I'm going to ask you. You've been a member of the Communist Party for about 40 years now, you're still a member, and we know that they're statist. We look at Communist countries around the world and we see that they are tremendously top down dominant and controlled societies that they rule over. I just wonder – and I'm putting this question on behalf of those who wonder about your politics – if your politics actually informs your sense of control? It's not just the medical arguments, but you have a kind of a political bent to want the state to tell people what to do?
Susan Michie: I've come on your programme as a scientist, as do all people who come on to your programme as scientists. They come on to talk about the evidence, relevant theories, how we approach our scientific disciplines, and you don't ask other scientists about politics so I'm very happy to speak about science which is what my job is and to limit it to that.
RM: So you're saying that your politics doesn't inform your opinion on this subject?
SM: I'm saying that I agreed to come on this programme as a scientist and I'm very happy to talk to you about the issues that you're raising as a scientist which is the same for other scientists that you invite on to the programme.
Michie has a large house in a leafy part of London, but the video clip says Berkshire for her location. So, she must be one of those privileged people with two homes. Could one call her Berkshire place a dacha?
If Michie thought her interview with Richard Madeley was a one-off, she was wrong.
On Tuesday, July 6, Times journalist Matthew Syed brought up her Communism in his interview with the BBC's Jo Coburn on Politics Live:
Syed mentioned Michie by name and said that it would be wrong for a political agenda to determine a pandemic response:
Guido Fawkes provided this analysis of what Syed said:
On Politics Live earlier Matthew Syed succinctly made the point that Richard Madeley was inching towards yesterday – the issue of the card-carrying communist Susan Michie, of the self-appointed "Independent" SAGE, being given frequent media platforms to smuggle in her political agenda under the guise of "science". Michie is a committed Marxist ideologue, and central committee member of the British Communist Party. This is relevant.
Marxist analysis understands socialism itself to be a scientific method for understanding and predicting social, economic and material phenomena to derive probable outcomes and probable future developments. Her life-long ideology feeds into her work as director of UCL's Centre for Behaviour Change. That theoretical underpinning to her ideas on behavioural change and social compliance has gone unexplored even as she has been given a position advising the government in these matters. She has spoken approvingly of the Chinese Communist dictatorship's authoritarian methods and of her belief that restrictions in Britain should continue "forever, to some extent." Her whole mindset is one of top-down control and diktat that is incompatible with a free and open society.
Before anyone claims that Syed is a misogynist or a right-wing Murdoch lackey – he has a very readable intellectual column in the Sunday Times – Guido would remind them that he stood as the Labour candidate in the 2001 UK general election. At the very least it is fair to discount Michie's advice in the light of her ideological activism.
However, as the aforementioned Lockdown Sceptics article says, complete with a tweet, one woman accused Good Morning Britain of misogyny and asked people to stop watching the programme in protest.
Toby Young, who wrote the article, says that her sex had nothing to do with Madeley's question. It was her politics (emphases mine):
I really don't get why it was "misogynistic" of Madeley to ask Susan Michie whether her hard left politics have affected her position on mask mandates. Of course they have! After all, forcing people to wear masks as a condition of participating in certain activities is a flagrant breach of their liberty and the reason Michie doesn't care about that and thinks public health concerns should take priority (even though there's precious little evidence that masks reduce transmission of the virus) must in part be because she's a communist, who famously don't put much value on individual freedom. And the reason Madeley hasn't put the same question to other members of SAGE is not because Michie's a woman, but because she's the only one who's been a member of the Communist Party for the past 40 years.
True.
However, by July 8, Ofcom, the media watchdog, received 145 complaints about Madeley's interview:
Guido reported that one of the 145 complainants was Michie herself (emphases in the original):
Ofcom are unlikely to rule against Madeley for asking a question Michie did not want to answer; that's an editorial judgement way outside Ofcom's remit. Yet apparently for 145 viewers, it was all too much. Of course, amongst those complaining was Michie herself, who took to Twitter to write:
"A complaint has been submitted and a public apology requested".
If Michie and 144 other pearl-clutching viewers were upset by Madeley, Guido has to wonder what they thought of Matthew Syed's comments on Politics Live yesterday…
What concerns me is that Susan Michie might not be the only Communist in SAGE.
If only we could find out more about the political proclivities of the other members.
On Sunday evening, June 13, 2021, Andrew Neil's GB News channel (Freeview 236) launched in the UK.
Andrew Neil has had a long career in broadcast and print journalism, having helped launch Sky News in the UK. He presented political programmes for the BBC for many years and is also chairman of The Spectator.
The satirical magazine Private Eye refers to him as Brillo because of his hair.
The channel began broadcasting at 8 p.m., with a one-hour introduction from Neil laying out the agenda and introducing the viewing audience to its presenters and regional reporters:
Neil was broadcasting from London, rather than his home in the south of France, as he has done during the pandemic for Spectator TV.
My far better half and I watched this and one hour of Dan Wootton's show, which followed at 9 p.m.:
Dan Wootton's show had a few glitches, with guests' online connections dropping and a synch problem between video and audio.
Nonetheless, the channel's first night ratings were good:
Their audience share was treble that of Sky News:
Guido Fawkes posted a summary of the reviews in the press. Incidentally, Guido's Tom Harwood resigned a few months ago to become the Westminster correspondent for GB News.
Guido's post says, in part (emphases in the original):
It's all systems go for GB News. Opening with a one hour mission statement from Chairman Brillo (from a tiny, under-lit set which someone on Twitter described as looking like "the inside of a PlayStation"), the fledging news channel finally started broadcasting at 8pm last night. Inevitably, there were teething problems: dodgy cuts, out of sync audio, odd camera angles etc etc. Dark clothes against a dark set just doesn't work visually. Television is hard.
The aesthetic problems will undoubtedly be ironed out over time. For now, the initial reaction from social media and the punditry went about as you'd expect; Owen Jones tried to dunk on it, the Telegraph gave it four stars. Here's the full round-up:
The Guardian wasted no time in writing it off. No doubt reviewer Stuart Jeffries beamed ear-to-ear as he called it "utterly deadly stuff", and declared he "give[s] it a year" before it's taken off-air. He gave it one star, obviously.
The Times were

more generous

: three stars for a channel which "may yet bite", though marking it down for the obvious technical shortcomings. A running theme amongst most reviews…
The Telegraph's four star review praised its "no sneering" attitude, and that in spite of the glitches, "GB News is already speaking [the] language" of those frustrated by lockdown. They also made the point that opening with Dan Wootton was probably a mistake, given his opening diatribe about lockdown: "What the channel cried out for was the firmest hand on the tiller from the go. If you were unsure about GB News's claims of impartiality, you needed Brazier or McCoy to take your hand on the first night. Wootton will have scared a few nervous horses" …
GB News were pleased to say launch night saw them average 164,400 viewers with Sky News garnering only 57,000 viewers. Can they surpass Sky News regularly?
I hope so. My better half thought it was too amateurish. As Guido says, 'Television is hard', especially on launch night. I will definitely be tuning in when BBC Parliament is showing a rerun.
Speaking of Parliament, Conservative MP David Jones liked it:
The channel also has half-hourly weather forecasts from the Met Office:
A live stream is on their website. Selected videos are posted there and on YouTube.
GB News took well over a year to reach its launch:
Their signature tune came first:
Investors had to be found:
Britons were eager for a news channel that represents their interests:
On January 28, 2021, Dan Wooton left talkRADIO for GB News.
A week later, people were attempting to boycott a channel that hadn't even launched, including Jolyon Maugham, director of the Good Law Project:
This was Andrew Neil's response:
At that time, Neil wrote an article for The Express explaining why he was launching a new channel (emphases mine):
I'm proud to be the chairman of GB News and, as you may have read, I have left the BBC after 25 years to host a nightly programme on the channel.
I'm doing it because I believe the direction of news debate in Britain is increasingly woke and out of touch with the majority of its people.
I believe our national conversation has become too metropolitan, too southern and too middle-class.
Some journalists and commentators seem too confident that their liberal-left assumptions must surely be shared by every sensible person in the land.
But many of those same sensible people are fed up.
They feel left out and unheard.
There's a restlessness, a sense that they're being talked down to; that much of the media no longer reflects their values or shares their concerns.
GB News is aimed squarely at those people.
The Mail's Michael Crick empathised and had a go at Jolyon Maugham:
The channel began attracting broadcasting talent: Sky News's Colin Brazier, Channel 4's Liam Halligan, the BBC's Simon McCoy, conservative commentator Mercy Muroki and Times Radio's Gloria De Piero (also a former Labour MP and presenter on an ITV breakfast show).
By April 27, Rupert Murdoch decided not to launch a similar rival channel, News UK:
At least one journalist is rankled that GB News has overseas funding:
On May 21, Press Gazette revealed more about GB News:
The channel's director of news, John McAndrew, is a 25-year industry veteran who has worked for the BBC, Sky News, ITN and NBC.
Interviewed by Press Gazette three days ahead of the channel's launch, he said: "My view of our channel, and certainly how it's going to be, is that it will be a very warm, inclusive channel where disagreements will be had, tough subjects will absolutely be taken on, but they'll be taken on in a classy and courteous fashion.
"What this won't be is a hate-filled divisive shout-fest that some people seem to have characterised it as, which is 180 degrees away from where we want to be."
Speaking to the FT Future of News conference Neil revealed that GB News plans to launch in other countries after the UK and has been looking at Spain and Eastern Europe. He said: "They will be distinctive news channels for distinctive markets. We still believe news is national."
On May 25, Ryan Bourne from the Cato Institute wrote a column for Conservative Home about the channel:
… it's perfectly within the Ofcom rules to build a news channel that will run different stories or perspectives – and Neil wants to run "good news" stories and shift away from assuming every problem has a government solution. You are allowed to hire, as GB News has, card-carrying conservatives, ex-Labour MPs or people from outside of London with very different assumptions in thinking about what news is important. And, yes, you are free to have colourful presenters with attitude to liven up discussions, provided you still showcase various perspectives.
Why, then, are some on the left so afraid of this pluralism? Maybe they don't accept biases exist on other news channels (Channel 4 News, really?), and so think any stated attempt to counter them is retrogressive. Perhaps they simply fear a politically strengthened conservatism. For others, no doubt, there is a concern that the Government's mooted appointment of Paul Dacre to Ofcom is a precursor to watering down impartiality rules as well.
But given that no such policy has been signalled, and we have not yet seen GB News in action, we must judge them at their word. Neil himself thinks, rightly, that a "British Fox" riding roughshod over Ofcom rules just wouldn't be successful. "Overwhelmingly, Brits value impartiality and accuracy and, during recent years, in fact, the proportion of Brits thinking the BBC and ITV provide an impartial service has fallen." GB News is keen to harness that particular audience, yes. But having spoken to numerous staffers, they are determined to avoid political bias, and to be robust in providing respectful disagreement more broadly too.
The Evening Standard's Insider posted an in-depth article on June 10. Susannah Butter's piece covers a lot of ground, including on the channel's investors.
This seems to have been the initial title (h/t Guido Fawkes reader who posted it):

Susannah Butter interviewed Andrew Neil, who had returned from France and was quarantining:
Neil is speaking to me from quarantine in West London, having recently returned from his house in the Cote d'Azur where he has been for the past year with his wife, Swedish engineer and communications executive Susan Nilsson, 52. They married in 2015 and Neil has 14 godchildren but no children of his own. He is straight-talking if occasionally gently cantankerous, saying he only agreed to speak because I "caught him at a weak moment" – and he wants to get one thing clear: GB News is not the British Fox News. "That is an easy, inaccurate shorthand for what we are trying to do. In terms of format we are like Fox but we won't be like Fox in that they come from a hard right disinformation fake news conspiracy agenda. I have worked too long and hard to build up a journalistic reputation to consider going down that route." There is a "strong editorial charter written into everybody's contracts saying that if they spread fake news and conspiracy theories they will face disciplinary action". Neil's hope is not to destroy the other channels, more to provide variety and raise the bar. "We are in a competitive environment they know that. I suspect [our rival TV channels] will up their game, that's fine, the only winner is the viewer."
This is how the channel began:
GB News was not Neil's idea – the founders are Andrew Cole and Mark Schneider who both come from a business background – but Neil has been wanting to do something like this for a long time …
Cole and Schneider contacted Neil last summer when he was "in the middle of rather, err, meandering negotiations with the BBC". His interview show had been cancelled and Politics Live was taken off air; he has said that "what [the BBC] did was unnecessary and I left with a heavy heart… but what's done is done." By September he was convinced because he "rather liked the idea of being chairman as well as prime time presenter. At The Spectator, my pride and joy, I have a business angle too, as chairman".
Early hires include former Associate Editor of The Sun Dan Wootton and The Apprentice's Michelle Dewberry, who was a vocal Brexit supporter.
Piers Morgan will not be joining the GB News lineup, at least for now:
"It would be nice to have him," says Neil who is in discussions with Morgan about joining and adds diplomatically: "But he's got his own idea of what he is worth and we have a slightly different idea of what he's worth. He is in a lucky situation because ITV are continuing to pay him a tonne of money so he doesn't have to do anything in the short run. I don't think he's going to go anywhere else in the UK. If he has a huge American offer that's a different matter. No one in the UK can compete with that but if he's going to do more UK news TV I hope it will be with us."
The channel will have a regular five-minute feature called 'Woke Watch':
Neil enjoys its alliterative title and says while he is "poking fun", he is seriously concerned about its implications. "Cancel culture is insidious, it stands against everything we have stood for since the enlightenment onwards and that is why it is serious," he says. "The original meaning of woke was somebody who was aware of social justice issues and who can complain about that? But it is not about social justice anymore, it is about conformity of thinking and it exists in many of our elite institutions from NGOs to the National Trust and parts of our media. Of course it is making huge inroads into our places of higher education. It is not the view of the British people but if it is the view of all these elites in favour of it could become very powerful."
… He takes a breath. "Look this is a five minute segment in an hour long show but it will be an important part of the output. Humour is a good weapon especially when you are up against po-faced people who take themselves too seriously."
The channel's output will target those living outside Britain's metropolitan areas:
GB News aims to attract two kinds of viewers, people who already watch the news and "may be a bit unhappy with the existing channels" and people who have stopped watching or don't. "GB News will be more non-metropolitan than existing channels, more provincial which is a good thing. The provincial voice has not been powerful enough in Britain. We are for people who think the existing channels don't quite represent how they see things."
Neil discussed the channel's investors:
Neil says they were overwhelmed with offers of funding but were selective about which ones they accepted. He wants to talk about their leading investor, the Discovery Channel, but money has also come from Sir Paul Marshall, a Brexiteer hedge fund manager and founder of the Right-leaning opinion site UnHerd, and Legatum, a Dubai-based investment firm. Legatum's chairman Christopher Chandler, a New Zealand-born billionaire and international financier, is a partner of Legatum Group, a funder of the separate Legatum Institute, a Mayfair-based think tank which is dedicated to finding "pathways to prosperity" and was one of the most prominent advocates for a hard Brexit.
Neil will only say that he "didn't want any sovereign wealth fund money". "I didn't want stuff from Abu Dhabi or Qatar. I said I'd take Norwegian wealth fund money because I don't think we would be worrying about them but they weren't offering. And I was reluctant to take money from investors who see themselves as the next Rupert Murdoch because I have already had one Rupert Murdoch in my life. That ended 26 years ago and I have never seen him since. At this stage in my life I am not having another one."
Neil, quite rightly, does not understand why people would object to the name GB News:
"I am not sure why calling it GB News would be awkward," he says, responding to those who have objected to the name. "We are British, I am British; I don't think there is any embarrassment in it. Indeed it is the opposite, we are proud to be British. We will be fair and accurate but we won't start out from that default position among the incumbents that whatever Britain does must be useless. That was heightened by the Brexit debate and we don't want to reflect that. We will report all the faults and weaknesses of this country but we also take a certain pride in being British and our successes, the vaccine rollout being one example."
All this patriotism is well and good but doesn't Neil now live mainly in France? "This is my country, just because I don't live here full time anymore doesn't mean I don't care," he says.
Neil's regular one-hour show will also have a segment called 'Media Watch':
"All journalists get things wrong and it is important that we move to put them right quickly and put our hands up and apologise. We have a go at politicians for not admitting their mistakes and then we do the same thing." GB News will not be immune from Media Watch.
The channel will not be featuring a blockbuster interview immediately:
They have actually decided against launching with a big interview, "because then the story becomes the interview and I would much rather the story becomes the channel, we will get to the interview". "Times Radio launched with a big interview with Boris Johnson. We've decided not to go down that route."
Neil is not yet ready to retire:
It all sounds like a lot of work – does Neil ever want to retire? "You are right. Lockdown has made me appreciate the virtues of retirement or at least semi-retirement more than I thought I might. I thought I had one more big gig in me and this is it. If we can make a success of GB News that's when I'll declare victory and go home." I doubt he would disappear though. He says: "I would continue to do the odd bit of TV and writing and I certainly want to keep going with The Spectator. It's quite good at some stage to get to a situation where you can do whatever you want to do from wherever you want to be."
I ask Neil, one of the best interviewers in the business, if I have left anything out? "I think you know more than enough," he says. "Can I go now?"
Although Neil very much enjoyed his 25 years at the BBC and was particularly grateful to the help and support from the staffers there, he has objected to some of the recent programming output. On May 30, The Express reported:
Mr Neil has never shied away from controversy on or off screen during his time at the broadcaster.
Never was this more clear than when he called the BBC out – while working for the broadcaster – for airing a specially crafted version of Horrible Histories, using archive episodes to create a song to mark the day the UK left the EU …
Mr Neil commented: "This is anti-British drivel of a high order.
"Was any of the licence fee used to produce something purely designed to demean us?"
On June 11, Simon McCoy discussed his departure from the BBC and revealed that he voted Leave in the 2016 Brexit referendum. The Telegraph reported:
"People had whiplash by 2 o'clock. Because for three hours it was: 'Oh, he's leaving, the A4 Royal watcher, how sad.' And then, 'The b—–'s going to GB News! What a right-wing gammon.'" He gives a mock sigh. "I was rather enjoying a couple of hours of adulation."
Some valiantly tried to give McCoy the benefit of the doubt, but hang on: "I think it's interesting that people think: 'He's gone to GB News to balance it out because he's a leftie BBC journalist.' I'm certainly not." He's even willing to lay his cards on the table: yes, Simon McCoy voted Leave …
When he talks about Brexit, it's in measured tones. "We're a Brexit country. I do think we need to embrace it and, for all its faults, we've got to make it work."
He joined GB News partly because he fancied the challenge: "I loved the BBC; the job was great, but I just thought, 'Here I am, nearly 60 – do I want to stay here, probably not getting any further? Or do I want to try something new?'"
And he also has a conviction, after 15 years at Sky News and 17 years at the BBC, that those news providers are focusing on the wrong things. "If you watch other bulletins you'll know very much what's happening in Idlib or Tel Aviv or Washington. This is about the UK," he says.
"Rather than obsessing with what's happening abroad, let's just look at what's happening within the UK. While I don't want to sound jingoistic or insular or Little Englander, I think we could all benefit from just knowing about our own country a little more."
Neil Oliver, a Scot who presents television programmes on archaeology, is fiercely pro-Union and a vocal critic of the SNP's First Minister Nicola Sturgeon. He will have his own GB News show. The Express carried the story:
Last month, the BBC's veteran presenter of a string of history shows, Mr Oliver, was announced as having joined the lineup.
The archaeologist and historian has become a central voice in Scottish politics and, like Andrew Neil who he will work alongside, is a fierce critic of Nicola Sturgeon.
He has previously accused the Scottish First Minister of "making a fool of Scotland" and said she had made him "sick to my stomach"…
He talked of history being viewed as the lifetime of a person, and that people today are the children of this person, in this case, the British Isles.
This was vital to understanding how interwoven the devolved nations are, he argued, and explained: "More and more we dare to patronise the place, treat the person like a doddery old soul who cannot cope alone, who might even need to be taken into care.
"To me, the truth is altogether different. This place, these islands have taken care of us since a time beyond the reach of memory. Treated properly, they will continue to do so …
"The story of the British Isles is one every single one of us should know and give thanks for."
On June 2, The Express reported:
The freelance archaeologist will host a new weekly current affairs and interview programme. Mr Oliver's show will focus on "the people from all walks of life who make Britain great", according to the announcement put out by the broadcaster …
Commenting on joining GB News, Mr Oliver said: "My career has always been driven by my fascination with people, whether it's trying to understand ancient people through archaeology or living ones through journalism.
"Debate in this country has been stifled for so long that GB News feels like opening a window and letting some fresh air, fresh perspectives and fresh voices.
"I never imagined my career would take this turn but I'm hugely excited that it has" …

Before the 2014 independence referendum, Mr Oliver stated in an interview with The Herald, that he was "proud of Britain".
He also noted his dislike of the forthcoming referendum, saying he found "this kind of internecine squabbling puts my teeth on edge. I would rather that it would just go away – or that it had never happened".
He went on to say that he "liked the status quo".
As a result of his comments, when he was appointed President of the National Trust for Scotland, thousands signed petitions calling on him to resign.
In December 2020, Mr Oliver reasserted his apparent personal opposition to Scottish independence, describing the uncertainty caused by the prospect of a second referendum as a "cancerous presence".
Neil Oliver appeared on Sunday:
On the launch day of GB News, The Express reported that a spokesman for the channel alleged that the BBC was trying to restrict their access to news footage:
Britain's public service broadcaster was attempting to "ambush" and "damage" Sunday's launch of the right-leaning television channel, a spokesperson for GB News has claimed. A GB News spokesman said: "This is an ambush by the BBC designed to damage the launch of GB News. It is an attempt to protect their dominance of UK news broadcasting.
"We will fight it.
"And our launch continues."
This has happened before when the Press Association said in 2010 it was unable to access footage from "single-camera assignments" that were categorised as coming under the ownership of the UK Broadcast Pool.
The UK Broadcast Pool comprises the BBC, Sky News and ITN.
The launch was successful.
True to their pledge, GB News is focusing on what matters to Britons, such as this lady from Birmingham:
In closing, Tom Harwood says that GB News are aware of enhancements that need to be made, including the addition of a live stream on YouTube:
I'm thrilled to bits for GB News and do intend to become a regular viewer.
Yes Minister, which aired on BBC2 in the 1980s, is still as fresh as it was decades ago, a perfect satire of politics and the civil service.
In this short clip, which is under two minutes long, Sir Humphrey demonstrates how pollsters use a list of questions to get the end results they want. Amusing, accurate — and relevant:
Would that we had satirical sitcoms like this today, especially ones that didn't rely on four-letter words for laughs, such as The Thick of It, which didn't even come close to Yes Minister in terms of humour.
As the BBC broadcast coverage of Prince Philip's life on Friday, April 9, the day of his death, the final of MasterChef was postponed.
It was shown on Wednesday, April 14, having been announced only the day before. Shown below are the judges, John Torode and Gregg Wallace:
Here they are with finalists Mike, Alexina and Tom:
Britain's foodies could barely contain themselves:
I don't often write about MasterChef, but this year's final was the best yet. I would challenge the pros in the US edition of Top Chef or the amateurs from MasterChef USA to come up with comparable dishes.
This video shows what the British amateurs cooked:
As ever, the programme began with brief biographies, complete with childhood photos, of each contestant. Their parents also participated in interviews.
Alexina
I've put up some inspirational dishes … It's my competition to lose.
She lives in south London:
We discovered that she is a graduate of the University of Cambridge — Jesus College, in fact:
Only social media followers, however, will know that she volunteers for The Food Chain in London. I recognise one well known chef and restaurateur in the photo, Allegra McEvedy, who is in the black and white blouse:
Mike
We knew early on in the series that one side of Mike's family is Italian.
In the following video, Mike's girlfriend describes how generous they are when it comes to serving dinner:
Mike, from Surrey, enjoys his espressos.
He explained that his grandmother taught him how to cook. He was fascinated watching her and imitated what she did in the kitchen:
Tom
Tom is from Newcastle and, before coronavirus struck, worked in a local restaurant as front of house.
He has always enjoyed cooking:
He often cooks for his parents.
The semi-final
The semi-final took place at London's Le Gavroche, which has two Michelin stars. I have eaten there and will never forget the dining experience. Here, Alexina reproduced a challenging Le Gavroche classic for owner Michel Roux Jr and his senior members of staff:
Michel Roux Jr was impressed with all three finalists, each of whom made some of the restaurant's most challenging dishes. In the next video, we see Mike first, then Alexina, followed by Tom:
Based on that episode, we could hardly wait for the final.
The final
Each of the finalists had to create and prepare three dishes.
Mike prepared a starter of scallop with romanesco, followed by sous-vide lamb with a lamb farce and sweetbread pithivier, served with an unctuous thyme and potato terrine. The jus, a gastrique, was perfect. For dessert, he paid homage to his grandmother with a take on tiramisu:
The tiramisu, in particular, looked mouth-watering:
Mike was disappointed that his pithivier burst on the bottom. Nonetheless, John and Gregg responded with superlatives about his dishes:
unctuous and sweet and sticky and absolutely yummy …
dreamy …
fruity sweetness but still with meatiness …
It's classic, opulent cooking and it's skilful.
Here's the video:
Alexina prepared a Malaysian crab soup with a peanut butter bread stick, a perfectly sautéed bavette of beef, and, as a nod to her grandmother, a rolled baked apple (one long strip), served with gin-soaked blackberries and a herby ice cream:
John and Gregg particularly liked the crab soup, an homage to her brother who loves peanut butter:
Then it was Tom's turn to present his final creative plates of food. This chap was a star from the start.
He prepared three oysters, each in a different style, including one which was deep fried in bread crumbs. He followed this with roast beef and beetroot. Dessert was a tangy lemon-yuzu tart with olive oil ice cream, accentuated with a pinch of salt:
Gregg had a deep food experience tasting it, especially the beef.
The tart and ice cream were works of genius. The tart had black olive meringue on top:
Viewers were bowled over by the quality and imagination of the food. Any of these meals could be served in a top restaurant. Tom's showed Michelin-star quality.
In the end, there could be only one winner, the 17th champion of MasterChef:
Everyone did brilliantly:
I wholeheartedly agree. I also think that all should have had a glass of champagne to share Tom's victory:
Tom enjoyed celebrating his win with John and Gregg. He also enjoyed speaking with his ecstatic mother on the phone, hence his reaction:
I wonder if Tom is back at work, now that lockdown has largely lifted:
Indeed.
Follow Tom on Twitter and browse his website for recipes.
I hope someone offers him a job really quickly. His talent is too good to waste. What a great end to lockdown that would be.
Sadly, Prince Philip, the Duke of Edinburgh, died on Friday, April 9, 2021, exactly two months short of his 100th birthday:
The Queen has lost her best friend. My deepest sympathies to her for the unimaginable loss of her long-time husband and daily confidant. My condolences also go to the Royal Family in their grief.
Young love
The couple first met in 1934, and began corresponding when the Prince was 18 and a cadet in the Royal Navy. Princess Elizabeth was 13 at the time.
She was smitten with him from the start.
Prince Philip served with distinction during the Second World War in the Mediterranean and Pacific fleets.
After the war ended, he could have had a stellar career in the Royal Navy. His superiors praised his clear leadership skills.
However, love intervened and the rest was history.
Born Prince Philip of Greece and Denmark, he renounced his foreign titles and took British citizenship before he and Princess Elizabeth were engaged. He took the surname of his maternal grandparents: Mountbatten.
He and Princess Elizabeth were engaged in July 1947. They married on November 20 that year. Shortly before the wedding, George VI gave him the titles of Duke of Edinburgh (created for him), Earl of Merioneth and Baron Greenwich.
Prince Philip remained in the Royal Navy until July 1951. He retired with the rank of Commander.
Royal succession — and surname
In January 1952, he and the Queen began a tour of the Commonwealth countries. They were in Kenya when news reached them that the Queen's father, George VI, died on February 6 that year.
Although she became Queen immediately upon her father's death, her coronation took place in 1953, as it had to be planned meticulously.
On Coronation Day, he knelt before her, clasped her hands and swore an oath of allegiance to her:
He also had to touch her crown and kiss her on the cheek.
He never had a constitutional role, nor was he ever formally given the title of Royal Consort. The courtiers did not like him, nor did they trust him. They believed his personality to be brash and unbecoming of the Royal household. They shut him out of as much decision making as possible.
When Elizabeth became Queen, the question about her family name arose. Prince Philip suggested that the Royal Family be known as the House of Edinburgh. Upon discovering that suggestion, Queen Mary, Elizabeth's grandmother, wrote to Prime Minister Winston Churchill, who advised the young monarch to issue a royal proclamation saying that the Royal Family would continue to be known as the House of Windsor.
In his inimitable style, Prince Philip complained privately:
I am nothing but a bloody amoeba. I am the only man in the country not allowed to give his name to his own children. [57]
The Queen did nothing until eight years later, in 1960, 11 days before she gave birth to Prince Andrew. She issued an Order in Council declaring that the surname of her and her husband's male-line descendants who are not styled as Royal Highness or titled as prince or princess would be Mountbatten-Windsor.
Pater familias
Prince Philip had to carve a role out for himself. He became the pater familias and, through the years, his role expanded to cover not only his four children but his grandchildren. He listened to their concerns, shared their joys and gave them advice. He knew everything that went on in their lives.
Although the public knew him for speaking as he saw — rather bluntly, on occasion — behind closed doors Prince Philip was known to be a warm, loving man.
He also favoured a more transparent Royal Family. According to the BBC, it was he who encouraged the Queen to make a multi-episode documentary on their daily lives, including those of their four children. It was broadcast in the late 1960s. I remember seeing it in the United States.
When Princess Diana died on August 31, 1997, Prince Philip was the one who kept an eye on the public mood that fateful week. He, the Queen and Princes William and Harry were at Balmoral in Scotland for their summer holiday. When the young princes wanted to attend church, their grandparents took them to the Sunday service on the day of their mother's death. Later in the week, it was Prince Philip who encouraged the boys to walk behind the funeral procession the following Saturday. He said:
If you don't walk, I think you'll regret it later. If I walk, will you walk with me? [93]
One cannot imagine what he thought of Prince Harry's departure for the United States to live a life separate from his closely knit family. I did read that the Royal Family shielded information about the Oprah interview from him.
John F Kennedy's funeral
Prince Philip was in Washington for John F Kennedy's funeral in 1963.
He had a friendly encounter with John Jr, who was still a toddler and known as John-John at the time. The child wondered where his father was, as he had no one with whom to play. The Prince stepped in to fill that gap. In 1965, the British government gave an acre of land at Runnymede to the United States for use as a memorial to JFK:
Funeral arrangements
Prince Philip was self-effacing and did not like a fuss to be made over him.
Therefore, the funeral arrangements will respect his wishes, which is rather convenient, as coronavirus restrictions are still in place. Up to 30 people will be allowed at his funeral, in line with legislation across the nation:
The funeral is scheduled to take place on Saturday, April 17:
It is interesting that Prince Harry will be able to attend when we have a 10-day quarantine in place for arrivals into the UK under coronavirus regulations.
The Sunday Mirror reported on Prince Harry's return to the UK:
He could also be released from quarantine if he gets a negative private test on day five, under the Test to Release scheme.
Given his status as a member of the Royal Family travelling to support the Queen, Harry might be considered exempt from travel restrictions.
Wow. It's nice to know we have a two-tiered quarantine system in place /sarc.
A championship boxer remembers the Prince
Former WBC Heavyweight Champion Frank Bruno MBE posted his memories of meeting Prince Philip. He is at the top left in the following photo:
An Anglican priest remembers the Prince
The Revd Peter Mullen, an Anglican priest, recalled his encounters with Prince Philip for Conservative Woman on April 10 in 'A personal recollection'.
He first met the Prince during his schooldays:
The first time I met the Prince was in connection with his Duke of Edinburgh's Award Scheme which gave a leg up to youngsters from what would now be called the less privileged parts of the country. He paid a visit to the Leeds branch of the Church Lads' Brigade of which, aged fourteen, I was a member. We were in the church hall making things. My task was to make a table lamp. I was hopeless at it.
The Duke got hold of my half-finished creation, held it up to one eye and said, 'I suppose this hole is where the flex goes?'
'I think so, Sir.'
'You think so? I was never any good at this sort of thing either!'
And he was off . . . 
As an adult, Mullen met him on more than one occasion thanks to the Honourable Company of Air Pilots. The Prince was its Grand Master. Mullen served as chaplain.
He recalls:
The Company gave a lunch for him to mark his 80th birthday and I recall how jovial he was, making light of his years: 'I believe I have lasted so long because you people are always toasting my good health, but I don't want to live to be a hundred. Things are dropping off already!'
At another luncheon one of our Liverymen who had his own port wine business presented the prince with Bottle Number One, the first fruits, so to speak. As he left, the duke handed the bottle to me: 'You have this, Peter. Our house floats on the bloody stuff.'
'Well, Sir, now I don't know whether to drink it or frame it.'
'Gerrit down ya neck!'
Prince Philip on MPs
Guido Fawkes came up with a good quote from one of the Prince's trips to Ghana. It concerns MPs. His Ghanaian hosts told him the country had 200 MPs. Prince Philip replied:
That's about the right number. We have 650 and most of them are a complete bloody waste of time.
Incidentally, Parliament will be recalled one day early from Easter recess. On Monday, April 12, MPs and Lords paid tribute to the Prince in their respective Houses:
That afternoon, the House of Commons reconvened to pay their tribute — from 2:30 p.m. until 10 p.m. (good grief).
Speaker Sir Lindsay Hoyle spoke first:
Prime Minister Boris Johnson had this to say:
Boris Johnson, who was invited to the funeral but declined so that another member of the Royal Family can attend, said that he would forego a pint when pub gardens reopen on April 12, out of respect for the Prince. Guido Fawkes, however, thinks that the Duke of Edinburgh would have wanted us to toast his memory, especially at a pub that bears his title in Brixton, south London:
Guido had a second tweet on the subject with another quote from the Prince:
Agreed.
Prince Philip on Australia
This is too funny. For those who are unaware, Australia was established as a place where Britain could send convicts. That was a long time ago, but the nation's original purpose was to serve as a prison: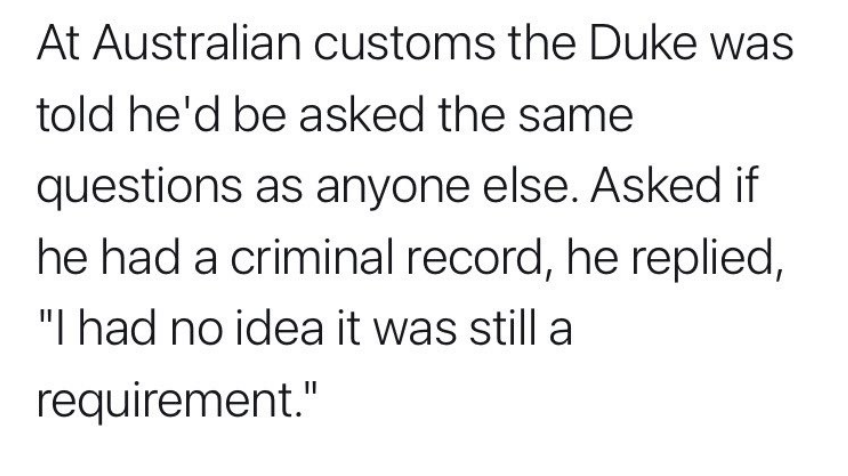 Prince Philip on civil liberties
On a serious note, the 12-minute interview below from 1984 is well worth watching, especially in the coronavirus era.
Prince Philip firmly supported the rights of the individual and believed that the state should serve the individual, not, as in our times, the other way around.
This is from a Thames Television programme originally broadcast on ITV:
I have posted the video below in case the tweets are deleted:
The Prince also said that certain subjects are out of bounds, such as the media and the NHS.
He said that the media are incapable of taking a joke about themselves and, as for the NHS, well, one cannot say anything against it. He didn't necessarily dislike the NHS but thought it was held in too high a regard. Nothing is perfect in this world.
We have been travelling a long road towards the point where we are at present: ruled by the media (they clamoured for coronavirus restrictions) and worship of the NHS. This is how Health Secretary Matt Hancock, Prime Minister Boris Johnson and SAGE have been able to rule our lives. It's been at least 40 years in the making.
BBC coverage on Friday
I was watching BBC Parliament early Friday afternoon, around 1:15, when the programme was interrupted by a broadcast from the BBC News Channel.
I checked the schedule an hour later, which said that the programme would last until 4 p.m. It was still going when I was preparing dinner at 5 p.m.
The final of MasterChef was to have been broadcast that night on BBC1. This was a clip from Thursday's programme:
Pictured are the hosts and judges, chef/restaurateur John Torode on the left and former greengrocer, now television presenter, Gregg Wallace on the right:
BUT:
The BBC News channel was simulcast all afternoon and all night long, not only on BBC Parliament but also on BBC1, to the dismay of MasterChef fans (myself included), and BBC2. BBC4 was suspended for the evening.
I read on social media that the BBC also broadcast continuous coverage of Prince Philip on their radio stations, including Radio 2, knocking out Steve Wright's drive-time show on Friday afternoon.
A friend of mine said that most of the BBC's employees were probably rubbing their hands with glee because it meant an early weekend for them. It's a cynical perspective that could well turn out to be true. We'll find out when someone writes his or her memoirs.
Everyone with a television set receives the BBC News channel. It comes into our homes at no extra charge. There was no need for the BBC to take over every channel for hours on end. By the way, if one had watched two hours of the Prince Philip coverage, as I did, one would have seen and heard everything in its entirety.
The BBC braced themselves for a plethora of complaints; they took the relevant page down on Sunday. Good. I am sure Prince Philip would have objected, too.
As much as I love the Queen, I hope they do not try this when her day comes. God willing, may it be long into the future.
Record-beating prince
Prince Philip established two records as consort to the Queen. He was the longest-serving royal consort in British history. He was also the longest-lived male member of the British royal family.
May he rest in eternal peace with his Maker.
May our gracious Lord grant the Queen, Defender of the Faith, His infinite peace and comfort in the months ahead. May He also bless the Royal Family during this difficult time.