You are currently browsing the tag archive for the 'television' tag.
Gosh, what a lot of news to cover in one post.
Admittedly, a few of these items are a bit old but fit in thematically.
Theresa May U-turns on support for Scottish gender reform legislation
I wrote yesterday about former Prime Minister Theresa May's support for Scotland's Gender Recognition Reform bill on Tuesday, December 27.
Within 24 hours she had made a U-turn, thankfully, although she did it through a spokeswoman.
On Wednesday, December 28, The Times reported (emphases mine):
In the wake of the interview the BBC issued a press release which stated: "On the subject of Scotland's proposed gender recognition laws, Ms May said she was disappointed the Westminster government wasn't supporting them."
Yesterday, however, a spokeswoman for the Maidenhead MP insisted that was not the case.
"As prime minister, Theresa launched a consultation looking at gender recognition laws with the aim of providing a more sensitive approach to transgender people, but she does not agree with Nicola Sturgeon's legislation and is particularly concerned about the consequences it could have for children in Scotland and across the UK," she said.
We can but hope that the Secretary of State for Scotland does not send the legislation for Royal Assent:
Immediately after MSPs voted in favour of the legislation Alister Jack, the Scottish secretary, threatened to invoke section 35 of the Scotland Act, which allows him to prevent the legislation from receiving royal assent.
Although gender recognition is devolved to Holyrood, the Equality Act — with which the new law will interact — is reserved to Westminster.
As nearly two-thirds of Scottish voters — even SNP supporters — think this legislation is a terrible idea, Westminster can show the 'Union dividend' in being 'better off together'.
Gas futures coming down
On Thursday, December 29, The Guardian had encouraging news about the price of natural gas futures in Europe:
European gas prices have dropped back to levels seen before the Ukraine war began in February, as fears of a gas crisis this winter ease.
The month-ahead European gas future contract dropped as low as €76.78 per megawatt hour yesterday — its lowest level in 10 months, data from Refinitiv shows.
As this chart shows, gas prices have fallen back from their surge in March, and again in the summer as European countries scrambled to fill their gas storage tanks.
Prices have dropped thanks to warmer-than-normal temperatures this winter, which have limited demand for gas, after the European Union successfully filled reserves to a peak of almost 96% in November.
Consumption reduction targets have also helped to limit demand, with the EU aiming to cut its gas consumption by 15%.
Earlier this week, 83.2% of EU gas storage was filled, data from industry body Gas Infrastructure Europe shows, still above the target of 80% set for the start of November.
Traders are confident that inventories will end winter at a very comfortable level with a very low risk of falling to critically low levels, says John Kemp, energy market analyst at Reuters.
UK gas prices have also dropped back from their highs earlier this year. The day-ahead gas price closed at 155p per therm yesterday, compared with 200p/therm at the start of 2022, and over 500p/therm in August.
The UK versus the EU
All year long in Parliament we've heard that the UK is 'broken' and that we should have stayed in the EU.
Polls have been published showing that Brexit voters have buyer's remorse. Well, they shouldn't have. We are much better off outside an unelected European Commission. Furthermore, EU countries are not doing substantially better than Blighty.
France
This week, I received the latest copy of Marianne, the French newsweekly. Part of its cover story headline, referring to the state of their nation, reads:
EN PANNE
meaning, 'out of order', 'not working'.
On Wednesday this week, The Spectator had an excellent article about our neighbour: 'All is not well in Macron's France':
In 2021, both World Bank and United Nations GDP (nominal) rankings have the UK at 5th and France 7th. International Monetary Fund estimates for 2022 show India overtaking the UK to claim the 5th spot for world GDP, but with France still 7th.
One may question the reliability of GDP as a comparator, but a host of other measures regularly show France worse off than the UK. Debt to GDP ratios show France at some 115 per cent, the UK 99.6 per cent. Meanwhile the Bank for International Settlements gives France's total public and private debt (non-financial) at 351 per cent; the UK at 271 per cent.
One can rightly point to France's present day lower inflation at 7.1 per cent (EU harmonised) compared to the UK's 10.7 per cent. But as French debt statistics above show, president Emmanuel Macron began forcing down domestic inflation by subsidising prices during his 2022 presidential election campaign. French unemployment at 7.4 per cent compares unfavourably with the UK's 3.4 per cent. Meanwhile France is the highest taxed OECD and EU state, leaving little margin for manoeuvre. Her balance of payments figures are as gloomy as the UK's, together with her flat economic growth.
While Britain's position is not rosy, France's is certainly no better. That is why recent predictions in a certain European press, not least in France, taken up by British elites, that the UK was descending into terminal decline has lost all proportion. If the French press enjoy a touch of schadenfreude at the expense of the old enemy, and French politicians are glad to distract from their own problems, the willingness of much of the British middle class to swallow the same view can only be explained by ingrained cultural habit aggravated by post-Brexit resentment. Today, with Macron utterly wedded to the EU project, France for British elites is ipso facto superior to Britain. Yet France's moral state is parlous.
Since the 2022 presidential and legislative elections Macron's centrist party has no overall majority. France is stalemated and drifting towards ever more radical politics. Macron's prime minister Élisabeth Borne, unable to command a majority in the National Assembly, struggles to get her business other than by the constitutional sleight of hand of article 49,3, which guillotines parliamentary debate. With the chamber split four ways the question remains as to whether Macron will eventually dissolve parliament. Opinion polls suggest this would be a gift to Marine Le Pen's party, already the single largest opposition party with 89 seats. France might then come to replicate the present radical right Italian government.
Socially and culturally French society is far from healthy. Other than worsening violence and lawlessness in the banlieues – conveniently out of sight of English elites' visits to France – the French model of assimilation and laïcité is being tested to destruction. Official Justice Ministry statistics for July 2021 show 24.6 per cent of the prison population as foreign (double the proportion in Britain).  The French Interior Minister publicly stated this summer that, although foreigners make up 7.4 per cent of the French population, they account for 19 per cent of all delinquency nationally, and that 48 per cent of arrested delinquents in Paris are foreigners, 55 per cent in Marseille, 39 per cent in Lyon.
… The general picture is of a France far from at ease with itself. The prospect of a member of France's ethnic minorities leading the country with no fuss in the near future, as has just happened in Britain, seems impossible.
And remember the cries of 'Brexit is bad' when the Paris stock exchange overtook London's in November?
I don't recall any mea culpas from the metropolitan elite once we resumed normal service ten days later:
Guido Fawkes posted (emphases his):
The London stock market has re-overtaken Paris's after falling behind for 10 days, with a lead of $63 billion. A 2.5% rally in the value of the pound led to the improvement, and morale booster, compared to a modest 0.7% improvement for the Euro …
Germany
While Remainers in Britain's metropolitan elite moan about food inflation, our friends in Germany have experienced similar price hikes.
On October 14, September figures for the UK showed that our grocery price inflation hit an all-time high of 13.9%.
Yet, JustFood reported that Germany's grocery price inflation also reached historic highs:
Inflation levels in Germany reached their highest levels in three decades in September with food prices rising 18.7% year on year, figures show.
In a continued squeeze on consumer pockets, inflation reached 10% – its highest level since the country's reunification in 1990, the federal statistical office said.
Consumers faced the sharpest rises in edible fats and oils, which were up by 49%. Dairy products and eggs increased by 29.1%, meat and meat products 19.5% and bread and cereals 18.5%.
Month-on-month comparisons show consumers paid 1.8% more for food in September than in August, with vegetables 3.9% more expensive and dairy products up by 2.2%.
The consumer price index for food in Germany, measured against a 2015 baseline of 100, stood at 135.4 year-on-year in September, compared to 121.1 overall.
The federal statistical office said the cost of energy was leading inflation but food also played a major role, with both contributing to an overall 10% rise in prices.
Without food and energy rises in the equation, the country's inflation rate is reduced by over half to 4.6%. The prices of all goods increased by 17.2% in September 2022 compared to 2021, but the prices of non-durable consumer goods, which include food and energy, increased by 23.3%.
We cannot blame German inflation on Brexit. As Conservative ministers rightly say at the despatch box, inflation is up all over Europe and the West.
UK to relax egg rules to line up with EU
Another thing we hear from Remainers, especially in the Houses of Parliament, is that British food regulations are weaker than the EU's!
Nothing could be further from the truth! Our food standards have been higher than the EU's for decades.
Anyone wanting up-to-date proof can read an article in Wednesday's Guardian — 'UK free-range egg rules could be relaxed in line with EU for avian flu outbreaks':
Free-range egg rules in the UK could be relaxed in response to the European Union preparing to overhaul regulations after the biggest avian flu outbreak on record.
Ministers are understood to be considering a change to the rules that would mean eggs laid by hens kept in barns for months on end could be classed as free range.
Currently, eggs cannot be classed as free range if birds are indoors for more than 16 weeks. Farmers have that grace period in both the EU and UK, which means eggs can still be labelled as free-range if a government-issued housing order for birds is in place up to 16 weeks.
Subsequently, labels need to be added to packaging making it clear that those are now classified as barn eggs.
Whitehall sources told the Daily Telegraph that the Department for Environment, Food and Rural Affairs (Defra) is considering changing the regulations in order to keep farmers competitive with Europe …
The European Commission put forward a proposal in September, which stated "where temporary restrictions have been imposed on the basis of EU legislation, eggs may be marketed as 'free-range' notwithstanding that restriction".
The proposal, which is awaiting approval by the European parliament, means eggs could be classed as free range even if hens are forced to spend months indoors due to government rulings.
In September, egg producers in the UK said it was essential that the government now followed suit to avoid British suppliers being undercut by EU imports.
Climate change
Climate change sceptics will be on the right side of history in time.
Guido Fawkes's readers posted about deforestation in this post.
One chap posted an article about the increasing need for balsa wood from Latin and South America for blades on wind farms. Apparently, indigenous communities have not been consulted: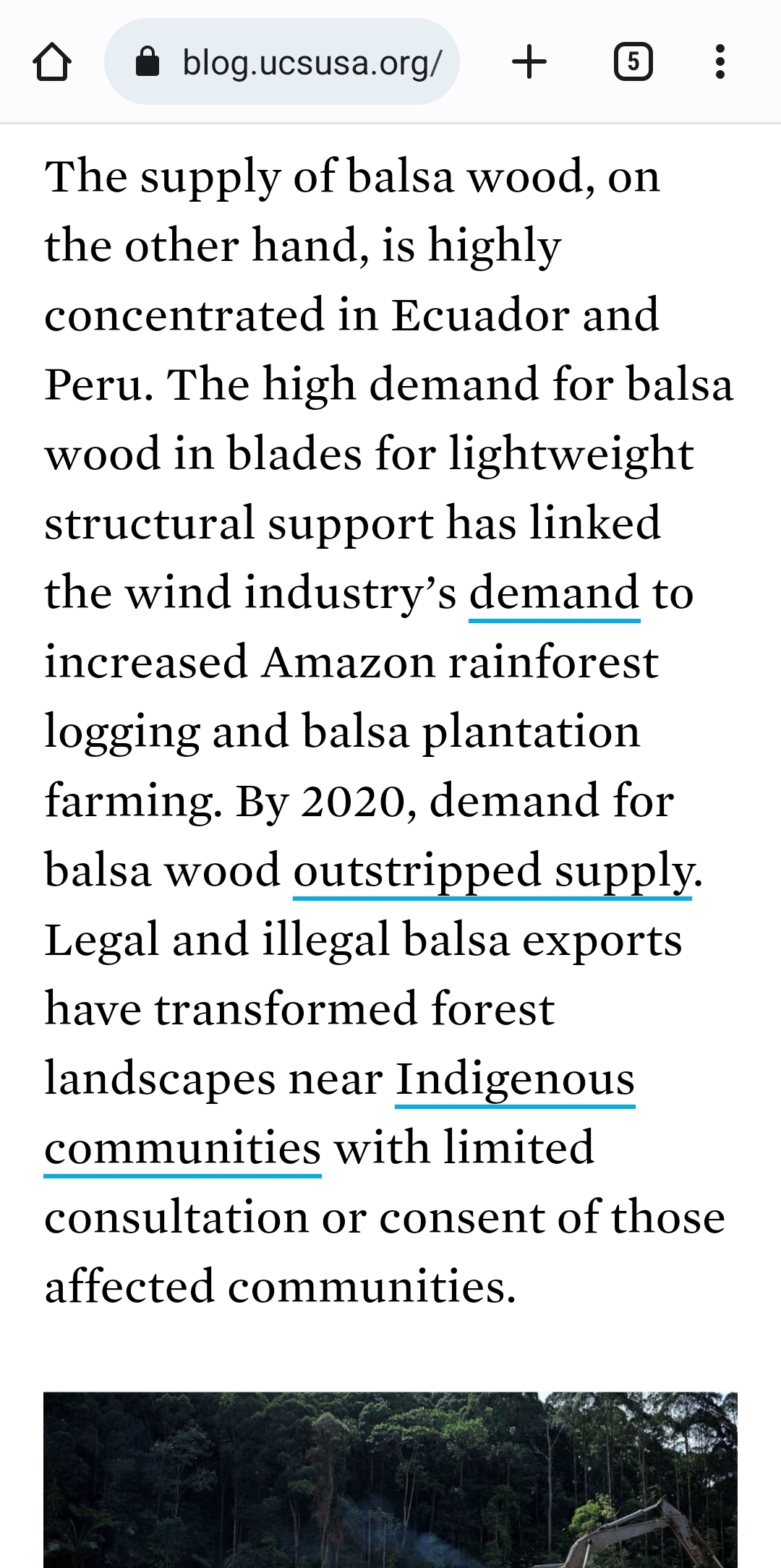 The article continues, stating that some companies are switching from balsa to oil byproducts, such as PET and PVC, or to cellulose: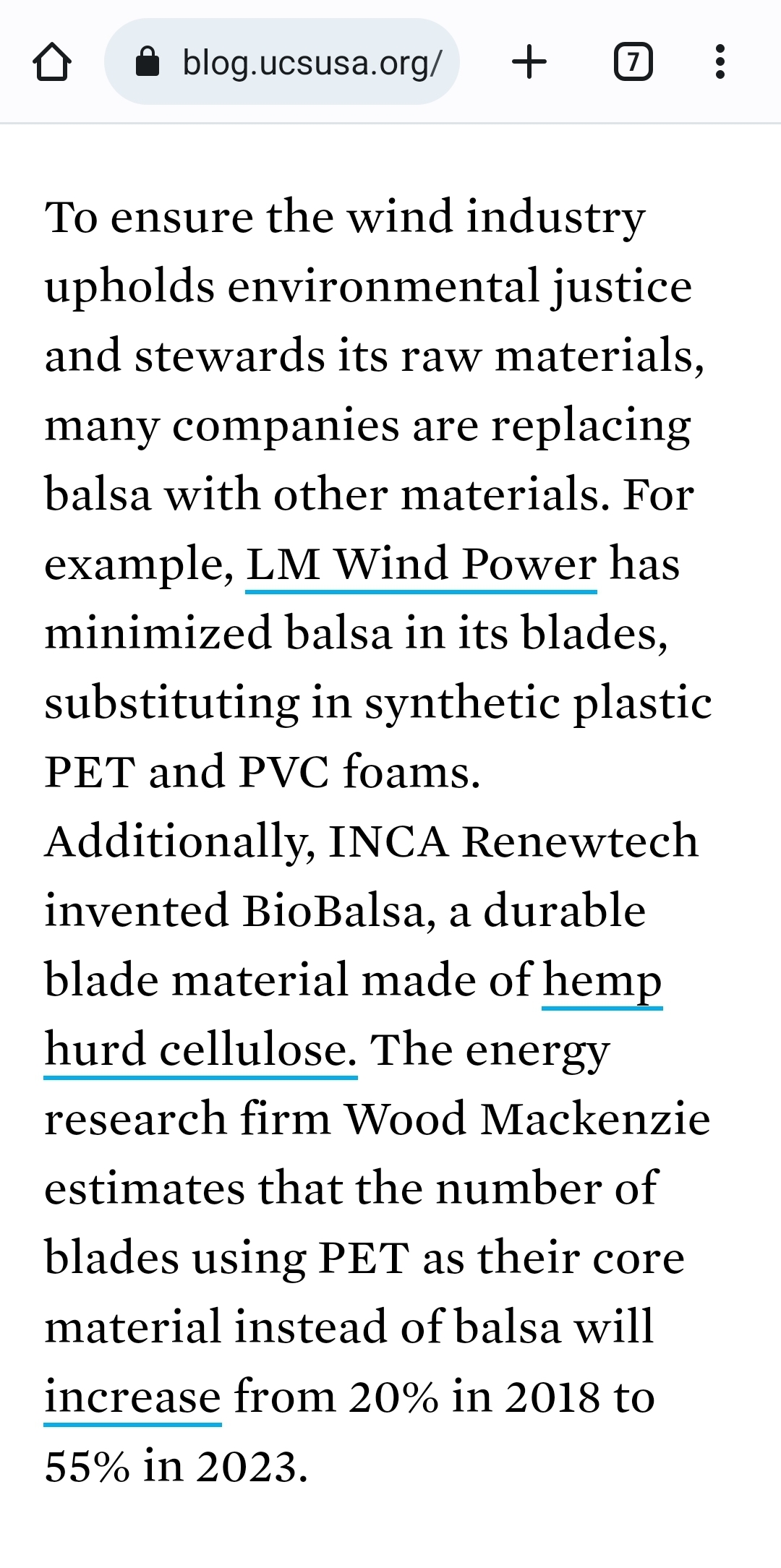 The man who posted the article pointed out:
BALSA is being replaced with PET and PVC (yep- crude oil) but are also experimenting with cellulose– which needs highly toxic chemicals to make.
Someone responded with this:
Synthetic PET usually uses food starch as a replacement for oil based derivatives. These divert food crops away from human and livestock consumption. They also encourage the use of GM crops and pesticides.
PVC production creates sodium chloride, which is a cause of acid rain.
The eco loons really didn't think this through.
Ultimately:
The eco l00ns NEVER think anything through.
And they hope we won't notice.
It's part of the reason why 'climate science is settled' and they refuse to debate.
You know how it goes.
Fracking bad – mining cobalt (even using young children) good.
You flying -bad- them flying- good.
On a similar note, an UnHerd article laments the loss of the hearth in 'Firewood will save the West'. The author, Paul Kingsnorth, lives in Ireland and has his firewood delivered to his home:
The Irish government is currently campaigning against households which burn turf or wood, the former on the grounds of CO2 emissions, and the latter on the grounds of air quality. As ever, the campaign is driven from Dublin, and mostly takes Dublin sensibilities into account. Rural households in Ireland have been burning turf and wood forever, with little significant impact on "air quality" — or at least, no impact comparable to that which Ireland's "Celtic Tiger" modernisation has had. Suddenly, though, the media is full of scientists armed with studies demonstrating how getting a fire going in your cottage in winter will lead to cancer and lung disease on a widespread scale.
That is nonsense. Until recently, Man had been surrounded by smoke for millennia.
Essentially, the Irish government, in line with other Western governments, wants to do away with fireplaces:
This new tilt against household fireplaces is not just an Irish phenomenon: it is suddenly popping up everywhere. Woodstoves are, curiously, becoming the number one air pollution villain. Never mind mass car use, accelerating air travel or industrial pollution. Never mind the emissions caused by the massive increase in Internet server farms, which within just a few years could be using up an astonishing 70% of this country's electricity. These days, if you want to demonstrate your social responsibility, you should be all aboard with the abolition of the traditional fireplace and its replacement with "green" alternatives.
He explains that the home hearth has been not only traditional but also atavistic throughout mankind's history. He cites the philosophical polymath John Michell (1933-2009):
The fireplace, whether our dessicated urban authorities know it or not, has a primal meaning, even in a world as divorced as ours from its roots and from the land.
In his short essay "Fireside Wisdom", the uncategorisable John Michell suggested that the "displacement of the hearth or fireplace" from the home was one of the many reasons for the craziness of the modern world which his life had been spent playfully exploring. The fireplace at the centre of the home, he wrote, was both an ancient practicality and a device of "cosmological significance" across cultures and time: "Conversation is directed into the fire while dreams and images are drawn out of it."
In the past, the act of sitting staring into the smoky fire with family or neighbours was the genesis of the folk tale and folk song which tied the culture together. Now we stare at digital fires hemmed into boxes manufactured by distant corporations who also tell us our stories. No song we can dream up around a real fireplace can compete with what these boxed fires can sell us. "Thus," wrote Michell, "the traditional cosmology is no longer represented by its domestic symbols, and a new, secular, restless, uncentred world-view has taken its place."
Focus, Michell explained, is "the Latin name for the central fireplace. The fire not only warms but, as a symbol, illuminates the corresponding images of a centre to each of our own beings and of a world-centre which is divine, eternal and unchanging." Lose your fires, and you literally lose your focus as a culture. In this context, a government spokesman telling his population, as one minister here recently did, that they should "get over" their "nostalgic" attachment to the hearth fire and install ground source heat pumps instead is more than just a nod to efficiency. It is an assault on what remains of the home and its meaning. It is an attack on the cultural — even the divine — centre.
Paul Kingsnorth posits that each move away from self-sufficiency, e.g. using one's own fireplace, puts us more under the control of government:
When you can no longer grow your own wood or cut your own turf to heat your own parlour, you are made that little bit more dependent on the matrix of government, technology and commerce that has sought to transmute self-sufficiency into bondage since the time of the Luddites. The justification for this attack on family and community sufficiency changes with the times — in 17th-century England, the enclosures were justified by the need for agricultural efficiency; today they are justified by the need for energy efficiency — but the attack is always of the same nature. Each blow struck against local self-sufficiency, pride and love of place weaves another thread into the pattern which has been developing for centuries, and which is almost complete now in most affluent countries …
In my lifetime, in my part of the world, the notion and meaning of "home" has steadily crumbled under external pressure until it is little more than a word. The ideal (post)modern home is a dormitory, probably owned by a landlord or a bank, in which two or more people of varying ages and degrees of biological relationship sleep when they're not out being employed by a corporation, or educated by the state in preparation for being employed by a corporation. The home's needs are met through pushing buttons, swiping screens or buying-in everything from food to furniture; for who has time for anything else, or has been taught the skills to do otherwise?
He refers to a 1980 manuscript, 'Family Work', by the American essayist Wendell Berry:
Like so much of Berry's work, it locates the centrepoint of human society in the home, and explains many of the failures of contemporary Western — specifically American — society as a neglect of that truth. The home, to Wendell Berry, is the place where the real stuff of life happens, or should: the coming-together of man and woman in partnership; the passing-down of skills and stories from elders; the raising and educating of children; the growing, cooking, storing and eating of food; the learning of practical skills, from construction to repair, tool-making to sewing; the conjuration of story and song around the fire …
Even back in 1980, Berry recognised that the home had become an "ideal" rather than a practical reality — precisely because the reality had been placed out of reach for many. What killed the home? Three things, said Berry: cars, mass media and public education. The first meant that both work and leisure could, for the first time in history, happen a long way from home. The second — "TV and other media" — have played a role, since the mid-20th century, in luring us all into a fantasy world of freedom from obligation, and a limitless, fun consumer lifestyle. "If you have a TV," writes Berry, "your children will be subjected almost from the cradle to an overwhelming insinuation that all worth experiencing is somewhere else and that all worth having must be bought." Finally, the school system is designed "to keep children away from the home as much as possible. Parents want their children kept out of their hair." Schools exist to train children to fit into individualistic, consumer societies; to internalise and normalise their ethics and goals, and to prepare for a life serving their needs.
I have to disagree with his disparagement of television, as my better half and I watch a lot of French programmes, food shows in particular. For us, it is a window into a culture we love very much. Were it not for television, we would have to visit France in person much more often. As it is, we can experience France from our sitting room and perfect our language skills while learning more about the world's finest cuisine.
Berry's solution is to make the home a welcoming, peaceful place for everyone living there:
… he suggested that we should "try to make our homes centres of attention and interest"; to make them as productive and nurturing as we can … you will see new possibilities begin to open up. You will see, in Berry's words, that "no life and no place is destitute; all have possibilities of productivity and pleasure, rest and work, solitude and conviviality that belong particularly to themselves", whether in the country, the city or the suburb. "All that is necessary," he suggests, is "the time and the inner quietness to look for them."
Television is a good thing
On the subject of television, a 104-year-old Australian woman told her grandson that it was probably the greatest development in her lifetime.
Lewis Isaacs wrote her story for The Guardian: 'My 104-year-old Nan's secret to a long life':
A life as long as hers can be hard to comprehend. Asked what the biggest change to the world she'd seen across her life was, Nan replied that it was television. Life when she grew up rarely extended past her suburb. Television connected the living room to the world.
How true! Well said, Nan!
The article has family photographs, too.
So what is Coral Isaacs's secret to longevity?
She says it comes down to genetics and finding the right partner. She was widowed more than 30 years ago and says the life she built with my Pop has supported her since. It helps to remember your pills, she adds, and to get up, shower and make your bed every day.
I suspect the truth about her endurance is something different though. Nan is determined to keep her eyes focused on the future. Even when the days are hard, she still looks forward.
I was hoping she would mention smoking a crafty cigarette or enjoying a daily digestif, but, sadly, no.
Churchill's cigar goes on sale
For a smoking story, we had to go to an auction house.
On Thursday, December 29, The Times reported that one of Winston Churchill's cigars is expected to fetch £3,000 at auction:
The former prime minister gave the Cuban cigar to an RAF doctor who helped him when he broke his leg in 1962.
The doctor's grandson has put the rare cigar up for sale with Hansons Auctioneers, which said it would be an "impressive item" for any Churchill collector. Charles Hanson, the owner, said: "We occasionally see Churchill cigar stubs that people have picked up after he dropped them. But to gain a whole cigar in such pristine condition, given as a gift in unusual circumstances, is special."
Churchill, who died in 1965 aged 90, was a lifelong smoker. While he was at boarding school, his mother learnt he had taken up smoking cigarettes and tried to bribe him to stop by promising him a pistol and a pony.
He switched to cigars after spending time in Cuba after his graduation from Sandhurst military academy, and friends, dealers and associates sent him regular deliveries of cigars from then on.
The circumstances are most Churchillian:
The auction house said the cigar under auction was given to an RAF squadron leader, Bertram AJ Barrow. Churchill fractured his femur while getting out of his bed at the Hotel de Paris in Monte Carlo, and was flown back to London on an RAF plane while in a waist-to-ankle plaster cast.
Barrow, the leader of the medical team, plucked up the courage to ask Churchill for one of his famous cigars.
For decades the treasured cigar was kept in a bedside drawer, but will now go under the hammer at on January 9 with an estimate of £2,000 to £3,000.
Barrow's grandson, Thomas Barrow, 33, an employment law adviser from London, said: "Bertram asked for a cigar as a keepsake, and Churchill advised that he could have 'one that he had been saving' — which was Cuban and still in its glass case."
What a story!
Conclusion
As my later grandmother-in-law, a lifelong Londoner, was fond of saying:
The old ways are the best.
I couldn't agree more.
Let's try to recapture them in 2023.
Before June 2022, the last time an ordination was shown on British television was when the first female Anglican priests were ordained in 1994.
I did not cover this at the time, as Boris stood down as Conservative Party leader. The news onslaught surrounding the contest for his successor, Liz Truss, lasted for the rest of the summer. Then the Queen died, sadly. It was not long after that when Truss had to stand down to make way for Rishi Sunak.
Having been refused ordination by the Church of England, Calvin Robinson was ordained a deacon on Saturday, June 25, 2022, at Christ Church Harlesden, a Free Church of England parish in north west London which is part of GAFCON:
The Global Fellowship of Confessing Anglicans — GAFCON — is a global network of conservative Anglican churches that formed in 2008 in response to an ongoing theological crisis in the worldwide Anglican Communion. Thankfully, they took in their brother Calvin and recognised his calling:
GB News was on hand to film the ceremony and broadcast it that weekend:
Calvin's GB News colleagues offered their heartfelt congratulations, such as the Conservative life peer Baroness Foster:
Some of his colleagues attended the ceremony …
… and stayed for lunch afterwards:
Those who were unable to attend also sent their best wishes. Every one of them recognised the CofE's rejection of a godly man called to Holy Orders:
Always evangelising, whether indirectly or, as is the case here, directly, Calvin never misses out an opportunity to exhort people to experience the truth and light of Christ Jesus, as he did with GB News contributor Dominique Samuels:
Other conservative media personalities who are Calvin's friends also offered their congratulations for his ministry, such as the Reform Party leader Richard Tice …
… and Margaret Thatcher's former aide Nile Gardiner:
Calvin's friends from his radio days also wished him well:
Politicians also chimed in, from former London Assembly member and Conservative candidate for Mayor of London (2021) Shaun Bailey …
… and Conservative MP Steve Baker, who has not hesitated to mention his own faith in House of Commons debates:
I'll leave the closing word to the head of the conservative think tank The Bow Group. Ben Harris-Quinney discusses choosing principle over power and achieving both:
As Calvin replied:
For the greater glory of God!
Indeed!
The Revd Calvin Robinson has his own GB News show every Sunday at 2 p.m.
He also appears as a contributor on several other of the channel's programmes throughout the day and evening.
May God's grace and the wisdom of the Holy Spirit continue to guide Calvin in his ministry for Jesus Christ, our only mediator and advocate:
Deo gratias! Thanks be to God!
The British royals were not always at the top of the league table when it came to pageantry.
In fact, in the 18th and 19th centuries, Britain was probably near the bottom.
The Guardian's 2017 article about Operation London Bridge, about which I wrote yesterday, says (emphases mine):
For a long time, the art of royal spectacle was for other, weaker peoples: Italians, Russians, and Habsburgs. British ritual occasions were a mess. At the funeral of Princess Charlotte, in 1817, the undertakers were drunk. Ten years later, St George's Chapel was so cold during the burial of the Duke of York that George Canning, the foreign secretary, contracted rheumatic fever and the bishop of London died. "We never saw so motley, so rude, so ill-managed a body of persons," reported the Times on the funeral of George IV, in 1830. Victoria's coronation a few years later was nothing to write home about. The clergy got lost in the words; the singing was awful; and the royal jewellers made the coronation ring for the wrong finger. "Some nations have a gift for ceremonial," the Marquess of Salisbury wrote in 1860. "In England the case is exactly the reverse."
Near the end of Queen Victoria's reign, courtiers and constitutionalists became concerned about the public perception of the monarchy during her latter years and death.
Something would have to be done:
Courtiers, politicians and constitutional theorists such as Walter Bagehot worried about the dismal sight of the Empress of India trooping around Windsor in her donkey cart. If the crown was going to give up its executive authority, it would have to inspire loyalty and awe by other means – and theatre was part of the answer. "The more democratic we get," wrote Bagehot in 1867, "the more we shall get to like state and show."
It was Edward VII — historians add his son George V here, too — who transformed embarrassing displays into sheer pageantry.
Victoria never trusted Edward VII to be a reliable heir. Many think she lived so long in an effort to prevent him from succeeding her. As I have mentioned before, there is a parallel between the two of them and the late Queen and Charles III.
Yet, Edward VII's ten-year reign was considered to be a good one.
He is the one who started codifying and defining what royal pageantry should be, in life and in death:
Obsessed by death, Victoria planned her own funeral with some style. But it was her son, Edward VII, who is largely responsible for reviving royal display. One courtier praised his "curious power of visualising a pageant". He turned the state opening of parliament and military drills, like the Trooping of the Colour, into full fancy-dress occasions, and at his own passing, resurrected the medieval ritual of lying in state. Hundreds of thousands of subjects filed past his coffin in Westminster Hall in 1910, granting a new sense of intimacy to the body of the sovereign.
That said, one German still did not think the Brits were up to scratch with military processions:
In 1909, Kaiser Wilhelm II boasted about the quality of German martial processions: "The English cannot come up to us in this sort of thing." Now we all know that no one else quite does it like the British.
George V, whom the then-Princess Elizabeth referred to as Grandfather England, carried on his father's vision of pageantry and brought the Royal Family closer to his subjects via the wireless:
By 1932, George V was a national father figure, giving the first royal Christmas speech to the nation – a tradition that persists today – in a radio address written for him by Rudyard Kipling.
In The Times's article, 'Modern-day royal funerals trace their traditions to Victoria', Valentine Low, the author of Courtiers, tells us about the funerals of Edward VII and George V.
Before going into her son's and grandson's deaths, he says that Victoria's funeral broke two previous conventions:
For the previous 200 years the funerals of sovereigns had been held in the evening: hers was the first to be held in the daytime. It was also the first to be filmed.
Edward VII's Highland terrier, Caesar, was the star of his funeral, much to the annoyance of those attending the service. They knew how ill-behaved the dog could be. Only the King had a fondness for him. Royal historians who spoke on GB News said that the dog was in the funeral procession in St George's Chapel, Windsor.
Low says:
Caesar immediately captured the public imagination, and became a cult figure. His "memoirs", entitled "Where's Master?" were a popular Christmas present that year.
Low also says that the King's favourite horse was in the outdoor procession in London:
At the funeral of Edward VII — who had insisted his obsequies, unlike those of his mother, were planned well in advance — his favourite charger, Kildare, walked behind the coffin in the procession from Westminster to Paddington, her master's boots reversed in the stirrups. Behind her, led by a Highlander, trotted Caesar, the late King's rough-haired terrier.
From Paddington Station, the Royal train transported the King's coffin to Windsor.
George V's death in 1936 was the first occurrence of the Vigil of the Princes at Westminster Hall. It was private:
When George V lay in state in Westminster Hall, on the evening of the fourth day King Edward VIII and his three brothers decided to pay a last tribute to their father by standing around the coffin in full-dress uniform, stationing themselves between the officers already on vigil.
He wrote later: "I doubt whether many recognised the King's four sons among the motionless uniformed figures bent over swords reversed. We stood there for 20 minutes in the dim candlelight and the great silence. I felt close to my father and all that he stood for."
On the day of his funeral, radio listeners were able to hear the funeral procession as it happened:
For all the expressions of public grief, and the growing involvement of the media — the funeral of George V was the first to have radio microphones placed along the processional route so that the world could listen to the tramp of feet and the thump of muffled drums — it should not be forgotten that royal funerals are also moments of private grief for the families themselves.
George VI never expected to become king. However, his older brother Edward VIII abdicated, and he had to step up. Continuing his father's Christmas broadcasts proved to be difficult, and he had to get the help of a speech therapist, the Australian Lionel Logue, in order to overcome his stammer. The film, The King's Speech, is a moving account of that story.
George VI and the Queen Mother never left England, even at the height of the Second World War. The princesses, Elizabeth and Margaret, lived in Windsor Castle for much of the war.
When he died in 1952, the whole country mourned:
Immense crowds lined the streets for the funeral procession of George VI, the shy, simple, devoted king who had seen the country through the Second World War. As two minutes' silence was observed around the country, miners in South Wales knelt at the coalface, heads bowed, their helmets on their knees.
Not many Britons had television sets at that time, yet his funeral was the first to be televised, setting a new marker for the visibility of the Royal Family:
Of all the modern royal funerals it was that of George VI that saw one of the most poignant moments of private royal grief. His funeral was the first to be televised, but what the cameras were unable to capture was how, too frail to attend the funeral of her son, Queen Mary watched the procession from the window of Marlborough House.
Her friend and lady-in-waiting Lady Airlie, who sat with her, wrote: "As the cortège wound slowly along the Queen whispered in a broken voice, 'Here he is,' and I knew that her dry eyes were seeing beyond the coffin a little boy in a sailor suit. She was past weeping, wrapped in the effable solitude of grief. I could not speak to comfort her. My tears choked me.
"The words I wanted to say would not come. We held each other's hand in silence."
Another relatively recent development in monarchs' deaths is the known role of their personal physicians in their final hours.
In the case of George V, his doctor's role was revealed long after his death:
Half a century after George V's death it emerged that his life had been ended prematurely by his doctor, Lord Dawson, who hastened his journey to the next world so that it could meet the deadlines of the respectable morning newspapers, in particular The Times.
"The King's life is moving peacefully towards its close," was the final notice issued by Dawson at 9.30pm on the night of January 20, 1936. Not long afterwards he injected the king with 750mg of morphine and a gram of cocaine — enough to kill him twice over — in order to ease the monarch's suffering. However he had another motive, too, as revealed in a 1986 biography by the historian Francis Watson. Dawson wrote in his notes: "The determination of the time of death of the King's body had another object in view, viz, of the importance of the death receiving its first announcement in the morning papers rather than the less appropriate field of the evening journals."
In the case of Elizabeth II, we knew that her physician was Professor Sir Huw Thomas, 64, and read of her final hours.
The Guardian's 2017 article stated:
In these last hours, the Queen's senior doctor, a gastroenterologist named Professor Huw Thomas, will be in charge. He will look after his patient, control access to her room and consider what information should be made public.
On Friday, September 9, 2022, the day after her death, The Times reported:
The doctor overseeing the Queen's medical care had been in charge of her health for the past eight years, during which time she became increasingly frail but insisted on continuing with her royal duties.
Professor Sir Huw Thomas, 64, is head of the medical household and was physician to the Queen. He was appointed a physician to the royal household in 2005 and promoted to the most senior role in July 2014.
The details about the Queen's health provided by Buckingham Palace yesterday were sparse, but the language hinted at the severity of the situation. Doctors were "concerned" and the Queen remained "under medical supervision". The latter phrase was likely to mean that her health problems were serious enough that they required active monitoring by doctors.
Thomas oversaw the Queen's care during the coronavirus pandemic and advised her to reduce her workload after she underwent preliminary tests and spent a night at King Edward VII's Hospital in west London last October.
He said during an interview about being knighted for his royal duties: "It's been a busy couple of years in this role . . . You very much become part of that organisation and become the personal doctor to the principal people in it, who are patients just like other patients."
The royal doctors at Balmoral might have needed to be involved in anything from interpreting vital signs to prescribing medication that could ensure, as the palace statement added, that the Queen "remained comfortable".
Those of us who admire the  British royals have much for which to thank Edward VII and George V. They gave us the transparency and majesty we have come to expect today.
In 2017, The Guardian posted a long article: '"London Bridge is down": the secret plan for the days after the Queen's death'.
Halfway through, it says (emphases mine):
The reporting for this article involved dozens of interviews with broadcasters, government officials, and departed palace staff, several of whom have worked on London Bridge directly. Almost all insisted on complete secrecy. "This meeting never happened," I was told after one conversation in a gentleman's club on Pall Mall. Buckingham Palace, meanwhile, has a policy of not commenting on funeral arrangements for members of the royal family.
Royal funeral plans are top secret, which makes the article even more amazing. I don't know how the journalist, Sam Knight, managed it.
Queen Victoria's death
Until Queen Elizabeth II, Queen Victoria was the United Kingdom's longest reigning monarch.
A monarch's death is preceded by an announcement about illness, signifying that the end is near:
"The Queen is suffering from great physical prostration, accompanied by symptoms which cause much anxiety," announced Sir James Reid, Queen Victoria's physician, two days before her death in 1901.
Her longevity produced a shockwave of reaction, particularly as she did not perceive her heir, Edward VII, to be worthy of succession. This suggests a parallel between the Queen and Charles III:
It is not unusual for a country to succumb to a state of denial as a long chapter in its history is about to end. When it became public that Queen Victoria was dying, at the age of 82, a widow for half her life, "astonished grief … swept the country", wrote her biographer, Lytton Strachey. In the minds of her subjects, the queen's mortality had become unimaginable; and with her demise, everything was suddenly at risk, placed in the hands of an elderly and untrusted heir, Edward VII. "The wild waters are upon us now," wrote the American Henry James, who had moved to London 30 years before.
The parallels with the unease that we will feel at the death of Elizabeth II are obvious, but without the consolation of Britain's status in 1901 as the world's most successful country. "We have to have narratives for royal events," the historian told me. "In the Victorian reign, everything got better and better, and bigger and bigger. We certainly can't tell that story today."
George V's death
In a well run monarchical system, a symbiosis exists between monarchs and their subjects:
The bond between sovereign and subjects is a strange and mostly unknowable thing. A nation's life becomes a person's, and then the string must break …
This is what happened when the Queen's grandfather died. Note how George V's physician thought it was important for the news to make the morning rather than the evening newspapers:
"The King's life is moving peacefully towards its close," was the final notice issued by George V's doctor, Lord Dawson, at 9.30pm on the night of 20 January 1936. Not long afterwards, Dawson injected the king with 750mg of morphine and a gram of cocaine – enough to kill him twice over – in order to ease the monarch's suffering, and to have him expire in time for the printing presses of the Times, which rolled at midnight …
"For a little while," wrote Edward VIII, of the days between his father's death and funeral, "I had the uneasy sensation of being left alone on a vast stage."
Other Royal deaths
Sometimes, Royal deaths are unexpected events, leading to differences in who finds out first:
On 6 February 1952, George VI was found by his valet at Sandringham at 7.30am. The BBC did not broadcast the news until 11.15am, almost four hours later …
"It is with the greatest sorrow that we make the following announcement," said John Snagge, the BBC presenter who informed the world of the death of George VI. (The news was repeated seven times, every 15 minutes, and then the BBC went silent for five hours).
Also:
When Princess Diana died at 4am local time at the Pitié-Salpêtrière hospital in Paris on 31 August 1997, journalists accompanying the former foreign secretary, Robin Cook, on a visit to the Philippines knew within 15 minutes.
I do remember watching BBC1's Peter Sissons on the Saturday evening when the Queen Mother died in 2002:
On the BBC, Peter Sissons, the veteran anchor, was criticised for wearing a maroon tie. Sissons was the victim of a BBC policy change, issued after the September 11 attacks, to moderate its coverage and reduce the number of "category one" royals eligible for the full obituary procedure. The last words in Sissons's ear before going on air were: "Don't go overboard. She's a very old woman who had to go some time."
I thought his maroon tie was disrespectful, as was the way he read out that bit of news. It was as if he did not care. That started my dislike of the BBC's treatment of current affairs, which only escalated afterwards.
The Duke of Norfolk
As the Royal Family has been Anglican for centuries, it is ironic that the person they entrust with their funerals and coronations is the highest ranking Catholic layman of the realm, the Duke of Norfolk.
Dukes of Norfolk have been organising these events since 1672:
The 18th Duke of Norfolk, the Earl Marshal, will be in charge. Norfolks have overseen royal funerals since 1672. During the 20th century, a set of offices in St James's Palace was always earmarked for their use.
The current Duke is Edward William Fitzalan-Howard, 65. In April 2022, he ran a red light while talking on his mobile phone. He was found guilty of these traffic violations on September 26 and pleaded not to have his driving licence revoked for six months. His request was refused.
On his role as Earl Marshal, the Daily Mail reports:
Edward William Fitzalan-Howard, 65, became England's most senior peer and the 18th duke following the death of his father Miles in 2002.
For more than 350 years, his ancestors have passed down the ancient office of Earl Marshal – meaning that they are responsible for overseeing funerals for members of the Royal Family, the coronations of Britain's monarchs, and even state openings of parliament. 
And because the office is hereditary, it meant that the peer's grandfather Bernard Fitzalan-Howard, the 16th Duke of Norfolk, was responsible for organising Elizabeth II's Coronation in 1953, the state funeral of Winston Churchill in 1965 and the investiture of Charles as the Prince of Wales in 1969.
Eddie, as he is known to his friends, oversaw the planning and execution of the most majesty send-off of a Sovereign in living memory – as 2,000 VIPs including King Charles and the British royal family emperors, kings and queens, prime ministers, presidents, and members of the public including decorated war heroes, members of the Armed Forces and NHS staff who worked tirelessly during the pandemic attended Westminster Abbey for the state funeral …
… an overwhelming majority of Britons (86%) believe that the Duke of Norfolk did a 'good job' of commemorating the late Monarch. 
The duke began planning the Queen's funeral the week of his father's death 20 years ago, though plans for the service – codenamed Operation London Bridge – have been in place since the 1960s. Eddie held annual meetings in the throne room of Buckingham Palace, working closely with Lieutenant Colonel Anthony Mather, a long-serving member of the royal household who commanded the bearer party at Churchill's funeral, for the first 10 years. In the two decades which followed, the number of people involved swelled from just 20 to 280 in April this year.
Just days before the funeral, the peer explained that the funeral was being held in Westminster Abbey for the first time in more than 200 years – since George II in 1760 – so that 2,000 guests could attend. He also revealed that he extended the Queen's lying in state at Westminster Hall for an extra day 'to allow an additional 85,000 people to file past the coffin'. 
His niece Lady Kinvara Balfour told Tatler magazine: 'In organising the Queen's funeral (and the coronation to come), Uncle Eddie has done a truly outstanding job. What a show of elegance, efficiency and rare precision he has produced for our nation, and the world – just like the late Queen Elizabeth II herself did. He is an incredible father of five, a grandfather too'. 
As for the guilty verdict on his traffic violations:
His Grace The Duke of Norfolk, Edward William Fitzalan-Howard, 65, appeared at Lavender Hill Magistrates Court after being caught by the officers who told the court he appeared to run a red light while not paying attention.
The Duke pleaded guilty to one count of driving his six year-old blue three-litre diesel BMW while using a hand-held device in Battersea Park Road, south-west London on April 7.
The Oxford-educated father of five, who is a descendant of Elizabeth I, was also fined £800, with £350 costs and ordered to pay an £80 victim surcharge.
His Grace received six penalty points for using his mobile phone.
'That means, as you know, you will be disqualified for six months because you have more than twelve points on your licence,' magistrate Judith Way told him.
'We have been advised of the test for exceptional hardship and it is the burden of the defendant to show exceptional hardship,' announced magistrate Judith Way.
Before the ruling was handed down, his Grace had tried to argue it was necessary for him to keep his licence.
The highest-ranking duke in England argued he would suffer 'exceptional hardship' if he was disqualified, highlighting his official duties along with his conservation work to prevent 'nature's complete collapse' and 'the end of mankind'. 
In his hereditary role as Earl Marshal he told the court he is in charge of the coronation of King Charles III and asked for part of the hearing to be held in private in the interests of 'national security', while his legal team told the court he needed to be able to drive to ensure the organisation went smoothly.
His Grace, of Arundel Castle, Arundel, Sussex already has nine penalty points on his driving licence for two speeding offences and this latest conviction means he has been subjected to the minimum six-month ban under totting rules.
Dismissing The Duke's application to keep his licence, Ms Way said: 'We have heard sworn evidence from the defendant.
'We accept this is a unique case because of the defendant's role in society and his role in the King's coronation and even though inconvenience may be caused we do not find exceptional hardship.
'We know the need for security clearance for any driver and we do not think this is insurmountable for his high-profile role.
'We believe the defendant has the means to employ a driver.'
Indeed he does.
Managing the Queen's death rituals
Keeping in mind that The Guardian's article was written in 2017, this was true in the event:
During London Bridge, the Lord Chamberlain's office in the palace will be the centre of operations … The government's team – coordinating the police, security, transport and armed forces – will assemble at the Department of Culture, Media and Sport.
Michelle Donelan, formerly of the Department for Education, is the new Secretary of State for Digital, Culture, Media and Sport.
Someone in that group of officials also had the job of printing tickets for various events:
for invited guests, the first of which will be required for the proclamation of King Charles in about 24 hours time.
Everyone on the conference calls and around the table will know each other. For a narrow stratum of the British aristocracy and civil service, the art of planning major funerals – the solemnity, the excessive detail – is an expression of a certain national competence. Thirty-one people gathered for the first meeting to plan Churchill's funeral, "Operation Hope Not", in June 1959, six years before his death. Those working on London Bridge (and Tay Bridge and Forth Bridge, the Duke of Edinburgh's funeral) will have corresponded for years in a language of bureaucratic euphemism, about "a possible future ceremony"; "a future problem"; "some inevitable occasion, the timing of which, however, is quite uncertain".
Operation London Bridge had been in place for well over 50 years and was regularly updated from then until this month:
The first plans for London Bridge date back to the 1960s, before being refined in detail at the turn of the century. Since then, there have been meetings two or three times a year for the various actors involved (around a dozen government departments, the police, army, broadcasters and the Royal Parks) in Church House, Westminster, the Palace, or elsewhere in Whitehall. Participants described them to me as deeply civil and methodical. "Everyone around the world is looking to us to do this again perfectly," said one, "and we will." Plans are updated and old versions are destroyed. Arcane and highly specific knowledge is shared … The coffin must have a false lid, to hold the crown jewels, with a rim at least three inches high.
Processions were also carefully timed.
After the Queen died, the military personnel involved rehearsed day and night to get everything exactly right.
King Charles III was also involved:
… in the hours after the Queen has gone, there will be details that only Charles can decide. "Everything has to be signed off by the Duke of Norfolk and the King," one official told me … In recent years, much of the work on London Bridge has focused on the precise choreography of Charles's accession. "There are really two things happening," as one of his advisers told me. "There is the demise of a sovereign and then there is the making of a king." Charles is scheduled to make his first address as head of state on the evening of his mother's death.
In the event, he made it the following evening at 6 p.m.
The Throne Room at Buckingham Palace was the site for the Queen's lying at rest before going to Westminster Hall:
In every scenario, the Queen's body returns to the throne room in Buckingham Palace, which overlooks the north-west corner of the Quadrangle, its interior courtyard. There will be an altar, the pall, the royal standard, and four Grenadier Guards, their bearskin hats inclined, their rifles pointing to the floor, standing watch. In the corridors, staff employed by the Queen for more than 50 years will pass, following procedures they know by heart.
It is ironic that The Guardian published an article waxing incandescent over staff redundancies — lay-offs — because this piece makes it abundantly clear that they knew the King would bring in his own staff:
"Your professionalism takes over because there is a job to be done," said one veteran of royal funerals. There will be no time for sadness, or to worry about what happens next. Charles will bring in many of his own staff when he accedes. "Bear in mind," the courtier said, "everybody who works in the palace is actually on borrowed time."
Dying in Scotland
Although the article does not mention it, the Queen's death in Scotland activated Operation Unicorn.
However, that operation dovetailed with London Bridge:
The most elaborate plans are for what happens if she passes away at Balmoral, where she spends three months of the year. This will trigger an initial wave of Scottish ritual. First, the Queen's body will lie at rest in her smallest palace, at Holyroodhouse, in Edinburgh, where she is traditionally guarded by the Royal Company of Archers, who wear eagle feathers in their bonnets. Then the coffin will be carried up the Royal Mile to St Giles's cathedral, for a service of reception …
Thankfully, her coffin was flown back to London. According to this, a train journey would have been difficult to organise if she had travelled by rail:
put on board the Royal Train at Waverley station for a sad progress down the east coast mainline. Crowds are expected at level crossings and on station platforms the length of the country – from Musselburgh and Thirsk in the north, to Peterborough and Hatfield in the south – to throw flowers on the passing train. (Another locomotive will follow behind, to clear debris from the tracks.) "It's actually very complicated," one transport official told me.
Coming by plane also enabled an extra day of viewing at Westminster Hall.
How the media probably found out
Informing the media is also a big part of Royal deaths, especially the Queen's.
Radio and television channels had — and have — their response plans ready.
In the case of the Queen, the following more or less happened:
For many years the BBC was told about royal deaths first, but its monopoly on broadcasting to the empire has gone now. When the Queen dies, the announcement will go out as a newsflash to the Press Association and the rest of the world's media simultaneously. At the same instant, a footman in mourning clothes will emerge from a door at Buckingham Palace, cross the dull pink gravel and pin a black-edged notice to the gates …
The BBC has a special, secret transmission system, RATS:
At the BBC, the "radio alert transmission system" (Rats), will be activated – a cold war-era alarm designed to withstand an attack on the nation's infrastructure. Rats, which is also sometimes referred to as "royal about to snuff it", is a near mythical part of the intricate architecture of ritual and rehearsals for the death of major royal personalities that the BBC has maintained since the 1930s. Most staff have only ever seen it work in tests; many have never seen it work at all. "Whenever there is a strange noise in the newsroom, someone always asks, 'Is that the Rats?' Because we don't know what it sounds like," one regional reporter told me.
Royal experts were at the ready because they were pre-booked a long time ago. Media outlets have had obituaries ready to go, with only minor updates for the death to be added:
All news organisations will scramble to get films on air and obituaries online. At the Guardian, the deputy editor has a list of prepared stories pinned to his wall. The Times is said to have 11 days of coverage ready to go. At Sky News and ITN, which for years rehearsed the death of the Queen substituting the name "Mrs Robinson", calls will go out to royal experts who have already signed contracts to speak exclusively on those channels. "I am going to be sitting outside the doors of the Abbey on a hugely enlarged trestle table commentating to 300 million Americans about this," one told me.
Radio stations were also prepared with suitable music:
For people stuck in traffic, or with Heart FM on in the background, there will only be the subtlest of indications, at first, that something is going on. Britain's commercial radio stations have a network of blue "obit lights", which is tested once a week and supposed to light up in the event of a national catastrophe. When the news breaks, these lights will start flashing, to alert DJs to switch to the news in the next few minutes and to play inoffensive music in the meantime. Every station, down to hospital radio, has prepared music lists made up of "Mood 2" (sad) or "Mood 1" (saddest) songs to reach for in times of sudden mourning. "If you ever hear Haunted Dancehall (Nursery Remix) by Sabres of Paradise on daytime Radio 1, turn the TV on," wrote Chris Price, a BBC radio producer, for the Huffington Post in 2011. "Something terrible has just happened."
Incredibly, all television presenters wore black immediately:
… there will be no extemporising with the Queen. The newsreaders will wear black suits and black ties. Category one was made for her. Programmes will stop. Networks will merge. BBC 1, 2 and 4 will be interrupted and revert silently to their respective idents – an exercise class in a village hall, a swan waiting on a pond – before coming together for the news. Listeners to Radio 4 and Radio 5 live will hear a specific formulation of words, "This is the BBC from London," which, intentionally or not, will summon a spirit of national emergency …
According to one former head of BBC news … The rehearsals for her are different to the other members of the family, he explained. People become upset, and contemplate the unthinkable oddness of her absence. "She is the only monarch that most of us have ever known," he said. The royal standard will appear on the screen. The national anthem will play. You will remember where you were …
The passing of the Queen will be monumental by comparison. It may not be as nakedly emotional, but its reach will be wider, and its implications more dramatic. "It will be quite fundamental," as one former courtier told me.
And so it turned out to be.
Media broadcasts
I'm still wrapping my head around 12 days of continuous news coverage focusing on the Queen.
Somehow, it never got boring.
That is because there were seven decades of historic reign to cover, as well as the years between 1926 — the year of the Queen's birth — and 1952, when she succeeded George VI:
… there will be an almighty psychological reckoning for the kingdom that she leaves behind. The Queen is Britain's last living link with our former greatness – the nation's id, its problematic self-regard – which is still defined by our victory in the second world war. One leading historian, who like most people I interviewed for this article declined to be named, stressed that the farewell for this country's longest-serving monarch will be magnificent. "Oh, she will get everything," he said. "We were all told that the funeral of Churchill was the requiem for Britain as a great power. But actually it will really be over when she goes."
… The second Elizabethan age is likely to be remembered as a reign of uninterrupted national decline, and even, if she lives long enough and Scotland departs the union, as one of disintegration. Life and politics at the end of her rule will be unrecognisable from their grandeur and innocence at its beginning. "We don't blame her for it," Philip Ziegler, the historian and royal biographer, told me. "We have declined with her, so to speak."
The obituary films will remind us what a different country she inherited. One piece of footage will be played again and again: from her 21st birthday, in 1947, when Princess Elizabeth was on holiday with her parents in Cape Town. She was 6,000 miles from home and comfortably within the pale of the British Empire. The princess sits at a table with a microphone. The shadow of a tree plays on her shoulder. The camera adjusts three or four times as she talks, and on each occasion, she twitches momentarily, betraying tiny flashes of aristocratic irritation. "I declare before you all that my whole life, whether it be long or short, shall be devoted to your service, and the service of our great imperial family to which we all belong," she says, enunciating vowels and a conception of the world that have both vanished.
Conclusion
In summary:
London Bridge is the Queen's exit plan. "It's history," as one of her courtiers said. It will be 10 days of sorrow and spectacle in which, rather like the dazzling mirror of the monarchy itself, we will revel in who we were and avoid the question of what we have become.
It was an incredible time which galvanised the United Kingdom:
"I have to be seen to be believed," is said to be one of her catchphrases. And there is no reason to doubt that her funeral rites will evoke a rush of collective feeling. "I think there will be a huge and very genuine outpouring of deep emotion," said Andrew Roberts, the historian. It will be all about her, and it will really be about us. There will be an urge to stand in the street, to see it with your own eyes, to be part of a multitude. The cumulative effect will be conservative. "I suspect the Queen's death will intensify patriotic feelings," one constitutional thinker told me, "and therefore fit the Brexit mood, if you like, and intensify the feeling that there is nothing to learn from foreigners."
That is quite true. The conclusion that most of us drew from television coverage was that no one does monarchy and ritual quite like Britain. We are still the greatest in that regard.
On Monday, September 19, four million television viewers tuning in from around the world to pay their respects agreed.
In the United Kingdom, we had 12 days of wall-to-wall television coverage of the late Queen Elizabeth II and her family, which ended on Monday, September 19, 2022.
The commercial channels broadcast as usual but during the day BBC1, BBC2 and, throughout, the news channels covered her life and what the Royal Family were doing at this time.
GB News dropped all their advertising, substituting a memorial ident instead and, at other times, playing an instrumental version of the National Anthem accompanied by a photo montage of the Queen.
At first, it seemed unimaginable. Yes, our usual programmes were rescheduled for different days at different times, so we adjusted our video recorders to automatically catch up according to that day's television guide.
Yet, the reality of it was that, by the day of the funeral, I'd become quite used to the coverage. GB News had part of their broadcasts showing the live queue — the Elizabeth Line — in Westminster Hall for viewers to watch while listening to interviews in the studio. The Elizabeth Line was never boring. There was always something to see.
By mandating 12 days of mourning, it seems the Queen wanted us to learn something about our constitutional monarchy as a national institution. It seems she wanted us to reset the way we think about it and how we pass that knowledge and history on to the next generation.
This post covers the two days before the Queen's funeral on Monday, September 19, 2022, and looks at what Britons discovered throughout the days of mourning thus far.
What next for the monarchy?
If there were any lessons to be learned in the immediate aftermath of the Queen's death, it was that the monarchy goes on.
Charles became King immediately and had his Accession Ceremony two days later. There were no obstacles. The crown passed to him automatically.
A relieved nation cried, 'God save the King' and 'Hip, hip, hooray'.
On September 14, YouGov took a poll asking if the mourning period would change the way we perceive this ancient institution. Forty-four per cent said they thought it would change the UK in the long term for the better:
Bob Moran, The Telegraph's former cartoonist, was still upset that the Queen did not step in during the pandemic to call the Government to account over the sometimes fatal procedures at care homes, which are allegedy continuing in some of them:
Yet, most people interviewed on television and the clergy giving sermons at the church services remember with gratitude the Queen's message on the night then-Prime Minister Boris Johnson went to St Thomas Hospital in London with coronavirus. Neither the Queen nor we knew it at the time her message was broadcast, but who can forget her closing words about lockdown, borrowed from the wartime Dame Vera Lynn song:
We'll meet again.
The Queen was adamantly pro-vaccine and in 2021 said that people who didn't get it should think of others instead of themselves. I have seen on Mark Steyn's GB News show several people whose loved ones got the vaccine because of her words and later died of complications. The Government is giving each of those families £120,000 in compensation.
However, quibbles with the monarchy go much deeper than the pandemic. On September 15, The Telegraph addressed the issue of how monarchs attempted to stave off republicanism throughout the ages.
The 1990s were the worst years that the Queen saw during her reign. Princes Andrew and Charles divorced, Windsor Castle caught on fire and Princess Diana was killed in a car accident in Paris.
Regardless, the Royal Family regrouped and returned to normality (emphases mine):
"Diana died at the end of August 1997 and by the time of the Queen's golden wedding anniversary that November she was pretty much re-established," says royal biographer Hugo Vickers. Fast forward 15 years, to the Diamond Jubilee, and the Royal family were popular as never before, enjoying a near 50-point lead in polls over anti-monarchists.
Though so much about the British monarchy can appear unchanging, it was a hard-won transformation, relying on careful reflection and updating after the calamities of the 1990s. In making such adjustments, the royal house showed it could learn not just from its own experience, but from the experience of centuries of fluctuating royal fortunes.
In order to keep republicanism at bay, it is essential for the Royal Family to remain visible:
"In this country," says historian Andrew Roberts, author among others of a book on George III, "there are five areas that give Republicanism a chance to move from being a minority fetish into a mainstream threat." The first four are disastrous relationships, religious meddling, political interference and money. But it is perhaps the last and simplest that is the most important: steadfast presence.
"Sheer visibility is tremendously important," says Roberts. That enduring presence accounts for the astonishing popularity of Queen Elizabeth, he thinks, building on the legacy of her mother and father, who made such efforts to be visible to Britons even in the darkest days of the war. And absence has led perhaps to the darkest days of the monarchy, in the years following the death of Prince Albert, when Queen Victoria in her grief almost completely vanished from the public stage.
Centuries ago, money became a huge issue that still waxes and wanes today:
The Peasants' Revolt of 1381 is just the most notable example of a massed uprising at taxes levied by the king (in that case to support the Hundred Years' War). But grumbling about paying for the royal house's upkeep never went away. A key part of the rejuvenation of the House of Windsor's popularity in the 1990s came after the Queen agreed to pay tax. "At one stroke it took away one of the main planks of republicanism," says Roberts. Even today, some anti-monarchists are moaning about the cost of the Queen's funeral, or the income the new Prince of Wales receives from the Duchy of Cornwall, but it has become far easier to defend the Crown on cash-terms. "It's not the most gracious argument in favour of the monarchy," says Roberts, "but the pocketbook is an important one."
We all know what role religion played in British history as driven by Henry VII, Charles I and James II, so there is no need to elaborate further.
Another issue is — or was — the conflict between Parliament and the monarch. In 1649, Charles I made a fatal mistake:
He, though, committed the sin which would become unforgivable for his successors in the centuries to follow: disdaining parliament.
He was tried in Westminster Hall and executed on January 30, 1649, during the English Civil War:
Alienating, then suspending parliament was, of course, not the Stuart king's only problem. But interfering with the nation's political system was becoming an increasingly dangerous game to play. By the time James hot-footed it out of the country to be replaced by William of Orange, the era of kings by "divine right" had given way to kings approved by parliament. The constitutional monarchy had arrived.
Not that all monarchs understood. George III and prime minister Lord Bute impinged upon the supremacy of parliamentary power in the 1760s, drawing fierce criticism. "George became so unpopular in the 1760s that people pelted his carriage with dirt," says Roberts.
George III learned how to recover the situation:
… he learned his lesson and, by the time of his descent into – and recovery from – madness, he had come to be loved for his personal qualities: fidelity to his wife, frugality and piety.
Fast-forwarding to the 20th century, Prime Minister Stanley Baldwin insisted that Edward VIII abdicate. He got his way:
When it came to Wallis Simpson … Edward stayed by his woman and, on Stanley Baldwin's insistence, lost the throne.
Fortunately, George VI and the Queen Mother resolved the constitutional crisis:
George VI and his own queen Elizabeth (the late Queen Mother) were the ideal pair to succeed, setting the formula – visible, dutiful, steadfast – which so characterised their daughter's long reign.
So far, Charles III has been doing the right things, says historian Hugo Vickers:
"of course King Charles will have to be very aware. But his first speech as King dealt immediately with many of them – his new role, what he can and can't do [politically], about the Church of England, because there was talk about him wanting to be a defender of all faiths. It puts things to rest very quickly. It was very effective." The result was an immediate bounce in popular support, with the number of those who think he will make a good king near doubling to 63 per cent.
While republicanism will never die, it is hoped that people will value the monarchy over an elected president:
… from today's vantage point it seems unlikely that could be so serious as to prompt Britons to dispose of the monarchy altogether. Because ultimately, says Roberts, what makes us love it is not the individual, but the institution. "Even when individuals are unpopular, Britons recognise constitutional monarchy is a good idea, being a power above politics and therefore above politicians. And the British people like the idea of politicians not being at the top of the heap."
Well said.
Funeral attire
To find out more about the traditions of the Royal Family's funeral attire, I happened across a Telegraph article written in April 2021, after the Queen's husband, the Duke of Edinburgh, died.
The Royal Family did not always wear black.
In fact, throughout the Middle Ages until 1560, at least, there was a convention of wearing white (emphases mine):
"white mourning" or deuil blanc … deployed by medieval royals and seen in portraits of Mary, Queen of Scots after she lost her father-in-law, mother and husband within months of each other in 1560 …
The modern convention of wearing black began three centuries later, with Queen Victoria upon the death of her husband Prince Albert. However, even she had gold thread spun into her dresses, as one can see in the photograph in the article:
"Mourning dress has been part of European royal culture for centuries, but it reached its peak in the 19th century with the influence of Queen Victoria, who set a standard for the rest of society to follow," says Matthew Storey, curator at Historic Royal Palaces, which holds the Royal Ceremonial Dress collection. "When her beloved husband died in 1861 she abandoned the colourful clothes of her married life and, with the rest of the royal court, adopted black clothing as an outward sign of grief. Her subjects duly followed suit, causing a rush on suppliers of mourning fabric up and down the country."
That was a time when death was something of a societal obsession and there were strict rules around the wearing of "widows' weeds". "Widows were required to wear black, then either white or mauve, for at least three years before being able to return to richly coloured clothing. Victoria chose never to leave mourning and wore her now iconic black dresses and white widow's caps for the rest of her life," Storey continues. There was no concession even at moments of celebration: "She even insisted that her daughter, Princess Alice, had an all black trousseau when she married in 1862."
The mood oscillated from the dour to the unexpectedly glamorous; Victoria often wore her bridal veil with her black dresses and took to wearing a necklace containing a lock of Albert's hair, but she also popularised striking jet jewellery. "Her clothing was anything but dowdy," Storey confirms. "Every example in the collection is exquisitely made and highly embellished, as befitted her status. Victoria may have been a widow, but she was always a queen."

Queen Victoria died in January 1901. Her son, Edward VII, reigned until his death in 1910. His wife, Queen Alexandra, began wearing purple, although black was still the favoured colour:
After Victoria's death, mourning dress became even more opulent. An exhibition at the Metropolitan Museum of Art in New York in 2014, Death Becomes Her: A Century of Mourning Attire, included two exquisitely beautiful embellished purple gowns worn by Queen Alexandra, wife of Edward VII, in the year after her mother-in-law's demise. You'd really only know they denoted mourning if you were familiar with the strict dress codes of grief. And when Edward died, weeks before Royal Ascot in 1910, there was no question of cancelling, but attendees wore magnificent black outfits instead. That year's event is now remembered as Black Ascot.
In 1938, when the Queen Mother's mother, the Countess of Strathmore died, the Queen Mother was weeks away from joining George VI on a state visit to France. At that time, war was looming and Britain was still getting over the abdication of the King's brother, Edward VIII. Under the circumstances, black seemed too gloomy. Something had to be done, so the Queen Mother enlisted the help of her couturier, the incomparable Norman Hartnell:
A black wardrobe simply wouldn't do, as it was imperative to come bearing optimism.
Hartnell was the one who researched earlier monarchs and found the aforementioned portraits of Mary, Queen of Scots:
Within weeks he had scrapped the original colourful outfits intended for the tour and crafted an entirely white set of looks in their place.
"The Queen has taken with her on her state visit to Paris a superb white wardrobe consisting of 12 gowns, seven coats… one cape, eight hats – and a lace parasol," the Telegraph's report from July 20 1938 read. "Created by leading London designer Norman Hartnell, it symbolises the links between the two countries."
The report went on to explain that Hartnell had referenced the French Pompadour look and pannier, as well as English garden florals and Victorian silhouettes. Hartnell had the idea to revive the crinoline after being shown Winterhalter's portraits of Queen Victoria and her family by the new king.
The Queen Mother became a fashion sensation:
Though the reason for the Queen's all-white dressing was sombre, the reception to the wispy, lacy creations was rapturous. "No wardrobe of modern times has created greater interest than the state wardrobe chosen by the Queen for the visit to Paris," another glowing Telegraph review reported, going on to publish sketches of the gowns in glorious detail. The autumn fashion collections shown later that year were heavily influenced by the Queen's "white wardrobe" and her style more generally – Schiaparelli and Molyneux both included tartan as a nod to her Scottish heritage.
The Queen loved her white collection and the style muse status it had bestowed upon her so much that the following year she commissioned Cecil Beaton to photograph her at Buckingham Palace wearing the designs, resulting in a romantically optimistic set of portraits that do little to suggest that the clothes they capture are a symbol of mourning, nor that the Second World War is months away. The floaty, delicate look of Hartnell's designs influenced the Queen Mother's style for the rest of her life.
The Queen Mother's husband, George VI, died in 1952. Although he had a chronic illness, no one expected him to die while Queen Elizabeth II and Prince Philip were on holiday in Kenya. The Queen had no black dress to wear once she got off the plane in London.
Reports differ as to how a black outfit reached her. One Royal historian told GB News that an attendant was on hand when the plane reached Rome for refuelling. The Telegraph has a different account, intimating that she received mourning attire in London:
… when the plane landed, a black dress had to be taken on board for her to change into, an incident that means that no royal reportedly now travels without a black outfit in their luggage, just in case. On alighting the plane, the 25-year-old queen looked elegant yet solemn in her dark coat, brooch and neat hat.
On the day of the funeral, the Queen Mother, the Queen and Princess Margaret wore long silk veils. The Telegraph has a photo of them:
At her father's funeral, eight days later, the new queen, her mother, grandmother Queen Mary and sister Princess Margaret cast ethereal figures in their long black veils, said to be around 18 inches over the face and one and a half yards down the back. "There is no court regulation with regards to them," the Telegraph had written in 1936, "but the practice of wearing them has always been observed at the funeral of a Sovereign."
By the time the former Edward VIII, the Duke of Windsor, died in 1972, only Princess Margaret and the Duchess of Windsor wore a veil. The Queen and her mother opted for the turban, the stylish hat of the day for women:
It was notable, then, that at the funeral of the Duke of Windsor in 1972, the Royal family refrained from wearing veils. The abdicated king's wife, Wallis Simpson, however, sported a couture coat and chiffon veil that Hubert de Givenchy had reportedly stayed up all night to make for her … By contrast, the Queen wore a black version of the turban style hats she loved at the time, adding Queen Mary's Dorset Bow brooch.
When it came time for Prince Philip's funeral, the Royal Family wore black, but the Queen quickly reverted to wearing her usual clothes afterwards.
Who waited to pay respects to the Queen
For many gathering to pay their respects to the Queen, a family death brought back a deep seam of emotion.
Although The Telegraph's Lauren Libbert watched proceedings from the comfort of her home, what she experienced seemed to ring true for a goodly number of those camping outside in the cold:
For me, at 44 and then again at 49, I watched my parents being taken from their home in a coffin and transported to their final resting place at the nearby cemetery. Watching Queen Elizabeth's coffin make its journey from Balmoral to Edinburgh transported me right back to that heart-wrenching, inexplicable gut-punch of a feeling, remembering how it felt to know my beloved parent was inside and I'd never enfold them in my arms again.
It's a sadness that has not gone unnoticed at home. "But you didn't even know the Queen," said my teenage son, noting my smudged eyeliner and tears when watching the news earlier this week.
"I know," I replied. "But I really miss my mum and dad."
He held me, but he was a bit baffled at the connection. Admittedly, so am I.
Other people, whether in the Elizabeth Line, Parliament Square or near Buckingham Palace, were hardcore attendees of other Royal occasions, as The Times reported. Keep in mind that the nightly temperatures turned distinctly autumnal, in the 50s Fahrenheit:
Mary-Jane Willows loves the sound of metal barriers clattering onto the streets of Westminster. "It means everything is getting organised," she says.
It is 10pm on Thursday and Willows, 68, is settling down for a night's sleep in a camping chair just off Parliament Square. She and her crew of royal superfans are zipped into military bivvy bags and wrapped in foil blankets — at that point of the week they were not allowed to use tents or sleeping bags for security reasons.
It is a hardcore existence, but they will endure. Because on Monday, for the Queen's funeral, they will be in the "best spot in the world".
Just half a mile away there is another camp, also in the best spot in the world. They arrived "on site", on the Mall and overlooking Buckingham Palace, the previous Thursday. And they came with "equipment": bin liners and trolleys jammed with Union Jack flags, hand warmers, underwear, first-aid kits, torches, baby wipes, wine gums and corned beef sandwiches. They have been there since.
These two groups are the most dedicated royal watchers on the planet, bound by births, weddings, jubilees and deaths, and held together by WhatsApp groups and meme-sharing. They are always the first ones to arrive, pitching up on virgin pavement, knackered, cold and in it for the long haul.
John Loughrey, 67, and his friends on the Mall, Sky London, 62, and Maria Scott, 51, have done weddings together (Cambridge, Sussex, York, York), births (George, Charlotte, Louis), jubilees (Diamond, Platinum) and deaths (Diana, Princess of Wales; the Queen).
"If you want to be part of the gang you've got to be with the gang," says London. "It's the camaraderie. It's seeing history and being part of it."
However, whether remembering family losses or cadging the best seat in the house, as it were, how do these people view Britain?
Rob Johns, a politics professor at the University of Essex, claims to have the answer.
I'm not so sure.
He interviewed 400 mourners by the time The Guardian interviewed him on Saturday, September 17. Johns said:
… it is less a case of royalists simply wanting to mourn the Queen in person, and more "a collective gathering that is as much about the queue as it is about reaching the end of all the queueing".
This is the part about which I have doubts:
Who would be willing to wait outdoors for as long as 24 hours , braving the elements along the Thames, for a few seconds alongside the Queen's coffin – and why?
Now, as the Queen's lying in state in Westminster approaches its final hours before Monday's state funeral, researchers believe they have found the answer. A narrow majority vote Conservative, almost two-thirds backed remain and most of them are enjoying a feeling of "subdued positivity" as they wait in line for hours.
Really? I don't know how one could wait outdoors in the cold for a day and support EU supremacy over our monarchy.
With history and contemporary background covered, let us move on to what happened last weekend.
September 17
On Saturday, September 17, the King was back at work.
He had successfully completed his visits to the component nations of the United Kingdom during the mourning period under a plan called Operation Spring Tide. It derives its name from a particularly high tide in springtime known as king tide.
ITV reports that there were sub-operations to Spring Tide:
Scotland (Operation Kingfisher), Wales (Operation Dragon) and Northern Ireland (Operation Shamrock).
In London, Operation London Bridge continued apace.
The Queen's state funeral is the first such event to be held since Winston Churchill's in 1965.
However, unlike Churchill's funeral, the Queen's was mammoth by comparison. Police forces from around the UK travelled to London to participate in maintaining order. Only two were exempt.
The numbers of military engaged were also unprecedented.
Operation London Bridge required meticulous logistical planning to make sure everyone in the capital, including visiting heads of state and other dignitaries, were kept safe.
In the morning, the King visited members of the police and military working all hours to make this a success:
He went on a walkabout at the Elizabeth Line to express his appreciation of people's willingness to pay tribute to his late mother. William Prince of Wales and Sophie Countess of Wessex met mourners in other parts of the queue:
Then it was time for the King to return to Buckingham Palace for more meetings and a reception:
Early that evening, the Queen's grandchildren — The Prince of Wales, The Duke of Sussex, Princess Beatrice (Andrew), Princess Eugenie (Andrew), Lady Louise (Edward), Viscount Severn (Edward), Zara Tindall (Anne) and Peter Phillips (Anne) — held a Vigil of the Princes in Westminster Hall. I have added the relevant Royal parent's name in parentheses for clarity.
The aforementioned ITV article says that the events taking place at Westminster Hall were run under Operations Marquee and Feather:
This covers the four days of the Queen's lying-in-state, focusing on the arrangements inside Westminster Hall.
It's expected to begin on Wednesday, September 14, ending on Sunday before her funeral the next day.
Senior royals are also expected to pay their respects once more here, standing guard in a tradition known as the Vigil of the Princes.
It is linked to Operation Feather, the arrangements for the public who are expected to queue in their thousands for an opportunity to see the monarch's coffin as they did 20 years ago for her mother.
Here is the beginning of the grandchildren's Vigil of the Princes. Members of the Royal Family watched from a viewing point on one side of the hall. Once again, the public could file past:
This video from the Royal Family's YouTube channel has the full vigil, which was very moving indeed. Viscount Severn, who is only 14, was so composed for someone so young. As with other videos from this channel, click 'Watch on YouTube' and it should play, at least for the near future. If not, try the link in their tweet:
Here are some close-ups:
This video is of the young Royals filing out afterwards:
The days of mourning at Westminster Hall nearly passed without incident. On Friday, a man suddenly appeared in the queue outside and exposed himself to two women from behind. He jumped into the Thames but quickly got out. Police were on hand to arrest him. The Guardian reported:
… a man appeared at Westminster magistrates court following allegations that two women were sexually assaulted while they were waiting in the queue to see the Queen lying in state.
On Friday evening, a man inside Westminster Hall was arrested after lunging towards the Queen's coffin. The Telegraph reported:
The individual was reportedly taken to the floor by Metropolitan Police officers and arrested.
The Met told ITV: "At 22:00hrs on Friday 16 September officers from the Met's Parliamentary and Diplomatic Protection Command detained a man in Westminster Hall following a disturbance. He was arrested for an offence under the Public Order Act and is currently in custody".
Viewers of the BBC's live stream reported that the feed went down for 10 minutes.
The aforementioned Guardian article says:
Broadcasters showing the procession of mourners cut away from the scene and instead showed the view from outside parliament.
There are always simple ways to set things right. In this case, broadcasters were prepared with a still of the Palace of Westminster.
The Sun's political editor Harry Cole looked at the bigger picture of the mourners and tweeted a poke at the anti-monarchist metropolitan elite:
September 18
Sunday, September 18, put the logistics of Operation London Bridge to the test as 500 heads of state and other dignitaries arrived in London for the Queen's funeral.
As it would have been impossible for all of them to have been driven in separate cars to Buckingham Palace that day and to Westminster Abbey on Monday, the plan was to 'pod' the leaders into private coaches, painted in plain white.
Scheduled pickups of the great and the good at designated points in central London helped the plan run smoothly and safely.
Only Joe Biden was exempt. The Beasts — one operational and one decoy — were here along with his usual security motorcade.
France's Emmanuel Macron arrived with his wife Brigitte early enough to do an incognito walkabout during the afternoon:
Meanwhile, somehow with the permission of Speaker of the House of Commons Sir Lindsay Hoyle, the Chinese were allowed into Westminster Hall. Hoyle had pledged to MPs that they would not be allowed anywhere on the parliamentary estate:
Conservative MPs were less than impressed:
That evening, after a brief shower, a beautiful rainbow appeared, just as a double rainbow did when the flags were lowered to half mast over Buckingham Palace and Windsor Castle on the day of the Queen's death. This must mean something, surely:
The King and Queen Consort held a formal reception for the dignitaries at Buckingham Palace that evening.
Meanwhile, soldiers participating in the funeral were busy polishing medals and sewing on badges:
A few newspapers printed the last photographic portrait of the Queen for Monday's editions. Ranald Mackechnie took the photo in May, a few weeks before her Platinum Jubilee celebrations:
The Telegraph had an article about the portrait. As ever, the Queen's choice of jewelry told the story:
The Queen, who is dressed in a dusky dove blue dress with her hair neatly curled, is wearing her favourite three-strand pearl necklace, pearl earrings and her aquamarine and diamond clip brooches which were an 18th birthday present from her father George VI in 1944.
The two art deco-style pieces, worn one below the other, were made by Boucheron from baguette, oval and round diamonds and aquamarines.
The Queen wore the brooches when she addressed the nation on the 75th anniversary of VE Day in 2020 and for her Diamond Jubilee televised speech in 2012.
The image was taken by photographer Ranald Mackechnie, who also took the Jubilee portrait of the Queen released to mark the start of national festivities of her milestone 70-year reign.
I cannot help but agree with The Star's 'Kingdom United'. Thank you, your Majesty, for these 12 days of mourning:
The Independent was less sure about 'Kingdom United!' They wrote of a 'turning point':
The Guardian showed us a window of a house in Windsor and how the world was descending there and in London:
The i paper also focused on a world farewell:
The Financial Times took a final look at Westminster Hall:
In closing, The Metro published my favourite portrait of the Queen after she was inducted into the Order of the Garter. Pietro Annigoni (1910-1988) painted the portrait in 1955:
It is simply timeless, as is its subject.
I hope to cover the funeral and committal services in their entirety tomorrow.
My far better half and I never miss a Neil Oliver editorial during his Saturday evening GB News shows.
His topic is the changing fabric of the Western world post-pandemic, whether it be through farming prohibitions, climate change or the ongoing revelations about coronavirus policies.
Here is the transcript and the video from his August 13 editorial:
Excerpts follow, emphases mine:
It is hard to think the unthinkable – but there comes a time when there's nothing else for it. People raised to trust the powers that be – who have assumed, like I once did, that the State, regardless of its political flavour at any given moment, is essentially benevolent and well-meaning – will naturally try and keep that assumption of benevolence in mind when trying to make sense of what is going on around them.
People like us, you and me, raised in the understanding that we are free, that we have inalienable rights, and that the institutions of this country have our best interests at heart, will tend to tie ourselves in knots rather than contemplate the idea those authorities might actually be working against us now. I took that thought of benevolent, well-meaning authority for granted for most of my life, God help me. Not to put too fine a point on it, I was as gullible as the next chump.
A couple of years ago, however, I began to think the unthinkable and with every passing day it becomes more and more obvious to me that we are no longer being treated as individuals entitled to try and make the most of our lives – but as a barn full of battery hens, just another product to be bought and sold – sold down the river …
Once the scales fall from a person's eyes, the resultant clarity of sight is briefly overwhelming. Or it is like being handed a skeleton key that opens every locked door, or access to a Rosetta Stone that translates every word into a language instantly understood.
Take the energy crisis: If you've felt the blood drain from your face at the prospect of bills rising from hundreds to several thousands of pounds while reading about energy companies doubling their profits overnight while being commanded to subsidise so-called renewables that are anything but Green while listening to this politician or that renew their vows to the ruinous fantasies of Net Zero and Agenda 2030 while knowing that the electricity for electric cars comes, in the main and most reliably, from fossil fuels if you can't make sense of it all and just know that it adds up to a future in which you might have to choose between eating and heating then treat yourself to the gift of understanding that the powers that be fully intend that we should have less heat and less fuel and that in the planned future only the rich will have cars anyway. The plan is not to fix it.
The plan is to break it, and leave it broken. If you struggle to think the best of the world's richest – vacuous, self-obsessed A-list celebrities among them – endlessly circling the planet on private jets and super yachts, so as to attend get-togethers where they might pontificate to us lowly proles about how we must give up our cars and occasional holiday flights – even meat on the dinner table … if you wonder how they have the unmitigated gall … then isn't it easier simply to accept that their honestly declared and advertised intention is that their luxurious and pampered lives will continue as before while we are left hungry, cold and mostly unwashed in our unheated homes.
Here's the thing: if any leader or celeb honestly meant a word of their sermons about CO2 and the rest, then they would obviously lead by example. They would be first of all of us willingly to give up international travel altogether … they would downsize to modest homes warmed by heat pumps. They would eschew all energy but that from the sun and the wind. They would eat, with relish, bugs and plants. They would resort to walking, bicycles and public transport. If Net Zero and the rest was about the good of the planet – and not about clearing the skies and the beaches of scum like us – don't you think those sainted politicians and A-listers would be lighting the way for us by their own example? If the way of life they preach to us was worth living, wouldn't they be living it already? Perhaps you heard Bill Gates say private jets are his guilty pleasure.
And how about food – and more particularly the predicted shortage of it: the suits and CEOs blame it all on Vladimir Putin. But if the countries of the world are truly running out of food, why is our government offering farmers hundreds of thousands of pounds to get out of the industry and sell their land to transnational corporations for use, or disuse unknown? Why aren't we, as a society, doing what our parents and grandparents did during WWII and digging for victory? Why is the government intent on turning a third of our fertile soil over to re-wilding schemes that make life better only for the beavers? Why aren't we looking across the North Sea towards the Netherlands where a WEF-infected administration is bullying farmers off their land altogether, forcing them to cull half the national herd …
Why do you think it matters so much, to the government of the second most productive population of farmers in the world, to gut and fillet that industry? Why? Why have similar protests, in countries all across Europe and the wider world, been largely ignored by the mainstream media – a media that would have crawled on its hands and knees over broken glass just to report on a BLM protester opening a bag of non-binary crisps. Why the silence on the attack on farming? …
Isn't the simple obvious answer … the answer that makes most sense and that is staring us in our trusting faces … that power for the power-hungry has always rested most effectively upon control of food and its supply? Why are the powers that be attributing this to a cost of living crisis when everyone with two brain cells to rub together can see it's a cost of lockdown crisis – the inevitable consequence of shutting down the whole country – indeed the whole world – for the best part of two years. Soaring inflation, rising interest rates, disrupted supply chains …
Rather than dismiss as yet another conspiracy theory the idea of cash being ultimately replaced with transactions based on the exchange of what amount to glorified food stamps that will only be accepted if our social credit score demonstrates that we've been obedient girls or boys … how about taking the leap and focussing on the blatantly obvious … that if we are not free to buy whatever and whenever we please, free of the surveillance and snooping of governments and the banks that run them, then we have absolutely no freedom at all. And while we're on the subject of money and banks, why not pause to notice something else that is glaringly obvious – which is to say that the currencies of the West are teetering on the abyss, and that one bank after another is revealed, to those who are bothering to watch, as being as close to bankruptcy as its possible to be without actually falling over the edge.
Then there's the so-called vaccines for Covid – I deliberately say "so-called" because by now it should be clear to all but the wilfully blind that those injections do not work as advertised. You can still contract the virus, still transmit the virus, still get sick and still die. Denmark has dropped their use on under-18s. All across the world, every day, more evidence emerges – however grudgingly, however much the various complicit authorities and Big-Pharma companies might hate to admit it – of countless deaths and injuries caused by those medical procedures …
Now I ask myself on a daily basis how I ignored the stench for so long. Across the Atlantic, the Biden White House sent the FBI to raid the home of former president Donald Trump. Meanwhile Joe Biden and his son Hunter – he of the laptop full of the most appalling and incriminating content – fly together on Air Force 1. No raids planned on the Obamas, nor on the Clintons. Speaker of the House Nancy Pelosi flew to Taiwan and onwards to China. Her son Paul, an investor in a Chinese tech firm and with seats on the board of companies dealing in lithium, was along for the ride, into that part of the world where three quarters of the world's lithium batteries are made. Taiwan leads in that technology.
It is hard to think the unthinkable. It's hard to think that all of it, all the misery, all the suffering of the past and to come might just be about money, greed and power. It is hard to tell yourself you've been taken for a fool and taken for a ride. It's hard, but the view from the other side is worth the effort and the pain. Open your eyes and see.
In the middle of last week, Rishi Sunak gave an interview to Fraser Nelson, editor of The Spectator, about his view on the Government's coronavirus policy and SAGE, their medical and scientific advisory team.
Excerpts from 'The lockdown files: Rishi Sunak on what we weren't told' follow:
When we meet at the office he has rented for his leadership campaign, soon to enter its final week, he says at the outset that he's not interested in pointing the finger at the fiercest proponents of lockdown. No one knew anything at the start, he says: lockdown was, by necessity, a gamble. Chris Whitty and Patrick Vallance, the chief medical officer and chief scientific adviser, would openly admit that lockdown could do more harm than good. But when the evidence started to roll in, a strange silence grew in government: dissenting voices were filtered out and a see-no-evil policy was applied.
Sunak's story starts with the first Covid meeting, where ministers were shown an A3 poster from scientific advisers explaining the options. 'I wish I'd kept it because it listed things that had no impact: banning live events and all that,' he says. 'It was saying: you should be careful not to do this stuff too early, because being able to sustain it is very hard in a modern society.' So the scientific advice was, initially, to reject or at least delay lockdown.
This all changed when Neil Ferguson and his team at Imperial College published their famous 'Report 9', which argued that Covid casualties could hit 500,000 if no action was taken – but the figure could be below 20,000 if Britain locked down. That, of course, turned out to be a vast exaggeration of lockdown's ability to curb Covid deaths …
A cost-benefit calculation – a basic requirement for pretty much every public health intervention – was never made. 'I wasn't allowed to talk about the trade-off,' says Sunak. Ministers were briefed by No. 10 on how to handle questions about the side-effects of lockdown. 'The script was not to ever acknowledge them. The script was: oh, there's no trade-off, because doing this for our health is good for the economy.'
… When he did try to raise concerns, he met a brick wall. 'Those meetings were literally me around that table, just fighting. It was incredibly uncomfortable every single time.' He recalls one meeting where he raised education. 'I was very emotional about it. I was like: "Forget about the economy. Surely we can all agree that kids not being in school is a major nightmare" or something like that. There was a big silence afterwards. It was the first time someone had said it. I was so furious.'
One of Sunak's big concerns was about the fear messaging, which his Treasury team worried could have long-lasting effects. 'In every brief, we tried to say: let's stop the "fear" narrative. It was always wrong from the beginning. I constantly said it was wrong.' The posters showing Covid patients on ventilators, he said, were the worst. 'It was wrong to scare people like that.' The closest he came to defying this was in a September 2020 speech saying that it was time to learn to 'live without fear' – a direct response to the Cabinet Office's messaging. 'They were very upset about that.'
… Lockdown – closing schools and much of the economy while sending the police after people who sat on park benches – was the most draconian policy introduced in peacetime. No. 10 wanted to present it as 'following the science' rather than a political decision, and this had implications for the wiring of government decision-making. It meant elevating Sage, a sprawling group of scientific advisers, into a committee that had the power to decide whether the country would lock down or not. There was no socioeconomic equivalent to Sage; no forum where other questions would be asked.
So whoever wrote the minutes for the Sage meetings – condensing its discussions into guidance for government – would set the policy of the nation. No one, not even cabinet members, would know how these decisions were reached.
In the early days, Sunak had an advantage. 'The Sage people didn't realise for a very long time that there was a Treasury person on all their calls. A lovely lady. She was great because it meant that she was sitting there, listening to their discussions.'
… But his victories were few and far between. One, he says, came in May 2020 when the first plans were being drawn to move out of lockdown in summer. 'There's some language in there that you will see because I fought for it,' he says. 'It talked about non-Covid health impact.' Just a few sentences, he says, but he views the fact that lockdown side-effects were recognised at all at that point as a triumph.
He doesn't name Matt Hancock, who presided over all of this as health secretary, or Liz Truss, who was silent throughout. As he said at the outset, he doesn't want to name names but rather to speak plainly about what the public was not told – and the process that led to this. Typically, he said, ministers would be shown Sage analysis pointing to horrifying 'scenarios' that would come to pass if Britain did not impose or extend lockdown. But even he, as chancellor, could not find out how these all-important scenarios had been calculated.
Liz Truss was not part of the 'quad', though, the four Cabinet ministers who determined policy. If I remember rightly, the 'quad' were Boris, Hancock, Michael Gove and Rishi. Truss claimed that she didn't speak up because she was told that the decisions were a fait accompli. Nelson verifies that below.
Returning to Rishi:
'I was like: "Summarise for me the key assumptions, on one page, with a bunch of sensitivities and rationale for each one",' Sunak says. 'In the first year I could never get this.' The Treasury, he says, would never recommend policy based on unexplained modelling: he regarded this as a matter of basic competence. But for a year, UK government policy – and the fate of millions –was being decided by half-explained graphs cooked up by outside academics.
'This is the problem,' he says. 'If you empower all these independent people, you're screwed.' Sir Gus O'Donnell, the former cabinet secretary, has suggested that Sage should have been asked to report to a higher committee, which would have considered the social and economic aspects of locking down. Sunak agrees. But having been anointed from the start, Sage retained its power until the rebellion that came last Christmas.
In December 2021, at the time JP Morgan's lockdown analysis appeared:
He flew back early from a trip to California. By this time JP Morgan's lockdown analysis was being emailed around among cabinet ministers like a samizdat paper, and they were ready to rebel. Sunak met Johnson. 'I just told him it's not right: we shouldn't do this.' He did not threaten to resign if there was another lockdown, 'but I used the closest formulation of words that I could' to imply that threat. Sunak then rang around other ministers and compared notes.
Normally, cabinet members were not kept in the loop as Covid-related decisions were being made – Johnson's No. 10 informed them after the event, rather than consulting them. Sunak says he urged the PM to pass the decision to cabinet so that his colleagues could give him political cover for rejecting the advice of Sage. 'I remember telling him: have the cabinet meeting. You'll see. Every-one will be completely behind you… You don't have to worry. I will be standing next to you, as will every other member of the cabinet, bar probably Michael [Gove] and Saj [Javid].' As it was to prove.
Nelson claims that Rishi is telling the truth:
For what it's worth, his account squares with what I picked up from his critics in government: that the money-obsessed Sunak was on a one-man mission to torpedo lockdown. And perhaps the Prime Minister as well. 'Everything I did was seen through the prism of: "You're trying to be difficult, trying to be leader,"' he says. He tried not to challenge the Prime Minister in public, or leave a paper trail. 'I'd say a lot of stuff to him in private,' he says. 'There's some written record of everything. In general, people leak it – and it causes problems.'
Rishi said why he did not resign at the time:
To quit in that way during a pandemic, he says, would have been irresponsible. And to go public, or let his misgivings become known, would have been seen as a direct attack on the PM.
At the time, No. 10's strategy was to create the impression that lockdown was a scientifically created policy which only crackpots dared question …
David Cameron employed the same strategy with the Brexit referendum in 2016. He said that the only people supporting Leave were 'swivel-eyed loons'.
Rishi explained why he waited until now to speak out:
He is opening up not just because he is running to be prime minister, he says, but because there are important lessons in all of this. Not who did what wrong, but how it came to pass that such important questions about lockdown's profound knock-on effects – issues that will probably dominate politics for years to come – were never properly explored …
And the other lessons of lockdown? 'We shouldn't have empowered the scientists in the way we did,' he says. 'And you have to acknowledge trade-offs from the beginning. If we'd done all of that, we could be in a very different place.' How different? 'We'd probably have made different decisions on things like schools, for example.' Could a more frank discussion have helped Britain avoid lockdown entirely, as Sweden did? 'I don't know, but it could have been shorter. Different. Quicker.'
Even now, Sunak doesn't argue that lockdown was a mistake – just that the many downsides in health, the economy and society in general could have been mitigated if they had been openly discussed. An official inquiry has begun, but Sunak says there are lessons to learn now …
To Sunak, this was the problem at the heart of the government's Covid response: a lack of candour. There was a failure to raise difficult questions about where all this might lead – and a tendency to use fear messaging to stifle debate, instead of encouraging discussion. So in a sentence, how would he have handled the pandemic differently? 'I would just have had a more grown-up conversation with the country.'
Hmm.
On Thursday, August 25, Fraser Nelson wrote an article about it for The Telegraph: 'Rishi Sunak is just the start. The great lockdown scandal is about to unravel':
For some time, I've been trying to persuade Rishi Sunak to go on the record about what really happened in lockdown. Only a handful of people really know what took place then, because most ministers – including members of the Cabinet – were kept in the dark. Government was often reduced to a "quad" of ministers deciding on Britain's future and the then chancellor of the exchequer was one of them. I'd heard rumours that Sunak was horrified at much of what he saw, but was keeping quiet. In which case, lessons would never be learnt.
His speaking out now confirms much of what many suspected. That the culture of fear, seen in the Orwellian advertising campaign that sought to terrify the country, applied inside Government. Questioning lockdown, even in ministerial meetings, was seen as an attack on the Prime Minister's authority. To ask even basic questions – about how many extra cancer deaths there might be, for example – was to risk being portrayed as one the crackpots, the "Cov-idiots", people who wanted to "let the virus rip". Hysteria had taken hold in the heart of Whitehall …
Chris Whitty and Patrick Vallance began by advising ministers not to lock down, saying public events were fine, and that face masks were pointless. They were talking about herd immunity as the way out. Then they flipped entirely. But this reveals something crucial: lockdown never was backed by science. It was about models and suppositions, educated guesswork. It was driven by moods, emotion, fear – and, worst of all, politics masquerading as science.
This is part of Sunak's point. He doesn't say locking down was wrong. Just that it somehow went from being a daft idea, rubbished by scientists, to a national imperative whose necessity was unquestionable scientific truth. So we need to ask: was the fear messaging really necessary? Why were No 10 outriders sent out to savage dissenting scientists? Why was Sunak made to feel, as he told me, that he was being seen – even inside government – as a callous money-grabber when he raised even basic concerns?
The disclosures should start a great unravelling of the lockdown myth, its pseudo-scientific sheen stripped away and the shocking political malfeasance left to stand exposed. Were Sage minutes manipulated, with dissent airbrushed out? If Sage "scenarios" were cooked up on fundamentally wrong assumptions we need to know, because that will mean lockdowns were imposed or extended upon a false premise. A premise that could have been exposed as false, had there been basic transparency or proper scrutiny.
This isn't just about a virus. An autocratic streak took hold of the Government and overpowered a weak Prime Minister – and did so because our democratic safeguards failed. It should have been impossible for policies of such huge consequence to be passed without the most rigorous scrutiny. So many lives were at risk that every single lockdown assumption should have been pulled apart to see if it was correct. It should have been impossible for government to suspend such scrutiny for more than a few weeks.
I suspect that this authoritarian reflex lies embedded in our system, ready to twitch again. Life, after all, is easier without opposition so if tools exist to suspend it, we can expect them to be grabbed …
Sunak doesn't speak like a man expecting to end up in No 10. He said earlier this week that he would rather lose having been honest with people than win by telling half-truths. Opening up on lockdown may not save, or even help, his campaign. But his candour has offered important insights into one of the most important stories of our times – and one that is only beginning to be told.
As the then-Chancellor, he was the most powerful man in Government after Prime Minister Boris Johnson. Rishi held the nation's purse strings and could have said 'no' at any point to the policies. But he didn't.
It was difficult to know exactly what Rishi's motives were in giving such an interview. Perhaps he was trying to glean votes from sceptical Conservative Party members in a last ditch attempt to save his candidacy.
Whatever his reason, one outcome was that it got Covid sceptics talking again, with some indirect support from him.
On Friday, August 26, one of those sceptics, Bev Turner, delivered a guest host editorial on GB News.
She was not happy with Rishi's silence over Government policy:
Now, Rishi Sunak says that lockdowns "could have been shorter. Different. Quicker. We could be in a very different place", he says now with the benefit of hindsight that some of us never needed… Apparently, as the economy tanks, he regrets the Government's Covid strategy, stating that the scientists at Sage should never have been put in charge of the country's response.
Well…who knew?…thanks for that, Rishi. Now I can sleep at night….except of course I can't. And I won't until there are arrests over the despotic, unscientific measures of the scamdemic and the perverted profits sucked up by vampirical pharma companies aided and abetted by a media paid off to the tune of £300m. Paid for, by Rishi Sunak's department with our tax payers money!
"If you empower all these independent people, you're screwed," he now says in reference to Sage, "We shouldn't have empowered the scientists in the way we did."
She brought up Susan Michie, who is now — or who soon will be — working for the WHO:
a leading member of Sage is a life-long member of the Communist Party and might just have enjoyed the frisson of power.
She wondered why Rishi didn't do more in his position of power:
… Rishi's wrong, you can empower scientists – except that as with any medical decision – the consequences of which could be life-changing, you seek a second opinion.
Are you telling us, Rishi Sunak, that you didn't have the chance, at one of your Sage meetings to ask your colleagues to read The Great Barrington Declaration for instance? That statement written in October 2020 by some of the world's top epidemiologists and public health scientists in which they expressed their grave concerns about the damaging physical and mental health impacts of your policies, instead recommending more Focused Protection for the vulnerable. They were publicly discredited as 'fringe' according to leaked emails and denounced as quacks. You should have had the gumption, Rishi Sunak, to insist to your team that there might have been a different way.
Rishi acknowledged that there was no cost-benefit analysis of the lockdowns. I remember a handful of  Conservative MPs asking for them in Parliament. Answer there came none.
Bev discussed her own demonisation during the pandemic:
Is he FINALLY referencing the necessity of a cost-benefit analysis of lockdowns?
Let me tell you, after making such statements on TV I was vilified by the press, demonised on social media and written off by former employers as a selfish granny-killer…
But it was so obvious if you chose to look. You didn't need to be the Chancellor to see what was coming. You just needed to switch off the BBC; seek out people who were looking at facts rather than trilling with emotion.
It wasn't easy taking a public stance for the poor, the old, the young, and anyone who was going to suffer harms from Covid theatre. But I did it anyway. Because it was the right thing to do.
She finds it hard to support Rishi's stance:
In my opinion, Sunak's words paint a picture of a man who lacked the spine to publicly call-out what he now says he knew were policy mistakes. How dare you, Rishi Sunak, How dare you …
… He wasn't a passenger when, long after we had a clear picture of the infection fatality rate, said nothing to stop confused, 98-year-old care-home residents having to mouth "I love you" through windows when all they wanted was to hold someone's hand.
Sunak wasn't a passenger when schools closed; when the decades-old pandemic response plan was mysteriously ripped up in favour of a Chinese style quarantine-the-healthy strategy. He wasn't a passenger when the Chief Medical Officers took to their lecterns with baffling figures seemingly obfuscated to maintain the fear.
He was a driver, one of a handful up front at the wheel, map in hand as he helped drive the country into a brick wall with businesses closed, families destroyed, mental health problems exacerbated and some educational achievements lost forever.
He was in on the meetings that decided the NHS must be solely obsessed with a disease that was involved in the deaths of those averaging 82 years of age. Thanks to the growing treatment backlog he was well aware of, we are now deep in a period of excess weekly mortality in the relatively young which dwarfs anything that Covid-19 managed …
"In every brief, we tried to stop the fear narrative," he now says. "I constantly said it was wrong."
No, you did not. If you had genuinely believed that you would have resigned noisily and defiantly with the backing of so many British people who could also see the Covid pantomime for what it was. You could have taken a temporary step off your own political career ladder and ironically – you could have eventually come back free from the stains of the Covid oil slick in which this country is now drowning.
You say, Rishi, that you were ticked off by the Cabinet Office after saying it was time to 'live without fear'. So tell us – who didn't want to hear that message? Name names now and put your money where your mouth is.
It's actually hard to know who Sunak is aiming this about-turn at: those of us who stuck our own necks out to question the non-scientific policy, whether that was on TV or even just round a family dinner table are not ready to forgive those who were in power.
Sunak has even said that minutes from Sage meetings were edited to omit dissenting voices from final drafts.
This has caused lawyer Francis Hoar to tweet: "This is absolutely shocking. If this is true then those responsible – and it is reasonable to suppose that Whitty and Vallance were at least aware – should face a criminal investigation for misconduct in public office."
Quite right.
Sunak has thrown the scientists under the bus. They will now blame the politicians who took the decisions. The inevitable infighting will be bloody and brutal and it will finally allow us to see behind the curtain and find out WHY in my opinion insanity was allowed to run riot. I will have my popcorn ready.
The next day, Neil Oliver delivered another great editorial.
This one is spectacular:
He advised us not to be taken in by Sunak, although he admits that the ex-Chancellor's revelations have brought the coronavirus policy narrative to the fore.
Excerpts follow:
Don't be fooled into thinking this disaster movie is coming to an end.
Rishi Sunak was quick off the mark last week with his pitiful, self-serving claims about having known the lockdowns were a bad thing but that despite him drumming his tiny fists on the table until they were a little bit sore no one would listen to him.
He said his heroic efforts to avert disaster were deleted from the official records of meetings he attended.
If that's true – if minutes of meetings affecting government policy were doctored – then Sunak's claims demand criminal investigation and jail time for those responsible – including big wigs with letters after their names, who presumably knew the truth of it as well and kept their mouths shut while people needlessly died miserable deaths, endured miserable lives and the country was driven off a cliff.
Sunak squeaks that he was on the right side of history but powerless. What absolute twaddle. He was arguably the second most powerful figure in government. By his own admission, he went along with all that was done to us. If it had ever been about principles, he would have resigned the first time his dissent was ignored and erased. He would have made his way hot foot to a television studio and there delivered an honest statement about how doing the right thing was more important than keeping his job. He did none of those things.
For all that, there's excitement in the air. The mere fact the former chancellor and would-be prime minister have broken ranks – basically opting for the tried and trusted playground tactic of claiming a big boy did it and ran away means many are scenting blood in the water.
I'm hearing a lot of people, desperate and hopeful that the whole truth will finally come out, saying things like, "the narrative is finally falling apart."
It might be and it might not. But the Covid and lockdown double-act is expendable. They've wrung all the juice they're ever going to get out of that rotten fruit and now it's ready to be cast aside. Or maybe it will just go on the back burner while other, fresher concoctions are brought forward. Either way, someone, somewhere seems to have decided it's time to move on.
Just don't be fooled into thinking that stuff about saving Granny and the NHS was ever the point, far less the main event. I've said before and I'll say it again:
"It's never about what they say it's about."
Thousands of grannies and grandpas died anyway and the NHS is a vast money pit that sucks in billions and now shuts its doors against people dying of cancer. I don't believe the last two years was ever about public health …
The good ship Pandemic is holed below the waterline and all the rats are scuttling towards the life rafts. All the lies about Covid, all the lies about vaccines, more and more exposed every day.
On the other side of the Atlantic, micro megalomaniac Antony Fauci is making for dry land as fast as his little paws will propel him. There are so many rats on that sinking ship, however, that they know there won't be enough rafts. They are aboard the Titanic and many won't make it. Here's hoping.
Now that some of the great and the good are changing their tune … now that more and more of the mainstream media are pirouetting like ballerinas and finally contemplating questions some of us have been asking, shouting indeed, on a desperate loop, for months and years, there's a narrow window of opportunity for getting some other stuff out into the open. And so now seems like the right time to think more of the unthinkable and say more of the unsayable.
Things are unfolding now exactly as the so-called conspiracy theorists, us with the tin hats on, said they would. And while everyone else – those who poured scorn, and ridiculed and hated – surely have to face the fact that we, the outcasts who lost work and reputations and much else besides – were right all along about the unforgivable damage of locking down, about harms to children, about being determined to refuse the Covid injections – in this brief moment while those who had nothing to offer but spite, and vitriol and undisguised loathing for those of us who first suspected we were being sold a pup – and who felt something wrong in our guts and so bothered to do our own reading and learned we were absolutely right and so spoke out and kept speaking out – right now before those smug smarty pants regroup behind the next line trotted out by the establishment, we can state some more of the blindingly obvious.
Let me, on behalf of my fellow conspiracy theorists, put more of the truth out there. After all, in a few months' time it's what those same smarty pants will be saying they knew all along as well.
Here's what I make of the bigger picture – and what some of us so-called Covidiots, anti-vaxxers, Putin-apologists, fascist, far-right extremist swivel-eyed loons want to talk about next.
… The horror show in the Ukraine is being exploited.
Here at home last week, Boris implied that while only lesser mortals are fretting selfishly about heat and food, his attentions are focused on the lofty heights of saving the world. The little people of Britain must endure cold and hunger for … guess what … the greater good.
Anyone with even the faintest grasp on, at least an interest in, geopolitics knowns it is utterly bogus and he is a fraud – along with Biden, Trudeau, Macron, Von der Leyen and the rest of a list so long I don't have time to read it out.
The imminent cold and hunger were made inevitable not by Putin in 2022, but years ago by the adoption of ruinous, ideologically-driven nonsense presented as world-saving environmental policies that only denied us any hope of energy independence, the profitable exploitation of all the resources beneath our feet and seas, and condemned much of Europe to dependence on Russia.
What we are paying is the cost of going Green, when those polices are not green at all but predicated upon some of the most destructive and toxic practices and technologies ever conceived.
Wind and solar will never provide the energy we need to keep thriving as societies, to grow and flourish. The situation is so insane I find it easiest to conclude we are simply meant to do without.
Stop thinking we're all going to have cars, and international travel, and warm homes – just different than before. What seems obvious is that we are being groomed to live small lives, to make way for the grandiose expectations and entitlements of the elites that are working so effectively to hoover up the last of the wealth …
Energy prices will keep going up. This will obviously hurt the poorest countries and poorest people first and worst. What is obvious about the Green warriors making war on affordable, reliable energy is that they care not a jot about the poor – at least not the actual poor alive in the world today. Those real flesh and blood people are to be sacrificed, by the millions, utterly denied the energy that might have lifted them out of poverty, so that imaginary people as yet unborn might thrive in a Utopia that exists only in the imaginations of pampered protesters. China will just burn more coal to compensate and seize more control but, shh, best not mention it.
That corrupted thinking comes from Communism – or perhaps Communism's idiot cousin Socialism. Green warriors don't care about the poor, in the same way socialists don't care about the poor … they just hate the rich.
Which is ironic, given that with their infantile protests they are doing the work of the very richest for them.
Ukraine produces a fifth of the wheat crop, required by the poorest. Not this year though. Whatever has been grown will be hard to store and harder to export – so that hunger and full-blown famine becomes a looming threat for hundreds of millions of the world's hungriest people.
In richer countries, life is being made deliberately impossible for farmers. Spiking costs of fertilisers and fuel are one thing but governments in the Netherlands, across Europe, in Canada and elsewhere around the world are persecuting those who grow our food. Farmers are being made to endure restrictions that destroy their businesses, being driven off their land altogether. They will have to watch as fields they have known and cared for over generations are hoovered up by transnational organisations with other ideas about what that land might be used for.
If you think mass migration and immigration are difficult problems now, wait until the unavoidable famines cause a haemorrhage of humanity out of the poorest countries of Africa and the Middle East. Perhaps hundreds of millions of people with nothing more to lose. Where do you think they'll go?
And here's another inconvenient truth: money and weapons keep flowing into Ukraine, but despite months of war and sanctions, the Russian rouble remains strong and an end to hostilities seems as far away as ever. Maybe no one wants that war to end. Wars don't determine who's right anyway; wars determine who's left.
Ultimately this is all about wealth and power. Not money, remember. Money is to wealth as a menu is to a steak. One's a worthless bit of paper, the other something that will keep you alive. This is about actual wealth and its acquisition. It's about the already super-rich getting hold of even more of the real things. Land, buildings, natural resources, gold. While we are supposed to be frightened out of our wits, squabbling among ourselves, and just hoping that one day it will all be over, a relative handful of others are hoovering up all the wealth, as planned …
Don't be fooled by Sunak and the rest and their about face – their pretence that they were with us all along. Covid and lockdown carried them only so far – but they plan to go much further. Disease, War, Famine, Death – the same people always ride on the same four horses. Now is not the time to take our eyes off the ball. Not by a long chalk. Keep watching the usual suspects.
On Sunday, August 28, Scottish comedian Leo Kearse guest hosted Mark Dolan's GB News show.
He gave an excellent editorial about eco-warriors. This is a five-minute video you won't regret seeing, full of fact with a generous scoop of wit:
He points out that Green pressure on Government has made us back away from energy independence over the years. The result? We are now dependent upon Putin for gas. He says that eco-warriors are helping Putin to win the war in Ukraine. Meanwhile, the rest of us will be cutting back on fuel we need to heat our homes this winter.
He concludes that Green policies are a nonsense, especially when the Scottish Green leader Patrick Harvie says that only right-wing extremists advocate energy independence.
He gives President Trump credit for telling Germany to become energy independent, even if the German delegation listening laughed in his face. He asks when Germany will ever be on the right side in a war.
I cannot help but agree.
Returning to Rishi's coronavirus revelations, I will have more on that tomorrow, as there was fallout over the weekend. Bev Turner was not wrong. They're turning on each other.
While Foreign Secretary Liz Truss continues to dominate the polls in the Conservative Party leadership contest, former Chancellor Rishi Sunak needed a break.
He got two breaks: an interview on GB News and TalkTV's hustings.
GB News
GB News announced last week that Truss would be the guest of a People's Forum on Wednesday, August 10 at 5 p.m. She took questions from the public for an hour. I will have more on that in a separate post.
By contrast, GB News allowed Sunak a private interview with MPs Esther McVey, one of his supporters, and her husband Philip Davies.
The couple host a two-hour current affairs programme every Saturday morning.
The interview aired on Saturday, August 6, and was interspersed with other segments on their two-hour show. Judging from the room, it took place somewhere in the Palace of Westminster.
Philip Davies asked a couple of harder questions but his wife dominated the interview, making her candidate look good.
Rishi defended his Gordon Brown policy of raking in tax and giving it back to the taxpayer in insignificant token amounts:
Sunak said how difficult it was for him to resign as Chancellor. He painted it as a moral dilemma. Never mind that he, like Boris, also received a Fixed Penalty Notice for attending a Downing Street gathering. He just happened to be working in that room at the time, as he did often:
He said that he was against a Christmas 2021 lockdown — which didn't happen, thanks to 101 rebel Conservative MPs — and said he made a special effort to make his opposition known. That said, he would not, like Truss, rule out a future lockdown:
He gave a weak answer on stopping the Channel migrant crossings, which are costing the taxpayer £5 million a day in hotel accommodation. By now, we must be running out of hotel rooms — no joke:
Sunak also said he was appalled by the grooming gangs and said that he would consider introducing a life sentence for child rape and repeated sexual assaults on children.
TalkTV
TalkTV's Tom Newton Dunn presented a Conservative Party hustings in Darlington on Tuesday, August 9, broadcast as a special edition of his evening show:
As this was a Conservative Party event, the format was the same as in Eastbourne on August 5.
Andrew Stephenson MP, the new Party co-chair, gave the introduction.
Tom Newton Dunn introduced himself. It would have been helpful if he had added he leans towards the Liberal Democrats. Incidentally, he regularly loses in the ratings to GB News, although perhaps his Tuesday show bumped him up a notch or two.
Then Angela Sterling, a Conservative councillor from Durham, went up on stage to pledge her support for Sunak (9:56).
Sunak introduced himself to the audience and spoke for several minutes (16:20). From the moment he appeared, it was apparent he was on home turf. Darlington is just north of his constituency. He had many supporters from Teesside, sporting Ready for Rishi shirts and placards.
Fortunately, he didn't make the same mistake he did on July 20 and say the city was in Scotland:
Afterwards, Anne-Marie Trevelyan MP, explained why she was supporting Truss (30:00).
Then Truss introduced herself (35:00).
Sunak's Q&A session began after that (48:32).
Newton Dunn gave him an easy ride. There was only one tough question from a woman who had paid all her National Insurance stamps but was still not getting a full pension. He asked her to email him and said that he would definitely look into the matter for her.
Some say that Sunak received a hard question from the man who asked about Boris, but the audience took care of that by booing him.
However, we can see from this clip that a negative question can irritate Sunak:
Sunak did mention grooming gangs to the audience and repeated what he told Esther McVey and Philip Davies. The audience applause indicated they were pleased, although Newton Dunn looked visibly uncomfortable.
Guido Fawkes has three more highlights, one involving a delicious regional dish, the parmo (emphases his):
Rishi was on home turf this evening in his newly-adopted home of Teesside – "It is so great to be home!". Within his opening speech we got everything from the Darlington Treasury Campus to parmos, and – to be fair – he got a very warm reception.
He even cracked a decent gag: "My parents are staying with us at the moment, and I realised I'd been campaigning a lot when last night I was talking to them – and I started telling them that my dad was a GP and my mum ran the local chemist when I grew up" …
Among Rishi's backers in the audience was none other than co-conspirator favourite Tom Harding – Anna Soubry's former chief of staff who slipped through Sky News' debate vetting and

laid into

Liz

. 

He came armed

with a massive "Ready for Rishi" poster…
Then it was time for Truss's Q&A (1:19:00).
Newton Dunn interrupted Truss from the beginning. She handled the situation well and kept her composure, making quips where she could.
He would not even allow her to take a question from one of her own supporters:
I wouldn't want to make it easy for you.
How petty.
Guido has more. Once again, as it was in Eastbourne, Truss Derangement Syndrome was the order of the day (purple highlights mine):
Last night's husting saw a rather feisty Liz Truss, not least with quite a few barbs at the media
There were at least three digs towards the fourth estate, including over their continued use of the phrase "handouts" in regards to her proposed tax reductions
She also had a minor bust-up with Tom Newton Dunn when

he asked her who was responsible for Boris's downfall

. Multiple members of the audience shouted out "the media", with Liz laughing along and asking "who am I to disagree with this wonderful audience?"
At the end of the session, as

she hugged TND, she jokingly apologised for her barbs

. TND was caught on mic bitterly saying "it's cheap and you know it"
The press isn't happy, even calling her jibes "Trumpian", though every one of Liz's comments were made in a lighthearted way.
Aside from her press scrap she also said she'd vote against continuing the Privilege's Committee investigation into Boris given the hypothetical that MPs were allowed a say
Guido's readers appreciated the video montage of Truss's barbed but witty comments about the media:
Here's Guido's video:
His accompanying post says:
At points during last night's husting it felt like Tom Newton Dunn was getting more of a pasting from Liz than Rishi. During the course of her sit-down interview she – quite rightly – attacked the press for framing her tax cuts as "handouts"; bringing down Boris; proposing a "bizarre" "kangaroo committee" of her, Rishi and the CBI; and for not believing in Britain. Tom was clearly smarting, telling the foreign secretary off when they hugged for her "cheap" attacks. Grow a pair…
I couldn't agree more. Tom Newton Dunn, who, amazingly, was The Sun's Political Editor for many years, is one of the worst offenders.
Although Truss might not have had an easy time of it in Darlington, something positive happened afterwards.
Chris Skidmore was the first backbench MP to switch from Sunak to Truss. He wrote an exclusive editorial for The Telegraph, which the paper summarised:
Chris Skidmore has become the first Conservative MP to publicly switch his backing from Rishi Sunak to Liz Truss in the in the Tory leadership race.
Announcing his defection in an article for The Telegraph, Mr Skidmore said he had became "increasingly concerned" by the Sunak campaign's "consistently changing position" on policy. 
He urged other Tory MPs to join him in switching support to the Foreign Secretary, saying: "It is never too late to make the right decision".
The switch is especially noteworthy as Mr Skidmore, one of the most prominent Tory supporters of Net Zero, is seen as being on the party's liberal wing, while many of Ms Truss's most prominent backers are on the traditionalist Right.
A Truss campaign source claimed the "floodgates could open" now Mr Skidmore, the MP for Kingswood and a former universities minister, had flipped support, with other defections possible later this week.
Red Wall MP Aaron Bell followed suit, explaining his views in an exclusive for The Times. Excerpts follow:
It has been a tough campaign for everybody. There has been a lot of in-depth policy debate about the future of our party and country, much of which has been productive and insightful. And it's important that there has been a contest, because it's right that the candidates have been tested under pressure — we need to know that our next prime minister has what it takes to lead. But there has been a darker side to the campaign too. The blue-on-blue attacks have been bruising and have left me concerned for the good reputation of our party.
Because of this, I have come to the conclusion that, above all, what we need out of this leadership campaign is unity. The whole party — our members, councillors and activists, and MPs — will need to pull together after the division of the past few months. Without that unity we cannot deliver for our party or our country, and we certainly cannot defeat Sir Keir Starmer's Labour Party …
For years, Newcastle-under-Lyme had been taken for granted by the Labour Party and this came to a head in 2019 when, following our vote for Brexit and the ensuing holdup by the political establishment, my constituents turned to the Conservatives …
They watched as big cities and other areas progressed and benefited from serious investment, private and public, while their own town was forgotten and got left behind. In 2019 I pledged, alongside my Conservative colleagues, to turn this around. Indeed, after getting Brexit done, it was to be our government's guiding mission: restoring not only investment but also local pride in towns such as Newcastle …
We need, with increasing urgency, to deliver on our promises to level up. We have two years until the next election, and if we are to have any hope of beating Labour and continuing to be able to deliver for our country, this is an absolute must. That is why I am supporting Liz Truss to be our next prime minister.
Once Tom Tugendhat, my initial choice, was eliminated, I was leaning towards supporting Rishi Sunak. But, having observed the campaign, I now believe that Liz is the best person to unite the party, deliver on our promises to level up, and beat Keir Starmer in the red wall seats.
Well done!
I will feature Liz Truss's GB News appearance tomorrow.
It's difficult winning against Andrew Neil, the longtime BBC political presenter who was the leading face of GB News for a month in 2021 and who currently has his own Friday evening show on Channel 4.
When it comes to grilling politicians, no one does it better than he.
Rishi Sunak agreed to subject himself to Neil's unfailing command of the facts. So far, Liz Truss — as did Boris Johnson — has not committed to the same.
Neil's interview
Sunak appeared with Neil on Friday, July 29, 2022, to put forth his case for becoming the next leader of the Conservative Party and, by extension, the United Kingdom's next Prime Minister.
Having watched the Q&A session, I thought that Rishi did a good job.
However, there was a real dissonance between what he said his policies involved and what Neil said they did.
As such, it made for awkward viewing. Who was telling the truth? I was left none the wiser.
At times, I was focusing on Neil's hair, which he has dyed a dark brown. His natural colour is ginger.
Rishi presented himself as the sensible, cautious candidate with regard to tax and the deficit:
Rishi defended raising taxes to fund the NHS. He did well in preventing his irritability from showing, but a vulnerability did slip out here:
Neil accused him of being 'consistently inconsistent' with regard to tax reform, but Rishi said that's how it works:
Hmm.
Neil asked Rishi about his wife's non-dom status. The former Chancellor gave a short reply, saying that she addressed it. This did not satisfy me, but then I don't have a vote in this contest:
Yes, there are family obligations here, it would seem. Those appear to involve his in-laws.
Neil was surprised at Rishi's answer about curbing the number of refugees. What Neil doesn't realise is that legal immigrants and their children take a much different view on migration than the British metropolitan elite.
Neil also managed to squeeze in Rishi's televised statement from his teenage years in 2001 in which he said he had no working class friends:
Neil concluded by reiterating that Liz Truss was still welcome to appear on his show.
I did not really know what to make of this half-hour broadcast.
Only the Mail had any commentary on it.
One article with more dialogue from the programme is 'Sunak is forced to deny he has shown a "lack of consistency" on VAT to Andrew Neil'.
An excerpt follows:
Veteran broadcaster Andrew Neil said Mr Sunak's approach of tightening fiscal policy risks recession in an interview on Channel 4.
The Tory leadership hopeful replied: 'No, if you look at what's happening around the world, it's inflation that is slowing economies down. It's rising interest rates that are already putting a brake on economic activity.
'And my concern is that I want to get to grips with inflation as quickly as possible because inflation makes everybody poorer. It erodes people's living standards.'
He also insisted his policy to hike national insurance thresholds was 'undoubtedly, objectively progressive' when Neil suggested it penalised workers.
'It's an entirely progressive measure,' Mr Sunak said. 'Raising thresholds means that those with the broadest shoulders contribute the most.'
The heated exchange resulted in Neil saying that the OECD has said that Mr Sunak's plans will result in a recession for the UK economy – which the former Chancellor disputed. 
It came as Mr Sunak sat down with the fearless interviewer Mr Neil on Channel Four – after frontrunner Liz Truss refused to do the same.
Mr Neil once again extended the hand to come on his show to the Foreign Secretary – saying the 'invitation is still open'.
The Southampton-born millionaire repeated his claims that tax rises were necessary for paying for Covid measures and said that he did not want to pass debt onto future generations.
He said that it would be the 'easiest thing in the world' to cut taxes to aide his leadership campaign but that he thought it was not the responsible thing to do.
Mr Neil hit out at Mr Sunak's wife's non-dom status which hit the papers earlier this year but the former Chancellor attempted to draw a line under the line of questioning, saying that he was the one running for office – not his partner.
The line of questioning made Mr Sunak visibly uncomfortable as he tried to move on from the scandal.
The tax cuts intended to fund the NHS were another line with Mr Neil used to attack Mr Sunak – as the interviewer quoted suggestions that the waiting lists on the NHS will reach 10 million in the next two years.
Mr Sunak attempted to distance himself from the Conservative's record on health after the fierce Scot tried to pin the NHS's problems on him – saying that he has left Government to change course on the NHS.
He added that he wanted to set up over 100 'elective surgery hubs' to bring down the backlog. 
Henry Deedes examined the optics of the interview: 'The ex-chancellor sat awkwardly, like a man about to undergo an enema'.
Excerpts follow:
We immediately saw Sunak sat behind a desk, his hands placed slightly awkwardly on top of each other. Across his mouth was smeared a distinctly uncomfortable grin. He looked like a man nervously waiting to undergo an enema …
Tax was the main topic, namely why Rishi as chancellor made us pay so much of it. Sunak said he wanted to pay down the cost of the pandemic rather than saddle our grandchildren with all that debt. 'I'd like to give people all these nice things – don't you think that'd make my life easier?' he pleaded.
Rishi kept calling Neil by his first name. Most of his replies began with a chummy 'look, Andrew'. Doubtless his spin doctors thought familiarity might soften the old brute. It didn't.
Neil kept coming at him over tax rises. A Bren gun with ceaseless ammunition. Pop, pop, pop. 
Why had he frozen the income tax threshold? Why had he left comfortable pensioners alone? Why were so many people paying the top rate? Unfortunately for Sunak, Neil is that rare thing in journalism – someone who actually understands economics …
Talk turned toward the NHS. Neil pointed out that waiting lists were up, despite the gazillions of pounds which get thrown at the Health Service every year. 'These are complex issues, Andrew,' Rishi mansplained.
Yes, yes, said Neil. But it had gotten worse on the Government's watch. 'Andrew, I left the Government,' pleaded Rishi. 
'Yes, but only a few days ago,' barked Neil. Sunak's answer to the NHS backlog was to set up a task force. Yes, that should do it!
There was mention of a recent video which surfaced of Sunak in which he told an interviewer he didn't know any working class people. 
Bit odd for someone who claims to come from such a modest background. 'I grew up working in my mother's pharmacy,' Sunak reasoned. 'We know all that,' sighed Neil witheringly.
He seemed to think Sunak's 'umble roots were a tad overplayed. Especially since he was schooled at Winchester. Neil's intellect of course was forged and honed at Paisley Grammar.
A brief tit-for-tat developed over Lady Sunak's non-dom tax status. 'I'm the one running for office, not my wife,' said Rishi. His voice lowered a bit at this point. He shot Neil a steely look as if to say 'Let's leave her out of this, shall we?' Respect.
We were now out of time. To be fair to Sunak he was still standing. But only just.
Incidentally, his opponent Liz Truss had given Neil's offer of an interview a wide swerve. 'Her choice, of course,' said Neil, voice laced with irritation. Chicken? Jolly wise, I'd say…
More scrutiny
Last week, Rishi's policies and personal life came under more scrutiny.
A Mail headline from April 24 resurfaced about his lavish Yorkshire home, which has a heated pool and will soon have a new gym and tennis courts. Incidentally, he has other homes, including a pricey mews house in London:

Just a little over a year ago, on July 2, 2021, Asia Financial reported that Rishi wanted more trade between the UK and China:
UK Chancellor of the Exchequer Rishi Sunak called for a "mature and balanced relationship" with China that helps British firms to exploit "the potential of a fast-growing financial services market with total assets worth £40 trillion" ($55 trillion) in a speech on Thursday July 1 …
Sunak set out alternative plans for an independent financial services policy for the UK and spent more time discussing opportunities in China than the US, which is the UK's most important bilateral partner.
He attempted to frame the opportunity to sell financial services to China within a context of maintaining principles such as openness and commitment to a rules-based order.
"Too often, the debate on China lacks nuance," Sunak said. "Some people on both sides argue either that we should sever all ties or focus solely on commercial opportunities at the expense of our values. Neither position adequately reflects the reality of our relationship with a vast, complex country, with a long history."
Sunak highlighted the appeal of China's financial services market for UK firms, as well as the need to cooperate on global issues like health, ageing, climate and biodiversity.
He seemed to effectively offer China the opportunity to agree different financial services terms with the UK than the EU, now that Brexit has arrived without a deal on mutual recognition of standards across Europe – which was the former target of "equivalence" of regulation.
Hmm. Interesting. His father-in-law's Infosys has an office in China.
A year later, on July 25, after China's Global Times endorsed him as the next Conservative Party leader, he walked back his support and claimed Liz Truss was the greater supporter of the Communist nation.
Guido Fawkes reported (red emphases his):
It's unsurprising, given his tacit endorsement from the Chinese propaganda arm Global Times, that Rishi has decided to go in hard on the country's security threat this morning. Declaring the Chinese Communist Party "the largest threat to Britain and the world's security and prosperity this century", Sunak attacks Liz for "[rolling] out the red carpet" and turning "a blind eye to China's nefarious activity and ambitions". He calls for a new NATO alliance to be set up to counter it the threat, and pledges to close all 30 Confucius centres, which teach Mandarin in the UK and are thought to be used as fronts by the Chinese intelligence services.
In response Team Truss returned fire last night, using Iain Duncan Smith to call the policy "surprising" and asking where Sinophobe Sunak has been for the last two years. Her team points to the above Sunak's endorsement by Global Times, and says he has been consistently soft on China …
In response, a Truss ally bluntly tells Guido that Sunak's team are "moronic", given not only was Truss responsible for childcare policy as an education minister, universities policy was run out of the business department at the time. David Willets was the BIS minister responsible, who – whilst yet to declare in this leadership election – has backed Sunak's tax rises. 
Guido also exposed the fact that the Artichoke Trust received £1,234,682 through Cultural Recovery Grants during the pandemic, when Rishi was Chancellor.
The Artichoke Trust puts out 'art' like this:
Clearly, not much scrutiny took place during the pandemic. No doubt, the Treasury were all in a rush to send out grants — taxpayers' money — to all and sundry.
On Tuesday, July 26, Rishi did a huge tax U-turn, imitating his rival Liz Truss.
Only days before, Rishi told Liz that it would be 'immoral' to lower taxes, yet, here he was at the beginning of last week reversing that to sound more like his rival:
Guido rightly asked why Rishi did not cut VAT on energy bills when he was Chancellor. Oddly, he now advocates the policy:
This is what the former Chancellor said in February 2022:
Guido has more on his February comments here.
On July 27, the Mail on Sunday had an article about his U-turn, saying he was 'under pressure' since the BBC debate of July 25 (emphases in purple mine):
This morning, Truss ally Kwasi Kwarteng, the Business secretary, welcomed Mr Sunak's 'late to the party' change on taxes.
He told Times Radio: 'I think he's under a lot of pressure. That's why we see all these statements: he was the person who said the VAT cut would disproportionately benefit rich families and now he's saying that a VAT cut on energy bills is the right thing.
'He was saying that tax cuts were a fairytale, now he is proposing an unfunded tax cut.
'There comes a time in campaigns when people are under a lot of pressure, he clearly felt under a lot of pressure in the debate and he wanted to get out on the front foot and interrupt Liz.'
But Transport Secretary Grant Shapps, an ally of Rishi Sunak, defended the former chancellor's plan. He rejected the suggestion that Mr Sunak is 'flip-flopping' and said the £4.3 billion policy is sensible as it would not add to inflation.
Put to him that it is a 'flip-flop', Mr Shapps said: 'If he hadn't produced £37 billion of support, about £1,200 to the hardest-up households already – if he hadn't done any of that and then suddenly did it then you would have a point.
'But he has, he has been providing all this support, now he is saying "Here's something that won't add to inflation that would save every person watching your programme £160 off their energy bills" – I think that's worthwhile.'
Last night No10 insiders told the Daily Mail that Mr Sunak's plan was something Boris Johnson tried to implement to ease the burden on consumers – but was blocked by his then chancellor.
'Boris begged him to do it – but he wouldn't budge', said the source. 'It's astonishing that he's now claiming it as his own policy.'
Meanwhile new polling shows that the rising cost of living and handling of the NHS could cost the Tories the most votes at the next election.
The Mail on Sunday's Anna Mikhailova pointed out that Rishi hardly had a long-term career in business, despite his own claims.
Nigel Farage picked up on her tweet and called Rishi 'a fraud':
Farage had elaborated on his GB News show the day before, Monday, July 25. He pointed out that Rishi included a clip of him in his campaign video on immigration. He doubted Sunak's sincerity on China and ended by saying, 'Well, I guess that leaves us with Liz Truss':
By July 27, the bookies gave Liz Truss an 83% chance of winning the leadership contest.
That night, Dan Wootton said that 'Fishy' Rishi's tax U-turn was 'too little, too late':
John Sergeant, who reported for the BBC for decades, said that the former Chancellor appeared 'rattled':
Political commentator Patrick O'Flynn said that many intelligent politicians weren't very good at politics, Rishi being a case in point:
On Thursday, July 28, Lord Ranger, a Rishi supporter, said that if the Conservative Party members do not choose the former Chancellor as leader, they are racists.
Dan Wootton responded by pointing out that this Conservative leadership contest has been the most diverse in history:
That includes Labour, too, by the way.
Wootton said, in part:
It was still only a matter of time before Team Rishi Sunak blamed his imploding campaign on racism.
Forget the fact that Kemi Badenoch was a surprise favourite among the party membership before being booted out by MPs for being too daring and different.
Forget the fact that Liz Truss is a woman who went to a Leeds comprehensive.
Nope, Sunak's failure is nothing to do with his big state/high tax agenda, which saw him increase our tax burden to the highest it's been in 70 years.
Nothing to do with his globalist posturing and desire to cosy up to China by making the Communist country our market of choice, as revealed in bombshell leaked Treasury documents reported in The Times today.
Nothing to do with the fact he backstabbed Boris Johnson – the man to whom he owes his career – plotting his leadership campaign, all the while pretending to be his loyal Chancellor.
No, no, no, no it's down to racism.
Conservative donor and Fishy Rishi supporter Lord Ranger told Indian news network Bharat Tak: "If people reject him, it will be a bad name for the party and the country because this will be perceived as racist.
"And so there is pressure on them to prove that here race does not matter.
"Calibre matters, and Rishi's calibre is above everyone. I am optimistic that people here will be fair and will not reject anyone on the basis of race."
Lord Ranger, I can assure you the Conservative members are not rejecting Rishi based on race.
They're rejecting him based on policies and a lack of loyalty too.
As my colleague and friend Calvin Robinson tweeted in response: "'Vote for me because I am brown,' is bad enough 'if you don't you're a racist' is even worse.
"This divisive, toxic rhetoric is straight from the Leftist guidebook on Critical Race Theory and should have no place in the Conservative Party or the government of this great nation."
Former Cabinet member Michael Gove's ex-wife Sarah Vine, who writes for the Daily Mail, said that Rishi stabbed Boris in the front:
On Friday, July 28, a Techne poll showed that Liz was gaining ground over Rishi:
That morning, Defence Secretary Ben Wallace put the boot into Rishi's decision to resign as Chancellor:
Wallace told Sky News:
Wallace: Let's look at that Friday afternoon – I think it was a Friday – what if the markets had crashed? What if the Home Secretary had done that and there was a terrorist attack? What would the public think, they would never forgive us for that… I don't think people needed to walk out, the public would see that as a government not thinking about the job in hand.
The multi-year settlement [for the Department of Defence] that we got was not what the Treasury had wanted, they wanted a one-year settlement – this was back in 2019 I think – and it was vital that we got a multi-year settlement, and the PM effectively asserted his authority and made all that to happen…
Interviewer: But Mr Sunak was not in support?
Wallace: Not that I remember.
Cut the right taxes like not proceed with corporation tax rises helps growth. When Rishi was Chancellor he cut entrepreneurial relief – he cut the relief we give to entrepreneurs who've invested in this country, invested in businesses – that's not a way to help create either wealth or indeed growth.
Wallace had more to say. He said that, as Secretary of State for Defence, he did not have the 'luxury' of resigning, a pointed barb at Rishi, who, he intimated, should have stayed on as Chancellor:
Wallace pledged his support for Liz Truss.
Meanwhile, Rishi's team claimed someone was leaking official documents:
Rishi allegedly asked Simon Case, the head of the civil service, to get involved.
Guido reported:
What leaks might Rishi be upset about? The Treasury documents which completely undermined his pledge to "scrap or reform EU laws in 100 days" is a strong bet. Earlier this month, just after promising to review all of the remaining 2,400 EU laws on the statute book, Bloomberg revealed the Treasury had – under Rishi's leadership – written to Liz Truss to claim that reforming EU taxes was desirable but probably not deliverable until 2026. Last time Guido checked, that wasn't quite within 100 days. Brexit Opportunities Minister Jacob Rees-Mogg even responded by claiming it was "a surprising promise as the Treasury under his leadership was insisting that taxation was exempt from the removal of EU law." What was it Rishi said about "fairytale promises"?
UPDATE: Now a spokesperson for Liz Truss says:
We condemn the leaking of Government documents and papers. Neither campaign condones leaks of material and will not use documents it receives. Furthermore, both campaigns will report any such leaks to the Cabinet Secretary who may take action directly, or via the Police, against the individuals involved in perpetrating such leaks or receiving and not reporting material. We understand leak investigations will be carried out without fear or favour.
Word around Whitehall is that Simon Case is livid, demanded both camps issue a statement and has called in police to investigate the China leaks.
On Saturday, July 30, things got worse for Team Rishi. He had to give away tickets to what had been a £20 per person hustings event:
Then, Tom Tugendhat, he of the military service, endorsed Liz Truss:
Oh, dear.
While all that was going on, staff at the Mail on Sunday (MoS) were preparing its copy.
Late on Saturday in one of the MoS pieces, Boris loyalist Nadine Dorries MP further reinforced the notion that Rishi is not a man of the people. She wrote about a tweet she'd sent out a few days before commenting on his expensive attire:
I wanted to highlight Rishi's misguided sartorial style in order to alert Tory members not to be taken in by appearances in the way that happened to many of us who served with the Chancellor in Cabinet. The assassin's gleaming smile, his gentle voice and even his diminutive stature had many of us well and truly fooled.
I wish to stress it's not the case that I believe a rich man or woman – even if their father-in-law is one of the richest men on an entire continent – cannot be Prime Minister of this great country. But they do have to possess good judgment, understand the lives of others, have empathy, compassion and know how to fill a car with petrol and pay for it at a till.
Rishi's father was a GP, his mother a pharmacist. He attended a public school where the annual fees are about £36,000. They were in the top two per cent income bracket of all earners in the UK. To describe his background as humble is yet another indication of poor judgment.
Rishi will never know what it is like to feel scared, broke and hopeless, without a safety net provided by wealthy parents. He has never had to lie awake at night, worrying about how to pay the bills. A bailiff will never knock on his door …
Too right.
Dorries said that Boris was not best pleased when he found out that Rishi is now pledging to cut VAT on energy bills, something she said Boris begged him to do as Chancellor:
… Rishi says he wants to cut VAT on energy bills. However, Boris had been pleading with him to introduce this measure for two years as the PM had been convinced that such a cut could provide immediate relief to families.
In a speech on Thursday, Boris commented with a hint of uncustomary sarcasm: 'Turns out it was easier than we thought!'
Rishi was the classic dog in the manger as Chancellor. Whenever Boris sought him out to discuss serious issues, Rishi was always polite but unforthcoming. Never a team player.
Another MoS article revealed photos of a young Rishi Sunak at an exclusive nightclub in London's fashionable Mayfair.
Reporter Michelle Bromley included photos, writing about the young man and his then-fiancée, now wife, the Infosys heiress Akshata Murty, who lived in California in 2008:
Despite living 5,400 miles apart, the couple regularly flew back and forth across the Atlantic.
These photographs show how they spent an evening with friends at the Whisky Mist nightclub in London.
Ms Murty is seen with a cocktail while Mr Sunak (who says he's teetotal and 'a total Coca-Cola addict') generously bought all the drinks that night for the couple's friends.
At the time, the club off Park Lane was popular with the young Prince Harry and celebrities such as Beyoncé and Leonardo DiCaprio. Many years later, Tesla tycoon Elon Musk met his second wife, actress Talulah Riley, there.
Whisky Mist was apparently named after an incident during which a tipsy Queen Victoria thought she'd spotted a stag in the fog from the window of Balmoral Castle.
Friends with Mr Sunak and his girlfriend that night recall how many of the guests were focused on Ms Murty because of her family's fabulous wealth.
Her father founded global IT giant Infosys.
Mr Sunak was described by a female reveller as 'the most attentive boyfriend you have ever seen' and as 'someone who would ask a lot of questions but not give too much away about himself'.
Not long before, he had been to Africa where he met some of Barack Obama's relatives. He was photographed with them while holding a copy of the future US president's book, Dreams From My Father: A Story Of Race And Inheritance.
The picture was posted on Mr Sunak's Facebook page. Mr Obama used his book as a primer to introduce himself to the American people as he campaigned in 2008 to become the first black US president.
Fourteen years on, the young Briton captivated by that book is campaigning to become Britain's first Prime Minister of Asian heritage – and of America's greatest ally.
Nadine Dorries is right. Rishi Sunak will never have to worry about anything significant in his life.
The Sunday Telegraph said that Conservative MPs criticised Dorries for retweeting a photoshopped image showing Rishi as Brutus wielding a knife at Johnson's Julius Caesar's back. The original tweet is at the link.
The MoS also reported that some of the MPs supporting Rishi have serious doubts about his campaign:
Conservative MPs backing Rishi Sunak have privately admitted 'It's over' as panic sets into his leadership campaign.
Insiders told The Mail on Sunday that some supporters were refusing to do campaigning events for the former Chancellor.
MPs are said to be getting cold feet after Defence Secretary Ben Wallace and former leadership rival Tom Tugendhat threw their support behind Liz Truss in quick succession.
However, other MPs backing Mr Sunak insisted he was doing well with Tory members, and said private polling showed Ms Truss's supporters had been easily convinced to switch their support to him.
As this week opened, Dan Wootton's Monday poll showed that GB News viewers thought that his tax U-turn was still too little, too late:
That polling ran while Rishi and Liz were at a hustings in Exeter, more about which tomorrow.
I hope the former Chancellor, whose mother owned a pharmacy, does not get anywhere near Downing Street, except as a visitor: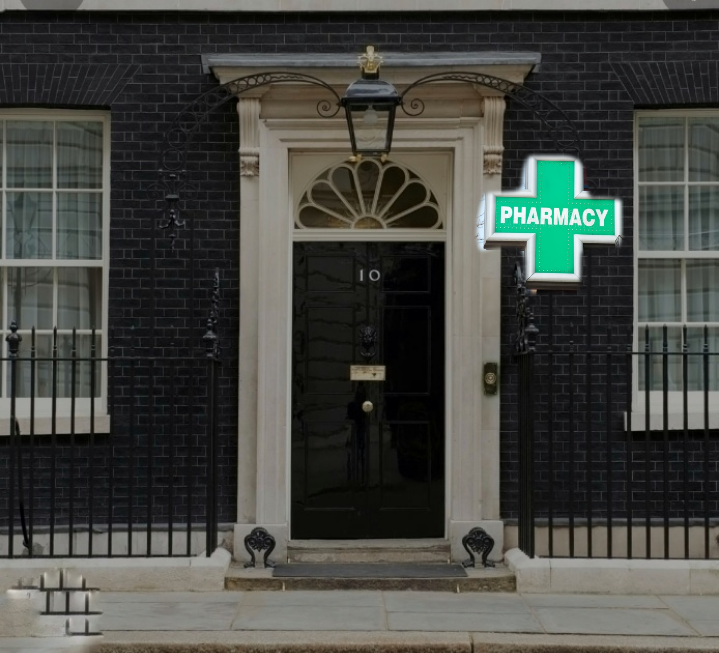 Why anyone wants Rishi to be the next occupant of No. 10 escapes me. Convince me — someone, anyone — why he should be our next Prime Minister.