You are currently browsing the tag archive for the 'television' tag.
At 5 p.m. on Friday, March 22, 2019, news emerged that special counsel Robert Mueller's report was complete, with no more indictments:
Attorney General William Barr wrote a letter to both houses of Congress:
This investigation has been a millstone around President Trump's neck since 2017.
Rep. Mark Meadows (R-North Carolina) said:
It was an expensive investigation:
The third paragraph in the following announcement details what it involved — all to no avail:
Imagine the disappointment:
Media and the coming downfall
The media were positive that President Trump was guilty of a criminal offence, as they watched the Mueller probe unfold involving:
More on this in a moment:
For now, let's look at three people on MSNBC.
Rachel Maddow
Rachel Maddow wasn't crying, but she came pretty close:
Mika Brzezinski
Morning Joe's Mika Brzezinski also had a close call with the tear ducts:
Chris Matthews
Chris Matthews, who once said he felt a tingle go up his leg during Obama's 2008 campaign, looked as if he was fighting back tears but spoke in anger. He was particularly upset the report was released at 5 p.m. on a Friday:
There is always the danger that a lie told long enough appears to be true:
There was also this gem in Chris's segment:
HE ADMITS they were "TARGETING" Trump! Listen about 2/3 the way through Apx 1 min into it he slips up & calls Pres. Trump "THE PERSON BEING TARGETED" and quickly corrected himself saying "the subject being investigated"
Ratings tank
On Wednesday, March 27, Breitbart's John Nolte reported on the tanking ratings for CNN and MSNBC (excerpts follow, emphases mine):
During the week of March 18, the far-left CNN lost almost 30 percent of an audience that is already minuscule …
On the credibility front, CNN chief Jeff Zucker tried to excuse his network's two-year deliberate deception about Trump colluding with the Russians by admitting on Tuesday that no one at CNN does investigative work.
Like we didn't already know that.
"We are not investigators," he told the far-left New York Times. "We are journalists, and our role is to report the facts as we know them, which is exactly what we did."
All Zucker did there was to confirm what we already knew: CNN acts as stenographers for the establishment, most especially the intelligence community, all of whom share CNN's left-wing agenda for the country.  The facts are that so-and-so told us this and so-and-so told us that, is not journalism. Journalism requires investigation and the risk of uncovering a truth that might be inconvenient to your own personal beliefs and still reporting that truth …
For the week of March 18, meaning prior to the release of the Mueller Report exonerating Trump from the Russia Collusion Hoax, CNN lost a jaw-dropping 24 percent of its total day viewers and 27 percent of its primetime viewers, when compared to this same week last year.
In the 25-54 age demo, which sets advertiser rates, CNN lost an astonishing 37 percent of total day viewers and 38 percent primetime viewers.
For comparison purposes, during this same week, Fox News increased its total day and primetime viewership by +8 and +2 percent, respectively.
MSNBC, CNN's competition for left-wing viewers, only lost 9 percent of its total day viewers and 15 percent of primetime viewers. In the 25-54 demo, MSNBC also took a huge loss in total day and primetime; 33 percent and 32 percent, respectively …
On Monday, during primetime, four of CNN's hours failed to break 700,000 total viewers: Jake Tapper (683,000), Wolf Blitzer (637,000 & 622,000), Erin Burnett (685,000).
MSNBC might see a ratings dip as it maneuvers in the post-Mueller world, but CNN was already in trouble, already in far-last place, and those wondering how CNN's ratings could possibly get any worse are about to find out.
With the Mueller probe wrung dry, Rachel Maddow's show definitely took a hit:
Not surprisingly, Trump tweeted about both networks' ratings:
Reactions from Democrats and their allies
Before the Mueller report was completed, the American public saw these now-familiar Democrats on television with nauseating regularity:
The Dems and their supporters will continue to press on with other anti-Trump talking points:
Assassination attempt
This attempted coup has roused radicals to take matters into their own hands. The latest was, thankfully, thwarted on Wednesday, March 27, on the border between West Virginia and Maryland:
Nancy Pelosi
Speaker of the House Nancy Pelosi (D-California) has put impeachment on the back burner for now:
Adam Schiff
Rep. Adam Schiff (D-California), who chairs the House Intelligence Committee and is one of the president's most constant critics, refuses to let go:
He commiserated with Rachel Maddow, but that was only momentarily:
A fellow House member, Dan Crenshaw (R-Texas), has strong words for him …
… as does journalist Paul Sperry:
On March 27, Fox News reported of Republicans' calls for Schiff's resignation:
Republicans are stepping up calls for House Intelligence Committee Chairman Adam Schiff to resign or give up his committee post for repeatedly pushing claims of collusion between President Trump's 2016 campaign and Russian operatives.
Now that Robert Mueller's probe has shown no evidence of collusion, White House adviser Kellyanne Conway has been the most vocal in calling for Schiff's resignation – telling "Fox & Friends" on Monday that the California Democrat "ought to resign today."
… While not going so far as Conway in calling for Schiff to leave office, House Minority Leader Kevin McCarthy, R-Calif., said that Schiff does owe "an apology to the American public" and should step down from his post as head of the intelligence committee.
"He owes an apology to the American public," McCarthy said. "There is no place in Adam Schiff's world or in Congress that he should be chair of the intel committee."
McCarthy added: "There is no way he could lead the intel committee and he should step back."
James Comey
On Sunday, March 24, former FBI director James Comey tweeted, and Senator Lindsey Graham (R-South Carolina) — chairman of the Senate Judiciary Committee — duly replied:
Sean Hannity also replied:
Yes Mr @Comey . Let's start with why did you sign off on the FISA warrant based on hrc lies in oct 2016. And in January 2017 say it's "unverified and salacious" ? Did you commit a fraud of the FISA court or lie to the President Elect you hated?
And, let's not forget a memo that Comey leaked in 2017:
Comey instructed his friend, Daniel Richman, to give the [New York] Times a memo he wrote about a conversation he had with Trump on Feb. 14, 2017. Comey claimed Trump asked him to shut down an investigation of former national security adviser Michael Flynn.
Comey's ploy worked, as Robert Mueller was appointed special counsel May 17, 2017.
What happens next?
It seems probable that President Trump will not let sleeping dogs lie. Nor should he.
On Wednesday, March 27, he gave an interview to Sean Hannity, his first since the Mueller report's completion (watch on YouTube):
President Trump, in an exclusive wide-ranging interview Wednesday night with Fox News' "Hannity," vowed to release the full and unredacted Foreign Intelligence Surveillance Act (FISA) warrants and related documents used by the FBI to probe his campaign, saying he wants to "get to the bottom" of how the long-running Russia collusion narrative began.
Trump told anchor Sean Hannity that his lawyers previously had advised him not to take that dramatic step out of fear that it could be considered obstruction of justice.
"I do, I have plans to declassify and release. I have plans to absolutely release," Trump said. "I have some very talented people working for me, lawyers, and they really didn't want me to do it early on. … A lot of people wanted me to do it a long time ago. I'm glad I didn't do it. We got a great result without having to do it, but we will. One of the reasons that my lawyers didn't want me to do it, is they said, if I do it, they'll call it a form of obstruction."
Trump added: "Frankly, thought it would be better if we held it to the end. But at the right time, we will be absolutely releasing."
Trump also accused FBI officials of committing "treason" — slamming former FBI Director James Comey as a "terrible guy," former CIA Director John Brennan as potentially mentally ill, and Democrat House Intelligence Committee Chairman Adam Schiff as a criminal.
He mentioned 'treason' more than once:
"It was treason, it was really treason," Trump said, referring to texts between former FBI Special Agent Peter Strzok and former FBI lawyer Lisa Page that discussed an "insurance policy" in the event of Trump's election.
"You had dirty cops, you had people who are bad FBI folks … At the top, they were not clean, to put it mildly." He said later, "We can never allow these treasonous acts to happen to another president."
Also:
"I think Brennan's a sick person, I really do," Trump said. "I believe there's something wrong with him, for him to come out of the CIA and act that way was so disrespectful to the country and to the CIA. He was not considered good at what he did. He was never a respected guy."
Looking back to 2016:
"When I said there could be somebody spying on my campaign, it went wild out there," Trump told Hannity. "They couldn't believe I could say such a thing. As it turned out, that was small potatoes compared to what went on. … Millions and millions [spent] on the phony dossier, and then they used the dossier to start things. It was a fraud, paid for by Hillary Clinton and the Democrats."
As for the mysterious tarmac meeting between Bill Clinton and Obama's attorney general Loretta Lynch during the summer that year, he said:
I had a lot of planes for a long time. I've never stopped the plane on the tarmac to let somebody on the plane. Bill Clinton said he was there to play golf, but I know the area very well. Arizona. It's a little warm at that time of year for golf, OK?
He also had a dig at his own former AG Jeff Sessions — and rightly so:
Trump also told Hannity "this all would not have happened" if Attorney General William Barr had been with his administration from the beginning.
I could not agree more!
However, without Mueller and Stumbling Block Sessions, the administration can move forward, and one congressman, dairy farmer Devin Nunes (R-California), is raring to go:
Onwards and upwards!
MAGA!
On Saturday, September 29, 2018, Kanye 'Ye' West was a guest star on NBC's Saturday Night Live.
As a Trump supporter, he wanted to wear his MAGA — Make America Great Again — cap, but the show's cast and crew told him not to.
Actor Chris Evans, who appeared on the show that night, took strong exception to West's open support of President Trump. I would suggest reading what West says before reading Evans's tweet, then comparing and contrasting the two perspectives:
Candace Owens, about whom I wrote yesterday, made an excellent point about the Democrat plantation (language alert):
Owens sat through Saturday Night Live to watch her friend West, whom she has encouraged to speak out in favour of Trump:
Kanye had the closing segment and was booed. His final comments about the banning of his MAGA hat were not broadcast. He donned his cap and called his fellow entertainers 'cowards'. Here's the clip that was censored. The first 30 seconds are the best:
Here are two excerpts:
This was Candace Owens's take on her friend Kanye and Saturday Night Live:
Yep. It happened after the 2016 election to Kanye, and, sadly, it's possible this could happen again.
Although I reserve the words 'hero' and 'bravery' for military personnel, it is true that West is taking a huge risk in openly supporting his president:
No doubt 'Ye' is delighted to have Candace Owens as a friend.
In closing, I wanted to say a few words about the environment in which Chris Evans grew up. His hometown of Sudbury, Massachusetts, is one of the nicest towns outside of Boston. His father is a dentist and his mother is an artistic director at Concord Youth Theater. Concord is another splendid town outside of Boston, made famous by the American Revolution. Both are upmarket communities which attract rarefied, wealthy people.
Chris Evans's siblings are or have been in the arts. His brother is an actor. Their uncle Mike Capuano is a Democrat congressman representing parts of Boston, Cambridge and Somerville. Capuano's seat used to be Tip O'Neill's, Speaker of the House during the Reagan years.
Chris Evans has never had to want for much in his life growing up. Given his surroundings and family, he had the best of everything.
Candace Owens expressed it well to Breitbart on October 1 (emphases mine):
"Chris Evans sounds like a plantation owner," Owens told Breitbart News, referring to Evans as "Captain out of touch with America," poking fun at his most famous role as Captain America.
"It's them that think their ideas are supreme and superior," Owens said of members of the media and the left-wing Hollywood elite. "Evans didn't challenge Kanye's statements. He simply launched a personal attack"
"It was the euphemistic equivalent of Evans calling Kanye a dumb — …
You can fill in the rest … And, yes, Owens did say the word. She must be steamed about this, because she also made a video about it — well worth watching. She wants to debate Evans:
This reply from an Evans fan to his (Evans's) tweet about West seems to corroborate her words: I'm not going to show it here, so see it for yourselves. Wow. Just wow. Be sure to see the opposing replies in the thread, accompanied by photos. The truth is coming out about the Left, that's for sure.
It's a pity Evans fails to understand that 98% of Americans have not shared his life experience.
That's why they voted for Donald Trump in 2016 and will vote Republican in November 2018.
They would like their children to have the same opportunities that he did.
Maybe Evans doesn't want that to happen.
This photo montage speaks for itself.
For those outside of the United States, below are CNN's Don Lemon, MSNBC's Rachael Maddow, CNN's Anderson Cooper and Fox News's Tucker Carlson: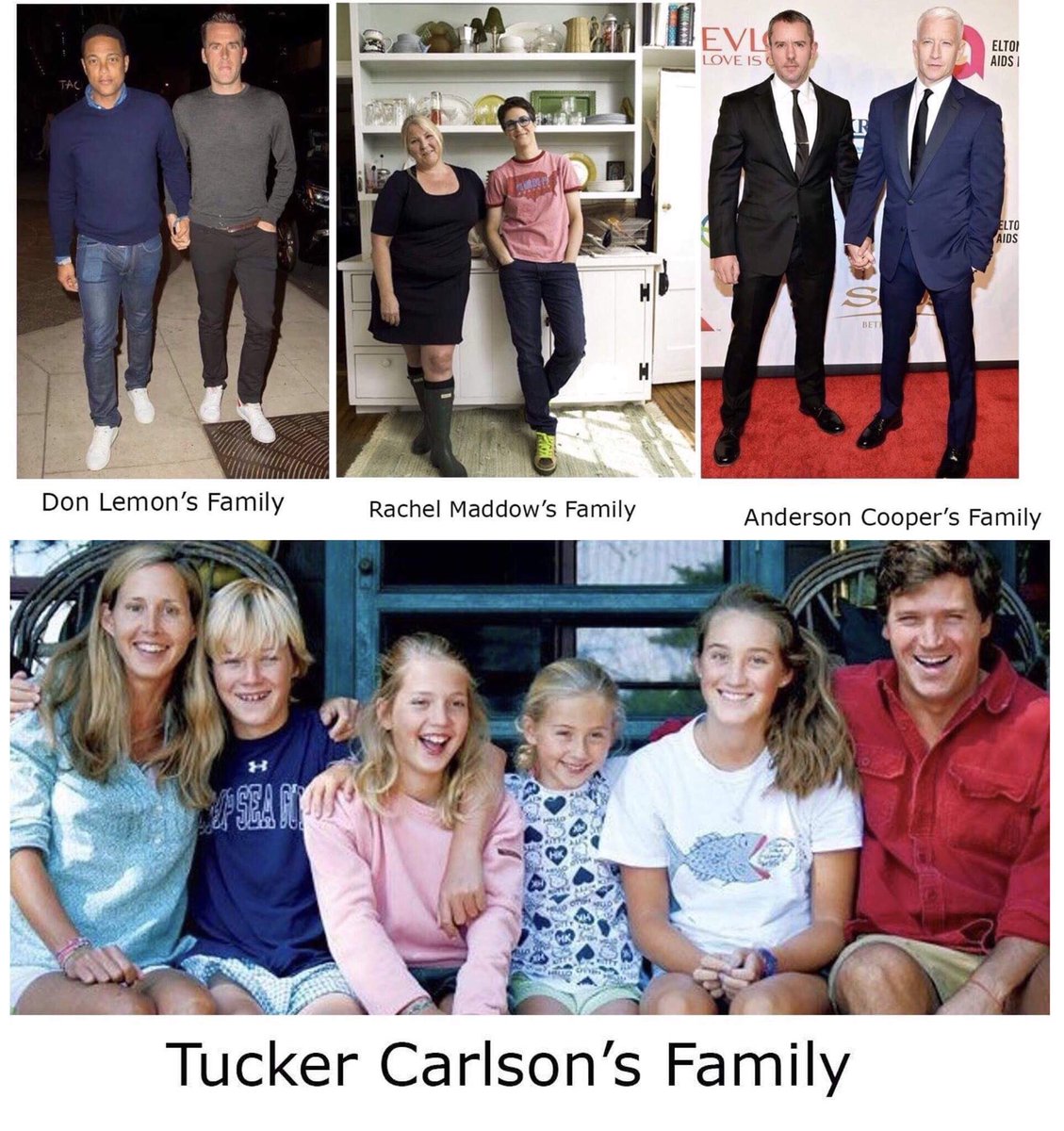 I do not know who put this together, but it speaks a thousand words.
Before President and Mrs Trump left Stansted Airport for Scotland on July 13, 2018, Piers Morgan — the first winner of the American show Celebrity Apprentice — was granted exclusive access to Air Force One.
Morgan's world exclusive interview was reported in various news outlets last weekend. The full interview aired on ITV1 on Monday's edition of Good Morning Britain and again later that evening.
Morgan noted that time was of the essence that day. When Air Force One is at an airport, arrivals and departures are blocked until it leaves. As the Trumps' visit with the Queen lasted 17 minutes longer than scheduled, they were delayed in getting back to Stansted. Morgan was keenly aware of this. That said, the interview was excellent, as he and the US president are long-time friends.
This is not the first time Morgan has had exclusive interview access:
It need not have been that way in January:
Last week, Morgan received a lot of criticism on Twitter from fellow journalists. As to why he never interviewed Obama:
'Entertainers' also had a swipe at Morgan:
Let's face it, had other journalists been even somewhat objective, they, too, could have interviewed Trump. Only Lincoln Film & Media in England seemed cognisant of this. Well done:
Even Pip Tomson of ITV1's Good Morning Britain didn't mind missing a sports filled weekend to put finishing touches on an amazing interview:
Whilst waiting for Trump to return from Windsor Castle, Morgan explained the significance of Air Force One:
Metro gave us an inside scoop from Morgan:
But I've got to say, standing there, looking at Air Force One, going up those steps doing a little cheeky wave, which you're not supposed to do… I thought since he was doing that anyway with the Queen, I thought I could do a bit of protocol breaking myself.
Then you get on this plane, which is just the most high-tech, sophisticated, extraordinary thing that flies in the entire world.
Air Force One staff gave him a tour of the plane:
I've been on a few fancy planes in my time but nothing quite like this one.
He pointed out that, when the president is on board:
Morgan wrote an article for the Mail on Sunday about his experience (emphases mine):
'I'm sorry Mr Morgan, but you can't sit in that chair. Only the President of the United States of America ever sits in that chair.'
I was in the Situation Room of Air Force One, the airplane used to fly the most powerful human being on earth around the world.
Hannah, the presidential aide tasked with escorting me around it, was very polite but also VERY firm.
'You can in one of those,' she suggested, pointing to one of the chairs around the Situation Room desk. 'They swivel.'
Morgan continued to explore the Situation Room:
Under the TV are three digital clocks. They permanently display the same three times – Washington DC, local time and time in the next destination. To the right of the TV was a brown leather sofa. Two hi-tech phones were behind it.
'Can I pick one up and call someone?' I asked, reaching down to phone Lord Sugar and boast about where I was.
'NO!!!!!' exclaimed another aide. 'Do NOT touch those phones… please. Thank you, sir.'
The President's staff all exude an air of delightfully polite menace.
Morgan then checked out dinner for that Friday evening:
Cucumber Thai salad, a medley of cucumbers, radishes, spicy red chillis, chopped peanuts, basil, cilantro and mint, tossed in a homemade vinaigrette.
Thai baked salmon fillet, baked in sweet chilli sauce over a bed of jasmine rice.
Tarte lemon bar, topped with crunchy shortbread crumbles.
Metro reported:
… perhaps the most surprising revelation is that the US president has specially packaged M&Ms – the blue and white striped box even has his signature on the back.
In fact, it turns out the plane is packed with sweets, also including presidential Hershey's Kisses …
'He's got an Oval Office there, he's got a Situation Room, he's even got his M&Ms. His presidential boxes of M&MS, with Donald J Trump on the back. If you get on Air Force One, you get to eat the M&Ms. Fascinating, fascinating evening.'
Morgan wrote in his aforementioned Mail on Sunday article that the staff were most thoughtful with regard to the chocolates:
'Can I take some?' I asked an aide.
'We're already ahead of you, Mr Morgan,' smiled Hannah, handing me a large bag of the M&Ms and a dozen boxes of Air Force One matchboxes. They will solve the perennial 'what do you get someone who's got everything?' birthday present dilemma. Money can't buy this stuff.
Morgan wrote that, at one point, things got very structured very quickly:
'The President will be here in 25 minutes,' said Hannah, escorting me to the Situation Room. 'Please tell your crew to hurry.'
There was now a controlled, super-efficient frenzy to her behavioural pattern. The ITV crew, who'd all been extensively security screened by the Secret Service, hurried.
No other plane was being allowed to take off or land from Stansted until Air Force One departed. So every second I delayed things meant thousands of members of the public being delayed. That's an unusual burden for an interviewer who wants to get as much time as he can possibly get from the President when he arrives.
Several senior Air Force One staff came to introduce themselves. They were all chisel-jawed but extremely courteous. The kind of people who would kill you with their bare hands, but then apologise.
We shot some behind-the-scenes footage, then Hannah rushed back in.
'OK, we need to de-clutter this room asap.'
We de-cluttered.
Shortly afterwards, the US ambassador Robert Wood 'Woody' Johnson boarded with his wife. Morgan said they were on their way to Turnberry with the Trumps for the weekend:
Suddenly, the plane's intercom system announced it would be five minutes until the President arrived and energy levels on the plane instantly rocketed. People were streaming all over the place, making sure everything was perfectly prepared.
I looked again out of the window and saw a fleet of helicopters including Marine One sweeping down to land next to Air Force One.
Chief of Staff John Kelly appeared:
My brother, a British Army colonel, speaks very highly of him as a military leader, and he certainly exudes an impressive air of calm authority.
'How long do you need with the President?' he asked.
'As long as I can squeeze the lemon,' I replied.
We both laughed, knowing it would be entirely at the whim of President Trump how long the lemon would allow itself to be squeezed.
Then the president appeared. Mrs Trump stopped by briefly before leaving the two men to the interview. Of the Trumps, Morgan observed:
… she and Donald still seem as relaxed and happy in each other's company as they always seemed before he went into politics.
'I hope this doesn't sound too patronising,' I told her, 'but I have great admiration for the way you have conducted yourself as First Lady. A friend of mine (Sarah Brown) did this kind of job when her husband became British Prime Minister so I know how tough it can be.'
'I just feel it's important to be true to yourself,' she smiled.
Then, it was down to business:
… after Melania left, he got into game mode.
'OK, let's go,' he barked, 'the plane's waiting to take off!'
I'd been told we had a maximum of 15 minutes for the interview, due to the flight schedule …
Our long time friendship is why I am the only British TV journalist he speaks to (this was my fourth interview with him since he ran for President, two as a candidate, two as POTUS.)
Please do read the rest of the article, which is essentially a transcript of the interview.
Trump answered questions about his meetings with Prime Minister Theresa May and a possible post-Brexit trade deal. The Daily Express carried the exchange:
The President said he was certain there was a good deal to be done between the two nations.
"I think we're going to have a great trade deal," he told Piers Morgan. "I've really no doubt about it.
"We're going to get it.
"Now, if they do whatever they do, they had to, I said make sure you gave a carve out — you know I call it a carve out from this," he continued. "You have to have a carve out — where no matter what happens, they have the right to make a deal with the United States."
"And has Theresa May looked you in there eye and said, 'We will get there'?" Morgan quizzed him.
"Well, she feels she's going to be able to make a deal and yeah," the President replied. "And again, I have to tell you, I really like her."
Morgan asked Trump about his plans for 2020:
Also during their 30-minute conversation, Morgan quizzed the President about whether he will run again in 2020.
"I fully intend to," Trump told him.
"You never know, err, what happens with health and other things, and we know, let's face it —" he continued, before Morgan interrupted: "Are you fit? You look fit."
"I feel good," the President replied, saying it "seems like everybody" wants him to run again.
Reuters had a bit more:
Trump said he did not see any Democrat who could beat him: "I don't see anybody. I know them all and I don't see anybody."
Morgan asked Trump about the Queen. The president knows better than to divulge specifics of their conversation, but he had nothing but compliments for her:
On Monday, July 16, as Trump was about to meet with Russia's president Vladimir Putin in Helsinki, Morgan discussed aspects of his interview with a CNN presenter. He quoted Trump expressing his desire to bring about world peace and concisely summarised the current Brexit situation.
The presenter's wincing smile fades quickly to a stony look. The cameras cut away from her while Morgan was talking. No doubt steam was coming out of her ears. Disgraceful.
Good job, Piers, for staying the course:
Morgan clearly enjoyed the experience:
As I write, the interview can be seen on ITV Player for the next few weeks (account required, which is no big deal). N.B.: I am not sure if it is geo-localised.
After the interview, the Trumps were on their way to Scotland for some R&R. No one could have anticipated what happened there, and I'm not talking about protesters. More to come next week.
Yesterday's post was about the BBC's MasterChef.
It could be argued that the 2018 amateur series was the best to date.
Today's post has more about the winner and a few inside scoops on the show.
More on Kenny Tutt
The Sun has excellent photos of Kenny Tutt's restaurant quality winning dishes.
When bank manager Tutt beat Dr Nawamin Pinpathomrat and pilot David Crichton in the final, he said:
This whole thing is for my dad. I know he's looking down and been giving me support. It's a special day.
The first quarter hour or so of the final programme presented a segment on each of the finalists' personal lives. Kenny's mother related that her husband and son died when Kenny was a young man. He was close to both, but she said that he and his father were 'joined at the hip'.
Kenny is devoted to his mother, his wife and his two daughters.
Yet, to look at Kenny's characteristically happy face — we dubbed him Mr Smiley — one would never think that he had had two traumatic deaths to make sense of:
I drew two lessons from this.
The first is that we never know what has happened to other people by looking at them. Although far from being as sunny as Kenny, years ago, someone once said to me, 'Nothing bad has ever happened to you'. I was taken aback, thinking how utterly wrong that person was.
The second is that the resilience and positive attitude that Kenny displays are exemplary.
We also found out from his wife Lucy that he got up when it was still dark to practice his dishes and perfect his culinary techniques for the show.
The Radio Times reported:
Speaking about his plans after the competition, the chef said "he would love to get more young people cooking", but that his "ultimate ambition would be to run a high-end gastro Pub". Just save us a seat whenever you open, Kenny.
The Daily Mail told us:
He said: 'I would love to get more young people cooking. I always love to get my girls involved in the kitchen, and my eldest Emily just loves to cook and taste the food. Cooking teaches so much, from science to maths, and allows children to be creative and proud.
'I would also love to write about food and want to put together some great food events, be it supper clubs or private dining. The ultimate ambition would be to run a high-end gastro Pub/B&B.'
The dad-of-two lives happily in Worthing, West Sussex, with his wife Lucy as well as their two children three-year-old Emily and 10-year-old Grace.
The Mail explained how he became interested in cooking:
Kenny started his culinary craft at a young age as he always loved watching his mum cooking up a storm in the kitchen.
The bank manager developed an interest in food from different cultures thanks to his love of travelling across the globe.
The Sun told us what he said before the final:
He said: "My mum always said if you just put a bit of love into it, that generally will make the food taste better.
"I'm just going to give it my best shot, try and have a bit of fun and we'll see what happens."
He said his job with the bank was his first "proper" job – and he's worked there for 15 years.
Kenny says he appeared on MasterChef because he wanted to try something different.
Of course, MasterChef finished filming long before it aired. As with similar televised contests, the winner has to keep the victory a secret until the whole series airs. Add on the six weeks it takes for the show to complete on television and that is a very long period of time.
Mirror TV managed to interview him afterwards:
Speaking to Mirror TV, dad Kenny said that he still "couldn't quite believe" that he had won the competition and described it as "mind-blowing".
"It's an amazing achievement for me, my family and everyone. So yeah, I'm really happy," he said.
Revealing that he managed to keep the result a secret from most of his family and friends, he admitted that he told his wife Lucy and mum the outcome.
"My wife thought I was joking!" he quipped.
Kenny, who is dad to Emily (3) and Grace (10 months) said that he couldn't have done it without his wife's support.
The Mirror asked about the trip to Peru during finals week:
One memorable moment saw a contestant attempt to recreate the Andes mountains out of corn, and another arrange piranha heads on a plate. But was it all work and no play?
"We went out and had a bite to eat, but generally there was a lot of us thinking about what we were going to do next," he told us.
"But yeah, we managed to spend a few hours together here and there which was really time well spent."
His MasterChef experience far exceeded his expectations. The contestants were decent people:
I thought it would be more like competition – dog-eat-dog with people trying to clamber over each other to win and the thing that made it really good was that there wasn't any of that.
We were all the best of friends. And the time the bell rang for us to start cooking we were all in our own little worlds anyway.
Judges John Torode and Gregg Wallace:
were the same in real life as they were on screen: "A couple of great guys".
One thing Kenny hadn't bargained for was the camera and sound crews:
The thing you don't see when you're watching on TV is the things that go on around you when you're filming like cameras and sound. I didn't know about that – you don't even think about it.
It is a bit weird but you quickly get used to it. Once I was used to it it was like they had always been there. They were all great actually – the production crew, camera guys – they all had a great sense of humour.
He also said there was:
a "great atmosphere" on set and said that "everyone was well looked after".
As for his cheerfulness:
To be honest, that was just me – what you see is what you get and I do get a bit excited to be there. I was just a bit like an excited puppy and that comes across.
I mean, I am a pretty happy guy, I've got nothing to be upset about. So I think most people take that as a good thing, but you do get the odd person who is like, 'God, why is he always smiling?'
Well, you know, I'm on a TV show and I'm doing alright, so I'm not not going to be happy about it.
And:
He also said that he hadn't realised he was "quite so animated" from the facial expressions he pulled: "It is quite cringe when you watch it back".
It was all good, Kenny.
He told the Mirror that he was looking forward to relaxing and enjoying the experience before launching into any culinary projects.
Judges' tasting and food waste
Many MasterChef fans wonder if the judges have to taste the dishes cold. They are also interested in what happens to leftover or unused ingredients.
The Sun posted an article which explains everything. In 2012, Gregg Wallace revealed what happens to the unused food and the cooked food:
The raw food gets divided up by the youngsters in the crew — talented young people who've just begun their careers and aren't necessarily earning very much.
The cooked food is devoured by the filming crew. A lot of them carry their own cutlery!
That said, contestants race the film crew to taste each other's dishes:
Chetna Makan, from the 2014 series, told Digital Spy: "It's not just the cameramen who swarm over the food, we (the other contestants) definitely do it too.
"We all run to the food made by whoever got the most compliments. Literally, everybody runs, nearly knocking each other over to have a taste."
As for the judges' tasting, the Sun cited former MasterChef: The Professionals semi-finalist Louisa Ellis, who told Birmingham Live:
The food stays there for a bit after you've finished so they can get good shots of it.
"So it can be cold by the time the judges get to it – especially if you're last to be judged – but they take that into consideration."
The judges are said to get round this by going round and tasting each contestant's food straight from the pot, in scenes which are later edited out.
Narrator India Fisher
India Fisher breaks the mould with her sultry, intense narration of MasterChef. She narrates all of the various series except for the Celebrity editions.
The Sun profiled her on April 13:
The softly-spoken host gives a commentary on the dishes whipped up by the cooks – and always makes them sound as good as they look …
Others have admitted that they'd love India to narrate their lives and describe their cooking successes with equal vigour.
This can be problematic for viewers when she moves on to other projects, such as commercials:
Fans may have noticed that India's voice is affiliated with a number of different brands.
She is the voice of Natwest and has presented a variety of different advertisement campaigns.
Amusingly, her voice has become so synonymous with the show, that fans find it hard to focus when she embarks on a new project.
She also does other voice work:
India is also a broadcasting star, providing voice work for Science Fiction audio dramas including Earthsearch Mindwarp and Doctor Who.
She has also appeared on BBC Radio 4 comedy series Elephants to Catch Eels and Dead Ringers.
As we never see her, the Sun has a photo of her at the top of the article. Mystery solved!
India has been with MasterChef since its relaunch in 2005. Yet, we know little about her. The Sun tells us:
The 43-year-old is an actress and presenter who was born in Stoke-on-Trent, Staffordshire.
She comes from a famous family, as her dad is former MP Mark Fisher.
India is also the step-sister of musician Crispin Hunt and actress Francesca Hunt.
The trophy
The MasterChef trophy and logo were updated in 2012 to reflect a 21st century look.
The Sun explains:
It is made of polished aluminium and mounted on a tiered aluminium base.
Makers of the award, Gaudio, say on their website: "The MasterChef trophy is instantly recognisable and is treasured by winners."
The article also gives updated information on recent winners' activities in the culinary world.
Another series of MasterChef ended on Friday, April 13, 2018.
MasterChef, in all its incarnations — amateur, professional and celebrity — has comprised most of my BBC viewing. The only other programme I watch is Inside the Factory, which is also food oriented. As everything else is either politicised or revisionist, I avoid the rest of the BBC like the plague.
The last time I wrote about the amateur series of MasterChef was in 2013, when Londoner Natalie Coleman won. I was going to write about Ping Coombes in 2014, but a serious family matter intervened.
I remember well the original MasterChef, which Loyd Grossman — originally from Marblehead, Massachusetts — hosted in the 1990s. Grossman also hosted the British edition of Through the Keyhole for many years.
MasterChef underwent a revamp in 2005. The new studio was large (the current one huge), and the challenges became more involved. Chef and restaurateur John Torode and former greengrocer Gregg Wallace became the new co-hosts. Since then, many the winners have gone on to greatness, opening their own gastro-pubs and restaurants. Thomasina Miers, the 2005 winner, is probably the most successful of all the MasterChef winners. She founded and owns the Wahaca chain of restaurants featuring food you won't find outside of Mexico.
Every series has some sort of controversy. 2017's was about the proper pronunciation of chorizo. That year also saw the debut of the market, full of ingredients for the contestants to use. A physician from Watford won: Dr Saliha Mahmood-Ahmed, who now divides her time between hospital work and a cookery career. The doctor had stiff competition in Giovanna Ryan and Steve Kielty:
Now on to the 2018 edition of MasterChef.
The standard of cookery gets higher and higher every year, beginning with the first episode. Successful contestants make and plate restaurant quality dishes. Competent home cooks end up eliminated early on.
This was also the first year that the amateurs went to a foreign country during Finals Week. They spent time in Lima, Peru, cooking for two of the country's top chefs.
The near diplomatic incident
In Knockout Week, Gregg Wallace nearly caused a diplomatic incident when he criticised a Malaysian contestant's chicken rendang because the skin wasn't crispy. On April 4, the London Evening Standard reported:
Wallace sparked a wave of criticism, including from Malaysia's prime minister, after telling Malaysian-born Zaleha Kadir Olpin her chicken rendang dish needed a crispier skin.
"The skin isn't crispy. It can't be eaten but all the sauce is on the skin I can't eat," Wallace said on the BBC show.
His sharp assessment of the dish, which saw Ms Olphin crash out of the show, sparked a rebuke from Malaysia's Prime Minister Najib Razak, who tweeted a picture of the curry dish along with the caption: "Does anyone eat chicken rendang 'crispy'? #MalaysianFood".
Wallace appeared on ITV's Good Morning Britain to explain:
I didn't mean it should be fried, like a fried chicken. What I meant was, it wasn't cooked. And it simply wasn't cooked. It was white and flabby.
It did no good. A Facebook page went up in Malaysia with the title 'Justice for Chicken Rendang' and demands for apologies from judges Torode and Wallace:
One commenter, Jin Wee, wrote online: "As a Malaysian, if I could, I would personally go to the show and rendang their head. Uncultured swine, doesn't know variety of cuisine and claims to be Masterchef?"
The British high commissioner also got involved:
Vicki Treadell, the British high commissioner to Malaysia who was born in the country, tweeted: "Rendang is an iconic Malaysian national dish … It is never crispy & should also not be confused with the fried chicken sometimes served with nasi lemak."
Torode had the final say, with no apology:
I did a whole series on Malaysia. Malaysian food is fantastic. I absolutely love it. I said to her, it wasn't cooked enough, that's what I said.
The Radio Times has more on the incident, including tweets. The magazine gives Torode's exact quote as he was judging the dish:
I think the chicken rendang on the side is a mistake. It hasn't had enough time to cook down and become lovely and soft and fall apart. Instead the chicken itself is just tough and it's not really flavoursome.
Chorizo pronunciation redux
Questions over the pronunciation of chorizo arose again with Portuguese-born Alex, who works in the fashion industry in London. On April 12, the Sun reported:
Alex claims she's from Portugal but some viewers seemed doubtful due to how she pronounced Chorizo.
One tweeted: "Alex on MasterChef tells us she's from Portugal but then she says 'Choritso'…#suspicious."
The Sun included the tweet:
Alex did not make the cut for the final, but as the fourth remaining contestant, did a great job throughout.
Finalists
The final three contestants this year were all men: bank manager Kenny Tutt, airline pilot David Crichton and another physician, Thai-born Dr Nawamin Pinpathomrat, who is currently studying for his PhD at Oxford.
The Radio Times has more on the finalists, including their style of cuisine.
The apple crumble moment
David Crichton made an outstanding crumble in Finals week:
David's apple crumble mille-feuille – layers of puff pastry, filled with caramelised apple and cream custard, with a crumble topping and served with clotted cream ice-cream and a caramel sauce – almost reduced John Torode to tears. The judge called it "fabulous, fantastic and faultless".
The Australian-born Torode speaks as he finds. This crumble brought out a side that viewers had not seen before. The Evening Standard carried the story, peppering the text with tweets.
Torode told David:
"Fabulous, fantastic and faultless," he said as he came close to shedding a tear. "Like honestly, it makes me well up – that is sensational.
"That's what this competition is about where you push yourself to the stage where you make your own puff pastry and take the risk.
"You make a crumble, you make an apple pie, an apple tart, an apple [mille-feuille] and you take it to dizzy heights where it stirs emotion. Restaurant quality absolutely and a credit to you David."
Here are two of the tweets:
Kenny's cauliflower
On April 12, the day before the final, Alex and the three men were tasked with reproducing intricate recipes served at Dinner by Heston Blumenthal.
Chef director Ashley Palmer-Watts devised his takes on these historic dishes with the help of food historians and the team at Hampton Court Palace. Each recipe is 15 pages long.
The four contestants had five hours each to re-create four of the dishes to Palmer-Watts's exacting standards. Each contestant was assigned a different dish. One of his sous-chefs was on hand to supervise and offer advice.
SpouseMouse and I really wanted Kenny to win. We think his bank branch is going to close, and he desperately needs another line of work.
We were furious to find that Palmer-Watts's sous-chef allowed Kenny to leave his cauliflower garnish in the oven. We weren't alone. Digital Spy reported:
People were fuming that poor Kenny wasn't reminded about his cauliflower – especially when fellow contestant Alex had been given a helpful hint earlier…
For whatever reason, the sous-chef muttered:
His cauliflower's still in the oven, so I'm not gonna tell him…
Representative tweets in Digital Spy's article follow:
Not only 'could have' but jolly well 'should have'.
After a nail-biting round with Ashley Palmer-Watts joining John and Gregg in the judging, it was a relief to discover that Kenny was going through to the final.
Torode welled up once again:
Alex narrowly missed out on a spot in the final, but said that she was delighted with how well she'd done.
Judge John Torode got rather emotional when the time came to announce the results – and viewers were very quick to notice:
Alex is standing next to Kenny, awaiting the verdict:
The final
In an online poll, most MasterChef viewers did not expect Kenny Tutt to win the final.
However, win he did and in true style. Metro reported:
The 36-year-old father of two is the 14th amateur cook to claim the prize – beating 55 other hopefuls from the current series to the title after seven weeks of culinary challenges.
He ultimately fought off competition from fellow finalists Nawamin Pinpathomrat and David Crichton to take the title.
And he did it by impressing Gregg Wallace and John Torode with a three-course meal which was described by the judges as 'restaurant-style perfection' and 'make-my-heart-thump fantastic'.
Kenny wanted to present the judges with three courses that showed techniques he had learned at the restaurants where he and the contestants cooked during the series to reflect his MasterChef journey:
Kenny kicked things off with roast scallops, smoked cauliflower, shimeji mushroom and pancetta.
His main course was a Squab pigeon breast and bon-bon, heritage beetroot, baby turnip, spiced cherries, bread sauce and game jus, followed by a bitter chocolate, ale ice-cream, malt tuile and smoked caramel.
The judges were impressed, to say the least:
'Today we watched Kenny coming of age,' Gregg said of his win.
'We have just witnessed Kenny having his best round on MasterChef and he saved it for the final. His starter was a stunningly beautiful dish, it was quality restaurant-style perfection and his main course was even better.'
John said:
I think Kenny's journey has been extraordinary. He has come a long way. His food has got more and more refined and his main course was make-my-heart-thump fantastic!
Kenny said:
I have put my heart and soul into it and it's been an absolute pleasure. It's up there with the happiest days of my life!
More on Kenny and MasterChef tomorrow. This series was so memorable in so many ways.
The American actress Roseanne Barr has long been an advocate for children. Having worked in Hollywood for so long, she knows that many young stars have been molested and drugged.
She wants it stopped, which is one of the reasons she supports President Donald Trump.
On Passover — Saturday, March 31 — she tweeted:
President Trump has freed so many children held in bondage to pimps all over this world. Hundreds each month. He has broken up trafficking rings in high places everywhere. notice that. I disagree on some things, but give him benefit of doubt-4 now.
I happened to read it hours after it was posted. She did catch flak for it, and tweeted about Passover being synonymous with freedom from slavery. Unfortunately, she has taken both tweets down and is now focussing on her newly revived eponymous sitcom.
That day, CNN reported about that and an older Barr tweet in which she wanted to hear from Q because she had information to give (emphases mine):
"The Storm," as Newsweek, Mediaite and others have explained, alleges that high-profile Democrats and other famous people are involved in child sex-trafficking rings, and that Trump is breaking them up and arresting those involved in their operation. The theory has been traced to the online message board 4Chan, where an anonymous user known as "QAnon," or simply "Q," has propagated the theory.
Uh, keep up, CNN. Q has been on 8chan for some time now.
Anyway:
Twitter users concerned about Barr's involvement in such theories quickly pointed to past tweets by her that would further explain her involvement in the theory. In November, Barr tweeted, "Who is Q?" The Daily Beast reported. The actress added hours later, "tell Qanon to DM me in the next 24 hours."
Of course, many media outlets picked up on this, but Q provided the CNN link (message 1061):
What a coincidence.
https://www.cnn.com/2018/03/31/politics/roseanne-barr-conspiracy-tweets/index.html
Q
Many headlines were identical. How does that happen organically? It can't. I posted about Mockingbird last week, pointing out that someone researched the word for March 26, which was 'gamble'.
Someone on 8chan grabbed a screenshot from March 31:
Roseanne's eponymous — and highly popular sitcom — originally ran from 1988 to 1997. Nearly everyone I knew watched it. I tried, but it wasn't my cuppa. My late widowed mother never watched it, either.
For those living outside of the United States, these tweets give you an idea of the show and how happy millions of viewers are to see it return:
The new series premiered on Tuesday, March 27, 2018 with such phenomenal ratings that it was renewed for another series on March 30! In the meantime, Trump rang to congratulate her:
Think about how many Americans Roseanne reaches on television (and Twitter). Her returning character is a Trump supporter. Connecting the dots, we can see how many minds she can influence. As a Tablet magazine article pointed out:
… Roseanne is the first decent argument that Donald Trump has had in the culture business since he got elected. It's even more powerful coming from a comedian like Roseanne who, bless her soul, may be the single most important feminist symbol in America, relevant because she belongs not to the moneyed and privileged chattering vanguards but to the working class. Roseanne herself knows Trump, and appears to personally dislike him.
Wrong:
Continuing with the article:
But she's given him this arguably undeserved gift because she also agrees with him on several key issues, like trade and political correctness. She also understands that Trump plugs in to the frustrations of millions of Americans who've been getting shafted for nearly three decades now with neither Democrats nor traditional Republicans doing much to help them out.
Almost for certain, the success of the new season of Roseanne will lead many bien pensants to call the comedian a crackpot or worse …
Indeed:
Here's the exchange between Roseanne and the New York Times (Roseanne's responses in bold):
Considering that Trump opposes many of the principles that you and Roseanne Conner have stood for, how can you support him?
No, he doesn't, I don't think he does. I don't think so at all. I think he voices them quite well.
I'm thinking of abortion rights, same-sex marriage rights, labor protections —
He doesn't oppose same-sex marriage.
He doesn't favor it. He has not come out in favor of it.
He does. Yes, he does. He has said it several times, you know, that he's not homophobic at all.
What about labor union protections and blue collar workers, and
What do you mean, the — oh, let's not get into this.
[A representative for Ms. Barr interjected: "You don't have to get into it. We can move on."]
Well, you know, it's —
Yes, let's do.
A question people wonder about.
Well, I think working-class people were pissed off about Clinton and NAFTA, so let's start there. That's what broke all the unions and we lost all our jobs, so I think that's a large part of why they voted for Trump because they didn't want to see it continue, where our jobs are shipped away. So, it's more, why did people support shipping our jobs away?
Now, let's take this one stage further.
Although she won't tweet about Q anymore, Big Media have plastered it all over television and the internet that Roseanne Barr knows about Q.
How long before Q goes mainstream?
For that, we have the unwitting media and the very much plugged-in Roseanne Barr to thank.
Expect millions more red pills to be dispensed this year, which will make The Storm that much easier for many Americans to understand once it breaks.
In closing, here's a great quote from an 8channer:
If you told me in 1989 that Donald Trump, Roseanne Barr, and James Woods would save the world with what I knew as (NES/Atari260) hooked up to the phone line and a color TV…. I'd tell you that you were nuts.
yet here we are.
Indeed we are!
In November 2017, I wrote about the CIA's Operation Mockingbird, which ran from the 1950s until the mid-1970s.
In principle, it's over. However, as with so many other CIA programmes — e.g. MK-Ultra — it probably got another name. MK-Ultra was the name for mind conditioning between the 1950s and 1970s. The Church Committee put an end to both MK-Ultra and Mockingbird.
Does anyone think that the CIA really stopped both of those? Or did they end in name only?
On Tuesday, March 27, 2018, an eagle-eyed contributor to the Q-related Great Awakening board on Reddit put together that morning's headlines (photo below, courtesy of michaelst2256):
The media allegedly receive their talking points at 4 a.m. Operation Mockingbird is so called because it is the only bird to sing at night, specifically bachelors looking for a mate.
Try this with headlines you see and news broadcasts you hear. Nearly every media outlet runs with the same set of stories and buzzwords each day. I've seen this for years. It was good of this man to put together an image as proof.
On Monday, February 12, 2018, Q posted on what he/they term The Inner Circle (message 740):
The Inner Circle.
Mika Brzezinski.
Background.
Family/careers.
McLean, Virginia.
The age of tech has hurt their ability to hide/control.
Majority today were 'born in' to the circle.
Investigate those in front of the camera who scream the loudest.
These people are really stupid.
End is near.
The media cleanse/JFK.
Q
This is what Mika's dad, Zbigniew, wanted to see happen to the United States (image courtesy of CBTS_Stream):
The late Zbiegniew Brzezinski was an advisor to Presidents Lyndon Johnson and Jimmy Carter. He was very much a globalist and elitist. Look at the title: 'Tactician for the Establishment'.
Reading past the first highlighted section, notice how he leaves ordinary people out of the equation:
"some of the recent upheavals have been led by people who increasingly will have no role to play in the new technocratic society", the unrest being a mere reaction to becoming "historically obsolete" … "merely the death rattle of the historical irrelevants."
The next highlighted bit discusses 'the requisite "new international system".
The next paragraph begins with Zbig saying that a problem arises in 'generating the political will necessary' to implement a change in the way people live, socially and politically. Even worse, he calls on the nation to 'sacrifice' (what they are used to)!
He says that a national sacrifice (of a prosperous way of life):
would contribute a great deal to the restoration of optimism, for sacrifice generates optimism. Indulgent, miasmic and passive behavior stimulate pessimism.
What a load of old hogwash. I don't remember people being unhappy in the West in 1977. We were all hopeful for the future, one that never came.
Yet, it seems as if this has been happening not only in the United States but in other Western — 'advanced' societies.
Enter Donald Trump, who becomes the leader of the Free World, who campaigned against what he terms:
the false song of globalism.
He is upsetting the cynical plan of the elites — and the stupid — who want him out of office.
Zbig's daughter Mika — currently the co-presenter of MSNBC's Morning Joe — has been in television news for the length of her career. She has had every material blessing in life. I remember hearing her say that she really enjoyed seeing the world with her dad, who would take the family with him on his official trips.
Mika used to like Donald Trump. There was a YouTube compilation, now deleted, of Donald Trump's appearances on her shows. She used to fawn over him as if she were a little girl.
Then she changed during the 2016 campaign. So did her Morning Joe co-presenter Joe Scarborough.
In 2017, the two started pushing the narrative that President Donald Trump is mentally ill. Rush Limbaugh's transcript of June 29, 2017 has more. Excerpts follow (emphases mine):
… from TheHill.com: "Morning Joe cohost: Trump May Be Mentally Ill — MSNBC Morning Joe co-host Mika Brzezinski said Thursday President Trump is 'not well,' and even possibly 'mentally ill.'"
So this June 8th, roughly three weeks ago. Brzezinski said, "I think he's such a narcissist, it's possible that he is mentally ill in a way. He's not well. At the very least he's not well."
"Brzezinski explained that Trump may be narcissistic because 'he does not believe the rules apply to him,' adding that this belief likely led to a sort of 'ignorance' and applied it to the 2005 Access Hollywood tape recording in which Trump made lewd comments about women."
Mika Brzezinski three weeks ago said, "And he's so narcissistic he does not believe the rules apply to him. That's where the ignorance label may apply because this is a man who says he can grab women anywhere because he's famous. The point is, he feels he can say or do things different from the norm because he's famous, because he's a celebrity, because he has power."
"Brzezinski's comments come the same day former FBI Director James Comey is set to testify in front of the Senate Intelligence Committee about his investigation into Russia." I don't know if you know this or not, that when Brzezinski and Scarborough announced their engagement — and that was fairly recently — that Trump offered to officiate, and Brzezinski said (raspberry) no. (imitating Mika) "I mean, if Jimmy Carter were in the White House like when my dad was there, but no. No. No way."
Last summer during the presidential campaign and even during 2015, Mika Brzezinski and Joe Scarborough were salivating all over Donald Trump. Trump appeared regularly on PMSNBC in the morning, and they loved him and they were sucking up like you can't believe, and it was like three great friends. Everybody was mad at Mika and Joe for not being objective and acting like they were best buds sucking up to Trump. So something has gone wrong in paradise.
Rush doesn't know what happened. That said, read the whole transcript, because it is an insider look at not only Mika and Joe but also President Trump. Fascinating.
However, going back further to nearly a year ago — February 22, 2017 — Mika got into a Twitterstorm with people accusing her of telling Americans what to think. She hotly denied it.
RealClearPolitics has the story, along with tweets and a transcript. Mika was angry that the American president was expressing his opinions, which half the nation deeply appreciates:
The hosts of MSNBC's 'Morning Joe' comment on President Trump's efforts to "undermine the media."
Co-host Mika Brzezinski commented Wednesday morning that she is upset to see President Trump has moved in on the media's turf when it comes to the area of mind control.
"He is trying to undermine the media and trying to make up his own facts," she said about Trump. "And it could be that while unemployment and the economy worsens, he could have undermined the messaging so much that he can actually control exactly what people think."
"And that, that is our job," she noted, referring to the media.
Never forget that. I've been wanting to write about her for a year but couldn't quite figure out what context to put it in to make a standalone post.
Q's now given me that context.
Think about what Mika said. She denied it — but it's there in the transcript!