You are currently browsing the tag archive for the 'The Deplorables' tag.
As March blew in like a lion and with coronavirus vaccines being distributed, the UK and the US began looking towards a post-pandemic future.
UK
On Monday, March 2, Prime Minister Boris Johnson gave a statement and held a press conference later in the day to announce that schools would reopen on Monday, March 8.
He laid out what he calls a 'roadmap' for the next few months, with businesses reopening in stages from April through the summer.
It's not worth detailing here, because this, as with everything else, is likely to be hijacked by SAGE scientists and psychologists.
Boris maintains that the Government, advised by SAGE, is relying on data not dates, yet, there are tentative dates associated with each stage, the next one being in early April.
Outside of school reopenings at this point, the rest is subject to change.
On the subject of schools, who could forget that schools in England opened the first Monday in January only to be closed by the end of that day? What a palaver!
Katherine Fletcher, one of the new Conservative MPs from 2019, representing the northern constituency of South Ribble, studied biology, qualified as a safari ranger in Africa, worked in banking and ran her own business before entering politics.
She opined on Budget Day, March 3, that her constituents were unhappy with the financial cost of lockdown. She also said they 'get' that they had to be locked down:
just because some bat in China got a nasty cough a couple of years ago.
This is Northern plain speaking at its best:
Also note the fairy lights at the top left of the video. Indoor fairy lights seem to be a post-Christmas lockdown trend. Bob Seely MP (Isle of Wight) has them, too.
She added (emphases mine):
… this Government have done eye-wateringly massive things quickly to protect people, their families and their work from the consequences of bats and biology.
It is also honest to say that this help has cost us a fortune. This Conservative Government have been fair in protecting people when the awful things happened, but the sums of money required are—wow—massive. It is our money. When I say that it is costing us a fortune, I do mean "us". It is not Government money or some nebulous concept; it is our money raised by our taxes on our hard work and our business innovation. At some point, we will have to pay this massive support back— not all in one go and not at any price. I commend the Chancellor's honesty today in setting out two broad themes on how to keep us on an even keel with our money and the nation's finances.
As individuals, we will have to push back some potential gains to future years, such as freezing salaries, paying a bit more tax, and asking the bigger businesses to contribute a bit more without making us as a country too different from our international peers in the G7. As the Government, we will have to continue to be careful about how we spend our money, but when we do spend money, we should spend it to invest. This statement shows that we will focus on areas that will help us grow our businesses and our communities. We are putting in place the foundations for a future economy to boing back, never mind bounce.
Today's announcements of investments, super deductions and capital investment plans will boost business investment by enormous sums with world-leading measures. This Government are supporting people to invest to grow their business, creating good jobs across the country. Measures today such as the UK infrastructure bank in Leeds—it is the wrong side of the Pennines, but still amazing—and the levelling up fund will make the UK and Lancashire the best place in the world for innovative businesses to set up and grow. Freeports will help us get our goods to the world, and Help to Grow is brilliant. It will give everyone access to new skills and technologies and boost their businesses, no matter how small they are. I would have run with open arms to these measures when I was running my business.
On a personal note, the people of Leyland want me to thank the Chancellor hugely for the announcement today of the £25 million investment in our town …
That's all for the UK this week.
United States
Two states — Texas and Mississippi — lifted their states' mask mandates.
Alabama
It was thought that Alabama would join them, but on Thursday, March 4, Governor Kay Ivey said she would be extending it through April 9, then lift the order.
NBC reported:
Gov. Kay Ivey said the extension would give businesses time to implement their own policies and make any necessary adjustments before to the deadline.
The current order requires people to wear masks in public whenever they are within 6 feet of someone else from a different household. Face coverings are also required in schools and colleges for both employees and students in the second grade and above.
Once the order ends next month, masks will no longer be mandated.
"There's no question that wearing masks has been one of my greatest tools in combatting the spread of the virus," Ivey said at a news conference Thursday.
"And even when we lift the mask order, I will continue to wear my mask while I'm around others and strongly urge my fellow citizens to use common sense and do the same thing. But at that time, it will become a matter of personal responsibility and not a government mandate," she added.
Ivey said the state had kept the mask order in place for a "generous amount of time."
Texas
On Monday, March 2, Governor Greg Abbott announced that Texas was opening up, mask-free, effective Wednesday, March 10:
Here is his announcement:
The Texan has a more nuanced view of what the lifting of the state's mandate means. It will be left to individual counties, businesses and health-oriented places to mandate mask wearing:
Abbott said that his executive order will allow county judges to impose other restrictions if COVID-19 hospitalizations rise above 15 percent in the state trauma service area that covers their county — though not with a penalty of jail time or fines with any mask mandates …
… businesses may still require employees and customers to wear face coverings and request law enforcement to remove violators for trespassing.
"Removing statewide mandates does not end personal responsibility or the importance of caring for your family members," said Abbott. "Personal vigilance to follow the safe standards is still needed to contain [COVID-19]. It's just that now state mandates are no longer needed."
… According to the New York Times, Texas follows 12 other states that currently do not have mask mandates.
Mississippi
The lifting of Mississippi's mask mandate and reopening of all businesses went into effect on Wednesday, March 3.
Governor Tate Reeves announced his reasons:
Absolutely!
Joe Biden: 'Neanderthal thinking'
Readers will not be surprised that the three aforementioned governors are Republican.
Before Texas and Mississippi lifted their mandates, the CDC warned that restrictions should remain in place (more here):
On Wednesday, mask-happy Joe Biden accused the governors of 'neanderthal thinking':
Thankfully, Daily Wire reported what Biden said, as it is somewhat difficult to hear his words:
"I think it's a big mistake. Look, I hope everybody has realized by now these masks make a difference," Biden said. "We are on the cusp of being able to fundamentally change the nature of this disease because of the way … we are able to get vaccines in people's arms. We've been able to move that all the way up to the end of May to have enough for every adult American to get a shot."
"The last thing, the last thing we need is Neanderthal thinking that in the meantime everything is fine, take off your mask, forget it. It still matters," he continued. "As of yesterday, we have lost 511,874 Americans. We're going to lose thousands more."
"We will not have everybody vaccinated until sometime in the summer. We have the vaccine to do it; getting a shot in someone's arm and [giving] them a second shot," he concluded. "It's critical – critical, critical, critical – that they follow the science. Wash your hands, hot water, do it frequently. Wear a mask and stay socially distanced. And I know you all know that. I wish the heck, some of our elected officials knew it."
The Gateway Pundit offered this take:
Biden criticized the governors for allowing people to work and feed their families as "Neanderthal thinking."
Dementia Joe knows that Florida, Texas and Mississippi will expose the big lie that lockdowns and masks slow the spread of Covid.
True. We've already seen proof of that in South Dakota and Florida.
Tate Reeves wasted no time in responding.
Shortly after Biden made his announcement, Reeves tweeted:
Reeves credited President Trump's Operation Warp Speed for his decision. He said that over 700,000 people in Mississippi, with a population of 2.97 million, have now had the vaccine. He told Neil Cavuto that the number of positive cases in the state has dropped dramatically over the past two months. He also asked, 'If not now, then when?'
On Thursday, March 4, he told Fox News that Joe Biden should get out of Washington DC once in a while to travel to middle America. He said that Biden's message of 'Neanderthal thinking' reminded him of Hillary Clinton's 'deplorables':
Glad to see that these governors are sticking to their guns, especially Tate Reeves.
We have to learn to live with coronavirus, something I've maintained for nearly a year.
On Monday, January 11, 2021, I listened to the Howie Carr Show to find out the latest on President Trump.
Howie didn't have much news on that score, only wishes from callers hopeful that the US president could rescue his re-election bid.
However, in the final segment, one man from Cape Cod in Massachusetts — a regular summer advertiser on Howie's show and someone whom Howie knows personally — rang in to say that his life has been a shambles since the Washington DC event on January 6.
This successful Massachusetts businessman had rung Howie last week to say that the DC rally had been a wonderful celebration of all things American: tradition, patriotism and friendliness.
This man and the many thousands he was with were not anywhere near the Capitol building. They were some distance away.
Last week, he rang in to tell Howie his story of what a grand day out it was.
Since then, he has been attacked on social media and called every name in the book for having gone to DC last Wednesday.
He told Howie that his wife — 'my beautiful bride' —  has been in tears much of the time and his young daughter has also been severely affected by the verbal attacks by members of the general public.
At one point, uncharacteristically, he broke down in tears. He was unsure for the future of his business, even though his ancestors have lived on the Cape for at least three generations. Everyone knows the family name as being honourable and reputable.
Yet, now, that has all come to an end.
I do not want to mention this man's name for fear of further abuse towards him and his family. Regular listeners of the Howie Carr Show will know this man, even if only by the adverts for his establishment.
He said that money this year is not the problem. It is his reputation.
He has been falsely smeared. He did not know what had been going on at the Capitol that day, yet, his good name — and that of his wife and daughter, who were not in DC — have been besmirched.
May I suggest to everyone who is condemning those who attended last week's Trump rally to step back, take a deep breath and stop accusing everyone — hundreds of thousands of people — of tearing up the Capitol building.
In closing, this is a photo (no source given) of Trump supporters in the Rotunda of the Capitol last Wednesday. In case anyone is wondering, the general public are permitted to see parts of the building. I was in it many decades ago: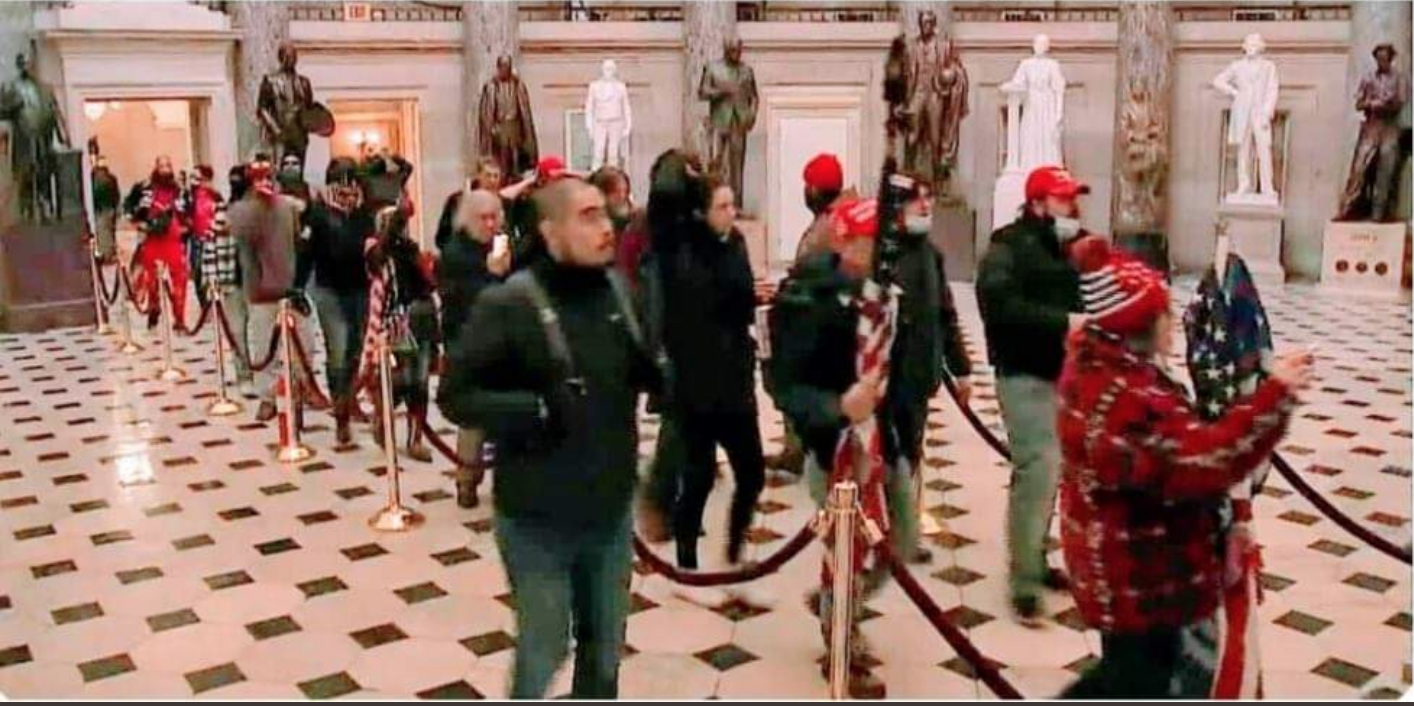 They look pretty lawless, don't they?
If I had a more secular blog, my words would be much stronger.
In conclusion: I hope Trump/Republican detractors stop the hate. Leave people alone. The vast majority went in good faith to support President Trump in his final days in office.
If this businessman's experience is but a snapshot in time, I dread to think what the next four years will bring.
Since 2016, an excellent Trump meme involving the Deplorables has circulated online.
President Trump tweeted it again on June 30, but Twitter removed the content:
It seems strange that the copyright holder would object.
In any event, Trump-supporting Deplorables (thanks, Hillary) reacted quickly:
These were only some of the image's retweets.
Well done, Deplorables! It would be hard to find a truer meme.
Since the 2005 Billy Bush/Donald Trump tape was leaked last Friday, timed with the Wikileaks drop of the Democrats', including Hillary Clinton's emails, the Deplorables have resolved to fight on — with or without the GOPe.
WARNING: This post has Clinton-related content and some links with language unsuitable for children. I apologise in advance, but the truth must come out, no matter how distasteful.
The Deplorables' situation
It is essential to understand what the Deplorables experience in American life.
Many worry how they will get by. Tax increases are a huge issue.
One Pittsburgh resident — an ex-Hillary supporter — describes what he and his family members experience. Excerpts and a summary follow. I have edited spelling and grammar.
How is it there is not enough tax to make sure homeless veterans are taken care of, yet the United States can afford to send countless mobile phones to Africa? There are more sanctuary cities for notional refugees, yet there is not enough tax revenue to finance Social Security for older Americans.
Taxes continue to increase, but (emphases mine):
Burden is shared. I have no say … Where does that money go? Same thing with the lottery; where is that cash? Tax tax tax … My school dropped German and French. My dad gets 1700 a month social security. He has no 401k. He had six kids all of whom pay lots of taxes. He always paid his taxes. My mom became a nurse once dad [left]. She has some money but how many people know it was under Clinton that food was excluded from COLA? I said from the beginning Obamacare was about privatizing Social Security. Demand you pay for health care, we can demand you pay for retirement. Think of the money. Trillions to be made: what choice would you have? You might support a homophobic misogynist regime like Saudi Arabia every hour you worked and paid a tax as Supreme Court ruled Obamacare went through; why not retirement?
Then, there is the elite's perception of these Americans, from 2008 to the present. The main author of The Crawdad Hole — ex-Clinton supporters for the most part — has a Twitter description which sums it up perfectly:
Obama called me a bitter clinger. Hillary called me deplorable. Terrorists call me an infidel. Trump calls me an American.
I do not know how many of my readers have seen the following tee shirt, which originated with Infowars, but a lot of anti-Hillary voters are wearing it:
Open disgust
Wisconsin
After the Billy Bush/Donald Trump tape was released, the GOP elite denounced Trump.
Trump was supposed to appear in Wisconsin last Saturday, October 8, but a sanctimonious Paul Ryan — Speaker of the House — rescinded his invitation to the state's annual GOP fundraiser.
Attendees paid $30 apiece to get in. They expected to see Trump.
Buzzfeed reported:
ELKHORN, Wisconsin — In a jarring illustration of the chaos now engulfing the Republican Party, supporters of Donald Trump clashed bitterly with GOP leaders at a rally here Saturday — booing elected officials, heckling Paul Ryan, and angrily demanding greater establishment support for their beleaguered presidential nominee …
When, early in the event's program, Wisconsin Attorney General Brad Schimel tried to address the recently leaked video that has sent Trump's campaign into a tailspin, the crowd erupted in angry protest.
"Get over it!" one heckler yelled.
"Trump! Trump! Trump!" others chanted.
Appearing taken aback by the reaction, Schimel made a brief nod toward support for the nominee — "Donald Trump will appoint judges that will defend our Constitution" — and then quickly changed the subject.
Other elected officials became more combative with the audience. When Rep. Jim Sensenbrenner talked about how voters had been coming to the Fall Fest for years to support Ryan and other local Republicans, hecklers shouted, "Not anymore!" and, "I'm for Donald Trump!"
"Why don't you listen to what I have to say instead of interrupting me?" Sensenbrenner snapped. Soon, the 73-year-old congressman was in a shouting match with the Trump supporters in the crowd. "Listen to me, please," he kept repeating, before ordering the audience to "clean up your act."
By the time it was Ryan's turn to speak, the mood had grown indisputably hostile. He took the stage to scattered boos, and shouts of, "What about Donald Trump?" and, "Shame on you!" …
Trump supporters are now unlikely to vote down ticket for Republicans who have shunned their candidate.
This is audience reaction to Ryan's speech:
One young man wore a RAPE shirt with Bill Clinton's image on it — another popular Infowars product.
Michigan
Alex Jones is giving between $1,000 and $5,000 to anyone who can get captured on camera with it at a rally. More money is given to those who can stay on camera for several seconds and mention Infowars.
Alex is looking forward to hearing from this man who turned up at Clinton's October 11 rally in Detroit. Not only will he receive $5,000, but he will be invited for an interview on the Infowars show:
How he was able to get one of the privileged places on the podium will make for an interesting story.
Townhall has a really clear close up.
Amazingly, the woman with the slogan 'Stronger Together' and who is a self-described tireless advocate of minorities had this reaction:
Hillary Clinton sarcastically laughed as the man was shoved down the stairs and she told people outside the event to "follow him" and "stage an intervention."
Wow! I hope the man stayed safe.
I bet Big Media will ignore that story.
North Carolina
At an Obama rally for Clinton, a man and a woman paraded beneath the stage in Greensboro on Tuesday, October 11. Each wore homemade 'Bill Clinton Rapist' tee shirts (8 seconds in).
An American Lookout article says that Obama was interrupted again by other protesters:
The second and third times by people yelling about Bill Clinton and rape.
The article continues (emphases in the original):
These protesters are everywhere!
Will the mainstream media finally do some reporting on what these people are saying? On what they're willing to get arrested for to say? …
It's become counter-cultural to be Conservative. Conservatives are now the rock stars. The punk rockers of politics.
And these are courageous citizens! They're standing up against Obama, the Clintons and the Mainstream Media to shout the truth!
California
At the weekend in Bakersfield, the city's local Business Conference took place.
Hundreds of people showed up to hear conservative commentator Laura Ingraham (LifeZette) speak in support of Trump.
Gateway Pundit has a brief excerpt of the crowd cheering:
THIS IS AN AMAZING VIDEO–
Thousands of voters at the Bakersfield Business Conference tell the GOP to stand by Donald Trump and FIGHT!
Nevada
The same day that Trump supporters booed Wisconsin GOPe types, Nevada Rep. Joe Heck disavowed the candidate. The audience booed him:
Breitbart reports that Heck has fallen prey to the George Soros funded Common Defense PAC, notionally comprised of military veterans, and a MoveOn.org petition hidden within (emphases mine):
Common Defense PAC has a simple mission statement: "As veterans, we swore to protect the rights of every American. We continue to fulfill this promise by standing against Donald Trump." Its "leadership team" page on its website lists sixteen military veterans with no contact information for them.
On its Facebook page, the PAC features a video from a different super PAC in which a mainstream reporter asks Nevada congressman Joe Heck if he trusts Trump having the nuclear codes.
"Watch this. Share it. Then sign the petition to tell Congressman Heck to disavow Donald Trump," says Common Defense PAC, with the link to the petition: fornevadasfuture.com/heck.
But the petition is actually a MoveOn.org petition called "Joe Heck: Disavow Donald Trump."
One can be pretty sure that Heck and the rest of the GOPe don't know the men behind the PAC:
Common Defense PAC is registered with the Federal Election Commission at a P.O. Box in Lancaster, Pennsylvania. The group's treasurer is Jonathan Matthew Smucker, a Berkeley doctoral student, activist, and radical writer who did not return a request for comment for this report.
The PAC's July quarterly filing report with the FEC only lists one donor: a Baltimore IT consultant named Marjorie Roswell who gave $20,000 on June 30.
Perry O'Brien is the group's director. O'Brien is a longtime left-wing activist.
O'Brien was a medic in Afghanistan with the 82nd Airborne and received a discharge in 2004 for being a conscientious objector.
Perry O'Brien personally started a MoveOn.org petition called "Tell GOP leaders to disavow Trump and his attacks on veterans." The petition, which has 121,242 signatures as of this writing, is "To be delivered to Sen. John McCain, Sen. Mitch McConnell, Rep. Paul Ryan, and all GOP leaders."
Well, there you go. It worked. Don't Republicans investigate these things? It took me a simple Internet search.
What Deplorables will remember
On Tuesday, October 11, Laura Ingraham analysed the disparity between GOPe and their core voters:
The vast majority of Republicans want Donald Trump to be president … they have come together in an effort to save the country from Hillary Clinton.
A small minority of Republicans do not want Donald Trump to be president. They prefer Hillary Clinton. Unfortunately for most of the Republican Party, this small group of angry dissenters includes many of the people at the top of the party — officeholders, major donors, "strategists," and "conservative" pundits. These people have been able to leverage their connections with the mainstream press to repeatedly attack Trump — even though they refuse to say anything nice about Hillary.
… instead of having an honest discussion as to whether the GOP should be a globalist party or a nationalist party, everything dissolves into personal attacks.
When this election is over, the vast majority of Republicans are going to remember that their supposed leaders — the same officeholders, millionaires, and pundits who told them that they had to "come together" and support John McCain and Mitt Romney — refused to do the same for Donald Trump. They will know that what they have long suspected is true — the Republican Party is led by people who have more in common with the Clintons than with the GOP base. And that knowledge will affect the future of the GOP for years to come.
The biggest irony in all this is that, as one pro-Trump Rep. Steve King of Iowa said, quoting a fellow congressman:
"He said, 'If you are so worried about a sexual deviant in the White House, helping Hillary Clinton will put Bill Clinton in the White House,'" King paraphrased.
Very true, indeed.