You are currently browsing the tag archive for the 'The Netherlands' tag.
News events from the past ten days have been strange, indeed.
That they are happening all at the same time shows that truth is stranger than fiction.
This is like something out of a dystopian film.
Neil Oliver's editorial
On Saturday, July 2, Neil Oliver presented his weekly editorial on GB News:
He said that the supposed new world utopia is not working. He discussed possible Chinese social credit scores coming to the West and the increasing government control over our lives. He talked about racism from progressives towards their perceived 'wrong kind' of minorities who believe in conservatism, such as Justice Clarence Thomas on the overturning of Roe v Wade. He showed us the clip of Boris Johnson and Justin Trudeau joking about the size of their jets at a time when Western governments are discouraging their citizens from flying — anywhere. He looked at the hypocrisy of the Glastonbury music festival, with environmentalist youths leaving behind them a load of plastic rubbish all over the massive field where it was held. He talked about how people were increasingly unable to put food on the table and asked why this was in the 21st century, a time when we have never been so advanced as a society:
It makes no sense.
He said that the elites want:
the poor to become poorer, the hungry to become hungrier and the cold to become colder.
He concluded:
… here's the hardest pill to swallow: it's not supposed to make sense. This is planned, done on purpose. It's supposed to make us do what we are told. It's supposed to make us stop asking impertinent questions and just submit to The Man. It's supposed to divide us, one from another, until everyone feels alone. It's supposed to make us scared, angry, cold, hungry and sick to death. 
Sri Lanka
Sri Lanka has turned into a dystopia, the kind that Neil Oliver spoke of in his editorial.
The Express summarised the situation, caused by a debt crisis (emphases mine):
Unrest has been ongoing for several months over a debt crisis that has crippled the economy.
Reserves have been drained to minimum levels and the country has defaulted on several debts, meaning it is now struggling to secure essential imports like medicines and fuel.
The south Asian nation has been plagued by sky-high inflation, rolling blackouts and mile-long queues to secure essential goods.
Sporadic protests began in late March, but have since galvanised huge support from the wider public.
Last week, after months of shortages of nearly everything in the country, protesters stormed the presidential palace and the prime minister's residence, both of which are in the capital Colombo:
The homes of President Gotabaya Rajapaksa and Prime Minister Ranil Wickremesinghe have been occupied by local people furious with their leadership for throwing them into a staggering economic crisis …
They have since occupied the building, making themselves at home by using the pool and kitchen.
Sri Lankan police had attempted to use tear gas and water cannon to disperse the crowds, but they have remained defiant and are still refusing to leave.
The Express has several pictures of protesters occupying the presidential palace.
Although the president and prime minister have since resigned, protesters remain sceptical:
some are sceptical of the legitimacy of the resignations.
In a late-night announcement on Saturday, President Rajapaksa said he will step down on Wednesday.
But under Sri Lanka's constitution, his resignation can only formally be accepted when he resigns by letter to the Speaker, which has not happened yet.
Protesters have said they will continue to occupy official buildings until both have officially stepped down.
The country's political parties have resolved that, once both the president and the prime minister formally step down, the speaker would take the role of acting president before parliament votes for a new president on July 20.
On Monday, July 11, Dan Wootton discussed the situation, saying that much of the unrest had been sparked by green policymaking. The president's drive to turn Sri Lanka into an organic-only country with no fertiliser has led to widespread food shortages. The pertinent part is in the first minute and a bit of this video:
Dutch farmers
Meanwhile, another chilling news story emerged, this time from the Netherlands, that of farmers protesting against possible confiscation of their land.
This, too, bears out what Neil Oliver discussed on July 2.
The EU has decreed that nitrogen emissions must be cut. They blame farmers.
Dutch farmers have been protesting against their government's latest policy on nitrogen emission reductions, which, if Prime Minister Mark Rutte gets his way will put many of them out of business.
This was the scene on Friday, July 8:
Below are some of the replies to that tweet:
The Dutch, like most European peoples, are unarmed. The authorities prefer it that way:
Imagine if the government took away the land that you and generations before you had farmed, with either dairy cows or crops. It's unthinkable, but it is a real threat for these men and women:
In reality, there is no emissions problem in the Netherlands. This is about something else — control:
How interesting that the BBC hasn't covered it:
On July 7, Tucker Carlson interviewed the Dutch lawyer Eva Vlaardingerbroek, who is also a regular guest on GB News.
The Vigilant Fox has the video of her talking to Tucker as well as a transcript.
She said:
what this is about is the Dutch government stealing our farmers' land, and they're doing this under the guise of the made-up nitrogen crisis. And that is basically going to put most of these farmers completely out of business.
And thankfully, the Dutch farmers aren't having it. So they're going out in the streets, they're blocking distribution centers, they've blocked the high roads, they are fighting back! And they're right to do so; this is their life's work. They're really at their wit's end. They're devastated by what the government is doing, and it's very clear that the government is not doing this because of a nitrogen crisis, they're doing this because they want these farmers' land, and they want it to house new immigrants.
They also want it because the farmers are obviously standing in their way of The Great Reset plans that they have for us. Farmers are hard-working, God-fearing, and especially self-sufficient people that are just standing in the way of their globalist agenda. And it's driving a lot of these farmers even to something like suicide. So really, there's only one term that we can use for the things that our government and their Premier Mark Rutte is doing right now, and that is communism.
Scary.
Tucker, like most of us, tried to wrap his head around this:
So messing with the food supply tends to cause food crises and then famines. You're seeing this in the developing world, thanks to climate activism and the war in Ukraine. Are normal Dutch citizens who aren't farmers worried about what happens when you shut the farms down?
Eva said that the Dutch public understand what is happening:
Absolutely! They understand it. 'No farmers, no food,' and that's why the farmers have blocked these distribution centers because within a matter of a couple of hours, we saw that the supermarkets were empty, and ordinary citizens understand this.
She says the Dutch government either doesn't understand the consequences of what is happening or they really do want to destroy farming:
The problem is that the state doesn't seem to understand this, or it's what they want. And the police have responded in an incredibly violent way. So as you guys have seen, now, they have even shot at a 16 year-old-boy. These are not things that you should see in free Western countries, especially not targeted towards peaceful protesters, but it's happening.
She explained the red handkerchief she was wearing and said that similar nefarious events could happen in other Western nations:
Everyone around the world, and especially you in America, should be supporting our Dutch farmers because this could be happening to you. It's actually the very reason why I'm wearing this handkerchief right now. It's become the symbol of these farmers' resistance, and they're doing it so courageously, and they have the manpower to do it, so they really deserve your full support.
This Dutch farmer agrees with the assessment that the Dutch government wants the land. He says that it is in order to make the whole of the Netherlands one urban sprawl. You could not make this up:
It seems this is a World Economic Forum idea:
Eva gave an interview to Rebel News and confirmed the link with the WEF:
Once farmland is built on, it cannot easily be reclaimed for crops or grazing:
It sounds like fascism — corporations aligning with governments for control over the people:
Unfortunately, the British government — Conservative! — is trying the same thing in England by politely offering to buy farmers' land. Amazing, at a time when we have so little food security:
On Monday, June 11, Neil Oliver appeared on Dan Wootton's GB News show to discuss the unrest both the Netherlands and Sri Lanka.
Oliver said that Sri Lanka has also been affected by green policies which have been responsible for shortages plunging the country into crisis. He surmises that the governments have been told what to do. He doubts whether politicians will listen to the people and referenced Canada's trucker protests earlier this year as a case in point. Trudeau froze some protesters' bank accounts in response. Wootton responded by saying that the media were ignoring what has been going on in both Sri Lanka and the Netherlands. Oliver said that this will become so big in time that the media can no longer ignore it.
To be fair, the replies to this tweet do indicate that the BBC and Sky News have been covering these stories for the past few days.
Allow me to point out that the World Economic Forum had big plans for Sri Lanka, predicting an economic boom by 2025:
These green policies are hurting people, and it is time they were stopped:
On Monday, June 11, Patrick Christys of GB News spoke to Jeroen Van Maanen of the Dutch Dairy Farmers' Association. Van Maanen has been on GB News a lot over the past few days. He said that the government has different emissions targets, depending on the region. If this law is not stopped, he, for one, will not be able to continue farming. He also said that the government forbids using technological innovations to reduce emissions. Unbelievable. Like Eva, he stated that this is about the government buying land to house refugees:
Christys then spoke to energy analyst Andy Mayer, who said that misguided green policies are going to become problematic across Europe first, then other Western nations. Mayer said that the EU law on emissions originated in the UN. Like Tucker Carlson, Christys had a hard time wrapping his head around governments that seemingly wanted their farmers to go out of business. Mayer said that political leaders are so obsessed with reaching environmental targets that they are making terrible decisions. He said that the Netherlands exports £100m of farm products per year. Here in the UK we get a lot of produce from the Dutch all year round. Mayer says the grand plan is to have food in the West grown in other countries. Sheer madness, when we can see the result of this right now in Ukraine as Putin has prevented their grain from being harvested:
Returning to the Netherlands, it is heartening to see the farmers protest into the night:
Eva also spoke with Mark Steyn on Monday evening. Well done, GB News, for keeping this story going:
Shinzo Abe assassination
When it wasn't governments controlling their people, it was a madman settling an imagined score last week.
On Friday, July 8, Japan's former prime minister Shinzo Abe, 67, was campaigning for a political candidate in his party and was shot in the city of Nara:
He died soon afterwards:
What happened with security at the event?
Donald Trump's supporters remember how close he was to Abe:
Boris Johnson also admired Abe:
When Abe's death was announced, Boris sent a message of condolence in English and Japanese:
Abe had a long relationship with the UK. Here are photos of him with our past three Prime Ministers:
The gunman had served in the Japanese navy.
The Express reported:
A number of makeshift weapons were said to have been discovered at the home of Tetsuya Yamagami, 41, who was arrested after the attack.
The navy veteran was thought to have had improvised devices, including the one used in Friday's killing, by taping steel pipes together.
The gunman held Abe responsible for his (the gunman's) mother's bankruptcy. She happened to belong to South Korea's Unification Church, the Moonies, and gave them a large donation. The gunman believed that Abe had connections to the same group. Apparently, he thought that Abe somehow influenced his mother to give her large donation.
Hmm. There is no information about security at the event, only about it being heightened in the days that followed, culminating on July 10:
The assassination has shaken Japan – a country where political violence is rare and gun ownership tightly controlled.
Mr Abe was speaking during an event for his former party, the Liberal Democrats, ahead of upper house elections.
Security was heightened as voters went to the polls yesterday and party leaders avoided mingling with crowds during their final hours of campaigning.
Abe's traditional funeral ceremony, the tsuya, was held on Monday, July 11. It was a small gathering, led by his tearful widow Akie, 60, and attended by former prime ministers and American officials.
Boris Johnson's ousting
Finally, at the beginning of last week, Boris Johnson was abruptly and unexpectedly ousted as leader of the Conservative Party, although he remains Prime Minister for now.
On Saturday, July 10, Neil Oliver had a pertinent editorial on Boris, saying that our MPs do not care about us, we the people. We are in their way. We count for nothing in their eyes. He was appalled by the party atmosphere surrounding Boris's resignation and took exception with former Prime Minister John Major's suggestion that Boris should be removed immediately from No. 10. He also criticised another former Conservative MP, Michael Heseltine, for saying that, with Boris's departure, Brexit is now over. (Brexit was the largest plebiscite in British history.) He then went on to rightly criticise MPs for the damage done to British society with lockdown and Net Zero policies. They are now our masters, no longer our servants:
I will have more on what allegedly happened to Boris and profiles of Conservative MPs who are campaigning to succeed him as leader.
Dystopian events
That so many strange events could happen at the same time strikes me as dystopian.
I've never experienced a news cycle like last week's.
Let us hope this is not a regular occurrence.
January is a time for many people to cut back on an excess of Christmas food and drink.
In the UK, a popular way to attempt this for one month is through a vegan diet, hence Veganuary.
This year, despite the economic vagaries of coronavirus, meat consumption actually rose:
On March 4, 2021, FarmingUK reported that January sales of red meat and dairy was up compared with the same month last year. In fact, meat sales have risen throughout the pandemic (emphases mine below):
Latest Kantar data shows overall volume sales of red meat were up 15 percent and almost 12 percent for dairy, compared with January 2020.
Red meat and dairy retail sales have seen solid growth since Covid-19 restrictions began last March, with shoppers buying more through retail than pre-Covid.
Over the last quarter, growth across all red meat and dairy has been stronger than overall grocery growth at 10 percent.
Primary red meat volume has seen an 18% increase, with mince driving much of the growth within beef, along with burgers and steaks, but shoppers have also brought traditional roasting joints back to the table.
The seasonal lockdown has also led to more shoppers buying primary red meat, with increased household penetration at 83 percent, Kantar figures show …
Rebecca Miah, AHDB's Strategy Director for beef and lamb, said the red meat and dairy sectors had an excellent start to the New Year.
"[They] reflect how highly valued red meat and dairy are to consumers," she explained.
"While alternatives show growth from a small base, these are mostly complimentary additional purchases driven by interest and variety, rather than a move away from real meat and dairy consumption."
That's great news for our farmers.
Christophe Pelletier, a Canadian who studies food trends, says that increased meat and dairy consumption has also been observed in other countries:
Pelletier retweeted this thread about a University of Kansas study showing that Americans preferred beef to veggie burgers:
On March 3, the university posted an article on the subject, 'Study: consumers favor ground beef over plant-based alternatives'.
An excerpt follows:
Ground beef – offered with 10%, 20% and 30% fat — was strongly preferred for taste and flavor over plant-based alternatives, and less than one-third of the respondents said they would buy the plant-based alternatives in the store or retail settings, according to K-State meat scientist Travis O'Quinn.
"The results are pretty stark," O'Quinn said. "Our three ground beef products were highly desired by consumers. We didn't witness many differences among the three fat levels we offered, but when we compared those to the ground beef alternatives, every one of the alternatives had a tendency to fall out (of favorability with consumers)."
Consumers rated the plant-based alternatives as "extremely dry," according to O'Quinn, and rated those products "very low" for flavor. In one test, only 18% of the consumers said they would be willing to buy the plant-based ground beef alternative.
O'Quinn said the researchers tested ground beef alternatives designed for retail and food service use, and another consisting of a traditional soy protein base.
It's great to read that consumers are voting with their pocketbooks in favour of meat.
For too long now, we have been bombarded with anti-meat propaganda such as this:
The truth is that many people's health has improved because they eat meat:
Perhaps that is why we are being 'nudged' away from it: less money for Big Pharma's coffers.
Instead, we are told that meat harms our health and is responsible for pandemics:
The World Economic Forum (WEF) that meets at Davos every year insists we switch to a plant-based diet. One wonders if the bigwigs at the WEF have a plant-based diet?
The WEF works closely with the UN on food issues.
Smaller farmers are pushed out of the picture in favour of multinationals:
Yet, production of fruit and vegetables is not always kind to the environment. What about avocado production that is harming wildlife in Africa? The tweet about growing avocados is tongue-in-cheek but the effect on elephants and other native species is real:
What about this plastic monstrosity for fruit and veg in Spain? Immigrants from North Africa make up the bulk of the workers:
The Netherlands can do the same more sustainably:
There are better ways of growing crops and rearing meat. They are being implemented right now.
Here is an integrated farm of wheat and cattle. The cattle fertilise the wheat naturally. Some of the grain harvest is for them. The rest is used for consumer foods:
Smaller growers in the US and in France have been adopting this method, too.
I have seen two documentaries over the past couple of years on farming that uses an ecosystem.
One was with an American cheese maker who grows his own crops to feed the cows but also has other farm animals to keep the soil in balance.
Last week, I saw another, featuring a Frenchman who grows vegetables. He, too, has a variety of farm animals, including cows, which achieve the same objective.
And, yes, there are perfectly natural ways to reduce methane from cattle — grass grazing or a seaweed supplement:
Conclusion: the future of agriculture is hardly as bleak as we are told. Farmers are thinking out of the box — and very successfully.
The future of meat is positive — and is here to stay.
What follows are three stories the media won't have covered over the past week.
Call to prayer in the US — Revd Franklin Graham
Billy Graham's son, the Revd Franklin Graham has called for a national day of prayer and fasting in the US on Sunday, October 25:
This follows his Washington Prayer March, which took place on September 26.
May the Lord hear those who call on Him and guide the United States safely in the months ahead.
Censorship — new Project Veritas video
We know that Google and other social media outlets use algorithms to promote or suppress certain topics.
James O'Keefe's Project Veritas released another whistleblower film about Google. I'm posting the tweets, because YouTube might take down the video, which they have done before.
Ritesh Lakhar has worked for large corporations in the US. He has been a Google employee for several years and is Technical Program Manager.
He tells his story to Project Veritas:
Sounds like election interference to me.
Project Veritas posted an accompanying article which has much of the dialogue of the video along with two additional insights from Ritesh Lakhar.
First, here's what happened on November 9, 2016. I like the way he says 'When Trump won the first time', implying he will win again:
"When Trump won the first time, people were crying in the corridors of Google. There were protests, there were marches. I guess, group therapy sessions for employees–organized by HR," he said.
"There were days, like: 'Okay, don't come to work. We understand this is like a shocking event. Take some time off and cool off and we'll regather again to figure out our strategy,'" he said. "That kind of stuff–I'm like–are you serious, are you kidding me?"
The second is the contrast between Google and his previous employers — manufacturers (emphasis mine):
Lakhkar said he worked for other major industrial and medical companies, and none of them had the leftist culture he deals with at Google.
"When I worked for Caterpillar or Corning, politics didn't really matter," he said. "You just do your job and: 'Let's make tractors, let's make glass.'"
Coronavirus — doctors speak out
I have written about the German physician, Dr Heiko Schöning, before; he was arrested in London at an anti-lockdown rally in September and held without charge for 22 hours.
He and several other doctors and life scientists have formed a group called The World Doctors Alliance. They are speaking out against the way the coronavirus crisis has been handled internationally.
YouTube have removed their video, but two clips follow.
This clip is from the beginning, where some of the members, led by Dr Schöning, introduce themselves:
In the second clip, two members of the group speak:
A Dutch GP, Dr Elke De Klerk appears first. She says that there is no COVID-19 pandemic and says that it is a 'normal flu virus'. As such, she says they plan to sue The Netherlands. She says there is a 'really large group' of doctors and nurses who agree. She added that they have contact with '87,000 nurses that do not want the vaccine'. She said that the rights of people under the Dutch constitution cannot be violated for any medical reason. She said that the 'false positive' PCR tests are creating 'panic'. She said she was 'very happy' that Dutch media outlets are now questioning these tests.
Professor Dolores Cahill spoke next to say that, in Ireland, there have been only 100 actual deaths of, rather than with, coronavirus.
This is what she said in Ireland in September:
I haven't formed an opinion about this group, as I don't know too much.
At least they present an alternative perspective at a time when, increasingly, strategies and statistics just do not make sense.
For at least 20 years, populism has been popular in the Netherlands.
Former Labour MP Ed Balls has a BBC Two television series called Travels in Euroland with Ed Balls.
In his episode in the Netherlands, he asks at the end how populism can be stopped.
Yet, he missed the most important point of his own interviews.
Populism is not the R-word.
On the contrary. Populism asks that immigrants assimilate into their new culture. It also asks for orderly borders.
He meets a man named Willem, who talks about his girlfriend in the Gambia. Her name is Jojo. When Ed Balls goes to Willem's house for lunch, the Dutchman speaks affectionately of her and says he bought her a bicycle — her new, preferred mode of transport (two-minute mark):
So, we can say that populists are, in the main, multiracial. They do not, however, want their own culture erased out of history.
The clip shows that Balls missed the whole of Willem's message.
But, then again, Balls is Labour and he is making this series for the BBC. What else can one expect?
On April 6, voters in the Netherlands participated in a referendum on an EU treaty for closer ties with Ukraine.
Nearly two-thirds — 61% — voted no. Thirty-eight per cent voted for the EU-Ukraine association agreement. The percentage of people voting was 32%, two points over the validity threshold.
Regardless of the results, in a way, it is almost a moot point. First, the referendum result is non-binding on the Dutch government. Secondly, Prime Minister Mark Rutte and his coalition parliament plan to modify their terms of the treaty to satisfy public opinion or risk losing in national elections to be held early in 2017. Thirdly, trade parts of the agreement are already in force and 27 out of 28 EU governments have already approved the treaty.
The big picture here is the disenchantment many Dutch have with the EU project. It's not so much an agreement with Ukraine, although that is part of it, but the popular change of heart of one of the six founding nations of the European Union towards the bureaucratic behemoth.
'No' voters say the EU is undemocratic and lacks transparency. They dislike the power Brussels has over their lives. They are worried about their own economic situation.
The Guardian explained that, for the Dutch government — as well as Ukraine's president Petro Poroshenko, who wrongly predicted 'Yes' would win — the fear is, as Poroshenko said, this will result in:
an internal Dutch discussion about the future of the European Union.
The article went on to state:
The referendum's Eurosceptic Dutch organisers have admitted the vote is essentially not about Ukraine but a handy hook to push a broader anti-EU agenda and "give citizens more say in Brussels".
It was triggered after organisers used new legislation allowing citizens to voice opinions on legislative decisions if they garner more than 300,000 signatures.
On April 13, The Guardian interviewed several voters from the Netherlands to find out why they voted against the EU-Ukraine agreement. These are not old, fusty-dusty people, by the way. I highly recommend the interviews, which are considered reflections of both sides of the EU argument. Excerpts follow.
Joanne, a law student in Leiden, said she was happy with the result:
Euroscepticism in the Netherlands has lingered from the moment the 2005 referendum result was ignored and we lost power over our foreign policy. People have sensed that they still have the power to control their own fate and that they can punish politicians for acting against our national interests.
She also alluded to the dissatisfaction she had with the coalition government which played a part in her 'No' vote.
Hannah, a regional archivist in Noord-Brabant, also took exception to the policies of the coalition government and was worried about the economic situation as well as cuts in state care for the vulnerable and meddling with the educational system. As for the EU, she echoed Hannah in the growing Euroscepticism since 2005 and added:
There was a majority no vote in Noord-Brabant, although it was also the province that ended up having the lowest overall voter turnout … Many people believe that the needs of the EU are put above those of individual member states. On the other hand I do think many Dutch people understand there needs to be some European unity, just not necessarily in its current state. 
Claudia, an assistant professor in Amsterdam, was also happy with the result. She grew up in a rural area, where Euroscepticism is more pronounced than in the cities. Overall:
That result also shows that Eurosceptic sentiments have been present for a long time. I do not necessarily see an increase. Instead, there might be more awareness among politicians that Dutch voters are sceptic about a political union with other countries, especially countries we lack common ground with …
The Netherlands does not have a single-issue, anti-EU party. Those who would like to vote against the EU have to choose between the far-right of Geert Wilders or the far-left parties. For voters like me, who thoroughly disagree with other opinions held by members of these parties, a referendum is a great opportunity to express anti-EU sentiments and to deliver the message that something has to change.
… The referendum is a great example of a bottom-up initiative to change national policy and I feel it is incredible over 30% turned up to vote for something most politicians did not bother paying proper attention to. 
Marinus from Groeningen said:
A lot of people would in fact support much greater EU integration as long as it is done right. Even no voters in this referendum have admitted that they would support the EU, if it were a better EU.
I agree with all of these people, especially Marinus, with regard to our own Brexit referendum coming up on June 23, 2016.
None of us dislikes Europe and nearly all of us — except for radicals — feel we should uphold our own civilisation, regardless of the conflicts we have had over the centuries from the Dark Ages to the Second World War.
Although we have our cultural and linguistic distinctions, we are united in our greater common heritage.
However, a growing number of us no longer wish to be associated with unelected, unknown Brussels bureaucrats who have the power to impose laws on the member states which gradually erode our national sovereignty and personal freedoms.
Of Europe, we say: take it seriously but wear it lightly. Let the EU nations manage their own affairs and come together only for large member-wide decisions on trade and security that affect us all.
Yes, a decade of referenda by member states voting one by one to leave the EU would stop the Brussels gravy train in its tracks. That's what many in government — even at national level — fear: cuts in grants and the shrinking of elite job opportunities at EU level.
That is why the media narrative, which largely centres on scaremongering about loss of trade, supports the status quo: staying in the EU.
No one opposing the current bloated European project says it will be easy to leave it. However, spending a few years roaming in the wilderness is a price worth paying when we emerge stronger and more sovereign than before.
On Holy Saturday, the last day of Holy Week, Catholics and Protestants look forward to celebrating our Lord's resurrection and preparing a feast for family and friends.
You might find my past posts about Holy Saturday helpful in understanding its significance:
What happens on Holy Saturday?
Holy Saturday and food traditions
Last week, I summarised the first part of English food journalist Mary Berry's look at Easter food traditions in various countries and denominations, encompassing those in England, Jamaica, Russia and Poland.
The second, concluding part of Mary Berry's Easter Feast on BBC2 aired this week. Berry's enthusiasm for Easter as both a religious and gastronomic feast matches mine, which is part of what made the programme so enjoyable.
Christians make special breads at this time of year to recall Jesus as the Bread of Life. Lamb is also popular, as He is the Lamb of God, the once perfect sacrifice for our sins. As the Archbishop of York, the Right Revd John Sentamu explained, 'Easter is the Passover of the Lord'.
Greece – tsoureki
Berry visited St Sophia's Cathedral in London, a breathtakingly beautiful Greek Orthodox church.
Fr Savas, the priest who gave her a tour of the cathedral, said that 1,000 faithful normally attend Midnight Mass on Holy Saturday. Everyone takes a lit candle home and blesses their home with the light of the Resurrection.
Fr Savas's cousin Katarina made the traditional Easter bread — tsoureki — for Berry. It is a plaited (braided) bread with a red coloured hard boiled egg at the top. The three plaits symbolise the Holy Trinity. The egg symbolises Jesus Christ, and the red colour represents His blood that He shed for our redemption.
Tsoureki dough is an enriched one, resembling a brioche. It is flavoured with two spices: one, mastiha, which comes from tree resin and the other, mahlepi, from ground cherry stones which gives it an almond flavour.
Before baking, the tsoureki is glazed with egg wash and topped with sesame seeds. My Little Expat Kitchen has a recipe that looks like the one Katarina used.
The Netherlands – Easter Men
With the help of her grandchildren, Berry showed us the Dutch Easter Men recipe that she makes every year.
She saw them many years ago on a trip to Holland around Easter and was intrigued.
Berry likes the simplicity of the one-rise bread dough used to make this charming little bread of a man holding an egg — the risen Christ — in his arms.
Once the dough is risen, Berry portions it out and cuts into each one to shape the head, the arms and the legs. She secures a raw egg in the folded arms and decorates the heads with raisins or blackcurrants for simple facial features. She glazes the men with egg wash and bakes them for 25 minutes. The egg cooks as the bread bakes.
This is a simple, straightforward recipe that children will enjoy. They can help shape the limbs, once cut, and decorate the faces.
The Philippines – lechon
Berry visitied a Catholic Filipina, May, who made her a roast pork dish called lechon, an Easter staple in the Philippines.
May explained that, traditionally, lechon is a whole hog roast. Her father used to roast several hogs at Easter when she was growing up in the Philippines. Friends, neighbours and family would then join in for a massive Easter feast.
For home cooks, May recommends pork belly. She brined one with thyme, crushed lemongrass and bay leaves. After several hours, she removed the pork belly from the brine and patted it completely dry, enabling it to crisp when baking.
May laid it out flat, skin side down, and, in the centre, placed a few stems of crushed lemongrass, several spring onions cut lengthwise in half and added a lot of crushed garlic on top before seasoning well with salt and pepper. She then rolled the pork belly tightly and tied it well with butcher's string.
Once roasted, the lechon had a glossy, dark outer skin. Inside, the meat was moist and tender. The belly fat had cooked out, with some going into the meat. As this recipe has no crackling — the outer skin is too hard to eat — it might be suitable for cooks who prefer less fatty, yet succulent, pork.
May explained that the Spanish introduced lechon to the Philippines centuries ago.
The dish is also popular in Cuba.
England – roast lamb
Berry went to York to watch the Archbishop of York, John Sentamu — a political prisoner from Idi Amin's Uganda who moved to England 42 years ago — make her own recipe for roast lamb.
Sentamu and his wife Elizabeth both talked about how important Easter was for their large families in Africa. Sentamu's mother taught him and his siblings how to cook. His father insisted not only on roast lamb on Easter but also curried goat and curried chicken.
He and Elizabeth have been using Berry's lamb recipe ever since they saw it on television years ago. Berry confessed that she'd long forgotten about it, but it looks very tasty, especially with the touches the Sentamus have added over the years.
The Archbishop cut the main bone out of the leg of lamb. He took several thin slices of deli ham, spread a herb (predominantly rosemary leaves) and garlic mix over each slice and layered them neatly one on top of the other. He rolled the layered ham neatly and inserted it into the middle of the lamb.
He layered his roasting tray generously with tarragon and placed the lamb on top. Around it he put several onion halves. He took a bottle of white wine and poured it until it just covered the onions.
Once the roast was resting, he strained the juices from the roasting pan and made a sumptuous gravy. My mouth was watering. The Sentamu family must surely look forward to lunch on Easter!
Italy – Easter dove bread
Colomba di Pasqua is a traditional Italian bread made in a dove mould, although it can be made in a round one.
The dove symbolises Christ, the Prince of Peace.
To see it made, Berry visited Maria, who cooks for the priests and visiting clergy at St Peter's Italian Church in London's Little Italy.
The dough is enriched, as for a brioche, and contains currants and orange peel. It requires a 12-hour rise.
Maria placed the dough into a dove-shaped mould and topped it with whole almonds and crushed sugar. This recipe, which includes a picture, resembles Maria's. The sugar bakes into the top of the bread leaving an appetising topping.
I wished I'd been with the two very happy priests when she served it to them. They tucked in with gusto.
Easter feast
Nearly all of the show's participants and their families gathered at Berry's parish church in the Home Counties not far from London for a sumptuous Easter feast.
They brought their special dishes and Berry brought hers. If you can see the hour-long episode, you'll agree with me that it was a once-in-a-lifetime, unforgettable occasion. I would love to have been there.
Everyone got along famously and tried to learn each other's language. It was a beautiful sight as many promised to keep in touch with each other.
I hope that everyone's Easter feast is as special as Mary Berry's.
As we eat, may we remember the risen Christ and give thanks for His resurrection from the dead and His promise to us of life everlasting.
Today's news has more on the migration crisis, including an update on Alexandra Mezher, who was fatally stabbed in Mölndal, Sweden, earlier this week.
United Kingdom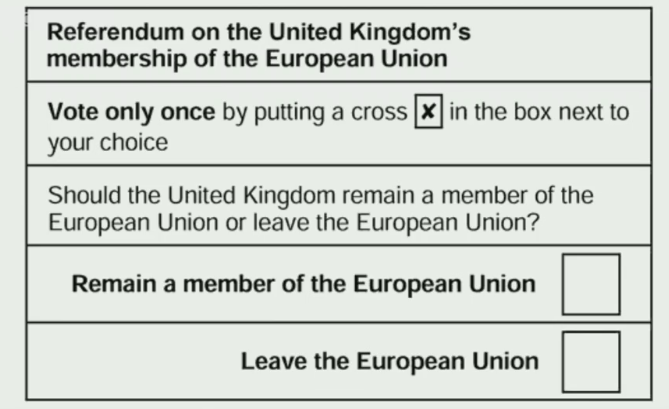 Whilst more than a few of us were relieved to read that our longed-for referendum on EU membership will be held in 143 days, we have other hurdles to overcome before then.
(Photo credit: Mike Smithson, PoliticalBetting.com Twitter feed)
I mentioned on January 25 that the question of bringing in refugee 'children' troubles some British teachers and social workers who are already working with those who arrived last year. They say that some refugee 'children' are of majority age, yet are in contact — whether in the classroom or in care homes — with minors. Children are therefore at risk in these situations by being in close proximity to young adult males.
The post also explained that, a week ago, a British QC (Queen's Counsel) ruled that Britain will have to accept three teenagers and a mentally-ill 26-year-old from Syria currently in Calais whilst their case for asylum is being decided.
Today, Thursday, January 28, the Express reported that 'unaccompanied child refugees' could be arriving in the UK soon.
The Save the Children charity have pleaded with the British government to accept 3,000 children. This number would be on top of the 20,000 refugees the UK has pledged to take in between now and 2020.
The scheme would involve taking the children directly from refugee camps near Syria, with input from the Office of the United Nations High Commissioner for Refugees (UNHCR).
On top of this, the Express tells us that 'unaccompanied child refugees' currently elsewhere in Europe will be allowed to come to Britain if they have relatives here.
Sweden
The age of 'unaccompanied child refugees' should concern us.
Today, via the Daily Mail, the Express reported that Chiméne Mezher, mother of brutally murdered Alexandra, who died on Monday, January 25, said some these 'children' at the refugee youth home where her daughter worked are actually adults (emphases mine):
Alexandra knew how to handle children including violent ones. But those she was working with were big powerful guys – she could see it in their eyes and their bodies. 
A few were maybe under 18, but the rest were older, maybe 23 or 24.
The article went on to say that Alexandra was on duty alone the night she died. Working night shifts alone has been standard practice at the youth home.
A colleague had rung Alexandra a few hours before she left home for work to say that one of the centre's kitchen knives was missing.
Mrs Mezher said that the employees did not report the missing knife because they were afraid of their superiors.
To date, the head of the company Alexandra worked for has not visited the Mezher family to express sympathy and discuss the tragedy.
Alexandra was stabbed in the back and thigh by a 15-year-old resident shortly before 8 a.m. on January 25.
Mrs Mezher is wondering where her family's future lies:
We left Lebanon [25 years ago] to escape the civil war, the violence and the danger. We came to Sweden where it was safe, to start our family. But it is not safe any more.
It is not surprising she has come to that conclusion:
The family has criticised politicians for the rise in immigration in Mölndal, a suburb of Gothenburg, where 8,000 migrants have arrived in less than a year. 
4,000 of the migrants are unaccompanied children.
Let us hope the British government does not put their citizens in a similar situation.
In other news
The Netherlands: Last week, a violent clash took place in the town of Geldermalsen over a proposed refugee centre. Townspeople planned a peaceful demonstration against plans to house 1,500 asylum seekers in the community of 27,000 people. The quiet protest was soon hijacked by violent outsiders, police said. However, on January 22, Geldermalsen's mayor cancelled plans for the centre, admitting that she should have consulted with residents first and that she had acted too quickly.
Germany: Assyrian Christian asylum seekers now living in the town of Saarlouis informed the police of a jihadi whom one recognised as a man who terrorised his neighbourhood in Syria. The Christian said the man stopped him several times at the local checkpoint when the two were still in Syria. The man also has an active Facebook page. The Christians duly informed the police. However, under German law, no arrest can be made until the man commits an offence. Some of the Christians now want to leave Germany, because, in the event of an IS attack there, they will be the first to be targeted.
Denmark: Whilst the Geldermalsen storm was brewing, the Danish council in Randers made pork a mandatory menu offering in day care centres and schools. The councillors said this is to preserve 'food traditions' and continue to put pork at the forefront of the Danish diet. However, halal meat, vegetarian dishes and foods for diabetics will continue to be available.
The feast day of St Nicholas is on December 6.
This famous saint, revered around the world by Catholics and many Protestants, led a fascinating life of faith which also included persecution.
(Photo credit: St Nicholas Center)
Life events
Nicholas was born on March 15, 270 in Asia Minor, then known as Greek Anatolia. Today we call it Turkey.
He grew up in a wealthy Christian family and inherited a lot of money at a young age when his parents died of an epidemic which swept through the region.
Epiphanius and Johanna — sometimes referred to as Theophanes and Nonna — raised Nicholas in faith and holiness. Nicholas also willingly observed the canonical fasts on Wednesdays and Fridays. When his parents died, Nicholas went to live with his eponymous uncle who was the Bishop of Patara. There, Nicholas was tonsured and pursued theological studies. His uncle appointed him a reader and, when the time came, ordained him as a presbyter — a priest.
In 312, Nicholas went on a pilgrimage to the Holy Land to better understand our Lord's life. He ended up staying three years, living with the monks of the monastery dedicated to the Great Martyr George — St George. They lived at Beit Jala, a mountain overlooking Bethlehem. Whilst visiting the great shrines commemorating events and places in the life of Christ, Nicholas prayed regularly. Then, one day, he felt the necessity to return to his homeland, specifically Myra.
He arrived in Myra in 317 as the people of city were in the process of deciding whom to elect as a bishop. They decided to elect Nicholas.
This was a time of intense persecution of Christians in the Roman Empire. The emperor Diocletian ordered the young Bishop of Myra to be exiled and imprisoned. Diocletian did not bother filling prisons with criminals, only Christians. Nicholas met a great many other bishops — as well as deacons and priests — during his time in captivity. When Constantine became emperor, he freed the Christian prisoners and Nicholas was able to return to Myra.
The false teachings of the heretic Arius were making the rounds of the Christian world at that time. St Methodius wrote:
thanks to the teaching of St. Nicholas the metropolis of Myra alone was untouched by the filth of the Arian heresy, which it firmly rejected as death-dealing poison.
In 325, the Council of Nicaea formally declared Arianism a heresy and, to guard against present and future generations adopting it, wrote the Nicene Creed.
Although Methodius did not say whether Nicholas attended the Council, another account maintains that he was present. That account claims Nicholas was so angry that he slapped Arius in the face. The other clergy present found this un-Christian behaviour and took away not only his episcopal insignia but also sent him to prison. Tradition says that our Lord and Mary appeared. Nicholas was released and reinstated as Bishop of Myra.
Orthodox Christians believe that Nicholas was one of the signers of the Nicene Creed.
In Myra, Nicholas guarded his people against paganism. He destroyed several temples, including the main one of Artemis. It is said that when he destroyed it, the evil spirits fled, howling.
Nicholas felt responsible not only for his flock's spiritual welfare but also for their material welfare. Many were needy. Others were innocent people falsely charged with crime. Nicholas was their tireless defender and helper.
Nicholas died in Myra on December 6, 343. He was buried there. By the time the emperor Justinian came to power, a basilica had been built in Constantinople to honour the new St Nicholas. The Church did not have formal canonisation procedures until the 10th century.
During the next several centuries, devotion to St Nicholas spread across all lands and among all ages. One Greek living in the 10th century wrote:
the West as well as the East acclaims and glorifies him. Wherever there are people, in the country and the town, in the villages, in the isles, in the furthest parts of the earth, his name is revered and churches are built in his honor. Images of him are set up, panegyrics preached and festivals celebrated. All Christians, young and old, men and women, boys and girls, reverence his memory and call upon his protection. And his favors, which know no limit of time and continue from age to age, are poured out over all the earth; the Scythians know them, as do the Indians and the barbarians, the Africans as well as the Italians.
The relics
Nicholas's relics have continued to exude manna — a watery substance that smells like roses — from his death in Myra to the present day. This occurs only once a year, on December 6.
During the Saracen invasion in the 11th century, the shrine dedicated to him in Myra eventually fell to the Muslims.
The great Italian cities of the time decided to rescue the saint's relics. Venice and Bari ended up being the two most powerful contenders. Bari was successful.
A group of men from the city set sail for Myra and were able to load the saint's relics onto their ship. They returned home on May 9, 1087. That part of the country — Apulia — had maintained many Greek colonies, a factor that might have been an added incentive for the men. A new church (now a basilica) was built in St Nicholas's honour and the then-Pope — now Blessed — Urban II was present for the installation of the relics. They remain there today. There is also a Greek Orthodox church close by.
Priests continue to extract one flask of Nicholas's manna a year and will do so on Sunday, December 6, 2015. The manna is poured into small vials which can be purchased from the basilica.
Sailors from Bari will also process from the basilica on Sunday carrying St Nicholas's statue. They have been doing this for centuries in the hope that he will keep them safe on the sea (see next section).
Stories and legends
The faithful quickly established a cult — devotion — of St Nicholas which spread across Christendom.
Many legends, no doubt some of which are true stories, spread about his goodness and generosity.
The following were to have happened during his lifetime.
The three imperial officers
In St Methodius's time only one story circulated about Nicholas. That concerned the ill fate of three imperial officers travelling on duty to Phyrgia. When they returned from their assignment to Constantinople, the prefect Ablavius imprisoned them on false charges. It is said that Ablavius was a jealous man. Ablavius went further and appealed to Constantine to issue a death warrant for the three men. Constantine duly did.
When the imprisoned officers found out about their ultimate fate, they remembered the holy example of the Bishop of Myra. They prayed to God that Nicholas might somehow intercede on their behalf.
That night, Nicholas appeared in a dream to Constantine and to Ablavius. The next day, Constantine and Ablavius told each other of their dreams. They sent for the three officers who told them of their prayers for Nicholas's intervention. Afraid and awestruck, Constantine freed the men and wrote to the Bishop of Myra asking him to pray for the peace of the world. That is how much spiritual power Constantine thought Nicholas had.
The sailors
A group of mariners encountered a storm off the coast of Lycia. Frightened, yet faithful, they asked for help from the Bishop of Myra. He appeared before them and guided their vessel back to port. Sailors travelling in the Aegean and Ionian seas often remembered St Nicholas. They:
wore their "star of St. Nicholas" and wished one another a good voyage in the phrase "May St. Nicholas hold the tiller."
The poor man with three daughters
A poor man had three daughters whom he hoped would marry. However, he could not afford to pay the required dowries to their bridegrooms — a custom that continues in various cultures today.
He was beside himself with worry.
One night, unbeknownst to the poor father, Nicholas crept onto the man's chimney and dropped a bag of gold into a stocking that was hanging by the fire to dry. This meant that the man's eldest daughter was now able to marry.
Some time later, a second bag of gold arrived in a stocking hanging by the fire. It was for the second daughter.
Intrigued, the man stayed up late at night by the fire to discover who was leaving him dowry money.
Finally, one night, he saw that the mysterious benefactor — with the third bag of gold — was Nicholas, who begged him not to tell anyone.
It is difficult to maintain silence in such circumstances, and it was not long before several people knew. After that, word spread quickly that anonymous gifts came from Nicholas, the Bishop of Myra.
The three bags of gold translated into three balls of gold — hence the saint's protection of pawnbrokers — and also into satsumas or oranges for children's stockings, suggesting gold. These fruits, until recently, were expensive; children considered them highly valued treats.
The theological students; children and the butcher
Three theological students were on their way to study in Athens.
They stopped at a local inn, where the evil innkeeper murdered them. He hid their remains in a pickling vat.
Some time later, Nicholas was travelling along the same route. He stayed at the same inn. That night, he dreamt about the murders. He awoke and immediately summoned the innkeeper. Nicholas prayed fervently. When he had finished, the students had been resurrected in full health.
In France, the story involves three children who got lost and fell prey to an evil butcher. St Nicholas appeared and appealed to God to resurrect them and return them to their families. God heard and fulfilled the prayer. This is one legend linking the saint to children.
The Arab pirates and the boy from Myra
This is another which also relates to children.
I have separated this story from the others. It could be relevant to the next section.
Some years after Nicholas's death, the people from Myra were celebrating his feast day. However, their joy was short-lived as a gang of Arab pirates arrived from Crete. They looted the Church of Saint Nicholas and, before they sailed home, kidnapped a young boy, Basilios, an only child.
The emir wanted Basilios to be his cup-bearing slave.
For the next year, the boy's parents were understandably gripped by anxiety. Meanwhile, Basilios brought the emir his wine in a golden cup every day.
When the next St Nicholas Day arrived, Basilios's mother was too grief-stricken to join in the celebrations. She stayed home and prayed.
The story goes that, as Basilios was about his duties for the emir, he was suddenly whisked up, up and away. St Nicholas appeared to the boy, calmed him down, blessed him and set him back down at his home in Myra.
Basilios was said to have appeared before his parents with the emir's golden cup in his hands.
This is the first legend that circulated about Nicholas's protection of children.
This legend illustrates why we have the association of St Nicholas-Father Christmas travelling across the sky.
Black Pete — Zwarte Piet
I put Basilios's story above because I theorise it relates to the Dutch Zwarte Piet, St Nicholas's mythical helper.
St Nicholas Day was a feast for everyone. It is unclear how or where the custom arose, but putting shoes out for a gift from the saint appears in Utrecht's St Nicholas Church records in 1427. Even adults participated.
Children were given more particular gifts. Bad children were given lumps of coal or switches for whippings. Good children were given fruit, biscuits or a toy.
Jan Steen's The Feast of St Nicholas (1665-1668), pictured — courtesy of Netherlands by Numbers — shows a typical scene. The boy who is crying has a switch in his shoe.
Although countries of the Reformation banned celebrating saints' feasts, the Netherlands continued to observe St Nicholas Day.
For most of the centuries when the Dutch celebrated this feast, St Nicholas always operated alone.
History
Then, in the 18th century, the saint somehow acquired a helper, Zwarte Piet — Black Pete.
A century later, one Dutchman later would codify Black Pete into every one's mind.
Before going into his story, please consider the aforementioned legend of Basilios, whom St Nicholas rescued, and The Netherlands' place in history from the 17th century.
History Extra reminds us that, at the time, the Lowlands — of which The Netherlands was part — were ruled by Spain under the Hapsburgs. The Dutch would have seen Spanish soldiers.
In the run-up to St Nicholas Day, children were often told that if they were very, very bad, a man named Black Pete might bundle them in a bag and take them to Spain.
These days, being bundled off to Spain sounds pretty good. However, that wasn't always the case.
In fact, I had an ex-colleague from The Netherlands whose parents used to threaten him with kidnap to Spain in the 1960s. It scared him into being good! Spain was, even then, far away and foreign.
So, how did Black Pete come into the picture? History Extra gives us two possible reasons.
One concerns history. All of the listed possibilities reminded me of the aforementioned Basilios:
Black Pete's origins are … problematic. There are suggestions that he started life as a Moorish servant from Spain, a Turkish orphan rescued by St Nick, or an Ethiopian slave freed by him.
The other concerns the spiritual element as well as colour symbolism of good and evil from paganism to Christianity:
Among his miracles and good deeds St Nicholas also had time to combat the devil and medieval pictures show him with Satan in chains. The devil is often painted black, but it's possible Pete is pre-Christian. One of his jobs is to look after Sleipnir, Santa's horse. He's an elegant but normal nag and has the same name as Norse god Odin's eight-legged steed. Odin is often portrayed taking dead souls back to the underworld. Guess what colour they are? Black.
In any event, in the popular mind, the Turkish bishop somehow ended up in Spain. He and his servant Pete would make the trip to arrive in the Netherlands every December 5-6 and punish or reward children accordingly. St Nicholas — Sinterklaas (St Klaas — St 'Claus)) to the Dutch, in the same way we say St Nick — gave the instruction for the gift. Pete fulfilled his bidding.
The story that changed everything
In 1850, Dutch schoolteacher Jan Schenkman published a wildly imaginative and equally inaccurate story of St Nicholas and Black Pete.
Sinterklaas and his Servant has the two sailing to the Netherlands from Spain by steam ship. It was meant as just a bit of fun, no doubt. But there might also have been some excitement for young minds of the day. Steam ships were a new and technologically advanced form of transport at the time. Sir Walter Scott's Ivanhoe was also a popular novel. It tells the story of a Knight Templar who returns from Palestine with two black Saracen servants. Schenkman must have had his finger on the pulse, because his story took off.
Black Pete was dressed in Saracen attire whilst Nicholas wore his episcopal robes. The postcard 'St Nicholas and his Servant' (same root as 'knight') — courtesy of The Netherlands by numbers — shows a scene from a St Nicholas Day celebration of the era.
Despite the mild mischief he engaged in, Pete was always a force for good. However, this does not come without complications today.
Present day controversy rages
Over the past few years, people of colour in the Netherlands have been both sad and angry about Black Pete. Some are sad because they have been called Pete — this includes women, too — whilst others are angry that an annual national celebration includes a reminder of slavery. Others are offended to see some Petes acting like buffoons.
However, Pete continues to be an even better guy these days; he no longer hands out punishment gifts or kidnaps children.
In fact, whilst Nicholas is on his horse, Pete's the chap who's busy handing out sweets to children eagerly lining the streets of Dutch towns and cities.
Yet, he's still a troublesome character.
History Extra says:
Earlier I deliberately wrote of Zwart Pete's "darker" side. It is this unthinking western link between evil, death, colour and coarse caricature that so worries some. Others point out that it is Pete who is really loved by the kids, not the stuffy Bishop, and they always add that it's a bit of harmless fun. Here, it's a debate that is as seasonal as Christmas itself.
VQR Online has an excellent article by a black American who lives in The Netherlands. In some St Nicholas parades, Black Pete also holds the bridle of St Nicholas's horse, suggesting servitude. The author, Emily Raboteau, writes:
In this last posture, he reminded me a little of a lawn jockey, that American holdover from the days of Reconstruction and Jim Crow. Clearly, this was why Zwarte Piet haunted and sickened me in Amsterdam.
At the Amsterdam procession she attended, Raboteau made these observations:
"Piet, Piet!" the children cried. It seemed they loved him more than Sinterklaas, who carried a miter and never smiled …
While I munched on those little Euro-​coin-​sized cookies made soggy by the rain, one particular child captured my attention. She was older than the others, maybe ten or eleven. Her makeup was unevenly applied, as if she'd smudged her face with dirt. In her ear was a cochlear implant, and when she shouted Piet's name you could hear the deafness in her voice, but also the joy. Her mother stood directly behind her, happy to see her daughter made so happy. I couldn't be angry with that girl, who was guileless, nor with her mother, who had grown up with the tradition. One Piet stopped clowning long enough to give the girl cookies. I must admit it made me feel good to see that girl smiling. I felt my baby quickening inside me and looked forward to future Christmases: eggnog, "Silent Night," midnight mass, the smell of the tree. I remembered my felt stocking stuffed with walnuts, tangerines, and candy canes, and choosing the biggest present to open on Christmas Eve. I knew I would gladly lie about Santa Claus to make my kid's childhood more magical, just as my parents had done for me. Was there an ingredient of love in all this Zwarte Piet stuff?
She illustrated her article with a number of representations of Black Pete.
I studied the photo of the Jumbo brand chocolate boxes. One can buy a box of St Nicholas chocolates or two different kinds of Black Pete.
That alone tells one something: Black Pete is more popular. His representations also look super-friendly whereas St Nicholas's is just creepy.
Some supermarkets have withdrawn these chocolates from sale after protests from Dutch blacks and those born in former colonies, such as Surinam. In fact, when short motion pictures became affordable, a few St Nicholas Day processions were recorded on film. The Netherlands by numbers says that one was made in Amsterdam in 1934 or 1935:
Sinterklaas was accompanied by a lot of white heralds in outfits very similar to today's Zwarte Piet. And, according to Sinterklaas expert Marie-Jose Wouters, the procession also included six Surinamese sailors whose boat was in the harbour at the time. They are, alas, not on the film. But it could just be that the very first Zwarte Piets in the procession were Surinamese.
However, in 2012, Amsterdam city council took a local survey:
39% of people of Surinamese origin don't like the idea of Zwarte Piet being at their children's school, nor do 28% of Ghanians, 24% of Antilleans and 17% of English speakers. However the survey found no people of Moroccan origin thought Zwarte Piet was an issue. A survey in October 2013 for television programme EditieNL found 96% of the Dutch think the Zwarte Piet character should stay.
Oddly, although technically Caucasian, St Nicholas was from Asia Minor. It is unclear whether he would have owned a slave and we do not know what his circumstances were with regard to having servants. Schenkman's story — rather than actual history — might be what is stoking people's objections today.
It is interesting to discover that all the objection started in 1968 — that fateful year which gave rise to a twisted era in much of Europe and North America that continues today. A woman named M C Grünbauer said:
it no longer appropriate to continue to celebrate our dear old Saint Nicholas feast in its actual form.
Conclusion
Perhaps one solution would be to go back to the real story of St Nicholas in as far as people know it. Black Pete's not part of that history, certainly not as represented.
I've run on quite a bit here. I'll be back next year with more information on St Nicholas and Black Pete references, including how the saint became part of Christmas.
For now, here is another story about St Nicholas by Margaret Meyerkort, Wynstones School, Whaddon, Gloucester, England. The last two sentences sum up this feast perfectly:
The earth is wide and great. There, where St. Nicholas cannot go himself, he asks a good and pious person to go to the children and take them apples and nuts and tell the children of the coming of the Christ Child.
And that's all that matters.
In light of yesterday's post on a European murdering his disabled daughter in France and Paralympians around the world comes the issue of legalised euthanasia for children.
The Netherlands, Luxembourg — and now Belgium — all allow young people to request euthanasia. In the first two countries, a child must have attained the age of 12 in order to do so.
In Belgium, no minimum age exists.
Naturally, proponents of this astounding legislation say it will be used only in the rarest of cases involving terminal illness.
That reminds me of the Roe v Wade debates when abortion supporters said the procedure would only be requested and used when the mother's health was at risk. I recall discussing the issue with my fellow classmates in Catholic secondary school. I posited that it would eventually become a form of birth control. My classmates told me that I was being alarmist: 'Don't be ridiculous! Who would actively seek out an abortion?'
Hmm. Millions of women around the world, a number of them more than once. Tens of millions of foetuses who were divinely intended for this world and never saw it.
From abortion it was but a short step to euthanasia.
In 2005, Gallup's poll on the subject found that a majority of Christians in the United States support euthanasia: 75% of Catholics, 70% of Protestants and 61% of Evangelicals. A majority of Catholics and Protestants also support physician-assisted suicide, PAS — 60% and 52%, respectively — although only 32% of Evangelicals do.
Now we have children who will be able to ask for the means to end their lives. It may start with the terminally ill but it will surely end up with unhappy youngsters of all kinds. No doubt, some of their parents and other family members will encourage them.
Els van Hoof, a Belgian senator, was one of a small number who voted against the bill. Christian News reports that she told the BBC (emphases mine):
"In the beginning, they presented a law that included mentally ill children," she noted. "During the debate, supporters of euthanasia talked about children with anorexia, children who are tired of life—so how far does it go?"
Paediatrician Dr. Gerlant van Berlaer disagrees:
" … there are children we try to treat but there is nothing we can do to make them better …
"We are not playing God—these are lives that will end anyway," he argued. "Their natural end might be miserable or very painful or horrifying, and they might have seen a lot of friends in institutions or hospitals die of the same disease. And if they say, 'I don't want to die this way, I want to do it my way,' and that is the only thing we can do for them as doctors, I think we should be able to do it."
We all die. The point is dying when the Lord decides it, not us. So, contrary to what van Berlaer says, we are playing God by determining not His timescale but our own — for our comfort and convenience.
Thirty-eight Belgian paediatricians issued a statement countering this perspective, noting:
"Even the most complex medical cases can be solved in the current legal framework, with the means and expertise at our disposal," the translated statement says. "For whom is this legislation therefore designed?"
"Children in Belgium are not suffering," it continues. "The palliative care teams for children are perfectly capable of achieving pain relief, both in hospitals and at home."
The law passed the lower house in late February 2014. Christian News tells us that most Belgians oppose it. Catholic Archbishop André-Joseph Léonard observed:
The law says adolescents cannot make important decisions on economic or emotional issues, but suddenly they've become able to decide that someone should make them die. 
This ties in tangentially with America's Cass Sunstein — an early Obama adviser and a father himself — who advocates animal rights over those of humans. This World Net Daily article tells us that he agrees with Jeremy Bentham, one of the stars of Britain's Enlightenment of the 18th century. Bentham once wrote:
A full-grown horse or dog is beyond comparison a more rational, as well as a more conversable animal, than an infant of a day or a week or even a month, old.
Similarly, another of Obama's early 'point people', John Holdren, said that he would favour seizing babies from unwed mothers who refused to have abortions. A chilling thought. In the 1970s, he co-authored a book with Paul and Anne Ehrlich on population control and other aspects of ecoscience. Ecoscience: Population, Resources, Environment still appears on course syllabi on some college campuses. The three authors propose forced marriage or compulsory adoption as well as mandatory sterilisation. They justify it this way:
Policies that may seem totally unacceptable today to the majority of people at large or to their national leaders may be seen as very much the lesser of evils only a few years from now.
That is, sadly, all too true.
Back now to children's euthanasia. Many of you probably read about this story when it was being debated at the end of last year and early this year. Of its passage into law, business magazine magnate and former presidential candidate Steve Forbes warns:
As euthanasia becomes more accepted—and we become more numb to the horror of murdering people like this—we'll descend to the next abomination: pressuring the sick to discontinue treatment for a likely fatal illness in the name of 'saving scarce resources' for people who have more years ahead of them.
Indeed, we have only to go to the Wikipedia entry for Voluntary Euthanasia to read the rationale, which anyone in the Benelux countries might now hear and adults in many other nations may be given:
Not only will PAS and euthanasia help with psychological suffering and give autonomy to the patient, PAS can help reduce health care costs and free up doctors and nurses. By keeping a terminally-ill patient alive, the patient must pay for any medical necessary procedures. These procedures can include x-rays, prescribed drugs, or any lab tests that needs to be performed. All of these procedures can run up a medical costs. Since the bills will continue to come for the patient, they will lose more of the money they would want to leave behind for their family. If the patient wants to end the suffering, the reason for racking up the bills and keeping the patient alive are lacking (13). Also, the costly treatment to keep the terminally-ill patient alive from medical funding cannot be used for other types of care, like prenatal, where it would save lives and improve long-term quality of life.[37] Along with reduced health care costs, more doctors and nurses could be freed up. A shortage of medical staff is a critical problem hospitals face and studies have found that understaffed hospitals make many mistakes and provide less quality care. Attending to terminally-ill patients, who would rather die, is not the best use of the medical staff. If PAS and euthanasia were legalized, more staff would have time to care for others and there would be an increase in the quality of care administered.[36]
Physician-assisted suicide and euthanasia can lower health care costs, free up doctors and nurses, and give back the right to the patient to practice autonomy. By keeping PAS and euthanasia illegal, each terminally-ill patient is being discriminated against because they are not able put this option into action. Those patients because of their disability do not have the same right as any other person in the United States.[37]
To be fair, the article does explore the opposing right-to-life argument.
However, let's look at how these arguments could make villains out of religious people — Christians or others — who wish for their relative to die in hospital without assisted or self-imposed suicide.
When families keep the terminally ill in hospital, doctors and nurses could well look upon these people as robbing others of good health. Family requests might end up being ignored. Relatives might be shunned. They might be expected to perform nursing and hospital orderly duties themselves.
The patient will be viewed as a 'bed-blocker', a term used of the elderly in Britain's NHS in the early 1990s. Since then, a number of NHS doctors have written on elderly patients' admittance forms to casualty the letters DNR: Do Not Resuscitate.
It is ironic that, given our greater overall life expectancy and medical advances, that more of us — children included — will be destined for the scrapheap because we are mere inconveniences to our families or physicians.
God? Who needs Him, eh? We can now take care of all our life and death issues ourselves.
Next to smokers, the current health target is the obese.
Smokers and the obese are constantly being told how much they cost health providers and nationalised health services.
However, is it true?
A 2008 Dutch study done on a sample of citizens from the Netherlands reveals that:
Until age 56 y[ears], annual health expenditure was highest for obese people. At older ages, smokers incurred higher costs. Because of differences in life expectancy, however, lifetime health expenditure was highest among healthy-living people and lowest for smokers. Obese individuals held an intermediate position. Alternative values of epidemiologic parameters and cost definitions did not alter these conclusions.
The aforementioned page at PLOS Medicine summarises how the study was conducted and the variables involved.
I hope this helps to clear up the confusion surrounding which target group costs more. It surprised me to read that healthy-living people cost the most.