You are currently browsing the tag archive for the 'The Spectator' tag.
My most recent post on Liz Truss explored the background to her final week in office as Conservative Party leader for 44 days.
She remained Prime Minister until Rishi Sunak took over and was in post for 50 days.
The book
On Thursday, November 24, 2022, Out of the Blue, the biography of Liz Truss by The Sun's Harry Cole (right) and The Spectator's James Heale (left), went on sale:
They had to frantically rewrite parts of it and add the sad denouement:
The Guardian's Gaby Hinsliff gave it a good review, considering that The Sun and The Spectator are not aligned with the paper's politics:
More excerpts from Hinsliff's review follow (emphases mine):
… Liz Truss was also the first [Prime Minister] to unravel almost faster than a biographer can type. She quit eight days before the Sun's political editor Harry Cole and Spectator diarist James Heale were due to deliver a portrait already being written at breakneck speed, and for a book to emerge at all in the circumstances arguably represents something of a heroic technical achievement. True, the writing is clunky in places. But nobody is going to be buying this book for its literary elegance; the point is to rubberneck at what remains of the crash site, and if that isn't what Cole, Heale or most of their interviewees originally intended to deliver – well, life comes at you fast in British politics nowadays.
Then comes the bit in the tweet about the book being of two parts.
The review introduces tantalizing details into Liz's life, past and present, that are in the book:
Most of the clues as to what went wrong however lie in the first part, a very readable gallop through Truss's childhood as the daughter of Guardian-reading, mildly eccentric leftwing parents, via her political awakening at university – first as a free market Lib Dem, then as libertarian Conservative – right the way through to her stint as foreign secretary, careering round the world in pursuit of the perfect Instagram shot. (It was during this stage that her ministerial "rider" was said to include multiple espressos in a flat white-sized cup and a bottle of sauvignon blanc chilling at every overnight stay.)
I was intrigued by Truss's mother, Priscilla, who briefly moved to eastern Europe in the 1970s to "try out life under the communists", took her children on Greenham Common protests and made herself a bright yellow banana costume in which to promote fair trade back home in Leeds. When Truss recalls schoolmates shouting "saw your mum in Tesco's dressed as a banana again", other 70s children of free-thinking parents may understand her seeming obliviousness to criticism a little better. You don't grow up with a banana-clad mother, I suspect, without developing a certain sturdiness.
The book shows Truss's self-belief from the time she entered Parliament in 2010, when David Cameron became Prime Minister:
Obliviousness isn't always a blessing in politics however, as becomes clear in her first job as early years minister under David Cameron. Truss had hatched a plan to cut childcare costs by slashing the number of adults required to supervise children, which unsurprisingly proved controversial. Instead of patiently trying to build public and political support for it, she simply put her head down and charged – much as she would a decade later with her mini-budget, and about as successfully. All young politicians make mistakes. What's unusual about Truss is that the lesson she seemingly took from hers was to believe in herself even more, and listen to others even less …
But it's perhaps significant too that she had got away with so much in the past, leading to an overconfidence about her ability to wing it – as she did even in the early days of her leadership campaign.
Interestingly, a Conservative plan to expand the number of adults who can care for children was debated earlier this month. It would allow people to mind children in their own homes rather than at a day care centre.
As with anyone else, there are darker sides to Truss, most of which will never be fully known. Cole and Heale were unable to interview her a third time for the book:
The authors recount sympathetically the well-trodden story of how an earlier extramarital affair with the married former Tory MP Mark Field nearly wrecked Truss's search for a parliamentary seat, rightly noting the double standard that it never seemed to damage Field. But they also touch on some of the more explosive smears circulated about her during the leadership contest – including claims of an affair with an aide, allegations of predatory behaviour towards staff, and even one wild suggestion that there might be a sex tape of her in circulation. The authors interviewed her twice but their planned third session was canned when she resigned, so perhaps they simply never got to put these to her.
As to how things went wrong, perhaps she should have listened a bit more to others:
Despite his professional closeness to Truss, Cole and his co-author strive to put some distance between them in their final reflections on where it all went wrong. Putting aside her own fear, reportedly expressed to a visitor to the Foreign Office, that "I am weird and I don't have any friends", plausible theories for her implosion include that vaulting self-belief (even in her post-resignation speech to staff, she was still insisting she'd been on the right track) and determination to put the wrong people in cabinet.
How to read the books on Boris and Liz
In addition to a book on Truss, there is also one about Boris Johnson, by the Financial Times's Sebastian Payne.
How can one read both in chronological order?
Harry Cole says to read the first ten chapters of Out of the Blue, then Payne's biography of Boris, then end with the final four chapters of Liz's biography:
An MP writes
Recently, Simon Clarke, the Conservative MP for Middlesbrough South and East Cleveland who served as Secretary of State for Levelling Up, Housing and Communities in Liz Truss's Government, and before that as Chief Secretary to the Treasury under Boris Johnson, wrote an article for the December 2022/January 2023 edition of The Critic on Truss's premiership: 'How did it all go so wrong for Liz Truss?'
Simon Clarke is one of the better Conservatives, in my estimation. He is diligent, good at the despatch box and is self-effacing. He is also very tall and, as such, when pictured with Rishi Sunak, walked some distance behind him so as not to accentuate the difference in height between the two of them.
Clarke begins his article with a weekend at Chevening, the Foreign Secretary's country residence, and concludes with Truss's last one at Chequers, as she closed out her premiership:
From Chevening to Chequers. For me, two weekends, eight weeks apart, will forever bookend my friend Liz Truss's time as prime minister. The first, a wash of August Bank Holiday sunshine over the Kent countryside. Walking the grounds of the Foreign Secretary's home with her on one of the last days of a leadership contest she had already won, listening as she outlined her vision for government, stalking ahead impatiently through the yellowing grass.
The second, an October Sunday in Buckinghamshire, an afternoon of bruised clouds and close heat foreshadowing the storm which broke as we dispersed. A small circle of family, ministers and aides, gathered in the Great Hall to say goodbye. A day defined by the quiet dignity and absence of self-pity of its principal protagonist, entirely typical of our host.
These memories are appropriate, because so much of what happened in between was decided at Chevening in the dog days of August.
Clarke has read Out of the Blue, which he liked, calling it:
a brisk and insightful canter through Liz's career and the forces that shaped her …
In four breathless chapters at the close of their book, Heale and Cole do a good job of unpicking what went wrong, and why.
However, Clarke is disappointed they did not reach the conclusion he did — that Truss was right all along:
they largely decline to address an inconvenient truth — a truth perceived by those much-maligned Tory members all summer. Namely that in her diagnosis of the situation at home and abroad and what should be done about it, Liz Truss was fundamentally and importantly right. 
He goes through the failed mini-budget from September but points out that some of the fallout would have happened anyway:
In the eyes of millions of British voters, the fallout from the mini-budget meant the Government alone took responsibility for sharp spikes in both interest and mortgage rates, even though the majority of those increases were already in motion independently. 
He admits his error in the mini-budget but adds that Truss had a different economic plan during the summer:
The whole package was an exercise in Reaganomics without, fatally, the support of a reserve currency. Indeed, it was launched at the very moment when the strength of the dollar left sterling desperately exposed. As one of her Cabinet ministers, I take my share of the responsibility. But it is important to note that for much of the summer, there was a different plan. 
In July, in the days following Boris Johnson's resignation, I spoke with Liz about how best to implement her vision for a higher growth, lower tax economy. The role of Chief Secretary to the Treasury is to be a voice of caution, and speaking as the incumbent to a predecessor, I highlighted the need for credible savings options to accompany her tax cuts, warning that without these we would be monstered. She agreed.
We settled on a new spending review, the exercise by which departmental budgets and priorities are determined in conjunction with Number 10 and the Treasury. Events in Ukraine meant the review conducted in September 2021 now strays close to being a fiction: the world has changed. It was time for a reassessment.
We discussed the relative merits of requiring five and ten per cent reductions in expenditure, achievable given how far spending has soared in recent years, and capable of being cushioned by the size of so many Whitehall departments' Covid-driven underspends. 
Her only caveat, quite reasonably, was that it would be better to identify specific saving plans in the run-up to a budget once safely in office, as opposed to in the heat of a brutal campaign. But the overall approach of securing those savings was not, I believed, in any doubt. 
There was, therefore, a conscious and spectacular change in her policy from mid-July to the end of August. The latter two weeks of August seem to have been pivotal. With an unassailable polling lead and most votes already safely cast by party members, Liz settled in at Chevening for a blizzard of meetings. Here her distaste for "abacus economics", always present, won out over caution. 
She was well within her rights to point out that the guardians of Treasury orthodoxy are bad at conducting dynamic modelling of the positive impact of both lower taxes and supply side reforms. But this was not the time to try to test that weakness.
Clarke thinks that Truss should have brought on board some of Sunak's people. Personally, I do not think they would have helped. Perhaps they would have if she were a man:
As the storm broke from the mini- budget, so a second fundamental error of the Chevening days was laid bare: Liz's choice of personnel. It was a mistake to have excluded from government so many of those who had backed Rishi Sunak. Her administration had too few allies when its momentum faltered, while a pared-back Downing Street operation found itself fighting on too many fronts.
The opposition was real and it was destructive:
What Heale and Cole could acknowledge more clearly is that there was a sizeable group of MPs who were unpersuadable from the beginning. From those who shivered at the thought of making the case for lowering the top rate of income tax back to the level at which it had stood at for all but the last six weeks of New Labour's 13 years in office, even if it would raise more revenue, to those who did little to hide their desire for revenge for the summer's reversal, the kindling was dry. 
Clarke says it is now important for Conservatives to look ahead to the next general election or face a Labour government:
And so we return to the fundamental point: that for all the brickbats, the platform on which Liz was elected PM remains important and urgent, and still needs to be delivered …
Who can dispute the need for a plan for growth, at a time of flagging living standards when the Bank of England is forecasting a two-year recession? Taxes are at a 70-year high, and she was right to ease the burden by cutting National Insurance.
The opportunity for further tax cuts may have passed with the mini-budget, but supply-side reform is now more important, not less. Growth since the 2008 crash has been sluggish, and some of the principal reasons for this are the result of policy challenges that a Conservative government with a majority of 70 ought to confront.
I disagree with his plan to build more houses on the green belt but agree that the Conservatives need to maximise Brexit opportunities:
Productivity matters. We need to curb the culture of judicial review that ensures major infrastructure projects take years longer to deliver than they should. We also need to grasp the opportunities of Brexit, rather than just talk about them. Reform of EU rules such as Solvency II, proceeding with painful slowness, desperately needs to be accelerated if the City is to succeed. 
Liz saw this with total clarity and planned a series of interventions this autumn. If we are to get our economy moving, it is essential that we should act. None of these problems will resolve themselves of their own accord.
If her instinct for action on the home front was sound, it was doubly so abroad. The Northern Ireland Protocol legislation, so vital to ensuring that all parts of our country get to leave the EU, is very much Liz's legacy from her time as Foreign Secretary. She understood better than almost anyone in the senior ranks of Government that Brexit cannot be a partial or half-hearted endeavour. Delivering this will be a central test for the new Government. 
And then there's China:
With regard to China, Liz again rose to the level of events. Too many in British and European politics still cling to the German dream of Wandel durch Handel, or inspiring change through trade. Liz did indeed aim to deliver change through trade, but of a different kind. In one of the boldest policies of recent years, she had set out plans to build a democratic alternative to the Chinese "Belt and Road" initiative, not least by championing UK membership of the CPTPP trading bloc.
When she fell, she was poised to designate China officially as a threat to the UK. From the suppression of democracy in Hong Kong to the genocide being perpetrated against the Uighurs, we should be in no doubt as to the true nature of Xi's regime. The West will only be able to resist this challenge if we readopt the Cold War trinity of moral confidence, economic dynamism and military strength, and Liz instinctively recognised this.
He concludes:
It was precisely because Liz's sense of the kind of country we ought to be was so compelling that the Conservative party gave her their decisive backing this summer. It is her tragedy that the mistakes made at Chevening risk diminishing the vision she set out of a more successful Britain, walking tall abroad and better able to offer opportunity and dignity to her citizens at home …
In words which could be the epitaph for her short, extraordinary time as our prime minister, she reflected: "I think I could have gone out and done a better defence, and got on the front foot. On the other hand there is no point in doing these jobs unless you stand up for what you believe in." 
Rishi laughs, but should he?
At last week's Spectator Awards, everyone was there except Liz Truss.
The notional great and the good, politicians and journalists, gathered together. Pictured on the left is Grant Shapps MP and ex-BBC presenter Emily Maitlis:
Those who received awards and/or gave speeches, included witticisms:
Defence Secretary Ben Wallace won Minister of the Year:
As we had four Chancellors this year, it must have been hard for the magazine to choose, so they opted for Labour's Rachel Reeves for Chancellor of the Year:
Labour leader Sir Keir Starmer won Politician of the Year:
Ukraine's Volodymyr Zelenskyy won Parliamentarian of the Year. It looks like Transport Secretary Mark Harper gave the speech on his behalf:
During this annual starry schmoozefest, Prime Minister Rishi Sunak felt free to get a dig or two in about Liz Truss and the book:
Sunak quipped that the BBC turned down a request to make a television series about Cole and Heale's book, because 'it is hard to work with just one episode'. How they laughed:
Except things aren't so funny for Rishi.
He had no honeymoon as Prime Minister and, within a month, Conservative backbenchers began rebelling.
On Wednesday, November 23, the aforementioned MP, Simon Clarke, tabled an amendment to relax the ban on onshore wind farms in England:
Late on Thursday, November 24, The Telegraph reported that Clarke's proposed amendment was gaining traction. Furthermore, it had support from none other than Boris Johnson and Liz Truss:
Boris Johnson and Liz Truss have launched a challenge to Rishi Sunak's authority by joining a Tory rebellion backing wind farms to tackle the energy crisis.
In their first major interventions since leaving Downing Street, the two former prime ministers have demanded an end to the ban on new onshore wind farms.
They both signed an amendment to the Government's Levelling Up and Regeneration Bill, just days after Mr Sunak's government was derailed by a separate Tory revolt on the same legislation.
The bill is designed to speed up housebuilding, which is crucial to Mr Sunak's growth agenda.
The two former prime ministers have had tense relationships with Mr Sunak.
Mr Johnson's supporters view Mr Sunak as having dealt the fatal blow to his premiership by resigning as chancellor.
Ms Truss and Mr Sunak clashed repeatedly during the leadership race.
It is unusual for former leaders to oppose their successors, with Theresa May choosing the issue of partygate to make a rare criticism of Mr Johnson. 
Mr Johnson signed the pro-onshore wind amendment, tabled by Simon Clarke, who was levelling up secretary under Ms Truss – even though he supported the ban, which has been in place since 2015, during his three years in office.
Ms Truss said she wanted to end the ban when she was in Number 10, because she believes the energy crisis means Britain needs more energy independence …
The onshore wind revolt is the second blow to Mr Sunak's bill. 
On Tuesday night, more than 50 Conservative MPs rebelled against his plans to impose centrally-dictated housebuilding targets – forcing the Prime Minister to delay the votes until December.
That revolt risked the prospect of Mr Sunak only being able to get the measure through with Labour support.
The latest rebellion looks set to be even more serious – not only because it has attracted the support of two former prime ministers, but because it is considered more likely that Labour would back measures to promote onshore wind.
By Thursday night, a total of 18 Conservative MPs had signed the amendment.
It demands that Michael Gove, the present Levelling Up Secretary, revises the National Planning Policy Framework to allow councils to grant new onshore wind applications.
The amendment would also force the Town and Country Planning Act to be amended to allow the installation of "new onshore wind sites not previously used for generating wind energy or for repowering existing onshore wind applications".
On Monday, November 28, The Guardian reported that Sunak was likely to give in to Clarke, Boris, Liz and the other Conservative rebels:
Good morning. Rishi Sunak has only been prime minister for about a month, but already he is learning that a large part of his job consists of playing Whac-a-Mole with Tory party rebellions.
All party leaders face backbench rebellions from time to time but, with its poll ratings still in landslide defeat territory and MPs rushing for the post-parliament lifeboats, the Conservative party is more ungovernable than usual.
Sunak has had to postpone votes on the levelling up and regeneration bill (originally scheduled for today) because of two rebellions on it. One group of Tory MPs (the anti-growth coalition, as Liz Truss would call them), want to amend the bill to ban mandatory housebuilding targets, while another group of Tories (from the pro-growth coalition) are backing an amendment tabled by Simon Clarke, the former levelling up secretary, that would lift the ban on onshore windfarms. Although only 25 Tories have signed the Clarke amendment (less than half the number backing the one on housebuilding targets), Clarke's is more dangerous because it has Labour backing.
This morning Grant Shapps, the business secretary, was doing the morning interview round and he signalled that the Whac-a-Mole mallet is coming down on the Clarke rebellion. As my colleague Peter Walker reports, Shapps hinted that the government will avert the onshore windfarm rebellion by giving in.
In immigration news that morning, Conservative backbencher David Davis told Sky News that the easiest way to stop the influx of Albanians via the English Channel is to send them back home. Albania is classified as a safe country, therefore, claiming asylum should be discounted. Davis has the backing of 50 other Conservative MPs. He said:
[Legislation] would go through and basically we would say to the Albanian population, anybody else who comes across the Channel will be sent back. When that starts to happen, there is no bigger deterrent … than if somebody in your village pays thousands of pounds to a human trafficker and then ends up back in the village three weeks later.
We shall see what happens on both wind farms and immigration.
For now, the Conservatives will have to make the best of Sunak's premiership, as they cannot reasonably have any more Prime Ministers before the general election, which, all being well, is some time away, either near the end of 2024 or early in 2025.
Returning to Liz Truss, there was no question that she had insurmountable enemies, a subject I will explore later this week. In some respects, if she were a man, she would have been allowed to remain in office. Perhaps men deal with contrarian men better than contrarian women.
Tomorrow's post looks at Liz Truss's life.
Pity our Prime Minister Liz Truss.
The choice of Conservative Party members, the lady who wanted a Thatcherite premiership of low taxation and high growth, is now silent.
On Thursday, October 13, in her private weekly meeting with King Charles, he greeted her with 'Dear, oh dear':
He could have at least waited until the press were out of the way.
On Friday, October 14, she was forced to sack her Chancellor and good friend Kwasi Kwarteng.
The two of them were not playing the globalist game for high taxation and low growth.
Kwarteng's brilliant mind
Kwarteng was elected as MP for Spelthorne in 2010, part of Prime Minister David Cameron's fresh, youthful Conservative intake that year.
He worked on Brexit in 2019 as part of Theresa May's government. Later that year, he was keen for Nigel Farage to stand down candidates in order for Conservatives to win convincingly in the general election — and get Brexit done:
Under Boris Johnson, in 2021, as Business Secretary, he became the first black — and first Conservative — Secretary of State. In that role, he refused to lift the moratorium on fracking. On the other hand, on July 6, 2022, he ensured that two coal plants are staying open to help ensure that the UK has adequate energy supplies this winter.
He was not a man in favour of high taxes, even in the wake of the pandemic, telling LBC radio on March 2, 2021:
Obviously we have to balance the books over time, but I'm a low tax conservative. The real key is to grow the economy. The best remedy for the deficit, the best remedy for the economy is to open up the economy, allow people to get on with their lives, allow businesses to start trading again.
In July 2021, he politely opposed the National Insurance tax hike.
In June that year, he supported the Government's caution on lifting final coronavirus restrictions in England and sagely predicted that there would be no more lockdowns in England.
Once Liz Truss was made Prime Minister, we found out more about his friendship with her, which began when she, too, was first elected to Parliament in 2010.
On September 6, 2022, the Mail posted an old photo from earlier parliamentary days of the new Chancellor and the new Prime Minister with this caption:
The new Chancellor Kwasi Kwarteng is a close friend of Liz Truss, so close that he lives 350 yards away in Greenwich.
The article also told us more about his towering height and intellect (emphases mine):
Although he is not widely known to the public, the 47-year-old MP for Spelthorne, Surrey, comes equipped with a solid academic background.
At 6ft 5in, Mr Kwarteng is a powerhouse physically and intellectually …
He speaks German, Greek and French, and writes poetry in Latin.
One friend recalled how, when the school introduced Italian to the curriculum, 'the teachers were trying to teach rudimentary Italian but Kwasi learnt the whole language – the teachers were struggling to keep up with him'.
Like Boris Johnson, who attended Eton a decade earlier, Mr Kwarteng shone at the Wall Game, a hybrid of football and rugby, where he played First Wall, described by an Etonian as 'an almost suicidal position that involved spending much of the match having his head scraped against brickwork' …
He was a prefect at the school and is still, it is said, held up as an example of how to succeed in Oxbridge interviews.
He went up to Trinity College, Cambridge:
He excelled at Cambridge where friends described him as 'supremely confident, but not arrogant'.
One said he 'had quite a few girlfriends – he had catching up to do after his boys' private school upbringing'.
Professor Tim Whitmarsh, who taught him Latin and Greek, was quoted as describing him as 'a bit of a young fogey', saying: 'I once saw a 19-year-old Kwasi in full brown tweed bumbling around with a pipe in his mouth on a baking hot day.' 
More recently:
Last year, Mr Kwarteng bought a Victorian villa just 350 yards from Miss Truss's £1.5million four-storey townhouse in Greenwich, south London.
Now they are neighbours in Downing Street too.
At one point Mr Kwarteng was dating Amber Rudd, the former Conservative home secretary, but the pair split up.
He then met Harriet Edwards, 36, a former pupil of Cheltenham Ladies' College and now a high-flying corporate lawyer specialising in advising private clients on 'succession' planning.
The pair married in 2019 and have a baby daughter, Ida, born last year …
Said to be a 'pragmatist rather than an ideologue', the free-marketeer's ministerial office allegedly boasts a large whiteboard on which are scrawled the letters 'MSH', standing for 'making s*** happen'.
With the multiple challenges facing the new chancellor, it is a mantra that may serve him well.
On September 7, The Telegraph had a profile of Kwarteng, which gave Truss supporters further hope.
We discovered that he wrote for the newspaper and had decidedly conservative opinions even in his 20s. The article featured a screenshot of his column of August 1, 1997 about higher education — 'Don't go to university, make money instead':
The man appointed the 109th Chancellor of the Exchequer had been considered a rising star well before he entered Parliament and first made his name at the age of 22 with a column in The Telegraph.
From higher education to the rise of "lad mags", Mr Kwarteng left a trail of published evidence showing his youthful thinking on the state of Britain. 
According to Mr Kwarteng, universities were not just a waste of time for those hoping to make lots of money but "a trick of the mind". They offered value of a sort as "a place for reflective thought, like the monasteries of the Middle Ages," but were only really popular as a way of proving one's smarts …
While universities might be conducive to research, on the whole, Mr Kwarteng thought, "the university added little to the talent which was already in them". 
For that reason, the MP for Spelthorne thought it "ridiculous" that everyone should go to university.
Also in August 1997, he also wrote about his scepticism of those who know best in '"Experts": it's the same old story', wherein he expressed his doubts about climate change:
"We live in the age of the expert," he declared, "of course, all these experts are invariably self-appointed, and they all contradict each other."
Mr Kwarteng lamented the loss of Western "reason and objective investigation" and said that the witchdoctors of "simple peoples" had been "reincarnated in a modern, Western, suit-wearing capacity.
"They are the consultants, health gurus, constitutional experts, psychologists and sociologists who seem to spring from the ground at every opportunity."
… In his column, he highlighted global warming as an example of "conjecture" dressed up as "granite fact".
It's a pity he later changed his mind. Perhaps he did it for political expediency. Who knows?
On at least one issue, however, Mr Kwarteng has clearly come to accept the views of the experts …
As Business Secretary, he has declared it essential for governments to intervene to tackle climate change. 
The Telegraph article has several more of his columns to explore.
Kwarteng as Chancellor
A fortnight before he delivered his fiscal event to Parliament, he pledged that his focus on growth would be 'relentless'. The Times reported:
The new chancellor has promised a shift in economic policy towards an "unashamedly pro-growth agenda" rather than worrying about redistribution.
Kwasi Kwarteng promised "to do things differently" as he acknowledged the need for higher borrowing over the winter to help households with their energy bills. However, he promised "fiscal discipline over the medium term" by ensuring the economy would grow faster than government debt, saying this would require deregulation and tax cuts.
After meeting key City figures, including the chief executives of Barclays, NatWest, Lloyds Banking Group and HSBC, Kwarteng said that he wanted to deal with economic problems through growth, with a goal of getting the underlying rate up to 2.5 per cent.
"The prime minister and I are committed to taking decisive action to help the British people now," he said. "That means relentlessly focusing on how we unlock business investment and grow the size of the British economy, rather than how we redistribute what's left."
He and Truss needed to work quickly to come up with the fiscal event. The nation had been in mourning for the Queen from September 8 through September 19. Meanwhile, the Conservatives' opponents were braying for a statement.
On Thursday, September 22, Kwarteng tweeted:
That day, The Spectator's Katy Balls explained that Truss wanted to move quickly:
Liz Truss is in a race against time. It's not just the prospect of an election in two years. It's the political problems – from party management to events outside of one's control – that quickly clog up a prime minister's in-tray. It's why for all the efforts to play down Friday's fiscal event as a mini-Budget, it is likely to be anything but small. Truss and her Chancellor Kwasi Kwarteng plan to push through as much as possible while their stock is highest …
Truss and Kwarteng have said their priority is to boost growth. In order to do that, they are undoing plenty of policies by their predecessors. The plan for investment zones – areas that could benefit from a lighter planning regime and various tax breaks – has already been briefed as a change of priorities compared to the former Levelling Up secretary Michael Gove. A government insider told the Financial Times this week: 'The plans make Gove look like a socialist.' There will also be further measures to undo more of the policies brought in by Rishi Sunak as Chancellor. 
Coffee House understands one plan under consideration is the return of tax-free shopping for tourists. As Chancellor, Sunak axed the 20 per cent discount for foreign visitors – leading to an outcry from MPs who said it would make Britain less attractive to businesses. At the time, the Treasury defended his decision on the grounds that 'this is getting rid of a tax cut that mainly benefits foreign billionaires.' However, the sector has voiced frustrations that this has led UK business to drop off while European capitals have seen business go up.
How will all this go down? As the Bank of England raise interest rates by 0.5 percentage points to 2.25 per cent in an attempt to combat inflation, already there are warnings about the effect of the government's planned borrowing. The Institute for Fiscal Studies has said that the planned tax cuts are likely to push UK borrowing and debt to unsustainable levels. The hope in government is that rather than spark alarm, the markets will have already priced in the new direction they are taking, and what happened in August suggests they may well have done so.  
'The strategy is do everything now,' says one person close to Liz Truss. 'This government has balls of steel'. In adopting this approach, Truss and Kwarteng are taking a gamble – and it won't be too long before it becomes clear whether or not it is paying off.
True conservatives cheered the package Kwarteng delivered to Parliament on Friday, September 23:
We felt as if Brexit would finally become the reality that would thwart Labour:
Our debt would remain the second lowest in the G7:
Guido Fawkes posted Kwarteng's economic plan in full as well as a summary, excerpted below:
Price of Energy
Government freezes household energy bills at £2,500

Government will

subsidise wholesale energy prices for businesses

Total cost of energy package for 6 months from October will be approximately £60 billion
Inflation
Government plan will reduce peak inflation by 5%

Chancellor: Bank of England independence is "sacrosanct"
Growth
Government will focus on growth target of 2.5%
Barriers to Enterprise
Government will bring forward bill to unpick regulation and launch a review into decision making

Increase disposal of government land to build more homes

Government will remove cap on bankers' bonuses

…



Tax
Planned rise in corporation tax is cancelled, it will remain at 19%

Annual investment allowance will not fall to £200,000 as planned, will remain at £1 million

Office of tax simplification abolished,

tax simplification mandated in all government departments

IR35 rules changed: 2017 and 2021 reforms scrapped

Planned increases in duty for beer, wine and spirits cancelled

VAT free shopping for overseas visitors

Increases to National Insurance contributions cancelled

Stamp duty threshold raised from £125,000 to £250,000; for first time buyers it will rise from £300,000 to 425,000

Kwasi will abolish the highest 45% rate of income income tax. Top rate now 40%.

Basic rate of income tax cut to 19% from April
Ahead of Kwasi's statement:
FTSE 100 is at 7,120
£/$ 1.1163
£/€ 1.1435
10 year gilt yield 3.49%
That afternoon, The Telegraph's Allister Heath was over the moon:
This was the best Budget I have ever heard a British Chancellor deliver, by a massive margin. The tax cuts were so huge and bold, the language so extraordinary, that at times, listening to Kwasi Kwarteng, I had to pinch myself to make sure I wasn't dreaming, that I hadn't been transported to a distant land that actually believed in the economics of Milton Friedman and FA Hayek.
But Liz Truss and Kwarteng are very much for real, and in revolutionary mood. The neo-Brownite consensus of the past 20 years, the egalitarian, redistributionist obsession, the technocratic centrism, the genuflections at the altar of a bogus class war, the spreadsheet-wielding socialists: all were blown to smithereens by Kwarteng's stunning neo-Reaganite peroration.
Hardcore, unapologetic liberal Toryism is back. This fiscal statement is in some ways an even bigger deal than that previously greatest of Budgets, Lord Lawson's extravaganza of 1988, so long ago that my generation cannot remember it. All the taboos have been defiled: the fracking ban, the performative 45pc tax rate, the malfunctioning bonus cap, the previous gang's nihilistic corporation tax and national insurance raids. The basic rate of income tax is being cut, as is stamp duty, that dumbest of levies. There will be more reforms, more deregulation from a Chancellor explicitly committed to a flatter and simpler tax system.
It wasn't merely the policies that were astonishingly good: just as remarkable was Kwarteng's language, the arguments he deployed to explain his decisions, the lucid free-market philosophy from which they emanated. He spoke of the need to bolster incentives, to encourage business investment, to increase work, to reward savings. He explained that this meant that the returns on capital and labour had to be improved. He wants to usher in a new Big Bang in the City and launch dozens of new Canary Wharfs on steroids.
At a stroke of a pen, Britain's competitiveness, its attractiveness to investors and top talent, has been transformed. Money and jobs will flow in, especially from the Eurozone. Britain's central pathology is low growth, held back by faulty economic, fiscal, monetary and regulatory policies: higher spending begets higher taxes, which lead to a vicious cycle of even lower growth, and hence yet more taxes, and so on.
I watched Kwarteng's speech to Parliament and the debate that followed. Allister Heath was right in everything he wrote.
On Sunday, September 25, The Sun wrote that its polls indicated the British public supported nearly all of Truss's proposals that Kwarteng delivered:
DELIGHTED Brits overwhelmingly back Kwasi Kwarteng's key income tax and stamp duty cuts, a poll found …
And PM Liz Truss says their radical plan will usher in a "decade of dynamism" …
A Deltapoll survey for The Sun on Sunday found many of his central policies have gone down a storm.
His pledge to slash the basic rate of income tax from 20p in the £1 to 19p from next April, benefitting 31million workers, got the backing of 63 per cent of respondents.
A majority of Labour and Tory supporters like the plan.
Meanwhile, the decision to ditch stamp duty for first-time buyers on homes worth up to £425,000 was approved by 61 per cent of respondents.
The move to reverse the 1.25 percentage point hike in National Insurance Contributions was liked by 59 per cent of the 1,553 people surveyed.
Some parts of the mini Budget, however, were far less popular. Just 30 per cent of voters backed the decision to scrap the bankers' bonus cap.
And even fewer — 28 per cent — approved of the move to do away with the 45p top rate of income tax, which will put more cash in the pockets of society's top earners …
Some delighted Tory MPs punched the air in delight after Mr Kwarteng detailed his mini Budget to the Commons.
One senior Tory said: "I am delighted. Finally, we have a proper Thatcherite budget."
But others warned it was a punt that may cost the Tories the next election.
One minister crossed his fingers as he said: "It is a huge gamble. If we see growth then it will have worked. It's a roll of the dice."
The annual Labour Party conference convened that Sunday.
The Spectator's editor Fraser Nelson pointed out that their leader Sir Keir Starmer opposed only the abolition of the 45% tax rate:
The Sun's editorial that day reminded Britons that it was Gordon Brown who put the 45% rate in place — and that was late in his premiership, around 12 years ago. His predecessor Tony Blair had not. As such, Labour had no room to complain:
For too long — if partly by necessity of the pandemic in recent years — the Conservatives have been parked on the centre ground, often operating from a Blairite or Brownite playbook.
The spleen-venting over Mr Kwarteng's most controversial call — ditching the 45 per cent top tax rate for those on over £150,000 — ignores the fact that, throughout the Blair years, it was the exact same as the new 40 per cent levy.
Nonetheless it's true that the move does give Labour an easy line of attack, as does the Government's reluctance to trumpet the fact that it IS already subjecting energy giants to a windfall tax — one which is raising around £30billion.
Yesterday Labour leader Sir Keir Starmer confirmed he would retain the vast majority of the Chancellor's tax cuts if he gained power.
Already, however, the doomsayers, including Torsten Bell, were already weighing in, as Guido Fawkes wrote that day (emphases his):
… Labour have accepted two thirds of the personal income tax cuts. They are only rejecting one cut, the top rate cut…
So the the dividing line between the parties is: Will "new era" economics work and crank growth up to 2.5% before the next election?
Not a chance say Rachel Reeves and the assembled hardline-centrists of the broadsheet punditry, plus all the orthodox economists from the IFS, Institute for Big Government and gloomy Torsten Bell with his distribution charts. Kwasi and Liz say it will work. It won't surprise co-conspirators that Guido thinks it is less of a gamble than the BBC's Faisal Islam reckons. Barring oil going to $300 or some other catastrophe, it is far more likely to work than the doomsters would have you believe. If Kwasi and Liz fail to hit the 2.5% target they have set for themselves, they will deservedly lose the next election. The choice now is pull out all the stops and go for growth, or go into opposition…
At conference, two Labour MPs of colour criticised the Conservatives' choice of Chancellor in Rishi Sunak, his successors and Kwasi Kwarteng. Guido reported on Rupa Huq's words about Kwarteng, which earned her a suspension from the Party, despite her apology. Shadow Rail Minister Tan Dhesi said he wanted to see white males in the Conservative Cabinet rather that persons of colour:
Guido doesn't consider Tan's comments to be half as bad as Rupa Huq's. His quote about Boris having an Asian do his dirty work for him, alongside Huq's referral to Rishi as "a little brown guy", is indicative that Labour somehow questions the legitimacy of non-white Tory Cabinet ministers. Does anyone get the sense Labour are slightly panicked about the Tories having a more diverse front bench than they do?
Fatal criticism despite global problems
But that was nothing compared to the big anti-Truss, anti-Kwarteng fallout that took place elsewhere that week.
On Monday, September 26, the IMF criticised the fiscal event.
Lord Frost defended Truss and Kwarteng in an article for The Telegraph: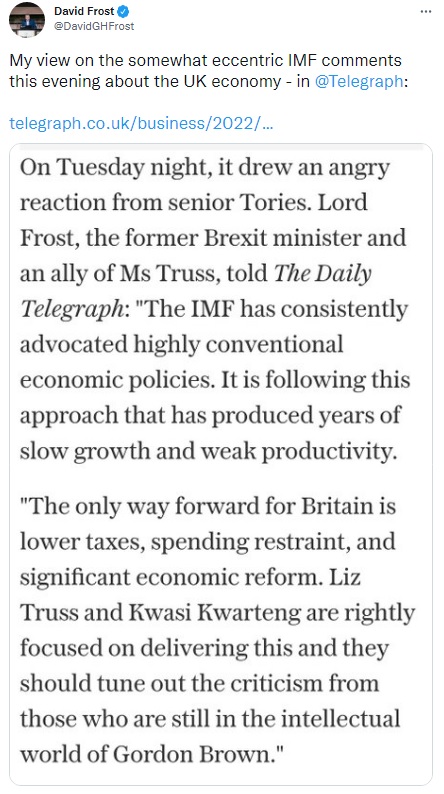 The IEA's head of public policy said that one of Margaret Thatcher's budgets — that of then-Chancellor Geoffrey Howe — was similarly criticised and ended up being wildly successful: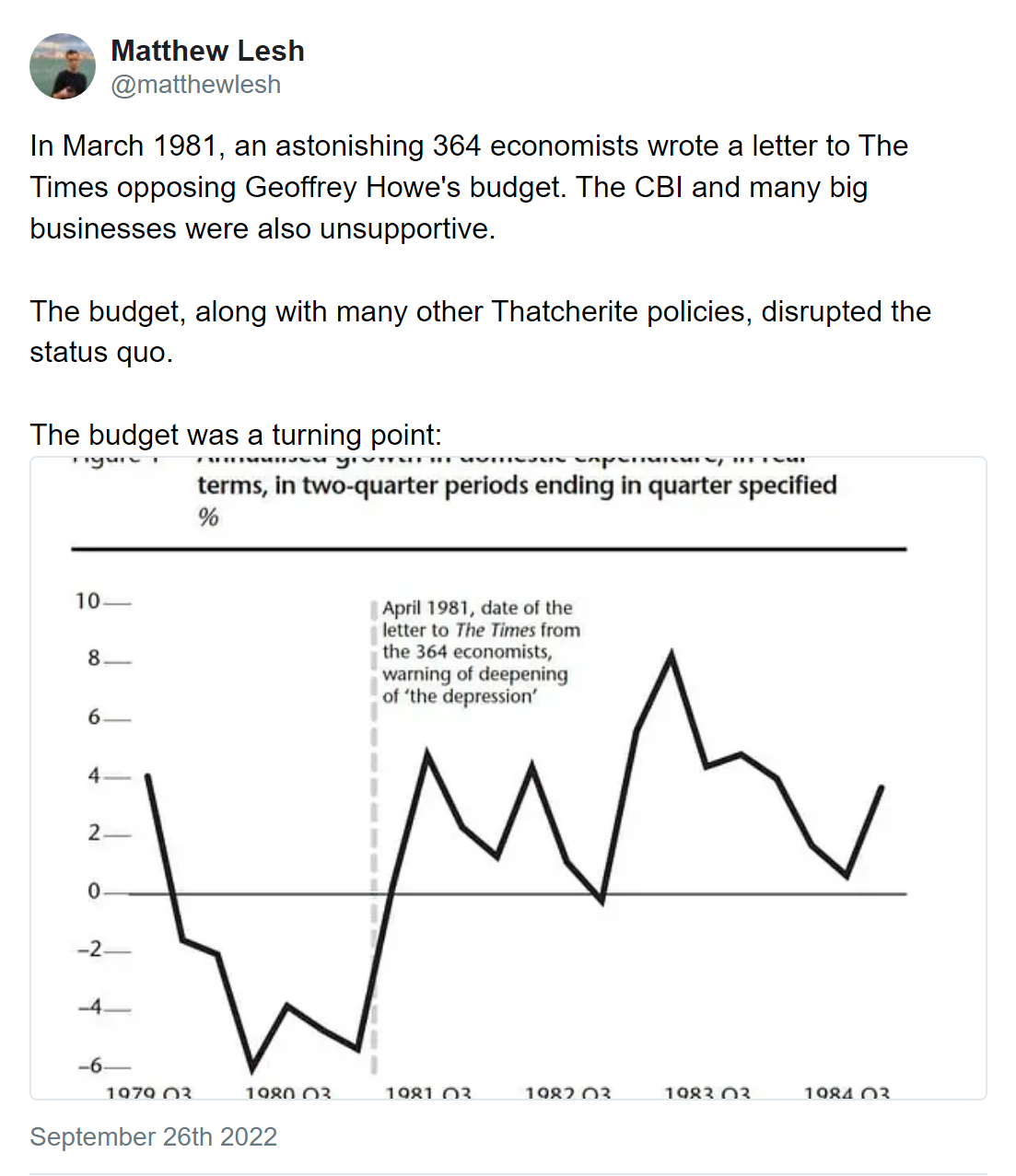 On Thursday, September 29, Labour MPs were back at home but outside criticism of the Truss-Kwarteng plan continued from globalist sources.
The US Treasury had weighed in against the plan after the IMF had.
The markets wobbled that week.
It should be noted that the UK was not the only country suffering from jitters — it was every other main economy, too.
With regard to us, however, the Bank of England had to step in with a fortnight of measures, too complicated to explain here, that put an end to risky measures that British pension funds had been using for several years.
Nevertheless, Truss and Kwarteng got it in the neck.
The Telegraph had a running diary of events that Thursday morning. Excerpts follow, covering the period from 7:30 to 10:30 a.m.:
The Prime Minister is due to undertake a tour of regional BBC radio stations this morning when she will be grilled on her tax cuts and spending plans after they sparked economic turmoil.
Lord Clarke, the Tory former chancellor, has argued this morning that no other Conservative government would have made a "mistake" like Kwasi Kwarteng's mini-Budget. 
The Tory former chancellor told Times Radio: "If the pound sinks any further, then they will have to perhaps retract some of the measures because the more the pound goes down, the more inflation goes up."
The Treasury has said Kwasi Kwarteng will deliver a follow up statement to the mini-Budget in November in which he will set out the Government's medium-term economic plans. 
But the Chancellor is under mounting pressure to deliver a statement to reassure the markets and the nation much sooner than that.
Chris Philp, the Chief Secretary to the Treasury, has defended the Government's decision to scrap the 45p top rate of income tax.
Asked why it was necessary to make the move now, he told Sky News: "The top rate of now 40 per cent, reducing from 45, makes us internationally competitive, it puts us on a par with a number of other economies."
After the Bank of England was forced to step in to calm the markets, Mr Philp told Sky News: "No one's perfect but I'm not going to apologise for having a plan to grow the economy …"
Chris Philp, the Chief Secretary to the Treasury, has dismissed suggestions that Kwasi Kwarteng should resign as Chancellor over his handling of the mini-Budget. 
Liz Truss has defended her mini-Budget plans as she said as Prime Minister she is prepared to take "controversial and difficult decisions". 
Liz Truss has said the world is facing "very, very difficult economic times" as she also insisted Kwasi Kwarteng is working "very, very closely" with the Bank of England.
Liz Truss said that "we have seen difficult markets around the world because of the very difficult international situation we face". 
Liz Truss has defended the decision to scrap the 45p top rate of income tax as she argued that lower taxes "help everybody".
BBC Radio Bristol presenter James Hanson challenged Liz Truss over her repeated claim that financial markets around the world have been facing turmoil. 
Daisy Cooper, the deputy leader of the Liberal Democrats, has claimed Liz Truss is in "complete denial" following the Prime Minister's morning media round. 
The Conservative Party is due to meet in Birmingham from Sunday this weekend for its annual conference. 
Sir Ed Davey, the leader of the Liberal Democrats, has called on the Tories to scrap the event.
Sir Ed said repeated his call for Parliament to be recalled.
Chris Philp, the Chief Secretary to the Treasury, was told this morning that the mini-Budget needs to be changed. 
Speaking to LBC Radio, he said: "No, well, if you listen to the reaction of British business organisations to Kwasi Kwarteng's growth plan on Friday, like, for example, the Confederation of British Industry, the CBI, the Federation of Small Businesses, the British Chambers of Commerce, they all strongly welcomed the growth plan, and they are the organisations that represent British business…"
The Bank of England's £65 billion intervention in the UK economy yesterday is a "very targeted, time-limited intervention", according to the Chief Secretary to the Treasury. (You can read the full story on the bailout here) …
Chris Philp was asked during an interview on LBC Radio this morning if that bailout indicated the economy is experiencing "serious problems".
He said: "Look, they were making a very targeted, time-limited intervention. There was a particular idiosyncrasy to do with the way that particular pension vehicles used long-dated gilts.
"It was a very targeted, very specific intervention to address that issue, which they've successfully done – independently, of course, the Bank of England act independently.
"And they're not the only central bank to have had to make an intervention. Like I said, the Bank of Japan intervened in the Yen dollar market just a few days ago."
Chris Philp, the Chief Secretary to the Treasury, has rejected the suggestion that the UK is now in the middle of a financial "crisis". 
Asked if he accepted it is a "crisis", Mr Philp told LBC Radio: "Look, I don't accept the word crisis at all. Look, in the last six to nine months… the financial markets have been in some volatility around the world."
Sterling has fallen sharply again as former Bank of England governor Mark Carney accused Liz Truss of "undercutting" the central bank …
He said there was an "undercutting" of key City institutions, pointing to the lack of an OBR forecast, a lack of detail about costing and working at "cross-purposes" with the Bank of England.
Ms Truss later told BBC Radio Kent that she is "very clear the Government has done the right thing by taking action urgently to deal with inflation, to deal with the economic slowdown, and to deal with high energy bills".
Were those accusations from globalists really true?
Was day-to-day business in Britain disrupted so dramatically? And wasn't the Government helping Britons with their energy bills? As to the latter question, the UK has been providing the most assistance of any European government:
That week, Kwarteng was under much pressure to meet with the Office for Budget Responsibility (OBR), which, as I posted on October 6, has a lot of Torsten Bell alums from his charity, the Resolution Foundation.
On Friday, September 30, he met with the OBR. Guido reported:
The highly-anticipated meeting between the OBR and government wrapped up after 48 minutes. The OBR says they'll deliver an initial forecast on the October 7, however the government's readout of the meeting sticks to the line that it will be published alongside Kwarteng's medium-term growth plan on November 23 …
Meanwhile, Labour were still banging on about the abolition of the 45% tax rate. The cost of subsidising Britons' energy bills kept increasing, too. Naysayers were pumping up the total expenditure from £60bn to £100bn:
That morning, The Telegraph posted Kwarteng's editorial defending his fiscal event, which ended with this:
Even in the face of extreme volatility in global markets, with major currencies wrestling an incredibly strong US dollar, we will show financial markets and investors that our plan is sound, credible and will work to drive growth.
By combining our immediate energy support with bold action to reset the fundamentals of the UK economy, we are helping households and businesses today – and putting the United Kingdom on a more prosperous, competitive path for years to come.
That evening, The Times reported that the Scottish Secretary Alister Jack said that Truss delivered what she had promised in the leadership hustings and reminded us that she and former Chancellor Rishi Sunak disagreed on how the British economy should proceed:
Speaking to BBC Radio Scotland on Friday, Jack said: "When you say 'huge shock', over the summer [Truss] was very clear that her strategy was to reduce taxes.
"She and Rishi Sunak argued that out over the summer, he said one thing, she said the other, but it shouldn't come as a shock to anyone when she said she believed the strategy was to be more of an Asian tiger economy, where you keep your higher spending but you grow your economy, and she said to do that she would be cutting taxes.
"To anyone paying any attention to that leadership contest it was plain as day what was going to happen" …
In response to the plans announced by Kwarteng last week, the International Monetary Fund said it was monitoring the situation and urged a rethink, while the Bank of England began buying government bonds to avert what it described as a "material risk to UK financial stability".
More controversy, ending with Truss's sacking of Kwarteng, followed.
I will dissect the tragic conclusion tomorrow and, on Thursday, what it means for Truss's premiership.
This has not been the best Conservative Party Conference, and here's why:
1/ Bombastic Boris is no longer Prime Minister;
2/ Liz Truss is still finding her feet as his successor;
3/ A train strike is taking place on the final day, so a lot of people left before Liz spoke on Wednesday.
On Wednesday morning, October 5, GB News's Darren McCaffrey, a veteran of many party conferences, said that the mood in Birmingham was very low this year, as if, after 12 years, the Conservatives think that their time in Government could be up.
It doesn't help that Labour's Shadow Chancellor Rachel Reeves has been spreading lies about Kwasi Kwarteng's fiscal event, either:
Meanwhile, the people in Boris Johnson's constituency of Uxbridge in west London miss him dearly:
Anyone who missed the controversies of the Conservative Party Conference can catch up here and here.
On Tuesday night, former Conservative adviser Amanda Platell, who writes for the Daily Mail, said she is praying that Liz Truss can actually govern without opposition from her own MPs. Platell described Michael Gove as 'a jackal'. Platell added that the Leader of the Commons, Penny Mordaunt, wasn't a very good employee when she worked for her several years ago:
After Amanda Platell spoke in that clip, it was time for Stanley Johnson, Boris's father, to give his impressions of this year's conference.
He said that he must have been to a different one, because everyone he saw was upbeat and the conference hall was full for Chancellor Kwasi Kwarteng's speech. Stanley Johnson blames the negativity on an ongoing media narrative:
I didn't see this gloom and doom meeting at all. 
When Dan Wootton asked Stanley about Michael Gove, the former Prime Minister's father replied:
I'm not going to talk about wildlife of any kind … I'm going to sing Michael Gove's praises because he has been a really good Secretary of State for the Environment.
Wootton countered:
He stabbed your son in the back.
Stanley said:
I'm not going to talk about it … I'm speaking as an environmentalist.
In another part of the show, Stanley said that he is '100% certain' that Boris will not be back as Conservative Party leader, i.e. Prime Minister.
Robert Buckland's advice to rebels: 'Shut up'
On Tuesday afternoon while listening to GB News, one of the presenters said that the Secretary of State for Wales, the mild mannered Robert Buckland, told Michael Gove to 'shut up'.
Hoping it was true, I searched Wednesday's headlines but saw only that Buckland had issued his advice indirectly, via Global Radio's News Agents podcast, featuring ex-BBC broadcasters Emily Maitlis, Jon Sopel and Lewis Goodall.
Buckland was mild mannered throughout:
The i paper confirms that no direct confrontation took place:
Welsh Secretary Robert Buckland appealed to recently sacked ministers to "shut up" but indicated he wants to see benefits rise in line with inflation, telling Times Radio he believes in supporting "those who genuinely cannot share … In growth and prosperity".
One can only hope that Gove and his Sunak-backing allies got the message.
On Tuesday night, The Telegraph urged MPs to rally behind their new Prime Minister: 'Tories owe Liz Truss their full support' (emphases in purple mine):
Ms Truss has an ambitious set of policies that she set out in the leadership campaign, yet there is now a danger that she will be thwarted at every turn by a fresh coalition of opponents in her own party.
MPs should remember that the Prime Minister won fairly and squarely under the rules after they removed a leader who had delivered an 80-seat majority just three years ago. She did not engineer a coup and, indeed, stayed loyal to Boris Johnson until the end.
Senior backbenchers and former ministers such as Michael Gove and Grant Shapps, who have been in the vanguard of recent criticism, should consider the damage they are doing to the party's re-election prospects. The only beneficiaries are their political opponents.
Conservative values championing a small state, low taxes and deregulation are being replaced by social democratic nostrums that brook no spending cuts and take the same attitude to wealth creators as the Left. The pandemic lockdowns did not help matters by fostering a widespread sense that the state will always step in to help in difficult times, as it has done again with energy bills.
As we have argued consistently, the UK needs a growth strategy, and Ms Truss is at least providing one. The alternative is to manage the nation's decline into a high-tax, low-productivity economy. She needs the full support of the parliamentary party in her endeavour, starting now.
Left-wing lies persist over economic measures
Last week, the Bank of England had to take action to counter what appeared to be an immediate effect of the Chancellor's fiscal event of Friday, September 23.
However, Guido Fawkes cited a report from the Financial Times which said that the economic hiccup originated with the pensions industry.
Note the exposed deception in this Twitter thread:
Yes, I can well imagine that it was Mark Carney's fault. He was Andrew Bailey's predecessor at the Bank of England. Both are worthless, yet the media deifies Carney as some sort of miracle worker.
The left-wing narrative, spun by Shadow Chancellor Rachel Reeves and the media, persists that the taxpayer is being hung out to dry.
Guido wants to correct that narrative, noting that the BBC's Nick Robinson has already apologised for getting it wrong:
Guido's post from Tuesday, October 4, — which includes audio — says (emphases his):
Since the Bank of England announced market operations to purchase gilts last Wednesday, Westminster politicos have been struggling to get their heads round the intricacies of gilt markets. It therefore comes as no surprise to Guido that Nick Robinson was forced into a correction today, after incorrectly repeating the widely tweeted claim that the Bank of England has spent "£65 billion to prop up the markets" …

The claim is somewhat misleading. The Bank of England pledged to buy gilts to the tune of a maximum of £5 billion a day, over two weeks, to assure markets. This means the maximum possible spend was £65 billion, though the actual number will be far smaller. In reality the bank has purchased around £3.66 billion so far, with yesterday's purchases coming in at just £22 million. The smaller purchase signals the Bank is comfortable with the current state of gilt markets as its credible commitment appears to have paid off. Guido appreciates that the BBC this time took the effort to get the facts right…
Shadow Chancellor Rachel Reeves, who should know better as an ex-Bank of England employee, repeated the same line: "The fact the Bank of England had to step in with a £65 billion bailout with taxpayers money is deeply shameful." It is not a fact.
Firstly, the market operation will be nowhere near £65 billion. Secondly, it is not money from taxpayers … with the purchases even having the potential to make a profit* on resale. So her "taxpayers' money" claim is also incorrect. Robbo we can excuse, he only has a PPE degree from Oxford. The Shadow Chancellor, a trained economist, is deliberately and wilfully misrepresenting the facts for political advantage…
*A market source says that marked-to-market the Treasury is currently in profit on the trade.
In the comments, one of Guido's readers clarified what happens with the Asset Purchase Facility — APF — in this case:
It's not from Treasury reserves. Treasury has no reserves. It's not money from taxpayers either. Neither the bank nor Treasury has any taxpayer money.
The Bank has extended a loan to the APF, and credited the APF's account in the Banking Department with an advance. That is then used to pay whoever is selling the Gilts to the APF, which result in a transfer from the APF's account in the Banking Department to a commercial bank's settlement account in the Banking department.
The end result is Gilt assets in the APF balanced by a liability to the Banking department of the Bank of England. The Bank of England has a loan asset to the APF balanced by a liability to the commercial bank.
It's just good old bank lending. As happens a bazillion times every day across the banking system.
Another reader called out the media for lazy journalism:
All MSM are as bad, Sky and ITV actively promote their left-wing Labour bias too, especially activists like Ed Conway and Peston, respectively, are rarely challenged, and the public generally don`t realise they are being lied to and manipulated. Creating hysteria and headlines are more important now than the truth and lazy groupthink "journalists" just follow the herd. Where is the giant good news headline that the £ is now trading higher than before the mini-budget and the euro is below parity with the dollar, no, they prefer reporting negative UK news to deliberately topple this government.
Kwarteng's U-Turn U-turn
Thankfully, Kwarteng has recovered from the shock of having to make an economic U-turn on the 45% rate of tax and, although that is still off the table for now, he is reneging on bringing forward a vote on a more detailed plan on November 23.
On Tuesday evening, The Telegraph reported that he has postponed this to next year:
Crunch votes to implement last week's mini-Budget will not take place until next spring, The Telegraph understands, putting off potential rebellions until 2023.
Many of the tax-cutting measures which Kwasi Kwarteng, the Chancellor, announced last month will not need to be passed in the House of Commons until next March.
That includes bringing forward the 1p cut in the basic rate of income tax and scrapping a planned rise in corporation tax, two of the most costly moves in the package.
It means that Tory rebels hoping to attach amendments to the Finance Bill may have to wait almost six months, potentially buying Liz Truss some political breathing room …
There was confusion on Tuesday as Mr Kwarteng appeared to row back on Downing Street indications on Monday night that he would reveal his new fiscal plan earlier than planned.
Mr Kwarteng said that the so-called "medium-term fiscal plan", which will spell out his approach to bringing down debt and restraining spending, was coming on November 23.
But that appeared to contradict word from his allies 24 hours earlier suggesting the announcement and the Office of Budget Responsibility (OBR) forecast would actually come sooner.
The OBR forecast is another part of the ongoing anti-Truss narrative. Since its inception by then-Chancellor George Osborne over a decade ago, its forecasts have rarely been accurate. Guido regularly posts on how the economy does much better in reality, putting the OBR to shame.
Yet, the OBR is considered as an oracle:
The failure to produce an OBR forecast alongside the mini-Budget was jumped on by economists and critics to partly explain the reaction from the markets.
It is, in fact, useless.
On Tuesday, Kwarteng gave his reasons for the rushed fiscal event. Contrary to what the lefty narrative says, he was not blaming the Queen, just reminding people of the timeline:
Mr Kwarteng on Tuesday also appeared to cast some blame on the "pressure" of the Queen's death for mistakes in his tax-cutting fiscal statement.
He said: "We had a nation in mourning and then, literally, four days after the funeral we had the mini-budget.
"It was a high speed, high-pressure environment and we could, as David Cameron used to say, have prepared the pitch a bit better."
Kwarteng was rightly disappointed that the Government was not given credit for helping out the nation with their winter fuel bills. This is another part of the false lefty narrative that needs exposure:
Speaking at a fringe event at the Conservative conference on Tuesday night, Mr Kwarteng complained that his energy price freeze was getting too little attention because of the 45p tax row.
The Chancellor said: "If you look at the energy intervention, I mean, nobody's talking about the energy intervention.
"That was a huge use of the balance sheet to help people. People were facing bills of potentially £6,000 next year, and we've intervened.
"There's gonna be a limit of £2,500. That's a huge intervention."
Agreed. He did what people bayed for.
He criticised Rishi Sunak's handling of taxpayer's money, turning the former Chancellor's cries of morality back on him:
Mr Kwarteng has also said the Treasury he inherited from Rishi Sunak and Boris Johnson was "unsustainable".
He said: "We were spending billions and billions and billions and raising the money in tax."
"How can that be sustainable, when we have a very, very high tax burden and very low growth? We had to come off that trajectory."
He called himself a "compassionate Conservative" inspired by his mother …
He added: "It's the people's money – we raise it through tax. And if we do that we have a moral obligation to look after it."
Benefits increases
In line with Kwarteng, Liz Truss wants to be careful about taxpayer's money.
Benefits will have to be raised, but the question is by how much.
One tranche of Conservative MPs says that it must be in line with inflation. Another group says it should be in line with salaries.
Early on Tuesday, The Sun reported:
She is under pressure to hike benefits for the poorest after repeatedly refusing to confirm they will go up in line with inflation.
Speaking at the party conference in Birmingham, the PM said: "We face massive challenges as a country and we need to get through this economic crisis and this energy crisis.
"And we need Britain to come out stronger on the other side, and I want to win over hearts and minds in the country, but also amongst my parliamentary colleagues, to make sure that we are able to deliver for the people of Britain" …
Emboldened rebel MPs are now pushing for further changes having forced her to ditch one flagship measure — with efforts now focusing against a real terms cut to Britain's benefits bill.
Even her own Cabinet Ministers are ratcheting up the pressure for Ms Truss to commit to raising benefits with inflation and not wages.
Penny Mordaunt told the Times it "makes sense" to uprate benefits with prices.
The Commons leader said: "I have always supported, whether it's pensions, whether it's our welfare system, keeping pace with inflation."
But Ms Truss insisted no decision had been made, yet reiterated her promise to keep the pensioners' triple lock.
She admitted the reaction to her Growth Plan had not been "absolutely perfect" but insisted it – and the energy – package will help struggling families braced for a gruelling winter.
It includes cutting stamp duty, income tax and capping the price of energy so the typical household will pay no more than £2,500.
Here's The Spectator's list of the benefits rebels hoping for an increase with inflation rather than wages.
Penny Mordaunt was one of Truss's rivals in the leadership contest and the other five — led by Michael Gove — were staunch Sunak supporters:
Penny Mordaunt
Michael Gove
Damian Green
Esther McVey
John Glen
Mel Stride
Who can forget the day MPs eliminated Mordaunt from the leadership contest, leaving Truss and Sunak as the last two standing?
On July 20, Guido wrote about Mordaunt's last ditch appeal:
It turns out Penny Mordaunt's effort to run a "clean" campaign that puts an end to "toxic politics" lasted as long as she thought she had a chance of winning. Now that Liz Truss is the bookies' favourite, and Kemi Badenoch's voters are up for grabs, the Mordaunt camp has other ideas. This morning, Mordaunt tweeted an Allison Pearson Telegraph article headlined "Tory MPs – vote for Rishi Sunak or Liz Truss today and you'll murder the party you love", which went down like a bucket of cold sick with just about everybody. Don't bother trying to find the tweet – she's since deleted it…
Truss wisely made Mordaunt Leader of the House, probably the safest place for her.
The benefits row is likely to erupt after Parliament reconvenes next week. Gove is pictured with Truss:
On Tuesday morning, Guido posted an audio clip of Mordaunt speaking to Times Radio about increasing benefits in line with inflation:
… on Times Radio … Leader of the Commons Penny Mordaunt was busy once again going characteristically off-script, claiming "it makes sense" to commit to the uplift come rain or shine. Michael Gove is – predictably – saying the same. Even DWP Secretary Chloe Smith has been going around saying "protecting the most vulnerable is a big priority for me", which surely signals the way the wind is blowing… 
However, as The Spectator's editor Fraser Nelson points out, Liz Truss is not being stingy in wanting to increase benefits with salaries rather than inflation:
Difficult decisions lie ahead for Liz Truss as she thinks of ways to constrain spending. One option is to increase benefits in line with average salaries (6.2 per cent), rather than CPI inflation (9.9 per cent): why, it might be argued, should someone on welfare see their income rise faster than someone in work? And with public sector wages rising at just 2 per cent, can government really give a near-10 per cent rise to those out of work? …
So she is considering, at very least, uprating benefits by earnings rather than inflation. But if she's ready for a fight, then so are her Tory opponents. Intriguingly, Penny Mordaunt now seems to be among them.
… Truss may struggle to get a lean settlement through the House of Commons. That's why it matters that Mordaunt, the leader of the House of Commons, has declared in favour of increasing welfare by inflation. Such open lobbying by a cabinet member is rare and indicates a collapse in discipline …
Uprating benefits to inflation would be hugely expensive due to the staggering number currently on out-of-work benefits: 5.3 million in total. This figure has yet to be acknowledged by the government (which prefers a more narrow definition of unemployment) and can only be produced by drilling into its website. There's a six-month lag, such is the lack of attention to this figure. But it amounts to 13 per cent of the UK working-age population, rising to 20 per cent in Manchester and Birmingham and 25 per cent in Blackpool. Here's the breakdown, which we keep updated on The Spectator data hub …
Nelson has included The Spectator's graph in the article. It's rather shocking.
He says it is time to get the nation back to work but realises that could be a hard sell for Truss to make:
As I've argued, the real scandal here is the waste of human potential, more than the waste of money. We have a near-record number of vacancies in the UK – about 1.1 million (hence a lot of the pressure to relax immigration rules), and to combine this with near-record levels on welfare is quite a feat. But it's also a very expensive situation and a problem that will not be helped by decreasing the factor by which people would be better-off in work.
This is a complex and difficult argument to make – and one distinguishing feature of Liz Truss's government is that it struggles to have such discussions even with the Tory party, let alone the country …
… this is a pre-rebellion from Mordaunt: she is describing a situation she'd like, not one that exists. By declaring the restoration of cabinet government, are cabinet members taking back control?
I have written this before Liz Truss gives her speech on Wednesday morning, closing the conference.
The question remains as to whether she can stamp her authority on the Cabinet and Conservative rebels. A tired Tom Harwood, who was also at Labour's conference last week, explains the situation on GB News:
I will feature brighter aspects of the conference in tomorrow's post.
My series on Boris Johnson's downfall continues.
Those who missed them can catch up on Parts 1, 2, 3 and 4.
Also of interest are:
Developing news: how long can Boris last as PM? (July 5-6)
Boris stays as PM for now but stands down as Conservative leader: 'When the herd moves, it moves' (July 6-7)
On July 8, Bloomberg had an interesting article: 'Boris Johnson's Downfall: The Inside Story of How His Government Collapsed'.
It states:
This account of how the Johnson administration unraveled is based on conversations with senior members of his inner circle, cabinet ministers, political advisers, civil servants and Tory MPs who were present at the key moments and spoke to Bloomberg News on condition of anonymity.
The journalists who wrote it say (emphases mine):
… the man that Johnson's inner circle blame for his downfall is Rishi Sunak, the former chancellor, who triggered that final, frantic act that ultimately forced the prime minister to quit.
Boris, being a survivor, stayed true to character. He survived a Conservative MP vote of confidence held the Monday after the Queen's Platinum Jubilee celebrations the first weekend in June 2022. Then the Chris Pincher groping scandal broke, but he was not worried. In early July:
Johnson had spent last weekend largely ignoring the latest scandal raging around him.
There was another slew of allegations in the newspapers, this time related to what Johnson had known about the claims of sexual harassment against an MP who the prime minister had promoted to a senior party post. 
But Johnson had grown accustomed to riding out controversy, from his efforts in November to extricate an ally who breached lobbying rules, to the lockdown parties, the investigation into whether he misled Parliament and the resignation of his own ethics adviser.
His judgment, and that of his No. 10 team, was that revelations relating to his former chief whip Chris Pincher, damaging and unseemly though they were, did not pose an existential threat. 
That Sunday evening, July 3, Boris headed next door:
to Sunak's flat in No. 11 Downing Street for one of their regular weekend dinners.
Johnson's team had been wary of a potential leadership challenge from Sunak for months and suspected that he would already have moved against the prime minister if he hadn't been fined over lockdown parties himself.
That night was businesslike, focused on plans for a new economic strategy and a joint speech. Sunak briefly mentioned his unease at the handling of the Pincher situation, but people close to both men said the meeting was good-natured and there was no hint of the coming storm.
Meanwhile:
Elsewhere in London though, Health Secretary Sajid Javid was discussing his own concerns about the Pincher case with his own advisers and starting to think he might decide to resign.
The week began normally:
No. 10 remained bullish throughout Monday despite the growing furor as Javid watched and waited.
On Tuesday, a Cabinet meeting took place (Bloomberg has a photo of it). There were signs that things could unravel quickly:
… there were ashen faces around the Cabinet table on Tuesday morning as ministers gathered to discuss Sunak's plans for tackling rampant inflation. Johnson uber-loyalist [and Culture Secretary] Nadine Dorries told the room that the "dogs of hell" would be unleashed if Johnson was removed.
One Cabinet minister who spoke to Bloomberg that day warned that Johnson might be in real trouble. He had had an unspoken contract with the Conservative Party since surviving a confidence vote among his own MPs in early June, the minister said: he could remain in place only if the scandals stopped.
That compact had lasted barely a month.
Later that day:
Around 5 p.m., at a meeting in the prime minister's office in Parliament, Javid told Johnson he was resigning. Johnson felt the announcement an hour later could be weathered by appointing a strong replacement.
But nine minutes after Javid published his resignation, Sunak also quit. And this blow came without warning.
Suddenly, Johnson was facing a rout.
A person with knowledge of Javid's plans said that his team had had no meaningful contact with Sunak's advisers before the double resignation, but they suspect that the then-chancellor got wind of what was coming and accelerated his own plans. A person with knowledge of Sunak's thinking said there had been no collusion.
Sunak had worked in the Treasury for Javid when the latter was Chancellor from 2019 to February 2020. They were good friends.
The resignations became a game of whack-a-mole:
As the prime minister rushed to replace two key ministers, a wave of more junior officials announced that they too were abandoning his government.
Nadhim Zahawi became the new Chancellor and Steve Barclay succeeded Javid as Health Secretary:
Nadhim Zahawi and Steve Barclay were recruited late on Tuesday to solve the most immediate problem and Johnson's advisers believed that both men were determined to take their jobs seriously. They understood that they had buy-in from Zahawi, the chancellor, for a new tax-cutting agenda to be announced imminently, though a person close to Zahawi says he made no such commitment.
All the same, as Johnson and his advisers surveyed the damage on Wednesday morning, they could tell that the situation was critical. 
That's when [Levelling-Up Secretary Michael] Gove demanded his meeting. To Johnson's aides, the timing seemed designed to inflict maximum pain.
Boris sacked Gove later on Wednesday, the only firing he made. He did it via a telephone call.
At that point:
the number of officials quitting his government climbed past 50.
That evening must have been a long one for Boris:
He returned to No. 10 after 6 p.m. for a series of meetings with his senior ministers.
Chief Whip Chris Heaton Harris advised Johnson that he no longer had the numbers to prevent Tory MPs from removing him, but that he would remain loyal. Trade Secretary Anne-Marie Trevalyan and arch Brexiteer Jacob Rees-Mogg also made clear they would stay supportive. Deputy Prime Minister Dominic Raab told Johnson he would not resign, changing for a formal white-tie event and then leaving via a side entrance.
Other meetings were more difficult.
Home Secretary Priti Patel had an emotional and teary meeting with the premier where she told him he had to go. A spokesman for Patel wasn't able to comment on the details of the conversation. 
Transport Secretary Grant Shapps, who kept a spreadsheet of Johnson supporters, agreed that the numbers were against them. Policing minister Kit Malthouse delivered a long monologue about how it was over. An exasperated Johnson told Malthouse that if he was going to resign, he should just do it. 
Malthouse had worked for Boris ever since the latter was Mayor of London.
Also:
Welsh Secretary Simon Hart was the only one who threatened to quit, handing Johnson a resignation letter and telling him that if he was not gone by the morning it would be published.
The most difficult meeting was with Zahawi who looked visibly awkward, according to one witness, as he told the prime minister that he too thought he should quit. The meeting left Johnson's aides suspecting that Zahawi had simply been preparing for his own tilt at the top job.
Correct. Zahawi did not get far with his campaign.
The meetings lasted into the night:
Towards the end of the night, Johnson gathered his closest aides in his office to assess the damage.
No. 10 policy chief Andrew Griffith was the most determined to battle on, along with Nigel Adams, a minister and old friend of Johnson. Heaton Harris, the party enforcer, had accepted the situation but was staying in the bunker to the end.
Together they rehearsed arguments for and against resigning, as they briefed the media that he would not quit and appoint a new Cabinet. The reality was that no one was accepting jobs.
Political commentators, eager for Boris to go, compared him with Donald Trump:
Johnson told his team that he didn't want to spark a constitutional crisis by clinging to office.
"I can't do this," he told them. "It's all too ghastly. It's not me."
Eventually, he went to the Downing Street flat to see his wife and retire for the night:
As he went up the stairs to his Downing Street flat to see his wife, Carrie, the decision was becoming clear in his mind. Carrie did not advise him either way and insisted it had to be his own decision, according to a person with knowledge of the conversation.
On Thursday, July 7:
Johnson woke early on Thursday and drafted a resignation speech to read out to his staff at their 7.30 a.m. meeting.
He announced his resignation in front of No. 10 early that afternoon.
That evening, The Spectator team held their annual garden party, a major highlight of the political year. Something always happens and this one was no different:
Johnson's communications chief Guto Harri got into a blazing and public row with Gove adviser Josh Grimstone, who accused Harri of briefing against his boss.
A Sunak aide spotted Harri and went over for a hug. According to people present, a smiling Sunak, standing next to her, asked Harri: "Don't I get one?"
"You want a hug?" Harri said in disbelief, knowing that the former chancellor had made no contact with Johnson since his shock resignation. Harri had spent his week fighting to save the prime minister, Sunak was aiming to replace him, and in front of London's political elite, the two men shared an awkward embrace.
Guido Fawkes has more (Guto Harri is on the right and the magazine's Katy Balls is in the background):
His post says the argument went all the way back to Gove's desertion of Boris in the 2016 leadership election, leaving Boris out of the race that year (emphases in the original):
… Leadership candidates Rishi Sunak, Nadhim Zahawi and Tom Tugendhat worked the crowd. Later in the evening as things were winding down the Spectator's Katy Balls mischeviously introduced Josh Grimstone, the newly unemployed former Special Adviser to Michael Gove, to soon-to-be unemployed Guto Harri, the Prime Minister's Director of Communications. Josh definitely had something to communicate to Guto about Gove's late night sacking the night before…
Josh firmly protested that his boss had been loyal to the PM, that he personally loved Boris and that both Gove and himself had been nothing but loyal. He accused Guto of sacking Gove out of spite and attempting, unfairly, to make it look like Gove had been sacked for disloyalty. Guto was sceptical about Josh's protestations of innocence and insistence that his boss had been loyal. The toing and froing went on in front of a silently listening audience that included Guido, Tim Shipman and Steve Swinford. Neither of the protagonists backed down from their position. Grimstone said Guto's behaviour was a "f***ing disgrace".
Guto eventually retorted that it was Gove's fault that in 2016, when he betrayed Boris, the country was as a result put into 3 years of dismal turmoil under Theresa May. Guto's stance seemed to be that even if it was true that he had been loyal of late, Gove had it coming to him for the 2016 trauma that he inflicted on the party and country. Unresolved and unreconciled Grimstone broke off leaving hushed onlookers uncertain that the summary justice of last night was entirely justified by recent events. Guto seemed relaxed and satisfied that it was amends for the sin of the past. 
But that wasn't the only verbal dust-up that evening.
On the BBC's Question Time, Tony Blair's spin doctor Alastair Campbell and The Telegraph's Tim Stanley, who once ran for MP as a Labour candidate, argued about who was worse in terms of being economical with the truth, Tony Blair for the illegal war in Iraq or Boris Johnson with a piece of cake during lockdown. Campbell is on the left in the photo:
Guido has the video:
A few days later on July 11, Stanley wrote an article about it for The Telegraph: 'My TV encounter showed everything that is wrong with the Left':
I'm not a friend of Boris Johnson: my most recent contact was a Christmas card that I'm sure was signed by someone else. This didn't stop Alastair Campbell from calling me part of the same "corrupt class" on Question Time, a grim experience I didn't enjoy but my editor says I've got to address.
Around the five-minute mark, I was invited to give my take on Boris's resignation – and Campbell butted in with the first of many attacks on my profession and character. Afterwards, a producer said: "How long have you known Alastair?" I replied: "I've never met him before." Given how he spoke to me, many people assumed we had a feud going back decades.
No, he was just horrible, and the nastiness was camera ready. Campbell was nice as pie before the recording; he gave me a cheery goodbye after. My conclusion is that he's an act. When he launched his on-air assault, I was shocked and considered walking off; I couldn't take a whole hour of this. Instead, I pulled a one-liner out of the bag, noting that the Blair government took us into a war that cost thousands of lives, while Boris ate some cake.
The point was that Boris might have been chaotic, but it's often the best organised regimes that make the biggest mistakes.
The line was hardly Oscar Wilde; the audience was furious that I appeared to make light of the Downing Street parties. I thought my career was over, and was wondering if Lidl might be hiring. But what I couldn't see till I watched the show back was that Campbell shrugged away the reference to Iraq as if it were mundane. It was an ugly moment. By not bursting into tears, I think I came out better.
What irritates me about some people on the Left is that they talk about mental health and kindness yet they treat their opponents like dirt, not giving a damn how it might make them feel – and if a Conservative hits back, they act like we have crossed a line that doesn't apply to them …
And I wasn't trying to defend Boris on Question Time, just explain his thinking. I have my own views, of course; but in that format I try to put both sides of a story, so the audience can make up its mind. I often find that Left-wing panellists can't process this. They claim to be empathetic yet have zero interest in how other people think. It will be the Tory party that will produce the first non-white prime minister and how will the Left respond? They'll call them a "racist".
That night on Dan Wootton's GB News show, opinions about Boris's successor flew in thick and fast.
Former Conservative Home Secretary and later Brexit Party MEP Anne Widdecombe was adamant that the next Party leader be firmly committed to completing the Brexit process. We still have the Northern Ireland Protocol and French fishing difficulties to deal with:
Opinions swirled around the time it should take Boris to vacate Downing Street.
Someone in the know told the Daily Mail that Theresa May — a Remainer — should be caretaker PM. GB News reported:
While Mr Johnson is expected to stay on until Prime Minister, he could choose to relinquish his duties with immediate effect.
In which case an interim Tory leader would be appointed, who would in turn also become the caretaker Prime Minister.
And former Prime Minister Ms May, who held office between 2016 and 2019, could reportedly make a dramatic return to No.10.
A report in the Daily Mail said: "She knows the ropes and the security stuff, she's a party woman through and through, she's definitely not interested in standing for it herself and would be credible.
"She is uniquely placed."
Thank goodness that didn't happen.
Another Remainer, former Conservative Prime Minister John Major, apparently told the 1922 Committee, headed by Sir Graham Brady, to get rid of Boris pronto. Edwina Currie, a former MP who served with him in Parliament at the same time and who was Major's mistress between 1984 and 1988, said that the former PM was being 'a bit of a prat':
The 2021 Conservative candidate for Mayor of London, Shaun Bailey, agreed. He would have made a great mayor, by the way:
However, biographer Tom Bower explained that Boris and Carrie had no other home, therefore, he would stay at Downing Street until such time as the couple buy a house:
And what about Carrie?
A lot of conservatives blame her for Boris going off the boil with a libertarian-Conservative manifesto to focus on damagingly expensive Net Zero policies, never mind the gaudy refurbishment of the Downing Street flat, allegedly paid for by a Party donor.
The day Boris resigned, The Telegraph's Celia Walden wrote 'The Carrie conundrum: What next for the Prime Minister's wife?'
Over the past two years and 11 months our outgoing First Lady has certainly garnered criticism – some unfair, some fair. And already commentators are saying that Carrie "helped blow it for Boris". But it is surely her husband's sociopathic behaviour over the past few days, weeks and months – and what has been described not as Boris's downfall but his "clownfall" – that will have been most brand-damaging. So how easy will it be for Carrie to rid herself of that toxicity, and what next for the Prime Minister's wife? …
Before Carrie became involved with Boris, and his special brand of bedlam, the daughter of Matthew Symonds, co-founder of the The Independent, and lawyer Josephine McAfee was described as "controlled" and "confident".
Politics may have seemed a world away from the creative fields she immersed herself in at the University of Warwick – where she studied theatre and art history – but after a stint working for Zac Goldsmith, who was MP for Richmond at the time, Carrie moved on to the Conservative party's press office, where she quickly rose through the ranks, working on her future husband's re-election campaign, when he ran for Mayor of London in 2012, before becoming the youngest director of communications for the party at just 29.
That a woman who forged a career in the business of public perception – and was credited with taking charge of the Prime Minister's image (and weight) after they first got together in 2019 – could go on to make the series of missteps Carrie made at No 10 remains baffling today.
It may always have been strenuously denied that the PM's wife played any part in the prioritising of dogs over humans for evacuation from Afghanistan, but it was without a doubt the First Lady who oversaw No 10's controversial maximalist redesign. It was she who picked out the infamous gaudy wallpaper estimated to cost £840 a roll and, as I write, Twitter is alive with memes about the one "burning question" that remains: "Now that the Prime Minister has finally resigned what happens to Carrie's gold wallpaper?"
Because of this, reports that the Johnsons planned to build a £150,000 treehouse for their son at Chequers (but were stopped when police raised security concerns) prompted some to interpret this as "yet more Carrie". Which might have been unfair. But then there was Carrie's involvement in partygate.
The Sue Gray inquiry was told that it was she who was keen to throw a party during the first lockdown and "offered to bring cake" – so these cannot be written off as "sexist", "misogynistic" slurs along with the rest. And while other First Wives have been busy out in Ukraine, shaking Zelensky's hand, Carrie has been notably low profile in recent months, presumably acting on advice from spin doctors.
… according to Craig Oliver, former director of politics and communications for David Cameron: "Leaving No 10 could be the making of Carrie. She's an intelligent woman, interested in a lot of issues. Being the PM's wife has an inevitable chilling effect on what you can do and say. She'll now be free to speak her mind." 
Lord Ashcroft, whose biography, First Lady: Intrigue at the Court of Carrie and Boris Johnson, was published in March, describes Carrie as "an impressive person – with a high-level career in politics and a record of campaigning on animal rights and the environment". Another political writer, meanwhile, assures me that any toxicity will be shrugged off with characteristic ease both by Boris and his wife. "He will be a very successful ex-Prime Minister. His star quality is shoulders above any of the others and he will become very rich on the back of it. So very shortly, everything will settle down, and she will be glad to have left the fishbowl."
… although Carrie is clearly a political animal, it seems likely that she'll choose to concentrate next on animal rights campaigning, perhaps deepening her involvement with The Aspinall Foundation, for whom she has worked as head of communications since 2021 – which in itself is in a period of transition. Every PR knows that charity work is the best "brand rehab" there is, and her passion for the cause isn't in doubt.
We can but see.
There was more to come with Mr and Mrs Johnson: their belated wedding celebration, which they weren't able to have earlier because of the pandemic.
More to come tomorrow.
Yesterday's post, 'The Western world is changing, from coronavirus to climate change', discussed the outrage that Britons felt on reading Rishi Sunak's revelations in The Spectator about the UK's coronavirus policy:
Rishi, Liz Truss's rival in the Conservative Party leadership contest, did not do himself any favours. If he hoped to garner votes from the Party's coronavirus sceptics, he was mistaken.
From March 2020 to the present, any sceptics voicing an opinion were thrown under the bus, such as Bev Turner, who featured in yesterday's post.
On Thursday, August 25, the day that the ex-Chancellor's revelations were published, another sceptic, GB News's Dan Wootton, aired his views:
Wootton rightly took issue with Rishi's claim that the wrongful promotion of the SAGE scientists to an all-powerful level was wrong and that he should have changed it.
After all, next to Prime Minister Boris Johnson, the Chancellor is the next most powerful position in the Government. Yet, Rishi stayed quiet — for two years. Only now has he said anything.
He did nothing. Yes, he could have changed the course of events but did not:
At the end of that night's show, the Union Jackass nominees — prominent names in the news cycle for dumb things — were Boris Johnson for flying to Ukraine again instead of visiting the Channel to see migrants being escorted in, Nicola Sturgeon for saying she will always be British in spite of pushing for a second Scottish independence referendum and Rishi Sunak for not resigning or doing anything about our damaging coronavirus policy. Wootton chose Rishi Sunak:
Another coronavirus sceptic, Robert Taylor, wrote for The Telegraph about his own experience over the past two years and Rishi's revelations (purple emphases mine):
 … Take a bow, Rishi Sunak.
I had to do a double take when I saw the reports. For those long lockdown months, nobody in government, let alone the Cabinet, was prepared to say any such thing. It was left to a few courageous journalists and scientists to take on the overwhelming force of the lockdown fanatics, with police fining people for sitting on park benches and neighbours eagerly shopping each other like this was some authoritarian country.
The brave few kept the flag of personal freedom alive. That really is no exaggeration. And they paid heavily for it. On social media the abuse was intense. You don't care about lives! they snarled. You're murderers! they claimed. And in the mainstream, things weren't much better. You're a "small, disproportionately influential faction," moaned a Guardian Leader, that "denies the virulence of the virus". Thanks for that.
One MP, Neil O'Brien, took it upon himself to publicly discredit any sceptic, declaring "they have a hell of a lot to answer for". No, you do Mr O'Brien, for stifling free debate, along with certain mainstream news outlets for failing over a two-year period to examine whether lockdown might cause more harm than good …
But while I welcome and applaud Sunak's intervention, I also have a question. He was second only to the Prime Minister for power and influence, and lockdown was the most consequential, freedom-destroying government initiative since the war. He had severe doubts about it. So why didn't he resign? Yes, it would have been another headache for Boris. But given the massive consequences of the wrong strategy, didn't he owe it to the British people?
It's tragedy upon tragedy. Okay, it's a relief to hear that someone in the heart of government had the guts to challenge the dangerous group-think. But it's cold comfort to millions of children whose schooling was irreparably damaged along with their long-term prospects, and to patients who only discover now that they have cancer, diabetes or heart disease, and to those who were denied the chance simply to hug lonely, dying relatives.
For all these lockdown victims, Sunak's words come two years too late.
Publican Adam Brooks tweeted the article, which didn't get any replies in support of the former Chancellor:
However, earlier that day, two former Government advisers weighed in against Rishi: Dominic Cummings and Lee Cain.
Cummings blasted Rishi. The trolley in the tweet is Cummings's symbol for Boris, who veers off in all directions like a supermarket trolley:
Then he had a go at The Spectator's editor Fraser Nelson who conducted the interview with Rishi. Recall that Cummings's wife, Mary Wakefield, writes for the magazine:
Guido had a post on Cummings and Cain:
But, wait. Wasn't Rishi a friend of Cummings?
Guido's post says, in part (emphases his):
Whilst many sources disagree with some of Rishi's more lockdown-sceptic policy views, his criticism of the decision-making process by which those policies were reached are more widely supported. Lee Cain and Dominic Cummings, however, are not playing ball…
Former comms director Lee Cain argues that whilst he is a "huge admirer" of Rishi, "his position on lockdown is simply wrong. It would have been morally irresponsible of the govt not to implement lockdown in spring 2020."
Dominic Cummings is, characteristically, less diplomatic. Taking on Twitter he says, "the Sunak interview is dangerous rubbish, reads like a man whose epicly bad campaign has melted his brain & he's about to quit politics. Also pins blame *unfairly* on
 & others". A very rare defence of Boris. He ominously promises more blogging on the topic later…
I checked Cummings's Twitter account, but he hasn't posted anything more on the subject.
He defends his former boss here because he, too, wanted lockdown, even though he sneaked off to County Durham with his family one weekend during the first one in Spring 2020. He got rumbled, and, as penance, Boris made him give an agonising televised press conference about it. Cummings left Downing Street later in November that year.
Professor John Edmunds, a prominent SAGE member, pointed out that it was not SAGE's remit to do a cost-benefit analysis of lockdown. That would have been the responsibility of the Chancellor and the Treasury:
So, Conservative Party members should elect Rishi Sunak as their next leader when he couldn't be bothered to do a cost-benefit analysis during the pandemic? The Treasury has a lot of civil servants. That would have been part of their job. If only someone had asked them to do it:
GB News had a good article with reaction from Government advisers, including scientists:
Boris Johnson's former communications chief, Lee Cain, dismissed Mr Sunak's assessment of the situation, saying he is "simply wrong" …
He said No 10, the Treasury and Department of Health and Social Care "met multiple times daily and discussed the trade-offs".
Mr Cain added: "We all knew lockdown was a blunt instrument that had many downsides but in a world without vaccinations it was the best option available."
… A No 10 spokesman said: "At every point, ministers made collective decisions which considered a wide range of expert advice available at the time in order to protect public health."
Prof Graham Medley, a member of Sage, said: "Government have the power, so if one member of Cabinet thinks that scientific advice was too 'empowered' then it is a criticism of their colleagues rather than the scientists.
"The Sage meetings were about the science, not the policy options, and the minutes reflect the scientific consensus at the time."
… Another scientist who contributed advice to the Government during the pandemic said Mr Sunak's comments "are very misleading as they suggest that he was alone in thinking about the wider impact of lockdown on schools and other social impacts".
The source said the SPI-B group, which investigated behavioural impacts, and other advisers spent a lot of time examining the issues around school closures.
"If the former chancellor was arguing against school closures he would have found plenty of evidence to support his case from the very group of scientists he now appears to be criticising," the source said.
On Friday, August 26, Prime Minister Boris Johnson gave an interview in which he discussed the controversy. GB News reported:
Boris Johnson said he is "very confident" the Government made the "right" decisions about lockdowns.
The Prime Minister was asked to address the comments made by his former chancellor during a visit to South West London Elective Orthopaedic Centre in Surrey …
Speaking to broadcasters at the orthopaedic centre , Mr Johnson said if the Government did not lock the country down during the pandemic, "the delays for cardiac, the delays for hips, the delays for cancer treatment, or the other procedures that people care about" would have been "even greater".
He added: "I'm just giving you my view, which is that the… about the decision to try to stop the spread of Covid, and with all the things that we did.
"Of course, the inquiry will have to look at those decisions. I'm very confident that they were the right ones. I just want to remind people of the logic because I think there's a bit of… it all gets turned upside down.
"People say, 'Oh, well, it was because of the lockdowns that people's health was impaired'. Actually, the purpose of using those methods, imperfect though they were, to restrict the spread of Covid, was to reduce the huge numbers in the NHS.
"Forty-thousand people at one stage occupying beds in the NHS because of Covid, and therefore, to reduce the numbers of patients with other complaints, other sicknesses, other needs, who were displaced by Covid, and are now coming back into the NHS. That was the purpose of what we were doing."
Unfortunately, lockdown has made the NHS worse. We still cannot see a GP. The A&E wards are full, even early in the evenings on a weekday. Six million patients are awaiting various medical procedures.
Lockdown was the worst thing we could have done. I know the UK is not in an isolated position here, but we should have been better at this.
Rishi Sunak could have come up with a cost-benefit analysis during those two years, yet he never did.
And he's running to be our next Prime Minister?
It turns out that Conservative Party members are asking the same question. On Saturday, August 27, The Telegraph featured an article: 'The moment Rishi Sunak knew his leadership dream was over'.
It had nothing to do with The Spectator interview, but with remarks he made earlier in the month during the hustings in Eastbourne, on the south coast:
It was when Rishi Sunak mentioned California for the third time in less than 10 minutes that his campaign team realised it was all over.
On stage at the Conservative leadership hustings in Eastbourne on Aug 5, Mr Sunak answered a question about the career he would choose as a young graduate by reflecting on the "culture" of enterprise he saw while living on the West Coast between 2004 and 2006.
"I think it's incredibly inspiring and empowering," he said. "If I was a young person, I'd want to go and do something like that."
But back at his campaign headquarters in Holborn, Central London, his strategists were far from inspired.
Staff felt his focus on California showed he was out of touch and summed up his failure to win over grassroots Tory members as polls showed members backing Liz Truss by more than two to one.
"People started to say that it wasn't going to happen now and he wasn't connecting with voters in the room," a source on the campaign told The Telegraph.
"He kept talking about California and tech. It became an open secret within the campaign that he wasn't going to win. That hustings was the point things really took a turn as everyone started to realise that."
Just as well, really.
All this talk of California? He must be wondering how he'll get his Green Card back.
Knowing Rishi and his in-laws' connections, he'll find a way.
My far better half and I never miss a Neil Oliver editorial during his Saturday evening GB News shows.
His topic is the changing fabric of the Western world post-pandemic, whether it be through farming prohibitions, climate change or the ongoing revelations about coronavirus policies.
Here is the transcript and the video from his August 13 editorial:
Excerpts follow, emphases mine:
It is hard to think the unthinkable – but there comes a time when there's nothing else for it. People raised to trust the powers that be – who have assumed, like I once did, that the State, regardless of its political flavour at any given moment, is essentially benevolent and well-meaning – will naturally try and keep that assumption of benevolence in mind when trying to make sense of what is going on around them.
People like us, you and me, raised in the understanding that we are free, that we have inalienable rights, and that the institutions of this country have our best interests at heart, will tend to tie ourselves in knots rather than contemplate the idea those authorities might actually be working against us now. I took that thought of benevolent, well-meaning authority for granted for most of my life, God help me. Not to put too fine a point on it, I was as gullible as the next chump.
A couple of years ago, however, I began to think the unthinkable and with every passing day it becomes more and more obvious to me that we are no longer being treated as individuals entitled to try and make the most of our lives – but as a barn full of battery hens, just another product to be bought and sold – sold down the river …
Once the scales fall from a person's eyes, the resultant clarity of sight is briefly overwhelming. Or it is like being handed a skeleton key that opens every locked door, or access to a Rosetta Stone that translates every word into a language instantly understood.
Take the energy crisis: If you've felt the blood drain from your face at the prospect of bills rising from hundreds to several thousands of pounds while reading about energy companies doubling their profits overnight while being commanded to subsidise so-called renewables that are anything but Green while listening to this politician or that renew their vows to the ruinous fantasies of Net Zero and Agenda 2030 while knowing that the electricity for electric cars comes, in the main and most reliably, from fossil fuels if you can't make sense of it all and just know that it adds up to a future in which you might have to choose between eating and heating then treat yourself to the gift of understanding that the powers that be fully intend that we should have less heat and less fuel and that in the planned future only the rich will have cars anyway. The plan is not to fix it.
The plan is to break it, and leave it broken. If you struggle to think the best of the world's richest – vacuous, self-obsessed A-list celebrities among them – endlessly circling the planet on private jets and super yachts, so as to attend get-togethers where they might pontificate to us lowly proles about how we must give up our cars and occasional holiday flights – even meat on the dinner table … if you wonder how they have the unmitigated gall … then isn't it easier simply to accept that their honestly declared and advertised intention is that their luxurious and pampered lives will continue as before while we are left hungry, cold and mostly unwashed in our unheated homes.
Here's the thing: if any leader or celeb honestly meant a word of their sermons about CO2 and the rest, then they would obviously lead by example. They would be first of all of us willingly to give up international travel altogether … they would downsize to modest homes warmed by heat pumps. They would eschew all energy but that from the sun and the wind. They would eat, with relish, bugs and plants. They would resort to walking, bicycles and public transport. If Net Zero and the rest was about the good of the planet – and not about clearing the skies and the beaches of scum like us – don't you think those sainted politicians and A-listers would be lighting the way for us by their own example? If the way of life they preach to us was worth living, wouldn't they be living it already? Perhaps you heard Bill Gates say private jets are his guilty pleasure.
And how about food – and more particularly the predicted shortage of it: the suits and CEOs blame it all on Vladimir Putin. But if the countries of the world are truly running out of food, why is our government offering farmers hundreds of thousands of pounds to get out of the industry and sell their land to transnational corporations for use, or disuse unknown? Why aren't we, as a society, doing what our parents and grandparents did during WWII and digging for victory? Why is the government intent on turning a third of our fertile soil over to re-wilding schemes that make life better only for the beavers? Why aren't we looking across the North Sea towards the Netherlands where a WEF-infected administration is bullying farmers off their land altogether, forcing them to cull half the national herd …
Why do you think it matters so much, to the government of the second most productive population of farmers in the world, to gut and fillet that industry? Why? Why have similar protests, in countries all across Europe and the wider world, been largely ignored by the mainstream media – a media that would have crawled on its hands and knees over broken glass just to report on a BLM protester opening a bag of non-binary crisps. Why the silence on the attack on farming? …
Isn't the simple obvious answer … the answer that makes most sense and that is staring us in our trusting faces … that power for the power-hungry has always rested most effectively upon control of food and its supply? Why are the powers that be attributing this to a cost of living crisis when everyone with two brain cells to rub together can see it's a cost of lockdown crisis – the inevitable consequence of shutting down the whole country – indeed the whole world – for the best part of two years. Soaring inflation, rising interest rates, disrupted supply chains …
Rather than dismiss as yet another conspiracy theory the idea of cash being ultimately replaced with transactions based on the exchange of what amount to glorified food stamps that will only be accepted if our social credit score demonstrates that we've been obedient girls or boys … how about taking the leap and focussing on the blatantly obvious … that if we are not free to buy whatever and whenever we please, free of the surveillance and snooping of governments and the banks that run them, then we have absolutely no freedom at all. And while we're on the subject of money and banks, why not pause to notice something else that is glaringly obvious – which is to say that the currencies of the West are teetering on the abyss, and that one bank after another is revealed, to those who are bothering to watch, as being as close to bankruptcy as its possible to be without actually falling over the edge.
Then there's the so-called vaccines for Covid – I deliberately say "so-called" because by now it should be clear to all but the wilfully blind that those injections do not work as advertised. You can still contract the virus, still transmit the virus, still get sick and still die. Denmark has dropped their use on under-18s. All across the world, every day, more evidence emerges – however grudgingly, however much the various complicit authorities and Big-Pharma companies might hate to admit it – of countless deaths and injuries caused by those medical procedures …
Now I ask myself on a daily basis how I ignored the stench for so long. Across the Atlantic, the Biden White House sent the FBI to raid the home of former president Donald Trump. Meanwhile Joe Biden and his son Hunter – he of the laptop full of the most appalling and incriminating content – fly together on Air Force 1. No raids planned on the Obamas, nor on the Clintons. Speaker of the House Nancy Pelosi flew to Taiwan and onwards to China. Her son Paul, an investor in a Chinese tech firm and with seats on the board of companies dealing in lithium, was along for the ride, into that part of the world where three quarters of the world's lithium batteries are made. Taiwan leads in that technology.
It is hard to think the unthinkable. It's hard to think that all of it, all the misery, all the suffering of the past and to come might just be about money, greed and power. It is hard to tell yourself you've been taken for a fool and taken for a ride. It's hard, but the view from the other side is worth the effort and the pain. Open your eyes and see.
In the middle of last week, Rishi Sunak gave an interview to Fraser Nelson, editor of The Spectator, about his view on the Government's coronavirus policy and SAGE, their medical and scientific advisory team.
Excerpts from 'The lockdown files: Rishi Sunak on what we weren't told' follow:
When we meet at the office he has rented for his leadership campaign, soon to enter its final week, he says at the outset that he's not interested in pointing the finger at the fiercest proponents of lockdown. No one knew anything at the start, he says: lockdown was, by necessity, a gamble. Chris Whitty and Patrick Vallance, the chief medical officer and chief scientific adviser, would openly admit that lockdown could do more harm than good. But when the evidence started to roll in, a strange silence grew in government: dissenting voices were filtered out and a see-no-evil policy was applied.
Sunak's story starts with the first Covid meeting, where ministers were shown an A3 poster from scientific advisers explaining the options. 'I wish I'd kept it because it listed things that had no impact: banning live events and all that,' he says. 'It was saying: you should be careful not to do this stuff too early, because being able to sustain it is very hard in a modern society.' So the scientific advice was, initially, to reject or at least delay lockdown.
This all changed when Neil Ferguson and his team at Imperial College published their famous 'Report 9', which argued that Covid casualties could hit 500,000 if no action was taken – but the figure could be below 20,000 if Britain locked down. That, of course, turned out to be a vast exaggeration of lockdown's ability to curb Covid deaths …
A cost-benefit calculation – a basic requirement for pretty much every public health intervention – was never made. 'I wasn't allowed to talk about the trade-off,' says Sunak. Ministers were briefed by No. 10 on how to handle questions about the side-effects of lockdown. 'The script was not to ever acknowledge them. The script was: oh, there's no trade-off, because doing this for our health is good for the economy.'
… When he did try to raise concerns, he met a brick wall. 'Those meetings were literally me around that table, just fighting. It was incredibly uncomfortable every single time.' He recalls one meeting where he raised education. 'I was very emotional about it. I was like: "Forget about the economy. Surely we can all agree that kids not being in school is a major nightmare" or something like that. There was a big silence afterwards. It was the first time someone had said it. I was so furious.'
One of Sunak's big concerns was about the fear messaging, which his Treasury team worried could have long-lasting effects. 'In every brief, we tried to say: let's stop the "fear" narrative. It was always wrong from the beginning. I constantly said it was wrong.' The posters showing Covid patients on ventilators, he said, were the worst. 'It was wrong to scare people like that.' The closest he came to defying this was in a September 2020 speech saying that it was time to learn to 'live without fear' – a direct response to the Cabinet Office's messaging. 'They were very upset about that.'
… Lockdown – closing schools and much of the economy while sending the police after people who sat on park benches – was the most draconian policy introduced in peacetime. No. 10 wanted to present it as 'following the science' rather than a political decision, and this had implications for the wiring of government decision-making. It meant elevating Sage, a sprawling group of scientific advisers, into a committee that had the power to decide whether the country would lock down or not. There was no socioeconomic equivalent to Sage; no forum where other questions would be asked.
So whoever wrote the minutes for the Sage meetings – condensing its discussions into guidance for government – would set the policy of the nation. No one, not even cabinet members, would know how these decisions were reached.
In the early days, Sunak had an advantage. 'The Sage people didn't realise for a very long time that there was a Treasury person on all their calls. A lovely lady. She was great because it meant that she was sitting there, listening to their discussions.'
… But his victories were few and far between. One, he says, came in May 2020 when the first plans were being drawn to move out of lockdown in summer. 'There's some language in there that you will see because I fought for it,' he says. 'It talked about non-Covid health impact.' Just a few sentences, he says, but he views the fact that lockdown side-effects were recognised at all at that point as a triumph.
He doesn't name Matt Hancock, who presided over all of this as health secretary, or Liz Truss, who was silent throughout. As he said at the outset, he doesn't want to name names but rather to speak plainly about what the public was not told – and the process that led to this. Typically, he said, ministers would be shown Sage analysis pointing to horrifying 'scenarios' that would come to pass if Britain did not impose or extend lockdown. But even he, as chancellor, could not find out how these all-important scenarios had been calculated.
Liz Truss was not part of the 'quad', though, the four Cabinet ministers who determined policy. If I remember rightly, the 'quad' were Boris, Hancock, Michael Gove and Rishi. Truss claimed that she didn't speak up because she was told that the decisions were a fait accompli. Nelson verifies that below.
Returning to Rishi:
'I was like: "Summarise for me the key assumptions, on one page, with a bunch of sensitivities and rationale for each one",' Sunak says. 'In the first year I could never get this.' The Treasury, he says, would never recommend policy based on unexplained modelling: he regarded this as a matter of basic competence. But for a year, UK government policy – and the fate of millions –was being decided by half-explained graphs cooked up by outside academics.
'This is the problem,' he says. 'If you empower all these independent people, you're screwed.' Sir Gus O'Donnell, the former cabinet secretary, has suggested that Sage should have been asked to report to a higher committee, which would have considered the social and economic aspects of locking down. Sunak agrees. But having been anointed from the start, Sage retained its power until the rebellion that came last Christmas.
In December 2021, at the time JP Morgan's lockdown analysis appeared:
He flew back early from a trip to California. By this time JP Morgan's lockdown analysis was being emailed around among cabinet ministers like a samizdat paper, and they were ready to rebel. Sunak met Johnson. 'I just told him it's not right: we shouldn't do this.' He did not threaten to resign if there was another lockdown, 'but I used the closest formulation of words that I could' to imply that threat. Sunak then rang around other ministers and compared notes.
Normally, cabinet members were not kept in the loop as Covid-related decisions were being made – Johnson's No. 10 informed them after the event, rather than consulting them. Sunak says he urged the PM to pass the decision to cabinet so that his colleagues could give him political cover for rejecting the advice of Sage. 'I remember telling him: have the cabinet meeting. You'll see. Every-one will be completely behind you… You don't have to worry. I will be standing next to you, as will every other member of the cabinet, bar probably Michael [Gove] and Saj [Javid].' As it was to prove.
Nelson claims that Rishi is telling the truth:
For what it's worth, his account squares with what I picked up from his critics in government: that the money-obsessed Sunak was on a one-man mission to torpedo lockdown. And perhaps the Prime Minister as well. 'Everything I did was seen through the prism of: "You're trying to be difficult, trying to be leader,"' he says. He tried not to challenge the Prime Minister in public, or leave a paper trail. 'I'd say a lot of stuff to him in private,' he says. 'There's some written record of everything. In general, people leak it – and it causes problems.'
Rishi said why he did not resign at the time:
To quit in that way during a pandemic, he says, would have been irresponsible. And to go public, or let his misgivings become known, would have been seen as a direct attack on the PM.
At the time, No. 10's strategy was to create the impression that lockdown was a scientifically created policy which only crackpots dared question …
David Cameron employed the same strategy with the Brexit referendum in 2016. He said that the only people supporting Leave were 'swivel-eyed loons'.
Rishi explained why he waited until now to speak out:
He is opening up not just because he is running to be prime minister, he says, but because there are important lessons in all of this. Not who did what wrong, but how it came to pass that such important questions about lockdown's profound knock-on effects – issues that will probably dominate politics for years to come – were never properly explored …
And the other lessons of lockdown? 'We shouldn't have empowered the scientists in the way we did,' he says. 'And you have to acknowledge trade-offs from the beginning. If we'd done all of that, we could be in a very different place.' How different? 'We'd probably have made different decisions on things like schools, for example.' Could a more frank discussion have helped Britain avoid lockdown entirely, as Sweden did? 'I don't know, but it could have been shorter. Different. Quicker.'
Even now, Sunak doesn't argue that lockdown was a mistake – just that the many downsides in health, the economy and society in general could have been mitigated if they had been openly discussed. An official inquiry has begun, but Sunak says there are lessons to learn now …
To Sunak, this was the problem at the heart of the government's Covid response: a lack of candour. There was a failure to raise difficult questions about where all this might lead – and a tendency to use fear messaging to stifle debate, instead of encouraging discussion. So in a sentence, how would he have handled the pandemic differently? 'I would just have had a more grown-up conversation with the country.'
Hmm.
On Thursday, August 25, Fraser Nelson wrote an article about it for The Telegraph: 'Rishi Sunak is just the start. The great lockdown scandal is about to unravel':
For some time, I've been trying to persuade Rishi Sunak to go on the record about what really happened in lockdown. Only a handful of people really know what took place then, because most ministers – including members of the Cabinet – were kept in the dark. Government was often reduced to a "quad" of ministers deciding on Britain's future and the then chancellor of the exchequer was one of them. I'd heard rumours that Sunak was horrified at much of what he saw, but was keeping quiet. In which case, lessons would never be learnt.
His speaking out now confirms much of what many suspected. That the culture of fear, seen in the Orwellian advertising campaign that sought to terrify the country, applied inside Government. Questioning lockdown, even in ministerial meetings, was seen as an attack on the Prime Minister's authority. To ask even basic questions – about how many extra cancer deaths there might be, for example – was to risk being portrayed as one the crackpots, the "Cov-idiots", people who wanted to "let the virus rip". Hysteria had taken hold in the heart of Whitehall …
Chris Whitty and Patrick Vallance began by advising ministers not to lock down, saying public events were fine, and that face masks were pointless. They were talking about herd immunity as the way out. Then they flipped entirely. But this reveals something crucial: lockdown never was backed by science. It was about models and suppositions, educated guesswork. It was driven by moods, emotion, fear – and, worst of all, politics masquerading as science.
This is part of Sunak's point. He doesn't say locking down was wrong. Just that it somehow went from being a daft idea, rubbished by scientists, to a national imperative whose necessity was unquestionable scientific truth. So we need to ask: was the fear messaging really necessary? Why were No 10 outriders sent out to savage dissenting scientists? Why was Sunak made to feel, as he told me, that he was being seen – even inside government – as a callous money-grabber when he raised even basic concerns?
The disclosures should start a great unravelling of the lockdown myth, its pseudo-scientific sheen stripped away and the shocking political malfeasance left to stand exposed. Were Sage minutes manipulated, with dissent airbrushed out? If Sage "scenarios" were cooked up on fundamentally wrong assumptions we need to know, because that will mean lockdowns were imposed or extended upon a false premise. A premise that could have been exposed as false, had there been basic transparency or proper scrutiny.
This isn't just about a virus. An autocratic streak took hold of the Government and overpowered a weak Prime Minister – and did so because our democratic safeguards failed. It should have been impossible for policies of such huge consequence to be passed without the most rigorous scrutiny. So many lives were at risk that every single lockdown assumption should have been pulled apart to see if it was correct. It should have been impossible for government to suspend such scrutiny for more than a few weeks.
I suspect that this authoritarian reflex lies embedded in our system, ready to twitch again. Life, after all, is easier without opposition so if tools exist to suspend it, we can expect them to be grabbed …
Sunak doesn't speak like a man expecting to end up in No 10. He said earlier this week that he would rather lose having been honest with people than win by telling half-truths. Opening up on lockdown may not save, or even help, his campaign. But his candour has offered important insights into one of the most important stories of our times – and one that is only beginning to be told.
As the then-Chancellor, he was the most powerful man in Government after Prime Minister Boris Johnson. Rishi held the nation's purse strings and could have said 'no' at any point to the policies. But he didn't.
It was difficult to know exactly what Rishi's motives were in giving such an interview. Perhaps he was trying to glean votes from sceptical Conservative Party members in a last ditch attempt to save his candidacy.
Whatever his reason, one outcome was that it got Covid sceptics talking again, with some indirect support from him.
On Friday, August 26, one of those sceptics, Bev Turner, delivered a guest host editorial on GB News.
She was not happy with Rishi's silence over Government policy:
Now, Rishi Sunak says that lockdowns "could have been shorter. Different. Quicker. We could be in a very different place", he says now with the benefit of hindsight that some of us never needed… Apparently, as the economy tanks, he regrets the Government's Covid strategy, stating that the scientists at Sage should never have been put in charge of the country's response.
Well…who knew?…thanks for that, Rishi. Now I can sleep at night….except of course I can't. And I won't until there are arrests over the despotic, unscientific measures of the scamdemic and the perverted profits sucked up by vampirical pharma companies aided and abetted by a media paid off to the tune of £300m. Paid for, by Rishi Sunak's department with our tax payers money!
"If you empower all these independent people, you're screwed," he now says in reference to Sage, "We shouldn't have empowered the scientists in the way we did."
She brought up Susan Michie, who is now — or who soon will be — working for the WHO:
a leading member of Sage is a life-long member of the Communist Party and might just have enjoyed the frisson of power.
She wondered why Rishi didn't do more in his position of power:
… Rishi's wrong, you can empower scientists – except that as with any medical decision – the consequences of which could be life-changing, you seek a second opinion.
Are you telling us, Rishi Sunak, that you didn't have the chance, at one of your Sage meetings to ask your colleagues to read The Great Barrington Declaration for instance? That statement written in October 2020 by some of the world's top epidemiologists and public health scientists in which they expressed their grave concerns about the damaging physical and mental health impacts of your policies, instead recommending more Focused Protection for the vulnerable. They were publicly discredited as 'fringe' according to leaked emails and denounced as quacks. You should have had the gumption, Rishi Sunak, to insist to your team that there might have been a different way.
Rishi acknowledged that there was no cost-benefit analysis of the lockdowns. I remember a handful of  Conservative MPs asking for them in Parliament. Answer there came none.
Bev discussed her own demonisation during the pandemic:
Is he FINALLY referencing the necessity of a cost-benefit analysis of lockdowns?
Let me tell you, after making such statements on TV I was vilified by the press, demonised on social media and written off by former employers as a selfish granny-killer…
But it was so obvious if you chose to look. You didn't need to be the Chancellor to see what was coming. You just needed to switch off the BBC; seek out people who were looking at facts rather than trilling with emotion.
It wasn't easy taking a public stance for the poor, the old, the young, and anyone who was going to suffer harms from Covid theatre. But I did it anyway. Because it was the right thing to do.
She finds it hard to support Rishi's stance:
In my opinion, Sunak's words paint a picture of a man who lacked the spine to publicly call-out what he now says he knew were policy mistakes. How dare you, Rishi Sunak, How dare you …
… He wasn't a passenger when, long after we had a clear picture of the infection fatality rate, said nothing to stop confused, 98-year-old care-home residents having to mouth "I love you" through windows when all they wanted was to hold someone's hand.
Sunak wasn't a passenger when schools closed; when the decades-old pandemic response plan was mysteriously ripped up in favour of a Chinese style quarantine-the-healthy strategy. He wasn't a passenger when the Chief Medical Officers took to their lecterns with baffling figures seemingly obfuscated to maintain the fear.
He was a driver, one of a handful up front at the wheel, map in hand as he helped drive the country into a brick wall with businesses closed, families destroyed, mental health problems exacerbated and some educational achievements lost forever.
He was in on the meetings that decided the NHS must be solely obsessed with a disease that was involved in the deaths of those averaging 82 years of age. Thanks to the growing treatment backlog he was well aware of, we are now deep in a period of excess weekly mortality in the relatively young which dwarfs anything that Covid-19 managed …
"In every brief, we tried to stop the fear narrative," he now says. "I constantly said it was wrong."
No, you did not. If you had genuinely believed that you would have resigned noisily and defiantly with the backing of so many British people who could also see the Covid pantomime for what it was. You could have taken a temporary step off your own political career ladder and ironically – you could have eventually come back free from the stains of the Covid oil slick in which this country is now drowning.
You say, Rishi, that you were ticked off by the Cabinet Office after saying it was time to 'live without fear'. So tell us – who didn't want to hear that message? Name names now and put your money where your mouth is.
It's actually hard to know who Sunak is aiming this about-turn at: those of us who stuck our own necks out to question the non-scientific policy, whether that was on TV or even just round a family dinner table are not ready to forgive those who were in power.
Sunak has even said that minutes from Sage meetings were edited to omit dissenting voices from final drafts.
This has caused lawyer Francis Hoar to tweet: "This is absolutely shocking. If this is true then those responsible – and it is reasonable to suppose that Whitty and Vallance were at least aware – should face a criminal investigation for misconduct in public office."
Quite right.
Sunak has thrown the scientists under the bus. They will now blame the politicians who took the decisions. The inevitable infighting will be bloody and brutal and it will finally allow us to see behind the curtain and find out WHY in my opinion insanity was allowed to run riot. I will have my popcorn ready.
The next day, Neil Oliver delivered another great editorial.
This one is spectacular:
He advised us not to be taken in by Sunak, although he admits that the ex-Chancellor's revelations have brought the coronavirus policy narrative to the fore.
Excerpts follow:
Don't be fooled into thinking this disaster movie is coming to an end.
Rishi Sunak was quick off the mark last week with his pitiful, self-serving claims about having known the lockdowns were a bad thing but that despite him drumming his tiny fists on the table until they were a little bit sore no one would listen to him.
He said his heroic efforts to avert disaster were deleted from the official records of meetings he attended.
If that's true – if minutes of meetings affecting government policy were doctored – then Sunak's claims demand criminal investigation and jail time for those responsible – including big wigs with letters after their names, who presumably knew the truth of it as well and kept their mouths shut while people needlessly died miserable deaths, endured miserable lives and the country was driven off a cliff.
Sunak squeaks that he was on the right side of history but powerless. What absolute twaddle. He was arguably the second most powerful figure in government. By his own admission, he went along with all that was done to us. If it had ever been about principles, he would have resigned the first time his dissent was ignored and erased. He would have made his way hot foot to a television studio and there delivered an honest statement about how doing the right thing was more important than keeping his job. He did none of those things.
For all that, there's excitement in the air. The mere fact the former chancellor and would-be prime minister have broken ranks – basically opting for the tried and trusted playground tactic of claiming a big boy did it and ran away means many are scenting blood in the water.
I'm hearing a lot of people, desperate and hopeful that the whole truth will finally come out, saying things like, "the narrative is finally falling apart."
It might be and it might not. But the Covid and lockdown double-act is expendable. They've wrung all the juice they're ever going to get out of that rotten fruit and now it's ready to be cast aside. Or maybe it will just go on the back burner while other, fresher concoctions are brought forward. Either way, someone, somewhere seems to have decided it's time to move on.
Just don't be fooled into thinking that stuff about saving Granny and the NHS was ever the point, far less the main event. I've said before and I'll say it again:
"It's never about what they say it's about."
Thousands of grannies and grandpas died anyway and the NHS is a vast money pit that sucks in billions and now shuts its doors against people dying of cancer. I don't believe the last two years was ever about public health …
The good ship Pandemic is holed below the waterline and all the rats are scuttling towards the life rafts. All the lies about Covid, all the lies about vaccines, more and more exposed every day.
On the other side of the Atlantic, micro megalomaniac Antony Fauci is making for dry land as fast as his little paws will propel him. There are so many rats on that sinking ship, however, that they know there won't be enough rafts. They are aboard the Titanic and many won't make it. Here's hoping.
Now that some of the great and the good are changing their tune … now that more and more of the mainstream media are pirouetting like ballerinas and finally contemplating questions some of us have been asking, shouting indeed, on a desperate loop, for months and years, there's a narrow window of opportunity for getting some other stuff out into the open. And so now seems like the right time to think more of the unthinkable and say more of the unsayable.
Things are unfolding now exactly as the so-called conspiracy theorists, us with the tin hats on, said they would. And while everyone else – those who poured scorn, and ridiculed and hated – surely have to face the fact that we, the outcasts who lost work and reputations and much else besides – were right all along about the unforgivable damage of locking down, about harms to children, about being determined to refuse the Covid injections – in this brief moment while those who had nothing to offer but spite, and vitriol and undisguised loathing for those of us who first suspected we were being sold a pup – and who felt something wrong in our guts and so bothered to do our own reading and learned we were absolutely right and so spoke out and kept speaking out – right now before those smug smarty pants regroup behind the next line trotted out by the establishment, we can state some more of the blindingly obvious.
Let me, on behalf of my fellow conspiracy theorists, put more of the truth out there. After all, in a few months' time it's what those same smarty pants will be saying they knew all along as well.
Here's what I make of the bigger picture – and what some of us so-called Covidiots, anti-vaxxers, Putin-apologists, fascist, far-right extremist swivel-eyed loons want to talk about next.
… The horror show in the Ukraine is being exploited.
Here at home last week, Boris implied that while only lesser mortals are fretting selfishly about heat and food, his attentions are focused on the lofty heights of saving the world. The little people of Britain must endure cold and hunger for … guess what … the greater good.
Anyone with even the faintest grasp on, at least an interest in, geopolitics knowns it is utterly bogus and he is a fraud – along with Biden, Trudeau, Macron, Von der Leyen and the rest of a list so long I don't have time to read it out.
The imminent cold and hunger were made inevitable not by Putin in 2022, but years ago by the adoption of ruinous, ideologically-driven nonsense presented as world-saving environmental policies that only denied us any hope of energy independence, the profitable exploitation of all the resources beneath our feet and seas, and condemned much of Europe to dependence on Russia.
What we are paying is the cost of going Green, when those polices are not green at all but predicated upon some of the most destructive and toxic practices and technologies ever conceived.
Wind and solar will never provide the energy we need to keep thriving as societies, to grow and flourish. The situation is so insane I find it easiest to conclude we are simply meant to do without.
Stop thinking we're all going to have cars, and international travel, and warm homes – just different than before. What seems obvious is that we are being groomed to live small lives, to make way for the grandiose expectations and entitlements of the elites that are working so effectively to hoover up the last of the wealth …
Energy prices will keep going up. This will obviously hurt the poorest countries and poorest people first and worst. What is obvious about the Green warriors making war on affordable, reliable energy is that they care not a jot about the poor – at least not the actual poor alive in the world today. Those real flesh and blood people are to be sacrificed, by the millions, utterly denied the energy that might have lifted them out of poverty, so that imaginary people as yet unborn might thrive in a Utopia that exists only in the imaginations of pampered protesters. China will just burn more coal to compensate and seize more control but, shh, best not mention it.
That corrupted thinking comes from Communism – or perhaps Communism's idiot cousin Socialism. Green warriors don't care about the poor, in the same way socialists don't care about the poor … they just hate the rich.
Which is ironic, given that with their infantile protests they are doing the work of the very richest for them.
Ukraine produces a fifth of the wheat crop, required by the poorest. Not this year though. Whatever has been grown will be hard to store and harder to export – so that hunger and full-blown famine becomes a looming threat for hundreds of millions of the world's hungriest people.
In richer countries, life is being made deliberately impossible for farmers. Spiking costs of fertilisers and fuel are one thing but governments in the Netherlands, across Europe, in Canada and elsewhere around the world are persecuting those who grow our food. Farmers are being made to endure restrictions that destroy their businesses, being driven off their land altogether. They will have to watch as fields they have known and cared for over generations are hoovered up by transnational organisations with other ideas about what that land might be used for.
If you think mass migration and immigration are difficult problems now, wait until the unavoidable famines cause a haemorrhage of humanity out of the poorest countries of Africa and the Middle East. Perhaps hundreds of millions of people with nothing more to lose. Where do you think they'll go?
And here's another inconvenient truth: money and weapons keep flowing into Ukraine, but despite months of war and sanctions, the Russian rouble remains strong and an end to hostilities seems as far away as ever. Maybe no one wants that war to end. Wars don't determine who's right anyway; wars determine who's left.
Ultimately this is all about wealth and power. Not money, remember. Money is to wealth as a menu is to a steak. One's a worthless bit of paper, the other something that will keep you alive. This is about actual wealth and its acquisition. It's about the already super-rich getting hold of even more of the real things. Land, buildings, natural resources, gold. While we are supposed to be frightened out of our wits, squabbling among ourselves, and just hoping that one day it will all be over, a relative handful of others are hoovering up all the wealth, as planned …
Don't be fooled by Sunak and the rest and their about face – their pretence that they were with us all along. Covid and lockdown carried them only so far – but they plan to go much further. Disease, War, Famine, Death – the same people always ride on the same four horses. Now is not the time to take our eyes off the ball. Not by a long chalk. Keep watching the usual suspects.
On Sunday, August 28, Scottish comedian Leo Kearse guest hosted Mark Dolan's GB News show.
He gave an excellent editorial about eco-warriors. This is a five-minute video you won't regret seeing, full of fact with a generous scoop of wit:
He points out that Green pressure on Government has made us back away from energy independence over the years. The result? We are now dependent upon Putin for gas. He says that eco-warriors are helping Putin to win the war in Ukraine. Meanwhile, the rest of us will be cutting back on fuel we need to heat our homes this winter.
He concludes that Green policies are a nonsense, especially when the Scottish Green leader Patrick Harvie says that only right-wing extremists advocate energy independence.
He gives President Trump credit for telling Germany to become energy independent, even if the German delegation listening laughed in his face. He asks when Germany will ever be on the right side in a war.
I cannot help but agree.
Returning to Rishi's coronavirus revelations, I will have more on that tomorrow, as there was fallout over the weekend. Bev Turner was not wrong. They're turning on each other.
Last week, I posted a series on the effect of London's metropolitan elite on England's voters in 2015 and 2019.
Those who missed it can read Parts 1, 2 and 3.
On December 12, 2019, a surprising number of staunch Labour voters in the North and the Midlands lent their votes to the Conservatives for the first time.
Those constituencies in England that switched from Labour to Conservative either for the first time or for the first time in decades are known as the Red Wall.
The Conservative MPs who represent them are local people familiar with the issues that concern their constituents.
These MPs are a far cry from the Sir Bufton Tuftons from days of yore.
When the new intake took their seats in the House of Commons, spirits were high on Conservative benches as the UK exited the European Union.
In debates in January 2020, we heard them discuss the hopes they had for Boris Johnson's levelling up plan concerning rail, roads and industry.
What follows is what is on the minds of Red Wall voters and their MPs.
Tax
Five days before Chancellor Rishi Sunak presented his dynamic budget to the House on Wednesday, January 16, 2020, a pollster surveyed Red Wall voters for their views on taxation.
Guido Fawkes has a graph and summary of the poll results: 36% wanted cuts to council tax; 29% wanted cuts to income tax and 22% wanted cuts on fuel duty.
However, Guido found that the voters surveyed contradicted themselves (red emphases in the original):
According to Opinium Research for Lansons, 42% of the famed 'Red Wall' new Tory voters state the priority measure they would like to see for this afternoon is a rise in their take-home pay being introduced in the Budget – an income tax cut in other words. That is because 41% of the new Tory voters think taxes are too high and errr, 40% of the same new Tory voters think government spending is too low. Workington, we have a problem….
If the coronavirus is an economic hit on the scale of the credit crisis, a temporary halving of VAT to 10% would incentivise spending, immediately and effectively….
Sadly, because of coronavirus, most of Rishi's budget had to be binned.
Levelling up
In September 2020, Conservative MPs created a taskforce to level up, i.e. reduce regional inequalities between the North as well as the Midlands versus the South.
The BBC reported that these poorer constituencies now have Conservative MPs:
A report produced for the taskforce says Conservatives now hold more seats in the lowest paid areas than Labour …
In the 2019 election the Conservatives won a number of seats across the Midlands and the north of England previously considered to be Labour strongholds, also known as 'the red wall' …
Now this new group, the "levelling up taskforce" – which includes many of the new "red wall" MPs – is urging the government to set itself three key tests as part of its drive to reduce geographical inequality.
It says those areas that have seen the lowest growth in earnings, should see earnings rise faster than they have in recent years; areas with the worst unemployment rate should converge with the national average; and areas with the lowest employment rate should also catch up with the national average.
It also calls on the government to set out geographical analysis of how tax and spending changes impact different areas …
Analysis produced by the Onward think tank for the new group found that of the bottom quarter of seats in Britain with the lowest earnings, more are now held by the Conservatives (77) than Labour (74).
The following month, Northern Red Wall MPs formed a new group to ensure that Boris Johnson keeps his campaign promises:
The BBC reported:
… the 35-strong Tory group say they want to ensure the government delivers.
It includes several MPs who won seats in traditional Labour heartlands – the so-called "Red Wall" – at last year's general election.
Paul Howell, who won Tony Blair's old seat, in Sedgefield, Simon Fell, the MP for Barrow-in-Furness and Sara Britcliffe, who at 24 became the youngest Conservative MP when she won Hyndburn, in Lancashire, are among those who have signed up to the group provisionally named the Northern Research Group.
Ms Britcliffe said: "I don't need to join a group to speak up for Hyndburn but I have also the responsibility of making sure that we do deliver on our promise."
The group's leader Jake Berry, who has been the Conservative MP for Rossendale and Darwen since 2010, said it was not "about giving government a bad time".
He told BBC Radio 4's The Week in Westminster: "There are arguments that we collectively as northern MPs make together, to create a compelling case for the government to invest in the north".
These include "making sure that this government delivers on its promise to 'level up' the north, deliver that Northern Powerhouse and create wealth across the north of England," he added.
"We don't form a government unless we win the north."
Mr Berry is the former minister for Northern Powerhouse, which was set up by former Chancellor George Osborne to redress the North-South economic imbalance, and to attract investment into northern cities and towns.
The problem with levelling up is that some of the local councils most in need of funds are Labour-run. As I have been writing this post on Friday afternoon, February 25, 2022, I have heard Philip Davies, who represents Shipley, tell his fellow MPs that Bradford Council has not even put together a bid in order to get levelling up funds from the Government. Other Red Wall MPs had similar complaints.
This took place during a Private Members' Bill debate on the Local Authority Boundaries Bill, urging reviews of local council boundaries and making such changes easier. Kemi Badenoch, the minister representing the Government, said that the bill would need significant rewording in order to be considered. She will work with Robbie Moore, also a Red Wall MP, to revise his proposed legislation.
Bradford Council is not the only Labour council that has been under the spotlight.
In October 2020, another Red Wall MP, Chris Clarkson, made known his concerns about Andy Burnham, the Mayor of Manchester.
That brought about a furious backlash from Angela Rayner on the Labour benches. She allegedly called him 'scum' …
… and was given a dressing down by Deputy Speaker Dame Eleanor Laing.
Paying for coronavirus
In March 2021, a pollster asked Red Wall voters how they wanted the Government to handle the cost of coronavirus.
Most Red Wall voters opposed higher taxes, preferring lower spending instead:
Guido's accompanying post says:
Research from Public First's Rachel Wolf has revealed that when asked to choose between higher taxes, borrowing, or spending cuts, a plurality of the public back spending cuts over the other options. Tax rises are most popular with high social status white collar 'AB' voters, and least popular with working class 'DE' voters, who overwhelmingly back spending cuts. Working class constituents in the red wall aren't typical Islington socialists…
Also:
The other finding is that people are less opposed to taxes they think they don't have to pay, and more opposed to taxes they think they do have to pay. In reality this translates to taxes they have to pay directly. Any tax that is indirect on business still has an economic cost that is borne in the end by individuals, for example dividend taxes reduce your pension income, business rates and carbon taxes increase consumer prices. The more taxes are understood, the less popular they become.
True. We have tax rises coming, so there will be dissatisfaction in these constituencies.
Net Zero
Another plan that will not go down well is the drive to reach Net Zero. The cost is upwards of £1.5 trillion:
This tweet from 2021 encapsulates the thinking of Red Wall MPs (ignore Michael Fabricant, who was commenting on the wrong thread). Click on the image to see all the comments, especially from Jackie Doyle-Price, who mentions the metropolitan elite:
Minimum wage
In November 2021, Rishi Sunak presented a more sombre budget as the nation was still grappling with coronavirus.
One of the more positive points was his commitment to raising the national minimum wage.
On the face of it, it would seem to appeal to Red Wall voters. However, The Spectator's Patrick O'Flynn was less sure, asking if Sunak understood them properly. Raising the minimum wage does not lift those in more responsible positions. In fact, the latter have been earning less over recent years (emphases in purple mine):
In his recent Budget, the Chancellor committed the government to several eye-catching policies, including a big uplift in the minimum wage, these days rebranded as the 'national living wage'. But something that went unremarked upon was reaffirmation of a target of raising the minimum wage as a share of average pay.
A 6.6 per cent uplift this year would, said Sunak, keep the government 'on track for our target of two-thirds of median earnings by 2024.' Many Tory MPs beamed with happiness, no doubt thinking this would further bolster the working-class parts of their new electoral coalition. But will it?
According to the OECD, the UK minimum wage was worth 34 per cent of mean earnings and 41 per cent of median earnings in the year 2000. It has since risen steadily as a share of these averages, hitting 48 per cent of mean earnings and 58 per cent of median earnings in 2020.
Think about how this must feel to workers on roughly median earnings. Two decades ago they earned two-and-a-half times as much as minimum wage workers. Now they earn less than twice as much. By 2024, Sunak has decreed that minimum wage workers in entry level roles will be earning two-thirds of the amount that median earners do. This will represent a massive compression of wages within a single generation.
For those working people who put in a lot of effort in their schooldays compared to their more idle classmates, or who perhaps underwent apprenticeships on very low earnings at the start of their careers, this is highly unlikely to feel like progress.
When you consider the extra responsibilities higher-earning working class jobs typically entail compared to minimum wage roles – and the fact that various welfare entitlements may further reduce the net advantage – this government policy is coming close to rendering the entire hardworking ethos pointless.
This issue of earnings relativities between different grades of workers has long been a highly sensitive one in industrial relations, often more so than the level of raw pay per se. Indeed, it was the cause of countless strikes in the 1970s.
Instead of anticipating a celebratory mood among new working-class Tory voters, ministers should be on the lookout for restlessness and resentment. Indeed, the former Downing Street pollster James Johnson has already spotted the first stirrings of this in focus groups with participants grumbling that too much help is being directed to those at the very bottom.
Sunak has no parallel policy of ensuring that median earnings catch up as a proportion of the top 10 or 1 per cent of earners. In other words, his approach defies logic. Those in the modest middle of the pay scale have every reason to feel victimised …
One can't help feeling that Margaret Thatcher and her advisers had an altogether better innate understanding of what makes the ambitious working classes and lower middle classes tick than Boris Johnson's administration. Which is why her flagship policy of bringing in the right-to-buy their council houses at a discount scored an electoral bullseye with aspirational voters …
If Tory MPs in red wall seats think this policy is going to delight many of their constituents then I predict that they are about to be disabused of that notion.
It is still too early to tell what most Red Wall voters think of a rise in the minimum wage, but Patrick O'Flynn's arguments make sense.
Guido Fawkes agrees with O'Flynn and thinks that Red Wall voters would benefit from a reduction in basic income tax rates. Guido took issue with an article in Politico. 'UC' stands for Universal Credit:
Sleaze
In November 2021, the then-MP for North Shropshire, Owen Paterson, faced accusations of sleaze via his lobbying. He was forced to resign the seat he had long held. A Liberal Democrat won the by-election.
Some Conservative MPs tried to save Paterson from a 30-day suspension. However, Red Wall MPs were not among them. They objected to having a whipped vote to give Paterson a reprieve. Some voted against the Government, and rightly so.
The rest of the nation also disapproved. This was the beginning of low polling results for Conservatives. It wasn't long afterwards that Labour began leading in the weekly polls. They still do.
Not only did Red Wall MPs disapprove, so did their voters, as the Daily Mail explained:
Boris Johnson is struggling to contain mounting fury on Tory benches today as a poll laid bare the damage inflicted by his bungled effort to save ally Owen Paterson from punishment for lobbying.
Research by YouGov carried out in the wake of the dramatic Commons vote to suspend the standards system showed the Tory poll lead plunging by five points.
The party is now just one point ahead of Labour, after dropping from 39 per cent to 36 per cent in a week, while Keir Starmer has seen a boost to 35 per cent, according to the survey in The Times.
Education Secretary Nadhim Zahawi tried to cool the growing backlash among MPs this morning, admitting that the government 'made a mistake' in retrospectively tying Mr Paterson's case to wider reforms.
Meanwhile, a blame game is in full swing over who was responsible for the meltdown – which culminated last night when Mr Paterson resigned from the Commons after the PM cut him loose. His exit was made official this morning when he was appointed Steward and Bailiff of the Manor of Northstead – the traditional way for MPs to quit the House.
As well as a wave of anger about Mr Johnson's lack of judgment, many Tories have been pointing the finger at chief whip Mark Spencer, saying he should have realised that the tactic would not 'fly'. One MP told MailOnline that Mr Spencer had not done his job properly. 
'If the PM was told about the extent of disatisfaction then he wouldn't have pushed it,' they said. 'You could tell there was a problem because the whips were literally running around the Commons.'
Mr Johnson's media advisers are thought to have warned that the tactics were high-risk, but those pushing the political benefits of shoring up Mr Paterson and reforming the standards regime won the internal argument.  
The premier is said to be 'p****d off' that the crisis has distracted from the progress being made on climate change at the Cop26 conference in Glasgow. Senior MPs said he was also 'livid' about triumphalist interviews by Mr Paterson in which he claimed he would not change anything about his past behaviour. 
One Conservative MP who spoke to The Mail said:
'I had two marginal male MPs from Red Wall seats in tears looking at their social media feed, looking at their emails coming in after the vote, going 'what the hell have we done?'.'
… 'The chat on the WhatsApp groups is that the whips can stick their whipping up their a***. It's now every man for himself,' they said.
Chief Whip Mark Spencer recently became the new Leader of the House as Jacob Rees-Mogg moved to a new Cabinet position for Brexit opportunities.
Latest news
Many Red Wall MPs were incensed to learn of the Downing Street parties during lockdown.
Some began joining forces on January 18, 2021, when Boris apologised to Parliament:
As someone tweeted, this could have been about damage limitation for themselves:
Boris met with his own MPs that evening:
Lee Anderson is a former Labour councillor. He often confronts Labour benches with their own dismal record in local and national government.
The Red Wall MPs' plot to write letters of no confidence to Sir Graham Brady became known as the Pork Pie Plot, because their alleged leader, Alicia Kearns, represents Rutland and Melton. Melton Mowbray is home to England's famous pork pies.
Steven Swinford, The Times's political editor, spoke with a member of Cabinet who found the rebellion a disgrace:
The Red Wall plot to remove Boris Johnson – with Tory MPs meeting to discuss submitting letters – is not going down well in Cabinet
'It's pretty sickening. They were only elected because of him. Most of them are a load of —-ing nobodies. It's nuts'
Hmm:
With the current situation in Ukraine, the Pork Pie Plot seems like a long time ago. Then again, a week is a long time in politics.
The next thing Red Wall residents can look forward to is a Northern branch of Conservative Party Headquarters in Leeds, which is not part of the Red Wall, but it's close enough. Pictured is Party chairman Oliver Dowden MP:
Guido Fawkes wrote that this had been a promise from Government since 2020:
The Tories look set to imminently boost their red wall presence – and given recent polling, not a moment too soon. A party source tells Guido that their long-awaited Leeds campaign headquarters – first announced by Amanda Milling way back in September 2020 – is set to open in mere weeks …
… staff are already at work following a prolonged recruitment drive and the project will get up to full steam when work-from-home guidance is lifted. Another source suggested given recent events the party will be keen for the moment to be noticed by the media. Guido looks forward to Dowden's forthcoming ribbon-cutting…
I will have more on the Red Wall coming soon: profiles of those MPs with the most spark.
Despite receiving more brickbats this week, Prime Minister Boris Johnson is still standing as Parliament enters its February recess.
Former PM John Major had a go at Boris about Brexit in a speech he gave to the Institute for Government this week. Like another former PM, Theresa May — still a serving MP — Major is a staunch Remainer.
Writing for The Spectator, historian Nigel Jones discussed the Blob (our Swamp) on Thursday, February 11, 2022 (emphases mine throughout except for Guido Fawkes's posts):
Still fighting their neverendum certain Blobbers, so used to having things go their way for the past half century, view the man who brought us Brexit as the one who betrayed the favourite cause of his caste. For that alone he must be punished. They seek not only Johnson's removal from office but his total humiliation …
The Mays and the Majors of this world, uniting with the legions of the left who have always loathed Johnson, cannot bear it that someone who sums up in his rumpled and hitherto popular persona all that they are not, is, after all the ordure that they have poured over him, like Elton John: still standing. After weeks of sustained bombardment with the most vicious projectiles his enemies can muster, the object of their righteous wrath is still withstanding the siege from the Downing Street bunker, even belting out 'I will survive!'
… And those such as Johnson's former editor Max Hastings, who has predicted the PM could be gone within weeks, could yet be proven wrong. But if Boris does go he will not have been brought down in a flood of booze but by the bile of 'the Blob' against the black sheep who dared, by accident or design, to stray from the flock.
The Spectator's Katy Balls says Boris is succeeding because he is buying himself time, putting forward his 'red meat' policies to win back MPs and those souls who voted Conservative in 2019:
After a difficult few weeks, Boris Johnson has made it to parliamentary recess. Given few expect a no confidence vote to be held during recess, time away from parliament gives the Prime Minister much-needed breathing space. After the seemingly never-ending parade of partygate stories, there have been times when MPs were sceptical he would make it this far.
Instead, the Prime Minister has succeeded in buying himself time — talking down would-be plotters and rushing out a string of red meat announcements to keep the right of his party on side. The announcement this week that all Covid restrictions could end a month early is a prime example of this. When MPs return from recess, Johnson will unveil his plan for living with the virus — which will include the guidance rather than law (self-isolation is expected to become just advice) and reduced access to tests.
Boris made his liberating announcement about lifting coronavirus restrictions to the House of Commons on Wednesday, February 9:
Guido Fawkes wrote:
Boris in the Chamber just now announcing that the final Covid restrictions, including the legal requirement to self-isolate after a positive test, are likely to be lifted after the February recess. The "living with Covid" plan will be revealed on 21st February. A full month ahead of schedule…
February 24 could be our third liberation day. We already had Independence Day on July 4, 2020, followed by Freedom Day on July 19, 2021 and now this. Let's hope it is permanent.
In any event, the announcement made two front pages on Thursday, February 10, with the Daily Mail being more positive about this world leading move than The Star. I can empathise with both:
When SAGE's scientists and the unions object, we know Boris is on the right track. Boris didn't even bother consulting the former, as The Mail reported:
Unions are already digging their heels in after Boris Johnson revealed he intends to ditch all remaining Covid laws within a fortnight as a poll revealed that three in four workers ground down by almost two years of lockdowns and restrictions want to continue with self-isolation.
Unison, Britain's largest union serving more than 1.3million members from swathes of the public sector, has accused the Prime Minister of going 'too far, too soon', insisting that the virus 'hasn't disappeared' — despite a raft of data suggesting the worst is now over.
SAGE scientists have also warned of the 'dangers' of the PM's plan to make England the first country in the world to scrap all Covid rules, after it emerged Mr Johnson had not discussed it with the committee which is now infamous for its gloomy predictions about the pandemic.
Boris appears to be placing more weight on what is actually happening rather than alarming data projections from SAGE:
The resistance comes despite Covid infections falling consistently, with even the gloomiest surveillance study now accepting that the country's outbreak has peaked — mirroring the official numbers.
The milder nature of Omicron, coupled with sky-high immunity, mean the NHS never came under the levels of pressure that No10's experts feared would happen, with hospitalisations and deaths both now in freefall.
People with fragile health should note that they will be free to continue self-isolating. That freedom is an individual choice rather than a mandate by law.
The same goes for masks.
Boris is no doubt trying to encourage the socialist governments in Wales and Scotland to do the same thing:
The announcement annoyed the devolved governments in Scotland and Wales – with Nicola Sturgeon's administration calling it a publicity stunt to divert from the Partygate scandal that has left the PM fighting for his job.
The First Minister did this afternoon pledge to ditch face masks in Scotland's classrooms from February 28 — keeping them in communal areas — but says she will wait for expert advice before following Boris's lead on any other rules.
The Scottish Government is unlikely to go as far as dropping all rules when it publishes its strategy for living with Covid in the months ahead on February 22. The plans will be debated by MSPs, meaning any changes could be several weeks behind England. The Scottish Government is even set to extend its Covid powers until September 24.
Conservatives applauded Boris's move:
Lord Frost, who dramatically quit Cabinet partly in protest at draconian curbs, was among the senior Tories praising the move. 'The PM's plan to end all Covid restrictions a month early is the right thing to do & is extremely welcome. I hope the government will also make clear we will not go down the road of coercive lockdowns ever again,' he tweeted.
Tory MPs last night insisted that lockdowns should never be deployed again. 'I am glad to see the emphasis on learning to live with Covid,' said Bob Seely, who represents the Isle of Wight …
David Jones, a former Cabinet minister, welcomed the 'very positive' news, adding: 'The PM deserves credit for this. We have locked down for too long and we now need a commitment that we will not lock down again, save for in the most exceptional of circumstances.'  
Steve Baker hit the nail on the head. The lifting of restrictions is meaningful only if Boris reforms the Public Health Act of 1984 — and, may I add, scraps the Coronavirus Act of 2020:
Former minister Steve Baker added: 'I welcome this announcement but we are not out of the woods until the Public Health Act has been reformed, we have new rules for better modelling, competitive, multi-disciplinary expert advice and wellbeing-based cost-benefit analysis covering the costs of lockdowns and restrictions. There is much to do!'
Earlier this week, Boris made another reshuffle involving the Cabinet Office and Downing Street, in line with the preliminary recommendations from Sue Gray's report on Boris's lockdown parties on January 31. Boris had met with Conservative MPs that evening:
Guido's accompanying post reads in part:
It could be "imminent".
Guido was also first to reveal the PM won over swathes of support from wavering MPs by promising to massively up their involvement in No. 10's policy-making, saying he liked Graham Brady's suggestion of 1922-organised MP policy committees.
In a sign of how the day had played out, in the evening Birmingham 2019 MP Gary Sambrook put out a gushing tweet about the PM:
Guido understands he's now withdrawn his letter of no confidence to Graham Brady. After the vaccine rollout and Brexit, the new shadow whipping operation has to be one of the most impressive things Boris's No. 10 has managed to organise…
On Tuesday, February 8, GB News gave us the details on the reshuffle:
Jacob Rees-Mogg will be the minister responsible for "Brexit opportunities" in the first move confirmed as part of Boris Johnson's reshuffle.
The shake-up of the ministerial team follows the appointment of Stephen Barclay as the Prime Minister's chief of staff and comes as Mr Johnson seeks to relaunch his administration following the partygate row.
Mr Rees-Mogg, previously the Leader of the House of Commons, will still sit at the Cabinet table in his new role as Minister for Brexit Opportunities and Government Efficiency …
Former Chief Whip Mark Spencer has been confirmed as the new Leader of the House of Commons to replace the vacant role left by Jacob Rees-Mogg.
Mark Spencer has been the MP for Sherwood since 2010 and has previously been Deputy Leader of the House of Commons.
Stuart Andrew has been appointed as Minister of State (Minister for Housing) in the Department for Levelling Up, Housing and Communities; he has been the MP for Pudsey since 2010, he has most recently been a deputy whip.
Chris Heaton-Harris has been confirmed as the Government's new Chief Whip; he has served as MP for Daventry since 2010, he had most recently been Minister of State for Europe and is famed in Westminster for his use of Twitter to post one-liner jokes.
James Cleverly MP will become Minister of State (Minister for Europe) in the Foreign, Commonwealth and Development Office as part of the shake-up of the Government frontbench, Downing Street said.
Wendy Morton MP to be a Minister of State in the Department for Transport.
Rt Hon Christopher Pincher MP to be Treasurer of HM Household (Deputy Chief Whip).
Samantha Jones, the Prime Minister's adviser on the NHS and social care, has been appointed as the new No 10 permanent secretary and chief operating officer, Downing Street said.
Samantha Jones, who is a civil servant, is a former NHS trust executive.
She helped develop the plan to reduce hospital waiting lists, but it did not go down well in Parliament this week when Health Secretary Sajid Javid announced it. Even Conservative MPs thought it was weak, especially as a record high of 6.1 million patients are awaiting surgery or other medical procedures.
Samantha Jones will be both an interim No 10 permanent secretary and its COO, both new posts, as The Telegraph reported on February 9:
Boris Johnson has appointed a former NHS trust executive who advises him on health policy to the newly created position of No 10 permanent secretary.
In the latest move to shake-up his inner circle, the Prime Minister announced that Samantha Jones will take the role for six months on an "interim" basis.
Ms Jones had been Mr Johnson's expert adviser on NHS transformation and social care, meaning she helped craft the newly announced plan to bring down NHS waiting lists.
The former nurse and NHS veteran will also hold the title of Chief Operating Officer for Downing Street as she helps shape the new civil service structure being created for the Prime Minister.
There was another appointment, that of Stuart Andrew MP as Levelling Up Minister:
Andrew Griffith, one of the MPs who was reshuffled in the first week of February, laid out his plans as Boris's new Director of Policy:
You would not know it from the media headlines, but families want to hear about our plans to grow employment, tackle the NHS backlog, control our borders, make their streets safer, bring down the cost of living and return rapidly to the point when we can cut taxes to let everyone keep more of their own money – all policies that are rooted in strong Conservative values.
As the Prime Minister's Director of Policy, these are my top priorities together with delivering the tangible opportunities from Brexit that will allow our economy to be more competitive and the reform of government to deliver better public services. Whilst the Policy Unit's remit is to advise the Prime Minister across the widest breadth of government policy, we will be unafraid to ruthlessly focus on the key issues. It is ultimately outputs that matter.
Elected in 2019, he is far from the Sir Bufton Tufton brand of Conservative MP and has been against the EU since John Major's time as PM:
From a comprehensive school in south-east London, I was the first in my family to go to university, where campaigning to keep the UK out of the Exchange Rate Mechanism turned me into a lifelong Conservative.
Jacob Rees-Mogg went further, asking Sun readers for suggestions on which EU regulations should be rolled back in the UK:
The opportunities in front of us are immense. Huge parts of our economy are no longer regulated by the EU.
Before Brexit, many of my constituents would write to me to complain about regulations that burdened them daily.
From farmers to electricians, on so many issues I had to tell them that even as an MP I could not help to solve their problems, as these rules were set by the EU, not the British Parliament.
Thanks to Brexit, that has all changed. Sun readers can hold their MPs accountable, as the buck truly stops with them …
You are the ones who know the red tape binds your hands, and to do my job I need your wisdom. Ronald Reagan rightly said: "The nine most terrifying words in the English language are, 'I'm from the Government, and I'm here to help'." This needs to be turned on its head: Britain needs The Sun readers' help instead.
I implore you all to write to me with the regulations you want abolished — those which make life harder for small businesses, which shut out competition, or simply increase the cost of operating. Through thousands of small changes, we can enact real economic change — which means The Sun's readers will feel a real Brexit bonus in their pockets and in their lives  every day.
WRITE TO ME: Jacob Rees-Mogg, House of Commons, London SW1A 0AA
EMAIL: jacob.reesmogg.mp@parliament.uk
In other news, the UK economy grew 7.5% in 2021:
Guido has the quote from the ONS:
 Darren Morgan, ONS: 
"Despite December's setback, GDP grew robustly across the fourth quarter as a whole with the NHS, couriers and employment agencies all helping to support the economy," he said.
"Overall, GDP in December was in line with its level in February 2020, before Covid-19 struck, while in the fourth quarter as a whole, it was slightly below that of the fourth quarter in 2019."
People are trying to cast shade on this achievement, but even The Spectator, hardly pro-Boris, has a compliment for his administration. Today, Katy Balls pointed out:
With prices soaring, interest rates rising and the cost of living crisis growing more acute by the day, we could do with some more positive news: and this morning's GDP update has played a small part in providing it.
Despite suffering the largest economic contraction in 300 years in 2020 – and taking the biggest economic hit in the G7 – Britain had the fastest growing economy in the G7 last year, boosting its GDP by 7.5 per cent.
It's still a mixed story: looking at where the UK economy is now compared with pre-pandemic levels, it ranks average within the G7. But with one of the steepest hills to climb back to recovery, the UK's relatively fast growth enabled the economy to get there several months before it was forecast to do so …
… while the economy did take a slight hit at the end of last year, it did not fall back below pre-pandemic levels. Britain can still boast that it made a full economic recovery – and hopefully recoup December's losses fairly quickly, given how quickly fears about Omicron's severity were put to bed.
Finally, with local elections coming up in May, Boris will be doing what he does best — campaigning around England (with one stop in Wales):
Guido notes that not all of Boris's destinations will be holding an election this Spring, but the PM needs to turn things around for the Conservatives:
Boris has spent a lot of time on the road recently. Almost every day he seems to show up at another school, building site, or hospital somewhere outside SW1 – in just the last 5 weeks, he's made 10 trips across the UK. Coincidentally, 7 of those trips happen to be in seats which are holding local elections in May …
With Labour and much of the media hammering away at Partygate since December inside the Westminster bubble, Boris obviously knows his best chance of turning things around is to get back into campaign mode. It is what he does best, after all…
Although Labour are still ahead in the polls, an amazing reversal that began when the Downing Street parties during lockdown came to light, a pollster from Savanta ComRes thinks that it will be easier for Boris to win his 2019 voters back than it will be for Starmer to encourage them to vote Labour:
This is what Savanta ComRes uncovered from their latest focus group — Starmer isn't capturing their collective imagination, so Boris is still in with a chance:
I will have more next week on Boris's attempt to survive at No. 10.