Tag Archive
You are currently browsing the tag archive for the 'The Star-Spangled Banner' tag.
August 28, 2020 in history | Tags: 2020, Abraham Lincoln, Bill de Blasio, Brandon Straka, coronavirus, Democratic Party, Donald Trump, election, Hillary Clinton, history, Ivanka Trump, Joe Biden, Kamala Harris, Kayleigh McEnany, Kristi Noem, Melania Trump, Mike Pence, politics, protest, Republican Party, Richard Grenell, Ronna Romney McDaniel, Sister Deirdre Byrne MD, television, The Star-Spangled Banner, United States | 1 comment
The 2020 Republican National Convention is the best television I've ever watched outside of certain food show competitions.
I have so many tweets to share that I have linked to several in addition to posting them below.
Changes had to be made to the format because of coronavirus restrictions. At the weekend, I had doubts as to how interesting it would be. I am pleased to say that I was wrong.
There were no comperes (MCs) introducing each speaker at the Andrew W Mellon Auditorium, just speakers walking out in a dignified manner on the stage and addressing Americans at home with powerful messages, some of which were very personal.
There were no music acts outside of the outstanding renditions of The Star-Spangled Banner on Days 1 and 3 as well as a closing act on Day 4. Good.
I thought I'd miss the crowd of delegates and other attendees, but it was enough to see the former at the roll call on Day 1.
The Andrew W Mellon Auditorium in Washington, DC, is magnificent. I'd not seen it before, but it made the perfect setting for the dozens of speakers who told their personal stories.
And the flags that served as the backdrop in the auditorium were beautiful, made from the finest fabric. They added greatly to an already spectacular atmosphere.
I watched proceedings on C-SPAN, which has a video for each day. Below that are lists of individual speakers and their videos. This enables the viewer to watch either in full or in part. There are also tabs at the top of the page for each individual day's videos.
Because of the time difference, I haven't been able to watch Day 4 in its entirety but have covered it here for the sake of completion.
Highlights follow.
That said, every speech was excellent.
Background
The Democratic National Convention was held last week in Joe Biden's hometown of Wilmington, Delaware, as well as other locations, because of coronavirus restrictions.
BBC Parliament broadcast the last day of the convention on Sunday, August 23. I watched it while doing other things.
Wow. I have never seen a more boring and a more stilted political convention. It sounded as if everything had been scripted at the last minute and no one had time to rehearse their lines. Even a Teleprompter could not help. Actress Julia Louis-Dreyfus of Seinfeld fame presented. Her scripted jokes fell flat and her delivery was dreadful. Mike Bloomberg's speech also had jokes in it; his delivery was equally dire.
The theme, as one would expect from Democrats, was, once again, Change. I thought that eight years of Obama was supposed to be the 'change Americans can believe in'. Apparently not. Democrats say that President Trump built on his predecessor's success. Okay. In that case, we don't need further change, right?
Not exactly.
Joe Biden said in his acceptance speech that he wants to 'change' America 'for decades to come'. Hmm. Interesting.
He wants to raise taxes of all Americans to the tune of $3 trillion. That's a lot of change right there.
He wants every American to wear a mask until October 'at least' to curb coronavirus. Imagine if this guy gets in. What a disaster. I have a lot of Biden material to share with you. That will come in the latter stages of the presidential campaign, all being well.
Biden's running mate, Senator Kamala Harris, said that the ongoing protests, which have been running for nearly 100 days now, 'are not going to stop, nor should they'. What? Even if she and Biden win the election? She must know they will lose in November:
This is what the protesters want. As I said in 2016, they want a revolution. They're Bolsheviks:
Hillary says that Joe Biden should not concede the election, even if he loses. She, too, must think he doesn't have a chance, even though it's only August.
Note Hillary's appearance. It seems to change. Weird. I've included a tweet with other photos of her:
Joe Biden did not get the usual post-convention bounce in the polls, which is telling:
Day 1 — Monday, August 24
Every day opened with a convocation prayer and the Pledge of Allegiance, including the words 'under God', which the Democrats omitted last week.
This is the only day where there is a morning session. It was held in Charlotte, North Carolina. Only delegates and party officials were in attendance. Ronna Romney McDaniel (Mitt's niece) presided, as Chair of the Republican National Committee. She did an excellent job.
It was a sea change from the 2016 convention, which was riven on the morning of the first day by never-Trumpers who did not want him nominated.
This year, every state's delegates unanimously voted for President Trump's renomination.
Ronna McDaniel proceeded with the roll call, as voted for by the delegates, but stopped after Minnesota, concluding with remarks from former governor Scott Walker for Wisconsin. She formally announced the nomination of President Trump, who then gave a speech:
He spoke for 52 minutes, during which time he expressed his deep concern about postal votes. He is right to be concerned. It has produced fraudulent results in the past. There is no reason to think it won't happen again this year.
He is also mostly right in saying that this is the most important election in American history. I might just modify that to 'since 1860', when coincidentally, the first Republican — Abraham Lincoln — was elected:
That evening, speeches began from the unbelievably stately Andrew W Mellon Auditorium in Washington.
Cardinal Timothy Dolan delivered his opening prayer from New York City with the Statue of Liberty in the background:
Cancer survivor Natalie Harp talked about the film It's a Wonderful Life where James Stewart's character George Bailey did so much good by saving Bedford Falls from becoming Pottersville. She said Pottersville would have been what would have happened to the US under Hillary. There are similarities between George Bailey and Donald Trump. I have often thought about that over the past four years and was delighted that she brought it up:
Maximo Alvarez, the founder and president of Sunshine Gasoline Distributors in Florida, warned that Americans must not allow their country to move towards communism. He said that his father emigrated from Spain to Cuba, then from Cuba to the United States. His father told him that America was the last possible refuge for people who love freedom. If America is destroyed, there is no other place to go:
Senator Tim Scott from South Carolina closed the evening with a measured speech on race relations and the current protests. He said that he was elected to represent a majority-white district where, he said, paraphrasing Dr Martin Luther King, voters judged him on his character, not the colour of his skin. He eloquently dismantled all the Democrats' radical arguments:
The Federalist's Sean Davis, a Trump supporter, tweeted:
Democrats rang C-SPAN afterwards to give their views.
Rick from Lorain, Ohio, said he was switching from the Democrats to Republicans, because the Republicans focussed on God whereas the Democrats left God out of their convention:
More Democrats rang in during the subsequent days to say they had switched parties.
C-SPAN's ratings for the RNC were much higher than for the DNC. The New York Post has more on the story.
Day 2 — Tuesday, August 25
The theme of Day 2 was Land of Opportunity.
The Revd Norma Urrabazo gave a stirring opening prayer:
Myron Lizer, Navajo Nation Vice President, was the first to speak. He spoke from Shiprock, New Mexico. He said that President Trump has done more than previous administrations to listen to and act on the needs of Native Americans:
Next was the story of the president's pardon of Jon Ponder, who founded an organisation, Hope for Prisoners, with rehabilitation programmes for former prisoners:
It's an amazing story. Ponder, a committed Christian, is best friends with the FBI agent who arrested him.
Cris Peterson, a dairy farmer from Wisconsin, explained how fewer government regulations and more help to farmers enabled her family's Four Cubs Farm to purchase state of the art milking equipment. Fascinating video:
The Democrat mayor of Eveleth, Minnesota, said he is supporting President Trump this year. He says that the Democrats have become too radical and that their ecological policies would ruin the prosperity of his town:
Nick Sandmann, who was accosted in 2019 at the Lincoln Memorial, spoke of that day and how he refuses to be cancelled. His lawyer Lin Wood won a huge payout for him against the Washington Post. Nick plans to go on to law school after finishing university:
Some of the stories came from President Lincoln's boyhood home in Spencer County, Indiana. Mike Pence narrated this sequence:
There was a naturalisation ceremony, filmed earlier, which President Trump attended:
There were many more outstanding speeches, including those from Secretary of State Mike Pompeo, Former Florida Attorney General Pam Bondi, Eric Trump and Tiffany Trump.
The evening ended with a long speech at the White House from Melania Trump, who was dressed in quasi-military designer attire:
These are the YouTube ratings for Day 2:
Day 3 — Wednesday, August 26
The theme of Day 3 was Land of Heroes and included people from various walks of life, from the military to first responders to lorry drivers keeping goods on the move during the coronavirus pandemic.
This rabbi's prayer was perfect, as was his delivery:
A disabled veteran movingly recited the Pledge of Allegiance.
Governor Kristi Noem from South Dakota was the first to speak. She spoke of her state's success during the pandemic — no lockdown and very low case/death figures:
Noem rightly criticised the unchecked lawlessness going on in Democrat-run American cities:
MSNBC was none too happy, but it's the truth:
President Trump's newish press secretary, Kayleigh McEnany, a young wife and mother, told her moving story of breast cancer and subsequent breast reconstruction. She also spoke of the admiration she has for Trump's pro-life stance:
Madison Cawthorne is a disabled man (injured in a car accident) who is running for US Congress in North Carolina. He gave a spirited speech about America's Founding Fathers, especially James Madison:
When he finished his speech, two friends came on stage to help him stand up. At 6'3″, he said he misses being able to stand up and see over the crowd.
A PBS journalist was unimpressed by his standing up. WHY? Look at the idiotic reasoning:
My favourite speech of the week came from Sister Deirdre Byrne, MD, of the Little Workers of the Sacred Hearts, a medically-oriented religious order for women.
Sister Deirdre entered the order in 2002. Prior to that, she had a career as a physician and is a retired US Army Colonel!
She spoke of her admiration of President Trump's love of the unborn. She said that a Biden presidency would put an end to the safeguards of the unborn. The Biden-Harris ticket approves of abortion at the point of birth, essentially, infanticide:
Lara Trump, Eric's wife, spoke.
Eric passed make-up brushes to her as she was getting ready:
In her speech, she said that one mustn't believe all one reads in the media and that this applied very much to the Trump family. She wasn't sure what her future in-laws would be like when Eric first introduced them to her. She said that she was given a very warm welcome from the start. She says she admires their values of hard work and determination, with which she was also raised:
Clarence Henderson told about his experiences as a young man growing up in the segregated South. He recited the pro-voting and pro-civil rights amendments, all of which Republicans were responsible for passing, not Democrats. Well worth a listen. This man knows of what he speaks:
Former Acting Director of Intelligence Richard Grenell spoke. I hope his words lead to something big:
President Trump watched from the sidelines:
Mike Pence rounded off the evening with a long speech from Fort McHenry in Baltimore. The Star-Spangled Banner tells the story of the battle between America and the British in 1814 which took place there:
Well said:
Afterwards, ex-Democrat Helen from Johnstown, Pennsylvania, rang C-SPAN to say that she had switched parties and that she loved Melania Trump's speech. She also deeply admires President Trump and will be voting for him this year:
Carol from Charleston, South Carolina, called to say that she finds Melania Trump 'classy' and 'so intelligent'. Carol said she was a Hillary voter four years ago but has been surprised by what President Trump has accomplished since his election. She says she will 'trust' Melania and will vote for Trump:
Here are the ratings:
Day 4 — Thursday, August 27
Earlier in the day, NASA announced that the first black, female astronaut is scheduled to be on next year's mission to the International Space Station:
C-SPAN posted their Day 4 video on YouTube:
The theme was A Land of Greatness.
The final night is, of course, the biggest one of the convention. Although President Trump spoke at length on Day 1 after receiving a unanimous vote from the delegates, Day 4 was when he gave what is considered his formal — and second (final) — acceptance speech.
These proceedings are about an hour longer than those from the previous days.
The Revd Franklin Graham (Billy's son) gave a heartfelt prayer, asking for help for those affected by tropical storm Laura, for healing with regard to the protests, for protection of the Trumps and the Pences as well as continued guidance:
A young brother and sister from a military family recited the Pledge of Allegiance. Beautiful.
Ja'Ron Smith, Deputy Assistant to the President, spoke of his working class upbringing, his parents' American values and of President Trump. He said that, growing up, he believed all the anti-Republican clichés. As he got to know more Republicans, he changed his mind. He never dreamt that he would be working for a president. He says that no one has done more for black interests than President Trump:
The people interviewed below head up their respective housing associations in New York City. They do not like Mayor Bill de Blasio's policy of putting illegal immigrants into public housing before native New Yorkers, some of whom have been on waiting lists for ten years. They greatly appreciate what Dr Ben Carson has been doing as head of HUD (Housing and Urban Development), which has helped identify and fix anomalies in public housing:
Alice Johnson spoke of her gratitude for President Trump's First Step Act from 2018, which has to do with prison reform. That year, Trump commuted Johnson's life sentence for a first-time, non-violent drugs offence and granted her a full pardon today (Friday):
Ivanka Trump spoke of her father's commitment to the American people:
President Trump spoke of the greatness of America and her people …
… while emphasising that the United States has clear internal enemies:
I fully agree with this:
The programme of events ended with a magnificent fireworks display, which was much better than the Democrats' in Wilmington the Thursday before:
Unfortunately, as the guests left the White House, protesters awaited them: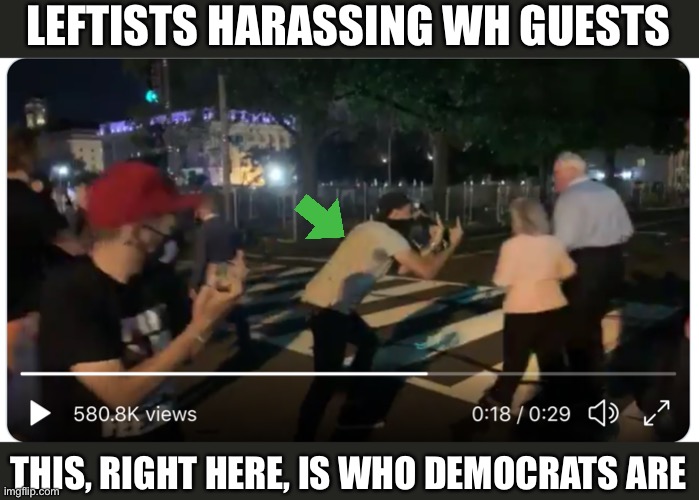 Congressman Brian Mast, below, who is black, even got harassed by protesters. He politely answered their questions. They did not like his answers about pursuing 'due process' where necessary:
I can't help but admire a husband who carries his wife's shoes!
On the downside, when that couple reached their hotel, The Willard, the doors were locked. Even an employee outside couldn't help them. They had to walk all the way around to the parking garage entrance and get in from there. All the while, they were harassed by protesters, who addressed the man as 'Mr Anger'. The couple remained resolute and silent, with neutral expressions on their faces. I bet those were two of the longest minutes in their lives.
But that was nothing compared to the treatment that Brandon Straka, the ex-Democrat who founded the #WalkAway movement, received. Terrible.
Remember, the group attacking him is for gay rights. Maybe that doesn't matter when a gay supports President Trump:
At least the police were nearby for Senator Rand Paul (Ron's son) and his wife:
This morning (Friday), Rand Paul told Fox News what a traumatic several minutes that was for him and his wife, even with the police. He said the mob kept on growing. He also said that they had picked the wrong man, because he was one of the senators who supported the abolition of no-knock police raids, one of which was responsible for the death of Brionna Taylor. He said 'the irony of that was lost' on the protesters:
Meanwhile, this is what Joe Biden thought of the president's speech:
I am not sure what planet Joe is on to say that, but it might not matter too much because he's collapsed in the polls:
If you hear the media once again say that the Republicans' message was 'dark', as they did in 2016, don't believe them for a moment.
This was the finest convention I've ever seen, even better than 2016's.
Kudos to everyone who organised it and who spoke. A lot of hard work went into those four days, spread across four locations as well as some people's homes.
I've never seen such a professional production with so much sincerity and hope.
In 2016, President Trump made promises. From his election to now, he has fulfilled those promises. Promises made. Promises kept.
Onwards and upwards! MAGA 2020!
July 3, 2019 in history | Tags: 2019, Andy Ngo, Arizona, Betsy Ross, Dan Crenshaw, Donald Trump, Doug Ducey, Fourth of July, George Washington, history, Independence Day, John Adams, North Korea, Portland, Republican Party, Richard Grenell, The Star-Spangled Banner, Tucker Carlson, United States | 9 comments
For 2019, President Trump has promised a YUGE Fourth of July show in Washington, DC:
Armoured vehicles have been arriving since the beginning of the week:
The Hill had more on the armoured vehicles:
U.S. military tanks arrived in Washington, D.C., via train on Tuesday ahead of their use in President Trump's July 4 "Salute to America" event on the National Mall.
NBC News captured photos and video of two Bradley and two Abrams tanks arriving in Southeast D.C. The news outlet also spotted support vehicles, including an M88 used to help recover armored equipment.
NBC's report came after an Associated Press photographer spotted two M1A1 Abrams tanks and four military vehicles on a freight train late Monday.
Trump confirmed on Monday afternoon that there will be tanks stationed on the National Mall on the Fourth of July.
"We're going to have some tanks stationed outside," Trump said during a bill signing in the Oval Office. "You've got to be pretty careful with the tanks because the roads have a tendency not to like to carry heavy tanks. So we have to put them in certain areas."
The Pentagon did not respond to a request for comment about how the tanks will be transported to the National Mall.
Trump will deliver remarks from the Lincoln Memorial as part of the Independence Day event, and he has played an active role in its planning. The event will also include flyovers by military aircraft.
The United States has much to celebrate this year.
Economically, things haven't been this good since the mid-19th century!
Wow!
Here's another Wow! President Trump is the first sitting American president to cross the demilitarised zone (DMZ) into North Korea, which he did on Sunday, June 30:
How sad that Westerners, including many Americans, do not care.
The Korean War never came to an official close. It's been going on since Trump was a child. He wants to do something positive about that. North Korea is controlled by China, so this process has to be carefully managed and negotiated.
President Clinton visited North Korea during the Obama administration. Speaking of Obama, compare and contrast the photos:
Tucker Carlson from Fox News got exclusive coverage and describes what happened at that historic moment. This short five-and-a-half minute video is well worth watching. The segment appeared on Tucker's show on Monday, July 1:
Meanwhile, in the United States, the gay conservative journalist Andy Ngo was recovering from a brain haemorrhage he received from an attack by Antifa in Portland. The following tweet is from his lawyer:
Andy saw it coming:
Regardless of the following tweet, Portland Police stood by on the day, allowing bloody attacks on Andy and others:
The US ambassador to Germany has rightly called for an investigation:
Andy was well enough to write a few days later:
The American flag also came under attack. Colin Kaepernick objected to a Nike shoe with the Betsy Ross colonial flag on the back, so the company withdrew it from sale:
Congressman and military veteran Dan Crenshaw (R-Texas) is not wrong:
Trump supporter — and Obama voter — Charles Payne opened up the subject to his readers and listeners:
Sadly, I couldn't agree more.
Nike will be losing big time with American consumers as well as the state of Arizona, where it had planned to open a factory.
First, here's a consumer's point of view:
Now here's what the Republican governor of Arizona, Doug Ducey, had to say:
He concluded with wise words about Betsy Ross:
And finally, it shouldn't take a controversy over a shoe for our kids to know who Betsy Ross is. A founding mother. Her story should be taught in all American schools. In the meantime, it's worth googling her. 9/9
Here is a short film about this American icon. Her flag, commissioned by none other than George Washington, inspired The Star-Spangled Banner, America's national anthem:
In closing, contrary to what many left-wing and libertarian clergy say, the idea behind celebrating Independence Day also included giving thanks to God. Hence church services, which are much criticised by said clergy railing against 'American exceptionalism'. Would that other Western nations actually held such services on national days for their own countries.
The Revd Robert Jeffress explains what President John Adams, America's second president (and first vice president), had in mind:
We should all give thanks for our respective nations.
Most countries have been doing their best through the course of modern history to right the wrongs of their ancestors. They are also working together internationally to make the world a better place.
Rather than focusing on 'exceptionalism', we should thank God the Father, Son and Holy Spirit for guidance through the ages — no matter where we live! Our leaders did not always listen to the Triune God, but, when they did, things turned out for the better.
I hope that all sensible Americans will be able to celebrate Independence Day in peace and with pleasure. It is a big day. Enjoy it, whilst remembering to say prayers of thanksgiving.
Please also pray for Andy Ngo's swift and full recovery. The Founding Fathers wanted everyone to be able to speak freely in safety, hence the First Amendment.
Yesterday's post asked whether NFL would come to mean No Fans Left.
I will not rehash the contents except for two items.
First, it is illegal not to stand with hand on heart for the national anthem. That makes President Donald Trump wrong when he says it is permissible to stand with arms locked with the guys next to you.
Here is a citation of the American statute stipulating conduct during the national anthem. It is 36 US Code 301 (emphases mine):
(a)Designation.—
The composition consisting of the words and music known as the Star-Spangled Banner is the national anthem.
(b)Conduct During Playing.—During a rendition of the national anthem—
(1) when the flag is displayed—
(A) individuals in uniform should give the military salute at the first note of the anthem and maintain that position until the last note;
(B) members of the Armed Forces and veterans who are present but not in uniform may render the military salute in the manner provided for individuals in uniform; and
(C) all other persons present should face the flag and stand at attention with their right hand over the heart, and men not in uniform, if applicable, should remove their headdress with their right hand and hold it at the left shoulder, the hand being over the heart; and
(2) when the flag is not displayed, all present should face toward the music and act in the same manner they would if the flag were displayed.
(Pub. L. 105–225, Aug. 12, 1998, 112 Stat. 1263; Pub. L. 110–417, [div. A], title V, § 595, Oct. 14, 2008, 122 Stat. 4475.)
So there. Case closed. Let the police arrest all the miscreants on the field. That would be much more interesting than their stupid ball game.
Secondly, what follows is the full story of why Americans have such profound respect for the national anthem. I encourage everyone to watch it and share it with younger family members. This isn't taught in school and, even when it is, isn't done in such a fulsome way. Some of the history was news to me:
And the fourth verse, rarely sung, really points out the importance of the American flag standing after a night of attacks from the British on Fort McHenry (see the 30-second mark):
Nobody understands the protest
Over the past 48 hours, I have read numerous comments online asking for an explanation of the protests since 2016. Slavery? Inequality? Trump?
Hey, players, give it a rest. You're only alienating your fans. The general public does not understand what is going on:
A Colorado car dealer, Phil Long, who senses what way the wind is blowing, has suspended the Denver Broncos' Von Miller from its adverts:
Phil Long Dealerships:
We are evaluating the events of the weekend. It is important to state that we haven't fired Von. We are in the middle of contract renewal and this weekend's events remind us that sometimes we feel that we best represent ourselves. We support Von and his first amendment rights, we know Von and he's a good person. He donated a police car to his hometown police dept. All that notwithstanding when we bring in celebrities to represent us we run the risk of being misrepresented …

Latest news
In yesterday's post, I singled out the Dallas Cowboys and the Pittsburgh Kneelers' Alejandro Villanueva for doing the right thing.
I was wrong.
Dallas Cowboys
In the Cowboys' latest game on Monday, September 25, 2017, they tried to please everyone by kneeling before the national anthem was played, then standing with locked arms for the anthem itself. Terrible — and, as mentioned above — illegal.
Apparently, this was to show solidarity with all the other teams in the latest kneeling and arm-locking protest: disapproval of Trump's criticism of their disrespect of the national anthem.
As someone said at The_Donald:
This is incredibly cringey.
Someone else wrote:
Life long Cowboys fan here. I was sick to my stomach and turned it off. I am completely done. I can't believe it. I really thought they were going to pull through. No more NFL for me. I'm in shock.
Everybody had hopes the Cowboys would not fall for this. Only a few days ago, owner Jerry Jones supported standing for the national anthem and:
urged the team's Leadership Council to stay true to that long-standing practice.
Tom Landry must be rolling in his grave.
Pittsburgh Kneelers
On Sunday, the only Pittsburgh Steeler to go out and salute the flag was Bronze Medal recipient Alejandro Villanueva. I wisely did not show his picture which was all over the Twittersphere.
On Monday, the retired US Army Ranger apologised for doing the right thing, saying he made a mistake and is 'embarrassed' every time he sees that photo of him showing up, standing and saluting for the national anthem. The rest of his team were in the locker room.
I'm embarrassed for him. Why could he not stand up to his coach, his team-mates and the NFL?
It's not as if these guys are being paid peanuts and he needs the job.
The public looks on in confusion
Most NFL ticket holders have to fit the cost of admission, team regalia, car parking, refreshment and so on into their annual family budgets.
Most NFL ticket holders are on average incomes.
On the other hand, the players they are going to see are very wealthy men:
Also think of the hundreds of millions of additional dollars in sponsorship contracts.
Oppressed? My foot!
NFL receives taxpayers' money
The NFL is a non-profit organisation that relies heavily on taxpayer subsidy.
Mic.com has an excellent article (thanks, Sundance) that explains how this happened:
the legislation wasn't a big deal 47 years ago. In fact, the NFL had already been classified as a non-profit organization as early as 1942. It's just that that status only became codified in 1966.
These days:
Litigator Andrew Delaney has alleged that the NFL uses its non-profit status to launder money. As a trade association that promotes the interests of its 32 for-profit franchises, the NFL sells lucrative licenses for such things as apparel and television contracts through for-profit business such as NFL Enterprises, LLC. The individually-owned franchises receive compensation and, in turn, make annual "dues and assessments" to the NFL, all of which is tax-deductible. The money just goes around in a circle.
Such practices have led Delaney to call the NFL a "glorified tax shelter." Gregg Easterbrook argues in The Atlantic that the decision to add professional football leagues under Section 501(c)(6) "has saved the NFL uncounted millions in tax obligations, which means that ordinary people must pay higher taxes, public spending must decline, or the national debt must increase to make up for the shortfall."
Television contracts are also lucrative. Stadia are involuntarily publicly funded:
More important to the NFL business strategy, however, is the big-time television contracts. At the time Public Law 89-800 granted the NFL a monopoly on its broadcasting rights, cable television did not begin to approach the immense revenue it generates today. ESPN and the NFL Network did not exist; it was regional channels that were important. Thus, in 1966 the NFL received antitrust-exempt media rights with little to no opposition. Now those rights are worth billions of dollars annually.
What makes these contracts so profitable, however, is the relatively low overhead costs. Thanks to John Q. Taxpayer, team owners receive the lion's share of those contracts while only making a minimal contribution, if any, to the stadium the game is being played in.
Thus, the dirty secret behind why professional football is so profitable is because most stadiums are publicly funded. Teams pay a modest rent to perform in their stadiums, but they retain the exclusive right to air those games on televisions. Those rights are then pooled among the 32 teams and sold to the highest bidder.
That I did not know, nor this:
As the ink dries on the NFL's highly-lucrative broadcasting contracts, states facing major budget cuts continue to throw taxpayer money at NFL teams. Annually, "NFL stadium subsidies and tax favors add up to perhaps $1 billion." In addition to these taxpayer contributions, "many cities, counties, and states also pay the stadiums' ongoing costs, by providing power, sewer services, other infrastructure, and stadium improvements." Essentially, franchise owners are having their product bankrolled by the public.
The article offers these solutions:
In order for there to be a meaningful change, two changes need to be made. First, Section 501(c)(6) is amended to no longer include the "professional football leagues" language. Until the NFL is more transparent with its finances, it does not deserve its tax-exempt benefits from being a non-profit organization.
Second, Congress must enact legislation prohibiting the privatization of television images performed in publicly funded stadiums. Only with the threat of losing their television contracts worth several billion dollars will the NFL be inclined to privately finance their own stadiums. Such a drastic measure would prevent the public from being gouged for the construction and maintenance of stadiums that serve as the playground for the uber rich.
Fortunately, a Republican in Louisiana is stepping up and speaking out:
Here is an excerpt from The Advocate's article:
Louisiana State Rep. Kenny Havard, R-St. Francisville, said Monday morning that he wants to cut millions in state tax dollars, exemptions and credits allocated to the New Orleans Saints, the NFL and any of those groups' associated facilities that receive funding …
Havard's statement didn't specify the amount of state money that he proposed be diverted from the Saints the NFL. According to a 2015 Forbes story, Saints and Pelicans owner Tom Benson was "set to rake in an estimated $392 million from state subsidies through 2025."
The report said during the Mercedes-Benz Superdome lease "the state will pay Benson at least $198 million in increased revenue from the Superdome, $142 million in rental payments on property Benson owns, $10 million in bonuses for bringing the Super Bowl to New Orleans and $2.6 million in tax breaks. Benson will get another $40 million from private rent payments to a tower he bought as part of the deal."
Havard rightly says:
It is time the taxpayers quit subsidizing protest on big boy playgrounds. I believe in the right to protest but, not at a taxpayer subsidized sporting event. Do it on your own time. There are plenty of disabled children, elderly and veterans in this state that would appreciate the money.
Why Trump is so incensed
I think President Trump is angry because the NFL receives taxpayer money to promote the military.
Townhall has a good article on the taxpayer-funded military-NFL programme that started under Obama. I had no idea this was going on:
In 2009, Barack Obama's Department of Defense began paying hundreds of thousands towards teams in a marketing strategy designed to show support for the troops and increase recruitments. The NFL then required all players and personnel to be on the sidelines during the national anthem, in exchange for taxpayers['] dollars. Prior, the national anthem was played in the stadium but players had the option of staying in the locker room before heading out to the field. 
Furthermore, teams that showed "Veteran's Salutes" during games were paid upwards of $5.1 million dollars. 
Stop the racket!
You know President Trump is ready for kick-off.
No wonder the NFL's up in arms. They're afraid he's going to stop that gravy train. I hope he does.
I have many, many more links on the NFL and hope to write about them if I have time.
Nearly a year ago I posted 'American flag desecrated — SAD!'
It showed an elderly man picking up an American flag lying on the sidelines during a high school football game. For my readers who are not American, Old Glory must never touch the ground. That used to be taught in school. No longer, it would seem.
My post said in part:
Their coach and the school should talk about the importance of the flag at a mandatory hour-long class assembly.
I realise this desecration is being done because of a certain trendy, yet ignorant, professional football player whose name will never appear on my site. Why anyone gave him the oxygen of publicity I will never know.
Said football player could not find a team to sign him for the 2017-2018 season. Good. Unfortunately, he is sitting pretty. I heard one report that he is already worth over $200m.
Also sad is that his legacy of disrespect for the national anthem has continued into the current NFL (National Football League) season. The only two teams who have told their players to stand for the national anthem are the Dallas Cowboys and the Chicago Bears. The Cowboys issued a directive several months ago. The Bears did so just before last weekend's game.
I'm not an American football fan. I personally know what dimwits some of the college players were in the 1970s — race immaterial, because many were white.
I would like to see today's guys — college and professional — play in Rugby Union or Rugby League. Those bumper stickers I used to see in the 1980s about having leather attributes to play the game are 100% correct. Rugby players are also consummate gentlemen.
President Donald Trump is sick and tired of these political, anti-American gestures. He said so on Thursday, September 21 at a political rally in Alabama in advance of a special senatorial election there.
You can see a clip of Trump in Judge Jeanine Pirro's opening statement for her Fox News show which aired at the weekend. She also refers to the USA Today article which details the criminal offences that NFL players have committed. (Here is one such example — and that player was reinstated!) The convictions and police records amongst NFL players is disproportionate to that of the United States as a whole:
Yes, players claim that kneeling on one knee is a legitimate protest against notional American oppression of minorities. And, now, nearly every team is getting in on the act — including, ironically enough, Bob Kraft's New England Patriots. (They won the Super Bowl earlier this year.) Patriots, my eye. This was Trump's response to the press:
That's right. Trump is not going to tell his good friend Kraft or anyone else what to do or think — however, they will have to accept the consequences of their actions. Trump will sit back and watch.
Now back to the team protests. This isn't the 1960s. There is no reason to legitimately protest against the United States for discrimination. All of it, starting with the Voting Rights Act of 1965, has been gradually legislated out of existence over the past 50+ years. As for police brutality, minorities are many times more likely to be shot and/or killed by other minorities — civilians.
Here is an example of the NFL's idiocy, aptly explained yesterday at The Conservative Treehouse:
The Jacksonville Jaguars and Baltimore Ravens are in England today for a game in London.  When the U.S. National Anthem was played both teams disrespected the USA and yet stood up for the U.K National Anthem 'God Save The Queen'.   Think about that.
This is what happened:
Here's more from The Conservative Treehouse:
The NFL, writ large, is nuts.  They've lost their minds. The NFL players, managers, league officials and owners, along with downstream sport punditry and networks, obviously think virtue signaling their collective unity plays well -mostly in their echo-chamber because of the support from left-wing media- but outside their bubble they are destroying their own business model.  Watch what happens.
Yep. And the NBA (basketball) and MLB (baseball) are starting to do it, too.
This man explains the idiocy of disrespecting the national anthem. Ticket sales will plummet. (Not to mention car park revenues!) Political activists don't attend sports events, everyday patriotic Americans do:
Alex Jones also had a good commentary, discussing how the NFL owners have taken against the American president. That's a big mistake. Jones also points out how the American symbols that teams used to put on uniforms or branding have pretty much disappeared over the years. He also talked about the game held in London:
Most importantly, Jones mentioned an excellent video about The Star-Spangled Banner, which Francis Scott Key wrote. I did not know the full history as shown below.
The British fired at Fort McHenry relentlessly in one battle, yet, the next day, even though it had holes in it, the American flag still stood. Both sides thought it was miraculous. They had never seen such a thing before. And, Francis Scott Key was actively involved throughout. All Americans should see this and share it with their children:
The fourth verse, in particular, reflects the awe at seeing the flag still standing and what that meant for the young republic (see at 30-second mark):
With regard to the protests, fans began turning off NFL last season when all this stupidity started. It doesn't help when a player spits on a fan, either. As MSNBC's Morning Joe's Joe Scarborough — a Trump loather — says:
This is because sport is entertainment, not a political forum. People attend sporting events for a break from the dismal reality of life, including politics.
Yet, the NFL owners and managers are angry with Trump. Trump, they say, should keep his mouth shut. But the NFL started it all by protesting, right?
Former NFL fans and ticket holders burnt team shirts and season tickets at the weekend. Other American fans are cancelling certain cable subscriptions whilst more will boycott NFL sponsors:
This is a good move, too:
I also enjoyed this:
Ironically, although most teams refused to stand for the national anthem — including the Pittsburgh Steelers, excepting Alejandro Villanueva, the veteran who saw three tours in Afghanistan — Sunday, September 24 was Gold Star Mother's and Family's (sic) Day.
Since 1936, the last Sunday in September has been Gold Star Mother's Day. On Saturday, September 23, the president expanded this to include families.
Fox News reported on all the errant teams on Sunday and included Trump's reaction, including the following tweet:
The display marked a tumultuous weekend between the NFL and Trump, who called the players kneeling during "The Star-Spangled Banner" disrespectful. Trump took note of the incidents at the start of the games on Sunday.
He also tweeted:
Contrary to what some on social media are saying — one example — there is no NFL rule on players' conduct during the national anthem or when the flag is present. Atlanta's NBC affiliate has also checked the rule book (as have I). Whilst there are rules about players' physical appearance and attire — and making or gesturing statements — there is nothing about the national anthem.
Now, one could argue about gestures and statements. Remember that Tim Tebow was censured for dropping one knee in thanks for making a touchdown. Also recall last year that players who war 9-11 'Never Forget' footwear on the field were similarly censured. Many think the same judgement should be applied to this current lot of players.
To make a case, here is a citation of the American statute stipulating conduct during the national anthem. It is 36 US Code 301 (emphases mine):
(a)Designation.—
The composition consisting of the words and music known as the Star-Spangled Banner is the national anthem.
(b)Conduct During Playing.—During a rendition of the national anthem—
(1) when the flag is displayed—
(A) individuals in uniform should give the military salute at the first note of the anthem and maintain that position until the last note;
(B) members of the Armed Forces and veterans who are present but not in uniform may render the military salute in the manner provided for individuals in uniform; and
(C) all other persons present should face the flag and stand at attention with their right hand over the heart, and men not in uniform, if applicable, should remove their headdress with their right hand and hold it at the left shoulder, the hand being over the heart; and
(2) when the flag is not displayed, all present should face toward the music and act in the same manner they would if the flag were displayed.
(Pub. L. 105–225, Aug. 12, 1998, 112 Stat. 1263; Pub. L. 110–417, [div. A], title V, § 595, Oct. 14, 2008, 122 Stat. 4475.)
So there. Case closed.
There is a military element to this, too.
Veterans, rightly, are speaking out against these NFL clowns. Here is a Benghazi survivor, Kris Paronto:
I will have more on this tomorrow:
Meanwhile, I'm contemplating the real possibility that NFL will come to mean No Fans Left. Maybe the Pittsburgh Steelers will be known as the Pittsburgh Kneelers, too. Poetic justice.