You are currently browsing the tag archive for the 'The Sun' tag.
My post from last Friday (which includes links to previous ones) was about The Telegraph's Lockdown Files discussed Boris's sister's negative memories of lockdown, the quarantining of holidaymakers, harsh policing, the monitoring of Nigel Farage's (and Piers Morgan's) social media and how No. 10 ignored the Oxford physician Prof Carl Heneghan, who pointed out that the Government data were three weeks out of date.
The Spectator's Chairman, veteran journalist Andrew Neil, who also writes for the Mail and has a programme on Channel 4, was empathetic towards Prof Heneghan, and rightly so. However, it is important to remember that Neil spent much of the pandemic at his home in the south of France. France's lockdown was worse than the UK's: for the first few months of lockdown, you had to have an official note downloaded from a government website just to leave the house for a baguette.
Some of that severity must have rubbed off on Neil, because when the vaccines came out, he wrote that the UK's 5 million 'vaccine refuseniks' must be punished by having their freedoms restricted. Therefore, Andrew Neil can support Prof Heneghan all he likes — in hindsight, by the way — but he must remember his own part in the pandemic:
On another topic, the 100,000 WhatsApp messages that The Telegraph has from Isabel Oakeshott via Matt Hancock were making journalists nervous:
Let us not forget top civil servant Simon Case's role in this, either. How he and Matt Hancock laughed when holidaymakers had to go into quarantine in airport hotels:

Things are looking less 'hilarious' for Simon Case as more of his WhatsApp messages emerge. More on that later.
A mediaeval solution: kill 11m cats
On Wednesday, March 1, 2023, The Express reported that, early in the pandemic, the Government looked at the science around cats and coronavirus (emphases mine):
Britain's 11 million cats were in the firing line at the start of the Covid pandemic, a former health minister has admitted, with the Government considering ordering them all to be "exterminated". Lord Bethell used the surprising example to illustrate the widespread ignorance about the way in which the disease was spread when it first emerged in the UK at the start of 2020.
He said: "There was a moment we were very unclear about whether domestic pets could transmit the disease.
"In fact, there was an idea at one moment that we might have to ask the public to exterminate all the cats in Britain."
He added: "Can you imagine what would have happened if we had wanted to do that?
"And yet, for a moment there was a bit of evidence around that so that had to be investigated and closed down" …
A survey published by the People's Dispensary for Sick Animals (PDSA) last year indicated Britain is currently home to 11.1 million cats, with 24 percent of the UK adult population owning one.
Advice carried on the website of Cats Protection says: "There is limited evidence to suggest the transmission of COVID-19 from people to cats may be possible."
Here is a clip from Lord Bethell's interview on Channel 4 News last Wednesday, March 1:
Isabel Oakeshott soldiers on
Matt Hancock gave journalist Isabel Oakeshott the 100,000 WhatsApp messages about the coronavirus crisis as she co-authored his book Pandemic Diaries which appeared in December 2022. The two agreed at the time that there was just too much information for Hancock to put in one book.
Hancock had been a contestant on ITV's I'm a Celebrity … late last year in the Australian jungle. He said it was to raise public awareness of dyslexia, a condition he himself has, but he only mentioned the word once on the programme. Instead, it would seem he went for his own self-gratification, telling another contestant that he was 'looking for a bit of forgiveness':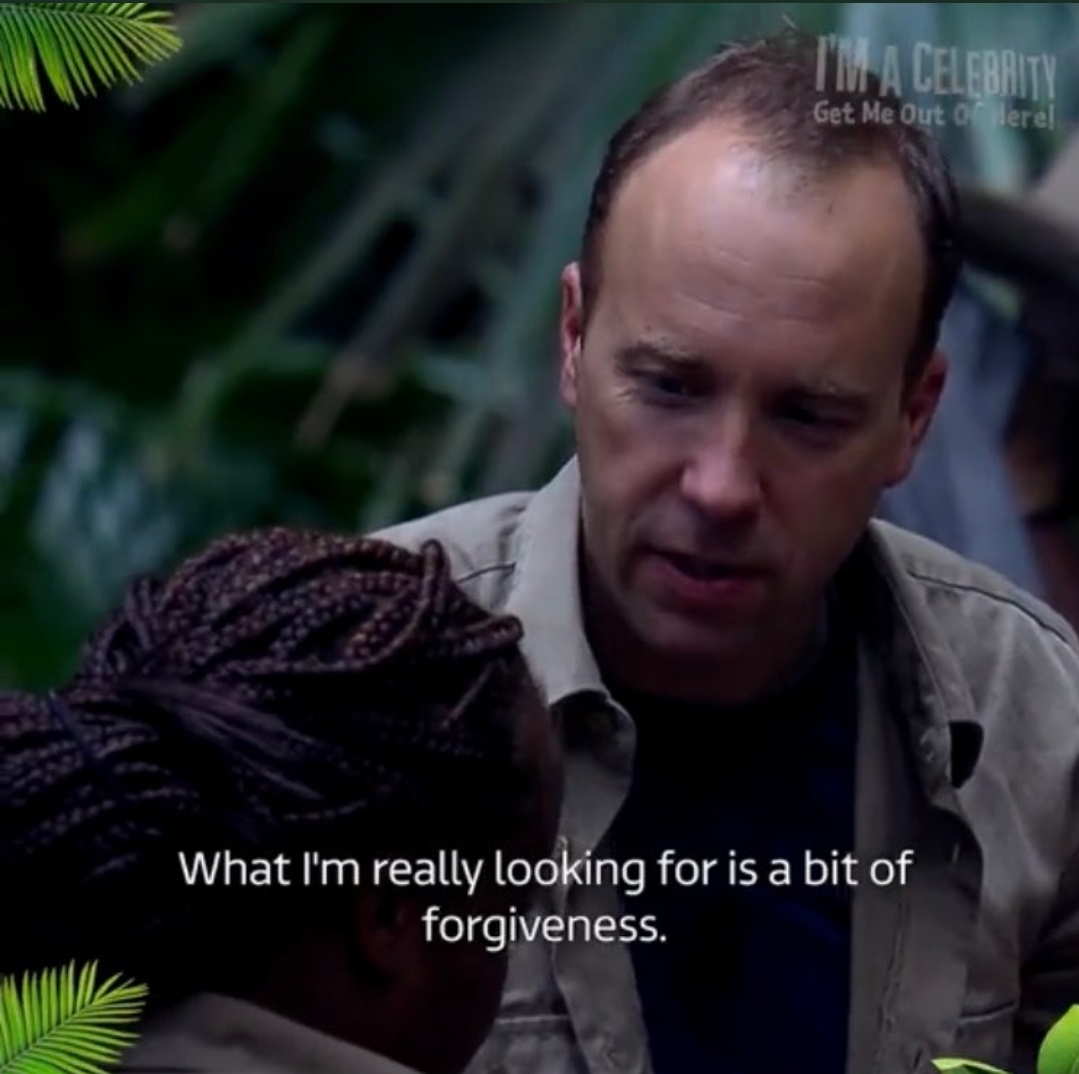 Oakeshott then gave the messages to The Telegraph in the public interest, as there was so much more to explore.
The Guardian spoke to her on Thursday, March 2. I didn't know that Hancock appeared on television, leaving her to finish the book:
Isabel Oakeshott has said her relationship with Matt Hancock soured after he abandoned her in the middle of writing their book in order to appear on I'm a Celebrity.
As she faced ethical questions over her decision to breach her non-disclosure agreement with Hancock and take his WhatsApp messages to the Daily Telegraph, Oakeshott said she chose the newspaper for ideological reasons, because it "pushed back against lockdown during the pandemic".
She told the Guardian she had spent last year pouring all her energy into co-writing Hancock's pandemic diaries, only for him to vanish while arguing with the government over what they could publish.
"I didn't think about any further pandemic-related project until after publication of Matt's book in December. That process had been utterly all-consuming, especially since he vanished to the jungle at a critical moment in very difficult dealings with the Cabinet Office. He didn't tell me he was going," she said.
Rumours that the Telegraph was working on a top-secret project, with a special team of reporters seconded from the main newsroom, had been circulating in journalism circles for weeks. But the revelation that the story was a leak of Hancock's private WhatsApp messages took staff at rival newspapers – and especially Hancock – by surprise.
Oakeshott's primary employment is with News UK, which comprises TalkTV, where she works, as well as Times Radio, The Times and The Sun. Her colleagues were unhappy that she gave the messages to the rival Telegraph:
This was felt especially keenly at Rupert Murdoch's News UK, where Oakeshott enjoys a generous salary to be international editor and appear as a regular pundit on its talkTV channel. On Wednesday night, the TalkTV presenter Tom Newton Dunn said the Sun's political editor, Harry Cole, had had a "bit of a dust-up" with Oakeshott outside the studio.
Cole said: "I just think it's a dubious choice of newspaper, a rival news organisation getting all the glory."
Newton Dunn asked: "You'd prefer she go to the Sun?"
Cole then listed various News UK-owned publications: "The Sun, Times, Sunday Times, other vessels are available in the building."
For her part, Oakeshott has made clear she is employed on a freelance basis by News UK's television channel and is free to work for other newspapers.
She said she took the WhatsApp messages to the Telegraph because of its opposition to lockdowns. "The story simply did not fit with the editorial stance of any News UK paper. None of these brilliant titles pushed back against lockdown during the pandemic."
Exactly when Oakeshott passed the messages to the Telegraph is less clear, although the prominent lockdown sceptic says she did not decide to ghostwrite a book by the pro-lockdown Hancock with the intention of leaking his private messages.
Even though NewsUK did not break the scoop, TalkTV has given it much airtime:
The lockdown files are catnip to her employers at TalkTV, where presenters and guests have been consistently critical of Hancock and the government's lockdown policies during the pandemic. As a result, TalkTV has featured Oakeshott heavily for the last 24 hours, including in appearances on the primetime Piers Morgan show, the breakfast show with Julia Hartley-Brewer, and on Mike Graham's mid-morning slot.
Graham said while introducing Oakeshott: "The world is a different place to where it was a couple of days ago, because in the last two days an incredible story has emerged thanks to Isabel Oakeshott, TalkTV's international editor. If it wasn't for her, this wouldn't be happening. So let's just remember that."
Incidentally, Oakeshott has been in a relationship with Richard Tice, leader of the Reform Party, since 2019. One wonders if a by-product of these revelations will be fewer Conservative votes at the next general election in 2024.
On Saturday, March 4, the title of Oakeshott's Telegraph column read 'Was I right to leak Matt Hancock's WhatsApp messages? Here's what you told me'.
Of course, she received negative messages and letters. However, she says that those she received from parents, grandparents and people involved with care homes were supportive. A few of them follow:
"Dear Isabel, my son committed suicide after lockdown as he missed school and gained a lot of weight. He died in December 2021 and was an indirect victim of lockdowns. This government is criminal. Good on you, keep going!"
"As the daughter of an ex-care home resident who suffered immeasurably from Hancock's lockdown policies, I really can't thank you enough. But I also offer thanks on behalf of thousands of care home residents and their families who equally suffered, including members of my own pressure group Unlock Care Homes." Amanda Hunter: Chair of Social Care at the Together Association/Co-founder of Unlock Care Homes
"My father died alone of congestive heart failure, unable to be visited by anyone despite neither he nor they testing positive for Covid. A man with family and friends numbering in the dozens had 12 people at his funeral."
She even received support from an NHS doctor:
"Dear Isabel, As an NHS doctor I would just like to add my support to you in publishing the Hancock messages, which are so overwhelmingly in the public interest.
"I know that I am not alone in my particular department in being opposed to lockdowns and a lot of the policy decisions that were taken around Covid. And those are just the ones who have been brave enough to say so. I imagine there is a strong constituency of doctors, nurses and other health professionals that feel the same in the NHS. Over and above this, as a product of a working class family, I am devastated about the effect this will have on social mobility through education and achievement. These are the only ways to move up in society and we have deprived a whole generation of this opportunity, which is a travesty. Keep doing what you are doing. Best wishes".
That day, Oakeshott's TalkTV colleague and fellow Covid sceptic Julia Hartley-Brewer wrote an editorial for The Telegraph, 'The journalists condemning Isabel Oakeshott for doing her job didn't do theirs properly':
The Lockdown Files have been full of extraordinary revelations, but perhaps the most extraordinary of all has been the news that some journalists believe that we should never be allowed to know the real truth about how lockdowns, mask mandates and vaccine passports were imposed on our nation …
No journalist worth their salt could possibly question the validity of the public interest defence for Isabel Oakeshott to reveal the truth behind the most extraordinary, damaging and costly government policies in living memory.
Unless, of course, that truth collided head-on with their own deeply held conviction that lockdowns, school closures, mask mandates and vaccine passports were all sound policies based on incontrovertible scientific fact and vital to save hundreds of thousands of lives during a deadly pandemic.
How could they – the guardians of the truth – ever bring themselves to admit that they were wrong about lockdown? …

Remember, these are the same journalists who spent day after day at the No 10 Covid press conferences battling with each other to be the first to demand more and more stringent lockdown measures from Boris Johnson, Matt Hancock et al.
They are the same journalists 
who never once asked what the actual evidence was to support the measures pushed by Prof Sir Chris Whitty and Sir Patrick Vallance, while happily smearing the scientists and medics who dared to point out that our pre-pandemic planning existed for a reason and perhaps we should follow that rather than co-opting the totalitarian response seen in China.
And these are the same journalists who asked more questions about Scotch eggs in one week than they asked about the Government's cost-benefit analysis for shutting schools during the entire pandemic …
Maybe if those journalists had bothered to ask the right questions in 2020 and in 2021, then we wouldn't have to search for the answers in the morass of Matt Hancock's WhatsApp messages in the here and now.
Perhaps if, instead of sitting smugly at home for months on end enjoying their freshly baked sourdough while the country's finances, physical and mental health were all systematically destroyed, those journalists had done their job properly, then Isabel Oakeshott wouldn't have to do it for them now.
Here is one such journalist, Cathy Newman of Times Radio — one of Oakeshott's News UK colleagues — who took so many potshots at her, including revealing her salary — that she terminated the interview. This took place on Friday, March 3:
The Guardian tells us:
Oakeshott clashed with Cathy Newman on Friday during a Times Radio interview, in which Newman questioned Oakeshott on her decision to work with the Telegraph on the story, rather than her colleagues at TalkTV or affiliated papers the Times, the Sunday Times and the Sun.
Newman had asked whether it was fair that "producers and reporters on a fraction of your salary were having to kind of put up with your sloppy seconds, and follow up on the story in a rival newspaper", making reference to her £250,000 salary.
Oakeshott replied: "I'm just not going to go down this route, Cathy," adding: "I think people are much more interested in what the investigation reveals."
"Most of our listeners won't know the individuals that you're referring to," said Oakeshott. "I think that it's kind of absurd that you should be quoting wild figures about my contract with any news organisation. That's my business, it's not yours."
Newman continued with the line of questioning, with Oakeshott repeatedly threatening to hang up. "I'm going to terminate the interview. This is my last warning, OK," she said.
She then accused Newman of being "unprofessional", and in turn asked her how much she was paid by Times Radio.
"I haven't hit the headlines. You've hit the headlines, Isabel," Newman said. "Well, maybe if you broke some stories you would," Oakeshott replied.
The interview ended when Oakeshott hung up halfway through a question about her protection of her sources.
However, Oakeshott had a happier experience with two of her Telegraph colleagues, Christopher 'Chopper' Hope and Investigations Editor Claire Newell, who came back from Christmas break to find that she was part of The Lockdown Files team:
Newell said that the journalists on the team, starting with seven and rising to ten, were allocated with separate batches of messages to co-ordinate and discuss. For security reasons, none of their PCs had internet connectivity, something they learned from the paper's 2009 expenses scandal investigation.
Oakeshott says that investigating the messages was '100% worth it', despite the fierce opposition she has encountered. She hopes that The Lockdown Files will accelerate the public inquiry, which is supposed to begin this month. As for lockdown and the other measures, she says that the cure was worse than the virus.
Those wishing to hear about how Boris was likely manipulated can fast-forward to the 15:20 mark. Oakeshott thinks that his being so seriously ill in hospital with the virus had an impact on his outlook. She adds that Boris was one of the few people to ask questions about relative risk, e.g. more people are likely to die from falling down the stairs, yet we don't ban staircases. Alas, it was to no avail.
Guido Fawkes supports Oakeshott's release of the WhatsApp messages:
I fully agree.
Guido received two types of reaction. Many applauded Oakeshott, then there were the negative people who said there was nothing new.
Allow me add my own impressions at this point. Having followed this pandemic closely since February 2020 and having heard every coronavirus briefing, I thought that the clinicians and other 'experts' on SAGE were directing Hancock. However, having read The Lockdown Files through to what appeared in The Telegraph on the morning of Tuesday, March 7, it looks more like Hancock took every worst case scenario that SAGE presented and ran with it to boost his own standing with his Conservative colleagues, the civil service and the British public. How wrong he was!
And how mistaken I was for getting the wrong end of the stick. I mention this because those who say they learned nothing new from The Lockdown Files clearly have not read them.
Hancock's shock about his affair — and that photo
As we recall, Hancock's downfall came in June 2021 when The Sun splashed the photo of him in a tight clinch with his girlfriend, an adviser at the Department of Health and Social Care. He resigned as the Secretary of State for Health and Social Care a few days later.
This was Saturday's story in The Lockdown Files.
Some of the language is spicy, so be warned.
The Guardian has an excellent summary:
The messages, published by the Telegraph, show Hancock discussing the guidance in place at the time and deciding what his initial response to media questions should be.
As he awaited publication, Hancock asked his special adviser, Damon Poole: "How bad are the pics?" Told it was a "snog and heavy petting", he replied: "How the fuck did anyone photograph that?"
The messages also show the reaction of Hancock and [Gina] Coladangelo to a video obtained by the Sun.
"OMFG," Coladangelo said.
Hancock said: "Crikey. Not sure there's much news value in that and I can't say it's very enjoyable viewing."
There was a shedload of 'news value in that', thanks to Harry Cole and his editors who published the photo and later posted the video, both from an anonymous source. We were under visiting and social distancing restrictions at the time.
The article continues:
Hancock set up a WhatsApp group called "Crisis Management" with Poole and Coladangelo. They talked about the transport secretary, Grant Shapps, going out to support Hancock in broadcast interviews, saying he was "probably the best person you could hope would be out this morning" other than the prime minister.
Poole asked Hancock and Coladangelo to think "really hard" about whether they could have broken any Covid rules.
Referring to the social distancing rule to keep 1 metre apart from others when 2 metres was not possible, Hancock said: "Other than obviously the 1m+ I honestly can't think of any." He then said that the worst thing he and Coladangelo could be accused of was that they had "kissed before they legalised hugs".
At the time, the UK was in step 2 of the coronavirus regulations, which criminalised indoor gatherings "of two or more people".
Separate government guidance in place at the time stated that people should maintain social distancing of 1 metre-plus.
The messages also show that Hancock asked Poole to "keep the focus" on whether Coladangelo's appointment as a paid adviser had broken any rules, rather than whether their embrace had broken social distancing restrictions.
See? The wrong focus. Clearly, Hancock does not want people knowing the background to this:
A spokesperson for Hancock said: "There's nothing new in these messages, and absolutely no public interest in publishing them given the independent inquiry has them all. It's highly intrusive, completely inappropriate and has all been discussed endlessly before."
Now let's go to the full version in The Telegraph :
It was 1am when the pictures were published online of Matt Hancock and his aide Gina Coladangelo in an intimate embrace in his ministerial office.
Just three minutes later the health secretary and aides began a frantic scramble to save his political career.
In the 41 hours that followed, Mr Hancock tried desperately to find exceptions to the rules to justify his behaviour.
His WhatsApp messages reveal the forever changing statements he planned to give to the public, from claims that no rules were broken, to apologising for breaking the guidance to eventually tendering his resignation.
He desperately looked for MPs and former MPs to support him:
As his Cabinet position looked increasingly threatened by the weight of public outrage, the health secretary and his aides tried to recruit more than 25 Tory MPs to publicly defend him, including eight former and current Cabinet ministers.
As his pleas for public support appeared to fall on deaf ears, Mr Hancock celebrated the public support from former foreign secretary Lord Hague as "gold dust".
Dear, oh dear. Hancock really must have been desperate.
The Telegraph has screenshots of the WhatsApp messages, which readers may find entertaining. I certainly did.
The messages reveal that Hancock and his friend's 'first encounter' was on May 4, 2021, definitely when physical contact was, for all intents and purposes, banned.
Media reaction either focused on that or on Hancock's preferred target, Coladangelo's appointment:
Mr Poole notes that the "trickiest" reaction "so far" was a message from Paul Waugh, the chief political commentator at the Huffington Post. Mr Waugh said: "Imagine if you've been literally banned by a govt from hugging your own grandchildren cos they are in 'a different household' and the health secretary has been hugging his lover from 'a different household'."
At 9.13am, Beth Rigby, Sky's political editor, tweeted that Labour's response was "everyone entitled to a private life" but that Ms Codangelo's appointment which involved taxpayers' money "needs to be looked into". Mr Hancock responded: "Great – going on that not the proximity".
Ms Rigby then messages Mr Poole with further questions about social distancing rules, which Mr Hancock says he doesn't want to acknowledge breaking. Mr Poole sends over a link about the law at the time, when Britain was Step 2, and Mr Hancock says that their affair was "arguably charitable", which was one of the exemptions.
How could it have been 'arguably charitable'? This was so typical of Hancock: rules for the plebs and none for himself.
According to the messages, two of Boris's advisers wanted Hancock to admit breaking social distancing rules.
Hancock and his team began looking back at his media interviews during May 2021:
Mr Hancock was talking about personal choice at around the same time that he began his affair with Ms Coladangelo, on May 4. However, he had said that people would only have a personal choice from May 17, when the law changed and England moved into Step 3 of coronavirus regulations. On May 11 when asked by Sky News whether people could hug when the restrictions eased to allow groups of six people to meet indoors and 30 to meet outdoors the following week, he said that the Government would be "trusting people's personal responsibility". Mr Hancock appears to realise that there is a discrepancy in dates.
Just after 11am Mr Hancock seems to have realised that he has to apologise, saying that he is "emotionally" up for it but that before he commits he wants to know the strength of support No 10 will publicly give him.
They go through 14 iterations of his statement over the course of the hour, with Ms Coladangelo commenting that they need to make it more "real". Mr Poole sends it out at 12.16pm. However, the request for privacy did not stop the deluge of questions. They try to decide what guidance they will give to journalists on background to shut down questions of law breaking. Mr Hancock eventually clears the release of a statement which says that they did not break the rules as "various" exemptions were in place …
Really?
Then questions about possible violations of the Ministerial Code arose: whether Hancock's and Coladangelo's relationship was a 'proper and appropriate' one.
Meanwhile, public outrage was building. Hancock needed support from his fellow Conservative MPs:
As the public backlash grew, Mr Hancock and Allan Nixon, his parliamentary special adviser, separately tried to drum up support in the House of Commons. The first message of the day that Mr Hancock sends to his aide is a list of names including some of the Tory Party's biggest hitters.  
The 'biggest hitters' were Cabinet members, present and past.
Hancock was relieved that Lord Hague went public with his support, however, The Sun's Harry Cole, who broke the story was receiving more information:
… it appears that Lord Hague's intervention is not enough to stem the tide of criticism, and Mr Cole gets in touch with more information from a source inside Mr Hancock's ministerial office, leading to the admission that the office kiss was not "exactly a one off" …
A screenshot of the messages shows Damon Poole asking Hancock and Coladangelo whether that was true. They both reply in the affirmative, with Coladangelo typing:
FFS
Yes
Another set of messages shows Coladangelo's offering to resign and making it public in the newspapers the next day. Both Poole and Hancock say no. Hancock gives his reason why not:
It adds pressure on me to go
Later that evening, news breaks that The Sun has the accompanying compromising video.
The next morning, the messages were turned on to 'disappearing' mode so that they cannot be retrieved. The Telegraph says these were about Hancock's imminent resignation.
Hancock enlisted the help of his mentor, former Chancellor George Osborne, who had left politics and was editor of London's Evening Standard at the time:
it appears that most of his guidance was given offline.
Hancock publicly issued a copy of his resignation letter and a video, which was cringe worthy.
Before those went out, Osborne:
reminds him that he should probably apologise to his family and cautions him against revealing that he has fallen in love with Ms Coladangelo, who by his own account he has been in a relationship with for seven weeks.
Osborne's message reads, in part:
We'll leave out the last two seconds!! I like the 'only human' The key question is whether you want to use the word 'love' – it feels a little awkward and premature.
Forty-one hours after The Sun's exclusive broke, Hancock found himself returning to the backbenches.
A nation rejoiced.
More to follow tomorrow.
Anyone who has missed the previous entries in the series of former Health Secretary Matt Hancock, now a backbench MP with the Conservative whip withdrawn, can catch up on Parts 1, 2, 3, 4 and 5.
I left off on Friday, June 25, 2021, with Dominic Cummings's Substack post on Hancock's and Boris Johnson's handling of the pandemic.
However, the big news that day was The Sun's front page — a 'world exclusive' — which had a large photo of Hancock handling a part of his assistant's anatomy. A security camera captured the image a few weeks before, when social distancing was still in place:
It was bad enough, as I wrote, that he lost all credibility with the Queen the day before when she aired her views to Boris during their weekly meeting.
But The Sun's scoop surely meant that Hancock's dictatorial time was up. And, lo, so it was:
UK coronavirus news: Matt Hancock's final 48 hours as Health Secretary (June 25-27)
That post included these tweets, the first about his marital situation …
… and the second and third featuring polls saying that Britons wanted him gone, especially under those circumstances:
It was a wonderful start to the weekend.
Matt Hancock's side of the story
In the final instalment of Hancock's Pandemic Diaries that the Mail published, he tells his side of the story. Emphases mine below.
Friday, June 25:
The Sun published the story at 2am as a 'world exclusive'. The picture was a grainy CCTV image of me and Gina embracing in my departmental office.
It was immediately obvious that the story would be huge.
I knew I had to get out of London, and my wonderful driver Mark came to pick me up very early and take me to stay discreetly in the countryside.
At about 8am, a welcome call from No 10: Dan Rosenfield [chief of staff] to say they'd got my back. He offered any support we might need, including sending a Conservative Party press officer to my house.
By 9am I'd had half a dozen sympathetic messages from ministerial colleagues: a terrible sign. They knew that I was in deep trouble.
Nadhim [Zahawi, Minister for vaccine deployment] sent me a piece of advice 'from a brother', which sounded very much like an appeal not to resign.
Meanwhile, I went back over all our movements and tried to think of any other rules we might be accused of breaking. Other than the one-metre-plus rule, I couldn't think of any. 'Should I do a fast apology for letting everyone down/breaching guidance?' I asked.
Gina thought it was a good idea, so Damon [Poole, media adviser] began crafting a short statement. I tried to focus on the words, but my head was spinning. The final version of the statement, which went out at lunchtime, accepted that I breached social-distancing guidance and said I was still focused on working to get the country out of the pandemic. I hoped it would quiet the furore.
Yet the story continued to rage: on all the news websites, on the BBC, on Twitter and on just about every other conceivable news outlet.
By mid-afternoon, there were still suggestions that we'd broken the law. It was categorically untrue, and Damon thought we needed to brief harder or put out another line. 'What's wrong with 'No laws were broken'?' I suggested.
Round and round in circles we went, trying to find the right words. Damon's mobile phone was practically melting, and I was more stressed than I have ever been in my entire life.
All afternoon, the 'what, when, where, who, why, how much?' questions continued. Journalists began suggesting I might have broken the Ministerial Code. I hadn't, but I could see the way this was going.
My local constituency association in Suffolk was wonderfully supportive. Allan [Nixon, special adviser] worked the phones, trying to get MPs to say something helpful.
My spirits lifted a little when William Hague [former Tory leader] publicly declared that I shouldn't resign. Not for long, though: by late afternoon it was clear tomorrow's papers will be hideous.
Saturday, June 26:
Privately, I was still getting positive messages from colleagues. Publicly, few were willing to defend me. Politically, I was increasingly isolated. I felt desperate for my family, my children and Gina's family and her children, and powerless to protect them. Worse was the knowledge that Gina and I had brought all this on them.
Gina's feelings of shame and guilt were nearly overpowering her. The jokes and cartoons on social media were excruciating. We were being publicly humiliated, again and again.
While close friends and family were amazing, I also had messages from friends and colleagues who had had terrible lockdown experiences and were very upset. Their disappointment in me – and their sense of betrayal – was agonising.
It is all my fault, of course. I knew I had to take responsibility. I knew in my heart that I had to resign.
I went to Chequers to see the PM. I explained that I had been thinking about what had happened and how it had made people feel – and that my mind was made up. The damage to my family and to the Government was too great.
I told Boris I had to resign.
He was regretful but didn't argue. We sat on the patio and talked about what this would mean for the management of the rest of the pandemic.
An exchange of letters was prepared, offering and accepting my resignation, and we each edited our letters. We had to decide how to make the announcement, what to say and how.
I must have shot a thousand videos over the course of the pandemic, levelling with the public and thanking the NHS for their dedication. This would be the last.
In the end, the great machinery of the State was nowhere. It was just me and the PM fumbling around with an iPhone. He stood on the grass, holding the phone while I said my piece. It took a few goes to get it right.
He nodded sympathetic encouragement so much throughout the first take that the camera waved up and down. In the end it wasn't perfect, but I was beyond caring: I had to get it out.
Now messages of sympathy and support flooded in: from my team, the Prof [Chris Whitty, the Government's Chief Medical Officer], JVT [Jonathan Van-Tam, the Deputy Chief Medical Officer], Pascal [Soriot, head of AstraZeneca] – and just about everyone else who worked so hard alongside us to save lives.
I'm incredibly grateful to all my team, especially my spads [special advisers] and private office, for going above and beyond in supporting me in what is such a difficult time for them, too.
'I'm so sorry,' I told them all. 'I mean, the honest truth is I made a mistake due to love and it doesn't matter that it was only guidance. I should not have broken advice that I myself signed off.'
This evening Jamie N-G [Njoku-Goodwin, former spad] whose endless advice – offered long after he stopped working for me – has been so valuable throughout the pandemic, messaged to say I'd done the right thing.
'There is so much you have done that you should be incredibly proud of. There are people alive today who wouldn't be if you hadn't made the decisions you did,' he said.
'I love her. That's what screwed my judgment,' I replied wretchedly. 'Love does that to us all. I hope you can both be happy,' he said.
'Of that I have no doubt,' I replied.
As for Boris – well, if anyone knows how to survive a catastrophic political and personal mistake, it's him.
'Time to dive beneath the ice cap,' was his advice.
Here's the awkward video from Sky News:
That concludes the Mail's excerpts from Pandemic Diaries. The paper posted the following (emphasis in the original):
Matt Hancock's book sale royalties will be donated to NHS Charities and good causes relating to dyslexia. 
Hancock is a dyslexic and had special tutoring to enable him to pursue his studies at Oxford University.
The book is available now. Someone on social media repositioned it at a bookshop in the Crime section: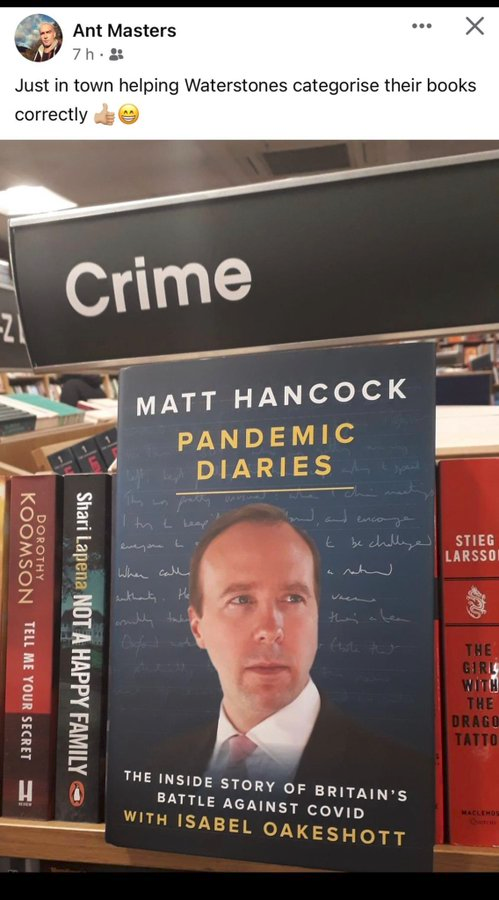 However, as my post on his last 48 hours as Health Secretary pointed out, Hancock told us in April 2020 that social distancing was more than guidance, it was an 'instruction'. I'd included this tweet as proof:
In the days that followed, Sajid Javid — Boris's first Chancellor — became our new Health Secretary. Questions whirled about the camera, security breaches and ministerial code breaches. Oliver Tress is the name Hancock's girlfriend's husband. He owns the Oliver Bonas chain of shops:
UK news: Sajid Javid's return to Cabinet as Health Secretary (June 27-28)
UK coronavirus news: will Matt Hancock be investigated? (June 28; Oliver Tress, restriction-free Wimbledon video)
MPs worried about Matt Hancock's security camera (June 28)
By now, most Britons know that Hancock met his girlfriend when they were undergraduates at Oxford. They both worked at the student radio station. Recollections from their contemporaries differ as to whether Hancock was part of the in crowd or whether he was a geek on its periphery.
Sky News's Beth Rigby put that period of history in perspective for us:
On June 26, 2021, The Telegraph explained how the woman got involved in Hancock's parliamentary career:
Gina Coladangelo started work for Matt Hancock during his short-lived Conservative Party leadership campaign in 2019, it has emerged.
Sources said Ms Coladangelo provided unpaid advice on the Health Secretary's bid to replace Theresa May.
The work coincided with Mr Hancock sponsoring a parliamentary pass at the same time for his longtime friend, who has worked as communications director of Oliver Bonas, the homeware store, since 2014.
Mr Hancock declared his candidacy during a broadcast interview on May 25 2019, saying "we need a leader for the future, not just now".
He quit the race on June 14 2019 – a day after coming sixth in the first ballot of Conservative MPs.
Ms Coladangelo was registered as holding a pass sponsored by Mr Hancock under her married name, Gina Tress, from June 2019.
Sources suggested she then started providing unpaid advice to Mr Hancock during the Covid-19 pandemic, before she was hired as a non-executive director at the Department of Health in September.
Her non-executive directorship also raised eyebrows. Who appointed her and how?
Tatler's profile of Hancock, published on June 28, told us:
… Both Hancock and Coladangelo, who were contemporaries at Oxford, have three children …
But, what of this relatively youthful minister? In 2014, he was touted as a junior minister with the skills 'to reach the top'. Certainly, academically, his results are a tour de force of excellence, a first at Exeter College, Oxford, in what many consider a politician's 'rite of passage', Politics, Philosophy and Economics (PPE). He worked briefly for a Tory backbench MP before breaking loose as an economist at the Bank of England specialising in the sterling money markets and on housing, before being sent to do a masters at Cambridge. On return, he was plucked out by George Osborne (in 2005) to join the Conservative economics team, later becoming the future chancellor's chief of staff, and a bonafide 'high-flyer'.
It was in 2010 that he became an MP for West Suffolk, and today – or at least before the lockdown – he balanced his time between his weekday home in London and his abode in Little Thurlow, in his Newmarket constituency, at the weekends. He has admitted that the work-life balance can sometimes be a challenge, explaining in an interview with the Financial Times in 2014, 'I pay a lot of attention to timetabling. Both my professional and social and family time gets booked up a long way in advance and then you have to be strict about it.'
Hancock married an osteopath, Martha Hoyer Millar, in 2006, and together they have three small children, a daughter and two sons as well as a dachshund called Hercules (which Hancock will occasionally document via his Instagram). With noble connections, Martha, a red head, is the granddaughter of Frederick Millar, 1st Baron Inchyra, a British diplomat who served as Ambassador to West Germany from 1955 to 1956. Baron Inchyra had four children, two sons and two daughters, their youngest, Dame Annabel Whitehead, was a Lady-in-Waiting to Princess Margaret and later to the Queen …
By his own admission, Hancock is fiercely competitive. He once, in 2012, trained as a jockey and won a race at the beating heart of British racing, Newmarket, in his constituency. Going the whole hog, he trained rigorously, shedding two stones and even seeking advice from champion jockey Frankie Dettori. He keeps it up; in December, 2019 he posted a video of himself galloping atop a racehorse on the Newmarket heath, summarising afterwards, 'absolutely exhilarating, every single time'.
It's been far from plain sailing for Hancock, he's overcome his own difficulties. One being dyslexia. His political career apparently practically ended before it even started, when a simple spelling mistake relayed the dead opposite of what he was trying to communicate. As a young Tory campaigner in Guildford he wrote an election leaflet. Instead of saying that candidate Nick St Aubyn wanted to 'unite' the community during the 2001 election, a then 22-year-old Hancock wrote: 'I want to untie the community'. The mistake was spotted after the leaflet had been printed and landed in 50,000 letterboxes. St Aubyn went on to lose the seat by 538 votes.
Hancock reportedly winces at the memory, but told the tale since he does not want other dyslexics growing up thinking they are 'useless' like he did. His wife, too, is dyslexic. He says he got on by focusing on numbers-based subjects, taking A Levels in maths, physics, computing and economics, but told the Telegraph, 'I wish I had been diagnosed earlier'.
Sheer hypocrisy
On June 25, before he resigned, the media rightly began enumerating Hancock's diktats and his own actions, proving the man's hypocrisy.
… How has the Secretary of State for Health and Social Care managed to cling on this long in the first place? …
As the man in charge of England's health system when the pandemic struck, he is accused of overseeing the disastrous discharge of Covid-positive hospital patients into care homes, mismanaging the supply of personal protective equipment, and the multi-billion pound failure that is NHS Test and Trace.
According to Mr Cummings, Mr Hancock "lied" to Mr Johnson and the public about much of this …
Mr Hancock strenuously denies much of this.
Nevertheless, it comes on top of allegations that he awarded a lucrative contract to supply the Government with tens of millions of Covid test vials to a former neighbour, who lacked experience producing medical supplies after he received a WhatsApp from him.
He also committed a "technical" breach of the ministerial code by failing to declare that a firm run by his sister, in which he has a 20 per cent stake, had been awarded an NHS contract …
The danger lies in the familiar territories of hypocrisy and the alleged "chumocracy" of the Johnson administration.
If Mr Hancock's embrace of Ms Coladangelo contravened government guidelines, as he has now admitted it did, many will remember his reaction to last year's Neil Ferguson scandal, where he suggested it could be a matter for the police, not to mention countless hugs with loved-ones missed over recent months.
Meanwhile, if evidence emerges suggesting that Ms Coladangelo was brought into the Government because of her personal relationship with Mr Hancock, rather than her expertise, the rap sheet all too quickly becomes too heavy to survive.
The Spectator's Steerpike, their gossip columnist, posted 'Nine times Matt Hancock told us to obey the rules', most of which follows (bold dates in the original):
From threatening to ban outdoor exercise and close the beaches to advising against sex outside 'established' relationships, Mr S presents his round-up of Hancock's best/worst moments:
9 February 2021:  Ten years in jail for Covid returnees
Hancock announced that people returning from holidays who conceal that they've been in a red list country would face a prison sentence of up to ten years …
1 February 2021 'Don't even think about stretching Covid rules'
At another No. 10 press conference, Hancock gave an update on the South African variant in which he said that those living in postcodes affected by the mutation should 'not even think about stretching the Covid rules.'
10 January 2021: Hancock claimed that flexing of rules 'could be fatal'
The Health Secretary appeared on the Andrew Marr Show where he was asked about the police fining two women who went for a walk five miles from their homes. Hancock told Marr: 'Every time you try to flex the rules that could be fatal' and that staying at home is the 'most important thing we can do collectively as a society.'
24 September 2020:  Hancock warned people to 'be sensible' when having sex during lockdown
Asked about the government's guidance that only 'established' couples should be having sex, Hancock told Sky News: 'There have to be boundaries, to coin a phrase.' He warned against casual sex, advising the public to stick to 'well-established relationships' and joking, 'I know I am in an established relationship,' with his wife …
5 July 2020: Hancock threatened to shut down non-compliant businesses
In an interview with Sky Hancock said: 'We also have the authority to shut down a business if it doesn't follow that [Covid] guidance.' When asked by Sophy Ridge if he is 'looking at shutting down businesses' Hancock replied: 'Yes and that's happened, absolutely'. He added: 'We're not just asking nicely, we're very clear to businesses that these are their responsibilities.'
25 June 2020: Hancock theatened to close the beaches
After sun lovers flocked to the seaside on Britain's hottest day of the year, Hancock warned that he could close beaches …
5 April 2020: Hancock threatened to ban outdoor exercise
At the beginning of the first lockdown, Hancock criticised sunbathers and warned the government would ban outdoor exercise if people continue to ignore government advice. He said on Sky that those who flout the guidance were 'putting others' lives at risk and you are putting yourself in harm's way'. He told Andrew Marr that same day: 'I don't want to have to take away exercise as a reason to leave home… if too many people are not following the rules.' He added: 'If you don't want us to take the next step and ban exercise… then the message is very clear… you have to follow the rules.'
Sickening.
The Mail has a report with reactions from several journalists also calling out Hancock's disgusting hypocrisy, well worth reading.
Questions, questions
Also on June 25, The Spectator's Isabel Hardman asked:
Why was it appropriate for Gina Coladangelo to have a parliamentary pass, to become an unpaid adviser at the department and then to receive the paid non-executive director post?
… the important matter here isn't the affair: these things happen and they're not normally anyone else's business. But where it becomes other people's business is when the affair is interlinked with government business and taxpayer's money. 
Then there's the hypocrisy charge, not just from someone in a government that has restricted personal freedoms so much this past year, but from the very minister responsible for the lockdown legislation and guidance. 
Questions about the camera and security were many.
At lunchtime that day, The Telegraph reported:
The Government Security Group, which is in charge of security at 800 buildings across Whitehall, has been asked to investigate, with Alex Chisholm, the Cabinet Office Permanent Secretary, expected to be in charge of an inquiry.
There have also been calls for MI5 to get involved in order to rule out any involvement from hostile foreign states.
Government insiders said it is "unheard of" for security cameras to be placed in the offices of Secretaries of State, raising questions about whether the footage of Mr Hancock was filmed on a pre-existing camera or could even have been filmed by a camera deliberately placed there to catch him out.
Day-to-day security at government buildings is typically contracted out to private firms, though the Department of Health and Social Care has yet to confirm if this was the case at their offices in London's Victoria Street …
One source said: "There are an awful lot of questions that need answering. Lots of government buildings have cameras outside offices that film people going in and out, but I have never seen one inside a Secretary of State's office. It's unheard of.
"What was that camera doing there, was it even a CCTV camera, and did Matt Hancock know it was there?
"More importantly, who is it that has access to what is going on inside that office? We are talking about people being able to spy on a Secretary of State, so this is a serious breach of security, regardless of what you think of Matt Hancock's behaviour" …
Among the questions the Government Security Group will have to answer is whether proper vetting was carried out of staff who have access to CCTV footage, and whether they have been required to sign the Official Secrets Act.
Breaches of the Official Secrets Act can carry a maximum punishment of 14 years imprisonment.
The paper had a follow-up article that evening:
The Telegraph understands Mr Hancock had no idea the camera existed when it captured him kissing adviser Gina Coladangelo …
It raises the possibility that the camera was deliberately placed by someone with access to his office with the intention of catching the pair cheating on their spouses and breaking Covid rules. It is the first time a Cabinet minister has been filmed in their own office without their knowledge.
In a further twist, the Department of Health and Social Care's offices use CCTV cameras made by the Chinese company Hikvision, which is banned in the US because of national security concerns …
One theory being investigated is that the footage was filmed by someone on a mobile phone as it was being played on a CCTV screen, which could make it more difficult to prove who was responsible.
While the revelation could spell the end of Mr Hancock's Cabinet career, the leak has also triggered a red alert in the Government over who could be spying on the country's most senior ministers …
A source told The Sun that the pair had regularly been caught embracing and that their affair was an open secret among staff. The newspaper claimed the footage was released by a whistleblower disgusted that Mr Hancock was breaking Covid rules while telling people to obey them.
At the time, the country was in stage two of the lifting of lockdown, meaning hugging anyone from outside your own household was banned. On Friday, Mr Hancock admitted breaching social distancing guidance and said he was sorry for having "let people down" …
The £144 million building is owned by Singapore-based property firm Ho Bee Land, which bought it five years ago and has not so far responded to requests for comment.
Cameras on the outside were made by Hikvision, which is owned by the Chinese state and banned in the US because of national security concerns and alleged human rights violations. The firm is alleged to have provided cameras that monitor Uighur Muslims in concentration camps in Xinjiang …
One covert security expert said: "In all my years of working in this field I have never known a camera to be positioned inside an office like this. An office is a private space and that raises all sorts of issues.
"The camera is facing the door so it will give you a record of who is coming and going. But if you wanted to do that you would place the camera outside of the office in the corridor. Also, the angle of the camera is all wrong because if someone walks into the office with their head down this will not be able to see their features. To me it smacks more of a small covert camera that has been placed in a light fixture" …
The fact that the camera was part of the overall CCTV network ruled out any suggestion that Ms Coladangelo could have been behind the leak, and friends of Dominic Cummings, the former Downing Street special adviser who has waged a campaign against Mr Hancock since leaving his job last year, insisted he had nothing to do with the leak.
One government source suggested it was possible the camera had been placed in the office to increase security as a result of the Covid pandemic, while another person familiar with the layout of the office speculated that extra cameras could have been put there because it has a balcony, making it more vulnerable to break-ins …
Indignity for his wife
On Saturday, June 26, the papers had stories about what was happening in the Hancock's marital home.
The Mail's first report was 'Callous Matt Hancock dumped wife on Thursday after learning his affair would be finally exposed':
Matt Hancock dumped his university sweetheart on Thursday night after learning video footage of him kissing an aide in his ministerial office would be exposed.
The ex-Health Secretary, who announced his resignation this evening, raced home to tell his wife of 15 years that he would be leaving her after he was contacted by The Sun newspaper over his affair with Gina Coladangelo …
Martha Hancock, a 44-year-old osteopath, had no clue about the affair until her husband told her their marriage was over, reports The Sunday Times …
The reports of the affair came just weeks after Hancock was seen enjoying lunch out with Martha – the granddaughter of Frederick Millar, 1st Baron Inchyra – in London.
The pair were seen waiting for a taxi after eating at Exmouth market in the capital.
They were last seen together in public at the England vs Scotland Euro 2020 match at Wembley a week ago …
Mrs Hancock is said to have met her future husband while they were students at Oxford University. Both are dyslexic and he once revealed that the condition helped them bond. 
Descended from a baron and a viscount, Mrs Hancock had a privileged upbringing. Her father, Old Etonian Alastair Hoyer Millar, 84, was secretary of The Pilgrim Trust between 1980 and 1996. The organisation supplies grants to preserve historically significant buildings or artefacts. 
Her mother, Virginia Hoyer Millar, 70, an antiques dealer, was yesterday pictured comforting her daughter in the street by putting her arms around her shoulders. They also linked arms as they strolled around North-West London.  
The couple [the Hancocks] divide their time between London and their West Suffolk constituency home, where there was no sign of Mr Hancock following his resignation.
The ex-Health Secretary wrote in his letter: 'The last thing I would want is for my private life to distract attention from the single-minded focus that is leading us out of this crisis.
'I want to reiterate my apology for breaking the guidance, and apologise to my family and loved ones for putting them through this. I also need (to) be with my children at this time.'
Another report from the Mail followed that day, discussing Conservative MPs' disgust with their colleagues and more information about the respective marriages involved, complete with photographs:
… Mrs Hancock looked sad and upset as she left the couple's home but didn't speak to reporters about her husband's alleged infidelity.  Her husband was nowhere to be seen, however, she was still wearing her wedding ring.    
The shutters were closed at the £4.5million South London home Mrs Coladangelo shares with Oliver Tress and their three children yesterday. They are also believed to have a country home near the West Sussex coast. She has been working as an advisor for Mr Hancock since last year, with one source saying: 'Before Matt does anything big, he'll speak to Gina' …
Mr Hancock was meant to be at Newmarket Racecourse to visit the vaccination centre but a spokesman revealed he cancelled at the last minute 'early this morning'. 
A Department of Health probe into how the footage from outside Mr Hancock's office was leaked is expected, with the whistleblower described as a former civil servant who was angry about his 'brazen' affair, adding: 'They have tried to keep it a secret but everyone knows what goes on inside a building like that' …  
Mrs Coladangelo was appointed as a non-executive director at the department in September, meaning she is a member of the board.
She can claim up to £15,000 in taxpayers' money in the role, though there is no public record of her appointment …
The woman Matt Hancock has been allegedly having an affair with is married to the millionaire founder of fashion firm Oliver Bonas and has worked as its communications director for the past seven years. 
Gina Coladangelo, 43, knows the Health Secretary from Oxford University, where they both worked on the student radio station and studied politics, philosophy and economics (PPE) – and where he also met his wife Martha, 44. 
Mrs Coladangelo remains Facebook friends with Mr Hancock's osteopath wife – with whom the Conservative politician has two sons and a daughter – after they both graduated from the university at around the same time. 
And they all reside in London, with Mrs Coladangelo living with her multi-millionaire fashion tycoon husband Oliver Tress and their three children in Wandsworth, while the Hancocks live in Queen's Park with their children … 
Mr Hancock met Mrs Coladangelo when they worked on Oxford student radio together in the 1990s. Mr Hancock was a minority sports reporter on Oxygen FM and they would have socialised together at Exeter College, Oxford.
… Mrs Coladangelo went on to marry Mr Tress, 53, who is founder of fashion chain Oliver Bonas, named after his ex-girlfriend Anna who is cousin of Prince Harry's former partner Cressida Bonas.
It is not known exactly when Mrs Coladangelo and Mr Tress wed, although they were listed on the electoral roll together with her maiden name as recently as 2008, and then her married name of Gina Tress by 2011.
Mr Tress founded Oliver Bonas in London in 1993 with handbags and jewellery he had brought from Hong Kong where his parents lived, and his wife began working there in June 2014 after 11 years at Luther Pendragon. 
They live together in a five-bedroom detached property believed to be worth around £4million in Wandsworth, South West London, on a quiet tree-lined street with residents-only parking bays that is popular with families.
Many of the cars parked in the street – which is a 20-minute drive away from Central London – are top-of-the range BMW 4x4s and Volvos. Neighbours of Mrs Coladangelo remained tight lipped and refused to comment.
But one visiting workman who left a neighbouring home was unimpressed by Mr Hancock. He said: 'The guy had been caught bang to rights on film. He will have to do some smart talking to get out of that one with the wife.'
The Spectator's editor, Fraser Nelson, called readers' attention to a Sunday Times report saying that Hancock took his girlfriend to a G7 summit:
The Sunday Times has something more significant: that Hancock took Mrs Coladangelo to the G7 health ministers' summit, raising questions about whether they stayed together (the event took place a month after their being filmed canoodling in his office). The brilliantly-informed Tim Shipman has a devastating quote from a Cabinet source.
She went with him to the G7 health ministers summit. Did he disclose this to the PM? If it was shown he was shagging on the taxpayer he had to go. He's been puritan-in-chief in the government and now it turns out he's a massive, lying hypocrite.
… In this week's magazine, Kate Andrews has dossier of how ministers have been living la vida loca, travelling globally at a time when they made it illegal for others to do so. All within the loophole-addled rules, yes, but generally conducting themselves in a way that others have been unable to do.
The girlfriend's brother
More news emerged on June 26, this time concerning Hancock's girlfriend's brother.
Sky News reported:
A relative of the Whitehall director alleged to have had an extramarital affair with Matt Hancock, the health secretary, is an executive at a private healthcare company which has won a string of NHS contracts.
Sky News can reveal that Roberto Coladangelo – who is Gina Coladangelo's brother – works at Partnering Health Limited (PHL Group), a specialist in the provision of urgent and primary care services to NHS patients …
People who know Mr Coladangelo said that he and Mr Hancock's aide were siblings, and social media profiles and electoral roll data appear to confirm a relationship between them.
None of those contacted by Sky News on Friday afternoon would confirm or deny the relationship between the Coladangelos.
Weekend papers
The weekend papers were magic for those of us rejoicing over Hancock's resignation:
Also see The Observer and The Sunday Telegraph.
Of the resignation news, the redoubtable Peter Hitchens tweeted that it was sad that the government didn't believe in their guidelines but the public did — 'our tragedy':
He added that, given all the damage Hancock caused Britain, it was ironic an illicit grope brought him down:
Maybe that's why Hancock wants to return to private life after the next general election. Will the formal coronavirus inquiry advance that far in two years' time? If not, he could be safe in the knowledge he won't be asked to testify.
No. 10: photos 'in the public interest'
On July 16, The Telegraph had a follow-up on The Sun's photos: 'Leaked Matt Hancock CCTV footage was "in public interest", says Boris Johnson's office':
The leaked CCTV footage which exposed Matt Hancock's affair was in the public interest, the Prime Minister's spokesman has said, as an investigation into an alleged data breach continues.
Two people suspected of recording the film without consent had their homes raided on Thursday by officials from the Information Commissioner's Office (ICO).
Police and Crime Commissioners have also called for the police to launch an urgent investigation amid concern over the security of government buildings.
But the Prime Minister's official spokesman said Boris Johnson believed in the importance of a free press being able to investigate matters that were in the public interest …
Excellent!!!
There ends the resignation saga.
A final instalment on Hancock's time as a backbencher will come next week.
Poor Liz Truss.
My post yesterday about her and Chancellor Kwasi Kwarteng's U-turn on the abolition of the 45% tax rate showed how much the media were running Truss's premiership.
Cracks are showing
Unfortunately, the Conservative Party conference in Birmingham has revealed the factions among Conservative MPs opposed to either Truss or her policies.
This indicates that the cracks in the parliamentary Conservative Party likely began during the mourning period for Queen Elizabeth II in the same way that anti-Boris Conservative MPs sent their no-confidence letters to Sir Graham Brady of the 1922 Committee during the monarch's Platinum Jubilee bank holiday weekend at the beginning of June.
No sooner had Parliament reconvened on the first Monday in June than Conservative MPs held a confidence vote on Boris Johnson's premiership.
One name has been brought up in the overall rebellion against Liz Truss: Michael Gove.
Gove 'a natural plotter'
On Monday evening, The Spectator's Isabel Hardman asked, 'What does Michael Gove want?'
As I wrote yesterday, Gove even turned against the Prime Ministers under whom he served in Cabinet, beginning with his first PM, David Cameron. That was over Brexit. The victory went to Gove.
He worked against Boris Johnson's leadership campaign in 2016, after Leave won the Brexit referendum on June 23. He told Boris he would lead his campaign then pulled out just before Boris was to have announced his candidacy.
It's no surprise that, when Boris became PM in July 2019, he gave Gove Cabinet positions in a 'Keep your enemies closer' move. Those lasted until this past summer.
After the 2022 leadership contest, Gove said he would take a back seat. But did he?
He currently seems to be involved in stirring the pot with regard to benefits — welfare — increases involving the new Work and Pensions Secretary Chloe Smith, who said at conference earlier this week:
protecting the most vulnerable is a big priority for me.
Isabel Hardman points out (emphases mine):
It sounds quite anodyne, but given one of the big battles of the autumn is going to be over whether benefits are raised in line with inflation, it was a clear marker that Smith doesn't think that trying to get some savings this way is the right thing to do. She's not a noisy cabinet minister and is much more likely to make her arguments behind closed doors. But she does also have a very helpful backbench campaign led by someone who loves a public fight: Michael Gove.
Hardman says that Gove is busy at work, doing the rounds at the conference's fringe events:
What is Gove's endgame? He hasn't packed up his bags since Kwarteng U-turned on the 45p: instead, he was still touring the fringe this evening. He has made clear that the benefit rise must go ahead, and many of his colleagues have made the same point to Kwarteng themselves.
Gove could decide to use Trade Secretary Kemi Badenoch in his manoeuvres. He backed her in the summer leadership contest until she lost, at which point he backed Rishi Sunak:
But even if it does, that's not going to be the former minister's last battle. Tory MPs are fascinated by where he wants this to end. Is he still hoping that Kemi Badenoch, who he initially backed for leader, could yet take over from Truss? Badenoch had a really good stint on the conference stage in the most lively session of the [Monday] afternoon programme. She had members eating out of her hand as she talked about taking pride in Britain, about immigration, and about culture wars. Perhaps Gove might want her star to rise further. Or perhaps he is still holding out for Rishi Sunak, who he later backed, and who is staying away from the conference to allow Liz Truss to 'own the moment'.
In any event:
there is a lot of bad feeling among MPs about the way some parts of his [Sunak's] campaign operated. Then again, there's just a lot of bad feeling and mistrust in the party now. The one thing Truss has managed to unite her party on is that MPs in every faction are now annoyed with her.
This year's conference meeting schedule, centred more around fringe events than the main speeches, is likely to deepen these rifts:
Tory conference has long been more stage-managed than other party meetings, but this year the official speeches from ministers have also been condensed into a very strange late afternoon slot lasting just two hours. The rest of the time is free for fringe meetings and plotting.
The main addresses are supposed to be content-light this year, which is unlikely to please Party members:
Ministers and their aides have been told they have to keep their addresses to the hall announcement-lite, which makes those two hours feel largely pointless.
Kwarteng not only had to do a U-turn on abolishing the 45% tax rate, he also was forced into bringing forward his medium-term fiscal plan. That's two U-turns by the second day of conference:
Kwasi Kwarteng didn't announce very much at all, even though his two U-turns have dominated the day's agenda. This morning, the Chancellor dropped the plan to abolish the 45p rate of tax, and this evening it has emerged that he is also bringing forward his medium-term fiscal plan from 23 November – something ministers had been asked to hold the line on.
Work and Pensions Secretary Chloe Smith held up a script at a fringe event to show that what appears to be spontaneous is actually scripted in advance:
A clue to the next potential U-turn came not in one of the speeches but in one of the considerably more-scripted and stage-managed 'discussions'. These have been going on for years at Conservative conference: a minister or two is relegated from a formal speaking slot to a cosy and allegedly informal sit-down with someone who is often a very nice and slightly nervous small business owner, charity pioneer or environmental campaigner. The chit-chats involve a suspiciously large sheaf of notes: indeed, in this particular 'discussion', Work and Pensions Secretary Chloe Smith largely abandoned the pretence that this was spontaneous and held her script up so she could read from it verbatim. But within that script, Smith had a line that she may well end up using against her ministerial colleagues such as Kwarteng in future. She told the hall that 'we know that people are struggling with some of the costs that are rising', adding: 'That's why protecting the most vulnerable is a big priority for me.'
Former Conservative MP Anne Widdecombe, who switched her allegiance to the Brexit Party and served as one of their MEPs in Brussels before the UK left the EU said that the Conservatives are in a dire state.
On Monday, she told GB News's Bev Turner that the removal of the 45% tax band would have cost £2 billion at most, in contrast to the £150 billion bail out in order to help Britons with their energy bills.
She said that Truss and Kwarteng should have held their nerve and not caved in over their fiscal event plans from Friday, September 23. She surmises that they were worried about how the conference would go if they had stuck to their guns. Widdecombe said that they were aware of divisions in the Party but the tax rate U-turn, she said, would not win them any votes.
Turner said that removing the cap on bankers bonuses, also announced on September 23, would seem to be a more controversial move. Widdecombe, however, disagreed, explaining that the EU put a cap on bankers bonuses in place so that London would not be able to compete as well against Frankfurt and Paris in the financial services market. Removing the cap, she added, was part of the Brexit plan and, although it doesn't seem so to ordinary people, will actually help the UK's finances in the long term.
Bev Turner then turned Widdecombe's thoughts to Michael Gove and Grant Shapps's manoeuvres behind the scenes at conference. These included the objection to removing the 45% tax rate.
Widdecombe said:
Michael Gove is extremely dangerous. He spends all his time conspiring and plotting … I've known him for years … What he is not is a good colleague. He gets bees in his bonnet and sets out to destroy everything in his path. He's done it with Boris … He is a plotter. He is a natural plotter. Can't help himself. 
She said that Truss cannot have the whip removed from Gove, as Kwarteng has already U-turned on the 45% tax rate issue. For Truss to remove the whip after the fact, she said, would be useless. So, Truss can't do anything to or about him for now.
Here's the video, which is five-and-a-half minutes long:
How the U-turn came about
On Monday, October 3, The Sun's political editor Harry Cole got the scoop about how Truss and Kwarteng's U-turn came about late on Sunday:
This is an incredible news story, revealing that Cabinet ministers did not know about the U-turn until they saw The Sun's website:
… our story, revealed at 12.20am, came as a shock to some of the most senior members of the government.
Four Cabinet ministers were enjoying a late-night drink when our story broke — leaving them speechless.
No one from No 10 had given them any warning.
After a brutal day of maulings from big beasts of the Tory party and dire warnings her mini-Budget would be voted down by MPs, the newbie PM was forced into a humiliating climbdown.
Gove and Shapps, along with other Rishi Sunak supporters, worked behind the scenes on Sunday:
Ex-Cabinet Ministers Grant Shapps, Julian Smith, Michael Gove, Mel Stride and Damian Green — all of whom backed Rishi Sunak — had spent the day stirring up rebellion and were confident that more than 40 MPs backed their concerns.
Was that why Sunak did not show up? He did say he wanted Truss 'to own the moment'.
Graham Brady contacted Truss early on Sunday evening:
Sir Graham Brady, the chairman of the powerful 1922 Committee of Tory backbenchers, had been to see a worried Ms Truss at 7pm to warn her she did not have the numbers to ram her tax cut plans through Parliament — despite a majority of 71.
Meanwhile, Kwarteng was in Birmingham's lively city centre, planning on tucking into a curry dinner. My commiserations go to him. Birmingham is home to some of the nation's finest Indian restaurants:
… her screeching about-turn would come as a shock to the Chancellor, who had been about to tuck into a beef curry at an upmarket restaurant across town.
He left his dinner before his main course turned up, rushing back for crisis talks with Truss, who told him: "It's time to rip off the plaster."
Kwarteng agreed to the U-turn, sensing trouble ahead:
Once on board, Mr Kwarteng was told he would have to be the face of the surrender the next day.
But it was a painful blow as he had already trailed his big speech to the conference into the next day's papers, insisting there would be no U-turns and saying: "We must stay the course."
Taking to the stage on Monday afternoon for that speech, an exasperated Chancellor said: "What a day."
The divisions are many and deep:
The mood among some Cabinet ministers is one of despair at the state of the Tory party, which is at risk of becoming unmanageable.
And that, in turn, will leave the Government unable to actually govern, leaving the country adrift at the worst possible time.
There are potential mutineers everywhere Truss turns.
After 12 years of Tory rule, there are more than 50 sacked and embittered ex-ministers who do not have much to lose.
This is a group that includes MPs who served under Theresa May and continue to be enraged by her Brexit downfall.
Then there are supporters of Rishi Sunak, who are enjoying the "I told you so" moment.
Some still think it's possible to kill Truss now and have Rishi anointed in a coronation.
Throw in the still-ongoing Brexit wars — Truss, having converted from Remain, is firmly in the Remainiac crosshairs — and it's a poisonous, chaotic mix.
One Cabinet minister said: "They've taken the bat off Boris, broken it into pieces and given chunks to the different warring sides to beat each other with. It's like Lord of the Flies."
However, a week is a long time in politics:
"All's not lost yet", one minister said.
"A week is a long time. We have two years to turn this around. We might not win the next election — but we can at least make ourselves competitive".
City AM's Andy Silvester doesn't hold out much hope, though:
What the public think
It's difficult for those of us who are not economists to know what to believe about the upper tax rate U-turn.
And we trust journalists even less than ourselves. We are doing better researching the matter online through independent sites rather than the mainstream media.
The media told us that abolishing the upper rate of tax would affect Sterling. Hmm. On Tuesday morning, it was holding steady after the Bank of England's intervention at the end of last week:
Did the U-turn have anything to do with exchange rates, though?
One Guido Fawkes reader said that it did not:
Good job Kwasi dropped the 45p tax cut, which, according to the MSM, affected the pound. Anyone knows it did not but he can use it to his advantage: if I borrow more for benefits, giving away money, it will damage the pound and interest rates causing more financial hardship to working tax payers.
So I would love to help but need to get inflation down.
Again being run by all the MSM at the same time to affect the government its disgusting.
He blames Michael Gove and, possibly, Boris's former adviser Dominic Cummings:
Gove and likely helped by Cummings … maybe Truss could ask Boris come out against him that he is damaging the party first him now Truss. Truss did stay loyal to Boris. Gove destroying his own party does not make him a formidable politician …

Another commenter cannot understand what the rebels hope to achieve:
What on earth are the rebels trying to achieve? Collapse the government and shoo-in Labour? If not- what's the end-game? Parachute in Sunak against the expressed wishes of the grassroots party membership? That'll end well. Ultimately- Truss was chosen by the members on the basis of pursuing a pro-business, pro-growth agenda. She is now trying to do exactly that and is being undermined by people who offer no viable alternative.
Someone else said the anti-Truss movement is reminiscent of the anti-Brexit rebellion Theresa May had to endure in 2019:
It's looking very much like this is going to be a repeat of the debacle over Brexit.
Mr Gove should have the good grace to accept the wishes of all Conservative Party members, who voted for Liz Truss, and not the legislative agenda of a few disaffected Blairite "Conservative" MPs, who bizarrrely seem to think that more of the same is going to free us from the social and financial quagmire such policy has led us to in the last 25 years.
I give the current government about 6 months.
Another said that Gove is firmly to blame:
One Cabinet Secretary telling the Daily Express they weren't surprised by Mr Gove's actions because he is a "disloyal ****". When told about Mr Gove's remarks another senior Cabinet Minister used the same four-letter expletive.
The next battle will be over how much to increase benefits: average salary rates or the inflation rate:
Chief whip needs to get a grip and threaten deselection to all those publicly declaring their duplicity and treachery. Removing the whip from Gove would be a good start. No rise in benefits when there are mass vacancies to be filled and when there is no pay rise for the private sector. Too many different factions in the Tories so no chance of collective responsibility.
More on that tomorrow.
On Tuesday, July 26, the UK's fledgling news channel TalkTV scheduled a Conservative Party leadership debate with The Sun for 6 p.m.:
Kate McCann was the moderator.
She was to have been joined by Guido Fawkes alumnus Harry Cole, The Sun's political editor, but he had coronavirus:
TalkTV asked for questions from viewers, as well as their audience, half of whom had voted Conservative in 2019.
It promised to be a debate quite unlike the ones on Channel 4 and the BBC:
With The Sun involved, one knew that the candidates would get hard-hitting questions rather than boring ones from the media establishment.
In the opening round, Kate McCann gave the candidates 60 seconds each to present themselves and their platform.
Rishi Sunak did well …
… even if he was still in Tony Blair mode and sounded like Labour's Keir Starmer …
… but Liz Truss had to glance at her notes:
Then it was on to the questions.
It was gratifying to see that the audience members, both in person and remotely, asked them of the candidates directly.
The first one came from John Hughes in Birmingham, who spoke remotely. He is a cancer patient and said that, since the pandemic, he has had a very difficult time getting the care and the support he needs. He said that a cancer charity has been helping him but the NHS and Macmillan Cancer Support nurses have not been available:
Rishi said that it was good that John was getting the support he needed. John retorted that he was not getting the support he needed. Rishi corrected himself.
Rishi gave a long answer, which did not respond to the question.
Sunak said that he had been criticised for raising national insurance contributions to tackle the NHS backlog and fund social care reform, but that it was a "brave decision" and the right thing to do.
Liz said that she would reform the NHS, reducing layers of management so that the focus could be on patient care rather than bureaucracy:
I want to see fewer layers of management in the National Health Service and less central direction because I simply don't think that people can sit there in Whitehall and direct everything that happens in local communities across our country.
It seemed that John preferred her answer to Rishi's. At least Liz offered a plan. Kate McCann asked John what he thought. He said that:
he remained unconvinced by their answers and stated that the Conservative Party had been given 12 years to fix the NHS.
The next question came from a member of the studio audience. A lady said that she was used to buying steak several times a week, however, the price has gone up so much that she can no longer afford to buy meat of any kind. She asked whether she should become vegetarian:
The Times reported:
The debate then moved on to the cost of living, with Gemma from Manchester, a Sun reader, telling the candidates about the rising cost of meat in supermarkets and asking if more people should go vegetarian to save money.
Rishi said:
he would ensure that prices came down by "making sure that the supermarkets and all the other people in the supply chain are being fair in how they price these things [and that] no one is taking advantage of the situation to pass on price rises."
Surely, although I agree with the principle, if everyone in the supply chain is being fairly remunerated, prices will go up even further.
Liz told Gemma that becoming vegetarian was 'a choice' and one that the Government leaves to individuals.
I understood what Gemma meant by asking about vegetarianism, because with this year's price rises, it does seem as if that is the end game.
Bloomberg's Alex Wickham summed up this refreshing debate well:
For once, we had real people asking about real problems.
However, the candidates reverted to a subject with which they were more comfortable — tax cuts.
As the i paper's Hugo Gye pointed out, it seemed as if Rishi and Liz still couldn't connect with the audience as well as a certain Prime Minister — Boris Johnson:
Harry Cole, watching from home, tweeted this at 6:27 p.m.:
The Times reported:
The candidates' response quickly turned to the economy, with Truss saying that Sunak's manifesto-breaking tax rises had been "morally wrong" as she accused the former chancellor of having policies which are "making us less competitive" as a country.
Sunak said that tackling inflation remained his priority but suggested that some businesses were also profiteering from the cost of living crisis. He said he would ensure that prices came down by "making sure that the supermarkets and all the other people in the supply chain are being fair in how they price these things [and that] no one is taking advantage of the situation to pass on price rises."
Sunak also defended his plans to increase corporation tax. He said: "I think it's entirely reasonable to ask the largest companies in this country, just the top 10 per cent of companies, to pay a bit more because they're received a lot of help during the pandemic."
Truss countered by telling Sunak: "You've made it worse". "Companies have a choice about whether they invest in the UK or whether they invest elsewhere. Rishi's policies are making us less competitive," she said.
The Mail's Henry Deedes described other exchanges between the candidates and the optics. Rishi still looked vexed when Liz contradicted him. Liz almost fell into the same trap this time (emphases mine):
Rishi seemed to have eased a little on the caffeine since the night before.
He'd also rediscovered his manners and used his opening spiel to wish his opponent a happy birthday. Truss, 47 yesterday, shot him an icicle smile. 
The Foreign Secretary wore a purple dress the colour of a Cadbury's Dairy Milk wrapper. Très snazzy. She went into a brief monologue about how her upbringing was more modest than Sunak's. 'I know what it looks like when economic times are hard,' she said. Rishi bit down and resisted making a tart response. There was a bit of early tit-for-tat, but nothing that required Kate to pull them apart. The candidates had a brief struggle over who had the stronger family connections to the NHS. 'My father was GP,' said Rishi. 'Well, my mother was nurse!' countered Liz. 
Tempers frayed whenever Truss began to discuss her economic plans. Rishi's blood pressure would visibly spike, his eyes flickering from side to side as if to say: 'Leave the maths to me, luv.' 
Once again their main beef was over taxes – Liz wants to cut them, Rishi thinks it's unaffordable to do so. 
He accused Truss of funding her cuts by saddling future generations with more debt. 'That's not true, that's not true!' Liz retorted, shaking her head crossly. 
Kate McCann was doing an excellent job as moderator, keeping everything going at a rolling pace which made it interesting. I was settling into an unusual comfort zone, which I normally don't do when watching debates.
Just after 6:30 p.m., Kate asked Liz a question.
While Liz was speaking, viewers at home could hear a soft rocking noise, possibly a perspex podium against the floor.
Seconds later, there was a crash of perspex on the floor.
Viewers saw this:
The Telegraph's Tim Stanley was also watching from home and describes what happened:
It was one of the strangest, most shocking moments in TV history. Liz Truss was in the middle of denouncing Russia with her characteristic tics – her hands gripping that invisible tea tray for dear life – when there was an almighty crash off-screen.
"Oh my God!" Liz covered her mouth. Then she stepped towards the camera.
Turns out that poor Kate McCann, the talented journalist and host, had fainted.
Rishi also went to Kate's aid, but we didn't see that.
We didn't know what had happened.
The Mail reported:
A loud noise caused the clearly worried Foreign Secretary to hold her face in shock as she exclaimed: 'Oh my God!'. Ms Truss was then seen leaving her podium and walking towards where Miss McCann had been standing.
The broadcast feed was swiftly cut, with viewers shown the message: 'We're sorry for the disruption to this programme. We're working hard to fix the issue and will return to normal programming soon.'
Stanley wrote:
For 25 excruciating minutes, viewers speculated if a light had fallen, a bomb had gone off, or Boris Johnson had rushed the stage demanding to be heard – all the while that producers tried to carry on as normal by cutting to a promo for their other shows.
What were they thinking? That this was a great chance to promote their product? We're lucky they didn't try to flog us some diamante earrings …
… debating tax policy is exactly how Liz would want to spend her birthday – and though the evening took an alarming turn, the gods did her a favour by having the camera focused on her when Kate passed out. Liz's instinct to run towards the disaster did her credit, a reminder that whatever her job, she is first and foremost a mum.
And her mother was a nurse!
Just before 7 p.m., when the debate would have ended:
TalkTV put on two talking heads who calmly discussed what we'd been watching – vegetarian options, clown doctors – without substantial reference to the one bit we were all shouting at the telly about: "What the hell just happened?!"
It was surreal: the commercial equivalent of Soviet TV cutting from the coup against Gorbachev to 72 hours of Swan Lake. Thankfully, Twitter was still reporting the news: Kate was ok. By then it was 7pm and time for Piers Morgan's landmark show on Ukraine – at which point what was probably TalkTV's largest ever audience, all 250 of us, turned off.
Kate, you're a star and your peers wish you the very best.
Henry Deedes said:
Doctor's orders were that she was done for the evening. It must have been frustrating for Team Rishi, who are running out of time. The former chancellor has agreed to be interviewed by that fearsome rottweiler of an interviewer, Andrew Neil, on Channel 4 on Friday. For politicians, such encounters rarely end well.
The candidates spent the remaining half hour talking to the studio audience:
Kate received many supportive messages.
Harry Cole tweeted:
BBC Newsnight's Nicholas Watt complimented Kate on her moderation of the debate:
The candidates also sent their best wishes, saying they would like to return to finish the debate:
I hope the debate is rescheduled — and agree that it should pick up where it left off:
Harry Cole is an excellent journalist.
That night, The Sun reported that, after all these days of insisting his tax plan was the right thing to do, Rishi decided to do an about-face and cut VAT on energy bills.
But has he stolen Work and Pensions Minister Thérèse Coffey's idea? Hmm:
Polling results must have been eating away at the former Chancellor.
The Telegraph also carried the story on its front page for Wednesday:
The Mail alleges that this was Boris's plan but Rishi wouldn't allow it:
Rishi Sunak makes a desperate bid to claw back lost ground in the Tory leadership race today by promising a £4billion VAT cut on energy bills just hours after he and his rival Liz Truss led tributes to TalkTV presenter Kate McCann after she fainted live on air.
The former chancellor has repeatedly refused to match rival Liz Truss on cutting taxes, labelling her plans a 'fairytale' and insisted such cuts must wait until inflation is curbed.
But today he pledges to scrap the 5 per cent VAT rate levied on domestic energy bills for a year.
Last night No10 insiders told the Daily Mail that this plan was something Boris Johnson tried to implement to ease the burden on consumers – but was blocked by Mr Sunak.
'Boris begged him to do it – but he wouldn't budge', said the source. 'It's astonishing that he's now claiming it as his own policy.'
A source close to Liz Truss's campaign told The Telegraph: 'It's good that Rishi has finally woken up and decided to offer something to people struggling with the rising cost of living.
'However, this feels like a screeching U-turn from someone who has spent the last few weeks of the leadership campaign branding everyone else's tax cuts immoral and fairytales.'
The article states that this was also Labour's policy:
Mr Sunak's energy bill tax move, which would save an average household £160, has been Labour Party policy for nearly a year, and Mr Sunak voted against the proposal in the Commons in January.
He told the Commons in February that the policy would 'disproportionately benefit wealthier households'.
He added: 'This would become a permanent £2.5billion Government subsidy… when we are trying to rebuild the public finances.'
This month he argued that tax cuts are 'immoral because there is nothing noble or good about racking up bills on the country's credit card that we then pass on to our children and grandchildren'.
One can understand his point, but when the Work and Pensions Minister and the Prime Minister both want it, it's the right thing to do.
I read only this week that VAT is an EU tax. Therefore, we can scrap it.
No one ever mentions that VAT is an EU tax. Why not?
The Mail says:
Until yesterday [Wednesday] Mr Sunak had refused to consider tax cuts before autumn 2023, the earliest point when a 1p cut in the basic rate of income tax could come in.
Autumn 2023 would be way too late, especially if our next general election is held in May 2024.
The Telegraph reported that Rishi's team denied a U-turn:
The Sunak camp denied there had been a U-turn, adding that the tax cut was "a tool that was always in our arsenal".
"We didn't use it back in spring because the size of the jump of the bills was way bigger, and it wouldn't have touched the sides," a source said. "This is a response to latest estimates that suggest the rise might be £100-200 more than anticipated."
For me, this volte face comes too late in the contest, because Rishi was adamant in three debates that he would not cut taxes.
As such, in Truss we trust.
———————————————————–
UPDATE — Guido Fawkes posted TalkTV's ratings for Tuesday night. The debate's 'off air' message beat Piers Morgan's show by far:
Morgan tweeted McCann, who has since recovered:
On Wednesday, July 27, the i paper reported ructions at TalkTV about the interruption of the debate, with staff asking why it didn't continue with another presenter:
Rupert Murdoch's TalkTV is holding an inquest into why there was no "plan B" to keep its Prime Ministerial debate on air after presenter Kate McCann fainted.
Presenters at TalkTV and its sister radio station were said to be ready and able to jump in and replace the stricken presenter during the abandoned live broadcast, i has been told.
As panic spread, executives asked Rishi Sunak and Liz Truss to remain at their podiums at the Ealing studio, normally used for Piers Morgan's nightly programme, while they considered their options.
However it was decided that stunned viewers would continue to be shown a recorded message saying normal programming would resume, rather than restart with a new presenter.
Trouble began behind the scenes when planned co-presenter Harry Cole was forced to pull out on the morning of the debate after contracting Covid.
An insider said: "Tom Newton Dunn (presenter of TalkTV's 7pm news show) would have stepped up to co-present but the bosses wanted Kate to front it solo as a showcase for her."
McCann, Talk's political editor, was said to be "nervous" at fronting the high-profile event but had shown no sign of ill health, even during the broadcast's first half hour.
The source said: "It was very sudden. She crashed forward into the podium. That was the loud bang viewers heard."
Truss, speaking on camera at the moment, said "oh my god" and rushed over towards McCann. At that point, with the clock showing 6.31pm, the channel cut from the debate.
"Rishi also rushed over. He knelt on the floot and held Kate's hand, he was very comforting," the insider said.
Faced with a crisis playing out live on TV and social media, some in the building believed that the show must go on.
"There were plenty of experienced on-screen talent already there who felt they could have taken over. They could have winged it."
"All the News UK bigwigs were there. There was a panicked pow-wow. Some said 'who can we get to fill in?' but they decided against it."
Instead the candidates were asked to stay in the studio and take questions informally from The Sun readers in the audience.
The insider added: "Today there is an inquest into why there wasn't a Plan B to keep the debate on air. It's a given for any serious broadcast channel" …

The incident gave a brief boost to TalkTV's struggling ratings. The channel has recorded zero viewers at low points in its schedules and Piers Morgan's flagship show has even been beaten by rival GB News on occasions.
The screen message telling viewers TalkTV was off air was watched by one of the channel's highest ever audiences.
Some 141,000 people tuned in, numbers comparable to Morgan's opening week on Talk in April before his figures tumbled.
The debate peaked with 183,000 viewers tuning in shortly after its 6pm start. However Talk's numbers dropped across the night with Morgan's programme dropping to 14,000 viewers at its conclusion.
Despite the lure of the debate, Sky News, BBC News and GB News all recorded a greater audience than TalkTV across the whole of primetime, according to Barb data.
Insiders said this would disappoint NewsUK's bosses who had hoped to relaunch TalkTV off the back of the debate, which was shared with sister title, The Sun …
The podium "crash" even gave TalkTV what it has been seeking since it launched three months ago – highly-shareable viral content that creates a buzz on social media.
On this occasion though, that content, seized upon by media rivals including the BBC, was unintended.