You are currently browsing the tag archive for the 'The Times' tag.
My most recent post on Liz Truss left off with the beginning of the end in her final week as Conservative Party leader.
Friday, October 14
Her sacking of Kwasi Kwarteng and installation of Jeremy Hunt as Chancellor on Friday, October 14, meant only one thing — her end was nigh:
Liz Truss's first Chancellor Kwasi Kwarteng: what he expected, what he got instead (October 13, 14)
Liz Truss and Kwasi Kwarteng illustrate that one DAY is a long time in politics (October 13, 14)
The Times's headline on the morning of the 14th said that Conservative MPs were already plotting to install Rishi Sunak and Penny Mordaunt in Truss's place. One of them would be Prime Minister and the other would be Chancellor or Foreign Secretary:
The article also said (purple emphases mine):
Truss and Kwasi Kwarteng, the chancellor, are expected within days to make a humiliating climbdown over corporation tax in an effort to calm the markets and see off a mounting revolt.
Indeed, that is what Truss announced at her disastrous press conference that afternoon. By then, Jeremy Hunt was already Chancellor:
It was hard to believe, especially as Ireland's corporation tax is half that: 12.5%. What is to stop businesses in Northern Ireland from moving south of the border?
Liz prefaced the announcement with:
This is difficult.
Guido Fawkes has the video and another quote preceding her announcement about corporation tax:
It is clear that parts of our mini-Budget went further and faster than markets were expecting… so the way we are delivering has to change…
He concluded (emphases his):
The mother of all U-turns…
Later in the afternoon, Wendy Morton, the Chief Whip, summoned Conservative MPs to an online call with the Deputy Prime Minister Thérèse Coffey.
One hundred of them dialled in. Coffey allegedly kept staring at her notes:
Saturday, October 15
Saturday's papers were scathing.
The Daily Mail asked, 'How much more can she (and the rest of us) take?'
The i paper led with 'Tory MPs tell Truss: "It's over"':
The Telegraph's Tom Harris wrote about the symbiotic relationship between the Prime Minister and the Chancellor from Margaret Thatcher's time to Truss's.
When that relationship goes wrong in a big way, it's nearly always bad news for the PM, although there are exceptions:
When a prime minister loses a long-serving chancellor and ally – as Margaret Thatcher did when Nigel Lawson walked out of her government in 1989 – the political ramifications are enormous. In Thatcher's case, that event signalled the beginning of her long defeat. When a prime minister loses a friend too, it becomes, as Liz Truss stated in her press conference, "not an easy" personal moment. 
Their closeness also makes it impossible for Truss to distance herself from the mess left at the Treasury. It is not clear which policy Kwarteng implemented that the prime minister was so unhappy with that she had to fire him. In 1989, Lawson resigned over his objection to the prime minister's reliance on her economic adviser, Sir Alan Walters, but there were already disagreements between Numbers 10 and 11 over whether Britain should join the European Exchange Rate Mechanism. 
[John Major's Norman] Lamont was fired over his handling of Britain's departure from the same institution. Javid resigned over personnel issues. Rishi Sunak's reasons for resigning were similar, though in his case the personnel issue involved the then prime minister himself.
In Jeremy Hunt, Liz Truss might be given a chance to form the kind of reassuring, mutually supportive – and, crucially, stable – relationship with her chancellor that good government demands. It would be foolish, however, to assume that when such a relationship breaks down, it is always the chancellor who is next to go.
The Telegraph's Camilla Tominey looked at the backbench Conservative MPs, wondering how Conservative they actually were. I was glad to see that she mentioned Alicia Kearns, who does not seem very Conservative to me.
Tominey's article shows that a significant number of Conservative backbenchers do not hold traditional Conservative Party values:
Never underestimate the Conservative Party's unparalleled ability to turn the gun on itself when coming under enemy fire. As the pot shots continued to rain thick and fast on Liz Truss's troubled premiership, what did the Tories decide to do? With Labour's help, they elected Alicia Kearns as chair of the Foreign Affairs Select Committee.
For those unfamiliar with Ms Kearns, she is the former Amnesty International activist who led the so-called "Pork Pie Plot" to oust Boris Johnson over partygate. Despite having been an MP for all of five minutes, the 34-year-old, who won the safe seat of Rutland and Melton in 2019 (hence the pork pie theme) decided that the Conservatives' wisest move was to remove the man who secured the party's biggest election win since 1987. Well, dip me in jellied pork stock and cover me in hot-crust pastry, that went swimmingly!
Having declared last year that she came into Parliament with "one legislative change I wanted to deliver, which was to ban conversion therapy", inexperienced Kearns now occupies one of the most influential posts in the House of Commons.
Her first intervention? Following hot on the heels of her fellow chair, Mel Stride, of outspoken Treasury select committee fame, she used a radio interview on Thursday night to urge the Prime Minister to reverse the tax-cutting measures in the mini-Budget.
I've got nothing personally against Ms Kearns – she is clearly a thoughtful and intelligent woman. But if she isn't for cutting tax, then what on earth is she doing in the Tory party, let alone now apparently in the running to enter a future Conservative Cabinet?
One former minister was this week quoted as saying: "Everything [the Government] are doing is everything that I don't believe in." Why, then, is that senior politician – apparently so opposed to spending controls and economic growth – not currently residing on Sir Keir Starmer's shadow front bench or drinking Remaineraid with Sir Ed Davey?
As former Brexit negotiator Lord Frost put it on Thursday: "There are too many … social democrats operating under Conservative cover."
It is one thing to be a broad church, but the Tories are currently taking on the mantle of a Blue Labour cult.
Not only are many of them perfectly comfortable with taxing people more, despite the tax burden being at its highest in 70 years, but they are also apparently as opposed to fracking as Ed Miliband. They seem to love the status quo and appear happy to watch Britain slowly sink into decline – along with their own party.
Tominey says that Liz Truss's platform was clasically Conservative, and so was the one upon which Alicia Kearns was elected.
These are the MPs who will determine the outcome of Brexit and the next election. Both are in peril.
Tominey rightly lays the blame at the feet of former PM David Cameron, a wet who wanted a different type of Conservative MP:
David Cameron's decision to introduce open primaries in the late 2000s, which saw wannabe MPs selected by non-members as well as members, was perhaps the most obvious mistake. The Conservatives ended up with "yellow" Tories in its ranks, such as Sarah Wollaston, who later defected to the Liberal Democrats.
Funnily enough, Sarah Wollaston is no longer an MP. Others like her, most of whom had the whip removed, were defeated or chose not to run in 2019.
This is the issue:
But more broadly, by inviting people with no background in Conservative politics to stand for Parliament, they ended up with people with no Tory backbone either. Holding successive snap elections only made the selection process less rigorous and open to people high on ambition and low on ideology.
This is a problem for the next general election. GEs depend upon local activists — party members — who are willing to canvass door-to-door:
We now have the Sunak squadders, calling for people to keep less of their wages, for businesses to pay more in corporation tax and for benefits to be linked to inflation, Corbyn-style …
Conservatives have become so detached from reality that they actually believe this will help them to win the next general election – even though it promises to prompt a mass walkout by the very grass-roots activists they rely on to run a campaign.
However, Tominey says that Rishi Sunak's coronavirus handouts have also altered the public perception of the role of the state. We can but see how this will play in 2024 or early 2025 when the next GE comes along.
Monday, October 17
On Monday, October 17, Leader of the House Penny Mordaunt had to stand in for Truss during a debate. Opposition MPs accused Truss of hiding under a desk.
Mordaunt had to deny that more than once, saying that Truss had a 'very genuine reason' for not being present.
I don't often feel sorry for Penny Mordaunt, but I did that day:
However, one Labour MP, Andrew Gwynne, tweeted that Liz Truss was the victim of a 'coup' — his word — and that Jeremy Hunt was the acting PM: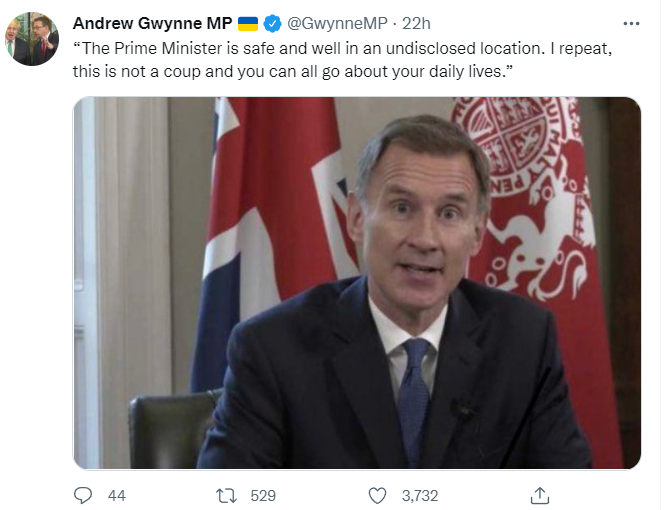 On Tuesday, October 18, The Times explained why Truss did not turn up at the despatch box the day before:
For much of the day Truss was conspicuous by her absence. She refused to respond to a question by Sir Keir Starmer in the Commons, prompting accusations from Labour that she was "frit". Penny Mordaunt, the leader of the Commons, answered questions in her stead. She said that the prime minister had "a very good reason" for her absence but refused to explain further, prompting misplaced speculation that Truss had resigned.
That reason for her absence turned out to be a meeting with Sir Graham Brady, the chairman of the backbench 1922 Committee. Sources said that the meeting was routine and had been arranged before Kwarteng's dismissal. But the issue of her leadership, and a potential revolt by Tory MPs, was said to have been discussed.
One source on the committee said there were a "number of views" on the way ahead but that there were concerns that an immediate move to defenestrate the prime minister could further destabilise the markets.
"The question is whether it is more damaging to create further uncertainty by getting rid of the prime minister when the chancellor [Hunt] appears to have settled the markets," said an MP on the committee.
Some Tory MPs believe that with the unravelling of her tax-cutting agenda and signature energy policy she is finished politically. Sir Charles Walker became the fifth Conservative MP to publicly call for her to go, saying her position was "untenable".
A senior Conservative source added: "It's the biggest unforced humiliation for a British government since Suez. Eden did the decent thing and resigned."
"The trouble is there is no consensus for who should replace her," said one former backer of Rishi Sunak. "And the last thing we need now is to be seen to be causing more uncertainty on the financial markets."
Monday night was grim.
On the subject of a coup, Nigel Farage agreed that Jeremy Hunt was in charge, and that this was a 'globalist coup':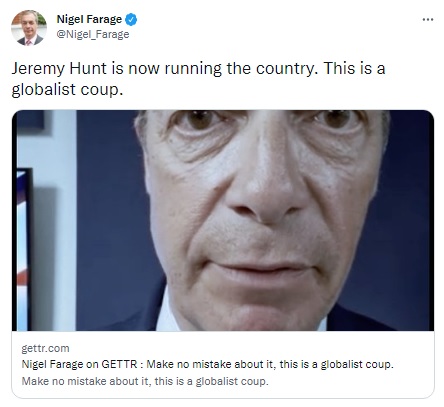 On his GB News show that night, Dan Wootton also said that there had been a coup. He agreed that the unpopular Hunt was in charge and that no one liked him, except for the Establishment. He said that if the Conservatives allowed this to continue, then they deserve to lose the next GE:

Truss surfaced to give an interview to the BBC's Chris Mason, wherein she apologised for the mini-budget. She said:
First of all, I do want to accept responsibility and say sorry for the mistakes that have been made. I wanted to act, to help people with their energy bills, to deal with the issue of high taxes, but we went too far and too fast. I have acknowledged that.
Tuesday, October 18
Tuesday's headlines were deeply discouraging for her. Nearly all had photos of her alongside Hunt:
The new biography of Truss, Out of the Blue, was not even ready for publication. Someone photoshopped the cover with a remainder sticker on it, saying, 'Reduced for quick sale — please just take it':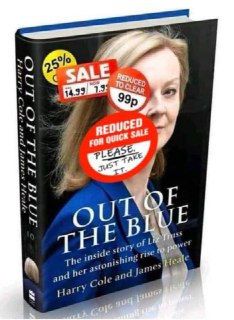 The Sun's political editor, Harry Cole, one of the book's co-authors, posted an article about the MPs plotting against her:
TORY plotters dubbed the "Balti Bandits" carved up Liz Truss's future last night over a korma and bhuna feast, The Sun reveals.
Leading rebel Mel Stride hosted more than a dozen "miserable" Conservative MPs in his large House of Commons office for an Indian takeaway – with the PM's fate also on the table.
Ex-Ministers John Glen, Nick Gibb, Mark Garnier and Shailesh Vara tucked into "lashings of curry and naan" ordered in by Mr Stride, alongside outspoken backbencher Simon Hoare. 
2019 intake MPs Angela Richardson and Simon Baynes were also said to have joined the "poppadum plot" – but sources say the meeting ended with "no credible solution" to their woes …
Contenders include ex-Chancellor Rishi Sunak, Defence Secretary Ben Wallace, new Chancellor Jeremy Hunt and Commons Leader Penny Mordaunt – but given the party is deeply split, the plotters admitted the chances of a rapid "coronation" of a new PM were "almost zero."
One attendee told The Sun: "the vast majority of attendees were Rishi Sunak supporters, but there were Penny people too. It was not a Rishi thing." 
On Tuesday evening, Truss had another group angry with her — her own supporters in the European Research Group, the pro-Brexit group of backbench Conservative MPs.
The Telegraph's Tim Stanley wrote about it, as he was there in the corridor for Truss's meeting with them:
Liz Truss launched her fightback at 6pm in Committee Room 11. The meeting was actually set for 5pm; Commons voting ran late so Mark Francois advised us hacks to go away and come back later, but I hung around on the suspicion that the moment we left, Liz would slip out of her hiding place in the roof of the lift and jog, unseen, into the Room …
These are the true believers: if they're angry at Liz for anything, it's for not keeping the mini-Budget …
What we saw of her on TV on Monday night, interviewed by Chris Mason, did not spark confidence as she uttered that dread word "sorry", thus accepting personal responsibility for blunders past and future. It is the mark of an "honest politician", she said, to admit mistakes. That's true, but it's also a dead giveaway for a not-very-good one, trying to turn a repeated error into a display of moral virtue. As Samuel Johnson might have said, "Honesty is the last refuge of the incompetent".
… She bobbed into view in a dark blue dress and black tights – fresh-faced, one suspects, from a good night's sleep. Instinctively, I stood: she might be a PM, but she's still a lady. I earnt a cheeky nod. Those who can't fathom the rise of Ms Truss haven't met her. She has a way of compromising you, of making you think you're on her side, and it's the most fun side of the room to be on.
The ERG roared as she entered. She entertained them behind a closed door for about 45 minutes. Then she left, followed by Mr Francois who told us it was "a very positive meeting".
The PM evidently spoke about Northern Ireland and her commitment to raising defence spending by the end of the decade, which is ambitious for a woman who could be out of office by Friday. And he noted that David Canzini, the clever political operative, was with her, an eminence so grise, none of us had noticed he'd gone in.
No 10 confirmed it: he was hired as of that morning.
Too little too late. That might have been Canzini's shortest job.
Wednesday, October 19
On Wednesday, October 19, Guido Fawkes posted that the Reform Party — formerly the Brexit Party — was climbing in the polls. The photo shows their chairman, businessman Richard Tice:
Guido's post said, in part:
Guido can reveal that in the 48 hours before close of play yesterday afternoon, the old Brexit Party received almost 1000 new £25 membership sign-ups. That new five-figure cash boost was joined by 300 members registering a new interest in standing as a party candidate at the next election. The first time the Tories dipped below Labour in the polls – September 2021 – Reform saw one in 10 Tory voters switching to them. Can they continue capitalising on Liz's woes? …

It's not just Reform benefitting from the dire state of No. 10. Last night the LibDems revealed five new donors, each giving £50,000 to the party, one of whom is a former Tory donor. While the last 36 hours have been calmer for Truss, it does feel like the ship has sprung one too many leaks to be repaired by a strong PMQs performance…
Wednesday was another fateful day. Home Secretary Suella Braverman resigned, then a confusing scene took place in the voting lobby over a division (vote) on fracking, which resulted in more chaos when it was unclear whether Wendy Morton had resigned as Chief Whip:
Liz Truss's final 24 hours: Suella Braverman's resignation, question over Whips' resignations (October 19)
Truss appointed Grant Shapps, former Transport Secretary, in Braverman's place:
Holy mole, guacamole!
Nigel Farage repeated 'coup' in his tweet about the news:
As with Hunt, Truss had to scrape the barrel.
The Telegraph reported that, like Hunt, Shapps was not a Truss supporter:
It is a remarkable turnaround for Mr Shapps, the transport secretary under Boris Johnson who went on to become a prominent supporter of Ms Truss's leadership rival Rishi Sunak.
Only on Monday night, Mr Shapps was telling a theatre audience that he believed Ms Truss had a "Mount Everest to climb" to remain in power.
"I don't think there's any secret she has a mountain, a Mount Everest to climb," he told Matt Forde's podcast. "What she needs to do is like threading the eye of a needle with the lights off."
Now he is one of her most senior ministers – and another example of the way a weakened Ms Truss is being forced to offer olive branches to the Sunak supporters she had previously shunned.
Not only was Mr Shapps questioning her chances of success until as early as this week – he was working proactively to get rid of her.
Mr Shapps has been viewed in Westminster as one of the leaders of the opposition to Truss's libertarian policies.
He spoke up at the Tory party conference in Birmingham earlier this month against her plans to scrap the 45p rate of income tax, and warned that Ms Truss had "10 days" to turn things around or MPs "might as well roll the dice and elect a new leader".
This is what the aforementioned Camilla Tominey was lamenting in Conservative MPs. Some of the recent ones have no appreciation of or allegiance to Conservative values. Shapps was a Cameronian MP.
The article also discussed Shapps's famous spreadsheets which appear to work as well as the 1922 Committee in making or breaking a Prime Minister:
The veteran MP – known by some as the "Duracell Bunny" for his enthusiasm – is also well-known for his "Star Wars" spreadsheet, with which he has spent the past few weeks recording the views of MPs on Ms Truss and her plans.
Mr Shapps used an earlier version of his famous spreadsheet to lead a rebellion against Theresa May, and also utilised its information to help guide Boris Johnson into Downing Street.
The spreadsheet is said to contain more than 6,000 historical "data points" from previous conversations with MPs.
It was rumoured that he had been in contact with Mr Johnson and Mr Sunak to see if they would join an effort to oust Ms Truss. And some rebel MPs claimed he had even offered himself up as a caretaker prime minister.
Let us not forget that Shapps himself is hardly a paragon of virtue:
… unfortunately for Mr Shapps, some elements of his past may make a shot at No 10 less than likely – not least the Michael Green saga.
This was an alter-ego he employed to enable him to run a series of get-rich-quick schemes on the internet while he was an MP.
Mr Shapps originally denied he had a second job, and threatened legal action against a constituent who said he had. But he was forced to admit practising business under a pseudonym in March 2015.
All this happened while he was Tory chairman, in charge of David Cameron's efforts to win the 2015 election.
He was demoted soon after to aid minister, and resigned from that role after claims he had ignored repeated allegations of bullying involving the Tories' youth organiser. It was said the alleged bullying, which took place on the party's RoadTrip 2015 campaign, may have caused one party member to commit suicide.
On Wednesday evening, Camilla Tominey reprised her warning about un-Conservative MPs and their takeover of the Government. She, too, used the word 'coup':
… the departure of Suella Braverman as home secretary speaks to a bigger problem for Liz Truss than sheer optics.
In sacking two key allies on the Right, only for them to be replaced by opponents more to the Left of the party, the Prime Minister is increasingly looking like the victim of a Conservative coup.
It is certainly ironic that the former home secretary, in post for just 43 days, first used that word to describe those who plotted against Ms Truss's original plan to link benefit to wages rather than inflation. 
With that, and most of her mini-Budget up in flames thanks to a rebellion by the moderates, Jeremy Hunt now appears to be the de facto Prime Minister.
He will now be joined by his fellow Sunakite Grant Shapps, who despite being rejected from Ms Truss's original cabinet, has now been appointed to replace Mrs Braverman at the Home Office.
Braverman, at one point, had headed the aforementioned European Research Group:
… her swift exit from one of the highest posts in public office will anger her European Research Group supporters.
It was only on Tuesday evening that Ms Truss was said to have charmed the backbench group of Eurosceptics with her honest, straight-talking approach.
They are unlikely to take kindly to their former chairman, a darling of the grassroots, being ejected in such unseemly fashion.
Mrs Braverman, a Conservative leadership candidate herself over the summer, received the longest standing ovation at the Tory Party conference two weeks ago.
Fortunately, Rishi Sunak re-appointed Braverman as Home Secretary. He probably realised he had to, in order to keep Party members on side.
Returning to Wednesday, October 19, The Telegraph posted an article stating that Conservative backbenchers were asking Labour for help in ousting Truss. Unbelievable:
Rebel Tories have been asking Labour MPs to help them overthrow Liz Truss, The Telegraph has been told.
Conservative backbenchers are growing increasingly frustrated with the Prime Minister's leadership, but currently lack any mechanisms to remove her given the one-year immunity she has from a no confidence vote.
As things stand, the only way to oust Ms Truss would be to change the rules – which is a decision that only the executive of the 1922 committee of backbenchers can make – or if she resigns of her own volition.
One Labour MP told The Telegraph: "Tories are speaking to us saying 'this is a complete nightmare and there is no way out'. We are being asked 'can't you do something about her?'"
The MP, who said their colleagues have reported similar experiences, said they were approached by one Red Wall MP whose constituency was in the north and another MP who is a member of the One Nation group of moderates …
A Labour source said: "There is very little Labour can do. Even a vote of no confidence doesn't have the constitutional standing that it used to. The Tory party are the ones that elected her, they need to get rid of her."
The paper's Michael Deacon wrote that Conservative MPs were entirely to blame for the mess. Furthermore, he said, they risked angering Party members, the campaigning activists, if they pushed ahead with a rule change saying that the members would no longer be able to vote for future Party leaders. The members elected Truss over Sunak in August:
This week, The Telegraph reported that Tory MPs want to bar members from voting in future leadership elections. Supposedly the reason is to speed up the process of choosing a leader. But this is blatantly a smokescreen. Quite plainly, MPs just want to prevent the members from landing them with another turkey like Truss.
Many members are appalled by this suggestion. And so they should be. Such a plan is not just arrogant and undemocratic, it's delusional. Because party members aren't to blame for the current mess.
Tory MPs are.
After all, who put Truss on the ballot paper in the first place? Tory MPs. No fewer than 113 of them, in fact. A third of the parliamentary party. Out of an initial field of 11 candidates for the leadership, Truss was the MPs' second favourite.
Unlike the MPs, however, the party members weren't allowed to choose between the initial field of 11. If they had been, it's extremely unlikely that they would have chosen Truss. They'd have been far more likely to choose Penny Mordaunt or Kemi Badenoch, to name just two. In fact, if the MPs had deigned to ask them, I suspect that the greatest number of members would have wanted their leader to be Boris Johnson – the person they chose to be leader in the first place.
The truth is, the members voted for Truss simply because they didn't want to vote for Rishi Sunak. In leadership contests, they're only ever given two candidates to choose from. And why? Because Tory MPs don't trust them. They fear that, if presented with a wide-open field, party members will choose the "wrong" candidate. Funny how things turn out.
All things considered, then, it seems clear that, if anyone should be barred from voting in leadership contests, it should be Tory MPs. In future, just leave it to the wiser judgment of the members instead.
That night, The Telegraph posted an article by Lord Frost saying that the Party was moving towards a status quo, if not anti-Brexit, stance, going all the way back to David Cameron's time as Prime Minister, with George Osborne as Chancellor and Philip Hammond in the same post under Theresa May:
… the Government is implementing neither the programme Liz Truss originally advocated nor the 2019 manifesto. It is going in a completely different direction. We are back to Osbornomics, the continuity Hammond view of the world. There is no shred of a mandate for this. It's only happening because the Truss Government messed things up more badly than anyone could have imagined, and enabled a hostile takeover by its opponents …
… the correct account of the past few weeks is the simplest. Truss tried to deliver worthwhile reforms and set the country onto a much-needed new direction. I supported this policy direction and still do. But it was rushed and bungled. The markets were spooked. The mistakes were opportunistically seized on by her opponents to undermine her leadership, to blame Brexit, and to stop the party getting out of the social democratic tractor beam of the past few years. And now, under pressure, the Prime Minister has reversed tack completely.
The risk now is that we lose for a generation the opportunity to do anything better. Every time the PM defends her approach, she denounces the policies on which she was chosen. The danger is that necessary and correct reforms are discredited.
Frost held that Truss was ultimately responsible for her own downfall.
As such, she had to go:
We are where we are. I am very sorry about it, because I had such high hopes. Whatever happens to her ministers or the stability of the Government in the next few days, Truss just can't stay in office for one very obvious reason: she campaigned against the policies she is now implementing. However masterfully she now implements them – and it doesn't seem that it will be very masterfully – it just won't do. She said she wouldn't U-turn, and then she did. Her fate is to be the Henry VI of modern politics – a weak figurehead, unable to control the forces around her, occasionally humiliated, and disposed of when she has become inconvenient. Better to go now.
As for her successor and the Party:
Then the party must do two things: avoid making the economic situation even worse by repeating the policies of the Cameron government in totally different circumstances; and recover some political legitimacy for carrying on – because in our system legitimacy does matter.
Thursday, October 20
After 44 days, Liz Truss resigned as Conservative Party leader on Thursday, October 20.
She served as Prime Minister for 50 days, beating George Canning's record of 118 days. Also a Conservative, he died of tuberculosis in 1827.
She remained PM until Rishi Sunak succeeded her:
Liz Truss's final 24 hours: Suella Braverman's resignation, question over Whips' resignations (October 19)
Liz Truss's final 24 hours: fallout over Braverman and Morton, no tears in exit speech (October 19, 20)
Rishi Sunak becomes Prime Minister: a momentous morning of historic significance (October 24, 25)
How Rishi Sunak won the Conservative Party leadership contest — part 1 (October 20, 21, 25)
How Rishi Sunak won the Conservative Party leadership contest — part 2 (October 21, 26, 27)
How Rishi Sunak won the Conservative Party leadership contest — part 3 (October 22-24, 27, 28)
On Thursday morning, The Telegraph posted a Planet Normal podcast in which Lord Frost said he could see Brexit being reversed:
In the wide-ranging discussion, Lord Frost also said that he could see a future where Brexit is reversed. 
"Brexit was about giving us the power to do things ourselves and to give responsibility back to British ministers, British governments. And they've shown that many of them are not up to the job in the last year or two."
"I can easily see a situation where Keir Starmer gets in. We drift back closer into the single market and go back into the Customs Union. And then everyone says why are we in these things where we don't get a say in them? Wouldn't it be better to be a member? So I can easily see how it could happen. And the way you stop it happening is to prove, while we have the levers of power, that we can do things differently and better. And at the moment we're not making a very good job of that, unfortunately."
Little did Truss know that, the day before, she had stood at the despatch box for her last PMQs:
She resigned early on Thursday afternoon. Thankfully, she didn't cry, unlike Theresa May, who broke down at the podium (Guido has the video):
Sterling began surging the second Truss finished her announcement:
In less than 24 hours, the Conservative Party website deleted her presence from their home page (Guido has the before and after screenshots):
It was a sad ending to a sad episode of British parliamentary history.
Next week, I will look at who, besides Truss herself, was also responsible for it.
Truss is currently spending time in her own constituency and has not yet appeared on the backbenches, an alien place for someone who had been a minister of state for most of her career.
Following on from my news items of November 21, I have more, this time on Thanksgiving, crossword puzzles, technology and health.
Thanksgiving everywhere!
It is hard to disagree with Jordan Cracknell, the American wife of Olympic rower James Cracknell.
On November 22, 2022, she wrote an article for Metro: 'Thanksgiving is a holiday that all Brits need in their lives'.
I couldn't agree more, and I wouldn't restrict it to the UK, either.
The problem is turkey, which the British associate with Christmas dinner. The other problem is the lack of sausage links — chipolatas — which the British associate with turkey and are absent from Thanksgiving dinner.
Not surprisingly, when Mrs Cracknell took her husband to his first Thanksgiving dinner in 2019 at a friend's house:
he grumbled about 'the bastardisation of British dishes'.
Oh, yes. My far better half thought similarly three decades ago.
Now things are different, in both our households. James Cracknell's reaction sums up that of those Britons who taste Thanksgiving dinners and become converts:
By the time we'd eaten, he was in awe of the 'un-Britishly moist and juicy' turkey.
Indeed. Americans can definitely roast turkey to perfection.
His wife writes:
Now, I am firmly of the belief that this American holiday needs to become a British fixture.
Of course, the United States celebrates Thanksgiving in honour of our earliest settlers who learned from the Native Americans to cultivate the land and local livestock. That partnership and its bounty was the focus of the feast. The settlers gave thanks to God for that first harvest.
Admittedly, in Florida, initially settled by the Spanish, the menu might not include turkey. However, most Americans follow the New England menu celebrated in Massachusetts in the 1620s: turkey and corn being mainstays.
Jordan Cracknell explains what Americans give thanks for today. Her second paragraph below explains why I prefer Thanksgiving to Christmas (emphases mine):
Sometimes it can just be having gratitude for being able to see relatives, who might have travelled thousands of miles across the US. Other times we give thanks for our health.
It is as simple and lovely as that, and unlike Christmas there's no exchange of presents. A positive and non-materialistic holiday, where all the family get together, is something that seems to be missing from the British annual calendar …
I'm one of around 166,000 Americans living in the UK, and in my experience, other US expats would also be hard-pressed to give up the holiday …
Since being here, I have managed to convince a handful of UK friends to mark the day by inviting them to dinner. Going in with an open mind, they too have enjoyed it.
Thanksgiving is now James' favourite US holiday, and not just because of the food. 'It just makes sense to have two major holidays back-to-back to spend with family,' he says. 'Why try and fit it all in over Christmas where inevitably someone gets disappointed?'
I agree – and there are also a lot of benefits to having a holiday where the focus is merely on giving thanks and spending time with your family.
She is the descendant of one of those first settlers in Massachusetts who arrived on the Mayflower and learned from the Wampanoags (pron. 'Wom-pa-nogs') how to cultivate the land. As she says:
My ancestors would have starved to death without the help of the Wampanoag people.
True!
There are two other advantages to Thanksgiving, for me, anyway. First, turkey is out of the way for another year, enabling us to eat goose at Christmas. Secondly, it is the start of the holiday season, so we start decorating the house for Christmas in the days that follow.
The Telegraph's new Cross Atlantic crossword
Speaking of things American, The Telegraph is introducing a new crossword puzzle called Cross Atlantic.
The article says that The Telegraph was the first British paper to feature crosswords, an American creation. That was around 100 years ago:
It is that rare treat: a new puzzle, to be published every weekend and daily online, in our own Telegraph, a newspaper that knows a thing or two about the genre, having delivered its first crossword to readers almost a century ago, years before Fleet Street rivals cottoned on. The name of the new game gives a hint of its origins: American crosswords whose clues engagingly blend wordplay, odd definitions, colloquialisms, general knowledge and current affairs, stretching and testing the brain without the forbidding challenge that the cryptic grid presents to the uninitiated (and which, in the 1940s, prompted Bletchley Park to use the Telegraph crossword as a test to recruit new code-breakers).
The article shows the first Telegraph crossword, which is splendidly symmetrical and a joy to behold, unlike the new Cross Atlantic, which looks ugly by comparison. I can do the original puzzle, which has quick rather than the cryptic clues that are so characteristic of British newspaper crosswords.
My British readers will be interested to know that the geeky comedian Dave Gorman already sets the paper's cryptic crosswords and offers this advice to neophytes like me:
The formulations are unavoidable. The most frequent are hints that an anagram may be involved – using words like 'unsettled' that indicate other parts of the clue are anagrams of the answer. Then there are substitutes for letters. For example, 'sailor' often indicates the use of 'AB' for Able Bodied. Most solutions blend several such elements in directing the reader to a single answer.
I am lost already. I would not connect the word 'sailor' with the terms 'AB' or 'Able Bodied'.
Anyway:
To the inexperienced, says Gorman, all this can seem impossibly complicated, not to say convoluted – an off-putting ritual only for those initiated into its dark arts.
But there is a shortcut, he says, a way that smug solvers rarely mention. This is the fact that each clue contains a simple, straightforward pointer to the whole answer. What surrounds it are small elements of the whole. But if you can find that critical definition, usually at the beginning or end of the clue, you can leap straight to guessing at the answer. Then, says Gorman, 'you can work backwards', to confirm your guess using the other elements of the clue.
Take a poser of which Dave is extremely proud. The elements are as follows: sea eagles are known as ernes. 'Min' is an abbreviation of minimum, or smallest. Golf, as military folk know, is the letter 'G' in the Nato alphabet. And a way, or path, is also a course.
Again, that would not even enter my head.
Continuing on:
Armed with all that, try deciphering the clue: Eagles on the smallest golf course.
Did you get it?
No, I did not.
Here's the solution:
ERNES+THE+MIN+G+WAY. Which may still look baffling. But that's before you add the clue to the whole answer and the number of letters:
Writer eagles on the smallest golf course (6,9) = Ernest Hemingway.
Gorman says that 'it's far from being the best clue I've written but the discovery of it – the idea that a real person's name can also quite sensibly be rendered as a meaningful sentence – is somewhat delightful. There's no wrestling it into submission, adding an initial of something here or the last letter of something there. So it feels like it's been hiding in plain sight for ever. It's like discovering a fossil on a Dorset beach – the setter doesn't invent a clue, they find it.'
I'll leave cryptic crosswords there. Life is too short.
Old technology fans
On Wednesday, November 23, The Guardian had a fascinating article about fans of old technology, from 100-year-old typewriters to Atari. A number of the people interviewed would have been too young to experience the initial rush when these items first appeared.
The comments were equally fascinating. I read them all. It's amazing what people still enjoy and why.
Definitely an article to enjoy on Black Friday, while the rest of the family is out Christmas shopping.
The 'big night out' returns
Thankfully, after two years of pandemic fears, the big night out has returned.
This is the complete opposite to staying in with old tech.
On Saturday, November 19, The Times reported that disco-style skating rinks are this year's hot venue for Christmas parties:
This month has seen the arrival of Flipper's, a vast rink in a disused power station in west London, large enough to house 1,800 guests. Whatever you do, though, don't call it a roller disco — it is a roller "boogie palace", insists the venue, which has become one of the hottest places to host a Christmas party this year …
And it is not the only new skate venue to open in recent months. Two new rinks have opened in Manchester, including Paradise Skate World, which has seen Christmas bookings flood in. It's billed as an intergalactic experience, with tunnels you whizz through on the dancefloor and the option to hire "space visors".
"The obvious route was to go down the retro 1980s style, but we didn't want to regurgitate old ideas," says Chris Legh, the co-founder, who was also behind Junkyard Golf Club, another so-called "competitive socialising" format. This is the term used to describe a phenomenon of the past decade which has transformed the nightlife of many towns. Instead of going out drinking with your friends, you take part in some low-level sporting competition: ping-pong, crazy golf, cricket nets or axe-throwing …
Flipper's is co-owned by Liberty Ross, the model and daughter of Ian "Flipper" Ross, who founded the original rollerskating nightclub in Los Angeles in the late 1970s. It was swifty dubbed "Studio 54 on wheels" because it attracted Prince, Robin Williams, Elton John, Nile Rodgers, Cher and other hard-partying celebrities. It lasted until 1981 before it shut down …
At Flipper's it costs £22.50 for a two-hour session for an adult, including the hire of skates in a funky electric-blue suede.
Legh has another theory as to why rollerskating has become the new party craze: "If you are in charge of your Christmas party and you only have a £30-a-head budget, do you really want to spend £20 of it throwing drinks down your throat? Because so many young people don't drink now, there is still quite a bit of discretionary spending, and skating feels active and wholesome.
"For a couple of hours, it is escapism from the digital world," he adds. "Sure, people will take photos and post them on Instagram, but you can't be on WhatsApp while you're skating."
Partying deplored in 1922
Every generation thinks it is the first to decry partying.
To the finger-waggers, any and every party is bad, especially where seemingly endless alcohol and — gasp! — cigarettes are involved.
On November 23, The Times dug out an article on the topic from its 1922 archive: 'What cocktails, cigarettes and unhealthy meals meant for "society girls"'.
In reality, most socialites, then and now, get parties out of their system early on and settle down with a husband and a family.
But there's always someone, then and now, who wants to make them out to be physical and psychological wrecks.
Such was the case with Dr Agnes Savill, who delivered a lecture on partying socialites a century ago:
Dr Agnes Savill delivered a lecture on "The Dangers of Society to Health" at the Institute of Hygiene last evening. She said that the development of communities was found in the earliest stages of human society, and this gathering together of families to share a common life had many advantages, provided the individuals concerned were of a high grade and had a sound organization.
… the girl who could command her parents' wealth left school for a life of continual excitement which resulted in mental and physical deterioration …
"I have seen some of these girls after a few years of society life aged by ten years and, before the age of twenty, as worn out and nerve-tired as if they were forty.
The hectic life of continual excitement, the absence of all repose, all time for meditation, the perpetual change, the cigarette smoking, irregular and unhealthy meals — no wonder these girls become the prey of disease. And though the physical consequences are disastrous, even of greater importance is the evil effect of this life upon the character.
"Society life is responsible for deficient sleep and consequent deterioration of the nervous system. It encourages the pernicious habit of the too-frequent cigarette. It encourages the girls to take cocktails and whiskies-and-sodas, which ruin their digestion, impair their livers, and upset the nervous system, and it encourages them to take rich foods, which upset the rhythm of the body.
"The ill-health of modern society girls is in a measure the fault of their parents, who have it in their hands to postpone the downfall of our modern civilization."
My diagnosis of Dr Savill? She was deeply envious, as are all killjoys — then and now — who wish to restrain us, young and old, from having a bit of fun.
Most socialites have taken great care of themselves throughout their lives. Very few deteriorate. They cannot. They are in the public eye all the time.
Online gambling 'addiction' damaging young adults
Unlike cocktails, ciggies and rich food, there is a serious phenomenon affecting some twenty-somethings, especially young men on low incomes: the lure of online gambling.
I first read about this phenomenon in a French newsweekly earlier this year. Young lads place bets on sporting events, most often football fixtures, often prompted by frequent texts from gambling firms. Enough young men are going into debt and are sometimes driven to suicide because of it to be a worry.
In fact, the French government is currently running an advert about the lure of online gambling, showing some of the texts those who bet often receive. I've seen them on M6. If they were in English, they'd be something along the lines of:
Hi there, haven't heard from you in a while. Fancy a flutter?
The more the recipient ignores the messages, the more frequent they become, driven by algorithms.
The Times has a good article from November 22 on what is happening in the UK, especially in England. It says that victims also come from the middle classes. Furthermore, young women are also affected:
Health bosses urged betting firms to "think hard about the human cost behind their profits" after a 42 per cent annual rise in demand for NHS gambling clinics was revealed.
Doctors said more patients were attending A&E after losing all their money in online betting sprees. NHS gambling clinics are full of "young men in football shirts" who have fallen foul of "predatory tactics" by betting firms, including a boom in addictive "in-play" sports betting.
The health service will announce tomorrow that it has opened clinics in Southampton and Stoke, adding to a national network of five commissioned in 2019. Figures seen by The Times show that 599 patients have been referred to the service in the past six months, a 42 per cent increase on the same period last year and up 65 per cent from 2020-21.
The clinics offer addiction therapy, including medication usually given to opioid users to reduce cravings. Patients can be sent by GPs or hospitals or self-refer and usually spend several months in treatment. One in three have attempted suicide; 57 per cent report thinking they would be better off dead. There are more than 400 gambling-related suicides a year in England.
Matthew Gaskell, a consultant psychologist and clinical lead at NHS Northern Gambling Service, said that almost all the patients it saw were hooked on online gambling, including in-play betting, which allows fans to bet on every aspect of a live game. He said: "People start gambling as soon as they wake up in the morning; they're gambling in the shower, gambling while they're driving to work. The NHS is picking up the tab.
"There has been an increase in people turning up at A&E in crisis, in a state of suicide. People are completely desperate, begging for help and seeing suicide as a genuine escape." The service opened in 2019 and has clinics in Leeds, Manchester and Sunderland.
With football's World Cup going on as I write, one can only imagine the damage.
The article profiles a 34-year-old woman who developed an online slot machine addiction at the age of 24:
Jennifer, a young mother, spent weeks in hospital and lost custody of her children after her gambling addiction triggered a mental breakdown.
Jennifer — a pseudonym because she did not want to reveal her real name — began gambling a decade ago aged 24, and became addicted to online slot machines, feeling trapped "in a never-ending spiral with no escape".
By 2019 Jennifer had £40,000 of debt and was declared bankrupt. Her mental health collapsed and she was admitted to hospital, with social services taking control of her children …
She has not placed a bet for two years. She said: "The group therapy made me realise there's gambling addicts from all walks of life. By giving me the tools to manage gambling addiction, I've had the platform to rebuild my life financially and it means the world to me to be with my kids again as a happy family."
The article briefly mentioned two young men who took their lives, one of whom was an English teacher:
Jack Ritchie, 24, an English teacher, killed himself in 2017 after six years of battling his addiction to gambling.
Joshua Jones, 23, a talented jazz musician, leapt to his death from a ninth-floor balcony in 2015 after an addiction that culminated in him gambling all his money away and even selling his prized trombone.
I'm not the world's biggest fan of betting shops, but at least, I would imagine, they have some human control. Men who frequent betting shops often have a group of mates they meet up with there. They might tell their friend that he's been betting too much too often. The staff behind the counter are also likely to have a kind word with someone they see a bit too frequently.
Feet rule knees and hips
On November 19, The Times had an instructive article on the importance of our feet and how they affect other parts of our body.
While this is intended mostly for women, sedentary men would do well to pay attention, too:
According to Dalton Wong, the founder of Twenty-Two Training and who has worked with a host of celebrities including Jennifer Lawrence and Olivia Colman, stretching and strengthening the lower limbs can prevent pain in the feet and postural problems elsewhere in the body. Yet most of us neglect to focus on strengthening the 29 muscles of the foot and ankle.
"I am seeing an increasing number of clients coming in with hip, lower-back and knee issues that can be traced back to weakness and instability of their foot and ankle," Wong says. "What so many don't realise is that if you are not working your foot muscles enough, then it is reflected further up the body as ankle, knee and hip joints don't work well." Anatomically, these interconnecting body parts, joints and muscles that work together to perform particular movements are referred to as the kinetic chain. "Our toes, feet, ankles, lower legs, knees, upper legs, hips, pelvis and spine are all part of the body's lower kinetic chain," Wong says. "If one part is weak or out of kilter it has the potential to affect the rest of the chain."
A strong, healthy foot has a moderately high arch, minimal overpronation — rolling inwards — and some natural spreading of the toes. There are four layers of muscle and soft tissue in the feet that help to lock them into position and keep us upright. A team of Harvard researchers writing in the British Journal of Sports Medicine described how the foot has an intertwining central "core" of muscles that work to maintain a naturally raised arch, providing us with the stability needed to hold us in good posture or to support even the most basic movement patterns, such as walking. It follows that misuse of these muscles through, say, lots of sitting or the wearing of ill-fitting shoes can play havoc with foot performance and structure. For starters, too little strength of muscles in the feet can lead to decreased ankle mobility. "If your ankles are stiff and inflexible, you will be less able to transfer weight from foot to foot in a walking or running stride," says Lucinda Meade, a physiotherapist at Twenty-Two Training.
We should be able to flex our toes easily:
Big toe mobility is particularly important for better balance and gait. "If you can't bend and flex the big toe, your posture and functional movement will deteriorate," Meade says. "We should be moving all of our toes, especially our big toes, freely for at least 15 minutes every day."
Walking around in bare feet is also helpful:
Wong recommends that his clients perform some weekly workouts barefoot. "We spend so little time without shoes that even 20-30 minutes a couple of times a week going barefoot is helpful for strengthening the feet," he says. Not that you should ditch shoes for workouts overnight. "It takes time to strengthen the muscles in the feet, so build up your barefoot time gradually, starting with 5-10 minutes daily," Wong says.
Your ability to walk around in bare feet is dictated not just by the feet but by the strength of your glutes in supporting the pelvis and hips, and if these muscles are not strong enough the inside of the foot will collapse if you suddenly go shoeless, Wong says.
At the very least, practise some foot moves for ten minutes each day. "Setting aside some time for your feet will pay huge dividends," Wong says. "And if your feet are tired or tight, roll them on a cold bottle of water to release the fascia underneath the foot."
The article has simple foot exercises that anyone can do.
Who knew the role feet played in governing the body? I certainly didn't.
Egg news latest
And finally, barely a day goes by without a story about Britain's notional egg shortage. My last news post had an article about egg substitutes.
On Tuesday, November 22, The Telegraph reported that supermarkets will be rationing eggs and that the shortage is expected to last six months.
The second sentence below irritated me:
Both M&S and Morrisons have confirmed its customers are now limited to two boxes each. A spokesperson for Morrisons, which only sells British eggs, said the rationing followed "unprecedented demand" at the end of last week.
The reason for 'unprecedented demand' came from the media, blasting news of a 'shortage' here, there and everywhere.
At my supermarket, egg prices have remained relatively static for around two years: £1.10 for six, then $1.20 and, only within the past few weeks, £1.40.
Someone's not getting paid properly — the farmers:
… farmers are grappling with double-digit inflation in the price of feed and soaring energy costs to store eggs. The National Farmers' Union has warned the supply chain issues causing egg shortages on supermarket shelves could last until next summer …
Farmers who are currently making a loss on eggs are not reinvesting in new flocks of hens, leading to a shortage for shoppers.
Robert Gooch, of the British Free Range Egg Producers Association, said the egg shortages would last until "retailers pay a fair price to farmers" …
Ioan Humphreys, a fourth generation farmer in Wales, has 32,000 birds, for which the cost of feed has risen from £250 a tonne last year to £400 today. Meanwhile his electric bill on the farm has more than tripled.
But since December, Mr Humphreys has only received a 5p increase from retailers for each dozen eggs he sells them and is operating at a loss.
He said: "I have got to sell them even if at a loss to get some money in.
"Retailers are blaming bird flu for the shortages, but I haven't culled one bird from my flock this year. There are shortages on the shelves because farmers are not being paid fairly by supermarkets."
An M&S spokesperson said the company had provided "additional support, including for animal feed" to help suppliers manage rising costs. Meanwhile Sainsburys said it had increased the amount it paid to its own-brand egg packers, not directly to farmers, by 40pc in the past year.
A spokesman for Asda said the supermarket was "working hard" with its egg suppliers to resolve industry challenges.
Tesco and Ocado did not respond to requests for comment.
——————————————————————————————————-
In conclusion, I hope that my American readers had an enjoyable turkey day and that they've got plenty left over to enjoy this weekend.
While this is a change to the previous schedule of analysing Liz Truss's premiership, more about which next week, there are references below as to why hers and Kwasi Kwarteng's plan was the right one for the UK.
Chancellor Jeremy Hunt delivered his Autumn Statement — a Labourite Conservative budget — on Thursday, November 17, 2022.
Compared with Kwasi Kwarteng's fiscal event of September 23, this will be a disaster for most middle class Britons.
It was clear that Hunt designed this budget to placate the all-hallowed — for whatever reason — OBR (Office for Budget Responsibility) and the markets. Stability is their watchword. Growth, regardless of what Hunt said yesterday, plays little part in our economy for the foreseeable future.
Unlike Kwarteng's, which did focus on growth, Hunt's statement had little to no consideration of the British taxpayer in a cost of living crisis.
What Hunt said
Before going into Hunt's address, Guido Fawkes has a brief summary and the full detail from the Treasury, a 70-page document.
Below are excerpts from Hunt's Autumn Statement to the House of Commons (emphases mine):
… today we deliver a plan to tackle the cost of living crisis and rebuild our economy. Our priorities are stability, growth and public services. We also protect the vulnerable, because to be British is to be compassionate and this is a compassionate Conservative Government.
Remember when then-Chancellor Rishi Sunak told us we did not have to worry about the cost of borrowing and borrowing itself during the pandemic? Well, now we have to worry:
Most countries are still dealing with the fallout from a once-in-a-century pandemic. The furlough scheme, the vaccine roll-out and the response of the NHS did our country proud, but they all have to be paid for.
Hunt paid homage to the Bank of England and had a poke at Kwarteng for not doing so:
So the Bank of England, which has done an outstanding job since its independence, now has my wholehearted support in its mission to defeat inflation and I today confirm we will not change its remit. But we need fiscal and monetary policy to work together, and that means the Government and the Bank working in lockstep.
He delivered a deeper attack on Kwarteng:
I understand the motivation of my predecessor's mini-Budget and he was correct to identify growth as a priority, but unfunded tax cuts are as risky as unfunded spending, which is why we reversed the planned measures quickly. As a result, Government borrowing has fallen, the pound has strengthened and the OBR says today that the lower interest rates generated by the Government's actions are already benefiting our economy and public finances. But credibility cannot be taken for granted and yesterday's inflation figures show we must continue a relentless fight to bring it down, including a rock solid commitment to rebuild our public finances.
He bowed before the all-powerful OBR, whose forecasts have not been terribly accurate over the past few years. Let us see if these come true in the coming months:
Richard Hughes and his team at the OBR today lay out starkly the impact of global headwinds on the UK economy, and I am enormously grateful to him and his team for their thorough work. The OBR forecasts the UK's inflation rate to be 9.1% this year and 7.4% next year. It confirms that our actions today help inflation to fall sharply from the middle of next year. It also judges that the UK, like other countries, is now in recession. Overall this year, the economy is still forecast to grow by 4.2%. GDP then falls in 2023 by 1.4%, before rising by 1.3%, 2.6% and 2.7% in the following three years. The OBR says higher energy prices explain the majority of the downward revision in cumulative growth since March. It also expects a rise in unemployment from 3.6% today to 4.9% in 2024, before falling to 4.1%.
This is Hunt's strategy, with the blessing of the OBR and borrowing Sunak's morality from the August leadership campaign about leaving debts to the next generation:
I also confirm two new fiscal rules. The first is that underlying debt must fall as a percentage of GDP by the fifth year of a rolling five-year period. The second is that public sector borrowing over the same period must be below 3% of GDP. The plan I am announcing today meets both rules.
Today's statement delivers a consolidation of £55 billion, and means inflation and interest rates end up significantly lower. We achieve this in a balanced way. In the short term, as growth slows and unemployment rises, we will use fiscal policy to support the economy. The OBR confirms that, because of our plans, the recession is shallower and inflation is reduced. Unemployment is also lower, with about 70,000 jobs saved as a result of our decisions today. Then, once growth returns, we increase the pace of consolidation to get debt falling. This further reduces the pressure on the Bank to raise interest rates, because as Conservatives we do not leave our debts to the next generation.
So this is a balanced path to stability, tackling inflation to reduce the cost of living and protect pensioner savings, while supporting the economy on a path to growth. But it means taking difficult decisions.
Hunt then discussed the fiscal drag elements of the budget. Fiscal drag means drawing the unsuspecting into paying new and more tax:
I start with personal taxes. Asking more from those who have more means that the first difficult decision I take on tax is to reduce the threshold at which the 45p rate becomes payable from £150,000 to £125,140. Those earning £150,000 or more will pay just over £1,200 more in tax every year. We are also taking difficult decisions on tax-free allowances. I am maintaining at current levels the income tax personal allowance, higher rate threshold, main national insurance thresholds and the inheritance tax thresholds for a further two years, taking us to April 2028. Even after that, we will still have the most generous set of tax-free allowances of any G7 country.
I was amazed he could talk about 2028 with a straight face. By then, we will probably have a Labour government. Oh well, he's done their work for them.
Continuing on tax rises, he said:
I am also reforming allowances on unearned income. The dividend allowance will be cut from £2,000 to £1,000 next year, and then to £500 from April 2024. The annual exempt amount for capital gains tax will be cut from £12,300 to £6,000 next year, and then £3,000 from April 2024. Those changes still leave us with more generous allowances than countries such as Germany, Ireland, France, and Canada.
Because the OBR forecasts that half of all new vehicles will be electric by 2025, to make our motoring tax system fairer, I have decided that from then electric vehicles will no longer be exempt from vehicle excise duty. Company car tax rates will remain lower for electric vehicles, and I have listened to industry bodies and will limit rate increases to 1 percentage point a year for three years from 2025.
At least he kept one thing from Kwarteng's statement:
The OBR expects housing activity to slow over the next two years, so the stamp duty cuts announced in the mini-Budget will remain in place but only until 31 March 2025. After that, I will sunset the measure, creating an incentive to support the housing market, and the jobs associated with it, by boosting transaction during the period when the economy most needs it.
He won't even be Chancellor then.
Moving on to businesses:
I now turn to business taxes. Although I have decided to freeze the employers national insurance contributions threshold until April 2028, we will retain the employment allowance at its new higher level of £5,000. That means that 40% of all businesses will pay no NICs at all. The VAT threshold is already more than twice as high as the EU and OECD averages. I will maintain it at that level until March 2026.
Then came the windfall tax:
Can I just say that any such tax should be temporary, not deter investment and recognise the cyclical nature of energy businesses? So, taking account of that, I have decided that from 1 January until March 2028 we will increase the energy profits levy from 25% to 35%. The structure of our energy market also creates windfall profits for low-carbon electricity generation, so we have decided to introduce, from 1 January, a new, temporary 45% levy on electricity generators. Together, those measures will raise £14 billion next year.
Business rates have been a thorn in the side of those enterprises on our high streets. Here, it would seem, Hunt offered some relief:
Finally, I turn to business rates. It is an important principle that bills should accurately reflect market values, so we will proceed with the revaluation of business properties from April 2023, but I will soften the blow on businesses with a nearly £14 billion tax cut over the next five years. Nearly two thirds of properties will not pay a penny more next year and thousands of pubs, restaurants and small high street shops will benefit. That will include a new Government-funded transitional relief scheme, as called for by the CBI, the British Retail Consortium, the Federation of Small Businesses and others, benefiting around 700,000 businesses.
Then he turned to people on benefits, proving that Sunak's furlough scheme during the pandemic was more than adequate:
… I am proud to live in a country with one of the most comprehensive safety nets anywhere in the world. But I am also concerned that we have seen a sharp increase in economically inactive working-age adults of about 630,000 people since the start of the pandemic. Employment levels have yet to return to pre-pandemic levels, which is bad for businesses who cannot fill vacancies and bad for people missing out on the opportunity to do well for themselves and their families, so the Prime Minister has asked the Work and Pensions Secretary to do a thorough review of issues holding back workforce participation, to conclude early in the new year.
Alongside that, I am also committed to helping people already in work to raise their incomes, progress in work and become financially independent. So we will ask over 600,000 more people on universal credit to meet with a work coach so that they can get the support that they need to increase their hours or earnings. I have also decided to move back the managed transition of people from employment and support allowance on to universal credit to 2028, and will invest an extra £280 million in the DWP to crack down on benefit fraud and error over the next two years. The Government's review of the state pension age will be published in early 2023.
He then discussed foreign spending:
… I salute the citizens of another country right on the frontline … the brave people of Ukraine. The United Kingdom has given them military support worth £2.3 billion since the start of Putin's invasion, the second highest contribution in the world after the United States, which demonstrates that our commitment to democracy and open societies remains steadfast. In that context, the Prime Minister and I both recognise the need to increase defence spending. But before we make that commitment, it is necessary to revise and update the integrated review, written as it was before the Ukraine invasion. I have asked for that vital work to be completed ahead of the next Budget and today I confirm that we will continue to maintain the defence budget at at least 2% of GDP to be consistent with our NATO commitment.
I was pleased to hear that overseas aid will stay at 0.5%:
Another important international commitment is to overseas aid. The OBR's forecasts show a significant shock to public finances, so it will not be possible to return to the 0.7% target until the fiscal situation allows. We remain fully committed to that target, and the plans I have set out today assume that official development assistance spending will remain around 0.5% for the forecast period. As a percentage of GNI, we were the third highest donor in the G7 last year, and I am proud that our aid commitment has saved thousands of lives around the world.
Net Zero is still going ahead:
I also confirm that, despite the economic pressures, we remain fully committed to the historic Glasgow climate pact agreed at COP26, including a 68% reduction in our own emissions by 2030.
He discussed schools, beginning with those in England:
… we have risen nine places in the global league tables for maths and reading in the last seven years.
… as Chancellor I want to know the answer to one simple question: will every young person leave the education system with the skills they would get in Japan, Germany or Switzerland? So, I have appointed Sir Michael Barber to advise me and my right hon. Friend the Education Secretary on the implementation of our skills reform programme.
… Some have suggested putting VAT on independent school fees as a way of increasing core funding for schools, which would raise about £1.7 billion. But according to certain estimates, that would result in up to 90,000 children from the independent sector switching to state schools, giving with one hand only to take away with another.
So instead of being ideological, I am going to be practical: because we want school standards to continue to rise for every single child, we are going to do more than protect the schools budget—we are going to increase it. I can announce today that next year and the year after, we will invest an extra £2.3 billion per annum in our schools.
He has asked a former Labour MP, Patricia Hewitt, to help him reform the NHS. Oh, my days:
I have asked the former Health Secretary and chair of the Norfolk and Waveney integrated care system, Patricia Hewitt, to help me and the Health Secretary to achieve that by advising us on how to make sure that the new integrated care boards, the local NHS bodies, operate efficiently and with appropriate autonomy and accountability. I have also had discussions with NHS England about the inflationary pressures on their budgets.
More money will be pumped into the system:
With £3.3 billion for the NHS and £4.7 billion for social care, there is a record £8 billion package for our health and care system. That is a Conservative Government putting the NHS first.
Barnett consequentials, which come from the hard-pressed English taxpayer, will also increase:
The NHS and schools in Scotland, Wales and Northern Ireland face equivalent pressures, so the Barnett consequentials of today's decisions mean an extra £1.5 billion for the Scottish Government, £1.2 billion for the Welsh Government, and £650 million for the Northern Ireland Executive. That means more resources for the schools and hospitals in our devolved nations next year, the year after and every year thereafter.
A new energy strategy will be forthcoming from the Business Secretary.
These are Hunt's infrastructure commitments:
… today I can announce that I am not cutting a penny from our capital budgets in the next two years, and I am maintaining them at that level in cash terms for the following three years. That means that although we are not growing our capital budget as planned, it will still increase from £63 billion four years ago to £114 billion next year and £115 billion the year after, and will remain at that level—more than double what it was under the last Labour Government.
Smart countries build on their long-term commitments rather than discarding them, so today I confirm that because of this decision, alongside Sizewell C, we will deliver the core Northern Powerhouse Rail, HS2 to Manchester, East West Rail, the new hospitals programme and gigabit broadband roll-out. All these and more will be funded as promised, with over £600 billion of investment over the next five years to connect our country and grow our economy.
Our national Conservative mission is to level up economic opportunity across the country. That, too, needs investment in infrastructure, so I will proceed with round 2 of the levelling-up fund, at least matching the £1.7 billion value of round 1. We will also drive growth across the UK by working with the Scottish Government on the feasibility study for the A75, supporting the advanced technology research centre in Wales and funding a trade and investment event in Northern Ireland next year.
He is bringing devolution to England in the form of mayoralties:
Our brilliant [Conservative] Mayors such as Andy Street and Ben Houchen have shown the power of civic entrepreneurship. We need more of this inspirational local leadership, so today I can announce a new devolution deal that will bring an elected Mayor to Suffolk, and deals to bring Mayors to Cornwall, Norfolk and an area in the north-east to follow shortly. We are also making progress towards trailblazer devolution deals with the Greater Manchester Combined Authority and the West Midlands Combined Authority, and soon over half of England will be covered by devolution deals. Taken together, that £600 billion investment in our future growth represents the largest investment in public works for 40 years, so our children and grandchildren can be confident that this Conservative Government are investing in their future.
Hunt is altering the Truss-Kwarteng investment zones to be more in line with Michael Gove's aspirations for levelling up:
I will also change our approach to investment zones, which will now focus on leveraging our research strengths by being centred on universities in left-behind areas, to help to build clusters for our new growth industries. My right hon. Friend the Levelling Up Secretary will work with Mayors, devolved Administrations and local partners to achieve this, with the first decisions announced ahead of the spring Budget.
The Truss-Kwarteng energy support plan remains in place until the end of March 2023:
I pay tribute to my predecessor, my right hon. Friend the Member for Spelthorne (Kwasi Kwarteng), and to the former Prime Minister, my right hon. Friend the Member for South West Norfolk (Elizabeth Truss), for their leadership in this area. This winter, we will stick with their plan to spend £55 billion to help households and businesses with their energy bills—one of the largest support plans in Europe. From April, we will continue the energy price guarantee for a further 12 months at a higher level of £3,000 per year for the average household. With prices forecast to remain elevated throughout next year, this will mean an average of £500 of support for every household in the country.
There is more help for the most vulnerable:
At the same time, for the most vulnerable, we will introduce additional cost of living payments next year of £900 to households on means-tested benefits, £300 to pensioner households and £150 for individuals on disability benefit. We will also provide an additional £1 billion of funding to enable a further 12-month extension to the household support fund, helping local authorities to assist those who might otherwise fall through the cracks. For those households that use alternative fuels such as heating oil and liquefied petroleum gas to heat their homes, I am today doubling the support from £100 to £200, which will be delivered as soon as possible this winter. Before the end of this year, we will also bring forward a new targeted approach to support businesses from next April.
But I want to go further to support the people most exposed to high inflation. Around 4 million families live in the social rented sector—almost one fifth of households in England. Their rents are set at 1% above the September inflation rate, which means that on current plans they are set to see rent hikes next year of up to 11%. For many, that would just be unaffordable, so today I can announce that this Government will cap the increase in social rents at a maximum of 7% in 2023-24. Compared with current plans, that is a saving for the average tenant of £200 next year.
Labour started a commotion at this point. Hunt then announced a rise in the minimum wage:
This Government introduced—[Interruption.] I thought they cared about the most vulnerable! This Government introduced the national living wage, which has been a giant step in eliminating low pay, so today I am accepting the recommendation of the Low Pay Commission to increase it next year by 9.7%. This means that, from April 2023, the hourly rate will be £10.42, which represents an annual pay rise worth over £1,600 to a full-time worker. It is expected to benefit over 2 million of the lowest-paid workers in our country, and it keeps us on track for our target to reach two thirds of median earnings by 2024. It is the largest increase in the UK's national living wage ever.
Benefits will increase by the rate of inflation:
… today I commit to uprating such benefits by inflation, with an increase of 10.1%. That is an expensive commitment, costing £11 billion, but it means that 10 million working-age families will see a much-needed increase next year, which speaks to our priorities as a Government and our priorities as a nation. On average, a family on universal credit will benefit next year by around £600. To increase the number of households that can benefit from this decision, I will also exceptionally increase the benefit cap by inflation next year.
Finally, I have talked a lot about the British values of compassion, hard work, dignity and fairness, but there is no more British value than our commitment to protect and honour those who built the country we live in, so to support the poorest pensioners I have decided to increase pension credit by 10.1%, which is worth up to £1,470 for a couple and £960 for a single pensioner in our most vulnerable households, but the cost of living crisis is harming not just our poorest pensioners but all pensioners.
The triple-lock stays:
Because we have taken difficult decisions elsewhere today, I can also announce that we will fulfil our pledge to the country to protect the pension triple lock. In April, the state pension will increase in line with inflation, an £870 increase, which represents the biggest ever increase in the state pension. To the millions of pensioners who will benefit from this measure, I say: "Now and always, this Government are on your side."
Hunt did not receive a jubilant reception from Conservative MPs, some of whom had concerns.
Dr Liam Fox asked about quantitative easing and interest rates:
I congratulate my right hon. Friend on a balanced and skilful statement prioritising fiscal stability. He will be aware that some of us believe that the Bank of England maintained monetary conditions that were too loose for too long, but that it would also be a mistake to maintain monetary conditions that are too tight for too long. Can he therefore confirm that the anti-inflationary measures that he has taken today will mean that the pressure to raise interest rates will be minimised, and that there is a much greater chance that they will fall earlier than would otherwise have been the case?
Hunt replied:
My right hon. Friend is absolutely right to focus on this issue, because every 1% increase in interest rates is about £850 more on the average mortgage, so it is hugely important to families up and down the country. The OBR has said that the measures that we have taken today will mean that inflation is lower than it would otherwise have been. That means that the Bank of England is under less pressure to increase interest rates, which for reasons that he knows are such a worry for so many families.
Sir William Cash was concerned about the ever-increasing costs of the HS2 rail project:
My right hon. Friend argued for sound money and sound foundations. Would he be good enough to explain how it is that High Speed 2 will continue beyond Birmingham at a verifiable cost of at least £40 billion, when every independent report on HS2 condemns the project and confirms that phase 2 will make rail services to all west coast destinations north of Birmingham much worse? I ask him to make a clear commitment to keep this matter under review at all costs; it is in the national interest.
Hunt said:
My hon. Friend is right that the increases in the budget for HS2 are disappointing, but a strong economy needs to have consistency of purpose, and that means saying we will make sure that we are a better connected country. The lack of those connections is one of the fundamental reasons for the differences in wealth between north and south, which we are so committed to addressing. There is a bigger issue about the way that we do infrastructure projects: it takes too long, and the budgets therefore get out of control. We are just not very good at it, and we have to sort it out.
Theresa Villiers rightly asked how soon we could move to a lower-tax economy if the forecasts are wrong. For me, this was the question of the day:
I thank the Chancellor for the announcement on schools funding, which, as he knows, is something that I raised with him as being crucial. Can he also confirm that, if current forecasts about economic recovery and inflation prove to be overly pessimistic, we will move more quickly than he has announced today towards delivering a lower-tax economy?
Hunt was non-committal:
My right hon. Friend is an immensely experienced colleague. She is right to point out that there is always inaccuracy in any forecast, and there is always variation from fiscal event to fiscal event, so we keep all those decisions under review in the round. I think it is still important to have forecasts—that is better than not to have them—but we keep all those decisions under review.
Virginia Crosbie from Ynys Môn in Wales asked how soon the new nuclear programme would begin:
This Government's commitment to Sizewell C and large-scale nuclear is welcome, and it was noted that Labour's shadow Chancellor failed to mention nuclear. When will the launch of Great British Nuclear be announced, and will its scope include large-scale gigawatt nuclear at sites such as Wylfa in my constituency, as well as small modular reactors?
Hunt was encouraging:
There is no more formidable advocate for big nuclear investment on Ynys Môn than my hon. Friend. Indeed, when I went on a family holiday to Ynys Môn this summer, she tried to persuade me to visit the potential site of a nuclear power station with my children. I apologise that I did not take her up on the offer, but it shows her commitment. My right hon. Friend the Business Secretary will be making an announcement soon on things such as the launch of Great British Nuclear—I hope before Christmas, but if not just afterwards—because we want to crack on with our nuclear programme.
Richard Drax was concerned about the burden on the taxpayer, another excellent question:
I have huge sympathy for my right hon. Friend. We are facing severe financial challenges for the reasons he explained so well, but Members on both sides of the House are promising to spend billions and billions more pounds. I remind the House that it is the private sector, and hardworking people through their taxes, who pay for Government expenditure. Does my right hon. Friend agree that raising taxes on both risks stifling the growth and productivity that he and I both want, and that would counter the recession we are now in?
Hunt defended his budget:
My hon. Friend is right to make the case for a lightly taxed dynamic economy, and I would like to bring taxes down from their current level. We are faced with the necessity of doing something fast to restore sound money and bring inflation down from 11%, which is why we have made difficult decisions today. But yes, my hon. Friend is absolutely right: there is no future for this country unless we get back on the path to being a lower taxed economy.
Mark Pawsey asked about small businesses:
My constituents in Rugby and Bulkington will not enjoy the tough decisions that the Chancellor has had to make today, but they will understand the need for sound finances after the huge expenditure that the country has made on the pandemic and supporting people with their energy costs as a consequence of the war in Ukraine. They will also want to know that businesses will continue to invest to grow and to create jobs. Will he speak about the incentives that still exist for businesses to do exactly that?
Hunt pledged his support:
I am happy to do that. My hon. Friend is quite right to raise those issues. We are doing a lot of short-term things, including help with energy bills as well as business rates. As we move to a new business rates system, we are freezing the levels at which business rates can increase and introducing a 75% discount next year for retail, hospitality and leisure businesses. Fundamentally, as a Conservative Government, we know that we cannot flourish as an economy without flourishing small businesses, and we will back them to the hilt.
Greg Smith asked what Hunt was doing about reducing fuel duty:
I absolutely agree with my right hon. Friend when he talks about the inflationary pressures coming from the aftershocks of the pandemic and the war in Ukraine. We see that at the fuel pumps and, more significantly, our haulage and logistics sector sees it with the enormous level of taxation on diesel in particular driving inflation to get food and goods on to our shelves. As he prepares for the March Budget, will he look at the inflationary impact of fuel duty on top of the high cost of diesel and see whether we can reduce it?
Hunt said he was looking at the issue:
I assure my hon. Friend that I will absolutely do that. We have a little time, and I know that fuel duty is an important issue to him and many other colleagues.
March 2023 — fuel duty hike
Hunt's answer to Greg Smith on the fuel duty hike sounded reassuring, but GB News's economic editor Liam Halligan uncovered a planned fuel duty hike of 23% for March 2023 from the OBR forecast. It would be the first since 2011:
Here's Liam Halligan talking about it:
Forbes noticed it, too, bringing the news to an even wider international audience: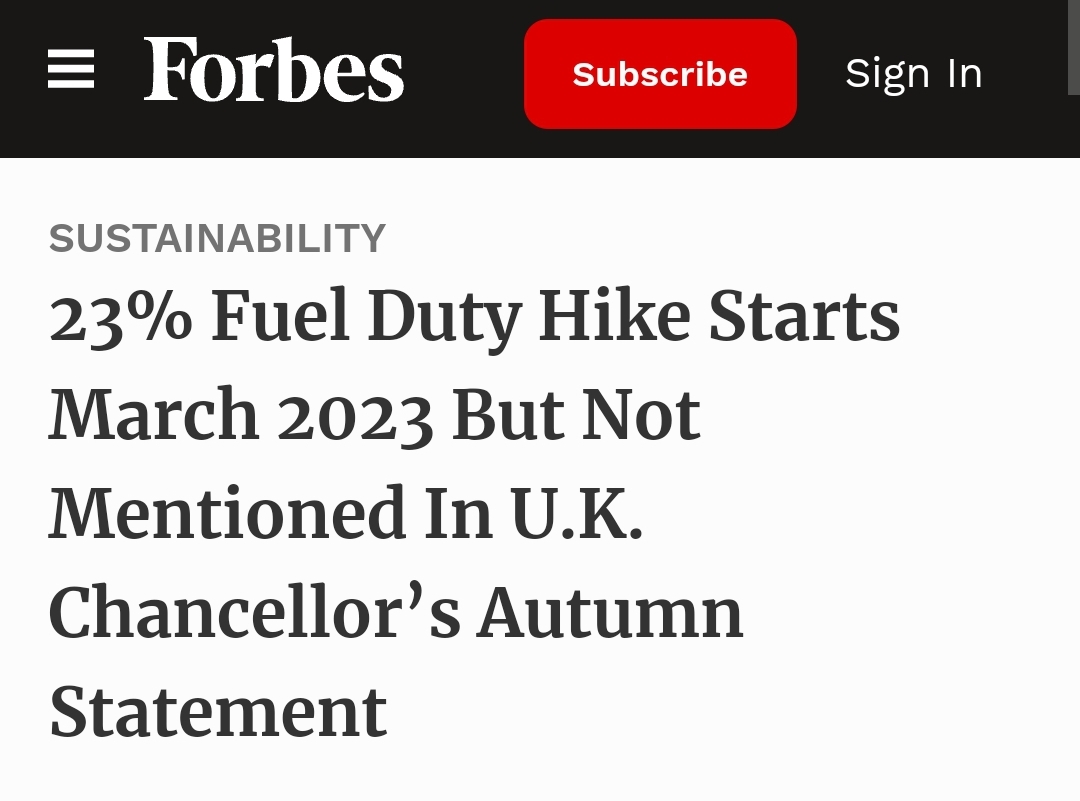 Fiscal drag
The Times had an article on the upcoming fiscal drag following Hunt's budget:
Disposable incomes, after adjusting for inflation, will fall by 4.3 per cent in 2022-23, which would be the largest fall since records began in the 1950s. It is set to be followed by the second largest fall — in 2023-24 — of 2.8 per cent.
… Despite the aspirations of Rishi Sunak to create a low-tax economy, Britain is on course for its biggest ever tax burden as hundreds of thousands of workers are dragged into higher income tax bands by the freezing of thresholds and allowances while businesses also face a jump in levies, including employment taxes.
The tax burden is set to rise to 37.5 per cent of GDP in the financial year ending 2025, reaching the highest level since records began shortly after the Second World War.
The level of taxation as a share of the national income will rise to 36.4 per cent of GDP this year and 37.4 per cent in the financial year ending 2024, breaking the previous record.
Recovery is not likely to begin until 2025, several months after the next general election. This is accurate only if Conservatives are still in power by then:
GDP is expected to rise by 4.2 per cent this year before falling by 1.4 per cent next year, only returning to pre-pandemic levels by the end of 2024. However, growth is expected to pick up to 2.6 per cent the following year and 2.7 per cent in 2026, following a recovery in real incomes, consumption and investment.
The Telegraph also had an article on fiscal drag:
Nearly a quarter of a million workers will be dragged into paying the 45p rate of income tax after Jeremy Hunt slashed the threshold at which it is charged.
The salary on which the additional rate is payable will be reduced from £150,000 to £125,140 effective next April, Chancellor Jeremy Hunt announced in the Autumn Statement, and frozen until 2028, forcing 232,000 workers into paying the top rate of tax for the first time and costing these quarter of a million taxpayers £620 on average, according to wealth manager Quilter.
The number of workers paying 45pc has more than doubled since the rate was first introduced in 2010 – rising from 236,000 to 629,000 today – as wage inflation has pushed more taxpayers into the highest income tax band.
Lowering the threshold will cost the 629,000 workers earning over £150,000 who are already impacted by the 45pc tax an additional £1,250 …
Just two months ago, then-Chancellor Kwasi Kwarteng promised that the top rate would be abolished altogether. But now the Government is hoping to earn £420m in 2023-24 by catching more taxpayers in the 45pc net, and almost double that – £855m – in 2027-28.
Neela Chauhan of accountancy firm UHY Hacker Young said the move was "a major attack" on higher earners.
She added: "It's going to bring in people into the upper rate who feel that they are far from being rich."
Tax firm RSM said that there are also unexpected consequences of slashing the additional-rate threshold and the Chancellor had opened the door to a new 67.5pc tax rate.
Taxpayers earning over £100,000 lose their personal allowance at a rate of £1 for every £2 of income.
This means for every £100 they earn between £100,000 and £125,140, a worker takes home just £40 – because £40 is lost to income tax and another £20 to the tapering of the personal allowance – creating a 60pc tax trap.
Dismal headlines
The Guardian has a breakdown of last Friday's front pages, which were bleak.
The Telegraph noted the austerity of George Osborne, Chancellor when the Conservative-Lib Dem coalition took over from in 2010, and the Labourite policies of his predecessor Gordon Brown. At the bottom of the page is an analysis from Lord Frost:
Lord Frost's analysis is pro-Truss/Kwarteng
Lord Frost points out that the OBR are predicting what Liz Truss did just a few weeks ago:
This was a very curious Autumn Statement. For the last month, we have been told that Britain needed to re-establish the confidence of the markets and put in place renewed fiscal discipline, supposedly so carelessly squandered by Liz Truss. "Eye-wateringly painful decisions" were coming for all of us …
… public spending will be at its highest since the 1970s and taxation the highest since the Second World War. Both only start to fall, gently, in the late 2020s, and then only because of some pretty heroic assumptions about growth. Indeed, under Liz Truss we were told that 2.5 per cent growth was impossible – yet the Office for Budget Responsibility (OBR) is predicting exactly that for 2025 and 2026.
How do we explain this?
To do so, I think, we have to go back to that extraordinary week in mid-October, when Truss's government blew up on the launch pad. 
She was levered out of Downing Street with the argument that she had been careless about the public finances, casual about fiscal discipline and had lost market confidence. An emergency correction was needed – tax rises or spending cuts, and probably both.
Yet on taking office, our current government will have found – as the OBR has now acknowledged – that we were already into a deepening recession. Tightening fiscal policy with growth collapsing and interest rates increasing globally would clearly have been an insane policy, one at variance with what virtually every economist would suggest. But, having destroyed the Truss administration for being insufficiently fiscally disciplinarian, the Government could hardly overtly change course itself.
That is why we got what we got. Keep growing spending, raise taxes now on unpopular groups, defer deficit reduction and everything else until 2025, and meanwhile talk a lot about austerity and discipline to disguise the reality that this is likely a similar fiscal policy to what Truss's would have been, just at higher levels of tax and spend. Then, after the election, if the Conservatives are still in power, it can all be looked at again …
… Taxes on business wreck investment and growth. Taxes on the (not very) rich destroy incentives. Britain's hard-won reputation for being a low tax country is permanently lost. And we all have less of our own money and are less free.
Another defence of Trussonomics
The Mail reminds us that the Truss plan was to cap energy prices for two years. Hunt has reduced this to the end of March 2023:
Average energy bills will rise to £3,000 a year from April as Chancellor Jeremy Hunt confirmed he was scrapping previous Government plans.
In his Autumn Statement to the House of Commons, Mr Hunt revealed changes to the 'Energy Price Guarantee' would leave Britons facing higher gas and electricity payments next year.
When former prime minister Liz Truss first announced the cost of living support in September, she outlined how average energy bills would be frozen at £2,500 a year for the next two years …
Delivering details of an altered plan today, Mr Hunt revealed the Energy Price Guarantee would now be set at a higher level of £3,000 a year for average households until April 2024.
Of course, those who use less energy at home might have less to pay:
The plan only caps the cost per unit that households pay, with actual bills still determined by how much is consumed.
Sarah Coles, senior personal finance analyst at Hargreaves Lansdown, said:
The fact that this comes on top of so many other price rises means life is going to get even tougher next spring.
More Trussonomics
The Spectator's editor Fraser Nelson wrote an analysis of the budget for The Telegraph, 'This could turn out to be the week that the Tories lost the next election'.
I noted above that some of what Hunt said points far into the future.
Fraser Nelson also observed that fact:
Suspiciously, almost all of this austerity is due to take place after April 2025, after the election. The Tory benches were very quiet during Hunt's speech, perhaps because they were piecing all this together. It was not just an Autumn Statement being written, but the next Conservative manifesto, too – with all the bad stuff saved for after the vote. Hardly the behaviour of a party expecting to win.
As one minister put it: "This was the day we lost the election." This is how some Tories see the Autumn Statement: a suicide note, wrapping a poison pill for a Keir Starmer government to swallow.
This is the alarming rate of borrowing today. Factor in the previous QE and the generous Sunak pandemic programmes when he was Chancellor:
Even now, the Government is borrowing £485 million a day – or £20,000 by the time you finish this sentence. It all needs to be repaid. And the interest we all have to pay for such debt is, broadly, treble what it was a year ago.
The new forecasts show a UK Government expecting to pay £484 billion in debt interest over the next five years – almost £300 billion more than was expected this time last year. This year alone it's £120 billion, twice last year's sum.
This extra £60 billion has had to come from somewhere. It's enough to double the size of the military, treble the police force or rebuild every school or hospital. But instead it is dead money, servicing an old debt – and things need to be squeezed to make room for it. For years, Tories wrote cheques, for HS2 and more, barely thinking about the cost. Now the bill has landed.
Nelson doesn't mention the number of times long-serving Conservative backbenchers warned Sunak over the past two years that the bill would come due, but I saw them in parliamentary debates being duly ignored. To Sunak, those men were mere Thatcherites, so last century. Rishi told us we could borrow with little consequence. Not so.
He created a lot of our current problems and campaigned in August that he would be the candidate to get us out of this situation.
Now he is No. 10, just as he wanted to be from the beginning:
Sunak can't be blamed for the debt interest. But he might have been expected to have better ideas of how to get out of the mess.
Of the Autumn Statement, Nelson writes:
Liz Truss said her message was "growth, growth, growth," but Sunak's seems to be "brace, brace, brace". A massive fiscal impact lies ahead, he says – and our mission is to recognise it, make our peace with it, and accept that talk about a low-tax future is futile. So his Autumn Statement did not kick-start a recovery. It was, instead, a requiem for growth.
Of the August leadership campaign, he reminds us:
During the leadership debate, Truss was asked what advice she would give to Sunak. Don't be so fatalistic, she told him. Don't go along with narratives of decline. She had a point. Groundless optimism ended her premiership very quickly, but groundless pessimism can also be deeply damaging.
Nelson wonders how a government can so quickly discount its people:
A million more Brits, for example, are expected to join the 1.7 million already claiming disability or health-related benefits over the next five years. They will, in turn, join the 3.5 million others on out-of-work benefits. Was it so unreasonable to hope that this number might go down, with people helped back to work? We've been promised a review into all this, but not much else.
Another assumption is that most of the 400,000 who have dropped out of the economy since the pandemic started, citing long-term sickness, will never work again. It's hard to find many other countries giving up so readily on such a stunningly large chunk of the population.
Is a uniquely British malady at work here? Or is the real problem a kind of Tory fatalism, where an exhausted governing party thinks the country is now too old, too sick or simply too workshy to get back to where it was in January 2020?
Many conservative voters said at the time that Rishi's furlough scheme was a bit too helpful — and we were paying for it.
Now we are paying even more for it.
Nelson concludes:
… the risk is that voters make up their mind now – and associate Toryism with chaos, broken promises and a general counsel of despair. Labour just needs to promise to do things better. As things stand, it's not a very high bar.
Feeling fleeced yet?
The Telegraph's editorial warned, 'Hard times ahead for British taxpayers':
Unlike the tumultuous response to Kwasi Kwarteng's unfunded growth measures in September, the market reaction was muted, which is precisely what Mr Hunt hoped for, even if the pound fell against the dollar amid forecasts of a year-long recession …
… benefits and the old age pension will rise in April by 10.1 per cent, the inflation rate in October.
This continues a trend of recent years whereby working people are expected to pay more in tax to protect social programmes that successive governments have been reluctant to reform. Although headline tax rates have not risen, the extended freeze on allowances at a time of double-digit inflation is a serious hit to the incomes of millions who will be dragged into higher bands. Some three million earners will pay income tax for the first time.
This year will see the sharpest fall in living standards on record, while the tax burden rises to its highest level as a share of GDP in decades. More than 47 per cent of national income will be spent in the public sector. In fact, spending will actually rise in real terms. The cuts are to planned budgets.
Rishi Sunak and Mr Hunt consider this social democratic approach to be fair and compassionate, closing off attack lines from Labour as a general election approaches. But there are consequences for the long-term well-being of the country if working people and businesses feel they are being fleeced to prop up failing public services and a benefit system in need of a drastic overhaul.
Essentially, the productive part of the economy is being squeezed to prop up the unproductive. The problem Mr Sunak faces is that, by 2024, the Conservatives will have been in office for 14 years and they need to offer voters a better slogan than "Labour will be worse". In fact, Labour would support many of the measures in the Autumn Statement, from loading more tax on the wealthy to increasing windfall taxes on the energy companies.
… ministers need to prepare for the worst and could proactively address the biggest drags on the economy, above all the NHS, social care and welfare benefits. The health service continues to soak up huge sums – with another £6 billion announced yesterday – and yet produces worse outcomes. Its shortcomings are causing problems throughout the economy, with treatment backlogs contributing to acute manpower shortages which the Government intends to fill by increasing immigration.
The Spectator's political editor James Forsyth, a close friend of Rishi Sunak's, explained in The Times why this recession is different to previous ones and why we need more people in the workforce. I hope his friend pays attention to this:
One bright spot amid the gloom is the unemployment rate, which is just 3.6 per cent, down from 3.8 per cent this year. This is close to historic lows. But even this glimmer is tarnished. The low unemployment number disguises how many people have left the labour force: one in five working-age Brits are economically inactive, meaning they are neither in work nor looking for it. More than five million are claiming out-of-work benefits.
The recession may last a year, perhaps two — but it will be different. Unemployment, as formally defined, won't exceed 5 per cent even during the worst of the downturn — in the 1980s it went into double digits. Seldom have there been more vacancies in the economy. It's an odd form of recession where almost anyone who wants a job can find one, but that's the situation we're in. Almost every month, the number of those not looking for work grows: it jumped by 169,000 in the three months to August. That is more than the population of Oxford.
This has consequences. The OBR thinks the cost of health and disability benefits will rise by £7.5 billion — quite a sum. A shrinking labour market is also one of the reasons why the Bank of England thinks potential growth is now a mere 0.75 per cent even in 2024-25. The Tories desperately need to get back to moving people from welfare into work — not just to reduce the welfare bill but also to boost the economy …
Alongside those not in work nor looking for it, there are 970,000 people on Universal Credit who are working very limited hours in an economy where employers are offering shifts. Hunt announced that about 600,000 of them will now be required to meet a work coach to try to increase their hours. This signals a return to Tory welfare reform …
… to ensure taxes don't need to keep going up indefinitely, two things are needed. The first is a renewed emphasis on public-sector reform. The Tory mantra used to be more for less from public services. But in recent years, it has felt like the opposite is the case. As the Institute for Fiscal Studies pointed out this week, the NHS has more money and more staff than it did before Covid yet is treating fewer people on the waiting list. This needs reversing if the tax burden is not to continue climbing ever higher.
The second is the economy needs to grow. Meat needs to be put on the bones of the growth agenda that Sunak and Hunt set out this week, with further incentives for businesses to invest.
After the debacle of the mini-budget, this autumn statement was always going to be about steadying the ship. Yet satisfying the markets is a necessary but not sufficient condition for a successful government. Sunak and Hunt must now deliver on public service reform, moving people from welfare into work and getting more out of the health and education budgets.
The Telegraph had more on the parlous state of the NHS, despite more taxpayer money being dumped into it, all for nought:
An analysis by the Institute for Fiscal Studies shows the health service in England carried out 600,000 fewer procedures in the first nine months of 2022, compared with the same period in 2019.
The NHS's budget rose from £123.7 billion in 2019-20 to £151.8  billion in 2022-23, with the extra funding tied to a target of increasing elective hospital activity by 30 per cent compared with pre-pandemic levels. This will not only be missed but matters have worsened. Why is no one being held to account?
Record sums have been poured in for years, yet there is now a waiting list of more than seven million patients. Working practices remain stuck in the past, with consultants complaining that hospitals are "like the Mary Celeste" at weekends, while most GP surgeries are only open on weekdays, pushing patients to overstretched A&E services.
The NHS unions are not helping in their demands for more money.
The article concludes:
There is something fundamentally wrong with the NHS which politicians must confront before it crashes and brings the rest of the economy down with it.
Hunt puts economic hope in migrants
It seems the OBR, a quango started by the Conservative Chancellor George Osborne and staffed by Labourites, has convinced Jeremy Hunt that he should increase our already heavy migration levels to boost the economy.
That's a left-wing idea that has never worked.
Home Secretary Suella Braverman will oppose that, but can she succeed? Only a few weeks ago, a 90-minute argument with Liz Truss and Hunt resulted in Braverman's resignation. Her security violations were a likely smokescreen for what really happened.
Jeremy Hunt is relying on a surge in net migration to more than 200,000 people per year to help deliver economic growth as he oversees a sharp rise in the tax burden to its highest ever peacetime level.
The Office for Budget Responsibility (OBR) predicted net migration – the numbers entering the UK minus those leaving – will be 224,000 next year, before gently declining to settle at 205,000 a year from 2026 onwards.
This is dramatically higher than the OBR's March estimate, when it predicted that net migration would be between 139,000 and 129,000 in the same years, some 80,000 lower.
It is also significantly higher than the long-term "ambition" of Suella Braverman, the Home Secretary, to reduce net migration to below 100,000 – similar to the target of Theresa May, one of her predecessors in the post.
The increase in migrant labour will help to buttress Britain's economy as Mr Hunt imposes higher taxes on earnings, jobs and investment. The OBR said that an increase in migration would help add to the potential size of the economy.
However, rising costs from tax are creating "growing disincentives to work", reduce business investment and depress wages, according to the OBR itself.
Business groups were even more damning. The Chancellor talked a lot about "hard work" and "fairness" in his Autumn Statement. But workers, entrepreneurs and businesses have been left to pick up the bill to keep Britain's welfare state on the road.
The OBR are being deeply irresponsible in advocating city-sized populations coming from abroad each year.
Where will these people live? How is our infrastructure — medical facilities, schools, water supply — increase to meet this demand year upon year?
Anyone travelling by Tube can pick up a copy of the Evening Standard to read about how many British twenty-somethings in London cannot find a room to rent. In many cases, there are 100 of them chasing every available room. The Standard interviews them. Their stories are heart-breaking. These young people are signed up to every rental app, to no avail.
Council tax increasing
On top of all of this, The Times reported that Hunt has given the green light to councils to increase council tax:
… the chancellor announced "more council tax flexibilities", enabling councils in England to raise council tax by 3 per cent a year (up from 2 per cent) from April 2023 and increase the adult social care precept by 2 per cent a year (up from 1 per cent) without having to hold a referendum — leaving councils free to raise the tax by up to 5 per cent next year.
Their article has charts of various council tax rates and offers this example:
If they decide to increase council tax by the full 5 per cent, council tax band D payments would rise by £115 from £2,300 to £2,415 a year in Rutland in the East Midlands — the local authority with the most expensive tax bills in England — while in Westminster in central London, the cheapest authority, they would increase by just £43 from £866 to £909 a year.
Short takes
The Telegraph has an article on winners and losers from the Autumn Statement. There are only two groups of winners: housebuyers and pensioners/benefits claimants.
The Guardian interviewed some of Hunt's constituents in leafy South West Surrey. They are unhappy with him as MP and are equally unhappy with the Government.
Guido Fawkes's sketchwriter summed up Hunt's announcement as follows:
What was the job of the day? To persuade the markets that all was under control. That debt-to-GDP would fall in reasonable time, that things would get back to normal in his cool, technocratic, managerial hands.
It's what we all need, to believe that someone knows how things work and that they know what they're doing. That there is such a thing as "sound money". That the great, communal hallucination of financial reality may be preserved.
In Guido's view, the Chancellor did exactly that. (Pound crashes, housing market collapses, the global financial architecture disappears into the Pacific Trench)
The readers' comments near the end of that post have to do with the raw deal Liz Truss got. Here's the exchange:
I find it impossible to believe that Liz Truss did so much damage in a couple of weeks with a mini budget which was never even enacted to require today's grotesque socialist budget. Hunt and Rishi must be following an ideological policy and using Truss as their excuse.
Yes, she's been made a convenient scapegoat by the WEF shills, to cover all their earlier and current mistakes and wrongdoings.
She went too far too fast and, by doing so, gave the one nation Tories and SunakHunts the opportunity to bring her down. The real villains are Sunak and Bailey [Bank of England governor] with their money printing and inflation denial. We are paying for their mistakes.
She didn't go too far too fast. That is the Conservative spin. The Socialist spin is that she crashed the economy. It was cautious and a promising start, a direction of travel being set, nothing more – except for that huge two year package on the gas bills which was pure socialism and not mentioned by anyone.
The true Conservative spin is that, as an experienced Cabinet minister, she didn't scan the political and financial hinterlands and underestimated the faux Conservative forces ranged against her. Once she u-turned she was done for.
On another of Guido's posts, a reader posited that this is all about reversing Brexit:
The champagne socialist billionaire Rishi Sunak and arch remainer narssisist Jeremy Hunt have nailed the final nails in the socialist party AKA as the Conservative party coffin. They will be wiped out at the next GE for a generation. They want to tank the economy and make everyone feel financial pain so they can say BREXIT didn't work. They will then seem to come to the rescue with every excuse on the planet and join us up first to the single market and customs union. Then kicking and screaming back into the EU. Why do you think they staged this remainer coup and got rid of Truss? The Truss budget of low tax, high wages, high growth, low government spend and the scrapping of the 2300-3000 EU laws retained on the UK statue book would have taken advantage of BREXIT and boosted the economy. They could not allow that to happen. They want to ditch plans to scrap the EU laws as that will make it harder to leave. They have folded on the NI Protocol and leaving the Jurisdiction of the ECHR. Why? Because they want to rejoin. We now are having forced on us a low wage, high tax, low growth, high government spend economy that will cripple most people financially and small businesses. Who wants to invest in the UK now?
On that note, another reader posted a photo of Hunt and Sunak sharing a laugh, with this fictitious caption:
Hunt: Told you you didn't need the support of the members.
Sunak: Yes, it was so easy to stab Truss in the back, too. Who needs democracy?
What taxpayers can do
All is not lost for taxpayers. There are ways to mitigate the effects from Hunt's statement.
Anyone who needs to cut back on food costs, protein in particular, should start eating eggs, which are cheap and the best source of protein around. Supposedly, they're in short supply, but I bought a dozen only yesterday.
The Telegraph has an excellent article on various egg preparations, whether sweet or savoury. It's well worth reading.
The paper also has a helpful article about what taxpayers can do to mitigate Hunt's raid on their money. Some will require advice from a financial planner. The most important tip is to get one's capital gains in order and start liquidating shares or funds to put into an ISA — a process called 'bed and ISA' — without exceeding the CGT thresholds. This has to be started well before the end of the 2022-23 tax year in April, when the current capital gains threshold of £12,300 expires and becomes £6,000 for one year, then £3,000 the year after that.
Good luck!
This post concludes the story of how Rishi Sunak became Prime Minister.
Those who missed them might find parts 1 and 2 of interest.
Before concluding, an important anniversary took place this week.
On October 26, 2012, UKIP MP Douglas Carswell introduced a private member's bill, 'The People's EU Withdrawal Bill'.
The groundswell of support from Guido Fawkes's readers helped bring it to the Commons:
Guido has the video and a brief comment (emphases his):
Today history was made as the first-ever crowd-sourced Bill was debated in Parliament. The majority of 5,000 readers of this website voted for Douglas Carswell to propose Britain to withdraw from the European Union, and today Carswell stood up in the House to argue the case for the People's Bill. The debate can be watched at length here. 
Here is a short video of proceedings:
A few years later, then-Prime Minister David Cameron, frightened by the overwhelming support for UKIP in the European election, decided to give the British people a referendum. It ended up being the largest plebiscite in the history of the United Kingdom. On Thursday, June 23, 2016, in pouring rain, voters said they wanted the UK to leave the EU: 52% to 48%.
In current news, during Rishi Sunak's first week as PM, as I wrote yesterday, questions were being asked in the Commons and the Lords about Suella Braverman's reappointment as Home Secretary.
The Telegraph's Madeline Grant called Braverman 'Houdini' for not showing up for an Urgent Question in the Commons about the horrifying state of the Manston processing centre in Kent, which is turning from a short-stay to a longer-term residence for Channel migrants (emphases in purple mine):
At a second Home Office UQ, this time courtesy of Labour's Diana Johnson, the Home Secretary was a no-show again …
In truth, there were unhappy campers on both sides of the House; enough to populate Butlins, if not quite Calais …
Deputising for Houdini was Robert Jenrick – a junior Home Office minister and close ally of the PM who, some say, was appointed to keep a watchful eye on Braverman and prevent her from doing anything too mad …
Yet Jenrick's arguments were more true-blue, or at least Red Wall. He had little sympathy with illegal migrants, and the diversion of resources away from their legal counterparts, and seized eagerly on Priti Patel's pet phrase, "evil people-smuggling gangs". Reinforcements soon began to arrive from the Tory backbenches. What gave Labour the right to complain, wondered Steve Double, the MP for St Austell, when they'd voted against Patel's Nationality and Borders Bill. Lee Anderson and Richard Graham warned of Britain's imminent inundation by Albanian men.
Christopher Chope reminded the Commons that whatever the state of the Manston processing centre, conditions were a darn sight worse in the Calais Jungle. Labour MPs looked scandalised, but Jenrick agreed wholeheartedly.
When asked why he was deputising for Braverman:
Jenrick, in the spirit of Sunak, came back with an answer that was simultaneously boring and unimpeachable. "Because I'm the Minister of State for Immigration" …
It is estimated that from 1% to 2% of Albanian men are in the UK. They have places to go to once they arrive. The Albanian drug trade is the latest development in our migration story.
The situation in Dover is intensifying. The Times reported the story of the week: '"Desperate" new arrivals drive Dover into taking up arms'. Sledgehammers, more like, as firearms are largely illegal here:
Sue Doyle, 59, was sitting in her living room sipping a cup of coffee on Sunday morning when a 16-year-old Albanian migrant got in through the back door, which she had left open for her dog.
"All of a sudden he was there standing in my front room," she told The Times. "He didn't seem very friendly. He kept saying: 'no police, no police'."
Doyle, a full-time carer for her mother, said she was made to her lock her dog in a bedroom and that the teenager then asked her to drive him to Manchester. When she refused he demanded her mobile phone and used it to arrange to be picked up by a contact.
… Doyle managed to sneak out of the front door and alert a neighbour, who contacted the police and confronted the young migrant.
The neighbour, Louise Monger, 36, said she became more sympathetic when she realised his age and tried to assist him. Police arrived and he was detained before the driver arrived, she said …
The teenager who was arrested was said to be in tears as he was driven away in a police car …
A few doors down from Doyle, Kerry Jones, 45, a mother of a young autistic girl, said she now sleeps with a sledgehammer next to her bed after a migrant tried to enter her home through the back door in August …
The residents complained that not enough was being done by the council, police and border force to deal with the problem. Many spoke of seeing migrants running through the streets and residential areas or "hiding in bushes" in local parks …
When a Times reporter arrived at Dover Priory station yesterday a Syrian mother and her young child approached and asked for help getting to an "army base" where their money and belongings were.
The mother, Nur Taha, 27, said she and her son, Mohammad Salu, six, arrived in Dover ten days ago in an overcrowded dinghy that was rescued on the water and were separated from her partner Akram Salu, 49, who was detained by military police, and their possessions …
When a reporter called Kent Police to request assistance for the mother and son, he was told that no officers were available as they had more pressing priorities. The advice given was to let them roam in Dover and hope that they were safe.
In a statement on Doyle's report, the force said it received a call at about 10.45am on Sunday that a man had entered "an insecure door at a property in Dover and was seeking the use of a phone".
The force added: "He was initially arrested, then de-arrested at the scene once the circumstances had been established by speaking to both parties. The man was then detained on behalf of immigration officers."
In Nur Taha's case, it is understood she and Mohammad had been processed by Border Force officers …
The council was approached for comment.
Mass migration started during Tony Blair's government and has only become worse, as the backlog of cases is through the roof.
Twenty years on, the Home Office again needs more information on those arriving, as well as stronger co-operation with France to stem the flow. Officials often have little information on claimants, whose lack of identification may be a deliberate ploy — case workers have little choice but to believe them: 75 per cent of asylum seekers were given the right to stay in the 12 months to March, the highest rate since 1990.
Meanwhile, claims are taking longer to assess, having climbed to an average of 480 days for an initial decision to be reached.
Some in the Home Office have suggested there is a deliberate policy of slowing down the processing of claims given the high rate of people granted asylum. A six-month target for assessing claims has been ditched and the rate of cases completed in that time has fallen from 80 per cent in 2015 to 17 per cent. But this looks set to change, given the soaring cost of housing those waiting for their claim to be assessed in hotels, which now stands at £6.8 million per day.
This month, the idea of erecting tent cities in London's parks was mooted, something Paris has tried with shocking effect. Most Parisian women living near one of these tent cities can no longer go out at night. Drugs, violence and noise prevail once it turns dark.
The same Times article reported that London tent cities are unlikely to come to fruition:
The idea was raised by civil servants in meetings with leaders of London councils this month, sources said.
It was considered after efforts to persuade London boroughs and local authorities in other parts of the country to accommodate more asylum seekers failed. The Home Office had issued an emergency appeal to councils for more places earlier this year as officials struggled to cope with the growing numbers of migrants crossing the Channel.
Council leaders in the meeting dismissed the prospect of installing marquees in parks in the capital and instead urged the Home Office to lift the ban on asylum seekers being able to get a job …
The Home Office made clear last night that the plans to erect tents in London parks were no longer under consideration. It said: "It is categorically untrue to suggest that the Home Office is planning to erect tents to house asylum seekers in London parks."
The idea arose during discussions on how to deal with overcrowding at the temporary asylum processing site at Manston Airport, which is only designed to hold Channel migrants for up to 24 hours.
It is unclear what Rishi Sunak has planned for Suella Braverman.
On the one hand, Sunak's people say everything is in hand, and MI5 say they have no problem working with the Home Secretary, the Times revealed:
A former Conservative minister in the Home Office told The Times: "You can't even have the vague notion that you might leak because then all the security services will clam up on you — which is not what you need."
However, responding to claims that MI5 could withhold information from Braverman, a security source said: "This is completely untrue. The home secretary and MI5 have a strong and trusted working relationship. She will continue to receive regular intelligence briefings, as was the case when the home secretary was in post previously and with other home secretaries."
Rishi Sunak's spokesman insisted that Braverman had "strong relationships" with the security services and the prime minister's full confidence.
Oh, dear: 'the prime minister's full confidence'. Those are dangerous words, dating back from the 1990s. That means a resignation or a sacking could be coming soon.
The Star wasted no time in putting 'Leeky Sue' on their Friday front page:
On the other hand, the Times said that Sunak's allies are waiting for Braverman to go, possibly so that Jenrick can step in. He wouldn't be very good, I don't think, but that seems to be charactistic of Sunak's government — business as usual, nothing gets done:
Sunak's close ally and Braverman's deputy in the Home Office, Robert Jenrick, responded to an urgent question on crossings yesterday in her place. The sole hope now, Sunak allies have whispered, is that Braverman makes a further error and goes for good, leaving Sunak and Jenrick to press on peacefully in her absence.
That doesn't surprise me in the slightest.
The Guardian continued to cast shade on Braverman:
London's Evening Standard, however, went with the story about Cabinet minister Nadhim Zahawi's defence of the Home Secretary at the bottom of their front page:
One good thing that Rishi has done is to decline going to COP27:
A new poll shows that the Conservatives are doing better than Labour, but still have a huge hill to climb:
I disagree with Guido's assessment here. The poll decline started with Boris and Partygate nearly a year ago:
That said, Guido rightly sees this as an uphill battle:
Add to that the impending storm of budget cuts, Rishi certainly faces an uphill battle.
The poll also strengthens Reform UK's claims of a resurgence, with their support at 6% and growing representing a relatively strong showing. The Conservatives face challenges from all sides…
Finally, there's the idiocy of America's Trevor Noah calling Britain racist towards Rishi Sunak. I haven't read one negative comment about his heritage from conservatives, ever. Labour — our equivalent of the Democrats — are the ones making the racist remarks.
Rishi Sunak does not believe Britain is a racist country, a Downing Street spokesman said, following claims by Trevor Noah that there was a "backlash" after he became the UK's first British-Asian Prime Minister …
"But you heard the words in the House [of Commons] on Wednesday with regard to the [appointment of the] Prime Minister," the spokesman said. When asked whether Mr Sunak believes Britain is a racist country, the spokesman said: "No he doesn't."
His words were echoed by Sajid Javid, the former chancellor and health secretary, who said Noah was "detached from reality" when he claimed Mr Sunak's appointment provoked a racist "backlash".
… Tom Holland, a popular historian and podcaster, wrote:
—————————————————————————————————————–
Now back to the leadership contest, where we pick up on the events of Saturday, October 22, 2022.
Boris returns to the UK
The Sun's Harry Cole told TalkTV that Boris and Rishi could come up with a plan to save the country:
Sky News's Mark Stone was tracking Boris's progress back to the UK:
Sky News interviewed Chris Heaton-Harris MP, who said that Boris definitely had 100 backers (see video):
Guido was eager to confirm, as Boris's numbers were far behind Rishi's at that point:
Boris landed at Gatwick mid-morning:
Guido was hopeful for his prospects:
One German newspaper, however, was less than enthusiastic, asking, 'Seriously?':
Former Home Secretary and Boris loyalist Priti Patel declared her support:
However, the never-Boris MP, Sir Roger Gale, did not mince words in an interview with LBC:
Scottish Conservatives would agree. The Telegraph's Alan Cochrane wrote:
Just when an air of undisguised relief began to filter through the higher reaches of the Scottish Tories at the resignation of Prime Minister Liz Truss, along came Boris Johnson to dampen their ardour.
They may not have been the greatest fans of Ms Truss and were glad to see the back of her. But their view of Boris bordered on the certain belief that he was a major electoral liability north of the border. And as the news emerged that the former PM aims to stand again for the top job, one former senior minister commented: "It will destroy the Conservative Party if he does."
At lunchtime, Harry Cole produced a poll for the Sun saying that Boris still topped the charts. That must have been in England, then:
However, Lord Frost thought that Rishi was the right man for the job:
One Twitter user reminded us that Boris plucked David GH Frost from obscurity and elevated him to the House of Lords:
However, the BBC's Laura Kuenssberg and ITV News's Anushka Asthana spotted a trend. Former Boris supporters, such as Lord Frost, who also supported Liz Truss, now preferred Rishi Sunak:
That afternoon, Boris's father Stanley appeared again on GB News, saying he would vote for his son if the contest went to Party members:
Just before 3 p.m., Boris backers told the BBC's Chris Mason that the former PM had the numbers:
However, the Evening Standard's Nicholas Cecil sounded a note of caution — Boris's MPs did not want their names made public:
A Mail+ report couldn't shed much more light on the names, either:
On Saturday morning, former Home Secretary Priti Patel said she was backing Mr Johnson in the leadership race because he had a 'proven track record'. Ms Truss, Defence Secretary Ben Wallace and former Home Secretary Suella Braverman are also in Mr Johnson's camp, while former No10 chief of staff Steve Barclay and ex Brexit Minister Lord Frost have publicly backed rival Rishi Sunak.
Just before 3 p.m., another Twitter user provided this analysis, saying that Rishi had the momentum and numbers:
Just after 3 p.m., Guido's spreadsheet showed that Rishi was on 120 MPs with Boris on 71:
Red Wall MP Lee Anderson declared his support for Boris after 3:30:
That was about it for Boris's afternoon.
Shortly after 6 p.m., Guido described how he and his team were compiling their spreadsheet. The following points stood out:
Here is some insight into what has happened in the last few days: the Rishi campaign has decided in their wisdom to freeze Guido out – no briefing, no contact, effectively pretending we don't exist as a fact of political life. Petulantly putting us in the penalty box for giving Rishi a hard time in the last leadership campaign. We started reporting and publicly recording the support of MPs for Boris on Thursday, and by yesterday evening the Rishi campaign was instructing their supporting MPs to contact us to confirm their support for him. As our records showed support for Rishi catching up with and then pulling ahead of Boris, his campaign reminded supporters to confirm their pledges to us. All can now see the relative strength of candidates' support.
… MPs who have not pledged can be seen by all sides. They are either genuinely undecided – waiting to see which way the wind blows – or biding their time for Machiavellian reasons, or simply ransoming their vote for the highest bid or best favour. What MPs can't do is double pledge any more. If they tell a campaign they are backing their candidate the campaign expects them to go public. If they don't go public, they are suspect.
Yesterday the site was visited three quarters of a million times, such was the demand for data.* This kind of transparency is now a fact of political life, the game has changed. Changed for the better…
*Team Rishi's strategy of ignoring the website read by so much of the membership doesn't bode well for their success if the contest goes to the membership.
Penny who?
Meanwhile, Penny Mordaunt's leadership bid wasn't the best.
Although this was strictly for MPs, The Guardian went to her Portsmouth North constituency to find out what the public thought:
Penny Mordaunt may have been the MP for Portsmouth North for 12 years, and could perhaps be the next prime minister, but some of her constituents were perplexed when hearing her name on Friday.
"Who's she? I don't know nothing about her," said James McLeish, who added he would not recognise her if she passed him on the street. "Never seen her, don't even know what she stands for."
McLeish's bemusement came hours before Mordaunt formally announced she was standing to replace Liz Truss – stealing a march on her presumed rivals Rishi Sunak and Boris Johnson.
Speaking in Cosham High Street, which runs through the centre of a suburb to the north of the port city, McLeish, 82, had a much clearer view on Truss's resignation after a disastrous 45 days in office.
The Telegraph's Tim Stanley gave us a tongue-in-cheek profile of the Leader of the House:
What about Penny Mordaunt, bringing up the rear? She was the first candidate to declare – and she surprised everyone last time by how far she went. The Tory grassroots appear besotted with this lady, thanks to her naval career and taste for innuendo; she exudes an impression of authority that was bolstered during the accession of Charles III when she managed to read aloud from an official document clearly and without error. That's all it takes nowadays. If only she were in Parliament, Angela Rippon would be a shoe-in.
Ms Mordaunt has reportedly told Jeremy Hunt that if she wins, he can write economic policy. And Mr Hunt, no doubt, rang the Bank of England and said, "If Penny wins, you can write economic policy." The Bank rang the IMF… and on it went all the way to Joe Biden, who put a call through to his wife, even though she was lying next to him, and said, "Honey, if Penny Farthing is made Queen of England, you can write economic policy."
Stanley spoke with Conservative Party members:
What do the members think? I've put out feelers. They want Boris.
They know he's not Jesus. He might have spent 40 days in the desert, but if the Devil tried to tempt him, he'd give in on every occasion. Yet they voted for Truss, the suits kicked her out – so now they want the good times back with BoJo. He likes pina coladas and dancing in the rain. And if they want him, and assuming he can find his passport – last seen in a swimming pool locker – he'll be right with us.
Harry Cole said that Penny's backers during the Liz Truss contest during the summer were now plumping for Boris or Rishi this time around:
Deal? No deal
Boris and Rishi met on Saturday evening. The meeting lasted three hours. The Times reported it took place at Boris's office in Millbank Tower. I've been to Millbank Tower. It has lovely offices and a spectacular view of the Thames.
The Sun put the talks on its front page on Sunday, October 23:
The paper's Harry Cole tweeted when the meeting ended, which was after 11 p.m.:
On Sunday, Cole said that Boris's backers did not want to make themselves public until they were sure there was no deal:
There was no deal.
The Mail on Sunday reported that Suella Braverman was backing Rishi:
She wrote in the Telegraph: 'I have backed Boris from the start. From running alongside him in London in 2012, to supporting him to be our leader in 2019 and willing him to succeed throughout the travails of this year. His resignation in July was a loss for our country.
'But we are in dire straits now. We need unity, stability and efficiency. Rishi is the only candidate that fits the bill and I am proud to support him.'
The article gave us scant information on the meeting between Boris and Rishi:
Last night's crunch summit between Mr Johnson and Mr Sunak, which is believed to have ended shortly before 11.20pm, comes ahead of tomorrow's deadline for Tory leadership hopefuls to secure the backing of 100 MPs.
The headline banners read:
Ex-Chancellor fomally confirms candidacy for Tory leadership after late-night talks with Boris Johnson

It was claimed this morning that no agreement was struck between the pair in their three-hour negotiations

Some had been hoping for a power-sharing pact between the pair in order to avoid a divisive battle
Sunday's hope would not last
The day began well, but with Boris's numbers stagnant, reality began to set in.
That morning, Redfield & Wilton Strategies released a positive poll for Boris, taken on October 20 and 21:
Guido showed us the Mail on Sunday poll, which also showed that Boris had the best chance of stemming a Labour majority were a general election to take place that day. Guido meant 'Tory' not 'Toy', by the way:
Liz Truss's Business Secretary Jacob Rees-Mogg told Laura Kuenssberg that Boris had the numbers (video):
Rees-Mogg also defended Boris's record (video):
Later that morning, Guido said that some MPs were sounding out their constituents:
Just before 2 p.m., Foreign Secretary James Cleverly tweeted that he was backing Boris:
Meanwhile, Rishi already had 150 MPs signed up to vote for him, including names:
The Mail on Sunday reported that Boris allegedly contacted Penny Mordaunt to ask her to stand aside. The sign of a desperate man:
Penny Mordaunt, who officially declared her leadership bid on Friday, was claimed to have rebuffed Mr Johnson's attempts to get her to drop out of the Tory leadership race in a phone call this afternoon.
He was reported to have told the ex-PM that, even if she did quit, most of her supporters would switch to Mr Sunak and not Mr Johnson. 
'I'm in this to win it,' the Leader of the House of Commons declared, despite signs she is struggling to win backers.
Boris bows out
Around 9 p.m., Boris announced that he was withdrawing from the contest. The time was not right for him to return, he said.
Afterwards, the Telegraph recapped the past 24 hours and said the meeting between him and Rishi on Saturday night lasted only one hour:
It was as he sat with Rishi Sunak, face-to-face for 60 minutes with no one else in the room, that Boris Johnson rolled the dice for the last time …
Barely a word had been passed between Mr Sunak and Mr Johnson since their relationship imploded in July.
Yet on Saturday night, the two biggest names in Tory politics agreed to down tools and meet, with the keys to Number 10 the prize on the table …
But the truth was that he believed a joint ticket between the two men, with him back as prime minister, was his route back to Downing Street.
The meeting was called at the behest of Mr Johnson, not Mr Sunak.
It was also, according to one figure who was in touch with one of the two candidates on Sunday, a surprisingly convivial affair. "It was perfectly pleasant," said the source.
But Mr Johnson had been forced into a meeting with his old foe in an attempt to regain control of the corridors of power.
Above all, it was no Granita pact [one between Tony Blair as PM and Gordon Brown as Chancellor, done in a London restaurant of the same name] because of one simple reality – there was no deal. Mr Sunak did not agree to stand aside. Nor did Mr Johnson. They parted ways unresolved.
On Sunday morning, Boris rang his supporters:
His gamble to take control of Mr Sunak's bigger list of backers had failed.
That much became clear at 8am on Sunday, when Mr Johnson gathered his supporters on a video call and informed them no agreement had been reached.
We found out more about his appeal to Penny to stand aside:
Ms Mordaunt gave him short shrift. The Commons Leader, who remembers being ejected from the Cabinet by Mr Johnson on his first day in office in July 2019, told him most of her MP supporters would prefer to back Mr Sunak – and that he should consider dropping out of the race and leave her to face him alone. Her offer was refused.
On Saturday, Boris's aides even said he would keep Jeremy Hunt as Chancellor:
Searching, perhaps, to persuade MPs he had credibility as a "unity candidate", Mr Johnson's aides let it be known he would keep Jeremy Hunt in post as Chancellor if he won the contest.
Little did he know that at that moment, Mr Hunt was preparing to make his first public declaration of the leadership race since ruling himself out – by backing Mr Sunak in an article for The Telegraph.
King Charles would have said, 'Dear, oh dear'.
On Sunday, around 9 p.m., Boris threw in the towel:
By 9pm, the answer was clear.
Writing to his supporters on a WhatsApp group, Mr Johnson himself conceded defeat – but claimed he had the numbers all along.
Telling friends he had been "overwhelmed" by support from MPs, he maintained that he was "uniquely placed to avert a general election".
Stressing that he had cleared the "high hurdle" of 102 nominations including a proposer and a seconder, he said he was confident he could be "back in Downing Street on Friday".
But it appeared the concern among Tory MPs about the return of their former leader had rattled Mr Johnson.
Confirming he had "reached out" to Mr Sunak and Ms Mordaunt in an attempt to strike a deal, his message concluded: "I am afraid that the best thing is that I do not allow my nomination to go forward and commit my support to whoever succeeds."
… As he told MPs on Sunday night: "I believe I have much to offer but I am afraid this is simply not the right time."
One of Boris's main supporters, Sir James Duddridge MP, was nonplussed:
An hour later, he changed his support from Boris to Rishi:
Jonathan Gullis, a Red Wall MP, didn't wait that long:
Braverman pivotal to Rishi's support
On Monday, October 24, the Times had two articles about the importance of Suella Braverman backing Rishi.
The European Research Group of Eurosceptic backbenchers [Brexit supporters], which in previous leadership contests has acted as a bloc, is increasingly fractured.
Suella Braverman, the former home secretary who was once one of Johnson's most ardent supporters, came out for Sunak. The party, she said, could not afford to indulge in "parochial or nativist fantasies" given the "dire straits" it was in now. The world was "fundamentally different" from when Johnson was elected in 2019.
Braverman's endorsement of Sunak surprised even some of her allies, with one speculating about whether she had been offered the chance to return as home secretary. "She wouldn't have settled for much less," said one.
Braverman's support was not just a blow to Johnson, it also allowed Sunak to make the case to wavering MPs that he could command support across the party. As well as Braverman, Sunak won the backing of other former ERG stalwarts such as Steve Baker and Theresa Villiers. He has even persuaded MPs who had joined a "Back Boris 22" WhatsApp group to jump ship, including Chris Loder, MP for West Dorset.
It suggests that Sunak has made assurances to the ERG on policy and jobs, given that senior ERG figures were briefing on Friday that they would seek "guarantees" before endorsing candidates, which ranged from no concessions on the Northern Ireland protocol, reaffirming the manifesto commitment to reduce immigration and senior cabinet roles for their members.
Braverman suggested as much, saying in an article for The Telegraph website that the party needed to "move beyond Leaver or Remainer; One Nation or ERG; right of the party or left of the party; wets or Thatcherites," adding: "One person can build that team: Rishi Sunak."
The other said that Boris's team had approached her for support on Saturday but was rebuffed:
Johnson's team had made a "big pitch" to her yesterday in the hope that winning her over would persuade fellow right-wing MPs to back him. She is a former head of the European Research Group of Brexiteer MPs. It is a further sign that the ERG is split down the middle between Sunak and Johnson …
Her endorsement will deliver a big blow to Johnson's efforts to attract the remaining MPs on the right of the party, as she is seen as one of their flag-bearers and rising stars.
She is the latest figure on the right to endorse Sunak following Kemi Badenoch, the trade secretary, and Lord Frost.
Braverman also signalled that Sunak had agreed to continue with reforms she had begun working on during her short spell as home secretary, including a new law to prevent the European Convention on Human Rights allowing migrants and criminals to avoid deportation. It also suggests that Sunak has agreed to press ahead with the government's controversial Rwanda policy.
I hope that all works out for her.
Unfortunately for James Duddridge, the Boris loyalist, even though he voted for Rishi, he was sacked as Trade minister on Wednesday:
Jacob Rees-Mogg also got the sack this week and has returned to the backbenches.
Rishi's 'coronation'
On Monday morning, October 24, the outspoken Lee Anderson refused to back Rishi, swapping his vote from Boris to Penny. Interesting, to say the least:
Just before 1 p.m., Rishi had over 200 backers, double of what he needed:
At 2 p.m., the all-powerful 1922 Committee assembled at Conservative Party headquarters (CCHQ) to announce the results.
They had to meet at CCHQ, because while Rishi was the new Party leader, he was not yet Prime Minister and would not be able to enter No. 10 until he met with the King, who would grant him permission to form a government. The monarch returned to London on Tuesday, at which time Rishi's premiership was formalised.
According to the 1922 Committee, Boris had real numbers behind him — and had passed the threshold:
Guido reported:
For the historical record Nigel Adams says he met this morning with Bob Blackman, Joint Secretary of the 1922 Committee.
He has independently verified the nomination paperwork and confirmed to me that Rt Hon Boris Johnson MP was above the threshold required to stand for the Conservative Party leadership in this leadership election. Therefore Mr Johnson could have proceeded to the ballot had he chosen to do so.
The nominations process is confidential and it is up to individual MPs whether they wish to publicly announce who they back in leadership elections – Bob Blackman is verifying nominations today for the remaining candidates in this leadership election. Those still suffering from Boris Derangement Syndrome may need to seek help…
At the very last minute, Penny Mordaunt withdrew from the contest.
That meant Rishi had his 'coronation' as the only candidate left.
As such, the vote did not need to go to the Party members.
Conservative MPs were happy as Larry as they rejoiced that they finally got their man in office at last.
That evening, GB News reported that the Party's phone lines and website could not handle the amount of calls and clicks from members trying to cancel their membership.
They weren't angry at Rishi as much as they were the MPs who denied them a say.
End of series
Prime Minister Liz Truss resigned early in the afternoon of Thursday, October 20, 2022.
She will remain Prime Minister until a new Conservative Party leader is elected — details to be announced — in a week's time.
She will have seen the shortest tenure of any British Prime Minister. If she serves another week, that will be a total of 52 days.
More to follow next week.
She met the King this afternoon to tender her resignation. It is, after all, His Majesty's Government.
Her penultimate meeting with him was last Thursday, immortalised here:
———————————————————————
Yesterday's post discussed Liz Truss's sacking of Kwasi Kwarteng as Chancellor on Friday, October 14, 2022.
A day is a long time in politics
Kwarteng's defenestration illustrates that one day is a long time in politics, never mind a week.
However, days are eras in Truss's government, if one can call it that.
On Wednesday, October 19, Home Secretary Suella Braverman was out and, by the end of the evening, the Speaker of the House decided to investigate an unrelated incident at a Commons vote on fracking, during which it was unclear whether the Conservative Whip and Deputy Whip had resigned. More about that in another post.
Returning to Kwarteng, on Thursday, October 13, he said he would be going nowhere. This was The Telegraph's headline on the morning of Friday, October 14:
By the time that headline appeared, Kwarteng was on his way back to London on a red eye flight from the annual IMF meeting in Washington DC.
Shortly after 11:00 a.m., by which time Kwarteng would have returned to London, Guido Fawkes tweeted that Truss would be holding a press conference that afternoon:
An hour later, Guido followed up with a tweet saying Kwarteng was about to be sacked:
Guido's post said (emphases his):
Kwasi has just arrived at No.10 for a showdown with Liz Truss. The FT, the Times, the Spectator and the Sun are all reporting he's about to be sacked. A Boris-era insider texts Guido to say "It's just getting silly now." Liz is up in front of the cameras at 2pm. Will she have a new Chancellor by her side?
Just before 12:30, he tweeted that Kwasi was out …
… commenting:
Kwasi Departeng…
Twenty minutes later, Guido posted runners and riders for Chancellor:
His post had eight names with a summary about each candidate. Personally, I would have liked to see one of these two:
Simon Clarke: A key and prominent supporter of Liz. Chief Secretary to the Treasury under Rishi, though with some major disagreements with the former Chancellor reported during his time there. A very likely candidate.
Steve Barclay: Widely reported to have been Rishi's choice for Chancellor had he won the leadership contest.
In the event, we got Jeremy Hunt, as I stated yesterday:
Jeremy Hunt: The centrist, 'party unity' candidate that may placate backbench opponents. Would be an admission that the Truss economic programme is DOA. Currently out of the country.
At 1:05 p.m., Guido posted Kwarteng's gracious resignation letter:
Guido has a better copy here. Kwarteng was most gentlemanly:
You have asked me to stand aside as your Chancellor. I have accepted.
… your vision of optimism, growth and change was right.
As I have said many times in the past weeks, following the status quo was simply not an option.
… I look forward to supporting you and my successor to achieve that from the backbenches.
We have been colleagues and friends for many years … I believe your vision is the right one. It has been an honour to serve as your first Chancellor.
Your success is this country's success and I wish you well.
This was Friday afternoon's headline from London's Evening Standard:
Kwarteng had been Chancellor for 39 days, the second shortest in British parliamentary history.
Iain Macleod lasted one month, before dying of a heart attack in 1970. The Prime Minister at the time was Ted Heath.
What happened behind the scenes
On Friday evening, The Sun's Political Editor Harry Cole posted 'Inside story of Liz Truss' first 40 days in power that ended in biggest political meltdown for 300 years'.
Excerpts follow, purple emphases mine:
Caught between the rock of mercenary traders in the City and the hard place of mutinous Tory MPs in Westminster, it began to dawn on the Prime Minister that her sticking to her plans risked her becoming the shortest ever serving PM.
But it was an email from the Office of Budget Responsibility to the Chancellor last Friday set in motion the most spectacular collapse in Government authority in modern political history.
The independent scrutineers of tax and spending were brutal in their assessment: A £60billion black hole in the nation's finances was the direct result of Ms Truss and Kwasi Kwarteng's mini-Budget.
The scale of the spending cuts that would be needed just to stop debt interest bankrupting the country were not just eye-watering but politically impossible to even a strong government.
But having junked the 45p rate, Truss was barely treading water as PM, let along one strong enough to take a toxic axe to the size of the state.
The extra £18billion Britain will be paying in interest on government borrowing alone was more than the entire Home Office budget …
And when she claimed at PMQs on Wednesday there would be no cut to public spending, the clock was ticking on a spectacular U-turn.
Even as she told the MPs that a rise to corporation tax "would be wrong at a time when we are trying to attract investment into our country", privately work was underway to do just that.
The PM began to make preparations to climb down on Wednesday evening, as her Chancellor — her closest friend and ally in politics — flew to Washington to meet global financial watchdog the IMF.
While he was there they openly criticised the Government's plans in a humiliating dressing down on the world stage.
With inflation rampant, the global experts held up Britain as an example of how not to handle it.
"We were becoming a laughing stock," one minister admits …
With Kwarteng out of the country, Simon Case the Cabinet Secretary and James Bowler, the new head of the Treasury, turned the screw on Ms Truss to jettison the plans.
And the news was grim from political advisers, too.
This was the second time that Sir Graham Brady from the 1922 Committee had to step in over Kwarteng's and Truss's economic plan. The first was Sunday, October 2, during the Conservative Party conference, which caused a U-turn on scrapping the 45% tax rate.
Cole tells us:
Away on holiday, the all-powerful boss of the backbench 1922 Committee, Sir Graham Brady, made his disquiet known in a number of calls with Ms Truss on Wednesday and Thursday.
Just as he came to visit Truss during Tory conference to warn the 45p rate had to be scrapped if she wanted to survive, Sir Graham warned the PM the knives were out for the Chancellor and Kwarteng may need to be offered up as a sacrifice if her administration were to remain in any way credible.
However, Truss's other good friend and Cabinet member, the Deputy Prime Minister (and Health Secretary) was also allegedly on manoeuvres against Kwarteng:
Deputy PM Therese Coffey was also "determined to get Kwasi" according to one senior Government source.
"She put the knife through his shoulder blades while he was still in the departure lounge."
It seems that Truss wanted to deal with her Chief Whip first:
Ms Truss also briefly considered firing the Chief Whip Wendy Morton, who MPs consider a lightweight totally unable to herd the various factions of the Tory MPs publicly machine gunning each other.
Hmm. Wendy Morton was part of the reason for the chaos at the aforementioned fracking motion vote.
Moving on:
… the PM wanted to sleep on the decision to finally fire Kwarteng …
"He had an inkling it was coming and didn't put up much of a fight", one source said.
But it is hard to overstate just what a serious blow to Truss and her entire project the decision was.
Her closest friend in politics, this was their budget written together, at times in secret, away from advisers, aides and spin doctors.
When she U-turned on the 45p rate, she misleadingly blamed it on a "decision the Chancellor had made."
Now in U-turning on Corporation Tax she has thrown that fireguard away – leaving the PM the only target left now.
The Telegraph told us more about Kwarteng's visit to Washington last Thursday:
… the outgoing Chancellor tried to put a brave face on things. Even when he knew his time in Number 11 was up, he didn't show it.
On the night he departed for London, Kwarteng continued to work the room of bankers and officials at the British Embassy in Washington DC. Rubbing shoulders with the likes of Shriti Vadera, once a Labour minister and now chairman of Prudential; Sir Danny Alexander, vice president of the Asian Infrastructure Investment Bank and former chief secretary to the Treasury; and Axel Weber, chairman of the Institute for International Finance, he stopped for quick chats, and even addressed the crowd.
But while to some it seemed like the troubles 3,500 miles away in Westminster were far away, others said he seemed distracted.
He had reasons to be. At first, the British Airways flight out of Washington Dulles at 10.40pm was full and he struggled to get on board. While he and his special adviser managed to find seats eventually, it was an uncomfortable journey home.
In Kwarteng's own words, his 38 days as Chancellor were a "baptism of fire". Investors had already delivered the verdict on his policies, but some of the starkest criticism came from Britain's strongest allies …
But for many observers, it was Kwarteng's steadfast attitude that surprised. Germany has also been criticised for its €200bn (£174bn) energy bailout. But while their finance minister Christian Lindner adopted a more contrite approach in meetings, saying the spending might not be popular with markets but was nonetheless vital, the Chancellor stuck to his message that the Government was unapologetically pro-growth.
"He just didn't seem to understand that you can't just do lots of tax and spending giveaways when the economy is unstable, prices are soaring and borrowing costs are rising," said one member of the US delegation …
One banker who attended the drinks with Kwarteng said: "We just don't know what's coming next from the UK. Which policies are staying? Which are going? Who is staying? Who is going? There's no certainty any more" …
There was more love for Andrew Bailey, the Governor of the Bank of England, who found friends among the financial establishment in Washington DC. Many have known him for several years. "I just hope they don't try to hang him out to dry too," said one US banker.
The Times suggested that Kwarteng had little idea he was about to be dismissed. Yet, motions were in play even during the Conservative Party conference at the beginning of October:
In his suite in the Hyatt Regency hotel at the Conservative Party conference in Birmingham, he told allies: "The idea that a prime minister is going to bullet her chancellor and survive, I just don't think is feasible."
Unknown to Kwarteng, his long-term friend had already been sounding out at least one former cabinet minister about the prospect of replacing him.
Intermediaries had begun reaching out to allies of Sajid Javid, the former chancellor, to gauge his appetite for a return to the Treasury in case Kwarteng was forced to fall on his sword. The prime minister's emissaries asked Javid to name his price but had not bargained on his conditions being too much for Truss to accept.
"Sajid would have only done it if he had complete control," one ally of Javid's said …
It is unclear whether more horse trading took place but by Thursday last week, Javid was no longer in the running, with Truss's allies instead pivoting to another big beast as their preferred replacement for the chancellor.
Just hours after Kwarteng left the UK for Washington to defend the prime minister's fiscal plans to his foreign counterparts at the annual meetings of the International Monetary Fund, senior Truss allies had made contact with Jeremy Hunt, the former foreign and health secretary, who only a month beforehand had backed her rival, Rishi Sunak, for the top job.
Hunt insisted yesterday that when he heard that a "Liz Truss" wanted to talk to him on Friday, he assumed it was a prank call. The twice-failed leadership candidate then cut short a family holiday in Belgium to take charge of the Treasury. By last night — after Hunt's extensive media round, during which he tore up much of the mini-budget — it felt to many Westminster observers that Hunt, not Truss, was now running Britain. Wiser heads note that the Conservatives appear increasingly to resemble a political death cult, having burnt through four prime ministers in six years and four chancellors in the space of a barely believable four months …
Truss arrived at No 10 without a ringing endorsement and faced a faction-driven Westminster.
Last night, a No 10 source denied that Javid had ever been considered for the role now filled by Hunt. "The prime minister laughed out loud at the suggestion," they said …
By Thursday afternoon, Kwarteng knew that his political future might be in jeopardy, despite being 3,700 miles away across the Atlantic. He spent most of his time at the IMF gathering skipping meetings to hold talks with No 10 and his aides in London.
Kwarteng eventually cut short his trip by two days and booked the last overnight flight back to London. By then, however, at least one of his closest allies had already guessed that the game was up. "It wasn't a massive shock," they said. "There was nothing to come back for, no major meeting or announcement. The only reason he was coming back was to be sacked."
If Kwarteng suspected on Thursday evening, as he addressed a room of 200 bankers in Washington at the Institute of International Finance, that the axe was about to fall on his cabinet career, he gave no indication.
He told them there were three important things to sort out: the energy package, growth, and keeping the Bank of England independent …
Confirmation that Kwarteng was receiving his marching orders came the next morning. When he arrived at Downing Street after his red-eye flight, he was informed by Truss that she needed to restart her premiership with a "clean slate" — something that would be impossible with him as chancellor. The two had "a warm meeting" in the Cabinet Room.
"The PM felt deep personal sadness at the decision but made peace with it," an aide said. "Senior party figures had encouraged her to move the chancellor on" …
… Truss's decision to demote Kwarteng's No 2, Chris Philp, who had already been blamed for the policy to abolish the additional rate of income tax, has left some moderate MPs incandescent.
"The most disgusting thing she has done is sack Chris Philp," one said. "He's got his faults, he makes mistakes, but he's a good person and the person she needs around her and they just f***ed him around completely. They used him, sucked the blood dry and then spat him out. They are a real bunch of bastards."
According to a source in Kwarteng's constituency of Spelthorne, Surrey, the former chancellor experienced his first taste of the public's dissatisfaction during a walkabout on his local high street shortly after the mini-budget on September 23. Although his pledge to cut stamp duty had been expected to provide a welcome boost to the housing market, Kwarteng was left in no doubt about the views of a local estate agent who, on being waved at through the shop window, responded with a rude hand gesture.
There were signs the wheels were falling off the Truss bandwagon on Tuesday, when she reiterated her commitment to cutting taxes in a speech at a Conservative fundraising dinner for which guests paid £1,500 a seat. Truss, whose speech was described as "a worse version of the one she gave at conference", was denied a standing ovation.
"It was embarrassing," one guest said. "I can't think of another PM who hasn't received a standing ovation after addressing the same event — not even Theresa May at the height of her Brexit battles. The only topic of conversation was how the party could get rid of her."
Tory donors are also understood to have snubbed the PM. "Aides came to our table and asked our host, a prominent Tory donor, if he wanted to speak to the PM, as is customary. He told them bluntly that he would rather not."
Several miles away, at a separate dinner organised by Mel Stride, a leading Sunak supporter, those present were unanimous in their view that Truss should be replaced.
"The major discussions are no longer about her removal but how to do it," said one of those present. "It was mainstream, moderate MPs. I've never been to a dinner like it in my life. The whole room was discussing how to remove the prime minister."
On Wednesday, Truss faced the wrath of MPs at the 1922 Committee. The No 10 team have privately pointed the finger of blame at the whips for not preparing a proper operation beforehand. Truss was described as "incandescent" that she addressed the back-benchers without Sir Graham Brady, the committee chairman, leading the meeting. "She was stitched up," an ally said. "It was the same public schoolboy men attacking her at the 1922 who then went out to tweet about how good her tax cuts were."
Truss appears to have anticipated that calls for her removal would only grow after Kwarteng's sacking. Within minutes of the prime minister's disastrous eight-minute press conference on Friday afternoon, Thérèse Coffey, the deputy prime minister and health secretary, held a phone call with dozens of ministers in an attempt to shore up Truss's support. Looking "very upset", according to one person on the call, Coffey acknowledged the government had gone "too far and too fast" in the mini-budget but insisted, despite the severe setbacks, that No 10 was determined to prove the "flipping" Office for Budget Responsibility wrong …
Later, Coffey held a second call with backbench MPs, but it did not take long for the mood to sour. Laurence Robertson, a loyalist, told Coffey that Truss's supporters had been made to "look like fools", while Johnny Mercer, Andrew Percy and Steve Double are said to have claimed that the party was hurtling towards "disaster."
… There are reports that as many as 100 letters expressing no confidence in Truss have been submitted to the 1922 Committee, which some backbenchers believe would give Brady a mandate to change the rules and get rid of the year's grace a new prime minister usually has before a leadership challenge can be launched … 
"I've never been more depressed by what has happened in my entire time as an MP," one former minister said. "She sacked Kwasi out of survival but it actually made it worse for her. I think she will be gone by the end of the week" …
Although many of the party are unified in their desire to remove Truss, there is no agreement on who could replace her …
Truss's dire press conference
Truss's press conference last Friday was one for the history books.
She looked white as a sheet and visibly shaken, as if she were a hostage reading a pre-prepared note in front of a camera.
The Naked Emperor's Substack post from October 17 might give us an indication of what went on (bold emphasis his):
Alfred Kammer, head of the IMF's European department said he praised the UK's "strong institutions" but that the IMF would only deliver its verdict once policymakers' "process of recalibrating" the policies had been completed.
It sounds like Kwasi was sent to Washington DC to be assessed but he failed miserably. He was asked to change his mind but when he stuck to his guns, the message was sent back to London that this guy must be removed.
With the message received loud and clear back in London, a new Chancellor needed to be chosen. Once again, Liz Truss thought she was in charge and looked to replace Kwasi with Sajid Javid. However, once more, the powers that be had other ideas and she was told to appoint Jeremy Hunt.
But the main question remains – where was Jeremy Hunt? Why was he not by the Prime Minister's side when she announced his appointment?
The answer is that he was nowhere to be seen because Mr. Hunt had been in Brussels for three days. What was he doing there? Who was he meeting with? Was he being given his orders in case Kwasi couldn't be turned?
Clearly Liz and Kwasi didn't want to reverse course. Her extraordinarily short press conference … looked more like a hostage video.
Without further ado, here's the eight-minute press conference, which includes four questions from the media — Ben Riley-Smith from The Telegraph, Harry Cole from The Sun, Robert Peston from ITV News and a fourth whom I've forgotten. It starts a little after the 36:00 point:
It took Truss ages to choose the appropriate reporter:
Umm … ahh … let's see …
She chose The Telegraph and The Sun first, because those would be the most favourable towards her plight, but it did not turn out like that.
This was The Telegraph's front page on Saturday:
On Saturday, Harry Cole wrote:
Weakened and defenceless, when I asked the PM at yesterday's disastrous press conference why she should remain in office, she could barely muster an answer.
After taking just four questions from reporters, she rushed for the exit – barely eight minutes in.
Last night No10 were scrambling to simply survive in office.
"Tax cuts were meant to be the easy part", a minister claims.
Here is a clip of him asking his question and Truss's answer, which is about her taking 'difficult decisions':
After Truss took the fourth question, she walked away. That was it.
Cole is in the centre of the next video, looking bemused:
You could not have made this up — any of it.
Truth is stranger than fiction.
More to follow on Friday and early next week.
Pity our Prime Minister Liz Truss.
The choice of Conservative Party members, the lady who wanted a Thatcherite premiership of low taxation and high growth, is now silent.
On Thursday, October 13, in her private weekly meeting with King Charles, he greeted her with 'Dear, oh dear':
He could have at least waited until the press were out of the way.
On Friday, October 14, she was forced to sack her Chancellor and good friend Kwasi Kwarteng.
The two of them were not playing the globalist game for high taxation and low growth.
Kwarteng's brilliant mind
Kwarteng was elected as MP for Spelthorne in 2010, part of Prime Minister David Cameron's fresh, youthful Conservative intake that year.
He worked on Brexit in 2019 as part of Theresa May's government. Later that year, he was keen for Nigel Farage to stand down candidates in order for Conservatives to win convincingly in the general election — and get Brexit done:
Under Boris Johnson, in 2021, as Business Secretary, he became the first black — and first Conservative — Secretary of State. In that role, he refused to lift the moratorium on fracking. On the other hand, on July 6, 2022, he ensured that two coal plants are staying open to help ensure that the UK has adequate energy supplies this winter.
He was not a man in favour of high taxes, even in the wake of the pandemic, telling LBC radio on March 2, 2021:
Obviously we have to balance the books over time, but I'm a low tax conservative. The real key is to grow the economy. The best remedy for the deficit, the best remedy for the economy is to open up the economy, allow people to get on with their lives, allow businesses to start trading again.
In July 2021, he politely opposed the National Insurance tax hike.
In June that year, he supported the Government's caution on lifting final coronavirus restrictions in England and sagely predicted that there would be no more lockdowns in England.
Once Liz Truss was made Prime Minister, we found out more about his friendship with her, which began when she, too, was first elected to Parliament in 2010.
On September 6, 2022, the Mail posted an old photo from earlier parliamentary days of the new Chancellor and the new Prime Minister with this caption:
The new Chancellor Kwasi Kwarteng is a close friend of Liz Truss, so close that he lives 350 yards away in Greenwich.
The article also told us more about his towering height and intellect (emphases mine):
Although he is not widely known to the public, the 47-year-old MP for Spelthorne, Surrey, comes equipped with a solid academic background.
At 6ft 5in, Mr Kwarteng is a powerhouse physically and intellectually …
He speaks German, Greek and French, and writes poetry in Latin.
One friend recalled how, when the school introduced Italian to the curriculum, 'the teachers were trying to teach rudimentary Italian but Kwasi learnt the whole language – the teachers were struggling to keep up with him'.
Like Boris Johnson, who attended Eton a decade earlier, Mr Kwarteng shone at the Wall Game, a hybrid of football and rugby, where he played First Wall, described by an Etonian as 'an almost suicidal position that involved spending much of the match having his head scraped against brickwork' …
He was a prefect at the school and is still, it is said, held up as an example of how to succeed in Oxbridge interviews.
He went up to Trinity College, Cambridge:
He excelled at Cambridge where friends described him as 'supremely confident, but not arrogant'.
One said he 'had quite a few girlfriends – he had catching up to do after his boys' private school upbringing'.
Professor Tim Whitmarsh, who taught him Latin and Greek, was quoted as describing him as 'a bit of a young fogey', saying: 'I once saw a 19-year-old Kwasi in full brown tweed bumbling around with a pipe in his mouth on a baking hot day.' 
More recently:
Last year, Mr Kwarteng bought a Victorian villa just 350 yards from Miss Truss's £1.5million four-storey townhouse in Greenwich, south London.
Now they are neighbours in Downing Street too.
At one point Mr Kwarteng was dating Amber Rudd, the former Conservative home secretary, but the pair split up.
He then met Harriet Edwards, 36, a former pupil of Cheltenham Ladies' College and now a high-flying corporate lawyer specialising in advising private clients on 'succession' planning.
The pair married in 2019 and have a baby daughter, Ida, born last year …
Said to be a 'pragmatist rather than an ideologue', the free-marketeer's ministerial office allegedly boasts a large whiteboard on which are scrawled the letters 'MSH', standing for 'making s*** happen'.
With the multiple challenges facing the new chancellor, it is a mantra that may serve him well.
On September 7, The Telegraph had a profile of Kwarteng, which gave Truss supporters further hope.
We discovered that he wrote for the newspaper and had decidedly conservative opinions even in his 20s. The article featured a screenshot of his column of August 1, 1997 about higher education — 'Don't go to university, make money instead':
The man appointed the 109th Chancellor of the Exchequer had been considered a rising star well before he entered Parliament and first made his name at the age of 22 with a column in The Telegraph.
From higher education to the rise of "lad mags", Mr Kwarteng left a trail of published evidence showing his youthful thinking on the state of Britain. 
According to Mr Kwarteng, universities were not just a waste of time for those hoping to make lots of money but "a trick of the mind". They offered value of a sort as "a place for reflective thought, like the monasteries of the Middle Ages," but were only really popular as a way of proving one's smarts …
While universities might be conducive to research, on the whole, Mr Kwarteng thought, "the university added little to the talent which was already in them". 
For that reason, the MP for Spelthorne thought it "ridiculous" that everyone should go to university.
Also in August 1997, he also wrote about his scepticism of those who know best in '"Experts": it's the same old story', wherein he expressed his doubts about climate change:
"We live in the age of the expert," he declared, "of course, all these experts are invariably self-appointed, and they all contradict each other."
Mr Kwarteng lamented the loss of Western "reason and objective investigation" and said that the witchdoctors of "simple peoples" had been "reincarnated in a modern, Western, suit-wearing capacity.
"They are the consultants, health gurus, constitutional experts, psychologists and sociologists who seem to spring from the ground at every opportunity."
… In his column, he highlighted global warming as an example of "conjecture" dressed up as "granite fact".
It's a pity he later changed his mind. Perhaps he did it for political expediency. Who knows?
On at least one issue, however, Mr Kwarteng has clearly come to accept the views of the experts …
As Business Secretary, he has declared it essential for governments to intervene to tackle climate change. 
The Telegraph article has several more of his columns to explore.
Kwarteng as Chancellor
A fortnight before he delivered his fiscal event to Parliament, he pledged that his focus on growth would be 'relentless'. The Times reported:
The new chancellor has promised a shift in economic policy towards an "unashamedly pro-growth agenda" rather than worrying about redistribution.
Kwasi Kwarteng promised "to do things differently" as he acknowledged the need for higher borrowing over the winter to help households with their energy bills. However, he promised "fiscal discipline over the medium term" by ensuring the economy would grow faster than government debt, saying this would require deregulation and tax cuts.
After meeting key City figures, including the chief executives of Barclays, NatWest, Lloyds Banking Group and HSBC, Kwarteng said that he wanted to deal with economic problems through growth, with a goal of getting the underlying rate up to 2.5 per cent.
"The prime minister and I are committed to taking decisive action to help the British people now," he said. "That means relentlessly focusing on how we unlock business investment and grow the size of the British economy, rather than how we redistribute what's left."
He and Truss needed to work quickly to come up with the fiscal event. The nation had been in mourning for the Queen from September 8 through September 19. Meanwhile, the Conservatives' opponents were braying for a statement.
On Thursday, September 22, Kwarteng tweeted:
That day, The Spectator's Katy Balls explained that Truss wanted to move quickly:
Liz Truss is in a race against time. It's not just the prospect of an election in two years. It's the political problems – from party management to events outside of one's control – that quickly clog up a prime minister's in-tray. It's why for all the efforts to play down Friday's fiscal event as a mini-Budget, it is likely to be anything but small. Truss and her Chancellor Kwasi Kwarteng plan to push through as much as possible while their stock is highest …
Truss and Kwarteng have said their priority is to boost growth. In order to do that, they are undoing plenty of policies by their predecessors. The plan for investment zones – areas that could benefit from a lighter planning regime and various tax breaks – has already been briefed as a change of priorities compared to the former Levelling Up secretary Michael Gove. A government insider told the Financial Times this week: 'The plans make Gove look like a socialist.' There will also be further measures to undo more of the policies brought in by Rishi Sunak as Chancellor. 
Coffee House understands one plan under consideration is the return of tax-free shopping for tourists. As Chancellor, Sunak axed the 20 per cent discount for foreign visitors – leading to an outcry from MPs who said it would make Britain less attractive to businesses. At the time, the Treasury defended his decision on the grounds that 'this is getting rid of a tax cut that mainly benefits foreign billionaires.' However, the sector has voiced frustrations that this has led UK business to drop off while European capitals have seen business go up.
How will all this go down? As the Bank of England raise interest rates by 0.5 percentage points to 2.25 per cent in an attempt to combat inflation, already there are warnings about the effect of the government's planned borrowing. The Institute for Fiscal Studies has said that the planned tax cuts are likely to push UK borrowing and debt to unsustainable levels. The hope in government is that rather than spark alarm, the markets will have already priced in the new direction they are taking, and what happened in August suggests they may well have done so.  
'The strategy is do everything now,' says one person close to Liz Truss. 'This government has balls of steel'. In adopting this approach, Truss and Kwarteng are taking a gamble – and it won't be too long before it becomes clear whether or not it is paying off.
True conservatives cheered the package Kwarteng delivered to Parliament on Friday, September 23:
We felt as if Brexit would finally become the reality that would thwart Labour:
Our debt would remain the second lowest in the G7:
Guido Fawkes posted Kwarteng's economic plan in full as well as a summary, excerpted below:
Price of Energy
Government freezes household energy bills at £2,500

Government will

subsidise wholesale energy prices for businesses

Total cost of energy package for 6 months from October will be approximately £60 billion
Inflation
Government plan will reduce peak inflation by 5%

Chancellor: Bank of England independence is "sacrosanct"
Growth
Government will focus on growth target of 2.5%
Barriers to Enterprise
Government will bring forward bill to unpick regulation and launch a review into decision making

Increase disposal of government land to build more homes

Government will remove cap on bankers' bonuses

…



Tax
Planned rise in corporation tax is cancelled, it will remain at 19%

Annual investment allowance will not fall to £200,000 as planned, will remain at £1 million

Office of tax simplification abolished,

tax simplification mandated in all government departments

IR35 rules changed: 2017 and 2021 reforms scrapped

Planned increases in duty for beer, wine and spirits cancelled

VAT free shopping for overseas visitors

Increases to National Insurance contributions cancelled

Stamp duty threshold raised from £125,000 to £250,000; for first time buyers it will rise from £300,000 to 425,000

Kwasi will abolish the highest 45% rate of income income tax. Top rate now 40%.

Basic rate of income tax cut to 19% from April
Ahead of Kwasi's statement:
FTSE 100 is at 7,120
£/$ 1.1163
£/€ 1.1435
10 year gilt yield 3.49%
That afternoon, The Telegraph's Allister Heath was over the moon:
This was the best Budget I have ever heard a British Chancellor deliver, by a massive margin. The tax cuts were so huge and bold, the language so extraordinary, that at times, listening to Kwasi Kwarteng, I had to pinch myself to make sure I wasn't dreaming, that I hadn't been transported to a distant land that actually believed in the economics of Milton Friedman and FA Hayek.
But Liz Truss and Kwarteng are very much for real, and in revolutionary mood. The neo-Brownite consensus of the past 20 years, the egalitarian, redistributionist obsession, the technocratic centrism, the genuflections at the altar of a bogus class war, the spreadsheet-wielding socialists: all were blown to smithereens by Kwarteng's stunning neo-Reaganite peroration.
Hardcore, unapologetic liberal Toryism is back. This fiscal statement is in some ways an even bigger deal than that previously greatest of Budgets, Lord Lawson's extravaganza of 1988, so long ago that my generation cannot remember it. All the taboos have been defiled: the fracking ban, the performative 45pc tax rate, the malfunctioning bonus cap, the previous gang's nihilistic corporation tax and national insurance raids. The basic rate of income tax is being cut, as is stamp duty, that dumbest of levies. There will be more reforms, more deregulation from a Chancellor explicitly committed to a flatter and simpler tax system.
It wasn't merely the policies that were astonishingly good: just as remarkable was Kwarteng's language, the arguments he deployed to explain his decisions, the lucid free-market philosophy from which they emanated. He spoke of the need to bolster incentives, to encourage business investment, to increase work, to reward savings. He explained that this meant that the returns on capital and labour had to be improved. He wants to usher in a new Big Bang in the City and launch dozens of new Canary Wharfs on steroids.
At a stroke of a pen, Britain's competitiveness, its attractiveness to investors and top talent, has been transformed. Money and jobs will flow in, especially from the Eurozone. Britain's central pathology is low growth, held back by faulty economic, fiscal, monetary and regulatory policies: higher spending begets higher taxes, which lead to a vicious cycle of even lower growth, and hence yet more taxes, and so on.
I watched Kwarteng's speech to Parliament and the debate that followed. Allister Heath was right in everything he wrote.
On Sunday, September 25, The Sun wrote that its polls indicated the British public supported nearly all of Truss's proposals that Kwarteng delivered:
DELIGHTED Brits overwhelmingly back Kwasi Kwarteng's key income tax and stamp duty cuts, a poll found …
And PM Liz Truss says their radical plan will usher in a "decade of dynamism" …
A Deltapoll survey for The Sun on Sunday found many of his central policies have gone down a storm.
His pledge to slash the basic rate of income tax from 20p in the £1 to 19p from next April, benefitting 31million workers, got the backing of 63 per cent of respondents.
A majority of Labour and Tory supporters like the plan.
Meanwhile, the decision to ditch stamp duty for first-time buyers on homes worth up to £425,000 was approved by 61 per cent of respondents.
The move to reverse the 1.25 percentage point hike in National Insurance Contributions was liked by 59 per cent of the 1,553 people surveyed.
Some parts of the mini Budget, however, were far less popular. Just 30 per cent of voters backed the decision to scrap the bankers' bonus cap.
And even fewer — 28 per cent — approved of the move to do away with the 45p top rate of income tax, which will put more cash in the pockets of society's top earners …
Some delighted Tory MPs punched the air in delight after Mr Kwarteng detailed his mini Budget to the Commons.
One senior Tory said: "I am delighted. Finally, we have a proper Thatcherite budget."
But others warned it was a punt that may cost the Tories the next election.
One minister crossed his fingers as he said: "It is a huge gamble. If we see growth then it will have worked. It's a roll of the dice."
The annual Labour Party conference convened that Sunday.
The Spectator's editor Fraser Nelson pointed out that their leader Sir Keir Starmer opposed only the abolition of the 45% tax rate:
The Sun's editorial that day reminded Britons that it was Gordon Brown who put the 45% rate in place — and that was late in his premiership, around 12 years ago. His predecessor Tony Blair had not. As such, Labour had no room to complain:
For too long — if partly by necessity of the pandemic in recent years — the Conservatives have been parked on the centre ground, often operating from a Blairite or Brownite playbook.
The spleen-venting over Mr Kwarteng's most controversial call — ditching the 45 per cent top tax rate for those on over £150,000 — ignores the fact that, throughout the Blair years, it was the exact same as the new 40 per cent levy.
Nonetheless it's true that the move does give Labour an easy line of attack, as does the Government's reluctance to trumpet the fact that it IS already subjecting energy giants to a windfall tax — one which is raising around £30billion.
Yesterday Labour leader Sir Keir Starmer confirmed he would retain the vast majority of the Chancellor's tax cuts if he gained power.
Already, however, the doomsayers, including Torsten Bell, were already weighing in, as Guido Fawkes wrote that day (emphases his):
… Labour have accepted two thirds of the personal income tax cuts. They are only rejecting one cut, the top rate cut…
So the the dividing line between the parties is: Will "new era" economics work and crank growth up to 2.5% before the next election?
Not a chance say Rachel Reeves and the assembled hardline-centrists of the broadsheet punditry, plus all the orthodox economists from the IFS, Institute for Big Government and gloomy Torsten Bell with his distribution charts. Kwasi and Liz say it will work. It won't surprise co-conspirators that Guido thinks it is less of a gamble than the BBC's Faisal Islam reckons. Barring oil going to $300 or some other catastrophe, it is far more likely to work than the doomsters would have you believe. If Kwasi and Liz fail to hit the 2.5% target they have set for themselves, they will deservedly lose the next election. The choice now is pull out all the stops and go for growth, or go into opposition…
At conference, two Labour MPs of colour criticised the Conservatives' choice of Chancellor in Rishi Sunak, his successors and Kwasi Kwarteng. Guido reported on Rupa Huq's words about Kwarteng, which earned her a suspension from the Party, despite her apology. Shadow Rail Minister Tan Dhesi said he wanted to see white males in the Conservative Cabinet rather that persons of colour:
Guido doesn't consider Tan's comments to be half as bad as Rupa Huq's. His quote about Boris having an Asian do his dirty work for him, alongside Huq's referral to Rishi as "a little brown guy", is indicative that Labour somehow questions the legitimacy of non-white Tory Cabinet ministers. Does anyone get the sense Labour are slightly panicked about the Tories having a more diverse front bench than they do?
Fatal criticism despite global problems
But that was nothing compared to the big anti-Truss, anti-Kwarteng fallout that took place elsewhere that week.
On Monday, September 26, the IMF criticised the fiscal event.
Lord Frost defended Truss and Kwarteng in an article for The Telegraph: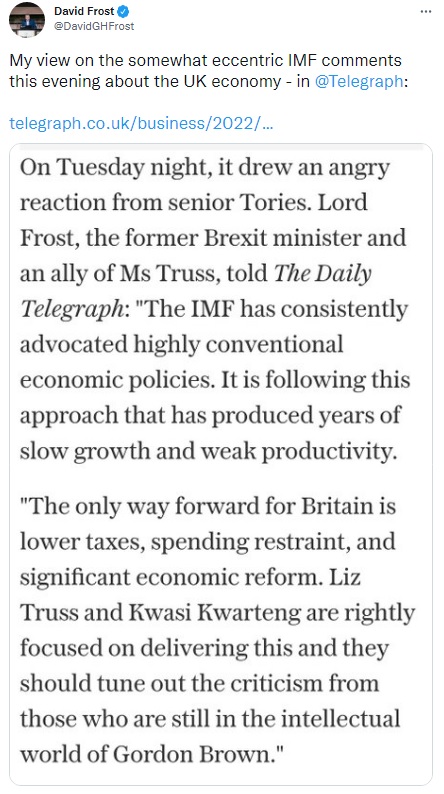 The IEA's head of public policy said that one of Margaret Thatcher's budgets — that of then-Chancellor Geoffrey Howe — was similarly criticised and ended up being wildly successful: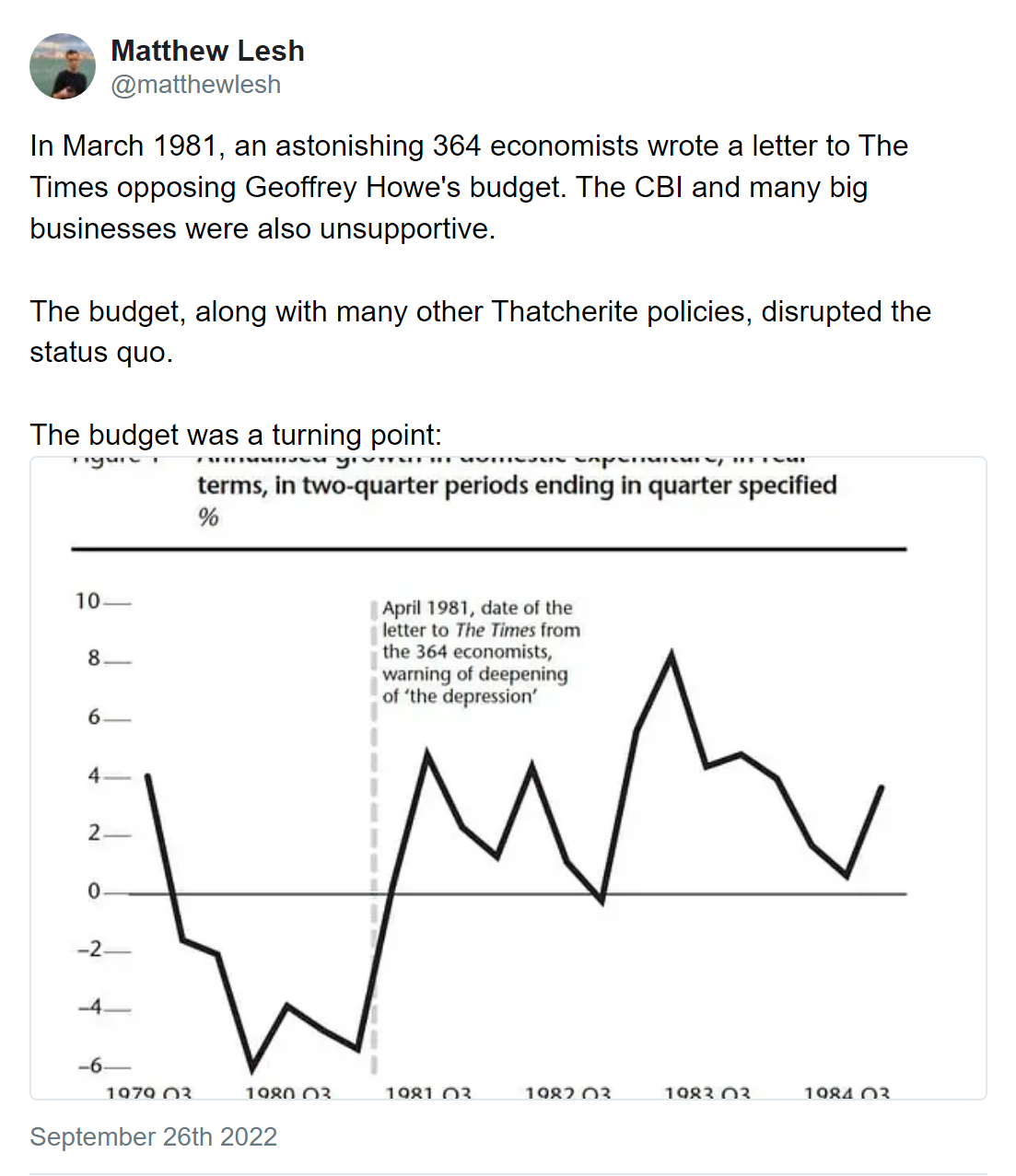 On Thursday, September 29, Labour MPs were back at home but outside criticism of the Truss-Kwarteng plan continued from globalist sources.
The US Treasury had weighed in against the plan after the IMF had.
The markets wobbled that week.
It should be noted that the UK was not the only country suffering from jitters — it was every other main economy, too.
With regard to us, however, the Bank of England had to step in with a fortnight of measures, too complicated to explain here, that put an end to risky measures that British pension funds had been using for several years.
Nevertheless, Truss and Kwarteng got it in the neck.
The Telegraph had a running diary of events that Thursday morning. Excerpts follow, covering the period from 7:30 to 10:30 a.m.:
The Prime Minister is due to undertake a tour of regional BBC radio stations this morning when she will be grilled on her tax cuts and spending plans after they sparked economic turmoil.
Lord Clarke, the Tory former chancellor, has argued this morning that no other Conservative government would have made a "mistake" like Kwasi Kwarteng's mini-Budget. 
The Tory former chancellor told Times Radio: "If the pound sinks any further, then they will have to perhaps retract some of the measures because the more the pound goes down, the more inflation goes up."
The Treasury has said Kwasi Kwarteng will deliver a follow up statement to the mini-Budget in November in which he will set out the Government's medium-term economic plans. 
But the Chancellor is under mounting pressure to deliver a statement to reassure the markets and the nation much sooner than that.
Chris Philp, the Chief Secretary to the Treasury, has defended the Government's decision to scrap the 45p top rate of income tax.
Asked why it was necessary to make the move now, he told Sky News: "The top rate of now 40 per cent, reducing from 45, makes us internationally competitive, it puts us on a par with a number of other economies."
After the Bank of England was forced to step in to calm the markets, Mr Philp told Sky News: "No one's perfect but I'm not going to apologise for having a plan to grow the economy …"
Chris Philp, the Chief Secretary to the Treasury, has dismissed suggestions that Kwasi Kwarteng should resign as Chancellor over his handling of the mini-Budget. 
Liz Truss has defended her mini-Budget plans as she said as Prime Minister she is prepared to take "controversial and difficult decisions". 
Liz Truss has said the world is facing "very, very difficult economic times" as she also insisted Kwasi Kwarteng is working "very, very closely" with the Bank of England.
Liz Truss said that "we have seen difficult markets around the world because of the very difficult international situation we face". 
Liz Truss has defended the decision to scrap the 45p top rate of income tax as she argued that lower taxes "help everybody".
BBC Radio Bristol presenter James Hanson challenged Liz Truss over her repeated claim that financial markets around the world have been facing turmoil. 
Daisy Cooper, the deputy leader of the Liberal Democrats, has claimed Liz Truss is in "complete denial" following the Prime Minister's morning media round. 
The Conservative Party is due to meet in Birmingham from Sunday this weekend for its annual conference. 
Sir Ed Davey, the leader of the Liberal Democrats, has called on the Tories to scrap the event.
Sir Ed said repeated his call for Parliament to be recalled.
Chris Philp, the Chief Secretary to the Treasury, was told this morning that the mini-Budget needs to be changed. 
Speaking to LBC Radio, he said: "No, well, if you listen to the reaction of British business organisations to Kwasi Kwarteng's growth plan on Friday, like, for example, the Confederation of British Industry, the CBI, the Federation of Small Businesses, the British Chambers of Commerce, they all strongly welcomed the growth plan, and they are the organisations that represent British business…"
The Bank of England's £65 billion intervention in the UK economy yesterday is a "very targeted, time-limited intervention", according to the Chief Secretary to the Treasury. (You can read the full story on the bailout here) …
Chris Philp was asked during an interview on LBC Radio this morning if that bailout indicated the economy is experiencing "serious problems".
He said: "Look, they were making a very targeted, time-limited intervention. There was a particular idiosyncrasy to do with the way that particular pension vehicles used long-dated gilts.
"It was a very targeted, very specific intervention to address that issue, which they've successfully done – independently, of course, the Bank of England act independently.
"And they're not the only central bank to have had to make an intervention. Like I said, the Bank of Japan intervened in the Yen dollar market just a few days ago."
Chris Philp, the Chief Secretary to the Treasury, has rejected the suggestion that the UK is now in the middle of a financial "crisis". 
Asked if he accepted it is a "crisis", Mr Philp told LBC Radio: "Look, I don't accept the word crisis at all. Look, in the last six to nine months… the financial markets have been in some volatility around the world."
Sterling has fallen sharply again as former Bank of England governor Mark Carney accused Liz Truss of "undercutting" the central bank …
He said there was an "undercutting" of key City institutions, pointing to the lack of an OBR forecast, a lack of detail about costing and working at "cross-purposes" with the Bank of England.
Ms Truss later told BBC Radio Kent that she is "very clear the Government has done the right thing by taking action urgently to deal with inflation, to deal with the economic slowdown, and to deal with high energy bills".
Were those accusations from globalists really true?
Was day-to-day business in Britain disrupted so dramatically? And wasn't the Government helping Britons with their energy bills? As to the latter question, the UK has been providing the most assistance of any European government:
That week, Kwarteng was under much pressure to meet with the Office for Budget Responsibility (OBR), which, as I posted on October 6, has a lot of Torsten Bell alums from his charity, the Resolution Foundation.
On Friday, September 30, he met with the OBR. Guido reported:
The highly-anticipated meeting between the OBR and government wrapped up after 48 minutes. The OBR says they'll deliver an initial forecast on the October 7, however the government's readout of the meeting sticks to the line that it will be published alongside Kwarteng's medium-term growth plan on November 23 …
Meanwhile, Labour were still banging on about the abolition of the 45% tax rate. The cost of subsidising Britons' energy bills kept increasing, too. Naysayers were pumping up the total expenditure from £60bn to £100bn:
That morning, The Telegraph posted Kwarteng's editorial defending his fiscal event, which ended with this:
Even in the face of extreme volatility in global markets, with major currencies wrestling an incredibly strong US dollar, we will show financial markets and investors that our plan is sound, credible and will work to drive growth.
By combining our immediate energy support with bold action to reset the fundamentals of the UK economy, we are helping households and businesses today – and putting the United Kingdom on a more prosperous, competitive path for years to come.
That evening, The Times reported that the Scottish Secretary Alister Jack said that Truss delivered what she had promised in the leadership hustings and reminded us that she and former Chancellor Rishi Sunak disagreed on how the British economy should proceed:
Speaking to BBC Radio Scotland on Friday, Jack said: "When you say 'huge shock', over the summer [Truss] was very clear that her strategy was to reduce taxes.
"She and Rishi Sunak argued that out over the summer, he said one thing, she said the other, but it shouldn't come as a shock to anyone when she said she believed the strategy was to be more of an Asian tiger economy, where you keep your higher spending but you grow your economy, and she said to do that she would be cutting taxes.
"To anyone paying any attention to that leadership contest it was plain as day what was going to happen" …
In response to the plans announced by Kwarteng last week, the International Monetary Fund said it was monitoring the situation and urged a rethink, while the Bank of England began buying government bonds to avert what it described as a "material risk to UK financial stability".
More controversy, ending with Truss's sacking of Kwarteng, followed.
I will dissect the tragic conclusion tomorrow and, on Thursday, what it means for Truss's premiership.