You are currently browsing the tag archive for the 'Theresa May' tag.
Gosh, what a lot of news to cover in one post.
Admittedly, a few of these items are a bit old but fit in thematically.
Theresa May U-turns on support for Scottish gender reform legislation
I wrote yesterday about former Prime Minister Theresa May's support for Scotland's Gender Recognition Reform bill on Tuesday, December 27.
Within 24 hours she had made a U-turn, thankfully, although she did it through a spokeswoman.
On Wednesday, December 28, The Times reported (emphases mine):
In the wake of the interview the BBC issued a press release which stated: "On the subject of Scotland's proposed gender recognition laws, Ms May said she was disappointed the Westminster government wasn't supporting them."
Yesterday, however, a spokeswoman for the Maidenhead MP insisted that was not the case.
"As prime minister, Theresa launched a consultation looking at gender recognition laws with the aim of providing a more sensitive approach to transgender people, but she does not agree with Nicola Sturgeon's legislation and is particularly concerned about the consequences it could have for children in Scotland and across the UK," she said.
We can but hope that the Secretary of State for Scotland does not send the legislation for Royal Assent:
Immediately after MSPs voted in favour of the legislation Alister Jack, the Scottish secretary, threatened to invoke section 35 of the Scotland Act, which allows him to prevent the legislation from receiving royal assent.
Although gender recognition is devolved to Holyrood, the Equality Act — with which the new law will interact — is reserved to Westminster.
As nearly two-thirds of Scottish voters — even SNP supporters — think this legislation is a terrible idea, Westminster can show the 'Union dividend' in being 'better off together'.
Gas futures coming down
On Thursday, December 29, The Guardian had encouraging news about the price of natural gas futures in Europe:
European gas prices have dropped back to levels seen before the Ukraine war began in February, as fears of a gas crisis this winter ease.
The month-ahead European gas future contract dropped as low as €76.78 per megawatt hour yesterday — its lowest level in 10 months, data from Refinitiv shows.
As this chart shows, gas prices have fallen back from their surge in March, and again in the summer as European countries scrambled to fill their gas storage tanks.
Prices have dropped thanks to warmer-than-normal temperatures this winter, which have limited demand for gas, after the European Union successfully filled reserves to a peak of almost 96% in November.
Consumption reduction targets have also helped to limit demand, with the EU aiming to cut its gas consumption by 15%.
Earlier this week, 83.2% of EU gas storage was filled, data from industry body Gas Infrastructure Europe shows, still above the target of 80% set for the start of November.
Traders are confident that inventories will end winter at a very comfortable level with a very low risk of falling to critically low levels, says John Kemp, energy market analyst at Reuters.
UK gas prices have also dropped back from their highs earlier this year. The day-ahead gas price closed at 155p per therm yesterday, compared with 200p/therm at the start of 2022, and over 500p/therm in August.
The UK versus the EU
All year long in Parliament we've heard that the UK is 'broken' and that we should have stayed in the EU.
Polls have been published showing that Brexit voters have buyer's remorse. Well, they shouldn't have. We are much better off outside an unelected European Commission. Furthermore, EU countries are not doing substantially better than Blighty.
France
This week, I received the latest copy of Marianne, the French newsweekly. Part of its cover story headline, referring to the state of their nation, reads:
EN PANNE
meaning, 'out of order', 'not working'.
On Wednesday this week, The Spectator had an excellent article about our neighbour: 'All is not well in Macron's France':
In 2021, both World Bank and United Nations GDP (nominal) rankings have the UK at 5th and France 7th. International Monetary Fund estimates for 2022 show India overtaking the UK to claim the 5th spot for world GDP, but with France still 7th.
One may question the reliability of GDP as a comparator, but a host of other measures regularly show France worse off than the UK. Debt to GDP ratios show France at some 115 per cent, the UK 99.6 per cent. Meanwhile the Bank for International Settlements gives France's total public and private debt (non-financial) at 351 per cent; the UK at 271 per cent.
One can rightly point to France's present day lower inflation at 7.1 per cent (EU harmonised) compared to the UK's 10.7 per cent. But as French debt statistics above show, president Emmanuel Macron began forcing down domestic inflation by subsidising prices during his 2022 presidential election campaign. French unemployment at 7.4 per cent compares unfavourably with the UK's 3.4 per cent. Meanwhile France is the highest taxed OECD and EU state, leaving little margin for manoeuvre. Her balance of payments figures are as gloomy as the UK's, together with her flat economic growth.
While Britain's position is not rosy, France's is certainly no better. That is why recent predictions in a certain European press, not least in France, taken up by British elites, that the UK was descending into terminal decline has lost all proportion. If the French press enjoy a touch of schadenfreude at the expense of the old enemy, and French politicians are glad to distract from their own problems, the willingness of much of the British middle class to swallow the same view can only be explained by ingrained cultural habit aggravated by post-Brexit resentment. Today, with Macron utterly wedded to the EU project, France for British elites is ipso facto superior to Britain. Yet France's moral state is parlous.
Since the 2022 presidential and legislative elections Macron's centrist party has no overall majority. France is stalemated and drifting towards ever more radical politics. Macron's prime minister Élisabeth Borne, unable to command a majority in the National Assembly, struggles to get her business other than by the constitutional sleight of hand of article 49,3, which guillotines parliamentary debate. With the chamber split four ways the question remains as to whether Macron will eventually dissolve parliament. Opinion polls suggest this would be a gift to Marine Le Pen's party, already the single largest opposition party with 89 seats. France might then come to replicate the present radical right Italian government.
Socially and culturally French society is far from healthy. Other than worsening violence and lawlessness in the banlieues – conveniently out of sight of English elites' visits to France – the French model of assimilation and laïcité is being tested to destruction. Official Justice Ministry statistics for July 2021 show 24.6 per cent of the prison population as foreign (double the proportion in Britain).  The French Interior Minister publicly stated this summer that, although foreigners make up 7.4 per cent of the French population, they account for 19 per cent of all delinquency nationally, and that 48 per cent of arrested delinquents in Paris are foreigners, 55 per cent in Marseille, 39 per cent in Lyon.
… The general picture is of a France far from at ease with itself. The prospect of a member of France's ethnic minorities leading the country with no fuss in the near future, as has just happened in Britain, seems impossible.
And remember the cries of 'Brexit is bad' when the Paris stock exchange overtook London's in November?
I don't recall any mea culpas from the metropolitan elite once we resumed normal service ten days later:
Guido Fawkes posted (emphases his):
The London stock market has re-overtaken Paris's after falling behind for 10 days, with a lead of $63 billion. A 2.5% rally in the value of the pound led to the improvement, and morale booster, compared to a modest 0.7% improvement for the Euro …
Germany
While Remainers in Britain's metropolitan elite moan about food inflation, our friends in Germany have experienced similar price hikes.
On October 14, September figures for the UK showed that our grocery price inflation hit an all-time high of 13.9%.
Yet, JustFood reported that Germany's grocery price inflation also reached historic highs:
Inflation levels in Germany reached their highest levels in three decades in September with food prices rising 18.7% year on year, figures show.
In a continued squeeze on consumer pockets, inflation reached 10% – its highest level since the country's reunification in 1990, the federal statistical office said.
Consumers faced the sharpest rises in edible fats and oils, which were up by 49%. Dairy products and eggs increased by 29.1%, meat and meat products 19.5% and bread and cereals 18.5%.
Month-on-month comparisons show consumers paid 1.8% more for food in September than in August, with vegetables 3.9% more expensive and dairy products up by 2.2%.
The consumer price index for food in Germany, measured against a 2015 baseline of 100, stood at 135.4 year-on-year in September, compared to 121.1 overall.
The federal statistical office said the cost of energy was leading inflation but food also played a major role, with both contributing to an overall 10% rise in prices.
Without food and energy rises in the equation, the country's inflation rate is reduced by over half to 4.6%. The prices of all goods increased by 17.2% in September 2022 compared to 2021, but the prices of non-durable consumer goods, which include food and energy, increased by 23.3%.
We cannot blame German inflation on Brexit. As Conservative ministers rightly say at the despatch box, inflation is up all over Europe and the West.
UK to relax egg rules to line up with EU
Another thing we hear from Remainers, especially in the Houses of Parliament, is that British food regulations are weaker than the EU's!
Nothing could be further from the truth! Our food standards have been higher than the EU's for decades.
Anyone wanting up-to-date proof can read an article in Wednesday's Guardian — 'UK free-range egg rules could be relaxed in line with EU for avian flu outbreaks':
Free-range egg rules in the UK could be relaxed in response to the European Union preparing to overhaul regulations after the biggest avian flu outbreak on record.
Ministers are understood to be considering a change to the rules that would mean eggs laid by hens kept in barns for months on end could be classed as free range.
Currently, eggs cannot be classed as free range if birds are indoors for more than 16 weeks. Farmers have that grace period in both the EU and UK, which means eggs can still be labelled as free-range if a government-issued housing order for birds is in place up to 16 weeks.
Subsequently, labels need to be added to packaging making it clear that those are now classified as barn eggs.
Whitehall sources told the Daily Telegraph that the Department for Environment, Food and Rural Affairs (Defra) is considering changing the regulations in order to keep farmers competitive with Europe …
The European Commission put forward a proposal in September, which stated "where temporary restrictions have been imposed on the basis of EU legislation, eggs may be marketed as 'free-range' notwithstanding that restriction".
The proposal, which is awaiting approval by the European parliament, means eggs could be classed as free range even if hens are forced to spend months indoors due to government rulings.
In September, egg producers in the UK said it was essential that the government now followed suit to avoid British suppliers being undercut by EU imports.
Climate change
Climate change sceptics will be on the right side of history in time.
Guido Fawkes's readers posted about deforestation in this post.
One chap posted an article about the increasing need for balsa wood from Latin and South America for blades on wind farms. Apparently, indigenous communities have not been consulted: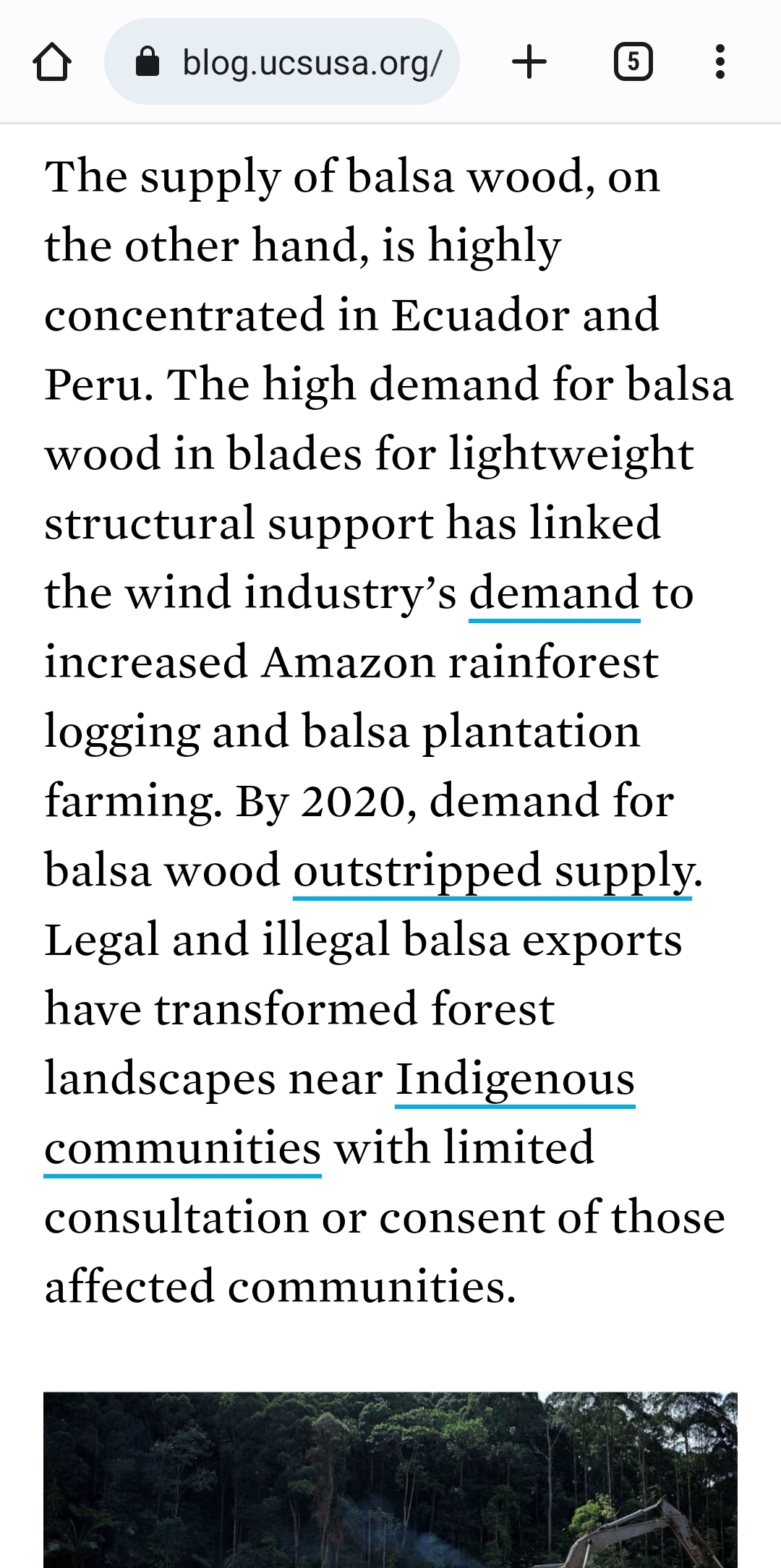 The article continues, stating that some companies are switching from balsa to oil byproducts, such as PET and PVC, or to cellulose: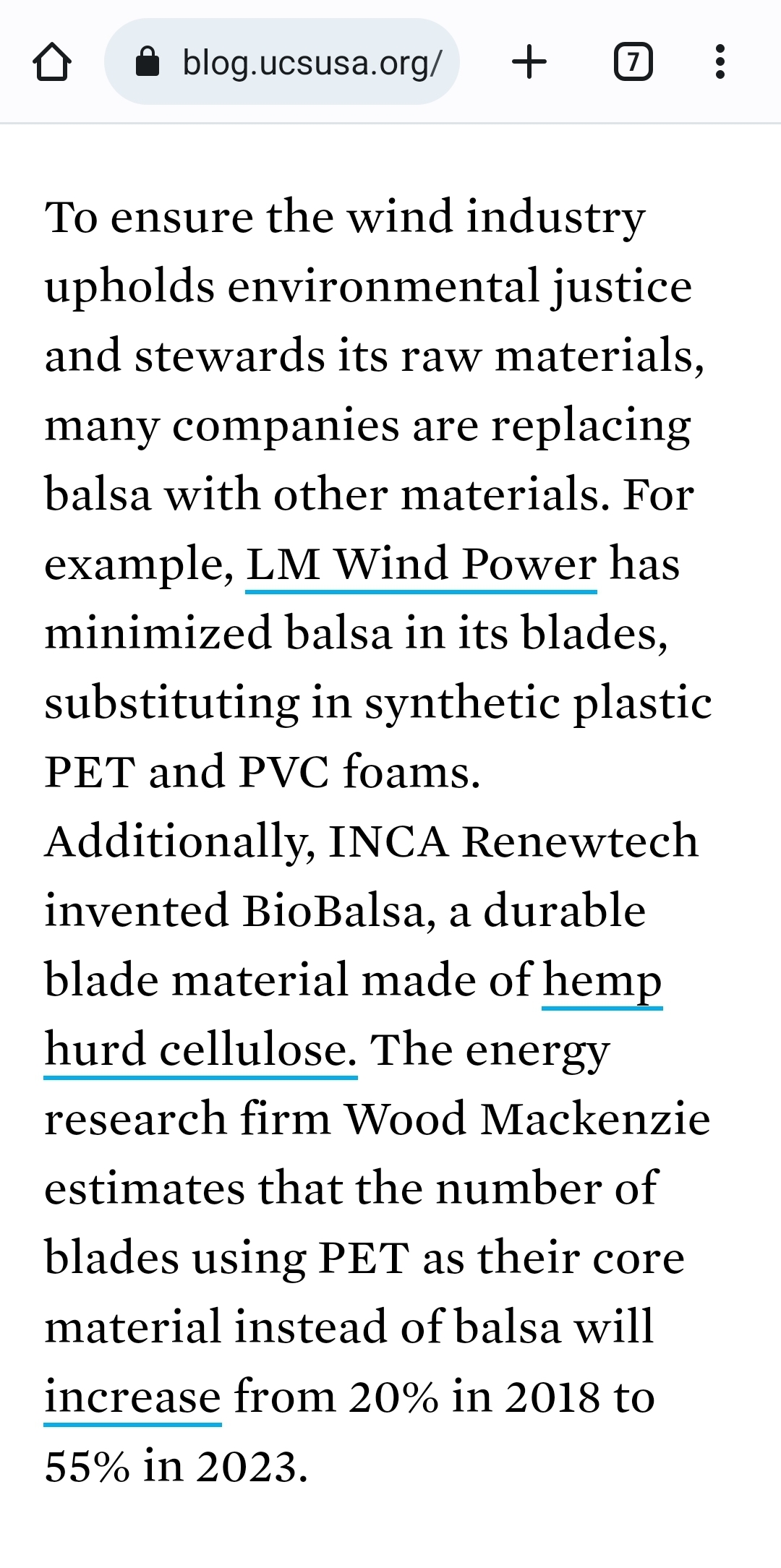 The man who posted the article pointed out:
BALSA is being replaced with PET and PVC (yep- crude oil) but are also experimenting with cellulose– which needs highly toxic chemicals to make.
Someone responded with this:
Synthetic PET usually uses food starch as a replacement for oil based derivatives. These divert food crops away from human and livestock consumption. They also encourage the use of GM crops and pesticides.
PVC production creates sodium chloride, which is a cause of acid rain.
The eco loons really didn't think this through.
Ultimately:
The eco l00ns NEVER think anything through.
And they hope we won't notice.
It's part of the reason why 'climate science is settled' and they refuse to debate.
You know how it goes.
Fracking bad – mining cobalt (even using young children) good.
You flying -bad- them flying- good.
On a similar note, an UnHerd article laments the loss of the hearth in 'Firewood will save the West'. The author, Paul Kingsnorth, lives in Ireland and has his firewood delivered to his home:
The Irish government is currently campaigning against households which burn turf or wood, the former on the grounds of CO2 emissions, and the latter on the grounds of air quality. As ever, the campaign is driven from Dublin, and mostly takes Dublin sensibilities into account. Rural households in Ireland have been burning turf and wood forever, with little significant impact on "air quality" — or at least, no impact comparable to that which Ireland's "Celtic Tiger" modernisation has had. Suddenly, though, the media is full of scientists armed with studies demonstrating how getting a fire going in your cottage in winter will lead to cancer and lung disease on a widespread scale.
That is nonsense. Until recently, Man had been surrounded by smoke for millennia.
Essentially, the Irish government, in line with other Western governments, wants to do away with fireplaces:
This new tilt against household fireplaces is not just an Irish phenomenon: it is suddenly popping up everywhere. Woodstoves are, curiously, becoming the number one air pollution villain. Never mind mass car use, accelerating air travel or industrial pollution. Never mind the emissions caused by the massive increase in Internet server farms, which within just a few years could be using up an astonishing 70% of this country's electricity. These days, if you want to demonstrate your social responsibility, you should be all aboard with the abolition of the traditional fireplace and its replacement with "green" alternatives.
He explains that the home hearth has been not only traditional but also atavistic throughout mankind's history. He cites the philosophical polymath John Michell (1933-2009):
The fireplace, whether our dessicated urban authorities know it or not, has a primal meaning, even in a world as divorced as ours from its roots and from the land.
In his short essay "Fireside Wisdom", the uncategorisable John Michell suggested that the "displacement of the hearth or fireplace" from the home was one of the many reasons for the craziness of the modern world which his life had been spent playfully exploring. The fireplace at the centre of the home, he wrote, was both an ancient practicality and a device of "cosmological significance" across cultures and time: "Conversation is directed into the fire while dreams and images are drawn out of it."
In the past, the act of sitting staring into the smoky fire with family or neighbours was the genesis of the folk tale and folk song which tied the culture together. Now we stare at digital fires hemmed into boxes manufactured by distant corporations who also tell us our stories. No song we can dream up around a real fireplace can compete with what these boxed fires can sell us. "Thus," wrote Michell, "the traditional cosmology is no longer represented by its domestic symbols, and a new, secular, restless, uncentred world-view has taken its place."
Focus, Michell explained, is "the Latin name for the central fireplace. The fire not only warms but, as a symbol, illuminates the corresponding images of a centre to each of our own beings and of a world-centre which is divine, eternal and unchanging." Lose your fires, and you literally lose your focus as a culture. In this context, a government spokesman telling his population, as one minister here recently did, that they should "get over" their "nostalgic" attachment to the hearth fire and install ground source heat pumps instead is more than just a nod to efficiency. It is an assault on what remains of the home and its meaning. It is an attack on the cultural — even the divine — centre.
Paul Kingsnorth posits that each move away from self-sufficiency, e.g. using one's own fireplace, puts us more under the control of government:
When you can no longer grow your own wood or cut your own turf to heat your own parlour, you are made that little bit more dependent on the matrix of government, technology and commerce that has sought to transmute self-sufficiency into bondage since the time of the Luddites. The justification for this attack on family and community sufficiency changes with the times — in 17th-century England, the enclosures were justified by the need for agricultural efficiency; today they are justified by the need for energy efficiency — but the attack is always of the same nature. Each blow struck against local self-sufficiency, pride and love of place weaves another thread into the pattern which has been developing for centuries, and which is almost complete now in most affluent countries …
In my lifetime, in my part of the world, the notion and meaning of "home" has steadily crumbled under external pressure until it is little more than a word. The ideal (post)modern home is a dormitory, probably owned by a landlord or a bank, in which two or more people of varying ages and degrees of biological relationship sleep when they're not out being employed by a corporation, or educated by the state in preparation for being employed by a corporation. The home's needs are met through pushing buttons, swiping screens or buying-in everything from food to furniture; for who has time for anything else, or has been taught the skills to do otherwise?
He refers to a 1980 manuscript, 'Family Work', by the American essayist Wendell Berry:
Like so much of Berry's work, it locates the centrepoint of human society in the home, and explains many of the failures of contemporary Western — specifically American — society as a neglect of that truth. The home, to Wendell Berry, is the place where the real stuff of life happens, or should: the coming-together of man and woman in partnership; the passing-down of skills and stories from elders; the raising and educating of children; the growing, cooking, storing and eating of food; the learning of practical skills, from construction to repair, tool-making to sewing; the conjuration of story and song around the fire …
Even back in 1980, Berry recognised that the home had become an "ideal" rather than a practical reality — precisely because the reality had been placed out of reach for many. What killed the home? Three things, said Berry: cars, mass media and public education. The first meant that both work and leisure could, for the first time in history, happen a long way from home. The second — "TV and other media" — have played a role, since the mid-20th century, in luring us all into a fantasy world of freedom from obligation, and a limitless, fun consumer lifestyle. "If you have a TV," writes Berry, "your children will be subjected almost from the cradle to an overwhelming insinuation that all worth experiencing is somewhere else and that all worth having must be bought." Finally, the school system is designed "to keep children away from the home as much as possible. Parents want their children kept out of their hair." Schools exist to train children to fit into individualistic, consumer societies; to internalise and normalise their ethics and goals, and to prepare for a life serving their needs.
I have to disagree with his disparagement of television, as my better half and I watch a lot of French programmes, food shows in particular. For us, it is a window into a culture we love very much. Were it not for television, we would have to visit France in person much more often. As it is, we can experience France from our sitting room and perfect our language skills while learning more about the world's finest cuisine.
Berry's solution is to make the home a welcoming, peaceful place for everyone living there:
… he suggested that we should "try to make our homes centres of attention and interest"; to make them as productive and nurturing as we can … you will see new possibilities begin to open up. You will see, in Berry's words, that "no life and no place is destitute; all have possibilities of productivity and pleasure, rest and work, solitude and conviviality that belong particularly to themselves", whether in the country, the city or the suburb. "All that is necessary," he suggests, is "the time and the inner quietness to look for them."
Television is a good thing
On the subject of television, a 104-year-old Australian woman told her grandson that it was probably the greatest development in her lifetime.
Lewis Isaacs wrote her story for The Guardian: 'My 104-year-old Nan's secret to a long life':
A life as long as hers can be hard to comprehend. Asked what the biggest change to the world she'd seen across her life was, Nan replied that it was television. Life when she grew up rarely extended past her suburb. Television connected the living room to the world.
How true! Well said, Nan!
The article has family photographs, too.
So what is Coral Isaacs's secret to longevity?
She says it comes down to genetics and finding the right partner. She was widowed more than 30 years ago and says the life she built with my Pop has supported her since. It helps to remember your pills, she adds, and to get up, shower and make your bed every day.
I suspect the truth about her endurance is something different though. Nan is determined to keep her eyes focused on the future. Even when the days are hard, she still looks forward.
I was hoping she would mention smoking a crafty cigarette or enjoying a daily digestif, but, sadly, no.
Churchill's cigar goes on sale
For a smoking story, we had to go to an auction house.
On Thursday, December 29, The Times reported that one of Winston Churchill's cigars is expected to fetch £3,000 at auction:
The former prime minister gave the Cuban cigar to an RAF doctor who helped him when he broke his leg in 1962.
The doctor's grandson has put the rare cigar up for sale with Hansons Auctioneers, which said it would be an "impressive item" for any Churchill collector. Charles Hanson, the owner, said: "We occasionally see Churchill cigar stubs that people have picked up after he dropped them. But to gain a whole cigar in such pristine condition, given as a gift in unusual circumstances, is special."
Churchill, who died in 1965 aged 90, was a lifelong smoker. While he was at boarding school, his mother learnt he had taken up smoking cigarettes and tried to bribe him to stop by promising him a pistol and a pony.
He switched to cigars after spending time in Cuba after his graduation from Sandhurst military academy, and friends, dealers and associates sent him regular deliveries of cigars from then on.
The circumstances are most Churchillian:
The auction house said the cigar under auction was given to an RAF squadron leader, Bertram AJ Barrow. Churchill fractured his femur while getting out of his bed at the Hotel de Paris in Monte Carlo, and was flown back to London on an RAF plane while in a waist-to-ankle plaster cast.
Barrow, the leader of the medical team, plucked up the courage to ask Churchill for one of his famous cigars.
For decades the treasured cigar was kept in a bedside drawer, but will now go under the hammer at on January 9 with an estimate of £2,000 to £3,000.
Barrow's grandson, Thomas Barrow, 33, an employment law adviser from London, said: "Bertram asked for a cigar as a keepsake, and Churchill advised that he could have 'one that he had been saving' — which was Cuban and still in its glass case."
What a story!
Conclusion
As my later grandmother-in-law, a lifelong Londoner, was fond of saying:
The old ways are the best.
I couldn't agree more.
Let's try to recapture them in 2023.
Even though we're in the fallow period between Christmas and New Year, newspapers still have a few items of interest, especially when it comes to following up on stories from the past 12 months.
Theresa May supports Scottish trans law
On Tuesday, December 27, former Prime Minister Theresa May, the MP for Maidenhead, said she supports the Gender Recognition Reform bill that the Scottish parliament passed last week.
The former prime minister broke ranks with fellow Tories in offering her support for the legislation, passed by Holyrood last week, which simplifies the process for trans people to obtain a gender recognition certificate without a medical diagnosis …
Rishi Sunak, the prime minister, confirmed that his government was contemplating the "appropriate course of action", claiming there were concerns about the bill's impact on the safety of women and children …
"We have different legal systems," she told Radio 4. "Obviously, there's a different system in Scotland, but I think it is important when any part of the UK is looking at legislation that only affects that part of the UK, that thought is given to what the impact would be on the Union. At the end of the day it is about people, and it's about the impact it would have on people."
During her tenure May gave her support to allowing people to change gender without medical checks, stating: "Being trans is not an illness and it should not be treated as such."
Her successors have distanced themselves from her stance. May said this week: "The very fact that I put the proposal forward shows that that was something that I thought was important to do, particularly to take some of the medical aspects out of this. But the [UK] government has looked again at it and has taken the decision that it has."
It is difficult to understand why Theresa May does not understand why so many Scots object to this new law. Perhaps she needs to find herself in a changing room with a random man claiming to be a woman. Then again, she is quite tall so she probably would not feel intimidated. What about shorter women, though? And what about girls? Shouldn't Mrs May want to protect her sisters?
British Heart Foundation upset at MP's claims about coronavirus vaccine
On Tuesday, December 13, the Conservative MP Andrew Bridgen was granted an adjournment debate in the House of Commons in which he stated why the coronavirus vaccine roll out should be halted.
On Wednesday, December 28, The Times reported that the British Heart Foundation is unhappy with Bridgen's claims:
The British Heart Foundation has called on the Conservative MP Andrew Bridgen to provide evidence for his claim that a senior member of the charity was suppressing data on vaccine harms …
Bridgen said he had information that someone in a "prominent leadership role" in the foundation was "covering up clear data that reveals that the mRNA vaccine increases inflammation of the heart arteries".
The charity said in a statement that it strongly denied the allegations, adding that its advice on the safety of the vaccines was "based on rigorous scrutiny of the latest evidence" and "we would encourage those making these allegations to share specific, credible information with us that supports them" …
Some of the MP's claims, including about senior figures in the foundation, seem to be based on analyses by Aseem Malhotra, a controversial cardiologist who opposes the vaccines and whose dietary advice has been criticised by the organisation in the past. When in 2016 Malhotra authored a report that claimed eating fatty foods did not make you fat, the foundation issued a rebuttal in which senior academics described the claims as "absurd and plain wrong".
Bridgen told parliament that "the benefits of the vaccine are close to non-existent", and there was a "clear case for complete suspension of these emergency use authorisation vaccines" …
In a statement to The Times, the foundation said: "The scientific consensus is that the benefits of Covid-19 vaccination, including a reduced risk of severe illness or death, far outweigh the very small risk of rare side effects like myocarditis or pericarditis for the vast majority of people, especially as people get older.
"Scientific evidence shows that Covid-19 itself is much more likely to cause myocarditis than the vaccine is, and people who are vaccinated have a much lower risk of getting other serious complications caused by Covid-19.
"We employ a small leadership team of senior scientists and cardiologists to oversee and administer our research funding programmes, who also continue to undertake some of their own research. We can categorically say that nobody within this leadership team has acted in the way claimed by Mr Bridgen."
In time, Dr Malhotra and Andrew Bridgen will be found on the right side of history. Furthermore, Dr Malhotra is right in saying that eating fatty foods do not make you fat. What makes people fat is combining fat with carbohydrate. One imagines that the British Heart Foundation also push a carb-heavy diet, when one can live a perfectly healthy life without starches and sugars.
Former political prisoner misses being locked up in Iran
For years, Labour MPs asked the Leader of the House and the Foreign Secretary at least weekly about Nazanin Zaghari-Ratcliffe, a journalist and charity worker who had been imprisoned in Iran from 2016 until her release in March this year.
It always struck me as interesting that no Conservative MP ever asked about her.
Zaghari-Ratcliffe took British citizenship while retaining her Iranian citizenship. Iran does not recognise dual nationality. She returned to visit her parents in 2016 and was arrested on her way back to the UK.
Liz Truss, then Foreign Secretary, managed to secure the woman's release. Money was involved, compensation for an unrelated matter between the UK and Iran.
On March 16, former US Secretary of State Mike Pompeo condemned the move:
The following day, Zaghari-Ratcliffe was released into her family's care:
On March 21, having returned to the UK and reunited with her husband Richard Ratcliffe and their seven-year-old daughter Gabriella, she gave a press conference. What mother voluntarily leaves a one-year-old to take a long-distance journey?
The Mail reported:
Freed Nazanin Zaghari-Ratcliffe has today revealed her difficult path back to normality after being held captive in Iran for six years – while also taking aim at Government for taking more than half a decade to bring her home. 
In her first televised press conference since returning to the UK, the British-Iranian national admitted she was still getting to know her family 'better' again following 'six years of hell' in Tehran. 
In an emotional press conference, she praised her 'amazing' husband Richard's tireless campaigning efforts and said her reunion with him and daughter Gabriella had been 'precious' and 'glorious'.
Mr Ratcliffe meanwhile said their family needed time to 'heal' after a traumatic six years, but that he was 'immensely pleased and proud' that his wife was home.
He also joked with reporters that he was 'negotiating' with his wife about the pair sharing the same bed once again, revealing that she had been sleeping alongside their young seven-year-old Gabriella following her return on Thursday. 
The charity worker, 44, who has been held as a prisoner in Iran since 2016, was flown back to the UK last week after the Government settled a historical £400million debt owed to Iran over a cancelled 1970s order for British tanks. 
Mr Ratcliffe, who has campaigned tirelessly for her release over the last six years, praised the efforts of the Government in helping secure her return.
But sitting beside her husband, Mrs Zaghari-Ratcliffe, who turned up to the media briefing wearing yellow and blue, the colours of Ukraine, questioned why it had taken so long.
'The journey back was tough. I grant what Richard said about the Foreign Secretary, but I don't really agree with him on that level,' she told journalists.
'I have seen five foreign secretaries over the course of six years. That is unprecedented given the politics of the UK.
'I love you Richard, I respect what you believe. But I was told many many times: "Oh, we are going to get you home". That never happened.
The Mail has a screenshot from BBC News of the press conference. It was clear that her husband really loves her. He gazed at her as he reached over to put his hand on hers. Check out the hateful look she gave him in return.
He said that:
it would be 'baby steps' for him and his family, revealing he was not yet 'allowed' to sleep alongside his wife and daughter Gabriella.
Mr Ratcliffe said: 'It is baby steps for us. I'm super proud of her, he strength, her grace. 
'We are still negotiating whether daddy is allowed in the same bed as Gabriella and Nazanin.
'We'll get there. I think we'll do this (interview) and then we will disappear off and heal a bit.'
He also said it was 'nice to be retiring' from the public-eye after six years of campaigning, including a 21-day hunger strike.
On March 22, The Conservative Woman had a photo of Ratcliffe on the hunger strike for his wife and a post, 'What aren't we being told about petulant Nazanin's release by Iran?'
Excerpts follow:
First, some facts. Mrs Zaghari-Ratcliffe was born in Iran. She lived there until she was 28, during which time she was employed by the World Health Organisation, the International Federation of the Red Cross and Red Crescent Societies, and the Japan International Co-operation Agency.  
She moved to the UK in 2007 to undertake a Master's degree at London Metropolitan University. Having completed her degree, she worked for various British charities in London, including the Centre for Public Innovation, BBC Media Action and the Thomson Reuters Foundation (TRF). 
A legal opinion prepared in 2017 by Professor John Dugard and Tatyana Eatwell, of Doughty Street Chambers, and Alison Macdonald QC, of Matrix Chambers, claimed that her work for the TRF involved 'managing journalism training abroad (not in Iran); managing TRF's partnership with the Westminster Foundation for Democracy and other members of the Westminster Consortium, including the Department for International Development and the Foreign and Commonwealth Office (FCO), on a project aimed at strengthening the parliaments of other States, at those States' invitation.  
'Such States included Lebanon; fundraising for and managing FCO-funded projects in Morocco, Jordan and the Turks and Caicos Islands.'
Mrs Zaghari-Ratcliffe is clearly very bright, ambitious and well-connected. She met her husband, Richard Ratcliffe, in November 2007. They got engaged in June 2009 and married at Winchester Register Office in August 2009.  
She became a British citizen in March 2013, though she remains a citizen of Iran. She would make regular trips to Iran to visit her parents. During one such trip, on April 3, 2016, she was arrested and detained by the Revolutionary Guard at Tehran airport on security grounds. 
Iran does not recognise anybody with dual nationality – a fact Mrs Zaghari-Ratcliffe knew, because she entered the country of her birth using her Iranian passport, in keeping with Iranian law.
Presumably she knew the risk she was taking by going there. She also knew her status immediately made Britain's negotiating position extremely challenging: Whatever the rights and wrongs of the case, the British government, which has not enjoyed strong relations with Iran in recent years, was in no position to dictate terms to Iran over the release of a person whom the Iranian regime considered to be one of its own.  
I am surprised that Mrs Zaghari-Ratcliffe did not acknowledge this more clearly yesterday. She has spent most of her life in Iran, after all, rather than in Britain. 
After much lobbying at an official level, Mrs Zaghari-Ratcliffe was released after Britain agreed to repay a £400million debt for some tanks which were ordered by the Iranians in the 1970s but never delivered by the British.  
This is considered by some politicians to have been a bad move. For example, President Trump's former Secretary of State, Mike Pompeo, has called the debt repayment 'blood money' …

Lastly, I am struck by how well Mrs Zaghari-Ratcliffe looks. Indeed, while her husband appears pale and drained, she seems on the surface to be in pretty good health, perfectly strong and capable. This is to be welcomed, of course, but the contrast between her and her husband is noteworthy nonetheless. 
This episode sits uneasily with me. Something about it is not right. Certainly, it seems that we British are not being told something about this case, even while that £400million debt is repaid via public funds.  
I am certain that we will never learn the full truth of this matter and that no amount of inquiry by the Foreign Affairs select committee will bring us the truth. 
All I do know is that in years gone by, other hostages have been freed under very different circumstances and have not complained publicly about why it took so long within days of returning to Britain.  
Indeed, I know someone who was imprisoned by a dictatorship on trumped-up charges in the 1980s and held for longer than Mrs Zaghari-Ratcliffe was. When he was eventually released, he never said a word against the British government. He was just glad to be home. 
A week later, Labour MPs appealed to have Zaghari-Ratcliffe made a peer in the House of Lords. Look at the love in her husband's eyes:
Why? On what merits? In any event, it never happened.
On Wednesday, December 28, The Times reported that she told tennis star Andy Murray that she misses prison:
Nazanin Zaghari-Ratcliffe told an emotional Sir Andy Murray that she sometimes missed prison and the strong friendships she made during her six years of incarceration in Iran.
She was interviewing the two-time Wimbledon champion on BBC Radio 4's Today programme, which she guest-edited today.
Sir Andy teared up and had to pause while the pair discussed her experiences and her joy at being able to watch him win Wimbledon in 2016.
When asked whether she did anything positive with her time in prison, she said: "When I came out, there were times when I felt like I really missed my friends and missed prison.
"It's a very odd thing to say. But then you get used to your space in prison and then, I don't know whether people can actually say they missed prison, but I sometimes think I miss the environment and my friendships."
She told Sir Andy of the "joyful" feeling of being able to watch him win the Wimbledon title in 2016 on one of the only two channels she was allowed to watch from solitary confinement …
She told him that she taught other inmates his name while playing an Iranian version of charades and that watching him win felt like being "close to home all of a sudden" …
Zaghari-Ratcliffe, 44, who has dual British-Iranian citizenship, was detained in 2016 as she was about to fly home after visiting family in Iran. She was released in March following a long campaign by her British husband, Richard Ratcliffe.
Oh, my days! Words fail me. Actually, they don't. So I will think Pauline thoughts instead.
Mrs Sunak is on the cover of Tatler
The Sunaks opened the doors of No. 10 Downing Street to Britain's oldest magazine, Tatler.
Akshata Murty is the cover lady for the society magazine's February 2023 issue: 'No. 10's chatelaine: Inside the secret world of Mrs Sunak'.
It is a rather secret world, because the Prime Minister's wife declined to give the magazine an interview. She authorised friends to speak on her behalf.
On December 28, The Times reported:
Murty, the daughter of an Indian billionaire who met the future prime minister at university in California, has never given an interview but authorised her friends to speak to Tatler. They describe a passionate Brexiteer who loves Yorkshire, rarely lets friends leave without food to take home and wants Downing Street to "open up" …
Murty is said to want to bring "more of the north to Downing Street". Allegra Stratton, Sunak's ex-head of communications and the wife of James Forsyth, his new political secretary, said: "Yorkshire has looked after Akshata." She added: "Over the summer, during the first leadership campaign, it was bruising for her, and the entire family hunkered down in the constituency, and it put its arm around them."
There's a lot about interiors in the article.
Of course, we want to know if they live in No. 10 or No. 11:
The couple have opted to live in the flat above 10 Downing Street, which they used when Sunak was chancellor, rather than the larger flat above No 11, used by prime ministers since 1997.
Sunak and Murty, both 42, carried out an extensive refurbishment of the flat when he was chancellor, spending their own money, in contrast to the convoluted arrangement that landed Johnson in trouble.
Could Boris make a comeback in 2023?
Speaking of Downing Street, could next year see a Boris comeback?
The Telegraph's political editor Ben Riley-Smith thinks so:
The former prime minister will take opportunities to push his case for being the best-placed Tory to win the next election.
What occasions will these be? There are expected to be plenty. Perhaps it will be one of the (many) paid speaking events Boris is likely to take on next year. He is attempting – as friends have said publicly – to put 'hay in the loft'. A recent appearance for the Council of Insurance Agents & Brokers in Washington, DC alone brought in £276,130. There will be speeches on the world stage, too. Johnson dropped into the COP27 UN climate change conference in October, joking unusual summer heat had played a part in his ouster, and has vowed to keep championing Ukraine. 
The news of his COP attendance dropped before Sunak, the victor of their leadership tussle, had announced he was attending. It was a sign he is happy to be a thorn in his successor's side. Speeches from the Commons backbenches can be expected too. The former prime minister has indicated he is willing to defend his legacy. Translated: he will speak out if his policies and manifesto promises are watered down or ditched.
Could we also get an appearance at next autumn's Tory conference? He sat this year's one out, but that was just after he left office. A return would be like slipping on an old pair of slippers, Johnson re-adopting the role that helped make his political name – the darling of delegates, tweaking the nose of the current leader.
It's unlikely that Labour MP Sir Lindsay Hoyle, the Speaker of the House of Commons, would relish it, however. He told BBC Radio 4 that 2022 has been a 'disaster'. The Times has more:
Sir Lindsay Hoyle said he had "never ever seen anything like it before" when reflecting on a tumultuous year in Westminster. He told PM on BBC Radio 4: "The whole thing has been the strangest of strangest of years."
He added: "Brexit divided the country, divided families, and people's respect for democracy has struggled — and of course we didn't help this year with what went on." Hoyle described as a "disaster" how the Conservatives were unable to unite round a prime minister. He said Boris Johnson had "the biggest majority we've seen for [the] Conservatives" but "it all fell apart".
He said: "When you get to a point where one minister who's meant to be answering questions has resigned, the next minister comes in . . . I've never seen anything like it, it was bizarre. We never knew who was going to be at the dispatch box."
What a year it's been. I hope that 2023 will be an improvement.
More news tomorrow.
Yesterday's post looked back at Liz Truss's leadership campaign during the latter half of August 2022.
As September started, most ordinary conservatives were happy to know that Liz was likely to be the next Party leader.
On September 3, the veteran journalist Janet Daley wrote an empathetic column about her for The Telegraph, 'Ignore conventional wisdom: the new prime minister is not doomed'.
CCHQ — Conservative Party headquarters — had not yet finished counting the members' votes, but Daley thought that people would give Liz their support in the face of the cost of living crisis (emphases mine):
Given that virtually everyone in the country accepts that the current dilemma is both desperately urgent and, in the short term, utterly hopeless, Liz Truss will begin her premiership with the lowest possible expectations and, given the inherent fair mindedness of the British population, even a little sympathy …
Whether Daley realised it or not at the time, she hit the proverbial on the head in the second paragraph:
Standing up in the House – or better, at that podium in Downing Street – to address a nation that has been terrified out of its wits by predictions of the devastation that is to come, will look like an act of singular bravery and resolve. Most of the country, apart from sworn partisan enemies (the most pathologically vicious of whom are inside her own party), will be willing her to succeed in whatever terms success can be measured, against the impossible odds. She will not have a honeymoon as such, but she can gain points for rigorous resolve and determination – especially if she seems to be in touch with the justifiable fears of real people. That will be the key to it. Every word, every pronouncement, every policy will have to be communicated with infinite humaneness: genuine compassion for the impact that this crisis is having on daily life and future prospects …
Although this was Daley's prediction at the time, this is how things played out with most fair-minded voters:
Ordinary people who do not have an ideological dog in the fight know that this is uncharted territory. What disagreements there are – and will continue to be – over the right way to proceed will be accepted as reasonable argument and not necessarily discrediting to the sitting government providing that it remains proactive and committed.
I particularly liked the next bit, which posited that, as the year went on, things might turn out to be less gloomy than forecast during the summer:
… there is the possibility of some good (or less bad) news in the coming months. What if the combined efforts and ingenuity of the Western economies produce more optimistic projections for energy subsistence sooner than was expected? Already we hear that gas storage in Europe is exceeding expectations and, as a result, commodity prices are beginning to fall.
However, Daley, for all her brilliance, did not foresee the savage attack from Liz's fellow MPs.
North of the border, Scotland's First Minister Nicola Sturgeon was still seething that Liz had called her an 'attention seeker' during the campaign:
During her premiership, Liz never did contact Nicola Sturgeon.
On Monday, September 5, these were the main news stories. We could rely on The Independent for negative stories about our new Prime Minister: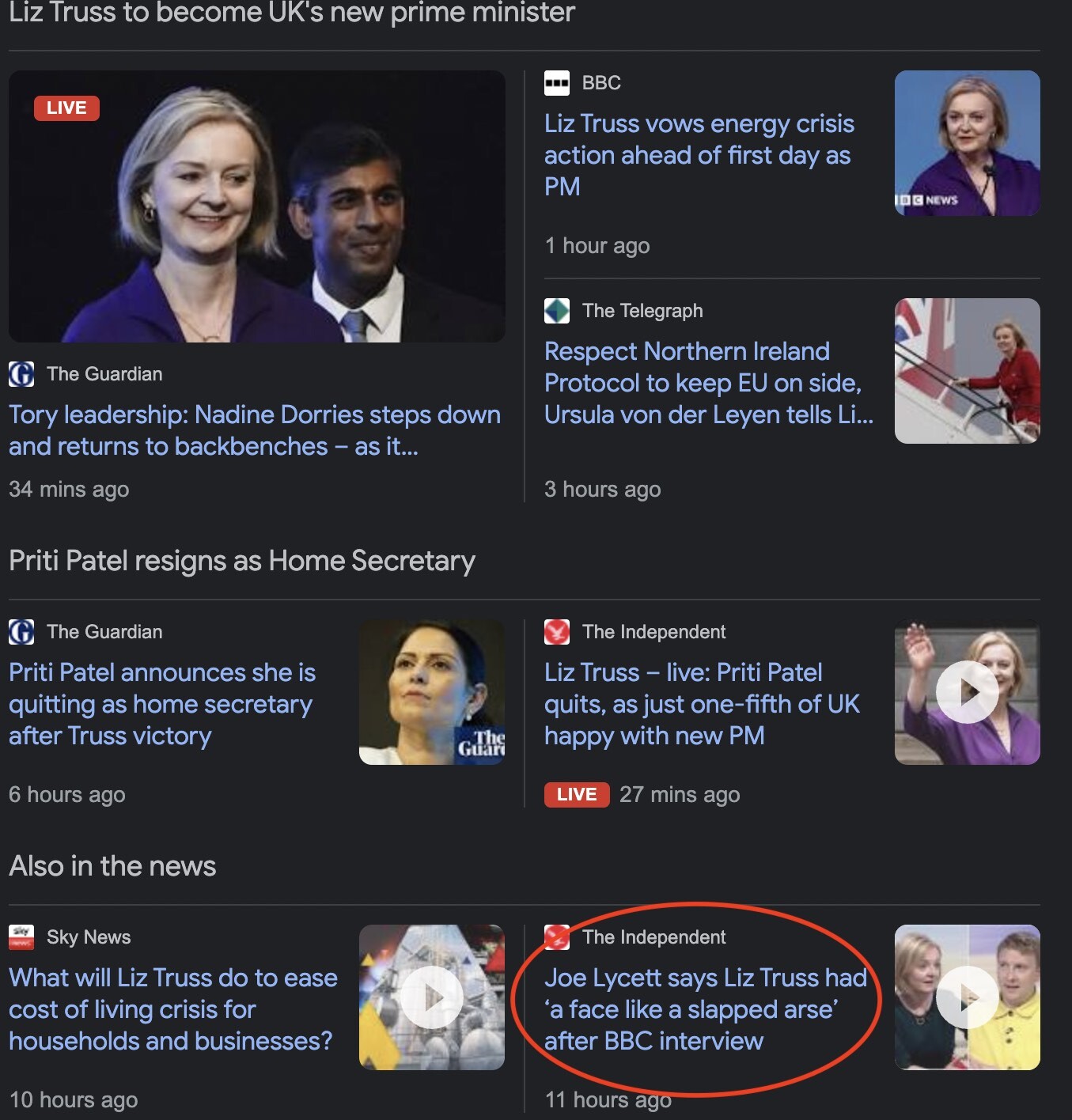 The Mail on Sunday's Dan Hodges was thrilled. He had predicted Liz's ascendancy on Boxing Day 2021:
His article says that Liz's rise began when she replaced Dominic Raab as Foreign Secretary. During his time in post, he said that all ministers (MPs) serving under him were to be called Junior Ministers (JMs) rather than Ministers. The MPs were none too happy with that move.
Then, when Biden's sudden withdrawal from Afghanistan took place in mid-August 2021, Raab was on holiday in the Mediterranean with his family. Boris replaced him with Liz:
On her first day in the job, she issued a note to her officials ordering the JM designation be dropped.
'Liz gets it,' a Minister said. 'She knows how to treat her colleagues properly. It's one of the reasons she's been so successful.'
Spectacularly successful. 2021 has been Liz Truss's year …

She's now in charge of masterminding the final fraught stages of Britain's EU exit.
And – were Boris to suddenly fall beneath a heavily laden wine-and-cheese platter – favourite to replace him in No 10 Downing Street.
At the time Hodges had written his article, Boris was becoming more embroiled in Partygate allegations, which had begun in November 2021.
We thought that Boris had a diverse Cabinet. It was nothing like Liz's, however:
The Mail reported:
Ms Truss is expected to make long-term ally Kwasi Kwarteng chancellor, with Suella Braverman moving to the Home Office and James Cleverly to the Foreign Office.
If selected, Mr Kwarteng would be the fourth non-white chancellor in a row, directly following Sajid Javid, Rishi Sunak and Nadhim Zahawi.
And Ms Braverman would become the third minority home secretary, after Priti Patel and Mr Javid. 
Mr Cleverly, currently the Education Secretary, would become the first ever non-white foreign Secretary.
Cleverly continues in post today under Rishi Sunak, as does Kemi Badenoch, International Trade Secretary and Minister for Women and Equalities:
Would the media — our diversity champions — give her, our third female Conservative PM, any credit? Never:
On a related note, Liz gave us a Health and Social Care Secretary with a fondness for cigars, the likes of which we had not seen since Kenneth Clarke in the 1990s. Here is Thérèse Coffey, one of her close friends, pictured at a Spectator summer party a few years ago:
However, just as important were the people no longer in Cabinet. This is worth noting. Some said later that this is where Liz's premiership became unstuck, that she should have held on to some opponents:
There is expected to be a clear out of Rishi Sunak and his supporters after a bitter blue-on-blue campaign in which he seems almost certain to be defeated.
Into the political wilderness too will go Michael Gove, after serving under the three previous PMs. Dominic Raab, the First Secretary of State, and Boris Johnson himself, are expected to return to the backbenches. Both have question marks over whether they can hold on to their seats at the next election.
I think she did the right thing. We'd seen enough of all of them over the past three years and, in Gove's case, much longer than that.
They would not have been friendly:
Other backbench Conservative MPs were unfriendly, too:
Rishi was unaccustomed to being on the backbenches, and his first opportunity to participate in a debate came that Tuesday afternoon. Guido Fawkes reported:
Backbencher Rishi Sunak making a debate intervention today on "unavoidably small hospitals":
Thank you for accommodating me at a late stage in this debate. I hadn't planned on speaking but this morning I saw the order paper and it turns out I had more time on my hands than I anticipated.
Tuesday's Mail pointed out the Conservatives have had three women PMs. Labour have had none, not even a female Party leader:
We were also entering a new generation of PMs who were younger than we:
Liz's supporters in the media were hopeful:
James Johnson's Politico article said:
The main qualities the public look for from their leaders in the 2020s are honesty, strength and authenticity. It will require care and calibration, but Truss has a path to come closer to these than Starmer.
If she stands in Downing Street on Tuesday and levels with the public about the challenge ahead and tells them to judge her on results in two years' time she will not only create a reputational shield for herself but also have the opportunity to make a novel mark on the public — many of whom will be tuning into her for the first time — as someone who gives it to them straight.
Some have suggested that her more libertarian instincts and views, such as decrying a focus on redistribution, make her unelectable. But voters, especially those new Tory converts in the Red Wall, value consistency — a quality they feel is so lacking in modern politicians — as much as an individual policy position. Focus group attendees praise Thatcher and Blair when asked if there are any politicians they admire not because they agreed with them on everything, but because they felt they held beliefs and stuck with them.
One of Truss' biggest applause lines in one of the early debates was that she is not the slickest media performer, but she gets things done. If she successfully harnesses that sentiment, the ideological gap between her and the public on specific issues or an awkward communication style may matter less …
It could all come undone, of course. Moments in the summer would have been similarly disastrous for Truss in a live election campaign environment. The calibre of her team will be crucial …
There is a pathway for the Conservative Party. If followed, the optimistic scenario for Liz Truss is underpriced.
Like the aforementioned Janet Daley, James Johnson underestimated the opposition on the Conservative backbenches.
After flying back from Aberdeen, the closest airport to Balmoral, Liz gave her first address as Prime Minister. Heavy downpours punctuated the afternoon. The weather, combined with London's rush hour traffic, delayed her. The rain let up long enough for her to give her speech, in which she borrowed a line from Churchill, 'Action this day'. Her husband, Hugh O'Leary, stood on the sidelines:
Liz's first call to a foreign leader was to Volodymyr Zelenskyy to reassure him that the UK would continue to support Ukraine:
One of her economic advisers, Gerard Lyons, was confident that a low-tax economic plan would help to stave off recession:
The cost of living crisis made Wednesday's papers, September 7. These front pages show Liz's husband:
The Telegraph borrowed words from her speech, 'We can ride out the storm':
Wednesday saw Liz's first Prime Minister's Questions (PMQs). This is the full half hour:
She managed to lob a few witty grenades Keir Starmer's way.
To roars of applause from Conservatives, Liz pointed out that there is nothing new about a Labour leader wanting tax rises:
Guido noted that the comment painted Starmer the same colour as his predecessor, the very left-wing Jeremy Corbyn (emphases his):
It only took a free marketeer PM to bring out Starmer's inner Corbynite…
Directing her aim at both Starmer and Corbyn, she asked aloud why Labour can't find a leader who lives outside of north London, home of the metropolitan elite. She also wondered why there had been no female Labour Party leaders (video):
After PMQs ended, Guido said that Liz's Cabinet was more diverse than Labour's shadow team, although you cannot see that in the photo that he posted. He calculated:
… up to seven BAME members: 23% of the total. 
By Guido's reckoning, Labour's shadow cabinet has six ethnic minority members, or a mere 20%.
Meanwhile, Labour continue thrashing the Tories on gender and state school educations. All completely irrelevant, but nonetheless, interesting to note …
That evening, The Telegraph analysed Liz's first full day as PM.
Madeline Grant provided a sketch of PMQs:
Therese Coffey, radiating gung-ho enthusiasm, looked ready to crack out another celebratory cigar. A dazed Suella Braverman wandered into the Chamber via the Westminster Hall route used by most MPs, then remembered she is Home Secretary now and hot-footed it to the "VIP entrance" at the back.
Notable by their absence were Rishi Sunak, and, predictably, Boris Johnson, though Sajid Javid was there …
A huge roar enveloped Liz Truss as she sashayed in, looking sleek in a blue pantsuit – shades of Keeley Hawes in the Bodyguard. The Tory troops, clearly desperate for things to go well, cheered raucously no matter what she said or did. Yet again beating Labour in the identity politics stakes seemed to have sparked particular joy. When Sir Keir Starmer congratulated Truss on her appointment, a Tory backbencher snarled "3-nil!". James Cleverly, the Foreign Secretary, brandished three fingers and jabbed them in the air.
Theresa May also congratulated Truss on becoming Britain's third female prime minister. "Why does she think it is that all three female prime ministers have been Conservative?", she asked. Truss positively beamed at her. "I look forward to calling on her advice," she said. (Oh no).
"There does seem to be an extraordinary inability of the Labour Party to find a female leader," continued Truss, "or indeed a leader who doesn't come from north London." The Tory hordes roared at this, and even Starmer repressed a chuckle.
Her presentation was as wooden as ever:
But her replies were assured, refreshingly direct. There were even a few one-word answers – no to a windfall tax, for instance – a quasi-mythical event in Westminster. It was almost as if the sphinx was at the despatch box. All of this seemed to flummox Keir Starmer, who is more used to spending PMQs trying to prise answers out of Boris Johnson – occasionally wincing as if pulling out his own teeth with a pair of rusty pliers.
Truss's true-blue rhetoric seemed to bring out Starmer's inner Corbyn too. He railed against "excess profits" with the wild-eyed conviction of a politburo member sounding off about Kulaks. "Same old Tories… There is nothing new about the Tory fantasy of trickle-down economics", he scoffed.
The Times's Quentin Letts noted Liz's calm demeanour:
The Tory benches mooed when they saw her but once Truss started answering questions, the composure was striking. Most of all it was the slower pace that one noticed, and the evaporation of most of the performance-venom that tarnished the late Johnson era. Where Boris used to gabble, Truss spoke slowly. The voice, which seems to emanate from near the tip of her nose, was clear. It may pink a little, like a novice musician's recorder, but it is strong enough to cut through a full Commons …
Truss referred to "my chancellor" and "my new health secretary". She was asserting her power. There wasn't a quiver visible in her fingers and she maintained a consistent tempo, andante rather than allegretto. Talking slowly makes you sound more authoritative and means you need not say so much. Helen Hayes (Lab, Dulwich & West Norwood) essayed a zinger. Would the government's response to some report be published by the end of the year? "Yes," said Truss, and she slowly, serenely resumed her seat, suffused with calmness. One should not over-interpret this performance. PMQs debuts usually go well. But the story is not quite conforming to the catastrophists' narrative.
Returning to The Telegraph's articles, Daniel Martin told us that Liz wanted proper dress in Downing Street:
The Prime Minister has made it clear she wants to re-introduce a dress code, with officials told to wear shirts and ties as part of a new, more formal style of government …
One government source said Ms Truss had made her views plain when she arrived back to Admiralty House from her victory party in the City of London, the night before she became Prime Minister.
The source said: "This is all born from Liz coming back from winning and telling the staff in Admiralty House that ties were back."
We also found out that she wanted a leaner operation:
Ms Truss has also ordered a wider operational shake-up at Downing Street, including a new economic unit whose role is to help her take on "Treasury orthodoxy".
She has brought in Matthew Sinclair, the former director of the TaxPayers' Alliance, as her chief economic adviser …
In a bid to strengthen the relationship between Ms Truss and her most important ministers, new offices are being created in Downing Street for both Wendy Morton, the new chief whip, and Thérèse Coffey, the Deputy Prime Minister.
An aide told The Spectator: "We've blown up the No 10 floor plan", saying the idea is to create a leaner, nimbler operation.
Allister Heath was fully behind Liz and her plans:
I'm optimistic about the Truss Government. Yes, of course, nobody can possibly know how well it will do – whether it will outwit the Blob to push through genuine improvements. But it is absurd to state, almost as self-evident fact, that it is bound to collapse, that it cannot last even two years, based in part on an insulting dismissal of the credibility and intellect of all of the members of the new Government.
It is astonishing that pundits with no understanding of economics dismiss the Prime Minister's ability in this area: she actually worked as an economist for Shell (ideal in the current climate) and as an economic director for Cable and Wireless. The first accountant ever in No 10 – she holds the qualification from the Chartered Institute of Management Accountants – she is more financially literate and comfortable with complex policy matters than almost all of those who patronise her. The fact that she is reflexively written off as lightweight, a dilettante even, is more a reflection of the bizarrely misogynistic and classist minds of some of her more extreme critics than of any objective reality.
Kwasi Kwarteng, the Chancellor, holds a PhD in economic history from Cambridge, perhaps the ideal qualification for the moment; his War and Gold and Ghosts of Empire remain timely. Thérèse Coffey, Truss's deputy, is another PhD: in her case, in chemistry, showing how much more intelligent she is than the ignoramuses who hate her.
Suella Braverman, the Home Secretary, is an extremely competent, bright and personable lawyer who drives the Left crazy. Kemi Badenoch holds degrees in engineering and law, and is fiendishly clever. Jacob Rees-Mogg, with his background in finance, is the perfect pick for Business (and Energy), given the technical and intellectual complexity of his mission. Kit Malthouse, the Education Secretary, another accountant, has experience running a medium-sized business; Chris Philp, the Chief Secretary, has a degree in physics.
The list goes on. Of course, some ministers are weaker than others, but the average quality is a great improvement on many past governments. Matthew Sinclair, one of Truss's advisers, is the best free-market economist of his generation in Britain today.
The paradox is that it is a policy that I'm uncomfortable with that is likely to send the Government's poll ratings surging, discrediting its Leftist critics. Truss's energy plan is rightly a big bazooka; it is regrettable that, for a variety of practical and political reasons, she appears to have decided to freeze all energy bills, rather than to opt for targeted subsidies to small firms and the bottom half of earners. The Government's bill will be at least 5 per cent of GDP, with enormous potential liabilities. This is the biggest welfare programme in British history, one that helps the well-off as much as the needy.
But we are where we are. The Government felt that an alternative, non-universal plan could not be targeted correctly, that the cliff-edge from means testing would be too extreme, that the public's allergy to high prices had become too toxic. Truss feared she would be destroyed on arrival if she didn't go for broke. Her gambit is that the scale of this intervention will cripple the Left: it's a statist umbrella protecting her free-market reforms …
Our new Prime Minister likes economic growth, not merely because she values material prosperity, but because she buys into the very idea of progress, of improvement. Boris Johnson agreed in theory, but didn't understand what to do. Unlike Theresa May, Truss is inherently anti-Malthusian: her Chancellor talks of growing the economy, rather than arguing about how to redistribute a stagnant pie, the vanishing "proceeds of growth" taken for granted by David Cameron.
Yes, Truss will address our immediate crisis via costly, short-term policies. But she's deadly serious about principled long-term measures to accelerate the economy by boosting energy output, housebuilding, private investment, scientific innovation and entrepreneurship. It will be tough, but the Twitter Lefties are entirely wrong to be betting so emphatically against her.
The Telegraph's main editorial compared her to Margaret Thatcher:
Opinion polls indicate that Labour's windfall levy is popular, but Ms Truss is right to identify the flaws in this approach. Her declaration that we cannot tax our way to higher growth could have been uttered by the first woman prime minister 30 years ago.
Balancing short-term expediency with long-term economic requirements will require skill and determination. Ms Truss has set out her position and is clearly intent on sticking to her guns, even if the polls are tempting her to abandon them. It was an encouraging start.
The Mail provided us with short takes from the more left-of-centre broadcasters, who also thought Liz did a great job at PMQs. These were not her natural allies.
The BBC's Chris Mason noted:
As Prime Minister's Questions finished, there appeared to be a warm, one-on-one brief chat between Liz Truss and Keir Starmer.
I think Starmer said "well done" to his opponent: all party leaders regularly acknowledge that PMQs is a tough gig …
It felt less personal, much less theatrical and more ideological …
TalkTV's Tom Newton Dunn said:
Liz Truss is not a legendary orator, and some Tory MPs lived in terror at the thought of her robotic despatch box style.
But that was a very strong debut …
The Mail had several more comments, so I will end with this one from the i newspaper's Richard Vaughan:
If Liz Truss's aim for her first PMQs was to kill the usual heat and rancour in the Commons chamber, then she succeeded. It was a solid, no-frills performance.
… Ms Truss's arrival onto the front bench was greeted with cheers, but it was by no means a deafening welcome by backbenchers to their new leader – perhaps a portent of things to come.
On the evidence of her no-nonsense opening appearance in her new role, they would be wise not to underestimate her. Her next trick will be to try and inspire those on the benches behind her.
Aye, there's the rub.
To be continued tomorrow.
The UK experienced a busy and historic weekend as Operations London Bridge and Unicorn became reality after the Queen's death on Thursday, September 8, 2022.
The nation is now in a 10-day period of mourning, which continues through Monday, September 19, the day of the Queen's funeral in Westminster Abbey. King Charles III has declared the day to be a bank holiday. The Royals, including their staff, will mourn for an additional week.
Before going into the weekend's events, I have a few items to add from the end of last week.
Wednesday and Thursday, September 7 and 8
Last Wednesday, possibly having been busy preparing for her parliamentary statement on the energy crisis on Thursday, Liz Truss's office cancelled the weekly update on Operation London Bridge, the funeral plans for Queen Elizabeth II. However, Simon Case, the civil servant who is Cabinet Secretary, informed the Prime Minister of the Queen's decline early on Thursday morning.
Former Metropolitan Police Chief Superintendent Parm Sandhu told GB News that Operation London Bridge was originally planned in the 1960s and has been regularly reviewed since.
The Duke of Edinburgh's — Prince Philip's — plans were Operation Forth Bridge, so named for the magnificent bridge that links the Scottish capital to Fife.
Operation Unicorn involves funeral plans for Scotland in the event the Queen died there.
As my post on Friday explained, the Prime Minister found out about the Queen's death during the energy debate in the Commons.
On Friday, September 9, Conservative MP Michael Fabricant told GB News that the note she received at lunchtime might well have said:
London Bridge is down.
At that point, the Queen was receiving medical attention and her closest family members were on their way to Balmoral.
The Times reported how Thursday afternoon's events unfolded (emphases mine):
The six hours that followed brought together a fractured royal family and seemed to unite a nation in apprehension. At 12.32pm, moments after the first signs in the Commons, a Buckingham Palace spokesman said: "Following further evaluation this morning, the Queen's doctors are concerned for Her Majesty's health and have recommended she remain under medical supervision."
It was immediately clear the news was more significant than previous announcements about the Queen's health. Newspaper websites swiftly reported the announcement …
… At 12.45pm the Duke and Duchess of Cornwall announced that they were travelling to Balmoral. They were already in Scotland after hosting a dinner at Dumfries House in Ayrshire the previous evening. A minute later the Duke of Cambridge, 40, announced that he would be travelling from London. It was now clear that the situation was grave.
The Duchess of Cambridge, 40, remained at their Windsor home and drove to collect Prince George, Princess Charlotte and Prince Louis following their first full day at their new school to tell them of the news. At 1.30pm the Duke of York, 62, who was stripped of his royal duties after the scandal surrounding Jeffrey Epstein, said that he would also be flying to Scotland. Six minutes later the Earl and Countess of Wessex confirmed that they would also be travelling to Balmoral.
The Princess Royal, 72, had been on the Isle of Raasay on Wednesday and stayed at Balmoral overnight. The Duke of Sussex, despite his long- running troubles with the monarchy, announced at 1.52pm that he was also travelling to Scotland, separately from other senior royals but "in co-ordination with other family members' plans". He arrived at Balmoral almost two hours after the announcement of his grandmother's death. He had flown into Aberdeen airport alone, and his wife remained in Windsor.
Prince Harry, 37, happened to be in the UK anyway, and had been due to attend a charity event in London last night.
The first signs of serious concerns about the Queen's health had emerged at 6pm on Wednesday, when it was announced that she had "accepted doctors' advice to rest" rather than attend a virtual meeting of the privy council that evening.
That would have been only an hour after I'd heard a long pealing of bells from Westminster Abbey on Wednesday, which I mentioned in my post on Friday.
More of the timeline continues, including the hour when the Queen's death was announced:
Soon after the announcement of concerns of the Queen's doctor, Charles, 73, was seen clutching a large briefcase as he boarded the royal helicopter from Dumfries House with Camilla, 75, for the journey to Balmoral.
The flight carrying William, Prince Andrew, Prince Edward and Sophie took off from RAF Northolt in northwest London at 2.39pm. Royal Air Force flight KRF23R landed at Aberdeen airport at 3.50pm. A short while later, at 4.30pm, the prime minister was informed of the Queen's death by Simon Case, the cabinet secretary, according to her official spokesman.
Meanwhile, the Duke of Cambridge was driving his two uncles the 40 miles from Aberdeen airport to Balmoral, arriving just after 5pm. William was behind the wheel of the Range Rover, with Andrew in the passenger seat and Edward, 58, and Sophie, 57, in the back …
The Palace said in a statement: "The Queen died peacefully at Balmoral this afternoon. The King and The Queen Consort will remain at Balmoral this evening and will return to London tomorrow."
Charles had acceded to the throne immediately.
The flags in Downing Street were lowered to half mast at 6.36pm. BBC One played the national anthem following the announcement of the monarch's death, showing a photograph of the Queen, followed by a royal crest on a black background and the words Queen Elizabeth II …
The double rainbow, which I also referenced on Friday, appeared as soon as the flags were lowered to half mast, not only in London but also in Windsor.
On Friday afternoon, The Telegraph reported that only Princess Anne and Prince Charles made it to Balmoral in time to see the Queen before she died:
The King and the Princess Royal were the only two senior members of the Royal family who made it to Balmoral before Queen Elizabeth II's death, it is understood …
As for Prince William and his uncles and aunt:
Royal Air Force flight KRF23R took off shortly after 2.30pm, according to flight tracking website Flightradar24.com, landing in Aberdeen at 3.50pm.
Prince William drove the quartet from the airport to Balmoral and they were pictured sweeping into the gates of the castle shortly after 5pm.
It is possible they had known they would not make it, perhaps even before their plane took off.
In the event, by the time they arrived, it was too late.
Prince Harry's flight was delayed and he did not arrive until 8 p.m.:
… he is believed to have been mid-air when Buckingham Palace announced at 6.30pm that the Queen had died, arriving at Balmoral an hour and a half later.
The Duke's Cessna had been due to land at 6.29pm, a minute before the historic statement. But it was 20 minutes late taking off at Luton Airport, meaning he did not land in Aberdeen until 6.46pm.
The grief-stricken Duke was photographed as he was driven into Balmoral Castle just before 8pm to join other members of his family.
That evening, France paid the Queen tribute by turning off the lights on the Eiffel Tower at midnight and on Friday, at 10 p.m.:

Friday, September 9
On Friday morning, the Telegraph article said that Prince Harry left Balmoral early:
Prince Harry was the first to leave Balmoral on Friday morning, driven out of the gates at 8.20am.
He had to take a commercial flight back to Windsor:
He later boarded a British Airways flight from Aberdeen to Heathrow and is thought to have returned to Frogmore Cottage, Windsor, where the Duchess of Sussex was waiting for him.
Later that morning, the RMT (Rail, Maritime and Transport Union) head, Mick Lynch, announced that the rail strikes planned for September 15 and 17 were cancelled.
Guido Fawkes said that a postal strike was also cancelled (emphases his):
The Communication Workers Union has also called off a planned Royal Mail strike, with General Secretary Dave Ward saying "Following the very sad news of the passing of the Queen, and out of respect for her service to the country and her family, the union has decided to call off tomorrow's planned strike action."
Fair play to both Lynch and Ward, whether they're genuinely in mourning or its cynical comms, they made the right call…
England's three main political parties suspended campaigning during the mourning period. This is fine, except that Parliament is adjourned until after the Queen's funeral, at which point it will continue to be adjourned for three weeks' worth of annual political party conferences.
If Liz is smart, she will find a way to get the Commons, at least, to reconvene during conference season. There is no justification, especially this year, for every MP to attend these rather superfluous events. Furthermore, the evening events are also times of revelry, which seems inappropriate at this time.
Guido's Friday post says:
With King Charles instituting 17 days of mourning, the death of Queen Elizabeth will certainly cast shadows over all three of the major parties' conferences. Guido understands the Tories are having conversations about how to proceed with their Birmingham gathering in light of the news. With politics grinding to a halt, it's going to be difficult for PM Truss to enjoy the full political dividend from yesterday's energy policy announcement…
Parliament is not due to reconvene until October 17. October is the month when the new energy 'price cap' — i.e. a dramatic increase — comes into effect. This will affect everyone and a policy really needs to be finalised before then. Conservative MP John Redwood tweeted:
As I write on Monday afternoon, GB News's Tom Harwood says that a 'fiscal event' — an energy policy announcement — could be made on one of the four consecutive days after mourning and before conference recess. He says that his sources tell him that separate legislation would not be required. Let's hope he is right.
Friday is not normally a day when either House of Parliament meets. However, both MPs and the Lords met to pay tribute to the Queen. The sessions, which also included taking the Oath of Loyalty to King Charles — optional, as the Oath includes successors — continued into Saturday. Every MP and Lord who wanted to speak was able to do so.
The Commons session on Friday afternoon began with a minute's silence:
Afterwards, the Prime Minister began the tributes:
Guido has the video and pulled out the key quote from her address:
The United Kingdom is the great country it is today because of her, the Commonwealth is the family of nations it is today because of her.
Hansard has the full transcript of Friday's and Saturday's tributes from MPs. I commend them to everyone, because many MPs mentioned that the Queen visited their respective constituencies more than once during her reign. Only a handful had never had met her. The contributions reflected a monarch with not only dignity but also good humour. Everyone who met her said that she knew how to put them at ease.
Truss pointed out other historical highlights in her address:
In the hours since last night's shocking news, we have witnessed the most heartfelt outpouring of grief at the loss of Her late Majesty the Queen. Crowds have gathered. Flags have been lowered to half-mast. Tributes have been sent from every continent around the world. On the death of her father, King George VI, Winston Churchill said the news had,
"stilled the clatter and traffic of twentieth-century life in many lands".
Now, 70 years later, in the tumult of the 21st century, life has paused again.
Her late Majesty Queen Elizabeth II was one of the greatest leaders the world has ever known. She was the rock on which modern Britain was built. She came to the throne aged just 25, in a country that was emerging from the shadow of war; she bequeaths a modern, dynamic nation that has grown and flourished under her reign. The United Kingdom is the great country it is today because of her. The Commonwealth is the family of nations it is today because of her. She was devoted to the Union of England, Scotland, Wales and Northern Ireland. She served 15 countries as Head of State, and she loved them all …
Her devotion to duty remains an example to us all. She carried out thousands of engagements, she took a red box every day, she gave her assent to countless pieces of legislation and she was at the heart of our national life for seven decades. As the Supreme Governor of the Church of England, she drew on her deep faith. She was the nation's greatest diplomat. Her visits to post-apartheid South Africa and to the Republic of Ireland showed a unique ability to transcend difference and heal division. In total, she visited well over 100 countries. She met more people than any other monarch in our history.
She gave counsel to Prime Ministers and Ministers across Government. I have personally greatly valued her wise advice. Only last October, I witnessed first hand how she charmed the world's leading investors at Windsor Castle. She was always so proud of Britain, and always embodied the spirit of our great country. She remained determined to carry out her duties even at the age of 96. It was just three days ago, at Balmoral, that she invited me to form a Government and become her 15th Prime Minister. Again, she generously shared with me her deep experience of government, even in those last days.
Everyone who met her will remember the moment. They will speak of it for the rest of their lives. Even for those who never met her, Her late Majesty's image is an icon for what Britain stands for as a nation, on our coins, on our stamps, and in portraits around the world. Her legacy will endure through the countless people she met, the global history she witnessed, and the lives that she touched. She was loved and admired by people across the United Kingdom and across the world.
One of the reasons for that affection was her sheer humanity. She reinvited monarchy for the modern age. She was a champion of freedom and democracy around the world. She was dignified but not distant. She was willing to have fun, whether on a mission with 007, or having tea with Paddington Bear. She brought the monarchy into people's lives and into people's homes.
During her first televised Christmas message in 1957, she said:
"Today we need a special kind of courage…so that we can show the world that we are not afraid of the future."
We need that courage now. In an instant yesterday, our lives changed forever. Today, we show the world that we do not fear what lies ahead. We send our deepest sympathy to all members of the royal family. We pay tribute to our late Queen, and we offer loyal service to our new King.
His Majesty King Charles III bears an awesome responsibility that he now carries for all of us. I was grateful to speak to His Majesty last night and offer my condolences. Even as he mourns, his sense of duty and service is clear. He has already made a profound contribution through his work on conservation and education, and his tireless diplomacy. We owe him our loyalty and devotion.
The British people, the Commonwealth and all of us in this House will support him as he takes our country forward to a new era of hope and progress: our new Carolean age. The Crown endures, our nation endures, and in that spirit, I say God save the King. [Hon. Members: "God save the King."]
Labour's Keir Starmer, Leader of the Loyal Opposition, spoke next. Guido has the video:
The highlight of his speech was this:
She did not simply reign over us, she lived alongside us. She shared in our hopes and our fears, our joy and our pain, our good times, and our bad.
Interestingly, when they were younger, both Starmer and Truss wanted to abolish the monarchy.
Boris Johnson spoke a short time later, declaring the Queen:
Elizabeth the Great.
Historian David Starkey would disagree and did so on GB News on Sunday, September 11. He said that 'the Great' has applied exclusively to monarchs who waged war, e.g. Peter the Great.
Guido has the video. Boris began by saying that the BBC contacted him recently to speak about the Queen in past tense:
I hope the House will not mind if I begin with a personal confession. A few months ago, the BBC came to see me to talk about Her Majesty the Queen. We sat down and the cameras started rolling, and they requested that I should talk about her in the past tense. I am afraid that I simply choked up and could not go on. I am really not easily moved to tears, but I was so overcome with sadness that I had to ask them to go away.
I know that, today, there are countless people in this country and around the world who have experienced the same sudden access of unexpected emotion, and I think millions of us are trying to understand why we are feeling this deep, personal and almost familial sense of loss. Perhaps it is partly that she has always been there:
a changeless human reference point in British life; the person who—all the surveys say—appears most often in our dreams; so unvarying in her pole-star radiance that we have perhaps been lulled into thinking that she might be in some way eternal.
But I think our shock is keener today because we are coming to understand, in her death, the full magnitude of what she did for us all. Think what we asked of that 25-year-old woman all those years ago: to be the person so globally trusted that her image should be on every unit of our currency, every postage stamp; the person in whose name all justice is dispensed in this country, every law passed, to whom every Minister of the Crown swears allegiance; and for whom every member of our armed services is pledged, if necessary, to lay down their lives.
Think what we asked of her in that moment: not just to be the living embodiment, in her DNA, of the history, continuity and unity of this country, but to be the figurehead of our entire system—the keystone in the vast arch of the British state, a role that only she could fulfil because, in the brilliant and durable bargain of the constitutional monarchy, only she could be trusted to be above any party political or commercial interest and to incarnate, impartially, the very concept and essence of the nation.
Think what we asked of her, and think what she gave. She showed the world not just how to reign over a people; she showed the world how to give, how to love and how to serve. As we look back at that vast arc of service, its sheer duration is almost impossible to take in. She was the last living person in British public life to have served in uniform in the Second World War. She was the first female member of the royal family in a thousand years to serve full time in the armed forces.
That impulse to do her duty carried her right through into her 10th decade to the very moment in Balmoral—as my right hon. Friend said—only three days ago, when she saw off her 14th Prime Minister and welcomed her 15th. I can tell you, in that audience she was as radiant and as knowledgeable and as fascinated by politics as ever I can remember, and as wise in her advice as anyone I know, if not wiser. Over that extraordinary span of public service, with her naturally retentive and inquiring mind, I think—and doubtless many of the 15 would agree—that she became the greatest statesman and diplomat of all.
She knew instinctively how to cheer up the nation, how to lead a celebration. I remember her innocent joy more than 10 years ago, after the opening ceremony of the London Olympics, when I told her that the leader of a friendly middle eastern country seemed actually to believe that she had jumped out of a helicopter in a pink dress and parachuted into the stadium. [Laughter.] I remember her equal pleasure on being told, just a few weeks ago, that she had been a smash hit in her performance with Paddington Bear.
Perhaps more importantly, she knew how to keep us going when times were toughest. In 1940, when this country and this democracy faced the real possibility of extinction, she gave a broadcast, aged only 14, that was intended to reassure the children of Britain. She said then:
"We know, every one of us, that in the end all will be well".
She was right …
… It was that indomitability, that humour, that work ethic and that sense of history that, together, made her Elizabeth the Great.
When I call her that, I should add one final quality, of course: her humility—her single-bar-electric-fire, Tupperware-using refusal to be grand. I can tell the House, as a direct eyewitness, that unlike us politicians, with our outriders and our armour-plated convoys, she drove herself in her own car, with no detectives and no bodyguard, bouncing at alarming speed over the Scottish landscape, to the total amazement of the ramblers and tourists we encountered.
It is that indomitable spirit with which she created the modern constitutional monarchy—an institution so strong, so happy and so well understood, not just in this country but in the Commonwealth and around the world, that the succession has already seamlessly taken place. I believe she would regard it as her own highest achievement that her son, Charles III, will clearly and amply follow her own extraordinary standards of duty and service. The fact that today we can say with such confidence, "God save the King" is a tribute to him but, above all, to Elizabeth the Great, who worked so hard for the good of her country not just now but for generations to come. That is why we mourn her so deeply, and it is in the depths of our grief that we understand why we loved her so much.
Theresa May's speech was the funniest. I do wish she had shown this side of herself as Prime Minister. Her comic timing was impeccable:
Guido has a video of most of her address:
Arguably one of May's most poignant speeches. Some needed light relief for the day...
Here's the best part:
This excerpt follows:
Of course, for those of us who had the honour to serve as one of her Prime Ministers, those meetings were more frequent, with the weekly audiences. These were not meetings with a high and mighty monarch, but a conversation with a woman of experience, knowledge and immense wisdom. They were also the one meeting I went to that I knew would not be briefed out to the media. [Laughter.] What made those audiences so special was the understanding the Queen had of issues, which came from the work she put into her red boxes, combined with her years of experience. She knew many of the world leaders—in some cases, she had known their fathers—and she was a wise and adroit judge of people.
The conversations at the audiences were special, but so were weekends at Balmoral, where the Queen wanted all her guests to enjoy themselves. She was a thoughtful hostess. She would take an interest in which books were put in your room and she did not always expect to be the centre of attention; she was quite happy sometimes to sit, playing her form of patience, while others were mingling around her, chatting to each other. My husband tells of the time he had a dream: he dreamt that he was sitting in the back of a Range Rover, being driven around the Balmoral estate; and the driver was Her Majesty the Queen and the passenger seat was occupied by his wife, the Prime Minister. And then he woke up and realised it was reality!
Her Majesty loved the countryside. She was down to earth and a woman of common sense. I remember one picnic at Balmoral that was taking place in one of the bothies on the estate. The hampers came from the castle, and we all mucked in to put the food and drink out on the table. I picked up some cheese, put it on a plate and was transferring it to the table. The cheese fell on the floor. I had a split-second decision to make: I picked up the cheese, put it on a plate and put the plate on the table. I turned round to see that my every move had been watched very carefully by Her Majesty the Queen. I looked at her, she looked at me and she just smiled. And the cheese remained on the table. [Laughter.]
This is indeed a sad day, but it is also a day of celebration for a life well spent in the service of others. There have been many words of tribute and superlatives used to describe Her late Majesty Queen Elizabeth II, but these are not hype; they are entirely justified. She was our longest-serving monarch. She was respected around the world. She united our nation in times of trouble. She joined in our celebrations with joy and a mischievous smile. She gave an example to us all of faith, of service, of duty, of dignity and of decency. She was remarkable, and I doubt we will ever see her like again. May she rest in peace and rise in glory.
Saturday's session in the Commons was another marathon.
Shortly after 1 p.m., Speaker Sir Lindsay Hoyle opened it with this:
I now invite the House to resume its tributes to Her late Majesty. I expect to conclude tributes at 10 o'clock, when I shall invite Ministers to move the motion for a Humble Address to His Majesty. A hundred and eighty-two Members contributed yesterday, and many want to contribute today. I hope Members will therefore keep to the informal time limit of three minutes.
An excerpt from John Redwood's speech follows.
On Friday, he pointed out how historically significant three of our Queens were in British history and for women:
On Saturday, he said:
What always came across to all of us was just how much she respected every person and every institution that she visited. She showed that respect by impeccable manners and great courtesy—always on time, always properly briefed, always appropriately dressed for the occasion.
But, as so many have said from their personal experiences, there was something so much more than that. She was not just the consummate professional at those public events: there was the warm spirit, the personality, and above all the understanding that everyone else at that event was terrified that something was going to go wrong, that they had not understood the protocol, or that there was some magic way of doing it—as my right hon. Friend the Member for Welwyn Hatfield (Grant Shapps) was explaining—that they had to get right. At those public events, the Queen always relaxed people and showed them that there was no right way, because she was there for the people; she was there for the institution; she was there for the event. That is what we can learn from.
Of course, she was also Our Majesty. She was the embodiment of the sovereignty of people and Parliament; she represented us so well abroad and represented us at home, knowing that as a constitutional monarch, she represented us when we were united. She spoke for those times when we were gloriously happy and celebrating, or she spoke for those times when there was misery and gloom and she had to deal with our grief and point to the better tomorrow. That was why she held that sovereignty so well and for so long—a constitutional monarch who did not exercise the power, but captured the public mood; who managed to deal with fractious and difficult Parliaments and different political leaders, but who was above the politics, which meant that our constitution was safe in her hands. I wish her son, the new King, every success in following that great lead as he has told us he will do, and I can, with others, say today—"God save the King."
Redwood later tweeted that he had omitted an important part of his speech:
Indeed.
The Queen attended only two of her former Prime Ministers' funerals, those of Winston Churchill and Margaret Thatcher.
These are links to Friday's (continued here) and Saturday's (continued here) tributes from the Lords, both Spiritual and Temporal.
On Sunday, our vicar said that the Church of England lost her greatest evangelist, the Queen.
I cannot disagree with that.
The Archbishop of Canterbury spoke earlier on Friday afternoon, excerpted below.
He recalled her deep faith, something I wish more CofE clergy had:
… What has been said already today has been extraordinarily eloquent. I do not intend to repeat it but to say something about the Queen's links to faith and to the Church of England. First is her assurance, her confidence, in the God who called her. At her coronation, so long ago, conducted by Archbishop Geoffrey Fisher—the first of seven Archbishops of Canterbury who had the privilege of serving her—the service began with her walking by herself past the Throne, where she would very shortly be seated, and kneeling by the high altar of Westminster Abbey. The order of service said, "She will kneel in private prayer"—and so she did, for some time. The next thing to happen was that homage was paid to her, starting with the Duke of Edinburgh. What that said about her understanding of her role was that she pledged her allegiance to God before others pledged their allegiance to her. She had this profound sense of who she was and by whom she was called.
Then there was her profound, deep and extraordinary theological vision. Many years ago now—seven or eight years ago—I was travelling abroad, and someone who had no knowledge of these things said, "Well, of course, she's not really got that much intellect, has she? I mean, private tutors and all this—what can she know?" Well, what ignorance. In 2012, she spoke at Lambeth Palace on the occasion of her Diamond Jubilee, and the speech she made there is one we return to very frequently, because she set out a vision for what an established Church should be. It was not a vision of comfort and privilege; it was to say, put very politely, "You are here as an umbrella for the whole people of this land". The subtext was, "If you are not that, you are nothing". That is a deep vision of what it is to be the Church—of what it is to be not an established Church but a Christian Church. That came from her deep understanding of faith. Every five years, at the inauguration of the Church of England's General Synod, she came with messages of encouragement and assurance of her prayers. In 2021, her message was,
"my hope is that you will be strengthened with the certainty of the love of God, as you work together and draw on the Church's tradition of unity in fellowship for the tasks ahead."
Publicly, Her late Majesty worshipped regularly and spoke of her faith in God, particularly in her Christmas broadcasts, with quiet, gentle confidence. Privately, she was an inspiring and helpful guide and questioner to me and to my predecessors. She had a dry sense of humour, as we have heard already, and the ability to spot the absurd—the Church of England was very capable of giving her material—but she never exercised that at the expense of others. When I last saw her in June, her memory was as sharp as it could ever have been. She remembered meetings from 40 or 50 years ago and drew on the lessons from those times to speak of today and what we needed to learn: assurance of the love of God in her call, and then humility. It would be easy as a monarch to be proud, but she was everything but that. It was her faith that gave her strength. She knew that, but she knew also her call to be a servant, the one whom she served, and the nation she served, the Commonwealth and the world. Over the last 24 hours, I have had so many messages from archbishops, bishops and other people around the world, within the Commonwealth and way beyond it—from China, Latin America and many other places—in a deep sense of loss.
It has been the privilege of those on these Benches to be intimately involved with momentous occasions so often throughout Her late Majesty's life. As has been said, she has been a presence for as long as we can remember. Jesus says in the Gospel of St Matthew:
"Blessed are those who mourn, for they shall be comforted".
May God comfort all those who grieve Her late Majesty's loss, and may God sustain His Majesty King Charles III in the enormous weight and challenges that he takes on immediately, at the same as he bears the burden of grief, and those around him in his family. May God hold Her late Majesty in His presence, firmly secured in the peace that passes far beyond our understanding.
The Archbishop of York, the Right Revd Stephen Cottrell, spoke in the first of Saturday's sessions in the Lords. He added some light relief:
My Lords, like most Bishops from these Benches, I have stories to tell; stories of doing jigsaws in Sandringham on Sunday evenings and of barbeques in the woods at Sandringham in the middle of January—I even have a slightly scurrilous story about healing the Queen's car. Perhaps I will tell it.
I had preached in Sandringham parish church. We were standing outside and the Bentley was there to get the Queen. It did not start. It made that throaty noise cars make in the middle of winter when they will not start, and everybody stood there doing nothing. I was expecting a policeman to intervene, but nothing happened. Enjoying the theatre of the moment, I stepped forward and made a large sign of the cross over the Queen's car, to the enjoyment of the crowd—there were hundreds of people there, as it was the Queen. I saw the Queen out of the corner of my eye looking rather stony-faced, and thought I had perhaps overstepped the mark. The driver tried the car again and, praise the Lord, it started. The Queen got in and went back to Sandringham, and I followed in another car. When I arrived, as I came into lunch, the Queen said with a beaming smile, "It's the Bishop—he healed my car". Two years later, when I greeted her at the west front of Chelmsford Cathedral, just as a very grand service was about to start and we were all dressed up to the nines, she took me to one side and said, "Bishop, nice to see you again; I think the car's all right today, but if I have any problems I'll know where to come."
When I became the 98th Archbishop of York, during Covid, I paid homage to the Queen by Zoom conference. I was in the Cabinet Office; everyone had forgotten to bring a Bible, including me, but there was one there—which is kind of reassuring. Just as the ceremony was about to begin, the fire alarm went off.
The Queen was at Windsor Castle, but we all trooped out of the Cabinet Office, on to the road, and were out there for about 20 minutes until they could check that it was a false alarm and we could go back in. When I went back into the room, there was the screen, with Her late Majesty waiting for things to begin again. I do not know why I find myself returning to that image of her, faithful watching and waiting through those very difficult times. That was a very small part of a life of astonishing service.
The other thing I have noticed in the last couple of days is that we are all telling our stories. Yesterday, I found myself sharing stories with somebody in the street. I at least had had the honour of meeting Her late Majesty; this person had never met her, but we were sharing stories. I said, "Isn't it strange how we need to tell our stories? It's not as if she was a member of our family." Except she was. That is the point. She served the household of a nation. For her, it was not a rule but an act of service, to this people and to all of us.
I remind us, again and again, that that came from somewhere: it came from her profound faith in the one who said,
"I am among you as one who serves."
The hallmark of leadership is service, watchfulness and waiting. It was her lived-in faith in Jesus Christ, day in and day out, which sustained, motivated and equipped her for that lifetime of service. How inspiring it was last night and this morning to see the baton pass to our new King, King Charles, in the same spirit of godly service to the people of a nation.
I had not thought of this, but the Archbishop of York pointed out the important feast day that coincided with the Queen's death, the Nativity of the Blessed Virgin Mary:
Her Majesty the Queen died on 8 September, the day on which the blessed Virgin Mary is remembered across the world and the Church. Another Elizabeth, the cousin of Mary, said of her when she knew she would be the mother of the Lord:
"Blessed is she who believed that the promises made to her would be fulfilled".
Shot through all our tributes in this House and another place, and across our nation, is that which we have seen, especially as it was only on Tuesday—I thank the noble Baroness, Lady Bull, for reminding us—that the Queen received a new Prime Minister. Can it really be possible? She served to the end—a life fulfilled.
I will finish with a handful of her words. This is what the Queen wrote in a book to mark her 90th birthday, reflecting on her faith in Jesus Christ in her life:
"I have indeed seen His faithfulness."
I am not supposed to call noble Lords "brothers and sisters", but dear friends, we have seen her faithfulness too, and we see it now in our new King. May Her late Majesty the Queen rest in peace and rise in glory. God save the King.
Friday, September 9
At 6 p.m. on Friday, two significant events occurred.
The first was an hour-long service of prayer and reflection held at St Paul's Cathedral:
This service was for people who work in the City of London along with a limited number of members of the public who could apply for wristbands — tickets — to attend. St Paul's posted a page on how to obtain a wristband and how to queue on Friday afternoon for admittance.
Cabinet members attended and sat in the choir stalls. Prime Minister Truss and her Cabinet Secretary Simon Case sat in the front row. On the opposite side were Labour's Keir Starmer and other Opposition MPs.
This was an excellent service. The Cathedral helpfully posted the Order of Service, which can be downloaded from the aforementioned webpage.
Truss read Romans 14:7-12:
We do not live to ourselves, and we do not die to ourselves. If we live, we live
to the Lord, and if we die, we die to the Lord; so then, whether we live or whether we die, we are the Lord's. For to this end Christ died and lived again, so that he might be Lord of both the dead and the living.
Why do you pass judgement on your brother or sister? Or you, why do you despise your brother or sister? For we will all stand before the judgement seat of God. For it is written,
'As I live, says the Lord, every knee shall bow to me, and every tongue shall give praise to God.'
So then, each of us will be accountable to God.
This prayer in memory of the Queen is beautiful:
Eternal Lord God,
you hold all souls in life;
send forth, we pray, upon your servant, Elizabeth,
and upon your whole Church in earth and heaven
the brightness of your light and peace;
and grant that we,
following the good example of those
who have faithfully served you here and are now at rest,
may at the last enter with them
into the fullness of eternal joy
in Jesus Christ our Saviour.
Amen.
Meanwhile, King Charles III addressed the nation for the first time as monarch:
He spoke for ten minutes, first discussing his late mother then pledging his service to the people of the United Kingdom.
He ended his address by saying that Prince William would become the new Prince of Wales and that he had much love for Prince Harry as he and Meghan continue building their life together overseas.
The Telegraph included the following blurb. The last line comes from Shakespeare:
The broadcast was recorded in the Blue Drawing Room of Buckingham Palace, after the King and Queen greeted crowds of mourners outside the gates.
In a final message to his mother, the King said: "To my darling Mama, as you begin your last great journey to join my dear late Papa, I want simply to say this: thank you.
"Thank you for your love and devotion to our family and to the family of nations you have served so diligently all these years.
"May 'flights of Angels sing thee to thy rest'."
The walkabout the paper refers to involved much emotion from members of the public, especially women. One lady kissed him on the cheek and another shook his hand. Historically, one does not touch the monarch. That also applied to the Queen, even if a few people did touch her.
Another similar walkabout by the new King and Queen Consort occurred on Saturday afternoon outside the Palace.
The Accession Ceremony took place on Saturday morning. More about that tomorrow.
My series on Boris Johnson's downfall continues.
Those who missed them can catch up on Parts 1, 2, 3 and 4.
Also of interest are:
Developing news: how long can Boris last as PM? (July 5-6)
Boris stays as PM for now but stands down as Conservative leader: 'When the herd moves, it moves' (July 6-7)
On July 8, Bloomberg had an interesting article: 'Boris Johnson's Downfall: The Inside Story of How His Government Collapsed'.
It states:
This account of how the Johnson administration unraveled is based on conversations with senior members of his inner circle, cabinet ministers, political advisers, civil servants and Tory MPs who were present at the key moments and spoke to Bloomberg News on condition of anonymity.
The journalists who wrote it say (emphases mine):
… the man that Johnson's inner circle blame for his downfall is Rishi Sunak, the former chancellor, who triggered that final, frantic act that ultimately forced the prime minister to quit.
Boris, being a survivor, stayed true to character. He survived a Conservative MP vote of confidence held the Monday after the Queen's Platinum Jubilee celebrations the first weekend in June 2022. Then the Chris Pincher groping scandal broke, but he was not worried. In early July:
Johnson had spent last weekend largely ignoring the latest scandal raging around him.
There was another slew of allegations in the newspapers, this time related to what Johnson had known about the claims of sexual harassment against an MP who the prime minister had promoted to a senior party post. 
But Johnson had grown accustomed to riding out controversy, from his efforts in November to extricate an ally who breached lobbying rules, to the lockdown parties, the investigation into whether he misled Parliament and the resignation of his own ethics adviser.
His judgment, and that of his No. 10 team, was that revelations relating to his former chief whip Chris Pincher, damaging and unseemly though they were, did not pose an existential threat. 
That Sunday evening, July 3, Boris headed next door:
to Sunak's flat in No. 11 Downing Street for one of their regular weekend dinners.
Johnson's team had been wary of a potential leadership challenge from Sunak for months and suspected that he would already have moved against the prime minister if he hadn't been fined over lockdown parties himself.
That night was businesslike, focused on plans for a new economic strategy and a joint speech. Sunak briefly mentioned his unease at the handling of the Pincher situation, but people close to both men said the meeting was good-natured and there was no hint of the coming storm.
Meanwhile:
Elsewhere in London though, Health Secretary Sajid Javid was discussing his own concerns about the Pincher case with his own advisers and starting to think he might decide to resign.
The week began normally:
No. 10 remained bullish throughout Monday despite the growing furor as Javid watched and waited.
On Tuesday, a Cabinet meeting took place (Bloomberg has a photo of it). There were signs that things could unravel quickly:
… there were ashen faces around the Cabinet table on Tuesday morning as ministers gathered to discuss Sunak's plans for tackling rampant inflation. Johnson uber-loyalist [and Culture Secretary] Nadine Dorries told the room that the "dogs of hell" would be unleashed if Johnson was removed.
One Cabinet minister who spoke to Bloomberg that day warned that Johnson might be in real trouble. He had had an unspoken contract with the Conservative Party since surviving a confidence vote among his own MPs in early June, the minister said: he could remain in place only if the scandals stopped.
That compact had lasted barely a month.
Later that day:
Around 5 p.m., at a meeting in the prime minister's office in Parliament, Javid told Johnson he was resigning. Johnson felt the announcement an hour later could be weathered by appointing a strong replacement.
But nine minutes after Javid published his resignation, Sunak also quit. And this blow came without warning.
Suddenly, Johnson was facing a rout.
A person with knowledge of Javid's plans said that his team had had no meaningful contact with Sunak's advisers before the double resignation, but they suspect that the then-chancellor got wind of what was coming and accelerated his own plans. A person with knowledge of Sunak's thinking said there had been no collusion.
Sunak had worked in the Treasury for Javid when the latter was Chancellor from 2019 to February 2020. They were good friends.
The resignations became a game of whack-a-mole:
As the prime minister rushed to replace two key ministers, a wave of more junior officials announced that they too were abandoning his government.
Nadhim Zahawi became the new Chancellor and Steve Barclay succeeded Javid as Health Secretary:
Nadhim Zahawi and Steve Barclay were recruited late on Tuesday to solve the most immediate problem and Johnson's advisers believed that both men were determined to take their jobs seriously. They understood that they had buy-in from Zahawi, the chancellor, for a new tax-cutting agenda to be announced imminently, though a person close to Zahawi says he made no such commitment.
All the same, as Johnson and his advisers surveyed the damage on Wednesday morning, they could tell that the situation was critical. 
That's when [Levelling-Up Secretary Michael] Gove demanded his meeting. To Johnson's aides, the timing seemed designed to inflict maximum pain.
Boris sacked Gove later on Wednesday, the only firing he made. He did it via a telephone call.
At that point:
the number of officials quitting his government climbed past 50.
That evening must have been a long one for Boris:
He returned to No. 10 after 6 p.m. for a series of meetings with his senior ministers.
Chief Whip Chris Heaton Harris advised Johnson that he no longer had the numbers to prevent Tory MPs from removing him, but that he would remain loyal. Trade Secretary Anne-Marie Trevalyan and arch Brexiteer Jacob Rees-Mogg also made clear they would stay supportive. Deputy Prime Minister Dominic Raab told Johnson he would not resign, changing for a formal white-tie event and then leaving via a side entrance.
Other meetings were more difficult.
Home Secretary Priti Patel had an emotional and teary meeting with the premier where she told him he had to go. A spokesman for Patel wasn't able to comment on the details of the conversation. 
Transport Secretary Grant Shapps, who kept a spreadsheet of Johnson supporters, agreed that the numbers were against them. Policing minister Kit Malthouse delivered a long monologue about how it was over. An exasperated Johnson told Malthouse that if he was going to resign, he should just do it. 
Malthouse had worked for Boris ever since the latter was Mayor of London.
Also:
Welsh Secretary Simon Hart was the only one who threatened to quit, handing Johnson a resignation letter and telling him that if he was not gone by the morning it would be published.
The most difficult meeting was with Zahawi who looked visibly awkward, according to one witness, as he told the prime minister that he too thought he should quit. The meeting left Johnson's aides suspecting that Zahawi had simply been preparing for his own tilt at the top job.
Correct. Zahawi did not get far with his campaign.
The meetings lasted into the night:
Towards the end of the night, Johnson gathered his closest aides in his office to assess the damage.
No. 10 policy chief Andrew Griffith was the most determined to battle on, along with Nigel Adams, a minister and old friend of Johnson. Heaton Harris, the party enforcer, had accepted the situation but was staying in the bunker to the end.
Together they rehearsed arguments for and against resigning, as they briefed the media that he would not quit and appoint a new Cabinet. The reality was that no one was accepting jobs.
Political commentators, eager for Boris to go, compared him with Donald Trump:
Johnson told his team that he didn't want to spark a constitutional crisis by clinging to office.
"I can't do this," he told them. "It's all too ghastly. It's not me."
Eventually, he went to the Downing Street flat to see his wife and retire for the night:
As he went up the stairs to his Downing Street flat to see his wife, Carrie, the decision was becoming clear in his mind. Carrie did not advise him either way and insisted it had to be his own decision, according to a person with knowledge of the conversation.
On Thursday, July 7:
Johnson woke early on Thursday and drafted a resignation speech to read out to his staff at their 7.30 a.m. meeting.
He announced his resignation in front of No. 10 early that afternoon.
That evening, The Spectator team held their annual garden party, a major highlight of the political year. Something always happens and this one was no different:
Johnson's communications chief Guto Harri got into a blazing and public row with Gove adviser Josh Grimstone, who accused Harri of briefing against his boss.
A Sunak aide spotted Harri and went over for a hug. According to people present, a smiling Sunak, standing next to her, asked Harri: "Don't I get one?"
"You want a hug?" Harri said in disbelief, knowing that the former chancellor had made no contact with Johnson since his shock resignation. Harri had spent his week fighting to save the prime minister, Sunak was aiming to replace him, and in front of London's political elite, the two men shared an awkward embrace.
Guido Fawkes has more (Guto Harri is on the right and the magazine's Katy Balls is in the background):
His post says the argument went all the way back to Gove's desertion of Boris in the 2016 leadership election, leaving Boris out of the race that year (emphases in the original):
… Leadership candidates Rishi Sunak, Nadhim Zahawi and Tom Tugendhat worked the crowd. Later in the evening as things were winding down the Spectator's Katy Balls mischeviously introduced Josh Grimstone, the newly unemployed former Special Adviser to Michael Gove, to soon-to-be unemployed Guto Harri, the Prime Minister's Director of Communications. Josh definitely had something to communicate to Guto about Gove's late night sacking the night before…
Josh firmly protested that his boss had been loyal to the PM, that he personally loved Boris and that both Gove and himself had been nothing but loyal. He accused Guto of sacking Gove out of spite and attempting, unfairly, to make it look like Gove had been sacked for disloyalty. Guto was sceptical about Josh's protestations of innocence and insistence that his boss had been loyal. The toing and froing went on in front of a silently listening audience that included Guido, Tim Shipman and Steve Swinford. Neither of the protagonists backed down from their position. Grimstone said Guto's behaviour was a "f***ing disgrace".
Guto eventually retorted that it was Gove's fault that in 2016, when he betrayed Boris, the country was as a result put into 3 years of dismal turmoil under Theresa May. Guto's stance seemed to be that even if it was true that he had been loyal of late, Gove had it coming to him for the 2016 trauma that he inflicted on the party and country. Unresolved and unreconciled Grimstone broke off leaving hushed onlookers uncertain that the summary justice of last night was entirely justified by recent events. Guto seemed relaxed and satisfied that it was amends for the sin of the past. 
But that wasn't the only verbal dust-up that evening.
On the BBC's Question Time, Tony Blair's spin doctor Alastair Campbell and The Telegraph's Tim Stanley, who once ran for MP as a Labour candidate, argued about who was worse in terms of being economical with the truth, Tony Blair for the illegal war in Iraq or Boris Johnson with a piece of cake during lockdown. Campbell is on the left in the photo:
Guido has the video:
A few days later on July 11, Stanley wrote an article about it for The Telegraph: 'My TV encounter showed everything that is wrong with the Left':
I'm not a friend of Boris Johnson: my most recent contact was a Christmas card that I'm sure was signed by someone else. This didn't stop Alastair Campbell from calling me part of the same "corrupt class" on Question Time, a grim experience I didn't enjoy but my editor says I've got to address.
Around the five-minute mark, I was invited to give my take on Boris's resignation – and Campbell butted in with the first of many attacks on my profession and character. Afterwards, a producer said: "How long have you known Alastair?" I replied: "I've never met him before." Given how he spoke to me, many people assumed we had a feud going back decades.
No, he was just horrible, and the nastiness was camera ready. Campbell was nice as pie before the recording; he gave me a cheery goodbye after. My conclusion is that he's an act. When he launched his on-air assault, I was shocked and considered walking off; I couldn't take a whole hour of this. Instead, I pulled a one-liner out of the bag, noting that the Blair government took us into a war that cost thousands of lives, while Boris ate some cake.
The point was that Boris might have been chaotic, but it's often the best organised regimes that make the biggest mistakes.
The line was hardly Oscar Wilde; the audience was furious that I appeared to make light of the Downing Street parties. I thought my career was over, and was wondering if Lidl might be hiring. But what I couldn't see till I watched the show back was that Campbell shrugged away the reference to Iraq as if it were mundane. It was an ugly moment. By not bursting into tears, I think I came out better.
What irritates me about some people on the Left is that they talk about mental health and kindness yet they treat their opponents like dirt, not giving a damn how it might make them feel – and if a Conservative hits back, they act like we have crossed a line that doesn't apply to them …
And I wasn't trying to defend Boris on Question Time, just explain his thinking. I have my own views, of course; but in that format I try to put both sides of a story, so the audience can make up its mind. I often find that Left-wing panellists can't process this. They claim to be empathetic yet have zero interest in how other people think. It will be the Tory party that will produce the first non-white prime minister and how will the Left respond? They'll call them a "racist".
That night on Dan Wootton's GB News show, opinions about Boris's successor flew in thick and fast.
Former Conservative Home Secretary and later Brexit Party MEP Anne Widdecombe was adamant that the next Party leader be firmly committed to completing the Brexit process. We still have the Northern Ireland Protocol and French fishing difficulties to deal with:
Opinions swirled around the time it should take Boris to vacate Downing Street.
Someone in the know told the Daily Mail that Theresa May — a Remainer — should be caretaker PM. GB News reported:
While Mr Johnson is expected to stay on until Prime Minister, he could choose to relinquish his duties with immediate effect.
In which case an interim Tory leader would be appointed, who would in turn also become the caretaker Prime Minister.
And former Prime Minister Ms May, who held office between 2016 and 2019, could reportedly make a dramatic return to No.10.
A report in the Daily Mail said: "She knows the ropes and the security stuff, she's a party woman through and through, she's definitely not interested in standing for it herself and would be credible.
"She is uniquely placed."
Thank goodness that didn't happen.
Another Remainer, former Conservative Prime Minister John Major, apparently told the 1922 Committee, headed by Sir Graham Brady, to get rid of Boris pronto. Edwina Currie, a former MP who served with him in Parliament at the same time and who was Major's mistress between 1984 and 1988, said that the former PM was being 'a bit of a prat':
The 2021 Conservative candidate for Mayor of London, Shaun Bailey, agreed. He would have made a great mayor, by the way:
However, biographer Tom Bower explained that Boris and Carrie had no other home, therefore, he would stay at Downing Street until such time as the couple buy a house:
And what about Carrie?
A lot of conservatives blame her for Boris going off the boil with a libertarian-Conservative manifesto to focus on damagingly expensive Net Zero policies, never mind the gaudy refurbishment of the Downing Street flat, allegedly paid for by a Party donor.
The day Boris resigned, The Telegraph's Celia Walden wrote 'The Carrie conundrum: What next for the Prime Minister's wife?'
Over the past two years and 11 months our outgoing First Lady has certainly garnered criticism – some unfair, some fair. And already commentators are saying that Carrie "helped blow it for Boris". But it is surely her husband's sociopathic behaviour over the past few days, weeks and months – and what has been described not as Boris's downfall but his "clownfall" – that will have been most brand-damaging. So how easy will it be for Carrie to rid herself of that toxicity, and what next for the Prime Minister's wife? …
Before Carrie became involved with Boris, and his special brand of bedlam, the daughter of Matthew Symonds, co-founder of the The Independent, and lawyer Josephine McAfee was described as "controlled" and "confident".
Politics may have seemed a world away from the creative fields she immersed herself in at the University of Warwick – where she studied theatre and art history – but after a stint working for Zac Goldsmith, who was MP for Richmond at the time, Carrie moved on to the Conservative party's press office, where she quickly rose through the ranks, working on her future husband's re-election campaign, when he ran for Mayor of London in 2012, before becoming the youngest director of communications for the party at just 29.
That a woman who forged a career in the business of public perception – and was credited with taking charge of the Prime Minister's image (and weight) after they first got together in 2019 – could go on to make the series of missteps Carrie made at No 10 remains baffling today.
It may always have been strenuously denied that the PM's wife played any part in the prioritising of dogs over humans for evacuation from Afghanistan, but it was without a doubt the First Lady who oversaw No 10's controversial maximalist redesign. It was she who picked out the infamous gaudy wallpaper estimated to cost £840 a roll and, as I write, Twitter is alive with memes about the one "burning question" that remains: "Now that the Prime Minister has finally resigned what happens to Carrie's gold wallpaper?"
Because of this, reports that the Johnsons planned to build a £150,000 treehouse for their son at Chequers (but were stopped when police raised security concerns) prompted some to interpret this as "yet more Carrie". Which might have been unfair. But then there was Carrie's involvement in partygate.
The Sue Gray inquiry was told that it was she who was keen to throw a party during the first lockdown and "offered to bring cake" – so these cannot be written off as "sexist", "misogynistic" slurs along with the rest. And while other First Wives have been busy out in Ukraine, shaking Zelensky's hand, Carrie has been notably low profile in recent months, presumably acting on advice from spin doctors.
… according to Craig Oliver, former director of politics and communications for David Cameron: "Leaving No 10 could be the making of Carrie. She's an intelligent woman, interested in a lot of issues. Being the PM's wife has an inevitable chilling effect on what you can do and say. She'll now be free to speak her mind." 
Lord Ashcroft, whose biography, First Lady: Intrigue at the Court of Carrie and Boris Johnson, was published in March, describes Carrie as "an impressive person – with a high-level career in politics and a record of campaigning on animal rights and the environment". Another political writer, meanwhile, assures me that any toxicity will be shrugged off with characteristic ease both by Boris and his wife. "He will be a very successful ex-Prime Minister. His star quality is shoulders above any of the others and he will become very rich on the back of it. So very shortly, everything will settle down, and she will be glad to have left the fishbowl."
… although Carrie is clearly a political animal, it seems likely that she'll choose to concentrate next on animal rights campaigning, perhaps deepening her involvement with The Aspinall Foundation, for whom she has worked as head of communications since 2021 – which in itself is in a period of transition. Every PR knows that charity work is the best "brand rehab" there is, and her passion for the cause isn't in doubt.
We can but see.
There was more to come with Mr and Mrs Johnson: their belated wedding celebration, which they weren't able to have earlier because of the pandemic.
More to come tomorrow.
On Thursday, July 28, 2022, LBC's morning host Nick Ferrari presented a hustings in Leeds for Conservative Party members:
Ferrari interviewed the candidates separately, and each had a chance to deliver a message alone to the audience.
The audience also asked questions.
Liz Truss
This year's burning question for any politician has been, 'What is a woman?' Very few have defined a woman, including Rishi Sunak.
Liz played on that theme:
This hustings took place on the same day that it was announced the Tavistock clinic was to close. This next video has an excellent interview with Dr David Bell, a whistleblower who used to work for the clinic:
Liz discussed sexual identity:
A member of the audience expressed her concern that school loos were changed to unisex during the pandemic when students were at home. Liz came out in favour of separate boys and girls facilities:
LBC's article, which has a video of the hustings in full, says:
The foreign secretary was quizzed about same-sex toilets being introduced in schools during the pandemic while speaking at LBC's Tory hustings.
When asked about returning to single-sex toilets, Ms Truss said: "I completely agree with you – I have sought to clarify that as women's minister.
"I've been very clear that single-sex spaces should be protected, particularly for young people as well as vulnerable people – vulnerable women in domestic violence shelters, for example – and I can assure you, as Prime Minister, I would direct that to happen.
"It's a difficult time being a teenager – being a young girl – and you should be able to have the privacy you need in your own loo, so I 100% agree with you and I would make that happen.
In a follow up question from LBC's Nick Ferrari about pupils who are transitioning, Ms Truss added: "First of all, I do not believe that under-18s should be able to make irreversible decisions about their own bodies that they might come to regret later.
"It's very important to note that.
"And of course, schools should be sensitive – they can provide additional facilities – but it should not be at the expense of protecting young girls."
On the subject of schools and the pandemic, Liz said it was a mistake to close schools in early 2021 and allow the pubs to stay open. She would not have closed schools but said that hindsight is a wonderful thing and no one knew at the time what to do. She did give Boris credit for doing 'his absolute best':
In response to Peter from Tadcaster, Liz said that she supports fracking but said it must have residents' consent. She also supports the smaller nuclear plants, 'like we have in Derbyshire'. She also thinks that we need to continue to use more of our own gas as an immediate response to energy demand:
There was a light hearted moment when Ferrari asked her about her university days. She admitted she was something of 'a teenage controversialist'. She said she regretted saying that the monarchy should be abolished as soon as she said it years ago. And she has since met the Queen. She also said that she had been a member of the Liberal Democrats but left when she realised 'the error of their ways':
A reality show, Love Island, has been this summer's must-watch for a proportion of the British population. Liz said she could watch only ten minutes with her teenage daughter before she turned off the television. She thinks her daughter went to watch it in another room:
Liz repeated her stance on tax, saying that the rise in National Insurance not only broke the 2019 Party manifesto but is also unnecessary as it limits growth:
Liz, who grew up in Leeds, says that the public transport there is as bad now as it was when she was a girl. She promised to improve the situation. She also pledged to cut red tape for farmers:
Ferrari asked Liz for her opinion of Theresa May and Boris Johnson, as she served in both their Cabinets. She said that she always liked Boris and supported him in the 2016 leadership contest, which Theresa May ultimately won. She gave Boris much credit during his time as Party leader and Prime Minister:
Ferrari asked her whether she would lead us into World War Three, which she dismissed as Russian propaganda and sabre-rattling. She added that the UK should have been better prepared in the past, because we did not do enough for Ukraine over Crimea and the Donbass:
On that topic, Liz said that she would raise defence spending to three per cent of GDP by 2030:
More on that below.
An audience member asked about post-pandemic staff shortages. Liz said she would tighten benefits rules to get the workshy back into paid employment. She also said she would have a training programme so that Britons had the available skillsets that we need:
Contrast her response with Rishi's below. He wants to bring more foreigners into the country and forget about our own people.
Someone from the Bury Conservative Association asked whether Liz would give Jeremy Hunt a Cabinet position. She replied that she was not thinking about a possible Cabinet at the moment but that she would appoint a broad range of Conservative talent, should she become Prime Minister:
Please, Liz, no Jeremy Hunt. He would deploy all of Beijing's coronavirus policies and have us masked up and in lockdown in perpetuity. He also said in Parliament that he wanted to make the annual flu jab mandatory. No, no and no!
Rishi Sunak
Last week, Rishi was adamant that tax cuts were 'immoral', then he did a U-turn.
He tried to convince everyone that he didn't do a U-turn on his tax policy. Hmm:
Ferrari then gave the UK's most recent statistics on our poor economic performance this year, but Rishi reminded him about 2021 figures, which were far higher than any other Western nation. Rishi also said that visas needed to be revisited to make sure we attract the 'best and brightest' into Britain. Notice how he has no plans to train young Britons for British jobs. Why am I thinking of his father-in-law's Infosys? Hmm:
Ferrari brought up the petition to the Conservative Party to put Boris's name on the members' ballots. By last Thursday, more than 14,000 people had signed the petition. Rishi said that Boris had lost the confidence of his MPs, 60 of whom resigned from various Government posts. Rishi said that a Prime Minister must have the confidence of his MPs, hence the present leadership contest:
Ferrari told Rishi that he was the first Chancellor since Labour's Denis Healey to raise corporation tax. Healey did that in 1974.
Rishi gave an incoherent answer. He said that Margaret Thatcher raised taxes in the early part of her premiership which lowered inflation. (Mmm. Actually, Margaret Thatcher got different advisers who told her to lower tax, which brought about growth.) He said that lower corporation tax has not worked over the past decade. So, he would cut tax on business investment instead.
I'll leave this to the Rishi fans to ponder and tell me why he is correct:
Ferrari said that President Zelenskyy said that he would like for Boris to remain front and centre for Ukraine and not disappear into the background. Rishi said that Boris is 'very talented' but that he would not give him a post in his Cabinet, were he to become Prime Minister:
A lady in the audience asked Rishi how he viewed our current asylum system. He said that it needs to be changed, by pulling out of the ECHR and using the international Refugee Convention instead. He said that we reject far fewer asylum claims than other European countries and that needs to be changed:
Another member of the audience asked Rishi how committed he would be to supporting Ukraine. Rishi said that he 'absolutely' would be. In elaborating, he said that sanctions towards Russia need to be changed, because, so far, they are having little effect on Putin:
Matthew from West Yorkshire asked Rishi whether he had stabbed Boris Johnson in the back and how the former Chancellor planned to reunite the Party. Rishi said that he had to resign because he and Boris differed too much in the end on economic policy (?!). He pledged to bring the best Conservatives into his Cabinet if elected leader and thinks that would reunite the Party. Watch his leg bob up and down as he answers Ferrari near the end of the video:
Verdict
Afterwards, LBC took calls and interviewed experts about what they thought of the hustings.
LBC's Ben Kentish asked his fellow presenter Iain Dale, a Conservative, for his views. Dale said that not every topic can be covered in one of these events. Therefore, topics such as child care and the NHS are discussed at other local meetings.
Dale thought that Liz 'smashed it'. She did not use any notes this time. She gave 'interesting' and 'entertaining' solo speeches, which surprised him. He said that Rishi did a good job, too, but didn't quite come up to Liz's standard that evening. He said that Rishi has a lot of catching up to do and that 'he's in a real bind now'.
He concluded that it was a 'really good evening for Liz Truss'. He gives her a 75 per cent chance of becoming the next Party leader and, by extension, Prime Minister:
Ferrari took more reactions on his Friday morning show:
Body language expert Dr Harry Witchell said that Liz was more relaxed in both her presentation and gestures than she had been previously. Rishi, he said, was much less aggressive, which was an improvement over last week's performances:
Patrick Hennessy from London Communications Agency said that Liz is likely to have won over the Telegraph's readers. the Leeds audience seemed to warm more to Liz than to Rishi. He reminded Ferrari of Matthew from West Yorkshire's aforementioned question asking Rishi if he'd stabbed Boris Johnson in the back. Indeed:
Former Conservative MP Michael Portillo said that Rishi's campaign is slipping away. He pointed out that, after the Leeds hustings, Defence Secretary Ben Wallace came out in favour of Liz Truss and, also crucially, Simon Clarke, who worked closely with Rishi, has come out in favour of Liz:
Ferrari then interviewed Defence Secretary Ben Wallace, who described Liz as 'feisty':
Ben Wallace discussed Liz's varied experience, reminding Ferrari and listeners that she had been Chief Secretary to the Treasury. The person in that post is the one who tells another Secretary of State whether they can increase their budget. Liz later worked in trade and is the current Foreign Secretary. Wallace said that he has been in meetings with her representing Britain around the world, so she has a lot of experience on the world stage:
Wallace told Ferrari that he 'didn't have the luxury' of resigning … unlike some ministers. He meant Rishi, among others. He said that he, like the Home Secretary Priti Patel, needed to stay in place for national security reasons. The Home Secretary, he explains, has warrants to sign. He, as Defence Secretary, has military operations to authorise. He also said that he did not want Boris to stand down as Party leader:
Wallace said that, in 2019, Rishi wanted to give Defence a one-year monetary settlement. Wallace said that Boris overrode that decision and gave the department a multi-year settlement instead, which is what is necessary:
LBC has more on Wallace's interview here.
All being well, tomorrow's post will be about Andrew Neil's grilling of Rishi Sunak last Friday evening on Channel 4.
Picking up from where I left off yesterday with Dan Wootton's GB News poll on the next Conservative Party leader, 60,000 people responded and 49 per cent said that Boris Johnson should be the next one.
On Thursday, Wootton remarked:
The Prime Minister's swashbuckling and energetic PMQs farewell today just emphasised that point further.
Boris participated in his final Prime Minister's Questions on Wednesday, July 20, 2022, just under three years since he first stood behind the despatch box as Prime Minister.
It was one of Boris's best performances and can be viewed here. Hansard's transcript is here.
Highlights follow, emphases mine.
Labour's Sir Keir Starmer had a go at the leadership contest, particularly last week's debates and the refusal of a third debate on Sky News. The debates were a bit spiky at times, but pretty tame overall.
Boris replied:
I am not following this thing particularly closely, but my impression is that there has been quite a lot of debate already, and I think the public have ample opportunity to view the talent, any one of which—as I have said before—would, like some household detergent, wipe the floor with the right hon. and learned Gentleman. Today happens to be just about the anniversary of the exit from lockdown last year, and do you remember what he said? He said—[Interruption.] No, I am going to remind him. He said it was "reckless". It was because we were able to take that decision, supported by every single one of those Conservative candidates, opposed by him, that we had the fastest economic growth in the G7 and we are now able to help families up and down the country. If we had listened to him, it would not have been possible, and I do not think they will be listening to him either.
Starmer had a go at Rishi Sunak's accusation of Liz Truss's proposed tax cuts as 'fantasy economics'.
Boris said:
Well, Labour know all about fantasy economics, because they have already committed to £94 billion of extra tax and spending, which every household in this country would have to pay for to the tune of about £2,100. It is thanks to the former Chancellor's management of the economy—thanks to this Government's management of the economy—that we had growth in May of 0.5%. We have more people in paid employment than at any time in the history of this country. I am proud to be leaving office right now with unemployment at or near a 50-year low. When they left office, it was at 8%. That is the difference between them and us.
Then Starmer quoted Liz Truss's criticism of Rishi's economic policy for its lack of growth.
Boris answered:
I think that everybody would agree that what we saw in the last two and a half years was because of the pandemic, with the biggest fall in output for 300 years, which this Government dealt with and coped with magnificently by distributing vaccines faster than any other European Government—faster than any other major economy—which would not have been possible if we had listened to the right hon. and learned Gentleman. That is why we have the fiscal firepower that is necessary to help families up and down the country, making tax cuts for virtually everybody paying national insurance contributions. There is a crucial philosophical difference between Labour and the Conservatives: under Labour, families on low incomes get most of their income from benefits; under us, they get most of it from earnings, because we believe in jobs, jobs, jobs. That is the difference.
Starmer went on to quote Penny Mordaunt on Britain's sluggish public services.
Boris said:
… This is the Government who are investing £650 billion in infrastructure, skills and technology. He talks about public services; what really matters to people in this country right now is getting their appointments and their operations, fixing the covid backlogs—that is what we are doing—and fixing the ambulances. That is what he should be talking about. That is why we voted through and passed the £39 billion health and care levy, which Labour opposed. Every time something needs to be done, Labour Members try to oppose it. He is a great pointless human bollard. That is what he is.
Starmer referred to Kemi Badenoch's criticism of Rishi's handling of covid loans.
Boris replied:
This is one of the last blasts from Captain Hindsight, at least to me. They were the party, I remember, that was so desperate for us to be hiring their friends—they wanted a football agent and a theatrical costumier to supply personal protective equipment. Do you remember, Mr Speaker? We had to get that stuff at record speed. We produced £408 billion-worth of support for families and for businesses up and down the country. The only reason we were able to do it at such speed was that we managed the economy in a sensible and moderate way. Every time Labour has left office, unemployment has been higher. The Opposition are economically illiterate, and they would wreck the economy.
You can read more on Guido Fawkes about Labour's hilarious — well, it would be were it not so tragic — attempts to get the Government to employ their friends for pandemic related equipment.
Starmer went on for another few minutes about the nation being an utter shambles at the moment.
That is true in many instances, but Boris cited the good things that the Conservatives have accomplished over the past three years:
What does it say about the right hon. and learned Gentleman that no one can name a single policy, after three years, of the Opposition apart from putting up taxes? He is one of those pointless plastic bollards you find around a deserted roadworks on a motorway. We got Brexit done; he voted against it 48 times. We got this country fast out of covid, in spite of everything, when he would have kept us in lockdown. We are fixing social care, when the Opposition have no plan and no ideas of their own. We are now bringing forward measures, in the face of strikes, to outlaw wildcat strikes.
I can tell the House why the Leader of the Opposition does that funny wooden flapping gesture—it is because he has the union barons pulling his strings from beneath. That is the truth—£100 million.
We have restored our democracy and our independence. We have got this country through covid. I am proud to say that when it comes to tackling climate change or sticking up for Ukraine, we have led the world on the international stage. I want to thank my friends and colleagues on these Benches for everything they have done.
Guido posted the video of that portion, which is Boris at his best. Viewers will also get the mood of the Chamber, which was very noisy indeed:
After Starmer had finished, it was the turn of Ian Blackford from the Scottish National Party (SNP). As ever, he criticised the Government and put in yet another plug for a second independence referendum:
Boris said:
That is not what I observe. The right hon. Gentleman talks about records; I point to the fastest vaccine roll-out in Europe, the lowest unemployment for at or near 50 years as I have said, the lowest youth unemployment, and the fastest growth in the G7 last year, in spite of everything. As for the Scottish nationalists' record, look at where they are. I am afraid to say that Scottish school standards are not what they should be, because of the failure of the SNP. It is failing people who are tragically addicted to drugs in Scotland, and the people of Scotland are facing another £900 million in tax because of the mismanagement of the SNP.
True. All of it.
Blackford ranted once more on partygate. Incidentally, he is a multi-millionaire who likes to paint himself as a humble crofter.
Boris replied:
On the personal abuse stuff, I think the right hon. Gentleman is talking a load of tosh, but when he has retired to his croft—which may be all too soon—I hope that he will reflect on his long-running campaign to break up the greatest country in the world. I hope that he will reflect on the pointlessness of what he is trying to do, and think instead about the priorities of the people of Scotland, which are all the issues that he thought were trivial: education, crime, and the burden of taxation that the SNP is unnecessarily placing on the people of Scotland.
After Blackford sat down, Sir Ed Davey, leader of the Liberal Democrats, had his say. He indirectly accused Boris of being ambitious and 'tyrannical'. He asked whether Boris would now be devoting time to completing his book on Shakespeare. He also said there should be a general election.
Boris answered:
Polonius—that's who the right hon. Gentleman is; he needs more matter with less art. The only thing we need to know is that if there were to be a general election, the Liberal Democrats would rightly get thrashed, because that would be the moment when the public looked with horror at what the Liberal Democrats' policies really are and all those rural voters would discover the massive green taxes that they would like to apply. The only risk is that there could be some kind of crackpot coalition between those guys on the Labour Benches, the Lib Dems and the Scottish nationalists to put that into effect. That is what we must prevent.
Felicity Buchan, a Conservative who represents London's Kensington constituency, expressed her concerns about rising crime under the current Mayor of London (Sadiq Khan).
Referring to himself, Boris replied:
London once had a Mayor who cut crime by 25%, cut the murder rate by 30% and built twice as many affordable homes as the current incumbent. What London needs is another Conservative Mayor.
Another Liberal Democrat, Scotland's Jamie Stone (Caithness, Sutherland and Easter Ross) wanted a freeport in his Highlands constituency.
Boris said:
I can confirm that we are committed to funding two new green freeports in Scotland to the tune of £52 million. That would not be possible, of course, if the SNP got its way and we returned to the EU.
Boris defined levelling up:
It is not just inequality; it is inequality of opportunity, and that is what levelling up addresses.
A Labour MP moaned about the railways in the north of England.
Boris replied:
Actually, this Government are responsible for three new high-speed lines, including Northern Powerhouse Rail, which no previous Government have done.
Boris gave his advice with regard to hot weather when an MP asked about disposable barbeques and Chinese sky lanterns:
The key thing is for people to behave responsibly with the use of these things. It is clearly insane to take a disposable barbecue on to dry grass.
Another SNP MP, Dr Philippa Whitford, talked about poverty in Scotland, ending with a plug for independence.
Boris said:
Actually, we increased the living wage across the whole of the UK by £1,000, we made sure that people on universal credit got their tax bills cut by £1,000, and over the last couple of weeks we have cut national insurance contributions by an average of £330. It was because of the Union that we were able to support families up and down the country, in Scotland, with the furlough and other payments, to the tune of £408 billion.
One of the nicest contributions came from Conservative MP Andrew Bowie, who represents West Aberdeenshire and Kincardine:
May I thank my right hon. Friend for his commitment to Scotland and the entire United Kingdom over his years in Downing Street? I also thank him and my right hon. Friend the Secretary of State for Scotland for improving and increasing the visibility and involvement of the UK Government in Scotland over the past three years. Does my right hon. Friend the Prime Minister agree that whoever takes his job, and whatever comes next, the United Kingdom will always be stronger together than it ever would be apart?
Boris replied:
That was brilliantly put; I could not have put it better myself.
Then a young Labour MP asked about the slow compensation for Windrush victims.
Boris said:
Actually, I think more people have got compensation. I renew my apologies to the Windrush generation for what they have suffered, but we have greatly increased the compensation available. We have paid out, I think, more than £51 million. We are working with voluntary groups to ensure that people get what they are entitled to. I may say that Labour has never apologised for its own part in the Windrush scandal.
An MP from Northern Ireland accused the Government of ruining relationships between Ulster and the Republic.
Boris replied:
I completely disagree with that. The whole objective of the Northern Ireland (Protocol) Bill that we have passed is to support the balance and symmetry of the Belfast/Good Friday arrangements. I was very pleased that the Bill advanced to the House of Lords with no amendments.
GB News has more on the legislation:
A Conservative MP, Crispin Blunt, is not my favourite. However, here is where I agree with him. He paid a splendid tribute to Boris:
In recalling the situation that the Prime Minister inherited in July 2019, of a Parliament with a majority determined to frustrate the result of the 2016 referendum, led by a Speaker who was just slightly partial—the seemingly impossible situation he found—does my right hon. Friend understand that he has the gratitude of my constituents, who can identify the wood from the trees, and of myself, for his leadership over the last three years?
Boris replied:
I am very grateful to my hon. Friend. There is a fair amount of wood on the Opposition Benches and I think that is why we will prevail at the next general election.
Another SNP MP banged on about a second independence referendum.
Boris said:
This is the country that secured furlough and that delivered the vaccine across the whole of the UK, while the SNP gets on with overtaxing to the tune of £900 million—that is how much they are overtaxing in Scotland. And we had a referendum in 2014.
Another SNP MP complained spitefully about Boris being a nobody and about the honours list he might draw up before he leaves office.
Boris answered:
I am sure that everybody who has served this Government loyally and well deserves recognition of some kind, but as for the honours list, I am afraid the hon. Gentleman will have to contain his excitement.
Conservative MP Sir Edward Leigh was the last to speak. He, too, paid Boris tribute for the past three years:
On behalf of the House, may I thank the Prime Minister—[Interruption.] On behalf of the House, may I thank the Prime Minister for his three-year record of service? On behalf of some of the most vulnerable people in the country, can I thank him for his insistence on rolling out the AstraZeneca jab, which has saved thousands of lives around the world? On behalf of the 17.4 million people who voted Brexit, may I thank him for restoring people's faith in democracy? On behalf of northern towns, may I thank him for his commitment to levelling up? And most of all, on behalf of the people of Ukraine, may I thank him for holding high the torch of freedom and ensuring that that country is not a vassal state? For true grit and determination, keep going and thank you.
Boris replied, giving his closing remarks and advice for the future PM:
I thank my right hon. Friend, and I want to use the last few seconds to give some words of advice to my successor, whoever he or she may be.
No. 1: stay close to the Americans; stick up for the Ukrainians; stick up for freedom and democracy everywhere. Cut taxes and deregulate wherever you can to make this the greatest place to live and invest, which it is. I love the Treasury, but remember that if we had always listened to the Treasury, we would not have built the M25 or the Channel Tunnel. Focus on the road ahead, but always remember to check the rear-view mirror. And remember, above all, it is not Twitter that counts; it is the people that sent us here.
And yes, the last few years have been the greatest privilege of my life. It is true that I helped to get the biggest Tory majority for 40 years and a huge realignment in UK politics. We have transformed our democracy and restored our national independence, as my right hon. Friend says. We have helped—I have helped—to get this country through a pandemic and helped save another country from barbarism. Frankly, that is enough to be going on with. Mission largely accomplished—for now.
I want to thank you, Mr Speaker. I want to thank all the wonderful staff of the House of Commons. I want to thank all my friends and colleagues. I want to thank my right hon. Friend the Member for Ross, Skye and Lochaber (Ian Blackford). I want to thank everybody here. And hasta la vista, baby. [Applause.]
Here's the 'Hasta la vista, ba-by' video — a must-see:
The Conservatives gave him a standing ovation, with everyone applauding him, except for Theresa May, who merely stood.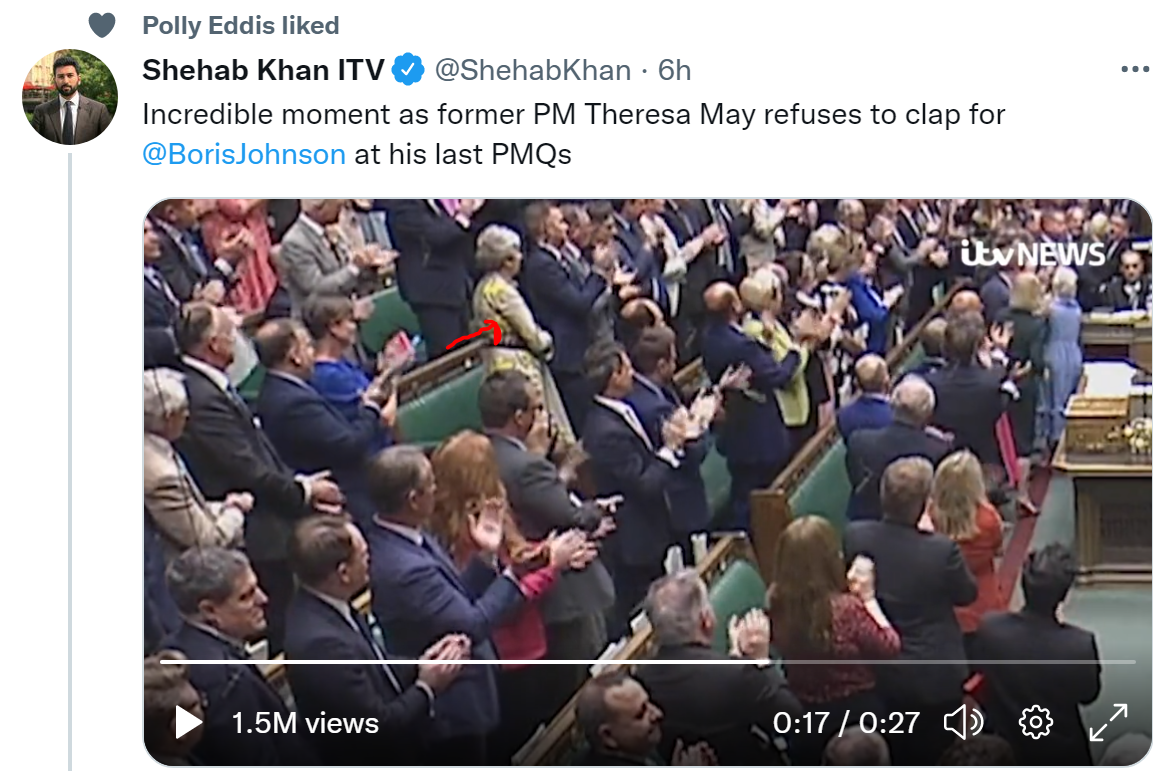 The Opposition either sat in silence or walked out.
One of Guido's readers wrote:
Lack of class from opposition MPs who can't possibly give a polite round of applause for a political opponent.
I agree. On the other hand, they hate Boris because he represents Brexit.
In Guido's comments on the same post, someone said that Boris was Britain's 'worst ever PM', which garnered this response, rightly pointing out the greater moral failings of Tony Blair, John Major and Theresa May as well as today's world leaders:
What, even worse than a Prime Minister who took the UK into an illegal war which resulted in the deaths of millions as well as thousands of UK soldiers and for which the UK is still feeling reverberations in the form of terrorist attacks? What a worse PM than a Prime Minister who signed the UK up to the Maastricht Treaty without putting it to the British people in the form of a referendum? What worse than a Prime Minister who put forward the idea of making the elderly sell their homes to pay for Health Care …
But instead listened to the people and secured an 80 seat majority to leave the EU (admittedly still leaving a lot to do). Invested in Vaccine development and procurement to ensure the UK had enough supplies for every citizen, and that the UK was at the front of the queue, and didnt go overboard on Covid restrictions, not when you look at what other countries got up to, namely Canada, China and France with Macron's "I want to punish those that won't get vaccinated" this after he was responsible for sowing Vaccine doubt simply because the Vaccine was developed in the UK – but then Johnson commited a crime so heinous – he had a piece of Birthday cake brought to him buy his wife – and that's 'your' worst Prime Minister, lol …
Journalist and former Conservative adviser Amanda Platell said she wept after PMQs:
Boris will be missed for his powerful performances at the despatch box …
… and Labour know it. One of their former advisers admits that's why Boris had to go:
Keir Starmer was often petty and unpleasant towards Boris:
That is because he knows Boris can win elections. In fact, earlier this week, Starmer was so frustrated with the Prime Minister that he insulted him on a podcast.
Starmer's deputy leader Angela Rayner said on Monday, July 18, that she would be happy with either Truss or Sunak as his successor. At the time she gave this interview, five candidates were still in the race:
I'm quite happy with any one of them. Because the one thing, and I kind of could see it… [Boris] had this, like, teflon coating… It's like a little magic. Where he was able to get through to the public and get through to the places that I actually don't see any of the five candidates that are standing having at the moment… Boris had so much going for him. He got an 80-seat majority and the country was really behind him… the five that we've got now I don't think have got that…
Here's the video:
Boris's former adviser Dominic Cummings thinks that Boris, like Arnie, will be back, if the next Conservative leader is too lacklustre:
As I wrote yesterday, thousands of voters do not want until then. Dan Wootton's viewers think that Boris's name should be on the ballot going out to Conservative Party members early in August:
Wootton's poll follows on from the ongoing petition by Party members to have Boris's name on the ballot:
The petition is being spearheaded by Lord Cruddas of Shoreditch, the Tory donor, and David Campbell Bannerman, a former Conservative Euro MP:
The Mail also has a report on the petition.
GB News interviewed David Campbell Bannerman on Thursday, July 21:
However, Labour are planning a rearguard action to prevent Boris from ever being Party leader again.
They hope to depose him as MP for Uxbridge and South Ruislip in west London:
On Thursday, July 21, GB News reported:
Boris Johnson could be forced to face a by-election if he is found to have lied to Parliament and is handed a suspension for 10 or more sitting days.
The Privileges Committee is examining whether the Prime Minister committed a contempt of Parliament by misleading MPs over the Partygate scandal.
Commons Speaker Sir Lindsay Hoyle [Labour] confirmed that the committee's findings would fall within the remit of the Recall of MPs Act, following advice from a leading lawyer.
That would mean that a suspension of 10 or more sitting days, or 14 calendar days, would trigger a recall petition.
If at least 10 percent of voters in Mr Johnson's Uxbridge and South Ruislip seat demand a by-election he would lose his place as an MP, but would be eligible to stand again in the contest.
The cross-party committee also published advice from the Clerk of the Journals, Eve Samson, the Commons' expert on parliamentary privilege, which suggested that whether or not Mr Johnson intended to mislead MPs was not a factor that needed to be considered.
But she said that intent could be seen as an "aggravating factor" when considering penalties …
The MPs intend to call Mr Johnson to give oral evidence in public in the autumn, under oath.
The committee has already said that whistleblowers will be able to give evidence about the Prime Minister anonymously.
Mr Johnson has also been ordered to hand over a cache of documents to the MPs investigating whether he lied to Parliament with his partygate denials.
The committee wrote to the Prime Minister and Cabinet Secretary Simon Case demanding details relevant to its inquiry.
On Friday, July 22, Guido posted on the upcoming inquiry, saying (emphases in red his):
While the committee will now disregard the PM's intent, the Clerk's report does say that can feed into deciding a sanction. This is all, in the understated words of The Telegraph, "a departure from precedent"…
It seems the Speaker's also got in on the act of changing rules. The Privileges Committee's announcement yesterday said Hoyle has ruled that "any suspension of the requisite length (10 sitting days or 14 calendar days) ) following on from a report from that Committee will attract the provisions of the Recall of MPs Act". Previously only recommendations of suspension from the Standards Committee would apply the recall act. Now the PM faces a by-election being forced by [Labour MP Harriet] Harman. Tory MPs are now having to fight back on his behalf, launching a petition to scrap the investigation altogether in light of his resignation…
For now, let's remember the happier times of earlier this week.
Boris held his final Cabinet meeting on Tuesday, July 19:
Despite the heat, Guido reports that there were no refreshments or food:
… there were a few presents, and a round of applause for the PM. Nigel Adams also gave a speech commending Boris's time in office, followed by a school photo.
Boris was gi[ven] a six-set first edition of Churchill's war books; surprisingly not something the ex-PM's biographer didn't already own. Guido also learns Boris was given wines that reflected significant dates in his life and political career: 1964, 2008, 2012 and 2019. He also got wine from other countries that mean a lot to him, including Ukraine and Greece …
Here's the Cabinet photo:

I hope all goes well for the Prime Minister in the weeks to come.
No doubt if Labour try to get at him, he'll find a way out.
All being well, I'll have a post next week on what really happened leading to his ouster.
Candidates for the Conservative Party leadership race began putting their hats in the ring last weekend.
Many of those MPs are promising everything, and pundits are having a field day in the press:
While it is true to say that a lot of them are alike — yet not all — in policies, let us look at the diversity among the original 11 candidates:
Among those original 11, we had five women and six minority candidates.
No one can say today, as Theresa May did many years ago, that the Conservatives are the 'nasty party':
The Conservatives had no quotas. These MPs merely had to come forward and declare their interest in the leadership contest.
As I write in the early afternoon of Wednesday, July 13, we now have eight candidates.
Four are women and four are from racial minorities:
Brexit Leaver and former Labour MP Kate Hoey, now an unaffiliated Baroness in the House of Lords, told Mark Steyn of GB News how pleased she is that the Conservatives managed to accomplish what Labour only talk about:
How the winner is chosen
Late on Monday, Sir Graham Brady, chairman of the 1922 Committee of backbench MPs, announced the Conservative Party leadership rules. The loud voice heard in the background is none other than the daily disrupter, Steve Bray:
Darren McCaffrey of GB News has more:
The goal is to have a new Prime Minister in place by September 5, when Parliament returns from summer recess.
Conservative MPs will participate in a series of voting rounds between now and July 21, when Parliament goes into summer recess. The final two MPs on the list will then spend the next several weeks going around the country to campaign to Conservative Party members.
Party members will receive a ballot with the final two names and vote for their choice.
GB News has more on how the voting will proceed, beginning on Wednesday, July 13:
Sir Graham said the first ballot will be conducted on Wednesday with candidates required to obtain backing from a minimum of 20 MPs.
In the second ballot, on Thursday, MPs are required to obtain support from 30 MPs in order to progress to the next round, accelerating to the final two as soon as possible.
Disillusionment and a wish for Boris to return
Conservative voters, including those who are not Party members, are disillusioned about this contest.
Many wish that Boris Johnson's name were on the ballot. This petition to 'reinstate' him 'as Prime Minister' has garnered 15,000 signatures in only a few days. However, Boris is still Prime Minister, just not the leader of the Conservative Party.
Neil Oliver, not a Boris supporter, by the way, tweeted that the leadership decision has already been made:
It is rumoured that Bill Gates arrived in England just before Boris resigned. If true, that would not come as a surprise:
Bob Moran, the former Telegraph cartoonist, hit the nail on the head as he expressed the sentiment of many of those who voted Conservative in 2019. We also need an outsider to win so that we have some fresh thinking in Downing Street:
A number of the candidates have ties with the World Economic Forum. One is known to be friends with Bill Gates. Ideally, we would have transparency in this area:
Former Chancellor Rishi Sunak has been in the lead since the contest began. He was one of the first two main Cabinet members to announce his resignation last week. Former Health Secretary Sajid Javid was the first.
It has come to light that the photo of the Downing Street drinks party held during lockdown in 2020 was taken from No. 11, where Rishi Sunak worked. Some people think that Boris's then-adviser Dominic Cummings played a part in getting those photos released to the press. Did Rishi know?
Sajid Javid declared his candidacy, possibly taking a pop at Rishi Sunak's slick candidacy operation.
On Monday, July 11, GB News reported:
Former Health Secretary Sajid Javid addressed media gathered at Westminster this afternoon, outlining his leadership bid.
Mr Javid said "I don't have a ready made logo or slick video ready to go", adding: "I have a passion and desire to get Britain on the right course."
Acknowledging his resignation last week, Mr Javid said "Five days ago I stood up in Parliament and I spoke from the heart and I believe I spoke in the national interest."
Former Prime Minister Boris Johnson endured a series of scandals throughout his premiership, most recently Partygate and the allegations against Chris Pincher.
Addressing the ongoing investigations, the former Health Secretary said: "We need a leader who makes credible promises."
He added that "our party has lost its way".
Javid bowed out late on Tuesday. No one was disappointed:
Rishi, on the other hand, seems to have had his candidacy in mind for some time, since 2020. Interesting:
Note his professional campaign logo in the upper left hand corner of this tweet:
Guido Fawkes has a critique of the various logos, some of which have been rushed to market, as it were.
To make matters worse, rumours have circulated about infighting and dirty tricks among Conservative MPs. The public have taken note:
The Sun's political editor, Harry Cole, tweeted:
On that note, is it possible that Conservative Party members might not even get a vote should one of the final two winners concede to the other? That is what happened in 2016, when Theresa May became PM. Andrew Bridgen MP thinks this is a possibility:
Voting records
This graphic (credit here) shows how the candidates have voted in Parliament on various issues:
Candidates who bowed out
Let us look at the candidates who have bowed out thus far.
Sajid Javid
Conservative voters thought that Sajid Javid was a safe pair of hands as Health Secretary until he started laying out his coronavirus wish list. Only last month, Desmond Swayne MP pointed out the online job advert for a national manager of coronavirus passports:
On July 10, Javid appeared on a Sunday news programme.
He promised tax cuts. No surprise there. It was also unconvincing, considering the tax burden we have been under the past several months, possibly higher than we would have had under Labour's Jeremy Corbyn:
Javid also discussed his non-dom status, which is curious, as he was born in Rochdale:
On Tuesday, July 12, broadcasting from Northern Ireland, Mark Steyn said this about Javid's bowing out of the race:
Rehman Chishti
Rehman Chishti had an even more lacklustre campaign.
He was still on the fence last Saturday, proving that dithering gets one nowhere quick:
He declared on Sunday. Unfortunately, the photo is not a good one:
He dropped out on Tuesday:
Grant Shapps
Transport Secretary Grant Shapps declared his candidacy on Saturday, making much of his loyalty to Boris (Nadhim Zahawi is pictured below):
He appeared on Sky News on Sunday morning.
Meanwhile, viewers and voters rooted round to find out more about Shapps's parliamentary career.
Cabinet of Horrors has a fascinating profile of him, the first half of which follows (emphases mine):
Grant Shapps resigned as a minister in 2015 following revelations of his involvement with a bullying scandal that had led to a young Conservative Party activist taking their own life. Few would have imagined he could ever be reappointed to cabinet, still less to a more senior role. But in July 2019 Boris Johnson replaced the hapless and incompetent Chris Grayling as Transport Minister with someone even more discredited: Grant Shapps.
Then again, Shapps is no stranger to the art of reinvention. Indeed, he has proved remarkably inventive with his own identity.
In 2012, one of his constituents noticed that, while working as an MP, Shapps had also been peddling get-rich-quick-schemes online under the assumed names 'Michael Green' and 'Sebastian Fox'. The schemes, marketed by Shapps' company How To Corp under such titles as 'Stinking Rich 3', promised unwary punters that they could make large amounts of money very rapidly if they followed 'Michael Green's' instructions.  These included the instruction to recruit more punters to sell get-rich-quick schemes to the public – a classic feature of pyramid-selling schemes.
Shapps at first attempted to deny this, saying: 'Let me get this absolutely clear… I don't have a second job and have never had a second job while being an MP. End of story.' He also threatened to sue the constituent who had uncovered what he had been up to. Days later, he was forced to admit the truth, though he did this in a characteristically slippery manner, saying that he had 'over-firmly denied' the story.
One might think that being exposed as a liar, a huckster and a bully would have led to an immediate end to Shapps' career in politics. Instead, he was demoted from cabinet but handed a more junior ministerial portfolio and allowed to continue as co-chair of the Conservative Party.
On Sky News's Sunday news programme, Shapps presented his credentials.
He was squeaky clean. Hmm:
He took credit for Boris's resignation as party leader. Really?
He promised a tax cut:
He said he was relaxed about identity issues:
And he was sure he had the numbers:
Then, suddenly, he didn't.
Oh, well. Too bad.
Conservative Party voters name their candidates
Since the weekend, various polls have been conducted of rank and file Party members.
The results go against the MPs' wishes.
This is where MPs are as voting opens on Wednesday afternoon. I'll post results tomorrow:
A Conservative Home poll (image credit here) shows that Party members want either Penny Mordaunt or Kemi Badenoch to win. Rishi Sunak is a distant third on 12.1% support:
The next poll shows the wishes of Conservative members in Mrs Thatcher's birthplace of Grantham, part of the Grantham and Stamford constuency. They are not fans of Rishi Sunak, either:
However, Rishi does top another poll of Conservative and other voters. Note the Don't Know (read Boris?) percentage:
Some dispute the results. However, as someone points out, this could have to do with name recognition from news programmes and the papers:
I'll have more on today's vote tomorrow.
Tuesday, July 5, 2022 proved to be a memorable day for Boris Johnson for all the wrong reasons.
Last weekend, details emerged of Conservative MP Chris Pincher's inebriated groping of another man at the Carlton Club in London's St James. The Carlton Club is the private members club for Conservatives. Chris Pincher had been a Government minister and Deputy Chief Whip.
Lest anyone think the furore about Chris Pincher and blaming Boris for it is about cleaning up government, the end goal remains: get rid of Boris because Boris represents Brexit.
Chris Pincher
Chris Pincher has been a Conservative MP since 2010, the year David Cameron became Prime Minister.
Theresa May gave him his first ministerial role, that of Comptroller of the Household, in 2017. A few months later, she appointed him Treasurer of the Household, the next move up from Comptroller of the Household. In 2018, he then became Deputy Chief Whip, which is a role given by the Chief Whip, not the Prime Minister.
Boris Johnson gave Pincher other ministerial roles. I watched him at the despatch box regularly as Minister of State for Europe and the Americas and Minister of State for Housing. In February 2022, he once again became Treasurer of the Household, a Boris appointment, and Deputy Chief Whip, a Chief Whip appointment.
Then the Carlton Club scandal broke, with Pincher freely admitting in writing what he had done. He has had the Conservative Party whip removed, although he remains an MP for now.
The question from Boris's enemies is how much blame should the Prime Minister carry.
It looks to me as if it all started with Theresa May, especially as he resigned his 2017 appointment as Comptroller of the Household when sexual misconduct allegations involving MPs swirled into a scandal that year. Pincher was accused of misconduct at the time by then-MP Tom Blenkinsop and Olympic rower Alex Story.
Shortly afterwards, in January 2018, Pincher became Deputy Chief Whip, so the Whip's office is partly responsible, too.
On July 5, the veteran journalist and columnist Charles Moore explained in The Telegraph how the Whips Office selection process works (purple emphases mine):
The coverage of the row about Chris Pincher, the allegedly groping and confessedly drunk former deputy chief whip, suffers from a false premise. It is said that Boris Johnson appointed him. This is true only in a formal sense. I feel that lobby [press corps] journalists should have made this clear.
This custom is not just a reflection of the fact that any prime minister pays less attention to junior appointments than to Cabinet-level ones. It is also – and mainly – because the whips are a law unto themselves. The idea is that they will know best how to achieve the necessary geographical and ideological spread to look after all sections of the party. The Chief Whip is therefore free – "100 per cent" in the words of one former chief to me – to appoint whoever he thinks fit. This seems sensible: how on earth would a prime minister know that level of detail about who's who in the parliamentary party? Backbenchers would be suspicious of a whips' office filled with a prime minister's favourites.
Each prime minister sees the government chief whip's list before it is announced and is free to comment on it, but the chief decides. So Boris Johnson would have been breaking the unwritten rules if he had either forbidden or insisted on Mr Pincher's appointment. If it can be shown that he did the latter, he is in a bit of trouble on the issue. If not, then not.
Lord McDonald
Until July 5, I had never heard of the life peer Baron McDonald of Salford, or Simon to his friends.
Lord McDonald was the Permanent Under-Secretary to the Foreign and Commonwealth Office between 2015 and 2020.
On July 5, he wrote to Kathryn Stone OBE, the Parliamentary Commissioner for Standards for the House of Commons.
Guido Fawkes posted a copy of the letter, which takes issue with a BBC report of complaints made against Pincher and says that, indeed, allegations had been raised against the MP in 2019.
Two brief excerpts of his letter follow.
In the summer of 2019, after Pincher received his first ministerial appointment (at the Foreign and Commonwealth Office) under Boris Johnson:
… a group of officials complained to me about Mr Pincher's behaviour. I discussed the matter with the relevant official at the Cabinet Office … An investigation upheld the complaint; Mr Pincher apologised and promised not to repeat the inappropriate behaviour. There was no repetition at the FCO before he left seven months later.
The BBC had changed the text of their present-day article about whether Boris knew or not.
Lord McDonald's letter says:
Mr Johnson was briefed in person about the initiation and outcome of the investigation. There was a "formal complaint". Allegations were "resolved" only in the sense that the investigation was completed; Mr Pincher was not exonerated. To characterise the allegations as "unsubstantiated" is therefore wrong.
I am aware that it is unusual to write to you and simultaneously publicise the letter. I am conscious of the duty owed to the target of an investigation but I act out of my duty towards the victims. Mr Pincher deceived me and others in 2019 …
He tweeted the text of his letter:
Hmm.
Could there be any bad blood between McDonald and Boris?
Downing Street claims that Boris forgot about the investigation into Pincher.
A commenter on Guido's post about this claim makes pertinent points:
I find it strange that the criticism is of the appointment of Pincher as Deputy Chief Whip in February. He wasn't promoted from the backbenches, he was already a minister in the Dept of Levelling Up. If he was unsuitable for ministerial office in Feb, he must have been unsuitable in Jan, so why the focus on the Feb appointment?
Lord MacDonald is another nasty CS mandarin in the Philip Ruttnam mould. His letter is very carefully phrased but disingenuous. If he was unhappy for Pincher to continue as a minister in the FCO for seven months after the 2019 complaint, what did he do about it? If he was content with the arrangement, then clearly the matter was indeed resolved.
Pincher was first appointed to the Whips' Office by Theresa May. Is anyone in the MSM questioning her judgement?
Gordon Rayner's Telegraph article, 'Lord McDonald: The former civil servant who "never saw eye to eye" with Boris Johnson' has an account of what happened between the peer and Boris, the then-Foreign Secretary during Theresa May's premiership:
A former civil servant publicly accusing a Prime Minister of lying is a rare event, but Baron McDonald of Salford is unlikely to have had any pangs of guilt about calling out the man who effectively ended his career.
During his time as Boris Johnson's Permanent Under-Secretary at the Foreign Office, Lord McDonald – or Sir Simon, as he was then – was suspected by Mr Johnson of running a spying operation and orchestrating damaging leaks about the then foreign secretary.
Mr Johnson believed that media stories accusing him of being lazy and failing to attend properly to his red boxes of ministerial papers were being briefed by Lord McDonald's department. When the Foreign Office merged with the Department for International Development, Mr Johnson, by then Prime Minister, saw to it that Lord McDonald was squeezed out.
So when he had the chance to expose Mr Johnson's Downing Street operation for what he says is a lie over the Chris Pincher affair – an undeniably important intervention – he is unlikely to have spent much time wrestling with his conscience.
Does Brexit enter into this? You bet it does:
"They never saw eye to eye," said one former minister. "Simon never made a secret of the fact that he was a strong Remainer and he has always had big issues with Brexit."
Another insider said:
"So it does feel a little bit as though Simon has been waiting three years to get his revenge, and has finally had his chance, notwithstanding the fact that what he says may well be true."
Lord McDonald took early retirement in September 2020. Since then, he has spoken freely:
In March last year Lord McDonald, 61, was interviewed by the think tank UK In a Changing Europe, when he said he was one of three senior civil servants on a Downing Street "s— list" who were "all for the high jump".
He said that he was "one of those that were soaked" by former Downing Street adviser Dominic Cummings' threat of a "hard rain" falling on Whitehall …
Mr Johnson softened the blow by giving Lord McDonald a peerage, not an automatic appointment for retiring civil servants. But it has not prevented him from criticising the Prime Minister since then.
So now we know.
It is unlikely that Gordon Rayner's article will be getting any traction in the media. Will GB News pick it up? I hope so.
McDonald's letter sends Conservative MPs flying in all directions
Note that McDonald tweeted his letter at 7:30 a.m., just the right time to dictate the news narrative for the day.
And so it proved.
For those in the political bubble, BBC Radio 4's Today show is required listening.
Guido has a summary of what happened. Deputy PM and Justice Secretary Dominic Raab gave an interview, followed by Lord McDonald (emphases in the original):
… Following ex-Foreign Office Permanent Secretary Sir Simon McDonald's bombshell letter this morning, Dominic Raab had the task once again of spinning the latest unsustainable No.10 line to the press. Through plenty of coughing and spluttering, Raab insisted on the Today Programme that 
Aside from the Westminster rumour mill, any allegation that had resulted in formal disciplinary action… whilst there was inappropriate behaviour [from Pincher], it didn't trip the wire into disciplinary action… the individual who made the complaint did not want formal disciplinary action taken.
Just minutes later, McDonald appeared on Today himself to once again take a sledgehammer to No.10's line that Boris wasn't briefed on Pincher's behaviour in person in 2019, and Raab's claims that since no "further disciplinary action" was taken, the matter was resolved:
I disagree with that, and I dispute the use of the word 'resolved'… the complaint was upheld… Number 10 have had five full days to get the story correct, and that still has not happened… it's sort of telling the truth and crossing your fingers at the same time and hoping people aren't too forensic in their subsequent questioning.
In a matter of hours, the line has gone from "it's not true" to "the PM didn't know of any formal complaints". Chaos.
In Downing Street that morning, a Cabinet meeting took place. Why cameras were allowed, I have no idea. What a silly thing to do, especially when all hell was breaking loose:
At lunchtime in the House of Commons, Michael Ellis, Minister for the Cabinet Office, had to answer an Urgent Question (UQ) from Labour's Deputy Leader Angela Rayner about what Boris knew of Pincher:
This is the most succinct quote from Ellis:
As I have articulated, there was an exercise in the Foreign and Commonwealth Office on the matter, which I believe went on for several weeks. I need to confirm the details, because I had insufficient time to do so this morning, but as I say, there was an exercise, and it concluded to the satisfaction of all involved. That was within the Department and, it appears to me, before the Prime Minister was made aware.
One of Guido's readers sums the matter up as follows:
1. Pincher's conduct in 2019 was investigated and did not result in disciplinary action in 2019.
2. Independent advice was sought from Simon McDonald and the Cabinet Office propriety and ethics team, which also did not result in any form of disciplinary action.
3. The victim in 2019 DID NOT WANT aany disciplinary action against Pincher.
4. Pincher's appointment to government had followed all set procedures, including oversight by an independent QC. Until this point, as Pincher had kept a clean disciplinary record up, there was no reason to block his appointment to government.
Boris would have no grounds to refuse Pincher's appointment as there were no official disciplinary action against him up to that point, which is in line with the rules set out in Westminster.
All this drama over whether Boris knew of Pincher's indescretions would not have changed anything in terms of his appointment to government as he had satisfied all the requirements in terms of pedigree (appointed by two PMs and vetting).
The Opposition benches were full for Ellis and the UQ.
Watching at home, I nearly applauded when Peter Bone got his chance to speak:
Recently, at a Brexit opportunities debate here, there were no Liberal Democrats and virtually no Labour Members. The only time they turn up here is to bash Boris. Does my right hon. and learned Friend think that our constituents in Northamptonshire, which we both represent, are more concerned about an MP they have never heard about, or the biggest tax reduction in decades, which will happen tomorrow?
Ellis replied:
My hon. Friend hits the nail on the head, as usual. As he points out, Labour Members have made frequent requests for business in this House to be about not what our constituents primarily care about, but personalities. They do not raise the issue of policies, because when they do, they lose. Instead, they focus on personalities, and that has been the drive of the past six months.
Guido covered MPs' reaction to the events of the day:
Number 10's spin operation today after the McDonald letter has, unsurprisingly, gone down like a cup of cold sick with the Tory benches, including amongst Boris loyalists. Guido's spoken to several MPs following the lobby briefing and Michael Ellis's Urgent Question response, and they all agreed it was a "disaster". One said it was "the last days of Rome"…
There were also raised eyebrows – and that's putting it mildly – over No.10's decision to allow cameras in to the Cabinet meeting this morning …
Where, one might ask, is the counter-attack? What is Downing Street doing to get on the front foot? What is CCHQ doing? MPs who are hardcore supporters of the Prime Minister are fed up. Trying to push the "biggest tax cut" talking point today won't work to set the agenda when you put up the same taxes only a few months ago. If the government wants to shift the media's focus on to the economy, what will they do that Starmer won't? Tory MPs want a sense of purpose and direction, rather than constantly ricocheting at the hands of the media from one minor negative process story to another, that the general public doesn't really care about… 
Chancellor and Health Secretary resign
Worse was to come later that afternoon.
Health Secretary Sajid Javid tendered his resignation, followed by Chancellor Rishi Sunak minutes later.
Some pundits say there was no connection between the resignations.
Others say that the two men are friends and agreed on a plan.
GB News covered the resignations and analysis all evening long. It was a good move. The shows were excellent.
In other news, Theresa May was at the opera with her husband Philip and friends:
Returning to GB News, the resignations happened just before Nigel Farage's show at 7 p.m. Not surprisingly, Farage thinks that Boris should resign, something he has said many times before and will continue to say for weeks, if not months:
Farage used Guido's video of that day's Cabinet meeting:
Discussion continued on Mark Steyn's show at 8 p.m. By the end of the show one hour later, Boris had appointed Steve Barclay as the new Health Secretary:
Dan Wootton came on at 9 p.m.:
By the time his show was halfway through, Nadhim Zahawi became the new Chancellor of the Exchequer. The conversation between him and Boris in No. 10 was a long one. Apparently, Zahawi was eager to relinquish his role as Education Secretary and really wanted the No. 11 job. Michelle Donelan is the new Education Secretary, having been Minister of State for Higher and Further Education from 2020 to 2022.
Boris deflected a crisis within three hours.
Guido has an ongoing list of other Cabinet resignations, which are, as I write, for minor posts. Red Wall MP Jonathan Gullis, once a staunch Boris supporter, was among that number. It should be noted that the main Cabinet appointees are still in place.
Unfortunately, during that time, Lord Frost, usually a voice for sanity, fell for the McDonald bait. He wrote an article for The Telegraph, 'It is time for Boris Johnson to go':
I resigned from the Government on a matter of principle. On Tuesday, Sajid Javid and Rishi Sunak did the same. Other Cabinet Ministers now need to consider whether they are truly happy with the current direction of travel.
Boris Johnson's place in history is secure. He will be one of the past century's most consequential prime ministers. If he leaves now, before chaos descends, that reputation is what will be remembered. If he hangs on, he risks taking the party and the Government down with him. That's why it is time for him to go. If he does, he can still hand on to a new team, one that is determined to defend and seek the opportunities of Brexit, one that is able to win the next election convincingly. That is in the Conservative Party's interest, in Leave voters' interest, and in the national interest. It needs to happen.
PMQs on July 6 could have been worse. It was more of the same from the Opposition. On the Conservative benches, which were packed, only Tim Loughton, Gary Sambrook and David Davis (once again) rebelled, all saying that Boris should resign.
After PMQs, Sajid Javid was granted a statement about his resignation. Boris remained seated behind the despatch box. Javid put a big emphasis on 'integrity'. He said that, for him, 'loyalty and integrity' were at loggerheads over the past few months, hence his resignation. He could no longer defend the indefensible, from Partygate to Pincher, especially to his constituents. He told his former Cabinet colleagues that not doing 'something' — i.e. resigning — would look bad. Boris left immediately afterwards to jeers of 'Byeee, Boooris' from the Opposition benches.
Lee Anderson withdraws support
In an unexpected development, Red Wall MP Lee Anderson has withdrawn his support for Boris:
Guido has the full text of Anderson's letter, excerpted below:
With A Heavy Heart.
I have remained loyal to the Prime Minister since being elected in 2019.
However my position has changed over the past few days since the incident which led to the Deputy Chief Whip losing the party whip …
I do not hold a position I can resign from so the only thing I can do is make my feelings known to my constituents and party members. This statement may upset some people and I am sure some people will be delighted with the demise of our PM but I have a job to do and I must do it with a clear conscience.
My focus has always been my constituents many of whom are friends, family and neighbours and my loyalty to them is paramount.
Finally, I will do all I can to make sure our party wins the next election to form a Government of low taxation and who will be tough on illegal immigration as I feel we could have done better, that said the thought of a Labour Government terrifies me so please keep the faith.
I hope that explains my position.
Perhaps he will throw his hat into the ring when the leadership contest begins in due course.
Meanwhile, Conservative voters are fuming
At home, Conservative voters are perplexed by the actions of what is supposed to be an orderly, no-nonsense Government. Most do not know who Chris Pincher is. They are interested in what Boris and his team are doing to improve our lives which, at the moment, isn't much.
This is what we have at present, ably stated by a Guido Fawkes reader:
Yesterday's post examined Britain's metropolitan elite and the unwitting effect they had on the 2015 general election, handing the Conservative Prime Minister David Cameron another term with a clear majority of seats, surpassing the magic number of 326 to end up with 331!
At that point, Cameron no longer needed the Liberal Democrats in coalition. The Conservatives were fully in charge.
David Cameron
Cameron fulfilled two Conservative pledges:
1/ To resolve the 1977 West Lothian Question and EVEL — English Votes for English Laws — the Government made a change to a standing order in Parliament so that:
a new law could no longer be imposed only on England by a majority of all MPs if a majority of English MPs were opposed. However, a proposed new law could still be vetoed by a majority of all MPs even if a majority of English MPs were in favour. 
This was abolished in 2021, a move with which I disagreed and instigated by a Scot, Levelling Up Minister Michael Gove, whom I do not trust at all. His reasoning was that the measures:
had "added complexity and delay to the legislative process" and that their removal would allow all MPs to be represented equally.[9]
I watched that debate. Why should another nation have its MPs 'represented equally' where English laws are concerned? English MPs cannot vote on another nation's laws.
That said, so far, Scotland's SNP MPs are careful to leave their benches when laws for England and Wales are debated.
2/ A referendum on leaving the European Union was scheduled for June 23, 2016. Fifty-two per cent of British voters opted for Brexit.
Although he said that he would abide by the referendum result, David Cameron resigned on Friday, June 24, that year at 9:30 a.m.
He and his wife Samantha honestly did not think the British would vote to leave. According to some news reports, Samantha spent much of the night in tears while watching the returns come in.
Theresa May
Theresa May became Conservative leader and Prime Minister in the summer of 2016.
Having previously branded the Conservatives 'the nasty party' at an annual party conference a few years before, she had big plans to improve opportunities for everyone living in Britain.
Although she was a Remainer, she pledged to abide by the referendum result. She appointed good Conservative MPs to her Brexit team, and Boris Johnson became Foreign Secretary.
The Opposition benches said that she had no mandate, so she held a general election in June 2017. Two trusted aides told her that polling showed that the Conservatives would do well. Furthermore, the controversial Jeremy Corbyn was Labour leader. It sounded as if May and her party were shoo-ins. In the end, there was a hung Parliament and May brokered a confidence and supply arrangement with Northern Ireland's Democratic Unionist Party (DUP), led by Arlene Foster at the time.
Things began to unravel further in the summer of 2018. May's Brexit team had come up with a sensible, considered plan to leave the EU. May held a meeting at Chequers, the prime ministerial weekend estate, to discuss the plan. Unbeknownst to her colleagues, she had a compromise plan ready to discuss which superseded the Brexit team's plan. She told her ministers that if they did not agree to her compromise plan, later rumoured to have been developed with German input from someone working for Angela Merkel, they were free to leave the country estate at their own expense. It was shocking and resulted in several resignations from the Brexit team. Boris Johnson resigned as Foreign Secretary.
By January 2019, May could get nowhere in Parliament with Brexit votes, even with her compromise. I began watching BBC Parliament in earnest at that time and haven't stopped. We really do have a load of virtue-signalling troughers from the metropolitan elite in both Houses. But I digress.
On May 24, 2019, Theresa May announced that she would resign as Conservative Party leader on June 7. That triggered a leadership election by the party members. May stayed on as PM until July 24, the day after Boris Johnson became the new leader of the Conservatives. Today, May serves on the backbenches, representing the constituency of Maidenhead, a delightful Home Counties town bordering the Thames.
Boris Johnson
Boris gave his first speech at the despatch box, all guns blazing. I watched it on television. He had a go at Labour, alleging that one of their MPs had been involved in corruption while serving on the Greater London Assembly many years before. A PM couldn't get better than this.
However, Brexit was the major issue, and he was presiding over the hung Parliament from the 2017 election, with Arlene Foster's DUP providing confidence and supply to Conservative policies. Try as he might, Boris could get nowhere with the Opposition benches.
Brexit negotiations with the EU resumed on August 28, 2019, the same day that Boris attempted to prorogue (adjourn) Parliament from September 10 to October 14. He claimed that the prorogation would cover all the party conferences normally held during that time. However, court cases arose in the Supreme Court in England, presided over by Baroness Hale, she of the spider brooch (Guido's story involves a later controversy, unrelated to the prorogation):
'Spiderwoman' Hale's decision forced Parliament to reconvene on September 3. It will come as no surprise that attempting to get Brexit votes through the House of Commons became even more difficult. On September 4, the Benn Act, a bill to block a no-deal Brexit passed. At that point, Boris proposed a motion to hold a general election on October 15. It failed to command two-thirds approval from MPs.
In addition, several Remainer Conservative MPs had the party whip removed at that time, which made matters worse. Although some had the whip restored, the Conservatives no longer had a working majority.
As a result, Parliament was dissolved in October 2019, with an election called for December 12 that year.
What voters thought
Whether Leavers or Remainers, more people began paying close attention to the goings-on in Parliament.
Leavers knew that, while Boris was flawed, he was on their side with regard to getting Brexit done. After delay upon delay in Parliament from June 2016 to October 2019, that was all that mattered.
Remainers wanted a second referendum to confirm (ahem) the first vote. In other words, they wanted to overturn the 2016 vote.
Leavers felt increasingly betrayed by Parliamentarians. However, Brexit was also beginning to have an effect on their personal lives: relationships broke down, family feuds began and working life became strained.
England was becoming a highly divided and divisive place, exacerbated by print and broadcast media alike. Leavers felt alienated and betrayed.
The fallout between 2015 and 2019
I'm returning briefly to the comments left on the 2015 Guardian article I cited yesterday: 'The metropolitan elite: Britain's new pariah class', which appeared on May 22, two weeks after the general election.
What people felt about the metropolitan elite did not change in the four years that followed. Voters were disappointed.
One Guardian commenter remembered the unity during the Thatcher era as the Iron Lady began closing mines (emphases mine):
We have a situation amongst the majority of the "lower classes" which is this:
If you dare to offer a "lefty" opinion you are automatically assumed to be a rich metro elite type, with no experience of the real world.
If you dare to offer a "right" opinion you are immediately branded a racist, ignoramus.
Does no one else see the division this has caused?
Remember when the gay rights groups went to help the miners? Can you imagine that happening today? – They'd be sniping at each other over these perceived differences, instead of recognising their similarities and fighting together against a common enemy.
We are all exactly where they want us, and until we recognise that- the real elite have won and will carry on winning- regardless of what colour they pin to their (old boys) ties.
Another went back further in time, putting forward post-war Prime Minister Clement Attlee as a man of duty:
… the most effective Labour Prime Minister by far was Clement Attlee: the son of a well-off London solicitor, educated at Haileybury and Oxford, served with distinction as a junior officer in WW1 and reached the rank of Major. Though not a patrician, you'd hardly have called him a man of the people, and I suspect that he would have felt under no obligation to put on glottal stops or pretend that he liked football (though he had actually played it in his youth).
The point is that perhaps aided by attending Haileybury – the public school that specialised in training boys up for the Indian Civil Service – he had an intense, deeply ingrained sense of his duty to the nation and particularly to the less well-off part of it, which carried him through all the vicissitudes of setting up the Welfare State in a bankrupt, exhausted country with an empire to get rid of. He knew what had to be done, and he was determined to do it, and what focus groups or the media thought about it was of no consequence to him.
… where there is no vision the people perish. Without a thoroughgoing analysis of the state we're in and a thought-through programme for putting it right, such as it had in 1945, Labour is simply wasting its own time and everyone else's and might as well shut up shop now.
People dislike when MPs are not local, especially when a well-heeled Londoner represents a disadvantaged Northern constituency:
It's ridiculous that these parachuted-in pillocks can hold office in northern constituencies when many of them will secretly smirk about it being "grim up north" every time they're sat in some trendy London wine-bar.
Someone had a solution to candidate selection:
We need to stop north-London PPE [Philosophy, Politics and Economics] graduates from pretty much automatically getting into Westminster. Anyone who's interested in being a politician does that PPE degree, then works for a think-tank or as a political advisor then a junior minister and so on.
Candidates should be elected from people who live in individual constituencies, who have done proper jobs and who genuinely wish to fight for their communities. In this system George Osborne, Nick Clegg and Ed Miliband would not be able to stand in northern constituencies; they'd have to run in the cities and towns where they actually lived. Generally speaking, that would mean a borough of London – Oh, wait Chukka Umunna and Ed Miliband live in the same borough? Tough! Only one of them can stand for Labour. What's that; several of the Tory cabinet live in the same town in rural Oxfordshire? Oh dear, only one of them can stand. And in order to prevent parachuting candidates in, they'd have to live there for at least five years prior to being selected.
The whole political system in this country lacks any legitimacy. The people who are affected the most by politics are the people who are the least engaged in it …
This issue also affects London. One person wrote about Labour's David Lammy:
Lammy is my MP and I like him, but I do have a slight problem: according to the Tory leaflet through the door pre-election, he doesn't live in Tottenham, his constituency, he lives in Crouch End, which is rather met-elity itself. Not to mention giving the option of a state secondary school you'd actually want your kids to go to.
If the Tories were lying I apologise.
One reader understood why people resented the metropolitan elite:
I totally get the hatred of the "metropolitan elite". The assumption that you, as someone who is not a member of that class, will have no idea what they are talking about whether it is art, literature, politics, whatever and, by extension, you are an idiot. It's bloody infuriating!!
It's essential for the media not to leave London:
Aside from John Harris I know of no other Guardian columnist that sets foot out of London – or even North London.
Tell a lie – Polly [Toynbee] is in Brighton for her Arts Festival.
That's the nature of metropolitan elites – write about those less well-off but be sure never to meet any.
Also:
Metropolitan elite means people living in London who are unnatural and out of touch with the rest of the country. This is nothing new. The medieval word for a Londoner was "cock's egg"' (cockney) which also described something unnatural and out of touch.
I did not know that!
Other readers noted the petty, controlling interference that the metropolitan elite display:
Different people will have different reasons for disliking the ME. One of these must surely be the neopuritanism they espouse, which means you're always looking over your shoulder worrying whether you've exhibited the wrong attitude, e.g. insufficient enthusiasm about gay marriage or a penchant for Top Gear.
On that topic:
Metropolitan elite who work in media, government, academia, charities, and NGOs from the National Trust to Oxfam and the Royal Society. These tend to coalesce on gay marriage, "safe" places, "islamophobia" issues, pro-EU sentiment, pro-Obama and catastrophic climate change. Just watch the BBC for any length of time.
Another said:
I personally feel this miring of everything in semantics does little to describe the current rot in UK politics. It would be better to use a historical example – I personally think referring to these people as "The Marie Antoinette Class" is more appropriate. It illustrates just how out of touch they really are with the current reality of life for British working people.
Even worse, they don't really seem to be British at heart:
What has happened (maybe?) is that the elite in the UK (England specifically) has become more like other countries – urban and bourgeois, rather than rural and aristocratic – and without the aspiration to ennoble themselves that the previous industrial bourgeois had (by marrying their wealth into the old order's titles). What we have now is a class of educated professional people who share urban liberal-middle-class values that are much more like those of their equivalents in other European countries than they are many of their own compatriots.
Another reader also noticed the lack of Britishness:
One explanation could be that many young educated people in Europe were brought up to feel European (or even global) than from a particular country or region. Programs like ERASMUS and the increasing cheapness and availability of travel have opened up the horizons of many smart and educated individuals. This is definitely causing a class divide with those who remain rooted and patriotic. Combine that with the growing phenomenon of elitism in all societal institutions (you need a degree to do anything these days), then you inevitably get more of group A in all positions of power.
I can't tell whether this is a good thing (or even inevitable) or not. The "metropolitan elite" would probably find themselves thinking that they are better than group B, who are quagmired in small mindedness and petty issues. Then you have group B, made up largely of working class people, who are feeling disenfranchised and silenced (the elite would probably condescendingly refer to it as "feeling left behind"). It's like a soft Russian revolution, and look what happened that time when they let their "betters" look after them. I think a healthy society needs to always listen to both sides, whenever you start thinking "you know best" and ignore the plebs who "don't know any better", well, then you get the Star Wars prequels.
Globalism alienates:
There is hardly any difference in the political parties communications, only semantics. The nation state is dying and Universalism is taking over through the multinational corporations & global organisations.
One reader gave us the education profiles of the main political players of 2015 and the Labour years:
They are all cut from the same cloth…a ll that differentiates them is how they divvy up and pork barrel the the trolls tax contributions.
Cameron: Philosophy, Politics and Economics (PPE) at Brasenose College, Oxford
Miliband: Corpus Christi College at the University of Oxford, and the London School of Economics
Clegg: University of Cambridge, the University of Minnesota, College of Europe
Farage: Dulwich College, a public school (private), and stockbroker….
Mandelson: Philosophy, Politics and Economics at St Catherine's College, Oxford
Blair: St John's College, Oxford…and various private schools
Brown: University of Edinburgh, History (as the son of CoS [Church of Scotland] Minister he is definitely middle class)
The list is not exclusive…….but the stench is unmistakable……
At least voters know where they stand with the Conservatives:
This is why the Tories won the election. So the PM is posh and privileged. He knows it and we know it.
Someone complimented Cameron's approach to EVEL:
What people object to, at a gut level, is getting a clever-dick, hypocritical answer to their concerns.
For example, Labour's position on EVEL is transparently self-serving and relies on a lot of chin-scratching about complicated constitutional niceties. In contrast Cameron's proposition, that it is only fair for England to have self-determination on the same issues which Scotland does, is an uncomplicated statement of a simple principle, even if it is of course equally self-serving.
So people see Labour as putting self-interest first and talking down to them about constitutions, on the one hand, and on the other they see Cameron espousing a simple principle which they see as being on their side.
It's no surprise Labour end up on the wrong side of so many arguments.
Interestingly, someone brought up Boris:
Londoners are not much interested in the politics of power, influence, wealth and class envy. For many, social justice might mean the mortgage paid off so they can fund their care home one day. Love him or hate him, Boris Johnson recognised and tapped into this and that's why they voted Boris Johnson Mayor. Twice. London actually gave an early indicator for the national mood.
Labour, on the other hand, cannot relate to most people. The second sentence gave me a chuckle:
I am still angry that Ed wasn't able to put his view across more forcefully.
He is very fond of the third chapter of The Working Classes And Their Struggle For A Cohesive Understanding Of Dialectical Materialism Within A Framework Of Sonambulant Artifice And Prolapsed Thinking and yet people still didn't think he understood what life is like on a Council estate or in a factory.
It beats me.
Someone else agreed, saying that Labour were interested only in themselves:
Labour's metropolitan political class – and believe me, they are ABSOLUTELY the worst, an utter ideological and moral vacuum compared to, say, the Lib Dems or the centrist strain of the Tory Party – are utterly without allegiance to anyone but their own caste.
What voters want(ed)
One reader provided a profile of the ideal MP:
Here's what we require of our politicians:
(1) honesty
(2) probity
(3) the ability to listen to their constituents
(4) the ability to put the needs of their constituents before the interests of big business, the aristocracy or the establishment.
Tick all four boxes and I don't care where you were born, where you were schooled or where you live. The problem is finding anybody who'll tick those boxes.
Little did that person know that a bevy of Conservative candidates could tick those boxes in 2019.
To be continued next week.