You are currently browsing the tag archive for the 'Theresa May' tag.
Thursday, October 31, 2019, was John Bercow's last day as Speaker of the House of Commons.
I listened to Parliamentary proceedings that day, as I wanted to be sure he was actually leaving. Based on the fulsome tributes from both Conservative and Labour MPs, it appears as if yesterday did indeed bring an end to the former Conservative's tenure as Speaker.
Prime Minister Boris Johnson gave him a witty, tongue-in-cheek tribute at Wednesday's PMQs (Prime Minister's Questions):
No doubt Bercow got Boris's asides, delivered with aplomb. MPs laughed at the back-handed compliments. To a stranger, they would have indeed sounded as positives. However, those of us watching at home got the jokes.
I had not noticed, but a number of MPs not standing for re-election on December 12 spoke on Wednesday. That was entirely at Speaker Bercow's discretion.
Interestingly, Kate Hoey, Labour's MP for Vauxhall and a firm Leave supporter, was not among them:
Many of us hope that Kate Hoey could run as a candidate for the Brexit Party (BXP):
She has always been a ladylike and eloquent MP, unlike many other women on the opposition benches who, quite frankly, sound like angry harpies:
Most of us do not like John Bercow because not only did he turn his back on the Conservative Party shortly after becoming Speaker, he also did his best to bring up motions that frustrated the Brexit process, from Theresa May's final months to now.
Behind the scenes, members of his staff accused him of harassment. No investigation took place. All he needed to do was to deny the accusations.
As I write on Thursday, I am listening to more MPs — many of whom are Conservatives — fawn over Bercow.
Bercow has a grace and favour accommodation, Speaker's House, in the Palace of Westminster. Unfortunately, it requires renovation, so his successor, to be elected on Monday, November 4, will not be able to move into it for another year. Could the works have been staged, particularly during the many lengthy recesses? Did he have any say in prolonging repairs? One wonders:
Guido Fawkes describes Speaker's House as follows (emphasis in the original):
The Speaker of the House of Commons doesn't just get the freedom to verbally abuse whoever he likes, he gets a very swanky pad in the heart of the Palace of Westminster, with staterooms, a bedroom designed for the monarch to stay in and a private gilded study. Lesser known about Bercow's pad is it also includes a private sectioned-off part of the Commons' Terrace as a private space to entertain guests outside. All paid for by the taxpayer of course.
Despite living in situ in the Palace of Westminster, Bercow took a roundabout route to work on his last day:
Guido Fawkes tells us about the Press Association (PA) record of the event along with a tweet:
John Bercow was pictured arriving at work this morning by PA in the kind of candid, natural shots that we all indulge in on our final day job commute.
The only flaw in his plan was that Bercow lives in Speaker's House… in the Palace of Westminster – meaning he had to first leave his place of work to be featured in the snaps heading back in – a 1627% longer journey. The whole thing is just a faked up performance for the cameras… perfectly appropriate ending.
That said, the PA had a good summary of his ten-year tenure as Speaker, excerpted below, emphases mine:
John Bercow has been no stranger to the limelight in more than 10 years in the Speaker's chair.
The one-time Conservative MP for Buckingham, with a high-profile Labour-supporting wife, has made a catalogue of unconventional comments since he took over the impartial role from Michael Martin.
He has survived attempts to remove him from the chair, including from former colleagues in the Tory party, revelations about his expenses and allegations of bullying, which he denied.
But it will perhaps be his interventions in the Brexit crisis, and the relish with which he seemed to make them, for which he will be best remembered.
Regular Parliament watchers may or may not miss his inimitable style, such as his bellowing shouts of "order" and "division, clear the lobby", but those quirks are what brought him international attention when the eyes of the world became fixed on the Commons throughout 2019.
As the Brexit debate raged and senior opposition figures played every trick in the parliamentary book to prevent the governments of Theresa May and Boris Johnson from pursuing their preferred policies, Mr Bercow drew the ire of hardline Eurosceptics for perceived bias.
After he allowed an amendment by Tory rebel Dominic Grieve to be voted on in January, he was labelled "Speaker of the Devil" by one newspaper, while the Daily Mail called him an "egotistical preening popinjay (who) has shamelessly put his anti-Brexit bias before the national interest – and is a disgrace to his office".
He voted Remain, discussing it candidly with a group of students, but in an interview with Italian newspaper La Repubblica denied this meant he had lost his impartiality.
"If I'm biased, I'm biased in favour of Parliament. Parliament being heard. Parliament having a right to speak. Parliament having time. Parliament being respected by the government of the day and indeed by the opposition," he said.
Since being elected as the 157th Speaker of the House of Commons in June 2009, he has delivered many caustic put-downs, earning him both loathing and appreciative laughter from MPs.
He had a fractious relationship with former Commons Leader, and now Business Secretary, Andrea Leadsom, after he was accused of calling her a "stupid woman".
Andrea Leadsom is far from being 'stupid', but that's Bercow.
Three weeks ago, Bercow travelled to Brussels to meet with his opposite number, the EU Parliament President David Sassoli:
The Speaker's role does not include government negotiations:
To think that October 31 was supposed to be our Brexit date. Of course, Bercow did not prevent this single-handedly, but, nonetheless, he helped:
On the Saturday, October 19 session, Bercow brought forward the Letwin Amendment, which stipulated that all Brexit legislation be voted on before Boris's new deal was approved. Its passage by MPs that day ensured that Boris had to send letters of extension to Brussels, in compliance with the Benn Act. January 31, 2020 is the new Brexit deadline:
The following day, one of his deputies, Conservative MP Dame Eleanor Laing, accused him of abusing his position:
The Mail on Sunday article states:
Dame Eleanor is one of nine MPs running to replace him, including fellow deputies Sir Linsday Hoyle and Dame Rosie Winterton.  
In another barely veiled attack on Mr Bercow, Dame Eleanor said the Speaker needed to 'set an example of dignified, respectful behaviour' and said: 'Aggression and arrogance are deplorable.' 
Mr Bercow's critics have frequently taken aim at what they see as a pompous, grandstanding style of managing the Commons. 
In a bizarre rant at Michael Gove last month he even brought the Cabinet minister's children into a row. 
The Speaker was back in the spotlight yesterday as the Commons assembled on a Saturday for the first time since the Falklands War in 1982. 
After Mr Johnson lost the crunch vote, the Speaker hinted he could block a Government attempt to bring another 'meaningful vote' on Monday. 
Jacob Rees-Mogg, the leader of the House of Commons, suggested the Government would bring the vote before introducing Withdrawal Agreement legislation this week.
But Mr Bercow has previously ruled that MPs cannot hold repeated votes on the same question. 
Citing a precedent dating back to 1604, he ruled in March that then-PM Theresa May could not bring the same withdrawal deal back to Parliament without changes.   
The ruling enraged Conservative MPs who accused him of sparking a 'constitutional crisis'. 
Two months earlier he had torn up precedent to allow a procedural vote which damaged Mrs May. 
'If we were guided only by precedent, manifestly nothing in our procedures would ever change,' he said at the time.      
Mr Bercow, previously a Conservative MP, took the chair in 2009 after Michael Martin resigned over the expenses scandal. 
The following week, Boris's deal did pass in Parliament, however, MPs opposed the Programme Motion for approving legislation, which they said had too short a timeframe. Hence, Boris's move for an election on December 12, which has now passed the House of Lords:
As for choosing Bercow's successor on Monday, I wish Dame Eleanor all the best:
The Health Secretary, Matt Hancock, made it known that he will be voting for her:
That said, many pundits say that it is now Labour's turn to sit in the chair. We shall see.
More next week.
UPDATE: A surprise ending (well, perhaps not so much to my British readers) awaits on Monday. It took place late during Thursday's proceedings and deserves its own post.
Before I get to the main story, October has been Theresa May's best month this year.
Her birthday was October 1:
During the extraordinary parliamentary session of Saturday, October 19, 2019, she stood firm with Boris on his new Brexit deal. That was principled, considering that David Cameron didn't stand with her when she was PM. In fact, he resigned as the MP for Witney (Oxfordshire):
She gave an excellent speech that day:
Now, let us cast our minds back to 1961. Theresa Brasier was nearing her fifth birthday. Her parents, the Revd Hubert Brazier and Zaidee 'Mary' Brasier, played host to a 16-year-old German teenager from Bonn that summer at the vicarage in Church Enstone, Oxfordshire.
On July 24, 2019, Detlev J Piltz wrote a fascinating article about his four weeks with the Brasiers for The Oldie magazine, outstanding reading for anyone over the age of 40. He learned invaluable lessons about the English during his time in the Cotswolds.
Excerpts follow, emphases mine.
The Brasiers took young Detlev everywhere:
The four weeks I spent there enriched my life. Not only did I improve my schoolboy English and become more fluent, but the family took me with them on their shopping trips in their plush Morris Minor, usually to Chipping Norton.
On Sundays, the family and I attended the village church together. We all went to watch the motor racing at Silverstone, picnicked in the country, and the vicar showed me Oxford University and explained about its colleges.
He especially appreciated his time with the vicar:
What impressed me most were the many conversations that the Reverend Hubert, to call him by his first name, then in his mid-forties, carried on with a rather wet-behind-the-ears teenager.
The vicar, as folk in the village referred to him, was a good-hearted soul: clever, educated, helpful and gentle, yet quite clear about his moral and ethical principles. Perhaps this was also partly due to his slight stoop which, as he himself put it, had focused his concentration more on the spiritual than on the physical.
The parishioners – who visited us, or whom we visited – and the congregation in church always displayed an aura of love and devotion, but also respect, for their vicar.
I still admire him today for how he and his wife managed the not-so-easy duties of an English country clergyman. During my stay, I also learned something about Englishness and even about the English class system, although this knowledge was more sensed and intuited than consciously understood.
The Brasiers had just purchased a television set. A Test Match between England and Australia was being broadcast, so the vicar explained the rules of cricket to Detlev. Detlev also learned a lesson about the English. Only they can criticise their country. Foreigners cannot.
This is very true — and anyone coming here should remember it. It's just how things are:
He straightforwardly concluded that the Australians would win, as they were both bowling and batting better than the English, an assessment with which I dutifully agreed.
This proved to be a mistake. My host took me to one side and explained, 'You are quite right, Detlev. Australia is playing better than England. But perhaps I can give you a piece of advice for the future. As a foreigner, you would do well not to say so. Leave it to us.'
In a few words, the vicar had borne out a rule of English interaction with foreigners, summarised succinctly by George Orwell, 'We spend our lives in abusing England but grow very angry when we hear a foreigner saying exactly the same things.'
Fortunately, comments in the opposite direction are allowed. If a foreigner praises certain features of England, the English are pleased, although they will immediately play down the merits of what has been admired and claim that it is actually not so great.
The bishop of the diocese visited the Brasiers on the last Sunday that Detlev was there. The couple made a point of impressing upon the young German the importance of manners:
something they had never previously done.
They told him to stay silent unless the bishop spoke to him:
I was also kindly advised not to engage the bishop in conversation myself, but to wait until he spoke to me, and to address him as 'Bishop', rather than Mr Johnson, or whatever his name might be.
They impressed upon him the finer points of tea drinking — always two cups:
a single cup was deemed impolite, as not enough; three cups were considered impolite, as too many.
Detlev did not like the special tea that Mrs Brasier served but refrained from commenting until later. It was probably Lapsang Souchong, a smoky tea:
'It was Chinese tea,' the vicar's wife explained. When I asked why it was different from the tea we otherwise always drank, I heard for the first time in my life that it was 'because of the bishop'.
The high point of his visit was when he accompanied the Brasiers to the local landowner's for tea. Detlev had a keen interest in historic Royal Navy battles. When they arrived at Sir John's house, Detlev could not contain his enthusiasm:
When we arrived in the entrance hall of the large and rather grand residence, I spotted on the opposite wall a painting of a scene from the 1916 Battle of Jutland, details of which were well known to me.
Without thinking, I stopped in front of the picture and said, 'Oh, the famous manoeuvre of crossing the T [when a line of warships crosses in front of a line of enemy ships at right angles] by Admiral Jellicoe.'
Sir John treated his guests to tea and scones. Then he turned his attention to the young German:
Afterwards, Sir John asked me how I recognised the scene in the picture, and I told him about my interest in the Royal Navy. He signalled to me to follow him and we entered a room full of English naval memorabilia.
It transpired that Sir John had fought in the Battle of Jutland. For nearly a whole hour, he described the events and his role. I was eager to know whether he had known the English admirals, Jellicoe and Beatty, personally. It was an hour suffused with mutual affection between old and young, with never a word out of place, and certainly no nationalistic undertones. I remember it clearly and vividly to this day.
On the way home, Mrs Brasier expressed her disappointment that Sir John had not spent more time with them. The vicar responded:
Well, it may be years since he had such an admirer, let alone such a young one – and, by the way, he can do whatever he thinks fit.
Detlev's stay with the Brasier family fostered in him a lifelong love of England.
In 2015, he and his wife visited the Cotswolds and passed through Church Enstone, where they stopped.
Detlev Piltz did not want to bother the present occupants of the vicarage, but he asked at the church what happened to the Brasiers:
… in the church, someone showed us a roll of past vicars, and there was the name of 'my' vicar, and his dates in office, from 1959 to 1971.
Piltz thought nothing more about it until the following year, which featured that momentous summer of the Brexit referendum and David Cameron's immediate resignation, which was completely unnecessary but was perhaps for the better, given his Remainer views.
Lo, Theresa May won the Conservative leadership contest that summer:
The candidacy of Theresa May spawned widespread reporting about her background and early life. And only then did it become clear to me how small the world really can be.
For the idyllic village in the Cotswolds was Church Enstone, and the vicar and his wife were Hubert and Zaidee Brasier, although he always called her Mary. Sadly, I then learned that Hubert Brasier had been killed in a car accident in 1981, and his wife died the following year.
And I also learnt what had happened to their young daughter. She was called Theresa – today known to every Englishman and woman as Prime Minister Theresa May.
I thought that was such a terrific anecdote.
People have either made fun of Theresa May or criticised her mercilessly. We still don't know what fully took place between her people and Angela Merkel's regarding Brexit. Certainly, May's downfall began when she put forward that London-Berlin Brexit deal in July 2018 at Chequers, when her own Brexit team, lead by David Davis, was putting together a proper exit plan (Canada ++), working together with Michel Barnier from the EU. May told a shocked assembly of her own ministers that it was her deal or the highway. The Evening Standard reported that she told ministers they could pay for their own transport back to London if they wanted to leave early. Brexit minister David Davis tendered his resignation afterwards as did Boris Johnson, who was Foreign Minister at the time.
My, how much water has passed under the dam since then. I hope that our former PM continues to vote in support of our present one, Boris Johnson.
I regret to report that our new exit deadline is January 31, 2020.
On September 28, 2019, President Trump discussed the 'single greatest scam' going on in politics today — the Left's relentless attacks on him and the American people.
Please watch this short video:
How true.
The comments in response to that tweet are hideous, to put it mildly.
Here in the UK, our Left is conducting similar co-ordinated attacks on Prime Minister Boris Johnson. I notice that they did not do this to Theresa May, possibly because they knew she would delay Brexit, which she effectively did.
Now we have a PM who wants us to exit by October 31.
Here is one American citizen pundit's view:
People aren't stupid. They see and understand what is going on.
DB Daily Update has a great article on the current parallels between the United States and Great Britain. It does seem as if there is a cold civil war going on in both our nations. Emphases mine below:
When this latest coup/impeachment effort crashes and burns in spectacular fashion, we can expect the forces aligned against Trump and his supporters to simply make up another false narrative and keep the coup going.
The same thing is happening right now in Britain, where Boris Johnson, the Prime Minister elected to complete the Brexit effort the voters approved three long years ago, is under a similar relentless assault by that country's deep state, disloyal lawmakers and fake news media. As I wrote in one of the earliest Campaign Updates way back in 2016, Brexit and Trump are essentially the same political movement, a movement that pits those who love their country and want it to remain a strong, independent nation against the forces of globalism and one-world-government.
The Brits who support Brexit have held firm through all that time and grown stronger. Trump's base of support has also held firm and grown larger. That base has remained unshakable not because they necessarily approve of every aspect of Trump's personal behavior, but because they understand what is at stake here, and whose side Trump is on.
Because at the end of the day in this tiresome Civil War, Trump is on the side of Americans and America. I don't know about the rest of you, but they won't ever wear me down.
That is all.
I'll close with comments from the aforementioned Praying Medic tweet that help explain why the British wanted a referendum on EU membership. These also indicate why Theresa May was never viciously attacked politically whilst she was PM:
As for Boris, only a couple of weeks ago the Shadow (Labour) Chancellor, the former Conservative Chancellor (under May) and Boris's own sister (!) claimed that No Deal backers stood to make financial gains.
At least one Government minister subsequently denounced this last week from the despatch box in Parliament.
Here is the report on the allegations from The Guardian dated Saturday, September 28:
The UK's most senior civil servant is under pressure to investigate Boris Johnson's financial backers following cross-party claims that unnamed individuals stand to benefit from the prime minister's willingness to pursue a no-deal Brexit.
John McDonnell, the shadow chancellor, has written to the cabinet secretary, Sir Mark Sedwill, asking if there may be a conflict of interest in Johnson's acceptance of support from hedge funds that could gain from an economic shock.
Earlier on Saturday, Philip Hammond, the former chancellor, suggested Johnson was pursuing the interests of financial backers set to gain from a no-deal Brexit, in a major escalation of tensions in the prime minister's own party.
Hammond said he was repeating a comment made last week by Rachel Johnson, the prime minister's sister.
The former chancellor was accused by senior Tories of attempting a "smear" without evidence. However, Hammond was supported on Saturday by a series of MPs from across the Commons.
"Johnson is backed by speculators who have bet billions on a hard Brexit – and there is only one option that works for them: a crash-out no-deal that sends the currency tumbling and inflation soaring," Hammond wrote in the Times.
Downing Street has refused to comment on the claim.
On October 1, Treasury Minister Simon Clarke accused John McDonnell of 'outlandish speculation' when the latter brought up the issue that day in Parliament:
Guido Fawkes has more (emphases in the original):
Making his debut at the dispatch box, the new Treasury Minister Simon Clarke confidently tore down McDonnell's absurd urgent question on short positions taken against the pound in the lead up to a possible no-deal Brexit. Something Guido and many others have comprehensively debunked before…
Clarke blasted the question as the shadow chancellor propagating myths and smears and claiming the conspiracy does little to cool tensions in Westminster at the moment. Playing Labour at their own game…
On a related note, at the weekend, it was rumoured in the media and by other Remainers that Boris could go to jail for pursuing a No Deal Brexit in violation of the recent Benn-Burt Act, a.k.a. the Surrender Bill, which stipulates that he must ask for an extension to the current Brexit deadline.
This is straight out of the Get Trump playbook.
More to follow anon.
Interestingly, whilst the Conservatives were at their annual party conference, the opposition benches were largely empty.
Strange. Last week, they voted against proroguing Parliament from Monday through Wednesday because they had serious work to get on with.
Or so they said.
As it turned out, only a handful of the diligent, hardworking opposition MPs showed up on those days.
On Tuesday, October 1, a Brexit-related session headed by George Eustice, the minister for DEFRA (Department for Environment, Food and Rural Affairs) covered the draft Common Agricultural Policy from July 24 which would be used for Brexit. The end of the debate is here. It's a pity that only the opposition agricultural ministers and a couple of other MPs attended:
On Wednesday, October 2, Foreign Minister Dominic Raab headed PMQs — Prime Minister's Questions — as Prime Minister Boris Johnson gave his rousing speech in Manchester to the party faithful.
That morning, the Labour Whips issued a directive to their MPs not to ask Urgent Questions that day:
It was even worse when the afternoon's proceedings began.
Recall — as if we could forget — that the opposition claim to be the champions of the vulnerable, especially women.
So, it was particularly galling to see that very few of them turned up for the second reading of the Domestic Abuse Bill:
Only a few Liberal Democrat MPs attended that afternoon. Labour produced more, but could have done much better.
Good grief.
Apparently, this bill and some others have been carried over post-Queen's Speech on October 14:
Therefore, if this is true, the opposition knew full well that they could have easily prorogued for three days during the Conservative Party Conference but chose not to out of sheer spite. Ditto the Supreme Court when they cancelled Boris's prorogation.
The main and most moving speech of the debate was that of Labour MP Rosie Duffield. Her testimony of a recent relationship is well worth sharing with your daughters or nieces.
Women cannot be too careful when getting involved in a long-term relationship. If this can happen to an MP, it can happen to anyone. Please watch:
This bill is Theresa May's. She brought it forward as a backbencher, therefore, before she became Prime Minister in 2016. How slowly the wheels of legislation turn.
Theresa May also gave an impassioned speech for the bill near the end.
Debate continues after October 14.
Attendance improved when Boris appeared on Thursday, October 3, to discuss a new proposal for Brussels, sent to Jean-Claude Juncker the day before:
Note the final paragraph about the Northern Ireland backstop on the first page: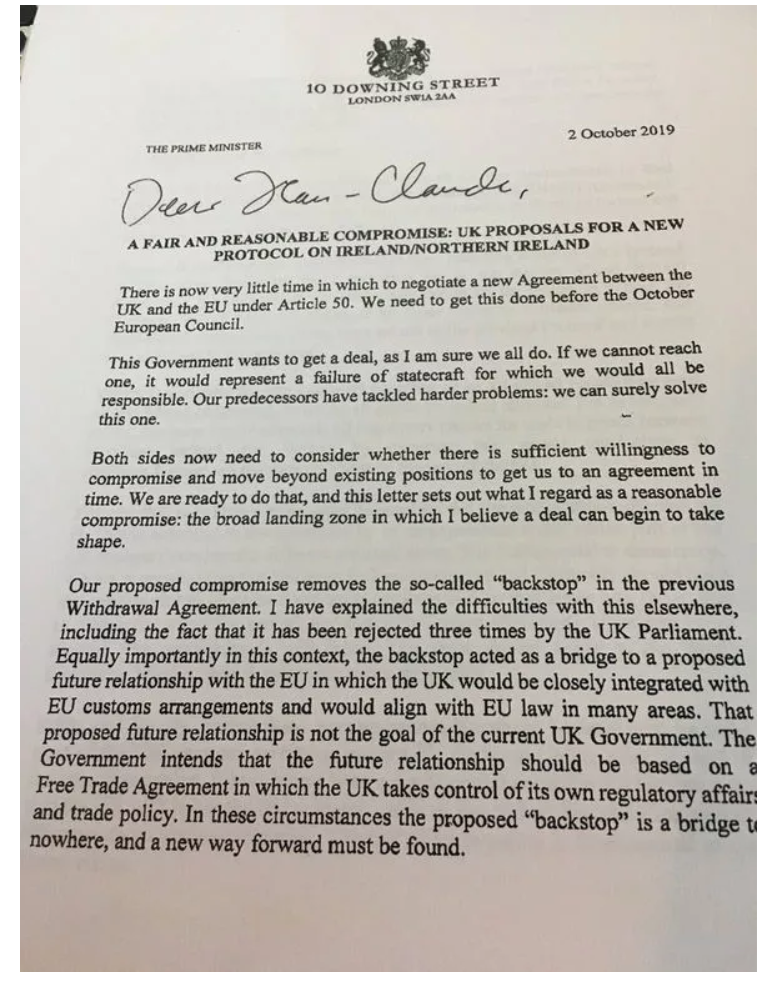 This is the European Commission's announcement about the letter (click on the image to enlarge text):
Many MPs who offered comments following Boris's address commented positively. Even most Remainers accepted the proposal, albeit with a request for more details, which will be forthcoming. Only two or three diehard Remainers spoke out against it.
Several MPs hoped that the EU commissioners were watching the positive reaction.
Guido Fawkes has more, including this video of Boris's speech:
Guido gives us the transcript of Boris's five elements concerning the abolition of the proposed backstop, the crux of the leaving date delay thus far (italics in the original):
In the first place all our actions are based on our shared determination to sustain the Belfast (Good Friday) Agreement, the fundamental basis of governance in Northern Ireland the protection of which is the highest priority of all.

And from this follows the second principle – namely that we shall of course uphold all the longstanding areas of co-operation between the UK and our friends in Ireland including the rights of all those living in Northern Ireland, North/South co-operation and the Common Travel Area, which predates both the Good Friday Agreement and the European Union itself.

Third, we propose the potential creation of a regulatory zone on the island of Ireland covering all goods, including agri-food. For as long as it exists, this zone would eliminate all regulatory checks for trade in goods between Ireland and Northern Ireland.

But fourth, unlike the so-called backstop, such a regulatory zone would be sustained with the consent of the people of Northern Ireland, as expressed through the Assembly and Executive. They will give their consent during the transition period as a condition for these arrangements entering into force. Thereafter, the Assembly will vote again every four years – and if consent were withheld, these arrangements would then lapse after one year.

Fifth, it has always been a point of principle for this government that at the end of the transition period, the UK should leave the EU Customs Union whole and entire restoring sovereign control over our trade policy and opening the way for free trade deals with all our friends around the world.
In short: no hard border between the Republic and Northern Ireland. Instead, there would be a regulatory zone covering all goods, including foodstuffs. Northern Ireland's Assembly and Executive would vote on the arrangements in the near future and every four years after that. (I do not know how that will work if Stormont is not sitting, but, no doubt, the government can find a way.)
I'm guardedly hopeful that Boris is onto something positive with this. It won't please Brexit Party members, but we were never going to get an absolute No Deal. I'm hoping that David Davis's Canada ++ arrangement can be revived. Theresa May insisted that his plans be superseded by her Withdrawal Agreement in July 2018, no ifs, ands or buts. Davis resigned as Secretary of State for Exiting the European Union on July 8 that year. It was all downhill from there.
Davis has not tweeted his reaction, but another staunch Leave MP, John Redwood, offered his thoughts on Boris's proposal:
Unfortunately, the Twitter replies to that were very angry, indeed.
It is essential to keep in mind that trade and other agreements will be in transition once we leave the EU.
It's not as if everything will change dramatically on November 1 (God willing) or whenever we leave.
The transition period is likely to last anywhere from two to four years, depending on negotiations.
As for prescription drug shortages, some of which are occurring now in the UK and being blamed on Brexit: several EU countries have been experiencing similar shortages of essential medication for several months now. France and the Netherlands are among those nations. We cannot blame Brexit for that.
If Brexit were a television series, we would be entering what Americans call 'the new fall season'.
Essentially, MPs picked up where they left off before summer recess.
Tuesday and Wednesday were full of drama.
Rebel MPs
Prime Minister Boris Johnson lost his Commons majority on Tuesday.
In fact, he now has a working minority of -2.
Twenty-one Conservative MPs voted against the government in favour of Labour MP Hillary Benn's motion to prevent a No Deal Brexit, which is still the legal default. The debate on the Benn-Burt Bill, dubbed the Surrender Bill, is going on today, Wednesday, and I will cover that more in another post.
This is not the first time an MP has had control wrested from him in the first vote of his premiership. There were two others, one from the 18th century and another in the 19th.
The first was Pitt the Younger:
Rosebery (misspelled below) was the other:
Government loses. Johnson the first PM to lose his first Commons vote since Roseberry in 1894.
This is very serious for Boris, should the Lords pass the bill. It would prevent him from negotiating the best Brexit deal for the UK.
Many of the Conservatives listed below gave Hilary Benn support in mid-March for another anti-Brexit motion, which he put forward two days before the original March 29 departure date.
The two Labour MPs listed below voted against the motion to debate Benn's bill, which took place on Wednesday.
The list of rebels includes longtime EUrophile Kenneth Clarke, Father of the House:
Kenneth Clarke is not the only prominent Conservative who has had the whip withdrawn. An explanation of whip withdrawal is below.
Sir Nicholas Soames is Winston Churchill's grandson. Remainers are upset that he, along with the others listed, are no longer Conservative MPs, at least for the meantime. However, this graphic offers a reasonable comparison between grandfather and grandson. Courtesy of Leave.EU: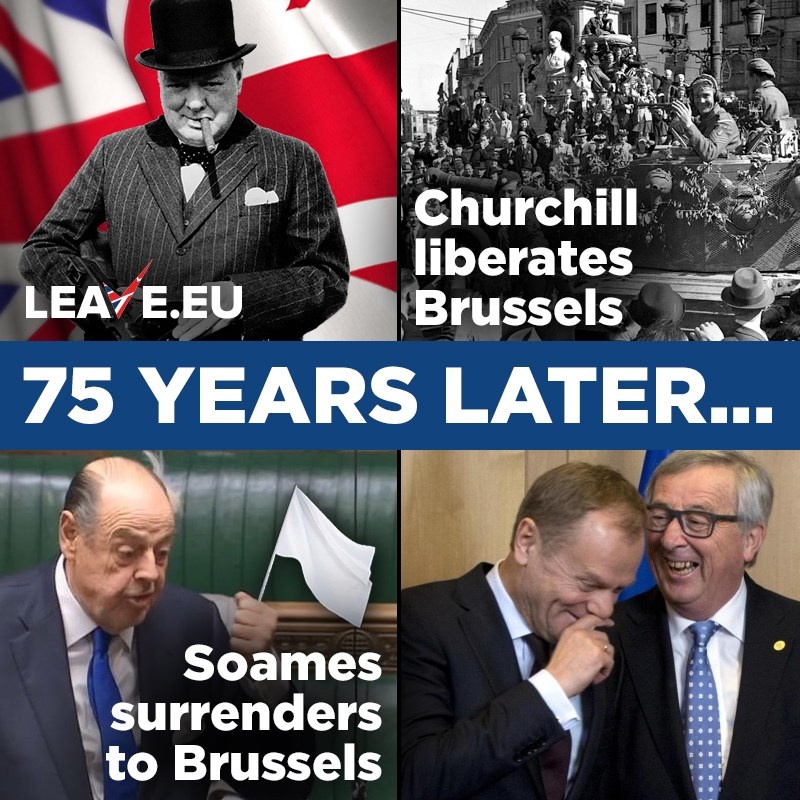 One name does not appear, that of Phillip Lee, who crossed the floor from the Conservatives to the Liberal Democrats — while Boris Johnson was addressing MPs:
Lee explained:
Normally, in these circumstances, an MP would stand down in his/her constituency and a by-election would take place. TalkRADIO's Julia Hartley-Brewer raised the question. Let's also recall Lee's previous position on the 2016 referendum result:
Metro and ZeroHedge have more on the rebels and their impact.
Whip withdrawn from Conservative rebels
It appears as if Boris wants a purge of Conservative MPs voting against his government's — and the people's — wishes.
He was at the prime ministerial country residence Chequers on Sunday, September 1. A purge of disloyal MPs also forces him to ask for a vote on a general election, which Labour do not want to have at this time, as they are too vulnerable — so far:
Yes, it is a risky move.
On September 3, Metro reported on the whip being withdrawn because of MPs' seizing control of the House of Commons agenda from the government. The article also has MPs' reactions (emphases in the original):
More than 20 Tory MPs face deselection after they rebelled against the government tonight.
Boris Johnson's chief whip is speaking to the 21 who voted in favour of a move to try to stop a no-deal Brexit and they will be expelled from the party, a spokesman said.
'The chief whip is speaking to those Tory MPs who did not vote with the government this evening. They will have the Tory whip removed,' the spokesman from Johnson's office said.
MPs voted to seize control of the House of Commons agenda tonight, so they could put forward a bill tomorrow aimed at blocking a no-deal Brexit. It would force the government to seek an extension to Brexit if no deal is agreed by October 17.
Sir Nicholas Soames said he would not stand in the next election.
Kenneth Clarke, a former Chancellor of the Exchequer, will not stand in the next general election, either.
With another former Chancellor, Philip Hammond, things were a bit more variable, especially at the end of August with rank and file members of his constituency's Conservative association. A week before that, his own allies alleged that he and other Remainer MPs were working with Brussels to obtain yet another Article 50 extension!  No wonder the whip was withdrawn this week!
On Monday, Hammond toasted his reselection:
However, Conservative Party HQ overruled the local party association. He is now well and truly deselected (click on the announcement image to see it in full):
To avoid any confusion, these MPs can still sit in the Commons — just not as Conservative MPs:
We'll see if he stands as an Independent when the time comes.
At the end of Wednesday's PMQs, as Conservatives cheered Boris, Hammond was clearly miffed:
Anyway, back to the Conservative Party whip.
This is how it was done (click on second image to see the message in full):
However, former Party leader and current MP Iain Duncan Smith said of the rebels:
Theresa May
Theresa May has been sitting next to Ken Clarke, Father of the House. On Tuesday, they had a grand time listening to Boris at the despatch box, fielding questions from opposition MPs — or perhaps it was when Phillip Lee crossed the floor to the Liberal Democrats' bench while Boris was speaking:
Boris is hardly the 'worst PM' as he's only just begun.
ITV's Robert Peston had this to say about the seating arrangement:
On May's left sits another rebel:
Although they are not supposed to sit with the Conservatives any more, the Labour/Lib Dem benches are too full to accommodate any more MPs:
She did, however, vote with the government — not the rebels.
That said, May has been enjoying her time on the backbenches.
BBC's Nicholas Watt tweeted:
Members of the public replying to Watt's tweet were unimpressed, saying that she is responsible for the mess we are in. True! Now Boris has to dig us out of the morass.
Reuters tweeted a photo of her in a car notionally last night, but it appears to be an old photo, as her jacket is white rather than dark blue.
On Wednesday, she appeared for Boris's first Prime Minister's Questions (PMQs).
Tim Shipman from The Times tweeted:
Or, perhaps she was thinking about something else:
Boris's first PMQs
With all this going on, Boris took his first PMQs on Wednesday.
He clearly did not start as ebulliently as he did on July 25. Still, he put present concerns behind him and scored a few points.
Although I do not agree with that Boris was 'unsettled' throughout, what follows is the short version of PMQs from the Sunday Times's Tim Shipman. The PM was asked about his special adviser Dominic Cummings, one-time head of Vote Leave. Cummings is seen to be the Svengali of Boris's government. Boris also took a question from a Labour MP about a Sunday Telegraph column of his from last year lamenting the burqa, to which Boris said that, if the MP had read the article, he would have understood the context:
Boris got an early swipe at Labour leader Jeremy Corbyn who asked about a trade deal with the US, mentioning chlorinated chicken. The subject of a general election also arose. Boris knows that Corbyn's polling figures aren't as good as his, although positive polls did not work too well for Theresa May in 2017's election, which forced her to seek a 'supply and confidence' arrangement with Northern Ireland's DUP (Democratic Unionist Party):
This next exchange comes with a language alert. It's not often that such a thing is necessary in Parliament, but it has happened before:
Here is the context of Boris's remark. Labour's Angela Rayner asked a question about economic policy. Boris mentioned what she said about her own party's economic policy in 2018:
Speaker of the House John Bercow said nothing:
Near the end came the question about Boris's burqa column from 2018. This was an ill-advised question, considering that Boris's cabinet is far more diverse than Labour's have ever been:
I disagree that the hammering was good, considering our Chancellor is Muslim. Boris also has Muslim ancestors in the not so distant past:
As someone pointed out, a prominent Labour MP also took exception to the women's garment not so long ago. Furthermore, Labour has been accused of unchecked anti-Semitism for some time now, a fact that Boris did not hesitate to point out:
Here's the video:
Conclusion
Not surprisingly, the public are still firmly behind Boris.
They know that MPs are working against them:
This is a useful graphic from the polling organisation Ipsos MORI last week. Voters are not stupid: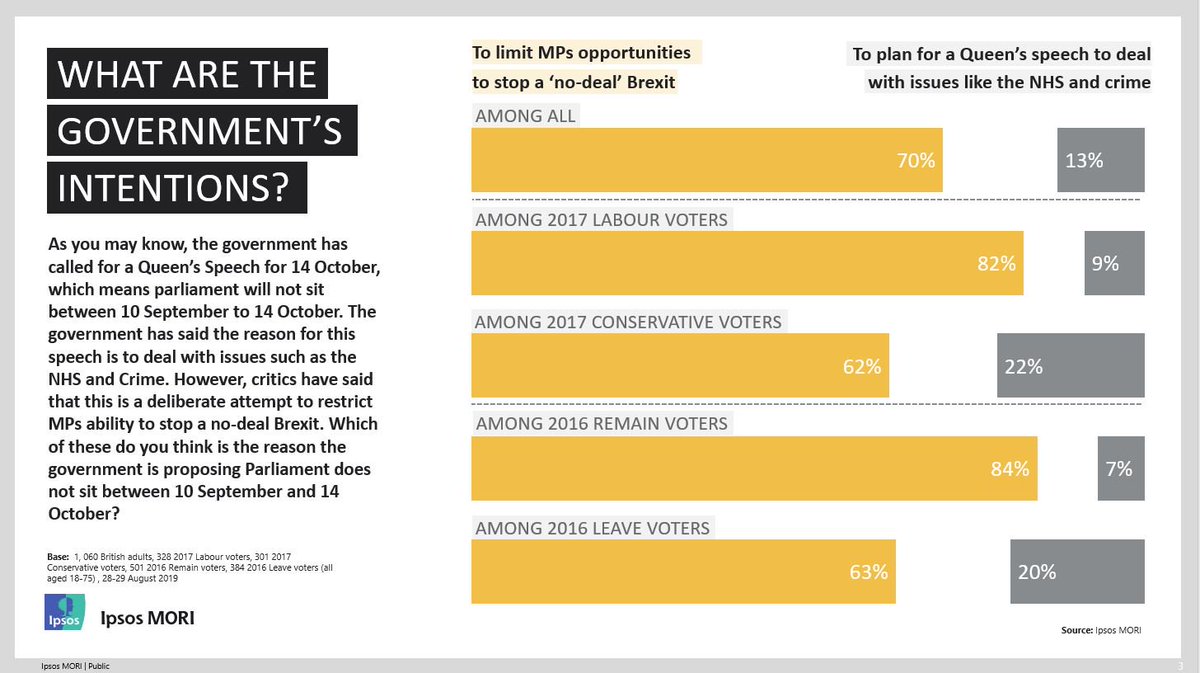 I will have more on Friday, all being well.
Prime Minister Boris Johnson will be visiting our European neighbours this week before the G7 conference in Biarritz:
Reuters reports (emphases mine):
Prime Minister Boris Johnson will tell French President Emmanuel Macron and German Chancellor Angela Merkel that the Westminster parliament cannot stop Brexit and a new deal must be agreed if Britain is to avoid leaving the EU without one.
In his first trip abroad as leader, Johnson is due to meet his European counterparts ahead of a G7 summit on Aug. 24-26 in Biarritz, France.
He will say that Britain is leaving the European Union on Oct. 31, with or without a deal, and that the British parliament cannot block that, according to a Downing Street source.
Despite Parliament's summer recess, Remain MPs have been in various discussions as to how to stop our leaving, deal or no deal, on October 31:
It is, however, unclear if lawmakers have the unity or power to use the British parliament to prevent a no-deal Brexit on Oct. 31 – likely to be the United Kingdom's most significant move since World War Two.
Sky News reports that No. 10 says Brexit will be but a small part of Boris's discussions with France and Germany:
… Number 10 said it expects there to be "very little discussion" of Brexit during the visit to Berlin on Wednesday and Paris on Thursday, with other topics to be the focus.
Discussions are expected to centre around the next G7 summit in Biarritz, France, next weekend, with trade, foreign policy, security and the environment set to be on the table.
Number 10 said Mr Johnson would discuss issues such as climate change with his fellow leaders, adding: "The EU are our closest neighbours and whatever happens we want a strong relationship after we leave."
Thanks to Boris's leadership thus far, the Conservative Party once again leads in the polls:
British voters believe that Boris would make the best PM:
Nevertheless, Labour MPs think they can overturn triggering of Article 50. Whether this can be done is of some debate:
The Speaker of the House, John Bercow, is supposed to be impartial, yet, he, too, is said to be plotting against No Deal:
Boris's government tied up one loose end at the weekend:
This was something Theresa May was supposed to instruct Stephen Barclay (pictured) to do — but didn't:
There were two significant leaks in the past few days.
One was Boris's Brexit 'script', left behind in a London pub, allegedly by a civil servant. Tell me this was not deliberate:
The other was a copy of Operation Yellowhammer, which contains all the worst case scenarios in case of No Deal:
The Sunday Times made this look like news, but Yellowhammer first surfaced on Wednesday, March 20 in preparation for our original March 29 exit date.
That day, the Express reported:
Brexit Secretary Stephen Barclay told Cabinet ministers in a letter the plan will be implemented on March 25 unless a new exit date is agreed. Operation Yellowhammer is the UK Treasury's contingency plan for no deal exit from the bloc. The plan drafts what would happen for factors such as money, citizens, trade and customs.
According to the Daily Telegraph, if no date is set by Monday Operation Yellowhammer will be implemented.
In a letter to Cabinet ministers, Mr Barclay wrote: "Operation Yellowhammer command and control structures will be enacted fully on 25 March unless a new exit date has been agreed between the UK and the EU."
The Guardian's story, also published that day, had more information:
With the country placed on a knife-edge by Theresa May's latest Brexit crisis, the government is preparing for "any outcome" with a decision on Monday on whether to roll out the national Operation Yellowhammer contingencies for food, medicine and banking.
Some measures have already swung into place, including Operation Fennel's traffic management in Kent.
The Europe minister, Alan Duncan, has also said the Foreign Office staff deployed to its Brexit "nerve centre" are working to help UK citizens in the EU in the event they get caught up in a Brexit mess.
The Department of Health was due to activate emergency supply chain operations, with instructions to medicines suppliers to book space on ferries to ensure they are not caught up in queues from next weekend in the event of no-deal.
They are just two of the 12 Operation Yellowhammer areas of risk the government has planned for in the event of a crash-out, according to a National Audit Office report [pdf]. It will decide next Monday if they should all become operational, enacting no-deal plans in 30 central government departments and 42 local councils, two devolved governments and in Northern Ireland.
Yellowhammer also had measures in place for Gibraltar. Fortunately, the government there was quick to point out that Yellowhammer as published is now out of date:
Interestingly, the week before, the island's government reminded residents to prepare for a No Deal Brexit:
But I digress.
Meanwhile, back in the UK, Michael Gove, the Chancellor of the Duchy of Lancaster, tweeted:
Sky News had more about Gove's explanation:
Sebastian Payne of the Financial Times tweeted:
Boris is also displeased with Theresa May's Chancellor of the Exchequer Philip Hammond, who has been predicting all manner of Project Fear disasters if No Deal comes about on October 31:
However, Germany had an important leak of its own at the same time as Yellowhammer resurfaced in the UK:
Good. I was also heartened to see the view of Boris from Berlin:
Absolutely correct.
I wish Boris Johnson all the best in his meetings this week with our European partners.
President Donald Trump and First Lady Melania Trump were in England and Normandy for commemorations of the 75th anniversary of D-Day.
The night before, he hosted Prince Charles and Camilla the Duchess of Cornwall for dinner at the US ambassador's residence in Regent's Park, London. The guests at his table were also in Portsmouth the following morning. Theresa May is on the right in the photo:
On Wednesday, June 5, the Royal Family's Twitter account summarised D-Day's importance:
Also:
The Allied landings on the Normandy beaches marked the start of a long and costly campaign to liberate north-west Europe from German occupation. #DDay75
This was the scene in Portsmouth, on England's south coast that day:
A short time later, veterans who had been involved 75 years ago began taking their seats:
The Queen, who served as a mechanic during the war, arrived:
This is a photograph for the history books:
Warm exchanges took place beforehand:
The Queen stood between Prince Charles and President Trump to watch the proceedings:
She addressed the crowd, referencing her father, George VI:
President Trump read then-President Franklin Delano Roosevelt's prayer for the troops:
D-Day veterans appeared on the dais to grateful applause.
Actress Celia Imrie (speaking in the next video) compered (emceed) the various performances:
The following ABC News video has the Portsmouth commemorations in their entirety:
The BBC has a set of photographs covering the day's events.
Afterwards, the Queen, Prince Charles and the Trumps met with veterans who so bravely served in D-Day operations:
Trump also met with British veterans as well as US Navy personnel based in England:
The Queen then bade farewell to the Trumps, who were leaving for Ireland, where the president met with the prime minister there that afternoon:
The Trumps went to Normandy the following day for D-Day ceremonies before returning to Ireland, then onwards to the United States.
The Q Tree has the Trumps' schedule after Portsmouth for the rest of June 5 (emphasis in the original):
2:50pm BST / 9:50am EST THE PRESIDENT and THE FIRST LADY depart Southsea Commons en route to Southsea Castle Landing Zone, Portsmouth, United Kingdom
2:55pm BST / 9:55am EST THE PRESIDENT and THE FIRST LADY arrive at Southsea Castle Landing Zone, Portsmouth, United Kingdom
3:05pm BST / 10:05am EST THE PRESIDENT and THE FIRST LADY depart Portsmouth, United Kingdom, en route to Southampton Airport, Southampton, United Kingdom, Portsmouth, United Kingdom
3:25pm BST / 10:25am EST THE PRESIDENT and THE FIRST LADY arrive at Southampton Airport, Southampton, United Kingdom
3:35pm BST / 10:35am EST THE PRESIDENT and THE FIRST LADY depart Southampton Airport en route Shannon Airport, Shannon, Ireland, Southampton, United Kingdom
~ U.K State Visit Concludes ~
4:50pm IST / 11:50am EST THE PRESIDENT and THE FIRST LADY arrive at Shannon Airport, Shannon, Ireland
5:00pm IST / 12:00pm EST THE PRESIDENT and THE FIRST LADY depart Shannon Airport en route to Shannon Airport Terminal, Shannon, Ireland
5:05pm IST / 12:05pm EST THE PRESIDENT and THE FIRST LADY arrive at Shannon Airport Terminal, Shannon, Ireland
5:15pm IST / 12:15pm EST THE PRESIDENT participates in a bilateral meeting with Prime Minister Taoiseach Leo Varadkar of Ireland, Shannon, Ireland
5:20pm IST / 12:20pm EST THE PRESIDENT participates in an expanded bilateral meeting with Prime Minister Taoiseach Leo Varadkar of Ireland, Shannon, Ireland
6:00PM IST / 1:00pm EST THE PRESIDENT and THE FIRST LADY depart Shannon Airport Terminal en route to Shannon Airport, Shannon, Ireland
6:05pm IST / 1:05PM EST THE PRESIDENT and THE FIRST LADY arrive at Shannon Airport, Shannon, Ireland
6:15pm IST / 1:15pm EST THE PRESIDENT and THE FIRST LADY depart Shannon, Airport, en route to Trump International Doonbeg Landing Zone, Doonbeg, Ireland, Shannon, Ireland
6:35pm IST / 1:35pm EST THE PRESIDENT and THE FIRST LADY arrive at Trump International Doonbeg Landing Zone, Doonbeg, Ireland
The Clare Champion featured their arrival:
At the end of Tuesday, Trump tweeted:
He and his entourage would fly from Ireland to Colleville-sur-Mer in the département of Calvados of Normandy the following morning.
Speaking of Normandy, two British veterans were preparing to re-enact their jumps from 1944. Here is one of them undergoing a refresher course:
This is what happened on Wednesday, June 6:
This is what the Trumps saw as they landed in France that morning:
The following is an excerpt of President Trump's speech on Omaha Beach:
The Q Tree has his speech in full on Omaha Beach, excerpted below (emphases mine). More than 60 surviving American D-Day veterans flew to France for this important anniversary. Many more Second World War military survivors also attended:
President Macron, Mrs. Macron, and the people of France; to the First Lady of the United States and members of the United States Congress; to distinguished guests, veterans, and my fellow Americans:
We are gathered here on Freedom's Altar. On these shores, on these bluffs, on this day 75 years ago, 10,000 men shed their blood, and thousands sacrificed their lives, for their brothers, for their countries, and for the survival of liberty.
Today, we remember those who fell, and we honor all who fought right here in Normandy. They won back this ground for civilization.
To more than 170 veterans of the Second World War who join us today: You are among the very greatest Americans who will ever live. You're the pride of our nation. You are the glory of our republic. And we thank you from the bottom of our hearts.
Here with you are over 60 veterans who landed on D-Day. Our debt to you is everlasting. Today, we express our undying gratitude.
When you were young, these men enlisted their lives in a Great Crusade — one of the greatest of all times. Their mission is the story of an epic battle and the ferocious, eternal struggle between good and evil.
On the 6th of June, 1944, they joined a liberation force of awesome power and breathtaking scale. After months of planning, the Allies had chosen this ancient coastline to mount their campaign to vanquish the wicked tyranny of the Nazi empire from the face of the Earth.
The battle began in the skies above us. In those first tense midnight hours, 1,000 aircraft roared overhead with 17,000 Allied airborne troops preparing to leap into the darkness beyond these trees.
Then came dawn. The enemy who had occupied these heights saw the largest naval armada in the history of the world. Just a few miles offshore were 7,000 vessels bearing 130,000 warriors. They were the citizens of free and independent nations, united by their duty to their compatriots and to millions yet unborn.
There were the British, whose nobility and fortitude saw them through the worst of Dunkirk and the London Blitz. The full violence of Nazi fury was no match for the full grandeur of British pride.
There were the Canadians, whose robust sense of honor and loyalty compelled them to take up arms alongside Britain from the very, very beginning.
There were the fighting Poles, the tough Norwegians, and the intrepid Aussies. There were the gallant French commandos, soon to be met by thousands of their brave countrymen ready to write a new chapter in the long history of French valor.
And, finally, there were the Americans. They came from the farms of a vast heartland, the streets of glowing cities, and the forges of mighty industrial towns. Before the war, many had never ventured beyond their own community. Now they had come to offer their lives half a world from home.
This beach, codenamed Omaha, was defended by the Nazis with monstrous firepower, thousands and thousands of mines and spikes driven into the sand, so deeply. It was here that tens of thousands of the Americans came …
One of those men in [Colonel George] Taylor's 16th Regiment was Army medic Ray Lambert. Ray was only 23, but he had already earned three Purple Hearts and two Silver Stars fighting in North Africa and Sicily, where he and his brother Bill, no longer with us, served side by side.
In the early morning hours, the two brothers stood together on the deck of the USS Henrico, before boarding two separate Higgins landing craft. "If I don't make it," Bill said, "please, please take care of my family." Ray asked his brother to do the same.
Of the 31 men on Ray's landing craft, only Ray and 6 others made it to the beach. There were only a few of them left. They came to the sector right here below us. "Easy Red" it was called. Again and again, Ray ran back into the water. He dragged out one man after another. He was shot through the arm. His leg was ripped open by shrapnel. His back was broken. He nearly drowned.
He had been on the beach for hours, bleeding and saving lives, when he finally lost consciousness. He woke up the next day on a cot beside another badly wounded soldier. He looked over and saw his brother Bill. They made it. They made it. They made it.
At 98 years old, Ray is here with us today, with his fourth Purple Heart and his third Silver Star from Omaha. Ray, the free world salutes you. Thank you, Ray.
Trump related a few more real life stories about what is known as the Longest Day, unimaginably harrowing. God was with the Allied troops.
Trump concluded:
The men behind me will tell you that they are just the lucky ones. As one of them recently put it, "All the heroes are buried here." But we know what these men did. We knew how brave they were. They came here and saved freedom, and then, they went home and showed us all what freedom is all about.
The American sons and daughters who saw us to victory were no less extraordinary in peace. They built families. They built industries. They built a national culture that inspired the entire world. In the decades that followed, America defeated communism, secured civil rights, revolutionized science, launched a man to the moon, and then kept on pushing to new frontiers. And, today, America is stronger than ever before.
Seven decades ago, the warriors of D-Day fought a sinister enemy who spoke of a thousand-year empire. In defeating that evil, they left a legacy that will last not only for a thousand years, but for all time — for as long as the soul knows of duty and honor; for as long as freedom keeps its hold on the human heart.
To the men who sit behind me, and to the boys who rest in the field before me, your example will never, ever grow old. Your legend will never tire. Your spirit — brave, unyielding, and true — will never die.
The blood that they spilled, the tears that they shed, the lives that they gave, the sacrifice that they made, did not just win a battle. It did not just win a war. Those who fought here won a future for our nation. They won the survival of our civilization. And they showed us the way to love, cherish, and defend our way of life for many centuries to come.
Today, as we stand together upon this sacred Earth, we pledge that our nations will forever be strong and united. We will forever be together. Our people will forever be bold. Our hearts will forever be loyal. And our children, and their children, will forever and always be free.
May God bless our great veterans. May God bless our Allies. May God bless the heroes of D-Day. And may God bless America.
The Q Tree has full coverage, including this 90-minute video of the day's commemorations:
This is NBC's video, which begins with an analysis of D-Day:
French president Emmanuel Macron also addressed the American veterans. I was in France at the time and watched part of his speech on BFMTV. It was highly evocative and really captured the idea of Americana. Whoever wrote it should get a pay rise. I was very moved by it. He spoke, as did Trump, of young soldiers from farms in the Midwest mixing with their comrades from Manhattan and New Jersey, writing their girlfriends farewell letters.
Afterwards, Macron shook hands with all the veterans and spoke with each individually. I'm not a Macron fan at all, but I have to give him credit for that.
Trump tweeted a short video recapping his day in Normandy:
This is the view of the Trumps' departure, returning to Ireland before flying back to Washington:
Reflecting on D-Day, someone online posted this excellent graphic from Gab:
We should be so grateful for everything that God has given us — especially peace and freedom in the Western world.
However, it would also be prudent to look at how we have squandered the opportunities for our young people in peacetime. The safe space generation is not equipped to deal with the horrors of life such as it is.
May the good Lord grant us the wisdom to get us out of a navel-gazing attitude towards one of genuine progress and ingenuity, such as that of the post-war years.
In closing, let us give thanks to the Greatest Generation for their immense courage and bravery.
On Monday, June 3, 2019, President Donald Trump and First Lady Melania Trump arrived in London for a three-day State Visit:
The Daily Mail has a full itinerary of the trip.
The president's adult children accompanied them, along with Cabinet members and senior staff.
America's first couple stayed at the US ambassador's residence in Regent's Park, Winfield House. The Trump offspring stayed at the Corinthia Hotel in central London.
Monday was packed with events for the Trumps. This video recaps the day, which began by landing at Winfield House, meeting the Queen for lunch at Buckingham Palace, taking tea as guests of Prince Charles and the Duchess of Cornwall at Clarence House and being the guests of honour at a State Dinner at the palace:
I was out of the country at the time and wanted to have a record of his trip by posting about it here. I am not sure how much made the media outlets and how it was reported.
One thing that did surprise me — and my better half, who is English — was that the president spoke with the honour guard as he was inspecting them. Both of us were shocked. This is a no-no. Then, Prince Charles did the same. See a brief glimpse at 11:40:
France's BFMTV showed much more of Trump's talking to the honour guard. The French commentators were equally surprised.
Meanwhile, the Queen, her daughter-in-law Camilla Duchess of Cornwall and Mrs Trump enjoyed a light moment:
Afterwards, the Queen hosted a private lunch and showed the Trumps various items and documents from the Royal Collection pertaining to the United States.
Then it was time to go to Westminster Abbey. The Duke of York — Prince Andrew — accompanied the Trumps, who received a tour of the Abbey from clergy and placed a wreath at the tomb of the Unknown Soldier. Despite its title, the video below does not include tea with Prince Charles but does have extensive coverage from the visit to Westminster Abbey:
The State Banquet took place that evening:
Protests took place outside the palace, but guests were undisturbed:
As one would imagine, much preparation went into this dinner:
This is what the ballroom looked like as the Queen's guests filed in:
Sarah Sanders, who also accompanied the Trumps on their 2018 visit to Windsor Castle, will have another lovely memory of her time as press secretary:
At the State Banquet, the president remembered the events of D-Day and those who bravely fought for freedom:
He also made another faux pas. Like Michelle Obama, he touched the Queen. Unlike Michelle Obama, he did it twice. The Daily Mail reported (emphases mine):
The Special Relationship between Britain and the United States was reaffirmed last night with moving toasts in the Buckingham Palace ballroom as Donald Trump clinked glasses with the Queen and patted her shoulder having called her a 'great, great woman'.
Amid the splendour and ceremony of a state banquet for 170 dignitaries and guests, the US President thanked the monarch for her 'gracious hospitality' and 'nearly seven decades' of personal friendship with the United States.
He spoke of the Blitz and the bombing of Buckingham Palace, saying that 'in their dark hour the people of this nation showed the world what it means to be British'.
He praised the Queen a 'great, great woman' recalling her service on the Home Front during the war, and said 'the bond between our nations was forever sealed in that great crusade'.
He said the Queen embodied 'the spirit of dignity, duty, and patriotism that beats proudly in every British heart'.
Raising his glass the 45th President of the United States said: 'On behalf of all Americans, I offer a toast to the eternal friendship of our people, the vitality of our nations and to the long cherished and truly remarkable reign of Her Majesty, the Queen.'
Shortly before retaking his seat Mr Trump appeared briefly to breach royal protocol by placing his hand on the Queen's back in a gesture of personal thanks. By tradition the Queen should not be touched, but the President's host seemed unperturbed following his warm personal toast.
In her address, the Queen welcomed the Trumps, celebrated the Special Relationship between the UK and the US, and while Brexit was not mentioned she highlighted how the two countries faced 'new challenges of the 21st century'. 
The article includes a brilliant set of photos, by the way.
Here is another terrific photograph:
The Queen's remarks followed:
Mr President,
I am delighted to welcome you and Mrs Trump to Buckingham Palace this evening, just twelve months after our first meeting at Windsor Castle. Visits by American Presidents always remind us of the close and longstanding friendship between the United Kingdom and the United States, and I am so glad that we have another opportunity to demonstrate the immense importance that both our countries attach to our relationship.
In the coming days, you will see some of our most treasured historical buildings, speak to the business leaders whose expertise and innovation drive our economies, and meet members of our Armed Services, past and present. You will also travel to Portsmouth and Normandy to commemorate the 75th Anniversary of D-Day.
On that day – and on many occasions since – the Armed Forces of both our countries fought side-by-side to defend our cherished values of liberty and democracy. Mr President, in your State of the Union Address this year, you paid tribute to some of the American heroes who risked their lives, and we owe an immeasurable debt to the British, American and Allied soldiers who began the liberation of Europe on 6th June 1944.
I paid my first State Visit to your country at the invitation of President Eisenhower. As Supreme Allied Commander, he had ultimate responsibility for the execution of the Normandy landings. In his headquarters in St James's Square – not far from Buckingham Palace – British and American officers worked closely together to plan the freedom of a continent, and it would be no exaggeration to say that millions of lives depended on their common endeavour.
As we face the new challenges of the Twenty First Century, the anniversary of D-Day reminds us of all that our countries have achieved together. After the shared sacrifices of the Second World War, Britain and the United States worked with other allies to build an assembly of international institutions, to ensure that the horrors of conflict would never be repeated. While the world has changed, we are forever mindful of the original purpose of these structures: nations working together to safeguard a hard won peace …
Mr President, as we look to the future, I am confident that our common values and shared interests will continue to unite us. Tonight we celebrate an alliance that has helped to ensure the safety and prosperity of both our peoples for decades, and which I believe will endure for many years to come …
The Queen then proposed a toast:
At the end of the day, Trump tweeted:
Protests did take place around the country, but a crowd of well wishers was on hand in front of Buckingham Palace to greet him.
Events on Tuesday, June 4 involved talks about trade:
More protests took place in London:
Interestingly, Prime Minister Theresa May and President Trump did not shake hands when he and his wife arrived:
The Trumps received a tour of No. 10:
Mrs Trump was with Mr May during the meeting between the president and our outgoing Prime Minister:
Here are clips from the May-Trump press conference:
Meanwhile, a British woman burst the Trump baby balloon. Great news, even if she was arrested:
The Gateway Pundit reported:
"I'm going in..I'm going," the woman says as she walked up to the baby Trump blimp.
The woman then stabbed the blimp with a pen and a small popping sound is heard followed by gasps from onlookers.
The woman screamed "It's a national a disgrace! The President of the United States is the best President ever! Shame on you!" after she popped the balloon.
Police quickly moved in for the arrest as the woman walked away.
"It's going down baby," the woman said as police approached her and cuffed her.
The woman, whose hand was bleeding, had a fiery exchange with the police and pleaded for them to stop manhandling her.
That evening, the Trumps hosted a dinner for Prince Charles and the Duchess of Cornwall at Winfield House:
The Daily Caller has more photos.
It should be noted that the Trumps did not experience all the trappings of a full State Visit, which includes staying at a royal residence and addressing either house of Parliament.
The Washington Examiner explained:
… royal watchers said the Trumps will be missing out on many of the trappings of a state visit, such as staying at Buckingham Palace. "Not being invited to speak before Parliament is testament to the fact they know he is going to be rude and there's going to be massive protests," said Marlene Koenig, an author and expert on British and European royalty.
"They are doing the bare minimum of what they would do for a state visit of a major ally."
…
Several honors afforded visiting American presidents or other heads of state will be missing.
He will not get the usual welcome in Horse Guards Parade, the grand parade ground in central London where visiting heads of state are usually invited to inspect the honor guard with the queen before a carriage procession to Buckingham Palace.
Instead, he will follow the example of President George W. Bush, who was given his royal welcome in the garden of Buckingham Palace in 2003 because of fears protesters would line the route through London …
Trump will not get to stay at Buckingham Palace with the Queen. Both Bush and Obama, the only two American presidents to have been granted official state visits, stayed at the royal residence, but Trump has been told that renovations to the east wing of the palace meant its guest rooms were out of service …
The run-up to this visit featured speculation about whether Trump would be invited to address the British Parliament.
In the end, the speaker — the figure who presides over the House of Commons and who had previously said Trump's attendance would run counter to Parliament's longstanding opposition to sexism and racism — said he had not been asked by British officials to host the president. Presidents Obama, Jimmy Carter, Ronald Reagan, and Bill Clinton all addressed Parliament.
A U.K. official said Trump had not requested to address Parliament. "The president not asking to do that is the norm," he said. On both sides of the Atlantic, a mutually-convenient cover story of Trump not being asked to be invited in order to avoid being told he will not be invited appears to have been adopted …
Previous visits have sometimes reflected the warm relations between individual leaders.
In 1982 the queen invited Ronald Reagan to stay with her at Windsor Castle and took him horse riding. A decade late, Bill and Hillary Clinton were treated to a night aboard the royal yacht Britannia.
And in 2011, Obama grilled sausages with David Cameron in the garden of Number 10 during an event for British and American service personnel.
That said, in summing up his stay in the UK, Trump tweeted:
I will cover the president's attendance at D-Day commemorations in Portsmouth and in Normandy in tomorrow's post.
When I was a nipper, I was very grateful when plastic straws first appeared on the market and in restaurants.
That was in the mid- to late 1960s.
Finally, I could suck as hard as I wanted to on my soft drink.
Paper straws are upsetting for children. They are unaware how quickly paper straws become soggy.
Kids love to see how hard they can suck on a straw whilst drinking a beverage. They also like blowing into a straw and watch their milk bubble up.
Children need plastic straws.
I am proud to say that, as an adult, I have a surfeit of plastic straws: three or four boxes purchased over the past few decades, totalling 900+.
It is just as well, because, following the example of America's loony-tune West Coast (apologies to the sensible souls there), England will ban plastic straws — as well as stirrers — from April 2020.
What is wrong with our once great nation?
On May 22, The Guardian reported:
Plastic straws and drink stirrers, and cotton buds with plastic stems will be banned from sale and use in England from next April, the government has confirmed.
The move, which has been in the offing for more than a year, is hoped to vastly reduce the litter and other environmental impacts of the nearly 5bn plastic straws currently used each year in the UK, along with more than 300m plastic stirrers and close to 2bn cotton buds with plastic stems.
Huge numbers of these items, particularly cotton buds, are flushed down toilets or otherwise end up in litter – surveys have recently found waterways across the UK teeming with plastic, putting wildlife at risk.
I have seen a lot of rubbish in my time, but I have rarely seen a plastic straw discarded as litter.
Only the disabled or someone with a medical need will be allowed a plastic straw. The government must add children to that list!
Think of the children!
This is especially irritating. It is shameful for Theresa May's office to be putting out a tweet like this when she should have given us Brexit on March 29, 2019. Ironically, the day this tweet came out was a very difficult one for her regarding Brexit. Never mind plastic straws. She could be out of office shortly for not delivering as pledged:
It doesn't matter how many plastic straws are used. What matters is how they are disposed of.
Furthermore, we are not talking about a UK-wide ban — only one in what used to be Merrie Olde England!
I have not finished writing about the humble and useful plastic straw. At least another post will appear on that great invention at some point.
In closing, as if that were not enough, eco-warriors also want to ban balloons:
… the items expected to be banned were only part of the plastic problem, said Emma Priestland, campaigner at Friends of the Earth. "These three items are just a fraction of the single-use nasties that are used for a tiny amount of time before polluting the environment for centuries to come," she said.
"Ultimately, we need producers to take responsibility for the plastic pollution caused by all their products, whether it's bags, balloons, packets, containers or otherwise. That's why we're campaigning for legislation to cut back on pointless plastic across the board."
These people are joyless. That includes our Scottish-born environment secretary Michael Gove.