You are currently browsing the tag archive for the 'Therese Coffey' tag.
Thursday, November 17 is a historic day, because the UK will be seeing a return to high taxes, this under a 'Conservative' government.
I'm writing this before Chancellor Jeremy Hunt gives his budget, or 'statement', but Guido Fawkes has a preview, which includes this:
Cutting capital gains tax allowance from £12,300 to £6,000;
Raising dividend tax rate across all three bands and cutting tax-free allowance to £1,000.
Shocking.
On the other hand, we have this:
Raising benefits in line with inflation;
Protecting the triple lock on pensions.
Liz: 'No new taxes'
Let us cast our minds back to Liz Truss, who did not want to penalise ordinary Britons:
Clearly, she was the wrong person for Prime Minister.
Since Rishi became PM, I have read very little criticism of him in the media, recalling that, for whatever reason, they all wanted him in No. 10.
And, now that he is in No. 10, everything has been rolled back to a very Establishment Government, including the Treasury. There is no criticism of Jeremy Hunt, either, even though his budget will have a deleterious impact on Britain's middle class.
Rishi's Cabinet is more of the same old, same old, as I wrote yesterday. The media don't criticise him for it, either.
Liz's refreshing Cabinet
Liz made some splendid Cabinet appointments, some of which I covered yesterday.
Two others included Jacob Rees-Mogg as Business, Energy and Industrial Strategy Secretary and Simon Clarke as Levelling Up Secretary.
Out were Boris's chaps, including Steve Barclay …
… Grant Shapps …
… and Dominic Raab, whose departure was also warmly welcomed. Note the warning in the reply tweet:
Interestingly, she kept Kit Malthouse, transferring him from Policing to Education. I, too, would have preferred Kemi Badenoch in that post:
Liz gave Tom Tugendhat, one of the summer's Conservative Party leadership candidates, his first Cabinet role, one which he holds on to today under Rishi Sunak — that of Security Minister.
The Times noted that there was no longer a Minister for Women in Cabinet, which is a good thing. This is a hangover from Tony Blair's time:
Liz Truss will not have a cabinet-level minister for women, having handed the equalities brief to a man.
Truss was minister for women and equalities in conjunction with her role as foreign secretary before she became prime minister on Tuesday.
The ministerial post, which Truss had held since February 2020, means taking charge of the government equalities office (GEO), which was created in 2007. This oversees government policy on women, sexual orientation, transgender rights and related issues.
Truss has appointed Nadhim Zahawi, the new chancellor of the Duchy of Lancaster, to succeed her in the position. Because he is a man, it was decided his title would be minister for equalities. But No 10 confirmed yesterday that his job was the same as when Truss held it …
The title of minister for women was created by Tony Blair in 1997, before the GEO was set up …
With regard to education and diversity, Liz's Cabinet was a testament to opportunity in the United Kingdom.
On Thursday, September 8, The Times told us that she had the most privately-educated Cabinet since John Major's time (1990-1997):
The new prime minister's cabinet are more than nine times more likely to have gone to an independent school than the general population, according to analysis by the Sutton Trust, a social mobility charity.
It found that 68 per cent of the cabinet were educated at fee-charging schools, while 19 per cent went to a comprehensive and 10 per cent attended a grammar school. This compares with around 7 per cent of the wider population.
Under Boris Johnson's first cabinet, 64 per cent of members were alumni of private schools and the proportion is more than twice that of Theresa May's 2016 cabinet, of which 30 per cent were privately educated.
David Cameron — who like Johnson attended Eton — appointed 50 per cent alumni of private schools in his first cabinet and for the 2010 coalition cabinet the proportion was 62 per cent …
The article noted that Liz herself attended a private secondary school:
Roundhay School in Leeds. She was criticised during her leadership campaign for suggesting the outstanding school, in an affluent suburb, had low expectations and a lack of opportunity.
Margaret Thatcher and John Major had higher percentages of privately educated Cabinet members:
John Major (71 per cent in 1992) and Margaret Thatcher (91 per cent in 1979).
The Sutton Trust disapproved of Liz having such a high proportion of privately educated Cabinet members, but, considering how diverse everyone was, it was a positive optic.
Thankfully, on Sunday, September 11, The Sunday Times pointed out 'Cabinet heavyweights crown the success of post-colonial African migrants'. Why hadn't the Sutton Trust done a press release on that?
The article said:
The sound of glass ceilings cracking could be heard all over Whitehall last week, as Liz Truss announced her first cabinet. With the elevation of Kwasi Kwarteng to chancellor of the exchequer, Suella Braverman to home secretary, James Cleverly to foreign secretary and Kemi Badenoch to trade secretary, Truss's cabinet represents the most diverse ruling cadre ever appointed in Britain. At least when it comes to ethnicity.
The arrival of these individuals into the great offices of the British state also represents the culmination of an extraordinary and underplayed success story: post-colonial African migration into the UK. All four are children of parents who arrived in the waves of late 20th century migration that followed the retreat of the British empire.
Kwarteng's parents came from Ghana in the 1960s. Although Braverman's parents are of Indian ethnicity, they lived in Kenya and Mauritius before emigrating to the United Kingdom in the 1960s. Cleverly's mother emigrated from Sierra Leone in that decade. Badenoch's parents both come from Lagos, Nigeria. Although Badenoch is British, she spent much of her childhood there.
Furthermore, previous Cabinet members at the time also had parents who emigrated from Africa:
Two recently departed cabinet heavyweights, Priti Patel and Rishi Sunak, also have parents who migrated to Britain from east Africa: Uganda in Patel's case, Kenya and Tanzania in Sunak's. Each individual story is different of course, and all faced a variety of economic and social hurdles to success in Britain. But taken together, they reflect a journey from post-imperial Africa to the very heart of the British establishment, over the course of just two generations.
And, they are all Conservatives!
Jimi Famurewa, food critic for the Evening Standard and author of a new book, Settlers, about African migration to Britain, told The Sunday Times that private education for African immigrants was very important:
My family and a lot of families from west African countries that came here in the 1980s were very aspirational middle class. There's a huge culture around the importance of education, across the African diaspora. It's drummed into you that that's your route to success.
It was really important to my parents that if they were in any way able to send us to private schools, that's something they would do.
Education was seen as the silver bullet to advance socially and professionally. You can see reverberations of that in people like Kemi and Kwasi.
He was not surprised they are Conservative rather than Labour MPs:
Given their generally middle-class background and private education, it is perhaps no coincidence that many of the first black or Asian figures to hold the great offices of state are Conservative MPs. "It doesn't hugely surprise me that they are all Conservatives," said Famurewa. "By and large west African families are quite socially conservative in their beliefs."
On a lighter note, the previous Leader of the House, Mark Spencer, received a food brief as Minister of State for the Department for Environment, Food and Rural Affairs (DEFRA).
Someone on Twitter did a play on words with Marks & Spencer's advert, including their brand Simply Food:
Thérèse Coffey's plan for the NHS
Yesterday, I mentioned Liz's Secretary for Health and Social Care, Thérèse Coffey. I neglected to mention that Coffey was also her Deputy Prime Minister.
Coffey is shown here at a 2015 Spectator summer party. Yes, she enjoys cigars:
The photo shocked those on social media:
On Wednesday, September 7, the Mail's Andrew Pierce told us that Coffey, whom Liz refers to as Tiz, is her long-time confidante:
Truss knows she owes a large part of her victory to her ever-faithful parliamentary companion. She has rewarded her lavishly – appointing her as Deputy Prime Minister and Health Secretary.
In a cut-throat political world, Coffey has shown absolute loyalty to her new boss over many years. She not only ran Truss's successful campaign against Rishi Sunak for the leadership, but wisely persuaded her not to stand against Boris Johnson in the 2019 leadership contest – paving the way for her to become his successor instead.
The two have been friends since their student politics days more than 25 years ago and are known by some colleagues as 'Yin and Yang'. Truss refers to Coffey affectionately as 'Tiz'.
Interestingly, they started out as rivals, running against one another to be the Tory parliamentary candidate in South West Norfolk in 2007. It was Truss who triumphed.
She then took Coffey under her wing, coaching her on how to raise her game in selection meetings. Coffey was duly chosen for the neighbouring Suffolk Coastal constituency in 2010.
The two share a love of karaoke – which has got them into trouble in the past. Their regular karaoke evenings on the ministerial corridor in the Commons have on occasion become so boisterous that they were ticked off by Parliamentary authorities.
Coffey herself has had her own problems with karaoke – and they were nothing to do with how tuneful she is. During the 2021 Tory conference in Manchester, the then Work and Pensions Secretary was filmed at 1am belting out the classic song from the film Dirty Dancing, (I've Had) The Time Of My Life.
Alas, only one hour earlier, her department had withdrawn the £20 weekly increase in universal credit for benefit claimants introduced during the pandemic. Coffey was upbraided over her lack of tact and her insensitive choice of song. She now prefers singing Queen's Don't Stop Me Now.
However, Coffey has never lived down a picture taken at a Spectator magazine party in 2015 at which she was snapped puffing away on a large cigar and clutching a glass of champagne.
'I do enjoy a cigar. I hadn't realised I had spilt something on my top. I looked very odd. You'll never see me smoke a cigar in front of anyone again,' she said later. 'It's not a photograph I'm proud of.'
But despite all her faux pas, she is generally regarded as a safe pair of hands who avoids controversy …
Both campaigned for Remain in the 2016 referendum and both backed Boris Johnson in the 2019 leadership contest. Truss was made Foreign Secretary, while Coffey entered the Cabinet as Work and Pensions Secretary.
A proud Scouser, Therese Anne Coffey was brought up in Liverpool. The daughter of two teachers, George and Alice, who worked in state schools, she was privately educated at St Mary's College boarding school in North Wales and remains a practising Catholic to this day.
After sixth form at St Edward's College in Liverpool (a grammar school that has since turned independent) Coffey read chemistry at Somerville College, Oxford – the same degree course at the same college as her political heroine Margaret Thatcher.
It was Thatcher's battle with Militant Tendency, a Marxist group that had infiltrated Liverpool's council and driven the city to the edge of bankruptcy in 1985, that converted Coffey to Conservative politics. She was only 14 when she joined the Young Conservatives.
By the time Mrs Thatcher visited Somerville College in 1994, the Tories were languishing in the polls behind Labour's telegenic leader Tony Blair and many students had to be dragooned into a line-up to greet her. But one student – Coffey – broke ranks and ran noisily across the concourse to shake Mrs Thatcher's hand.
After university she qualified as a chartered accountant, serving as finance director for Mars and as a finance manager at the BBC – one parallel with Truss, a chartered accountant who became economic director at Cable & Wireless.
Coffey's Roman Catholicism defines her worldview, says Andrew Pierce. She has never married — and she is Liz's next door neighbour in Greenwich. Kwasi Kwarteng lives nearby.
In 2018, Coffey became gravely ill because of an ear infection, which spread to her brain. She was diagnosed with meningitis and required hospitalisation as well as an operation. She was in hospital for one month:
At times, she had difficulty forming sentences and suffered memory loss. When her sister Clare, who runs her parliamentary office, came to visit, she said: 'I have forgotten what these things on my feet are called.' She was pointing at her slippers.
She later said she felt she'd had a 'near miss' and her recovery had made her enjoy life, adding: 'You realise that you can be gone tomorrow. Cherish what you have.'
Liz was a regular visitor while her friend was in hospital – and again when she was recuperating at home.
On Thursday, September 8, The Times told us about Coffey's plan for greater efficiency in the NHS:
Thérèse Coffey has demanded to know why all GPs and hospitals cannot match the best performers as she attempts to fulfil Liz Truss's promise of enabling people to see a doctor easily.
The new health secretary said she wanted to set out "clear expectations" for the NHS after Truss said that dealing with the dire state of the health service would be a priority for her government. Coffey acknowledged yesterday she was not a "role model" after being criticised on social media about her weight and smoking …
Coffey has said her "A-B-C-D" priorities will involve focusing on ambulances, backlogs of routine treatment, care, doctors and dentistry.
She is due to set out her plan for the NHS next week but is understood not to have yet finalised specific actions. However, Coffey has asked for detail on "unwarranted variation" in the NHS, including ideas on how this could be used for performance management of hospitals and GPs …
The MP for Suffolk Coastal added: "My focus is on how we deliver for patients and I appreciate I may not be the role model but I am sure the chief medical officer and others will continue to be role models in that regard and I will do my best as well."
Coffey had to take an early morning newsround, the first of the new premiership. LBC listeners discovered that the 50-year-old enjoys rap music, too:
"I've just realised my alarm is going off on my phone, I apologise," Coffey said. "You're getting a bit of Dr Dre. It's just an eight o'clock alarm."
The song was Still D.R.E., a 1999 track by Dr Dre, the American rapper, featuring Snoop Dogg. Dre, 57, whose real name is Andre Young, was a member of the rap group N.W.A. before becoming a solo artist and producer. Coffey is known as Dr Coffey thanks to her doctorate in chemistry from UCL.
No. 10 advisers
Liz also cleared out Boris's advisers from No. 10.
On Tuesday, September 6, The Telegraph reported (emphases mine):
Liz Truss has appointed a new chief economic adviser who previously warned against heavy-handed green energy measures and wrote a book on how to shrink the state.
Matthew Sinclair – described by former colleagues as a "safe pair of hands" – has been appointed as the country faces an unprecedented rise in energy costs amid Russia's war in Ukraine.
He will enter Downing Street as part of an inexperienced top team under the new Prime Minister, after she ordered a mass clear out of officials who had served under Boris Johnson.
Ms Truss wielded the axe shortly after taking power on Tuesday, with even … Mr Johnson's deputy chief of staff David Canzini, who had been tipped to stay on at No 10 – failing to survive the cull.
Mr Sinclair has held a number of roles in the private sector, most recently at the accounting firm Deloitte, where he led its work on the digital economy. He has also worked on projects for the UK and European Parliaments.
The 38-year-old previously rose through the ranks of the Taxpayers' Alliance, joining as a policy analyst but rising to chief executive in 2012. During this time, he made the case for small government, low taxes and ensuring British families get value for money.
Matthew Elliott, founder of the Taxpayers' Alliance, who hired Mr Sinclair, said: "He is very much an ideas person, but he's able to deliver the detail in spades. That's going to prove very useful in government" …
He has also spoken out in favour of clear tax and spending rules, with fiscal targets and a system that prizes simplicity, as well as abolishing unnecessary quangos, maintaining a lean civil service, and decentralising power.
Mr Sinclair has also criticised MPs for using "climate change as an excuse to take your money".
Clearly, supporting the public would turn out to be too good to be true. This could not last.
Matthew Sinclair's former boss, Andrew Lilico, wrote a glowing recommendation for The Telegraph:
Liz Truss's new chief economic adviser is Matthew Sinclair. In the Westminster world, Matthew is probably best-known for his stint as Chief Executive of the Taxpayers' Alliance, arguing vigorously for all kinds of cuts to public expenditure, against tax rises and for greater transparency in taxes (including the campaign to get beer duty reported on till receipts and the end of the "fuel duty escalator"). He went on from there to work for me at Europe Economics as an economics consultant, doing hard-core economics projects for bodies such as the European Parliament on the sharing economy, the Department for Business on theories of competition in online platforms, and the Woodland Trust on the economic value of trees. He moved on from us to Deloitte, where until now he has been a Director in the Economic Advisory team, leading its work on the digital economy …
He was a keen Brexiteer when the moment came, but having worked on projects for the EU agencies, he understands why they function as they do and their strengths as well as their weaknesses. His Italian wife also offers him an additional European perspective. No caricatured anti-European he. As well as wanting to diverge from the EU he will be keen that policy should learn from them where what they do is good.
Unafraid to look at the world squarely and challenge his own points of view, he likes to consider what would make his beliefs and recommendations prove to be wrong, after the event, as well as what might prove them to be right. Politically pragmatic and savvy, we can expect him to be closely interested in whether enough MPs might support this or that measure to get it through, as well as whether it would be right in an ideal world.
On Wednesday, September 7, the Mail told us more about Liz's other advisers:
Mark Fullbrook, a former business partner of the Tory strategist Sir Lynton Crosby is set to become Miss Truss's chief of staff, despite initially running the campaign for her rival Nadhim Zahawi.
Jason Stein, who worked with the new Prime Minister when she was chief secretary to the Treasury and helped her leadership campaign, will come on as a senior adviser with Ruth Porter, who worked with Miss Truss when she was justice secretary.
Adam Jones, who ran Miss Truss's communications operation during her leadership campaign will be political director of communications. John Bew, Boris Johnson's foreign policy adviser, is the only one to stay on with Miss Truss, having worked with her when she was foreign secretary.
Some of the 40 roles that Mr Johnson had in his team will not be filled as Miss Truss attempts to shrink the size of the Downing Street operation in a bid to set an example to the rest of Whitehall.
Miss Truss had said she will wage war on Whitehall waste and make billions of pounds of cuts. It is believed Mr Sinclair will be a key ally in helping her achieve her aims.
In 2012, Mr Sinclair set out a six-point plan to cut Whitehall spending.
His first idea was to abolish the Equality and Human Rights Commission to save £48.9million in funding. Even a decade ago, he complained that the EHRC had taken on 'a campaigning role that is inappropriate for a public sector body'.
This drive for efficiency could not last, could it?
No, it could not. Nor would it.
Shaky perception
The prospect of Liz Truss as Prime Minister had not moved the polls at the end of August, as YouGov demonstrated:
Guido Fawkes wrote (emphases his):
Labour leads the Tories by 15 points, 43% to 28%. It is a big mountain to climb before the next election. Good luck…
On September 6, The Telegraph's Allison Pearson analysed Truss's victory and the criticism she received:
Few believe that Truss is the cat's whiskers. Not even on her own side. Of the 172,437 Tory party members who were eligible to vote, 30,712 didn't bother at all and 60,399 voted for Rishi Sunak. It's the narrowest margin of victory since members were allowed to decide. A YouGov poll suggested that only 21 per cent of the public like Truss and, of those who voted Conservative at the last general election, 50 per cent don't trust her.
Even before she was declared the winner, the brickbats were coming thick and fast. I don't use the word misogyny lightly, but I have been shocked by the hateful abuse hurled at Liz Truss by lofty male commentators. "The worst PM ever," suggested one …
Although Truss ended up reading PPE, I'm told by one of her contemporaries that she got into Merton College to read maths. A girl from a Northern comprehensive does not win a mathematics place at Oxford without being seriously clever.
If anything, I reckon it is a slight spoddy tendency, inherited from her maths-lecturer father, which inhibits Truss's ability to communicate with feeling. A deficiency in expressiveness and verbal felicity doesn't mean a lack of thinking power. Quite the contrary. Wiffly, wordy arts graduates have had their turn running the country; time to let the numbers girl have a go.
Pearson was referring to Boris in that sentence.
Also:
Shame on those backbench Tory MPs who are rumoured to be murmuring about confidence votes and slyly manoeuvring against their new leader before she's even got her feet under the desk. Have we really reached a point of such decadence, after 12 years in power, that Conservatives prefer to devote their energies to undermining a loyal friend than smiting the enemy? If so, electoral wipeout in 2024 will be richly deserved – even welcome.
This was a typical anti-Liz comment:
The outspoken Labour MP Chris Bryant who, somehow, had won the Civility in Politics award, said this:
It feels like pretty much anyone with a brain, a conscience and a work ethic has been purged from government either by Johnson or Truss. It's an empty vessel of a government – loud, noisy but dangerously vacuous.
By contrast, when he accepted the award, he said:
Politics doesn't have to be brutal. Our opponents are human and nobody has a monopoly on truth, so I try to be polite, civil and empathetic in every engagement… Manners maketh humanity.
Queen postpones Privy Council meeting
Bad news arrived on Wednesday, September 7, when the Queen postponed a virtual meeting of the Privy Council.
The Queen has postponed a meeting of the Privy Council on the advice of her doctors, Buckingham Palace said today …
"After a full day yesterday, Her Majesty has this afternoon accepted doctors' advice to rest," a spokesman said. "This means that the Privy Council meeting that had been due to take place this evening will be rearranged."
A royal source said that there would be "no running commentary" on the Queen's health.
The meeting was necessary in order for Elizabeth Truss to become First Lord of the Treasury, a title that goes to the Prime Minister. The Mail said:
During the proceedings, Ms Truss would have taken her oath as First Lord of the Treasury and new cabinet ministers would have been sworn into their roles, and also made privy counsellors if not already appointed as one in past.
The Privy Council is a formal body of advisers to the Sovereign of the United Kingdom. As of last month, there were 719 members on the council, with membership lasting for life.
It is composed of politicians, civil servants, judges, members of the clergy as well as Prince Charles and the Duke of Cambridge. 
There is no constitutional issue with the delay to the proceedings, the palace said.
King Charles held the meeting the weekend after his mother died.
On Thursday, September 8, the world was shocked to learn of Her Majesty's death. Earlier that afternoon, the extraordinary news that she was unwell filtered to the House of Commons, where Liz was outlining her energy support plan.
On Saturday, September 10, The Times reported that Liz had a lot on her plate, beginning with her energy statement, knowing that the Queen was dying:
Truss had got to her feet knowing the Queen's death was "imminent". She was with her team in her House of Commons office preparing for the energy statement when she heard …
If Truss is prime minister for a decade she may never have a bigger day than Thursday: a head of government less than two days into the job making an even bigger economic intervention than the pandemic furlough scheme, battling to finalise her ministerial team and facing the death of a beloved head of state whose final public act was to make her prime minister.
However, Liz and her team were beginning what they hoped would be a new era of reform:
The Queen's death robbed the government of media coverage to publicise details of its help for families at a time when the public wants to know how they will deal with soaring inflation. As these problems piled up, the new team began, under the radar, one of the most radical shake-ups of how government is run that anyone can remember. It has left Conservative MPs wondering if Truss has bitten off more than she can chew.
One of the big ructions earlier that week involved Chancellor Kwasi Kwarteng sacking Gordon Brown's Chief of Staff, Sir Tom Scholar, who, inexpicably, had been made Permanent Secretary to the Treasury and served under no fewer than five Conservative Chancellors between 2016 and 2022. Before that, he was the Prime Minister's Adviser for Europe and Global Issues to David Cameron.
Many conservatives were delighted, but, in the Blob (our equivalent of the Swamp), the news did not go down well:
At the start of the week, it looked like officials were being sidelined. Dozens of civil servants in Downing Street received a peremptory email on Tuesday telling them to leave No 10. Sir Tom Scholar, the permanent secretary at the Treasury, was told he was no longer required in his first meeting with Kwasi Kwarteng, the new chancellor. The mood in the civil service was "sulphurous". One official phoned a friend in the Labour Party and said: "They're making a real rod for their own backs."
Liz's ambition for a leaner structure in Downing Street also upset the Blob:
… when photos of Truss's first cabinet emerged on Wednesday morning MPs were surprised to see that not one of her spin doctors or political aides, from chief of staff Mark Fullbrook down, was present. Only Truss's closest civil service aide, Nick Catsaras, her new principal private secretary, was there. One politico from a previous Downing Street regime remarked drily: "The irony was that those people had to be in cabinet when she was a secretary of state as you had to deal with all her leaks."
… "Liz doesn't want a presidential style No 10," an aide said. "She wants it to be lean, professional and relentlessly focused on delivery — policymaking and legislating. You'll see fewer prime ministerial visits, fewer events in No 10, and in its place more meetings on the economy, on energy and the things people really care about."
Ironically, although the Blob were complaining, she was actually giving some among them more power than ever before:
… in this she has handed huge power to the civil servants. One close ally explained: "The good ones will be deeply empowered by her. The civil service are always in the ascendancy with Liz as long as they actually do their job."
When she announced the outline of her energy support plan, she had no details:
Key details of how the plan will work were left unexplained in her statement to parliament on Thursday, not least the estimated cost. Aides argued that this depends on the price of gas. "If I knew what that was going to be in a year's time I would be working for a hedge fund, not the government," one said.
As for a leaner No. 10, some were sceptical it could work. Others remained positive:
Scepticism remains about whether a slimmed-down No 10 can really deal with the challenges it faces. A former No 10 aide said: "PMs always go in with some great new structure that will streamline things and then discover they've just handed away power before spending 12 months scrabbling to get it back" …
… from their point of view, the new team has been tested early, something that will stand them in good stead through the turbulence ahead. "Officials have described it as the busiest week in No 10 in living memory," an aide said. "We had no idea when we wrote the line 'Together we can get through the storm' into Liz's Downing Street speech how apposite it would come to feel."
In policy areas, Liz was keen on fracking and, towards that end, sacked the eco-friendly Lord Goldsmith in his DEFRA ministerial post in the House of Lords.
On Friday, September 16, Guido reported:
Despite the reshuffle being formally paused until after the Queen's funeral, Liz Truss has ploughed on with sacking Tory tree-hugger-in-chief Zac Goldsmith from his DEFRA ministerial post. While the government is still paying lip service to the Net Zero target, they've signalled climate and animal welfare issues could be de-prioritised over the coming months. The Guardian speculates that the Animal Welfare Bill could be first up for slaughter. The PM's next royal audience should be interesting… 
The news comes as The Guardian reports Liz is planning to follow through on her leadership election pledge and lift the ban on fracking as soon as possible, with first licences set to be issued as early as next week. This will no doubt come as welcome relief as energy bills continue to rise during winter. The decision comes despite the paper's ominous quote from a forthcoming report that forecasting fracking-induced earthquakes "remains a significant challenge". In August 2019 Caudrilla halted work after recording the UK's "biggest fracking tremor". The tremor in question was 1.55ML on the Richter scale, "which it likened to 'a large bag of shopping dropping to the floor'"…
Former Labour adviser John McTernan wrote an article for UnHerd, saying that Liz's policy strategy could unhinge Labour:
The abandonment of the sugar tax, and possibly the entire government anti-obesity strategy has been floated. As has ending the cap on bonuses in the City. These give the flavour of what the 100 Days Plan must have looked like. Sir Lynton Crosby famously talks of "getting rid of the barnacles": that before a government can campaign effectively, it needs to rid itself of unnecessary distractions. These could be unpopular policies, ungrasped nettles, or unresolved disputes, but the Queen's death has prevented this, disrupting the Government's momentum.
… The Prime Minister wants to govern as she campaigned for the leadership. Directly, clearly and simply. She has said she wants a smaller state, and Labour have taken the bait. Without waiting to see any government policy, some Labour frontbenchers have immediately attacked Truss as a Thatcherite intent on cutting public spending. That's hard to argue in the face of the energy price cap — one of the biggest unfunded public spending commitments ever made by a UK government.
Worse, it showed that some in Labour haven't been listening to Truss, or taking her seriously. There's more than one way to shrink the state — and getting out of people's lives is an effective and popular one. One of the greatest weaknesses of progressive politics is the belief that what the country is crying out for is "more government". A large part of the fuel that drives the campaign against political correctness is the sense that government is over-reaching, interfering in bits of life where it has no place. Liz Truss wants to tap into that. She instinctively knows that most people want to look after themselves, their families and their communities without government interference.
The other headline announcement — uncapping City bonuses — has trapped Labour too. Missing the wood for the trees, opposition frontbenchers have spluttered in outrage at policies that would benefit fat-cat bankers rather than the general public. The point, of course, is what David Cameron's team used to call the politics of "aroma". It is not the specific policy detail that matters; it is the sense of the overall direction. "Hugging a husky" showed a greener, more compassionate, modern Conservative party. Uncapping City bonuses shows a government committed to Go For Growth — no old-fashioned prejudices or well-meaning sacred cows will be allowed to stand in the way. The point is to grow the pie, not, as Labour want, to talk about tax and redistribution of the proceeds of growth.
Note what he says about Rishi Sunak:
Is this a risky approach? Yes. Is it a clear one? Absolutely. The trap for Labour is that they adopt the Sunak Strategy. Liz Truss's ideas are simplified not simplistic; and as Rishi Sunak's defeat showed, treating the new PM as a simpleton won't win votes. Truss may not have the right answers, but she has asked the right question. Growth is the only game in town. If Truss manages to keep it on The Grid when parliament returns next month, her lost 100 days might not be fatal.
Unfortunately, for the British people, it was the beginning of the end, with all roads leading to Rishi.
To be continued tomorrow.
Yesterday's post looked back at Liz Truss's leadership campaign during the latter half of August 2022.
As September started, most ordinary conservatives were happy to know that Liz was likely to be the next Party leader.
On September 3, the veteran journalist Janet Daley wrote an empathetic column about her for The Telegraph, 'Ignore conventional wisdom: the new prime minister is not doomed'.
CCHQ — Conservative Party headquarters — had not yet finished counting the members' votes, but Daley thought that people would give Liz their support in the face of the cost of living crisis (emphases mine):
Given that virtually everyone in the country accepts that the current dilemma is both desperately urgent and, in the short term, utterly hopeless, Liz Truss will begin her premiership with the lowest possible expectations and, given the inherent fair mindedness of the British population, even a little sympathy …
Whether Daley realised it or not at the time, she hit the proverbial on the head in the second paragraph:
Standing up in the House – or better, at that podium in Downing Street – to address a nation that has been terrified out of its wits by predictions of the devastation that is to come, will look like an act of singular bravery and resolve. Most of the country, apart from sworn partisan enemies (the most pathologically vicious of whom are inside her own party), will be willing her to succeed in whatever terms success can be measured, against the impossible odds. She will not have a honeymoon as such, but she can gain points for rigorous resolve and determination – especially if she seems to be in touch with the justifiable fears of real people. That will be the key to it. Every word, every pronouncement, every policy will have to be communicated with infinite humaneness: genuine compassion for the impact that this crisis is having on daily life and future prospects …
Although this was Daley's prediction at the time, this is how things played out with most fair-minded voters:
Ordinary people who do not have an ideological dog in the fight know that this is uncharted territory. What disagreements there are – and will continue to be – over the right way to proceed will be accepted as reasonable argument and not necessarily discrediting to the sitting government providing that it remains proactive and committed.
I particularly liked the next bit, which posited that, as the year went on, things might turn out to be less gloomy than forecast during the summer:
… there is the possibility of some good (or less bad) news in the coming months. What if the combined efforts and ingenuity of the Western economies produce more optimistic projections for energy subsistence sooner than was expected? Already we hear that gas storage in Europe is exceeding expectations and, as a result, commodity prices are beginning to fall.
However, Daley, for all her brilliance, did not foresee the savage attack from Liz's fellow MPs.
North of the border, Scotland's First Minister Nicola Sturgeon was still seething that Liz had called her an 'attention seeker' during the campaign:
During her premiership, Liz never did contact Nicola Sturgeon.
On Monday, September 5, these were the main news stories. We could rely on The Independent for negative stories about our new Prime Minister: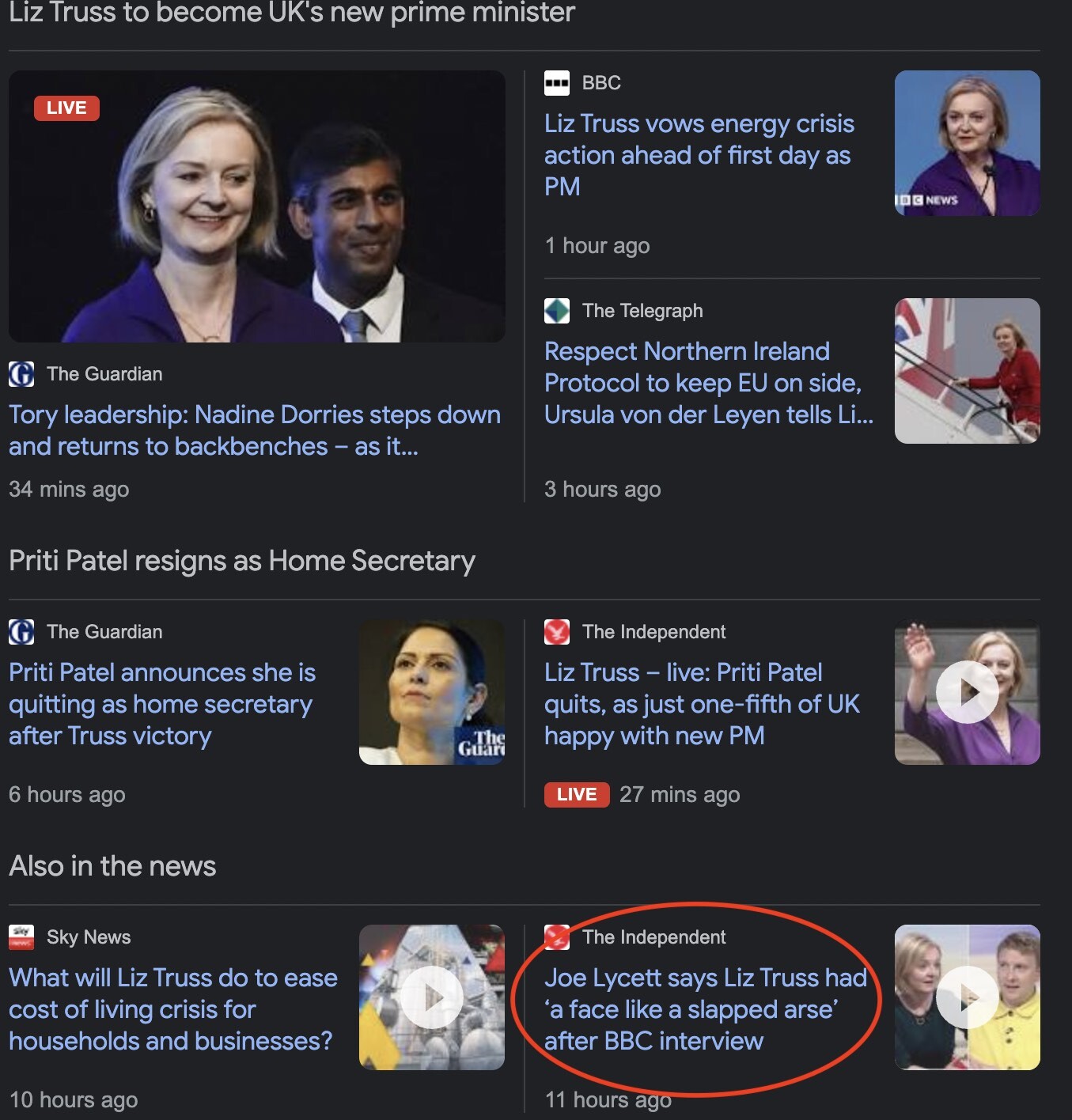 The Mail on Sunday's Dan Hodges was thrilled. He had predicted Liz's ascendancy on Boxing Day 2021:
His article says that Liz's rise began when she replaced Dominic Raab as Foreign Secretary. During his time in post, he said that all ministers (MPs) serving under him were to be called Junior Ministers (JMs) rather than Ministers. The MPs were none too happy with that move.
Then, when Biden's sudden withdrawal from Afghanistan took place in mid-August 2021, Raab was on holiday in the Mediterranean with his family. Boris replaced him with Liz:
On her first day in the job, she issued a note to her officials ordering the JM designation be dropped.
'Liz gets it,' a Minister said. 'She knows how to treat her colleagues properly. It's one of the reasons she's been so successful.'
Spectacularly successful. 2021 has been Liz Truss's year …

She's now in charge of masterminding the final fraught stages of Britain's EU exit.
And – were Boris to suddenly fall beneath a heavily laden wine-and-cheese platter – favourite to replace him in No 10 Downing Street.
At the time Hodges had written his article, Boris was becoming more embroiled in Partygate allegations, which had begun in November 2021.
We thought that Boris had a diverse Cabinet. It was nothing like Liz's, however:
The Mail reported:
Ms Truss is expected to make long-term ally Kwasi Kwarteng chancellor, with Suella Braverman moving to the Home Office and James Cleverly to the Foreign Office.
If selected, Mr Kwarteng would be the fourth non-white chancellor in a row, directly following Sajid Javid, Rishi Sunak and Nadhim Zahawi.
And Ms Braverman would become the third minority home secretary, after Priti Patel and Mr Javid. 
Mr Cleverly, currently the Education Secretary, would become the first ever non-white foreign Secretary.
Cleverly continues in post today under Rishi Sunak, as does Kemi Badenoch, International Trade Secretary and Minister for Women and Equalities:
Would the media — our diversity champions — give her, our third female Conservative PM, any credit? Never:
On a related note, Liz gave us a Health and Social Care Secretary with a fondness for cigars, the likes of which we had not seen since Kenneth Clarke in the 1990s. Here is Thérèse Coffey, one of her close friends, pictured at a Spectator summer party a few years ago:
However, just as important were the people no longer in Cabinet. This is worth noting. Some said later that this is where Liz's premiership became unstuck, that she should have held on to some opponents:
There is expected to be a clear out of Rishi Sunak and his supporters after a bitter blue-on-blue campaign in which he seems almost certain to be defeated.
Into the political wilderness too will go Michael Gove, after serving under the three previous PMs. Dominic Raab, the First Secretary of State, and Boris Johnson himself, are expected to return to the backbenches. Both have question marks over whether they can hold on to their seats at the next election.
I think she did the right thing. We'd seen enough of all of them over the past three years and, in Gove's case, much longer than that.
They would not have been friendly:
Other backbench Conservative MPs were unfriendly, too:
Rishi was unaccustomed to being on the backbenches, and his first opportunity to participate in a debate came that Tuesday afternoon. Guido Fawkes reported:
Backbencher Rishi Sunak making a debate intervention today on "unavoidably small hospitals":
Thank you for accommodating me at a late stage in this debate. I hadn't planned on speaking but this morning I saw the order paper and it turns out I had more time on my hands than I anticipated.
Tuesday's Mail pointed out the Conservatives have had three women PMs. Labour have had none, not even a female Party leader:
We were also entering a new generation of PMs who were younger than we:
Liz's supporters in the media were hopeful:
James Johnson's Politico article said:
The main qualities the public look for from their leaders in the 2020s are honesty, strength and authenticity. It will require care and calibration, but Truss has a path to come closer to these than Starmer.
If she stands in Downing Street on Tuesday and levels with the public about the challenge ahead and tells them to judge her on results in two years' time she will not only create a reputational shield for herself but also have the opportunity to make a novel mark on the public — many of whom will be tuning into her for the first time — as someone who gives it to them straight.
Some have suggested that her more libertarian instincts and views, such as decrying a focus on redistribution, make her unelectable. But voters, especially those new Tory converts in the Red Wall, value consistency — a quality they feel is so lacking in modern politicians — as much as an individual policy position. Focus group attendees praise Thatcher and Blair when asked if there are any politicians they admire not because they agreed with them on everything, but because they felt they held beliefs and stuck with them.
One of Truss' biggest applause lines in one of the early debates was that she is not the slickest media performer, but she gets things done. If she successfully harnesses that sentiment, the ideological gap between her and the public on specific issues or an awkward communication style may matter less …
It could all come undone, of course. Moments in the summer would have been similarly disastrous for Truss in a live election campaign environment. The calibre of her team will be crucial …
There is a pathway for the Conservative Party. If followed, the optimistic scenario for Liz Truss is underpriced.
Like the aforementioned Janet Daley, James Johnson underestimated the opposition on the Conservative backbenches.
After flying back from Aberdeen, the closest airport to Balmoral, Liz gave her first address as Prime Minister. Heavy downpours punctuated the afternoon. The weather, combined with London's rush hour traffic, delayed her. The rain let up long enough for her to give her speech, in which she borrowed a line from Churchill, 'Action this day'. Her husband, Hugh O'Leary, stood on the sidelines:
Liz's first call to a foreign leader was to Volodymyr Zelenskyy to reassure him that the UK would continue to support Ukraine:
One of her economic advisers, Gerard Lyons, was confident that a low-tax economic plan would help to stave off recession:
The cost of living crisis made Wednesday's papers, September 7. These front pages show Liz's husband:
The Telegraph borrowed words from her speech, 'We can ride out the storm':
Wednesday saw Liz's first Prime Minister's Questions (PMQs). This is the full half hour:
She managed to lob a few witty grenades Keir Starmer's way.
To roars of applause from Conservatives, Liz pointed out that there is nothing new about a Labour leader wanting tax rises:
Guido noted that the comment painted Starmer the same colour as his predecessor, the very left-wing Jeremy Corbyn (emphases his):
It only took a free marketeer PM to bring out Starmer's inner Corbynite…
Directing her aim at both Starmer and Corbyn, she asked aloud why Labour can't find a leader who lives outside of north London, home of the metropolitan elite. She also wondered why there had been no female Labour Party leaders (video):
After PMQs ended, Guido said that Liz's Cabinet was more diverse than Labour's shadow team, although you cannot see that in the photo that he posted. He calculated:
… up to seven BAME members: 23% of the total. 
By Guido's reckoning, Labour's shadow cabinet has six ethnic minority members, or a mere 20%.
Meanwhile, Labour continue thrashing the Tories on gender and state school educations. All completely irrelevant, but nonetheless, interesting to note …
That evening, The Telegraph analysed Liz's first full day as PM.
Madeline Grant provided a sketch of PMQs:
Therese Coffey, radiating gung-ho enthusiasm, looked ready to crack out another celebratory cigar. A dazed Suella Braverman wandered into the Chamber via the Westminster Hall route used by most MPs, then remembered she is Home Secretary now and hot-footed it to the "VIP entrance" at the back.
Notable by their absence were Rishi Sunak, and, predictably, Boris Johnson, though Sajid Javid was there …
A huge roar enveloped Liz Truss as she sashayed in, looking sleek in a blue pantsuit – shades of Keeley Hawes in the Bodyguard. The Tory troops, clearly desperate for things to go well, cheered raucously no matter what she said or did. Yet again beating Labour in the identity politics stakes seemed to have sparked particular joy. When Sir Keir Starmer congratulated Truss on her appointment, a Tory backbencher snarled "3-nil!". James Cleverly, the Foreign Secretary, brandished three fingers and jabbed them in the air.
Theresa May also congratulated Truss on becoming Britain's third female prime minister. "Why does she think it is that all three female prime ministers have been Conservative?", she asked. Truss positively beamed at her. "I look forward to calling on her advice," she said. (Oh no).
"There does seem to be an extraordinary inability of the Labour Party to find a female leader," continued Truss, "or indeed a leader who doesn't come from north London." The Tory hordes roared at this, and even Starmer repressed a chuckle.
Her presentation was as wooden as ever:
But her replies were assured, refreshingly direct. There were even a few one-word answers – no to a windfall tax, for instance – a quasi-mythical event in Westminster. It was almost as if the sphinx was at the despatch box. All of this seemed to flummox Keir Starmer, who is more used to spending PMQs trying to prise answers out of Boris Johnson – occasionally wincing as if pulling out his own teeth with a pair of rusty pliers.
Truss's true-blue rhetoric seemed to bring out Starmer's inner Corbyn too. He railed against "excess profits" with the wild-eyed conviction of a politburo member sounding off about Kulaks. "Same old Tories… There is nothing new about the Tory fantasy of trickle-down economics", he scoffed.
The Times's Quentin Letts noted Liz's calm demeanour:
The Tory benches mooed when they saw her but once Truss started answering questions, the composure was striking. Most of all it was the slower pace that one noticed, and the evaporation of most of the performance-venom that tarnished the late Johnson era. Where Boris used to gabble, Truss spoke slowly. The voice, which seems to emanate from near the tip of her nose, was clear. It may pink a little, like a novice musician's recorder, but it is strong enough to cut through a full Commons …
Truss referred to "my chancellor" and "my new health secretary". She was asserting her power. There wasn't a quiver visible in her fingers and she maintained a consistent tempo, andante rather than allegretto. Talking slowly makes you sound more authoritative and means you need not say so much. Helen Hayes (Lab, Dulwich & West Norwood) essayed a zinger. Would the government's response to some report be published by the end of the year? "Yes," said Truss, and she slowly, serenely resumed her seat, suffused with calmness. One should not over-interpret this performance. PMQs debuts usually go well. But the story is not quite conforming to the catastrophists' narrative.
Returning to The Telegraph's articles, Daniel Martin told us that Liz wanted proper dress in Downing Street:
The Prime Minister has made it clear she wants to re-introduce a dress code, with officials told to wear shirts and ties as part of a new, more formal style of government …
One government source said Ms Truss had made her views plain when she arrived back to Admiralty House from her victory party in the City of London, the night before she became Prime Minister.
The source said: "This is all born from Liz coming back from winning and telling the staff in Admiralty House that ties were back."
We also found out that she wanted a leaner operation:
Ms Truss has also ordered a wider operational shake-up at Downing Street, including a new economic unit whose role is to help her take on "Treasury orthodoxy".
She has brought in Matthew Sinclair, the former director of the TaxPayers' Alliance, as her chief economic adviser …
In a bid to strengthen the relationship between Ms Truss and her most important ministers, new offices are being created in Downing Street for both Wendy Morton, the new chief whip, and Thérèse Coffey, the Deputy Prime Minister.
An aide told The Spectator: "We've blown up the No 10 floor plan", saying the idea is to create a leaner, nimbler operation.
Allister Heath was fully behind Liz and her plans:
I'm optimistic about the Truss Government. Yes, of course, nobody can possibly know how well it will do – whether it will outwit the Blob to push through genuine improvements. But it is absurd to state, almost as self-evident fact, that it is bound to collapse, that it cannot last even two years, based in part on an insulting dismissal of the credibility and intellect of all of the members of the new Government.
It is astonishing that pundits with no understanding of economics dismiss the Prime Minister's ability in this area: she actually worked as an economist for Shell (ideal in the current climate) and as an economic director for Cable and Wireless. The first accountant ever in No 10 – she holds the qualification from the Chartered Institute of Management Accountants – she is more financially literate and comfortable with complex policy matters than almost all of those who patronise her. The fact that she is reflexively written off as lightweight, a dilettante even, is more a reflection of the bizarrely misogynistic and classist minds of some of her more extreme critics than of any objective reality.
Kwasi Kwarteng, the Chancellor, holds a PhD in economic history from Cambridge, perhaps the ideal qualification for the moment; his War and Gold and Ghosts of Empire remain timely. Thérèse Coffey, Truss's deputy, is another PhD: in her case, in chemistry, showing how much more intelligent she is than the ignoramuses who hate her.
Suella Braverman, the Home Secretary, is an extremely competent, bright and personable lawyer who drives the Left crazy. Kemi Badenoch holds degrees in engineering and law, and is fiendishly clever. Jacob Rees-Mogg, with his background in finance, is the perfect pick for Business (and Energy), given the technical and intellectual complexity of his mission. Kit Malthouse, the Education Secretary, another accountant, has experience running a medium-sized business; Chris Philp, the Chief Secretary, has a degree in physics.
The list goes on. Of course, some ministers are weaker than others, but the average quality is a great improvement on many past governments. Matthew Sinclair, one of Truss's advisers, is the best free-market economist of his generation in Britain today.
The paradox is that it is a policy that I'm uncomfortable with that is likely to send the Government's poll ratings surging, discrediting its Leftist critics. Truss's energy plan is rightly a big bazooka; it is regrettable that, for a variety of practical and political reasons, she appears to have decided to freeze all energy bills, rather than to opt for targeted subsidies to small firms and the bottom half of earners. The Government's bill will be at least 5 per cent of GDP, with enormous potential liabilities. This is the biggest welfare programme in British history, one that helps the well-off as much as the needy.
But we are where we are. The Government felt that an alternative, non-universal plan could not be targeted correctly, that the cliff-edge from means testing would be too extreme, that the public's allergy to high prices had become too toxic. Truss feared she would be destroyed on arrival if she didn't go for broke. Her gambit is that the scale of this intervention will cripple the Left: it's a statist umbrella protecting her free-market reforms …
Our new Prime Minister likes economic growth, not merely because she values material prosperity, but because she buys into the very idea of progress, of improvement. Boris Johnson agreed in theory, but didn't understand what to do. Unlike Theresa May, Truss is inherently anti-Malthusian: her Chancellor talks of growing the economy, rather than arguing about how to redistribute a stagnant pie, the vanishing "proceeds of growth" taken for granted by David Cameron.
Yes, Truss will address our immediate crisis via costly, short-term policies. But she's deadly serious about principled long-term measures to accelerate the economy by boosting energy output, housebuilding, private investment, scientific innovation and entrepreneurship. It will be tough, but the Twitter Lefties are entirely wrong to be betting so emphatically against her.
The Telegraph's main editorial compared her to Margaret Thatcher:
Opinion polls indicate that Labour's windfall levy is popular, but Ms Truss is right to identify the flaws in this approach. Her declaration that we cannot tax our way to higher growth could have been uttered by the first woman prime minister 30 years ago.
Balancing short-term expediency with long-term economic requirements will require skill and determination. Ms Truss has set out her position and is clearly intent on sticking to her guns, even if the polls are tempting her to abandon them. It was an encouraging start.
The Mail provided us with short takes from the more left-of-centre broadcasters, who also thought Liz did a great job at PMQs. These were not her natural allies.
The BBC's Chris Mason noted:
As Prime Minister's Questions finished, there appeared to be a warm, one-on-one brief chat between Liz Truss and Keir Starmer.
I think Starmer said "well done" to his opponent: all party leaders regularly acknowledge that PMQs is a tough gig …
It felt less personal, much less theatrical and more ideological …
TalkTV's Tom Newton Dunn said:
Liz Truss is not a legendary orator, and some Tory MPs lived in terror at the thought of her robotic despatch box style.
But that was a very strong debut …
The Mail had several more comments, so I will end with this one from the i newspaper's Richard Vaughan:
If Liz Truss's aim for her first PMQs was to kill the usual heat and rancour in the Commons chamber, then she succeeded. It was a solid, no-frills performance.
… Ms Truss's arrival onto the front bench was greeted with cheers, but it was by no means a deafening welcome by backbenchers to their new leader – perhaps a portent of things to come.
On the evidence of her no-nonsense opening appearance in her new role, they would be wise not to underestimate her. Her next trick will be to try and inspire those on the benches behind her.
Aye, there's the rub.
To be continued tomorrow.
Tuesday, October 25, 2022, was a historic day for the United Kingdom.
We have our first minority Prime Minister, Rishi Sunak — and, always remember, he is Conservative.
Labour, with all their waffling about equality and short-lists designed to produce the desired result, have not even come close to attaining what the Conservative Party has accomplished organically.
India cheers, on Diwali
When the 1922 Committee, which represents Conservative backbench MPs, announced on Monday, October 24, that Sunak was the winner of the leadership contest, India cheered.
Sunak's victory as the last man standing with an overwhelming amount of MPs' votes took place on Diwali.
The Times reported (emphases mine):
The prospect of Rishi Sunak being named as the UK's first British-Asian prime minister today has been headline news in India's media.
Newspapers and broadcasters pointed out that his likely victory in the Conservative leadership race would come on Diwali, the festival of lights marking the victory of light over darkness and the most important celebration in the Hindu religious calendar.
The former chancellor's mother and father are both Hindu Punjabis whose parents migrated from India to Tanzania and Kenya respectively before coming to the UK in the 1960s. But that has not stopped Indian journalists and commentators claiming him as one of their own.
India's press has not forgotten how then-Chancellor Sunak celebrated Diwali:
The Press Trust of India, a national news agency, noted that Sunak is a devout Hindu and a regular at the temple close to where he was born in Southampton. It reported that he had made history when he was the first chancellor of Indian origin by lighting Diwali lanterns at 11 Downing Street.
Sunak's rise to the premiership is important to India as it comes 75 years after the nation's independence in 1947:
The prominent Indian TV anchor Rajdeep Sardesai tweeted: "To think that on Diwali day, UK could have its first prime minister of Indian origin. That too in the 75th year of independence! Yeh hui na baat! [that's the spirit]" …

The former Bihar state government chief secretary MA Ibrahimi tweeted: "Revenge of history as well. Destiny." Another Twitter user, Ranjan Kumar, who described himself as a banker, joked: "Reverse colonisation."
Indian media also celebrated Sunak's wealth and billionaire in-laws:
Sunak is also married to Akshata Murty, the daughter of NR Narayana Murthy, the Indian billionaire and founder of Infosys, the information technology giant, who has a net worth of $3.2 billion. Many have noted that, through his family ties, Sunak is effectively richer than the King.
"Advantage Rishi Sunak: Narayana Murthy's son-in-law could be UK's next prime minister", read a headline in the Mint newspaper this morning.
Star adopts new motif: calendar PMs
The Star newspaper, having finished comparing Liz Truss's shelf life with that of a lettuce, put Sunak on the front page as their Prime Minister of the Month for October:
Their Tuesday Thought for the Day says:
Who'll be the PM for November? Stay tuned …
Liz Truss's final hours as Prime Minister
Although Liz Truss had not been Party leader after she resigned on Thursday, October 20, she did remain Prime Minister until she tendered her resignation to Charles III on Tuesday morning.
At 9 a.m., she held her final Cabinet meeting, as is customary on a Tuesday.
Meanwhile, a moving van arrived at No. 10 to remove the Truss family's belongings:
Most PMs use Bishop's Move removals company. Not so this time around. Liz Truss was always going to be different, and, if Harrow Green was her choice, it was further proof of her standing out in a crowd.
Various Cabinet members filed in through the front door of No. 10. It is likely that Chancellor Jeremy Hunt will keep his job under Sunak.
For the competent and calm Defence Secretary Ben Wallace, however, things could be different.
The Guardian's daily diary reported:
Wallace is very popular with Tory party members, but there is a good chance that he will be moved. In recent months people have been briefing papers on his behalf saying that he would resign if a new prime minister refused to stick to the plan to raise defence spending to 3% of GDP by the end of the decade. But Rishi Sunak is refusing to make that commitment.
The two also clashed when Sunak was chancellor, and in the summer Wallace publicly critcised Sunak's stance on defence spending. Wallace backed Liz Truss for the leadership.
Another capable MP, Welsh Secretary Robert Buckland, could be out, too:
In the summer leadership contest Buckland originally supported Sunak. But then, in a highly unusual move, he switched to backing Liz Truss. By that point she was the favourite, and Buckland's move raised a lot of eyebrows because MPs who pledge allegiance to one candidate almost never normally switch in public, because it makes them look inconsistent and opportunist.
Buckland kept his Welsh secretary job in Truss's first reshuffle (although if he was hoping for a return to his previous cabinet job, justice secretary, which was going to be vacant when Truss sacked Dominic Raab, he was disappointed). But this morning, Buckland may be thinking his summer Judas performance was not so wise after all.
Another MP who will probably be gone is the veteran Jacob Rees-Mogg, the current Business Secretary. Under Boris Johnson he was Leader of the House then the minister for Brexit efficiencies. He is very much a Boris loyalist:
Yesterday he said he would support Rishi Sunak as PM. But during the summer leadership contest he said he could never serve in a Sunak cabinet. He told Sky News in July:
I think as a chancellor, he made decisions that were of the left rather than on the right, that he was a tax increasing chancellor. I didn't support the decisions he made.
When asked whether he would serve in a Sunak government, he replied:
No, of course I wouldn't. I believe his behaviour towards Boris Johnson, his disloyalty means that I could not possibly support him. And he wouldn't want me in his cabinet anyway.
He will be sorely missed.
At 9:30, the Cabinet meeting ended.
Truss gave her final speech as Prime Minister at 10:15, before going to Buckingham Palace, to tell the King that she was standing down.
Her lectern appeared shortly before 10:00:
On GB News this morning, Darren McCaffrey explained that, starting 50 years ago, each Prime Minister has had his or her own podium. He showed us the various ones from Gordon Brown's to Truss's.
Liz Truss's has a terrible Zenga style to it, so I was relieved that McCaffrey said that Rishi Sunak would have his own lectern.
Truss's staff and closest MPs gathered off to one side of Downing Street:
At the appointed time, she left Downing Street for the final time, joined by her husband Hugh and daughters Frances and Liberty. The three stood off to one side of No. 10.
Truss approached the Zenga podium with a black folder.
On Monday, she pledged Sunak her full support:
However, her valedictory speech struck another tone, that her boldness and ideas were the correct ones.
This is the full transcript:
It has been a huge honour to be Prime Minister of this great country.
In particular, to lead the nation in mourning the death of Her Late Majesty The Queen after 70 years of service,
and welcoming the accession of His Majesty King Charles III.
In just a short period, this government has acted urgently and decisively on the side of hardworking families and businesses.
We reversed the National Insurance increase.
We helped millions of households with their energy bills and helped thousands of businesses avoid bankruptcy.
We are taking back our energy independence…
…so we are never again beholden to global market fluctuations or malign foreign powers.
From my time as Prime Minister, I am more convinced than ever we need to be bold and confront the challenges that we face.
As the Roman philosopher Seneca wrote: "It is not because things are difficult that we do not dare. It is because we do not dare that they are difficult."
We simply cannot afford to be a low growth country where the government takes up an increasing share of our national wealth…
and where there are huge divides between different parts of our country.
We need to take advantage of our Brexit freedoms to do things differently.
This means delivering more freedom for our own citizens and restoring power in democratic institutions.
It means lower taxes, so people keep more of the money they earn.
It means delivering growth that will lead to more job security, higher wages and greater opportunities for our children and grandchildren.
Democracies must be able to deliver for their own people…
We must be able to outcompete autocratic regimes, where power lies in the hands of a few.
And now more than ever we must support Ukraine in their brave fight against Putin's aggression.
Ukraine must prevail.
And we must continue to strengthen our nation's defences.
That is what I have been striving to achieve… and I wish Rishi Sunak every success, for the good of our country.
I want to thank Hugh, Frances, Liberty, my family and friends, and all the team at No10 for their love, friendship and support.
I also want to thank my protection team.
I look forward to spending more time in my constituency, and continuing to serve South West Norfolk from the backbenches.
Our country continues to battle through a storm.
But I believe in Britain.
I believe in the British people.
And I know that brighter days lie ahead.
Her speech was Johnsonian in so many ways. Like Boris, she had no apologies: good. After all, she'd made enough already. No backing down from her beliefs. Justification of her actions for her ideals. All good.
She was the first Prime Minister to thank her protection team: outstanding. More PMs should do so.
GB News criticised her for saying that brighter days lie ahead. It was her way of saying what President Lincoln did in the 1860s: 'This, too, shall pass'. In other words, don't give up hope.
As for Truss's future, being a backbench MP will be difficult for her, because she has had ministerial or Cabinet positions since the days of the Coalition government, dating from 2012. That's a decade ago. She began her Cabinet posts in 2014.
Perhaps she will find a continuing cause to champion:
Immediately after her speech, she and Hugh went in one vehicle and her daughters in another, escorted by police and special security detail to Buckingham Palace. Truss arrived shortly afterward.
At 10:56, GB News reported that Truss had tendered her resignation. At that point, King Charles was in charge of the UK, as we had no Government.
That sort of thing used to unnerve his mother, the late Queen, so she tried to make those time periods as brief as possible.
The King's conversation with Truss was lengthy.
After her motorcade left, it was time for Rishi Sunak to request the King's permission to form a new government.
The Queen received 15 Prime Ministers during her reign. King Charles, who ascended to the throne just days after Truss became Prime Minister, is already on his second.
Sunak's first hours as PM
Sunak's motorcade, also comprised of police and special security, arrived at the Palace immediately after Truss's left.
Sir Clive Alderton, principal private secretary to the king and queen consort, the monarch's equerry, Lt Col Jonny Thompson, and Sir Edward Young, joint principal private secretary to the king, PA Media reports.
Sunak also spent a long time with the King.
Just before 11:30, the monarch turned the Government over to Sunak. The King had been in charge of us for half an hour. With his mother, it was a matter of minutes. Fascinating.
Someone on GB News quipped that perhaps we should reconsider having an absolute monarchy.
Sunak was due to give his first speech at No. 10 at 11:35. In the event, it was closer to 11:50.
He and the King already know each other through a Prince's Trust event from a few years ago.
When Sunak arrived in Downing Street, he left his vehicle and immediately approached — thankfully — a new lectern.
There were no MPs around him. If there had, it would have been a phalanx, as he had the support of nearly half of them:
Sunak's speech lasted exactly five minutes.
It is possible that he knew what Truss had said in hers, because he wasted no time in blaming her for the mess he was about to land in:
I have just been to Buckingham Palace and accepted His Majesty The King's invitation to form a government in his name.
It is only right to explain why I am standing here as your new Prime Minister.
Right now our country is facing a profound economic crisis.
The aftermath of Covid still lingers.
Putin's war in Ukraine has destabilised energy markets and supply chains the world over.
I want to pay tribute to my predecessor Liz Truss.
She was not wrong to want to improve growth in this country. It is a noble aim.
And I admired her restlessness to create change.
But some mistakes were made.
Not borne of ill will or bad intentions. Quite the opposite, in fact. But mistakes nonetheless.
He warned of 'difficult decisions' to come:
And I have been elected as leader of my party, and your prime minister, in part, to fix [those mistakes – see 11.52am.].
And that work begins immediately.
I will place economic stability and confidence at the heart of this government's agenda.
This will mean difficult decisions to come.
But you saw me during Covid, doing everything I could, to protect people and businesses, with schemes like furlough.
There are always limits, more so now than ever, but I promise you this – I will bring that same compassion to the challenges we face today.
The government I lead will not leave the next generation – your children and grandchildren – with a debt to settle that we were too weak to pay ourselves.
I will unite our country, not with words, but with action.
I will work day in and day out to deliver for you.
This government will have integrity, professionalism and accountability at every level.
Trust is earned. And I will earn yours.
I hope so.
Then he paid tribute to Boris and said he would continue the 2019 manifesto:
I will always be grateful to Boris Johnson for his incredible achievements as prime minister, and I treasure his warmth and generosity of spirit.
And I know he would agree that the mandate my party earned in 2019 is not the sole property of any one individual. It is a mandate that belongs to and unites all of us.
And the heart of that mandate is our manifesto. I will deliver on its promise: a stronger NHS, better schools, safer streets, control of our borders, protecting our environment, supporting our armed forces, levelling up and building an economy that embraces the opportunities of Brexit, where businesses invest, innovate, and create jobs.
I understand how difficult this moment is. After the billions of pounds it cost us to combat Covid, after all the dislocation that caused in the midst of a terrible war that must be seen successfully to its conclusions, I fully appreciate how hard things are.
And I understand too that I have work to do to restore trust after all that has happened.
All I can say is that I am not daunted.
I know the high office I have accepted and I hope to live up to its demands.
But when the opportunity to serve comes along, you cannot question the moment, only your willingness.
So I stand here before you, ready to lead our country into the future.
To put your needs above politics.
To reach out and build a government that represents the very best traditions of my party.
Together we can achieve incredible things.
We will create a future worthy of the sacrifices so many have made and fill tomorrow, and every day thereafter with hope.
Hmm. That I will be interested to see.
Afterwards, Boris tweeted his congratulations. Better late than never:
He was just in time.
Emmanuel Macron tweeted his congratulations one minute later:
Cabinet resignations roll in
Afterwards, Sunak went to the Commons to meet with Cabinet members who he sacked or demoted.
The Guardian explains why this is not done in No. 10:
Prime ministers normally do the sacking element of the reshuffle in parliament because people losing their jobs can come and go without being photographed, or seen by journalists. Lobby journalists have access to some areas of parliament, but other parts are off limits and trying to doorstep the PM's office is definitely not allowed.
Sunak started from the lesser end of the spectrum and moved up the ladder:
According Sky's Beth Rigby, Wendy Morton, the chief whip, and Ranil Jayawarena, the environment secretary, have both been summoned. But were Truss acolytes who were seen as lightweight appointments to cabinet.
Chloe Smith was Truss's Work and Pensions Secretary:
Boris loyalist Kit Malthouse, who worked for him when he was Mayor of London, is out as Education Secretary. His brief stint at Education was under Truss. Prior to that, Malthouse was in charge of Policing:
It is customary for sacked MPs to write a resignation letter.
Jacob Rees-Mogg, a devout Catholic, dated his letter 'St Crispin's Day':
Here's Robert Buckland's:
Brandon Lewis pointed out that he had been one of the longest serving Cabinet members — under four Prime Ministers:
On a positive note, Suella Braverman could re-enter Cabinet:
The Guardian's Pippa Crerar has more news. Glad to see that Grant Shapps will not continue as Home Secretary. Business is better suited to him:
Commiserations to Jake Berry, a Red Wall MP and, however briefly, chairman of the Conservative Party. I wonder what Sunak has against Simon Clarke, though. He's been in the Treasury since Sunak was Chancellor. Hmm. Glad to see that James Cleverly, Ben Wallace and Thérèse Coffey could be staying. I hope that Coffey continues as Health Secretary:
Jake Berry tweeted:
For Foreign Secretary Cleverly, it looks like business as usual. If so, excellent:
With regard to Simon Clarke, it seems there's a bit of a back story there involving Liz Truss:
Simon Clarke has left his post as levelling up secretary. It is not clear from his tweet whether he was sacked, or whether he quit "voluntarily" to save face.
But it is no surprise that he has gone. He was one of Liz Truss's key allies, and during the Tory leadership contest in the summer he often criticised Rishi Sunak quite harshly on her behalf, at one point co-authoring an article accusing him of favouring "a Labour-lite economic policy".
On another point, he is very tall. When he walked with Rishi, he made sure he kept several paces behind so that no one would notice the difference in height.
ITV's political editor Robert Peston summed up the departures as follows:
Around 2:30, Sunak walked into Downing Street to applause. It is customary for staff to applaud the incoming Prime Minister.
New Cabinet appointments took place.
I'll leave it here — at 3:14 p.m.:
I'll have more tomorrow, particularly on the leadership contest that took place over the weekend.
As I write, the latest Conservative Party leadership contest came to a close at 2 p.m. on Monday, October 24, 2022.
Once he meets with the King, Rishi Sunak, the new Party leader, becomes the next Prime Minister.
The other candidate, Penny Mordaunt, pulled out of the race earlier today. She had far fewer MPs backing her than did Sunak. Boris Johnson declined to run last night, even though he had the numbers. I'll write about the contest in another post.
Picking up from last Friday's post, Liz Truss's last day as Conservative Party leader started with a storm over the fracking vote and the resignation of Suella Braverman as Home Secretary.
Both events took place within hours on Wednesday, October 19, 2022.
Sir Charles Walker MP
On Wednesday night, the Conservative MP Sir Charles Walker gave an explosive interview in the Palace of Westminster on the dire state of the Government under Liz Truss.
It should be noted that on February 2, he stated that he would not be standing for re-election in his constituency, Broxbourne. The BBC reported (emphases in purple mine):
He will remain an MP until the next general election, due in May 2024.
Speaking on Channel 4, Sir Charles said that after 17 years as an MP he was "juiced out".
"It's just very difficult, the public are demanding and they're becoming more demanding," he said,
"They're becoming quite angry, some of them cross the line and at times I feel like it's a pretty toxic environment."
On March 26, in a debate on extending coronavirus laws for another six months, he said he would protest by carrying around a milk bottle to show his displeasure. To this day, many of us have no idea what he was talking about, but you can read more in The Independent.
In May, Walker said he was wrong for thinking Boris could survive Partygate:
He only had to wait another several weeks.
On July 28, after Boris Johnson resigned as Conservative Party leader, he said that Party members should not be able to vote for Boris's successor. The Times reported:
About 180,000 Tory members will choose between Rishi Sunak and Liz Truss over the summer, before casting their votes over who will lead the party and therefore the country …
Sir Charles Walker, a former vice-chairman of the 1922 Committee of backbench MPs, which sets the rules of the race, said that the electorate should be narrowed to just allow fellow politicians to vote to prevent the bitter blue-on-blue attacks seen so far.
He told The Guardian that the contest "should have got nowhere near" the members, adding: "It's a view shared by many of my colleagues privately who wouldn't dare say it publicly."
He added: "MPs should be left to pick party leaders because we know the strength and weaknesses of the candidates far better than the membership because we serve and work with them every day in Westminster."
On October 11, Walker became a member of two select committees, the one for Standards and the one for Privileges. Both focus on MPs' conduct:
That brings us up to his explosive interview of October 19, when Walker announced he'd 'had enough':
He said he was angry with his colleagues, but, watching it, I wonder if he was angrier at Party members for electing Liz Truss over Rishi Sunak.
I was completely put off when he said that he was worried for his fellow MPs paying off their mortgages. They're in a much better position to do so than their constituents are. Good grief. That says a lot about the man:
You can see the full version here:
He was angry that Liz Truss was Prime Minister:
Speaking to reporters on BBC News, the Tory MP said: 'To all those people that put Liz Truss in number 10, I hope it was worth it to sit round the cabinet table'. He went on to say, 'the damage they have done to our party is extraordinary', admitting he was 'livid' and 'furious'.
Although he was presumably talking about his fellow MPs, he was probably also angry with Conservative Party members for getting Truss into No. 10. It bears repeating.
The Telegraph had more:
Charles Walker branded the Truss Government "an absolute disgrace" and her ministers a group of "talentless people" on Wednesday night …
"I've had enough, I've had enough of talentless people putting their tick in the right box, not because it's in the national interest but because it's in their own personal interest to achieve ministerial position. And I know I speak for hundreds of backbenchers who right now are worrying for their constituents all the time but are now worrying for their own personal circumstances because there is nothing as ex as an ex-MP" …

"A lot of my colleagues are wondering, as many of their constituents are wondering, how they are going to pay their mortgages if this comes to an end soon," he added …
"But unless we get our act together and behave like grown-ups I'm afraid many hundreds of my colleagues, perhaps 200, will be leaving at the behest of their electorate.
"Patience reached the limit."
The Guardian has another quote, relating to Suella Braverman:
Speaking to BBC Radio 4's The World Tonight, he added: "Let's not beat around the bush here. And I expect the prime minister to resign very soon because she's not up to her job either … I will shed no tears for either of them."
When asked when Truss should quit, he replied: "Well, I hope, by tomorrow … She needs to go. She shouldn't have been made prime minister."
Walker got his wish.
Wendy Morton
As I wrote on Friday, the vote on Labour's motion on fracking was a complete disaster in the No lobby, where Conservative MPs were expected to vote.
After the vote, as I said, Labour's Chris Bryant alleged that bullying occurred there.
At the opening of the Commons session on the morning of Thursday, October 20, Speaker of the House Sir Lindsay Hoyle opened with this statement:
I wish to say something about the reports of behaviour in the Division Lobbies last night. I have asked the Serjeant at Arms and other senior officials to investigate the incident and report back to me. I will then update the House.
I remind Members that the behaviour code applies to them as well as to other members of our parliamentary community. This gives me another opportunity to talk about the kind of House that I want to see, and that I believe the vast majority of MPs also want to see. I want this to be a House in which—while we might have very strong political disagreements—we treat each other courteously and with respect, and we should show the same courtesy and respect to those who work with and for us. To that end, I will be meeting senior party representatives to seek an agreed position that behaviour such as that described last night is unacceptable in all circumstances.
Earlier that morning, photographs of the situation outside the No lobby had appeared online.
No photographs are allowed in the voting lobbies, yet here they were.
Chris Bryant had appeared on Sky News. He tweeted a still of himself from the interview, with the comment:
Yesterday was utter chaos!
Someone replied with a photo of Conservative MPs all over one of their own. A professional photographer, so it would appear, took a photo of them and someone else took a photo of that scene: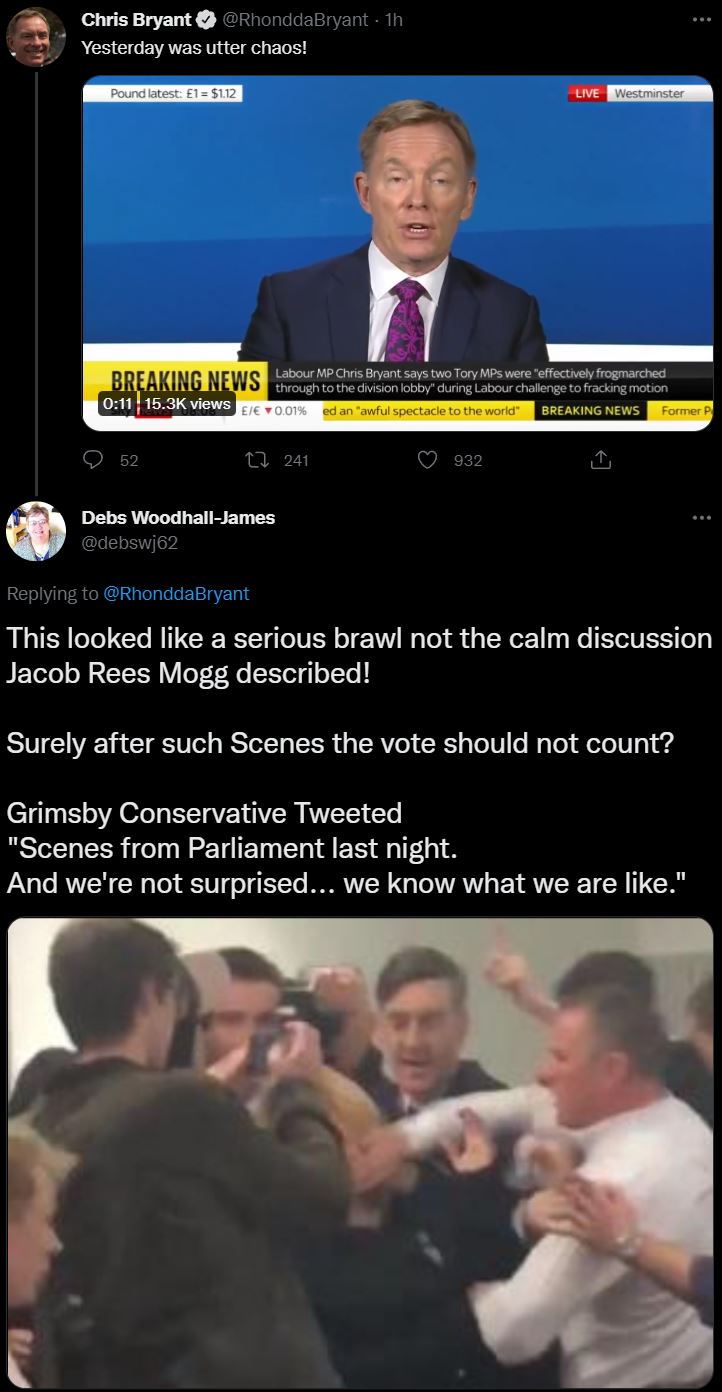 Here is another photo with Conservatives clustered in the middle of the room outside the voting lobbies. Labour MPs are standing off to the right. The No lobby is off to the left: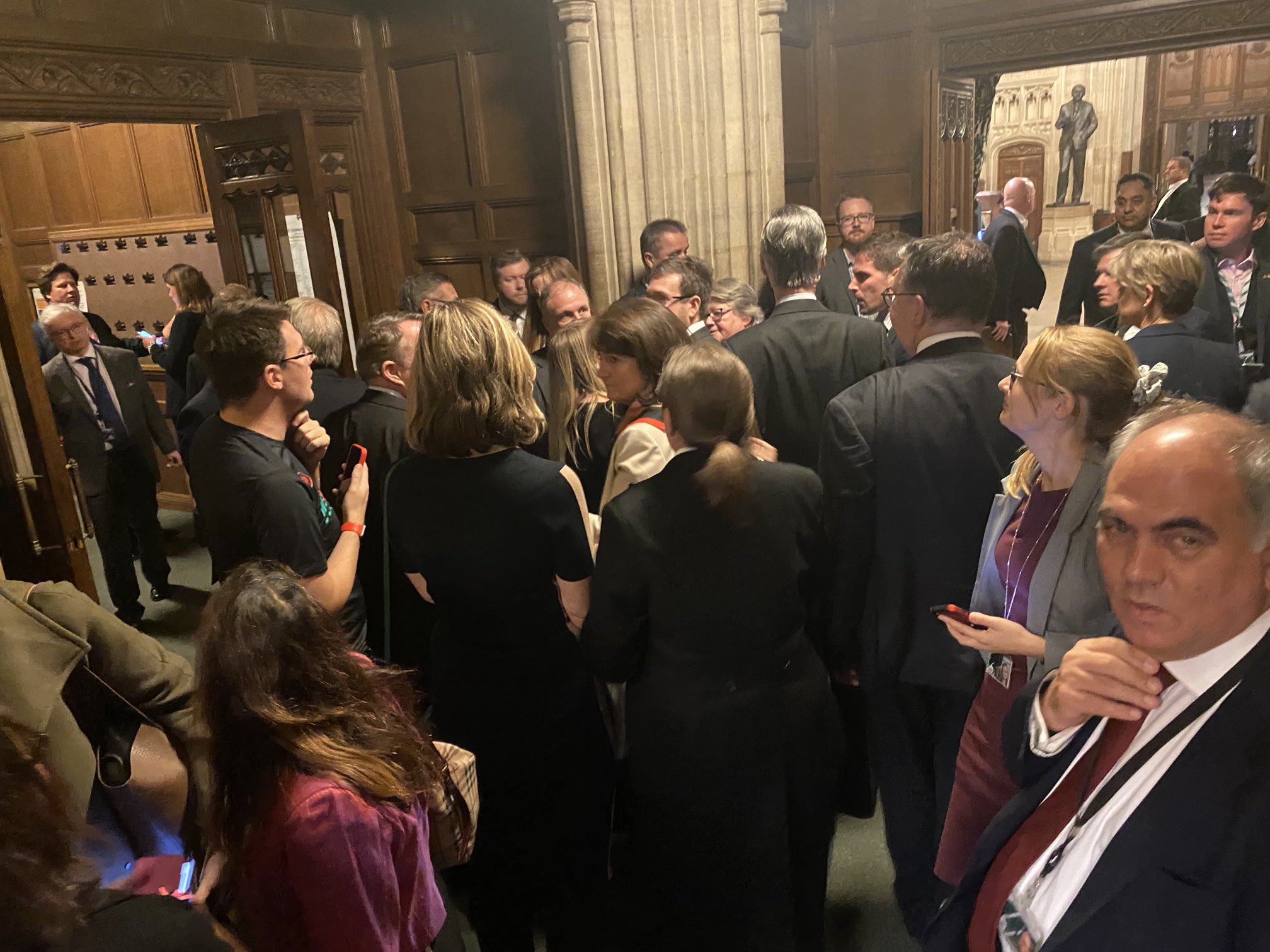 Business Secretary Jacob Rees-Mogg, tall with spectacles, is in the middle of both photographs. Deputy Prime Minister and Health Secretary Thérèse Coffey is the woman in front of Rees-Mogg's left shoulder.
Returning to the Speaker's statement, which I watched on BBC Parliament, Chris Bryant said that he had taken the photographs as evidence. Although Hansard does not record any responses to the Speaker, Bryant asked if photographs could be allowed in order to document these incidents in future. The Speaker said that it would be a matter for the House to decide together.
Confusion still reigned on the Conservative benches, particularly as some of their MPs strongly object to fracking.
And was Wendy Morton still Chief Whip at the time the vote took place? It was all a mystery, including to Conservative MP Ruth Edwards:
Edwards wrote about her experience in the voting lobby for ConservativeHome: 'Ruth Edwards: Why I am now calling on the Prime Minister to quit'.
Excerpts follow:
Shouting, confusion, allegations of bullying. Last night chaos reigned in the Commons. Anyone watching from the outside must have wondered what on earth was going on. It wasn't much clearer for those of us in the chamber either, but here is one bit-player's view from the benches.
Labour had tabled an Opposition Day motion that linked a bill to ban fracking to what was supposedly a confidence motion in the Government. If it passed it would have allowed the Labour party to take control of Parliamentary business in Government time. Like many colleagues, I don't think we should be reneging on our manifesto commitment to lift the moratorium on fracking. Why? Because I think it's poor energy policy and because I believe that manifesto commitments are there to be kept unless there is no other choice.
Edwards is against fracking. However, she did not want to vote with Labour, yet, this was supposed to be a three-line whip vote on Liz Truss's premiership:
None of us wanted to vote with Labour last night but some of us did want to abstain …
All day we were told by the whips that this was not just a strong three-line whip but a confidence vote. Voting against the government or abstaining would result in the whip being removed. That was very clear from the message sent to all Conservative MPs by the Deputy Chief Whip and confirmed by my whip when I messaged him to check.
That's why colleagues were in tears in the division lobbies and their offices. We were being told we had to choose between voting to lose the whip or voting against a manifesto commitment we believed in. For the front bench to allow the Opposition to put their MPs in this position is a special type of incompetence. But the tactic worked. The vast majority of colleagues, even the disillusioned and distressed, were prepared to go through the Government lobby.
I cited Edwards in my Friday post. In the debate wind up by the Government minister, she asked for clarification of a whipped vote after he said that it wasn't:
… the Minister lobbed a verbal hand grenade into the assembled crowd. By announcing at the despatch box that it wasn't in fact a confidence vote after-all. There was a sharp intake of breath. No one could believe what they had just heard. Surely he had misspoken?
So I bobbed up and down, asking him to 'give way'. That's the Parliamentary equivalent of putting your hand up in class to ask a question. After repeated efforts and a chorus of support from equally perplexed colleagues, he did so. But was unable to give a clear answer to my question.
That's when the chaos descended, because we now had no idea about the basis of the vote. MPs gathered in groups asking each other 'what are you going to do?'
Edwards spotted Chief Whip Wendy Morton in the lobbies and approached her:
I walked up to the Chief Whip to try and clarify what was going on. She cut me off mid-sentence 'I don't have to talk to you, I've resigned'.
The Deputy came through the lobby reiterating that it was a confidence vote and that the Minister would do a Point of Order to confirm that. So, eventually, we swiped our cards and shuffled back to the chamber. But no Point of Order came. Why is this even important? Because if you want to maintain trust and a good working relationship with your Parliamentary party, you can't lie to your MPs about the terms on which they are voting.
So what happened? It was still unclear:
I believe the whips office did act in good faith. I saw their faces as the Minister announced that it wasn't a confidence vote. One of them looked like she wanted to clobber him with the mace.
To be fair to the Minister I have it on good authority that he was relaying a message which had just come in from Number 10. This morning we are being asked to believe [by Jacob Rees-Mogg] it was a misunderstanding caused by a junior official. Anyone who believes that must be smoking something rather exotic.
Edwards had decided that Liz Truss should go and conveyed her sentiments formally to Sir Graham Brady, head of the 1922 Committee of Conservative backbenchers:
The trust between the Parliamentary Party and the Prime Minister no longer exists. You can only pull a stunt like that once. And you can't work as a team if the foot soldiers are treated with contempt by the general.
On Monday night the Prime Minister stood in front of the One Nation Caucus and promised to improve the communication between Number 10 and the party. Last night showed how deeply disingenuous that commitment was. I made my views known to Sir Graham Brady earlier this week. The Prime Minister has shown breath-taking economic and political incompetence during her short tenure in office. It is not responsible for the party to allow her to remain in power. Not when her actions can have such detrimental consequences for our constituents. So I add my small voice to the groundswell of others. Step aside, go, and let someone who is up to the task take on the great privilege and responsibility of leading our great country and party.
On October 20, The Sun's Political Editor Harry Cole wrote:
Within hours the government went into freefall as an extraordinary night of Commons drama saw claims that tearful Tory MPs were being physically manhandled by party enforcers.
During the carnage Chief Whip Wendy Morton threatened to resign – only to un-resign in a chaotic few hours where No10 could not confirm if she was in post.
Ms Truss could only watch on ashen-faced as she saw her authority drain away and more Tory MPs break cover calling for her to quit.
On Wednesday [at PMQs] Truss had insisted "I'm a fighter, not a quitter", but after scenes of Commons carnage that night after a botched confidence vote, it was clear her administration was on life support.
The Telegraph had much more:
The motion, which was defeated, would have guaranteed Commons time to debate a new law to ban fracking once and for all.
The vote meant that Ms Truss faced a showdown with rebellious MPs, many of whom have openly expressed their opposition to her plans to lift the moratorium on fracking …
On Wednesday morning, Tory MPs were told by the whips' office that the vote was a "100 per cent hard three line whip".
The message from Mr [Craig] Whittaker [Deputy Chief Whip] went on to say: "This is not a motion on fracking. This is a confidence motion in the Government.
"I know this is difficult for some colleagues, but we simply cannot allow this. We are voting no and I reiterate, this is a hard three line whip with all slips withdrawn."
If a vote is being treated as a matter of confidence in the Government, it usually means that MPs who vote against it would be expelled from the Conservative Party and have to sit as independent candidates …
But by Wednesday evening, the Government's position appeared to have changed. As the debate on fracking drew to a close, Graham Stuart, the climate minister, told the Commons that it was, in fact, "not a confidence vote".
Asked by Tory MPs whether they would lose the whip if they abstain, he said that it was a "matter for party managers".
Truss went to vote:
Ms Truss was reportedly yelled at by rebel MPs as she went through the lobby. Meanwhile, Mr Whittaker was reportedly overheard saying: "I am f***ing furious and I don't give a f*** any more."
According to some reports, Ms Morton resigned and left the Chamber as the voting was taking place, with Ms Truss grabbing her arm in an attempt to persuade her to reconsider …
What an unholy mess.
The Government won the vote, but:
It was unclear how many of the 40 abstentions were because MPs were unavoidably away from Parliament – Boris Johnson, for example, is currently on holiday – or because they were abstaining as a point of principle.
The Telegraph mentioned Bryant's Sky News interview implicating Rees-Mogg and Truss's confidante Thérèse Coffey:
Mr Bryant told Sky News that Cabinet ministers Therese Coffey and Mr Rees-Mogg were among a group of senior Tories who were putting pressure on Conservative MPs to vote against the Labour motion on fracking.
"There was a bunch of Conservative Members obviously completely uncertain whether they were allowed to vote with the Labour or against it," he said.
"There was a group including several Cabinet ministers who were basically shouting at them. At least one member was physically pulled through the door into the voting lobby. That is completely out of order.
"I know that Therese Coffey was in the group. I know that Jacob Rees-Mogg was in the group and there were others as well. The group all moved forward with one member."
One furious MP said they felt the Government had deliberately tried to trick backbenchers into supporting it with the mix-up over whether the vote was a confidence matter. They said this amounted to a "breach of trust" between No 10 and MPs that would be almost impossible to repair.
Another senior Tory MP put the confusion down to a "cock up" between No 10 and the whips office and said the confidence vote was in fact meant to be attached to the Government's motion, and not the one tabled by Labour.
Speaking to Sky News after the vote had ended, Mr Rees Mogg said he did not know whether Ms Morton was still in post or not, saying: "I am not entirely clear on what the situation is with the Chief Whip."
He explained that the confusion arose over whether the Commons vote on fracking was a confidence vote because of a message sent by a "junior official in 10 Downing Street", suggesting they did not have the authority to do so.
As for the two main whips, The Guardian reported:
Amid chaotic scenes in the Commons, it was reported that Wendy Morton, the chief whip, and her deputy, Craig Whittaker, had left the government. However, after hours of confusion Downing Street released a statement saying the two "remain in post".
The Mail+ reported that Truss had always wanted Coffey to be Chief Whip, but Coffey wanted to be able to stand up to the media for her friend:
A source said: 'We also had trouble finding a Chief Whip. Therese [Coffey] turned it down because she wanted to be free to defend the PM in the media, so we ended up with Wendy [Morton]. The whole thing became an absolute mess, Downing Street was cobbled together on compromise.'
Suella Braverman
At 10:30 a.m. on Thursday, an Urgent Question (UQ) was raised about the circumstances of Home Secretary Suella Braverman's departure the preceding day:
Shadow Home Secretary Yvette Cooper (Labour) raised the question.
Ably answering and clearly staying within his boundaries as Parliamentary Secretary, Cabinet Office was the brilliant Brendan Clarke-Smith.
He replied, beginning with this:
I thank the right hon. Lady for her question. My right hon. and learned Friend the Member for Fareham (Suella Braverman) resigned yesterday, following a contravention of the ministerial code relating to a breach of Cabinet confidentiality and the rules relating to the security of Government business. The Prime Minister has made clear the importance of maintaining high standards in public life, and her expectation that Ministers should uphold those standards, as set out in the ministerial code. All Ministers are personally responsible for deciding how to act and conduct themselves in the light of the code, and for justifying their actions and conduct to Parliament and the public. However, Ministers remain in office only so long as they retain the confidence of the Prime Minister. She is the ultimate judge of the standards of behaviour expected of a Minister, and the appropriate consequences of a breach of those standards. My right hon. and learned Friend has explained her decision to resign, and to be clear, the information that was circulated was subject to Cabinet confidentiality and under live discussion within the Government. In the light of that, it would not be appropriate to discuss the specifics of the matter further in the House, but the Prime Minister is clear that the security of Government business is paramount, as is Cabinet responsibility.
Cooper was unhappy with Clarke-Smith's answer, referencing Braverman's statement of 'tofu-eating wokerati' from her Tuesday debate and the Star's front page campaign of comparing Truss to a lettuce, implying a short shelf life:
… We have a third Home Secretary in seven weeks. The Cabinet was appointed only six weeks ago, but the Home Secretary was sacked, the Chancellor was sacked and the Chief Whip was sacked and then unsacked. We then had the unedifying scenes last night of Conservative MPs fighting like rats in a sack. This is a disgrace …
Has a check been made of whether she sent other documents through personal emails, putting security at risk? Was there a 90-minute row about policy between the Prime Minister and the former Home Secretary? Given the huge disagreements we have seen in the last few weeks between the Prime Minister and the former Home Secretary on drugs policy, Rwanda, the India trade deal, seasonal agriculture, small boats—and with a bit of tofu thrown in over the lettuce for good measure—is anything about home affairs agreed on in the Cabinet?
… who is taking decisions on our national security? It is not the Prime Minister, nor the past or current Home Secretaries. Borders, security and policing are too important for that instability, just as people's livelihoods are too important for the economic instability that the Conservative party has created. It is not fair on people. To quote the former Home Secretary, this is indeed a total "coalition of chaos". Why should the country have to put up with this for a single extra day?
Clarke-Smith replied:
I am mindful that it is not usual policy to comment in detail on such matters, but, if some background would be helpful—I appreciate that much of this is already in the public domain—the documents in question contained draft Government policy, which remained subject to Cabinet Committee agreement. Having such documents on a personal email account and sharing them outside of Government constituted clear breaches of the code—under sections 2.14 and 2.3, if that is helpful to look at. The Prime Minister is clear that the security of Government business is paramount, as is Cabinet responsibility, and Ministers must be held to the highest standards.
He took questions from other MPs, mostly from the Opposition. He did not cave in.
Guido Fawkes's sketch writer Simon had high praise for Clarke-Smith and was still hopeful at that point that Truss could survive:
The Home Secretary had been fired for infringing the ministerial code. The ministerial code was the responsibility of the Cabinet Office. He was from the Cabinet Office and had no view on migrants, boats, flights to Rwanda or pigs' ears, come to that.
It was a rare display of governmental competence. They managed to say nothing of interest, and say it convincingly. It's a low bar but they cleared it comfortably. Is this the start of a Conservative revival? There's a wee way to go, if it is. 
Liz Truss resigns
On Wednesday night, The Sun's Harry Cole said:
We are watching a hostile takeover of the government.
A short while later, the new Home Secretary — formerly the Transport Secretary until Truss sacked him — Grant Shapps said in an interview that Truss's chances of leaving Downing Street were high:
Guido reported that Shapps said, in part (emphases in the original, with the full quote here):
… I think the 80% [chance of failure] is closer to where we've got to… she needs to thread the eye of a needle with the lights off …

For weeks, the Star had been running with their lettuce campaign, showing a photo of Truss next to an iceberg lettuce on the front page. They had also a webpage.
On Wednesday, The Telegraph's Madeline Grant wrote, 'The Liz Truss lettuce lives to wilt another day':
Contrary to any number of rumours, where Westminster gets its kicks is the scent of blood – and most of all when there's a resignation in the air. The Tory WhatsApp groups pinged mutinously. Hastily-assembled spreadsheets did the rounds, detailing who'd called for the PM to resign, and when. The Daily Star outdid the competition; hosting a live stream of a lettuce to see if it outlives Liz Truss's premiership.
Then came Suella Braverman's resignation and the lettuce claimed its first victim …
… For now, the lettuce lives to wilt another day.
But only one more day.
The Mail+ had an insightful piece on October 22 about what went on with the Prime Minister between Wednesday night and Thursday afternoon. The article also recaps how disastrous Truss's choices were from the beginning of her brief tenure:
WHEN LIZ Truss finally accepted that her Premiership was over, late on Wednesday evening, she went to the fridge in the No10 flat and pulled out a bottle of sauvignon blanc to share with her husband, Hugh …
As she nibbled on a pork pie, the couple agreed that it was now a matter of when, not if, she resigned. One of the main considerations was the impact of the growing turmoil on their two teenage daughters.
Ms Truss then slept fitfully until 4.30am, when she started messaging aides for advice. Later that morning, No10 asked Sir Graham Brady, the chairman of the 1922 Committee of backbench Tory MPs, to come in to see the Prime Minister.
When she asked him if the situation was retrievable, he replied: 'I don't think so Prime Minister.' The game was up.
As she delivered her resignation statement, her former No10 consigliere, Jason Stein, was watching the live feed on his phone at a table in The Ivy in London's Marylebone …
Until his suspension on Wednesday pending an investigation by the Government's Propriety and Ethics Team over claims of unauthorised briefings against colleagues, Mr Stein had been at the centre of the doomed Truss premiership as an all-purpose fixer and adviser.
He has told friends that the Downing Street operation was 'dysfunctional from the outset', and blames 'muddled lines of command' for the single greatest error – the mini-Budget which even the Prime Minister herself now privately describes as 'a colossal f***-up'.
Sources also describe fractious meetings in the run-up to the mini-Budget, which led to the sacking of her Chancellor Kwasi Kwarteng and the reversal of the vast majority of its measures, with Ms Truss being so enraged by one member of her staff on one occasion that she talked about 'stabbing him in the leg'.
The sources are scathing about the role played by Ms Truss's Chief of Staff Mark Fullbrook, describing his appointment as 'a disaster'.
One said: 'Liz offered that job around everywhere, but no one would take it. We were left with no option but to give it to Fullbrook. He was part of a secret meeting in the Downing Street flat on September 13, during the official mourning period for the Queen, when the Budget was drawn up behind the back of Kwasi.
'It was just Liz, Fullbrook and a couple of other aides eating sushi takeaways and coming up with that brilliant plan to cut the top 45p rate of tax.
'The Treasury and the Cabinet Secretary [Simon Case] warned against it' …
The sources also claimed that Mr Stein had warned Ms Truss against appointing Mr Fullbrook in August, describing him as 'a trickster', but that Ms Truss had 'gone ballistic' at him in return.
Another source claimed that Ms Truss had regretted appointing Matthew Sinclair, the former chief executive of The TaxPayers' Alliance think-tank, as her Chief Economic Adviser, adding: 'He was always talking over her in meetings and "mansplaining". She said on one occasion that if he kept it up she would stab him in the leg. He never shut up' …
It would appear that Truss lacked a close coterie of people she could trust:
Another source also claimed that Mr Case had been concerned about Ms Truss's morale, telling colleagues that 'while all Prime Minister's end up lonely in office, it has happened at warp speed to Liz.
'He grew very, very concerned,' the source said.
On Thursday, she reportedly felt relieved she was leaving:
Downing Street staff were in tears as Ms Truss prepared her resignation, but she reassured them, 'Don't worry, I'm relieved it's over,' before adding, 'At least I've been Prime Minister.'
At least her staff were in tears, meaning that she must have been nice to them, which is vital.
Guido kept us apprised of the morning's events, beginning with Graham Brady's arrival:
Guido said there were different versions of who called the meeting:
Graham Brady has just been escorted into the back door of No. 10, with Downing Street confirming that he's meeting the Prime Minister. The Telegraph reports there was no meeting planned in her diary. The meeting of the two comes as ITV's Paul Brand reports One Nation Tory MPs have been meeting this morning "to try and coalesce around a single candidate to replace Liz Truss." May just be a lot more noise without any movement. Eyebrow-raising nonetheless…
UPDATE: Downing Street saying Truss requested the meeting herself…
UPDATE 12:25 – Therese Coffey enters Downing Street
UPDATE 12:49 – Jake Berry [MP, chairman of the Conservative Party] enters Downing Street
Just after 1:15 came the news that Truss would make a statement:
And then, at 1:25 p.m., Truss announced her resignation as leader of the Conservative Party (video here):
It was brief and to the point. Her husband was out of shot by a front window.
Thankfully, there were no tears as there were with Theresa May who broke down while giving her speech in 2019.
Because it is an afternoon newspaper, London's Evening Standard was the first out of the traps with the historic headline:
Let's have a look at the victorious lettuce:
It's hard to know whether to laugh or to cry.
Truss remains Prime Minister until Rishi Sunak meets with the King. In her final message on Monday, October 24, she sent her wishes for a happy Diwali, celebrating the triumph of light over darkness. We certainly could do with that. More importantly, what a memorable Diwali it will be for the Sunaks — and Rishi's in-laws:
I wish Liz Truss and her family all the very best for the future.
I had so much hope for her, but that's all gone by the wayside.
More analysis on the leadership contest and what happens next will follow this week.
Prime Minister Liz Truss resigned early in the afternoon of Thursday, October 20, 2022.
She will remain Prime Minister until a new Conservative Party leader is elected — details to be announced — in a week's time.
She will have seen the shortest tenure of any British Prime Minister. If she serves another week, that will be a total of 52 days.
More to follow next week.
She met the King this afternoon to tender her resignation. It is, after all, His Majesty's Government.
Her penultimate meeting with him was last Thursday, immortalised here:
———————————————————————
Yesterday's post discussed Liz Truss's sacking of Kwasi Kwarteng as Chancellor on Friday, October 14, 2022.
A day is a long time in politics
Kwarteng's defenestration illustrates that one day is a long time in politics, never mind a week.
However, days are eras in Truss's government, if one can call it that.
On Wednesday, October 19, Home Secretary Suella Braverman was out and, by the end of the evening, the Speaker of the House decided to investigate an unrelated incident at a Commons vote on fracking, during which it was unclear whether the Conservative Whip and Deputy Whip had resigned. More about that in another post.
Returning to Kwarteng, on Thursday, October 13, he said he would be going nowhere. This was The Telegraph's headline on the morning of Friday, October 14:
By the time that headline appeared, Kwarteng was on his way back to London on a red eye flight from the annual IMF meeting in Washington DC.
Shortly after 11:00 a.m., by which time Kwarteng would have returned to London, Guido Fawkes tweeted that Truss would be holding a press conference that afternoon:
An hour later, Guido followed up with a tweet saying Kwarteng was about to be sacked:
Guido's post said (emphases his):
Kwasi has just arrived at No.10 for a showdown with Liz Truss. The FT, the Times, the Spectator and the Sun are all reporting he's about to be sacked. A Boris-era insider texts Guido to say "It's just getting silly now." Liz is up in front of the cameras at 2pm. Will she have a new Chancellor by her side?
Just before 12:30, he tweeted that Kwasi was out …
… commenting:
Kwasi Departeng…
Twenty minutes later, Guido posted runners and riders for Chancellor:
His post had eight names with a summary about each candidate. Personally, I would have liked to see one of these two:
Simon Clarke: A key and prominent supporter of Liz. Chief Secretary to the Treasury under Rishi, though with some major disagreements with the former Chancellor reported during his time there. A very likely candidate.
Steve Barclay: Widely reported to have been Rishi's choice for Chancellor had he won the leadership contest.
In the event, we got Jeremy Hunt, as I stated yesterday:
Jeremy Hunt: The centrist, 'party unity' candidate that may placate backbench opponents. Would be an admission that the Truss economic programme is DOA. Currently out of the country.
At 1:05 p.m., Guido posted Kwarteng's gracious resignation letter:
Guido has a better copy here. Kwarteng was most gentlemanly:
You have asked me to stand aside as your Chancellor. I have accepted.
… your vision of optimism, growth and change was right.
As I have said many times in the past weeks, following the status quo was simply not an option.
… I look forward to supporting you and my successor to achieve that from the backbenches.
We have been colleagues and friends for many years … I believe your vision is the right one. It has been an honour to serve as your first Chancellor.
Your success is this country's success and I wish you well.
This was Friday afternoon's headline from London's Evening Standard:
Kwarteng had been Chancellor for 39 days, the second shortest in British parliamentary history.
Iain Macleod lasted one month, before dying of a heart attack in 1970. The Prime Minister at the time was Ted Heath.
What happened behind the scenes
On Friday evening, The Sun's Political Editor Harry Cole posted 'Inside story of Liz Truss' first 40 days in power that ended in biggest political meltdown for 300 years'.
Excerpts follow, purple emphases mine:
Caught between the rock of mercenary traders in the City and the hard place of mutinous Tory MPs in Westminster, it began to dawn on the Prime Minister that her sticking to her plans risked her becoming the shortest ever serving PM.
But it was an email from the Office of Budget Responsibility to the Chancellor last Friday set in motion the most spectacular collapse in Government authority in modern political history.
The independent scrutineers of tax and spending were brutal in their assessment: A £60billion black hole in the nation's finances was the direct result of Ms Truss and Kwasi Kwarteng's mini-Budget.
The scale of the spending cuts that would be needed just to stop debt interest bankrupting the country were not just eye-watering but politically impossible to even a strong government.
But having junked the 45p rate, Truss was barely treading water as PM, let along one strong enough to take a toxic axe to the size of the state.
The extra £18billion Britain will be paying in interest on government borrowing alone was more than the entire Home Office budget …
And when she claimed at PMQs on Wednesday there would be no cut to public spending, the clock was ticking on a spectacular U-turn.
Even as she told the MPs that a rise to corporation tax "would be wrong at a time when we are trying to attract investment into our country", privately work was underway to do just that.
The PM began to make preparations to climb down on Wednesday evening, as her Chancellor — her closest friend and ally in politics — flew to Washington to meet global financial watchdog the IMF.
While he was there they openly criticised the Government's plans in a humiliating dressing down on the world stage.
With inflation rampant, the global experts held up Britain as an example of how not to handle it.
"We were becoming a laughing stock," one minister admits …
With Kwarteng out of the country, Simon Case the Cabinet Secretary and James Bowler, the new head of the Treasury, turned the screw on Ms Truss to jettison the plans.
And the news was grim from political advisers, too.
This was the second time that Sir Graham Brady from the 1922 Committee had to step in over Kwarteng's and Truss's economic plan. The first was Sunday, October 2, during the Conservative Party conference, which caused a U-turn on scrapping the 45% tax rate.
Cole tells us:
Away on holiday, the all-powerful boss of the backbench 1922 Committee, Sir Graham Brady, made his disquiet known in a number of calls with Ms Truss on Wednesday and Thursday.
Just as he came to visit Truss during Tory conference to warn the 45p rate had to be scrapped if she wanted to survive, Sir Graham warned the PM the knives were out for the Chancellor and Kwarteng may need to be offered up as a sacrifice if her administration were to remain in any way credible.
However, Truss's other good friend and Cabinet member, the Deputy Prime Minister (and Health Secretary) was also allegedly on manoeuvres against Kwarteng:
Deputy PM Therese Coffey was also "determined to get Kwasi" according to one senior Government source.
"She put the knife through his shoulder blades while he was still in the departure lounge."
It seems that Truss wanted to deal with her Chief Whip first:
Ms Truss also briefly considered firing the Chief Whip Wendy Morton, who MPs consider a lightweight totally unable to herd the various factions of the Tory MPs publicly machine gunning each other.
Hmm. Wendy Morton was part of the reason for the chaos at the aforementioned fracking motion vote.
Moving on:
… the PM wanted to sleep on the decision to finally fire Kwarteng …
"He had an inkling it was coming and didn't put up much of a fight", one source said.
But it is hard to overstate just what a serious blow to Truss and her entire project the decision was.
Her closest friend in politics, this was their budget written together, at times in secret, away from advisers, aides and spin doctors.
When she U-turned on the 45p rate, she misleadingly blamed it on a "decision the Chancellor had made."
Now in U-turning on Corporation Tax she has thrown that fireguard away – leaving the PM the only target left now.
The Telegraph told us more about Kwarteng's visit to Washington last Thursday:
… the outgoing Chancellor tried to put a brave face on things. Even when he knew his time in Number 11 was up, he didn't show it.
On the night he departed for London, Kwarteng continued to work the room of bankers and officials at the British Embassy in Washington DC. Rubbing shoulders with the likes of Shriti Vadera, once a Labour minister and now chairman of Prudential; Sir Danny Alexander, vice president of the Asian Infrastructure Investment Bank and former chief secretary to the Treasury; and Axel Weber, chairman of the Institute for International Finance, he stopped for quick chats, and even addressed the crowd.
But while to some it seemed like the troubles 3,500 miles away in Westminster were far away, others said he seemed distracted.
He had reasons to be. At first, the British Airways flight out of Washington Dulles at 10.40pm was full and he struggled to get on board. While he and his special adviser managed to find seats eventually, it was an uncomfortable journey home.
In Kwarteng's own words, his 38 days as Chancellor were a "baptism of fire". Investors had already delivered the verdict on his policies, but some of the starkest criticism came from Britain's strongest allies …
But for many observers, it was Kwarteng's steadfast attitude that surprised. Germany has also been criticised for its €200bn (£174bn) energy bailout. But while their finance minister Christian Lindner adopted a more contrite approach in meetings, saying the spending might not be popular with markets but was nonetheless vital, the Chancellor stuck to his message that the Government was unapologetically pro-growth.
"He just didn't seem to understand that you can't just do lots of tax and spending giveaways when the economy is unstable, prices are soaring and borrowing costs are rising," said one member of the US delegation …
One banker who attended the drinks with Kwarteng said: "We just don't know what's coming next from the UK. Which policies are staying? Which are going? Who is staying? Who is going? There's no certainty any more" …
There was more love for Andrew Bailey, the Governor of the Bank of England, who found friends among the financial establishment in Washington DC. Many have known him for several years. "I just hope they don't try to hang him out to dry too," said one US banker.
The Times suggested that Kwarteng had little idea he was about to be dismissed. Yet, motions were in play even during the Conservative Party conference at the beginning of October:
In his suite in the Hyatt Regency hotel at the Conservative Party conference in Birmingham, he told allies: "The idea that a prime minister is going to bullet her chancellor and survive, I just don't think is feasible."
Unknown to Kwarteng, his long-term friend had already been sounding out at least one former cabinet minister about the prospect of replacing him.
Intermediaries had begun reaching out to allies of Sajid Javid, the former chancellor, to gauge his appetite for a return to the Treasury in case Kwarteng was forced to fall on his sword. The prime minister's emissaries asked Javid to name his price but had not bargained on his conditions being too much for Truss to accept.
"Sajid would have only done it if he had complete control," one ally of Javid's said …
It is unclear whether more horse trading took place but by Thursday last week, Javid was no longer in the running, with Truss's allies instead pivoting to another big beast as their preferred replacement for the chancellor.
Just hours after Kwarteng left the UK for Washington to defend the prime minister's fiscal plans to his foreign counterparts at the annual meetings of the International Monetary Fund, senior Truss allies had made contact with Jeremy Hunt, the former foreign and health secretary, who only a month beforehand had backed her rival, Rishi Sunak, for the top job.
Hunt insisted yesterday that when he heard that a "Liz Truss" wanted to talk to him on Friday, he assumed it was a prank call. The twice-failed leadership candidate then cut short a family holiday in Belgium to take charge of the Treasury. By last night — after Hunt's extensive media round, during which he tore up much of the mini-budget — it felt to many Westminster observers that Hunt, not Truss, was now running Britain. Wiser heads note that the Conservatives appear increasingly to resemble a political death cult, having burnt through four prime ministers in six years and four chancellors in the space of a barely believable four months …
Truss arrived at No 10 without a ringing endorsement and faced a faction-driven Westminster.
Last night, a No 10 source denied that Javid had ever been considered for the role now filled by Hunt. "The prime minister laughed out loud at the suggestion," they said …
By Thursday afternoon, Kwarteng knew that his political future might be in jeopardy, despite being 3,700 miles away across the Atlantic. He spent most of his time at the IMF gathering skipping meetings to hold talks with No 10 and his aides in London.
Kwarteng eventually cut short his trip by two days and booked the last overnight flight back to London. By then, however, at least one of his closest allies had already guessed that the game was up. "It wasn't a massive shock," they said. "There was nothing to come back for, no major meeting or announcement. The only reason he was coming back was to be sacked."
If Kwarteng suspected on Thursday evening, as he addressed a room of 200 bankers in Washington at the Institute of International Finance, that the axe was about to fall on his cabinet career, he gave no indication.
He told them there were three important things to sort out: the energy package, growth, and keeping the Bank of England independent …
Confirmation that Kwarteng was receiving his marching orders came the next morning. When he arrived at Downing Street after his red-eye flight, he was informed by Truss that she needed to restart her premiership with a "clean slate" — something that would be impossible with him as chancellor. The two had "a warm meeting" in the Cabinet Room.
"The PM felt deep personal sadness at the decision but made peace with it," an aide said. "Senior party figures had encouraged her to move the chancellor on" …
… Truss's decision to demote Kwarteng's No 2, Chris Philp, who had already been blamed for the policy to abolish the additional rate of income tax, has left some moderate MPs incandescent.
"The most disgusting thing she has done is sack Chris Philp," one said. "He's got his faults, he makes mistakes, but he's a good person and the person she needs around her and they just f***ed him around completely. They used him, sucked the blood dry and then spat him out. They are a real bunch of bastards."
According to a source in Kwarteng's constituency of Spelthorne, Surrey, the former chancellor experienced his first taste of the public's dissatisfaction during a walkabout on his local high street shortly after the mini-budget on September 23. Although his pledge to cut stamp duty had been expected to provide a welcome boost to the housing market, Kwarteng was left in no doubt about the views of a local estate agent who, on being waved at through the shop window, responded with a rude hand gesture.
There were signs the wheels were falling off the Truss bandwagon on Tuesday, when she reiterated her commitment to cutting taxes in a speech at a Conservative fundraising dinner for which guests paid £1,500 a seat. Truss, whose speech was described as "a worse version of the one she gave at conference", was denied a standing ovation.
"It was embarrassing," one guest said. "I can't think of another PM who hasn't received a standing ovation after addressing the same event — not even Theresa May at the height of her Brexit battles. The only topic of conversation was how the party could get rid of her."
Tory donors are also understood to have snubbed the PM. "Aides came to our table and asked our host, a prominent Tory donor, if he wanted to speak to the PM, as is customary. He told them bluntly that he would rather not."
Several miles away, at a separate dinner organised by Mel Stride, a leading Sunak supporter, those present were unanimous in their view that Truss should be replaced.
"The major discussions are no longer about her removal but how to do it," said one of those present. "It was mainstream, moderate MPs. I've never been to a dinner like it in my life. The whole room was discussing how to remove the prime minister."
On Wednesday, Truss faced the wrath of MPs at the 1922 Committee. The No 10 team have privately pointed the finger of blame at the whips for not preparing a proper operation beforehand. Truss was described as "incandescent" that she addressed the back-benchers without Sir Graham Brady, the committee chairman, leading the meeting. "She was stitched up," an ally said. "It was the same public schoolboy men attacking her at the 1922 who then went out to tweet about how good her tax cuts were."
Truss appears to have anticipated that calls for her removal would only grow after Kwarteng's sacking. Within minutes of the prime minister's disastrous eight-minute press conference on Friday afternoon, Thérèse Coffey, the deputy prime minister and health secretary, held a phone call with dozens of ministers in an attempt to shore up Truss's support. Looking "very upset", according to one person on the call, Coffey acknowledged the government had gone "too far and too fast" in the mini-budget but insisted, despite the severe setbacks, that No 10 was determined to prove the "flipping" Office for Budget Responsibility wrong …
Later, Coffey held a second call with backbench MPs, but it did not take long for the mood to sour. Laurence Robertson, a loyalist, told Coffey that Truss's supporters had been made to "look like fools", while Johnny Mercer, Andrew Percy and Steve Double are said to have claimed that the party was hurtling towards "disaster."
… There are reports that as many as 100 letters expressing no confidence in Truss have been submitted to the 1922 Committee, which some backbenchers believe would give Brady a mandate to change the rules and get rid of the year's grace a new prime minister usually has before a leadership challenge can be launched … 
"I've never been more depressed by what has happened in my entire time as an MP," one former minister said. "She sacked Kwasi out of survival but it actually made it worse for her. I think she will be gone by the end of the week" …
Although many of the party are unified in their desire to remove Truss, there is no agreement on who could replace her …
Truss's dire press conference
Truss's press conference last Friday was one for the history books.
She looked white as a sheet and visibly shaken, as if she were a hostage reading a pre-prepared note in front of a camera.
The Naked Emperor's Substack post from October 17 might give us an indication of what went on (bold emphasis his):
Alfred Kammer, head of the IMF's European department said he praised the UK's "strong institutions" but that the IMF would only deliver its verdict once policymakers' "process of recalibrating" the policies had been completed.
It sounds like Kwasi was sent to Washington DC to be assessed but he failed miserably. He was asked to change his mind but when he stuck to his guns, the message was sent back to London that this guy must be removed.
With the message received loud and clear back in London, a new Chancellor needed to be chosen. Once again, Liz Truss thought she was in charge and looked to replace Kwasi with Sajid Javid. However, once more, the powers that be had other ideas and she was told to appoint Jeremy Hunt.
But the main question remains – where was Jeremy Hunt? Why was he not by the Prime Minister's side when she announced his appointment?
The answer is that he was nowhere to be seen because Mr. Hunt had been in Brussels for three days. What was he doing there? Who was he meeting with? Was he being given his orders in case Kwasi couldn't be turned?
Clearly Liz and Kwasi didn't want to reverse course. Her extraordinarily short press conference … looked more like a hostage video.
Without further ado, here's the eight-minute press conference, which includes four questions from the media — Ben Riley-Smith from The Telegraph, Harry Cole from The Sun, Robert Peston from ITV News and a fourth whom I've forgotten. It starts a little after the 36:00 point:
It took Truss ages to choose the appropriate reporter:
Umm … ahh … let's see …
She chose The Telegraph and The Sun first, because those would be the most favourable towards her plight, but it did not turn out like that.
This was The Telegraph's front page on Saturday:
On Saturday, Harry Cole wrote:
Weakened and defenceless, when I asked the PM at yesterday's disastrous press conference why she should remain in office, she could barely muster an answer.
After taking just four questions from reporters, she rushed for the exit – barely eight minutes in.
Last night No10 were scrambling to simply survive in office.
"Tax cuts were meant to be the easy part", a minister claims.
Here is a clip of him asking his question and Truss's answer, which is about her taking 'difficult decisions':
After Truss took the fourth question, she walked away. That was it.
Cole is in the centre of the next video, looking bemused:
You could not have made this up — any of it.
Truth is stranger than fiction.
More to follow on Friday and early next week.
On Tuesday, July 26, the UK's fledgling news channel TalkTV scheduled a Conservative Party leadership debate with The Sun for 6 p.m.:
Kate McCann was the moderator.
She was to have been joined by Guido Fawkes alumnus Harry Cole, The Sun's political editor, but he had coronavirus:
TalkTV asked for questions from viewers, as well as their audience, half of whom had voted Conservative in 2019.
It promised to be a debate quite unlike the ones on Channel 4 and the BBC:
With The Sun involved, one knew that the candidates would get hard-hitting questions rather than boring ones from the media establishment.
In the opening round, Kate McCann gave the candidates 60 seconds each to present themselves and their platform.
Rishi Sunak did well …
… even if he was still in Tony Blair mode and sounded like Labour's Keir Starmer …
… but Liz Truss had to glance at her notes:
Then it was on to the questions.
It was gratifying to see that the audience members, both in person and remotely, asked them of the candidates directly.
The first one came from John Hughes in Birmingham, who spoke remotely. He is a cancer patient and said that, since the pandemic, he has had a very difficult time getting the care and the support he needs. He said that a cancer charity has been helping him but the NHS and Macmillan Cancer Support nurses have not been available:
Rishi said that it was good that John was getting the support he needed. John retorted that he was not getting the support he needed. Rishi corrected himself.
Rishi gave a long answer, which did not respond to the question.
Sunak said that he had been criticised for raising national insurance contributions to tackle the NHS backlog and fund social care reform, but that it was a "brave decision" and the right thing to do.
Liz said that she would reform the NHS, reducing layers of management so that the focus could be on patient care rather than bureaucracy:
I want to see fewer layers of management in the National Health Service and less central direction because I simply don't think that people can sit there in Whitehall and direct everything that happens in local communities across our country.
It seemed that John preferred her answer to Rishi's. At least Liz offered a plan. Kate McCann asked John what he thought. He said that:
he remained unconvinced by their answers and stated that the Conservative Party had been given 12 years to fix the NHS.
The next question came from a member of the studio audience. A lady said that she was used to buying steak several times a week, however, the price has gone up so much that she can no longer afford to buy meat of any kind. She asked whether she should become vegetarian:
The Times reported:
The debate then moved on to the cost of living, with Gemma from Manchester, a Sun reader, telling the candidates about the rising cost of meat in supermarkets and asking if more people should go vegetarian to save money.
Rishi said:
he would ensure that prices came down by "making sure that the supermarkets and all the other people in the supply chain are being fair in how they price these things [and that] no one is taking advantage of the situation to pass on price rises."
Surely, although I agree with the principle, if everyone in the supply chain is being fairly remunerated, prices will go up even further.
Liz told Gemma that becoming vegetarian was 'a choice' and one that the Government leaves to individuals.
I understood what Gemma meant by asking about vegetarianism, because with this year's price rises, it does seem as if that is the end game.
Bloomberg's Alex Wickham summed up this refreshing debate well:
For once, we had real people asking about real problems.
However, the candidates reverted to a subject with which they were more comfortable — tax cuts.
As the i paper's Hugo Gye pointed out, it seemed as if Rishi and Liz still couldn't connect with the audience as well as a certain Prime Minister — Boris Johnson:
Harry Cole, watching from home, tweeted this at 6:27 p.m.:
The Times reported:
The candidates' response quickly turned to the economy, with Truss saying that Sunak's manifesto-breaking tax rises had been "morally wrong" as she accused the former chancellor of having policies which are "making us less competitive" as a country.
Sunak said that tackling inflation remained his priority but suggested that some businesses were also profiteering from the cost of living crisis. He said he would ensure that prices came down by "making sure that the supermarkets and all the other people in the supply chain are being fair in how they price these things [and that] no one is taking advantage of the situation to pass on price rises."
Sunak also defended his plans to increase corporation tax. He said: "I think it's entirely reasonable to ask the largest companies in this country, just the top 10 per cent of companies, to pay a bit more because they're received a lot of help during the pandemic."
Truss countered by telling Sunak: "You've made it worse". "Companies have a choice about whether they invest in the UK or whether they invest elsewhere. Rishi's policies are making us less competitive," she said.
The Mail's Henry Deedes described other exchanges between the candidates and the optics. Rishi still looked vexed when Liz contradicted him. Liz almost fell into the same trap this time (emphases mine):
Rishi seemed to have eased a little on the caffeine since the night before.
He'd also rediscovered his manners and used his opening spiel to wish his opponent a happy birthday. Truss, 47 yesterday, shot him an icicle smile. 
The Foreign Secretary wore a purple dress the colour of a Cadbury's Dairy Milk wrapper. Très snazzy. She went into a brief monologue about how her upbringing was more modest than Sunak's. 'I know what it looks like when economic times are hard,' she said. Rishi bit down and resisted making a tart response. There was a bit of early tit-for-tat, but nothing that required Kate to pull them apart. The candidates had a brief struggle over who had the stronger family connections to the NHS. 'My father was GP,' said Rishi. 'Well, my mother was nurse!' countered Liz. 
Tempers frayed whenever Truss began to discuss her economic plans. Rishi's blood pressure would visibly spike, his eyes flickering from side to side as if to say: 'Leave the maths to me, luv.' 
Once again their main beef was over taxes – Liz wants to cut them, Rishi thinks it's unaffordable to do so. 
He accused Truss of funding her cuts by saddling future generations with more debt. 'That's not true, that's not true!' Liz retorted, shaking her head crossly. 
Kate McCann was doing an excellent job as moderator, keeping everything going at a rolling pace which made it interesting. I was settling into an unusual comfort zone, which I normally don't do when watching debates.
Just after 6:30 p.m., Kate asked Liz a question.
While Liz was speaking, viewers at home could hear a soft rocking noise, possibly a perspex podium against the floor.
Seconds later, there was a crash of perspex on the floor.
Viewers saw this:
The Telegraph's Tim Stanley was also watching from home and describes what happened:
It was one of the strangest, most shocking moments in TV history. Liz Truss was in the middle of denouncing Russia with her characteristic tics – her hands gripping that invisible tea tray for dear life – when there was an almighty crash off-screen.
"Oh my God!" Liz covered her mouth. Then she stepped towards the camera.
Turns out that poor Kate McCann, the talented journalist and host, had fainted.
Rishi also went to Kate's aid, but we didn't see that.
We didn't know what had happened.
The Mail reported:
A loud noise caused the clearly worried Foreign Secretary to hold her face in shock as she exclaimed: 'Oh my God!'. Ms Truss was then seen leaving her podium and walking towards where Miss McCann had been standing.
The broadcast feed was swiftly cut, with viewers shown the message: 'We're sorry for the disruption to this programme. We're working hard to fix the issue and will return to normal programming soon.'
Stanley wrote:
For 25 excruciating minutes, viewers speculated if a light had fallen, a bomb had gone off, or Boris Johnson had rushed the stage demanding to be heard – all the while that producers tried to carry on as normal by cutting to a promo for their other shows.
What were they thinking? That this was a great chance to promote their product? We're lucky they didn't try to flog us some diamante earrings …
… debating tax policy is exactly how Liz would want to spend her birthday – and though the evening took an alarming turn, the gods did her a favour by having the camera focused on her when Kate passed out. Liz's instinct to run towards the disaster did her credit, a reminder that whatever her job, she is first and foremost a mum.
And her mother was a nurse!
Just before 7 p.m., when the debate would have ended:
TalkTV put on two talking heads who calmly discussed what we'd been watching – vegetarian options, clown doctors – without substantial reference to the one bit we were all shouting at the telly about: "What the hell just happened?!"
It was surreal: the commercial equivalent of Soviet TV cutting from the coup against Gorbachev to 72 hours of Swan Lake. Thankfully, Twitter was still reporting the news: Kate was ok. By then it was 7pm and time for Piers Morgan's landmark show on Ukraine – at which point what was probably TalkTV's largest ever audience, all 250 of us, turned off.
Kate, you're a star and your peers wish you the very best.
Henry Deedes said:
Doctor's orders were that she was done for the evening. It must have been frustrating for Team Rishi, who are running out of time. The former chancellor has agreed to be interviewed by that fearsome rottweiler of an interviewer, Andrew Neil, on Channel 4 on Friday. For politicians, such encounters rarely end well.
The candidates spent the remaining half hour talking to the studio audience:
Kate received many supportive messages.
Harry Cole tweeted:
BBC Newsnight's Nicholas Watt complimented Kate on her moderation of the debate:
The candidates also sent their best wishes, saying they would like to return to finish the debate:
I hope the debate is rescheduled — and agree that it should pick up where it left off:
Harry Cole is an excellent journalist.
That night, The Sun reported that, after all these days of insisting his tax plan was the right thing to do, Rishi decided to do an about-face and cut VAT on energy bills.
But has he stolen Work and Pensions Minister Thérèse Coffey's idea? Hmm:
Polling results must have been eating away at the former Chancellor.
The Telegraph also carried the story on its front page for Wednesday:
The Mail alleges that this was Boris's plan but Rishi wouldn't allow it:
Rishi Sunak makes a desperate bid to claw back lost ground in the Tory leadership race today by promising a £4billion VAT cut on energy bills just hours after he and his rival Liz Truss led tributes to TalkTV presenter Kate McCann after she fainted live on air.
The former chancellor has repeatedly refused to match rival Liz Truss on cutting taxes, labelling her plans a 'fairytale' and insisted such cuts must wait until inflation is curbed.
But today he pledges to scrap the 5 per cent VAT rate levied on domestic energy bills for a year.
Last night No10 insiders told the Daily Mail that this plan was something Boris Johnson tried to implement to ease the burden on consumers – but was blocked by Mr Sunak.
'Boris begged him to do it – but he wouldn't budge', said the source. 'It's astonishing that he's now claiming it as his own policy.'
A source close to Liz Truss's campaign told The Telegraph: 'It's good that Rishi has finally woken up and decided to offer something to people struggling with the rising cost of living.
'However, this feels like a screeching U-turn from someone who has spent the last few weeks of the leadership campaign branding everyone else's tax cuts immoral and fairytales.'
The article states that this was also Labour's policy:
Mr Sunak's energy bill tax move, which would save an average household £160, has been Labour Party policy for nearly a year, and Mr Sunak voted against the proposal in the Commons in January.
He told the Commons in February that the policy would 'disproportionately benefit wealthier households'.
He added: 'This would become a permanent £2.5billion Government subsidy… when we are trying to rebuild the public finances.'
This month he argued that tax cuts are 'immoral because there is nothing noble or good about racking up bills on the country's credit card that we then pass on to our children and grandchildren'.
One can understand his point, but when the Work and Pensions Minister and the Prime Minister both want it, it's the right thing to do.
I read only this week that VAT is an EU tax. Therefore, we can scrap it.
No one ever mentions that VAT is an EU tax. Why not?
The Mail says:
Until yesterday [Wednesday] Mr Sunak had refused to consider tax cuts before autumn 2023, the earliest point when a 1p cut in the basic rate of income tax could come in.
Autumn 2023 would be way too late, especially if our next general election is held in May 2024.
The Telegraph reported that Rishi's team denied a U-turn:
The Sunak camp denied there had been a U-turn, adding that the tax cut was "a tool that was always in our arsenal".
"We didn't use it back in spring because the size of the jump of the bills was way bigger, and it wouldn't have touched the sides," a source said. "This is a response to latest estimates that suggest the rise might be £100-200 more than anticipated."
For me, this volte face comes too late in the contest, because Rishi was adamant in three debates that he would not cut taxes.
As such, in Truss we trust.
———————————————————–
UPDATE — Guido Fawkes posted TalkTV's ratings for Tuesday night. The debate's 'off air' message beat Piers Morgan's show by far:
Morgan tweeted McCann, who has since recovered:
On Wednesday, July 27, the i paper reported ructions at TalkTV about the interruption of the debate, with staff asking why it didn't continue with another presenter:
Rupert Murdoch's TalkTV is holding an inquest into why there was no "plan B" to keep its Prime Ministerial debate on air after presenter Kate McCann fainted.
Presenters at TalkTV and its sister radio station were said to be ready and able to jump in and replace the stricken presenter during the abandoned live broadcast, i has been told.
As panic spread, executives asked Rishi Sunak and Liz Truss to remain at their podiums at the Ealing studio, normally used for Piers Morgan's nightly programme, while they considered their options.
However it was decided that stunned viewers would continue to be shown a recorded message saying normal programming would resume, rather than restart with a new presenter.
Trouble began behind the scenes when planned co-presenter Harry Cole was forced to pull out on the morning of the debate after contracting Covid.
An insider said: "Tom Newton Dunn (presenter of TalkTV's 7pm news show) would have stepped up to co-present but the bosses wanted Kate to front it solo as a showcase for her."
McCann, Talk's political editor, was said to be "nervous" at fronting the high-profile event but had shown no sign of ill health, even during the broadcast's first half hour.
The source said: "It was very sudden. She crashed forward into the podium. That was the loud bang viewers heard."
Truss, speaking on camera at the moment, said "oh my god" and rushed over towards McCann. At that point, with the clock showing 6.31pm, the channel cut from the debate.
"Rishi also rushed over. He knelt on the floot and held Kate's hand, he was very comforting," the insider said.
Faced with a crisis playing out live on TV and social media, some in the building believed that the show must go on.
"There were plenty of experienced on-screen talent already there who felt they could have taken over. They could have winged it."
"All the News UK bigwigs were there. There was a panicked pow-wow. Some said 'who can we get to fill in?' but they decided against it."
Instead the candidates were asked to stay in the studio and take questions informally from The Sun readers in the audience.
The insider added: "Today there is an inquest into why there wasn't a Plan B to keep the debate on air. It's a given for any serious broadcast channel" …

The incident gave a brief boost to TalkTV's struggling ratings. The channel has recorded zero viewers at low points in its schedules and Piers Morgan's flagship show has even been beaten by rival GB News on occasions.
The screen message telling viewers TalkTV was off air was watched by one of the channel's highest ever audiences.
Some 141,000 people tuned in, numbers comparable to Morgan's opening week on Talk in April before his figures tumbled.
The debate peaked with 183,000 viewers tuning in shortly after its 6pm start. However Talk's numbers dropped across the night with Morgan's programme dropping to 14,000 viewers at its conclusion.
Despite the lure of the debate, Sky News, BBC News and GB News all recorded a greater audience than TalkTV across the whole of primetime, according to Barb data.
Insiders said this would disappoint NewsUK's bosses who had hoped to relaunch TalkTV off the back of the debate, which was shared with sister title, The Sun …
The podium "crash" even gave TalkTV what it has been seeking since it launched three months ago – highly-shareable viral content that creates a buzz on social media.
On this occasion though, that content, seized upon by media rivals including the BBC, was unintended.
Yesterday's post discussed the first three days of the Conservative Party Conference.
Today's entry will look at Prime Minister Boris Johnson's speech on Wednesday, October 6, 2021.
It was still content-light, but at least he explained what 'levelling up' is. More on that below.
But first, let's look at what happened the night before, the last opportunity for MPs and the party faithful to get together on the dance floor.
Tuesday, October 5, after hours
Pensions minister Thérèse Coffey had a great time as the temporary £20 Universal Credit boost came to an end.
A cold fish at the despatch box at the best of times, Coffey showed us a different side of herself as she, a chemist by training, belted out 'Time of My Life' from Dirty Dancing (video credit to the Daily Mail):
The Mail reported (emphases mine):
The cabinet minister in charge of Universal Credit was slammed today for belting out Time of My Life at a boozy Conservative party Conference karaoke bash hours before cutting payments to six million people.
Work and Pensions Secretary Therese Coffey enthusiastically belted out the 1987 power ballad from the film Dirty Dancing in a duet with fellow Will Quince – a former welfare minister.
It came as a £20-per-week Covid uplift payment was removed from UC for families across the UK.
The Government has pressed ahead with the cut despite concerns – including from Tory backbenchers – that hundreds of thousands of people will be plunged into poverty.
From today, no assessments will include the uplift, meaning that from October 13 – a week later – no payments will be received that include the extra money.
I don't know what I think about removal of the £20 uplift. The Government always said in Parliament that it was temporary and stated months ago that it would end in October 2021. I feel for those families. On the other hand, the last thing I want to see is Universal Basic Income, and if this £20 were maintained, it would have been a slippery slope along that road.
Furthermore, there are plenty of job vacancies and salaries are going up. Note the decrease in people clicking on the vacancies, however. Hmm:
Two other MPs, Levelling Up minister Michael Gove, in the process of divorcing his wife, and Tom Tugendhat, danced together. Guido referred to this season's Strictly Come Dancing:
It was only a few weeks ago that Gove spent the early hours of one morning dancing in a nightclub in Aberdeen, his home town.
The Mail reported:
Michael Gove has been spotted rocking the dance floor again – this time busting moves to Whitney Houston's I Wanna Dance With Somebody and belting out Bonnie Tyler's Total Eclipse Of The Heart at the Tory party conference. 
One hilarious clip shows the Levelling Up Secretary, 54, arm in arm with Tom Tugendhat as he throws his finest shapes to a cover of the 1987 hit while wearing a suit and tie – just a month after his infamous night out in Aberdeen.  
Newly-single Mr Gove, and Mr Tugendhat, MP for Tonbridge and Malling, are seen taking turns to spin each other as they go all out at the gathering – which is not usually known as a hotbed of hedonism. 
In a second clip shared by The Sun, Gove can be seen passionately singing along to Bonnie Tyler's hit 1983 anthem with his mouth wide open, hands interlocked with an unidentified woman in front of him.
Meanwhile, at another Conference party event, Liz Truss danced to Beyonce (video credit to Guido Fawkes):
Wednesday, October 6
Wednesday was Boris's big day.
He abandoned his diet temporarily:
Guido Fawkes has the calorific coffee order:
Sat in the conference exhibition hall ahead of Boris's speech Guido was astonished to overhear the Speccie's Katy Balls being told by a barista that Boris's aides turned up at his stall yesterday to fetch the boss a coffee. The coffee order in question was a stomach-churning triple shot flat white, with extra caramel syrup with three sugars – an astonishing departure from the diet Carrie supposedly put him on after his Covid hospital trip.
Later, an appreciative crowd gave their Party leader a standing ovation:
Guido has the full text of Boris's speech, which was not much shorter than Keir Starmer's last week but was delivered in half the time: 45 minutes compared with 90.
Before going into Boris's speech, Keir Starmer's speechwriter dived in to say that his went on 'absolutely' too long:
Guido reported that Philip Collins, Starmer's speechwriter (and Tony Blair's), said the policy sections were 'a bit baggy' (red emphases in the original, purple one mine):
Philip Collins, the man who drafted Sir Keir's epic 90-minute address at Labour Conference last week, has admitted the speech "absolutely" went on too long – and even claimed the sections on policy (such that they were) were "a little bit baggy" and yes, "boring". This is a speech he wrote only a week ago…
Speaking on Politico's Westminster Insider Podcast, Collins said:
"It's always the same bits […] the policy bits are very, very difficult to bring to life. If you don't include them, everybody will write that you have nothing to say, that you're empty […] those bits, if I'm critical, could have been tighter, could have been more compressed. I think they were a bit long, a little bit baggy."
Which in view of criticisms of Boris that his conference speech was light on policy detail, suggests he made the right call. Collins, who was also Tony Blair's wordsmith, goes on to say that while he thought Starmer handled the inevitable heckles well, the interruptions and subsequent applause ("people enjoyed it far too much!") contributed to the running time, claiming Starmer "was getting standing ovations for things that were just basically boring lines that were meant to just take you to the next stage of the speech". "It got ridiculous", Collins said…
Returning to Boris, Guido also has videos of his speech.
It was clear that Boris, a former journalist, penned the words himself.
He opened with an amusing put-down of former Labour leader Jeremy Corbyn, recalling the 2019 election:
Isn't it amazing to be here in person, the first time we have met since you defied the sceptics by winning councils and communities that Conservatives have never won in before – such as Hartlepool. In fact it's the first time since the general election of 2019 when we finally sent the corduroyed communist cosmonaut into orbit where he belongs …
Then he threw in a joke about Michael Gove:
The Mail was on hand to give us Gove's reaction:
Prime Minister Boris Johnson later referenced Mr Gove's disco moves at his conference speech today, branding him 'Jon Bon Govi' – prompting the minister to turn bright red.
Here's Guido's video:
Boris said:
… for months we have had one of the most open economies and societies and on July 19 we decided to open every single theatre and every concert hall and night club in England and we knew that some people would still be anxious, so we sent top government representatives to our sweatiest boîtes de nuit to show that anyone could dance perfectly safely and wasn't he brilliant my friends? Let's hear it for Jon Bon Govi, living proof that we, you all, represent the most jiving, hip, happening and generally funkapolitan party in the world.
Tom Harwood, a Guido alum now working for GB News, gives us tweeted highlights.
Despite the rise in National Insurance tax, Boris insisted that Britain would move towards a low-tax economy:
Boris then had a go at Labour:
He then went on to slam Insulate Britain, which had blocked the roads for ten consecutive days at that point (12 as I write):
He discussed immigration from Afghanistan and Hong Kong …
… adding:
We are doing the right and responsible thing and, speaking as the great grandson of a Turk who fled in fear of his life, I know that this country is a beacon of light and hope for people around the world, provided they come here legally, provided we understand who they are and what they want to contribute, and that is why we took back control of our borders and will pass the borders bill, because we believe there must be a distinction between someone who comes here legally and someone who doesn't, and, though I have every sympathy with people genuinely in fear of their lives, I have no sympathy whatever with the people traffickers who take thousands of pounds to send children to sea in frail and dangerous craft. And we must end this lethal trade. We must break the gangsters' business model.
He made reference to 2022's general election in France and the newly-conservative outlook on the EU and immigration from our Brexit negotiator:
And is it not a sublime irony that even in French politics there is now a leading centre right politician calling for a referendum on the EU. Who is now calling for France to reprendre le controle?? It's good old Michel Barnier. That's what happens if you spend a year trying to argue with Lord Frost, the greatest frost since the great frost of 1709.
Boris then illustrated what he means by 'levelling up'. Different areas of England will get solutions to their specific needs:
I will tell you what levelling up is. A few years ago they started a school not far from the Olympic park, a new school that anyone could send their kids to in an area that has for decades been one of the most disadvantaged in London. That school is Brampton Manor academy and it now sends more kids to Oxbridge than Eton. And if you want proof of what I mean by unleashing potential and by levelling up, look at Brampton Manor, and we can do it.
There is absolutely no reason why the kids of this country should lag behind, or why so many should be unable to read and write or do basic mathematics at the age of 11. And to level up – on top of the extra £14 bn we're putting into education and on top of the increase that means every teacher starts with a salary of £30k – we are announcing a levelling up premium of up to £3000 to send the best maths and science teachers to the places that need them most.
And above all we are investing in our skills, skills, folks. Our universities are world beating. I owe everything to my tutors and they are one of the great glories of our economy, but we all know that some of the most brilliant and imaginative and creative people in Britain – and some of the best paid people in Britain – did not go to university. And to level up you need to give people the options, the skills that are right for them. And to make the most of those skills and knowledge and to level up you need urgently to plug all the other the gaps in our infrastructure that are still holding people and communities back.
As I've been saying over this wonderful conference to you when I became leader of this party, there were only, can you remember, what percentage of households had gigabit broadband when you were so kind as to make me leader? 7 percent, only 7 percent, and by the new year that will be up to 68 per cent. Thanks to Rishi's super-deduction the pace is now accelerating massively as companies thrust the fibre-optic vermicelli in the most hard to reach places.
On that topic, he had a witty go at Scotland's Ian Blackford MP, a multi-millionaire who gives the impression he has nothing. This bit is about the remote video connections Parliament had during the pandemic:
It's wonderful, for years SNP leader Ian Blackford has been telling the Commons that he is nothing but a humble crofter on the Isle of Skye. Well, now we have fibre optic broadband of very high quality that we can inspect the library or is it perhaps the billiard room of Ian Blackford's croft. And that is levelling up in action.
Boris wants to get Britons back in the office:
And my friends it is not good enough just to rely on Zoom. After decades of ducked decisions, our national infrastructure is way behind some of our key competitors.
It is a disgrace that you still can't swiftly cross the Pennines by rail, a disgrace that Leeds is the largest city in Europe with no proper metro system, a waste of human potential that so many places are not served by decent bus routes. Transport is one of the supreme leveller-uppers and we are making the big generational changes shirked by previous governments.
We will do Northern Powerhouse rail. We will link up the cities of the Midlands and the North. We will restore those sinews of the union that have been allowed to atrophy: the A1 north of Berwick and on into Scotland, the A75 in Scotland that is so vital for the links with Northern Ireland and the rest of the country, the North Wales corridor. And we will invest in our roads, unblocking those coagulated roundabouts and steering-wheel-bending traffic lights, putting on 4000 more clean green buses made in this country, some of them running on hydrogen.
And as we come out of Covid, our towns and cities are again going to be buzzing with life because we know that a productive workforce needs that spur that only comes with face to face meetings and water cooler gossip.
If young people are to learn on the job in the way that they always have and must, we will and must see people back in the office. And that is why we are building back better with a once in an a century £640bn pound programme of investment.
And by making neighbourhoods safer, by putting in the gigabit broadband, by putting in the roads and the schools and the healthcare, we will enable more and more young people everywhere to share the dream of home ownership, the great ambition of the human race that the left always privately share but publicly disparage.
And we can do it.
He discussed rewilding Britain:
We are going to re-wild parts of the country and consecrate a total of 30 per cent to nature. We are planting tens of millions of trees.
Otters are returning to rivers from which they have been absent for decades. Beavers that have not been seen on some rivers since Tudor times, massacred for their pelts, and now back. And if that isn't conservatism, my friends I don't know what is.
Build back beaver.
And though the beavers may sometimes build without local authority permission, you can also see how much room there is to build the homes that young families need in this country.
He talked about the housing crisis and the importance of home ownership, especially for the young:
He praised the success of the coronavirus vaccine rollout and the contribution of private enterprise:
He wittily criticised Labour's reluctance to accept the Government's pandemic strategy:
Boris discussed the Labour Party conference and Sir Keir Starmer. This is classic Boris:
Did you see them last week, did you watch them last week in Brighton? Hopelessly divided I thought they looked.
Their leader looked like a seriously rattled bus conductor, pushed this way and that by, not that they have bus conductors any more, unfortunately, like a seriously rattled bus conductor pushed this way and that by a Corbynista mob of Sellotape-spectacled sans-culottes or the skipper of a cruise liner that has been captured by Somali pirates desperately trying to negotiate a change of course and then changing his mind.
He discussed getting a trade deal with the United States, especially our export of British beef:
He touched on AUKUS …
… and Labour's opposition to that alliance:
He also addressed political correctness, which, frankly, has only worsened under this Government. He really does need to tackle it, so I hope he means what he says here. On a lighter note, he mentioned Michael Gove again:
We are led by our values, by the things we stand for. And we should never forget that people around the world admire this country for its history and its traditions. They love the groovy new architecture and the fashion and the music and the chance of meeting Michael in the disco. But they like the way it emerges organically from a vast inherited conglomerate of culture and tradition. And we Conservatives understand the need for both and how each nourishes the other. And we attack and deny our history at our peril. And when they began to attack Churchill as a racist I was minded to ignore them. It is only 20 years ago since BBC audiences overwhelmingly voted him the greatest Briton of all time, because he helped defeat a regime after all that was defined by one of the most vicious racisms the world has ever seen.
But as time has gone by it has become clear to me that this isn't just a joke. They really do want to re-write our national story starting with Hereward the Woke. We really are at risk of a kind of know-nothing cancel culture, know-nothing iconoclasm. And so we Conservatives will defend our history and cultural inheritance, not because we are proud of everything, but because trying to edit it now is as dishonest as a celebrity trying furtively to change his entry in Wikipedia, and its a betrayal of our children's education.
He closed by paying tribute to England footballers, Emma Radacanu and Team GB's Olympians and our Paralympians, who did so well this year:
The spirit of our Olympians. It is an incredible thing to come yet again in the top four, a formidable effort for a country that has only 0.8 per cent of the world's population … but when we come second in the Paralympics as well – that shows our values, not only the achievement of those elite athletes but a country that is proud to be a trailblazer.
To judge people not by where they come from but by their spirit and by what is inside them.
That is the spirit that is the same across this country, in every town and village and city that can be found. That can be found in the hearts and minds of kids growing up everywhere.
And that is the spirit we are going to unleash.
The crowd loved every minute:
Tom Harwood interviewed party members afterwards, all of whom gave Boris's speech rave reviews:
I could go into the pundits' analyses, but why bother? So many are disgruntled Remainers, still licking their wounds over Brexit, which means that they will attack any Conservative policy.
As a former boss of mine used to say: 'Onwards and upwards!'