You are currently browsing the tag archive for the 'Tim Stanley' tag.
On February 4, 2023, Liz Truss wrote an exclusive 4,000 word article for The Telegraph: 'I assumed upon entering Downing Street my mandate would be respected. How wrong I was'.
The date matters as it had been around 100 days since she left office as Prime Minister.
Excerpts follow, emphases mine.
She reflected on where she was at this point in 2022. February 24, the date of this post, is the first anniversary of the Russia-Ukraine conflict:
One year ago this week, I went to Moscow as foreign secretary to warn my Russian counterpart of the grave consequences that would result from any invasion of Ukraine. Had anyone told me then that, 12 months later, I would be a backbench MP following a 49-day term as prime minister, I would not have believed it.
Since my departure from Downing Street just over 100 days ago, I've spent many hours reflecting on what happened during my time there, what went wrong and what I might have done differently. This soul-searching has not been easy.
Now I want to set out, from my perspective, what happened and what I have learned.
Urgency
When Boris stood down as Conservative Party leader on July 7, Truss was in Bali at a G20 meeting of foreign ministers:
I watched his speech live in my hotel room. It struck me as crazy to be deposing a leader who had secured an 80-seat Commons majority for the Conservative Party less than three years ago.
I had always assumed that Boris would fight the next general election in 2024. Standing for the leadership myself was a faraway prospect and, as a result, I didn't have any kind of infrastructure in place for the contest on which the starting gun had just been fired.
All I had in that hotel room, nearly 8,000 miles from Westminster, was a series of messages urging me to return to London – including one from a fellow foreign minister that simply read: "Get back home woman and start hustling."
That's what I felt compelled to do.
She thought that boldness was the way forward:
I feared the consequences of high energy prices, high taxes and a slowing global economy without bold action. What we really needed was a change in policy direction and mindset in order to kick-start a return to sustainable economic growth.
As it was, the Government's economic policy platform included raising National Insurance (imposing the so-called Health and Social Care Levy) and increasing corporation tax to the same level as France – positions which I had vigorously challenged around the Cabinet table. Meanwhile, I sensed increasing resistance within the Government to the essential proposals to diverge from EU rules.
Sounds familiar, doesn't it, under Rishi Sunak and Jeremy Hunt? No wonder she had to go.
She felt a sense of urgency:
As I started piecing together my nascent leadership campaign, I was struck – not for the last time – with a sense that there was a vast amount to do and very little time in which to do it …

My party agreed that we needed to stop drifting in the direction of a higher-tax, higher-spend economy being choked by ever more regulation, which was causing sluggish growth, low productivity and a dampening of enterprise and innovation. My plan to get Britain back on the right trajectory was popular.
Her husband warned her about throwing her hat into the ring:
… my husband warned me that it would be awful – I could not duck the challenge. I knew that if I didn't step up, I would regret it …
The leadership campaign turned out to be as brutal as my husband had feared. I was called everything from immoral to insane – and that was just some of the "friendly fire" I encountered.
As Prime Minister:
Instinctively, I was determined to act with maximum speed. I knew this risked mistakes being made, but the normal pace of the Whitehall machine would be nowhere near sufficient to tackle the immediate emergencies we were facing, let alone to attempt to get the British economy onto a path to growth with barely two years left until the next election.
As a matter of urgency, I dealt with the issue of energy bills, which were projected to rise as high as an annual £6,000 for British families as a consequence of Vladimir Putin's invasion of Ukraine.  
Designing a targeted scheme was impossible given the urgency of the situation, so it had to be universal. Families and businesses would not be able to cope for much longer without assistance. I was also working on ways of mitigating the costs, in particular by signing up to longer-term energy supply agreements as well as through enabling more North Sea production, fracking and renewable energy. We urgently needed to move away from the short-termist approach that had left the UK dependent on global energy prices and vulnerable to the actions of a hostile state with strategic energy interests.
The benefits to the economy of the package were clear: it was set to reduce peak inflation by five per cent and contribute to our primary economic objective of boosting trend growth to 2.5 per cent. It's no exaggeration to say that there are firms which remain in business today only because of the action we took. This intervention prevented a major economic crisis. The markets welcomed my intervention, reducing the sky-high levels of uncertainty and anxiety.
The mini-Budget
The Queen's death and the consequent suspension of Parliament for two weeks did not help Truss's time in Downing Street.
Still, she had to press on, regardless:
… because of the expected size of the energy package (albeit dwarfed by the money spent on Covid-19 pandemic measures), it was going to be necessary for us to make a fiscal statement very soon.
The date of what inevitably became known as the mini-Budget was set for Sept 23. In hindsight, perhaps we could have delayed it for a few days. However, much longer than that would have meant not sticking to our commitments.
There were concerns in some quarters that the announcement would not be accompanied by forecasts from the Office for Budget Responsibility (OBR). However, the OBR's core purpose is to produce twice-yearly forecasts on whether the Government is on track to meet its fiscal targets. Commissioning a report at that juncture would not have been appropriate, given that the forecast would have been unable to take into consideration the future spending decisions we planned to outline in the Medium Term Fiscal Plan a few weeks later.
It's also worth recalling that no OBR forecast has accompanied many other fiscal announcements, not least the Covid-19 furlough scheme, which cost £70 billion.
As I had spelled out during the leadership campaign, I wanted to go for growth by reversing the proposed rises to corporation tax and National Insurance and implementing a programme of economic reform in order to prevent recession and stagnation and put the UK on a positive path.
Treasury opposition
She described how the civil servants at the Treasury think:
I saw first-hand during my two years as chief secretary to the Treasury that pessimism and scepticism about the growth potential of the British economy are sadly endemic at the Treasury: serious planning reform was dismissed as not politically deliverable; discussing monetary policy was a taboo; deregulation of financial services and other industries was viewed as undermining the prospects of a deal with the EU; and Brexit was seen as a damage-limitation exercise rather than a once-in-a-generation opportunity.
Instead, the focus from the Treasury was on micro, top-down tinkering such as productivity initiatives trying to encourage firms to become more efficient, along with government intervention.
Favourable reception
Truss called our attention to the favourable reception of the mini-Budget:
Following the announcement on Sept 23, the National Institute of Economic and Social Research came out and forecast that our energy support guarantee, coupled with the tax cuts announced, would lead to positive GDP growth in the fourth quarter of 2022, shortening the recession and raising annual GDP growth to around two per cent over 2023-24.
There were positive reactions from many quarters. Kitty Ussher, a Treasury minister in Gordon Brown's government and now chief economist at the Institute of Directors, declared it "a good news day for British business", adding that "in a time of low confidence and economic uncertainty, the new chancellor's emphasis on going for growth will be very welcome to firms of all sizes across the UK".
Tony Danker, director-general of the Confederation of British Industry (CBI), hailed it as "a turning point for our economy" and "day one of a new UK growth approach", recognising that "a simpler, smarter approach to tax can pay dividends".
There were some concerns about the abolition of the 45p tax rate, a small measure and virtually the only one I had not trailed during the leadership campaign. We were simply returning to the top rate that was in place for the vast majority of the 1997-2010 Labour government, although clearly the political sands had shifted.
Nonetheless, as the chancellor and I travelled to Kent to visit a factory that afternoon, we were positive that we had done the right thing for the country and felt optimistic about the future.
Pensions debacle a surprise
Truss explained why she was unaware of the effect of the mini-Budget on pension funds:
At no point during any of the preparations for the mini-Budget had any concerns about liability-driven investments (LDIs) and the risk they posed to bond markets been mentioned at all to me, the chancellor or any of our teams by officials at the Treasury. But then, late on the Sunday night, came the jitters from the Asian markets as they opened. I was alerted to this on the Monday morning, at which point the Bank of England governor was wanting to make a statement on LDIs.
Readers will not be surprised that, given their impact on events, since leaving office I have spent some time looking into LDIs. I was shocked by what I discovered.
In the early 2000s, pension funds were heavily underfunded. To increase their returns, they used LDIs – which use bond derivatives – freeing up cash for the pension funds to invest in other assets. This works when markets are calm but becomes problematic when the price of government bonds falls within a short timeframe. As LDIs entered the financial mainstream, with The Pensions Regulator seemingly encouraging their uptake, warnings started to be issued on the risks they could pose to financial markets – all unbeknownst to me at the time.
Astonishingly, it turns out that the value of total assets in LDI strategies is equivalent to around 60 per cent of the UK's GDP.
The day before the mini-Budget, the Bank of England raised interest rates by 0.5 per cent, whereas the US Federal Reserve had just announced a third successive rate rise of 0.75 per cent. In addition, the Bank simultaneously confirmed plans for a bond-selling programme. Bond prices fell sharply, putting pension funds under pressure.
Dramatic movements in the bond market had already begun, meaning the mini-Budget faced a very difficult environment. Only now can I appreciate what a delicate tinderbox we were dealing with in respect of the LDIs.
Admitting mistakes
In retrospect, Truss admitted that she made mistakes:
Regrettably, the Government became a useful scapegoat for problems that had been brewing over a number of months. Interest rates had been rising internationally and mortgage costs had been forecast to go up for some time.
I fully admit that our communication could have been better. As I said during the leadership campaign, I am not the slickest communicator. In addition, we did not have a system that was enthusiastic about communicating messages contrary to its orthodoxy and, so early in my premiership, I had not established the infrastructure inside No 10 to best explain all that we were doing.
In hindsight, maybe I should not have headed to New York after the late Queen's funeral to attend the UN General Assembly and instead supervised the final preparation of our announcements more closely.
Knowing what I know now, undoubtedly I would have handled things differently. I underestimated the extent to which the market was on edge and, like many others, was not aware of how fragile our system had become.
But, frankly, we were also pushing water uphill. Large parts of the media and the wider public sphere had become unfamiliar with key arguments about tax and economic policy and over time sentiment had shifted Left-wards. This is partly because we Conservatives had failed to make these arguments enough since 2010 – instead triangulating with Labour policy. It was also clear that, internal disagreements within my own party aside, there was a broader consensus in favour of raising taxes.
How the system operates
Truss explained how the system operates and how it fails long-term economic vision:
The process operates at arms-length, based on models which rely on a wide range of assumptions, including on the delivery of policies. In my view, this static modelling tends to undervalue the benefits of low taxes and supply-side reforms for economic growth, and overvalue the benefits of public spending. This inevitably puts pressure on a higher-tax and higher-spend outcome – hence the inexorable tax rises we are now seeing.
In the medium term, I believed my policies would have increased growth and therefore reduced debt.
Five-year forecasts are treated as accurate predictions and therefore filling the "gap" becomes the imperative of government policy. This leads to policies being adjusted to fit those forecasts, only for those forecasts to be revised with each new iteration of the figures, forcing further policy change down the line.
As a result, the Government is forced to make economically detrimental decisions, such as raising corporation tax, based on uncertain forecasts that may not come to fruition. For example, in September the energy package was set to cost £60 billion and by November it was forecast to be £43 billion, yet the latest projections are considerably lower.
Global opposition
With Truss at the helm, the UK was out of step with the rest of the Western nations. Conservative Party members might have liked her policies, but TPTB clearly did not:
We were also swimming against the international tide. There was a concerted effort by international actors to challenge our Plan for Growth. The IMF commented on distributional aspects rather than market stability which it is hard to conclude was anything but politically motivated.
Then there was the intervention from President Biden, who publicly voiced his disagreement with our economic policy, stating: "I wasn't the only one that thought it was a mistake."
These interventions were, sadly, in tune with growing efforts on the world stage to limit competition between G7 economies, as evidenced by the proposed global minimum tax rates.
Facing the headwinds we did, I could not allow the markets – backed by this economic consensus – to keep betting against the UK. Before long, I was given the starkest of warnings by senior officials that further market turmoil could leave the UK unable to fund its own debt. This is why I reluctantly concluded I had no option but to remove the chancellor and change the policy.
I was deeply disturbed by having to do this. Kwasi Kwarteng had put together a brave package that was genuinely transformative – he is an original thinker and a great advocate for Conservative ideas. But at this point, it was clear that the policy agenda could not survive and my priority had to be avoiding a serious meltdown for the UK. I still believe that seeking to deliver the original policy prescription on which I had fought the leadership election was the right thing to do, but the forces against it were too great.
I am very pleased that elements of it did survive – the reversal of the National Insurance rise and the cuts to stamp duty – and those measures have eased the burden a little on hard-working families and those buying their own home. But it was obviously going to be difficult to remain as prime minister after abandoning the thrust of the platform on which I had been elected, and it was already clear that elements of the parliamentary party were not prepared to allow me to stay.
I am not claiming to be blameless in what happened, but fundamentally I was not given a realistic chance to enact my policies by a very powerful economic establishment, coupled with a lack of political support.
Party opposition
Both Truss and Conservative Party members learned something about their MPs:
I underestimated the resistance inside the Conservative parliamentary party to move to a lower-tax, less-regulated economy. The furore over the reduction of the top rate of income tax was testament to this. In the overall package of measures, it was – in fiscal terms – little more than a rounding error, equivalent to 0.2 per cent of government spending. Even though the measure was economically sound, I underestimated the political backlash I would face, which focused almost entirely on the "optics" …
As a result:
We have ended up in a situation as a country where fiscal policy is in a straitjacket. Moreover, there is a worrying economic consensus – both at a national and, increasingly, international level – that is preventing economic dynamism and growth.
Median incomes here in the UK are now well below those in the US, Switzerland or Norway and the average in developed countries. If we are to succeed in putting our country on a path to high growth, rising wages and becoming internationally more competitive, things need to change.
We have not done enough over the past decade to make the arguments for a lower-tax, more deregulated economy, which meant that the groundwork had not been laid for what I sought to do …
And while I saw the power of "the blob of vested interests" within many a Whitehall department during my more than 10 years in ministerial office, I seriously underestimated the strength of the economic orthodoxy and its influence on the market.
Nonetheless, the average Joe and Jane are on Truss's side:
I have lost track of how many people have written to me or approached me since leaving Downing Street to say that they believe my diagnosis of the problems causing our country's economic lethargy was correct and that they shared my enthusiasm for the solutions I was proposing.
Ultimately, she still has hope that the UK can turn itself around. Millions of us hope so.
Pundits' views
On February 6, The Telegraph's Tim Stanley concluded that 'undemocratic forces prevailed'.
He says that she was not given a chance, whereas Theresa May was:
Theresa May nearly lost an election and bungled Brexit, yet the Tories stuck with her for three years. In 2023, by contrast, we got through three PMs in one year.
Was this really the reason May survived and Truss did not?
That's because our economy and society were upended by a pandemic that stoked demands for more government while injecting wild anxiety into our political culture.
Perhaps it was.
The most pathological thing is that the IMF is now advocating Trussonomics:
… last week the IMF said British recovery would be limited by its tax rises. And that, you silly people, was Truss's entire point.
CapX's Jon Moynihan says that the Bank of England was at least partly responsible for Truss's fall. He notes that no one has bothered to investigate their role in what happened in late September 2022 (green emphases his):
The Bank of England's Governor, Andrew Bailey, offered a classic of the 'not me guv' genre of explanations, telling the Treasury Committee that the movement in gilt rates had been 'outside historical experience'. But this was no bolt from the blue: the movement was a self-feeding one, caused by the leverage that regulators had permitted. Moreover, there are plenty of 'historical experiences' of industries with risky financial structures provoking market chaos. Remarkably, Bailey also claimed the Bank's later bond sales didn't move the markets. That's an odd claim, given that their promise to purchase £65bn of bonds was responsible for stopping the gilts rout: both claims can't be correct.
Of course, it suits the Bank to blame politicians for its own failings, particularly when the relationship between Bailey and Truss was never a particularly warm one to begin with. But there's a much broader failure here of the regulatory system to do anything about LDI funds – one that cannot plausibly be laid at Truss or Kwarteng's door.
Equally striking, however, is how little political scrutiny we've had of the whole affair. The consensus view that 'the mini budget blew up the bond market' seems to have been swallowed whole. But Parliament, via the Treasury and Work and Pensions committees, should be asking a long list of questions about why this situation was allowed to develop, what regulators did and didn't know, why there seemed to be such pervasive ignorance of LDIs and how the Bank misjudged its calls on interest rates and the jump  to QT immediately before the mini budget.
This is not just about identifying the mistakes of the past, however. There are still huge questions about the state of the UK's pensions funds that we need to get to the bottom of. At the very least, we should be told the state of the funds that have not recovered from September's rout and how big the overall hole is (Bailey told the Treasury Committee he didn't know the answer to that question). There is also the question of which players in the market aggressively sold this high-risk strategy to pension funds, and whether they deserve sanction.
There is a separate but important set of questions about the Bank's management of its own £5bn pension pot, which until June was 100% invested in a single Blackrock LDI fund (it was subsequently reduced to 82%).
Given the reports that this Blackrock fund took a hammering last September, we ought to know what the status of the Bank's own pension scheme now is. The Blackrock fund was reportedly under unsustainable pressure during the bond rout, and at one point was alleged to have lost an amount in the high tens of billions of pounds, threatening complete collapse. The Bank's Pension Fund's share of that loss was, some claim, around £1.5bn (out of its original £5bn).
If so, all of the bank's employees, from Andrew Bailey down, were under threat of losing much of the value of their gold-plated pensions. And imagine if the loss had not been recovered, it would have meant the Bank either reneging on its vast pension obligations to its employees, or finding £1.5bn from elsewhere, most likely you and me, the taxpayers. All of which suggests a serious potential conflict of interest concerning the Bank's interventions in the bond markets and of its own employees' pensions.
Yet so far we've had no real investigation of what the position of the Bank's fund is, whether the money has been recovered or how much is needed to return its members to fully funded status. Likewise, there has been no discussion of whether members of the Bank's Employee Pension Board (some on the Court of the Bank) are going to receive any criticism, sanction or blame for having acceded to what now appears an extremely naïve and dangerous investment strategy. (Indeed, today the FT reports that pension schemes are being told to sell their holdings in LDI funds, particularly Blackrock).
Former Brexit Party MEP and property developer Ben Habib blames the Bank of England — as well as Conservative MPs and the Treasury. On February 6, The Express reported their interview with him:
"Tory socialists, Michael Gove leading the charge, immediately moved to bring her down. The Treasury openly undermined her thesis. And even the Bank of England briefed and acted against her."
The day before former Chancellor Kwasi Kwarteng's now-infamous mini-budget, the BoE had forecast a recession, Mr Habib said.
He added: "It had been selling government bonds already putting pressure on their value. As values fell, pension funds, which had overleveraged themselves buying this rubbish were forced to dump it in order to remain solvent.
"The markets smelt a collapse and capitalised on the opportunity. Sterling was shorted. Having set-off these collapses, the Bank of England and all those who feast on state largesse laid the blame at Truss's door."
Within days Ms Truss had been ousted and replaced with Mr Sunak, "someone it could trust not to unsettle the status quo", Mr Habib argued.
He continued: "Sunak (supported fully by the Bank of England) is the man responsible for increasing national debt by a whopping £500 billion, or 33 percent in just two years.
"He has borrowed more money than any Chancellor in history but the establishment saw fit to give him the keys to the country.
"The new Prime Minister is not short of self-confidence. He believes he knows best how to spend our money. To him, those of us who think otherwise are idiots.
"Liz Truss offered the nation an opportunity to reverse our managed decline. Instead, failed orthodoxy prevailed."
Political commentator Tom Harwood also blames the Bank of England and says that Trussonomics was never tried:
In reality Truss implemented virtually none of her pro-agenda. In fact she had barely announced any of it before the men in grey suits came knocking.
But didn't she cost us £65 billion? So say reputable sources like the Have I Got News For You twitter account, French TV's 'Mr Europe', and Afghan dog rescue enthusiast Dominic Dyer. In reality, however £65 billion was not lost due to the mini budget. That was the amount that the Bank of England said it was willing to commit to stabilise the gilt market. As the independent economist Julian Jessop notes, in reality about £19 billion was spent by the bank, which – crucially – ended up delivering a profit of about £4 billion. But again, this was all before anyone had even got to the real point of Trussism.
The framework of what could have been is found throughout a document that the Rishi Sunak promptly ripped to shreds upon entering number ten. And no, it's not all about tax cuts. In fact, the most important parts – the most interesting bits too – are the other areas of supply side reform. Cheap or free to do, and potentially transformational. It was all laid out, albeit not in full detail, in The Growth Plan.
Harwood contends that the IMF was criticising Truss's blanket energy support plan, not the rest of her economic policy (green emphasis his):
It might be useful to explore what the IMF actually said in its press statement, the primary focus of which regarded the UK's "aims at helping families and businesses deal with the energy shock", going on to say that "we do not recommend large and untargeted fiscal packages at this juncture". It's talking about the energy price freeze. The least controversial part of the mini budget, pushed for by Labour – that free market think tanks like the Institute of Economic Affairs heavily criticised.
The IMF rightly points out that the energy price freeze would increase inequality – the plan devised by Labour and implemented by the Tories subsidises those who use more energy more than those who use less. Millionaires heating their swimming pools receive more taxpayer support than low income families in small houses or flats. And yet there was almost absolute political consensus on this enormous untargeted intervention.
Indeed, reading the IMF's press statement in full, before any mention of tax cuts, the primary concern is clearly the energy package. A package that could have cost up to £200 billion. As the numerate will recognise, hundreds of billions of pounds is a larger amount than £8 billion. Perhaps it makes sense that this is what the IMF's statement focussed on, ahead of new tax cuts.
Ultimately, Truss implemented a Labour plan for energy bills:
The biggest problem with the mini budget – other than a perceived disrespect for institutions like the Office for Budget Responsibility in delaying its report until months after the mini-budget – was the extra and uncertain spending the government committed to. The energy price guarantee was estimated to cost anywhere between 100bn and 200bn, although these estimates were in and of themselves guesses, as the guarantee committed the state to cover the cost of energy above a guaranteed unit price, however high it got. This was a functionally limitless commitment, made at a time of uncertainty in the international energy market. A decision clearly far more dangerous than the reversal of a handful of recent tax rises.
It was bad policy, and it was in no way free market. This element of government's plan – pushed for by all opposition parties – was the opposite of a libertarian experiment. It was socialist.
If Conservative MPs should be angry about the Truss administration for anything, it was its capitulation to the Labour Party's policy team and their ill thought through, indiscriminate, untargeted intervention that cost far more than the entirity of furlough.
Even the Labourite magazine The New Statesman said that Truss was not to blame for 'crashing the economy', something the Party's MPs still repeat with nauseating regularity:
Too much anger about Truss's time at No 10 has focused on the "unhappy" rather than the "brief".  There are reasonably hard limits as to what even a determined wrecker of civilisation can achieve in 49 days, particularly in an economy as large and complex as the UK's.
To do truly lasting damage you need more time – perhaps a decade, which is roughly how long we were subjected to the fiscal insanity of austerity. The social consequences of this are too obvious to ignore: the queues at the food banks, the rough sleepers, the crumbling schools, the collapsing National Health Service. Average life expectancy, for the first time since 1900, has stalled.
But the economic impacts have been more subtle, and too little discussed. By draining demand out of the economy, spending cuts depressed growth. By slashing government investment, they undermined future productivity. The combination of both together is the primary cause of the UK's economic malaise – more so than Brexit, and far more so than Truss.
… it wasn't ideologues such as Truss or Kwasi Kwarteng that condemned the UK to this fate. It was dead-eyed Sensibles like George Osborne who calmly shredded our prosperity, and affable former bureaucrats who justified those decisions. As a BBC review found last week, we suffer from a corps of political journalists who lack an understanding of "basic economics", relying instead on a limited selection of assumed authorities who, in turn, never deviate far from the Treasury view. The result was what the Confederation of British Industry head Tony Danker has called a "doom loop": as austerity failed, its failures justified more austerity to deal with the failures. Jeremy Hunt's response to Truss's implosion was to insist on a new round of spending cuts, was another crank of the handle.
Did Truss cause harm while she was in office? Yes, of course. The combination of radicalism and ineptitude in the mini-Budget led to a spike in government borrowing costs, triggering unexploded bombs in our pension funds, and rising mortgage rates. But the removal of Kwarteng as chancellor and then the prime minister herself rapidly (if not quite entirely) unwound that financial damage, leaving us much as we would have been without Truss – that is to say, in dire economic straits …
Truss is a sideshow. The more we focus on her, the less attention we are paying to the primary causes of our unmistakable economic decline – which means, above all, the austerity programme of the 2010s. Britain's economic woes have not been caused by its messiahs, but by its managers. The problem isn't the [libertarian] Institute of Economic Affairs. It's the Institute for Fiscal Studies.
There are several other commentators along with Conservative MPs who think that Trussonomics is not quite yet dead.
More on them next week.
My most recent post on Liz Truss left off with the beginning of the end in her final week as Conservative Party leader.
Friday, October 14
Her sacking of Kwasi Kwarteng and installation of Jeremy Hunt as Chancellor on Friday, October 14, meant only one thing — her end was nigh:
Liz Truss's first Chancellor Kwasi Kwarteng: what he expected, what he got instead (October 13, 14)
Liz Truss and Kwasi Kwarteng illustrate that one DAY is a long time in politics (October 13, 14)
The Times's headline on the morning of the 14th said that Conservative MPs were already plotting to install Rishi Sunak and Penny Mordaunt in Truss's place. One of them would be Prime Minister and the other would be Chancellor or Foreign Secretary:
The article also said (purple emphases mine):
Truss and Kwasi Kwarteng, the chancellor, are expected within days to make a humiliating climbdown over corporation tax in an effort to calm the markets and see off a mounting revolt.
Indeed, that is what Truss announced at her disastrous press conference that afternoon. By then, Jeremy Hunt was already Chancellor:
It was hard to believe, especially as Ireland's corporation tax is half that: 12.5%. What is to stop businesses in Northern Ireland from moving south of the border?
Liz prefaced the announcement with:
This is difficult.
Guido Fawkes has the video and another quote preceding her announcement about corporation tax:
It is clear that parts of our mini-Budget went further and faster than markets were expecting… so the way we are delivering has to change…
He concluded (emphases his):
The mother of all U-turns…
Later in the afternoon, Wendy Morton, the Chief Whip, summoned Conservative MPs to an online call with the Deputy Prime Minister Thérèse Coffey.
One hundred of them dialled in. Coffey allegedly kept staring at her notes:
Saturday, October 15
Saturday's papers were scathing.
The Daily Mail asked, 'How much more can she (and the rest of us) take?'
The i paper led with 'Tory MPs tell Truss: "It's over"':
The Telegraph's Tom Harris wrote about the symbiotic relationship between the Prime Minister and the Chancellor from Margaret Thatcher's time to Truss's.
When that relationship goes wrong in a big way, it's nearly always bad news for the PM, although there are exceptions:
When a prime minister loses a long-serving chancellor and ally – as Margaret Thatcher did when Nigel Lawson walked out of her government in 1989 – the political ramifications are enormous. In Thatcher's case, that event signalled the beginning of her long defeat. When a prime minister loses a friend too, it becomes, as Liz Truss stated in her press conference, "not an easy" personal moment. 
Their closeness also makes it impossible for Truss to distance herself from the mess left at the Treasury. It is not clear which policy Kwarteng implemented that the prime minister was so unhappy with that she had to fire him. In 1989, Lawson resigned over his objection to the prime minister's reliance on her economic adviser, Sir Alan Walters, but there were already disagreements between Numbers 10 and 11 over whether Britain should join the European Exchange Rate Mechanism. 
[John Major's Norman] Lamont was fired over his handling of Britain's departure from the same institution. Javid resigned over personnel issues. Rishi Sunak's reasons for resigning were similar, though in his case the personnel issue involved the then prime minister himself.
In Jeremy Hunt, Liz Truss might be given a chance to form the kind of reassuring, mutually supportive – and, crucially, stable – relationship with her chancellor that good government demands. It would be foolish, however, to assume that when such a relationship breaks down, it is always the chancellor who is next to go.
The Telegraph's Camilla Tominey looked at the backbench Conservative MPs, wondering how Conservative they actually were. I was glad to see that she mentioned Alicia Kearns, who does not seem very Conservative to me.
Tominey's article shows that a significant number of Conservative backbenchers do not hold traditional Conservative Party values:
Never underestimate the Conservative Party's unparalleled ability to turn the gun on itself when coming under enemy fire. As the pot shots continued to rain thick and fast on Liz Truss's troubled premiership, what did the Tories decide to do? With Labour's help, they elected Alicia Kearns as chair of the Foreign Affairs Select Committee.
For those unfamiliar with Ms Kearns, she is the former Amnesty International activist who led the so-called "Pork Pie Plot" to oust Boris Johnson over partygate. Despite having been an MP for all of five minutes, the 34-year-old, who won the safe seat of Rutland and Melton in 2019 (hence the pork pie theme) decided that the Conservatives' wisest move was to remove the man who secured the party's biggest election win since 1987. Well, dip me in jellied pork stock and cover me in hot-crust pastry, that went swimmingly!
Having declared last year that she came into Parliament with "one legislative change I wanted to deliver, which was to ban conversion therapy", inexperienced Kearns now occupies one of the most influential posts in the House of Commons.
Her first intervention? Following hot on the heels of her fellow chair, Mel Stride, of outspoken Treasury select committee fame, she used a radio interview on Thursday night to urge the Prime Minister to reverse the tax-cutting measures in the mini-Budget.
I've got nothing personally against Ms Kearns – she is clearly a thoughtful and intelligent woman. But if she isn't for cutting tax, then what on earth is she doing in the Tory party, let alone now apparently in the running to enter a future Conservative Cabinet?
One former minister was this week quoted as saying: "Everything [the Government] are doing is everything that I don't believe in." Why, then, is that senior politician – apparently so opposed to spending controls and economic growth – not currently residing on Sir Keir Starmer's shadow front bench or drinking Remaineraid with Sir Ed Davey?
As former Brexit negotiator Lord Frost put it on Thursday: "There are too many … social democrats operating under Conservative cover."
It is one thing to be a broad church, but the Tories are currently taking on the mantle of a Blue Labour cult.
Not only are many of them perfectly comfortable with taxing people more, despite the tax burden being at its highest in 70 years, but they are also apparently as opposed to fracking as Ed Miliband. They seem to love the status quo and appear happy to watch Britain slowly sink into decline – along with their own party.
Tominey says that Liz Truss's platform was clasically Conservative, and so was the one upon which Alicia Kearns was elected.
These are the MPs who will determine the outcome of Brexit and the next election. Both are in peril.
Tominey rightly lays the blame at the feet of former PM David Cameron, a wet who wanted a different type of Conservative MP:
David Cameron's decision to introduce open primaries in the late 2000s, which saw wannabe MPs selected by non-members as well as members, was perhaps the most obvious mistake. The Conservatives ended up with "yellow" Tories in its ranks, such as Sarah Wollaston, who later defected to the Liberal Democrats.
Funnily enough, Sarah Wollaston is no longer an MP. Others like her, most of whom had the whip removed, were defeated or chose not to run in 2019.
This is the issue:
But more broadly, by inviting people with no background in Conservative politics to stand for Parliament, they ended up with people with no Tory backbone either. Holding successive snap elections only made the selection process less rigorous and open to people high on ambition and low on ideology.
This is a problem for the next general election. GEs depend upon local activists — party members — who are willing to canvass door-to-door:
We now have the Sunak squadders, calling for people to keep less of their wages, for businesses to pay more in corporation tax and for benefits to be linked to inflation, Corbyn-style …
Conservatives have become so detached from reality that they actually believe this will help them to win the next general election – even though it promises to prompt a mass walkout by the very grass-roots activists they rely on to run a campaign.
However, Tominey says that Rishi Sunak's coronavirus handouts have also altered the public perception of the role of the state. We can but see how this will play in 2024 or early 2025 when the next GE comes along.
Monday, October 17
On Monday, October 17, Leader of the House Penny Mordaunt had to stand in for Truss during a debate. Opposition MPs accused Truss of hiding under a desk.
Mordaunt had to deny that more than once, saying that Truss had a 'very genuine reason' for not being present.
I don't often feel sorry for Penny Mordaunt, but I did that day:
However, one Labour MP, Andrew Gwynne, tweeted that Liz Truss was the victim of a 'coup' — his word — and that Jeremy Hunt was the acting PM: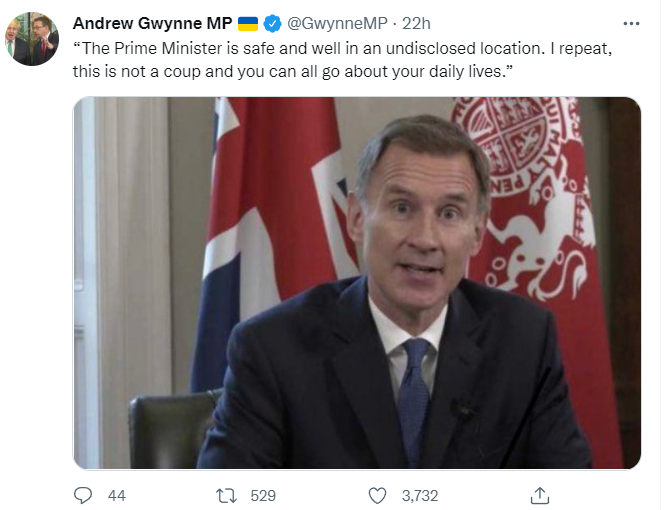 On Tuesday, October 18, The Times explained why Truss did not turn up at the despatch box the day before:
For much of the day Truss was conspicuous by her absence. She refused to respond to a question by Sir Keir Starmer in the Commons, prompting accusations from Labour that she was "frit". Penny Mordaunt, the leader of the Commons, answered questions in her stead. She said that the prime minister had "a very good reason" for her absence but refused to explain further, prompting misplaced speculation that Truss had resigned.
That reason for her absence turned out to be a meeting with Sir Graham Brady, the chairman of the backbench 1922 Committee. Sources said that the meeting was routine and had been arranged before Kwarteng's dismissal. But the issue of her leadership, and a potential revolt by Tory MPs, was said to have been discussed.
One source on the committee said there were a "number of views" on the way ahead but that there were concerns that an immediate move to defenestrate the prime minister could further destabilise the markets.
"The question is whether it is more damaging to create further uncertainty by getting rid of the prime minister when the chancellor [Hunt] appears to have settled the markets," said an MP on the committee.
Some Tory MPs believe that with the unravelling of her tax-cutting agenda and signature energy policy she is finished politically. Sir Charles Walker became the fifth Conservative MP to publicly call for her to go, saying her position was "untenable".
A senior Conservative source added: "It's the biggest unforced humiliation for a British government since Suez. Eden did the decent thing and resigned."
"The trouble is there is no consensus for who should replace her," said one former backer of Rishi Sunak. "And the last thing we need now is to be seen to be causing more uncertainty on the financial markets."
Monday night was grim.
On the subject of a coup, Nigel Farage agreed that Jeremy Hunt was in charge, and that this was a 'globalist coup':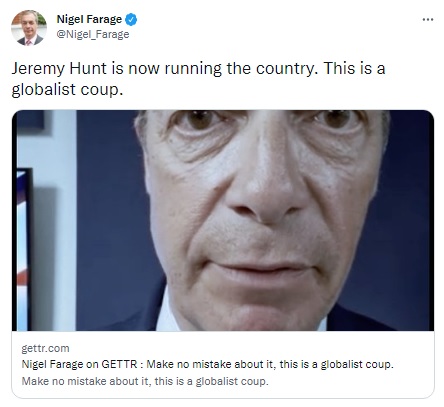 On his GB News show that night, Dan Wootton also said that there had been a coup. He agreed that the unpopular Hunt was in charge and that no one liked him, except for the Establishment. He said that if the Conservatives allowed this to continue, then they deserve to lose the next GE:

Truss surfaced to give an interview to the BBC's Chris Mason, wherein she apologised for the mini-budget. She said:
First of all, I do want to accept responsibility and say sorry for the mistakes that have been made. I wanted to act, to help people with their energy bills, to deal with the issue of high taxes, but we went too far and too fast. I have acknowledged that.
Tuesday, October 18
Tuesday's headlines were deeply discouraging for her. Nearly all had photos of her alongside Hunt:
The new biography of Truss, Out of the Blue, was not even ready for publication. Someone photoshopped the cover with a remainder sticker on it, saying, 'Reduced for quick sale — please just take it':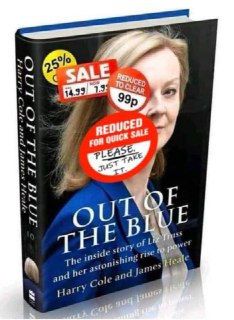 The Sun's political editor, Harry Cole, one of the book's co-authors, posted an article about the MPs plotting against her:
TORY plotters dubbed the "Balti Bandits" carved up Liz Truss's future last night over a korma and bhuna feast, The Sun reveals.
Leading rebel Mel Stride hosted more than a dozen "miserable" Conservative MPs in his large House of Commons office for an Indian takeaway – with the PM's fate also on the table.
Ex-Ministers John Glen, Nick Gibb, Mark Garnier and Shailesh Vara tucked into "lashings of curry and naan" ordered in by Mr Stride, alongside outspoken backbencher Simon Hoare. 
2019 intake MPs Angela Richardson and Simon Baynes were also said to have joined the "poppadum plot" – but sources say the meeting ended with "no credible solution" to their woes …
Contenders include ex-Chancellor Rishi Sunak, Defence Secretary Ben Wallace, new Chancellor Jeremy Hunt and Commons Leader Penny Mordaunt – but given the party is deeply split, the plotters admitted the chances of a rapid "coronation" of a new PM were "almost zero."
One attendee told The Sun: "the vast majority of attendees were Rishi Sunak supporters, but there were Penny people too. It was not a Rishi thing." 
On Tuesday evening, Truss had another group angry with her — her own supporters in the European Research Group, the pro-Brexit group of backbench Conservative MPs.
The Telegraph's Tim Stanley wrote about it, as he was there in the corridor for Truss's meeting with them:
Liz Truss launched her fightback at 6pm in Committee Room 11. The meeting was actually set for 5pm; Commons voting ran late so Mark Francois advised us hacks to go away and come back later, but I hung around on the suspicion that the moment we left, Liz would slip out of her hiding place in the roof of the lift and jog, unseen, into the Room …
These are the true believers: if they're angry at Liz for anything, it's for not keeping the mini-Budget …
What we saw of her on TV on Monday night, interviewed by Chris Mason, did not spark confidence as she uttered that dread word "sorry", thus accepting personal responsibility for blunders past and future. It is the mark of an "honest politician", she said, to admit mistakes. That's true, but it's also a dead giveaway for a not-very-good one, trying to turn a repeated error into a display of moral virtue. As Samuel Johnson might have said, "Honesty is the last refuge of the incompetent".
… She bobbed into view in a dark blue dress and black tights – fresh-faced, one suspects, from a good night's sleep. Instinctively, I stood: she might be a PM, but she's still a lady. I earnt a cheeky nod. Those who can't fathom the rise of Ms Truss haven't met her. She has a way of compromising you, of making you think you're on her side, and it's the most fun side of the room to be on.
The ERG roared as she entered. She entertained them behind a closed door for about 45 minutes. Then she left, followed by Mr Francois who told us it was "a very positive meeting".
The PM evidently spoke about Northern Ireland and her commitment to raising defence spending by the end of the decade, which is ambitious for a woman who could be out of office by Friday. And he noted that David Canzini, the clever political operative, was with her, an eminence so grise, none of us had noticed he'd gone in.
No 10 confirmed it: he was hired as of that morning.
Too little too late. That might have been Canzini's shortest job.
Wednesday, October 19
On Wednesday, October 19, Guido Fawkes posted that the Reform Party — formerly the Brexit Party — was climbing in the polls. The photo shows their chairman, businessman Richard Tice:
Guido's post said, in part:
Guido can reveal that in the 48 hours before close of play yesterday afternoon, the old Brexit Party received almost 1000 new £25 membership sign-ups. That new five-figure cash boost was joined by 300 members registering a new interest in standing as a party candidate at the next election. The first time the Tories dipped below Labour in the polls – September 2021 – Reform saw one in 10 Tory voters switching to them. Can they continue capitalising on Liz's woes? …

It's not just Reform benefitting from the dire state of No. 10. Last night the LibDems revealed five new donors, each giving £50,000 to the party, one of whom is a former Tory donor. While the last 36 hours have been calmer for Truss, it does feel like the ship has sprung one too many leaks to be repaired by a strong PMQs performance…
Wednesday was another fateful day. Home Secretary Suella Braverman resigned, then a confusing scene took place in the voting lobby over a division (vote) on fracking, which resulted in more chaos when it was unclear whether Wendy Morton had resigned as Chief Whip:
Liz Truss's final 24 hours: Suella Braverman's resignation, question over Whips' resignations (October 19)
Truss appointed Grant Shapps, former Transport Secretary, in Braverman's place:
Holy mole, guacamole!
Nigel Farage repeated 'coup' in his tweet about the news:
As with Hunt, Truss had to scrape the barrel.
The Telegraph reported that, like Hunt, Shapps was not a Truss supporter:
It is a remarkable turnaround for Mr Shapps, the transport secretary under Boris Johnson who went on to become a prominent supporter of Ms Truss's leadership rival Rishi Sunak.
Only on Monday night, Mr Shapps was telling a theatre audience that he believed Ms Truss had a "Mount Everest to climb" to remain in power.
"I don't think there's any secret she has a mountain, a Mount Everest to climb," he told Matt Forde's podcast. "What she needs to do is like threading the eye of a needle with the lights off."
Now he is one of her most senior ministers – and another example of the way a weakened Ms Truss is being forced to offer olive branches to the Sunak supporters she had previously shunned.
Not only was Mr Shapps questioning her chances of success until as early as this week – he was working proactively to get rid of her.
Mr Shapps has been viewed in Westminster as one of the leaders of the opposition to Truss's libertarian policies.
He spoke up at the Tory party conference in Birmingham earlier this month against her plans to scrap the 45p rate of income tax, and warned that Ms Truss had "10 days" to turn things around or MPs "might as well roll the dice and elect a new leader".
This is what the aforementioned Camilla Tominey was lamenting in Conservative MPs. Some of the recent ones have no appreciation of or allegiance to Conservative values. Shapps was a Cameronian MP.
The article also discussed Shapps's famous spreadsheets which appear to work as well as the 1922 Committee in making or breaking a Prime Minister:
The veteran MP – known by some as the "Duracell Bunny" for his enthusiasm – is also well-known for his "Star Wars" spreadsheet, with which he has spent the past few weeks recording the views of MPs on Ms Truss and her plans.
Mr Shapps used an earlier version of his famous spreadsheet to lead a rebellion against Theresa May, and also utilised its information to help guide Boris Johnson into Downing Street.
The spreadsheet is said to contain more than 6,000 historical "data points" from previous conversations with MPs.
It was rumoured that he had been in contact with Mr Johnson and Mr Sunak to see if they would join an effort to oust Ms Truss. And some rebel MPs claimed he had even offered himself up as a caretaker prime minister.
Let us not forget that Shapps himself is hardly a paragon of virtue:
… unfortunately for Mr Shapps, some elements of his past may make a shot at No 10 less than likely – not least the Michael Green saga.
This was an alter-ego he employed to enable him to run a series of get-rich-quick schemes on the internet while he was an MP.
Mr Shapps originally denied he had a second job, and threatened legal action against a constituent who said he had. But he was forced to admit practising business under a pseudonym in March 2015.
All this happened while he was Tory chairman, in charge of David Cameron's efforts to win the 2015 election.
He was demoted soon after to aid minister, and resigned from that role after claims he had ignored repeated allegations of bullying involving the Tories' youth organiser. It was said the alleged bullying, which took place on the party's RoadTrip 2015 campaign, may have caused one party member to commit suicide.
On Wednesday evening, Camilla Tominey reprised her warning about un-Conservative MPs and their takeover of the Government. She, too, used the word 'coup':
… the departure of Suella Braverman as home secretary speaks to a bigger problem for Liz Truss than sheer optics.
In sacking two key allies on the Right, only for them to be replaced by opponents more to the Left of the party, the Prime Minister is increasingly looking like the victim of a Conservative coup.
It is certainly ironic that the former home secretary, in post for just 43 days, first used that word to describe those who plotted against Ms Truss's original plan to link benefit to wages rather than inflation. 
With that, and most of her mini-Budget up in flames thanks to a rebellion by the moderates, Jeremy Hunt now appears to be the de facto Prime Minister.
He will now be joined by his fellow Sunakite Grant Shapps, who despite being rejected from Ms Truss's original cabinet, has now been appointed to replace Mrs Braverman at the Home Office.
Braverman, at one point, had headed the aforementioned European Research Group:
… her swift exit from one of the highest posts in public office will anger her European Research Group supporters.
It was only on Tuesday evening that Ms Truss was said to have charmed the backbench group of Eurosceptics with her honest, straight-talking approach.
They are unlikely to take kindly to their former chairman, a darling of the grassroots, being ejected in such unseemly fashion.
Mrs Braverman, a Conservative leadership candidate herself over the summer, received the longest standing ovation at the Tory Party conference two weeks ago.
Fortunately, Rishi Sunak re-appointed Braverman as Home Secretary. He probably realised he had to, in order to keep Party members on side.
Returning to Wednesday, October 19, The Telegraph posted an article stating that Conservative backbenchers were asking Labour for help in ousting Truss. Unbelievable:
Rebel Tories have been asking Labour MPs to help them overthrow Liz Truss, The Telegraph has been told.
Conservative backbenchers are growing increasingly frustrated with the Prime Minister's leadership, but currently lack any mechanisms to remove her given the one-year immunity she has from a no confidence vote.
As things stand, the only way to oust Ms Truss would be to change the rules – which is a decision that only the executive of the 1922 committee of backbenchers can make – or if she resigns of her own volition.
One Labour MP told The Telegraph: "Tories are speaking to us saying 'this is a complete nightmare and there is no way out'. We are being asked 'can't you do something about her?'"
The MP, who said their colleagues have reported similar experiences, said they were approached by one Red Wall MP whose constituency was in the north and another MP who is a member of the One Nation group of moderates …
A Labour source said: "There is very little Labour can do. Even a vote of no confidence doesn't have the constitutional standing that it used to. The Tory party are the ones that elected her, they need to get rid of her."
The paper's Michael Deacon wrote that Conservative MPs were entirely to blame for the mess. Furthermore, he said, they risked angering Party members, the campaigning activists, if they pushed ahead with a rule change saying that the members would no longer be able to vote for future Party leaders. The members elected Truss over Sunak in August:
This week, The Telegraph reported that Tory MPs want to bar members from voting in future leadership elections. Supposedly the reason is to speed up the process of choosing a leader. But this is blatantly a smokescreen. Quite plainly, MPs just want to prevent the members from landing them with another turkey like Truss.
Many members are appalled by this suggestion. And so they should be. Such a plan is not just arrogant and undemocratic, it's delusional. Because party members aren't to blame for the current mess.
Tory MPs are.
After all, who put Truss on the ballot paper in the first place? Tory MPs. No fewer than 113 of them, in fact. A third of the parliamentary party. Out of an initial field of 11 candidates for the leadership, Truss was the MPs' second favourite.
Unlike the MPs, however, the party members weren't allowed to choose between the initial field of 11. If they had been, it's extremely unlikely that they would have chosen Truss. They'd have been far more likely to choose Penny Mordaunt or Kemi Badenoch, to name just two. In fact, if the MPs had deigned to ask them, I suspect that the greatest number of members would have wanted their leader to be Boris Johnson – the person they chose to be leader in the first place.
The truth is, the members voted for Truss simply because they didn't want to vote for Rishi Sunak. In leadership contests, they're only ever given two candidates to choose from. And why? Because Tory MPs don't trust them. They fear that, if presented with a wide-open field, party members will choose the "wrong" candidate. Funny how things turn out.
All things considered, then, it seems clear that, if anyone should be barred from voting in leadership contests, it should be Tory MPs. In future, just leave it to the wiser judgment of the members instead.
That night, The Telegraph posted an article by Lord Frost saying that the Party was moving towards a status quo, if not anti-Brexit, stance, going all the way back to David Cameron's time as Prime Minister, with George Osborne as Chancellor and Philip Hammond in the same post under Theresa May:
… the Government is implementing neither the programme Liz Truss originally advocated nor the 2019 manifesto. It is going in a completely different direction. We are back to Osbornomics, the continuity Hammond view of the world. There is no shred of a mandate for this. It's only happening because the Truss Government messed things up more badly than anyone could have imagined, and enabled a hostile takeover by its opponents …
… the correct account of the past few weeks is the simplest. Truss tried to deliver worthwhile reforms and set the country onto a much-needed new direction. I supported this policy direction and still do. But it was rushed and bungled. The markets were spooked. The mistakes were opportunistically seized on by her opponents to undermine her leadership, to blame Brexit, and to stop the party getting out of the social democratic tractor beam of the past few years. And now, under pressure, the Prime Minister has reversed tack completely.
The risk now is that we lose for a generation the opportunity to do anything better. Every time the PM defends her approach, she denounces the policies on which she was chosen. The danger is that necessary and correct reforms are discredited.
Frost held that Truss was ultimately responsible for her own downfall.
As such, she had to go:
We are where we are. I am very sorry about it, because I had such high hopes. Whatever happens to her ministers or the stability of the Government in the next few days, Truss just can't stay in office for one very obvious reason: she campaigned against the policies she is now implementing. However masterfully she now implements them – and it doesn't seem that it will be very masterfully – it just won't do. She said she wouldn't U-turn, and then she did. Her fate is to be the Henry VI of modern politics – a weak figurehead, unable to control the forces around her, occasionally humiliated, and disposed of when she has become inconvenient. Better to go now.
As for her successor and the Party:
Then the party must do two things: avoid making the economic situation even worse by repeating the policies of the Cameron government in totally different circumstances; and recover some political legitimacy for carrying on – because in our system legitimacy does matter.
Thursday, October 20
After 44 days, Liz Truss resigned as Conservative Party leader on Thursday, October 20.
She served as Prime Minister for 50 days, beating George Canning's record of 118 days. Also a Conservative, he died of tuberculosis in 1827.
She remained PM until Rishi Sunak succeeded her:
Liz Truss's final 24 hours: Suella Braverman's resignation, question over Whips' resignations (October 19)
Liz Truss's final 24 hours: fallout over Braverman and Morton, no tears in exit speech (October 19, 20)
Rishi Sunak becomes Prime Minister: a momentous morning of historic significance (October 24, 25)
How Rishi Sunak won the Conservative Party leadership contest — part 1 (October 20, 21, 25)
How Rishi Sunak won the Conservative Party leadership contest — part 2 (October 21, 26, 27)
How Rishi Sunak won the Conservative Party leadership contest — part 3 (October 22-24, 27, 28)
On Thursday morning, The Telegraph posted a Planet Normal podcast in which Lord Frost said he could see Brexit being reversed:
In the wide-ranging discussion, Lord Frost also said that he could see a future where Brexit is reversed. 
"Brexit was about giving us the power to do things ourselves and to give responsibility back to British ministers, British governments. And they've shown that many of them are not up to the job in the last year or two."
"I can easily see a situation where Keir Starmer gets in. We drift back closer into the single market and go back into the Customs Union. And then everyone says why are we in these things where we don't get a say in them? Wouldn't it be better to be a member? So I can easily see how it could happen. And the way you stop it happening is to prove, while we have the levers of power, that we can do things differently and better. And at the moment we're not making a very good job of that, unfortunately."
Little did Truss know that, the day before, she had stood at the despatch box for her last PMQs:
She resigned early on Thursday afternoon. Thankfully, she didn't cry, unlike Theresa May, who broke down at the podium (Guido has the video):
Sterling began surging the second Truss finished her announcement:
In less than 24 hours, the Conservative Party website deleted her presence from their home page (Guido has the before and after screenshots):
It was a sad ending to a sad episode of British parliamentary history.
Next week, I will look at who, besides Truss herself, was also responsible for it.
Truss is currently spending time in her own constituency and has not yet appeared on the backbenches, an alien place for someone who had been a minister of state for most of her career.
As I need something positive to think about while awaiting Chancellor Jeremy Hunt's awful budget on Thursday, November 17, here is a retrospective on Liz Truss's rise to power, however short-lived.
The Conservative Party leadership campaign dominated the latter half of July and all of August.
By Tuesday, August 16, like the Telegraph's Tim Stanley, I, too, had watched every hustings up to that point.
Who could have guessed that, in an extraordinary turn of events, both she and Rishi Sunak would be in No. 10 within weeks of each other?
Reporting on what happened north of the border in Perth, Stanley wrote:
The hustings had become so repetitive, I know the speeches by rote. Rishi grew up in a pharmacy, Liz sat on a planning committee. My only pleasure has been waiting for the day they cross their wires and Rishi announces he grew up on a planning committee and Liz that she sat on a pharmacy.
But on Tuesday we were in Scotland, so the script was rewritten. Lots of references to whisky, gas and Nicola Sturgeon, who Liz once said we should ignore, so Rishi said: "I don't just want to ignore [her], I want to take her on and beat her!" Big clap for that …
"I grew up in a small business," he said. And the cream for your burn, sir, can be found on the fourth aisle.
Liz did a much better job of showing that she knew she was in Scotland, referencing Adam Smith, JK Rowling and salmon fishing – and reminding us that she understood what poverty was because she grew up in a recession in Paisley in the 1980s (when the Tories were in power) and later in Leeds in the 1990s (ditto). 
In fairness to Liz, she meant local councils, not the Government.
The Mail highlighted the disagreement Liz and Rishi had on taxes:
Miss Truss has pledged to reverse the national insurance hike to help struggling families, but has not ruled out offering further support. But Mr Sunak said the right way to help people with higher energy bills is through direct support.
He told the hustings: 'The tax cuts that Liz is proposing are worth about £1,700 to someone on her income. For someone working very hard on the national living wage, it's worth about a quid a week …'
On Wednesday, August 17, the duo were in Northern Ireland, where, yes, there is a Conservative Party. It has around 600 members. I had no idea.
The Guardian had unearthed an old video of her saying that the British weren't very good workers. The Mail said that she defended her remarks to the press in Northern Ireland:
Pressed by reporters in Northern Ireland today whether she believes British workers are not working hard enough, Ms Truss replied: 'What I believe is that we need more skills in our country, we need more capital investment in our country, we need more opportunity in our country. That is what I would deliver as prime minister …
She added : 'I'm fundamentally on the side of people who work hard, who do the right thing. Those are the people I want back.'
Conservatives did not object to Liz's views (emphases mine):
Despite the furore, Ms Truss was delivered a major boost today with the latest ConservativeHome poll showing she is firmly on track for victory on September 5. She was 60 per cent to 28 per cent ahead of Rishi Sunak in a survey of activists.
The Belfast hustings was the only uncomfortable one of the campaign. It was clear neither candidate had any grasp of Northern Ireland or people's concerns:
The furthest Liz could connect with the small group of Conservative members was to say that she knew that a 'woman is a woman', for which she received applause (somewhere around the 12-minute mark). Near the end of her Q&A, a man expressed concern about abortion, which was foisted on them by Westminster. He asked about the fairness of that, since Northern Ireland has its own Assembly. She bristled at the question and brusquely replied that all the devolved nations had to have the same health policies (somewhere between 32 and 35 minutes in).
Rishi's intro and Q&A followed Liz's.
The London Evening Standard had an excellent report from Rebecca Black following the hustings at the Culloden Hotel on the outskirts of Belfast:
The Brexit protocol, the Stormont Assembly, the health service, abortion, foreign policy and support for the party in Northern Ireland were among the issues raised …
Martin Craigs said he remained undecided after hearing their pitches.
He said he felt their content in terms of Northern Ireland had been "very weak".
"They're sitting on the fence, this isn't the audience they're playing to, the audience they're playing to are the 160,000 Conservative members, and there are very few of them in Northern Ireland, but they obviously have to go to all corners of the UK to be seen to be democratic," he told the PA news agency.
"I might actually not vote at all because I think the performance has been so poor."
Matthew Robinson, chairman of the Northern Ireland Conservatives, welcomed the candidates' visit and paid tribute to the commitment they were showing to the region.
He said he had been holding back on deciding who to vote for, but based on what he heard at the hustings he would back Ms Truss.
"I think she outlined an unwavering commitment to what we do locally here as a political force," he said.
"I'm not just encouraged but excited about what we can achieve together during her hopeful premiership."
David Trimble's widow said that, just before he died, he wanted to make sure he voted for Liz. Lord Trimble had originally been a member of the Ulster Unionist Party (UUP) but became a Conservative in 2007. The following year, a voting alliance was created between the UUP and Conservatives in Northern Ireland.
The Standard reported on Lady Trimble's article in the Telegraph in which she supported Liz. The Stormont Assembly has not been meeting for several months now:
The powersharing structures Lord Trimble helped create in the landmark 1998 agreement are currently in limbo, with the DUP blocking the creation of a governing executive in protest at Brexit's Northern Ireland Protocol.
Lady Trimble wrote: "I believe that in this contest, Liz Truss has the best record and a viable plan to protect our Union and Northern Ireland's integral place within it.
"I know David thought the same.
"One of the last things he did before we lost him was to ask his son to collect his voting papers so he could vote for Liz.
"He was adamant that she was what the country needed and I agree.
"She has already proven her resolve and bravery in the face of opposition to our most valuable asset, and I am confident that my husband's legacy, peace in Northern Ireland, will be safe with her."
Lady Trimble, born Daphne Orr, is an academic who served as a member of the Equality Commission for Northern Ireland and the Northern Ireland Human Rights Commission.
Another article in the Standard showed that Liz understood the difficulty with the post-Brexit Protocol:
The Foreign Secretary also said she would not accept any compromises on a renegotiated Northern Ireland Protocol as prime minister if it meant key UK demands were not met.
She made the comments during a visit to Belfast, where she and Rishi Sunak were quizzed by Tory members during a hustings event.
She told party members that until the Northern Ireland Protocol is sorted, Stormont will not be back up and running.
The Standard's Rebecca Black wrote a separate article on the abortion question:
Abortion laws in the region were liberalised in 2019 in laws passed by Westminster at a time when the power-sharing government at Stormont had collapsed.
During a Conservative Party leadership hustings event at the Culloden Hotel on the outskirts of Belfast, Ms Truss was asked if she would abolish abortion in Northern Ireland, "ending infanticide", or let the people of the region have their say on the issue.
She responded to applause [for the man, not her]: "I'm afraid I don't agree with you.
"We are a United Kingdom and we need all of our laws to apply right across the United Kingdom – that is what being a union is."
Rishi's highlight of the hustings was about Liz's £50 billion black hole:
Rishi Sunak has warned that Tory leadership rival Liz Truss's tax plans would add £50 billion to borrowing while failing to give direct support to the most vulnerable in society, as the cost-of-living crisis deepened.
The former chancellor said the Foreign Secretary would be guilty of "moral failure" if she does not focus on the nation's poorest, and warned her policies could further stoke inflation.
Ms Truss instead insisted "taxes are too high and they are potentially choking off growth", as she promised an emergency budget to tackle the situation.
On Thursday, August 18, the eminently sensible Lord Moylan told GB News that he was voting for Liz because Rishi's economic plans did not make sense:
On Saturday, August 20, Sir John Redwood MP criticised the pro-Rishi media:
Redwood laid out his Thatcherite economic plan for Liz in that day's Telegraph:
Britain's fiscal rules should be ripped up by Liz Truss if she wins the Conservative leadership race, one of her key allies has said.
Sir John Redwood, who served as the head of Margaret Thatcher's Downing Street policy unit and is tipped to return to government if Ms Truss wins, said she should abandon the practice of targeting a set percentage of GDP for national debt and the deficit.
He also called for a review of both the Bank of England and Office for Budget Responsibility (OBR), and suggested the Foreign Secretary should be inspired by Mrs Thatcher in removing utilities and transport from state control.
Since 1997, fiscal rules have been announced by chancellors during Budget statements in an attempt to control government spending.
They usually set a restriction on the proportion of national debt or deficit as a percentage of economic output.
But in an interview with The Telegraph, Sir John said the practice is a hangover from EU fiscal regulation agreed between member states at the Maastricht conference in 1992, and does not encourage economic growth or limit inflation.
"I think having a fiscal rule, which is a variant of state debt as a percentage of GDP, and the public deficit as a percentage of GDP in any given year, is not really the right couple of rules for the two targets you're trying to meet," he said.
The Tory backbencher said ministers should maintain "sensible controls over growth in public spending and in public debt" by instead monitoring the amount of money paid by the Treasury to lenders in interest payments.
In a coded rebuke to Rishi Sunak, who was the chancellor until last month, he added: "You have to elect governments that take controlling public finances seriously, and they then have to take them seriously.
"If you have a government that doesn't take controlling public finances seriously, it won't matter what your fiscal rules say, as we know from recent past experience," he said.
Sir John is expected to be appointed as a Treasury minister in Ms Truss's government and is understood to have helped shape her thinking on economic issues during the campaign …
Sir John said he had not had "any discussions" with Ms Truss about taking a role if she wins the contest, but told The Telegraph he would accept a job if he was offered one.
The Times also thought that Liz would give Redwood a role. One campaign source said:
"There are a lot of crumpled up bits of paper. I've been in three meetings about the cabinet and it keeps changing."
Among the names on the pieces of paper: Iain Duncan Smith, who is heading back to cabinet, and John Redwood, who was last a minister 27 years ago and is earmarked for a junior Treasury post.
This weekend Truss will take a team of her senior aides to Chevening, the grace and favour home in Kent which she enjoys as foreign secretary, with the aim of getting people and policies more firmly nailed down.
In the past few days she has repeatedly told her team "no complacency". As an ally puts it more prosaically: "No f***-ups, basically."
Sadly, Liz never offered Redwood a role. If she had, she might still be Prime Minister today.
The Times was also wrong about Iain Duncan Smith, who was not part of Liz's Cabinet, either.
Also on August 20, the Mail's Dan Hodges wrote that Rishi's campaign was effectively over because of his mansplaining:
It was the moment Rishi Sunak's leadership campaign started to unravel. Actually, it was one of 20 moments. 'Please let me respond,' Liz Truss chided, as her opponent butted in during their first head- to-head TV debate. 'Absolutely, let Liz Truss respond,' the BBC's moderator Sophie Raworth was forced to interject.
Sunak didn't. Time and again he talked over his rival, interrupting and silencing her. It was a strategy his team seemed to think would put Truss on the defensive.
They were wrong …
… the damage was done. Sunak was branded a 'Mansplainer'.
To some, this episode provided further evidence of Sunak's poor political tradecraft. But he'd actually fallen into a well-prepared trap.
'We were ready for him!' one Truss campaign ally told me. 'For years, Liz has been patronised by men who are a bit full of themselves. She's not going to just stand there and take it.'
In 15 days' time, Britain will have our third woman Prime Minister. And unlike her predecessors, Liz Truss isn't going to be shy of reminding people of it.
Let us recall that only the Conservatives have had female Party leaders, all of whom were Prime Minister.
By contrast, Labour have yet to elect a woman leader.
On August 21, The Sunday Times told us what Labour-to-Conservative voters in Oldham thought of the two candidates:
If Rishi Sunak (the ferret) and Liz Truss (the budgie) had put a glass to the wall of the room in Oldham where ten swing voters gathered by Public First, all of whom voted Conservative in the last general election, were sharing their impressions of the Tory leadership hopefuls, they would have blushed. But mostly not with pride.
They had been asked to say which animal, item of clothing or single word would best describe each of the candidates (Truss was also a "bunny rabbit", for the record). As someone who has posed for photos atop a tank and astride a motorbike during her cabinet career, she might have been surprised to hear herself described as "mumsy", "dull as dishwater", a "cardigan", "Jemima Puddle-Duck" and, possibly worst of all, an "unknown".
Sunak would have heard that he was a "suit" a "backstabber" and a "traitor" (to Boris Johnson, that is) and he would have certainly regretted wearing a pair of £490 suede Prada shoes to visit a Teesside building site as he did last month. This did not go down well at all with many of these C2DE (aka working class) voters. It suggested, said Rachel, 33, a bar worker, that he was so rich he had "no respect for money"; after all a building site, she said, is going to be messy. She said "quite a lot of people were upset" by it, especially those struggling to make ends meet. "I certainly couldn't afford to buy a £500 pair of shoes," she said.
Matthew, 40, who works in the oil trade, asked how Sunak could possibly relate to low-wage people. The group wondered what his PR advisers were thinking, allowing it to happen. It was quite simple, said Mandy, an educator in a prison: "If you are going to an area where . . . people are on the minimum wage, don't wear £500 shoes."
But there was happier news for Sunak when it came to which of the two leadership candidates they preferred. Five chose Sunak, compared with three for Truss while two didn't know, though by the end of the discussion a couple had changed to "don't know".
Sunak, according to those who picked him, had a higher profile due to the furlough scheme during lockdown. Jodie, 33, a school administrator, said she associated him with helping people during that period. "I had never heard of Liz Truss before this race, but Rishi Sunak . . . we've seen him in action. He's helped out, like, working class people."
Mandy, however, who chose Truss, said the foreign secretary had been growing as a force in the "background" for some time now. She mentioned the "scandals" involving Sunak. This was a reference to a recent video in which he boasted to Conservative party members in Kent of taking money from deprived urban areas in order to give it to other parts of the country …
That day, Guido Fawkes revealed that Rishi's team broke down Liz's £50 billion black hole, which is actually tax savings.
Even now, with Thursday's Rishi-Hunt budget in view, Guido still appears to be correct in his assessment:
Guido also thought that the Conservatives would win the next general election:
Guido's post has Rishi's breakdown of Liz's black hole. This is Guido's analysis of Liz's savings for the taxpayer (emphases his):
According to figures just released by the Rishi campaign, taxpayers will get a net saving of £48.3 billion in reduced taxes under Liz as Prime Minister compared to Rishi. This is a similar figure to calculations made by the Guardian newspaper. This is intended to be an attack line, the argument Rishi is making is that Liz will have to choose between tax cuts or handouts. When you consider that this is equivalent to some £2,000 per taxpayer you will understand what Liz means when she says she wants to "help people in a Conservative way" …
In the Rishi campaign's press release the tax savings are described as "costs". This approach hasn't been seen since 2010, when Gordon Brown would point to any tax saving proposed by the opposition and demand to know from Cameron and Osborne what spending would be cut. It is a mindset that considers the public's money to belong to the government and any income not taxed to be a "cost". Guido's not sure why Liam Booth-Smith, Rishi's policy guru, ever thought this orthodox Brownian line of attack would appeal to Tory members…
By Monday, August 22, with a week and a half left to go in the seemingly endless campaign, Rishi's poll ratings were tanking.
The Guardian warned that Labour found that Liz could boost the Conservatives in the polls, which Labour had been leading for several months by that point. They still are in the lead.
However, the paper said that any poll boost would be short lived:
Tory leadership frontrunner Liz Truss could give the government a double-figure bounce in the polls once she is installed in No 10, according to internal Labour analysis.
A memo drawn up by Keir Starmer's director of strategy, Deborah Mattinson, claimed the foreign secretary could dramatically improve Conservative fortunes.
The document, dated 18 August and leaked to the Guardian, comes amid speculation that Truss could be tempted to capitalise on the upswing and call a snap general election.
However, the research also suggests that any improvement in the government's position could be very short-lived, with voters already concerned about aspects of Truss's character.
"Our focus groups suggest that as voters get to know Truss better they like her less," it says. "Serious negatives – untrustworthiness, inauthenticity, U-turns, lack of grip – are starting to cut through suggesting that any bounce may be very short-lived."
Meanwhile, Rishi allegedly scoffed at the idea he would take a post in Liz's Cabinet. That day, The Times reported on his interview with BBC Radio 2:
Truss has said that she would offer Sunak a cabinet job if she were to win. The Times reported at the weekend that she is considering asking him to become health secretary.
Sunak appeared to scoff at the prospect today, however, suggesting he did not want to serve in a cabinet in which he and the prime minister would disagree on "the big things".
Liz's poll results were buoyant. An Italian firm, Techne, cut their teeth in the UK on this campaign:
In the end, the result was much closer, although Liz still had a clear majority.
However, on the same day, a GB News Peoples Poll (Peoples Poll being the name of the polling organisation) showed that Britons overwhelmingly prefer Labour's Keir Starmer as the next Prime Minister, viewing Liz Truss as 'untrustworthy':
A poll exclusively commissioned by GB News has found that British people would prefer Keir Starmer to be Prime Minister over both Rishi Sunak and Liz Truss.
41 percent of the 1,235 Brits polled said they would be more likely to vote for a Labour Party led by Keir Starmer than the Conservatives led by Liz Truss, who received 22 percent of the vote.
And Rishi Sunak, also standing to become the next Tory leader and Prime Minister, only fared one percent better than Ms Truss when compared with Sir Keir, who received a share of 40 percent of the poll.
In both cases, 28 percent of people said they didn't know who they would prefer, with nine percent preferring not to say.
The results raise questions about the popularity of both candidates, with the Conservatives faring better in a straight contest with Labour.
When asked which party they would vote for if there was a General Election tomorrow, Labour came out on top with 31 percent.
But the margin between the two parties was a lot smaller than between the leaders, with 20 percent voting Conservative …
When asked to give one word they associated with Liz Truss, Brits' top answer was "untrustworthy".
Unfortunately for Ms Truss, second most popular answer was "useless", with the even less flattering "idiot" in third.
On Monday, August 29, the anti-Liz media went into a tizz when she declined an interview with the BBC's Nick Robinson.
Liz Truss has pulled out of a BBC interview with Nick Robinson because she can "no longer spare the time".
Ms Truss, the Tory leadership front-runner, committed to the primetime sit-down interview with Mr Robinson, who presents the Today programme, on Aug 18.
But the Foreign Secretary now appears to have changed her mind as the race to succeed Boris Johnson enters its final week. Rishi Sunak, her leadership rival, was interviewed by Mr Robinson on Aug 10 …
Mr Sunak has taken part in nine one-on-one broadcast interviews throughout the leadership campaign, including three appearances on the Today programme.
Ms Truss has done two such interviews, including the Today programme, when she was interviewed at the start of the head-to-head stage of the contest, and the People's Forum show on GB News.
A bigger controversy that day was that Liz was preparing to cut VAT. She never did, but someone should, because VAT is an EU law. Here is smoked salmon king Lance Forman's wise opinion, saying that the people who object to a VAT cut are on the Left:
On the penultimate day of Conservative Party member voting, Liz pledged to revive Conservative grassroots activism, but readers of ConservativeHome were unimpressed.
One of the comments read:
This and other similar pieces of rhetoric just prove to me that it's all about strategies to win elections rather than a coherent, well thought-out set of policies that will benefit the country in both the short- and long-term, much the same as some of the statements made by both candidates in this "leadership" election.
Surely we are capable of better?
Yes, we are capable of better.
On the last day of members voting, Wednesday, August 31, The Telegraph asked readers who should be in and out of Liz's Cabinet.
Interestingly, everyone the readers wanted out are in Rishi Sunak's Cabinet. Priti Patel is the only exception. And, Alok Sharma is still COP26 president, although he is not in Cabinet.
In conclusion, within weeks, we went back to the same old, same old thing.
I still have a few more items about Liz Truss to cover. Stay tuned.
This post concludes the story of how Rishi Sunak became Prime Minister.
Those who missed them might find parts 1 and 2 of interest.
Before concluding, an important anniversary took place this week.
On October 26, 2012, UKIP MP Douglas Carswell introduced a private member's bill, 'The People's EU Withdrawal Bill'.
The groundswell of support from Guido Fawkes's readers helped bring it to the Commons:
Guido has the video and a brief comment (emphases his):
Today history was made as the first-ever crowd-sourced Bill was debated in Parliament. The majority of 5,000 readers of this website voted for Douglas Carswell to propose Britain to withdraw from the European Union, and today Carswell stood up in the House to argue the case for the People's Bill. The debate can be watched at length here. 
Here is a short video of proceedings:
A few years later, then-Prime Minister David Cameron, frightened by the overwhelming support for UKIP in the European election, decided to give the British people a referendum. It ended up being the largest plebiscite in the history of the United Kingdom. On Thursday, June 23, 2016, in pouring rain, voters said they wanted the UK to leave the EU: 52% to 48%.
In current news, during Rishi Sunak's first week as PM, as I wrote yesterday, questions were being asked in the Commons and the Lords about Suella Braverman's reappointment as Home Secretary.
The Telegraph's Madeline Grant called Braverman 'Houdini' for not showing up for an Urgent Question in the Commons about the horrifying state of the Manston processing centre in Kent, which is turning from a short-stay to a longer-term residence for Channel migrants (emphases in purple mine):
At a second Home Office UQ, this time courtesy of Labour's Diana Johnson, the Home Secretary was a no-show again …
In truth, there were unhappy campers on both sides of the House; enough to populate Butlins, if not quite Calais …
Deputising for Houdini was Robert Jenrick – a junior Home Office minister and close ally of the PM who, some say, was appointed to keep a watchful eye on Braverman and prevent her from doing anything too mad …
Yet Jenrick's arguments were more true-blue, or at least Red Wall. He had little sympathy with illegal migrants, and the diversion of resources away from their legal counterparts, and seized eagerly on Priti Patel's pet phrase, "evil people-smuggling gangs". Reinforcements soon began to arrive from the Tory backbenches. What gave Labour the right to complain, wondered Steve Double, the MP for St Austell, when they'd voted against Patel's Nationality and Borders Bill. Lee Anderson and Richard Graham warned of Britain's imminent inundation by Albanian men.
Christopher Chope reminded the Commons that whatever the state of the Manston processing centre, conditions were a darn sight worse in the Calais Jungle. Labour MPs looked scandalised, but Jenrick agreed wholeheartedly.
When asked why he was deputising for Braverman:
Jenrick, in the spirit of Sunak, came back with an answer that was simultaneously boring and unimpeachable. "Because I'm the Minister of State for Immigration" …
It is estimated that from 1% to 2% of Albanian men are in the UK. They have places to go to once they arrive. The Albanian drug trade is the latest development in our migration story.
The situation in Dover is intensifying. The Times reported the story of the week: '"Desperate" new arrivals drive Dover into taking up arms'. Sledgehammers, more like, as firearms are largely illegal here:
Sue Doyle, 59, was sitting in her living room sipping a cup of coffee on Sunday morning when a 16-year-old Albanian migrant got in through the back door, which she had left open for her dog.
"All of a sudden he was there standing in my front room," she told The Times. "He didn't seem very friendly. He kept saying: 'no police, no police'."
Doyle, a full-time carer for her mother, said she was made to her lock her dog in a bedroom and that the teenager then asked her to drive him to Manchester. When she refused he demanded her mobile phone and used it to arrange to be picked up by a contact.
… Doyle managed to sneak out of the front door and alert a neighbour, who contacted the police and confronted the young migrant.
The neighbour, Louise Monger, 36, said she became more sympathetic when she realised his age and tried to assist him. Police arrived and he was detained before the driver arrived, she said …
The teenager who was arrested was said to be in tears as he was driven away in a police car …
A few doors down from Doyle, Kerry Jones, 45, a mother of a young autistic girl, said she now sleeps with a sledgehammer next to her bed after a migrant tried to enter her home through the back door in August …
The residents complained that not enough was being done by the council, police and border force to deal with the problem. Many spoke of seeing migrants running through the streets and residential areas or "hiding in bushes" in local parks …
When a Times reporter arrived at Dover Priory station yesterday a Syrian mother and her young child approached and asked for help getting to an "army base" where their money and belongings were.
The mother, Nur Taha, 27, said she and her son, Mohammad Salu, six, arrived in Dover ten days ago in an overcrowded dinghy that was rescued on the water and were separated from her partner Akram Salu, 49, who was detained by military police, and their possessions …
When a reporter called Kent Police to request assistance for the mother and son, he was told that no officers were available as they had more pressing priorities. The advice given was to let them roam in Dover and hope that they were safe.
In a statement on Doyle's report, the force said it received a call at about 10.45am on Sunday that a man had entered "an insecure door at a property in Dover and was seeking the use of a phone".
The force added: "He was initially arrested, then de-arrested at the scene once the circumstances had been established by speaking to both parties. The man was then detained on behalf of immigration officers."
In Nur Taha's case, it is understood she and Mohammad had been processed by Border Force officers …
The council was approached for comment.
Mass migration started during Tony Blair's government and has only become worse, as the backlog of cases is through the roof.
Twenty years on, the Home Office again needs more information on those arriving, as well as stronger co-operation with France to stem the flow. Officials often have little information on claimants, whose lack of identification may be a deliberate ploy — case workers have little choice but to believe them: 75 per cent of asylum seekers were given the right to stay in the 12 months to March, the highest rate since 1990.
Meanwhile, claims are taking longer to assess, having climbed to an average of 480 days for an initial decision to be reached.
Some in the Home Office have suggested there is a deliberate policy of slowing down the processing of claims given the high rate of people granted asylum. A six-month target for assessing claims has been ditched and the rate of cases completed in that time has fallen from 80 per cent in 2015 to 17 per cent. But this looks set to change, given the soaring cost of housing those waiting for their claim to be assessed in hotels, which now stands at £6.8 million per day.
This month, the idea of erecting tent cities in London's parks was mooted, something Paris has tried with shocking effect. Most Parisian women living near one of these tent cities can no longer go out at night. Drugs, violence and noise prevail once it turns dark.
The same Times article reported that London tent cities are unlikely to come to fruition:
The idea was raised by civil servants in meetings with leaders of London councils this month, sources said.
It was considered after efforts to persuade London boroughs and local authorities in other parts of the country to accommodate more asylum seekers failed. The Home Office had issued an emergency appeal to councils for more places earlier this year as officials struggled to cope with the growing numbers of migrants crossing the Channel.
Council leaders in the meeting dismissed the prospect of installing marquees in parks in the capital and instead urged the Home Office to lift the ban on asylum seekers being able to get a job …
The Home Office made clear last night that the plans to erect tents in London parks were no longer under consideration. It said: "It is categorically untrue to suggest that the Home Office is planning to erect tents to house asylum seekers in London parks."
The idea arose during discussions on how to deal with overcrowding at the temporary asylum processing site at Manston Airport, which is only designed to hold Channel migrants for up to 24 hours.
It is unclear what Rishi Sunak has planned for Suella Braverman.
On the one hand, Sunak's people say everything is in hand, and MI5 say they have no problem working with the Home Secretary, the Times revealed:
A former Conservative minister in the Home Office told The Times: "You can't even have the vague notion that you might leak because then all the security services will clam up on you — which is not what you need."
However, responding to claims that MI5 could withhold information from Braverman, a security source said: "This is completely untrue. The home secretary and MI5 have a strong and trusted working relationship. She will continue to receive regular intelligence briefings, as was the case when the home secretary was in post previously and with other home secretaries."
Rishi Sunak's spokesman insisted that Braverman had "strong relationships" with the security services and the prime minister's full confidence.
Oh, dear: 'the prime minister's full confidence'. Those are dangerous words, dating back from the 1990s. That means a resignation or a sacking could be coming soon.
The Star wasted no time in putting 'Leeky Sue' on their Friday front page:
On the other hand, the Times said that Sunak's allies are waiting for Braverman to go, possibly so that Jenrick can step in. He wouldn't be very good, I don't think, but that seems to be charactistic of Sunak's government — business as usual, nothing gets done:
Sunak's close ally and Braverman's deputy in the Home Office, Robert Jenrick, responded to an urgent question on crossings yesterday in her place. The sole hope now, Sunak allies have whispered, is that Braverman makes a further error and goes for good, leaving Sunak and Jenrick to press on peacefully in her absence.
That doesn't surprise me in the slightest.
The Guardian continued to cast shade on Braverman:
London's Evening Standard, however, went with the story about Cabinet minister Nadhim Zahawi's defence of the Home Secretary at the bottom of their front page:
One good thing that Rishi has done is to decline going to COP27:
A new poll shows that the Conservatives are doing better than Labour, but still have a huge hill to climb:
I disagree with Guido's assessment here. The poll decline started with Boris and Partygate nearly a year ago:
That said, Guido rightly sees this as an uphill battle:
Add to that the impending storm of budget cuts, Rishi certainly faces an uphill battle.
The poll also strengthens Reform UK's claims of a resurgence, with their support at 6% and growing representing a relatively strong showing. The Conservatives face challenges from all sides…
Finally, there's the idiocy of America's Trevor Noah calling Britain racist towards Rishi Sunak. I haven't read one negative comment about his heritage from conservatives, ever. Labour — our equivalent of the Democrats — are the ones making the racist remarks.
Rishi Sunak does not believe Britain is a racist country, a Downing Street spokesman said, following claims by Trevor Noah that there was a "backlash" after he became the UK's first British-Asian Prime Minister …
"But you heard the words in the House [of Commons] on Wednesday with regard to the [appointment of the] Prime Minister," the spokesman said. When asked whether Mr Sunak believes Britain is a racist country, the spokesman said: "No he doesn't."
His words were echoed by Sajid Javid, the former chancellor and health secretary, who said Noah was "detached from reality" when he claimed Mr Sunak's appointment provoked a racist "backlash".
… Tom Holland, a popular historian and podcaster, wrote:
—————————————————————————————————————–
Now back to the leadership contest, where we pick up on the events of Saturday, October 22, 2022.
Boris returns to the UK
The Sun's Harry Cole told TalkTV that Boris and Rishi could come up with a plan to save the country:
Sky News's Mark Stone was tracking Boris's progress back to the UK:
Sky News interviewed Chris Heaton-Harris MP, who said that Boris definitely had 100 backers (see video):
Guido was eager to confirm, as Boris's numbers were far behind Rishi's at that point:
Boris landed at Gatwick mid-morning:
Guido was hopeful for his prospects:
One German newspaper, however, was less than enthusiastic, asking, 'Seriously?':
Former Home Secretary and Boris loyalist Priti Patel declared her support:
However, the never-Boris MP, Sir Roger Gale, did not mince words in an interview with LBC:
Scottish Conservatives would agree. The Telegraph's Alan Cochrane wrote:
Just when an air of undisguised relief began to filter through the higher reaches of the Scottish Tories at the resignation of Prime Minister Liz Truss, along came Boris Johnson to dampen their ardour.
They may not have been the greatest fans of Ms Truss and were glad to see the back of her. But their view of Boris bordered on the certain belief that he was a major electoral liability north of the border. And as the news emerged that the former PM aims to stand again for the top job, one former senior minister commented: "It will destroy the Conservative Party if he does."
At lunchtime, Harry Cole produced a poll for the Sun saying that Boris still topped the charts. That must have been in England, then:
However, Lord Frost thought that Rishi was the right man for the job:
One Twitter user reminded us that Boris plucked David GH Frost from obscurity and elevated him to the House of Lords:
However, the BBC's Laura Kuenssberg and ITV News's Anushka Asthana spotted a trend. Former Boris supporters, such as Lord Frost, who also supported Liz Truss, now preferred Rishi Sunak:
That afternoon, Boris's father Stanley appeared again on GB News, saying he would vote for his son if the contest went to Party members:
Just before 3 p.m., Boris backers told the BBC's Chris Mason that the former PM had the numbers:
However, the Evening Standard's Nicholas Cecil sounded a note of caution — Boris's MPs did not want their names made public:
A Mail+ report couldn't shed much more light on the names, either:
On Saturday morning, former Home Secretary Priti Patel said she was backing Mr Johnson in the leadership race because he had a 'proven track record'. Ms Truss, Defence Secretary Ben Wallace and former Home Secretary Suella Braverman are also in Mr Johnson's camp, while former No10 chief of staff Steve Barclay and ex Brexit Minister Lord Frost have publicly backed rival Rishi Sunak.
Just before 3 p.m., another Twitter user provided this analysis, saying that Rishi had the momentum and numbers:
Just after 3 p.m., Guido's spreadsheet showed that Rishi was on 120 MPs with Boris on 71:
Red Wall MP Lee Anderson declared his support for Boris after 3:30:
That was about it for Boris's afternoon.
Shortly after 6 p.m., Guido described how he and his team were compiling their spreadsheet. The following points stood out:
Here is some insight into what has happened in the last few days: the Rishi campaign has decided in their wisdom to freeze Guido out – no briefing, no contact, effectively pretending we don't exist as a fact of political life. Petulantly putting us in the penalty box for giving Rishi a hard time in the last leadership campaign. We started reporting and publicly recording the support of MPs for Boris on Thursday, and by yesterday evening the Rishi campaign was instructing their supporting MPs to contact us to confirm their support for him. As our records showed support for Rishi catching up with and then pulling ahead of Boris, his campaign reminded supporters to confirm their pledges to us. All can now see the relative strength of candidates' support.
… MPs who have not pledged can be seen by all sides. They are either genuinely undecided – waiting to see which way the wind blows – or biding their time for Machiavellian reasons, or simply ransoming their vote for the highest bid or best favour. What MPs can't do is double pledge any more. If they tell a campaign they are backing their candidate the campaign expects them to go public. If they don't go public, they are suspect.
Yesterday the site was visited three quarters of a million times, such was the demand for data.* This kind of transparency is now a fact of political life, the game has changed. Changed for the better…
*Team Rishi's strategy of ignoring the website read by so much of the membership doesn't bode well for their success if the contest goes to the membership.
Penny who?
Meanwhile, Penny Mordaunt's leadership bid wasn't the best.
Although this was strictly for MPs, The Guardian went to her Portsmouth North constituency to find out what the public thought:
Penny Mordaunt may have been the MP for Portsmouth North for 12 years, and could perhaps be the next prime minister, but some of her constituents were perplexed when hearing her name on Friday.
"Who's she? I don't know nothing about her," said James McLeish, who added he would not recognise her if she passed him on the street. "Never seen her, don't even know what she stands for."
McLeish's bemusement came hours before Mordaunt formally announced she was standing to replace Liz Truss – stealing a march on her presumed rivals Rishi Sunak and Boris Johnson.
Speaking in Cosham High Street, which runs through the centre of a suburb to the north of the port city, McLeish, 82, had a much clearer view on Truss's resignation after a disastrous 45 days in office.
The Telegraph's Tim Stanley gave us a tongue-in-cheek profile of the Leader of the House:
What about Penny Mordaunt, bringing up the rear? She was the first candidate to declare – and she surprised everyone last time by how far she went. The Tory grassroots appear besotted with this lady, thanks to her naval career and taste for innuendo; she exudes an impression of authority that was bolstered during the accession of Charles III when she managed to read aloud from an official document clearly and without error. That's all it takes nowadays. If only she were in Parliament, Angela Rippon would be a shoe-in.
Ms Mordaunt has reportedly told Jeremy Hunt that if she wins, he can write economic policy. And Mr Hunt, no doubt, rang the Bank of England and said, "If Penny wins, you can write economic policy." The Bank rang the IMF… and on it went all the way to Joe Biden, who put a call through to his wife, even though she was lying next to him, and said, "Honey, if Penny Farthing is made Queen of England, you can write economic policy."
Stanley spoke with Conservative Party members:
What do the members think? I've put out feelers. They want Boris.
They know he's not Jesus. He might have spent 40 days in the desert, but if the Devil tried to tempt him, he'd give in on every occasion. Yet they voted for Truss, the suits kicked her out – so now they want the good times back with BoJo. He likes pina coladas and dancing in the rain. And if they want him, and assuming he can find his passport – last seen in a swimming pool locker – he'll be right with us.
Harry Cole said that Penny's backers during the Liz Truss contest during the summer were now plumping for Boris or Rishi this time around:
Deal? No deal
Boris and Rishi met on Saturday evening. The meeting lasted three hours. The Times reported it took place at Boris's office in Millbank Tower. I've been to Millbank Tower. It has lovely offices and a spectacular view of the Thames.
The Sun put the talks on its front page on Sunday, October 23:
The paper's Harry Cole tweeted when the meeting ended, which was after 11 p.m.:
On Sunday, Cole said that Boris's backers did not want to make themselves public until they were sure there was no deal:
There was no deal.
The Mail on Sunday reported that Suella Braverman was backing Rishi:
She wrote in the Telegraph: 'I have backed Boris from the start. From running alongside him in London in 2012, to supporting him to be our leader in 2019 and willing him to succeed throughout the travails of this year. His resignation in July was a loss for our country.
'But we are in dire straits now. We need unity, stability and efficiency. Rishi is the only candidate that fits the bill and I am proud to support him.'
The article gave us scant information on the meeting between Boris and Rishi:
Last night's crunch summit between Mr Johnson and Mr Sunak, which is believed to have ended shortly before 11.20pm, comes ahead of tomorrow's deadline for Tory leadership hopefuls to secure the backing of 100 MPs.
The headline banners read:
Ex-Chancellor fomally confirms candidacy for Tory leadership after late-night talks with Boris Johnson

It was claimed this morning that no agreement was struck between the pair in their three-hour negotiations

Some had been hoping for a power-sharing pact between the pair in order to avoid a divisive battle
Sunday's hope would not last
The day began well, but with Boris's numbers stagnant, reality began to set in.
That morning, Redfield & Wilton Strategies released a positive poll for Boris, taken on October 20 and 21:
Guido showed us the Mail on Sunday poll, which also showed that Boris had the best chance of stemming a Labour majority were a general election to take place that day. Guido meant 'Tory' not 'Toy', by the way:
Liz Truss's Business Secretary Jacob Rees-Mogg told Laura Kuenssberg that Boris had the numbers (video):
Rees-Mogg also defended Boris's record (video):
Later that morning, Guido said that some MPs were sounding out their constituents:
Just before 2 p.m., Foreign Secretary James Cleverly tweeted that he was backing Boris:
Meanwhile, Rishi already had 150 MPs signed up to vote for him, including names:
The Mail on Sunday reported that Boris allegedly contacted Penny Mordaunt to ask her to stand aside. The sign of a desperate man:
Penny Mordaunt, who officially declared her leadership bid on Friday, was claimed to have rebuffed Mr Johnson's attempts to get her to drop out of the Tory leadership race in a phone call this afternoon.
He was reported to have told the ex-PM that, even if she did quit, most of her supporters would switch to Mr Sunak and not Mr Johnson. 
'I'm in this to win it,' the Leader of the House of Commons declared, despite signs she is struggling to win backers.
Boris bows out
Around 9 p.m., Boris announced that he was withdrawing from the contest. The time was not right for him to return, he said.
Afterwards, the Telegraph recapped the past 24 hours and said the meeting between him and Rishi on Saturday night lasted only one hour:
It was as he sat with Rishi Sunak, face-to-face for 60 minutes with no one else in the room, that Boris Johnson rolled the dice for the last time …
Barely a word had been passed between Mr Sunak and Mr Johnson since their relationship imploded in July.
Yet on Saturday night, the two biggest names in Tory politics agreed to down tools and meet, with the keys to Number 10 the prize on the table …
But the truth was that he believed a joint ticket between the two men, with him back as prime minister, was his route back to Downing Street.
The meeting was called at the behest of Mr Johnson, not Mr Sunak.
It was also, according to one figure who was in touch with one of the two candidates on Sunday, a surprisingly convivial affair. "It was perfectly pleasant," said the source.
But Mr Johnson had been forced into a meeting with his old foe in an attempt to regain control of the corridors of power.
Above all, it was no Granita pact [one between Tony Blair as PM and Gordon Brown as Chancellor, done in a London restaurant of the same name] because of one simple reality – there was no deal. Mr Sunak did not agree to stand aside. Nor did Mr Johnson. They parted ways unresolved.
On Sunday morning, Boris rang his supporters:
His gamble to take control of Mr Sunak's bigger list of backers had failed.
That much became clear at 8am on Sunday, when Mr Johnson gathered his supporters on a video call and informed them no agreement had been reached.
We found out more about his appeal to Penny to stand aside:
Ms Mordaunt gave him short shrift. The Commons Leader, who remembers being ejected from the Cabinet by Mr Johnson on his first day in office in July 2019, told him most of her MP supporters would prefer to back Mr Sunak – and that he should consider dropping out of the race and leave her to face him alone. Her offer was refused.
On Saturday, Boris's aides even said he would keep Jeremy Hunt as Chancellor:
Searching, perhaps, to persuade MPs he had credibility as a "unity candidate", Mr Johnson's aides let it be known he would keep Jeremy Hunt in post as Chancellor if he won the contest.
Little did he know that at that moment, Mr Hunt was preparing to make his first public declaration of the leadership race since ruling himself out – by backing Mr Sunak in an article for The Telegraph.
King Charles would have said, 'Dear, oh dear'.
On Sunday, around 9 p.m., Boris threw in the towel:
By 9pm, the answer was clear.
Writing to his supporters on a WhatsApp group, Mr Johnson himself conceded defeat – but claimed he had the numbers all along.
Telling friends he had been "overwhelmed" by support from MPs, he maintained that he was "uniquely placed to avert a general election".
Stressing that he had cleared the "high hurdle" of 102 nominations including a proposer and a seconder, he said he was confident he could be "back in Downing Street on Friday".
But it appeared the concern among Tory MPs about the return of their former leader had rattled Mr Johnson.
Confirming he had "reached out" to Mr Sunak and Ms Mordaunt in an attempt to strike a deal, his message concluded: "I am afraid that the best thing is that I do not allow my nomination to go forward and commit my support to whoever succeeds."
… As he told MPs on Sunday night: "I believe I have much to offer but I am afraid this is simply not the right time."
One of Boris's main supporters, Sir James Duddridge MP, was nonplussed:
An hour later, he changed his support from Boris to Rishi:
Jonathan Gullis, a Red Wall MP, didn't wait that long:
Braverman pivotal to Rishi's support
On Monday, October 24, the Times had two articles about the importance of Suella Braverman backing Rishi.
The European Research Group of Eurosceptic backbenchers [Brexit supporters], which in previous leadership contests has acted as a bloc, is increasingly fractured.
Suella Braverman, the former home secretary who was once one of Johnson's most ardent supporters, came out for Sunak. The party, she said, could not afford to indulge in "parochial or nativist fantasies" given the "dire straits" it was in now. The world was "fundamentally different" from when Johnson was elected in 2019.
Braverman's endorsement of Sunak surprised even some of her allies, with one speculating about whether she had been offered the chance to return as home secretary. "She wouldn't have settled for much less," said one.
Braverman's support was not just a blow to Johnson, it also allowed Sunak to make the case to wavering MPs that he could command support across the party. As well as Braverman, Sunak won the backing of other former ERG stalwarts such as Steve Baker and Theresa Villiers. He has even persuaded MPs who had joined a "Back Boris 22" WhatsApp group to jump ship, including Chris Loder, MP for West Dorset.
It suggests that Sunak has made assurances to the ERG on policy and jobs, given that senior ERG figures were briefing on Friday that they would seek "guarantees" before endorsing candidates, which ranged from no concessions on the Northern Ireland protocol, reaffirming the manifesto commitment to reduce immigration and senior cabinet roles for their members.
Braverman suggested as much, saying in an article for The Telegraph website that the party needed to "move beyond Leaver or Remainer; One Nation or ERG; right of the party or left of the party; wets or Thatcherites," adding: "One person can build that team: Rishi Sunak."
The other said that Boris's team had approached her for support on Saturday but was rebuffed:
Johnson's team had made a "big pitch" to her yesterday in the hope that winning her over would persuade fellow right-wing MPs to back him. She is a former head of the European Research Group of Brexiteer MPs. It is a further sign that the ERG is split down the middle between Sunak and Johnson …
Her endorsement will deliver a big blow to Johnson's efforts to attract the remaining MPs on the right of the party, as she is seen as one of their flag-bearers and rising stars.
She is the latest figure on the right to endorse Sunak following Kemi Badenoch, the trade secretary, and Lord Frost.
Braverman also signalled that Sunak had agreed to continue with reforms she had begun working on during her short spell as home secretary, including a new law to prevent the European Convention on Human Rights allowing migrants and criminals to avoid deportation. It also suggests that Sunak has agreed to press ahead with the government's controversial Rwanda policy.
I hope that all works out for her.
Unfortunately for James Duddridge, the Boris loyalist, even though he voted for Rishi, he was sacked as Trade minister on Wednesday:
Jacob Rees-Mogg also got the sack this week and has returned to the backbenches.
Rishi's 'coronation'
On Monday morning, October 24, the outspoken Lee Anderson refused to back Rishi, swapping his vote from Boris to Penny. Interesting, to say the least:
Just before 1 p.m., Rishi had over 200 backers, double of what he needed:
At 2 p.m., the all-powerful 1922 Committee assembled at Conservative Party headquarters (CCHQ) to announce the results.
They had to meet at CCHQ, because while Rishi was the new Party leader, he was not yet Prime Minister and would not be able to enter No. 10 until he met with the King, who would grant him permission to form a government. The monarch returned to London on Tuesday, at which time Rishi's premiership was formalised.
According to the 1922 Committee, Boris had real numbers behind him — and had passed the threshold:
Guido reported:
For the historical record Nigel Adams says he met this morning with Bob Blackman, Joint Secretary of the 1922 Committee.
He has independently verified the nomination paperwork and confirmed to me that Rt Hon Boris Johnson MP was above the threshold required to stand for the Conservative Party leadership in this leadership election. Therefore Mr Johnson could have proceeded to the ballot had he chosen to do so.
The nominations process is confidential and it is up to individual MPs whether they wish to publicly announce who they back in leadership elections – Bob Blackman is verifying nominations today for the remaining candidates in this leadership election. Those still suffering from Boris Derangement Syndrome may need to seek help…
At the very last minute, Penny Mordaunt withdrew from the contest.
That meant Rishi had his 'coronation' as the only candidate left.
As such, the vote did not need to go to the Party members.
Conservative MPs were happy as Larry as they rejoiced that they finally got their man in office at last.
That evening, GB News reported that the Party's phone lines and website could not handle the amount of calls and clicks from members trying to cancel their membership.
They weren't angry at Rishi as much as they were the MPs who denied them a say.
End of series
Having watched BBC Parliament for the better part of three years, I can only conclude that today's Conservative MPs are a frustrating bunch.
Many of the older hands, who were elected when David Cameron was Prime Minister (2010-2016), seem more like Liberal Democrats. The Thatcher-era MPs who remain are what she would have called Wets.
Many commenters on conservative fora are at their wit's end. Their complaints are many. Why have Conservatives outdone Labour in economic policy? Why are odd subjects taught in our schools instead of the three Rs? Why can't police get a grip on real crime? Those are just a few of the questions Britons have.
On August 12, The Telegraph's Tim Stanley and Steven Edginton discussed British conservatism in one of their Off Script conversations. What is it? What should it be like?
This video is 51 minutes long and is well worth watching for frustrated conservatives. Don't be put off by the title. Immigration comes into the conversation only halfway through and only for a few minutes:
Tim Stanley makes excellent points, summarised below.
The most important thing to note is that conservatism changes over time. Benjamin Disraeli was a great Conservative Prime Minister, but his conservatism would not be applicable in our time. Harold Macmillan was another great Prime Minister of his day, succeeding Labour's Clement Attlee. He responded to the challenges of the postwar 1950s. His brand of conservatism would be irrelevant in our times. Similarly, Margaret Thatcher met the challenges of the late 1970s and the 1980s. Stanley said that invoking Thatcher at every turn today is not helping matters, because we often mis-remember things that she did. He said that some commentators have turned her into a punk libertarian, when she was anything but. He says she was a Conservative with a strong streak of free-will Methodism.
Of our two Conservative Party leadership candidates this year, he says that Rishi Sunak is a technocrat, with all that implies. Liz Truss is a child of the Thatcher years. Both became MPs during David Cameron's time as PM. They tend to think the way he does and only differ on the way they would handle tax cuts. In this area, Sunak adopts the early Thatcher strategy of delaying them. Truss adopts the strategy of her later years, when Nigel Lawson was Chancellor. On everything else, they are remarkably similar. It's a politically generational trait.
Stanley came to conservatism from Marxism and stood as a Labour candidate for Parliament when he was younger. He thinks that Truss's conversion from the Liberal Democrats to the Conservative Party is one she will not fall away from.
Stanley says that Kemi Badenoch, whom he admires greatly, is probably the only MP who studies social issues intently. He thinks she has watched a lot of Thomas Sowell videos on YouTube, because she quotes him a lot.
He thinks Badenoch could be a real agent for change if she ever becomes PM. He warns that few world leaders can effect change on their own. He cites Donald Trump, who could not fight off the Swamp. Our equivalent is called the Blob and is comprised of the same elements: the metropolitan elite and, intersecting as in a Venn diagram, the media and the civil service. Somehow, those groups need to be persuaded to change their minds over time in order for politics and society to improve.
Stanley says that today's Conservative MPs are ignoring two elements of British life that has seen us through the centuries: family and the Church. (Stanley is a practising Catholic.) He said that MPs must find a way of putting those front and centre into policy making discussions. (That's a pretty radical idea for a former Marxist.)
He also advocates consistency in policy positions. He cites Nigel Farage and Jeremy Corbyn as two excellent examples of that. Their opinions have not changed over the past few decades, he says, and this is what makes them popular among their respective supporters.
As for today's younger voters opting for Labour, he says that some will and some will not. He said that it all depends on how much impact today's economic and social issues are having on them. He cites the young generation of the late 1960s, most of whom still vote Labour. He says that their personal experience from that time was so strong that they never changed when they hit middle age. However, there are others who will move from a more left-wing to a conservative stance. Stanley himself and Liz Truss are two great examples of political conversion.
You'll probably want to know what Stanley thinks of our immigration mess. He says that we have dealt with EU migration well, but, as far as the Channel crossings are concerned, he compares them to a door that has all sorts of locks on it yet is kept open, serving no purpose at all. He suspects that most Conservative MPs don't mind the tens of thousands of young men arriving on our shores every year. If they did object, he says, they would have done something by now to stem the flow.
I highly recommend this video, because no one else I've heard has said the things that Tim Stanley has. I now view conservatism in a new way.
My series on Boris Johnson's downfall continues.
Those who missed them can catch up on Parts 1, 2, 3 and 4.
Also of interest are:
Developing news: how long can Boris last as PM? (July 5-6)
Boris stays as PM for now but stands down as Conservative leader: 'When the herd moves, it moves' (July 6-7)
On July 8, Bloomberg had an interesting article: 'Boris Johnson's Downfall: The Inside Story of How His Government Collapsed'.
It states:
This account of how the Johnson administration unraveled is based on conversations with senior members of his inner circle, cabinet ministers, political advisers, civil servants and Tory MPs who were present at the key moments and spoke to Bloomberg News on condition of anonymity.
The journalists who wrote it say (emphases mine):
… the man that Johnson's inner circle blame for his downfall is Rishi Sunak, the former chancellor, who triggered that final, frantic act that ultimately forced the prime minister to quit.
Boris, being a survivor, stayed true to character. He survived a Conservative MP vote of confidence held the Monday after the Queen's Platinum Jubilee celebrations the first weekend in June 2022. Then the Chris Pincher groping scandal broke, but he was not worried. In early July:
Johnson had spent last weekend largely ignoring the latest scandal raging around him.
There was another slew of allegations in the newspapers, this time related to what Johnson had known about the claims of sexual harassment against an MP who the prime minister had promoted to a senior party post. 
But Johnson had grown accustomed to riding out controversy, from his efforts in November to extricate an ally who breached lobbying rules, to the lockdown parties, the investigation into whether he misled Parliament and the resignation of his own ethics adviser.
His judgment, and that of his No. 10 team, was that revelations relating to his former chief whip Chris Pincher, damaging and unseemly though they were, did not pose an existential threat. 
That Sunday evening, July 3, Boris headed next door:
to Sunak's flat in No. 11 Downing Street for one of their regular weekend dinners.
Johnson's team had been wary of a potential leadership challenge from Sunak for months and suspected that he would already have moved against the prime minister if he hadn't been fined over lockdown parties himself.
That night was businesslike, focused on plans for a new economic strategy and a joint speech. Sunak briefly mentioned his unease at the handling of the Pincher situation, but people close to both men said the meeting was good-natured and there was no hint of the coming storm.
Meanwhile:
Elsewhere in London though, Health Secretary Sajid Javid was discussing his own concerns about the Pincher case with his own advisers and starting to think he might decide to resign.
The week began normally:
No. 10 remained bullish throughout Monday despite the growing furor as Javid watched and waited.
On Tuesday, a Cabinet meeting took place (Bloomberg has a photo of it). There were signs that things could unravel quickly:
… there were ashen faces around the Cabinet table on Tuesday morning as ministers gathered to discuss Sunak's plans for tackling rampant inflation. Johnson uber-loyalist [and Culture Secretary] Nadine Dorries told the room that the "dogs of hell" would be unleashed if Johnson was removed.
One Cabinet minister who spoke to Bloomberg that day warned that Johnson might be in real trouble. He had had an unspoken contract with the Conservative Party since surviving a confidence vote among his own MPs in early June, the minister said: he could remain in place only if the scandals stopped.
That compact had lasted barely a month.
Later that day:
Around 5 p.m., at a meeting in the prime minister's office in Parliament, Javid told Johnson he was resigning. Johnson felt the announcement an hour later could be weathered by appointing a strong replacement.
But nine minutes after Javid published his resignation, Sunak also quit. And this blow came without warning.
Suddenly, Johnson was facing a rout.
A person with knowledge of Javid's plans said that his team had had no meaningful contact with Sunak's advisers before the double resignation, but they suspect that the then-chancellor got wind of what was coming and accelerated his own plans. A person with knowledge of Sunak's thinking said there had been no collusion.
Sunak had worked in the Treasury for Javid when the latter was Chancellor from 2019 to February 2020. They were good friends.
The resignations became a game of whack-a-mole:
As the prime minister rushed to replace two key ministers, a wave of more junior officials announced that they too were abandoning his government.
Nadhim Zahawi became the new Chancellor and Steve Barclay succeeded Javid as Health Secretary:
Nadhim Zahawi and Steve Barclay were recruited late on Tuesday to solve the most immediate problem and Johnson's advisers believed that both men were determined to take their jobs seriously. They understood that they had buy-in from Zahawi, the chancellor, for a new tax-cutting agenda to be announced imminently, though a person close to Zahawi says he made no such commitment.
All the same, as Johnson and his advisers surveyed the damage on Wednesday morning, they could tell that the situation was critical. 
That's when [Levelling-Up Secretary Michael] Gove demanded his meeting. To Johnson's aides, the timing seemed designed to inflict maximum pain.
Boris sacked Gove later on Wednesday, the only firing he made. He did it via a telephone call.
At that point:
the number of officials quitting his government climbed past 50.
That evening must have been a long one for Boris:
He returned to No. 10 after 6 p.m. for a series of meetings with his senior ministers.
Chief Whip Chris Heaton Harris advised Johnson that he no longer had the numbers to prevent Tory MPs from removing him, but that he would remain loyal. Trade Secretary Anne-Marie Trevalyan and arch Brexiteer Jacob Rees-Mogg also made clear they would stay supportive. Deputy Prime Minister Dominic Raab told Johnson he would not resign, changing for a formal white-tie event and then leaving via a side entrance.
Other meetings were more difficult.
Home Secretary Priti Patel had an emotional and teary meeting with the premier where she told him he had to go. A spokesman for Patel wasn't able to comment on the details of the conversation. 
Transport Secretary Grant Shapps, who kept a spreadsheet of Johnson supporters, agreed that the numbers were against them. Policing minister Kit Malthouse delivered a long monologue about how it was over. An exasperated Johnson told Malthouse that if he was going to resign, he should just do it. 
Malthouse had worked for Boris ever since the latter was Mayor of London.
Also:
Welsh Secretary Simon Hart was the only one who threatened to quit, handing Johnson a resignation letter and telling him that if he was not gone by the morning it would be published.
The most difficult meeting was with Zahawi who looked visibly awkward, according to one witness, as he told the prime minister that he too thought he should quit. The meeting left Johnson's aides suspecting that Zahawi had simply been preparing for his own tilt at the top job.
Correct. Zahawi did not get far with his campaign.
The meetings lasted into the night:
Towards the end of the night, Johnson gathered his closest aides in his office to assess the damage.
No. 10 policy chief Andrew Griffith was the most determined to battle on, along with Nigel Adams, a minister and old friend of Johnson. Heaton Harris, the party enforcer, had accepted the situation but was staying in the bunker to the end.
Together they rehearsed arguments for and against resigning, as they briefed the media that he would not quit and appoint a new Cabinet. The reality was that no one was accepting jobs.
Political commentators, eager for Boris to go, compared him with Donald Trump:
Johnson told his team that he didn't want to spark a constitutional crisis by clinging to office.
"I can't do this," he told them. "It's all too ghastly. It's not me."
Eventually, he went to the Downing Street flat to see his wife and retire for the night:
As he went up the stairs to his Downing Street flat to see his wife, Carrie, the decision was becoming clear in his mind. Carrie did not advise him either way and insisted it had to be his own decision, according to a person with knowledge of the conversation.
On Thursday, July 7:
Johnson woke early on Thursday and drafted a resignation speech to read out to his staff at their 7.30 a.m. meeting.
He announced his resignation in front of No. 10 early that afternoon.
That evening, The Spectator team held their annual garden party, a major highlight of the political year. Something always happens and this one was no different:
Johnson's communications chief Guto Harri got into a blazing and public row with Gove adviser Josh Grimstone, who accused Harri of briefing against his boss.
A Sunak aide spotted Harri and went over for a hug. According to people present, a smiling Sunak, standing next to her, asked Harri: "Don't I get one?"
"You want a hug?" Harri said in disbelief, knowing that the former chancellor had made no contact with Johnson since his shock resignation. Harri had spent his week fighting to save the prime minister, Sunak was aiming to replace him, and in front of London's political elite, the two men shared an awkward embrace.
Guido Fawkes has more (Guto Harri is on the right and the magazine's Katy Balls is in the background):
His post says the argument went all the way back to Gove's desertion of Boris in the 2016 leadership election, leaving Boris out of the race that year (emphases in the original):
… Leadership candidates Rishi Sunak, Nadhim Zahawi and Tom Tugendhat worked the crowd. Later in the evening as things were winding down the Spectator's Katy Balls mischeviously introduced Josh Grimstone, the newly unemployed former Special Adviser to Michael Gove, to soon-to-be unemployed Guto Harri, the Prime Minister's Director of Communications. Josh definitely had something to communicate to Guto about Gove's late night sacking the night before…
Josh firmly protested that his boss had been loyal to the PM, that he personally loved Boris and that both Gove and himself had been nothing but loyal. He accused Guto of sacking Gove out of spite and attempting, unfairly, to make it look like Gove had been sacked for disloyalty. Guto was sceptical about Josh's protestations of innocence and insistence that his boss had been loyal. The toing and froing went on in front of a silently listening audience that included Guido, Tim Shipman and Steve Swinford. Neither of the protagonists backed down from their position. Grimstone said Guto's behaviour was a "f***ing disgrace".
Guto eventually retorted that it was Gove's fault that in 2016, when he betrayed Boris, the country was as a result put into 3 years of dismal turmoil under Theresa May. Guto's stance seemed to be that even if it was true that he had been loyal of late, Gove had it coming to him for the 2016 trauma that he inflicted on the party and country. Unresolved and unreconciled Grimstone broke off leaving hushed onlookers uncertain that the summary justice of last night was entirely justified by recent events. Guto seemed relaxed and satisfied that it was amends for the sin of the past. 
But that wasn't the only verbal dust-up that evening.
On the BBC's Question Time, Tony Blair's spin doctor Alastair Campbell and The Telegraph's Tim Stanley, who once ran for MP as a Labour candidate, argued about who was worse in terms of being economical with the truth, Tony Blair for the illegal war in Iraq or Boris Johnson with a piece of cake during lockdown. Campbell is on the left in the photo:
Guido has the video:
A few days later on July 11, Stanley wrote an article about it for The Telegraph: 'My TV encounter showed everything that is wrong with the Left':
I'm not a friend of Boris Johnson: my most recent contact was a Christmas card that I'm sure was signed by someone else. This didn't stop Alastair Campbell from calling me part of the same "corrupt class" on Question Time, a grim experience I didn't enjoy but my editor says I've got to address.
Around the five-minute mark, I was invited to give my take on Boris's resignation – and Campbell butted in with the first of many attacks on my profession and character. Afterwards, a producer said: "How long have you known Alastair?" I replied: "I've never met him before." Given how he spoke to me, many people assumed we had a feud going back decades.
No, he was just horrible, and the nastiness was camera ready. Campbell was nice as pie before the recording; he gave me a cheery goodbye after. My conclusion is that he's an act. When he launched his on-air assault, I was shocked and considered walking off; I couldn't take a whole hour of this. Instead, I pulled a one-liner out of the bag, noting that the Blair government took us into a war that cost thousands of lives, while Boris ate some cake.
The point was that Boris might have been chaotic, but it's often the best organised regimes that make the biggest mistakes.
The line was hardly Oscar Wilde; the audience was furious that I appeared to make light of the Downing Street parties. I thought my career was over, and was wondering if Lidl might be hiring. But what I couldn't see till I watched the show back was that Campbell shrugged away the reference to Iraq as if it were mundane. It was an ugly moment. By not bursting into tears, I think I came out better.
What irritates me about some people on the Left is that they talk about mental health and kindness yet they treat their opponents like dirt, not giving a damn how it might make them feel – and if a Conservative hits back, they act like we have crossed a line that doesn't apply to them …
And I wasn't trying to defend Boris on Question Time, just explain his thinking. I have my own views, of course; but in that format I try to put both sides of a story, so the audience can make up its mind. I often find that Left-wing panellists can't process this. They claim to be empathetic yet have zero interest in how other people think. It will be the Tory party that will produce the first non-white prime minister and how will the Left respond? They'll call them a "racist".
That night on Dan Wootton's GB News show, opinions about Boris's successor flew in thick and fast.
Former Conservative Home Secretary and later Brexit Party MEP Anne Widdecombe was adamant that the next Party leader be firmly committed to completing the Brexit process. We still have the Northern Ireland Protocol and French fishing difficulties to deal with:
Opinions swirled around the time it should take Boris to vacate Downing Street.
Someone in the know told the Daily Mail that Theresa May — a Remainer — should be caretaker PM. GB News reported:
While Mr Johnson is expected to stay on until Prime Minister, he could choose to relinquish his duties with immediate effect.
In which case an interim Tory leader would be appointed, who would in turn also become the caretaker Prime Minister.
And former Prime Minister Ms May, who held office between 2016 and 2019, could reportedly make a dramatic return to No.10.
A report in the Daily Mail said: "She knows the ropes and the security stuff, she's a party woman through and through, she's definitely not interested in standing for it herself and would be credible.
"She is uniquely placed."
Thank goodness that didn't happen.
Another Remainer, former Conservative Prime Minister John Major, apparently told the 1922 Committee, headed by Sir Graham Brady, to get rid of Boris pronto. Edwina Currie, a former MP who served with him in Parliament at the same time and who was Major's mistress between 1984 and 1988, said that the former PM was being 'a bit of a prat':
The 2021 Conservative candidate for Mayor of London, Shaun Bailey, agreed. He would have made a great mayor, by the way:
However, biographer Tom Bower explained that Boris and Carrie had no other home, therefore, he would stay at Downing Street until such time as the couple buy a house:
And what about Carrie?
A lot of conservatives blame her for Boris going off the boil with a libertarian-Conservative manifesto to focus on damagingly expensive Net Zero policies, never mind the gaudy refurbishment of the Downing Street flat, allegedly paid for by a Party donor.
The day Boris resigned, The Telegraph's Celia Walden wrote 'The Carrie conundrum: What next for the Prime Minister's wife?'
Over the past two years and 11 months our outgoing First Lady has certainly garnered criticism – some unfair, some fair. And already commentators are saying that Carrie "helped blow it for Boris". But it is surely her husband's sociopathic behaviour over the past few days, weeks and months – and what has been described not as Boris's downfall but his "clownfall" – that will have been most brand-damaging. So how easy will it be for Carrie to rid herself of that toxicity, and what next for the Prime Minister's wife? …
Before Carrie became involved with Boris, and his special brand of bedlam, the daughter of Matthew Symonds, co-founder of the The Independent, and lawyer Josephine McAfee was described as "controlled" and "confident".
Politics may have seemed a world away from the creative fields she immersed herself in at the University of Warwick – where she studied theatre and art history – but after a stint working for Zac Goldsmith, who was MP for Richmond at the time, Carrie moved on to the Conservative party's press office, where she quickly rose through the ranks, working on her future husband's re-election campaign, when he ran for Mayor of London in 2012, before becoming the youngest director of communications for the party at just 29.
That a woman who forged a career in the business of public perception – and was credited with taking charge of the Prime Minister's image (and weight) after they first got together in 2019 – could go on to make the series of missteps Carrie made at No 10 remains baffling today.
It may always have been strenuously denied that the PM's wife played any part in the prioritising of dogs over humans for evacuation from Afghanistan, but it was without a doubt the First Lady who oversaw No 10's controversial maximalist redesign. It was she who picked out the infamous gaudy wallpaper estimated to cost £840 a roll and, as I write, Twitter is alive with memes about the one "burning question" that remains: "Now that the Prime Minister has finally resigned what happens to Carrie's gold wallpaper?"
Because of this, reports that the Johnsons planned to build a £150,000 treehouse for their son at Chequers (but were stopped when police raised security concerns) prompted some to interpret this as "yet more Carrie". Which might have been unfair. But then there was Carrie's involvement in partygate.
The Sue Gray inquiry was told that it was she who was keen to throw a party during the first lockdown and "offered to bring cake" – so these cannot be written off as "sexist", "misogynistic" slurs along with the rest. And while other First Wives have been busy out in Ukraine, shaking Zelensky's hand, Carrie has been notably low profile in recent months, presumably acting on advice from spin doctors.
… according to Craig Oliver, former director of politics and communications for David Cameron: "Leaving No 10 could be the making of Carrie. She's an intelligent woman, interested in a lot of issues. Being the PM's wife has an inevitable chilling effect on what you can do and say. She'll now be free to speak her mind." 
Lord Ashcroft, whose biography, First Lady: Intrigue at the Court of Carrie and Boris Johnson, was published in March, describes Carrie as "an impressive person – with a high-level career in politics and a record of campaigning on animal rights and the environment". Another political writer, meanwhile, assures me that any toxicity will be shrugged off with characteristic ease both by Boris and his wife. "He will be a very successful ex-Prime Minister. His star quality is shoulders above any of the others and he will become very rich on the back of it. So very shortly, everything will settle down, and she will be glad to have left the fishbowl."
… although Carrie is clearly a political animal, it seems likely that she'll choose to concentrate next on animal rights campaigning, perhaps deepening her involvement with The Aspinall Foundation, for whom she has worked as head of communications since 2021 – which in itself is in a period of transition. Every PR knows that charity work is the best "brand rehab" there is, and her passion for the cause isn't in doubt.
We can but see.
There was more to come with Mr and Mrs Johnson: their belated wedding celebration, which they weren't able to have earlier because of the pandemic.
More to come tomorrow.
On Tuesday, July 26, the UK's fledgling news channel TalkTV scheduled a Conservative Party leadership debate with The Sun for 6 p.m.:
Kate McCann was the moderator.
She was to have been joined by Guido Fawkes alumnus Harry Cole, The Sun's political editor, but he had coronavirus:
TalkTV asked for questions from viewers, as well as their audience, half of whom had voted Conservative in 2019.
It promised to be a debate quite unlike the ones on Channel 4 and the BBC:
With The Sun involved, one knew that the candidates would get hard-hitting questions rather than boring ones from the media establishment.
In the opening round, Kate McCann gave the candidates 60 seconds each to present themselves and their platform.
Rishi Sunak did well …
… even if he was still in Tony Blair mode and sounded like Labour's Keir Starmer …
… but Liz Truss had to glance at her notes:
Then it was on to the questions.
It was gratifying to see that the audience members, both in person and remotely, asked them of the candidates directly.
The first one came from John Hughes in Birmingham, who spoke remotely. He is a cancer patient and said that, since the pandemic, he has had a very difficult time getting the care and the support he needs. He said that a cancer charity has been helping him but the NHS and Macmillan Cancer Support nurses have not been available:
Rishi said that it was good that John was getting the support he needed. John retorted that he was not getting the support he needed. Rishi corrected himself.
Rishi gave a long answer, which did not respond to the question.
Sunak said that he had been criticised for raising national insurance contributions to tackle the NHS backlog and fund social care reform, but that it was a "brave decision" and the right thing to do.
Liz said that she would reform the NHS, reducing layers of management so that the focus could be on patient care rather than bureaucracy:
I want to see fewer layers of management in the National Health Service and less central direction because I simply don't think that people can sit there in Whitehall and direct everything that happens in local communities across our country.
It seemed that John preferred her answer to Rishi's. At least Liz offered a plan. Kate McCann asked John what he thought. He said that:
he remained unconvinced by their answers and stated that the Conservative Party had been given 12 years to fix the NHS.
The next question came from a member of the studio audience. A lady said that she was used to buying steak several times a week, however, the price has gone up so much that she can no longer afford to buy meat of any kind. She asked whether she should become vegetarian:
The Times reported:
The debate then moved on to the cost of living, with Gemma from Manchester, a Sun reader, telling the candidates about the rising cost of meat in supermarkets and asking if more people should go vegetarian to save money.
Rishi said:
he would ensure that prices came down by "making sure that the supermarkets and all the other people in the supply chain are being fair in how they price these things [and that] no one is taking advantage of the situation to pass on price rises."
Surely, although I agree with the principle, if everyone in the supply chain is being fairly remunerated, prices will go up even further.
Liz told Gemma that becoming vegetarian was 'a choice' and one that the Government leaves to individuals.
I understood what Gemma meant by asking about vegetarianism, because with this year's price rises, it does seem as if that is the end game.
Bloomberg's Alex Wickham summed up this refreshing debate well:
For once, we had real people asking about real problems.
However, the candidates reverted to a subject with which they were more comfortable — tax cuts.
As the i paper's Hugo Gye pointed out, it seemed as if Rishi and Liz still couldn't connect with the audience as well as a certain Prime Minister — Boris Johnson:
Harry Cole, watching from home, tweeted this at 6:27 p.m.:
The Times reported:
The candidates' response quickly turned to the economy, with Truss saying that Sunak's manifesto-breaking tax rises had been "morally wrong" as she accused the former chancellor of having policies which are "making us less competitive" as a country.
Sunak said that tackling inflation remained his priority but suggested that some businesses were also profiteering from the cost of living crisis. He said he would ensure that prices came down by "making sure that the supermarkets and all the other people in the supply chain are being fair in how they price these things [and that] no one is taking advantage of the situation to pass on price rises."
Sunak also defended his plans to increase corporation tax. He said: "I think it's entirely reasonable to ask the largest companies in this country, just the top 10 per cent of companies, to pay a bit more because they're received a lot of help during the pandemic."
Truss countered by telling Sunak: "You've made it worse". "Companies have a choice about whether they invest in the UK or whether they invest elsewhere. Rishi's policies are making us less competitive," she said.
The Mail's Henry Deedes described other exchanges between the candidates and the optics. Rishi still looked vexed when Liz contradicted him. Liz almost fell into the same trap this time (emphases mine):
Rishi seemed to have eased a little on the caffeine since the night before.
He'd also rediscovered his manners and used his opening spiel to wish his opponent a happy birthday. Truss, 47 yesterday, shot him an icicle smile. 
The Foreign Secretary wore a purple dress the colour of a Cadbury's Dairy Milk wrapper. Très snazzy. She went into a brief monologue about how her upbringing was more modest than Sunak's. 'I know what it looks like when economic times are hard,' she said. Rishi bit down and resisted making a tart response. There was a bit of early tit-for-tat, but nothing that required Kate to pull them apart. The candidates had a brief struggle over who had the stronger family connections to the NHS. 'My father was GP,' said Rishi. 'Well, my mother was nurse!' countered Liz. 
Tempers frayed whenever Truss began to discuss her economic plans. Rishi's blood pressure would visibly spike, his eyes flickering from side to side as if to say: 'Leave the maths to me, luv.' 
Once again their main beef was over taxes – Liz wants to cut them, Rishi thinks it's unaffordable to do so. 
He accused Truss of funding her cuts by saddling future generations with more debt. 'That's not true, that's not true!' Liz retorted, shaking her head crossly. 
Kate McCann was doing an excellent job as moderator, keeping everything going at a rolling pace which made it interesting. I was settling into an unusual comfort zone, which I normally don't do when watching debates.
Just after 6:30 p.m., Kate asked Liz a question.
While Liz was speaking, viewers at home could hear a soft rocking noise, possibly a perspex podium against the floor.
Seconds later, there was a crash of perspex on the floor.
Viewers saw this:
The Telegraph's Tim Stanley was also watching from home and describes what happened:
It was one of the strangest, most shocking moments in TV history. Liz Truss was in the middle of denouncing Russia with her characteristic tics – her hands gripping that invisible tea tray for dear life – when there was an almighty crash off-screen.
"Oh my God!" Liz covered her mouth. Then she stepped towards the camera.
Turns out that poor Kate McCann, the talented journalist and host, had fainted.
Rishi also went to Kate's aid, but we didn't see that.
We didn't know what had happened.
The Mail reported:
A loud noise caused the clearly worried Foreign Secretary to hold her face in shock as she exclaimed: 'Oh my God!'. Ms Truss was then seen leaving her podium and walking towards where Miss McCann had been standing.
The broadcast feed was swiftly cut, with viewers shown the message: 'We're sorry for the disruption to this programme. We're working hard to fix the issue and will return to normal programming soon.'
Stanley wrote:
For 25 excruciating minutes, viewers speculated if a light had fallen, a bomb had gone off, or Boris Johnson had rushed the stage demanding to be heard – all the while that producers tried to carry on as normal by cutting to a promo for their other shows.
What were they thinking? That this was a great chance to promote their product? We're lucky they didn't try to flog us some diamante earrings …
… debating tax policy is exactly how Liz would want to spend her birthday – and though the evening took an alarming turn, the gods did her a favour by having the camera focused on her when Kate passed out. Liz's instinct to run towards the disaster did her credit, a reminder that whatever her job, she is first and foremost a mum.
And her mother was a nurse!
Just before 7 p.m., when the debate would have ended:
TalkTV put on two talking heads who calmly discussed what we'd been watching – vegetarian options, clown doctors – without substantial reference to the one bit we were all shouting at the telly about: "What the hell just happened?!"
It was surreal: the commercial equivalent of Soviet TV cutting from the coup against Gorbachev to 72 hours of Swan Lake. Thankfully, Twitter was still reporting the news: Kate was ok. By then it was 7pm and time for Piers Morgan's landmark show on Ukraine – at which point what was probably TalkTV's largest ever audience, all 250 of us, turned off.
Kate, you're a star and your peers wish you the very best.
Henry Deedes said:
Doctor's orders were that she was done for the evening. It must have been frustrating for Team Rishi, who are running out of time. The former chancellor has agreed to be interviewed by that fearsome rottweiler of an interviewer, Andrew Neil, on Channel 4 on Friday. For politicians, such encounters rarely end well.
The candidates spent the remaining half hour talking to the studio audience:
Kate received many supportive messages.
Harry Cole tweeted:
BBC Newsnight's Nicholas Watt complimented Kate on her moderation of the debate:
The candidates also sent their best wishes, saying they would like to return to finish the debate:
I hope the debate is rescheduled — and agree that it should pick up where it left off:
Harry Cole is an excellent journalist.
That night, The Sun reported that, after all these days of insisting his tax plan was the right thing to do, Rishi decided to do an about-face and cut VAT on energy bills.
But has he stolen Work and Pensions Minister Thérèse Coffey's idea? Hmm:
Polling results must have been eating away at the former Chancellor.
The Telegraph also carried the story on its front page for Wednesday:
The Mail alleges that this was Boris's plan but Rishi wouldn't allow it:
Rishi Sunak makes a desperate bid to claw back lost ground in the Tory leadership race today by promising a £4billion VAT cut on energy bills just hours after he and his rival Liz Truss led tributes to TalkTV presenter Kate McCann after she fainted live on air.
The former chancellor has repeatedly refused to match rival Liz Truss on cutting taxes, labelling her plans a 'fairytale' and insisted such cuts must wait until inflation is curbed.
But today he pledges to scrap the 5 per cent VAT rate levied on domestic energy bills for a year.
Last night No10 insiders told the Daily Mail that this plan was something Boris Johnson tried to implement to ease the burden on consumers – but was blocked by Mr Sunak.
'Boris begged him to do it – but he wouldn't budge', said the source. 'It's astonishing that he's now claiming it as his own policy.'
A source close to Liz Truss's campaign told The Telegraph: 'It's good that Rishi has finally woken up and decided to offer something to people struggling with the rising cost of living.
'However, this feels like a screeching U-turn from someone who has spent the last few weeks of the leadership campaign branding everyone else's tax cuts immoral and fairytales.'
The article states that this was also Labour's policy:
Mr Sunak's energy bill tax move, which would save an average household £160, has been Labour Party policy for nearly a year, and Mr Sunak voted against the proposal in the Commons in January.
He told the Commons in February that the policy would 'disproportionately benefit wealthier households'.
He added: 'This would become a permanent £2.5billion Government subsidy… when we are trying to rebuild the public finances.'
This month he argued that tax cuts are 'immoral because there is nothing noble or good about racking up bills on the country's credit card that we then pass on to our children and grandchildren'.
One can understand his point, but when the Work and Pensions Minister and the Prime Minister both want it, it's the right thing to do.
I read only this week that VAT is an EU tax. Therefore, we can scrap it.
No one ever mentions that VAT is an EU tax. Why not?
The Mail says:
Until yesterday [Wednesday] Mr Sunak had refused to consider tax cuts before autumn 2023, the earliest point when a 1p cut in the basic rate of income tax could come in.
Autumn 2023 would be way too late, especially if our next general election is held in May 2024.
The Telegraph reported that Rishi's team denied a U-turn:
The Sunak camp denied there had been a U-turn, adding that the tax cut was "a tool that was always in our arsenal".
"We didn't use it back in spring because the size of the jump of the bills was way bigger, and it wouldn't have touched the sides," a source said. "This is a response to latest estimates that suggest the rise might be £100-200 more than anticipated."
For me, this volte face comes too late in the contest, because Rishi was adamant in three debates that he would not cut taxes.
As such, in Truss we trust.
———————————————————–
UPDATE — Guido Fawkes posted TalkTV's ratings for Tuesday night. The debate's 'off air' message beat Piers Morgan's show by far:
Morgan tweeted McCann, who has since recovered:
On Wednesday, July 27, the i paper reported ructions at TalkTV about the interruption of the debate, with staff asking why it didn't continue with another presenter:
Rupert Murdoch's TalkTV is holding an inquest into why there was no "plan B" to keep its Prime Ministerial debate on air after presenter Kate McCann fainted.
Presenters at TalkTV and its sister radio station were said to be ready and able to jump in and replace the stricken presenter during the abandoned live broadcast, i has been told.
As panic spread, executives asked Rishi Sunak and Liz Truss to remain at their podiums at the Ealing studio, normally used for Piers Morgan's nightly programme, while they considered their options.
However it was decided that stunned viewers would continue to be shown a recorded message saying normal programming would resume, rather than restart with a new presenter.
Trouble began behind the scenes when planned co-presenter Harry Cole was forced to pull out on the morning of the debate after contracting Covid.
An insider said: "Tom Newton Dunn (presenter of TalkTV's 7pm news show) would have stepped up to co-present but the bosses wanted Kate to front it solo as a showcase for her."
McCann, Talk's political editor, was said to be "nervous" at fronting the high-profile event but had shown no sign of ill health, even during the broadcast's first half hour.
The source said: "It was very sudden. She crashed forward into the podium. That was the loud bang viewers heard."
Truss, speaking on camera at the moment, said "oh my god" and rushed over towards McCann. At that point, with the clock showing 6.31pm, the channel cut from the debate.
"Rishi also rushed over. He knelt on the floot and held Kate's hand, he was very comforting," the insider said.
Faced with a crisis playing out live on TV and social media, some in the building believed that the show must go on.
"There were plenty of experienced on-screen talent already there who felt they could have taken over. They could have winged it."
"All the News UK bigwigs were there. There was a panicked pow-wow. Some said 'who can we get to fill in?' but they decided against it."
Instead the candidates were asked to stay in the studio and take questions informally from The Sun readers in the audience.
The insider added: "Today there is an inquest into why there wasn't a Plan B to keep the debate on air. It's a given for any serious broadcast channel" …

The incident gave a brief boost to TalkTV's struggling ratings. The channel has recorded zero viewers at low points in its schedules and Piers Morgan's flagship show has even been beaten by rival GB News on occasions.
The screen message telling viewers TalkTV was off air was watched by one of the channel's highest ever audiences.
Some 141,000 people tuned in, numbers comparable to Morgan's opening week on Talk in April before his figures tumbled.
The debate peaked with 183,000 viewers tuning in shortly after its 6pm start. However Talk's numbers dropped across the night with Morgan's programme dropping to 14,000 viewers at its conclusion.
Despite the lure of the debate, Sky News, BBC News and GB News all recorded a greater audience than TalkTV across the whole of primetime, according to Barb data.
Insiders said this would disappoint NewsUK's bosses who had hoped to relaunch TalkTV off the back of the debate, which was shared with sister title, The Sun …
The podium "crash" even gave TalkTV what it has been seeking since it launched three months ago – highly-shareable viral content that creates a buzz on social media.
On this occasion though, that content, seized upon by media rivals including the BBC, was unintended.