You are currently browsing the tag archive for the 'Time magazine' tag.
A 20-year old self-described financier and Trump supporter recently posted an excellent tweet of eight Time cover pages:
His tweet got this response:
Of course, an anti-Trumper tweeted:
I bet you can't produce a date or the group that conducted this poll….
It was easy enough to find the source — a July 2, 2014 USA Today article by David Jackson, 'Poll: Obama "worst president" since World War II'. This was the reality of the situation four years ago (emphases mine below):
In a new Quinnipiac University Poll, 33% named Obama the worst president since World War II, and 28% put Bush at the bottom of post-war presidents.
"Over the span of 69 years of American history and 12 presidencies, President Barack Obama finds himself with President George W. Bush at the bottom of the popularity barrel," said Tim Malloy, assistant director of the Quinnipiac University Poll.
Also:
Obama received only 8% in the best presidents poll.
The Quinnipiac poll also reports that 45% believe the nation would be better off had Mitt Romney defeated Obama in the 2012 presidential election; 38% say the country would be worse off with a Romney presidency.
The media purposely mislead people. It's high time we stopped believing their propaganda.
Incidentally, if you missed my post on the ties intelligence agencies have with journalists, please do read it.
On June 30, 2018, Time published its 25 Most Influential People on the Internet list.
Q is in the 19th spot, just above actress Busy Philipps.
Time's Melissa Chan wrote:
Last October, an anonymous user, known simply as Q, started posting cryptic messages on the controversial message board 4chan—the common theme being that President Trump is a secret genius and his opponents, namely Hillary Clinton and Barack Obama, are evil. Q reportedly claimed to be getting this information directly from the government, thanks to top-secret, "Q-type" security clearance. There has been little—if any—hard evidence to support Q's musings. But over time, thousands of people started to believe them—or at least, to acknowledge they might be real. And they became the foundation of a wide-ranging conspiracy theory, known as QAnon, that has been covered by the New York Times and New York Magazine, among others, and discussed in more than 130,000 videos on YouTube. One of its most prominent followers: Roseanne Barr, who tweeted several references to QAnon before being fired from her hit TV show in May.
Follow Q here.
On Wednesday, January 17, 2017, President Donald Trump announced his first ever Fake News Awards.
He did not announce them by voice, but RSBN did a great job going through every item:
On Monday, January 15, Politico quoted 'experts' — including Republicans — who said that Fake News Awards could violate White House and ethics rules.
That's rich. Big Media are violating ethics rules every day by reporting falsehoods lies.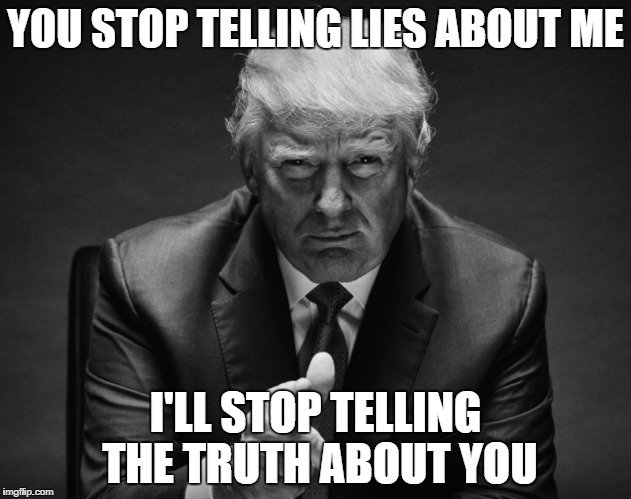 The president's tweet appeared later than scheduled. The Washington Post was quick to pounce before …
… and after …
But, once again, Fakey winner WaPo was wrong.
The GOP (Republican Party) page crashed from all the traffic:
This generated a greater American buzz than big-ticket award ceremonies:
Gateway Pundit reported (emphases mine):
Internet giants Google, Twitter and AOL publish the most popular trending subjects. And Wednesday night the most popular subject on all three sites was Trump's Fake News Awards.
Even the trendy celeb news site TMZ covered it:
President Donald Trump came through on presenting "The Fakies" … his 2017 Fake News Awards. He teased it up as "The Most Dishonest and Corrupt Media Awards of the Year" … and here are the HUGE winners (losers?) in his words. No shocker, CNN took the most trophies. 
The tweet below has a screenshot of the winners, as posted on Legal Insurrection:
The GOP rightly introduced the results — including sources — with this:
2017 was a year of unrelenting bias, unfair news coverage, and even downright fake news. Studies have shown that over 90% of the media's coverage of President Trump is negative.
That is true.
Paul Krugman discredited
How wrong could Paul Krugman be? This is what happens when personal bias obliterates objectivity:
Donald J Thump — of Thump: The First Bundred Days — tweeted:
Here's a page from the book, for children — and adults — alike:
Nothing for CNN's Acosta
CNN's Jim Acosta did not receive a Fakey:
He was told to leave after a press briefing in the Oval Office the other day in front of President Nursultan Nazarbayev of Kazakhstan.
Of course, Acosta paints himself to be a victim:
That was far from his first offence against Trump and his administration, which dates back to the post-election transition period in 2016.
Regarding this incident and Acosta's history, The Conservative Treehouse sums it up perfectly:
CNN Chief White House Correspondent Jim Acosta has a history of rude journalistic behavior and disrespect that has never before been allowed in the White House.
… the CNN journalist exhibited a level of disrespectful behavior that should lead to his White House press credentials being revoked permanently.
In a lesser offence, last year, Acosta insisted that CNN reports the truth:
This is how Big Media see themselves:
How public sees media
This is the most accurate description summing up the media:
Praying Medic has a good take on Big Media stories from the past year, starting at No. 12:
Someone replied with this item about MSNBC's Rachel Maddow:
Fake news remembered
Many of us remember not only the fake news but also the omissions from the news cycle in 2016:
Fake news can cost lives.
What will it take for these ridiculously overpaid so-and-sos to stop it?
On Tuesday, December 6, Time unveiled its Person of the Year:
Some Americans are less than impressed:
Time's editor-in-chief Edward Felsenthal wrote a gushing editorial about the magazine's choices. It begins as follows, referring to #MeToo on Twitter:
It became a hashtag, a movement, a reckoning. But it began, as great social change nearly always does, with individual acts of courage. The actor who went public with the story of movie mogul Harvey Weinstein's "coercive bargaining" in a Beverly Hills hotel suite two decades earlier. The strawberry picker who heard that story and decided to tell her own. The young engineer whose blog post about the frat-boy culture at Silicon Valley's highest-flying startup prompted the firing of its founder and 20 other employees. The California lobbyist whose letter campaign spurred more than 140 women in politics to demand that state government "no longer tolerate the perpetrators or enablers" of sexual misconduct. A music superstar's raw, defiant court testimony about the disc jockey who groped her.
The galvanizing actions of the women on our cover—Ashley Judd, Susan Fowler, Adama Iwu, Taylor Swift and Isabel Pascual—along with those of hundreds of others, and of many men as well, have unleashed one of the highest-velocity shifts in our culture since the 1960s. Social media acted as a powerful accelerant; the hashtag #MeToo has now been used millions of times in at least 85 countries. "I woke up and there were 32,000 replies in 24 hours," says actor Alyssa Milano, who, after the first Weinstein story broke, helped popularize the phrase coined years before by Tarana Burke. "And I thought, My God, what just happened? I think it's opening the floodgates." To imagine Rosa Parks with a Twitter account is to wonder how much faster civil rights might have progressed.
It just seems one-sided to have only left-wing women on the cover, but Imperator_Rex explains:
Others wondered where the men were — guys like Corey Feldman, who was sexually abused as a child actor.
Time has been a disappointment for many years. Strangely enough, Bob Dylan thought so in the 1960s. He says that if he wants facts, he won't turn to magazines:
One wonders if he came to appreciate Time and Newsweek more once they adopted a left-wing slant.
Nice unearthing by Julian Assange, at any rate.