You are currently browsing the tag archive for the 'Tom Harwood' tag.
Before I get into Thursday's voting results in the Conservative Party leadership contest, readers should note that Labour are no longer afraid of losing the next election.
Please, someone, bring back Boris:
The only candidate who could put the frighteners on Labour is Kemi Badenoch, who is excellent at the despatch box when facing the Opposition.
Thursday's vote result
Sir Graham Brady, chairman of the 1922 Committee of backbench Conservative MPs, announced yesterday's result promptly at 3 p.m.
Unfortunately, Suella Braverman had the lowest votes and had to drop out of the race. She had only 27 MPs backing her.
Going into the weekend, we have the following five candidates:
Guido Fawkes has a summary of Thursday's activity, excerpted below.
Rishi Sunak has received over 100 votes, but overall, he is not doing as well as candidates in past leadership elections:
Rishi is one of the weakest first-place candidates in recent Tory leadership elections, comparing leads in the second round of MP ballots:* … *Hat-tip: Tom Harwood
Penny Mordaunt's work ethic was slammed on Thursday. I covered Lord Frost's damning comments in yesterday's post.
Mordaunt also ran into trouble over past statements she has made on gender identity:
Ran into problems and heightened scrutiny over her trans stance, not least with a blow from newly-eliminated Suella Braverman, who accused her of not standing up for women when pushing for gender-neutral language in the ministerial maternity leave bill

Accused of lying about her trans stance by Team Truss
Kemi Badenoch is, happily, still in the race and is ahead of Tom Tugendhat, who is likely to be the next to be dropped when voting resumes on Monday.
Badenoch received 49 votes and Tugendhat 32, a decrease of five votes for him.
Early news on Friday
Much happened overnight, which I will review in recent campaign activity below.
Suella Braverman is now supporting Liz Truss.
There is likely to be increasing pressure put on Kemi Badenoch to bow out of the race. If anything, pressure should be brought to bear on Tom Tugendhat, who is in last place.
Guido calls our attention to three debates this weekend. One will be online and two will be televised (red emphases his, those in purple mine):
Today things get really interesting: it's debate time. So far candidates have taken lumps out of each other from their respective trenches, today they finally have to go over the top – a special metaphor just for Penny and Tom. Things kick off at ConservativeHome at 1pm, and continue over to Channel 4 at 19.30, where all candidates have confirmed their attendance. Followed by ITV on Sunday and Sky on Monday. 
Debates can make or break candidates at this stage, especially when there are a decent number of votes up for grabs and no one knows who's going to win. In 2019, one debate made Rory Stewart – securing his place in the next round – and the subsequent debate 24 hours later broke him, as he decided to get undressed live on air. In a sign of how febrile things are, even Rishi's agreed to join tonight's Channel 4 debate, an unedifying challenge the frontrunners are sometimes able to duck out of. Will some MPs finally have to recognise that their candidate makes Theresa May's public speaking look relaxed and charismatic? Guido looks forward to finding out…
Let's see what is going on with the various candidates.
Suella Braverman
Suella Braverman, Attorney General for England and Wales, is a committed Conservative, especially when it comes to social issues.
In 2019, along with Northern Ireland's DUP MPs and several other Conservative MPs, she voted to keep abortion illegal in Northern Ireland. However, the Government has since legalised abortion there.
Last Sunday, Danny Kruger, a thoughtful MP and Prue Leith's son, gave his reasons for backing Braverman:
Two days later, on July 12, a Conservative Home poll showed that Rishi Sunak would lose were Braverman the second remaining candidate on the ballot going to Party members:
Were Braverman up against Liz Truss, the vote would have been tied.
This was Braverman's platform — lower taxes, border control, no identity politics and commitment to the Conservatives' 2019 election manifesto:
What's not to like?
She also would have taken us out of the ECHR (European Convention on Human Rights), which is preventing us from deporting faux refugees and serious foreign criminals: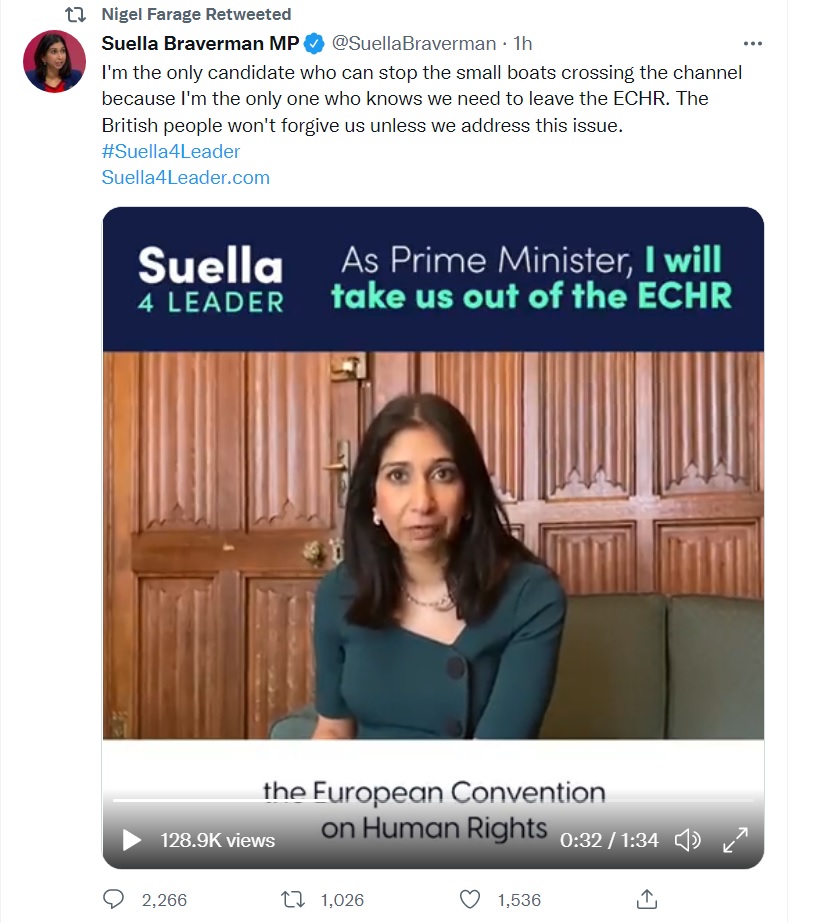 She refused to engage in 'blue on blue' sniping. Here she is with Kemi Badenoch, my other favourite:
Braverman was gracious in defeat:
She swiftly began a media round on Thursday afternoon.
Speaking to Tom Harwood of GB News, she expressed her gratitude for being able to run in the leadership contest, saying it was a real privilege. I agree that she would make an excellent Home Secretary:
She said that she sees both Rishi Sunak and Penny Mordaunt as being on the left. So true:
She criticised Penny Mordaunt's stance on gender identity and accused her of being a 'false Brexiteer':
In an interview with BBC Radio 4, Braverman pointed out that Hansard has a record of what Mordaunt has said in past debates on the Maternity Bill:
She told TalkTV's Tom Newton Dunn why she has decided to support Liz Truss:
I hope that whoever wins will retain Braverman in their Cabinet. She is a true asset to the Conservatives.
Rishi Sunak
Could the wheels be about to fall off for Rishi Sunak, our erstwhile Chancellor?
On Friday, July 15, news emerged that the Chinese government hopes Rishi will be our next Prime Minister:
Guido reported:
This morning Rishi Sunak has successfully won the leadership endorsement none of the candidates wanted: from the Chinese Government's propaganda outfit. Global Times has published an article entitled "China-UK ties 'might improve' with arrival of new PM"; subheading, "Most candidates are tough on Beijing, but 'pragmatic' one wins first round". In the piece, Beijing's mouthpiece notes concern that, despite Rishi winning among MPs, party members might vote for a rival candidate because of tax policy…
Former chancellor of the exchequer (finance minister) Rishi Sunak, the one candidate with a pragmatic view of developing balanced ties with China, has won the first round of voting by MPs.
When Sunak was the finance minister in July 2021, he used his annual Mansion House speech to insist that Britain should beef up its trading relationship with China
Apart from Sunak, almost all of the other candidates hold a very tough stance on China
As I write, mid-day, Guido is awaiting comment from Rishi's team.
In other news, Rishi is losing traction with the bookmakers. He's now in third place:
Guido tells us:
Rishi has fallen from hot favourite to his chances being third rated, with Penny as favourite and an overnight re-evaluation by punters seeing Liz move into the second favourite spot.
Allow me to repeat myself with the aforementioned Conservative Home poll from July 12. According to their readership, likely all Conservative Party members, Rishi could only beat Sajid Javid, who is no longer in the running and Tom Tugendhat, who is currently in last place:
Tom Tugendhat
I do not think that Tom Tugendhat's candidacy will last beyond Monday's vote.
I formed my opinion of him through his participation in House of Commons debates.
He is chair of the Foreign Affairs Committee.
Last August, he spoke about Biden's withdrawal from Afghanistan, where he served with the Army. His contribution gained him a round of applause, which is normally forbidden in Parliament:
America's back – back home.
In 2020, he wrote an editorial on terrorism for the Mail, calling for a return of treason laws, which Tony Blair got rid of:
In 2020, he was critical of China's lockdown policy:
Last year, when there was a suspicion that vaccine passports could be turned into digital identity cards, Tugendhat rightly opposed such a development. talkRADIO's Julia Hartley-Brewer interviewed him on the subject:
Tugendhat announced his candidacy for Conservative leadership on July 7, via an editorial for The Telegraph:
It seems to me that he makes more of his military career than perhaps he should. In one recent interview, he made himself out to be a general (H/T to my reader dearieme):
'What's the worst thing you've ever done?'
'Invaded two countries.'
Guido thinks so, too:
He has the relevant clip:
Anyway, his campaign, increasingly weak, calls for 'a clean start':
A clean start:
On July 8, the Sun featured a profile of him, including his French connection:
Tugendhat is married to Anissia Tugendhat (née Morel).
She is a French judge and civil servant and Tugendhat holds dual citizenship for France and Britain.
According to a tweet from journalist Richard Eden, the pair got engaged in 2013.
Together they have two children, a boy and a girl.
Tugendhat's mother Blandine de Loisne is also French.
Anissia comes from a family of diplomats and her brother has worked in the Foreign Ministry and the French embassy.
We did not know that before, did we? At least Tobias Ellwood told Parliament that he has dual US/UK nationality.
That's probably why he voted Remain in the 2016 Brexit referendum.
He would not be drawn on the subject of whether he regretted his vote. Probably not, then:
The public are suspicious. As he is currently in last place, MPs must be, too:
He launched his campaign on July 12. To calm his nerves, he had a crafty ciggie on the tiny balcony outside his office, forbidden on the parliamentary estate. This, in my opinion, is the only decent thing about him:
I hope he was smoking a Gauloise …
At his launch, he took only two questions from the media:
Perhaps he feared questions about his Frenchness, such as this one:
Candidates, including those running for a position as MP, should declare their nationality or nationalities:
———————————————————————————
I will have more on the leadership contest next week.
For now, I am looking forward to the debates. It will be interesting to see how Rishi and Tugendhat, both of whom are short, look next to Penny Mordaunt, much taller than either of them. Optics are important.
Sometimes things are not as they appear.
Badgering Boris Johnson to resign over the Downing Street parties during lockdown is an attempt to overturn Brexit.
It is also a sign of envy on the part of the journalists, most of whom are Remainers, attacking him verbally. What journalist — and Boris was one of them for many years — doesn't have an 'If I ruled the world' fantasy? Boris has achieved that dream. They have not.
Here is former Conservative MP Michael Heseltine, a prominent Remainer, saying that Boris's departure could reopen the possibility of re-entering the European Union:
It's misleading the house, it's misleading the people and it's misleading the whole country in a general election because if it were to be established that the PM has been lying then that is going to open a can of worms because very large numbers of people – now the majority of people – believe that the Brexit case was actually a pack of lies… now if he proves to be a liar – to the public, to parliament – what does that do for the very large numbers of people who think it is a catastrophic misjudgement to have severed our good relationships with our European neighbours.
Meanwhile, the general public doesn't care about the parties, especially his birthday party: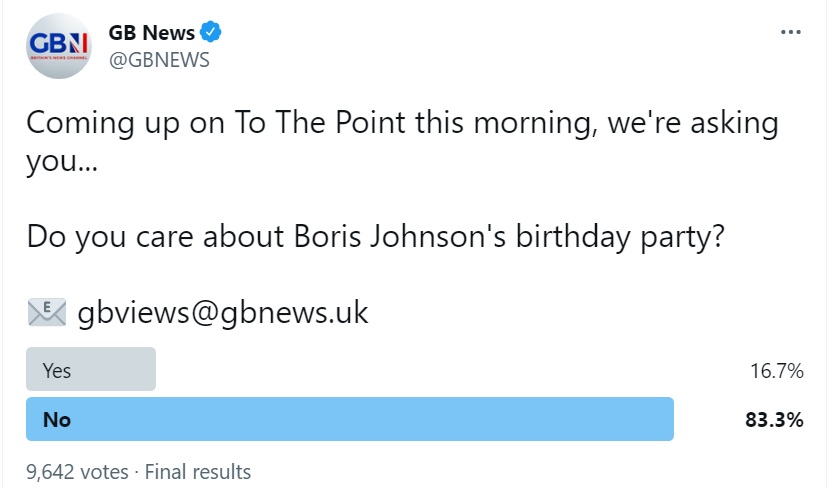 Police investigation
The eminent civil servant Sue Gray had been preparing a report on the Downing Street parties.
Then, the Metropolitan Police stepped in. On Tuesday, January 25, 2022, Commissioner Dame Cressida Dick told the London Assembly, headed by Mayor Sadiq Khan of the news. As such, the Met informed Sue Gray to issue only a summary report so as not to interfere with their own investigation.
GB News has a summary of the social events. Most but not all of them took place at Downing Street, nor did Boris attend all of them (emphases mine):
The Metropolitan Police will investigate a "number of events" alleged to have taken place in Downing Street, Commissioner Dame Cressida Dick has said.
Dame Cressida declined to say which alleged parties are being investigated, nor would she put a timeline on when officers could detail their findings.
The gatherings were already under investigation by senior official Sue Gray, and the Cabinet Office said her work continues.
Here is a list of the alleged gatherings, which in several cases have been admitted to.
– May 15 2020: Downing Street garden party …
– May 20 2020: BYOB garden party …
– June 19 2020: Birthday party for Boris Johnson …
– November 13 2020: Leaving party for senior aide …
– November 13 2020: Johnsons' flat party …
– November 25 2020: Treasury drinks …
– November 27 2020: Second staff leaving do …
– December 10 2020: Department for Education party …
– December 11 2020: Wine fridge delivered to Downing Street for staff's 'wine-time Fridays' …
Mr Johnson was said to have attended a "handful" of these gatherings.
– December 14 2020: Party featuring Tory London mayoral candidate Shaun Bailey and staff …
– December 15 2020: Downing Street quiz …
– December 16 2020: Department for Transport party …
– December 17 2020: Cabinet Office "Christmas party" …
– December 17 2020: Leaving drinks for former Covid Taskforce head …
– December 18 2020: Christmas party at Downing Street …
Mr Johnson's spokeswoman, Allegra Stratton, quit after being filmed joking about it with fellow aides at a mock press conference.
– Run-up to Christmas 2020 …
– April 16 2021: Drinks and dancing the night before the Duke of Edinburgh's funeral …
The Telegraph quoted a No 10 spokesman as saying Mr Johnson was not in Downing Street that day and is said to have been at Chequers.
Strangely, at the time, no one cared:
Now everyone does.
Downing Street has not helped. They are now denying there was a cake:
On January 25, the Paymaster General, Michael Ellis MP, drew the short straw and had to answer an Urgent Question (UQ) from Labour's deputy leader Angela Rayner (pictured in the top left photo):
This was the UQ:
To ask the Chancellor of the Duchy of Lancaster to make a statement on the status of the investigation into Downing Street parties following the statement from the Commissioner of the Metropolitan Police.
I felt very sorry for Ellis, who had to reply for the Chancellor of the Duchy of Lancaster, absent from the chamber. The transcript makes for grim reading.
Sir Edward Leigh, one of the first MPs to speak, tried to put things into perspective but to no avail:
When Europe stands on the brink of war and there is a cost of living crisis, can we please have a sense of proportion over the Prime Minister's being given a piece of cake in his own office by his own staff?
The verbal attacks were many and vicious.
Ellis was able to put one Scottish MP, Pete Wishart (SNP), in his place.
Wishart asked:
Does the Paymaster General not think that it would be a good idea to set up a police special operations unit room in No. 10 Downing Street, because, while the police are looking at this case, they could perhaps look at cash for honours, cash for access, personal protective equipment for pals, paid advocacy, breaking the ministerial code, and all the other general Tory badness?
Ellis responded:
I have to say that a quick Google analysis of the SNP would not be particularly edifying. Despite noises off, this Prime Minister is focused on what matters to the British people and it is right that those matters conclude in an orderly way.
On Friday, January 28, news emerged that the Met told Sue Gray not to publish her report in full:
That day, The Guardian reported that a comedian issued a fake Sue Gray report:
The comedian Joe Lycett, who apparently caused chaos and "mass panic" in government when he tweeted a fake version of Sue Gray's "partygate" report, has said his social media stunt was motivated by anger after the death of a close friend during the first lockdown.
Lycett tweeted a parody Gray report with a fake Cabinet Office letterhead, titled: "A summary of my main findings", captioning his tweet: "BREAKING: Leaked Sue Gray report reveals shocking abuse of rules. Hard to see how the PM can cling on after this."
He later shared a message that he said came "from someone who works for a cabinet minister. Source verified."
The message, purportedly from someone who works in parliament, read: "Your tweet this morning was read as an actual serious leak from Sue Gray's report. U had MP staff literally running around panicking from what it said. Panic dialling MPs like we need to discuss this right now."
On Saturday, January 29, Steven Swinford of The Times reported that Sue Gray was just putting the finishing touches on her report when the Metropolitan Police intervened.
Swinford's first sentence drew me in. It's hard not to like an article that begins with this:
Sue Gray had been looking forward to a holiday.
It is unclear why the Met intervened when they did:
The timing of her intervention is said to have surprised Gray and her team of investigators. She had been in discussions with the Met for weeks, sharing information as she went along. Yet the force had declined to get involved until the point when her report was almost completed and ready for publication …
"She's in a horrible position," a Whitehall source said. "The delay just creates an air of conspiracy. Sue's integrity is at risk here. If a partial report is produced it will look like she's been got at. She just wants a holiday, she feels like she's had enough of it. Very few people could do what she does but she just wants to be on the other side of this one."
Some think that the Met's intervention could be good news for Boris:
Johnson's critics and supporters agreed that the Met's intervention strengthened his position. One cabinet minister said: "Sue Gray cannot prejudice the Metropolitan Police's investigation. It would be insane if she went ahead and published the details. The longer this goes on, the more ridiculous it looks. The prime minister is out of the danger zone, the worst is over."
Or is he?
Sue Gray 'update'
On Monday, January 31, Sue Gray issued a summary — termed an 'update' — of her report.
Guido Fawkes has the update in full.
Gray concluded:
a number of these gatherings should not have been allowed to take place or to develop in the way that they did. There is significant learning to be drawn from these events which must be addressed immediately across Government. This does not need to wait for the police investigations to be concluded.
At 3:30, Boris addressed MPs (see full transcript of the session). He said that he was sorry and that changes would be made in Downing Street.
He concluded with this:
First, it is time to sort out what Sue Gray rightly calls the "fragmented and complicated" leadership structures of Downing Street, which she says
"have not evolved sufficiently to meet the demands"
of the expansion of No. 10. We will do that, including by creating an Office of the Prime Minister, with a permanent secretary to lead No. 10.
Secondly, it is clear from Sue Gray's report that it is time not just to review the civil service and special adviser codes of conduct, wherever necessary, to ensure that they take account of Sue Gray's recommendations, but to make sure that those codes are properly enforced. Thirdly, I will be saying more in the coming days about the steps we will take to improve the No. 10 operation and the work of the Cabinet Office, to strengthen Cabinet Government, and to improve the vital connection between No. 10 and Parliament.
Mr Speaker, I get it and I will fix it. I want to say to the people of this country: I know what the issue is. [Hon. Members: "No!"] Yes. [Hon. Members: "You!"] It is whether this Government can be trusted to deliver. And I say yes, we can be trusted—yes, we can be trusted to deliver. We said that we would get Brexit done, and we did. We are setting up freeports around the whole United Kingdom. I have been to one of them today that is creating tens of thousands of new jobs. We said we would get this country through covid, and we did. We delivered the fastest vaccine roll-out in Europe and the fastest booster programme of any major economy, so that we have been able to restore people's freedoms faster than any comparable economy. At the same time, we have been cutting crime by 14%, building 40 new hospitals and rolling out gigabit broadband, and delivering all the promises of our 2019 agenda, so that we have the fastest economic growth of the G7. We have shown that we have done things that people thought were impossible, and that we can deliver for the British people. [Interruption.] I remind those on the Opposition Benches that the reason we are coming out of covid so fast is partly because we doubled the speed of the booster roll-out.
I can tell the House and this country that we are going to bring the same energy and commitment to getting on with the job, to delivering for the British people, and to our mission to unite and level up across this country. I commend this statement to the House.
It did not go down well with the Opposition benches, nor some of the Conservative MPs.
Theresa May was deeply unhappy:
She said:
The covid regulations imposed significant restrictions on the freedoms of members of the public. They had a right to expect their Prime Minister to have read the rules, to understand the meaning of the rules—and, indeed, those around them him to have done so, too—and to set an example in following those rules. What the Gray report does show is that No. 10 Downing Street was not observing the regulations they had imposed on members of the public, so either my right hon. Friend had not read the rules, or did not understand what they meant—and others around him—or they did not think the rules applied to No. 10. Which was it?
The SNP's Westminster leader, Ian Blackford, followed the former Prime Minister. He cited two of Boris's contradictions and ended with this:
Nobody—nobody—believed him then, and nobody believes you now, Prime Minister. That is the crux. No ifs, no buts; he has wilfully misled Parliament.
Blackford broke two rules there. First, he said 'you'. Secondly, he said 'wilfully misled'.
The Speaker of the House, Sir Lindsay Hoyle, interrupted him:
Order. It would be acceptable to say "inadvertently misled the House", but "misled the House" is not acceptable. The right hon. Member must withdraw that comment.
Blackford doubled down, concluding:
… the public know that this is a man they can no longer trust. He is being investigated by the police. He misled the House. He must now resign.
The exchange between him and the Speaker continued for some time. Blackford refused to withdraw his remark.
At that point, the Speaker was ready to suspend him, but Blackford left voluntarily:
Order. Under the power given to me by Standing Order No. 43, I order the right hon. Member to withdraw immediately from the House—
Another MP said:
He has left anyway!
Here's the video:
Hoyle concluded:
It's all right; we do not need to bother. Let us move on.
Aaron Bell MP spoke later on. Although he is Conservative, he made a good point, asking if Boris was trying to make a fool of him for obeying the restrictions at a family funeral:
Not surprisingly, the Mirror (Labour) picked up on it:
Boris was at the despatch box for a little over two hours.
That evening, he met with a group of Conservative MPs, wherein he pledged to reform how Downing Street operates. Guido's colleague Christian Calgie said it went well:
Meanwhile, Labour MPs and the media hit the bar:
Incidentally, while Boris was giving his afternoon statement to Parliament, one of the bars there re-opened for business.
The next day, Mark Harper MP gave a good interview to Julia Hartley-Brewer at talkRADIO:
Labour's Chinese spy story ignored
In mid-January, news emerged that a Chinese operative had donated £500,000 over a period of several years to a Labour MP. Yet, apart from GB News, no one in the media was — or is — talking about that (Labour leader Sir Keir Starmer is pictured, not the MP involved):
Subplots
There are two important subplots running through this sorry saga: Boris's mention of Labour leader Keir Starmer's record as Director of Public Prosecutions (DPP) with regard to Jimmy Savile (a celebrity paedophile) and the revelation of ghastly text messages by members of London's Metropolitan Police, casting doubt on the force's investigation of the Downing Street parties.
Metropolitan Police
The Metropolitan Police are investigating the Downing Street parties, which is interesting, since the organisation said initially that they would not be doing so, as the events happened too long ago.
One wonders, however, how credible any investigation would be since Commissioner Dame Cressida Dick has come under fire for her leadership. Some constables in the Met have been texting violent and vicious messages that are misogynistic and hateful.
Although Dame Cressida cannot be expected to know everything that her constables are doing, these text messages could cast doubt on the credibility of the investigation.
Furthermore, it is interesting that Dame Cressida announced the Met's investigation of Downing Street at a meeting of the London Assembly, headed by the capital's mayor Sadiq Khan (Labour).
Sir Jimmy Savile
On Monday, January 31, Boris gave the House of Commons an update on Sue Gray's inquiry into the Downing Street parties.
The Metropolitan Police allowed the civil servant to write a summary report pending their own inquiry, which is still ongoing.
As such, there is no conclusion as to whether Boris should resign.
However, Labour and the other Opposition parties have been pushing for Boris to stand down for weeks now.
On Monday, in response to Boris's statement, Labour leader Sir Keir Starmer said:
Conservative Members can heap their reputation, the reputation of their party, and the reputation of this country on the bonfire that is the Prime Minister's leadership, or they can spare the country a Prime Minister totally unworthy of his responsibilities. It is their duty to do so. They know better than anyone how unsuitable he is for high office. Many of them knew in their hearts that we would inevitably come to this one day and they know that, as night follows day, continuing his leadership will mean further misconduct, cover-up and deceit. Only they can end this farce. The eyes of the country are upon them. They will be judged by the decisions they take now.
Boris replied:
There is a reason why the right hon. and learned Gentleman said absolutely nothing about the report that was presented by the Government and put in the Library of this House earlier today. That is because the report does absolutely nothing to substantiate the tissue of nonsense that he has just spoken—absolutely nothing. Instead, this Leader of the Opposition, a former Director of Public Prosecutions—although he spent most of his time prosecuting journalists and failing to prosecute Jimmy Savile, as far as I can make out—chose to use this moment continually to prejudge a police inquiry. That is what he chose to do. He has reached his conclusions about it. I am not going to reach any conclusions, and he would be entirely wrong to do so. I direct him again to what Sue Gray says in her report about the conclusions that can be drawn from her inquiry about what the police may or may not do. I have complete confidence in the police, and I hope that they will be allowed simply to get on with their job. I do not propose to offer any more commentary about it, and I do not believe that he should either.
The Speaker objected:
Boris's mention of Starmer's failure to get the Crown Prosecution Service (CPS) to investigate Savile ran all week long. Conservative MPs also objected to it. It is unclear why that is; after all these years, someone needed to speak up:
Boris's opponents call it a 'far-right conspiracy theory', although Starmer was in charge of the CPS at the time Savile's activities came to light. Starmer even issued an apology for the oversight at the time:
More recently, when Starmer ran for the Labour leadership, he said:
Hear me out: I had 8,000 staff for five years as the director of public prosecutions. And I acted, I hope, in the right way with them, which is when they had victories I celebrated victories on their behalf, I picked up awards on their behalves. When they made mistakes, I carried the can. I never turn on my staff and you should never turn on your staff… I will carry the can for mistakes of any organisation I lead.
Starmer's biography states he was responsible for all criminal prosecutions in England and Wales:
Leader of the House, Jacob Rees-Mogg rightly defended Boris's remark on Thursday, February 3:
In any event, that day, four Downing Street staffers resigned.
Munira Mirza, who had worked for Boris for 14 years — since he was Mayor of London — was the most prominent. The former policy chief said that she took strong objection to her boss's mention of Savile:
Guido posted part of Mirza's resignation letter:
I believe it was wrong for you to imply this week that Keir Starmer was personally responsible for allowing Jimmy Savile to escape justice. There was no fair or reasonable basis for that assertion. This was not the usual cut and thrust of politics; it was an inappropriate and partisan reference to a horrendous case of child sex abuse. You tried to clarify your position today but, despite my urging, you did not apologise for the misleading impression you gave.
In a second post, Guido said that Boris asked Mirza to hold off until he gave a briefing to the media. The briefing only caused her to confirm her resignation:
When the pool clip came without an apology, more of a clarification, she confirmed her resignation via an email which concluded:
Even now, I hope you find it in yourself to apologise for a grave error of judgement made under huge pressure. I appreciate that our political culture is not forgiving when people say sorry, but regardless, it is the right thing to do. It is not too late for you but, I'm sorry to say, it is too late for me.
The public do not understand what the problem is with the mention of Starmer's indirect failure to investigate Savile:
Furthermore, we all understand that Boris wasn't implying that Starmer was personally responsible. However, he was the head of the CPS, so he bore responsibility for it, as Boris told the media:
Let's be absolutely clear, I'm talking not about the Leader of the Opposition's personal record when he was DPP and I totally understand that he had nothing to do personally with those decisions. I was making a point about his responsibility for the organisation as a whole.
Too right.
One of Guido's readers summarised what Boris was saying in Parliament and to the press. It concerns double standards, wherein Starmer expects the Prime Minister to take responsibility for Downing Street activities but not for his own sins of omission at the CPS. This is a good get-out rationale from Guido's reader paraphrasing Boris:
I was not aware of event X being organised or taking place, and so while I apologise it happened under my watch and plan to change systems to avoid such events in future, it is not reasonable for me to resign over it. That is entirely consistent with the Leader of the Opposition's own behaviour while DPP over the Savile issue.
In any event, three more Downing Street staffers resigned after Mirza did, including Martin Reynolds, who issued the email about one of the parties, requesting that people bring their own alcoholic beverages:
It is unclear why the other three left. Some say that they are afraid of being investigated. Others say it was an excuse for Boris to clean house.
Of the three additional resignations, GB News reported:
Martin Reynolds is one of the most senior officials in No 10 but had largely avoided the limelight until the emergence of his email inviting colleagues to "socially-distanced drinks" during England's first coronavirus lockdown.
As Boris Johnson's principal private secretary, he played a key role advising the Prime Minister on a wide range of issues, but resigned from the role on Thursday alongside three other senior Downing Street aides …
Mr Johnson's former adviser Dominic Cummings previously said the influence wielded by the principal private secretary within Downing Street was not widely appreciated.
"The PPS exercises far more influence and actual power over many issues than Cabinet ministers," Mr Cummings said.
"He can nudge policy, he can nudge vital appointments (real power). He can and does walk into the PM's office and exclude all political people 'on security grounds'."
A leaked photograph of the Prime Minister and officials drinking in the No 10 garden on May 15 2020 – five days before the "bring your own booze" event that Mr Reynolds invited colleagues to – showed the PPS sitting at the same table as Mr Johnson …
Mr Reynolds offered his resignation on Thursday alongside Downing Street chief of staff Dan Rosenfield, hours after policy aide Munira Mirza and director of communications Jack Doyle both quit.
A No 10 spokeswoman said: "Dan Rosenfield offered his resignation to the Prime Minister earlier today, which has been accepted.
"Martin Reynolds also informed the Prime Minister of his intention to stand down from his role as principal private secretary and the Prime Minister has agreed to this.
"He has thanked them both for their significant contribution to government and No 10, including work on the pandemic response and economic recovery.
"They will continue in their roles while successors are appointed, and recruitment for both posts is under way."
As I write on Friday morning, an aide to Munira Mirza has also resigned:
Tom Harwood adds that Chancellor Rishi Sunak has been keeping his distance from the Prime Minister and did not defend the remark about Keir Starmer and the Jimmy Savile case.
One of the commenters makes an excellent point about civil servants finding the Savile remark more offensive than what happened to 60+ million people for … a virus:
Those people live in their own bubble.
Interestingly, Boris has appointed an MP rather than a civil servant to succeed Mirza. Andrew Griffith represents the Arundel constituency on the south coast of England. He seems to have a truly Conservative voting record.
Therefore, it seems as if Boris is cleaning house, which can only be a good thing for him. The civil servants do not seem to have been doing him many favours.
In more positive news for the Conservatives, Anna Firth won the by-election in Southend West, served by Sir David Amess until he was stabbed to death last October:
Because of the nature of Sir David's death, Labour and the Liberal Democrats did not put up candidates to run against Anna Firth, although minor political parties did.
Therefore, although she won 86% of the vote, only 24% of the electorate went to the polls.
The party debacle is far from over. This will run and run and run.
COP26? Oh, the hypocrisy of it all!
I watched the first hour of it on Monday, November 1 and nearly gagged but had to hear the actual speeches so that I would know exactly what the more prominent speakers actually said rather than read fake news regurgitations in the comment sections of the sites I read most frequently.
Air and limo travel: 'for me but not for thee'
The G20 summit in Rome closed on Monday, then it was time for the leaders to jet off to Glasgow for COP20.
While COP26 was scheduled to take place last year and couldn't go ahead because of the pandemic, it does seem as if these events, e.g. G20, could be better co-ordinated so that they took place in cities which are closer to each other.
But, you know, when it comes to our notional betters, no expense is spared. It's okay for them to fly then ride in limos all over the place, but it's not okay for us to go on a budget airline holiday with our family once a year:
In addition, Glaswegian women were made to walk down dark, unfamiliar thoroughfares while a COP26 VIP reception took place:
Let's take a closer look at the double standard that we, the great unwashed, are experiencing.
Ed Miliband MP
Ed Miliband used to lead the Labour Party. He is now in the Shadow (Opposition) cabinet.
On Sunday, October 31, he went on Andrew Marr's show on the BBC to object to Chancellor Rishi Sunak's lowering of passenger air duty on internal flights in the UK.
In fact, Miliband told Marr that domestic flights should be stopped 'as much as we possibly can'. However, in January 2020, Guido Fawkes revealed the MP's own air travel habits:
Guido's 2020 post said, in part (emphases mine below):
Last April, Guido reported on Ed Miliband's hypocrisy of constantly windbagging about the 'climate emergency' despite wracking up 19,000 air miles from his flights abroad, pumping out tonnes of carbon dioxide …
Green Ed's wracked up 12,000 air miles in 10 months – half the circumference of the globe.
Miliband is one of the North London elite who represents a working class city in the North of England, Doncaster. As one would expect, Miliband is more interested in promoting himself than Doncaster. This is what one of his constituents had to say:
Ed wants Britons to take the train, but that is not always possible within the United Kingdom, which includes Northern Ireland — and various islands:
One wonders if Miliband finally bought an electric car, the type of vehicle he insists the rest of us should have:
Miliband has complained about our rising energy prices which will be increasing by 20% per annum in 2022. However, he was the one who started the 'green tax' on energy when he was the energy secretary during Labour's last few years in power 10+ years ago:
Lorna Slater MSP
Another hypocrite is the Scottish Green MSP, deputy party leader Lorna Slater, originally from Canada.
She slammed G20 leaders for not going by train from Rome to Glasgow, which would have taken 28 hours:
However, Guido pointed out that, in 2019, Lorna Slater enjoyed a flight from Brussels to Sweden:
Couldn't she have gone by train?
As Guido points out:
According to Lorna's logic, Guido is outraged she didn't set an example by taking the 36-hour train from Glasgow Central via Euston, London St Pancras, Amsterdam and Berlin to Stockholm Central.
Joe Biden
As is customary for the leader of the free world, an American president has to have a ginormous motorcade for security purposes.
Apparently, in Rome, Joe Biden had to have more vehicles than usual because the city has social distancing laws during the coronavirus crisis. As such, he had an 85-car motorcade. The Daily Mail has the story along with numerous photos:
Biden at the upcoming environmental summit plans to tout $550 billion in new environmental programs in his Build Back Better framework, which he unveiled before jetting to Rome on Air Force One (another gas guzzler).
Here's the US motorcade leaving Edinburgh International Airport for Glasgow:
Here is his motorcade upon arrival in Glasgow:
Less hypocritical transport
Late last week and into the weekend, North West England and the South West of Scotland, including Glasgow, had a lot of heavy rain.
As a result, media reporters and other lesser beings found their trains from Euston to Glasgow Central cancelled:
CNN's Wolf Blitzer reports from … Edinburgh
Incredibly, CNN's veteran reporter, Wolf Blitzer, must have thought COP26 was taking place in Scotland's capital:
How does that happen?
Boris's opening speech
On Monday, as COP26 host, Prime Minister Boris Johnson was one of the first speakers welcoming everyone to the conference.
He laid out the purpose of this year's conference, which is to determine exactly how the Paris Agreement will work in practice:
The Daily Mail has a good summary of what he said:
The Prime Minister compared the situation facing the globe to the climax of a James Bond film where the hero has to thwart plans to blow up the planet.
But Mr Johnson said 'this is not a movie' and the 'doomsday device is real' as he urged his counterparts to do more to reduce harmful emissions.
The premier said the longer countries wait to take action then 'the higher the price when we are eventually forced by catastrophe to act'.
He said the world has 'long since run the clock down on climate change' and there is now just 'one minute to midnight', with action required immediately to prevent a global disaster.
The PM used his speech at the opening of the summit as a rallying cry to try to build momentum as he welcomed foreign leaders to Glasgow after securing only lukewarm climate commitments at the G20 summit in Rome over the weekend …
Mr Johnson pledged in his lunchtime speech to put another billion pounds into green finance – as long as the UK economy performs as expected in the coming years.
The PM repeated he wants global leaders to unveil steps on 'coal, cars, cash and trees' – the things he believes will make the most different in limiting temperature rises to 1.5 degrees.
Mr Johnson had set the tone as the G20 wrapped up last night by reading the riot act to his fellow world leaders, saying their promises on tackling climate change are starting to 'sound hollow'.
The PM said there are 'no compelling excuses for our procrastination' on reducing harmful emissions and action already taken amounts to 'drops in a rapidly warming ocean'.
Boris said that Glasgow was the site of the first steam engine, which James Watt invented. If I remember rightly from history class back in the mists of time, Britons called it the 'doomsday machine', because it was such a departure from anything anyone had known before.
In the event, it kicked off the Industrial Revolution which, despite its 'dark satanic mills' (William Blake), actually improved millions of people's lives not only in Britain but, with time, around the world:
As such, it seemed strange for Boris to refer to it at COP26. Was he inferring that Watt's steam engine was responsible for climate change?
Hmm. Look how GDP per capita has increased in England ever since the Industrial Revolution:
Tom Harwood of GB News nailed it, by pointing out how much Boris's views have changed:
This is what Boris wrote for The Telegraph in 2015, when we had a warm December. His editorial ends with this:
Scientists look at the data. But everyone else just looks at the weather – and it is the weather, therefore, that makes the psychological difference to the debate. Look at the recent summit in Paris, which ended in a good agreement to cut CO2, in contrast to the debacle at Copenhagen six years ago. What was the real difference? It was the weather. Paris was ridiculously warm for December. Six years ago, Copenhagen saw the biggest snowfalls anyone could remember. "Global warming?" everyone asked.
It is fantastic news that the world has agreed to cut pollution and help people save money, but I am sure that those global leaders were driven by a primitive fear that the present ambient warm weather is somehow caused by humanity; and that fear – as far as I understand the science – is equally without foundation.
There may be all kinds of reasons why I was sweating at ping-pong – but they don't include global warming.
Joe Biden and Boris — sleepy or just heads down?
The media are saying that Joe Biden fell asleep. It looks as if Boris did too.
Here are the photos and a video of Sleepy Joe:
The Queen's video message
In a recorded video message sent to the conference, the Queen expressed her wishes for COP26.
The message was aired on Monday evening at the aforementioned VIP reception in the centre of Glasgow.
She asked the world's leaders to rise above politics.
As ever, she had a photo on her desk that tied into the theme: a photo of Prince Philip surrounded by monarch butterflies.
The Mail's Robert Hardman reported:
Summoning the wisdom which comes with being the longest-serving head of state on the planet, the Queen distilled the monumental task facing this summit into just a few words.
'For more than 70 years, I have been lucky to meet and to know many of the world's great leaders,' she said.
'And I have perhaps come to understand a little about what made them special. It has sometimes been observed that what leaders do for their people today is government and politics. But what they do for the people of tomorrow – that is statesmanship.'
This was, she told them, their chance to be 'written in history books yet to be printed'. Big words from one who has already been written in to a few herself. But then the Monarch knows of what she speaks.
Though this was a speech she had wanted to make in person until her doctors decreed that it had to be delivered via video, it lost none of its punch. The poignancy of the setting only added to the power of her words.
There she was in the White Drawing Room at Windsor Castle, the same room in which delivered her historic address to a Covid-ravaged nation last year. At her side, was a favourite photo of the Duke of Edinburgh surrounded by butterflies during a 1988 visit to Mexico.
For years, she reminded us, she had watched him nurture a bright idea that turned in to a charity – the World Wildlife Fund – that, in turn, paved the way for so many of today's environmental organisations.
Between them, the couple had watched their eldest son and his eldest son embrace the same cause.
'I could not be more proud of them,' she said. And what was that on her lapel? Her much-loved butterfly brooch …
Another Mail article has more:
In her most personal speech to date, the monarch also paid tribute to Prince Philip and described how 'the impact of the environment on human progress' was a subject close to the heart of her 'dear late husband' – who in 1969 told a gathering: 'If we fail to cope with this challenge, all the other problems will pale into insignificance.'
The Queen's stern intervention, which was displayed on screens during a VVIP reception at Glasgow's Kelvingrove Museum, came hours after the Indian Prime Minister Narendra Modi pledged that India will target net-zero carbon emissions by 2070 – two decades later than the targets for the conference – disappointing many delegates.
It also comes after Boris Johnson kicked off the climate change summit by exhorting world leaders to back up their talk on climate change with action – warning it was 'one minute to midnight'.
A GB News panel thought that she had content and tone just right:
Archbishop of Canterbury apologises
The Anglican Communion is really into the impending doom and disaster of climate change.
To see that they are so wrapped up with the United Nations makes my skin crawl.
They sent a delegation to Glasgow:
Earlier on Monday, the Archbishop of Canterbury gave an interview to Radio 4's Today show. Later on, he had to apologise for his remarks in which he compared coming deaths from climate change to the Third Reich:
Coronavirus hypocrisy
As ever, delegates were expected to wear masks, but as the Daily Mail's photos show, world leaders took theirs off and defied social distancing.
How nice for the great and the good!
As for everyone else, it was masks or no admittance:
Public not interested
Thankfully, the general public are not interested in COP26. They have actual pressing issues with which to deal:
Guido's post says that a poll shows the British public are unwilling to shoulder the cost for any nonsense arising from COP26:
The lack of correlation between the BBC's output and what people want to read, and what it suggests about the British public's true feelings towards tackling climate change, seems to be backed up by a poll by Portland this morning. It found that while the public supports hypothetically punishing climate-damaging behaviour, or the government incentivising green behaviour, just 7% say "my family and me, and other families like me" should pay most of the cost. Just 36% are willing to pay more than £50 a month on top of existing bills to limit CO2 emissions.
I plan to feature more on climate change tomorrow.
The 2021 Westminster Dog of the Year event was held on Thursday, October 28, 2021 in Victoria Tower Gardens, Westminster, London.
Had he lived, Sir David Amess MP (pictured) planned on entering with his French bulldog Vivienne. In the wake of his murder two weeks ago, his close friend and fellow Essex MP Andrew Rosindell was allowed to enter with Vivienne:
On the day of the competition, Rosindell said:
No one loved animals like David, and no one loved their dog like David. I could not feel more sadness at the fact that it will be me chaperoning Vivienne, his dog, at the Dog of the Year, instead of him, but I also could not feel more pride to be able to pay tribute to him in this small way.
Another Essex MP, Mark Francois, accompanied Rosindell, holding the dog's lead.
The public was allowed to vote for their favourite MP/dog duo. The Kennel Club judges determined their own winner.
Both public and judges voted overwhelmingly for Vivienne, a pawfect tribute to her late master.
Here's the photo of the winners. Andrew Rosindell holds Amess's dog and Mark Francois the picture of Sir David and a rescue dog from a previous year's entry:
The Kennel Club's article says:
French Bulldog Vivienne, entered with Sir David Amess before his tragic death, has been crowned Westminster Dog of the Year 2021. In second place was Stanley, a Border Terrier owned by Edward Timpson MP for Eddisbury. Placed third was Henry, a Labrador owned by Selaine Saxby MP for North Devon.
Although Conservative MPs won the top spots, Parliamentarians from Opposition parties also entered the competition, held for the first time since 2018. The 2019 contest had to be cancelled because of anti-Brexit protests and last year's couldn't take place because of coronavirus.
The Kennel Club explains that the event is a chance to bring all dog-loving MPs together to highlight animal welfare and responsible canine ownership:
Westminster Dog of the Year is a celebration of the unique bond between dogs and their owners. The competition gives parliamentarians the opportunity to highlight the important work that they have undertaken in Parliament on dog related matters, whilst promoting responsible dog ownership. All Members of Parliament are able to enter regardless of 'pawlitical' persuasion.  
Owen Sharp, Chief Executive of Dogs Trust, explains: "The Westminster Dog of the Year competition is so much more than a canine beauty pageant. The competition is strictly apolitical; judges will be looking for the dogs' good deeds and devotion to their owner rather than policies or opinions. It is a fun filled day out with an important message at its core – helping to promote dog welfare issues and encourage responsible ownership." 
Another Kennel Club article explains how the contest was judged. The Dogs Trust is part of the panel:
The judging panel – Mark Beazley; Chief Executive at The Kennel Club, Owen Sharp, Dogs Trust Chief Executive and Alex Norris MP, 2018 Winner – spent the morning with dogs from different political persuasions and ambitions and led tributes to Sir David Amess, with speeches from the Rt Hon Lord Benyon.
The Kennel Club's Mark Beazley and the Dogs Trust's Owen Sharp paid tributes to Sir David:
Mark Beazley commented: "Today we pay tribute to Sir David and all he has done for dog welfare, and hope to honour his legacy to protect and improve the lives of the nation's pets, who make such a difference to so many. Crowning Vivienne as Westminster Dog of the Year and the public's winner is testament to Sir David's commitment and his passionate campaigning for animals. We would like to thank all the MPs and their four-legged counterparts for taking part in the competition and their tributes to Sir David, and for their commitment to dog welfare."
Owen Sharp, Dogs Trust Chief Executive said:
"Sir David Amess was a cherished friend of Dogs Trust and a great supporter of Westminster Dog of the Year. He was a fantastic advocate for animal welfare and a huge dog lover, making it an honour to award his dog, Vivienne, with the coveted title of Westminster Dog of the Year today.
"His constituents and supporters across the UK voted in their tens of thousands to also crown Vivienne as the winner of the public vote – testament to his unwavering dedication to dog welfare. Sir David's memory lives on at this event and we want to thank him and the other MPs here today for caring and for making a difference to the lives of dogs here in the UK."
Afterwards, Tom Harwood of GB News interviewed Andrew Rosindell, who discussed his friendship with Sir David. The interview also has a few clips from the event. Even those who don't know what a French bulldog looks like will have no problem identifying Vivienne. She's wearing a blue bib with 'City of Southend' printed on it — Sir David's dogged cause in Parliament, posthumously successful:
The Independent also covered the event and has highlights in this minute-long video:
Well done, everyone.
I, too, voted for Sir David and Vivienne.
Yesterday's post recapped the horrific murder of Sir David Amess MP on October 15, 2021.
Today's will cover more about this much admired man's personal character and political causes.
Posthumous victory: Southend-on-Sea now a city
I was delighted to learn at dinner time last night that the Queen granted Southend-on-Sea city status. Sir David must have mentioned Southend at least once a week in Parliament. He had long campaigned for it and made 115 references to it. Here he is with his two French bulldogs, one of which is Vivienne. He was due to participate with her in the Westminster Dog of the Year charity event on October 28:
The GB News article says that Prime Minister Boris Johnson made the announcement to MPs on Monday, October 18 (emphases mine):
The Prime Minister has notified the House of Commons that the Queen has agreed to confer city status upon Southend in tribute to Sir David Amess who was recently killed.
MPs cheered in the Commons as the Prime Minister announced Southend "will be accorded the city status it so clearly deserves".
Mr Johnson said: "As it is only a short time since Sir David last put that very case to me in this chamber, I am happy to announce that Her Majesty has agreed that Southend will be accorded the city status it so clearly deserves …
That 'short time' was probably last Thursday, October 14:
In a three-hour debate on Monday, preceding a service of remembrance at St Margaret's, the Parliamentary church next to Westminster Abbey, Boris noted that Amess was never an MP interested in climbing the greasy pole to a Cabinet or party leadership position:
"That Sir David spent almost 40 years in this House, but not one day in ministerial office, tells everything about where his priorities lay."
Boris Johnson, opening tributes to Sir David Amess, told the House of Commons: "The passing of 72 hours has done little to numb the shock and sadness we all felt when we heard of the tragic and senseless death of Sir David Amess.
"This House has lost a steadfast servant, we've lost a dear friend and colleague, and Julia and her children have lost a loving husband and devoted father.
"Nothing I or anyone else can say can lessen the pain, the grief, the anger they must feel at this darkest of times."
Returning to Southend-on-Sea, having city status will help to increase its profile and encourage outside investment, as the leader of the city's council explains below. Incidentally, having a cathedral, the traditional marker of an English city, is no longer necessary. City status is now a symbolic designation:
On Friday night, this Southend business owner said that Amess was dedicated to making his town a city:
Everything I know about Southend I learned from David Amess's contributions in the House of Commons:
'Community man'
There are MPs and there are MPs.
Sir David was the type of MP who will be sorely missed by his constituents, who called him a 'community man'. GB News interviewed several over the weekend, some of whom were in tears or close to it, including men, such as this Leigh-on-Sea councillor:
This councillor from Southend says that Sir David, whose mother lived to the age of 104, used to throw parties for constituents over 100 years old. He also used to ask about local issues in Southend and resolve them with the help of councillors:
Another councillor remembers that Sir David would check on certain constituents to see if they had transport for important meetings, probably related to issues of theirs he was dealing with as an MP. The man says that Sir David would personally drive those constituents to the places they needed to go. And, yes, there were right to life issues he campaigned for:
The Chairman of Leigh-on-Sea council recalls Sir David's selflessness:
This lady from Leigh-on-Sea, the Essex town where Sir David was stabbed to death (17 times), discusses his dedication to his constituency. Like many other people, she had the pleasure of meeting him at work in nearby Southend:
As was the case with other people GB News interviewed, a man interviewed (at 2:35 in the next video) said that people used to see Amess in the local Lidl, where he took time to chat with fellow shoppers. The man said that he did not vote for him but said that the MP was always available and accessible to everyone:
Vigil Mass
On Friday evening, the Revd Jeffrey Woolnough conducted a vigil Mass at St Peter's Catholic Church in Eastwood, Leigh-on-Sea.
This is the church the Amess family attend.
The video below has a few photos from the Mass. Starting at the 40-second point, notice how traditional it is. The priest stands with his back to the people, as in days of yore. He also wears a short chasuble that is very pre-Vatican II, a fiddleback. How fortunate for the Amess family to have found such a church:
At 1:50 in the video above, two ladies expressed their grief on Friday night following the vigil Mass. One of them said that Amess 'knew everybody'. As was the case with other people GB News interviewed, one of ladies said that people used to see him in the supermarket.
GB News was on hand to cover the Mass:
A service at Saint Peter's Church in Eastwood Lane, close to where Sir David was killed, was held on Friday evening to remember him – where he was described by a priest as "Mr Southend".
The church fell silent as Father Jeffrey Woolnaugh paid tribute to the Conservative MP and invited his constituents to remember him.
He placed a photograph of Sir David at the front of the church, and said: "This liturgy is one I was not expecting to lead today.
"The whole world grieves. In this Mass we pray for the repose of the soul of dear David.
"Have you ever known Sir David Amess without that happy smile on his face? Because the greeting he would always give you was that happy smile.
"He carried that great east London spirit of having no fear and being able to talk to people and the level they're at. Not all politicians, I would say, are good at that."
Around 80 people attended the service and listened as Father Woolnough recounted his own memories of Sir David.
He said: "When you can speak to your MP and you can talk and get on like a house on fire, that's when you can talk to them later about things that are important to your area.
"What can we say? He died doing the thing he loved, meeting his constituents, his local people."
Father Woolnough added that his constituents could "count on" Sir David, and said: "He was always available. We don't have the words tonight.
"Dear Sir David, rest well."
The priest also said that Amess's smile is ingrained on everyone's hearts:
On Saturday night, a secular candlelit vigil took place near where Sir David was murdered. The Daily Mail has many moving photographs of the gathering.
Biography
Most Britons think that all Conservatives were born with a silver spoon in their mouths.
Not so.
David Amess was born in humble circumstances in London's East End.
The Telegraph recounted his life:
David Anthony Andrew Amess was born on March 26 1952 in working-class Plaistow, East London, to James Amess, an electrician, and Maud, née Martin, a dressmaker. As Amess recalled, "we were very poor and lived in a small terraced house with no bathroom, an outside toilet and a tin bath hanging on the wall". In 2014 he would compile and publish a pamphlet, Party of Opportunity, containing short biographies of Tory MPs with working-class origins.
David's mother was a Roman Catholic who brought him up in the faith and he remained a staunch Catholic throughout his life, his commitment reflected in his opposition to abortion and to the broadening of LGBT rights. "Confession," he once said, "is very important to me."
He attended St Antony's Junior School, Forest Gate, where he was "often in classes of 50, and the teachers still gave us excellent tuition and kept order to a high standard", and St Bonaventure's Grammar School, Newham, where he remembered being "quite bossy and pushy" and was rumoured to have once hit a fellow pupil over the head with a bicycle pump.
Until the age of five, Amess said, he had the nickname of "Double Dutch" on account of a bad stutter: he could not make the sounds "st" or "the" and saw a speech therapist for three years, which also had the effect of virtually eliminating his Cockney accent.
He had a varied career prior to entering politics:
He took a degree in Economics and Government at Bournemouth College of Technology. Then, after 18 months' teaching at a primary school ("I specialised in teaching children who were described as ESN"), and a short stint as an underwriter, he became a recruitment consultant.
One wonders if he met his wife Julia while he was an underwriter:
In 1983 he married Julia Arnold, a former underwriter, who survives him with their four daughters and a son.
Margaret Thatcher was Prime Minister during Amess's early years in politics:
A dedicated Thatcherite, Amess contested the safe Labour seat of Newham North West in 1979, and in 1982 became a councillor in the London borough of Redbridge.

During those years, Essex went from electing Labour MPs to Conservative ones. The county is still Conservative-dominated in Parliament.
In the 1980s and 1990s, the media coined expressions for Essex voters, many of whose families had been moved out of London after the Second World War had ended. The next generation of voters became known collectively as 'Basildon man' and 'white van man'.
Amess rode the crest of that wave, as The Sun's Trevor Kavanagh explains:
Basildon was the first constituency he served, beginning in 1983:
When the incumbent Tory MP for Basildon, the Right-wing Harvey Proctor, moved to safer Billericay for the 1983 general election, Amess was chosen to fill his shoes and was duly elected. Three years later he stood down from the council to concentrate on his Westminster seat.
Basildon was regarded as a bellwether seat, and when Amess won it again in 1992, albeit with a tiny majority, it provided the first indication that despite the pundits, and the triumphalism of Labour's leader Neil Kinnock, the Tories were on course for a fourth successive election victory. He would later describe his campaign in a short pamphlet entitled 1992: Against All Odds! (2012).
Boundary changes prior to the 1997 general election meant that Basildon was almost certain to go Labour, so Amess decided to look elsewhere, and in 1995 was selected to fight Southend West after the retirement of Paul Channon. Returned to Westminster again, he held the seat until his death.
Amess focused on his constituents, first and foremost:
Assiduous and likeable, Amess built a strong personal following by concentrating on constituency issues: the Guardian's Andrew Rawnsley once suggested that the secret of his electoral success was that "he never completed a sentence without mentioning his constituency".
This was also reflected away from Parliament:
Amess … was a lifelong supporter of West Ham United, and also followed Basildon United …
Even after he left Basildon, he still returned to visit, as this former Basildon councillor remembers:
He had many accomplishments with regard to charity, earning him a knighthood. He:
was knighted in 2015 and received several awards for his contributions in parliament, including the Animal Welfare and Environment Champion award of the 2011 Dods Charity Champion Awards, and the "Outstanding Achievement Award" at the same event the following year, in recognition of his lifetime commitment to charitable work.
This was how the newly knighted Sir David celebrated:
He did not always follow the Conservative line in Parliament:
… he incurred the wrath of many fellow Conservatives by consistently voting to ban foxhunting and hare coursing (though he was in favour of capital punishment), and supporting numerous other animal welfare campaigns.
Many MPs will remember his staunch support of Brexit, however.
They will also remember him for supporting animal causes and an end to fuel poverty:
The most significant of these were the Protection Against Cruel Tethering Act (1988), and the Warm Homes and Energy Conservation Act (2000) …
The animal-related Act, supported by the NFU, banned the tethering of "any horse, ass or mule under such conditions or in such manner as to cause that animal unnecessary suffering".
The second piece of legislation, following on from the death of a constituent from cold, required the Secretary of State to "publish and implement a strategy for reducing fuel poverty". The measure was credited with pushing fuel poverty to near the top of the political agenda, contributing to a dramatic fall in the problem in England from 5.1 million households in 1996 to 1.2 million in 2004.
Another cause that Amess supported, thanks to a Leigh-on-Sea constituent, Carla Cressy, was that of endometriosis. 
The Telegraph has the story:
"I first approached Sir David Amess when I'd just found out I had endometriosis five years ago," says Carla Cressy, 30, an accounts manager from Leigh-on-Sea. "I didn't know much about it, and realised there was very little awareness, support and education around it. He's my local MP so I visited him at his surgery. I had no expectations of what would happen. I just knew I wanted to share my story with him, about how I'd suffered with endometriosis for an entire decade before I was diagnosed.
"He was so lovely – genuinely concerned and upset about what I'd been through. He said we need to do something about it, and he then really did. He went above and beyond to champion this community like a beacon of light. It was incredible. I am devastated that he's gone."
This is what happened:
"Sir David recognised the significant impact endometriosis could have, and really wanted to make a difference to help those with the disease," says Emma Cox, CEO of Endometriosis UK, a charity that was working closely with an All-Party Parliamentary Group (APPG) that Sir David set up in 2018 to raise awareness in Parliament of the condition …
One of Sir David's goals when he created the APPG was for the government to provide education on endometriosis in schools. It's something the group achieved over a year later, meaning menstrual wellbeing is now included on the English curriculum. "We made so much progress together," says Cressy, who worked closely with Sir David on the campaign. "He really has changed so many lives, including my own."
One of Sir David's upcoming tasks, had he lived, was to ask for further research funding, as a Labour MP explains:
"He really wanted that debate," says Labour MP Emma Hardy, vice-chair of the APPG on endometriosis. "We'd published a report last year, collecting evidence from women around the country with their experience of endometriosis, and Sir David wanted to draw attention to our recommendations."
Their key goals are to reduce the time it takes for people to be diagnosed, ensure GPs have enough information to make them aware of the condition, raise public awareness, and fund more research into non-invasive ways of diagnosis …
"The main thing that comes from women is not being listened to, not being believed, taking ages to be diagnosed and then when they are, there's not much change. Sir David wanted to change that. Endometriosis isn't party politics, but he was really passionate about trying to do something about this condition. I don't want him to be remembered as the person this tragedy happened to, but the person who worked so hard to improve the lives of people with endometriosis. We can't replace him, but I hope we can find another Conservative MP to champion his work and continue with the APPG."
This GB News video covers Sir David's public life from the time he entered politics:
MPs paid respects
On Friday afternoon, Union flags were lowered to half-mast over government buildings, including No. 10:
On Saturday morning, prominent Conservative and Labour MPs laid flowers near the Methodist church hall where Sir David was murdered:
Government whips have reminded MPs that there is an Employee Assistance Programme for anyone among them who wants counselling after Sir David's senseless murder.
Everyone, regardless of party affiliation, was deeply sorry to lose this man:
This was because he befriended MPs from both sides of the aisle and found ways to work constructively with them:
One of the things I found moving in watching and reading these tributes was the recollection made by more than one MP, regardless of party affiliation, on his befriending of new Parliamentarians. He introduced himself, asked how they were getting on and enquired if they had any issues with which he could help.
Conservative MPs
These are some of the Conservative MPs' tributes, beginning with Boris's:
Long-time friend David Davis paid tribute to Amess's career of service, rather than ambition:
Stuart Anderson remembers Amess helping him settle into the job:
Andrew Rosindell, another Essex MP, lamented the loss of his oldest friend in the Commons:
Another long-time friend, David Jones, called him 'frankly irreplaceable':
I agree with Mike Wood. Forthcoming Adjournment debates will never be the same. That said, Southend is now a city:
The folks running PARLY agree on the adjournment debates, during which Sir David addressed more issues than Southend:
Labour
Party leader Sir Keir Starmer emphasised Amess's Christian faith and the fact that he was well liked across the House:
Hilary Benn remembered Amess's dogged campaigning and dedication:
Siobhain McDonagh will forever connect Amess with Southend, and who can blame her?
Steve McCabe will remember Amess's cheerful nature:
John Cryer was a former neighbour:
Liberal Democrat
The most moving tribute, however, came from Lembit Öpik, a former Liberal Democrat MP, who spoke to Mark Dolan on GB News Saturday night:
The former MP was so moved that he had to sit down and recover after that interview. Mark Dolan's producer was with him during that time.
Conclusion
It was serendipitous that the Gospel reading for Sunday, October 17, was about service (Mark 10:35-45):
10:42 So Jesus called them and said to them, "You know that among the Gentiles those whom they recognize as their rulers lord it over them, and their great ones are tyrants over them.
10:43 But it is not so among you; but whoever wishes to become great among you must be your servant,
10:44 and whoever wishes to be first among you must be slave of all.
10:45 For the Son of Man came not to be served but to serve, and to give his life a ransom for many."
What apposite verses for Sir David Amess, who gave his all in service to his constituents.
May his place in Heaven be an exalted one.
Yesterday's post discussed the first three days of the Conservative Party Conference.
Today's entry will look at Prime Minister Boris Johnson's speech on Wednesday, October 6, 2021.
It was still content-light, but at least he explained what 'levelling up' is. More on that below.
But first, let's look at what happened the night before, the last opportunity for MPs and the party faithful to get together on the dance floor.
Tuesday, October 5, after hours
Pensions minister Thérèse Coffey had a great time as the temporary £20 Universal Credit boost came to an end.
A cold fish at the despatch box at the best of times, Coffey showed us a different side of herself as she, a chemist by training, belted out 'Time of My Life' from Dirty Dancing (video credit to the Daily Mail):
The Mail reported (emphases mine):
The cabinet minister in charge of Universal Credit was slammed today for belting out Time of My Life at a boozy Conservative party Conference karaoke bash hours before cutting payments to six million people.
Work and Pensions Secretary Therese Coffey enthusiastically belted out the 1987 power ballad from the film Dirty Dancing in a duet with fellow Will Quince – a former welfare minister.
It came as a £20-per-week Covid uplift payment was removed from UC for families across the UK.
The Government has pressed ahead with the cut despite concerns – including from Tory backbenchers – that hundreds of thousands of people will be plunged into poverty.
From today, no assessments will include the uplift, meaning that from October 13 – a week later – no payments will be received that include the extra money.
I don't know what I think about removal of the £20 uplift. The Government always said in Parliament that it was temporary and stated months ago that it would end in October 2021. I feel for those families. On the other hand, the last thing I want to see is Universal Basic Income, and if this £20 were maintained, it would have been a slippery slope along that road.
Furthermore, there are plenty of job vacancies and salaries are going up. Note the decrease in people clicking on the vacancies, however. Hmm:
Two other MPs, Levelling Up minister Michael Gove, in the process of divorcing his wife, and Tom Tugendhat, danced together. Guido referred to this season's Strictly Come Dancing:
It was only a few weeks ago that Gove spent the early hours of one morning dancing in a nightclub in Aberdeen, his home town.
The Mail reported:
Michael Gove has been spotted rocking the dance floor again – this time busting moves to Whitney Houston's I Wanna Dance With Somebody and belting out Bonnie Tyler's Total Eclipse Of The Heart at the Tory party conference. 
One hilarious clip shows the Levelling Up Secretary, 54, arm in arm with Tom Tugendhat as he throws his finest shapes to a cover of the 1987 hit while wearing a suit and tie – just a month after his infamous night out in Aberdeen.  
Newly-single Mr Gove, and Mr Tugendhat, MP for Tonbridge and Malling, are seen taking turns to spin each other as they go all out at the gathering – which is not usually known as a hotbed of hedonism. 
In a second clip shared by The Sun, Gove can be seen passionately singing along to Bonnie Tyler's hit 1983 anthem with his mouth wide open, hands interlocked with an unidentified woman in front of him.
Meanwhile, at another Conference party event, Liz Truss danced to Beyonce (video credit to Guido Fawkes):
Wednesday, October 6
Wednesday was Boris's big day.
He abandoned his diet temporarily:
Guido Fawkes has the calorific coffee order:
Sat in the conference exhibition hall ahead of Boris's speech Guido was astonished to overhear the Speccie's Katy Balls being told by a barista that Boris's aides turned up at his stall yesterday to fetch the boss a coffee. The coffee order in question was a stomach-churning triple shot flat white, with extra caramel syrup with three sugars – an astonishing departure from the diet Carrie supposedly put him on after his Covid hospital trip.
Later, an appreciative crowd gave their Party leader a standing ovation:
Guido has the full text of Boris's speech, which was not much shorter than Keir Starmer's last week but was delivered in half the time: 45 minutes compared with 90.
Before going into Boris's speech, Keir Starmer's speechwriter dived in to say that his went on 'absolutely' too long:
Guido reported that Philip Collins, Starmer's speechwriter (and Tony Blair's), said the policy sections were 'a bit baggy' (red emphases in the original, purple one mine):
Philip Collins, the man who drafted Sir Keir's epic 90-minute address at Labour Conference last week, has admitted the speech "absolutely" went on too long – and even claimed the sections on policy (such that they were) were "a little bit baggy" and yes, "boring". This is a speech he wrote only a week ago…
Speaking on Politico's Westminster Insider Podcast, Collins said:
"It's always the same bits […] the policy bits are very, very difficult to bring to life. If you don't include them, everybody will write that you have nothing to say, that you're empty […] those bits, if I'm critical, could have been tighter, could have been more compressed. I think they were a bit long, a little bit baggy."
Which in view of criticisms of Boris that his conference speech was light on policy detail, suggests he made the right call. Collins, who was also Tony Blair's wordsmith, goes on to say that while he thought Starmer handled the inevitable heckles well, the interruptions and subsequent applause ("people enjoyed it far too much!") contributed to the running time, claiming Starmer "was getting standing ovations for things that were just basically boring lines that were meant to just take you to the next stage of the speech". "It got ridiculous", Collins said…
Returning to Boris, Guido also has videos of his speech.
It was clear that Boris, a former journalist, penned the words himself.
He opened with an amusing put-down of former Labour leader Jeremy Corbyn, recalling the 2019 election:
Isn't it amazing to be here in person, the first time we have met since you defied the sceptics by winning councils and communities that Conservatives have never won in before – such as Hartlepool. In fact it's the first time since the general election of 2019 when we finally sent the corduroyed communist cosmonaut into orbit where he belongs …
Then he threw in a joke about Michael Gove:
The Mail was on hand to give us Gove's reaction:
Prime Minister Boris Johnson later referenced Mr Gove's disco moves at his conference speech today, branding him 'Jon Bon Govi' – prompting the minister to turn bright red.
Here's Guido's video:
Boris said:
… for months we have had one of the most open economies and societies and on July 19 we decided to open every single theatre and every concert hall and night club in England and we knew that some people would still be anxious, so we sent top government representatives to our sweatiest boîtes de nuit to show that anyone could dance perfectly safely and wasn't he brilliant my friends? Let's hear it for Jon Bon Govi, living proof that we, you all, represent the most jiving, hip, happening and generally funkapolitan party in the world.
Tom Harwood, a Guido alum now working for GB News, gives us tweeted highlights.
Despite the rise in National Insurance tax, Boris insisted that Britain would move towards a low-tax economy:
Boris then had a go at Labour:
He then went on to slam Insulate Britain, which had blocked the roads for ten consecutive days at that point (12 as I write):
He discussed immigration from Afghanistan and Hong Kong …
… adding:
We are doing the right and responsible thing and, speaking as the great grandson of a Turk who fled in fear of his life, I know that this country is a beacon of light and hope for people around the world, provided they come here legally, provided we understand who they are and what they want to contribute, and that is why we took back control of our borders and will pass the borders bill, because we believe there must be a distinction between someone who comes here legally and someone who doesn't, and, though I have every sympathy with people genuinely in fear of their lives, I have no sympathy whatever with the people traffickers who take thousands of pounds to send children to sea in frail and dangerous craft. And we must end this lethal trade. We must break the gangsters' business model.
He made reference to 2022's general election in France and the newly-conservative outlook on the EU and immigration from our Brexit negotiator:
And is it not a sublime irony that even in French politics there is now a leading centre right politician calling for a referendum on the EU. Who is now calling for France to reprendre le controle?? It's good old Michel Barnier. That's what happens if you spend a year trying to argue with Lord Frost, the greatest frost since the great frost of 1709.
Boris then illustrated what he means by 'levelling up'. Different areas of England will get solutions to their specific needs:
I will tell you what levelling up is. A few years ago they started a school not far from the Olympic park, a new school that anyone could send their kids to in an area that has for decades been one of the most disadvantaged in London. That school is Brampton Manor academy and it now sends more kids to Oxbridge than Eton. And if you want proof of what I mean by unleashing potential and by levelling up, look at Brampton Manor, and we can do it.
There is absolutely no reason why the kids of this country should lag behind, or why so many should be unable to read and write or do basic mathematics at the age of 11. And to level up – on top of the extra £14 bn we're putting into education and on top of the increase that means every teacher starts with a salary of £30k – we are announcing a levelling up premium of up to £3000 to send the best maths and science teachers to the places that need them most.
And above all we are investing in our skills, skills, folks. Our universities are world beating. I owe everything to my tutors and they are one of the great glories of our economy, but we all know that some of the most brilliant and imaginative and creative people in Britain – and some of the best paid people in Britain – did not go to university. And to level up you need to give people the options, the skills that are right for them. And to make the most of those skills and knowledge and to level up you need urgently to plug all the other the gaps in our infrastructure that are still holding people and communities back.
As I've been saying over this wonderful conference to you when I became leader of this party, there were only, can you remember, what percentage of households had gigabit broadband when you were so kind as to make me leader? 7 percent, only 7 percent, and by the new year that will be up to 68 per cent. Thanks to Rishi's super-deduction the pace is now accelerating massively as companies thrust the fibre-optic vermicelli in the most hard to reach places.
On that topic, he had a witty go at Scotland's Ian Blackford MP, a multi-millionaire who gives the impression he has nothing. This bit is about the remote video connections Parliament had during the pandemic:
It's wonderful, for years SNP leader Ian Blackford has been telling the Commons that he is nothing but a humble crofter on the Isle of Skye. Well, now we have fibre optic broadband of very high quality that we can inspect the library or is it perhaps the billiard room of Ian Blackford's croft. And that is levelling up in action.
Boris wants to get Britons back in the office:
And my friends it is not good enough just to rely on Zoom. After decades of ducked decisions, our national infrastructure is way behind some of our key competitors.
It is a disgrace that you still can't swiftly cross the Pennines by rail, a disgrace that Leeds is the largest city in Europe with no proper metro system, a waste of human potential that so many places are not served by decent bus routes. Transport is one of the supreme leveller-uppers and we are making the big generational changes shirked by previous governments.
We will do Northern Powerhouse rail. We will link up the cities of the Midlands and the North. We will restore those sinews of the union that have been allowed to atrophy: the A1 north of Berwick and on into Scotland, the A75 in Scotland that is so vital for the links with Northern Ireland and the rest of the country, the North Wales corridor. And we will invest in our roads, unblocking those coagulated roundabouts and steering-wheel-bending traffic lights, putting on 4000 more clean green buses made in this country, some of them running on hydrogen.
And as we come out of Covid, our towns and cities are again going to be buzzing with life because we know that a productive workforce needs that spur that only comes with face to face meetings and water cooler gossip.
If young people are to learn on the job in the way that they always have and must, we will and must see people back in the office. And that is why we are building back better with a once in an a century £640bn pound programme of investment.
And by making neighbourhoods safer, by putting in the gigabit broadband, by putting in the roads and the schools and the healthcare, we will enable more and more young people everywhere to share the dream of home ownership, the great ambition of the human race that the left always privately share but publicly disparage.
And we can do it.
He discussed rewilding Britain:
We are going to re-wild parts of the country and consecrate a total of 30 per cent to nature. We are planting tens of millions of trees.
Otters are returning to rivers from which they have been absent for decades. Beavers that have not been seen on some rivers since Tudor times, massacred for their pelts, and now back. And if that isn't conservatism, my friends I don't know what is.
Build back beaver.
And though the beavers may sometimes build without local authority permission, you can also see how much room there is to build the homes that young families need in this country.
He talked about the housing crisis and the importance of home ownership, especially for the young:
He praised the success of the coronavirus vaccine rollout and the contribution of private enterprise:
He wittily criticised Labour's reluctance to accept the Government's pandemic strategy:
Boris discussed the Labour Party conference and Sir Keir Starmer. This is classic Boris:
Did you see them last week, did you watch them last week in Brighton? Hopelessly divided I thought they looked.
Their leader looked like a seriously rattled bus conductor, pushed this way and that by, not that they have bus conductors any more, unfortunately, like a seriously rattled bus conductor pushed this way and that by a Corbynista mob of Sellotape-spectacled sans-culottes or the skipper of a cruise liner that has been captured by Somali pirates desperately trying to negotiate a change of course and then changing his mind.
He discussed getting a trade deal with the United States, especially our export of British beef:
He touched on AUKUS …
… and Labour's opposition to that alliance:
He also addressed political correctness, which, frankly, has only worsened under this Government. He really does need to tackle it, so I hope he means what he says here. On a lighter note, he mentioned Michael Gove again:
We are led by our values, by the things we stand for. And we should never forget that people around the world admire this country for its history and its traditions. They love the groovy new architecture and the fashion and the music and the chance of meeting Michael in the disco. But they like the way it emerges organically from a vast inherited conglomerate of culture and tradition. And we Conservatives understand the need for both and how each nourishes the other. And we attack and deny our history at our peril. And when they began to attack Churchill as a racist I was minded to ignore them. It is only 20 years ago since BBC audiences overwhelmingly voted him the greatest Briton of all time, because he helped defeat a regime after all that was defined by one of the most vicious racisms the world has ever seen.
But as time has gone by it has become clear to me that this isn't just a joke. They really do want to re-write our national story starting with Hereward the Woke. We really are at risk of a kind of know-nothing cancel culture, know-nothing iconoclasm. And so we Conservatives will defend our history and cultural inheritance, not because we are proud of everything, but because trying to edit it now is as dishonest as a celebrity trying furtively to change his entry in Wikipedia, and its a betrayal of our children's education.
He closed by paying tribute to England footballers, Emma Radacanu and Team GB's Olympians and our Paralympians, who did so well this year:
The spirit of our Olympians. It is an incredible thing to come yet again in the top four, a formidable effort for a country that has only 0.8 per cent of the world's population … but when we come second in the Paralympics as well – that shows our values, not only the achievement of those elite athletes but a country that is proud to be a trailblazer.
To judge people not by where they come from but by their spirit and by what is inside them.
That is the spirit that is the same across this country, in every town and village and city that can be found. That can be found in the hearts and minds of kids growing up everywhere.
And that is the spirit we are going to unleash.
The crowd loved every minute:
Tom Harwood interviewed party members afterwards, all of whom gave Boris's speech rave reviews:
I could go into the pundits' analyses, but why bother? So many are disgruntled Remainers, still licking their wounds over Brexit, which means that they will attack any Conservative policy.
As a former boss of mine used to say: 'Onwards and upwards!'
Congratulations, Team GB, for a medals haul that equals that of London 2012's.
NBC has an easily navigable medals table for those interested.
Before I get to Great Britain, however, below are highlights of the Tokyo Olympics.
Japanese opposition
The Japanese government lifted a state of emergency in mid-July so that the games could take place:
Not everyone in Japan was happy that the Olympics were going ahead, having been postponed from last year because of coronavirus. Protests took place when the games started.
Controversies from other nations
The decision to allow New Zealand's Lauren Hubbard to participate was controversial.
Former British Olympian swimmer Sharron Davies said it was:
another kick in the teeth for female athletes.
In the end, Hubbard failed dismally and now wishes to lead a quiet life.
Another person of the same persuasion, Team USA's Chelsea Wolfe, a BMX rider, posted on Facebook in 2020 that, if they won a medal, they wanted to:
burn the flag as a way of exacting retribution against the Trump Administration for hurting "trans children."
Wolfe later deleted the post and said in a June 2021 interview:
"Anyone who thinks that I don't care about the United States is sorely mistaken," Wolfe told Fox News.
In the end, Wolfe, an alternate, did not compete in the games.
On August 5, President Trump criticised Team USA's women's soccer team (emphases mine unless otherwise stated):
If our soccer team, headed by a radical group of Leftist Maniacs, wasn't woke, they would have won the Gold Medal instead of the Bronze. Woke means you lose, everything that is woke goes bad, and our soccer team certainly has. There were, however, a few Patriots standing. Unfortunately, they need more than that respecting our Country and National Anthem. They should replace the wokesters with Patriots and start winning again. The woman with the purple hair played terribly and spends too much time thinking about Radical Left politics and not doing her job!
The Boss's daughter
In brighter news, Bruce Springsteen's daughter, equestrian Jessica Springsteen, participated for Team USA.
She made the Telegraph's front page on August 6:
She proved to be The Boss's daughter in winning silver, although she failed to qualify for a solo event.
On August 3, The Guardian reported (emphases mine):
Jessica Springsteen had no luck going solo in Tokyo.
The daughter of Bruce Springsteen and his E Street Band wife, Patti Scialfa, failed to qualify for the Olympic individual jumping final at Tokyo's Equestrian Park on Tuesday night.
The 29-year-old's Olympic debut was off to a strong start on the 14-jump course before her horse got uneasy around the 11th obstacle, and the pair earned four penalty points for knocking down a rail. That put her on the bubble of the 73-horse field for one of 30 spots in the final. She was formally eliminated about an hour after riding.
She'll ride again Friday night as part of America's four-rider entry in the jumping team event.
"All in all, I'm thrilled with the round and I'm excited for the rest of the week," she said.
Springsteen learned to ride on her family's horse farm in Colts Neck, New Jersey, and she was an alternate for the London Games in 2012 but didn't participate.
I am so happy that, even in a small way, I was able to help The Boss buy his horse farm. Take that as you will.
On August 7, The Guardian reported on Springsteen's silver, again mentioning the horse farm:
Jessica Springsteen, Bruce's daughter, earned an Olympic silver medal for the US but they lost in a thrilling jump-off with Sweden in the team showjumping. She rode alongside Laura Kraut and McLain Ward in the final equestrian event of the Tokyo Games.
The medal went some way to wiping away the disappointment of not qualifying for the individual jumping final but the US came agonisingly close to gold.
Springsteen, who rode Don Juan van de Donkhoeve, a 12-year-old Belgian Warmblood stallion, is the second child of the Boss and his fellow musician Patti Scialfa, and began riding aged four – prompting "born to ride" headlines aplenty.
The 29-year-old grew up on the family's horse farm in Colts Neck Township in New Jersey and she is the highest placed woman in the world rankings in 14th. She was an alternate for 2012 but failed to make the cut for Rio in 2016.
One wonders what the paper would have said if Donald Trump owned a horse farm.
EU wants EU participation
Britain's medals haul must have struck a nerve with Belgian MEP Guy Verhofstadt, who thinks that the EU should participate as a bloc without individual European countries:
What Verhofstadt forgets is that, if he got his way, there would be fewer Europeans from EU states than at present.
Radek Sikorski, MEP and Chairman of the EU-USA Delegation in the EU Parliament, has forgotten that, too. This tweet was also from August 5, when the UK was still 6th in the medals table:
Tom Harwood of GB News explained the situation on August 6. It is also interesting that the EU tried to get their flag in the Olympics and failed:
Guido Fawkes had a slightly different take (emphases in the original):
Given this is the first Olympics since Brexit, Guido points out that were Britain still members the EU's medal total would be a whopping 25% higher. We were always propping them up…
We're also currently totaling the same number of gold medals as our nearest two EU medal table neighbours, France and Germany, combined. Guido will leave it up to Guy to tot up the Commonwealth…
Team GB's success
This brings us nicely to Team GB's medals haul, putting us in fourth place overall. Japan ended up in fifth.
On Sunday, August 8, the final day, The Express had a go at Verhofstadt, reporting Saturday's medals. We won a few more on Sunday:
The former Belgium MEP and current MEP, an arch-critic of Brexit, caused a stir earlier this week with his bizarre suggestion that the European Union was "winning" the Tokyo Olympics – as well as suggesting in future, EU members should compete with an EU flag on their outfits. As evidence, Mr Verhofstadt, the European Parliament's Brexit representative, pointed to the fact that as of August 5, the total number of gold medals won by members of the EU27 exceeded the combined sum of medals won by China and the United States.
However, as of Saturday, Great Britain's total stands at 20 golds, fourth behind China (38), the USA (34) and hosts Japan (26).
The EU's two most powerful nations Germany and France lag behind, with the former, led by Chancellor Angela Merkel, in 7th place, with ten golds, and France, led by Emmanuel Macron, in 10th, with seven medals.
As for Mr Verhofstadt's very own Belgium, they currently have three Olympic golds, and are 28th in the medal table.
And in a development which some might conclude suggest is Brexit-related, given the trade deal signed between London and Canberra earlier this year, Australia's current gold medal total of 17 is equal to that of Germany and France added together.
Welsh Conservative MP David Jones told The Express:
I'm sure Mr Verhofstadt, as a well-known Anglophile (he drives an Aston Martin), will be the first to give generous credit to Team GB on their outstanding success.
He may also acknowledge that international sporting success to a large extent reflects a strong national identity, for which the dry-as-dust mega-bureaucracy of the European Union could never be a substitute.
On Friday, August 6, cyclist Laura Kenny — Laura Trott from London 2012 — became the first British Olympian to be a mother and the first to win gold at three consecutive Olympics. Hers and husband Jason Kenny's son is now three years old. This photo shows her and her team-mates Katie Archibald and Kate French sporting gold after winning the madison:
Our Kate French won the modern pentathlon that day.
Our final gold was won by boxer Lauren Price, who defeated her Chinese opponent:
She was only the second British woman to win a gold in boxing.
We ended up in fourth place overall in the medals table:
Well done, everyone:
The Telegraph has a profile of each Team GB winner in chronological order.
On an individual level, if there were such a thing as Team GB royalty, surely, cyclist Jason Kenny and his wife Laura would be that couple:
The Telegraph reported that the Kennys are looking forward to a quiet night in to celebrate now that they are back in England:
Only one prize is now missing for Laura and Jason Kenny, the first couple of sport who have 12 Olympic titles between them: the inevitable Damehood and Knighthood.
Following a gold apiece at the Izu Velodrome last week, and with the Kennys now confirmed as Britain's most successful male and female Olympians of all time, that will arrive in due course. But while the medals may sit comfortably for the Kennys, they are so far from flashy they would sooner swim back from Tokyo than be seen to be putting on airs. Posh 'n Becks they are not.
Asked how they would celebrate their record-breaking Games, Jason said a quiet night in with their three-year-old Albie was as rock n roll as it would get.
"Just being at home is the plan," he said. "Just being together with Albie, we have not seen him for two weeks now. It is the longest we have ever been away from him. We haven't left him for more than a day or two previously."
Albie has been staying with his grandparents for the last two weeks, alternating between Laura's parents Adrian and Glenda Trott and Jason's parents, Michael and Lorraine Kenny. It is a familiar routine for them as they all pitch in to make Laura and Jason's sporting lives manageable.
"It's a huge team effort," says Dani Rowe, who won the team pursuit with Laura at London 2012. "Laura's parents even moved from Hertfordshire to Manchester to be nearer to them. They've all done so well to manage it."
Do not expect the Team GB power couple to morph suddenly into A-list celebs. Adrian Trott is proud of the fact that his daughter squirms when she is described as a star. Trott told Telegraph Sport last week that he was happiest when people describe her as "a nice, normal person… because we feel we did something right".
Jason Kenny has won seven gold medals in four consecutive Olympics:
Here's the breakdown:
The Kennys have surpassed some longstanding Olympics achievements held by Americans …
… as well as past achievements for Team GB:
Another British Olympian who broke a Team GB record was Keely Hodgkinson, who broke Dame Kelly Holmes's national record to win silver in the 800m on August 3, making the 11th day of the Games one of the nation's most successful so far.
The Times reported her reaction:
Hodgkinson, who is a student at Leeds Beckett University, said: "It was such a good race, it was so open, I just wanted to put it all out there. It'll take a couple of days to sink in. I'm so happy. I'm speechless right now, Kelly is a legend, I've looked up to her, I've spoken to her in the last couple of days. It means so much."
It was another fantastic win for Team GB.
————————————————
In closing, hearty congratulations to Team USA who took top spot over China and the ROC (Russia). Well done!
The Paralympics — even better than the Olympics — begin on August 24 and end on September 5. Bring it on!
On Monday, July 12, the day after the Euro 2020 final, GB News presenter Guto Harri took the knee in solidarity with the cause.
His co-presenter, Mercy Muroki, looked on, silently embarrassed for him:
Fallout
That was the last the channel's viewers saw of Guto Harri, a Welshman who used to work at the BBC and also advised Boris Johnson when he was Mayor of London.
On July 13, Harri defended his gesture:
On Thursday, July 15, GB News tweeted:
That evening, The Guardian posted an article about the channel's tanking ratings after the Harri incident (emphases mine, unless stated otherwise):
GB News attracted zero viewers during some of its broadcasts this week, according to official television audience figures produced by rating agency Barb, after a viewer boycott prompted by one of its presenters taking the knee in solidarity with the England football team …
Business editor Liam Halligan and former Labour MP Gloria De Piero attracted no measurable audience to their show between 1pm and 1.30pm on Wednesday afternoon. During the same timeslot the BBC News channel attracted 62,000 viewers, while Sky News had 50,000 people watching.
GB News' audience again briefly dipped to zero at 5pm, during a late-afternoon programme co-hosted by ex-BBC presenter Simon McCoy and former Ukip spokesperson Alex Phillips.
The Guardian also acknowledged GB News's aforementioned tweets.
On July 16, Guido Fawkes wrote that no one was sure whether Harri had been suspended for a time or whether he was fired.
In any event, Harri's Twitter bio no longer mentions GB News.
Programming director quits
That same day, the channel's programming director, John McAndrew, quit, something that management confirmed only on July 28:
Guido wrote that McAndrew was second in command and disagreed about the channel's focus:
Apparently McAndrew had been in favour of more local reporting and open discussions rather than the Wootton-style culture war rants.
To be fair, the local reporters appear on the daytime shows. The evening programmes, such as Dan Wootton's, discuss socio-political issues.
The channel was quick to implement schedule changes last weekend:
TalkRADIO's Mark Dolan hired
Mark Dolan's Saturday night show aired for the first time on July 24. Nana Akua, the former presenter in that slot, has been moved to a daytime show.
Nana Akua has no time for wokery, as her last show in the Saturday night slot proved. The Express had the story on Sunday:
A GB News clash erupted last night after host Nana Akua urged Meghan Markle and Prince Harry to "just stop talking please". This prompted a defence from Tonight Live guests Nicola McLean and Martin Offiah, who argued that Meghan and Harry "were connecting with people". The trio had discussed reports of new details about Prince William's rift with his brother Harry.
Mark Dolan was a top-rated host on talkRADIO. The Express reported:
Mark is best known for hosting his own Drivetime show on TalkRadio for the past two years but he is jumping ship to join GB News from Friday, July 23, 2021. With 20 years of broadcasting experience behind him, he will be taking Nana's Friday and Saturday night slots to oversee proceedings on his chat show, Late Night Live. It will run from 9pm until 12am and he will speak to numerous guests about topical matters making the headlines.
On joining the network, Mark said: "I've had a wonderful time at TalkRadio but the opportunity to shake up the current affairs broadcasting with GB News is just too good to miss.
"My show will tackle the issues that really matter to people across the United Kingdom in a stimulating, informative but entertaining way.
"My one promise is that I won't be boring," he concluded …
He certainly was not boring. His is a good show.
Nigel Farage to the rescue — five days a week
The biggest catch of all is Nigel Farage, who is now on GB News five days a week: Monday through Thursday at 7 p.m. and Sunday mornings:
Farage had the Sunday morning show since GB News launched, but the addition of the 7 p.m. slot, which premiered on Monday, July 19, has been a real fillip for the channel's ratings.
On July 19, Freedom Day, an anti-lockdown protest took place outside of Downing Street. Political correspondent Tom Harwood, who used to work for Guido Fawkes, tried to file a report but Nigel had to cut him off because of all the obscenities being shouted at him. The Express reported:
Spotting the difficulties in the broadcast, Nigel quickly took action and decided to end Tom's report there.
Cutting him off, Nigel said: "Okay, Tom, I'm sorry, I don't want to cut you off, I really don't."
The camera then cut to Nigel in the studio as he continued: "11 people have been arrested so far,
"But you can see, talk about don't shoot the messenger, there's Tom Harwood reporting for us and there are obscenities being shouted at Tom because he's a member, he's part of the media … "
One of the big features of Farage's weeknight show is the 'Talking Pints' segment.
He has had an eclectic assortment of guests in that slot, beginning with Sir Graham Brady MP, who heads the 1922 Committee of Conservative backbenchers:
On Tuesday, July 27, former Conservative MP, Brexit Party MEP and devout Catholic, Ann Widdecombe, who was drinking cola, as she is teetotal. She disparaged Boris as PM but said that he is still '100 times stronger' than Labour leader Sir Keir Starmer. I always look to see how much drink both host and guest consume. In this episode, Farage downed the most ever — half a pint:
By Monday, July 26, Farage's show was climbing in the ratings, beating Sky News's show in the 7 p.m. slot:
Guido has the ratings from Monday-Thursday last week. Farage's show beat Sky News Tonight every evening.
On Tuesday, July 27, Farage's ratings took over the BBC's in that slot (emphases in the original):
UPDATE 28.07: Nige beat both the BBC and Sky News last night –
Farage – 90.8k

Sky News Tonight – 55.1k

BBC Outside Source – 89.1k
Congratulations…
It happened again on Wednesday, with an even greater figure — 107.7k to 93.3k:
Well done, Nigel!
Digital ratings
Rebecca Hutson, Head of Digital and occasional co-presenter, is keen to target younger audiences via Facebook, Twitter, YouTube, Instagram and — incredibly — TikTok. GB News is the only British broadcasting channel to use the Chinese-owned social media video platform.
On July 21, Hutson explained her strategy to Press Gazette:
… the fledgling brand said social media engagement figures show it is resonating with younger audiences to a perhaps surprising extent.
Head of digital and presenter Rebecca Hutson … said GB News is really a "digital media business that has a TV channel attached" …
Hutson told Press Gazette: "We know that traditional linear consumption has really changed. People don't sit at home for three hours and watch a show. Instead they want to snack on the best bits for them on the platforms that they're already using.
"So that's why we publish natively across Facebook, Twitter, Instagram, YouTube, TikTok and we tailor the content specifically for the platform that it's on so we're pretty agnostic in terms of how the content looks and feels across the different destinations that we have and the website."
For example, she added, the brand is more likely to put an eight-minute monologue on YouTube and short snippets on Twitter which is a "much quicker platform".
"Rather than trying to turn all of our platforms into a homogenous output, we spend a lot of time looking at the analytics and amending how the content appears on there and that's really paying off," Hutson said …
TikTok has been useful in attracting younger viewers:
On TikTok GB News has had 24,500 likes and more than 350,000 views across 30 videos and 4,000 followers so far.
Hutson said the numbers may be "quite surprising for people who would maybe think that we don't have relevance or resonance to that younger audience when we clearly do".
Hutson said explainer videos decoding the news are proving to work best for TikTok. The most-watched GB News TikTok so far explains who Sajid Javid is after he replaced Matt Hancock as Health Secretary …
Almost a third (31%) of 18 to 24-year-olds use TikTok, and 9% get news on it.
As for demographics:
On TV only, excluding the likes of TikTok and Instagram, almost a third (32%) of GB News' audience is aged between 18 and 34. Some 39% are aged 55 and above.
Some 62% of the TV audience is in the middle class ABC1 demographic – a drop from the 82% ABC1 demographic thought to have tuned in for Andrew Neil's opening show on 13 June.
The new shows, higher ratings and digital strategy are welcome developments for GB News, which is an excellent channel. Now that Parliament is in summer recess, I have been watching quite a lot of their output. The shows present alternative viewpoints, from libertarian to left-wing: a good thing.
On Sunday evening, June 13, 2021, Andrew Neil's GB News channel (Freeview 236) launched in the UK.
Andrew Neil has had a long career in broadcast and print journalism, having helped launch Sky News in the UK. He presented political programmes for the BBC for many years and is also chairman of The Spectator.
The satirical magazine Private Eye refers to him as Brillo because of his hair.
The channel began broadcasting at 8 p.m., with a one-hour introduction from Neil laying out the agenda and introducing the viewing audience to its presenters and regional reporters:
Neil was broadcasting from London, rather than his home in the south of France, as he has done during the pandemic for Spectator TV.
My far better half and I watched this and one hour of Dan Wootton's show, which followed at 9 p.m.:
Dan Wootton's show had a few glitches, with guests' online connections dropping and a synch problem between video and audio.
Nonetheless, the channel's first night ratings were good:
Their audience share was treble that of Sky News:
Guido Fawkes posted a summary of the reviews in the press. Incidentally, Guido's Tom Harwood resigned a few months ago to become the Westminster correspondent for GB News.
Guido's post says, in part (emphases in the original):
It's all systems go for GB News. Opening with a one hour mission statement from Chairman Brillo (from a tiny, under-lit set which someone on Twitter described as looking like "the inside of a PlayStation"), the fledging news channel finally started broadcasting at 8pm last night. Inevitably, there were teething problems: dodgy cuts, out of sync audio, odd camera angles etc etc. Dark clothes against a dark set just doesn't work visually. Television is hard.
The aesthetic problems will undoubtedly be ironed out over time. For now, the initial reaction from social media and the punditry went about as you'd expect; Owen Jones tried to dunk on it, the Telegraph gave it four stars. Here's the full round-up:
The Guardian wasted no time in writing it off. No doubt reviewer Stuart Jeffries beamed ear-to-ear as he called it "utterly deadly stuff", and declared he "give[s] it a year" before it's taken off-air. He gave it one star, obviously.
The Times were

more generous

: three stars for a channel which "may yet bite", though marking it down for the obvious technical shortcomings. A running theme amongst most reviews…
The Telegraph's four star review praised its "no sneering" attitude, and that in spite of the glitches, "GB News is already speaking [the] language" of those frustrated by lockdown. They also made the point that opening with Dan Wootton was probably a mistake, given his opening diatribe about lockdown: "What the channel cried out for was the firmest hand on the tiller from the go. If you were unsure about GB News's claims of impartiality, you needed Brazier or McCoy to take your hand on the first night. Wootton will have scared a few nervous horses" …
GB News were pleased to say launch night saw them average 164,400 viewers with Sky News garnering only 57,000 viewers. Can they surpass Sky News regularly?
I hope so. My better half thought it was too amateurish. As Guido says, 'Television is hard', especially on launch night. I will definitely be tuning in when BBC Parliament is showing a rerun.
Speaking of Parliament, Conservative MP David Jones liked it:
The channel also has half-hourly weather forecasts from the Met Office:
A live stream is on their website. Selected videos are posted there and on YouTube.
GB News took well over a year to reach its launch:
Their signature tune came first:
Investors had to be found:
Britons were eager for a news channel that represents their interests:
On January 28, 2021, Dan Wooton left talkRADIO for GB News.
A week later, people were attempting to boycott a channel that hadn't even launched, including Jolyon Maugham, director of the Good Law Project:
This was Andrew Neil's response:
At that time, Neil wrote an article for The Express explaining why he was launching a new channel (emphases mine):
I'm proud to be the chairman of GB News and, as you may have read, I have left the BBC after 25 years to host a nightly programme on the channel.
I'm doing it because I believe the direction of news debate in Britain is increasingly woke and out of touch with the majority of its people.
I believe our national conversation has become too metropolitan, too southern and too middle-class.
Some journalists and commentators seem too confident that their liberal-left assumptions must surely be shared by every sensible person in the land.
But many of those same sensible people are fed up.
They feel left out and unheard.
There's a restlessness, a sense that they're being talked down to; that much of the media no longer reflects their values or shares their concerns.
GB News is aimed squarely at those people.
The Mail's Michael Crick empathised and had a go at Jolyon Maugham:
The channel began attracting broadcasting talent: Sky News's Colin Brazier, Channel 4's Liam Halligan, the BBC's Simon McCoy, conservative commentator Mercy Muroki and Times Radio's Gloria De Piero (also a former Labour MP and presenter on an ITV breakfast show).
By April 27, Rupert Murdoch decided not to launch a similar rival channel, News UK:
At least one journalist is rankled that GB News has overseas funding:
On May 21, Press Gazette revealed more about GB News:
The channel's director of news, John McAndrew, is a 25-year industry veteran who has worked for the BBC, Sky News, ITN and NBC.
Interviewed by Press Gazette three days ahead of the channel's launch, he said: "My view of our channel, and certainly how it's going to be, is that it will be a very warm, inclusive channel where disagreements will be had, tough subjects will absolutely be taken on, but they'll be taken on in a classy and courteous fashion.
"What this won't be is a hate-filled divisive shout-fest that some people seem to have characterised it as, which is 180 degrees away from where we want to be."
Speaking to the FT Future of News conference Neil revealed that GB News plans to launch in other countries after the UK and has been looking at Spain and Eastern Europe. He said: "They will be distinctive news channels for distinctive markets. We still believe news is national."
On May 25, Ryan Bourne from the Cato Institute wrote a column for Conservative Home about the channel:
… it's perfectly within the Ofcom rules to build a news channel that will run different stories or perspectives – and Neil wants to run "good news" stories and shift away from assuming every problem has a government solution. You are allowed to hire, as GB News has, card-carrying conservatives, ex-Labour MPs or people from outside of London with very different assumptions in thinking about what news is important. And, yes, you are free to have colourful presenters with attitude to liven up discussions, provided you still showcase various perspectives.
Why, then, are some on the left so afraid of this pluralism? Maybe they don't accept biases exist on other news channels (Channel 4 News, really?), and so think any stated attempt to counter them is retrogressive. Perhaps they simply fear a politically strengthened conservatism. For others, no doubt, there is a concern that the Government's mooted appointment of Paul Dacre to Ofcom is a precursor to watering down impartiality rules as well.
But given that no such policy has been signalled, and we have not yet seen GB News in action, we must judge them at their word. Neil himself thinks, rightly, that a "British Fox" riding roughshod over Ofcom rules just wouldn't be successful. "Overwhelmingly, Brits value impartiality and accuracy and, during recent years, in fact, the proportion of Brits thinking the BBC and ITV provide an impartial service has fallen." GB News is keen to harness that particular audience, yes. But having spoken to numerous staffers, they are determined to avoid political bias, and to be robust in providing respectful disagreement more broadly too.
The Evening Standard's Insider posted an in-depth article on June 10. Susannah Butter's piece covers a lot of ground, including on the channel's investors.
This seems to have been the initial title (h/t Guido Fawkes reader who posted it):

Susannah Butter interviewed Andrew Neil, who had returned from France and was quarantining:
Neil is speaking to me from quarantine in West London, having recently returned from his house in the Cote d'Azur where he has been for the past year with his wife, Swedish engineer and communications executive Susan Nilsson, 52. They married in 2015 and Neil has 14 godchildren but no children of his own. He is straight-talking if occasionally gently cantankerous, saying he only agreed to speak because I "caught him at a weak moment" – and he wants to get one thing clear: GB News is not the British Fox News. "That is an easy, inaccurate shorthand for what we are trying to do. In terms of format we are like Fox but we won't be like Fox in that they come from a hard right disinformation fake news conspiracy agenda. I have worked too long and hard to build up a journalistic reputation to consider going down that route." There is a "strong editorial charter written into everybody's contracts saying that if they spread fake news and conspiracy theories they will face disciplinary action". Neil's hope is not to destroy the other channels, more to provide variety and raise the bar. "We are in a competitive environment they know that. I suspect [our rival TV channels] will up their game, that's fine, the only winner is the viewer."
This is how the channel began:
GB News was not Neil's idea – the founders are Andrew Cole and Mark Schneider who both come from a business background – but Neil has been wanting to do something like this for a long time …
Cole and Schneider contacted Neil last summer when he was "in the middle of rather, err, meandering negotiations with the BBC". His interview show had been cancelled and Politics Live was taken off air; he has said that "what [the BBC] did was unnecessary and I left with a heavy heart… but what's done is done." By September he was convinced because he "rather liked the idea of being chairman as well as prime time presenter. At The Spectator, my pride and joy, I have a business angle too, as chairman".
Early hires include former Associate Editor of The Sun Dan Wootton and The Apprentice's Michelle Dewberry, who was a vocal Brexit supporter.
Piers Morgan will not be joining the GB News lineup, at least for now:
"It would be nice to have him," says Neil who is in discussions with Morgan about joining and adds diplomatically: "But he's got his own idea of what he is worth and we have a slightly different idea of what he's worth. He is in a lucky situation because ITV are continuing to pay him a tonne of money so he doesn't have to do anything in the short run. I don't think he's going to go anywhere else in the UK. If he has a huge American offer that's a different matter. No one in the UK can compete with that but if he's going to do more UK news TV I hope it will be with us."
The channel will have a regular five-minute feature called 'Woke Watch':
Neil enjoys its alliterative title and says while he is "poking fun", he is seriously concerned about its implications. "Cancel culture is insidious, it stands against everything we have stood for since the enlightenment onwards and that is why it is serious," he says. "The original meaning of woke was somebody who was aware of social justice issues and who can complain about that? But it is not about social justice anymore, it is about conformity of thinking and it exists in many of our elite institutions from NGOs to the National Trust and parts of our media. Of course it is making huge inroads into our places of higher education. It is not the view of the British people but if it is the view of all these elites in favour of it could become very powerful."
… He takes a breath. "Look this is a five minute segment in an hour long show but it will be an important part of the output. Humour is a good weapon especially when you are up against po-faced people who take themselves too seriously."
The channel's output will target those living outside Britain's metropolitan areas:
GB News aims to attract two kinds of viewers, people who already watch the news and "may be a bit unhappy with the existing channels" and people who have stopped watching or don't. "GB News will be more non-metropolitan than existing channels, more provincial which is a good thing. The provincial voice has not been powerful enough in Britain. We are for people who think the existing channels don't quite represent how they see things."
Neil discussed the channel's investors:
Neil says they were overwhelmed with offers of funding but were selective about which ones they accepted. He wants to talk about their leading investor, the Discovery Channel, but money has also come from Sir Paul Marshall, a Brexiteer hedge fund manager and founder of the Right-leaning opinion site UnHerd, and Legatum, a Dubai-based investment firm. Legatum's chairman Christopher Chandler, a New Zealand-born billionaire and international financier, is a partner of Legatum Group, a funder of the separate Legatum Institute, a Mayfair-based think tank which is dedicated to finding "pathways to prosperity" and was one of the most prominent advocates for a hard Brexit.
Neil will only say that he "didn't want any sovereign wealth fund money". "I didn't want stuff from Abu Dhabi or Qatar. I said I'd take Norwegian wealth fund money because I don't think we would be worrying about them but they weren't offering. And I was reluctant to take money from investors who see themselves as the next Rupert Murdoch because I have already had one Rupert Murdoch in my life. That ended 26 years ago and I have never seen him since. At this stage in my life I am not having another one."
Neil, quite rightly, does not understand why people would object to the name GB News:
"I am not sure why calling it GB News would be awkward," he says, responding to those who have objected to the name. "We are British, I am British; I don't think there is any embarrassment in it. Indeed it is the opposite, we are proud to be British. We will be fair and accurate but we won't start out from that default position among the incumbents that whatever Britain does must be useless. That was heightened by the Brexit debate and we don't want to reflect that. We will report all the faults and weaknesses of this country but we also take a certain pride in being British and our successes, the vaccine rollout being one example."
All this patriotism is well and good but doesn't Neil now live mainly in France? "This is my country, just because I don't live here full time anymore doesn't mean I don't care," he says.
Neil's regular one-hour show will also have a segment called 'Media Watch':
"All journalists get things wrong and it is important that we move to put them right quickly and put our hands up and apologise. We have a go at politicians for not admitting their mistakes and then we do the same thing." GB News will not be immune from Media Watch.
The channel will not be featuring a blockbuster interview immediately:
They have actually decided against launching with a big interview, "because then the story becomes the interview and I would much rather the story becomes the channel, we will get to the interview". "Times Radio launched with a big interview with Boris Johnson. We've decided not to go down that route."
Neil is not yet ready to retire:
It all sounds like a lot of work – does Neil ever want to retire? "You are right. Lockdown has made me appreciate the virtues of retirement or at least semi-retirement more than I thought I might. I thought I had one more big gig in me and this is it. If we can make a success of GB News that's when I'll declare victory and go home." I doubt he would disappear though. He says: "I would continue to do the odd bit of TV and writing and I certainly want to keep going with The Spectator. It's quite good at some stage to get to a situation where you can do whatever you want to do from wherever you want to be."
I ask Neil, one of the best interviewers in the business, if I have left anything out? "I think you know more than enough," he says. "Can I go now?"
Although Neil very much enjoyed his 25 years at the BBC and was particularly grateful to the help and support from the staffers there, he has objected to some of the recent programming output. On May 30, The Express reported:
Mr Neil has never shied away from controversy on or off screen during his time at the broadcaster.
Never was this more clear than when he called the BBC out – while working for the broadcaster – for airing a specially crafted version of Horrible Histories, using archive episodes to create a song to mark the day the UK left the EU …
Mr Neil commented: "This is anti-British drivel of a high order.
"Was any of the licence fee used to produce something purely designed to demean us?"
On June 11, Simon McCoy discussed his departure from the BBC and revealed that he voted Leave in the 2016 Brexit referendum. The Telegraph reported:
"People had whiplash by 2 o'clock. Because for three hours it was: 'Oh, he's leaving, the A4 Royal watcher, how sad.' And then, 'The b—–'s going to GB News! What a right-wing gammon.'" He gives a mock sigh. "I was rather enjoying a couple of hours of adulation."
Some valiantly tried to give McCoy the benefit of the doubt, but hang on: "I think it's interesting that people think: 'He's gone to GB News to balance it out because he's a leftie BBC journalist.' I'm certainly not." He's even willing to lay his cards on the table: yes, Simon McCoy voted Leave …
When he talks about Brexit, it's in measured tones. "We're a Brexit country. I do think we need to embrace it and, for all its faults, we've got to make it work."
He joined GB News partly because he fancied the challenge: "I loved the BBC; the job was great, but I just thought, 'Here I am, nearly 60 – do I want to stay here, probably not getting any further? Or do I want to try something new?'"
And he also has a conviction, after 15 years at Sky News and 17 years at the BBC, that those news providers are focusing on the wrong things. "If you watch other bulletins you'll know very much what's happening in Idlib or Tel Aviv or Washington. This is about the UK," he says.
"Rather than obsessing with what's happening abroad, let's just look at what's happening within the UK. While I don't want to sound jingoistic or insular or Little Englander, I think we could all benefit from just knowing about our own country a little more."
Neil Oliver, a Scot who presents television programmes on archaeology, is fiercely pro-Union and a vocal critic of the SNP's First Minister Nicola Sturgeon. He will have his own GB News show. The Express carried the story:
Last month, the BBC's veteran presenter of a string of history shows, Mr Oliver, was announced as having joined the lineup.
The archaeologist and historian has become a central voice in Scottish politics and, like Andrew Neil who he will work alongside, is a fierce critic of Nicola Sturgeon.
He has previously accused the Scottish First Minister of "making a fool of Scotland" and said she had made him "sick to my stomach"…
He talked of history being viewed as the lifetime of a person, and that people today are the children of this person, in this case, the British Isles.
This was vital to understanding how interwoven the devolved nations are, he argued, and explained: "More and more we dare to patronise the place, treat the person like a doddery old soul who cannot cope alone, who might even need to be taken into care.
"To me, the truth is altogether different. This place, these islands have taken care of us since a time beyond the reach of memory. Treated properly, they will continue to do so …
"The story of the British Isles is one every single one of us should know and give thanks for."
On June 2, The Express reported:
The freelance archaeologist will host a new weekly current affairs and interview programme. Mr Oliver's show will focus on "the people from all walks of life who make Britain great", according to the announcement put out by the broadcaster …
Commenting on joining GB News, Mr Oliver said: "My career has always been driven by my fascination with people, whether it's trying to understand ancient people through archaeology or living ones through journalism.
"Debate in this country has been stifled for so long that GB News feels like opening a window and letting some fresh air, fresh perspectives and fresh voices.
"I never imagined my career would take this turn but I'm hugely excited that it has" …

Before the 2014 independence referendum, Mr Oliver stated in an interview with The Herald, that he was "proud of Britain".
He also noted his dislike of the forthcoming referendum, saying he found "this kind of internecine squabbling puts my teeth on edge. I would rather that it would just go away – or that it had never happened".
He went on to say that he "liked the status quo".
As a result of his comments, when he was appointed President of the National Trust for Scotland, thousands signed petitions calling on him to resign.
In December 2020, Mr Oliver reasserted his apparent personal opposition to Scottish independence, describing the uncertainty caused by the prospect of a second referendum as a "cancerous presence".
Neil Oliver appeared on Sunday:
On the launch day of GB News, The Express reported that a spokesman for the channel alleged that the BBC was trying to restrict their access to news footage:
Britain's public service broadcaster was attempting to "ambush" and "damage" Sunday's launch of the right-leaning television channel, a spokesperson for GB News has claimed. A GB News spokesman said: "This is an ambush by the BBC designed to damage the launch of GB News. It is an attempt to protect their dominance of UK news broadcasting.
"We will fight it.
"And our launch continues."
This has happened before when the Press Association said in 2010 it was unable to access footage from "single-camera assignments" that were categorised as coming under the ownership of the UK Broadcast Pool.
The UK Broadcast Pool comprises the BBC, Sky News and ITN.
The launch was successful.
True to their pledge, GB News is focusing on what matters to Britons, such as this lady from Birmingham:
In closing, Tom Harwood says that GB News are aware of enhancements that need to be made, including the addition of a live stream on YouTube:
I'm thrilled to bits for GB News and do intend to become a regular viewer.