You are currently browsing the tag archive for the 'Tony Blair' tag.
Sunday, June 6, 2021, was the 77th anniversary of D-Day, the Longest Day: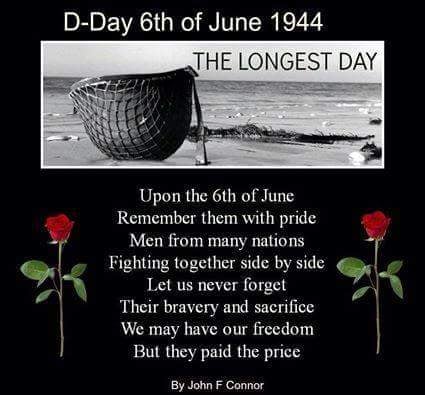 This map shows the landings in Normandy: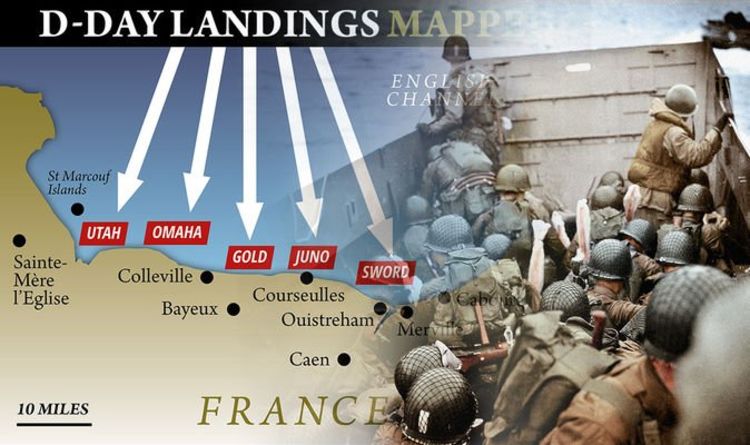 While preparing Sunday dinner, I listened to C-SPAN's Sunday morning show, broadcast on BBC Parliament. Sarah Rose, the author of D-Day Girls, was the guest. Her book is a novel, but she did a lot of historical research showing the intelligence work that women did behind the scenes as part of a carefully-managed international network.
The phone-in included many sons and daughters of Second World War veterans. Nearly all said that those veterans were, understandably, highly reluctant to talk about their war experiences. However, some said that their fathers or grandfathers opened up in their later years. One caller said that she has several hours of memories that she has recorded for posterity, particularly for younger family members.
With more and more of those veterans passing from this mortal coil, now is the time for children and grandchildren to record and catalogue those memories, if they can. One person who has done so is the author of Pacific Paratrooper, remembering Everett A Smith, their father. It's an excellent website, which also documents much history about the battles and conditions in the Pacific theatre. I am delighted to have the author as one of my regular readers.
We will always remember those heroic men and women:
Incidentally, the Houses of Parliament were bombed in 1941 and had to be reconstructed authentically in the 19th century manner. Both were faithfully restored. The next tweet shows the House of Commons:
Seventy-seven years later, we are still in the grip of the coronavirus crisis and a loss of freedom the troops involved in D-Day would have found unthinkable.
In Britain, former Prime Minister Tony Blair (Labour) appeared on The Andrew Marr Show to say that Britons who have had two vaccinations should be allowed greater freedoms, thereby creating a two-tier society:
If a Conservative had said that, Marr would have heaped criticism all over him or her.
It is mystifying that Tony Blair even gets airtime on this topic. He isn't in government, nor is his party.
It appears I am not alone, judging from the replies to this tweet:
On the topic of vaccines, Tony Blair has never said if his son Leo, born when he was in No. 10, had the MMR vaccine, which was highly controversial at the time. So, it was okay for him to refuse to give his son a vaccine that every other child born in Britain had/has to have. It is very difficult to get separate children's vaccines for measles, mumps and rubella. One imagines that Blair managed to get them for his son.
Tony Blair also wanted national ID cards. The debate raged for a few years in Parliament. Fortunately, nothing happened.
On Monday, Guido Fawkes's cartoonist Rich, recalling the ID card debate from the Blair years, posted this:
On the topic of vaccines, the Government is talking about giving them to children. Highly dangerous, one would have thought. The Telegraph's Bob Moran was moved to create this cartoon a week ago:
ITV's Good Morning Britain stoked the flames by asking whether the vaccinated should refuse to associate with the unvaccinated:
Fortunately, most Britons disagree with Good Morning Britain:
June 21 is supposed to be Freedom Day, according to the Government, with the caveat that full reopening of Britain will be based on data rather than dates.
It should come as no surprise that the Government could now backtrack on that date:
On June 1, we had no coronavirus deaths, but that did not make the news:
TalkRADIO host Julia Hartley-Brewer is fed up with the delays. In fact, as the chart below from Peston shows, the UK's actual coronavirus stats are much better than SAGE's models:
On June 3, Portugal, the only European country on the UK's green list for travel, was moved to the amber list, yet these charts tell a different story:
One suspects that it was only ever on the green list for the Champions League final in Porto:
Oddly, we had more freedom a year ago — with no masks and no vaccines — than we do now:
In Wales, First Minister Mark Drakeford (Labour) says that social distancing will not be disappearing any time soon:
Data for the UK should be available on June 14, at which point the Government will announce their decision regarding June 21:
The Government have paid for coronavirus advertising and COVID marshals, extending to 2022. Former London Assembly member David Kurten tweeted a reminder:
I, too, want my country back.
In Germany, scientists from Munich University say that lockdown had no effect on the virus spread:
Something is very wrong when, in a five-minute speech on television, a prime minister or a president can remove everyone's civil liberties at a stroke.
Monday, March 23, 2020, will be etched on my memory forever. That was the date of the UK's first lockdown.
D-Day. Freedom Day. What has happened to us — and for a 'pandemic' with fatality rates no worse than influenza? We are in a very bad way, not only in the UK, but also elsewhere in the West.
This is my final post on Prince Philip, as the Queen and Princess Anne returned to work last week, just days before his funeral, but more importantly because of his own views:
The Queen
The Queen turned 95 today, Wednesday, April 21. May she have many happy returns. Prayers continue for God's comfort to her at this difficult time:
The funeral commentators on Sky News remarked at how the Queen's eyes always lit up when Prince Philip entered a room, even after 73 years of marriage:
She posted this photograph of herself with Prince Philip in Scotland, a nation which they loved. Muick, by the way, is pronounced 'mick':
The Countess of Wessex said that the Queen regarded him as her protector:
He also kept a gimlet eye on public opinion for her. One wonders how much he influenced the Queen to return to Buckingham Palace with Princes William and Harry after Princess Diana died in August 1997. As dictated by the media, we were under the impression that then-Prime Minister Tony Blair was responsible for the return of the Royal couple and their grandsons to London, but, now, one wonders:
The Queen will treasure the many memories of her husband — and his pragmatism.
Prince Philip's practical wisdom
Prince Philip had straightforward views on various aspects of everyday life.
Attire
The Prince was probably the best dressed British man for decades. Who could top his effortless, yet classic, style of dress and accessories?
He also kept himself in trim throughout his life, which helped him maintain his sense of impeccable style:
The Daily Mail has an article with a retrospective of photos of him through the years. Although the Prince had his clothes made by top Savile Row tailors, all any man has to do is adopt the classics (emphases mine):
According to [celebrity stylist] Rochelle [White], the Duke's suits were 'impeccably' tailored, with the royal selecting classic, handsome suiting; most often single-breasted jackets in navy. 
Meanwhile off-duty, the royal would often relax in a cool polo shirt and button-down linen shirts which made him 'eye-catching' …
Becky French, creative director of one of his preferred tailors Turnbull & Asser, told The Telegraph: 'Prince Philip was quite simply one of the best dressed men in the world, 'Up until the age of 99, he always looked impeccable, with his naval blazer, shirt and tie.
'Never a slave to fashion, he knew how he wanted to dress and perfected that style over almost a century.' 
Brevity in public speaking
On Monday, April 12, both Houses of Parliament met to pay tribute to the Prince.
Ian Blackford (SNP) cited an excellent piece of advice from the Prince on public speaking. It is ironic that it was Blackford who found the following quote, as he speaks endlessly.
This is excellent — and so true:
What the backside cannot endure, the brain cannot absorb.
Fools
Winston Churchill's grandson, Sir Nicholas Soames, a former MP, told Freddie Sayers of UnHerd that Prince Philip did not suffer fools gladly:
Honesty
A former Royal butler said much the same thing as Sir Nicholas Soames, adding that the Prince spoke as he found. As such, he enjoyed working for the Prince, because he told one exactly what he wanted, politely but succinctly:
Stiff upper lip
Prince Philip was a 'stiff upper lip', 'old school' gentleman:
However, as the generations pass, personal conduct changes:
Spiked's Tim Black referred to the interview with Sir Nicholas Soames above, writing (emphases mine):
As Tory grandee Nicholas Soames put it this week, Philip was 'the epitome of the stiff upper lip'.
But so were many others of Philip's generation. Because maintaining a stiff upper lip, remaining in control of one's emotions, especially in public, was long considered by many to be a mark of one's character. It was something to be cultivated, worked on. Because it meant that one was able to act according to something beyond one's own impulses. It meant that one was committing oneself to something – a duty to others, perhaps, or to an idea or a cause – over and above one's feelings. To not be in control of one's emotions, to succumb easily to tears or anger, was the mark of a lack of character, a sign of immaturity.
Tim Black is right. Maintaining a stiff upper lip is hard work: no two ways about it.
Sense of duty
Tim Black pointed out that the Prince was devoted to duty:
You don't have to be a fan of the monarchy – and we at spiked are not – to mourn the passing of the character represented by Prince Philip. 'Everyone has to have a sense of duty', he told an interviewer in 1992. 'A duty to society, to their family.' Too many in high places, it seems, only have a duty to themselves.
I think it is incumbent upon us to rediscover this lost virtue.
Some of Prince Philip's duties involved recognising others for their achievements. Former Chancellor of the Exchequer George Osborne recalled the Prince giving his father an award in 1970:
Interviews: never discuss yourself
Gyles Brandreth, a former Conservative MP, has written two books about the Royal Family. After the Prince's death, the Daily Mail asked him what the Queen's consort thought of Prince Harry's and Meghan Markle's interview with Oprah.
The Sun reported:
Gyles Brandreth told the Daily Mail the fact the interview was aired while Philip was is in hospital "did not trouble him".
But he added: "What did worry him was the couple's preoccupation with their own problems and their willingness to talk about them in public.
"Give TV interviews by all means,' he said, 'but don't talk about yourself'.
"That was one of his rules. I know he shared it with his children. I imagine he shared it with his grandchildren, too."
The royal biographer revealed Philip, who died on Friday aged 99, thought the interview was "madness".
Mr Brandeth also said Philip believed his grandson was a "good man" but regretted his decision to step down as a senior royal.
Prince Philip gave many interviews. In the following one from 1995, he discussed his memories of the Second World War. Remarkably, revealing little about himself, he spoke of the various ships on which he served and the tension surrounding battle. Whilst conversational, he speaks so well in recalling so many details that might as well be narrating a documentary. This is a marvellous video, especially for people interested in the war in the Pacific:
Food
Probably the only time Prince Philip and the Queen disagreed was when it came to their meals.
A former Royal chef, Darren McGrady, who now works in the United States, says that the Queen ate to live, whereas the Prince lived to eat. As such, the Prince did not mind if the Queen had a dinner engagement elsewhere, because he could request what he wanted from the kitchen.
The Queen doesn't like garlic. Prince Philip did. Sometimes McGrady prepared the same dinner two different ways: garlic-free for the Queen and extra garlic for the Prince. McGrady discusses the subject here:
Both were known to bring back recipes from their international tours for the Royal chefs to prepare once they were back in the UK.
In the next video, McGrady relates his first meeting with the Prince, whom he mistook for the gardener because of his scruffy, well-worn clothes. Here he prepares one of the Prince's favourite dishes, salmon coulibiac, a Russian form of salmon en croute:
In this next video, McGrady said that the Prince did not suffer fools gladly. He was no stranger to the Royal kitchens, stopping in to ask what was being served and, during the summer, what fruit was ripening. McGrady said that the Prince already knew what was in the gardens, therefore, the staff had to know, too. Prince Philip taught McGrady how to remove mango fruit with a spoon. Another favourite dish of his was Icelandic pancakes, filled with jam and folded in half. The recipe is at the 6:47 mark:
Those who knew him, including Darren McGrady, said that the Prince enjoyed barbecuing — whatever the weather. One of the Sky News funeral commentators said that the Prince held a barbecue in freezing weather one January. The Prince loved it; his guests were polite — and cold.
The Prince also went in for fancier meats to grill outdoors, such as lamb noisettes. He found steaks rather ordinary, McGrady says.
Gordonstoun
On April 12, the Daily Mail revealed previously undisclosed details about Prince Philip's schooldays at Gordonstoun (pron. 'Gordons-town') in Scotland. The article comes complete with photographs. He was Prince Philip of Greece at the time, with no surname.
Although he could be mischievous, he always wanted to do better in his studies and school activities:
The Duke of Edinburgh's old boarding school has released his report cards which reveal 'he was naughty, but never nasty'.
The report from the £40,000-per-year Gordonstoun in Moray was written for the Duke's marriage to The Queen in 1947.
Headmaster Kurt Hahn's notes also reveal a comical incident when the young prince nearly knocked over a young woman with a pram – but his apology was 'irresistible'.
The school has educated three generations of the UK Royal Family – including Prince Philip, who joined at the age of 13. 
Gordonstoun – which featured in Netflix's hit series 'The Crown' – was founded by Dr Hahn, who fled Nazi Germany and became an inspiring mentor to Philip. 
When Philip came to Gordonstoun 'his marked trait was his undefeatable spirit, he felt deeply both joy and sadness, and the way he looked and the way he moved indicated what he felt'. 
Dr Hahn noted of the young pupil: 'He had grown impatient of what for short may be called Royalty nonsense. After matches and theatrical performances, people often asked him for an autograph. He found this ridiculous and on one occasion signed himself "The Earl of Baldwin", to the bewilderment of the autograph-hunter.' 
He also reveals Philip had 'meticulous attention to detail' and was 'never content with mediocre results' … 
Sarah Ferguson
It seems that the only person the Prince was not keen on was Sarah Ferguson.
While the Queen is quite fond of her — Andrew being her favourite child — the Prince preferred to keep her at arm's length.
My older readers might remember when, in 1992, photos of her lover sucking her toes circulated around the world. Prince Philip decided that was the moment she was persona non grata.
On April 13, Gyles Brandreth wrote an article for the Daily Mail on the Prince's views of Fergie:
On the whole, Prince Philip was reasonably circumspect when talking about his children and their relationships — except in the case of Prince Andrew and Sarah Ferguson.
He spoke with real affection of their daughters, Beatrice and Eugenie, but he made no secret of the fact that he regarded Sarah, Duchess of York, as 'simply beyond the pale'.
One day in the summer of 1992, while she was staying at Balmoral with the Queen and Prince Philip, photographs had appeared in a daily newspaper of Sarah topless and having her toes sucked by a lover in the South of France.
The Duke of Edinburgh decided that, as far as he was concerned, 'enough was enough'. He did not want — or need — to have anything more to do with her.
For the remainder of Sarah's stay at Balmoral, his actions spoke louder than words. 'It was ridiculous,' she told me. 'As soon as I came in through one door, he'd be falling over the corgis to get out of the other. It was very funny. Except, of course, it wasn't.'
After Sarah's separation from Prince Andrew, the Queen continued to have tea with her from time to time.
But Prince Philip was resolute: he had no desire to see her again.
This Sarah knew and it pained her. 'Of course I want to see him,' she told me after her divorce. 'I am the mother of his granddaughters, after all.'
I raised this with Prince Philip, but he just shrugged and said: 'But the children come and stay.'
When I asked him why he wouldn't see Sarah, he said: 'I am not vindictive.' Then, looking at me directly, he added emphatically: 'I am not vindictive, but I don't see the point.' That Andrew and Sarah appeared to remain friends after their separation — and that they shared a home even after their divorce — seemed to him 'truly bizarre'.
'I don't pretend to understand it,' he said.
Sarah, however, kept trying to mend bridges … 
I'm with Prince Philip on that. I could never understand Fergie and Andrew's relationship. I still don't.
On April 15, The Sun reported that both Sarah and Andrew have been seen with the Queen:
They have been making the short drive from Royal Lodge to Windsor Castle, sometimes twice a day, to walk with the Queen and her new corgis.
However, Andrew has been warned to forget plans to use his public appearances as a springboard back into royal duty.
Royal watchers believe Philip's passing aged 99 boosts the chances of Fergie making a comeback after years in the wilderness.
Now her husband has departed, the Queen, who has a soft spot for her former daughter-in-law, might be more open to the idea of her and Andrew returning to a more prominent role within the Firm.
Princess Anne
Prince Philip was closest to his daughter Anne.
Princess Anne's own children have praised her as a mother. She gave her father full credit:
The Prince might have been no-nonsense, but he had fun, especially with three generations of Royal children.
This is a priceless little video:
He also kept his children amused on car trips:
Princess Anne survived a kidnapping attempt in 1974:
Prince Philip was no stranger to Royal weddings. On the right hand side of the photo montage, he walked Princess Margaret down the aisle (George VI had died a few years beforehand) and, in 1973, Princess Anne:
So that Anne would smile walking down the aisle, the Prince cracked one of his usual jokes, which made her laugh:
This was the happy result:
Here's a close up of her gown, which has attracted much favourable comment.
After her father's death, Princess Anne released a statement, along with a photo:
Three days later, she was back at work:
Great-grandchildren
Members of the Royal Family have posted some splendid photos of Prince Philip with his great-grandchildren.
Here he is taking Prince George for a carriage ride:
The next photo shows the Prince sharing a bite to eat with Princess Anne's granddaughter. Click to see it in full — absolutely charming:
This group photo was taken in 2018 and made the front page of the Daily Express on Thursday, April 15:
More tributes
The Daily Mail has an article recapping pre-recorded interviews with Prince Philip's children. These were broadcast after he died. ITV has more, complete with longer clips.
The Royal Family also posted a multi-generational photo montage.
Prince William wrote that his grandfather shared his life at all times:
both through good times and the hardest days.
Prime Minister Boris Johnson and fellow MPs paid tribute on Monday, April 12, as did members of the House of Lords. A number of their anecdotes are not only interesting but also amusing. In the devolved assemblies, including Northern Ireland, the only person who had anything negative to say was Patrick Harvie of the Scottish Greens.
Conclusion
In closing, I do wish that the general public had known more about Prince Philip while he was alive. We could have had an even fuller recollection of his life and service, not only to the UK but also to the Commonwealth.
Will there ever be another like him? We might be waiting a century or more. The only other Royal consort who was mentioned in the many tributes was Queen Victoria's husband, Prince Albert. He died in 1861.
With that in mind, it will be up to us to emulate the best of Prince Philip's example. Adopting a stiff upper lip would be a great start. So would feeling a sense of duty towards others.
In case you've missed the earlier posts in this series, here they are: parts 1, 2, 3 and 4.
The best known of the minority MPs from David Cameron's premiership — 2010 to 2016 — is Rishi Sunak, who is Chancellor of the Exchequer.
He represents the Richmond constituency in Yorkshire.
Early years
Rishi Sunak's grandparents moved from the Punjab province of India to East Africa. Rishi's mother Usha was born in Tanzania. His father Yashvir was born in Kenya. Both are Hindus.
Both sets of grandparents migrated to the UK in the 1960s.
After marriage, Usha and Yashvir settled in Southampton, on the southern coast of England. Usha worked locally as a pharmacist. Yashvir was a general practitioner.
The couple have three children: Rishi, another son Sanjay, who is a psychologist, and a daughter Raakhi, who works on COVID-19 strategy for the Foreign, Commonwealth and Development Office.
Rishi Sunak went to the renowned public (private) school Winchester College, founded in 1382, where he was head boy and editor of the student newspaper.
He then went to Lincoln College, Oxford, where he graduated with a First in 2001 in PPE, which is nothing to do with hospital gowns, rather Philosophy, Politics and Economics. Whilst at Oxford, he did a brief stint at Conservative Campaign Headquarters.
During summer holidays he worked at a curry house in Southampton.
Sunak began his career at Goldman Sachs, where he worked as an analyst from 2001 to 2004.
He then decided to study for an MBA at Stanford University in California, where he met his wife, Akshata Murthy, the daughter of the Indian billionaire N. R. Narayana Murthy, the man behind Infosys. The couple married in 2005. Sunak, a Fulbright Scholar, completed his MBA in 2006.
Sunak and his wife settled in England and have two young daughters.
Prior to entering politics, Sunak worked for two hedge funds and was also the director of one of his father-in-law's companies, Catamaran Ventures.
Political career
Former Conservative Party leader William Hague represented Richmond, which has been a safe seat for the party for over a century.
Rishi Sunak was elected comfortably to his first term with a majority of 19,550 (36.2%). Once in Parliament, he was appointed to the Environment, Food and Rural Affairs Select Committee.
Sunak was also committed to Brexit and was an early advocate of free ports, having written a report on the concept in 2016, the year of the referendum.
In 2017, with Theresa May as Prime Minister, Sunak won re-election with an even greater majority of 23,108 (40.5%). In Parliament, he continued to support Brexit, voting for Theresa May's deal and against a referendum on a final withdrawal agreement in 2019.
That year, Theresa May stood down as PM. Sunak supported Boris Johnson in the ensuing leadership contest.
That autumn, during the general election campaign, he appeared on a television debate, representing the Conservatives:
I am sure Sunak did better than Iain Dale gave him credit for:
He also participated in a seven-way debate on ITV.
On December 12, Sunak further increased his margin of victory at the polls to 27,210 (47.2%).
The coronavirus Chancellor — and some inside scoops
Then, in February 2020, Prime Minister Boris Johnson replaced Sajid Javid with Rishi Sunak as Chancellor:
He gave his first budget less than a month later, on Wednesday, March 11, which I wrote about at the time.
The following Monday, March 16, Boris announced social distancing rules and the closure of pubs, restaurants and events venues. Rishi spoke at one of Boris's televised coronavirus briefings with news of a generous financial package:
Guido Fawkes posted the full video and remarked (emphasis in the original):
You wouldn't guess he's only been in the job for five weeks…
Full details are here. Sunak also issued a Twitter thread with a summary:
Then lockdown came a week later on Monday, March 23.
A few days later, Boris was struggling with his bout of coronavirus, as was Health Secretary Matt Hancock:
The Conservatives soared to record approval ratings in the polls:
Early in April, Boris was quietly rushed to St Thomas' Hospital in London. Rishi did another coronavirus briefing to reassure an anxious nation:
The well-spoken, gentle Sunak appealed greatly to the folks at home. The Independent did not like that one bit.
Society magazine Tatler began running articles on Sunak in March. They could see he would quickly become a cult personality.
On March 18, the magazine posted an article by Annabel Sampson, 'Everything you need to know about Britain's new Chancellor, Rishi Sunak'.
It begins with this (emphases mine):
The virtues of 39-year-old Rishi Sunak have been extolled many times over; for his charming demeanour, his razor sharp brain and his acute financial sense. Now the man who has come to be recognised as the 'Maharaja of the Dales', thanks to his Indian ancestry and Yorkshire home, has been appointed to the highest office in the country, to Boris Johnson's Cabinet in the role of the Chancellor of the Exchequer, the second biggest government job; and the second youngest person ever to take the position.
The appointment follows the 'Cabinet Reshuffle' that occurred in February when Savid Javid, the former Chancellor, resigned when he was asked to get rid – reportedly a request linked to Dominic Cummings – of his closest aides. Rishi Sunak's star has been rising for some time now, so his appointment to the position will have baffled few.
The article has several photos, including one of Sunak in the Yorkshire countryside and one with his dog, which resembles Boris Johnson's Welsh rescue pup, Dilyn.
Sunak and his wife had a traditional Indian wedding:
Rishi and Akshata were married in her hometown of Bangalore, in a two-day ceremony attended by 1,000 guests.
Akshata is a working mother:
Akshata runs her own fashion label Akshata Designs and is also a director of a venture capital firm founded by her father in 2010. Her designs are wonderful; she's been profiled by Vogue India and been credited for creating clothes that are 'vehicles to discovering Indian culture' – comprised of chic silhouettes with bold, Indian design.
Did we know that the Sunaks throw great parties? We do now:
With their combined wealth, they understandably have a generously sized home in Northallerton, North Yorkshire (in Sunak's constituency). The Daily Mail reports that their annual summer garden party is a county highlight; where uniformed staff loft around serving ice cold champagne and canapés (no doubt prepared by the prestigious Yorkshire Party Company).
Sunak is a natural at politics:
According to the Daily Mail, 'While many MPs stutter and trundle their way through their maiden speech in the Commons, Mr Sunak's at-ease manner provided a glimmer of what was to come'. One ally in parliament told the Telegraph: 'He's ferociously intelligent and thoroughly decent at the same time' …
He was one of the few Conservatives who were let loose on the air waves (14 times in total) and allowed to make public appearances during the election campaign last year. He has even been dubbed the 'Prime Minister-in-waiting', we'll see. His first big challenge was the March budget; and now he is juggling the unprecedented complexity of the impact of the coronavirus on the economy. The UK are in safe hands.
The article also has a photo of him supporting Yorkshire County Cricket at Edgbaston.
Early in July, Tatler's Ben Judah travelled to Sunak's home town of Southampton and reported his findings in 'Inside the world of Rishi Sunak'.
Naturally, Judah went to the curry house where Sunak worked during his summer holidays:
The kitchen at Kuti's Brasserie, not far from Southampton docks, was not the sort of place, in August 1998, you would have gone looking for a future hedge funder, son-in-law of a billionaire and Conservative chancellor.
That summer – the summer of the France 98 World Cup and the Omagh bombing – Kuti Miah, the eponymous restaurateur behind the curry house, went to have a word with one of his waiters. 'You're going to be someone, Rishi,' he said. The future UK chancellor flashed his famous smile. He was, adds Miah, 'a brilliant talker'. Rishi Sunak, then 18, was about to go to Oxford, but that holiday he waited tables for Miah, a close family friend, to earn some pocket money. 'I saw him grow up,' says Miah. 'His father used to bring him in his carry cot.'
Miah was fast friends with Yashvir and Usha Sunak, both Hindu Punjabis born in colonial Kenya and Tanzania respectively, whose parents had migrated from India. After India's independence, both families left East Africa for Southampton in the mid-to-late 1960s. Yashvir and Usha met in Britain and married. He became a local GP and she ran a pharmacy. They were 'brilliant conversationalists' and 'very strong believers' who 'worked very, very hard', according to Miah, who also recalls that they were 'passionately British'.
Rishi, the eldest of their three children, was cut from the same patriotic cloth. Not only did the young Sunak fall in love with the game of cricket, he fervently supported England over India at any opportunity. His career, too, has followed one of the most traditional and storied of England's paths to power. Like five chancellors of the exchequer before him, Sunak was schooled at the ancient and distinguished Winchester College; and like three of those same Wykehamist chancellors, he went on, as was expected, to study at Oxford.
The article includes a photo of Sunak with his wife and in-laws.
Ben Judah had met Rishi Sunak before, in 2015, just before the general election that year. They met up in Northallerton, North Yorkshire:
We were a long way from London – from where Sunak had been 'parachuted in' for the seat. During the interview, I had a distinct sense of being the only person in the cafe who knew that this slight man in a Barbour jacket was running for parliament. 'I tell this story when I'm out and about,' he said, coffee in hand, 'that you can come to this country with very little… My grandparents came with very little from a village in northern India, and two generations on, their grandson has this enormous privilege of running as a candidate for parliament. For my family, the route was education.'
Well said.
Sunak's candidacy in 2015 raised some eyebrows:
He was vying for a seat once presided over by Tory grandees William Hague and Leon Brittan. But I had spent days in Richmond and the surrounding area, reporting on the resentment his sudden arrival had stirred up among certain local Tory notables, who felt the seat in the Dales was rightfully theirs. 'There was a very acrimonious constituency battle,' claimed one source, with a lot of hostility to an outsider coming in.
Sunak's wife had also met with some resistance on the campaign trail, says Judah.
However, Sunak's father-in-law enthusiastically flew to England where he helped to campaign:
Sunak's billionaire father-in-law, NR Narayana Murthy, however, has been so enthusiastic about Sunak's parliamentary career that he'd flown in, and had even been leafleting on his behalf, wearing a Rishi sweatshirt. 'To be honest,' said Sunak in Costa Coffee that day, 'I think it's patronising to assume minorities should only run in minority seats.'
The article discusses Sunak's property profile:
On 7 May 2015, Sunak won, with more than 50 per cent of the vote (a Ukip vote of 15 per cent had appeared from nowhere). He put down roots in his new constituency of Richmond, North Yorkshire, augmenting a £10 million property portfolio (metropolitan digs in London – a Kensington mews house, a flat on Old Brompton Road – and a place in California) with a £1.5 million Georgian manor in Yorkshire set across 12 acres, including an ornamental lake. Here, he now entertains the constituency membership with lavish summer parties at which uniformed staff serve champagne and canapés. He has been repeatedly dubbed by newspapers the 'Maharajah of the Yorkshire Dales'.
The general public know less about those details. Nonetheless, Rishi Sunak has become a household name:
In a swift few years, Sunak has become known as many things: Dishy Rishi to the tabloids; one of the richest MPs in Westminster; the second-youngest-ever chancellor of the exchequer, presiding over a £350 billion package to boost the economy (the largest ever recorded in peacetime); and a former hedge funder whose profile has risen faster than stocks in a vaccine manufacturer.
However dazzling all of this is now, things were very different when Sunak entered Winchester College as an adolescent:
… Winchester would come at a price for the Sunaks. No sooner was he accepted than Rishi's good fortune immediately foundered: he missed out on the expected scholarship. Desperate not to let the opportunity go to waste, his parents decided to take on the high fees themselves, picking up extra work and making what the chancellor has called considerable 'sacrifices'. His brother would later follow.
One of his classmates discussed Sunak and described Winchester in the mid- to late 1990s:
Tim Johnson, now a lawyer, was in the boarding house next door. 'Rishi was a good chap, in boarding-school idiom,' he recalled. Sunak, he said, was a 'reasonable cricketer', who stood out in friendliness; and he was a solid, but never number one, student. 'Rishi was always expected to do something,' Johnson remembered. But exactly what, beyond Winchester, was vague. 'He was always expected to be head boy as he was clever enough, reasonable enough and well behaved enough.' This became Sunak's thing – hard work and attainment, becoming the first Winchester head of school from an Indian background.
Sunak was different to other sixth formers in Winchester: a lifelong nondrinker, he wasn't distracted by the allure of the pub. But there was something else that marked him out from the herd. He was a conservative in every sense: not only in his outlook and demeanour but in his religious attitudes, too – a practising Hindu who avoided beef. At school, where few boys were political, Sunak was clearly 'associated with the Tories', said Johnson. It was 1997, The Chemical Brothers were topping the charts and the mood was rebellious. Counterculture, New Labour and ripped jeans were in; the Conservatives were out. 'That wasn't his intellectual jam. Rishi didn't play that game,' Johnson explained.
'Everyone was chipper about it when Blair won,' Johnson said. But not Rishi. His family's story was closer to Margaret Thatcher's than that of his bourgeois Labourite classmates. Watching the early results of the landslide on election night 1997, Sunak sat down to write a gloomy article for the school magazine, The Wykehamist, lamenting the news. His main complaint: Europe. 'He revels in the label of a patriot,' he complained of Tony Blair, 'but has plans for the possible break-up of the United Kingdom and membership of an eventual European Superstate.' The seeds of Brexit were already in his mind.
'Already,' fretted Sunak, 'the New Labour rhetoric sounds worryingly pro-European and avid pro-Europeans are being sent to Brussels' …
Later, at Oxford, Sunak had a low profile, unlike his predecessor as MP, William Hague:
He was nothing like the young William Hague, who arrived at Oxford fêted and almost a Tory celebrity, or the young Boris Johnson, the blond beast who tore apart the Oxford Union. At Oxford, Sunak was a nobody, much like Tony Blair.
He continued to eschew strong drink:
Oxford acquaintances remember him as a nerdy teetotaller who was 'just very clearly going into business'. He would 'make this big thing' out of drinking Coke in the pub. 'Rishi was unknown to the student politicians, that gossipy overlapping world, who all knew each other,' said Marcus Walker, then-president of the Oxford University Conservative Association, now a clergyman. Sunak was never a member.
It is hard to remember how irrelevant and demoralised Tory circles felt after 1997, but some do recall Sunak as a 'Thatcherite' and 'Eurosceptic'. 'That was absolutely par for the course,' said Walker. 'If you were still a Tory after 1997, you were a Eurosceptic. That was all you had left.'
Nevertheless, Sunak did develop a network from his Winchester College and Oxford days. Graduates from Winchester are called Old Wykehamists:
These days, socially, Sunak has been placed by some in Westminster's Spectator set. He was best man to his lifelong friend and fellow Old Wykehamist James Forsyth, political editor of The Spectator, at Forsyth's politician-studded wedding in 2011, to Allegra Stratton, the national editor at ITV News – and gave what one guest recalled was 'one of the most touching best man's speeches I've ever heard'. (In fact, Stratton has recently announced she's leaving ITV News for a job with Sunak at the Treasury. Some have seen this as very Cameron-esque in its 'chumocracy'.)
Allegra Stratton, also a good friend of ITV's Robert Peston, now works for Boris Johnson as his notional press secretary, although she has not yet begun to give press briefings, probably because of coronavirus.
Imagine the son of immigrants having ties to Britain's two oldest — ancient — magazines: The Spectator and Tatler. Wow.
Tatler's Ben Judah also spoke with people who had worked with Sunak during his hedge fund days. They painted a similar character portrait of the Chancellor:
After two years in California completing a CV-topping MBA, he returned to London and Mayfair in 2006, where a new type of boutique finance was booming: hedge funds. He was hired by Sir Chris Hohn at The Children's Investment Fund (TCI). It was a dream job: a big role at an activist firm off Berkeley Square at the peak of their fame. 'He appears to have been trusted,' said a source. Indeed, Sunak was made a partner two years later. Contemporaries remember him ever-ready to meet and greet; a mixture of a junior, deputy and a bag carrier; the perfect foil to Hohn's bolshy swagger. 'Ridiculously nice.' 'Affable.' 'Approachable.' 'Charming.' These are the words that come up again and again among Mayfair types who knew Sunak. The charm was of a particular kind: 'There are two kinds of people at hedge funds,' said one source. 'Handsome and thin smooth-talkers who are always on the phone or going out to lunch with clients, getting them to part with their money. And then quants in the back room with their shirts buttoned up badly.'
Sunak was one of the smooth-talkers, his charm honed on calls to investors, getting them on board with whatever drastic moves the fund wanted to make. The kind of charm that prizes clarity and persuades people to part with their money. It worked: but hedge-fund charm is designed to hide as much as it reveals. The atmosphere at TCI was buccaneering and bold; it both led and profited from a controversial banking raid that eventually meant a £45.5 billion public bailout of the Royal Bank of Scotland. (The Treasury and TCI say Sunak was not involved in the deal.) He left when TCI split in 2009, and joined the breakaway hedge fund Theleme Partners. His new firm's reputation took a knock when its founder was revealed to have used a notorious tax avoidance scheme. The Labour Party researched Sunak's past during the 2019 election. 'But he was too little known for us to use it,' said one source …
His reasons for entering Parliament are equally obscure. Those who know him have different opinions as to why. One thing that everyone agrees on is his penchant for order:
Many in Westminster see his motivation as status. 'He's not an ideologue,' said one Tory source. 'He wanted to enter politics in that old-fashioned way, because it was seen as the good thing to do.' Good, as in socially ambitious. Whether that's true is another matter, because first came a stint at Policy Exchange, leading a unit researching black and minority ethnic attitudes. The scruffy but influential Conservative think tank world is seen as a de facto holding pen for future special advisers, but it was nonetheless an unexpectedly technical way into Westminster for someone with means.
Sunak quickly made an impression. 'He's got that Blair-like ability to hold your eye,' says Nick Faith, who worked with him there. Sunak cut a snappy figure amid slovenly suits. 'He's into his clothing.' His is not the fusty establishment Rees-Mogg or Nicholas Soames style, but more the wiry Emmanuel Macron look. Everything Sunak wears, many remarked, is immaculate, even at the end of a Treasury work day, and fits perfectly. Faith says that 'everything, from how Rishi dresses to how he structures his life, is very well organised'. Sunak's elegant house in London, with a touch of Indian decor, reflects that. 'Nothing is out of place. For someone with two small kids, that's quite an achievement.'
Having learned from his background in finance, Sunak also knows how and when to place his bets:
'His mind works in Excel,' said one City contemporary. But like all hedge funders, it also works in bets: and the two biggest bets that Sunak has made in his career have paid off spectacularly – Brexit and Boris. David Cameron knew the gravity of his predicament when Sunak came out for Leave. 'If we've lost Rishi, we've lost the future of the party,' he reportedly said. The same thing played out in reverse in June 2019 when Sunak came out for Boris in The Times with two other MPs during the party leadership elections. This was widely seen in Westminster as a decisive turning point: the one where Johnson won over 'the sensibles' and pivoted the backbenchers. The PM seems to agree: all three have been handsomely rewarded.
In Parliament, he keeps a low profile but, to those who know him, is loyal:
'He's unknown in parliament,' said one MP. 'He doesn't play the parliamentary game at all.' Tory Remainers are sceptical of him. 'It's Star Wars,' said one MP, referring to the chancellor's strange and classically 'geek-chic' hobby for minutely detailed models of spaceships and video games. 'Most of his political philosophy comes out of the Star Wars trade wars that are about the independence of various kingdoms from the Empire. He's not someone intellectual.' Loyalty has been his strongest suit. Sunak is a No 10 man. 'He's a grown-up,' said one MP. 'The only grown-up in Downing Street, despite him being 20 years younger than them.'
… At the height of tensions over Brexit last year, he was cheerfully going around Westminster saying he would back 'no deal' if push came to shove. He struck the right note, in the right place, at the right time. Tensions between Boris Johnson and Sajid Javid's teams exploded in February, when the then-chancellor resigned after refusing to fire his own special advisers and submit to an unprecedented joint team with Downing Street, effectively under the stewardship of Dominic Cummings. It was Sunak, with high skills and no clear agenda or faction behind him in parliament, whom Downing Street turned to. He quickly agreed to the joint team, once again becoming the perfect foil for an outsized boss. 
Even now, it's still too early to say whether Rishi Sunak will become a future leader of the Conservative Party and, as such, a possible prime minister. A week is a long time in politics.
When Boris's erstwhile special adviser Dominic Cummings broke coronavirus rules in travelling from London to Durham and back during Boris's time in hospital, Sunak tried to calm the ever-turbulent waters surrounding Cummings, who was never popular with the Remainer media. He tweeted this after Cummings's lengthy press conference in May:
In June, Sunak was tactful about the reopening of shops and businesses in Britain after the first coronavirus lockdown:
He also warned that his generous financial package could not go on indefinitely:
A few weeks later, in early July, pubs were allowed to reopen:
The Government launched the Enjoy Summer Safely campaign. Pictured below is Piccadilly Circus:
On July 8, he issued a Summer Economic Update, with financial help continuing (more here):
This included the launch of his Eat Out To Help Out plan, which lasted to the end of August:
A lot of Labour MPs didn't like the plan. I don't know why. Leftists own restaurants, too.
He cut VAT for the hospitality industry, too.
He also issued a detailed jobs plan, including an apprentice scheme:
Some men in the media were taking a shine to Dishy Rishi, including the leftist Owen Jones of The Guardian and Channel 5's Jeremy Vine:
At that time, the attention being given to Sunak and Boris Johnson got the better of Conservative MP Caroline Dineage, a Culture minister, who was questioned on masks, which were strongly suggested (mandatory only on public transport) but still optional in what now look like heady days. This was from a BBC interview:
… asked why the Prime Minister and Chancellor Rishi Sunak had not worn one in public, she snapped: "You'd have to ask the Prime Minister and the Chancellor that, with respect.
"But it is something that is advised and we keep it under review."
At the end of September 2020, the coronavirus crisis dragged on. Talk intensified about a winter lockdown.
On September 24, Sunak issued a Winter Economy Plan, about which I wrote at the time. When he presented it in the House of Commons, he advised all MPs to live 'without fear'.
By October 6, Sunak was being blamed for an uptick in coronavirus 'cases' (positive test results, not necessarily hospital admissions) for the Eat Out to Help Out scheme:
A US study, which did not cover Britain, showed that hospitality venues were shown to be responsible. However, the study did not cover workplaces or hospitals. Nonetheless, it is still a contentious point even to this day.
The Sun's Harry Cole rightly, in my opinion, defended the Chancellor's restaurant promotion.
Then talk of hospitality curfews emerged. Fellow Conservative MP Matt Vickers defended the Chancellor's Eat Out to Help Out programme, which had come to an end five weeks earlier.
The calls for a winter lockdown grew. The Chancellor rightly opposed them:
By then, more areas of England had moved into tiers, indicating more coronavirus cases. Sunak increased financial support to those cities and counties. He also offered more help to businesses, including the self-employed.
By November, some thought a storm was truly brewing between Boris and Rishi. Despite all the talk from the Government about people being able to meet loved ones at Christmas — for the first time in months, for many — a pessimistic undercurrent, which turned out to be accurate, seemed to be part of every news cycle.
Rumours circulated that Sunak was ready to resign. However, on November 1, the Daily Mail reported:
A source said there was a 'collective decision' to back a second lockdown, and that Mr Sunak 'accepted it' – and he did not threaten to resign, as some whispers around Westminster were suggesting yesterday.
The November lockdown was supposed to prevent a Christmas lockdown, but that was not to be. There was a brief re-opening before Christmas, and on December 19, the hammer fell once more.
Interestingly, the minority MPs in Cabinet shared Sunak's concerns.
By the middle of December, Sunak was clearly worried about how long the borrowing could go on. On Saturday, December 19, the day when Boris announced Christmas was cancelled, The Spectator reported what the Chancellor said about borrowing and quantitative easing (QE):
'Are you or anyone else going to guarantee me that, for the duration of this parliament, rates might not go back to 1 per cent?' he asks, pointing out that this almost happened in March, before the Bank of England started printing money to bring rates back down. 'There is this very large QE thing that's going on. No one has done that before. There are plenty of smart investors who are also thinking about the risks of inflation over the next 12 months. Because we are now so levered, small changes have huge cash implications. If I have to come up with £10-£20 billion a year in a few years' time because things have changed — well, that's a lot of money.'
To Sunak, it's not just an economic problem but a political one. 'If we [Tories] think borrowing is the answer to everything, that debt rising is fine, then there's not much difference between us and the Labour party,' he says.
The media criticised him for going to his constituency of Richmond for Christmas. To be fair, he did work while he was there, visiting a local hospital and a vaccine centre. He did not rush back to London.
On February 3, 2021, Sunak rightly accused scientists advising the Government of shifting the goalposts regarding lockdown:
This might be causing a rift in Boris's Cabinet:
On a brighter note, Time magazine has included Rishi Sunak on its list of 100 'emerging leaders'. On February 17, the Daily Mail reported:
Under the 'leaders' category, Chancellor Rishi Sunak landed a spot on the list, being described as the 'benevolent face of the government's response to the COVID-19 pandemic' by Times reporter Billy Perrigo.
The Chancellor's profile piece discussed the furlough scheme, describing how he approved 'large handouts' for people whose jobs had been affected by coronavirus.
The piece also paid respect to Sunak's Eat Out to Help Out scheme, which the magazine described as an attempt to 'revive the economy' by subsidizing dining out at restaurants.  
Although his profile acknowledges that Sunak bears more responsibility than most for his calls to ease lockdown restrictions, Time's profile for the Chancellor admits he has earned himself a 'legion of fans'.
Sunak's accompanying profile points to a YouGov poll showing him to be the nation's most popular politician and even tips him to be the bookmakers' favourite as the next Prime Minister.  
Again, a week is a long time in politics. We shall see about the future as and when it happens.
For now, Sunak is focussing on the budget, to be delivered on March 3. He is asking industry leaders for their thoughts.
Michelin-starred chef Gordon Ramsay was one of those leaders:
If Rishi Sunak ever tires of being an MP or Chancellor, a job in media awaits.
He is an excellent interviewer and researched Gordon Ramsay well. The 15-minute video is worth watching.
The list of minority Conservative MPs continues. All being well, more tomorrow.
The first part of a review of last week in Parliament concerned coronavirus with a follow-on here.
The other big debates last week were about the Internal Market Bill, a legislative safeguard to preserve Britain's sovereignty after the Brexit transition period concludes at the end of the year.
Talks with the EU have reached an impasse. Worse, the EU wants to take Northern Ireland hostage, as it were, with the possibility that food from other parts of Britain might be prohibited from reaching it. Absurd, but that is the state of play.
On Saturday, September 12, Steve Baker tweeted:
The Telegraph article in Steve Baker's tweet explains (emphases mine):
Boris Johnson has accused the European Union of threatening to impose a food "blockade" in the Irish Sea that would destroy the "economic and territorial integrity of the UK".
Writing in The Telegraph, the Prime Minister made a passionate defence of his decision to alter the Brexit divorce deal, saying he has to protect Britain from the "disaster" of handing Brussels the "power to carve up our country".
He also issued a direct plea to Tory MPs threatening to rebel over his plans, telling them that, if they stand in his way, they will reduce the chance of getting a trade deal with the EU.
Mr Johnson insisted a Canada-style trade deal with the bloc is still possible and remains his goal, but that Brussels must "take their threats off the table" and rebel MPs must get into line. He also believes the UK will still "prosper mightily" under a narrower, Australia-style trade deal.
The Prime Minister claimed the EU could effectively impose a food blockade across the Irish Sea by refusing to grant the UK approved "third party" status for food exports, which officials say Michel Barnier, the EU's chief negotiator, has "explicitly" threatened.
The Withdrawal Agreement gives the EU oversight over goods of animal origin being transported from the mainland to Northern Ireland for four years, meaning Brussels could use an "extreme interpretation" to impose tariffs or declare such trade illegal …
The Government is trying to rush through legislation that would amend the Withdrawal Agreement and in particular its Northern Ireland protocol.
Mr Johnson argues that he has been forced to act because of a "serious misunderstanding" in Brussels about the terms of the agreement, and must unilaterally make changes to it because it has become a "danger to the very fabric of the United Kingdom".
The EU has told Mr Johnson that, unless he backtracks by the end of the month, the trade talks are over. 
That weekend, the news was full of MPs, senior legal experts and former Prime Ministers saying that Boris Johnson's proposals were a 'violation of international law':
On Friday a group of more than a dozen MPs, among them former ministers, signalled that they would press ahead with attempts to bar the Government from overriding the Withdrawal Agreement without the support of Parliament …
In the House of Commons, Sir Bob Neill, an avowed Remainer, led the rebel charge. Neill is:
the chairman of the Commons justice committee, who has already secured the backing of Damian Green, Theresa May's former deputy, and ex-solicitor general Sir Oliver Heald.
The Remain media gave airtime to those who said this proposal violates international law, a distinctly Remainer stance. In 2018, Theresa May watered down an excellent Brexit plan — Canada ++. Boris pushed a stronger 'deal' last autumn. Now Boris sees what the EU could do next year if the UK doesn't close this loophole.
In short, those who oppose Boris's proposed legislation are Remainers. Those who support it are Leavers.
This became evident in Parliamentary debates last week and this week.
On Monday, talkRADIO interviewed two Leavers.
Sir Desmond Swayne gave an early morning interview:
Labour Peer — and Leaver — Kate Hoey went on the air later:
Guido Fawkes published the full text of the bill.
The second reading of the bill took place on Monday, September 14. Excerpts from the debate follow.
Boris introduced the second reading, emphasising its importance to the Union:
The creation of our United Kingdom by the Acts of Union of 1707 and 1801 was not simply a political event, but an act of conscious economic integration that laid the foundations for the world's first industrial revolution and the prosperity we enjoy today. When other countries in Europe stayed divided, we joined our fortunes together and allowed the invisible hand of the market to move Cornish pasties to Scotland, Scottish beef to Wales, Welsh beef to England, and Devonshire clotted cream to Northern Ireland or wherever else it might be enjoyed.
When we chose to join the EU back in 1973, we also thereby decided that the EU treaties should serve as the legal guarantor of these freedoms. Now that we have left the EU and the transition period is about to elapse, we need the armature of our law once again to preserve the arrangements on which so many jobs and livelihoods depend. That is the fundamental purpose of this Bill, which should be welcomed by everyone who cares about the sovereignty and integrity of our United Kingdom.
We shall provide the legal certainty relied upon by every business in our country, including, of course, in Northern Ireland. The manifesto on which this Government were elected last year promised business in Northern Ireland "unfettered access to the rest of the UK".
Sir Bob Neill (Bromley and Chislehurst, Con) spoke, asking about upholding 'the rule of law', a popular theme among Remainer MPs:
I have listened carefully to what the Prime Minister says, but does he accept that were our interlocutors in the EU to behave in such an egregious fashion, which would clearly be objectionable and unacceptable to us, there is already provision under the withdrawal agreement for an arbitrary arrangement to be put in place? Were we to take reserve powers, does he accept that those reserve powers should be brought into force only as a final backstop if we have, in good faith, tried to act under the withdrawal agreement and are then frustrated? The timing under which they come into force is very important for our reputation as upholders of the rule of law.
The PM responded:
… there is the question of tariffs in the Irish sea. When we signed the protocol, we accepted that goods "at risk" of going from Great Britain into the EU via Northern Ireland should pay the EU tariff as ​they crossed the Irish sea—we accepted that—but that any goods staying within Northern Ireland would not do so. The protocol created a joint committee to identify, with the EU, which goods were at risk of going into Ireland. That sensible process was one achievement of our agreement, and our view is that that forum remains the best way of solving that question.
I am afraid that some in the EU are now relying on legal defaults to argue that every good is "at risk", and therefore liable for tariffs. That would mean tariffs that could get as high as 90% by value on Scottish beef going to Northern Ireland, and moving not from Stranraer to Dublin but from Stranraer to Belfast within our United Kingdom. There would be tariffs of potentially more than 61% on Welsh lamb heading from Anglesey to Antrim, and of potentially more than 100% on clotted cream moving from Torridge—to pick a Devonshire town at random—to Larne. That is unreasonable and plainly against the spirit of that protocol …
MPs on the Opposition benches were restive. The PM said:
To answer the questions that are being shouted at me from a sedentary position, last year we signed the withdrawal agreement in the belief, which I still hold, that the EU would be reasonable. After everything that has recently happened, we must consider the alternative. We asked for reasonableness, common sense, and balance, and we still hope to achieve that through the joint committee process, in which we will always persevere, no matter what the provocation.
Jeremy Wright (Kenilworth and Southam, Con) asked about violating international law:
… When I was the Attorney General in the previous Government, I was happy to confirm that the ministerial code obliged Ministers to comply with international as well as domestic law. This Bill will give Ministers overt authority to break international law. Has the position on the ministerial code changed?
The PM replied:
No, not in the least. My right hon. and learned Friend can consult the Attorney General's position on that. After all, what this Bill is simply seeking to do is insure and protect this country against ​the EU's proven willingness—that is the crucial point—to use this delicately balanced protocol in ways for which it was never intended.
The Bill includes our first step to protect our country against such a contingency by creating a legal safety net taking powers in reserve, whereby Ministers can guarantee the integrity of our United Kingdom. I understand how some people will feel unease over the use of these powers, and I share that sentiment. I say to my right hon. and learned Friend that I have absolutely no desire to use these measures. They are an insurance policy, and if we reach agreement with our European friends, which I still believe is possible, they will never be invoked. Of course, it is the case that the passing of this Bill does not constitute the exercising of these powers.
Ed Miliband (Doncaster North, Lab) moved an amendment on behalf of Labour leader Sir Keir Starmer, who was not in the Chamber as he was self-isolating. Note 'the rule of law':
I beg to move an amendment, to leave out from "That" to the end of the Question and add:
"this House notes that the UK has left the EU; calls on the Government to get on with negotiating a trade deal with the EU; recognises that legislation is required to ensure the smooth, effective working of the internal market across the UK; but declines to give a Second Reading to the Internal Market Bill because this Bill undermines the Withdrawal Agreement already agreed by Parliament, re-opens discussion about the Northern Ireland Protocol that has already been settled, breaches international law, undermines the devolution settlements and would tarnish the UK's global reputation as a law-abiding nation and the UK's ability to enforce other international trade deals and protect jobs and the economy."
There are two questions at the heart of the Bill and of why we will oppose it tonight. First, how do we get an internal market after 1 January within the UK while upholding the devolution settlements, which have been a vital part of our constitution for two decades and are essential to our Union? Secondly, will our country abide by the rule of law—a rules-based international order, for which we are famous around the world and have always stood up?
Those are not small questions. They go to the heart of who we are as a country and the character of this Government …
After interventions from a few MPs, Miliband openly challenged the PM, which had to be seen to be believed, it was that bold:
… there is also an irony here—the Prime Minister tried to slip this in; I do not know whether the House noticed—which is that this Bill does precisely nothing to address the issue of the transport of food from Great Britain to Northern Ireland. It is about two issues where the Government are going to override international law: exit declarations, Northern Ireland to GB, and the definition of state aid relating to Northern Ireland. If the Prime Minister wants to tell us that there is another part of the Bill that I have not noticed that will deal with this supposed threat of blockade, I will very happily give way to him. I am sure he has read it; I am sure he knows it in detail, because he is a details man. Come on, tell us: what clause protects against the threat, which he says he is worried about, to GB-to-Northern Ireland exports? I give way to him. [Interruption.]
As the PM smouldered at Miliband's arrogance, Deputy Speaker Dame Eleanor Laing intervened:
Order. The right hon. Gentleman cannot give way unless he is asked to.
Miliband carried on ranting, ending with:
I do not understand this. He signed the deal. It is his deal. It is the deal that he said would protect the people of Northern Ireland. I have to say to him, this is not just legislative hooliganism on any issue; it is on one of the most sensitive issues of all. I think we should take the word of two former Prime Ministers of this country who helped to secure peace in Northern Ireland.
An indignant Sammy Wilson (East Antrim, DUP) intervened:
Before the shadow spokesman lectures the Prime Minister about reading documentation or starts lecturing us about the Good Friday agreement, does he not recognise, first of all, that the Good Friday agreement talks about the principle of consent to change the constitutional position of Northern Ireland, which is what this protocol does? The Good Friday agreement has within it a mechanism to safeguard the minorities in Northern Ireland through a cross-community vote, which again the protocol removed. So before he starts talking about the threats to the Good Friday agreement, does he not recognise that the protocol was a threat to it in the first place?
Miliband replied to Sammy Wilson, then went on to invoke other Remainers, Theresa May and former PM John Major:
The right hon. Gentleman did not like the protocol at all. He would rather have not had the protocol. He and I just have a disagreement on this issue. I believe it was necessary to make special arrangements for Northern Ireland, or for the UK to be in the EU customs union to avoid a hard border in Ireland. That is why the Prime Minister came along and said the protocol was the right thing to do …
Let us just get this straight for a minute, because I think it is important to take a step back. The Prime Minister is coming to the House to tell us today that his flagship achievement—the deal he told us was a triumph, ​the deal he said was oven-ready, the deal on which he fought and won the general election—is now contradictory and ambiguous. What incompetence. What failure of governance. How dare he try to blame everyone else? I say to the Prime Minister that this time he cannot blame the right hon. Member for Maidenhead (Mrs May), he cannot blame John Major, he cannot blame the judges, he cannot blame the civil servants, he cannot sack the Cabinet Secretary again. There is only one person responsible for it and that is him. This is his deal. It is his mess. It is his failure. For the first time in his life, it is time to take responsibility. It is time to 'fess up: either he was not straight with the country about the deal in the first place, or he did not understand it.
Enough of Miliband.
Sir William Cash (Stone, Con) spoke on behalf of the bill:
… There has never been a level playing field in the EU. Its cardinal objective in these negotiations from the outset has included preventing us from being able to compete fairly. That is not good faith. Under the protocol, ​the EU would even control our legal tax freedom to create freeports and enterprise zones. All of this would massively undermine our businesses and jobs and therefore our voters …
He gave several examples of how the EU operates unfairly, then concluded:
The EU seeks to subject us to a foreign regulator, taking essentially political decisions and armed with undemocratic prohibition powers and authorisations. It would be unconscionable and utterly naive for us to allow that to happen. It would be contrary to our national interests at this time of economic instability generated by coronavirus.
You can watch his speech in full here:
Leavers thought it was an excellent performance:
Bill Cash is part of the pro-Brexit ERG (European Research Group), which issued a three-page briefing memo explaining the importance of passing the Internal Market Bill. Guido Fawkes published it in full.
The SNP's Ian Blackford (Ross, Skye and Lochaber) gave his 'Scotland' speech once again and made an egregious emotional appeal, invoking, like other Remainers, the rule of law:
Every Member has a choice. We know that the Bill breaks international law—so many learned individuals, including the previous Attorney General, have told us so. Tonight, this House can tell the Government that it is not on and that this House is not going to be complicit in a breach of international law. I venture that that is the responsibility that each Member has. Every Member—every Member, Madam Deputy Speaker—should examine their conscience. This is about a Bill that breaches the terms of a treaty, the ink of which is barely dry and on the delivery of which the governing party fought an election.
As is his wont, he spoke for ages, taking interventions from Labour MPs supporting his position.
Blackford said that the bill would hamper further devolution. Michael Gove, the Chancellor for the Duchy of Lancaster, asked how.
Blackford replied:
I hear the Cabinet Office Minister shout, "How?" Perhaps he should go and talk to the General Teaching Council, and it will give him its views directly. [Interruption.] Really? We have the Business Secretary, who is supposed to be taking this Bill through, sitting laughing—laughing at the legitimate comments made by stakeholders in Scotland. It is little wonder that the Tories are rejected in the way they are at the polls in Scotland …
Sir Bob Neill began to come around to see the positive points in the bill yet said he could still not support it without amendments being added.
Sammy Wilson responded, making an excellent point:
The hon. Member for Bromley and Chislehurst (Sir Robert Neill) said that we have obligations to the rule of law and obligations to the EU. What about the obligations to the people of the United Kingdom to ensure the provisions of the Act of Union? The economic basis of the Act of Union makes it quite clear that there shall be no barriers on trade between different parts of the United Kingdom. I believe that the Government are fulfilling, in part, their obligations to the people of Northern Ireland in this Bill, and that is why we will support it tonight.
There were many excellent contributions from Brexit-supporting Conservative MPs. Opposition MPs were feisty and the debate was lively.
That evening, the bill passed — 340 to 263:
Guido has the list of Conservative abstentions. Theresa May's name was among those listed.
The Labour amendment to reject the bill entirely failed by 349 votes to 213. TalkRADIO has an analysis.
The bill then moved on to Committee Stage.
On Tuesday, September 15, MPs debated various clauses and amendments.
That might sound boring, but it made for excellent viewing on BBC Parliament. Sparks were flying left and right.
SNP MPs insisted that the bill would decrease their powers under devolution. This is an argument that Conservatives, rightly, find absurd.
Paul Bristow (Peterborough, Con) asked the SNP's Drew Hendry (Inverness, Nairn, Badenoch and Strathspey):
The hon. Gentleman called the Office for the Internal Market an unelected quango. Does he accept that, if he had his way, he would be handing powers back to unelected quangos in Brussels?
Drew Hendry replied:
This is the argument that Government Members try to propagate all the time—that if these powers came to Scotland, they would immediately be transferred to unelected people in the EU. Two things are wrong with that. First, nobody in the EU is actually unelected when they make decisions; they are all elected by either the Parliament or the people who go there. The second and most fundamental point is that, under these proposals, the UK Government are simply taking all control and overriding the ability of Members of the Scottish Parliament to do their job by representing the people who voted for them and their choices.
The SNP fear that the UK Parliament will make decisions that override the spending wishes of the Scottish Government. It's possible but probably unlikely. Still, would that not be better than the EU making those decisions? According to the SNP, no, it would not.
Bill Cash intervened in an attempt to add reason to the debate:
The arguments that I have just heard from the hon. Member for Inverness, Nairn, Badenoch and Strathspey (Drew Hendry) are, in my judgment, completely unjustified. [Interruption.] He might expect me to say that; it is hardly surprising. The reality is that the Bill is intended to provide for independent advice and monitoring through the creation of this internal market within the Competition and Markets Authority arrangements. What the provision clearly states—far from it being just a bunch of nodding donkeys, which is more or less what the hon. Gentleman is saying—is that it will be a non-ministerial department, albeit sponsored by the Department for Business, Energy and Industrial Strategy, and it will have an enormous amount and range of experience and knowledge brought from its predecessor.
Hendry asked him who would be in the Competition and Markets Authority (CMA).
Cash replied, dryly:
What I can say for sure is that it will not be the European Union, and that summarises the argument in a nutshell.
Cash elaborated on the danger of EU interference:
We will need to be able to compete effectively throughout the world. This is a serious matter about a serious issue. What we cannot have, as I mentioned yesterday, is the situation that we have at the moment, which is where authorisations are given by the European Commission that either create discrimination against British businesses or have the perception or the potential for doing so. They will affect the voters in Scotland—and the voters in Sheffield, if I may say so. I was brought up in Sheffield. I saw what the European Coal and Steel Community did to the British steel industry. [Interruption.] I hear what the hon. Member for Sheffield Central (Paul Blomfield) says. The reality is that those businesses were driven out of business by, in many cases, unfair subsidies and unfair state aids that were given to other member states. I can give an example. I happened to know many people who worked at the coalface—I used to play cricket with them when I played for Sheffield—and I can tell Members that the Sheffield steelworkers, whom I also played with on occasion, sometimes it was rugger, found that they were very severely jeopardised by the massive state aids that were given to the German coal industry—it was as much as £4 billion—and authorised by the Commission. For a variety of reasons, we did not get the same kind of treatment here in the United Kingdom. This is all part of the problem of how to have fair and reasonable competition.
Joanna Cherry (Edinburgh South West, SNP) directed her comment to Cash, unintentionally getting the soundbite of the day in his reply:
I am going to answer the hon. Gentleman's question. The Scottish National party wants Scotland to remain part of the European Union—a single market of more than 500 million consumers. The SNP does not wish to put up trade barriers with England. It is his party that wishes to enforce upon us trade barriers if we dare to exercise our democratic right of self-determination, which he has spent the last 40 years banging on about in this House for England.
Cash's reply was brilliant:
If I may say so, not unsuccessfully.
Cherry was clearly irritated:
That remains to be seen.
There is too much to quote from this lively debate, so do read it here.
An Opposition amendment and a clause were defeated.
The debate in Committee Stage continued on Wednesday, September 16. The Opposition brought forward more amendments.
The theme of devolution continued. Discussion about a possible threat to Welsh devolution accompanied the concerns of Scottish SNP MPs.
John Lamont, a Conservative MP representing the Scottish constituency of Berwickshire, Roxburgh and Selkirk asked the SNP's Alison Thewlis why she thought the UK government was working against Scotland's interests:
The hon. Lady is giving a typically bitter speech around the role of the UK Government into Scotland. Does she not accept that the UK Government and the Scottish Government have worked very closely together on the growth deals and city deals in Scotland? They are very good examples of what can be achieved in Scotland with both Governments working together, rather than the attitude that she takes of opposing everything that this place does.
Thewliss replied:
I am very interested that the hon. Gentleman raises growth deals, because every single growth deal in Scotland has been short-changed by the UK Government. The Scottish Government have put in more than the UK Government to those growth deals and we are still waiting for the money for some of those growth deals to be realised.
Andrew Bowie, another Conservative MP representing a Scottish constituency (West Aberdeenshire and Kincardine) couldn't change her mind, either.
The Conservatives brought logic to the debate, something Opposition MPs were unable to do.
A Labour amendment, brought forward by Ed Miliband, requiring financial assistance to be the subject of a framework agreement to be agreed by resolution of each House of Parliament was defeated: 330-208.
That day, Boris Johnson appeared before a Select Committee to explain why the Internal Market Bill was necessary:
He told Labour MP Hilary Benn that he thought the EU representatives were negotiating in bad faith:
It is always possible that I am mistaken. Perhaps they will prove my suspicions wrong.
On Thursday, September 17, Guido Fawkes outlined the debates which took place this week (emphases in the original):
The Government will table two amendments to its own Bill on Tuesday, firstly a redrafted version of the Neill Amendment – setting in stone the need for a parliamentary vote beyond the requirements of ordinary statutory instruments, and secondly a clause to prevent significant litigation of the enactment of the controversial provisions. Tightening up the ability to deploy with the consent of the House.
Of course, the Government insists it still does not want to have to use these powers of last resort. But now it will have them in case the EU don't offer concessions…
I'll cover those tomorrow.
Happy New Year!
Happy new decade!
I enjoy, albeit with trepidation at times, looking back at the decades I've lived through and charting the change from beginning to end.
O tempora, o mores!
1960s
In 1960, growing up in the United States, I remember that things were still quite formal. Most people took care in the way they spoke and in their appearance. They were careful to conduct their households in a respectable manner. By the middle of the decade, that began to change but not too noticeably.
By 1968, a social revolution was underway, including sexually. What was once private became public. Attire reflected that. Women began wearing skirts above the knee. Men's clothes became more form-fitting.
Sloppiness and drugs became fashionable with the advent of hippies. Even though they were a small minority, they received a lot of media coverage. A slogan connected with them — 'If it feels good, do it' — began to pervade society at large.
Cinema and television reflected this change.
At home, Americans moved from watching westerns to tuning into a zany comedy hour. In 1960, Gunsmoke was the most viewed programme. In 1969, it was Rowan and Martin's Laugh-In. Gunsmoke had moved to sixth place in the Nielsen ratings.
Film genres and themes also shifted. In 1960, the great epics were popular, with Spartacus the highest grossing film and Exodus coming third. Psycho was second. In 1969, while Butch Cassidy and the Sundance Kid was in the top slot, Midnight Cowboy was at No. 3, Bob & Carol & Ted & Alice was No. 6 and an X-rated movie, I Am Curious (Yellow) was No. 12. It would have been unthinkable in 1960 that an urban drama about homosexuality, a movie about swingers and one that was pornographic would have been so popular nine years later.
1970s
The cultural shift continued in the 1970s. American magazines and newspapers devoted many column inches to social drop-outs experimenting with communal living. Swingers were becoming popular in suburbia. Again, those were two small sub-groups of society, but everyone — even the most respectable — knew about these two phenomena.
Pop music got bolder, more sexualised. I remember in high school that we talked a lot about sex and could hardly wait to start dating so that we could experiment. Our parents wondered what was wrong with us. The idea of sin and the forbidden went out the window. 'If it feels good, do it' had spread to the middle classes. Previously forbidden carnal acts were encouraged as being completely 'natural'. This furthered the evolution of a shame-free society. Today, I read that some teenagers don't kiss on a first date; instead they engage in oral sex.
Interestingly, one of the most suggestive singers of the decade, Eric Carmen of the Raspberries, laments where this has led today:
I remember neighbours of ours getting divorced. The wife said that she could earn her own living now, thank you very much. The husband was heartbroken. We felt sorry for their two children. Until then, my family and I personally did not know any couples who got divorced. It just didn't happen to everyday individuals. However, divorce rates continued to rise and, these days, no one bats an eyelid.
More women started working. What began as a liberating elective would turn out to be a mandatory means of survival in marriage in the years that followed. Few of us knew that then, though.
Returning to music, it was a great decade for youngsters. FM radio produced rather excellent stations devoted to little known genres that never reached Top 40 AM stations. Through them, we discovered prog rock from Britain: Yes, Rick Wakeman, and Emerson, Lake and Palmer, to name but three musical greats. There were many more, too numerous to mention here.
Near the end of the decade we had disco. Saturday Night Fever was a huge box office hit and propelled John Travolta from television (Welcome Back Kotter) to cinema fame.
The most popular television sitcoms, such as Welcome Back Kotter, were all set in metropolitan areas. In terms of television in general, The Waltons was probably the only show with a rural setting.
Halfway through the decade, I spent a year in France, which was much quieter than the US socially and still quite formal, even though the more leftist state university students were generally unkempt and unwashed. In many respects, the country was a bridge between the 1960s and the 1970s in the nicest possible way.
1980s
Leaving university, I recall that many of my friends latched onto the Reagan zeitgeist and became conservatives.
They turned into their parents and lost the fun-loving verve they once had. I stayed single the longest, so was more acutely aware of a shift into respectability and suburban living.
I lived in a major US city then, earning my own way in life. For relaxation, I used to go to matinees at the weekend. The price of admission was cheaper and the cinemas were nearly empty, giving me the impression I had the big screen all to myself.
I saw a lot of world films in the first part of that decade, some from Brazil and Australia but mostly Britain and France. French film became a passion. Even one of the UHF television channels showed French films from the 1950s. Bliss.
As far as music was concerned, my favourite FM station played British and European singles apart from reggae on Sunday afternoons. More bliss.
Then, around 1986, something began to change. Although my favourite radio station stayed the same, the movie theatres weren't showing as many foreign films. Within a couple of years, they stopped showing them altogether. One of my lifelines had vanished, sadly. The American films that replaced them were not very good, either, so I stopped going to the cinema.
Everything became very one-dimensional. America, somehow, had lost the link with the zeitgeist of European culture, which it never recovered. It used to be that people in the 1960s and early 1970s made a two- or three-week trip to western Europe to see the historic sites they learned about in school. It was what we today would call a bucket list item.
Fortunately, by the end of the decade, employment events intervened — and further improved — for me.
1990s
Living in England, I realised that I had an insatiable appetite for history and politics. I learned a lot about both thanks to a gift subscription to The Spectator, which I had read about in English lit class in high school. It's been around since 1828.
In 1990s, my in-laws told me that Margaret Thatcher's time was up. She had become too full of herself. We had high hopes for John Major.
I remember the 1992 election, which Major won handily. I could not understand the rage of my female colleagues who expected Neil Kinnock to win. They stayed up all night drinking, waiting for a Labour government that never came. The next day, at work, they were hungover, tearful — and, above all, angry. Why did they think he stood a chance? Perhaps I had been reading too much of The Spectator, but I had no doubt that Major would continue as Prime Minister.
By 1997, most of us felt change was needed. The Conservative MPs on the front bench seemed like tired, bloated bureaucrats. None of them had an original idea. Most seemed to be lining their own pockets. I was most consterned by Health Secretary Virginia Bottomley, who started closing A&E (Accident and Emergency) services at local hospitals. What was she thinking?
When Tony Blair became Prime Minister in 1997, nearly everyone I knew rejoiced. Change was coming.
And how …
2000s
The first few years of Labour were fine. I was enjoying my work too much to pay any attention.
By 2005, I longed for a Conservative government, especially when Gordon Brown became PM with no general election.
After that, Labour became unbearable, banging on about people's personal lives and habits. The smoking ban came into force in the summer of 2007. Ministers assured us in television interviews that private members clubs and hotels would be exempt. No, not at all. It was a blanket ban everywhere.
It was during this decade that London elected its first mayor, Ken Livingstone. He served two terms and introduced the city-wide congestion charge for motor vehicles, which we called the Kengestion Charge. My colleagues at the time reminded me that, as head of the old GLA (Greater London Authority), he was known as Red Ken.
Boris Johnson succeeded him, also serving two terms. His administration made the streets tidy again and also lowered crime.
By 2006, I started looking more closely at the EU and the unelected bureaucrats in Brussels who seemed to rule our lives. I agreed with those disgruntled Britons who wanted a referendum on our membership.
Most of all, however, I was sick and tired of Labour, to the point of despair.
I also asked my far better half to cancel my gift subscription to the The Spectator, as it had changed its editorial line considerably after Boris Johnson left as editor. Although more people now read it, it is a former shadow of itself. I would not call it neither conservative nor traditional at all any more.
2010s
Hope came in the May 2010 general election.
The Conservatives had to form a coalition government with the Liberal Democrats. It was the David Cameron and Nick Clegg Show, but at least Labour were out of the picture after 13 years.
David Cameron referred to himself as the 'heir to Blair'. It took me some time to see it, but he was not wrong.
He set out to reform the Conservative Party and alienated older, faithful members in their local associations. CCHQ suddenly did not need their help.
On a broader level, Cameron will probably be best remembered for opening up marriage to same-sex couples and for offering us the EU referendum, billed by all parties as a 'once in a lifetime' choice which they all pledged to implement.
A number of televised debates took place in 2016. I watched them all. Some of my friends were less than convinced by the Leave proposition. The one clincher was Brexit The Movie, which is an hour-long eye-opener about the Brussels gravy train and better than any of the debates, no matter how good:
I stayed up until the early hours of the morning of Friday, June 24, 2016 to watch the result. When it was clear that Leave had won, I went to bed. The next day, my far better half and I woke up to Cameron resigning because he did not like the result. We had a celebratory lunch in London and went to a party that evening that had been planned months earlier. I remember the apprehension we both felt about sounding out the other party guests as to their views on the EU. We later discovered that were not alone. Finally, someone there broke the ice upon his arrival by exclaiming:
Is everybody HAPPY? I certainly am!
At that point, we were free to talk about Brexit.
Theresa May became Prime Minister later that summer.
Across the pond, another sea change was happening: Donald Trump's candidacy. It was even more of a shock when he won. A startled nation awoke to find that Hillary Clinton was not their president.
The conflicts about Brexit and Trump continue today. Opponents to both have grown ever more vehement.
On September 20, 2019, the British website Spiked issued a thought-provoking documentary on Trump and Brexit. It's 26-minutes long and well worth watching. To cover Brexit, their reporters interviewed residents of Southend-on-Sea in Essex. To cover the Trump phenomenon, they interviewed Pennsylvania journalist Salena Zito and residents of Erie, which was once a major industrial powerhouse in that state. It has fallen on very hard times, indeed:
The major theme running through both is, as they put it, 'change', which I believe they should have called 'self determination' and 'recovering the aspirational dream'.
One thing that struck me was the interview with the owner of a gym in Erie. He said that his father raised seven children on a janitor's salary:
You couldn't do that now.
Too right. Both parents now have to work — unlike in the 1960s — and few households can support more than two or three children.
People in Britain and the United States want to work and save more of their hard-earned cash. They also want good job opportunities for their children.
A fisherman in Southend said that, because of EU rules, he is restricted to an ever-smaller part of waters in which to fish. The number of fishing boats has continued to decline, he added, and the number of fisherman has also dropped dramatically. That is why he, and many others in Southend, voted Leave in 2016.
The decade closed with Boris Johnson's landslide victory on December 12. Historian David Starkey explores what this means for the nation in this 57-minute documentary from The Sun, ably conducted by a young reporter:
Starkey explores the evolution of Parliament since Victorian times, when it became the institution we know today. As many Northern constituencies flipped from Labour to Conservative, Starkey says that Boris's pledge to revitalise the North will mean little unless he espouses their values of patriotism, which, he says, has been a dirty word for many years.
He says that Boris could well become a figure like Charles II, who restored the monarchy beginning in 1660. Many of their personality traits are similar, he notes, particularly their penchant for bringing a nation together and reforming it at the same time. It is well worth watching when you have the opportunity.
There is much more to Starkey's interview than summarised here. He talks about the people of the North, Labour, Jeremy Corbyn, David Cameron, Tony Blair and, significantly, Benjamin Disraeli. Starkey hopes that the PM will study his Victorian predecessor's successes closely.
With that, I must close for now. There are many developments over the past 60 years that I have not mentioned. This is merely to give an idea about the direction that Western society took as the decades rolled on.
Welcome to 2020. Let's hope it brings many good tidings. I wish all of us the very best.
Between 1992 and 2000, Parliament had its one and only female Speaker to date, the redoubtable Labour MP Betty Boothroyd:
Labour MP Harriet Harman, an unpopular candidate for the successor to John Bercow, told the Evening Standard that it was high time that Parliament had another woman as Speaker: herself. Yet, Harman ignored the fact that there are two Deputy Speakers who are female.
All three Deputy Speakers ran for election on November 4, but, as we know, neither Dame Eleanor Laing (Conservative) or Dame Rosie Winterton (Labour) won. Instead, it was Sir Lindsay Hoyle.
Betty Boothroyd turned 90 on October 8, 2019:
Dame Betty Boothroyd began her career as a member of the famous Tiller Girls, a dance troupe that performed highly choreographed precision dancing, as America's Rockettes do. Their tours took them all over Britain, including popular variety shows on television.
She turned to politics in the mid-1950s, after a foot infection ended her time with the Tiller Girls in 1952. Until she became a Parliamentarian, representing West Bromwich in 1973, she worked for Labour MPs, with a brief stint in Washington DC working for an American congressman, Silvio Conte, between 1960 and 1962. She stood down as Speaker — and MP for West Bromwich — in 2000:
She is still as feisty as ever, speaking out against Brexit:
On her birthday, The Yorkshire Post published a tribute to Dame Betty — Baroness Boothroyd.
Excerpts follow, emphases mine, but, first, a word about her predecessor.
Betty Boothroyd became Deputy Speaker just when Parliament was first being televised.
The Speaker at that time was Bernard Weatherill, the last Speaker to wear the full traditional garb and wig.
The image at left, courtesy of Wikipedia, is a photo of his official portrait, painted in 1986 by Norman Blamey.
The Conservative MP for Croydon North East, he served under Prime Ministers Margaret Thatcher and John Major.
After his speakership ended, he was elevated to the House of Lords as Baron Weatherill. He sat in the Lords as a crossbencher — i.e. no party affiliation — the norm for former Speakers.
Although quite conventional in his upbringing and career, which included serving in the Army during the Second World War and working for the family tailoring firm, the erstwhile Bernard Weatherill Ltd, he was an avowed vegetarian.
Baron Weatherill died of prostate cancer in 2007.
The election of Betty Boothroyd caused quite a stir, especially as she had been a Tiller Girl. She renounced the wig and an elaborate gown, although she still wore buckled shoes. (Image at right courtesy of Wikipedia.)
Madam Speaker ran everything to time. Furthermore, when she had to take an unusual procedural decision, she explained why:
On one memorable occasion after a tied vote, she had to use her casting vote which, by convention, was in the sitting government's favour. Foreseeing such a possibility, she had a prepared statement tucked away in a pocket so she could explain the constitutional position to MPs – and watching world. It is why there was rarely any malice towards the textile worker's daughter who ended sessions of Prime Minister's Questions – they never over-ran – with her stock phrase "Time's up".
She earned the respect of the two Prime Ministers during her tenure — John Major (Conservative) and Tony Blair (Labour):
Sir John Major salutes the Dewsbury-born Parliamentarian's entry into "the Pantheon of National Treasures", while his successor Tony Blair admits that he was in awe of the Yorkshirewoman …
In his contribution, Sir John, writes: "I served in Parliament with Betty Boothroyd for many years and, although we represented different political parties, I always admired her respect for the Commons, and her concern for the wellbeing of our country.
"Betty was Speaker of the House of Commons for five of my seven years in Downing Street, a role which she executed in a wholly dispassionate and exemplary manner, and in which she was widely liked and admired.
"Since her retirement from the Commons and elevation to the House of Lords, she has continued to speak up for the interests of our country, often in the most robust terms.
"One of Betty's greatest gifts has always been her capacity to express a contrary view, without causing political offence. If only such a gift had been bestowed on all MPs…"
Tony Blair, considerably younger than John Major, was in fear of her:
"Ever since Betty told me off in no uncertain terms, as a young MP, for coming into Parliament's terrace dressed in a sweatshirt and jeans, I have been somewhat in awe of Betty and a little scared of her," he recalls.
"She had the same awesome authority as Speaker. We listened to her then with respect and admiration and continue to do so when she makes interventions on the issues facing the country today. Hers is a voice of common sense, insight and experience and long may we continue to hear it.
"I feel incredibly privileged to have been in Parliament during her tenure, to have known her kindness and warmth, and I hope that as Betty celebrates her 90th birthday, she will still be dancing."
Boothroyd's successor was Michael Martin, a Labour MP from Glasgow. He was the first Catholic Speaker since the Reformation.
People were a less keen on him and missed Madam Speaker, not for religious reasons but for the way he conducted himself.
Martin was anti-Conservative:
On 1 November 2006, during Prime Minister's Questions, Martin caused uproar in the House of Commons by ruling out of order a question from Leader of the Opposition David Cameron in which he challenged Tony Blair over the future leadership of the Labour Party. Martin stated that the purpose of Prime Minister's Questions was for the House to question the Prime Minister on the actions of the government. This caused such dissent amongst MPs that Martin threatened to suspend the session. Cameron then re-worded the question so he asked about Tony Blair's future as Prime Minister rather than leader of the Labour Party, which Martin accepted. Conservative MPs threatened to walk out if a similar event occurred in the future.[27]
Two years later, it emerged that Martin was deeply mired in the expenses scandal of 2008-2009 and announced his decision in May 2009 to stand down as Speaker in June that year:
On 12 May 2009, the BBC reported that Michael Martin was under pressure to resign.[37] On 17 May, Liberal Democrat leader Nick Clegg said that Michael Martin should stand down, saying he had become an obstacle to much-needed reform of Parliament.[38] On 19 May, Douglas Carswell tabled a motion of no confidence, which was signed by 22 MPs.[39] Later that day, Martin resigned as Speaker effective as of 21 June 2009.[3] If the motion had been successful in a vote, Martin would have been the first Speaker to be forced out of office by a motion of no confidence since John Trevor in 1695.[40]
Few outside the left-wing political sphere lamented his departure. However, Martin went to the House of Lords as Baron Martin of Springburn and sat as a crossbench peer.
John Bercow succeeded Martin as Speaker.
Baron Martin died in 2018. Bercow attended his funeral and paid him tribute, along with former Prime Minister Gordon Brown.
What a memorable foursome of Speakers. Of these, the only ones I liked were Bernard Weatherill and Betty Boothroyd. Politics did not matter with them. They were there to act impartially for the smooth running of Parliament, not for self-aggrandisement.
Last week, I featured a news summary on Drummer Lee Rigby's barbaric death.
Not long afterward on May 31, 2013, it emerged that Drummer Rigby's injuries were so extensive that he had to be identified via dental records.
It's very sad that some are saying this was a false flag. Really? Someone on the scene when the brutal attack happened tweeted events as he saw them unfold (language alert, but worth reading for the alarm the tweeter experienced).
Relatives of suspect Michael Adebolajo, 28, released a statement deploring what happened on May 21. They also condemned acts of terrorism:
Nothing we can say can undo the events of last week. However, as a family, we wish to share with others our horror at the senseless killing of Lee Rigby, and express our profound shame and distress that this has brought to our family. We send our heartfelt condolence to Lee Rigby's family and loved ones.
On May 31, Lee Rigby's family thanked the British public for their 'overwhelming support' and also appealed for calm:
We would like to emphasise that Lee would not want people to use his name as an excuse to carry out attacks against others.
We would not wish any other families to go through this harrowing experience and appeal to everyone to keep calm and show their respect in a peaceful manner.
The Queen visited Woolwich Barracks on the same day. Contrary to what many think, her tour of the barracks was not precipitated by Drummer Rigby's death. It had been planned some time beforehand. The main purpose of her visit was to see the new home of the ceremonial King's Troop Royal Horse Artillery. However, she also held private meetings with Rigby's colleagues and friends.
Michael Adebolajo has now been discharged from hospital and is in custody at a South London police station.
The Daily Mail report from June 1 stated:
Michael Adebolajo, 28, has been charged with the murder of Drummer Lee Rigby who was killed in front of horrified onlookers in Woolwich last month.
Scotland Yard said Adebolajo, of Romford, Essex has also been charged with the attempted murder of two police officers and possession of a firearm.
He has been remanded in custody and will appear at Westminster Magistrates' Court on Monday [June 3].
Michael Adebowale, 22, has already been charged with murdering the young soldier and is due to appear at the Old Bailey on the same day …
After arriving at the police station, Adebolajo was also arrested on the suspicion of the attempted murder of a police officer.
It also emerged that police officers investigating the murder of Mr Rigby arrested two other men yesterday on suspicion of being involved in the supply of illegal firearms.
On June 2, former Prime Minister Tony Blair finally acknowledged that Islam does indeed have a radical, destructive strain. I remember the days when he used to say that he had a copy of the Koran on his bedside table and that he enjoyed reading it, so it is good to read what he had to say to governments around the world. He urged them to 'be honest' about this threat which is more widespread than has been previously admitted:
'There is a problem within Islam – from the adherents of an ideology which is a strain within Islam,' he writes.
'We have to put it on the table and be honest about it. Of course there are Christian extremists and Jewish, Buddhist and Hindu ones. But I am afraid this strain is not the province of a few extremists. It has at its heart a view about religion and about the interaction between religion and politics that is not compatible with pluralistic, liberal, open-minded societies.'
Just so.
This post is for adults only.
It is also not recommended for those of a sensitive nature.
What follows is the beginning of a historical study into the treatment of children and women from ancient times until the 20th century.
Lloyd deMause (pronouced 'de-Moss') is an American social thinker who specialises in psychohistory — uncovering the whys and wherefores of our behaviour over millenia.
De Mause leaves no society or civilisation unturned in his book, The Origins of War in Child Abuse. Although it focusses on children, you will also read men's thoughts on women.
Be prepared for a shock.
I shall go into deMause's 'psychohistory' — as he calls it — in another post. For now, here is a set of historical quotes and citations from the beginning of recorded history on men's relationship with women and children.
I shall be censoring as appropriate for my audience and excluding the worst descriptions.  Emphases are mine. Chapter sources are given at the end.
Ancient Egypt
"The family in Egypt was matriarchal. The most important person in the family was not the father, but the mother. The Egyptian wife was called the 'Ruler of the House.'" (Evelyn Reed, Woman's Evolution: From Matriarchal Clan to Patriarchal Family. New York: Pathfinder, 1974, p. 438)
When babies cried a lot because they were starving, they were given beer, wine, liquor or even opium to quiet them; as one Egyptian papyrus tells parents about opium for infants: "It acts at once!"111
In many areas of the world, beginning in early Egypt and continuing to modern European nations, the head was painfully molded to reshape it by putting another board on the forehead so as to squash the head into the angle formed by the boards.115 ( E. J. Dingwall, Artificial Cranial Deformation. London: J. Bale & Sons, 1931; Armando R. Favazza, Bodies Under Siege. Baltimore: John Hopkins University Press, 1996, p. 62.)
The Ancient Western World
Xenophon reports that the women and children were "separated from the men's quarters by a bolted door" 3 where the men "dined and entertained male guests," especially the young boys they used in sexual intercourse in preference to their wives.
Herodotus could admit that "a boy is not seen by his father before he is five years old, but lives with the women."4
Herodotus tells how during wars soldiers "no sooner got possession of a town than they chose out all the best favored boys and made them eunuchs," this simply repeated the regular castration and then anal raping of little boys in their own societies.150
Often first-born babies were routinely sacrificed to the avenging goddess. Hippocrates said that Greeks often experienced "convulsions, fears, terrors and delusions" and physicians were expected to treat the possessions and hallucinations of their dissociated personalities.14
Often women would become so possessed by their Killer Mother alters that, as Euripides describes them during Dionysian rituals, "Breasts swollen with milk, new mothers clawed calves to pieces with bare hands, snatched children from their homes" and killed them.18
Hilarion to his wife: "If it is a boy let it live; if it is a girl, cast it out."19
Poseidippos stated, "Even a rich man always exposes a daughter."
Children playing in dung heaps, rivers and cess trenches would find hundreds of dead babies, "a prey for birds, food for wild beasts to rend" (Euripides).24
Quintilian said, "To put one's own children to death is at times the noblest of deeds."30
Martialis: "How pitiful, to be the owner of thirty girls and thirty boys and have only one [male member]."46
Petronius depicts men raping a seven-year-old girl, with women happily clapping in a long line around the bed.48
"It was not uncommon, since Greek girls married very early, for them to play with their dolls up to the time of their marriage."56 (Philip E. Slater, The Glory of Hera: Greek Mythology and the Greek Family. Princeton: Princeton University Press, 1968, p. 24.)
Plutarch said boys should be taught about being raped to "put up with it; not as a pleasure, but as a duty."62
Plutarch and others wrote essays on what was the best kind of person a father should give his son over for raping.
Plutarch wrote: "Genuine love has no connections whatsoever with the women's quarters."85
Plutarch reports that "if a woman left the house in daylight she had to be chaperoned" to avoid rape.103
Homer's word for "wife" damar, means "broken into submission."
Ovid wrote in his Art of Love: "Love is a kind of war"
Ovid describes how children were often terrorized by saying they would at night be eaten by witches, strigae.122
Hipponax put it, "There are only two happy days in man's life with a woman: The day he marries her and the day he buries her."97
Men say they split their relationship with women into three parts: "We keep prostitutes for pleasure, slave concubines for the daily care of our bodies, and wives for the bearing of legitimate children."100 (Sue Blundell, Women in Ancient Greece, p. 268)
Solon passed a law decreeing that "a man should consort with his wife not less than three times a month—not for pleasure surely, but as cities renew their agreements from time to time.102
Women rarely learned to read, since "He who teaches letters to his wife is giving poison to a snake."106 (Jack Holland, Misogyny: The World's Oldest Prejudice. Philadelphia: Running Press, 2006, p. 21)
Juvenal's plays portray the fears of all men in early states, concluding that "A wife is a tyrant…Cruelty is natural to women: they torment their husbands, whip the housekeeper, and enjoy having slaves flogged almost to death…their sexual lusts are disgusting."107
Tacitus said, "At birth our children are handed over to some silly little Greek serving girl—but more often they were sent out and not seen for years."108
Philo wrote: "It is right that parents should rebuke their children, beat them, disgrace them and imprison them…If they still rebel, the law permits that they even be punished with death."117
Seneca described the public floggings of children in Sparta, where it was considered patriotic to beat children to death in public squares.
In Athens, over 800 portrayals have survived of Greek heroes stabbing and clubbing Amazons to death."134
If a young woman should simply speak to someone who was not approved by her father, that was enough of a sin for Constantine, the first Christian emperor, to decree a penalty of "death by having molten lead poured down her throat."15
Ancient India
[T]he Mahabharata says, "Let the man of thirty years wed a ten-year-old wife, or let the man of twenty-one get one seven years old."57
All kinds of rationalizations were given early marriage, as when Indian mothers married off their daughters at age seven because otherwise "the men of the family" might rape her "if she was left home alone for an hour."59 (Lloyd deMause, "The Universality of Incest," p. 136, 142-5.)
one Indian proverb has it, "For a girl to be a virgin at ten years old, she must have neither brothers nor cousins nor father."60
Early Doctors of the Church
Tertullian told Romans, "Although you are forbidden by the laws to slay new-born infants, it so happens that no laws are evaded with more impunity."26
Women, said Tertullian, were "irrational, more prone to lust than men, and at every turn waiting to seduce men," so husbands had to beat them all the time to keep them from sinning.5
Everyone agreed girls should be fed less than boys; as Jerome put it, 'Let her meals always leave her hungry.'"3
John Chrysostom maintained, "All witchcraft comes from carnal lust, which in women is insatiable."8
John Chrysostom tells believers to "constantly think on death, speak of it all the time, visit tombs and attend to dying people, because nothing is so edifying as watching impious people die."185
Augustine put it, "If the infant is left to do what he wants, there is no crime it will not plunge into."11
The Aztecs
"The trinity of war, sacrifice and cannibalism made up a combined religious service…the Aztec state existed solely to produce sacrificial victims."148 (Burr Cartwright Brundage, The Fifth Sun: Aztec Gods, Aztec World. Austin: University of Texas Press, 1979, p. 195)
Aztec armies would even fight "Flower Wars" where they would split into smaller groups and kill their own fellow soldiers in order to feed the goddess.154
Christians during the Middle Ages and the Renaissance
Teaching girls in schools was not allowed, Aelred said (1170), because the teacher might be tempted to show them affection.
Peter Damian said in the 11th century that sex with boys in monasteries usually "rages like a bloodthirsty beast," yet only the boys and not the priests were punished.158
When their children returned from the wet-nurse, mothers in the Renaissance followed the prescriptions of friars like Dominici [St Dominic] to avoid "hugging and kissing them" so they won't be "sensual," and instead "scare them with a dozen bogies [bogeymen]," to make them more fearful.26
Giraldus Cambrensis relates that the English sold great numbers of their children to the Irish as slaves as late as the 12th century.80
[Bernard] of Siena said fathers regularly "pimped" their own sons for money, and mothers colluded in the sexual use of their boys, giving them a separate bedroom on the ground floor so rapists could more easily use him sexually.137
[Bernard] of Siena could still complain about fathers who "make pimps" of their own sons, saying boys were so likely to be raped in the streets that "a boy can't even pass nearby without having a sodomite on his tail" and urging mothers to "send your girls out instead…This is less evil."153
As Henry Suso [Heinrich Seuse] put it: "Suffering quells my anger [and] makes me no part of the world."175
Medieval clerics themselves said most Christians suffered from acedia, "a disgust of the heart, an enormous loathing of yourself, your soul is torn to pieces, sad and embittered."166 Doctors during the medieval period said that most of their emotionally ill patients were either "melancholic" or "manic."167
Even by the 16th century, a priest admitted that "the latrines resound with the cries of children who have been plunged into them."50
Jean Bodin spoke of "the husband's power over the wife as the source and origin of every human society."67
The Reformers
Luther may have been one of the first fathers to spend time with and to teach his children, but because his mother had thrashed him "until his blood flowed" he also beat his own children, and his teaching goal was mainly to show them from the Bible how sinful their every act was.47
Luther claimed his wife Kate only existed as a housewife and mother, saying, "Take women from their housewifery and they are good for nothing."48
John Calvin decreed: "Those children who violate parental authority are monsters. Therefore the Lord commands all those who are disobedient to their parents to be put to death."14
Colonial America
If the parents' regular beating of their children still did not result in obedience, the child should be "put to death [if they] curse or smite their father or mother," according for instance to a 1646 Massachusetts law.93
Thinkers of the Enlightenment and Romanticists
One [mother] is praised by Locke because she was "forced to whip her little daughter at first coming home from Nurse, eight times successively…before she could master her Stubbornness."66
Rousseau, who became famous for saying that mothers should nurse their children, sent all five of his own children to foundling homes. He also declared that "woman is made specially to please man and to be subjugated."19
Talleyrand wasn't that unusual in stating that he "had never slept under the same roof with his father and mother."22
Most parents agreed with the French musician and mathematician Vandermonde in 1756 who admitted, "One blushes to think of loving one's children."29
As Kant declared, wars are needed because "prolonged peace favors effeminacy."40
[Giacomo] Leopardi said his mother "experienced a deep happiness when she saw the death of one of her infants approaching."3
Patriarchal fathers considered their children from their earliest years as theirs to beat, as with this British father:
"A gentleman was playing with his child of a year old, who began to cry. He ordered silence; the child did not obey; the father then began to whip it, but this terrified the child and increased its cries. The father thought the child would be ruined unless it was made to yield, and renewed his chastisement with increased severity. On undressing it, a pin was discovered sticking into its back."36
(Albertine Adrienne Necker, Progressive Education, Commencing with the Infant. Boston: W. D. Ticknor, 1835, p. 180)
Doctors well into the nineteenth century thought having sexual intercourse with three-year-old girls was a good idea because it was "instructive to familiarize them with carnal matters…"91
The belief that "one could cure venereal disease" by means of sexual intercourse with children"96 was of course one of the main underlying motivations for the frequency of paternal abuse, in addition to the need of fathers to prove their masculinity.
Non-conformist Christians
[A]s John Wesley put it, "Never, on any account, give a child anything that it cries for…If you give a child what he cries for, you pay him for crying."91
20th century parents
When in 1908 incest was finally made a criminal offense in England, it was considered a minor felony, rarely prosecuted.83
Even when a British study in 1991 found 45 percent of girls and 30 percent of boys admitting to remembering having been sexually abused as children (the actual rates being much higher due to underreporting and repression), British doctors surveyed at that time said they thought the sexual abuse rate was probably "less than one percent."78
Sexual abuse of little children is still routine in the rest of the world, starting with Asian maternal masturbation of little children from India to Japan.80
[Prior to the Great War] Germans feared women would "take over men" and "oversexed wives would threaten her husband's life with her insatiable erotic demands.'52 Females were depicted in art and cinema as vampires devouring helpless men.53 "On the eve of the 20th century, the image of the New Woman was widespread…university-educated and sexually independent, she engendered intense hostility and fear as she seemed to challenge male supremacy and turn the world upside down."54
The origin of [John F] Kennedy's need to prove his masculinity was his early child abuse. His mother had battered him as a child with coat hangers and belts, his father smashed his childrens' heads against walls, so that his resulting fears of impotence made him fill the White House during evenings with sexual partners to demonstrate how hyper-masculine he was.101
Lyndon Johnson had an alcoholic father who whipped him with a razor strap and an abandoning, overcontrolling, disrespectful mother who sometimes "walked around the house pretending I was dead."110 His mother was described as "tough, stern, unyielding, obstinate, domineering."111 He kept running away from home because he felt "smothered … oscillating between grandiosity and gloom and always questioning his worth."112 Like Kennedy, he had to have many sexual affairs to prove his masculinity.113
John McCain described his parents as beating him so hard that he often passed out as he held his breath during the beatings. He reports they punished him for holding his breath and passing out by filling the bathtub with ice cold water and throwing him in while unconscious, fully clothed.129  He says "this went on for some time until I was finally 'cured.' Whenever I worked myself into a tiny rage, my mother shouted to my father, 'Get the water!' Moments later I would find myself thrashing, wide-eyed and gasping for breath, in a tub of icy-cold water."130
The advance in the Soviet Union from abandonment of children in street gangs and "round-the-clock boarding schools" to actual family care of children began to take place in the 1970s,128 resulting in a switch in parenting from traditional "hardening" childrearing like that experienced by Joseph Stalin—who was "kicked and tried to be killed"—to that of Gorbachev—who was treated with respect and was remembered as being "very joyful" as a child.129
Tony Blair recently admitted on television that he hit his one-year-old baby "to discipline him," explaining that "I had to hit him, because he could not talk."37
A recent survey of 652 Palestinian undergraduates asking if they recalled sexual abuse showed 18.6 percent said they had been used sexually by a family member, 36. 2 percent by a relative and 45.6 percent by a stranger.147 … In many Islamic areas 90 percent of the women surveyed say they have genitally mutilated all of their daughters.151
For further reading:
Chapter 8: Infanticide, Child Rape and War in Early States (quotes and footnotes for Ancient Egypt, Ancient Western World, first Tertullian quote in Early Doctors of the Church and The Aztecs)
Chapter 9: Bipolar Christianity: How Torturing "Sinful" Children Produced Holy Wars (quotes and footnotes for Constantine in Ancient Western World, Early Doctors of the Church, Christians during the Middle Ages and the Renaissance, The Reformers, Colonial America, Thinkers of the Enlightenment and Romanticists for the Locke quote, Non-conformist Christians)
Chapter 10: Patriarchal Families and National Wars (quotes and footnotes for The Reformers' Luther quotes, Christians during the Middle Ages and the Renaissance for the Jean Bodin quote, Thinkers of the Enlightenment and Romanticists for citations other than Locke's, 20th Century Parents)
Chapter 11: Global Wars to Restore US Masculinity (quotes for 20th Century Parents — footnote sources are brief, as they are included in de Mause's books listed at the end)
Tomorrow: More on the global history of the abuse of children and women
More on mathematics, what we in the UK refer to as 'maths', and the economy.
Have you ever wondered when you bought a pension how they arrived at rather large sums to be paid out with relatively little input on your part?  Yes, of course, these companies have set calculations, but, surely, why couldn't I arrive at the same numbers projected over 30 – 40 years? 'Is it just me?' I used to wonder.
No, it's not just me — or you — who can't figure this out.  Karl Denninger at Market Ticker has used primary school — 'third grade' (i.e. a class of 8 and 9 year old pupils) — mathematics to prove these projections wrong.  You can see what calculations he uses in the first part of 'Proving Up The Fraud Using 3rd Grade Math'.  Denninger addresses pension funds, health care and housing values for an American audience, but anyone contemplating the future will find what he says of interest.
I don't agree with everything Denninger says, particularly on Obama and on the OWS movement, but he does give me pause for thought when discussing the economy. Emphases below are his in the original.
Pension funds
Now let's take the claimed 8% annual return that pension funds like to use in their public statements.  The average working stiff labors from age 20 to 65, or 45 years.  At 8% if we wish to determine how many years it takes to double by divide into 72 and get 9.  The average working stiff's employment lasts for five of these periods (9 x 5 = 45 years.)
We therefore look at the above table [see his post] and determine that the fund alleges that it can turn $1 into $32 in the same 45 years.  This is what you were sold in your "pension fund."
But is this reasonable? 
Well, let's think this through.  To make 32 times someone has to have 32 times, right?  That is, a pension fund must get the money it presumes to pay your pension with from somewhere.  Since you do not pay in 32 times what you draw out of the fund during your working life (you intend, for example, to work for 45 years and then retire at 65 and live for 20 more; that is, you will work for only about twice as long as you are retired) you would have to put one half of your salary into the fund in order to actually pay for your retirement.   Yet the common "contribution" to a pension fund is about 1/10th that much money!
So where's the rest come from?  Well, from "earnings" we are told.  But what are "earnings" to a corporation?  Earnings are simply the amount of money the company has left after it pays all its costs in delivering goods and/or services to consumers.
In other words, "earnings" are economic surplus.
Now certainly productivity has improved over time.  Indeed, it is the growth in productivity that has improved the standard of living through the ages.  But this belies the question: If 1/32nd of the alleged "growth" in that fund is your contributions to it, can you reasonably expect that the funds will grow by a factor of 31 over a 45 year time period?
In a word: No.
Health care
Health care costs are growing about 9% annually … Republicans claim that nobody over 50 will lose their Medicare as it is today.  That's a promise to keep the cost escalator going, since that's "what medical care today" is.
Ok, how reasonable is this?
Well, 9% doubles in 8 years.  A person who is 50 expects to live to approximately 85, or 35 years.  That's 4.37 doublings.
From the table above [see his post] we see that this is somewhere between 16 and 32 times today's value.  Again, confining our math to that learned in 3rd grade and estimating between the numbers, we'll call it 20 times.
Today, a single person health insurance policy for a person of about 50 years without any serious chronic conditions in good health is likely to cost $1,000 a month or more.  We'll use that figure, even though many people will cost much more (especially if you're obese, have Type II diabetes or indications of heart disease.)  That's $12,000 a year.
What you're being sold is that by the time you're 85 the government will be able to provide you with a $240,000 a year health benefit. 
One quarter of a million dollars!
Do you believe that?  I hope not, because you're not going to get it.  Note that for you to get that $240,000 in health benefits someone has to pay $240,000 in taxes – one-for-one – and this assumes no waste inside the government itself!
Housing industry
Now let's look at the "10% a year price appreciation" claim of the housing industry in the 2000s.  Again, the rule of 72 says that this results in a double in about 7 years.  The 30 year mortgage, of course, is for 30 years, which is 4 doublings (and a bit.)
This means your $150,000 house would have been "worth" $2.4 million in 30 years.
Do you really believe that?  More to the point, did the person who sold you that dream believe it or did they know it was a lie – that there was no possible way there would be enough money in the economy in 30 years for anyone to pay you $2.4 million?
He proves that these projections are 'pyramid schemes' — his words — and that they are 'mathematically impossible'.
The government is lying
In another post, 'OWS (And Everyone Else): Pay Attention to Greece', he explains:
In the case at hand in the United States we have a government on both sides of the aisle that has made promises that are mathematically impossible to keep.  That same government conspired with The Fed and with Wall Street to blow a series of bubbles that led you to believe, over the space of 30 years, that you could have more than you can actually pay for with your work output.  This claim was a lie and it infested virtually every area of our nation.  Housing, education, medical care – all were used as a means to blow up the bubble to larger and larger dimension[s] whenever it threatened to collapse and expose the frauds.
These claims were active frauds as anyone who examined them with any sort of critical eye toward the mathematical realities of the claims knew they … could never happen. 
As just one example of dozens the claim that "house prices are expected to increase 10% a year for the foreseeable future" was interpreted by many as "it's safe to finance the purchase of a house and then withdraw the claimed increase in value as this will go on forever" (see the foreseeable future words for justification in the common man's reliance.) 
The lie is the mathematical impossibility of this.  A $150,000 house that appreciated at that rate for 10 years would be worth $389,000.  But over 30 years that same $150,000 house would be "worth" $2,617,410.  Nobody ever asked the obvious question: Exactly how was a "middle class" person going to afford to buy a $389,000 house, say much less a $2,617,410 one?
They couldn't, of course, but this was the lie that was run.
I've often contemplated this and wondered how it could be so.
University tuition
Denninger adds that another ongoing bubble surrounds university tuition costs, which have increased tenfold from what they were when I graduated at the end of the 1970s.  They are so astronomical as to be scary.  My fellow Britons, unless something is done, we could experience the same, thanks to Tony Blair who made our universities fee-paying institutions. He took the lid off what was a sensible system in which the taxpayer invested in our nation's future.
Denninger writes of the current American situation:
In College education land the same lie was run.  It led to an outrageous increase in college costs that dramatically outstripped earnings for degree-holding graduates.  This in turn made college a bad deal nearly across-the-board and as it occurred colleges and lenders lobbied Congress to change the law so that when your kid got rooked by this scam they couldn't file bankruptcy and force those who blew the bubble to eat the loss.
More on Medicare
In the same post, Denninger has more to say on health care costs:
We did the same thing with Medical Care.  By providing "free" (or nearly so) care to Seniors and illegal immigrants, with the former being told "they paid for it" through Medicare taxes (a bald lie as on average they only put in 1/3rd in inflation-adjusted dollars as to what is spent on them) and the latter being simply told "you deserve it" the increase in medical insurance costs has run approximately 9% annually and will continue until and unless policies are changed.  This means that the $700 a month insurance policy for the reasonably-healthy 50 year old ($8,400 a year) who has been promised "no reduction in his Medicare" will cost $171,477 a year by the time he's 85 with no adjustment for the higher expense that comes with age.  That is, today's 15 year old will be forced to pay $171,477 a year for his medical insurance when he reaches 50.  Obviously, he won't as that amount is more than three times today's median family income and even if we allow a 3% inflation rate (which we should not) it will be more than 100% of the median family income in inflated dollars!  Since you can't pay more for something than you earn in total, what the politicians are telling you they will do cannot happen.
This is just astounding, and you, too, might have come to the same conclusion, whilst scratching your head, thinking, 'How will we and future generations manage to live? And why isn't anyone in power putting a stop to it?'
Denninger on bankruptcy
Unfortunately, the notion of bankruptcy might loom large for many.  For some, it is already a sad reality. Certainly, anyone contemplating it is well advised to discuss his circumstances with a financial advisor and/or an attorney before doing anything.
Denninger (under his pseudonym 'Genesis') warns Americans about using part of their retirement funds in a potential bankruptcy scenario:
NEVER EVER TOUCH RETIREMENT MONEY FOR THIS PURPOSE!
EVER EVER EVER!
It's EXEMPT from being seized in bankruptcy. You invade it, you lose that protection.
DO NOT DO IT.
So, try to get some reasonably-priced, eminently sensible advice to map out a way forward.
These are roller-coaster times. We have little reason to feel complacent. Salaries in many fields have not appreciated that much since I finished university. Furthermore, jobs are hard to find, especially for graduates and those over the age of 45. (Only 10 years ago, my mother retired when she was 80, overshadowing those 60+ years younger than she in an office job!)
Not to mention offshoring jobs, which wasn't even a consideration 30-odd years ago.
Back then, it really was true in most Western countries that you made your own future: if you worked hard, you would succeed.  I had a conversation with an Englishman who told me that in the 1980s he and a couple of his schoolmates would clean offices on weekends at age 14.  He made a number of useful contacts that way, enabling him to become self-employed full time when he finished secondary school.
He said, 'The problem today is that kids don't want to work.'
I replied, 'That's not the problem.  Think of all the regulations in place — some good, some petty — which have been written into law since you were 14 years old.  A child that age couldn't now clean offices or do any of the enterprising work you and your friends did 30 years ago. Plus, we have immigrants who do that now at knock-down salaries, as provided by an agency. So, there's no market for an English person these days, teen or adult.'
'Oh, yeah …  I never thought of it that way.'
So, to me, it would be untruthful for us to insist that everyone will have a chance — or the individual freedom — to achieve his career dreams in the world today.  We hope they will. However, I would first point out the many obstacles and the stiff competition our youth will have to face.
But, then, that's a topic for another day.
These are sad days indeed for the Church in Europe.  One wonders what is really going on.
On the one hand, we have non-believers saying that church and state need to be separate.  Agreed.  On the other, we have EU governments telling the Church what to do.  Where's the separation there?
Much of this news hit the media during the past fortnight:
Churches could be forced to conduct same-sex marriages: LifeSite News reports that the EU Anti-Discrimination Directive adopted on April 2, 2009, could force churches to perform these marriages and be obliged to offer Communion to non-believers in their churches.  Whoa.  Not only that, but Church-affiliated schools look likely to admit anyone and everyone.  The EU looks on churches as 'organisations offering services to the public' and has removed exemptions for 'organisations based on religion and belief.'  Watch the mischief-making lawsuits flood in.  It will be interesting to see if churches alone are targeted or if other faiths will be as well. 
Tony Blair says Catholic Church needs to 'rethink' its position on homosexuality: Surely Mr Blair knew what the Church's position was before Cardinal Murphy O'Connor received him into its ranks two years ago?  Everyone knows what the Catholic Church stance is on various issues.  It's unbelievable that a Catholic — particularly a recent convert — would ask the Church to change.  The question is not whether one agrees with the issue at hand but rather the principle of asking a religious institution to alter what it believes to be a valid point of doctrine.  Translation: if you don't like where the Church stands on an issue, don't sign up.  Uhh, that's why we had a Reformation 500 years ago.  But, it gets better: Cardinal Murphy O'Connor is set to become the first Catholic member of Mr Blair's Faith Foundation International Religious Advisory Council after his retirement in May.  Hmm. 
Catholic adoption agencies in the UK  find themselves between a rock and a hard place: In his blog, Cranmer reports that the 20-month transition period is coming to a close for UK agencies 'during which they have been obliged either to close or conform to the 2007 legislation on the provision of goods and services to homosexuals'.  Cranmer explains, 'Some languish in prison, others await their day in court, while still others have sacrificially thrown themselves onto the flames. These have voluntarily and completely severed their links with the Roman Catholic Church in order that they might comply fully with the legislation and place children with homosexual couples. The five largest agencies in the country have cast the Church aside, changed their constitutions and even their names in order to comply with the law.'  The other problem is that agencies may no longer use Church property and donations from individual parishes will not be allowed to go towards adoption services.  They can, however, be used for other children's services. 
So, it would appear that the Catholic Church is affected most by these laws.  Yet, these laws really aren't necessary as there are loads of secular organisations offering adoption services, for example, and they are not allowed to discriminate.  As far as education goes, we have state schools everywhere in Europe. 
As for Holy Communion, that's a different matter.  Why would a non-believer want Communion?  The Host is not aspirin or Tixylix.  Therefore, why pick on the Church unless it's just to destroy its influence in society. 
To all those secularists crying for the separation of church and state, Christians are right there with you.  Live and let live, we say.