You are currently browsing the tag archive for the 'transport' tag.
The UK's biggest topics that truly matter to everyday people are coronavirus, COP26 and the fishing row with France.
Coronavirus
On Wednesday, November 10, the BBC news site featured an article on mothers and babies over the past year and a half: 'Coronavirus births: "My baby's first word was mask"'.
How sad is that? My first word was 'Da-da'.
The BBC interviewed Leanne Howlett, who gave birth to a daughter in March 2020, during the first lockdown. Poor woman.
She said (emphases mine):
"Overnight, home appointments [from the perinatal mental-health team] dropped away," she remembers.
They would be over the phone instead, she was told, causing her panic about how she would cope.
Nurseries were closed, she couldn't see family and getting through the basics of each day was a huge struggle.
"I dipped to rock-bottom," says the 34-year-old.
"You cannot bring yourself out of it – you think everyone is better off without you" …
Leanne started to feel better last summer, when childcare bubbles were allowed and her husband took time off work, but she believes the impact on her daughter, Miley, now two years old, has been profound.
"She is not at all sociable – she didn't see anyone but us until she was nearly one.
"All those missed activities, photos, and all those firsts," laments Leanne.
When she did go to her first baby group, all the mums wore face coverings, she says.
"My baby's first word was mask."
Black taxis
Prior to the pandemic, Uber was more popular than the traditional black taxi, especially in London.
In fact, Uber drivers from as far away as Manchester drove to the capital every weekend to reap the largesse.
On October 30, The Guardian posted an article on the new-found success of black cabs: 'Black cabs roar back into favour as app firms put up their prices'.
It begins with the story of a young man who had been stood up by Uber and another app-oriented service, Bolt:
The young man was frantic, trying to get to a third date with a woman he already knew he wanted to marry. But four Bolt drivers had let him down, and when he tapped his Uber app, it was asking for triple surge pricing. In desperation, he did something he'd never done before – flagged down a black London taxi.
"He was trying to open the front door to get in. He wanted to give me a postcode – it was the usual thing you get from the ones who've never been in a cab before," said Karen Proctor, a London taxi driver for more than a decade. "I told him 'the postcode's not going to help – just tell me where you want to get to'. It was a restaurant. And we got there seven minutes early, at about a third of the cost. He was converted."
Tales like that are why, after nearly a decade of Uber-induced gloom, things are looking up for cabbies. Trade has roared back into life since the end of Covid measures in July, with many talking with some astonishment about their best-ever takings.
I hope the marriage proposal met with success.
I am a big champion of black taxis. London drivers have to pass a three-year course called The Knowledge, where they regularly go in at least once a week to be quizzed by a veteran taxi driver on how to get various places in and out of the capital. This requires memorising routes, including all the requisite street names. I saw a three-part documentary on it several years ago. It looked and sounded daunting.
During lockdown, some black taxi drivers sold their vehicles and left the road for good. Some firms are buying up those taxis and renting them out to licensed drivers:
While drivers with a cab talk of people running towards cabs when they stop to let out a passenger, arguing about whose taxi it is, or queues of 100 people outside Victoria train station or Liverpool city centre, there are plenty of licensed drivers without a vehicle.
"People are coming to us every single day looking for a cab," said Lee DaCosta, a founder of Cabvision which runs payment systems for taxis and also rents a fleet for drivers who don't own a vehicle. "We're having drivers turning up literally walking the streets from garage to garage going 'got any cabs?'"
Transport for London (TfL) figures show there were 13,858 licensed taxis in London on 24 October, compared with historic levels of about 21,000.
The rapid decline is partly due to Covid. During the pandemic, when drivers had no prospect of earning money and some were ineligible for government support, some were forced to sell their cabs and take up other jobs. It led to the sight of hundreds of cabs being stored in unused car parks and fields around London.
But some of the decline pre-dated the pandemic, and DaCosta says TfL's policy of forcing older, diesel taxis off the road has not been accompanied by enough support for electric cabs.
As Uber demand returns to normal, however, drivers are fewer on the road than before. Some were EU nationals who went home and never returned. Others have opted to drive delivery vehicles instead.
No doubt everything will stabilise in time.
COP26
It appears that COP26 did not do much for Glasgow's hospitality sector.
On Wednesday, November 10, The Times reported that the anticipated uplift didn't happen. The conference ends this weekend:
While hotels across Glasgow are fully booked to accommodate the thousands of delegates, the hospitality trade is understood not to have seen any uplift in trading since the event began on October 31.
There are even suggestions the event has led to a reduction in trade for some operators. Footfall in the city centre is said to have been affected as people try to avoid the demonstrations.
There is also thought to be a number of delegations which have stayed outside of the city, with Edinburgh hotels among those which are busy.
Oli Norman, whose Ashton Properties owns venues such as Brel and Sloans, said he had heard of some publicans and restaurant owners who have seen their trading fall by up to 50 per cent, and added: "It should have signified a resurgence in the local economy but if anything it has been a damp squib."
Fishing wars
Any Englishwoman hoping to keep relations smooth with the French during the fishing wars in the Channel would do well to support her adopted country, as Samantha Brick, who lives in France, wrote in The Telegraph:
"Fishing wars" isn't a phrase I'd ever suppose would have an impact on my marriage – or indeed on my status in France – but in these strange times I suppose I shouldn't be surprised.
After I recently strutted through arrivals at Bergerac airport I was pulled up sharp at passport control. While my documents were checked, I was casually asked what I thought about the issue of French fishing trawlers being unable to go about their business in British waters.
Noting my French passport was still in the hands of the uniformed officer, I swallowed my pride and, after a bit of inconclusive waffle, I was told I should be proud of my French passport and those fishing trawlers. I feebly replied: "Vive la France" …
Not since Brexit has my other half been so fired up about Anglo-French relations. The right to fish is something that the French get very, very angry about. Pascal routinely shouts at the breakfast and lunchtime television (frankly OTT) news reports of the French fishing industry being stymied by brazen Brits and a dozen or so of our fishing boats.
Crustacea, I've learnt, is a French human right. The right to gorge on seafood is taken so seriously that drones and police on horseback are deployed to patrol and protect Atlantic oyster farms.
Her husband Pascal's household does not sound either women- or Anglo-friendly:
My brother-in-law is also married to an English woman. She isn't mad about the dozen or so oysters the family get in per person each Christmas either; note, we Brits have to compare notes outside the home on this as speaking in our native tongue at home is banned.
In fact, food is probably the area of most contention in our marriage …
… the French are pretty rigid when it comes to anything and everything at the kitchen table. There are centuries old traditions and behaviours which have been silently passed down the generations.
In the early days I once stood up, noticed I'd not finished my rosé and then drained the glass. Pascal was in turn speechless and outraged afterwards. This is, apparently, something no French woman would ever do. Women are supposed to nurse just one glass of wine throughout the evening …
… one rule he is immovable on is not clearing your plate. The motto – which is drilled into every house guest – is "you eat what you take". The French cannot abide waste.
Sounds dire.
I don't remember my academic year in France being like that and I was a fairly regular guest in French households, either for parties or for sleepovers concluding with Sunday lunch.
Look before you leap, ladies.
Conclusion
We in the UK are at a strange crossroads at the moment.
Everything we were told not to worry about has become of increasing concern: children's development post-COVID, Glasgow's resurgence during COP26 and the nothing-to-see-here fishing wars. At least the taxi trade is prospering.
Last week, I wrote about the global transport crisis.
This week, I saw two more items on the subject about the situation in Britain.
Michael Crick, a journalist who used to work for Channel 4 News and now writes for Mail+, stopped at a lorry park in Staffordshire, England, to chat with HGV (heavy goods vehicles) drivers.
The page with his article includes a video featuring brief interviews with drivers who stopped in at the Hollies Truck Stop for a bite to eat and a bit of a rest. He also interviewed Ian Wright from the Food and Drink Federation and a dairy farmer.
Despite the long hours, the drivers' salaries are going up. One said that his hourly wage went up 50%, from £13 to £18. Crick browsed the job adverts in Transport News and found many paying from £40,000 to £50,000 per annum.
He asked one driver why younger people aren't seeking these jobs. The driver replied that many younger people are 'bone idle'.
Crick included a summary of his other interviews in his article. They were less positive (emphases mine):
… few drivers I met this week would recommend the job to their children or grandchildren. The job nowadays is overloaded with bureaucracy, they say. Drivers are treated with no respect wherever they go, and sometimes get lumbered with fines their employers won't pay.
He discovered that some HGV drivers are switching to making customer deliveries, whether for supermarkets or Amazon:
Many HGV men (and the occasional woman) decided it's simpler to drive for Sainsburys, Tesco or Amazon. The distances are shorter, the hours are more sociable, and the pay is sometimes better. Yet unless British firms can recruit more lorry drivers, the economy will be in serious trouble.
As for dairy farmers, in August, there were not enough drivers to take their milk to market:
In the area round the Hollies Truck Stop, around 30 dairy farmers were told one day last month to drain away their milk because the buyer didn't have enough drivers to do the daily milk collection.
The farmer Crick interviewed says he was able to arrange a work around for his milk delivery but said that the other farmers were unable to do so.
The other item I saw was posted online in a comments section. I do not know the provenance of this first-hand experience of a former lorry driver, but it is well worth reading: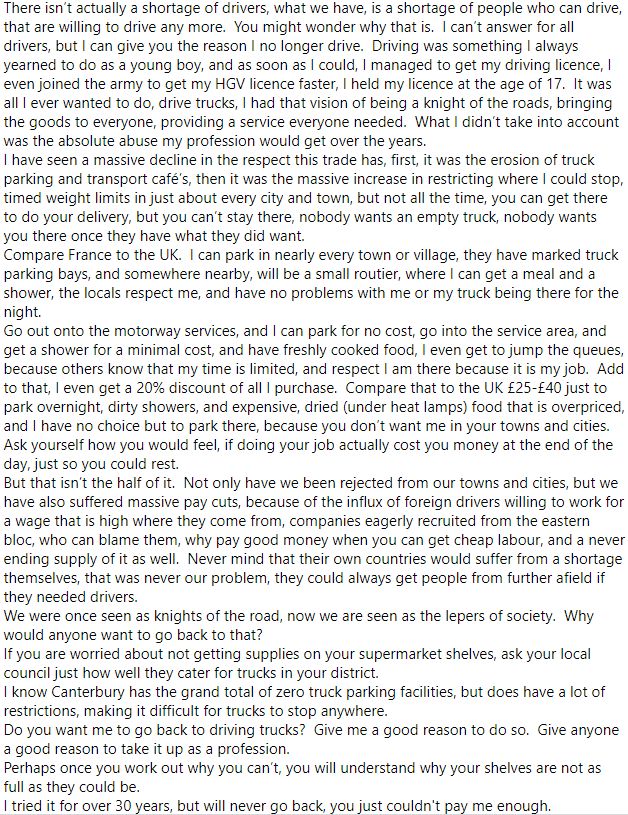 Judging from his testimony, the government and local councils need to ensure that drivers can circulate and make their stops more freely in town and city centres. Canterbury, I'm looking at you.
Local councils could also appropriate a brownfield site for a truck stop. These men and women need places where they can eat and rest.
The industry is starting to pay better wages. Of course, that will be passed along to consumers, but do we care? Driving a lorry these days is no treat. And, as the driver says, to make things worse, he and his associates are seen as:
the lepers of society.
That's odd, given that the pandemic has made us more dependent on lorry drivers than ever.
Unlike the other essential workers so many Britons applauded every Thursday in 2020, lorry drivers don't take time off for stress. They don't star in dancing videos, either. They are always there for us, until we make their occupation so unbearable for them that they quit.
For several months now, Britain has been experiencing a supply chain problem with transport.
Detractors from the corporate world, such as IKEA, say that this is because of Brexit.
Wrong!
A shortage of lorry drivers is affecting deliveries worldwide.
Shipping problems have also been occurring.
On Thursday, September 9, Guido Fawkes posted an item whereby IKEA tried to blame the UK's transport problems on Brexit (emphases in the original):
In a recent BBC article on IKEA's supply shortages, the Swedish furniture giant went all in on blaming Brexit for their inventory issues:
"What we are seeing is a perfect storm of issues, including the disruption of global trade flows and a shortage of drivers, which have been exacerbated by the pandemic and Brexit."
However, IKEA tells a different story to EU countries, e.g. the Netherlands (emphases in purple mine):
The firm goes on to say that "10% of its stock, or around 1,000 product lines" have supposedly been affected by the Brexit-related shortage. In a separate statement given two days later to Dutch newspaper Dagblad van het Noorden, however, an IKEA spokesperson instead cited the exact same product shortage with a different excuse featuring one notable omission:
"There are major logistical problems worldwide. For example, there is a great scarcity of containers and container ships on important sea routes because the economic recovery from the corona pandemic is proceeding faster than expected. There are also congestion in ports due to the crowds and Chinese terminals were temporarily closed due to local corona outbreaks. Many IKEA products are made in China."
Both articles list the same 10% stock shortage figure, only one mentions Brexit.
Guido points out that the problem is global:
Remainers – and some parts of the media enjoying spinning the narrative on their behalf – are refusing to accept the lorry driver shortage is global: iron ore struggles to reach Australian ports; US petrol stations have run out of supplies after a 35,000 fall in lorry drivers; Asia reports a 20% fall in drivers …
Guido's article says that the only place where there is not a driver shortage is Africa.
Talk radio host Howie Carr has been talking about shortages and higher prices in the United States since the 2020 election. Lumber products had skyrocketed at the end of last year. Howie has also mentioned the petrol prices and shortages at the pump which started at the same time.
On August 21, 2021, Global Cold Chain News posted an excellent article on the European situation with regard to lorry drivers, including individual country profiles.
It puts paid to the misguided suggestions in the British commentariat that we should allow a few hundred thousand EU nationals to drive lorries for UK hauliers.
There are two reasons why such reasoning is faulty.
First, over six million EU nationals have been allowed by the Government to remain in the UK post-Brexit. If we cannot find our lorry drivers from among that group, then something is very wrong.
Secondly, as Global Cold Chain News explains, there are lorry driver shortages in most EU countries.
Excerpts follow, emphases mine:
Poland: According to Ti estimates, the shortage in Poland in 2020 is around 124,000 drivers. According to IRU, Poland is one of the most heavily impacted European countries and driver shortage in 2020 stands at around 37%.
Germany: Between 45,000 and 60,000 truck drivers are 'missing' in 2020 in the German market alone, according to the DSLV and BGL, and this number is only increasing. The IRU predicts a gap of 185,000 drivers by 2027 in Germany.
France: In 2019 it has been reported by several news outlets that France is experiencing a shortage of approximately 43,000 drivers.
Ukraine: The deficit of drivers in Ukraine in 2019 ranged from 12,000 to 120,000 depending on the region.
The article explains that HGV (heavy goods vehicle) shortages began years before coronavirus took hold — and, I would add, before Brexit:
The driver shortages have been affecting the global road freight market for around 15 years. The issue comes as the pool of truck drivers is contracting but demand for transport is rising. The COVID-19 pandemic has further exacerbated the already alarming issue of driver shortages as new drivers have been unable to train and take their tests and Covid restrictions make the job even less attractive.
Even before the pandemic a serious cause for concern in the industry, the lack of drivers in the road transport industry was at an all-time high, with many of its underlying issues being long-term challenges. Factors such as an aging workforce and insufficient numbers of new recruits, due to working conditions and image issues of the profession, have been plaguing the industry for many years.
The pandemic affected lorry drivers in the UK and the EU at its height in 2020. On France's talk radio station, RMC, a number of drivers rang in to complain that shower and toilet facilities at truck stops were closed. British drivers experienced the same inconveniences when delivering around the UK.
However, not every company is affected by product shortages.
Pub chain owner Tim Martin of Wetherspoons says that his supplies are at 2019 levels and that Brexit has not affected his business. In fact, it was strike action from a major brewer that caused a temporary shortage.
Guido Fawkes has the story:
Wetherspoon chairman Tim Martin has now pushed back to say these claims are all untrue. The reality is that beer supplies actually remain at 2019 (i.e. pre-pandemic) levels, and that the shortage of a few products over the last two weeks is the result of strike action from one major brewer. Martin added:
"There is clearly a shortage of HGV drivers, both in the UK and in mainland Europe- where, some reports say, there is a shortage of 400,000 drivers. Following the pandemic, there are supply chain issues in many other parts of the world also. In the light of the undoubted problems, it is important that the public is provided with accurate information. Factual inaccuracies and partisan Brexit politics will not assist in finding solutions."
Fake news about Brexit will not solve the transport problem.
Another factor is that another British organisation went on strike this year. The DVLA (Driver and Vehicle Licensing Agency), based in Wales, went on strike in August 2021, specifically the Drivers Medical Department. This is because coronavirus cases rose quickly at the DVLA site.
The strike has caused a backlog of delays surrounding licences and other driver certifications, including those for HGVs.
In conclusion, a number of factors are causing or exacerbating a shortage of HGV drivers — not only in Britain but around the world.
The cost of coronavirus in England has been immense.
There is no end in sight for some restrictions and, as I wrote earlier in the week, there will be no Freedom Day on July 19, except for theatres and nightclubs.
London
On July 15, The Telegraph's Tanya Gold wrote about London's ongoing ghost town appearance (emphases mine):
It is too early to say that London is dying, but something is wrong with the city and Covid has accelerated it. Certainly, there is a sense that things are slipping out of control …
I was in central London last week, and it felt ever more ominous. Perhaps it was the weather – again, the rain was monstrous. Or perhaps it was the silence: the department stores in Oxford Street were glassy and empty …
What will happen if offices shutter forever, and most people work from home? This will work for the affluent with spare rooms for offices, and gardens; or they might just leave for Amersham and its Britain in Bloom awards stacked on posts. For those renting in inner cities, it won't; employers will pass a business expense onto an employee, one whose home is already small.
Will central London's beautiful buildings become flats? John Lewis [a nationwide department store chain] is moving into housing. Will anyone want to live in them if the city declines?
Restaurants 
On the topic of London, Mark Hix, one of Britain's best chefs, has had to close his two restaurants in the capital.
He has moved back to Dorset and opened a restaurant there.
Hix Soho in Brewer Street is now a taqueria and Tramshed, his old 150-cover restaurant in Shoreditch (East London), will become a furniture showroom.
He wrote about the two establishments for The Telegraph.
The owners of the El Pastor taqueria invited him to visit, which he did:
My strongest feeling was not one of regret, or even missing the time when this place was my flagship, but rather of pleasure at seeing it busy and buzzy again. It has a new lease of life. And therefore I wished them well, especially with the landlord, the same greedy one who had doubled the rent when I was the tenant and began the collapse of my London chain of restaurants because we just couldn't make any money at the rate he was charging.
We have all learnt some important life lessons these past 16 months of Covid. Perhaps the landlord has too in the new business climate it has produced. Most of all, though, what that walk down memory lane did was give me courage.
As for the Tramshed:
I've got a date in my diary to go back to the kitchen at the Tramshed, my old 150-cover restaurant in Shoreditch. It is going to be less return in triumph and more fond farewell, for my presence there is, as the theatre posters put it, 'for one night only'. The guys who have been running it since my business went into administration are moving out and are staging one last hurrah with my help.
Lockdown has killed the place off and it is going to be converted into a furniture showroom of some description. When I took it on in 2012, this handsome building had been used for chemical storage, so I suppose it is a case of back to the future. Which rather neatly sums up my life story since I handed back the keys in March of last year after breaking the news to the staff there that they had lost their jobs.
He foresees a difficult return for hospitality:
I've come back to Dorset, where it all started, and am now building a new future. All being well, on Monday we will be taking one more step towards that with the lifting of all Government restrictions on how we trade, but the hard work of repairing the damage done by Covid has only just begun. The road back to prosperity for the whole hospitality industry remains a long one.
As I write, Hix is taking a brief fishing break in Iceland, a country on the Green list.
However, a question remains over whether he and other restaurant owners will be able to trade freely on Monday with the lifting of restrictions. 
Hospitality chiefs are still trying to interpret what Boris Johnson said on Monday, which sounded to me like a U-turn on what he said on July 5. The Times says that masks and outdoor service are still recommended, as is checking customers in with contact details. That is what is in place today.
Furthermore, coronavirus passports, which the Government had previously denied would be recommended, are, in fact, on the table.
On Wednesday, July 14, The Telegraph reported:
Ministers on Wednesday published delayed sectoral advice for businesses on how to operate when the country moves to step four of the Prime Minister's roadmap out of lockdown next Monday …
The Government was accused of widening the net of companies encouraged to use domestic coronavirus passports, after Boris Johnson initially signalled on Monday that they would be recommended for nightclubs and venues with "large crowds".
The Prime Minister said relevant firms should show "social responsibility" and "make use" of the NHS Covid pass app, which shows proof of double vaccination, a recent negative test or natural immunity, as "a means of entry".
The updated guidance sparked a backlash among Conservative MP and hospitality chiefs, after advice specifically for restaurants, pubs, bars, nightclubs and takeaway services encouraged the use of Covid passports.
It stated: "Consider the use of the NHS Covid pass to reduce the risk of transmission at your venue or event."
So far, only Steve Baker MP (Con) has spoken out against this recommendation:
I am simply astonished that after everything the Prime Minister and Michael Gove said in the past about ID cards that they are advancing this fast down this really quite appalling path.
Kate Nicholls, the head of the industry body UK Hospitality, expressed her disappointment and said:
the guidance for pubs and restaurants was "disappointing" in the wake of a select committee of MPs and a Cabinet Office consultation "acknowledging that this was a very difficult thing to implement in a domestic hospitality setting".
She said ministers needed to provide a "whole suite of guidance" to explain how Covid passports should work in the sector "for us to decide whether we are willing to adopt this on a voluntary basis".
Predicting few businesses would adopt the measure by Monday, from which date the guidance is meant to apply, she said: "I don't think anybody would be able to introduce this on a voluntary basis from Monday until we have clarification."
Ms Nicholls added that "more work is needed by the Government" and warned that there were "real concerns" around equalities legislation, and "practical issues" around the type of testing that qualifies and how businesses should handle customers' personal health data.
This is an unfortunate development.
Transport
Still on the subject of London, the capital's mayor, Sadiq Khan (Lab), a strong opponent of his predecessor Boris Johnson, intends to continue with mask mandates on Transport for London (TfL) vehicles and the Tube as a condition of carriage.
Douglas Murray wrote an editorial for The Telegraph in which he says:
Sadiq Khan, for instance, has tried to look super responsible by insisting that even after the rules for mask-wearing are relaxed masks will be compulsory on public transport in London. Obviously, throughout the pandemic, there have been the rules and there has been what people do. I have seen plenty of people get on the bus with their mask on and then pull it under their chin as soon as they are in their seat. We have become used to the theatre of masks.
But the Mayor of London has ordered Transport for London to enforce mask wearing after July 19, making the prospect of a journey on the London Underground even more enjoyable. Citizens of the capital not only have to pay the highest fares of any commuters in the world for one of the world's worst services, but must now mask up under threat of the London Transport Police if they do not. What a wonderful way to get the capital moving again.
Agreed. It makes no sense, and Khan has complained for months that TfL's finances have been dire since lockdown started last year. It's pure political theatre just to oppose Boris Johnson's government.
Office work
On July 5, the Government encouraged office workers to go back to their workplaces.
This Monday, they backtracked because they got complaints in the media.
The Times has an article about the travel company Tui, which has told its employees they only need to come into the office one day a month, regardless of what happens on July 19.
Other companies have followed suit. However, in the United States, fully-vaccinated employees are expected to be back at their desks by September:
Other businesses adjusting their working practices include KPMG, the accountancy firm, which has told its 16,000 UK staff they should work in the office for up to four days a fortnight. In the US, by way of contrast, Bank of America yesterday followed Goldman Sachs in telling all fully-vaccinated staff to be back at their desks by September.
The policy director of the Institute of Directors says that the Government's advice this month has been confusing:
Roger Barker, policy director at the Institute of Directors, said: "Like everybody else, businesses across the country having been awaiting 'freedom day' with bated breath — but we have had a series of mixed messages and patchwork requirements from government that have dampened enthusiasm.
"Return to work or continue to stay at home. Throw away your masks or continue to wear them. The guidance has done little to dispel that confusion.
"Business leaders are understandably confused as to the legal status that this guidance has and are concerned about vulnerability under health and safety legislation, as well as the validity of their insurance.
"Government needs to inspire confidence in businesses and the workforce that we can all return to work safely."
School
We have little idea of exactly how much school-age children have been suffering over the past year.
One mother and her ex-husband saw how their daughter's scholastic performance had been declining and put her in an independent school, with financial help from both sets of grandparents.
The mother, Mel Sims, told The Telegraph her story, beginning in the Spring of 2020:
My daughter was in Year 5 when the first lockdown brought her education to an abrupt halt. A bright only child, mature for her age because she spends so much time with adults, she'd been doing very well in the classroom. But then the state primary she attends in our village in Essex closed its doors to all but key worker children. I'm a 49-year-old single mother. My daughter's father lives in Durham. I had no choice but to become her full-time teacher.
While some of her friends in private or religious schools were receiving a whole day of live Zoom teaching, my daughter's school was very disappointing. What they did provide was an email every Monday morning, packed with multiple different lessons for parents to print off, somehow quickly get their heads around, then teach to our children as best we could.
My business – a children's play centre – shut down along with the schools, so I was at home. I found myself teaching my daughter from 9.30am until 4.30pm every day. Other than the weekly email, we received no contact from the school, which, like many, lacks funding and has class sizes of 30-plus. My daughter's after-school club, where she mixed with older children, was closed. Extracurricular dance classes went on hold and the swimming pool was shut.
Since Covid, my daughter has received very little or no homework as the teachers seem to feel the children already have enough on their plates. I don't know what happened to her foreign language lessons. My previously high-achieving daughter was starting to fall behind the level she had been at before – not just a little, but dramatically. By the end of each week of lockdown, her maths and English were worse. She'd lost interest in doing better; any desire to excel. It was heartbreaking to see her sliding backwards.
This caused tension between the mother and the school:
Friction began to develop between us and the school, as they resented me trying to push her beyond the slow pace at which her class was moving. Many of the families in our village didn't even have enough computers for their multiple children. My daughter's academic success was riding on all the other local parents' capabilities, and that felt deeply unfair on her.
Schools reopened last autumn then shut down at the end of January 4, 2021 for several weeks. By then, the cumulative negative effect had kicked in:
When the second lockdown arrived, my daughter was in Year 6 [the year before secondary school]. This time, there was at least a school registration every day, which took place over Zoom. But my daughter gained little from it, as everyone on the call was at such different levels both academically and behaviourally. There wasn't the opportunity for much academic input from the teacher and my daughter quickly grew bored.
Fortunately, the girl had passed her 11-plus exams, which opened up more education opportunities. Her parents decided that she would have to go to an independent day school, but, even pooling their savings together, they could not afford school fees of £5,500 per term. With the help of the girl's grandparents, they are able to meet the cost of the new school.
Mel Sims concludes:
We'll all be making big changes. But we'll do so in order that, if schools do close again, our daughter's education will not grind to a halt. The new school staff have already assured me that if we go back into lockdown, exactly the same learning will continue over Zoom, full-time and unaided by parents.
I never thought it would come to this. Pre-pandemic, I'd always believed we didn't need private school; that whatever happened at state school, we could get our daughter through.
School closures have changed all that. Yes, we're paying a price. But I feel we've had to invest in a lockdown-proof education. With so many children off school again even now, as their "bubbles" have burst, it seems we have made the right decision.
Care homes
Recently, Sunrise Senior Living and Gracewell Healthcare, a group which runs 45 private care homes in England and one in Wales, wrote to Sajid Javid, the Secretary of State for the Department for Health and Social Care to ask that mask mandates be relaxed.
On Thursday, July 15, The Telegraph reported that:
some of these measures are now damaging the well-being of care home residents.
The Department for Health and Social Care (DHSC) is expected to issue updated guidance on care homes, and whether or not masks will be mandatory in them, later this week …
"For many residents, a visit from their family member has provided invaluable improvements to their well-being, but the requirement for these visitors to wear a face mask degrades the level of connection and therefore devalues the positive impacts their visits can have.
"This restrictive policy, along with various others from both the DHSC and PHE [Public Health England], should be reconsidered as we approach this next step in England's roadmap out of lockdown."
The letter said the success of the vaccination programme among care home staff and residents meant the majority of homes "are now set to confidently return back to an enhanced degree of normality".
All 46 Sunrise and Gracewell homes have at least 90 per cent of residents vaccinated and all but one have more than 80 per cent of staff jabbed. This is the threshold that the Scientific Advisory Group for Emergencies (Sage) says needs to be met in each setting to provide a minimum level of protection against Covid outbreaks.
Helen Whately MP (Con) oversees social care provision. It is unclear as yet whether she will change any requirements for July 19. The Telegraph quoted her as saying:
I'm also really aware that there will be circumstances I'm expecting to continue in health and social care, clearly, where people will need to continue to wear PPE [personal protective equipment], which includes masks.
Conclusion
I find it concerning that the Left, whether in Parliament, SAGE and elsewhere have caused the Government to backtrack on Freedom Day.
As Douglas Murray says in his aforementioned article:
It is inevitable, perhaps, that politicians like Khan want to score some political points. But again what is so strange is that all the points are scored from that side. Putting aside a few MPs on the Tory benches there is no political pressure on us to go the other way. To do so – to advocate the path of greater risk and greater freedom – is still presented as though it is somehow irresponsible or otherwise risky.
But society is risky. Life is risky. The biggest leap towards normal life has already been taken. It is the success of the mass vaccination programme which this country has rolled out so well. But after that we do not need politicians and private companies policing us ever more. We need to take a different leap. Not into greater safety, but into greater freedom. Our allies and competitors are up for that. The question now is whether Britain is. An awful lot rides on the answer.
I couldn't agree more.
Today, Friday, July 24, 2020, face coverings became mandatory in shops in England.
Early in the pandemic, Dr Jenny Harries, the Deputy Chief Medical Officer for England, told Prime Minister Boris Johnson that masks were not necessary for the general population and could make people more vulnerable to COVID-19, because they would be adjusting them, thereby touching their faces, potentially spreading the virus. This video first appeared in March, if I remember rightly:
On Thursday, March 12, The Independent reported on what Dr Harries told BBC News (emphases mine):
Jenny Harries, deputy chief medical officer, said the masks could "actually trap the virus" and cause the person wearing it to breathe it in.
"For the average member of the public walking down a street, it is not a good idea" to wear a face mask in the hope of preventing infection, she added …
Asked about their effectiveness, Dr Harries told BBC News: "What tends to happen is people will have one mask. They won't wear it all the time, they will take it off when they get home, they will put it down on a surface they haven't cleaned.
"Or they will be out and they haven't washed their hands, they will have a cup of coffee somewhere, they half hook it off, they wipe something over it.
"In fact, you can actually trap the virus in the mask and start breathing it in."
Asked if people are putting themselves more at risk by wearing masks, Dr Harries added: "Because of these behavioural issues, people can adversely put themselves at more risk than less."
However, she said those who are advised to wear one by healthcare workers should follow their guidance.
Sir Patrick Vallance, the Chief Scientific Adviser to the Government of the United Kingdom, gave testimony on COVID-19 last week. When asked about the apparent change on face covering advice, he said that, early on, it made no sense for people to wear masks during lockdown because no one was on the streets. He said that the advice had never changed: masks provided some benefit. Now that lockdown has been lifting, he explained, it makes sense for people to wear them.
Of course, earlier this year, there was also a worldwide mask shortage, so it could also be that officials discouraged the general public from buying them because medical staff needed them badly.
This happened not only in England, but also in other countries.
In the United States, Surgeon General Dr Jerome Adams did an about-face on masks early in April. Since then, they have been mandatory in some states:
President Trump said the advice from the Center for Disease Control (CDC) was only an advisory, yet the public wondered how such a change could have come about in so little time, only a matter of weeks:
The same change in advice occurred in Germany:
Yet, at that time, Good Morning Britain's long-time, trusted Dr Hilary Jones stated that masks were a no-no for the public, citing the same reasons as Dr Jenny Harries did. On April 28, Metro reported:
If there is one thing Hilary has been consistent on, it is that the general public do not need to wear a mask.
He has previously explained how the particles of coronavirus are so small, they can easily pass through the fibres of a mask or scarf, making them completely useless to the average person.
'For healthy people who are doing their essential journey who are socially distancing, the use of masks is not effective,' he recently told Piers Morgan.
'Most masks have gaps in them to which the virus can drive a bus through. When you are inhaling in a mask the virus can come in.'
The GP added: 'It can do harm if you do wear a mask, you adjust it, it gets itchy and moist – which means you are putting your hand to your face more often.
'If the mask gets moist it traps the virus.'
A week later, Guido Fawkes reported that PPE items, including masks, were plentiful in Britain and available to medical as well as care home staff:
By the end of May, Good Morning Britain's Piers Morgan criticised London mayor Sadiq Khan for not mandating face coverings on the capital's public transport. The policy at the time left the option open to passengers, putting more emphasis on social distancing.
In England, masks became mandatory on all public transport on June 15.
On June 6, some in the NHS criticised Health Secretary Matt Hancock for giving them only a week to get all hospital staff to wear masks. The Daily Mail reported that NHS England had been apprised of the new rules before Hancock made a public announcement:
The Department of Health and Social Care said NHS England had known Mr Hancock was going to make the announcement, adding that hospitals still had more than a week to prepare.
On Monday, July 20, in France, masks became mandatory in all indoor spaces as well as some outdoor venues. Fines start at €135. The original date was August 1, but that was brought forward.
This is what one French shopping mall looks like since the requirement came into force:
Some people have been wearing them in the street and inside commercial premises.
This is what one observer has noted, proving what Dr Harries said earlier this year:
Dr Rashid Buttar has posted several videos to YouTube on the dangers of healthy people wearing masks. This is a short but instructive clip from one of them:
On April 7, the BMJ featured an article which said that, while masks might make members of the public more comfortable psychologically, face coverings can also help to spread the virus.
Excerpts from statistician Karla Hemmings's 'Covid-19: What is the evidence for cloth masks?' follow:
… the question of whether facemasks work is a question about whether they work in the real world, worn by real people, in real situations …
There is little doubt that masks works in controlled settings – they stop particulates penetrating the air [Leung 2020]. Facemasks also seem to prevent infection spreading when worn by people who are infected [Brainard 2020]. Yet, this doesn't tell us if they will work in the real world …
Systematic review of facemasks vs no mask [Brainard 2020]
There are three RCTs identified in this review where people wore masks to try to prevent other people becoming infected (primary prevention). The authors of the review interpret the evidence from these three RCTs as a small non-significant effect on influenza like illness. But, this is an incorrect interpretation of the result (RR=0.95, 95% CI: 0.75 to 1.19) as this result is compatible with both benefit and harm. The evidence from these three trials should therefore be interpreted as uninformative (or consistent with either benefit or harm). There are observational studies in this review, but these do not allow us to answer the question of whether the masks provide protection as they will be subject to confounding. The largest of the three RCTs was a pragmatic cluster trial in pilgrims [Alfelali 2020]. This is a well conducted pragmatic cluster randomized trial with low risk of bias, but suffered from low compliance. This found OR 1.35, 95% CI 0.88-2.07 which although non-significant, is more suggestive of harm than benefit.
Conclusion: The largest and most pragmatic trial (which informs on how facemasks will perform in the real world) assessing the benefit of facemasks vs no mask is suggestive of more harm than benefit.
Evidence from trials comparing different sorts of facemasks
(This is not based on a systematic review, so there may be other evidence that I am unaware of) …
Conclusion: The evidence from pragmatic trials (people wearing masks in everyday settings) suggests wearing of facemasks both induces risk compensation behavior and increased virus spreading from poor mask quality.
England's new rules on face coverings do not mandate actual masks. We can wear what we want, within reason.
I still believe all the advice from March and early April stated above.
Here — and no doubt elsewhere — this has been a political decision taken to get more people shopping and putting money into the economy and businesses.
On Tuesday, July 14, Matt Hancock made a statement in Parliament about mandatory face coverings, which included the following:
Local action is one way in which we can control the spread of the virus while minimising the economic and social costs. Another is to minimise the risk as we return more to normality. In recent weeks we have reopened retail and footfall is rising. We want to give people more confidence to shop safely and enhance protections for those who work in shops. Both of those can be done by the use of face coverings. Sadly, sales assistants, cashiers and security guards have suffered disproportionately in this crisis. The death rate of sales and retail assistants is 75% higher among men and 60% higher among women than in the general population. As we restore shopping, so we must keep our shopkeepers safe.
There is also evidence that face coverings increase confidence in people to shop. The British Retail Consortium has said that, together with other social distancing measures, face coverings can
"make shoppers feel even more confident about returning to the High Street."​
The chair of the Federation of Small Businesses has said:
"As mandatory face coverings are introduced, small firms know that they have a part to play in the nation's recovery both physically and financially, and I'm sure this will welcomed by them."
We have therefore come to the decision that face coverings should be mandatory in shops and supermarkets. Last month, we made face coverings mandatory on public transport and in NHS settings, and that has been successful in giving people more confidence to go on public transport and to a hospital setting when they need to, providing people with additional protection when they are not able to keep 2 metres from others, particularly people they do not normally come into contact with. Under the new rules, people who do not wear face coverings will face a fine of up to £100 in line with the sanction on public transport and, just as with public transport, children under 11 and those with certain disabilities will be exempt.
The liability for wearing a face covering lies with the individual. Should an individual without an exemption refuse to wear a face covering, a shop can refuse them entry and can call the police if people refuse to comply. The police have formal enforcement powers and can issue a fine. That is in line with how shops would normally manage their customers and enforcement is, of course, a last resort. We fully expect the public to comply with these rules, as they have done throughout the pandemic.
I want to give this message to everyone who has been making vital changes to their daily lives for the greater good. Wearing a face covering does not mean that we can ignore the other measures that have been so important in slowing the spread of this virus— washing our hands and following the rules on social distancing. Just as the British people have acted so selflessly throughout this pandemic, I have no doubt they will rise to this once more. As a nation, we have made huge strides in getting this virus, which has brought grief to so many, under control. We are not out of the woods yet, so let us all do our utmost to keep this virus cornered and enjoy our summer safely. I commend this statement to the House.
I agree that we need to stimulate the economy by shopping. I disagree that face coverings are the answer.
I also wonder about shop staff dying. I see the same smiling faces week after week in my local shops. I never heard anything on the BBC News about shopkeepers dying: it was front line medical staff and bus drivers.
This is purely a political decision. Purely political.
I had looked forward to visiting a garden centre. I now think I'll shop online for the plant pots I'd planned to buy.
See Parts 1 and 2 of this series before reading more about Britain's silent majority who are angry about lockdown.
At present, here we are, unable to shop, get our hair cut and must still practice two-metre social distancing. Masks are optional except on public transport:
Whether we are old or young, we are treated like dirt:
And what if this coronavirus were dirt, rather than a virus?
If that is true — and I'm not saying it is — what then?
It couldn't be, could it? After all, the First Minister of Northern Ireland, the DUP's Arlene Foster, has briefed the Queen on COVID-19:
But what about all the deaths in care homes and the lives lost?
What about people's businesses going to ground?
Thank goodness for the government's generous furlough, but …
And what about travel?
This is going to be dire:
No more on board delicious dining for you:
What if you cannot reasonably travel with a face covering?
What about everything else in life?
Who wants to live like that?
This is turning the apolitical into political activists:
Is this ever going to end?
If so, how?
Perhaps it is a giant reset.
After all, we are told this is (shudder) the 'new normal':
The 'new normal' could be green:
Didn't we all enjoy the bluer skies on those sunny May days? We could keep them. 'Fewer holidays for you', the government could say:
One does have to wonder about government advisors from the public sector:
These people do not encounter the everyday man or woman. They live in their own scientific, misanthropic bubble.
They do not care what happens to us. After all, they have a guaranteed salaries and gold-plated pensions.
To be continued next week.
See Part 1 in this series about the anger in Britain over lockdown.
One or two tweets below might have salty language. The rest do not.
There is much anger by a proportion of the population at the government:
MPs, except for one, are largely silent on the subject. Luckily, John Redwood has been an MP for decades. He might be our only hope:
Most are like Conservative MP Nadine Dorries, however. She was one of the first MPs to get coronavirus. Her aged mother, who also had it, helped her recover. I was sorry to see her tweet this:
Yesterday, I left off on masks. On Thursday, June 4, Transport Secretary Grant Shapps said they would be mandatory on all public transport in England. Health Secretary Matt Hancock repeated the order the following day:
Someone in the know saw this coming in April (never mind the reply):
This is so irrational. Earlier this year, the WHO advised against it:
Exactly.
I'm looking forward to the first lawsuit when someone is unable to breathe on public transport:
The above advice applies to England.
Wales, Northern Ireland and Scotland are on their own track.
However, Scotland is no better:
This is what they are doing in Singapore. Simon Dolan, incidentally, is suing the British government over lockdown. Good man:
It seems masks are only the beginning. In the UK, we haven't fully got off the ground with the track-and-trace app.
More from Simon Dolan about Singapore:
Track-and-trace is also getting up people's noses:
Then there's the R rate that SAGE and Chief Medical Officer Chris Whitty discuss daily on the coronavirus briefings:
But that's nothing compared to the wacky modelling from Imperial College's Prof Neil Ferguson which brought about lockdown:
Yet, at least one London hospital is ignoring masks and social distancing:
Shouldn't only the vulnerable be sheltered?
Picking up on the railway platform, here's the latest on international transport …
… and the latest on public conveniences:
Why doesn't any of this make sense?
Similar madness holds true for local buses:
Meanwhile, unlike protestors around the world complaining during coronavirus about the death of an American ex-convict thousands of miles away, when you're Piers Corbyn (pictured with the policewoman in a mask), an eccentric weather forecaster as well as the brother of the last Labour leader, and say that climate change is caused by the sun's activity and you're protesting lockdown with like-minded people, you can be arrested twice at Hyde Park in London:
The sheer hypocrisy of it all is mind boggling.
More tomorrow.
On April 23, 2020, France's president Emmanuel Macron announced that the nation would begin to reopen on Monday, May 11, after battling coronavirus.
COVID-19 is still around, but parts of the economy — and some schools — must restart.
Health minister Olivier Véran estimates that the R number in France is 0.6.
This is only a partial reopening of 400,000 businesses, including hairdressers. A reporter explained that they have been 'working for weeks' on rearranging their shops for correct social distancing and hygiene. A few hairdressers opened at midnight:
In Paris, road traffic was down and the streets were still largely empty early Monday morning:
In Nice, employees at a delicatessen applauded the reopening of their establishment at 11 a.m. that day:
Cafés, restaurants and many shops remain closed.
Interestingly, 70% of the French who have been working at home wish to continue doing so, even after total lifting of coronavirus restrictions.
As is true in other European countries, social distancing and other rules are still in place.
Minister of the Interior Christophe Castaner said he hoped that the French would be able to meet the challenge with intelligence and common sense. President Macron called on people to exercise personal responsibility towards others.
Below are a selection of tweets from news channel BFMTV.
On Thursday, May 7, BFMTV's top editorialist, Christophe Barbier, who always wears his red scarf, gave his thoughts on the matter. He is known for being anti-gilet jaune (yellow jacket) and against the everyday Frenchman. He said it was vital that the construction and manufacturing ramp up activity, but wondered if the average Frenchman would meet the challenge or be fearful. It is no wonder then that someone replied with, 'This guy frightens me more than lockdown! He really is a crazed madman!' Other comments noted his relentless condescension towards the average man and woman:
Early Monday morning, Christophe Barbier pointed out that the French parliament did not renew the state of emergency, which the nation's constitutional council said they would address later that day. Someone in the replies complained about France's open borders — 'real sieves' — during the coronavirus crisis:
Not every political leader was impressed with President Macron's déconfinement (release from lockdown). Jean-Luc Mélenchon of La France Insoumise (Unbowed France) was one of them. A Twitter user said it was time for him to start yet another protest movement.
Sunday should have been a 'school night', with those going back to work in bed early. Unfortunately, parts of France were under an amber warning for rain. Two départements in the south west had red alerts, with the worst rain they had seen in decades. So, a number of people spent the night bailing water out of their homes:
Also on Sunday, eight new cases of coronavirus were diagnosed just outside of Paris, in Clamart. The men, said to be living in 'young workers' accommodation' (code for immigrant worker housing?) told health professionals they'd had no symptoms.
Meanwhile, that evening, in the heart of the French capital, a video display at the Eiffel tower thanked first responders who worked throughout the darkest days of the coronavirus crisis:
In Paris, public transport was of primary concern for those returning to work. On Sunday, the transport minister, Jean-Baptiste Djebbari, went through the various preparations made for travel, among them, mandatory masks for all passengers and transport workers:
Masks were handed out at station entrances early in the week. On Wednesday, May 13, fines may be imposed in greater Paris for anyone travelling without one:
In some parts of the country, such as Hauts-de-France, coupons are necessary for travel on certain rail lines, particularly the TER. The coupons — a type of reservation, in addition to a ticket for travel — are for specific scheduled trains. No coupon, no travel. This is to ensure that there is adequate space for all travellers:
On buses and trains in Île de France — greater Paris — roundels (macarons) were placed on the floors of stations and on seats to help maintain social distancing. Unfortunately, one Métro train driver said that some passengers were ripping off the roundels from the seats. He said that one cannot impose too many rules on Parisians:
On Monday, one bus driver told RMC (BFMTV's sister talk radio station) that people were sitting on seats with roundels on them. He said there was nothing he could do about it.
Nonetheless, the transport secretary said mid-morning on Monday, that safe travel was going according to plan. True, at that point, 95% of those taking Paris transport were wearing masks. Yet, at 6:30 a.m. that day, some Paris Métro lines were quite full, with no social distancing:
The company in charge of keeping transport vehicles clean said that 'continuous' disinfection would be ongoing.
Across the country in Lyon, a rather ingenious hand sanitising machine is being used on that city's Métro:
As far as air travel is concerned, the transport secretary announced that there would be no social distancing on planes, so that ticket prices would not increase dramatically.
With regard to schools, staff across the country have been rearranging the classroom for staggered schedules and limited numbers of students:
Parents are not obliged to send their children back to classrooms at this time. A number of parents are concerned that children might bring the virus back, even though schools have put disinfecting and social distancing procedures in place, including in canteens. Teachers are also worried. Children might not get COVID-19 very often, but they can still carry it and bring it home. Children will have to think of creative ways of playing, as social distancing is also required on playgrounds.
Education minister Jean-Michel Blanquer, who has called on secondary school students to begin revising for the Baccalaureat exam in French language, showed the correct procedures for students returning to school. They begin with everyone washing his/her hands:
France is under a coronavirus traffic light system now, with départements labelled as green (relatively safe), amber (less safe) and red (restrictions apply). One mustn't travel from a red zone to a green or an amber zone, for example. By and large, however, even those living in red zones still have the ability to shop, travel 100 km within their zone and get one's hair cut:
One of the regions hardest hit is the northeastern part of France, the Grand-Est, where the regional president, Jean Rottner (LR [Conservative]) says that masks must become the norm when leaving the house. However, further south, in Nice, a case might be taken to the European Court of Human Rights protesting the mandatory wearing of masks outdoors in the city. Neighbouring Cannes and other cities along the Cote d'Azur also have obligatory mask policies.
In hospitals, health and hygiene policies are also evolving. One hospital in the north east of France has a fever detector. Hmm:
In closing, readers might be wondering if the French can meet up at someone's home for drinks and nibbles, the increasingly popular apéro. Unfortunately, gatherings of a maximum of ten must be held outdoors, with social distancing in place. That's going to require a fairly large garden, so it's out of the question for most. Guests must wash their hands upon entering their hosts' house. Everyone must receive an individual plate of nibbles — no communal bowls or plates. It sounds like an absolute pain to arrange and manage, as this report explains.
France is far from being COVID-19 free. If this partial reopening doesn't work, it's back to lockdown. I wish them all the very best.
I was delighted to have been in Cannes once again for a satisfying stay.
I didn't really write much about my holiday there in 2017, because Trump was in his first year as president, and I wanted to document that. Consequently, his trips that summer overtook the rest of my holiday report, especially with regard to restaurants.
This also includes a bit on Nice Airport, which has undergone a few exterior changes at Terminal 1.
Nice Airport
Terminal 1 at Nice Airport has expanded outside the arrivals exit leading towards the city and regional buses.
In 2017, we were still able to wheel our luggage out the door, buy bus tickets for Cannes and hop on the bus which was in Quay 3. It was a very short walk.
Since then, it's all changed.
Now there is a sprawling esplanade where the buses used to park.
There are three cafés there with plenty of seating and open space, making the walk to the buses somewhat longer.
The Nice Airport bus service to Cannes is now in Bay 4. The round trip price for two people is €66.
Airport bus changes
The airport bus — Cannes Express 210 — used to be part of the regional transport services.
Now it is run by Zou. The schedule is the same — every half hour — but the drop off points have changed in Cannes.
Going to Cannes
On the way in, the bus used to stop at Vauban in Le Cannet, just before entering the centre of Cannes.
Its next and final stop was near the Hôtel de Ville (Mairie) — City Hall — where a taxi rank is right across the street. It was very simple.
The bus now goes directly from Nice Airport to Cannes railway station — gare — in the centre of town. The taxi rank is at the other end, so entails a longer walk.
Paradoxically, the railway station is closer to our hotel, but a real pain to walk with luggage, as the street where the hotel is located is very narrow. There was much more walking room along the Croisette and even Rue d'Antibes with the old City Hall stop. This map illustrates the situation better.
Returning to Nice Airport
The airport bus used to stop on Rue des Serbes along with the local Cannes buses to pick up passengers headed for Nice Airport.
That was most convenient, because a lot of hotels are nearby.
Now one has to go back to the railway station, all the way to the end of the bus bays near Monoprix. It's quite a walk, and the streets are crowded, especially on Saturdays. Negotiating pedestrians is not easy at the best of times. It's even worse with luggage.
On the return trip, the bus continues to stop in Le Cannet at Place Bénidorm, which is no doubt a relief for the people there.
A win-win for taxis
The rerouting of the airport bus must have seemed simple for city planners and their consultants.
However, they do not seem to have done the trip themselves with multiple pieces of luggage on a busy afternoon.
Many bus users with several bags will probably hire a taxi to take them a very short distance to the railway station. They will pay a crazy price for those trips, I'm sure, especially when large conferences are going on.
Ferries to the Îles de Lerins
We have never been to the Îles de Lerins — Sainte-Marguerite (old fort) and Saint-Honorat (monastery). It used to be very easy to get the ferry which was located at the ferry terminal — gare maritime — in the centre of the city.
Since our last visit in 2017, those ferries now leave from the Old Port, which is a considerable — 15-minute — walk from the Gare Maritime.
That's another win-win for local taxi drivers! Maybe they had a say in redoing the ferry stop along with the airport bus stops!
Taxi fares
We have noticed during our biennial stays that taxi fares are unpredictable, even when going a similar distance or along the same route.
Some drivers charge €7 for the same journey whereas others charge €8 and even €10, so it is worthwhile planning to pay more rather than less.
Supermarkets and prices
I checked supermarket prices in the centre of town at Casino (just behind the railway station), Monoprix and Carrefour.
Pastries
The Carrefour at 6 Rue Meynadier has really improved over the years. It was good in 2017 and is even better now. What used to be a sad, down-at-heel supermarket has been redone and has every item you'd expect to find. Carrefour had the best prices overall and excellent quality, especially in the fresh bakery aisle, where we bought two satisfying Trianon slices for under €4. Their two coffee religieuses for €3.50 are not only a bargain but of a very high quality indeed.
Chocolate
Chocolate prices are much more expensive than in the UK this year.
Normally, I buy several tablets of baking chocolate to bring back. Not so this year.
Supermarket own-brand chocolate from the Ivory Coast is a little over £1 in the UK and more than triple that in France.
Coffee
Coffee prices in France are on a par with those in the UK.
My favourite is Suprêmo d'Arabica, available here in Britain for £4.50 (250g).
Although our labels say Rombouts, the coffee is actually produced by one of their subsidiaries, Malongo, which is in Carros, not far from Cannes.
Malongo has a great range of coffees, including espresso.
There are Malongo cafés now in the south of France. I meant to go to the one at Nice Airport before returning to London — it's right where we used to board the bus to Cannes —  but we didn't have time.
Jean-Luc Pelé
For a treat, I returned to local chocolatier, pâtissier and boulanger Jean-Luc Pelé's shop at 36 Rue Meynadier to buy a box of nine assorted dark chocolates for €10. The lady behind the counter asks what you would like, which is a nice touch.
N.B.: Do not put his chocolates in the refrigerator! They should be kept at room temperature.
Pelé trained at the renowned Lenôtre in Paris where he learned how to make macarons. His shop has macarons in all sorts of flavour combinations. He also has a bakery there.
Pelé also has a café at 3 Rue 24 Août, specialising in sandwiches and desserts.
Pelé's main shop is in Le Cannet at 104 Boulevard Carnot. The airport bus goes right past it. He and his team were contestants in M6's La Meilleure Boulangerie de France several years ago. I think they were just a bit too fancy to win that week's regional finals, which was a shame.
Conclusion
I will go into our restaurant experiences this week and next.
Cannes is a marvellous city, full of wonderful experiences.
If you have a bad time in Cannes, then you're with the wrong people.