You are currently browsing the tag archive for the 'UK' tag.
On Thursday, January 13, 2022, Lord Frost, who resigned as Brexit negotiator last December, gave an interview to The Telegraph in which he accused the UK Government of 'covid theatre'.
Another reason for his resignation was his disagreement with the Net Zero policy, which most households will not be able to afford:
In the video below, which is subtitled, Lord Frost why he objects to the most restrictive of the Government's coronavirus policies — lockdowns, masks, working from home and vaccine passports:
Good on him for objecting to what he described last month as Boris's 'direction of travel'. Many Conservatives agree but were sorry to see him go. He was a doughty negotiator, although Northern Ireland is still a sticking point with the EU.
Foreign Secretary Liz Truss has been appointed as Lord Frost's replacement, adding Brexit negotiations to her long list of responsibilities.
Tomorrow's post will feature a UK coronavirus roundup.
On Friday, January 7, 2022, Nigel Farage wrote an editorial for The Telegraph: 'A revolt on the Right is brewing — and I'm ready to be part of it'.
Boris Johnson should be afraid, very afraid.
Nigel Farage's hour-long shows on GB News, broadcast every Monday through Thursday have examined every failing from Boris's Government. His audience ratings are excellent and I know people who will schedule their time in order to be able to watch it.
Farage is currently president of the Reform Party, which used to be the Brexit Party and, prior to that, UKIP. Businessman Richard Tice is the public face of the Reform Party.
This constant renaming is all a bit tiring, yet necessary.
In his editorial, Farage describes past general election campaigns and says that former Labour supporters have been voting either for his party or, most recently in 2019, for the Conservatives, therefore:
Once the generational link with the Labour Party was broken, switching became easy.
He then goes into a litany of Boris's failings, which, despite what No. 10 thinks, are important to a sizeable number of people who voted Conservative in 2019, especially those in Red Wall constituencies that Labour lost that year (emphases mine):
People lent their vote to Johnson in 2019 to break the Brexit logjam and to take back control of our borders because the immigration issue still matters to them. Yet just two years on, the volume of illegal Channel crossings has enraged these voters. The North East now houses 17 times as many asylum seekers as the South East, according to the Migration Observatory. The impact of this is plain for all to see. As the council house waiting list lengthens, there is a growing feeling that Johnson told voters what they wanted to hear about "taking back control" without really meaning it.

Such perceptions are electorally disastrous for any prime minister. Yet there is potentially an even bigger problem on the horizon. This year's massively increased gas and electricity bills are going to cause an enormous shock. Worse still, these large bills will coincide with tax rises. If Richard Tice can get the message through that 25 per cent of people's electricity bills is spent on green subsidies – and that the 5 per cent VAT energy rate has, despite promises, not been removed – then Reform UK will have its big chance.
The revolt on the Right ended the premierships of David Cameron and Theresa May. I founded Reform UK out of the Brexit Party, which had done its job successfully. For now, I am the party's president in a non-executive role, but I intend to increase the help that I'm giving to Richard Tice. Brexit has not been completed properly. The net zero strategy is placing our nation at a significant disadvantage. And the Channel crossings are humiliating Britain. 
I understand the disillusionment of Red Wall voters who thought Brexit would usher in a new politics. This has not happened. It's just more of the same – a metropolitan Tory chumocracy totally detached from the rest of the country. If Johnson wakes up to this, he can still save himself. I suspect, however, that the revolt on the right will cause another prime ministerial casualty.
Despite the old-style Conservative 'chumocracy', many of the Red Wall Conservative MPs are cut from different cloth. Most of them grew up in humbler circumstances and feel conservative to the depths of their being. They are actively interested in their constituencies and their constituents.
That is something Conservative-voting defectors to Reform should consider.
I enjoy watching Nigel Farage. He always brings up some new fact of which I was unaware.
However, the Reform Party is a spoiler party. I will be furious if, when the next election comes, Reform start sapping votes from the Conservatives, thereby returning Red Wall seats to Labour.
I do wonder on what side of the fence Reform actually sits. They make legitimate points but they have no chance at all in winning a seat in Parliament.
The most we can hope for is that Farage gets under Boris's skin so much that he will actually start acting like the Conservative Prime Minister most of England elected.
On Sunday, January 9, 2022, the Duchess of Cambridge, popularly known as Kate, turned 40:
Paolo Roversi took beautiful photographs of the Duchess to mark the occasion. They will be permanently displayed in London's National Portrait Gallery. Prior to that, they will be touring in three places that were pivotal to the Duchess's life: Berkshire, the county where she grew up; St Andrews, where she went to university and Anglesey, where she and Prince William lived when they first married:
Paolo Roversi definitely brought out the best in his subject:
The portrait of the Duchess in her red dress made the cover of half the Sunday papers:
The third portrait can be seen in an article in The Sunday Times: 'Kate Middleton at 40: how the Duchess of Cambridge is preparing to be Queen'. Excerpts follow, emphases mine.
The paper's Royal Editor, Roya Nikkhah, points out that Kate's fit with the Royal Family is excellent:
From Diana to Fergie to Meghan, royal brides' discontent with the institution is renowned. But more than ten years after marrying in, the Duchess of Cambridge celebrates her 40th birthday with a high level of the personal and professional happiness that has eluded some royal wives.
That is no mean feat for a young woman who has been so exposed for so long.
The past two years have been, to say the least, turbulent for Kate and her family …
How Kate copes
The Duchess has borrowed behaviours from the Queen and the late Queen Mother.
She eschews drama:
Jamie Lowther-Pinkerton, one of the Cambridges' closest friends and advisers, their former principal private secretary who is godfather to Prince George, assesses Kate's coping mechanism: "She has that almost old-fashioned, Queen Mother attitude to drama — she just doesn't do it."
An image of the duchess arriving at the Duke of Edinburgh's funeral in April last year is telling. Taken a few weeks after Harry and Meghan's interview with Oprah Winfrey, which included accusations of racism in the royal family, Kate appears composed but defiant.
The Queen must admire her granddaughter-in-law quite a lot, because she promoted her to:
Dame Grand Cross, the highest female rank in the Royal Victorian Order, awarded personally by the monarch for services to the sovereign — a sign of her gratitude to the woman on whose shoulders so much expectation rests. 
One source thinks that the Duchess takes a lot of her cues from the Queen:
A royal source who has known Kate from the start believes she has quietly observed Her Majesty's game plan and successfully adopted many of her tactics: "She will be queen for a long time, and knowing her, she will have thought, 'Who is my role model here, who has done this really well? Who do I learn from to lay down and build the foundations for the long game, to stay solid, strong, calm and confident, without giving up too much of myself?' I think she has taken a lot from the Queen."
Prince William's greatest support
Sources interviewed agree that the Duchess is her husband's greatest source of support:
A close friend says: "Kate has a way of calming William down and knows how to be really affectionate and gentle. But she is 100 per cent loyal to him and has a shaft of steel running up her back when she needs to deal with stuff that's unpalatable." One of William's closest friends puts it bluntly: "He has had a year from hell and she has been fantastic supporting him."
William is the first to acknowledge his wife's diplomacy. "Catherine is a peacemaker," he told a friend. "She's much better than me, she wants everyone to be aligned." When the royal party emerged from St George's Chapel in Windsor after Prince Philip's funeral, Kate broke the ice chatting to Harry, leading William to follow suit. In July, when the brothers were briefly reunited again at Kensington Palace to unveil a statue of Diana, Kate did not join them publicly but worked her magic out of sight before the brothers emerged into the glare of the world's media.
"William was still furious," says a close friend. "He had taken the view that he'd only give so much. He just didn't want to go there [with Harry]." An aide says: "[Catherine] was amazing behind the scenes when Harry came." The event went off without a hitch.
'Twas ever thus, says a former courtier, who points to the royal trio's Heads Together campaign launched in 2016 to raise awareness around mental health: "It was completely her idea. She was very keen for the three of them to do something powerful together equally. She cared a lot about William's relationship with his brother."
St Andrews days
Incredibly, Prince William and Kate Middleton managed to keep the early months of their relationship at university out of the eyes of the media. Throughout it all, Kate remained level-headed:
William and Kate met at the University of St Andrews in 2001, where they were initially in the same halls of residence and reading the same degree, although William switched from art history to geography. Kate briefly dated law student Rupert Finch in her first year. She and William became a couple in 2003, managing to stay under the radar until April 2004 when The Sun broke their cover, publishing photographs of them skiing. Kate's world changed for ever. Yet she did not. "She was always the same, from when she didn't know she was going to be William's wife to after the engagement," says a close friend of the couple. "She never changed her manner with anybody."
She can credit her parents' success in their own party-planning business for her composure:
… she moved in upper-class circles that made the transition into royal life a relatively smooth one.
Enduring love
Those who know the couple say they are still very much in love and became good friends first:
That ease came from a solid friendship before romance blossomed. As William said in their engagement interview in 2010: "We ended up being friends for a while and that was a good foundation. Because I do generally believe now that being friends with one another is a massive advantage."
One of their closest friends says a spark was there from the start. "He found her really attractive and they're the couple that still really fancy each other, there's still a strong attraction. She finds him hilarious, they're very into each other."
Handling the media
During the couple's courtship, Kate had no police protection until her engagement:
… Kate had a rough ride from the start. After their relationship became public she was hounded by the paparazzi, who camped outside her Chelsea home, chasing her down the street. When it emerged she was working as an accessories buyer for the fashion label Jigsaw, photographers followed her as she went to buy her lunch. A friend tells me Kate was even chased late at night by several men in a car, which she found "terrifying".
William's team did all they could to help, but until he put Diana's ring on her finger Kate was on her own without police protection. "It was constant. She coped with it admirably, given how intrusive it was," says a former royal aide. The onslaught continued for years. After her job at Jigsaw became too difficult with the paparazzi, she went to work for her parents' party-planning business and was attacked for being a "Waity Katie" who was biding her time until William made an honest woman of her. Reports that some in William's circle nicknamed her "Doors to Manual", in a reference to her mother Carole's former career as a flight attendant, are said to be an "urban myth" by those close to the prince, but the future queen did not have it easy.
"It was never water off a duck's back, but she has extraordinary strength of character and resilience," says the aide. "I've never once seen or heard of her losing her temper. She went into it with her eyes wide open and her brain engaged. She is a sound, grounded person who knows herself well."
Kate displayed the same sang-froid at her wedding. She was composed throughout.
Early married life
The Cambridges spent their first few years of married life in Anglesey. The Prince was an RAF search and rescue pilot.
Kate found adjusting to life as a Royal daunting at times but wanted to do everything properly:
… Kate carefully planned her approach to learning how to become a future queen. "She was absolutely daunted by it and it was overwhelming at times," says one of her closest friends. "Everyone wanted her to be the next Diana — people had this Diana hole they wanted to put her into. There was constant 'what are her [campaigning] issues going to be?' William was protective in making sure she had time and space to acclimatise to public life and not feel pressured."
With charities clamouring for her attention, Rebecca Priestley, a confidante and adviser from 2011 and her private secretary from 2012 to 2017, helped Kate shape her new role. "Catherine knows every decision is for the rest of her life, everything is for the long game," Priestley says. "She was aware she wasn't an expert in any one field and she wanted to educate herself first, then shine a spotlight where needed. It was a 'listen and learn' approach rather than immediately becoming patron of a charity. We did a lot of under-the-radar visits before the public engagements."
… Some of the media's obsession with her style over the substance of her work is a source of frustration, one that cut deep when she was starting her public life. A close friend says: "When she goes to the Bond premiere or is at Trooping the Colour, of course she puts on the 'uniform' of the role. But what was enormously frustrating and difficult for her, especially in the early days, was she was going out and doing the work she was interested in and was hugely important to her, and people just talked about what she was wearing."
When Kate made her first public speech in March 2012, at the Treehouse hospice in Suffolk, she wore a high-street dress that her mother, Carole, had previously worn to Royal Ascot. "There she was meeting with hugely vulnerable children and families, and the dress was the story," says the friend. "She said she found it 'a bit demoralising'."
Motherhood
The Duchess does what is best for her family:
Another close adviser says: "How she operates is not reactive. She has stuck to the path that she knows is right for her and her family. It's not about the quick win."
She says that she had a happy childhood, which the Prince says has made home life a pleasure:
Family is everything to Kate and she remains close to her parents and siblings. "I had a very happy childhood," she has said. "It was great fun — I'm very lucky, I've come from a very strong family — my parents were hugely dedicated to us." That stable family unit was a big draw for William when they met, and continues to be his compass. William has told a friend: "Catherine has made me realise the importance of family. As you know, family hasn't always been an easy thing for me."
In interviews, the Duchess, mother of three, admits to having the same challenges as any other mum:
Kate has always presented the unflappable demeanour of a mother who seamlessly balances the demands of a very public role with the challenges of raising George, eight, Charlotte, six, and Louis, three. But in February 2020 she let the mask slip a little, in a frank admission of wrestling with "mum guilt" and how parenthood had "pulled" her to the "toughest and most unknown places". On the Happy Mum Happy Baby podcast she admitted struggling with "the juggle" of being "such a hands-on mum", being riddled with "doubts and questions about the guilty element of being away for work" and always "questioning your own decisions and judgments". It took her time to shed the guilt of having a nanny and housekeeper to share the load: "It was a real weight off my shoulders [to realise] that actually it's not totally my responsibility to do everything because, you know, we all have good days and bad days."
It was rare to hear Kate nattering away unscripted, and an unusually candid insight into what matters to her: "Is it that I'm sitting down trying to do their maths and spelling homework over the weekend? Or is it the fact we've gone out and lit a bonfire and sat around trying to cook sausages that hasn't worked because it's too wet?" Kate revealed she adopted hypnobirthing techniques and had "really quite liked labour", but found the prospect of emerging on to the steps of the Lindo Wing for a photo call hours after giving birth a "slightly terrifying" but necessary part of the job. "We're hugely grateful for the support the public had shown us, and for us to be able to share that joy and appreciation with the public I felt was really important," she said.
A close friend gives the unvarnished take on how Kate really feels about sharing the most personal moments of her life with the nation. "She accepts and understands that in their position this stuff needs to happen. But it's not easy for her, particularly with the babies. Standing there after just having a baby, feeling exhausted, those moments take a huge amount out of her. It's hard work because she's a normal woman with all the vulnerabilities and realities all women have. It is part of their life, she doesn't resent it but it takes a lot of effort."
What an exceptional woman. I wish there were more women just like her.
Many happy returns to the Duchess of Cambridge!
It is safe to say that the two most controversial British Prime Ministers of living memory are Margaret Thatcher (Conservative) and Tony Blair (Labour).
Baroness Thatcher has gone to her rest, so we are left with Tony Blair.
Blair's knighthood of the Most Noble Order of the Garter made the news at the end of 2021. On Saturday, January 1, 2022, The Guardian reported (emphases mine below):
Appointments to this ceremonial order are made without prime ministerial advice and are usually announced on St George's Day, on 23 April. Founded in 1348 by Edward III, it is the oldest and most senior British Order of Chivalry and a recognition of significant public service. Sir John Major [Conservative], Blair's predecessor, was the last to receive the honour.
The monarch makes this appointment, supposedly independently, but one wonders.
Only a year ago, the media reported that the Queen had refused to appoint him to the Garter. Incidentally, Blair has been sticking his nose in everywhere, especially Brexit. From this, we can deduce that he dislikes the average Briton:
Over the weekend, Angus Scott launched a petition on Change.org to have Blair's knighthood rescinded. By Tuesday, January 4, the petition had 500,000 signatures. Unfortunately, as the petition was not created on the parliamentary website, it is likely to be ignored. More importantly, as this appointment is the Queen's, Parliament cannot do anything about it.
The petition reads:
Tony Blair caused irreparable damage to both the constitution of the United Kingdom and to the very fabric of the nation's society. He was personally responsible for causing the death of countless innocent, civilian lives and servicemen in various conflicts. For this alone he should be held accountable for war crimes.
The Government rejected the petition:
The aforementioned Guardian article says that the Iraq war is still an issue with many members of the public. Speaker of the House Sir Lindsay Hoyle stepped in to defend his fellow Labourite. Not only that, he poured more oil on the flames by saying that every Prime Minister should be knighted, by virtue of their position. No, just no:
Sir Tony, rather than Sir Anthony, as he is now known, has been made a Knight Companion of the Most Noble Order of the Garter, 14 years after leaving Downing Street. But the honour has been criticised by Blair's political opponents and those who argue the legacy of his invasion of Iraq in 2003 makes him unsuitable.
Speaking on Saturday morning Hoyle said he felt the honour, the oldest and most senior British order of chivalry, was "a fitting tribute" for a former prime minister, although he felt it was not a political decision.
"Whatever people might think, it is one of the toughest jobs in the world," the Speaker said, "and I think it is respectful and it is the right thing to do, whether it is Sir David Cameron. They should all be offered that knighthood when they finish as prime minister."
Hoyle was talking to Today programme presenter Martha Kearney on BBC Radio 4 when he was asked if he believed all recent former prime ministers should now be knighted.
"If you have been prime minister of this country, I do believe the country should recognise the service given. Absolutely. You finish in the office and when you've finished it is the respect that we give to those prime ministers," he replied.
I'm going off Lindsay Hoyle rather rapidly.
Other new appointees to the Garter include Camilla, Duchess of Cornwall and to the former Labour cabinet member Lady Amos, the first black person to be honoured this way.
On Tuesday, January 4, The Guardian reported that Sir Keir Starmer, Labour Party leader, defended the knighthood on Good Morning Britain:
The Labour leader said Blair was a worthy recipient of the Knight Companion of the Most Noble Order of the Garter, received in the new year honour's list.
"I don't think it's thorny at all. I think he deserves the honour. Obviously I respect the fact that people have different views," Starmer told ITV's Good Morning Britain.
"I understand there are strong views on the Iraq war. There were back at the time and there still are, but that does not detract from the fact that Tony Blair was a very successful prime minister of this country and made a huge difference to the lives of millions of people in this country."
Blair, who led Labour to three election victories, was prime minister during the allied military invasions of Iraq and Afghanistan.
On Monday, January 3, Christine Hamilton, whose husband was a Conservative MP then a member of the Welsh Senedd ('Senate', Assembly), told Dan Wootton of GB News that there are reasons why Blair should not receive this honour: Iraq, Afghanistan, Brexit. She surmises that if Prince Philip were still alive, this appointment never would have happened:
Several years ago, The Telegraph had an article entitled 'Tony Blair believed God wanted him to go to war to fight evil, claims his mentor'. Unfortunately, it has since been withdrawn from their website.
Another Telegraph gem that no longer exists is the former Conservative MP Norman Tebbit's blog post, 'Gordon Brown is not as vain or greedy as Tony Blair but he is in deep denial and must be removed from office'.
Money, money, money
Blair watchers know that he loves his money.
Unfortunately, this Telegraph article is also gone: 'Tony Blair earned £680,000 for his foundation for 50 hours' work'. That was about The Tony Blair Faith Foundation. You could not make this up.
In March 2010, the Daily Mail reported that Tony Blair needed £5 million a year just to get by. How many properties did he own by then? Six? How many properties does he own now? Eight?
The Mail says:
Tony Blair has told friends he needs to earn at least £5million a year just to break even.
The former prime minister has been heavily criticised for cashing in on his contacts for personal gain and is thought to have made around £20million since leaving office.
But last night his former election agent John Burton claimed Mr Blair needed the astonishing annual income – and possibly much more – to pay spiralling wage bills at his growing list of companies and charities.
The revelation about his finances came as the former premier returned to the political fray with a lukewarm televised endorsement of Gordon Brown.
Mr Burton, one of Mr Blair's most loyal political friends, said: 'What I asked him was, you know he gets this criticism about what he earns. I said how many people do you employ? And he said 130.
'I mean it was 25 about two years ago and he said to me I have got to earn £5million a year to pay the wages, so God knows what he has got to earn now to pay the wages.'
2010 saw the Conservatives regain Government in May thanks to a coalition with the Liberal Democrats. David Cameron, mentioned below, became Prime Minister. The Mail's article appeared during the campaign:
The former prime minister was making a controversial intervention in the election campaign yesterday as he addressed the Labour Club in his old constituency.
It followed a warning from a former defence minister that his appearance could trigger a public backlash against Labour from those angry over the Iraq War as well as Mr Blair's business dealings.
Sporting a bizarre orange tan, Mr Blair spoke in support of his long-time rival Gordon Brown and attacked the ' vacuous' Tories – but stopped short of personally criticising David Cameron.
The Tories were relaxed about the appearance, with Mr Cameron taking a dig at the former premier's lecture circuit earnings, joking: 'It is nice to see him making a speech that no one is paying for.'
Security was tight as Iraq War protesters demonstrated outside the Trimdon Labour Club, in the Sedgefield constituency in County Durham …
But many senior Labour figures fear his involvement could harm the party. Chief among critics was former defence minister Peter Kilfoyle, who warned that Mr Blair was now a 'negative factor'.
He said: 'He evokes a strong antagonism, particularly because of the Iraq War, but not only that.
'Also the kind of things going on with allegedly Blairite former ministers and their apparently venal approach to life. He epitomises everything people think is wrong about New Labour.
'It is a mistake by the so-called strategists. It may seem a good idea to them, but to many people at the grassroots level it is not.'
Kilfoyle was not wrong.
On May 25, 2010, a few weeks after David Cameron became PM, The Telegraph reported, 'Tony Blair hired by US billionaire Vinod Khosla for climate change advice'. What does Tony Blair know about climate change?
The billionaire thought Blair was an expert, apparently:
The agreement will see Tony Blair Associates give strategic advice to Khosla Ventures, a venture capital firm that invests in companies pursuing green technologies. Mr Khosla, who made his fortune as co-founder of computing giant Sun Microsystems, is hoping that Mr Blair's decade on the global stage helps unlock doors for the companies that California-based Khosla Ventures invests in …
Mr Khosla said that "with Tony's advice and influence' we will create opportunities for entrepreneurs and innovators to devise practical solutions that can solve today's most pressing problems."
It wasn't disclosed how much Mr Blair will be paid for the advice he gives to Khosla. He already has a £2m lobbying post with JP Morgan Chase and a £500,000 job with Zurich Financial.
Mr Blair also charges tens of thousands of pounds for public speaking, received a £4.5m advance for his memoirs and set up Tony Blair Associates to advise foreign countries including Kuwait. In total, he is estimated to have earned at least £15 million since leaving office two and a half years ago.
Good grief.
Let's go back to Blair's properties. Most of them are stately homes or properties out of the reach of most people in the UK.
Less than a year after Blair left office as Prime Minister, he was somehow able to buy his sixth property. How can that happen on a PM's salary?
On May 4, 2008, the Mail reported (and included must-see photos):
Tony and Cherie Blair have added a £4million stately home once owned by Sir John Gielgud to their property portfolio.
The seven-bedroom mansion in Buckinghamshire is a few miles from Chequers, the prime ministerial retreat the Blairs gave up to Gordon Brown when he took over at No 10.
Mrs Blair was said to have longed for another historic home in the same area.
A source said: "It ticked all of Cherie's boxes. She wanted a small stately home within a 20-mile radius of Chequers."
The Grade I listed South Pavilion, in Wotton Underwood, brings to six the number of properties the couple now own.
They have two houses in London, two flats in Bristol and Mr Blair's former constituency home in Durham …
Since he left office last June Mr Blair is estimated to have signed deals worth nearly £10million.
Last month the former Prime Minister reportedly earned up to £240,000 for making a 90-minute speech to businessmen in Spain.
Theoretically Mr Blair could have written a cheque for £4million to buy the property outright, but it seems more likely the couple have taken out another mortgage.
If so it would double their mortgage debt to around £8million and push their payments to more than £30,000 a month, experts estimate.
Iraq War: Dr David Kelly's death and apologies
On June 26, 2010, the Mail alleged a cover up in the death of Dr David Kelly, said to have been unmasked as the source of the claim that the Blair government had 'sexed up' claims for a war in Iraq. Dr Kelly's case is still a mystery.
The Mail article says, in part:
The official story of Dr David Kelly is that he took his own life in an Oxfordshire wood by overdosing on painkillers and cutting his left wrist with a pruning knife …
A subsequent official inquiry led by Lord Hutton into the circumstances leading to the death came to the unequivocal conclusion that Kelly committed suicide.
Yet suspicions of foul play still hang heavy over the death of the weapons expert whose body was found seven years ago next month in one of the most notorious episodes of Tony Blair's premiership.
Many believe the truth about the manner of Dr Kelly's death has never been established properly. Some even fear that the 59-year-old, the world's leading expert in biological and chemical weapons, was murdered …
The blanket of secrecy thrown over the case by the last Labour Government has only fuelled the sense of mystery.
In January this year, it emerged that unpublished medical and scientific records relating to Dr Kelly's death – including the post-mortem report and photographs of his body – had been secretly classified so as not to be made public for 70 years.
Lord Hutton, who had been appointed by Blair, was responsible for this extraordinary gagging order, yet its legal basis has baffled experts accustomed to such matters.
Against this shadowy background, we have conducted a rigorous and thorough investigation into the mystery that surrounds the death of David Kelly. And our investigation has turned up evidence which raises still more disturbing questions.
Our new revelations include the ambiguous nature of the wording on Dr Kelly's death certificate; the existence of an anonymous letter which says his colleagues were warned to stay away from his funeral; and an extraordinary claim that the wallpaper at Dr Kelly's home was stripped by police in the hours after he was reported missing – but before his body was found.
Until now, details of Dr Kelly's death certificate have never been made public.
But the certificate was obtained by a group of leading doctors who have spent almost seven years investigating the case; doctors who believe it is medically implausible that he died in the manner Hutton concluded and are alarmed at the unorthodox way the death certificate was completed.
Near the top of all British death certificates is a box headed 'Date and place of death', in which a doctor or coroner should declare the exact location of a death, if it has been established.
Dr Kelly's certificate gives his date of death as July 18, 2003. It then states in reference to place of death: 'Found dead at Harrowdown Hill, Longworth, Oxon'.
Why was the word 'found' used? Why was the crucial question of 'place of death' not answered? The death certificate should be precise about the time, cause and location of death.
The doctors who have investigated the case believe the failure to answer this question leaves open the possibility that Dr Kelly died somewhere other than Harrowdown Hill, the wood where his body was discovered. If this was the case, they are concerned the law may have been subverted over Dr Kelly's death …
A full coroner's inquest, which, by law, must be held following any sudden, unexpected or violent death, would have addressed these discrepancies.
But no full inquest was ever held.
Oxfordshire Coroner Nicholas Gardiner opened an inquest on July 21. But on August 13 the then Lord Chancellor Lord Falconer, Tony Blair's former flatmate, ordered it to be adjourned indefinitely.
Falconer used an obscure law to suspend proceedings, and for the first time in English legal history he replaced an inquest with a non-statutory public inquiry to examine a single death, seemingly without any public explanation.
On October 24, 2015, The Telegraph reported that Blair gave an interview to CNN in which he partially apologised for the war in Iraq:
Tony Blair has apologised for some of the mistakes that were made during the Iraq War, and says he recognises "elements of truth" behind opinion that the invasion caused the rise of Isil.
In a candid interview with CNN, the former prime minister was challenged by US political broadcaster Fareed Zakar who accused Blair of being George Bush's 'poodle' over the conflict.
During the exchange, which will air on CNN Europe at 11am and 7pm on Sunday, Mr Blair says: "I apologise for the fact that the intelligence was wrong. I also apologise, by the way, for some of the mistakes in planning and certainly, our mistake in our understanding of what would happen once you removed the regime. But I find it hard to apologise for removing Saddam."
When asked whether he thought the invasion led to the rise of Isil, he says: "I think there are elements of truth in that. Of course you can't say those of us who removed Saddam in 2003 bear no responsibility for the situation in 2015."
… Blair's acknowledgement of responsibility, if not apology, for the rise of Islamic extremism, is aptly timed.
In 2004, he told MPs: "I will not apologise for the conflict. I believe it was right" and in 2007, he repeated this sentiment, saying: "I don't think we should be apologising at all for what we are doing in Iraq."
Last week, The Telegraph reported the inquiry was facing more chaotic delays after a leaked memo signalled Blair had signed up to the war in Iraq a year before it started.
It has also been reported that former David Blunkett, the former Labour home secretary, has revealed that he challenged Blair before the war about how to avoid any chaos after Saddam's downfall.
Meanwhile, it was revealed that Mr Blair made a secret trip to the White House to broker a deal on behalf of Muammar Gaddafi that deprived British victims of Libyan terrorism of millions of pounds in compensation.
Mr Blair acted as a go-between in negotiations between Gaddafi and President George Bush over payments to terror victims, according to a senior source.
The disclosure was made as Mr Blair ignored a deadline to explain his role to a parliamentary committee investigating the deal. He was invited to respond by Friday but instead sent a letter at 6pm on the day of the deadline, asking when the deadline was.
The source said Mr Blair travelled to Washington to intervene on behalf of Gaddafi in February 2008, after first meeting the dictator in Libya.
The new evidence suggests Mr Blair, who had quit as prime minister less than a year earlier, had played an important role in negotiations between President Bush and Gaddafi.
At the time, Libya was being sued through the US courts for committing terror atrocities, and billions of pounds of Gaddafi's assets were at risk of being frozen as part of the lawsuits.
The deal struck by President Bush and Gaddafi led to US victims receiving £1  billion in compensation , but in exchange all court cases were dropped under an act of Congress.
But British victims, who had brought cases in the US, including almost 200 families of victims of IRA terrorist attacks, were not included in the deal. Mr Blair has always insisted he had "nothing whatever to do with any compensation legislation signed by President Bush".
See? He does not like his own people.
On July 2, 2016, The Telegraph reported that Blair would not be investigated for war crimes in Iraq, although British soldiers could be:
Prosecutors at the International Criminal Court will examine the Chilcot report for evidence of abuse and torture by British soldiers but have already ruled out putting Tony Blair on trial for war crimes, The Telegraph can disclose.
The decision has outraged families of troops killed in Iraq who blame Mr Blair for engineering the war.
Sir John Chilcot's report will finally be published on Wednesday and is expected to strongly criticise Mr Blair's role in the US-led invasion of Iraq in 2003.
But in an official statement to the Telegraph, the International Criminal Court (ICC) said its prosecutors would comb through the 2.3 million word report for evidence of war crimes committed by British troops but that decision to go to war remained outside its remit.
It means individual soldiers could be prosecuted for war crimes but not Mr Blair.
The ICC, based in the Hague, has begun a 'preliminary examination' of claims of torture and abuse by British soldiers, after receiving a dossier from human rights lawyers acting for alleged Iraqi victims.
Brexit
In 1983, a young Tony Blair, running for MP in his first election standing in Sedgefield, pledged to support leaving the EU.
A campaign leaflet of his from that year surfaced, as a regional paper for the North East of England, The Chronicle, discovered:
Former Prime Minister Tony Blair hasn't half changed his tune on Brexit since the heady days of 1983.
A campaign leaflet from Mr Blair's first election standing in Sedgefield in 1983 has resurfaced online.
In the Labour literature, the bouffanted Oxford University graduate declares he wants to leave the European Economic Community, which later became the EU.
The pamphlet said: "We'll negotiate a withdrawal from the E.E.C. which has drained our natural resources and destroyed jobs."
On June 26, 2016, three days after the Brexit referendum, Blair pledged to seek a second referendum. Obviously, the British people are too stupid to handle such issues via the ballot box.
The Evening Standard reported:
When asked on the BBC's Sunday Politics programme about the possibility of another vote, he said: "As I'm looking at it here, I can't see how we can do that.
"But, you know, the point is, why rule anything out right now? As I say, you are going to have a reality to test yourself against."
Blair said the nation needs to "see the consequences" of Brexit as they play out in the coming weeks and months.
"I can't see how you would go through all of the mechanics of another referendum now," he continued. I just can't see it.
"But on the other hand I also think there will be a lot of people in the country who will say 'well, let's have a look at this and see what we are going to do' and Parliament will want to look at it."
Blair was still at it a year later, asking for a delay to Brexit negotiations:
In 2019, Blair asked for a second referendum, claiming it would be 'healing'. Oh, my:
A month later, this Brexit poll appeared, which the Tony Blair Institute for Global Change conducted:
Hilarious!
It should be noted that Blair did not offer British voters a referendum on the Treaties of Amsterdam and Nice during his time in office:
Do we need any further proof that Blair dislikes the British people? Perhaps we do.
Migration to UK unexpected
Then there was the issue of migration to the UK, which Blair facilitated during his time as PM.
On March 19, 2017, Tony Blair said he did not anticipate the number of migrants who would come to the UK when he opened the borders to European workers.
The former Labour leader relaxed immigration controls in 2004 after 10 new nations including Poland, Lithuania and Hungary, were admitted to the EU.
He tried to play down the significance of opening Britain's borders, arguing that most EU migrants came to the UK after 2008.
However, official figures show that the number of EU migrants who came to Britain rose from just 15,000 in 2003 to 87,000 the following year. That figure increased to 104,000 in 2006 and 127,000 in 2007.
Mr Blair also made a factual error by suggesting that he could only have imposed transitional controls, temporarily barring migrants for four years.
In fact other EU nations including Germany introduced the measures for up to seven years.
Those numbers, which continued to increase through subsequent years, represent one small city per year in the UK.
——————————————————–
What has Tony Blair done to deserve the Order of the Garter? Nothing whatsoever.
England had a relatively better coronavirus Christmas season than Wales or Scotland.
Prime Minister Boris Johnson decided against moving from the current Plan B restrictions, in place until January 26, 2022, to Plan C, which would have resembled the approach our socialist mainland neighbours have imposed on their residents.
As such, a number of Scots visited Newcastle and Carlisle to celebrate Hogmanay, the last day of the old year: New Year's Eve. The Scots celebrate through to January 2, an annual bank holiday there. Edinburgh has the best Hogmanay celebrations, but First Minister Nicola Sturgeon cancelled them this year.
The Welsh also journeyed across the border to England to ring in the New Year.
We were happy to have both nations share in our fun.
On January 2, The Sunday Times reported (emphases mine):
Several hours before the famous new year countdown in Times Square, New York, young Scottish revellers were counting down the seconds to midnight at bars in Times Square, Newcastle.
Party-goers fled Scotland, where nightclubs were shut and tougher socialising restrictions were in place, desperate for a big blowout. In the west of England, a similar exodus of young people from Wales boosted the numbers of clubbers in Chester, Bristol and other towns and cities across the border.
In the late afternoon on New Year's Eve, groups of friends spilled out of Newcastle station, dragging wheelie cases behind them, girls freshly spray-tanned, hair in rollers, and boys clutching plastic bags full of cans.
One, with his arms around the shoulders of a group of friends, declared they were here for "a party". Hailing from towns and cities across Scotland, most were in their late teens and early twenties. Many had spent successive birthdays in lockdown and were not prepared to do the same for a second New Year's Eve.
While the UK government had allowed new year celebrations to continue, Scotland's first minister, Nicola Sturgeon, ordered nightclubs to shut for three weeks to limit the spread of the Omicron variant, and Edinburgh's world-famous Hogmanay celebrations were cancelled.
"It's boring in Scotland, all the nightclubs are shut — what are we going to do in Scotland?" said Brian, 25, from Edinburgh. Lily Owen, 19, a student from Edinburgh, was visiting Newcastle for the first time with a group of friends. "There's clubs here, it's open, it's a no-brainer: we're going to go," she said.
Aimee Stuart, 22, had also come to England with friends, "because Nicola Sturgeon has banned us from going out". They had paid about £200 each for the trip — and they were not worried about Covid. "I've just had it, so it's fine," Stuart said. "And we're all double-vaccinated."
It has been interesting to note how the media narrative is beginning to change from a pro-restriction one to a more Swedish-style one.
On January 2, news emerged that epidemiologist Prof Mark Woolhouse OBE from the University of Edinburgh once again advocated a Swedish-style approach, which he had done in September 2020.
The Guardian obtained excerpts from Woolhouse's forthcoming book, The Year the World Went Mad: A Scientific Memoir, and published them:
Rather than imposing blanket lockdowns across the nation, the government should have adopted measures designed to make contacts safe, Woolhouse maintains. "You can see from the UK data that people were reducing their contacts with each other as cases rose and before lockdown was imposed. That, coupled with Covid-safe measures, such as masks and testing, would have been sufficient to control spread."
Largely voluntary behaviour change worked in Sweden and it should have been allowed to progress in the UK, argues Woolhouse. Instead, we plumped for an enforced national lockdown, in part because, for the first time in history, we could. Enough business is now done online to allow large parts of society to function fairly well – through video conferences and online shopping. "But it was a lazy solution to a novel coronavirus epidemic, as well as a hugely damaging one," he adds.
However, Woolhouse is at pains to reject the ideas of those who advocated the complete opening up of society, including academics who backed the Barrington Declaration which proposed the Covid-19 virus be allowed to circulate until enough people had been infected to achieve herd immunity.
"This would have led to an epidemic far larger than the one we eventually experienced in 2020," says Woolhouse. "It also lacked a convincing plan for adequately protecting the more vulnerable members of society, the elderly and those who are immuno-compromised."
Instead, the country should have put far more effort into protecting the vulnerable. Well over 30,000 people died of Covid-19 in Britain's care homes. On average, each home got an extra £250,000 from the government to protect against the virus, he calculates. "Much more should have been spent on providing protection for care homes," says Woolhouse, who also castigates the government for offering nothing more than a letter telling those shielding elderly parents and other vulnerable individuals in their own homes to take precautions.
The nation could have spent several thousand pounds per household on provision of routine testing and in helping to implement Covid-safe measures for those shielding others and that would still have amounted to a small fraction of the £300bn we eventually spent on our pandemic response, he argues. Indeed, Woolhouse is particularly disdainful of the neglect of "shielders", such as care home workers and informal carers. "These people stood between the vulnerable and the virus but, for most of 2020, they got minimal recognition and received no help."
Britain spent a fortune on suppressing the virus and will still be servicing the debt incurred for generations to come, he adds. "By contrast, we spent almost nothing on protecting the vulnerable in the community. We should and could have invested in both suppression and protection. We effectively chose just one."
And Woolhouse is emphatic that further lockdowns are not the way to deal with future waves of Covid-19. "Lockdowns aren't a public health policy. They signify a failure of public health policy," he states.
Instead, the country needs, very quickly, not to be surprised by new variants and not to respond each one in an ad hoc fashion. "We should agree a sliding scale of interventions and trigger points for implementing them. With omicron it all feels a bit chaotic. We need better planning and preparation for when the next variant arrives, as it surely will."
Woolhouse is having a poke at the Conservatives there. He would be better off posting that to Nicola Sturgeon and Mark Drakeford (Wales's First Minister). They have maintained much more stringent restrictions than England from 2020 to the present.
Another piece about adopting a Swedish-style strategy appeared in The Guardian on January 2. Larry Elliott wrote about Boris's new change of tack in an attempt to reduce his current hero to zero reputation.
Elliott writes:
Government policy towards Covid-19 has come full circle. For now, at least, England has returned to the Swedish way of dealing with the pandemic. Tough, officially imposed lockdowns are out. Trusting the people to do the sensible thing is back in.
Whether this approach will survive the expected surge in hospitalisations from Christmas and New Year revelries remains to be seen. Boris Johnson is the master of the screeching U-turn and with the number of infections hitting new records pressure on Downing Street to act is growing. We have been here before.
Back in the early days of the pandemic the prime minister was minded to copy Sweden, a country that imposed few restrictions and decided early on that it needed to learn to live with the virus.
The prime minister's flirtation with the "Swedish experiment" was brief, and at the end of March 2020 a draconian lockdown was imposed. Ministers knew this would have a dire impact on the economy but felt the risk of the NHS being overwhelmed left them no choice.
A paper published in the online journal Scientific Reports last year examined what would have happened had Britain followed the Swedish approach. Even assuming the public here would have been as willing to adhere to non-mandatory recommendations as the Swedes (a pretty big assumption) the UK death rate would have at least doubled.
This time, the decision is a lot less clearcut, not least because vaccines are providing protection from the virus. The news from South Africa, one of the countries where Omicron first surfaced, has also been encouraging. While more transmissible, the new variant has resulted in fewer hospitalisations and deaths. Case numbers, after rising rapidly, have started to decline.
A degree of caution is needed when comparing the two countries, because South Africa has a much younger population than Britain, and it is summer rather than the middle of winter there. Even so, it is clear the government has set a high bar for imposing further restrictions.
The prime minister's weakened political position is one reason the government has gone Swedish. The risk of causing serious damage to the economy when it is looking particularly vulnerable is another, because this is going to be a tough year for the British public. Inflation is rising, interest rates are going up, and energy bills are expected to rocket in the spring just as Rishi Sunak's increase in national insurance contributions comes into force.
The cumulative effect is a whopping cut to living standards. According to the Resolution Foundation thinktank the average household is going to be £1,000 a year worse off. Those on the lowest incomes will be especially hard hit by soaring gas and electricity bills.
In the circumstances, it is easy to see why the government is reluctant to add to the economic pain by imposing tougher restrictions to slow the spread of the Omicron variant. Fresh curbs mean slower growth and a hit to the public finances. They would also test the resilience of the labour market.
Good news. I, like many others of a libertarian bent, foresaw these disasters nearly two years ago in March 2020.
Let Scotland and Wales continue mired in socialist control, which is doing little to alleviate coronavirus numbers.
Meanwhile, may England lead the way out of this pandemic.
In a few months' time, we'll find out which approach was the correct one. I suspect England's, provided it turns out to be a more libertarian one, will have been proven the right thing to do.
I suspect that Omicron is providential. Whilst I would not advocate throwing drinks and nibbles parties, how many people have had it and not know it?
In that respect, it could be good for building up herd immunity the old fashioned way.
Many years ago, Chicago's PBS station ran a late-night show on Saturdays featuring newspaper columnist Irv Kupcinet, who was its host.
Irv Kupcinet invited a variety of guests on to sit around a table for 90 minutes to discuss current events.
He mentioned 'the lively art of conversation' in every show. Despite the controversial topics, his guests managed to engage with him and each other in an intelligent and considered way. Perhaps that was because Kupcinet set the tone with his own conversational style. I could be wrong, but I don't recall anyone ever walking off the show or being told to calm down.
Nearly 50 years on, things have changed drastically.
We're at the point where we cannot discuss much, even around the relative safety of the dinner table.
On November 22, 2021, The Times's India Knight discussed this unfortunate state of affairs in 'Our children are losing the ability to argue'. She means making a reasoned, fact-based argument for or against something, e.g. climate change.
I fully appreciated her experience as a youngster, because it paralleled my own (emphases mine):
When I was growing up, the kitchen table was a place of frequent and sometimes shouty political and cultural debate. I would acquire an opinion, usually from something I'd read or watched but sometimes from someone I thought was cool, and then I would express it, often with half an eye to provocation, in the self-important teenage manner. I didn't have the sort of parents who smile vaguely and say, "That's nice, dear", so I would be expected to explain why my opinion was my opinion and to defend it as it was dismantled and sometimes demolished.
My father was excellent at that: 'If you're going to take a stance, you'll have to defend it a lot better than that. Come back with some facts.'
And I could also relate to India Knight's reaction as an adolescent:
I did occasionally go off to my room in a huff, there to boil with fury at the great injustice of not being given a standing ovation every time I aired a view. But eight times out of ten the conversation was lively and thought-provoking, even enlightening (because I was a child, and children know less than adults, having lived less life). The conversations/arguments were sometimes fiery, but because I was treated as an intellectual equal, I didn't feel belittled. I found it intriguing and satisfying to learn what the opposing point of view to mine was on any given topic, and why it was held. It taught me that people who hold different opinions from yours can still be clever, likeable and interesting; that they hold their views just as dearly as you hold yours, and that this is fine.
These days, I look back on my late parents' viewpoints on life and politics. I consider them geniuses, because I now hold those same perspectives.
However, today's adolescents and twenty-somethings really don't know how to put forward their side of an argument:
Woke young people are amazing. They do care about important things in a laudable way and are indeed awake to social justice. All that is great. But you really can't say anything any more. The kitchen table scenario I describe above is now often a fraught and tentative affair, involving many eggshells and much tiptoeing. The anxiety is all on the part of the parents. Even the gentlest, most thoughtful and cotton-woolly discussion can result in young people feeling aggressed and disrespected. The parent's only permissible answer to, "The sky is green," is, "Yes, that's right." This is never truer than in the context of gender, in which expressing the previously uncontroversial view that biology is real can instantly mark you out as a bigot, a fascist or a phobe.
Sometimes, too, big, insulting, very loaded accusations are chucked carelessly about by the children. As a result, many parents of teenagers I know — and by "many" I mean "nearly all" — feel it's just not worth the hassle of having these conversations. And, as a result of that, an awful lot of young people don't know how to argue their case when faced with views that differ from their own. They are able to air an opinion but not to defend it objectively or intellectually at any level.
India Knight says:
Parents must gird their loins and persevere, I think, in tiny, manageable increments. It is vital for children to understand that disagreement is not a personal attack, that holding a topic up to the light is not sinister and that saying, "You've just completely contradicted yourself, darling," isn't abusive.
I couldn't agree more, and if more parents, like hers and mine, did that, the world would be a better place.
Unfortunately, a growing number of adults are also unable to accept differing points of view.
Spiked's Brendan O'Neill discussed this sad phenomenon on GB News with Patrick Christys on Wednesday, December 22. He said that people are too afraid to say anything that goes against the accepted narrative. He's right:
That was an apposite interview just before Christmas, when Britons were preparing to host family and friends around the dinner table.
Earlier that day, another GB News host, Michelle Dewberry, explored the horrid nature of the division appearing between the vaccinated and the unvaccinated. Tony Blair called the unvaxxed 'idiots' and the Archbishop of Canterbury called them 'immoral'. Blair later walked back his use of 'idiots'. I'm not sure the Archbishop did likewise.
In any event, Michelle Dewberry discussed this divisive controversy at the beginning of her show (from 8:25 to 11:20):
There are many reasons why people are rightly suspicious of the vaccinations. I've had my two shots and the booster but fully understand why others don't want them. Most of those people can cogently explain their reasons for not doing so.
It is disappointing to see a former Prime Minister and the spiritual head of the Church of England labelling people with whom they disagree in such a parlous way. Were he alive, Irv Kupcinet would have been appalled.
Surely, they should be leading by example.
It is time to return to the lively art of conversation, but that also requires an ability to accept other perspectives, whether we're teens or grandparents.
We know where the blame lies. We have to try and stop damaging division and emotional arguments in the best way we can. Unfortunately, it is much easier said than done, and I do not have a solution.
For many, Christmas as they know it ended at midnight on December 26.
Most people will be heading back to work on Monday.
Yet, there is a reason for the old song The Twelve Days of Christmas, because that is how long the actual season is.
An Anglican priest of the High Church tradition explains to presenter Calvin Robinson in the following GB News video that, when many people think Christmas has ended, it has only just begun. This 45-minute programme, which includes carols from an Anglican church choir, explores the true religious meaning of the season. It's well worth watching:
Epiphany is on January 6, so there is still plenty of time to celebrate and contemplate our Saviour's birth until then.
Furthermore, we in the UK are blessed with a thoughtful Yuletide convention. Because Christmas Day fell on a Saturday this year, Monday, December 27, is a bank holiday. We get a long weekend of celebration and relaxation.
The Queen delivered her traditional address to the nation on December 25. This year, the theme was her loss of Prince Philip, who loved her dearly and was her best friend. The old film clips show her face light up when he joins her at various functions. It's a beautiful, spontaneous reaction. Our monarch said that she is looking forward to celebrating her Platinum Jubilee year in 2022:
The Queen always includes a Christian message. This year was one of enduring faith, one that promotes leadership:
Neil Oliver delivered a thoughtful Christmas message which will appeal to all, believers and non-believers alike. He reflects philosophically on the story of the Christ Child and the meaningful traditions that have emanated from it. This is a must-see:
Oliver also had a round-up of the Greatest Britons he interviewed in 2021. This will restore one's faith in humanity:
A few days ago, I wrote about the Revd William Pearson-Gee's impassioned video about keeping churches open during the Christmas period during the current coronavirus panic over Omicron. Watch his hands; the intensity is palpable:
Mr Pearson-Gee's Buckingham Parish Church has its own YouTube channel with all its main services.
Here is the church's Service of Nine Lessons and Carols for 2021:
The next video was one of their Christmas services which starts with a charming Christingle service and ends with the liturgy for Holy Communion. Mr Pearson-Gee includes Christmas prayers in the second service, making it all the more meaningful:
I hope that these videos, be they religious or secular, help us better appreciate the Christmas season.
On Sunday, December 19, 2021, the Revd Will Pearson-Gee gave a heartfelt extemporaneous sermon at his church in Buckingham, England, part of the Diocese of Oxford.
Last weekend, it was unclear whether some sort of Yuletide lockdown would be implemented in England, possibly including churches. In 2020, churches were closed for months. The Government deemed them to be 'non-essential services'. The Church of England hierarchy were complicit in that decision.
If lockdown were reimposed the way it had been last year, Mr Pearson-Gee clearly stated that he would not be playing that game again at Buckingham Parish Church.
This short must-see video went viral:
High Churchman Calvin Robinson responded:
I saw it on Wednesday, December 22, on GB News, thanks to Mark Steyn who was filling in for Nigel Farage. Steyn's introduction could be a sermon, too, as it directs us to the transcendent, the living God, something the Church of England should have done last year:
Steyn also interviewed Pearson-Gee (from 12:21 to 20:00). I highly recommend watching it:
The vicar said that Zoom worked well in the early months of the pandemic, but it was only ever a temporary solution.
Once churches were allowed to reopen, he said that the elderly spearheaded a renewed fellowship in the congregation.
He graciously did not criticise the Archbishop of Canterbury for last year's spiritual failings in the Church of England, saying that Justin Welby has a very hard job to do.
He also said that he knew Christians in Iraq who risked their lives going to worship, but they took that risk because their faith was so important:
If only we felt the same way.
Pearson-Gee has a lot going on at Buckingham Parish Church, including three different Sunday services — something to suit everyone's liturgical tastes:
His daughter helps him out with Twitter:
Was Will Pearson-Gee always a devout Christian?
No.
Incredibly, he returned to the Church after his first wife and son were killed in a car accident. Mark Steyn mentioned this after his interview with the vicar ended.
Such a tragic event would have put most people off church and God forever, but Pearson-Gee saw things differently.
In March 2014, he discussed his testimony with Premier Christianity. I would highly recommend that unbelievers and agnostics read about his journey of faith which led him to seek ordination.
Excerpts follow, emphases in purple mine:
It was back in 1996 that my world fell apart. My wife, Anna, had gone out with our two children, Eleanor (two) and Jamie (three). It was a really hot summer's day in July and she took them down to Bournemouth to the seaside.
On the way back (for reasons that we'll never know) her car crossed over the centre white line on a narrow bit of a road, and was hit head on by an articulated lorry carrying 40 tonnes of very large rocks. Anna and Jamie, who were on the same side of the car, were crushed and killed instantly. My daughter Eleanor, quite amazingly, was able to be removed from the car wreckage by a Royal Marine Officer travelling in the car behind. She was literally unmarked, which I've always thought was a little bit of a miracle considering the combined collision was about 90 miles an hour. But she survived. Obviously it was a devastating shock for me, but I had my little girl to look after.
I was confronted by their bodies in the mortuary some hours later. They were in quite a mess and it took the mortician a while to make them presentable for identification. They pulled back the white sheets and I ranted, and I screamed, and I wept. Then I looked at them, and I thought, 'This cannot be the end.' There was so much life, particularly in my little boy ? he was such a handful. I just couldn't believe it was the end of him and so I thought, 'Where have they gone? Where are they now?'
At the time I was definitely a 'nominal' Christian. I believed there was some higher power, some greater being beyond myself that I could call upon and might listen to me, but I really had no idea about God's character or whether he cared about me …
Then my eye was drawn to a very simple crucifix on the wall of the mortuary. It was a sign of the Christian faith to which I had been exposed since I was a child. It's like a penny dropped, and it suddenly became not just a cross, but a sign of hope for me. I then realised that if there was all this talk about resurrection and life after death, I needed to find out more about it. I managed to meet up with a Christian, also with my local vicar, and there was a Catholic priest who came into my life who had real expertise in helping people recover from child death. It was this cumulative effect that opened my eyes to the fact my wife and child were somewhere better, they were in heaven, and therefore if I wanted to see them again I needed to get myself right with God. That was a long process in itself.
This is why Pearson-Gee is not angry with God. It is an interesting perspective:
People sometimes ask me if I felt like blaming God. During my early time of grief, through counselling groups, I came across a lot of other people who were suffering and mainly they just blamed God. But to me it didn't make sense that God had just got out of bed one morning and said, 'Who am I going to strike down today?' … Where do you draw the line with him intervening and stopping things going on? In a way, you'd be expecting him to upturn the laws of nature every single nanosecond of the day around the world, and then what kind of world would we be living in? So I don't blame God.
I think God permitted that crash to take place, but 'in all things God works for the good', and I've really clung on to that. … in a funny sort of way the fact it has happened has brought me huge blessings … I've got a lovely wife, I've got three more kids including another son, I've got the most wonderful faith, my wife is a Christian. We know that whatever the world throws at us now, we have this wonderful eternal life waiting for us. Life is good. I know it's not always going to be great and there will be trials and tribulations, but following Jesus is just such an amazing adventure.
Pearson-Gee wrote a brief autobiography for the Buckingham Parish Church website, which is also interesting (emphases mine):
I arrived in Buckingham just in time for Easter 2010 having moved from Oxford where I did my theological training (at Wycliffe Hall) and served my curacy (at St Andrew's Church).
I enjoyed a full career in the Army serving all over the world as an infantry officer in the Coldstream Guards before leaving to join my brother's printing company where I spent 6 happy years.  During this time I started to go to a newly planted church which showed me something that I had never seen before: an Anglican church pulsating with life and growing in size and depth.  Intrigued, I became more and more involved in its incredibly exciting mission and began to sense that ordination might be what God wanted me to pursue.  I think I was the most surprised of all when I arrived at Wycliffe Hall to start my training!
He mentioned the fatal car accident, adding:
That dreadful event really did change my life in more ways that I could have imagined and illustrates the truth in Paul's words in Romans 8:28 "And we know that in all things God works for the good of those who love him, who have been called according to his purpose."  My story surrounding this tragedy is here if you'd like to read it – if you do, I hope you find it an encouragement. Also, here is an article in Christianity Magazine that tells the story.
I am now married to Lucia and between us we have 4 children – Eleanor from my first marriage – and 3 of our own. I must say that I feel a little like Job who lost so much but was then restored by the Lord and had even more. We even called one of our daughters Jemima (as did Job).
Jemima — Mimi — helps her father with Twitter.
This is what motivates Pearson-Gee's ministry:
I suppose what really motivates me in my ministry is sharing the good news that is Jesus Christ. It was this same, unchanging good news that pulled me out of the mire and gave me so much hope after my tragedy. I am passionate about making this good news accessible to everyone and will do all I can to make the Church (that is the people of God – Christians) welcoming to those who are – like I was once – lost.
That's so moving, especially as we approach Christmas.
————————————————————————————–
Normally, I would have ended the post there.
However, the next few posts will involve Christmas readings, so I will close with two secular news items.
The first concerns Northern Ireland, which will reimpose coronavirus restrictions on December 27. Sammy Wilson MP (DUP) is none too happy but turned his disappointment into a little take on 'Hark the Herald Angels Sing':
"Hark the herald angels ping," the East Antrim MP tweeted.
"Robin Swann won't let us do a thing. No more parties, work at home. In the streets you cannot roam
"Omni is far worse than the delta curse. Stay at home. Or they'll be far worse to come."
It upset a number of politicians in Northern Ireland, who branded him a 'moronic fool':
The second item is Neil Oliver's take on our covidian Christmas this year, wrapping lockdown and economic ruin into 'Twas the Night before Christmas and Dickens's A Christmas Carol. Wry, witty and pointed, it's worth watching:
With that — the spiritual and the secular — may I wish all my readers a very happy Christmas. May you be blessed despite State restrictions.
In the UK, coronavirus vaccine boosters progress apace.
This advert is showing at cinemas around the country. It features Prof Chris Whitty, Chief Medical Officer: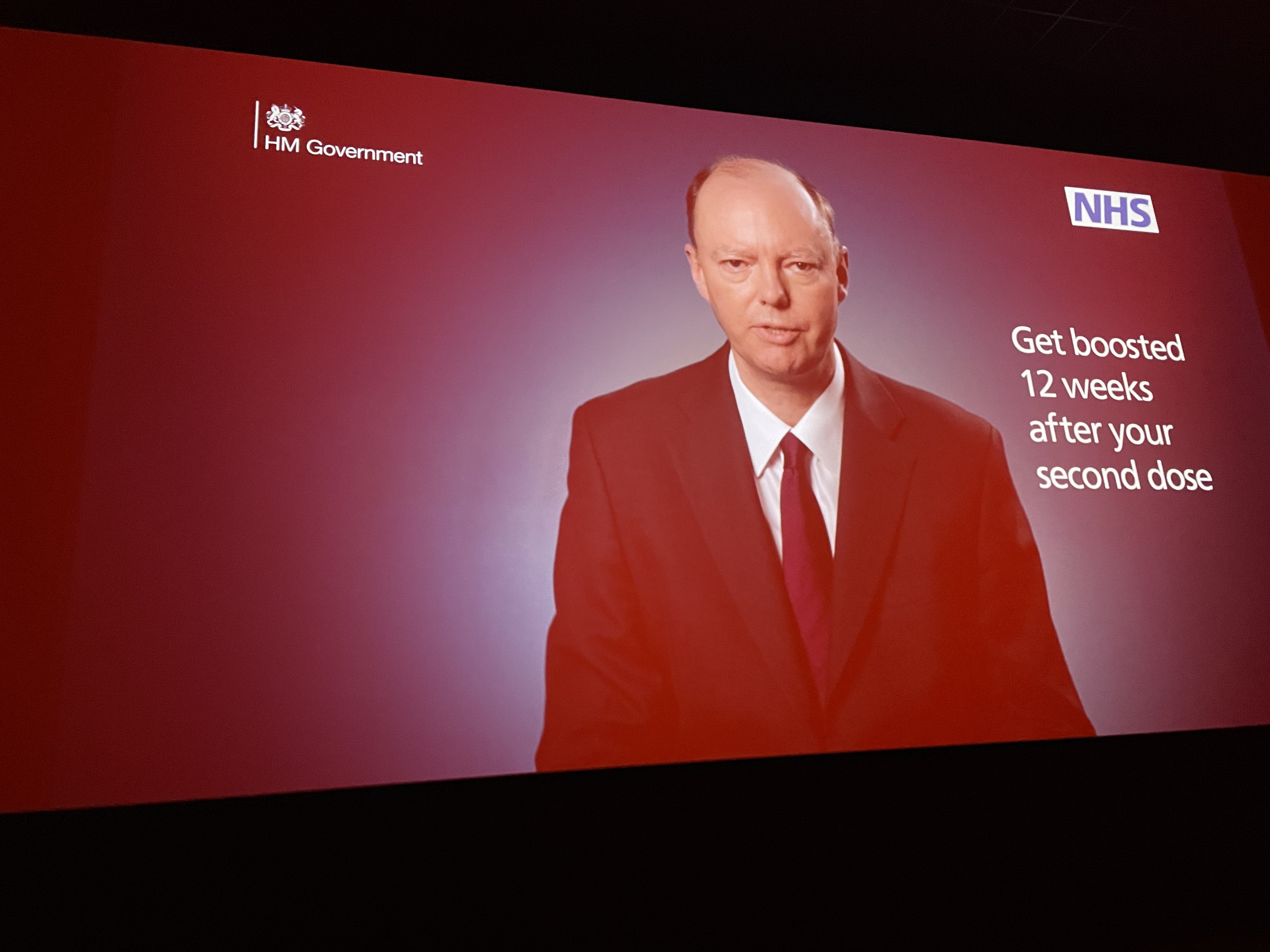 Scary.
It is reminiscent of 1984: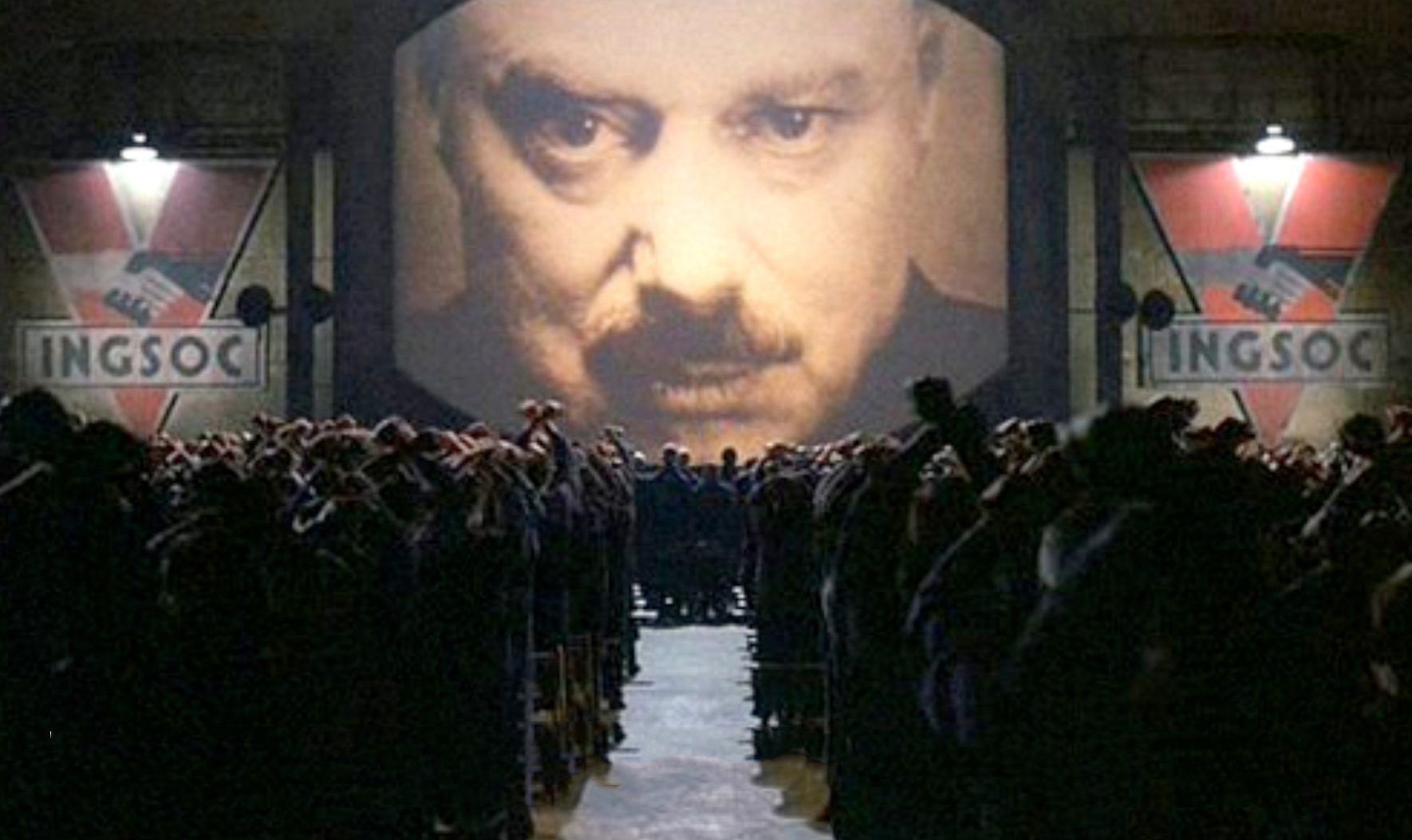 Someone else posted those images a few days ago.
Here's another: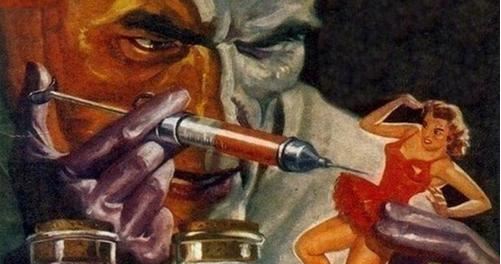 On Saturday, December 18, Neil Oliver of GB News interviewed Dr Robert W Malone about the vaccines and the boosters (33-43 minutes in):
Malone discusses his involvement in mRNA vaccine technology from its inception in the late 1980s and development into the 1990s. He now looks at these vaccines from a regulatory perspective.
He, along with a number of other physicians and scientists, e.g. Dr Pierre Kory, does not think that the coronavirus vaccines have been developed in a conventional manner.
Furthermore, he does not think they should be:
1/ given to children;
2/ given to people with normally functioning immune systems;
3/ mandated.
In other words, if he is correct, most of us reading this post should never have had the coronavirus vaccines or boosters.
Malone thinks that those should have been reserved only for the immuno-compromised, but admits that, even with that caveat, he's having second thoughts about that group as well.
Hmm.
In June, Linked In suspended his account for his views on the vaccines:
In 2022, the UK is likely to get legislation prohibiting 'hateful anti-vaccine' (MPs' words) articles and opinions. A few other countries already have such laws:
Note how the BBC fits in:
Congratulations to Neil Oliver and GB News for giving Dr Malone much needed air time.