You are currently browsing the tag archive for the 'UK' tag.
Last week, I wrote about the global transport crisis.
This week, I saw two more items on the subject about the situation in Britain.
Michael Crick, a journalist who used to work for Channel 4 News and now writes for Mail+, stopped at a lorry park in Staffordshire, England, to chat with HGV (heavy goods vehicles) drivers.
The page with his article includes a video featuring brief interviews with drivers who stopped in at the Hollies Truck Stop for a bite to eat and a bit of a rest. He also interviewed Ian Wright from the Food and Drink Federation and a dairy farmer.
Despite the long hours, the drivers' salaries are going up. One said that his hourly wage went up 50%, from £13 to £18. Crick browsed the job adverts in Transport News and found many paying from £40,000 to £50,000 per annum.
He asked one driver why younger people aren't seeking these jobs. The driver replied that many younger people are 'bone idle'.
Crick included a summary of his other interviews in his article. They were less positive (emphases mine):
… few drivers I met this week would recommend the job to their children or grandchildren. The job nowadays is overloaded with bureaucracy, they say. Drivers are treated with no respect wherever they go, and sometimes get lumbered with fines their employers won't pay.
He discovered that some HGV drivers are switching to making customer deliveries, whether for supermarkets or Amazon:
Many HGV men (and the occasional woman) decided it's simpler to drive for Sainsburys, Tesco or Amazon. The distances are shorter, the hours are more sociable, and the pay is sometimes better. Yet unless British firms can recruit more lorry drivers, the economy will be in serious trouble.
As for dairy farmers, in August, there were not enough drivers to take their milk to market:
In the area round the Hollies Truck Stop, around 30 dairy farmers were told one day last month to drain away their milk because the buyer didn't have enough drivers to do the daily milk collection.
The farmer Crick interviewed says he was able to arrange a work around for his milk delivery but said that the other farmers were unable to do so.
The other item I saw was posted online in a comments section. I do not know the provenance of this first-hand experience of a former lorry driver, but it is well worth reading: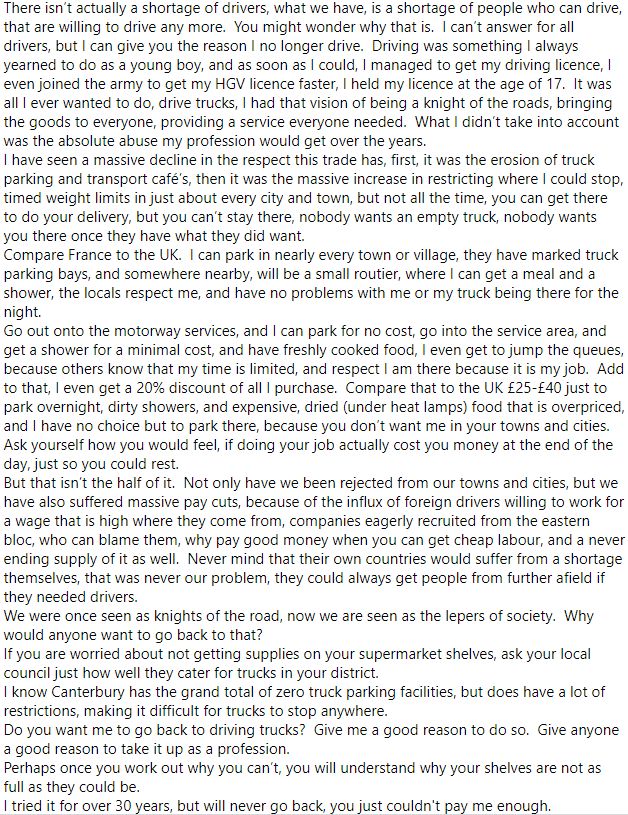 Judging from his testimony, the government and local councils need to ensure that drivers can circulate and make their stops more freely in town and city centres. Canterbury, I'm looking at you.
Local councils could also appropriate a brownfield site for a truck stop. These men and women need places where they can eat and rest.
The industry is starting to pay better wages. Of course, that will be passed along to consumers, but do we care? Driving a lorry these days is no treat. And, as the driver says, to make things worse, he and his associates are seen as:
the lepers of society.
That's odd, given that the pandemic has made us more dependent on lorry drivers than ever.
Unlike the other essential workers so many Britons applauded every Thursday in 2020, lorry drivers don't take time off for stress. They don't star in dancing videos, either. They are always there for us, until we make their occupation so unbearable for them that they quit.
This was a big week for Britain's Good Law Project, as they were able to persuade a court to scrutinise former Health Secretary Matt Hancock and former health minister Lord Bethell on their handling of coronavirus contracts in 2020.
Matt Hancock resigned in June 2021 and Lord Bethell was removed from his ministerial post in the House of Lords at last week's reshuffle.
The Good Law Project doesn't always win their cases, but this will be one to watch.
I do not often agree with their views but, in this case, I wish them well.
Lord Bethell
Having seen enough proceedings in the Lords, I thought that Lord Bethell was doing a competent job representing the Government.
However, during the summer, questions were asked about the mobile phone he was using last year when the pandemic was raging. Bethell gave various answers as to the whereabouts of the phone:
He allegedly used WhatsApp to communicate with potential suppliers:
His phone was taxpayer funded. As such, it seems he should have returned it to Procurement:
The accompanying article from the Good Law Project states (emphases in purple mine):
You will recall in our hearing in July Government admitted that some of Health Minister Lord Bethell's dealings in relation to the controversial £87.5 million testing contracts to Abingdon Health had been conducted via WhatsApp or text message, and were held only on his private mobile phone.
We wrote to Government to ask for the messages to be retrieved and preserved.
We were stunned to receive this response from Government in which Health Minister Lord Bethell changes his story, again, on why he can't hand over the texts and What's App messages. 
This is now the Minister's third different version of events:
First, he claimed his phone was "lost" so he couldn't hand it over. 
Then, a few weeks later he abandoned his tale that the phone had been "lost" and provided an entirely new explanation as to why he was no longer using it, claiming the phone was "broken".
Now, unbelievably, he says the phone isn't lost. Or broken. He actually passed the phone on to a family member … 
It's far from clear that personal phones used extensively for Government business can safely be handed over to family members – one assumes children. What steps did Lord Bethell take, for example, to ensure that highly sensitive material couldn't be retrieved by a specialist? And if he did delete it, did he ensure he'd passed on all the relevant information to the Department of Health before doing so? 
And the extraordinary change of story doesn't stop there. 
Back in June, No 10 issued a blanket denial that Ministers ever used private email accounts for Government business. But now their own lawyers have confirmed searches of Lord Bethell's three private email addresses using keywords relating to Covid contracts turned up hits of between 18,000 and 36,000 separate documents that may be relevant to the case. 
How on earth do we move from a blanket denial by No 10 that Ministers were using private email accounts for Government business, to an admission that a single Minister may in fact have used his private email for tens of thousands of official emails? Do they ever tell the truth?
We are fighting to get our hands on these messages. We will be able to reveal further twists in this extraordinary tale soon.
On Tuesday, September 21, the Good Law Project was in court to pursue the case:
The Government conceded that Bethell would have to provide a witness statement. The court hearing was to stipulate the content of that statement:
The accompanying article from crowdjustice gives more information on what happened in 2020:
The Government suppressed an official report that proved there were issues with rapid antibody tests purchased by the Department of Health. Leaked emails reveal the Government blocked Public Health England from publishing their findings until after they could make an announcement that they had purchased one million antibody tests from Abingdon Health.
The purchase of one million antibody tests from Abingdon Health has been shrouded in mystery, but what we do know lays bare serious failings in Government procurement.
The Government supported the creation of the UK Rapid Test Consortium (UK-RTC) back in April. The idea was that the companies and institutions involved, including Abingdon Health, would create a rapid antibody test. On 2nd June, Government awarded a contract worth £10million to Abingdon Health for the materials needed to produce the test. On 14th August, they handed Abingdon Health another contract worth a staggering £75million.
Despite these huge sums of money, Government seems to have ignored widely held concerns that these tests were not fit for purpose. So a £75million contract was awarded without competition, on the basis of profoundly flawed research. And when confronted with evidence of these flaws Government tried to suppress publication of that evidence.
These are serious charges and we have set out the publicly available evidence in this chronology, which we will update as more evidence is published.
Judge agrees
The judge hearing the case on September 21 agreed with the Good Law Project:
The Good Law Project's article says:
… Yesterday we took Government to Court to fight for this evidence – and we had a good day. 
The Judge ordered the search of Matt Hancock's WhatsApp messages and personal email accounts. We believe this is the first time a Judge has ordered a Minister, or ex-minister, to hand over their personal WhatsApps and text messages.
In fact, the Judge seemed to share our view more generally that Government's explanations for why they haven't recovered information from Ministers' devices simply do not stack up, and he ruled as follows:
Lord Bethell must provide a Witness Statement to the Court to explain – once and for all – what happened to his phone

.

Government needs to provide a Witness Statement to the Court explaining how they are going to ensure they recover all the necessary data from Bethell's phone

.
In addition to coughing up Lord Bethell's private emails,

Government must also trawl Matt Hancock's personal emails and WhatsApps for relevant information as to how these contracts came to be awarded with no competition

. 
We will now get to see previously hidden messages from the Ministers involved in awarding these lucrative contracts. We will also issue an application against Professor Sir John Bell in respect of his documents (to cover WhatsApp, University of Oxford emails and personal emails). He has previously refused to share any of his records, despite his hugely significant role in the contract awards. 
Matt Hancock
Following this announcement, the story received quite a lot of coverage in the media, with photos of Matt Hancock splashed all over Twitter.
The London Economic had this:
Their article said:
Former health secretary Matt Hancock will have his personal WhatsApp and emails searched as part of a High Court battle over millions of pounds' worth of antibody test contracts.
The Good Law Project has brought legal action against the Department of Health and Social Care (DHSC), claiming that more than £80 million in contracts for antibody tests were awarded unlawfully.
The bid covers three contracts awarded to Abingdon Health which the group claims were given in April, June and August 2020 but were not published until October 2020.
"The contracts were awarded directly, and secretly, without any advertisement or competition," the Good Law Project's barrister Joseph Barrett said in written arguments.
The group also argues that the contracts "comprise very substantial unlawful public subsidies".
The Daily Mail had more:
Claiming Mr Hancock was the "ultimate decision-maker" in awarding the contract to Abingdon Health, Mr Barrett told the court that Mr Hancock had used multiple non-government emails for Government business. However, no searches had been conducted and no documents had been disclosed.
Mr Barrett alleged that DHSC had "either destroyed or otherwise put beyond recovery or refused to search or disclose almost all of the repositories and documents of the four most senior and important individuals in the case".
Philip Moser QC, for DHSC which is contesting the claim, argued Mr Hancock had a "limited" role in the contracts.
"There is no reasonable basis on which to seek such disclosure, because Mr Hancock's involvement in the matters which are in issue in these proceedings was limited and, in any event, any communications from the then Secretary of State would have been caught by the existing disclosure exercise," he said.
Mr Justice Fraser ordered that both Mr Hancock's Government and non-Government communications that were used for Government business should be searched for relevant material.
The judge said: "It seems to me that even though his involvement has been described as 'limited', 'limited' can still be quite significant."
CityA.M.'s coverage says that Lord Bethell's phone is now with 'disclosure consultants':
Government lawyers previously said the old phone had been "broken" six months ago and that data held on it was not contained on the replacement.
The lost information was reported to have included WhatsApp and SMS messages.
The court also heard that Lord Bethell's phone is currently with "disclosure consultants" to determine whether his WhatsApp messages can be retrieved.
A spokesperson for the former health secretary said: "Hancock had no involvement in the awarding of this contract, or indeed any other contracts. They were all awarded through formal processes, as the National Audit Office has confirmed.
"At the time, everyone in the Department of Health and Social Care was working every hour to respond to the pandemic and boost testing capacity. Any suggestion of wrongdoing is completely false."
The full trial is due to take place from December 6.
Scotland's The National reported on the to-ing and fro-ing between the judge and the Government's legal counsel, Philip Moser QC:
Philip Moser QC, for DHSC which is contesting the claim, argued Hancock had a "limited" role in the contracts.
"There is no reasonable basis on which to seek such disclosure, because Mr Hancock's involvement in the matters which are in issue in these proceedings was limited and, in any event, any communications from the then Secretary of State would have been caught by the existing disclosure exercise," he said.
Justice Fraser ordered that both Hancock's Government and non-Government communications that were used for Government business should be searched for relevant material.
On the topic of disclosure, The Mirror's tweet alleges that the Department for Health and Social Care (DHSC) had previously refused to pursue it:
And there's more
The Government has always claimed that there were no fast-track routes to winning a contract.
However, on Thursday, September 23, The Guardian reported about emails referring to a 'VIP route' for coronavirus testing contracts:
The Guardian reported:
… internal emails between DHSC civil servants, discussing the Rapid Testing Consortium (RTC), a group of companies led by York-based Abingdon Health, which was awarded huge government contracts without a competitive tender, did describe the process as "the VIP route". The then health minister, Lord Bethell, was described by officials as a "sponsor" of the consortium.
The DHSC disclosed the June 2020 emails during a legal challenge brought by the Good Law Project (GLP), which argues there was "apparent bias" in the award of the contracts to Abingdon Health, and that the government "failed to undertake any transparent or lawful process". The DHSC is defending the case, arguing that the emergency of the pandemic justified it making direct contract awards.
In the email exchanges, one civil servant, discussing how to process the RTC companies, said a person in authority, whose name is redacted, "would like them to go through the VIP route". The official asked: "Who should they name as their sponsor?"
A colleague replied: "Are the sponsors usually ministers? I would imagine RTC can name Lord Bethell?"
In a further email referring to the RTC, another official wrote: "This is usually for the VIP route which comes via ministers."
Asked by the Guardian about these references to a VIP route, the DHSC did not maintain its previous denial. Instead a government spokesperson said: "All offers of testing supplies that were evaluated by DHSC went through the same clinical evaluation process. Every application went through robust assessment checks, and decisions were based on merit."
As for Abingdon Health, founded in 2008:
The company has emphasised that it and its directors did not have Conservative party membership or connections, that the government asked them to contribute to the Covid response, and they were not aware if there was a fast track process.
Having been first contacted on 22 March 2020 by an adviser to Public Health England, Abingdon said they were asked to email the general DHSC and NHS Covid testing and research email addresses. On 1 April, the company was contacted by Prof John Bell, a senior government adviser on testing, and on the same day asked to join a conference call with the then health secretary, Matt Hancock. Following discussions with Bethell and other senior government figures, Abingdon then formed the RTC and were initially given a £3m research contract.
The other contracts followed on from there.
It is fortuitous for the Government that Parliament is in conference recess from 5 p.m. today until late October. Otherwise, a few Urgent Questions would probably have been scheduled.
As they say in journalism: 'The case continues'.
The full trial starts on December 6.
Two stories of interest today feature coronavirus.
The Lancet's U-turn on lab leak
With all the news from independent media outlets revealing more information about the possible origins of the coronavirus lab leak, The Lancet agreed to publish what it calls an 'alternative view'.
On September 19, the Mail on Sunday reported (emphases mine):
The Lancet medical journal has bowed to pressure over its heavily-criticised coverage of the disputed origins of the Covid pandemic by publishing an 'alternative view' from 16 scientists – calling for an 'objective, open and transparent debate' about whether the virus leaked from a Chinese laboratory …
The Lancet has agreed to publish an alternative commentary which discusses the possibility that laboratory research might have played a role in the emergence of the SARS-CoV-2 virus.
It also directly confronts the efforts of science journals to stifle debate by labelling such theories as 'misinformation'.
In the article, the authors argue that 'there is no direct support for the natural origin of SARS-CoV-2, and a laboratory-related accident is plausible'. 
They add that the February 2020 statement 'imparted a silencing effect on the wider scientific debate'.
And they say scientists, 'need to evaluate all hypotheses on a rational basis, and to weigh their likelihood based on facts and evidence, devoid of speculation concerning possible political impacts'.
Science itself, they go on, should 'embrace alternative hypotheses, contradictory arguments, verification, refutability, and controversy' and rather than congratulating China on its supposed 'transparency', they call on the secretive superpower to open up …
The new commentary, published in The Lancet on Friday, said: 'The world will remain mired in dispute without the full engagement of China, including open access to primary data, documents, and relevant stored material to enable a thorough, transparent and objective search for all relevant evidence.'
One of the signatories, Professor Nikolai Petrovsky of Flinders University in Adelaide, Australia, told The Mail on Sunday: 'It might seem small, but after 18 months of complete denial, the very act of [The] Lancet agreeing to publish this letter acknowledging the origins of Covid-19 remains an open verdict, is a very big deal.
'For a leading medical journal like Lancet to agree to finally open its doors to a letter from scientists highlighting the ongoing uncertain origins of Covid-19, indicates how far we have come in 18 months in requesting an open scientific debate on the topic, but also indicates just how far we still have to go'.
Good news, at last.
Matt Hancock on anti-vaxxers
Matt Hancock hasn't been Health Secretary since June, but that hasn't stopped him banging on about the virus.
On September 19, he wrote an opinion piece for the Mail on Sunday: 'MATT HANCOCK: In all my time, I have never come across a group so dangerous as anti-vaxxers'.
With a title like that, who needs the editorial?
He writes the way he talks:
While of course we need to be vigilant, we can start restoring what makes life worth living. Families are once again able to reunite with their loved ones. Weddings, christenings and family celebrations are back on. Businesses can open up again with more confidence. In fact, by some measures, Britain has the fastest economic recovery of all the major Western nations.
Then he goes off on a tangent:
However, almost unbelievably, there is still a persistent yet thankfully small and shrinking group of people determined to try to stop this progress. In all my time in public life, I have never come across a group so blinkered and dangerous as the anti-vaxxers …
Getting the jab isn't just about protecting yourself, but about protecting others. It's not just about you, it is a social and moral obligation.
Good grief. I am so glad that Sajid Javid is Health Secretary.
This is probably the nicest thing he says about people hesitant to get the vaccine:
I understand that some people are hesitant. It's ok to be unsure and ask questions.
He then trots out all the pro-vaccine statistics, including this old chestnut, which is highly dubious:
The vaccines protect you, with about 112,000 deaths prevented because of the vaccines.
Then he returns to excoriating people who don't want to get the vaccine:
The people I reserve my vitriol for are those who promote anti-vax lies. I find it hard to believe, but it's a shocking fact that there is a small number of aggressive, noisy, threatening people who think it is right and fair to try to stop others from getting vaccinated.
The lengths to which these people will go are extraordinary. They pump out scaremongering material and videos, with discredited arguments. They try to play on people's fear of the unknown. They create conspiracies and spread misinformation. They've even sent me death threats just because I played a prominent part in the vaccines rollout.
First of all, if anyone pushed fear and scaremongering, it was Matt Hancock in his coronavirus briefings.
Secondly, if any people went to extraordinary lengths over this 'pandemic', it was Matt Hancock and the British government with lockdowns, 'because they work', so we needed not one but four. I've lost count.
Thirdly, millions must be more than furious with the man who laid down the law about physical restrictions — no visits to the elderly, severely restricted funerals, damp squib weddings, no church — for months on end then shows his blatant hypocrisy by canoodling with his assistant. Thank goodness for security cameras and for The Sun publishing the photo on the front page a month later.
Finally, he never gave MPs the granular data that he was looking at. MPs asked him for the data on which he based his decisions, but he never produced the information. Yet, he expected them to vote based solely on what he told them. I do wish there had been more of a revolt, but Labour were quite happy to approve any and all restrictions. What a parlous state of affairs.
In other Hancock news, in late August, he and his girlfriend took a summer holiday together at a modest resort in the Swiss Alps. It's a pity she hasn't gone back to her husband, who seems like a nice guy.
On September 7, Hancock returned to the backbenches for the first time since 2012:
He's no doubt smarting from that and last week's reshuffle.
To think he was so confident that he would get another Cabinet post.
I do not think he will win re-election should he run again. His constituents are still irked with him for leaving his wife, whom they adored.
Boris Johnson is now into his third year as Prime Minister.
On Wednesday and Thursday, September 15 and 16, he reshuffled some of his cabinet and ministerial posts, signalling that he is more than halfway through his premiership. In other words, this will be the major reshuffle to lead the Conservatives into the next general election.
I hope that Boris does not go for a 2023 election, unless it is late in the year. The coronavirus crisis will have put much of the Conservative manifesto agenda on hold for two years. As such, not much has been accomplished to date, as Andrew Neil, who recently resigned from GB News, says:
Boris has appointed more Leave ministers as well as more minority and female ministers, which will not matter to most small-c conservatives:
Highlights of the reshuffle follow.
Dominic Raab no longer Foreign Secretary
It looks as if dithering over Afghanistan while holidaying in Crete has finished Dominic Raab's days as Foreign Secretary. He had to do the walk of shame after his demotion:
That said, Boris has found a new job for him as Justice Secretary.
Raab will also continue to be Deputy Prime Minister, a role he handled extremely well in April 2020, when Boris was hospitalised with coronavirus.
Defence Secretary Ben Wallace defended his fellow MP and the move in an interview with BBC Breakfast:
Wallace said of Raab: "Dominic is by trade a lawyer, he started his life in the Foreign Office as a human rights lawyer and he's gone to the Ministry of Justice, which is actually a very, very important role and a role he desperately understands."
Liz Truss becomes new Foreign Secretary
Former Trade Secretary Liz Truss replaces Dominic Raab as Foreign Secretary, with Anne-Marie Trevelyan taking her place.
Post-Brexit, Truss has made various trade deals with other nations, notably Australia and Japan.
She also remains minister for women and equalities.
Truss is popular with grassroots conservatives and her name has often been mentioned as a future party leader and Prime Minister.
She succeeded not only in trade but also in refusing wokery in 2020 …
… and in 2021, as Guido Fawkes reported on June 16 (emphases mine):
Liz Truss tells Times Radio most people aren't interested in the culture war…
"My role as equality minister is to make sure everybody in Britain is treated equally regardless of their sex, their sexuality and their race. What we have seen over the past few years is the development of identity politics where there has been division created. People are described as being members of a group rather than for their own personal, individual humanity and dignity… We have just launched for example a big data project looking where are the gaps in education, employment and enterprise across the country, and how we can fix those. That is the approach we need to take… I think some of the identity politics we have seen focus on symbolism over real results has been divisive… I think most people aren't interested in this so–called culture war, what they're interested in is, "Am I being given a fair chance? Do I have a good chance of getting a job? Am I treated fairly by public services?" And that's why I think our equality agenda should focus on, those bread and butter issues that are of concern to everyone in the country."
She is consistently among the most popular of the Cabinet members. This survey is from March 2021:
She can even ably dodge camera equipment during an interview:
Nadine Dorries moves from Health and Social Care to Culture Secretary
In what is hoped to please grassroots small-c conservative voters, Nadine Dorries now heads Digital, Culture, Media and Sport (DCMS), replacing Oliver Dowden, who, as new co-chairman of the Conservative Party, will formulate a strategy for the next general election.
Most of these grassroots supporters are fed up with the BBC. Will Dorries take on Auntie Beeb?
I do not put much stock in that possibility. Resurrecting Dorries's tweets from several years ago are no indication of her current willingness to oppose the BBC on anything much:
The BBC have just appointed a firmly left-wing executive editor of BBC News, Jess Brammar. At least one Conservative MP, Brendan Clarke-Smith, was unhappy about the possibility of her appointment back in August:
I will not be holding my breath for Dorries to take her on, although others in the left-wing and anti-Brexit political establishment are angry about Dorries's appointment, as Guido Fawkes reports; he has screenshots of her past tweets (emphasis in the original):
She's been in the job for 17 hours and is already annoying all the right people… 
John Whittingdale returns to backbenches
I have doubts about Dorries because one of the DCMS ministers, John Whittingdale, was supposed to take on the BBC in 2016 and never did. He also washed his hands of removing free TV licences for most over-75s, saying it was a decision for the BBC. Is this why he got the sack?
During the Euro 2020 soccer tournament this year, Whittingdale told Kay Burley of Sky News that travel restrictions were lifted for 'important' people associated with the matches:
Speaking on Sky News, John Whittingdale was asked why players, officials and others coming to London for the Euros final on 11 July should be allowed in without self-isolating.
He said: "We've always said that for some people who are important, players, for instance …"
The presenter, Kay Burley, interrupted him, saying: "So people who want to go on holiday are not important. Is that what you're saying?"
Whittingdale's last pronouncement, standing in for his boss Oliver Dowden, was about a proposed mandate to make all BBC and ITV output 'distinctively British'. That was on September 16. It will be interesting to see whether Nadine Dorries will insist on it.
Newsnight argument over Dorries
Nadine Dorries was the subject of an argument between Conservative MP Charles Walker and former Conservative MP, Remainer Anna Soubry, who lost her seat in December 2019.
By the way, this was Anna Soubry with Nigel Farage either just before or just after the Brexit referendum in June 2016: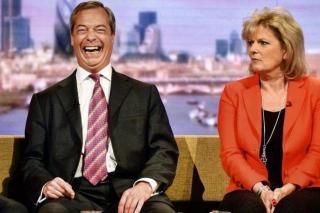 But I digress.
The discussion between Soubry and Charles Walker took place on the BBC's Newsnight on September 15:
Here's the video, with Labour MP Peter Kyle sitting at the desk with presenter Emily Maitlis:
Guido Fawkes has the highlights:
Nadine Dorries provided the biggest clash, as the eternally bitter Soubry ranted that her appointment "actually says everything that's wrong and rotten about this prime minister's stewardship of this country". Charles Walker had some thoughts:
"Nadine Dorries has been a health minister, a minister of state, at an incredibly difficult time for the department of health; has been an extremely good minister for mental health; and really to come onto this programme and just trash her like that is just not a very nice thing to do to be perfectly honest"
Responding to Soubry's claim that people don't really care about reshuffles in the real world, Walker pointed out "Why is it the lead story on Newsnight, and why are you appearing on Newsnight?" Why indeed…
However, there is a personal reason why Anna Soubry is angry with Nadine Dorries.
On July 1, 2016, one week after David Cameron stood down as Prime Minister and Conservative Party leader because of the Brexit referendum result, tensions were running high not only in the Commons but also among the public.
Soubry went out near Parliament to address her fellow Remain supporters. Dorries tweeted that Soubry was under the influence. Soubry demanded that Dorries retract the tweet. The Times has the full story, which ends with this:
Update (25.07.2016): Following publication of this article, Nadine Dorries MP has withdrawn her tweet about passing Anna Soubry MP leaving the bar before she attended a rally of Remain supporters in central London. Ms Soubry has confirmed that she had not drunk any alcohol before speaking at the event.
Another reason why I am doubtful about Nadine Dorries is because she did not question the Government's coronavirus restrictions when she was at Health and Social Care. Does she really believe everything she hears? Here she responds to Conservative Woman's co-founder Kathy Gyngell. Dorries and her mother had the virus at the same time, and her mother recovered first. Even so, not questioning lockdown earns her a black mark from me:
At least she supported Brexit.
Michael Gove moves to Housing, no longer Chancellor of the Duchy of Lancaster
Michael Gove, who is in the process of a divorce and was a recent party boy in an Aberdeen nightclub, is no longer the Chancellor of the Duchy of Lancaster.
Stephen Barclay, formerly Chief Secretary to the Treasury, replaces him in that post. Simon Clarke replaces Barclay in the Treasury role.
Michael Gove replaces Robert Jenrick at the Ministry of Housing, Communities and Local Government and is in charge of Boris's 'levelling up' agenda.
A first attempt at a new acronym for the department has produced DULL:
Guido reports on the problems with acronyms for government departments in general:
The Sun's Harry Cole reports the initial proposal for a new "Department for the Union and Levelling Up" is no longer a flyer after realisations its acronym, 'DULU', sounds too much like "Dull". It's a shame a change was needed, given it was pointed out yesterday that Michael Gove the first MHCLG Secretary with all the letters of the department in his name…
Guido will leave it up to cleverer minds to work out an acronym that includes all the letters of Gove's new remit (MHCLG + Union + Levelling Up + Elections) though it's not the worst reshuffle acronym problem encountered by a PM. As Alan Johnson recounts, in 2005 Tony Blair came up with a plan to rename the department for Trade and Industry as the "Department of Productivity, Energy, Industry and Science". Thankfully Johnson was used to it by that point however – he'd already been Minister for Higher Education and Lifelong Learning, and headed up the Sexual Health Advisory Group…
Although this looks like a demotion for Gove, it involves a hefty budget with pan-govermental reach, something that should definitely appeal to him:
New Education Secretary
Nadhim Zahawi, formerly in charge of the coronavirus vaccine rollout, is the new Education Secretary, replacing Gavin Williamson, who likely got the sack because of the school exams fiasco during the coronavirus crisis.
Zahawi has achieved the British dream, having arrived in the UK as a child refugee who could not speak English:
Other appointments
Guido Fawkes has full reshuffle information for September 15 and 16.
Some MPs have transferred to other departments:
Others will be returning to the backbenches:
Jesse Norman tweeted that he was happy to return to the backbenches:
The new role for Nigel Adams is said to be a 'fixer' appointment in order to get things done:
More information and analysis can be found at The Guardian, The Telegraph, GB News , The Spectator and The Times (here, here and here).
House of Lords
Reshuffles can affect the House of Lords, too.
Fortunately, two of the stars there are still in place.
Baroness Evans
Baroness Evans, composed and competent, will remain as Leader of the House of Lords.
Lord Frost
Lord Frost will remain Cabinet Office Minister for Europe, in charge of EU negotiations and changes to relevant legislation:
On September 16, Guido wrote about Frost's plans to rid the UK of EU laws (emphases in the original):
Lord Frost has announced the government's plans to finally capitalise on the freedoms of Brexit and remove the "special status" of all individual EU laws still on the UK's statute books. There are also plans to invest heavily artificial intelligence, transport, and farming over the Parliament. Now if we just pair deregulation with lower taxes we may actually get somewhere…
Speaking on the reforms this afternoon, Lord Frost said:
"From rules on data storage to the ability of businesses to develop new green technologies, overbearing regulations were often conceived and agreed in Brussels with little consideration of the UK national interest.
"We now have the opportunity to do things differently and ensure that Brexit freedoms are used to help businesses and citizens get on and succeed."
Lord Frost will begin with a review of so-called "retained EU law" – the huge amount of EU legislation still on the UK's statute books; removing its special status so it's no longer a distinct category of UK domestic law, and ensuring all courts have the full ability to depart from EU case law. He describes it as finalising the process of "restoring this sovereign Parliament". There's a reason he's popular with the Tory membership…
Guido's post has more detail, much of which involves digitalising everything from share (stock) certificates and driving licences.
Hmm. I hope that when his proposals reach MPs that they are not taken too far. First, not everyone is online. Secondly, think of the hacking opportunities this could provide. Finally, and perhaps most importantly, digitalisation can lead quickly to establishing a Chinese-style social credit score.
One thing I did like was this:
Permitting the voluntary printing of the Crown Stamp on pint glasses and reviewing the EU ban on markings and sales in imperial units and legislating in due course, none of which were possible within the EU.
Robert Peston's misguided predictions
Sometimes, it is better to wait for the final outcome rather than tweet silly predictions:
On September 16, Guido noted witheringly of ITV's Robert Peston:
While yesterday may not have been great for Dominic Raab, at least he can take solace in the fact he had a better reshuffle than Robert Peston. ITV's senile senior political reporter spent all day tweeting every thought process, speculation and briefing with the acumen and insight of a first-year politics student.
Guido's article lists Peston's tweets. Perhaps ITV should buy him a new crystal ball.
Conclusion
I still think that most Conservative MPs are half-hearted. It's a shame that Boris did not promote any of the 2019 intake, especially the feisty ones from the North of England.
Fortunately, last week's horrible poll results have been reversed. Participants were polled during the reshuffle days of September 15 and 16:
Onwards and upwards to Boris's promised 'sunlit uplands', I hope.
For several months now, Britain has been experiencing a supply chain problem with transport.
Detractors from the corporate world, such as IKEA, say that this is because of Brexit.
Wrong!
A shortage of lorry drivers is affecting deliveries worldwide.
Shipping problems have also been occurring.
On Thursday, September 9, Guido Fawkes posted an item whereby IKEA tried to blame the UK's transport problems on Brexit (emphases in the original):
In a recent BBC article on IKEA's supply shortages, the Swedish furniture giant went all in on blaming Brexit for their inventory issues:
"What we are seeing is a perfect storm of issues, including the disruption of global trade flows and a shortage of drivers, which have been exacerbated by the pandemic and Brexit."
However, IKEA tells a different story to EU countries, e.g. the Netherlands (emphases in purple mine):
The firm goes on to say that "10% of its stock, or around 1,000 product lines" have supposedly been affected by the Brexit-related shortage. In a separate statement given two days later to Dutch newspaper Dagblad van het Noorden, however, an IKEA spokesperson instead cited the exact same product shortage with a different excuse featuring one notable omission:
"There are major logistical problems worldwide. For example, there is a great scarcity of containers and container ships on important sea routes because the economic recovery from the corona pandemic is proceeding faster than expected. There are also congestion in ports due to the crowds and Chinese terminals were temporarily closed due to local corona outbreaks. Many IKEA products are made in China."
Both articles list the same 10% stock shortage figure, only one mentions Brexit.
Guido points out that the problem is global:
Remainers – and some parts of the media enjoying spinning the narrative on their behalf – are refusing to accept the lorry driver shortage is global: iron ore struggles to reach Australian ports; US petrol stations have run out of supplies after a 35,000 fall in lorry drivers; Asia reports a 20% fall in drivers …
Guido's article says that the only place where there is not a driver shortage is Africa.
Talk radio host Howie Carr has been talking about shortages and higher prices in the United States since the 2020 election. Lumber products had skyrocketed at the end of last year. Howie has also mentioned the petrol prices and shortages at the pump which started at the same time.
On August 21, 2021, Global Cold Chain News posted an excellent article on the European situation with regard to lorry drivers, including individual country profiles.
It puts paid to the misguided suggestions in the British commentariat that we should allow a few hundred thousand EU nationals to drive lorries for UK hauliers.
There are two reasons why such reasoning is faulty.
First, over six million EU nationals have been allowed by the Government to remain in the UK post-Brexit. If we cannot find our lorry drivers from among that group, then something is very wrong.
Secondly, as Global Cold Chain News explains, there are lorry driver shortages in most EU countries.
Excerpts follow, emphases mine:
Poland: According to Ti estimates, the shortage in Poland in 2020 is around 124,000 drivers. According to IRU, Poland is one of the most heavily impacted European countries and driver shortage in 2020 stands at around 37%.
Germany: Between 45,000 and 60,000 truck drivers are 'missing' in 2020 in the German market alone, according to the DSLV and BGL, and this number is only increasing. The IRU predicts a gap of 185,000 drivers by 2027 in Germany.
France: In 2019 it has been reported by several news outlets that France is experiencing a shortage of approximately 43,000 drivers.
Ukraine: The deficit of drivers in Ukraine in 2019 ranged from 12,000 to 120,000 depending on the region.
The article explains that HGV (heavy goods vehicle) shortages began years before coronavirus took hold — and, I would add, before Brexit:
The driver shortages have been affecting the global road freight market for around 15 years. The issue comes as the pool of truck drivers is contracting but demand for transport is rising. The COVID-19 pandemic has further exacerbated the already alarming issue of driver shortages as new drivers have been unable to train and take their tests and Covid restrictions make the job even less attractive.
Even before the pandemic a serious cause for concern in the industry, the lack of drivers in the road transport industry was at an all-time high, with many of its underlying issues being long-term challenges. Factors such as an aging workforce and insufficient numbers of new recruits, due to working conditions and image issues of the profession, have been plaguing the industry for many years.
The pandemic affected lorry drivers in the UK and the EU at its height in 2020. On France's talk radio station, RMC, a number of drivers rang in to complain that shower and toilet facilities at truck stops were closed. British drivers experienced the same inconveniences when delivering around the UK.
However, not every company is affected by product shortages.
Pub chain owner Tim Martin of Wetherspoons says that his supplies are at 2019 levels and that Brexit has not affected his business. In fact, it was strike action from a major brewer that caused a temporary shortage.
Guido Fawkes has the story:
Wetherspoon chairman Tim Martin has now pushed back to say these claims are all untrue. The reality is that beer supplies actually remain at 2019 (i.e. pre-pandemic) levels, and that the shortage of a few products over the last two weeks is the result of strike action from one major brewer. Martin added:
"There is clearly a shortage of HGV drivers, both in the UK and in mainland Europe- where, some reports say, there is a shortage of 400,000 drivers. Following the pandemic, there are supply chain issues in many other parts of the world also. In the light of the undoubted problems, it is important that the public is provided with accurate information. Factual inaccuracies and partisan Brexit politics will not assist in finding solutions."
Fake news about Brexit will not solve the transport problem.
Another factor is that another British organisation went on strike this year. The DVLA (Driver and Vehicle Licensing Agency), based in Wales, went on strike in August 2021, specifically the Drivers Medical Department. This is because coronavirus cases rose quickly at the DVLA site.
The strike has caused a backlog of delays surrounding licences and other driver certifications, including those for HGVs.
In conclusion, a number of factors are causing or exacerbating a shortage of HGV drivers — not only in Britain but around the world.
On Thursday, September 9, the Scottish parliament voted in a motion to implement vaccine passports for the nation, beginning October 1:
Patrick Harvie's Greens, who are in a new alliance with the governing SNP, changed their minds about vaccine passports and decided to vote in favour of them:
Some of the MSPs lost their internet connection during the vote. That does not matter, because they, along with MSPs voting from home, can let the moderator know and she will allow them to cast their vote in person or over the telephone. Those votes are broadcast in the chamber.
The incident gives me a chance to show you the interior of Holyrood, where MSPs meet:
The day before the Holyrood vote, MPs in Westminster debated the implemention vaccine passports for England.
Nadhim Zahawi, the vaccines minister, gave a statement about the plans. It did not go well for him.
MPs — including his fellow Conservatives — quoted his previous statements in which he said the passports would not be implemented domestically.
William Wragg (Con), a member of the awkward squad of backbenchers, chided Zahawi (emphases mine):
What a load of rubbish. I do not believe that my hon. Friend believes a word he just uttered, because I remember him stating very persuasively my position, which we shared at the time, that this measure would be discriminatory. Yet he is sent to the Dispatch Box to defend the indefensible. We in this House seem prepared to have a needless fight over this issue. It is completely unnecessary. We all agree that people should be encouraged to have the vaccine, and I again encourage everybody to do so, but to go down this route, which is overtly discriminatory, will be utterly damaging to the fabric of society.
Zahawi replied:
I am grateful to my hon. Friend, who has made his view clear to me on many occasions. It pains me to have to take a step like this, which we do not take lightly, but the flipside to that is that if we do not and the virus causes super-spreader events in nightclubs and I have to stand at the Dispatch Box and announce to the House that we have to close the sector, that would be much more painful to me.
Mark Harper, another Conservative who has opposed coronavirus restrictions, voiced his disapproval:
I have to say that I agree with the Chairman of the Public Administration and Constitutional Affairs Committee, my hon. Friend the Member for Hazel Grove (Mr Wragg). The Minister set out earlier this year that this policy was discriminatory. He was right then and that remains the case. It is a discriminatory policy. The vaccines are fantastically effective at reducing hospitalisation and death. They are very much less effective in reducing transmission of the Delta variant. This is a pointless policy with damaging effects. I am afraid that the Minister is picking an unnecessary fight with his own colleagues. I say to him that the Government should think again. The Leader of the House has been clear that we do not believe—the Government do not believe—that this policy is necessary for us to meet here in a crowded place. Let us not have one rule for Members of Parliament and another rule for everybody else. Drop this policy.
Zahawi replied, saying he hoped the vaccine passports would be temporary:
This is not something that we enter into lightly, but it is part of our armoury to help us transition over the winter months from pandemic to endemic status. I hope to be able to stand at this Dispatch Box very soon after that and be able to share with the House that we do not need to do this any more as we will be dealing with the virus through an annual vaccination programme.
An SNP MP hoped there would be proportionality:
I pay tribute to all those involved in the vaccination programme. It has been extraordinary. In Scotland, we have 4.1 million adults with a first dose and almost 4 million with a second dose, which means that north of 90% of all adults have had at least one dose. It is a fantastic result across the UK since last December, but the pandemic is not over. Lives are still at risk and the pressures on the NHS are very real, so we in Scotland are introducing a vaccine passport, but, broadly, it will be limited to nightclubs, outdoor standing events with more than 4,000 people and any event with more than 10,000 people. While the rules in England may be slightly different, I hope that they are as proportionate as that.
Zahawi said that more details would be forthcoming.
Zahawi's voice faltered several times during the debate:
It pains me to have to stand at the Dispatch Box and implement something that goes against the DNA of this Minister and his Prime Minister, but we are living through difficult and unprecedented times. As one of the major economies of the world, our four nations have done an incredible job of implementing the vaccination programme. This is a precautionary measure to ensure that we can sustainably maintain the opening of all sectors of the economy.
A Liberal Democrat MP, Munira Wilson, picked up on Zahawi's delivery:
I almost feel sorry for the Minister because he really is struggling to defend this policy. However, he has failed to answer the fundamental question posed by my right hon. Friend the Member for Orkney and Shetland (Mr Carmichael) about this deeply illiberal, discriminatory and unnecessary policy: will this House get a vote on the implementation of covid vaccine passports—yes or no?
Zahawi answered:
There will be appropriate parliamentary scrutiny, as I have said today and in the past.
Not one MP approved of the proposed policy measure in the debate.
On Friday, September 10, news emerged that, if implemented, vaccine passports could open the way for sweeping powers. They could eventually become a national ID 'card'. The Telegraph's Madeline Grant tweeted:
The Telegraph's news that day cited an article from The Sun saying that we might have to have a vaccine passport to go to the pub:
Britons could be required to show vaccine passports at more businesses, the Culture Secretary has suggested amid reports the Prime Minister is preparing to unleash a "toolbox" of contingency measures. 
The Government is set to push ahead with mandatory Covid certification for nightclubs at the end of the month.
But The Sun reports that this will be widened to include other venues such as stadiums and pubs, which will be announced next week by Boris Johnson as part of plans to control the virus through the autumn and winter. 
Oliver Dowden told Sky News: "We will be looking at bringing in certification for nightclubs at end of the month.
"If there is a need to further extend that certification according to the public health need, we will look at doing so but we're always reluctant to impose more restrictions on businesses unless we really need to."
However, having voted in the unpopular increase in National Insurance contributions and the poll result showing a Labour lead for the first time since January, the Government reconsidered their stance on vaccine passports.
On Sunday, September 12, Health Secretary Sajid Javid appeared on the BBC's Andrew Marr Show to say that vaccine passports in England will not be going ahead. I would add 'for now', because this Government is on a right merry-go-round with regard to coronavirus policies:
Mark Harper MP welcomed the news:
Even Public Health England (PHE) statistics show two inoculations (I use the term advisedly) offer little protection:
TalkRADIO's Julia Hartley-Brewer points out that vaccine passports cannot save lives and are discriminatory:
Yet, Scotland's First Minister Nicola Sturgeon insists the decision to implement them north of the border is the right thing to do:
However, one of Scotland's coronavirus advisers, behavioural psychologist Stephen Reicher implied that England, not Scotland, made the right decision:
Guido Fawkes has a quote from Reicher (emphases in the original):
They are a double edged sword. Passports accelerate uptake in the willing but accentuate opposition in the sceptical. They increase safety but can increase complacency.
Quite a departure from Sturgeon's claim that they "have part to play". At least she insisted they were "a very limited scheme"…
Scotland could still backtrack on vaccine passports, as their September 9 vote was on a motion only, not legislation:
It is good to see that politicians are taking note of the public mood — for once.
It had to happen at some point.
For the first time since January, a poll has shown that Labour is more popular than the Conservatives.
YouGov took the following poll on September 8 and 9. September 8 was the day of the parliamentary vote on an increase in National Insurance to fund the NHS and, from 2025, social care.
YouGov are also pro-Conservative.
This is a warning to Boris and his team:
The full results are here. They reveal that a high percentage of respondents — 19% — do not know for whom they would vote. That figure was 20% in the previous week's poll.
Those who would not vote in the next election, some years away, rose from 9% to 12%.
Boris Johnson is keen on polls. He should take this to heart and tell his new wife to stop running the country.
LBC's Nick Ferrari interviewed Conservative MP and Cabinet member Oliver Dowden, who said that polls go up and down:
Guido Fawkes's accompanying post says (emphases in the original):
It will have been nigh on impossible for co-conspirators not to have already seen last night's bombshell YouGov poll that sees the Tories end their 149 consecutive leads over Labour, slipping back five points down to 33% versus Labour's 35%. Dowden unsurprisingly put on a brave face, saying "polls go up, they go down". How much further down is the main question…
Meanwhile it's not just the polls that see the Tories in the mud. Guido learns that even a Tory bigwig fundraiser on Wednesday, at Mayfair's Wallace Collection, couldn't get hands reaching into pockets for the party, despite cajoling from both Boris and Rishi. Who knew Tory donors weren't keen on an enormous tax hike?
Guido's readers listed a litany of complaints against the Conservatives — and rightly so:
too much taxation and spending;
too green — also at the cost of the taxpayer, including electricity and gas bills going up dramatically this year and next;
too many economic migrants crossing the Channel from France;
too woke.
Guido also received a lot of comments to this tweet:
The public will not appreciate that Downing Street is defending the NHS in hiring more managers with outrageously high salaries:
Guido quoted a spokesperson who briefed the press (Lobby):
The public will rightly expect every penny raised by the levy to be spent on cutting Covid waiting times and finally fixing the care crisis … NHS England is already working to be more efficient and cut waste.
The spokesperson said that the NHS was already being more efficient. Guido's post says:
… there were initially "211 commissioning organisations", so the 42 executives running the new Integrated Care Services 'significantly reduce[s]' the total number of managers.
And, no, Downing Street said these managers are not 'bureaucrats':
No. 10 also pushed back on calling these managers "bureaucrats", claiming "these individuals will be responsible for a population of around a million people with billion pound budgets, and so we want highly qualified people who can deliver for the public." A reminder that some will earn 80% more than Boris himself…
Guido spotted another YouGov poll on how the imminent rise in National Insurance is going down with the public:
Here are the poll results:
Opinium's results on the same question showed that a clear majority oppose the rise:
In related news, Chancellor Rishi Sunak is suspending the triple-lock on pensions for one year, meaning that state pensions will not rise with inflation. That has not gone down well, either. Admittedly, nearly half of those polled do not know what the triple lock involves. Maintaining the triple lock was also part of the Conservative manifesto, as was the commitment not to raise National Insurance:
Boris is fortunate that Labour's Keir Starmer is so unpopular:
Boris polls way above Starmer:
That said, his popularity might not hold out in the long run.
Some pundits are beginning to refer to the Conservatives as Blue Labour.
However, Paul Embery, who really is Blue Labour, a Labour party member who likes aspects of conservatism, explains how pundits are misusing the label (emphases mine):
There is little sense either that the government understands the value that Blue Labour attaches to relationships and community. Where is the recognition of the family as the bedrock of society and the plan to strengthen that institution? How does the government propose to revitalise our disempowered local and relational institutions — the little platoons that fill the space between market and state and are the lifeblood of our civil society: credit unions, friendly societies, faith groups, co-operatives, and other voluntary or campaigning groups.
All of this stuff matters, and any government genuinely concerned about fostering the deepest social solidarity, reinvigorating democracy and restoring a true sense of community, while making our nation more just and equal, would place these questions front and centre.
But it won't happen under a Boris Johnson government. That's because, at heart, the prime minister, economically and socially, remains an instinctive libertarian. Blue Labour's "socialism with a small 'c'" runs counters to this. Johnson may have the nous to recognise that the movement's message plays well. But he doesn't really believe in it.
I agree with Paul Embery that a Conservative emphasis on family would be a good start, but Boris cannot espouse that without looking hypocritical.
As for Boris being 'an instinctive libertarian', I disagree. He's about as instinctively libertarian as he is Blue Labour.
In any event, Boris should consider these polls a wake-up call. He did say in December 2019 that the overwhelming Conservative votes were 'on loan'. Now he has to find a way to keep them.
Last weekend, the biggest news in Britain was a proposed permanent tax rise on National Insurance (NI) to finance the NHS backlog from coronavirus, then social care.
The NHS needs £10bn within the coming months to begin to take care of the missed appointments, treatments and operations caused by coronavirus. In 2025, the revenue will go towards social care, legislation for which is non-existent at present.
For a low-tax party, the Conservatives have managed to increase taxes to their highest level since the Second World War. Britain has had Conservative prime ministers since 2010:
This is the current situation:
The TaxPayers' Alliance posted a petition against the NI tax rise:
The TaxPayers' Alliance has been keeping a gimlet eye on public sector expenditures, including 'golden goodbyes' for senior civil servants.
On Sunday, September 5, the Telegraph's Christopher Hope reported (emphases mine):
More than 1,000 senior civil servants have received six-figure "golden goodbyes" worth over £100 million since MPs passed a law five years ago to outlaw them, The Telegraph can disclose …
The Enterprise Act – which was passed into law in May 2016 – expressly put a £95,000 cap on exit payments in the public sector.
However, it was not actually implemented until Nov 2020. It was in place for just three months before a court challenge overturned it.
This has allowed senior civil servants to continue to pocket payments of more than £100,000 each.
Analysis by the TaxPayers' Alliance of severance payments in departmental annual reports in 2017/18, 2018/19 and 2019/20, as well as including those reports filed so far for 2020/21, found 1,032 civil servants had received the sums.
In the most recent year The Treasury – which is in charge of the policy – was one of the biggest offenders handing £100,000 payouts to seven civil servants.
Returning to the NI tax rise, Hope retweeted the link to his article on Tuesday:
On Monday, September 6, it appeared that a number of Conservative MPs would rebel on Wednesday, the 8th, when the vote on the measure was held.
Christopher Hope reported on the fact that this tax is likely to affect low-income earners much more than the wealthy:
One Cabinet minister described it as "a tax raid on supermarket workers and nurses so the children of Surrey homeowners can receive bigger inheritances" …
Former minister and Tory MP Jake Berry told the BBC that the rise would disproportionately affect working people "on lower wages than many others in the country", who would end up "paying tax to support people to keep hold of their houses in other parts of the country where house prices may be much higher".
Robert Halfon, chairman of the education select committee, and a former deputy chairman of the party, added that "it's going to hit the low paid, then I think that would cause me huge worries".
On Tuesday, the day when Boris Johnson introduced the proposal to MPs, various think tanks said the same thing. Paul Johnson of the Institute for Fiscal Studies said why NI was being targeted instead of, say, income tax. Both employer and employee will pay a quick and consistent source of revenue:
A levy of 1.25% on employee earnings and on employer wage costs (so a 2.5% overall increase in the tax rate on earnings), will raise £14 billion a year. The extension of this levy to those over state pension age and to dividends is welcome, but this remains a tax which will be overwhelmingly borne by workers with very little coming from pensioners. This continues a trend seen over many decades of the burden of tax being shifted towards earnings. The creation of an entirely new tax will mean yet more quite unnecessary complexity.
CAPX had more on tax disparity, especially for young people, and public sector inefficiency:
… raising NI has been called a 'reverse Robin Hood' tax. The beneficiaries of hikes to NICs would be the already wealthy and their relatives, especially as you don't have to pay NI on income from investments or rental properties.
Meanwhile a 1% rise would see the average earner's tax bill go up by £204 and those earning over £50,000 a year will pay an extra £404 a year. Worst of all, unlike income tax, those on the very lowest wages still have to pay NI. That particularly rankles coming from a party that has spent so long talking about 'taking the lowest paid out of tax' by increasing the personal allowance …
As set out in a previous Adam Smith Institute paper, social care is already cursed with being run by inefficient government bodies. With staff shortages, an ageing population and an inundated NHS, this is a sector facing myriad problems that a tax hike alone won't get near solving. As the ASI's Eamonn Butler puts it, throwing money at the sector without fixing its underlying problems is 'like pouring oil into a rusty engine – it still gets you nowhere'.
That said, if you are going to raise money for the sector, there are some obvious places to look before raising taxes on working age people. We could start by means-testing some of the universal benefits given to pensioners, such as free bus passes and the Winter Fuel Allowance. If the Government is determined to fund it through NICs, at least change the system so that working pensioners pay it as well.
Sadly, as The Sun's Harry Cole tweeted, this tax will only increase:
Worst of all, at the moment, NI revenue doesn't stay segregated. It is used for all and sundry expenditures, as the i paper's Mark Wallace pointed out:
It isn't an "insurance" scheme at all. It's just a second income tax.
There is no "pot" being paid into, no "contributions" in any meaningful sense, and no deal by which what you pay in buys you the benefits that are supposedly purchased. When you "pay in", your money just goes into general taxation, to be spent on whatever the government of the day wants …
At best, the money you pay goes back out of the door in the form of pensions and benefits to an earlier generation of workers. Fulfilling the salesman's promise with the fees of new customers is a Ponzi scheme tactic that Bernie Madoff himself would recognise.
As well as being immoral, this framing distorts our political debate. The confusion makes NI easier to exploit than plain old income tax – as YouGov found in a recent poll, raising the former is sizeably more popular than raising the latter.
Prior to Boris's announcement to MPs, the Government issued MPs with the plan for health and social care funding:
He also sent a detailed letter to the First Ministers of Scotland, Wales and Northern Ireland, whose nations will also benefit from this revenue.
In his statement to MPs, he explained why he broke his party's manifesto commitment not to raise NI contributions:
He concluded his statement with this:
After all the extraordinary actions that have been taken to protect lives and livelihoods over the last 18 months, this is the right, reasonable and fair approach, enabling our amazing NHS to come back strongly from the crisis; tackling the covid backlogs; funding our nurses; making sure that people get the care and treatment they need, in the right place, at the right time; and ending a chronic and unfair anxiety for millions of people and their families up and down this country. I commend this statement to the House.
Sir Keir Starmer, Labour leader, gave the Opposition's response, which was negative. Labour, incidentally, were in power for 13 years — 1997 to 2010 — and never came up with a social care plan, needed then as much as it is needed now.
Boris Johnson responded:
He added:
Let us be in no doubt: if we did what we have heard from the Labour party over the past few weeks, we would still be in lockdown, because the right hon. and learned Gentleman opposed coming out of stage 4; we would have absolutely nothing by way of dealing with the NHS backlogs; and after decades of inertia from the Labour party we would have absolutely no way of dealing with the anxiety of millions of families across this country who face the prospect of catastrophic social care costs.
This Government are dealing with those things—we are dealing with all of them. We are getting on with it. We are taking the decisive action. We are doing it all together. This is the Government who get on and deal with the people's priorities; this is the Government who tackle social care; and, indeed, this is the party of the NHS.
The House of Commons voted on the NI increase on the following day, September 8.
That morning, some in the business world grumbled (Rishi Sunak, Chancellor of the Exchequer, pictured below):
Health Secretary Sajid Javid vowed to make every penny count …
… however, the NHS plans to press on with hiring more useless managers who earn much more than the Prime Minister:
By the time the debate before the vote took place, most Conservative MPs had calmed down.
The New Statesman, a Labour-supporting magazine, explained why:
What has changed? The main thing is the Tory sense of pragmatism that has seen the party shapeshift, change leaders and directions time and again to electoral advantage. One Conservative MP says they understand that this health and social care levy is a "flagship policy" of the government – not one they can rebel on lightly without inflicting serious harm on their own brand. A cynic might also wonder if rumours of a cabinet reshuffle before Conservative Party conference … have helped to inspire loyalty in the Conservative ranks.
There is a second factor that has influenced those on the back benches. Conservative MPs have reluctantly concluded that they will be in a weak position to ask for more money for the NHS in their constituencies if they oppose a levy designed to raise funds for it. Tory MPs are competing against each other for money from the towns fund, levelling-up fund, and for a piece of the pie in new funding for NHS hospitals. They know their negotiating hand is weakened if they rebel.
The third factor in squeezing the rebellion is, quite simply, that Tory MPs think the Prime Minister's plan is better than they had initially feared. The proposal was first reported over the weekend, before the government had decided the final details of the policy, leaving critics time to get ahead of the story without anyone from No 10 making the case for it. Expanding the national insurance levy to include pensioners in work has done something to allay Tory fears that this is an unfair tax on younger people, as has the dividends tax hike.
In the end, the NI increase was voted in comfortably — 319 to 208:
Only five Conservative MPs voted against the bill:
However, 37 Conservatives abstained.
The public are divided on increasing NI, according to Opinium (more here):
However, YouGov's poll results were much closer:
It will be interesting to see what happens in 2025, when the NI increase is shifted from the NHS to social care, because the NHS always demand more money:
And what happens if Labour are in charge again someday?
I might not like it, but I hope this works, for Conservatives and the UK.
It used to be that vaccines prevented infection.
Coronavirus has changed all that. The double-vaxxed are ending up infected:
Andrew Doyle, who hosts Free Speech Nation for GB News, has it, and he's taken his shots.
ITV's Robert Peston, also double-vaxxed, has it, too:
Peston was supposed to be in Aberdeenshire in Scotland but had to cancel:
I hope he recovers soon.
Meanwhile, in the UK, the debate rages on as to whether children over the age of 12 should receive the vaccine and whether older adults should have a booster shot this autumn.
British supporters of vaccines for children say that such programmes in the United States and France have been highly successful. Hmm.
Dr Robert W Malone is an American physician as well as an inventor of mRNA vaccines and RNA as a drug. He directs his readers to an article in LifeSiteNews about possible coercion being used in high schools:
Meanwhile, the WHO is urging countries wishing to vaccinate their children to donate those doses to Covax instead for wider use around the world. The reply to this tweet includes a statement from Britain's JCVI (Joint Committee on Vaccines and Immunisation) which recommended against children's vaccinations on Friday, September 3:
The WHO also disagrees with booster shots in Western countries, again recommending donating those doses to poorer countries:
The UK also wants to roll out vaccine passports by the end of the month. If we can catch the virus despite two jabs, what is the point? It seems as if we are all back at Square One, only that we are susceptible to milder cases rather than death.
Speaking of deaths, the UK figures for 2021 are on a par with other years since the vaccine rollout began. I saw this graphic on another site with no attribution. Note the bright green line up to Week 33: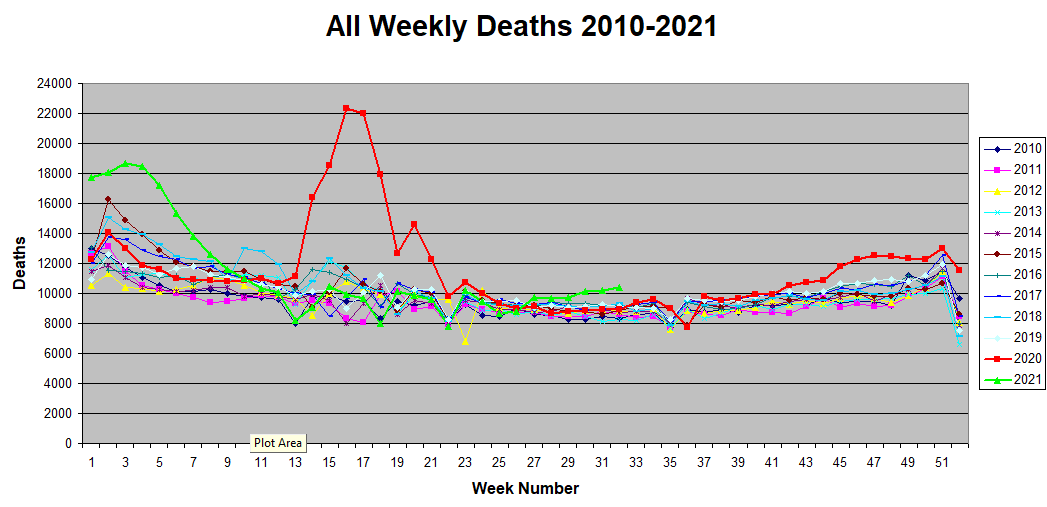 Moving to poorer countries now, not every nation has shown signs of infection or deaths:
Dr Malone says that Peru had a preventive programme of giving its citizens doses of ivermectin until a new president scrapped it. At that point, fatal infections began rising dramatically:
Since the pandemic began, ivermectin for humans has been taken off the market in several Western countries or is restricted on a prescription-only basis for certain conditions, excluding the virus. In many first-world countries, ivermectin is now used solely on animals for various diseases. The current formulation is made for their consumption.
Yet, in Peru and Africa, the formulation for humans is still available. It is inexpensive and is used to cure a variety of diseases as the following Twitter thread about Africa tells us.
The countries in blue are where ivermectin is used on humans. Note the differences in coronavirus cases and deaths:
Ivermectin, sold under the trade name Mectizan, is used to treat river blindness, a common and highly painful disease. It is not unusual to see people with a pair of eyebrow tweezers on a chain around their necks. Among other things, river blindness inflames the eyelash follicles. The only way to relieve the intense pain is to carefully pluck the offending eyelash. It is an ongoing pain until the disease is cured:
The Japanese have looked at sub-Saharan data and have recommended ivermectin to the government as a treatment for coronavirus:
It seems that the Japanese government rejected the use of ivermectin in combatting coronavirus. The updated statistics for Africa are in the second tweet:
Another big supporter of ivermectin is Karl Denninger of The Market Ticker.
On December 18, 2020, he wrote that by giving Americans two tablets of ivermectin, coronavirus could be stopped in one week in the United States. Two tablets in total is all it would take (emphases in the original):
… Why the hell are you not only letting them get away with it but willing to stand in line and take a not-fully-tested shot when a $2 alternative that does the same thing and has been proved safe over more than 30 years of time is available, and it also has a remarkable record of preventing serious disease and death.   This has been known for months.
We can stop Covid-19 in ONE WEEK.
One.  Not five, six, eight or ten as promised by Dr. Redfield with his "masks" who, I remind you, lied.  Covid-19 did not stop even though he got what he wanted.
The science and the CDC's own data says this will work in ONE WEEK.
And the risk if it doesn't work as the science and math says it will?
STATISTICALLY NONE; the drug in question has had over 3.5 billion doses dispensed worldwide and, on the data, is safer than Tylenol and the number of pills you must take is two.
Not two per day.
Two.
Ivermectin will receive broad media coverage only when it's too late. What a pity.
We continue to find out more about what went on behind the scenes in Afghanistan.
Biden-Ghani telephone call transcript
Somehow, Reuters received recordings and transcripts of two telephone calls between Washington and Ashraf Ghani, the then-president of Afghanistan.
The fuller of the two transcripts comes from the July 23 call between Joe Biden and Ghani. Excerpts follow, emphases mine.
Biden told Ghani that the 'perception' in Washington and the Pentagon is that Afghanistan's fight against the Taliban is not going well:
And there's a need, whether it is true or not, there is a need to project a different picture.
Biden suggested that Ghani implement a new strategy focused on major population centres. He also said that the Afghan army far outnumbered the Taliban:
You clearly have the best military, you have 300,000 well-armed forces versus 70-80,000 and they're clearly capable of fighting well, we will continue to provide close air support, if we know what the plan is and what we are doing. And all the way through the end of August, and who knows what after that.
We are also going to continue to make sure your air force is capable of continuing to fly and provide air support. In addition to that we are going to continue to fight hard, diplomatically, politically, economically, to make sure your government not only survives, but is sustained and grows because it is clearly in the interest of the people of Afghanistan, that you succeed and you lead. And though I know this is presumptuous of me on one hand to say such things so directly to you, I have known you for a long while, I find you a brilliant and honorable man.
Ghani explained the situation at the time, which involved terrorists from Pakistan, insufficient pay for the Afghan army and the Taliban's refusal to negotiate with his government:
Mr. President, we are facing a full-scale invasion, composed of Taliban, full Pakistani planning and logistical support, and at least 10-15,000 international terrorists, predominantly Pakistanis thrown into this, so that dimension needs to be taken account of.
Second, what is crucial is, close air support, and if I could make a request, you have been very generous, if your assistance, particularly to our air force be front loaded, because what we need at this moment, there was a very heavily reliance on air power, and we have prioritized that if it could be at all front-loaded, we will greatly appreciate it.
And third, regarding procedure for the rest of the assistance, for instance, military pay is not increased for over a decade. We need to make some gestures to rally everybody together so if you could assign the national security advisor or the Pentagon, anyone you wish to work with us on the details, so our expectations particularly regarding your close air support. There are agreements with the Taliban that we [or "you" this is unclear] are not previously aware of, and because of your air force was extremely cautious in attacking them.
And the last point, I just spoke again to Dr. Abdullah earlier, he went to negotiate with the Taliban, the Taliban showed no inclination. We can get to peace only if we rebalance the military situation. And I can assure you…
Biden appeared to be talking at the same time, as his reply is recorded as 'crosstalk'.
Ghani continued, ending on an optimistic note about the strength of the resistance to the Taliban:
And I can assure you I have been to four of our key cities, I'm constantly traveling with the vice president and others, we will be able to rally. Your assurance of support goes a very long way to enable us, to really mobilize in earnest. The urban resistance, Mr. President is been extraordinary, there are cities that have taken a siege of 55 days and that have not surrendered. Again, I thank you and I'm always just a phone call away. This is what a friend tells a friend, so please don't feel that you're imposing on me.
Biden responded:
No, well, look, I, thank you. Look, close air support works only if there is a military strategy on the ground to support.
Was Biden indicating, consciously or otherwise, that he was going to pull US troops out within three weeks?
On August 31, Reuters issued further information about the phone call, allegedly the last conversation between the two men:
The men spoke for roughly 14 minutes on July 23. On August 15, Ghani fled the presidential palace, and the Taliban entered Kabul …
Reuters reviewed a transcript of the presidential phone call and has listened to the audio to authenticate the conversation. The materials were provided on condition of anonymity by a source who was not authorized to distribute it …
I wonder about the first sentence below:
The American leader's words indicated he didn't anticipate the massive insurrection and collapse to come 23 days later. "We are going to continue to fight hard, diplomatically, politically, economically, to make sure your government not only survives, but is sustained and grows," said Biden.
The White House Tuesday declined to comment on the call.
After the call, the White House released a statement that focused on Biden's commitment to supporting Afghan security forces and the administration seeking funds for Afghanistan from Congress.
Well, the Biden administration would say anything, because:
By the time of the call, the United States was well into its planned withdrawal from Afghanistan, which Biden had postponed from the May date set by his predecessor, Donald Trump. The U.S. military had closed its main Afghanistan air base, at Bagram, in early July.
As the two presidents spoke, Taliban insurgents controlled about half of Afghanistan's district centers, indicating a rapidly deteriorating security situation.
By August 9, it became clear that the US was leaving matters in Afghan hands:
In a little over two weeks after Biden's call with Ghani, the Taliban captured several provincial Afghan capitals and the United States said it was up to the Afghan security forces to defend the country. "These are their military forces, these are their provincial capitals, their people to defend," Pentagon spokesman John Kirby said on August 9.
That said, US intelligence indicated that Kabul would not fall into Taliban hands for at least 30 days, possibly 90:
On August 11, U.S. intelligence reports indicated Taliban fighters could isolate Afghanistan's capital in 30 days and possibly take it over within 90. Instead, the fall happened in less than a week.
I wonder if Britain received the same briefing (see below).
Pakistan took exception to Ghani's allegations that they were fuelling the insurrection by the Taliban:
The Pakistani Embassy in Washington denies those allegations. "Clearly the myth of Taliban fighters crossing from Pakistan is unfortunately an excuse and an afterthought peddled by Mr. Ashraf Ghani to justify his failure to lead and govern," an embassy spokesman told Reuters.
Ghani could not be reached for comment:
Reuters tried to reach Ghani's staff for this story, in calls and texts, with no success. The last public statement from Ghani, who is believed to be in the United Arab Emirates, came on August 18. He said he fled Afghanistan to prevent bloodshed.
Military call with Ghani
Reuters' August 31 article says that the second call with then-President Ghani also took place on July 23, after his conversation with Joe Biden:
In a follow-up call later that day that did not include the U.S. president, Biden's National Security Advisor Jake Sullivan, General Mark Milley and U.S. Central Command commander General Frank McKenzie spoke to Ghani. Reuters also obtained a transcript of that call.
In this call, too, an area of focus was the global perception of events on the ground in Afghanistan. Milley, chairman of the Joint Chiefs of Staff, told Ghani "the perception in the United States, in Europe and the media sort of thing is a narrative of Taliban momentum, and a narrative of Taliban victory. And we need to collectively demonstrate and try to turn that perception, that narrative around."
"I do not believe time is our friend here. We need to move quickly," McKenzie added.
A spokesperson for McKenzie declined to comment. A spokesman for Milley did not respond by publication time.
US armoured vehicles move from Afghanistan to Iran
On September 1, The Gateway Pundit reported that US vehicles captured by the Taliban have been seen in Iran (emphasis in the original):
The Taliban was filmed this week moving captured US military vehicles to Iran.
Thanks to Joe Biden and the woke US Generals.
The article includes the following tweets.
The first comes from Asaad Hanna, a journalist:
Comments to Hanna's tweet included another photo:
The second tweet in The Gateway Pundit's article is from Al Arabiya News:
The Gateway Pundit's article includes a long list of American military equipment that was left behind in Afghanistan.
Here is the summary:
As The Gateway Pundit reported earlier on Sunday — Joe Biden left 300 times more guns than those passed to the Mexican cartels in Obama's Fast and Furious program.
A more complete list was created with public information and help from other intelligence sources.  The list does not include all the extra kinds of nonlethal equipment, everything from MRE's, Medical Equipment, and even energy drinks.
The big story might be the pallets of cash the Taliban have been posting videos of pallets of weapons and stacks of $100 bills they have seized …
The Biden administration would rather the public not know; the information has been scrubbed. Imagine if President Trump had done this:
Britain's Foreign Secretary Dominic Raab appears before Parliamentary committee
On Wednesday, September 1, Foreign Secretary Dominic Raab appeared before the Foreign Affairs Select Committee, comprised of a cross-party group of MPs.
I watched the proceedings and thought that he acquitted himself well.
One of the difficulties in anticipating Joe Biden's sudden withdrawal of troops, he said, was weighing up America's 'intent' versus their 'capability'.
It also appears that the UK gave Raab the same aforementioned erroneous intelligence from the US about the Taliban seizing control of Kabul within 30 to 90 days:
Andrew Gimson wrote for Conservative Home about the session which lasted just under two hours. I found his article rather unfair, especially considering the US was displaying the same lack of intelligence.
However, it does provide a précis of two main points of the hearing:
Tom Tugendhat (Con, Tonbridge and Malling), the chair of the committee, sought to establish how much attention ministers had been paying not only to Afghanistan, but to neighbouring countries such as Uzbekistan, Tajikistan and Pakistan, through which evacuation by land might or might not be permitted …
Chris Bryant (Lab, Rhondda) reminded Raab that the Foreign Office's travel advice for British nationals in Afghanistan only changed on 6th August.
Bryant also pressed Raab about why he went on holiday and did not return until after August 15, the day when Kabul fell to the Taliban. Another Labour MP asked the same question, as did an SNP MP who did not give Raab time to respond.
As for his lack of discussions with ambassadors in Afghanistan and neighbouring countries, Raab said that his department's procedure is to receive regular reports from them then collate them into one report that provides a detailed meta view of the situation on the ground.
When asked why he had not been to Pakistan lately, Raab replied that the pandemic made it nearly impossible.
Tugendhat asked Raab why the UK wasn't using a safe passage to Uzbekistan as the Germans were. Tugendhat said that it was an 'effective' route. Raab countered, saying that it was 'effective' until Uzbekistan closed its border.
Raab took great pains to point out the positive aspects of the past fortnight, e.g. evacuating 17,000 people at short notice.
A few MPs, including Conservatives, asked him about the evacuation phone number in the Foreign Office that was inoperable and the emails that went unanswered. Their in-boxes were full of complaints about it. Raab said that most phone calls were answered in under a minute. He said that his staff were responding to a great number of emails.
However, this was one of several tweets from the middle of August indicating there was a problem. Sir Laurie Bristow was the UK ambassador to Afghanistan:
A Labour MP, Neil Coyle, asked why the portrait of the Queen remained in the Kabul embassy. Raab said he was unaware that it was still there. According to Coyle, the Taliban posed in front of it.
The best part was the final question from Claudia Webbe (Lab). She asked why the UK had been in Afghanistan for the past 40 (!) years:
Raab gave her a withering look and reminded her of the two decades prior to 2001, which included Soviet occupation.
Guido Fawkes said (emphasis in the original):
Claudia Webbe was back for yet another Foreign Affairs Select Committee appearance this afternoon, once again taking Dominic Raab to task with the hard-hitting questions no one else is brave enough to ask. Raab's look of total bemusement at "What is your understanding of civil wars in Afghanistan" was one particular highlight. "Claudia, this is just nonsense" was another…
It seems as if Guido Fawkes's readers have a better reading of Raab's performance than the pundits. A selection follows. Unfortunately, Guido's system does not have URLs to each comment.
Overall (emphases mine):
What was there to discuss? Pushing to ask what date he went on holiday and whether he considered resigning through to whether picture of the Queen would have been abandoned. There would have been far superior questions asked by people on any high street.
This thread had two notable comments. Here's the first:
And here's the second, about the phone call to his Afghan counterpart that was never made. The first sentence is tongue in cheek:
Raab would have made a phone call which would have resulted in the immediate surrender of the Taliban.
Though I prefer to be controversial and think that it would have made zero difference. Raab is a leaver and a Tory so the blame for the Afghan farce lies squarely with him and Trump, in the eyes of the loons.
The final comment is about Tom Tugendhat, which is probably true:
Raab left the session promptly in order to travel to Qatar where he discussed various issues relating to Afghanistan:
Raab is spending the weekend in Pakistan for talks with his counterpart from the Ministry of Foreign Affairs. There will be a discussion about the UK's £30 million aid package; one-third will go to humanitarian organisations and the rest to countries taking in Afghan refugees.
Two other political journalists reviewed Raab's performance. Madeline Grant, writing for The Telegraph, gave him a thumbs-down. However, The Times's Quentin Letts reminded us that select committee hearings are often about political point-scoring:
As Westminster cynics know, select committees are not really about policy. They are vehicles for the ambitions of the MPs who run them and they can be used to give legs to a juicy hoo-hah …
Raab's own performance? The left shoulder twitched. That is always a sign he is under pressure. He kept fiddling with his nose, too. But he is one of the grown-ups in the cabinet and it was not immediately apparent he had been seriously damaged by his self-serving scrutineers.
At Conservative Home, James Frayne did not think the public will be bothered by the select committee hearing or by Raab's perceived neglect of the Afghan situation:
While unnamed Government sources are seeking to apportion blame to particular politicians (Raab, most obviously), the public don't and won't think along these lines; within reason, they think of the Government as an entity, rather than as being devolved in any meaningful way.
This means there's a limit to what "damage control" the Government can do by throwing particular politicians and officials under a bus. It will all land at the door of the PM where public opinion is concerned.
Will there be enough stories, cumulatively, to provoke a general backlash against this Government at last? Time will tell (I have no idea what's coming out) but I doubt it. Hard as it is for many commentators to understand or believe, for most of its supporters, this Government has a lot of credit in the bank on questions of judgement and competence.
I fully agree. Dominic Raab could not have prevented the Taliban taking over Kabul. He's not one of my favourite MPs, but he is doing a good job in very difficult circumstances.
————————————————————————————
The next few weeks should be interesting. What new revelations about Afghanistan will appear?