You are currently browsing the tag archive for the 'UK' tag.
Sadly, Prince Philip, the Duke of Edinburgh, died on Friday, April 9, 2021, exactly two months short of his 100th birthday:
The Queen has lost her best friend. My deepest sympathies to her for the unimaginable loss of her long-time husband and daily confidant. My condolences also go to the Royal Family in their grief.
Young love
The couple first met in 1934, and began corresponding when the Prince was 18 and a cadet in the Royal Navy. Princess Elizabeth was 13 at the time.
She was smitten with him from the start.
Prince Philip served with distinction during the Second World War in the Mediterranean and Pacific fleets.
After the war ended, he could have had a stellar career in the Royal Navy. His superiors praised his clear leadership skills.
However, love intervened and the rest was history.
Born Prince Philip of Greece and Denmark, he renounced his foreign titles and took British citizenship before he and Princess Elizabeth were engaged. He took the surname of his maternal grandparents: Mountbatten.
He and Princess Elizabeth were engaged in July 1947. They married on November 20 that year. Shortly before the wedding, George VI gave him the titles of Duke of Edinburgh (created for him), Earl of Merioneth and Baron Greenwich.
Prince Philip remained in the Royal Navy until July 1951. He retired with the rank of Commander.
Royal succession — and surname
In January 1952, he and the Queen began a tour of the Commonwealth countries. They were in Kenya when news reached them that the Queen's father, George VI, died on February 6 that year.
Although she became Queen immediately upon her father's death, her coronation took place in 1953, as it had to be planned meticulously.
On Coronation Day, he knelt before her, clasped her hands and swore an oath of allegiance to her:
He also had to touch her crown and kiss her on the cheek.
He never had a constitutional role, nor was he ever formally given the title of Royal Consort. The courtiers did not like him, nor did they trust him. They believed his personality to be brash and unbecoming of the Royal household. They shut him out of as much decision making as possible.
When Elizabeth became Queen, the question about her family name arose. Prince Philip suggested that the Royal Family be known as the House of Edinburgh. Upon discovering that suggestion, Queen Mary, Elizabeth's grandmother, wrote to Prime Minister Winston Churchill, who advised the young monarch to issue a royal proclamation saying that the Royal Family would continue to be known as the House of Windsor.
In his inimitable style, Prince Philip complained privately:
I am nothing but a bloody amoeba. I am the only man in the country not allowed to give his name to his own children. [57]
The Queen did nothing until eight years later, in 1960, 11 days before she gave birth to Prince Andrew. She issued an Order in Council declaring that the surname of her and her husband's male-line descendants who are not styled as Royal Highness or titled as prince or princess would be Mountbatten-Windsor.
Pater familias
Prince Philip had to carve a role out for himself. He became the pater familias and, through the years, his role expanded to cover not only his four children but his grandchildren. He listened to their concerns, shared their joys and gave them advice. He knew everything that went on in their lives.
Although the public knew him for speaking as he saw — rather bluntly, on occasion — behind closed doors Prince Philip was known to be a warm, loving man.
He also favoured a more transparent Royal Family. According to the BBC, it was he who encouraged the Queen to make a multi-episode documentary on their daily lives, including those of their four children. It was broadcast in the late 1960s. I remember seeing it in the United States.
When Princess Diana died on August 31, 1997, Prince Philip was the one who kept an eye on the public mood that fateful week. He, the Queen and Princes William and Harry were at Balmoral in Scotland for their summer holiday. When the young princes wanted to attend church, their grandparents took them to the Sunday service on the day of their mother's death. Later in the week, it was Prince Philip who encouraged the boys to walk behind the funeral procession the following Saturday. He said:
If you don't walk, I think you'll regret it later. If I walk, will you walk with me? [93]
One cannot imagine what he thought of Prince Harry's departure for the United States to live a life separate from his closely knit family. I did read that the Royal Family shielded information about the Oprah interview from him.
John F Kennedy's funeral
Prince Philip was in Washington for John F Kennedy's funeral in 1963.
He had a friendly encounter with John Jr, who was still a toddler and known as John-John at the time. The child wondered where his father was, as he had no one with whom to play. The Prince stepped in to fill that gap. In 1965, the British government gave an acre of land at Runnymede to the United States for use as a memorial to JFK:
Funeral arrangements
Prince Philip was self-effacing and did not like a fuss to be made over him.
Therefore, the funeral arrangements will respect his wishes, which is rather convenient, as coronavirus restrictions are still in place. Up to 30 people will be allowed at his funeral, in line with legislation across the nation:
The funeral is scheduled to take place on Saturday, April 17:
It is interesting that Prince Harry will be able to attend when we have a 10-day quarantine in place for arrivals into the UK under coronavirus regulations.
The Sunday Mirror reported on Prince Harry's return to the UK:
He could also be released from quarantine if he gets a negative private test on day five, under the Test to Release scheme.
Given his status as a member of the Royal Family travelling to support the Queen, Harry might be considered exempt from travel restrictions.
Wow. It's nice to know we have a two-tiered quarantine system in place /sarc.
A championship boxer remembers the Prince
Former WBC Heavyweight Champion Frank Bruno MBE posted his memories of meeting Prince Philip. He is at the top left in the following photo:
An Anglican priest remembers the Prince
The Revd Peter Mullen, an Anglican priest, recalled his encounters with Prince Philip for Conservative Woman on April 10 in 'A personal recollection'.
He first met the Prince during his schooldays:
The first time I met the Prince was in connection with his Duke of Edinburgh's Award Scheme which gave a leg up to youngsters from what would now be called the less privileged parts of the country. He paid a visit to the Leeds branch of the Church Lads' Brigade of which, aged fourteen, I was a member. We were in the church hall making things. My task was to make a table lamp. I was hopeless at it.
The Duke got hold of my half-finished creation, held it up to one eye and said, 'I suppose this hole is where the flex goes?'
'I think so, Sir.'
'You think so? I was never any good at this sort of thing either!'
And he was off . . . 
As an adult, Mullen met him on more than one occasion thanks to the Honourable Company of Air Pilots. The Prince was its Grand Master. Mullen served as chaplain.
He recalls:
The Company gave a lunch for him to mark his 80th birthday and I recall how jovial he was, making light of his years: 'I believe I have lasted so long because you people are always toasting my good health, but I don't want to live to be a hundred. Things are dropping off already!'
At another luncheon one of our Liverymen who had his own port wine business presented the prince with Bottle Number One, the first fruits, so to speak. As he left, the duke handed the bottle to me: 'You have this, Peter. Our house floats on the bloody stuff.'
'Well, Sir, now I don't know whether to drink it or frame it.'
'Gerrit down ya neck!'
Prince Philip on MPs
Guido Fawkes came up with a good quote from one of the Prince's trips to Ghana. It concerns MPs. His Ghanaian hosts told him the country had 200 MPs. Prince Philip replied:
That's about the right number. We have 650 and most of them are a complete bloody waste of time.
Incidentally, Parliament will be recalled one day early from Easter recess. On Monday, April 12, MPs and Lords paid tribute to the Prince in their respective Houses:
That afternoon, the House of Commons reconvened to pay their tribute — from 2:30 p.m. until 10 p.m. (good grief).
Speaker Sir Lindsay Hoyle spoke first:
Prime Minister Boris Johnson had this to say:
Boris Johnson, who was invited to the funeral but declined so that another member of the Royal Family can attend, said that he would forego a pint when pub gardens reopen on April 12, out of respect for the Prince. Guido Fawkes, however, thinks that the Duke of Edinburgh would have wanted us to toast his memory, especially at a pub that bears his title in Brixton, south London:
Guido had a second tweet on the subject with another quote from the Prince:
Agreed.
Prince Philip on Australia
This is too funny. For those who are unaware, Australia was established as a place where Britain could send convicts. That was a long time ago, but the nation's original purpose was to serve as a prison: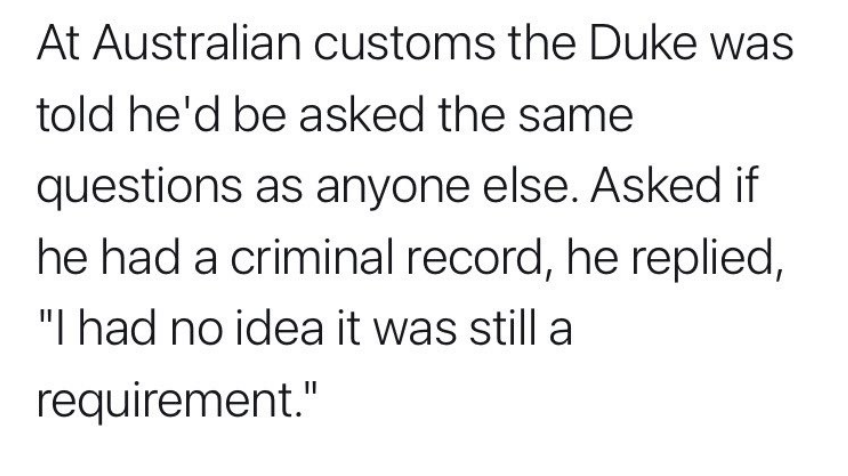 Prince Philip on civil liberties
On a serious note, the 12-minute interview below from 1984 is well worth watching, especially in the coronavirus era.
Prince Philip firmly supported the rights of the individual and believed that the state should serve the individual, not, as in our times, the other way around.
This is from a Thames Television programme originally broadcast on ITV:
I have posted the video below in case the tweets are deleted:
The Prince also said that certain subjects are out of bounds, such as the media and the NHS.
He said that the media are incapable of taking a joke about themselves and, as for the NHS, well, one cannot say anything against it. He didn't necessarily dislike the NHS but thought it was held in too high a regard. Nothing is perfect in this world.
We have been travelling a long road towards the point where we are at present: ruled by the media (they clamoured for coronavirus restrictions) and worship of the NHS. This is how Health Secretary Matt Hancock, Prime Minister Boris Johnson and SAGE have been able to rule our lives. It's been at least 40 years in the making.
BBC coverage on Friday
I was watching BBC Parliament early Friday afternoon, around 1:15, when the programme was interrupted by a broadcast from the BBC News Channel.
I checked the schedule an hour later, which said that the programme would last until 4 p.m. It was still going when I was preparing dinner at 5 p.m.
The final of MasterChef was to have been broadcast that night on BBC1. This was a clip from Thursday's programme:
Pictured are the hosts and judges, chef/restaurateur John Torode on the left and former greengrocer, now television presenter, Gregg Wallace on the right:
BUT:
The BBC News channel was simulcast all afternoon and all night long, not only on BBC Parliament but also on BBC1, to the dismay of MasterChef fans (myself included), and BBC2. BBC4 was suspended for the evening.
I read on social media that the BBC also broadcast continuous coverage of Prince Philip on their radio stations, including Radio 2, knocking out Steve Wright's drive-time show on Friday afternoon.
A friend of mine said that most of the BBC's employees were probably rubbing their hands with glee because it meant an early weekend for them. It's a cynical perspective that could well turn out to be true. We'll find out when someone writes his or her memoirs.
Everyone with a television set receives the BBC News channel. It comes into our homes at no extra charge. There was no need for the BBC to take over every channel for hours on end. By the way, if one had watched two hours of the Prince Philip coverage, as I did, one would have seen and heard everything in its entirety.
The BBC braced themselves for a plethora of complaints; they took the relevant page down on Sunday. Good. I am sure Prince Philip would have objected, too.
As much as I love the Queen, I hope they do not try this when her day comes. God willing, may it be long into the future.
Record-beating prince
Prince Philip established two records as consort to the Queen. He was the longest-serving royal consort in British history. He was also the longest-lived male member of the British royal family.
May he rest in eternal peace with his Maker.
May our gracious Lord grant the Queen, Defender of the Faith, His infinite peace and comfort in the months ahead. May He also bless the Royal Family during this difficult time.
A lot happened during Holy Week 2021 to Christ's faithful.
They, too, suffered afflictions, some more serious than others, all because of coronavirus.
London
On Good Friday, a Polish Catholic congregation in Balham, south London, received a visit from the Metropolitan Police which ended their service:
Too many people showed up:
The BBC has more on the story:
The Daily Mail also featured a report, including a lot of photos. It points out the service was only going to be 30 minutes long.
I can see the social distancing problem, so why didn't the cop just ask for some people to leave and the remaining congregants could then spread out a bit in the pews?
Looks like another soft target for the police: obedient Christians with little command of the English language.
The BBC reports that people living near the church called the police (emphases mine):
Police say they were called to reports of large groups of people queuing outside Christ the King church on Balham High Road.
The video went viral:
Video of officers addressing the congregation, from the altar of the church, has been circulating online.
The church said all "government requirements have been complied with".
A representative of Polish Catholic Mission Balham, which runs the church, added worshippers "obeyed" the police "without objection".
"We believe, however, that the police have brutally exceeded their powers by issuing their warrant for no good reason," the spokesman added.
"We regret that the rights of the faithful have been wronged on such an important day for every believer, and that our worship has been profaned."
On Saturday, the Archbishop of Southwark, John Wilson, visited the church to discuss the incident.
Rector of the Catholic Polish Mission, Stefan Wylezek, said he intended to contact the Met to discuss how the situation was handled …
No fines were issued to worshippers.
The Met said it was "engaging with the church authorities" in connection with numerous events taking place at the church over the Easter period.
Incidentally, the next day, more protests about the proposed policing bill took place:
I'm tempted to make a comment, so I'll refrain.
Canada
Now let's cross the pond for more Holy Week stories.
Our first stop is Calgary, Alberta, where, coincidentally, another Polish pastor was targeted.
On Holy Saturday, Pastor Artur Pawlowski, the head of Calgary's Street Church in Alberta, Canada, was holding a service at the Fortress (Cave) of Adullam when the officers entered the building.
This is because, according to local media, Pawlowski has violated coronavirus regulations before. He:
has been charged multiple times under Alberta's Public Health Act for breaching Covid-19 regulations.
'We expect that all places of worship across Alberta follow the CMOH restrictions and we thank everyone who continues to do their part to prevent the spread of COVID-19 this holiday weekend and throughout the pandemic.'
CTV News reported that officials from the City of Calgary Bylaw Services were also in attendance, alongside city police …
Churches in the area can hold services but must keep attendance below 15 per cent and follow guidelines including wearing masks and social distancing.
However the controversial pastor was praised by some on social media who see pandemic restrictions as infringing on their right to religious worship.
Ezra Levant, the founder of far-right commentary website Rebel News, said Pawlowski's response was 'how you handle police who enter a church without a warrant.'
Here is Levant's tweet, along with a video taken at the church showing the main confrontation (H/T to the Gateway Pundit):
Fox News reported what Pawlowski said:
"Get out of this property immediately," he says in the video. "I don't want to hear anything … out immediately."
Most of the officials don't engage Pawlowski, but an unidentified woman seems to try and explain their presence. Pawlowski was not having it.
"Out!" he yelled. "Out of this property … immediately until you come back with a warrant." The officials and officers slowly exit the building, and Pawlowski followed them.
"Nazis are not welcome here," he then says. "And don't come out without a warrant."
The pastor also called them "Gestapo."
The second video follows. The pastor says that the Canadian government is trying to take people's rights away and will succeed if people do not rally together to stop it:
The Church of Adullam is a group of churches in North America which offer spiritual refuge to those experiencing brokenness in their lives:
We aim to provide a safe place of help, hope, and healing for all who enter the cave.
At Adullam, we believe deeply in the power of community. We believe community in the church means an ongoing fellowship of connectedness with Jesus by His spirit taking his rightful place among the people as King.
The church also provides food to those in need.
Its name comes from 1 Samuel 22:1-2:
1 David left Gath and escaped to the cave of Adullam. When his brothers and his father's household heard about it, they went down to him there. 2 All those who were in distress or in debt or discontented gathered around him, and he became their commander. About four hundred men were with him.
On Easter Sunday, the Calgary Police Service issued a statement:
United States
The US also had sad Holy Week episodes.
Texas
The following story broke on Lazarus Saturday, the day before Palm Sunday. Technically, it did not take place during Holy Week — rather two weeks before — but it circulated during that time, especially when the Gateway Pundit featured it on Monday, March 29.
Dr Taylor Marshall, a husband and father of eight children, converted to the Catholic faith. He was mainline Protestant. He is an author who also broadcasts on YouTube:
In the video, Mrs Deirdre Hairston, mother of a one-year-old with another baby expected later this year, described her experience at Holy Trinity Church in Dallas. She has been permanently barred from entering that church — her parish church — again:
She says that, during Mass, the pastor approached her — the assistant pastor was saying Mass — and told her that she had to wear a mask or he would call the police. Mrs Hairston purposely sat in the back row of chairs. She had her baby with her and wanted to be able to make a quick exit should the baby start crying.
She told Taylor Marshall that she was not wearing her mask because she did not feel well, which isn't surprising, given that she is in the early stages of pregnancy.
She went to receive Holy Communion with her baby in her arms. She returned to her chair to pray, the Eucharist still in her mouth, when she felt a rough tug on her arm.
It was a police woman who said she was going to put handcuffs on her. Remember, she was holding her baby at the time!
Hairston asked if she was under arrest. The police woman said that she was not.
Here's the clip:
Texas has not had a state mask mandate since early March.
Therefore, she was under no legal obligation to wear one, although businesses can ask a person to do so.
Hairston and her baby left the church. In the video, it appears as if her husband shows up — a man wearing shorts and a polo shirt. The police woman tells him that the church is a business. He tells her that it is not, under 501c(3) rules. She insists that it is.
Anyway, the family left, and Mrs Hairston can no longer attend that church — her parish church!
I love this tweet addressed to the Roman Catholic Bishop of the Diocese of Dallas:
The CBS affiliate in Dallas/Fort Worth picked up the story on Monday and reported:
Cell phone footage shows Hairston asking what crime she has committed, to which police replied she was "trespassing on a business."
Hairston said her parish-priest, Father Ryan called police.
Once outside, Hairston said the usher ran to her car and took photos of her license plate as police were taking her information. She also said she was issued a ticket for trespassing.
Holy Trinity, which serves the uptown community near Oak Lawn and Lemmon Ave. responded on March 29, two weeks after the incident and two days after Marshall shared the interview on Youtube.
In it, they state that Hairston wasn't arrested or ticketed, merely issued a trespass warning. They also said the pastor of the parish has required masks at Mass out of concern for the health and welfare of its entire congregation. Hairston and her husband said that isn't true. They said it wasn't required – only encouraged.
How can Holy Trinity 'encourage' it when the parish priest calls the police? As for 'concern', has he no concern for a pregnant mother who isn't feeling well?
In the video, Hairston and Marshall discuss what impact incidents such as these might have on church attendance.
Some Catholics are angry:
This might even unintentionally encourage Catholics to attend other churches.
And, lo, here's a Twitter exchange on that very subject:
Too right.
New York
My final news story — a sad and violent one — took place in Manhattan on Monday of Holy Week.
Vilma Kari, a 65-year-old woman of slight build, was on her way to church on Monday when a man at least twice her size pushed her to the ground and began kicking her in the head.
Ms Kari is an American of Filipino heritage. Her attacker is black.
Here's the video. Watch the security guards of the nearby building close the door on the scene:
People were outraged that the security guards did not come to her rescue:
On Wednesday, March 31, the NYPD arrested the perp:
That also angered people, especially when they found out he killed his own mother and was out on parole:
The New York Post reported:
Bystanders did nothing to help an Asian woman as she was being beaten in broad daylight in Manhattan this week — and didn't even bother calling 911, police said Wednesday.
An NYPD spokesperson said it had zero records of a 911 call from Monday's unprovoked attack — when convicted murderer Brandon Elliot, 38, allegedly kicked a 65-year-old victim to the ground and repeatedly stomped on her face outside 360 West 43rd Street.
At a press conference Wednesday afternoon, Det. Michael Rodriguez said police on patrol drove by and saw the victim after she was attacked.
"They came upon the victim after she was assaulted," he said.
Outrage has mounted over the caught-on-camera beatdown — the latest in a disturbing trend of hate crimes against Asian Americans — after at least three staffers inside the building were caught doing nothing to thwart Elliot.
NYPD Commissioner Dermot Shea said detectives would be interviewing those on video tape who witnessed the assault first hand.
"I fully understand the public's anger," Shea said about the bystander inaction …
The staffers who witnessed the attack have since been suspended as an investigation plays out …
The victim, Vilma Kari, suffered a broken pelvis and was released from the hospital Tuesday.
Early Wednesday morning, police nabbed Elliot — a homeless man who was out on parole for murdering his mother in 2002 — for the alleged hate crime.
The New York Post had an article on Elliot, who lived near the building in front of which he assaulted Ms Kari:
Brandon Elliot, 38, who lives in a nearby hotel that serves as a homeless shelter, was arrested early Wednesday and hit with a number of charges, including assault as a hate crime and attempted assault as a hate crime, police said.
He was caught on video mercilessly punching and kicking the 65-year-old victim in front of an apartment building at 360 West 43rd Street around 11:40 a.m. Monday, yelling "F–k you, you don't belong here," according to cops and police sources.
In April 2002, Elliot was charged with murder for using a kitchen knife to stab his mother, Bridget Johnson in the chest three times in their East 224th Street home in the Bronx, according to previous reports.
The deadly attack took place in front of Elliot's 5-year-old sister, sources told The Post. It's unclear what led to the slaying.
Johnson, 42, died a couple of days later.
Elliot was convicted of murder and sentenced to 15 years-to-life in prison.
He was denied parole twice — first at a February 2017 hearing and again in December 2018, according to a state Department of Corrections official.
But the following year, he was approved for release in September and sprung on lifetime parole two months later.
Also:
Kari is Filipino American, according to Philippine Ambassador to the US Jose Manuel Romualdez.
Elliot is expected to be arraigned in Manhattan criminal court sometime on Wednesday.
A resident at the Four Points by Sheraton — the West 40th Street homeless shelter where Elliot was staying during the alleged attack — said he knew the brute well after spending time with him at another shelter.
"He told me he was [a] diagnosed paranoid schizophrenic," the man, who declined to give his name, told The Post. "He's quiet. He doesn't talk much. He is really paranoid. He has mental issues."
Elliot's latest bust comes in the wake of a surge of attacks against Asian victims in New York City and elsewhere.
That is because of coronavirus. Shameful and ignorant on so many levels.
UPDATE — April 6: The two security guards have been fired. However, under their union's — SEIU's — procedures, they can appeal, although that could take weeks or months, according to a union official. The perp, Elliot, will be arraigned on April 21.
——————————————————————————–
All of these incidents happened because of coronavirus or coronavirus restrictions.
May the Risen Lord Jesus look graciously upon His believers who have been afflicted during the past few weeks, particularly those profiled here. May He give them sustained hope and healing, especially during this Easter season.
Parliament is entering Easter recess on Thursday, March 25, 2021.
A few notable news items follow from both Houses — and the Scottish Parliament.
Scottish Parliament — MSPs standing down
A number of MSPs are standing down from their seats in Holyrood. Scots will elect new MSPs in May.
The Scotsman has a useful list, complete with photos, cited below. Emphases mine:
While all 129 of Holyrood's seats will be contested at this year's ballot, more than a quarter of the current crop of MSPs are standing down – including high profile figures like Ruth Davidson, Iain Gray and Jeane Freeman.
Highlights follow.
Independent
I will miss Ken Macintosh, who was a faultless convener presiding over fractious debates during the past year:
Ken Macintosh has been an MSP since the opening of the parliament in 1999, before unsuccessfully seeking the Labour leadership twice. He was elected as the parliament's fifth presiding officer in 2016, but announced in September that he would not be seeking re-election as an MSP.
Scottish Conservatives
Ruth Davidson will be elevated to the House of Lords:
The former Scottish Tories leader took over the party's reins at Holyrood once more when MP Douglas Ross was elected as the new leader last year. Ms Davidson will now take up a seat in the House of Lords.
Scottish Labour
Iain Gray is ending a long career as an MSP:
Former Scottish Labour leader Iain Gray was first elected to the Scottish Parliament in 1999 and is currently Labour's education spokesman at Holyrood.
SNP
Here is the list of SNP MSPs who are standing down. Many have been in Holyrood for a number of years:
Jeane Freeman was in charge of health during the coronavirus crisis. Many residents of Scottish care homes died during that time.
One wonders what she will do next:
Health Secretary Jeane Freeman confirmed she will not seek re-election. The Carrick, Cumnock and Doon Valley MSP said she had "more she wanted to do" outside of politics.
The Scotsman has an interesting article from 2018 about her career history at that time:
Jeane Freeman, for it was she, has moved on to greater things as Health Minister in the Scottish Government. In the first half of this decade, she was a useful cog in the SNP machine as a former Labour apparatchik who, when the wind changed, discovered she was really a Nationalist.
Long a habituée of the quango circuit, Ms Freeman's new appointments included the disastrous Scottish Police Authority. In her peak year of 2013-14, she pulled in £57,000 from that source alone. There were a couple of NHS roles, not forgetting the Judicial Appointments Board.
All this added up to 376 paid days in the financial year. One might have thought the Scottish Commissioner for Public Appointments (for such a person exists) might have done the arithmetic and asked questions but that is to over-estimate the vigilance of our non-barking watchdogs.
At the same time, Ms Freeman fronted "Women for Independence" and ran a lobbying firm which targeted the public sector. When a member of the public tabled a Freedom of Information request in 2015 about her business meetings with Scottish Ministers and officials, he was given the classic brush-off – the question would cost too much to answer.
Not unreasonably, he then wondered how lobbying activity could be monitored if ministers refused to provide information about their contacts on such implausible grounds. Another of our civic protectors, the Freedom of Information Commissioner, dismissed his complaint. Scotland really is a village …
There are still individuals floating around the Scottish quango circuit who were being put up for every chairmanship that occurred 20 years ago. The qualifications are that they challenge nothing, remain anonymous and nod their heads when directed by ministers. Political influence is as prevalent as it ever was – just much less transparent. Ask Ms Freeman.
This all fits into the wider pattern of centralisation which has systematically downgraded every other centre of influence within Scotland – public bodies, local government, police boards, funding-dependent third sector organisations – in order to create a closely integrated structure which brooks no challenge.
There is a powerful political agenda waiting to be created around the need to restore diversity and scrutiny within Scotland in order to challenge the power of the centre. Some might see that requirement as a paradoxical outcome of devolution while others recognise it as depressing – but largely predictable.
Linda Fabiani was the convener for the Holyrood inquiry examining the way Alex Salmond's case was conducted. Hmm. Interestingly, The Scotsman makes no mention of this:
Ms Fabiani was first elected to the Scottish Parliament in 1999 as an MSP for Central Scotland, but since 2011 she has represented East Kilbride.
Then there's Mark McDonald:
The Aberdeen Donside MSP resigned from the SNP after sending a woman an inappropriate text message which referenced a sex act.
House of Commons news
Historic Westminster by-election in Scotland
A historic by-election will be taking place in Scotland as the SNP's Neil Gray announced he would be standing down. He made his final speech in Westminster — the mother of all Parliaments — on Tuesday, March 23:
An arcane parliamentary point needs to be explained:
Although the actual Manor of Northstead in Yorkshire no longer exists, the estate has been redeveloped as a park.
In political terms, this is a temporary position for MPs who have resigned and is given out at the pleasure of the Chancellor of the Exchequer. Wikipedia explains:
By virtue of the fact that it became and was retained as a Lordship of the Crown beyond the sale and eventual disappearance of the estate, since the nineteenth century the post of Crown Steward and Bailiff of the Manor of Northstead has played a role in the procedure for effecting resignation from the British House of Commons by Members of Parliament (MPs). While no longer having any actual role or responsibility, it remains a nominal paid office of the Crown, a sort of sinecure, appointment to which is one of the things that by law disqualify an MP from the House. This principle goes back to the Act of Settlement 1701, and is now regulated by the House of Commons Disqualification Act 1975. Since 1624, MPs have not been permitted to resign their seats directly. While several such offices have been used for this purpose in the past, in the present day only two are used: the Northstead post and that of Crown Steward and Bailiff of the three Chiltern Hundreds of Stoke, Desborough and Burnham.[1][2]
… Appointments to the posts are made by the Chancellor of the Exchequer. Using two posts allows more than one MP to resign simultaneously, although more commonly, single resignations are effected by alternating appointments to the Northstead and Chiltern Hundreds offices. One of the most recent MPs to be appointed to the Northstead office was former Prime Minister David Cameron, who announced his decision to resign from his Parliamentary seat of Witney on 12 September 2016.[5]
Neil Gray was praised again in the House of Commons today during Business Questions, including by Leader of the House Jacob Rees-Mogg. Here are more compliments from Tuesday:
This means there will be a by-election in Gray's former constituency of Airdrie and Shotts:
This is the first time there will be a Commons by-election in an SNP-held seat:
Boris reasserts his position as Prime Minister
On March 24, Prime Minister Boris Johnson appeared before the Liason Committee, comprised of heads of the parliamentary Select Committees.
The session lasted around 90 minutes and covered several topics, one of which was devolution.
Scotland and Wales are trying to whittle away the significance of the UK government.
Stephen Crabb (Conservative, Preseli Pembrokeshire) asked Boris how he saw his position. He confirmed that he is the Prime Minister of Scotland as well as the United Kingdom:
Part of the answer is to employ civil servants with the ability to accommodate the interests of the United Kingdom as well as those of the devolved nations:
House of Lords news
Two notable things happened in the House of Lords this week.
Unusual tie vote
The Lords voted on an amendment to a Government bill, only to find the result was tied. As such, the amendment failed, meaning that the Government won that round:
Hereditary peer says old biscuits perfectly edible
The House of Lords still has 90 hereditary peers.
One of them is Lord Palmer, whose family part owns the famous biscuit manufacturing firm Huntley and Palmers Ltd.
If anyone in the Lords should know when a biscuit is past its best, it would be he.
I'm bookmarking this for future reference:
With Parliament in recess, I'll be able to do some springtime projects around the house. If I find a stale biscuit, I'll let you know.
Tuesday, March 23, 2021, marks the first anniversary of the UK's coronavirus lockdown and restrictions, many of which are still in place as I write.
We had a brief reprieve during the summer, but everything closed again on Saturday evening, December 19, 2020, just in time to put a stop to the promised Christmas family get-together.
I was and continue to be a lockdown and restriction sceptic. Others are free to decide for themselves.
The Telegraph has a lengthy Twitter thread on the past year. Excerpts follow:
Two areas of England have been locked down since July 2020:
Today, a number of commemorative events took place across the nation:
Still under COVID-19 house arrest, my far better half and I have not left our town since March 18, 2020.
Of course, Boris and the two most senior members of SAGE, Vallance and Whitty, gave a 5 p.m. coronavirus briefing.
When is one of the reporters going to ask one of the following questions?
I am too angry to write any more about this subject right now. I never imagined Western countries would become police states.
My previous posts in this series covered Piers Morgan's pontifications and the new Hate Crime Bill in Scotland.
Today's post looks at the Sarah Everard vigil on Clapham Common on Saturday, March 13.
On March 3, 2021, 33-year-old Sarah Everard disappeared from the streets of south London while walking home from a friend's house. A week later a woman's remains were found in the eastern part of Kent. Because of the extraordinary nature of the case, the UK Government have since placed a D notice on coverage of the details which have emerged thus far.
The case moved women across the UK to express their grief.
Women were also angered when, last week, after Ms Everard was missing for six days, officers from London's Metropolitan Police advised women not to go out alone at night.
Interestingly, Mayor of London Sadiq Khan told a radio station that London's streets are not safe for women and girls:
The same advisory went out many years ago in England when Peter 'Yorkshire Ripper' Sutcliffe was on the prowl for his latest victim. Julie Bindel recalled her memories of that time in an article for The Spectator: 'Why are London police telling women to stay at home?'
Bindel wrote (emphases mine):
I moved to Leeds in 1979, during the hunt for serial killer Peter Sutcliffe. I was 17-years old and had been raised, as had most girls, being warned that our safety was our own responsibility. 'Don't go out alone at night', 'don't talk to strange men', 'cover your flesh if you don't want to get yourself raped'. Men were rarely told that they were to blame for the fact that we constantly looked over our shoulder whenever we were out alone in case a predator was looking to strike.
As a response to West Yorkshire police issuing what was effectively a curfew on women, feminists organised the first Reclaim the Night marches which occurred simultaneously across 12 English towns and cities, from Manchester to Soho.
Women on these marches carried placards reading 'No curfew on women — curfew on men' as they shouted about their anger at being kept off the streets — the supposedly public highways, after all — by the threat of male violence.
I recall feeling very angry at being told by police to 'stay indoors' and 'Do not go out at night unless absolutely necessary, and only if accompanied by a man you know.' Ironically, Sutcliffe himself gave the same advice to his sister.
Bindel provides other instances where police forces across England gave women the same advice.
She concludes:
Women should be able to go for a walk without fear or a male chaperone. We feel scared not because we are pathetic, weak creatures but because so many men target us. Feminism exists because women are sick and tired of being in danger in both the home and on the streets. They should be the ones to lose their freedom of movement, not us.
Perhaps Wales's First Minister Mark Drakeford read her article of March 10. Two days later he told the BBC's Charlie Stayt that he might consider a curfew on men in Wales:
Alternatively, perhaps Mark Drakeford saw Baroness Jones (Green) advocate such a measure the day before in the House of Lords:
Guido Fawkes saw a potential problem with that (emphasis in the original):
The Green Party also backs gender self-identification for all so Guido can already think of one loophole in Jenny's plan…
Some of Sarah Everard's friends had the idea of organising a vigil for her at Clapham Common, through which she walked on her way home on March 3. They decided to cancel it.
However, a vigil did take place there, at the bandstand, on Saturday, March 13. People could pay their respects and place flowers at the bandstand.
The Duchess of Cambridge went to pay her respects with a bouquet that afternoon.
As the sun set, what was a quiet day of reflection and grief turned into something else. Protesters gathered, as did the Metropolitan Police.
The BBC's Charlie Haynes tweeted:
Independent journalist Ahmed Kaballo tweeted his footage:
The London correspondent from the Washington Post was there and posted her footage:
Here is a photo:
Then police arrested a young woman. Reports say she is petite — 5'2″:
I am surprised that a woman of her small stature had to be held to the ground in order for an arrest to take place. Couldn't four policemen do that standing up?
Reports say she was later released, but the point still stands.
With coronavirus lockdown still in place, everyone who is everyone was at home. Those people saw it online or on the telly.
In the early hours of Sunday morning, March 14, the Met's Assistant Commissioner Helen Ball, who reports to Commissioner Cressida Dick — two women! — issued a statement, which says, in part:
"Around 6pm, more people began to gather close to the bandstand within the Common. Some started to make speeches from the bandstand. These speeches then attracted more people to gather closer together.
"At this point, officers on the ground were faced with a very difficult decision. Hundreds of people were packed tightly together, posing a very real risk of easily transmitting Covid-19.
"Police must act for people's safety, this is the only responsible thing to do. The pandemic is not over and gatherings of people from right across London and beyond, are still not safe.
"Those who gathered were spoken to by officers on a number of occasions and over an extended period of time. We repeatedly encouraged those who were there to comply with the law and leave. Regrettably, a small minority of people began chanting at officers, pushing and throwing items.
"After speaking with officers, the vast majority of people quickly left. Four arrests have been made for public order offences and for breaches of the Health Protection Regulations.
"Part of the reason I am speaking to you tonight is because we accept that the actions of our officers have been questioned.
"We absolutely did not want to be in a position where enforcement action was necessary. But we were placed in this position because of the overriding need to protect people's safety.
"Let me end by saying that across the Met, we review every single event that we police to see if there are lessons that can be learnt. This one will be no different."
The Sunday morning news shows were only hours away. Not surprisingly, this was a huge story.
The Safeguarding Minister (?!) told Sky's Sophie Ridge that the events were 'very upsetting':
The Victims' Commissioner told Ridge that police had made a bad situation worse:
The Met's Commissioner defended her men:
But the story and the emotion didn't go away. On Sunday, demonstrators gathered in Parliament Square to protest the Met's handling of the vigil.
Two other British cities held peaceful vigils. Birmingham's police worked well with organisers, as local MP Jess Phillips explained to the BBC. Glasgow held a quiet ribbon vigil. Elsewhere, such events took place online.
On Monday morning, Prime Minister Boris Johnson voiced his disapproval:
However, Boris voiced his support for Dame Cressida in her role (Guido Fawkes has the story and a video).
Guido Fawkes's cartoonist, Rich, posted his weekly cartoon:
The public, however, thought that the vigil should not have taken place, probably because of coronavirus restrictions:
A retired Metropolitan Police officer posed these questions:
On Monday afternoon in Parliament, Home Secretary Priti Patel gave a statement and paid tribute to Ms Everard:
"women and girls must feel safe while walking our streets", and cited the Domestic Abuse Bill which is going through the Lords this evening as the action the Government is continuing to take.
During the debate that followed, Sir Charles Walker said that what happened at the vigil was the fault of the overwhelming majority of MPs who voted for the Coronavirus Act 2020:
He said (emphases mine):
This House criminalised the freedom of protest. This House. Us. Not Dame Cressida. Not the Metropolitan Police. We did. We criminalised freedom to protest collectively. We are up to our eyeballs in this.
I couldn't agree more.
Walker wanted to amend the law that afternoon to allow protests again. That did not happen.
Tom Harwood, who writes for Guido Fawkes, asked whether police took advantage of a soft target:
Really difficult situations provoke a different response from the Met, such as last summer's protests. They walk away:
Incidentally, skin colour is irrelevant. Last autumn, the Met bought sandwiches for Extinction Rebellion who were occupying Smithfield Market.
On Monday night, Boris tweeted a statement about women's safety:
Even if the general public objected to the vigil, conservative and libertarian columnists took strong objection to the Met's handling of it as well as to the law against protests.
UnHerd posted 'The police have a woman problem'.
Conservative Woman featured 'Police at Sarah vigil were trying to enforce a rotten law'. They also posted 'I hate what is being done to my country'.
Spiked remembered the reason the vigil took place: 'This is not what Sarah would have wanted'.
The Leader of the House of Commons, Jacob Rees-Mogg, said on Thursday, March 18, that the coronavirus laws will most likely stay in place until the end of June, when the furlough programme expires.
That said, they will be debated next week.
In conclusion, illiberal laws bring illiberal — and inconsistent — enforcement.
In 2021, the Fourth Sunday in Lent is March 14.
This is also Laetare Sunday, one of joy and hope for the risen Christ.
In the United Kingdom, Laetare Sunday is also Mothering Sunday, or Mother's Day. You can read about the history behind this in the following posts:
Laetare Sunday, Mother's Day and the Golden Rose
Laetare Sunday is Mothering Sunday
My posts explain that Laetare Sunday is when clergy used to wear rose coloured vestments instead of purple. (Some still do.) It is traditionally the happy Sunday in Lent, as laetare means 'rejoice'. The name comes from the opening words of the traditional Latin Introit, which in English translate to 'Rejoice, Jerusalem'. Salvation is coming.
The readings for Year B in the three-year Lectionary are below:
Readings for the Fourth Sunday in Lent — Laetare Sunday — Year B
The Gospel reading is as follows (emphases in bold mine):
John 3:14-21
3:14 And just as Moses lifted up the serpent in the wilderness, so must the Son of Man be lifted up,
3:15 that whoever believes in him may have eternal life.
3:16 "For God so loved the world that he gave his only Son, so that everyone who believes in him may not perish but may have eternal life.
3:17 "Indeed, God did not send the Son into the world to condemn the world, but in order that the world might be saved through him.
3:18 Those who believe in him are not condemned; but those who do not believe are condemned already, because they have not believed in the name of the only Son of God.
3:19 And this is the judgment, that the light has come into the world, and people loved darkness rather than light because their deeds were evil.
3:20 For all who do evil hate the light and do not come to the light, so that their deeds may not be exposed.
3:21 But those who do what is true come to the light, so that it may be clearly seen that their deeds have been done in God."
Commentary for today's exegesis comes from Matthew Henry and John MacArthur.
It is important to put these verses into context. It is a pity that the Lectionary editors did not think it appropriate to add the preceding 13 verses:
You Must Be Born Again
3 Now there was a man of the Pharisees named Nicodemus, a ruler of the Jews. 2 This man came to Jesus[a] by night and said to him, "Rabbi, we know that you are a teacher come from God, for no one can do these signs that you do unless God is with him." 3 Jesus answered him, "Truly, truly, I say to you, unless one is born again[b] he cannot see the kingdom of God." 4 Nicodemus said to him, "How can a man be born when he is old? Can he enter a second time into his mother's womb and be born?" 5 Jesus answered, "Truly, truly, I say to you, unless one is born of water and the Spirit, he cannot enter the kingdom of God. 6 That which is born of the flesh is flesh, and that which is born of the Spirit is spirit.[c] 7 Do not marvel that I said to you, 'You[d] must be born again.' 8 The wind[e] blows where it wishes, and you hear its sound, but you do not know where it comes from or where it goes. So it is with everyone who is born of the Spirit."
9 Nicodemus said to him, "How can these things be?" 10 Jesus answered him, "Are you the teacher of Israel and yet you do not understand these things? 11 Truly, truly, I say to you, we speak of what we know, and bear witness to what we have seen, but you[f] do not receive our testimony. 12 If I have told you earthly things and you do not believe, how can you believe if I tell you heavenly things? 13 No one has ascended into heaven except he who descended from heaven, the Son of Man.[g]
Nicodemus was a religious ruler, a Pharisee: very learned in Scripture and Mosaic law. He was a member of the Sanhedrin, the Jewish hierarchy.
He went to see Jesus at night either because he was too busy to meet him during the day, or, more likely, because he did not want to incur the wrath of the Sanhedrin.
Jesus compares Himself to the staff with the brass serpent on it that God told Moses to raise in order to end the plague of fiery serpents that He had visited upon the Israelites (verse 14). Those who looked upon the brass serpent were cured. Those who refused to look at it died.
Those who believe in Jesus will never die (verse 15).
That serpent on the pole was a figurative representation of Christ on the Cross.
Matthew Henry's commentary explains this in full:
The Son of man is lifted up, as the serpent of brass was by Moses, which cured the stung Israelites. 1. It was a serpent of brass that cured them. Brass is bright we read of Christ's feet shining like brass, Revelation 1:15. It is durable Christ is the same. It was made in the shape of a fiery serpent, and yet had no poison, no sting, fitly representing Christ, who was made sin for us and yet knew no sin was made in the likeness of sinful flesh and yet not sinful as harmless as a serpent of brass. The serpent was a cursed creature Christ was made a curse. That which cured them reminded them of their plague so in Christ sin is set before us most fiery and formidable. 2. It was lifted up upon a pole, and so must the Son of man be lifted up thus it behoved him, Luke 24:26,46. No remedy now. Christ is lifted up, (1.) In his crucifixion. He was lifted up upon the cross. His death is called his being lifted up, John 12:32,33. He was lifted up as a spectacle, as a mark, lifted up between heaven and earth, as if he had been unworthy of either and abandoned by both. (2.) In his exaltation. He was lifted up to the Father's right hand, to give repentance and remission he was lifted up to the cross, to be further lifted up to the crown. (3.) In the publishing and preaching of his everlasting gospel, Revelation 14:6. The serpent was lifted up that all the thousands of Israel might see it. Christ in the gospel is exhibited to us, evidently set forth Christ is lifted up as an ensign, Isaiah 11:10. 3. It was lifted up by Moses. Christ was made under the law of Moses, and Moses testified of him. 4. Being thus lifted up, it was appointed for the cure of those that were bitten by fiery serpents. He that sent the plague provided the remedy. None could redeem and save us but he whose justice had condemned us. It was God himself that found the ransom, and the efficacy of it depends upon his appointment. The fiery serpents were sent to punish them for their tempting Christ (so the apostle saith, 1 Corinthians 10:9), and yet they were healed by virtue derived from him. He whom we have offended is our peace.
John MacArthur offers us a practical application of those two verses:
But there's more to this than just being lifted up in His death. It means that you give Him all your attention. You elevate Him above all others, over all others, as the preeminent one and you look to Him in faith and Him alone for salvation.
The bitten Jews were healed from the poison by a look of faith. They had to believe I'm going to go where that thing is. I'm going to go there, I'm going to look, and if they would do that, they would be healed. And so it is that all God asks of us is to look at His Son, lift Him up. The Jews who were bitten didn't have to do anything. There were no works. Nothing for which to atone. No restitution, nothing; just look and you have life. What a beautiful analogy. And I know when it happened it was in the plan of God that it would be the analogy of the simplicity of salvation by faith–Christ lifted up; we look at Him and that's enough, we have life.
And here's the heart of the heavenly message that Jesus brought down. Verse 15, "So that whoever believes in Him will have eternal life. Whoever believes will have eternal life. That's all the sinner can do. Belief, belief–that's the heart of the gospel.
Jesus sums everything up in verse 16, one of the most famous in the New Testament:
"For God so loved the world that he gave his only Son, so that everyone who believes in him may not perish but may have eternal life.
God did not send Jesus to lead a temporal kingdom or to bring social justice. God sent Jesus to save us from being enslaved by sin and bring us to everlasting life in the world to come, with Him.
Let's go back to the earlier verses in the chapter where Jesus tells Nicodemus that one must be born again of the Holy Spirit.
MacArthur explains:
Simply stated, What contribution did you make to your physical birth? What? None. You didn't make a contribution and that's why the Lord chose this. And nor will you make a contribution to your spiritual birth. So the first thing Jesus says to Nicodemus is—and this stops him dead in his legalistic tracks—something has to happen to you from above and you have no part in it. Try that on the next time you evangelize somebody. You need something you can't do. You need something you can't participate in. You need something you can't contribute to. You need heaven to come down. And oh, by the way, unless you're born from above, born again, unless you're born of the Spirit, you'll never enter the kingdom of God. And by the way, the Spirit comes and goes when He wills, and you can't call Him and you can't dismiss Him. And this is the doctrine of divine calling, the effectual call, the efficient call. This is what some call irresistible grace. This is the calling that identifies the church as the called. It's divine.
All of this speaks of an incomprehensible love that God has for mankind. We will never be able to comprehend this during our temporal lives.
Jesus tells Nicodemus that God does not wish to condemn the world but to save it (verse 17), although those who do not believe in Jesus will be condemned forever (verse 18).
Henry makes this observation of the believer:
The cross perhaps lies heavy upon him, but he is saved from the curse: condemned by the world, it may be, but not condemned with the world, Romans 8:1,1 Corinthians 11:32.
He has much to say about unbelievers, whom God condemns in this life and the next:
Observe, [1.] How great the sin of unbelievers is it is aggravated from the dignity of the person they slight they believe not in the name of the only-begotten Son of God, who is infinitely true, and deserves to be believed, infinitely good, and deserves to be embraced. God sent one to save us that was dearest to himself and shall not he be dearest to us? Shall we not believe on his name who has a name above every name? [2.] How great the misery of unbelievers is: they are condemned already which bespeaks, First, A certain condemnation. They are as sure to be condemned in the judgment of the great day as if they were condemned already. Secondly, A present condemnation. The curse has already taken hold of them the wrath of God now fastens upon them. They are condemned already, for their own hearts condemn them. Thirdly, A condemnation grounded upon their former guilt: He is condemned already, for he lies open to the law for all his sins the obligation of the law is in full force, power, and virtue, against him, because he is not by faith interested in the gospel defeasance he is condemned already, because he has not believed. Unbelief may truly be called the great damning sin, because it leaves us under the guilt of all our other sins it is a sin against the remedy, against our appeal.
Jesus explains God's judgement to Nicodemus: when people turn away from the light of Christ it is because they prefer the darkness of evil (verse 19). He adds that such people do not want divine light to expose their evil deeds of darkness (verse 20).
It is still hard for me to believe that unbelievers could actively reject Christ, but MacArthur explains why people are enslaved to sin:
There's one reason people don't believe in Christ, one reason. They love their sin. They don't want to come near Christ 'cause He shines a light on their sin, exposes their sin. Sinners love sin. It's not ignorance. It's not lacking the basic faculties of reason. It's not misunderstanding. Sinners prefer moral darkness. They're like bugs that run for the dark when you pick the rock up. They love their corruption. They delight in their evil and love darkness, hate light, don't want to come to the light because if they come to the light they'll be exposed for what they are. So they resent the truth, they resent the Scripture, they resent the church, they resent Christians, they run from us. It's strong—it's a strong, dominating compulsion in a fallen heart. If you look at John 7:7 it says, "The world cannot hate you," Jesus talking, "but it hates Me because I testify of it that its deeds are evil." They hate Christ because He exposes their sin. That eventually gets passed down to us.
And how. We live in a time of Christian censorship which, in some cases, extends to active persecution.
Jesus ends his discourse by saying that those who do what is right come to the light so that it is clear that God is working through them (verse 21).
MacArthur tells us:
… if you're one of those who practices the truth, the light comes on and you take a look at your life in the light and you say, "What's going on in me is wrought by God." And there's confidence and assurance and joy in that. We come to the light, we love the light, we welcome the communion with Christ. And there's no fear; there's complete acceptance and security and joy and protection and love. Boy, what a…what a…what a message Nicodemus got that day and he never even asked a question. He just got his heart read.
MacArthur gave this sermon in 2013, when Rick Warren's book on 'purpose' in the Church was popular. MacArthur rightly says that notion is false:
Stop saying, "Do you want purpose in your life? Jesus will give you purpose." Stop that. Stop saying Jesus will make you happy, give you a better life, solve your problems, make you better, make you richer—stop. That produces false converts because that sheds no light on the sinner's wretchedness. That uncovers nothing. That exposes nothing. That's a lie. What you want to do is shine the light of the pure righteousness of Jesus Christ as brightly as you can on the sinner and see if the sinner runs. That has no value to people, that kind of stuff—produces nothing but false converts. The issue is to confront sin in all its horror and all its ugliness and they will seal their sentence by rejecting Christ because they love their iniquity. Or by the grace of God they will run to the truth, verse 21, "He who practices the truth comes to the light so that his deeds may be manifested as having been wrought in God."
MacArthur has more advice on evangelising:
So when you talk to people, I think it's sometimes okay to say, "You know, you're a lawbreaker, you've broken this law, broken that law, broken the Ten Commandments, fine. That's all forgivable." Sooner or later in the conversation, and may I suggest sooner rather than later, you need to address people about what they think concerning Jesus Christ and cut to the chase and say, "If you do not believe in the Lord Jesus Christ as Redeemer, and Savior, and Lord, you will die in your sins and go to hell. That is the one unforgivable sin" …

What you're going to say when you stand before God is this, "I refuse to believe in Jesus Christ," and that's the issue. And that will be the issue. You have been judged already—you're condemned and sentenced. And if you continue in unbelief, you will perish.
What can we do? Pray for unbelievers, known and unknown. Unbelievers can also pray for faith — and more faith — through divine grace.
In closing, I wish all my British readers who are mothers a very happy Mothering Sunday (sadly, the second one under coronavirus lockdown).
January is a time for many people to cut back on an excess of Christmas food and drink.
In the UK, a popular way to attempt this for one month is through a vegan diet, hence Veganuary.
This year, despite the economic vagaries of coronavirus, meat consumption actually rose:
On March 4, 2021, FarmingUK reported that January sales of red meat and dairy was up compared with the same month last year. In fact, meat sales have risen throughout the pandemic (emphases mine below):
Latest Kantar data shows overall volume sales of red meat were up 15 percent and almost 12 percent for dairy, compared with January 2020.
Red meat and dairy retail sales have seen solid growth since Covid-19 restrictions began last March, with shoppers buying more through retail than pre-Covid.
Over the last quarter, growth across all red meat and dairy has been stronger than overall grocery growth at 10 percent.
Primary red meat volume has seen an 18% increase, with mince driving much of the growth within beef, along with burgers and steaks, but shoppers have also brought traditional roasting joints back to the table.
The seasonal lockdown has also led to more shoppers buying primary red meat, with increased household penetration at 83 percent, Kantar figures show …
Rebecca Miah, AHDB's Strategy Director for beef and lamb, said the red meat and dairy sectors had an excellent start to the New Year.
"[They] reflect how highly valued red meat and dairy are to consumers," she explained.
"While alternatives show growth from a small base, these are mostly complimentary additional purchases driven by interest and variety, rather than a move away from real meat and dairy consumption."
That's great news for our farmers.
Christophe Pelletier, a Canadian who studies food trends, says that increased meat and dairy consumption has also been observed in other countries:
Pelletier retweeted this thread about a University of Kansas study showing that Americans preferred beef to veggie burgers:
On March 3, the university posted an article on the subject, 'Study: consumers favor ground beef over plant-based alternatives'.
An excerpt follows:
Ground beef – offered with 10%, 20% and 30% fat — was strongly preferred for taste and flavor over plant-based alternatives, and less than one-third of the respondents said they would buy the plant-based alternatives in the store or retail settings, according to K-State meat scientist Travis O'Quinn.
"The results are pretty stark," O'Quinn said. "Our three ground beef products were highly desired by consumers. We didn't witness many differences among the three fat levels we offered, but when we compared those to the ground beef alternatives, every one of the alternatives had a tendency to fall out (of favorability with consumers)."
Consumers rated the plant-based alternatives as "extremely dry," according to O'Quinn, and rated those products "very low" for flavor. In one test, only 18% of the consumers said they would be willing to buy the plant-based ground beef alternative.
O'Quinn said the researchers tested ground beef alternatives designed for retail and food service use, and another consisting of a traditional soy protein base.
It's great to read that consumers are voting with their pocketbooks in favour of meat.
For too long now, we have been bombarded with anti-meat propaganda such as this:
The truth is that many people's health has improved because they eat meat:
Perhaps that is why we are being 'nudged' away from it: less money for Big Pharma's coffers.
Instead, we are told that meat harms our health and is responsible for pandemics:
The World Economic Forum (WEF) that meets at Davos every year insists we switch to a plant-based diet. One wonders if the bigwigs at the WEF have a plant-based diet?
The WEF works closely with the UN on food issues.
Smaller farmers are pushed out of the picture in favour of multinationals:
Yet, production of fruit and vegetables is not always kind to the environment. What about avocado production that is harming wildlife in Africa? The tweet about growing avocados is tongue-in-cheek but the effect on elephants and other native species is real:
What about this plastic monstrosity for fruit and veg in Spain? Immigrants from North Africa make up the bulk of the workers:
The Netherlands can do the same more sustainably:
There are better ways of growing crops and rearing meat. They are being implemented right now.
Here is an integrated farm of wheat and cattle. The cattle fertilise the wheat naturally. Some of the grain harvest is for them. The rest is used for consumer foods:
Smaller growers in the US and in France have been adopting this method, too.
I have seen two documentaries over the past couple of years on farming that uses an ecosystem.
One was with an American cheese maker who grows his own crops to feed the cows but also has other farm animals to keep the soil in balance.
Last week, I saw another, featuring a Frenchman who grows vegetables. He, too, has a variety of farm animals, including cows, which achieve the same objective.
And, yes, there are perfectly natural ways to reduce methane from cattle — grass grazing or a seaweed supplement:
Conclusion: the future of agriculture is hardly as bleak as we are told. Farmers are thinking out of the box — and very successfully.
The future of meat is positive — and is here to stay.
When it comes to women in leadership — the theme of International Women's Day 2021 (March 8) — Britain's Conservative Party is decades ahead of Labour.
Below are the first women to lead political parties in the United Kingdom.
Look at the lag time after Margaret Thatcher. Then look at Labour, which has never had a woman leader:
In 1992, 17 years after the Conservatives elected Margaret Thatcher as leader, the Greens voted for Jean Lambert.
In 2012, Leanne Wood became the leader of the Welsh Nationalists.
In 2014, Scotland's SNP elected Nicola Sturgeon to lead them. She is still the First Minister in that devolved nation.
In 2015, Northern Ireland's DUP followed with Arlene Foster.
In 2016, Diane James led UKIP briefly.
In 2019, Jo Swinson led the Liberal Democrats for a few months, until she lost her seat in Scotland in the December general election that year. Nicola Sturgeon was thrilled.
As for left-wing Labour? That day will have to wait.
Labour have no business telling Conservatives that they are behind the times. The Conservatives have had two women Prime Ministers. Labour's never even had a female party leader.
Ironically for Labour, International Women's Day has Socialist origins. The Communists adopted it later.
These days, nearly every nation observes this day. The UN decides the annual theme.
Retired Supreme Court Justice Lord Sumption has been a doughty opponent of lockdown since last year.
He has given many interviews during that time.
His most recent one was to Freddie Sayers of UnHerd, an excellent site which explores the world of ideas, history and current affairs.
I found out about Lord Sumption's interview via Guido Fawkes. On Friday, March 5, Guido posted an article about it as well as an ONS (Office for National Statistics) survey about over-80s breaking lockdown rules:
Guido's post says (emphases in the original):
Buried in the latest ONS data dump of Covid research is a remarkable – if logical – statistic. Just 33% of over 80s have not met with anyone indoors since having their jab, with 43% admitting to meeting with people other than their carers or support bubble after receiving the first dose. After two jabs, this explicit rule-breaking rises to 48%. Despite the widespread rulebreaking, hospitalisation and death rates amongst the age group are tumbling…
Cheeky octogenarians are not alone – spritely 72-year-old Lord Sumption yesterday made a splash by telling UnHerd that "sometimes the most public-spirited thing that you can do with despotic laws like these is to ignore them" – even claiming that a quiet campaign of "civil disobedience" has already begun …
With regard to the vaccine, most in this age group support it enthusiastically, despite the fact that 41% of the survey's participants experienced side effects after the first dose. Here are more ONS findings on that subject (emphases mine):
Of those who had experienced side effects and were still awaiting their second dose of a vaccine, 63% said the side effects would not affect their decision to get the second dose, and 35% were more likely to get the second dose.
Around 19 out of 20 over 80s (96%) would be very or somewhat likely to encourage others to get a COVID-19 vaccination.
Also:
Of over 80s who had received at least one dose of a COVID-19 vaccine, 49% reported that they had met someone who they do not live with, outdoors, since receiving their vaccination; 54% had left home to go shopping, and 45% had left home to participate in outdoor leisure activities.
In contrast, one in five (20%) people who had received at least one dose of a vaccine reported that they had not left home for any reason since receiving their vaccination.
The survey findings add background to what Lord Sumption, 72, told Freddie Sayers of UnHerd.
The video is 51 minutes long and requires concentration:
Note his tie, which has a motif of American flags from the Colonial era with 'We the People' printed on it. He also sits with his arms crossed much of the time to hide a physical ailment.
It looks as if they met in his office. Sayers must have been thrilled to resume in-person interviews, as he has had to do them remotely over most of the past year.
Many of the comments beneath the video are from Britons disappointed that Lord Sumption implied that the vaccine will be the only way forward at this point in returning to a normal life. To be fair to him, he did describe it as 'a regrettable step' and that 'people should be prepared to trust each other', instead (31:00-31:14). Also:
I recognise that most of my fellow citizens want coercive measures.
Unfortunately, I agree with him. There is no way out right now. It is doubtful that the vaccine will be made mandatory by law, but most adults won't be able to resume much of their prior lives without it. Many employers and businesses will require proof of vaccination. This is likely to also be true for package holidays and international travel.
Lord Sumption talked about how we arrived at this point. He said that the public were afraid of this pandemic and wanted protection from the government. The government protected the public and helped to reinforce the fear factor in their coronavirus briefings and other public statements. Hence, civil liberties went out the window. He said that once those are gone, it is very difficult to regain them, particularly as government ministers enjoy their new roles in controlling the population.
UnHerd has an article with notable quotes from the interview.
On the dangers of public fear, Lord Sumption said:
John Stuart Mill regarded public sentiment and public fear as the principal threat to a liberal democracy. The tendency would be for it to influence policies in a way that whittles away the island within which we are entitled to control our lives to next to nothing. That's what he regarded as the big danger. It didn't happen in his own lifetime; it has happened in many countries in the 20th century, and it's happening in Britain now.
He pointed out that the civil liberties we have taken for granted as being well established are, in fact, highly fragile. They can vanish at any time. To this end, he explained that democratic forms of government are but recent developments in the time line of history:
Democracy is inherently fragile. We have an idea that it's a very robust system. But democracies have existed for about 150 years. In this country, I think you could say that they existed from the second half of the of the 19th century — they are not the norm. Democracies were regarded in ancient times as inherently self-destructive ways of government. Because, said Aristotle, democracies naturally turn themselves into tyranny. Because the populace will always be a sucker for a demagogue who will turn himself into an absolute ruler…
Now, it is quite remarkable that Aristotle's gloomy predictions about the fate of democracies have been falsified by the experience of the West ever since the beginning of democracy. And I think one needs to ask why that is. In my view, the reason is this: Aristotle was basically right about the tendencies, but we have managed to avoid it by a shared political culture of restraint. And this culture of restraint, which because it depends on the collective mentality of our societies, is extremely fragile, quite easy to destroy and extremely difficult to recreate.
Allow me to add that this is why America's Founding Fathers established a republic, not a democracy. They feared eventual despotism. The establishment of the Electoral College was also intended to be a safeguard against demagoguery.
Freddie Sayers asked Lord Sumption how we got to the point where we consented to the government taking away our civil liberties when they had been held sacrosanct for so long.
Lord Sumption said that our stability as a society and as a nation relies on the support most citizens have towards national institutions. Once a large enough percentage of people begin to question those, everything is gradually thrown into doubt. Socio-political fissures develop and something or someone comes in to replace what citizens as a whole once respected and valued.
Sayers asked him how he became so outspoken on the government's coronavirus policies. He replied that no one else was stepping up to do so, therefore, he decided to speak up:
I would very much have preferred the kind of points that I have been consistently making for the last year to have been made by just about anybody else. Those colleagues or former colleagues who disapprove of what I've been doing have got a perfectly good point. But there are some issues which are so central to the dilemmas of our time, which are so important, where I think that you have to be prepared to stand up and be counted.
He reiterated his awareness that he is in a minority, however, that small minority from last year is now becoming a 'significant' minority.
He thinks the Coronavirus Act 2020 is an example of bad law. As such, he does not feel any moral obligation to obey it and advises each of us to do as we think best as individuals:
I feel sad that we have the kind of laws which public-spirited people may need to break. I have always taken a line on this, which is probably different from that of most of my former colleagues. I do not believe that there is a moral obligation to obey the law… You have to have a high degree of respect, both for the object that the law is trying to achieve, and for the way that it's been achieved. Some laws invite breach. I think this is one of them.
Politically, Lord Sumption describes himself as a 'small-l Liberal', which is classical liberalism — free market economy and small government — rather than what Americans define as 'liberal', meaning left-wing.  He served as a Justice of the Supreme Court under David Cameron's and Theresa May's Conservative governments.
He had this advice for Boris Johnson's government:
My first proposal is that governments should not treat information as a tool for manipulating public behaviour. They should be calmer than the majority of their citizens; they should be completely objective. My second lesson would be that governments dealing with scientific issues should not allow themselves to be influenced by a single caucus of scientists. They should always test what they are being told in a way that, for instance, judges test expert opinion by producing a counter expert, and working out which set of views stacks up best.
In other words, the government should stop ginning up fear and listen to scientists other than those on SAGE.
In closing, while watching the video and based on nothing at all, I had a recurring thought that Lord Sumption is an opera lover.
Afterwards, I looked up his Wikipedia entry. Amazingly, I found this:
An opera lover, he serves as a director of the English National Opera and as a governor of the Royal Academy of Music.[46]
I do wish Boris and Co. would meet with Lord Sumption, listen carefully to what he has to say, then act on his advice.
In closing, curtailment of civil liberties can extend to protests. There are the correct kind of protests, such as those in June 2020. Then there are the wrong type of protests.
This one was obviously in the latter category, because the organiser received a £10,000 fine:
Currently, the only places in the UK where a group of people can gather to discuss anything outside the home are the two Houses of Parliament.
An MP pointed that out last week.
As he said, that is wrong on so many levels.