You are currently browsing the tag archive for the 'UK' tag.
May we never forget the sacrifices that so many soldiers made for our freedom.
As John Maxwell Edmonds poignantly wrote in 1916:
When you go Home, tell them of us and say,
For your Tomorrow, we gave our Today
He also wrote this epitaph, used as the theme for the 1942 war film, Went the Day Well?
Went the day well?

We died and never knew.

But, well or ill,

Freedom, we died for you.
The British Army has issued a poignant video of a soldier from the Great War returning home today, only to be ignored. It has a happy ending:
It received much positive comment, thankfully.
One of those comments concerns the proper placement of a poppy on one's lapel. I did not know the significance of the green leaf and where it should be positioned:
On Monday, November 11, at 11:00 a.m., let us pause for two minutes of silence:
Mr Young forgot the Canadian flag, but point taken about troops from the Commonwealth countries who fought alongside the British for freedom.
We will remember.
—————————————————————
(Forbidden Bible Verses will appear on Monday.)
Kate Hoey, departing MP for Vauxhall in South London, may be a Labour Party member, but she is one Parliamentarian I will dearly miss.
On Tuesday, November 5, she, along with other departing MPs, gave her valedictory address. I saw it live, and it is very moving indeed:
Hoey, originally from Northern Ireland, still has a soft spot for her homeland. She also has been at the forefront for Brexit since 2016.
As MP for Vauxhall for 30 years (1989-2019), she said in her address that she rarely spent time with colleagues enjoying dinner. Instead, she was rooted in her constituency, just south of the Thames from the Houses of Parliament, and returned every evening for community meetings or get-togethers. She joked that her Mini could drive itself from Parliament to Vauxhall, it had made the journey so many times.
At the end, she began crying as she thanked her loyal staff, most of whom had served her for many years. She tried to stop crying — 'This is silly' — then quickly recovered to finish her speech.
Most importantly, she said that she put country before party.
Kate Hoey is why I never used to mind Labour very much. She was old school, just with different political stances.
The Conservative Woman thought she was great, too (emphases mine):
There are not many Members of Parliament TCW will be sad to see the back of. But there is one: Kate Hoey.
She stands heads and shoulders above her colleagues – Labour and Conservative. There is not a woman MP to match her in any of the parties …
Would that other MPs were as principled. Parliament will be a poorer place without her. Young MPs should listen and learn what political principle really means, and perhaps there is no better place to start than her speech at the Leave Means Leave rally on March 29, 2019:
We wish Kate well and hope that, liberated from party politics, she will continue to exert her influence for good.
I could not agree more.
Recapping 2019, here are some of Kate Hoey's best moments.
Brexit
Hoey, like all Leavers, was deeply disappointed we did not leave the EU on March 29:
Our next extension was to April 12:
She had a go at Guy Verhofstadt …
… and at Channel 4 news presenter Jon Snow:
She liked the new EU-free passports, since suspended:
Labour Party
We had the EU elections in May. Afterwards, Tony Blair's spin doctor Alastair Campbell explained why he himself voted for the Liberal Democrats rather than Labour.
Campbell's supporters were angry that Kate Hoey had not been expelled. However, there was no reason for Labour to expel her. This photo is from 2016, pre-referendum:
Announcing she would stand down as MP for Vauxhall
In 2017, Kate Hoey announced she would be serving her last term as MP for Vauxhall.
In July 2019, she stayed true to her pledge:
At that time, no one knew we would have an election later this year. Hoey wisely confirmed she would serve her term as MP:
This was the main reason why she did not want to seek a further term:
Here's another:
The fact that she supported delivering Brexit did not matter to her Leave constituency. She stood on principle:
She cared about the children in Vauxhall, whether it be for education …
… or a day out at a museum or clay pigeon shooting:
As far as I know, no new Labour candidate has yet been selected. Lord Adonis was willing to renounce his title for the candidacy:
But, he did not succeed:
Boris
Kate was happy when Boris Johnson became Prime Minister:
A few weeks later, he faced opposition from Labour leader Jeremy Corbyn and many other MPs:
Kate made her views known:
She lamented that today's Labourites know nothing about the party's Euroscepticism, e.g. Tony Benn's, in the 1970s:
Boris's deal
Although Boris's new Brexit deal got rid of the backstop, it would put in a virtual border down the middle of the Irish Sea and make getting some goods from Northern Ireland to other parts of the UK difficult.
Therefore, Hoey could not vote for it. Fortunately, it passed, although the Programme Motion for the timetable did not:
That said, she criticised Jeremy Corbyn for blaming Boris for our failure to exit the EU by October 31:
John Bercow
She was no fan of Speaker Bercow:
She is much happier with Sir Lindsay Hoyle:
Election
As for the December 12 election, this is what she predicts:
She has agreement on that:
She has also noted how Labour have dumped Brexit as a talking point:
Conclusion
At the end, Kate Hoey has been grateful for all the support the British public have given her:
If not the Brexit Party, then, yes, please, the House of Lords.
Well done, Kate Hoey. A grateful nation — whether Labour or Conservative — thanks you for your service as an MP.
Between 1992 and 2000, Parliament had its one and only female Speaker to date, the redoubtable Labour MP Betty Boothroyd:
Labour MP Harriet Harman, an unpopular candidate for the successor to John Bercow, told the Evening Standard that it was high time that Parliament had another woman as Speaker: herself. Yet, Harman ignored the fact that there are two Deputy Speakers who are female.
All three Deputy Speakers ran for election on November 4, but, as we know, neither Dame Eleanor Laing (Conservative) or Dame Rosie Winterton (Labour) won. Instead, it was Sir Lindsay Hoyle.
Betty Boothroyd turned 90 on October 8, 2019:
Dame Betty Boothroyd began her career as a member of the famous Tiller Girls, a dance troupe that performed highly choreographed precision dancing, as America's Rockettes do. Their tours took them all over Britain, including popular variety shows on television.
She turned to politics in the mid-1950s, after a foot infection ended her time with the Tiller Girls in 1952. Until she became a Parliamentarian, representing West Bromwich in 1973, she worked for Labour MPs, with a brief stint in Washington DC working for an American congressman, Silvio Conte, between 1960 and 1962. She stood down as Speaker — and MP for West Bromwich — in 2000:
She is still as feisty as ever, speaking out against Brexit:
On her birthday, The Yorkshire Post published a tribute to Dame Betty — Baroness Boothroyd.
Excerpts follow, emphases mine, but, first, a word about her predecessor.
Betty Boothroyd became Deputy Speaker just when Parliament was first being televised.
The Speaker at that time was Bernard Weatherill, the last Speaker to wear the full traditional garb and wig.
The image at left, courtesy of Wikipedia, is a photo of his official portrait, painted in 1986 by Norman Blamey.
The Conservative MP for Croydon North East, he served under Prime Ministers Margaret Thatcher and John Major.
After his speakership ended, he was elevated to the House of Lords as Baron Weatherill. He sat in the Lords as a crossbencher — i.e. no party affiliation — the norm for former Speakers.
Although quite conventional in his upbringing and career, which included serving in the Army during the Second World War and working for the family tailoring firm, the erstwhile Bernard Weatherill Ltd, he was an avowed vegetarian.
Baron Weatherill died of prostate cancer in 2007.
The election of Betty Boothroyd caused quite a stir, especially as she had been a Tiller Girl. She renounced the wig and an elaborate gown, although she still wore buckled shoes. (Image at right courtesy of Wikipedia.)
Madam Speaker ran everything to time. Furthermore, when she had to take an unusual procedural decision, she explained why:
On one memorable occasion after a tied vote, she had to use her casting vote which, by convention, was in the sitting government's favour. Foreseeing such a possibility, she had a prepared statement tucked away in a pocket so she could explain the constitutional position to MPs – and watching world. It is why there was rarely any malice towards the textile worker's daughter who ended sessions of Prime Minister's Questions – they never over-ran – with her stock phrase "Time's up".
She earned the respect of the two Prime Ministers during her tenure — John Major (Conservative) and Tony Blair (Labour):
Sir John Major salutes the Dewsbury-born Parliamentarian's entry into "the Pantheon of National Treasures", while his successor Tony Blair admits that he was in awe of the Yorkshirewoman …
In his contribution, Sir John, writes: "I served in Parliament with Betty Boothroyd for many years and, although we represented different political parties, I always admired her respect for the Commons, and her concern for the wellbeing of our country.
"Betty was Speaker of the House of Commons for five of my seven years in Downing Street, a role which she executed in a wholly dispassionate and exemplary manner, and in which she was widely liked and admired.
"Since her retirement from the Commons and elevation to the House of Lords, she has continued to speak up for the interests of our country, often in the most robust terms.
"One of Betty's greatest gifts has always been her capacity to express a contrary view, without causing political offence. If only such a gift had been bestowed on all MPs…"
Tony Blair, considerably younger than John Major, was in fear of her:
"Ever since Betty told me off in no uncertain terms, as a young MP, for coming into Parliament's terrace dressed in a sweatshirt and jeans, I have been somewhat in awe of Betty and a little scared of her," he recalls.
"She had the same awesome authority as Speaker. We listened to her then with respect and admiration and continue to do so when she makes interventions on the issues facing the country today. Hers is a voice of common sense, insight and experience and long may we continue to hear it.
"I feel incredibly privileged to have been in Parliament during her tenure, to have known her kindness and warmth, and I hope that as Betty celebrates her 90th birthday, she will still be dancing."
Boothroyd's successor was Michael Martin, a Labour MP from Glasgow. He was the first Catholic Speaker since the Reformation.
People were a less keen on him and missed Madam Speaker, not for religious reasons but for the way he conducted himself.
Martin was anti-Conservative:
On 1 November 2006, during Prime Minister's Questions, Martin caused uproar in the House of Commons by ruling out of order a question from Leader of the Opposition David Cameron in which he challenged Tony Blair over the future leadership of the Labour Party. Martin stated that the purpose of Prime Minister's Questions was for the House to question the Prime Minister on the actions of the government. This caused such dissent amongst MPs that Martin threatened to suspend the session. Cameron then re-worded the question so he asked about Tony Blair's future as Prime Minister rather than leader of the Labour Party, which Martin accepted. Conservative MPs threatened to walk out if a similar event occurred in the future.[27]
Two years later, it emerged that Martin was deeply mired in the expenses scandal of 2008-2009 and announced his decision in May 2009 to stand down as Speaker in June that year:
On 12 May 2009, the BBC reported that Michael Martin was under pressure to resign.[37] On 17 May, Liberal Democrat leader Nick Clegg said that Michael Martin should stand down, saying he had become an obstacle to much-needed reform of Parliament.[38] On 19 May, Douglas Carswell tabled a motion of no confidence, which was signed by 22 MPs.[39] Later that day, Martin resigned as Speaker effective as of 21 June 2009.[3] If the motion had been successful in a vote, Martin would have been the first Speaker to be forced out of office by a motion of no confidence since John Trevor in 1695.[40]
Few outside the left-wing political sphere lamented his departure. However, Martin went to the House of Lords as Baron Martin of Springburn and sat as a crossbench peer.
John Bercow succeeded Martin as Speaker.
Baron Martin died in 2018. Bercow attended his funeral and paid him tribute, along with former Prime Minister Gordon Brown.
What a memorable foursome of Speakers. Of these, the only ones I liked were Bernard Weatherill and Betty Boothroyd. Politics did not matter with them. They were there to act impartially for the smooth running of Parliament, not for self-aggrandisement.
It is a pleasure to report that Sir Lindsay Hoyle is the new Speaker of the House:
Sir Lindsay, the Lancastrian
Sir Lindsay is the MP for Chorley in Lancashire. His election as Speaker means that his seat in Chorley is traditionally uncontestable, just as John Bercow's was in Buckingham. So, there is no point in Hoyle's constituents voting on December 12. Furthermore, the residents of Chorley, as was true for Buckingham, essentially have no MP to represent them:
Unlike a number of MPs, the new Speaker was a businessman before entering politics:
Rumour has it that the Speaker is empathetic towards Brexit:
On a personal, and sad, note, in his acceptance speech, he mentioned his late daughter:
Lindsay Hoyle declared his candidacy for Speaker shortly after John Bercow announced he would be standing down and retiring — probably because the Conservatives announced they would be fielding a candidate in Buckingham, a break with tradition:
Sir Lindsay enjoyed watching the Rugby World Cup final (England v South Africa) on Saturday:
Some compared that photo to Whistler's Mother:
As the Times is behind a paywall, I couldn't read the article. Even though the Speaker is Labour, my greatest concern is 'tone' policing. A few weeks ago, Bercow criticised Prime Minister Boris Johnson for replying to a strident Labour MP with the words 'humbug' and 'Surrender Act'. I hope that the new Speaker will use common sense, although I have seen him follow the Bercow line with Conservatives. We shall see.
As for his style, Hoyle seems to have been calm, cool and collected.
That said, in the past, during his time as a Deputy Speaker, he can restore order. The following clips are not in chronological order and the best part comes in the second half, from the time that Alex Salmond was still an SNP MP. A prolonged confrontation ensued:
Sir Lindsay said he would bring back the traditional Speaker's garb, but only on 'traditional days'. I have no idea what this means, other than the State Opening of Parliament, but we shall see in due course:
Guido Fawkes has the soundbite from Radio 4's Today Programme (emphases in the original):
New speaker Lindsay Hoyle told the Today Programme this morning that he will be bringing back the Speaker's wig and assorted regalia on big parliamentary occasions.
"On traditional days, of course. You have to wear dress that is suitable for that day."
Bercow's legacy being unwound piece by piece…
Speaker candidates reflected a new style, not Bercow's
In watching Monday's session, which began at 2:30 and ended around 9:50 p.m., I was struck at how many candidates for Speaker mentioned that they would speak less — and call on more backbenchers, not just the more prominent ones.
Surely, that was not John Bercow's style.
As I mentioned yesterday, the Father of the House, Kenneth Clarke, presided over the election for Speaker. He is retiring after over three decades as an MP. He was also Chancellor for the Exchequer under John Major and remains a Europhile:
He was the sort of MP one either loved or loathed:
During my Europhile years, I thought Ken Clarke was terrific. Once I began reading more about the European Commission and the goings-on in Brussels, I changed my mind. But I digress.
There were four rounds of voting on Monday, and the session started with all the candidates giving short and sweet speeches. A BBC Parliament pundit commenting on proceedings observed that when Bercow presented his candidacy ten years ago, he spoke for ten minutes!
This was the list of candidates. Only two are Conservative: Deputy Speaker Dame Eleanor Laing and Sir Edward Leigh. The others are Labour MPs. Sir Lindsay and Dame Rosie Winterton also entered the candidacy as Deputy Speakers.
My preferred candidate was Dame Eleanor, with Sir Lindsay as second choice:
Those watching at home hoped that Harriet Harman, the Mother of the House as she is the longest serving female MP, would fail dismally:
Ms Harman is on the left in the photo below:
Harman did not do very well in the first round of voting …
… but she survived for a second round, unlike Meg Hillier and Edward Leigh:
This is why the election took a long time:
Harriet Harman's votes decreased in the second round, and she withdrew. Dame Rosie Winterton, a pleasant Deputy Speaker, was automatically eliminated:
In the third round, Dame Eleanor was automatically eliminated. This is an interesting result, because Chris Bryant is actually an Anglican priest, although he has not had a clerical position for many years. He withdrew from parish life because of his homosexuality and got into politics instead, as he said on The Wright Stuff many years ago. However, Bryant certainly learned at seminary to speak effectively to the public. That is why I think he did so well:
Many of us hope that Dame Eleanor, if re-elected in December, will receive a nice position once Parliament reconvenes. In any event, she was Deputy Speaker on Tuesday afternoon after Sir Lindsay finished his first few hours as Speaker:
A fourth round of voting took place:
with Sir Lindsay emerging as the winner with 325 votes. Chris Bryant received 213.
He had cross-party support from the beginning:
A Conservative candidate lent his support after bowing out:
Unfortunately, I was unable to see Sir Lindsay's acceptance speech and what the two party leaders said to him. Every time I tuned into BBC Parliament, there was a recording of the House of Lords. By the time I tuned in again, the House — and new Speaker — were already in the House of Lords for the formal ceremony. Bad timing on my part, no doubt, but BBC Parliament's banner said to tune in at 9:20 p.m.
In the event, the result was in at 8:30. Henry Deedes of the Daily Mail wrote (emphases mine):
The result came just before 8.30pm. When it was announced, Sir Lindsay blew out his cheeks. Lisa Nandy (Lab, Wigan) patted his arm warmly. Nigel Evans and Caroline Flint shared the honours in dragging him to the chair. Outside, the bongs of Big Ben sounded again as the old bell was tested ahead of its appearance at Remembrance Sunday. Parliament is finally ringing the changes.
It is interesting that many people are now breathing an audible sign of relief that John Bercow is gone.
However, some journalists, such as Dan Hodges, had been doing so for a long time:
Tradition still applies
Certain traditions still apply for a new Speaker of the House.
From the Middle Ages until the Glorious Revolution in 1688-1689, the position of Speaker was to voice the concerns of Parliamentarians to the King. Often, they opposed the King, and the Speaker represented those views to the monarch.
Therefore, the role of Speaker was potentially dangerous. For those reasons, those elected did not always want to serve, so a tradition grew up around past Speakers being dragged up to the chair. The winning candidate also used to say that he was unable to fulfil the role, because they potentially risked their lives. I am not sure if Sir Lindsay said this. I have not seen any reports of it.
Here he is being dragged to the Speaker's chair after the Father of the House read the result:
You can see a photo on the left of him being dragged from the Labour benches:
Standing by the Speaker's chair, but not yet sitting in it, he said:
I will be neutral. I will be transparent.
This House will change but it will change for the better.
I stand by what I said, I stand firm, that I hope this House will be once again a great respected House, not just in here but across the world.
It's the envy and we've got to make sure that tarnish is polished away, that the respect and tolerance that we expect from everyone who works in here will be shown and we'll keep that in order.
The Prime Minister offered his congratulations. Some journalists view the word 'kindness' below as a dig at Bercow:
I believe you will also bring your signature kindness, kindness and reasonableness to our proceedings, and thereby to help to bring us together as a Parliament and a democracy.
Because no matter how fiercely we may disagree, we know that every member comes to this place with the best of motives, determined to solve, to serve the oldest Parliamentary democracy in the world.
And to achieve our goals by the peaceable arts of reason and debate invigilated by an impartial Speaker, which was and remains one of our greatest gifts to the world.
Also:
After long, happy years of dealing with you… whenever any of us is preparing to speak in this chamber, we all know there is a moment between standing up and when the Speaker calls you when your heart is in your mouth.
And in that moment of anxiety, about whether you're going to make a fool of yourself and so on, and indeed at the moment when we sit down amid deafening silence, the kindliness of the Speaker is absolutely critical to our confidence and the way we behave.
And Mr Speaker, over the years I have observed that you have many good qualities, and I'm sure you will stick up for backbenchers in the way that you have proposed, and I'm sure that you will adhere to a strict Newtonian concept of time in PMQs.
Jeremy Corbyn, leader of the opposition, said:
The job of Speaker is not just a ceremonial one. It is about the rights of backbenchers to be able to speak up.
It is about the power of Parliament to hold the government to account. That is the whole principle and point of a parliamentary democracy, that we have a strong Parliament that can hold the executive to account. And I know you will stand up for that principle because that is what you believe in.
Ceremony of Approbation in the House of Lords
The main ceremony came in the House of Lords, the ceremony of Approbation.
In absentia, the Queen had placed her seal on Sir Lindsay's election as Speaker. I do not know how they got it to the Palace so quickly, but someone who had been involved in a past Speaker's election told BBC Parliament that they had two parchments ready, each with the name of one of the final two candidates. The parchment with the name of the winner was immediately despatched to Buckingham Palace for the Queen's approval.
I wish I had a video to share of the ceremony in the House of Lords, because it was really rather grand.
Afterwards, the Speaker returned to the House, escorted by the Sergeant at Arms. MPs reconvened. The Speaker moved to adjourn for the day, receiving an enthusiastic number of 'Ayes'.
Historical notes
During the first round of voting, the panel on BBC Parliament discussed various Speakers from history as well as traditions regarding their dress.
The Archbishop of Canterbury could get involved with the appointment, or otherwise, of a Speaker:
Correct. I do not remember who that Speaker-elect was, nor the King, but it happened centuries ago.
The BBC Parliament panel also discussed the tradition of wigs and robes. Whilst both were commonplace as dress centuries ago, as time went on, although normal street attire approached what we know today, the wigs and robes stayed on to represent a particular office, e.g. judge, Speaker.
They also pointed out that the wig a Speaker wears is different to that of a judge. The same goes for the formal Speaker's robe with the gold trim, which a judge would not wear.
It seems that, for everyday wear, recent Speakers, from Betty Boothroyd in the 1990s to the present, have worn a judge's gown. Mrs Boothroyd did away with the wig as it was dirty, or so we heard on BBC Parliament. In reality, I suspect that Mrs Boothroyd did not want to ruin her elegant bouffant.
Incidentally, Mrs Boothroyd was in the Public Gallery yesterday. She celebrated her 90th birthday a few weeks ago. She has been our only woman Speaker thus far. More about her perhaps in another post.
Final note on Bercow
As for John Bercow, the Daily Mail reported that, earlier on Monday:
Mr Bercow formalised his departure from the Commons today by becoming 'Steward and Bailiff of the Manor of Northstead'.
That is the traditional way of standing down as an MP, as they are not allowed to resign from office directly. 
Conclusion
Already today — Tuesday — the Speaker chose backbenchers whom I have not seen before to speak.
The subsequent readings and Committee Stage of the long-awaited bill regarding compensation to victims of institutional child abuse in Northern Ireland decades ago have passed the House in the final hours of this Parliament, which comes to an end at 00:01 on November 6:
Looking ahead, I am hoping for great things in Parliament once it reconvenes on December 16.
Before I continue with the surprise ending the exiting Speaker of the House John Bercow received during an afternoon of nauseating tributes, this is what happened today in Parliament:
I'm writing this post before the session begins, but, note how late Monday sittings start — rarely before 2:30 p.m. Parliament does not meet on Fridays, either, so it's a nice long weekend for all concerned.
Also note that there will be no prayers from the chaplain, as the House of Commons is in transition with regard to clergy. The outgoing chaplain will be appointed as Bishop of Dover later this month. She is in the photo on the left in red. The newest Sergeant at Arms, originally from Nigeria, carries the mace:
Someone responding to the House of Commons tweet lamented that no prayers were being said:
I think a few Prayers are needed before the Election of a New Speaker Clearly none were said during the last election.
I agree.
Apparently, the new chaplain, a Catholic priest, has not yet started. However, I would have thought that Jacob Rees-Mogg, the Leader of the House, could have been in a position to say prayers.
Another issue looms. Bercow knew that an election was coming up on December 12, yet, he wanted his successor chosen now. Several MPs will not be standing for re-election, e.g. the Father of the House Kenneth Clarke, and many more, e.g. the Independents, risk losing their seats next month.
Therefore, it seems inappropriate for a departing House of Commons, led by an departing Father of the House to appoint a new Speaker. Parliament will be adjourning on November 6, by the way:
More on the new Speaker anon.
Now let's return to Thursday, October 31. Bercow was lapping up the afternoon session, which MPs completely devoted to him.
Never mind any pending legislation that has to be completed by the end of the day on Tuesday. One looming bit of legislation concerns compensation to victims of child abuse in religious and state-run care homes in Northern Ireland. I have heard the testimony from some of these men, now in their 50s and 60s, and it is harrowing.
Labour MP Kate Hoey has served her London constituency of Vauxhall for many years and will retire (unless she runs for the Brexit Party), but she is from Northern Ireland originally. She was appalled by Thursday afternoon's events:
Yes, Conservative MP Andrew Bridgen messed up Bercow's delightful punchbowl by demanding the truth about a crooked, longstanding Labour MP for Leicestershire, Keith Vaz. Vaz represents Leicester East and Bridgen North West Leicestershire.
What a surprise ending for Bercow.
A report — an investigation into Keith Vaz's activities — came out that day. Andrew Bridgen is holding it in his hand when he speaks. (You can see the name Keith Vaz on the cover.)
Bridgen told Bercow — 'Mr Speaker' — that he tried warning him about this in 2015. Bercow shot out of his chair and told Bridgen to sit down. Then he made out as if Bridgen was in the wrong: 'I cannot help him'; 'I fear he is beyond redemption'.
Interestingly, at this point, Bridgen had spoken for probably a total of two minutes. Bercow told him to sit down twice. As the video below shows, Bercow spoke for at least ten minutes. Near the end, Bercow gave him permission to speak for a third time but not 'to dilate' (go on at length):
Bridgen seized the opportunity, warning about public sentiment once the report on Vaz is released outside of Parliament:
Mr Speaker, to the fag end [cigarette butt] of your tenure, you are defending the indefensible and your very close relationship with the honourable Member in question [Vaz]. The House can come to its own conclusions. The Standards Committee has come to its own conclusions, and, Mr Speaker, the public will come to theirs. Thank you very much.
Political pundit Guido Fawkes put it this way:
At the end of the day, Bridgen tweeted and got a lot of compliments for speaking out:
The Mail on Sunday's Dan Hodges, who is the son of actress and former MP Glenda Jackson, agreed with Bridgen and the public. He got hammered for it:
However, not all comments were negative:
A Conservative MP also spoke up about Bercow's conduct during his tenure:
Nothing will happen. Bercow denied allegations of bullying members of his staff and, as I wrote last week, that's the end of the matter. Lucky for him. Yet, Bercow was the one telling Conservative MPs that they must be nice and moderate their language in Parliament when, in reality, it's the opposition who are the strident ones. More on that in another post.
Returning to Andrew Bridgen's short but sharp comments, let us look at the allegations about Keith Vaz, the Speaker's personal friend. Wikipedia tells us (emphases mine):
Vaz served as the Minister for Europe between October 1999 and June 2001. He was appointed a member of the Privy Council in June 2006. He was Chairman of the Home Affairs Select Committee from July 2007, but resigned from this role on 6 September 2016 after the Sunday Mirror revealed he had engaged in unprotected sexual activity with male prostitutes and had said he would pay for cocaine if they wished to use it. At the end of October 2016, Vaz was appointed to the Justice Select Committee; a parliamentary vote to block this development was defeated.[1]
The Mirror, incidentally, is a Labour-supporting newspaper.
Allegations about Vaz were published by the British Sunday Mirror tabloid in early September 2016. It was reported that he had engaged in unprotected sexual activity with male prostitutes and had told them he would pay for cocaine if they wished to use it. He told the prostitutes that his name was Jim and that he was an industrial washing machine salesman.[60] Vaz later apologised for his actions.[61][62] "It is deeply disturbing that a national newspaper should have paid individuals who have acted in this way", he said.[61][63] Vaz resigned as chair of the Home Affairs Select Committee on 6 September 2016.[64]
At the end of October 2016, Vaz was appointed to the Justice Select Committee, after he had put himself forward and was nominated by his party.[65] A House of Commons motion to block this development was defeated; they are rare on such an issue. According to Laura Hughes of The Daily Telegraph, Conservative Party whips told their MPs to vote for Vaz in the division to prevent a precedent being created of such appointments being rejected by MPs. Over 150 Conservative MPs voted in support of Vaz.[1] The Conservative MP Andrew Bridgen asked in the chamber of Vaz; "If the right honourable member for Leicester East found himself last month to be not fit to be chair of the Home Affairs Select Committee and the matters are unresolved, what makes him think that he is a fit and proper person this month?"[66]
The Parliamentary Commissioner for Standards, Kathryn Hudson, has previously announced an investigation into Vaz's conduct.[66] The Standards Commissioner's investigation was halted "for medical reasons" in December 2017.[67] The inquiry recommenced in March 2018[68] and, in October 2019, the inquiry recommended that he be suspended from Parliament for six months.[69][70] On 31 October, MPs voted in favour of the suspension.[71]
I agree with Diane Abbott below (if only this time), but, if Labour had any moral compass at all, they would not allow Vaz to stand for re-election:
On November 7, 2018, the BBC published an article by Newsnight's editor Chris Cook, 'How John Bercow keeps Keith Vaz's secrets'. The article says that Bercow is exercising 'parliamentary privilege'. Newsnight is a BBC weekday programme:
In the 17th century, England had a problem with laws on sedition. MPs could not speak freely about the king's policies for fear of judges. To solve that problem, we adopted a special guard against tyranny: "parliamentary privilege". Now, John Bercow, speaker of the House of Commons, has invoked it to stop Newsnight getting information about the behaviour of the MP Keith Vaz.
Bercow had the final say in the matter:
Mr Bercow has personally intervened and gone out of his way to bar Newsnight from asking the Information Commissioner or a judge to review the decision. We will not be able to overturn this decision, as journalists fought through the courts to get to see MPs' expenses.
The core legal text here is the 1689 Bill of Rights. It states: "the Freedome of Speech and Debates or Proceedings in Parlyament ought not to be impeached or questioned in any Court or Place out of Parlyament" …

This is perhaps the most important legal change in England that came from the 1688-9 coup, dubbed by supporters "the Glorious Revolution", when James II was replaced by the Dutch prince William of Orange and his wife Princess Mary. It is an important constitutional principle.
That is why MPs and peers can make allegations in the Commons or Lords without fear of libel law. When Lord Hain named Sir Philip Green as having obtained an injunction against the Daily Telegraph, he was deploying this right. Injunctions have no weight inside the walls of the debating chambers.
As Chris Cook explains, not everything is cut and dried in these matters, past and present. Recently, judges have had to intervene, as they did when the expenses scandal broke several years ago.
At the time Cook wrote the article, he focussed on Vaz's expenses rather than the prostitution angle. Cook and his team tried to use the Freedom of Information Act to get details of Vaz's trips abroad, but to no avail:
If the administration of MPs' expenses is not covered by privilege, why should the administration of committee trips be? MPs are involved – but they oversaw expenses too. Could knowing which travel agent booked tickets for MPs be a route to power for a would-be tyrant? What is the threat to free speech?
Some months ago, Mr Bercow personally made the argument that this paperwork was all covered by privilege. But I looked forward to a tribunal when this could be tested.
It all got heavy handed, as Bercow pulled out all the stops to prevent Newsnight from getting access to information about Vaz:
Normally, this sort of determination can be referred to the Information Commissioner and then to the tribunals and courts to judge whether that finding is fair. My judgment is, if they did that, I had a reasonable chance of winning.
I suspect Mr Bercow agreed. That would explain why he has now used an unusual personal power to block any appeals.
This week, I was notified he has issued a "certificate" under section 34(3) of the Freedom of Information Act. This is, in effect, a personal release veto.
These sorts of vetos are supposed to be used sparingly – an emergency reserve power to guard sacred spaces if courts get it wrong.
That is because their use means I have no rights of appeal. The Information Commissioner's view is that, since the certificate is genuine, that is the the end of the matter. Any appeal to the tribunals will automatically be discarded. I can ask a judge to review his decision, but it would entail looking at a decision taken by a parliamentary officer. That would hit privilege from another direction.
The net result is that the Speaker, who denies bullying, has made an order to hide information about the behaviour of his close personal friend, Keith Vaz, a man who also denies bullying – supposedly to protect MPs' freedom of speech.
And then he has gone out of his way to use a personal veto to make sure no-one could even consider reviewing that questionable decision.
You can understand why staff are so suspicious about whether MPs will ever let themselves be judged by outsiders when it comes to bullying and harassment.
I have no confidence that Bercow's conduct will be investigated, whether it concerns bullying, Brexit or Keith Vaz.
On a happier note, however, Andrew Bridgen hurried home to Leicestershire to end Thursday with what looks to have been an excellent curry:
More to follow on the new Speaker soon.
Thursday, October 31, 2019, was John Bercow's last day as Speaker of the House of Commons.
I listened to Parliamentary proceedings that day, as I wanted to be sure he was actually leaving. Based on the fulsome tributes from both Conservative and Labour MPs, it appears as if yesterday did indeed bring an end to the former Conservative's tenure as Speaker.
Prime Minister Boris Johnson gave him a witty, tongue-in-cheek tribute at Wednesday's PMQs (Prime Minister's Questions):
No doubt Bercow got Boris's asides, delivered with aplomb. MPs laughed at the back-handed compliments. To a stranger, they would have indeed sounded as positives. However, those of us watching at home got the jokes.
I had not noticed, but a number of MPs not standing for re-election on December 12 spoke on Wednesday. That was entirely at Speaker Bercow's discretion.
Interestingly, Kate Hoey, Labour's MP for Vauxhall and a firm Leave supporter, was not among them:
Many of us hope that Kate Hoey could run as a candidate for the Brexit Party (BXP):
She has always been a ladylike and eloquent MP, unlike many other women on the opposition benches who, quite frankly, sound like angry harpies:
Most of us do not like John Bercow because not only did he turn his back on the Conservative Party shortly after becoming Speaker, he also did his best to bring up motions that frustrated the Brexit process, from Theresa May's final months to now.
Behind the scenes, members of his staff accused him of harassment. No investigation took place. All he needed to do was to deny the accusations.
As I write on Thursday, I am listening to more MPs — many of whom are Conservatives — fawn over Bercow.
Bercow has a grace and favour accommodation, Speaker's House, in the Palace of Westminster. Unfortunately, it requires renovation, so his successor, to be elected on Monday, November 4, will not be able to move into it for another year. Could the works have been staged, particularly during the many lengthy recesses? Did he have any say in prolonging repairs? One wonders:
Guido Fawkes describes Speaker's House as follows (emphasis in the original):
The Speaker of the House of Commons doesn't just get the freedom to verbally abuse whoever he likes, he gets a very swanky pad in the heart of the Palace of Westminster, with staterooms, a bedroom designed for the monarch to stay in and a private gilded study. Lesser known about Bercow's pad is it also includes a private sectioned-off part of the Commons' Terrace as a private space to entertain guests outside. All paid for by the taxpayer of course.
Despite living in situ in the Palace of Westminster, Bercow took a roundabout route to work on his last day:
Guido Fawkes tells us about the Press Association (PA) record of the event along with a tweet:
John Bercow was pictured arriving at work this morning by PA in the kind of candid, natural shots that we all indulge in on our final day job commute.
The only flaw in his plan was that Bercow lives in Speaker's House… in the Palace of Westminster – meaning he had to first leave his place of work to be featured in the snaps heading back in – a 1627% longer journey. The whole thing is just a faked up performance for the cameras… perfectly appropriate ending.
That said, the PA had a good summary of his ten-year tenure as Speaker, excerpted below, emphases mine:
John Bercow has been no stranger to the limelight in more than 10 years in the Speaker's chair.
The one-time Conservative MP for Buckingham, with a high-profile Labour-supporting wife, has made a catalogue of unconventional comments since he took over the impartial role from Michael Martin.
He has survived attempts to remove him from the chair, including from former colleagues in the Tory party, revelations about his expenses and allegations of bullying, which he denied.
But it will perhaps be his interventions in the Brexit crisis, and the relish with which he seemed to make them, for which he will be best remembered.
Regular Parliament watchers may or may not miss his inimitable style, such as his bellowing shouts of "order" and "division, clear the lobby", but those quirks are what brought him international attention when the eyes of the world became fixed on the Commons throughout 2019.
As the Brexit debate raged and senior opposition figures played every trick in the parliamentary book to prevent the governments of Theresa May and Boris Johnson from pursuing their preferred policies, Mr Bercow drew the ire of hardline Eurosceptics for perceived bias.
After he allowed an amendment by Tory rebel Dominic Grieve to be voted on in January, he was labelled "Speaker of the Devil" by one newspaper, while the Daily Mail called him an "egotistical preening popinjay (who) has shamelessly put his anti-Brexit bias before the national interest – and is a disgrace to his office".
He voted Remain, discussing it candidly with a group of students, but in an interview with Italian newspaper La Repubblica denied this meant he had lost his impartiality.
"If I'm biased, I'm biased in favour of Parliament. Parliament being heard. Parliament having a right to speak. Parliament having time. Parliament being respected by the government of the day and indeed by the opposition," he said.
Since being elected as the 157th Speaker of the House of Commons in June 2009, he has delivered many caustic put-downs, earning him both loathing and appreciative laughter from MPs.
He had a fractious relationship with former Commons Leader, and now Business Secretary, Andrea Leadsom, after he was accused of calling her a "stupid woman".
Andrea Leadsom is far from being 'stupid', but that's Bercow.
Three weeks ago, Bercow travelled to Brussels to meet with his opposite number, the EU Parliament President David Sassoli:
The Speaker's role does not include government negotiations:
To think that October 31 was supposed to be our Brexit date. Of course, Bercow did not prevent this single-handedly, but, nonetheless, he helped:
On the Saturday, October 19 session, Bercow brought forward the Letwin Amendment, which stipulated that all Brexit legislation be voted on before Boris's new deal was approved. Its passage by MPs that day ensured that Boris had to send letters of extension to Brussels, in compliance with the Benn Act. January 31, 2020 is the new Brexit deadline:
The following day, one of his deputies, Conservative MP Dame Eleanor Laing, accused him of abusing his position:
The Mail on Sunday article states:
Dame Eleanor is one of nine MPs running to replace him, including fellow deputies Sir Linsday Hoyle and Dame Rosie Winterton.  
In another barely veiled attack on Mr Bercow, Dame Eleanor said the Speaker needed to 'set an example of dignified, respectful behaviour' and said: 'Aggression and arrogance are deplorable.' 
Mr Bercow's critics have frequently taken aim at what they see as a pompous, grandstanding style of managing the Commons. 
In a bizarre rant at Michael Gove last month he even brought the Cabinet minister's children into a row. 
The Speaker was back in the spotlight yesterday as the Commons assembled on a Saturday for the first time since the Falklands War in 1982. 
After Mr Johnson lost the crunch vote, the Speaker hinted he could block a Government attempt to bring another 'meaningful vote' on Monday. 
Jacob Rees-Mogg, the leader of the House of Commons, suggested the Government would bring the vote before introducing Withdrawal Agreement legislation this week.
But Mr Bercow has previously ruled that MPs cannot hold repeated votes on the same question. 
Citing a precedent dating back to 1604, he ruled in March that then-PM Theresa May could not bring the same withdrawal deal back to Parliament without changes.   
The ruling enraged Conservative MPs who accused him of sparking a 'constitutional crisis'. 
Two months earlier he had torn up precedent to allow a procedural vote which damaged Mrs May. 
'If we were guided only by precedent, manifestly nothing in our procedures would ever change,' he said at the time.      
Mr Bercow, previously a Conservative MP, took the chair in 2009 after Michael Martin resigned over the expenses scandal. 
The following week, Boris's deal did pass in Parliament, however, MPs opposed the Programme Motion for approving legislation, which they said had too short a timeframe. Hence, Boris's move for an election on December 12, which has now passed the House of Lords:
As for choosing Bercow's successor on Monday, I wish Dame Eleanor all the best:
The Health Secretary, Matt Hancock, made it known that he will be voting for her:
That said, many pundits say that it is now Labour's turn to sit in the chair. We shall see.
More next week.
UPDATE: A surprise ending (well, perhaps not so much to my British readers) awaits on Monday. It took place late during Thursday's proceedings and deserves its own post.
It looks as if Prime Minister Boris Johnson will await yet another EU extension to Brexit.
Despite his new deal, MPs said on Tuesday, October 22, 2019, that they would not have time to read it and make a substantive judgement on it in three days' time before sending it off to the House of Lords for deliberation with a view towards completion by October 31.
It was a disappointing day with eight hours of debate, including two votes near the end.
John Redwood MP (Conservative) rightly compared the situation to Groundhog Day. One Twitter user likened it to a broken record:
There continues to be a clear disconnect between voters and MPs:
The afternoon began with Boris making another positive case for his deal from the despatch box. He stayed to answer MPs queries. It was a lengthy session. He answered each — often repetitive — question with infinite patience and rhetorical aplomb. Our PM is no idiot.
Following that, MPs continued 'debating', voicing the same oral rubbish they have been since the beginning of the year.
After 7 p.m., there was good news for Boris on the first vote. A majority of 30 MPs supported Boris's new deal, in principle:
Then came the second vote, which put a distinct spanner in the works. Most MPs thought in the end that they would not have time to study and debate the bill in full by the end of the week. That's putting it nicely. The No vote is also anti-Brexit and anti-Boris:
Brexit and Boris aside, let's look at why MPs do not think they can reasonably the bill within three days.
Interestingly, voters found Boris's new deal online by Monday. I saw the link on Guido Fawkes. One of his readers supplied it.
Some pundits say that it is shorter yet similar (outside of the Northern Ireland trade backstop) to Theresa May's deal, which was just under 600 pages long.
MPs debated Theresa May's deal and voted it down three times earlier this year.
Some Remainers say Theresa May's deal was never published, therefore, MPs cannot reasonably make a comparison between it and Boris's.
The truth is that Theresa May's deal was published in full — including online — during the time period MPs voted it down months ago. I read it myself. The BBC said that the 1,300 paper copies cost £45,637. Remainers, therefore, are being disingenuous with the truth.
There is no excuse for MPs to refuse to read Boris's in three days, especially as it is approximately one-sixth of the size of Theresa May's.
There is another issue here, though: the ability of MPs to read legislative language.
Now, I always thought that most MPs had law degrees. For anyone even remotely familiar with law school, that means having to absorb at least a hundred pages of legal texts every day in one's first and second years. I base this on the American film and television series Paper Chase. If you couldn't handle that, you had to leave law school.
However, journalist Isabel Hardman posits that most MPs cannot decipher legislative English. Interesting:
Lawyers responded to her thread, proving my earlier point:
MPs have their own staffers, possibly not up to the required standard, however:
Kezia Dugdale, who is a former leader of the Scottish Labour Party and serves as an MP for the Scottish Parliament, explains:
Boris spoke after the vote:
Jacob Rees-Mogg announced in his Business Statement that Wednesday and Thursday's debates would be on approving the content of the Queen's Speech rather than Brexit:
As I write on Wednesday morning, there is no clear response yet from the EU on latest developments.
Emmanuel Macron is generally the first to respond. He is in the French overseas territory of Mayotte at the moment, so there has been no personal response from him, but, last night, Agence France Presse (AFP) offered this:
We shall see. More to follow this week.
It is rare that the House of Commons meets on a Saturday.
Before October 19, the last time was in 1982 when Argentina invaded the Falkland Islands. That was only the third Saturday session since the Second World War. Margaret Thatcher was Prime Minister at the time.
The Telegraph has a short, informative video on the agenda for October 19:
The Rugby World Cup was on, so special arrangements were made for MPs who wanted to see the televised England v Australia match from Japan that morning.
However, the House of Commons was full to bursting by the time the session started at 9:30 a.m. As there are never enough seats on the benches for all MPs, several had to huddle together just inside the entrance to the chamber.
Those watching at home — and I was one of them — were looking forward to the session, like this Twitter user:
By 3:30 p.m., we were sorely disappointed, agreeing with ITV's Piers Morgan:
The Letwin amendment
The day's business began with a debate on the Letwin amendment, brought forward by outgoing MP, Sir Oliver Letwin, a notional Conservative — a rebel who had the whip removed.
This is not the first time Letwin has frustrated the Brexit process. He did so in April, when we had a short two-week extension from March 29 to April 12. He co-sponsored a bill with Labour MP Yvette Cooper to ensure we did not leave then, either:
Then — as now — the amendment was designed to thwart a No Deal exit. It passed. Conservative Woman discusses the amendment, but, more importantly, Letwin's less than trustworthy tenure as an MP. About the Cooper-Letwin Bill from April, CW's article says (emphases mine below, unless otherwise stated):
Thanks to Oliver Letwin's machinations with Yvette Cooper, we woke yesterday to hear that MPs had voted by majority of one 'to force the prime minister to ask for an extension to the Brexit process, in a bid to avoid a no-deal scenario'. Not that Mrs May needed any forcing. The constitutional outrage of the Bill currently being rammed through Parliament is that against the people's will it will prevent us leaving the EU, for a second time, despite the referendum, despite the main party manifestos, the European Withdrawal Act, and the Prime Minister's repeated promises, on April 12.
That Mrs May is now playing kneesy-kneesy with Jeremy Corbyn and shuffling us toward a customs union worse than either leaving or remaining we have to thank Sir Oliver, useful idiot and Member of Parliament for the safe seat of West Dorset.
That, as a result of his Parliamentary coup, she's collaborating and consulting a terrorist-loving Labour Leader in preference to her conservative colleague Jacob Rees-Mogg you'd think might trouble his conscience.
Not if you understand what shaped him as politician.
After Boris Johnson became Prime Minister, Letwin confirmed at the end of August that Speaker of the House John Bercow was working behind the scenes from his holiday bolthole in Turkey to frustrate Brexit before the Commons reconvened in September.
On September 12, The Sun reported on Letwin's agenda:
SACKED Tory rebel Sir Oliver Letwin wants to create a "zombie parliament" by delaying Boris Johnson's general election until next summer at least if he fails to get a new Brexit deal.
He warned there was a cross-party majority in favour of blocking going to the polls until our EU split is resolved — either by passing a deal or holding a second referendum.
Sir Oliver, a leading architect of the law to block a No Deal, said going back to the people to vote on Brexit must come first as an election would "muddle things up".
But Tory Brexiteer Iain Duncan Smith accused him of "stabbing Conservative MPs in the back".
Letwin's successful amendment to Boris's new deal in October prevents any exit until all legislation is agreed. By its very nature, it automatically triggered implementation of the Benn-Burt Act, which stipulates that Boris must send a letter to the EU to ask for an extension. As I write, it is unclear what the EU will do. Benn-Burt even specifies the exact text of the letter. More on that below.
Veteran broadcaster and publisher Andrew Neil explains the strategy behind Letwin's move:
After Letwin's amendment passed, The Telegraph rightly took issue with him:
The Mail on Sunday alleged that Letwin had help in devising the amendment from Lord Pannick, an ardent Remainer:
On Sunday, Letwin confirmed that Lord Pannick was helping him:
Not surprisingly, a number of former Conservative MPs — the rebels — voted for the Letwin amendment:
It is important to keep in mind that Northern Ireland's DUP also voted for the Letwin amendment, even though Boris's new Brexit deal has removed the contentious trade/customs backstop that Theresa May's had. However, the DUP MPs are unhappy that there will be a virtual customs border in the Irish Sea:
If those two groups had not voted Aye, Letwin's amendment would have failed. The result was close: 322-306.
However, if Labour think they now have the DUP onside, they should think again. On Monday, October 21, MP Jim Shannon said:
Guido Fawkes explains (emphasis in the original):
Big news if remain MPs were hoping to get a customs union amendment through on the back of DUP support. Sighs of relief from Downing Street…
Interestingly, the UK edition of HuffPost says that we might have reached what journalist Paul Waugh calls 'peak Letwin'. After the vote, he wrote (emphases in the original, those in purple mine):
today it felt like we had reached 'Peak Letwin'. And although the large crowd in Parliament Square roared when the vote was announced on a huge screen, that too felt like the last dying twitch of a movement that now looks doomed …
The pro-People's Vote MPs will push one final time when the Withdrawal Agreement Bill arrives next week. But having waited and waited for their moment in the hope they can bring more MPs on board, that moment may have now passed. They won't be able to amend the second reading of the bill, which may itself be passed with a hugely important vote for Johnson's deal.
‌Most important of all, the People's Vote campaign has been waiting for 'moderate' Tories to come on board (one claimed that half of the 21 would back a referendum), but those same Tories now look ready to call it a day and back the PM. The DUP are so upset with No.10 they are flirting with a second referendum threat, but few think that will happen.
The EU, which will probably hold off until Tuesday to see whether parliament really can pass the deal, may then offer only a short extension to say mid-November to allow time for the legislation and ratification by the EU itself. Again, that can only help Johnson and focus MPs' minds once more on 'this deal or no-deal'.
Confusion ensued
While we all knew that the Letwin amendment passed, confusion ensued as Saturday's session ended.
Even MPs were left wondering what had happened.
It seemed to some of us, including MPs, that Boris's deal had passed along with Letwin's amendment. Although there was no vote on Boris's deal, approving Letwin's amendment seemed to imply that by voting for it, Boris's deal had also been approved.
The parliamentary journal of record, Hansard, provided no clarity on the matter, either.
Letwin gave a statement after his amendment passed and House Leader Jacob Rees-Mogg made a Point of Order, not the customary Business Statement:
SNP MP Joanna Cherry checked Hansard but still has questions:
Jacob Rees-Mogg
As I said, Jacob Rees-Mogg made a Point of Order and delayed his usual customary Business Statement for Monday.
A lengthy 45-minute discussion ensued, mostly from Scottish MPs, such as Jo Cherry, who asked Speaker Bercow what was going on.
As Rees-Mogg made a Point of Order, he was not obliged to explain his statement that there would be a 'full emergency business statement on Monday':
Rees-Mogg sat there being discussed in the third person, which, while strange, conforms with parliamentary protocol:
Speaker Bercow reassured MPs that he would take legal advice at the weekend and make a statement on Monday:
The vote on the content of the Queen's Speech was scheduled for early next week, too:
Then, Jacob Rees-Mogg quietly got up and walked out of the chamber (start at 4 sec. point):
Discussion went on for a few more minutes in his absence before concluding with this from Bercow:
Police protection required
The People's Vote demonstration was going on outside the Palace of Westminster, as was a pro-Brexit gathering.
Although a few pro-Brexit jerks verbally attacked Labour MP Diane Abbott, the People's Vote Remainers were far more serious about preventing Conservative MPs from leaving Parliament safely.
Some Cabinet MPs required a phalanx of police to escort them to their cars:
What happened to Rees-Mogg and his 12-year-old son, who had been in the Public Gallery, did the Remain/Second Referendum movement no favours:
However, Rees-Mogg received at least one shout out of support. This video also shows his son, who looks and dresses like his father:
Such heinous harassment will do Remainers no favours.
Boris complies with the law
That evening, Boris complied with the law.
Whether Remainers will approve (see below) is another matter.
However, I'm glad the PM complied with the Benn-Burt Act the way he did.
The Mail on Sunday reported:
Late yesterday – just before the midnight deadline stipulated by 'wrecker' MPs – a total of three letters were due to be sent from the Government to Donald Tusk, the president of the European Council.
The first was the letter demanded by the Benn Act, which asks the EU to delay Brexit beyond the October 31 deadline – but not signed by Boris Johnson – using the exact wording specified in the legislation.
The second was a covering letter, written by Sir Tim Barrow, the UK's Permanent Representative in Brussels, which made clear that the first letter was from Parliament, not the Government.
And the third was a letter from Mr Johnson, which was also sent to the leaders of the other 27 EU nations, in which he disavowed the first letter by making clear that he does not want any delay to Brexit.
In it, the PM said any further hold-up would be 'deeply corrosive', and would 'damage the interests of the UK and our EU partners'.
He said UK would continue to ratify the deal and urged Brussels to do the same.
Donald Tusk confirmed he received them:
Tim Barrow's cover letter prefaced the Benn-Burt letter, unsigned:
The PM also sent a letter to MPs, exhorting (encouraging) them to support his deal:
More Scottish anti-Brexit lawsuits to come
This week, Jo Maugham QC and Joanna Cherry MP, also a QC, will bring more anti-Brexit lawsuits in Edinburgh.
The first is about Boris's handling of his obligations under the Benn Act.
While Parliament convened, Jo Cherry included, Jo Maugham prepared for the week ahead in Spain:
Calm and witty though his tweets might be, it is nonetheless hard to forget that, on October 17, Maugham called Rees-Mogg a 'notorious talker of tripe'. That was not a one-off against the Conservatives, either.
What happens next?
On October 19, the BBC reported that the government plans to bring back a vote on Boris's deal by holding:
a "meaningful vote" on the Withdrawal Agreement Bill on Tuesday.
This would corner MPs into a Yes/No vote on their deal, and given there are a fair number of Labour rebels, the government could well win.
Certainly, the vote would put any number of Labour MPs – and MPs for other parties – from Brexit-voting constituencies in a very awkward place.
Watch out for an attempt to attach a second referendum to the deal in some way.
But the success of that effort would require full-throated support (and whipping of their MPs) from the Labour Party. They are not there yet, and they may never be.
If the government wins a "meaningful vote" on Tuesday, the legislation to underpin the new deal would then go forward – and that would provide further opportunities to attempt amendments.
Winning the next meaningful vote is only the beginning of a new phase of Brexit; it's not even the beginning of the end.
How true.
Along with many other Britons, I wish they would just pass Boris's deal, along with the legislation, and get on with leaving on October 31 …
… because, at that point, our transition period begins. It would be scheduled to last until December 2020. It is during that time that trade — and other — deals can be fully negotiated.
More to follow this week.
A week is a long time in politics, as the saying goes.
Much happened during the past five days, beginning with the Queen's Speech and culminating with Boris's new Brexit deal.
Promises made — and kept
But, first, delivering a new Brexit deal was what Prime Minister Boris Johnson pledged on Tuesday, September 10, 2019. Please watch the first six minutes:
This week, he delivered on that pledge.
Queen's Speech
From the end of September to last weekend, the anti-Boris brigade wondered whether the Queen's Speech would go ahead on Monday, October 14:
Much to Remainers' dismay, it did indeed take place:
With regard to the Queen not wearing the Imperial Crown, this is why:
You can read the full text of proposed legislation for the next (now current) session of Parliament — including supporting facts — here. Preserving the Union and getting Brexit done are the top two priorities. Proposed legislation for this session involves the NHS, the environment, policing and the railways, among other issues. The BBC has a good summary.
It should be noted that the government — political party — in power writes the speech for the monarch.
Advance copies are issued, but they have to remain under embargo until afterwards. Therefore, media pundits pretend they do not know what the Queen is going to say as they have to create a news story for the folks at home:
On the day, Black Rod goes to the House of Commons to summon MPs to the House of Lords for the speech:
MPs are summoned by a House of Lords official, known as Black Rod. Before entering the Commons, Black Rod has the doors shut in their face, symbolising the chamber's independence from the monarchy.
During the speech, the Queen sets out the laws the government wants Parliament to approve. By convention, it is announced by the monarch in the presence of MPs, peers and other dignitaries in the House of Lords.
Afterwards, the House of Commons then needs to vote on whether to accept the contents of the speech. MPs normally spend five days debating whether to approve it. It is thought that they will vote on Monday or Tuesday next week.
I watched this week's tiresome 'debates', which were dominated by opposition MPs' petty speeches. One railed on about the cost of school uniforms and said that a proposed subsidy should have been included in the speech. For that reason, she does not want to approve it.
Five days of 'debate' over a 1,073-word speech that took around ten minutes to deliver. The mind boggles.
Brexit negotiations
Last week, Boris spent time in meetings with Ireland's Taoiseach — Prime Minister — Leo Varadkar:
Many MPs, including some Remainers, were optimistic.
The Democratic Unionist Party (DUP), with whom the Conservatives have had a confidence and supply agreement since the 2017 election, because of Theresa May's decreased majority, were cautiously optimistic:
Brexit Secretary Steve Barclay met with our EU negotiator Michel Barnier last Friday:
On Monday, the day of the Queen's Speech, Barclay's optimism continued:
Intensive rounds of meetings ensued this week:
Barclay returned to London on Wednesday to provide an update:
Then, it was back to the Continent for more meetings that lasted into the morning of Thursday, October 17.
At 9 a.m. (BST), there was finally a Brexit breakthrough, after Boris spoke to Cabinet members about it:
It was made public just after 10:30:
Jean-Claude Juncker said there was no need now for 'prolongation':
Boris was allowed to address EU leaders before they began their summit:
He also gave a joint press conference with Juncker:
I watched the news last night (a rare occurrence, but this was a historic moment). All the film clips showed the EU leaders greeting Boris as if he were a hero — hugs, hearty handshakes, the lot. See the 6:49 mark in the following video:
EU leaders approved the deal after he left:
A 'Tournedos Rossini of a deal'
When Parliament's session began yesterday morning, Leader of the House Jacob Rees-Mogg gave an enthusiastic speech about Boris's deal, calling it a 'Tournedos Rossini of a deal':
He also said (emphasis mine):
It takes out the undemocratic backstop, delivers on what the Prime Minister promised he would do. In 85 days achieved something that could not be achieved in three years.
Every single member who stood on a manifesto saying that they would respect the will of the people in the referendum can support this with confidence.
I believe him.
Unfortunately, the DUP will not be voting for it on Saturday, unless, by the time you read this, something or someone has changed their minds:
To compound the situation, hardcore anti-Boris and anti-Brexit Remainers have tricks up their sleeves.
Saturday's session in the Commons will not be easy. I suspect that this week's EU negotiations will appear like a walk in the park by comparison.
More next week.
The following upload is anonymous but one I found on a British blog.
It gives an accurate picture of what growing up in the UK — and, in some respects, the Republic of Ireland — was like in the 1970s.
The over-50s knew what it was like to grow up without central heating. They drank soft drinks out of glass bottles. They knew how to cope with extended power cuts, which occurred under an inept Labour government. (Reading the following helps explain why Margaret Thatcher was viewed so positively. She put a stop to the lunacy.) They understood what living with the minimum of creature comforts was like. Therefore, today's climate change brigade should not be criticising them: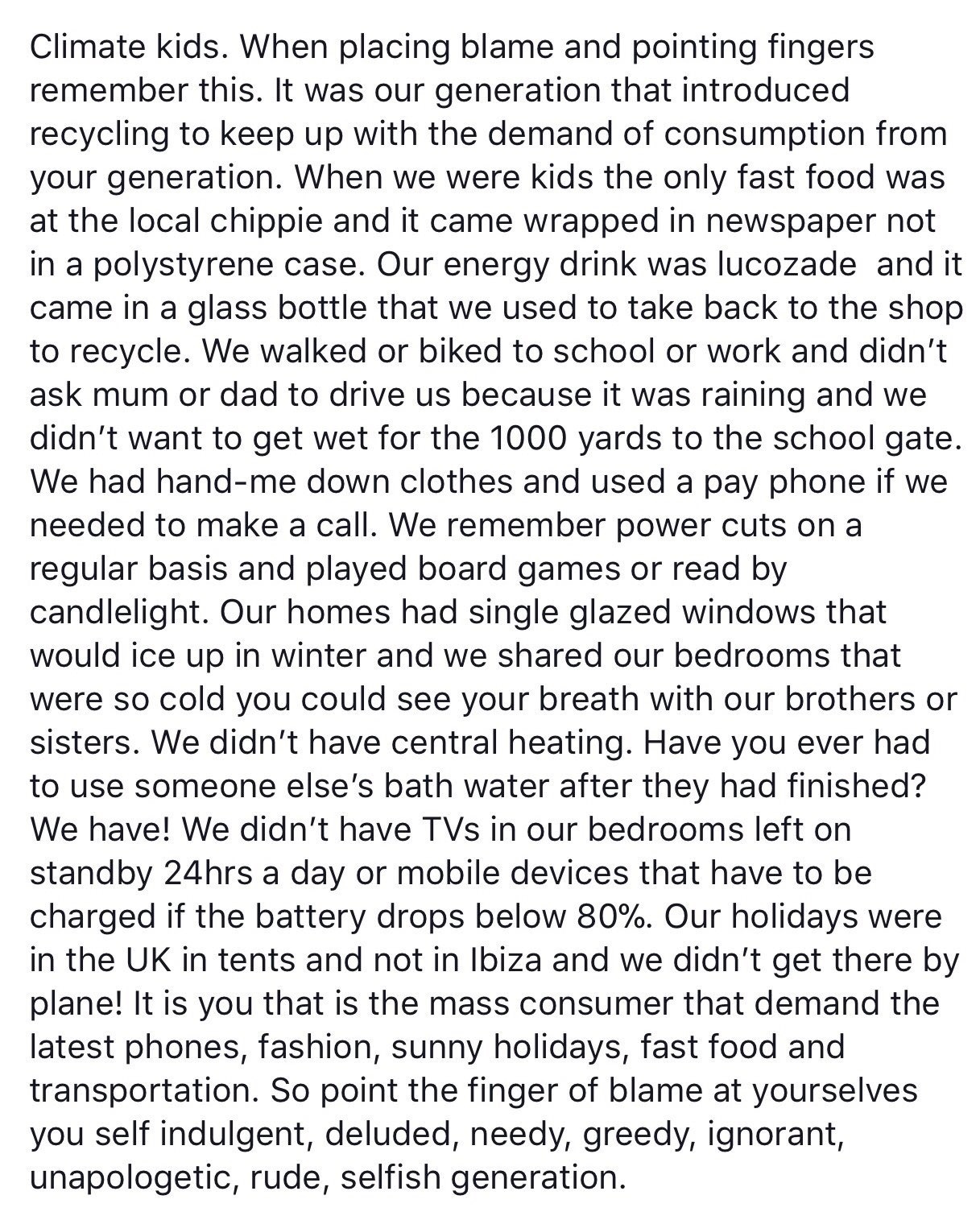 There were also a lot of outdoor loos then, too, often shared by more than one household. They were located in the back gardens of old terraced houses.
Kids, please stop lecturing your elders.