You are currently browsing the tag archive for the 'vaccine' tag.
Last weekend saw an Anglican news story make the papers: that of ordinand Calvin Robinson, who is effectively being prevented from taking Holy Orders in the Church of England.
Even though he is mixed-race black, he appears to be the 'wrong sort' of minority for the C of E: too biblical, too conservative, too traditional.
I wrote about him a month ago, when it was clear he was having problems securing a priestly placement, even though he had been offered one in central London at St Alban's in Holborn.
Background
In 2020, Calvin Robinson was a campaigner for Defund the BBC. Here he tells Dan Wootton, then a broadcaster on talkRADIO, that it was absurd for the BBC's Countryfile to suggest that people of colour would feel awkward in the countryside. Robinson said that he practically grew up in Sherwood Forest in Nottinghamshire:
He had more to say in September, when the BBC's A Question of Sport revamped its panel because of their skin colour. Robinson called for more diversity of thought and economic background instead, i.e. conservative working-class people:
Robinson worked as a schoolteacher and assistant principal before entering the seminary. He was also a school governor, so a well-rounded children's education remains important to him. On October 15, he took exception to radical 'theories' entering the British school system:
He had more to say a few days later when Parliament debated the subject. Kemi Badenoch MP is at the despatch box. The Opposition view her as the 'wrong sort' of minority woman:
He deplored the National Education Union's push for school closures early in 2021 because of the pandemic:
Shortly after he tweeted that, he had appeared on a BBC Sunday morning show, The Big Questions. His appearance brought reaction in the form of verbal insults from an activist and academic at Leeds Beckett University, more about whom below. On February 18, he wrote an article about it for the Mail:
… after I had appeared on the long-running BBC discussion show The Big Questions last Sunday morning, I saw a message on Twitter from Aysha Khanom, the founder and director of the Race Trust charity, which works with schools and universities and purports to promote 'racial equity'.
Aysha Khanom personally tweeted of me: 'Please somebody deal with this man!'
I found that menacing. I don't know exactly what she meant by it, but it echoes the sort of language that Tony Soprano would use when he wanted a rival rubbed out.
'Deal with' could easily be read as an incitement to violence.
But I shrugged it off. If I obsessed over every piece of abuse I receive through my phone, I would never think about anything else.
Shortly afterwards, though, the Race Trust Twitter account also attacked me — and this time it was less ambiguous.
'Calvin Robinson,' the tweet read, 'does it not shame you that most people see you as a house n****?'
I knew immediately that any decent person would find that language abhorrent. And sure enough, within 48 hours, Leeds Beckett University, which had worked closely in the past with the Race Trust, cut all ties and deleted Aysha Khanom's profile from its website.
For what it's worth, Race Trust now denies Aysha Khanom sent that second tweet. It claims it came from an anonymous employee without approval, and that this unnamed person has since been dismissed …
There was no apology to me for labelling me with a racist slur …
The sad truth is that many on the Left want to remove my freedom to speak independently.
To them, my skin colour means I am supposed to be part of a homogenous, faceless group, without a mind of my own.
But I am more than that. I am British, a Christian, a Midlander, a former computer programmer, a qualified teacher, a political adviser, a son and a brother.
I have many elements to my identity, and all these things have far more effect on how I see the world.
Above all, I believe in self-reliance and personal responsibility. I want to make the most of my life and refuse to see myself as oppressed or downtrodden …
After Oprah Winfrey's interview with the Sussexes aired, Robinson was dismayed that Meghan claimed the Archbishop of Canterbury married her and Harry privately in the garden when it was only a rehearsal. Robinson explains the C of E criteria for a wedding ceremony:
Robinson joined GB News as a panellist and presenter soon after its launch in the summer of 2021.
This appearance of his from August 2021 was excellent. In it, he defended traditional Christian values which have informed the UK's way of life for centuries:
Two weeks earlier, he reminded us that then-Health Secretary Matt Hancock resolutely said in November 2020 that the coronavirus vaccines would not be given to children. Robinson is opposed to children receiving the vaccine. Yet, by the time he posted this tweet, schoolchildren were receiving it. What a difference several months make:
On August 18, he was very generous in defending the free speech of the aforementioned academic at Leeds Beckett University who called him something offensive. He wrote an article for Spiked about her, saying:
It is for that reason that I haven't joined in the demands for academic Aysha Khanom to lose her job. Leeds Beckett University has cut ties with Khanom after an organisation she runs, the Race Trust, racially abused me on social media.
Earlier this year, I appeared on BBC One's The Big Questions to discuss the state of racism in the UK. I spoke about how I have been racially abused for not holding the 'correct' opinions. In response, the Race Trust tweeted: 'Does it not shame you that most people see you as a house negro?'
Khanom maintains that the 'house negro' tweet was not sent by her, though she accepts responsibility for it. Either she or someone at her organisation was clearly comfortable using such racist language in public. The good news is that the tweet was rightly challenged and 'ratioed' by the masses on Twitter …
In my eyes, what's most worrying about this incident is that Khanom's organisation was set up to promote this critical race theory view – or what it calls 'race literacy' – in schools and universities. Sadly, this is what passes for 'anti-racism' today. Is this really the kind of worldview we want to indoctrinate our young people into?
The rise of identitarian racism should definitely worry us, but we won't be able to challenge it openly if its defenders aren't free to express themselves.
On Remembrance Sunday last year, an asylum seeker attempted to bomb Liverpool Cathedral but set himself off at the nearby children's hospital instead. He had converted to Christianity. Pictured below is a man from his church who housed him for a while. Calvin voiced his opinion:
By early 2022, anyone not towing the media-Government line on coronavirus was anathema. Robinson was empathetic but frank with a university student who lost her friends because she dared to dissent:
Calvin Robinson anathema to C of E bishops
This brings us to the present, the past week, in fact.
On Friday, May 20, Robinson said on GB News that he had no choice but to leave the Church of England. He announced that he would be joining GAFCON, Global Anglican Future Conference, which is traditional in its teaching and practice.
The Mail on Sunday was already working on the story. A Mail+ article from Saturday, May 21, reported (emphases mine):
Internal emails obtained by The Mail on Sunday reveal that Archbishop of Canterbury Justin Welby asked to be shown examples of Mr Robinson's tweets amid mounting alarm within the Church over his criticism of 'bleeding-heart liberal vicars' and the Church's race policy.
In one, The Rt Rev Rob Wickham, Bishop of Edmonton, voiced his fears to senior church leaders after Mr Robinson insisted that Britain was not riven with racism. 'Calvin's comments concern me about denying institutional racism in this country,' he wrote.
Mr Robinson also claimed that the Bishop of London, the Rt Rev Sarah Mullally, lectured him about racism in the church, insisting that 'as a white woman I can tell you that the Church is institutionally racist'.
Mr Robinson, a former teacher who has trained for two years to become an ordained member of the clergy, has been told that plans for him to serve as a deacon at a parish in London have been axed.
Last night he described the decision as 'soul-destroying' and claimed it followed a 'sustained campaign' against him by the Bishop of Edmonton over his views, including on whether Britain and the Church were institutionally racist. 'These people are claiming they are institutionally racist, yet they are disregarding the opinion of an ethnic minority because it is not fitting their narrative,' he said.
In comments set to rock the Church's hierarchy, he questioned whether the Archbishop of Canterbury, who has claimed the Church is 'deeply institutionally racist', had a part in blocking his ordination.
'I would love to know how big a role the Archbishop had in it because he has certainly been a part of the conversation. He is the boss and the fact they have gone ahead and cancelled me suggests that he was happy with that.'
… The Church said last night there were only a few clergy positions in London and 'no suitable option' available in London for Mr Robinson, who became a trainee vicar – an ordinand – at St Stephen's House, a theological college at the University of Oxford, in October 2020.
Yet, Robinson had already been offered a post at St Alban's, Holborn.
I gave you his background above because that is what the bishops were examining:
The emails reveal that even before starting his studies, Mr Robinson's public comments were being scrutinised by church leaders. He claimed on ITV's Good Morning Britain in September 2020 that the Black Lives Matter movement was stoking racial tensions, adding: 'There are elements of racism in this country we need to stamp out, but while we are seeing everything as racist we are kind of undermining those racial issues we need to address.'
That day the Bishop of Edmonton emailed the Bishop of London, the Rt Rev Sarah Mullally, and a PR adviser to the Diocese of London to register 'concern' about Mr Robinson's denial of institutional racism in Britain. 'Calvin Robinson is not only a political commentator, but he's an ordinand and former teacher in this area,' he added. Despite the Church's view on racism, the Commission on Race and Ethnic Disparities concluded in March 2021 that Britain did not have a systemic racism problem. In November 2021 senior Church leaders received a complaint after Mr Robinson shared on social media a Daily Mail investigation that exposed how the Church gave official advice that being baptised could help failed asylum seekers stay in Britain.
It followed news that suicide bomber Enzo Almeni, who detonated a device at a hospital in Liverpool last year, was baptised there as a Christian in 2015. Mr Robinson, by then a GB News commentator, tweeted that 'misguided bleeding-heart liberal vicars could be complicit in recent terror attack', adding: 'Not to mention abuse of the Holy Sacrament of Baptism.'
Bishop Wickham criticised the 'highly irresponsible' comments in an email to Emma Ineson, assistant bishop to the Archbishops of Canterbury and York, and said they remained online after 27 migrants died in the English Channel. 'These are clear examples as to why, in my opinion, his ordination should be looked at very closely indeed,' he wrote. 'Calvin's Twitter feed is here. It is worth scrolling down.' He revealed the Archbishop of Canterbury had 'asked for examples of Calvin Robinson's tweets' and highlighted that Mr Robinson had also criticised the findings of the Church's anti-racism taskforce, which recommended quotas to boost the number of black and ethnic-minority senior clergy. Bishop Ineson said she would show the information to Archbishop Welby.
Mr Robinson was to be ordained as a deacon with a part-time role as assistant curate at St Alban's Church in Holborn, central London. But in February the Bishop of Fulham, the Rt Rev Jonathan Baker, told him the role was 'likely to prove problematic, and would not lead to a fruitful or happy formation for you in your early years in ordained ministry'. Mr Robinson offered to reduce his media work but was told he would still not be able to take up the proposed role because 'that moment had passed'.
The Bishop of London suggested he was stoking division:
At a meeting with Mr Robinson this month, Bishop Mullally insisted the decision was not about his politics, but because his 'presence' on social media and TV 'is often divisive and brings disunity'.
Robinson received support from a young Conservative MP, Tom Hunt:
Tory MP Tom Hunt backed Mr Robinson last night, saying: 'The message the Church seems comfortable to send out is that it's OK to propagate some political views but not others. Sadly, Church of England congregations will continue to decline as millions of Christians are alienated by its behaviour.'
The C of E prelates involved in deciding Robinson's fate as a future priest declined to comment:
The Archbishop of Canterbury and Bishops of Edmonton and London declined to comment. The Diocese of London said: 'We have a limited number of curacies available. In this instance, it is felt that there is no suitable option available that London can offer. We continue to be in conversation with Calvin, are willing to work with him to discern the right way forward, and we keep him in our prayers.'
The Mail on Sunday's article has this title: 'EXCLUSIVE: Not woke enough to be a vicar! Black political commentator Calvin Robinson who said Britain is NOT a racist country is BLOCKED from becoming a priest by a white bishop as a result'.
That title sums the situation up perfectly. Is not the bishops' attitude a racist one, as in 'We whites know better than you'?
Calvin tweeted the article:
The article is the same as Mail+'s, but it does include photos of the main players in this story.
The Mail kindly gave space for Robinson to respond beneath their article.
Excerpts follow:
Sitting in an ornate study in the Old Deanery – a 17th Century mansion house opposite St Paul's Cathedral – the Bishop of London put her hand on my arm and quietly said something that left me astounded.
'Calvin, as a white woman I can tell you that the Church IS institutionally racist,' the Rt Rev Sarah Mullally told me.
We had been discussing the Church's race policy, which I had been vocally objecting to for some time. The Bishop could not understand that as a black man, I simply did not share her – and the Church hierarchy's – view on this contentious issue.
The Archbishop of Canterbury, Justin Welby, has proclaimed that the Church of England is 'deeply institutionally racist' and called for 'radical and decisive' action. Last year an Anti-Racism Task Force recommended using quotas to boost the number of black and ethnic-minority senior clergy, introducing salaried 'racial justice officers' in all 42 dioceses and launching 'racial justice Sunday' once a year.
I fundamentally disagreed with this approach, which is based on a faith in divisive Left-wing Critical Race Theory, instead of the teachings of Christ. I believe it is divisive and offensive.
I have experienced plenty of racism in my life, but it has always been down to a minority of malicious individuals. I do not think the claim that either the Church, or wider society, is institutionally racist has ever been supported by robust evidence.
The Bishop of London's hushed condescension during our meeting made me realise that any dissent from the Church's ingrained view, which to me seems like nothing more than virtue-signalling, is not welcomed. The Church claims it wants to listen to the perspectives of minorities – well, I am one of them but it doesn't appear to want to hear my view because it also happens to be a conservative one.
For the past two years I have been training for ordination at St Stephen's House at the University of Oxford. I was due to begin a curacy at a lovely parish in Holborn, Central London, and within a year I hoped to be ordained a priest.
It takes a long time to acknowledge a call from God to serve as a priest, and it's a vocation that often involves the sacrifice of leaving behind a successful career. I gave up my career as an assistant headteacher and consultant for the Department for Education to throw myself into my theological studies.
He said that the role at St Alban's would have allowed him time to still appear on GB News and do other media work:
as an acknowledgment that I see my media work, which reaches a huge audience, as part of my calling and future ministry.
Another bishop was involved with deciding Robinson's fate, the Bishop of Fulham, also in London:
During a Zoom call, the Bishop of Fulham, the Rt Rev Jonathan Baker, told me that there had been 'a lot of turbulence' over some of the views I had expressed online and on TV. It was no secret that senior figures in the Church disliked me. I am after all a traditionalist – which means I do not believe in the ordination of women – and I have never been afraid to voice my criticism of the Church's drift away from what I, and many of its parishioners, think are its core values.
I did not expect everyone to agree with me, but what I did expect is the right to express my own opinions. I had always been taught that the Church of England was a broad church.
I later discovered that Church leaders in London appeared to have had deep misgivings about my ordination from the very beginning of my training – despite spending more than £20,000 of parishioners' money on sending me to study theology at Oxford.
Emails that I obtained via data-protection rules revealed that bishops at the very top of the Church had been closely scrutinising my public comments.
'His political agenda is I guess what you would call libertarian – anti-woke, anti-identity politics, Covid-sceptical,' the Bishop of Fulham wrote in one email. 'His tweets get him into trouble sometimes and there have been complaints to the Bishop of London that he shouldn't be ordained.'
Robinson rightly asks why, if the Church is institutionally racist, these white bishops have not tendered their resignations:
If the Church is institutionally racist, as the Archbishop of Canterbury insists, then why have he and other senior figures, including Stephen Cottrell, the Archbishop of York, and Sarah Mullally, the Bishop of London, not resigned? After all, they have all been bishops for years, which suggests they have been unable to solve the problem.
He warns that the C of E is entering apostasy. He is not wrong:
If you defend family values, the sanctity of marriage, all human life being sacred, or the fact that God made us male and female, you'll face opprobrium.
Something has gone wrong. The established Church is entering apostasy, and the faithful masses in the congregations and the hard-working clergy deserve better.
Fortunately, he has received much support from clergy and laity:
Since my ordination was blocked I've been contacted by clergymen and lay people up and down the country who have been sharing their stories of how they've been silenced by the Church for holding conservative views.
He confirmed that he will be joining GAFCON and explained why it is so heartbreaking for him to leave the C of E:
After becoming increasingly disillusioned, I recently decided to leave the Church of England and join a more orthodox institution, the Global Anglican Future Conference (GAFCON). Walking away from the Church of England has been heartbreaking.
People often quizzed me on why, if I was so troubled by its direction, I was also so determined to take holy orders in the Church of England. It was because, for me, the Church is the body of Christ and, perhaps naively, I thought I could help pull things back on track from within.
The Sunday Telegraph provided a few more details:
He had been training to become a priest at the University of Oxford for the past two years and was due to begin a curacy at a parish in Holborn, London, but was turned down for the role by the Bishop of Fulham, the Rt Rev Jonathan Baker, in February …
Mr Robinson submitted a subject access request (SAR) to the Church of England – asking the organisation for access to the personal information it held on him.
It was then that he discovered a series of internal emails between Church bosses raising concerns over his opinions on institutional racism in Britain …
In another email, the Bishop of Fulham writes: "I wanted a word about an ordinand, Calvin Robinson. You might be aware of him … "
Of the Bishop of London, he pointed out the irony of her insisting that the Church was institutionally racist:
Former teacher Mr Robinson added: "She was just ignorant. She accused me of being controversial so I said to her in a polite way that some of the things she says are controversial too – like the fact that she thinks the Church is institutionally racist. And then she turned around and said that.
"She was contradicting herself because in one instance she's saying the Church is racist and needs to listen to the lived experiences of ethnic minorities, but then she was refusing to listen to my lived experience as a black man because it didn't fit with her narrative."
On Sunday evening, he appeared on Mark Dolan's GB News show:
On Monday, May 23, The Times carried a report.
In it, we discovered that the Bishop of Edmonton's child or children attended the school where Robinson was an assistant principal:
Calvin Robinson has been blocked as a priest by the Church of England after the Right Rev Rob Wickham, the Bishop of Edmonton, privately warned church leaders against ordaining him. Robinson, a social commentator, was an assistant principal at a school where Wickham was a parent …
Robinson said that he was shocked to be told in February that his ordination was likely to be problematic. He applied under the Data Protection Act to see the information the church had on him.
He discovered that the Bishop of Edmonton had been reporting him to church leaders since he began his studies. Robinson went on Good Morning Britain in September 2020 to say that he was against Black Lives Matter because it was increasing racial tensions, and he believed that everyone in this country had an equal opportunity to succeed. The same day Wickham wrote to the Right Rev Sarah Mullally, the Bishop of London, to "bring it to your attention . . . Calvin Robinson is not only a political commentator, but he's an ordinand and former teacher in this area who has just started at St Stephen's House. Calvin's comments concern me about denying institutional racism in this country."
In December last year, Wickham wrote to the Right Rev Emma Ineson, Bishop to the Archbishop of Canterbury, and also to the Bishop of London. Wickham sent them some of Robinson's tweets, adding: "These are clear examples as to why his ordination should be looked at very closely."
Robinson said he felt "betrayed and a bit heartbroken" at Wickham's conduct. He said: "To hear that people are campaigning behind your back after you have given them all that you have got, I don't know how to put it into words."
Church sources said that Wickham's status as a parent at the school had no bearing on this matter.
Robinson rightly urges the C of E to return to the fundamentals of faith:
The TV pundit, who now works for GB News, accused the church of apostasy by "moving away from core tenets of the faith. They need to focus on scripture because that's the word of God."
He said that he had now joined the Global Anglican Future Conference and would be ordained to one of its parishes. "My hope is to attract all the people who feel the Church of England doesn't represent them because it is obsessed with woke issues."
The Diocese of London issued an updated statement:
A spokesman for the Diocese of London said: "We wish him well in the ministry he is now going to exercise."
On Monday evening, Douglas Murray's editorial for The Times appeared. It listed a modern litany of the C of E's preoccupation with race at the expense of everything else, including during the time when an African, the Right Revd John Sentamu, now retired, was Archbishop of York. Oh, the irony:
It is two years since Justin Welby, the Archbishop of Canterbury, gave a speech to the General Synod in which he apologised for the "institutional racism" of the Church of England. "I am sorry and ashamed," the archbishop said. "I'm ashamed of our history and I'm ashamed of our failure. There is no doubt when we look at our own church that we are still deeply institutionally racist."
It was a strange claim to make — not least because at the time the next most important bishop in the church was John Sentamu, the Archbishop of York.
Murray rightly points out the diversity among C of E clergy:
This fatal combination of ignorance and present-era preening seems to have become the tenor of the established church — and in no area so much as in the church's demands for clergy representation. As it happens, the Anglican communion has one of the most diverse bodies of clergy that any religious denomination could wish for. But the church has declared that it will continue to be racist until such a day as minority ethnic groups (or UKME as the acronym-laden C of E likes to call them) are over-represented among the clergy.
Even my church has had a minority vicar, who has since been promoted within the Church.
Murray then discussed Calvin Robinson's sad situation:
And in a way, here is revealed the modern Church of England's actual party political affiliation.
Having shut its doors throughout the Covid-19 crisis, the church now seems to be back with a new faith: an evangelical and dogmatic belief in its own iniquity and racism. Fail to go along with that belief and the church has no place for you.
So determined is the C of E about this new gospel that a church hierarchy of white people is even willing to bar a young black man from joining the clergy because he will not agree with their insistence that their own church is racist. It is a farce, certainly, but a tragedy, too — for a church that has need of talent, and an era that has need of institutions that are not principally intent on blowing themselves up.
On GB News Monday evening, presenter Dan Wootton chose the Bishop of Edmonton as his Union Jackass of the day. Good on the former Brexit Party MEP, the lady on the right, for nominating him:
Conclusion
Calvin Robinson is surely doing all the right things. That is why our pharisaical clergy have opposed his ordination.
May God continue to sustain Calvin with his grace. May our Lord Jesus continue to give him inner peace. And may the Holy Spirit continue to enhance his gifts of wisdom, fortitude and discernment.
I wish him all the best as he pursues a path to ordination.
It is always good to know of broadcasters who balance their programming with another point of view.
In the UK, that broadcaster is GB News.
On Wednesday, March 23, 2022 — the second anniversary of the UK's lockdown — Mark Steyn interviewed Dr Guy Hatchard, who talked about the new studies emerging from Poland and Germany about the adverse effects of the vaccines:
Dr Hatchard, a physician from New Zealand, lamented that governments and the media were ignoring these studies.
Younger and middle aged people have been dying in larger numbers after taking the vaccines.
In New Zealand, he said that younger men are experiencing cardiac problems after getting the vaccine. However, media reports are minimising the gravity of the phenomenon, dubbing it the 'Warne effect' after the 52-year-old legendary cricketer Shane Warne, an Australian who died a few weeks ago from a sudden cardiac event. The media say that the vaccine is not a problem, rather, men of a similar age are suffering from anxiety about having heart problems. That, in my view, is preposterous — and dangerous.
Hatchard says the vaccines do not actually work, but, of course, governments cannot admit that. Furthermore, they have also swept adverse reactions and resulting deaths under the carpet.
Hatchard says that each vaccine dose weakens our natural immune systems. However, he says that pharmaceutical companies are 'plumbed into' governments and regulatory agencies as well as media, so we are not getting the full picture.
He says that biotechnology is seen as the future for the economy, therefore, no one in a position of influence will oppose it, beginning with these vaccines. That means, none of the rest of us can even talk about adverse effects or scrutinise them. Hatchard said that he tried to raise his vaccine doubts with the government but they ended their conversation with him.
Hatchard says that 99% of our state of health depends on what we eat and how we live our lives. In other words, vaccines cannot help that. Nor can biotechnology.
He also said that politicians and other elites are 'playing God' with the vaccines. They see it, he said, as a reality television show.
On Monday, March 21, Sir Christopher Chope MP (Conservative) appeared on Dan Wootton's show to talk about the UK's Vaccine Damage Payments Act 1979:
Wootton asked him to confirm that the BBC, Sky News or ITV have not invited him on to discuss adverse effects from vaccines. Chope shook his head.
Chope had been granted an adjournment debate in the House of Commons on Wednesday, March 2, on vaccine damage payments. Someone put a copy of it on YouTube, but YouTube took it down.
He said that the UK Government have not presented vaccines correctly. He says they should have urged people to get vaccinated because, for most people, they are safe. The Government should have also said that, in case of side effects, citizens would be reimbursed for their illness 'because they did the right thing' by being vaccinated. He said those messages are the crux of the 1979 vaccine payments legislation.
The Act is in force today, but no payouts have been issued to those who have fallen ill from the coronavirus vaccines. In fact, the Government has only started processing the 1,000 claims they have received thus far. He noted the Government's 'tremendous resistance' in this matter.
The amount anyone could receive would be around £120,000, which Chope rightly pointed out should be increased to £155,000, as the original sum was last reviewed in 2015. He added that if this involved any other circumstance of injury or death, the payout would have been not only swift but also in the millions of pounds.
He says that this is a big issue for the Government, which chose to indemnify the vaccine manufacturers from the start. The vaccine manufacturers did not want to risk being sued because:
the vaccines hadn't been tested to the extent that most vaccines are.
But now, it has to face up to the consequences and recognise that there are people, a significant minority of people, who have suffered as a result …
More recently, the message has changed: the vaccines are safe for the majority.
My question is: what about those who are not in the majority? What is being done to help them?
Wootton said that transparency is needed, because Health Secretary Sajid Javid has been talking about a second booster — a fourth shot — being needed sometime later this year. Wootton, who has had coronavirus twice as well as his three shots, said he is unhappy about having a fourth, especially as he is still a young man.
Sir Christopher said he could appreciate people of his own age being given another booster, but not for those who are younger, e.g. Wootton's age, and certainly not children.
Wootton said that people his age and younger, including children, experience most of the harmful side effects.
Following his adjournment debate (well worth reading), Sir Christopher said that he and another MP went to meet with the Secretary of State (Sajid Javid):
and, frankly, it was a big disappointment.
We had ten minutes and he said that he would look into this issue, that he would ensure that the questions I asked him would receive answers. I should have had those answers already, but I haven't. 
He was full of platitudes, frankly, about how most people had benefited. That's not in dispute. But, actually, what we need to do is ensure that people who haven't benefited from the vaccine are looked after by the State because they did the right thing by the State and, now, the State needs to reciprocate. 
Chope said that at least 2,000 Britons have died following the vaccine and that 500,000 yellow cards have been raised. He has received communications from several people who have had adverse reactions, some of which he discussed in his adjournment debate.
He wants to know why, if coroners have listed the cause of death as the coronavirus vaccine, the Government is hesitating in compensating their families:
What else needs to be proven? …
There have been a whole series of these cases. In a lot of them, they have been in the prime of their life, married with children, breadwinners, with all the consequences which flow from that.
I am glad that Sir Christopher Chope is on the case, so to speak. He's an old-school Englishman who dots every i and crosses every t in making his principled points.
I wish him every success in his campaign for compensation. This is one case where we can use the word 'justice' in a traditional way: compensation where it is due.
That is the least these individuals who acted in good faith deserve.
On Friday, February 18, 2022, Bill Gates told the Munich Security Conference that the Omicron variant works better than the current coronavirus vaccines.
See the following video between 7:08 and 7:30:
Here is the direct quote about Omicron building both B and T cell immunity. He adds that it has circulated more quickly around the world than have manmade vaccines. Note that Gates begins with the word 'sadly':
Bill Gates, it seems, has a God complex in his fixation with vaccines.
Omicron is providential in that its symptoms are similar to those of the common cold, but the multi-billionaire refuses to learn the lesson that God is infinitely greater than mankind.
Pity poor Bill Gates. He has everything, yet he has nothing.
Thanks to Prime Minister Boris Johnson, England is now the freest country in the Western world.
On Monday, February 21, Boris announced the lifting of the remaining coronavirus restrictions. Some of this began yesterday. However, much of the lifting comes into effect on Thursday, February 24, with the remainder finished by April 1.
He gave a statement to Parliament first, which he followed with a televised coronavirus briefing — press conference — at 7 p.m. that evening.
This was the nub of his statement to the House of Commons (emphases mine):
As we have throughout the past two years, we will continue to work closely with the devolved Administrations as they decide how to take forward their own plans. Today's strategy shows how we will structure our approach in England around four principles. First, we will remove all remaining domestic restrictions in law. From this Thursday, 24 February, we will end the legal requirement to self-isolate following a positive test, and so we will also end self-isolation support payments, although covid provisions for statutory sick pay can still be claimed for a further month. We will end routine contact tracing, and no longer ask fully vaccinated close contacts and those under 18 to test daily for seven days. We will also remove the legal requirement for close contacts who are not fully vaccinated to self-isolate. Until 1 April, we will still advise people who test positive to stay at home, but after that we will encourage people with covid-19 symptoms to exercise personal responsibility, just as we encourage people who may have flu to be considerate to others …
The testing, tracing and isolation budget in 2020-21 exceeded the entire budget of the Home Office; it cost a further £15.7 billion in this financial year, and £2 billion in January alone, at the height of the omicron wave. We must now scale this back.
From today, we are removing the guidance for staff and students in most education and childcare settings to undertake twice-weekly asymptomatic testing. And from 1 April, when winter is over and the virus will spread less easily, we will end free symptomatic and asymptomatic testing for the general public. We will continue to provide free symptomatic tests to the oldest age groups and those most vulnerable to covid. And in line with the practice in many other countries, we are working with retailers to ensure that everyone who wants to can buy a test. From 1 April, we will also no longer recommend the use of voluntary covid-status certification, although the NHS app will continue to allow people to indicate their vaccination status for international travel. The Government will also expire all temporary provisions in the Coronavirus Act 2020. Of the original 40, 20 have already expired and 16 will expire on 24 March. The last four, relating to innovations in public service, will expire six months later, after we have made those improvements permanent via other means.
Secondly, we will continue to protect the most vulnerable with targeted vaccines and treatments. The UK Government have procured enough doses of vaccine to anticipate a wide range of possible Joint Committee on Vaccination and Immunisation recommendations. Today, we are taking further action to guard against a possible resurgence of the virus, accepting JCVI advice for a new spring booster offered to those aged 75 and over, to older care home residents, and to those over 12 who are immunosuppressed. The UK is also leading the way on antivirals and therapeutics, with our Antivirals Taskforce securing a supply of almost 5 million, which is more per head than any other country in Europe.
Thirdly, the Scientific Advisory Group for Emergencies advises that there is considerable uncertainty about the future path of the pandemic, and there may of course be significant resurgences. SAGE is certain that there will be new variants, and it is very possible that those will be worse than omicron. So we will maintain our resilience to manage and respond to those risks, including our world-leading Office for National Statistics survey, which will allow us to continue tracking the virus in granular detail, with regional and age breakdowns helping us to spot surges as and where they happen. And our laboratory networks will help us understand the evolution of the virus and identify any changes in characteristics.
We will prepare and maintain our capabilities to ramp up testing. We will continue to support other countries in developing their own surveillance capabilities, because a new variant can emerge anywhere. We will meet our commitment to donate 100 million vaccine doses by June, as our part of the agreement at the UK's G7 summit to provide a billion doses to vaccinate the world over the next year. In all circumstances, our aim will be to manage and respond to future risks through more routine public health interventions, with pharmaceutical interventions as the first line of defence.
Fourthly, we will build on the innovation that has defined the best of our response to the pandemic. The vaccines taskforce will continue to ensure that the UK has access to effective vaccines as they become available, and has already secured contracts with manufacturers trialling bi-valent vaccines, which would provide protection against covid variants. The therapeutics taskforce will continue to support seven national priority clinical trial platforms focused on prevention, novel treatments and treatments for long-covid. We are refreshing our biosecurity strategy to protect the UK against natural zoonosis and accidental laboratory leaks, as well as the potential for biological threats emanating from state and non-state actors.
Building on the five-point plan that I set out at the UN and the agreements reached at the UK's G7 last year, we are working with our international partners on future pandemic preparedness, including through a new pandemic treaty; an effective early warning system or global pandemic radar; and a mission to make safe and effective diagnostics, therapeutics and vaccines available within the first 100 days of a future pandemic threat being identified. We will host a global pandemic preparedness summit next month.
The pandemic treaty concerns me. Will it supersede individual nations' laws and liberties?
Boris put the focus on common sense and personal responsibility. People took exception to his taking credit for restoring our liberties — 'they were ours all along' — but he was the one who took them away on March 23, 2020, at 8 p.m.:
Covid will not suddenly disappear, so those who would wait for a total end to this war before lifting the remaining regulations would be restricting the liberties of the British people for a long time to come. This Government do not believe that that is right or necessary. Restrictions take a heavy toll on our economy, our society, our mental wellbeing and the life chances of our children, and we do not need to pay that cost any longer. We have a population that is protected by the biggest vaccination programme in our history; we have the antivirals, the treatments and the scientific understanding of this virus; and we have the capabilities to respond rapidly to any resurgence or new variant.
It is time that we got our confidence back. We do not need laws to compel people to be considerate to others. We can rely on our sense of responsibility towards one another, providing practical advice in the knowledge that people will follow it to avoid infecting loved ones and others. So let us learn to live with this virus and continue protecting ourselves without restricting our freedoms. In that spirit, I commend this statement to the House.
I watched the Coronavirus Briefing at 7 p.m. and sincerely hope it would be the last one.
Boris was flanked by Sir Patrick Vallance, Chief Scientific Officer, and Sir Chris Whitty, Chief Medical Officer.
Boris spoke first, then we had Chris 'Next slide, please' Whitty's presentation. I do not understand why Downing Street couldn't have given him a clicker to advance the slides himself.
Listening to Whitty and Vallance, however, gave me a different impression. I wondered if I was alone:
Then I found a Guido Fawkes post, and one of his readers wrote:
Chris Whitty is literally stood there contradicting everything Johnson just said in Parliament. He is advising wearing face masks and self isolation. Emphasising this a 'gradual series of steps'.
Vallance emphasising the next variant could be more severe. I can't believe what I am hearing. It's quite clear they do not agree at all with the announcement. They still quite clearly want a very slow and gradual lifting of restrictions and mass surveillance testing all the way to summer with rapid lockdown again if we a get any rise in infections.
They need to be removed.
I agree that SAGE needs disbanding or a deep reorganisation. Everyone on it is in lockstep. SAGE needs a variety of voices from the medical establishment, with more libertarians. They exist. They just haven't been invited. It seems as if SAGE nominates its own members, all like-minded people.
I was most surprised to see Whitty say that the vaccine was good for pregnant women and their babies:
As expected, reporters were clearly unhappy with Boris's announcement. A few accused him of playing politics in order to keep his job.
Later that evening, Toby Young told Dan Wootton of GB News that journos have comfortable houses and gardens to enjoy. They don't need to worry about lockdowns or self-isolation:
On Monday, Wootton launched his own lockdown inquiry, which he says will be a recurring topic on his show for some time. He rightly blames the media for stoking fear every minute of the day:
Top oncologist Prof Karol Sikora agreed with Wootton about Project Fear:
Public health official Prof John Ashton and Dr Steve James, the unvaccinated consultant anaesthesiologist, joined Wootton. Having just returned from France, Ashton championed masks and asked what the problem was in wearing them. It doesn't seem he understands the full picture there:
Dr James said that he is not against vaccines. He supports those who want to take them:
Dr. Jay Bhattacharya told Wootton that 'lockdown' should become a 'dirty word':
Freedom Day feels a bit like Groundhog Day. We've been here before:
Still, let's hope it is definitive this time.
Thanks go to Boris but, more importantly, to the 101 rebel Conservative MPs who opposed an Omicron lockdown before Christmas. They put the frighteners on Boris — and with good reason.
On Saturday, January 8, 2022, Neil Oliver interviewed Dr Michael Yeadon on his GB News show.
The 20-minute interview begins at the 30-minute mark:
A summary follows.
Neil Oliver begins by laying out Dr Yeadon's medical and scientific background and work. Yeadon then elaborates on his studies and career.
Most of us know him know him as being a Pfizer employee for many years. He says he was very happy working there and that the company 'was a very good employer'. He has been a biotech consultant for 13 years and, during that time, started his own company, sold to Novartis in 2017. He said that Pfizer also worked well with him and co-invested in his biotech company. He debunked any accusations that he is a disgruntled former employee.
Alarm bells began to ring for him when he and his wife were in Nice in February 2020, during the Carnaval there, which closed early because of the pandemic situation in Italy. As the UK locked down in March, he heard scientists say things he did not think were true, such as the doubt about natural herd immunity. He cited the Diamond Princess cruise ship statistics, wherein the fatality was ten times less than what Wuhan and the scientists were claiming elsewhere. He said the fatality rate was more akin to that associated with influenza.
Oliver asked Yeadon if he still thought we were being lied to, deliberately. Yeadon said that we are all capable of making up our minds about what he has said in the past. Yeadon mentioned his interview with Del Bigtree. Yeadon said that the notion of asymptomatic transmission brought about our severe lockdown restrictions. He said that a virus is contained in the airways. Therefore, it is rarely possible to have asymptomatic transmission in those conditions. You will know when you are ill, and your body will begin fighting the virus.
He said that people with coronavirus symptoms living in a family setting infected other members one in five or one in six times, whereas asymptomatic people infected others at a rate of less than one per cent.
Those figures came from studies using PCR tests.
He then brought up Dr Fauci, saying that the driver has always been the symptomatic person and that a woman from the WHO agreed with Fauci. The fact that our governments are saying something else, he thinks, is part of 'a plan'. Until this pandemic, the prevailing medical advice was to practice good hand hygiene and, if ill, stay at home.
He thinks our governments are trying to frighten us into getting vaccinated and obtaining vaccine passports for purposes to be determined at a later date. He thinks that the ultimate purpose has nothing to do with vaccines.
Yeadon has been studying coronavirus data since 2020.
One of Oliver's guests, a Labour activist, related her own experience from a family funeral wherein she was sure that a number of people there caught the virus from an asymptomatic individual. Yeadon said that her account was 'anecdotal' and 'epidemiologically irrelevant', saying that even Dr Fauci agrees on that aspect of viral transmission.
Re vaccinating the world, Yeadon finds the plan 'very frightening'. He says we should vaccinate the vulnerable: those who are ill and who are aged. If this were about public health, he said, catching coronavirus confers immunity, therefore there is no need for to vaccinate those who have had it. Those people are the safest in a hospital environment.
He disagrees on child vaccination. The risk of side effects is too great.
He definitely would not give the vaccine to pregnant women. He cited thalidomide as a reason why they have to be very careful what sort of medical interventions they undergo.
No reproductive toxicology studies have been done on pregnant women who have taken the vaccine, so no one knows what effect the injections will have on them.
At that point, the interview ended because of time constraints. Neil Oliver said he would like to continue it at another time.
Poor Dr Yeadon. Twitter banned him months ago, which is a shame, because he had daily threads explaining aspects of the virus in learned, scientific terms. I do hope that GB News has him on again soon.
Over the weekend, I read two contrasting approaches to coronavirus, going from the sublime to the ridiculous.
El Salvador
This is the latest message from the government in El Salvador about coronavirus. It advocates exercise, achieving a normal weight, eating properly and getting enough sleep:
It is sublime. If only other governments had advocated the same thing over the past 22 months. Then again, there's no Big Pharma involvement, so this never could have happened in the West.
France
Now we move to the ridiculous.
Last summer, the French government mandated the vaccine passport, popularly called le pass sanitaire, when in reality it is le pass vaccinale.
In August 2021, the Minister for Work, Elisabeth Borne, said that anyone refusing to get a vaccine passport would be denied his/her salary or unemployment benefit. Someone replied to this tweet with a quote from February 2021 in which Borne said that, as a woman of the Left, fighting for social justice and equal opportunity were her two biggest objectives in life. Oh, the irony:
Initially, at least, vaccine passports were required even to go into a supermarket.
Here's a chap at Carrefour who could not get past the security guard on August 17 at Noisy le Grand, just outside of Paris:
Two more videos appeared on August 18. One was in the city of Pau in the south west of France. Police prevented angry shoppers from entering Leclerc:
The second confrontation took place at an Auchan in Marseille. Shoppers chanted 'Liberté, liberté':
I don't know what happened after that, but I haven't heard or seen any more about people being prevented from entering a supermarket.
I did see videos with police checking people sitting outdoors at cafés and bars for vax passport status.
Fast forwarding to January 2, 2022, Prime Minister Jean Castex said that food and drink can only be taken in bars and cafés sitting down. A bit like Wales and Scotland, then:
That same day, the education minister, Jean-Michel Blanquer, explained that every school would have a list of students showing their vaccination status, thereby violating the principle of privacy with regard to personal health records — a slippery slope:
The following day, the president of France's parliament, Richard Ferrand, got coronavirus. No one was allowed to ask questions, though, because it wasn't anyone's business. Circulez, il n'y a rien a voir. Keep moving, nothing to see here:
Incidentally, no vax passport is required in France's parliament. Typical:
On January 4, French president Emmanuel Macron said that he wanted to 'p— off' as many unvaccinated as possible. This means that the unvaccinated will not be able to go to sports fixtures, the cinema — or even restaurants, bars and cafés.
Contrast that with what he said on December 15, 2021: 'With some things I've said, I've hurt people. I won't do it again':
There is even an older statement from Macron from April 29, 2021, in which he pledged there would never be a mandatory vax passport in France:
Jean Castex refused to comment on Macron's pronouncement about p—ing off the unvaccinated:
Meanwhile, an anti-vax passport petition circulated online. It had over 1.2 million signatures as of January 5. The initiator of the petition was not allowed to present it to parliament. Police restrained him:
France's senate will be voting on further vax passport measures this week, postponed from last week:
Constitutionalists say that the vax passport measures are unconstitutional:
Here is a roadside hoarding (billboard) critical of Macron's vaccination policies:
The vaccine passport mandate was supposed to end on November 16, 2021. Yet, it is still in place.
On Saturday, January 8, many thousands of French citizens took to the streets to protest.
This was the scene in Aix-en-Provence:
Paris had the largest demonstration, despite the rain:
Here's another view:
Of course, the media, in this case BFMTV, reported 'only a few thousand' protesters. They would, wouldn't they?
On Monday, January 10, a French physician who works in ER called for the abolition of vaccine passports and urged the government to focus on treating the sick — 'Revenons au basique', or 'Back to basics':
Just before Christmas, a general practitioners' union pledged their support for the unvaccinated, a clear refutation of Macron's policy:
France's talk radio station, RMC, discussed the unvaccinated on Monday. Here's the segment from Les Grandes Gueules [The Big Mouths], for any interested Francophones.
A general practitioner who is a regular guest on the show said that anyone spreading 'disinformation' should be put in prison. Unbelievable:
One of the panellists complained about the constant testing of schoolchildren, which she thought was a waste of time and money:
Some time ago, when waffling on about the necessity for constitutional reform, Macron pledged that any petition with more than 1 million signatures would go to a referendum in order to give the French people a voice. As the anti-vax passport petition has 1.2 million signatures, will Macron prove good on his word?
Even during an election year, I wouldn't hold my breath.
Macron's voters are pro-vaccine and pro-vaccine passport people. Sadly, I think he will win another five-year mandate in May 2022.
Many years ago, Chicago's PBS station ran a late-night show on Saturdays featuring newspaper columnist Irv Kupcinet, who was its host.
Irv Kupcinet invited a variety of guests on to sit around a table for 90 minutes to discuss current events.
He mentioned 'the lively art of conversation' in every show. Despite the controversial topics, his guests managed to engage with him and each other in an intelligent and considered way. Perhaps that was because Kupcinet set the tone with his own conversational style. I could be wrong, but I don't recall anyone ever walking off the show or being told to calm down.
Nearly 50 years on, things have changed drastically.
We're at the point where we cannot discuss much, even around the relative safety of the dinner table.
On November 22, 2021, The Times's India Knight discussed this unfortunate state of affairs in 'Our children are losing the ability to argue'. She means making a reasoned, fact-based argument for or against something, e.g. climate change.
I fully appreciated her experience as a youngster, because it paralleled my own (emphases mine):
When I was growing up, the kitchen table was a place of frequent and sometimes shouty political and cultural debate. I would acquire an opinion, usually from something I'd read or watched but sometimes from someone I thought was cool, and then I would express it, often with half an eye to provocation, in the self-important teenage manner. I didn't have the sort of parents who smile vaguely and say, "That's nice, dear", so I would be expected to explain why my opinion was my opinion and to defend it as it was dismantled and sometimes demolished.
My father was excellent at that: 'If you're going to take a stance, you'll have to defend it a lot better than that. Come back with some facts.'
And I could also relate to India Knight's reaction as an adolescent:
I did occasionally go off to my room in a huff, there to boil with fury at the great injustice of not being given a standing ovation every time I aired a view. But eight times out of ten the conversation was lively and thought-provoking, even enlightening (because I was a child, and children know less than adults, having lived less life). The conversations/arguments were sometimes fiery, but because I was treated as an intellectual equal, I didn't feel belittled. I found it intriguing and satisfying to learn what the opposing point of view to mine was on any given topic, and why it was held. It taught me that people who hold different opinions from yours can still be clever, likeable and interesting; that they hold their views just as dearly as you hold yours, and that this is fine.
These days, I look back on my late parents' viewpoints on life and politics. I consider them geniuses, because I now hold those same perspectives.
However, today's adolescents and twenty-somethings really don't know how to put forward their side of an argument:
Woke young people are amazing. They do care about important things in a laudable way and are indeed awake to social justice. All that is great. But you really can't say anything any more. The kitchen table scenario I describe above is now often a fraught and tentative affair, involving many eggshells and much tiptoeing. The anxiety is all on the part of the parents. Even the gentlest, most thoughtful and cotton-woolly discussion can result in young people feeling aggressed and disrespected. The parent's only permissible answer to, "The sky is green," is, "Yes, that's right." This is never truer than in the context of gender, in which expressing the previously uncontroversial view that biology is real can instantly mark you out as a bigot, a fascist or a phobe.
Sometimes, too, big, insulting, very loaded accusations are chucked carelessly about by the children. As a result, many parents of teenagers I know — and by "many" I mean "nearly all" — feel it's just not worth the hassle of having these conversations. And, as a result of that, an awful lot of young people don't know how to argue their case when faced with views that differ from their own. They are able to air an opinion but not to defend it objectively or intellectually at any level.
India Knight says:
Parents must gird their loins and persevere, I think, in tiny, manageable increments. It is vital for children to understand that disagreement is not a personal attack, that holding a topic up to the light is not sinister and that saying, "You've just completely contradicted yourself, darling," isn't abusive.
I couldn't agree more, and if more parents, like hers and mine, did that, the world would be a better place.
Unfortunately, a growing number of adults are also unable to accept differing points of view.
Spiked's Brendan O'Neill discussed this sad phenomenon on GB News with Patrick Christys on Wednesday, December 22. He said that people are too afraid to say anything that goes against the accepted narrative. He's right:
That was an apposite interview just before Christmas, when Britons were preparing to host family and friends around the dinner table.
Earlier that day, another GB News host, Michelle Dewberry, explored the horrid nature of the division appearing between the vaccinated and the unvaccinated. Tony Blair called the unvaxxed 'idiots' and the Archbishop of Canterbury called them 'immoral'. Blair later walked back his use of 'idiots'. I'm not sure the Archbishop did likewise.
In any event, Michelle Dewberry discussed this divisive controversy at the beginning of her show (from 8:25 to 11:20):
There are many reasons why people are rightly suspicious of the vaccinations. I've had my two shots and the booster but fully understand why others don't want them. Most of those people can cogently explain their reasons for not doing so.
It is disappointing to see a former Prime Minister and the spiritual head of the Church of England labelling people with whom they disagree in such a parlous way. Were he alive, Irv Kupcinet would have been appalled.
Surely, they should be leading by example.
It is time to return to the lively art of conversation, but that also requires an ability to accept other perspectives, whether we're teens or grandparents.
We know where the blame lies. We have to try and stop damaging division and emotional arguments in the best way we can. Unfortunately, it is much easier said than done, and I do not have a solution.
In the UK, coronavirus vaccine boosters progress apace.
This advert is showing at cinemas around the country. It features Prof Chris Whitty, Chief Medical Officer: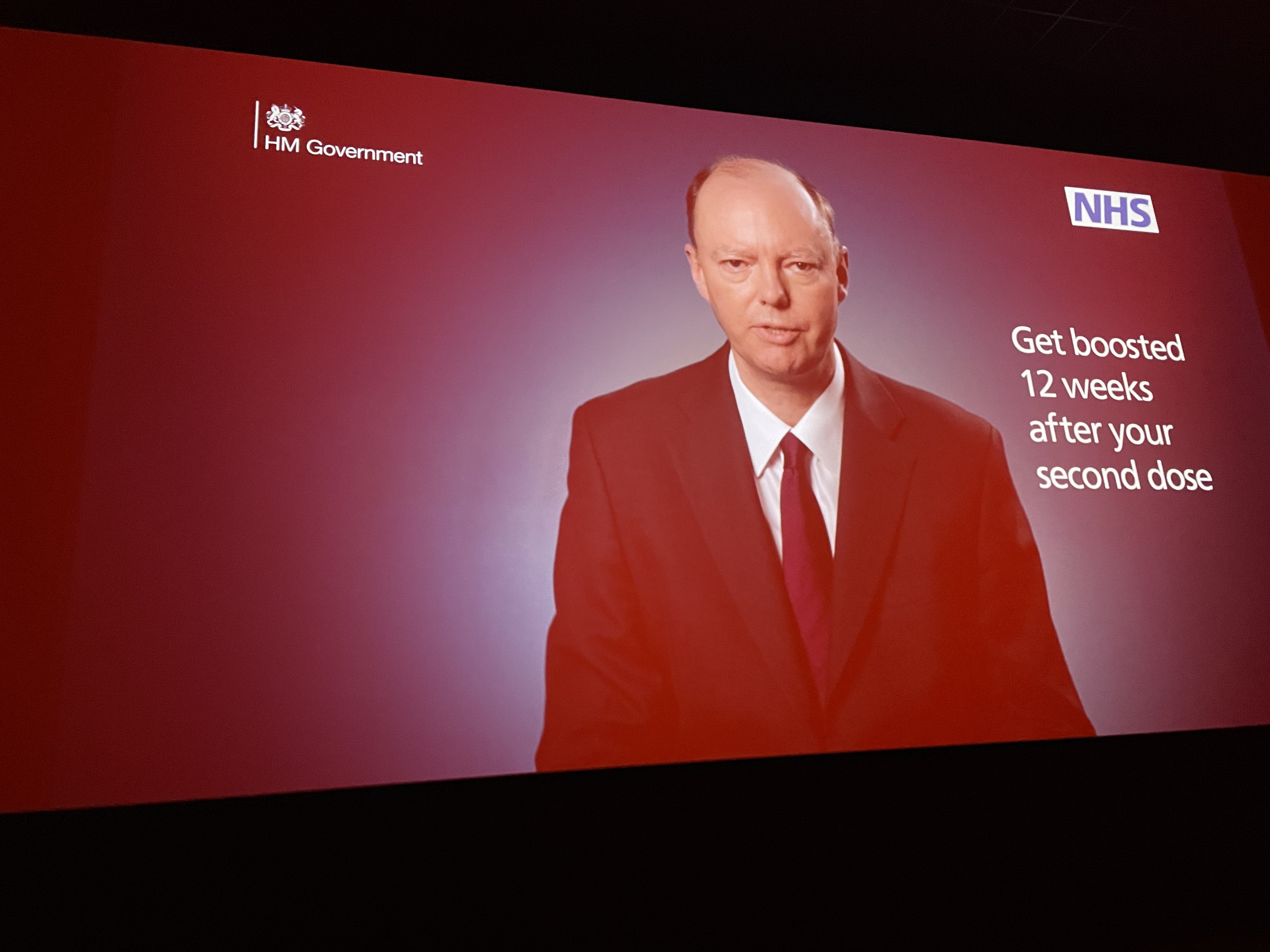 Scary.
It is reminiscent of 1984: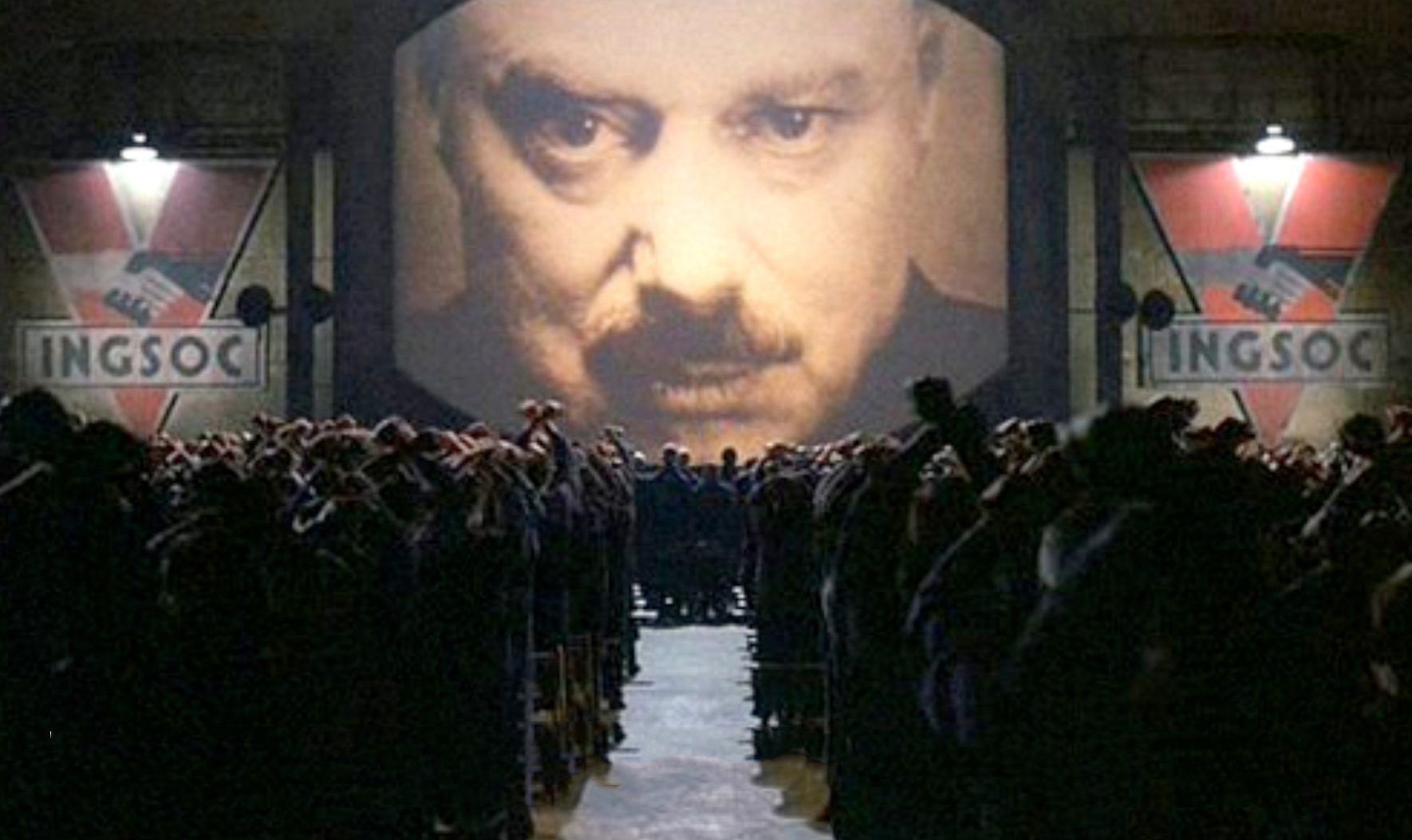 Someone else posted those images a few days ago.
Here's another: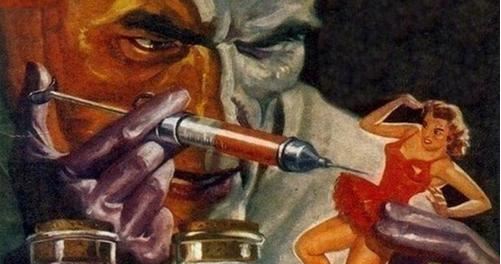 On Saturday, December 18, Neil Oliver of GB News interviewed Dr Robert W Malone about the vaccines and the boosters (33-43 minutes in):
Malone discusses his involvement in mRNA vaccine technology from its inception in the late 1980s and development into the 1990s. He now looks at these vaccines from a regulatory perspective.
He, along with a number of other physicians and scientists, e.g. Dr Pierre Kory, does not think that the coronavirus vaccines have been developed in a conventional manner.
Furthermore, he does not think they should be:
1/ given to children;
2/ given to people with normally functioning immune systems;
3/ mandated.
In other words, if he is correct, most of us reading this post should never have had the coronavirus vaccines or boosters.
Malone thinks that those should have been reserved only for the immuno-compromised, but admits that, even with that caveat, he's having second thoughts about that group as well.
Hmm.
In June, Linked In suspended his account for his views on the vaccines:
In 2022, the UK is likely to get legislation prohibiting 'hateful anti-vaccine' (MPs' words) articles and opinions. A few other countries already have such laws:
Note how the BBC fits in:
Congratulations to Neil Oliver and GB News for giving Dr Malone much needed air time.
It's been a week full of news, which is unusual right before Christmas. Yet, here we are.
Omicron death
The person who died with Omicron was an unvaccinated man in his 70s:
I, too, would like those questions answered.
The man's stepson called into Nick Ferrari's LBC show to say that he was a germophobe. He had everything delivered to his door and never left the house unless he had to post a letter:
Guido Fawkes has more (emphasis in the original):
Speaking to Nick Ferrari, the stepson of the man who died earlier this week claimed that he had been taken in by "conspiracy theories", and refused to take the vaccine despite being in his early 70s:
He thought it was a conspiracy. He was an intelligent man but it's all these different things you are getting from online and different media things… He wasn't vaccinated at all.
According to the latest figures, there are currently 15 people in hospital with Omicron, an increase of 5 since Tuesday…
Chris Whitty's Omicron projections
Earlier this week, Prime Minister Boris Johnson held a press conference with Chief Medical Officer Prof Chris Whitty and Chief Scientific Officer Prof Patrick Vallance.
Whitty predicted Armageddon with a chart showing unbelievably high projections of Omicron cases.
A good friend of mine said he hoped that chart would come back to bite Whitty in the proverbial. I couldn't agree more.
However, when Whitty appeared before the Health and Social Care Select Committee on Thursday, December 16, he changed his tune when giving evidence to MPs.
The Telegraph reported (emphases mine):
Britain may be "better off" with omicron than it was with the delta variant, thanks to the booster programme, Prof Chris Whitty has suggested.
Giving evidence at the Health and Social Care Select Committee, the Chief Medical Officer for England said that vaccines appeared to be holding up well against omicron and said boosters may even be preventing transmissibility and infection …
"It is possible that with a boost, we're better off with omicron than we are with two vaccines with delta for severe disease," he told MPs.
Prof Whitty said he was expecting omicron to cause an "impressive" rise in cases, which could lead to daily peaks in admission bigger than seen in the January wave, when hospitalisations hit nearly 40,000 a day.
However, he said that cases may begin to fall quickly and that a milder illness may mean people would stay in hospital for a short period, reducing the overall burden on the health service. Fewer people may also need intensive care, he added …
"I think most people think on the positive side, that there will be some preserved immunity, particularly on the non-antibody side, such as T-cells. Therefore it is likely someone who has one or two vaccines already will have some protection and with a booster considerably more protection against hospitalisation and death.
"It does look as if boosters restore some of the ability to actually reduce infection and transmission, at least for a period of time."
Then he told MPs that he was reluctant to give the public projection numbers, yet he did just that at this week's press conference:
"I have resisted putting forward projection numbers into the public domain because I don't think they are reliable and you can't put enough caveats on them."
We don't think they are reliable either, Prof Whitty.
Health and Security Agency's Omicron projections for England withdrawn
The UK Health and Security Agency also backtracked on their projections because of a change in public behaviour. I wonder:
If only they would lift Plan B …
… because it is really hurting the hospitality sector.
Michel Roux Jr has tweeted about his daughter Emily's London restaurant Caractère, which is suffering from a rash of sudden cancellations:
Her restaurant is not the only one. Omicron has everyone running scared.
But, what if it 'cases' did double every two days and what if we all caught Omicron? Would it confer herd immunity? We'll know if the following extrapolation is true by Twelfth Night:
The Queen cancels Windsor Castle pre-Christmas lunch
Because of the Omicron scare, our sovereign has cancelled her traditional pre-Christmas family lunch at Windsor Castle. ITV's Chris Ship reports:
South Africa, however, remains relatively relaxed about Omicron, as the Daily Mail's Dan Hodges points out. Note the reply, which shows Chris Whitty contradicting himself yet again. Either boosters help immunity or they don't. Which is it, Chris?
The elusive NHS GP can be seen — privately
Our NHS GPs have been elusive since last year. If you're lucky, you can get a telephone or an online appointment. Very few patients are able to see them in person.
However, if one goes private, one can see one's GP:
It looks as if the Mail on Sunday is investigating this situation. Good!
Killing off ivermectin as coronavirus prophylaxis
In more medical news, we discover how ivermectin was effectively killed off as a prophylaxis for coronavirus in the UK and the US.
Thanks to my reader dearieme for the Vox Day link, which leads to a World Tribune article summarising the incident from Robert Kennedy Jr's New York Times Bestseller, The Real Anthony Fauci: Bill Gates, Big Pharma, and the global war on Democracy and Public Health.
Excerpts follow:
Andrew Hill, PhD, is a senior visiting Research Fellow in Pharmacology at Liverpool University. He is also an advisor for the Bill and Melinda Gates Foundation and the Clinton Foundation. As a researcher for the WHO evaluating ivermectin, Hill wielded enormous influence over international guidance for the drug's use.
Hill had previously authored an analysis of ivermectin as a treatment for COVID-19 that found the drug overwhelmingly effective.
On Jan. 6 of 2021, Hill testified enthusiastically before the NIH COVID-19 Treatment Guidlelines Panel in support of ivermectin's use. Within a month, however, Hill found himself in what he describes as a "tricky situation." Under pressure from his funding sponsors, Hill then published an unfavorable study. Ironically, he used the same sources as in the original study. Only the conclusions had changed.
Shortly before he published, Dr. Tess Lawrie, Director of the Evidence-based Medicine Consultancy in Bath, England, and one of the world's leading medical research analysts, contacted Hill via Zoom and recorded the call (transcript below). Lawrie had learned of his new position and reached out to try to rectify the situation.
In a remarkable exchange, a transcript of which appears on pages 137 – 143 in Kennedy's book, Hill admitted his manipulated study would likely delay the uptake of ivermectin in the UK and United States, but said he hoped his doing so would only set the lifesaving drug's acceptance back by about "six weeks," after which he was willing to give his support for its use …
The two scientists discussed ivermectin's positive results in combating coronavirus:
… the number of preventable deaths incurred by such a delay would be staggering — as many as 504,000.
Hill declined being listed as Lawrie's head author on the paper with the positive results. Instead, he published the negative findings.
This is why he did so:
Four days before publication, Hill's sponsor Unitaid gave the University of Liverpool, Hill's employer $40 million. Unitaid, it turns out, was also an author of the conclusions of Hill's study …
… when pressed he admitted his sponsor, Unitaid, was an unacknowledged author of conclusions.
"Unitaid has a say in the conclusions of the paper. Yeah," he told Lawrie …
Dr. Pierre Kory, of the Front Line COVID-19 Critical Care Alliance, commented, "Andrew is apparently making a living now accusing the doctors and scientists who support ivermectin of medical fraud."
Regulatory acceptance of ivermectin did not delay only six weeks. Instead, almost a year later, it has still not been approved by health agencies in the United Kingdom or in United States. Instead The WHO, CDC, NIH, and FDA have suppressed the drug's use.
Instead, we are taking notional vaccines. Who knows what they are doing to our bodies?
Boris's daughter's name
Boris and Carrie Johnson have named their infant daughter Romy Iris Charlotte. She is shown with her brother Wilfred:
Romy is a 'rainbow baby' because she followed a miscarriage.
Best wishes to the Johnsons.
Conservatives lose safe seat for first time ever
In less cheery news for Boris, the Conservatives lost Owen Paterson's former North Shropshire constituency for the first time ever — nearly 200 years:
Paterson resigned a few weeks ago over sleaze allegations. He had a 23,000+ majority in the 2019 general election.
Failed candidate Neil Shastri-Hunt, who had been parachuted in from outside the constituency, said he planned to get some sleep and:
go and give my 8-week old a bit of a cuddle.
My commiserations to anyone who took this misguided betting advice:
The by-election took place on Thursday, December 16. The Liberal Democrats won by a landslide, as I thought they might:
Also note how low the vote for Labour was, despite party leader Sir Keir Starmer refusing to admit he is a socialist:
Conservative Party chairman Oliver Dowden MP admitted his party 'got a kicking' but added that such by-election results are not unusual when a Prime Minister is halfway through his or her term in office:
Therefore, this protest vote might be a one-off. Let us hope so.
However, in order for that to happen, Boris must be more of a Conservative and less of a Green Blairite.
Courier's employees throw parcels against wall
And last, but hardly least, we have distressing news about some Christmas home deliveries.
Hermes is the UK's worst courier company, but we have to put up with their delayed, sometimes damaged, deliveries.
A reporter from The Times did a brief stint with Hermes and found a group of disgruntled employees, some of whom threw parcels against a warehouse wall. The reporter is shown with his car boot open:
Hermes will investigate but says this is not typical behaviour of its employees. The company is at the bottom of the national delivery league table:
Meanwhile, I have been noting the rather downbeat Christmas notes we have received with our cards this year.
I hope that 2022 brings us far better tidings.