You are currently browsing the tag archive for the 'vaccine' tag.
Over the weekend, I read two contrasting approaches to coronavirus, going from the sublime to the ridiculous.
El Salvador
This is the latest message from the government in El Salvador about coronavirus. It advocates exercise, achieving a normal weight, eating properly and getting enough sleep:
It is sublime. If only other governments had advocated the same thing over the past 22 months. Then again, there's no Big Pharma involvement, so this never could have happened in the West.
France
Now we move to the ridiculous.
Last summer, the French government mandated the vaccine passport, popularly called le pass sanitaire, when in reality it is le pass vaccinale.
In August 2021, the Minister for Work, Elisabeth Borne, said that anyone refusing to get a vaccine passport would be denied his/her salary or unemployment benefit. Someone replied to this tweet with a quote from February 2021 in which Borne said that, as a woman of the Left, fighting for social justice and equal opportunity were her two biggest objectives in life. Oh, the irony:
Initially, at least, vaccine passports were required even to go into a supermarket.
Here's a chap at Carrefour who could not get past the security guard on August 17 at Noisy le Grand, just outside of Paris:
Two more videos appeared on August 18. One was in the city of Pau in the south west of France. Police prevented angry shoppers from entering Leclerc:
The second confrontation took place at an Auchan in Marseille. Shoppers chanted 'Liberté, liberté':
I don't know what happened after that, but I haven't heard or seen any more about people being prevented from entering a supermarket.
I did see videos with police checking people sitting outdoors at cafés and bars for vax passport status.
Fast forwarding to January 2, 2022, Prime Minister Jean Castex said that food and drink can only be taken in bars and cafés sitting down. A bit like Wales and Scotland, then:
That same day, the education minister, Jean-Michel Blanquer, explained that every school would have a list of students showing their vaccination status, thereby violating the principle of privacy with regard to personal health records — a slippery slope:
The following day, the president of France's parliament, Richard Ferrand, got coronavirus. No one was allowed to ask questions, though, because it wasn't anyone's business. Circulez, il n'y a rien a voir. Keep moving, nothing to see here:
Incidentally, no vax passport is required in France's parliament. Typical:
On January 4, French president Emmanuel Macron said that he wanted to 'p— off' as many unvaccinated as possible. This means that the unvaccinated will not be able to go to sports fixtures, the cinema — or even restaurants, bars and cafés.
Contrast that with what he said on December 15, 2021: 'With some things I've said, I've hurt people. I won't do it again':
There is even an older statement from Macron from April 29, 2021, in which he pledged there would never be a mandatory vax passport in France:
Jean Castex refused to comment on Macron's pronouncement about p—ing off the unvaccinated:
Meanwhile, an anti-vax passport petition circulated online. It had over 1.2 million signatures as of January 5. The initiator of the petition was not allowed to present it to parliament. Police restrained him:
France's senate will be voting on further vax passport measures this week, postponed from last week:
Constitutionalists say that the vax passport measures are unconstitutional:
Here is a roadside hoarding (billboard) critical of Macron's vaccination policies:
The vaccine passport mandate was supposed to end on November 16, 2021. Yet, it is still in place.
On Saturday, January 8, many thousands of French citizens took to the streets to protest.
This was the scene in Aix-en-Provence:
Paris had the largest demonstration, despite the rain:
Here's another view:
Of course, the media, in this case BFMTV, reported 'only a few thousand' protesters. They would, wouldn't they?
On Monday, January 10, a French physician who works in ER called for the abolition of vaccine passports and urged the government to focus on treating the sick — 'Revenons au basique', or 'Back to basics':
Just before Christmas, a general practitioners' union pledged their support for the unvaccinated, a clear refutation of Macron's policy:
France's talk radio station, RMC, discussed the unvaccinated on Monday. Here's the segment from Les Grandes Gueules [The Big Mouths], for any interested Francophones.
A general practitioner who is a regular guest on the show said that anyone spreading 'disinformation' should be put in prison. Unbelievable:
One of the panellists complained about the constant testing of schoolchildren, which she thought was a waste of time and money:
Some time ago, when waffling on about the necessity for constitutional reform, Macron pledged that any petition with more than 1 million signatures would go to a referendum in order to give the French people a voice. As the anti-vax passport petition has 1.2 million signatures, will Macron prove good on his word?
Even during an election year, I wouldn't hold my breath.
Macron's voters are pro-vaccine and pro-vaccine passport people. Sadly, I think he will win another five-year mandate in May 2022.
Many years ago, Chicago's PBS station ran a late-night show on Saturdays featuring newspaper columnist Irv Kupcinet, who was its host.
Irv Kupcinet invited a variety of guests on to sit around a table for 90 minutes to discuss current events.
He mentioned 'the lively art of conversation' in every show. Despite the controversial topics, his guests managed to engage with him and each other in an intelligent and considered way. Perhaps that was because Kupcinet set the tone with his own conversational style. I could be wrong, but I don't recall anyone ever walking off the show or being told to calm down.
Nearly 50 years on, things have changed drastically.
We're at the point where we cannot discuss much, even around the relative safety of the dinner table.
On November 22, 2021, The Times's India Knight discussed this unfortunate state of affairs in 'Our children are losing the ability to argue'. She means making a reasoned, fact-based argument for or against something, e.g. climate change.
I fully appreciated her experience as a youngster, because it paralleled my own (emphases mine):
When I was growing up, the kitchen table was a place of frequent and sometimes shouty political and cultural debate. I would acquire an opinion, usually from something I'd read or watched but sometimes from someone I thought was cool, and then I would express it, often with half an eye to provocation, in the self-important teenage manner. I didn't have the sort of parents who smile vaguely and say, "That's nice, dear", so I would be expected to explain why my opinion was my opinion and to defend it as it was dismantled and sometimes demolished.
My father was excellent at that: 'If you're going to take a stance, you'll have to defend it a lot better than that. Come back with some facts.'
And I could also relate to India Knight's reaction as an adolescent:
I did occasionally go off to my room in a huff, there to boil with fury at the great injustice of not being given a standing ovation every time I aired a view. But eight times out of ten the conversation was lively and thought-provoking, even enlightening (because I was a child, and children know less than adults, having lived less life). The conversations/arguments were sometimes fiery, but because I was treated as an intellectual equal, I didn't feel belittled. I found it intriguing and satisfying to learn what the opposing point of view to mine was on any given topic, and why it was held. It taught me that people who hold different opinions from yours can still be clever, likeable and interesting; that they hold their views just as dearly as you hold yours, and that this is fine.
These days, I look back on my late parents' viewpoints on life and politics. I consider them geniuses, because I now hold those same perspectives.
However, today's adolescents and twenty-somethings really don't know how to put forward their side of an argument:
Woke young people are amazing. They do care about important things in a laudable way and are indeed awake to social justice. All that is great. But you really can't say anything any more. The kitchen table scenario I describe above is now often a fraught and tentative affair, involving many eggshells and much tiptoeing. The anxiety is all on the part of the parents. Even the gentlest, most thoughtful and cotton-woolly discussion can result in young people feeling aggressed and disrespected. The parent's only permissible answer to, "The sky is green," is, "Yes, that's right." This is never truer than in the context of gender, in which expressing the previously uncontroversial view that biology is real can instantly mark you out as a bigot, a fascist or a phobe.
Sometimes, too, big, insulting, very loaded accusations are chucked carelessly about by the children. As a result, many parents of teenagers I know — and by "many" I mean "nearly all" — feel it's just not worth the hassle of having these conversations. And, as a result of that, an awful lot of young people don't know how to argue their case when faced with views that differ from their own. They are able to air an opinion but not to defend it objectively or intellectually at any level.
India Knight says:
Parents must gird their loins and persevere, I think, in tiny, manageable increments. It is vital for children to understand that disagreement is not a personal attack, that holding a topic up to the light is not sinister and that saying, "You've just completely contradicted yourself, darling," isn't abusive.
I couldn't agree more, and if more parents, like hers and mine, did that, the world would be a better place.
Unfortunately, a growing number of adults are also unable to accept differing points of view.
Spiked's Brendan O'Neill discussed this sad phenomenon on GB News with Patrick Christys on Wednesday, December 22. He said that people are too afraid to say anything that goes against the accepted narrative. He's right:
That was an apposite interview just before Christmas, when Britons were preparing to host family and friends around the dinner table.
Earlier that day, another GB News host, Michelle Dewberry, explored the horrid nature of the division appearing between the vaccinated and the unvaccinated. Tony Blair called the unvaxxed 'idiots' and the Archbishop of Canterbury called them 'immoral'. Blair later walked back his use of 'idiots'. I'm not sure the Archbishop did likewise.
In any event, Michelle Dewberry discussed this divisive controversy at the beginning of her show (from 8:25 to 11:20):
There are many reasons why people are rightly suspicious of the vaccinations. I've had my two shots and the booster but fully understand why others don't want them. Most of those people can cogently explain their reasons for not doing so.
It is disappointing to see a former Prime Minister and the spiritual head of the Church of England labelling people with whom they disagree in such a parlous way. Were he alive, Irv Kupcinet would have been appalled.
Surely, they should be leading by example.
It is time to return to the lively art of conversation, but that also requires an ability to accept other perspectives, whether we're teens or grandparents.
We know where the blame lies. We have to try and stop damaging division and emotional arguments in the best way we can. Unfortunately, it is much easier said than done, and I do not have a solution.
In the UK, coronavirus vaccine boosters progress apace.
This advert is showing at cinemas around the country. It features Prof Chris Whitty, Chief Medical Officer: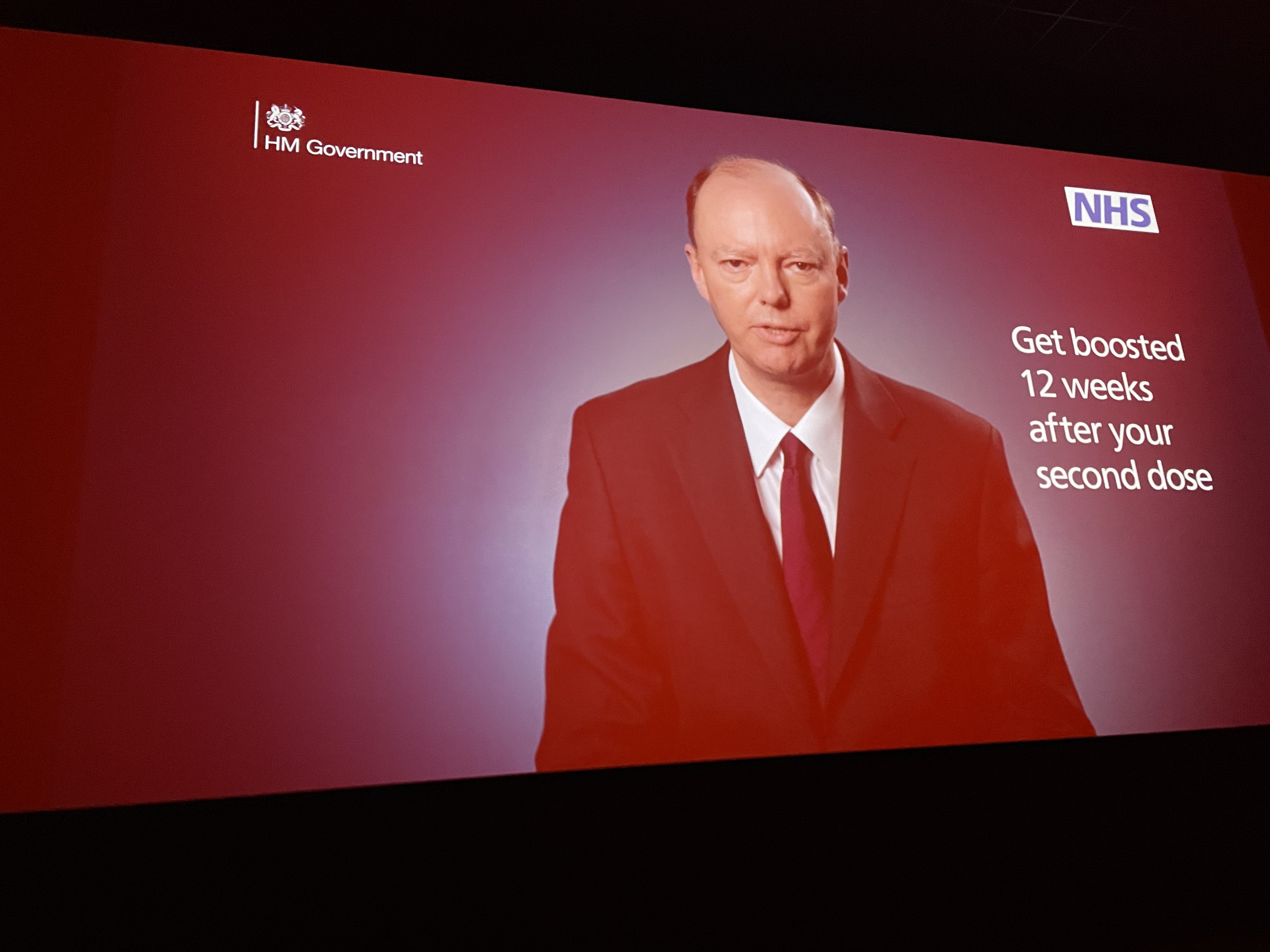 Scary.
It is reminiscent of 1984: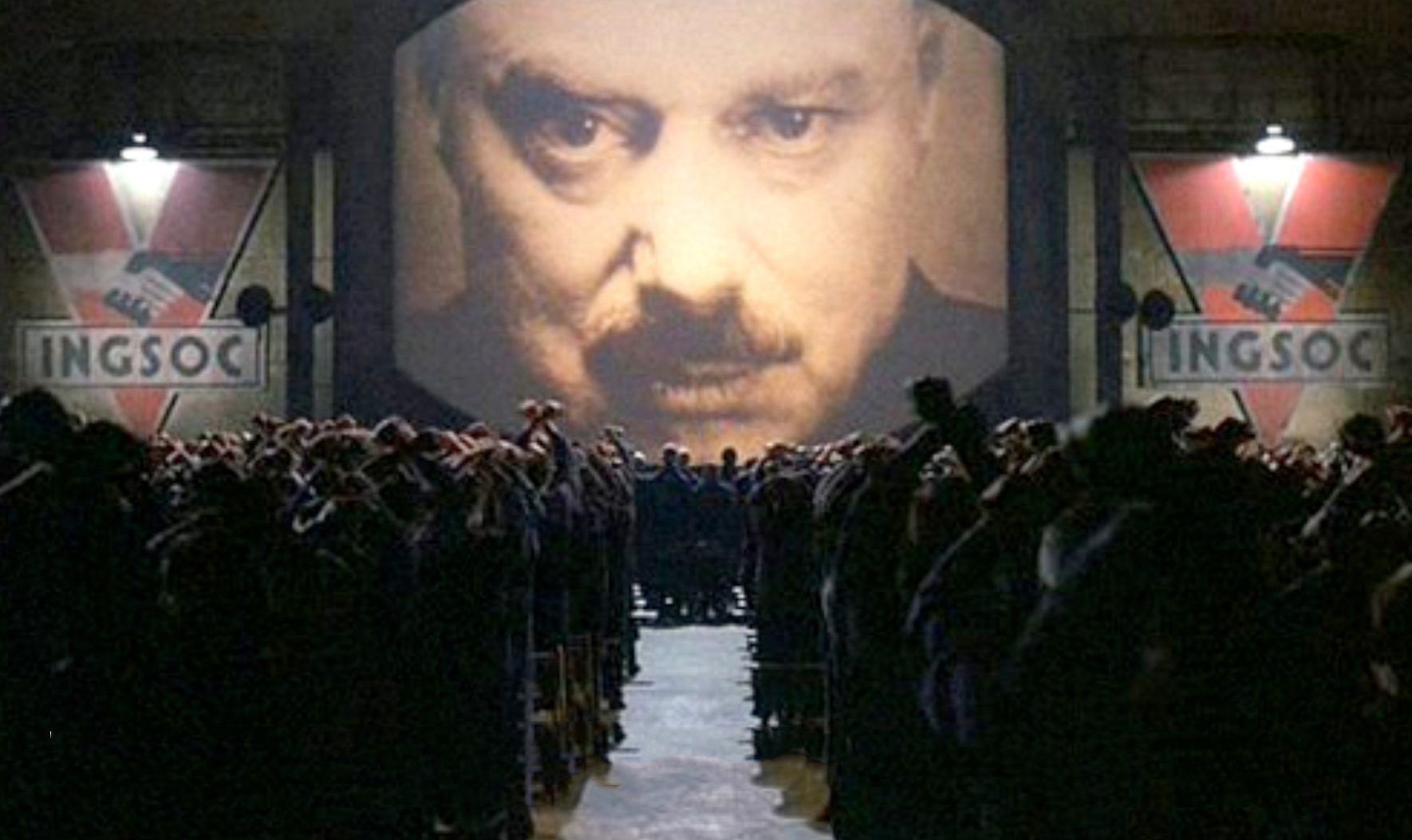 Someone else posted those images a few days ago.
Here's another: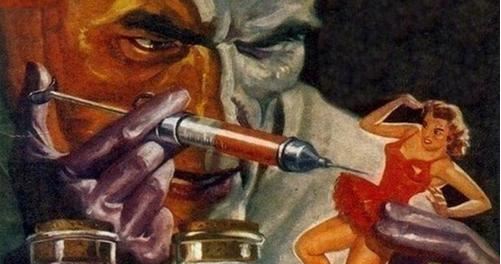 On Saturday, December 18, Neil Oliver of GB News interviewed Dr Robert W Malone about the vaccines and the boosters (33-43 minutes in):
Malone discusses his involvement in mRNA vaccine technology from its inception in the late 1980s and development into the 1990s. He now looks at these vaccines from a regulatory perspective.
He, along with a number of other physicians and scientists, e.g. Dr Pierre Kory, does not think that the coronavirus vaccines have been developed in a conventional manner.
Furthermore, he does not think they should be:
1/ given to children;
2/ given to people with normally functioning immune systems;
3/ mandated.
In other words, if he is correct, most of us reading this post should never have had the coronavirus vaccines or boosters.
Malone thinks that those should have been reserved only for the immuno-compromised, but admits that, even with that caveat, he's having second thoughts about that group as well.
Hmm.
In June, Linked In suspended his account for his views on the vaccines:
In 2022, the UK is likely to get legislation prohibiting 'hateful anti-vaccine' (MPs' words) articles and opinions. A few other countries already have such laws:
Note how the BBC fits in:
Congratulations to Neil Oliver and GB News for giving Dr Malone much needed air time.
It's been a week full of news, which is unusual right before Christmas. Yet, here we are.
Omicron death
The person who died with Omicron was an unvaccinated man in his 70s:
I, too, would like those questions answered.
The man's stepson called into Nick Ferrari's LBC show to say that he was a germophobe. He had everything delivered to his door and never left the house unless he had to post a letter:
Guido Fawkes has more (emphasis in the original):
Speaking to Nick Ferrari, the stepson of the man who died earlier this week claimed that he had been taken in by "conspiracy theories", and refused to take the vaccine despite being in his early 70s:
He thought it was a conspiracy. He was an intelligent man but it's all these different things you are getting from online and different media things… He wasn't vaccinated at all.
According to the latest figures, there are currently 15 people in hospital with Omicron, an increase of 5 since Tuesday…
Chris Whitty's Omicron projections
Earlier this week, Prime Minister Boris Johnson held a press conference with Chief Medical Officer Prof Chris Whitty and Chief Scientific Officer Prof Patrick Vallance.
Whitty predicted Armageddon with a chart showing unbelievably high projections of Omicron cases.
A good friend of mine said he hoped that chart would come back to bite Whitty in the proverbial. I couldn't agree more.
However, when Whitty appeared before the Health and Social Care Select Committee on Thursday, December 16, he changed his tune when giving evidence to MPs.
The Telegraph reported (emphases mine):
Britain may be "better off" with omicron than it was with the delta variant, thanks to the booster programme, Prof Chris Whitty has suggested.
Giving evidence at the Health and Social Care Select Committee, the Chief Medical Officer for England said that vaccines appeared to be holding up well against omicron and said boosters may even be preventing transmissibility and infection …
"It is possible that with a boost, we're better off with omicron than we are with two vaccines with delta for severe disease," he told MPs.
Prof Whitty said he was expecting omicron to cause an "impressive" rise in cases, which could lead to daily peaks in admission bigger than seen in the January wave, when hospitalisations hit nearly 40,000 a day.
However, he said that cases may begin to fall quickly and that a milder illness may mean people would stay in hospital for a short period, reducing the overall burden on the health service. Fewer people may also need intensive care, he added …
"I think most people think on the positive side, that there will be some preserved immunity, particularly on the non-antibody side, such as T-cells. Therefore it is likely someone who has one or two vaccines already will have some protection and with a booster considerably more protection against hospitalisation and death.
"It does look as if boosters restore some of the ability to actually reduce infection and transmission, at least for a period of time."
Then he told MPs that he was reluctant to give the public projection numbers, yet he did just that at this week's press conference:
"I have resisted putting forward projection numbers into the public domain because I don't think they are reliable and you can't put enough caveats on them."
We don't think they are reliable either, Prof Whitty.
Health and Security Agency's Omicron projections for England withdrawn
The UK Health and Security Agency also backtracked on their projections because of a change in public behaviour. I wonder:
If only they would lift Plan B …
… because it is really hurting the hospitality sector.
Michel Roux Jr has tweeted about his daughter Emily's London restaurant Caractère, which is suffering from a rash of sudden cancellations:
Her restaurant is not the only one. Omicron has everyone running scared.
But, what if it 'cases' did double every two days and what if we all caught Omicron? Would it confer herd immunity? We'll know if the following extrapolation is true by Twelfth Night:
The Queen cancels Windsor Castle pre-Christmas lunch
Because of the Omicron scare, our sovereign has cancelled her traditional pre-Christmas family lunch at Windsor Castle. ITV's Chris Ship reports:
South Africa, however, remains relatively relaxed about Omicron, as the Daily Mail's Dan Hodges points out. Note the reply, which shows Chris Whitty contradicting himself yet again. Either boosters help immunity or they don't. Which is it, Chris?
The elusive NHS GP can be seen — privately
Our NHS GPs have been elusive since last year. If you're lucky, you can get a telephone or an online appointment. Very few patients are able to see them in person.
However, if one goes private, one can see one's GP:
It looks as if the Mail on Sunday is investigating this situation. Good!
Killing off ivermectin as coronavirus prophylaxis
In more medical news, we discover how ivermectin was effectively killed off as a prophylaxis for coronavirus in the UK and the US.
Thanks to my reader dearieme for the Vox Day link, which leads to a World Tribune article summarising the incident from Robert Kennedy Jr's New York Times Bestseller, The Real Anthony Fauci: Bill Gates, Big Pharma, and the global war on Democracy and Public Health.
Excerpts follow:
Andrew Hill, PhD, is a senior visiting Research Fellow in Pharmacology at Liverpool University. He is also an advisor for the Bill and Melinda Gates Foundation and the Clinton Foundation. As a researcher for the WHO evaluating ivermectin, Hill wielded enormous influence over international guidance for the drug's use.
Hill had previously authored an analysis of ivermectin as a treatment for COVID-19 that found the drug overwhelmingly effective.
On Jan. 6 of 2021, Hill testified enthusiastically before the NIH COVID-19 Treatment Guidlelines Panel in support of ivermectin's use. Within a month, however, Hill found himself in what he describes as a "tricky situation." Under pressure from his funding sponsors, Hill then published an unfavorable study. Ironically, he used the same sources as in the original study. Only the conclusions had changed.
Shortly before he published, Dr. Tess Lawrie, Director of the Evidence-based Medicine Consultancy in Bath, England, and one of the world's leading medical research analysts, contacted Hill via Zoom and recorded the call (transcript below). Lawrie had learned of his new position and reached out to try to rectify the situation.
In a remarkable exchange, a transcript of which appears on pages 137 – 143 in Kennedy's book, Hill admitted his manipulated study would likely delay the uptake of ivermectin in the UK and United States, but said he hoped his doing so would only set the lifesaving drug's acceptance back by about "six weeks," after which he was willing to give his support for its use …
The two scientists discussed ivermectin's positive results in combating coronavirus:
… the number of preventable deaths incurred by such a delay would be staggering — as many as 504,000.
Hill declined being listed as Lawrie's head author on the paper with the positive results. Instead, he published the negative findings.
This is why he did so:
Four days before publication, Hill's sponsor Unitaid gave the University of Liverpool, Hill's employer $40 million. Unitaid, it turns out, was also an author of the conclusions of Hill's study …
… when pressed he admitted his sponsor, Unitaid, was an unacknowledged author of conclusions.
"Unitaid has a say in the conclusions of the paper. Yeah," he told Lawrie …
Dr. Pierre Kory, of the Front Line COVID-19 Critical Care Alliance, commented, "Andrew is apparently making a living now accusing the doctors and scientists who support ivermectin of medical fraud."
Regulatory acceptance of ivermectin did not delay only six weeks. Instead, almost a year later, it has still not been approved by health agencies in the United Kingdom or in United States. Instead The WHO, CDC, NIH, and FDA have suppressed the drug's use.
Instead, we are taking notional vaccines. Who knows what they are doing to our bodies?
Boris's daughter's name
Boris and Carrie Johnson have named their infant daughter Romy Iris Charlotte. She is shown with her brother Wilfred:
Romy is a 'rainbow baby' because she followed a miscarriage.
Best wishes to the Johnsons.
Conservatives lose safe seat for first time ever
In less cheery news for Boris, the Conservatives lost Owen Paterson's former North Shropshire constituency for the first time ever — nearly 200 years:
Paterson resigned a few weeks ago over sleaze allegations. He had a 23,000+ majority in the 2019 general election.
Failed candidate Neil Shastri-Hunt, who had been parachuted in from outside the constituency, said he planned to get some sleep and:
go and give my 8-week old a bit of a cuddle.
My commiserations to anyone who took this misguided betting advice:
The by-election took place on Thursday, December 16. The Liberal Democrats won by a landslide, as I thought they might:
Also note how low the vote for Labour was, despite party leader Sir Keir Starmer refusing to admit he is a socialist:
Conservative Party chairman Oliver Dowden MP admitted his party 'got a kicking' but added that such by-election results are not unusual when a Prime Minister is halfway through his or her term in office:
Therefore, this protest vote might be a one-off. Let us hope so.
However, in order for that to happen, Boris must be more of a Conservative and less of a Green Blairite.
Courier's employees throw parcels against wall
And last, but hardly least, we have distressing news about some Christmas home deliveries.
Hermes is the UK's worst courier company, but we have to put up with their delayed, sometimes damaged, deliveries.
A reporter from The Times did a brief stint with Hermes and found a group of disgruntled employees, some of whom threw parcels against a warehouse wall. The reporter is shown with his car boot open:
Hermes will investigate but says this is not typical behaviour of its employees. The company is at the bottom of the national delivery league table:
Meanwhile, I have been noting the rather downbeat Christmas notes we have received with our cards this year.
I hope that 2022 brings us far better tidings.
With regard to Omicron, this is where we left off on Monday in the UK — one death:
Guido Fawkes's accompanying post says (emphasis in the original):
Boris has claimed this morning that one hospital patient has died with the Omicron variant, telling cameras "Sadly yes, Omicron is producing hospitalisations, and sadly at least one patient has been confirmed to have died with Omicron." It is not yet known whether the patient had comorbidities...
So far, it is believed that Omicron is a relatively mild variant. The Singaporean Ministry of Health has stated (H/T Guido Fawkes; emphasis mine):
Cases who have been detected around the world have mostly displayed mild symptoms, and no Omicron-related deaths have been reported so far. Common symptoms reported include sore throat, tiredness and cough.
The numbers hospitalised with Omicron are in single digits …
… never mind what Justice Secretary Dominic Raab said on this morning's news round:
Dominic Raab doesn't appear to know how many patients are in hospital with Omicron. Yesterday, Sajid Javid said it was "around ten", with Raab this morning claiming on Sky News that the figure had now jumped up to 250, which would be an alarming leap in just 24 hours. Thirty minutes later on BBC Breakfast, however, Raab inexplicably slashed that number all the way down to 9. The new antiviral treatments are good – they aren't that good.
Regardless, today, after the Government already implemented it last week, MPs voted on Plan B for England. There were four separate divisions (votes). One was on coronavirus passports.
When Tuesday's parliamentary session began, Plan B involved wearing masks in enclosed spaces and public transport as well, working from home as well as a return to quarantine.
When Health Secretary Sajid Javid began his address, he mentioned that quarantine would be less severe. It would now involve daily testing instead of a mandated policy to stay indoors (emphases mine):
At the end of last month, this House passed regulations requiring all close contacts of a suspected or confirmed omicron case to self-isolate for 10 days, but given the increasing dominance of omicron, this approach no longer makes sense for public health purposes and nor is it sustainable for the economy. So we are drawing on the testing capacity that we have built to create a new system of daily testing for covid contacts that has started today. Instead of close contacts of confirmed cases or suspected cases having to self-isolate, all vaccinated contacts, irrespective of whether the contact was with an omicron case, will be asked to take lateral flow tests every day for seven days. Regulation No. 1415 allows us to put this plan into action by revoking the omicron-specific provisions for self-isolation.
Ahead of the official vote, The Telegraph's cartoonist Bob Moran took action on masks on Saturday, December 11:
Not surprisingly, Plan B has begun to wreak havoc with cancellations of international travel and Christmas gatherings in hospitality venues.
At least 80 Conservative MPs were expected to rebel and vote against the Government. On the day, 98 rebelled against the vaccine passport, along with three others spotted by Labour Whips. They included Sir Desmond Swayne and Bob Seely. I plan to discuss the results in another post:
Although a rebellion by Conservatives alone did not stop the Government winning the votes — thanks to Labour! — it should send a clear message to Boris.
Alicia Kearns tweeted that she would vote against coronavirus passports:
People living in England are concerned about the constant moving of goalposts with regard to coronavirus restrictions.
Conservative MPs became angry last week. In his press conference on Wednesday, December 8, when he announced Plan B, Boris mooted the idea of 'a national conversation' about mandatory vaccinations:
The rebel MPs' reaction was immediate:
Guido began compiling his list on December 9. A selection of comments from MPs follows:
Alexander Stafford said "he cannot and will not support mandatory vaccinations", adding that working from home "disproportionately negatively affects younger people and those starting out in their careers".
Douglas Ross said "There is no evidence that vaccine passports stop the spread of Covid" and that since he didn't vote for them in Holyrood, he wouldn't vote for them in Westminster either.
Graham Brady said in the chamber last night that "it's deja vu all over again, isn't it?"
Peter Bone slammed compulsory vaccinations on Newsnight, calling the idea "completely outrageous", and even saying "I'd be the first to say the PM should go" if they were implemented.
Simon Jupp said "I don't support Plan B", called vaccine passports "divisive & discriminatory", and made it clear that he "won't vote for these measures."
Steve Baker insisted it is "vital that the maximum number of Conservative MPs vote against Plan B, whatever our useless Opposition do".
Over the weekend, Steve Baker tweeted that he would be relaunching his Conservative Way Forward movement, open to MPs and the general public. It is meant to restore the Conservative Party to its proper origins rather than a Boris-led Blairite/Labour-lite party:
Sir Edward Leigh MP stated his intention to vote against the Government for the first time during this Parliament:
Mark Harper MP pointed out:
"there is no exit strategy", and asked "why should people at home…do things that people working in Number 10 Downing Street are not prepared to do?" 
The Spectator's Kate Andrews also noted the same thing, comparing the content of December 8's press conference with the others that had preceded it. The Government and scientific advisers have made many poor contradictions and bad comparisons between the UK with a strongly vaccinated population versus one like South Africa's:
The Spectator contrasts what our scientific experts from SAGE put forward compared with the real statistics. SAGE have a lot of explaining to do, yet Boris continues to court their shamefully extreme modelling.
Guido's December 9 poll of the public shows that they are increasingly concerned about scope creep, especially with regard to Plan B:
Guido's post reveals who led the press ('lobby') briefing that day. It was not the Department for Health and Social Care (DHSC):
A poll of 3,170 Guido readers opened earlier has less than one-in-seven believing the government's timing of Plan B yesterday was based on epidemiological reasons, and not politics.
Guido can't say he's surprised. Sources suggest that while a quad meeting was always scheduled for yesterday afternoon, Plan B was not on the table. During the morning the briefings were coming from Downing Street not DHSC, further suggesting the move was more politically than epidemiologically motivated.
William Wragg MP was the first to notice the political end to Plan B — a diversion from the Christmas party debacle — and actually challenged Boris on it last Wednesday at PMQs, only hours before the press conference. Tom Newton Dunn tweeted:
Senior Tory William Wragg challenges Johnson directly during PMQs over if he's bringing in Plan B today, and says "few will be fooled by this diversionary tactic". Johnson doesn't deny, but says: "No decisions will be taken without consulting the Cabinet".
It would have been even better if Sir Keir Starmer, leader of the Opposition had said that, but, alas, he's all on board with further restrictions. If he were Prime Minister, we would have never had Freedom Day on Monday, July 19. We would have been where Scotland and Wales continue to be, still restricted in many ways, with compulsory masks and vaccine passports.
On Monday evening, December 13, Sir Keir somehow got media outlets to televise his support for Plan B. The reason for this baffles me, as he is not in Government.
It does appear as if we have a coalition Conservative-Labour government, because the latter jumps on every coronavirus restriction bandwagon going. The Sun's Trevor Kavanagh told Nigel Farage that this is not a good thing:
According to a GB News poll for Dan Wootton Tonight, the public strongly disapprove of Plan B:
Sadly, we now have Plan B in England: face coverings in enclosed spaces, vaccine passports for large venues/events and mandatory vaccines for NHS/care home staff by April 2022. Self-isolation with daily testing was approved unanimously; there was no division on that motion.
The question remains: do we get another lockdown, i.e. Plan C, in the New Year?
Boris wouldn't dare, would he?
Two videos of interest follow concerning coronavirus vaccines, including boosters.
On Monday, December 13, 2021, Health Secretary Sajid Javid said in Parliament that NHS work would be largely paused to focus on the booster programme, with which the British Army will help administer.
An oncologist, Prof. Angus Dalgleish from St George's Hospital, London, told GB News that the booster programme was 'a waste of time', because the new Omicron variant is so infectious. He is concerned that many other ailments, cancer, in particular, will go untreated. He says that a relatively mild cancer which goes undetected can become Stage 4 cancer, bringing about more fatalities from non-COVID illnesses. As for the vaccines, he says that the focus should be on T-cells rather than antibodies, which can disappear over time.
This is around six minutes in length and well worth watching:
A longer video about the vaccines is on Parliamentlive.tv. I recommend the first 40 minutes with Dame Kate Bingham, Former Chair, UK Vaccine Taskforce. (Scroll through the first 10 minutes or so, as the start was delayed.) On December 14, 2021, Dame Kate told the Science and Technology Select Committee how the vaccine programme, which was her big success last year, has begun to falter.
She has been out of the taskforce for a year now. She told the Select Committee that she left a detailed plan behind of how to proceed: staying ahead of the curve both with variants and vaccine supply. She surmises that her plan has not been followed, for whatever reason, because the vaccine rollout has become inefficient.
The most eye-opening part was her discussion of the Valneva lab in Livingston, Scotland. Dame Kate said that the Government recently withdrew funding from the facility because they wanted booster shots only; Valneva produces whole-virus vaccines, which are seen to be more adaptable in the long run.
Valneva was supposed to be 2021's big success story. Prime Minister Boris Johnson visited the facility earlier this year.
Although Valneva is a French company, in February, they were willing to ship their vaccines to the UK first, because the EU had not yet signed a letter of intent:
Guido Fawkes reported that the vaccine would be ready in 2022 (emphasis in the original):
This morning it was revealed that the UK has exercised its option to purchase a further 40 million doses of a promising new vaccine from Valneva SE, a French vaccine developer with its product still in stage 1/2 trials. While the vaccine would not be available until next year it could prove vital in defending against new strains as the UK deploys what will likely be an annual vaccination effort similar to the massive flu jabs programme. The UK had already ordered 60 million doses, bringing the total to 100 million…
Valneva SE CFO David Lawrence told the Today Programme that whilst the UK has been in discussions and had signed deals since the summer of 2020, the EU is yet to sign even a letter of intent with the firm, which is headquartered in Paris.
In April, The Scotsman reported that Valneva was searching for Phase 3 trial volunteers for their promising vaccine, being developed ahead of schedule for delivery at the end of 2021 (emphases mine; sorry about the font size, which I was unable to change):
The UK has ordered 100 million doses of the Valneva vaccine, which are set to be delivered at the end of 2021 and beginning of 2022.
With all adults due to have been vaccinated by the end of the summer, Valneva hopes its vaccine will be used as a booster jag or as a modified vaccine which is more effective against new variants of Covid-19.
The phase 3 trial will run in 24 sites across the UK, with two in Scotland. It is open to healthy adults who have not already had a vaccine.
Around 3,000 people over 30 will be given either two doses of the Valneva vaccine or two doses of the AstraZeneca jag.
Following JCVI guidance not to offer AstraZeneca to under 30s, around 1,000 younger participants in the study will be given only the Valneva option.
Volunteers will be given two doses, 28 days apart, starting at the beginning of May.
Thomas Lingelbach, Valneva chief executive, said: "This Phase 3 initiation marks a significant milestone in the development of the only inactivated vaccine candidate against Covid-19 in clinical trials in Europe.
"As Covid-19 continues to impact people's daily lives, we remain fully focused on developing another safe and efficacious vaccine solution.
"We believe that VLA2001 has an important role to play including boosters or potential modifications to the vaccine to address variants."
Valneva's candidate is an inactivated whole virus vaccine, which contains virus that has been destroyed so cannot infect cells, but can still trigger an immune response.
The technology is used in flu, polio and rabies vaccines, and it's a more traditional approach than the Pfizer (mRNA) and AstraZeneca (adenoviral) vaccines.
Because the vaccine doesn't contain any live virus, it may be especially suitable for vulnerable people, such as the elderly or those with weaker immune systems.
On November 31, Daily Business reported that the UK Government might return to the negotiating table with Valneva, which they had accused of breach of contract:
UK Government ministers may be about to return to the negotiating table with French vaccine developer Valneva two months after cancelling a contract to supply Covid vaccines from its plant in Livingston.
A source close to the situation says it is hoped the UK Government will "seek an amicable resolution" and at least partially reinstate the £1.2bn order to help combat the new Omicron variant.
Westminster terminated the deal in September, claiming breach of contract, a move that drew criticism from business leaders, senior academics and politicians.
The government had placed an order for 100 million doses of its VLA2001 vaccine after increasing its request by 40 million last February. Then, without warning, it pulled the plug.
It placed a question mark over the future of the firm's new West Lothian factory, a globally-qualified manufacturing site for viral vaccines including VLA2001.
The company is currently supplying, or is in discussion, with other countries about potential deals for the vaccine.
For once, I agree with Scottish National Party (SNP) MPs; they rightly deplore the Government's withdrawal of the Valneva order.
Dame Kate Bingham pointed out that, because Valneva's vaccine is a whole virus one rather than one with just the protein spikes, e.g. Moderna's, it can be modified quickly to attack new variants. Moderna's and Pfizer's, on the other hand, require months of work.
Dame Kate called Valneva 'nimble'. She added that, even if the UK were not interested in the vaccine, other countries around the world would want it, which can only be a positive for Britain.
One wonders how many other stories there are like this.
People in England are ready to comply with Government measures on the new Omicron variant.
The measures went into effect at 4 a.m. on Tuesday, November 30 and include compulsory face coverings in shops and on public transport:
Most Britons would like to see more mask mandates in secondary schools:
On that basis, one wonders if theatre and cinema audiences will stay at home over Christmas:
Most of us are following Omicron news:
Mixed public opinion
Despite the uniformity of YouGov's survey results, opinion is more mixed, as GB News discovered when discussing the new measures on Carnaby Street in the heart of London. Everyone had a different opinion:
Mixed messages from Government ministers and advisers
Government ministers are trying to be measured in their assessment of the new variant.
On Wednesday, December 1, the Daily Mail had a round-up of the mixed messaging.
Prime Minister Boris Johnson and Health Secretary Sajid Javid held a press conference on booster shots the afternoon before.
Boris wants people in England to carry on with Christmas plans (emphases mine):
Prime Minister Boris Johnson urged people not to cancel Christmas parties or school nativity plays. He also promised to 'throw everything' at the booster vaccination campaign to tackle the virus's spread.
Sajid Javid is cautious:
There are 'no guarantees' that there won't be a lockdown this Christmas, the Health Secretary warned today.
In an ominous shift in tone from recent days, Sajid Javid insisted another festive shutdown was 'not the plan', but said: 'We can't rule out any particular measure at this point in time because we always have to look at the data and do what we need to protect people.'
He even urged people to take Covid tests before going to Christmas parties and wear facemasks while partying amid mounting fears about the so-called 'Omicron' variant … 
Asked if he would wear a mask if he was at a Christmas party, Mr Javid told Sky News's Kay Burley: 'It depends if I am walking around or sitting down. It depends if I'm eating. People just need to make a decision based on the guidance.'
Elsewhere, Dr Jenny Harries, who heads the ominous sounding UK Health Security Agency, is not keen on group celebrations:
Dr Jenny Harries recommended people reduce the extent to which they socialise this winter – in a hint that restrictions could go further.
Last year, Harries discouraged going to pubs in one of the televised coronavirus briefings, so this comes as no surprise.
Another NHS bigwig also issued a warning to health staff:
Saffron Cordery, deputy chief executive of NHS Providers, which represents NHS trusts, said some NHS organisations had asked staff 'not to mix in big groups' in the run-up to Christmas owing to fears off staff absences.
Understandably, the hospitality industry is concerned about the reaction to Omicron:
Hospitality leaders now fear another hammering to their industry this December. Kate Nicholls, the chief executive of UKHospitality, told Radio 4's Today programme that Saturday's press conference had had a 'chilling effect on consumer confidence'. She warned against 'the threat of a stop-start to the economy again' in the run up to Christmas …
'I think it's driven largely by consumer confiden[ce]. I think there's also a sense of trepidation that their plans might be disrupted again, and so that irrespective of whether there are government controls imposed on the economy, that is having a cooling effect undoubtedly on hospitality.
'We already saw that bookings were subdued this year compared to pre-pandemic levels. And this will clearly have a further adverse impact on our businesses.'
Trouble started for the travel industry almost immediately after last Saturday's press conference:
New curbs on global travel including the addition of 10 countries to the UK's so-called 'red list', a return of testing rules, and quarantine hotels have also spooked travellers – and sparked a wave of cancellations of bookings at airport hotels …
The Arora Group said travellers who stay at hotels at Heathrow, Gatwick and Stansted airports before catching early morning flights are axing their December bookings. They are even suspending corporate events at the four-star Fairmont in Windsor in January due to mounting uncertainty about the spread of the Covid variant, group chairman Surinder Arora said.
He told the Today programme: 'It's been a bit of a rollercoaster ride. Obviously we had the quarantine hotels at the beginning of this year, and then over the past few weeks as we've been trying to return to some kind of normality, most of the hotels have gone back to operating normal commercial hotels.
'And then of course last week we were hit with this new virus, so sadly that's all changed again and the Government's obviously introduced 10 new countries on the red list which means they need a few hotels to go on the quarantine programme.
'Over the last few weeks, when the quarantine finished we were thankful for getting back to some kind of normality. Since this latest news, instead of getting new bookings the guys are getting a lot of cancellations …
'And not just the leisure business, we're getting quite a few bookings cancelled for meetings and events. I know, for instance, some of the larger bookings – we just recently opened our new flagship at the Fairmont in Windsor, and they actually had big large corporates who had bookings in January who are saying "actually, we may want to push it back to further, later in the year to get some more clarity on where we're heading".'
It's all so sad. If only the Government were less cowed by health advisers.
Behavioural scientist Susan Michie and the BBC
Speaking of health advisers, SAGE and Independent SAGE member Susan Michie, an avowed Communist, has been making the rounds on the BBC once again.
In July, one week before our Freedom Day on the 19th — already delayed from June — she disparaged scientists who wanted to lift lockdown:
To behavioural scientists, we are things to be manipulated:
On Monday, November 29, The Times had a scathing, yet accurate, article: 'The BBC has a blind spot over the bias of its Covid expert Susan Michie'.
Excerpts follow:
Professor Susan Michie, of University College London, a super-rich longstanding member of the Communist Party of Britain, was lined up as a main expert to pass judgment on the prime minister's announcement of measures to tackle the new Omicron variant.
Michie, dubbed "Stalin's nanny" when she was a student at Oxford, is often simply introduced as someone who sits on the Sage committee, the government's Scientific Advisory Group for Emergencies.
This doesn't tell the whole story: Michie is part of the Covid-19 Scientific Pandemic Influenza Behaviour team (SPI-B), a sub-group of Sage made up of almost 50 people from many disciplines and backgrounds. In other words, Michie is one voice — and not necessarily the most important — in the room.
She is not a medical doctor or a virologist but a health psychologist. What overarching qualifications she has to pass judgment on air — and so often — on a range of pandemic policies is open to question …
She has tweeted that "China has a socialist, collective system … not an individualistic, consumer-oriented, profit-driven society badly damaged by 20 years of failed neoliberal economic policies".
Michie's revolutionary views — she is said to be dedicated to establishing a socialist order in the UK — are surely relevant when evaluating her critique of pandemic policies.
However, by Wednesday, Susan Michie had appeared three times on the BBC, which every household in Britain has to pay for via the licence 'fee' (tax?):
Guido Fawkes had a video and an article:
Guido cites The Times's second article on the BBC's invitations to Michie (purple emphases mine):
It's not just Guido criticising the corporation's attitude here. In a Times article yesterday, senior Cambridge University clinical research associate Raghib Ali said:
"I think it would have been helpful to say to the viewers there may have been a conflict of interest. I also think scientists' track record should be taken into account. For example Professor Michie's organisation Independent Sage has repeatedly made inaccurate forecasts overestimating infections since July."
Professor Simon Clarke, associate professor in cellular microbiology at Reading University, also said:
"I see nothing wrong with Professor Michie being given air time, but it should be in a more balanced way. But that's not her responsibility to ensure, it's the BBC's."
Only ITV's Good Morning Britain has told the truth about Michie:
So far the only prime time presenter to call out Michie's hardline beliefs for the transparency of viewers is Richard Madeley…
Coronavirus cousins could help combat Covid variants
In better news, a London consortium of scientists posits that the common cold, also a type of coronavirus in some cases, could help fight COVID-19 variants.
On November 30, The Times reported:
Professor James Moon, a consultant cardiologist who last week was named on a list of the world's most influential researchers, is chief investigator of the Covidsortium, a group of researchers from University College London (UCL) and St Bartholomew's Hospital that was assembled before the start of the first UK pandemic wave in March 2020. Showing remarkable foresight and, in research terms, unprecedented speed, Moon and his colleagues recruited 400 hospital staff working with infected patients in a bid to find out how and why some of the health workers might be more susceptible to infection than others. Funding was sourced — initially through a JustGiving campaign, then boosted with a significant contribution from the investment bank Goldman Sachs — in a matter of days.
Within a week they had collected blood, saliva and nasal samples and continuing data from the participants, and produced findings that informed policy from very early in the pandemic. "It is information that has proven impossibly valuable," Moon says. "It provides the only cohort of samples taken before anyone had been infected or had a vaccination or booster."
To date the team has published more than 20 papers, with more in the pipeline, and its attention is turning to Omicron and whether revisions to vaccines will be necessary to defy it …
… clues to how new vaccines might be developed could evolve from the most recent published findings of the Covidsortium, which identified "parts of the virus that might make for a very good vaccine that may be effective against different variants".
Reporting in the journal Nature, the team discovered that blood samples taken from about one in ten of their participants revealed markers that showed they had been exposed to Covid, yet didn't fall ill. Unlike people who are asymptomatic — those infected with Covid but who don't develop symptoms — this small group appeared to evade it altogether, remaining uninfected and without symptoms or a positive test.
What their blood samples did show, however, was that a subset of T-cells known to recognise and react to coronavirus appeared to have been present and poised for action even before the pandemic took hold. And the reason these people seemed to be super-protected could be down to the common cold …
However, this is more complex than catching a cold and thinking that it offers protection against coronavirus:
There are more than 200 cold viruses — none is exactly the same and only about 10 per cent are caused by coronaviruses. The chances of you catching the right cold at the right time to prime your defences is minimal. And even if you did catch the right sort of cold early on, any added resistance it may have provided has probably waned.
Omicron might have been a blessing in disguise, because Covidsortium was planning on disbanding in April 2022. They now plan to continue their research:
Moon says that the team had planned to wind down their research programme next April because immunity would be waning — until last week when Omicron scuppered that. "We are clearly going to have to keep going as our research still has so much relevance," he says. "We have samples from so many people stored in our freezers and they contain so much unique information about their antibodies and T-cells, and the questions that only we can answer are not running out."
I wish them every success.
Let there be light
In further happier news, Parliament's Christmas tree is casting light in the darkness.
The Lord Speaker — John McFall, Lord McFall of Alcluith — is delighted to make up for lost time:
We must make the best of this time, knowing our restrictions could be far worse. We only have to look at the EU to see that: full lockdowns in some countries, with the possibility of mandatory vaccinations in all EU nations.
On Monday, October 4, a reader of mine, The Underdoug, commented on my last coronavirus vaccine post, including a link to an essay by Julius Ruechel, 'The Snake-Oil Salesmen and the COVID-Zero Con: A Classic Bait-And-Switch for a Lifetime of Booster Shots (Immunity as a Service)'.
Julius Ruechel appears to be a dairy farmer living in Canada.
Excerpts from his lengthy essay follow, emphases in purple mine.
Ruechel posits that coronavirus vaccines could become yet another subscription model, because there will always be a perceived need for boosters:
Exposing this story does not require incriminating emails or whistleblower testimony. The story tells itself by diving into the long-established science that every single virologist, immunologist, evolutionary biologist, vaccine developer, and public health official had access to long before COVID began. As is so often the case, the devil is hidden in the details. As this story unfolds it will become clear that the one-two punch of lockdowns and the promise of vaccines as an exit strategy began as a cynical marketing ploy to coerce us into a never-ending regimen of annual booster shots intentionally designed to replace the natural "antivirus security updates" against respiratory viruses that come from hugs and handshakes and from children laughing together at school. We are being played for fools.
This is not to say that there aren't plenty of other opportunists taking advantage of this crisis to pursue other agendas and to tip society into a full-blown police state. One thing quickly morphs into another. But this essay demonstrates that never-ending boosters were the initial motive for this global social-engineering shell game ― the subscription-based business model, adapted for the pharmaceutical industry. "Immunity as a service".
Vaccines cannot eradicate everything
Ruechel explains that vaccines cannot eradicate everything, because specific criteria must be met in order to do so.
A disease such as smallpox, which is specific to humans, can be eradicated, but a respiratory virus that jumps across species — animals and humans — cannot:
Eradication of a killer virus sounds like a noble goal. In some cases it is, such as in the case of the smallpox virus. By 1980 we stopped vaccinating against smallpox because, thanks to widespread immunization, we starved the virus of available hosts for so long that it died out. No-one will need to risk their life on the side effects of a smallpox vaccination ever again because the virus is gone. It is a public health success story. Polio will hopefully be next ― we're getting close. 
But smallpox is one of only two viruses (along with rinderpest) that have been eradicated thanks to vaccination. Very few diseases meet the necessary criteria. Eradication is hard and only appropriate for very specific families of viruses.
Smallpox made sense for eradication because it was a uniquely human virus ― there was no animal reservoir. By contrast, most respiratory viruses including SARS-CoV-2 (a.k.a. COVID) come from animal reservoirs: swine, birds, bats, etc. As long as there are bats in caves, birds in ponds, pigs in mud baths, and deer living in forests, respiratory viruses are only controllable through individual immunity, but it is not possible to eradicate them. There will always be a near-identical cousin brewing in the wings.
Even the current strain of COVID is already cheerfully jumping onwards across species boundaries …
SARS was an exception, he says, because it was poorly adapted to humans:
When it made the species jump to humans, it was so poorly adapted to its new human hosts that it had terrible difficulty spreading. This very poor level of adaptation gave SARS a rather unique combination of properties:
SARS was

extremely difficult to catch (it was never very contagious)

SARS

made people extremely sick

.
SARS

did not have pre-symptomatic spread

.
These three conditions made the SARS outbreak easy to control through contact tracing and through the quarantine of symptomatic individuals. SARS therefore never reached the point where it circulated widely among asymptomatic community members. 
COVID-19 was different:
COVID was quite contagious (its rapid spread showed that COVID was already well adapted to spreading easily among its new human hosts), most people would have mild or no symptoms from COVID (making containment impossible), and that it was spreading by aerosols produced by both symptomatic and pre-symptomatic people (making contact tracing a joke).
In other words, it was clear by January/February 2020 that this pandemic would follow the normal rules of a readily transmissible respiratory epidemic, which cannot be reined in the way SARS was. Thus, by January/February of 2020, giving the public the impression that the SARS experience could be replicated for COVID was a deliberate lie – this genie was never going back inside the bottle.
Viruses such as these mutate quickly, unlike polio or smallpox:
Once a reasonably contagious respiratory virus begins circulating widely in a community, herd immunity can never be maintained for very long. RNA respiratory viruses (such as influenza viruses, respiratory syncytial virus (RSV), rhinoviruses, and coronaviruses) all mutate extremely fast compared to viruses like smallpox, measles, or polio. Understanding the difference between something like measles and a virus like COVID is key to understanding the con that is being perpetrated by our health institutions. Bear with me here, I promise not to get too technical.
All viruses survive by creating copies of themselves. And there are always a lot of "imperfect copies" — mutations — produced by the copying process itself. Among RNA respiratory viruses these mutations stack up so quickly that there is rapid genetic drift, which continually produces new strains. Variants are normal. Variants are expected. Variants make it virtually impossible to build the impenetrable wall of long-lasting herd immunity required to starve these respiratory viruses out of existence. That's one of several reasons why flu vaccines don't provide long-lasting immunity and have to be repeated annually ― our immune system constantly needs to be updated to keep pace with the inevitable evolution of countless unnamed "variants." 
Hence the need for constant booster shots, as with influenza:
This never-ending conveyor belt of mutations means that everyone's immunity to COVID was always only going to be temporary and only offer partial cross-reactive protection against future re-infections. Thus, from day one, COVID vaccination was always doomed to the same fate as the flu vaccine ― a lifelong regimen of annual booster shots to try to keep pace with "variants" for those unwilling to expose themselves to the risk of a natural infection. And the hope that by the time the vaccines (and their booster shots) roll off the production line, they won't already be out of date when confronted by the current generation of virus mutations.
He criticises public health officials and Big Pharma for causing alarm over variants:
The alarm raised by our public health authorities about "variants" and the feigned compassion of pharmaceutical companies as they rush to develop fresh boosters capable of fighting variants is a charade, much like expressing surprise about the sun rising in the East.
Vaccines for these types of viruses will only ever offer temporary, short-lived protection. The same goes for our own antibodies:
… for fast-mutating respiratory viruses, including coronaviruses, within a few months they are sufficiently different that your previously acquired immunity will only ever offer partial protection against your next exposure. The fast rate of mutation ensures that you never catch the exact same cold or flu twice, just their closely related constantly evolving cousins. What keeps you from feeling the full brunt of each new infection is cross-reactive immunity, which is another part of the story of how you are being conned, which I will come back to shortly. 
But let's pretend for a moment that a miraculous vaccine could be developed that could give us all 100% sterilizing immunity today. The length of time it takes to manufacture and ship 8 billion doses (and then make vaccination appointments for 8 billion people) ensures that by the time the last person gets their last dose, the never-ending conveyor belt of mutations will have already rendered the vaccine partially ineffective. True sterilizing immunity simply won't ever happen with coronaviruses. The logistics of rolling out vaccines to 8 billion people meant that none of our vaccine makers or public health authorities ever could have genuinely believed that vaccines would create lasting herd immunity against COVID.
So, for a multitude of reasons, it was a deliberate lie to give the public the impression that if enough people take the vaccine, it would create lasting herd immunity. It was 100% certain, from day one, that by the time the last dose is administered, the rapid evolution of the virus would ensure that it would already be time to start thinking about booster shots. Exactly like the flu shot. Exactly the opposite of a measles vaccine. Vaccines against respiratory viruses can never provide anything more than a temporary cross-reactive immunity "update" ― they are merely a synthetic replacement for your annual natural exposure to the smorgasbord of cold and flu viruses. Immunity as a service, imposed on society by trickery. The only question was always, how long between booster shots? Weeks, months, years? 
Feeling conned yet?
Mass vaccination and vaccine passports are a 'con'
Ruechel posits that mass vaccination should not have been done. Only the vulnerable should have had the vaccine:
… these vaccines can neither stop you from catching an infection nor stop you from transmitting the infection to someone else. They were never capable of creating herd immunity. They were designed to protect individuals against severe outcomes if they choose to take them – a tool to provide temporary focused protection for the vulnerable, just like the flu vaccine. Pushing for mass vaccination was a con from day one. And the idea of using vaccine passports to separate the vaccinated from the unvaccinated was also a con from day one. The only impact these vaccine passports have on the pandemic is as a coercive tool to get you to roll up your sleeve. Nothing more.
I am going to interject here to offer support for the argument that vaccine passports drive up vaccination rates. In Scotland, vaccine passports will be mandatory from October 18, 2021, provided the bugs with the app, which rolled out on October 1, can be ironed out.
A July 21 article in The National on this subject has a quote from Dr Nicola Steedman, Scotland's deputy chief medical officer:
According to the Times, less than half of men under 30 in Scotland's cities have received their first dose of a vaccine. Asked if a passport scheme could increase vaccine uptake, Steedman said: "In theory it might, and clearly that's something other nations have used to increase the uptake in their vaccination programmes, but we have to balance that very carefully against people feeling as though they've been forced into something or coerced …"
The need for a vaccine passport, the use of which in Scotland will be limited, increases Big Pharma's profits, especially if people have to update it every few months to prove they have had the latest booster shot.
Ruechel says:
vaccines will, at best, only last as long as immunity acquired through natural infection and will often fade much faster because the vaccine is often only able to trigger a partial immune response compared to the actual infection. So, if the disease itself doesn't produce a broad-based immune response leading to long-lasting immunity, neither will the vaccine. And in most cases, immunity acquired through vaccination will begin to fade much sooner than immunity acquired through a natural infection. Every vaccine maker and public health official knows this despite bizarrely claiming that the COVID vaccines (based on re-creating the S-protein spike instead of using a whole virus) would somehow become the exception to the rule. That was a lie, and they knew it from day one. That should set your alarm bells ringing at full throttle …
Thus, to pretend that there was any chance that herd immunity to COVID would be anything but short-lived was dishonest at best. For most people, immunity was always going to fade quickly. Just like what happens after most other respiratory virus infections. By February 2020, the epidemiological data showed clearly that for most people COVID was a mild coronavirus (nowhere near as severe than SARS or MERS), so it was virtually a certainty that even the immunity from a natural infection would fade within months, not years. It was also a certainty that vaccination was therefore, at best, only ever going to provide partial protection and that this protection would be temporary, lasting on the order of months. This is a case of false and misleading advertising if there ever was one.
He explains that coronavirus vaccines for animals work in the same way:
If I can allow my farming roots to shine through for a moment, I'd like to explain the implications of what was known about animal coronaviruses vaccines. Baby calves are often vaccinated against bovine coronaviral diarrhea shortly after birth if they are born in the spring mud and slush season, but not if they are born in midsummer on lush pastures where the risk of infection is lower. Likewise, bovine coronavirus vaccines are used to protect cattle before they face stressful conditions during shipping, in a feedlot, or in winter feed pens. Animal coronavirus vaccines are thus used as tools to provide a temporary boost in immunity, in very specific conditions, and only for very specific vulnerable categories of animals. After everything I've laid out so far in this text, the targeted use of bovine coronavirus vaccines should surprise no-one. Pretending that our human coronavirus vaccines would be different was nonsense. 
The only rational reason why the WHO and public health officials would withhold all that contextual information from the public as they rolled out lockdowns and held forth vaccines as an exit strategy was to whip the public into irrational fear in order to be able to make a dishonest case for mass vaccination when they should have, at most, been focused on providing focused vaccination of the most vulnerable only. That deception was the Trojan Horse to introduce endless mass booster shots as immunity inevitably fades and as new variants replace old ones.
How natural immunity works
Ruechel explains how the body fights off infection.
Not all forms of our natural defences are needed whenever we get sick. It depends on the illness:
… a mild infection doesn't trigger as many layers whereas a severe infection enlists the help of deeper layers, which are slower to respond but are much more specialized in their attack capabilities. And if those deeper adaptive layers get involved, they are capable of retaining a memory of the threat in order to be able to mount a quicker attack if a repeat attack is recognized in the future. That's why someone who was infected by the dangerous Spanish Flu in 1918 might still have measurable T-cell immunity a century later but the mild bout of winter flu you had a couple of years ago might not have triggered T-cell immunity, even though both may have been caused by versions of the same H1N1 influenza virus.
As a rule of thumb, the broader the immune response, the longer immunological memory will last. Antibodies fade in a matter of months, whereas B-cell and T-cell immunity can last a lifetime.
Another rule of thumb is that a higher viral load puts more strain on your immune defenses, thus overwhelming the rapid response layers and forcing the immune system to enlist the deeper adaptive layers. That's why nursing homes and hospitals are more dangerous places for vulnerable people than backyard barbeques. That's why feedlot cattle are more vulnerable to viral diseases than cattle on pasture. Viral load matters a lot to how easily the generalist layers are overwhelmed and how much effort your immune system has to make to neutralize a threat.
Where the infection happens in the body also matters. For example, an infection in the upper respiratory tract triggers much less involvement from your adaptive immune system than when it reaches your lungs. Part of this is because your upper respiratory tract is already heavily preloaded with large numbers of generalist immunological cells that are designed to attack germs as they enter, which is why most colds and flus never make it deeper into the lungs. The guys with the clubs are capable of handling most of the threats that try to make through the gate. Most of the specialized troops hold back unless they are needed.
Catching a dangerous disease like measles produces lifetime immunity because an infection triggers all the deep layers that will retain a memory of how to fight off future encounters with the virus. So does the measles vaccine. Catching a cold or mild flu generally does not.
Constant booster shots could harm natural immune systems
Ruechel says that a continual regimen of booster shots could harm our natural immune systems:
At this point you may be wondering, if there is no lasting immunity from infection or vaccination, then are public health officials right to roll out booster shots to protect us from severe outcomes even if their dishonest methods to get us to accept them were unethical? Do we need a lifetime regimen of booster shots to keep us safe from a beast to which we cannot develop durable long-term immunity?
The short answer is no. 
Contrary to what you might think, the rapid evolution of RNA respiratory viruses actually has several important benefits for us as their involuntary hosts, which protects us without the benefit of broad lifelong immunity. One of those benefits has to do with the natural evolution of the virus towards less dangerous variants. The other is the cross-reactive immunity that comes from frequent re-exposure to closely related "cousins". I'm going to peel apart both of these topics in order to show you the remarkable system that nature designed to keep us safe… and to show you how the policies being forced on us by our public health authorities are knowingly interfering with this system. They are creating a dangerous situation that increases our risk to other respiratory viruses (not just to COVID) and may even push the COVID virus to evolve to become more dangerous to both the unvaccinated and the vaccinated. There are growing signs that this nightmare scenario has already begun. 
The panic generated by our notional experts over the Delta variant is unwarranted and unethical. That variant is a logical progression of coronavirus.
Ruechel says:
fear mongering about the Delta variant being even more contagious leaves out the fact that this is exactly what you would expect as a respiratory virus adapts to its new host species. We would expect new variants to be more contagious but less deadly as the virus fades to become just like the other 200+ respiratory viruses that cause common colds and flus. 
How lockdown damages healthy immune systems
Lockdowns and restricted circulation among humans also adversely affect healthy immune systems:
… the decision to lock down the healthy population is so sinister. Lockdowns, border closures, and social distancing rules reduced spread among the healthy population, thus creating a situation where mutations produced among the healthy would become sufficiently rare that they might be outnumbered by mutations circulating among the bedridden. Mutations circulating among the healthy are, by definition, going to be the least dangerous mutations since they did not make their hosts sick enough to confine them to bedrest. That's precisely the variants you want to spread in order to drown out competition from more dangerous mutations.
A host stuck in bed with a fever and not out dining with friends is limited in his ability to infect others compared to a host infected with a variety that only gives its host a sniffle. Not all bedridden hosts have caught a more dangerous mutation, but all dangerous mutations will be found among the bedridden. Thus as time goes by, dangerous mutations can only compete with less dangerous mutations if the entire population is limited in its ability to mix and mingle.
As long as the majority of infections are among the healthy, the more dangerous variants circulating among some of the bedridden will be outnumbered and will become evolutionary dead ends. But when public health officials intentionally restricted spread among the young, strong, and healthy members of society by imposing lockdowns, they created a set of evolutionary conditions that risked shifting the competitive evolutionary advantage from the least dangerous variants to more dangerous variants. By locking us all up, they risked making the virus more dangerous over time. Evolution doesn't sit around to wait for you while you develop a vaccine.
Spanish Flu 1918
Ruechel explores the Spanish Flu pandemic, which took place in the last year of the Great War. A lot of soldiers were in trenches:
Let me give you a historical example to demonstrate that this rapid evolution of a virus towards either more or less dangerous variants isn't mere theory. Small changes to the environment can lead to very rapid changes in the virus' evolution. The first wave of the 1918 Spanish Flu was not particularly deadly, with mortality rates similar to regular seasonal flu. However, the second wave was not only much deadlier but, rather unusually, was particularly deadly to young people rather than just the old and the weak. Why would the second wave be the deadly one? And what would cause the virus to evolve so quickly to become both more deadly and better adapted to preying on young people? At first glance it would seem to defy all evolutionary logic.
The answer demonstrates just how sensitive a virus is to small changes in evolutionary pressure. The Spanish Flu spread in the midst of the lockdown-mimicking conditions of World War One. During the first wave, the virus found a huge population of soldiers trapped in the cold damp conditions of the trenches and a near endless supply of captive bedridden hosts in overflowing field hospitals. By the Spring of 1918, up to three-quarters of the entire French military and half of British troops had been infected. These conditions created two unique evolutionary pressures. On the one hand, it allowed variants that were well adapted to young people to emerge. But on the other hand, unlike normal times, the cramped conditions of trench warfare and field hospitals allowed dangerous variants that immobilize their hosts to spread freely with little competition from less dangerous variants that spread through lively hosts. The trenches and field hospitals became the virus incubators driving the evolution of variants. 
Normally young people are predominantly exposed to less dangerous mutations because the healthiest do all the mingling while the bedridden stay home. But the lockdown conditions of war created conditions that erased the competitive advantage of less dangerous mutations that don't immobilize their hosts, leading to the rise of more dangerous mutations. 
Thanks to the end of the war, the lockdown-mimicking conditions also ended, thereby shifting the competitive advantage back to less dangerous mutations that could spread freely among the mobile healthy members of the population. The deadliness of the second wave of the 1918 Spanish Flu is inextricably linked to the First World War, and the end of the war is linked to the virus fading into the background of regular cold and flu season.
This brings him back to our 2020 lockdowns around the world:
It is therefore highly likely that the 1918 Spanish Flu would never have been more than a really bad flu season had it not been for the amplifying effect of lockdown conditions created by a world at war.
It also raises the question, for which I don't have an answer, whether the lockdown strategy during COVID was intentionally used to reduce spread among the healthy in order to keep the virus from fading into harmless irrelevancy. I use the word "intentionally" ― and it's a strong word ― because the deadly second wave of the 1918 Spanish Flu and its causes are hardly secrets in the medical community. You'd have to be a completely reckless and utterly incompetent idiot, or a cynical bastard with an agenda, to impose any strategy that mimics those virus-amplifying conditions. Yet that's what our health authorities did. And what they continue to do, while shamelessly hyperventilating about the risk of "variants" to force us to submit to medical tyranny based on mandatory vaccines, never-ending booster shots, and vaccine passports that can turn off access to our normal lives. This is cynicism at its finest.
'Leaky' vaccines: how vaccinated people can pose a danger
As we know, coronavirus vaccines do not provide what is known as sterilising immunity because they cannot.
The vaccinated can still spread the virus, making the vaccines 'leaky', something which happened in chickens vaccinated against a herpes virus in the 1950s. This is what is known as the Marek effect, as he was the one who discovered it in 1968.
Ruechel says:
Vaccinated chickens were protected from severe outcomes but nevertheless continued to catch and spread the virus, so evolutionary pressure led to the emergence of a dual-track variant that become the dominant strain of this herpes virus. It continues to spread among the vaccinated chickens without killing them but kills up to 80% or more of unvaccinated birds if they get infected. Thus, a never-ending stream of vaccinations is now required just to maintain the status quo. I bet the pharmaceutical industry is smiling at all those drug-dependent chickens though — talk about having a captive audience!
Ruechel explains that this same effect is happening with COVID-19 vaccinations:
A vaccine that provides sterilizing immunity prevents the vaccinated from being able to catch or transmit the virus. They become a dead end for the virus. However, as I've already mentioned, the current crop of COVID vaccines, which are meant to train the immune system to recognize the S-spike proteins, were not designed to create sterilizing immunity. By their design, they merely help reduce the risk of severe outcomes by priming the immune system. The vaccinated can still catch and spread the virus ― the definition of a leaky vaccine ― and epidemiological data makes it very clear that this is now happening all around the world. Thus, both the vaccinated and the unvaccinated are equally capable of producing new variants. The idea that the unvaccinated are producing variants while the vaccinated are not is a boldfaced lie.
This is dangerous:
From an evolutionary perspective, this is a potentially dangerous scenario. What has been done by temporarily blunting the risk of hospitalization or death, but without stopping infection among the vaccinated, is to create a set of evolutionary conditions where a variant that is dangerous to the unvaccinated can spread easily among the vaccinated without making the vaccinated very sick. For lack of a better term, let's call this a dual-track variant. Thus, because the vaccinated are not getting bedridden from this dual-track variant, they can continue to spread it easily, giving it a competitive advantage, even if it is highly dangerous to the unvaccinated.
Furthermore, since COVID vaccination only offers temporary short-term protection, as soon as immunity fades, the vaccinated themselves are also equally at risk of more severe outcomes. Thus, this creates the evolutionary pressure for the virus to behave as an increasingly contagious but relatively mild virus as long as everyone is vaccinated but as a dangerous but also very contagious virus as soon as temporary immunity wears off. The call for boosters every 6 months is already here. (Update: now it's being revised down to 5 months.)
Here's where Big Pharma steps in, aided and abetted by our respective leaders:
So, the pandemic really does have the potential to become the Pandemic of the Unvaccinated (the shameless term coined by public health officials to terrify the vaccinated into bullying their unvaccinated peers), but reality comes with a twist because if a dual-track variant does evolve it would be the unvaccinated (and those whose boosters have expired) who would have reason to fear the vaccinated, not the other way around as so many frightened citizens seem to believe. And the end result would be that we all become permanently dependent on boosters every 6 months, forever.
He says that the reason this hasn't happened with the flu vaccine is because not enough people are advised to take it, thereby avoiding a dangerous dual-track variant scenario:
It is mostly the vulnerable and those who work around them that get it while children, young adults and other healthy members of society don't get it. So, even if more deadly variants were to arise in nursing homes or hospital settings, the high number of healthy unvaccinated visitors to those facilities would constantly bring less deadly more contagious variants with them, thereby preventing more dangerous variants from gaining a competitive edge in nursing home or hospital settings. But if the leaky flu vaccinations were to be extended to everyone, or if nursing home populations continue to be kept isolated from the rest of society during COVID lockdowns, things might begin to look a little different.
We do not need constant booster shots
Ruechel gives various scientific reasons why we do not need constant booster shots for coronavirus if we are healthy:
This year's runny nose is your protection against COVID-23. Your cross-reactive immunity to last years annoying flu might just save your life if something truly dangerous arrives, as long as it is at least somewhat related to what your immune system has seen before. COVID could easily have turned out to be as dangerous to us as the Spanish Flu if it hadn't been for the saving grace of cross-reactive immunity. As this study shows, up to 90-99% of us already had some level of protection to COVID thanks to partial cross-reactive immunity gained from exposure to other coronaviruses. The high percentage of infections that turn out to be asymptomatic bears that out.
Someone needs to remind Bill Gates, his fawning public health bootlickers, and the pharmaceutical companies that whisper sweet-nothings in his ear that in the natural world of respiratory viruses, most of us don't need a regimen of never-ending booster shots to keep us safe from COVID variants ― we already have a perfectly functioning system to keep bringing us new updates. Respiratory viruses are a completely different beast than smallpox, polio, or measles; and pretending otherwise is not just silly, it's criminal because anyone with a background in immunology knows better. But it's a fantastic and very profitably way to scare a wide-eyed population into accepting never-ending booster shots as a replacement for the natural antivirus updates that we normally get from hugs and handshakes. Protect the vulnerable. Stop preying on the rest of us.
He also delves into the Diamond Princess cruise case, which was made public in February 2020, early on in the pandemic. Not many people displayed symptoms, and only a few died.
Yet, world leaders were getting the jitters:
The important thing to remember is that the Diamond Princess data was already publicly available since the end of February of 2020. Operation Warp Speed, the vaccine development initiative approved by President Trump, was nevertheless announced on April 29th, 2020. Thus, our health authorities knowingly and opportunistically recommended lockdowns and promoted vaccines as an exit strategy after it was already clear that the majority of us had some kind of protection through cross-reactive immunity. The Diamond Princess example provided the unequivocal proof that the only people who might benefit from a vaccine, even if it worked as advertised, were the small number of extremely vulnerable members of society with weak immune systems. Likewise, lockdowns should have been recommended only for nursing home residents (on a strictly voluntary basis to protect their human rights) while the pandemic surged through the rest of us.
Conclusion — vaccine by subscription
There is much more that Ruechel discusses, so it is worth reading his essay in full.
I'm going to skip to the conclusion, which is about making us permanently dependent on Big Pharma's vaccines:
What if, by depriving us of normal life, those who stand to gain from vaccines can forever cement themselves at the center of society by providing an artificial replacement for what our immune systems used to do to protect us against common respiratory viruses back when we were still allowed to live normal lives? …
What if the fast mutation of RNA viruses ensures that no vaccine will ever be fully effective at providing lasting immunity, thus creating the illusion that we are permanently in need of vaccine boosters? 
What if politicians could be convinced to make vaccination mandatory in order to prevent potential customers from opting out? 
What if, by relying on lockdowns during the winter season, our vulnerability to other viruses increased, which could then be used to rationalize expanding the jab, via mission creep, to simultaneously vaccinate us against RSV, influenza, other coronaviruses, the common cold, and so on, despite knowing full well that the protection that these vaccines offer against respiratory viruses is only temporary?
And what other social engineering goals can be rolled into your annual booster shot in the future once you are permanently bound to these annual jabs and vaccine passports? In an atmosphere of hysteria, it's a system ripe for abuse by opportunists, ideologues, power hungry totalitarians, and Malthusian social engineers. The snowball doesn't have to grow by design. Mission creep happens all on its own once Pandora's Box is opened to coerced vaccinations and conditional rights. The road to Hell is frequently paved by good intentions… and hysteria. 
So, what if COVID-Zero and the vaccine exit strategy is merely the global state-sanctioned equivalent of a drug dealer creating dependency among its customers to keep pushing more drugs? 
What if it was all just a way of convincing society of the need for subscription-based "immunity as a service"? The subscription-based business model (or some version of it) is all the rage these days in the corporate world to create loyal captive audiences that generate reliable money streams, forever. Subscriptions are not just for your cable TV and gym membership anymore. Everything has been redesignated as a "consumable". 
Netflix did it with movies.
Spotify did it with music.
Microsoft did it with its Office suite.
Adobe did it with Photoshop editing suite.
The smartphone industry did it with phones that need to be replaced every 3 to 5 years.
The gaming industry did it with video games.
Amazon is doing it with books (i.e. Kindle Unlimited).
The food industry is doing it with meal delivery services (i.e. Hello Fresh).
Uber is doing it with subscription-based ride sharing …
Monsanto and its peers did it to farmers with patented seed technology, which cannot legally be replanted, and is lobbying to try to legalize the use of terminator seed technology (GMO seeds that are sterile in the second generation to prevent replanting).
The healthcare industry is doing it with concierge medical services, fitness tracking apps (Fitbit), sleep-tracking apps, and meditation apps.
The investment industry is doing it with farmland, with investors owning the land and leasing it back to farmers in a kind of modern revival of the sharecropping system. (Bill Gates is the largest farmland owner in the USA – are you surprised?)
Blackrock and other investment firms are currently trying to do it with homes to create a permanent class of renters.
And public health authorities and vaccine makers have been trying to do it with flu vaccines for years, but we've been stubbornly uncooperative. Not anymore.
Remember when the World Economic Forum predicted in 2016 that by 2030 all products would become services? And remember their infamous video in which they predicted that "You will own nothing. And you will be happy."? Well, the future is here. This is what it looks like. The subscription-based economy. And apparently it now also includes your immune system in a trade-off for access to your life.
Ultimately:
The con is clear. It's time to focus all our might on stopping this runaway train before it takes us over the cliff into a police state of no return. Stand up. Speak out. Refuse to play along. Stopping this requires millions of voices with the courage to say NO — at work, at home, at school, at church, and out on the street …
It's time to be bold. It's time to call out the fraudsters. And it's time to reclaim the habits, values, and principles that are required to fix our democratic and scientific institutions to prevent this from ever happening again.
Feudalism was one giant stinking cesspool of self-serving corruption. Individual rights, free markets, the democratic process, and limited government were the antidotes that freed humanity from that hierarchical servitude. It seems we have come full circle. The COVID con is a symptom, not the cause, of a broken system …
Freedom of speech, individual rights, private property, individual ownership, competition, good faith debate, small government, minimal taxes, limited regulation, and free markets (the opposite of the crony capitalism we now suffer under), these are the checks and balances that bullet-proof a society against the soulless charlatans that fail upwards into positions of power in bloated government institutions and against the parasitic fraudsters that seek to attach themselves to the government's teat.
Yes, we need a Great Reset. Just not the subscription-based version that the World Economic Forum imagined.
I learned a lot about vaccines and immunity from Ruechel's essay, even though reading it and writing this post has taken me well over five hours.
Thanks again to The Underdoug for sharing it.