You are currently browsing the tag archive for the 'vaccine' tag.
Because events in British politics have been so dramatic, it has been some time since I wrote about Red Wall MPs in England.
My last entry was for Marco Longhi in July 2022.
Yesterday, I mentioned Miriam Cates's renewed opposition this month not only to certain aspects of sex education curricula in England but also to Chancellor Jeremy Hunt's seeming disdain for mothers who wish to stay at home to raise their children. He said:
… it is damaging to the economy …
Egregious.
Background
Miriam Cates was elected in December 2019 to represent the South Yorkshire constituency of Penistone and Stocksbridge, which was created in 2010.
Until 2019, Labour's Angela Smith represented Penistone and Stockbridge. Smith, who by then was a Liberal Democrat, ran an unsuccessful campaign in Altrincham and Sale West, which Sir Graham Brady, the Conservative incumbent and chair of the Party's 1922 Committee, won. Cates defeated Labour's Francyne Johnson by 7,210 votes, quite the achievement, considering that the old Penistone constituency had only one Conservative MP, elected in 1931. All the others were Labour.
Cates, the daughter of a general practitioner (since retired), was born in Sheffield in 1982. Her parents were practising Christians, and she has two younger brothers.
Cates has spent most of her life in or near Sheffield. She left to read Genetics at Cambridge, then returned to her home town to earn a Postgraduate Certificate in Education at Sheffield Hallam University. She taught science, including biology, at the city's Tapton School. She and her husband then founded their own firm, a technology consultancy called Redemption Media.
She and her husband have three children and live in Oughtlibridge, a village in the Sheffield area. She and her husband met at church whilst working on a project there. Cates is an Evangelical Christian.
Cates became interested in politics when she began listening to BBC Radio 4 at the age of 11. She was elected as a councillor for the Oughtlibridge Ward in 2015 and was re-elected in 2019. She resigned her post in 2021.
In 2016, she was a Remainer until aspects of the Leave campaign convinced her to vote for Brexit in the June referendum that year.
Maiden speech
Cates gave her maiden speech in the House of Commons in February 2020, when the 80-strong Conservative majority were full of optimism:
She gave her speech, during a debate on Migration and Scotland. Emphases mine below:
My interest in this place began when I was 11 years old and somehow I acquired an ancient, long-wave radio that would only tune to Radio 4. In the 1990s, before YouTube and Candy Crush, I had to make do with the "Today" programme and "Westminster Hour", but I was hooked—captivated by the history of our democracy, the workings of our politics and its power to bring change.
My first big political experience was the 1997 general election. Growing up in Sheffield, in what was the capital of the socialist republic of South Yorkshire, this was no ordinary election. I was fascinated by the whole campaign and I sent off for and displayed posters from every single political party, including the Referendum party. I even had a Liberal Democrat board on a post in our front garden, but we all make errors of judgment in our youth …
To cut a short story even shorter, I found my home in the Conservative party and I now stand before you as the Member of Parliament for Penistone and Stocksbridge. Apart from a three-year stint at university, I have lived in the Sheffield area for my whole life, so it is a profound privilege to represent a community that I call home.
Penistone and Stocksbridge is a truly remarkable constituency. We have stunning scenery, moorland and reservoirs. We have beautiful rural villages like Bolsterstone, Wortley and Cawthorne. We have the historic market town of Penistone, which received its market charter in 1290 and where Penistone Grammar School, founded in 1392, still provides an excellent education to local children. The school's original motto was "Disce Aut Discede", which means learn or leave. This sentiment clearly held sway in the 2016 referendum, where the constituency judged that the EU had failed to learn and so we should indeed leave.
The town of Stocksbridge, with its industrious history of steel manufacture, boasts the proud legacy of Mr Samuel Fox, inventor of the Paragon umbrella frame, and whose wire factories were responsible for the development of the town we know today. We have many other wonderful communities, like Dodworth, Pogmoor, Chapeltown, Ecclesfield, High Green, Grenoside and Burncross, and numerous rural villages, each with their own unique character.
Ten years ago, I moved to Oughtibridge, one of these villages, and, being until this point a city girl, I was utterly unaware of the strength and depth of community that I was about to encounter. Throwing myself into village life, I discovered voluntary groups, the school PTA, the local church and the parish council, bringing together people of all ages and from all walks of life. The wonderful thing about a village is that when everyone shares the same school, the same park and the same pub, it is natural to form friendships that are based on a common interest and a common geography, and not on social background or political worldview.
It was in my capacity as a parish councillor that I first met my predecessor, Angela Smith. I found her to be hard-working, sincere, thoughtful and helpful, and I want to thank Angela for the part that she played in securing an £8 million investment in the Fox Valley shopping centre, which has been responsible for significant regeneration in Stocksbridge and the surrounding area. In more recent times, Angela became known for her inclination to switch allegiances, being, at different times during 2019, a member of no fewer than five political parties or groups. I am heartily glad that the people of Penistone and Stocksbridge shared this enthusiasm for switching parties and in December elected me as their first Conservative MP. On the topic of Scottish migration, perhaps the Scottish Government would want to offer a visa to any of my constituents who want to complete the set and experience representation by the SNP, although I feel sure they would only require a temporary visa.
We have heard much about how we Conservatives won seats such as Penistone and Stocksbridge for the first time. Like my right hon. Friend the Prime Minister, I understand that many people lent me their votes, and I take seriously my responsibility to deliver on the commitments we made. One of the most important of these commitments is the pledge to radically improve public transport in the north of England. When I was first selected as a parliamentary candidate, I began by going around our communities asking people what changes they would like to see, and public transport was raised time and again.
We desperately need to level up our northern transport and infrastructure. Public transport is not just about getting people from A to B; it connects people with well-paid jobs, training and education, hospital appointments and shops, and it prevents loneliness and isolation. Transport is the key to spreading opportunity and investment. That is why I am campaigning with the Don Valley railway group to see a Stocksbridge to Sheffield passenger train line reinstated and with Thurgoland Parish Council public transport working group to secure better rural bus services. I am delighted therefore by today's announcement on funding for buses and trains, which demonstrates that this one nation Conservative Government are committed to an ambitious programme of levelling up.
Levelling up is not just about financial investment, bricks and mortar, and miles of train track. The national soul-searching of the past four years has demonstrated that there are areas of our country, particularly northern towns such as Penistone and Stocksbridge, that have been left behind—not just in an economic sense, although that is certainly the case, but in terms of how our communities and our culture are understood and valued as part of our national life. As I said, I have lived in the area my whole life, and that is by no means unusual. Our towns and villages are wonderful places to live, not least because of the strength and depth of community life. Social mobility should not mean having to leave your home, your family and your community to find work, training or investment. We do have ambition, aspiration and talent, but we are also rooted in a deep sense of place. We need opportunities right in the heart of our communities, and this Government's initiatives, such as the towns fund and the shared prosperity fund, will help us to deliver.
I want to finish where I started. A quarter of a century on from when my interest in this place began, I still believe that politics has the power to bring change and that we should celebrate our history as a democratic nation—not a perfect history by any means, and one with many dark moments, but one where the trend has been towards progress and fairness. To continue this progress we must begin to heal the very real divides that have been exposed, between north and south, towns and cities, leave and remain, old and young. We need to find a way to recognise and value our differences while celebrating what we have in common as citizens of this great nation. However different our life experiences, our place of birth, our social background, we have a shared identity as human beings. Whether this identity derives from an acceptance of our intrinsic worth as people or a belief, like mine, that we are all children of the same heavenly father, we need to cherish what we have in common.
There are many different opinions in this country, and we have given each other many different labels, but the vast majority of us want to make this nation a better place for everyone who lives here. We may disagree, sometimes passionately, about how that should be done, but if we can respect each other's motives and leave the labels behind, be slow to judge and quick to forgive, the healing will begin. December marked a fresh start for our democracy, and a fresh start for Penistone and Stocksbridge. I am honoured to serve this wonderful constituency, and I will work hard to deliver for all of my constituents.
Coronavirus realist
I might have coined a new expression there. Cates was not a Covid sceptic but rather a Covid realist in recognising how much damage lockdown and other measures did to the country.
She participated in the Coronavirus debate of June 16, 2021. This one concerned the extension of the Coronavirus Act 2020:
Following the science is an attractive and even comforting idea in a time of uncertainty. But—I say this as a scientist —we can no more follow science than we can follow history. Science gives us knowledge and understanding, but it cannot give us wisdom, and it is wisdom that we need to make what are essentially moral and political decisions about how we balance the short and long- term best interests of our whole society. I am saddened that we have lost—I hope only temporarily—that sense of balance.
Preventing death from covid seems to have become the principal purpose of our national endeavour, no matter the cost to our way of life. We have placed insufficient emphasis on the terrible long-term consequences of lockdown—poverty, unemployment, lost education, debt, undiagnosed cancer, loneliness, hopelessness and fear—and focused far too narrowly on just one set of metrics: the daily covid data. Even the most hardened libertarian would accept that, in a national emergency and in the face of significant threat to life, restrictions on our freedoms have been necessary and right, but with all vulnerable people having now been offered vaccination, the balance of risk has shifted.
Covid is no longer a substantial threat. The average covid mortality so far in June is seven deaths a day—seven out of around 1,500 daily deaths that we could expect in normal times. The number of people in hospital now stands at 1,177—some 37,000 fewer than at the peak in January. Thanks to the incredible efficacy of our vaccination programme, it is hard to comprehend how our hospitals could quickly become overwhelmed. The idea that we are still in a state of emergency is not supported by the evidence, yet significant legal restrictions on our basic freedoms are to remain, even dictating how many of our family and friends can visit us in our private homes. The restrictions we face are now out of proportion to the threat, so extending the measures sets a dangerous precedent.
We must learn to live with covid in the way that we live with so many other risks. Vaccines will never be 100% effective, just like seatbelts, smoke alarms or contraception, but it is vital to our autonomy and our identity as human beings that we are able to make our own choices and evaluations of everyday risks, as has been the norm in our country for generations. I have the greatest respect for Ministers, who have had to make unimaginably difficult decisions over the past year, but now is the time to restore a sense of balance, proportion and fairness, and to make a return to life in all its fullness.
In my final seconds, I want to say this: childhood should be a time that is care-free. Testing our children twice a week, making them wear masks when they are not at risk, and constantly reminding them that they may be a danger to people whom they love, is damaging them psychologically, and we have to stop.
Three months later, on September 21, the Backbench Business Committee granted her a debate about giving the coronavirus vaccine to children, which she introduced as follows (excerpted below). This took place in Westminster Hall, where additional debates take place:
I thank the Backbench Business Committee for granting this important debate, and draw Members' attention to the three e-petitions that relate to this topic, which have amassed more than 100,000 signatures between them.
Vaccination has transformed public health over the last two centuries. As a science teacher, I remember teaching students about the amazing work of Edward Jenner, who famously developed the smallpox inoculation. Two hundred and fifty years later, vaccinations have again ridden to our rescue with the rapid development and roll-out of covid vaccines across the UK. The phenomenal success of the vaccination programme can be seen clearly in the data …
Those figures are a ringing endorsement of the Joint Committee on Vaccination and Immunisation's strategy to recommend vaccination based on the medical benefits and risks to the individuals concerned. The Government have repeatedly defended both this strategy and the independence of the JCVI, and resisted calls to prioritise the vaccination of teachers or police officers over those at higher risk of serious illness. That was the right approach, and the UK has led the world in falling rates of deaths and hospitalisations.
It was therefore surprising, to say the least, when the Government put political pressure on the JCVI to quickly reach a decision about the vaccination of children. On 3 September 2021, the JCVI announced that it was unable to recommend the mass vaccination of healthy 12 to 15-year-olds. The reason was that, although there are marginal health benefits of covid vaccination to children based on the known risks of the vaccine, there is considerable uncertainty regarding the magnitude of the potential harms, such as the long-term effects of myocarditis …
There is no rush to roll out the vaccine to children. We know that children are not at risk from covid; teachers are no more at risk than the rest of the population; the vast majority of vulnerable adults have been vaccinated; over half of children already have antibodies; and there is no evidence that schools drive transmission …
It is widely known that access to GPs is challenging at the moment, and that presents challenges in this situation. It is widely understood that if a child can consent, contrary to parental consent, that is not a tick-box exercise; it is a matter for a medical professional to assess whether the child is competent to consent. If there are problems accessing GPs, there are clear issues here …
… instead of accepting the JCVI's assessment and waiting for more evidence to emerge, the Government asked the chief medical officer urgently to review the decision based on the wider benefits to children, including from education. Last week, the CMO announced that he would recommend child vaccinations on the basis of these wider benefits.
That decision is a marked departure from the principle of vaccinating people for their own medical benefit, because those wider issues—educational disruption and concerns around mental health—are the consequences of policy decisions and are not scientific inevitabilities. Children in the UK have already missed more education than children in almost any other country in Europe, despite comparable death rates. Since January 2020, British children have lost on average 44% of school days to lockdown and isolation. That is not a consequence of covid infections in children, but rather a result of policy decisions to close schools and isolate healthy children.
… There is a much simpler way to stop harmful educational disruption, and that is to follow the advice of the Royal College of Paediatrics and Child Health and end the mass testing of asymptomatic children. This unevidenced and unethical policy is costing tens of millions of pounds a week—I would be grateful if the Minister could confirm the exact cost—and is continuing to disrupt education. Even the CMO acknowledges that a vaccination programme alone will not stop school closures. Perhaps the Minister could clarify how the Government intend to end educational disruption.
On the potential mental health benefits from reducing the fear of covid, it is not covid infection that is making children fearful; it is the uncertainty, frustration, loneliness and anxiety that they experience as a result of lockdowns and harmful messages such as, "Don't kill granny." Children need not fear catching covid, but they have every right to fear policy decisions that cause them significant harm, and sadly we cannot vaccinate against those.
Nonetheless, the decision has been made, and we have to be very clear that the risks to children, both from covid and from vaccines, are tiny. Concerns should now focus on making sure that the necessary safeguards are put in place as vaccination is rolled out … While I appreciate Ministers' commitments, children already face discrimination in some schools over mask wearing and testing.
Vaccination must be a free and informed decision …  Parental consent must also be respected. Much has been said on this subject, but the heart of the matter is that parental responsibility and authority are foundational to society …
Throughout the past 18 months, "protect the vulnerable" has been our clarion call. We have rightly made significant efforts to protect elderly people and those who are particularly susceptible to covid, but children, who cannot speak out, do not own property, and have no legal agency, are also very vulnerable. Yet during the pandemic, we have asked this group of vulnerable people to make huge sacrifices to protect the rest of us. The harms of lockdown for our children are significant and, for many, will be irreversible: lost education, missed opportunities, abuse and horrific online harms. The number of children presenting in A&E with acute mental health conditions has risen by 50% since the start of the pandemic.
A climate of fear and uncertainty has robbed children of the structure, routine and security that they need to thrive and has placed on them a heavy emotional burden from inferring that they may be responsible for the deaths of those they love. We have pretended that online learning is somehow a substitute for being in schools, and closed our eyes to the consequences of social isolation for children and young people.
Of course, we should raise our children to take responsibility for their actions, but as adults we should always shoulder the greater burden. We have imposed absurd rules on our young people, right down to deciding whom they can play with at playtime and whether they are allowed to change for PE.
However, we have not seen that much action to urge adults to take responsibility for their own covid risk by, for example, losing weight or exercising—something that would have had a far greater impact on our rates of hospitalisation and death.
The lightweight Maggie Throup responded for the Government:
… My hon. Friend the Member for Penistone and Stocksbridge asked a number of questions. I reiterate that the CMOs sought advice from experts in the field; it was not just the information they had themselves. It is only right that, based on that advice, 12 to 15-year-olds are able to take up the offer of the vaccine in a fair and equitable manner.
My hon. Friend asked about disruption to education from the programme. NHS England already has plans in place for the mop-up programme, which is not likely to be on school sites, to minimise disruption to education and the rest of the immunisation programme …
It is important that we do whatever we can—use whatever we have in our toolbox—to make sure that children are able to continue with their education, and vaccination is one part of that. I know my hon. Friend is passionate, as am I, about making sure that children get a full education, and that the pandemic does not affect their futures. My hon. Friend raised several other questions and, if she will allow me, I will write to her in response to any I do not answer in my speech.
As is customary, the MP who introduces the debate concludes it. Cates ended with this:
To finish, I reiterate the questions asked by my hon. Friend the Member for Bolton West (Chris Green): what is success? Where does this end? How do we get back to normal? I do not believe the vaccine roll-out among children will get us there. We need determined political leadership that puts the welfare of children front and centre, ends educational disruption and allows us to move forward with their future.
I will have more about Miriam Cates next week.
Yesterday's post covered Nicola Sturgeon's resignation as First Minister of Scotland on February 15 and the reasons for it.
The story continues.
More reaction
When Jacinda Ardern stood down in New Zealand, British conservatives wondered if Sturgeon would follow suit.
After all, the metropolitan elite adored both female 'saints', mothers of their respective nations.
On Thursday, February 16, The Telegraph's Jenny Hjul pointed out (emphases mine):
In her eight-plus years as Scotland's First Minister, Sturgeon has been loved and loathed in equal measure at home, something she acknowledged in her press conference. But beyond her domain, she has been regarded in many circles as an almost saintly presence, a pioneer of progressive causes, and a beacon of pure, strong leadership.
To the frustration of her critics in Scotland, she has been able to pull the wool over the eyes of London liberals in particular and garnered a good press over her botched handling of everything from Covid to the fall-out from Brexit.
In her parting, parallels will no doubt be drawn with that other recent quitter, and Sturgeon idol, Jacinda Ardern. Like the former premier of New Zealand, the SNP leader's attempt to portray her departure as an honourable exit will be taken at face value by those who understand little of the domestic politics that have made her position untenable in the long-term.
Sturgeon, like Ardern, banged on about running out of steam, about the pressures of the job and the constant scrutiny. And she flagged up what she saw as her achievements ("Scotland is a fairer country"), while regretting that she could not bring more rationality to politics. "If all parties were to take this opportunity to try to de-polarise public debate just a bit," she pleaded.
This is rich indeed from a politician who has thrived not just on driving divisions between Scotland and the rest of the UK but on polarising opinion north of the border.
Far from being democracy's champion, her party has shut down dissenting voices while claiming to represent the whole of Scotland. Under her tenure, Scotland has become all but a one-party state, with many public bodies, and civic and cultural organisations captured by SNP groupthink.
Sturgeon said her decision to stand down had crystallised over the past few weeks, perhaps since Ardern's resignation showed that even great (by their own reckoning) leaders have their limits. But more likely it is because her grip has gone – over her party, which is divided and growing rebellious, and her country, which is further away than ever from voting Yes …
To her wider fan club, she may have relinquished her crown with grace, but to those who know her better it is her final face-saving gesture.
The Gender Recognition Reform Bill, which the British government vetoed by using Section 35 provisions for the first time, has caused a split within the Scottish National Party. On Thursday, February 16, The Times reported that Party members' views are divided on the legislation:
The Scottish government has until April 17 to decide whether to appeal against the UK government's veto of the legislation, which would allow people to self-identify their gender and lower the age of transition to 16.
The SNP's ruling national executive committee will meet tonight to decide the rules and timetable for the leadership contest, raising the prospect that there may not be a new first minister in place before the key call has to be made …
"I think it dies in its current form," a senior SNP source said. "The sensible approach would be [for the new leader] to get round the table [with the UK government] and find a compromise on the bill."
The party is split on the bill, meaning whatever happens it will be controversial. Opening talks with Conservative ministers will anger those who lobbied for the bill to be pushed through with little compromise.
However, there is a significant number of elected representatives and grassroots members who are concerned about fighting a court case when a recent poll found that 50 per cent of voters in Scotland back the UK government's position …
Mixed reactions
When Liz Truss was Prime Minister, she labelled Nicola Sturgeon an 'attention seeker' and, as such, someone to be ignored. She never contacted Sturgeon.
Rishi Sunak was different and got in touch soon after he entered No. 10. He was rather gushing on her departure:
President Trump, on the other hand, viewed Sturgeon differently:
The day she resigned, he posted a statement on his 2024 campaign website:
Good riddance to failed woke extremist Nicola Sturgeon of Scotland! This crazed leftist symbolizes everything wrong with identity politics. Sturgeon thought it was OK to put a biological man in a women's prison, and if that wasn't bad enough, Sturgeon fought for a "Gender Recognition Reform Bill" that would have allowed 16-year-old children to change their gender without medical advice. I built the greatest Golf properties in the World in Scotland, but she fought me all the way, making my job much more difficult. The wonderful people of Scotland are much better off without Sturgeon in office!
Catalogue of failures
Is Trump right?
While he is no fan of the former US president, Scottish Conservatives leader Douglas Ross would agree with those sentiments.
On the morning of February 15, the sun was shining in the north east of Scotland, where Ross, an MP and MSP, was campaigning for candidates in an upcoming by-election. The sun was shining:
That was at 9:46. In just over an hour, the sun would shine even brighter with the unexpected news of Sturgeon's resignation.
The following tweet represents the political disconnect among the Scottish public between those who thought Sturgeon was a disaster and those who thought she was a saint:
I will certainly miss First Minister's Questions which always began with a Sturgeon-Ross face-off. In the last two sessions, Sturgeon was unable to answer Ross's question about sexual identity — 12 times, no less.
The evening that she resigned, Ross wrote in The Telegraph about her catalogue of failures:
She is, rightly, regarded as a formidable politician. But equally, it's hard to dispute that, by obsessing over independence, she has always governed in the nationalist interest, rather than the national interest.
Any rational analysis of her record as First Minister would have to conclude that it's one of failure.
On education, the policy area she asked to be judged on, it's dismal. Scotland tumbled so far down the international league tables that we were withdrawn from them to save face.
For a self-avowed "progressive", Nicola Sturgeon's abject failure to eradicate the poverty-related attainment gap, as promised, is a damning indictment of her reign.
Then, there's the increased violence in our classrooms and the first teacher strikes in almost 40 years.
On her watch, Scotland's NHS is on its knees with record waiting times for treatment and burnt-out, exhausted staff. The root cause is dismal workforce planning by successive SNP health secretaries, including Nicola Sturgeon who cut the number of funded places for homegrown medical students at Scottish universities.
Similarly, on transport, the ledger is grim. The ferries scandal is the most egregious case of wasteful public spending in the devolution era, with the latest cost estimates (£450 million) showing it's set to overtake the Scottish Parliament building as a money pit.
But it's about so much more than taxpayers' cash being squandered. It bears two other hallmarks of the Sturgeon government: remote Scotland being an afterthought and secrecy.
Meanwhile, the death toll on two of Scotland's vital trunk roads, the A9 and A96, continues to rise while the SNP, in thrall to the anti-car Greens, drag their heels on long-standing promises to expand the dual carriageways, and our trains remain over-priced and unreliable under nationalised ScotRail.
The First Minister has grown increasingly out of touch with the public mood in recent months, leaving her successor with dilemmas over whether to ditch or amend flawed policies, such as the National Care Service, the Deposit Return Scheme and, of course, gender self-ID.
By tying herself in knots over the latter, she was left in the absurd position of being unable to refer to a double rapist as a man.
That, coupled with her dismissal – indeed, smearing – of those who warned that her Gender Recognition Reform (Scotland) Bill threatened women and girls' safety betrayed her "I know best" arrogance.
Arguably, Nicola Sturgeon's greatest failing is Scotland's drug death epidemic, which has mushroomed to such an extent under her that fatality rates are now the worst in Europe by an enormous margin.
"We took our eye off the ball" was her slip-of-the-tongue mea culpa for those appalling statistics. But it could, and should, serve as her wider epitaph.
Coronavirus measures
Ross did not mention, or perhaps he agreed with, Sturgeon's draconian coronavirus policies.
From the start, she did things more radically than Boris Johnson. For whatever reason, the BBC televised her lengthy lunchtime coronavirus press conferences throughout the UK, when her policies pertained only to Scotland.
Her right-hand woman was Devi Sridhar, an American public health researcher who is the chair of global public health at the University of Edinburgh. The BBC frequently interviewed Sridhar for all the UK to see and hear, a subtle attempt to get every other Briton on board with Scotland's draconian policies.
In April 2020, the SNP's then-Westminster leader Ian Blackford MP wrote to Boris to delay full Brexit because of the pandemic.
On Sunday, April 5, The Express reported:
In his letter, Mr Blackford urges Mr Johnson to seek an extension to the current transition period in a bid to focus resources and efforts on tackling the pandemic – claiming failure to do would be "beyond reckless". He added: "We are not asking you to change your views on Brexit – we are simply asking you to recognise reality."
"This isn't about fighting old battles or rehearsing old arguments – it's about recognising the needs of people right now."
Fortunately, Boris ignored him.
However, that same day proved that the SNP was not whiter than white. Sturgeon's chief medical officer Dr Catherine Calderwood had already broken lockdown restrictions twice by travelling to her weekend home from Edinburgh.
Sturgeon did not act and even initially refused Calderwood's resignation.
If she had stayed then Ms Sturgeon and, probably the British government too, would have had to face the fact that for many politicians, the media and for huge sections of a terrified and angry general public, it will be this doctor – and not the nation's battle against a killer virus – who would have become the main issue. Dr Calderwood would have been the story, not coronavirus. And in the harsh world of politics, that's what ultimately counts.
She admitted that not once but twice she drove the 40-odd miles to her second home at a time when she is on our TV screens and in our newspapers constantly urging the rest of the population to stay at home and not to go off on non-essential trips to the countryside.
Whichever way you cut it, and although the First Minister insisted that she still depended on this lady's medical support, her foolish actions threatened to drive a coach and horses through the official advice – advice that Dr Calderwood helped draw up – on which the nation depends to beat this virus.
Ms Sturgeon was extraordinarily generous in refusing initially to accept Dr Calderwood's offer to resign and for insisting, somewhat ingenuously, that everyone makes mistakes. That is true, of course, but the reality is that for this senior official, this was no ordinary slip-up.
On the contrary, on two successive weekends Dr Calderwood decided to get into her car and do what she's been telling the rest of us not to do – and take a non-essential trip away from the city of Edinburgh to her holiday home in the Fife seaside village of Earlsferry. Trips that earned her an official and extraordinary warning from the police …
Moreover, what is already sticking in the craw of many people is that this is someone who has been a firm advocate of the severe restrictions imposed on the rest of the population who has decided to ignore them to visit her second home.
That this second home is in one of Scotland's most expensive seaside villages, much favoured by Edinburgh's better-off classes, will also not be lost on her critics.
SNP politicians said the doctor had to go, at which point Sturgeon relented:
She hoped that would have enabled the doctor to hang onto her position albeit in a backroom role but I'm certain that this experienced politician would have known that it was a hopeless situation.
That view was magnified by the ferocious level of protests she received from leading SNP politicians who said they were reflecting serious unease amongst the party faithful about Dr Calderwood's behaviour.
The hypocrisy of it all!
That month, an allegation surfaced that England was stealing Scotland's PPE supplies, a claim which Sturgeon retracted mid-month but, according to one Conservative MSP, allowed to continue spreading north of the border. On April 15, The Express reported (with a video of one of her press conferences):
At Ms Sturgeon's daily briefing, she promised to seek urgent clarity on reports that Scottish care homes were being given a lower priority for supplies of personal protective equipment. Claims of PPE priority for England surfaced on Monday and came from Donald Macaskill, the head of Scottish Care, which is the body representing private care homes in Scotland. He told BBC Radio Scotland the UK's four largest suppliers had said they were not sending to Scotland and instead prioritising "England, the English NHS and then English social care providers".
Andrew Neil mocked the First Minister of Scotland and tweeted: "Nicola Sturgeon told GMB [Good Morning Britain] that she accepts assurances that NHS England did not demand PPE suppliers give preference over Scotland …"
Jamie Greene, Scottish Conservative MSP for West Scotland tweeted: "They're still spouting the story, contrary to the language now being used by the FM, Health Secretary, and Clinical Director.
"If you're going to manufacture a grievance, at least coordinate it. Even their target audience is boring of the needless (dangerous) scaremongering."
UK Health Secretary Matt Hancock spoke to health ministers from different UK nations on Tuesday afternoon and insisted it had not instructed any company to prioritise PPE for one nation over the others.
Sturgeon often wanted to appear to be ahead of the curve as a means of scoring political points targeting Boris's policies for England. Unfortunately, he caved in all too often and followed suit.
On April 23, The Mail reported:
Ms Sturgeon has repeatedly gazumped Number 10 during the coronavirus crisis as she has moved on key issues before ministers in London. 
Previous examples include announcing a ban on large social gatherings, closing schools and saying that the original three week lockdown would be extended. 
That article laid out Sturgeon's plans to reopen Scotland soon.
Three days later, she was unable to give any further clarity, despite her announcement. As the reply says, when Boris hesitated, he was accused of obfuscation while Sturgeon was praised for her notional transparency:
Incredibly, on May 5, Sturgeon was pictured shaking hands with Bill Gates. It was okay for them, when no one else was allowed to do so. And look how close they were to each other. More hypocrisy:
Then it emerged that, like Boris, who at least had the excuse of attending Brexit transition meetings, Sturgeon also missed COBRA meetings about the pandemic. In fact, she missed six of them. This came from one of the Scottish papers: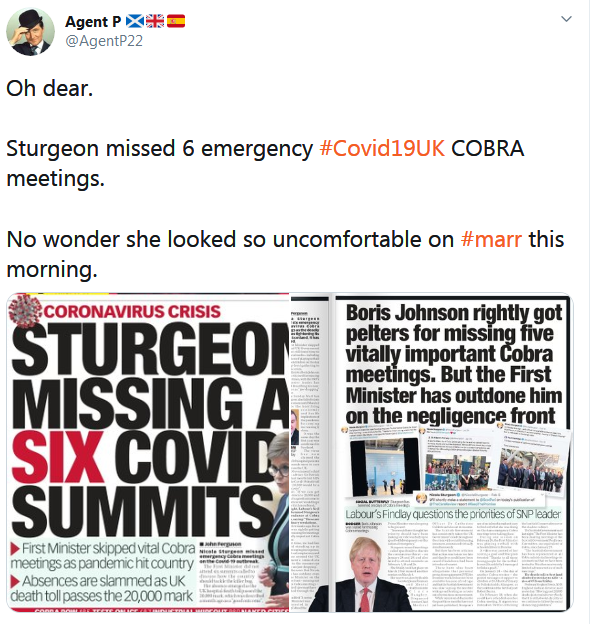 England and Wales effectively re-opened by early July, although with masks, social distancing and some visiting restrictions in place. Scotland lagged behind.
Already on July 10, it was becoming clear that Scotland's coronavirus policies were not working, as Tom Harwood wrote in The Telegraph:
Looking at Nicola Sturgeon's polling popularity it's easy to forget that the Scottish First Minister presided over a care home coronavirus death rate double that of England. It's easy to miss the fact that Scotland has been significantly behind England when it comes to the rate of testing too. As Labour's Shadow Scottish Secretary Ian Murray told a private zoom meeting at the end of May, "all of these things in Scotland are in a lot of instances worse than what's happening in England but Boris gets the blame and not Nicola Sturgeon."
How then has she managed to get away with it all so unscathed?
One answer is simple. The Westminster media bubble is so often so busy naval gazing that politicians elsewhere in the country escape the scrutiny placed on No 10. Few in the Westminster village are concerned with what's going on 400 miles north in Holyrood. This obviously allows much Scottish scandal to slide under the radar when it comes to national attention. But this explanation is to downplay the cunning strategy of the SNP Government, and its not so secret weapon. Nationalism.
Sure enough, on July 12, Sturgeon announced she was considering a mandatory quarantine of all English visitors to Scotland. Guido has the video:
On July 23, The Spectator published 'Nicola Sturgeon's care homes catastrophe':
Nicola Sturgeon is fond of telling Scots that the prevalence of Covid-19 is 'five times lower' in Scotland than in England. Or at least she was, until the Office for Statistics Regulation released a statement calling her data source 'unclear' and adding that 'we do not yet have evidence to support the validity of these comparisons'. The SNP has been retailing the notion that Sturgeon's response to the pandemic far outstrips that of Boris Johnson. The public may be on her side, but the facts are not.
… In England and Wales, deaths in care homes have accounted for 28 per cent of all fatalities involving coronavirus. In Scotland, the figure is 47 per cent. English and Welsh homes have lost 3.7 per cent of their residents to the virus while homes in Scotland have lost 5.6 per cent. This is all the more remarkable since the care home population south of the border is almost 12 times the size of that in Scotland.
One explanation is the SNP government's hive-like mentality. Dissenting views were pushed aside or ignored altogether …
Far from supplying an exemplar for others to follow, the Scottish Government has demonstrated the consequences of wrong-headed policy-making, spurning of expert counsel, and a failure to be transparent. The case for a public inquiry into what went wrong in Scotland's care homes, and in the decision-making at the top of government, is surely undeniable. With Covid-19 apparently under control at present, now is the optimal time to review policies and processes in case a second wave is looming down the line.
On July 31, Sturgeon announced a travel ban between Scotland and the north west of England:
She announced on the BBC:
I am today advising, strongly advising, people in Scotland to avoid travel to the areas affected in England… and also to ask people from these areas from these areas not to travel to Scotland.
Guido noted:
1,892 years on, Hadrian would be delighted she's picking up where he left off…
On August 5, Sturgeon effectively locked down the City of Aberdeen, although she did allow people to go to work and educational institutions. According to one person, this was because one bar was not following the rules:
On October 1, Sturgeon was slow to act on then-SNP MP Margaret Ferrier (now an Independent), who travelled by train from London to Scotland and back again, even though she knew she had the virus. By the time this appeared, Ian Blackford had suspended the whip:
The whole of the UK knew about Margaret Ferrier, who remains an Independent to this day. People were angry:
On October 7, Sturgeon announced a semi-lockdown, although she said schools would remain open and adults could leave the house:
On October 11, Sturgeon's government was failing to use its full testing capacity. It was only using half:
While hospitality establishments in England and Wales had been serving alcohol indoors since the summer and, later in 2020, with food only, Scotland opted to ban strong drink altogether until October 27 that year. Devi Sridhar probably played a role in that, too:
On November 23, Sturgeon closed the Scottish border to the rest of the UK.
Guido told us:
This weekend, in what must have been a dream come true to nationalists, Scotland closed its border to the rest of the UK. The move came as the most densely populated parts of Scotland moved into 'Tier 4' – lockdown in all but name. It is currently illegal for anyone from the rest of the UK to enter the country without a reasonable excuse. Scots are also forbidden from traveling to other parts of the UK. A dream come true for the more extreme SNP supporters.
People who enter or leave Scotland illegally are now being hit with £60 fines. Travel within Scotland is also restricted, with those living in Nicola's Tier 3 or 4 areas prohibited from leaving their local authority without a reasonable excuse. Guido gets the feeling some political tribes are secretly enjoying this pandemic…
On December 17, Sturgeon got stroppy with the Scottish Mail's political editor Mike Blackley for asking whether the self-isolation time could be cut, as was planned in the rest of the UK.
Sturgeon shot back:
Yeah, because that'd really help 'cause that would spread infections even further and that would not be doing any favours to businesses.
Guido has the video:
On December 22, Sturgeon was photographed maskless chatting to two women at a pub. They did not have masks, either, but at least they were eating, so had an excuse. Sturgeon apologised only because she was sorry she got caught:
The story caused quite a stir:
The following day, Sturgeon apologised in Holyrood:
She said she was kicking herself harder than her worst critic would:
The author of the Scottish blog Lily of St Leonards pointed out the hypocrisy not only of the mask violation but, more importantly, Sturgeon's criticism of Boris's continuation of Brexit negotiations:
Sturgeon is not merely a hypocrite about masks, she is also a hypocrite about transition periods.
Imagine if Sturgeon had been given her wish and there had been an independence referendum in 2018 and she had won it. There would have been a transition period. Let's say it was due to end in March 2020. Scottish Independence Day would have been April the First. Would Sturgeon have really extended the transition period because of the Covid outbreak? But what if she had extended it and Scotland had continued to receive money from the Treasury? When would the transition period end? When we no longer needed the money? It's another word for never.
While condemning the British Government for not extending the transition period with the EU due to Covid, Sturgeon is still planning an independence referendum for 2021. If we must extend the transition period because of Covid, why does she suppose it is sensible to have a referendum on breaking up Britain? We have had four years to prepare for leaving the EU. Sturgeon doesn't even have a plan for independence that takes into account the economic damage of 2020.
Brexit is massively easier to achieve than Scottish separatism. It doesn't involve setting up a new state. It merely involves us returning to what we had been for centuries until the early 1970s.
The winter saw a resumption of semi-lockdowns throughout the UK, in England as well as in the devolved nations.
Schools had to close just as pupils and students returned from Chrismas holidays in January.
It was thought that President Trump, having lost to Joe Biden, would be taking a golfing trip in Scotland in order to avoid handing over the presidency to him. Sturgeon put her foot down.
On January 5, NPR reported:
Scotland First Minister Nicola Sturgeon says President Trump wouldn't be allowed to visit Scotland to golf during its pandemic lockdown, responding to speculation that Trump might travel to a Scottish golf resort rather than attend President-elect Joe Biden's inauguration.
"We are not allowing people to come in to Scotland without an essential purpose right now and that would apply to him, just as it applies to anybody else," Sturgeon said after being asked about Trump on Tuesday. "Coming to play golf is not what I would consider to be an essential purpose."
Sturgeon was responding to questions spurred by a report in the Scottish newspaper The Sunday Post, which cited a source at Prestwick Airport as saying the facility has been told a U.S. military Boeing 757 aircraft will arrive on Jan. 19, the day before Trump's term expires and Biden is inaugurated …
As for the chance that Trump might use an international trip to one of his golf resorts to avoid the handover of power, Sturgeon said she has not been told of any of Trump's travel plans.
In the event, the whole world knows that Trump stayed in Washington …
Also on January 5, Scotland had not decreased the required number of days for self-isolation, as Guido reminded us:
On 22nd December, England's Covid rules changed so infected individuals can stop isolating after seven days rather than ten, so long as they test negative on day six and seven. Six days ago Wales followed suit, and a day later Northern Ireland copied the change. Leaving one obvious outlier…
It now looks like Sturgeon will confirm the cut, with a statement expected later today and her deputy John Swinney saying yesterday that their administration is "actively considering" reducing the self-isolation period.
Meanwhile, the vaccine rollout began.
On January 28, The Mail reported that Sturgeon sided with the EU in saying that the UK had too many vaccine doses and the EU too few:
Nicola Sturgeon was accused of taking the EU's side in the bitter vaccine row today as she vowed to publish details of the UK's supplies despite Boris Johnson ordering her to keep them secret.
In an extraordinary move, the First Minister risked undermining Britain's position, with Brussels heaping pressure on firms to give the bloc a bigger share of the stocks. 
Despite the PM warning that the information must be confidential to protect the rollout, Ms Sturgeon told Holyrood she will release it from next week 'regardless of what they say'. 
The timing of Ms Sturgeon's intervention was particularly provocative given that it came as Mr Johnson was on an official visit to Scotland to make the case for the Union. 
Tory MPs vented fury at Ms Sturgeon – who wants Scotland to be independent and rejoin the bloc – saying she is 'obviously more inclined to help the EU than she is the UK'. 
Tory MP Peter Bone told MailOnline: 'The simple truth is she has a tendency to support the EU rather than the United Kingdom.
'It is wrong, her behaviour. I would have thought she would praise the success of the UK because Scotland shares in that. If she was in the EU and not part of the UK she would still be waiting for her vaccines. Get behind the UK government and stop playing petty politics.' 
The row erupted as tensions between Britain and Brussels over vaccine supplies escalated again as the EU warned drug companies it will use all legal means to block the export of jabs from the continent unless manufacturers deliver the shots they have promised.
The EU's vaccination rollout continues to lag far behind the UK's, with the bloc now desperately scrambling to boost supplies – but deliveries have slowed due to production problems.
Brussels has publicly slammed AstraZeneca for failing to deliver on its contract with the bloc and has even asked the firm to divert jabs from Britain. 
Now it has emerged that European Council President Charles Michel has said in a letter to four EU leaders that the EU should explore legal means to ensure it receives the jabs it has bought.
On March 9, the Scottish Sun reported that Sturgeon was relaxing social gatherings — provided they were small, outdoors and close to home:
NICOLA Sturgeon has confirmed plans to allow four adults from two households to meet outdoors from Friday.
The First Minister also revealed older children can mix again in groups …
"And, in addition, we will make clear in our guidance that this will allow for social and recreational purposes, as well as essential exercise.
"Meeting will be possible in any outdoor space, including private gardens.
"But please, do stick to the new rules. Gatherings must be a maximum of four people, from two households. And you should only go indoors if that is essential in order to reach a back garden, or to use the toilet.
"And, for now, please stay as close to home as possible.
"We hope to be in a position to relax – at least to some extent – travel restrictions within Scotland in the weeks ahead, but it is not safe to do so just yet."
By April 2021, with the UK's schools still closed, Sturgeon was planning a phased re-opening in Scotland. In 2020, there were problems in marking exams with so much of the school year out the window. To be fair, other UK nations implemented similar policies with similar disastrous results. In 2021, Sturgeon stipulated that no exams were to be set. Understandable, but teachers needed some sort of assessment for pupils and came up with something called the Alternative Certification Model, which allowed teachers to mark pupils on what they observed in class. Sturgeon did not like the proposal and offered no alternative solution, leaving head teachers to come up with their own plans while trying to avoid the word 'exam':
At that time, booze and most hospitality was once again off the menu. Although Sturgeon followed Wales's Prif Weinidog (First Minister) in relaxing some restrictions, hospitality was not one of them:
This was less than a month before local and national elections (for Wales, Scotland and Northern Ireland) took place.
On April 13, Guido Fawkes noted that Scottish hospitality was suffering badly (red emphases his):
Sadly for Scotland's hospitality sector, Guido's tip-off that the Scottish government was to bring forward its unlocking of hospitality didn't materialise. Last night, Scotland's hospitality sector was warning the two-week lag north of the border would cost up to £20 million…
While Sturgeon often boasted at her televised briefings that Scotland had the best plan and the lowest infection rate as a result, it turned out that she was wrong.
On April 30, Guido posted that Scotland had the highest infection rates per capita in the UK:
Guido told us:
Statistics from the ONS this afternoon reveal Scotland is lagging significantly behind England, Wales and Northern Ireland in their Covid prevalence rate. Wales has the lowest rates by far, with one case per 1,570; followed by England's 1,010; and Northern Ireland's 940. Scotland, however, is well behind the rest of the country's progress, at one in every 640. Sturgeon's so-called 'good pandemic' has always been a smokescreen of spin, rather than epidemiological success…
On May 21, Sturgeon forgot to be politically correct and call the Indian variant by another name:
Guido observed:
A rule which apparently never applied to the Kent variant in the first place…
The Spectator thought along the same lines:
… newly appointed health secretary Hamza Yousaf was on hand to claim that 'a reason why we are calling it the April-02' variant is because it is 'important for us not to allow this virus to divide us as communities and people.'
Clearly the SNP feel no such qualms about doing so with the people of Kent.
On May 27, Boris's former adviser Dominic Cummings explained to a parliamentary select committee how Sturgeon sabotaged UK-wide coronavirus COBRA meetings.
Nicola Sturgeon undermined the UK's four-nations approach to tackling the coronavirus crisis by "babbling" about high-level meetings, Dominic Cummings has claimed.
Boris Johnson's former senior adviser accused the first minister of undermining meetings of Cobra, the disasters committee, by announcing the outcome of discussions at media briefings.
Sturgeon held her televised briefings daily at 12.15pm during the pandemic, so they were often directly after a UK-wide crisis meeting.
Cummings told the Westminster science and technology committee and health and social care committee that the online Cobra meetings became shams because other participants feared what Sturgeon would say on TV. This resulted in decisions not being made because of distrust, he added.
"The last Cobra meeting I can even remember downstairs in the Cobra room was essentially a Potemkin [fake] meeting because it was with the DAs [devolved administrations] and what happened was, as soon as we had these meetings, Nicola Sturgeon would just go straight out and announce what she wanted," Cummings said.
"So you had these completely Potemkin meetings without anyone actually digging into the reality in detail, because everybody thought, as soon as the meeting is finished, everyone's going to just pop up on TV and start babbling."
On June 1, Sturgeon said that the scheduled reopening of Scotland could be delayed because not enough people had been vaccinated. Once these people get hold of maximum control, they don't give it up easily:
On June 9, Sturgeon backed out of a Scotland-specific coronavirus inquiry, as did Mark Drakeford for Wales. A UK-wide inquiry would go ahead instead:
Guido pointed out that the SNP's May 2021 local/devolved election manifesto had promised one (because of the high rates of care home deaths):
Both Mark Drakeford and Nicola Sturgeon are facing backlash after seemingly cowering out of conducting their own, nation-specific Covid inquiries. Despite it being in the SNP manifesto, Sturgeon is now being warned not to break the pledge after backtracking away from the commitment. The SNP manifesto promised a Scotland-specific inquiry "as soon as possible after the election", however the first minister's spokesman told the press on Sunday that the government "was yet to decide whether Scotland needed an inquiry at all, insisting she would first wait to see the terms of reference of a proposed UK-wide probe instead." As slippery as a Sturgeon…
In Wales, Mark Drakeford didn't commit to an inquiry in his election manifesto, and is sticking to his refusal. Being pressed during first minister's questions yesterday, he told Tory leader Andrew RT Davies that the UK-wide inquiry being set up by the PM would be sufficient.
On June 29, Sturgeon had another travel ban in place between Scotland and the north west of England. Manchester's mayor Andy Burnham forced her to overturn it. She never consulted him on the matter.
Burnham called the ban hypocritical:
Guido explained:
… Health secretary Humza Yousaf confirmed in Holyrood today that the ban between Scotland and Manchester, Bolton and Salford will lift tomorrow. Sturgeon brought in the ban without approaching Burnham and without consultation. Mad with power…
Yousaf claims the restrictions are being removed "due to changes in the epidemiological position for those areas." The ban on travel between Scotland and Blackburn will remain in place, however. Guido imagines locals in Blackburn won't be too keen to travel to Scotland anyhow, given it's experiencing its largest Covid wave since the start of the pandemic…
On August 3, Sturgeon began lifting restrictions throughout Scotland. However, as Guido reported, some would stay in place for quite a while:
… the "number of mitigation measures" include
Mask mandates

which Sturgeon expects will 'likely (…) be mandated in law for some time to come."

An ongoing requirement for indoor hospitality venues to collect the contact details of customers.
Sturgeon added:
It is important to be clear that it does not signal the end of the pandemic or a return to life exactly as we knew it before Covid struck.
On August 25, Sturgeon announced that Scotland would be conducting its own coronavirus inquiry, independent of the UK-wide one. A change of heart from what she said earlier.
Nicola Sturgeon has said Scotland will launch its own judge-led public inquiry into the handling of the pandemic by the end of the year …
One of its central aims will be to investigate "events causing public concern" — specifically the excessive death rate in Scottish care homes.
Sturgeon and Jeane Freeman, the former health secretary, have both admitted that discharging 1,300 elderly people from hospitals into care homes without robust testing at the start of the pandemic had been a mistake. More than 3,000 people died in care homes, a third of all the deaths in Scotland …
Sturgeon said the Scottish government would continue to liaise with the UK government about its own inquiry.
Did that ever take place? I don't know. Certainly, no questions that I've heard have been asked in Holyrood.
Eventually, Scotland re-opened, long after England and some time after Wales.
Conclusion
From this litany of errors, including nationalism, hypocrisy and power-grabbing, we can see that Nicola Sturgeon was — and is — no saint.
More to follow on her other mistakes next week.
In December 2022, the then-GB News presenter Mark Steyn suffered two heart attacks within days of each other.
The first one he ignored, because he had never suffered a heart attack and didn't recognise the symptoms.
The second occurred when he and a female friend were in France. Fortunately, he got to the hospital just in time. Fifteen minutes more and he would have died.
While he recuperated in France — there was no chance of his returning to Canada, doctors said — some of GB News's sharpest hosts stepped in to sub for him between 8 and 9 p.m. They told viewers that Mark was on the mend, until the end of January, at which point they mentioned him no more.
Don't mention the vaccines
Then, late on Monday, February 6, 2023, Guido Fawkes posted that Mark would not be returning to GB News. The news channel's CEO wanted to make Steyn liable for any Ofcom fines they received over his segments that criticised the coronavirus vaccine:
Guido tells us, complete with the relevant video clip (emphases in red his):
Mark Steyn has quit GB News on fairly bad terms after a protracted leave of absence owing to his health. A few weeks ago Guido picked up that the channel had been trying to formalise Steyn's contract, having operated on a fairly ad hoc basis since starting his show. Part of trying to get him on board as a properly contracted presenter was also an attempt to rein in his output, given that in a rather short space of time he'd managed to spark two separate Ofcom investigations into claims made on his show.
GBN offered him a new contract to sign, otherwise he'd face termination. It now looks like Steyn is declining to sign the new contract, so he's out.
In a video put out on his website today, Mark doesn't hold back on his opinion of the channel's CEO Angelos Frangopoulos, ranting about the terms of the new contract that would have made him financially liable for any fines imposed on GB News by Ofcom because of his show's output. He also calls Frangopoulos an "habitual liar". Shame – Steyn managed to consistently beat Piers's view count…
After a few months, Mark Steyn Show regularly trounced Piers Morgan's TalkTV show Monday through Thursday in the same time slot.
GB News has been scrupulous about offering both sides of any story on their shows in order to avoid censure from Ofcom. This entails having a left-wing guest oppose the host's centrist or conservative perspective.
In 2022, Press Gazette reported on the channel's potential Ofcom violations. I'll start with the story from August 8, with the communications regulator's examination of two segments, one on Nigel Farage's evening show and one from a morning show with Patrick Christys, who now hosts a three-hour afternoon slot Monday through Friday:
The first two investigations by broadcast regulator Ofcom into GB News have ended with no rebukes, keeping the TV channel's record clean as it enters its 15th month.
Critics feared the opinion-led news channel would rub up poorly against the UK's strict impartiality rules, a problem not faced by broadcasters in the US such as Fox News.
But by balancing views from presenters and guests across its schedule, GB News has avoid any Ofcom rebukes despite airing some strident views on Covid-19 lockdowns and vaccines. Two Ofcom investigations into GB News TV and radio broadcasts remain ongoing.
In October 2022, complaints about Mark Steyn's show were still ongoing:
Ofcom has opened an investigation into an episode of Mark Steyn's 4 October programme on GB News after it received 411 complaints from viewers about comments made by author and journalist Dr Naomi Wolf in relation to Covid-19 vaccines.
Ofcom said: "Specifically, our investigation will consider whether this programme broke our rules designed to protect viewers from harmful material."
Wolf was banned from Twitter last year for spreading unfounded theories about vaccines.
Ofcom is already investigating Steyn's show for a potential breach of standards on 21 April when he claimed people who had a Covid-19 booster vaccine were three times more likely to die than those who had two doses or fewer.
Press Gazette says that the April 21 episode was removed from YouTube:
In a monologue that day, Steyn said: "Why aren't we talking about this? It seems, if the booster shot is making it thrice as likely that you're going to be deadsville, that they're going to carrying you out by the handles, why aren't we talking about that?"
Fact-checking charity Full Fact said the figures used by Steyn were "broadly accurate" but that he was "wrong to claim the booster 'increases your chances of hospitalisation and death'".
Interestingly:
No Ofcom investigations have yet been started into rival TalkTV, which Rupert Murdoch's News UK launched in April.
The Guardian had more, especially about Dr Matthew Sweet, who was interviewed on the BBC and had been monitoring Steyn's show for soundbites that criticised the vaccines. Steyn often mentioned Sweet:
The latest investigation relates to an interview with the author Naomi Wolf in which she claimed women were being harmed by Covid-19 vaccines as part of an effort to "to destroy British civil society".
Ofcom said it would investigate whether the programme broke "rules designed to protect viewers from harmful material" after receiving more than 400 complaints from members of the public.
In the interview, which was originally broadcast on 4 October, Wolf also compared doctors' support for the vaccine rollout to the behaviour of the medical profession in Nazi Germany and described herself as the "last remaining independent journalist" willing to question this.
She was being interviewed on the Mark Steyn Show, which has repeatedly raised doubts over the safety of vaccines. Steyn's claims that the jabs cause "every conceivable kind of damage" have been disputed by factchecking websites. He is already the subject of a separate Ofcom investigation over previous comments about vaccination.
Wolf began as a prominent feminist writer but in recent years her career has taken a hit after she wrote a book partly based on a misunderstanding of English court records. Since then she has veered into the world of conspiracy theories about the impact of 5G telephone masts and the coronavirus vaccine.
Presenter Matthew Sweet, whose BBC interview exposed the flaw in Wolf's book, has since kept tabs on her work and GB News's coverage of the pandemic and accused the channel of repeatedly "broadcasting misinformation about vaccines and presenting conspiracy theorists as legitimate experts on medical matters".
In a letter to Sweet tweeted last month, GB News insisted that at no point had Steyn's programme adopted an "anti-vax" approach. Instead it said he was conducting probing journalism in the face of people who want GB News to be "more supportive of government policy".
As I wrote in my post last week on Big Brother Watch's exposé of Government departments' surveillance of politicians' and journalists' Twitter accounts during the pandemic, the one thing one cannot do is criticise the vaccines.
The best of Mark Steyn's GB News output
Having watched nearly every Mark Steyn show once he began broadcasting weeknights in January 2022, I bookmarked the most notable ones.
Any interested readers should view the videos sooner rather than later. YouTube have already removed some of Steyn's GB News output.
Ratings
It took a while for people to tune into Steyn, which was no fault of his. He did a memorable series in March 2022 in Ukraine and told us that he was partly of Ukranian descent. He hoped to return when the war was over. You can read more about those programmes here.
At the end of that month, he had a special edition on the second anniversary of the first coronavirus lockdown, March 23, 2020. It's a good thing I described the content, because YouTube removed the video for the usual reasons.
Then on Monday, May 16, Mark hit the jackpot, beating TalkTV's Piers Morgan for the first time in the 8 to 9 p.m. slot. Mark wasn't the only ratings star that night — all the GB News evening shows beat TalkTV's:
The following day, Guido wrote:
The slow motion collapse in ratings of Talk TV is astounding. Until now, Piers Morgan has always held his lead in his slot against Mark Steyn on GB News. Last night Steyn beat Morgan for the first time…
And it would not be the last time, either. In fact, it became a regular occurrence.
Coronavirus
On Wednesday, January 12, 2022, Steyn interviewed Lord Ridley — Matt Ridley — about the coronavirus lab leak (30:00 – 40:00):
In February, he covered the Canadian truckers' protest in Ottawa against mandated vaccines:
He also interviewed a Canadian policewoman about the protests:
On April 21, he cited UK government data which said that people over 50 who had three jabs were five times more likely to get the virus: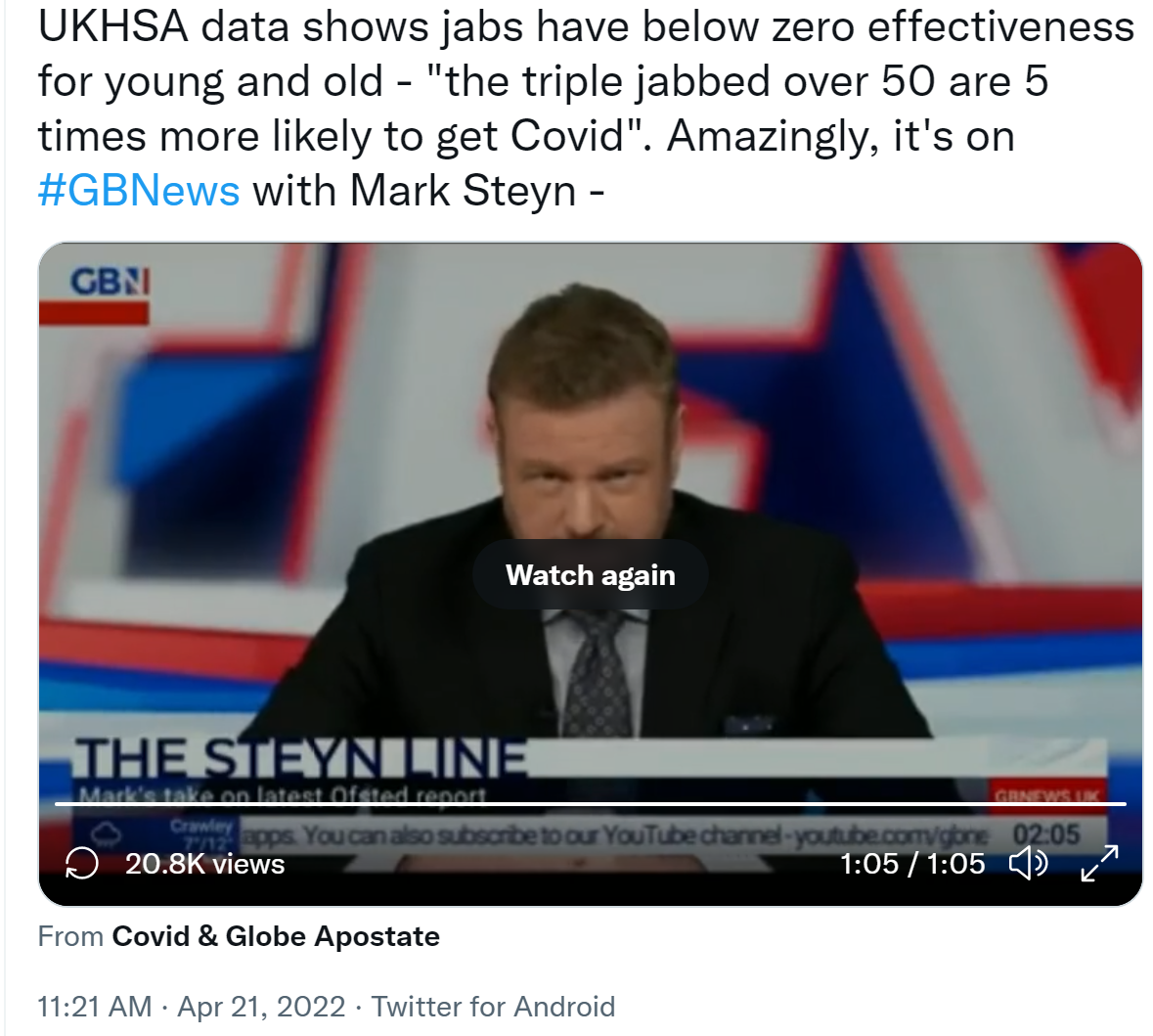 On Monday, May 9, he interviewed vaccine victims:
On May 11, he interviewed people who became seriously ill after taking the Astra Zeneca vaccine. No wonder it's no longer on the Government's vaccine list.
This man got a blood clot on the brain:
This lady suffered blood clots on her liver and lungs:
That day, Laura Perrins from The Conservative Woman waxed lyrical about Steyn's show. I, too, was a bit ambivalent about him many years ago, but as she pointed out:
It is true that a few decades ago he was considered an Establishment journalist; he has written for all your mainstream Right-wing publications. But he had long left that scene by the time I had my political awakening.
Anyway, somehow I stumbled across him, Praise be the Lord. The more I started listening, the more I read, I thought: 'Goodness gracious, hold the phone, shut the front door, this guy is the Real Deal.' This guy knows that we are being had by the political and media establishment and he is not afraid to say it …
Not only is Steyn the best-dressed, most-polished, most-sophisticated of all the presenters on TV, he says what you are thinking. For the last week or two he has been giving a voice to those the MSM have shamefully ignored – families who have lost loved ones through the 'safe and effective' non-vaccine vaccine.
… While Piers 'Lock Me Down Harder, Daddy' Morgan is interviewing Bruce Jenner, Steyn is pointing out that the lockdown has caused economic damage and inflation that the MPs like to ignore.
He also points out that when the Conservatives tell you they are getting a hold on illegal immigration, they are lying to you, they are lying to your face, dear reader.
So, do yourself a favour and watch Mark Steyn, Monday-Thursday, 8pm on GB News.
You can also catch up on YouTube when they haven't censored him for 'disinformation'. This is not a man who could ever be bought or sold for any price. I say again, Mark Steyn is the Real Deal.
The following day, news emerged that the WHO wanted nations to sign up to their pandemic treaty which would supercede national sovereignty. Unbelievable. Steyn said, 'The permanent abnormal staggers on':
On Tuesday, May 17, he talked about the WHO's involvement in the pandemic:
One week later, he interviewed a fellow broadcaster, Andrew Griffiths, who experienced serious side effects after getting the vaccine:
The Powers That Be tried to stir up fear over what is now called MPOX. On May 25, Steyn discussed Natalie Winters' findings for the National Pulse about an alleged link to the Wuhan lab:
Steyn had more on that and other topics on June 1, calling it 'the controlled demolition of the free world':
That was an exceptional show. Former ONS statistician Jamie Jenkins, one of Mark's regulars, alleged that the UK government had not collected any official statistics on vaccine injuries:
Claire Hibbs returned to discuss her injuries and the lack of compensation from the Government:
On June 16, he discussed the disastrous economic results of lockdown with Leilani Dowding:
Other Steyn broadcasts of note
In May 2022, he tapped into Canada's Rebel News output on Davos: excellent and entertaining.
On July 12, he was the only broadcaster to cover the July 12 celebrations in Northern Ireland in a non-confrontational way.
He interviewed Baroness Hoey — former Labour MP Kate Hoey — on her love for Northern Ireland and the United Kingdom:
He also spoke at length with the former leader of the Democratic Unionist Party, now-Baroness, Dame Arlene Foster:
These are just tasters. More to follow tomorrow.
No stranger to controversy
Mark Steyn has never been a stranger to controversy. Thank goodness.
Going way back in my Mark Steyn bookmarks, in 2004, he reviewed Mel Gibson's The Passion of the Christ, an incredible but much-criticised film, for The Spectator (full text here):
… Those who believe in Christ the Redeemer are booming, and Mel Gibson has made a movie for them. If Hollywood was as savvy as it thinks it is, it would have beaten him to it. But it isn't so it didn't. And as most studio execs have never seen an evangelical Christian except in films where they turn out to be paedophiles or serial killers, it's no wonder they're baffled by The Passion's success …
… Mel Gibson was driven by his own passion to make a movie that speaks to millions of people. As I said a couple of weeks back, if it's not the Jesus movie you'd have made, then go make your own. I saw it on a Monday night full house – a rare event in itself – and the crowd was rapt and eerily hushed, except for the occasional sob. It's true that if you don't believe that Christ's death on the cross is the central event in His time on earth then Mel's telling won't convince you and the film will look, as it does to Christopher Hitchens, like an S&M flayfest. One can regard this as a criticism of Gibson. On the other hand, all manner of movies – Star Wars, X-Men – leave you cold if you're not already a devotee. For millions of people, Mel Gibson shows them their Jesus and their salvation.
In 2009, Steyn wrote an article for Canada's Macleans about the danger that political correctness and censorship (i.e. 'hate speech') pose to human lives — the Fort Hood massacre (full text here):
… the old refrain echoes through the corridors of power: vigorous honest free speech will lead to mass murder unless we subject it to "reasonable limits."
Actually, the opposite is true: a constrained and regulated culture policed by politically correct enforcers leads to slaughter. I'm not being speculative here, as Commissar Lynch [Jennifer Lynch, Q.C., Canada's censor at the time] is about my murderous prose style. It's already happened, just a couple of weeks back. Thirteen men and women plus an unborn baby were gunned down at Fort Hood by a major in the U.S. Army. Nidal Hasan was the perpetrator, but political correctness was his enabler, every step of the way. In the days that followed, the near parodically absurd revelations piled up like an overripe satire …

Instead, asked "Who ya gonna believe—The Celebrate Diversity Handbook or your lyin' eyes?", more and more of us plump for the former, if only for a quiet life. Commissar Lynch has it exactly backwards: it's the craven submission to political correctness, the willingness to leave your marbles with the Diversity Café hat-check girl, that leads to death—real death, with real corpses, from Texas to Ontario.
It's amazing that the hot topics really have not changed since the Millennium. It's been the same-old, same-old for over 20 years now.
To be continued tomorrow
On Wednesday, January 11, 2023, the outspoken Conservative MP Andrew Bridgen had the whip removed for remarks he tweeted about the coronavirus vaccines.
He now sits as an Independent.
Before going into that news, let us look at Bridgen's past history in Parliament.
Watchdog
Bridgen, who has represented North West Leicestershire since 2010, has always been a watchdog, in and out of Parliament.
Holding his own on Brexit
On April 8, 2019, when Theresa May and Parliament were at loggerheads on how to proceed with Brexit, Bridgen appeared on the BBC's Politics Live to say that most voters would prefer No Deal. He was the only Leave supporter on a panel of four. Everyone else was a Remainer, including the host, Jo Coburn. They piled in on Bridgen, but the MP was correct. He had cited a poll from YouGov which said that 44% of Britons preferred No Deal. By contrast 42% wanted to remain in the EU.
One month later, he rightly objected to MPs who wanted to have a customs union with the EU instead of a full exit:
The impasse in the House of Commons worsened as the months dragged on. On September 10, Bridgen supported Boris's prorogation, which ended up being overturned. He talked with talkRADIO's Julia Hartley-Brewer just before that prorogation:
In late November, The Sun tweeted an excellent video of Bridgen canvassing North West Leicestershire voters before the general election on December 12 that year. They had strong opinions on Brexit, Labour and Boris. Incidentally, North West Leicestershire is the happiest place to live in the East Midlands:
Pointing out 'modern slavery' in Leicester
In January 2020, Bridgen called to the Government's attention the working conditions at certain women's garment factories in Leicester. They would be considered sweatshops in the United States.
The city of Leicester is not in Bridgen's constituency, but he was concerned enough to call the companies out, directing a question to Kelly Tolhurst MP, the then-BEIS (Department for Business, Energy and Industrial Strategy) in Parliament:
Will the Minister agree to meet me to discuss the situation in Leicester, where I believe that approximately 10,000 people in the clothing industry are being paid £3 to £4 an hour in conditions of modern slavery?
Guido Fawkes reported that nothing was done until July that year, when Leicester showed unusually high rates of coronavirus (emphases in the original):
What happened at the meeting months ago?
The Labour Behind the Label campaign has a report out alleging there is evidence which indicates that conditions in Leicester's factories, primarily producing for Boohoo, are putting workers at risk of COVID-19 infection. Grim reading…
Leicester's rates remained high throughout the rest of 2020. By contrast, North West Leicestershire — Bridgen's constitutency — had the lowest rates in Leicestershire. On October 12, he debated the knotty problem of full lockdowns with talkRADIO's Julia Hartley-Brewer, who advocated sequestration of the vulnerable only:
Calling out West Midlands mayoral candidate
In the week before the 2021 local elections in England, he asked IPSA (the Independent Parliamentary Standards Authority) to investigate Labour MP Liam Byrne's alleged use of parliamentary expenses to fund his campaign for the mayoralty of the West Midlands. Byrne fired back that Bridgen put his own London accommodation on expenses, which is what every other MP, including Byrne, does. Then Byrne accused Bridgen of having one of the worst voting attendance records in Parliament. Byrne was wrong there, too, as records show that Bridgen voted 88% of the time, whereas Byrne voted only 63% of the time between 2010 and 2019.
Calling out the BBC
On May 21, 2021, Bridgen complained about the BBC in a tweet, saying that Britons are forced to pay for it, while the organisation shows inadequate accountability in the face of broadcasting scandals it hid under the carpet.
Objecting to coronavirus vaccine passports
On July 22, 2021, Bridgen told GB News that showing a vaccine passport upon entry to various places was 'unworkable', saying that most people were already vaccinated and that it would take too much extra time to check everyone's vaccine status:
2022 signalled big trouble ahead
In 2022, Andrew Bridgen became known as an MP with a reputation.
Initially, his letters of no confidence in previous Prime Ministers became clear, all the way from David Cameron's time through to Liz Truss:
However, later on, his relationship with his family's potato business would begin to bring matters to a head, affecting his standing as a Conservative MP.
On September 3, The Times reported (purple emphases mine):
A Conservative MP branded "dishonest" by a judge has been ordered to pay £800,000 and evicted from his luxurious country home after a dispute involving his family potato business.
Andrew Bridgen, 57, has spent years suing his family business, AB Produce, which supplies potatoes and other vegetables to catering companies and supermarkets.
In March, a High Court judge ruled that he "lied" under oath, behaved in an "abusive", "arrogant" and "aggressive" way, and was so dishonest that nothing he said about the dispute could be taken at face value.
The North West Leicestershire MP had accused the firm of forcing him out of a £93,000-a-year second job, which required him to attend a monthly board meeting. The judge found that, rather than being bullied out of the job as he alleged, Bridgen resigned in order to reduce the amount he might owe his first wife, Jackie, in divorce proceedings.
Judge Brian Rawlings also found that Bridgen pressured the police inspector in his parliamentary constituency to launch a costly one-year investigation into vexatious allegations against his estranged younger brother, Paul Bridgen, 55, who runs AB Produce, which is based in Derbyshire.
In a later judgment in June, which came to light only last week, the MP has been forced by the judge to vacate the Old Vicarage, a five-room property reportedly valued at about £1.5 million. He was given a final deadline of August 24 and Bridgen, his wife and their child complied with the deadline. It is not known where they now live …
Bridgen and his second wife, Nevena, 42, a Serbian blogger and former opera singer, had lived in the restored 18th-century home without charge since 2015. During this period, it is understood that he refused to pay rent, or bills for water and electricity, according to court filings.
Bridgen was told to pay in excess of £800,000 in legal costs to three shareholders at his family's firm, of which one is his brother, Paul, after bringing claims of unfair treatment. He could yet be ordered to pay £244,000 in rent arrears.
It is understood that Bridgen, who earns a basic salary of £84,144 as an MP, has paid the money he already owes, although the source of the funds is unknown and is likely to come under scrutiny …
Parliamentary rules stipulate that MPs who are declared bankrupt must step down if a bankruptcy restrictions order is made against them. He is also vulnerable to another referral to the parliamentary commissioner for standards as he failed to declare AB Produce as the entity paying his rent and utility bills.
According to the guide to the rules relating to the MPs' code of conduct, MPs must declare "taxable expenses, allowances and benefits such as company cars", as well as "financial support and sponsorship" and "gifts of property".
On November 3, Guido reported that the Commons Committee on Standards recommended that Bridgen be suspended from Parliament for five sitting days for the aforementioned controversy:
They also describe an email he sent to the Standards Commissioner Kathryn Stone as "completely unacceptable behaviour" as he 'sought assurance' about a rumour that Stone was shortly to be ennobled provided she arrived "at the 'right' outcomes when conducting parliamentary standards investigation[s]".
The full list of aggravating factors are as follows:
Mr Bridgen breached the rules of the House on registration, declaration and paid lobbying on multiple occasions and in multiple ways. (The Committee noted that each of these breaches could have led it to recommend a suspension from the service of the House);
Mr Bridgen has demonstrated a very cavalier attitude to the rules on registration and declaration of interests, including repeatedly saying that he did not check his own entry in the register;
Mr Bridgen is an established Member of the House, having been elected in 2010;
Mr Bridgen's email to the Commissioner called her integrity into question on the basis of wholly unsubstantiated and false allegations, and attempted improperly to influence the House's standards processes …
For Andrew's clarification, no you cannot submit a letter of no confidence in the Standards Committee…
But, by then, Bridgen had already turned his attention to the coronavirus vaccines, saying that, if there is an investigation in the EU Commission, there should be one in the UK, too:
On Tuesday, December 13, Bridgen was granted an adjournment debate in which he criticised the vaccines and cited Dr Aseem Malhotra, a cardiologist who saw his own father, a healthy man, die of unusual heart problems after taking one of the vaccines. Bridgen, like Malhotra, wanted the mRNA vaccines stopped and offered evidence as to why. As I wrote on December 22, Maria Caulfield, the Government minister and a practising nurse, did not approve of Bridgen's speech. Danny Kruger, another Conservative MP, supported Bridgen's statements, but Caulfield reiterated the Government's line on vaccines.
On Wednesday, December 28, the British Heart Foundation disparaged Bridgen's claims in the adjournment debate, which I also wrote about the following day.
2023 can make or break Bridgen
On Monday, January 9, 2023, Bridgen began the day by tweeting the link to a discussion about alleged lies told during the pandemic and the response to coronavirus:
Later that day, The Guardian reported that Bridgen had been suspended for five working days for lobbying and undeclared interests, matters unrelated to coronavirus:
The MP for north-west Leicestershire was found to have repeatedly broken the MPs' code of conduct by a cross-party committee, which endorsed findings from Kathryn Stone, the parliamentary commissioner for standards.
He was unsuccessful in an attempt to overturn the recommendation in December and a motion was approved by parliament on Monday.
The suspension is due to start on Tuesday 10 January, and will run for five sitting days.
Bridgen was found to have approached ministers and officials on behalf of a forestry company, Mere Plantations, that had given him a donation, a visit to Ghana and the offer of an advisory contract, a role that ended up being unpaid.
Two of the days were recommended by the committee for the breaches of rules on advocacy and interests. The other three days of suspension were advised in response to what the committee said was a "completely unacceptable" attempt by Bridgen to put pressure on Stone.
Bridgen attempted to appeal against the decision, criticising the investigation as "flawed" and arguing that it had not fully considered the motivations of the person who had made the initial complaint.
He argued that he was just helping a local company that worked with Mere, and that it was thus simply a "constituency interest" that brought him no personal benefits. The committee disagreed with this, saying the MP had breached lobbying rules.
The committee, chaired by the Labour MP Chris Bryant, found that Bridgen breached the rules "on multiple occasions and in multiple ways".
Meanwhile, Bridgen continued to sound the alarm about coronavirus vaccines.
On Tuesday afternoon, January 10, he tweeted a Project Veritas interview with a Pfizer scientist who alleges that they were aware that their vaccine was responsible for the unusual spike in cases of myocarditis. This is short, subtitled and well worth watching:
That afternoon, Bridgen tweeted a video featuring Dr Peter McCullough, who alleges that the vaccines are responsible for myocarditis cases and deaths. This, too, is a short video well worth watching:
On the morning of Wednesday, January 11, Bridgen retweeted a message from Dr Malhotra which included a video of Tucker Carlson and vaccine watchdog Robert F Kennedy Jr discussing the omerta on coronavirus vaccines:
Bridgen followed up with his own tweet about the alleged dangers of the vaccines, including a quote from Robert F Kennedy Jr:
Worse news than a five-day suspension came later that morning, after Bridgen had tweeted a cardiologist's comment that the global rollout of coronavirus vaccines will have been the worst human rights violation since the Holocaust. Bridgen later deleted the tweet, but other MPs saw it and strongly objected to it. Pictured along with Bridgen is Conservative MP Simon Clarke:
It then came to the attention of the Conservative Chief Whip Simon Hart, who withdrew the whip from the MP:
On Wednesday morning, Guido reported what Simon Hart had said in defending his decision:
Andrew Bridgen has crossed a line, causing great offence in the process. As a nation we should be very proud of what has been achieved through the vaccine programme. The vaccine is the best defence against Covid that we have. Misinformation about the vaccine causes harm and costs lives. I am therefore removing the Whip from Andrew Bridgen with immediate effect, pending a formal investigation.
However, that afternoon, the Daily Sceptic reported that a Jewish academic in Israel came to Bridgen's defence:
Andrew Bridgen, the British politician suspended as a Conservative MP over allegations of being anti-Semitic in a tweet criticising the Covid vaccines, has been defended by the Jewish Israeli academic whose article he linked to in the tweet in question.
Dr. Josh Guetzkow, a senior lecturer in criminology and sociology at the Hebrew University of Jerusalem, told the Daily Sceptic that as a Jew living in Israel he was "surprised" by the accusations against Mr. Bridgen, because "there is nothing at all anti-Semitic about his statement" …
John Mann, the Government's independent anti-Semitism adviser, was unequivocal, saying: "There is no possibility that Bridgen can be allowed to stand at the next election. He cannot claim that he didn't realise the level of offence that his remarks cause."
Prime Minister Rishi Sunak said that he "completely condemn[ed] those types of comments in the strongest possible terms".
"Obviously it is utterly unacceptable to make linkages and use language like that and I'm determined that the scourge of antisemitism is eradicated," he told the Commons on Wednesday …
However, Dr. Guetzkow, whose tweeted article details the alarming, recently-released analysis of vaccine adverse event data from the U.S. CDC, said this is a "tempest in a teapot".
"The hollow accusations against him only distract from genuine examples of anti-Semitism and ultimately hinder attempts to draw attention to them, much like the boy who cried wolf," he said.
It is clear from the statement by the Chief Whip that Mr. Bridgen's chief sin is to have criticised the vaccines. Mr. Hart's statement notably does not mention anti-Semitism, but rather says that Mr. Bridgen is having the whip removed for "misinformation about the vaccine", which "causes harm and costs lives", adding only that he had caused "great offence in process".
The allegations of anti-Semitism therefore appear to be just the opportunity party chiefs needed to mete out the punishment to the vaccine heretic …
Stop Press: Dr. Guetzkow has pointed out that Holocaust survivor Vera Sharav has been drawing parallels between the extreme and discriminatory public health measures during the pandemic and the Holocaust throughout the the last three years.
Rishi Sunak's comment came up during Wednesday's PMQs (Prime Minister's Questions), the first of 2023, which I watched on BBC Parliament.
One might well ask who asked the question.
None other than Matt Hancock, who has just returned from a short holiday in Turkey, which seemed to involve shopping.
The Daily Sceptic reported:
Matt Hancock, the disgraced lockdown Health Secretary, hit out at Mr. Bridgen's "disgusting, antisemitic, anti-vax conspiracy theories" at Prime Minister's Questions on Wednesday. He said the comments were "deeply offensive" and "have no place in this House or in our wider society".
Prime Minister Rishi Sunak replied that he joined Mr Hancock in "completely condemning those types of comments in the strongest possible terms".
In closing, the Daily Sceptic calls to readers' attentions Andrew Bridgen's qualifications:
Mr. Bridgen, who has a science background, has become Parliament's most vocal critic of the Covid vaccines. He thus made himself a big target for the pro-vaccine zealots who will have been looking for an excuse to punish and cancel him, and who have predictably leapt on the first 'offensive' thing they could find.
Wikipedia states that Bridgen studied genetics and behaviour at the University of Nottingham and graduated with a degree in biological sciences.
The Government does not want their big achievement of the past three years — the vaccine rollout, Europe's first — to be tainted in any way.
However, judging from the comments, Daily Sceptic readers are supportive of Andrew Bridgen and look forward to hearing more from him on the vaccines this year, which is more than can be said of Matt Hancock, who, as of December 28, was still searching for a celebrity agent to kickstart his new career in reality television.
—————————————————————————————————-
UPDATE — Guido Fawkes has reported Andrew Bridgen's statement on having lost the Conservative whip, complete with video:
The fact I have been suspended over this matter says a lot about the current state of our democracy, the right to free speech, and the apparent suspension of scientific method of analysis of medicines being administered to billions of people.
Three recent news items about coronavirus are worth passing along.
Long Covid and olfactory nerves
One of the many drawbacks of long Covid is the loss of the sense of smell.
To some extent, this can happen with any virus. Fifty years ago, my mother contracted a winter virus and lost her sense of taste and smell for two years. Although she wasn't a foodie, her inability to enjoy our daily family dinner disappointed her the most. Her GP said there was nothing he could do. She would have to wait and see what happened. Two years later, suddenly, her olfactory senses returned and she had no more problems.
A December 22 article in The Times said that researchers are working on a similar problem with long Covid. It seems that the immune system blocks olfactory nerves (emphases mine):
The loss of smell suffered by people with long Covid is caused by an immune response affecting nerve cells in nasal tissue, scientists have said.
The researchers who conducted the study found that there was a decline in the number of these nerve cells in such patients.
The study, published in the journal Science Translational Medicine, was led by researchers at Duke University in the US and involved colleagues from Harvard University and the University of California, San Diego.
They looked at tissue taken from the olfactory epithelium, found in the nose, where nerve cells responsible for smell are located …
The single-cell analyses revealed that there was a widespread infiltration of T-cells, a type of white blood cell used by the immune system, engaged in an inflammatory response in the nasal tissue.
Researchers found this immune response from these T-cells continued even when there were no detectable levels of Covid in the patient …
Dr Bradley Goldstein, an associate professor in neurobiology at Duke, who was a senior author for the study, said researchers had been encouraged to find that nerve cells appeared to maintain some ability to repair themselves.
He said learning which sites in the nose were being damaged and what cell types were involved would be a key step in designing treatment. "We are hopeful that modulating the abnormal immune response or repair processes within the nose of these patients could help to at least partially restore a sense of smell," he added.
In the meantime, the only prescription is patience. Patience is a virtue.
Recovering from long Covid: mind over matter
On November 19, The Times featured an article by Francesca Steele, a long Covid sufferer, detailing how she overcame her debilitating condition.
Steele had tried everything and ended up spending £15,000, most of which was for naught. In fact, some of the medical treatments she underwent made her feel worse.
As a last resort, she embarked on putting mind over matter. The old saying worked.
She describes the journey back to normality:
It was on a particularly bad day that I started to wonder about mind-body courses, which suggest you can control the reactions of your body by "retraining" your brain. I had come across people who had success with these courses while searching online. One that kept cropping up was called the Lightning Process (LP), a short brain-training programme that, enthusiasts said, also had an impact on the body.
Developed in the Nineties by the British osteopath Phil Parker, LP is a three-day seminar (which you can do in person or on Zoom, with a range of coaches you can find online) that combines neuro-linguistic programming with life coaching, hypnotherapy and osteopathy. Its goal is to give people tools to help themselves with a range of conditions, including post-viral fatigue syndromes, chronic pain and anxiety, by reducing the brain's stress response. It claims to have helped 25,000 people around the world.
Whenever I found someone online who claimed to have recovered from post-viral fatigue conditions in this way I tried to track them down and speak to them directly to check they were real and not invented by snake oil salesmen. They weren't. I spoke to a journalist who said the techniques had cured him entirely of ME. I spoke to a GP who had gone on to train as an LP practitioner after it helped her ten-year-old daughter to recover after three years. I chatted to several writers who said mind-body work had "cured" them of long Covid but they were afraid to speak out, something I understand because I was trolled after mentioning the concept on Twitter …
However, I kept hearing positive things about it on social media, and decided it was at least worth a shot. In March I did the course. The thinking is that a serious shock like a bad virus can send your body into permanent "fight or flight" mode and that your nervous system gets stuck sending messages of sickness that are no longer needed. Using the science of neuro-plasticity, which says that the brain adapts to the neural pathways used most often — and that in this case your brain has adapted to using neural pathways that prompt a sickness response — the course teaches you to "train your brain" to send different signals. So, instead of your immune system, your endocrine system and your inflammation responses all gearing up for an attack, they relax. Your hormones, your blood pressure, your heart rate, your thermoregulation and so on, all, in theory, return to normal. As Dr Anna Chellamuthu, a GP and LP practitioner, puts it: "The LP is absolutely not saying, 'This is all in your head.' This is a physical illness. It's saying that physiology can change when you change your thoughts."
During a £750, three-day Zoom course, our coach talked the three of us (all with long Covid) through various exercises and taught us all a routine to interrupt negative thoughts. Every time I had an anxious thought about symptoms, I had to say "Stop" and do an intense visualisation, imagining myself in a situation where I was energetic, healthy, confident.
It was not easy to stick to. Constantly interrupting your thoughts feels unnatural at first and there were times I was out at the park with my kids when I really didn't feel like scooting off to do the process behind a tree. I often doubted it would work. Yet within a month I was back at work. Two months later I celebrated my 40th birthday with a long walk and delicious dinner. Seven months on from the course, I am about 80-90 per cent back to my old self. I do sometimes get symptoms but they are far fainter and less frequent than before.
To those who say that I'd have got better anyway and that LP just happened to coincide with my recovery, I strongly disagree. I was unable to walk beyond our street for months. Within a week of the course I was able to go much further; within eight weeks I was able to run, after 16 months without exercise.
Various studies suggest the efficacy of mind-body work. In a recent pilot study conducted by a professor at Harvard Medical School, for example, all symptoms of patients with long Covid improved on a 13-week psychophysiological course. There is no doubt that more biomedical research is needed into post-viral fatigue conditions, and I, like others, hope that more evidence is found of the exact mechanisms at play. Dr Boon Lim, a consultant cardiologist at Imperial College Hospital who has treated many people with long Covid, says: "As medics we have been taught to focus all our attention on physical issues, to the detriment of patients. I think you need both physical and mind- body help to improve."
I am also conscious that mind-body courses can be expensive. LP costs £750 (plus more for follow-up guidance). I found the intense nature of it uniquely motivating but cheaper mind-body work does exist, including the app Curable (I know one woman who recovered from 14 years of ME using it) and Suzy Bolt's extremely compassionate, cheap (and some free) online classes.
For me, the process has been gradual, not immediate. I don't claim that it will work for everyone or even that the theory is definitely correct, but I feel as if I've come back from the dead. Before it, I tried everything mainstream medicine had to offer, to no avail. Mind-body work has got me this far, and I believe it will get me the rest of the way. Without it, I believe I'd still be in bed, without hope.
What an encouraging story. This is further evidence that alternative medicine is viable and worth trying. As with any treatment, conventional or otherwise, doing one's homework beforehand is a prerequisite.
Parliamentary debate on vaccines: broken silence
On Tuesday, December 13, the Conservative MP Andrew Bridgen was granted an adjournment debate in the Commons on the potential harms of coronavirus vaccines. Finally, someone had the gumption to break the silence in Parliament.
I had just tuned into BBC Parliament by chance at the moment he started speaking. How providential.
Here's the beginning:
The transcript is here. Excerpts from his hard-hitting speech follow:
Three months ago, one of the most eminent and trusted cardiologists, a man with an international reputation, Dr Aseem Malhotra, published peer-reviewed research that concluded that there should be a complete cessation of the administration of the covid mRNA vaccines for everyone because of clear and robust data of significant harms and little ongoing benefit. He described the roll-out of the BioNTech-Pfizer vaccine as
"perhaps the greatest miscarriage of medical science, attack on democracy, damage to population health, and erosion of trust in medicine that we will witness in our lifetime."
Interestingly, there has so far not been a single rebuttal of Dr Malhotra's findings in the scientific literature, despite their widespread circulation and the fact that they made international news.
Before I state the key evidence-based facts that make a clear case for complete suspension of these emergency use authorisation vaccines, it is important to appreciate the key psychological barrier that has prevented these facts from being acknowledged by policymakers and taken up by the UK mainstream media. That psychological phenomenon is wilful blindness. It is when human beings—including, in this case, institutions—turn a blind eye to the truth in order to feel safe, reduce anxiety, avoid conflict and protect their prestige and reputations. There are numerous examples of that in recent history, such as the BBC and Jimmy Savile, the Department of Health and Mid Staffs, Hollywood and Harvey Weinstein, and the medical establishment and the OxyContin scandal, which was portrayed in the mini-series "Dopesick". It is crucial to understand that the longer wilful blindless to the truth continues, the more unnecessary harm it creates.
Here are the cold, hard facts about the mRNA vaccines and an explanation of the structural drivers that continue to be barriers to doctors and the public receiving independent information to make informed decisions about them. Since the roll-out in the UK of the BioNTech-Pfizer mRNA vaccine, we have had almost half a million yellow card reports of adverse effects from the public. That is unprecedented. It is more than all the yellow card reports of the past 40 years combined. An extraordinary rate of side effects that are beyond mild have been reported in many countries across the world that have used the Pfizer vaccine, including, of course, the United States.
… Only a couple of weeks ago, I was interviewed by a journalist from a major news outlet who said that he was being bombarded by calls from people who said that they were vaccine-harmed but unable to get the support they wanted from the NHS. He also said that he thought this would be the biggest scandal in medical history in this country. Disturbingly, he also said that he feared that if he were to mention that in the newsroom in which he worked, he would lose his job. We need to break this conspiracy of silence.
It is instructive to note that, according to pharmaco-vigilance analysis, the serious adverse effects reported by the public are thought to represent only 10% of the true rate of serious adverse events occurring within the population. The gold standard of understanding the benefit and harm of any drug is the randomised controlled trial. It was the randomised controlled trial conducted by Pfizer that led to UK and international regulators approving the BioNTech-Pfizer mRNA vaccine for administration in the first place.
Contrary to popular belief, that original trial of approximately 40,000 participants did not show any statistically significant reduction in death as a result of vaccination, but it did show a 95% relative risk reduction in the development of infection against the ancestral, more lethal strain of the virus. However, the absolute risk reduction for an individual was only 0.84%. In other words, from its own data, Pfizer revealed that we needed to vaccinate 119 people to prevent one infection. The World Health Organisation and the Academy of Medical Royal Colleges have previously stated and made it clear that it is an ethical responsibility that medical information is communicated to patients in absolute benefit and absolute risk terms, which is to protect the public from unnecessary anxiety and manipulation.
Very quickly, through mutations of the original strain—indeed, within a few months—covid fortunately became far less lethal. It quickly became apparent that there was no protection against infection at all from the vaccine, and we were left with the hope that perhaps these vaccines would protect us from serious illness and death. So what does the most reliable data tell us about the best-case scenario of individual benefit from the vaccine against dying from covid-19? Real-world data from the UK during the three-month wave of omicron at the beginning of this year reveals that we would need to vaccinate 7,300 people over the age of 80 to prevent one death. The number needed to be vaccinated to prevent a death in any younger age group was absolutely enormous.
At this point, Bridgen's fellow Conservative, Danny Kruger (Prue Leith's son), intervened to ask whatever happened to the initial policy (Matt Hancock's) to vaccinate only the vulnerable and certainly not children. Note the pro-vaccine statements BBC Parliament put up when he spoke:
Kruger said:
I am very grateful to my hon. Friend for bringing this debate to the House. It is a very important debate that we should be having. He is talking about the relative risks for different cohorts of the population. He will remember that, when the vaccine was first announced, the intention was that it would be used only for those who were vulnerable and the elderly because, as he says, the expectation was that the benefit to younger people was minor. Does he agree that it would be helpful for the Minister to explain to us why the original advice that the vaccines would be rolled out only for the older population, and would not be used for children in particular, was laid aside and we ended up with the roll-out for the entire population, including children?
Bridgen responded as follows, then continued:
I thank my hon. Friend for that intervention and his support on this very important issue. Of course, it is important that the Government justify why they are rolling out a vaccine to any cohort of people, particularly our children. He will recall that, in the Westminster Hall debate, we questioned the validity of vaccinating children who have minimal risk, if a risk at all, from the virus when there is a clear risk from the vaccine. I will again report on evidence from America later in my speech about those risks, particularly to young children.
In other words, the benefits of the vaccine are close to non-existent. Beyond the alarming yellow card reports, the strongest evidence of harm comes from the gold standard, highest possible quality level of data. A re-analysis of Pfizer and Moderna's own randomised controlled trials using the mRNA technology, published in the peer-reviewed journal Vaccine, revealed a rate of serious adverse events of one in 800 individuals vaccinated. These are events that result in hospitalisation or disability, or that are life changing. Most disturbing of all, however, is that those original trials suggested someone was far more likely to suffer a serious side effect from the vaccine than to be hospitalised with the ancestral, more lethal strain of the virus. These findings are a smoking gun suggesting the vaccine should likely never have been approved in the first place.
In the past, vaccines have been completely withdrawn from use for a much lower incidence of serious harm. For example, the swine flu vaccine was withdrawn in 1976 for causing Guillain-Barré syndrome in only one in 100,000 adults, and in 1999 the rotavirus vaccine was withdrawn for causing a form of bowel obstruction in children affecting one in 10,000. With the covid mRNA vaccine, we are talking of a serious adverse event rate of at least one in 800, because that was the rate determined in the two months when Pfizer actually followed the patients following their vaccination. Unfortunately, some of those serious events, such as heart attack, stroke and pulmonary embolism will result in death, which is devastating for individuals and the families they leave behind. Many of these events may take longer than eight weeks post vaccination to show themselves.
An Israeli paper published in Nature's scientific reports showed a 25% increase in heart attack and cardiac arrest in 16 to 39-year-olds in Israel. Another report from Israel looked at levels of myocarditis and pericarditis in people who had had covid and those who had not. It was a study of, I think, 1.2 million who had not had covid and 740,000 who had had it. The incidence of myocarditis and pericarditis was identical in both groups. This would tell the House that whatever is causing the increase in heart problems now, it is not due to having been infected with covid-19.
It was accepted by a peer-reviewed medical journal that one of the country's most respected and decorated general practitioners, the honorary vice-president of the British Medical Association and the Labour party's doctor of the year, Dr Kailash Chand, likely suffered a cardiac arrest and was tragically killed by the Pfizer vaccine six months after his second dose, through a mechanism that rapidly accelerates heart disease. In fact, in the UK we have had an extra 14,000 out-of-hospital cardiac arrests in 2021, compared with 2020, following the vaccine roll-out. Many of these will undoubtedly be because of the vaccine, and the consequences of this mRNA jab are clearly serious and common.
Bridgen then went on to discuss conflicts of interest and how they influence vaccine approvals. He then talked about a few subsequent investigations:
In a recent investigation by The BMJ into the financial conflicts of interest of the drug regulators, the sociologist Donald Light said:
"It's the opposite of having a trustworthy organisation independently and rigorously assessing medicines. They're not rigorous, they're not independent, they are selective, and they withhold data."
He went on to say that doctors and patients
"must appreciate how deeply and extensively drug regulators can't be trusted so long as they are captured by industry funding."
Similarly, another investigation revealed that members of the Joint Committee on Vaccination and Immunisation had huge financial links to the Bill and Melinda Gates Foundation running into billions of pounds. Ministers, the media and the public know that the foundation is heavily invested in pharmaceutical industry stocks.
Unfortunately, the catastrophic mistake over the approval, and the coercion associated with this emergency-use authorisation medical intervention, are not an anomaly, and in many ways this could have been predicted by the structural failures that allowed it to occur in the first place. Those shortcomings are rooted in the increasingly unchecked visible and invisible power of multinational corporations—in this case, big pharma. We can start by acknowledging that the drug industry has a fiduciary obligation to produce profit for its shareholders, but it has no fiduciary obligation to provide the right medicines for patients.
The real scandal is that those with a responsibility to patients and with scientific integrity—namely, doctors, academic institutions and medical journals—collude with the industry for financial gain. Big pharma exerts its power by capturing the political environment through lobbying and the knowledge environment through funding university research and influencing medical education, preference shaping through capture of the media, financing think-tanks and so on. In other words, the public relations machinery of big pharma excels in subterfuge and engages in smearing and de-platforming those who call out its manipulations. No doubt it will be very busy this evening.
It is no surprise, when there is so much control by an entity that has been described as "psychopathic" for its profit-making conduct, that one analysis suggests the third most common cause of death globally after heart disease and cancer is the side effects of prescribed medications, which were mostly avoidable … 
It has also been brought to my attention by a whistleblower from a very reliable source that one of these institutions is covering up clear data that reveals that the mRNA vaccine increases inflammation of the heart arteries. It is covering this up for fear that it may lose funding from the pharmaceutical industry. The lead of that cardiology research department has a prominent leadership role with the British Heart Foundation, and I am disappointed to say that he has sent out non-disclosure agreements to his research team to ensure that this important data never sees the light of day. That is an absolute disgrace. Systemic failure in an over-medicated population also contributes to huge waste of British taxpayers' money and increasing strain on the NHS.
Danny Kruger intervened a second time:
My hon. Friend is being very good with his time. I just want to call his attention to some research, since I chair the all-party parliamentary group for prescribed drug dependence. He refers to the waste of money; there is £500 million being spent every year by the NHS on prescribed drugs for people who should not be on those habit-forming pills, causing enormous human misery as well as waste for the taxpayer.
Bridgen acknowledged what Kruger said, then concluded his speech:
I thank my hon. Friend for making a point that only reinforces the items in my speech that the public need to know. I thank him again for his support.
We need an inquiry into the influence of big pharma on medications and our NHS. That is been called for many occasions and by some very influential people, including prominent physicians such as the former president of the Royal College of Physicians and personal doctor to our late Queen, Sir Richard Thompson. On separate occasions in the last few years those calls have been supported and covered in the Daily Mail, The Guardian and, most recently, The i newspaper.
We are fighting not just for principles of ethical, evidence-based medical practices, but for our democracy. The future health of the British public depends on us tackling head-on the cause of this problem and finding meaningful solutions …
That first step could start this evening with this debate. It starts here, with the vaccine Minister and the Government ensuring in the first instance an immediate and complete suspension of any more covid vaccines with their use of mRNA technology. Silence on this issue is more contagious than the virus itself, and now so should courage be. I would implore all the scientists, medics, nurses and those in the media who know the truth about the harm these vaccines are causing to our people to speak out.
We have already sacrificed far too many of our citizens on the altar of ignorance and unfettered corporate greed. Last week the MHRA authorised those experimental vaccines for use in children as young as six months. In a Westminster Hall debate some weeks ago, I quoted a report by the Journal of the American Medical Association studying the effect of the covid-19 mRNA vaccination on children under five years of age. It showed that one in 200 had an adverse event that resulted in hospitalisation, and symptoms that lasted longer than 90 days.
As the data clearly shows to anyone who wants to look at it, the mRNA vaccines are not safe, not effective and not necessary. I implore the Government to halt their use immediately. As I have demonstrated and as the data clearly shows, the Government's current policy on the mRNA vaccines is on the wrong side of medical ethics, it is on the wrong side of scientific data, and ultimately it will be on the wrong side of history.
Conservative MP Maria Caulfield responded on behalf of the Government. She is a nurse who worked on the front line during the darkest days of the pandemic. Not surprisingly, she strongly, but politely, disagreed with Bridgen:
I thank my hon. Friend the Member for North West Leicestershire (Andrew Bridgen) for securing the debate. It is important that all Members get to discuss and debate such issues, and they are entitled to their opinion.
I have to say that I strongly disagree with my hon. Friend, not only in the content of his speech, but in the way he derided doctors, scientists and nurses. Many of us worked through the pandemic and saw at first hand the devastation that covid caused. There is no doubt in my mind that, despite the personal protective equipment, social distancing and infection control, the thing that made the biggest difference in combating covid was the introduction of the vaccine …
Caulfield told us things we already know about the Government's support of the vaccine and how the yellow card system works. She refused to take an intervention from Bridgen but did take one from Kruger, who asked about vaccinating children:
I am grateful. The Minister's predecessor had asked the Joint Committee on Vaccination and Immunisation to review the evidence behind the decision to roll out the vaccine to children. Can she update the House or write to us to explain where that review has got to? Does she agree that the JCVI should be looking at the vaccination of children?
She responded, then continued:
I will write to my hon. Friend with an update on that report. It was touched on that the MHRA has licensed the vaccine for babies, but that has not yet been approved by the JCVI, so that is just a licence rather than a recommendation to roll out. However, I am happy to send him the details of that report.
I want to put on the record that the covid vaccines have saved tens of thousands of lives and prevented hundreds of thousands of people from being hospitalised. I completely disagree with my hon. Friend the Member for North West Leicestershire that there is a whole conspiracy of doctors, nurses and scientists—they have done nothing but work hard to get us through the pandemic.
In the end, Bridgen got his intervention:
I thank the Minister for giving way on that important point. The claims about the number of lives saved worldwide by the vaccination are sponsored by vested interests. The modelling is the lowest form of scientific evidence—in fact, it is more science fiction than science fact.
Needless to say, Caulfield disagreed and concluded by promoting the vaccines:
I completely disagree. I worked on the covid wards with patients who were dying from that virus. We had infection control measures, antibiotics, dexamethasone—a steroid—and every known facility available, and the only thing that made a difference was when those vaccines were introduced. They do not necessary stop people from getting the virus, but they certainly reduce its intensity and the likelihood of someone dying from it.
I completely debunk the conspiracy theories about a whole group of people benefiting financially from the roll-out of the vaccine and would gently say to my hon. Friend that if he has evidence, there are mechanisms in place for raising concerns, as we have seen with other drugs. Only today, I was before the Health and Social Care Committee talking about sodium valproate—we also had an Adjournment debate on that last week—where there are genuine safety concerns. The MHRA is taking that extremely seriously. It is not worried about pharma concerns; its first priority is patients, and it is exactly the same with the covid vaccine. So if there is evidence—I am not saying that there is not—it absolutely must go through the proper channels so that it can be evaluated.
We have launched a nationwide campaign to encourage people to come forward this winter to get their booster. I recommend that people do that safe in the knowledge that the vaccine is safe for people to have.
The debate ended and the House was adjourned.
Last Saturday, December 18, GB News's Neil Oliver covered Bridgen's debate and Aseem Malhotra's findings in his editorial. Oliver rightly wonders why the vaccine scandal isn't getting plastered all over the media the way coronavirus statistics were in 2020 and 2021. Instead, he says, there is nothing but deafening silence:
Dr Aseem Malhotra's journey
When governments first announced the vaccines, Dr Malhotra, a cardiologist, was enthusiastic and encouraged everyone to get them.
Like the rest of us, he believed it when world leaders said the vaccines would prevent transmission. We saw that they did not.
Then, Malhotra's father fell ill from one of the jabs. While he was an older gentleman, he was fit and ran daily. He also led an active life.
Malhotra examined his father and saw that he had suddenly developed heart problems.
On October 6, the cardiologist spoke publicly at the World Council for Health about the dangers the vaccines pose. He also said he doubted whether the original claims about preventing transmission were true. He urged a pause in vaccine roll outs:
Even with treatment from his son, Malhotra senior died in October. What a blow that must have been:
On December 17, Malhotra and Dr Peter McCullough discussed the vaccine's dangerous side effects with Jan Jekielek of Epoch Times:
Medical practitioners now speaking out
Fortunately, within the past week, medical practitioners have begun speaking out about the dangers of the vaccines.
On December 16, a vascular specialist urged a pause in the vaccine roll out:
On December 17, a British GP said he would like an investigation into the vaccines:
Doctors for Patients UK aired their views on Wednesday, December 21:
Their video was taken down for a time but is now back up and running:
Apparently, one place where speaking out is forbidden is California, where one's licence to practice can be suspended. No surprise there:
We can but hope that 2023 blows the vaccine controversy out into the open once and for all.
I can bet you dollars to doughnuts that every media outlet knows these interventions don't work and are injurious to health. As Andrew Bridgen said of the media personality he spoke with, they're afraid of losing their jobs if they say something openly.
One media outlet that is covering the vaccines is GB News, particularly on Mark Steyn's weeknight show. My best wishes go to him as he recovers in France from two heart attacks in succession. I hope they are not related to 'the jabs'.
Thus far, most of my series on Matt Hancock has focused on his handling of the coronavirus pandemic.
Those who missed them can catch up on parts 1, 2, 3 and 4.
Even though the vaccine was about to be distributed throughout the UK, people in England were frustrated by the restrictions which the Government had imposed indefinitely. Effectively, we had had a Christmas lockdown, with more restrictions that came in on Boxing Day. As I covered in my last post, even at the end of the year, Hancock could not say when they would be lifted.
This post covers the first half of 2021 with excerpts from Hancock's Pandemic Diaries as serialised in the Mail along with news I had collected during that time. Pandemic Diaries entries come from this excerpt, unless otherwise specified.
Vaccines and side-effects
Former Times journalist Isabel Oakeshott co-authored Pandemic Diaries. On December 7, The Spectator posted her impressions of Hancock and the pandemic.
This is what she had to say about the vaccine policy (emphases mine):
The crusade to vaccinate the entire population against a disease with a low mortality rate among all but the very elderly is one of the most extraordinary cases of mission creep in political history. On 3 January 2021, Hancock told The Spectator that once priority groups had been jabbed (13 million doses) then 'Cry freedom'. Instead, the government proceeded to attempt to vaccinate every-one, including children, and there was no freedom for another seven months. Sadly, we now know some young people died as a result of adverse reactions to a jab they never needed. Meanwhile experts have linked this month's deadly outbreak of Strep A in young children to the weakening of their immune systems because they were prevented from socialising. Who knows what other long-term health consequences of the policy may emerge?
Why did the goalposts move so far off the pitch? I believe multiple driving forces combined almost accidentally to create a policy which was never subjected to rigorous cost-benefit analysis. Operating in classic Whitehall-style silos, key individuals and agencies – the JCVI, Sage, the MHRA – did their particular jobs, advising on narrow and very specific safety and regulatory issues. At no point did they all come together, along with ministers and, crucially, medical and scientific experts with differing views on the merits of whole-population vaccination, for a serious debate about whether such an approach was desirable or wise.
The apparent absence of any such discussion at the top of government is quite remarkable. The Treasury raised the occasional eyebrow at costs, but if a single cabinet minister challenged the policy on any other grounds, I've seen no evidence of it.
In Hancock's defence, he would have been crucified for failing to order enough vaccines for everybody, just in case. He deserves credit for harnessing the full power of the state to accelerate the development of the Oxford/AstraZeneca jab. He simply would not take no or 'too difficult' for an answer, forcing bureaucratic regulators and plodding public health bodies to bend to his will. He is adamant that he never cut corners on safety, though the tone of his internal communications suggest that in his hurtling rush to win the global race for a vaccine, he personally would have been willing to take bigger risks. I believe he would have justified any casualties as sacrifices necessary for the greater good. Fortunately (in my view) his enthusiasm was constrained by medical and scientific advisers, and by the Covid vaccine tsar Kate Bingham, who was so alarmed by his haste that at one point she warned him that he might 'kill people'. She never thought it was necessary to jab everyone and repeatedly sought to prevent Hancock from over-ordering. Once he had far more than was needed for the initial target group of elderly and clinically vulnerable patients, he seems to have felt compelled to use it. Setting ever more ambitious vaccination rollout targets was a useful political device, creating an easily understood schedule for easing lockdown and allowing the government to play for time amid the threat of new variants. The strategy gave the Conservatives a big bounce in the polls, which only encouraged the party leadership to go further.
Now on to side-effects:
Given the unprecedented speed at which the vaccine was developed, the government might have been expected to be extra careful about recording and analysing any reported side-effects. While there was much anxiety about potential adverse reactions during clinical trials, once it passed regulatory hurdles, ministers seemed to stop worrying. In early January 2021, Hancock casually asked Chris Whitty 'where we are up to on the system for monitoring events after rollout' …
Not exactly reassuringly, Whitty replied that the system was 'reasonable' but needed to get better. This exchange, which Hancock didn't consider to be of any significance, is likely to be seized on by those with concerns about vaccine safety.
January 2021
On January 2, Hancock hoped to ease red tape allowing NHS physicians to come out of retirement to be part of the vaccination drive:
On January 3, The Conservative Woman's co-editor and qualified barrister Laura Perrins blasted the Government for keeping Britons under 'humiliating and undignified treatment':
Schools reopened in England on Monday, January 4. They closed again by the end of the day.
Monday, January 4:
Millions of children returned to school today, only to be told schools are closing again tomorrow. After sleeping on it, Boris agreed we have no choice but to go for another national lockdown.
On Thursday, January 7, Hancock appeared before the Health and Social Care Select Committee to answer questions about lockdown. He came across as arrogant, in my opinion:
A message from a friend tipping me off that straight-talking cricket legend Sir Geoffrey Boycott is very unhappy about the delay in the second dose. He's a childhood hero of mine, so I volunteered to call him personally to explain. I rang him and made the case as well as I could, but it was clear he was far from persuaded.
That morning, Guido Fawkes's cartoonist posted his ghoulish perspective on Hancock: 'A nightmare before vaccination'. It was hard to disagree:
A bunch of GPs are refusing to go into care homes where there are Covid cases. Apparently there are cases in about a third of care homes, meaning many residents aren't getting vaccinated. Evidently I was naive to think £25 a jab would be enough of an incentive. We may have to use the Army to fill the gap.
Not only is [Sir Geoffrey] Boycott in the Press having a go at me; now [former Speaker of the House of Commons] Betty Boothroyd is kicking off as well. Given that I personally ensured she got her first jab fast, it feels a bit rich. It's particularly miserable being criticised by people I've grown up admiring and went out of my way to help, but welcome to the life of a politician.
On Wednesday, January 13, Hancock still had no answer as to when restrictions would be lifted. Many of us thought he was enjoying his power too much:
Friday, January 15:
An extraordinary row with Pfizer bosses, who are trying to divert some of our vaccine supply to the EU!
When I got to the Cabinet Room, the PM practically had smoke coming out of his ears. He was in full bull-in-a-china-shop mode, pacing round the room growling.
What really riled him was the fact that only last night he was speaking to Pfizer CEO Albert Bourla, and Bourla made no mention of it! I was wary: when the PM is in this mood, he can really lash out. I knew I'd need to be as diplomatic as possible if I wanted to avoid getting caught in the crossfire.
Monday, January 18:
Pfizer has relented. Following a robust exchange between Bourla and the PM, lo and behold, they've located an 'emergency supply', which is now heading our way.
On Tuesday, January 19, Hancock got coronavirus and had to self-isolate. This was his second bout. The first one was earlier in 2020:
Julia Hartley-Brewer of talkRADIO posed an interesting question about re-infection and T-cells. Hmm:
[Social Care minister] Helen Whately wants to find a way of allowing indoor visits again. I'm hardline on this: we cannot have Covid taking off in care homes again.
Monday, January 25:
The EU health commissioner has tweeted that 'in the future' any company that produces vaccines in the EU will have to provide 'early notification' if they want to sell it to a third-party country. In other words, they'll need permission. Totally desperate stuff! They're doing it purely because they screwed up procurement.
Tuesday, January 26:
Today we reached a really grim milestone in the pandemic: more than 100,000 deaths in this country. So many people grieving; so much loss.
Wednesday, January 27:
A humiliating climbdown from the EU, who clearly realised their 'export ban' wouldn't end well. It followed frantic diplomacy on our side, plus our lawyers confirming that they wouldn't be able to block our supply anyway. What a ridiculous waste of time and energy.
Tonight I'm doing a night shift at Basildon Hospital [in Essex]. Front-line staff are still under horrendous pressure, and the best way for me to understand is to see it for myself.
Thursday, January 28:
The night shift has left me completely drained. I don't know how they do it day in and day out: heroic. I donned full PPE, and got stuck in, helping to turn patients and fetch and carry. In intensive care, I watched a man consent to being intubated because his blood oxygen levels weren't sustainable.
He spoke to the doctor, who said: 'We want to put a tube in, because we don't think you'll make it unless we do that.'
His chances of waking up were 50:50. He knew that. It was an unbelievably awful moment. He reluctantly agreed, and within a minute he was flat out on the ventilator. The doctor next to me said: 'I don't think we'll see him again.'
When my shift was over, I went down to the rest area. One of the registrars told me he'd just had to phone the wife of the patient to say he'd been intubated.
'We're doing this, we all know it's our duty, we're coping with a second wave — but we can't have a third,' he said. Then he burst into tears.
That day, an article appeared in Spiked about the Government's censorship of lockdown sceptics. 'Shouldn't we "expose" the government rather than its critics?' says:
It's true 'lockdown sceptics' have made mistakes. But the government's survival depends on none of us ever understanding that lockdown sceptics are not in charge – it is.
… they're gunning for people like Sunetra Gupta, the professor of theoretical epidemiology at Oxford University … 
Pre-Covid, I would estimate 97 per cent of the population couldn't have picked Matt Hancock out of a police line-up if he had just mugged them. So when he stood up in the House of Commons, last January, to state that 'the Chinese city of Wuhan has been the site of an outbreak of 2019-nCoV', there was no reason to doubt him when he said 'the public can be assured that the whole of the UK is always well-prepared for these types of outbreaks'. In February, he explained 'our belts and braces approach to protecting the public' and insisted that 'the clinical advice about the risk to the public has not changed and remains moderate'.
On 23 March, he made a complete volte-farce. (That was not a typo.) The 'risk to the public' wasn't 'moderate' at all. 'It is incredibly important that people stay more than two metres away from others wherever they are or stay at home wherever possible', he told the Today programme, adding those who weren't doing so were 'very selfish'. Four days later, Hancock tested positive for coronavirus. Seven days after that (3 April), he opened the Nightingale hospital ('a spectacular and almost unbelievable feat'), while 'blowing his nose' and not appearing 'to be at 100 per cent'. Two days after that, he threatened to change the rules again so that people who weren't ill couldn't go outside at all: 'If you don't want us to have to take the step to ban exercise of all forms outside of your own home, then you've got to follow the rules' …
We'll skip over Hancock's botching of track and trace, the dodgy private contracts he's had a hand in rewarding, how he breaks the rules he makes for us while cracking jokes about it, or his intervention into the debate about whether scotch eggs constitute a 'substantial meal'.
In the autumn of 2020, pubs could only open if they served a plate of food. Why, I do not know.
The article mentions Hancock's tears on Good Morning Britain as he watched the first two people get the first doses of the vaccine. Then:
Days later, all this 'emotion' had gone down well, so Hancock did more of it – in parliament – announcing that his step-grandfather had died of Covid-19. ('He was in a home and he had Alzheimer's – the usual story', Hancock's father told the Daily Mail. 'It was just a few weeks ago.')
'Beware of men who cry', Nora Ephron once wrote. 'It's true that men who cry are sensitive to and in touch with feelings, but the only feelings they tend to be sensitive to and in touch with are their own.' Was Hancock crying because he was devastated that his step-grandfather was not kept alive long enough to receive the vaccine (suffering from Alzheimer's – so it would not be a leap to fear – bewildered, confused, and very likely denied the comfort of the touch of anyone he loved for most of the year)? Or was it because the political survival of the Conservative government depends on being proved right about lockdown – and that depends on one thing: the vaccine …
Hancock told the Spectator that Covid-19 will never be eradicated. But he sees no reason for his extraordinary powers as health secretary to cease even if – by some miracle – it does. In late November, Hancock told a Commons health and science committee that he wants to end the British culture of 'soldiering on'. Having built a 'massive diagnostics capacity', he said, 'we must hold on to it. And afterwards we must use it not just for coronavirus, but everything. In fact, I want to have a change in the British way of doing things, where if in doubt, get a test. It doesn't just refer to coronavirus, but to any illness that you might have.'
The idea that we would continue to test, track and trace healthy people who have cold symptoms is so psychotic it's a struggle to understand whether the man is even aware of how many people weren't tested for cancer last year. The only hero in this context is Professor Sunetra Gupta. All she's done is express her fears that lockdown – long-term – will do more harm than good – which is what she believes. In China, Zhang Zhan was also worried that people were dying and the government didn't want anyone to know about it, so she tried her best to warn everyone in society that more people were going to die if nothing was done. If China had been honest about the outbreak from the start, maybe, just maybe, 100,000 lives would have been saved from Covid-19 here …
Maybe anyone who shares Gupta's fears are 'fringe cranks', but 'fringe cranks' have as much right to say what they think as anyone else. And especially when the government has stripped us of all our rights to do pretty much anything else, while refusing to reveal when – if ever – our rights will be returned. This isn't China. It's Britain. And we do things differently here. Or at least we used to – in those halcyon days when none of us had a clue who Matt Hancock was …
Scandalous behaviour by certain care home operators, who are unscrupulously using staff with Covid. Inspectors have identified no fewer than 40 places where this is happening.
Wow. I am shocked. It underlines why we need to make jabs mandatory for people working in social care. The PM supports me on this.
February 2021
Monday, February 1:
A YouGov poll suggests 70 per cent of Britons think the Government is handling the vaccine rollout well, while 23 per cent think we're doing badly. I forwarded it to [NHS England chief executive] Simon Stevens.
'Who the heck are the 23 per cent, for goodness' sake!!' he replied.
I don't know. Maybe the same 20 per cent of people who believe UFOs have landed on Earth? Or the five million Brits who think the Apollo moon landings were faked?
Thursday, February 4:
Tobias Ellwood [Tory MP] thinks GPs are deliberately discouraging patients from using vaccination centres so they get their jabs in GP surgeries instead. I'm sure he's right. That way, the GPs make more money.
On Saturday, February 6, The Telegraph reported that Hancock wanted to 'take control of the NHS'. Most Britons would agree that something needs to be done — just not by him:
On Sunday, February 7, The Express's Health and Social Affairs editor said a specialist thought that the Government was using virus variants to control the public. Many would have agreed with that assessment:
Monday, February 8:
We've now vaccinated almost a quarter of all adults in the UK!
I've finally, finally got my way on making vaccines mandatory for people who work in care homes.
Because of that, a lot of employees resigned from their care home posts and have gone into other work, especially hospitality.
A poll that day showed that the public was happy with the Government's handling of the pandemic. John Rentoul must have looked at the wrong line in the graph. Rishi Sunak, then Chancellor, came out the best for shaking the magic money tree:
On Tuesday, February 9, Hancock proposed 10-year jail sentences for people breaking travel restrictions. This referred to people travelling from 'red list' countries, but, nonetheless, pointed to a slippery slope:
The Conservative Woman's co-editor and qualified barrister Laura Perrins pointed out a logic gap in sentencing:
Spiked agreed with Perrins's assessment in 'Matt Hancock is behaving like a tyrant':
Health secretary Matt Hancock announced new, staggeringly authoritarian enforcement measures in the House of Commons today.
Passengers returning from one of the 33 designated 'red list' countries will have to quarantine in government-approved hotels from next week. Anyone who lies on their passenger-locator form about whether they have visited one of these countries faces imprisonment for up to 10 years. As the Telegraph's assistant head of travel, Oliver Smith, has pointed out, this is longer than some sentences for rape (the average sentence is estimated to be eight years).
In addition, passengers who fail to quarantine in hotels when required to do so will face staggering fines of up to £10,000.
This is horrifying. Of course, we need to take steps to manage the arrival of travellers from countries with high levels of infection, particularly since different variants of Covid have emerged. But to threaten people with a decade behind bars or a life-ruining fine for breaching travel rules is a grotesque abuse of state power.
During the pandemic, we have faced unprecedented attacks on our civil liberties. We have been ordered to stay at home and have been banned from socialising under the threat of fines. But this latest move is the most draconian yet …
… we have now reached the stage where a 10-year sentence is considered an appropriate punishment for lying on a travel form.
Matt Hancock is behaving like a tyrant.
Meanwhile, Hancock's fellow Conservative MPs wanted answers as to when lockdown would end. The Mail reported:
Furious Tories savaged Matt Hancock over a 'forever lockdown' today after the Health Secretary warned border restrictions may need to stay until autumn — despite figures showing the UK's epidemic is firmly in retreat.
Lockdown-sceptic backbenchers took aim at Mr Hancock when he unveiled the latest brutal squeeze aimed at preventing mutant coronavirus strains getting into the country …
… hopes the world-beating vaccine roll-out will mean lockdown curbs can be significantly eased any time soon were shot down today by Mr Hancock, who unveiled the latest suite of border curbs and warned they could last until the Autumn when booster vaccines will be available.  
As of Monday travellers from high-risk 'red list' countries will be forced to spend 10 days in 'quarantine hotels', and all arrivals must test negative three times through gold-standard PCR coronavirus tests before being allowed to freely move around the UK. Anyone who lies about whether they have been to places on the banned list recently will face up to 10 years in prison. 
The fallout continued the next day. See below.
Wednesday, February 10:
Meg Hillier [Labour MP], who chairs the Public Accounts Committee, has started an infuriating campaign accusing 'Tory ministers' of running a 'chumocracy' over PPE contracts. How pitifully low. I'm incandescent.
What Meg fails to acknowledge is that when the pandemic kicked off, of course we had to use the emergency procedure for buying, which allows officials to move fast and not tender everything for months.
And when people got in contact [about] PPE, of course we forwarded on the proposals for civil servants to look at.
Even the Labour Party were getting involved — it was a national crisis and these leads have proved invaluable.
[Shadow Chancellor] Rachel Reeves wrote to Michael Gove at the time, complaining that a series of offers weren't being taken up. Officials looked into her proposals, too.
I'm even more offended because I used to respect Meg. It's so offensive for a supposedly grown-up politician to bend the truth in this way.
Labour's Deputy Leader Angela Rayner was angry at the Conservatives. What else is new?
This story has not gone away. There was a debate about it in the Commons this month.
Fallout continued from February 9 over Hancock's never-ending lockdown.
His fellow Conservative, Sir Charles Walker MP, gave an interview saying that Hancock was 'robbing people of hope'. He was also appalled by the prospect of a 10-year prison term for travelling from a red list country:
With regard to lockdowns, recall that at the end of 2020, Hancock said that only the vulnerable needed vaccinating, then we could all, in his words, 'Cry freedom'. In the space of a few weeks, he had a change of tune:
Thursday, February 11:
So here we are, in the depths of the bleakest lockdown, with the virus still picking off hundreds of victims every week, and Test and Trace officials have been having secret talks about scaling back. Unbelievable!
I told them there was no way they should stand down any lab capacity, but I'm told they're getting a very different signal from the Treasury.
Friday, February 12:
The Left never ceases to amaze. The bleeding hearts who run North West London CCG (one of many health quangos nobody will miss when they're abolished) have taken it upon themselves to prioritise vaccinating asylum seekers. They have fast-tracked no fewer than 317 such individuals — 'predominantly males in their 20s and 30s'.
So, while older British citizens quietly wait their turn, we are fast-tracking people who aren't in high-risk categories and may not even have any right to be here?
Meanwhile, some of our vaccine supply has met an untimely end. I'd just reached the end of a tricky meeting when a sheepish-looking official knocked on my office door. He'd been dispatched to inform me that half a million doses of the active ingredient that makes up the vaccine have gone down the drain.
Some poor lab technician literally dropped a bag of the vaccine on the floor. Half a million doses in one dropped bag! I decided not to calculate how much Butter Fingers has cost us. Mistakes happen.
On February 22, CapX asked, 'Why isn't Matt Hancock in jail?'
It was about Labour's accusations about procurement contracts for the pandemic. The article comes out in Hancock's favour:
On Thursday, Mr Justice Chamberlain sitting in the High Court ruled that Matt Hancock had acted unlawfully by failing to to publish certain procurement contracts …
It is worth noting that there was no suggestion in Mr Justice Chamberlain's judgment that Matt Hancock had any personal involvement in the delayed publication. The judgment was made against the Health Secretary, but in his capacity as a Government Minister and legal figurehead for his Department, rather than as a private citizen. In fact, the failure to publish was actually on the part of civil servants in the Department who, in the face of the pandemic, saw a more than tenfold increase in procurement by value and struggled to keep up.
Indeed, on the Andrew Marr Show on Sunday, Mr Hancock did not apologise for the unlawful delays, saying it was "the right thing to do" to prioritise getting the PPE to the frontline rather than ensuring timely transparency returns. I wonder how many of those calling for Mr Hancock's imprisonment would rather he had published the contracts in the required timeframe even if it meant there was less PPE available for NHS workers.
As a general rule, we should be able to see how the Government spends our money, what it is spent on and to whom it is given. Transparency improves governance. It is right that the Secretary of State is under a legal duty to publish contracts such as those at the heart of this case. However, this case – and the way it has been reported – is likely to have a much more invidious impact than simply improving transparency in public procurement policy.
Opposition politicians and activists have attacked the Government with claims that it has been using procurement during the pandemic as a way to funnel money to its political supporters and donors. It is certainly true that the sums spent by the Government have been large, and have been spent quickly.
What is certainly not true is that Mr Justice Chamberlain in his judgment gave any credence to this line of attack. He accepted evidence from an official at the Department of Health and Social Care that the delay was due to increased volume in contracts and lack of staff. However, that has not stopped figures linking the judgment to the attack line, such as Shadow Health Secretary Jonathan Ashworth who tweeted that the delay was 'Cronyism'. In fact, there was no evidence to suggest that was so.
Vanishingly few people will read Mr Justice Chamberlain's judgment in full, or even in part. Most people will only see the headlines in the press. Coupled with tweets such as those by Mr Ashworth, the public at large is likely to come to the conclusion that a court has found against the Government for cronyism, when that is not the case. And this will likely fuel further resentment that the Cabinet are not serving decades behind bars.
Justice must be done and it must be seen to be done. Justice has been done in this case – the Secretary of State has been found to have acted unlawfully – but too many lack the ability and willingness to see.
Sunday, February 28:
A potentially dangerous new variant — which we think originated in Brazil — has been identified in the UK, but we can't find Patient Zero. Whoever it is failed to provide the correct contact details when they took their Covid test, so we don't know who or where they are. Cue a frantic search.
March 2021
Monday, March 1:
When a lab technician first spotted the new variant, we didn't even know which part of the country the positive test had come from. Since then, thanks to some fancy sequencing and a high-quality data system, we've been able to identify the batch of home-test kits involved, and narrowed it down to just 379 possible households. We're now contacting every single one.
Tuesday, March 2:
The net's closing. We now know that the PCR test was processed at 00.18hrs on Valentine's Day and went to the lab via a mailing centre in Croydon [south London].
Thursday, March 4:
Test and Trace have found Patient Zero! He was on the shortlist of 379 households and eventually returned calls from officials at 4 pm yesterday.
Apparently, he tried to register his test but got the details wrong. We now know his name and age (38) and that he has been very ill. He claims not to have left his house for 18 days.
This is extremely good news: assuming he's telling the truth, he has not been out and about super-spreading. What amazing detective work.
Friday, March 5:
Covid deaths have nearly halved within a week. The vaccine is clearly saving lives.
On Saturday, March 6, The Conservative Woman's Laura Perrins, a qualified barrister, pointed out that mandatory vaccinations — she was probably thinking of health workers — is 'criminal battery':
Wednesday, March 10:
Can you imagine if we hadn't bothered to set up a contact tracing system? And if we'd decided it was all too difficult and expensive to do mass testing? Would we ever have been forgiven if we'd failed to identify clusters of cases or new variants?
No — and rightly so. Yet a cross-party committee of MPs has come to the conclusion that Test and Trace was basically a gigantic waste of time and money. I felt the red mist descend.
Yesterday, we did 1.5 million tests — in a single day! No other European country has built such a capability.
Thursday, March 11 (see photo):
The Test and Trace row is rumbling on, as is a ridiculous story about me supposedly helping a guy who used to be the landlord of my local pub in Suffolk land a multi-million-pound Covid contract. As I've said ad nauseam, I've had nothing to do with awarding Covid contracts. I find these attacks on my integrity incredibly hurtful.
The story rumbles on in Parliament, including in a debate this month.
Oh well, at least [retired cricketer, see January's entries] Geoffrey Boycott is happy. He texted me to say he'd got his second dose. He seems genuinely grateful. I resisted the temptation to tell him that good things come to those who wait.
Tuesday, March 16:
To my astonishment, hotel quarantine is working. There's a weird new variant from the Philippines, but the two cases we've identified have gone no further than their Heathrow airport hotel rooms.
Wednesday, March 17:
Today was my son's birthday. We had breakfast together, but there was no way I could join the birthday tea with family. I hope to make it up to him — to all of them — when all this is over.
On Tuesday, March 23, the first anniversary of lockdown, Boris did the coronavirus briefing. Below is a list of all the Cabinet members who had headed the briefings in the previous 12 months. I saw them all:
On Wednesday, March 24, Hancock announced the creation of the sinister sounding UK Health Security Agency. SAGE member Dr Jenny Harries is at its helm:
Tuesday, March 30:
How did Covid start? A year on, we still don't really know, and there's still an awful lot of pussyfooting around not wanting to upset the Chinese.
No surprise to learn that the Foreign Office has 'strong views on diplomacy' — in other words, they won't rock the boat with Beijing and just want it all to go away.
Sometime in March, because magazine editions are always a month ahead, the publisher of Tatler, Kate Slesinger, enclosed a note with the April edition, which had Boris's then-partner/now-wife Carrie Symonds on the cover. It began:
As I write this letter, the Prime Minister has just announced an extension to the nationwide lockdown, to be reviewed at around the time this Tatler April issue goes on sale — an opportune moment for us to be taking an in-depth look into the world of Carrie Symonds, possibly the most powerful woman in Britain right now.
April
On April 5, a furious Laura Perrins from The Conservative Woman tweeted that Hancock's policies were 'absolute fascism', especially as we had passed the one year anniversary of lockdown and restrictions on March 23:
Note that lateral flow tests, as Hancock tweeted above, were free on the NHS. The programme continued for a year.
The civil service seems determined to kill off the Covid dogs idea, which is so much more versatile than normal testing and really worthwhile. The animals are amazing – they get it right over 90 per cent of the time – but officials are being very tricky.
We should have started training dogs months ago and then sending them to railway stations and other busy places, where they could identify people who probably have Covid so they can then get a conventional test.
Unfortunately, even though I've signed off on it, the system just doesn't buy it.
So far we've done a successful Phase 1 trial, but Phase 2, which costs £2.5 million, has hit the buffers. The civil service have come up with no fewer than 11 reasons to junk the idea.
That's one idea I actually like. It sounds great.
On Friday, April 16, someone posted a video of Hancock breezing into No. 10. He had his mask on outside for the cameras, then whisked it off once he entered. Hmm. The person posting it wrote, 'The hypocrisy and lies need to stop!'
That day, the BBC posted that Hancock had financial interests in a company awarded an NHS contract — in 2019:
Health Secretary Matt Hancock owns shares in a company which was approved as a potential supplier for NHS trusts in England, it has emerged.
In March, he declared he had acquired more than 15% of Topwood Ltd, which was granted the approved status in 2019.
The firm, which specialises in the secure storage, shredding and scanning of documents, also won £300,000 of business from NHS Wales this year.
A government spokesman said there had been no conflict of interest.
He also said the health secretary had acted "entirely properly".
But Labour said there was "cronyism at the heart of this government" and the party's shadow health secretary Jonathan Ashworth has asked the head of the civil service to investigate whether Mr Hancock breached the ministerial code.
Public contract records show that the company was awarded a place in the Shared Business Services framework as a potential supplier for NHS local trusts in 2019, the year after Mr Hancock became health secretary.
The MPs' register did not mention that his sister Emily Gilruth – involved in the firm since its foundation in 2002 – owns a larger portion of the shares and is a director, or that Topwood has links to the NHS – as first reported by the Guido Fawkes blog and Health Service Journal.
Labour leader Sir Keir Starmer said: "Matt Hancock has to answer the questions… He can't pretend that the responsibility lies elsewhere."
But he said he was "not suggesting" the health secretary had broken any rules.
Here's photographic proof of share ownership:
Saturday, April 17:
Prince Philip's funeral. The Queen sat alone in a pew, in widow's weeds and a black face mask. Looking at her in her grief, I felt an intense internal conflict, almost an anguish, between the overwhelming sense of duty I have had to save lives on the one hand and the painful consequences of my own decisions on the other. Out of duty, out of an abundance of caution, and to show leadership, the Queen took the most proper approach. It was humbling, and I felt wretched.
Monday, April 19:
The police rang to warn me that anti-vaxxers are planning a march on my London home. They suggested I liaise with [my wife] Martha so she can tell me if it's happening.
Great that they spotted it, but asking my wife to keep an eye out of the window while a baying horde descends on the family home is not exactly British policing at its finest. I asked for more support. Then I went home to make sure I was there if it kicked off, but there was no sign of anyone.
A policeman explained that the anti-vaxxers had posted the wrong details on social media so were busy protesting a few streets away. What complete idiots.
Thursday, April 22:
Boris has completely lost his rag over Scotland.
He's got it into his head that Nicola Sturgeon is going to use vaccine passports to drive a wedge between Scotland and the rest of the UK and is harrumphing around his bunker, firing off WhatsApps like a nervous second lieutenant in a skirmish.
He's completely right: Sturgeon has tried to use the pandemic to further her separatist agenda at every turn.
Now the Scottish government is working on its own system of vaccine certification, which might or might not link up with what's being developed for the rest of the UK.
On April 26, the vaccine was rolled out to the general population. Hancock is pictured here at Piccadilly Circus:
I cannot tell you how many phone calls and letters we got in the ensuing weeks. Not being early adopters of anything, we finally succumbed in early July, again a few months later and at the end of the year for the booster.
On April 29, Hancock and Deputy Medical Officer Jonathan Van-Tam had a matey vaccination session together, with 'JVT', as Hancock called him, doing the honours:
May
Saturday, May 1:
Another outright death threat today in my inbox that said simply: 'I am going to kill you.' Lovely. The threats from online anti-vaxxers are getting far more frequent and violent.
As a result, I'm now being assessed for the maximum level of government security.
Tuesday, May 4:
Today, I was out campaigning for the local elections in Derbyshire. Gina [Coladangelo, adviser] drove me up. My relationship with Gina is changing.
Having spent so much time talking about how to communicate in an emotionally engaged way, we are getting much closer.
On Wednesday, May 12, the London Evening Standard interviewed Hancock. 'Matt Hancock: Let's put our year of hell behind us' is more interesting now than it was then:
Matt Hancock today struck his most upbeat note yet on easing many of the remaining lockdown restrictions next month, with Britain set to be "back to life as normal" within a year.
The Health Secretary, who has been one of the most powerful voices arguing for lockdown to save thousands of lives, stressed that the Government would lay out the low risks of further Covid-19 infections if, as expected, it presses ahead with the final relaxation stage in June.
"Our aim on the 21st is to lift as many of the measures/restrictions as possible," he told the Standard's editor Emily Sheffield in a studio interview aired today for its online London Rising series to spur the city's recovery from the pandemic. "We've been putting in place all these rules that you'd never have imagined — you're not allowed to go and hug who you want," while adding he hadn't seen his own mother since July and he was looking forward to hugging her.
"I am very gregarious," he added, "and I really want to also get back to the verve of life. For the last year, we have had people literally asking ministers, 'Who can I hug?'"
Mr Hancock also criticised as "absolutely absurd" protests outside AstraZeneca's offices in Cambridge, where demonstrators have been calling for the pharmaceutical giant to openly licence its vaccine. He stressed that the Oxford/AstraZeneca jabs were already being offered to many countries "around the world" at cost price.
During the interview, for the business and tech section of London Rising, he admitted being too busy to keep a diary of the year's extraordinary events.
He also said he hadn't had time to help with the housework as he was "working full-time" on the pandemic and that he had spent more hours than he cared to remember in his home "red room" office, which went viral.
In a boost for going back to offices, he admitted that he was now back at Whitehall, adding: "I get most of my work done there."
… He also said he had not heard Mr Johnson say he was prepared to see "bodies pile high" rather than order another lockdown, a phrase the Prime Minister has denied using, saying: "No I never heard him talk in those terms." But he admitted there were very lengthy, serious debates and "my job is to articulate the health imperative".
He added: "By this time next year, large swathes of people will have had a booster jab. That means we'll be able to deal with variants, not just the existing strains, and I think we'll be back to life as normal."
In the interview, Mr Hancock also:
Warned that another pandemic hitting the UK was "inevitable"

and "we've got to be ready and more ready than last time. Hence, we are making sure we have got vaccines that could be developed in 100 days and the onshore manufacturing" and that health chiefs would be better equipped to defeat it …

Told how he hoped that England's Chief Medical Officer Professor Chris Whitty, his deputy Professor Jonathan Van-Tam, and chief scientific adviser Sir Patrick Vallance are "properly thanked" for their work

in steering the country through the crisis. Pressed on whether they should be elevated to the Lords, he said:

"That's a matter for Her Majesty the Queen"

…
Backed Boris Johnson, enjoying a "vaccines bounce" which is believed to have contributed to Tory success in the recent elections, to be Tory leader for a decade.
Indeed, the Queen did reward Whitty, Van-Tam and Vallance with knighthoods.
Boris seemed invincible at that point, until Partygate emerged in November that year. Someone was out to get him. They succeeded.
Four days later, on May 16, Wales Online reported 'Matt Hancock sets date for next lockdown announcement; he also says local lockdowns are not ruled out'. This is interesting, as he seemed to walk back what he told the Evening Standard:
Health Secretary Matt Hancock has confirmed the date for the next lockdown lifting announcement by the Government, but has said local lockdowns 'have not been ruled out'.
Speaking on Sky News this morning Mr Hancock said their strategy was to continue with the lockdown lifting roadmap as planned, but said they would be monitoring the data very closely.
He said there had been just over 1,300 cases of the Indian variant detected in the country so far, with fears it could be 50% more infectious than Kent Covid.
Mr Hancock said: "It is becoming the dominant strain in some parts of the country, for instance in Bolton and in Blackburn." But he said it has also been detected 'in much lower numbers' in other parts of the country …
He added: "We need to be cautious, we need to be careful, we need to be vigilant."
Asked if lockdown lifting could be reversed he said: "I very much hope not." but on local lockdowns he said: "We haven't ruled that out."
Mr Hancock said: "We will do what it takes to keep the public safe as we learn more about this particular variant and the virus overall."
The Health Secretary said an announcement on the next stage of lockdown lifting would be made on June 14 …
It was thought at the time that lockdown would be lifted on June 21.
Wednesday, May 26:
Dominic Cummings has told a select committee I should have been fired 'for at least 15-20 things, including lying to everybody on multiple occasions'.
Apparently I lied about PPE, lied about patients getting the treatment they needed, lied about this and lied about that.
Later, the PM called. 'Don't you worry, Matt. No one believes a word he says. I'm sorry I ever hired him. You're doing a great job — and history will prove you right. Bash on!'
I went to bed thinking, 'Thank goodness I kept vaccines out of Dom's destructive hands or that would have been a disaster like everything else he touched.'
I watched that session. Everyone was at fault except for Dominic Cummings. Anyone who presents himself in such a way is probably not all he seems.
Thursday, May 27:
When I got into work, I heard that the Prof [Whitty] had called my private office volunteering to support me in public if need be.
This spectacular vote of confidence meant the most.
Shortly before I headed home, [Defence Secretary] Ben Wallace sent a nice message asking if I was OK. 'The Cummings evidence can be summed up as the 'ramblings of a tw*t',' he said.
Also:
Of all the many accusations Dom Cummings has hurled at me, the media seem most interested in his claims that I lied about the arrangements surrounding hospital discharges into care homes at the beginning of the pandemic.
Annoyingly, it was only after this evening's [Downing Street] press conference that I received some very pertinent PHE [Public Health England] data. They analysed all the Covid cases in care homes from January to October last year and found that just 1.2 per cent could be traced back to hospitals.
The vast majority of infections were brought in from the wider community, mainly by staff.
Overall, England did no worse at protecting care home residents than many countries, and better than some — including Scotland, where [Nicola] Sturgeon's team has been responsible for decision-making. Regardless, the awfulness of what the virus did to people in care homes around the world will stay with me for the rest of my life.
That day, YouGov published the results of a poll asking if Hancock should resign. Overall, 36% thought he should and 31% thought he should remain in post:
Saturday, May 29:
Boris and Carrie got married at Westminster Cathedral. I'm not entirely sure how much the PM's mind was on his future with his beloved, though, because this afternoon he was busy texting me about the latest Covid data.
'Lower cases and deaths today. So definitely ne panique pas,' I told him.
Then again, perhaps he's just very good at multi-tasking and can examine infection graphs, pick bits of confetti off his jacket and give his new bride doe-eyed looks all at the same time.
Sunday, May 30:
'Keep going, we have seen off Cummings's bungled assassination,' Boris messaged cheerfully.
It was lunchtime and the PM didn't appear to be having any kind of honeymoon, or even half a day off.
Nevertheless, that day, the Mail on Sunday reported that the Conservatives were beginning to slip in the polls and had more on Cummings's testimony to the select committee:
The extraordinary salvo launched by Mr Cummings during a hearing with MPs last week appears to be taking its toll on the government, with a new poll suggesting the Tory lead has been slashed by more than half. 
Keir Starmer tried to turn the screw today, accusing Mr Johnson and his ministers of being busy 'covering their own backs' to combat the Indian coronavirus variant.
The Labour leader said 'mistakes are being repeated' as the Government considers whether to go ahead with easing restrictions on June 21.
'Weak, slow decisions on border policy let the Indian variant take hold,' he said.
'Lack of self-isolation support and confused local guidance failed to contain it.
'We all want to unlock on June 21 but the single biggest threat to that is the Government's incompetence' …
Mr Cummings, the Prime Minister's former adviser, told MPs on Wednesday that 'tens of thousands' had died unnecessarily because of the Government's handling of the pandemic and accused Mr Hancock of 'lying' about testing for care home residents discharged from hospital – a claim he denies. 
Separately, the Sunday Times highlighted an email dated March 26 from social care leaders warning Mr Hancock that homes were being 'pressured' to take patients who had not been tested and had symptoms.
Lisa Lenton, chair of the Care Provider Alliance at the time, told Mr Hancock managers were 'terrified' about 'outbreaks'.
'The following action MUST be taken: All people discharged from hospital to social care settings (eg care homes, home care, supported living) MUST be tested before discharge,' she wrote.
However, the government's guidance on testing was not updated until April 15.
Instructions issued by the Department of Health and the NHS on March 19 2020 said 'discharge home today should be the default pathway', according to the Sunday Telegraph – with no mention of testing …  
An insider told the Sun on Sunday on the spat between Mr Johnson and Mr Hancock: 'Boris returned from convalescence at Chequers when he heard the news. He was incensed. 
'Matt had told him point blank tests would be carried out. He couldn't understand why they hadn't been. For a moment he lost it with Matt, shouting "What a f***ing mess".
'At least three ministers told Boris Matt should be sacked.'
However, Mr Johnson refused to axe Mr Hancock reportedly saying that losing the health secretary during a pandemic would be 'intolerable'.  
Sir Keir said the situation in care homes had been a 'betrayal', adding: 'We may never know whether Boris Johnson said Covid "was only killing 80-year olds" when he delayed a second lockdown.
'What we do know is that the man charged with keeping them safe showed callous disregard for our elderly, as he overlooked the incompetence of his Health Secretary.'
June
Tuesday, June 1:
For the first time since last summer, there were no Covid deaths reported yesterday. We really are coming out of this.
Things might have looked good for Hancock at the beginning of the month, but the mood would sour rapidly.
England's 2021 reopening on June 21 looked as if it would not happen. Not surprisingly, members of the public were not happy.
On June 6, Essex publican Adam Brooks tweeted Hancock's words about personal responsibility back at him, calling him a 'liar':
Brooks, who owned two pubs at the time, followed up later, threatening that the hospitality industry would issue another legal challenge to coronavirus restrictions:
The next day, June 7, The Sun sounded the death knell for a reopening on June 21:
BRITS' holiday hopes have been dashed AGAIN as Matt Hancock warns that the new variants are the "biggest challenging" to our domestic freedom.
The Health Secretary told MPs that restoring international travel is an "important goal" – but is one that will be "challenging and hard."
Health Secretary Mr Hancock said the return to domestic freedom must be "protected at all costs".
It comes after he confirmed that over-25s in England will be invited to receive their Covid jabs from Tuesday as the Delta variant "made the race between the virus and this vaccination effort tighter".
Matt Hancock told the Commons this afternoon: "Restoring travel in the medium term is an incredibly important goal.
"It is going to be challenging, it's going to be hard because of the risk of new variants and new variants popping up in places like Portugal which have an otherwise relatively low case rate.
"But the biggest challenge, and the reason this is so difficult, is that a variant that undermines the vaccine effort obviously would undermine the return to domestic freedom.
"And that has to be protected at all costs."
The Health Secretary added: "No-one wants our freedoms to be restricted a single day longer than is necessary.
"I know the impact that these restrictions have on the things we love, on our businesses, on our mental health.
"I know that these restrictions have not been easy and with our vaccine programme moving at such pace I'm confident that one day soon freedom will return."
This comes as desperate Brits have flooded airports as they race against the clock to get back to the UK before Portugal is slapped onto the amber travel list.
The next day, nutritionist Gillian McKeith tweeted her disgust with Hancock:
On Wednesday, June 9, the Health and Social Care Select Committee, which former Health Secretary Jeremy Hunt headed, posed questions to Hancock in a coronavirus inquiry session:
On Thursday, June 10, The Guardian reported that Dominic Cummings would tell all about coronavirus as well as Brexit on his new Substack:
Dominic Cummings is planning to publish a paid-for newsletter in which subscribers can learn about his time inside Downing Street.
Boris Johnson's former top aide has launched a profile on Substack, a platform that allows people to sign up to newsletter mailing lists.
In a post on the site, Cummings said he would be giving out information on the coronavirus pandemic for free, as well as some details of his time at Downing Street.
However, revelations about "more recondite stuff on the media, Westminster, 'inside No 10', how did we get Brexit done in 2019, the 2019 election etc" will be available only to those who pay £10 a month for a subscription …
It follows Cummings taking aim at Boris Johnson, Matt Hancock, and the government in general as part of evidence given last month to the health and social care select committee and the science and technology committee.
Cummings, who left Downing Street after a behind-the-scenes power struggle in November last year, accused the health secretary of lying, failing on care homes and "criminal, disgraceful behaviour" on testing.
However, the parliamentary committees said Cummings's claims would remain unproven because he had failed to provide supporting evidence.
On Friday, June 11, Labour MP Graham Stringer — one of the few Opposition MPs I admire — told talkRADIO's Julia Hartley-Brewer that 'things went badly wrong' on Hancock's watch and that the Health Secretary should not have 'blamed scientific advice':
On Monday, June 14, talkRADIO's Mike Graham told listeners forced to cancel a holiday to sue Hancock, Transport Secretary Grant Shapps, SAGE and 'every single one of them, personally', otherwise 'they will think they've won':
[Lingerie tycoon] Baroness (Michelle) Mone has sent me an extraordinarily aggressive email complaining that a company she's helping isn't getting the multi-million-pound contracts it deserves.
She claims the firm, which makes lateral flow test kits, 'has had a dreadful time' trying to cut through red tape and demanded my 'urgent help' before it all comes out in the media.
'I am going to blow this all wide open,' she threatened.
In essence, she's not at all happy that a U.S. company called Innova has secured so many contracts while others 'can't get in the game'. She claims test kits made by the company she's representing, and by several others, have all passed rigorous quality control checks but only Innova is getting the business.
'This makes it a monopoly position for Innova, who to date have received £2.85 billion in orders,' she complained.
By the end of the email, she seemed to have worked herself into a complete frenzy and was throwing around wild accusations. 'I smell a rat here. It is more than the usual red tape, incompetence and bureaucracy. That's expected! I believe there is corruption here at the highest levels and a cover-up is taking place . . . Don't say I didn't [warn] you when Panorama or Horizon run an exposé documentary on all this.'
She concluded by urging me to intervene 'to prevent the next bombshell being dropped on the govt'. I read the email again, stunned. Was she threatening me? It certainly looked that way.
Her tests, I am told, have not passed validation — which would explain why the company hasn't won any contracts. I will simply not reply. I won't be pushed around by aggressive peers representing commercial clients.
In December 2022, Baroness Mone announced that she would be taking a leave of absence from the House of Lords. Her Wikipedia entry states:
Mone became a Conservative life peer in 2015. From 2020 to 2022, in a series of investigative pieces, The Guardian reported that Mone and her children had secretly received £29 million of profits to an offshore trust from government PPE contracts, which she had lobbied for during the COVID-19 pandemic. The House of Lords Commissioner for Standards and National Crime Agency launched investigations into Mone's links to these contracts in January 2022. Mone announced in December 2022 that she was taking a leave of absence from the House of Lords "to clear her name" amid the allegations.
Also that day came news that, after Parliament voted on coronavirus restrictions that week — June 21 having been postponed to July 19 — the NHS waiting list was much larger than expected. It was thought to be 5 million but was actually 12 million:
LBC reported:
The Health Secretary told the NHS Confederation conference that up to 12.2 million people are in need of elective procedures delayed due to the pandemic.
This includes 5.1m people already on waiting lists.
Health bosses believe there could be as many as 7.1m additional patients who stayed away from hospitals because of the risk of Covid-19.
Mr Hancock told the NHS conference that there is "another backlog out there" and that he expected the numbers to rise even further.
NHS leaders have warned the backlog could take five years to clear …
Prof Chris Whitty, England's chief medical officer, said the current wave of cases would "definitely translate into further hospitalisations".
On Saturday, June 19, a YouTube video appeared, which has since been deleted. These are my notes on it:
June 19, coronavirus: 24 mins in — Matt Hancock says unvaccinated will not receive health treatment if NHS is overwhelmed, also mentioned are Birmingham deaths, FOIA Pfizer vaccine information forwarded to Special Branch re Warwickshire and four Birmingham hospitals; Mark Sexton, ex police constable – YouTube.
I have no idea what ensued.
On Friday, June 25, Dominic Cummings posted this article on his Substack: 'More evidence on  how the PM's & Hancock's negligence killed people'.
It's quite lengthy, but begins as follows:
Below is some further evidence including a note I sent on 26 April regarding how we could shift to Plan B with a serious testing system.
It helps people understand what an incredible mess testing was and why care homes were neglected. Hancock had failed terribly. The Cabinet Office did not have the people it needed to solve the problem. Many were screaming at me that Hancock was failing to act on care homes and spinning nonsense to the Cabinet table while thousands were dying in care homes.
There are clearly errors in my note but the fact that *I* had to write it tells you a lot about how the system had collapsed. As you can see it is a draft for a document that needed to exist but didn't because Hancock had not done his job properly and was absorbed in planning for his press conference at the end of April, not care homes and a serious plan for test-trace.
The Sunday Times's Tim Shipman summed up the article with Boris Johnson's impressions of test and trace:
Returning to Hancock, it was clear that he would have to go, but no one expected his departure would be so dramatic.
To be continued tomorrow.
So far, my series on Conservative MP and former Health Secretary Matt Hancock has covered a summary of his current activities as well as his actions during the coronavirus pandemic: parts 2 and 3.
Today's post reviews the events surrounding the pandemic between October and December 2020, mostly in England. Positive cases spiked in October that year, particularly in certain regions of England, causing the development of a tiered system of restrictions. Christmas ended up being cancelled, a great loss to the hospitality sector, which had been open since July 4.
There was one ray of hope to get everyone out of this: the vaccine.
Dissenters must be silenced
The Mail has been running excerpts from Hancock's Pandemic Diaries which he co-wrote with former Times journalist, Isabel Oakeshott.
One thing I have not found in the excerpts is any mention of dissent among the public or medics who were not on SAGE.
However, Isabel Oakeshott provides insight about the Government's view of dissenters in an overview of Pandemic Diaries that she wrote for The Spectator, posted on December 7, 2022. Emphases mine below:
As far as Hancock was concerned, anyone who fundamentally disagreed with his approach was mad and dangerous and needed to be shut down. His account shows how quickly the suppression of genuine medical misinformation – a worthy endeavour during a public health crisis – morphed into an aggressive government-driven campaign to smear and silence those who criticised the response. Aided by the Cabinet Office, the Department of Health harnessed the full power of the state to crush individuals and groups whose views were seen as a threat to public acceptance of official messages and policy. As early as January 2020, Hancock reveals that his special adviser was speaking to Twitter about 'tweaking their algorithms'. Later he personally texted his old coalition colleague Nick Clegg, now a big cheese at Facebook, to enlist his help. The former Lib Dem deputy prime minister was happy to oblige.
Such was the fear of 'anti-vaxxers' that the Cabinet Office used a team hitherto dedicated to tackling Isis propaganda to curb their influence. The zero-tolerance approach extended to dissenting doctors and academics. The eminent scientists behind the so-called Barrington Declaration, which argued that public health efforts should focus on protecting the most vulnerable while allowing the general population to build up natural immunity to the virus, were widely vilified: Hancock genuinely considered their views a threat to public health.
For his part, [Boris] Johnson occasionally fretted that they might have a point. In late September 2020, Hancock was horrified to discover that one of the architects of the Declaration, the Oxford epidemiologist Professor Sunetra Gupta, and her fellow signatory Professor Carl Heneghan, director of the University of Oxford's Centre for Evidence-Based Medicine, had been into Downing Street to see the prime minister. Anders Tegnell, who ran Sweden's light-touch approach to the pandemic, attended the same meeting. Hancock did not want them anywhere near Johnson, labelling their views 'absurd'.
Anti-lockdown protests were quickly banned. When, in September 2020, the Cabinet Office tried to exempt demonstrations from the 'rule of six', Hancock enlisted Michael Gove to 'kill it off', arguing that marches would 'undermine public confidence in social distancing'. Gove had no qualms about helping.
Keep in mind that, in June 2020, BLM protests took place in English cities. Police did nothing to stop them, even though we were not supposed to be gathering in the streets, particularly without social distancing. Members of the police responded by taking the knee in front of protesters. Talk about double standards!
Oakeshott had more dismal news emerging from Hancock's diaries.
Masks
Oakeshott says:
Hancock, [Chief Medical Officer Chris] Whitty and Johnson knew full well that non-medical face masks do very little to prevent transmission of the virus. People were made to wear them anyway because [Boris's top adviser] Dominic Cummings was fixated with them; because [Scotland's First Minister] Nicola Sturgeon liked them; and above all because they were symbolic of the public health emergency.
I do despair.
It was exactly as the sceptics said at the time: theatre designed to show the Government's power over the people.
Care homes
Even worse was — and, in some places, still is — the situation in care homes. Patients and their loved ones were separated for many months. There were no hugs, no kisses, no caresses. Instead, patients and family members met at a window, pressing their hands against glass, aligning them with those of their loved ones — just as one would do at a prison visit.
Oakeshott writes:
Hancock is more sensitive about this subject than any other. The accusation that he blithely discharged Covid-positive patients from hospitals into care homes, without thinking about how this might seed the virus among the frail elderly, or attempting to stop this happening, upsets and exasperates him. The evidence I have seen is broadly in his favour.
At the beginning of the pandemic, it was simply not possible to test everyone: neither the technology nor the capacity existed. Internal communications show that care homes were clearly instructed to isolate new arrivals. It later emerged that the primary source of new infection in these settings was in any case not hospital discharges, but the movement of staff between care homes. Politically, this was very inconvenient: Hancock knew he would be accused of 'blaming' hardworking staff if he emphasised the link (which is exactly what has now happened).
He is on less solid ground in relation to the treatment of isolated care-home residents and their increasingly desperate relatives. His absolute priority was to preserve life –however wretched the existence became. Behind the scenes, the then care home minister Helen Whately fought valiantly to persuade him to ease visiting restrictions to allow isolated residents some contact with their loved ones. She did not get very far. Internal communications reveal that the authorities expected to find cases of actual neglect of residents as a result of the suspension of routine care-home inspections.
October through December 2020
Pandemic Diaries entries for these months come from this instalment, unless otherwise indicated.
October
Saturday, October 3:
A day dominated by the discovery of a hideous blunder involving a week's worth of Covid data. Somehow or other we have failed to log around 16,000 cases, which all had to be piled into today's figures. We might as well just hang a giant neon sign above the Prof's 'next slide please' screen, saying 'See here: Spectacular Screw-Up.' [The Prof is the nickname for chief medical officer Chris Whitty.]
[Head of the Vaccine Taskforce] Kate [Bingham] has been telling the Financial Times we should only vaccinate the vulnerable. Except she has nothing to do with the deployment – only the buying. And what she's criticising is the Government's agreed policy. 
'We absolutely need No 10 to sit on her hard,' I told the spads [special advisers], adding that I consider her 'totally unreliable'.
Monday, October 5:
For reasons best known to themselves, No 10 are rowing back on tiers [putting areas of the country into tiers with different levels of restrictions depending on the Covid risk] and has pulled the planned announcement from this week's grid. They want tough action; then they don't want tough action; then someone gets to the PM and he changes his mind all over again. FFS.
The Economist has got wind of an old vaccine deployment plan. I instinctively asked my spads if Kate might be behind it. 'I have some evidence to suggest it might have been – ie the fact she had a meeting yesterday with the journalist who has the story,' came the reply. Who knows, but I wouldn't be surprised.
Saturday, October 10:
Boris has finally agreed to announce tiers on Monday.
Monday, October 12:
In the six weeks since I proposed the tiers system, there's been delay and watering down at every stage — while the virus has grown faster than the worst-case scenario. What's most frustrating is that I'm being portrayed as the one who's pushing for lockdown, whereas actually it's those with their heads in the sand who will lead us to a full-blown national lockdown.
Thursday, October 15:
Today I announced that London and a few other places are going into Tier 2. The original draft statement was quite bullish on vaccines, but No 10 freaked, ordering me to delete anything that made it sound as if we think vaccines are the way out.
This really annoyed me, because they are the way out. Since that's our strategy, it's ridiculous to be told I can't say it. I will not be blown off the vaccine drive by the sceptics — in No 10 or anywhere else.
This was a problem for Iain Duncan Smith MP, who pointed out that some London boroughs are relatively virus-free, therefore, it is wrong to impose the same restrictions on all of them. With a lot of umms and ahhs, Hancock said that it was only right that the same restrictions were imposed on all boroughs. Iain Duncan Smith looked as if he were about to blow a gasket — and rightly so:
Friday, October 16:
Boris has been studying what they did during the plague and messaged this morning about how tiering worked in the old days.
'In 1606, the Privy Council decreed that theatres should be closed if deaths from plague exceeded 30 per week,' he told us. 'Not sure about these fixed thresholds,' I replied warily. Thankfully this was the end of the history lesson.
Saturday, October 17:
Woke up to another briefing against me from No 10, this time in the i [newspaper]. Apparently 'Matt Hancock is the only person here who thinks there is actually going to be a vaccine . . . It's a running joke with other departments'.
If so, I'm happy to own it. Thank God I banned the team from talking to No 10 about the [vaccine] rollout. They'd just trash it.
Had a bit of a counselling session from Nadine [Dorries, mental health minister] this evening. 'You are too nice too often,' she told me.
Could labradors be our secret weapon against the pandemic? A bizarre and cheering morning watching disease-detecting dogs on the concourse at Paddington Station demonstrate what they can do on a crowd that included the Duchess of Cornwall.
Inside, I was panicking. I couldn't stop worrying that the mutts might pick out Camilla, or indeed me, as having the dreaded disease. 'Please, please, don't do that,' I willed silently.
Luckily, the labs correctly identified the man with the T-shirt that had been worn by an affected patient. I was impressed. 
These dogs can pick up the scent of Covid just like they pick up the scent of drugs. I want them at airports and train stations to sniff out super-spreaders.
The [Health] department's briefing was: 'Evidence base too thin.' It's absurd. Just because they aren't conventional tests, officialdom can't see the point.
I've pushed it and asked Jim [Bethell, a Health Minister in the Lords] to follow up.
Thursday, October 29:
We're putting so many new areas into Tier 3 that it'll soon be a national lockdown in all but name. Had we brought in tougher tiers three weeks ago, as the Prof and I were arguing for, we wouldn't be in this position. And for goodness' sake, why aren't we pushing harder on ventilation as well as masks? We have known since a Spanish study proved it in the summer that Covid spreads more like smoke than droplets — yet the comms is still geared to masks, which are less important than ventilation.
Friday, October 30:
This afternoon I was called to a meeting of Covid-S, the strategy group chaired by the PM. At the end: victory.
Boris grudgingly accepted the stark, painful facts: that cases, hospitalisations and deaths are all rising and the NHS will run out of space unless we act. The upshot is four weeks of lockdown then back to souped-up tiers.
Having won the lockdown argument, I was exhausted but elated and literally ran up the stairs to my office, stopping off to see the Prof, who'd fought hard alongside me via Zoom.
'Secretary of State, you've saved many lives with what you've done today,' he replied.
As I headed off to Suffolk [his constituency], I finally relaxed. We took the children for a curry at Montaz in Newmarket, where the staff seemed excited to see us. It was horrible to think they were going to have to close again on Thursday and I couldn't tell them.
I really, really wanted to forget the pandemic, just for half an hour, when [ITV political editor] Robert Peston's number flashed up on my phone. I almost choked on my chapati.
'I understand that this pm you, PM, Chancellor and [Michael Gove] met. Am told 99 per cent likely there will be a full national lockdown from next Wed or Thurs,' Peston said.
So the cat is out of the bag — already! Furious, I forwarded the message to my spads [special advisers] and No 10 comms. How the f*** had it leaked already? Only a handful of people knew!
By the time I got home, I had an enraged Boris on the phone saying his media people had told him hacks were pointing the finger at me.
'Whoever is telling you that is lying to you,' I replied furiously.
How had this happened? My money is firmly on Dominic Cummings via his acolytes. The agenda? To bounce the PM into announcing the lockdown sooner [rather] than later and stop him U-turning. If they got me sacked into the bargain, that would be a bonus.
I texted the PM to say that obviously the accusations against me were untrue and I could prove that if necessary. Half an hour later, he messaged asking me and [spad] Damon to bring our phones into Downing Street on Monday.
'With pleasure,' I replied coldly.
Peston wouldn't have texted me for confirmation if I was the source. Plus: it's not like I benefit from this information being out early.
'I'm taking a huge amount of flak to do the right thing and protecting you in the process,' I told Boris.
'Understood, everyone overwrought,' he replied soothingly, but with Dom dripping poison in his ear, I very much doubt that will be the end of it. So everything hangs in the balance. Either the PM has to rush into announcing the lockdown or there's such a backlash, especially from our truculent backbenchers, that he bottles it again.
'It's a f***ing disgrace,' I told [Cabinet Secretary] Simon Case. 'I hope you have a full inquiry.'
As lockdown approaches, I should be focused on testing, the vaccine and getting the new measures right to get us all out of this nightmare. Instead I'm fighting for my political life. This is no way to run a country.
Saturday, October 31:
I hardly slept. Consternation from friends about how it all came out. Jim [Lord Bethell, health minister in the Lords] described it as 'the fastest leak since Nick Clegg was on world-record form' — he was notorious when we were in coalition.
Nadine was raging, telling me the culprit 'needs putting in front of a firing squad'.
Thankfully, at the press conference the PM gave it his all, warning of thousands of deaths a day if we don't do more.
Lockdown will be a little lighter than last time because we've got better evidence about what works. After the s*** I've taken, I don't feel triumphant, but at least we've avoided a complete collapse in the NHS and those Lombardy scenes in our hospitals. For now at least.
November
Sunday, November 1:
Boris was still far from reconciled to the lockdown he'd so grudgingly authorised, continuing to fret that we'd be accused of 'blinking too soon'.
Meanwhile, Cummings is deliberately ignoring my calls and messages. Extraordinary. We're in the middle of a national crisis in which hundreds of people are dying every day and I'm in charge of the health service. Yet he won't talk to me. It's pathetic, petty and downright irresponsible.
Tuesday, November 3:
I think someone's trying to smear me. First, I'm falsely accused of being in a Commons bar after 10pm, then I'm falsely accused of leaking, and now The Sun wants to know if I went to have a haircut with Michael Gove at the weekend. Nothing to declare there.
One of my allies received a message from a journalist saying, 'We need to talk about who is framing Matt at some stage . . .' I think I can take an educated guess.
Tuesday, November 10:
After months of working it up in secret, today I presented the vaccine rollout plan to the PM. I've rarely seen him as enthusiastic. Finally I think he realises this really is going to happen.
'Can we go faster?' he boomed, banging the table.
As expected, the price of success is that No 10 has gone from not believing the vaccine will happen to getting completely carried away. Yesterday they started putting it out that 'ten million people' could get the jab before Christmas.
This was never the plan, is never going to happen, and [my spad] Damon spent half the day trying to kill it.
Friday, November 13:
Cummings has gone! I am elated and, more than anything, relieved for the sake of the vaccine and the country. He's been such a frightening, damaging, negative force for so long.
'Now we can actually build a government that works effectively,' I told Simon Case excitedly.
We talked about restoring proper processes and ensuring everything that should come to me does come to me, instead of being diverted to one of many random groups Cummings set up to interfere/cut me out of the loop/attempt to control everything.
My team — officials and advisers — are thrilled.
Sunday, November 15:
The Sunday Times thinks we've been dishing out multi-million-pound contracts to 'cronies'. Really? I'm absolutely fuming. I've not been involved in either the pricing or the decision-making behind who's been awarded government contracts.
With all my years of experience as a politician, would I seriously just bung millions of pounds' worth of deals to my mates, just kind of hoping nobody would notice? So galling.
Friday, November 20:
I met my Slovakian opposite number to talk about their government's super-ambitious 'let's make the entire population take a Covid test all on the same day' initiative. I have my reservations but Boris is super-keen.
Saturday, November 21:
The PM has been talking to the Slovakian PM and is incredibly eager to give it a go. Today's the day I had to get ministerial approval on the plan. It did not go well — bluntly, the Cabinet think it's crazy.
Doing my best to ignore the increasingly incredulous expressions on the faces of the Zoom attendees, I walked everyone through what would be required: nothing less than the entire military and every part of the NHS that could be harnessed to the cause. The price tag? A cool £1 billion.
Knowing this one came straight from the top, I gave it both barrels. [Environment Secretary] George Eustice dismissed it as ridiculous. The Treasury said they wouldn't pay for it. [Defence Secretary] Ben Wallace said the military was already deployed on other missions.
Afterwards, I picked up my phone to [spad] Emma. 'Well, that was a drive-by shooting if ever I've seen one. Shows the limit of the PM's powers, even in a pandemic. Cabinet government lives!' I said cheerfully.
Much too late, I realised I'd forgotten to press 'Leave Meeting' on Zoom. Around 20 ministers and officials were still on screen, listening to every word.
Sunday, November 22:
I'm under fire from The Observer over Gina [Coladangelo's] appointment to the [health department] board. They've described her as my 'closest friend from university' (true — one of) but are also making a song and dance of the fact that she's a 'director of a lobbying firm'.
The truth is she hasn't been actively engaged with that company for years and every aspect of her appointment [as adviser] to the department went through all the proper channels. She was appointed after she proved herself during her stint as a volunteer just trying to do her bit for the country.
December
Tuesday, December 1:
Jim [health minister in the Lords] came to tell me he'd just formally signed the Pfizer vaccine off. I walked into the Cabinet Room, where the PM was standing behind his chair with Rishi, Simon Case and a few others dotted around.
'We have a vaccine! It's been formally approved!' I announced as I walked in.
Boris danced a little jig, his jubilant moves giving every impression that he hadn't had much dance practice of late.
We were all elated. We know this is the only way out. So many people feared it would never happen. But here it is, the first in the world, in under a year.
On the way out of Downing Street I bumped into Rishi, who gave me a man-hug and thanked me for pulling off the vaccine. Tomorrow is going to be massive.
Wednesday, December 2:
The announcement to the markets was due at 7am sharp. From the privacy of a green room in the bowels of the BBC building, my first call was to my counterparts in the devolved administrations. Ridiculously, we'd had to keep them in the dark about the impending announcement because we were worried about leaks. Then moments after 7am, I was on air telling the world.
Unfortunately, Boris's good humour didn't last long. By mid-afternoon, I was just finishing answering questions in the Commons when I got a series of texts from an increasingly desperate-sounding Emma [spad], saying he was 'going mad'.
She said Boris wasn't happy that we're launching on Tuesday, not Monday; wasn't happy with the time frame for vaccinating care-home residents; wasn't happy about the way we're working with the devolved administrations; and had a bee in his bonnet about the use of wholesalers to get the vaccine to GPs.
'Oh FFS,' I replied. I wish he'd take a moment to congratulate the team and keep their morale up, not lose it like this.
Thursday, December 3:
A cloak-and-dagger operation to get the first 800,000 doses of the vaccine into the UK. We weren't taking any chances. Imagine if rogue actors or hostile states tried to hijack the vehicle or seize the goods?
At lunchtime, a drama: in hushed tones, officials told me that the team was switching route 'as a precaution' following a credible security threat. It was amazing work by our intelligence agencies and the private-sector company who first spotted it, and just goes to show that we were not being paranoid.
Then, mid-afternoon, came confirmation that all 800,000 doses were safely in the UK. Relief!
As news spreads, we're beginning to get sheepish requests from VIPs around the world. A Middle Eastern diplomat reached out to Nadhim Zahawi [vaccine deployment minister] asking if we'd be willing to send 400 shots for the royal household. Nadhim sounded embarrassed and assumed we'd have to find a polite way of saying no.
In fact, I'm up for these small diplomatic efforts — so long as the Foreign Office agrees, of course. Done appropriately, it pays dividends for international relations. Nadhim sounded relieved, saying that the king himself is asking.
That morning, Hancock told talkRADIO's Julia Hartley-Brewer that restrictions could be lifted once all of the most vulnerable people have received the vaccine, rather than waiting until everyone has been vaccinated:
Friday, December 4:
The first big setback: Pfizer say the vaccine isn't brewing as fast as they'd like. It means we're unlikely to get the ten million doses we're due to receive before the end of the year, and production estimates for early 2021 are being scaled back. Thank goodness we didn't let the plans go public.
Tuesday, December 8:
Shortly after 6am, I received confirmation that the first person had been inoculated, and I hurried off for the morning media round.
Gina and [spad] Damon accompanied me to the broadcast studios [ITV's Good Morning Britain]. 'You need to relax' was Gina's advice, by which she meant: 'Stop being so buttoned up.' What she did not mean was that I should lose it altogether, which unfortunately is exactly what happened.
I was on my own in a dark windowless booth, answering questions, when they played the video of [the first person] getting her jab. Suddenly I completely lost it, blubbing away, battling to regain my composure as tears streamed down my face. 'For Christ's sake, pull yourself together,' I told myself desperately. Then the camera was back on me, my microphone was live and my watery red eyes were there for all to see. When I tried to answer the next question, my voice came out in a weird sort of croak. Gina said at least I'd shown how I felt.
Much later, I was on my way to bed when my phone rang. Nobody rings at 11.43pm unless it's bad news, least of all the Prof [Whitty], whose number was flashing ominously. In that calm, professorial voice of his, he explained that three people had suffered a serious adverse reaction to the vaccine. One had nearly died.
We tried to calculate the statistical risk. If three out of 400 vaccinated today had a massive reaction, then that's 38,000 out of the whole population. And 38,000 is an awful lot of people.
'Jesus Christ,' I thought, feeling physically sick. We may well have to halt the entire vaccination rollout. 'Perhaps all three have a history of anaphylaxis?' I asked hopefully. Still feeling nauseous, I slumped into bed, knowing I wouldn't get a wink of sleep.
Wednesday, December 9:
At 5.30am my phone went. 'All three had a clinical history of anaphylaxis,' said Natasha [head of Hancock's private office].
'[Prof Whitty] recommends that anyone with a history shouldn't take this vaccine, that we introduce a 15-minute wait after vaccination to monitor people, restrict the rollout to hospitals for the next couple of days and get on with it,' she said.
I can't remember ever being so relieved in my life.
The following entries come from this extract in the Mail, unless otherwise stated.
Friday, December 11:
There's a new [more infectious] variant. This explains why the Covid numbers in Kent have been so stubbornly high.
Monday, December 14:
I announced the new variant in a statement to Parliament. Even normally reasonable MPs are going tonto [crazy]. Everyone can see Christmas falling apart, and judgment is going out of the window.
That day, Hancock announced a shorter self-isolation period, from 14 to ten days:
Thursday, December 17:
A grim day dominated by the announcement of new tiers, which effectively cancel Christmas. Worse for me, they also scupper [wife] Martha's birthday dinner tonight, which was set to be our first night out in months. I feel terrible about it.
I've come to hate the tiers: the boundaries are impossible to draw sensibly, and the whole thing doesn't keep us together as a country. I hadn't appreciated how important that is.
Later JVT [Jonathan Van-Tam, Deputy Chief Medical Officer] called. He and the Prof [nickname for Chief Medical Officer Chris Whitty] have worked out that since the first dose of the vaccine gives about four times the level of protection as the second dose, the best way to save lives might be to give the first dose to as many people as possible and then delay the second.
[Former Speaker of the House of Commons and former Labour MP] Betty Boothroyd called the office, asking if there's any way she can get her jab soon. She's 91 and very vulnerable. I called her back myself as I was in the car home.
I'd never met her, but she's something of a hero of mine. As Speaker, she was a real trailblazer for women in politics. I said yes, we can get you your jab — given her age, she's entitled to it — but the deal is you have to have it on camera.
She readily agreed. I gave her number to Nadhim Zahawi, who is going to fix it.
Friday, December 18:
Boris has reluctantly caved to the inevitable and agreed to cancel Christmas. Frankly, we'd have been far better off saying it would be a Zoom Christmas from the start.
That morning, Labour MP Graham Stringer — one of the good guys in the Opposition — criticised Hancock's maintaining Manchester in Tier 3, accusing him of 'playing silly schoolboy games':
Saturday, December 19:
There's no good time for Test and Trace to crumble, but this is literally the worst. There's a critical shortage of pipette tips. Our failure to get hold of these little bits of plastic has led to a backlog of 182,000 tests.
Meanwhile, various people, including vice-chairman of the 1922 Committee Charles Walker, are calling for my head over the Christmas farce. It's an irony, because I wasn't involved in the Christmas decision at all. Maybe I should have come in and played hardball over it right from the start — but I can't be Mr Miseryguts on everything.
On December 20, The Sun on Sunday's political editor could foresee the tiers extending well into 2021:
She was not wrong. Hancock appeared on LBC radio later that morning to say the same thing. He even acknowledged that the November lockdown did not help:
Someone parodied Hancock's Christmas card: 'In Tier 6, you will be eating your pets':
Retired Southampton footballer Matt Le Tissier, a sceptic from the start, conducted his own Twitter poll showing that 89.7% of respondents did not trust Matt Hancock to tell the truth:
We've finally started vaccinating care home residents. We're paying GPs £25 per resident, pretty nice money for something that only takes a few minutes.
The public were sceptical about Hancock's claims that the new variant, the South African one, was more transmissible. Here is Hancock's announcement from that afternoon:
A South African studying the data said there was no evidence to support that claim:
Hancock also announced that more parts of England would be in Tiers 3 and 4 from Boxing Day:
That same day, then-London Assembly member David Kurten (UKIP at the time) noted that the Nightingale hospitals were lying empty, rightly calling them a waste of money (see second tweet):
Thursday, December 24:
Boris has been fretting that America has now jabbed more people than we have [Churchmouse's note: thanks to President Trump]. I had to explain last night that, as a proportion, that means we're six times ahead. Very unhelpfully, there's a major Covid outbreak at the largest testing lab in the country, in Milton Keynes, adding to the backlog.
Friday, December 25:
Today is my first real day off since summer.
Monday, December 28:
There are now 20,426 people in hospital with the virus — more than at the peak of the first wave.
We've announced the plan to extend the interval between the first and second doses of the jab. Lo and behold, who pops up to claim credit? None other than Tony Blair!
That day, Hancock gave an interview to Mark Dolan, who was at talkRADIO at the time, saying he had no date as to when we could come out of restrictions, even with a vaccine:
That afternoon, the Mail reported that only 530,000 doses of the AstraZeneca (Oxford) vaccine were available, when the Government had claimed in May that 30 million would be available by December 2020:
Britain will only have 530,000 doses of the Oxford/AstraZeneca vaccine at its disposal from Monday, the Health Secretary Matt Hancock revealed today after the game-changing jab was approved by the UK medical regulator.
The initial doses fall significantly short of the number touted by the Government in recent months. In May, officials suggested 30million doses of Oxford's jab would be ready by the end of the year and last month the UK's vaccine tsar toned the estimate down to 4million, citing manufacturing problems. 
But the UK has ordered 100million doses in total and AstraZeneca has promised to deliver 2million a week by mid-January, raising hopes that 24million of the most vulnerable Britons could be immunised by Easter.
Vaccine or not, the public's patience was waning.
The first half of 2021 was dismal, beginning on January 4.
To be continued tomorrow.
My series on Matt Hancock MP continues.
Those who missed them can catch up on parts 1 and 2.
Today's post takes us further into the late Spring up to the early autumn of 2020. The Government's policy on coronavirus held the UK hostage at home, for varying amounts of time, depending on what part of the country one lived in.
Testing centres popped up around the country. Hancock, who was Health Secretary at the time, urged everyone to go to one of these centres to find out if they had the virus. The narrative was that the asymptomatic could still have it and transmit it to someone else. What a load of cobblers. As Mike Yeadon, who used to work for Pfizer said, if you're ill, you'll know about it.
A mobile phone app also appeared: Test and Trace. Another load of rubbish, which was very expensive. Surprisingly, many Britons with smartphones used it. Another good reason for not having a smartphone.
Imperial College's SAGE modeller, Prof Neil Ferguson, was discovered to have broken lockdown with his mistress, who lived on the other side of London.
In May, news emerged that Boris's top adviser Dominic Cummings slipped off from London with his wife and son to Barnard Castle, County Durham. As penance, Boris made Cummings give a 90-minute press conference in the Downing Street Rose Garden. Excruciating.
England's Independence Day was declared on the Fourth of July. Then-Chancellor Rishi Sunak's hospitality plan, Eat Out to Help Out, started a short while later, boosting restaurant sales.
During this time, the borders were open and people could travel freely. The problem were the sudden embargos which interrupted holidays at inconvenient hours of the day. Britons were often told to return home from a European country, mostly France and Spain, at midnight or 4 a.m.
However, it wouldn't be long before the long tentacles of SAGE would find more doom and gloom in the autumn.
More extracts from Matt Hancock and Isabel Oakeshott's Pandemic Diaries, serialised in the Mail, continue, with news items I bookmarked from the time. Emphases mine below.
May 2020
Amazingly, Hancock managed to achieve his testing goal of 100,000, which seemed impossible when he announced it only a month earlier.
These are the principal extracts from the Mail for the entries below, unless otherwise indicated.
Friday, May 1:
We did it, and with a very comfortable margin. 122,347 tests! Let the naysayers put that in their pipe and smoke it! I'd be lying if I didn't say I enjoyed my moment, given how desperately certain people were willing me to fail.
Then-Prime Minister Boris Johnson was fascinated by Australia's low rate of infection. Little did he know at the time that Australia would go into a prolonged lockdown lasting months.
Sunday, May 3:
We still haven't figured out what to do about borders. [Dominic] Raab, [Grant] Shapps and Sunak all want to keep the borders open. Crucially, they're supported by the Prof [Chief Medical Officer Chris Whitty]. On the other side, Priti Patel and I are in favour of far tougher measures, as is Boris.
Scotland's First Minister Nicola Sturgeon was enjoying her power over her people, starring in daily briefings which the BBC televised. She gave her briefings at lunchtime. The UK government gave theirs in the early evening.
Monday, May 4:
Tonight, Nicola Sturgeon announced a 'summer push to elimination [of Covid]', a policy which has about as much hope of working as Chairman Mao's attempt to eliminate sparrows by getting the Chinese population to bang pots and pans.
Much as I'm sure Nicola would love to build a Trump-style wall between her fiefdom and the rest of Great Britain, we're all in this together. One person who's clearly not keen on a hermit lifestyle is Prof Neil Ferguson [who was advising the Government on its Covid response]. 
I wasn't particularly sympathetic when I heard he'd been caught breaking the rules [by meeting with his lover]. He's issued a grovelling apology, but it was obvious he couldn't continue to act as a Government adviser.
Ferguson resigned from SPI-M, SAGE's modelling team, but was reinstated in 2021.
The care home situation continued to loom large. Infections and deaths were ever present. Furthermore, families were rightly distressed by having to press up against a window to see their elderly loved ones, a situation that persists in some care homes even today.
Boris suggested that Hancock hire Kate Bingham, a venture capitalist with a background in pharmaceuticals, as the head of the Vaccine Taskforce.
Also on May 4, we discovered that Good Morning Britain's star presenter Piers Morgan was a 'Government-designated essential worker'. His test was negative, but he was experiencing symptoms, so he stayed off air for a few more days. The Mail reported that Hancock tweeted his best wishes before Morgan got the results of his test:
Mr Hancock, who had his own battle with coronavirus and who has previously clashed with the GMB host on the ITV morning show, tweeted that he hoped if Mr Morgan did test positive for Covid-19 that the symptoms would be mild. 
On May 7, Hancock announced that Baroness Dido Harding would head the Test and Trace programme:
On May 9, the Mail on Sunday reported that Boris and Cabinet members were clashing with the beleaguered Health Secretary:
Matt Hancock is living on 'borrowed time' as Health Secretary following clashes with the three most powerful members of the Government over the Covid crisis, The Mail on Sunday has been told.
Mr Hancock is understood to have pleaded 'give me a break' when Boris Johnson reprimanded him over the virus testing programme – leading to open questioning within Downing Street over Mr Hancock's long-term political future.
His run-in with Mr Johnson follows battles with both Rishi Sunak and Michael Gove over the best strategy for managing the pandemic.
Shortly after Mr Johnson returned to work at No 10 a fortnight ago, he and Mr Johnson had a tense exchange about the the Health Department's 'grip' on the crisis, during which Mr Hancock said to the Prime Minister, in what has been described as a 'petulant' tone: 'That's not fair – give me a break.'
He is also being blamed in some Government quarters – or scapegoated, according to his allies – for not moving quickly enough to do more to protect care homes from the epidemic. 
On Wednesday, May 13, Hancock announced a new genomics initiative in order to better understand the virus:
People are starting to blame us for discharging elderly people from hospital into residential settings without testing them properly, before we introduced strict rules. The evidence simply doesn't bear that out: care home outbreaks rose sharply long after we had enough tests to put that right.
That day, a Labour peer was mystified as to why the Government did not know how much PPE there was:
Friday, May 22:
Westminster is abuzz with claims that Cummings broke lockdown rules, going to stay with his parents while he had Covid, which looks like a mega breach.
Saturday, May 23:
Downing Street called asking if I'd do some media [to support Cummings], but I'm uneasy. Despite all the reassurances, it feels off.
In the end, I issued a supportive tweet, saying he was right to find childcare for his toddler when both he and his wife were getting ill.
[Former Chancellor] George Osborne messaged me this evening warning me not to stick my neck out for Cummings again. 'Lie low' was his advice.
Sunday, May 24:
I spent much of the day fielding angry messages, many of them questioning why the PM is still standing up for Cummings. The answer is that he rules through fear and intimidation, squashing those who dare to challenge him or get in his way.
Monday, May 25:
Cummings tried to draw a line under the Barnard Castle affair by holding a press conference in the Downing Street garden. He sat behind a table, squinting awkwardly into the sun, looking like a sulky teenager who'd been sent outside to do his work for disrupting the class.
Afterwards, I found myself feeling strangely sorry for Boris.
Cummings has only one setting – divide and destroy – and now the boss is having to say some pretty stupid things as he machetes his way through the resulting mess.
The only thing for it was to keep backing Cummings – silence from me would only create an unhelpful story – so this evening I tweeted that I welcome the fact that Cummings 'has provided substantive answers to all the questions put to him'. Apparently it got me some credit in No 10, but I can't say I felt good about it.
Away from the Cummings s*** show, we had a Cabinet meeting to discuss plans for easing restrictions. It was a bizarre Cabinet, held on Zoom without a single mention of the Cummings-shaped elephant in the room. 
In fact, an absurd amount of bandwidth was occupied by a discussion about whether – when we allow two households to get together outside – people should be permitted to walk through a house to get to a friend's garden. 
It's fine by me, but are people going to ask whether they will also be able to go inside to use the loo? 'If they're quick and disinfect the handle?' the Prof replied.
Who could believe that under a Conservative government, the long arm of the State would find its way into people's loos?
On Tuesday, May 26, a Sky News reporter called out to Hancock asking if he was going to sack Cummings. Ermm, it wasn't Hancock's responsibility, only Boris's:
June 2020
Thursday, June 4:
Boris messaged me at 6.43am saying he was 'going quietly crackers' about not testing enough people. He told me he sees it as our 'Achilles heel'. He was in a proper flap. 'What is wrong with our country that we can't fix this?' he complained. 
I tried to calm him down. 'Don't go crackers,' I said. 'We now have the biggest testing capacity in Europe.' Tempting as it was, I refrained from saying we did this against the obstruction of his own No 10 operation.
Wednesday, June 17:
In an embarrassingly crude power grab, [European Commission President] Ursula von der Leyen is trying to wrest control of vaccine research and procurement from EU member states.
Never mind that health is a matter for individual countries: the woman who once sent German army units on manoeuvres with broomsticks – because they didn't have any rifles – wants to move responsibility for scientific development and manufacture into the sticky paws of Brussels bureaucrats.
I may have voted to Remain, but it's enough to make a Brexiteer out of anyone.
Friday, June 19:
A massive blow-up with Kate [Bingham, head of the Vaccine Taskforce]. She simply doesn't see the need to order 100 million doses of the Oxford vaccine – she wants 30 million – and can't seem to grasp almost everyone may want or need it.
I warned her during today's meeting that if we don't get our ducks in a row on this one, we risk a complete car crash.
She pushed back hard. But with the other elected Ministers on my side, I won the argument [for buying 100 million doses].
'I'm not happy with that meeting,' Kate snapped afterwards. 'Nor me,' I replied.
'We will create a guide for you to explain what we are doing – there are enormous risks with this,' she said, as if I don't spend all my time thinking about how to save lives.
Kate pressed on, claiming that the technology that underpins the vaccine Oxford is working on [Astra-Zeneca] 'is neither proven nor scaled', and that she has 'an expert team who are working round the clock, pushing hard'.
I told her: 'We need to have tried everything feasibly possible to accelerate delivery. I've been asking the same question over and over again and not yet had a satisfactory answer – hence my frustration.'
This only seemed to wind her up further, prompting a mini-lecture about the dangers of trying to go too far too fast.
'The worse case is we kill people with an unsafe vaccine,' she said. 'We need to tone the comms to register the fact this is risky and unproven.'
If there's one thing I can't stand, it's being patronised.
On Wednesday, June 24, Hancock, riding high as the chap in charge of the nation's health, appeared on Robert Peston's ITV current affairs show:
July 2020
July 4 was Independence Day from coronavirus in England.
However, separate regulations applied in Leicester, which still had a high rate of infection. Even so, nothing was stopping them travelling elsewhere to socialise or shop:
On Sunday, July 5, Hancock expressed concern over high infection rates and overcrowded working conditions in certain factories in Leicester. It seems he was thinking of certain textile factories operating like sweatshops:
Monday, July 6:
The Vaccine Taskforce have consistently argued that we only need to back three [vaccine] brands. My view is that, to hedge our bets, we need more. Any one of the vaccines could fail in clinical trials.
Fortunately, Rishi and Steve Barclay at the Treasury are totally onside.
Wednesday, July 8:
Rishi's announced a new Eat Out To Help Out initiative. I did my best to sound supportive, but in truth I'm worried that it might backfire and lead to a spike in cases.
In my box tonight was one particularly startling note relating to the way Covid has been getting into care homes. The main takeaway is that the virus is primarily being brought in by staff, not by elderly people who've been discharged from hospital.
This explains a lot, including why the rise in care home deaths came so much later than would have been the case if hospital discharges were the primary cause. We must ban staff movement between care homes, fast.
On Friday, July 17, news emerged that deaths from natural causes were being classified as coronavirus deaths because of a previous positive test. A retired journalist had the story:
He pointed out that Public Health England (PHE) never announced how they were tabulating deaths. Scotland, of course, tabulated theirs differently:
The question remains: how many 'Covid' deaths were true Covid deaths?
Saturday, July 25:
Anyone coming back from Spain from midnight tonight will have to self-quarantine for 14 days. This is very bad news for a lot of British holidaymakers.
Department for Transport officials kept pushing for 24 hours' notice for the Spain decision, which I thought was curious – Grant Shapps is normally an 'action this day' Minister – until I discovered that Grant and his family had just flown there on holiday. The officials were trying, perhaps too hard, to protect their Minister.
In Cobra meetings, Nicola Sturgeon's political games have become incredibly debilitating and significantly limit scope for open discussion. She sits like a statue, lips pursed like the top of a drawstring bag, only jolting into life when there's an opportunity to say something to further the separatist cause.
The minute someone presses 'End Meeting', you can almost hear her running for a lectern so she can rush out an announcement before we make ours. We now chew over big decisions elsewhere and relegate formal meetings to rubber-stamping exercises.
Monday, July 27:
Downing Street is in a semi-panic about a second wave.
Tuesday, July 28:
Sturgeon is on manoeuvres again, trying to persuade us all to sign up to her impossible and anti- scientific zero-Covid plan.
Sure, we'd all love zero Covid, but that's about as realistic as a bagpipe-playing unicorn.
She just wants to look and sound tough, then blame us when her policies don't work.
I can hardly bear to watch her on TV any more.
Wednesday, July 29:
Testing is a continuing concern. We still haven't sorted procurement for what Boris calls 'Operation Moonshot'. The idea is to carry out literally millions of Covid tests a day to keep the economy going.
Officials say we mustn't eliminate staff movement across care homes because it might lead to a shortage of staff. Yet research shows the risk of outbreaks in care homes doubles if carers are coming and going.
On Thursday, July 30, Bradford was experiencing a high rate of coronavirus. Hancock put restrictions in place.
This was Bradford Council's message:
Hancock's restrictions prohibited people meeting up at each other's homes:
SkyNews had a report on the story:
Fortunately, for them, it might have felt like an eternity but it was temporary.
What wasn't temporary was his announcement earlier that day that GP appointments would have to take place remotely. This is still in place today, causing untold distress to millions of Britons.
The Guardian reported:
All GP appointments should be done remotely by default unless a patient needs to be seen in person, Matt Hancock has said, prompting doctors to warn of the risk of abandoning face-to-face consultations.
In a speech setting out lessons for the NHS and care sector from the coronavirus pandemic, the health secretary claimed that while some errors were made, "so many things went right" in the response to Covid-19, and new ways of working should continue.
He said it was patronising to claim that older patients were not able to handle technology.
The plan for web-based GP appointments is set to become formal policy, and follows guidance already sent to GPs on having more online consultations.
But the Royal College of GPs (RCGP) hit back, saying it would oppose a predominantly online system on the grounds that both doctors and patients benefited from proper contact.
They don't seem to think so now, do they?
The article continues:
Addressing the Royal College of Physicians in London, Hancock noted the huge increase in online consultations as much of the NHS closed its doors to focus on the crisis. In the four weeks to mid-April, 71% of routine GP appointments were done remotely against 25% in the same period a year before.
Outlining what he said were the ways the pandemic had demonstrated the need for greater uses of technology in healthcare, Hancock said that before the coronavirus, "there was a view advanced by some which held that anyone over the age of 25 simply could not cope with anything other than a face-to-face appointment".
He said: "Of course there always has to be a system for people who can't log on. But we shouldn't patronise older people by saying they don't do tech."
The rise in online consultations had been welcome, he argued, especially in rural areas. "So from now on, all consultations should be tele-consultations unless there's a compelling clinical reason not to," Hancock said.
"Of course, if there's an emergency, the NHS will be ready and waiting to see you in person – just as it always has been. But if they are able to, patients should get in contact first – via the web or by calling in advance."
Sure, Matt.
What a disaster that policy has proven to be.
The month seemed to end on a positive note with regard to agency staff working in multiple care homes.
Good news on banning staff movement in care homes. After I blew my top, officials got the message.
August
By August, even though England was open and people were socialising again, rules were still in place. They caused a lot of confusion, including in Government. Only Boris had mastered them.
Monday, August 3:
To ram home his point about how complicated the Covid rules have got, Boris went round the [Cabinet] table asking everyone to set them out simply. We had endless different answers, and he got them all right. 
'I hope colleagues feel I have justified my general reputation for mastery of detail by being RIGHT this morning about the rules. It's two households inside and six outside,' he said triumphantly.
Boris was eager for people to get back to work. He saw self-administered tests — lateral flow tests — as the answer.
Friday, August 7:
Boris is having a sugar rush about DIY Covid testing, which he believes could lead us to what's he's dubbed – in emphatic capital letters – 'COVID FREEDOM DAY'. I have no idea who he's been talking to, but he's very fired up.
He thinks rapid home tests are the way to 'get Whitehall and the whole British army of bludgers and skivers' back to the office and 'douse all remaining embers of the disease'. Today, I'm on a short break in Hay-on-Wye. When we got to the pub, there was great excitement. I'm not used to people recognising me, so the universal recognition is a bit of a shock. Something I'll have to get used to, I suppose.
The following year, everyone would know who he was — and not just in the UK. How happy I am that The Sun released that photo of him and his girlfriend. It went viral, worldwide.
Hancock announced the end of Public Health England, which, strangely enough, still seems to be around.
Tuesday, August 18:
[Hancock has announced plans to abolish Public Health England.] On reflection, I should have been more brutal earlier. It wasn't fit for purpose, and I should have cleared out senior figures who blocked the expansion of testing, basically because they didn't want the private sector involved.
In response, Angela Rayner [deputy Labour leader] has been tweeting the usual tripe about Tories wanting to privatise the NHS by stealth. Does anyone seriously listen to this c**p any more?
The truth is, we wouldn't stand a chance of winning this fight against Covid if it wasn't for support from business. From manufacturing tests to developing the vaccine, the private sector – alongside the NHS and academia – has been critical to the fight.
Friday, August 21:
Border enforcement is a mess. Everyone who flies in to the UK has to fill out a passenger locator form, which they're supposed to hand to officials on arrival at the airport, but half the time the documents go straight in the bin.
We can blame compulsory masks for secondary school pupils on Nicola Sturgeon. The UK government fears the woman.
Tuesday, August 25:
Nicola Sturgeon blindsided us by suddenly announcing that when schools in Scotland reopen, all secondary school pupils will have to wear masks in classrooms. In one of her most egregious attempts at oneupmanship to date, she didn't consult us. The problem is that our original guidance on face coverings specifically excluded schools.
Cue much tortured debate between myself, Education Secretary Gavin Williamson and No 10 about how to respond.
Much as Sturgeon would relish it, nobody here wants a big spat with the Scots. So, U-turn it is.
Amazing — and not in a good way.
Boris was worried about the British economy, and rightly so.
Wednesday, August 26:
I was minding my own business, when suddenly, ping! Ping! Boris sprang into life. It was 6.29am. He veered off the reservation, suddenly going off on one about how the virus isn't really killing many people any more so 'how can we possibly justify the continuing paralysis?'
He noted that an 80-year-old now has a six per cent chance of dying, which he didn't think was enough to justify what we're doing.
'If I were an 80-year-old and I was told that the choice was between destroying the economy and risking my exposure to a disease that I had a 94 per cent chance of surviving, I know what I would prefer,' he argued.
This exchange, which continued on WhatsApp pretty much all morning, was more than a little stressful, given that it represented a fundamental challenge to our entire pandemic response.
I'm not quite sure what he expected – that the Chief Medical Officer, Chief Scientific Adviser, Cummings and I would all suddenly throw our hands up and say: 'You know what, you're right, this whole thing has been a huge mistake. Let's ditch everything we're doing and pretend none of it ever happened'?
Fortunately, after a few hours he ran out of both statistics and steam. All the same, I sense a very definite shift in attitude. Something has unsettled him. Who has he been on holiday with?
By the next day, Boris had gone back to normal.
Thursday, August 27:
Overnight, Boris's creeping suspicion that everything we're doing has been a catastrophic over-reaction has evaporated as quickly as it appeared, to be replaced by annoyance at the discovery that there is a supply/demand gap for testing. 
In fact, we are a victim of our own success. Our advertising campaign encouraging more people to come forward for tests has been a bit too effective, and now we're overwhelmed.
Saturday, August 29:
Boris has started going on about 'freedom passes'. I think he envisages some sort of app that would allow anyone who can prove they're negative to get back to normal. I can see the appeal, but I can also see the likely furore over anything resembling 'Papers, please'.
Covid cases are rocketing in France. 'We need to draw lessons pronto,' Boris said, asking if the French have tried local lockdowns or whether it is 'a case of the whole frog getting slowly boiled?'
September 2020
Wednesday, September 2:
Test and Trace is now identifying more than half of new cases. 'It's like the system actually works!' I messaged Dido Harding [head of Test and Trace] excitedly. 'Who would have guessed!!' she replied.
Hancock talked about a vaccine in a coronavirus briefing.
Tuesday, September 8:
I got a blast from No 10 about talking up the vaccine yesterday. Other than Boris, nobody there has ever really believed we can make it happen. In reality, their scepticism suits me, because it means they're not meddling. The last thing I need is Cummings interfering or the project going through the Cabinet Office mincer.
Restriction tiers across England were looming. An example would be the aforementioned restrictions in Leicester and the north of England where coronavirus was prevalent.
Tuesday, September 15:
The PM is still dithering over restriction tiers, a classic Boris battle between head and heart.
Thursday, September 17:
Cases are growing. Sage [the Scientific Advisory Group for Emergencies] thinks we need a two-week 'circuit-breaker'. Boris seemed confused, doing that thing he does, emphatically verbalising the arguments for and against out loud – alarming everyone as they try to work out where he's going to land.
Friday, September 18:
We are now at 6,000 new Covid infections a day in England alone, nearly double the figure last week.
By 10pm, No 10 had done a complete about-turn. They now want tougher local lockdowns and more warnings about what happens if people don't follow the rules. Apparently the PM wants to explain that we have to balance Covid with other health and economic factors. 
Well, no s***. What's really infuriating is that the people who want action to control the virus didn't insist on me being there [at meetings] to press the point.
Monday, September 21:
Boris is torn. Everyone's getting heavy with him, from the Prof to Sage, who say there will be 'catastrophic consequences' if we don't act now. They've proposed a two-week circuit-breaker.
Friday, September 25:
An alarming note from the modelling people who advise Sage. They say the epidemic is 'close to breaching the agreed reasonable worst-case scenario'. Meanwhile, public finances are a horror show – from April to August, the figure borrowed was £173.7 billion. 
Rishi has clearly been using these figures to freak out the PM. But the only sustainable way to get the economy back on track is to defeat the virus, not pretend it's gone away.
Saturday, September 26:
We've spent millions promoting the [NHS Covid] app, including buying wraparound ads in loads of publications. Just as I was allowing myself a moment of satisfaction at a job well done – or at least not ballsed up – there came news of fresh horror. A major glitch has emerged: the app can't take data from NHS Covid tests.
I sat very still, trying to absorb the full implications of the fact that we've just spent tens of millions of pounds of taxpayers' money on an NHS app that… doesn't link to the NHS. Which genius thought it would not need to do this, first and foremost? Which other genius signed it off on this basis?
Given the multiple overlapping responsibilities of the various quangos involved, Whitehall's institutional buck-passing and the involvement of two mega tech companies (Google and Apple), we just didn't know.
What I did know was the buck stopped with me, and it was probably time to adopt the brace position. I prayed that word of this hideous blunder would not reach Cummings, but that was of course too much to hope. Naturally he went nuts when he found out, and I can't say I blame him.
I find this sort of screw-up personally mortifying. Should I have asked such a basic and obvious question? I took it for granted that we would link our own app up to our own tests. Never assume!
To be continued tomorrow.
This week's news that former Health and Social Care Secretary Matt Hancock would be standing down as MP for West Suffolk at the next election was a joyful tiding, indeed.
Hancock is currently an Independent MP. The Conservative whip was withdrawn on November 1, 2002, when he accepted the invitation to appear on I'm A Celebrity … Get Me Out of Here, which takes place in the Australian jungle. Amazingly, he came third, getting further than Boy George did.
This week saw more Hancock news with the publication of his Pandemic Diaries, co-authored with former Times journalist, Isabel Oakeshott.
This series charts the rise and fall of the former Conservative MP, a principal protagonist in the coronavirus drama of 2020 and the first half of 2021.
Two Oxford medics give their verdict
On December 8, 2022, The Spectator featured an article from Drs Carl Heneghan and Tom Jefferson from the University of Oxford: 'The UK isn't learning the right lessons from lockdown'.
Both were sceptics during the pandemic, the type of medics Matt Hancock eschewed, as we will find out later on from the Pandemic Diaries.
Excerpts from Heneghan and Jefferson's article follow, emphases mine:
This month, the UK's Department of Health and Social Care published a Technical Report on the Covid-19 pandemic in the UK.
The report is a long 11-chapter document describing the UK's response and pointing out suggestions for dealing with future pandemics.
The report is described as 'independent', but the authors are public health civil servants and a handful of academics. Given that the authors were instrumental to a greater and lesser degree in implementing the catastrophes of lockdowns, this report is as independent as President Xi marking his own homework in China.
It is hard to reconcile some of the report's content with what we have written about in the past. For example, there is no mention of the misuse of PCR tests or of Britain's failure to follow the example of other countries, whose contact tracing systems were overwhelmed in days.
There is also no apology for the evidence-free mass testing programme, the segregation of healthy people, and the lack of identification of truly infectious cases.
I remember the early weeks of the pandemic, which entered totalitarian territory on Monday, March 23, 2020, with Boris's five-minute announcement on lockdown.
My far better half and I wondered then about the absurdity of contract tracing. Fortunately, neither of us has a smartphone, nor did we participate in any testing regime ever. We simply don't see that many people.
Heneghan and Jefferson's article states:
It would have been better if the report admitted that contact tracing is hugely challenging, that it would never have achieved its intended outcomes and was, therefore, a waste of £37 billion. This is something health officials in Lombardy, Italy had realised by the beginning of March 2020. The UK Parliament has also pointed out that the contract tracing programme had an 'unimaginable' cost.
Yet, Matt Hancock paraded it as being a fail-safe method of finding out about loads of infectious people.
Then there were the hospitalisations. Here is a little-known fact worth repeating again and again:
up to 40 per cent of 'hospital cases' were infections acquired in hospitals … suggesting that whatever 'protection' measures hospitals were taking did not work.
After that came the school closures, even when Government officials said that children were at low risk from coronavirus themselves but could still transmit it to older relatives. Hmm:
When it comes to the low risk to school children and teachers, the report portrays this as a tension between missing education and stopping transmission …
But school-age children had the lowest Covid risk, and we are now reaping the effects of this immunological segregation, with a whirlwind of influenza-like illnesses sweeping across the country. The costs to children socialising and the impact on their schooling are mere details in the report.
Heneghan and Jefferson point out that the report makes scant mention of the 7.2 million people on NHS waiting lists and the rise in excess deaths because of lockdown. Furthermore:
Our requests for the cause of the current excess in deaths have gone unanswered.
The footnotes and references in the report appalled them:
… the type of evidence cited in the report's footnotes and references is remarkable. It mainly relies on models, i.e. opinions formulated by those with a long history of getting it wrong or citing selective pieces of work.
They say that there should be no excuses for the lack of planning for the pandemic:
There is no mention of the need for proper planning to plug known gaps in the evidence. For example, suppose you need to know whether masks or other physical interventions work in the community, you prepare protocols for trials designed to find this out in a short time. In that case, you get prior ethical approval and fire the starter pistol when the WHO declares a pandemic or earlier.
There is plenty of precedent for this kind of preparation. That is what happened in 2009 with mock-up influenza pre-pandemic vaccines. So there can be no excuses here, just a disregard for crucial gaps in the evidence and a reluctance to address them. It is even easier in the case of non-pharmaceutical interventions (NPIs) as there are no regulators breathing down your neck.
As for crucial NPIs, such as mask wearing and lockdown, the report says:
It may never be possible fully to disentangle some of the effects of individual NPIs in this pandemic, as many were used together….
Observational studies on NPIs were often complicated by several potential confounders.
The medics conclude that nothing will change:
Due to the sheer number of interventions tried at any one time, we may never know what works, particularly if we also rely on low-quality observational studies – as we have done – to inform policy.
But none of this matters: it'll be more of the same next time.
Hancock champions Klaus Schwab
Matt Hancock entered Parliament in May 2010, when David Cameron became Prime Minister, ending 13 years of Labour government.
Hancock began his ministerial rise to in 2013 as a junior minister in what was then the Department for Business, Innovation and Skills. He was the UK's Anti-Corruption Champion from 2014 and 2015. He served as Minister for the Cabinet Office and Paymaster General between 2015 and 2016.
When Theresa May became Prime Minister, Hancock became Minister of State for Digital and Culture, now the Department for Digital, Culture, Media and Sport.
In that capacity, he delivered a speech praising Klaus Schwab's Fourth Industrial Revolution. He delivered the speech at the House of Commons to the All-Party Parliamentary Group (APPG) at the Fourth Industrial Revolution's (4IR's) autumn reception on October 16, 2017. Hancock introduced Klaus to the APPG.
The transcript is still available to read in full:
… the nature of the new technologies is that the changes we are experiencing today, are probably the slowest changes we will see over the rest of our lifetimes. If you don't much like change, I'm afraid I don't have so much good news.
Our task, in this building and around the world, is to make this technology, this change, work for humanity. And I'm profoundly confident we can. Because this technology is made by man, so it can be hewn to build a better future for mankind.
And I'm delighted to speak alongside so many impressive colleagues who really understand this, and alongside Professor Klaus Schwab who literally 'wrote the book' on the 4th Industrial Revolution. Your work, bringing together as you do all the best minds on the planet, has informed what we are doing, and I'm delighted to work with you.
For the 1st Industrial Revolution, the UK could claim to be the 'workshop of the world' – propelled by development of the steam engine, it reached its pinnacle in the mid-19th Century. But the UK has not had the monopoly on waves of industrialisation.
Now, in the fourth revolution, we are determined to use our strengths to play a leading part. By its nature the fourth industrial revolution is more collaborative than the first. And we will play our part …
… our Digital Strategy, embedded within the wider Industrial Strategy, sets out the seven pillars on which we can build our success. And inside that fits our 5G strategy, like a set of Russian Dolls.
Our Strategy covers infrastructure, skills, rules and ethics of big data use, cyber security, supporting the tech sector, the digitisation of industry, and digitisation of government. All these are important.
… today I am delighted to announce that we are launching the first £25m competition for 5G testbeds and trials projects. We already lead on the highly technical development of 5G standards through the international work of the University of Surrey and others.
Now we are looking for innovative projects to test the roll out of 5G to develop the UK's growing 5G ecosystem. We want projects that explore the real-world potential for 5G …
It will also support projects which explore ways of using 5G technology to address challenges in particular sectors, such as those faced in health and social care …
Earlier this year, the 'fourth industrial revolution' was not a very well-known term – at least before it became a central topic at the World Economic Forum. It recently made its way into an item on BBC Breakfast television – this shows we've probably started to reach critical mass.
It's a pleasure now to introduce the man who made the fourth industrial revolution a household phrase: Professor Klaus Schwab.
Hancock became Secretary of State for Health and Social Care under Theresa May in July 2018, when she promoted Jeremy Hunt, his predecessor, to Foreign Secretary. Hancock remained in post throughout the pandemic until he was caught on camera in a heavy embrace with his then-adviser, now girlfriend, in 2021, when social distancing restrictions were still in place.
Hancock returned to the Conservative backbenches on June 26, 2021, after The Sun published the photos. Hancock and his girlfriend immediately separated from their spouses and are still an item.
The run-up to the pandemic
Even before the pandemic, Hancock was opposed to people who questioned vaccines.
On Sunday, September 29, 2019, The Guardian reported that he wanted compulsory vaccinations for schoolchildren:
The government is "looking very seriously" at making vaccinations compulsory for state school pupils and has taken advice on how such a law could work, the health secretary has said.
Matt Hancock, a vehement critic of anti-vaccination campaigners, has previously suggested such a plan. Speaking at a fringe event at the Conservative party conference, he said he was "very worried" by falling vaccination rates, indicating the government could act soon.
"I've said before that we should be open-minded, and frankly, what I'd say is that when the state provides services to people then it's a two-way street – you've got to take your responsibilities, too," Hancock told the Q&A session hosted by the Huffington Post.
"So I think there's a very strong argument for having compulsory vaccinations for children when they go to school, because otherwise they're putting other children at risk.
"Then I'd want to make it very easy if the children do arrive at school not vaccinated, simply to get vaccinated, and make it the norm. But I think there's a very strong argument for movement to compulsory vaccination, and I think the public would back us."
He took aim at social media for spreading what he called 'anti-vaccine messages':
"It's unbelievable, I think, that Britain has lost its measles-free status, and it should be a real wake-up call. I think that the social media companies have got a lot to answer for, because they allow the spread of anti-vaccine messages.
"I will do whatever I can – the science is absolutely clear and settled on the importance of vaccination. And the worst thing is that if you don't vaccinate your child, and you can, then the person you're putting at risk is not only your child but it's also the child who can't be vaccinated for medical reasons."
He had already started thinking about compulsory vaccines in May that year:
Hancock first raised the idea of compulsory vaccinations in May, saying he did not wish to do it but might be forced to act if no other solutions to improve take-up rates could be found.
He said: "Those who have promoted the anti-vaccination myth are morally reprehensible, deeply irresponsible and have blood on their hands."
Confidence in the MMR vaccination seems to have dropped at least partly in response to social media misinformation and scare stories. The discredited claims of Andrew Wakefield, who in 1998 theorised that the jab was linked to autism, are widely circulated.
Wakefield was struck off the medical register in 2010 after suggesting a link between the MMR vaccine and autism.
He also seemed to be interested in social care at that time. On June 10, 2019, Care Home Professional reported:
Matt Hancock has pledged a £3.5bn cash injection to prop up the social care system as he kick-starts his campaign to become the UK's next prime minister.
In an interview with the Daily Mail, the Secretary of State for Health and Social Care said he would seek the extra funds in the next Spending Review …
The Health and Social Care Secretary described the current social care system as "unsustainable" and said there's a "whole number of injustices" affecting society's most vulnerable people.
"One of the biggest injustices is that for people who worked hard all their lives and have put money aside – the system penalises them and won't fund their care without them having to sell the house, whereas people who haven't put money aside get their care supported. I think this is very unfair," he added …
He wanted to see individuals funding their own social care by contributing to a personal fund:
He stressed that the payments could be made over many years of a working life.
The scheme, which would be made voluntary, would require all workers over 40 to contribute 2.5% of their wages.
"I'd like to see people encouraged to take it out when they get their first mortgage – that being the point where many people buy life insurance," the minister said.
The insurance scheme would do away with previous Conservative proposals to put a lifetime cap on care costs.
Cometh coronavirus, cometh the man — or not
We were only a fortnight into lockdown in the Spring of 2020, and already we could see Matt Hancock's true character.
The televised Coronavirus Updates appeared almost daily on the BBC, and he was in most of them.
On April 12 that year, The Mail on Sunday's Peter Hitchens wrote 'Matt Hancock is trying to run the UK like my 1950s prep school':
Until I started travelling in the Communist world, my main experience of living under tyranny was my time at a boarding school on the edge of Dartmoor, 60 years ago.
The headmaster, an enormous, booming man, had many fine qualities. But he was given to dreadful rages, which tended to strike late on Saturday afternoons.
He would throb with fury because some of the more loutish boys had left their games clothes on the changing room floor.
For some reason, he viewed this as a terrible crime closely related to murder. So he would summon us into the assembly hall, and harangue us as darkness fell outside.
The more we stood mulishly in front of him, saying nothing and with our eyes downcast, the angrier he became …
Collective punishments – a ban on eating toast, or the cancellation of a promised film show – would follow, along with more shouting and angry notices in red ink, threatening worse to come.
Most of us were guiltless of wrongdoing. But we were small, and he was huge. The staff seemed more scared of him than we were.
We were on a windswept hilltop miles from anywhere. We had no escape …
Hancock wanted to ban outdoor exercise because it was violating social distancing rules, hastily put into place:
I had thought such childish things were long over in my life. But a week ago I found that I was, once again, living at the mercy of an equally petulant would-be despot.
Matthew Hancock, Secretary of State for Health, went on national TV to threaten to ban outdoor exercise if people continued to break 'social distancing' rules.
From a Government that claims to be preserving life and health, this threat was literally mad.
Banning exercise for any length of time will lead to the deaths and illness of many thousands of currently healthy, older people who know that such exercise is vital to their physical and mental wellbeing.
Such exercise can easily be taken while maintaining the required distance from others.
The threat was a dictatorial one, of collective punishment of all for the wrongdoing of others.
This is illegal under Article 33 of the 1949 Geneva Conventions. A foreign occupier would not be allowed to do it.
Sunbathing and sitting on park benches also irked Hancock while the police were enjoying their newly-found powers over the public:
Mr Hancock also said it was 'quite extraordinary' that some people had spent the weekend sunbathing in public places despite it being against Government guidance.
Getting into his stride, he urged people not to sit down even for a minute on a park bench, saying those who disobeyed the rules were putting their own and others' lives at risk.
What is this nonsense? The words of Ministers and the words and actions of the police show a pointlessly bossy side to these measures – the attempted ban on Easter egg purchases, the sunbathing squad, alleged arrests of people for just buying wine and crisps, the lumpish threat by a police chief to search the baskets of shoppers.
Provided the people doing these things do not break the distancing rules, why are they wrong?
Sunbathing, for instance, probably reduces the risk of infection, and if people keep a proper distance apart, what on earth is wrong with it? Why shouldn't someone sit on a park bench?
Mr Hancock said: 'I say this to the small minority of people who are breaking the rules or pushing the boundaries: you are risking your own life and the lives of others and you're making it harder for us all.'
Hitchens, who spent years working in Communist countries, hit the nail on the head:
I sense something more going on here.
The Government are trying to get us to accept a far higher level of state intrusion in our lives than we have ever endured.
They are treating us as if we were unruly children. This is despite what I regard as a quite extraordinary willingness among the great majority to do as we are asked.
It has gone to their heads. They need to calm down, for the sake of all of us.
We are not children, this is not some 1950s prep school ruled by the swish of the cane, and Mr Hancock is not our headmaster.
Hitchens rightly questioned the number of deaths at that point, which were nothing unusual, coronavirus or not:
A week ago, at the daily official briefing, Dr Jenny Harries, the Deputy Chief Medical Officer, confirmed my point that many deaths with Covid are not necessarily from Covid. She said: 'These are Covid-associated deaths, they are all sad events, they would not all be a death as a result of Covid.'
What nobody says is how many are as a result of the virus.
Then, if you look at the Office for National Statistics weekly death charts, for week 13 of each year (the week which this year ended on March 27), you find some interesting things.
The total of deaths for that week in 2020 is higher than the five-year average for that time of year, which is 10,130. In fact, it is up to 11,141.
This is 1,011 more deaths than normal per week, 144 more deaths than normal per day, regrettable but not gigantic. Do these figures justify the scale of our reaction?
If you add up the total deaths for the first quarter of the year from respiratory diseases, the figure so far for 2020 (22,877) is less than those for 2013 (25,495), 2015 (28,969), 2017 (25,800), 2018 (29,898) and 2019 (23,336).
Again, is this event as exceptional as we are being told? If not, why the shutdown?
Obtaining PPE was a huge problem, and not only for the UK. France, along with other Western countries, was also scrambling to secure PPE. I know from having read Marianne, a French newsweekly.
PPE popped up regularly in parliamentary debates. Labour asked repeatedly what the Government was doing and to get on with the job.
However, people who knew what was going on in the NHS said that things weren't as bad as the Opposition benches made them out to be.
Sir Keir Starmer had only been Labour leader — succeeding Jeremy Corbyn — for a week or so in April. He was offended that Hancock told the NHS not to waste precious supplies:
However, those with connections inside the NHS said that a hoarding mentality was present and that there was an adequate provision of PPE:
On April 9, Hancock announced a testing lab in Milton Keynes, the Lighthouse Lab, a.k.a. the National Biosample Centre:
Meanwhile, many of us wanted an update on herd immunity.
On April 8, Guido Fawkes reported, complete with audio (emphases his):
As new modelling released by University College London (UCL) predicts the UK will pass the threshold for herd immunity by Monday (with 73.4% of the population protected either by vaccination or previous infection), Matt Hancock was quick to pour cold water on the findings during an interview with LBC's Nick Ferrari. Speaking this morning, Hancock said:
I was told by some scientists that we were going to have herd immunity in May, and then in June, and then after that […] what I prefer to do is watch the data. And so we've set out the road map, the road map is really clear, it is our route back to normal, we're on track to meet the road map, and that's our goal.
Pressed on why the government seemed keen to accept the pessimistic assumptions within the Imperial College data, yet sceptical of UCL's new study, Hancock – rather predictably – said:
I think we have taken the right course in plotting our way to freedom, and doing it carefully, because we want it to be irreversible. We have seen what happens when this virus gets going […] and we want to get out of this safely and irreversibly.
The 'data not dates' refrain feels less plausible with every passing day…
One Twitter user sounded the alarm:
When University College London, a respected establishment put out work saying we'll hit herd immunity by Monday and Matt Hancock immediately dismisses it You know darker forces are at work here. He's a member of Parliament that doesn't work for the people, he works for Gates.
On April 23, exactly two months into lockdown, Hancock was enjoying his power over the British people. Meanwhile, some of us were beginning to worry about the economic downside of keeping everyone at home.
The Mail reported that there was no end in sight:
Matt Hancock tonight insisted the coronavirus lockdown must stay until there is no risk of a second peak – as scientists warned the outbreak might not be fading.
The Health Secretary vowed not to compromise the national effort against the disease as Professor Jonathan Van-Tam told the daily Downing Street briefing that while hospital occupancy rates had dipped in in London the picture in other parts of the UK was 'more of a plateau'.
The figures – along with another 828 deaths being declared in the UK – add weight to the arguments of those who want to err on the side of caution despite the devastation being wreaked on the economy.
At this point, Boris Johnson had been released from St Thomas's Hospital from his near-death bout with the virus and was recuperating at Chequers. His wife Carrie, about to give birth to their first child, was with him.
Rifts were appearing as to how long lockdown should last:
Divisions have emerged between Cabinet 'doves' such as Mr Hancock and 'hawks' who believe the NHS has capacity and would prefer to loosen the draconian social distancing measures earlier.
The PM has intervened from his recuperation at Chequers to snuff out speculation about an imminent easing, with Downing Street making clear his priority is avoiding a 'second peak' in the outbreak.
There are reports Mr Johnson's inner circle has stopped using the phrase 'exit strategy' and instead wants to signal a 'next phase' of lockdown, with varying levels of restrictions set to continue for the rest of the year until the virus gets 'close to eradication' or a vaccine is found. Australia has successfully suppressed cases to very low numbers.
Scientists have been telling ministers behind the scenes that control of the outbreak is still so uncertain that even slight changes to the curbs on normal life could result in a disastrous flare-up.
Mr Hancock said tonight: 'We have been clear that we will not risk lives by relaxing the social distancing rules before our five tests have been met.
'First, that the NHS can continue to cope, second, that the operational challenges can be met, third, that the daily death rate falls sustainably and consistently, fourth, that the rate of infection is decreasing, and most importantly, that there is no risk of a second peak.'
The Mail included a photo montage of Cabinet members and this caption of where they stood on the issue:
How members of the cabinet are currently split over the ending of the lockdown. Mr Johnson (top left) and Matt Hancock (bottom left) are classed as 'doves'; Michael Gove, Liz Truss and Rishi Sunak (right, top-to-bottom) as 'hawks'; and Foreign Secretary Dominic Raab (top centre) is among those in the middle, with Gavin Williamson (centre) and Alok Sharma (centre bottom)
Senior Conservative MPs wanted an end to lockdown:
There is no prospect of lockdown measures being eased before the current period comes to an end on May 11.
However, some senior Tories have been pushing plans for an easing soon afterwards, pointing out that the NHS is still below surge capacity and could 'run hot' to limit the economic meltdown.
SAGE clearly wanted lockdown to continue:
Government scientists have been warning that the situation is currently so finely balanced that even marginal loosenings could have disastrous effects.
One Cabinet source told the Guardian the government's advisers on Sage had suggested any easing would push up the rate of transmission – known as R.
The source said: 'The scientists are very clear. There's no loosening of measures we can do that won't bring the R back over 1 …
'We did have an R of about 3. And we've driven that down. But even a small increase in transmission could put you above 1.'
The WHO were adamant that the Western world should remain locked down, even though some of those countries were already easing restrictions:
Dr Takeshi Kasai, the WHO regional director for the Western Pacific, said: 'This is not the time to be lax. Instead, we need to ready ourselves for a new way of living for the foreseeable future.'
He said governments must remain vigilant to stop the spread of the virus and the lifting of lockdowns and other social distancing measures must be done gradually and strike the right balance between keeping people healthy and allowing economies to function.
Despite concerns from health officials, some US states have announced aggressive reopening plans, while Boeing and at least one other American heavy-equipment manufacturer resumed production.
Elsewhere around the world, step-by-step reopenings are under way in Europe, where the crisis has begun to ebb in places such as Italy, Spain and Germany.
By the last week in April, questions were mounting.
On April 23, The Telegraph's Christopher Hope wondered why Hancock didn't take any questions from the media after that day's coronavirus briefing:
The next day, Hancock praised Muslims for their 'sacrifice' in not meeting daily for prayers during Ramadan, but had nothing to say to Christians who could not attend church on the holiest feast of the year, Easter, which remembers Christ's resurrection from the dead. Houses of worship were closed:
Hancock began wearing a prominent CARE lapel badge on television. By this time, he had pledged that a 'protective ring' had been placed around care homes, something he later denied saying.
People found the CARE badge risible.
James Kirkup, writing for The Spectator, defended the move:
Matt Hancock's badge for carers is a perfectly good idea. The mockery of it is in many cases shallow, ill-informed, revealing and hypocritical.
You don't need me to describe the badge or the mockery. Anyone with an internet connection and a glancing familiarity with what passes for 'news' these days is aware that the Health – and Social Care – Secretary announced that the Government is now backing a scheme that encourages social care staff to wear a green badge saying CARE.
Part of the aim is to give care workers the same sort of recognition, esteem and access to services – reserved shopping hours, for instance – as NHS workers.
This is reasonable, necessary and overdue. Part of the UK's social crisis lies in the social care workforce, which is too small and too transient. There are around 125,000 vacancies in social care at any moment, roughly eight per cent of the workforce. Turnover is around 30 per cent, double the average across the UK labour market.
Kings College London surveyed care workers and found that some said that teachers warned their children to do better in school, otherwise they'd end up working in care homes:
In a survey of care workers, the Kings' team found that it wasn't just society as a whole that looked down on care. It was care workers themselves. One of the most common phrases used by interviewees was 'I'm only a care worker'. Many reported that their children had been told if they don't work hard they would end up working in care. 'The lack of esteem has been internalised,' prof Manthorpe said. Our collective disregard for social care has left carers feeling worthless and keen to leave the sector, sometimes for jobs with equally poor wages.
The following year, after Hancock had urged all care workers to be vaccinated, a number of those who refused to do so were either fired or left for hospitality jobs.
John Pilger, writing for The Guardian, rightly predicted that a storm was brewing over PPE contracts and wasted money on testing:
A debate in Parliament took place just recently on the topic. Labour are still furious.
The prediction that came true
Former Conservative MEP Daniel Hannan, now Lord Hannan, predicted exactly what would happen as early as April 5. He was incredibly accurate.
The Express reported:
Economist Mr Hannan warned businesses would "topple like dominoes" if the lockdown remained in force until May, while pointing the finger at Public Health England for the failure to undertake a widespread programme of testing. The ardent Brexiteer, writing in The Sunday Telegraph, said the cost of the restrictions was hard to measure "but no less painful for that". He explained: "One of my university contemporaries, who has a history of mental health problems, has struggled terribly with confinement.
"A neighbour is facing the grimmest of hat-tricks: her business ruined, her house-move frozen and her cancer operation postponed.
"The village osteopath, who went from 300 patients a week to zero when the bans came in, has been forced into insolvency.
"Nationally, a million more people have been pushed on to benefits."
Mr Hannan also scoffed at the assertion stringent measures were required to minimise the number of people dying.
He said: "I am astonished by how many commentators duck these consequences by airily asserting that 'lives matter more than the economy'.
"What do they imagine the economy is, if not the means by which people secure their welfare?
"The economy is not some numinous entity that exists outside human activity; it is the name we give to transactions among people aimed at maximising their wealth, health and happiness."
If businesses – excluding those deemed likely to accelerate infections, such as nightclubs – were permitted to reopen next week, "we might yet escape the worst", he asserted.
However, he added: "If the prohibitions remain in force into May, businesses will topple like dominoes, and a decade of depression will ensue."
And so it came to pass.
To be continued next week.
This is the final instalment of my series on Boris Johnson's downfall.
Those who missed them can read parts 1, 2, 3, 4, 5 and 6.
Also of interest are:
Developing news: how long can Boris last as PM? (July 5-6)
Boris stays as PM for now but stands down as Conservative leader: 'When the herd moves, it moves' (July 6-7)
This post discusses two groups of people who are still wild about Boris: British voters and the Ukrainians.
British voters
On June 11, 2022, one week after Boris survived a vote of confidence by his fellow Conservative MPs, The Observer — the Sunday edition of The Guardian — posted the results of a poll they commissioned.
The findings were surprising for a left-wing newspaper (emphases mine):
Boris Johnson makes a better prime minister than Keir Starmer would despite Partygate, the cost of living crisis and the confidence vote in Johnson held by his MPs, according to the latest Observer poll.
Granted, the results were close, but Boris managed to come out on top, with the Conservatives two points behind Labour:
The Opinium figures, which will raise further concerns within Labour over the party leader's performance, shows that the prime minister has a two-point lead over his opponent. It also reveals that Starmer's party holds a narrow two-point lead, compared with a three-point lead in the last poll a fortnight ago. Labour are on 36% of the vote, with the Tories up one point on 34%. The Lib Dems are on 13% with the Greens on 6% …
While 28% think Johnson would make the best prime minister, 26% opted for Starmer.
On June 13, the i paper's Hugo Gye posted a few pages from the book Moonshot, by Pfizer's chairman Albert Bourla:
Two excerpts follow. These pertain to late 2020 and early 2021:
From my perspective, the UK was doing an exceptional job under tremendous pressure.
At that time, the UK was the only vaccinating so quickly that demand surpassed supply. As a result, we worked on a plan to meet the UK's needs …
Yet, in the UK, it was only the Conservatives and conservatives remembering Boris's efforts during that time period:
On June 14, the Mail's Alex Brummer wrote a positive article about the British economy, explaining why things weren't as bad as the media and pundits portray them:
So, yes, we face serious challenges. And yet I simply do not believe there is any justification for the gloom-laden interpretation by large sections of the broadcast media and fierce critics of Boris Johnson's government.
These Cassandras peddle a diet of relentless financial woe as they carelessly claim that the nation is in recession or heading for one.
But closer inspection shows not only that things are nowhere near as bad as they claim, but that there are serious grounds for hope in certain sectors, too.
Brummer explored the possibilities of what could happen either way:
True, the UK economy lost momentum recently, shrinking by 0.3 pc in April.
But what no one has mentioned is that this was largely down to a statistical quirk, and respected City forecasters are still actually predicting a 3.2 pc expansion of the UK economy this year, followed by 0.9 pc in 2023.
The big danger is that the constant barrage from the doom merchants could begin to influence events and destroy the resilience of consumers and enterprise — resilience which is still delivering for this country.
What is more, with a change of tack in the Government's approach, I believe the economy could be recharged.
Of course, the country will struggle if it is required to contend with inflation, rising interest rates and a mountainous tax burden all at the same time. If consumers and businesses are doubly squeezed by higher interest rates and higher taxes, household incomes will be devastated …
Brummer disagreed with Rishi's tax hikes:
The truth is that, with the nation close to full employment and the City of London and services — comprising more than 70 pc of national output — performing well, there was absolutely no need to urgently hike taxes, if at all.
Income tax, national insurance receipts, VAT and corporation tax receipts have all been flowing into the exchequer in record volumes. All that future rises will do is stymie spending and the willingness of companies to invest.
And the main reason for that fall in output of 0.3 pc in April? It is because the Government suddenly ended the NHS's Test and Trace operations — which had grown into a formidable industry, employing tens of thousands of people — as the country emerged from the pandemic.
In fact, April saw activity in consumer services jump by 2.6 pc. In spite of the £100-a-tank of petrol, the £8-a-pint of best IPA and rocketing food prices, a recession — defined as two quarters of negative growth — is unlikely.
Brummer did support Rishi's help to the neediest families:
Even if Rishi Sunak does not cut taxes, his £15 billion package of targeted support to help poorer households with the rising cost of living means incomes should now rise in the second and third quarter of the year. It is equal to nearly 2 pc of their earnings and will boost the country's spending power.
There were more reasons not to believe the doom-mongers, who, as I write in early September, are getting shriller and shriller:
What the doom-mongers fail to tell you is that investment bankers Goldman Sachs recently pointed out that consumer services are 'robust' and Britain's economy is 0.9 pc larger now than it was before the nation went into lockdown.
Economic activity in the crucial services sector, meanwhile, is 2.6 pc higher.
But it is not just the consumer activity — along with the £370 bn plus of pandemic savings in the current and savings accounts of households — propping up the economy.
New data just released shows that the drive towards the UK becoming a high-tech, high-value nation continues to make Britain prosper.
So far this year, the country has sucked in £12.4 bn of investment into the tech industry, the highest level of any country other than the United States.
And let no one blame Brexit:
As for the argument that Brexit has done for Britain, it is comprehensively rubbished by the City consultancy firm EY, which argues that, when it comes to financial services, 'six years since the EU referendum, we can be confident that Brexit has not damaged the UK's fundamental appeal'.
Since the financial and professional services are the biggest generator of income for HMRC, and the UK's most successful export to the rest of the world, this should surely be a source of national pride rather than Remoaner carping.
Indeed, wherever you look, the excellence of Britain's life sciences sector — as evidenced by the rapid development and distribution of the Oxford-AstraZeneca vaccine during the pandemic — continues to shine …
Ultimately, taxes do need to be cut:
But more needs to be done. And by that I mean Rishi Sunak must put an end to the tax hikes — or even reverse them …
… he froze personal tax allowances until 2025-6, along with the thresholds for capital gains tax.
… this will provide additional revenues to the Government of about £20.5 bn a year.
Sunak also opted to raise corporation tax from 19 pc to a whopping 25 pc next year. And to help pay for the NHS and social care, every employee and employer in the country is now paying a 1.25 pc surcharge on national insurance.
Together, all these measures (before inclusion of the windfall tax on oil production) mean that Boris Johnson's government is raising more tax from the British people and commerce than any UK government since the 1940s.
Such a position, given the precarious economic circumstances we face, is completely unsustainable. If the Johnson government wants to fight the next election with a healthy economy, taxes have to be cut with a decisive policy shift.
And if that happens, it could just be the magic pill for a Tory revival.
Meanwhile, Boris took a brief staycation in Cornwall while he helped campaign for the Conservative candidate in Neil 'Tractor Porn' Parish's constituency for the by-election, which, unfortunately, the Liberal Democrats won.
The Mail reported on Boris's schedule:
Boris Johnson has been pictured walking on a Cornish beach with his son Wilfred as he chose a staycation amid weeks of chaos at Britain's airports for millions desperate for a post-pandemic foreign break.
The Prime Minister has been in the West Country campaigning as he tries to win the Tiverton and Honiton by-election for the Tories on June 23, but is squeezing in a short family holiday.
And after a flying visit to the Devon constituency he headed to Cornwall to launch his food strategy at the wheel of a tractor before relaxing on the award-winning Porthminster beach, St Ives.
Unfortunately, on Wednesday, June 15, Lord Geidt quit as Boris's ethical adviser, which made all of his opponents question whether he should still be in office. This came a day after Geidt had appeared before a parliamentary select committee. I saw parts of that session. Geidt did not exactly inspire me with confidence.
Lord Geidt, a former private secretary to the Queen, announced his resignation in a 21-word statement the day after MPs accused him of "whitewashing" Johnson's conduct and questioned whether there was "really any point" to him.
Geidt, 60, came close to quitting last month after concluding that there were "legitimate" questions about whether the prime minister breached the ministerial code. He said that Johnson's fine for breaking coronavirus rules threatened to undermine his role and risked leaving the ministerial code open to ridicule.
He also received a "humble and sincere" apology from Johnson in January after the prime minister withheld critical messages from Geidt's inquiry into the refurbishment of his Downing Street flat.
A statement from Geidt published on the government website this evening said simply: "With regret, I feel that it is right that I am resigning from my post as independent adviser on ministers' interests."
In a bruising encounter with the public administration and constitutional affairs select committee yesterday, Geidt admitted that he had been "frustrated" by the prime minister's approach to the scandal.
William Wragg, the Conservative chairman of the committee, told The Times: "Lord Geidt is a person of great integrity, motivated by the highest ideals of public service. For the prime minister to lose one adviser on ministers' interests may be regarded as a misfortune. To lose two looks like carelessness."
Then again, William Wragg is not a fan of Boris's, prompting his supporters to think there was a stitch up, especially as Tony Blair had just been installed as a new member of the Order of the Garter.
Geidt's letter seems to be focused on Boris's fixed penalty notice for Partygate, but Boris's response, published in The Guardian, is about steel tariffs: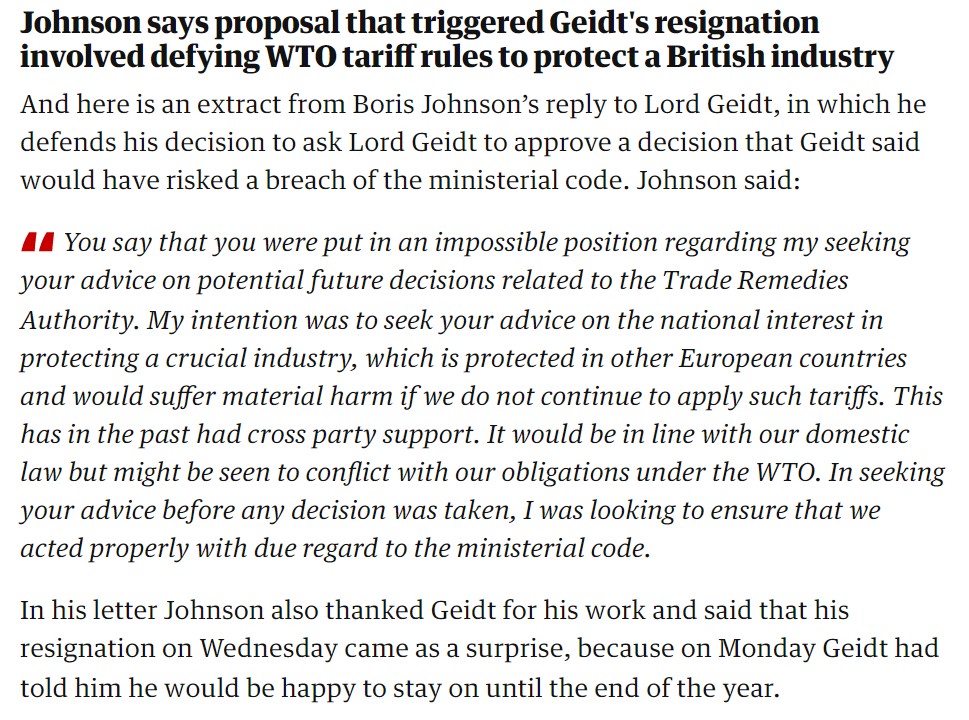 GB News's Patrick Christys explained this before going into Tony Blair's offences during his time as Prime Minister, including the Iraq War and letting IRA terrorists walk free. It's a shame the video isn't clearer, but the audio is compelling. After Christys introduced the subject, a panel debate took place:
Christys ran a poll asking if Boris is more unethical than Blair. Seventy per cent said No:
Blair's former adviser John McTernan said that, unlike Boris, Blair had been cleared of a fixed penalty notice (for an irregularity in paying London's congestion charge). But was Blair actually cleared? The BBC article from the time suggests that he wasn't:
On June 24, after the Conservatives lost Neil Parish's seat to the Lib Dems and the Wakefield seat to Labour, The Telegraph reported that the co-Chairman of the Conservative Party, Oliver Dowden MP, resigned. He seemed to blame the loss on Boris, although mid-term by-election victories often go to an Opposition party, something Dowden should have known:
Oliver Dowden has resigned as chairman of the Conservative Party after it suffered two by-election defeats, saying in a letter to Prime Minister Boris Johnson that "someone must take responsibility".
Mr Dowden's resignation came at 5.35am, shortly after the announcement of the two defeats. He had been scheduled to appear on the morning media round before he decided to step down.
In Tiverton and Honiton the Liberal Democrats overturned a 24,000 Tory majority to win, while Labour reclaimed Wakefield.
The contests, triggered by the resignation of disgraced Tories, offered voters the chance to give their verdict on the Prime Minister just weeks after 41 per cent of his own MPs cast their ballots against him.
Guido Fawkes posted Boris's generous letter of thanks to Dowden and his video explaining that mid-term by-election results often explain voters' frustration with the direction of the Government:
As usual, Blair's former spin doctor Alastair Campbell posted another inaccuracy, this time about Labour's by-election results:
At the time, Boris was away in Kigali, Rwanda, for CHOGM (Commonwealth Heads of Government Meeting). While there, he clarified sex and gender. The Times reported:
A woman cannot be born with a penis, Boris Johnson said last night, adding that there were "particular problems" around "issues of gender", but he said it was important to be "as understanding of everybody else as possible".
Asked whether a woman could be born with a penis, Johnson replied: "Not without being a man".
This has been an ongoing controversy for the past year. Neither Rishi Sunak nor Keir Starmer have been willing to answer that question. Boris met that challenge.
By the time Boris resigned on Thursday, July 7, millions of voters thought it was a stitch up.
Dan Wootton expressed our thoughts magnificently in his editorial that evening on GB News:
Excerpts from his transcript follow:
They won, folks.
They got him in the end.
Let's be honest for a moment, they were never going to stop until they'd secured Boris Johnson's head.
Since December, the campaign by the political establishment, the Remoaner elite, the civil service blob and – crucially – the country's biased broadcast media, notably BBC News, ITV News and Sly News, has been fever pitch.
Eventually, the Conservative Party decided it was impossible to govern while also fighting such dark and powerful forces.
These are deeply depressing times for British democracy.
Boris is the third Tory Prime Minister brought down in six years.
The febrile and hostile establishment and the MSM knows the power they have to bring political paralysis to the country.
And why were they so determined to destroy Boris?
Think about it.
He was a transformational Prime Minister.
A Prime Minister who stared them all down to finally deliver Brexit.
A Prime Minister who had vowed to cut the size of the civil service and demanded they return to their damned desks.
A Prime Minister who was going to scrap the hated BBC licence fee and sell the far-left Channel 4 News.
It's not hard to see why they would stop at nothing to discredit him.
I mean, last night the BBC quoted a source saying Boris Johnson "is now like Putin".
That's how deranged and determined his critics have become.
The celebration that broke out across the airwaves today – especially on the Boris Bashing Corporation once known as the BBC – blew up any final suggestion that we have an impartial broadcast media here in Britain …
I wanted to share with you part of a conversation I had earlier today with a source close to the Prime Minister.
They told me: "People had no interest in talking about the quite historic leadership achievements be that dragging us through a pandemic, a world leading vaccine programme rollout and a quite uniquely special performance in regards to that European war."
"Those people who wanted him gone never wanted to acknowledge that at any point. Never ever. It was always just the Westminster personality stuff. That was the only focus."
"Labour has had not one policy or grown-up policy discussion. It has been an out and out campaign to remove Boris. And you always have to ask yourself why. Why did they want to get rid of Boris so much? Why did sections of the media do that? Ultimately, wounded or not, he is the Conservative's best chance of winning an election" …

As the Daily Mail said today: "The truth is, Mr Johnson stands head and shoulders above almost all his assassins. Compared with the mountains he has scaled, their combined achievements are little more than molehills" …
To Boris Johnson, it was a project not completed, largely down to external forces.
But thank you for delivering us Brexit; that is an achievement for the ages that will go down in the history books.
It was a sad evening, indeed.
However, in time, there might be an upside. Maybe he could appear on GB News now and again:
Boris won that night's Greatest Briton accolade:
Wootton's focus on Brexit was confirmed by The Telegraph's Sherelle Jacobs the following day. She fears that Boris's resignation will give a lift to prominent Remainers:
… With the implosion of Boris Johnson, the Brexit war threatens to start anew. Tory Leavers must accept their vulnerability. The Prime Minister who ended the last battle by getting a Brexit deal done has just fallen in ignominious circumstances. Meanwhile, Remainers – who will never give up the fight – scent weakness.
While Andrew Adonis rallies against a "revolution which devours its children", Michael Heseltine has declared that "if Boris goes, Brexit goes". It might be tempting to dismiss all this as the hopeful rantings of bitter men. After all, Sir Keir Starmer has been at pains to reassure voters in recent days that Labour will not take Britain back into the European Union.
But even if the leader of the Opposition – a Remainer who voted six times against a Brexit deal – is genuine, he is powerless to stop the rejuvenation of the Remainer campaign. As support for Brexit in the polls has seeped away in recent months, in part because of the chaos that has gripped the Government, ultra-Remainers have been on manoeuvres. With the fall of Johnson, they think their time has almost come.
Over the next two years, they will likely proceed with a calculated mixture of boldness and caution. Already the public is being relentlessly bombarded with misinformation, which erroneously links every ill facing Britain with the decision to leave the EU. As the Tory party is distracted by internal dramas, negative Brexit sentiment will mount. This is already starting to happen, as critics in the business world become blunter in their criticisms – from the aviation industry to the CBI.
Meanwhile, some Tory MPs have been discreetly arguing in favour of a softer Brexit. Indeed, while the removal of the PM was by no means a Remainer plot, some of his internal enemies were motivated by a desire for greater alignment with EU rules – or at least by their opposition to what they consider to be an excessively aggressive attitude towards fixing the Northern Ireland protocol …
In truth, Conservative fealty to the Brexit cause has been disintegrating even under Boris Johnson, as the Blob has sapped the Government's will …
The great fear is that the Tory party now elects a closet Remainer who does not have the conviction to take all this on. That Brexit dies with a whimper, smothered by bureaucratic inertia and then finally strangled after the next election. If Brexiteers want to avoid this fate, they must think like war strategists once again. That means confronting the extent of their current weakness, and taking their opponents seriously.
Boris also shares that same worry and said so in Parliament on July 19, the day of his final Prime Minister's Questions:
Right after Boris's resignation, an online petition appeared: 'Reinstate Boris Johnson as PM'. It currently has over 23,000 signatures making it one of the top signed petitions on Change.org.
On Saturday, July 9, the i paper had an interesting report with several interviews:
The atmosphere sounded surreal:
"It was a bit weird", a source said of the Cabinet meeting Boris Johnson convened on Thursday just two hours after he said he would step down, effectively putting Britain on pause.
The Prime Minister was flanked by senior ministers, some of whom, less than 24 hours, had earlier led a delegation of men and women in grey suits to No 10 to urge him to quit …
Bill committees examining legislation line-by-line had to be cancelled, or they had newly resigned ministers sitting on them as backbenchers, while the whips who lacked the required specialist knowledge of the issues at stake were leading for the Government …
Contenders to take over as PM, when Mr Johnson does go, have been preparing for a contest months as the writing has slowly been scrawled on the wall of No 10.
Tom Tugendhat, Penny Mordaunt, and Jeremy Hunt were the most active hopefuls this week, contacting MPs and arranging meetings …
As the leadership contenders jostled, the Whitehall blame game began over Mr Johnson's spectacular fall from grace. The Prime Minister entirely overhauled his inner circle in February, after the initial "Partygate" allegations broke, and it is largely this team that will shepherd the Government through the final few months of his premiership …
The arrival of Guto Harri, one of Mr Johnson's oldest allies, as director of communications is seen by many as a contributor to the Prime Minister's downfall …
The spin chief had a habit of making up policies off the cuff, prompting advisers in other departments to joke about "the Guto special" when confronted with unexpected announcements from No 10. One Whitehall official concluded: "He is good for journalists, I'm not sure he's good for HMG [Her Majesty's Government]" …
But others pin the ultimate blame firmly at Mr Johnson's door.
One of Mr Johnson's closest former advisers told i that it "all went wrong for the PM" when he stopped listening to those from Vote Leave …
One of the former ministers who quit said on Thursday simply: "Everything is his fault. I spent months defending, or at least being generous about, his mistakes.
"Not after the last 24 hours. Appalling."
On July 12, Guido reported that Boris loyalist Jacob Rees-Mogg thought that the Prime Minister's name should be on the Conservative MPs' ballot (emphases his):
… he affirmed it was "unjust" to deny the Prime Minister the opportunity to fight for his position amongst Tory members. This comes in the context of his previous arguments for the growing presence of personal mandates in British political leaders. Unfortunately, Guido doesn't believe this strategy is quite in line with the contest rules…
I think this gave Boris's supporters false hopes:
People in Conservative constituencies began emailing their MPs:
With no result, the question then turned to whether Boris's name should be on the ballot for Conservative Party members.
On Saturday, July 16, The Times's Gabriel Pogrund and Harry Yorke posted an article: 'How the Tories turned the heat on Rishi Sunak'. In it, they introduced Lord Cruddas, who would go on to campaign for Boris's name to be on the members' ballot:
Both men were Eurosceptics who had supported the Vote Leave campaign when it might have been politically advantageous not to do so. Both were the beneficiaries of Boris Johnson's patronage. Cruddas had been given a peerage despite official objections. Sunak had been plucked from obscurity the previous year and made one of the youngest chancellors in history.
In 2021:
Sunak was the most popular politician in Britain and second only to Liz Truss in Conservative Home members' polls, having overseen the furlough and Eat Out to Help Out schemes. In the chamber, Cruddas gave his own vote of confidence, saying Sunak's budget "had established a clear path for the country to move from these difficult times", praising his "thoughtful" approach and arguing it would "not just to reinvigorate the economy post Covid but to help propel the post-Brexit opportunities".
By July 2022, everything had changed:
A week into the most toxic Tory leadership election in memory, the fact such comments were made feels inconceivable. Cruddas, 68, who remains close to Johnson, has shared posts on social media describing Sunak as a "rat", "a snake", a "little weasel", a "backstabber", "a slimy snake", a "treacherous snake", "Fishy Rishi", "Hissy Rishi", "Judas", "the traitor", "the Remainer's choice", a "sly assassin", a "Tory wet" promoting high taxes and the leader of a "coup" who "must be removed at all costs". Cruddas also retweeted claims about the financial affairs of Sunak's wife, Akshata Murty.
Tonight the peer said there had indeed been a "coup", adding: "I planned to donate a total of £500,000 this year but that is on hold and will not be paid unless the membership have a chance to vote on Boris being PM. I have no interest in Rishi who I deem to be not fit for high office due to his plotting and the orchestrated way he and others resigned to remove the PM." He also accused Sunak, 42, of setting up his leadership "before Christmas" and choreographing his resignation to inflict maximum damage.
The problem for Sunak is that such sentiment — especially the notion that he behaved improperly and cannot be trusted on the economy — is not confined to a fringe on social media. He might be the frontrunner but "Anyone But Rishi" reflects the opinion of Johnson and a coalition within the party. This includes cabinet ministers, staff inside Downing Street and Conservative Campaign Headquarters (CCHQ), Johnson's biggest donors, MPs opposed to higher taxes, and rivals for the leadership.
On July 22, The Telegraph's Christopher Hope added support for Boris's return and, in the meantime, addition to the ballot:
Tim Montgomerie, a former aide to Mr Johnson who has since been critical of him, said he had been told by sources close to the Prime Minister that he was convinced he would be back.
In a well-sourced post on social media, Mr Montgomerie wrote: "Boris is telling aides that he'll be PM again within a year" …
It comes as a row broke out among senior Conservatives about a campaign among party members to allow them a vote on whether Mr Johnson should continue as Prime Minister.
By Friday night, 7,600 members – all of whom have given their membership numbers – had signed a petition calling for the vote.
Lord Cruddas of Shoreditch, the former party treasurer who organised the petition, said "several MPs" had started to "make noises" about supporting his campaign …
Conservative MPs panicked:
The next day, The Times stirred the pot even more with 'Is Boris Johnson really planning another run at No 10?'
On Wednesday afternoon, moments after Liz Truss and Rishi Sunak were announced as the final two Conservative Party leadership contenders, a group of "red wall" MPs met on the House of Commons terrace to reflect on the result. "Is it too late to withdraw my resignation letter?" mused an MP, who held a junior ministerial role until the coup against Boris Johnson. "Shouldn't we just bring back Boris?" she said, leaving the question to hang in the air …
… Much like the Roman republic after Caesar's assassination, Whitehall is now riven by internecine warfare and a government paralysed by indecision …
For a man who just 18 days ago was brutally ousted from the job he has coveted his entire political life, Johnson appears to be living out his final days in Downing Street in a cheerful mood. Freed from the never-ending cycle of Westminster scandals, Johnson is relaxed and has spent the past few days hosting friends, relatives and other allies at Chequers and preparing a number of set-piece events leading up to his departure from No 10 in September …
Johnson, who allies claim remains furious with Sunak for his part in the coup, has sought to distract himself from the race to select his successor through media-friendly stunts …
Several MPs who helped oust Johnson have received a backlash from their constituents, stoking fears that they may face the same electoral retribution inflicted on Conservative MPs who ousted Margaret Thatcher. Backbenchers in red wall seats have been inundated with emails from voters who are furious at their role in ousting the prime minister.
They added that their postbag was filled with messages from newly converted Tory voters who have warned they will not vote for the party again now Johnson is gone. A colleague of Gary Sambrook, MP for Birmingham Northfield, claimed he had received hundreds of emails from constituents since he stood up in the Commons earlier this month and accused Johnson of refusing to accept responsibility for his mistakes …
Johnson leaves, aides say, with the air of someone with unfinished business. Whether this is the end of the Johnsonian project, or a precursor to his own Hollywood-esque sequel, remains to be seen.
On July 25, Christopher Hope wrote that the Boris petition had garnered 10,000 signatures:
Insiders say he is obsessed with delivering for the 14 million voters who voted Conservative in 2019, many for the first time because of him.
There are already stirrings of a revolt among the members. By Saturday night, 10,000 Conservative members had signed a petition organised by Lord Cruddas of Shoreditch, former Party treasurer, and David Campbell-Bannerman, former Tory MEP, demanding a say over his future.
The members want a second ballot to confirm MPs' decision to force his resignation, to run concurrently with the official leadership ballot between Liz Truss and Rishi Sunak.
That evening, Dan Wootton stated his belief that Boris's name should be on the members' ballot:
He asked his panel, which included Boris's father Stanley about it:
You can see relevant portions in these shorter extracts: Stanley supporting his son, Stanley verbally sparring with a journalist for the i paper as well as the opinion of former Boris adviser, Tim Montgomerie.
In the end, nothing happened. There was no Boris ballot.
Early this week, I heard one of the campaigners tell GB News that CCHQ are asking the organisers to do a sanity check on the signatories, confirming their Party membership number and clearing out any duplicates. If the number is still sizeable, CCHQ will discuss a possible changing of the rules for any future contests.
This is good news, in a way, but it will not help the Conservatives in the next general election. Boris's supporters are still angry.
Ukrainians
The Ukrainians will miss their biggest supporter.
They were saddened by his resignation:
Boris offered them his reassurance:
Volodymyr Zelenskyy even made a special announcement to the Ukrainian people about it:
Guido Fawkes wrote:
After leaving office Guido suspects Boris may end up reflecting more proudly on his work supporting Ukraine than even his Brexit legacy. Since the announcement of his resignation, Ukrainians have come out en masse to voice their sadness about his impending departure … Taking to Telegram late last night, Zelenksyy posted a touching video saying "Today, the main topic in our country has become the British topic – Boris Johnson's decision to resign as party leader and Prime Minister" …

Boris's hair has become a bit of an icon there (just as Trump's had in the United States). Guido has the images:
Boris's popularity among Ukrainians has already been well-reported since the outbreak of war. Streets have been named after him, as have cakes in a Kyiv patisserie. Yesterday Ukraine's national railways redesigned their logo to include an unmistakable mop of blonde hair, as did major supermarket Сільпо…
Boris once joked that the reason he'd left journalism for politics was because "no one puts up statues to journalists". It seems that, thanks to his efforts in Ukraine, he did manage achieved his wish for public deification – just not in the country in which he was elected…
On July 8, Ukraine's youngest MP made a video praising Boris:
Boris Johnson took a clear stand when so many others looked the other way.
In August, someone was inspired to paint a mural of Boris:
On August 24, Boris made his farewell — and surprise — visit to Ukraine on the nation's Independence Day:
Guido wrote:
Boris has made yet another surprise visit to Ukraine on its independence day — and the sixth month anniversary of its invasion. He used the visit, his last as PM, to announce a £54 million aid package to the country of 2000 state-of-the-art drones and loitering munitions …
Slava Ukraini…
Guido also posted this video:
GB News had more on the story:
Mr Johnson's visit came as Ukraine marked 31 years since its independence from Moscow's rule.
And it also came six months on from Russia's invasion of Volodymyr Zelenskyy's nation …
He said in Kyiv today: "What happens in Ukraine matters to us all.
"That is why I am in Kyiv today. That is why the UK will continue to stand with our Ukrainian friends. I believe Ukraine can and will win this war" …
The Prime Minister used his meeting with Mr Zelenskyy to set out a further package of military aid, including 2,000 drones and loitering munitions.
He also received the Order of Liberty, the highest award that can be bestowed on foreign nationals, for the UK's support for Ukraine.
Mr Johnson said: "For the past six months, the United Kingdom has stood shoulder-to-shoulder with Ukraine, supporting this sovereign country to defend itself from this barbaric and illegal invader.
"Today's package of support will give the brave and resilient Ukrainian armed forces another boost in capability, allowing them to continue to push back Russian forces and fight for their freedom."
The package includes 850 hand-launched Black Hornet micro-drones – smaller than a mobile phone – which can be used to provide live feeds and still images to troops, particularly important in urban warfare.
The support also includes larger drones and loitering weapons, which can be used to target Russian vehicles and installations.
The UK is also preparing to give mine-hunting vehicles to operate off the coast, with Ukrainian personnel being trained in their use in UK waters in the coming weeks.
Ukraine's ambassador to the UK Vadym Prystaiko marked the occasion by urging UK citizens to be "patient" as the war-torn country "cannot afford to lose your support".
He said: "You are playing a very important part in this fight. Ukraine will do what it takes to claim victory."
But will Britons continue to love Ukraine as much when the winter and higher fuel bills kick in?
Boris told us that we must do it, we must suffer, for Ukraine:
He has a point, but I do wonder how well this will play by the end of the year.
At least Boris got his Churchillian international claim to fame.
What next?
This week, Boris made a farewell tour of the UK, topped off with a dawn police raid of a house:
Guido has the video and explains the greeting:
This morning Boris accompanied the police on a home raid. Given we're now comfortably into the 21st century, it didn't take long for one of the occupants to realise the PM was in his home and film the experience, asking Boris 'wagwan'. Boris politely asked the filming resident "how you doing?". The Snapchatter could have at least offered Boris a cuppa…
It's rumoured that Michael Gove might be off to edit a newspaper:
Guido has the story and the audio of Gove's plans:
This morning Michael Gove laughed off the suggestion he's planning an imminent return to Fleet Street, insisting on the Today Programme he's "definitely planning to stay in Parliament" and won't be stepping down any time soon. Rumours have been building in SW1 that Gove had his eye on the editorship of, erm, one particular Murdoch-owned broadsheet, should a vacancy become available …
No, no. I think my first responsibility and duty is to my constituents in Surrey Heath. I'm going to stay on as MP, argue for them, and also argue for some of the causes in which I believe. I think it's vitally important that we continue to make the case for levelling up. I think Boris Johnson is absolutely right to focus on the need to provide additional support for overlooked and undervalued communities…
Gove added he still has "a reservoir" of affection for Boris despite being the only Minister the PM actually sacked in July. Boris is also rumoured to be sticking around until the next election. Could make for awkward small talk on the backbenches.
I predict they will stay on as MPs until the next election, just show up less often in the Commons.
As for Rishi, The Guardian said on Friday, September 2, that he was being compared with Michael Heseltine, one of the MPs who brought down Margaret Thatcher:
One of the most familiar refrains of the Conservative leadership contest was candidates earnestly inviting comparisons to Margaret Thatcher.
But after his resignation as chancellor brought down Boris Johnson's wobbling house of cards, a Tory insider said Rishi Sunak found himself with "the curse of Heseltine hanging round his neck".
Despite long having been talked of as a likely future prime minister, Sunak struggled to shed the parallel with the man who helped bring down Thatcher but failed in his own tilt at the top job – before coining the famous political cliche: "He who wields the knife never wears the crown."
I'll leave the final word to The Spectator's political editor James Forsyth, who muses on what politics will look like after Boris leaves:
His absence will reshape the political landscape because his presence defined it.
We will find out who Boris's successor is on Monday. The Guardian has a report on what we should expect:
The candidate who receives the most votes will be revealed on Monday by Sir Graham Brady, the chair of the 1922 Committee, a gathering of Conservative backbench MPs (not named after the average year of birth of its members but the year in which it was founded) …
The formal handover will take place on Tuesday. The Queen is recovering from the outgoing prime minister's tenure in her Scottish pile Balmoral and will appoint the new PM there, which will be a challenge as it requires the winner to leave Westminster.
Johnson is expected to make a farewell address outside 10 Downing Street at about 9am on Tuesday. It is not known whether he has written two versions of the speech, one based on staying, one based on leaving.
More next week as a new chapter in Conservative politics begins.
End of series