You are currently browsing the tag archive for the 'video' tag.
Previous instalments in my series on Harry and Meghan can be found here, here, here and here.
I left off at the end of 2019, with The Sun publishing a story on the Sussexes imminent extended visit to Canada, which enraged the Duke and Duchess:
On December 21 that year, Sky News reported:
Harry and Meghan's spokeswoman ended speculation over their whereabouts by confirming the couple and their seven-month-old son Archie are spending their six-week Christmas break in the country Meghan called home for seven years.
"The decision to base themselves in Canada reflects the importance of this Commonwealth country to them both," she said.
"The Duke of Sussex has been a frequent visitor to Canada over many years, and it was also home to The Duchess for seven years before she became a member of the Royal Family.
"They are enjoying sharing the warmth of the Canadian people and the beauty of the landscape with their young son."
The duchess lived in Toronto before joining the Royal Family as the popular US drama Suits, in which she starred in, was filmed in the Canadian city.
Harry and Meghan were famously pictured in Toronto in 2017 at the Invictus Games.
The Sussexes are likely to have spent the US Thanksgiving celebrations on 28 November with the duchess' mother Doria Ragland.
Prince Harry's grandmother, the Queen, is said to be supportive of the Sussexes' plan to take a long break and not join the rest of the Royal Family at Sandringham on Christmas Day.
The Duke and Duchess of Cambridge have previously spent Christmas with Kate's parents in Berkshire instead of with the Queen.
Harry's grandfather, Prince Philip, 98, was taken to hospital in London on Friday from Sandringham for treatment for a pre-existing condition, Buckingham Palace said.
The Queen had just arrived at the Norfolk estate for her Christmas break after the State Opening of Parliament on Thursday …
By Christmas Eve, the Mail reported that the Royal Family wanted the couple to return home in light of Prince Philip's stay in hospital:
Prince Harry and Meghan Markle have been urged by Royal family members to return from abroad to spend Christmas in the UK, as Prince Philip spends a fourth night in hospital …
It comes after a family Christmas card of the royal couple smiling in front of a Christmas tree, with Archie's adorable face staring down the camera lens, was revealed.
On December 28, news emerged in the UK that:
THE Duke and Duchess of Sussex have registered the trademarks for hundreds of products with their Sussex Royal brand.
That same day, Blind Gossip posted 'The Big Plan':
Think back to a few months ago when we talked about the baby.
Our married couple was oddly reluctant to let the public see the baby, citing concerns over safety and a desire to bond privately.
We told you that wasn't true. Plenty of their family members have managed to keep their children safe and secure over many generations while meeting their obligations as public figures.
We told you that the couple was actually trying to keep sightings of the baby rare while they figured out how to monetize the situation… without the rest of the family finding out.
They bungled that scenario.
However, it's now full steam ahead with The Big Plan!
What is The Big Plan?
To brand and monetize everything.
You are now seeing that plan being put into motion. And if you question what they are doing, you will be met with anger, misdirection, and insistence that their motives are pure.
We hid the baby because… Privacy! Motherhood!
We take private planes and stay in posh private digs because… Environment! Wellness!
We isolate ourselves from 99% of our family and surround ourselves with celebrities because… Family! Safety!
We are engaging our own outside lawyers and PR team because… Protection! Charity!
How dare you question our motives!
See how that works?
Fortunately, the Queen put paid to Sussex Royal on February 18, 2020, as the Mail reported:
The Duke and Duchess of Sussex must drop their 'Sussex Royal' label after deciding to step down as working royals.
Following lengthy and complex talks, the Queen and senior officials are believed to have agreed it is no longer tenable for the couple to keep the word 'royal' in their 'branding'.
Harry and Meghan have spent tens of thousands of pounds on a new Sussex Royal website to complement their hugely popular Instagram feed.
They have also sought to register Sussex Royal as a global trademark for a range of items and activities, including clothing, stationery, books and teaching materials. 
In addition, they have taken steps to set up a new charitable organisation: Sussex Royal, The Foundation of the Duke and Duchess of Sussex.
It has now been made clear that they will need to 're-brand'.
Returning to December 2019 and January 2020, Harry was eager to work out some sort of arrangement for his and Meghan's future with the then-Prince Charles. Charles told his son that such things had to be done in person, not via email. Prior to that, Harry had contacted the Queen, who said she would be happy to meet with him until it turned out her diary was full.
Various excerpts in this post come from investigative-turned-royal reporter Valentine Low and his 2022 best-seller, Courtiers. Royal insider Lady Colin Campbell said on GB News a few weeks ago that Low's book must be the definitive one he had so much access to the people who run the Palace.
On a personal note, I read all of Valentine Low's work when he wrote for the London Evening Standard around the Millennium. Low left no stone unturned in his lengthy exposés, and it is good to see that he continues to doggedly investigate his subject matter.
Another book I would recommend is Tom Bower's 2022 best-seller Revenge, which concerns the Sussexes lives. It, too, is packed with detail. Again on a personal note, I read his biography of the late Robert 'Bob' Maxwell in the 1990s. Maxwell died an unresolved mysterious death on his yacht. Maxwell was larger than life, both physically and figuratively. Bower's biography was a page-turner, from start to finish.
I sent both Courtiers and Revenge as Christmas gifts in 2022. I commend them to my readers.
'Cornered, misunderstood, deeply unhappy'
Valentine Low's excerpt, which The Times published on September 25, 2022, explains what happened between December 2019 and January 2020 (emphases mine):
The current set-up was not working for them, and they wanted to go and live in North America. Harry seemed to be under the impression that they could just sort it out by email before he and Meghan got back to London on January 6. The reply they got, however, was that this would require a proper family conversation. They were also told that the first date that the family would be available was January 29. It is not clear if this inflexibility was on the part of Charles, who was due to be in Davos, or that this was the response of his long-time private secretary Clive Alderton, pulling the strings. Either way, from the Sussex point of view, this went down incredibly badly. It fed into the narrative that they were not being taken seriously by the palace machinery, or by the rest of the family.
Harry had tried to speed up matters by arranging to see his grandmother alone before he left Canada. However, the message was conveyed to him that the Queen had been confused about her diary, and was no longer available. Harry was incensed, because it was not true: the courtiers had got in the way, it seemed, because they saw the meeting with the Queen as an attempt to pick the Queen off before Harry started talks with the rest of the family. As one source put it, "There was a danger that a private conversation could be interpreted very differently by two people."
And so it turned out with other conversations concerning the Sussexes, leaving the Queen to state that 'some recollections may vary'.
Harry considered travelling directly to Sandringham to see his grandmother:
He eventually dropped the idea, but it was a sign of his frustration that he even contemplated such a move.
Royal diaries opened up early in January 2020:
Given that the couple announced their plans to stand down on January 8, and the royal family met to discuss it all five days later on January 13 — the so-called Sandringham summit — it seems that the family diary was rather more flexible than originally appeared.
Harry and Meghan could be maddening, of course; they had already infuriated the royal family by pushing out their Megxit announcement on January 8 with the minimum of notice when all the talks had been about issuing a joint statement. But the palace also showed the sort of initial inflexibility that was always guaranteed to infuriate them. Harry and Meghan felt cornered, misunderstood and deeply unhappy. If the rest of the institution failed to appreciate that, even if their demands were unreasonable, the departure negotiations were never going to end happily. It is uncontroversial to suggest that the Sussexes would regard the talks as a failure. They wanted to find a compromise whereby they could live part of the year abroad but carry out some royal duties at home. No such compromise was found. Instead, they lost their royal duties, their patronages, Harry's military affiliations, their security, their income from the Prince of Wales and, for official purposes anyway, their HRH titles. They pretty much lost everything, except for the freedom to do exactly what they want.
This is what I meant yesterday by the mess of pottage.
The courtiers were busy:
In the immediate aftermath of the Sussex bombshell on January 8, when the Queen said she wanted all four households to "work together at pace" to find a workable solution, Edward Young, the Queen's private secretary, was with the Queen at Sandringham. The first negotiations took place in Clarence House — Charles's home ground — over the following four days, with the private secretaries and communications secretaries from the four households all trying to find a way to make the Sussexes' dreams a reality. They gathered in Alderton's office, a sunny first-floor room where paintings from the Royal Collection sit alongside photographs of Alderton's own family. Young would join the talks on the phone from Norfolk, but for the first few days it was Alderton who was leading the discussions. (Later, they would all have talks at Buckingham Palace.) Simon Case, Prince William's private secretary, who is now cabinet secretary, also played a pivotal role. "He was talking to both sides," said a source.
The people sitting around the table went through five different scenarios, which ranged from Harry and Meghan spending most of their time being working members of the royal family, but having a month a year to do their own thing, to them spending most of their time privately, but doing a select number of royal activities. There was, according to more than one source, a positive atmosphere in the room: they wanted to find a solution. At one stage, Alderton made the point that if they could get this right, they would be solving a problem for future generations of the royal family who were not in the direct line of succession.
Ultimately, the Queen decided that the couple could not be both in and out of the Royal Family:
By the end of the week, the five scenarios had been worked through. The view from the palace establishment was that, however much time Harry and Meghan spent away from royal duties, anything they did would reflect on the institution. That meant that the normal rules about royal behaviour would apply. They should not act or take decisions in order to gain financial or other material benefits for themselves, their family, or their friends.
But the Sussexes wanted their freedom: freedom to make money, freedom to dip their toes into American politics. There was no way for the two sides to reach an agreement on that point. Crucially, it was the Queen who took the view that unless the couple were prepared to abide by the restrictions that applied to working members of the royal family, they could not be allowed to carry out official duties. One source said: "There was a very clear view: you can't be in and out. And if you've got such clarity of view, it's very difficult to say, 'Why don't we go 10 per cent this way instead of 20 per cent?' " Compromise was off the table, removed by the Queen.
Low wonders whether the courtiers could have handled the situation 'differently', but it seems the previous paragraph would say that they could not have done so. The Queen took the final decision — and the right one, in the estimation of most Britons.
Mismatched expectations
It would appear that Meghan thought she would be the star of the Royal Family, whereas the Palace, rightly, expected her to slot into her role as the Duchess of Sussex.
Low found empathisers with both sides then adds his view:
One former palace insider believes the way the developing crisis was handled was "incompetent beyond belief". They said: "I think Meghan thought she was going to be the Beyoncé of the UK. Being part of the royal family would give her that kudos. Whereas what she discovered was that there were so many rules that were so ridiculous that she couldn't even do the things that she could do as a private individual, which is tough . . . It just required the decision-makers to sit around a table and say, 'OK, what are we going to do about this? What do you need to feel better? And what can we give?' "
There is, however, another view: that nothing could have ever saved the situation. The two sides were just too far apart. Another palace source, who has been critical of the Queen's private secretary Edward Young in the past, said: "I think that it was an impossible task. I think in Meghan and the household, you had two worlds that had no experience of each other, had no way to relate to each other, had no way to comprehend each other. And Meghan was never going to fit in that model and that model was never going to tolerate the Meghan who Meghan wanted to be. So I think that it was inevitable that they would not be able to work together. I don't think there's anything Edward could have done about that that other members of the royal family would have accepted."
Both things are probably true. There was a collective failure on the part of those who work for the royal family to recognise that there was a serious problem, to flag it up, and to try to do something about it. There were no high-level discussions any time in the first eight months of 2019 — when Meghan was later to say that she had suicidal thoughts and the first clues were emerging that the Sussexes were plotting an escape — about the nature of their unhappiness and what could be done about it.
But even if that had happened, I do not believe that it would have solved the problem. Their grievances were too deep-rooted, and the distance between what the Sussexes wanted and what the royal family felt able to give was just too great. Perhaps the best that could have happened is that the divorce could have been handled without all the acrimony that followed the events of January 2020. One thing is definitely true, however. If there were any failings, they were during the first year or so of Harry and Meghan's marriage.
There is one final thought on this, and it comes from a surprising source, someone who knows Harry well but remains upset about what Harry and Meghan did. Their view is that perhaps the Sussexes' departure was not the untrammelled disaster that so many think it was. "There is a part of me that thinks Meghan did Harry the greatest kindness anyone could do to him, which was to take him out of the royal family, because he was just desperately unhappy in the last couple of years in his working life. We knew he was unhappy, but we didn't really know what the solution would be. She came along and found the solution."

Dear, oh dear.
The Sussexes ignored staff advice
In an article from January 10, 2020 for The Times, written as the formal separation took place, Low tells us what was going on between the Sussexes and their staff before the couple sent out their statement:
This reveals how Harry has his own sense of the truth:
There was talk of putting out a statement — not the one that was eventually released but a blander version merely confirming that talks were taking place, and giving none of the detail about their plans to become financially independent and to split their time between Britain and North America.
Once more, Harry spoke to the Queen. Versions of how the conversation went differ. According to one narrative she made it clear that he should not go public with his plans. However, a source close to Harry told The Times: "He certainly thinks she said it was fine."
His closest advisers did not think it was fine. Both Sara Latham, the couple's communications secretary, and Fiona Mcilwham, their private secretary, argued strongly against putting out a bombshell statement without consulting the other members of the family. Harry and Meghan, however, were determined to press ahead.
The other royal households were given the statement shortly after 6pm on Wednesday. Ten minutes later it was sent out to the world.
It seems that the Duke and Duchess hadn't listened to their staff on other occasions:
Harry and Meghan's closest advisers are a devoted team who believe in the values, aims and ambitions espoused by the duke and duchess. But that does not mean that their advice is always listened to: and it also does not mean that some of them are not anxious about their future as the couple carve out their new role.
It also does not mean all of them have been involved in the plans. The Sussexes' website, sussexroyal.com, was created by Made by Article, a Canadian company, without input from their Buckingham Palace press team. Instead much of the content, criticised for inaccuracies, was created by the couple with Sunshine Sachs, a PR company in New York.
The Sussexes' most senior advisers are Sara Latham, their communications secretary, and Fiona Mcilwham, their private secretary, both appointed in the past year. Until last year the couple's household was part of Kensington Palace, home of the Duke and Duchess of Cambridge, and they were a closely knit team and funded by the Prince of Wales.
Then came the falling out and the decision for the Sussexes to set up on their own. In theory they are answerable to the Buckingham Palace team, but in reality they operate as a separate fiefdom. Most staff costs are paid for by the Duchy of Cornwall, but communications staff under Ms Latham are paid for by the sovereign grant.
Public unhappy
Low then explores the view of the general public in January 2020, which was quite negative, especially as their money went towards the refurbishment of Frogmore Cottage, where the Sussexes lived for only a short while:
… the announcement that the Duke and Duchess of Sussex aimed to be financially independent has raised questions about their future income. The duke has personal wealth — the money left to him by his mother, Diana, Princess of Wales — but is supported by money from his father and public cash.
In the narrow streets that surround Windsor Castle, locals grumbled at the cost of a recent renovation to the couple's residence, Frogmore Cottage, which sits in the castle grounds. Taxpayers paid £2.4 million to renovate the grade II listed building, into which the pair moved nine months ago. Jess Hunter, 28, manager of the Queen Charlotte pub, said: "It seems a bit rich to then turn around and walk away from it all. I like Meghan but she knew what she was getting into when she married Harry. If you don't want to be a princess, don't marry a prince."
About 32 per cent of people thought the decision would "damage" the royal family, while 49 per cent did not. "He's a normal human being and he's wanting to carve out a little bit of space for his new family to grow in," added Michael Smith, 52, a prison officer. "It's what his mother would have wanted."
The Sussex Survivors' Club

The Times featured another excerpt from Low's book on September 24, 2023.
It gives examples of how unaccustomed courtiers are to incivility — and so should they be. It is hard to imagine what they went through from 2018 to early 2020.
Low takes us back to 2018, when he was part of the press pack on the couple's South Pacific tour:
It is normally a standard part of a royal tour, the moment when the royals venture to the back of the plane, where the media sit, to say hello and have a chat. But the tour of the South Pacific by the Duke and Duchess of Sussex in 2018 was different …
… Harry had looked out of sorts. His relations with the media pack had been prickly and strained. Where Meghan smiled, always putting on her best face whenever she was on show, Harry glowered. On the five-hour flight back from Tonga to Sydney, his press handlers promised that he would come and thank the media for being there. It was only after the plane had landed that the couple finally appeared.
I remember the scene well. Harry looked like a sulky teenager, Meghan stood behind him, smiling benignly. Her only contribution was a comment about how much everyone must be looking forward to Sunday lunch at home. Harry sounded rushed, as if he couldn't wait to get back into the first-class cabin. "Thanks for coming," he said, "even though you weren't invited."
This was spectacularly rude — and incorrect. The media had been invited to cover the tour. Later, Harry's staff told him how badly his remarks had gone down. He replied: "Well, you shouldn't have made me do it." Harry's petulant behaviour revealed much about the couple's deteriorating relationship with their own staff.
So bad did things eventually become that Harry and Meghan's team would later refer to themselves as the Sussex Survivors' Club. The core members were Sam Cohen, whom the Queen had personally asked to step in as private secretary and who worked for the couple from after their wedding until the end of their South Africa tour in September 2019; Sara Latham, the former Freuds PR managing partner, hired in 2019 to be in charge of communications; and assistant press secretary Marnie Gaffney. Sources say the team came up with a damning epithet for Meghan: a "narcissistic sociopath". They also reportedly said on repeated occasions: "We were played."
Fast forward to the Oprah interview in March 2021, and all close advisers' support was forgotten:
Meghan takes pains to highlight the difference between the Queen and those who surrounded her. In Meghan's account, they were the people who refused to help when she was in her hour of greatest need. They were the ones who "perpetuate falsehoods" about her.
Watching Meghan describe how she considered ending her life in the year after her marriage was an uncomfortable experience. And yet a succession of perfectly decent people, all of whom believed in Meghan and wanted to make it work, came to be so disillusioned that they began to suspect that even her most heartfelt pleas for help were part of a deliberate strategy that had one end in sight: her departure from the royal family. They believe she wanted to be able to say 'Look how they failed to support me'.
Sam Cohen, who had 17 years' experience of working at the Palace, would frequently say to Edward Young, the Queen's private secretary, and Clive Alderton, Charles's private secretary, that if it all went wrong, the Palace needed evidence of the duty of care it had shown to Harry and Meghan. The duty of care was crucial. "[Sam] was a broken record with them on that," said a source.
But by the time of the Oprah interview, everything the Palace had done to support the couple — including giving them a team that would have done anything to help them succeed — was forgotten.
Instead, Meghan was able to point out all the times the institution had failed her. One of them was when she says she went to the head of HR, where she was given a sympathetic hearing but sent on her way. This was inevitable: HR is there to deal with employee issues, not members of the royal family. Meghan would presumably have known that, so what was she doing there? Laying a trail of evidence, would be the cynical answer.
Another former staff member goes even further. "Everyone knew that the institution would be judged by her happiness," they say. "The mistake they made was thinking that she wanted to be happy. She wanted to be rejected, because she was obsessed with that narrative from day one."
Courtiers are unaccustomed to untoward behaviour:
Part of the problem, according to one source, was that everyone in the Palace was too genteel and civil: "When someone decides not to be civil, they have no idea what to do. They were run over by her, and then run over by Harry."
The situation was not helped by Harry and Meghan's deteriorating relationship with Alderton and Young. "As things started to go wrong," a source told royal biographer Robert Lacey, "Meghan came to perceive Young as the inflexible, bureaucratic figure who summed up what was with the BP [Buckingham Palace] mentality, and the feeling was mutual. Young really came to dislike Meghan's style." Harry was just as dismissive of the two senior courtiers as Meghan. An insider said: "He used to send them horrible emails. So rude."
Meghan's secrecy
If Meghan criticised the courtiers, she was not exactly above criticism herself.
She used secrecy to her advantage:
When Harry and Meghan went to Canada for their six-week break in November 2019, their escape plans were already laid, amid the greatest secrecy. Meghan would not even tell their nanny, Lorren, where they were going. According to one source, she did not know where they were going until the plane — a private jet — was in the air.
Shortly before the end of the year, Meghan confided in a member of her staff that the couple were not coming back. The rest of the team did not find out until they held a meeting at Buckingham Palace at the beginning of January 2020. They found it hard to accept they were being dumped just like that. Some of them were in tears. "It was a very loyal team," said one.
Money, money, money
By the end of March 2020, Meghan was allegedly panicking about money:
On March 31, The Express reported:
Meghan Markle and Prince Harry agreed to pay back the money spent for the refurbishment of Frogmore Cottage into the Royal Purse as part of their deal with the Queen. As part of their bid for independence from the Royal Family, the Duke and Duchess of Sussex said they want to become financially separate from the Queen and will be looking for new sources of income. Meghan last week was confirmed to have struck up a deal with Disney to narrate their latest documentary Elephant but the Duchess donated the money as the project was filmed before she and Harry announced their departure from the Royal Family.
A royal insider claimed Meghan is terrified because of the financial pressure they are now under and suggested the Duchess has ordered Prince Harry to find a job.
Speaking to US tabloid National Enquirer, the anonymous source said: "This debt is a blow to their ambitious plan to become freewheeling billionaires in the world.
"Meghan is terrified that her dreams of being a Hollywood queen will be destroyed by this financial nightmare and she is insisting that Harry make a move and resolve the crisis."
The insider however noted the lack of previous working experience could make the search for a new job difficult for the Duke of Sussex.
That is too funny. On a serious note, we see again the mess of pottage looming large.
Harry's lack of work experience led him to dish the dirt on the world's most famous royals. I hope he's happy.
Ending on the present day — January 2023 — it is rumoured that Harry might be offered a contract to be a television commentator in the US on his father's May 6 coronation.
On January 25, The Express reported:
Prince Harry has been tipped to skip King Charles III's coronation after two US broadcasters allegedly approached the Duke of Sussex to commentate on the ceremony. The Duke's potential coronation role was first tipped in this weekend's Sunday Express where TV companies were suggested to be attempting to lure him to join their media teams. Harry's relationship with his father and the Royal Family has been frosty after a series of digs levelled at the institution in recent months. Royal correspondent Charles Rae said the couple may still be invited to attend the ceremony but suggested Prince Harry may instead opt to strike a deal with US TV channels to act as a commentator and stay in the US …
Speaking on behalf of Spin Genie, Rae added: "There are also rumours that Harry has been offered a lot of money by two broadcasters to commentate on the Coronation …
Networks CBS and NBC are believed to have approached the Duke to get him joining their reporting team in the lead-up to the coronation.
The Venn diagram: Diana
The intersection of the Venn diagram linking Harry and Meghan is clearly Princess Diana.
On August 4, 2021, at the time the Duchess turned 40, her half-sister Samantha told GB News's Dan Wootton how obsessed Meghan was with the princess:
Here's the full video, just under 20 minutes long. In it, Samantha discusses how difficult it is to love someone who has caused so much hurt, her disappointment that Meghan has not contacted their ailing father and her book about the Duchess:
As for Harry, Prince Charles's and Princess Diana's chef at Kensington Palace, Darren McGrady, says that William and Harry had very different personalities (see at the 1:25 mark).
He says that one day Diana entered the kitchen after the boys had just been in — a favourite place for them to go — and said:
You know, the boys are so different. William's deep, like his father, and Harry is just an airhead like me.
What more can I say? Nothing.
Cottage pie
In closing, Darren McGrady prepares cottage pie the authentic way. The recipe dates from the 1700s.
There is a note early on in the video that says shepherd's pie is made with lamb and cottage pie is made with beef, something non-Brits do not realise.
It is also called cottage pie because it was for peasants. Peasants lived in cottages.
But I digress.
Cottage pie was a favourite of Wills and Harry. Perhaps one day, in the years to come, they might enjoy it again together.
End of series
On Wednesday, January 11, 2023, the outspoken Conservative MP Andrew Bridgen had the whip removed for remarks he tweeted about the coronavirus vaccines.
He now sits as an Independent.
Before going into that news, let us look at Bridgen's past history in Parliament.
Watchdog
Bridgen, who has represented North West Leicestershire since 2010, has always been a watchdog, in and out of Parliament.
Holding his own on Brexit
On April 8, 2019, when Theresa May and Parliament were at loggerheads on how to proceed with Brexit, Bridgen appeared on the BBC's Politics Live to say that most voters would prefer No Deal. He was the only Leave supporter on a panel of four. Everyone else was a Remainer, including the host, Jo Coburn. They piled in on Bridgen, but the MP was correct. He had cited a poll from YouGov which said that 44% of Britons preferred No Deal. By contrast 42% wanted to remain in the EU.
One month later, he rightly objected to MPs who wanted to have a customs union with the EU instead of a full exit:
The impasse in the House of Commons worsened as the months dragged on. On September 10, Bridgen supported Boris's prorogation, which ended up being overturned. He talked with talkRADIO's Julia Hartley-Brewer just before that prorogation:
In late November, The Sun tweeted an excellent video of Bridgen canvassing North West Leicestershire voters before the general election on December 12 that year. They had strong opinions on Brexit, Labour and Boris. Incidentally, North West Leicestershire is the happiest place to live in the East Midlands:
Pointing out 'modern slavery' in Leicester
In January 2020, Bridgen called to the Government's attention the working conditions at certain women's garment factories in Leicester. They would be considered sweatshops in the United States.
The city of Leicester is not in Bridgen's constituency, but he was concerned enough to call the companies out, directing a question to Kelly Tolhurst MP, the then-BEIS (Department for Business, Energy and Industrial Strategy) in Parliament:
Will the Minister agree to meet me to discuss the situation in Leicester, where I believe that approximately 10,000 people in the clothing industry are being paid £3 to £4 an hour in conditions of modern slavery?
Guido Fawkes reported that nothing was done until July that year, when Leicester showed unusually high rates of coronavirus (emphases in the original):
What happened at the meeting months ago?
The Labour Behind the Label campaign has a report out alleging there is evidence which indicates that conditions in Leicester's factories, primarily producing for Boohoo, are putting workers at risk of COVID-19 infection. Grim reading…
Leicester's rates remained high throughout the rest of 2020. By contrast, North West Leicestershire — Bridgen's constitutency — had the lowest rates in Leicestershire. On October 12, he debated the knotty problem of full lockdowns with talkRADIO's Julia Hartley-Brewer, who advocated sequestration of the vulnerable only:
Calling out West Midlands mayoral candidate
In the week before the 2021 local elections in England, he asked IPSA (the Independent Parliamentary Standards Authority) to investigate Labour MP Liam Byrne's alleged use of parliamentary expenses to fund his campaign for the mayoralty of the West Midlands. Byrne fired back that Bridgen put his own London accommodation on expenses, which is what every other MP, including Byrne, does. Then Byrne accused Bridgen of having one of the worst voting attendance records in Parliament. Byrne was wrong there, too, as records show that Bridgen voted 88% of the time, whereas Byrne voted only 63% of the time between 2010 and 2019.
Calling out the BBC
On May 21, 2021, Bridgen complained about the BBC in a tweet, saying that Britons are forced to pay for it, while the organisation shows inadequate accountability in the face of broadcasting scandals it hid under the carpet.
Objecting to coronavirus vaccine passports
On July 22, 2021, Bridgen told GB News that showing a vaccine passport upon entry to various places was 'unworkable', saying that most people were already vaccinated and that it would take too much extra time to check everyone's vaccine status:
2022 signalled big trouble ahead
In 2022, Andrew Bridgen became known as an MP with a reputation.
Initially, his letters of no confidence in previous Prime Ministers became clear, all the way from David Cameron's time through to Liz Truss:
However, later on, his relationship with his family's potato business would begin to bring matters to a head, affecting his standing as a Conservative MP.
On September 3, The Times reported (purple emphases mine):
A Conservative MP branded "dishonest" by a judge has been ordered to pay £800,000 and evicted from his luxurious country home after a dispute involving his family potato business.
Andrew Bridgen, 57, has spent years suing his family business, AB Produce, which supplies potatoes and other vegetables to catering companies and supermarkets.
In March, a High Court judge ruled that he "lied" under oath, behaved in an "abusive", "arrogant" and "aggressive" way, and was so dishonest that nothing he said about the dispute could be taken at face value.
The North West Leicestershire MP had accused the firm of forcing him out of a £93,000-a-year second job, which required him to attend a monthly board meeting. The judge found that, rather than being bullied out of the job as he alleged, Bridgen resigned in order to reduce the amount he might owe his first wife, Jackie, in divorce proceedings.
Judge Brian Rawlings also found that Bridgen pressured the police inspector in his parliamentary constituency to launch a costly one-year investigation into vexatious allegations against his estranged younger brother, Paul Bridgen, 55, who runs AB Produce, which is based in Derbyshire.
In a later judgment in June, which came to light only last week, the MP has been forced by the judge to vacate the Old Vicarage, a five-room property reportedly valued at about £1.5 million. He was given a final deadline of August 24 and Bridgen, his wife and their child complied with the deadline. It is not known where they now live …
Bridgen and his second wife, Nevena, 42, a Serbian blogger and former opera singer, had lived in the restored 18th-century home without charge since 2015. During this period, it is understood that he refused to pay rent, or bills for water and electricity, according to court filings.
Bridgen was told to pay in excess of £800,000 in legal costs to three shareholders at his family's firm, of which one is his brother, Paul, after bringing claims of unfair treatment. He could yet be ordered to pay £244,000 in rent arrears.
It is understood that Bridgen, who earns a basic salary of £84,144 as an MP, has paid the money he already owes, although the source of the funds is unknown and is likely to come under scrutiny …
Parliamentary rules stipulate that MPs who are declared bankrupt must step down if a bankruptcy restrictions order is made against them. He is also vulnerable to another referral to the parliamentary commissioner for standards as he failed to declare AB Produce as the entity paying his rent and utility bills.
According to the guide to the rules relating to the MPs' code of conduct, MPs must declare "taxable expenses, allowances and benefits such as company cars", as well as "financial support and sponsorship" and "gifts of property".
On November 3, Guido reported that the Commons Committee on Standards recommended that Bridgen be suspended from Parliament for five sitting days for the aforementioned controversy:
They also describe an email he sent to the Standards Commissioner Kathryn Stone as "completely unacceptable behaviour" as he 'sought assurance' about a rumour that Stone was shortly to be ennobled provided she arrived "at the 'right' outcomes when conducting parliamentary standards investigation[s]".
The full list of aggravating factors are as follows:
Mr Bridgen breached the rules of the House on registration, declaration and paid lobbying on multiple occasions and in multiple ways. (The Committee noted that each of these breaches could have led it to recommend a suspension from the service of the House);
Mr Bridgen has demonstrated a very cavalier attitude to the rules on registration and declaration of interests, including repeatedly saying that he did not check his own entry in the register;
Mr Bridgen is an established Member of the House, having been elected in 2010;
Mr Bridgen's email to the Commissioner called her integrity into question on the basis of wholly unsubstantiated and false allegations, and attempted improperly to influence the House's standards processes …
For Andrew's clarification, no you cannot submit a letter of no confidence in the Standards Committee…
But, by then, Bridgen had already turned his attention to the coronavirus vaccines, saying that, if there is an investigation in the EU Commission, there should be one in the UK, too:
On Tuesday, December 13, Bridgen was granted an adjournment debate in which he criticised the vaccines and cited Dr Aseem Malhotra, a cardiologist who saw his own father, a healthy man, die of unusual heart problems after taking one of the vaccines. Bridgen, like Malhotra, wanted the mRNA vaccines stopped and offered evidence as to why. As I wrote on December 22, Maria Caulfield, the Government minister and a practising nurse, did not approve of Bridgen's speech. Danny Kruger, another Conservative MP, supported Bridgen's statements, but Caulfield reiterated the Government's line on vaccines.
On Wednesday, December 28, the British Heart Foundation disparaged Bridgen's claims in the adjournment debate, which I also wrote about the following day.
2023 can make or break Bridgen
On Monday, January 9, 2023, Bridgen began the day by tweeting the link to a discussion about alleged lies told during the pandemic and the response to coronavirus:
Later that day, The Guardian reported that Bridgen had been suspended for five working days for lobbying and undeclared interests, matters unrelated to coronavirus:
The MP for north-west Leicestershire was found to have repeatedly broken the MPs' code of conduct by a cross-party committee, which endorsed findings from Kathryn Stone, the parliamentary commissioner for standards.
He was unsuccessful in an attempt to overturn the recommendation in December and a motion was approved by parliament on Monday.
The suspension is due to start on Tuesday 10 January, and will run for five sitting days.
Bridgen was found to have approached ministers and officials on behalf of a forestry company, Mere Plantations, that had given him a donation, a visit to Ghana and the offer of an advisory contract, a role that ended up being unpaid.
Two of the days were recommended by the committee for the breaches of rules on advocacy and interests. The other three days of suspension were advised in response to what the committee said was a "completely unacceptable" attempt by Bridgen to put pressure on Stone.
Bridgen attempted to appeal against the decision, criticising the investigation as "flawed" and arguing that it had not fully considered the motivations of the person who had made the initial complaint.
He argued that he was just helping a local company that worked with Mere, and that it was thus simply a "constituency interest" that brought him no personal benefits. The committee disagreed with this, saying the MP had breached lobbying rules.
The committee, chaired by the Labour MP Chris Bryant, found that Bridgen breached the rules "on multiple occasions and in multiple ways".
Meanwhile, Bridgen continued to sound the alarm about coronavirus vaccines.
On Tuesday afternoon, January 10, he tweeted a Project Veritas interview with a Pfizer scientist who alleges that they were aware that their vaccine was responsible for the unusual spike in cases of myocarditis. This is short, subtitled and well worth watching:
That afternoon, Bridgen tweeted a video featuring Dr Peter McCullough, who alleges that the vaccines are responsible for myocarditis cases and deaths. This, too, is a short video well worth watching:
On the morning of Wednesday, January 11, Bridgen retweeted a message from Dr Malhotra which included a video of Tucker Carlson and vaccine watchdog Robert F Kennedy Jr discussing the omerta on coronavirus vaccines:
Bridgen followed up with his own tweet about the alleged dangers of the vaccines, including a quote from Robert F Kennedy Jr:
Worse news than a five-day suspension came later that morning, after Bridgen had tweeted a cardiologist's comment that the global rollout of coronavirus vaccines will have been the worst human rights violation since the Holocaust. Bridgen later deleted the tweet, but other MPs saw it and strongly objected to it. Pictured along with Bridgen is Conservative MP Simon Clarke:
It then came to the attention of the Conservative Chief Whip Simon Hart, who withdrew the whip from the MP:
On Wednesday morning, Guido reported what Simon Hart had said in defending his decision:
Andrew Bridgen has crossed a line, causing great offence in the process. As a nation we should be very proud of what has been achieved through the vaccine programme. The vaccine is the best defence against Covid that we have. Misinformation about the vaccine causes harm and costs lives. I am therefore removing the Whip from Andrew Bridgen with immediate effect, pending a formal investigation.
However, that afternoon, the Daily Sceptic reported that a Jewish academic in Israel came to Bridgen's defence:
Andrew Bridgen, the British politician suspended as a Conservative MP over allegations of being anti-Semitic in a tweet criticising the Covid vaccines, has been defended by the Jewish Israeli academic whose article he linked to in the tweet in question.
Dr. Josh Guetzkow, a senior lecturer in criminology and sociology at the Hebrew University of Jerusalem, told the Daily Sceptic that as a Jew living in Israel he was "surprised" by the accusations against Mr. Bridgen, because "there is nothing at all anti-Semitic about his statement" …
John Mann, the Government's independent anti-Semitism adviser, was unequivocal, saying: "There is no possibility that Bridgen can be allowed to stand at the next election. He cannot claim that he didn't realise the level of offence that his remarks cause."
Prime Minister Rishi Sunak said that he "completely condemn[ed] those types of comments in the strongest possible terms".
"Obviously it is utterly unacceptable to make linkages and use language like that and I'm determined that the scourge of antisemitism is eradicated," he told the Commons on Wednesday …
However, Dr. Guetzkow, whose tweeted article details the alarming, recently-released analysis of vaccine adverse event data from the U.S. CDC, said this is a "tempest in a teapot".
"The hollow accusations against him only distract from genuine examples of anti-Semitism and ultimately hinder attempts to draw attention to them, much like the boy who cried wolf," he said.
It is clear from the statement by the Chief Whip that Mr. Bridgen's chief sin is to have criticised the vaccines. Mr. Hart's statement notably does not mention anti-Semitism, but rather says that Mr. Bridgen is having the whip removed for "misinformation about the vaccine", which "causes harm and costs lives", adding only that he had caused "great offence in process".
The allegations of anti-Semitism therefore appear to be just the opportunity party chiefs needed to mete out the punishment to the vaccine heretic …
Stop Press: Dr. Guetzkow has pointed out that Holocaust survivor Vera Sharav has been drawing parallels between the extreme and discriminatory public health measures during the pandemic and the Holocaust throughout the the last three years.
Rishi Sunak's comment came up during Wednesday's PMQs (Prime Minister's Questions), the first of 2023, which I watched on BBC Parliament.
One might well ask who asked the question.
None other than Matt Hancock, who has just returned from a short holiday in Turkey, which seemed to involve shopping.
The Daily Sceptic reported:
Matt Hancock, the disgraced lockdown Health Secretary, hit out at Mr. Bridgen's "disgusting, antisemitic, anti-vax conspiracy theories" at Prime Minister's Questions on Wednesday. He said the comments were "deeply offensive" and "have no place in this House or in our wider society".
Prime Minister Rishi Sunak replied that he joined Mr Hancock in "completely condemning those types of comments in the strongest possible terms".
In closing, the Daily Sceptic calls to readers' attentions Andrew Bridgen's qualifications:
Mr. Bridgen, who has a science background, has become Parliament's most vocal critic of the Covid vaccines. He thus made himself a big target for the pro-vaccine zealots who will have been looking for an excuse to punish and cancel him, and who have predictably leapt on the first 'offensive' thing they could find.
Wikipedia states that Bridgen studied genetics and behaviour at the University of Nottingham and graduated with a degree in biological sciences.
The Government does not want their big achievement of the past three years — the vaccine rollout, Europe's first — to be tainted in any way.
However, judging from the comments, Daily Sceptic readers are supportive of Andrew Bridgen and look forward to hearing more from him on the vaccines this year, which is more than can be said of Matt Hancock, who, as of December 28, was still searching for a celebrity agent to kickstart his new career in reality television.
—————————————————————————————————-
UPDATE — Guido Fawkes has reported Andrew Bridgen's statement on having lost the Conservative whip, complete with video:
The fact I have been suspended over this matter says a lot about the current state of our democracy, the right to free speech, and the apparent suspension of scientific method of analysis of medicines being administered to billions of people.
While Nigel Farage took a two-week break from his early evening GB News show, actor Laurence Fox, who also founded the Reclaim Party, was his guest host.
What a surprise viewers had on Tuesday, October 4, 2022, when Fox spoke to Donald Trump on the phone:
It was an excellent interview, done in segments, after which a Democrat or a Republican appeared on air to give his or her views of what Trump had just said.
This is the full hour-long episode:
Fox began by reviewing Trump's accomplishments while in office, pointing out that he got elected in 2016 because he could connect with millions of Americans and didn't come off as an elitist like Hillary Clinton did:
America's 45th president told Fox how surprised he was at Boris Johnson's change of focus during his premiership, saying that he 'went woke':
This GB News article has more (emphases mine):
Donald Trump has called former UK Prime Minister Boris Johnson "woke" in a surprising attack on his ally.
In a world exclusive GB News interview, the ex-US President said Boris Johnson "went liberal all of a sudden" in a "crazy" move.
Trump called Mr Johnson a "good guy" but criticised him for "changing" as he spoke to Laurence Fox.
The 76-year-old said: "Boris was a friend of mine, perhaps he still is but I haven't spoken to him in a while.
"The problem Boris has is he went liberal all of a sudden, and I think that is crazy.
"He's a good man but something happened to him, he changed, he went for windmills all over the place and he went a little bit wokier than I believe he is and I think ultimately that is the thing that got him out.
"I don't think it was the party [Conservatives] I think that was just an excuse."
Although Trump has not met Boris's successor Liz Truss, he is favourably disposed towards her:
Trump also said that he was surprised at the criticism Truss's mini-budget received (more here):
The Telegraph reported on that part of the interview:
Former US president Donald Trump had said that he backs new Prime Minister Liz Truss and that he thinks "very highly" of her.
Speaking on GB News to Laurence Fox, Trump said of Truss that he liked "some of the things she's done", adding that he had "cut taxes very substantially and we did much more business and she's done that".
He said that he thinks "very highly of her and she had a great send-off from the Queen", adding that as it was the late Queen's last meeting it was a "big deal".
Joe Biden's former Chief of Staff appeared but she didn't respond to anything Trump had said. She only wanted to bang on about how 'divisive' he had been as president. Talk about living in a parallel universe:
In a separate interview, Greg Swenson from Republicans Overseas UK lauded Trump's economic policy and said that more countries around the world should implement them:
Trump discussed his own major accomplishments during his four-year term, which brought criticism from an adviser to both the Bush II and Clinton administrations. Fox ended this man's three-minute rant by telling him to go and have another espresso:
Trump rightly told Fox that, if he were still president, there would be no war in Ukraine:
Former Royal Navy Commander Dr Chris Parry agreed:
Trump was discreet about his meeting with King Charles III a few years ago and offered his support to the new monarch. Trump also reminded us that his mother was Scottish:
GB News reported:
He told Laurence Fox: "I think he'll probably not discuss certain elements of what he believes, in my opinion.
"I think Charles is going to do very well, he's got a great way about him, I think he did very well during the ceremony [Queen Elizabeth II's funeral]."
Despite his warm feeling towards the royal, Trump admitted he does not hold look upon Prince Harry and Meghan Markle as favourably.
He told GB News: "I'm not a fan, I was never much of a fan of her [Meghan].
"I don't get it, but I hope he's [Harry] happy, he didn't seem too happy and he doesn't seem too happy.
"I thought she was disrespectful to the Queen, which is a no no, you can't do that."
The Telegraph had more:
"I know him very well, quite well. And I spent a lot of time when I was over there as president with him. And with his wife [who] was absolutely lovely, by the way, and we had a good time together," he said.
As for the King's popularity versus his mother's, he said:
Probably difficult when you're the King you want to have 100% of the people love you like the Queen did. The Queen had – everybody loved her, right? She didn't have that kind of an agenda.
And yet, you know, she was a very strong woman. I got to know her too. She was a very strong woman, a great woman.
The interview ended with a discussion about biopics. Fox plays Hunter Biden in My Son Hunter, released on September 7.
Trump said that, if it were ever to happen, he hoped that Fox could play him in a biographical movie:
Oh, that voice!
He enthused for another minute or so about Fox's accent, then, with both parties happy, the call came to an end.
Fox's interview style is conversational, something Trump would appreciate. What a great hour of television.
After Queen Elizabeth II died earlier this month on Thursday, September 8, 2022, Royal historians and experts said that we would never find out the actual time of her death.
On Thursday, September 29, however, her death certificate showed up on news broadcasts. I saw it on GB News in the late afternoon.
Guido Fawkes was right once again. His slogan is, 'You're either in front of Guido or behind', meaning that most political pundits are behind.
At 3:07 p.m. that day, he tweeted that the Queen had died, then removed the tweet after getting a lot of flak for it.
However, the late Queen's death certificate says that she died at 3:10 p.m. on September 8. Princess Anne oversaw the document's contents.
Once again, Guido was correct.
One of the late monarch's favourite pastimes was horse racing.
George V, whom she referred to affectionately as Grandfather England, got her interested in riding as a little girl.
On September 10, The Times reported:
When she was a child, her grandfather, George V, would lower himself to his hands and knees so that the young princess could lead him forward by his beard, as though he were a horse. She had her first riding lesson aged three; the following year she was bequeathed her first pony, Peggy, and that was that — she was still riding a pony at 90.
As a teenager, she became interested in horse breeding (emphases mine):
Her infatuation with the sport spawned from her inaugural visit, aged 16, to the Beckhampton stable of Fred Darling, who trained for her father. It was May 1942 and two of the King's horses, Big Game and Sun Chariot, had recently won the season's opening classics at Newmarket. Having run her palm down the silken coats of each racehorse, the young princess would not wash her hands for the rest of the day.
When she married Prince Philip in 1947:
She could barely conceal her excitement when she received a thoroughbred filly foal as a wedding present from the Aga Khan III. As it transpired, however, Astrakhan had troublesome knees, although she did manage to win an ordinary race in 1950.
When George VI died in 1952:
She inherited the Royal Studs at Sandringham in 1952 and became fascinated by the inexact science of breeding thoroughbreds. She immersed herself so intensely in this quest that royal historians declared her to be better informed than any of her antecedents …
The Royal Studs are the oldest thoroughbred breeding establishment in the world, and by any measure, Her Majesty's tenure enhanced them. Of the five classic races run annually in Britain, the only one to elude her was the Derby. She was the leading flat owner in Britain in 1954 and 1957, while Estimate's triumph in the 2013 Gold Cup, Royal Ascot's signature race, was the first posted by a British monarch in the 200-year history of the race …
The Queen took as much pleasure from winning ordinary races with moderate horses as from a winner at Royal Ascot, where her horses won 23 races. And she bankrolled her own success: not a penny from the public purse was spent on the Royal Studs.
Horses that did not make the grade were deployed elsewhere:
For all the triumphs, notably the brace of classics won by Dunfermline in the silver jubilee year of 1977, the Queen was more concerned that each of her racehorses was given the opportunity to maximise its inherent ability. Conversely, those failing to make the grade were found new homes from which to pursue other equine disciplines.
The Queen was interested in treating horses with kindness:
Her primary concern was for her horses' welfare. She espoused the virtues of kindness over brute strength, never more so than in her approach to breaking in young horses.
To that end, she employed the man known as The Horse Whisperer and had a bit part to play in his future fame by encouraging him to write a book:
She had heard of the extraordinary deeds of a self-styled "Californian cowboy" who would rise to global acclaim under another sobriquet, "the Horse Whisperer". Monty Roberts was invited to Windsor to demonstrate his "Join-Up" techniques in 1989, and the repercussions were instant.
The Queen quickly adopted Roberts's non-confrontational approach to breaking in young horses. His methods were revolutionary; so much so that the Queen insisted he should write a book to spread the gospel. To date, The Man Who Listens to Horses has sold more than 5 million copies worldwide.
The Royal Canadian Mounted Police (RCMP) gave the Queen more than one horse as a gift during her reign. The most famous of them was Burmese:
… Burmese, was given to her by the Royal Canadian Mounted Police in 1969. Burmese earned her place in the royal heart after the monarch rode her for 18 consecutive years at Trooping the Colour. The black mare came to greater public prominence in 1981, when a teenager at the ceremony fired blanks from a gun that startled Burmese but failed to ruffle her accomplished rider.
The Queen got Princess Anne interested in riding. In 1971, aged 21, the Princess Royal won the European Eventing Championship and was voted the BBC Sports Personality of the Year. She became an Olympian in 1976 at Montreal, riding in the British team's Eventing challenge on the Queen's horse, Goodwill. She continued to be involved in international riding events until 1994, her final year as president of the Fédération Équestre Internationale.
The Queen's presence at so many prominent race meetings encouraged the presence of Middle Eastern potentates to also participate:
Her totemic presence on racecourses acted like a magnet, drawing wealthy Middle Eastern potentates to race their own horses in Britain, in the process ensuring that Britain remains pre-eminent in the global racing hierarchy.
It is unclear who will take the Queen's place at the races in the years to come:
it is daunting to contemplate how flat racing will evolve in the Queen's absence.
On September 10, The Telegraph featured an article on the Queen's love of the sport, 'Revealed: How racehorse-loving Queen Elizabeth spoke to trainer just two days before her death'.
This happened on Tuesday, September 6, as the Queen waited for Boris Johnson and Liz Truss to make their separate visits to her at Balmoral:
Clive Cox, who trained the final winner of the monarch's career on Tuesday, described her as "sharp as a tack" during their telephone call.
The Queen's horse raced at Goodwood that afternoon and the Queen awaited a briefing as to the horse's — Love Affair's — condition before the event:
The two-year-old won convincingly at Goodwood later that day, bringing to an end an owning and breeding career that saw her win some of the biggest prizes in the sport.
Clive Cox did not expect to speak with the monarch that day:
Cox, who trains several of her string, said: "Every time I have had a runner for Her Majesty I have spoken to her on the morning of the race.
"Those conversations have been the greatest privilege of my life but when I called on Tuesday I was told that the Queen was quite busy, which was understandable.
"But at 10 o'clock the phone rang and it was Her Majesty on the line."
The racing community mourned the Queen's death. Some surmise that, had she not been Head of State, she would have made an excellent trainer, or at least go to race courses more often:
Nicky Henderson, the former champion jumps trainer who handled many of her National Hunt horses, described her as "racing's patron saint" and "racing's best friend", saying: "I bet she would have loved to go racing every day, but her diary was a bit different to most people's."
Traditionally committed to flat racing, Queen Elizabeth inherited the Queen Mother's string of jump horses upon her death in 2002.
Henderson said training a winner for her during the Platinum Jubilee celebrations this summer at Worcester had been a "huge thrill".
The Queen's excitement at watching racing on television once brought her security detail running, Henderson says:
I remember once having a winner for her and she told me she'd been watching it in the sitting room. The horse led over the last, but it was a tight finish so she stood up and screamed it home.
With that, she said the security guards burst open the door thinking there had been some ghastly drama, but found her shouting at the television rather than an intruder! That always tickled me.
Legendary jockey Frankie Dettori rode many of the Queen's horses:
Frankie Dettori, who rode more than 50 winners for Queen Elizabeth, said racing had lost its greatest friend.
"She was an incredible lady. I have been riding for the Queen for the last 30 years. She was such a special person and such a great sense of humour.
"Her knowledge of racing was incredible and her dedication to horses was plain for everyone to see.
"She loved her horses and loved the breeding side. She knew the families inside out."
On September 14, the Daily Mail posted an article with a short video from 1991 showing the Queen's excitement at winning a race at the Derby that June.
The video was part of a 1992 BBC documentary on the Queen's life.
Apparently, the Queen bet on horses only when she was in the family box at the Derby. She did not own this horse, by the way:
Appearing on the 1992 BBC documentary Elizabeth R, the Queen and other members of the Royal Family are seen at Epsom for the 1991 Derby, taking part in the grand racing tradition of a low-money sweepstakes.
Even at Epsom, she watched on the television:
Her Majesty draws Generous from the hat in the sweep, and stands inside in the box to watch the 2420-metre race on the television.
As the horses turn onto the straight, Generous emerges with a handy lead.
Here's what happened next — the Queen in an unusual burst of spontanaiety:
She dashed in to stand by the Queen Mother:
The Queen runs through the room with binoculars in hand to watch the three-year-old stallion get over the line from the balcony, which is opposite the finishing post. 
'That's my horse, isn't it? That's my horse!' the Queen said while turning to her mother as she looks at Generous. 
'Oh my god, Mother! We won!'
After the monarch watched the winning horse and trainer come back to parade in front of the excited crowd, an aide presented her with her winnings.
'What do I get?' Her Majesty asked, with the aide replying: 'Well, you get 16, Ma'am.' 
'Sixteen pounds! Oh!' she exclaimed.
It is believed the Queen never made bets aside from the Royal Family's annual sweepstake at the Epsom Derby. 
She also told the Queen Mother how lovely it was to be at a race meeting in person. Normally, she attended only Ascot and the Derby.
The Mail says that the Queen was interested in even the smallest minutiae of horse breeding:
At the time of her death, she'd won 534 races from 3,205 runs as a racehorse owner and it is thought she made $13.1million from her hobby over the last 31 years.
Biographer Ben Pimlott quoted a horse-world confidante in his book, The Queen, when he described her passion for the animals and the sport.
'She is very interested in stable management — and happiest with the minutiae of the feed, the quality of the wood chipping and so forth,' he wrote.
There was no bluffing the Queen when it came to horses:
Top trainer Richard Hannon Senior said Her Majesty's horse knowledge put many highly credentialed trainers to shame.
'I always had to do my homework when I ran one of Her Majesty's horses or when she came to visit our stables,' he said.
'She knows all the pedigrees of her horses inside out. There's no small talk when discussing her horses. She knows all the bloodlines going back decades.
'She also used to say to me after a stable tour, 'It's nice to come to a place that doesn't smell of fresh paint'.' 
It was a view shared by her racing adviser John Warren. 
'If the Queen wasn't the Queen, she would have made a wonderful trainer. She has such an affinity with her horses and is so perceptive,' Warren once said.
The British Horseracing Authority paid tribute to the much-loved monarch as it suspended race meetings when news of her death broke. 
'All of British Racing is in mourning today following the passing of Her Majesty The Queen. Her passion for racing and the racehorse shone brightly throughout her life,' the authority said in a statement. 
The Queen leaves yet another legacy — her love of breeding horses.
As with so many other things she championed, who will pick up where she left off?
On Monday, September 19, 2022, the United Kingdom held its first state funeral since the death of Winston Churchill in 1965.
The public viewing of the Queen's casket at Westminster Hall ended at 6:30 a.m.:
I am certain that more than 250,000 people filed past in four days in London, because in 2002, 200,000 filed past her mother's coffin in three days. I was one of them. It was an unforgettable experience.
The Sky News article had more numbers before the Queen's funeral at Westminster Abbey began:
The Mayor of London's office said an estimated 80,000 people were in Hyde Park, 75,000 in ceremonial viewing areas and 60,000 on South Carriage Drive.
Overall numbers will be much higher as crowds formed on virtually the entire route to Windsor, where Thames Valley Police said 100,000 people had turned out.
The Telegraph reported much higher numbers for Westminster Hall. These seem more realistic to me:
The four-day lying-in-state ceremony has seen more than a million mourners packing the banks of the Thames, waiting in a queue which, at its peak, took 24 hours and stretched 10 miles, beyond London Bridge to Southwark Park.
On the final day, Westminster Hall was attended by dozens of foreign leaders and royals who have arrived in London ahead of the state funeral, which starts at 11am.
They included Joe Biden, the US President, Emmanuel Macron, the French leader, Olena Zelenska, the First Lady of Ukraine, President Jair Bolsonaro of Brazil and his wife Michelle, King Felipe and Queen Letizia of Spain, and King Phillipe and Queen Mathilde of Belgium.
On Sunday morning, the Government warned people not to travel to the queue "to avoid disappointment".
Another Telegraph article had more statistics about the Elizabeth Line (emphases mine):
At an average queueing time of 12 hours – perhaps even more – they had clocked up a total of 4.8 million hours between them as they shuffled forward, uncomplainingly, in the sunshine, and in the cold, and in the dark. It means that since the late Queen's lying in state began last Wednesday, her people had spent a cumulative 550 years saying their final thank you.
And if each of them entered the winding, folding queue at its end in Southwark Park, they would have walked 4 million miles between them, the equivalent of 153,846 marathons.
The fact that all of them knew how arduous the wait would be, having been given ample warning, is an even more reliable measure of how much Queen Elizabeth meant to them.
From children in push-chairs to pensioners and even global celebrities, they patiently waited their turn to spend only a few minutes in the presence of the late Queen's coffin, almost all of them pausing to bow or curtsy, many of them turning away in tears.
As one of my readers, dearieme, pointed out, this shows the trust our Queen had in her subjects and foreign visitors:
How often in the history of civilisations would governments, here or elsewhere, have allowed – even encouraged – huge mobs of the public to congregate, and trust largely to their natural instincts to keep themselves in order?
I think the answer might be "rarely".
Douglas Murray pondered all of the above in his Telegraph article: 'Our late Queen's final act was to bring her nation and the world deeply together'.
Excerpts follow:
The passing of Elizabeth II is remarkable for many reasons. But just one of them is the way in which the Queen's final act seems to have been to bring her nation deeply together.
There is the literal way in which that has happened, with the mini-nationalists across Britain ceasing – for a moment at least – their relentless task of trying to tear our country apart. The Scottish nationalists observed the death of our monarch without a series of "buts". Even Sinn Fein paid tribute and passed condolences to the Queen's son and heir – an act that would have been unthinkable beforehand.
People have rightly remarked on the way in which hundreds of thousands of people have queued to pay their own personal respects to the late Queen. But almost as remarkable is the way in which other nations around the world, as well as their media, have mourned her death …
The Queen leaves behind a Commonwealth that has been united in mourning – hardly the expected reaction if she had been the cruel tyrant of the New York Times's imagination.
What is more, although the dissenters have received an extraordinary amount of attention, more extraordinary by far is how united the world's response has been.
France, for instance, is not a country known for its love of monarchy. But on the death of Queen Elizabeth the French political and media class were united in paying tribute to her. She was honoured on the cover of almost every French magazine and periodical, as she was across the European and world media.
This reaction is largely a tribute to a reign of unparalleled length and dignity, a life given to the service of the country and the deepening of alliances with our friends and allies. But it also serves as a reminder of the way in which Britain is regarded around the world. With the exception of a few raucously noisy malcontents, we find that most people do not regard Britain as some terrible tyrannical power, either now or in history. Most see us, rightly, as having been among the fairer, certainly more benign, world powers …
This is the Britain that is still influential both in its impact abroad and also in the lives of its citizens. I doubt that there has been a figure in history whose death has led to such a voluntary outburst of feeling. There may have been despots whose death had to be mourned by their citizens and subjects, but there can have been few, if any, who have ever produced such willing devotion.
And there is a lesson in this for our institutions, and for institutions and nations around the world: people are loyal to institutions that are loyal to them. Break any part of that pact and you break the whole; sustain it and you sustain the whole.
Queen Elizabeth II swore an oath to this country as a young woman, and it was an oath she kept until her dying day. That loyalty is what is being honoured and mirrored today: the respect of people around the world for a life of service and duty. Something to remember, certainly. But something to emulate and live up to as well.
On the subject of tributes from abroad, a Belgian created this inspired photo montage of the Queen:
The next two short videos are well worth watching. The first is about Elizabeth II's 'Queenhood', probably written by the poet laureate with footage from her coronation. The second is a film montage of her entire life from beginning to end:
Operation London Bridge — the Queen's funeral plan — was now in its final phase in the capital and at Windsor Castle.
A military procession arrived at Westminster Hall to take the Queen for her final time to Westminster Abbey.
A new bouquet of pink and purple flowers with foliage and herbs — rosemary for remembrance and myrtle from the plant which supplied the sprigs for her wedding — replaced the white wreath for her lying in state:
Eight pallbearers from the military carefully placed her coffin onto a gun carriage. Naval ratings holding onto ropes in front and in back guided the gun carriage on its way.
This tradition began with Queen Victoria's funeral, which took place in January 1901. Horses were supposed to transport the gun carriage, but part of it snapped off in the cold, thereby making it impossible. Prince Louis Battenberg, who was Prince Philip's grandfather, came up with the solution, which, he said, had operated satisfactorily during the Boer War:
If it is impossible to mend the traces you can always get the naval guard of honour to drag the gun carriage.
The tradition continued throughout the 20th century:
The gun carriage is part of the materiel of the King's Troop, commanded for the first time by a woman, Captain Amy Hooper. She told The Telegraph that she was in Canada when the Queen's death was announced:
"BRIDGE, BRIDGE, BRIDGE," the text stated. "Operation LONDON BRIDGE has been activated. Initiate telephone cascade. All personnel are to return to camp" …
She was in Calgary when the news broke, along with soldiers exercising alongside Canadian mounted units. The British party was flying back to the UK within five hours …
Soldiers as far away as Turkey and America had to cancel their family holidays and return to the UK …
On Monday, she will be leading the gun team in Hyde Park for the Queen's funeral.
King's Troop, a unit of about 160 soldiers with an equal split of men and women, has one of the most important ceremonial roles in the British armed forces.
Their six 13-pounder quick-fire guns, built between 1913 and 1918, all of which have seen active service in the First and Second World Wars, are used regularly for royal salutes in Hyde Park, Green Park or Windsor Great Park for State Occasions and to mark royal anniversaries and royal birthdays …
The gun carriage is known as the George Gun Carriage, and carried King George VI's coffin from Sandringham Church to Wolferton Station in February 1952. It was also used in the funeral of the Queen Mother in 2002.
Queen Elizabeth's funeral had more troops and regiments than had ever been gathered at one time.
These included troops from around the Commonwealth, particularly Canada and Australia:
The soldiers walked at a 75 beat per minute pace, which is slow and difficult to sustain.
The Times reported on the use of a metronome, mimicked on the day by drum beats to ensure proper timing:
Military chiefs have been told to "up their game" for the Queen's funeral today and listen to a metronome at 75 beats per minute to ensure the right pace during the procession.
Admiral Sir Tony Radakin, the chief of the defence staff, admitted to nerves but said an enormous amount of planning for the event had gone on for "a very long time". He said more than 10,000 soldiers, sailors and airmen and women would perform their "last duty" to the Queen during the day's events.
Queen Elizabeth wished to have her funeral at Westminster Abbey because she had been married and crowned there.
The last monarch to have a funeral at the Abbey was George II on November 13, 1760. The other monarchs had theirs at St George's Chapel at Windsor Castle.
The Queen's children along with Princes William and Harry walked in the procession to the Abbey.
Meanwhile, heads of state and dignitaries took their places inside. Charity workers also were seated.
The Queen Consort and the Princess of Wales arrived with Prince George, 9, and Princess Charlotte, 7:
The procession arrived at the Abbey and the pallbearers carefully carried the Queen's coffin inside:
You can find the Order of Service here:
The Times has an excellent article on the service.
You can see the procession from Westminster Hall and the full funeral service. As with the other Royal Family YouTube links I have posted, if you get a message saying it cannot be viewed, click on 'Watch on YouTube' or this tweet:
The Queen chose the music, which held particular significance to her and to the Abbey:
Pardon the irreverence, but this is an aerial view of the seating plan in the transept. Look how far back Joe Biden was. Apparently, his Beasts and motorcade got caught up in traffic, although he arrived before the service began. By contrast, the dignitaries who took the white coaches in the 'podding' system got there on time. Even if he hadn't been late, he would still have been seated in the same place.
The altar is to the left and, out of shot, to the right are more seats for guests: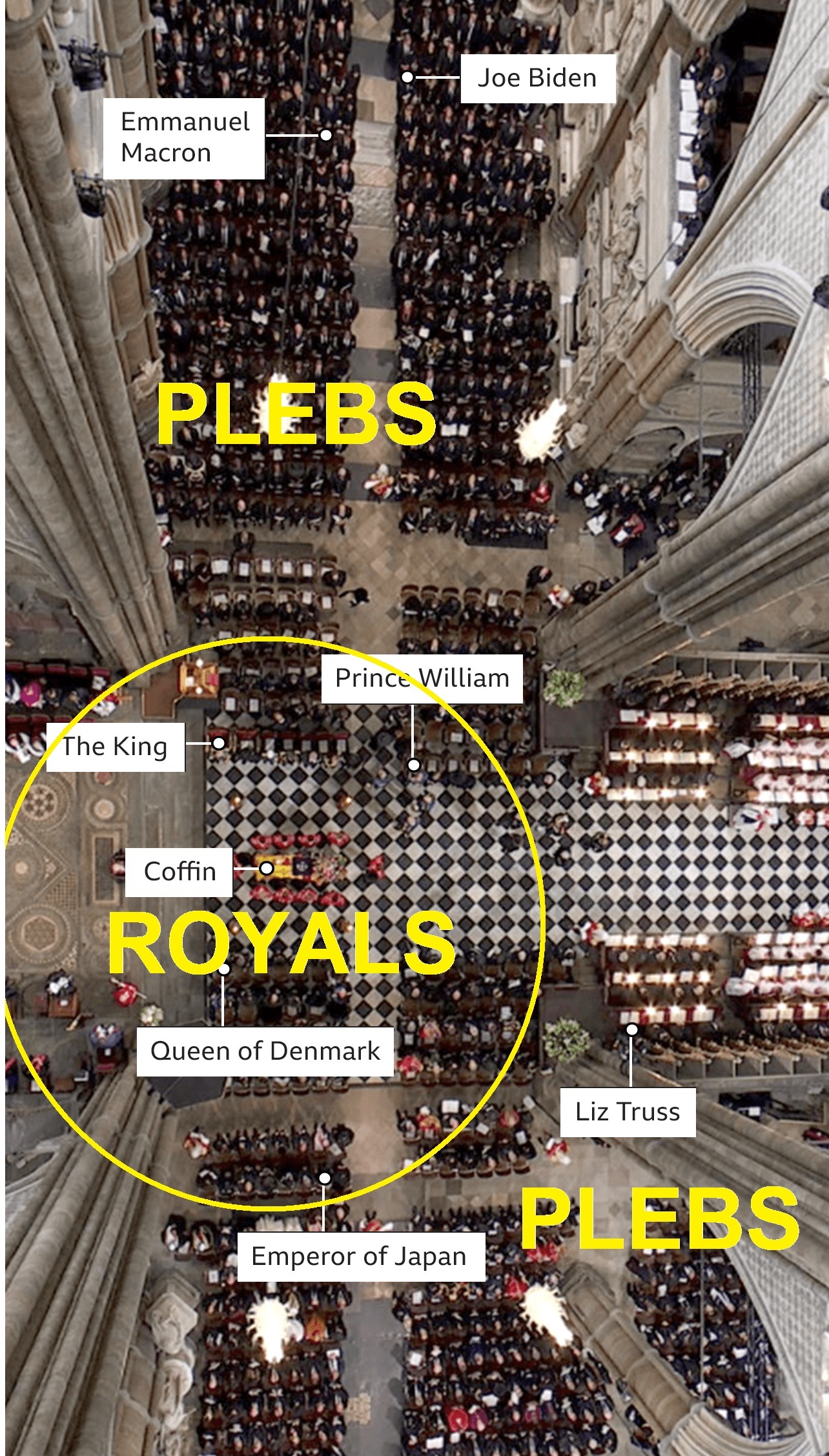 Likely sitting out of shot was, ironically, The Guardian's editor, Kath Viner:
Guido Fawkes has a quote from one of her recent editorials. I cannot bear to cite it in full, so here are the first and last sentences:
Royal rituals are contrived affairs meant to generate popular attachment to a privileged institution and to serve as reminders of a glorious past … How much Britain will be changed once this moment floats past the country is as yet unknown.
Guido commented (emphasis his):
Of course that didn't stop the Guardian's editor Kath Viner accepting a ticket to the funeral from the "privileged institution" herself. Maybe she's sentimental…
Another hypocrite turned up, Scotland's First Minister Nicola Sturgeon, she of the second independence referendum.
The Times has a photo of her and her husband, Peter Murrell, along with a few quotes:
Nicola Sturgeon has said it was an "honour to represent Scotland" as leaders from across the world joined the royal family and other mourners at the state funeral.
The first minister was among some 2,000 mourners at Westminster Abbey along with leaders of the other main Scottish political parties. She spoke of a "final and poignant goodbye to a deeply respected and much-loved monarch".
As I listened to the liturgy, I could not help but think that this is the last time we will hear language from the King James Version of the Bible and the 1662 Book of Common Prayer at a service for the Royals. How I will miss it. I hope I am wrong.
There was one prayer from an even earlier version of the Book of Common Prayer, Archbishop Cranmer's, from 1549. This was put to music. The choir did it full justice:
THOU knowest, Lord, the secrets of our hearts; shut not thy merciful ears unto our prayer; but spare us, Lord most holy, O God most mighty, O holy and most merciful Saviour, thou most worthy Judge eternal, suffer us not, at our last hour, for any pains of death, to fall from thee. Amen.
This was the Bidding Prayer:
O MERCIFUL God, the Father of our Lord Jesus Christ, who is the resurrection and the life; in whom whosoever believeth shall live, though he die; and whosoever liveth, and believeth in him, shall not die eternally; who hast taught us, by his holy Apostle Saint Paul, not to be sorry, as men without hope, for them that sleep in him: We meekly beseech thee, O Father, to raise us from the death of sin unto the life of righteousness; that, when we shall depart this life, we may rest in him, as our hope is this our sister doth; and that, at the general Resurrection in the last day, we may be found acceptable in thy sight; and receive that blessing, which thy well–beloved Son shall then pronounce to all that love and fear thee, saying, Come, ye blessed children of my Father, receive the kingdom prepared for you from the beginning of the world. Grant this, we beseech thee, O merciful Father, through Jesus Christ, our mediator and redeemer. Amen.

The entire liturgy was a lesson about faith and salvation. Even an unbeliver could not miss it.
I pray that it works on the hearts and minds of those in attendance who are indifferent.
The Queen always liked Psalm 42 for its reference to the hart, which reminded her of Scotland:
LIKE as the hart desireth the water–brooks : so longeth my soul after thee, O God.
My soul is athirst for God, yea, even for the living God : when shall I come to
appear before the presence of God?
My tears have been my meat day and night : while they daily say unto me, Where is
now thy God?
Now when I think thereupon, I pour out my heart by myself : for I went with the
multitude, and brought them forth into the house of God;
In the voice of praise and thanksgiving : among such as keep holy–day.
Why art thou so full of heaviness, O my soul : and why art thou so disquieted within
me?
Put thy trust in God : for I will yet give him thanks for the help of his countenance.
Prime Minister Liz Truss read the second Lesson, John 14:1-9a:
LET not your heart be troubled: ye believe in God, believe also in me. In my Father's house are many mansions: if it were not so, I would have told you. I go to prepare a place for you. And if I go and prepare a place for you, I will come again, and receive you unto myself; that where I am, there ye may be also. And whither I go ye know, and the way ye know. Thomas saith unto him, Lord, we know not whither thou goest; and how can we know the way? Jesus saith unto him, I am the way, the truth, and the life: no man cometh unto the Father, but by me. If ye had known me, ye should have known my Father also: and from henceforth ye know him, and have seen him. Philip saith unto him, Lord, shew us the Father, and it sufficeth us. Jesus saith unto him, Have I been so long time with you, and yet hast thou not known me, Philip? He that hath seen me hath seen the Father.

After Psalm 23 was sung, the Archbishop of Canterbury's sermon followed:
Near the end, clergy from the main Christian denominations recited their own prayers in thanksgiving for the Queen's long reign of service.
The Abbey's Precentor then recited a prayer from John Donne (1573-1631):
BRING us, O Lord God, at our last awakening into the house and gate of heaven, to enter into that gate and dwell in that house, where there shall be no darkness nor dazzling, but one equal light; no noise nor silence, but one equal music; no fears nor hopes, but one equal possession; no ends nor beginnings, but one equal eternity; in the habitation of thy glory and dominion, world without end. Amen.
After the blessing, the State Trumpeters of the Household Cavalry sounded The Last Post:
The congregation sang two verses of the National Anthem.
The funeral service closed with a poignant military lament, Sleep, dearie, sleep, performed by the Queen's Piper, Warrant Officer Class 1 (Pipe Major) Paul Burns. He stood on a balcony overlooking the congregation. Words cannot describe it.
This video has brief highlights from the funeral:
After the funeral ended, the Queen's coffin resumed its place on the gun carriage for a procession past Whitehall, down The Mall, then past Buckingham Palace, finishing at Wellington Arch on Constitution Hill.
A gun salute also took place:
The Royals walked with the military, as before. This was a long walk.
Every person in this procession has seen active military service. I put that in bold, because some living overseas think that these are 'toy soldiers', as it were. They are anything but.
Here they are in front of Buckingham Palace. Note that the Queen's household are standing in front of the gates in their normal working clothes to pay their respects:
The horses leading the procession were gifts to the Queen from the Royal Canadian Mounted Police (RCMP), or the Mounties. The Queen was their honorary commissioner.
George, Elizabeth, Darby and Sir John are the latest in a long line of horses given by Canada to the Queen and ridden by senior royals, including King Charles and the Princess Royal, during the annual ceremony of Trooping the Colour …
In 1969, the RCMP presented her with Burmese, a seven-year-old black mare who went on to become the Queen's favourite horse.
She rode her at Trooping the Colour for 18 years, including in 1981 when Marcus Sarjeant, then 17, shot six blank rounds at the Queen as she was travelling down The Mall to the parade that marks her official birthday.
Although Burmese was briefly startled, the horse won praise for remaining calm due to her RCMP training, in which she had been exposed to gunfire.
Burmese, who died in 1990, was the first of eight horses given to the Queen by the Mounties. George was given to her in 2009. Now 22, he has been ridden each year at Trooping the Colour by Charles.
Elizabeth, now 17, named in honour of the Queen Mother, was a gift to mark the Queen's Diamond Jubilee in 2012 …
Sir John, 14, was a 90th birthday present for the Queen and is ridden at Trooping the Colour by Princess Anne, a former Olympic equestrian.
Darby, a 16-year-old Hanoverian gelding, was one of two horses received by the late monarch in 2019.
[Sergeant Major Scott] Williamson is one of four RCMP officers who will ride at the front of tomorrow's funeral procession after the Westminster Abbey service.
It will travel up Whitehall and along The Mall, passing Buckingham Palace before ending at Wellington Arch. Here, the Queen's coffin will be transferred from the state gun carriage to a hearse for her final journey to Windsor.
I will cover the committal service at Windsor in tomorrow's post.
Yesterday's post introduced the significance of Scotland to Queen Elizabeth II.
In it, I mentioned that, after the 1707 Acts of Union, the history of Scotland began to be romanticised through the efforts of Queen Victoria, Prince Albert as well as Walter Scott's novels.
Romantic history
A royal historian told GB News that Prince Albert was quite taken by the countryside in Aberdeenshire, which reminded him of his native Rhineland.
He and Victoria had an amazing love life, according to a television documentary I saw many years ago. In the early days, at least, he used to dress and undress her. Her silk stockings were a favourite part of the ritual.
After Albert died in 1861, Victoria moved up to Balmoral for a time and became close friends with one of his servants, John Brown, a Scot. A film about their relationship, Mrs Brown, made its debut in 1997.
In 1863, courtiers and the Royal Family thought that Brown could rehabilitate the mourning Queen. Instead, he began controlling her daily life at her holiday idyll.
In time, rumours about the extent of their relationship began circulating not only among her inner circle but also in London, where a republican sentiment began growing in her absence. Courtiers and the Royal Family changed tack, this time urging Brown to get the widowed Queen back to the capital to make public appearances.
Brown followed orders, although his and Victoria's relationship was never the same afterwards.
On the other hand, her resumption of public appearances quelled restive republicans.
Brown remained a loyal servant, foiling an assassination attempt on the Royal Family. In 1883, he contracted pneumonia. Victoria visited him in his room and apologised for not having been a better friend. Brown died a short time later and left behind a diary, which, allegedly, has disappeared.
Victoria's two main courtiers, Sir Henry Ponsonby and Sir William Jenner, found it and read it. Only they knew what happened to it afterwards. One of them said later on that the then-Prince of Wales — Edward VII — was so resentful of Brown that he threw a bust of the man over the palace wall in London after his death.
At Balmoral, John Brown is immortalised in two paintings which hang in the drawing room where Queen Elizabeth II received Boris Johnson and Liz Truss on Tuesday, September 6, 2022.
On September 7, The Times helpfully told us more about the room's features, including the paintings which flank the fireplace (emphases mine):
Victoria and John Brown, her servant and close friend after the death of Prince Albert, feature twice in the room's paintings. To the left of the mantelpiece they appear in Sir Edwin Landseer's chalk and pastel drawing Sunshine: Balmoral in 1860 or Death of the Royal Stag. Albert stands proudly in the foreground with a gun over his shoulder, dogs at his heel and a stag at his feet. In the background Victoria sits side-saddle on a horse led by Brown, her ghillie.
To the right is Gilbert Sprague's copy of another Landseer painting of Victoria, in mourning as she sits on her pony Flora outside Osborne House, her retreat on the Isle of Wight. Victoria commissioned the original in 1861 after Albert's death, telling Landseer that she wished to be depicted "as I am now, sad and lonely, seated on my pony, led by Brown, with a representation of Osborne".
Queen Elizabeth also experienced the magic of Scotland that her forebears helped to create.
As a child, she remembered happy days at Glamis Castle then Balmoral. As an adult, she associated possibly her happiest memories with Balmoral. There, the love of her life, Prince Philip, proposed to her. The happy couple also spent their honeymoon there.
On September 8, The Times published an insightful article: 'Balmoral gave Elizabeth the chance to feel "free"', excerpted below:
Scotland played a large and emotional part in Elizabeth's life. Her happiest memories were of the childhood days she spent with "Granny Strathmore"— Cecilia Bowes-Lyon, Countess of Strathmore and Kinghorne, who was also her godmother — at Glamis Castle.
At the family home in Angus she enjoyed parties, children's theatre after tea, and visits to nearby Cortachy Castle, owned by Lord Airlie, where she once "borrowed" the young David Ogilvie's little blue pedal car, much to his fury. At Balmoral, she felt she could be "normal" — almost a housewife, like ordinary people; it took her into another world. "Here I can be free," she told a friend once.
Not that it was exactly ordinary; there were certain traditions. A piper played every morning before breakfast, and, when guests were staying, there would be pipers at dinner. The ladies would depart after the meal, leaving the men to talk over the brandy.
There were shooting parties, with the Queen and her dogs driving out to join the guns at lunch, then "picking up": her dogs retrieving the birds they had shot. "She was an ace picker-up," recalled one friend. Back at the house the first duty would be to feed the dogs.
She insisted on doing the washing-up after picnics, when Philip managed the barbecue and she did the rest. Those picnics — some of them in the evening, in one or other of the huts in the grounds of the estate, always kept open, and often used by members of the public — were famous occasions, remembered by guests long after for their combination of relaxed informality and perfectly organised routine.
Then it would be back to the castle. What one friend noticed, however, was that, as soon as Elizabeth walked through the door of Balmoral Castle, she became Queen again. This was the royal residence, and there was no mistaking who was in charge.
The Queen also enjoyed an annual week-long stay in Edinburgh at the Palace of Holyroodhouse. The city's Lord Provost would deliver the keys to the palace to her in the Ceremony of the Keys and a closing ceremony of her returning them to him took place upon her departure.
She would visit St Giles' Cathedral, probably the only Presbyterian cathedral in existence, and, beginning in the late 1990s, Holyrood, the Scottish parliament.
The independence movement strengthened by an SNP government has grown leaps and bounds since I last visited Scotland 30 years ago.
It is difficult to pin down what exactly the SNP expect as an independent nation, including where they stand on the monarchy. Although First Minister Nicola Sturgeon praised the Queen in death, she was less forthcoming in June during the Platinum Jubilee weekend:
After the scandal surrounding Prince Andrew, she said that there should be a "debate" about the future of the monarchy; she notably failed to deliver a message of loyalty at the time of the Platinum Jubilee; and she did nothing to contradict a statement from the Green Party, her allies in government, which accused the monarchy of "holding back" progress.
However:
None of that has diluted the Queen's affection for Scotland, and her pride in her Scottish connections. As Sir Charles Fraser, who was purse bearer at the Palace of Holyroodhouse for nearly 20 years, commented: "Over many conversations with the Queen, she always spoke of her love for Scotland and her commitment to her Scottish ancestry. Throughout her reign she gave us leadership and hope, where others have failed."
Incidentally, former Royal servants say that all of them enjoyed being at Balmoral and could hardly wait for their annual stay there. It seems that it was as delightful for them as it was for the Queen. 
Monday, September 12
In my preceding post, I wrote about a young woman getting arrested on Sunday, September 11, near St Giles' Cathedral for an anti-monarchy poster with an obscenity written on it. This happened during the proclamation of Charles III as the new King.
People in England were upset about it, but Scotland has its own speech laws which are much stricter than ours:
Guido Fawkes thought that the arrest was overkill. I tend to agree but, then again, I don't know anything about Scottish policing (emphases his):
The 22-year-old woman who was arrested after holding up this anti-monarchy placard at St Giles' Cathedral has been charged "in connection with a breach of the peace" and is reportedly due to appear at Edinburgh Sheriff Court today. Amid the emotional royalist fervour, the country is feeling it is even more important to stand up for universal and enduring values. The Free Speech Union has expressed concern that the protester been arrested for voicing anti-monarchist views during the Proclamation of King Charles III yesterday.  Defenders of free speech know that if they don't stand up for views with which they disagree or even find offensive, they're not defending free speech. Whatever your views on the monarchy, this protester has a right to hers.
… The Free Speech Union has already reached out to the protester to offer their assistance.
That day, Guido reported that the SNP's deputy leader John Swinney expressed surprising pro-monarchy views. He sounded like a Conservative:
Guido said that, on Sunday, Swinney said he watched the broadcast of Charles III's Accession Ceremony in London:
I thought that when I watched the accession council in London yesterday because right at the heart of it was the significance of Scotland's place within the Union and the extraordinary significance that was attached to that and the declarations and commitments that the King made and the fact the Secretary of State for Scotland, the First Minister of Scotland, the Lord Advocate of Scotland, the Lord President of the Court of Session in Scotland, were signatories to the documents which essentially facilitate the accession.
On Monday, Swinney went further:
This morning, Swinney went even further in irritating the most ardent of Scottish nationalists, stating the SNP would continue to have the UK monarch be Head of State in the event of independence, as they promised during the 2014 referendum:
The monarch should be the head of state of an independent Scotland. It's what we argued in the referendum in 2014 and it's what we will continue to argue.
Will the death of the Queen accidentally cause a cooling of temperatures in the Scottish independence debate?
That is part of what Operation Unicorn — the days of mourning in Scotland — was designed to do.
For much of Monday, the Queen continued lay in rest at the Palace of Holyroodhouse. This allowed staff to pay their respects in quiet privacy from Sunday afternoon onwards.
Senior members of the Royal Family, such as Princess Anne, were there awaiting the arrival of King Charles. Upon his and the Queen Consort's arrival, the Lord Provost would go to conduct the Ceremony of the Keys.
Meanwhile, in the morning, King Charles was in London, addressing both Houses of Parliament in the ancient Westminster Hall, adjacent to the Houses of Parliament.
Westminster Hall was built by William the Conqueror's son, William Rufus (William II) in 1097. It is the largest hall of its kind in Europe. The beamed ceilings were added in 1399 when Richard II had the pillars removed so that everyone inside could see what was going on. On the two occasions when the Palace of Westminster caught on fire or when it was bombed during the Second World War, the first priority of firefighters is to save Westminster Hall over the parliamentary palace.
The building has been used throughout the ages as Parliament, as court for the trials of Charles I and the real Guido Fawkes (a traitor) but has also been the venue for coronation banquets. It is still used by both houses of Parliament and is open to the public on important occasions when it is used for the lying in state of distinguised politicians such as Winston Churchill (1965) and members of the Royal Family. The Queen Mother was the last person to lie in state there. I went to pay my respects to her in 2002. The Queen is lying in state there as I write.
The Queen also spoke there on her Silver Jubilee (1977), her Golden Jubilee (2002) and her Diamond Jubilee (2012). A beautiful stained glass window commemorating her Diamond Jubilee is installed on one side of the hall.
Charles's visit was of historical significance and not only because he is the United Kingdom's first King in 70 years.
Both Speakers — of the Lords and of the Commons — wore their dress robes, which are gilded. Their respective serjants of arms brought each House's mace up to the appropriate Speaker and laid them down on a raised platform.
The Speakers stood across from each other below the raised platform on which Charles was due to speak. The maces were covered with a black cloth, indicating not only mourning but also that they were subservient to the Sovereign.
Peers and MPs, as well as staff members, were in attendance.
The Speaker of the Lords, Lord McFall spoke first to extend his and the Lords' sympathy to the King.
The life peer, a Scot, is a testament to the progress people can make in modern Britain:
Sir Lindsay Hoyle spoke next for the Commons, reminding the new monarch of the increased powers of Parliament since the Glorious Revolution of 1688. The King smiled wryly:
Then it was time for the King to address the room:
The Telegraph's summary has the key points of his speech:
We gather today in remembrance of the remarkable span of the Queen's dedicated service to her nations and peoples.
While very young her late Majesty pledged herself to serve her country and her people and to maintain the precious principles of constitutional government which lie at the heart of our nation.
This vow she kept with unsurpassed devotion. She set an example of selfless duty which, with God's help and your counsels, I am resolved faithfully to follow.
The King had already met with senior Government ministers, including Liz Truss, over the weekend at Buckingham Palace. Shadow (Opposition) ministers also met with him:
After the event at Westminster Hall ended, a reception was held, but the King and Queen Consort did not attend as they were due to fly to Edinburgh.
While the Royal couple were on their way, people lined up along Edinburgh's Royal Mile:
Once Charles and Camilla arrived at Holyroodhouse, they and other members of the Royal Family assembled to be led by members of Scottish regiments for the procession to St Giles' Cathedral, for a service of remembrance.
I know from first hand experience that it is a long walk and did not envy the Royals who did walk behind the hearse, especially on the cobbled road.
The Royals who walked were the Queen's children: the King, the Princess Royal, Prince Andrew and the Prince Edward. Vice Admiral Sir Tim Laurence, Princess Anne's husband, also walked with them.

Prince Andrew was not allowed to wear his military uniform. He appeared in morning dress with his military medals.
A young heckler shouted at Prince Andrew in reference to sexual allegations with an underage girl, was quickly tackled by a member of the public, then police dragged him to his feet and arrested him:
He was arrested for breach of the peace:
The SNP had toughened up that law in 2010:
The procession up the ancient road was deeply moving, like something out of a film.
Prince Charles wore the green sash and star of the Order of the Thistle.
The Queen's coffin was draped in the Royal Standard of Scotland.
The Guardian's diary for the day added:
The Queen's coffin is … dressed with a wreath of flowers consisting of white spray roses, white freesias, white button chrysanthemums, dried white heather from Balmoral, spray eryngium, foliage, rosemary, hebe, and pittosporum.
The hearse is flanked by a bearer party found by the Royal Regiment of Scotland and the King's Body Guard for Scotland.
The cortege arrived at St Giles' shortly after 3 p.m. Watching the procession, I do not think they allowed enough time.
Heralds and Pursuivants of Scotland stood outside the cathedral door to receive the Queen for one last time. The Guardian has a magnificent photo of their uniforms.
The Crown of Scotland (see photo) was placed on the Queen's casket before the service.
Here is a photo of the military bearer party dressed in kilts placing the casket on the catafalque in the cathedral.
The Guardian reported (emphases theirs):
At the beginning of the service of thanksgiving for the Queen, Reverend Calum MacLeod welcomed the royal family, "representatives of our nation's life" and "people whose lives were touched by the Queen in so many unforgettable ways".
Among those attending the service are the prime minister, Liz Truss, as well as Scotland's first minister, Nicola Sturgeon.
Unfortunately, there is no video of the service, which was very well done and oecumenical.
The Order of Service is here.
Nicola Sturgeon read Ecclesiastes 3:1-15. We know the first several verses well but here are the next:
What gain have the workers from their toil? I have seen the business that God has given to everyone to be busy with. He has made everything suitable for its time; moreover, he has put a sense of past and future into their minds, yet they cannot find out what God has done from the beginning to the end. I know that there is nothing better for them than to be happy and enjoy themselves as long as they live; moreover, it is God's gift that all should eat and drink and take pleasure in all their toil. I know that whatever God does endures forever; nothing can be added to it, nor anything taken from it; God has done this, so that all should stand in awe before him. That which is, already has been; that which to be, already is; and God seeks out what has gone by.
The Church of Scotland has a transcript of the sermon that the Right Revd Dr Iain Greenshields preached:
Excerpts follow:
Death has been overcome, these are the words of hope expressed and centered around Jesus who died and rose again.
And this is clearly something that Her Majesty Queen Elizabeth acknowledged and personally embraced.
These last few days, as tributes to her Majesty have poured in and we have watched images of her on screen from her earliest years, capturing that remarkable life, yet now beginning to sink in that she is gone from us – "gone home" to express her own words.
Today, we gather in this place of worship and throughout the nation, to express our thanks to God, for her Majesty Queen Elizabeth's extraordinary life.
We are united in sorrow at the death of our Monarch, but we are also so aware that His Majesty King Charles and all his family are not just grieving the loss of their Queen, but their mother, grandmother and great-grandmother too.
Her Majesty Queen Elizabeth began her reign, like King Solomon by asking for wisdom, something that she demonstrated in large measure and to which was added duty, honour, commitment, and faith.
These are the words that we reach for today to describe the life and reign of Queen Elizabeth, whose passing is mourned not only in her native land but across the Commonwealth and the world, as has been so evident to us in recent days.
Most of us cannot recall a time when she was not our monarch.
Committed to the role she assumed in 1952 upon the death of her beloved father, she has been a constant in all of our lives for over 70 years.
She was determined to see her work as a form of service to others and she maintained that steady course until the end of her life.
People who were in her company always felt that they were being listened to carefully and attentively and with compassion.
She possessed a sharp, intelligent mind, with amazing recall, a kindly heart and a gentle sense of humour.
She understood the breadth of world affairs and also cared about what happened to all of her people.
And although sometimes buffeted by events around her, she continued resolutely and cheerfully fulfilled her responsibilities …
Much has been said about the Queen's contribution to the life of the United Kingdom and the Commonwealth which meant so much to her.
But here in Scotland we acknowledge with gratitude her deep links with our land and its people.
Her love of the Balmoral estate is well known and being there latterly brought her great comfort.
There she was valued as a neighbour and a friend and there she drew strength and refreshment during the summer months.
She was active in the life of civic Scotland, travelling across the country to support numerous causes, entertaining guests at Holyrood Palace and presiding at ceremonial events, many of which took place in this Church.
Here she received the Scottish crown in 1953, an event vividly memorialised in the painting by the Orcadian artist Stanley Cursiter.
Her links with the Scottish churches were also deep and lasting.
She was the Supreme Governor of the Church of England, but she worshipped in the Church of Scotland here north of the border, at Canongate Kirk and especially at Crathie Kirk where she took her pew each Sunday morning, prevented from doing so latterly only by infirmity.
She perceived little difficulty in belonging to two Churches and appreciating the strength of each.
It is clearly evident and without doubt that the Queen's Christian faith was genuine, and often gave clear and sincere expression in those remarkable Christmas broadcasts.
She spoke unashamedly of her trust in God and of the example and teaching of Jesus Christ whom she sought to follow as best she could – indeed, of that faith she said she had no regret …
Today we mourn her passing but we also celebrate the long and happy reign that we experienced with her.
And we pray God's blessing upon King Charles who will surely draw strength from his mother's example and the many affectionate tributes of these days and from our assurance to him as a Church of our steadfast prayers at all times and of our unstinting support to him as was offered to his mother, the Queen.
The Cathedral's website has more about the Queen's visits.
The service lasted an hour and ended at 4:15.
The Royal party then returned to Holyroodhouse.
However, their day was far from over.
The King met with Nicola Sturgeon. He and the Queen Consort then went to Holyrood to visit the Scottish parliament where MSPs delivered a motion of condolence.
At 7:20 that evening, the senior Royals returned to St Giles' for the Vigil of the Princes. It would be the first time that a female — Princess Anne — would take part.
More on that tomorrow.
The death and mourning period of Queen Elizabeth II is steeped in history, a time that those of us in the United Kingdom will never forget.
Within the space of a week, we had a new Prime Minister, a King and a new Prince of Wales.
The hand of God is at work.
This change takes place at a time when our Kingdom is stymied, divided with a number of Scots and Welsh hoping for independence while the Northern Irish argue about unification with the Republic of Ireland as the Northern Ireland Protocol has been a source of problems since we left the EU.
These have become political arguments and, as such, are left to the Government to resolve.
Perhaps a King will be able to break an impasse where the Government cannot.
My previous posts discuss what happened when the Queen died and on Friday, September 9, 2022.
Friday, September 9 — continued
The first rendition for 70 years of God Save the King took place at Friday evening's remembrance service for the public at St Paul's:
This seven-hour long video from The Telegraph shows the busy yet quiet scenes at Buckingham Palace on Friday:
The King also met with Prime Minister Liz Truss for the first time:
Meanwhile, the Royal Butler, Grant Harrold, who worked for the then-Prince Charles when William and Harry were young and now teaches etiquette, expressed his sympathy:
He posted his video of the activity at the Palace:
He also posted this poignant press photograph of the King and the Queen Consort entering Buckingham Palace on Friday afternoon …
… and pledged his loyalty to his former employer:
Saturday, September 10
We witnessed a historic event on Saturday, as the Accession Ceremony was broadcast for the first time ever:
It began at 10:00 a.m. at St James Palace with the Privy Council.
The purpose of the ceremony is to have the monarch sign relevant proclamations of loyalty to the people, the Church as Defender of the Faith and to the Church of Scotland, which is Presbyterian.
Afterwards, the new monarch is proclaimed not only in London but in the following 24 hours throughout the United Kingdom.
Flags, which had been at half mast for the Queen, were elevated to full mast for that 24-hour period. Afterwards, the flags returned to half mast.
On Saturday afternoon, the King met with the Privy Council members in a private session.
There are over 700 Privy Council members. Unless they do something highly illegal, they are members for life. This is but a partial list of current members, who come from all over the United Kingdom.
I was aghast to see that so many of the members gathering at St James Palace to witness the Accession Ceremony were a true rogues gallery. Labour's Deputy Leader Angela Rayner was present. So were Scottish National Party leaders Nicola Sturgeon and Ian Blackford, as was the Mayor of London, Sadiq Khan.
A historian told GB News that only two members have ever been expelled in the last century or so. One was suspected of treason during the First World War and the second, from just several years ago, was too heavily mired in the MPs expenses scandal.
Guido Fawkes's cartoonist Mark gives us an idea, showing a fictionalised quip of former Prime Minister Gordon Brown, whom Tony Blair appointed to succeed him, saying that he shares much in common with the Queen in having been unelected. Other former Prime Ministers in the cartoon are David Cameron, John Major, Tony Blair, Boris Johnson and Theresa May:
The Telegraph has an excellent article about the Accession Ceremony and how much has changed in 70 years, including the presence of women and ethnic minorities (emphases mine):
At the personal request of the King, the historic meeting of the Accession Council – a ceremony rooted in antiquity – was filmed by two television cameras.
The first part of the Privy Council meeting was witnessed by a crowd of some 200 suited and booted parliamentarians past and present, including all six living former prime ministers.
In 1952, when the young Princess Elizabeth was proclaimed Queen, this gathering would have comprised only men in uniform or morning dress.
Saturday's array of faces reflected a notably different society. There were a significant number of women, dressed almost entirely in formal black dresses or suits. The majority of men wore morning dress or black suits, with a white shirt and black tie. David Cameron, dressed in a navy suit, stood out in a sea of black.
Among those present were former party leaders Nick Clegg and Ed Miliband, Welsh first minister Mark Drakeford and several members of the cabinet, including James Cleverly, Anne-Marie Trevelyan and Ben Wallace.
Also present was former Archbishop of Canterbury Lord Carey, whose leadership of the Church of England spanned the difficult time of the King's divorce from Diana, Princess of Wales and the fallout from his affair with Camilla.
The article gives us the history of the Privy Council:
The Privy Council dates back to Anglo Saxon times. Once an advisory body for the monarch, today its role is largely symbolic.
For the King, whose first few hours as monarch have included a royal walkabout and a televised address to the nation, it was a nod to the layers of constitution and practice in which the monarchy is rooted.
This is how the ceremony unfolded at St James Palace, where the King has been working for decades. Penny Mordaunt MP, candidate for the Conservative leadership, played a prominent role:
At 10am Simon Case, the Cabinet Secretary [and top civil servant], urged those present to ensure mobile phones were switched off and an expectant silence fell over the picture gallery.
The platform party then duly filed slowly in, stepping onto the low red dais.
They included the Archbishop of Canterbury, the Archbishop of York, Penny Mordaunt, the acting Lord President of the Council, the Lord Chancellor and Liz Truss, the Prime Minister.
Behind them were the black-clad Queen Consort and the new Prince of Wales, accompanied by a small group of staff from the Royal Household …
In position, he [the King] allowed himself a brief glance around the room, taking in the moment before turning to listen to Ms Mordaunt as she announced that Queen Elizabeth II had died.
"My lords, it is my sad duty to inform you that her most gracious majesty, Queen Elizabeth the second, has passed away on Thursday, Sept 8 2022 at Balmoral Castle," she said.
Ms Mourdant then invited the clerk of the council, Richard Tilbrook, to read the proclamation to the packed gallery.
He said: "Charles III, by the grace of god of the United Kingdom of Great Britain and Northern Ireland and of his other realms and territory, King, head of the commonwealth, defender of the faith, to whom we do acknowledge all faith and obedience with humble affection, beseeching God by whom kings and queens do reign to bless his majesty with long and happy years to reign over us."
He ended by saying "God Save the King."
The packed room dutifully echoed in unison: "God Save the King."
Until I saw this ceremony in full, meaning during the public proclamations later, I could never understand how people could lament a beloved monarch only to then proclaim the new one so passionately.
They do so because they are grateful that the new monarch is able to serve quickly and unhindered. In other words, the monarchy has worked once again, to everyone's relief.
After everyone said, 'God save the King', Charles III had proclamations to sign:
The Prince of Wales then stepped forward to sign the declaration with his left hand. He was followed by the Queen [Consort], who slowly signed her name with care.
Other members of the platform party followed suit, including a hesitant Archbishop of Canterbury Justin Welby, who briefly appeared unsure where to sign.
Ms Mordaunt went on to list eight orders of council, ensuring that the proclamation would be published and circulated nationwide and that guns would be fired at Hyde Park and at the Tower of London.
Formal business concluded, those assembled then filed slowly out of the room.
The second part of the Accession Council took place a few minutes later in the Throne Room. Privy Counsellors eligible to take part duly filed in below the coved ceiling embellished with block gilt plasterwork.
On the dais before them, the throne still bore the Queen's "ER" cypher. A new one currently being designed will be read "CR", Charles Rex.
There, they were joined by the King for the first time, who began with a personal declaration.
This is the video of his declaration:
The article summarises what he said:
The sovereign, in formal black attire with a white waistcoat, stepped forward to the lectern and unfolded his notes before declaring it his "sorrowful duty" to announce the death of his "beloved mother".
He spoke of an "irreparable loss" as he paid tribute to the late Queen's selfless service and acknowledged the "heavy task" before him and he strives to follow her example.
The King said: "My mother's reign was unequalled in its duration, its dedication and its devotion. Even as we grieve, we give thanks for this most faithful life.
"I am deeply aware of this great inheritance and of the duties and heavy responsibilities of sovereignty which have now passed to me. In taking up these responsibilities, I shall strive to follow the inspiring example I have been set in upholding constitutional government and to seek the peace, harmony and prosperity of the peoples of these islands and of the Commonwealth Realms and Territories throughout the world."
The King said he was "profoundly encouraged by the constant support of my beloved wife" who watched, alongside the Prince of Wales, from the platform.
He then held aloft a small blue bible as he took the oath to preserve the Church of Scotland, necessary due to the division between church and state in Scotland.
The King then signed two copies of a declaration confirming the oath had been taken using an ink pot that was a gift from his sons, the Prince of Wales and the Duke of Sussex.
He produced a pen from his jacket pocket to do the honours, carefully dipping it into the pot of ink before signing the first document with a flourish.
Then the King visibly grimaced at his staff members:
There was a flicker of frustration when a tray containing another pen appeared in his way and he signalled to aides to remove it.
When he stood, he appeared to clip the ink pot with his hand but it did not spill. The moment prompted a brief glance between King and Queen as he returned to his position.
The other pen was then passed back to the Prince of Wales to enable both him and the Queen to sign the documents.
Here's the video:
The signing continued:
As Nicola Sturgeon, Scotland's First Minister, added her signature, the Coldstream Guards could be heard playing outside.
The Privy Council members filed out to sign copies of the proclamation in a large corridor. The Daily Mail has the video, accompanied by this blurb:
King Charles III proclamation signing: It was the first time a monarch's Accession has been broadcast and cameras were fixed on the MPs antics as they lined up to sign their names earlier this morning. As Mr Cameron approached the paper, he could be seen gesturing with his glasses, adding: 'I need to put my glasses on so I can see what I'm doing' (left). Meanwhile Mr Blackford could be seen chatting to the deputy Labour leader Mrs Rayner after he accidentally stepped on her foot in the line.

Then it was time to proclaim the new King publicly in Friary Court. St James Palace was originally a friary. Henry VIII dissolved it along with other similar Catholic institutions.
One of the Palace windows had to be removed in order for this final step to happen:
David White, Garter King of Arm, in his colourful regalia and flanked by other Officers of Arms and Sergeants at Arms, later read the proclamation of the new King from a balcony at St James's Palace, as cheers of "God save the King" rang out.
A small group of the general public were allowed to stand on one side of Friary Court to witness this public proclamation:
The King and Queen Consort did not appear. They thanked Palace staff and officials for the ceremony and left to go to Buckingham Palace:
After the public proclamation at St James ended, two more took place. One was at the Tower of London and the other at the Royal Exchange in the City of London.
This video shows the gun salutes in Hyde Park and at the Tower:
Another Telegraph article says:
A traditional Royal Salute comprises 21 rounds. A further 20 rounds are fired in royal parks, such as Hyde Park.
At the Tower of London, a royal salute comprises the traditional 21 rounds, a further 21 rounds to show the loyalty of the City of London to the Crown, and a final 20 rounds as the tower is a royal palace and fortress …
The tradition of gun salutes routinely being fired throughout the country to mark significant national events dates back centuries.
There are historical records of salutes taking place as early as the 14th-century when guns and ammunition began to be adopted widely.
Similar gun salutes were fired to mark the death of Queen Victoria in 1901 and Winston Churchill in 1965.
Gun salutes occur on the following royal anniversaries: Accession Day, the Monarch's birthday, Coronation Day, the Monarch's official birthday, the State Opening of Parliament, royal births, and when a visiting Head of State meets the sovereign in London, Windsor or Edinburgh.
The City of London's proclamation was similar to the one at St James in many ways, but the City has its own traditions which date back to the Guilds of the Middle Ages. The City is the only part of the realm where the monarch is subordinate to the Lord Mayor of London, who is elected by that district's aldermen for a one-year term. It should be noted that the Lord Mayor of London and the Mayor of London are two different people in two different posts.
A lot of people were in the City for the proclamation.
The Telegraph article about the Royal Salute also described what happened in the City. It was written before the ceremony began, hence the use of future tense:
At midday the Proclamation will be read from the steps of the Royal Exchange by Clarenceux King of Arms. The Lord Mayor of the City of London, together with the Court of Aldermen and Members of Common Council, will be present.
The Company of Pikemen and Musketeers of The Honourable Artillery Company, The Lord Mayor's Body Guard in the City of London, will be on duty at the Royal Exchange. They will be accompanied by The Band of the Honourable Artillery Company and eight State Trumpeters of the Household Cavalry.
It was really quite something to see. The senior attendees wore robes trimmed in fur, which is something that would have been from the days of the Guilds, which still exist but not in the way they did for commerce hundreds of years ago:
Later that day, Princes William and Harry, along with their wives, went on a walkabout at Windsor Castle. One young woman embraced Meghan enthusiastically:
The Telegraph has more. Catherine, the new Princess of Wales, did not look happy.
——————————————————————
Sunday was about Princess Anne, who had the sorrowful duty of accompanying her mother's casket from Balmoral to Edinburgh.
She fulfilled her responsibility admirably, considering that it took hours in order for the public to grieve as the car went through several cities and towns before arriving at Holyroodhouse.
More on that tomorrow.
The UK experienced a busy and historic weekend as Operations London Bridge and Unicorn became reality after the Queen's death on Thursday, September 8, 2022.
The nation is now in a 10-day period of mourning, which continues through Monday, September 19, the day of the Queen's funeral in Westminster Abbey. King Charles III has declared the day to be a bank holiday. The Royals, including their staff, will mourn for an additional week.
Before going into the weekend's events, I have a few items to add from the end of last week.
Wednesday and Thursday, September 7 and 8
Last Wednesday, possibly having been busy preparing for her parliamentary statement on the energy crisis on Thursday, Liz Truss's office cancelled the weekly update on Operation London Bridge, the funeral plans for Queen Elizabeth II. However, Simon Case, the civil servant who is Cabinet Secretary, informed the Prime Minister of the Queen's decline early on Thursday morning.
Former Metropolitan Police Chief Superintendent Parm Sandhu told GB News that Operation London Bridge was originally planned in the 1960s and has been regularly reviewed since.
The Duke of Edinburgh's — Prince Philip's — plans were Operation Forth Bridge, so named for the magnificent bridge that links the Scottish capital to Fife.
Operation Unicorn involves funeral plans for Scotland in the event the Queen died there.
As my post on Friday explained, the Prime Minister found out about the Queen's death during the energy debate in the Commons.
On Friday, September 9, Conservative MP Michael Fabricant told GB News that the note she received at lunchtime might well have said:
London Bridge is down.
At that point, the Queen was receiving medical attention and her closest family members were on their way to Balmoral.
The Times reported how Thursday afternoon's events unfolded (emphases mine):
The six hours that followed brought together a fractured royal family and seemed to unite a nation in apprehension. At 12.32pm, moments after the first signs in the Commons, a Buckingham Palace spokesman said: "Following further evaluation this morning, the Queen's doctors are concerned for Her Majesty's health and have recommended she remain under medical supervision."
It was immediately clear the news was more significant than previous announcements about the Queen's health. Newspaper websites swiftly reported the announcement …
… At 12.45pm the Duke and Duchess of Cornwall announced that they were travelling to Balmoral. They were already in Scotland after hosting a dinner at Dumfries House in Ayrshire the previous evening. A minute later the Duke of Cambridge, 40, announced that he would be travelling from London. It was now clear that the situation was grave.
The Duchess of Cambridge, 40, remained at their Windsor home and drove to collect Prince George, Princess Charlotte and Prince Louis following their first full day at their new school to tell them of the news. At 1.30pm the Duke of York, 62, who was stripped of his royal duties after the scandal surrounding Jeffrey Epstein, said that he would also be flying to Scotland. Six minutes later the Earl and Countess of Wessex confirmed that they would also be travelling to Balmoral.
The Princess Royal, 72, had been on the Isle of Raasay on Wednesday and stayed at Balmoral overnight. The Duke of Sussex, despite his long- running troubles with the monarchy, announced at 1.52pm that he was also travelling to Scotland, separately from other senior royals but "in co-ordination with other family members' plans". He arrived at Balmoral almost two hours after the announcement of his grandmother's death. He had flown into Aberdeen airport alone, and his wife remained in Windsor.
Prince Harry, 37, happened to be in the UK anyway, and had been due to attend a charity event in London last night.
The first signs of serious concerns about the Queen's health had emerged at 6pm on Wednesday, when it was announced that she had "accepted doctors' advice to rest" rather than attend a virtual meeting of the privy council that evening.
That would have been only an hour after I'd heard a long pealing of bells from Westminster Abbey on Wednesday, which I mentioned in my post on Friday.
More of the timeline continues, including the hour when the Queen's death was announced:
Soon after the announcement of concerns of the Queen's doctor, Charles, 73, was seen clutching a large briefcase as he boarded the royal helicopter from Dumfries House with Camilla, 75, for the journey to Balmoral.
The flight carrying William, Prince Andrew, Prince Edward and Sophie took off from RAF Northolt in northwest London at 2.39pm. Royal Air Force flight KRF23R landed at Aberdeen airport at 3.50pm. A short while later, at 4.30pm, the prime minister was informed of the Queen's death by Simon Case, the cabinet secretary, according to her official spokesman.
Meanwhile, the Duke of Cambridge was driving his two uncles the 40 miles from Aberdeen airport to Balmoral, arriving just after 5pm. William was behind the wheel of the Range Rover, with Andrew in the passenger seat and Edward, 58, and Sophie, 57, in the back …
The Palace said in a statement: "The Queen died peacefully at Balmoral this afternoon. The King and The Queen Consort will remain at Balmoral this evening and will return to London tomorrow."
Charles had acceded to the throne immediately.
The flags in Downing Street were lowered to half mast at 6.36pm. BBC One played the national anthem following the announcement of the monarch's death, showing a photograph of the Queen, followed by a royal crest on a black background and the words Queen Elizabeth II …
The double rainbow, which I also referenced on Friday, appeared as soon as the flags were lowered to half mast, not only in London but also in Windsor.
On Friday afternoon, The Telegraph reported that only Princess Anne and Prince Charles made it to Balmoral in time to see the Queen before she died:
The King and the Princess Royal were the only two senior members of the Royal family who made it to Balmoral before Queen Elizabeth II's death, it is understood …
As for Prince William and his uncles and aunt:
Royal Air Force flight KRF23R took off shortly after 2.30pm, according to flight tracking website Flightradar24.com, landing in Aberdeen at 3.50pm.
Prince William drove the quartet from the airport to Balmoral and they were pictured sweeping into the gates of the castle shortly after 5pm.
It is possible they had known they would not make it, perhaps even before their plane took off.
In the event, by the time they arrived, it was too late.
Prince Harry's flight was delayed and he did not arrive until 8 p.m.:
… he is believed to have been mid-air when Buckingham Palace announced at 6.30pm that the Queen had died, arriving at Balmoral an hour and a half later.
The Duke's Cessna had been due to land at 6.29pm, a minute before the historic statement. But it was 20 minutes late taking off at Luton Airport, meaning he did not land in Aberdeen until 6.46pm.
The grief-stricken Duke was photographed as he was driven into Balmoral Castle just before 8pm to join other members of his family.
That evening, France paid the Queen tribute by turning off the lights on the Eiffel Tower at midnight and on Friday, at 10 p.m.:

Friday, September 9
On Friday morning, the Telegraph article said that Prince Harry left Balmoral early:
Prince Harry was the first to leave Balmoral on Friday morning, driven out of the gates at 8.20am.
He had to take a commercial flight back to Windsor:
He later boarded a British Airways flight from Aberdeen to Heathrow and is thought to have returned to Frogmore Cottage, Windsor, where the Duchess of Sussex was waiting for him.
Later that morning, the RMT (Rail, Maritime and Transport Union) head, Mick Lynch, announced that the rail strikes planned for September 15 and 17 were cancelled.
Guido Fawkes said that a postal strike was also cancelled (emphases his):
The Communication Workers Union has also called off a planned Royal Mail strike, with General Secretary Dave Ward saying "Following the very sad news of the passing of the Queen, and out of respect for her service to the country and her family, the union has decided to call off tomorrow's planned strike action."
Fair play to both Lynch and Ward, whether they're genuinely in mourning or its cynical comms, they made the right call…
England's three main political parties suspended campaigning during the mourning period. This is fine, except that Parliament is adjourned until after the Queen's funeral, at which point it will continue to be adjourned for three weeks' worth of annual political party conferences.
If Liz is smart, she will find a way to get the Commons, at least, to reconvene during conference season. There is no justification, especially this year, for every MP to attend these rather superfluous events. Furthermore, the evening events are also times of revelry, which seems inappropriate at this time.
Guido's Friday post says:
With King Charles instituting 17 days of mourning, the death of Queen Elizabeth will certainly cast shadows over all three of the major parties' conferences. Guido understands the Tories are having conversations about how to proceed with their Birmingham gathering in light of the news. With politics grinding to a halt, it's going to be difficult for PM Truss to enjoy the full political dividend from yesterday's energy policy announcement…
Parliament is not due to reconvene until October 17. October is the month when the new energy 'price cap' — i.e. a dramatic increase — comes into effect. This will affect everyone and a policy really needs to be finalised before then. Conservative MP John Redwood tweeted:
As I write on Monday afternoon, GB News's Tom Harwood says that a 'fiscal event' — an energy policy announcement — could be made on one of the four consecutive days after mourning and before conference recess. He says that his sources tell him that separate legislation would not be required. Let's hope he is right.
Friday is not normally a day when either House of Parliament meets. However, both MPs and the Lords met to pay tribute to the Queen. The sessions, which also included taking the Oath of Loyalty to King Charles — optional, as the Oath includes successors — continued into Saturday. Every MP and Lord who wanted to speak was able to do so.
The Commons session on Friday afternoon began with a minute's silence:
Afterwards, the Prime Minister began the tributes:
Guido has the video and pulled out the key quote from her address:
The United Kingdom is the great country it is today because of her, the Commonwealth is the family of nations it is today because of her.
Hansard has the full transcript of Friday's and Saturday's tributes from MPs. I commend them to everyone, because many MPs mentioned that the Queen visited their respective constituencies more than once during her reign. Only a handful had never had met her. The contributions reflected a monarch with not only dignity but also good humour. Everyone who met her said that she knew how to put them at ease.
Truss pointed out other historical highlights in her address:
In the hours since last night's shocking news, we have witnessed the most heartfelt outpouring of grief at the loss of Her late Majesty the Queen. Crowds have gathered. Flags have been lowered to half-mast. Tributes have been sent from every continent around the world. On the death of her father, King George VI, Winston Churchill said the news had,
"stilled the clatter and traffic of twentieth-century life in many lands".
Now, 70 years later, in the tumult of the 21st century, life has paused again.
Her late Majesty Queen Elizabeth II was one of the greatest leaders the world has ever known. She was the rock on which modern Britain was built. She came to the throne aged just 25, in a country that was emerging from the shadow of war; she bequeaths a modern, dynamic nation that has grown and flourished under her reign. The United Kingdom is the great country it is today because of her. The Commonwealth is the family of nations it is today because of her. She was devoted to the Union of England, Scotland, Wales and Northern Ireland. She served 15 countries as Head of State, and she loved them all …
Her devotion to duty remains an example to us all. She carried out thousands of engagements, she took a red box every day, she gave her assent to countless pieces of legislation and she was at the heart of our national life for seven decades. As the Supreme Governor of the Church of England, she drew on her deep faith. She was the nation's greatest diplomat. Her visits to post-apartheid South Africa and to the Republic of Ireland showed a unique ability to transcend difference and heal division. In total, she visited well over 100 countries. She met more people than any other monarch in our history.
She gave counsel to Prime Ministers and Ministers across Government. I have personally greatly valued her wise advice. Only last October, I witnessed first hand how she charmed the world's leading investors at Windsor Castle. She was always so proud of Britain, and always embodied the spirit of our great country. She remained determined to carry out her duties even at the age of 96. It was just three days ago, at Balmoral, that she invited me to form a Government and become her 15th Prime Minister. Again, she generously shared with me her deep experience of government, even in those last days.
Everyone who met her will remember the moment. They will speak of it for the rest of their lives. Even for those who never met her, Her late Majesty's image is an icon for what Britain stands for as a nation, on our coins, on our stamps, and in portraits around the world. Her legacy will endure through the countless people she met, the global history she witnessed, and the lives that she touched. She was loved and admired by people across the United Kingdom and across the world.
One of the reasons for that affection was her sheer humanity. She reinvited monarchy for the modern age. She was a champion of freedom and democracy around the world. She was dignified but not distant. She was willing to have fun, whether on a mission with 007, or having tea with Paddington Bear. She brought the monarchy into people's lives and into people's homes.
During her first televised Christmas message in 1957, she said:
"Today we need a special kind of courage…so that we can show the world that we are not afraid of the future."
We need that courage now. In an instant yesterday, our lives changed forever. Today, we show the world that we do not fear what lies ahead. We send our deepest sympathy to all members of the royal family. We pay tribute to our late Queen, and we offer loyal service to our new King.
His Majesty King Charles III bears an awesome responsibility that he now carries for all of us. I was grateful to speak to His Majesty last night and offer my condolences. Even as he mourns, his sense of duty and service is clear. He has already made a profound contribution through his work on conservation and education, and his tireless diplomacy. We owe him our loyalty and devotion.
The British people, the Commonwealth and all of us in this House will support him as he takes our country forward to a new era of hope and progress: our new Carolean age. The Crown endures, our nation endures, and in that spirit, I say God save the King. [Hon. Members: "God save the King."]
Labour's Keir Starmer, Leader of the Loyal Opposition, spoke next. Guido has the video:
The highlight of his speech was this:
She did not simply reign over us, she lived alongside us. She shared in our hopes and our fears, our joy and our pain, our good times, and our bad.
Interestingly, when they were younger, both Starmer and Truss wanted to abolish the monarchy.
Boris Johnson spoke a short time later, declaring the Queen:
Elizabeth the Great.
Historian David Starkey would disagree and did so on GB News on Sunday, September 11. He said that 'the Great' has applied exclusively to monarchs who waged war, e.g. Peter the Great.
Guido has the video. Boris began by saying that the BBC contacted him recently to speak about the Queen in past tense:
I hope the House will not mind if I begin with a personal confession. A few months ago, the BBC came to see me to talk about Her Majesty the Queen. We sat down and the cameras started rolling, and they requested that I should talk about her in the past tense. I am afraid that I simply choked up and could not go on. I am really not easily moved to tears, but I was so overcome with sadness that I had to ask them to go away.
I know that, today, there are countless people in this country and around the world who have experienced the same sudden access of unexpected emotion, and I think millions of us are trying to understand why we are feeling this deep, personal and almost familial sense of loss. Perhaps it is partly that she has always been there:
a changeless human reference point in British life; the person who—all the surveys say—appears most often in our dreams; so unvarying in her pole-star radiance that we have perhaps been lulled into thinking that she might be in some way eternal.
But I think our shock is keener today because we are coming to understand, in her death, the full magnitude of what she did for us all. Think what we asked of that 25-year-old woman all those years ago: to be the person so globally trusted that her image should be on every unit of our currency, every postage stamp; the person in whose name all justice is dispensed in this country, every law passed, to whom every Minister of the Crown swears allegiance; and for whom every member of our armed services is pledged, if necessary, to lay down their lives.
Think what we asked of her in that moment: not just to be the living embodiment, in her DNA, of the history, continuity and unity of this country, but to be the figurehead of our entire system—the keystone in the vast arch of the British state, a role that only she could fulfil because, in the brilliant and durable bargain of the constitutional monarchy, only she could be trusted to be above any party political or commercial interest and to incarnate, impartially, the very concept and essence of the nation.
Think what we asked of her, and think what she gave. She showed the world not just how to reign over a people; she showed the world how to give, how to love and how to serve. As we look back at that vast arc of service, its sheer duration is almost impossible to take in. She was the last living person in British public life to have served in uniform in the Second World War. She was the first female member of the royal family in a thousand years to serve full time in the armed forces.
That impulse to do her duty carried her right through into her 10th decade to the very moment in Balmoral—as my right hon. Friend said—only three days ago, when she saw off her 14th Prime Minister and welcomed her 15th. I can tell you, in that audience she was as radiant and as knowledgeable and as fascinated by politics as ever I can remember, and as wise in her advice as anyone I know, if not wiser. Over that extraordinary span of public service, with her naturally retentive and inquiring mind, I think—and doubtless many of the 15 would agree—that she became the greatest statesman and diplomat of all.
She knew instinctively how to cheer up the nation, how to lead a celebration. I remember her innocent joy more than 10 years ago, after the opening ceremony of the London Olympics, when I told her that the leader of a friendly middle eastern country seemed actually to believe that she had jumped out of a helicopter in a pink dress and parachuted into the stadium. [Laughter.] I remember her equal pleasure on being told, just a few weeks ago, that she had been a smash hit in her performance with Paddington Bear.
Perhaps more importantly, she knew how to keep us going when times were toughest. In 1940, when this country and this democracy faced the real possibility of extinction, she gave a broadcast, aged only 14, that was intended to reassure the children of Britain. She said then:
"We know, every one of us, that in the end all will be well".
She was right …
… It was that indomitability, that humour, that work ethic and that sense of history that, together, made her Elizabeth the Great.
When I call her that, I should add one final quality, of course: her humility—her single-bar-electric-fire, Tupperware-using refusal to be grand. I can tell the House, as a direct eyewitness, that unlike us politicians, with our outriders and our armour-plated convoys, she drove herself in her own car, with no detectives and no bodyguard, bouncing at alarming speed over the Scottish landscape, to the total amazement of the ramblers and tourists we encountered.
It is that indomitable spirit with which she created the modern constitutional monarchy—an institution so strong, so happy and so well understood, not just in this country but in the Commonwealth and around the world, that the succession has already seamlessly taken place. I believe she would regard it as her own highest achievement that her son, Charles III, will clearly and amply follow her own extraordinary standards of duty and service. The fact that today we can say with such confidence, "God save the King" is a tribute to him but, above all, to Elizabeth the Great, who worked so hard for the good of her country not just now but for generations to come. That is why we mourn her so deeply, and it is in the depths of our grief that we understand why we loved her so much.
Theresa May's speech was the funniest. I do wish she had shown this side of herself as Prime Minister. Her comic timing was impeccable:
Guido has a video of most of her address:
Arguably one of May's most poignant speeches. Some needed light relief for the day...
Here's the best part:
This excerpt follows:
Of course, for those of us who had the honour to serve as one of her Prime Ministers, those meetings were more frequent, with the weekly audiences. These were not meetings with a high and mighty monarch, but a conversation with a woman of experience, knowledge and immense wisdom. They were also the one meeting I went to that I knew would not be briefed out to the media. [Laughter.] What made those audiences so special was the understanding the Queen had of issues, which came from the work she put into her red boxes, combined with her years of experience. She knew many of the world leaders—in some cases, she had known their fathers—and she was a wise and adroit judge of people.
The conversations at the audiences were special, but so were weekends at Balmoral, where the Queen wanted all her guests to enjoy themselves. She was a thoughtful hostess. She would take an interest in which books were put in your room and she did not always expect to be the centre of attention; she was quite happy sometimes to sit, playing her form of patience, while others were mingling around her, chatting to each other. My husband tells of the time he had a dream: he dreamt that he was sitting in the back of a Range Rover, being driven around the Balmoral estate; and the driver was Her Majesty the Queen and the passenger seat was occupied by his wife, the Prime Minister. And then he woke up and realised it was reality!
Her Majesty loved the countryside. She was down to earth and a woman of common sense. I remember one picnic at Balmoral that was taking place in one of the bothies on the estate. The hampers came from the castle, and we all mucked in to put the food and drink out on the table. I picked up some cheese, put it on a plate and was transferring it to the table. The cheese fell on the floor. I had a split-second decision to make: I picked up the cheese, put it on a plate and put the plate on the table. I turned round to see that my every move had been watched very carefully by Her Majesty the Queen. I looked at her, she looked at me and she just smiled. And the cheese remained on the table. [Laughter.]
This is indeed a sad day, but it is also a day of celebration for a life well spent in the service of others. There have been many words of tribute and superlatives used to describe Her late Majesty Queen Elizabeth II, but these are not hype; they are entirely justified. She was our longest-serving monarch. She was respected around the world. She united our nation in times of trouble. She joined in our celebrations with joy and a mischievous smile. She gave an example to us all of faith, of service, of duty, of dignity and of decency. She was remarkable, and I doubt we will ever see her like again. May she rest in peace and rise in glory.
Saturday's session in the Commons was another marathon.
Shortly after 1 p.m., Speaker Sir Lindsay Hoyle opened it with this:
I now invite the House to resume its tributes to Her late Majesty. I expect to conclude tributes at 10 o'clock, when I shall invite Ministers to move the motion for a Humble Address to His Majesty. A hundred and eighty-two Members contributed yesterday, and many want to contribute today. I hope Members will therefore keep to the informal time limit of three minutes.
An excerpt from John Redwood's speech follows.
On Friday, he pointed out how historically significant three of our Queens were in British history and for women:
On Saturday, he said:
What always came across to all of us was just how much she respected every person and every institution that she visited. She showed that respect by impeccable manners and great courtesy—always on time, always properly briefed, always appropriately dressed for the occasion.
But, as so many have said from their personal experiences, there was something so much more than that. She was not just the consummate professional at those public events: there was the warm spirit, the personality, and above all the understanding that everyone else at that event was terrified that something was going to go wrong, that they had not understood the protocol, or that there was some magic way of doing it—as my right hon. Friend the Member for Welwyn Hatfield (Grant Shapps) was explaining—that they had to get right. At those public events, the Queen always relaxed people and showed them that there was no right way, because she was there for the people; she was there for the institution; she was there for the event. That is what we can learn from.
Of course, she was also Our Majesty. She was the embodiment of the sovereignty of people and Parliament; she represented us so well abroad and represented us at home, knowing that as a constitutional monarch, she represented us when we were united. She spoke for those times when we were gloriously happy and celebrating, or she spoke for those times when there was misery and gloom and she had to deal with our grief and point to the better tomorrow. That was why she held that sovereignty so well and for so long—a constitutional monarch who did not exercise the power, but captured the public mood; who managed to deal with fractious and difficult Parliaments and different political leaders, but who was above the politics, which meant that our constitution was safe in her hands. I wish her son, the new King, every success in following that great lead as he has told us he will do, and I can, with others, say today—"God save the King."
Redwood later tweeted that he had omitted an important part of his speech:
Indeed.
The Queen attended only two of her former Prime Ministers' funerals, those of Winston Churchill and Margaret Thatcher.
These are links to Friday's (continued here) and Saturday's (continued here) tributes from the Lords, both Spiritual and Temporal.
On Sunday, our vicar said that the Church of England lost her greatest evangelist, the Queen.
I cannot disagree with that.
The Archbishop of Canterbury spoke earlier on Friday afternoon, excerpted below.
He recalled her deep faith, something I wish more CofE clergy had:
… What has been said already today has been extraordinarily eloquent. I do not intend to repeat it but to say something about the Queen's links to faith and to the Church of England. First is her assurance, her confidence, in the God who called her. At her coronation, so long ago, conducted by Archbishop Geoffrey Fisher—the first of seven Archbishops of Canterbury who had the privilege of serving her—the service began with her walking by herself past the Throne, where she would very shortly be seated, and kneeling by the high altar of Westminster Abbey. The order of service said, "She will kneel in private prayer"—and so she did, for some time. The next thing to happen was that homage was paid to her, starting with the Duke of Edinburgh. What that said about her understanding of her role was that she pledged her allegiance to God before others pledged their allegiance to her. She had this profound sense of who she was and by whom she was called.
Then there was her profound, deep and extraordinary theological vision. Many years ago now—seven or eight years ago—I was travelling abroad, and someone who had no knowledge of these things said, "Well, of course, she's not really got that much intellect, has she? I mean, private tutors and all this—what can she know?" Well, what ignorance. In 2012, she spoke at Lambeth Palace on the occasion of her Diamond Jubilee, and the speech she made there is one we return to very frequently, because she set out a vision for what an established Church should be. It was not a vision of comfort and privilege; it was to say, put very politely, "You are here as an umbrella for the whole people of this land". The subtext was, "If you are not that, you are nothing". That is a deep vision of what it is to be the Church—of what it is to be not an established Church but a Christian Church. That came from her deep understanding of faith. Every five years, at the inauguration of the Church of England's General Synod, she came with messages of encouragement and assurance of her prayers. In 2021, her message was,
"my hope is that you will be strengthened with the certainty of the love of God, as you work together and draw on the Church's tradition of unity in fellowship for the tasks ahead."
Publicly, Her late Majesty worshipped regularly and spoke of her faith in God, particularly in her Christmas broadcasts, with quiet, gentle confidence. Privately, she was an inspiring and helpful guide and questioner to me and to my predecessors. She had a dry sense of humour, as we have heard already, and the ability to spot the absurd—the Church of England was very capable of giving her material—but she never exercised that at the expense of others. When I last saw her in June, her memory was as sharp as it could ever have been. She remembered meetings from 40 or 50 years ago and drew on the lessons from those times to speak of today and what we needed to learn: assurance of the love of God in her call, and then humility. It would be easy as a monarch to be proud, but she was everything but that. It was her faith that gave her strength. She knew that, but she knew also her call to be a servant, the one whom she served, and the nation she served, the Commonwealth and the world. Over the last 24 hours, I have had so many messages from archbishops, bishops and other people around the world, within the Commonwealth and way beyond it—from China, Latin America and many other places—in a deep sense of loss.
It has been the privilege of those on these Benches to be intimately involved with momentous occasions so often throughout Her late Majesty's life. As has been said, she has been a presence for as long as we can remember. Jesus says in the Gospel of St Matthew:
"Blessed are those who mourn, for they shall be comforted".
May God comfort all those who grieve Her late Majesty's loss, and may God sustain His Majesty King Charles III in the enormous weight and challenges that he takes on immediately, at the same as he bears the burden of grief, and those around him in his family. May God hold Her late Majesty in His presence, firmly secured in the peace that passes far beyond our understanding.
The Archbishop of York, the Right Revd Stephen Cottrell, spoke in the first of Saturday's sessions in the Lords. He added some light relief:
My Lords, like most Bishops from these Benches, I have stories to tell; stories of doing jigsaws in Sandringham on Sunday evenings and of barbeques in the woods at Sandringham in the middle of January—I even have a slightly scurrilous story about healing the Queen's car. Perhaps I will tell it.
I had preached in Sandringham parish church. We were standing outside and the Bentley was there to get the Queen. It did not start. It made that throaty noise cars make in the middle of winter when they will not start, and everybody stood there doing nothing. I was expecting a policeman to intervene, but nothing happened. Enjoying the theatre of the moment, I stepped forward and made a large sign of the cross over the Queen's car, to the enjoyment of the crowd—there were hundreds of people there, as it was the Queen. I saw the Queen out of the corner of my eye looking rather stony-faced, and thought I had perhaps overstepped the mark. The driver tried the car again and, praise the Lord, it started. The Queen got in and went back to Sandringham, and I followed in another car. When I arrived, as I came into lunch, the Queen said with a beaming smile, "It's the Bishop—he healed my car". Two years later, when I greeted her at the west front of Chelmsford Cathedral, just as a very grand service was about to start and we were all dressed up to the nines, she took me to one side and said, "Bishop, nice to see you again; I think the car's all right today, but if I have any problems I'll know where to come."
When I became the 98th Archbishop of York, during Covid, I paid homage to the Queen by Zoom conference. I was in the Cabinet Office; everyone had forgotten to bring a Bible, including me, but there was one there—which is kind of reassuring. Just as the ceremony was about to begin, the fire alarm went off.
The Queen was at Windsor Castle, but we all trooped out of the Cabinet Office, on to the road, and were out there for about 20 minutes until they could check that it was a false alarm and we could go back in. When I went back into the room, there was the screen, with Her late Majesty waiting for things to begin again. I do not know why I find myself returning to that image of her, faithful watching and waiting through those very difficult times. That was a very small part of a life of astonishing service.
The other thing I have noticed in the last couple of days is that we are all telling our stories. Yesterday, I found myself sharing stories with somebody in the street. I at least had had the honour of meeting Her late Majesty; this person had never met her, but we were sharing stories. I said, "Isn't it strange how we need to tell our stories? It's not as if she was a member of our family." Except she was. That is the point. She served the household of a nation. For her, it was not a rule but an act of service, to this people and to all of us.
I remind us, again and again, that that came from somewhere: it came from her profound faith in the one who said,
"I am among you as one who serves."
The hallmark of leadership is service, watchfulness and waiting. It was her lived-in faith in Jesus Christ, day in and day out, which sustained, motivated and equipped her for that lifetime of service. How inspiring it was last night and this morning to see the baton pass to our new King, King Charles, in the same spirit of godly service to the people of a nation.
I had not thought of this, but the Archbishop of York pointed out the important feast day that coincided with the Queen's death, the Nativity of the Blessed Virgin Mary:
Her Majesty the Queen died on 8 September, the day on which the blessed Virgin Mary is remembered across the world and the Church. Another Elizabeth, the cousin of Mary, said of her when she knew she would be the mother of the Lord:
"Blessed is she who believed that the promises made to her would be fulfilled".
Shot through all our tributes in this House and another place, and across our nation, is that which we have seen, especially as it was only on Tuesday—I thank the noble Baroness, Lady Bull, for reminding us—that the Queen received a new Prime Minister. Can it really be possible? She served to the end—a life fulfilled.
I will finish with a handful of her words. This is what the Queen wrote in a book to mark her 90th birthday, reflecting on her faith in Jesus Christ in her life:
"I have indeed seen His faithfulness."
I am not supposed to call noble Lords "brothers and sisters", but dear friends, we have seen her faithfulness too, and we see it now in our new King. May Her late Majesty the Queen rest in peace and rise in glory. God save the King.
Friday, September 9
At 6 p.m. on Friday, two significant events occurred.
The first was an hour-long service of prayer and reflection held at St Paul's Cathedral:
This service was for people who work in the City of London along with a limited number of members of the public who could apply for wristbands — tickets — to attend. St Paul's posted a page on how to obtain a wristband and how to queue on Friday afternoon for admittance.
Cabinet members attended and sat in the choir stalls. Prime Minister Truss and her Cabinet Secretary Simon Case sat in the front row. On the opposite side were Labour's Keir Starmer and other Opposition MPs.
This was an excellent service. The Cathedral helpfully posted the Order of Service, which can be downloaded from the aforementioned webpage.
Truss read Romans 14:7-12:
We do not live to ourselves, and we do not die to ourselves. If we live, we live
to the Lord, and if we die, we die to the Lord; so then, whether we live or whether we die, we are the Lord's. For to this end Christ died and lived again, so that he might be Lord of both the dead and the living.
Why do you pass judgement on your brother or sister? Or you, why do you despise your brother or sister? For we will all stand before the judgement seat of God. For it is written,
'As I live, says the Lord, every knee shall bow to me, and every tongue shall give praise to God.'
So then, each of us will be accountable to God.
This prayer in memory of the Queen is beautiful:
Eternal Lord God,
you hold all souls in life;
send forth, we pray, upon your servant, Elizabeth,
and upon your whole Church in earth and heaven
the brightness of your light and peace;
and grant that we,
following the good example of those
who have faithfully served you here and are now at rest,
may at the last enter with them
into the fullness of eternal joy
in Jesus Christ our Saviour.
Amen.
Meanwhile, King Charles III addressed the nation for the first time as monarch:
He spoke for ten minutes, first discussing his late mother then pledging his service to the people of the United Kingdom.
He ended his address by saying that Prince William would become the new Prince of Wales and that he had much love for Prince Harry as he and Meghan continue building their life together overseas.
The Telegraph included the following blurb. The last line comes from Shakespeare:
The broadcast was recorded in the Blue Drawing Room of Buckingham Palace, after the King and Queen greeted crowds of mourners outside the gates.
In a final message to his mother, the King said: "To my darling Mama, as you begin your last great journey to join my dear late Papa, I want simply to say this: thank you.
"Thank you for your love and devotion to our family and to the family of nations you have served so diligently all these years.
"May 'flights of Angels sing thee to thy rest'."
The walkabout the paper refers to involved much emotion from members of the public, especially women. One lady kissed him on the cheek and another shook his hand. Historically, one does not touch the monarch. That also applied to the Queen, even if a few people did touch her.
Another similar walkabout by the new King and Queen Consort occurred on Saturday afternoon outside the Palace.
The Accession Ceremony took place on Saturday morning. More about that tomorrow.
Having watched BBC Parliament for the better part of three years, I can only conclude that today's Conservative MPs are a frustrating bunch.
Many of the older hands, who were elected when David Cameron was Prime Minister (2010-2016), seem more like Liberal Democrats. The Thatcher-era MPs who remain are what she would have called Wets.
Many commenters on conservative fora are at their wit's end. Their complaints are many. Why have Conservatives outdone Labour in economic policy? Why are odd subjects taught in our schools instead of the three Rs? Why can't police get a grip on real crime? Those are just a few of the questions Britons have.
On August 12, The Telegraph's Tim Stanley and Steven Edginton discussed British conservatism in one of their Off Script conversations. What is it? What should it be like?
This video is 51 minutes long and is well worth watching for frustrated conservatives. Don't be put off by the title. Immigration comes into the conversation only halfway through and only for a few minutes:
Tim Stanley makes excellent points, summarised below.
The most important thing to note is that conservatism changes over time. Benjamin Disraeli was a great Conservative Prime Minister, but his conservatism would not be applicable in our time. Harold Macmillan was another great Prime Minister of his day, succeeding Labour's Clement Attlee. He responded to the challenges of the postwar 1950s. His brand of conservatism would be irrelevant in our times. Similarly, Margaret Thatcher met the challenges of the late 1970s and the 1980s. Stanley said that invoking Thatcher at every turn today is not helping matters, because we often mis-remember things that she did. He said that some commentators have turned her into a punk libertarian, when she was anything but. He says she was a Conservative with a strong streak of free-will Methodism.
Of our two Conservative Party leadership candidates this year, he says that Rishi Sunak is a technocrat, with all that implies. Liz Truss is a child of the Thatcher years. Both became MPs during David Cameron's time as PM. They tend to think the way he does and only differ on the way they would handle tax cuts. In this area, Sunak adopts the early Thatcher strategy of delaying them. Truss adopts the strategy of her later years, when Nigel Lawson was Chancellor. On everything else, they are remarkably similar. It's a politically generational trait.
Stanley came to conservatism from Marxism and stood as a Labour candidate for Parliament when he was younger. He thinks that Truss's conversion from the Liberal Democrats to the Conservative Party is one she will not fall away from.
Stanley says that Kemi Badenoch, whom he admires greatly, is probably the only MP who studies social issues intently. He thinks she has watched a lot of Thomas Sowell videos on YouTube, because she quotes him a lot.
He thinks Badenoch could be a real agent for change if she ever becomes PM. He warns that few world leaders can effect change on their own. He cites Donald Trump, who could not fight off the Swamp. Our equivalent is called the Blob and is comprised of the same elements: the metropolitan elite and, intersecting as in a Venn diagram, the media and the civil service. Somehow, those groups need to be persuaded to change their minds over time in order for politics and society to improve.
Stanley says that today's Conservative MPs are ignoring two elements of British life that has seen us through the centuries: family and the Church. (Stanley is a practising Catholic.) He said that MPs must find a way of putting those front and centre into policy making discussions. (That's a pretty radical idea for a former Marxist.)
He also advocates consistency in policy positions. He cites Nigel Farage and Jeremy Corbyn as two excellent examples of that. Their opinions have not changed over the past few decades, he says, and this is what makes them popular among their respective supporters.
As for today's younger voters opting for Labour, he says that some will and some will not. He said that it all depends on how much impact today's economic and social issues are having on them. He cites the young generation of the late 1960s, most of whom still vote Labour. He says that their personal experience from that time was so strong that they never changed when they hit middle age. However, there are others who will move from a more left-wing to a conservative stance. Stanley himself and Liz Truss are two great examples of political conversion.
You'll probably want to know what Stanley thinks of our immigration mess. He says that we have dealt with EU migration well, but, as far as the Channel crossings are concerned, he compares them to a door that has all sorts of locks on it yet is kept open, serving no purpose at all. He suspects that most Conservative MPs don't mind the tens of thousands of young men arriving on our shores every year. If they did object, he says, they would have done something by now to stem the flow.
I highly recommend this video, because no one else I've heard has said the things that Tim Stanley has. I now view conservatism in a new way.