You are currently browsing the tag archive for the 'Volodymyr Zelenskyy' tag.
Yesterday's post looked back at Liz Truss's leadership campaign during the latter half of August 2022.
As September started, most ordinary conservatives were happy to know that Liz was likely to be the next Party leader.
On September 3, the veteran journalist Janet Daley wrote an empathetic column about her for The Telegraph, 'Ignore conventional wisdom: the new prime minister is not doomed'.
CCHQ — Conservative Party headquarters — had not yet finished counting the members' votes, but Daley thought that people would give Liz their support in the face of the cost of living crisis (emphases mine):
Given that virtually everyone in the country accepts that the current dilemma is both desperately urgent and, in the short term, utterly hopeless, Liz Truss will begin her premiership with the lowest possible expectations and, given the inherent fair mindedness of the British population, even a little sympathy …
Whether Daley realised it or not at the time, she hit the proverbial on the head in the second paragraph:
Standing up in the House – or better, at that podium in Downing Street – to address a nation that has been terrified out of its wits by predictions of the devastation that is to come, will look like an act of singular bravery and resolve. Most of the country, apart from sworn partisan enemies (the most pathologically vicious of whom are inside her own party), will be willing her to succeed in whatever terms success can be measured, against the impossible odds. She will not have a honeymoon as such, but she can gain points for rigorous resolve and determination – especially if she seems to be in touch with the justifiable fears of real people. That will be the key to it. Every word, every pronouncement, every policy will have to be communicated with infinite humaneness: genuine compassion for the impact that this crisis is having on daily life and future prospects …
Although this was Daley's prediction at the time, this is how things played out with most fair-minded voters:
Ordinary people who do not have an ideological dog in the fight know that this is uncharted territory. What disagreements there are – and will continue to be – over the right way to proceed will be accepted as reasonable argument and not necessarily discrediting to the sitting government providing that it remains proactive and committed.
I particularly liked the next bit, which posited that, as the year went on, things might turn out to be less gloomy than forecast during the summer:
… there is the possibility of some good (or less bad) news in the coming months. What if the combined efforts and ingenuity of the Western economies produce more optimistic projections for energy subsistence sooner than was expected? Already we hear that gas storage in Europe is exceeding expectations and, as a result, commodity prices are beginning to fall.
However, Daley, for all her brilliance, did not foresee the savage attack from Liz's fellow MPs.
North of the border, Scotland's First Minister Nicola Sturgeon was still seething that Liz had called her an 'attention seeker' during the campaign:
During her premiership, Liz never did contact Nicola Sturgeon.
On Monday, September 5, these were the main news stories. We could rely on The Independent for negative stories about our new Prime Minister: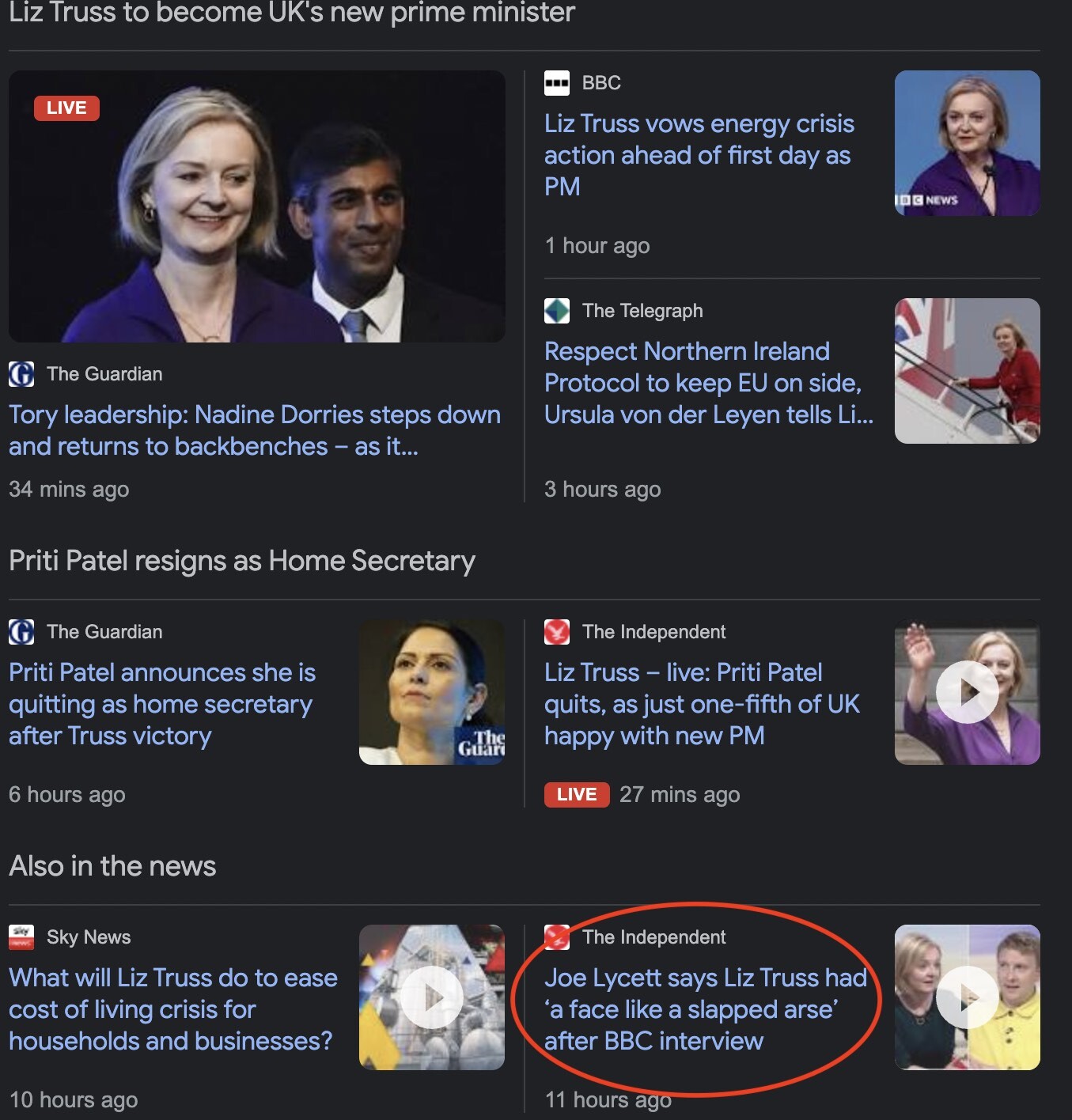 The Mail on Sunday's Dan Hodges was thrilled. He had predicted Liz's ascendancy on Boxing Day 2021:
His article says that Liz's rise began when she replaced Dominic Raab as Foreign Secretary. During his time in post, he said that all ministers (MPs) serving under him were to be called Junior Ministers (JMs) rather than Ministers. The MPs were none too happy with that move.
Then, when Biden's sudden withdrawal from Afghanistan took place in mid-August 2021, Raab was on holiday in the Mediterranean with his family. Boris replaced him with Liz:
On her first day in the job, she issued a note to her officials ordering the JM designation be dropped.
'Liz gets it,' a Minister said. 'She knows how to treat her colleagues properly. It's one of the reasons she's been so successful.'
Spectacularly successful. 2021 has been Liz Truss's year …

She's now in charge of masterminding the final fraught stages of Britain's EU exit.
And – were Boris to suddenly fall beneath a heavily laden wine-and-cheese platter – favourite to replace him in No 10 Downing Street.
At the time Hodges had written his article, Boris was becoming more embroiled in Partygate allegations, which had begun in November 2021.
We thought that Boris had a diverse Cabinet. It was nothing like Liz's, however:
The Mail reported:
Ms Truss is expected to make long-term ally Kwasi Kwarteng chancellor, with Suella Braverman moving to the Home Office and James Cleverly to the Foreign Office.
If selected, Mr Kwarteng would be the fourth non-white chancellor in a row, directly following Sajid Javid, Rishi Sunak and Nadhim Zahawi.
And Ms Braverman would become the third minority home secretary, after Priti Patel and Mr Javid. 
Mr Cleverly, currently the Education Secretary, would become the first ever non-white foreign Secretary.
Cleverly continues in post today under Rishi Sunak, as does Kemi Badenoch, International Trade Secretary and Minister for Women and Equalities:
Would the media — our diversity champions — give her, our third female Conservative PM, any credit? Never:
On a related note, Liz gave us a Health and Social Care Secretary with a fondness for cigars, the likes of which we had not seen since Kenneth Clarke in the 1990s. Here is Thérèse Coffey, one of her close friends, pictured at a Spectator summer party a few years ago:
However, just as important were the people no longer in Cabinet. This is worth noting. Some said later that this is where Liz's premiership became unstuck, that she should have held on to some opponents:
There is expected to be a clear out of Rishi Sunak and his supporters after a bitter blue-on-blue campaign in which he seems almost certain to be defeated.
Into the political wilderness too will go Michael Gove, after serving under the three previous PMs. Dominic Raab, the First Secretary of State, and Boris Johnson himself, are expected to return to the backbenches. Both have question marks over whether they can hold on to their seats at the next election.
I think she did the right thing. We'd seen enough of all of them over the past three years and, in Gove's case, much longer than that.
They would not have been friendly:
Other backbench Conservative MPs were unfriendly, too:
Rishi was unaccustomed to being on the backbenches, and his first opportunity to participate in a debate came that Tuesday afternoon. Guido Fawkes reported:
Backbencher Rishi Sunak making a debate intervention today on "unavoidably small hospitals":
Thank you for accommodating me at a late stage in this debate. I hadn't planned on speaking but this morning I saw the order paper and it turns out I had more time on my hands than I anticipated.
Tuesday's Mail pointed out the Conservatives have had three women PMs. Labour have had none, not even a female Party leader:
We were also entering a new generation of PMs who were younger than we:
Liz's supporters in the media were hopeful:
James Johnson's Politico article said:
The main qualities the public look for from their leaders in the 2020s are honesty, strength and authenticity. It will require care and calibration, but Truss has a path to come closer to these than Starmer.
If she stands in Downing Street on Tuesday and levels with the public about the challenge ahead and tells them to judge her on results in two years' time she will not only create a reputational shield for herself but also have the opportunity to make a novel mark on the public — many of whom will be tuning into her for the first time — as someone who gives it to them straight.
Some have suggested that her more libertarian instincts and views, such as decrying a focus on redistribution, make her unelectable. But voters, especially those new Tory converts in the Red Wall, value consistency — a quality they feel is so lacking in modern politicians — as much as an individual policy position. Focus group attendees praise Thatcher and Blair when asked if there are any politicians they admire not because they agreed with them on everything, but because they felt they held beliefs and stuck with them.
One of Truss' biggest applause lines in one of the early debates was that she is not the slickest media performer, but she gets things done. If she successfully harnesses that sentiment, the ideological gap between her and the public on specific issues or an awkward communication style may matter less …
It could all come undone, of course. Moments in the summer would have been similarly disastrous for Truss in a live election campaign environment. The calibre of her team will be crucial …
There is a pathway for the Conservative Party. If followed, the optimistic scenario for Liz Truss is underpriced.
Like the aforementioned Janet Daley, James Johnson underestimated the opposition on the Conservative backbenches.
After flying back from Aberdeen, the closest airport to Balmoral, Liz gave her first address as Prime Minister. Heavy downpours punctuated the afternoon. The weather, combined with London's rush hour traffic, delayed her. The rain let up long enough for her to give her speech, in which she borrowed a line from Churchill, 'Action this day'. Her husband, Hugh O'Leary, stood on the sidelines:
Liz's first call to a foreign leader was to Volodymyr Zelenskyy to reassure him that the UK would continue to support Ukraine:
One of her economic advisers, Gerard Lyons, was confident that a low-tax economic plan would help to stave off recession:
The cost of living crisis made Wednesday's papers, September 7. These front pages show Liz's husband:
The Telegraph borrowed words from her speech, 'We can ride out the storm':
Wednesday saw Liz's first Prime Minister's Questions (PMQs). This is the full half hour:
She managed to lob a few witty grenades Keir Starmer's way.
To roars of applause from Conservatives, Liz pointed out that there is nothing new about a Labour leader wanting tax rises:
Guido noted that the comment painted Starmer the same colour as his predecessor, the very left-wing Jeremy Corbyn (emphases his):
It only took a free marketeer PM to bring out Starmer's inner Corbynite…
Directing her aim at both Starmer and Corbyn, she asked aloud why Labour can't find a leader who lives outside of north London, home of the metropolitan elite. She also wondered why there had been no female Labour Party leaders (video):
After PMQs ended, Guido said that Liz's Cabinet was more diverse than Labour's shadow team, although you cannot see that in the photo that he posted. He calculated:
… up to seven BAME members: 23% of the total. 
By Guido's reckoning, Labour's shadow cabinet has six ethnic minority members, or a mere 20%.
Meanwhile, Labour continue thrashing the Tories on gender and state school educations. All completely irrelevant, but nonetheless, interesting to note …
That evening, The Telegraph analysed Liz's first full day as PM.
Madeline Grant provided a sketch of PMQs:
Therese Coffey, radiating gung-ho enthusiasm, looked ready to crack out another celebratory cigar. A dazed Suella Braverman wandered into the Chamber via the Westminster Hall route used by most MPs, then remembered she is Home Secretary now and hot-footed it to the "VIP entrance" at the back.
Notable by their absence were Rishi Sunak, and, predictably, Boris Johnson, though Sajid Javid was there …
A huge roar enveloped Liz Truss as she sashayed in, looking sleek in a blue pantsuit – shades of Keeley Hawes in the Bodyguard. The Tory troops, clearly desperate for things to go well, cheered raucously no matter what she said or did. Yet again beating Labour in the identity politics stakes seemed to have sparked particular joy. When Sir Keir Starmer congratulated Truss on her appointment, a Tory backbencher snarled "3-nil!". James Cleverly, the Foreign Secretary, brandished three fingers and jabbed them in the air.
Theresa May also congratulated Truss on becoming Britain's third female prime minister. "Why does she think it is that all three female prime ministers have been Conservative?", she asked. Truss positively beamed at her. "I look forward to calling on her advice," she said. (Oh no).
"There does seem to be an extraordinary inability of the Labour Party to find a female leader," continued Truss, "or indeed a leader who doesn't come from north London." The Tory hordes roared at this, and even Starmer repressed a chuckle.
Her presentation was as wooden as ever:
But her replies were assured, refreshingly direct. There were even a few one-word answers – no to a windfall tax, for instance – a quasi-mythical event in Westminster. It was almost as if the sphinx was at the despatch box. All of this seemed to flummox Keir Starmer, who is more used to spending PMQs trying to prise answers out of Boris Johnson – occasionally wincing as if pulling out his own teeth with a pair of rusty pliers.
Truss's true-blue rhetoric seemed to bring out Starmer's inner Corbyn too. He railed against "excess profits" with the wild-eyed conviction of a politburo member sounding off about Kulaks. "Same old Tories… There is nothing new about the Tory fantasy of trickle-down economics", he scoffed.
The Times's Quentin Letts noted Liz's calm demeanour:
The Tory benches mooed when they saw her but once Truss started answering questions, the composure was striking. Most of all it was the slower pace that one noticed, and the evaporation of most of the performance-venom that tarnished the late Johnson era. Where Boris used to gabble, Truss spoke slowly. The voice, which seems to emanate from near the tip of her nose, was clear. It may pink a little, like a novice musician's recorder, but it is strong enough to cut through a full Commons …
Truss referred to "my chancellor" and "my new health secretary". She was asserting her power. There wasn't a quiver visible in her fingers and she maintained a consistent tempo, andante rather than allegretto. Talking slowly makes you sound more authoritative and means you need not say so much. Helen Hayes (Lab, Dulwich & West Norwood) essayed a zinger. Would the government's response to some report be published by the end of the year? "Yes," said Truss, and she slowly, serenely resumed her seat, suffused with calmness. One should not over-interpret this performance. PMQs debuts usually go well. But the story is not quite conforming to the catastrophists' narrative.
Returning to The Telegraph's articles, Daniel Martin told us that Liz wanted proper dress in Downing Street:
The Prime Minister has made it clear she wants to re-introduce a dress code, with officials told to wear shirts and ties as part of a new, more formal style of government …
One government source said Ms Truss had made her views plain when she arrived back to Admiralty House from her victory party in the City of London, the night before she became Prime Minister.
The source said: "This is all born from Liz coming back from winning and telling the staff in Admiralty House that ties were back."
We also found out that she wanted a leaner operation:
Ms Truss has also ordered a wider operational shake-up at Downing Street, including a new economic unit whose role is to help her take on "Treasury orthodoxy".
She has brought in Matthew Sinclair, the former director of the TaxPayers' Alliance, as her chief economic adviser …
In a bid to strengthen the relationship between Ms Truss and her most important ministers, new offices are being created in Downing Street for both Wendy Morton, the new chief whip, and Thérèse Coffey, the Deputy Prime Minister.
An aide told The Spectator: "We've blown up the No 10 floor plan", saying the idea is to create a leaner, nimbler operation.
Allister Heath was fully behind Liz and her plans:
I'm optimistic about the Truss Government. Yes, of course, nobody can possibly know how well it will do – whether it will outwit the Blob to push through genuine improvements. But it is absurd to state, almost as self-evident fact, that it is bound to collapse, that it cannot last even two years, based in part on an insulting dismissal of the credibility and intellect of all of the members of the new Government.
It is astonishing that pundits with no understanding of economics dismiss the Prime Minister's ability in this area: she actually worked as an economist for Shell (ideal in the current climate) and as an economic director for Cable and Wireless. The first accountant ever in No 10 – she holds the qualification from the Chartered Institute of Management Accountants – she is more financially literate and comfortable with complex policy matters than almost all of those who patronise her. The fact that she is reflexively written off as lightweight, a dilettante even, is more a reflection of the bizarrely misogynistic and classist minds of some of her more extreme critics than of any objective reality.
Kwasi Kwarteng, the Chancellor, holds a PhD in economic history from Cambridge, perhaps the ideal qualification for the moment; his War and Gold and Ghosts of Empire remain timely. Thérèse Coffey, Truss's deputy, is another PhD: in her case, in chemistry, showing how much more intelligent she is than the ignoramuses who hate her.
Suella Braverman, the Home Secretary, is an extremely competent, bright and personable lawyer who drives the Left crazy. Kemi Badenoch holds degrees in engineering and law, and is fiendishly clever. Jacob Rees-Mogg, with his background in finance, is the perfect pick for Business (and Energy), given the technical and intellectual complexity of his mission. Kit Malthouse, the Education Secretary, another accountant, has experience running a medium-sized business; Chris Philp, the Chief Secretary, has a degree in physics.
The list goes on. Of course, some ministers are weaker than others, but the average quality is a great improvement on many past governments. Matthew Sinclair, one of Truss's advisers, is the best free-market economist of his generation in Britain today.
The paradox is that it is a policy that I'm uncomfortable with that is likely to send the Government's poll ratings surging, discrediting its Leftist critics. Truss's energy plan is rightly a big bazooka; it is regrettable that, for a variety of practical and political reasons, she appears to have decided to freeze all energy bills, rather than to opt for targeted subsidies to small firms and the bottom half of earners. The Government's bill will be at least 5 per cent of GDP, with enormous potential liabilities. This is the biggest welfare programme in British history, one that helps the well-off as much as the needy.
But we are where we are. The Government felt that an alternative, non-universal plan could not be targeted correctly, that the cliff-edge from means testing would be too extreme, that the public's allergy to high prices had become too toxic. Truss feared she would be destroyed on arrival if she didn't go for broke. Her gambit is that the scale of this intervention will cripple the Left: it's a statist umbrella protecting her free-market reforms …
Our new Prime Minister likes economic growth, not merely because she values material prosperity, but because she buys into the very idea of progress, of improvement. Boris Johnson agreed in theory, but didn't understand what to do. Unlike Theresa May, Truss is inherently anti-Malthusian: her Chancellor talks of growing the economy, rather than arguing about how to redistribute a stagnant pie, the vanishing "proceeds of growth" taken for granted by David Cameron.
Yes, Truss will address our immediate crisis via costly, short-term policies. But she's deadly serious about principled long-term measures to accelerate the economy by boosting energy output, housebuilding, private investment, scientific innovation and entrepreneurship. It will be tough, but the Twitter Lefties are entirely wrong to be betting so emphatically against her.
The Telegraph's main editorial compared her to Margaret Thatcher:
Opinion polls indicate that Labour's windfall levy is popular, but Ms Truss is right to identify the flaws in this approach. Her declaration that we cannot tax our way to higher growth could have been uttered by the first woman prime minister 30 years ago.
Balancing short-term expediency with long-term economic requirements will require skill and determination. Ms Truss has set out her position and is clearly intent on sticking to her guns, even if the polls are tempting her to abandon them. It was an encouraging start.
The Mail provided us with short takes from the more left-of-centre broadcasters, who also thought Liz did a great job at PMQs. These were not her natural allies.
The BBC's Chris Mason noted:
As Prime Minister's Questions finished, there appeared to be a warm, one-on-one brief chat between Liz Truss and Keir Starmer.
I think Starmer said "well done" to his opponent: all party leaders regularly acknowledge that PMQs is a tough gig …
It felt less personal, much less theatrical and more ideological …
TalkTV's Tom Newton Dunn said:
Liz Truss is not a legendary orator, and some Tory MPs lived in terror at the thought of her robotic despatch box style.
But that was a very strong debut …
The Mail had several more comments, so I will end with this one from the i newspaper's Richard Vaughan:
If Liz Truss's aim for her first PMQs was to kill the usual heat and rancour in the Commons chamber, then she succeeded. It was a solid, no-frills performance.
… Ms Truss's arrival onto the front bench was greeted with cheers, but it was by no means a deafening welcome by backbenchers to their new leader – perhaps a portent of things to come.
On the evidence of her no-nonsense opening appearance in her new role, they would be wise not to underestimate her. Her next trick will be to try and inspire those on the benches behind her.
Aye, there's the rub.
To be continued tomorrow.
This is the final instalment of my series on Boris Johnson's downfall.
Those who missed them can read parts 1, 2, 3, 4, 5 and 6.
Also of interest are:
Developing news: how long can Boris last as PM? (July 5-6)
Boris stays as PM for now but stands down as Conservative leader: 'When the herd moves, it moves' (July 6-7)
This post discusses two groups of people who are still wild about Boris: British voters and the Ukrainians.
British voters
On June 11, 2022, one week after Boris survived a vote of confidence by his fellow Conservative MPs, The Observer — the Sunday edition of The Guardian — posted the results of a poll they commissioned.
The findings were surprising for a left-wing newspaper (emphases mine):
Boris Johnson makes a better prime minister than Keir Starmer would despite Partygate, the cost of living crisis and the confidence vote in Johnson held by his MPs, according to the latest Observer poll.
Granted, the results were close, but Boris managed to come out on top, with the Conservatives two points behind Labour:
The Opinium figures, which will raise further concerns within Labour over the party leader's performance, shows that the prime minister has a two-point lead over his opponent. It also reveals that Starmer's party holds a narrow two-point lead, compared with a three-point lead in the last poll a fortnight ago. Labour are on 36% of the vote, with the Tories up one point on 34%. The Lib Dems are on 13% with the Greens on 6% …
While 28% think Johnson would make the best prime minister, 26% opted for Starmer.
On June 13, the i paper's Hugo Gye posted a few pages from the book Moonshot, by Pfizer's chairman Albert Bourla:
Two excerpts follow. These pertain to late 2020 and early 2021:
From my perspective, the UK was doing an exceptional job under tremendous pressure.
At that time, the UK was the only vaccinating so quickly that demand surpassed supply. As a result, we worked on a plan to meet the UK's needs …
Yet, in the UK, it was only the Conservatives and conservatives remembering Boris's efforts during that time period:
On June 14, the Mail's Alex Brummer wrote a positive article about the British economy, explaining why things weren't as bad as the media and pundits portray them:
So, yes, we face serious challenges. And yet I simply do not believe there is any justification for the gloom-laden interpretation by large sections of the broadcast media and fierce critics of Boris Johnson's government.
These Cassandras peddle a diet of relentless financial woe as they carelessly claim that the nation is in recession or heading for one.
But closer inspection shows not only that things are nowhere near as bad as they claim, but that there are serious grounds for hope in certain sectors, too.
Brummer explored the possibilities of what could happen either way:
True, the UK economy lost momentum recently, shrinking by 0.3 pc in April.
But what no one has mentioned is that this was largely down to a statistical quirk, and respected City forecasters are still actually predicting a 3.2 pc expansion of the UK economy this year, followed by 0.9 pc in 2023.
The big danger is that the constant barrage from the doom merchants could begin to influence events and destroy the resilience of consumers and enterprise — resilience which is still delivering for this country.
What is more, with a change of tack in the Government's approach, I believe the economy could be recharged.
Of course, the country will struggle if it is required to contend with inflation, rising interest rates and a mountainous tax burden all at the same time. If consumers and businesses are doubly squeezed by higher interest rates and higher taxes, household incomes will be devastated …
Brummer disagreed with Rishi's tax hikes:
The truth is that, with the nation close to full employment and the City of London and services — comprising more than 70 pc of national output — performing well, there was absolutely no need to urgently hike taxes, if at all.
Income tax, national insurance receipts, VAT and corporation tax receipts have all been flowing into the exchequer in record volumes. All that future rises will do is stymie spending and the willingness of companies to invest.
And the main reason for that fall in output of 0.3 pc in April? It is because the Government suddenly ended the NHS's Test and Trace operations — which had grown into a formidable industry, employing tens of thousands of people — as the country emerged from the pandemic.
In fact, April saw activity in consumer services jump by 2.6 pc. In spite of the £100-a-tank of petrol, the £8-a-pint of best IPA and rocketing food prices, a recession — defined as two quarters of negative growth — is unlikely.
Brummer did support Rishi's help to the neediest families:
Even if Rishi Sunak does not cut taxes, his £15 billion package of targeted support to help poorer households with the rising cost of living means incomes should now rise in the second and third quarter of the year. It is equal to nearly 2 pc of their earnings and will boost the country's spending power.
There were more reasons not to believe the doom-mongers, who, as I write in early September, are getting shriller and shriller:
What the doom-mongers fail to tell you is that investment bankers Goldman Sachs recently pointed out that consumer services are 'robust' and Britain's economy is 0.9 pc larger now than it was before the nation went into lockdown.
Economic activity in the crucial services sector, meanwhile, is 2.6 pc higher.
But it is not just the consumer activity — along with the £370 bn plus of pandemic savings in the current and savings accounts of households — propping up the economy.
New data just released shows that the drive towards the UK becoming a high-tech, high-value nation continues to make Britain prosper.
So far this year, the country has sucked in £12.4 bn of investment into the tech industry, the highest level of any country other than the United States.
And let no one blame Brexit:
As for the argument that Brexit has done for Britain, it is comprehensively rubbished by the City consultancy firm EY, which argues that, when it comes to financial services, 'six years since the EU referendum, we can be confident that Brexit has not damaged the UK's fundamental appeal'.
Since the financial and professional services are the biggest generator of income for HMRC, and the UK's most successful export to the rest of the world, this should surely be a source of national pride rather than Remoaner carping.
Indeed, wherever you look, the excellence of Britain's life sciences sector — as evidenced by the rapid development and distribution of the Oxford-AstraZeneca vaccine during the pandemic — continues to shine …
Ultimately, taxes do need to be cut:
But more needs to be done. And by that I mean Rishi Sunak must put an end to the tax hikes — or even reverse them …
… he froze personal tax allowances until 2025-6, along with the thresholds for capital gains tax.
… this will provide additional revenues to the Government of about £20.5 bn a year.
Sunak also opted to raise corporation tax from 19 pc to a whopping 25 pc next year. And to help pay for the NHS and social care, every employee and employer in the country is now paying a 1.25 pc surcharge on national insurance.
Together, all these measures (before inclusion of the windfall tax on oil production) mean that Boris Johnson's government is raising more tax from the British people and commerce than any UK government since the 1940s.
Such a position, given the precarious economic circumstances we face, is completely unsustainable. If the Johnson government wants to fight the next election with a healthy economy, taxes have to be cut with a decisive policy shift.
And if that happens, it could just be the magic pill for a Tory revival.
Meanwhile, Boris took a brief staycation in Cornwall while he helped campaign for the Conservative candidate in Neil 'Tractor Porn' Parish's constituency for the by-election, which, unfortunately, the Liberal Democrats won.
The Mail reported on Boris's schedule:
Boris Johnson has been pictured walking on a Cornish beach with his son Wilfred as he chose a staycation amid weeks of chaos at Britain's airports for millions desperate for a post-pandemic foreign break.
The Prime Minister has been in the West Country campaigning as he tries to win the Tiverton and Honiton by-election for the Tories on June 23, but is squeezing in a short family holiday.
And after a flying visit to the Devon constituency he headed to Cornwall to launch his food strategy at the wheel of a tractor before relaxing on the award-winning Porthminster beach, St Ives.
Unfortunately, on Wednesday, June 15, Lord Geidt quit as Boris's ethical adviser, which made all of his opponents question whether he should still be in office. This came a day after Geidt had appeared before a parliamentary select committee. I saw parts of that session. Geidt did not exactly inspire me with confidence.
Lord Geidt, a former private secretary to the Queen, announced his resignation in a 21-word statement the day after MPs accused him of "whitewashing" Johnson's conduct and questioned whether there was "really any point" to him.
Geidt, 60, came close to quitting last month after concluding that there were "legitimate" questions about whether the prime minister breached the ministerial code. He said that Johnson's fine for breaking coronavirus rules threatened to undermine his role and risked leaving the ministerial code open to ridicule.
He also received a "humble and sincere" apology from Johnson in January after the prime minister withheld critical messages from Geidt's inquiry into the refurbishment of his Downing Street flat.
A statement from Geidt published on the government website this evening said simply: "With regret, I feel that it is right that I am resigning from my post as independent adviser on ministers' interests."
In a bruising encounter with the public administration and constitutional affairs select committee yesterday, Geidt admitted that he had been "frustrated" by the prime minister's approach to the scandal.
William Wragg, the Conservative chairman of the committee, told The Times: "Lord Geidt is a person of great integrity, motivated by the highest ideals of public service. For the prime minister to lose one adviser on ministers' interests may be regarded as a misfortune. To lose two looks like carelessness."
Then again, William Wragg is not a fan of Boris's, prompting his supporters to think there was a stitch up, especially as Tony Blair had just been installed as a new member of the Order of the Garter.
Geidt's letter seems to be focused on Boris's fixed penalty notice for Partygate, but Boris's response, published in The Guardian, is about steel tariffs: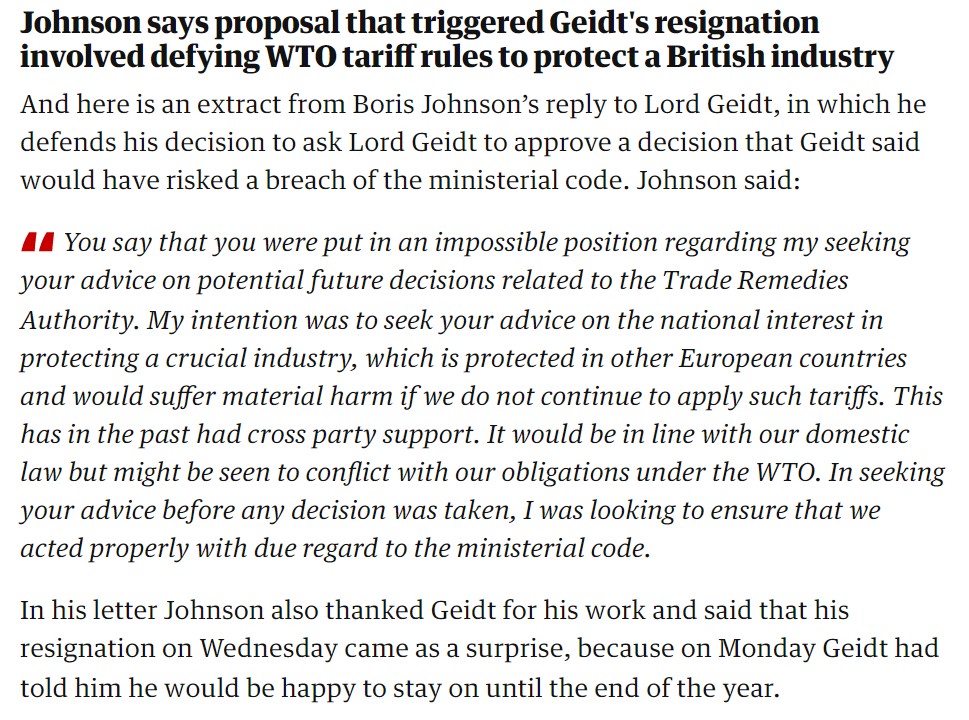 GB News's Patrick Christys explained this before going into Tony Blair's offences during his time as Prime Minister, including the Iraq War and letting IRA terrorists walk free. It's a shame the video isn't clearer, but the audio is compelling. After Christys introduced the subject, a panel debate took place:
Christys ran a poll asking if Boris is more unethical than Blair. Seventy per cent said No:
Blair's former adviser John McTernan said that, unlike Boris, Blair had been cleared of a fixed penalty notice (for an irregularity in paying London's congestion charge). But was Blair actually cleared? The BBC article from the time suggests that he wasn't:
On June 24, after the Conservatives lost Neil Parish's seat to the Lib Dems and the Wakefield seat to Labour, The Telegraph reported that the co-Chairman of the Conservative Party, Oliver Dowden MP, resigned. He seemed to blame the loss on Boris, although mid-term by-election victories often go to an Opposition party, something Dowden should have known:
Oliver Dowden has resigned as chairman of the Conservative Party after it suffered two by-election defeats, saying in a letter to Prime Minister Boris Johnson that "someone must take responsibility".
Mr Dowden's resignation came at 5.35am, shortly after the announcement of the two defeats. He had been scheduled to appear on the morning media round before he decided to step down.
In Tiverton and Honiton the Liberal Democrats overturned a 24,000 Tory majority to win, while Labour reclaimed Wakefield.
The contests, triggered by the resignation of disgraced Tories, offered voters the chance to give their verdict on the Prime Minister just weeks after 41 per cent of his own MPs cast their ballots against him.
Guido Fawkes posted Boris's generous letter of thanks to Dowden and his video explaining that mid-term by-election results often explain voters' frustration with the direction of the Government:
As usual, Blair's former spin doctor Alastair Campbell posted another inaccuracy, this time about Labour's by-election results:
At the time, Boris was away in Kigali, Rwanda, for CHOGM (Commonwealth Heads of Government Meeting). While there, he clarified sex and gender. The Times reported:
A woman cannot be born with a penis, Boris Johnson said last night, adding that there were "particular problems" around "issues of gender", but he said it was important to be "as understanding of everybody else as possible".
Asked whether a woman could be born with a penis, Johnson replied: "Not without being a man".
This has been an ongoing controversy for the past year. Neither Rishi Sunak nor Keir Starmer have been willing to answer that question. Boris met that challenge.
By the time Boris resigned on Thursday, July 7, millions of voters thought it was a stitch up.
Dan Wootton expressed our thoughts magnificently in his editorial that evening on GB News:
Excerpts from his transcript follow:
They won, folks.
They got him in the end.
Let's be honest for a moment, they were never going to stop until they'd secured Boris Johnson's head.
Since December, the campaign by the political establishment, the Remoaner elite, the civil service blob and – crucially – the country's biased broadcast media, notably BBC News, ITV News and Sly News, has been fever pitch.
Eventually, the Conservative Party decided it was impossible to govern while also fighting such dark and powerful forces.
These are deeply depressing times for British democracy.
Boris is the third Tory Prime Minister brought down in six years.
The febrile and hostile establishment and the MSM knows the power they have to bring political paralysis to the country.
And why were they so determined to destroy Boris?
Think about it.
He was a transformational Prime Minister.
A Prime Minister who stared them all down to finally deliver Brexit.
A Prime Minister who had vowed to cut the size of the civil service and demanded they return to their damned desks.
A Prime Minister who was going to scrap the hated BBC licence fee and sell the far-left Channel 4 News.
It's not hard to see why they would stop at nothing to discredit him.
I mean, last night the BBC quoted a source saying Boris Johnson "is now like Putin".
That's how deranged and determined his critics have become.
The celebration that broke out across the airwaves today – especially on the Boris Bashing Corporation once known as the BBC – blew up any final suggestion that we have an impartial broadcast media here in Britain …
I wanted to share with you part of a conversation I had earlier today with a source close to the Prime Minister.
They told me: "People had no interest in talking about the quite historic leadership achievements be that dragging us through a pandemic, a world leading vaccine programme rollout and a quite uniquely special performance in regards to that European war."
"Those people who wanted him gone never wanted to acknowledge that at any point. Never ever. It was always just the Westminster personality stuff. That was the only focus."
"Labour has had not one policy or grown-up policy discussion. It has been an out and out campaign to remove Boris. And you always have to ask yourself why. Why did they want to get rid of Boris so much? Why did sections of the media do that? Ultimately, wounded or not, he is the Conservative's best chance of winning an election" …

As the Daily Mail said today: "The truth is, Mr Johnson stands head and shoulders above almost all his assassins. Compared with the mountains he has scaled, their combined achievements are little more than molehills" …
To Boris Johnson, it was a project not completed, largely down to external forces.
But thank you for delivering us Brexit; that is an achievement for the ages that will go down in the history books.
It was a sad evening, indeed.
However, in time, there might be an upside. Maybe he could appear on GB News now and again:
Boris won that night's Greatest Briton accolade:
Wootton's focus on Brexit was confirmed by The Telegraph's Sherelle Jacobs the following day. She fears that Boris's resignation will give a lift to prominent Remainers:
… With the implosion of Boris Johnson, the Brexit war threatens to start anew. Tory Leavers must accept their vulnerability. The Prime Minister who ended the last battle by getting a Brexit deal done has just fallen in ignominious circumstances. Meanwhile, Remainers – who will never give up the fight – scent weakness.
While Andrew Adonis rallies against a "revolution which devours its children", Michael Heseltine has declared that "if Boris goes, Brexit goes". It might be tempting to dismiss all this as the hopeful rantings of bitter men. After all, Sir Keir Starmer has been at pains to reassure voters in recent days that Labour will not take Britain back into the European Union.
But even if the leader of the Opposition – a Remainer who voted six times against a Brexit deal – is genuine, he is powerless to stop the rejuvenation of the Remainer campaign. As support for Brexit in the polls has seeped away in recent months, in part because of the chaos that has gripped the Government, ultra-Remainers have been on manoeuvres. With the fall of Johnson, they think their time has almost come.
Over the next two years, they will likely proceed with a calculated mixture of boldness and caution. Already the public is being relentlessly bombarded with misinformation, which erroneously links every ill facing Britain with the decision to leave the EU. As the Tory party is distracted by internal dramas, negative Brexit sentiment will mount. This is already starting to happen, as critics in the business world become blunter in their criticisms – from the aviation industry to the CBI.
Meanwhile, some Tory MPs have been discreetly arguing in favour of a softer Brexit. Indeed, while the removal of the PM was by no means a Remainer plot, some of his internal enemies were motivated by a desire for greater alignment with EU rules – or at least by their opposition to what they consider to be an excessively aggressive attitude towards fixing the Northern Ireland protocol …
In truth, Conservative fealty to the Brexit cause has been disintegrating even under Boris Johnson, as the Blob has sapped the Government's will …
The great fear is that the Tory party now elects a closet Remainer who does not have the conviction to take all this on. That Brexit dies with a whimper, smothered by bureaucratic inertia and then finally strangled after the next election. If Brexiteers want to avoid this fate, they must think like war strategists once again. That means confronting the extent of their current weakness, and taking their opponents seriously.
Boris also shares that same worry and said so in Parliament on July 19, the day of his final Prime Minister's Questions:
Right after Boris's resignation, an online petition appeared: 'Reinstate Boris Johnson as PM'. It currently has over 23,000 signatures making it one of the top signed petitions on Change.org.
On Saturday, July 9, the i paper had an interesting report with several interviews:
The atmosphere sounded surreal:
"It was a bit weird", a source said of the Cabinet meeting Boris Johnson convened on Thursday just two hours after he said he would step down, effectively putting Britain on pause.
The Prime Minister was flanked by senior ministers, some of whom, less than 24 hours, had earlier led a delegation of men and women in grey suits to No 10 to urge him to quit …
Bill committees examining legislation line-by-line had to be cancelled, or they had newly resigned ministers sitting on them as backbenchers, while the whips who lacked the required specialist knowledge of the issues at stake were leading for the Government …
Contenders to take over as PM, when Mr Johnson does go, have been preparing for a contest months as the writing has slowly been scrawled on the wall of No 10.
Tom Tugendhat, Penny Mordaunt, and Jeremy Hunt were the most active hopefuls this week, contacting MPs and arranging meetings …
As the leadership contenders jostled, the Whitehall blame game began over Mr Johnson's spectacular fall from grace. The Prime Minister entirely overhauled his inner circle in February, after the initial "Partygate" allegations broke, and it is largely this team that will shepherd the Government through the final few months of his premiership …
The arrival of Guto Harri, one of Mr Johnson's oldest allies, as director of communications is seen by many as a contributor to the Prime Minister's downfall …
The spin chief had a habit of making up policies off the cuff, prompting advisers in other departments to joke about "the Guto special" when confronted with unexpected announcements from No 10. One Whitehall official concluded: "He is good for journalists, I'm not sure he's good for HMG [Her Majesty's Government]" …
But others pin the ultimate blame firmly at Mr Johnson's door.
One of Mr Johnson's closest former advisers told i that it "all went wrong for the PM" when he stopped listening to those from Vote Leave …
One of the former ministers who quit said on Thursday simply: "Everything is his fault. I spent months defending, or at least being generous about, his mistakes.
"Not after the last 24 hours. Appalling."
On July 12, Guido reported that Boris loyalist Jacob Rees-Mogg thought that the Prime Minister's name should be on the Conservative MPs' ballot (emphases his):
… he affirmed it was "unjust" to deny the Prime Minister the opportunity to fight for his position amongst Tory members. This comes in the context of his previous arguments for the growing presence of personal mandates in British political leaders. Unfortunately, Guido doesn't believe this strategy is quite in line with the contest rules…
I think this gave Boris's supporters false hopes:
People in Conservative constituencies began emailing their MPs:
With no result, the question then turned to whether Boris's name should be on the ballot for Conservative Party members.
On Saturday, July 16, The Times's Gabriel Pogrund and Harry Yorke posted an article: 'How the Tories turned the heat on Rishi Sunak'. In it, they introduced Lord Cruddas, who would go on to campaign for Boris's name to be on the members' ballot:
Both men were Eurosceptics who had supported the Vote Leave campaign when it might have been politically advantageous not to do so. Both were the beneficiaries of Boris Johnson's patronage. Cruddas had been given a peerage despite official objections. Sunak had been plucked from obscurity the previous year and made one of the youngest chancellors in history.
In 2021:
Sunak was the most popular politician in Britain and second only to Liz Truss in Conservative Home members' polls, having overseen the furlough and Eat Out to Help Out schemes. In the chamber, Cruddas gave his own vote of confidence, saying Sunak's budget "had established a clear path for the country to move from these difficult times", praising his "thoughtful" approach and arguing it would "not just to reinvigorate the economy post Covid but to help propel the post-Brexit opportunities".
By July 2022, everything had changed:
A week into the most toxic Tory leadership election in memory, the fact such comments were made feels inconceivable. Cruddas, 68, who remains close to Johnson, has shared posts on social media describing Sunak as a "rat", "a snake", a "little weasel", a "backstabber", "a slimy snake", a "treacherous snake", "Fishy Rishi", "Hissy Rishi", "Judas", "the traitor", "the Remainer's choice", a "sly assassin", a "Tory wet" promoting high taxes and the leader of a "coup" who "must be removed at all costs". Cruddas also retweeted claims about the financial affairs of Sunak's wife, Akshata Murty.
Tonight the peer said there had indeed been a "coup", adding: "I planned to donate a total of £500,000 this year but that is on hold and will not be paid unless the membership have a chance to vote on Boris being PM. I have no interest in Rishi who I deem to be not fit for high office due to his plotting and the orchestrated way he and others resigned to remove the PM." He also accused Sunak, 42, of setting up his leadership "before Christmas" and choreographing his resignation to inflict maximum damage.
The problem for Sunak is that such sentiment — especially the notion that he behaved improperly and cannot be trusted on the economy — is not confined to a fringe on social media. He might be the frontrunner but "Anyone But Rishi" reflects the opinion of Johnson and a coalition within the party. This includes cabinet ministers, staff inside Downing Street and Conservative Campaign Headquarters (CCHQ), Johnson's biggest donors, MPs opposed to higher taxes, and rivals for the leadership.
On July 22, The Telegraph's Christopher Hope added support for Boris's return and, in the meantime, addition to the ballot:
Tim Montgomerie, a former aide to Mr Johnson who has since been critical of him, said he had been told by sources close to the Prime Minister that he was convinced he would be back.
In a well-sourced post on social media, Mr Montgomerie wrote: "Boris is telling aides that he'll be PM again within a year" …
It comes as a row broke out among senior Conservatives about a campaign among party members to allow them a vote on whether Mr Johnson should continue as Prime Minister.
By Friday night, 7,600 members – all of whom have given their membership numbers – had signed a petition calling for the vote.
Lord Cruddas of Shoreditch, the former party treasurer who organised the petition, said "several MPs" had started to "make noises" about supporting his campaign …
Conservative MPs panicked:
The next day, The Times stirred the pot even more with 'Is Boris Johnson really planning another run at No 10?'
On Wednesday afternoon, moments after Liz Truss and Rishi Sunak were announced as the final two Conservative Party leadership contenders, a group of "red wall" MPs met on the House of Commons terrace to reflect on the result. "Is it too late to withdraw my resignation letter?" mused an MP, who held a junior ministerial role until the coup against Boris Johnson. "Shouldn't we just bring back Boris?" she said, leaving the question to hang in the air …
… Much like the Roman republic after Caesar's assassination, Whitehall is now riven by internecine warfare and a government paralysed by indecision …
For a man who just 18 days ago was brutally ousted from the job he has coveted his entire political life, Johnson appears to be living out his final days in Downing Street in a cheerful mood. Freed from the never-ending cycle of Westminster scandals, Johnson is relaxed and has spent the past few days hosting friends, relatives and other allies at Chequers and preparing a number of set-piece events leading up to his departure from No 10 in September …
Johnson, who allies claim remains furious with Sunak for his part in the coup, has sought to distract himself from the race to select his successor through media-friendly stunts …
Several MPs who helped oust Johnson have received a backlash from their constituents, stoking fears that they may face the same electoral retribution inflicted on Conservative MPs who ousted Margaret Thatcher. Backbenchers in red wall seats have been inundated with emails from voters who are furious at their role in ousting the prime minister.
They added that their postbag was filled with messages from newly converted Tory voters who have warned they will not vote for the party again now Johnson is gone. A colleague of Gary Sambrook, MP for Birmingham Northfield, claimed he had received hundreds of emails from constituents since he stood up in the Commons earlier this month and accused Johnson of refusing to accept responsibility for his mistakes …
Johnson leaves, aides say, with the air of someone with unfinished business. Whether this is the end of the Johnsonian project, or a precursor to his own Hollywood-esque sequel, remains to be seen.
On July 25, Christopher Hope wrote that the Boris petition had garnered 10,000 signatures:
Insiders say he is obsessed with delivering for the 14 million voters who voted Conservative in 2019, many for the first time because of him.
There are already stirrings of a revolt among the members. By Saturday night, 10,000 Conservative members had signed a petition organised by Lord Cruddas of Shoreditch, former Party treasurer, and David Campbell-Bannerman, former Tory MEP, demanding a say over his future.
The members want a second ballot to confirm MPs' decision to force his resignation, to run concurrently with the official leadership ballot between Liz Truss and Rishi Sunak.
That evening, Dan Wootton stated his belief that Boris's name should be on the members' ballot:
He asked his panel, which included Boris's father Stanley about it:
You can see relevant portions in these shorter extracts: Stanley supporting his son, Stanley verbally sparring with a journalist for the i paper as well as the opinion of former Boris adviser, Tim Montgomerie.
In the end, nothing happened. There was no Boris ballot.
Early this week, I heard one of the campaigners tell GB News that CCHQ are asking the organisers to do a sanity check on the signatories, confirming their Party membership number and clearing out any duplicates. If the number is still sizeable, CCHQ will discuss a possible changing of the rules for any future contests.
This is good news, in a way, but it will not help the Conservatives in the next general election. Boris's supporters are still angry.
Ukrainians
The Ukrainians will miss their biggest supporter.
They were saddened by his resignation:
Boris offered them his reassurance:
Volodymyr Zelenskyy even made a special announcement to the Ukrainian people about it:
Guido Fawkes wrote:
After leaving office Guido suspects Boris may end up reflecting more proudly on his work supporting Ukraine than even his Brexit legacy. Since the announcement of his resignation, Ukrainians have come out en masse to voice their sadness about his impending departure … Taking to Telegram late last night, Zelenksyy posted a touching video saying "Today, the main topic in our country has become the British topic – Boris Johnson's decision to resign as party leader and Prime Minister" …

Boris's hair has become a bit of an icon there (just as Trump's had in the United States). Guido has the images:
Boris's popularity among Ukrainians has already been well-reported since the outbreak of war. Streets have been named after him, as have cakes in a Kyiv patisserie. Yesterday Ukraine's national railways redesigned their logo to include an unmistakable mop of blonde hair, as did major supermarket Сільпо…
Boris once joked that the reason he'd left journalism for politics was because "no one puts up statues to journalists". It seems that, thanks to his efforts in Ukraine, he did manage achieved his wish for public deification – just not in the country in which he was elected…
On July 8, Ukraine's youngest MP made a video praising Boris:
Boris Johnson took a clear stand when so many others looked the other way.
In August, someone was inspired to paint a mural of Boris:
On August 24, Boris made his farewell — and surprise — visit to Ukraine on the nation's Independence Day:
Guido wrote:
Boris has made yet another surprise visit to Ukraine on its independence day — and the sixth month anniversary of its invasion. He used the visit, his last as PM, to announce a £54 million aid package to the country of 2000 state-of-the-art drones and loitering munitions …
Slava Ukraini…
Guido also posted this video:
GB News had more on the story:
Mr Johnson's visit came as Ukraine marked 31 years since its independence from Moscow's rule.
And it also came six months on from Russia's invasion of Volodymyr Zelenskyy's nation …
He said in Kyiv today: "What happens in Ukraine matters to us all.
"That is why I am in Kyiv today. That is why the UK will continue to stand with our Ukrainian friends. I believe Ukraine can and will win this war" …
The Prime Minister used his meeting with Mr Zelenskyy to set out a further package of military aid, including 2,000 drones and loitering munitions.
He also received the Order of Liberty, the highest award that can be bestowed on foreign nationals, for the UK's support for Ukraine.
Mr Johnson said: "For the past six months, the United Kingdom has stood shoulder-to-shoulder with Ukraine, supporting this sovereign country to defend itself from this barbaric and illegal invader.
"Today's package of support will give the brave and resilient Ukrainian armed forces another boost in capability, allowing them to continue to push back Russian forces and fight for their freedom."
The package includes 850 hand-launched Black Hornet micro-drones – smaller than a mobile phone – which can be used to provide live feeds and still images to troops, particularly important in urban warfare.
The support also includes larger drones and loitering weapons, which can be used to target Russian vehicles and installations.
The UK is also preparing to give mine-hunting vehicles to operate off the coast, with Ukrainian personnel being trained in their use in UK waters in the coming weeks.
Ukraine's ambassador to the UK Vadym Prystaiko marked the occasion by urging UK citizens to be "patient" as the war-torn country "cannot afford to lose your support".
He said: "You are playing a very important part in this fight. Ukraine will do what it takes to claim victory."
But will Britons continue to love Ukraine as much when the winter and higher fuel bills kick in?
Boris told us that we must do it, we must suffer, for Ukraine:
He has a point, but I do wonder how well this will play by the end of the year.
At least Boris got his Churchillian international claim to fame.
What next?
This week, Boris made a farewell tour of the UK, topped off with a dawn police raid of a house:
Guido has the video and explains the greeting:
This morning Boris accompanied the police on a home raid. Given we're now comfortably into the 21st century, it didn't take long for one of the occupants to realise the PM was in his home and film the experience, asking Boris 'wagwan'. Boris politely asked the filming resident "how you doing?". The Snapchatter could have at least offered Boris a cuppa…
It's rumoured that Michael Gove might be off to edit a newspaper:
Guido has the story and the audio of Gove's plans:
This morning Michael Gove laughed off the suggestion he's planning an imminent return to Fleet Street, insisting on the Today Programme he's "definitely planning to stay in Parliament" and won't be stepping down any time soon. Rumours have been building in SW1 that Gove had his eye on the editorship of, erm, one particular Murdoch-owned broadsheet, should a vacancy become available …
No, no. I think my first responsibility and duty is to my constituents in Surrey Heath. I'm going to stay on as MP, argue for them, and also argue for some of the causes in which I believe. I think it's vitally important that we continue to make the case for levelling up. I think Boris Johnson is absolutely right to focus on the need to provide additional support for overlooked and undervalued communities…
Gove added he still has "a reservoir" of affection for Boris despite being the only Minister the PM actually sacked in July. Boris is also rumoured to be sticking around until the next election. Could make for awkward small talk on the backbenches.
I predict they will stay on as MPs until the next election, just show up less often in the Commons.
As for Rishi, The Guardian said on Friday, September 2, that he was being compared with Michael Heseltine, one of the MPs who brought down Margaret Thatcher:
One of the most familiar refrains of the Conservative leadership contest was candidates earnestly inviting comparisons to Margaret Thatcher.
But after his resignation as chancellor brought down Boris Johnson's wobbling house of cards, a Tory insider said Rishi Sunak found himself with "the curse of Heseltine hanging round his neck".
Despite long having been talked of as a likely future prime minister, Sunak struggled to shed the parallel with the man who helped bring down Thatcher but failed in his own tilt at the top job – before coining the famous political cliche: "He who wields the knife never wears the crown."
I'll leave the final word to The Spectator's political editor James Forsyth, who muses on what politics will look like after Boris leaves:
His absence will reshape the political landscape because his presence defined it.
We will find out who Boris's successor is on Monday. The Guardian has a report on what we should expect:
The candidate who receives the most votes will be revealed on Monday by Sir Graham Brady, the chair of the 1922 Committee, a gathering of Conservative backbench MPs (not named after the average year of birth of its members but the year in which it was founded) …
The formal handover will take place on Tuesday. The Queen is recovering from the outgoing prime minister's tenure in her Scottish pile Balmoral and will appoint the new PM there, which will be a challenge as it requires the winner to leave Westminster.
Johnson is expected to make a farewell address outside 10 Downing Street at about 9am on Tuesday. It is not known whether he has written two versions of the speech, one based on staying, one based on leaving.
More next week as a new chapter in Conservative politics begins.
End of series
'No one is remotely indispensable'.
So were the words of Boris Johnson as he stood in front of Downing Street in the early afternoon of Thursday, July 7, 2022, to announce that he was standing down as Conservative leader. He said that he planned to stay on as Prime Minister until a new leader is chosen.
Boris's resignation speech
The Prime Minister's speech is just over six minutes long:
Knowing how quickly the leadership contests moved in 2016 (David Cameron to Theresa May) and in 2019 (May to Johnson), we are likely to see a new party leader in place before Parliament's summer recess. Regardless of what news outlets say, it no longer takes two or three months. The timing — i.e. summer resignations in all three cases — will accelerate because of recess.
Guido has the transcript of Boris's speech, excerpts of which follow (I've put in punctuation, paragraphs and emphases):
It is now clearly the will of the parliamentary Conservative party that there should be a new leader of that party and, therefore, a new Prime Minister and I have agreed with Sir Graham Brady, the chairman of our backbench MPs [the 1922 Committee], that the process of choosing that new leader should begin now and the timetable will be announced next week.
And I have today appointed a cabinet to serve – as I will – until a new leader is in place.
So I want to say to the millions of people who voted for us in 2019 – many of them voting Conservative for the first time — thank you for that incredible mandate, the biggest Conservative majority since 1987, the biggest share of the vote since 1979.
And the reason I have fought so hard for the last few days to continue to deliver that mandate in person was not just because I wanted to do so but because I felt it was my job, my duty, my obligation to you to continue to do what we promised in 2019, and of course I am immensely proud of the achievements of this government …
He went on to list Brexit, the coronavirus vaccine rollout, coming out of lockdown the earliest of any other Western nation and showing leadership with regard to Ukraine.
He clearly regretted that he had to stand down:
If I have one insight into human beings it is that genius and talent and enthusiasm and imagination are evenly distributed throughout the population but opportunity is not, and that is why we need to keep levelling up, keep unleashing the potential of every part of the United Kingdom. And if we can do that in this country, we will be the most prosperous in Europe.
And in the last few days I have tried to persuade my colleagues that it would be eccentric to change governments when we are delivering so much and when we have such a vast mandate and when we are actually only a handful of points behind in the polls, even in mid term after quite a few months of pretty unrelenting sledging, and when the economic scene is so difficult domestically and internationally. And I regret not to have been successful in those arguments and, of course, it is painful not to be able to see through so many ideas and projects myself.
But as we've seen at Westminster, the herd is powerful and when the herd moves, it moves and,
my friends, in politics no one is remotely indispensable.
And our brilliant and Darwinian system will produce another leader equally committed to taking this country forward through tough times, not just helping families to get through it but changing and improving our systems, cutting burdens on businesses and families and – yes – cutting taxes, because that is the way to generate the growth and the income we need to pay for great public services.
And to that new leader I say, whoever he or she may be, I will give you as much support as I can and, to you the British people, I know that there will be many who are relieved but perhaps quite a few who will be disappointed. And I want you to know how sad I am to give up the best job in the world, but them's the breaks.
I want to thank Carrie and our children, to all the members of my family who have had to put up with so much for so long. I want to thank the peerless British civil service for all the help and support that you have given, our police, our emergency services and, of course, our NHS who at a critical moment helped to extend my own period in office, as well as our armed services and our agencies that are so admired around the world and our indefatigable Conservative Party members and supporters whose selfless campaigning makes our democracy possible.
I want to thank the wonderful staff here at Number Ten and, of course, at Chequers and our fantastic protforce detectives – the one group, by the way, who never leak.
And, above all, I want to thank you the British public for the immense privilege you have given me.
And I want you to know that from now until the new Prime Minister is in place, your interests will be served and the government of the country will be carried on.
Being Prime Minister is an education in itself. I have travelled to every part of the United Kingdom and, in addition to the beauty of our natural world, I have found so many people possessed of such boundless British originality and so willing to tackle old problems in new ways that I know that even if things can sometimes seem dark now, our future together is golden.
Thank you all very much.
Boris delivered his speech in a normal, matter-of-fact way, which was good, especially given the circumstances.
Now that he has resigned from the Conservative leadership, some ministers are willing to come back into Government for the interim period.
As such, Boris held a Cabinet meeting at 3 p.m. today:
Those who read my post from yesterday will recall that I had not expected to cover this development until next week at the earliest.
However, yesterday afternoon into this morning was pure political carnage.
Wednesday, July 6
Junior ministerial resignations continued to pour in throughout the day, into the night.
Mid-afternoon, Boris held a second online meeting with Conservative MPs:
Guido has the story (emphases in red his):
In a sign of a continuing effort to hold on to his job, the PM has held a second meeting of Tory MPs in his parliamentary office, just 19 hours after his last meeting. Last night's turnout was said to be around 80 – today's turnout is said to have fallen to around 30. A loyalist MP spins that the PM was in a "buoyant mood and keen to get on with the job". Presumably he was just happy his PMQs slagging was over and done with…
Boris apparently pointed to polls narrowing to "about five points" and left his reduced coterie of supporters under no doubt that "he's going nowhere… no chance of stepping aside". We'll see what the 1922 Committee has to say about that this evening…
Guido's mole concluded that "Basically the current challenge is all about personality and not policy. It's a coup attempt before recess" The timetable observation is, at least, objectively correct…
At 3 p.m., Boris appeared for 90 minutes before the Liaison Committee, which is comprised of all the MPs who head Select Committees.
They grilled him on his performance and whether he would resign.
I've never seen anything like it. You can watch the proceedings using the link below:
These were the topics of discussion and the names of the MPs questioning him. Sir Bernard Jenkin chaired the session. Conservative MPs Tobias Ellwood and Jeremy Hunt might have their eyes on the leadership. Boris defeated Hunt in the 2019 contest:
All were brusque, including Bernard Jenkin, sadly.
That said, in May, Jenkin did write to the Leader of the House, Mark Spencer, to express his disappointment that some Government ministers were not appearing as scheduled before Select Committees:
The Liaison Committee were vipers. They were on the attack relentlessly.
Boris stood his ground. He reminded one MP that, in 2019, he had more than doubled the number of sitting Conservative MPs:
He also stated that he did not want another unnecessary general election when he had a clear mandate from the electorate to carry out. You can see how nasty Bernard Jenkin got in this short exchange:
Huw Merriman went so far as to send Sir Graham Brady, Chair of the 1922 Committee, a letter of no confidence during the session:
Meanwhile, Guido Fawkes and his team were busy updating Wednesday's list of resignations.
The 1922 Committee was — perhaps still is — considering a rule change allowing for more than a 12-month gap between votes of confidence in a Prime Minister. Pathetic.
Guido has the story (purple emphases mine):
There are some reports that the 1922 Committee may move in the next 24 hours-or-so to dispose of the PM. Bloomberg is reporting that "The Tory backbench 1922 Committee will meet at 5 p.m. Wednesday and will discuss changing the rules to allow another party-leadership ballot. If there is a majority opinion in favor, a ballot could be held as soon as next week." James Forsyth of the Spectator reports rule change or not, a senior committee member tells him "they now favour a delegation going to Johnson to tell him that it is over and that they will change the rules to allow another vote if he doesn't quit".
Guido's post has a list the 1922's executive members and whether or not they favour this rule change.
Later on, the 1922 decided not to change the rules — for now — because they will be holding their executive election on Monday, July 11:
Guido reported:
Surprisingly the 1922 executive has decided against changing the rules to allow a second vote of no confidence in the PM. Instead executive elections will go ahead on Monday, 2pm to 4pm. 
Critics of the prime minister are organising a slate of candidates who are expected to win a majority of places, given most backbenchers voted to oust Johnson in last month's vote. They are then expected to endorse a rule change.
During the afternoon, it was rumoured that the Chief Whip, Chris Heaton-Harris, was going to tell Boris that time was up.
Boris was hemhorrhaging support. The resignations were coming thick and fast from junior ministers. This is how it is done. The same thing happened when Labour wanted rid of Jeremy Corbyn as leader:
I used to like most of the Conservative MPs. Given what happened yesterday, I am not so sure anymore.
Those who have gone down in my estimation include former Equalities Minister Kemi Badenoch; Lee Rowley; Liam Fox; Red Wall MPs Dehenna Davison, Jacob Young and Jo Gideon; Ed Argar and former Welsh Secretary Simon Hart.
And that's not counting the rest of them that Guido has named, including those from Tuesday.
The only one I'm willing to give a pass to is Lee Anderson.
The hubris and hypocrisy got worse.
Attorney General Suella Braverman appeared on Robert Peston's show on ITV that night to announce her withdrawal of support for Boris. I really had expected better of her, especially as Peston has been anti-Boris for years. To add insult to injury, she went on to announce on his show that she would be running for leader:
Cabinet members visit Boris
Just before 5 p.m. a small Cabinet delegation visited Boris in Downing Street.
Guido wrote:
A Cabinet delegation of Nadhim Zahawi, Grant Shapps, Brandon Lewis, Simon Hart and Michelle Donelan are currently waiting in Downing Street to tell Boris the jig is up, and it's time for him to step down. Kwasi Kwarteng has also reportedly lost confidence. Beginning of the end…
Note Michelle Donelan's name in that list. Boris had just made her Education Secretary after Nadhim Zahawi moved into the Chancellor's role.
What did Michelle Donelan do? She resigned after 36 hours in the role:
Yes, of course, she got a pay out — one of £16,876.25:
The others got pay outs, too. I read that the total for ministers who resigned is over £120,000.
That's not a Conservative plan, by the way.
That's how the system works.
The caboose
Just before midnight, the final resignation of the day rolled in, that of Gareth Davies, making him the 35th that day. There were ten more from Monday as well as Michael Gove, summarily sacked. It's hard to disagree with the person comparing this to Trump:
Michael Gove
It was time for this duplicitous man to go. I never trusted him and never will.
When he turned from supporting Boris in the 2016 leadership campaign to start his own before supporting Theresa May, he stabbed him in both the front and the back.
One thing we have learned during Boris's premiership is that he — Boris — is one to forgive.
He made Gove part of his Cabinet in various high profile roles.
On Wednesday, Gove decided to tell Boris to resign:
Gove, most recently the Levelling Up minister, was conspicuous by his absence in the House of Commons. He missed Prime Minister's Questions:
News emerged at 9:30 that Boris sacked Gove — via a telephone call:
I will be very disappointed if Gove returns to a Government role. He is a Scot who, in my opinion, is too young at the age of 54 to appreciate the Union fully, and he does not have the Englishman's best interests at heart.
I've never heard him say anything about England other than to do away with English Votes for English Laws (EVEL) in 2021. As the then-Chancellor of the Duchy of Lancaster, he deemed it unnecessary in Parliament. It was a quick, quiet moment in the Commons. I do wonder why it went unchallenged by English MPs.
Yet, the English are the ones who have been overlooked the most over the past 25 years, beginning with Tony Blair, a quasi-Scot who pumped our Government and media full of many more Scots, e.g. Gordon Brown, to name but one. My apologies to Scottish readers, whom I admire greatly, but it is true.
Christian Calgie from Guido's team explains that Boris might have sacked Gove because, unlike the Cabinet secretaries who had descended upon him earlier, Gove allegedly told Boris to resign:
By the end of Wednesday, it became clear that Boris was not about to leave:
Guido reported:
Guido has had it confirmed by a PM ultra loyalist that Boris Johnson is not resigning tonight, and is understood to be planning a reshuffle. The news will spark further senior cabinet resignations…
According to reports, Boris sat down individual members of the Cabinet – including those involved in the coup – and cited his 2019 mandate, as well as the belief the government needs to spend the summer focusing on the economy and not a leadership election …
I watched four hours of analysis on GB News on Wednesday, beginning with Nigel Farage …
… and concluding with Dan Wootton, who had a great interview with Boris's father Stanley Johnson (see the 1 hour 15 mark, or, if the GB News clock shows, 10:21). Stanley is a big supporter of his son, which was heartening to see:
Thursday, July 7
Conservative ministers continued to resign en masse on Thursday morning, July 7.
Guido has a timeline of resignations and other events of the day.
Just before 9 a.m., Chancellor Nadhim Zahawi sent Boris a formal letter requesting his resignation.
Just after 9 a.m., Defence Secretary Ben Wallace — also thought to be a candidate for Conservative leader — tweeted MPs to say that they should make use of the 1922 Committee to get rid of Boris:
At 9:07 a.m., news emerged that Boris agreed to resign as Conservative Party leader. I agree that the next demand from the braying hypocrite hyenas in the media will be a call for a general election. Disgusting:
Guido reported:
Chris Mason has been told the PM has agreed with Graham Brady that he will resign, allowing a Tory leadership race to take place ahead of the Tory Party conference in October. A letter has been written. He'll quit as Tory leader today. Guido's frankly not sure how Boris can stay on for the summer with so many ministerial holes in his government…
Perhaps we can get by with fewer ministers, as someone said in Parliament this morning.
I hope that Boris's Cabinet meeting at 3 p.m. went well.
Not everyone has been happy with the coup so far. Former Conservative Prime Minister John Major is fuming. It's interesting he never reacted like that about David Cameron or Theresa May:
In brighter news, Boris's loyal friend from Ukraine rang him with his condolences and thanks:
1457: PM has spoken to Zelensky on the phone. Finished the call by praising him: "You're a hero, everybody loves you."
Yes, well, I wished our MPs loved Boris as much as President Zelenskyy does.
Ladies and gentlemen, this was a coup.
It was for a ridiculous reason, too: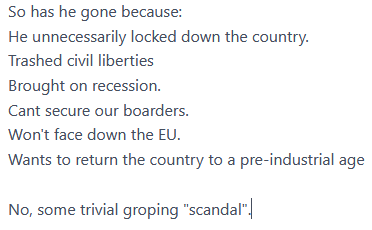 Don't forget: this was ALL ABOUT BREXIT.
More to follow next week.
On the first Thursday in May 2022, the UK will hold local elections.
It is unclear how well the Conservative Party will do, given sudden cost of living increases across the board, all of which occurred on April 1. Oh, were that this an April Fool joke. Sadly, it is all too real.
On April 3, Tim Stanley recapped the Conservatives' self-inflicted wounds for The Telegraph: 'The nannying Tories face oblivion if they refuse to get their priorities straight'.
Excerpts follow, emphases mine, except for Guido Fawkes's posts below:
The same day the gas bill doubled, it snowed. Oh, and restaurants were mandated to list calorie counts on menus. After 12 years in office, the Tories have gone from trying to fix the state to trying to fix us, so we'll be less of a shivery, fat burden on the bureaucrats. Don't eat, they advise; don't fly, don't drive, avoid using the heating. In fact, it would be helpful if we could stop existing altogether. The NHS would look good on paper if no one used it, and we'd have a zero per cent failure rate in schools if no one ever sat an exam.
As MPs take a break from Parliament this week, the Tories need to dwell on what they have actually done and what there is to do. This all hinges upon the question of who they truly represent. Considering they were elected to clear up the economic mess left by Labour, it's a bummer to note that debt is higher than under Gordon Brown, the tax burden rising and living standards crashing. We cannot blame ministers for a pandemic or a war, it's true, but the Conservative Party's solutions are near-indistinguishable from New Labour's, and the alternatives rarely aired. Last week, I sat in on the Treasury Committee's "grilling" of Rishi Sunak and the two points I never heard made were "you are spending too much" and "how dare you take my constituents' money to do it". The anger is not there. No party in Westminster stands for the consumer.
It was heartening to see that Stanley shares my impressions of parliamentary debate — virtue signalling, for the most part, including from Conservative benches:
This is not merely a crisis of philosophy, it is undemocratic. MPs are supposedly elected to do what their constituents want, but too many of them, as soon as they arrive in Westminster, are absorbed into a culture that has a uniform idea of what voters need, a total plan for life that runs from reducing carbon to dropping enough weight to fit into a size six dress (even better if you're a fella!). Half the debates are toe-curlingly pious nonsense that does the electorate no benefit except to reassure them that their MP is spectacularly compassionate – and the more laws you pass, goes the logic, the more money we splash, the more compassionate they appear to be. Ergo, the most important metric for success in 2022 is how much the Treasury is spending, not the results.
It's maddening to contemplate that nothing is ever done about situations past and present that affect many Britons:
Where to begin? The Ockenden report has stated that more than 200 babies and nine mothers might have survived were it not for failings at the Shrewsbury and Telford Hospital Trust. During the lockdown, the Government allocated around £37 billion for the deeply inefficient Test and Trace project. It lost £4.9 billion in loan fraud. Not one police officer has been sacked in relation to the Rotherham child abuse scandal. And the same Home Office that struggles to kick out foreign-born criminals finds it strangely difficult to let in Ukrainian women and children.
And we're paying for this incompetence, while an independent body that Labour created years ago just gave all MPs a 2.7% pay rise:
You are paying for all this, and likely paying more thanks, despite [Rishi] Sunak's tinkering, to a combination of National Insurance changes and inflation dragging people into ever higher tax bands. The Chancellor, in his munificence, says he plans to cut income tax in 2024, which means the British government is now handing out IOUs. At the same time, he is also bunging us £200 to help with the electricity bills, a sum that the state will reclaim at a later date, which means it's also entered the habit of writing "UOMes". MPs are getting a wee grant of their own. Their salaries will rise by 2.7 per cent, or £2,212.
The Government has become more intrusive and we have less money in our pockets:
… thanks to Covid, the public sector has been calling the shots since 2020, while the burden of wealth and power has shifted decisively away from the individual. Does this feel like a freer society than 12 years ago? Or a happier one? Paranoia and suspicion are not only widespread but encouraged (adverts on the London Underground now warn against "staring"), and privacy is dead. I can remember when we were told to protect our data. Now, just to take a train to Belgium, I have to prove my vaccine status by downloading the NHS app, send it a photo of my driving licence and record a video of my face reciting a series of numbers. Do I trust the NHS will delete all this information once used? Bless you. I'd sooner invite a rabid fox to babysit the chickens …
Voters, in the eyes of far too many, are spreaders of disease or pollution (in the opinion of some of the old ladies who glue themselves to roads, we ought even to stop breeding), and pockets of money waiting to be tapped.
What is a truly conservative concept of government?
… the old-fashioned principle of offering us the best possible service at the lowest possible price …
Small government doesn't mean "no government" but more efficient government – more effective precisely because it limits itself to a narrower range of tasks at which it can excel. Drawing a line under the Trimalchio's feast of a Spring Statement, the Tories must spend the time they have before the next election peeling back the bureaucracy where it is not needed, passing the benefits on to the people who have been robbed to pay for it, and coming up with creative ways to encourage the private sphere to revive. I don't just mean conjuring up new markets in insurance or energy, but also unleashing culture and technology, faith and family, the very things that make life worth living.
Bravo!
Ultimately, Stanley says:
The paradoxical goal of conservative politics is to make politics less important in everyday life, and while it might sound hopelessly idealistic to expect powerful people to surrender power, unless the Tories try to reduce the state, they will eventually lose office altogether. The time will come when voters finally snap, and take it away.
Let us look at a few more news items on this subject.
A week or two ago, someone sent in a letter to The Telegraph illustrating how much the Government is taking in tax. This is an alarming practical example: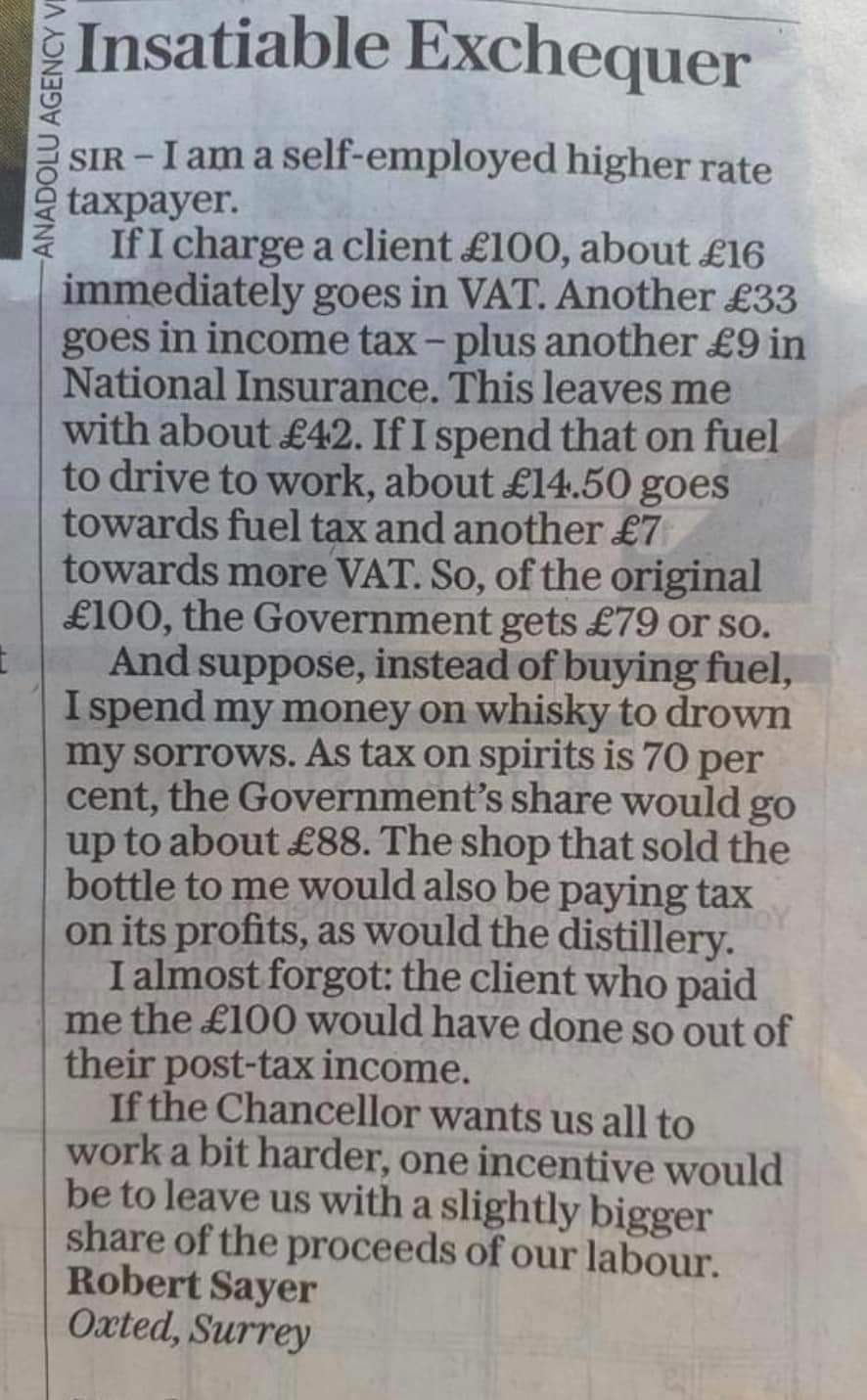 Now let's look at Net Zero, the Government's pet project, initiated by then-Prime Minister Theresa May.
This is a practical illustration of the folly of electric cars, written by conservative columnist and broadcaster Iain Dale for The Telegraph:
Back in November, I acquired an electric car, something I never thought I would do … I calculated it would save me thousands of pounds every year … 
On Friday night, I was invited to speak to Beverley and Holderness Conservatives. The main difference when you drive an electric car on a long journey is that you have to plan. In my old car, I could drive 600 miles without filling the tank, but if I ever nearly ran out of diesel there was always a petrol station around the corner.
The equivalent is not true if you have an electric car. You have to plan your journey using apps such as Zap-Map, which tell you where the charging points are, and whether they're being used, or working. I got to Beverley OK, having recharged the car at Donington Park services on the M1, which has a few charging points. Some motorway services don't have any.
The return journey proved to be a disaster. I left Beverley at 9am and arrived home in Kent at 7.45pm. A journey that should have taken four hours lasted an astonishing 10¾. It was a day completely wasted. The problem was that the three fast chargers in Beverley were either in use or didn't work. So I had to use slow chargers to get to the next fast charger, which was 50 miles away. Range anxiety is a real phenomenon. The whole time you're looking at the screen in front of you, wondering if you will run out of charge before you reach the next charger. And then what?
This week, [Transport Secretary] Grant Shapps announced a target of 300,000 more chargers across the country by 2030, the year when the Government says it will ban the sale of new petrol and diesel powered cars. Fatally, he's left it to local authorities to make sure the roll-out happens. Mark my words, it won't. Not without national direction.
My advice is this. If you only do relatively short journeys, then buying an electric car is a good decision. If you regularly travel more than 150 miles, it isn't. In my experience, the car manufacturers lie about the expected range. My electric car is supposed to do 298 miles. The reality is that it does 206, or 215 if the weather is warm. Caveat emptor.
In other news, the price of milk is set to rise by 50%. The Telegraph reports that crisis talks with EU and British dairy farmers took place in Brussels last week:
Rocketing costs from feed, fertiliser and fuel have stoked fears in the industry of a surge in milk prices not seen in decades.
The cost of four pints of milk will jump from around £1.15 to between £1.60 and £1.70, an increase of up to 50pc, according to Kite Consulting, the UK's leading adviser to dairy farmers.
Michael Oakes, the dairy board chair of the National Farmers' Union, agreed that milk prices will likely rise by as much as 50pc.
John Allen at Kite said a 30-year period of low milk price rises is "coming to an end now" as costs surge on multiple fronts. He expects a typical pack of butter to rise from £1.55 to more than £2.
He said: "What is of concern at present is processors are getting inflationary costs as well and also we are short of milk around the world."
Dairy industry bosses from the UK and elsewhere in Europe flew into Brussels at the end of last week with talks led by Eucolait, the continent's leading dairy industry group. Dairy processors, which act as a link between farmers and shops, are said to be deeply concerned about soaring costs both at farm level and further up the supply chain, as the war in Ukraine lifts key input costs …
UK dairy industry bosses have raised concerns over their costs to the Government, but officials at the Department for Environment, Food and Rural Affairs (Defra) are said to be merely in "listening mode" …
Mr Oakes, who is also a farmer, said: "I was paying about £7,000 for an artic [articulated lorry] load of fertiliser, and this year it's £28,000. It would have been a little bit less before Ukraine happened, but it made another big jump because we'd already seen higher gas prices, which have implications for fertiliser costs …
He added that feed costs have risen 60pc.
As if all that isn't enough to worry voters, we have the Online Safety Bill passing through Parliament. Guido Fawkes tells us what is happening as Ofcom, the communications regulator, prepares for the not-so-distant future:
Scary.
Guido's accompanying post says, in part:
According to Melanie Dawes, the newly-appointed CEO of Ofcom, the quango will increase headcount by 400 staff ahead of new powers to police the internet in the Online Safety Bill, which will be voted on in Parliament after Easter. That's a lot of censors…
Ofcom will have Putin-style powers to block websites from being seen in the UK if those sites fail to uphold their new legal duty of care to remove "harmful content". The definition of "harmful content", of course, will be a political question. Will questioning hurtling towards net-zero whilst millions are in energy poverty be deemed harmful content? …
Ofcom's Melanie Dawes told Times Radio:
We've got some tough and strong tools in our toolkit as a result of this legislation. And I think we need those. …These very strict and somewhat draconian kinds of sanctions are really only the sort of thing that you would expect to use as a serious last resort.
If you don't accept self-censorship and comply, your website will be blocked. Chilling.
Then we found out at the weekend that the civil servant in charge of ethics was at a lockdown party.
The Times's Patrick Maguire reported:
Were this a plot point in a satire, it would feel much too lazy for any self-respecting reader to get behind. But here we are: the official who was then in charge of ethics on Whitehall has been fined for her attendance at a lockdown-busting karaoke party.
As the first major name to have been revealed to have received a fixed penalty notice, Helen Macnamara — then the government's head of propriety and ethics, now in the business of neither as director of policy and corporate affairs at the Premier League — is surely a sign of things to come.
For confirmation of her attendance at a leaving do in the Cabinet Office in June 2020 — at a cost of £50 — is a sign that it wasn't just the junior, nameless and faceless who breached Covid restrictions at the heart of government over that fateful period, as Boris Johnson would much prefer to be the case.
Meanwhile, Scotland Yard is also said to have told people who attended a No 10 party on April 16 last year, the day before Philip's funeral, that they would be given fixed penalty notices: conclusive proof at last that the law was broken in Downing Street itself.
The PM did not attend either do, but the slow burn of revelations from the Met's investigation is hardly ideal, particularly with elections just over a month away.
"I have 65,000 constituents in west Wales, where I represent, and they are not shy in coming forward and expressing a view about this and a number of other subjects," Simon Hart, the Welsh secretary, told Sky News this morning.
"And throughout all of this saga of the Downing Street parties they have said one thing very clearly, and in a vast majority they say they want contrition and they want an apology, but they don't want a resignation."
The bigger risk, looking at the polls, is that they don't want to vote Tory…
However, there are two bright rays of sunlight in an otherwise cloudy day.
The first is that London's position as the second most important financial centre in the world is holding steady, as The Telegraph reported on Monday, April 4:
London remains Europe's dominant financial centre based on factors such as (relative) political stability, labour market flexibility, quality of life, infrastructure and innovation, a ranking by think tank Z/Yen Group found last week. It was ranked second only to New York globally, while Paris came in at 11th place.
The second is that Volodymyr Zelenskyy still appreciates all of Boris Johnson's efforts for Ukraine. He is contemptuous of Emmanuel Macron and Angela Merkel, as Guido reports:
Guido has the video of Zelenskyy praising Boris:
Zelenskyy's said the UK has "agreed on new defensive support for Ukraine. New package. Very, very tangible support," adding "Thank you Boris for the leadership! Historical leadership. I'm sure of it". 
It's too bad that Zelenskyy cannot campaign for Boris's Conservatives. They could use his help.
On Tuesday, March 8, 2022, President Volodymyr Zelenskyy made British history by becoming the first world leader to address Britain's Parliament in the House of Commons, with members of the House of Lords in the public gallery.
Zelenskyy's video address was remote. He ran through a brief daily diary of what happened on each day of the conflict thus far. He also quoted Shakespeare and Churchill. He also appeared to ask for a no-fly zone, which Britain rightly opposes.
Not surprisingly, the former actor earned a standing ovation and a huge round of applause. Applause is normally taboo in Parliament, but extraordinary times call for extraordinary gestures.
Guido Fawkes was quick to direct readers to The Sun's live link to the address, which took place at 5:05 p.m. that day:
Here is the full address:
Speaker of the House Sir Lindsay Hoyle posted the address on Twitter:
GB News has the highlights (emphases mine throughout, except for Guido Fawkes's post):
Addressing the House of Commons via video link, Ukrainian President Volodymyr Zelensky said "we do not want to lose what we have, what is ours, our country Ukraine".
According to the English language translation on Parliament TV, Mr Zelensky said: "Mr Speaker, all the Members of Parliament, ladies and gentlemen, I am addressing all the people of the United Kingdom and all the people from the country with a big history.
"I am addressing you as a citizen, as a president, of also a big country, with a dream and big effort.
"I would like to tell you about the 13 days of war, the war that we didn't start and we didn't want. However we have to conduct this war, we do not want to lose what we have, what is ours, our country Ukraine."
Invoking Britain's wartime leader Winston Chruchill, Mr Zelenskyy told MPs: "We will not give up and we will not lose. We will fight to the end, at sea, in the air, we will continue fighting for our land whatever the cost.
"We will fight in the forest, in the field, in the shores, in the streets.
"I would like to add that we will fight on the banks of different rivers… and we are looking for the help of the civilised countries."
Concluding his speech to the Commons, Volodymyr Zelensky thanked Boris Johnson by name and called on the UK for more support.
Speaking through a translator provided by Parliament TV, he said: "We are looking for your help, for the help of Western counties.
"We are thankful for this help and I am grateful to you, Boris.
"Please increase the pressure of sanctions against this country (Russia) and please recognise this country as a terrorist country.
"Please make sure sure that our Ukrainian skies are safe.
"Please make sure that you do what needs to be done and what is stipulated by the greatness of your country.
"Glory to Ukraine and glory to the United Kingdom."
The Times's Quentin Letts wrote a parliamentary sketch, complete with photos, about the atmosphere in the Commons when 'the Honourable Member for Kyiv' spoke:
Not all of us were given earphones to listen to the simultaneous translation of President Zelensky's speech to the Commons. Didn't matter. Instead of following what he said, one could see how he said it and the impact it had on a hushed house. There would be time afterwards to read the content. Some words, anyway, need no translation. "Bombe". He kept saying it. "Bombe, bombe, bombe", metronomic and deadly. And we all surely now had enough Ukrainian to comprehend Zelensky's husky, closing words, "glory to Ukraine, glory to Britain".
This dispatch from the jaws of hell, in the gathering gloaming of a March afternoon, knocked his audience for six.
One Labour MP afterwards reckoned Zelensky was the leader of the western world. At what a cost. The applause when his unshaven, weary face first appeared on the two overhead television screens (erected for the occasion) was almost martial in its ferocity. The chamber's galleries were packed with members of the House of Lords. Hundreds of 'em!
Never before in our long parliamentary history, noted Boris Johnson, had there been a moment like it. Foreign leaders sometimes get to speak to assembled parliamentarians in Westminster Hall or in a gallery at the Lords. Never do their words smack home like those of the Hon Member for Kyiv Central. He had been given a chance to enter the very cockpit of our legislature. The fact that he was doing so live from a capital city under mortal threat from Russian rockets lent the moment extraordinary force.
"You have the floor, president," said Speaker Hoyle. Thus it began: a worn, almost croaky delivery, delivered from behind a desk with his flag at his side, its silks a contrast to the drabness of his khaki T-shirt. In Ukraine, an exhausted but defiant statesman was fighting for his people. In Moscow his enemy was no doubt cackling in scorn.
Johnson frowned sombrely on the front bench as he listened through his headset to the urgent words. Occasionally the PM growled and nodded in agreement with what Zelensky was saying. There was a ripple of approval when he invoked Shakespeare. Ukrainians faced a question: to be or not to be. They were opting for the former …
… there was something tremendously affirming about this short occasion. "I want to express the solidarity of the House of Commons with you," said Hoyle afterwards, and there was a unified shout of agreement from the chamber and its galleries.
The Mail's Jan Moir was equally effusive. Admittedly, it was a moving, short address:
What an incredible, historic, electrifying moment of unity inside the House of Commons. 
No foreign leader has ever addressed MPs in the chamber before, yet here was President Volodymyr Zelensky being punched in from Kyiv straight into the heart of Parliament on specially installed screens.
A full house of MPs, many of them wearing Ukrainian ribbons, gave him a standing ovation before he uttered a single word.
Speaker Lindsay Hoyle, who welcomed the president, was even wearing a striped blue and yellow tie of solidarity; neatly knotted, deeply touching …
Mr Zelensky seized Churchill's soaring rhetoric of wartime defiance to illustrate the resolve of his country and his people …
Who could have imagined that here in the seat of our democracy, where those very words were first spoken just over 80 years ago, that a European leader would be using them again in deadly seriousness?
Two weeks ago it seemed inconceivable, now here we are …
The president's manner and voice were forthright and composed as he detailed the evil that has befallen Ukraine, but his briskness was not intended to dilute the horror, quite the opposite.
No MP could have been left unmoved when he talked of 'the children who have been killed, the children who could have lived, but were taken away from us'.
Mr Zelensky gave his address sitting behind a desk. As usual he was simply dressed in an olive green T-shirt; perhaps part of a combat outfit, perhaps not.
He wears no insignia, no medals, none of the terrible pomp of war.
'I'm one of you,' is what these clothes say to his countrymen, to our MPs – and to us.
'We are looking for your help, the help of civilised countries,' was his simple, powerful entreaty to the Commons yesterday.
Let us hope we do not let him down. 
Interestingly, Ukranians are very pro-Boris. After their own leader, Prime Minister Boris Johnson comes second in popularity:
Guido's post says that the UK is also Ukraine's most popular ally. Excellent news:
The poll conducted by US outlet Cyngnal finds Boris's net approval rating in Ukraine is second only to that of Zelenskyys, and is well ahead of Biden and Sholtz.
Zelenskyy: +79%

Boris: +49.6%

Biden: +25.8%

Scholz: +23.4%

Xi Jinping: -19.4%

Putin: -86.7%
The UK also stands as the most popular ally in all this, 14 points ahead of the EU and 23 points ahead of the US:
: 56%
: 42.2%
: 33.3%

Nato: -16.8%
Guido asks:
will Boris be the new baby name de jour of Ukraine when all this is over?
The day before Zelenskyy's address, his brave men managed to halt a Russian takeover of Kyiv. However, the day after, March 9, Russians destroyed a maternity hospital in Mariupol, on the south coast. The ports there are Putin's focus.
Last week, I heard a commentator on television say that Putin might adopt Stalin's practice of using cannon fodder for the opening days of the conflict before bringing in specialist troops and armaments. That sounds about right.
When Zelenskyy was elected to Ukraine's top job in 2019, we all thought he was going to root out endemic corruption in his homeland.
This thread from April 23, 2019, two days after his election, has more on the man and his mission. It also lists the Democrats who were involved with the corruption of Zelenskyy's predecessor. It's an interesting read, albeit a bit optimistic at the time.
Readers living in the UK and Ireland might wish to view the enormously popular television series that Zelenskyy starred in: Servant of the People, which is on Channel 4's All 4. The first three episodes are available now.
Incidentally, Zelenskyy named his political party after the show.
The Times has a review of the series, noting how life imitates art. They gave it four stars:
It feels grotesquely surreal writing a review of Volodymyr Zelensky's sitcom Servant of the People at the very moment he is fighting for the survival of his country and fending off Vladimir Putin's assassination attempts (three so far and counting).
It makes it almost unbearable to watch this personable, talented, charismatic man, whose very facial expressions and posture are comedic, knowing the hell he and his people are enduring. Just as it is heartbreakingly poignant to see his character Vasyl Petrovych Holoborodko, a history teacher, cycling around sunny, bustling Kyiv, its people going freely about their business, with Ukraine's buildings still intact.
No less surreal is watching how life spectacularly imitates art. Servant of the People is about an ordinary man who accidentally becomes president of Ukraine when one of his history pupils secretly videos his rant about corrupt politicians, their pay, "their corteges and their summer homes" (anyone in particular this might relate to?) becomes so popular it goes viral. "We're choosing between two bastards!" he rails …
… it is good that Channel 4 has decided to broadcast the series, with subtitles, from Sunday, partly because it will increase Zelensky's popularity even further, which will annoy Putin, and partly because it is very good. Zelensky has, as they say, funny bones and the premise is a droll way to satirise the absurdity and degeneracy of politics.
… As a humble teacher still living with his parents in a flat, wearing a white vest and struggling to pay his loans, Vasyl had little respect from anyone. He faces the sack for his rant. But the second he becomes president the entire country fawns, the bank mysteriously writes off his debts and his adviser offers him a watch "like Putin wears".
The second episode also features a rather good Putin lookalike, so the surreal moments just keep rolling in. You may not feel much in the mood for comedy but it really is worth watching. Not least because it reminds, in fiction and fact, that "non-politicians" can make great leaders.

I could not agree more.
We had another 'non-politician' who was a great leader on the world stage not so long ago; unfortunately, The Times didn't seem too taken with him.
I haven't watched Servant of the People yet but intend to do so soon.
Meanwhile, let's keep Ukraine in our thoughts and prayers. Our Lord said that faith the size of a mustard seed can move a mountain and that nothing is impossible (Matthew 17:20). Who are we to doubt Him?
Everyone laughed in 2019 when comic actor Volodymyr Zelenskyy was elected as Ukraine's president.
The following thread explains why he won:
Zelenskyy, 44, has a Law degree and speaks fluent English. Prior to entering politics at the most senior level, he starred in Ukraine's hit television show, Servant of the People, which he also created and produced.
The following clip comes with a bit of choice language which perfectly expresses his frustration as a teacher who, as a taxpayer, has to fund corrupt politicians. The teacher then runs for president of Ukraine — and wins. Life imitates art.
And, yes, Zelenskyy can dance, too:
His wife, Olena Zelenska, also 44, trained as an architect at university. However, she became a writer for his comedy troupe instead. As first lady, she has graced the cover of the Ukrainian version of Vogue twice.
The Zelenskyys met at university. They are parents to a son and a daughter.
Zelenska was initially opposed to her husband's intention of running for president, but, as the Daily Mail reports, gave up her objections and joined him on the campaign trail. She now accompanies him on his many engagements:
When her husband first told her of his plans to leave his career to run for president, she said publicly that she was 'aggressively opposed' to the 'project'.
And yet, when the time came for him to campaign, Olena dutifully appeared by his side for photo ops and campaign speeches. Now, less than three years after Zelensky's landside victory, the mother-of-two has fully embraced her role as a First Lady on the global stage. 
She accompanies her husband on his engagements and is forging her own career as a First Lady of action, using her influence and position to champion causes including childhood nutrition and gender equality. 
The couple visited Buckingham Palace in 2020, warmly received by the Duke and Duchess of Cambridge.
Today, while Zelenskyy is fearing for his life and fighting off the Russian Bear, his wife is busy keeping up Ukrainian resolve:
Now Olena is once again rising to the challenge and has remained a steadfast support of her husband in the face of Putin's aggressions. Despite being personally at risk, the couple have chosen to remain in Kyiv. 
Sharing a photo of the Ukrainian flag on Instagram on Friday, she wrote: 'My dear people! Ukrainians! I'm looking at you all today. Everyone I see on TV, on the streets, on the Internet. I see your posts and videos. And you know what? You are incredible!
'I am proud to live with you in the same country! It is said that many people are a crowd. This is not about us. Because many Ukrainians are not crowds. This is an army!
'And today I will not have panic and tears. I will be calm and confident. My children are looking at me. I will be next to them. And next to my husband. And with you. Love you! I love Ukraine!'
Yesterday she shared a photo of a baby born in a Kyiv bomb shelter, along with the rousing message: 'This was to take place in completely different conditions, under peaceful skies. It is what children should see.
'But the main thing is that despite the war, there were doctors and caring people on our streets next to her. She will be protected and defended.
'Because you are incredible, dear compatriots! In those two days, you all became an army. In the subway, bomb shelters, with children and pets (because you don't leave younger brothers either) – you do your job, you have time to take care of others, to help each other.
'Get together on social media to protect homes and help lonely neighbors. Offer your home to those who need shelter. You prepare food for the terrorists and sign up for it yourself. Donate blood for soldiers and victims. Report the movement of enemy vehicles.
'And, of course, you are helping the Armed Forces, which are fighting on all fronts. For days, you can spend "eSupport" money to help the army (this can be done in the "Action" application). We are the army, the army is us.
'And children born in bomb shelters will live in a peaceful country that has defended itself.'
In related news, Prime Minister Boris Johnson, who has spearheaded an international effort — yes, including the US — to help Ukraine, appeared at the Ukrainian cathedral in London's Mayfair on Sunday evening, February 27:
He lit a candle and gave a short, supportive address to the congregation:
The next two tweets have the content of his address:
When Boris finished, the Ukrainians gave him a standing ovation:
It is touching to see how much they appreciate Boris. I wish more Britons saw him in a better light.
That said, Boris's ratings have gone up this week, thanks to his action on Ukraine, no doubt. For the first time in a few months, he's back on level pegging with Labour's Keir Starmer:
On Wednesday, March 2, the Ukrainian ambassador was a guest in the House of Commons gallery for Prime Minister's Questions. After the Speaker of the House, Sir Lindsay Hoyle, told MPs of their guest, the whole House rose and gave the ambassador a standing ovation, accompanied by spontaneous applause — normally forbidden in the Chamber, although Sir Lindsay said that, on this occasion, it was certainly warranted:
Nearly every MP is wearing Ukrainian ribbons or a UK-Ukraine lapel pin.
This is a great image; I don't know who made it: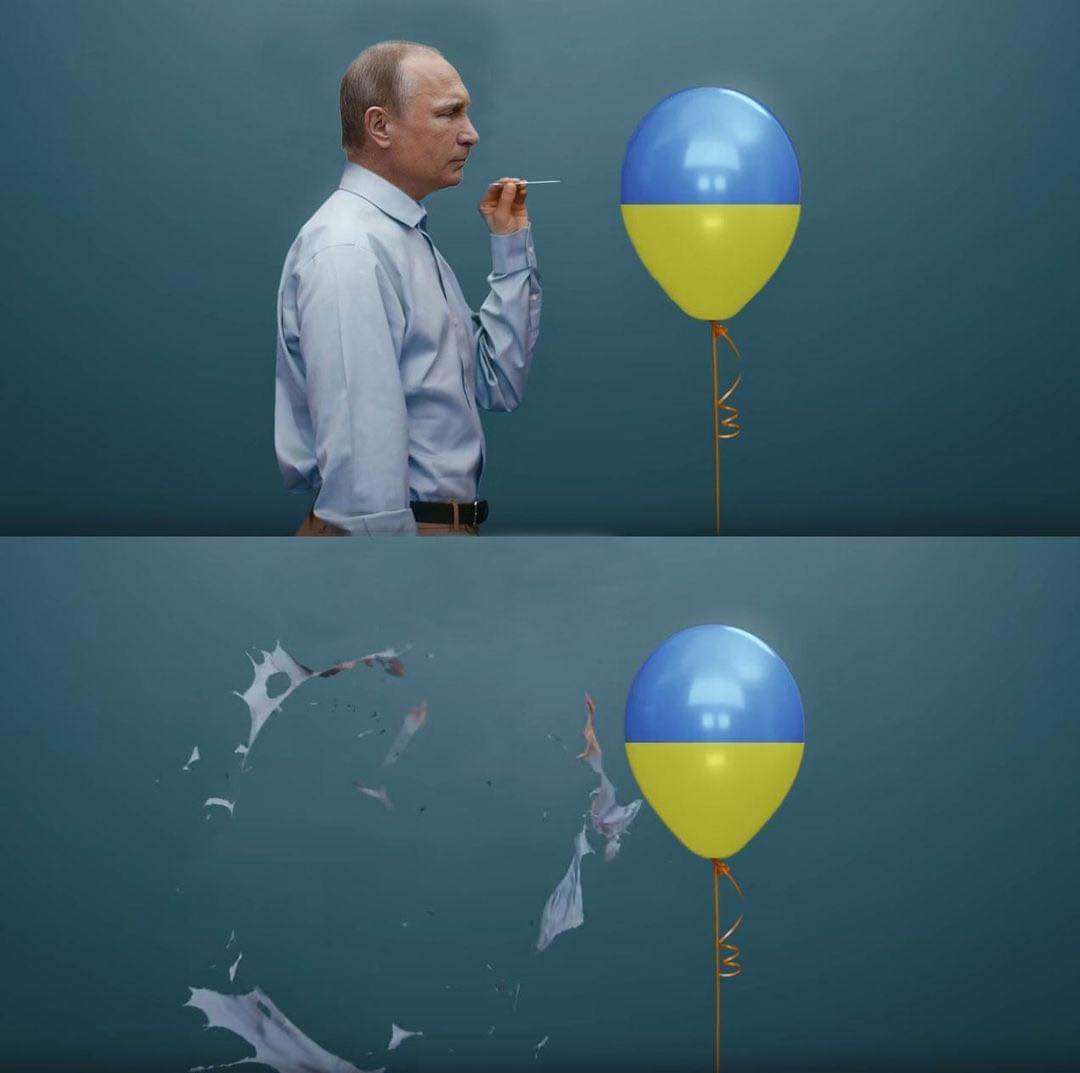 Together, let's hope that we can help Zelenskyy and his countrymen make Putin go pop.