You are currently browsing the tag archive for the 'Wales' tag.
With the late Queen's casket in London, those who wished to pay their respects at Westminster Hall began to queue.
This post covers the events of Wednesday, September 14 and Friday, September 16.
Parliament and commerce act 'out of respect'
Some rather unusual developments in Parliament and elsewhere in the United Kingdom occurred, notionally 'out of respect' for the late monarch.
On Tuesday, September 13, Guido Fawkes posted a tweet about a fire drill for Tuesday, September 20, that would be turned into a virtual one, as it was 'too close to Her Majesty the Queen's funeral', which took place on the 19th:
In Parliament, two female MPs — one Labour, one Conservative — decided to stop working 'out of respect':
Guido's post conveyed the absurdity of it all. Note the first paragraph in particular (emphases his):
The Queen's passing led many across the country to suspend their duties as a mark of respect over the weekend: the Met Office stopped reporting the weather, the football was called off, and the Bank of England delayed its decision on interest rates for a week, Norwich council have stopped residents locking up their bikes, and Wetherspoons has reportedly stopped selling condoms in its loos*. All as Her Majesty would have wanted.
A few MPs are also throwing themselves into a period of mourning. Both Victoria Atkins and Alex Davies-Jones closed their offices on Friday. "Out of respect" for the sovereign…
Alex Davies-Jones (Labour) was first. She left a Facebook message.
Victoria Atkins (Conservative) followed suit, also via Facebook.
Guido posted the messages and followed up:
This morning Davies-Jones clarified that her constituency office had "only closed on Friday out of respect for HM The Queen's sad passing", and is now open. If you're a constituent of Victoria Atkins and you haven't heard from her since Friday, though, you can probably assume your problems have been sent to the "non-urgent" pile. Presumably neither MP will be forgoing last Friday's salary as a similar mark of respect…
*Guido remains sceptical about the truthfulness of this tweet…
More followed from the Palace of Westminster.
IPSA — the Independent Parliamentary Standards Authority — the independent body that regulates and administers the business costs and decides the pay and pensions of the 650 elected MPs and their staff in the UK, announced a delay in publishing MPs' expenses because the Queen had died:
Guido recalled that something similar happened nearly a year ago after the murder of Sir David Amess MP:
This latest nonsensical expression of sympathy with His Majesty the King's recent bereavement comes just days after Guido revealed two MPs had suspended "non-urgent" casework as a mark of respect. IPSA's move also comes almost a year after they stopped publishing MPs' expenses details in the wake of Sir David Amess's murder. It's almost like they're looking for any excuse…
Everyone knew there was going to be a long queue for four days in order to see the Queen lying at rest in Westminster Hall. The queue was quickly dubbed the Elizabeth Line, which is a nod and a wink to London's Crossrail route of the same name which the Queen opened in May 2022. It was one of her last public appearances.
The public were angry over arrangements for MPs, peers and some parliamentary staff to get priority and to bring at least one guest to Westminster Hall while everyone else — including MPs' staffers — would have to queue, day and night, for many hours. Guido's tweet below received a lot of angry responses:
Guido posted the official instructions and said:
The parliamentary staffer squabble over the Queen's Lying-in-State is about to get worse. Despite rumours that Commons Leader Penny Mordaunt is reviewing the decision to ban MPs' staffers from skipping the queue, a new announcement on the parliamentary intranet reveals those who already have priority access – including grey passholders such as cleaners and cooks – are now even allowed to invite a guest as they pay their respects …
MPs and Lords are entitled to up to four guests; grey passholders are allowed one. Staffers, many of whom have a not dissimilar sense of entitlement, will have to queue up for 20 hours like everyone else. Unless they make friends with a priority attendee pretty quickly…
I do not know how that ended.
Meanwhile, the Royal Family, particularly the King and Queen Consort, were undertaking daily engagements around the country.
Speaking of the Royal Family, some staff at Clarence House, which, for a while, continues to be the residence of King Charles, received redundancy notices while he and the Royal Family were in Edinburgh.
On September 13, The Guardian reported (purple emphases mine):
Dozens of Clarence House staff have been given notice of redundancies as the offices of King Charles and the Queen Consort move to Buckingham Palace after the death of the Queen, the Guardian has learned …
Private secretaries, the finance office, the communications team and household staff are among those who received notice during the thanksgiving service for the Queen, at St Giles' Cathedral in Edinburgh on Monday, that their posts were on the line.
Many staff had assumed they would be amalgamated into the King's new household, claiming they were given no indication of what was coming until the letter from Sir Clive Alderton, the King's top aide, arrived. One source said: "Everybody is absolutely livid, including private secretaries and the senior team. All the staff have been working late every night since Thursday, to be met with this. People were visibly shaken by it."
In his letter, seen by the Guardian, Alderton wrote: "The change in role for our principals will also mean change for our household … The portfolio of work previously undertaken in this household supporting the former Prince of Wales's personal interests, former activities and household operations will no longer be carried out, and the household … at Clarence House will be closed down. It is therefore expected that the need for the posts principally based at Clarence House, whose work supports these areas will no longer be needed."
That said, staff will receive assistance in finding other posts:
Staff who are made redundant are expected to be offered searches for alternative employment across all royal households, assistance in finding new jobs externally and an "enhanced" redundancy payment beyond the statutory minimum.
A Clarence House spokesman said: "Following last week's accession, the operations of the household of the former Prince of Wales and Duchess of Cornwall have ceased and, as required by law, a consultation process has begun. Our staff have given long and loyal service and, while some redundancies will be unavoidable, we are working urgently to identify alternative roles for the greatest number of staff."
However, former Royal Butler Grant Harrold told GB News at the weekend that staff contracts state they are in the employ of specific members of the Royal Family, e.g. Prince/King Charles. Therefore, most staff know that they might not have jobs for life.
The same thing happened when the Queen Mother died in 2002:
When the Queen Mother died, the Duke of York took over Royal Lodge at Windsor. While some of her 83 members of staff were redeployed within other royal households, others were let go.
The Guardian also reported that King Charles will not be paying inheritance tax as those assets are surrendered to the Government in return for a sovereign grant to the Royal Family:
King Charles will not pay tax on the fortune he has inherited from the late Queen, although he has volunteered to follow his mother's lead in paying income tax.
Under a clause agreed in 1993 by the then prime minister, John Major, any inheritance passed "sovereign to sovereign" avoids the 40% levy applied to assets valued at more than £325,000.
The Crown Estate has an estimated £15.2bn in assets, of which 25% of the profits are given to the Royal Family as the sovereign grant. The estate includes the royal archives and the royal collection of paintings, which are held by the monarch "in right of the crown".
These assets cannot be sold by the King and they are in effect surrendered to the government in return for a grant. The government's guidance concludes that it would therefore be "inappropriate for inheritance tax to be paid in respect of such assets".
Separately, Charles also inherits from the Queen the Duchy of Lancaster, a private estate that includes portfolio of lands, properties and assets held in trust for the sovereign.
He is exempt from inheritance tax on these assets, among others, in order to preserve "a degree of financial independence from the government of the day".
And rightly so.
September 14
On Wednesday, September 14, the Queen's casket lay at Buckingham Palace until the middle of the afternoon when the King, his siblings, his sons, his nephews Peter Philips and the Earl of Snowdon along with the Duke of Gloucester and Princess Anne's husband Sir Tim Laurence walked behind it in a ceremonial procession to Westminster Hall.
The King and Queen Consort made the short journey from Clarence House to Buckingham Palace mid-morning, where the crowd warmly cheered them:
While the Elizabeth Line began building near Westminster Hall near Parliament, other people remained at Buckingham Palace:
Mourners' flowers accumulated in the park, said to be more fragrant as the days passed. Nearby, this was the scene on The Mall:
Those in the Elizabeth Line could be assured of help throughout the ensuing four days:
Nearly 2,000 law enforcement officers, stewards, other officials and volunteers were on hand for mourners:
The procession from Buckingham Palace began around 2:30 p.m. Other members of the Royal Family followed in cars in the cortege:
Once the cortege, which included other members of the Royal Family, arrived at Westminster Hall, a 20-minute service took place:
This video has the end of the procession, the placing of the Queen's casket on the catafalque in Westminster Hall and the service, much of which is in traditional language and includes the funeral Collect from the 1662 Book of Common Prayer. The Archbishop of Canterbury is there and the choir from Westminster Abbey sound like angels.
I'm not sure why the video shows an 'unavailable' message. Click on 'Watch on YouTube' and you should be able to see it. I still can, although it might expire in time:
Afterwards, the Royal Family returned to Buckingham Palace.
Outside, no one complained about waiting in the Elizabeth Line. These two women told Sky News why they were there.
Vanessa was first in the queue:
Even the unpredictable weather couldn't keep this lady away:
Many people made friends quickly in the queue. It was wonderful hearing their stories, many more of which followed into the weekend.
September 15
On Thursday, September 15, The King and Queen Consort had a well deserved rest day at home. They left London on Wednesday evening via helicopter.
It is thought that Camilla was dropped off first at her home in Wiltshire. From there, Charles journeyed to his estate.
We discovered that Camilla had a broken toe. That must have made her walkabouts quite painful.
September 16
September 16 is an important date to the Welsh who resent having non-Welsh Princes of Wales. It is Owain Glyndŵr Day.
The last true Welsh prince was Owain ap Gruffydd (c. 1359 – c. 1415), also known as Owain Glyndŵr, Glyn Dŵr and, in English, Owen Glendower. Shakespeare gave him the name Owen Glendower in Henry IV, Part 1.
He took up his rightful place as Prince of Powys on September 16, 1400, at his estate. Owain became the last Welsh Prince of Wales in 1404, a ceremony witnessed by emissaries from Scotland, France and Castile (Spain).
He had been fighting the English under Henry IV for some time and continued to do so until 1412. Henry IV appointed Hotspur of Shakespeare fame, Henry Percy, to lead the English side of the battle.
In 1412, Owain disappeared, not to be seen for the next three years. Meanwhile, in 1413, Henry IV died and Henry V was more conciliatory towards the Welsh.
In 1415, one of Owain's supporters, Adam of Usk, wrote in his Chronicle:
After four years in hiding, from the king and the realm, Owain Glyndŵr died, and was buried by his followers in the darkness of night. His grave was discovered by his enemies, however, so he had to be re-buried, though it is impossible to discover where he was laid.
Owain was 56 years old.
As of 2015, his final resting place remained uncertain.
The Tudors effectively conquered Wales and found little resistance in so doing. It is said that they made the Welsh more prominent in English society.
Future English monarchs installed non-Welsh Princes of Wales, including the new one, Prince William. One Welshman started a petition, 'End "Prince of Wales" title out of respect for Wales'. As I write, it has over 32,000 signatures.
The petition reads, in part:
… the title has been held exclusively by Englishmen as a symbol of dominance over Wales. To this day, the English "Princes of Wales" have no genuine connection to our country.
The title remains an insult to Wales and is a symbol of historical oppression. The title implies that Wales is still a principality undermining Wales' status as a nation and a country. In addition, the title has absolutely no constitutional role for Wales, which is now a devolved country with a national Parliament. Neither the Welsh parliament nor the people of Wales were notified, let alone consulted about this controversial decision.
The Welsh Nationalist Party, Plaid Cymru (pron. 'Plied Cuhm-ree'), is not happy about Prince William's appointment or the possible investiture in to follow in Wales within the next year or two.
On September 13, Guido reported that Plaid's leader, Adam Price, made his views known:
Guido's post says that the Welsh First Minister, Labour's Mark Drakeford, opposes Prince William's probable investiture in Wales, which his father had in 1969:
With Prince William assuming the Prince of Wales role last week, thousands of furious Welsh nationalists have signed a change.org petition demanding he be stripped of the title "out of respect for Wales" given its symbolism of "historical oppression". Now Plaid leader – and Mark Drakeford's right-hand man – Adam Price has waded in to pour fuel on the fire:
I welcome what the First Minister, Mark Drakeford, had to say on the question of an investiture. I've seen stories in the London press that an investiture is going to happen and I think that a line is crossed because that gives the Prince of Wales a quasi-official status in Welsh life. I think that's a decision that we in Wales should make in a time when we're living in a modern democratic Wales – it's a decision we need to make here before any announcement is made […] I'm a republican, and there is sensitivity and pain around the [Prince of Wales] title for many of us…
However, not everyone in Wales was upset either by the prospect of King Charles or a new Prince of Wales. These residents of Caerphilly seemed content:
It was against this historical backdrop that King Charles and Camilla Queen Consort visited Wales on Friday.
While the new Prince and Princess of Wales visited Sandringham to greet mourners and view their tributes …
… the King and Queen Consort attended a service in memory of the Queen at Llandaff Cathedral then travelled to Cardiff to the Senedd, where they received condolences in the chamber from members and speak with them afterwards.
I was hoping to find a video of them on walkabout. The crowds were warm and welcoming. Unfortunately, the news videos for that day are mostly about London with only two about Wales.
The service at Llandaff Cathedral was beautiful, especially the hymns, which I sang when I lived in the United States. Part of it was in Welsh. The bilingual Order of Service is here. This article from the Church in Wales (Anglican) has more.
The full video is available from the BBC for another 26 days.
The Bidding Prayer (p. 7) was exquisite, touching all the right notes for the late Queen and for the new King:
We are gathered in the sight of Almighty God
to give thanks for the life
of our Most Gracious Sovereign Lady Queen Elizabeth the Second,
for her steadfastness and devotion to her sacred calling,
her courage and unwavering sense of duty
to the people of this Realm and Commonwealth.
As we entrust her to our Redeemer and Lord,
in whose promises she gained assurance and hope,
we pray for our Most Gracious Sovereign Lord
King Charles the Third,
that God may grant him peace in these days of mourning,
wisdom as he faces the challenges of sovereignty
and grace to accept the mantle of his calling.
First Minister Mark Drakeford read 1 Kings, 3:4-15:
The king went to Gibeon to sacrifice there, for that was the principal high place; Solomon used to offer a thousand burnt-offerings on that altar. At Gibeon the Lord appeared to Solomon in a dream by night; and God said, 'Ask what I should give you.' And Solomon said, 'You have shown great and steadfast love to your servant my father David, because he walked before you in faithfulness, in righteousness, and in uprightness of heart towards you; and you have kept for him this great and steadfast love, and have given him a son to sit on his throne today. And now, O Lord my God, you have made your servant king in place of my father David, although I am only a little child; I do not know how to go out or come in. And your servant is in the midst of the people whom you have chosen, a great people, so numerous they cannot be numbered or counted. Give your servant therefore an understanding mind to govern your people, able to discern between good and evil; for who can govern this your great people?'
It pleased the Lord that Solomon had asked this. God said to him, 'Because you have asked this, and have not asked for yourself long life or riches, or for the life of your enemies, but have asked for yourself understanding to discern what is right, I now do according to your word. Indeed, I give you a wise and discerning mind; no one like you has been before you and no one like you shall arise after you. I give you also what you have not asked, both riches and honour all your life; no other king shall compare with you. If you will walk in my ways, keeping my statutes and my commandments, as your father David walked, then I will lengthen your life.' Then Solomon awoke; it had been a dream.
The motion of condolence and subsequent reception at the Senedd went well.
The Conservative leader, Andrew R T Davies, was happy with the Royal visit:
This lady, who was at the religious service, remembered the visits the Queen made after the Aberfan Disaster, 21 October 1966, which involved a huge slag heap destroying a school while children were in class. Five teachers and 109 pupils died. The lady in the video was 11 years old at the time:
This was the first time a monarch visited a disaster outside of wartime, with pressure from the usual quarters urging her to go to Aberfan. It was one of the rare times she came close to tears: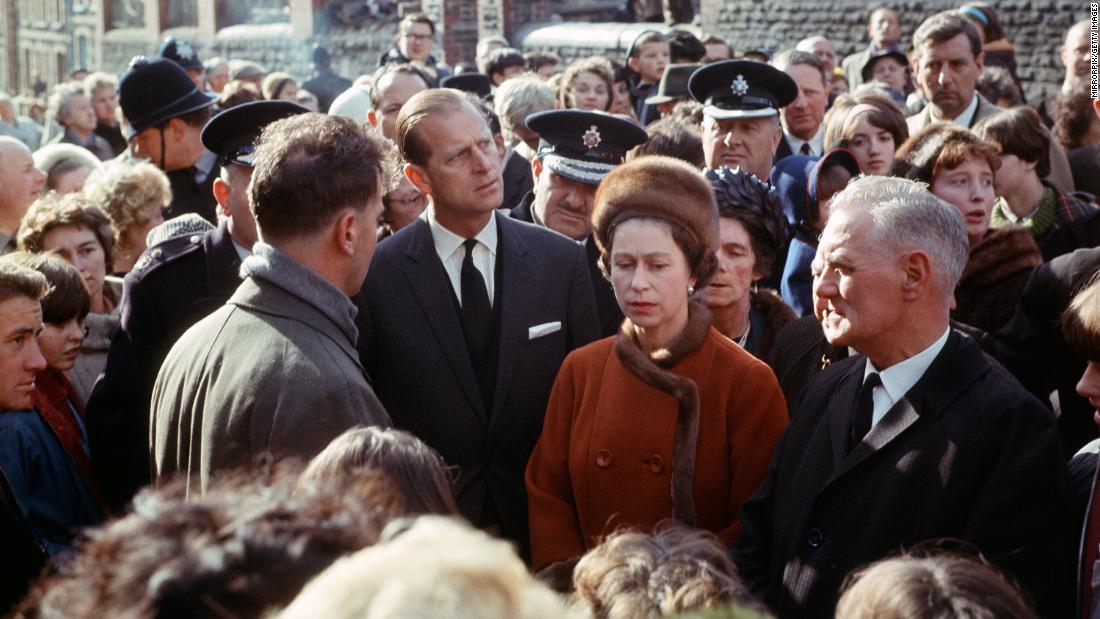 The lady whom GB News interviewed said that the Queen could not have done anything to help. What had happened was already done. She and other residents appreciated the Queen's visits nonetheless.
The Royal Couple left Cardiff for London in the late afternoon.
That evening, at 7:30, the King, his sister and two brothers held the first of two Vigils of the Princes at Westminster Hall:
As in Edinburgh, the public were allowed to file past to pay their respects to the late monarch. This was a first both at St Giles' Cathedral and at Westminster Hall, where the tradition started with the death of George V in 1936. It was closed to the public that time and again in 2002, when the Queen Mother died.
Another Vigil of the Princes took place on Saturday, this time with the Queen's grandchildren.
More to come tomorrow.
So much happened in the UK this week that it is hard to find the time and the space to write about it all.
Conservative leadership contest
Liz Truss's campaign continues to motor ahead, gaining powerful MPs' backing.
On Wednesday, August 3, a new Conservative Home poll appeared, its results matching those of polling companies, e.g. YouGov. Liz is 32 points ahead:
Conservative Home's Paul Goodman analysed his site's results and YouGov's (emphases mine):
Granted, neither can be proved right or wrong: as our proprietor has it, a poll is a snapshot, not a prediction. If our survey is correct, all that follows is that Truss would win the contest, were it held now, by 32 points among those who have declared their hand.
However, if we and YouGov are right it is very hard to see how Sunak recovers in the month or so between the opening and closing of the poll. For even if during that time he won over that 16 per of undecideds and others, Truss would still beat him by 58 per cent to 42 per cent.
In short, if our survey is correct he would have to add to that 16 per cent of don't knows and others some nine per cent of Truss's supporters – i.e: persuade them to switch.
This seems most unlikely if YouGov's question about certainty of intention is taken into account. For it finds that 83 per cent of Truss voters and 70 per cent of Sunak voters have made their minds up.
What odds would you give on Sunak winning over all those don't knows and others (from our survey), and then adding to that pile over half of Truss's soft support (using YouGov's figure)? I would say that they are very long indeed …
Those interested in events slightly further back will recall that Boris Johnson beat Jeremy Hunt by 66 per cent to 34 per cent during the leadership election of 2019.  That's exactly the same margin as the Truss-Sunak forced choice I spell out above from our new survey.
One way of looking at Conservative leadership election as matters stand might be to forget the thrills and spills, hype and blunders – such as Truss's yesterday over regional public sector pay.
And stick instead to the simple thought that the Tory membership divides right-of-party-centre to left-of-party-centre by about two to one and so, all other things being equal, the leadership candidate perceived to be right-wing than the other will win by a margin about two to one.
Finally, Opinium promises a Conservative members poll next week, and it has tended recently to find better results for Sunak than ours or YouGovs.
The YouGov poll from August 3 showed that Britons believe Truss is better than Sunak on the main issues:
Liz gained another supporter in former Health Secretary Sajid Javid, who was also Boris Johnson's first Chancellor from the summer of 2019 through to February 2020, at which point Rishi Sunak took over.
Sunak worked for Javid when the latter was Chancellor. Javid mentored his younger MP friend:
However, the dynamic changed when Chancellor Sunak locked horns with Health Secretary Javid during the pandemic in 2021.
… those who know both men say there are more prescient personal and political reasons behind Javid's decision [to back Truss].
They say that tensions emerged after Javid was brought back into the government as health secretary. Sunak regarded the NHS as a bottomless drain on resources and was exasperated by what he saw as Javid's failure to spearhead fundamental reform of the health service.
Javid for his part was frustrated with the highhanded manner in which the Treasury dealt with the Department of Health and its refusal to countenance the type of spending he believed was necessary to tackle treatment backlogs coming out of the pandemic. He felt that Sunak had not shown the loyalty that he had when the power dynamics were reversed.
There are now significant policy differences as well. When Javid threw his hat in for the leadership he set out a tax-cutting agenda broadly similar to that proposed by Truss. He proposed cutting national insurance and reversing the planned corporation tax rise while Sunak stuck to his policies as chancellor.
One ally said Javid sincerely believes that only by kick-starting growth through tax cuts can public services be properly funded. They said it would have been "odd" if Javid had backed Sunak, given their different and genuinely held views on how to deal with Britain's economic uncertainties.
This is what Javid had to say about Truss in his article for The Times:
"I fought for strong fiscal rules in our last manifesto," he wrote. "But the circumstances we are in require a new approach. Over the long term, we are more likely to be fiscally sustainable by improving trend growth.
"Only by getting growth back to pre-financial crisis levels can we hope to support the high-quality public services people rightly expect."
In a direct attack on Sunak, he said: "Some claim that tax cuts can only come once we have growth. I believe the exact opposite — tax cuts are a prerequisite for growth. Tax cuts now are essential. There are no risk-free options in government. However, in my view, not cutting taxes carries an even greater risk."
He added: "With only two years before the next election, there has been a temptation to just 'get the barnacles off the boat' and avoid any short-term political pain for long-term national gain.
"We must reject that. As a nation we are sleepwalking into a big-state, high-tax, low-growth, social democratic style model which risks us becoming a middle-income economy by the 2030s with the loss of global influence and power" …
A senior Truss campaign source described Javid's endorsement as the "big one for us".
They added: "The bigger beasts of the party are uniting behind Liz because they believe in her vision for the economy. We can't have the Treasury orthodoxy and tired status quo. They believe she will turn things around in time for the next election by getting on and delivering quickly in No10."
On Wednesday, August 3, Truss and Sunak canvassed separately in Wales before meeting up for a televised hustings in Cardiff later in the day.
A Conservative Welsh Senedd (Senate) member, James Evans, changed his mind about Sunak and decided to support Truss instead. He got a lot of flak in response to his tweet:
Truss's former party, the Liberal Democrats, criticised her for taking a helicopter around Wales to get to the various Conservative associations there. Pictured is the Lib Dem leader Sir Ed Davey:
Guido Fawkes points out that the Lib Dems are suffering an attack of sour grapes — and hypocrisy (red emphases his):
… Rishi's been known to use them, so why should Liz be confined to the rail network…
i News were the ones to reveal Liz's chartering this afternoon, juxtaposing the decision against her backing of net-zero carbon emissions by 2050. The LibDems were only too happy to butt in, providing a quote for the copy that it "makes a complete mockery of her promises on Net Zero. It's clear that she is not serious on climate change." This quote came from Vera Hobhouse rather than Sir Ed Davey himself, who surely wouldn't mind the coverage…
Guido's sure Sir Ed's decision not to provide the comment has little to do with the fact that, in 2013 as Energy Secretary, he hitched a ride in the helicopter of EDF boss Henri Proglio, after handing him a nuclear deal at double the going rate for electricity. The decision raised objections from Friends of the Earth at the time, who said it "confirms how close the Big Six energy firms are to our decision-makers."  A source close to Liz Truss calls the political attack "the usual sanctimonious hypocrisy from the LibDems". Sir Ed may need to refuel his own spin machine…
While in Wales, Truss took the opportunity to have a go at First Minister Mark Drakeford (Labour), calling him:
the low energy version of Jeremy Corbyn.
Bullseye!
John McTernan, who advised Tony Blair between 2005 and 2007, wrote in UnHerd why Labour should be afraid of Truss.
I've seen John McTernan on GB News and he knows whereof he speaks.
He explains Truss's strengths:
One of her overlooked strengths is that she has been on a political journey. Changing your mind is often thought of as a weakness in politicians, whereas in reality an unchanging commitment to ideology is one of their most eccentric habits. In normal life, we change our minds frequently and without fuss. As economist Paul Samuelson said, in a line so good it is often attributed to Keynes: "Well when events change, I change my mind. What do you do?" In itself, changing their mind humanises a politician — a particular asset in a time of popular revolt against out-of-touch elites.
But, more than that, making a political journey shows character. Three of the most significant politicians of the Blair era — John Reid, Alan Milburn, and David Blunkett — were great New Labour reformers who had started on the hard Left. Their politics had been tempered and strengthened by their journey. Liz Truss was brought up on the Left and attended anti-nuclear peace camps with her mother. She then became a Liberal Democrat activist, famously demanding an end to the monarchy to Paddy Ashdown's discomfort. And when a Tory Cabinet minister she backed Remain not Leave, though she is now a passionate Brexiteer. Those surprised that Tory party members overwhelmingly see a former Remainer as the best defender of Brexit need to remember their New Testament: "There will be more rejoicing in heaven over one sinner who repents than over ninety-nine righteous persons who do not need to repent." The redemption narrative is one of our most powerful stories: she who once was blind, but now can see.
The fact Liz Truss has been on a political journey also makes her a powerful communicator. Some of the most persuasive arguments in politics are based on empathy rather than angry disagreement. Liz Truss knows why voters find progressive policies attractive, which can strengthen the persuasive power of her arguments for people to change their views. And her speaking style is clear and simple. The listener readily understands what she thinks and believes. Her opponents who too readily dismiss her as simplistic are missing the point. Politics is not a mathematical equation — a ten-point plan won't beat a five-point plan 10-5. The messages and policies that win are those that connect with the heart as much as the head.
The Truss agenda is straightforward. The educational system is failing kids. Grammar schools would identify and help some bright working-class and minority children. The cost-of-living crisis is hitting wallets and purses. A tax cut would give money back to the public. Energy prices are spiking. Pausing the green levy would reduce prices. Now, there are good arguments against each of these policies, but they are superficially strong one-liners. It takes time to explain how grammar schools distort the education of the vast majority of pupils who don't get into them, or to make the case that there is a danger that tax cuts lead to more inflation. The arguments against Liz Truss's policies are strong but they need to be explained. And, as the old political saying goes, "when you're explaining, you're losing".
… One of the best jokes in the US TV show Veep comes when Selina Myers uses the slogan "continuity with change" for her Presidential campaign. It works because it is bizarrely true — and it is true because that is what most voters want. They're not revolutionaries, they're realists.
The Truss offer is continuity with the spirit of Johnson and Brexit while meeting the demands of the voters who were, and are, angry with the status quo. That anger has been the fuel of politics since the Global Financial Crisis — it was there in Brexit, in the Scottish independence referendum, in the rise of Corbyn, and in Boris Johnson's 2019 landslide. The fact that such competing and conflicting political forces can harness that same anger signals that there is an underlying volatility in British politics that can be channelled in different directions by strong and intelligent leadership.
It is in leadership that Labour must contest most convincingly. Liz Truss will likely be undone by events. The cost-of-living crisis is of such a scale that it is hard to see any of her policies — or any of Rishi Sunak's — that will be more than a drop in the ocean. To win, Keir Starmer must learn from New Labour [Tony Blair's government]. Attack the new Prime Minister and her government, but don't nit-pick. The critique must be based on a vision of hope and a positive project that positions Labour once more as the "political wing of the British people". Otherwise, Keir Starmer risks being just one more man, in a long line of men, who have underestimated Liz Truss at their peril. After all, there are no accidental Prime Ministers, and like the rest, Truss has guile, will and talent.
Guido Fawkes adds another point:
… Truss will be the Tories' third female PM to Labour's big fat nought …
Exactly. And Conservatives didn't need to have all-women shortlists, either, unlike Labour.
For Conservative Party member Toby Young, General Secretary of the Free Speech Union, Truss's strength lies in opposing another lockdown, which she said 'No' to on Monday night in Exeter:
Also in Exeter, on Monday, Truss said that First Minister Nicola Sturgeon (SNP) was an 'attention seeker' who should be ignored. Again, I'm pretty sure Truss meant that with regard to appeals for a second independence referendum.
The Telegraph's Alan Cochrane, who lives in Scotland, said that some would sincerely welcome those words: 'Amen to that! Liz Truss finally puts the boot into Nicola Sturgeon':
It is easy to sympathise with Liz Truss's presumably exasperated and outspoken statement that the best way to deal with Nicola Sturgeon was to ignore her. 
After watching, listening and responding to this ambitious politician for more than 20 years, ignoring her is something I'd rather have been doing than countering every one of her largely lame-brained arguments for breaking up Britain.
Furthermore, the First Minister is every bit the "attention seeker" that the Foreign Secretary portrays her as – most especially when she dons her "Mother of Scotland" role and seeks to insist that she, and only she, speaks for the whole of Scotland. 
The truth, of course, is that she speaks only for her party and government, neither of which commands an overwhelming majority of Scottish opinion …
… while Ms Truss is being assailed for her choice of words by the Nationalists and those faint hearts who seek a peaceful political life, there will be more than a few who will shout "Amen to that!" when she talks of Ms Sturgeon's perpetual attention seeking.
Furthermore, a great deal more candour from Westminster in its dealings with the SNP is long overdue. Far too long. Successive UK administrations have bent over backwards not to be seen as provoking the cause of independence when the truth is that it is already on a life support system, with a fast declining appeal to the Scottish people.
The fact is that Ms Truss knows that she cannot just ignore the devolved Scottish Government and its leader. But she is to be commended for putting the boot in. It's about time someone did.
While Truss and Sunak were in Wales, Iain Duncan Smith MP was north of the border in Scotland.
He was at an event for Scottish Conservatives in Stirling, in Scotland's central belt.
The former work and pensions secretary backtracked on comments made by Truss that Nicola Sturgeon, the first minister, should be "ignored" as he criticised the UK government's approach towards the Union.
"I don't want to ignore her," he said. "What I want to do is to let the world know just exactly why Scotland is suffering so much under this incompetent regime at Holyrood. The truth is, it is a disaster: everything from health, the police, the railways — they can't even build ships sometimes on time and on budget."
He's not exaggerating. It's the raw truth.
The MP wants the next PM to have greater powers of scrutiny over the way Scotland's SNP government is run. They get billions from taxpayers in the Barnett Formula and waste it. No one, not even Scots, has any idea where the money goes.
He said:
I am desperate for greater powers for scrutiny. It is only scrutiny that unearths all this nonsense and … that the weaker scrutiny up here has allowed the Nationalists to get away with it. So I am going to take that straight back and talk to her about it and see what we could do.
Not surprisingly, the SNP were furious and, as usual, blamed Westminster:
Kirsten Oswald, the SNP deputy leader at Westminster, said: "This is an utterly ridiculous suggestion, showing that even the Tories are out of ideas for how to fix the broken Westminster system. It is not the SNP's job to explain why Westminster control is increasingly making life more difficult for the people of Scotland — even if the Tories are out of excuses.
"The job of SNP MPs in Westminster is to stand up for Scotland against a UK government choosing to ignore our interests at every turn. That is what they will continue to do."
Duncan Smith justified his desire for scrutiny saying that SNP MPs are part of the Scottish government, too:
… Duncan Smith said: "We need to turn the tables on them and start saying, 'Well, can we have a period of question time for you lot to talk about what you are doing in Scotland as the devolved administration?'
"And start examining some of this stuff because they're not just SNP protesters down in parliament, they are actually part of the government up here."
Meanwhile, Rishi Sunak told the audience in Cardiff that Truss was wrong about her public sector pay reform and tried to scare Welsh Conservatives into thinking that Truss was going to cut the pay of every single public sector worker in Wales:
However, Sunak got himself into a bit of hot water when he 'misspoke' on wind turbines at the event:
On Thursday, August 4, Guido reported:
Rishi's team has said he "misspoke" during the hustings last night when it appeared he'd u-turned on his opposition to new onshore wind. At the Wales' husting, Sunak was asked "will you be bold enough to scrap the embargo on onshore wind in England?", replying "So, yes, in a nutshell." This appeared totally contradictory to one of his previous policy announcements:
Wind energy will be an important part of our strategy, but I want to reassure communities that as prime minister I would scrap plans to relax the ban on onshore wind in England, instead focusing on building more turbines offshore,
Team Liz immediately leapt on his words as sign of yet another u-turn from Rishi, alleging it was his eleventh campaign u-turn.
This morning Team Rishi, asked to justify his words, bluntly replied "he misspoke". Much like Britain under Rishi's actual wind energy policy, he's losing fans rapidly…
Sunak is also being economical with the truth when he says that he personally came up with the idea of British freeports, which were first mooted in an early Margaret Thatcher manifesto for the Conservatives:
However, Rishi managed to get two notable endorsements, one from former Conservative Party leader Michael Howard and Nigel Lawson, who was Chancellor under Margaret Thatcher. He is also Nigella Lawson's father.
Guido has more:
Finally got an endorsement from Nigel Lawson himself, who writes in The Telegraph that Rishi is

"the only candidate who understands Thatcherite economics" …



Michael Howard opened for Rishi at Wales' Tory husting last night, saying he can provide the leadership needed "not only in this country, but across the wider western world"
Lawson must have felt obliged to endorse Sunak, given that the latter has a photo of him in his office.
Sunak was over the moon about Lawson's Telegraph article:
Boris looms large
Prime Minister Boris Johnson still looms large in the psyche of British voters.
Normally, we are all too happy when a Prime Minister stands down. When Margaret Thatcher's MPs booted her out, we breathed a sigh of relief. We'd had enough of Tony Blair when he left No. 10 to Gordon Brown. We didn't care too much about David Cameron's resignation, although we did think he was petty-minded for resigning the morning after the Brexit referendum result. And we were only too happy for Theresa May to go, although we did feel sorry for her as she cried at the Downing Street podium.
However, Boris is a different kettle of fish.
The August 3 YouGov poll showed that a) most Conservative Party members thought their MPs made a mistake in getting him to resign as Party leader and b) he would make a better PM than either Truss or Sunak:
In response to the aforementioned Welsh Senedd member's tweet, someone responded with this:
Incredibly, as ballots are currently being posted to Conservative Party members, Alex Story, the leader of the Bring Back Boris campaign, still thinks there is time to add Boris's name to the list of candidates.
He spoke to Nigel Farage on Wednesday, August 3:
He said that 14,000 members of the public wrote to Conservative Party headquarters after Boris stood down as leader.
He added that most Boris supporters knew he was economical with the truth, but they felt that his ouster was forced.
Nigel Farage countered by saying that 40% of Conservative voters wanted Boris to leave. Furthermore, he could no longer command the support of his MPs.
Story responded by saying that Boris will be like 'Lazarus [rising] from the dead … something romantic and quirky'.
That's one way of putting it, I suppose.
It is highly unlikely that Boris's name will be on the ballot, but … one cannot fault Story and Lord Cruddas for trying on the public's behalf.
More news next week.
Saturday and Sunday, June 4 and 5, 2022, were a time of fun and frolic, ending the four-day Platinum Jubilee holiday.
As delightful as it was, unfortunately, the first news item on Monday morning was that Prime Minister Boris Johnson would undergo a vote of confidence early that evening.
Sir Graham Brady, the chairman of the 1922 Committee, the Conservative group of backbench MPs, made the announcement at 8 a.m.:
He gave a short press conference outside the Palace of Westminster:
Brady had already received 54 letters from Conservative backbenchers, the minimum number of no confidence letters needed — 15% of Conservative MPs — in order to trigger the vote:
He had received most of them before the Platinum Jubilee celebrations started. He probably has more than 54 letters; someone on GB News said that he had received 83.
Sir Graham arranged a time for Boris to have right of reply to his party's MPs, scheduled for 4 p.m.
GB News interviewed a number of Conservative MPs during the day. Those supporting Boris said that MPs calling for him to stand down are either Remainers, those who never liked him, those who never received a Cabinet post and those who fell out with him and were reshuffled from Cabinet. Some of the MPs falling into the last three categories voted for Brexit.
It's a pity that Boris's premiership has been far from perfect, unlike the resplendent appearance of the Duchess of Cambridge:
Most of the viewers writing into GB News are Boris supporters. This was the result of Dan Wootton's Monday night poll on whether Boris should lead the Conservatives into the next election (2023 or, more likely, 2024):
Jacob Rees-Mogg, former Leader of the House and current Minister for Brexit Opportunities, tweeted that rebel MPs should remember that voters elected Conservative MPs, i.e. Boris, therefore, for MPs to depose him implies that people's votes do not count. As such, Conservatives could lose the next election largely for that reason:
UPDATE — The 1922 Committee announced the result of the vote at 9 p.m. Boris has won but not by as big a margin as John Major in the 1990s or Theresa May a few years ago:
Speaking after Sir Graham Brady announced the vote result, Boris said that the Government can move on and focus on the things that 'really matter':
Jacob Rees-Mogg, a monarchist, no doubt thoroughly enjoyed the Platinum Jubilee weekend and tweeted a Telegraph editorial which said that the Queen has increased the UK's love of the monarchy:
Interestingly, the editorial is dated June 1, the day before the long weekend.
However, it was spot on, because Jubilees have united the nation like nothing else, other than the Olympics and Paralympics. This is why (emphases mine):
Since we have no national day in the United Kingdom, the four significant jubilees of the Queen's reign have each served to reassert a patriotism that is always present but only occasionally allowed to flourish.
People need events such as these to feel a sense of belonging beyond our immediate family, neighbourhood or region. To manifest itself through the Queen, rather than a nebulous concept of nationhood, makes it more personal – a relationship that is never possible between citizens and an elected politician.
While a proportion of her subjects will recall the reign of her father, or even her uncle and maybe her grandfather, for the vast majority of the population the Queen is the only head of state we have known – a constant companion through our entire lives, the still point in an often turbulent world.
In a statement in February to mark her accession, the Queen signed off as "Your Servant", which is how she has always seen herself. As the heir-presumptive in 1947, still not expecting to take the throne for many years, she gave a radio broadcast to declare: "My whole life, whether it be long or short, shall be devoted to your service and the service of our great imperial family to which we all belong."
Mercifully, it has turned out to be a long life and Her Majesty has more than lived up to the pledge she gave then …
With that, let us look at the Jubilee events of Saturday, June 4.
The Queen did not attend one of her favourite racing events, the Epsom Derby. She watched it on television instead:
The Princess Royal, Princess Anne, represented her mother at Epsom. I do wish Anne could succeed her. She does so much unsung work for charity — and we have no idea what she thinks about climate change:
Forty jockeys wore the Queen's silks in honour of her 70-year reign. She has met some of them:
Princess Anne was not the only member of the Royal Family representing the Queen in the UK that day.
Prince Edward and Sophie, Countess of Wessex, travelled to Northern Ireland for official engagements:
The following video shows the Queen on her previous visits to the province also known as Ulster:
The Cambridges had an equally busy day, especially the children.
The Countess of Cambridge, better known as Kate, made cupcakes with the children for a Sunday street party in Cardiff:
The family also visited Cardiff on Saturday:
In the evening, they attended the concert, the Platinum Party at the Palace:
Earlier, while in Cardiff, they were able to meet performers and planners for the Welsh contribution to the concert:
As happened during the Diamond Jubilee, the concert was a true son et lumière — sound and light — experience:
There was a terrific light show with drones. This bit with a corgi dropping a bone is amusing:
Although the Queen was in absentia, she opened the show with a brilliant comedy sketch she secretly recorded in March with Paddington Bear.
The Sunday Times has the story:
At 96, the Queen showed she has lost none of her humour, starring in a surprise televised sketch with the fictional bear from darkest Peru. The skit opened the Platinum Party at the Palace, a live concert at Buckingham Palace broadcast by the BBC.
It echoed the James Bond spoof at the opening ceremony of the 2012 London Olympics, in which she and her corgis appeared with the actor Daniel Craig at the palace, and the Queen later appeared to jump out of a helicopter and parachute into the stadium.
During her encounter with Paddington in the crimson drawing room at Windsor Castle, the Queen laughed as the clumsy bear caused chaos, accidentally depriving her of a cup of tea, glugging directly from the spout of the teapot and spraying her footman with cream from a chocolate éclair.
As he showed Her Majesty the marmalade sandwiches he stores under his red hat, the Queen prised open her black Launer handbag, confiding, "I keep mine in here," before closing her bag and wryly observing: "For later."
Paddington, who is created with CGI and voiced by the actor Ben Whishaw, congratulated the Queen on her historic reign, wishing her a "happy jubilee, Ma'am" and adding: "And thank you. For everything." The Queen replied: "That's very kind."
The Queen has worn Launer handbags since 1968. She awarded them with a Royal Warrant many years ago and visited their factory in 1992. A Launer is hardly a handbag in which one would store marmalade sandwiches.
The sketch had to segue perfectly into Queen's — the band's — performance:
Rosie Alison, of Heyday Films, which produced the two Paddington films and is making a third this year, said: "Filming Her Majesty's tea party with Paddington Bear was such an emotional day for the entire crew. All of us were in awe of the Queen's wit, warmth and radiant aura as she patiently engaged with a polite, clumsy but very well-intentioned bear. Of course, she shone, and put all of us at ease."
Mark Sidaway, executive producer of the BBC's Platinum Party at the Palace, said: "We were thrilled and honoured when we learnt Her Majesty had agreed to run with this touching yet joyful idea the team had come up with — although it was slightly nerve-racking ensuring it all blended seamlessly with the live performance from Queen."
One of my readers, Sylvia, sent in the link to a Mail article which has a link to the full video and terrific concert photos. Many thanks, Sylvia!
This version has the addition of the Monarch and Paddington Bear tapping their tea cups to Queen's opening number. We also get a glimpse of the crowd as it was at that moment:
Here are more scenes from the concert, which featured much musical talent from past and present, including Rod Stewart, Elton John, Duran Duran and Diana Ross. The following video shows more of the drone light displays, which were amazing:
At the concert, Princes Charles and William paid tribute to the Queen.
What follows comes from The Sunday Times report.
William spoke first:
Earlier in the evening, Prince William, 39, an ardent environmentalist, used his tribute to hail his grandmother's calls over the years to protect the planet and spoke of his "pride" that "my grandfather and my father have been part of those efforts". Sir David Attenborough also gave a tribute praising the royal family's commitment to conservationism.
Before William appeared on stage, the German composer Hans Zimmer and an orchestra performed a specially arranged version of the Planet Earth II Suite, followed by a performance by the Royal Ballet, as words from the Queen's 1989 Christmas message, focusing on the environment, were broadcast: "The future of all life on Earth depends on how we behave towards one another and how we treat the plants and animals that share our world with us. We share the Earth as human beings. All of us. And together as the nations of the world will leave it to our children and children's children. We must be kind to it for their sake."
William called his grandmother the Queen 'of hope':
A clip from the Queen's message to COP26 last year was also shown.
Charles said, in part:
Taking to the stage in front of Buckingham Palace, which was illuminated with images of the Queen personally chosen by Charles, the prince was cheered by a crowd of more than 20,000 as he addressed his mother, who was watching on television from Windsor Castle.
"Your family now spans four generations. You are our head of state. And you are also our mother … Looking back, we think of the countless state occasions that are milestones along this nation's road. And you will think of red boxes, filled with government papers, at the end of the day … We think of all you have done to make the Commonwealth such an important force for good. You continue to make history" …

"I know what really gets my mother up in the morning is all of you, watching at home.
"You have met us and talked to us. You laugh and cry with us and, most importantly, you have been there for us, for these 70 years. You pledged to serve your whole life — you continue to deliver. That is why we are here. That is what we celebrate tonight. These pictures on your house are the story of your life — and ours. So, your Majesty, that is why we all say thank you."
He ended his tribute by calling for "three cheers for Her Majesty".
Here is the video:
Members of the Royal Family were out in force. The Sussexes did not attend, however.
Many politicians also attended, including Boris and his wife Carrie, Labour's Sir Keir Starmer, Scotland's First Minister Nicola Sturgeon and her husband, the Welsh First Minister Mark Drakeford and the Mayor of London Sadiq Khan.
The weather in London held out for Saturday. However, all changed overnight.
I'll cover Sunday's Platinum Jubilee Pageant tomorrow.
It came as no surprise that the Conservatives fared poorly in the 2022 local elections on Thursday, May 5.
England
In England, the major headline was that the Liberal Democrats lived up to their slogan of 'Winning here' for the first time in quite a while.
They were the big beneficiaries of English votes where local councillors stood this year (many councils held elections in 2021):
Labour's big wins were in London, where they won three longstanding Conservative councils for the first time: Westminster, Wandsworth and Barnet.
It will be interesting to see how these London boroughs fare under Labour. In Lambeth, council tax for a Band D property is £1,502 per annum. Under the Conservatives, Wandsworth's was £800 per annum. Guido has a photo of a street in each of those council areas, where one can see a discernable difference in low-spend, high service council delivery.
Here's a Twitter exchange on the subject, focusing on Wandsworth:
The Croydon Council mention is interesting. It went from Labour to Conservative on Thursday, something I thought I'd never see.
Outside of London, Labour had little traction, especially in Red Wall areas, with the exception of the newly created Cumberland council.
Guido Fawkes has a good analysis, excerpted below (emphases in the original):
Whilst it was obviously terrible for the Tories that they lost nearly 500 seats, now all the votes are in and the dust has settled, did Labour advance as the Tories retreated? They actually did relatively poorly.
Labour's electoral performance outside their M25 enclave saw them gain just 22 councillors across England. That's it. While the Tories' results were obviously weak – although not at their worst expectations – any attempts to spin the numbers will have to contend with the fact that the LibDems, the Greens, and even independent candidates gained more net seats than Labour. Labour's wins in London will be small beer when it comes to a general election …
Winning a net gain of just 22 councillors, and gaining control of the same number of councils as the LibDems, is not a strong showing. William Hague managed to do better in 2001, when the Tories won 120 seats and 5 councils – a consolation prize for getting pummelled in the general election the same day. 
Even within the capital, however, there are warning signs for Labour. While they pop champagne over wins in Westminster, Barnet, and Wandsworth, their losses in Croydon and Harrow to the Tories, and Tower Hamlets to Lutfur Rahman [Independent] should raise a few eyebrows. Losing Tower Hamlets to a man who was temporarily banned from office over corruption isn't exactly promising…
For the Conservatives, the most damaging losses were in previously loyal areas now called the Blue Wall, e.g. the Home Counties just outside of London, the south coast and parts of the West Country.
Late on Friday, The Guardian reported (purple emphases mine):
Boris Johnson's leadership is facing fresh peril after senior Conservatives blamed him for losing swaths of the party's southern heartlands to the Liberal Democrats and flagship London boroughs to Labour.
In a punishing set of local elections for the Tories, the party lost about 400 council seats, ceding control of Westminster and Wandsworth in London to Labour for the first time since the 1970s, and plunging to its worst position in Scotland for a decade.
Conservative MPs and council leaders questioned Johnson's leadership, demanding action to tackle the cost of living crisis and rebuild trust in the wake of the Partygate scandal after a damaging series of losses across the "blue wall" in Somerset, Kent, Oxfordshire and Surrey.
However, the scale of the Tory backlash was tempered by a mixed picture for Labour, which showed progress, but not enough yet to suggest a landslide for Keir Starmer in a general election. A BBC projection for a general election based on Friday's results put Labour on 291 seats, the Conservatives on 253, the Lib Dems on 31 and others on 75.
Labour had a very strong result in London and took some southern councils such as Worthing, Crawley and Southampton …
The Lib Dems also had a clearly successful election night in England, adding at least 189 seats. They took control of the new unitary authority in Somerset, previously a Tory stronghold, edged out the Conservatives in Portsmouth, and pushed them out of control in West Oxfordshire. The Greens also performed well, winning 81 seats – more than doubling their number of councillors – as voters also turned to independents and residents' associations.
Going back to Tuesday, May 3, Conservative Party chairman Oliver Dowden MP alleged that Labour and the Lib Dems had a 'pact', whereby Labour did not put forward a candidate in every council election, deferring to the Lib Dems in order to win against the Conservatives. This is because England uses FPTP (First Past The Post) voting.
Pictured are the Lib Dems' Ed Davey on the left and Labour's Keir Starmer on the right:
Guido has the story along with a video of a Lib Dem woman who confirms such a plan:
There are clearly tactical Lib-Lab stand downs going on around the country. Tory chairman Oliver Dowden claims that in the South West, Labour are standing candidates in 61% of seats compared to 97% in 2018. In the South East, Labour are standing candidates in 88% of seats compared to 99% in 2018.  In the North East, the LibDems are standing in just 56% of seats, down from 78% four years ago. Labour is standing in 99% of seats in the area. "These shifts", claims Dowden, "are far too substantial to be a mere coincidence". In response Starmer says "There is no pact, everybody knows there is no pact" …

This LibDem organiser in Cumbria gives the game away about what is happening at local level. Labour-supporting Neal Lawson and Clive Lewis have been arguing for years that an unfair 'First Past the Post' system splits the 'progressive vote' and prevents the 'progressive majority' from winning.
It stands to reason that the total left-of-centre vote will be split, given on average two candidates from Labour, the LibDems or the Greens are running against just one right-of-centre candidate in England.  According to new research from Electoral Reform Society front-group "Politics for the Many", in 43.8% of wards there is one Tory standing against candidates from all three of the progressive 'left' parties. In 35.5% of wards where there is one Tory candidate, there are two 'left' candidates. According to the research, in almost 3,000 council seats up for grabs, there are only 15 wards in the whole of England where there are more right-of-centre parties standing than left parties.
Labour and LibDem strategists know this; they are looking on these locals as a trust-building exercise and a dry run for the general election…
The Telegraph confirmed this pact on Friday, May 6:
If Sir Keir is to get the keys to Number 10, it may be thanks to a deal struck after election day with another party – which is why the Liberal Democrat performance on Thursday is so interesting.
Seven years ago, the party was all but wiped out as voters punished Nick Clegg for his coalition with David Cameron. The political toxicity has clung on in the years since then.
But there were signs of real green shoots for the Lib Dems on Thursday. Their victory in Hull, taking the council from Labour, was the stand-out early result. 
The relentless targeting of Blue Wall Tory seats – often in rural southern constituencies they believe have been "taken for granted" by the Conservatives – also achieved notable wins.
By now, Labour realisea that it is relatively easy for a Conservative area to go for the Lib Dems at some point, much more than it would be to vote in Labour candidates.
A good illustration of this is in St Albans, Hertfordshire, which, over the past several years, has gone from True Blue to Yellow-Orange, including their MP:
A lot of Lib Dem councils stay that way. This is largely because a) the Lib Dems know how to get out the vote and b) residents get to know the Lib Dem candidates better for that reason:
Conservatives would do well to study St Albans and find out where they've gone wrong.
On that note, one Conservative MP who does realise the value of getting out the vote is Bob Blackman, who has represented Harrow East since 2010.
On Sunday, May 8, he told GB News's The Political Correction that Harrow became a Conservative council on Thursday because he and other Conservatives went out once a week to canvass residents on council services. Their dogged determination worked.
Blackman says that, as far as he is concerned, the next election campaign has already begun, hence more canvassing. Other Conservative MPs should follow his example.
Devolved nations
Each of the devolved nations has a form of proportional representation rather than FPTP. This is why they are very much left-of-centre.
This is how the Single Transferable Vote works:
Wales
Welsh Labour were highly successful. In Wales, First Minister Mark Drakeford runs his nation's Labour Party, so there is no Keir Starmer influence.
As such, Welsh Labour wiped out the last council under Conservative control: Monmouthshire.
Scotland
Scottish Labour also performed well, placing the Conservatives in third place for the first time in ten years.
Nicola Sturgeon's Scottish National Party (SNP) remains the top party, however.
Late on Friday, the Daily Mail reported:
Nicola Sturgeon has said she is 'thrilled' with the results coming out of the local elections in Scotland after her party increased its share of councillors.
The leader of the SNP told Sky News that the results sent a 'clear message' to Boris Johnson and the Tories.
She said: 'We are the largest party in more councils today than we were yesterday – we've won the election and we've won the election by a country mile.
'I think it's the eighth consecutive election win under my leadership of the SNP or after 15 years in government so it is a stupendous result for the SNP and sends the clearest possible message to Boris Johnson and the Tories.'
She said the SNP was still the largest party in Glasgow, despite some Labour gains.
However Sir Keir's party came very close to taking the city council, adding five councillors for a total of 36.
The SNP, meanwhile, shed two seats for a total of 37.
Sturgeon said Labour benefited a lot from Tory's Partygate scandal, adding: 'Labour threw the kitchen sink at Glasgow… and yet they still can't defeat the SNP, so I think there's still some reflection perhaps needed on Labour's behalf.'
All councils up for election in Scotland have now declared their votes.
The SNP gained the most new councillors with 23, followed by the Lib Dems with 20 and Labour 19.
The Green Party gained 15 while the Conservatives lost a total of 61.
Northern Ireland
For the first time in its 101-year history, the Northern Ireland Assembly now has a Sinn Féin majority, even though 58% of the votes in that nation went to Unionist parties. Here's the UK's Deputy Prime Minister Dominic Raab (video here):
As with Wales and Scotland, Northern Ireland's Assembly is free to make its own laws in a number of areas. Oddly enough, that did not extend to abortion laws, which Westminster (the UK Government) imposed on the province by fiat in 2021:
But I digress.
Under the aforementioned Single Transferable Vote system, Sinn Féin won more first preference votes than did the Unionist parties.
This result propels Deputy First Minister Michelle O'Neill to First Minister. She has been Vice President of Sinn Féin for a few years now.
The Democratic Unionist Party (DUP), which had control previously, now refuses to form a coalition government — power-sharing executive — unless and until Boris Johnson's government rectifies the damaging anomalies in the post-Brexit Northern Ireland Protocol.
Until a power-sharing executive is formed, Michelle O'Neill cannot take up her duties as First Minister.
Most Britons associate Sinn Féin not only with past terrorism but also with Irish re-unification, which will surely be on the cards within the next five years.
On Thursday, the party played a blinder, as the Daily Mail reported last Friday:
Neither Sir Jeffrey Donaldson's party or the Ulster Unionists have yet agreed to join a power-sharing executive in which Sinn Fein would be able to nominate the First Minister. 
They have argued that a win for Sinn Fein would lead to a referendum on Irish reunification. But Sinn Fein has run its campaign on the cost-of-living crisis.
Conclusion
The Conservatives are only now reacting after the horse bolted months ago.
They should have been out campaigning over the past few weeks, MPs included.
Only now are they coming up with possible solutions which should have been discussed on the hustings.
On Friday, May 6, the Daily Mail reported that Boris Johnson is considering a summer reshuffle to tackle the cost of living crisis. Hmm.
Over the weekend, a number of Conservative MPs began asking the Government for tax cuts.
Chancellor Rishi Sunak promises to look 'at all the options'.
Good luck with that. There isn't much time before the 2024 elections.
Gales are a normal weather occurrence in the United Kingdom.
They occur between October and April every year.
Since 2015, they have been assigned names, as with hurricanes. Most people over 50 find this annoying: 'It's just a bit of wind, isn't it?'
Why we have to name these gales is unclear. Everyone in Britain knows about high winds, flooding and the occasional structural damage that results. Northern England and Scotland are usually the areas the most severely affected.
The last major storm to devastate the South East was in 1987. Met Office weatherman Michael Fish made the mistake of his career by saying that nothing would happen. As it happened, there was a lot of damage in London, which usually escapes the worst. Transport was severely affected, preventing many Londoners from getting into work the next day, Friday. Amazingly, Michael Fish kept his job and continued presenting the weather until he retired. Incidentally, today, the 1987 storm is referred to as a hurricane.
Last Friday, February 18, 2022, a damaging storm tore through southern England, including London.
Storm Eunice was sandwiched between Storms Dudley and Franklin. These three ran back-to-back, from the middle of last week through Monday. This has not happened within living memory.
London
Eunice caused the first ever red weather alert for London:
Guido Fawkes's accompanying post had a graphic on what to expect along with the following summary:
Overnight, the Met Office updated their Storm Eunice forecast, issuing their first ever red weather warning for London and the South East. While the South West is already being battered by winds of up to 100mph, London is now on course to be hit by the gale between 10am and 3pm.
Where I live, Eunice arrived in earnest around noon and lasted until well after 4:30 p.m.
Big Jet TV proved to be a popular YouTube channel last Friday, with well over 7 million views. It showed what was happening at Heathrow Airport. Some planes could not land immediately and had to resume flying:
Other transport systems were also affected: rail, road and ferries. GB News showed a large lorry that blew over on the motorway. Very few trains and ferries ran.
GB News showed videos of pedestrians blown to the ground in central London. The channel also reported other incidents (emphases mine):
London Ambulance Service (LAS) confirmed two people had been injured in separate incidents.
A man has been taken to hospital after being injured by falling debris in Waterloo, south London, at around midday.
LAS said he was "treated at the scene and taken to a hospital as a priority".
Another man was taken to hospital with a head injury after being struck by a tree in Streatham, south London.
The incident happened shortly before 11am.
Eunice shredded the soft top roof of the O2 arena, built over 20 years ago for the Millennium. GB News has a video and the story:
The O2 Arena was damaged by Storm Eunice on Friday morning, sparking the evacuation of around 1,000 people.
Witness Mala Sharma told the PA news agency that "more and more parts are getting ripped off", adding, "it's going to be a safety issue for people around".
She said it happened "right in front of my eyes" and that the damage "started off with a patch" but then a "chunk" of the dome roof ripped off.
South coast
South east of London, in Kent, one of the three chimneys at Grain Power Station had been blown down. The Telegraph has a photo.
The Isle of Wight, off the coast of Sussex, saw winds of 122 m.p.h., a record for that part of the nation.
Suffolk
The East of England was also affected severely, including Suffolk, which borders the North Sea.
One father in Suffolk had to deliver his own baby. There wasn't time to get to the hospital.
A few hours after Storm Eunice tore into Suffolk, Lauryn Vartan bolted awake at 4am, screaming in pain. The baby is coming, she told her husband, Josh. He grabbed what he could and soon the couple were hurtling through the seaside town of Felixstowe.
They had hoped to reach Ipswich Hospital, but their daughter had other ideas. Just 45 minutes after leaving home, Josh delivered baby Florence on the side of the road, as record-breaking winds rocked their car.
Despite the dramatic circumstances of their daughter's arrival, Josh and Lauryn decided against a midwife's suggestion to name their baby Eunice.
Good for them. Instead, they chose to name their daughter Florence.
Josh was euphoric:
Josh said he felt "total euphoria" after the birth. "It is such a lovely feeling — like something you see in a movie, but never think you'll have to do anything like it. It's a bit far-fetched but actually such a lovely experience."
While debris flew along the road, Josh had to stop along a roundabout:
on the A14 at the edge of Felixstowe.
Ambulance staff guided him by telephone with instructions. He had to substitute Lauryn's dressing gown for towels, which were in the boot (trunk) of the car:
"The only thing I had to hand was Lauryn's dressing gown, which was freshly cleaned for the hospital stay, and I caught Florence in the dressing gown.
"With the storm just starting to brew, the paramedics were so chuffed we'd managed to keep her so warm in the dressing gown because a brand new baby in the middle of all the wind could have been awful."
Fortunately, the paramedics were not far away:
Florence was delivered at 4.45am on Friday. Paramedics arrived five minutes later.
Lauryn said:
"They turned up and I had this purple little baby against my chest. I was shivering because during labour you're so hot, but the wind was really picking up then and we were hanging out of the car. We all sat there shell-shocked."
South West
The South West of England also saw much damage from Eunice.
GB News has a dramatic video of the top of a church spire which broke off in Wells, Somerset:
A church's spire has come clean off in shocking footage due to Storm Eunice.
In the video clip, the top of the spire of St Thomas Church in Wells, is seen "quivering" in the strong winds before being blown off.
Another report gave more examples of damage in the region:
A spokesperson for the Severn crossings said staff had received verbal abuse from motorists over the decision to close the M4 and M48 bridges [to and from Wales].
"We understand the effect a dual bridge closure has on people wishing to travel," they said.
"This is an extremely rare event for us. We have staff out in this storm ensuring action is taken to keep road users safe and they are being abused for it.
"Respectfully, stop. Thank you."
The A303 is blocked near Grately due to a fallen tree, and a car and a lorry have been damaged by a tree in Bath Road, Atworth, Melksham.
A tree has come down near The Marlborough pub, in High Street, Marlborough, and brought down a stone pillar and street lamp.
Roofs have been damaged in Trowbridge and Swindon and a barn has been blown into the road in Lower Road, Edington.
"A number of outbuildings are said to be insecure so please avoid the area while the scene is dealt with," a police spokesperson said.
In Wiltshire, fallen trees have caused one lane of the M4 to be closed between junctions 15 and 16 westbound.
In the popular Dorset tourist hotspot of Poole, Sandbanks Road and Shore Road are closed due to flooding.
GB News's Paul Hawkins reported from the aforementioned bridges, near Bristol. He said:
Only idiotic reporters are going to be out in this weather.
Indeed, Eunice was more than 'just a bit of wind':
In Bude, Cornwall, Eunice uprooted an ancient tree that was a local landmark. The local resident who caught it on video was amazed. GB News has the video and the story:
A tree in Bude, Cornwall, is seen collapsing in a shocking moment as intense gusts hit the area.
Twitter users have reacted to the fall, with one user saying: "Such a sad sight to see. That tree is a great landmark and has stood strong for so many years."
Another user said: "This is heartbreaking. Such a lovely feature of the high street gone."
Wales
Eunice ravaged Wales and the South West in the morning.
Afterwards, a threesome living along the coast decided to investigate the waves. Two of the three are women in their autumn years. They said they were out for the fun of it, further proof that, for older generations, this was 'just a bit of wind':
GB News has a photo of a lighthouse in Porthcawl, Bridgend, Wales, where the waves were impressive indeed. The channel has another video of waves spilling over the sea wall in Amroth.
Some Welsh residents experienced power outages, although service was restored to most on Friday afternoon:
North West of England
Returning to England, the northern half of the country is generally the worst hit.
In Merseyside, three people took a dip in the Irish Sea before the Coastguard ordered them to get out and go home.
GB News has the story and a photo:
A man has been spotted swimming in the sea in New Brighton, Merseyside, as the whole of the UK battles with Storm Eunice.
The man and two others ignored safety warnings and went for a dip in the sea.
They were pictured stripping off to their trunks and getting into the water despite strong winds and high tides.
But after getting into the sea they were spoken to by the Coastguard, who asked them to get out of the water.
The swimmers then got back into their cars and headed away.
Coastguard officers were stationed by the coast of the Wirral seaside resort and moved people off the promenade as the waves got higher after midday.
The car park by Fort Perch Rock was closed as the storm hit and roads in the town were closed.
Merseyside is subject to a Met Office amber warning for wind, which is in place until 6pm.
Advice from the Coastguard is to avoid coastal and exposed areas.
The Midlands
GB News had a reporter on hand at Nottingham railway station. Things looked calmer there, but he said that the winds blew an umbrella out of woman's hand. A few trains ran, but with delays. A roof also blew off a house in Derby:
North East
Residents in County Durham still remember Storm Arwen from last November.
Some were left without power last week after Dudley. No sooner had that been restored than Eunice arrived.
GB News said:
North East of England Reporter Rachel Sweeney said "this is the worst we've had in County Durham since November. In the last couple of hours the wind has drastically changed."
GB New's Rachel Sweeney fought to keep her hat on as she was hit by strong winds, saying "the strength is unreal and it's bitingly cold."
Updating on the changing situation in County Durham, she said "last time I checked on Northern Power Grid there were around 750 homes without power, which is very stressful for families here considering they have only just got their power back on from Storm Dudley."
Here's Rachel Sweeney's report:
The aftermath
GB News's Mark White has an excellent video showing material not captured above, including two Londoners being blown to the ground whilst walking:
Mark White estimates that the cost will be great:
The cost of the damage here and across large parts of the country will be measured in the millions.
On Monday, February 21, The Telegraph reported on a record number of power outages. Storm Franklin made recovery efforts difficult:
Around 56,000 people were still without power on Sunday afternoon after Storm Eunice caused what energy providers believe was a record national outage over a 24-hour period, with around 1.4 million homes losing power.
Ross Easton, director of external affairs at the Energy Networks Association, said Storm Franklin will hamper recovery efforts on Monday.
"We're still making pretty good progress in terms of reconnections, but it's certainly being hampered by the high winds," he said.
After Storm Arwen ravaged the North and Scotland last November, residents rightly complained about the delay in recovery to their electricity service, which took more than 10 days in some areas.
Some living in that region complained on social media that, if Arwen had landed on the South, especially London, power would have been restored much more quickly.
However, that is not necessarily true.
Veteran journalist Charles Moore, who lives 'down South' in leafy Sussex, filed a report for The Telegraph on Tuesday, February 22, stating that power in his area was still out days later.
His story spells out the raw reality of power loss:
Escape from modernity is enjoyable, however, only if you can get back to it when you want to. We could not. The power was still off the next morning. I began to consider the facts.
They were not good – roads blocked, roofs smashed by trees, shops closed, unable to operate without computerised tills, freezers melting.
The Moore family were ill placed. Our son and daughter-in-law, she anyway suffering from flu, had to contend with an Aga growing tepid and two small children without baths or hot food. My sister's two autistic sons and their carer all had Covid, so she and her partner had to isolate in their very cold, very old house, mobile-less.
My mother was worst placed. She is a former polio victim who is about to be 90, lives alone and is immobile. Helped by extremely kind neighbours, she survived the first night well, but began to get cold the next day. Because of her infirmity, she cannot light or tend a log fire …
By Sunday, the situation began to feel like the plagues of Egypt. All power was still off. My wife had caught the local flu and was sick in the night. My mother woke to find she had no water of any kind, hot or cold. The whole town of Battle was in the same situation, we heard. Without power, the water pumping station was not working properly …
As I write, 4,400 homes in Sussex are still without power. I have just left after giving my mother breakfast, still upstairs. She and I agreed that she should stay put, partly because she might fall coming down, mainly because of the ordeal of getting up the stairs again later. There is no solution until the power returns. A carer is with her, and my brother is nobly coming from London later. My poor sister has now tested positive for Covid.
My mother has gamely overcome many adversities in life, but even she is a bit shaken. We all feel slightly embarrassed. After all, the absence of electricity was something familiar to most people 70 years ago.
Yet it has become so embedded in daily life that we can barely live without it for more than 24 hours. The authorities need to acknowledge this, and find quicker ways of restoring heat and light.
I could not agree more. Private companies supply our electricity. We are always told that the private sector is more agile, responsive and proactive than the public sector. So why aren't they stepping up to the plate? We get plenty of storms here in the UK. They must do better.
A lighthearted moment
There was a lighter moment during the storm as MPs on social media mixed up Eunice and Eustice, the surname of our Environment Minister:
Guido wrote:
It's an unfortunate coincidence that the name of the storm battering the UK, Eunice, shares such a similarity with the name of the man who'll be in the spotlight once the skies have cleared, DEFRA secretary George Eustice. It turns out plenty of MPs have failed to spot the difference.
Three of the four were Labour MPs; one was a Conservative, George Freeman.
Here is Ruth Jones's helpful warning about Storm Eustice:
A storm to remember
For those living in the South, Eunice will be a storm to remember.
We still talk about the storm of 1987. Eunice will be a keeper, too.
Despite receiving more brickbats this week, Prime Minister Boris Johnson is still standing as Parliament enters its February recess.
Former PM John Major had a go at Boris about Brexit in a speech he gave to the Institute for Government this week. Like another former PM, Theresa May — still a serving MP — Major is a staunch Remainer.
Writing for The Spectator, historian Nigel Jones discussed the Blob (our Swamp) on Thursday, February 11, 2022 (emphases mine throughout except for Guido Fawkes's posts):
Still fighting their neverendum certain Blobbers, so used to having things go their way for the past half century, view the man who brought us Brexit as the one who betrayed the favourite cause of his caste. For that alone he must be punished. They seek not only Johnson's removal from office but his total humiliation …
The Mays and the Majors of this world, uniting with the legions of the left who have always loathed Johnson, cannot bear it that someone who sums up in his rumpled and hitherto popular persona all that they are not, is, after all the ordure that they have poured over him, like Elton John: still standing. After weeks of sustained bombardment with the most vicious projectiles his enemies can muster, the object of their righteous wrath is still withstanding the siege from the Downing Street bunker, even belting out 'I will survive!'
… And those such as Johnson's former editor Max Hastings, who has predicted the PM could be gone within weeks, could yet be proven wrong. But if Boris does go he will not have been brought down in a flood of booze but by the bile of 'the Blob' against the black sheep who dared, by accident or design, to stray from the flock.
The Spectator's Katy Balls says Boris is succeeding because he is buying himself time, putting forward his 'red meat' policies to win back MPs and those souls who voted Conservative in 2019:
After a difficult few weeks, Boris Johnson has made it to parliamentary recess. Given few expect a no confidence vote to be held during recess, time away from parliament gives the Prime Minister much-needed breathing space. After the seemingly never-ending parade of partygate stories, there have been times when MPs were sceptical he would make it this far.
Instead, the Prime Minister has succeeded in buying himself time — talking down would-be plotters and rushing out a string of red meat announcements to keep the right of his party on side. The announcement this week that all Covid restrictions could end a month early is a prime example of this. When MPs return from recess, Johnson will unveil his plan for living with the virus — which will include the guidance rather than law (self-isolation is expected to become just advice) and reduced access to tests.
Boris made his liberating announcement about lifting coronavirus restrictions to the House of Commons on Wednesday, February 9:
Guido Fawkes wrote:
Boris in the Chamber just now announcing that the final Covid restrictions, including the legal requirement to self-isolate after a positive test, are likely to be lifted after the February recess. The "living with Covid" plan will be revealed on 21st February. A full month ahead of schedule…
February 24 could be our third liberation day. We already had Independence Day on July 4, 2020, followed by Freedom Day on July 19, 2021 and now this. Let's hope it is permanent.
In any event, the announcement made two front pages on Thursday, February 10, with the Daily Mail being more positive about this world leading move than The Star. I can empathise with both:
When SAGE's scientists and the unions object, we know Boris is on the right track. Boris didn't even bother consulting the former, as The Mail reported:
Unions are already digging their heels in after Boris Johnson revealed he intends to ditch all remaining Covid laws within a fortnight as a poll revealed that three in four workers ground down by almost two years of lockdowns and restrictions want to continue with self-isolation.
Unison, Britain's largest union serving more than 1.3million members from swathes of the public sector, has accused the Prime Minister of going 'too far, too soon', insisting that the virus 'hasn't disappeared' — despite a raft of data suggesting the worst is now over.
SAGE scientists have also warned of the 'dangers' of the PM's plan to make England the first country in the world to scrap all Covid rules, after it emerged Mr Johnson had not discussed it with the committee which is now infamous for its gloomy predictions about the pandemic.
Boris appears to be placing more weight on what is actually happening rather than alarming data projections from SAGE:
The resistance comes despite Covid infections falling consistently, with even the gloomiest surveillance study now accepting that the country's outbreak has peaked — mirroring the official numbers.
The milder nature of Omicron, coupled with sky-high immunity, mean the NHS never came under the levels of pressure that No10's experts feared would happen, with hospitalisations and deaths both now in freefall.
People with fragile health should note that they will be free to continue self-isolating. That freedom is an individual choice rather than a mandate by law.
The same goes for masks.
Boris is no doubt trying to encourage the socialist governments in Wales and Scotland to do the same thing:
The announcement annoyed the devolved governments in Scotland and Wales – with Nicola Sturgeon's administration calling it a publicity stunt to divert from the Partygate scandal that has left the PM fighting for his job.
The First Minister did this afternoon pledge to ditch face masks in Scotland's classrooms from February 28 — keeping them in communal areas — but says she will wait for expert advice before following Boris's lead on any other rules.
The Scottish Government is unlikely to go as far as dropping all rules when it publishes its strategy for living with Covid in the months ahead on February 22. The plans will be debated by MSPs, meaning any changes could be several weeks behind England. The Scottish Government is even set to extend its Covid powers until September 24.
Conservatives applauded Boris's move:
Lord Frost, who dramatically quit Cabinet partly in protest at draconian curbs, was among the senior Tories praising the move. 'The PM's plan to end all Covid restrictions a month early is the right thing to do & is extremely welcome. I hope the government will also make clear we will not go down the road of coercive lockdowns ever again,' he tweeted.
Tory MPs last night insisted that lockdowns should never be deployed again. 'I am glad to see the emphasis on learning to live with Covid,' said Bob Seely, who represents the Isle of Wight …
David Jones, a former Cabinet minister, welcomed the 'very positive' news, adding: 'The PM deserves credit for this. We have locked down for too long and we now need a commitment that we will not lock down again, save for in the most exceptional of circumstances.'  
Steve Baker hit the nail on the head. The lifting of restrictions is meaningful only if Boris reforms the Public Health Act of 1984 — and, may I add, scraps the Coronavirus Act of 2020:
Former minister Steve Baker added: 'I welcome this announcement but we are not out of the woods until the Public Health Act has been reformed, we have new rules for better modelling, competitive, multi-disciplinary expert advice and wellbeing-based cost-benefit analysis covering the costs of lockdowns and restrictions. There is much to do!'
Earlier this week, Boris made another reshuffle involving the Cabinet Office and Downing Street, in line with the preliminary recommendations from Sue Gray's report on Boris's lockdown parties on January 31. Boris had met with Conservative MPs that evening:
Guido's accompanying post reads in part:
It could be "imminent".
Guido was also first to reveal the PM won over swathes of support from wavering MPs by promising to massively up their involvement in No. 10's policy-making, saying he liked Graham Brady's suggestion of 1922-organised MP policy committees.
In a sign of how the day had played out, in the evening Birmingham 2019 MP Gary Sambrook put out a gushing tweet about the PM:
Guido understands he's now withdrawn his letter of no confidence to Graham Brady. After the vaccine rollout and Brexit, the new shadow whipping operation has to be one of the most impressive things Boris's No. 10 has managed to organise…
On Tuesday, February 8, GB News gave us the details on the reshuffle:
Jacob Rees-Mogg will be the minister responsible for "Brexit opportunities" in the first move confirmed as part of Boris Johnson's reshuffle.
The shake-up of the ministerial team follows the appointment of Stephen Barclay as the Prime Minister's chief of staff and comes as Mr Johnson seeks to relaunch his administration following the partygate row.
Mr Rees-Mogg, previously the Leader of the House of Commons, will still sit at the Cabinet table in his new role as Minister for Brexit Opportunities and Government Efficiency …
Former Chief Whip Mark Spencer has been confirmed as the new Leader of the House of Commons to replace the vacant role left by Jacob Rees-Mogg.
Mark Spencer has been the MP for Sherwood since 2010 and has previously been Deputy Leader of the House of Commons.
Stuart Andrew has been appointed as Minister of State (Minister for Housing) in the Department for Levelling Up, Housing and Communities; he has been the MP for Pudsey since 2010, he has most recently been a deputy whip.
Chris Heaton-Harris has been confirmed as the Government's new Chief Whip; he has served as MP for Daventry since 2010, he had most recently been Minister of State for Europe and is famed in Westminster for his use of Twitter to post one-liner jokes.
James Cleverly MP will become Minister of State (Minister for Europe) in the Foreign, Commonwealth and Development Office as part of the shake-up of the Government frontbench, Downing Street said.
Wendy Morton MP to be a Minister of State in the Department for Transport.
Rt Hon Christopher Pincher MP to be Treasurer of HM Household (Deputy Chief Whip).
Samantha Jones, the Prime Minister's adviser on the NHS and social care, has been appointed as the new No 10 permanent secretary and chief operating officer, Downing Street said.
Samantha Jones, who is a civil servant, is a former NHS trust executive.
She helped develop the plan to reduce hospital waiting lists, but it did not go down well in Parliament this week when Health Secretary Sajid Javid announced it. Even Conservative MPs thought it was weak, especially as a record high of 6.1 million patients are awaiting surgery or other medical procedures.
Samantha Jones will be both an interim No 10 permanent secretary and its COO, both new posts, as The Telegraph reported on February 9:
Boris Johnson has appointed a former NHS trust executive who advises him on health policy to the newly created position of No 10 permanent secretary.
In the latest move to shake-up his inner circle, the Prime Minister announced that Samantha Jones will take the role for six months on an "interim" basis.
Ms Jones had been Mr Johnson's expert adviser on NHS transformation and social care, meaning she helped craft the newly announced plan to bring down NHS waiting lists.
The former nurse and NHS veteran will also hold the title of Chief Operating Officer for Downing Street as she helps shape the new civil service structure being created for the Prime Minister.
There was another appointment, that of Stuart Andrew MP as Levelling Up Minister:
Andrew Griffith, one of the MPs who was reshuffled in the first week of February, laid out his plans as Boris's new Director of Policy:
You would not know it from the media headlines, but families want to hear about our plans to grow employment, tackle the NHS backlog, control our borders, make their streets safer, bring down the cost of living and return rapidly to the point when we can cut taxes to let everyone keep more of their own money – all policies that are rooted in strong Conservative values.
As the Prime Minister's Director of Policy, these are my top priorities together with delivering the tangible opportunities from Brexit that will allow our economy to be more competitive and the reform of government to deliver better public services. Whilst the Policy Unit's remit is to advise the Prime Minister across the widest breadth of government policy, we will be unafraid to ruthlessly focus on the key issues. It is ultimately outputs that matter.
Elected in 2019, he is far from the Sir Bufton Tufton brand of Conservative MP and has been against the EU since John Major's time as PM:
From a comprehensive school in south-east London, I was the first in my family to go to university, where campaigning to keep the UK out of the Exchange Rate Mechanism turned me into a lifelong Conservative.
Jacob Rees-Mogg went further, asking Sun readers for suggestions on which EU regulations should be rolled back in the UK:
The opportunities in front of us are immense. Huge parts of our economy are no longer regulated by the EU.
Before Brexit, many of my constituents would write to me to complain about regulations that burdened them daily.
From farmers to electricians, on so many issues I had to tell them that even as an MP I could not help to solve their problems, as these rules were set by the EU, not the British Parliament.
Thanks to Brexit, that has all changed. Sun readers can hold their MPs accountable, as the buck truly stops with them …
You are the ones who know the red tape binds your hands, and to do my job I need your wisdom. Ronald Reagan rightly said: "The nine most terrifying words in the English language are, 'I'm from the Government, and I'm here to help'." This needs to be turned on its head: Britain needs The Sun readers' help instead.
I implore you all to write to me with the regulations you want abolished — those which make life harder for small businesses, which shut out competition, or simply increase the cost of operating. Through thousands of small changes, we can enact real economic change — which means The Sun's readers will feel a real Brexit bonus in their pockets and in their lives  every day.
WRITE TO ME: Jacob Rees-Mogg, House of Commons, London SW1A 0AA
EMAIL: jacob.reesmogg.mp@parliament.uk
In other news, the UK economy grew 7.5% in 2021:
Guido has the quote from the ONS:
 Darren Morgan, ONS: 
"Despite December's setback, GDP grew robustly across the fourth quarter as a whole with the NHS, couriers and employment agencies all helping to support the economy," he said.
"Overall, GDP in December was in line with its level in February 2020, before Covid-19 struck, while in the fourth quarter as a whole, it was slightly below that of the fourth quarter in 2019."
People are trying to cast shade on this achievement, but even The Spectator, hardly pro-Boris, has a compliment for his administration. Today, Katy Balls pointed out:
With prices soaring, interest rates rising and the cost of living crisis growing more acute by the day, we could do with some more positive news: and this morning's GDP update has played a small part in providing it.
Despite suffering the largest economic contraction in 300 years in 2020 – and taking the biggest economic hit in the G7 – Britain had the fastest growing economy in the G7 last year, boosting its GDP by 7.5 per cent.
It's still a mixed story: looking at where the UK economy is now compared with pre-pandemic levels, it ranks average within the G7. But with one of the steepest hills to climb back to recovery, the UK's relatively fast growth enabled the economy to get there several months before it was forecast to do so …
… while the economy did take a slight hit at the end of last year, it did not fall back below pre-pandemic levels. Britain can still boast that it made a full economic recovery – and hopefully recoup December's losses fairly quickly, given how quickly fears about Omicron's severity were put to bed.
Finally, with local elections coming up in May, Boris will be doing what he does best — campaigning around England (with one stop in Wales):
Guido notes that not all of Boris's destinations will be holding an election this Spring, but the PM needs to turn things around for the Conservatives:
Boris has spent a lot of time on the road recently. Almost every day he seems to show up at another school, building site, or hospital somewhere outside SW1 – in just the last 5 weeks, he's made 10 trips across the UK. Coincidentally, 7 of those trips happen to be in seats which are holding local elections in May …
With Labour and much of the media hammering away at Partygate since December inside the Westminster bubble, Boris obviously knows his best chance of turning things around is to get back into campaign mode. It is what he does best, after all…
Although Labour are still ahead in the polls, an amazing reversal that began when the Downing Street parties during lockdown came to light, a pollster from Savanta ComRes thinks that it will be easier for Boris to win his 2019 voters back than it will be for Starmer to encourage them to vote Labour:
This is what Savanta ComRes uncovered from their latest focus group — Starmer isn't capturing their collective imagination, so Boris is still in with a chance:
I will have more next week on Boris's attempt to survive at No. 10.
Following on from my post yesterday, Neil Oliver had more on coronavirus on his programme of Saturday, January 22, 2022, wherein he warned of 'consequences coming' and eroding trust in institutions we normally respect.
His commentary was much appreciated:
Here's the YouTube version:
GB News has a transcript, excerpts from which follow. Emphases mine:
American money man, philosopher and billionaire philanthropist Warren Buffet said: "Only when the tide goes out do you discover who's been swimming naked."
He was talking about business models – how when times are good everyone might seem to be doing ok, but when times turn bad, and there are always bad times, the reckless and bad ideas get woefully exposed.
As soon as the virus arrived among us, our democratically-elected governments, eagerly abetted by their preferred scientific advisors, threw away all the plans they had had for dealing with a pandemic – plans laid down after years of preparation and discussion, plans in line with advice from the World Health Organisation – and replaced them overnight with tactics lifted straight – I can only assume – from the Chinese Communist Party's Big Boy's Book of totalitarian control. All over Europe and the developed West it was the same. Talk about Plan B – where had they kept this one hidden, a person might have asked, if questions had been allowed, but they were not.
They helped themselves, those elected representatives of the tax-paying, law-abiding public – to powers unprecedented in peacetime, the sort of powers indeed that might give dictators and emperors excited dreams. With the craven complicity of the so-called political opposition, they drafted and passed outrageously invasive laws with barely so much as a nod to discussion or debate in Westminster. Before we knew where we were, the old world of taken-for-granted freedom had been papered over with a dystopia.
It was around then, though – within weeks of the outbreak starting, and certainly within a few months – that the tide started to go out and the truth began to be revealed, made obvious for those looking the right way. The naked swimmers were clearly to be seen.
Long ago now – long ago in terms of policies that have ruined lives, destroyed livelihoods, lethally endangered the health prospects of uncountable numbers of people and compromised the educations and therefore the hopes and dreams, not to mention the mental health and general wellbeing, of a generation of children – there were all manner of voices saying how wrong it all was.
Among them, and worth listening to more than any others in the spectrum of dissenting voices, were those of other scientists and, perhaps most pertinently, medical professionals of unimpeachable expertise and experience, with lifetimes devoted to the treatment and care of respiratory viruses and battling courageously to be heard. Again and again, they sought to highlight and to explain the wrong-headedness of what was being done, allegedly in the name of public health. Always they were shouted down, shamed, ridiculed, humiliated, even ruined professionally for having had the temerity to raise doubts and offer alternative solutions.
And of course, our governments did not – absolutely and unequivocally could not – have done all this alone. For me, in many ways worst of all has been the complicity, in the reprehensible behaviour, indulged in by so much of the mainstream media …
The governments, listening all the while to the psychologists in the Nudge Unit, decided to fire up the fear train and the mainstream media were at their side for the duration. We, the people, it was blatantly decided, were to be frightened out of our wits so that governments could have their way with us, all for the greater good. Whatever they wanted us to do, they would use the seemingly unstoppable momentum of the fear train to carry all of us where they wanted us taken.
First aboard, like ticket inspectors and guards – were faces made so familiar by their daily appearance in our homes courtesy of news broadcasts. All aboard went the BBC, Sky, ITV, C4 and the rest. High profile journalists and all manner of well-kent faces took turns shovelling coal into the firebox, making the train's engine run faster and faster … the most prominent news providers in the land were instantly and always on the governments' backs – demanding faster … faster … faster … more … more … more.

Two years later and here we are, wherever here actually is. Like many populations around the developed Western world we have arrived at a destination many of us struggle to recognise. The buildings and streets look the same, right enough, but everything else is altered. Society is riven with divisions – between vaxxed and unvaxxed; mask wearers and bare faces, those who were helped financially and those that were hung out to dry. Those divides are deep and feel permanent. Great Britain is half a trillion pounds in debt. It has been estimated that 50,000 people who might by now have had cancers diagnosed and embarked upon treatment are, as yet, unaware of the awful news coming their way sooner or later. Six million people await treatment by Our NHS.
In the past few days here on GB News we have highlighted the results of a freedom of information request made to the Office of National Statistics. Coverage of the reply has been absent from the mainstream media. The ONS was asked how many otherwise healthy people had died in England and Wales of Covid and nothing else. The answer was 17,371 across the two years, average age over 82. These figures are comparable, to say the least, with the death toll that might be expected from a typical flu season.
All lives matter, including those 17,371. But there are nearly 70 million people in Britain. Around 700,000 of us die every year, of all manner of causes.
I look at these facts, these figures, and I cannot begin to imagine making sense of what has been done, apparently in the name of public health. Time will surely tell, as I and others have predicted before, that policies followed in these two years past will prove to have been the worst policy mistakes in peacetime – perhaps ever.
The tide I mentioned earlier, that revealing tide, is receding fast now. More and more naked swimmers – politicians, advisors and journalists among them – are to be seen running for cover behind the sand dunes, clutching at towels as they go. But we can see them. We know who they are. Some of them, more every day, have even had the unmitigated gall to think they could hurriedly get dressed again, without anyone noticing, so as to pretend they were never in the water in the first place.
Neil Oliver is not wrong. In fact, in the past few days, various vocal commentators in the public sphere have begun saying that they never supported the coronavirus policies. Really? Pull the other one.
He concludes:
There is still so much we don't know – still so much we are not supposed to talk about, ask questions about … Maybe when talk of a new variant comes along, and it surely will, and the government tries to get us back in our boxes, some of those journalists might join the rest of us in saying Never Again. Or maybe they won't. Anyway, as I say, the tide is well and truly out now and the naked swimmers are plain to see.
All drama aside, there are consequences coming, a great wave of them – economy, health, the as-yet unmeasured damage to our children and unanswered questions about which, if any, of our institutions we can trust. What has been done these last two years by those we had been encouraged to trust, will be hard to forgive, and impossible to forget.
I am incensed that England was locked down for 17,371 deaths.
Some of those deaths were in Wales, too, but the Welsh decided to vote Labour in May 2021 and remade their collective, socialist bed, thereby retaining Mark Drakeford as Prif Weinidog (First Minister). May they rest easy in it …
Guido Fawkes tells us that the title Prif Weinidog translates literally to Prime Minister (emphases in the original):
Speaking to BBC reporter Mark Hutchings, who asked Drakeford whether he planned to set a firm date for the lifting of Wales' Covid restrictions, the First Minister said:
"No I won't because I'm the Prime Minister of Wales, not a horoscope writer for a daily newspaper. And it's simply impossible for anybody to peer into the future of coronavirus with the sort of definiteness you were suggesting."
Hutchings later gave Drakeford the benefit of the doubt by suggesting it was just a "slip". Probably, although Drakeford also changed his Twitter handle to "@PrifWeinidog" back in October – a direct Welsh translation of Prime Minister…
Returning to England, thank goodness that a rump of Conservative backbenchers rebelled against Boris late last year in voting against Plan B before Christmas. Even though Plan B passed, thanks to Labour, Boris did not push Plan C at the end of December.
Back in March 2020, MPs pledged not to make the pandemic about politics. It did not take long, however, for it to become purely political, especially in Wales and Scotland.
Thank goodness for Conservative MPs with backbone — and for the revelations about the Downing Street parties. Both prevented England from a sharper lockdown.
The Government lifted restrictions in England on Thursday, January 26. May they never return.
Neil Oliver is right: the fallout from the pandemic policies will be great.
On Sunday, January 9, 2022, the Duchess of Cambridge, popularly known as Kate, turned 40:
Paolo Roversi took beautiful photographs of the Duchess to mark the occasion. They will be permanently displayed in London's National Portrait Gallery. Prior to that, they will be touring in three places that were pivotal to the Duchess's life: Berkshire, the county where she grew up; St Andrews, where she went to university and Anglesey, where she and Prince William lived when they first married:
Paolo Roversi definitely brought out the best in his subject:
The portrait of the Duchess in her red dress made the cover of half the Sunday papers:
The third portrait can be seen in an article in The Sunday Times: 'Kate Middleton at 40: how the Duchess of Cambridge is preparing to be Queen'. Excerpts follow, emphases mine.
The paper's Royal Editor, Roya Nikkhah, points out that Kate's fit with the Royal Family is excellent:
From Diana to Fergie to Meghan, royal brides' discontent with the institution is renowned. But more than ten years after marrying in, the Duchess of Cambridge celebrates her 40th birthday with a high level of the personal and professional happiness that has eluded some royal wives.
That is no mean feat for a young woman who has been so exposed for so long.
The past two years have been, to say the least, turbulent for Kate and her family …
How Kate copes
The Duchess has borrowed behaviours from the Queen and the late Queen Mother.
She eschews drama:
Jamie Lowther-Pinkerton, one of the Cambridges' closest friends and advisers, their former principal private secretary who is godfather to Prince George, assesses Kate's coping mechanism: "She has that almost old-fashioned, Queen Mother attitude to drama — she just doesn't do it."
An image of the duchess arriving at the Duke of Edinburgh's funeral in April last year is telling. Taken a few weeks after Harry and Meghan's interview with Oprah Winfrey, which included accusations of racism in the royal family, Kate appears composed but defiant.
The Queen must admire her granddaughter-in-law quite a lot, because she promoted her to:
Dame Grand Cross, the highest female rank in the Royal Victorian Order, awarded personally by the monarch for services to the sovereign — a sign of her gratitude to the woman on whose shoulders so much expectation rests. 
One source thinks that the Duchess takes a lot of her cues from the Queen:
A royal source who has known Kate from the start believes she has quietly observed Her Majesty's game plan and successfully adopted many of her tactics: "She will be queen for a long time, and knowing her, she will have thought, 'Who is my role model here, who has done this really well? Who do I learn from to lay down and build the foundations for the long game, to stay solid, strong, calm and confident, without giving up too much of myself?' I think she has taken a lot from the Queen."
Prince William's greatest support
Sources interviewed agree that the Duchess is her husband's greatest source of support:
A close friend says: "Kate has a way of calming William down and knows how to be really affectionate and gentle. But she is 100 per cent loyal to him and has a shaft of steel running up her back when she needs to deal with stuff that's unpalatable." One of William's closest friends puts it bluntly: "He has had a year from hell and she has been fantastic supporting him."
William is the first to acknowledge his wife's diplomacy. "Catherine is a peacemaker," he told a friend. "She's much better than me, she wants everyone to be aligned." When the royal party emerged from St George's Chapel in Windsor after Prince Philip's funeral, Kate broke the ice chatting to Harry, leading William to follow suit. In July, when the brothers were briefly reunited again at Kensington Palace to unveil a statue of Diana, Kate did not join them publicly but worked her magic out of sight before the brothers emerged into the glare of the world's media.
"William was still furious," says a close friend. "He had taken the view that he'd only give so much. He just didn't want to go there [with Harry]." An aide says: "[Catherine] was amazing behind the scenes when Harry came." The event went off without a hitch.
'Twas ever thus, says a former courtier, who points to the royal trio's Heads Together campaign launched in 2016 to raise awareness around mental health: "It was completely her idea. She was very keen for the three of them to do something powerful together equally. She cared a lot about William's relationship with his brother."
St Andrews days
Incredibly, Prince William and Kate Middleton managed to keep the early months of their relationship at university out of the eyes of the media. Throughout it all, Kate remained level-headed:
William and Kate met at the University of St Andrews in 2001, where they were initially in the same halls of residence and reading the same degree, although William switched from art history to geography. Kate briefly dated law student Rupert Finch in her first year. She and William became a couple in 2003, managing to stay under the radar until April 2004 when The Sun broke their cover, publishing photographs of them skiing. Kate's world changed for ever. Yet she did not. "She was always the same, from when she didn't know she was going to be William's wife to after the engagement," says a close friend of the couple. "She never changed her manner with anybody."
She can credit her parents' success in their own party-planning business for her composure:
… she moved in upper-class circles that made the transition into royal life a relatively smooth one.
Enduring love
Those who know the couple say they are still very much in love and became good friends first:
That ease came from a solid friendship before romance blossomed. As William said in their engagement interview in 2010: "We ended up being friends for a while and that was a good foundation. Because I do generally believe now that being friends with one another is a massive advantage."
One of their closest friends says a spark was there from the start. "He found her really attractive and they're the couple that still really fancy each other, there's still a strong attraction. She finds him hilarious, they're very into each other."
Handling the media
During the couple's courtship, Kate had no police protection until her engagement:
… Kate had a rough ride from the start. After their relationship became public she was hounded by the paparazzi, who camped outside her Chelsea home, chasing her down the street. When it emerged she was working as an accessories buyer for the fashion label Jigsaw, photographers followed her as she went to buy her lunch. A friend tells me Kate was even chased late at night by several men in a car, which she found "terrifying".
William's team did all they could to help, but until he put Diana's ring on her finger Kate was on her own without police protection. "It was constant. She coped with it admirably, given how intrusive it was," says a former royal aide. The onslaught continued for years. After her job at Jigsaw became too difficult with the paparazzi, she went to work for her parents' party-planning business and was attacked for being a "Waity Katie" who was biding her time until William made an honest woman of her. Reports that some in William's circle nicknamed her "Doors to Manual", in a reference to her mother Carole's former career as a flight attendant, are said to be an "urban myth" by those close to the prince, but the future queen did not have it easy.
"It was never water off a duck's back, but she has extraordinary strength of character and resilience," says the aide. "I've never once seen or heard of her losing her temper. She went into it with her eyes wide open and her brain engaged. She is a sound, grounded person who knows herself well."
Kate displayed the same sang-froid at her wedding. She was composed throughout.
Early married life
The Cambridges spent their first few years of married life in Anglesey. The Prince was an RAF search and rescue pilot.
Kate found adjusting to life as a Royal daunting at times but wanted to do everything properly:
… Kate carefully planned her approach to learning how to become a future queen. "She was absolutely daunted by it and it was overwhelming at times," says one of her closest friends. "Everyone wanted her to be the next Diana — people had this Diana hole they wanted to put her into. There was constant 'what are her [campaigning] issues going to be?' William was protective in making sure she had time and space to acclimatise to public life and not feel pressured."
With charities clamouring for her attention, Rebecca Priestley, a confidante and adviser from 2011 and her private secretary from 2012 to 2017, helped Kate shape her new role. "Catherine knows every decision is for the rest of her life, everything is for the long game," Priestley says. "She was aware she wasn't an expert in any one field and she wanted to educate herself first, then shine a spotlight where needed. It was a 'listen and learn' approach rather than immediately becoming patron of a charity. We did a lot of under-the-radar visits before the public engagements."
… Some of the media's obsession with her style over the substance of her work is a source of frustration, one that cut deep when she was starting her public life. A close friend says: "When she goes to the Bond premiere or is at Trooping the Colour, of course she puts on the 'uniform' of the role. But what was enormously frustrating and difficult for her, especially in the early days, was she was going out and doing the work she was interested in and was hugely important to her, and people just talked about what she was wearing."
When Kate made her first public speech in March 2012, at the Treehouse hospice in Suffolk, she wore a high-street dress that her mother, Carole, had previously worn to Royal Ascot. "There she was meeting with hugely vulnerable children and families, and the dress was the story," says the friend. "She said she found it 'a bit demoralising'."
Motherhood
The Duchess does what is best for her family:
Another close adviser says: "How she operates is not reactive. She has stuck to the path that she knows is right for her and her family. It's not about the quick win."
She says that she had a happy childhood, which the Prince says has made home life a pleasure:
Family is everything to Kate and she remains close to her parents and siblings. "I had a very happy childhood," she has said. "It was great fun — I'm very lucky, I've come from a very strong family — my parents were hugely dedicated to us." That stable family unit was a big draw for William when they met, and continues to be his compass. William has told a friend: "Catherine has made me realise the importance of family. As you know, family hasn't always been an easy thing for me."
In interviews, the Duchess, mother of three, admits to having the same challenges as any other mum:
Kate has always presented the unflappable demeanour of a mother who seamlessly balances the demands of a very public role with the challenges of raising George, eight, Charlotte, six, and Louis, three. But in February 2020 she let the mask slip a little, in a frank admission of wrestling with "mum guilt" and how parenthood had "pulled" her to the "toughest and most unknown places". On the Happy Mum Happy Baby podcast she admitted struggling with "the juggle" of being "such a hands-on mum", being riddled with "doubts and questions about the guilty element of being away for work" and always "questioning your own decisions and judgments". It took her time to shed the guilt of having a nanny and housekeeper to share the load: "It was a real weight off my shoulders [to realise] that actually it's not totally my responsibility to do everything because, you know, we all have good days and bad days."
It was rare to hear Kate nattering away unscripted, and an unusually candid insight into what matters to her: "Is it that I'm sitting down trying to do their maths and spelling homework over the weekend? Or is it the fact we've gone out and lit a bonfire and sat around trying to cook sausages that hasn't worked because it's too wet?" Kate revealed she adopted hypnobirthing techniques and had "really quite liked labour", but found the prospect of emerging on to the steps of the Lindo Wing for a photo call hours after giving birth a "slightly terrifying" but necessary part of the job. "We're hugely grateful for the support the public had shown us, and for us to be able to share that joy and appreciation with the public I felt was really important," she said.
A close friend gives the unvarnished take on how Kate really feels about sharing the most personal moments of her life with the nation. "She accepts and understands that in their position this stuff needs to happen. But it's not easy for her, particularly with the babies. Standing there after just having a baby, feeling exhausted, those moments take a huge amount out of her. It's hard work because she's a normal woman with all the vulnerabilities and realities all women have. It is part of their life, she doesn't resent it but it takes a lot of effort."
What an exceptional woman. I wish there were more women just like her.
Many happy returns to the Duchess of Cambridge!
England had a relatively better coronavirus Christmas season than Wales or Scotland.
Prime Minister Boris Johnson decided against moving from the current Plan B restrictions, in place until January 26, 2022, to Plan C, which would have resembled the approach our socialist mainland neighbours have imposed on their residents.
As such, a number of Scots visited Newcastle and Carlisle to celebrate Hogmanay, the last day of the old year: New Year's Eve. The Scots celebrate through to January 2, an annual bank holiday there. Edinburgh has the best Hogmanay celebrations, but First Minister Nicola Sturgeon cancelled them this year.
The Welsh also journeyed across the border to England to ring in the New Year.
We were happy to have both nations share in our fun.
On January 2, The Sunday Times reported (emphases mine):
Several hours before the famous new year countdown in Times Square, New York, young Scottish revellers were counting down the seconds to midnight at bars in Times Square, Newcastle.
Party-goers fled Scotland, where nightclubs were shut and tougher socialising restrictions were in place, desperate for a big blowout. In the west of England, a similar exodus of young people from Wales boosted the numbers of clubbers in Chester, Bristol and other towns and cities across the border.
In the late afternoon on New Year's Eve, groups of friends spilled out of Newcastle station, dragging wheelie cases behind them, girls freshly spray-tanned, hair in rollers, and boys clutching plastic bags full of cans.
One, with his arms around the shoulders of a group of friends, declared they were here for "a party". Hailing from towns and cities across Scotland, most were in their late teens and early twenties. Many had spent successive birthdays in lockdown and were not prepared to do the same for a second New Year's Eve.
While the UK government had allowed new year celebrations to continue, Scotland's first minister, Nicola Sturgeon, ordered nightclubs to shut for three weeks to limit the spread of the Omicron variant, and Edinburgh's world-famous Hogmanay celebrations were cancelled.
"It's boring in Scotland, all the nightclubs are shut — what are we going to do in Scotland?" said Brian, 25, from Edinburgh. Lily Owen, 19, a student from Edinburgh, was visiting Newcastle for the first time with a group of friends. "There's clubs here, it's open, it's a no-brainer: we're going to go," she said.
Aimee Stuart, 22, had also come to England with friends, "because Nicola Sturgeon has banned us from going out". They had paid about £200 each for the trip — and they were not worried about Covid. "I've just had it, so it's fine," Stuart said. "And we're all double-vaccinated."
It has been interesting to note how the media narrative is beginning to change from a pro-restriction one to a more Swedish-style one.
On January 2, news emerged that epidemiologist Prof Mark Woolhouse OBE from the University of Edinburgh once again advocated a Swedish-style approach, which he had done in September 2020.
The Guardian obtained excerpts from Woolhouse's forthcoming book, The Year the World Went Mad: A Scientific Memoir, and published them:
Rather than imposing blanket lockdowns across the nation, the government should have adopted measures designed to make contacts safe, Woolhouse maintains. "You can see from the UK data that people were reducing their contacts with each other as cases rose and before lockdown was imposed. That, coupled with Covid-safe measures, such as masks and testing, would have been sufficient to control spread."
Largely voluntary behaviour change worked in Sweden and it should have been allowed to progress in the UK, argues Woolhouse. Instead, we plumped for an enforced national lockdown, in part because, for the first time in history, we could. Enough business is now done online to allow large parts of society to function fairly well – through video conferences and online shopping. "But it was a lazy solution to a novel coronavirus epidemic, as well as a hugely damaging one," he adds.
However, Woolhouse is at pains to reject the ideas of those who advocated the complete opening up of society, including academics who backed the Barrington Declaration which proposed the Covid-19 virus be allowed to circulate until enough people had been infected to achieve herd immunity.
"This would have led to an epidemic far larger than the one we eventually experienced in 2020," says Woolhouse. "It also lacked a convincing plan for adequately protecting the more vulnerable members of society, the elderly and those who are immuno-compromised."
Instead, the country should have put far more effort into protecting the vulnerable. Well over 30,000 people died of Covid-19 in Britain's care homes. On average, each home got an extra £250,000 from the government to protect against the virus, he calculates. "Much more should have been spent on providing protection for care homes," says Woolhouse, who also castigates the government for offering nothing more than a letter telling those shielding elderly parents and other vulnerable individuals in their own homes to take precautions.
The nation could have spent several thousand pounds per household on provision of routine testing and in helping to implement Covid-safe measures for those shielding others and that would still have amounted to a small fraction of the £300bn we eventually spent on our pandemic response, he argues. Indeed, Woolhouse is particularly disdainful of the neglect of "shielders", such as care home workers and informal carers. "These people stood between the vulnerable and the virus but, for most of 2020, they got minimal recognition and received no help."
Britain spent a fortune on suppressing the virus and will still be servicing the debt incurred for generations to come, he adds. "By contrast, we spent almost nothing on protecting the vulnerable in the community. We should and could have invested in both suppression and protection. We effectively chose just one."
And Woolhouse is emphatic that further lockdowns are not the way to deal with future waves of Covid-19. "Lockdowns aren't a public health policy. They signify a failure of public health policy," he states.
Instead, the country needs, very quickly, not to be surprised by new variants and not to respond each one in an ad hoc fashion. "We should agree a sliding scale of interventions and trigger points for implementing them. With omicron it all feels a bit chaotic. We need better planning and preparation for when the next variant arrives, as it surely will."
Woolhouse is having a poke at the Conservatives there. He would be better off posting that to Nicola Sturgeon and Mark Drakeford (Wales's First Minister). They have maintained much more stringent restrictions than England from 2020 to the present.
Another piece about adopting a Swedish-style strategy appeared in The Guardian on January 2. Larry Elliott wrote about Boris's new change of tack in an attempt to reduce his current hero to zero reputation.
Elliott writes:
Government policy towards Covid-19 has come full circle. For now, at least, England has returned to the Swedish way of dealing with the pandemic. Tough, officially imposed lockdowns are out. Trusting the people to do the sensible thing is back in.
Whether this approach will survive the expected surge in hospitalisations from Christmas and New Year revelries remains to be seen. Boris Johnson is the master of the screeching U-turn and with the number of infections hitting new records pressure on Downing Street to act is growing. We have been here before.
Back in the early days of the pandemic the prime minister was minded to copy Sweden, a country that imposed few restrictions and decided early on that it needed to learn to live with the virus.
The prime minister's flirtation with the "Swedish experiment" was brief, and at the end of March 2020 a draconian lockdown was imposed. Ministers knew this would have a dire impact on the economy but felt the risk of the NHS being overwhelmed left them no choice.
A paper published in the online journal Scientific Reports last year examined what would have happened had Britain followed the Swedish approach. Even assuming the public here would have been as willing to adhere to non-mandatory recommendations as the Swedes (a pretty big assumption) the UK death rate would have at least doubled.
This time, the decision is a lot less clearcut, not least because vaccines are providing protection from the virus. The news from South Africa, one of the countries where Omicron first surfaced, has also been encouraging. While more transmissible, the new variant has resulted in fewer hospitalisations and deaths. Case numbers, after rising rapidly, have started to decline.
A degree of caution is needed when comparing the two countries, because South Africa has a much younger population than Britain, and it is summer rather than the middle of winter there. Even so, it is clear the government has set a high bar for imposing further restrictions.
The prime minister's weakened political position is one reason the government has gone Swedish. The risk of causing serious damage to the economy when it is looking particularly vulnerable is another, because this is going to be a tough year for the British public. Inflation is rising, interest rates are going up, and energy bills are expected to rocket in the spring just as Rishi Sunak's increase in national insurance contributions comes into force.
The cumulative effect is a whopping cut to living standards. According to the Resolution Foundation thinktank the average household is going to be £1,000 a year worse off. Those on the lowest incomes will be especially hard hit by soaring gas and electricity bills.
In the circumstances, it is easy to see why the government is reluctant to add to the economic pain by imposing tougher restrictions to slow the spread of the Omicron variant. Fresh curbs mean slower growth and a hit to the public finances. They would also test the resilience of the labour market.
Good news. I, like many others of a libertarian bent, foresaw these disasters nearly two years ago in March 2020.
Let Scotland and Wales continue mired in socialist control, which is doing little to alleviate coronavirus numbers.
Meanwhile, may England lead the way out of this pandemic.
In a few months' time, we'll find out which approach was the correct one. I suspect England's, provided it turns out to be a more libertarian one, will have been proven the right thing to do.
I suspect that Omicron is providential. Whilst I would not advocate throwing drinks and nibbles parties, how many people have had it and not know it?
In that respect, it could be good for building up herd immunity the old fashioned way.