You are currently browsing the tag archive for the 'Washington DC' tag.
As I write, Prime Minister Boris Johnson is on holiday in Spain.
He, his wife Carrie and their young son Wilfred left for Lord Goldsmith's holiday villa after the Conservative Party Conference ended on Wednesday, October 6.
It is a well-deserved break. His stay in Cornwall in August lasted 24 hours before he had to return to Downing Street to deal with the fallout from Joe Biden's abrupt withdrawal from Afghanistan.
Despite Britain's crises of fuel and food, he needed a break before Parliament resumes next week.
However, a pivotal personal event also occurred during this time: the death of his mother, Charlotte Johnson Wahl, whose funeral was held on September 28.
A Remainer campaigner sent a nasty tweet asking who was in charge of the Government:
Boris's sister replied:
Boris has not taken any bereavement leave until now.
However, with every lamented death comes new life. Carrie Johnson will be giving birth again in a few weeks' time, which will be a consolation to the Prime Minister.
Budding artist
Charlotte Maria Offlow Fawcett was born in 1942 in Oxford to Frances (née Lowe) — 'Bice' — Fawcett.
Her father, James Fawcett, was a barrister. Three decades later, Sir James Fawcett assumed the presidency of the European Commission for Human Rights.
Years later, Charlotte described her childhood family and friends as 'rich socialists'. She never voted Conservative, although she told Boris that she did vote 'Leave' in the 2016 Brexit referendum.
Charlotte's mother, Bice, was close friends with a woman from another prominent family, Elizabeth Pakenham. Elizabeth and her husband had a baby girl, Rachel.
In a tribute to her friend which she wrote for The Times, Rachel Billington said (emphases mine):
In May 1942 our mothers, Bice Fawcett and Elizabeth Pakenham, both had babies in Oxford and walked our prams side by side. Her family, the Fawcetts, were clever, artistic and international; the Pakenhams were political and literary. Charlotte and I were fat little girls together, waving our Peace in Europe flags and trying to keep up with our siblings. She ended up with four siblings, while I had seven. When both families were in London, I was jealous of music in her house and the sense of an intellectual world beyond my grasp. And she was jealous of my rumbustious life, with a house in the country and horses. Not that she had any wish to ride.
Rachel Billington says that Charlotte attended Catholic school and said her prayers every night, kneeling at her bedside. This religious education might well have imparted the wisdom she gave to Boris, who remembers her talking about 'the equal value of every human life'.
The Fawcetts moved to the United States for a time. Billington recalls:
When her family went to live in America and her youngest brother acquired an American accent, I realised she inhabited a wider world.
The family returned to England. By then, Charlotte was interested in painting and pursued her artistry at Oxford, the university that Billington also attended. Charlotte was reading English:
At Oxford, her intensity was reflected in her small college room where the objects were ordered as if already in a painting. She was painting and drawing complicated faces and patterns. Her essays were remarkably short and there was never anything regurgitated from "further reading". She discovered her views from the text and from her imagination.
Meeting Stanley at Oxford
Charlotte met her first husband, Stanley Johnson, at Oxford.
In a 2015 interview, she recalled how they met at a university dinner:
… she told Tatler magazine in 2015: 'I was engaged to somebody called Wynford Hicks, who was extraordinarily beautiful to look at but actually quite boring.
'Anyway, [after the dinner] Stanley sent me a note asking if he could come to tea and go for a walk.
'So a few days later we went for a walk and he suddenly said, 'Love is sweet. Revenge is sweeter far. To the Piazza. Ah ha ha har!", which made me laugh so much I fell in love with him.'
When he earned a scholarship to study in America, Charlotte accompanied him. They married in 1963 and their first child, Alexander Boris, was born a year later.
Billington explained his middle name. Stanley and Charlotte were on holiday in Mexico City at the time:
The name Boris, incidentally, arose when they ran out of money at the airport on the way to New York where Charlotte was to have the baby, and an impatient passenger in the queue offered to pay what they needed. "That's terrific," Stanley said gratefully, "We'll call the baby after you if it's a boy. What's your name?" "Boris," answered the gentleman. In fact it is our prime minister's second name; while he was at Eton Alexander was dropped in its favour.
However, Boris is still known to his nearest and dearest, Billington included, as Al or Alexander.
Charlotte painted a portrait of her son as a young boy, who grew up with shoulder-length hair:
The casually dressed, floppy-haired boy looks up from his painting. He is relaxed but serious, his complexion fair.
The Johnsons returned to England for a time. Charlotte and Rachel resumed their friendship:
Nothing seemed impossible to this glittering couple and Charlotte returned to resume her degree with Stanley and Alexander while also pregnant with her daughter Rachel. Through these perambulations and my own, Charlotte and I remained close; I was Al's godmother and later Charlotte was my eldest son, Nat's. Friendship was very important for Charlotte and she had the kind of loving warmth that made even newer friends bond to her for life. And tell her their stories and listen to their jokes and laugh. Lots of laughter.
It seems likely that Charlotte named her daughter Rachel in honour of her friend.
Charlotte completed her degree at Oxford as the first married female undergraduate at her college, Lady Margaret Hall.
Ruined marriage
Stanley received a transfer back to the US to work at the World Bank in Washington DC.
Billington was also in the US, working for ABC television in New York.
She remembers meeting up with her friend, the mother of four:
With the Johnsons living in Washington, where Stanley was working at the World Bank, enjoying a highly sociable life, plus now having four children, it seemed extraordinary that Charlotte's painting life could continue. Yet when I visited from New York where I was working for ABC TV, she still had the energy to go down to Rehoboth Beach [Delaware] and bebop with the rest of us.
In the 1970s, the Johnsons' marriage began to break down once the family returned to London.
The Mail alleges:
Mrs Johnson Wahl had an unhappy marriage to Boris' father Stanley, who was accused of breaking her nose in the 1970s.
Charlotte's mental state disintegrated, to the point where she had to be admitted to the Maudsley Hospital in London.
Billington visited her:
… suddenly I was visiting my brilliant friend in the Maudsley Hospital suffering from the problems that pressure and an obsessional nature can bring, properly called obsessive compulsive disorder. While the children ran round in the garden, Charlotte and I talked and I discovered that every day she was painting for hours at a time. Eventually, nearly 80 paintings were exhibited in the hospital, terrifying pictures of people in despair, agony or just misery. Yet also implying hope in the vibrant beauty of the colours and quite often a kind of wry humour, as if saying, "This is my life at the moment."
The Times obituary notes:
She had already become "extremely phobic . . . terrified of all forms of dirt". Eventually she had a breakdown and spent eight months at the Maudsley hospital in south London as a patient of Hans Eysenck, the influential psychologist.
While Charlotte was in the Maudsley, Stanley was transferred to Brussels. He took the children with him.
Charlotte discussed the difficult marriage in a 2008 interview:
"My husband and I were not making each other happy, to put it mildly. It was ghastly, terrible," she told the Daily Telegraph in 2008, tears filling her bespectacled eyes. "The children used to come over from Brussels to see me in hospital. They'd run down the passage and it was sickeningly painful because then they'd go away again. It took me a long time to recover."
Once Charlotte recovered, she was able to move to Brussels and, during holidays, welcome guests at the family farm in Exmoor in Devon. Billington remembers her stays with the Johnsons:
As Charlotte recovered, the family moved to Brussels, but when they were in England I would join them in the house on Exmoor that Stanley inherited from his father. It was a glorious cold comfort farm, but friends, if they survived the long pot-holed driveway, were fed hugely and taken on challenging treks that usually included river swimming and mountain climbing. Well, hills. It was hard for Charlotte to paint there, yet the pictures of her children and her friends' children prove she was still managing. I have three from that period.
The renowned journalist and author Tom Bower has written a biography of Boris, The Gambler. The Mail's obituary of Charlotte recaps how Stanley treated her:
A biography of the Prime Minister claimed her marriage became 'irredeemably fractured' due to her husband's 'neglect and philandering'.
The Gambler, by Tom Bower, alleged that doctors spoke to Stanley 'about his abuse' while the couple's children were told a car door had hit their mother's face.
The most shocking claim was that in the 1970s Stanley hit the Prime Minister's mother in a domestic violence incident that broke her nose and left her requiring hospital treatment.
Mr Bower describes Stanley's first marriage, to Mr Johnson's mother Charlotte, as violent and unhappy, quoting her as saying: 'He broke my nose. He made me feel like I deserved it.'
It was claimed that the incident took place in the 1970s when Mrs Johnson Wahl was suffering from obsessive compulsive disorder and had 'flailed' at Stanley, who broke her nose when 'flailing back'.
Stanley, now 81, is said to have deeply regretted the incident and denied he had been violent on any other occasion.
By the end of the decade, the couple separated. They divorced in 1979.
Billington lived five minutes away from Charlotte, once she separated and could really throw her energies into painting:
After her separation from Stanley, paintings poured out from her flat at the top of a large building in Elgin Crescent in Notting Hill, London, happily just five minutes' walk from me.
The Mail says Charlotte refused financial support from Stanley:
After moving to a flat following her divorce, she refused to accept money from her ex-husband and made a living selling paintings. She later recalled she was 'very hard up'.
Dr Nick Wahl, second husband
Charlotte found happiness with her second husband, Dr Nick Wahl, an American professor. They married in 1988.
The Times obituary tells us how they met in 1982 and summarises their life together:
… she met Nick Wahl, an American academic. "We were at a dinner party in Brussels given by [the diplomat] Crispin Tickell and Nick asked could he see my paintings," she told Tatler. "He was on a trial separation from his wife. There was an immediate connection. I flew out to see him and he came to see me. There were an incredible number of crossings of the Atlantic." They married in 1988, by which time her youngest son was in his final year at Eton, and lived on Washington Square, New York. Wahl died from cancer in 1996 and she returned to London, settling in Notting Hill in a flat that, according to one visitor, resembled "an Aladdin's cave with exotic carpets, a dolls' house, flowers, cherubs on the wall and oil paintings everywhere, including several of the flaxen-headed children".
Billington recalls those years:
That was a great period of creativity that was reinforced by her marriage to Nick Wahl and a double life in London and Washington Square, New York where Nick was professor at the university. It gave her a chance to play with the Manhattan skyline and the sardine tin of the subway to dazzling effect, sometimes on giant canvases. In London, she modestly remarked, "I just paint what I see", but Elgin Crescent had never looked so dramatic. My son Nat snapped up one, which I visit just to see what she made of a fairly ordinary London street.
As her beloved children grew up and made their own paths, and she no longer had the constant responsibilities of motherhood, I saw a painter at the peak of her powers. Now when I visited Manhattan, we ate out for every meal, feeling young and independent, both of us with four adored children, but free to do what we wanted. She painted, I wrote, and of course Charlotte had a whole lot of fascinating New York friends.
Unfortunately, around the time Charlotte met her second husband, she was diagnosed with Parkinson's disease. That was in 1982, when she was only 40 years old.
Her quality of life diminished until 2013, when she underwent state of the art treatment in London.
The Times obituary says:
A cocktail of drugs helped to slow the progress of the disease, but the quality of her life was impeded. "The worst thing is a terrible stiffness," she said. "When you want to walk you can't — you freeze and your feet become attached to the ground." In 2013 she achieved something of a medical breakthrough when Ludvic Zrinzo at the National Hospital in Bloomsbury introduced two electrodes into her brain and linked them to a battery in her chest. "It means I don't jerk any more and I can go to the cinema and the theatre again. It's bliss," she said.
Political opposites
The Mail's obituary states that Charlotte was amazed to be the mother of four children who are all Conservatives:
She was described in a 2015 article in the Evening Standard as 'left-wing'.
Boris Johnson's sister, Rachel, said in the article, about two-party families, 'We are a very mixed-race family politically and my father tends to marry socialists.
She later described her mother as 'the only red in the village when we lived on Exmoor'. And she herself once admitted that she had never voted Conservative, despite two of her sons being Tory MPs.
She told the Radio Times in 2015: 'I find it extraordinary that I should have married a Tory and have four Tory children.
'I've never voted Tory in my life. My parents were very socialist – rich socialists with three cars and two houses, but they were socialists in the days when that happened' …
Along with Boris Johnson, she was also the mother of former Conservative MP Jo Johnson, journalist Rachel Johnson, and entrepreneur Leo Johnson.
The Prime Minister's son Wilfred was her 13th grandchild.
Charlotte had several exhibitions of her paintings, and she sold many. She was also commissioned to paint celebrity portraits, which were equally well received.
May Charlotte Johnson Wahl rest in peace. Hers was a life well lived. Most importantly, she was able to overcome adversity.
Sources:
'Boris Johnson's mother Charlotte Johnson-Wahl dies "suddenly and peacefully" at the age of 79', Daily Mail (includes family photos)
'Charlotte Johnson Wahl was my best friend', The Times
'Charlotte Johnson Wahl, the prime minister's mother, dies aged 79', The Times
On Tuesday, September 21, 2021, Prime Minister Boris Johnson met Joe Biden at the White House:
He and Foreign Secretary Liz Truss arrived in the United States on Monday for discussions about trade and climate change.
The two spent a day in New York then travelled by Amtrak to Washington, DC:
New York
On Monday, Boris gave a speech at the UN Climate Roundtable in advance of COP26 to be held in Glasgow in November:
The full text of his speech is here.
This short video shows Boris summarising his message to world leaders:
COP26 will be the biggest single political event that the UK has ever hosted. I hope that Glasgow is ready:
The Prime Minister met with President Bolsonaro of Brazil and President Moon of South Korea. He also met with Martin Griffiths of the UN Office for the Coordination of Humanitarian Affairs (UNOCHA) and, for whatever reason, with Jeff Bezos of Amazon:
There was speculation on what Boris and Bezos discussed:
In fact, they did discuss tax as well as the Bezos Earth Fund:
They discussed the upcoming COP26 Summit and agreed that there was an urgent need to mobilise more public and private money to help developing countries protect biodiversity, including through the LEAF Coalition.
The Prime Minister welcomed the Bezos Earth Fund's commitment, announced tonight, to give $1 billion to protect forests and remove carbon from the air. The Prime Minister and Mr Bezos agreed to work together to see what more could be done in the run up to and at COP26.
The Prime Minister raised the issue of taxation, and hoped progress could be in implementing the G7 agreement on tax.
Beth Rigby from Sky News was in New York to interview Boris. They talked over each other for two minutes:
I wish he had mentioned her suspension from Sky for flouting coronavirus rules last December:
Boris's interview for the Today show went much better. He was diplomatic about Joe Biden's withdrawal from Afghanistan, even when Savannah Guthrie pressed him on the subject:
Guthrie asked Boris about President Trump. Again, Boris was diplomatic, saying that prime ministers have to get along with US presidents. In fact, Trump was mentioned very little in Parliament, including by Boris. I do not get the impression that Boris was sorry Trump lost the election. In fact, he has said in the Commons — as he does in the clip below — that he considers Biden a 'breath of fresh air'. Biden's name gets mentioned quite a lot in Parliament, by the way:
Boris also discussed family life and his unwavering belief in American ideals:
The Sun's Harry Cole was on hand to broadcast for Sky News from New York:
He said that New York hasn't yet bounced back from coronavirus:
The British press pack then travelled to Washington DC:
Washington DC
On Tuesday, the day that she and Boris went to Washington, Liz Truss's office issued the following tweet about the special relationship between the US and the UK:
Hmm.
Truss held a press huddle on the train:
While Truss met with her American counterpart Secretary of State Antony Blinken, Boris met with Kamala Harris at the Eisenhower Building:
Downing Street issued this summary of their meeting. Topics included the new AUKUS alliance, climate change and humanitarian efforts. Boris also expressed his gratitude to the US military for their leadership in withdrawing from Afghanistan.
British journalist Hugo Gye objected to the Eisenhower Building's architecture:
Then it was time to meet with Joe Biden.
Biden arrived by helicopter, no doubt from Delaware:
Unlike the Trumps, the Bidens do not greet their guests at the door:
Liz Truss accompanied the Prime Minister:
Hugo Gye has a summary of the meeting and brief press conference in the Oval Office. Anne Sacoolas is an American 'diplomat' who was in a road accident in England leading to the death of a young man, Harry Dunn:
My American readers will be very familiar with the Amtrak anecdote, which Biden used on the campaign trail last year:
In the end, the chances of a trade deal appear slim. Trump would have definitely been open to one.
Boris took two questions from the media, one from Harry Cole and the other from Beth Rigby.
Biden pointed to Harry Cole first:
Biden and Boris gave this answer on the Harry Dunn case:
Biden did not solicit questions, even though there were plenty of reporters in the Oval Office. When the session adjourned, they started shouting various questions at him. He apparently answered a question about the southern border, but the reporter could not hear the answer over the din. The reporters filed a complaint with Jen Psaki, who once again replied that the president takes questions 'several times a week':
Downing Street issued a summary of the private meeting which followed:
… The President and Prime Minister agreed that the new AUKUS alliance, announced last week, was a clear articulation of the UK and America's shared values and approach to the world. They underscored the important role the alliance will play in promoting peace and stability around the world, harnessing British, American and Australian expertise to solve future challenges.
The leaders welcomed the close cooperation between our countries during the NATO withdrawal from Afghanistan. The Prime Minister expressed his condolences for the American servicepeople killed during the operation. The Prime Minister and President Biden agreed that the best way to honour all those who gave their lives to make Afghanistan a better place will be to use all the diplomatic and humanitarian tools at our disposal to prevent a humanitarian crisis and preserve the gains made in Afghanistan.
To that end, they discussed the progress made since the G7 meeting last month to coordinate international action on Afghanistan. They agreed that any international recognition of the Taliban must be coordinated and contingent on the group respecting human rights.
The Prime Minister welcomed President Biden's leadership on the issue of climate, and his announcement today that the US would double its climate finance commitment. The leaders agreed on the need for G7 countries to deliver on the promises made in Carbis Bay, particularly with regard to phasing out the use of coal and supporting developing countries to grow cleanly. They agreed the Build Back Better World Initiative would be crucial in achieving this. The Prime Minister said he looks forward to welcoming the President to the COP26 Summit in Glasgow.
The Prime Minster and President Biden also agreed on the need to increase international vaccine access to deliver on the commitment made in Cornwall to vaccinate the world by the end of next year. They noted that the success of the British and American vaccine rollouts has been instrumental in allowing UK-US travel to resume. The Prime Minister welcomed the US announcement that they will allow double vaccinated British nationals to enter the country from November, a move which will allow families and friends to reunite and will help stimulate our economies.
The Prime Minister updated President Biden on the developments with respect to the Northern Ireland Protocol since they last met in June. The leaders agreed on the importance of protecting peace in Northern Ireland …
Not surprisingly, it is unlikely we will get a trade deal with the US. Biden is concerned about the post-Brexit Northern Ireland protocol disturbing the peace agreement between that nation and the Republic of Ireland:
Return to New York
The Telegraph reports Boris Johnson remained in Washington on Wednesday to meet with:
US politicians at Capitol Hill, including senators Chuck Schumer and Mitch McConnell, US Speaker of the House Nancy Pelosi and House minority leader Kevin McCarthy.
Afterwards, he visited Arlington Cemetery before returning to New York to deliver his climate change speech at the UN:
He will then travel to Arlington Cemetery to lay a wreath at the Tomb of the Unknown Soldier, before returning to New York, where he will give his climate change speech to the UN General Assembly in the early hours of the morning UK time.
Liz Truss was in New York on Wednesday to address her counterparts on the UN Security Council:
Sky News reported:
She will chair talks with foreign ministers from the US, France, China, and Russia – the countries that, along with the UK, make up the five permanent members of the United Nations security council – in New York later.
UN Secretary-General Antonio Guterres is also expected to join the discussions.
Ms Truss's aides say she will be promoting greater cooperation among the so-called P5.
This will include encouraging Beijing and Moscow to "act as one" with other international military forces to prevent Afghanistan from once again becoming a home for global terrorists following the Taliban's takeover last month.
But "un peu riche" (a little rich) may be the French retort as the diplomatic rift deepens over a new security pact between Australia, the UK and the US that leaves France out in the cold and China smarting.
Trade might be off the table for now, but, no doubt, both Boris Johnson and Liz Truss will make progress in other areas.
Something's not right at the White House.
Under Joe Biden, 1600 Pennsylvania Avenue has been shrouded in darkness most nights:
One can watch the live webcam of the White House.
Other Washington DC webcams, however, have been out of service since around the time of Joe Biden's inauguration. I checked yesterday:
I've seen dozens of tweets showing a darkened White House post-Trump but didn't bother to bookmark them.
However, an illuminated White House is a rare sight these days.
This was the scene last Saturday and Sunday nights.
On Saturday, March 13 …
… and Sunday, when the lights went on for a while …
… before going out again:
Did Caroline Kennedy really notice?
Intriguing.
Here's another mystery:
When there's an update, I'll let you know.
UPDATE — Wednesday, March 17: I just heard an ABC radio newscast. One of the stories was about Kamala's current home. Apparently, she and her husband are living at Blair House while the vice president's residence, Number One Observatory Circle, on the northeast grounds of the U.S. Naval Observatory, is being redecorated.
Yesterday's post featured the GOP Leader of the House of Representatives, Kevin McCarthy.
At the end of January, he posted short videos of the new Republicans entering Congress. They are a varied and talented group.
Unfortunately, they didn't have a lot to do:
Unbelievable.
Yes, Nancy Pelosi is wasting taxpayers' money at an eye-watering rate:
McCarthy must have visited Miami at the same time he met with President Trump at Mar a Lago. He met with the Miami's mayor, Francis Suarez, whose father was the first Cuban mayor of the city. For an eight-minute discussion, they packed a lot in. These are two men who want America's various levels of government to work more efficiently, striving for a synergy between government and industry so that entrepreneurs are not hampered by huge tax penalties for building their businesses. McCarthy advised Suarez to learn from history, particularly California's recent history of high taxation, which is causing Silicon Valley companies to leave the state. Both men agreed that, depressing as it is, the coronavirus crisis can open up new pathways in technology, particularly in health care:
Now, on to the freshman Republicans serving in the House of Representatives.
Jerry Carl, a businessman from Alabama, hopes to bring some 'common sense' to the House as well as a bit of 'warped humour'. He tells us that Alabama was where Mardi Gras originated:
Another Alabamian, Barry Moore, says that success involves executing a plan and hoping for great results. You'll never hear that from a Democrat:
Here is another business owner, Kat Cammack, who represents a district in Florida. She also runs a charity that helps law enforcement. In case you are wondering, mutton busting involves riding a sheep without falling off. She won such a competition at the age of six in Colorado:
Another Floridian, Carlos Gimenez, who represents the Keys, values God and his family above all. He hopes to put his firefighting skills to use by tackling the inefficiency in Congress:
Gimenez's neighbouring district, which includes Fort Myers, has an engaging new representative, Byron Donalds, who says that winning his 2020 election contest has been his crowning achievement, along with being a devoted husband and father:
Tracey Mann represents a district that includes more than half of the 105 counties in Kansas. He says no one gets elected on his own; it's a 'team effort'. He applies that philosophy to the rest of his life, too:
Michelle Fischbach, from Minnesota, was the first female president of that state's senate. She says that her district is larger than the state of South Carolina:
Lisa McClain, a wife and mother representing the 'thumb' district of Michigan, says that an important element about team softball is to 'have fun and enjoy the moment':
Nicole Malliotakis, the daughter of a Greek and a Cuban immigrant, is a former New York State Assembly member. She says that she has people from all over the world living in her district. Along with that comes a rich international cuisine, which she loves:
Nancy Mace, representing a district in South Carolina, was a high school dropout and waitress before she was accepted at the Citadel. I remember when she graduated; it made the news. Since then, she has served in the South Carolina legislature and looks forward to being a congresswoman:
Diana Harshbarger represents the district of Tennessee where the atmospheric Smoky Mountains are. A big believer in God, she values taking care of her family and her constituents:
August Pfluger is an Air Force Colonel representing the district in Texas where the Permian Basin is located. He takes his three young daughters to school every day:
Blake Moore from Ogden, Utah, and a consultant for the Federal Government, says that 'teamwork is the only way you can achieve success'. He enjoys 'building relationships with people':
Here are two more freshman Representatives — Ashley Hinson from Iowa and Tony Gonzales from Texas. They serve on the House Appropriations Committee which deals with budget oversight and funding allocations:
While these new House Representatives have their individual stories, they also have a lot in common: love of God and family as well as enthusiasm to get a job done properly.
I admire their gusto and hope they oppose Pelosi's madness with everything they've got.
I wish them all the best and hope they do not turn into cynical troughers.
What a great start to the Biden presidency.
Have we heard from Speaker of the House Nancy Pelosi (D-California) on this?
No. We heard from the Republican Leader of the House, who voiced his disgust:
Senate Majority Leader Chuck Schumer (D-New York) at least took action.
Tens of thousands of troops, mostly National Guard, were sent to Washington, DC, to keep the capital safe before, during and after the inauguration, held on Wednesday, January 20, 2021.
Some of the troops were allowed to sleep in parts of the Capitol building, then, because Congress was in session after the inauguration, they were moved to a parking garage:
On January 21, Chad Pergram from Fox News reported:
Texas governor Greg Abbott (R) was so incensed, he requested that General Norris send the Texas contingent home:
Florida governor Ron DeSantis (R) also asked for his state's troops to return home:
The outrage was intense, because the troops were accommodated elsewhere by the next day:
The National Guard have day jobs in their home states, so, understandably, they were unimpressed with having been left out in the cold during mobilisation. Howard Altman, managing editor of the Military Times, reported:
Here are other reactions:
It is unclear who issued the order to move them to the parking garage:
Later, it was alleged that a Democrat congressman from Massachusetts wanted the troops out because they weren't wearing masks at a nearby Dunkin Donuts:
Disgusting.
Here's more:
Legislators from both sides of the aisle worked to right the wrong.
Arizona Senator Kyrsten Sinema (R-Arizona) offered her office to the troops:
Madison Cawthorn (R-North Carolina), a freshman Congressman, personally delivered pizzas:
Senator Tammy Duckworth (D-Illinois), a military veteran who lost her legs in combat, worked tirelessly to make sure the decision was reversed:
Politico has more on the story but no real conclusions.
On Friday, January 22, Biden tried to make amends, but it was a lame gesture:
I am very glad this did not happen during President Trump's inauguration in 2017.
In case you are wondering what he thought:
And, former President Trump also offered them accommodation:
Well, he was certainly the greatest president we will ever know.
On Wednesday, January 13, 2021, investigative reporter John Solomon of Just The News appeared on Actionable Intelligence to tell host Eric Greitens that the January 6 siege on the Capitol was 'pre-planned':
It appears that President Trump did not have access to intelligence stating that the siege would take place, according to a Just The News article, also published last Wednesday.
'Rush to judgement? Three crucial questions remain unanswered about Capitol siege' states that the FBI and New York Police Department knew, but the White House did not (emphases mine below):
A senior intelligence official told Just the News he has found no evidence that the president, the White House or the National Security Council was alerted in formal intelligence briefings to the pre-warnings or suspicions of violence the FBI and NYPD have admitted they had.
Yet, last Wednesday, Nancy Pelosi and the House of Representatives impeached President Trump for a second time — unprecedented in US history — on the basis that he fomented the violence at the Capitol. That was after a six-hour debate with no due process for the US president.
Mitch McConnell says that he will not reconvene the Senate before the Inauguration on January 20 because of time constraints. The Senate would also have to vote whether to impeach or acquit Trump, but only after a trial, which, as we know from Trump's first impeachment, takes several days. However, can the Senate impeach Trump once he becomes a private citizen again? Or is there something we don't know about January 20?
It is also vital to know that Trump was still giving his speech to rallygoers at The Ellipse, next to the White House, when the siege of the Capitol was taking place:
… the official timeline of events constructed by the New York Times through videos shows protesters began breaching the perimeter of the Capitol a full 20 minutes before Trump finished his speech.
This new evidence raises the first compelling question that remains unanswered. How could Trump incite an attack that had already been pre-planned and was in motion before his speech ended?
Indeed.
Information began to emerge the weekend after the January 6 siege:
Since the weekend, major bombshell revelations already have substantially revised the initial story of a spontaneous mob overrunning an unsuspecting Capitol police force.
The FBI admitted Tuesday it received information ahead of the Jan. 6 tragedy suggesting some participants were planning a "war" on the Capitol, including killing officers and distributing maps of the complex. It alerted Washington D.C. law enforcement through the joint terrorism task force alert system. It also "disrupted" the travel plans of some of the suspected trouble-makers.
"We developed some intelligence that a number of individuals were planning to travel to the D.C. area with intentions to cause violence," Assistant Director Steven M. D'Antuono said. "We immediately shared that information, and action was taken."
The New York Police Department is reported to have given the Capitol Police similar intelligence warnings of impending violence.
The chief federal prosecutor in Washington declared Tuesday he is pursuing conspiracy charges, signaling the attacks on the Capitol involved multiple acts and multiple conspirators working in concert with each other. The prosecutor talked about the planting of carefully constructed IEDs as one such act. In other words, there was pre-planning for some elements of last Wednesday's chaos.
In the video above, Solomon wonders what the Sergeants at Arms knew. One reports to Nancy Pelosi in the House and the other to Mitch McConnell in the Senate.
Solomon says that the Sergeants at Arms are the top security for both Houses of Congress. The Speaker and the Senate Majority Leader have very close working relationships with them. Did they receive this intelligence? We do not know at this point, but both resigned or were reassigned. The Capitol Police Chief, Steve Sund, also resigned. He said that neither Sergeant at Arms was willing to help Sund with reinforcements. The National Guard did not arrive until 5 p.m. that day.
A Gateway Pundit article summarising the contents of the video states that Solomon and his team have been stymied in their efforts for the release of information under FOIA:
Investigative reporter John Solomon dropped a bombshell on Wednesday night and said the DC police rejected his FOIA request for records pertaining to their investigation of the siege of the U.S. Capitol.
The DC police said release of the records would be 'personally embarrassing' and privacy invading to release the documents.
"We're gonna fight for those documents but something tells me what's in those documents has some very very big relevance to what happened on The Hill and the question I have is what did Nancy Pelosi know, what did Mitch McConnell know about these threats beforehand," John Solomon told former Missouri Governor Eric Greitens. "If they didn't know then, it's an intelligence failure of the police. If they did know there's something they didn't tell us before we went into this impeachment."
Also worth noting:
The US Attorney is bringing a conspiracy case which is further proof the siege was planned.
To say this situation is galling is the understatement of the month.
As lynnfay said in yesterday's guest post, Trump had a lot of naysayers who never wanted him in office in the first place.
So far, this has been a deeply sad month in Trump's life.
He's the best president the US has had in living memory. It is a crying shame that a whole host of people have allowed or forced him, as the case may be, to end his four years in ignominy.
Today's guest post comes from my reader lynnfay73, a retired adjunct professor, who, last week, expressed her dismay and disappointment with both of America's political parties after the past two presidential elections, the events of January 6, 2021 at the Capitol and President Trump's second impeachment in the House of Representatives.
—————————————————-
Pen letter to Republicans from a disheartened libertarian:
I will be sending this hard copy to every senator and representative in US.
I'll also send it to The Detroit News where I've been published before, though I may be censored there.
Open letter to Republican politicians from a disheartened libertarian
Dear Republican Leaders,
We Americans couldn't be more dismayed at the state of the country, and we couldn't be more disappointed in you.
I wasn't a Donald Trump fan. I voted in the primaries for Marco Rubio who I thought articulated freedom the best I'd heard in a while (and having decided Rand Paul was unelectable). Donald Trump was an acquired taste to say the least. He's made some mistakes, he's no politician, but nowhere near the extent of the mistakes YOU have made.
Before Donald Trump even took office, the Democrats were calling for impeachment. They were allowed every day on all networks, even Fox News, for four years to call him illegitimate. A Russian asset, a traitor. A NAZI, HITLER. Hollywood circulated memes of him beheaded, did plays with people killing him as Julius Caesar, Madonna called for blowing up the White House, DeNiro and Biden threatening to beat him up. They lied about his words, blatantly, and the left journalists never called them on it, knowing full well he never said white supremacists were "good people"–he expressly said he meant those people who wanted to preserve the statues, NOT white supremacists whom he condemned immediately. And that went on and on. The man is a lot of things, but he's no racist. And let's not forget Maxine Waters' calls for violence against Trump, openly, and Pelosi tearing up the State of the Union address. To name a few things.
Then they went on and weaponized Obama's justice department to use Hillary Clinton bought and paid for (from Russians) dirty dossier which they used illegally (even by their own standards) to obtain illegal FISA warrants to spy on him and ruin Carter Page's life by actually forging documents.
The press never changed the narrative and they severely threatened our Republic by doing all this. And the Never Trumpers are even more to blame. Lincoln Project? You have been a disgrace (and it appears maybe even degenerates) and you harmed the Republican party irreparably by not just staying quiet if he wasn't YOUR cup of tea. The list is long on this. John McCain GAVE that dossier to the FBI and attacked Trump publicly as did Romney, and they wonder why they got the reaction they got. No excuse for that.
Then before this latest election, the left media and Big Tech and the Democrats censored the conservative news — true news, about the Bidens' activities in Ukraine and China (the other phony impeachment crap was to hide and accuse people of what THEY had been doing for four years — using the justice department against a political opponent and covering up their own corruption). They have now carried that to the extreme that not only have they censored the president of the United States, they have silenced the conservative ability to communicate. And they are raising this unrest to fever pitch by these actions alone.
It is the height of hypocrisy to call this mess at the capitol "insurrection" when the left (and even the never-Trumpers) have been stoking just that for four years in an attempt to overturn a duly elected presidential election.
But what is the most egregious is that YOU are such cowards that instead of ALL standing up to force a ten-day investigation– into what is election practices half this country has no intention of accepting going forward– most of you chickened out in the elitist establishment hope that you could hold the senate but get rid of Trump. His list of accomplishments will not be appreciated for a while which is a very big shame AND you have divided this party irreparably. It is YOU who cost us Georgia, mostly because you refuse to insist on election integrity.
And that is why this happened on Jan. 6th, not because of Donald Trump.
None of us thought this election would be overturned. We wanted it investigated and we want election reform NOW. You cowards should have stood by him and insisted that this happen as the American people wanted.
No, this does not excuse violence (though the left excuses it any time they want to), but Donald Trump is not responsible for it. The left is responsible for it with all their actions of the last four years and YOU establishment elitists who are really nothing more than Democrats in disguise–YOU are responsible for it. No idea what you are doing in this party.
And had you had his back the whole time, he could have been more measured in his actions and responses all along. I wonder how any of you would have held up to this kind of abuse, never before seen in American political history.
I will be working to get rid of any of you I can: McConnell, Romney, Sasse, Kinzinger, Cheney, and the rest of you. Liz Cheney (R-Wyo.), John Katko (R-N.Y.), Adam Kinzinger (R-Ill.), Fred Upton (R-Mich.), Jaime Herrera Beutler (R-Wash.), Dan Newhouse (R-Wash.), Anthony Gonzalez (R-Ohio), Tom Rice (R-S.C.), David Valadao (R-Calif.), and Peter Meijer (R-Mich.) who just voted to impeach Donald Trump.
There are some patriots here (even if their motives might be political) — Matt Gaetz, Jim Jordan, Devin Nunes, Ted Cruz, Elise Stefanik, Mo Brooks, and more (and some who might be excused for arguing constitutional issues like states' rights — Mike Lee, Rand Paul).
It's fine if you didn't prefer Donald Trump's style; it is NOT fine that your arrogance and elitist superiority and cowardice (Democrats never would have done this–say what you want about their motives — they play hardball) have resulted in this country embarking on an authoritarian nightmare that could once never have been contemplated in America let alone practiced.
We won't forget.
L. Fay
Adjunct Professor (retired)
————————————————————————————————————-
Lynn's is an excellent letter. I am grateful she allowed it to be reprinted as a guest post.
On Monday, January 11, 2021, I listened to the Howie Carr Show to find out the latest on President Trump.
Howie didn't have much news on that score, only wishes from callers hopeful that the US president could rescue his re-election bid.
However, in the final segment, one man from Cape Cod in Massachusetts — a regular summer advertiser on Howie's show and someone whom Howie knows personally — rang in to say that his life has been a shambles since the Washington DC event on January 6.
This successful Massachusetts businessman had rung Howie last week to say that the DC rally had been a wonderful celebration of all things American: tradition, patriotism and friendliness.
This man and the many thousands he was with were not anywhere near the Capitol building. They were some distance away.
Last week, he rang in to tell Howie his story of what a grand day out it was.
Since then, he has been attacked on social media and called every name in the book for having gone to DC last Wednesday.
He told Howie that his wife — 'my beautiful bride' —  has been in tears much of the time and his young daughter has also been severely affected by the verbal attacks by members of the general public.
At one point, uncharacteristically, he broke down in tears. He was unsure for the future of his business, even though his ancestors have lived on the Cape for at least three generations. Everyone knows the family name as being honourable and reputable.
Yet, now, that has all come to an end.
I do not want to mention this man's name for fear of further abuse towards him and his family. Regular listeners of the Howie Carr Show will know this man, even if only by the adverts for his establishment.
He said that money this year is not the problem. It is his reputation.
He has been falsely smeared. He did not know what had been going on at the Capitol that day, yet, his good name — and that of his wife and daughter, who were not in DC — have been besmirched.
May I suggest to everyone who is condemning those who attended last week's Trump rally to step back, take a deep breath and stop accusing everyone — hundreds of thousands of people — of tearing up the Capitol building.
In closing, this is a photo (no source given) of Trump supporters in the Rotunda of the Capitol last Wednesday. In case anyone is wondering, the general public are permitted to see parts of the building. I was in it many decades ago: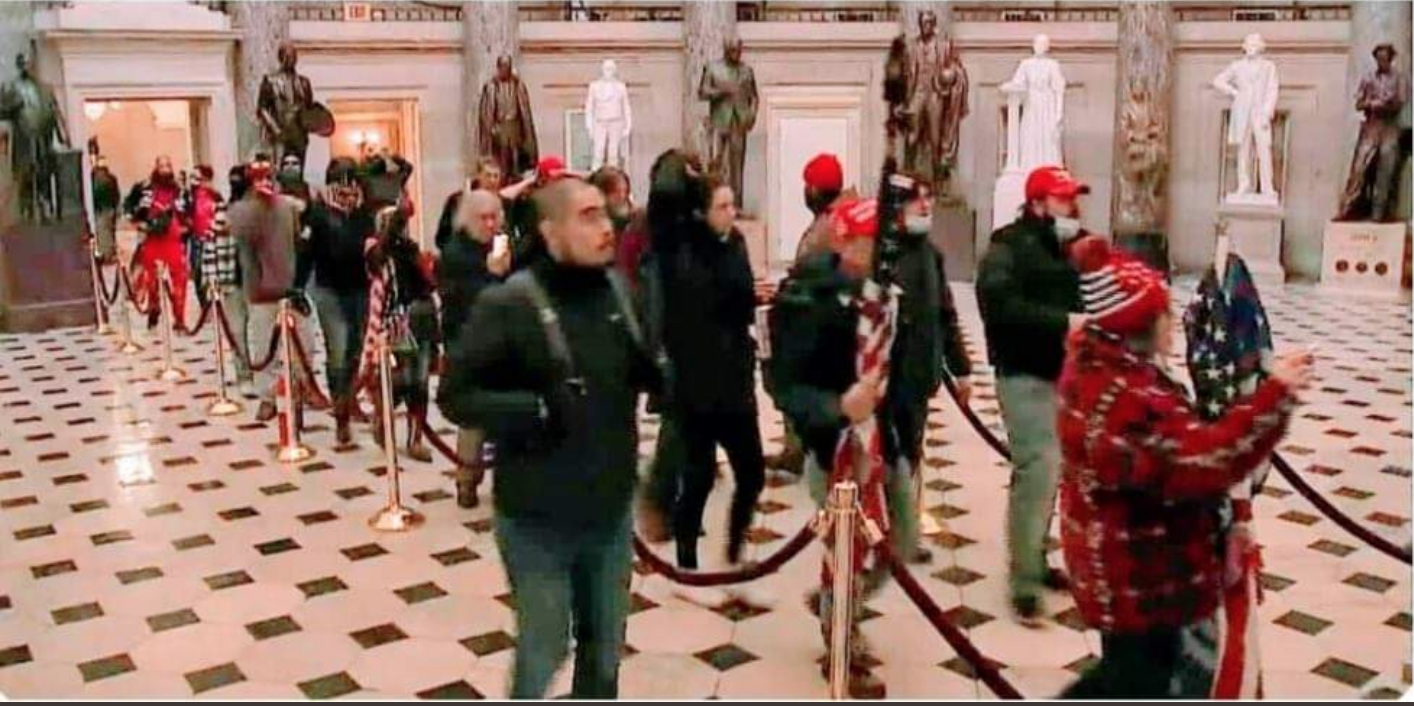 They look pretty lawless, don't they?
If I had a more secular blog, my words would be much stronger.
In conclusion: I hope Trump/Republican detractors stop the hate. Leave people alone. The vast majority went in good faith to support President Trump in his final days in office.
If this businessman's experience is but a snapshot in time, I dread to think what the next four years will bring.
CPAC — the Conservative Political Action Conference — was held during the last few days of February 2020 at the National Harbor resort just outside of Washington, DC.
The American Conservative Union has hosted the event every year since 1974.
CPAC is particularly useful not only as an event with speeches and panel discussions but also as a bellwether to gauge conservative trends and, in years such as this one, political candidates' viability for the presidency.
Interestingly, CPAC 2016 did not turn out well for then-candidate Donald Trump. Not only did he not attend, his name was not even mentioned. The straw poll conducted that year put Ted Cruz on top of the preferred candidates' list, with Marco Rubio in second place.
Since he has been president, Trump has addressed the conference every year since 2017.
CPAC isn't just about well-dressed Republicans. It gets its share of less conventional conservatives, too.
The New York Post featured a report complete with photos on February 29, which said (emphases mine):
In the cavernous convention center, Trump superfans in 10-gallon hats mingled with student rabble-rousers and an army of wonks from the swamp's countless conservative think tanks.
"What brings me here is my love of America and my inspiration and enthusiasm for President Trump," declared a strapping 6-foot drag queen who identified herself only as Lady Maga. "I would like to defy the narratives that all conservatives and Trump supporters are bigoted, homophobic people."
There was also a 12-year-old boy who was allowed to cover along with journalists:
Joining journos once again in the media filing center were 12-year-old Phoenix Legg and his chauffeur/dad, Matt. Now on his fourth CPAC, Legg was in town after hitting a prayer breakfast in South Carolina. As in years past, he was decked in his trademark gray suit and matching fedora.
"I like giving the news through the eyes of a kid and since I'm a kid sometimes people are more willing to talk to me," said Legg, who has become a mini-legend with the confab's crowd.
Now and again, CPAC withdraws certain invitations, i.e. one for Mitt Romney. This is because the senator from Utah voted to remove President Trump from office during the Senate impeachment trial. His name was also booed during the conference:
Not surprisingly, Ivanka Trump was among the speakers. As Chair of the American Conservative Union, Matt Schlapp organises the event:
Virginia resident and mega-MAGA Trump supporter Scott Presler made his debut. He was thrilled to bits:
His parents were in the audience:
Scott enjoys meeting people, especially fellow conservatives:
He has also run neighbourhood clean-up campaigns in Baltimore and San Francisco. Residents of Baltimore really appreciated his and his volunteers' efforts. Unfortunately, it was quite the opposite in San Francisco. Nonetheless, he met someone who saw the abuse he took from rabid leftists and decided to leave the Democrats behind:
CPAC is attracting increasing numbers of minority attendees and speakers.
The New England Patriots' Benjamin Watson, a married father of seven, spoke about the importance of family (watch his speech in full):
He also showed a preview of his forthcoming documentary, Divided Hearts of America, which is about abortion, and signed copies of his books:
Townhall journalist Julio Rosas seemed to be everywhere at CPAC:
What a great place to spend one's birthday:
Scott Presler was on his panel:
Brandon Straka, the ex-Democrat who founded the #WalkAway movement, spoke:
He made more new friends …
… and met up with people he already knew:
He also gave interviews:
John James, who is running for the US Senate in Michigan, made a forceful speech about American opportunity:
Louisiana's US Senator Steve Scalise, hospitalised for months after a horrific attack by a rabid leftist in 2017, spoke about American healthcare:
Vice President Mike Pence spoke:
But, as expected, President Trump stole the show:
He spoke about Mitt Romney (this was where the boos came in) and successful anti-terror operations in Iran:
He talked about the new deal he made with Afghanistan to end America's longest running war.
He took verbal swipes at the media and New York's Senator Chuck Schumer:
He then had a go at the Democrat presidential candidates:
Greta Thunberg didn't escape his notice, either:
He closed on a serious note, however, and received a standing ovation:
Contrary to 2016, this year I am thrilled about President Trump's prospects. It's not over until it's over, of course, but his campaign manager Brad Parscale is as close to perfect as is humanly possible in his field. Here he is with Lara Trump (Eric's wife):
I wish the president and his campaign team every success.