You are currently browsing the tag archive for the 'WHO' tag.
In December 2022, the then-GB News presenter Mark Steyn suffered two heart attacks within days of each other.
The first one he ignored, because he had never suffered a heart attack and didn't recognise the symptoms.
The second occurred when he and a female friend were in France. Fortunately, he got to the hospital just in time. Fifteen minutes more and he would have died.
While he recuperated in France — there was no chance of his returning to Canada, doctors said — some of GB News's sharpest hosts stepped in to sub for him between 8 and 9 p.m. They told viewers that Mark was on the mend, until the end of January, at which point they mentioned him no more.
Don't mention the vaccines
Then, late on Monday, February 6, 2023, Guido Fawkes posted that Mark would not be returning to GB News. The news channel's CEO wanted to make Steyn liable for any Ofcom fines they received over his segments that criticised the coronavirus vaccine:
Guido tells us, complete with the relevant video clip (emphases in red his):
Mark Steyn has quit GB News on fairly bad terms after a protracted leave of absence owing to his health. A few weeks ago Guido picked up that the channel had been trying to formalise Steyn's contract, having operated on a fairly ad hoc basis since starting his show. Part of trying to get him on board as a properly contracted presenter was also an attempt to rein in his output, given that in a rather short space of time he'd managed to spark two separate Ofcom investigations into claims made on his show.
GBN offered him a new contract to sign, otherwise he'd face termination. It now looks like Steyn is declining to sign the new contract, so he's out.
In a video put out on his website today, Mark doesn't hold back on his opinion of the channel's CEO Angelos Frangopoulos, ranting about the terms of the new contract that would have made him financially liable for any fines imposed on GB News by Ofcom because of his show's output. He also calls Frangopoulos an "habitual liar". Shame – Steyn managed to consistently beat Piers's view count…
After a few months, Mark Steyn Show regularly trounced Piers Morgan's TalkTV show Monday through Thursday in the same time slot.
GB News has been scrupulous about offering both sides of any story on their shows in order to avoid censure from Ofcom. This entails having a left-wing guest oppose the host's centrist or conservative perspective.
In 2022, Press Gazette reported on the channel's potential Ofcom violations. I'll start with the story from August 8, with the communications regulator's examination of two segments, one on Nigel Farage's evening show and one from a morning show with Patrick Christys, who now hosts a three-hour afternoon slot Monday through Friday:
The first two investigations by broadcast regulator Ofcom into GB News have ended with no rebukes, keeping the TV channel's record clean as it enters its 15th month.
Critics feared the opinion-led news channel would rub up poorly against the UK's strict impartiality rules, a problem not faced by broadcasters in the US such as Fox News.
But by balancing views from presenters and guests across its schedule, GB News has avoid any Ofcom rebukes despite airing some strident views on Covid-19 lockdowns and vaccines. Two Ofcom investigations into GB News TV and radio broadcasts remain ongoing.
In October 2022, complaints about Mark Steyn's show were still ongoing:
Ofcom has opened an investigation into an episode of Mark Steyn's 4 October programme on GB News after it received 411 complaints from viewers about comments made by author and journalist Dr Naomi Wolf in relation to Covid-19 vaccines.
Ofcom said: "Specifically, our investigation will consider whether this programme broke our rules designed to protect viewers from harmful material."
Wolf was banned from Twitter last year for spreading unfounded theories about vaccines.
Ofcom is already investigating Steyn's show for a potential breach of standards on 21 April when he claimed people who had a Covid-19 booster vaccine were three times more likely to die than those who had two doses or fewer.
Press Gazette says that the April 21 episode was removed from YouTube:
In a monologue that day, Steyn said: "Why aren't we talking about this? It seems, if the booster shot is making it thrice as likely that you're going to be deadsville, that they're going to carrying you out by the handles, why aren't we talking about that?"
Fact-checking charity Full Fact said the figures used by Steyn were "broadly accurate" but that he was "wrong to claim the booster 'increases your chances of hospitalisation and death'".
Interestingly:
No Ofcom investigations have yet been started into rival TalkTV, which Rupert Murdoch's News UK launched in April.
The Guardian had more, especially about Dr Matthew Sweet, who was interviewed on the BBC and had been monitoring Steyn's show for soundbites that criticised the vaccines. Steyn often mentioned Sweet:
The latest investigation relates to an interview with the author Naomi Wolf in which she claimed women were being harmed by Covid-19 vaccines as part of an effort to "to destroy British civil society".
Ofcom said it would investigate whether the programme broke "rules designed to protect viewers from harmful material" after receiving more than 400 complaints from members of the public.
In the interview, which was originally broadcast on 4 October, Wolf also compared doctors' support for the vaccine rollout to the behaviour of the medical profession in Nazi Germany and described herself as the "last remaining independent journalist" willing to question this.
She was being interviewed on the Mark Steyn Show, which has repeatedly raised doubts over the safety of vaccines. Steyn's claims that the jabs cause "every conceivable kind of damage" have been disputed by factchecking websites. He is already the subject of a separate Ofcom investigation over previous comments about vaccination.
Wolf began as a prominent feminist writer but in recent years her career has taken a hit after she wrote a book partly based on a misunderstanding of English court records. Since then she has veered into the world of conspiracy theories about the impact of 5G telephone masts and the coronavirus vaccine.
Presenter Matthew Sweet, whose BBC interview exposed the flaw in Wolf's book, has since kept tabs on her work and GB News's coverage of the pandemic and accused the channel of repeatedly "broadcasting misinformation about vaccines and presenting conspiracy theorists as legitimate experts on medical matters".
In a letter to Sweet tweeted last month, GB News insisted that at no point had Steyn's programme adopted an "anti-vax" approach. Instead it said he was conducting probing journalism in the face of people who want GB News to be "more supportive of government policy".
As I wrote in my post last week on Big Brother Watch's exposé of Government departments' surveillance of politicians' and journalists' Twitter accounts during the pandemic, the one thing one cannot do is criticise the vaccines.
The best of Mark Steyn's GB News output
Having watched nearly every Mark Steyn show once he began broadcasting weeknights in January 2022, I bookmarked the most notable ones.
Any interested readers should view the videos sooner rather than later. YouTube have already removed some of Steyn's GB News output.
Ratings
It took a while for people to tune into Steyn, which was no fault of his. He did a memorable series in March 2022 in Ukraine and told us that he was partly of Ukranian descent. He hoped to return when the war was over. You can read more about those programmes here.
At the end of that month, he had a special edition on the second anniversary of the first coronavirus lockdown, March 23, 2020. It's a good thing I described the content, because YouTube removed the video for the usual reasons.
Then on Monday, May 16, Mark hit the jackpot, beating TalkTV's Piers Morgan for the first time in the 8 to 9 p.m. slot. Mark wasn't the only ratings star that night — all the GB News evening shows beat TalkTV's:
The following day, Guido wrote:
The slow motion collapse in ratings of Talk TV is astounding. Until now, Piers Morgan has always held his lead in his slot against Mark Steyn on GB News. Last night Steyn beat Morgan for the first time…
And it would not be the last time, either. In fact, it became a regular occurrence.
Coronavirus
On Wednesday, January 12, 2022, Steyn interviewed Lord Ridley — Matt Ridley — about the coronavirus lab leak (30:00 – 40:00):
In February, he covered the Canadian truckers' protest in Ottawa against mandated vaccines:
He also interviewed a Canadian policewoman about the protests:
On April 21, he cited UK government data which said that people over 50 who had three jabs were five times more likely to get the virus: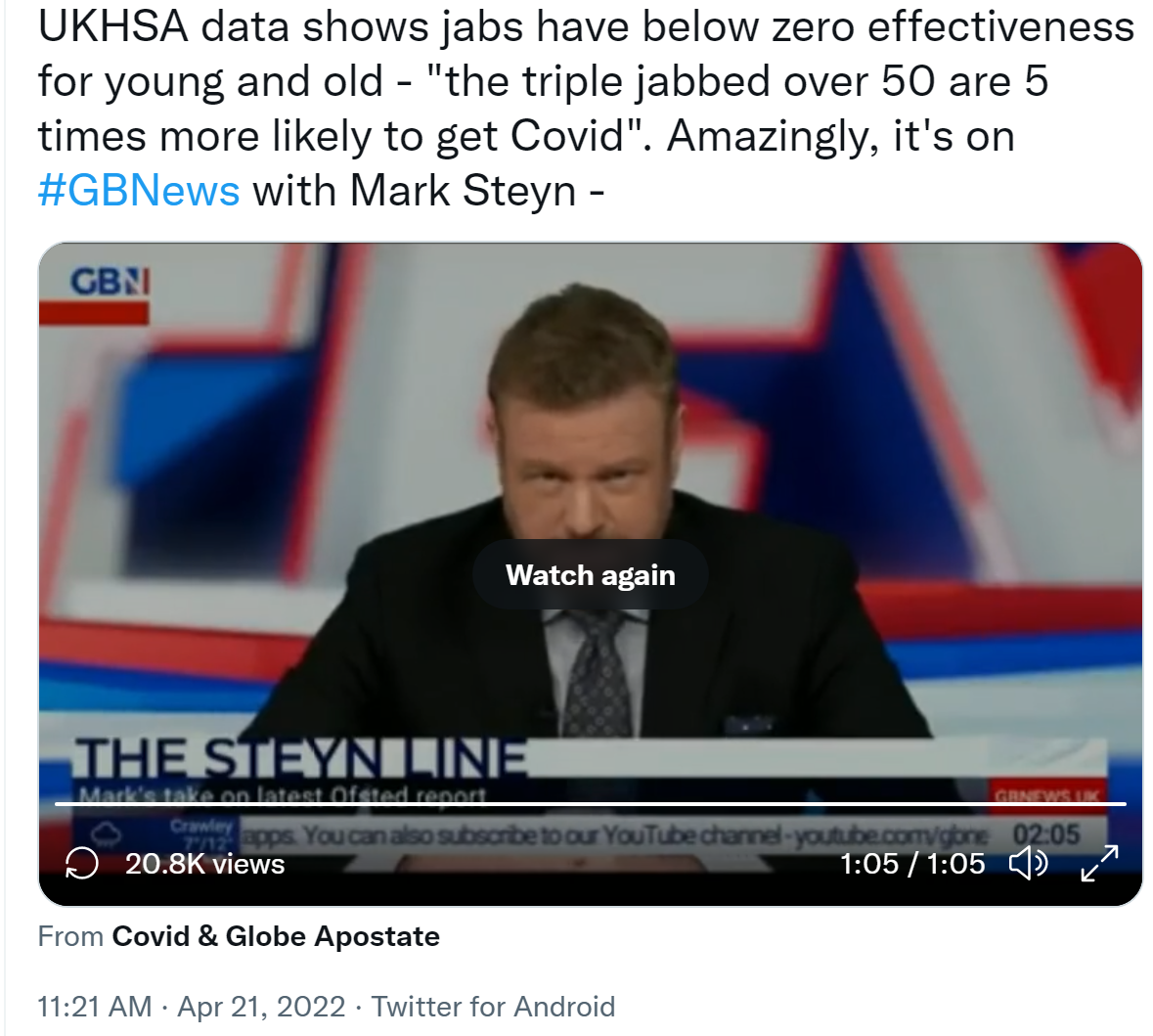 On Monday, May 9, he interviewed vaccine victims:
On May 11, he interviewed people who became seriously ill after taking the Astra Zeneca vaccine. No wonder it's no longer on the Government's vaccine list.
This man got a blood clot on the brain:
This lady suffered blood clots on her liver and lungs:
That day, Laura Perrins from The Conservative Woman waxed lyrical about Steyn's show. I, too, was a bit ambivalent about him many years ago, but as she pointed out:
It is true that a few decades ago he was considered an Establishment journalist; he has written for all your mainstream Right-wing publications. But he had long left that scene by the time I had my political awakening.
Anyway, somehow I stumbled across him, Praise be the Lord. The more I started listening, the more I read, I thought: 'Goodness gracious, hold the phone, shut the front door, this guy is the Real Deal.' This guy knows that we are being had by the political and media establishment and he is not afraid to say it …
Not only is Steyn the best-dressed, most-polished, most-sophisticated of all the presenters on TV, he says what you are thinking. For the last week or two he has been giving a voice to those the MSM have shamefully ignored – families who have lost loved ones through the 'safe and effective' non-vaccine vaccine.
… While Piers 'Lock Me Down Harder, Daddy' Morgan is interviewing Bruce Jenner, Steyn is pointing out that the lockdown has caused economic damage and inflation that the MPs like to ignore.
He also points out that when the Conservatives tell you they are getting a hold on illegal immigration, they are lying to you, they are lying to your face, dear reader.
So, do yourself a favour and watch Mark Steyn, Monday-Thursday, 8pm on GB News.
You can also catch up on YouTube when they haven't censored him for 'disinformation'. This is not a man who could ever be bought or sold for any price. I say again, Mark Steyn is the Real Deal.
The following day, news emerged that the WHO wanted nations to sign up to their pandemic treaty which would supercede national sovereignty. Unbelievable. Steyn said, 'The permanent abnormal staggers on':
On Tuesday, May 17, he talked about the WHO's involvement in the pandemic:
One week later, he interviewed a fellow broadcaster, Andrew Griffiths, who experienced serious side effects after getting the vaccine:
The Powers That Be tried to stir up fear over what is now called MPOX. On May 25, Steyn discussed Natalie Winters' findings for the National Pulse about an alleged link to the Wuhan lab:
Steyn had more on that and other topics on June 1, calling it 'the controlled demolition of the free world':
That was an exceptional show. Former ONS statistician Jamie Jenkins, one of Mark's regulars, alleged that the UK government had not collected any official statistics on vaccine injuries:
Claire Hibbs returned to discuss her injuries and the lack of compensation from the Government:
On June 16, he discussed the disastrous economic results of lockdown with Leilani Dowding:
Other Steyn broadcasts of note
In May 2022, he tapped into Canada's Rebel News output on Davos: excellent and entertaining.
On July 12, he was the only broadcaster to cover the July 12 celebrations in Northern Ireland in a non-confrontational way.
He interviewed Baroness Hoey — former Labour MP Kate Hoey — on her love for Northern Ireland and the United Kingdom:
He also spoke at length with the former leader of the Democratic Unionist Party, now-Baroness, Dame Arlene Foster:
These are just tasters. More to follow tomorrow.
No stranger to controversy
Mark Steyn has never been a stranger to controversy. Thank goodness.
Going way back in my Mark Steyn bookmarks, in 2004, he reviewed Mel Gibson's The Passion of the Christ, an incredible but much-criticised film, for The Spectator (full text here):
… Those who believe in Christ the Redeemer are booming, and Mel Gibson has made a movie for them. If Hollywood was as savvy as it thinks it is, it would have beaten him to it. But it isn't so it didn't. And as most studio execs have never seen an evangelical Christian except in films where they turn out to be paedophiles or serial killers, it's no wonder they're baffled by The Passion's success …
… Mel Gibson was driven by his own passion to make a movie that speaks to millions of people. As I said a couple of weeks back, if it's not the Jesus movie you'd have made, then go make your own. I saw it on a Monday night full house – a rare event in itself – and the crowd was rapt and eerily hushed, except for the occasional sob. It's true that if you don't believe that Christ's death on the cross is the central event in His time on earth then Mel's telling won't convince you and the film will look, as it does to Christopher Hitchens, like an S&M flayfest. One can regard this as a criticism of Gibson. On the other hand, all manner of movies – Star Wars, X-Men – leave you cold if you're not already a devotee. For millions of people, Mel Gibson shows them their Jesus and their salvation.
In 2009, Steyn wrote an article for Canada's Macleans about the danger that political correctness and censorship (i.e. 'hate speech') pose to human lives — the Fort Hood massacre (full text here):
… the old refrain echoes through the corridors of power: vigorous honest free speech will lead to mass murder unless we subject it to "reasonable limits."
Actually, the opposite is true: a constrained and regulated culture policed by politically correct enforcers leads to slaughter. I'm not being speculative here, as Commissar Lynch [Jennifer Lynch, Q.C., Canada's censor at the time] is about my murderous prose style. It's already happened, just a couple of weeks back. Thirteen men and women plus an unborn baby were gunned down at Fort Hood by a major in the U.S. Army. Nidal Hasan was the perpetrator, but political correctness was his enabler, every step of the way. In the days that followed, the near parodically absurd revelations piled up like an overripe satire …

Instead, asked "Who ya gonna believe—The Celebrate Diversity Handbook or your lyin' eyes?", more and more of us plump for the former, if only for a quiet life. Commissar Lynch has it exactly backwards: it's the craven submission to political correctness, the willingness to leave your marbles with the Diversity Café hat-check girl, that leads to death—real death, with real corpses, from Texas to Ontario.
It's amazing that the hot topics really have not changed since the Millennium. It's been the same-old, same-old for over 20 years now.
To be continued tomorrow
It used to be that vaccines prevented infection.
Coronavirus has changed all that. The double-vaxxed are ending up infected:
Andrew Doyle, who hosts Free Speech Nation for GB News, has it, and he's taken his shots.
ITV's Robert Peston, also double-vaxxed, has it, too:
Peston was supposed to be in Aberdeenshire in Scotland but had to cancel:
I hope he recovers soon.
Meanwhile, in the UK, the debate rages on as to whether children over the age of 12 should receive the vaccine and whether older adults should have a booster shot this autumn.
British supporters of vaccines for children say that such programmes in the United States and France have been highly successful. Hmm.
Dr Robert W Malone is an American physician as well as an inventor of mRNA vaccines and RNA as a drug. He directs his readers to an article in LifeSiteNews about possible coercion being used in high schools:
Meanwhile, the WHO is urging countries wishing to vaccinate their children to donate those doses to Covax instead for wider use around the world. The reply to this tweet includes a statement from Britain's JCVI (Joint Committee on Vaccines and Immunisation) which recommended against children's vaccinations on Friday, September 3:
The WHO also disagrees with booster shots in Western countries, again recommending donating those doses to poorer countries:
The UK also wants to roll out vaccine passports by the end of the month. If we can catch the virus despite two jabs, what is the point? It seems as if we are all back at Square One, only that we are susceptible to milder cases rather than death.
Speaking of deaths, the UK figures for 2021 are on a par with other years since the vaccine rollout began. I saw this graphic on another site with no attribution. Note the bright green line up to Week 33: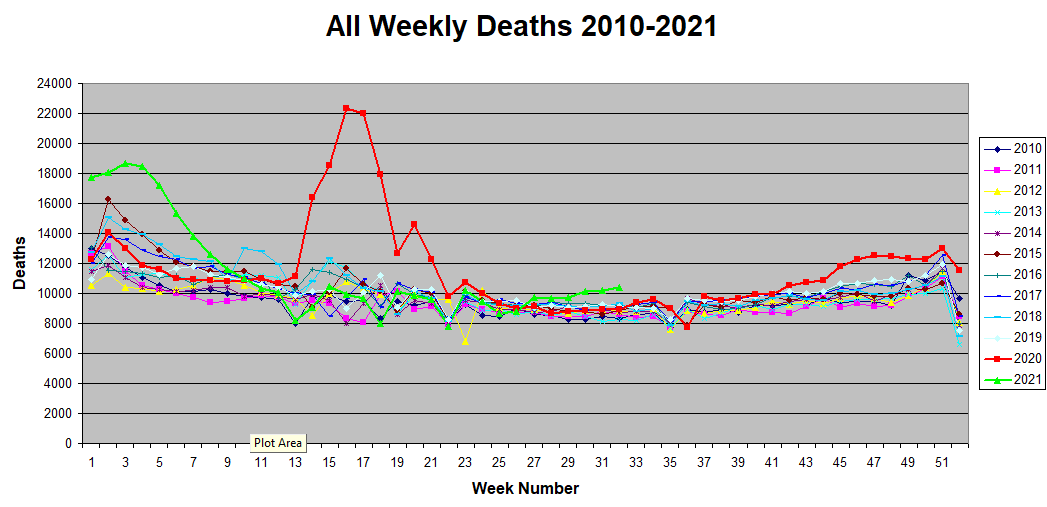 Moving to poorer countries now, not every nation has shown signs of infection or deaths:
Dr Malone says that Peru had a preventive programme of giving its citizens doses of ivermectin until a new president scrapped it. At that point, fatal infections began rising dramatically:
Since the pandemic began, ivermectin for humans has been taken off the market in several Western countries or is restricted on a prescription-only basis for certain conditions, excluding the virus. In many first-world countries, ivermectin is now used solely on animals for various diseases. The current formulation is made for their consumption.
Yet, in Peru and Africa, the formulation for humans is still available. It is inexpensive and is used to cure a variety of diseases as the following Twitter thread about Africa tells us.
The countries in blue are where ivermectin is used on humans. Note the differences in coronavirus cases and deaths:
Ivermectin, sold under the trade name Mectizan, is used to treat river blindness, a common and highly painful disease. It is not unusual to see people with a pair of eyebrow tweezers on a chain around their necks. Among other things, river blindness inflames the eyelash follicles. The only way to relieve the intense pain is to carefully pluck the offending eyelash. It is an ongoing pain until the disease is cured:
The Japanese have looked at sub-Saharan data and have recommended ivermectin to the government as a treatment for coronavirus:
It seems that the Japanese government rejected the use of ivermectin in combatting coronavirus. The updated statistics for Africa are in the second tweet:
Another big supporter of ivermectin is Karl Denninger of The Market Ticker.
On December 18, 2020, he wrote that by giving Americans two tablets of ivermectin, coronavirus could be stopped in one week in the United States. Two tablets in total is all it would take (emphases in the original):
… Why the hell are you not only letting them get away with it but willing to stand in line and take a not-fully-tested shot when a $2 alternative that does the same thing and has been proved safe over more than 30 years of time is available, and it also has a remarkable record of preventing serious disease and death.   This has been known for months.
We can stop Covid-19 in ONE WEEK.
One.  Not five, six, eight or ten as promised by Dr. Redfield with his "masks" who, I remind you, lied.  Covid-19 did not stop even though he got what he wanted.
The science and the CDC's own data says this will work in ONE WEEK.
And the risk if it doesn't work as the science and math says it will?
STATISTICALLY NONE; the drug in question has had over 3.5 billion doses dispensed worldwide and, on the data, is safer than Tylenol and the number of pills you must take is two.
Not two per day.
Two.
Ivermectin will receive broad media coverage only when it's too late. What a pity.
On Monday, May 17, 2021, England continued to unlock from coronavirus restrictions.
Pubs and restaurants can now offer indoor service, which, understandably, pleases many customers as this has been one of the coldest and rainiest Mays on record, compared with last May, which was one of the sunniest and warmest:
Here's what's open …
… with some restrictions on numbers:
As expected, some pubs opened at midnight for indoor service:
Customers showed up:
On a chilly, damp morning, being able to tuck into a full English breakfast indoors was welcome:
Meanwhile, other Britons were queuing up for a flight overseas. No doubt this one was going to Portugal. The other choices at the moment include the Falkland Islands, Ascension Island and Napoleon's residence (not by choice), St Helena:
This next video takes the biscuit. This is the WHO's chair for Europe, Professor Adam Finn from the University of Bristol, who — from his holiday home in France, Haute-Savoie being a region known for its ski resorts — urges caution. Talk about sucking off the public teat then trying to restrict the movement of the people who pay his doggone salary. Appalling:
I heartily agree with this reply:
However, back to the rest of the good news now.
The most important reopening is one of ourselves to others, as we are once again allowed to hug, the first time since March 2020, if I remember rightly:
And, yes, we can once again welcome friends and family into our homes:
What a cruel and pathetic social experiment this has been. Health officials and politicians should be held to account, but there seems little hope of that.
Andrew Neil's Spectator TV posted its sixth episode of The Week in 60 Minutes on Thursday, October 8, 2020:
Guests included Prof David Nabarro, World Health Organization special envoy for Covid-19; Andy Preston, mayor of Middlesbrough; Pat Leahy, political editor of the Irish Times and a few Spectator journalists.
The programme began with the status of coronavirus measures in Ireland.
Pat Leahy, political editor of the Irish Times, says that the Irish government was surprised by the recent recommended lockdown which they ultimately rejected. The Irish government were highly critical of the proposed measures, privately and publicly. Leahy explained that the head of the public health advisers has been off work because of compassionate leave, then, last Sunday, he returned and recommended another lockdown. The Irish government took it as, he says, a 'power play'.
The government objected to the health experts' very quick meetings amongst themselves and with government officials. Leahy said that the government were 'annoyed'.
The government did not disagree with the recommended measures per se, but there was a fine balance to be achieved. The minister of finance warned of employment and social consequences, because a number of jobs would not be coming back. He and his staff needed to consider if other measures could be taken instead.
Neil mentioned today's minimal COVID-19 deaths in Ireland. Leahy agreed and said that the so-called second wave has much less severe than the first. That said, the admissions to hospitals have been rising dramatically. So, there is a question about whether the second wave is different from the first. The Irish government felt they could weigh the statistics, adopting a wait-and-see approach. Leahy said that Dr Leo Varadkar, a physician who was formerly the prime minister and is now the deputy prime minister, essentially threw the nation's chief medical officer Tony Holohan 'under the bus'.
Leahy said that the part of Ireland's problem was assigning decisions to scientists and doctors in the first wave earlier this year. Currently, scientific advice 'is only one factor' in the decision making process that the Irish government will take with regard to coronavirus measures. Leahy said that time will tell whether the public will back the government. The economic factors are such that things could change in the weeks to come.
Katy Balls was up next, advocating Swedish models that a number of Conservative MPs back. A number of backbenchers disapprove of Drs Whitty and Vallance.
Conversation then turned to the WHO's Prof David Nabarro who says we are still in a bit of the first wave and we're not over it, so we need to learn how to live with the virus without lockdown and the 'closing down of economies'. What he calls 'the middle path' requires holding the virus at bay while allowing the economy to resume in order to make certain we can put safeguards in place, so that we can stop the virus whilst getting local 'actors', as well as testing and tracing, involved as much as possible and a common commitment to each other to keep everything as safe as possible. He said that lockdowns serve only to give a health service some breathing space.
Nabarro said that is what South East Asian countries are doing, also Germany and Canada. As lockdown lifts, nations can deal with increased cases 'elegantly'.
As for Ireland, Nabarro sided halfway with the Irish government and halfway with the scientific advisors. He did caution that public buy-in was necessary for any success.
Nabarro predicted many more weeks of uncertainty but that we would feel 'much more comfortable' in the New Year.
Neil asked Nabarro about Prof Sunetra Gupta's views on a milder lockdown. Nabarro said that the WHO do not advocate lockdowns as an absolute principle. (UK government: please take note!) He cited the damage done to the Caribbean and Pacific tourist industry. As a result, many more people could lapse into poverty.
Neil brought up Scotland's coming lockdown and a possible one in the North of England.
Kate Andrews had current statistics, comparing them to Sir Patrick Vallance's alarming case graph from the third week of September. So far, we are not close to Vallance's projection, but the UK is higher than France's and Spain's cases, respectively.
The effect of local lockdowns showed a skyrocketing in positive tests ('cases').  According to statistics, it is possible that Leicester should have already been taken out of lockdown.
Kate Andrews showed graphs that revealed that hospitality was responsible for a very low number of cases: around four per cent, not dissimilar to this pie chart, which I cited last Friday.
Nabarro intervened, saying he preferred 'local integrated responses', because breaking the virus involves input from every institution, be it a factory or a house of worship. He praised Leicester for its diversity, holding it up as a model for the world.
The Spectator's political editor, James Forsyth, came on to comment about the former Labour 'Red Wall' in the North. Much of that Red Wall voted for Conservatives in December 2019. Forsyth said that lockdown will be viewed as flooding has been in recent years: even if measures taken are not political, they look as if they ARE political. Northerners see that London and the surrounding Home Counties will not be locked down, and, as a result, will suffer fewer socio-economic casualties.
Andy Preston, the Independent mayor of Middlesbrough, was the next guest. He has been positively incandescent about lockdown. The transmission is a bit choppy, but Preston said that many of his residents didn't personally know many people who had or died of COVID-19. He added that Middlesbrough's residents have paid more in tax whilst losing out locally. He felt that 'the Government is doing stuff to us'.
Preston has asked for a temporary ban on in-house socialising but supports frequenting restaurants. He said that local government and the UK government need to work together on measures.
Preston said that he thought there was an 'inside group' of advisers to the government, with no one from Middlesbrough involved.
He said that this type of decision making could go 'very badly wrong for the country'.
Talk then turned towards the American vice presidential debate. Freddy Gray covered this segment. He said that Mike Pence is 'a very accomplished performer', 'intelligent and he spoke very fluently'. He disclosed that he has never been a Pence fan but predicted that he could be the next Republican nominee in 2024.
Neil said that a Trump-Biden virtual debate would not be the first. Nixon broadcasted in 1960 from Los Angeles. Gray said that no one knew what is going on in Trump's mind and said that the American president had gone 'full gonzo'.
Viewers' questions came next.
The first had to do with successful measures against COVID-19. Nabarro commented on coronavirus success in South East Asia, which he attributed to community buy-in and no delay in taking action, which can result in more problems later.
Another viewer said that England's mayors needed to come together with regard to England's lockdown. Andy Preston said he would back Manchester's Andy Burnham, a former Labour MP.
A third viewer wondered about the vote coming up this week on England's 10 p.m. curfew. Katy Balls said she doubted whether Labour would oppose the vote, but Conservative rebels might have their chance in the weeks to come to succeed in voting against the Government. (Personally, I don't think it will happen. Most of the Opposition support lockdown measures and restricting civil liberties.)
James Forsyth says that half the Conservative MPs really detest the Government's coronavirus restrictions. He cited the communications surrounding them and questioned what the £12bn poured into the 'test and trace' programme has actually achieved. He said it was 'not delivering'.
Andrew Neil asked about the Great Barrington Declaration, which Prof Sunetra Gupta and many other physicians signed a week ago in Massachusetts. Kate Andrews said that Prime Minister Boris Johnson said there would be a 'game changer' with no social restrictions a year from now. As such, time is not a big deal for Boris. Neil said that Boris sounded like Chauncey Gardiner. I don't like saying this, but I tend to agree with his assessment. Boris seems off the rails right now.
Leahy had the final word, measuring the rising positive tests with closed pubs and other measures. The Irish government, he says, needs to give these new measures time to work, including buy-in from the public to avoid another lockdown. He predicts another two to three weeks.
The final question came to Nabarro about the origin of the virus. He said, in short, that there was no definitive answer. 'You [have to] bring in independent actors', therefore, the WHO would need 'to bring in other staff to help'.
Hmm. Interesting.
Then, in an abrupt change of tone, Nabarro sounded a blast at certain countries, including Belarus and Spain, saying that a second wave could come soon and that no nation should be complacent.
Hmm.
Charles Stanley Wealth Managers sponsored this week's programme. For that, we are most grateful. Agree or disagree, Spectator TV is manna in a desert of dry, one-way MSM broadcasts.
My apologies. This is a long but important post on the endgame for coronavirus, as things stand at present.
On Wednesday, September 2, 2020, the House of Commons' adjournment debate was about coronavirus measures in England.
Sir Christopher Chope MP (Conservative, Christchurch) voiced disapproval on behalf of his constituents.
Sir Christopher has a good track record for representing the people, such as in this heated debate on Brexit in March 2019:
Before Parliament reconvened on Tuesday, September 1, many English residents became concerned about the Government's response to coronavirus, particularly after lockdown began to be lifted early this summer. The following tweets reflect their concerns:
In the middle of August, The Human Unleashed Team posted an excellent article about two possible strategies the Government has. Excerpts from 'COVID: The Case Against the UK Government' follow, emphases in purple mine.
It begins as follows:
Has the U.K. Government acted in good faith over the COVID-19 crisis?
In this post, we'll examine the UK Government's actions around the COVID crisis alongside various data published by official sources. The goal is to get insight into whether the Government has acted honestly and in good faith.
For now let's put aside the science around whether the disease known as COVID-19 is caused by the novel coronavirus (SARS-CoV-2) and focus on the evidence as it emerged.
Let's keep two alternative possibilities in mind as we look at the facts.
The first, "Case A" is that the UK Government has conducted itself in good faith, in the genuine belief that this is a pandemic, and has done all it can to reverse it, so that the country can safely return to normal as soon as possible.
The second possibility, which we'll call "Case B", is the possibility that the UK Government knows that the pandemic is no longer present, but does not wish a swift return to normal, and is therefore continuing to push the pandemic narrative for some other reason.
The article is complete with graphs, such as the one charting talk about a second wave when the initial deaths from the first wave had only just appeared in March:
If Case A (the Government is acting in good faith), this really does not make sense. The public did not suddenly starting talking about it for no reason. Why would the key influencers (WHO, Government, and media) seed the idea of a second wave so soon?
It only makes any sense in Case B (the Government is knowingly rolling out a prepared agenda), where it could be argued that the idea of "second wave" is being implanted into the public's consciousness. Why? Is it to set expectations of a second wave that is already planned?
Talk of a vaccine started trending two weeks before that, at the end of February:
Considering that the public's interest is guided by the media narrative, it is interesting that the public's attention was guided to terms like "second wave" and "vaccine" so early in the lifecycle of this pandemic.
Once lockdown started (Monday evening, March 23) 'flatten the curve' disappeared quickly from the official narrative:
Why was "flatten the curve" hailed as the nation's priority in March, but then swiftly dropped even before the fatality curve peaked?
Furthermore (and this is a recurring theme), if flattening the curve was ever truly the goal, we would now be celebrating the fact that the curve has been flat for nearly two months. We are not. Neither the Government nor mainstream media have been cheering the fact that the COVID wave has, to all extents and purposes, ended and that the country can return to normal.
The death curve has been flat since the end of July:
Even in the hardest-hit groups (60 years and 80-plus), the curve is now objectively flat. Why are we not partying in the streets? (When it comes to younger age groups, the picture is even more ridiculous. The official NHS numbers show that only two people aged under forty have died in hospital in the past month related to COVID.)
If Case A were true, you would expect that the Government would be proudly announcing its success in halting COVID mortality. However, there have been no such announcements. On the contrary, the narrative from both Government and state news sources continue to stress the threat of another wave. Case A makes no sense.
It does all fit with the Case B scenario. If the Government's purpose involves perpetuating the fear level thus justifying continuing the increased level of control over the population's freedoms, then you can see why they would choose to ignore the simple fact that today there is no epidemic in the UK.
In fact, this summer, there were more fatalities from seasonal flu than there were from COVID-19:
You can see that, following a tremendous spike in death rates, since mid-June deaths linked to COVID have been significantly lower than flu/pneumonia deaths …
Again, if Case A were true, the Government would be wasting no time in announcing the end of the epidemic and delivering the good news that everything can now return to normal. Considering the incredible damage that has already been inflicted on the UK economy, you would imagine that the party in power would be anxious to lift the restrictions.
As none of that has happened, we must consider Case B. Not only has the Government resisted the clear opportunity to end all the restrictions, they have actually implemented new rules, including the requirement to wear face coverings in enclosed public spaces, backed up with the threat of a £100+ fine, since July 24th.
What can we conclude?
Think it through. If both diseases are the result of similar, communicable viruses, why are more people now dying every day from flu than from COVID-19?
One possible explanation that has been suggested could be that the virus that causes COVID-19 is far more contagious than the influenza virus. If that were the case, it would suggest the novel coronavirus spread like wildfire through the UK population, but killing the elderly almost exclusively. And if that were true, it would mean that we have already reached the fabled "herd immunity", suggesting that you could make an argument that the elderly and infirm should still be protected, but that the rest of the UK public could return to normal immediately.
So we must conclude that we have either achieved "herd immunity", which means there is no more pandemic and that the virus is no longer a high consequence infectious disease (which Public Health England in fact published back in March), or one or more of the above assertions are incorrect, suggesting that COVID-19 may not be caused by a communicable pathogen, in which case there is also no pandemic.
Over the summer, the Government's focus turned to 'cases', which has kept the psychological fear factor up among the general public:
If Case A is true, and the UK Government's priority is to protect the population and get through the COVID crisis as swiftly and as safely as possible, why would they stop talking about deaths and start talking "cases" as the death rate dropped towards zero?
Cases simply refer to positive test results. They do not mean that someone is sick, or at risk of dying. Yet testing has continued to grow week-on-week, now averaging over 150,000 tests being processed daily. Why would a Government whose priority is a rapid and safe return to normal keep increasing its efforts to find more "cases", instead of applauding the vanishing mortality numbers?
Again, only Case B makes logical sense. The Government's own actions show that it is continually pouring more resources into the search for "cases", which could have the effect of spreading fear and panic, and choosing not to report the good news that now almost nobody is dying of COVID-19, which of course would have the opposite effect.
Then there were the inflated death statistics that have now been corrected. England now has 5,000 fewer COVID deaths. Hospital admissions were also erroneously inflated:

Let us be clear. In the middle of a global disease pandemic, the Government's number one priority must be to evaluate the danger accurately. The responsibility falls on the Health Secretary, who completely failed to deliver. He had ONE JOB.
The article concludes as follows:
It is now clear, from observing its own actions, that the UK Government does not wish a timely return to normal life. If it did, it would be going to lengths to celebrate the practical eradication of the COVID pandemic in this country, and moving to reverse the extreme measures that limit the population's freedoms that have resulted in such catastrophic outcomes.
Instead, the sum of this Government's actions appear only to support the hypothesis that they wish to prolong the present restrictions by giving the impression that the pandemic is ongoing and far more serious than the data suggest.
The UK Government has some very, very serious questions to answer. This establishment must take responsibility for conspiring to extend the appearance of the alleged COVID pandemic, leading to disastrous economic outcomes for the country, but – even more importantly – the unimaginable health and emotional damage on the population of this country.
Keep all of that in mind as you read the excerpts from Sir Christopher Chope's speech and the response on behalf of the Government from Paul Scully MP (Conservative, Sutton and Cheam), who is the Parliamentary Under-Secretary of State for Business, Energy and Industrial Strategy.
Wikipedia says (emphases mine below, link added in the next sentence):
Scully's wife Emma is employed by Nudge Factory Ltd as an Office Manager and replaced her husband as 'a person with significant control' on 1 April 2018.[30][31]
The text from the adjournment debate can be found in Hansard: 'Regulatory Impact Assessments (Legislative Scrutiny)'. The crux of the debate was that the Government made emergency laws without properly assessing the impact they would have on small business owners. That said, masks also featured in the debate.
I promise that you will not be bored reading the following excerpts. Unbeknownst to me at the time, my far better half also watched the entirety of this debate in another room. Both of us were gripped.
Sir Christopher wasted no time in making his points. He expressed himself politely but with all guns blazing, so to speak. (Bold letters for MPs' names are in the Hansard document).
Sir Christopher Chope (Christchurch) (Con)
I shall start with some quotes from my constituents about the Government:
"The most inept and incompetent administration in my lifetime."
"Incoherent and indecisive." "Authoritarian and arrogant." "Inconsistent and incomprehensible." "Socialist in all but name." As these criticisms become increasingly difficult to rebut, it is indeed essential that the Prime Minister gets a grip. The constructive purpose of this debate is to remind the Government that one key tool to enable them to get a grip is to use regulatory impact assessments as part of the policy-making process.
A regulatory impact assessment is a well-established, internationally acclaimed toolkit for good policy making. It facilitates transparency and public accountability, promotes democratic discussion by enabling potential possible policy options to be evaluated and compared. It prevents the inconsistency that arises from knee-jerk reactions and policies being developed on the hoof.
It helps to ensure that sudden changes are the exception and are made in response to changes in hard evidence rather than in response to the chorus of a single-issue pressure group—and I think it is probably fair to say that the covid alarmists are the most successful pressure group in British history. If, for the past six months, the Government had been using this toolkit, it would not have been possible for commentators to observe, as one did on Sunday:
"Britain has become a paradise for those who like to answer questions with 'rules is rules'; even when they're clearly made up on the spot or nonsensical."
Allowing beard and eyebrow trimming for men but not eyebrow treatments for women was but one ridiculous example.
Most fair-minded observers supported the Government's initial response to the covid-19 pandemic. The Government had no option but to make their priority ensuring that our hospitals were able to treat all those seriously ill as a result of covid-19. Our NHS was not as well-prepared as it would have been if the recommendations of Exercise Cygnus had been implemented. Cygnus was a brilliant initiative to war-game a serious epidemic of respiratory illness in order to identify where investment was needed to fill the gaps and thereby ensure an effective response. Tragically, Public Health England did not learn the lessons identified and failed to put the recommended preparatory work in place. We, the public, have been denied access to the full results. It remains a mystery to me as to why the Government are so defensive about the whole matter—and have indeed been dodging parliamentary questions that I have put down on the subject.
… The purpose of this debate is to try to get some more assurance from the Government that they are going to apply these principles not just to covid-19 but to other regulatory measures that are, at the moment, being brought in with far too insufficient scrutiny.
Tomorrow it will be six months since the Department of Health and Social Care policy paper on coronavirus was published. This action plan, as it became, on which the Coronavirus Act 2020 was based, envisaged four phases: contain, delay, research and mitigate. The delay phase was to
"slow the spread in this country, if it does take hold, lowering the peak impact and pushing it away from the winter season".
Because of the emergency timetable, the legislation had the sketchiest of regulatory impact assessments, without any cost-benefit analysis. But who would have thought that none of the regulations being made under that primary legislation would be properly evaluated before implementation? I certainly hoped that that would happen, but it has not.
The basic steps in the RIA process should involve consultation and an assessment of the nature and extent of the problems to be addressed. There should be a clear statement of the policy objectives and goals of the regulatory proposal, which should include the enforcement regime and strategy for ensuring compliance. Alternative courses of action should be identified, including any non-regulatory approaches considered as potential solutions to the identified problem. There should also be a clear outline of the benefits and costs expected from the proposal and identified alternatives. The conclusion should not only identify the preferred solution but explain how it is superior to the other alternatives considered. Finally, there should be a monitoring and evaluation framework set out describing how performance will be measured.
Although the processes I have set out could not be embarked on in the immediate emergency of introducing lockdown, they should surely form an inherent part of the process of easing lockdown, and ensuring consistent and timely relaxations of the regulations. It is the failure to do this that has resulted in sudden and contradictory changes to the regulations.
This has also led to unacceptable mission creep, which increasingly embodies a gradual shift in objectives. Hon. and right hon. Members will remember that the original objective was to enable the NHS to provide the best care to all the victims of covid-19 who needed it. That clear mission has now widened into a mission to suppress the spread of covid-19 as an end in itself, regardless of the cost. The irony is that, in allowing the original objective to be blurred, the important subsidiary objective of preventing the virus peaking again in the winter is being put in jeopardy.​
The easing of lockdown has, sadly, become a veritable shambles. While the number of deaths from covid-19 has mercifully plummeted from its April peak, there has not been a corresponding relaxation of the emergency regulations. I shall refer later to the OECD principles of best practice for regulatory policy, but one of the key principles is:
"Proposed solutions should be appropriate to the risk posed, and costs identified and minimised."
In the statement he made yesterday to the House, the Secretary of State for Health [Matt Hancock] said that there are now
"60 patients in mechanical ventilator beds with coronavirus".—[Official Report, 1 September 2020; Vol. 679, c. 23.]
This compares with 3,300 at the peak of the epidemic, and he then said that the latest quoted number for reported deaths is two in one day. Today, The Sun newspaper has calculated from these figures that the odds of catching covid-19 in England are about 44 in 1 million per day. Economist Tim Harford, who presents what I think is one, if not the only, good programme on the BBC—the statistics programme, "More or Less"—has said:
"Covid-19 currently presents a background risk of a one in a million chance of death or lasting harm, every day."
While age, gender, geography, behaviour and other aspects affect the risk, it is now far lower than the risk of death or serious injury in a motor accident. On average, five people continue to be killed each day on our roads, yet I have not yet heard from the Government any proposals to ban people from driving because of the risks associated with so doing.
One sure way of ensuring consistency would be to impose the discipline of a regulatory impact assessment on each and every continuing restriction, so that the justification for loss of personal liberty could be evaluated against the alleged benefits. It is not too late for this to start, and I hope that the Minister, in responding to this debate, will provide an assurance that the forthcoming six-month review of the legislation will include a full regulatory impact assessment and an evaluation of the performance of the emergency regulations introduced.
The public would then be able to see the evidence about whether the decisions taken were correct. For example, was closing schools and setting back the education of the covid regeneration a proportionate and necessary measure? Was the postponement of 107,000 weddings across the United Kingdom justified? Could any of the 4,452 weddings which should have taken place last Saturday have been permitted? Why can people sit safely side by side with strangers on an aircraft, but not at a wedding breakfast or in a church, a theatre or a concert hall—or even in this Chamber?
Why was the World Health Organisation advice, which was originally that there should be 1 metre social distancing, not applied from the outset? We introduced a 2-metre or 6-foot rule, but that has now been modified with the 1 metre-plus rule, but at the same time the additional safeguards required for the 1 metre-plus situation are being applied to the 2-metre situation, which is creating all sorts of problems, conflicts and uncertainties for our constituents.
Is it protecting the NHS to create a situation where, as was revealed in The Times on 27 August, 15.3 million people are now on the hidden waiting list for treatment? ​Is it reasonable that we should try to prevent two deaths a day and keep 15.3 million people on waiting lists for treatment, with all the dire consequences that flow from that? Madam Deputy Speaker, I do not know whether you were listening to the Secretary of State for Health when he made his statement yesterday, but in my view his responses on the issue of NHS waiting lists were the weakest and least convincing parts of what he had to say.
Is the continuing economic cost of lockdown now disproportionate to the benefits? Well, let us have an exercise and see. Let us see the data presented, so that we can have a proper debate about it. I raised the importance of regulatory impact assessments in public policy making with the Leader of the House at business questions on 2 July. It was his response on that occasion which caused me to apply for this Adjournment debate, which I am delighted that we are having this evening. I said that we would be able to achieve much more consistency in Government advice with regulatory impact assessments. The Leader of the House [Jacob Rees-Mogg], however, argued that
"if we spend too long doing all this, by the time we have done it we have moved on to the next stage of the lockdown."
He accused me of "calling for bureaucratic folderol", which would inhibit moving
"at a pace to ensure that things happen in a timely manner".—[Official Report, 2 July 2020; Vol. 678, c. 534.]
Would that they were. But I must correct the Leader of the House, because, far from being the worthless trifles described in the expression "folderol", regulatory impact assessments are fundamental to ensuring that we make the right decisions as legislators.
It is incredible that, instead of lockdown continuing to be relaxed, new restrictions on freedom, such as mandatory face coverings, have been introduced. The consequence is that I detect a growing atmosphere of gloom and foreboding as we see winter approaching: no vaccine availability for many months; the economy in a worse state than most of our competitors; and the prospect of the resurgence of the pandemic coinciding with the flu season. I do not like the expression "waves" because it makes it seem as though we are talking about something equivalent to the Atlantic rollers so much enjoyed by our former Prime Minister and colleague, David Cameron. We are not talking about waves. We are talking about the potential resurgence of the pandemic—not everywhere, but in particular hotspots.
This scenario demands a rational evaluation of conflicting risks to the economy and public health, together with a cost-benefit analysis, and now is the time for the Government to reinstate the intellectual rigour of the regulatory impact assessment process. Sooner or later, the incredible economic cost of the Government's failure to remove lockdown restrictions in a timely and effective manner will become apparent. If that coincides with the Government asking their natural supporters to pay the price for their failure through higher taxes, the political consequences will indeed be dire. It is for that reason that I commend to the Government what the OECD says about regulatory impact analysis. It describes it as an
"important element of an evidence-based approach to policy-making…that…can underpin the capacity of governments to ensure that regulations are efficient and effective in a changing and complex world."​
I will not read from the whole OECD regulatory impact assessment report on best practice principles for regulatory policy, but it extends to about 40 or 50 pages and is extremely well researched and documented. As I understand it—the Minister will correct me if I am wrong—these principles are supported by the Government; the trouble is that they do not seem to be being implemented by the Government and by Government Departments. I hope that in his response the Minister will tell us what he is doing to try and put that right.
The Government should revert to following their own "better regulation framework" established under the Small Business, Enterprise and Employment Act 2015, which requires that
"A RIA should be prepared for all significant regulatory provisions as a standard of good policy making and where an appropriate RIA is expected by parliament and other stakeholders."
The interim guidance issued in March this year sets out a general threshold for independent scrutiny of regulatory impact assessments and post-implementation reviews, where the annual net direct cost to business is greater than £5 million. It calls on Government Departments to undertake proportionate cost-benefit analysis to inform decision making.
The trouble is that this is not being done, and I will give just one topical example, to which I referred in my brief comments in the previous debate. Under the Coronavirus Act 2020, there was specific primary legislation saying that residential tenancies should be protected from eviction until 20 September this year. On Friday last week—27 August—regulations were made extending that period from 20 September for another six months. The regulations came into force on 28 August, which was last Saturday, the very same day that they were laid before Parliament. Regulation 1(2) says:
"These Regulations come into force on the day after the day on which they are laid".
Those regulations have caused a storm of protest from residential landlords in my constituency; they are apoplectic about the fact that they are not going to be able to recover possession of their premises. Notwithstanding the contractual agreements they have entered into with their tenants, they are not going to be able to recover their premises until 31 March 2021.
It says in the explanatory notes to the regulations that they amend schedule 29 of the 2020 Act. This is primary legislation being amended by subordinate legislation subject only to the negative resolution procedure, and so one might have expected that there would be a regulatory impact assessment or something which would indicate to us, on behalf of our constituents, that the Government have thought this whole process through, but that is not there, and instead there is a little note which says:
"A full impact assessment has not been produced for this instrument due to the temporary nature of the provision" …

Bob Stewart [Conservative, Beckenham]

It makes us look like clowns.
Sir Christopher Chope
I hope that that is on the record—it makes us look like clowns. That is why I hope that we can persuade the Government to reform their ways. It is also extraordinary that the excuse should be put forward that this is a temporary arrangement and that is why there is no need for a regulatory impact assessment. That is not set out anywhere in any of the books on this, and it is a novel interpretation of what should be happening.
Switching away from the regulations directly related to coronavirus, I have received support for raising this issue from the Internet Association, which is the only trade association that exclusively represents leading global internet companies on matters of public policy. The organisation responded to the Government's invitation when they went out to consultation in June inquiring about the reforming regulation initiative. It said, "Regulation in the digital sector has a wide range of potential impacts which extend beyond traditional economic impact analysis. As a matter of course, the Internet Association recommends that Government Departments and regulators undertake a wider impact assessment of their proposals covering not only the economic impact, but also issues such as technological feasibility and impacts on freedom of expression and privacy." It goes on to say that "there have been a number of recent policy and regulatory initiatives in the digital sector where it has not been clear whether an impact assessment has been conducted and/or the impact assessment has not been published for external scrutiny." It gives an example of the Department for Digital, Culture, Media and Sport/Home Office online harms White Paper. The Internet Association believes that wider regulatory impact assessments, as specified, should be required for major digital policy and regulatory initiatives. Therefore, this extends into that field also, as it does to all legislative and Government policy making—or it should do—and I hope that we will be able to get ourselves back on track.
The interim guidance to which I refer, which was published in March this year, referred to the Government considering how best the better regulation framework can be delivered
"more effectively over the course of this Parliament".​
Now is the time, surely, to take some action. As their first step, the Government should promise that the six-monthly review of the Coronavirus Act 2020 will be accompanied by a full post-implementation review and that a full cost-benefit analysis of those emergency regulations that it recommends should be kept in place. I hope that the Minister will announce that he is going to do that tonight and thereby help to restore public confidence in the Government's decision making and the ability of Parliament to scrutinise it, because that is fundamental. I am grateful for the opportunity to put this point to the House.
This was the Government minister's response, which entailed further lively debate:
The Parliamentary Under-Secretary of State for Business, Energy and Industrial Strategy (Paul Scully)
… Our commitment to conducting such impact assessments remains strong. The analysis that goes into impact assessments ensures that Government consider the need for and likely impact of new regulations to support legislative change. They ensure that we consider how regulation will affect the operation of markets and best enable businesses to innovate, and, in line with the subject of this debate, they inform parliamentary decision making …
The Coronavirus Bill, introduced in March this year, provided powers needed to respond to the coronavirus pandemic. The powers enabled the Government to introduce temporary emergency legislation to respond to the pandemic. To allow the Government to deliver at the required pace, formal regulatory impact assessments are not required for better regulation purposes for the temporary measures put in place in response to the pandemic. Further flexibility in the approach to impact assessments is appropriate where permanent measures need to be enforced urgently.​
My hon. Friend mentioned some specific examples where we have assessed the impact in a different way. He is right to talk about the importance of regulatory impact assessments. Some of the guidelines that he mentioned fall within my area. The specific residential landlord and tenant issue that he mentioned falls to my colleagues in the Ministry of Housing, Communities and Local Government, but in terms of the commercial Landlord and Tenant Act 1954 changes, we found from listening and speaking to businesses over a period that some companies that were struggling to pay their rent were being wound up by some landlords, so we acted.
This is on the basis of detailed, long-standing conversation and engagement with businesses on both sides of the debate. In my short time as a Minister, I have had around 500 meetings with, I estimate, 3,000 to 4,000 businesses, so I think I have a reasonable handle on retail, hospitality, weddings and the beauticians who do eyebrows and beard trimming that my hon. Friend mentioned. It is a source of great regret that we are unable to allow wedding celebrations of more than 30 people to occur at the moment. I have seen at first hand and heard from people in the wedding sector, which is an enormous contributor to the UK economy, how badly they are suffering as a result …
At this point, the responses from Paul Scully became brittle and defensive. More importantly, Scully said that some changes will be permanent:
Sir Christopher Chope
May I present a challenge to the Minister? Will he publish for our benefit a regulatory impact assessment on the issue of not allowing larger weddings? That would bring into the open all the issues with which he is familiar but which have not yet been exposed to public debate and scrutiny. Is that not what it is all about? This has now been going on for six months, and people want to know where the future lies for the small organisations involved in weddings. Will he offer to do that for us, notwithstanding the fact that his Department is very busy? That would be really helpful.
While I have the Floor, let me also say that I am concerned that the Minister seemed to distance himself from what is happening to individual landlords. Although they may not be incorporated, they are small businesses.
Paul Scully
To answer my hon. Friend's last point, I am not distancing myself; I literally was not involved in that decision. I do not want to offer a line of thought on something that I was not involved in, but I understand his point.
On weddings and the public debate, my hon. Friend has clearly not been following my Twitter feed—totally understandably—which is full of such debates about the wedding sector. We are trying to work with the sector to make sure it can open. My primary concern is about ensuring we get our economy open again with a warm but safe welcome to people. The Government's first priority has always been to save and protect lives, but restoring livelihoods, protecting jobs and protecting businesses are right up there, for the reasons that my hon. Friend set out. If we do not get this kick-started now, the effect on the economy will be huge, so it is important that we work together to give people not just confidence but joy, so that when they come out to use services in their local high streets and city centres they enjoy the experience and come back time and time again.
A one-off hit to our economy is not good enough. We know it is not going to go back to how it was in February, and there are some permanent behaviour changes that seem to be kicking in. None the less, we need to work with the new normal, which means working with the virus, because we will be living with it. My hon. Friend talked about a second wave, or spike or whatever he wants to call it. If we learn to live with it, there may be a third and a fourth until we get a vaccine, but live with it we must. There will be a new reality of the permanent behaviour change.
Well-designed and effective regulation, which my hon. Friend wants to see in our legislation, and which we are championing, enables markets and business to flourish, grow and innovate. It can provide certainty for investors and protection for individuals and society. The use of impact assessments in informing regulatory design can help us to achieve those outcomes. Excessive or poorly designed regulation can impede innovation and create unnecessary barriers to trade, investment and economic efficiency. We have sought to limit that by ensuring that regulation changes in response to the pandemic are targeted and time-limited.
Bob Stewart
One of the biggest things that the Government have insisted on is facemasks, which we have mentioned already. I would be intrigued to know ​whether there is a regulatory impact assessment on why we all have to wear facemasks in public and various other places, because I have not seen it. If there is one that could be made public, perhaps it could be put in the House of Commons Library. There are growing numbers of people in my constituency of Beckenham who are rebelling against that idea.
Paul Scully
I thank my hon. Friend for his intervention. I get the train and the Underground into London each and every day, and the adherence of people to wearing face masks is, on the whole, good. Tube use, I am glad to say, is increasing substantially. London city centre—the central activity zone in London—is incredibly quiet. That is affecting the west end in particular, and the City.
The west end represents 3% of the entire UK economy—just the west end—so although we need to make sure that the whole country is able to restore the confidence and joy that I was talking about, it would be remiss of me, as Minister for London as well, not to showcase those areas that make up a massive amount of our capital city as a strategic and world city, so that it is ready for international travellers when they have the confidence to travel.
The Government's focus has been on improving design and proportionality in regulation. That is done through the Better Regulation Executive, which is responsible for embedding smarter, more cost-efficient and better regulation across Government, and which has recently introduced new guidance templates and training to improve the quality of impact assessments. As a result, impact assessments have clearer presentation of results, better planning for implementation and more quantification of costs and benefits.
The better regulation guidance represents the agreed Government policy on evidence and independent scrutiny, including when to seek independent scrutiny. It is clear that legislation should be accompanied by robust evidence and assessment of impact.
Bob Stewart
Forgive me. The Minister is a really good friend of mine, but he did not answer my question. I would really like to see the Government's justification, in writing, as to why so many people have to wear face masks. Can we know what that justification is in this House?
Paul Scully
There has been a long debate about the use of face masks, both on transport and in retail. There are arguments either side—whether it gives a false sense of security or whether people touch their face when they put on or take off their mask. None the less, we have a better understanding of the transmission of the virus and the aerosol nature of its transmission. That is why the World Health Organisation has changed its advice from the beginning, when it said people do not need to have masks or face coverings, to, "Yes, you do." Actually, we can learn from history. In the 19th century, cholera was assumed to be transmitted by air, but by greater understanding and by working through it—they did not need a regulatory impact assessment to figure it out— eventually people found that it was the water supply that was causing cholera, so they were able better to tackle that particular issue at that given time …​
By mentioning cholera (?!), Scully killed his own argument. He should read up on the 20th century instead, specifically, the 1918-19 influenza pandemic. In the early 1920s, medical experts concluded that masks did nothing to stop the contagion. However, I digress.
The debate continued:
Sir Christopher Chope
Is this body to which the Minister is referring going to look at the issue of face masks, or face coverings? In answer to my hon. Friend the Member for Beckenham (Bob Stewart) he has said that there are arguments on both sides of this. In those circumstances, why are the Government taking one side and criminalising behaviour instead of trusting people to reach their own decisions on the information provided by the Government?
Paul Scully
I am sure the necessary people will have heard my hon. Friend's call for that to be examined, but on the use of face masks, it is the same as self-isolation as a result of the test and trace system: the number of people who are having to self-isolate at any one time means that millions of us can go about our relatively normal lives by going to retail, hospitality or our places of work, which we were not able to do for so many months.
Those changes are evolving. I, like my hon. Friend, do not take any infringement of our civil liberties lightly, but this is a situation—I am not going to use the word "unprecedented" even though I just have; it has been used an unprecedented number of times—that we have never had to face before. No Government have ever had to face such a situation, so we are learning as we go along. We will not always get it right, but we have to make sure we are using the best engagement, listening to both sides of the argument, and working through as the science evolves and as we see what is in front of us in terms of human behaviour.
My hon. Friend the Member for Christchurch talked about the OECD, whose latest report acknowledged that better regulation is an area of strength in the UK. It notes that the UK has been a leader in regulatory policy in general, with the early adoption of the better regulation agenda. Our ambitious agenda is reflected in the results of the OECD's monitoring of regulatory management tools, as displayed in the "OECD Regulatory Policy Outlook 2018", with the UK displaying the highest composite indicator score for stakeholder engagement for primary laws. Our score for secondary legislation is also significantly above the OECD average. We also had the highest composite indicator score for regulatory impact assessments across the OECD. That includes strong formal regulatory impact assessment requirements in areas such as establishing a process to identify how the achievement of the regulation's goals will be evaluated; assessing a broad range of environmental and social impacts; and undertaking risk assessments as part of regulatory proposals. So we should be justifiably proud of our world-leading reputation in this area.
These assessments are valuable documents, and the Government should be applauded for encouraging their production and the transparent scrutiny of them, but, ​as with some individual impact assessments themselves, there is always room for improvement. As with the principles underpinning better regulation, we are always looking for ways to learn and improve our approach.
Sir Christopher Chope
Obviously, we are fortunate in having a bit of extra time this evening, which is great. Will the OECD be asked to opine on the effectiveness of the Government's regulatory response to the coronavirus epidemic? For example, will the OECD be able to comment on the distinction, which my hon. Friend has made, between rules on face coverings, for which there are lots of exemptions, and rules about isolation and quarantine, for which there are no exemptions. I am afraid that there is an anomaly there.
At that point, Scully could hardly wait to bring this important debate to a close, with no give on his part.
As you read the following (if you got this far), please note that the Government, not the requesting MP, is supposed to look into matters resulting from these debates:
Paul Scully
I am afraid I do not have the OECD on speed dial, but I am sure that my hon. Friend will be able to ask it to look into all these things. I am glad that we have extra time, because there is nothing I like more than to discuss regulatory impact assessments—I am afraid that Hansard does not detect sarcasm. Although I make light, it is good that we have parliamentary scrutiny of an important topic to cover.
As I say, there is a further cultural shift in Whitehall to make on such impact assessments across the board. We do have a responsibility to monitor the extent to which the laws we have passed are implemented as intended and have the expected impact. My hon. Friend ​is justified in raising this important issue, so that we can consider, learn and move forward together. The planning for monitoring and evaluating regulatory changes could be more effective. There is a risk that laws are passed that result in unexpected consequences or inappropriately stifle innovation. I have seen that at first hand as we have been changing and tweaking various support measures for businesses; we have had to change them so that they are supporting businesses as intended, rather than with an unintended consequence. Better planning for monitoring and evaluating will help to ensure that there is sufficient information to assess the actual state of a law's implementation and its effects.
In conclusion, regulatory impact assessments, in themselves, have evolved into an important and valuable component of the UK's better regulation system. The transparent publication of impact assessments has added accountability to the analytical dimensions to policy development, which has increased the amount of evidence presented alongside policy proposals, and the existence of the independent scrutiny has increased both the transparency of the process and the accountability of government. I thank my hon. Friend for raising this important issue.
Bravo, Sir Christopher. I hope that more of the old guard Conservative MPs continue along his line of debate. We, the people, need their support.
On the other side of the Pond, that same day — September 2 — Tucker Carlson had an excellent segment on the endgame of the coronavirus panic. According to the WHO's Dr Tedros, who is not a medical doctor, the plan is to ultimately bring in a worldwide reset to fight climate change. Bill Gates approves.
This is a short but highly instructive video:
Given all of the above, do Britons think that the UK government has been acting in good faith over coronavirus?
Boris Johnson promised us a 'people's government'. It certainly doesn't look like one at present.
Before reading this, here are Parts 1, 2 and 3 of a series on coronavirus and lockdown.
It seems that the British silent majority were largely fine with obeying the rules that Boris Johnson's government set until the end of May.
By then, they began asking questions about the duration.
During the first two months of lockdown, they understood that the reasons were not to put too much pressure on the NHS.
However, as Boris and his ministers are taking only 'baby steps' (Boris's words) to release us, many wonder what the real plan is.
Rightly or wrongly, suspicion is rife:
There is also the question about the NHS and the need for treatment outside of COVID-19.
Those of us who watch the daily coronavirus briefings from the government can't help but notice the messaging, especially from Health Secretary Matt Hancock:
I missed this little titbit from the coronavirus briefing on Friday, June 5. Hancock said, 'As the NHS reopens'. Hmm:
Yet, Britons are still missing out on non-coronavirus NHS treatments that are urgent:
I couldn't agree more with this next observation from Prof Karol Sikora:
Then we have the unknown consequences of Big Data intrusions into our lives:
This is now climbing up the chain to stain Prime Minister Boris Johnson, the champion of his soi-disant 'Government of the People':
The goalposts have clearly shifted since Boris's stonking victory in December 2019:
Lockdown has now gone on too long:
Despite what the government and scientists say on the weekday coronavirus briefings, other statistics find their way through the established narrative:
Yet, part of the blame also lies with the proportion of the British public who are afraid of re-engaging with society the way they did before lockdown:
Those who are afraid can stay at home. Let the rest of us get back to real life.
This London Assembly member from the Brexit Party is spot on. Lockdown must end:
Social distancing will end up being a killer, too:
One hopes it doesn't come to this:
One wonders whether there is such a thing as conservatism any more:
Or is the WHO driving this? They must think we are stupid. Perhaps we are:
We will never be in a risk-free, virus-free world.
Ending on Boris, for now, this is something I missed. Then again, I don't listen to BBC Radio 4. Even if I had, I would have thought that Boris's father Stanley was voicing his own views, not his son's:
Boris is still better than his Labour counterparts — Jeremy Corbyn (then) and Keir Starmer (now).
However, his polling will take a dive unless he restores what he called the People's Government.
More tomorrow: coronavirus and the June riots.
See Part 1 in this series about the anger in Britain over lockdown.
One or two tweets below might have salty language. The rest do not.
There is much anger by a proportion of the population at the government:
MPs, except for one, are largely silent on the subject. Luckily, John Redwood has been an MP for decades. He might be our only hope:
Most are like Conservative MP Nadine Dorries, however. She was one of the first MPs to get coronavirus. Her aged mother, who also had it, helped her recover. I was sorry to see her tweet this:
Yesterday, I left off on masks. On Thursday, June 4, Transport Secretary Grant Shapps said they would be mandatory on all public transport in England. Health Secretary Matt Hancock repeated the order the following day:
Someone in the know saw this coming in April (never mind the reply):
This is so irrational. Earlier this year, the WHO advised against it:
Exactly.
I'm looking forward to the first lawsuit when someone is unable to breathe on public transport:
The above advice applies to England.
Wales, Northern Ireland and Scotland are on their own track.
However, Scotland is no better:
This is what they are doing in Singapore. Simon Dolan, incidentally, is suing the British government over lockdown. Good man:
It seems masks are only the beginning. In the UK, we haven't fully got off the ground with the track-and-trace app.
More from Simon Dolan about Singapore:
Track-and-trace is also getting up people's noses:
Then there's the R rate that SAGE and Chief Medical Officer Chris Whitty discuss daily on the coronavirus briefings:
But that's nothing compared to the wacky modelling from Imperial College's Prof Neil Ferguson which brought about lockdown:
Yet, at least one London hospital is ignoring masks and social distancing:
Shouldn't only the vulnerable be sheltered?
Picking up on the railway platform, here's the latest on international transport …
… and the latest on public conveniences:
Why doesn't any of this make sense?
Similar madness holds true for local buses:
Meanwhile, unlike protestors around the world complaining during coronavirus about the death of an American ex-convict thousands of miles away, when you're Piers Corbyn (pictured with the policewoman in a mask), an eccentric weather forecaster as well as the brother of the last Labour leader, and say that climate change is caused by the sun's activity and you're protesting lockdown with like-minded people, you can be arrested twice at Hyde Park in London:
The sheer hypocrisy of it all is mind boggling.
More tomorrow.
On Monday, May 25, 2020, the WHO dropped its hydroxychloroquine trials as a possible treatment for coronavirus.
The drug is one of a selection of anti-malarials which have been used successfully, under the right protocols.
In Europe, Prof Didier Raoult is the champion of this type of treatment. He has successfully used a protocol involving Plaquenil and azithromycin on his patients in Marseille. Raoult is the director of the regional institute for research on infections, the IHU Méditerranée Infection.
The medical establishment worldwide is attempting to discredit the renegade physician. The latest is the Lancet, Britain's renowned medical journal. The results of their studies with the drug prompted the WHO to halt their trials.
The BBC reports:
The Lancet study involved 96,000 coronavirus patients, nearly 15,000 of whom were given hydroxychloroquine – or a related form chloroquine – either alone or with an antibiotic.
The study found that the patients were more likely to die in hospital and develop heart rhythm complications than other Covid patients in a comparison group.
The death rates of the treated groups were: hydroxychloroquine 18%; chloroquine 16.4%; control group 9%. Those treated with hydroxychloroquine or chloroquine in combination with antibiotics had an even higher death rate.
The researchers warned that hydroxychloroquine should not be used outside of clinical trials.
President Trump is currently taking hydroxychloroquine as a preventive measure. He receives it via prescription.
The WHO advises people not to self-medicate with these drugs.
Indeed, Prof Raoult uses them only on people who test positive for COVID-19. He also runs a battery of tests on potential patients before administering the tablets. Anti-malarials can worsen pre-existing heart conditions.
His and his team's paper was published in May:
He was delighted to see that another study using the same two drugs was equally successful. Beneath it are the results of the less successful Lancet study, which used hydroxychloroquine and macrolide, instead of azithromycin:
He is aware that the medical establishment, including France's two most recent health ministers, Agnès Buzyn and Olivier Véran, want him out of the picture:
That's unfortunate, because I listen to RMC during the week and the callers from Marseille and the rest of the region of Provence-Alpes Maritimes-Côte d'Azur (PACA) consider him a hero.
However, RMC's morning show hosts dismiss Raoult and hydroxychloroquine. Now I know why. One of the station's main shareholders also is a major shareholder in Gilead, which is working on Remdesivir, a drug used to treat Ebola. So far, Remdesivir trials on COVID-19 have not been that successful but the marketing is good, and it would be a money maker:
Last Tuesday on RMC, the WHO/Lancet news was a topic for discussion on the mid-morning show. They took a poll of Raoult's popularity. Three-quarters of their listeners voting during the show love the man. The poll was open for another day:
One of the show's guests said that Didier Raoult was achieving success, not talking about hypotheticals. He found it strange that few of the other studies manage to reproduce his success:
A nurse from Marseille who used to work the the professor, who is a physician, said that the others are not following his protocol to the letter. She said that, if they were, they would get the same results.
Raoult points out in the next tweet that the other studies are not using the drugs on people who actually have the disease. Therefore, results will differ:
Back to RMC. One of the panellists compared Raoult to Trump: a renegade one loves or loathes. She said that, like Trump, Raoult is trending in popularity:
Needless to say, the conversation about Raoult got heated. The first panellist said he was annoyed that his GP wouldn't prescribe him hydroxychloroquine and azithromycin. The show's hosts, on either side of him, thought the GP was right not to do so:
A third panellist said that Raoult is resisting all the discrediting of his work — 'He's extremely courageous':
Criticised though Raoult might be, America's National Institutes of Health (NIH) will be doing a study on hydroxychloroquine and azithromycin:
Although Raoult gives Dr Anthony Fauci the credit, I think it actually belongs to President Trump.
——————————————————————————
MAJOR UPDATE — JUNE 4: The Guardian has investigated the Lancet paper and reports that it had to be withdrawn. The WHO is now resuming its hydroxychoroquine trials.
This never should have happened to a respected medical journal.
Emphases mine below:
The Lancet paper that halted global trials of hydroxychloroquine for Covid-19 because of fears of increased deaths has been retracted after a Guardian investigation found inconsistencies in the data.
The lead author, Prof Mandeep Mehra, from the Brigham and Women's hospital in Boston, Massachusetts decided to ask the Lancet for the retraction because he could no longer vouch for the data's accuracy.
The journal's editor, Richard Horton, said he was appalled by developments. "This is a shocking example of research misconduct in the middle of a global health emergency," he told the Guardian.
A Guardian investigation had revealed errors in the data that was provided for the research by US company Surgisphere. These were later explained by the company as some patients being wrongly allocated to Australia instead of Asia. But more anomalies were then picked up. A further Guardian investigation found that there were serious questions to be asked about the company itself.
An independent audit company was asked to examine a database provided by Surgisphere to ensure it had the data from more than 96,000 Covid-19 patients in 671 hospitals worldwide, that it was obtained properly and was accurate.
Surgisphere's CEO, Sapan Desai, had said he would cooperate with the independent audit, but it is understood he refused to give the investigators access to all the data they asked for.
In a statement on Thursday, Mehra said: "Our independent peer reviewers informed us that Surgisphere would not transfer the full dataset, client contracts, and the full ISO audit report to their servers for analysis as such transfer would violate client agreements and confidentiality requirements. As such, our reviewers were not able to conduct an independent and private peer review and therefore notified us of their withdrawal from the peer-review process"…
The World Health Organization and several countries suspended randomised controlled trials that were set up to find an answer. Those trials have now been restarted. Many scientists were angry that they had been stopped on the basis of a trial that was observational and not a "gold standard" RCT.
Mehra had commissioned an independent audit of the data after scientists questioned it …
The Guardian wrote about Surgisphere on June 3. This is shocking.
Excerpts follow, emphases mine:
The World Health Organization and a number of national governments have changed their Covid-19 policies and treatments on the basis of flawed data from a little-known US healthcare analytics company, also calling into question the integrity of key studies published in some of the world's most prestigious medical journals.
A Guardian investigation can reveal the US-based company Surgisphere, whose handful of employees appear to include a science fiction writer and an adult-content model, has provided data for multiple studies on Covid-19 co-authored by its chief executive, but has so far failed to adequately explain its data or methodology …
The Guardian's investigation has found:
A search of publicly available material suggests several of Surgisphere's employees have little or no data or scientific background.

An employee listed as a science editor appears to be a science fiction author and fantasy artist

. Another employee listed as a marketing executive is an adult model and events hostess.
The company's LinkedIn page has fewer than 100 followers and last week listed just six employees. This was changed to three employees as of Wednesday.
While Surgisphere claims to run one of the largest and fastest hospital databases in the world, it has almost no online presence. Its Twitter handle has fewer than 170 followers, with no posts between October 2017 and March 2020.
Until Monday, the "get in touch" link on Surgisphere's homepage redirected to a WordPress template for a cryptocurrency website, raising questions about how hospitals could easily contact the company to join its database.
Desai has been named in three medical malpractice suits, unrelated to the Surgisphere database. In an interview with the Scientist, Desai previously described the allegations as "unfounded" …
You could not make this up.
Still, it's a happy ending. Hydroxychloroquine and chloroquine trials will resume, including at the WHO.
Many thanks to my reader formerdem, who alerted me to this welcome change of events in the comment section below.